Readers, I have a little confession to make; I have never yet cried at a wedding.  Even when I said my own wedding vows I didn't feel even the smallest tear prick my eyes; I grinned instead.  However, I do occasionally find myself choking up a little when reading the questionnaires our couples send in (the power of the written word?) and today's had me absolutely fighting to hold in the tears, not due to the day itself of course, which was happy, stylish and fun, but due to the incredible things that happened afterwards which really bring home the power of photography (to steal bride Claire's own words). Allow me to introduce our lovely couple – Claire, a florist, and Charles, who works in finance, were married on the 24th of October 2015 in an ethical and eco-inspired day which just glows with personality.
Our love and thanks to our wonderful Little Book For Brides member, Laura Babb, for sharing these images today.
"As a keen environmentalist, I wanted our wedding to leave as low a footprint as possible. For this reason, I sought suppliers that were as eco as possible and clothes and jewellery that were either vintage/antique or had a traceable source."
Claire dazzled in an beautiful original 1930's lace dress purchased from House of Vintage Bride, London.
"I gained a lot of weight due to an intensive drug regime following surgery to remove a lung in 2012. I felt so self conscious and believed I would never find the perfect dress, let alone a vintage one, and didn't really want to even look."
"My friend and the owner of House of Vintage Bride, Marcia (who had chosen lots of vintage dresses for the former, slimmer me) suggested I come over and see her anyway, and there it was, the perfect dress, just waiting for me."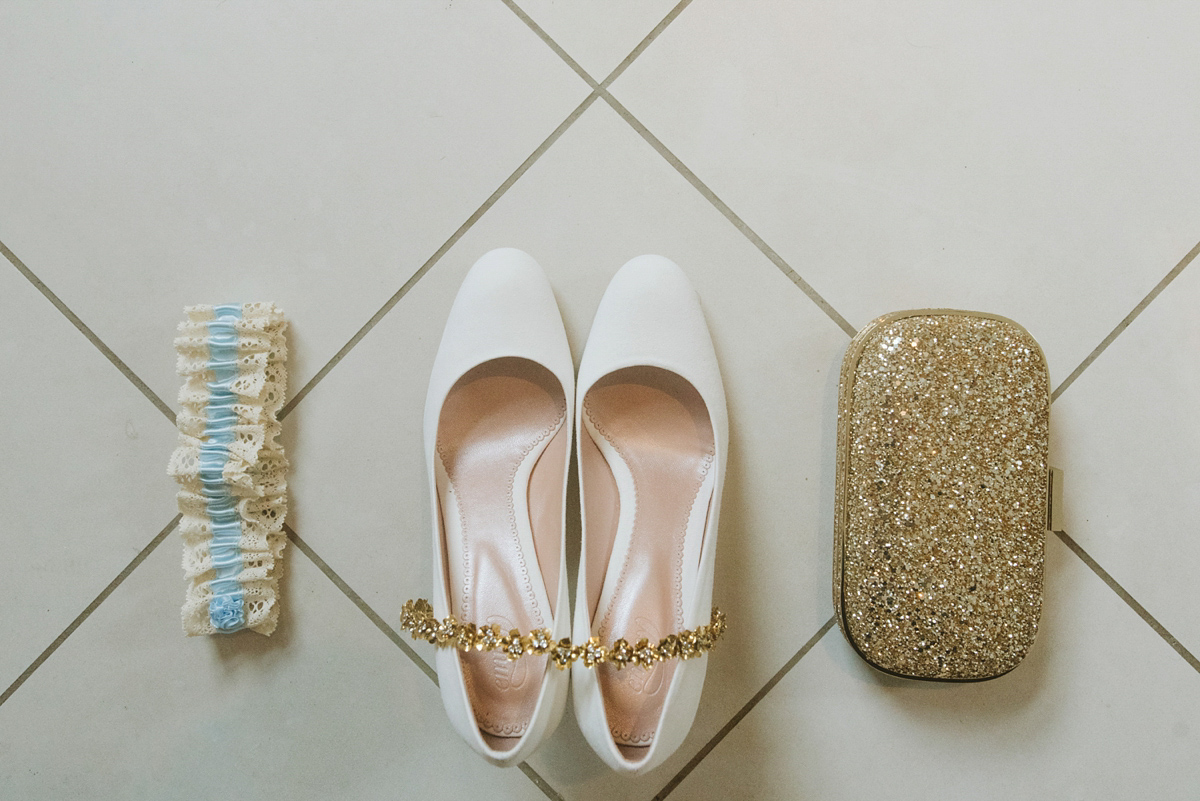 On her feet Claire wore a pair of heels from Emmy London, while in her hair she wore the most gorgeously delicate gold band by Jennifer Behr, purchased from Liberty of London.
The fabulous floral arrangements were the work of Miss Pickering.  As a trainee florist herself, Claire knew exactly who she wanted to do the flowers for her own big day.
"Miss Pickering is one of my favourite florists of all time, and I pretty much begged her to come down from Stamford to London."
"I absolutely trusted her judgement on the flowers; she knew what my dress looked like and that I needed to tie in bright pink bridesmaid dresses, but I left the rest entirely to her."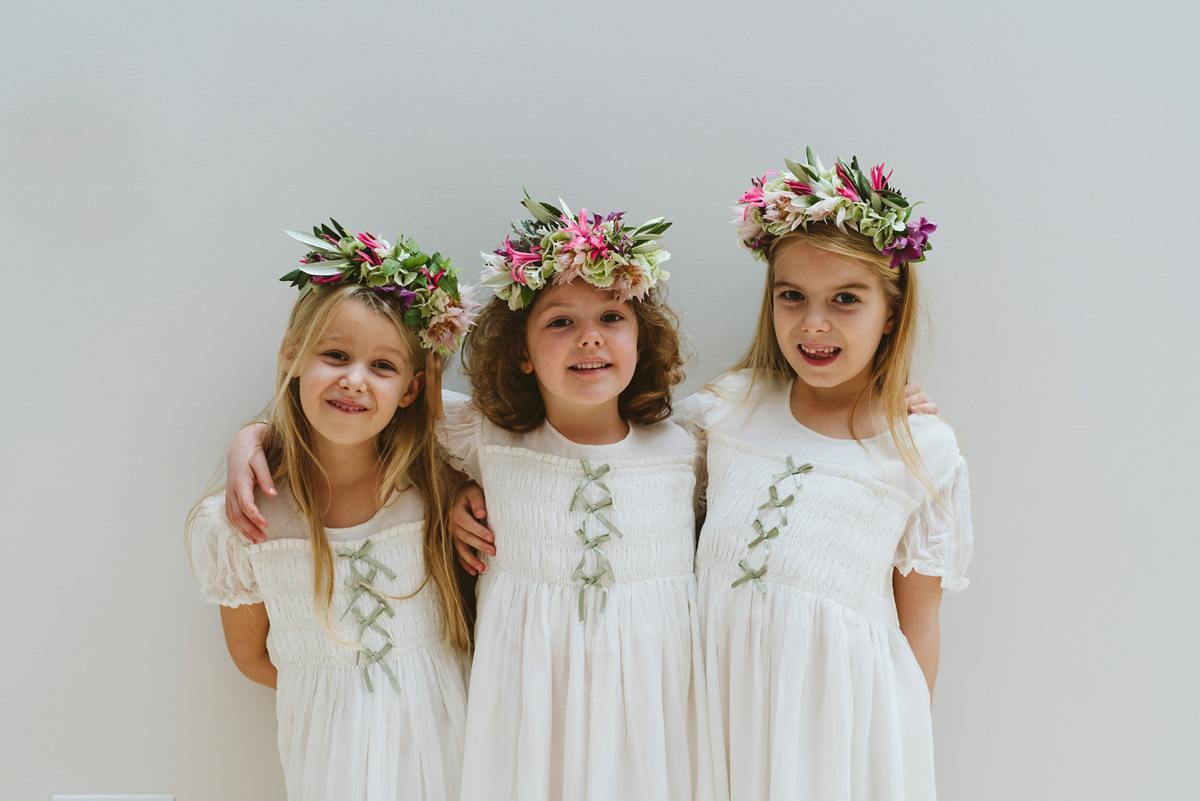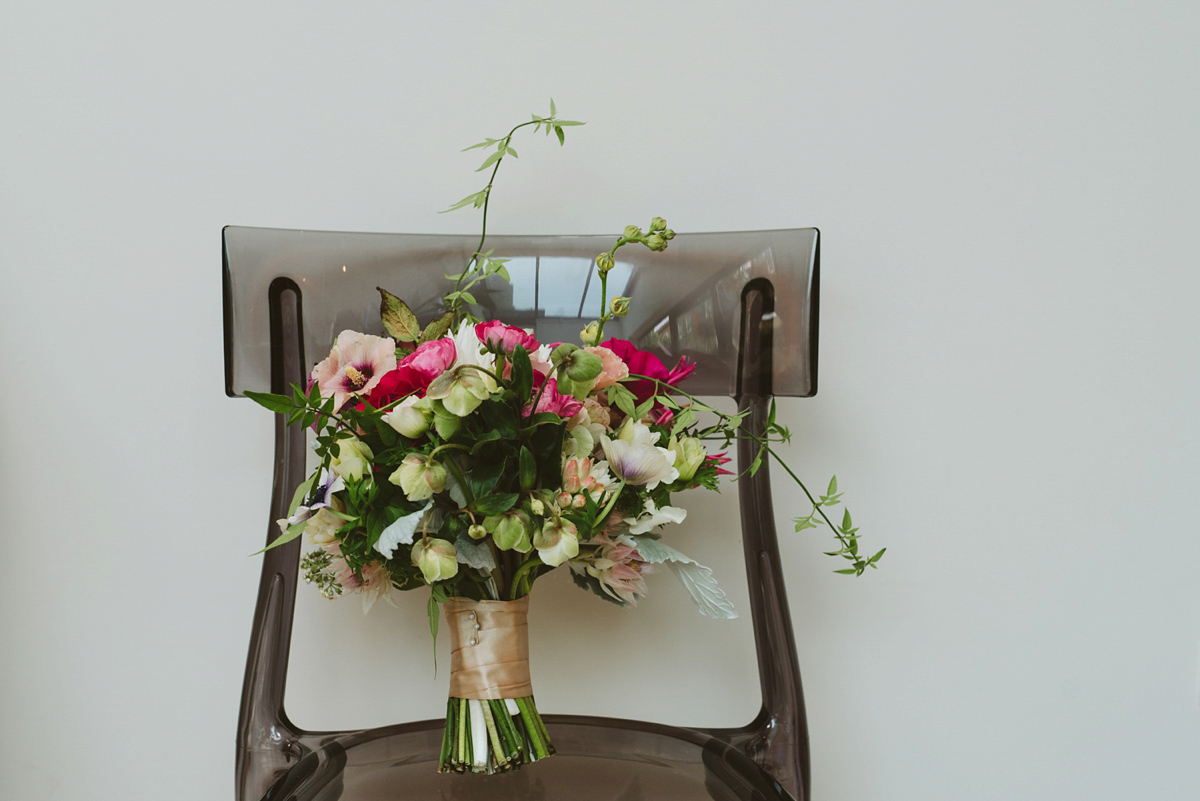 As accessories, she chose a necklace by Annina Vogel and a bracelet given to her by her Grandmother over thirty years ago.  She finished with a spray of 'Portrait of a Lady' by Frederic Malle, and make up and hair by Olivia Ferrer.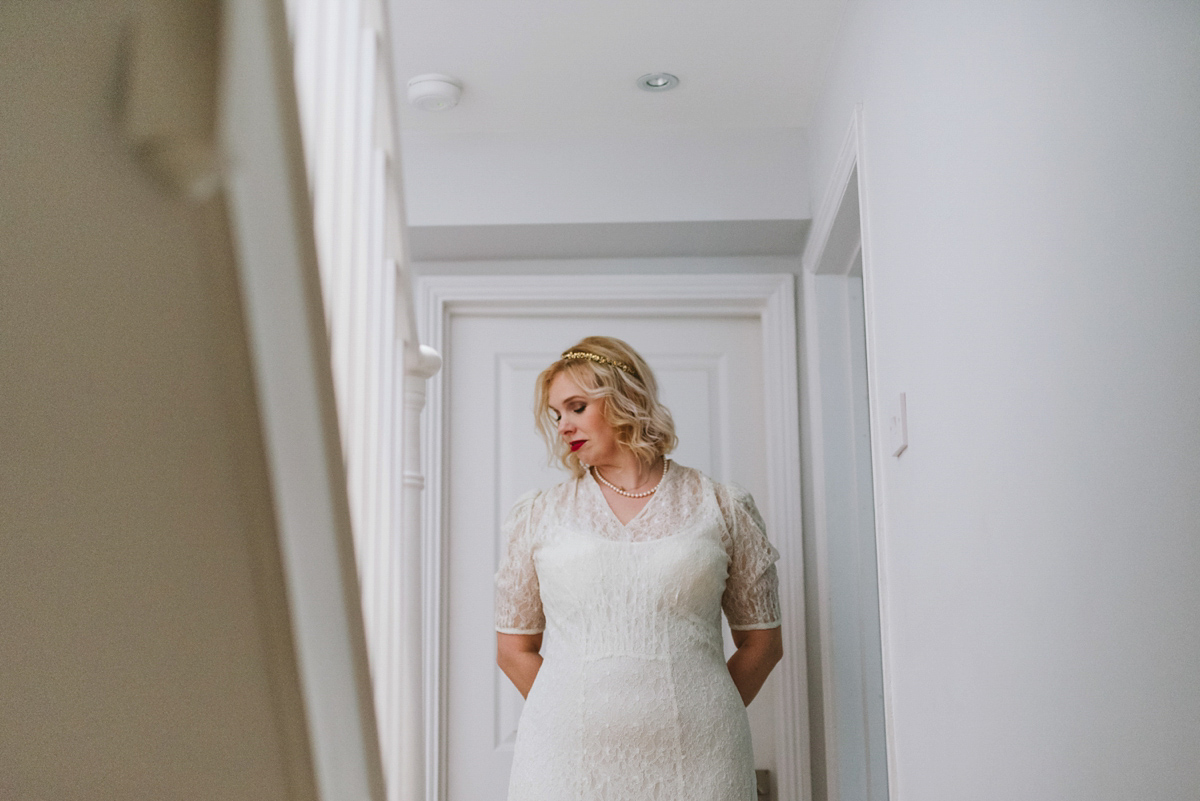 The adult bridesmaids looked fabulous in two different Diane von Fustenberg dresses, while the flowergirls were super cute in ruched dresses from I Love Gorgeous, worn with pink cardigans and flower crowns and the pageboy handsome in his outfit from Monsoon.
Meanwhile Charles looked very smart indeed in a suit by Charlie Allen.
Claire drove to the church in a beautiful black and white VW campervan, rented from Dubhire (no details) and was walked down the aisle accompanied by her beloved schnauzer, Hilda, who was given special dispensation by the church to attend.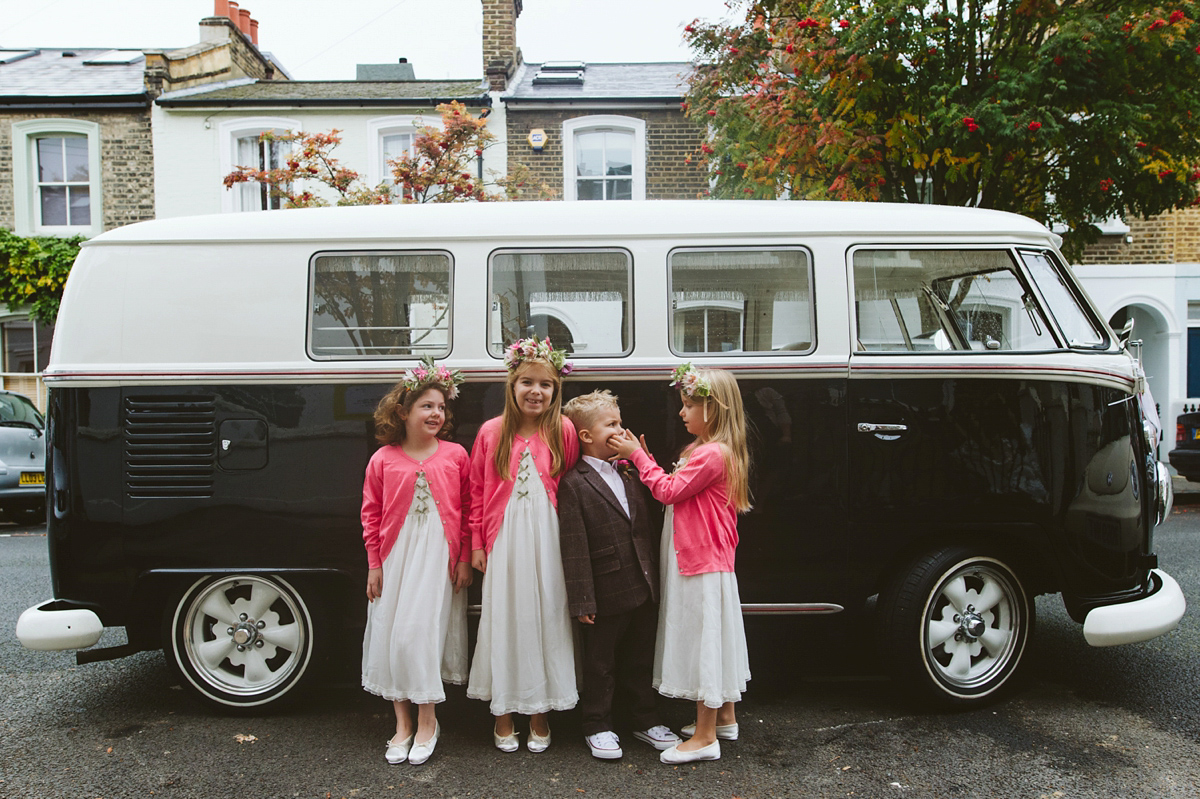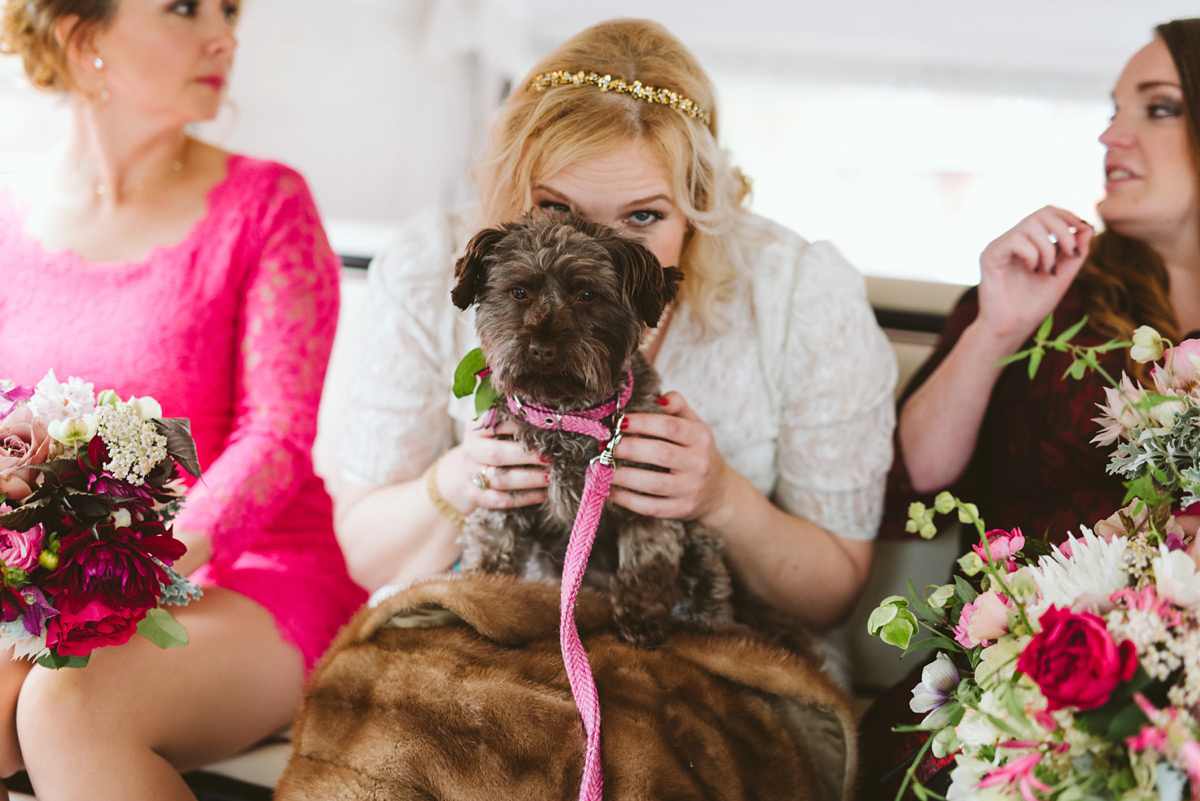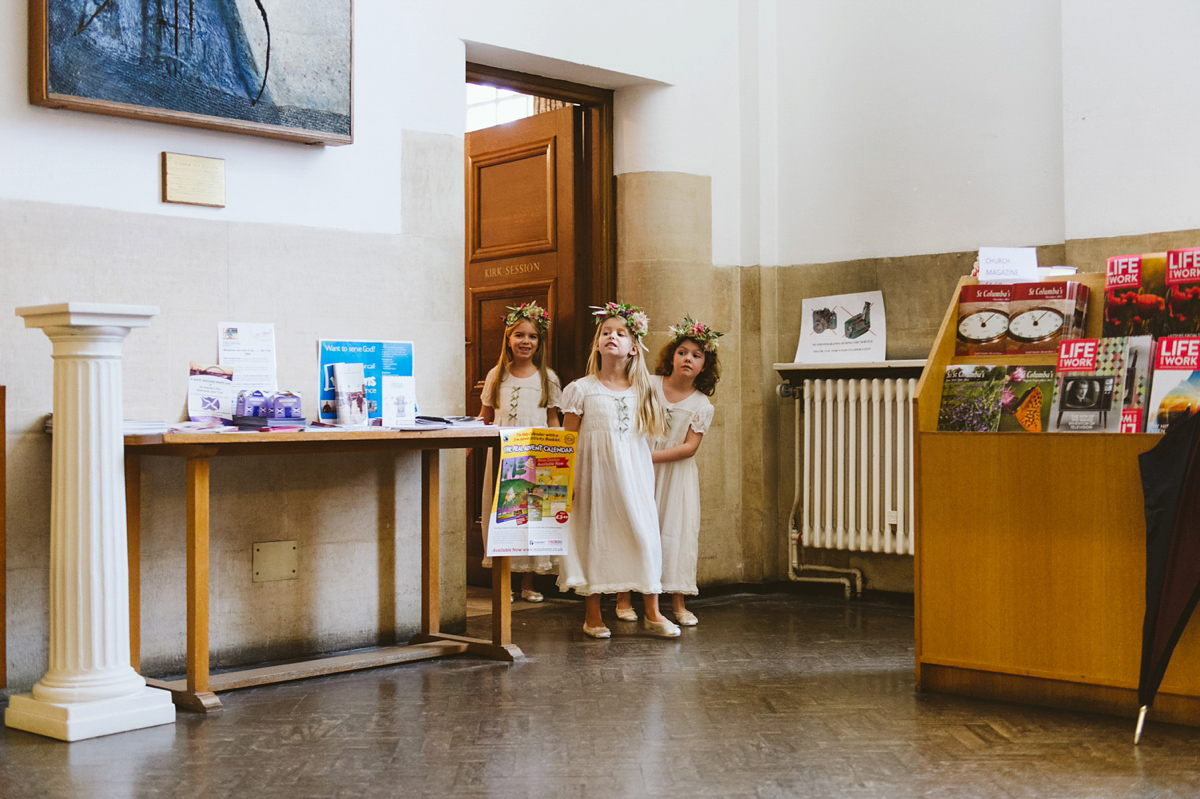 The couple said their vows at St Columba's Church in Knightsbridge, which is where both Claire and her sister were baptised and where her Mum was married, so it had lots of family connections.  They then hosted their reception in the church hall, which usually has a very different use.
"A lot of the time the space is used as a night shelter, providing hot food and a safe place to stay for those in London without homes. As we already felt we had more than enough 'stuff' between us, we asked our guests to make a contribution to the shelter rather than having a wedding list. We were delighted when our guests responded with such generosity."
The couple spoke the traditional Church of Scotland vows and for readings, chose 'Falling in Love is Like Owning a Dog' by Taylor Mali, read by Claire's sister, followed by 'Love' by Roy Croft. They then exchanged rings from Annina Vogel, whose pieces are either antique or vintage or made up from antique/vintage components and fair trade gold and so fit perfectly with the ethical theme.
"Walking back up the aisle as man and wife was definitely my favourite part of the day – mission accomplished."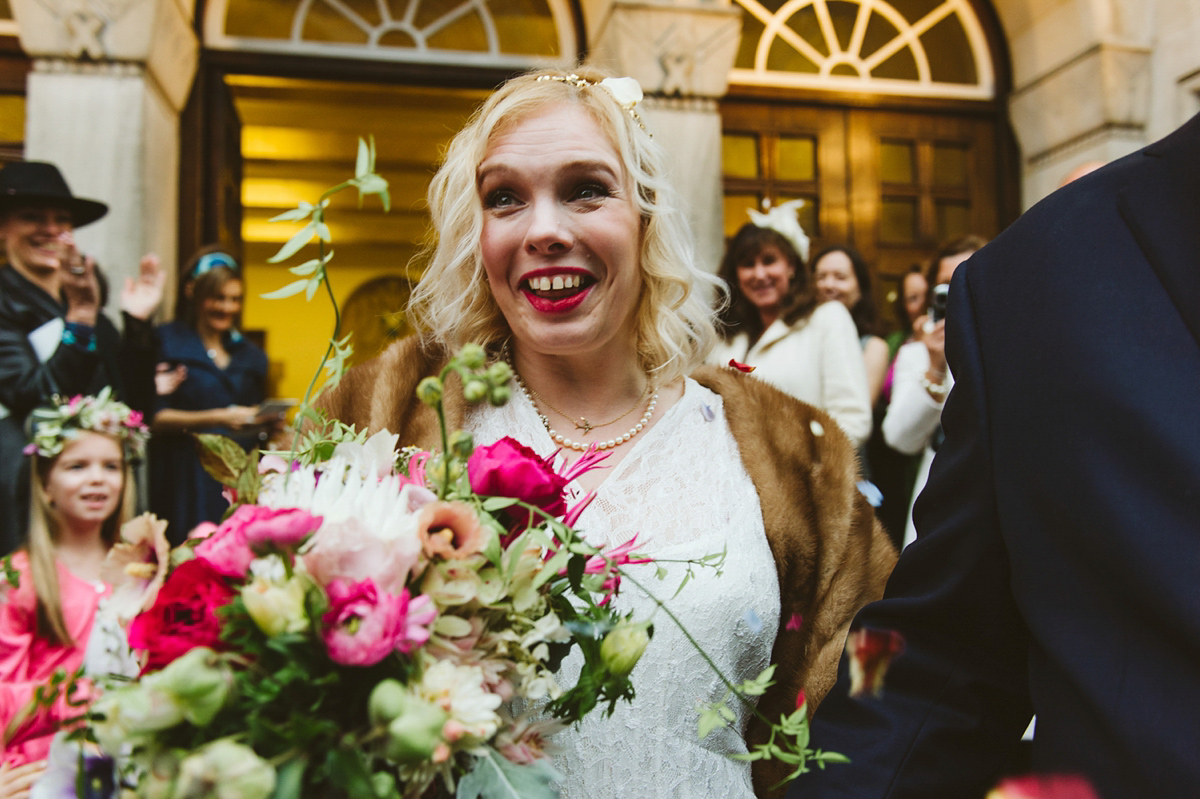 Decor hinted at 1930's glamour with some fabulous gold light up LOVE letters from Doris Loves, quirkly combined with some colourful origami cranes.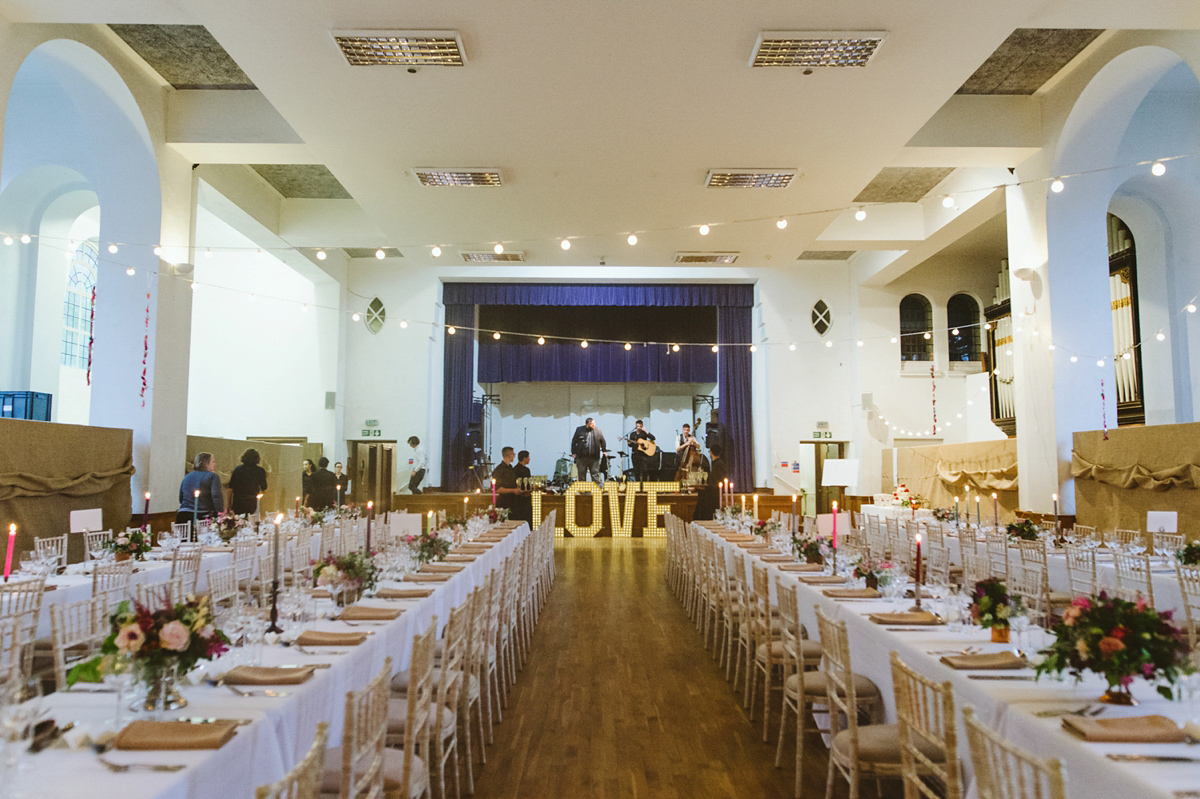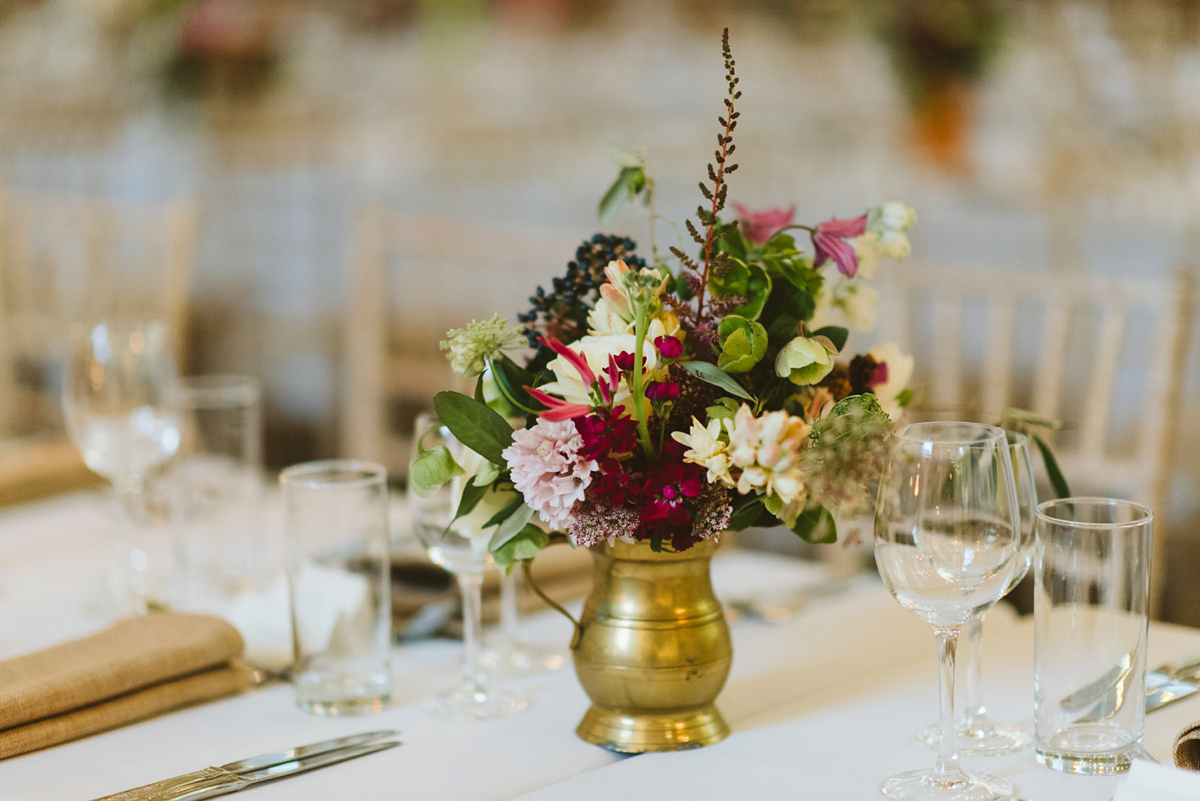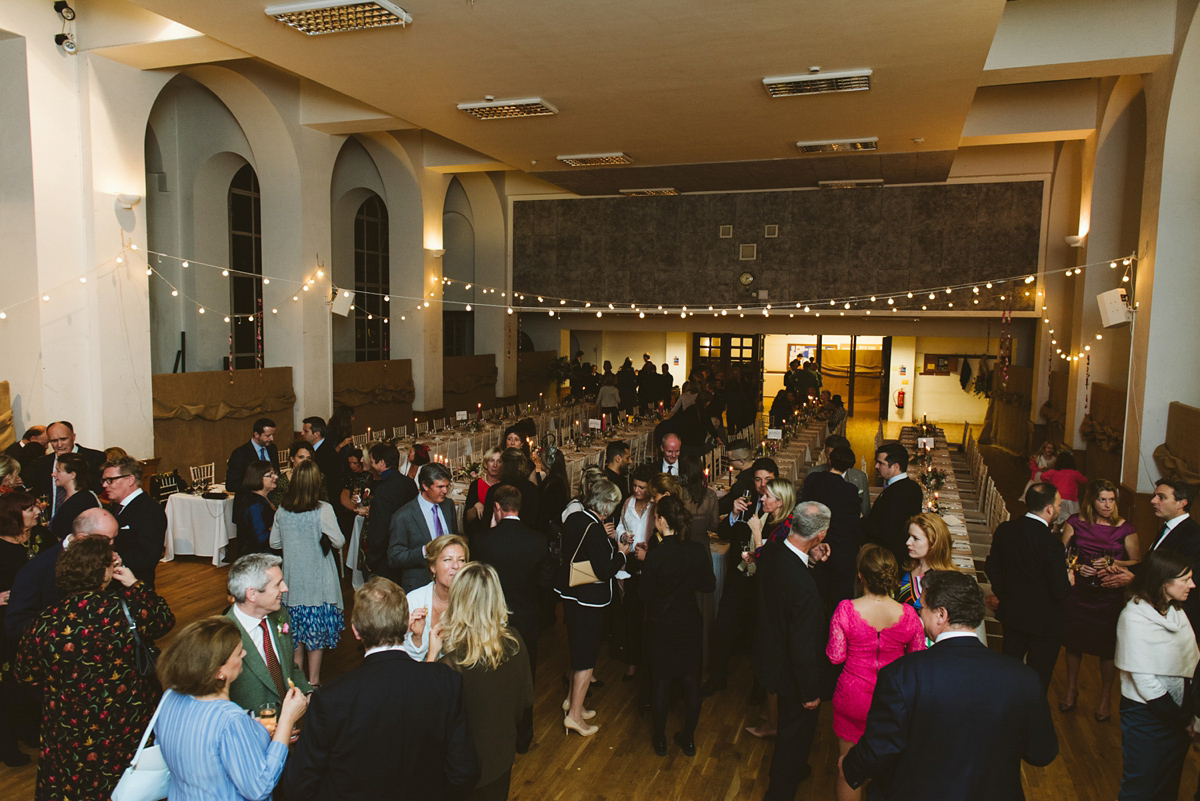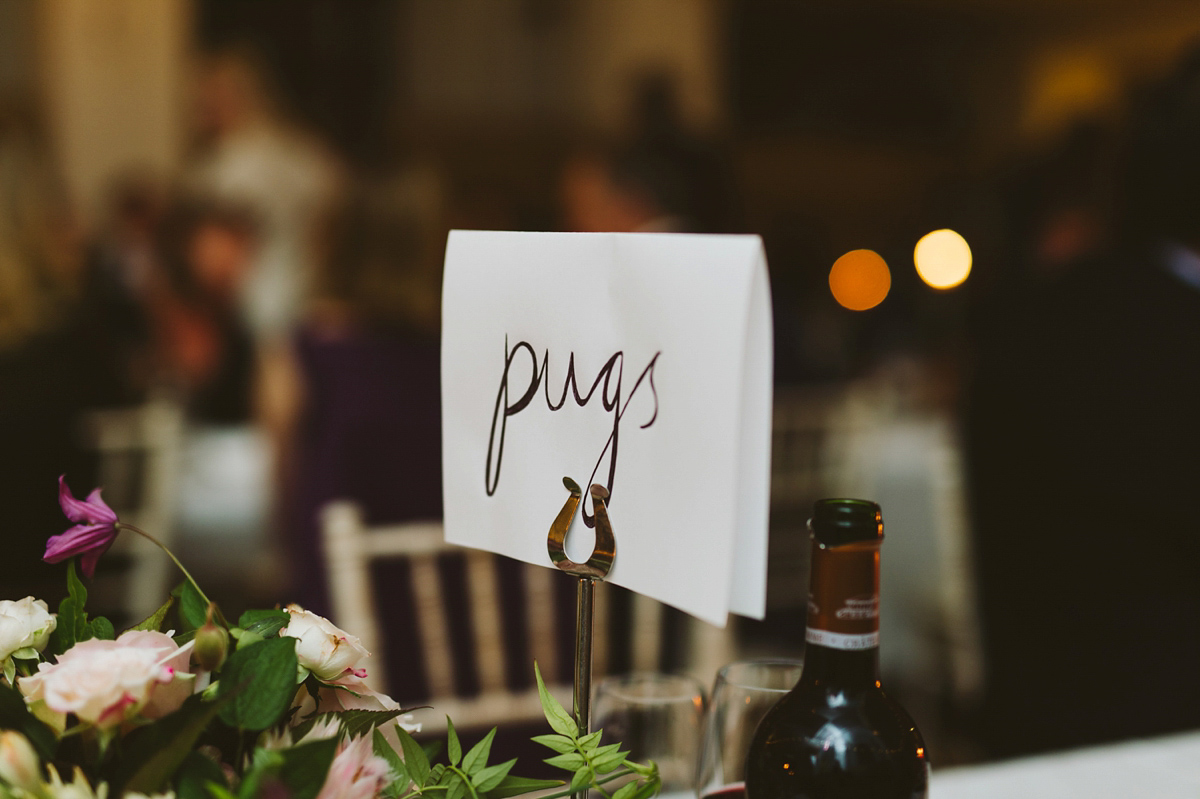 "Our cake was by Lily Vanilli. I had followed her Instagram account for some time and when a cake with glittery fruits and fresh flowers popped up, I knew that was the one for us."
"The rest of the catering was by Hand Made Food and they absolutely nailed it.  Nothing got past the meticulously organised team and the food was amazing too, plus they have great eco-credentials. I cannot recommend them enough."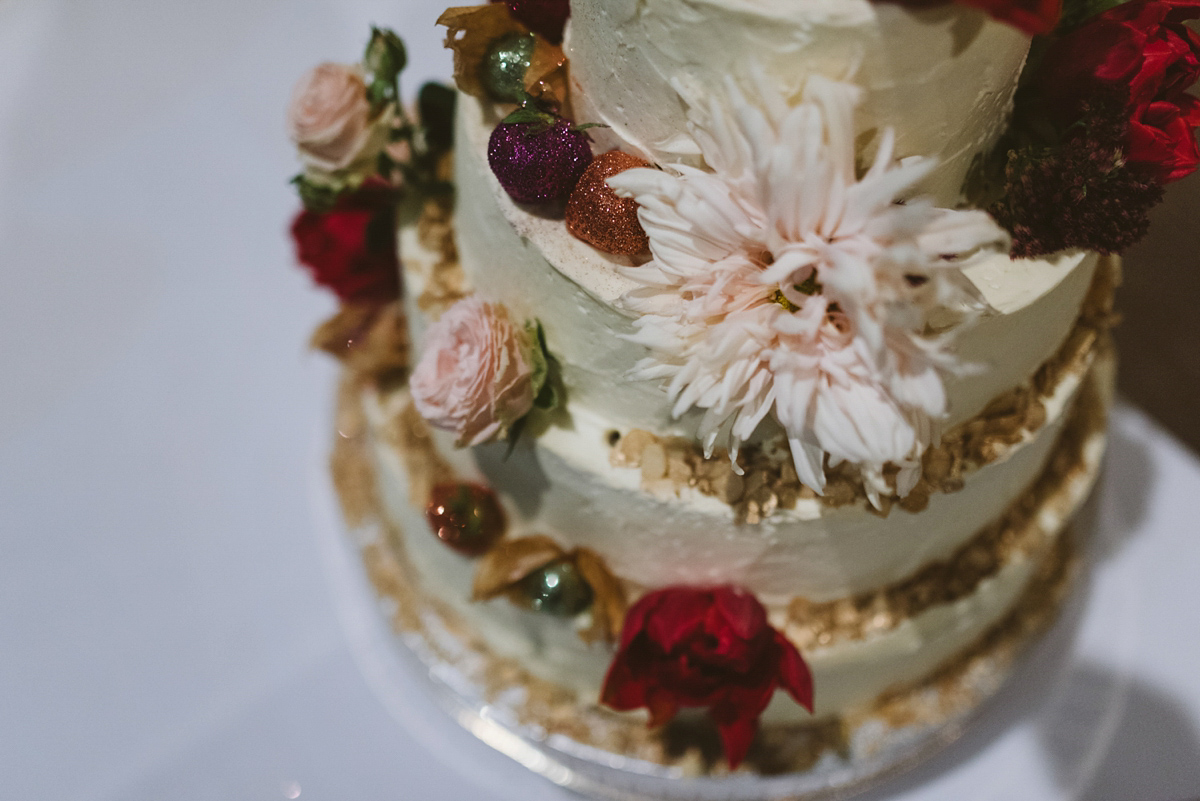 Photography was the work of the fabulous Laura Babb who captured this lovely day with precision and grace, to the greatest effect.
"Laura was just ace!  I had read about her and seen her work and when I met her I just knew she was the one. She was so friendly and down to earth and the photos that came back were incredible."
Readers, this, if nothing else, just has to convince you (if you ever needed convincing) of the importance and power of photography.  As Annabel mentioned in this post back in 2013, your wedding photos won't just be the providers of some very important and fleeting memories, but may in future years become mementos of those special times together.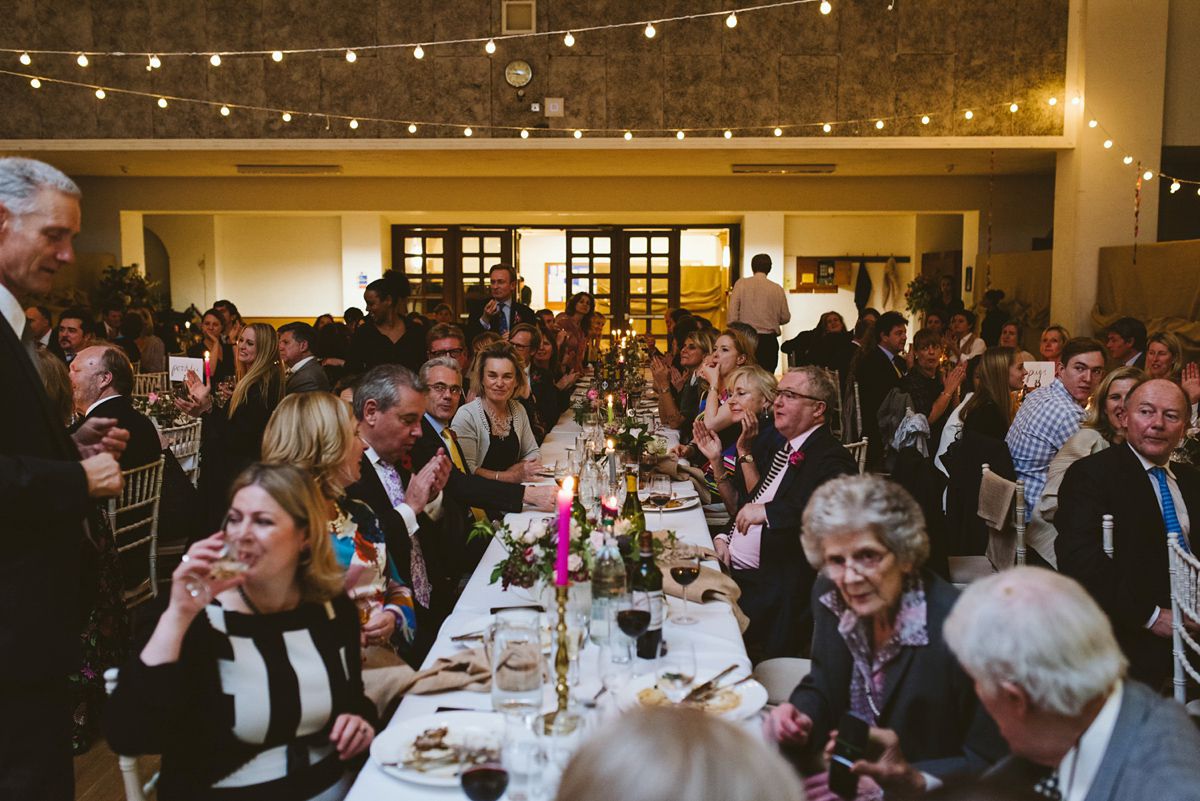 It was a blog post of Laura's, which referred back to a post-wedding email from Claire which had me gulping desperately, trying to keep my tears in as I wrote this feature. This is really emotional.  Claire wrote:
"I'm sorry it has taken quite so long for me to come back to you with regards to our lovely wedding album but life has been beyond fraught- my Mother collapsed on Christmas Eve and went into a coma shortly afterwards. It looked very bleak for the first week or so, and the doctors believed her to be brain dead. Eventually, however, she surprised us all by coming round and starting to recover but she was very confused and the Consultant explained to us that it was highly likely that she was severely brain damaged.  We were told that my Mother, as we knew her, was gone. "
"I was unconvinced, as I noticed that occasionally she would refer to past events with lucidity, but didn't know how to prove this until I remembered that your photos had arrived just before Christmas and that my Mother had not seen them. I asked the doctors to arrange internet access and all of the medics on ICU joined us.
As my Mother looked at the photos, she was able to name every guest, even those she had met for the first time at the wedding. She remembered you ("oh, lovely Laura!") very clearly, she could name the ushers, she remembered my Maid of Honour, Charles's father and even the Minister and what she said on the day. In short, seeing your photos brought everything flooding back. It took her a few weeks to get over her short term confusion but as a result of seeing your photos the course of her treatment was altered drastically."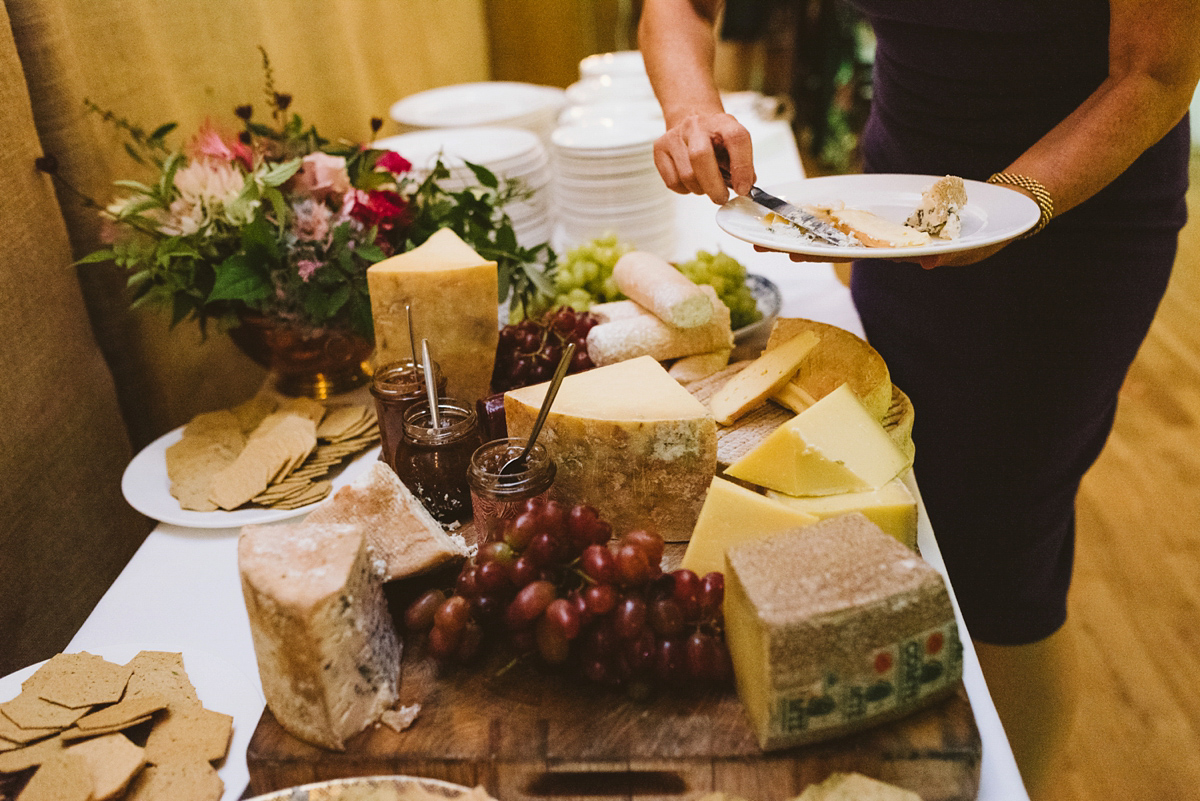 For evening entertainment, guests were treated to the fabulous Mister Kanish, described as a 'roaring success' by Claire.
"I heard about them on various blogs, found them on You Tube and kept dancing around to their music in the kitchen until Charles agreed we could hire them. I can't tell you how good they are. We missed the first set before the wedding breakfast as we were being photographed and that was genuinely the only disappointment of the day."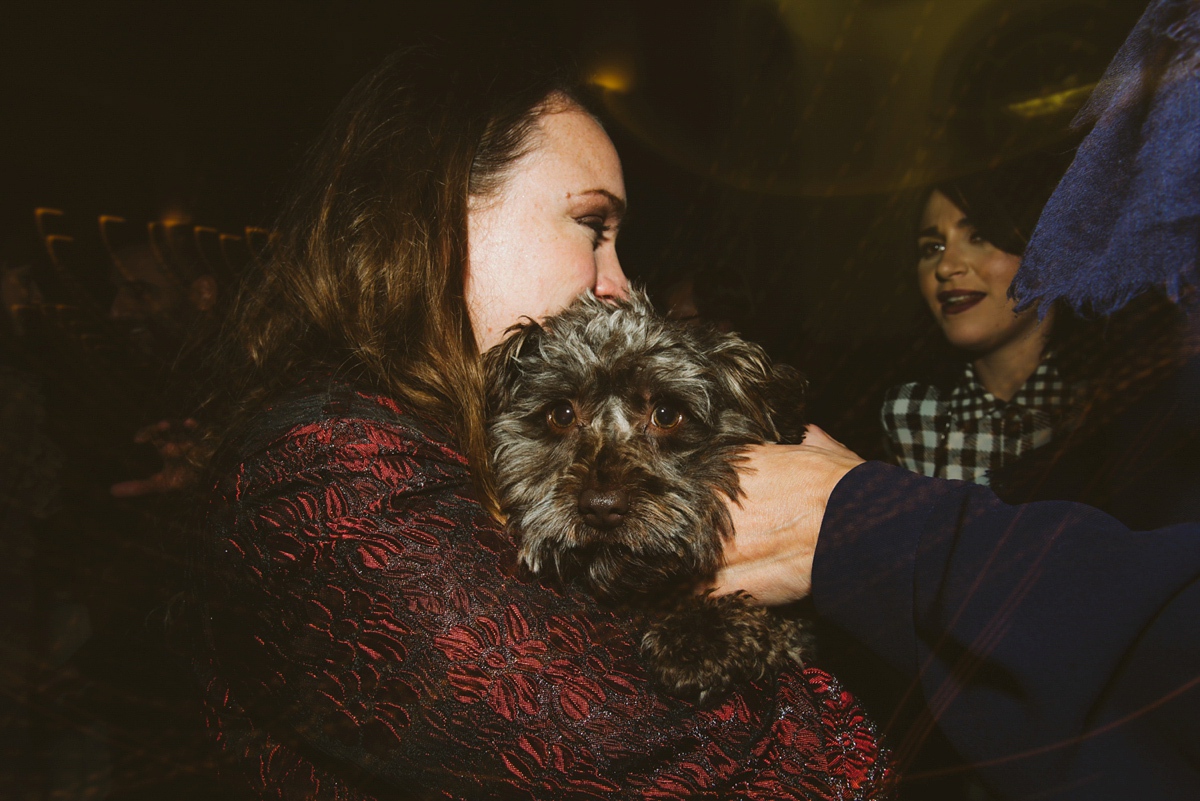 Words of Wedded Wisdom
"Be a bit selfish when planning; try to take other people's feelings into account but don't be ruled by them.  
Also, hire a wedding planner.  We had the most amazing day of our lives, but the run up was more stressful than it needed to be.  Having a blank canvas venue is a wonderful thing but please don't think it is cheaper than going to a hotel or event space. Even with the most reasonably priced suppliers you still have to ship in everything from tables, chairs and cutlery through to ovens and chillers and the like, and it quickly racks up. We nearly forgot the lighting and had to make an emergency purchase hours before the big day. A wedding planner could have helped so much with all of this."
So many thanks to Claire and Charles for sharing their beautiful day with us, and of course to Laura Babb for her fabulous images.  I think perhaps the best part of this blog is that we don't just show pretty details and beautiful dresses, we also discuss the important things in life, the hard parts of planning and the underlying love and emotion in all parts of life that weddings bring to the fore.  Take a moment to hug your loved ones today won't you?
Shona x
(I'm delighted to say that after chatting with Claire by email today, her Mum is now doing well)