Hello lovelies.  As I write this it is more than a bit dark and gloomy outside and I'm longing for a little bit of sun, if you're the same then I have just the thing for you- today's lovely seaside wedding took place earlier this summer in beautiful Cornwall and the couple were graced with the most gorgeous weather.  Meet Mel, a midwife, and John, a web developer, who married on the 28th May 2016 in two ceremonies (one legal one indoors and one emotional one in a sunny garden), with a reception at Kingsand Village Hall, which was beautifully documented in images by Liberty Pearl Photography.
Lucky Mel had two gowns for the big day, Petal and Belle, both by the wonderful Belle and Bunty, one of our wonderful and very highly recommended Little Books for Brides suppliers and long time blog supporters (we'll be sharing their *brand new* collection of wedding dresses exclusively here on Love My Dress next Monday – make a note in your diaries!).  As both gowns were sample dresses, Mel was able to stretch her budget.
"I originally found Belle and Bunty on Love My Dress and I fell in love with their simple, elegant designs and beautiful materials.  Both my dresses were perfect; I wore 'Petal' to the registry office and on the yacht and did a quick change on the way to the village hall and wore 'Belle' for the rest of the day, changing back into Petal for our ceilidh in the evening."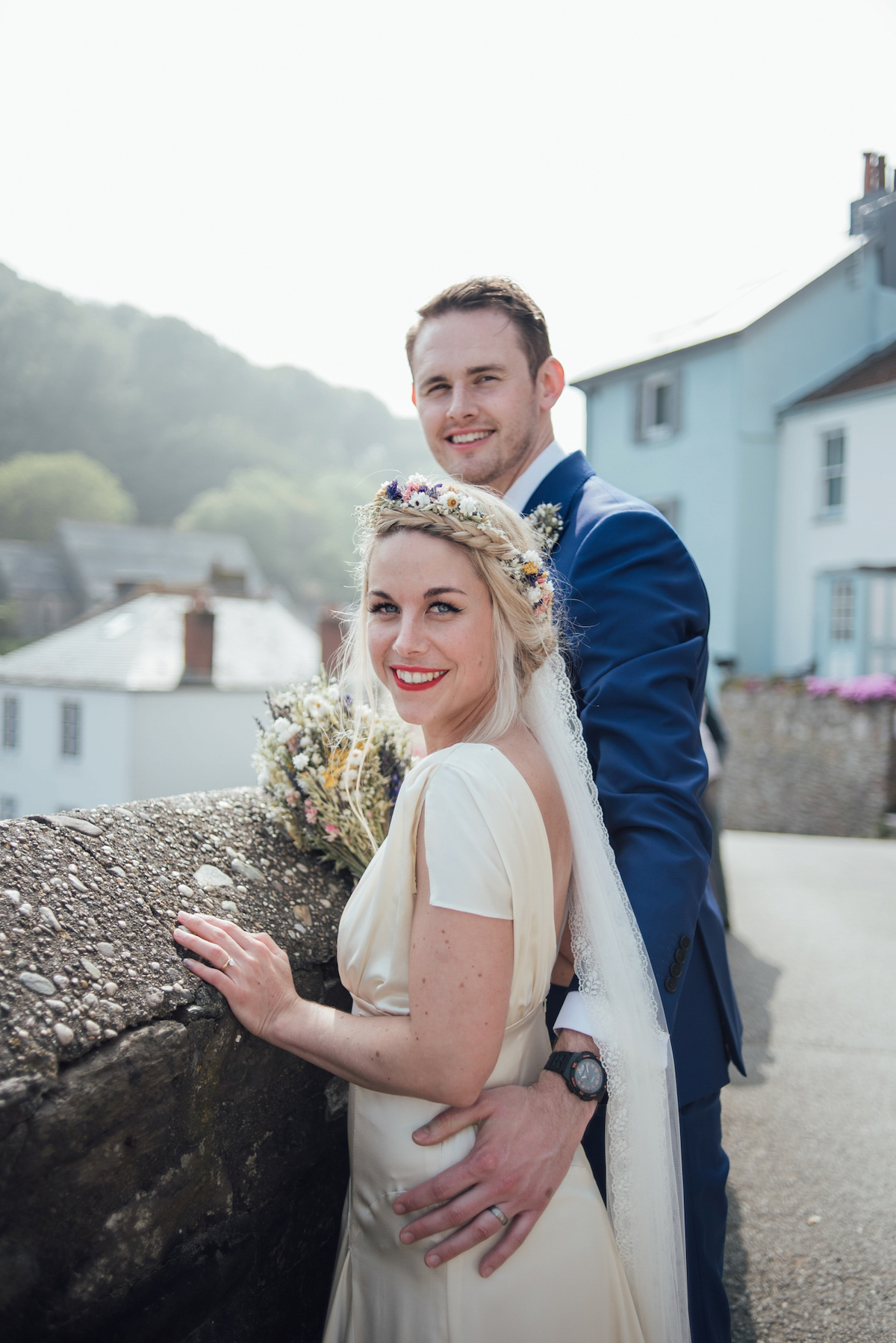 "We wanted something that was really fun, quirky and most importantly, laid back and family centered as I have two little girls who we wanted to put at the centre of the day, because it was not just about us getting married but also about us all coming together as a family.  The village hall as a venue then influenced the general theme, which was English Garden Party."
The bouquets, buttonholes and Mel's flower circlet were purchased from The Artisan Dried Flower Company, while Mel bought all other flowers from the market.
"I loved the idea of dried flowers partly because it was really fuss-free and they were so delicate and pretty, smelled divine and fit with the loose colour scheme of mustards, ivorys, blues and greys.  They were also all British flowers, which I loved."
"Some dear friends were kind enough to offer their sailing yacht as our wedding day transport.  They picked us up from the beautiful Royal William Yard after the legal ceremony and we sailed around the Plymouth Sound for around an hour; it was magical."
"It was misty when we left, but once we were out on the water the sunshine came out and it was lovely having time just the two of us to reflect on the fact we had just legally tied the knot, but had the whole day of excitement and joy ahead of us."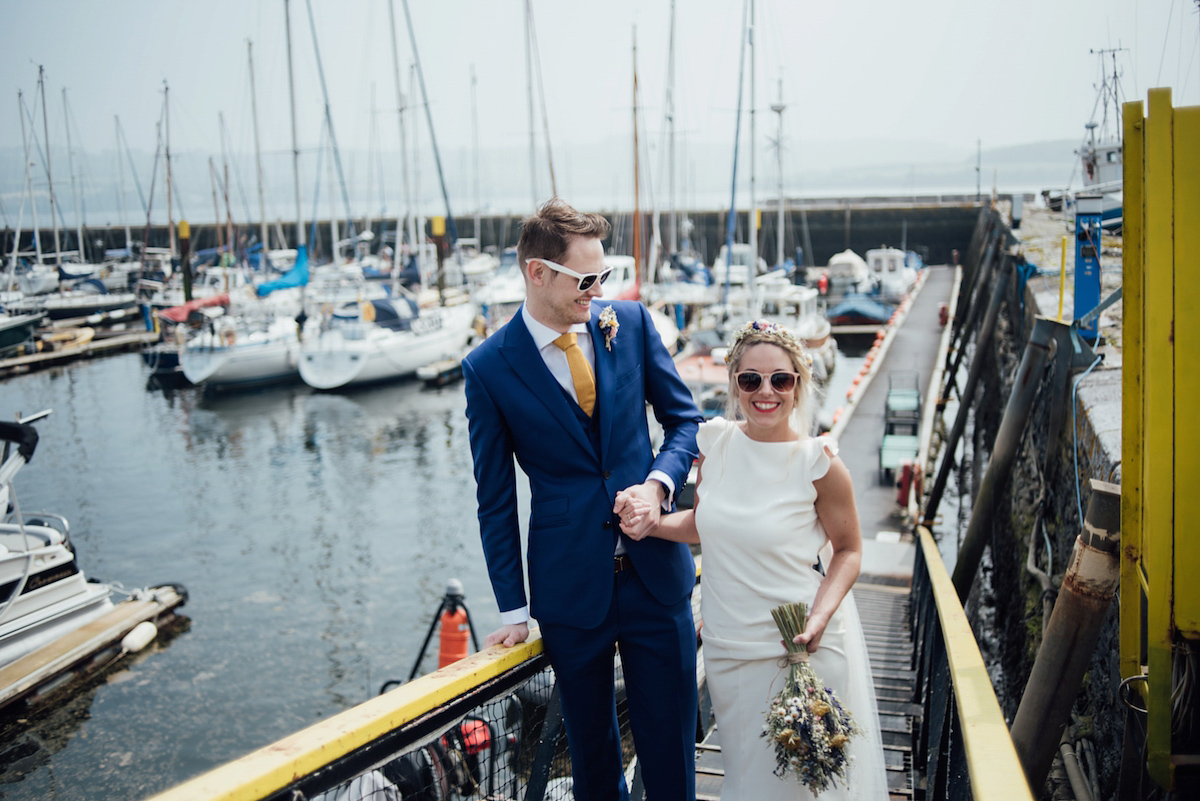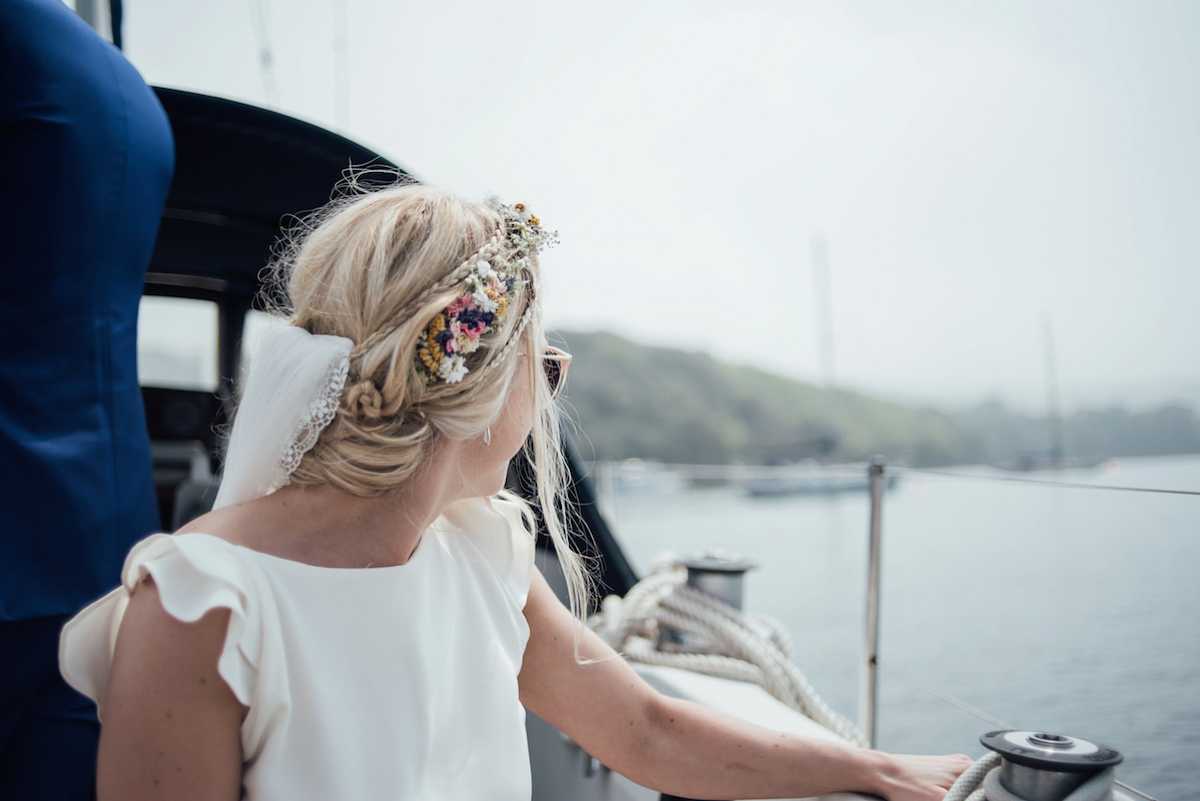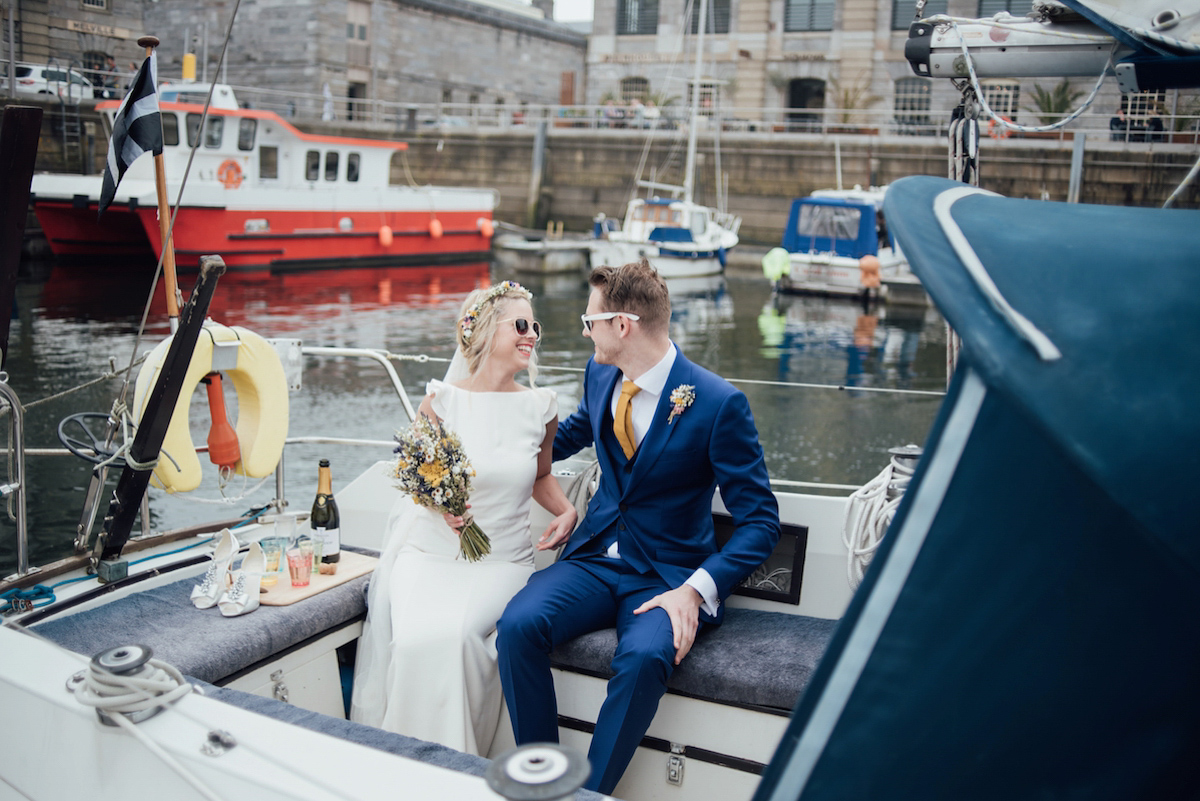 As she wore two dresses Mel also had two different pairs of shoes- the white pair (worn with Petal) were Jenny Packham from Debenhams  and the gold (worn with Belle) were from ASOS, as were her earrings.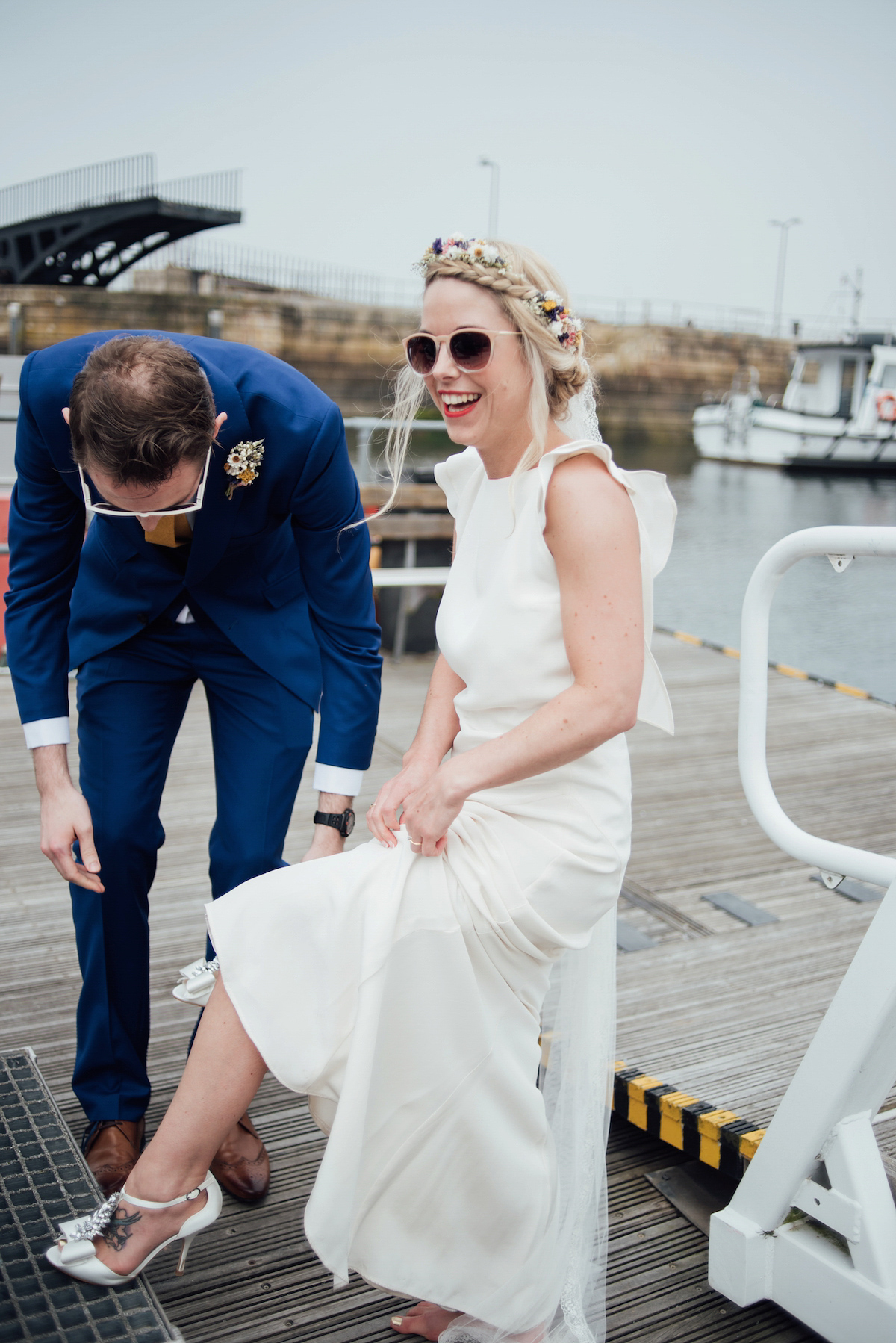 Her floor length veil was purchased from Pelican Rose Bride and with a squirt of Miss Dior she was ready to go.  Make up was the work of Ione Kutz, while hair was by Selina Pedrick (one of the bridesmaids).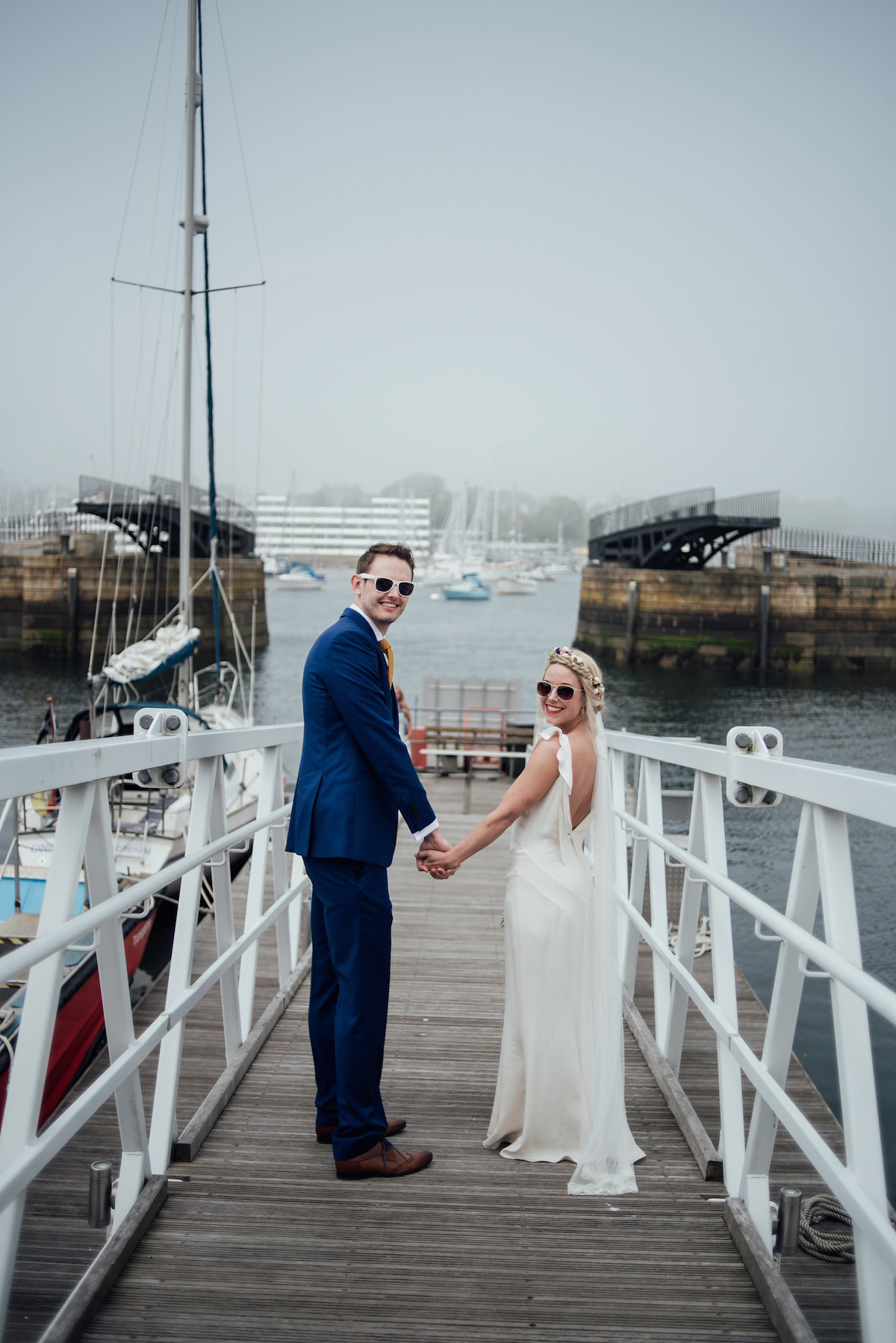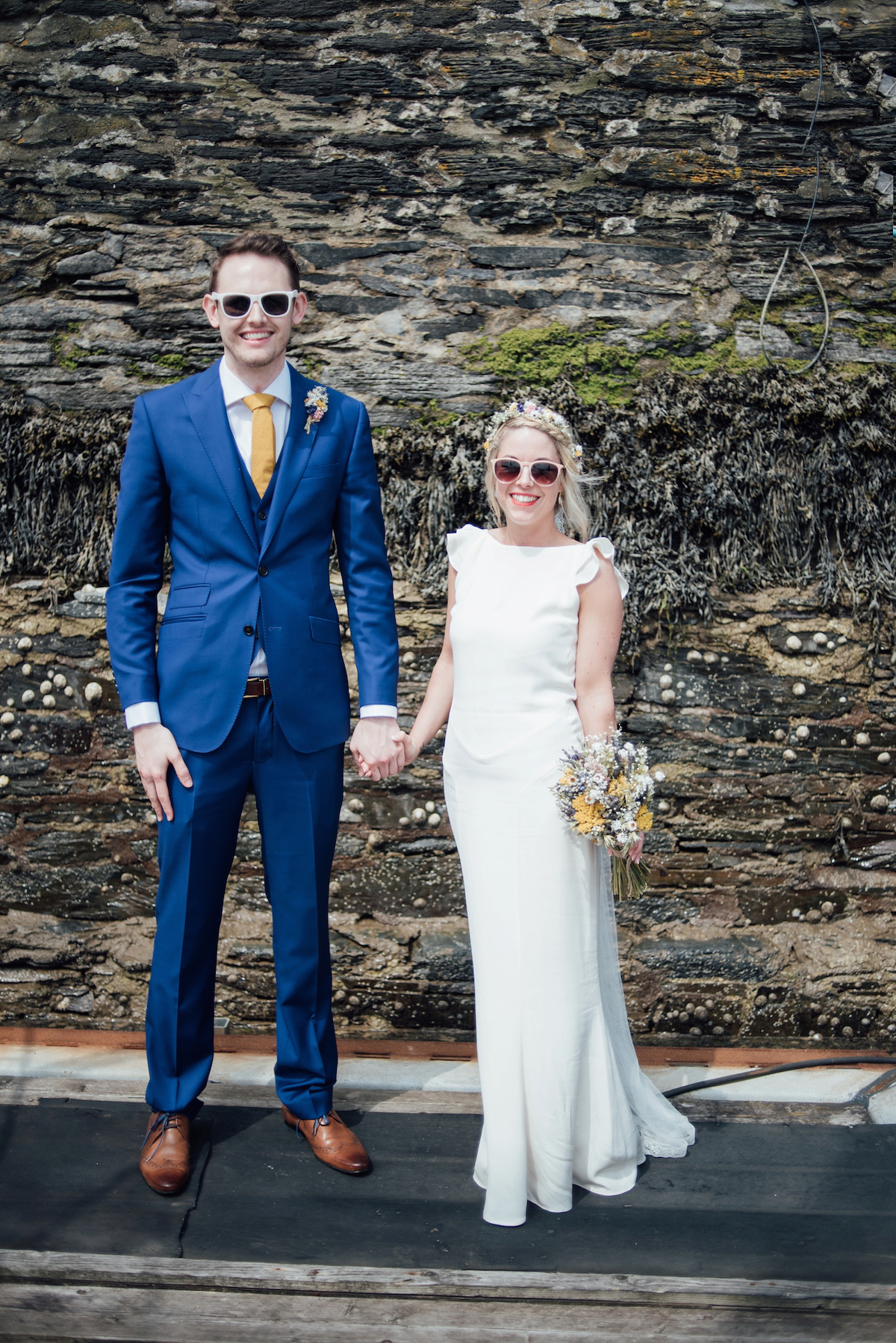 "Neither of us are religious so we decided to legally marry at the registry office earlier in the day and then hired Emma from BestDayEverSouthDevon to conduct a love ceremony in the garden of the village hall, which was much more about our marriage."
"We were able to personalise this ceremony so much and what we ended up with was so meaningful, cute and quirky; all of our guests commented on how beautiful it was."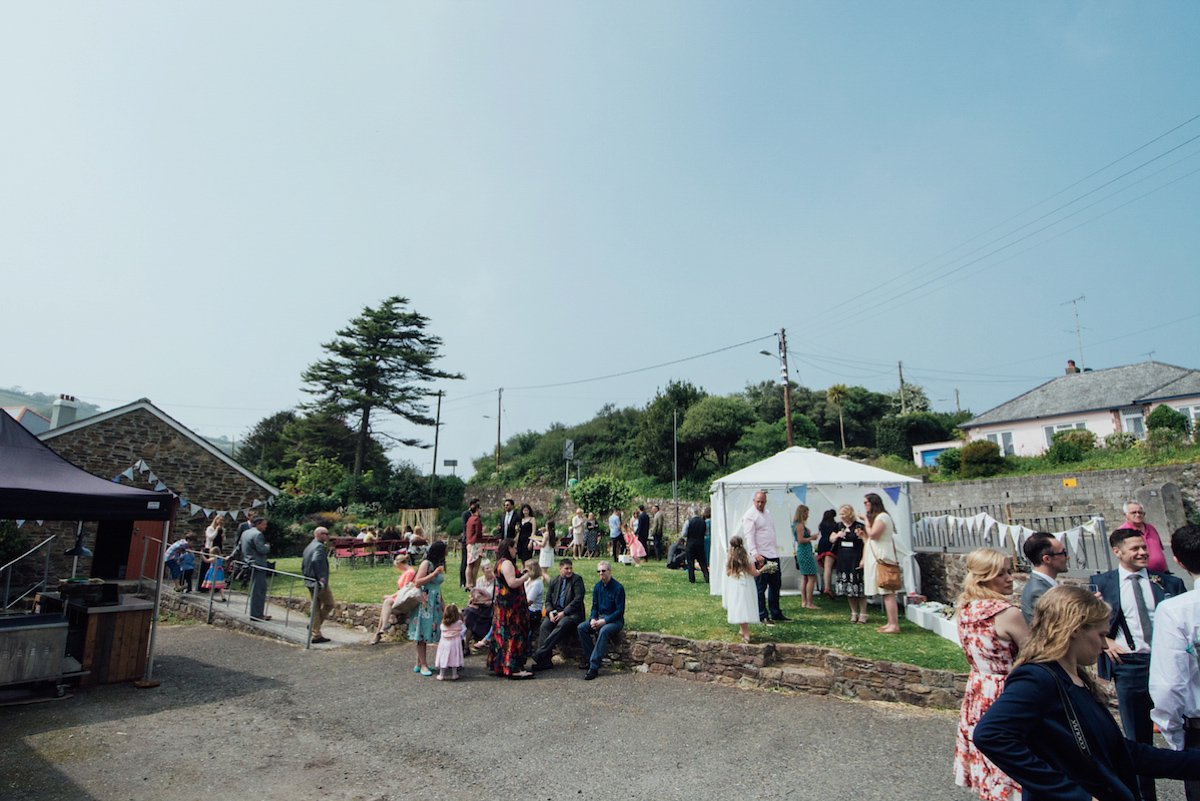 John looked dapper in a royal blue suit from Moss Bros, worn with a mustard tie from ASOS and shoes by Ted Baker while the bridesmaids looked lovely in 'Adelina' from Coast.  Mel's two daughters looked as beautiful as their mum in dresses by John Rocha at Debenhams with daisy chains in their hair.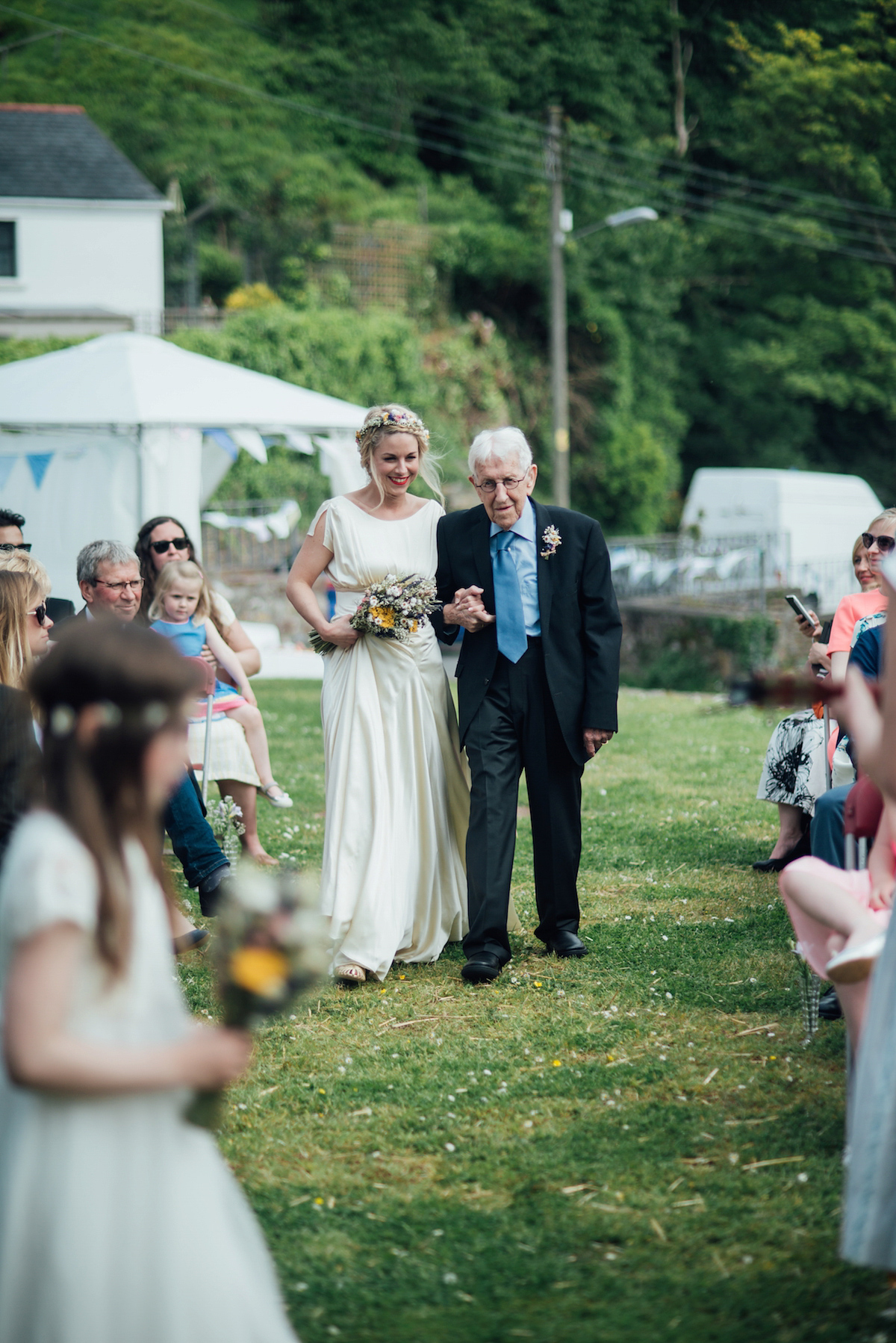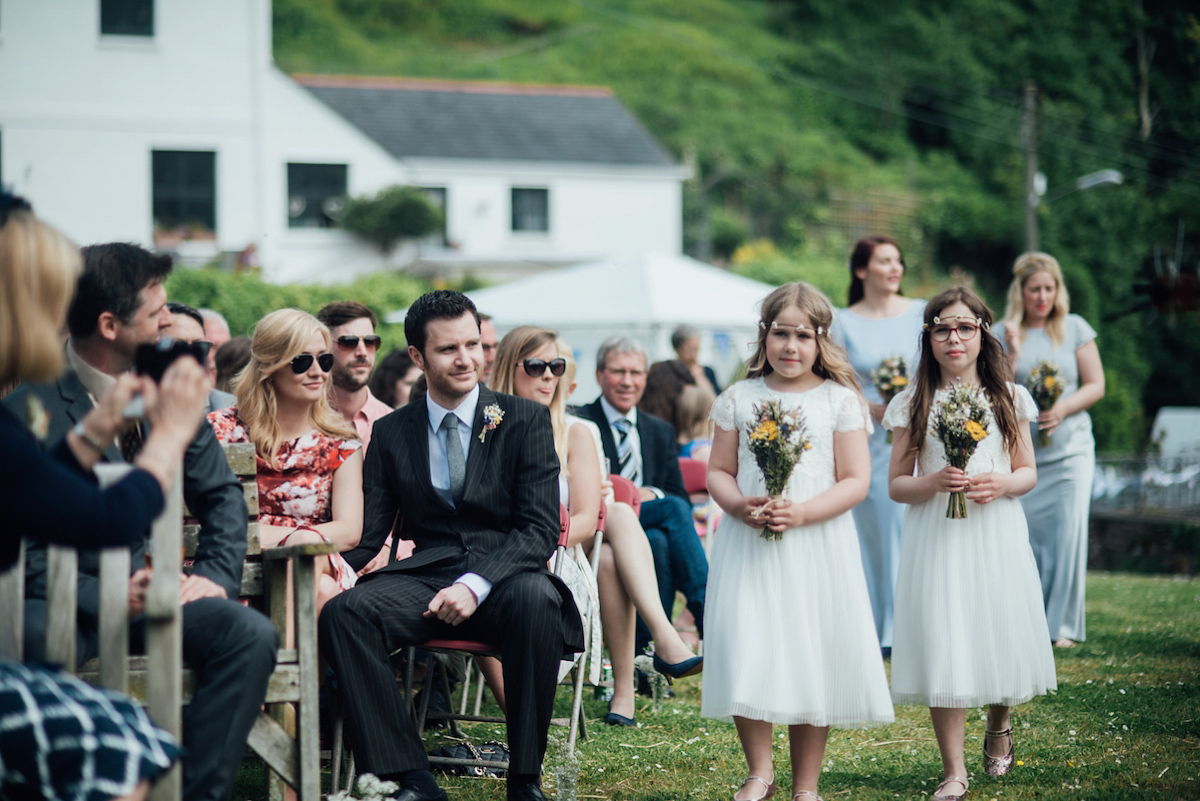 Mel was walked down the aisle by her grandfather to 'First day of my Life' played on the ukulele by the couple's friend Carolan. I had a lump in my throat reading about this.
"My dad passed away 4 years ago, so I decided to ask my Dutch Grandpa Opa if he would walk me down the aisle.  It was so special and it was amazing he came as he is 96 and almost blind.  He broke his leg last summer and was in hospital for quite a while but when he found out he was going to give me away he went to physio so that he could walk further."
"Our rings were from Drakes Jewellers.  We both wanted something understated as neither of us is very flashy. I went for a plain yellow gold band, while John went for brushed palladium.  We both have 'Mr & Mrs Downie 28/05/16' engraved on the inside."
"Our celebrant Emma from BestDayEverSouthDevon helped us with ideas for the ceremony. I actually found her through Love My Dress and she was such a worthwhile investment for the day."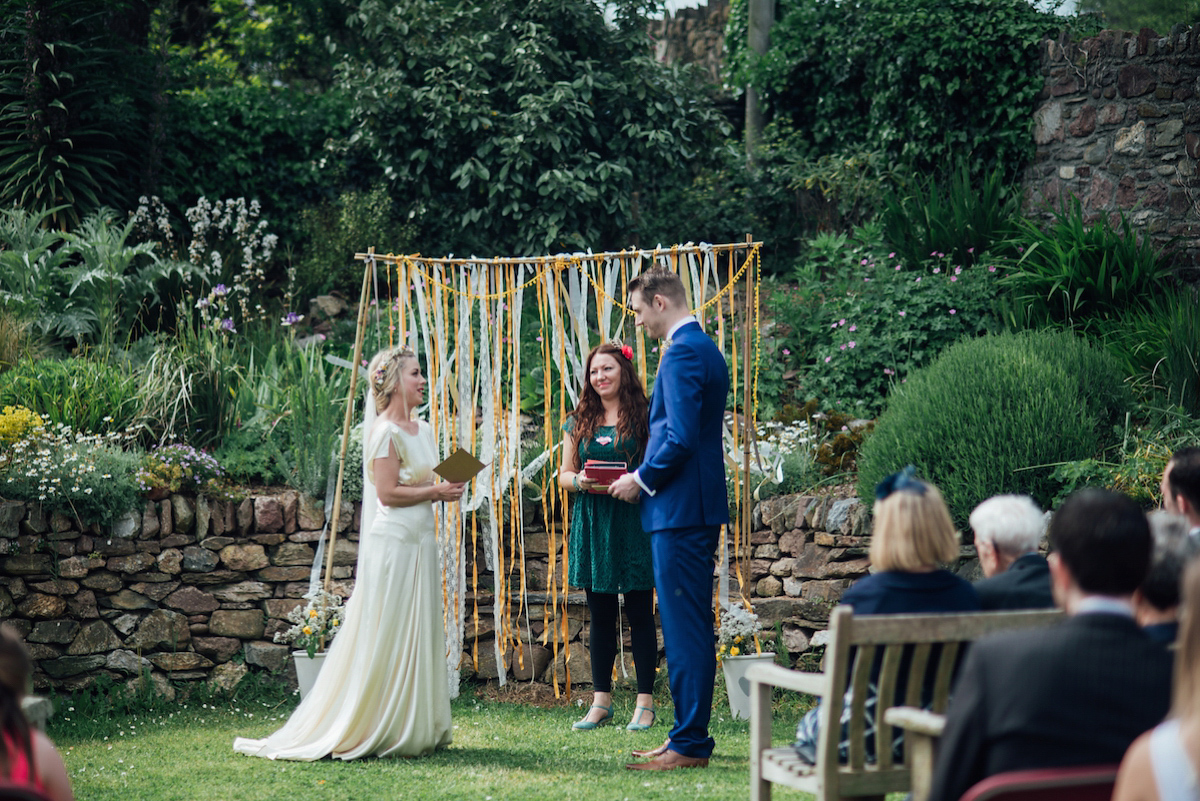 "We had a hand-fasting after the ring exchange and we also jumped the broom (an ancient pagan tradition that signifies sweeping away the old and jumping in to the new) as a family with the girls."
"The girls and I had decorated the broom with lace and flowers and had done a little blessing, more for fun than anything, but it felt like a nice thing to have done to bring us a love-filled marriage and family life."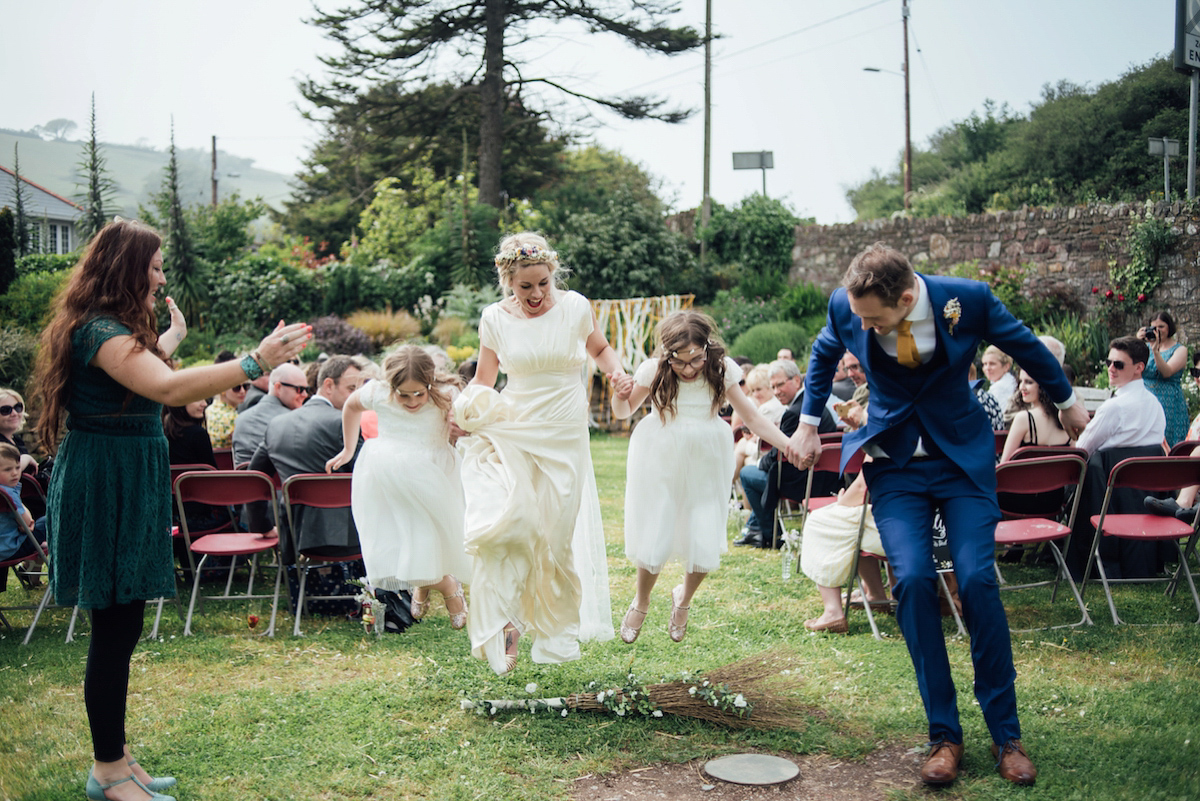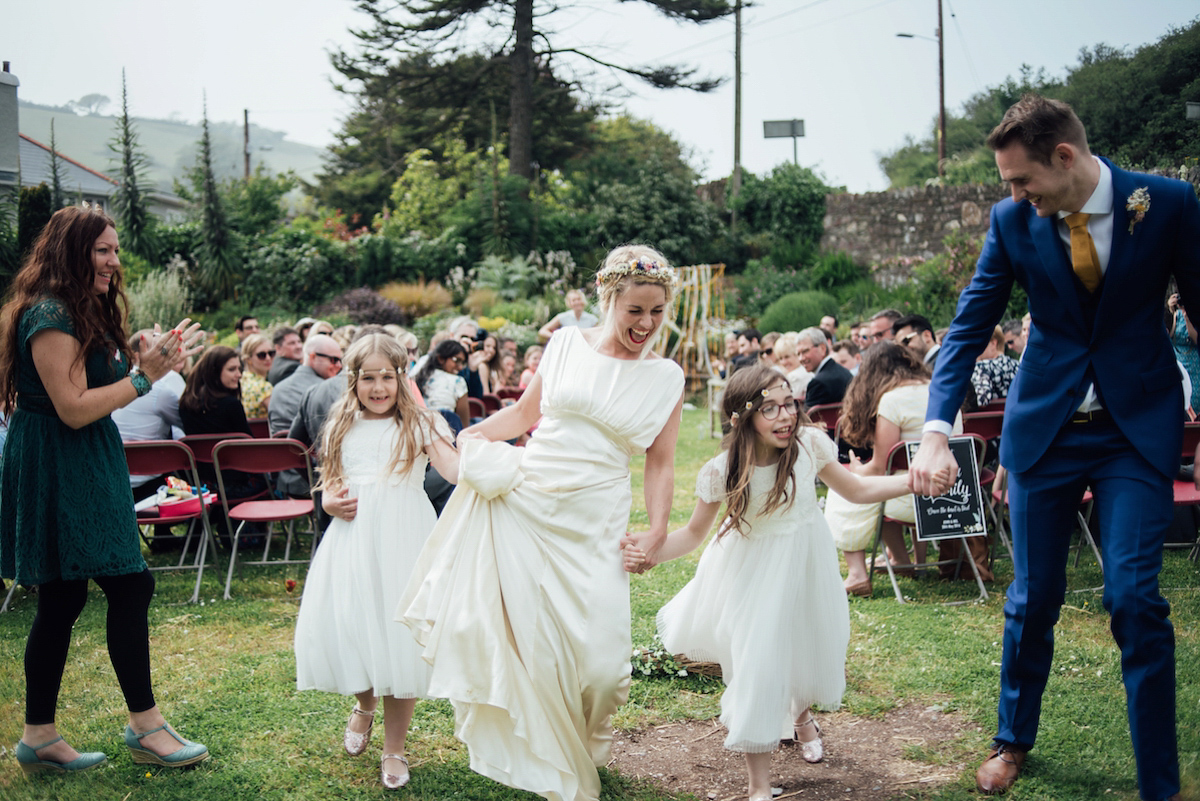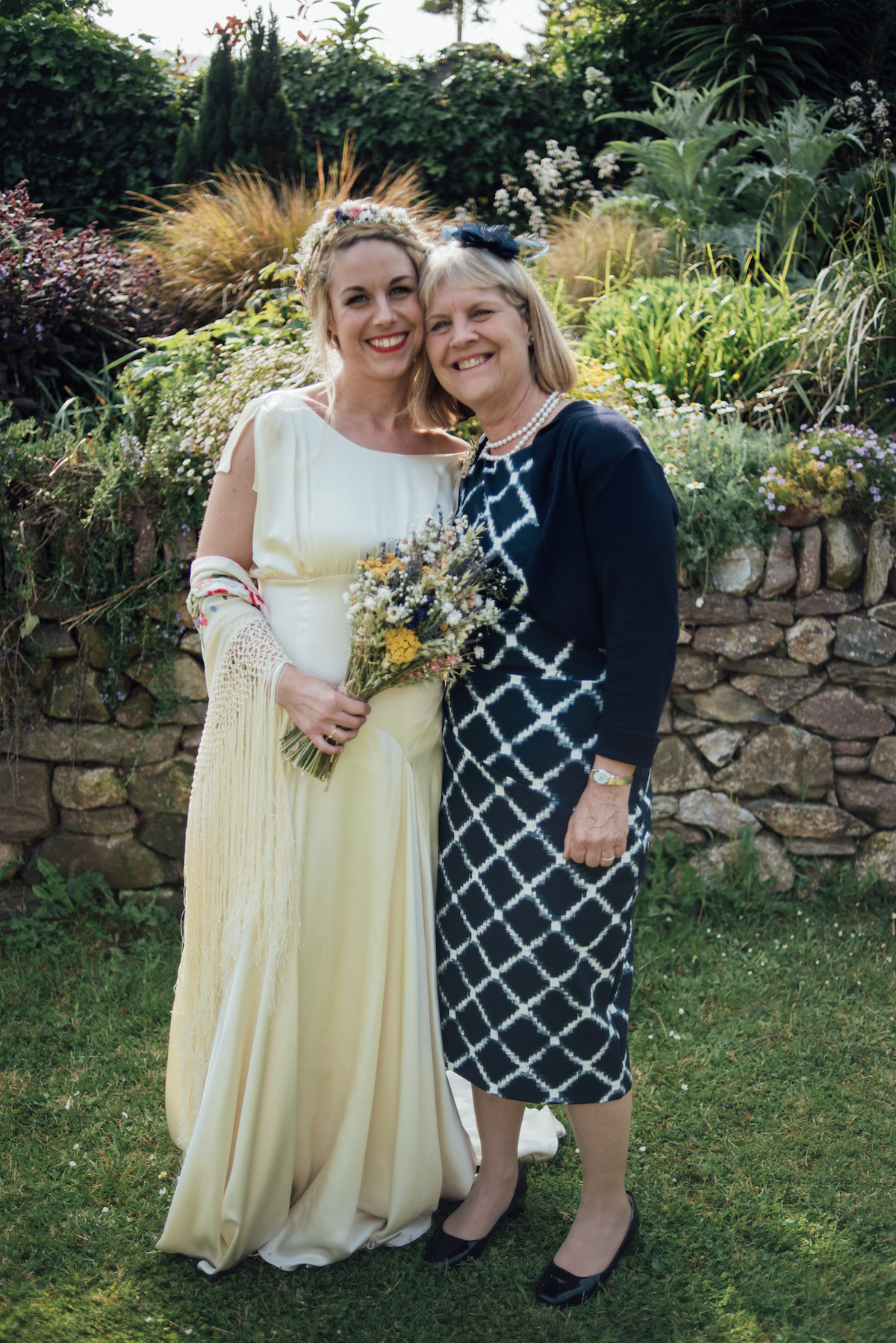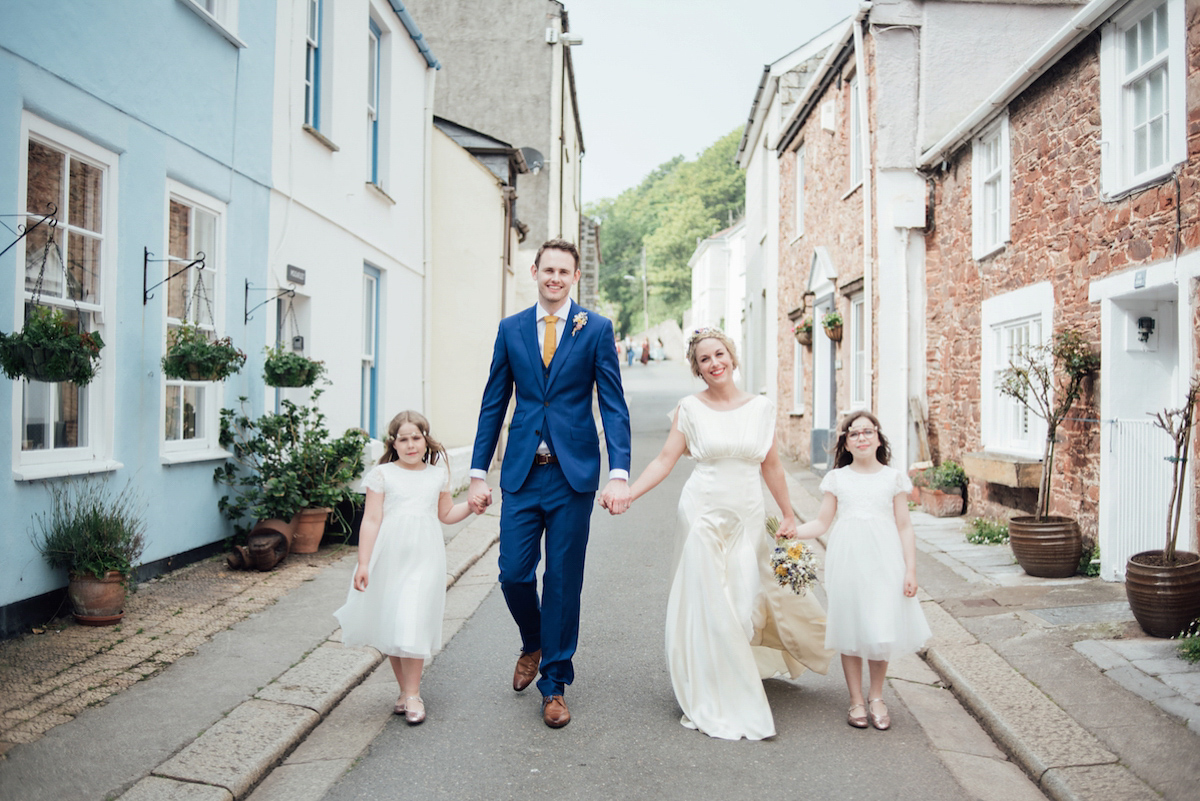 Today's light-filled images are the work of Amber of Liberty Pearl Photography.   Rather wonderfully, Amber married at this venue herself just a week before, which perhaps accounts for the extra personal nature these images project…
"Amber was absolutely amazing; she captured the real essence of the day and was really unobtrusive, allowing us to chat and mingle with our guests.  She was wonderful with my little girls and we are overjoyed with the images she captured; they really will be treasured forever."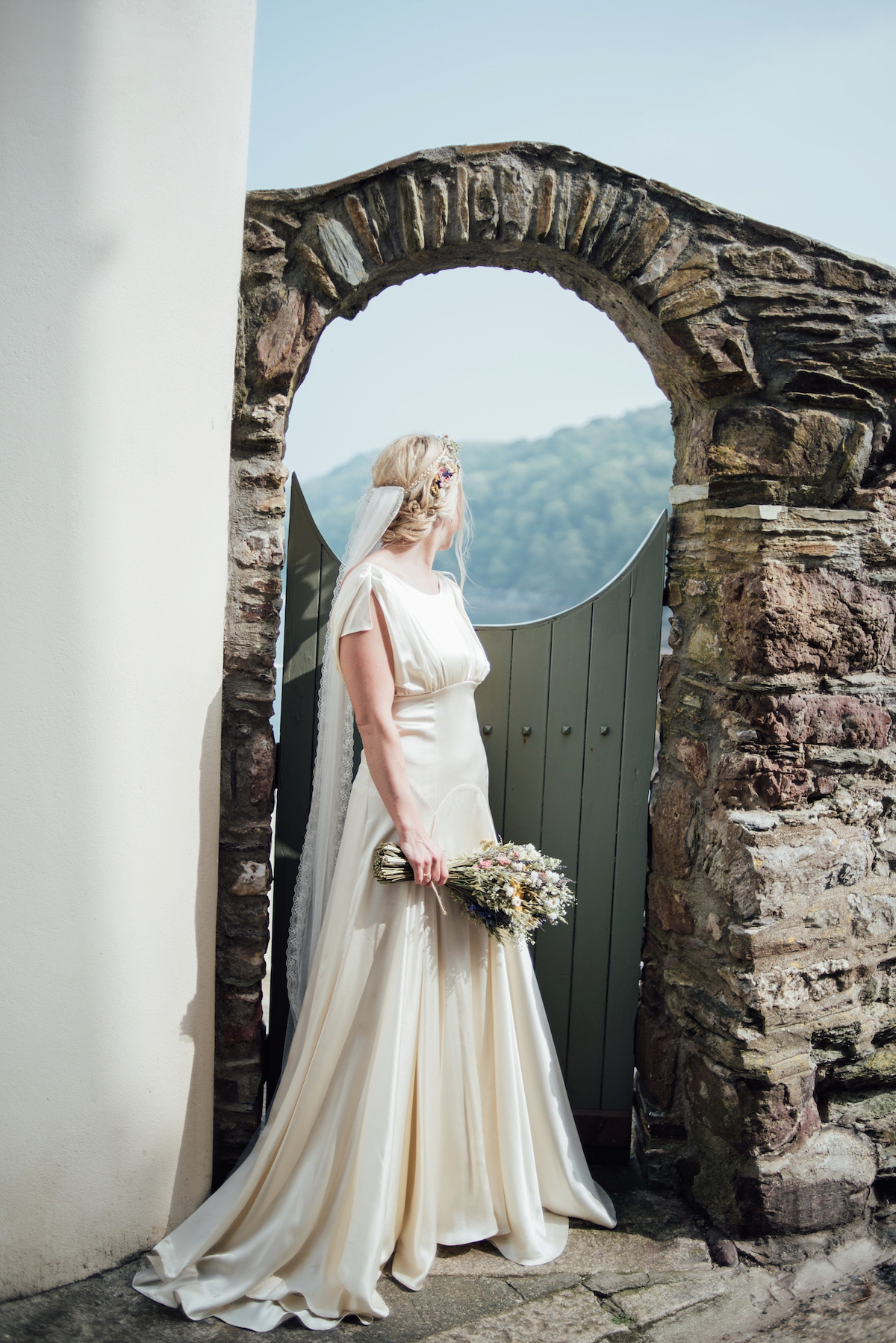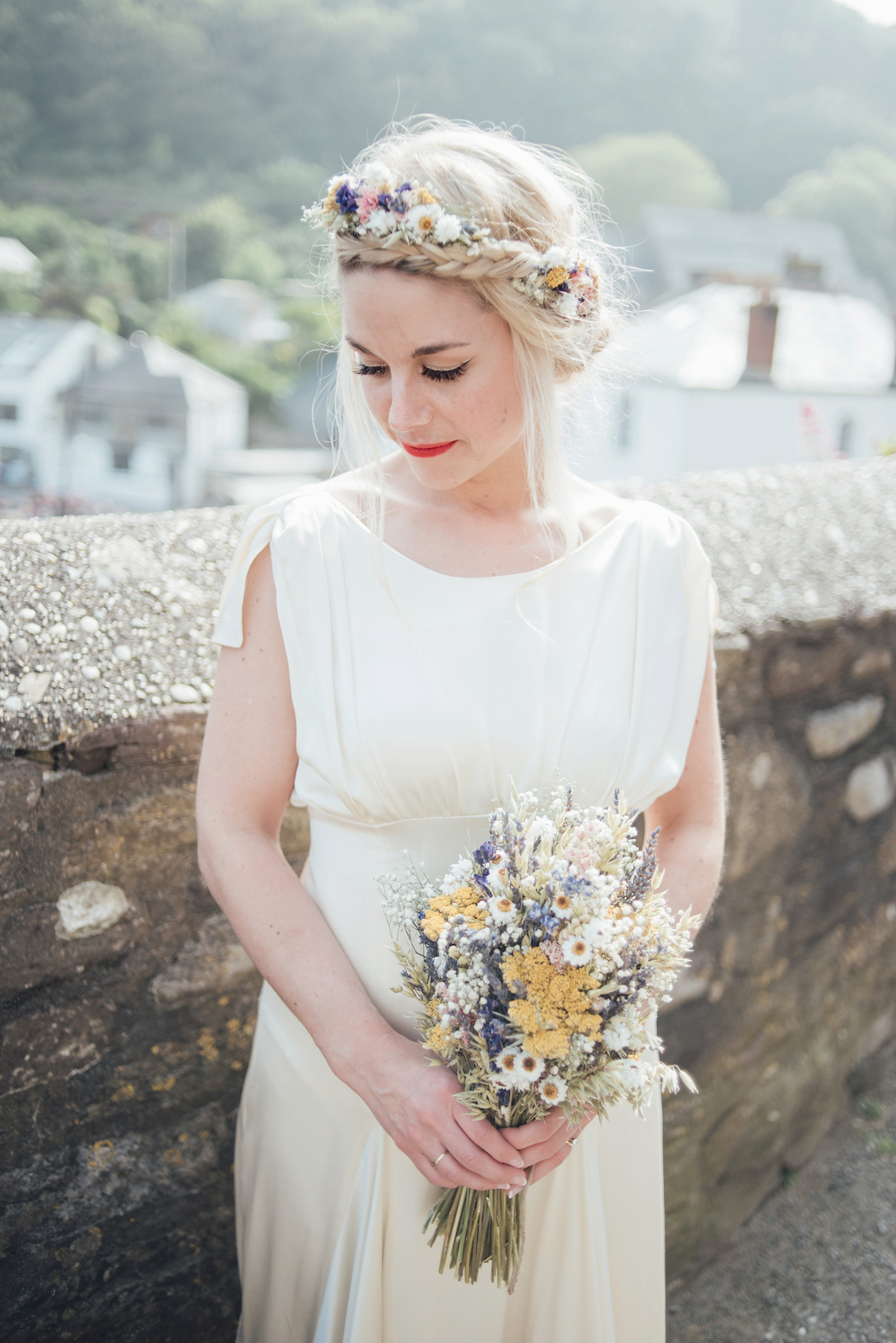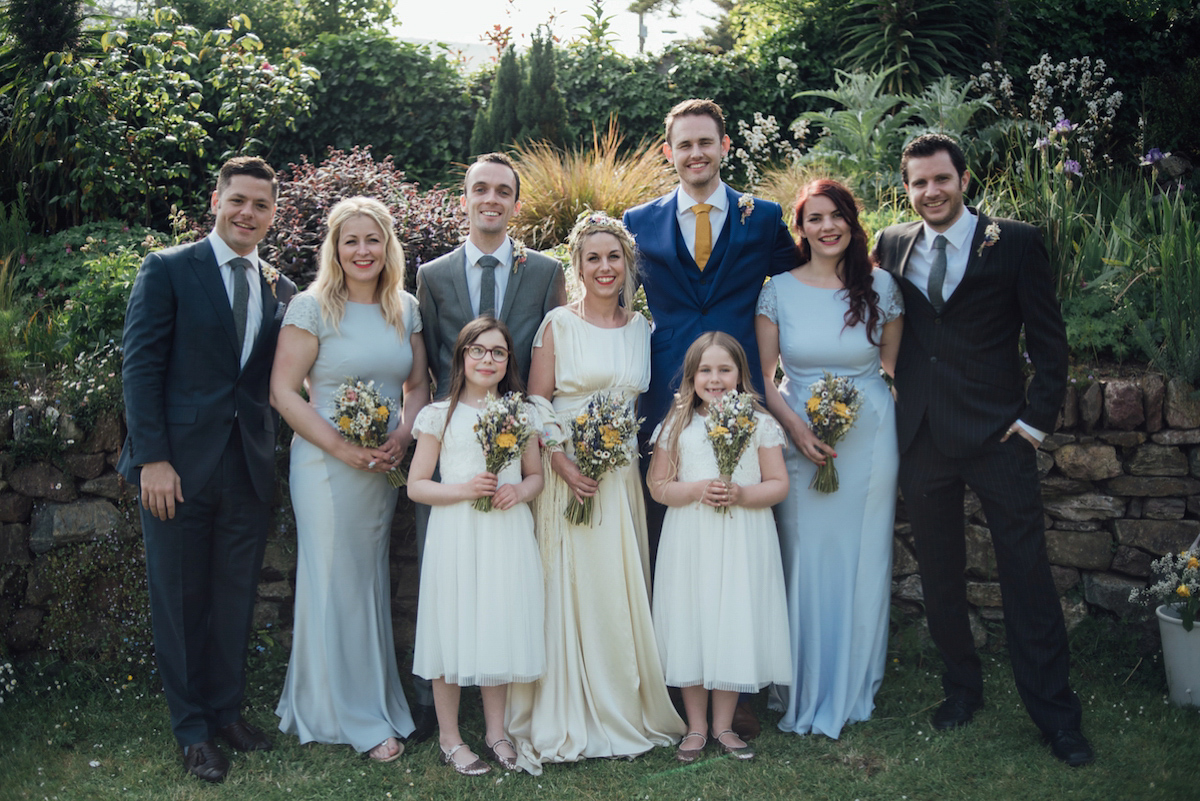 Catering was the work of The Pig Apple Hog Roast– perfect for a laid back feel.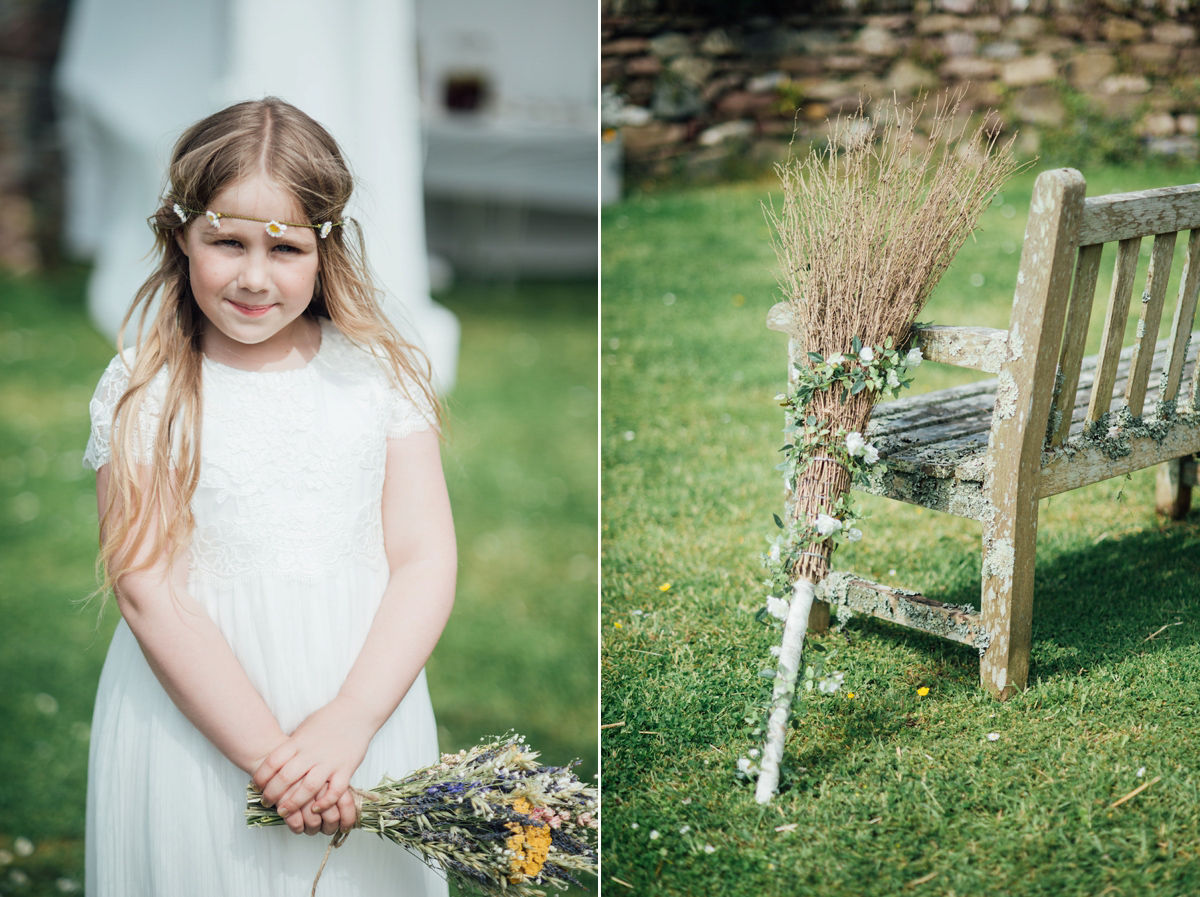 "All the décor was DIY.  We bought three hundred metres of fairy lights and strung them across the hall in swags before hanging yellow, grey and ivory paper pom poms from them. My sister in law loaned bunting that she made for her own wedding so we strung that up outside everywhere and I made a wedding arbour with bamboo and loads of ribbons."
"It was a lot of work but the overall feel was exactly what we wanted.  I wanted it to feel homemade and because of that it really didn't matter if things weren't perfect."
"For entertainment we had a traditional Ceilidh with a caller, provided by The Brim Music.  All our guests had such a fun time; everyone was dancing until the band had to pack away."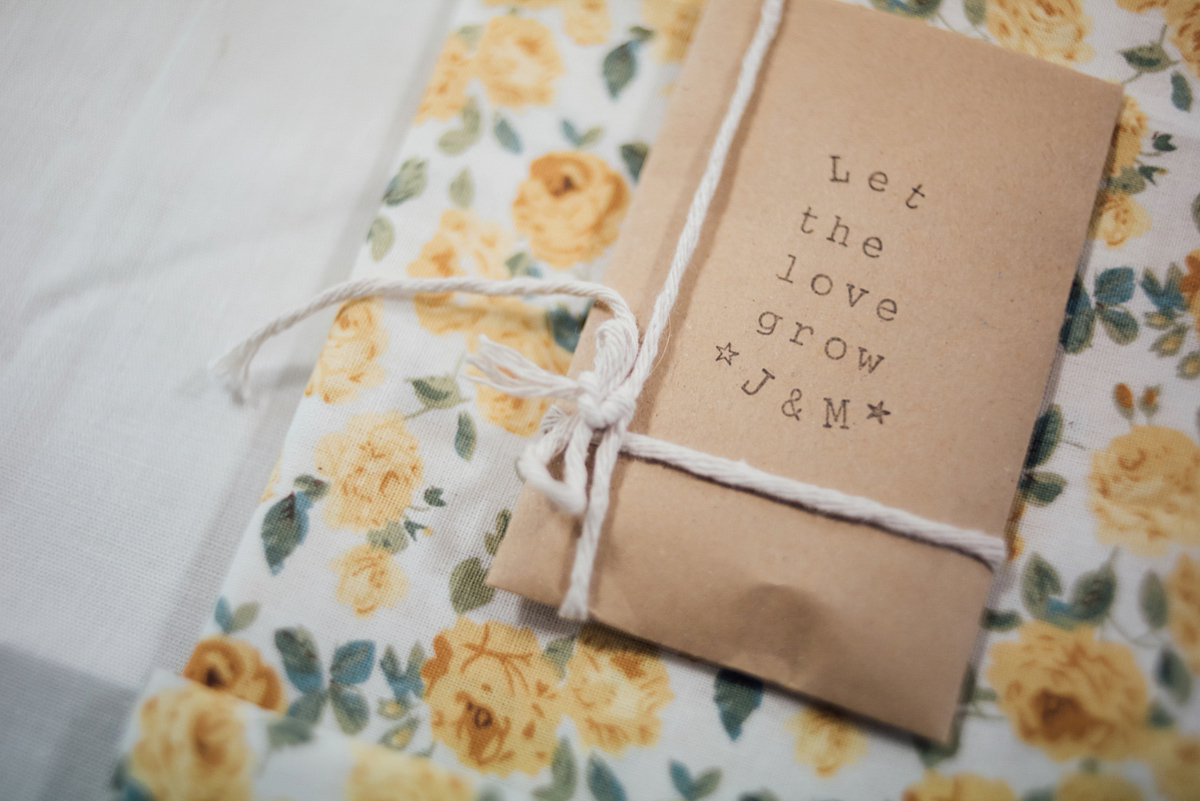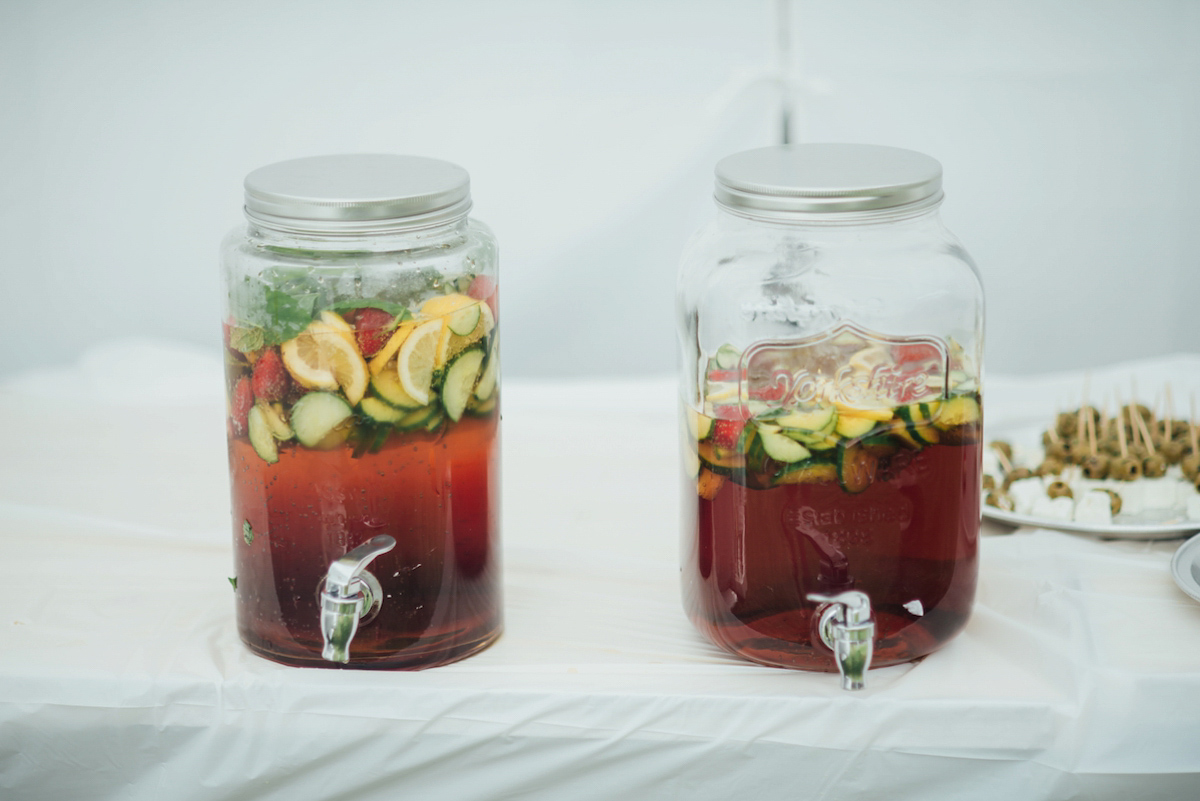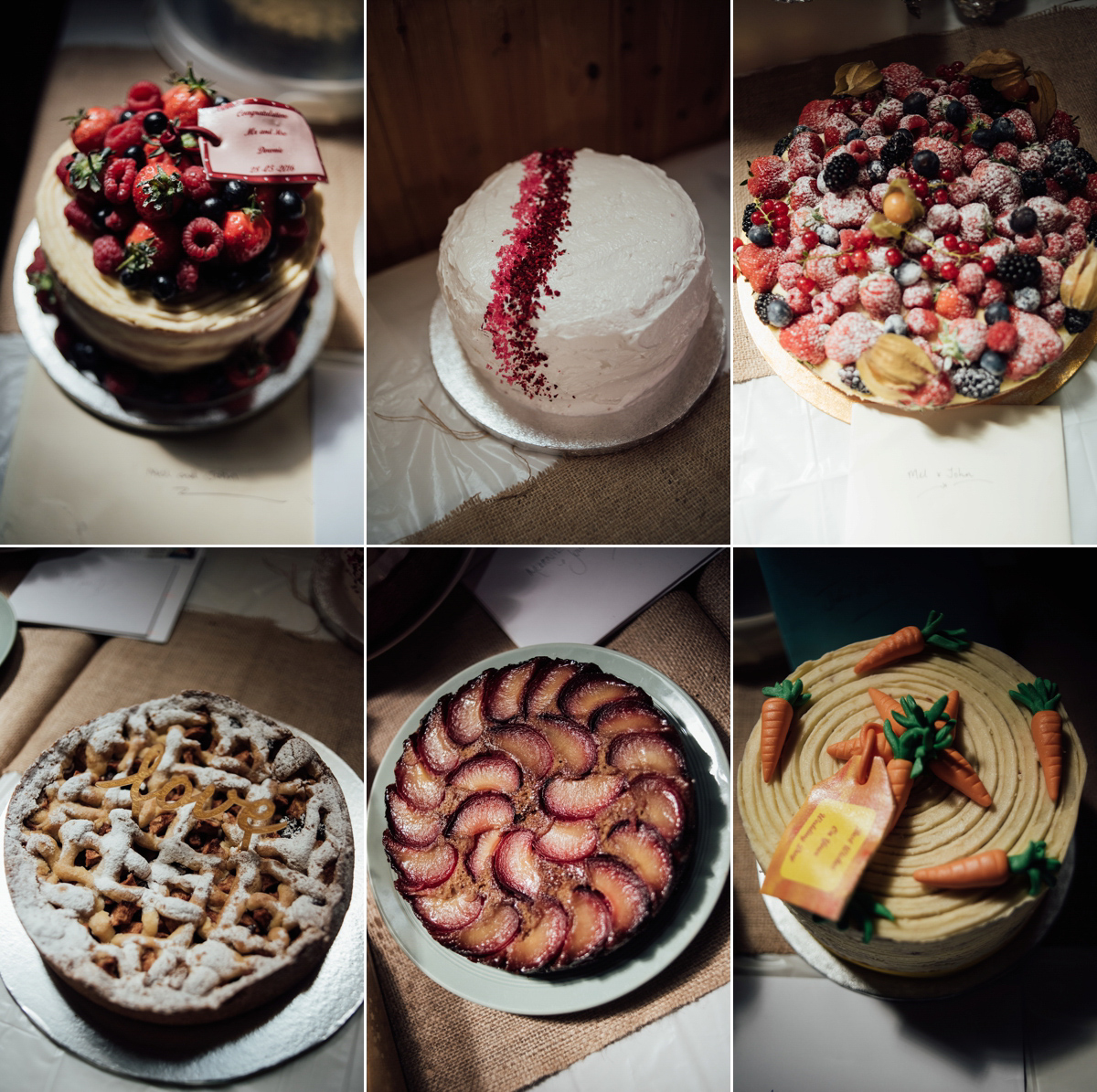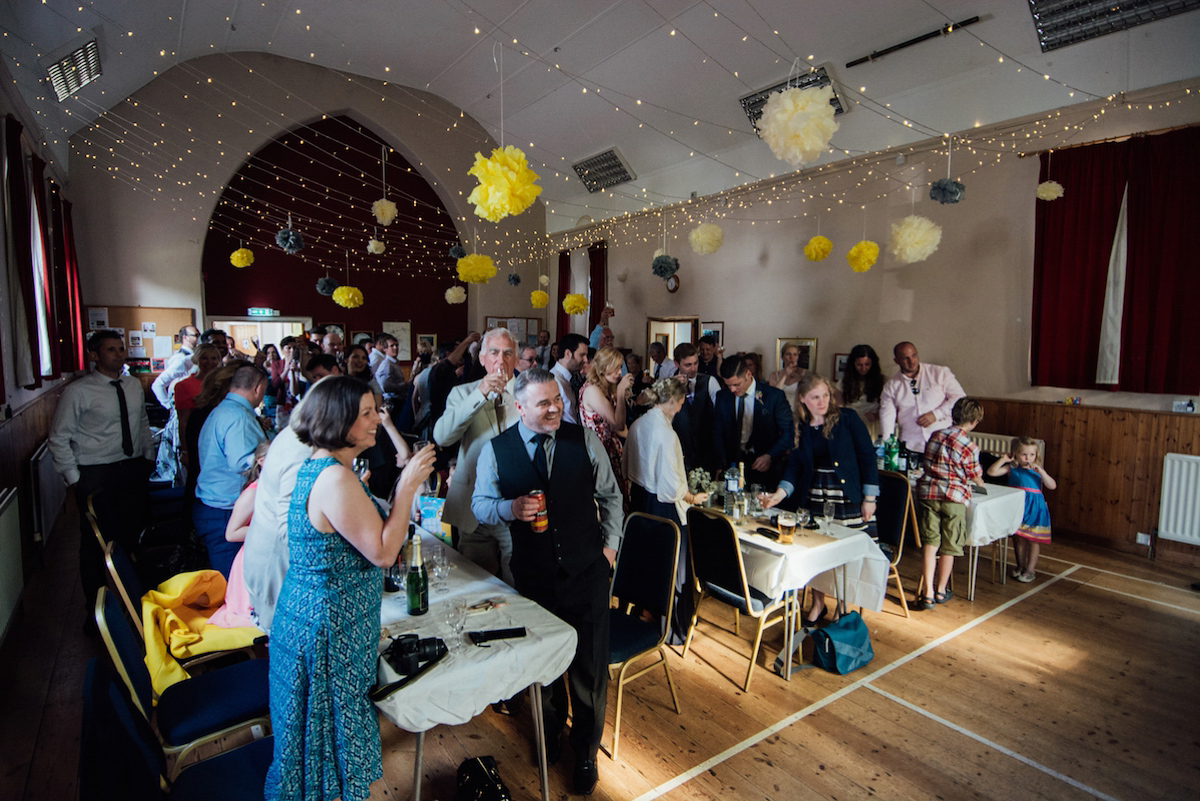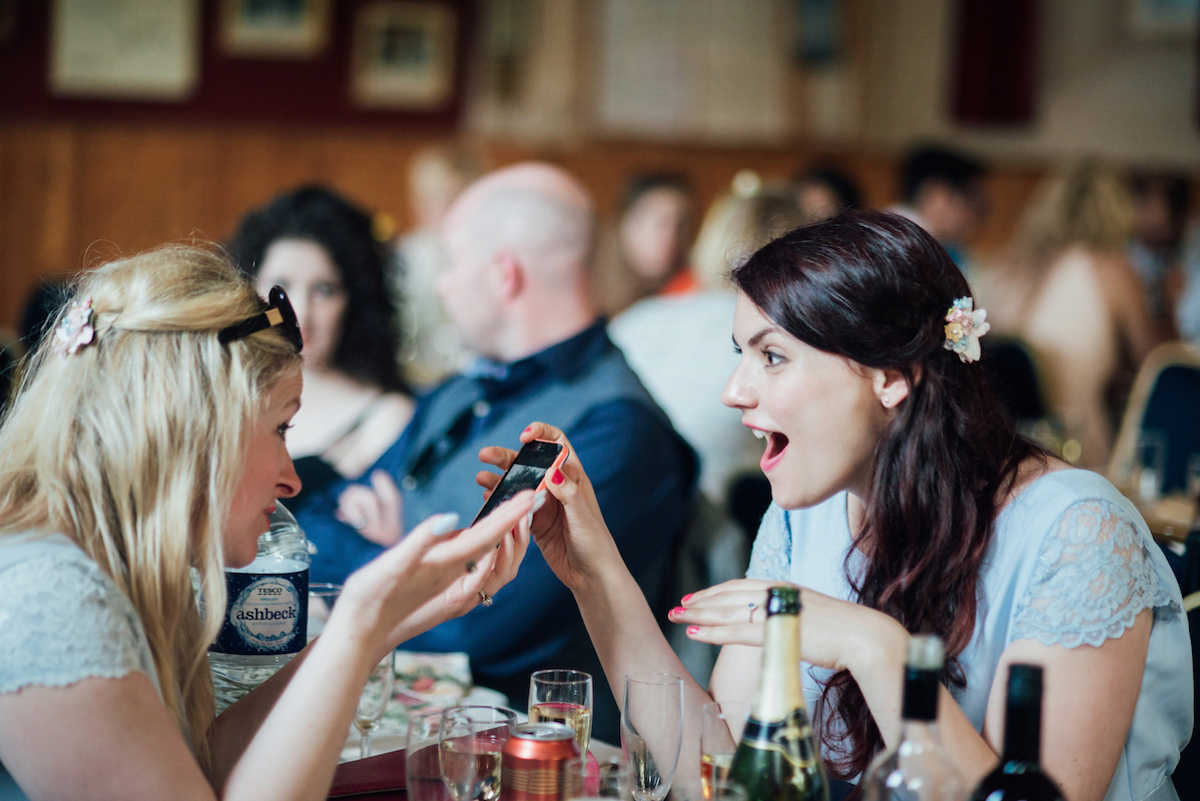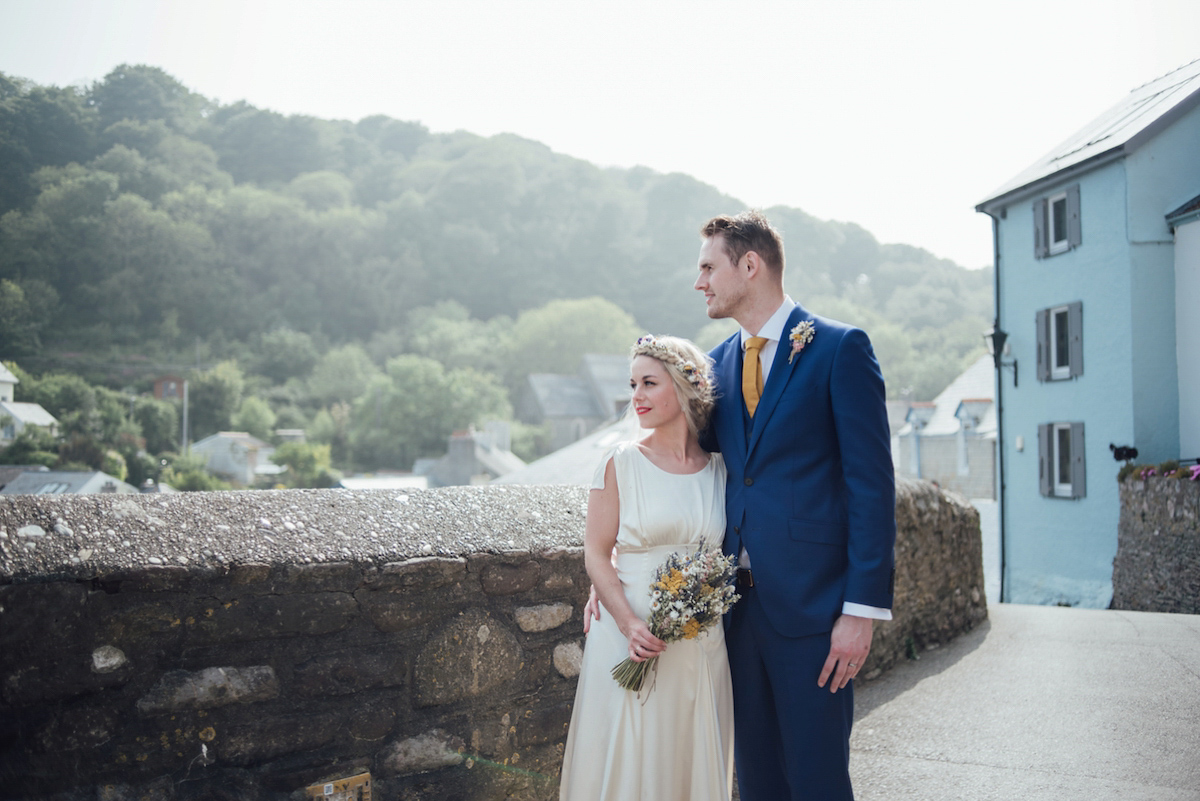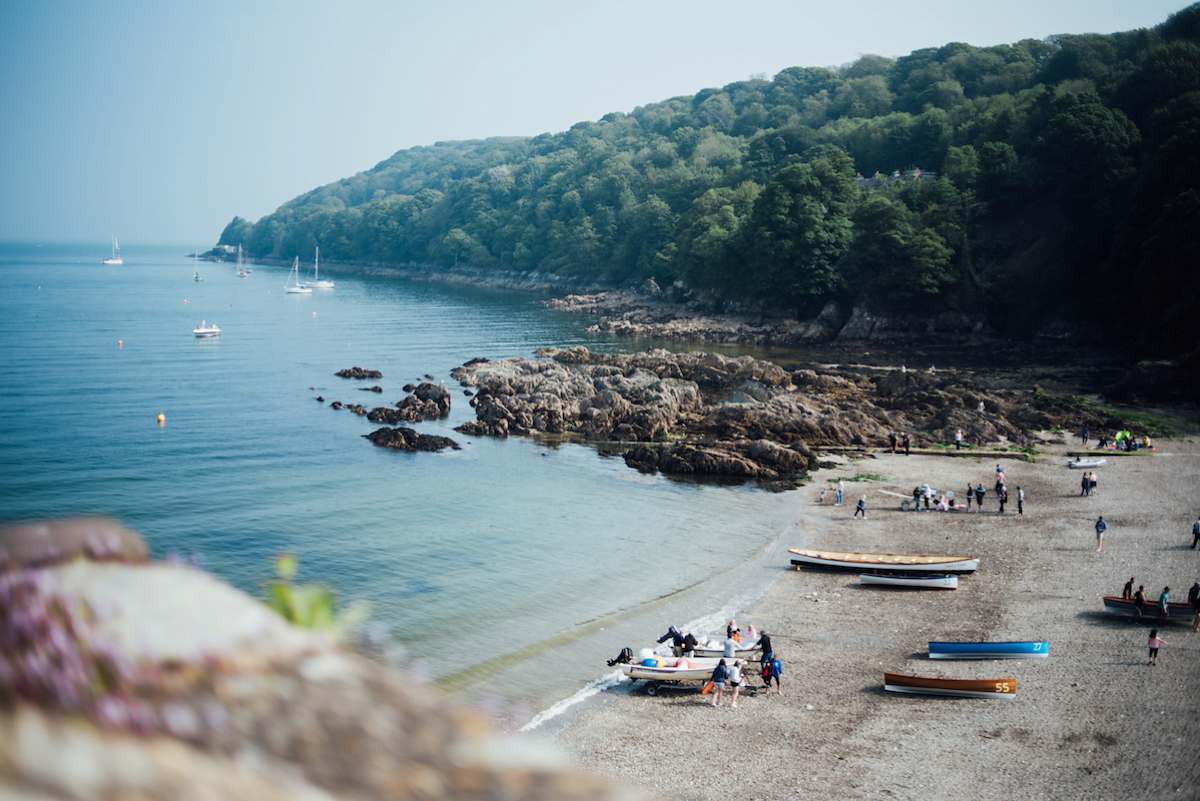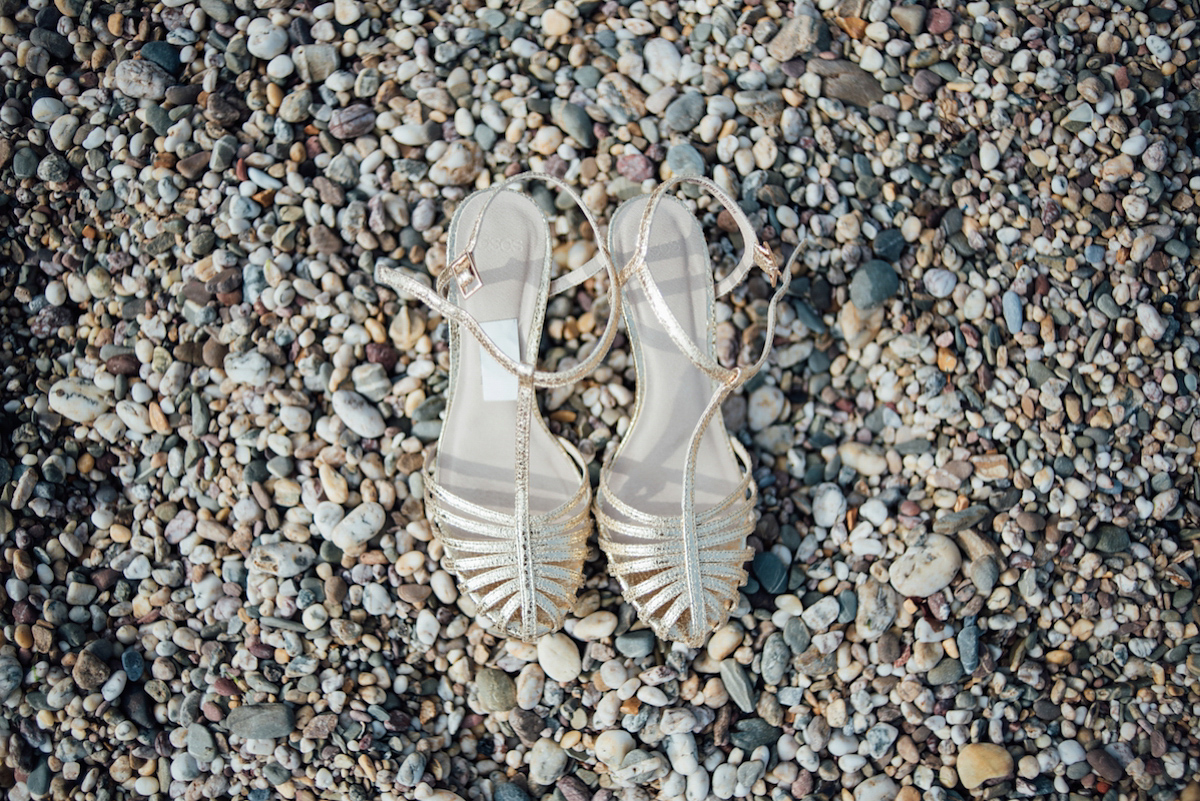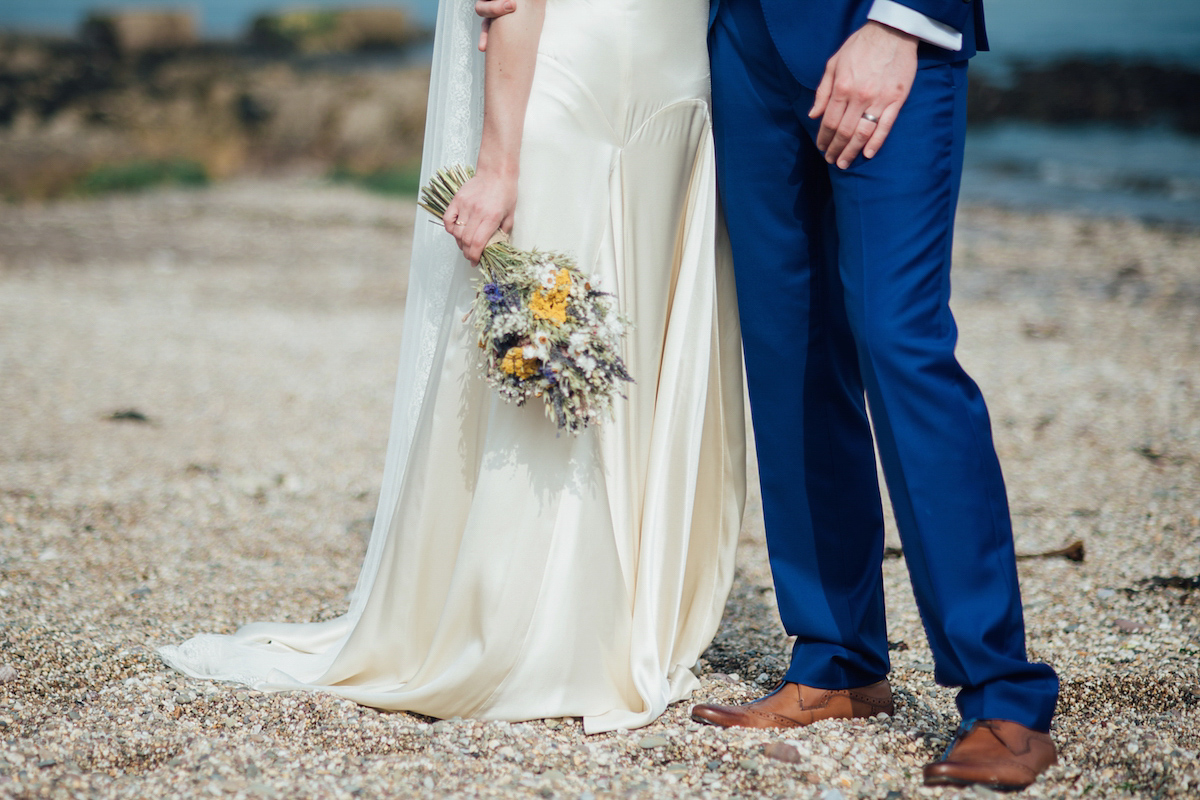 Words of Wedded Wisdom
"Don't get bogged down by perfection; part of the charm of a DIY wedding is that nothing is perfect.  I promised myself that I didn't want to get stressed about it at all because I wanted it to be something built with love.
Most of all if you can manage to find an hour in the day with your new husband then do it.  The day whizzes by in a blur but try and find a snippet of time for just the two of you."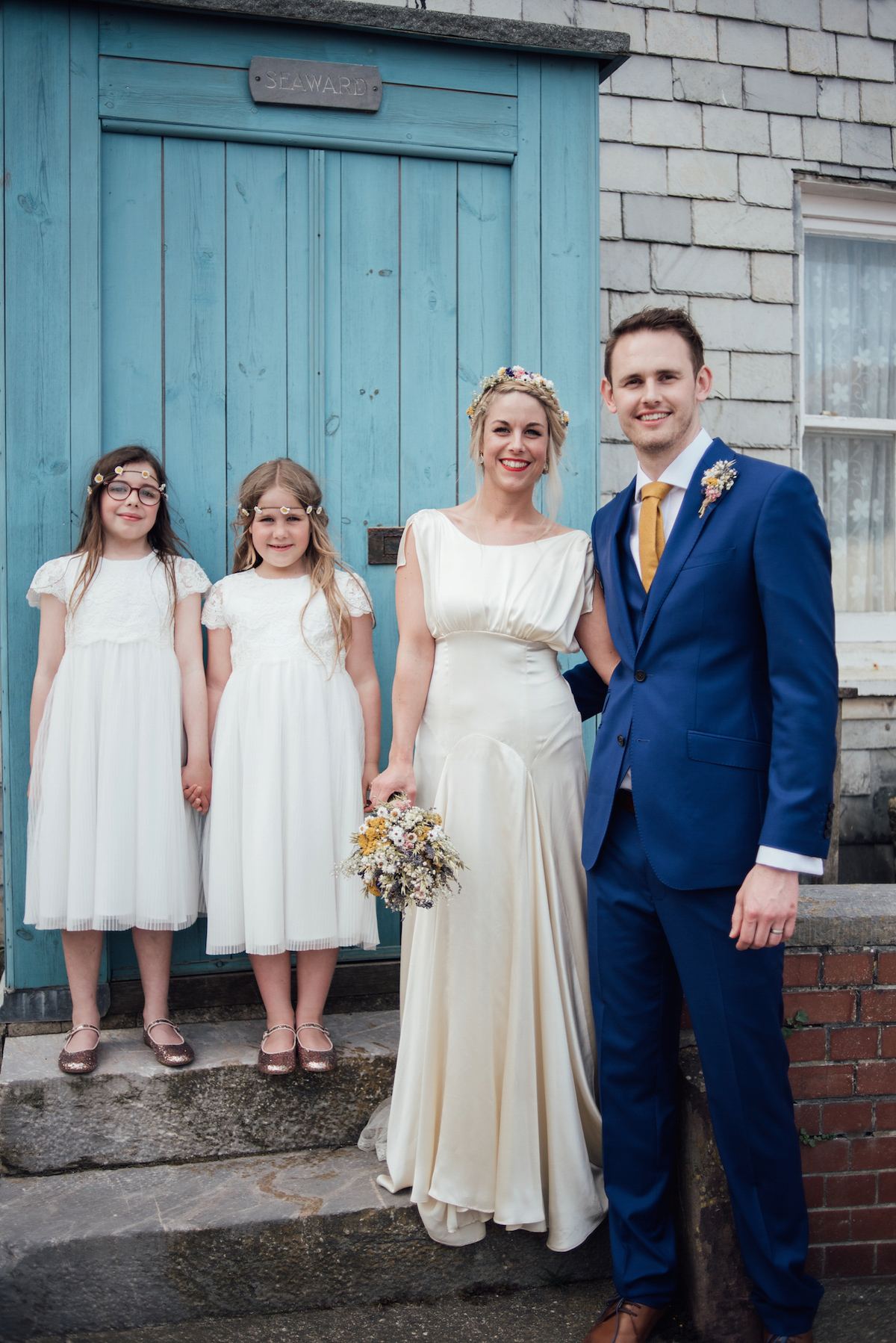 Thank you so much to Amber of Liberty Pearl Photography for sharing these pictures and huge congratulations to Mel and John- its been a pleasure to be allowed a glimpse into your gorgeous day.  Are you considering a Belle and Bunty gown?  Take a peek here for some more inspiration.
Much love,
Shona x