Happy Monday lovelies, I'm back to earth with a resounding bump after a week of camping at Lake Garda and wedding planning in my fiancé's little Tuscan village. Hope glimmers on the horizon however, because in a few short days we'll be hiring a car and undertaking a road trip to Cornwall for the wedding celebrations of one very special couple. Can you believe Emily B and her bearded beau get married this weekend!? And speaking of things I'm just a *tiny* bit excited about, I can't begin to tell you how impatiently I've been waiting to share today's beautifully bohemian wedding with you. The gorgeous bride, Alice, an editor at medical publisher Taylor & Francis, wed her husband Pete, who works in digital marketing at Comic Relief, on 18th June this year in the stunning surroundings of a 16th Century Manor House in South Devon.
I actually had the pleasure of meeting this lovely bride before her big day. Alice and I met, both flying solo, at A Most Curious Wedding Fair in Shoreditch early this year. We were both hunting for flower crown inspiration and naturally got chatting, quickly progressing to snapping photos of each other bedecked in increasingly blousy blooms while admiring photos of Alice's delicate green lace wedding dress. I knew then she'd be a truly unique bride and I'm super honoured to be sharing this awesome lady's nuptials with you all, especially as these beautiful images are the work of one of our Little Book for Brides suppliers, the wonderful Richard Skins Photography.
"In all honesty, while our 'theme' was guided to some extent by my green lace boho dress, I think a year of reading Love My Dress subconsciously made me fall in love with the idea of a wild, woodland bohemian wedding. Those were the weddings I really felt drawn to – the unstructured, informal vibe of a countryside ceremony and party. Plus I grew up surrounded by the wilderness of the South Devon woods and moors, so it felt like coming home."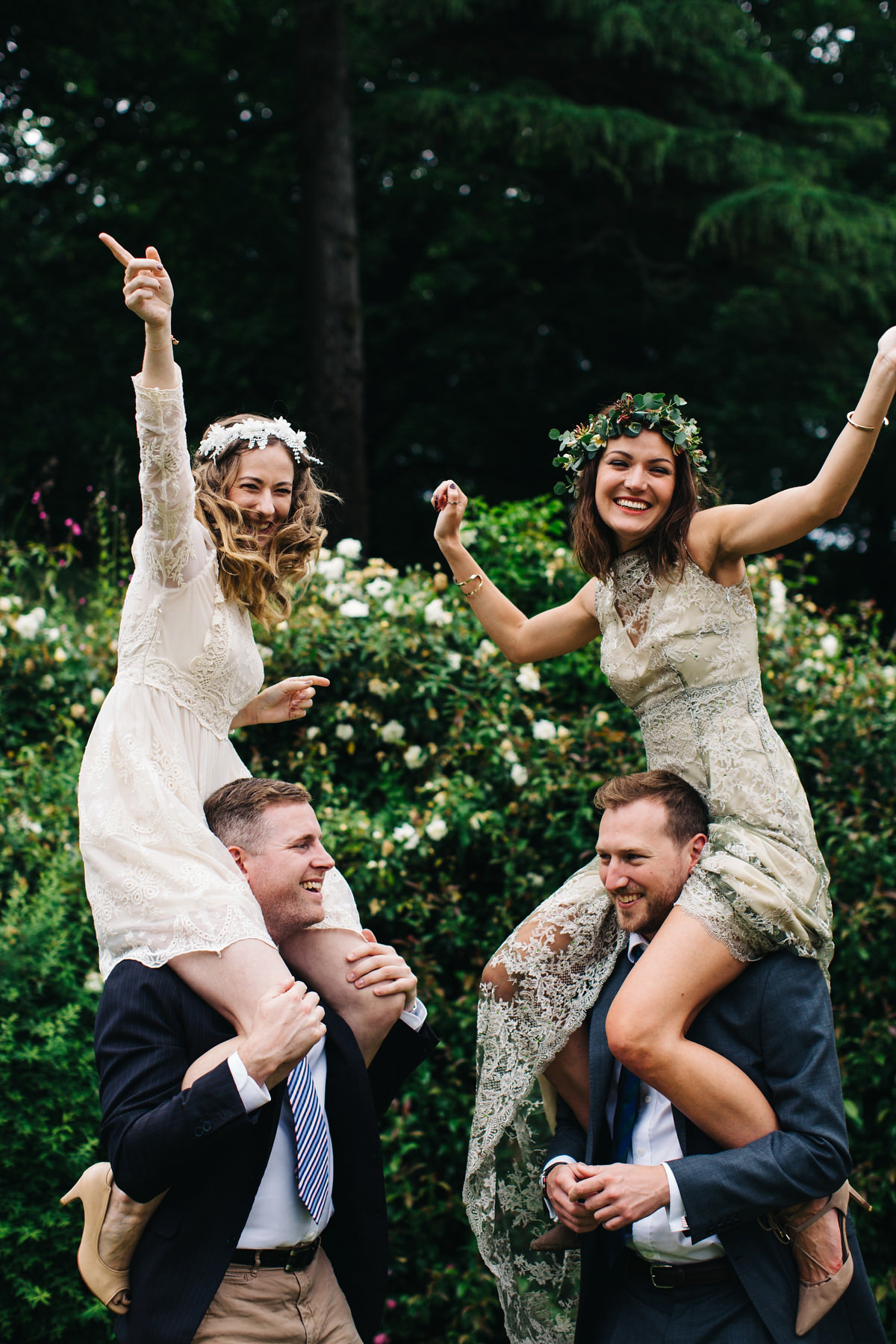 Langdon Court looks absolutely stunning and the pagoda where Alice and Pete became man and wife, dripping with foliage and vibrant foxtail lilies, is just heavenly. At first the couple were torn between getting married in London, where they've always lived together, or tying the knot in Devon where Alice grew up.
"Pete's an Essex boy but we abandoned the idea of getting wed on Southend Pier fairly promptly! After a lot of traipsing round artsy Hackney venues, we enlisted my dad to escort us on a tour of eight old South Devon country hotels and quickly realised a rustic venue was right for us. In fact, we ended up choosing the very first venue we saw (sorry Dad!)"
"Set in stunning woodland surroundings with a pagoda overlooking a vineyard and beautiful Jacobean gardens, the shabby chic grandeur of Langdon Court ticked all the boxes. And when we returned for our wedding tasting the following winter, we knew we'd made the right decision – the food was incredible (the highlight being the Guinness cake, which I abandoned all pre-wedding diets to finish).
The venue wasn't only dog-friendly but also really accommodating in other ways, even letting us set up a Tardis photobooth in the bar (totally in keeping with the woodland boho vibe)."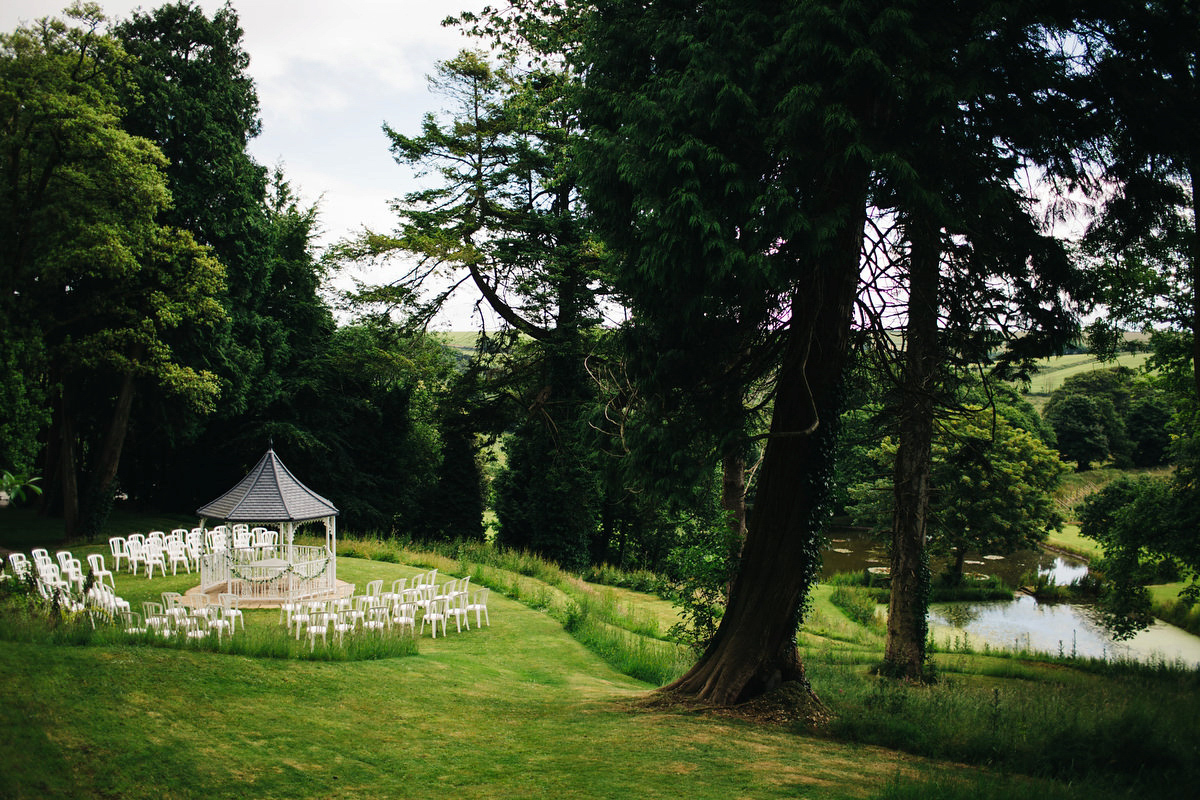 Talking of dog friendly – JD, Alice and Pete's gorgeous pup (and very special guest), wore a bow tie by PinkPeonyByChristy.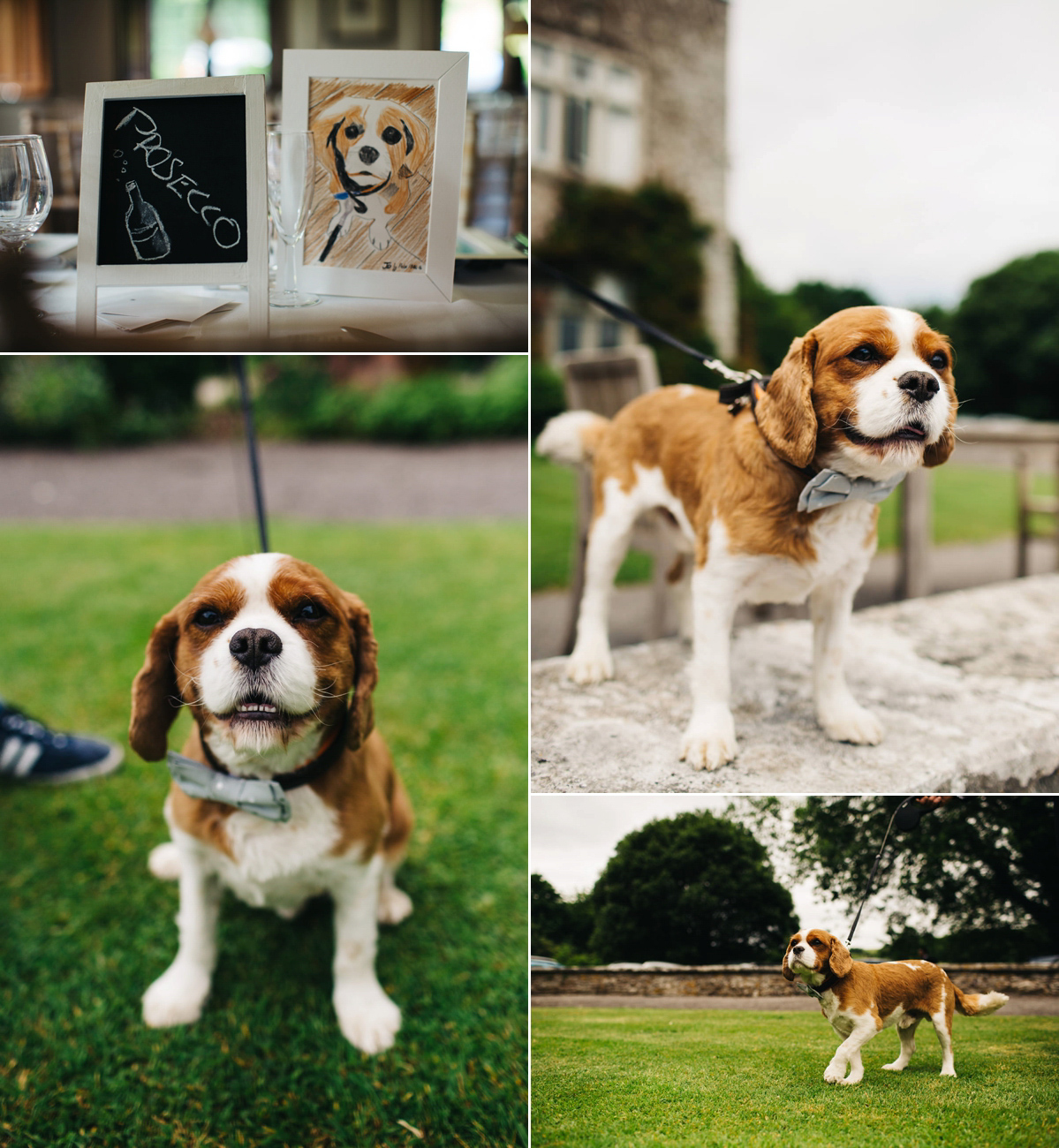 Bridesmaid Jess created the bride's beachy tousled waves in the comfort of their bridal suite and Alice took care of her own make-up using a medley of Charlotte Tilbury products.
Simple accessories in the form of a trusty gold House of Harlow bangle, a new gold cuff from the bride's long-time favourite place to buy jewellery, & Other Stories, and slim stacking gold rings from Catbird NYC subtly complemented Alice's gown.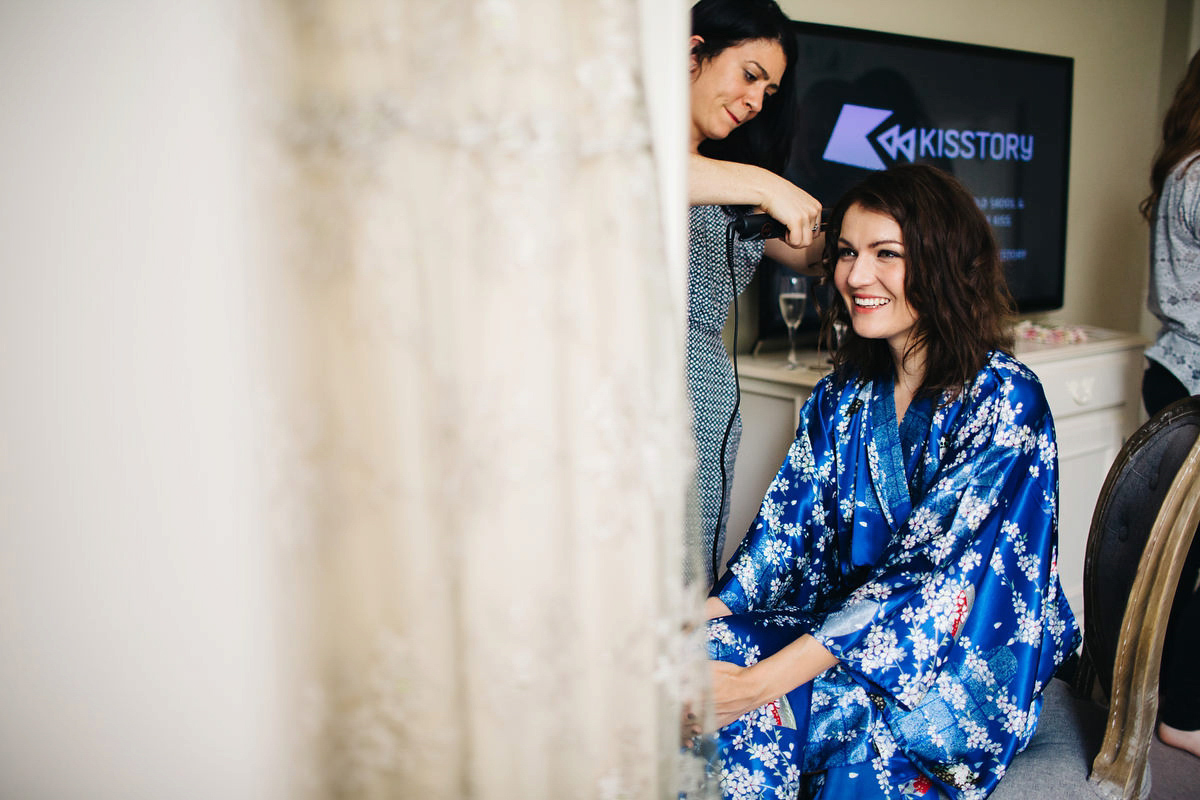 "I have a fear of getting my make-up done professionally as it inevitably looks too heavy and not 'me'. So I used the wedding as an excuse to treat myself to a tutorial at Charlotte Tilbury then just passed over my credit card, eyes shut, and bought everything. It's great because not only did I learn how to do my face properly, but I now have all this amazing make-up to carry on using post wedding. As for my hair, I went slightly crazy and decided to get my stylist Tom at Foster London to lop it all off to a shoulder-length bob three days before and also get it dyed about five shades darker."
Alice bought her intricate coloured lace gown from Arjan B, a gorgeous number already on her wish list well before she was engaged (Pete orchestrated the most beautiful proposal; I'll come to their Nordic engagement a little later). Paired with two beautiful pairs of shoes and possibly the biggest smile I've ever seen, Alice is a absolute vision.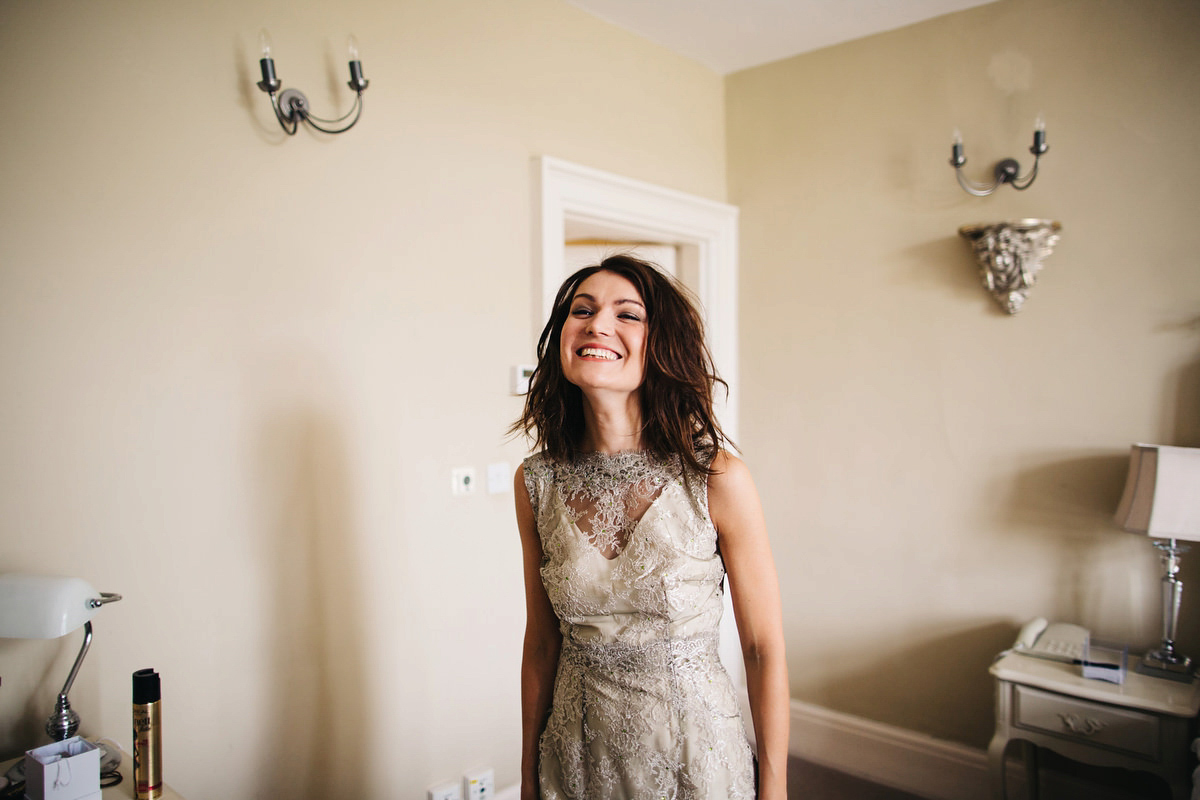 "I stumbled across my dream dress by Arjan B on Not Just a Label, a website promoting independent designers. An evening gown rather than a wedding dress, I fell in love with the pale green Italian lace and booked an appointment at the designer's North London home as soon as I touched down from Iceland. Thank goodness I did, because they only had enough lace to make one more dress!"
"Having worked at Alexander McQueen before setting up her own label, Arjan B designs combine feminine silks, scattered Swarovski crystals and intricate lace with the edgy silhouettes characteristic of McQueen's fabulous creations."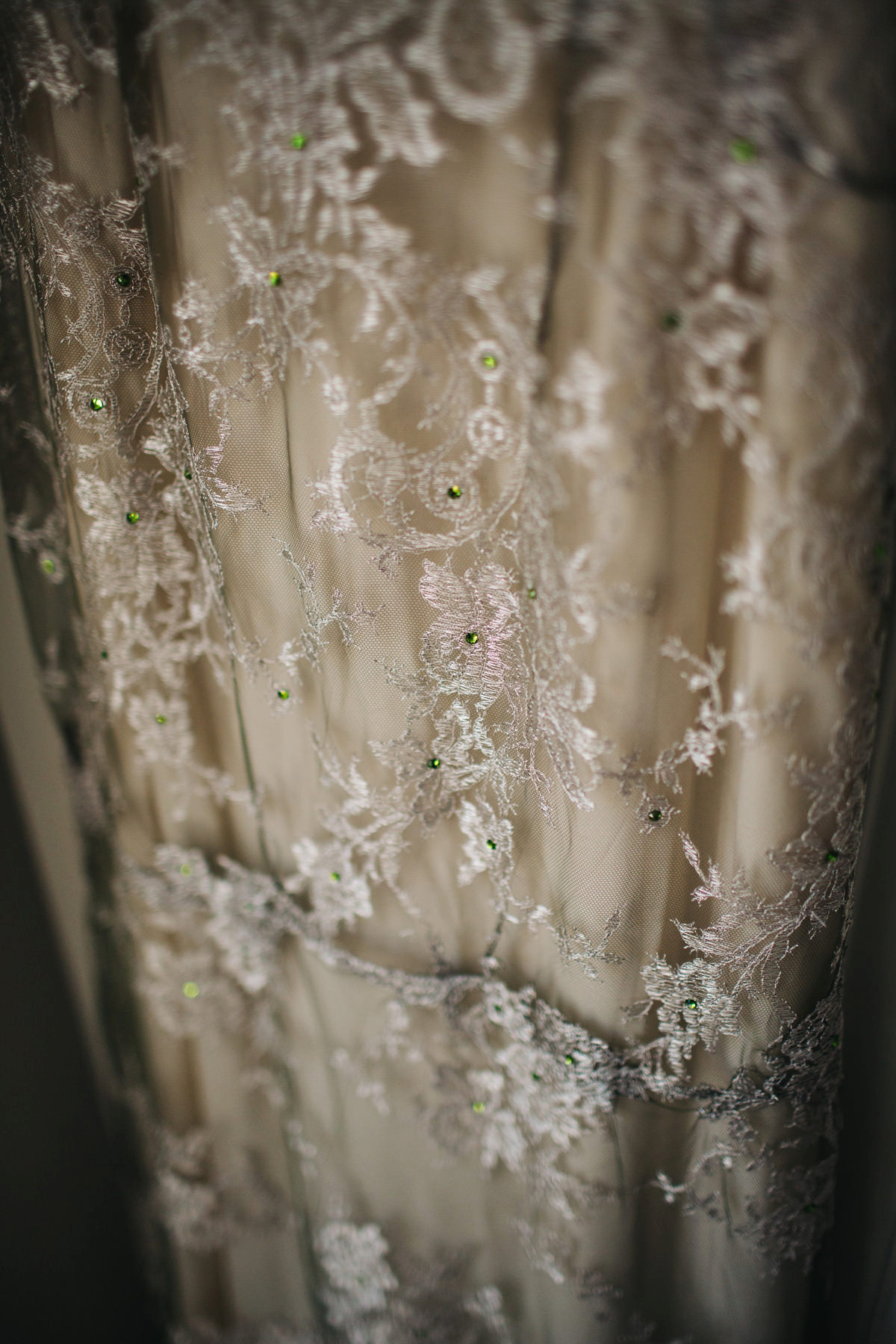 "We worked to design my dress together, deciding on a pale cream silk slip draped in olive green, gem-studded lace, the low back offset by the high lace neckline. Seeing my dream gown come to life with each fitting was an unforgettable experience, and I can't thank the designer enough for making it happen."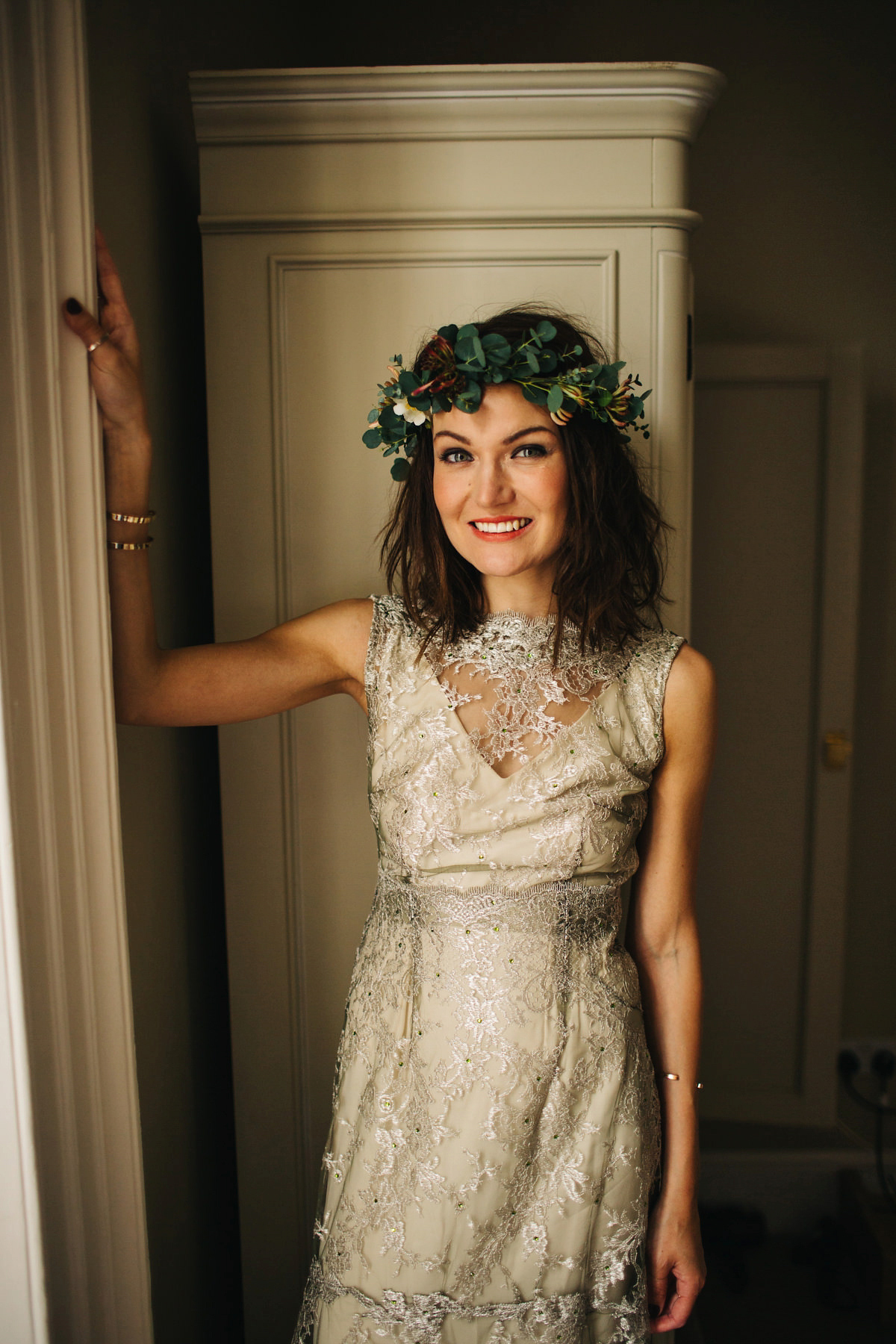 "My shoes were from Dune and ASOS. Having mismatched several pairs of green shoes to my dress (returning my mint Rachel Simpson Mimosas was particularly devastating) I finally found a beautiful pair of nude suede Ghillie heels in Dune – just high enough to peek out from my train but low enough to avoid dwarfing Pete."
"We dotted a spot of my bridesmaid Suze's blue nail varnish on the sole for my 'something blue.' A pair of gold block-heeled ASOS heels were on hand for the beach photos and party – one can never have too many (wedding) shoes!"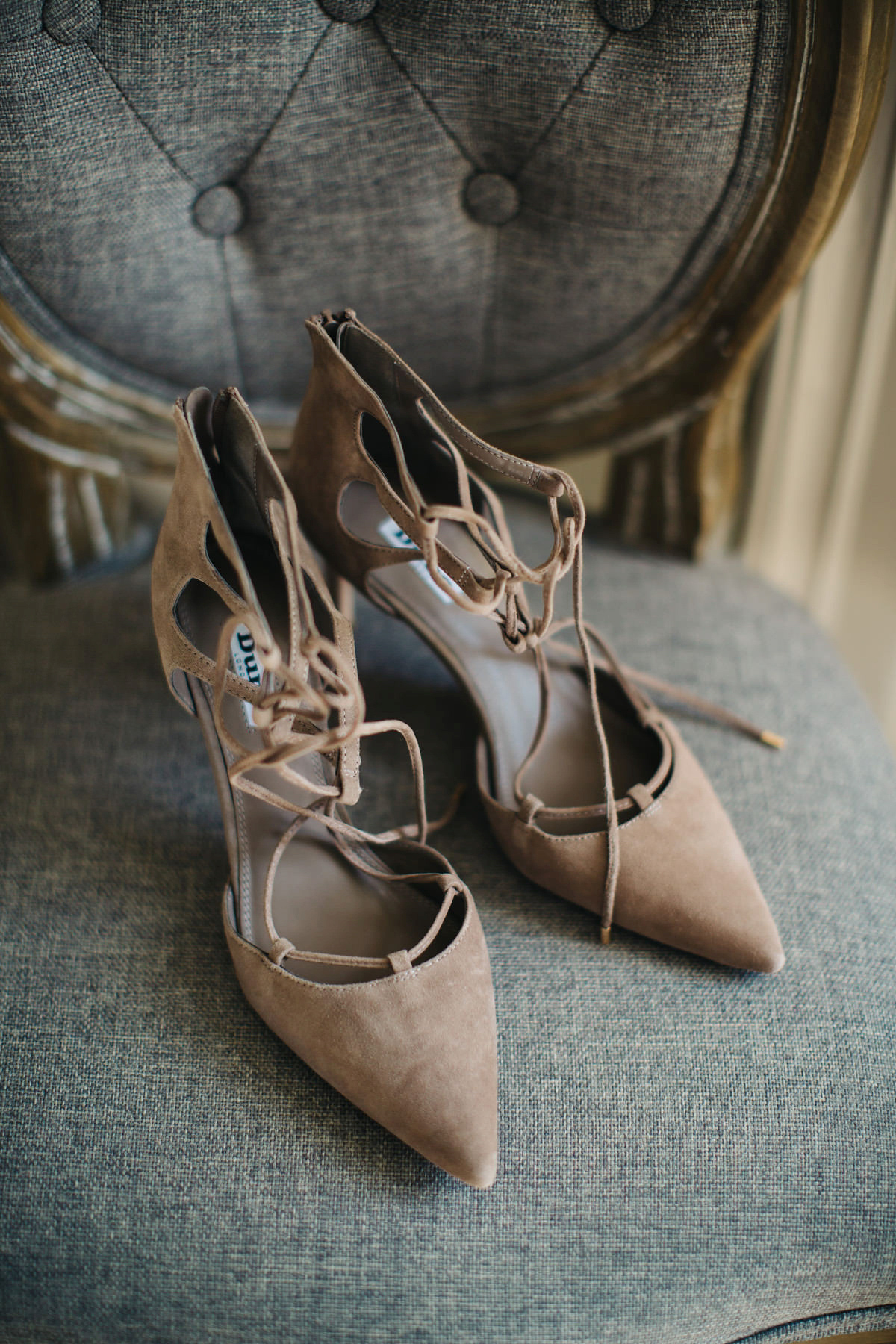 As her something borrowed, Alice slipped on one of her bridesmaid Suze's gold rings and then spritzed on the mouthwatering Fig Fiction by & Other Stories. Described as 'musky green fig leaves swaying in the warm evening air,' both Alice and I are in total agreement; who could resist?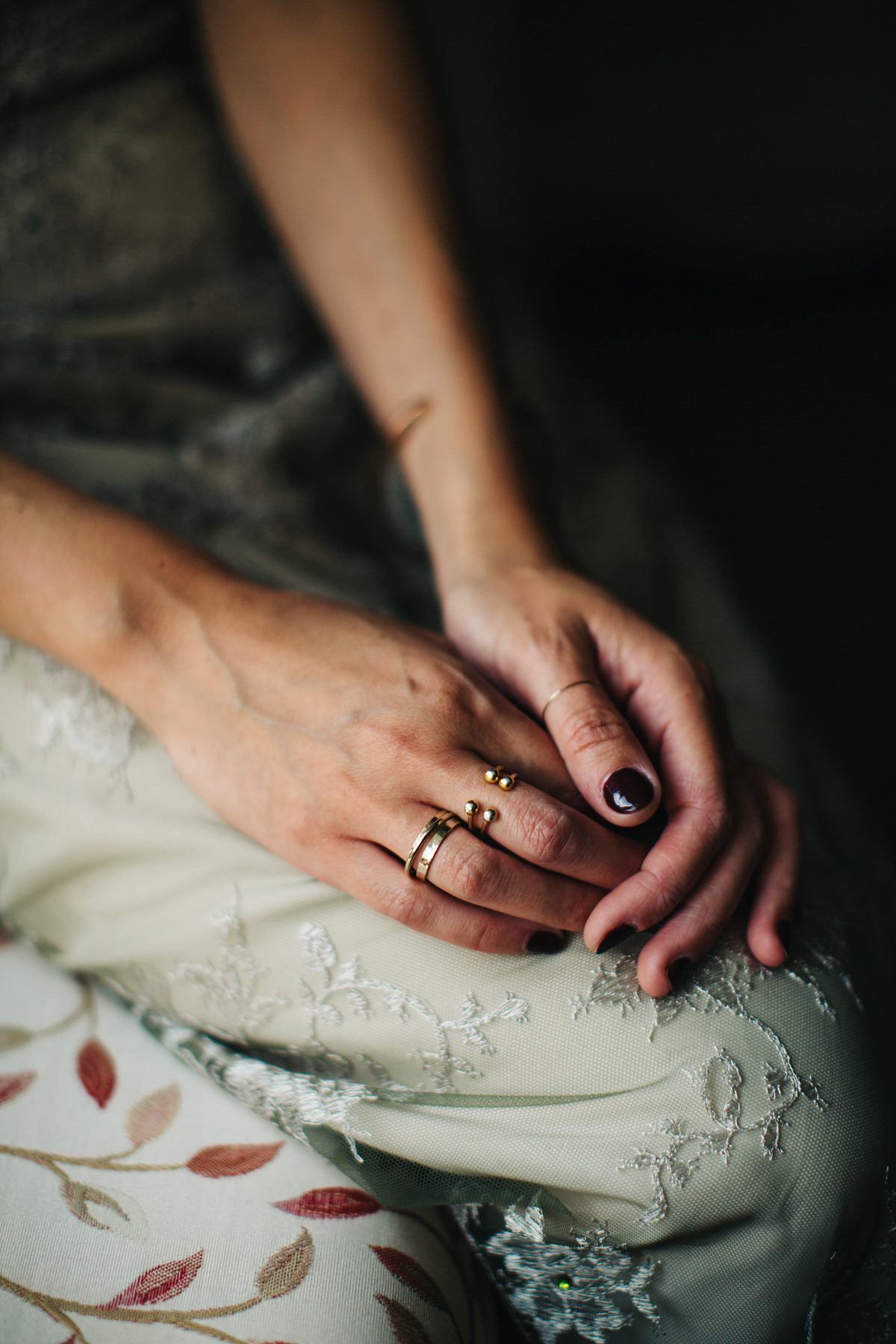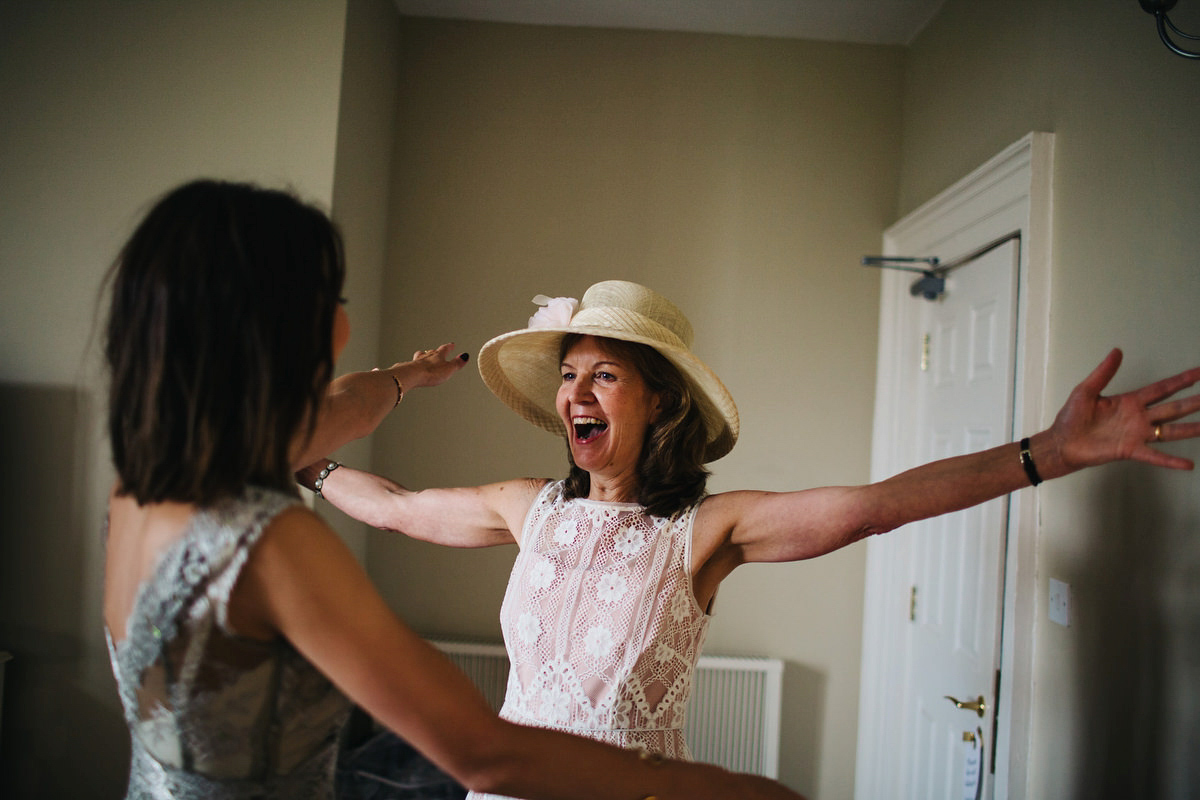 Four best friends, from all parts and years of the bride's life, made four beautiful bridesmaids. Alice found the stunning Amore dress from Chicwish to suit them all, a tricky task with two of the girls living abroad for the year before the wedding and a gorgeously diverse range of heights, skin tones and hair colours to complement.
I adore these boho numbers, and as Alice wisely says, "the advantage of wearing green is that your bridesmaids can absolutely wear white!"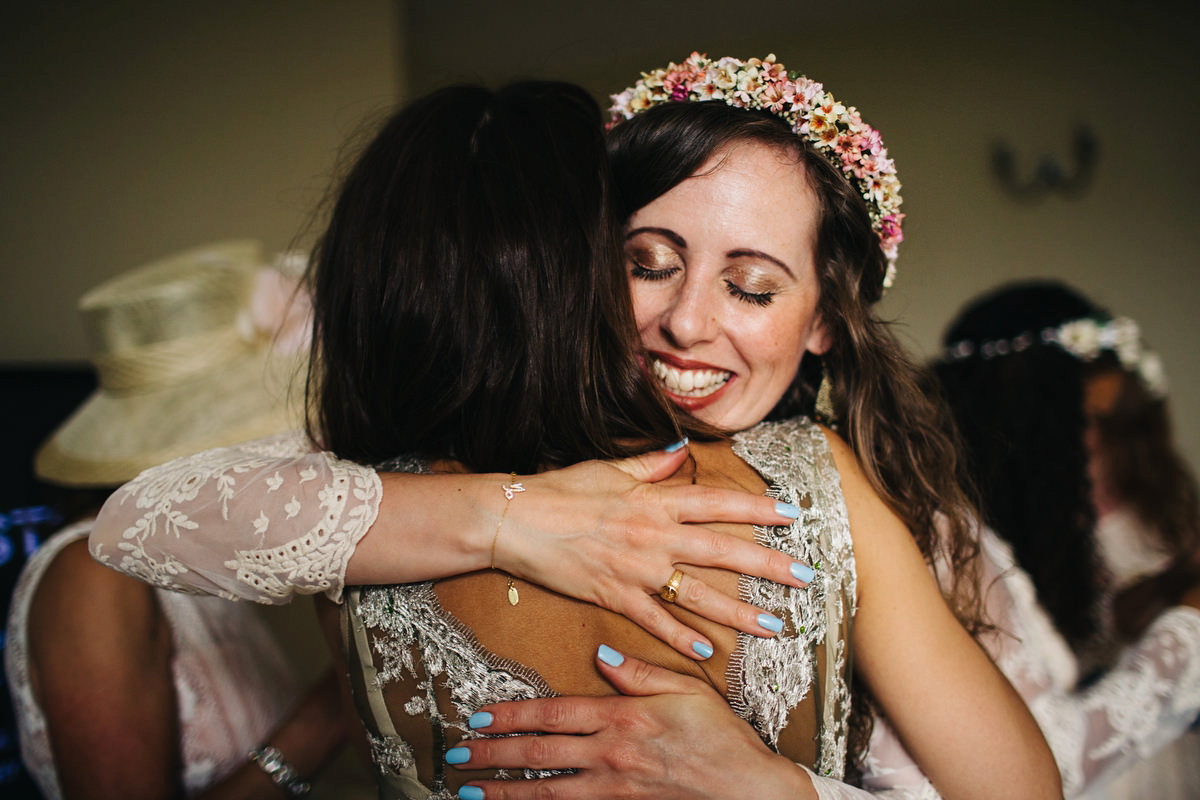 "Just before the ceremony I gifted my girls Wolf and Badger zodiac bracelets and I also gave my mum a pair of tiny pearl sweet pea earrings by Michael Michaud."
"We gifted my dad and Pete's parents engraved watches later in the speeches. I told my maids to wear whatever they liked on their feet, whether that be gladiator sandals or brown suede cowboy boots. I wanted them to look like themselves and feel comfortable enough to dance until the early hours."
"I think getting ready with my girls in the bridal suite might have been one of my favourite parts of the whole day – and peering out of the huge French window in their white gowns, they looked like something out of The Virgin Suicides – so romantic!"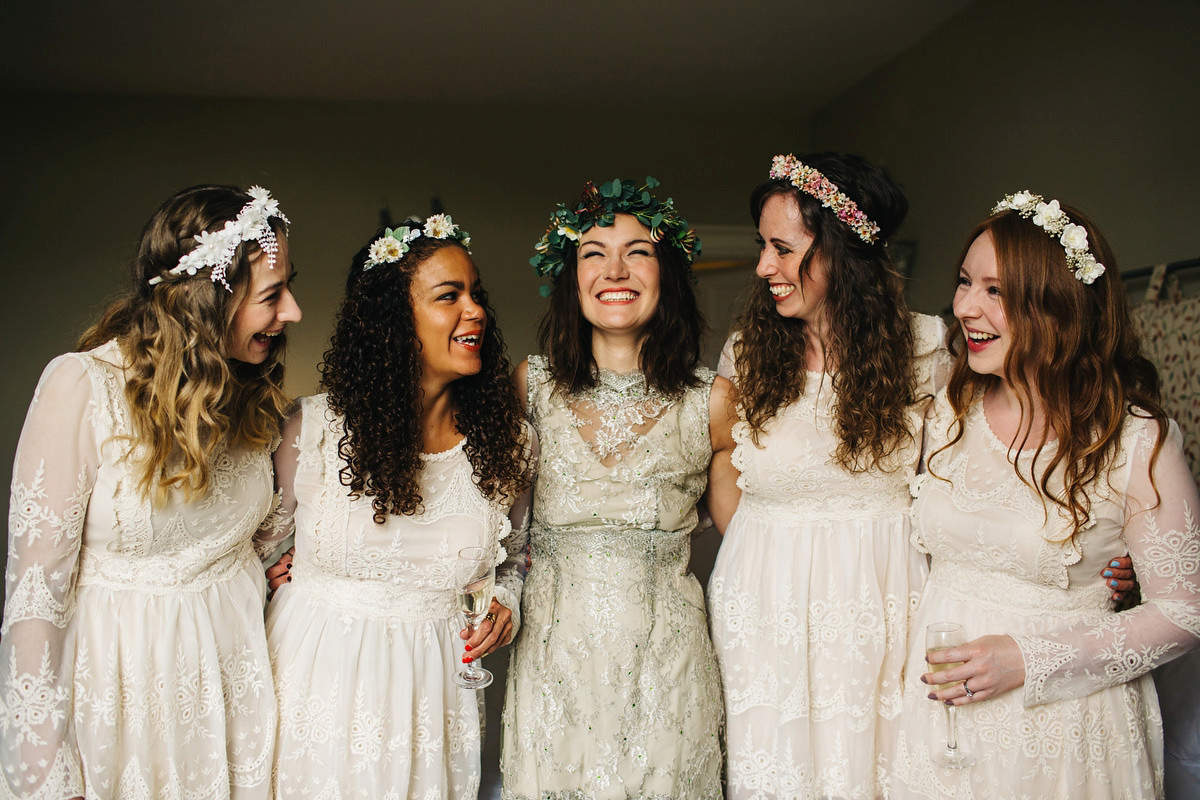 "My maid of honour Alex lives in Thailand and sourced some beautiful dried flower headpieces for all the girls, in different colours to match their styles."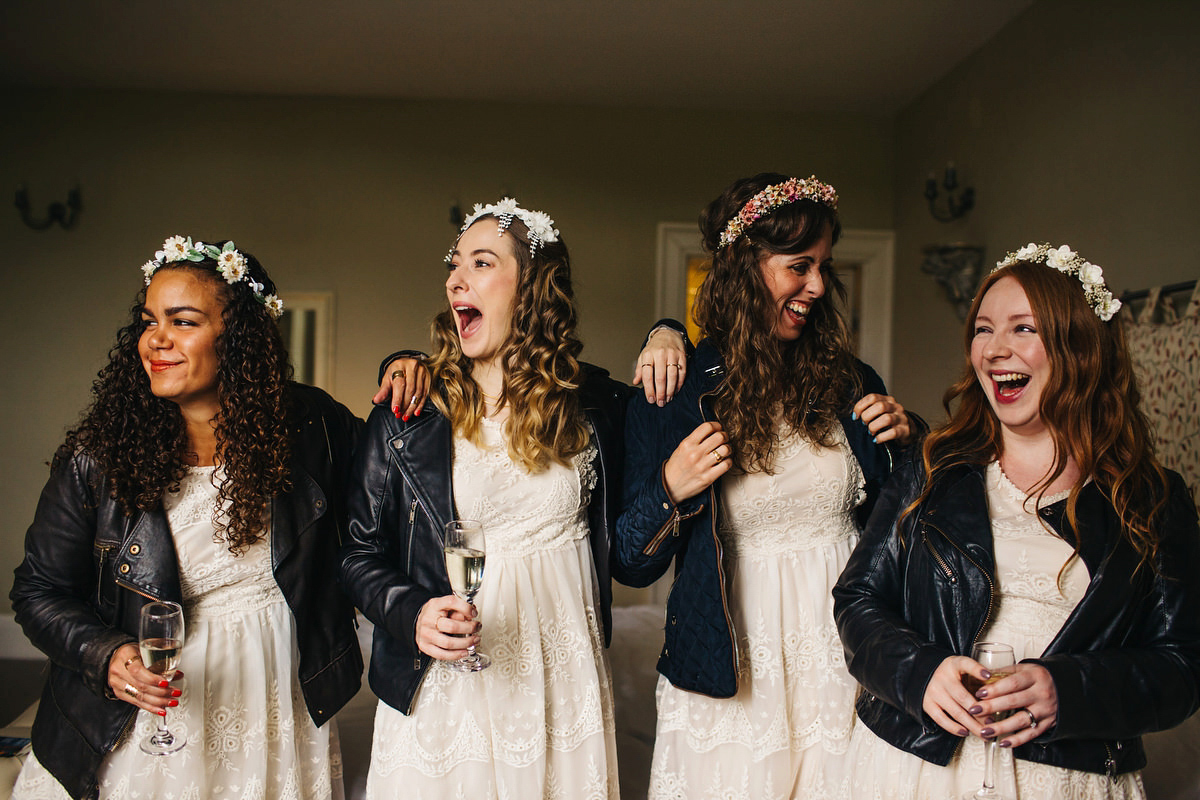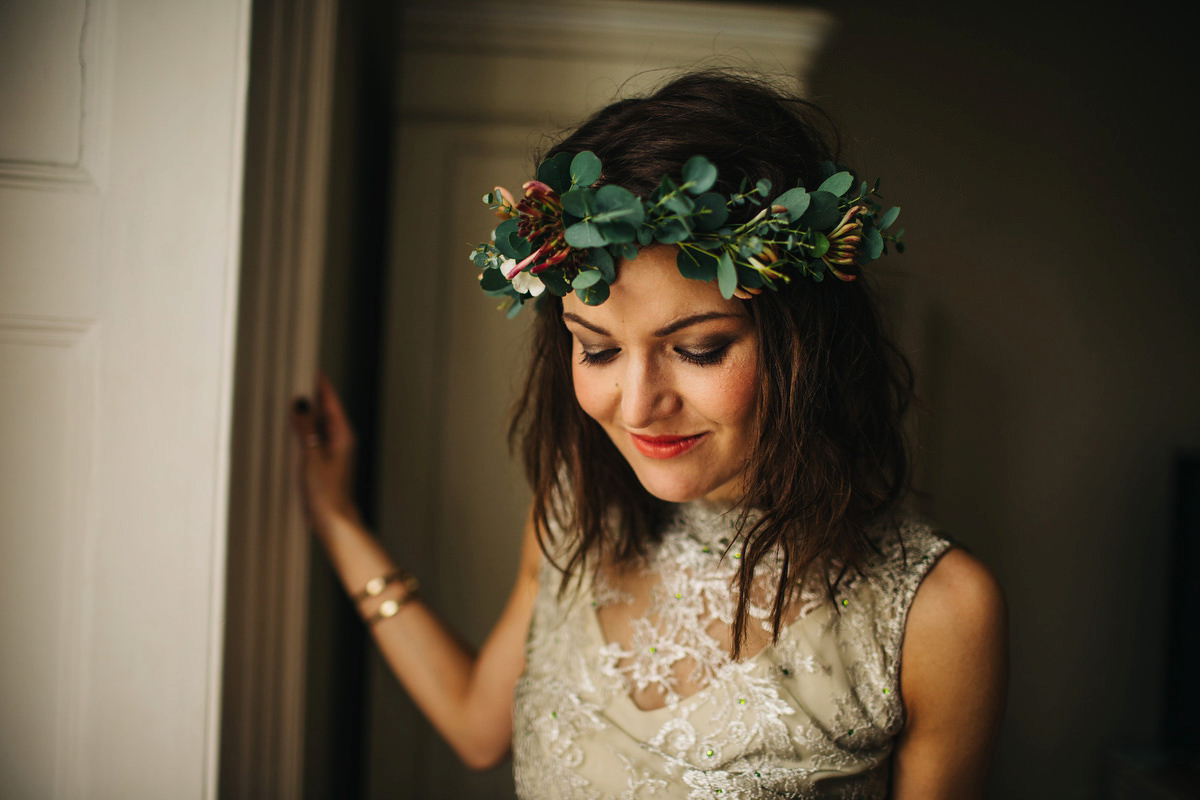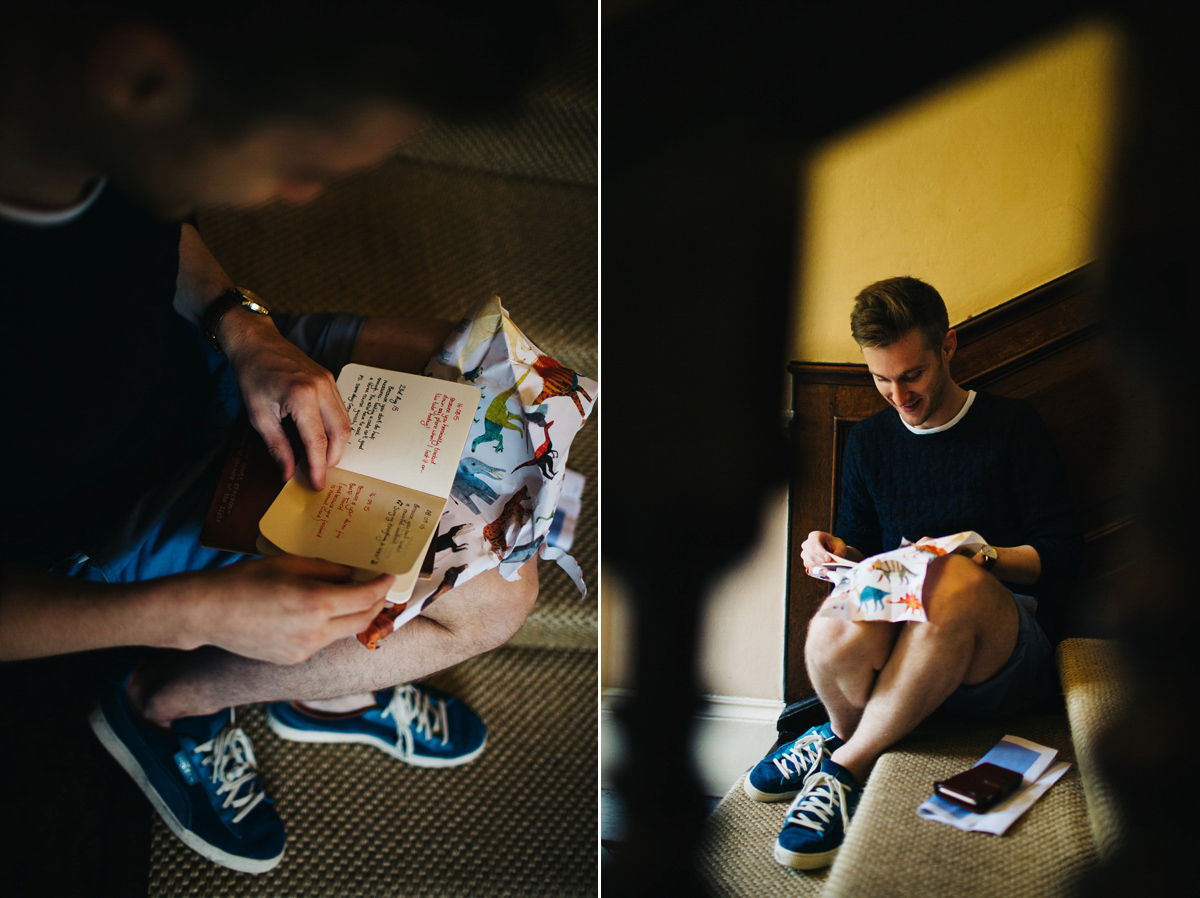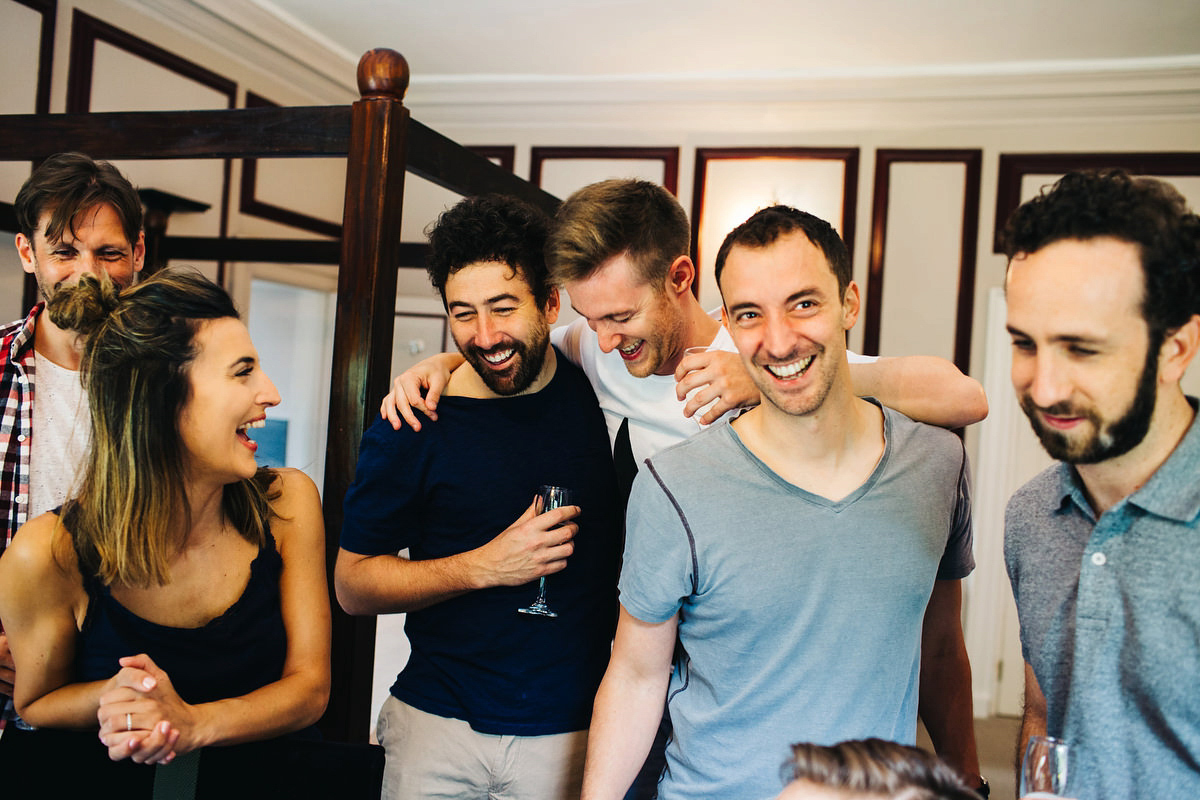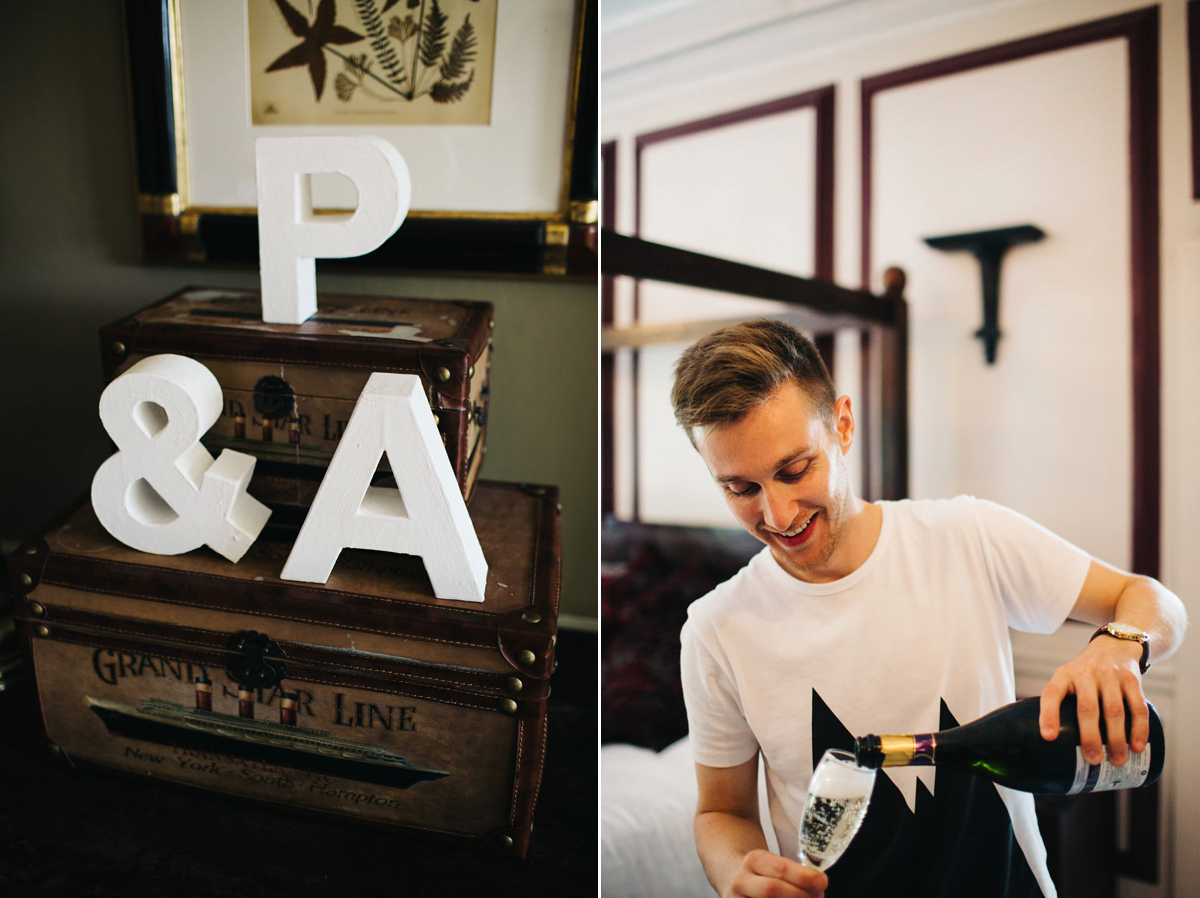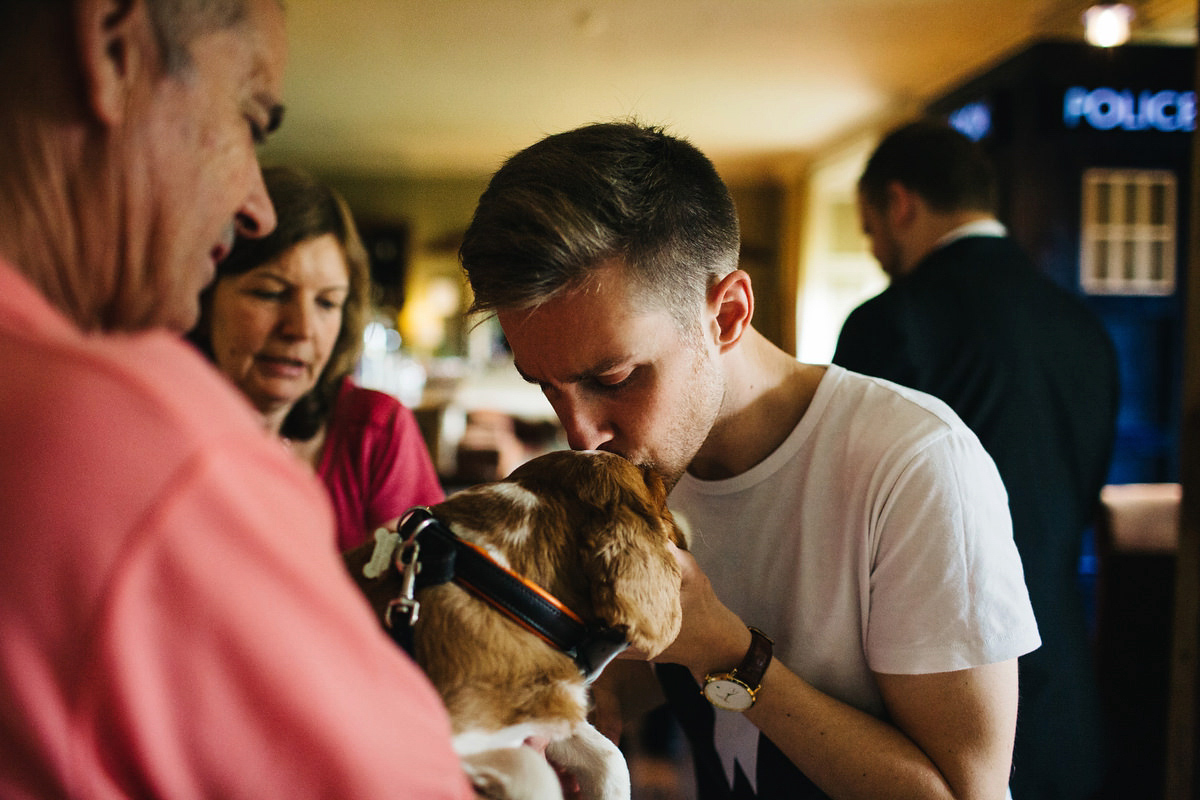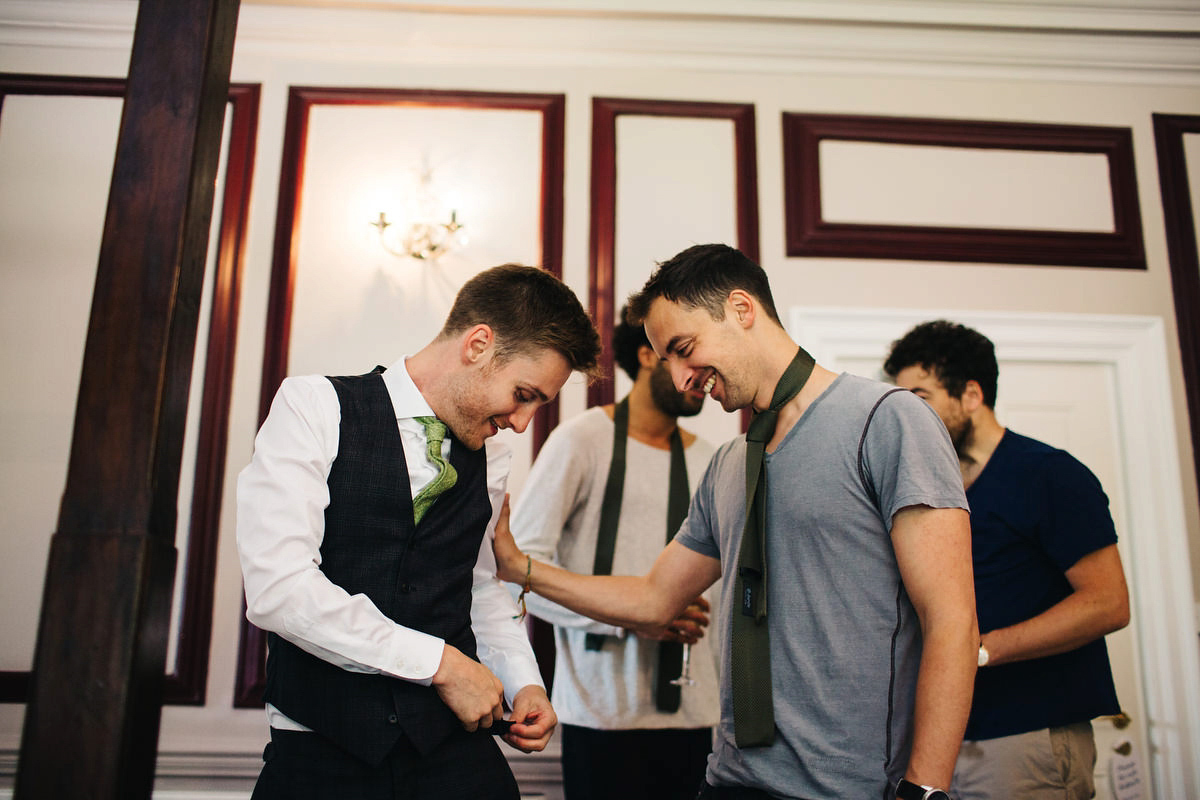 Pete doesn't look half bad in his bespoke charcoal grey suit and pale grey waistcoat by Tailor Made London.
"Pete looked seriously dapper. His green tie was from April Look on Etsy. He wore YSL La Nuit de L'Homme, a scent we picked out together on the way to our pre-moon in Montenegro and saved for the big day."
"We always wanted to spend a good amount of the budget on our photography despite cutting a lot of the traditional stuff out (we didn't bother with a cake or stationary, setting up a wedding website instead which was much more in keeping with Pete's digital marketing background and my Instagram obsession). Your photos last forever while the day is over in a flash so we looked long and hard to find the right person to capture all the little moments of the day."
"Eventually we settled on Richard Skins, whose reportage style and intimate shots were exactly what we'd envisaged for our day. We didn't want to be posing for formal photos but rather be able to enjoy every second of the day with our guests. So, in keeping with sacking off tradition, Pete dragged Richard down to the nearby beach 90 minutes before the ceremony, while my dad bundled me into the car wrapped in a bedsheet to meet him for a 'first look' photo session."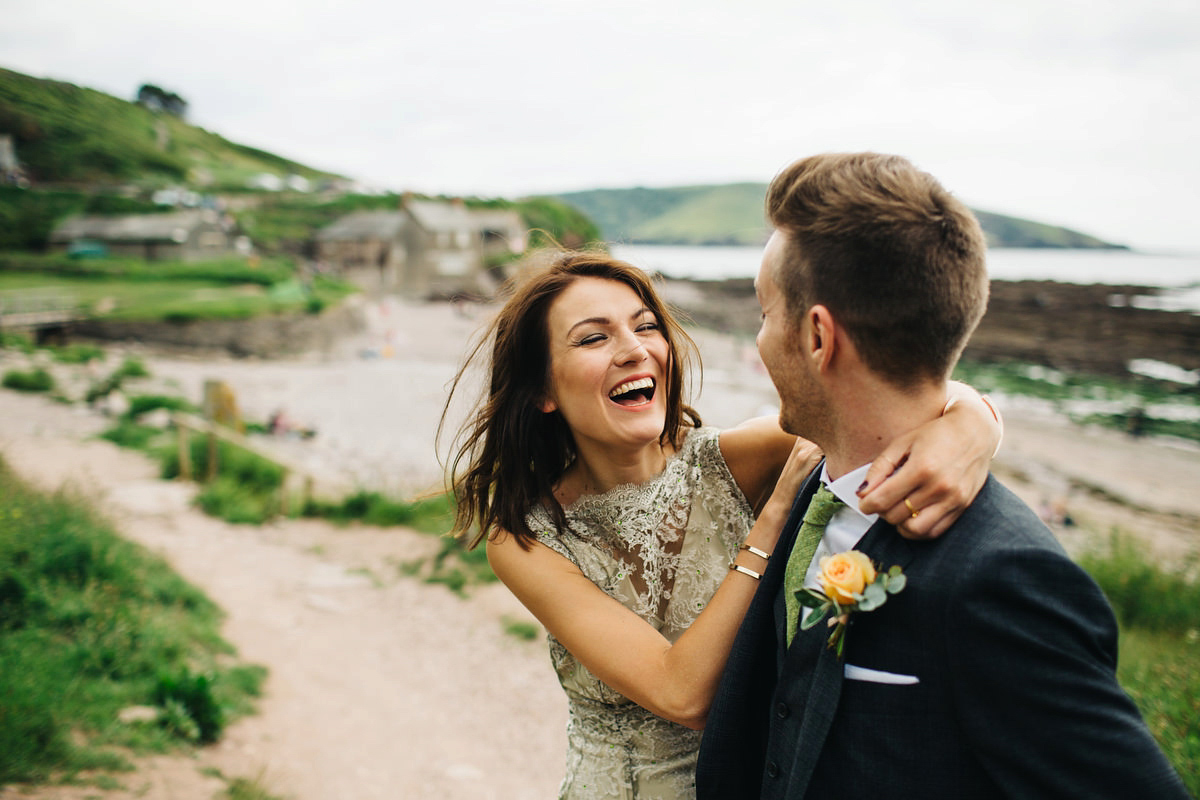 "It was the best decision ever. It was brilliant to spend half an hour with him alone, clambering over seaweed strewn rockpools and just enjoying the anticipation of the day to come."
Alice chose not to have a veil, leaving the low back of her dress to do all the talking. She did however crown her sumptuous dark waves with a circlet of wild ivy and apricot foxgloves for the wedding ceremony, lovingly created by florist Laura Hingston. Not however, before a windswept, beach-based first look with photographer Richard Skins and her very nearly husband. Richard has captured so perfectly captured moments of intense joy and touching intimacy – this has to be one of my all-time favourite 'first looks'.
"Pete and I met through a mutual friend when I first moved to London in 2006. Four years later, me newly single and him armed with a Tupperware box of vodka jelly, we finally hooked up at my Christmas house party. Four more years, one flat share, a dog and a mortgage later, Pete was whisking me off to Iceland for my belated 30th birthday treat… I really wasn't expecting him to propose, so when he dragged me up to a secluded balcony overlooking the Blue Lagoon at dusk and got down on one knee, I was knocked for six!"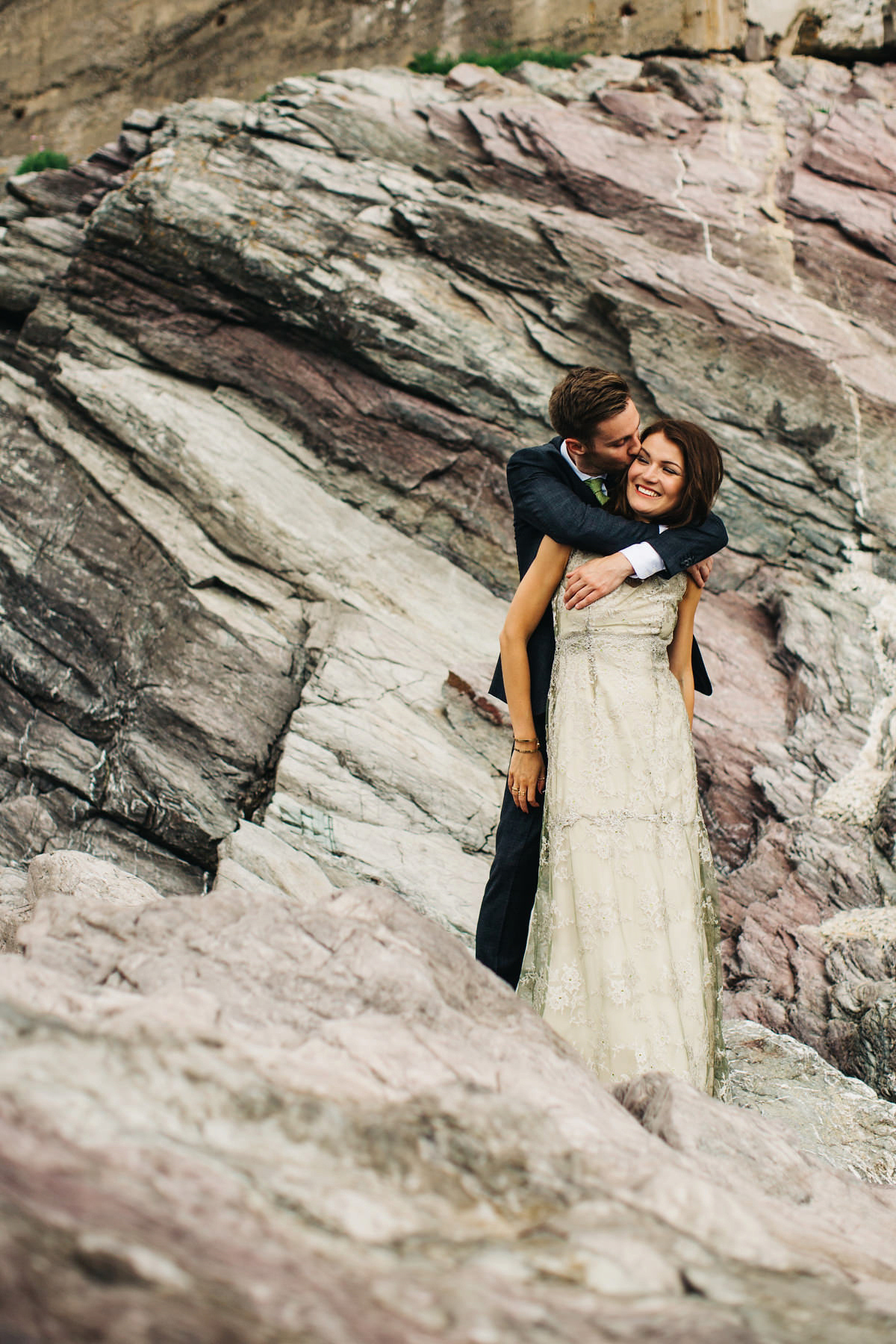 "Uncharacteristically I burst into tears, only adding to the overall attractive effect of frizzy post-lagoon hair and bright red complexion. Pete was reading out his speech from a sheet of paper by my ear and shaking so much that I couldn't actually hear anything – but it was perfect and I eventually managed to sob out a yes."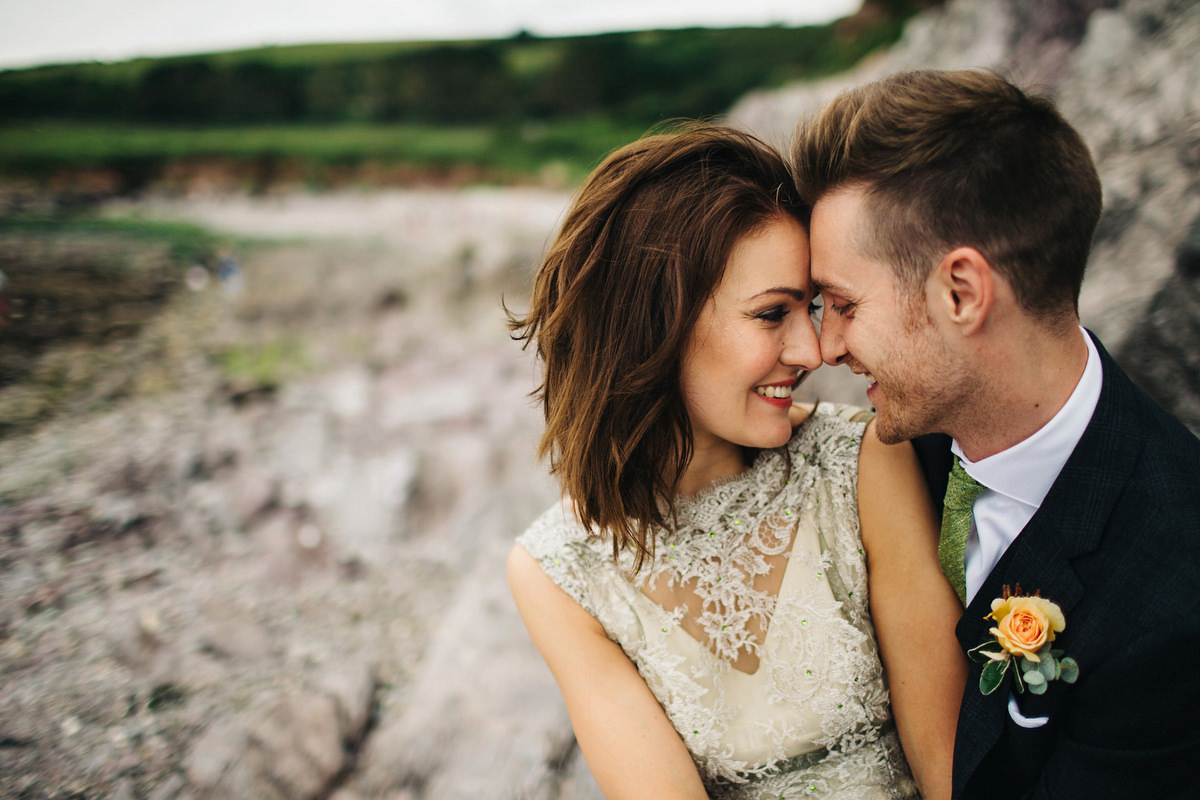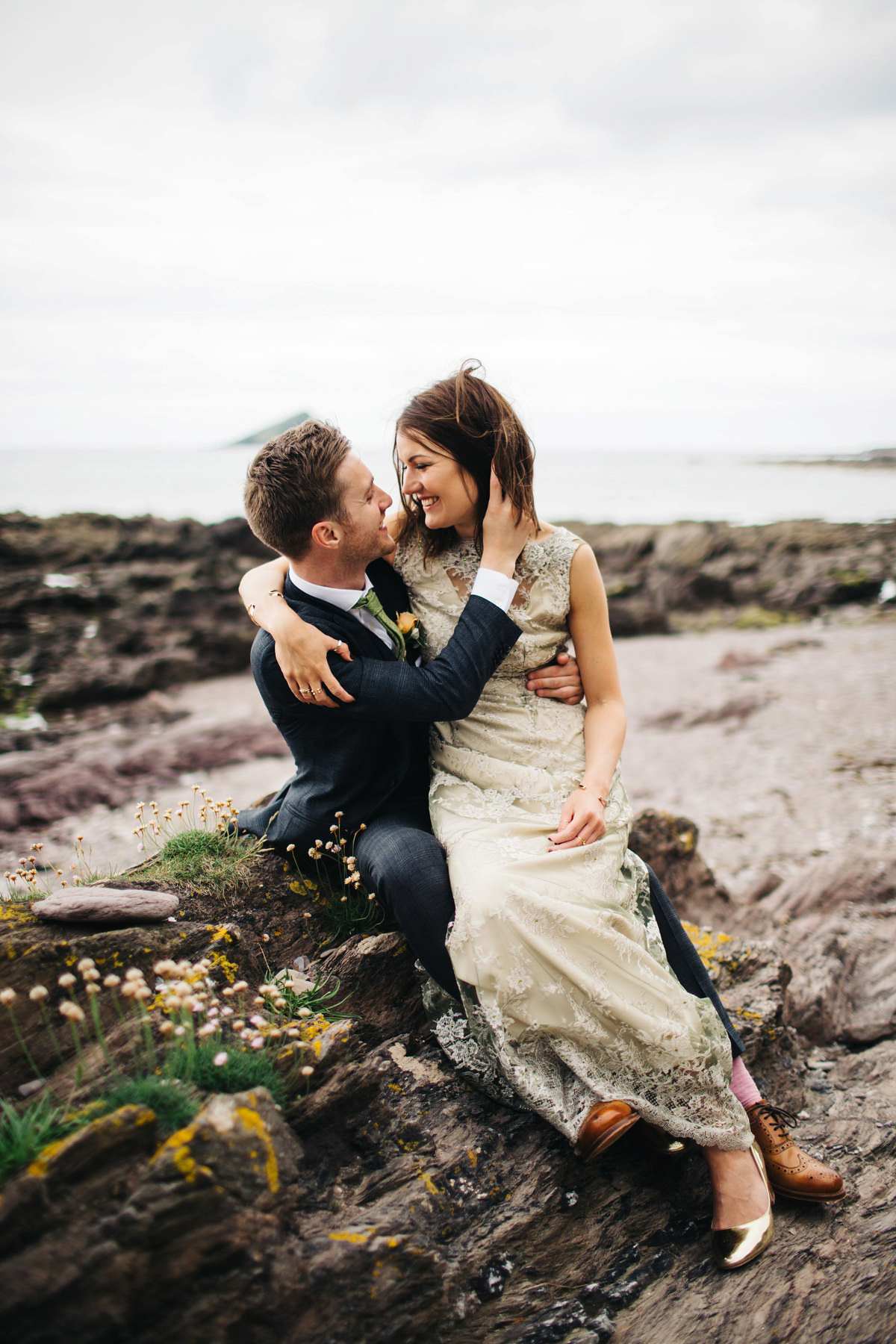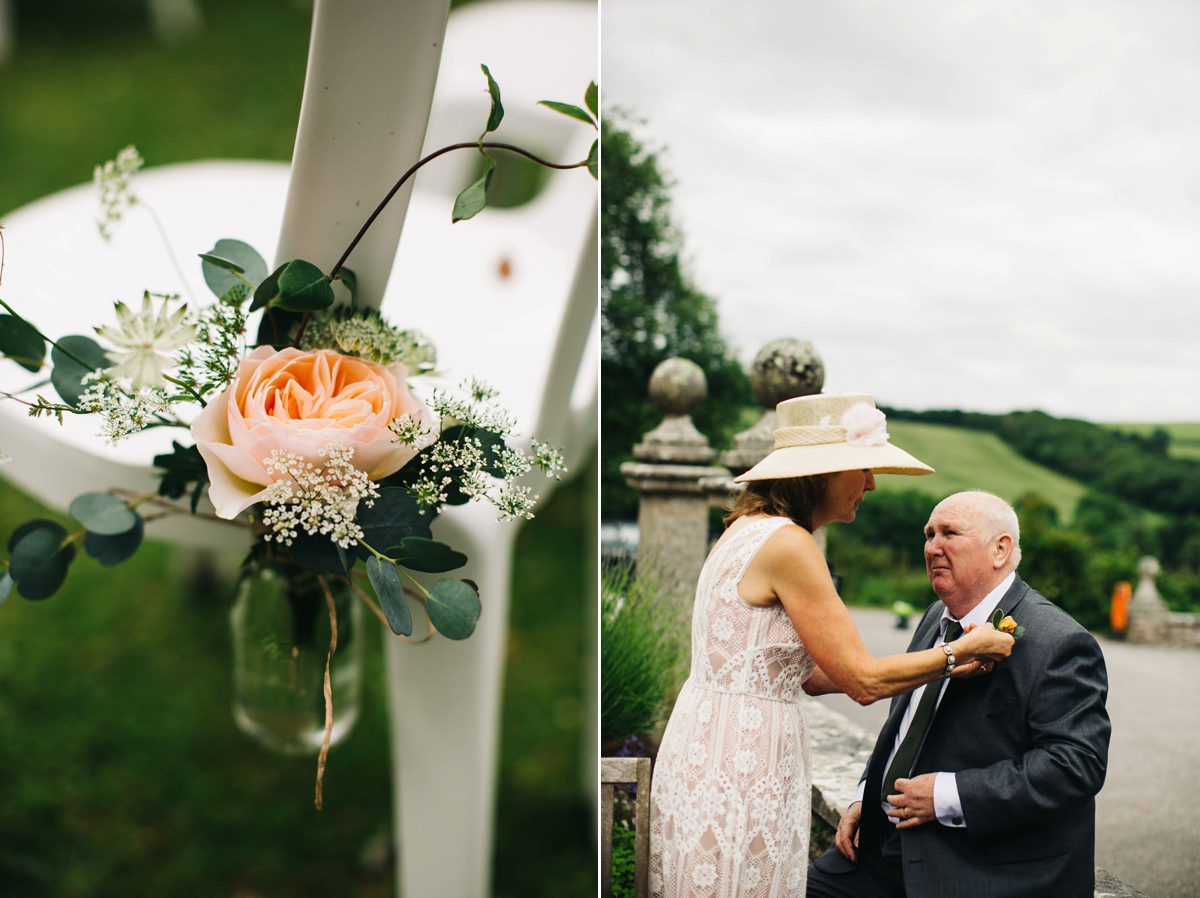 The couple wanted flowers in keeping with their wild, woodland vibe and as soon as they met local supplier Laura Hingston and her husband Matt, they knew they were on the same page.
"They grow everything themselves in a field in South Devon and see each wedding as a creative project rather than simply an event to supply. Laura and Matt immediately bought into my brief to 'go wild in greens, creams and apricots' and the moodboards Laura sent me were all absolutely stunning, from the urn on the fireplace overflowing with foliage to the ivy-strewn pagoda arch. Everything was absolutely breathtaking."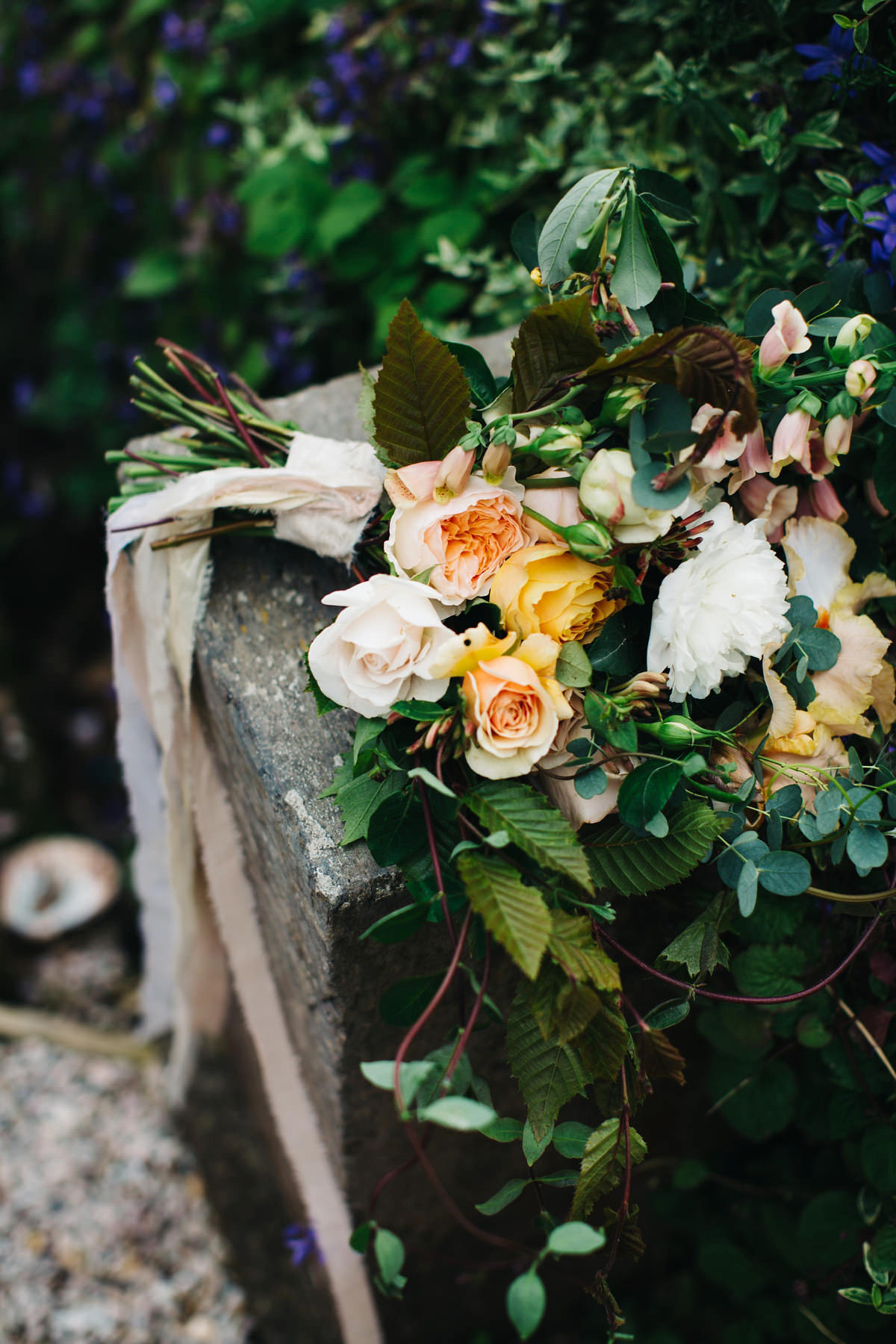 "The great thing about getting married in the deepest corner of England is that you get to spend a proper weekend with your guests; the night before the wedding we all congregated at the local pub for a much-needed catch up and to get even more excited about the next day. I'd planned on an early night but my uncle cracked open the Amaretto and put pay to all good intentions. Oh well, it wasn't like I was going to be getting any sleep anyway!"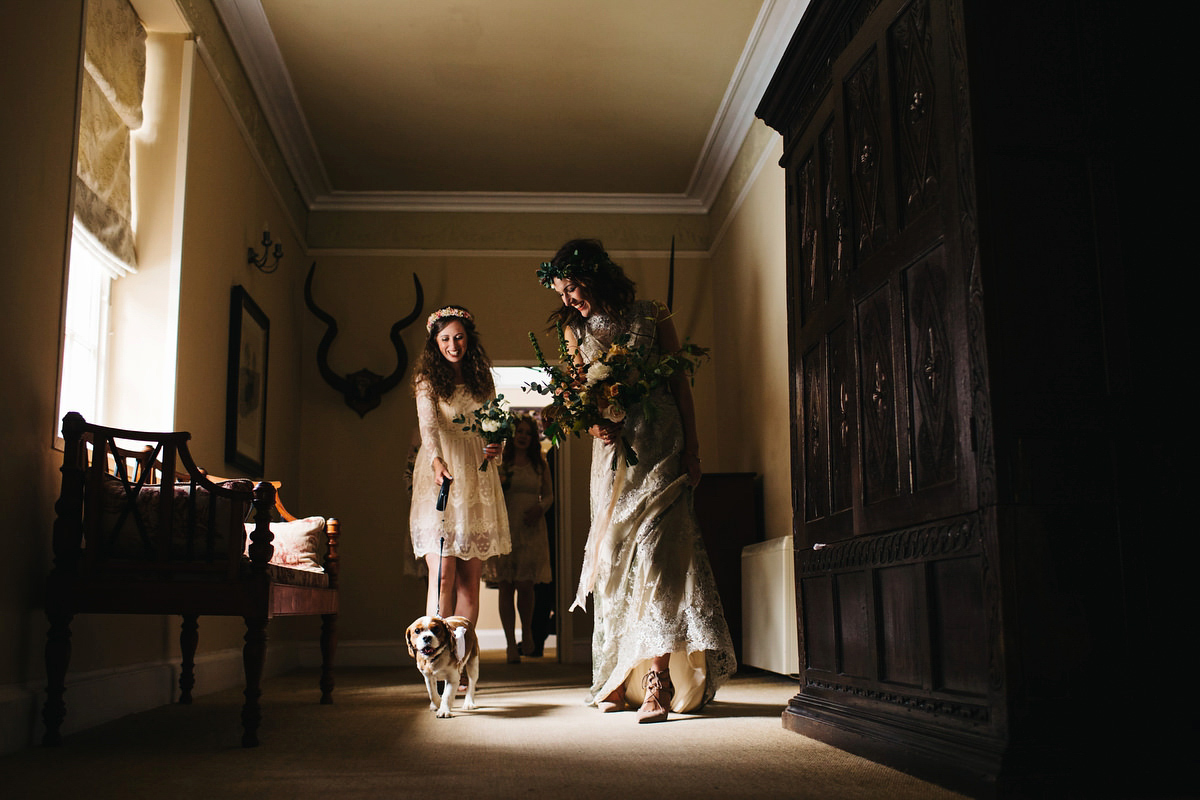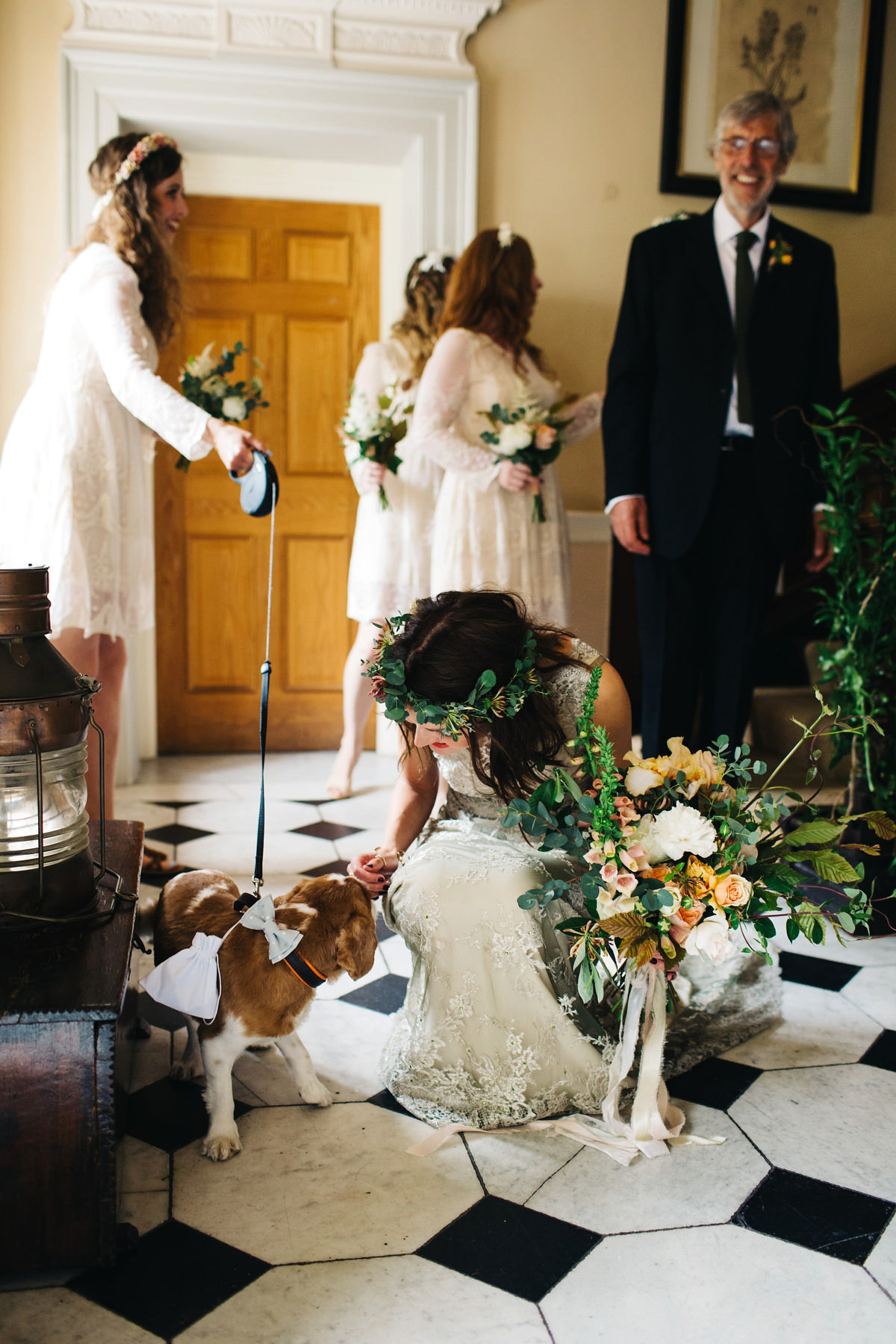 In spite of four days of constant rain before the wedding, and four days after, the day of Alice and Pete's nuptials was miraculously blessed with brightest sunshine, allowing them to hold their ceremony in the flower-strewn pagoda outside.
"My bridesmaids walked up through the woods first, leading our ringbearer, JD the King Charles Cavalier, then my Dad and I followed to a live acoustic guitar version of 'Everything She Does is Magic' by our amazing singer Dave Rich. My normally stoic dad actually shed a tear before we started up the aisle which almost got me started too – by the time we got to the reading Pete had chosen for me, I was bawling."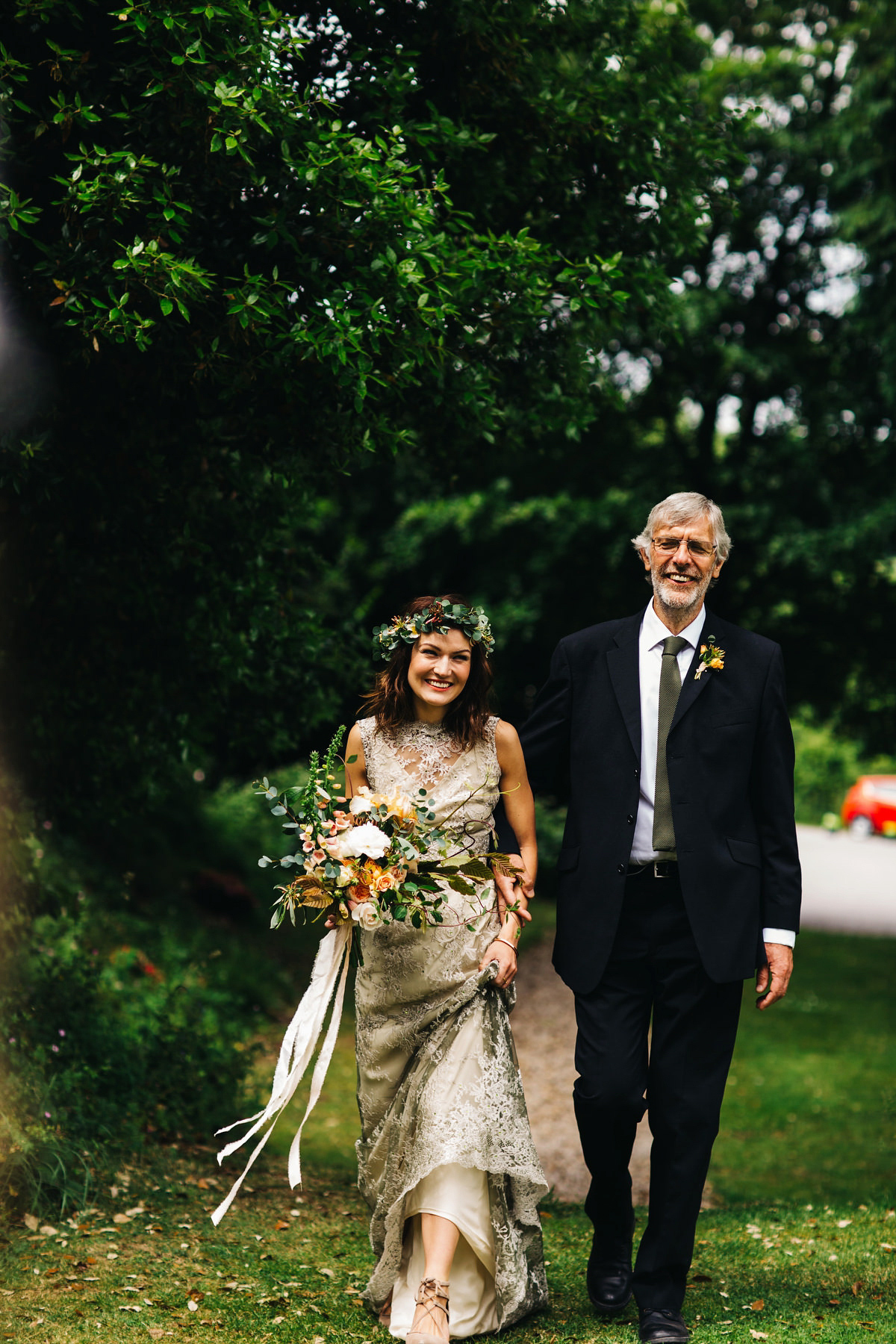 I just had to share Alice's beautiful reading, adapted from Before Sunrise:
When people talked about how a couple would begin to irritate each other by anticipating their reactions or getting tired of their mannerisms – she thought it would be the opposite for her. She thought she truly would be in love when she knew everything about him – the way he's going to part his hair, which shirt he's going to wear that day, knowing the exact story he'd tell in a given situation. She was sure that's when she'd know love would be everlasting. If there's any kind of magic in this world, it must be in the attempt of understanding somebody completely, of sharing everything. It might be almost impossible to succeed… but who cares, really? The answer must be in the attempt.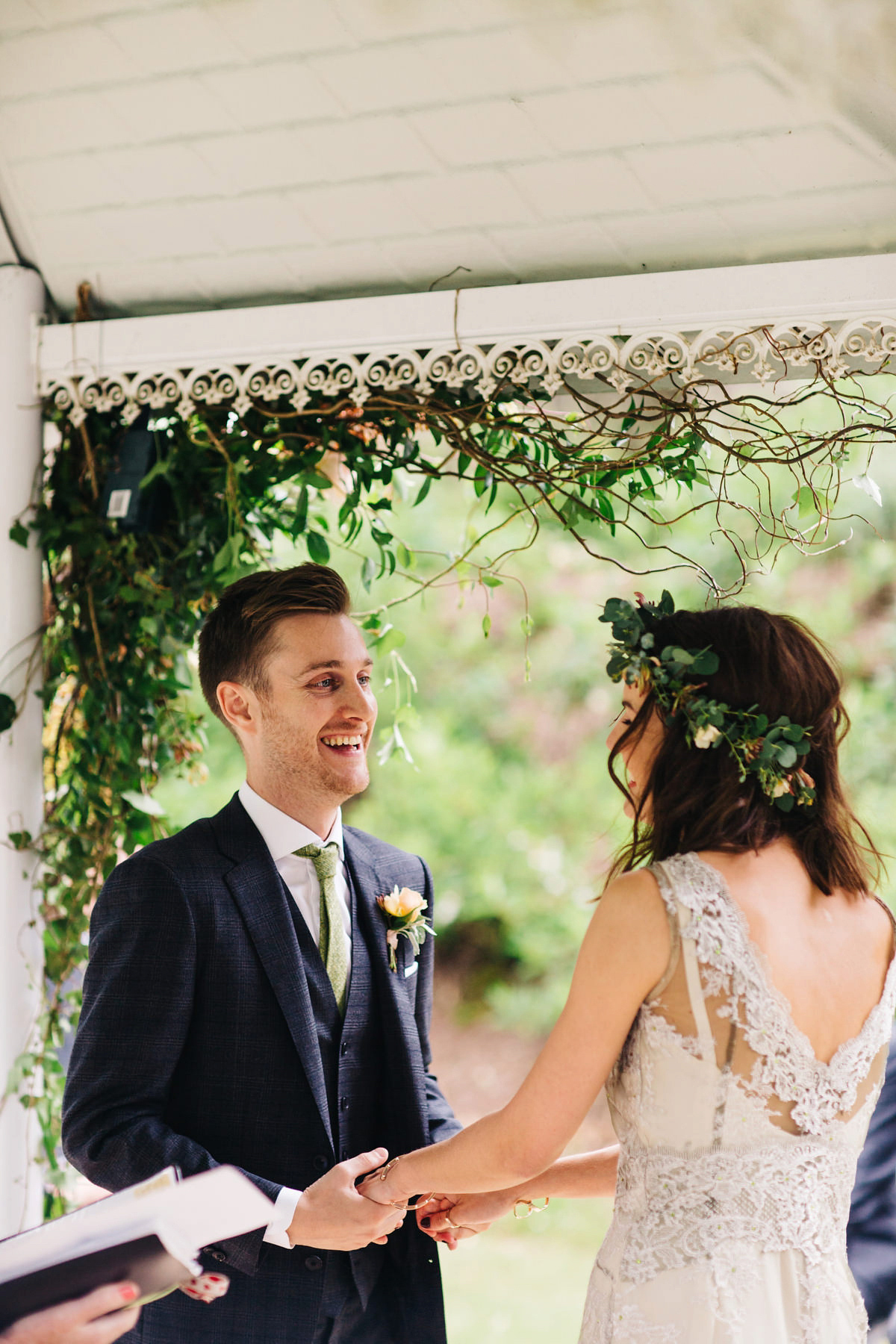 "We personalised the ceremony down to the registrar's greeting – although at one point she did have to scold Pete with "this is the solemn part now!" As well as writing our own vows, we each chose a secret reading for the other."
"Pete's was Spike's speech in the penultimate episode of Buffy the Vampire Slayer – 'you're one hell of a woman.' It never fails to have me in tears and he knew it."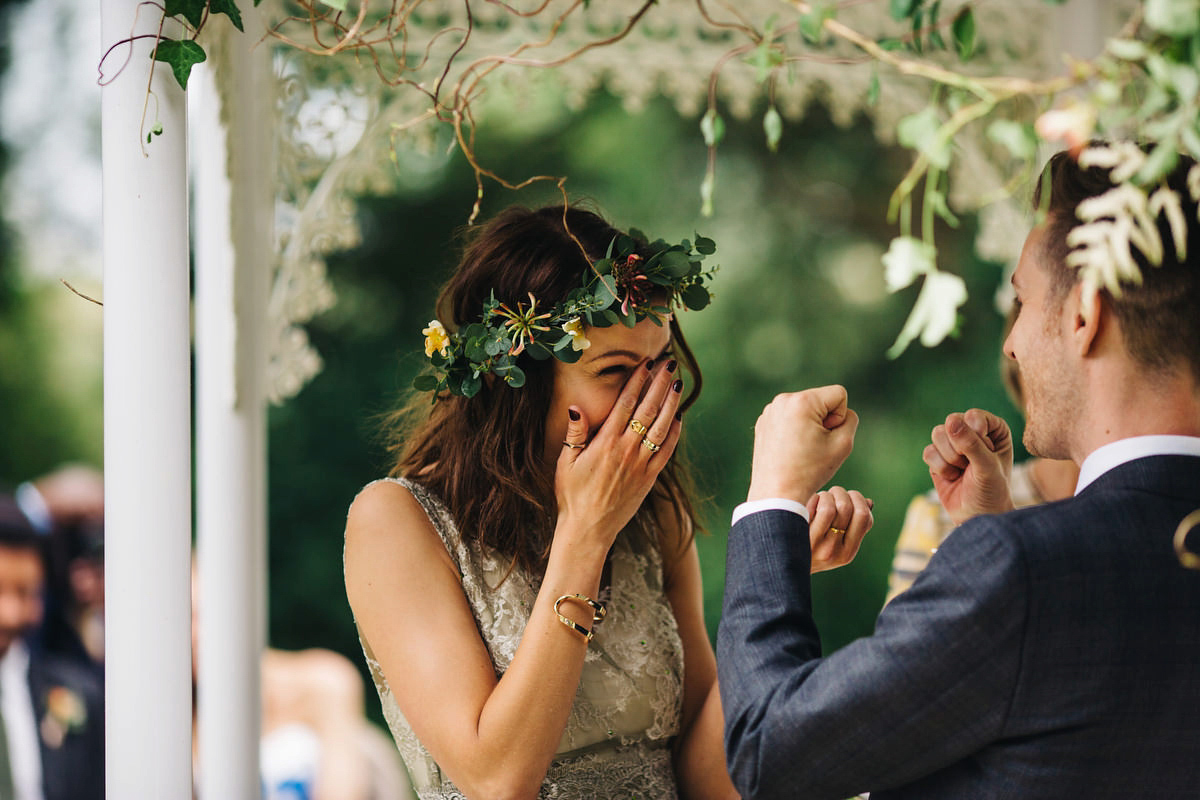 "When it was time to exchange rings, Pete called up our pup JD with the help of a meaty dog treat he'd had hiding in his pocket (he wasn't just pleased to see me) and removed them from the little pouch on his collar without incident, thankfully. I've never seen JD look so smart in his grey bow tie and he was so well-behaved the whole time that I'm still wondering if my parents slipped him some sleeping pills."
Pete's ring came from COO Jewellers and Alice's slim band from E Katz, both on Hatton Gardens. They signed the register to an adapted version of Hanson's Penny and Me (Dave substituted 'Alice and Pete') and walked out to Waiting for a Star to Fall, showered in dried flower petals.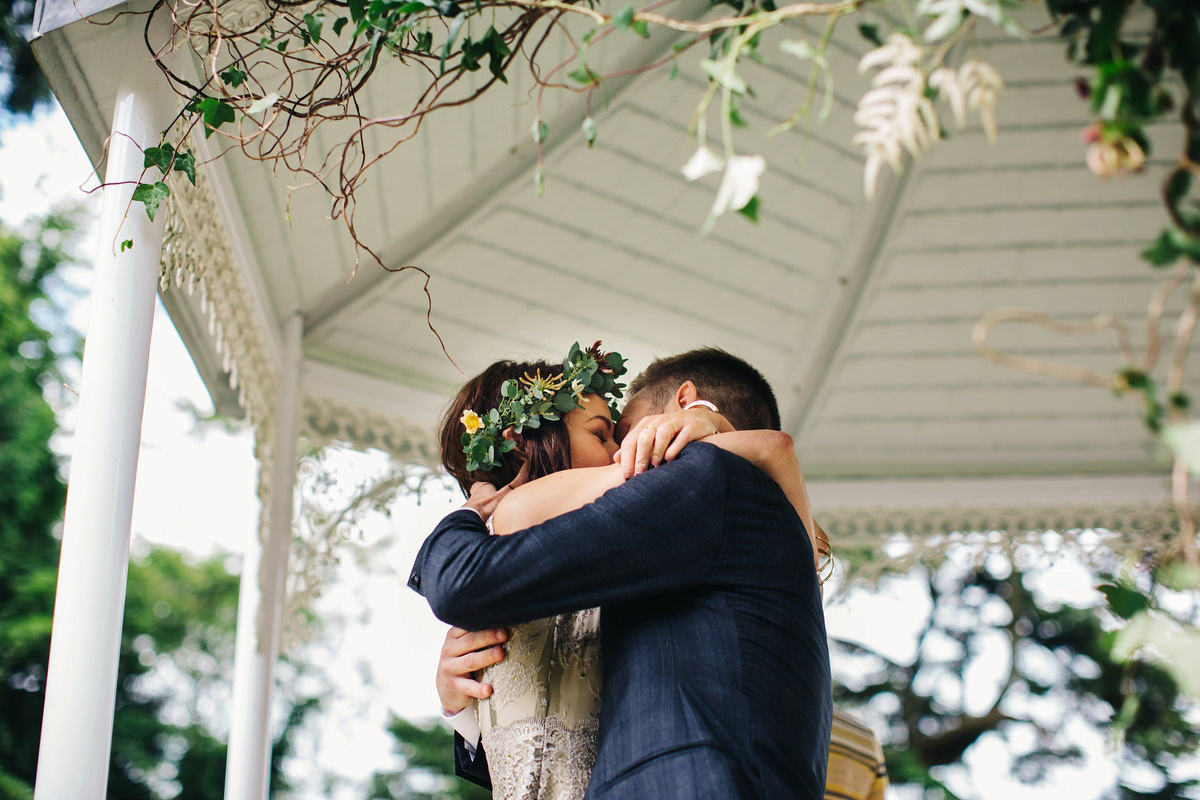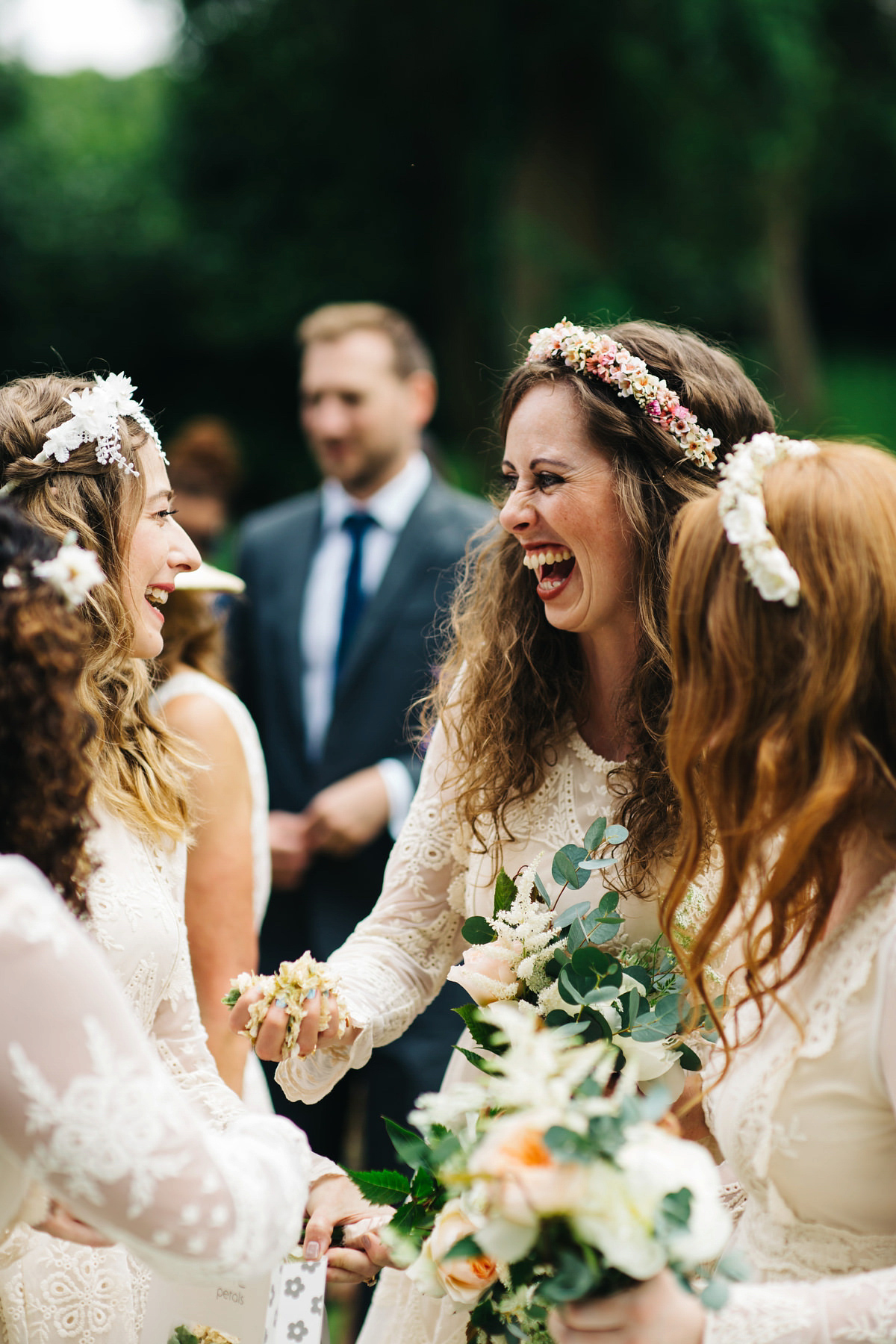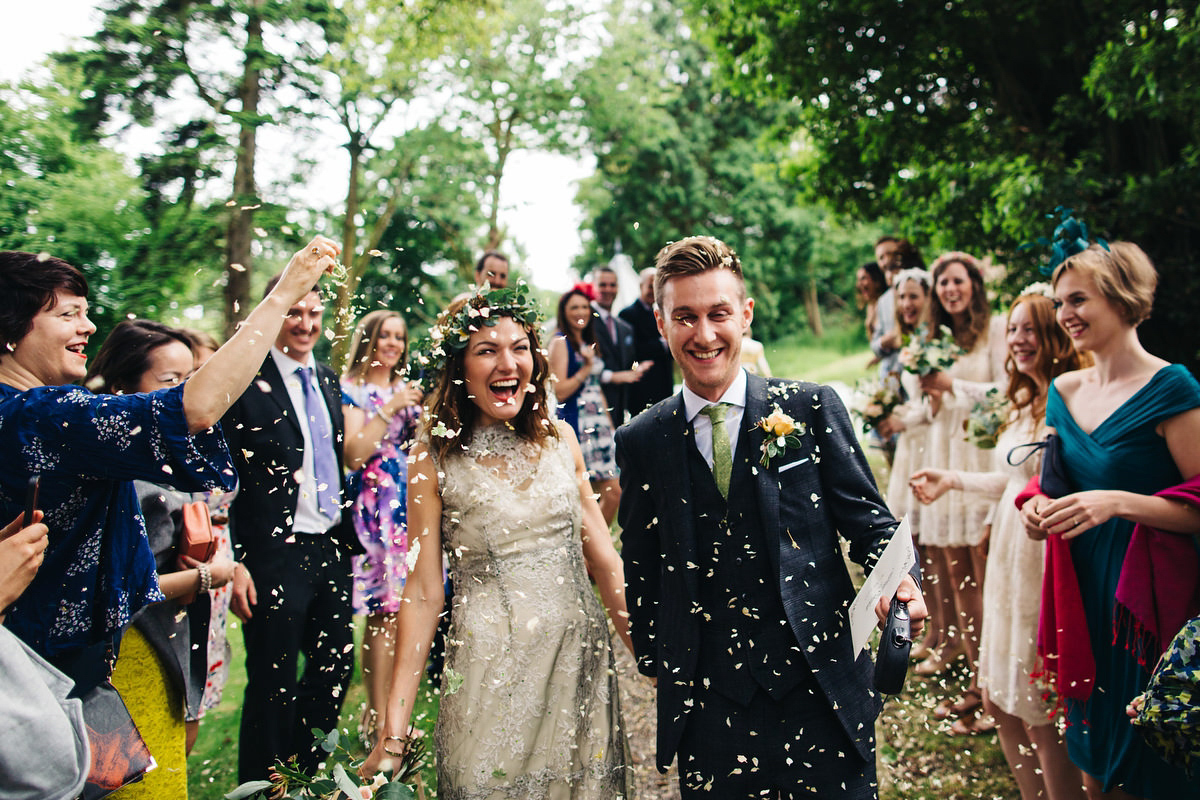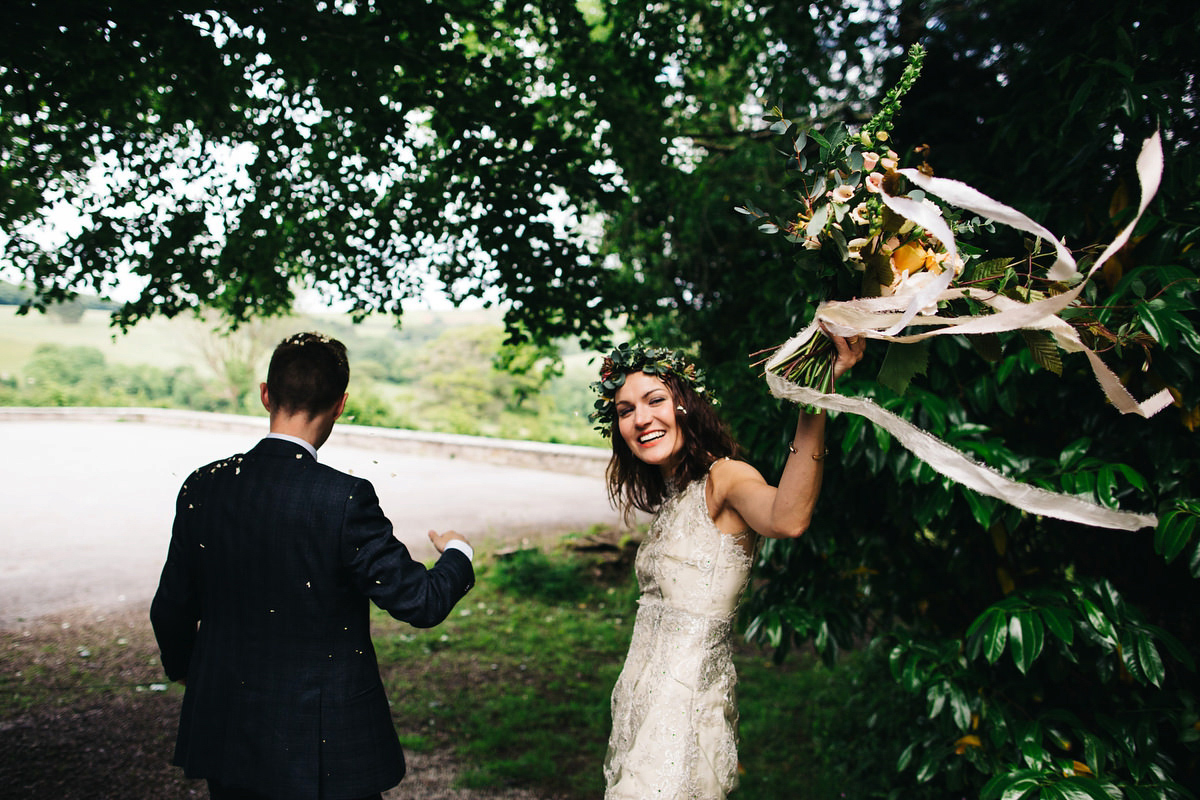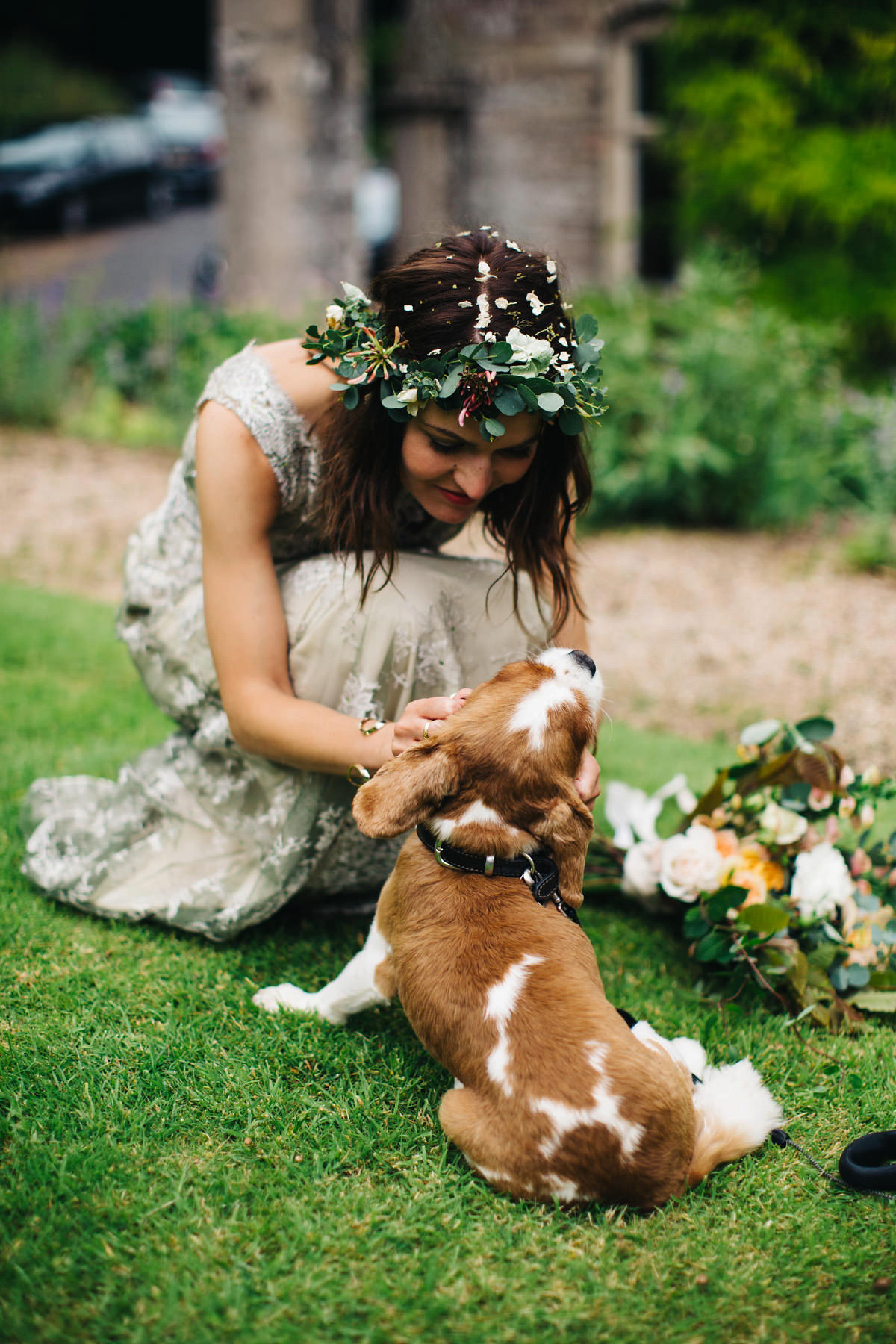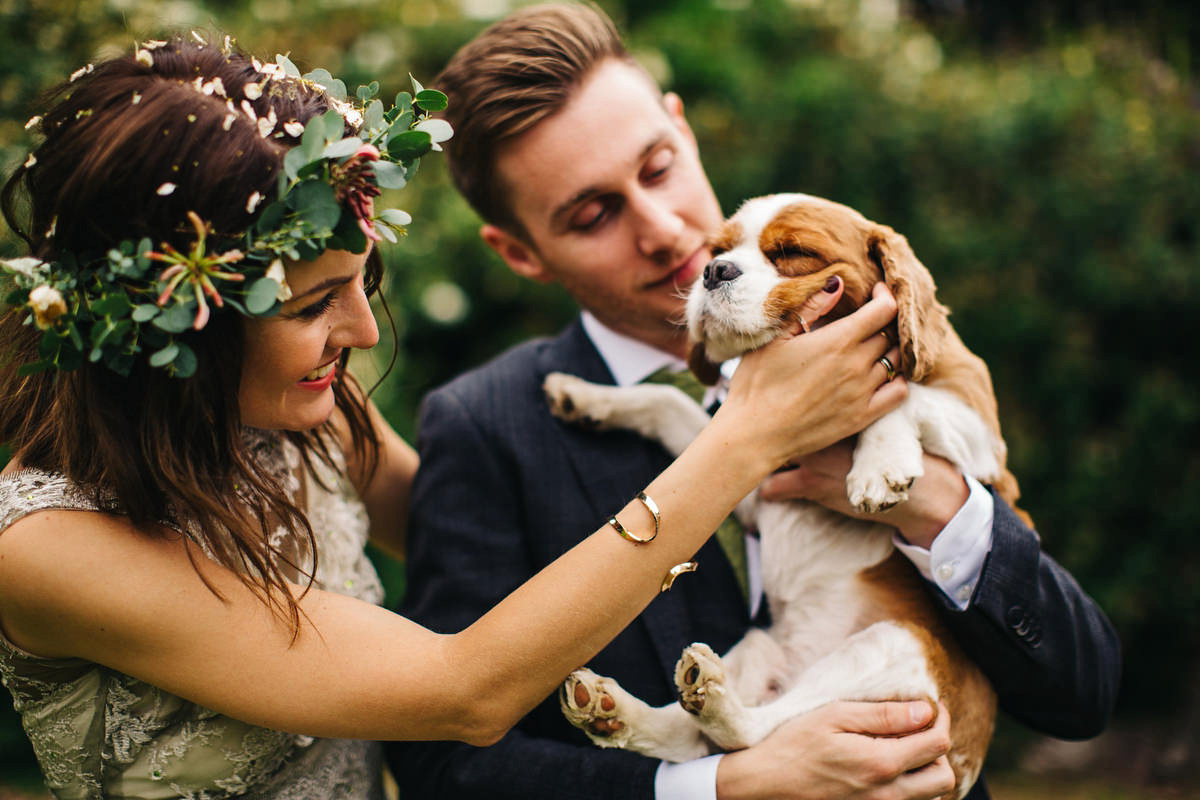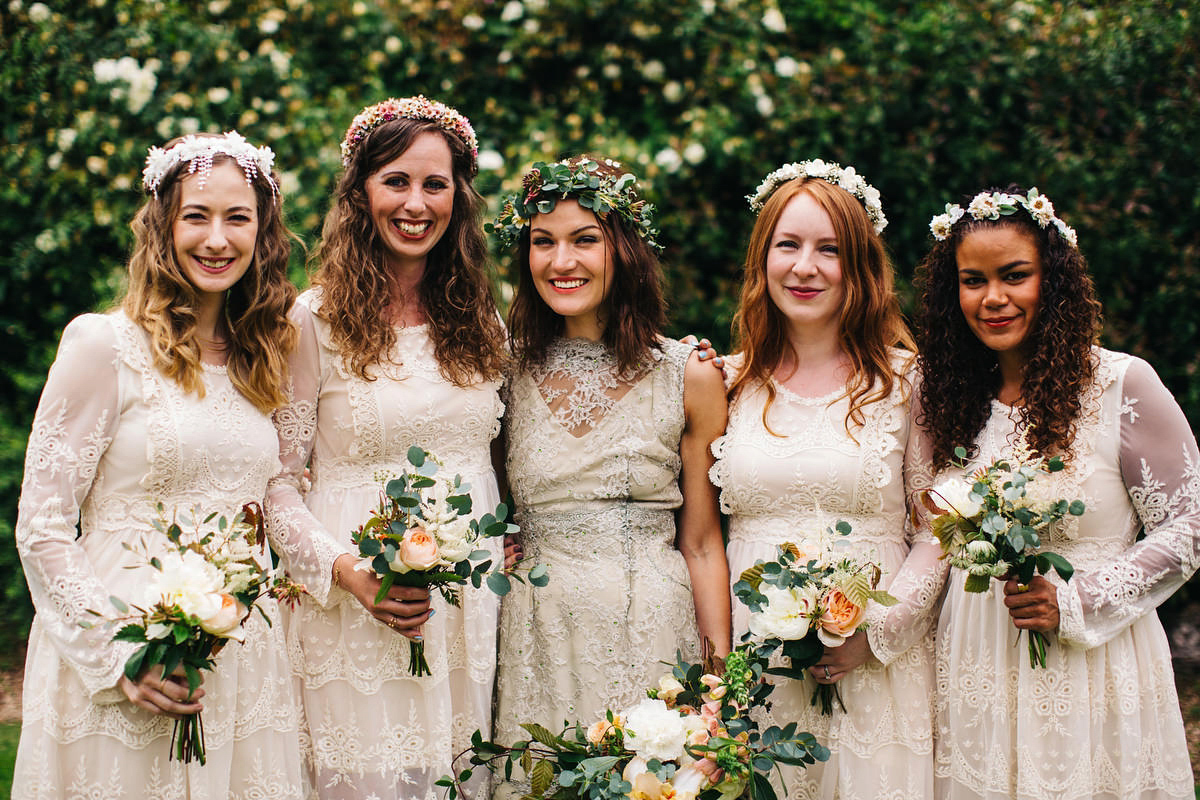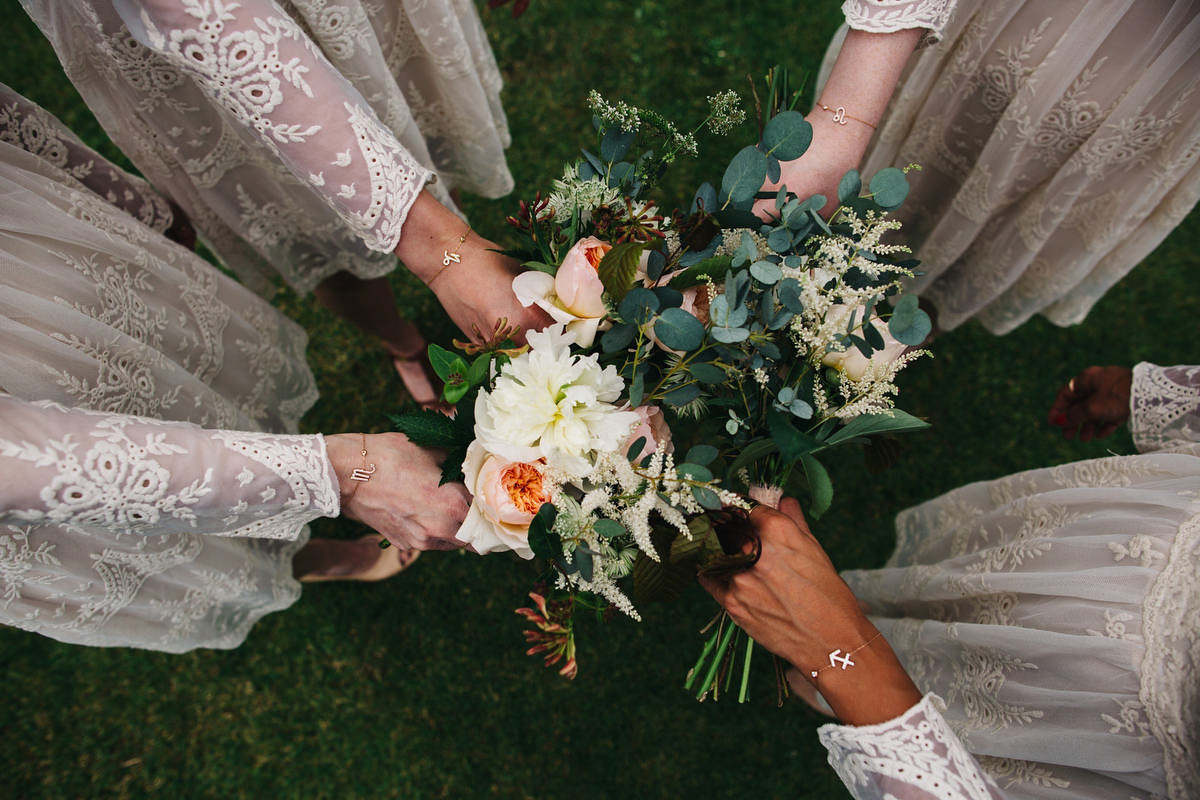 After the tears and laughter of the ceremony, the reception was only ever going to be a truly epic party. Langdon Court supplied the food and the couple decided against cake as Pete is allergic to dairy. While Pete was master of spreadsheets and über-organisation,
Alice got creative and crafted beautifully personal favours for their wedding guests.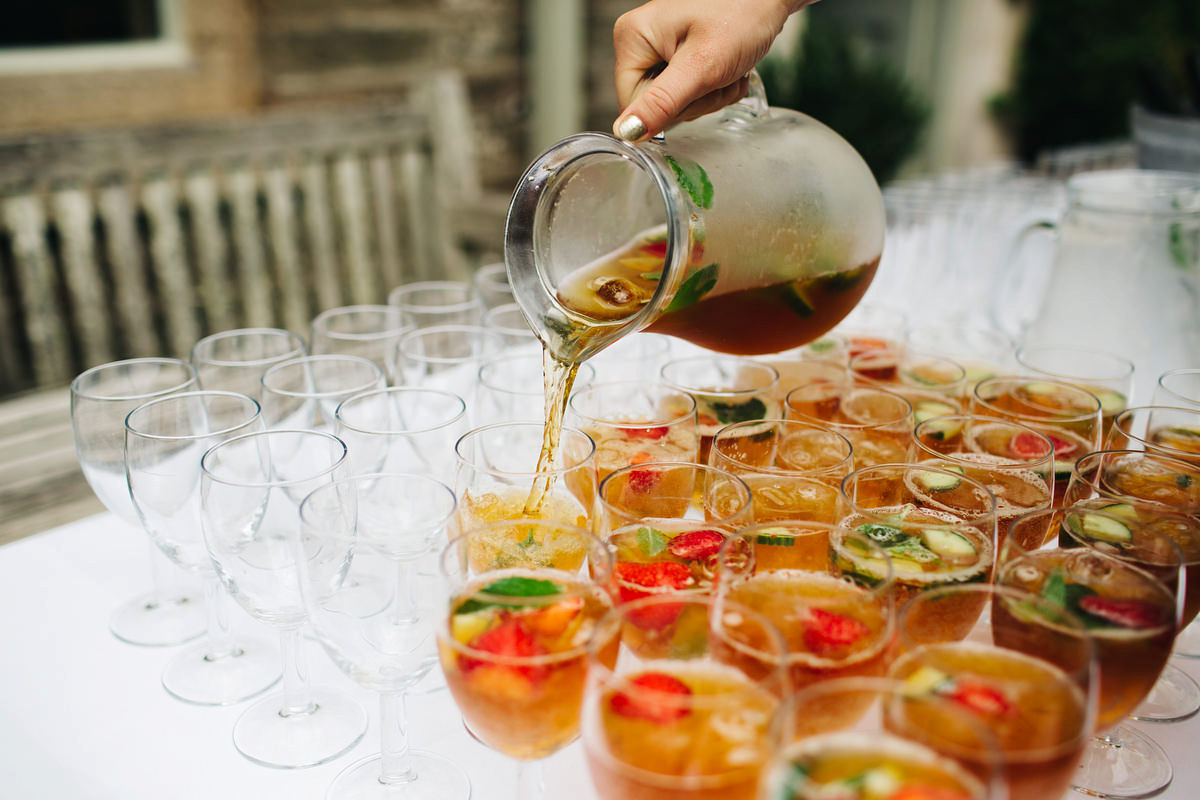 "We had a Tardis photobooth (Police Box Photobooth) set up in the bar where people could do short videos as well as stills. The company edited together the videos for us and the result was even more than we bargained for (including one of the guests taking all his clothes off)."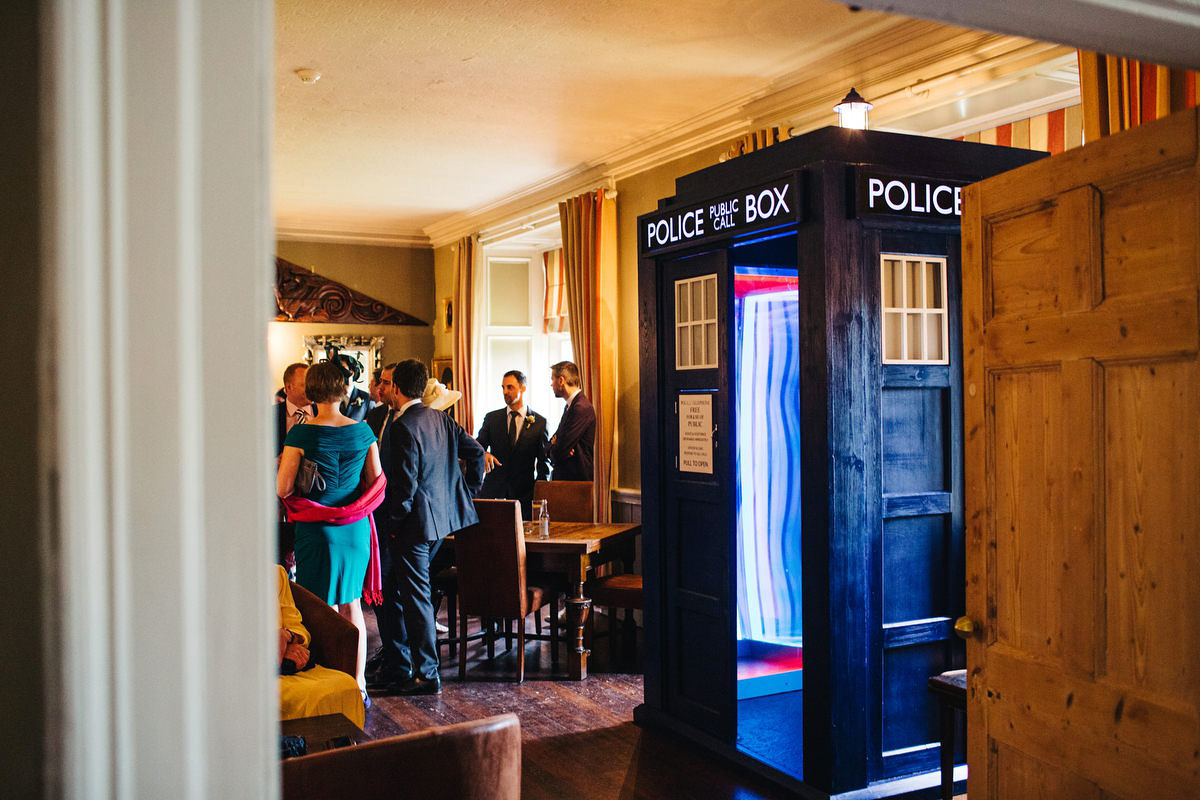 "Pete literally planned the whole thing pretty much single-handedly. He had a spreadsheet. With ten tabs. I got shouted at for not consulting the spreadsheet regularly enough. The 'Take Your Face to Find Your Place' table plan was made up of polaroids of all 73 guests, taken from as far back in the past as we could manage, and as embarrassing as possible."
"A labour of love, I used colour pencils to hand-draw each one of our guests and framed them in simple white mounts; it literally took me a year, but the expression on people's faces when they saw their pictures made all the hard work worthwhile. Pete took one for the team and drew me and JD, and as a wedding gift he secretly scanned all the pictures and created a huge framed artwork to hang on our wall.
Whenever I look at it I'll think of everyone who helped us celebrate."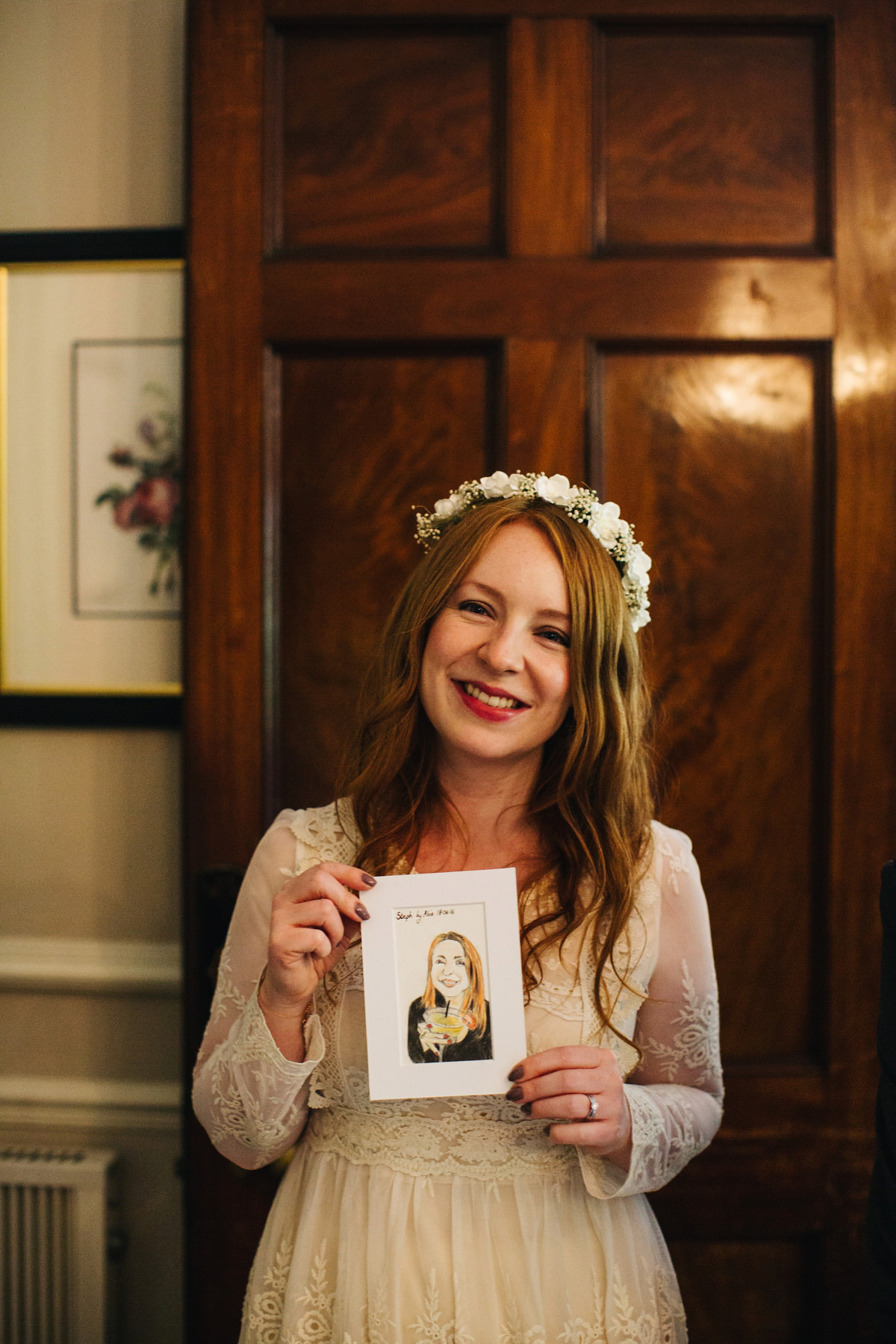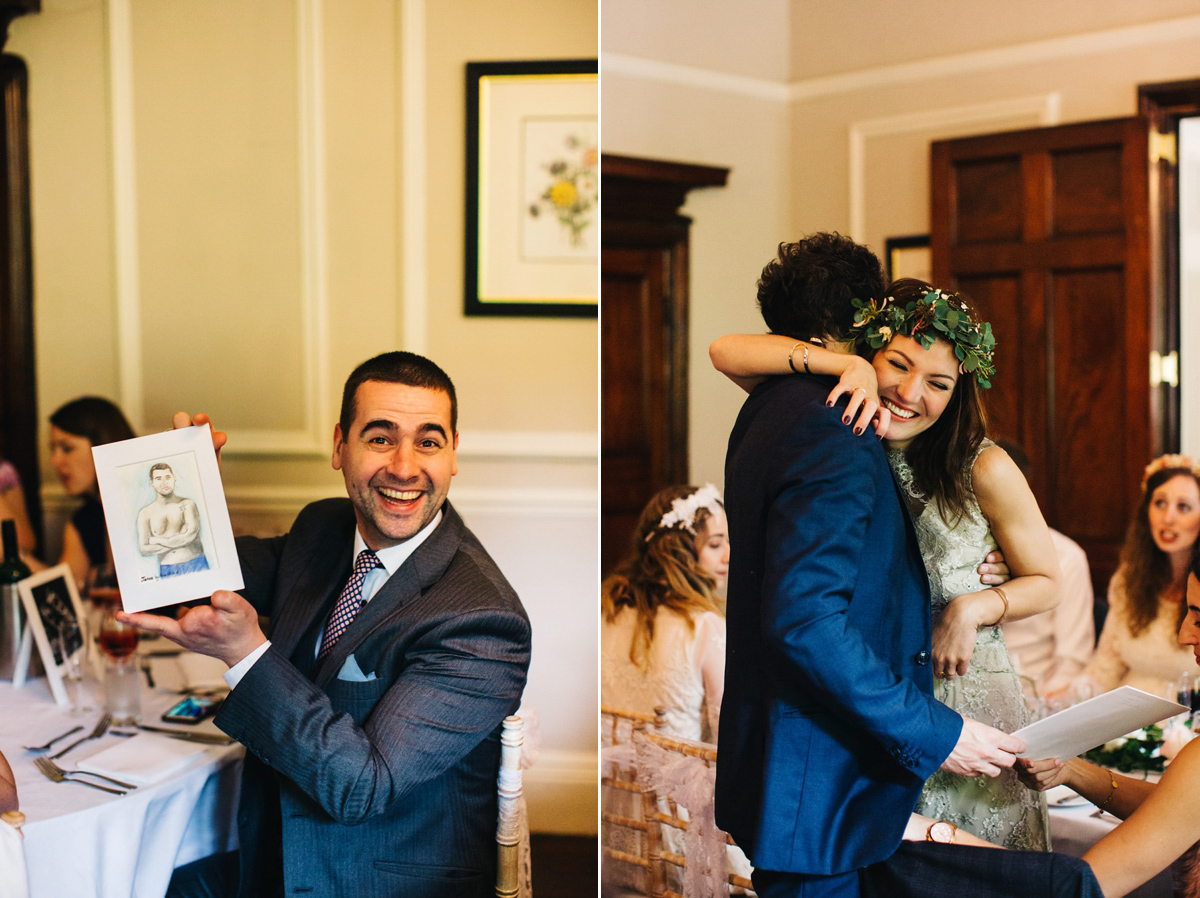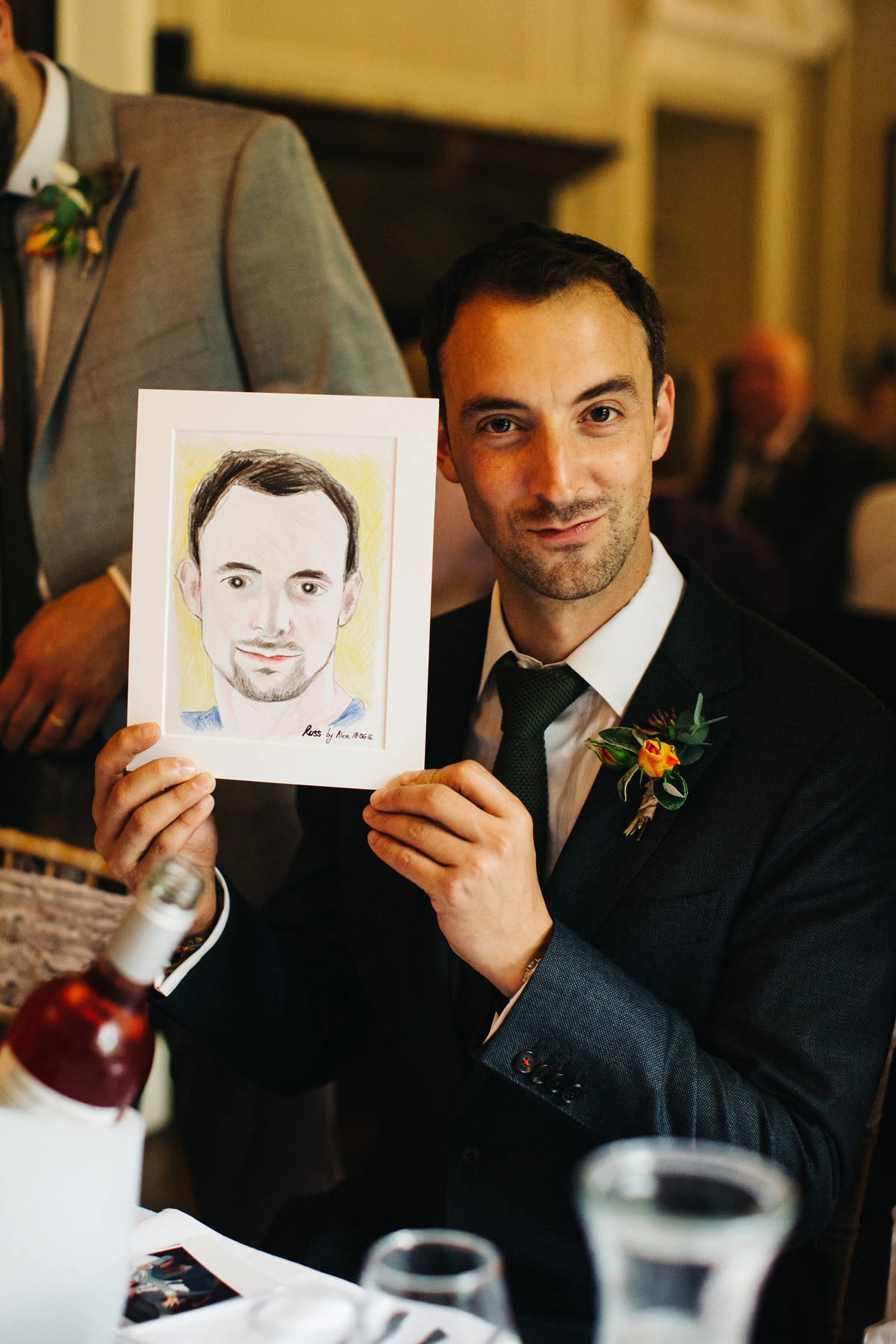 "The tables were named after different spirits and cocktails in keeping with the general booziness of the day (and our relationship). In fact, Pete's toast was done with tequila, salt and lime rather than Prosecco! I think my favourite moment of the day has to be my Dad's funny, sweet and totally emotional speech that had the whole room sobbing. It was so out of character for my normally quiet unassuming dad, and felt like the emotional cherry on top of such a joyful day."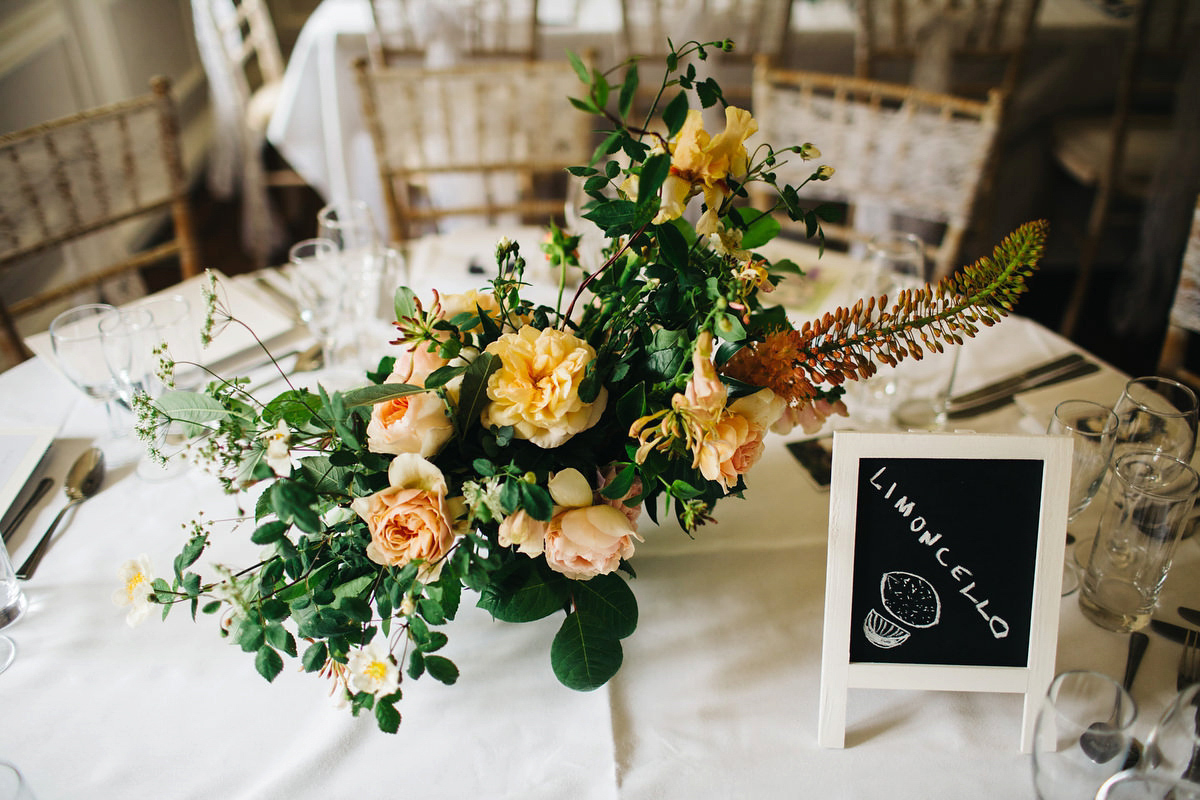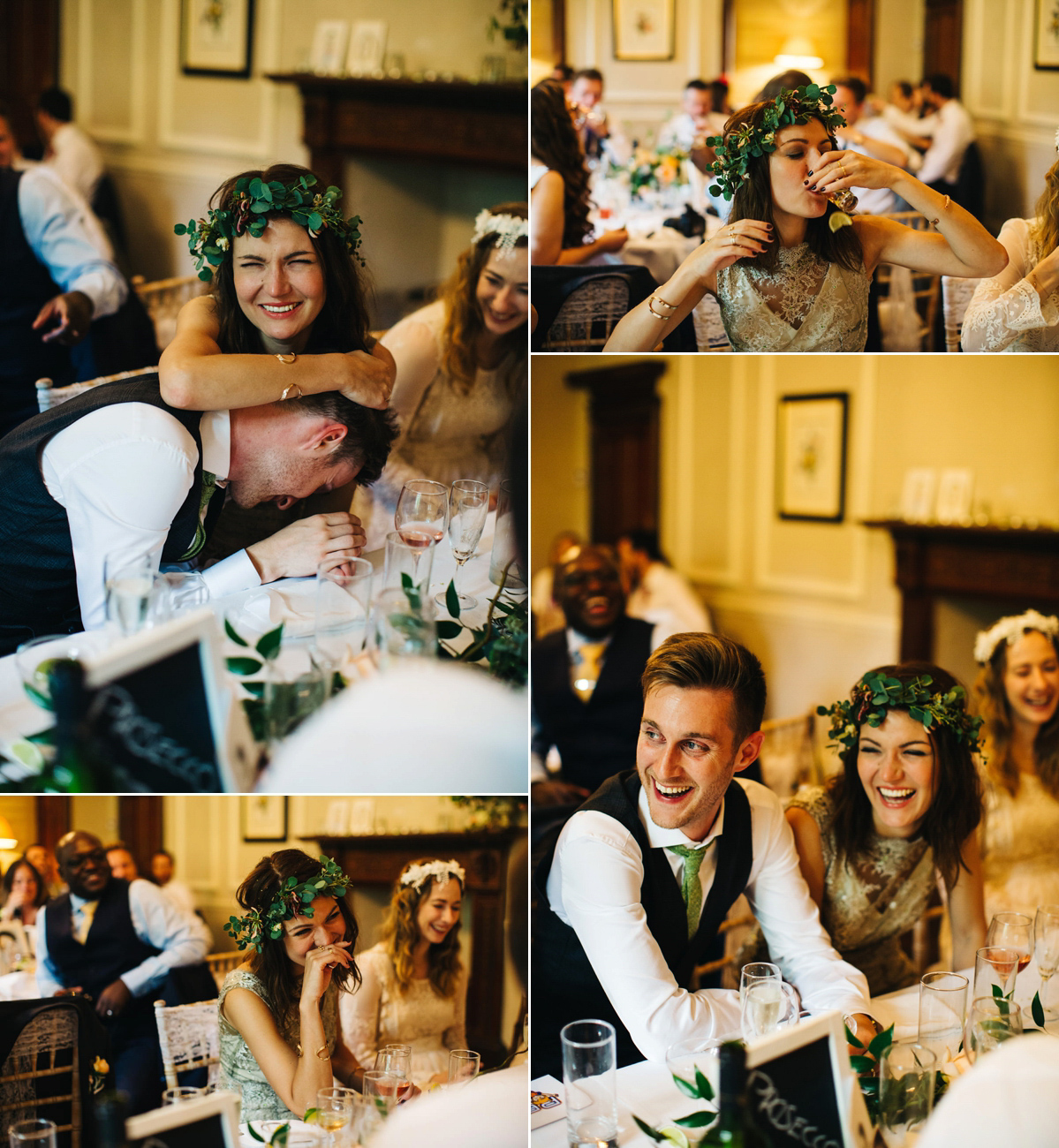 Pete did suffer a bit of a grilling from best man Russell for printing out individually highlighted schedules for each groomsman (I love this) and the groom also cringed at the hilariously incorporated readings of the racier passages from his book 'The Illumination', a fantasy novel Alice got published for him as his 30th birthday gift. This sounds like a brilliant best man's speech, I truly hope someone caught it on video.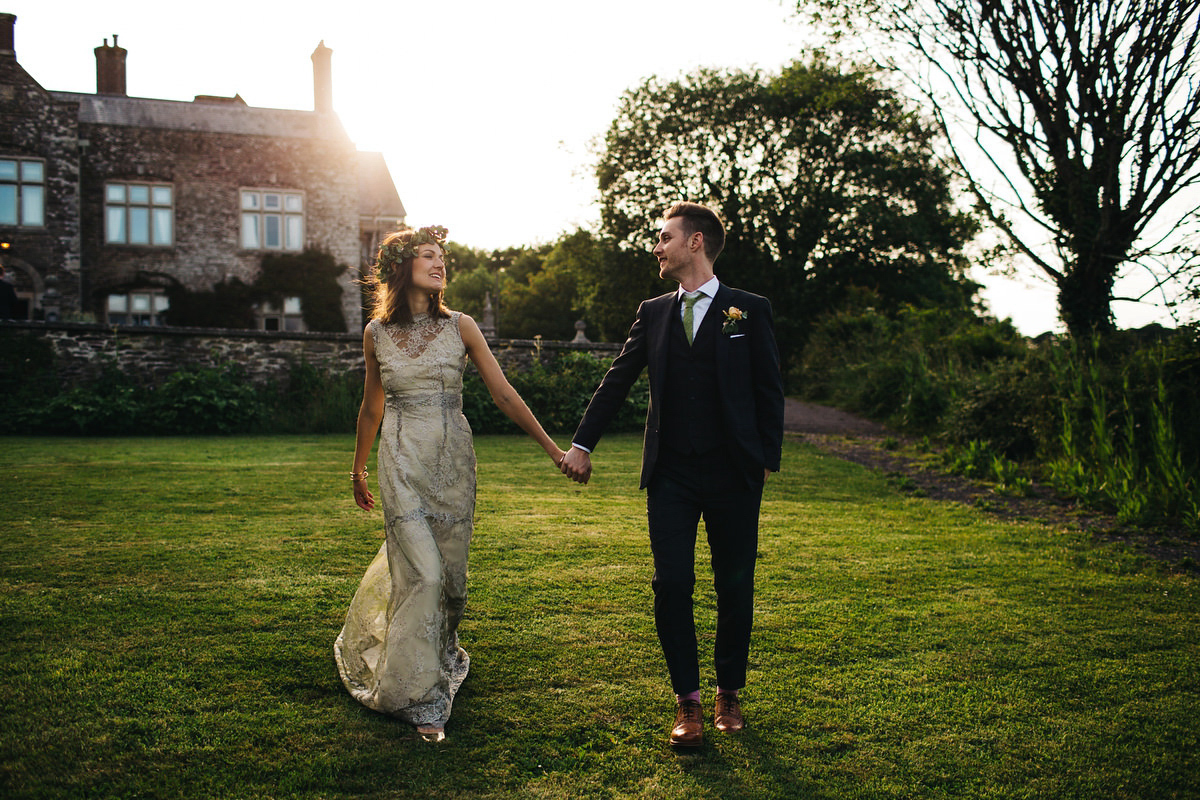 Do you plan on adhering to the old fashioned tradition of tossing the bouquet?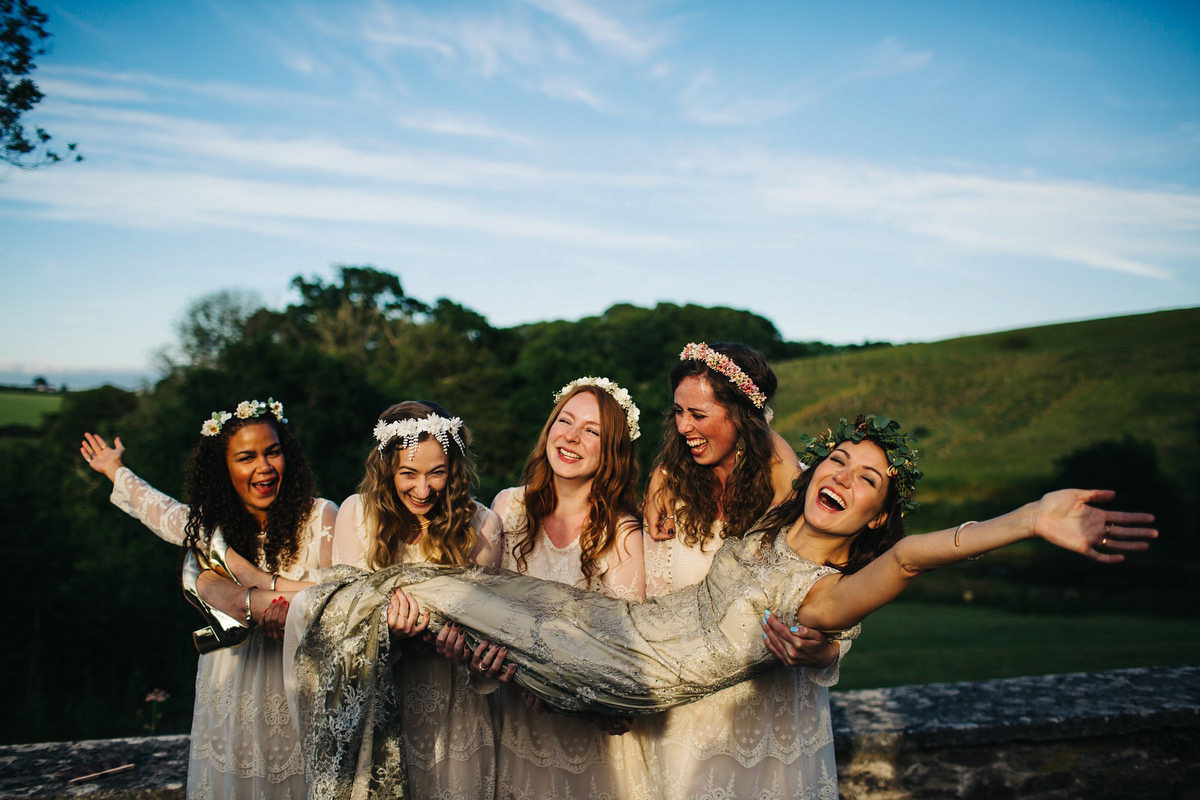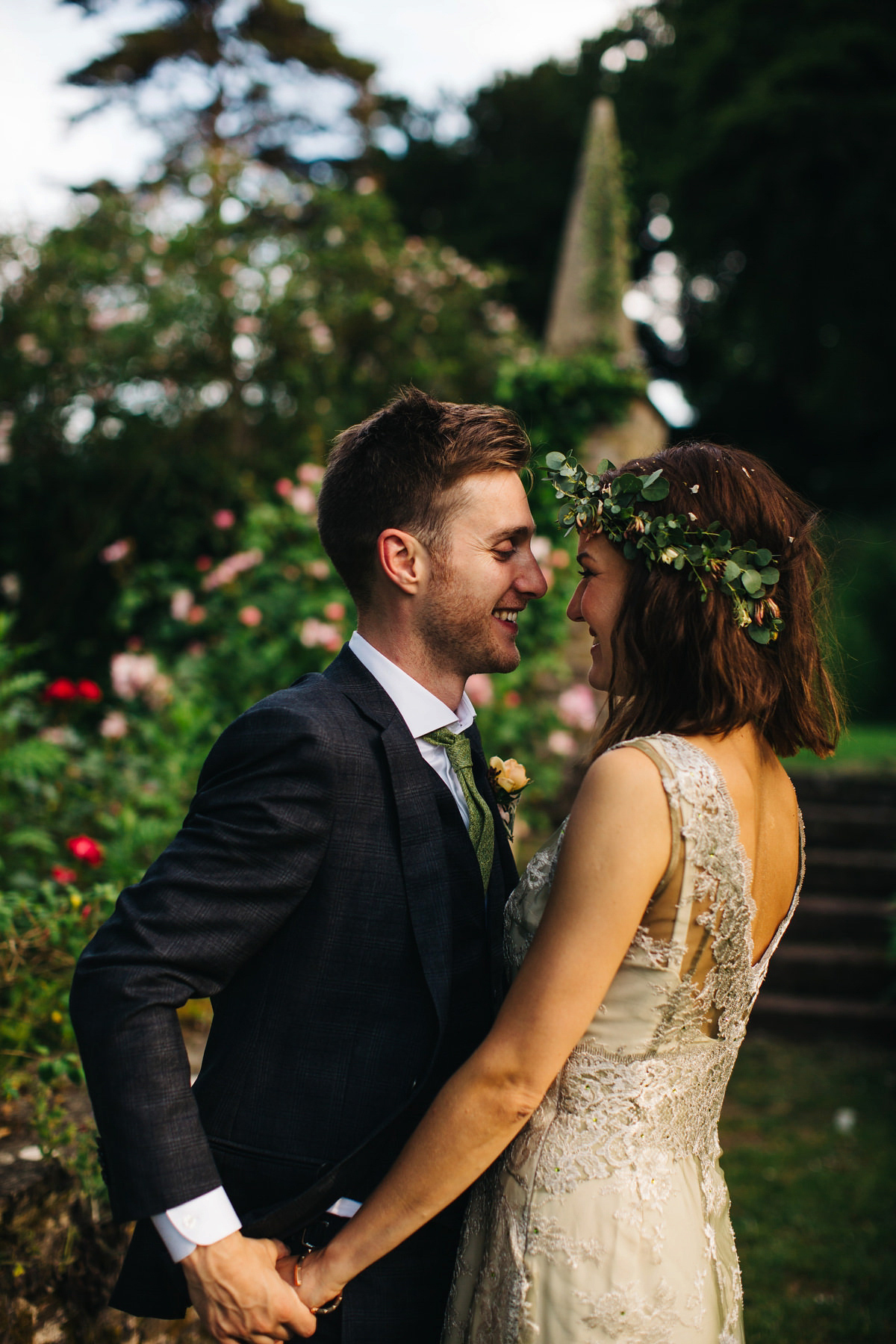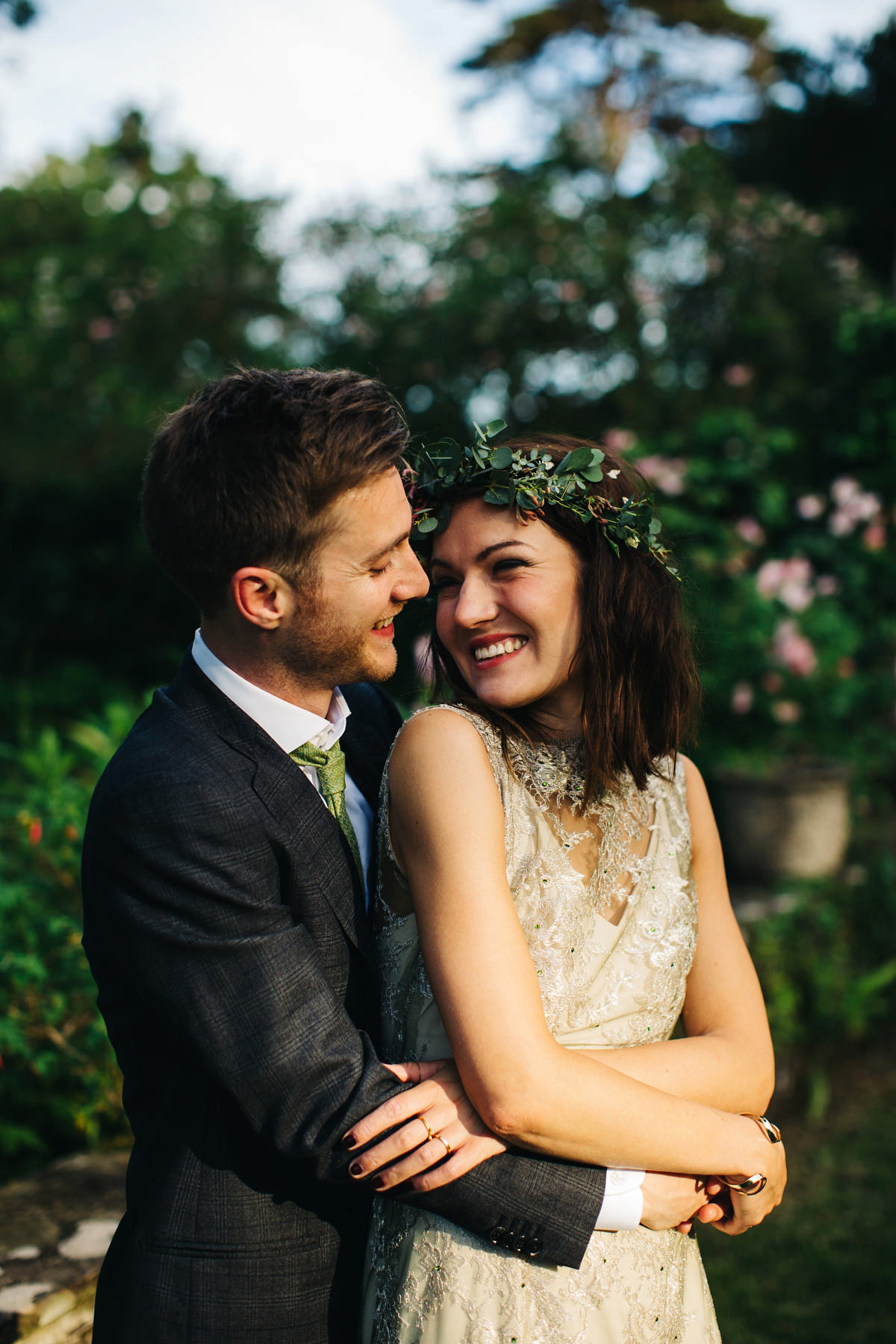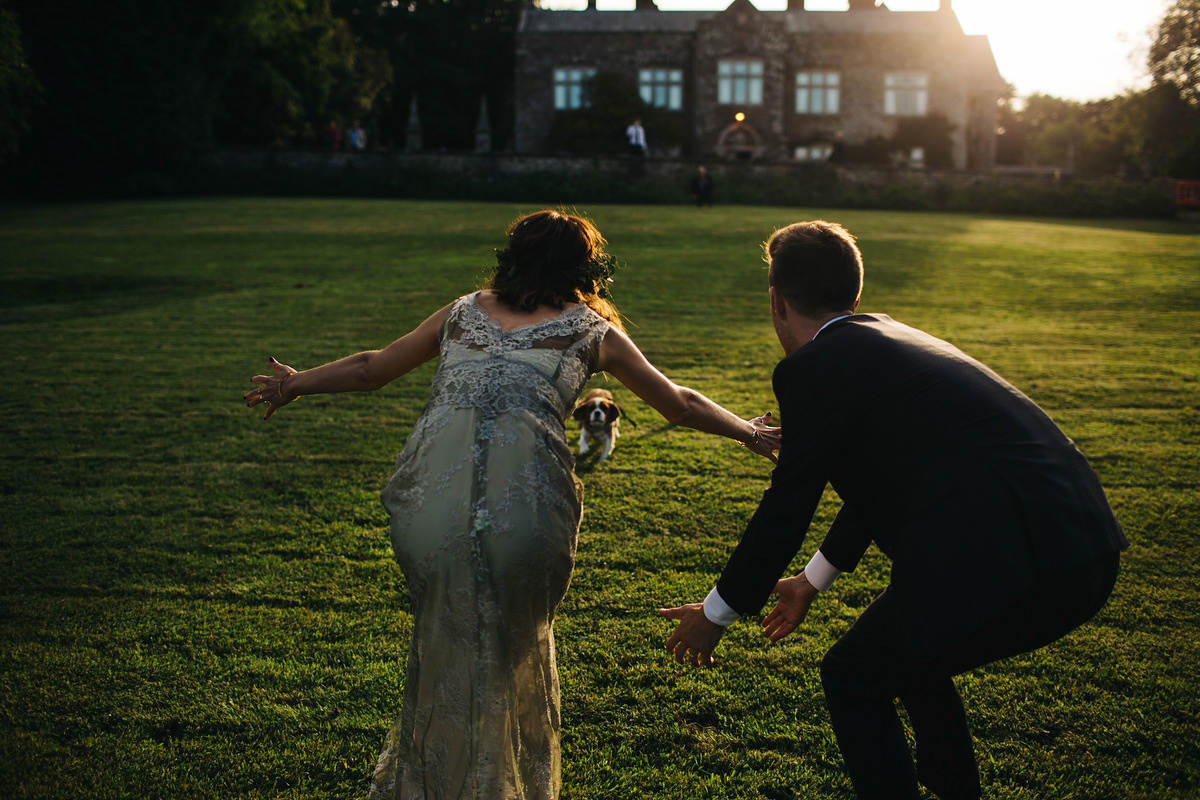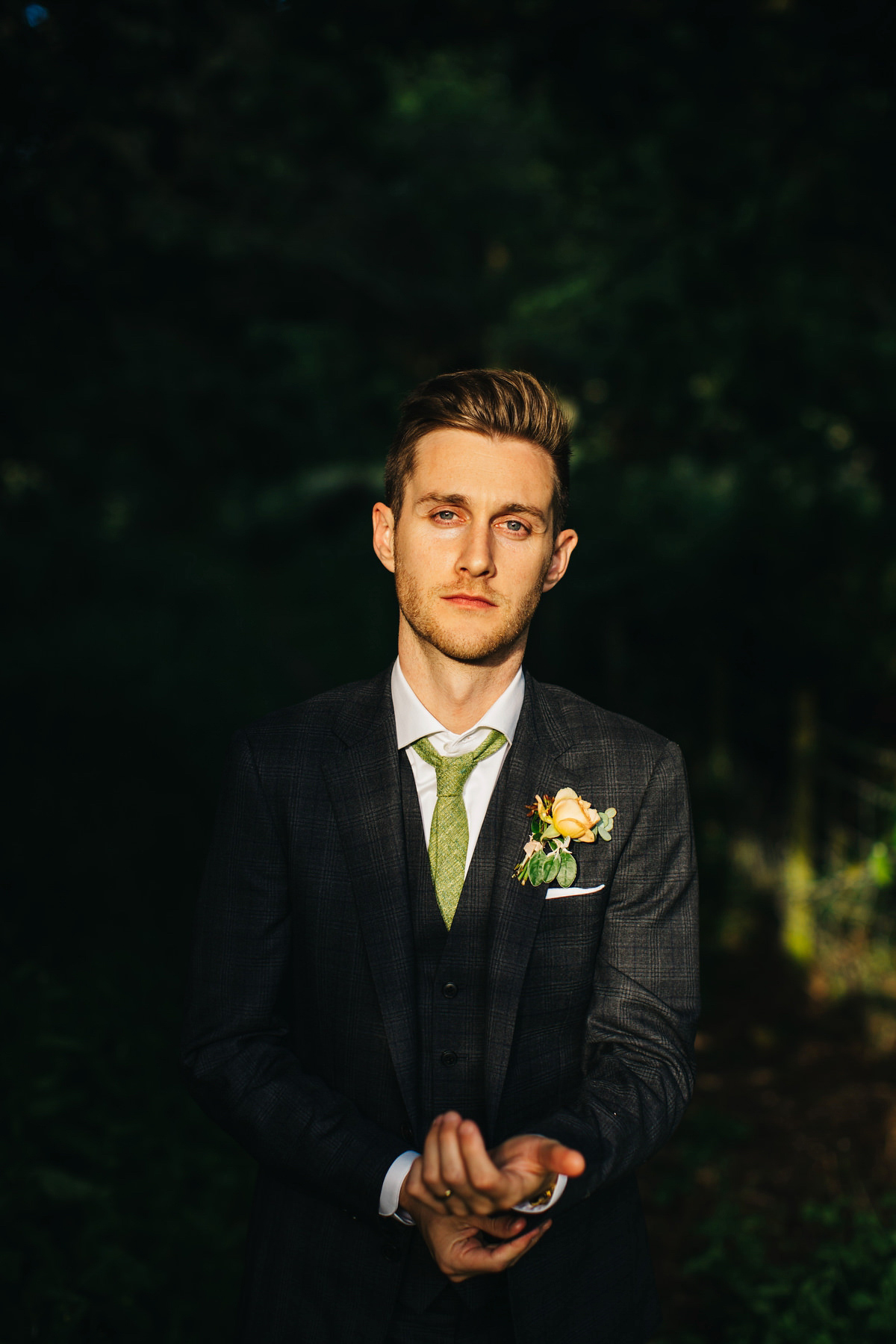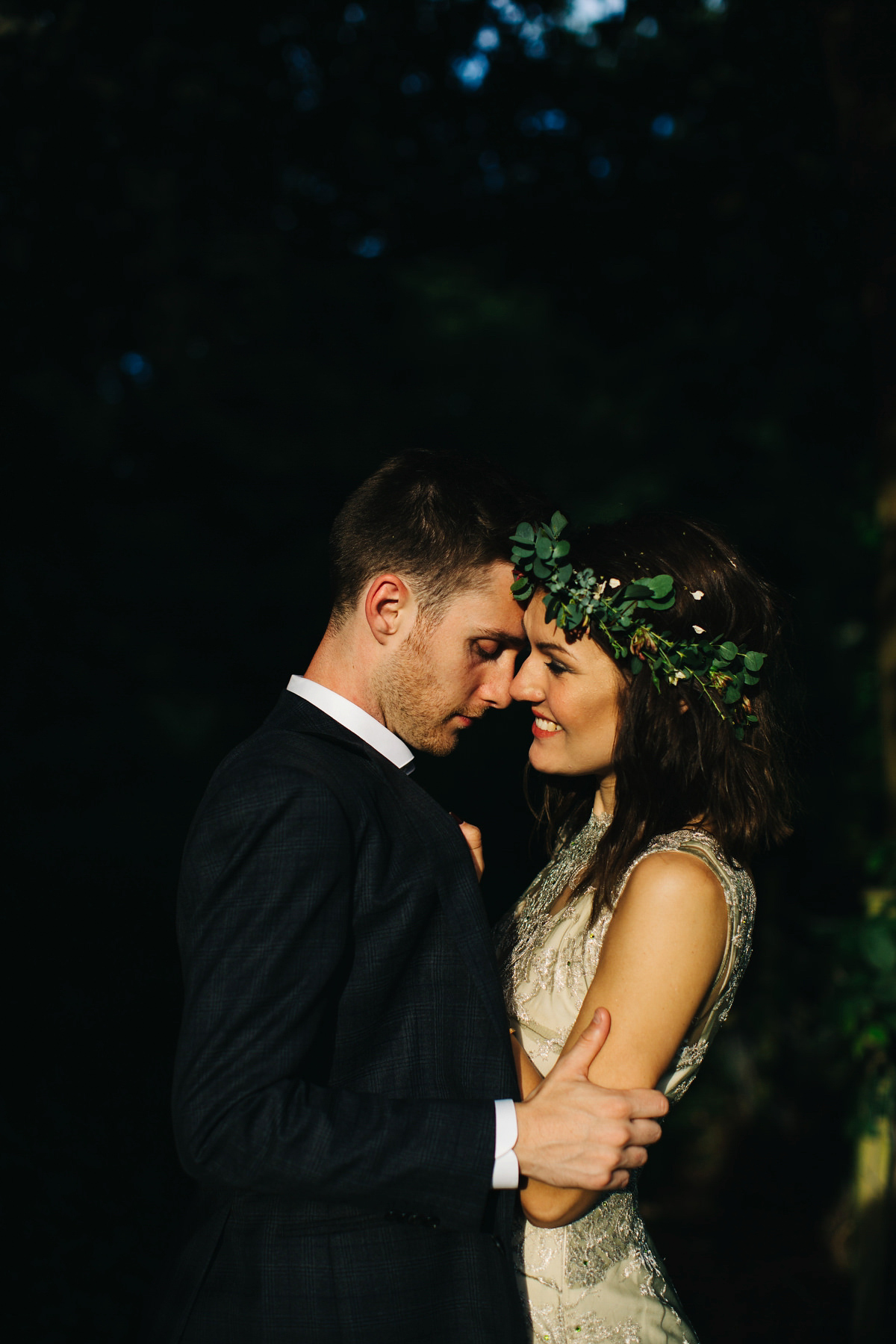 "We taught ourselves what could be best described as a medley of a Strictly routine, foxtrot and Dirty Dancing lift using YouTube videos – the result, after much prosecco and tequila, was as polished as you might imagine. Our song was pretty controversial too, being an acoustic version of '99 Problems.' The whole thing was so much fun that I realised I needed to put on something more suitable for dancing, so changed into a denim skirt and 'Palice Wife' t-shirt. All class!
We'd decked out the room in a mass of fairylights and when the lights went down Pete's groomsman Marcus, who happens to be a professional DJ, hit the decks with a lot of 90s RnB."
"I think the party photos might be my favourite of the lot; if the level of dishevelment indicates the level of fun had by all, I think we can be pretty happy. I really don't think I'd change anything. Well, maybe I would have had ONE less Tequila shot and then I might have managed to carry on dancing until the music stopped. The 11.15pm 'disco nap' was, with hindsight, never going to be a good plan."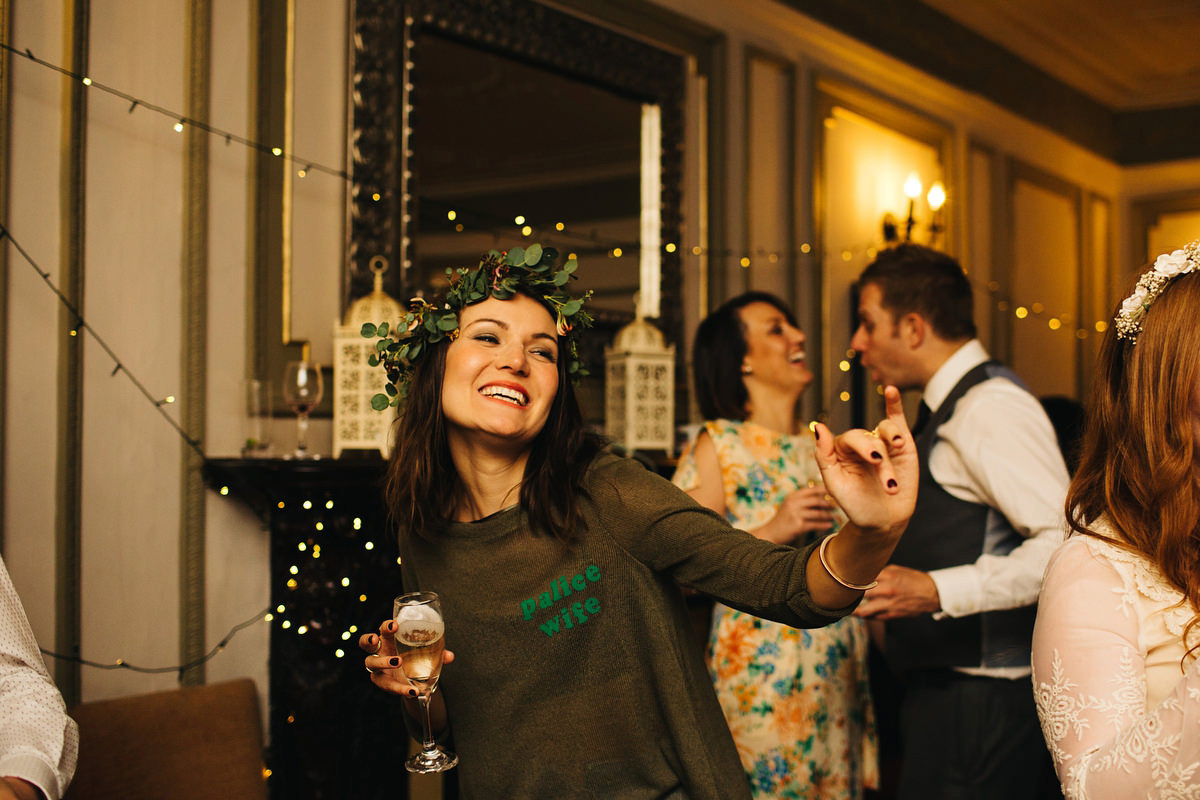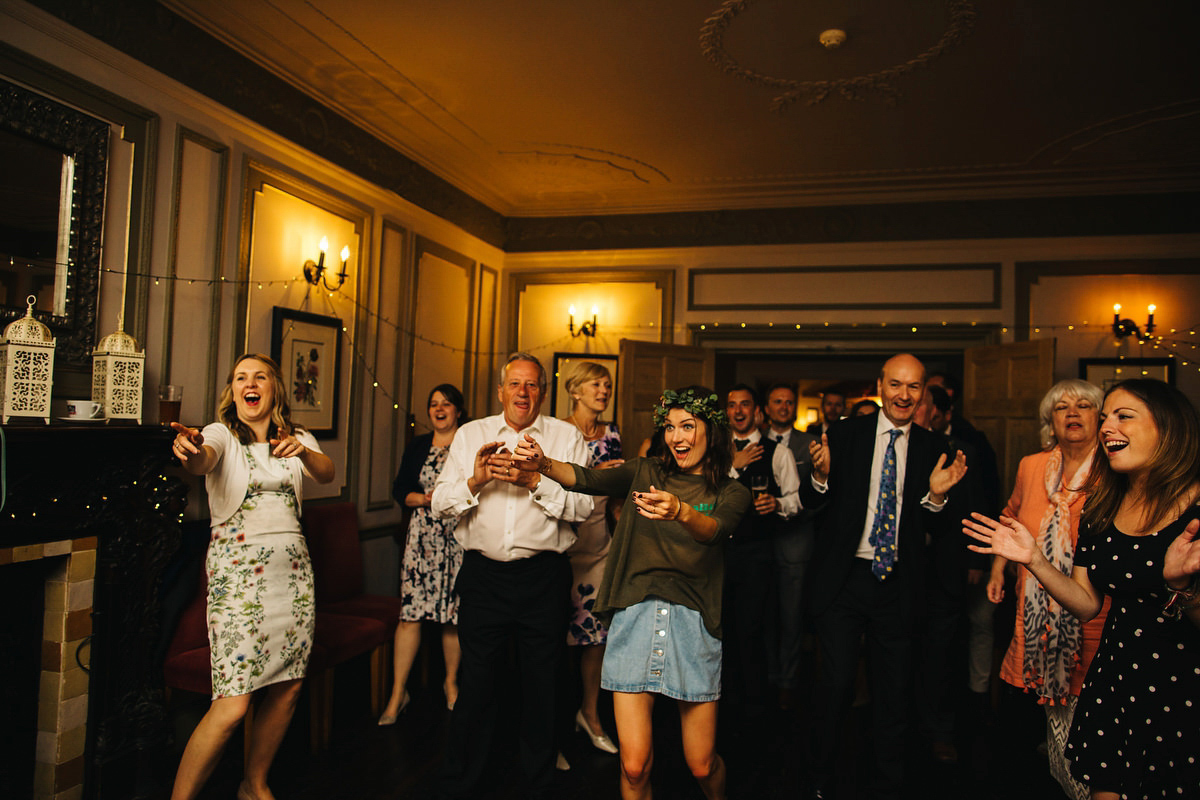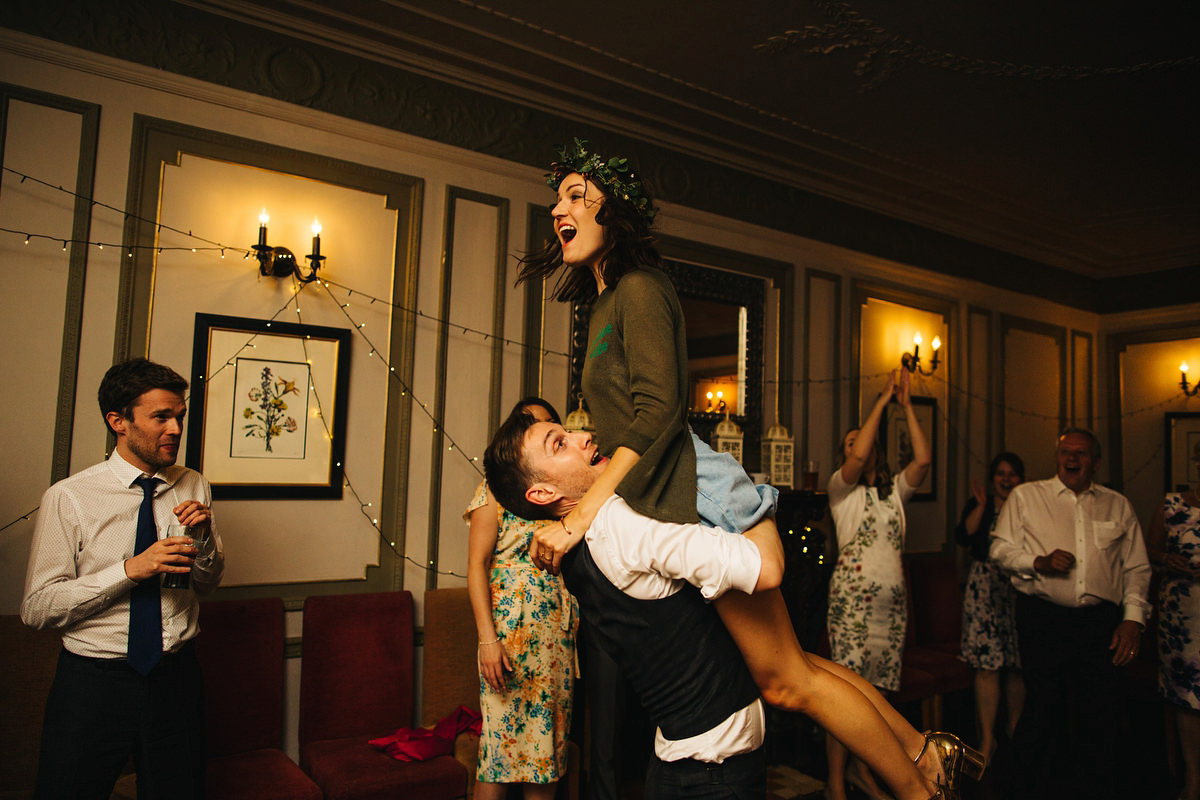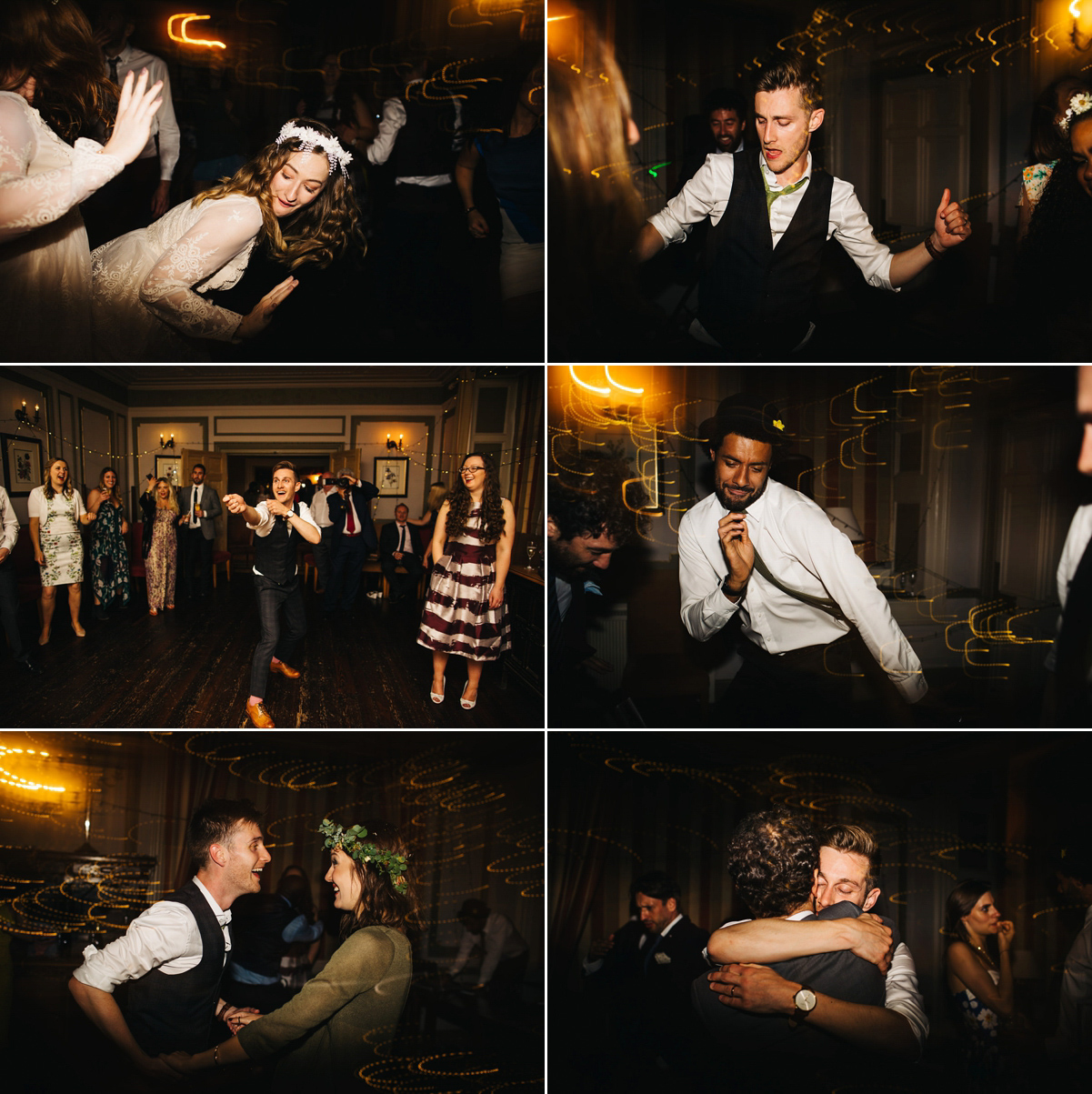 Words of Wedded Wisdom
"Don't worry if you're too excited to sleep in the run up to the day – I think I must have got about three hours a night for the week before, and about two hours on the Friday night. In the end I just got up super early, ran myself a bath and soaked for an hour with cold teabags on my eyes – and as soon as I went down for breakfast, the adrenalin kicked in. It really didn't matter that I was functioning mainly on coffee, fizz and pure excitement!"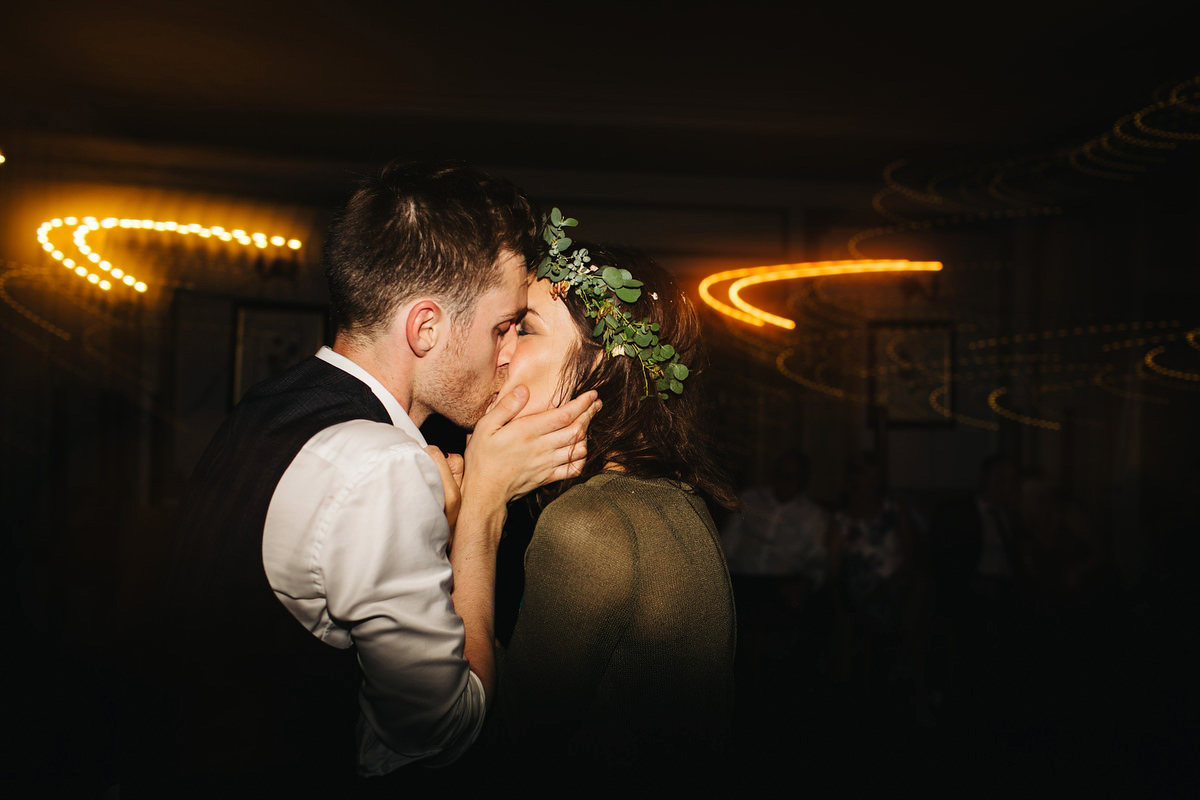 Gorgeous Alice was a bit of a Love My Dress addict in the run up to her nuptials; particularly fond of the non-traditional wedding features and joyful brides – well lovely, I think you've well and truly joined the ranks of our happiest, smiliest brides in totally cool, bohemian style.
Thank you so so much to Alice, Pete and JD for allowing us all to share in your truly beautiful day; this really is one of those weddings I long to have been present at. Huge thanks too to the talented Richard Skins Photography for these gorgeously joy-filled captures. If you're longing for more of Alice's hilarious musings, check her and Pete out on Instagram (Alice has a fab blog too).
And if you're considering a first look, check out our archives for all the inspiration you'll ever need. Equally, for you lovelies looking for a coloured wedding dress, we have you covered.
Love, Em x