Hello you! Whatever time, wherever you are and whatever you are doing to have landed up on this wedding blog page today, I welcome you and hope you're having a good day.  I'm so delighted with this new addition to our precious archives of beautiful weddings. Bride Alice, Travel Editor at Dorling Kindersley (DK) married her Novelist and Copywriter beau Jamie on 22nd August last year at Bateman's Barn at South Elmham Hall in Harleston, Suffolk. With their shared literary world careers, the couple chose to add a variety of sweet and stylish book references throughout their day – take a look at their Penguin Books inspired table plan and table settings, for example.
I adore Alice's chic column gown and headpiece – the latter of which was designed and hand-crafted by our Little Book Brides wedding directory member, Debbie Carlisle.
"I've always been obsessed with 1920's fashion (hence my bobbed haircut) so I knew I wanted a dress (and accessories) that lent itself to the era. For the décor of the wedding itself, we wanted it to be colourful and rural with some retro/bookish touches."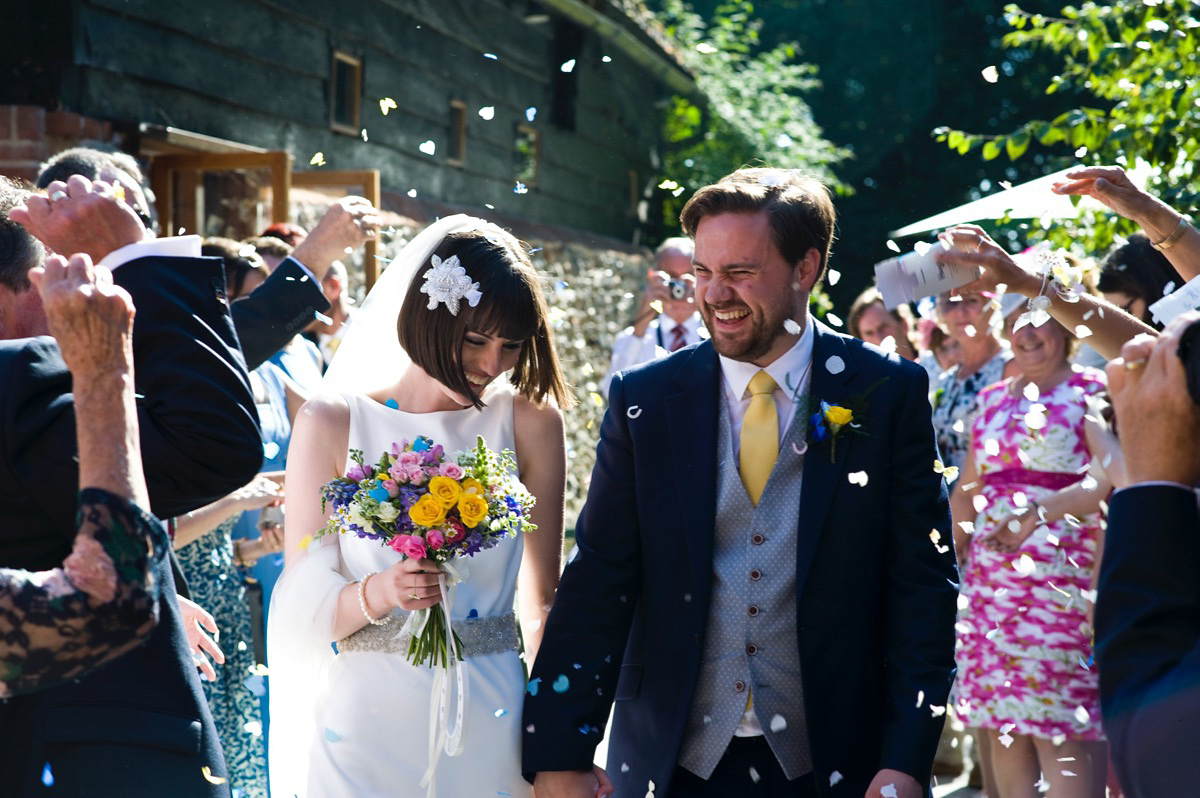 "We met in 2011 when we were both working for the same publishing house. We worked together for almost a year before we got together. Jamie proposed in February 2014 (around 18 months before the wedding day)."
"We chose the venue because I grew up in nearby Lowestoft, we were looking for a barn in a countryside setting and we were instantly drawn to how private it was (it was in the middle of nowhere essentially.). Nicole at Bateman's Barn did so much for us before, during and after the day. She was invaluable."
"I purchased the dress from the Charlie Brear show room in London. I attended an open evening at Charlie Brear in association with Brides Magazine and as soon as I stepped into the gorgeous jewel-adorned showroom and saw the slinky silk dresses I knew I would find my dress there. I had strong ideas about what I wanted – a very plain dress with a beautiful drape and a high neckline."
"As soon as I slipped on the Torum dress I knew it was 'the one' – it felt gorgeous against my skin and it moved beautifully – I loved how the small 'puddle' train just gathered on the floor behind me. It made me feel glamorous, elegant and very classic."
"I wore a beaded/crystal belt also from Charlie Brear and a freshwater pearl bracelet that I already owned."
Alice wore the divine Rosa Pearl bridal comb by our Little Book for Brides member and much loved friend, Debbie Carlisle.
"My veil was just £20 from ebay – an absolute bargain! I wasn't sure if I wanted a veil so I purchased this just in case. I'm so glad I did, it looks great in the photos and made me feel like a real bride."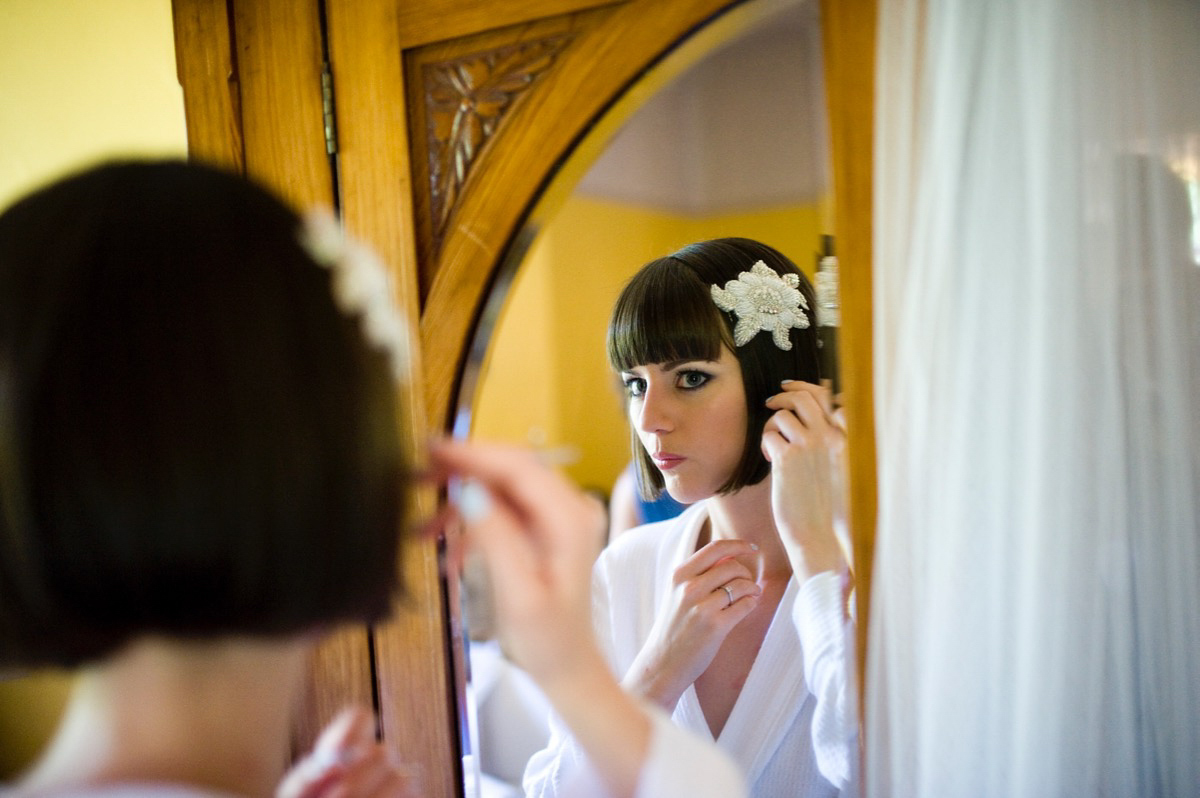 "My husband sent over a gift of Jo Malone's Wild Bluebell because we love going on bluebell walks on the Ashridge estate near where we live."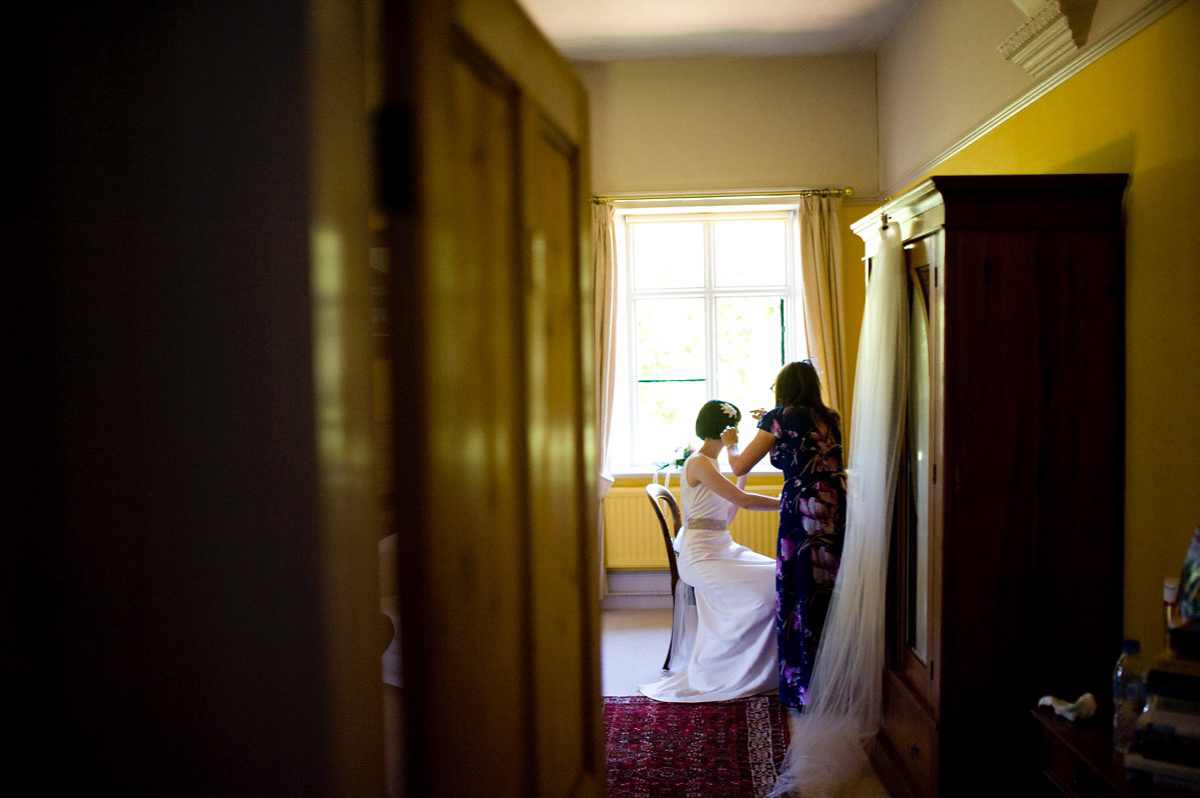 "My shoes were the Gardenia design by Rachel Simpson. They were in keeping with the dress, had the right size heel and I fell in love with the pastel blue."
"Our florist was Susan Fitch at New Beginnings in Bungay. She came recommended by Nicole at the venue. We wanted a mix of seasonal and wild flowers, in a variety of colours."
"Nothing too formal, but lots of colour and a natural feel. We loved what Susan did. Especially with our vintage bikes, which was a special request."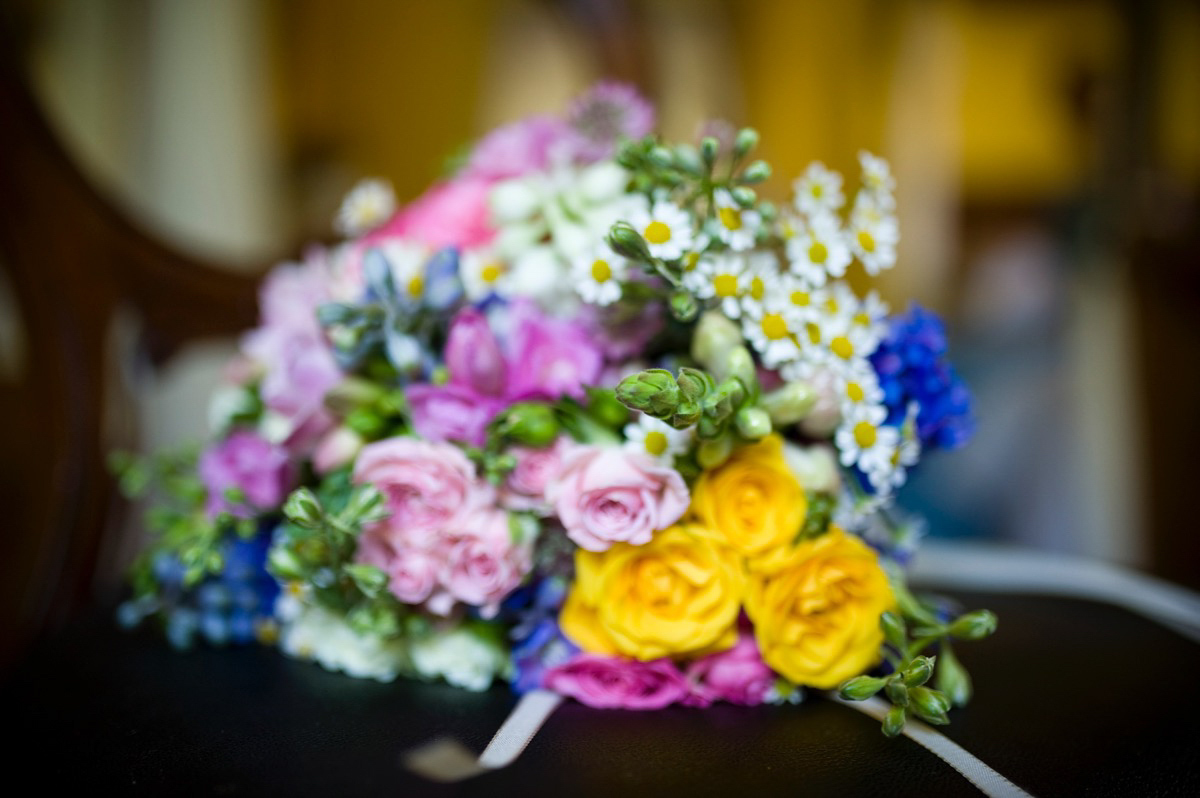 "My bridesmaids wore the 'Amy' and 'Charlotte' dresses from Maids to Measure in 'Skinny Jeans' colour (a beautiful cornflower blue)."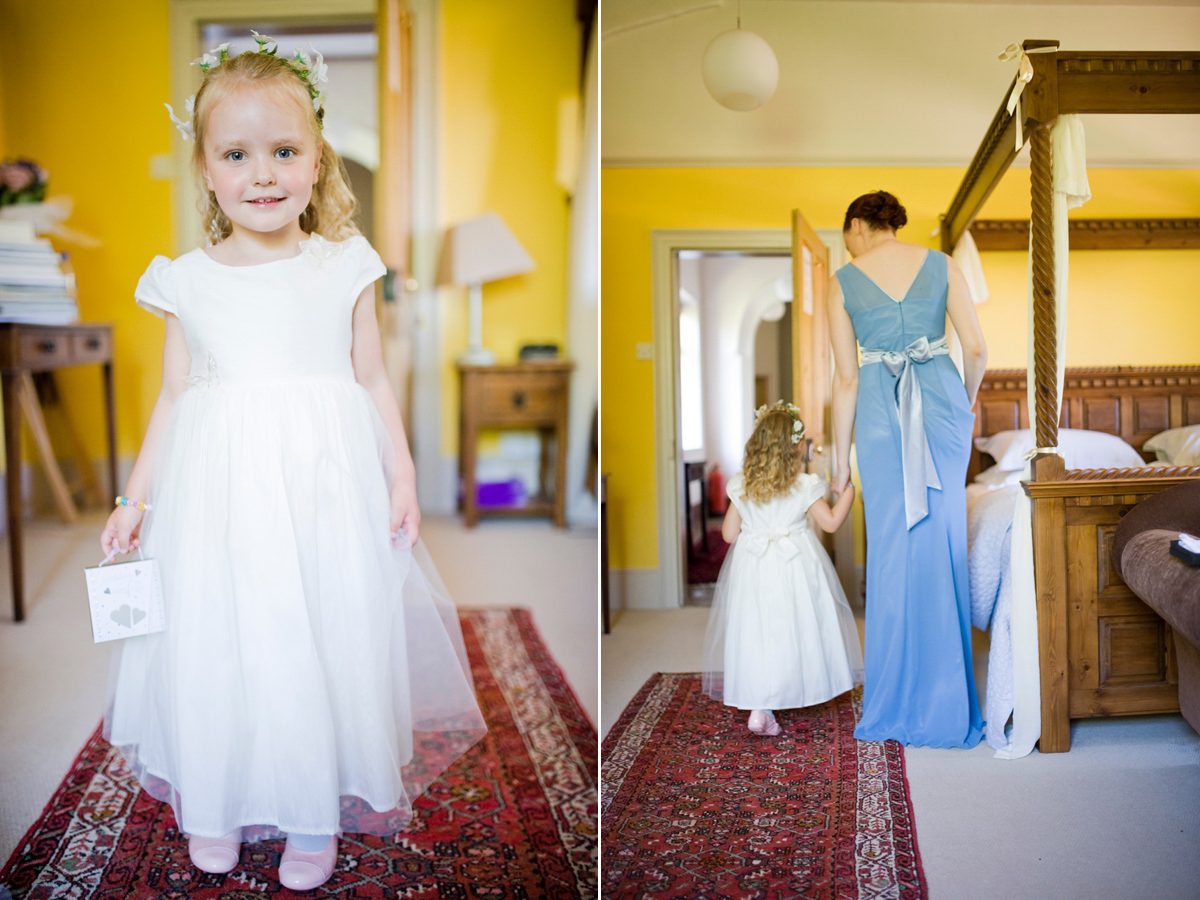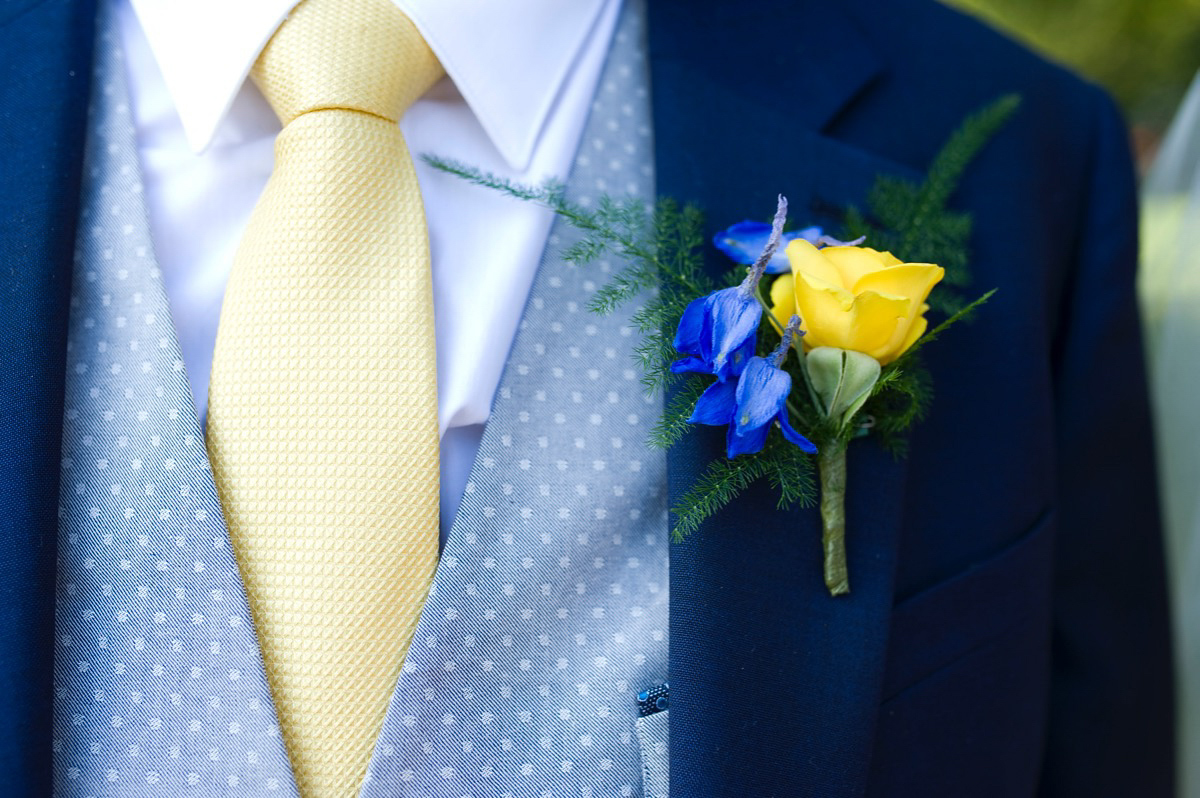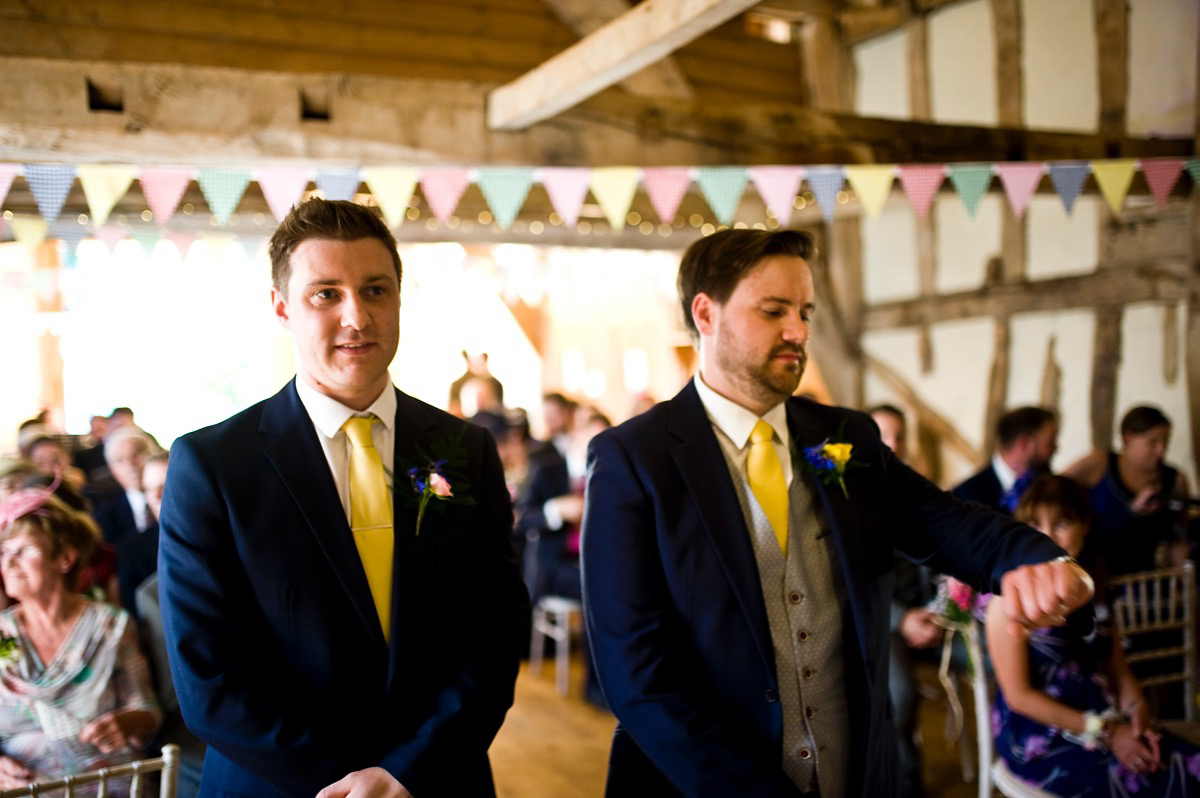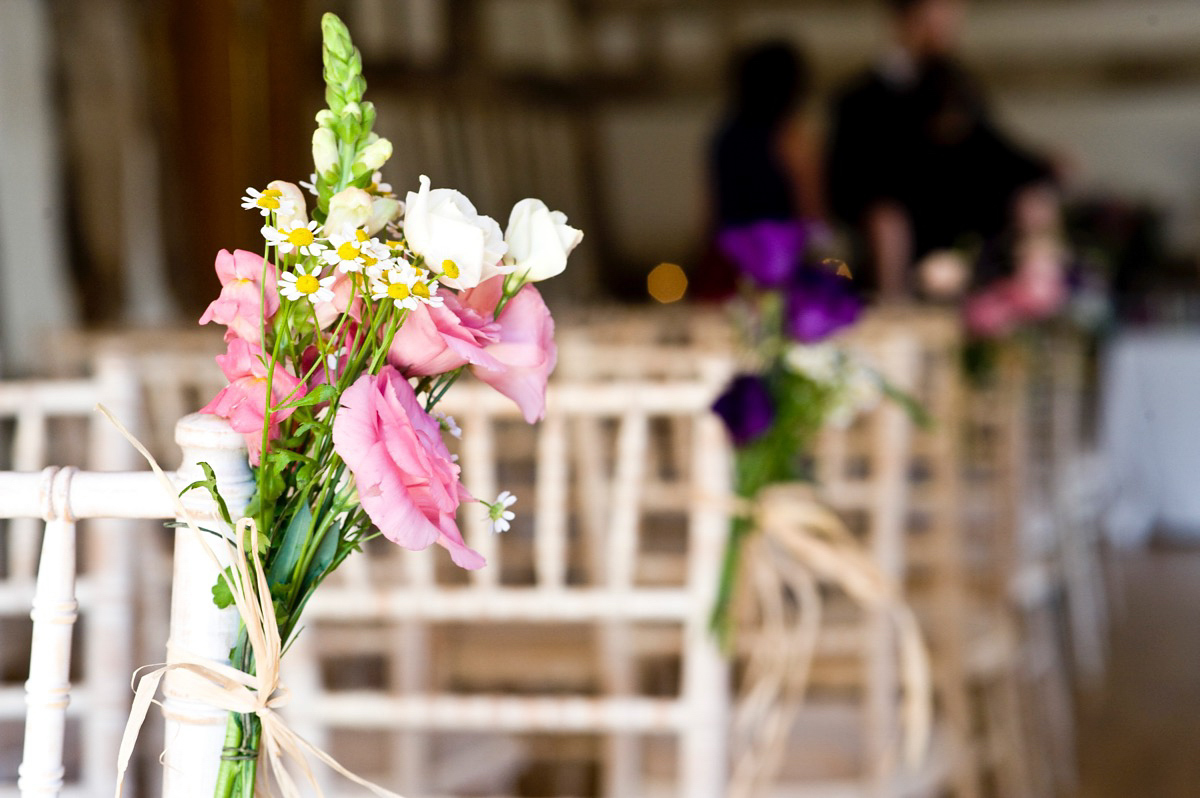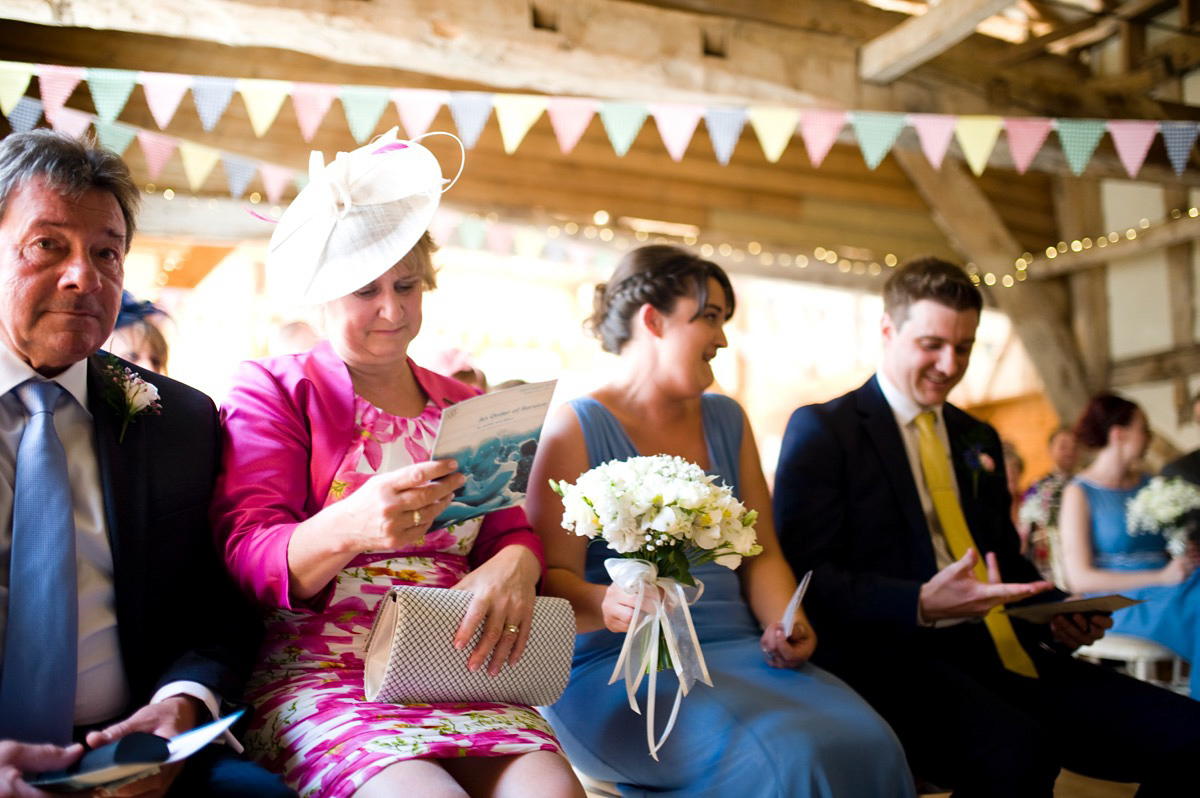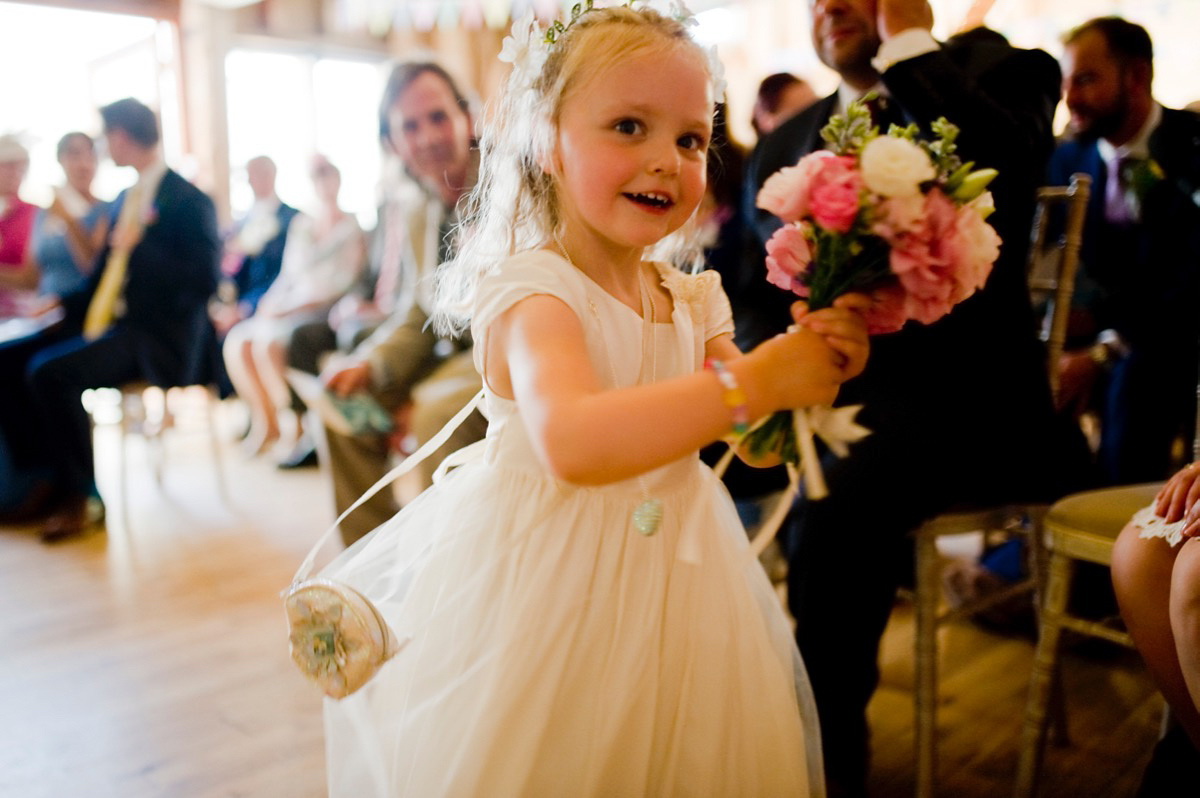 "My dad gave me away – we walked down the aisle to Elbow's 'One Day Like This' played by the Blythe String Quartet."
"A good friend of ours is a Hatton Garden jeweller, who has been working on his own business (RockPAUL). He made my engagement ring and our wedding rings. Jamie chose a plain white gold band and I chose a sapphire and diamond inlaid band – the sapphires reminded me of an amazing holiday we went on to Sri Lanka where we saw them being mined. We both had our wedding date engraved on the inside. It was really special to have our rings made by someone Jamie has been friends with since he was 5 years old."
"We had two readings – Bruce Springsteen's 'If I Should Fall Behind' (Jamie, and his entire family are massive Bruce Springsteen fans and we have always loved the lyrics of this song so we asked his sister, our bridesmaid, to read it like a poem).
We also had an extract from a love letter sent by Robert Browning to Elizabeth Barrett on the morning of their wedding day (1846)."
You will only expect a few words. What will those be? When the heart is full it may run over; but the real fullness stays within… Words can never tell you… how perfectly dear you are to me – perfectly dear to my heart and soul. I look back, and in every one point, every word and gesture, every letter, every silence – you have been entirely perfect to me – I would not change one word, one look. My hope and aim are to preserve this love, not to fall from it. Enough now, my dearest. You have given me the highest, completest proof of love that ever one human being gave another. I am all gratitude – and all pride…that my life has been so crowned by you. (A love letter sent by Robert Browning to Elizabeth Barrett on the morning of their wedding day, 1846).
"We spent a long time looking through classic wedding readings and we wanted something literary (as we're both voracious readers) so when I stumbled on this it seemed perfect."
"During the ceremony and afterwards we had the Blythe String Quartet who played a selection of modern and classical songs."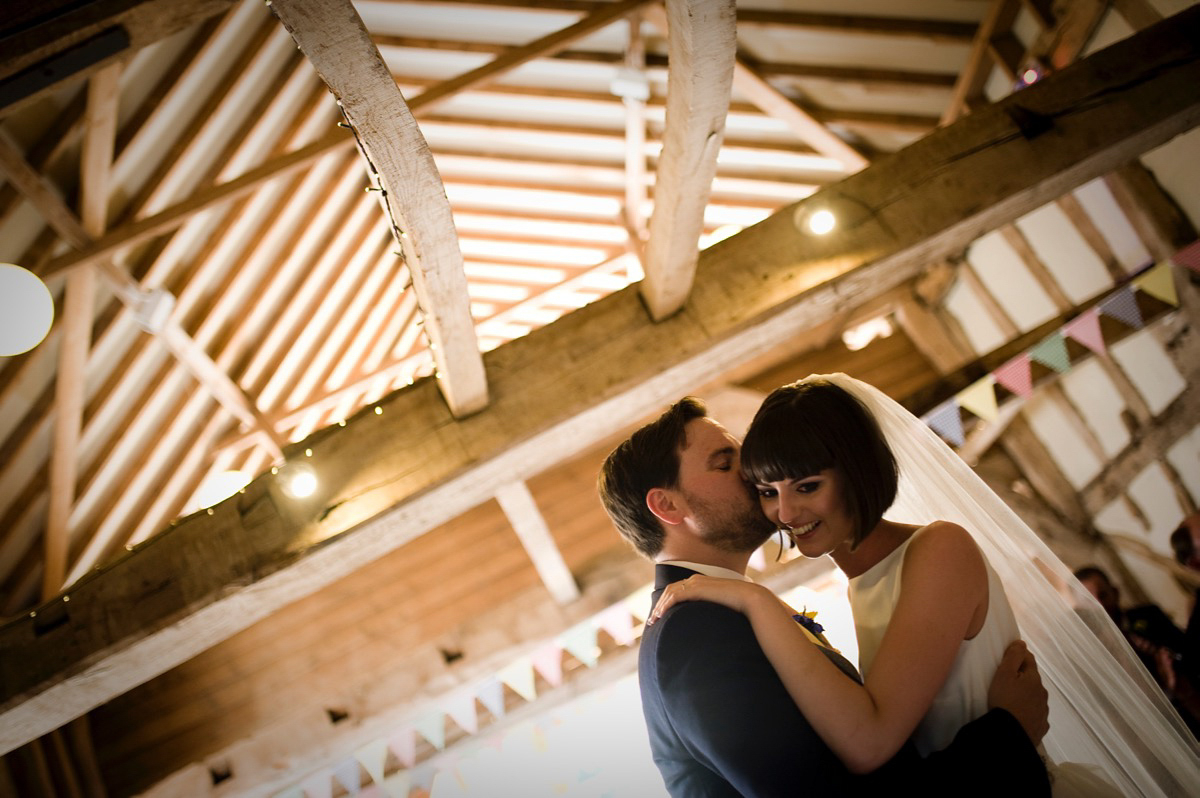 "For the marquee, we got some paper lanterns in blue, yellow and white (to add a bit of colour). Each table was named after one of our favourite books and our centrepieces were piles of old books with the chosen book on the top. My mother in law made lovely hessian table runners and a 'Just Married' banner for the top table and we sprinkled confetti made from chopped up books on all of the tables."
"Outside the venue we had handmade wooden signs directing people in. These were made by one of the ushers, Charles. His company, TouchWood Crafts, makes household wares from green wood."
"We trimmed the barn with gingham bunting, hurricane lamps and piles of old leather books. Jamie is a keen cyclist so we asked the florist to trim up two bicyles to display outside."
"We commissioned a local illustrator called Livi Gosling to draw us and our favourite things for our invitations. Her work is fantastic. Everyone had a custom-made 'Scrabble' place name (painstakingly made by me in the weeks leading up to the wedding) that they could take home as a favour. I enjoy spotting them around our friends homes."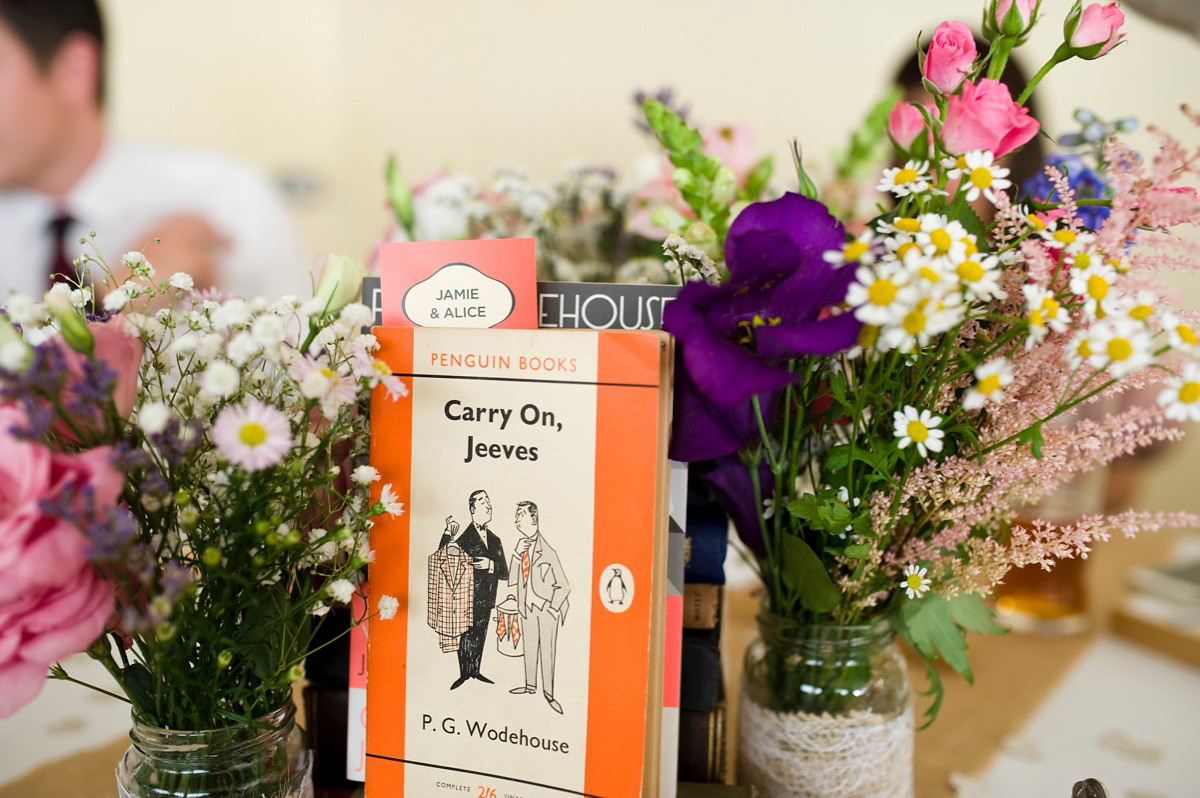 "The day food provided by the venue using ingredients sourced from their farm – we had a traditional afternoon tea with sandwiches, scones (sweet and savoury) and homemade lemonade or tea/coffee – ending with champagne. All of our guests commented on how delicious everything was.
We didn't have a proper wedding cake as we both decided that it wasn't important to us (and was something we could save money on!) My mum made us a traditional fruit cake and we asked our guests to bring along a cake to contribute to a 'cake table' (which went down very well with guests)."
"In the evening we got a local fish & chip van to come to the venue – a nod to my Lowestoft heritage (Lowestoft is famous for its cod!) It was much needed nourishment for our hungry guests who barely stopped dancing all night."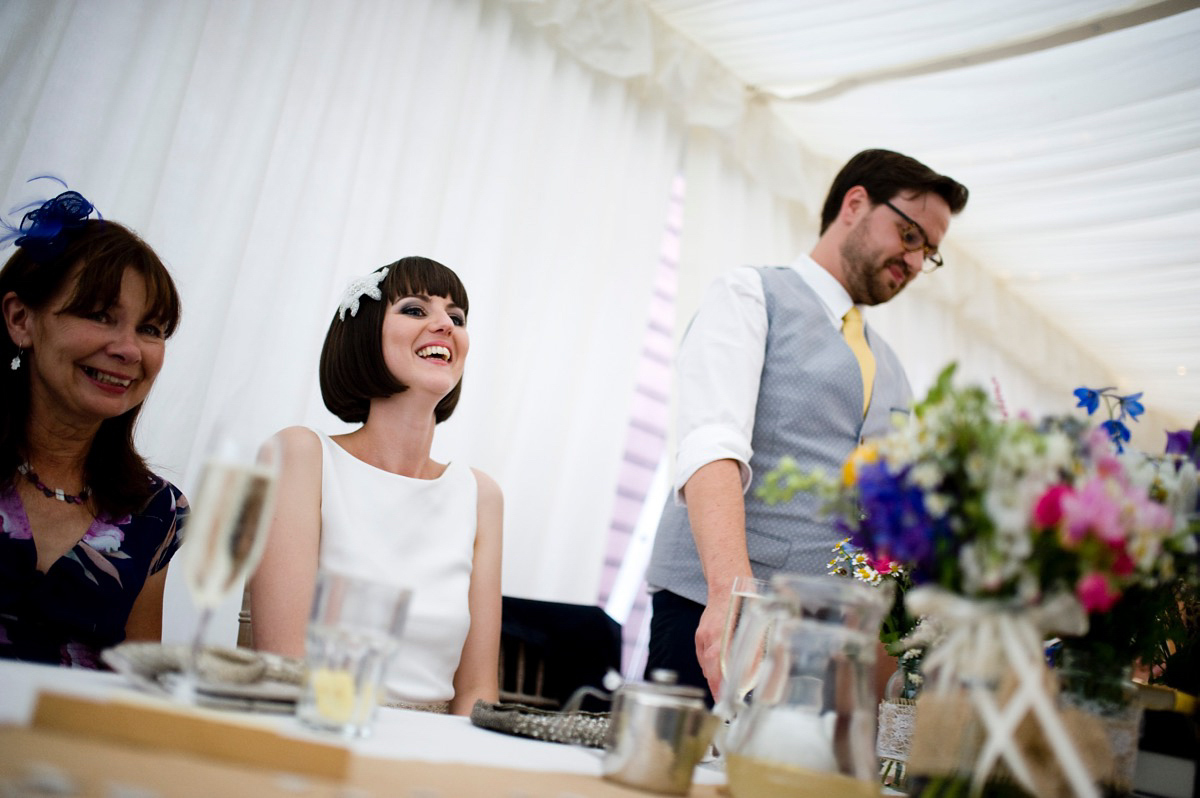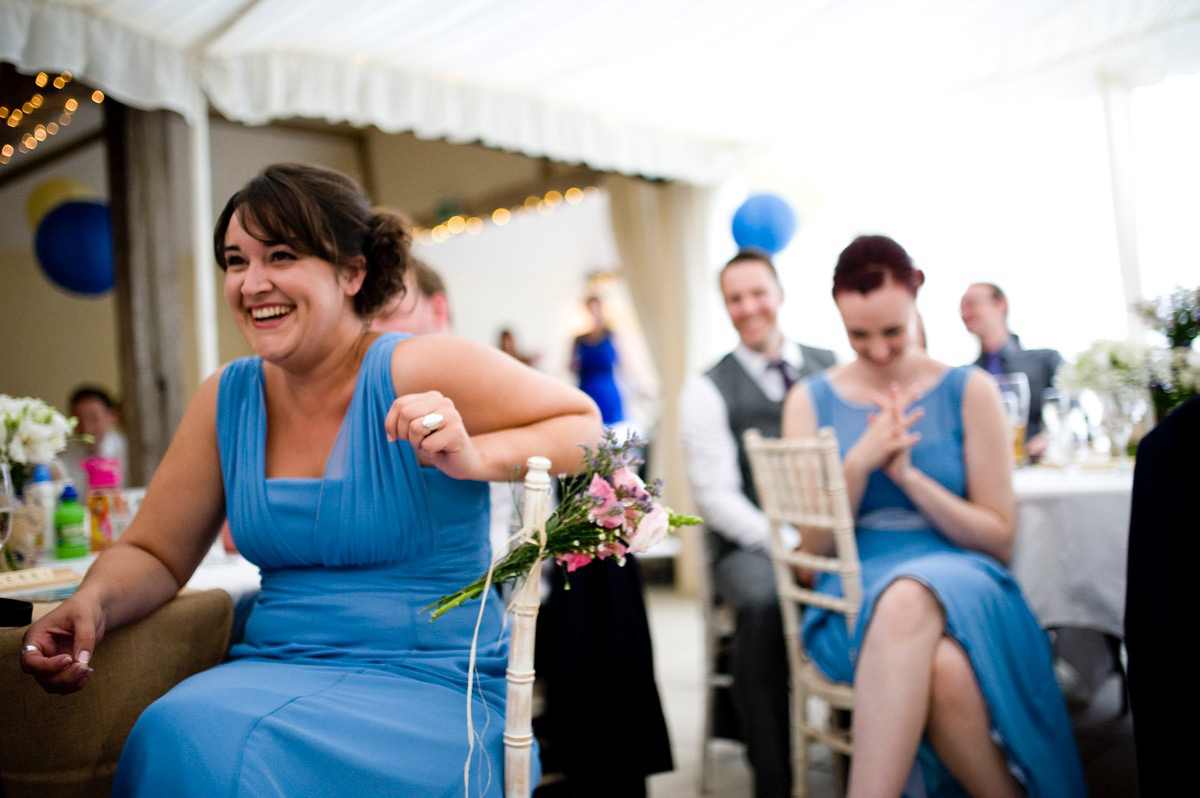 "Our photographer, Richard Beaumont, is one Jamie's best friends and one of the ushers. It was lovely to have somebody there for those special moments who knew us already and who we felt at ease with."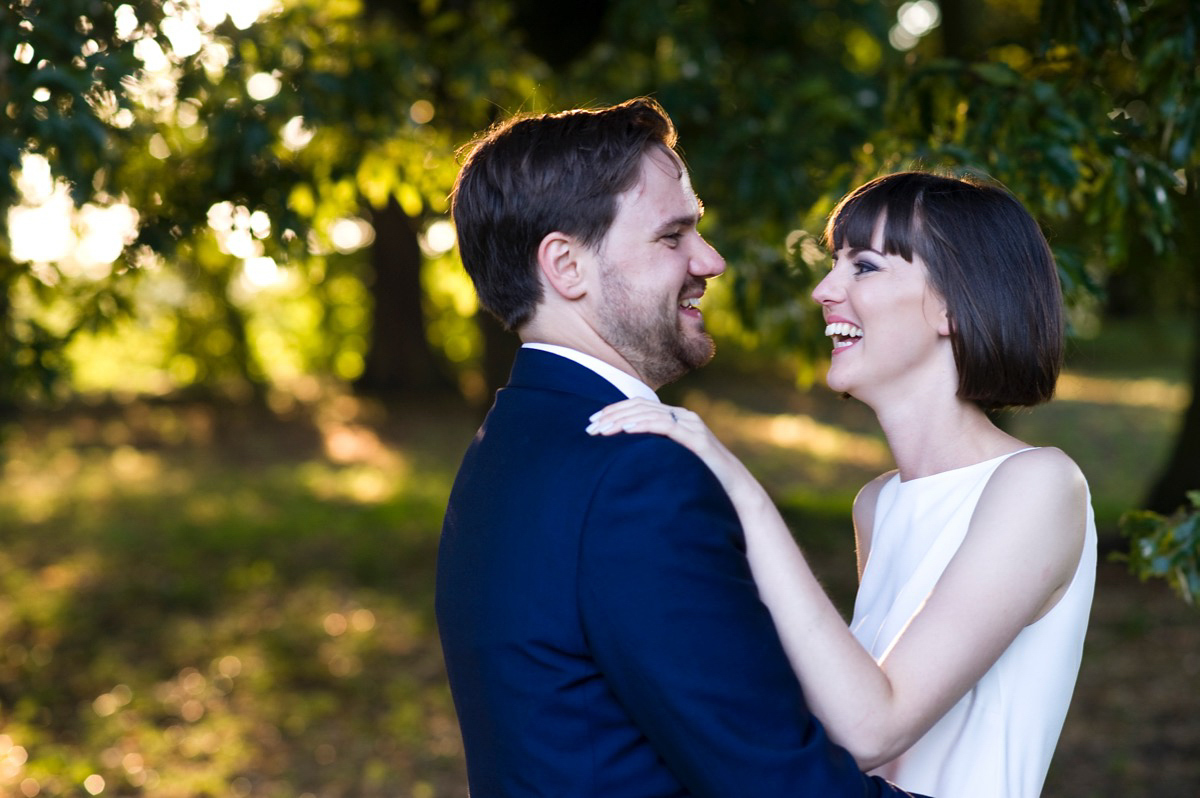 "Neither of us was looking forward to the photo part of the day but he made it informal and fun and got some great shots. His work is fantastic. So creative and he has a real talent for capturing a moment."
"Neither of us felt comfortable doing a 'first dance' (we felt that they can be a bit cringeworthy and I hated the idea of everyone just staring at us while we went in circles around the room) so instead we ended the night with a 'last dance' which was Ben Folds 'The Luckiest' (a song we both love and that always makes me cry!)"
"In the evening my Dad's folk band Murphy's Lore played two sets – they got everybody on the dance floor! And then we ended with the house DJ playing song requests from our guests."
"I also wore a pair of Jenny Packham for Debenham's silver sparkly heels for the evening (I wanted to change to something with a higher heel and a bit more glitz!). I ended the evening wearing my white slip on Keds plimsolls (Father of the Bride style) because my feet were so sore from all the dancing!"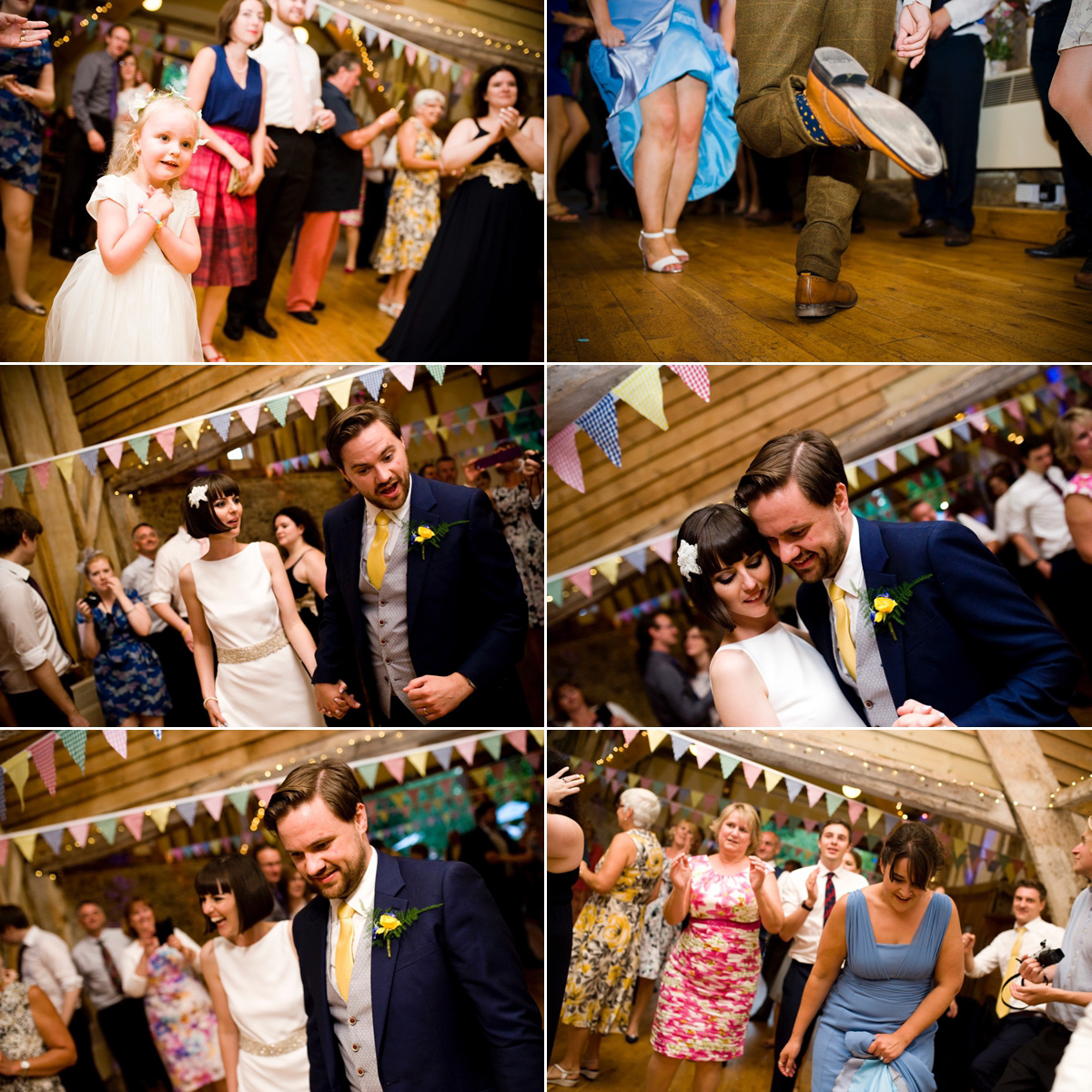 Words of Wedded Wisdom
"My main piece of advice (which has been said by hundreds of brides before me) is don't obsess over the tiny details – some of these you won't even notice on the day. For example, we decided to have little bunches of flowers tied to the end of each row of chairs for the ceremony. These were an extra expense and one I didn't pay any attention to on the day (I've since seen them on the photographs and they look beautiful but I honestly didn't even notice them)."
"I also got stung by a wasp on the palm of my hand the morning of the wedding so it was burning and throbbing all day. You can't plan for every eventuality. Also, find a moment to sneak off, just the two of you. I dragged Jamie off to our room on the proviso of needing to 'change my shoes for the evening.' Just having 5 minutes away from the madness of it all to say 'how amazing is this?!' was really worth it."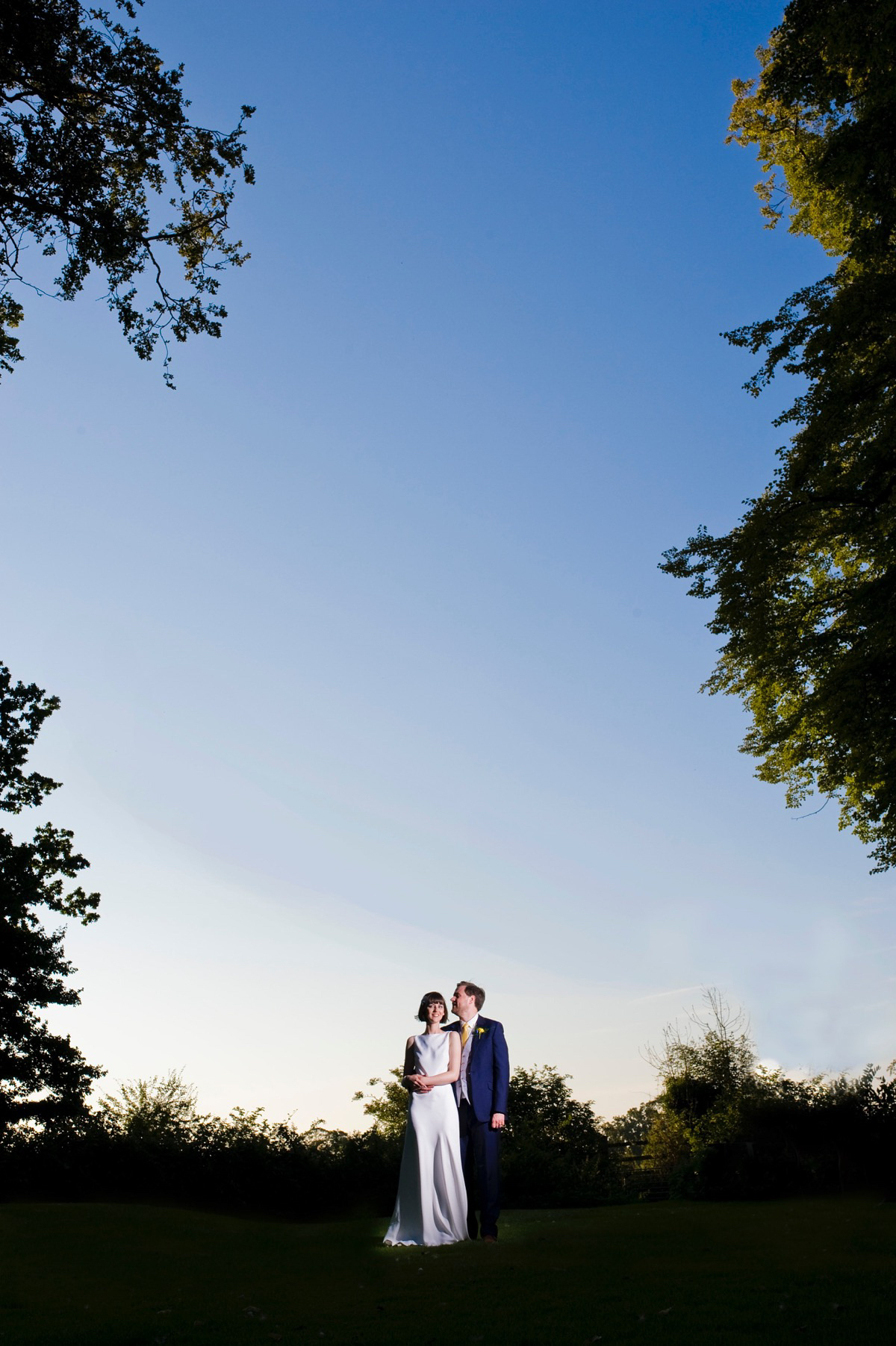 "Finally, prior to our wedding, I hated the idea of having a wedding video but I really regret that we didn't have one now. The day went by in a flash and I'd love to be able to relive it with a video (and see some of the bits I wasn't a part of, such as the guests arriving, my husband getting ready etc)."
This is one of those weddings full of charm and sweet, retro touches – our thanks to the couple's friend and professional photographer, Richard Beaumont, for sharing these photographs with us.
You can view more brides wearing Charlie Brear gowns here on Love My Dress. Also, did you know that Charlie Brear are holding a sample sale event later THIS WEEK. Full details here – you will require a ticket to attend but Love My Dress readers can save 50% on ticket prices.
Love Annabel x