Ladies, you know here at Love My Dress we applaud a wedding that thinks outside the box. We get all of the feels from couples that choose to follow their unique, one of a kind pairing instead of traditional rules, inspiring us all in the process. Originality, honesty and unity are words that came to me whilst enjoying these images from Kristida Photography for the first time, this day sure has heart. Sit back and enjoy a celebration of togetherness, creativity and the joy of sharing life and love with another.
Today's artistic pair both work in animation, Gillian is a character designer and Matt is an animator. The London Wetlands Centre hosted this intimate gathering on 24th October 2015 with hand crafted goodness and autumnal leaves galore.
"We knew the wedding would be in October, so we chose a colour scheme that would work with an Autumnal palette. The venue had a lot of beautiful plant life, so we chose burgundy as our main colour to hopefully match the changing colours of the leaves. Because we got married at a bird sanctuary we chose to use feathers as a key design element, it inspired a lot of hours trawling through Pinterest!"
Photography by Kristida Photography
Opting to feel like themselves and comfortable on their big day, Matt and Gillian set about finding outfits that felt right for their laidback celebration. The high street came up trumps for both bride and groom, with Gillian's dove grey dress from John Lewis and Matt's grey suit from Next.
"I'd looked at many dresses , mostly high street stuff as I knew from the beginning I wouldn't be wearing a traditional wedding dress. There's nothing that would make me more uncomfortable than a decorative, large wedding dress, its just not me at all! I actually have the same dress in blue that I wore to a friends wedding and when I saw it in silvery grey I knew I'd feel comfortable in it. Its simple but pretty."
A pair of classic Clarks Mary Janes fit perfectly within the colour scheme and a feather hair clip from Etsy added a touch of glamorous whimsy to this beautifully pared down bridal look. DecoDolls were on hand for hair and make up duties and I love the elegant up do and soft make up that matched the feel of the day so well.
"Matt had bought me a silver feather necklace and bracelet which I wore on our wedding day. My ears are stretched so I wore some glitter burgundy plugs which I bought on Ebay."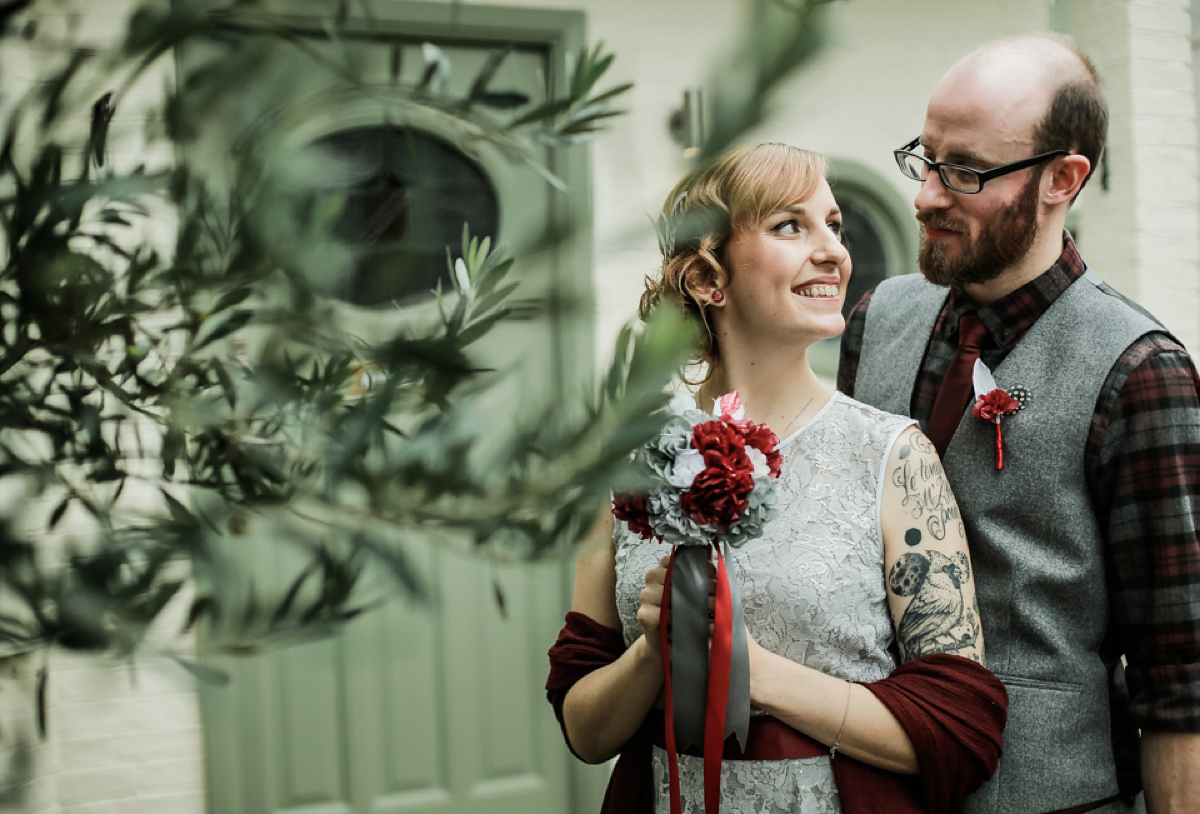 The couple chose to get ready and walk down the aisle together, wanting to savour each part of their day as one. I love envisioning getting dressed and sharing that excitement together; Matt remembers the anticipation of being about to marry his best friend as his favourite part of the day (aww!). They wrote their own vows using meaningful song lyrics and movie quotes.
"Matt and I walked down the aisle together. I hated the idea of being given away by someone but also didn't want to walk alone. Our whole wedding was about doing things together, I wasn't the star of the day to be waited for and escorted around. It was our day. We found a perfect cover by two of our respective favourite artists – John Mayer covering Beyoncé's XO, which our friend played on guitar as we walked down the aisle."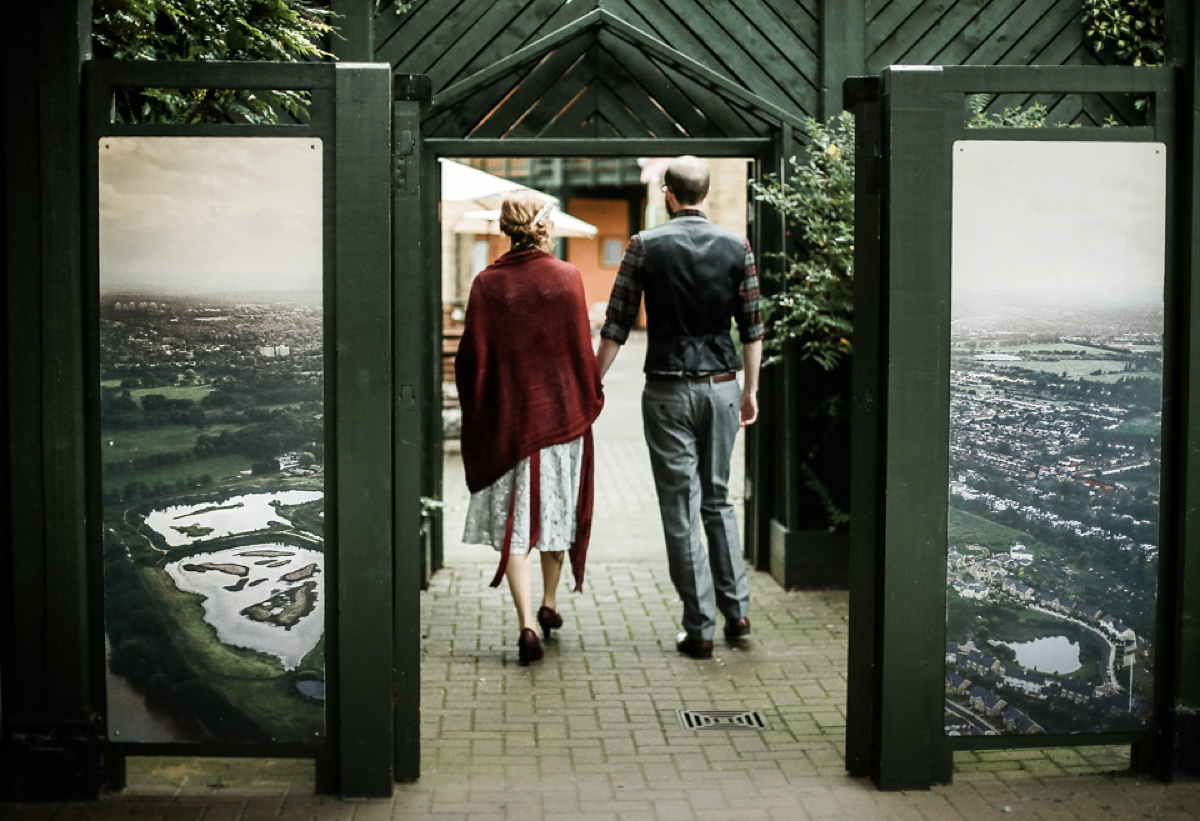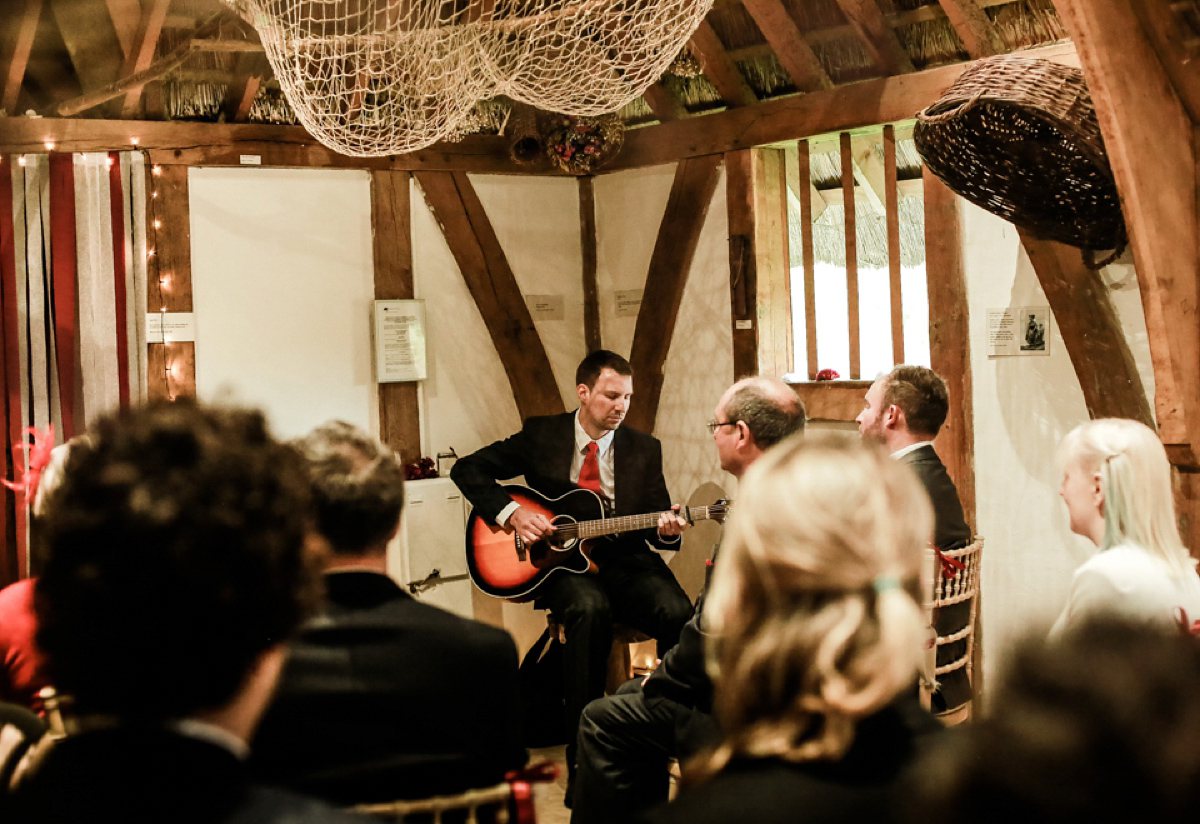 "We decided not to use a florist. Instead, we persuaded several friends to spend hours of their time making crepe paper flowers in the weeks before the wedding. It was nice to get people involved and hand make everything, so on the day they could recognise their handy work and feel part of the wedding. All of our decorations were recycled after the wedding."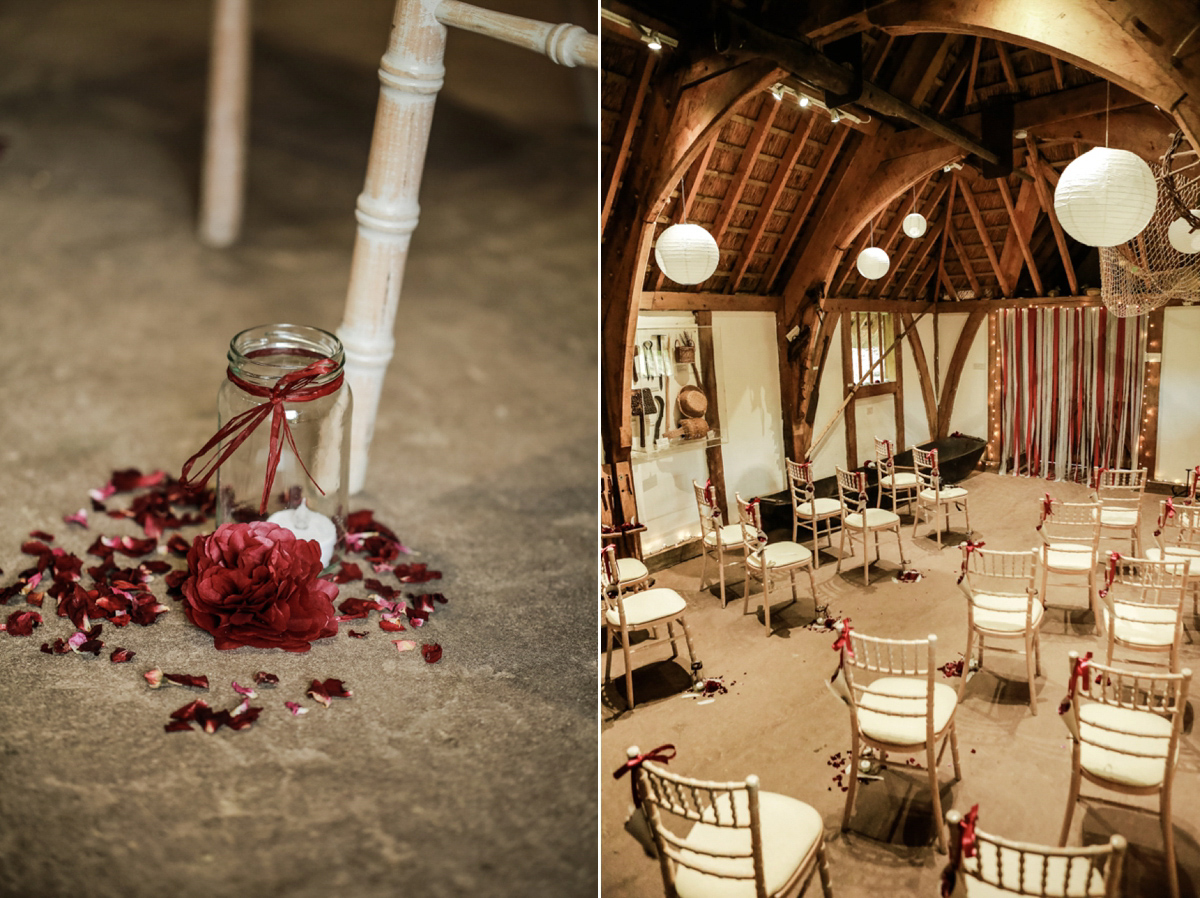 The London Wetlands Centre (WWT) provided a haven of wilderness within London, allowing the beauty of the season to be celebrated within a unique and charming location.
"We chose the Wetlands Centre because of the small fisherman's hut. We knew we would be having a very small wedding and most venues would be too large. Here, we could have an intimate atmosphere that was original and sweet. We also like that the hire fees go straight back into the centre and its charity work."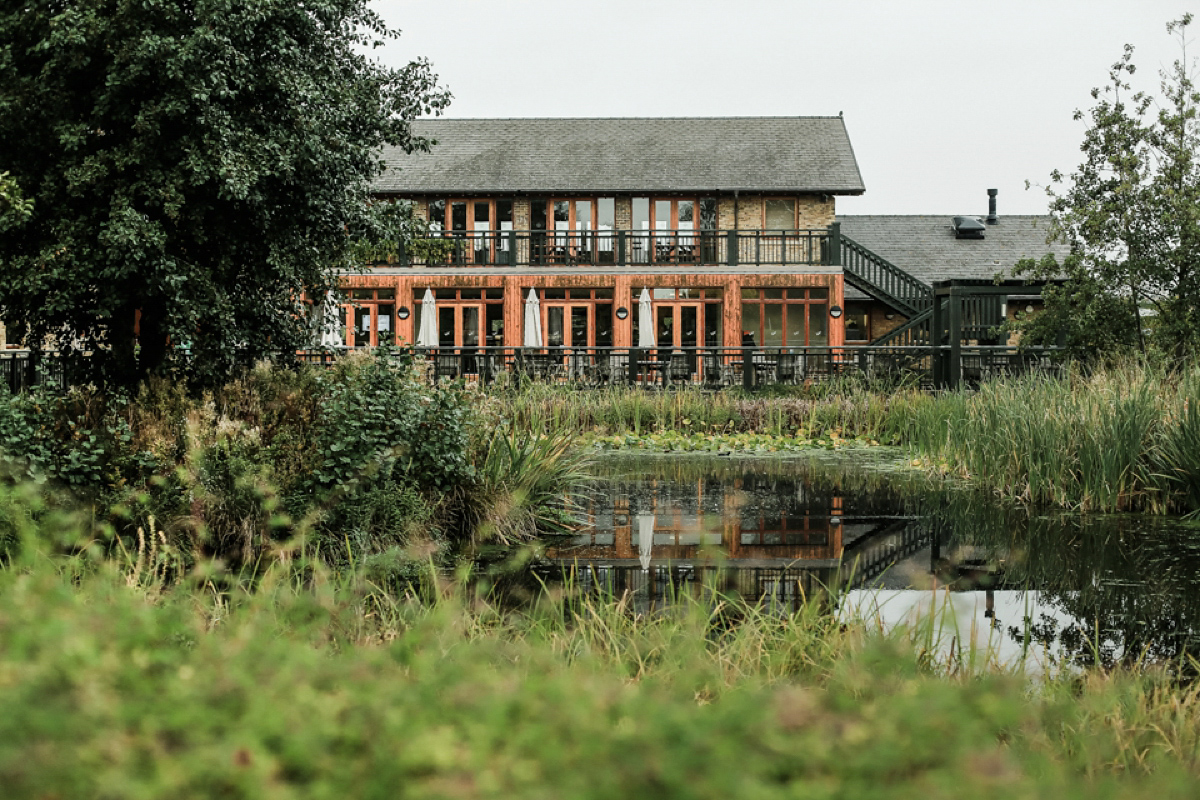 Natural textures, leaf lined walkways and watery reflections of the crisp autumnal sky were all captured by Kristida Photography. Gillian and Matt decided that photography (and cake, more on that later!) had to be top notch and couldn't be happier with the results. The atmosphere seems to have been soaked up through the lens and Gillian's soft grey dress against the earthy tones of autumnal leaves is heavenly.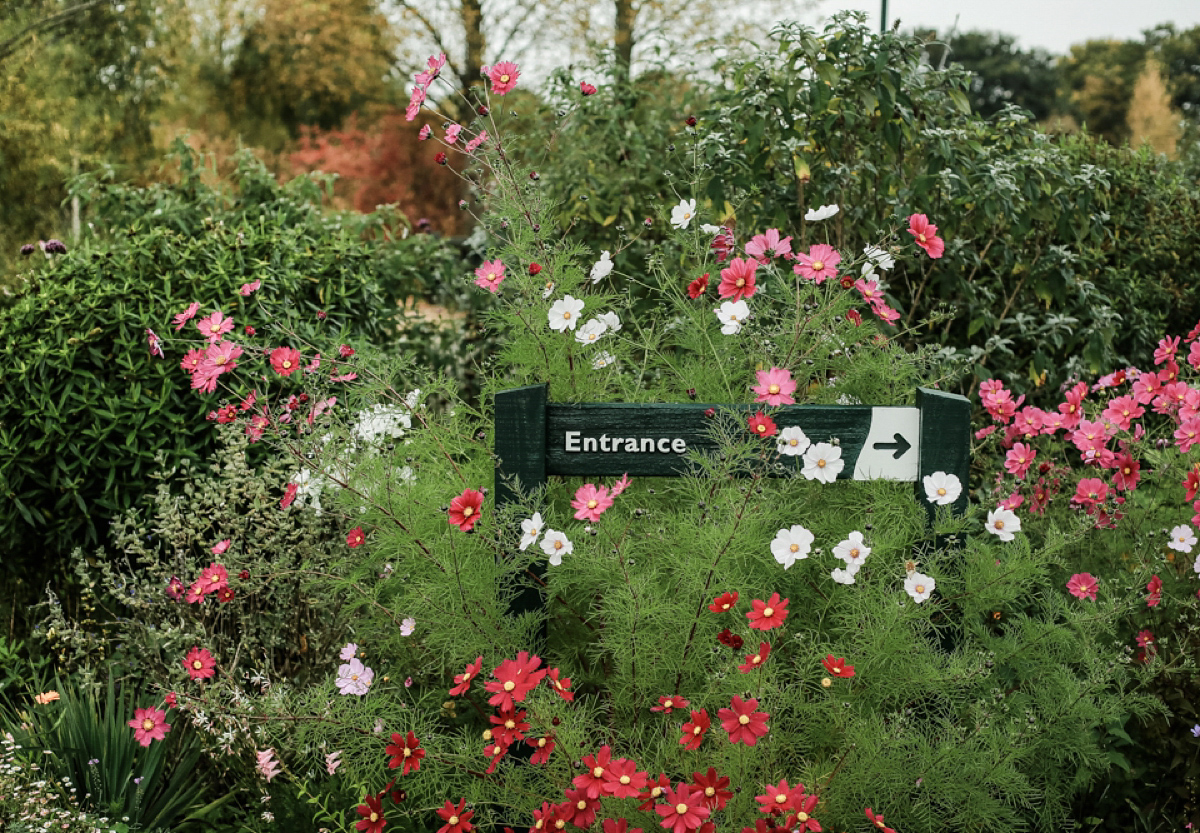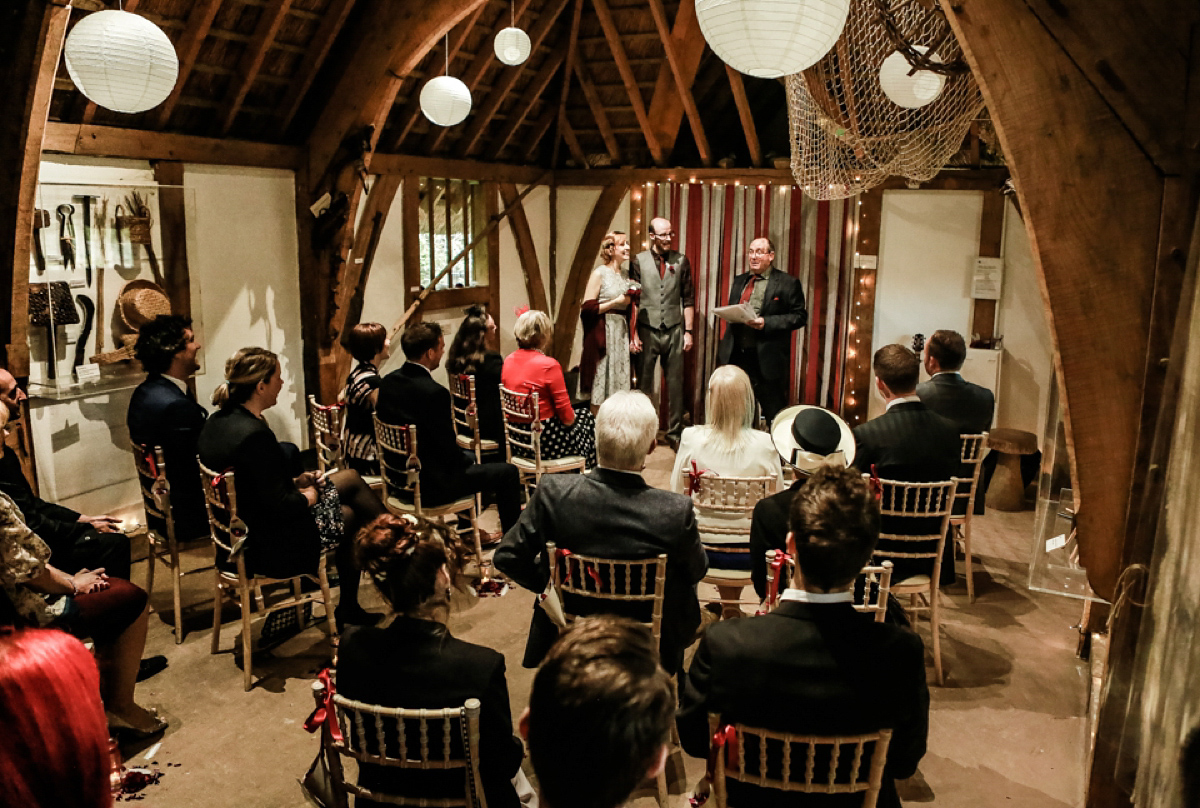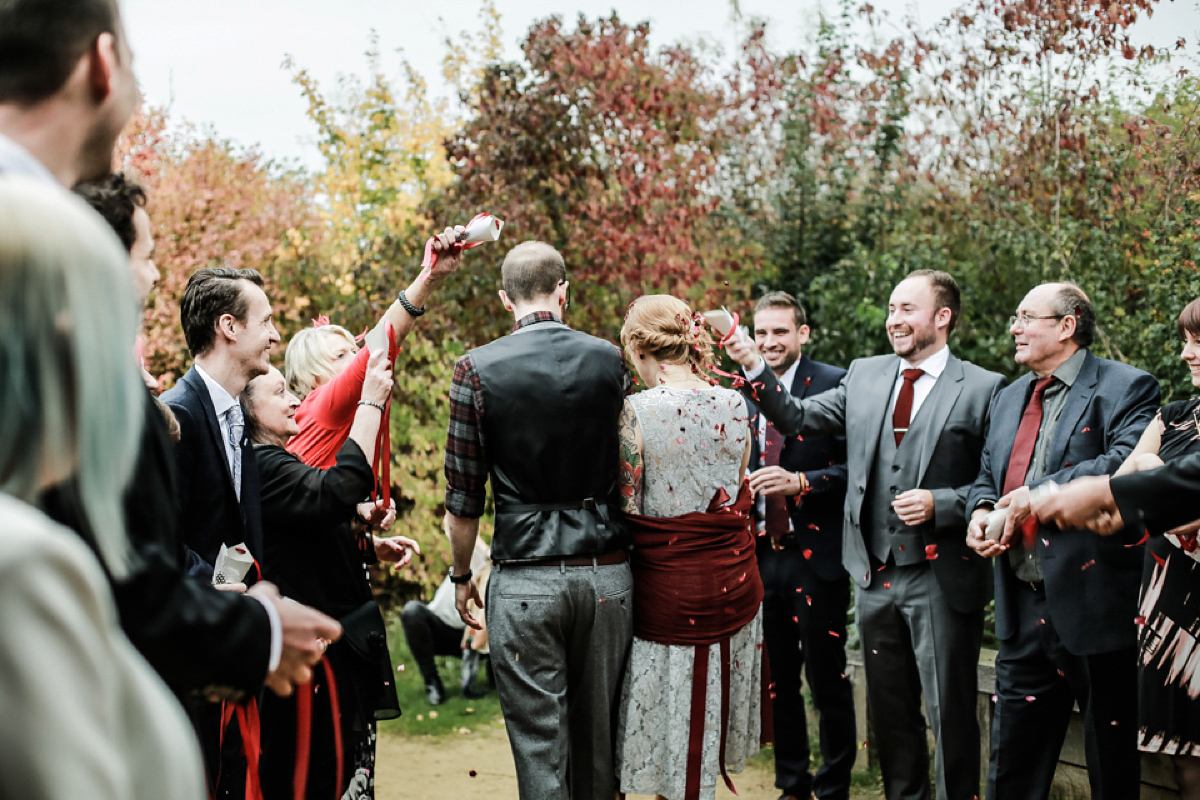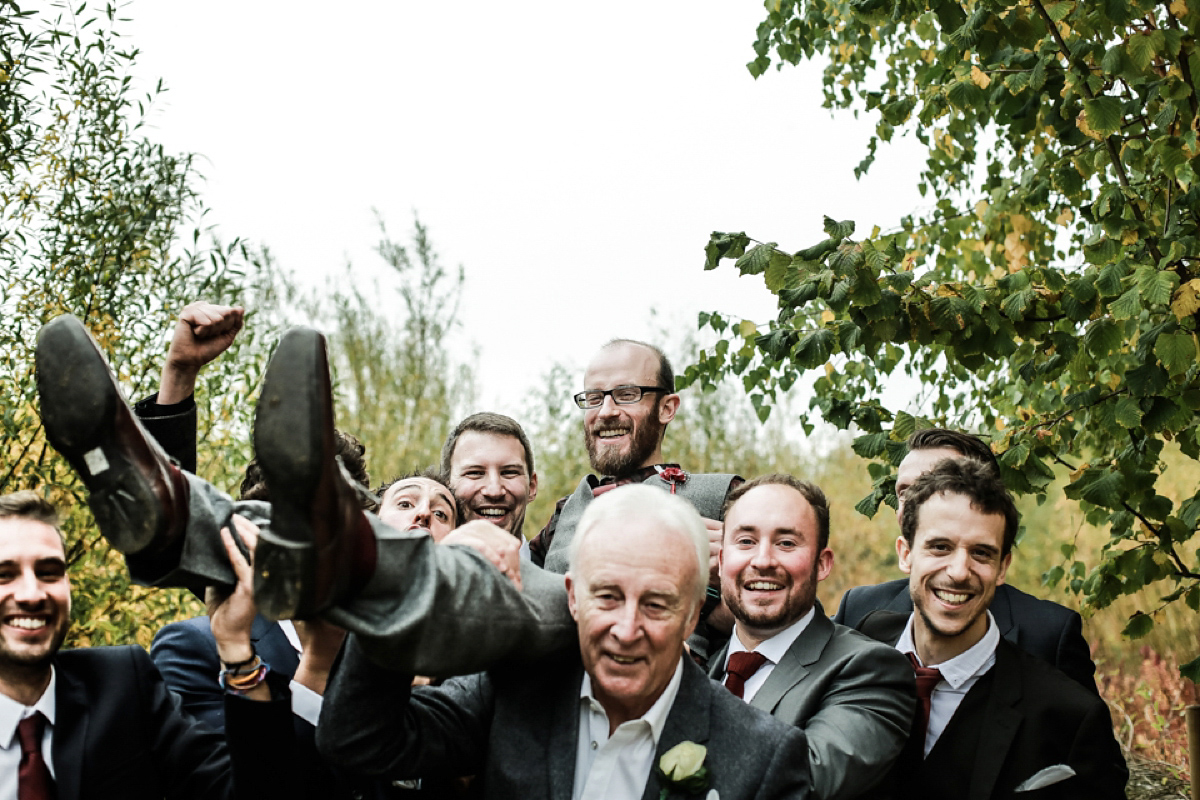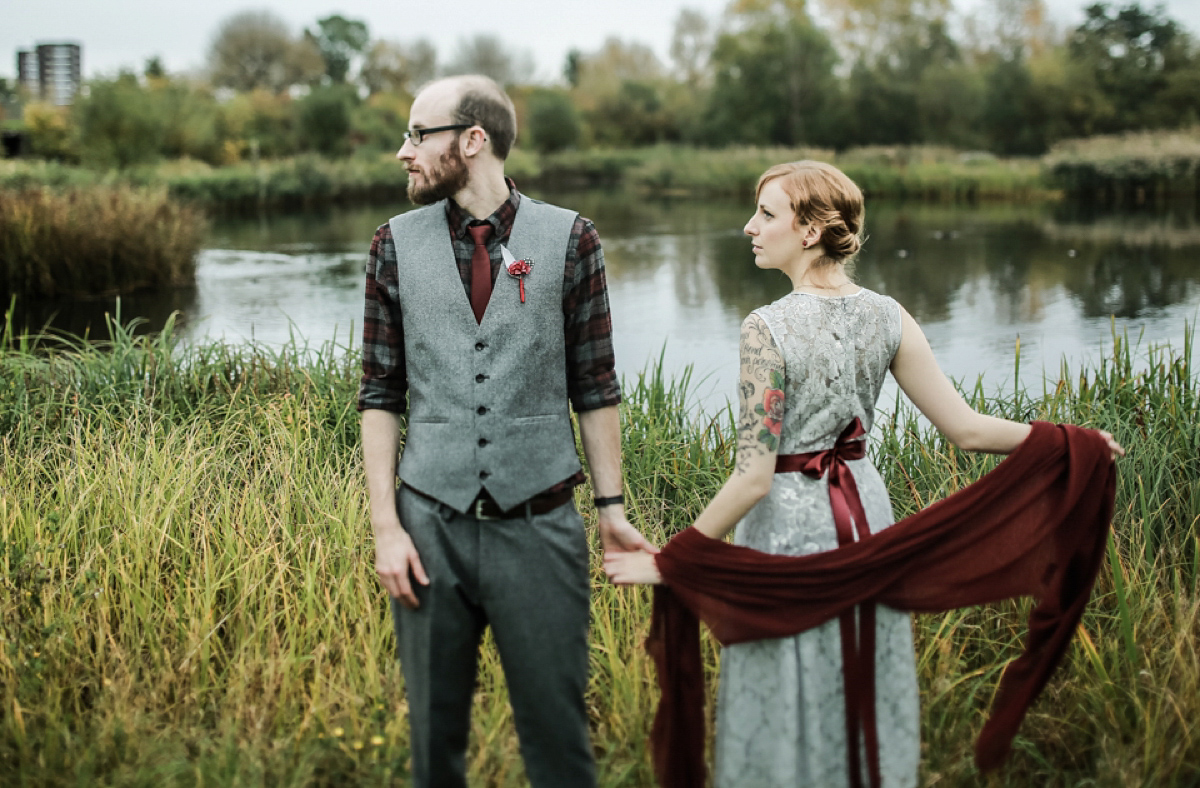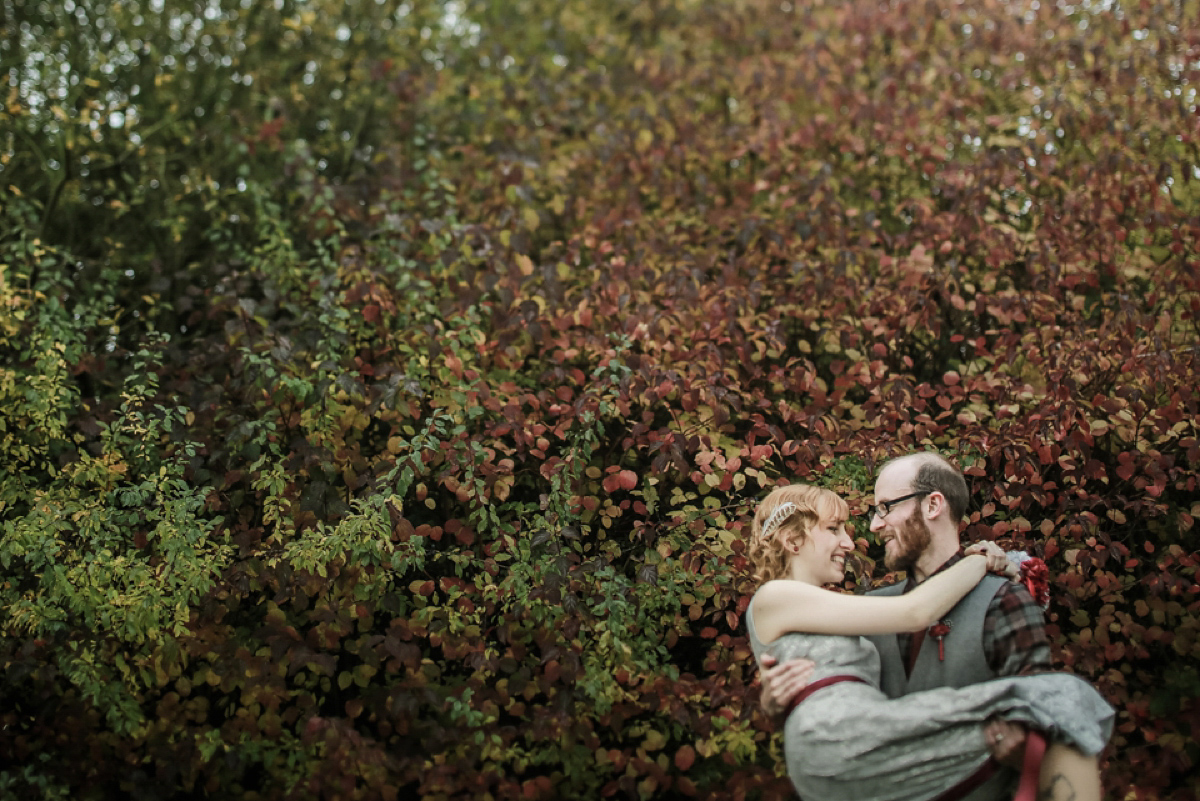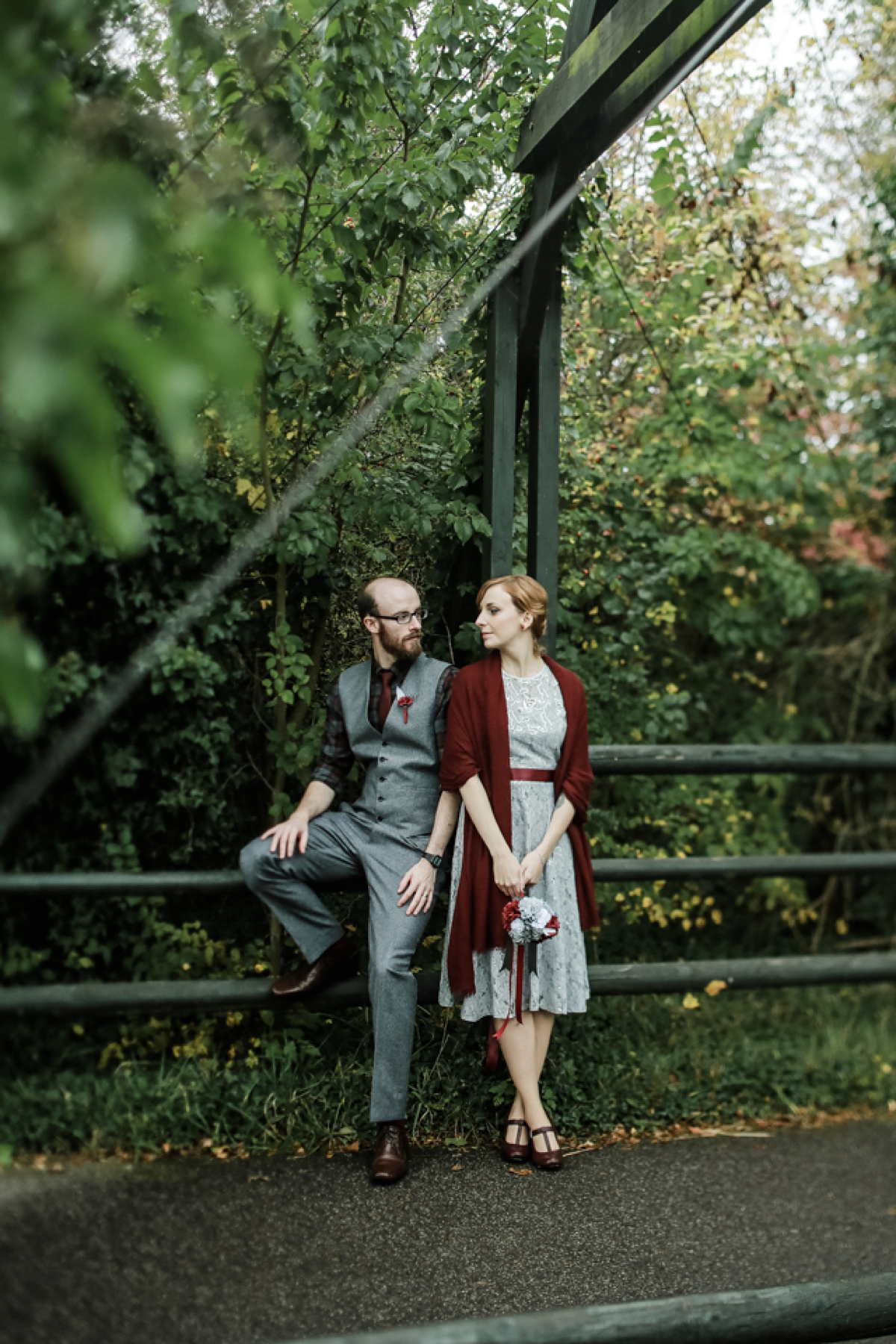 With such a pair of creative lovebirds, it comes as no surprise that stationery and even room dividers were made from scratch, making quite the impact. Crepe streamers are a fantastic idea for those of you wanting to make the most of separate spaces on the day, what a photo backdrop too!
"The main function room was too large for our small group, so we designed crepe paper streamers to section off the room for our 18 guest dinner. "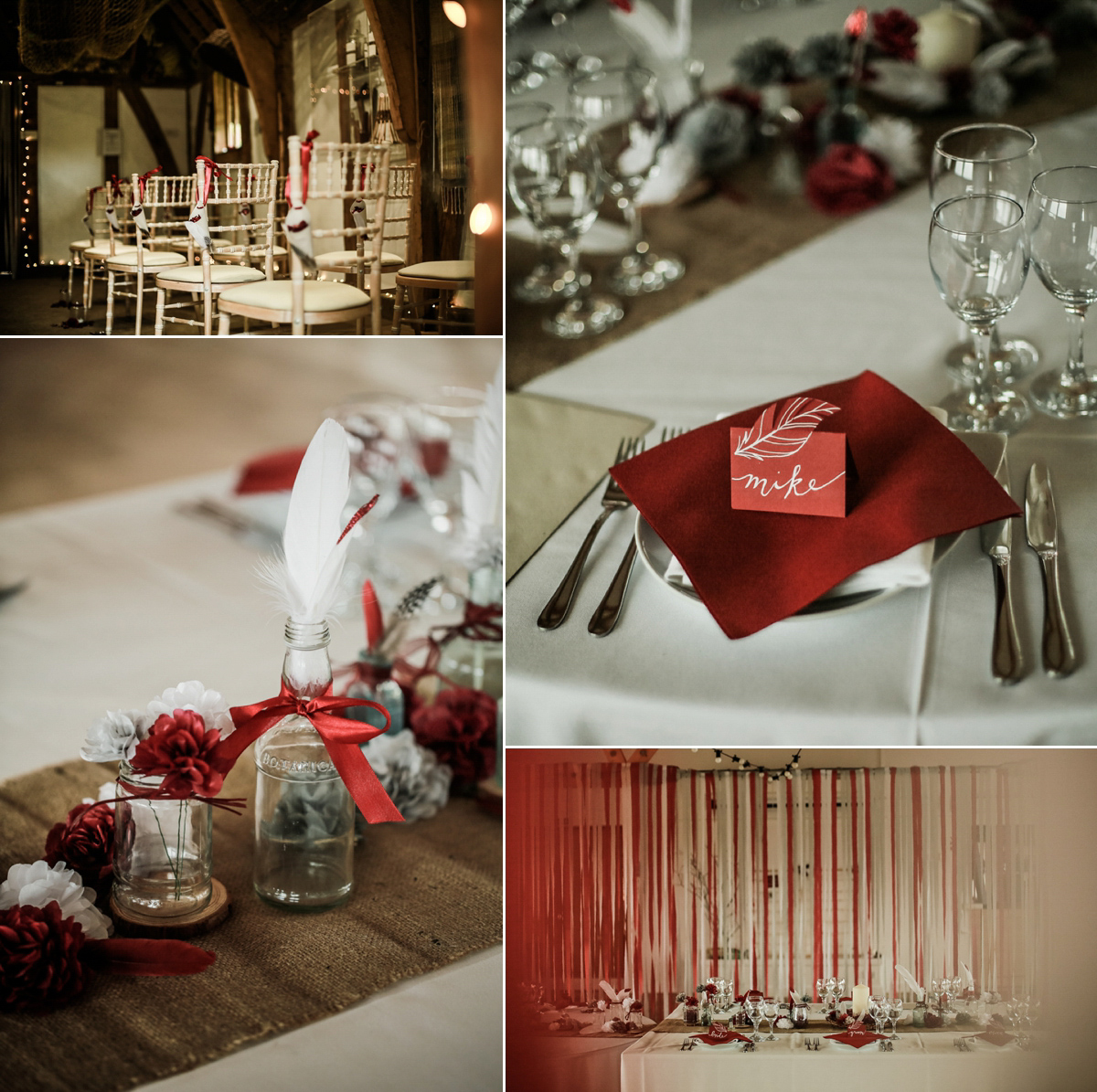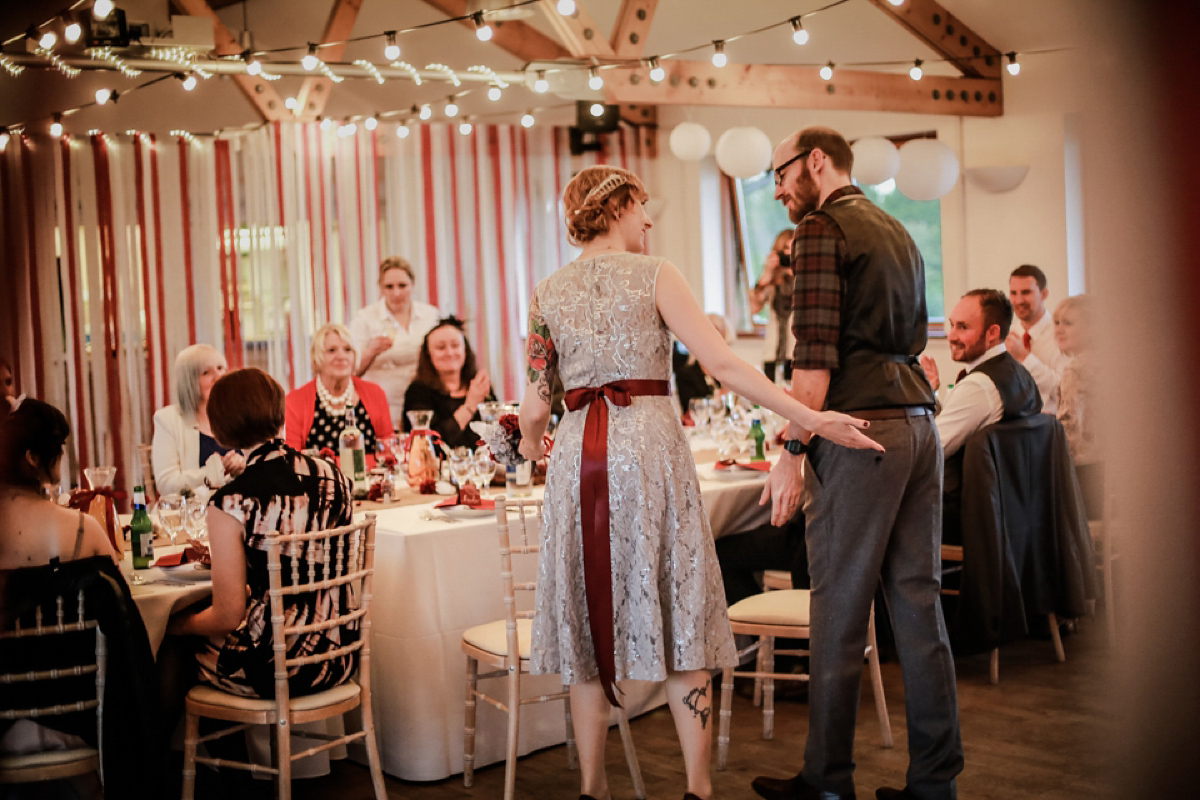 "They were then pulled back to make space for our evening guests. More friends were recruited to cut all the strips of crepe paper and then fashion them into curtains that were pinned to the rafters. It probably took about 12 hours just to do the streamers but it was worth it in the end as they became a fun prop for photographs."
"All of the stationery was created by us. We bought eco-craft paper to match our colour scheme and made our own invitations, place cards and confetti cones. We only had 18 guests so there was no need for a seating plan or order of service."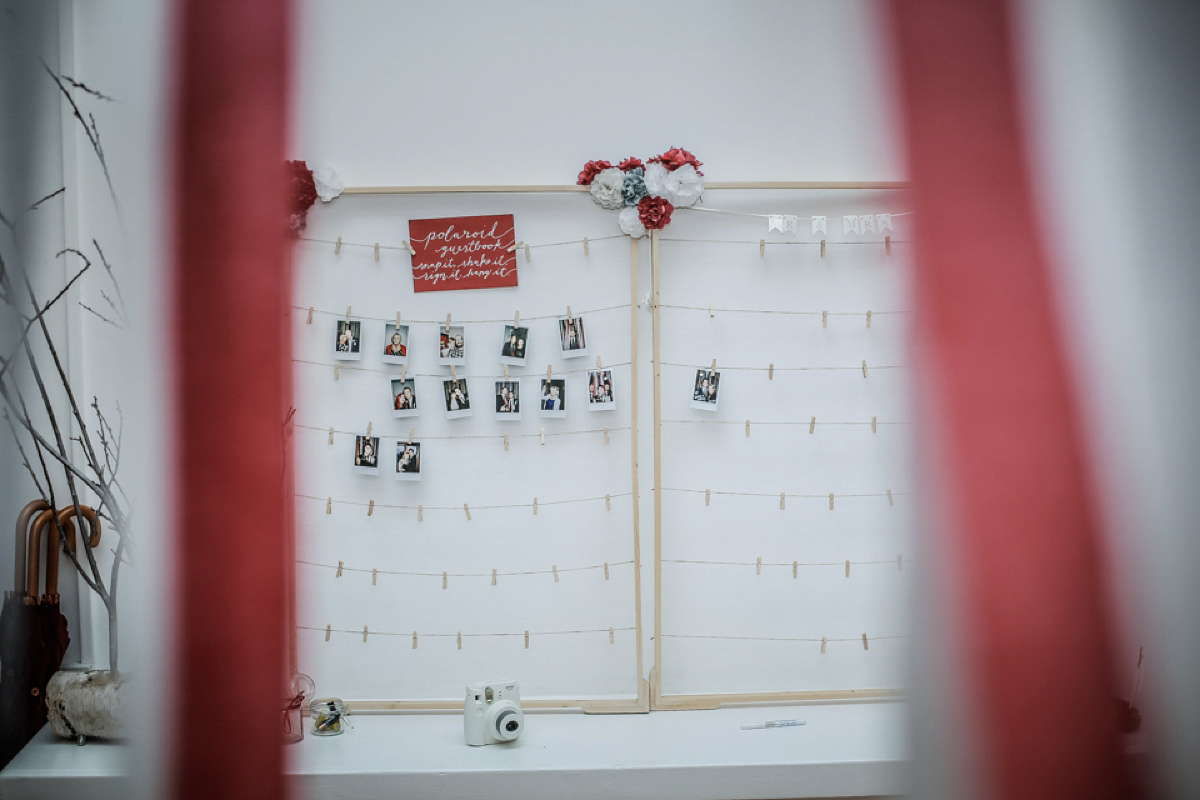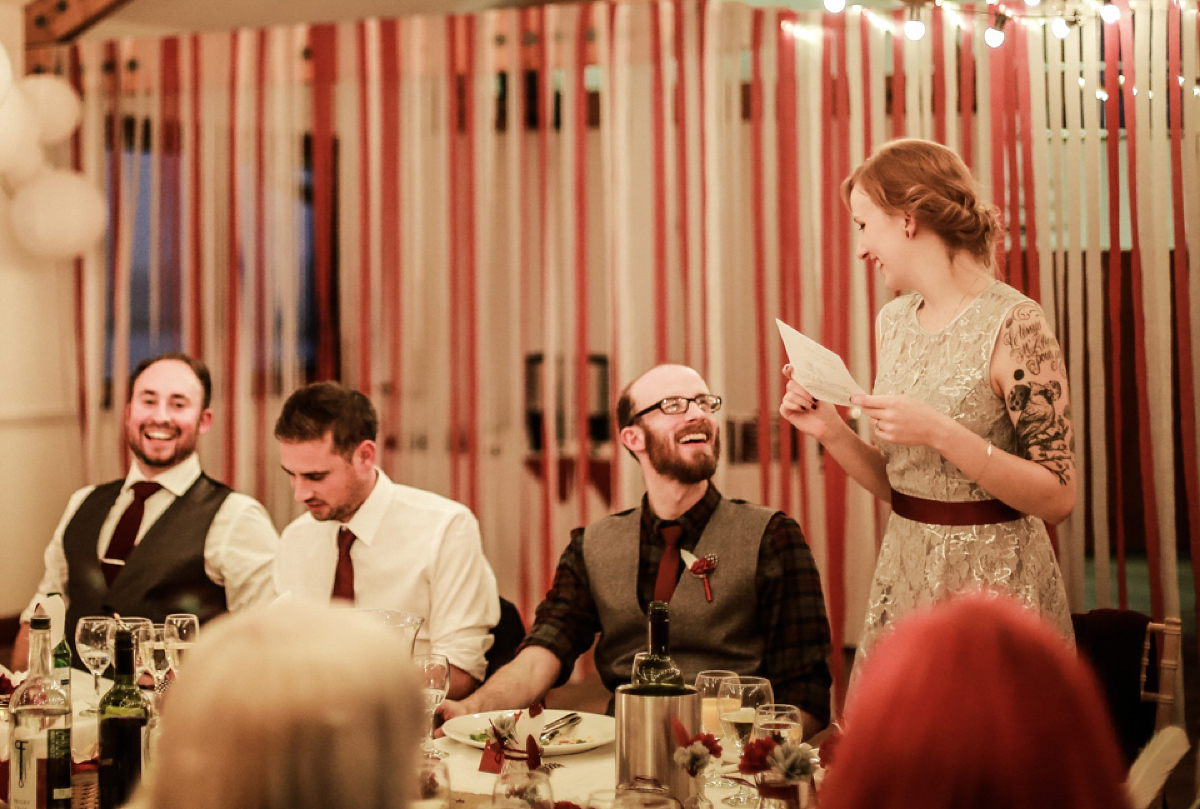 Can we finally talk about this cake? As I mentioned, Gillian and Matt were keen to ensure optimum cake level for their wedding day, and man alive they did well with this treat from Little Bear Cakery. This is not the first time we have featured amazing creations from this adorably named Cakery, you can whet your appetite for more cakey goodness here.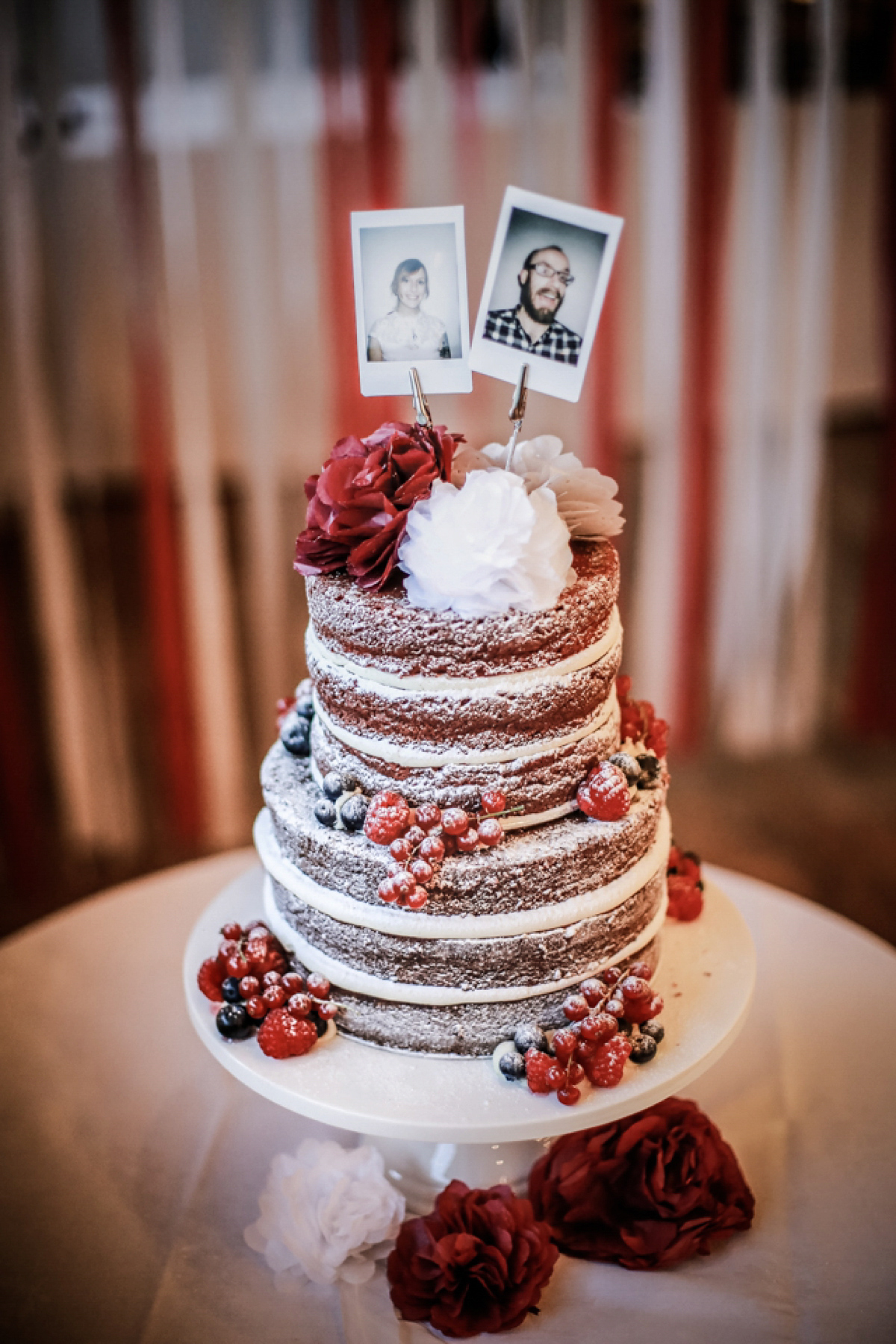 "We love cake. Having a good cake was high on the list and we think we found the perfect one. We wanted something that wasn't too busy in terms of appearance or flavour, that was classic and simple. We decided to have a naked cake as they are natural and rustic, and went well with our theme. A red velvet batter meant that our cake matched the colour theme too! The top layer was vegan and the bottom later was regular cake."
Guest enjoyment is always a concern when planning a wedding, you want your favourite people to be entertained and amused throughout a day of love celebrating. I just adore the idea that Gillian and Matt had: A dance lesson!
"Instead of a first dance we hired Swing Patrol, a London dance company to come and teach our guests how to swing dance! It was a great ice breaker for guests who didn't know each other and so much fun!"
Words of Wedded Wisdom
"Our words of advice would be to not cut corners on the things you really want but try to save money on the smaller things. Handmade parts of the day bring something unique and meaningful to a wedding."
I completely agree Gillian, handmade additions ensure a unique touch and an extra sprinkling of charm. They also equate to a lounge that is covered in scraps of paper, fabric and notebooks that is stressing your fiancé out with 4 days to go (well, in my experience as I type this within the debris). Thank you to Gillian and Matt for sharing your heartfelt and charming day. Planning a wedding that embraces difference isn't always easy, but thanks to Kristida Photography we can see just how beautiful the results are.
Huge hugs to my wedding twins that are also loosing their minds in the build up to Saturday, I will keep you posted from the other side!
Lots of slightly nervous but crazy excited love,
Emily B