Hello, and welcome on this lovely Saturday afternoon, I'm back again to introduce another gorgeous pair of newlyweds. Meet Anastasia, an event stylist and Mark Anthony, a film production coordinator. These two were married a year ago on the 10th of September at That Amazing Place (TAP), a gorgeous countryside hotel in Old Harlow, Essex. The venue has a lovely outdoor feel with a lake, lots of surrounding greenery but a modern feel inside, perfect for the relaxed 'cocktail party wedding' the couple were planning, as captured so perfectly by photographer Lena Kozhina Photography.
This is a wedding with no set program, no seating chart and no wedding party, just a couple in love, surrounded by 70 of their dearest family and friends in one place.
"We didn't want a traditional wedding. As a child the highlight of my year was our family vacation to the seaside where once a week we would go to a beach cocktail party with our parents. The parties were far from formal, just some friends together, but it would always bring me so much joy. To me they defined a 'good time' and that was the feeling I wanted for our guests at our wedding, being outdoors, enjoying food and drink, chatting to everyone and just being happy."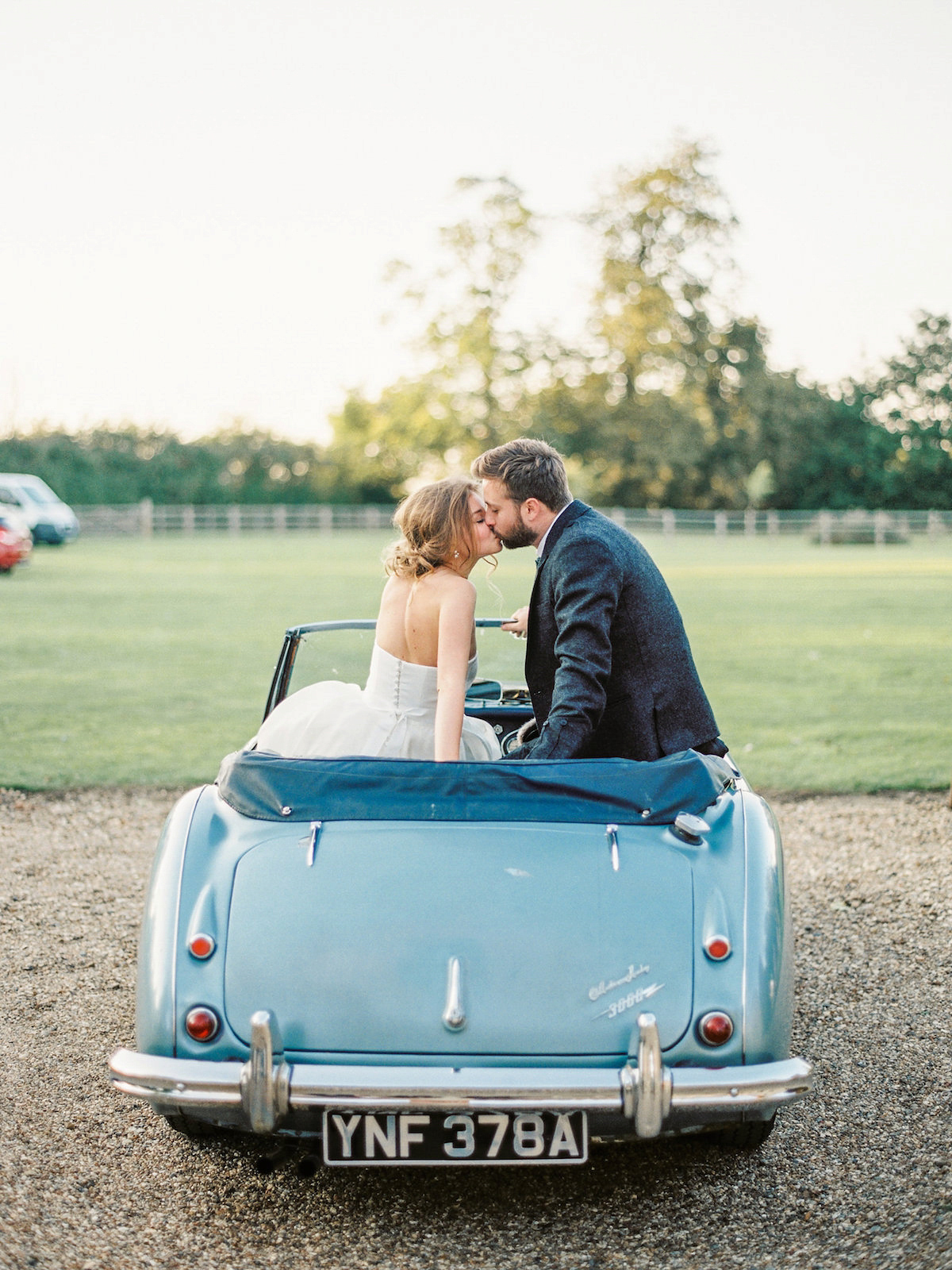 "We met a friend's birthday party. I had recently moved to London from Europe and we just started talking. We had so much in common that it was almost spooky! After several years of dating we moved in together and I know Mark wanted to propose several times. He is a very up-beat, chatty guy who gets extremely shy when it comes to romantic things.
We had been away with our families and eaten out in fancy restaurants but he had just never got there with the question until one evening we were in bed, he just turned to me and said 'Can I ask you a question?' and put a diamond in my hand."
I absolutely love that the couple created a day that was completely on their own terms, from the casual dining and party feel to the Scottish (kilts and bagpipers and Russian touches (vodka shot toast) to celebrate their respective heritages. We love the simple elegance of Anastasia's Jesus Peiro gown.  You will find more details of this Spanish brand of bridal fashion (available throughout the UK – though we highly recommend Miss Bush Bridal) via our Little Book For Brides wedding directory.
"It was important to remove the formality that didn't have meaning to us. We did not want to select some friends to be more special than others, so instead we had some family friends as our witnesses and our sisters wore flower crowns."
This wedding has an abundance of gorgeous flowers creating focal points around the venue. I adore the rich purples and pinks in amongst the blousey cream and blush stems.
"I knew Katya, the florist from Lacy Bird through our photographer Lena. I followed her work and knew that I loved her style but I went ahead with a local florist only for them to fall through! As a complete coincidence Katya moved to London a couple of months before the wedding and she agreed to be my emergency florist and we worked on the designs together, making sure that the flowers were the focal points and really added to the style of the wedding."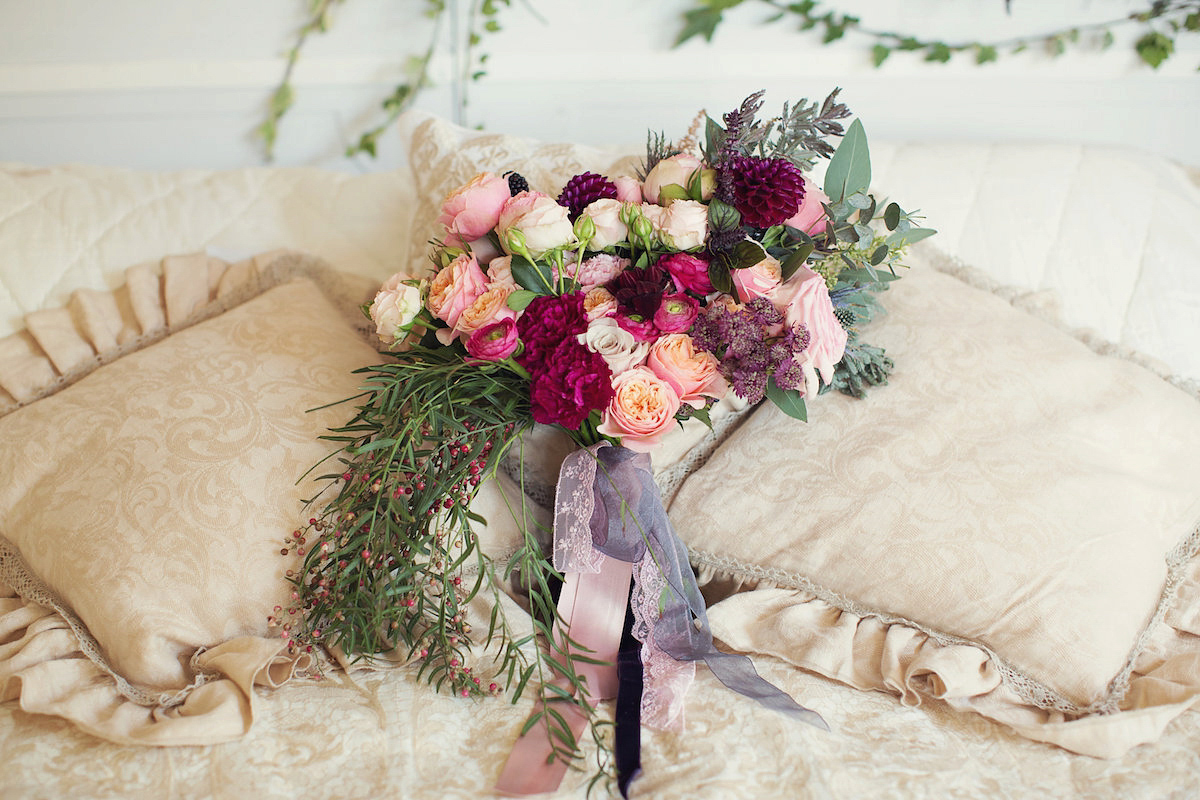 Choosing simple accessories with a touch of sparkle, a pair of Badgley Mischka pumps, a hair accessory from BHLDN and Tiffany & Co.  jewellery from her mother and in-laws, Mrs M's look is sophisticated and pretty.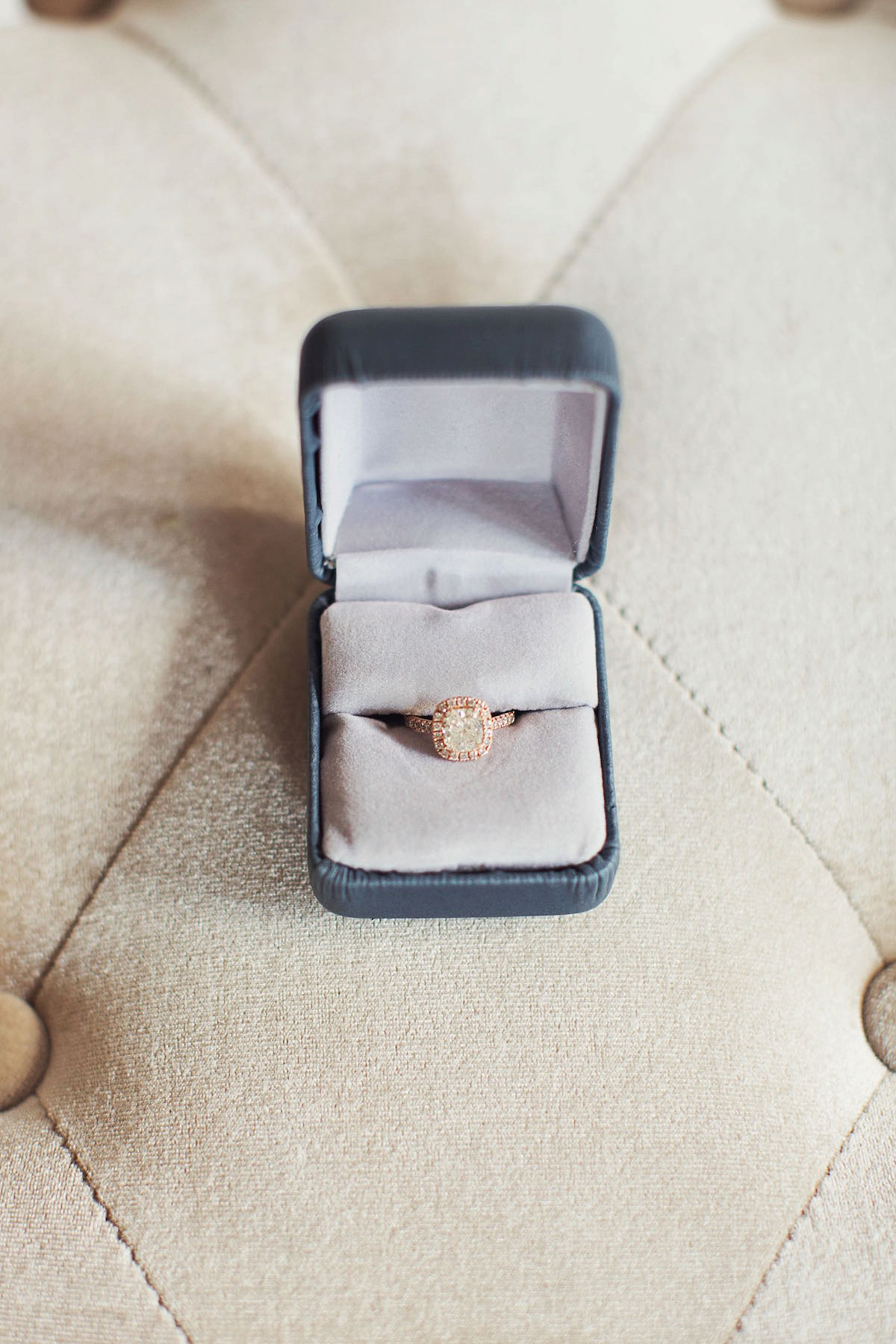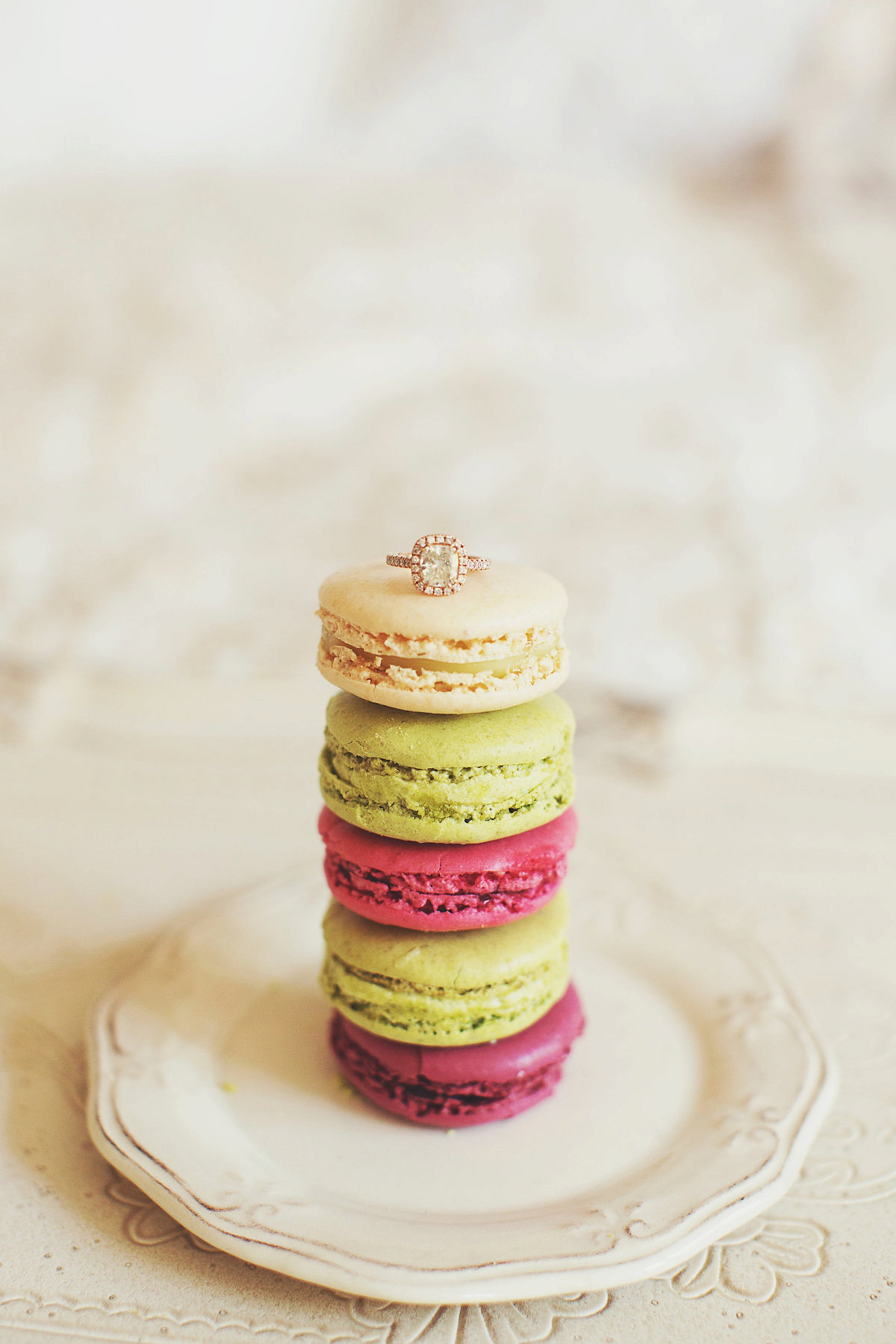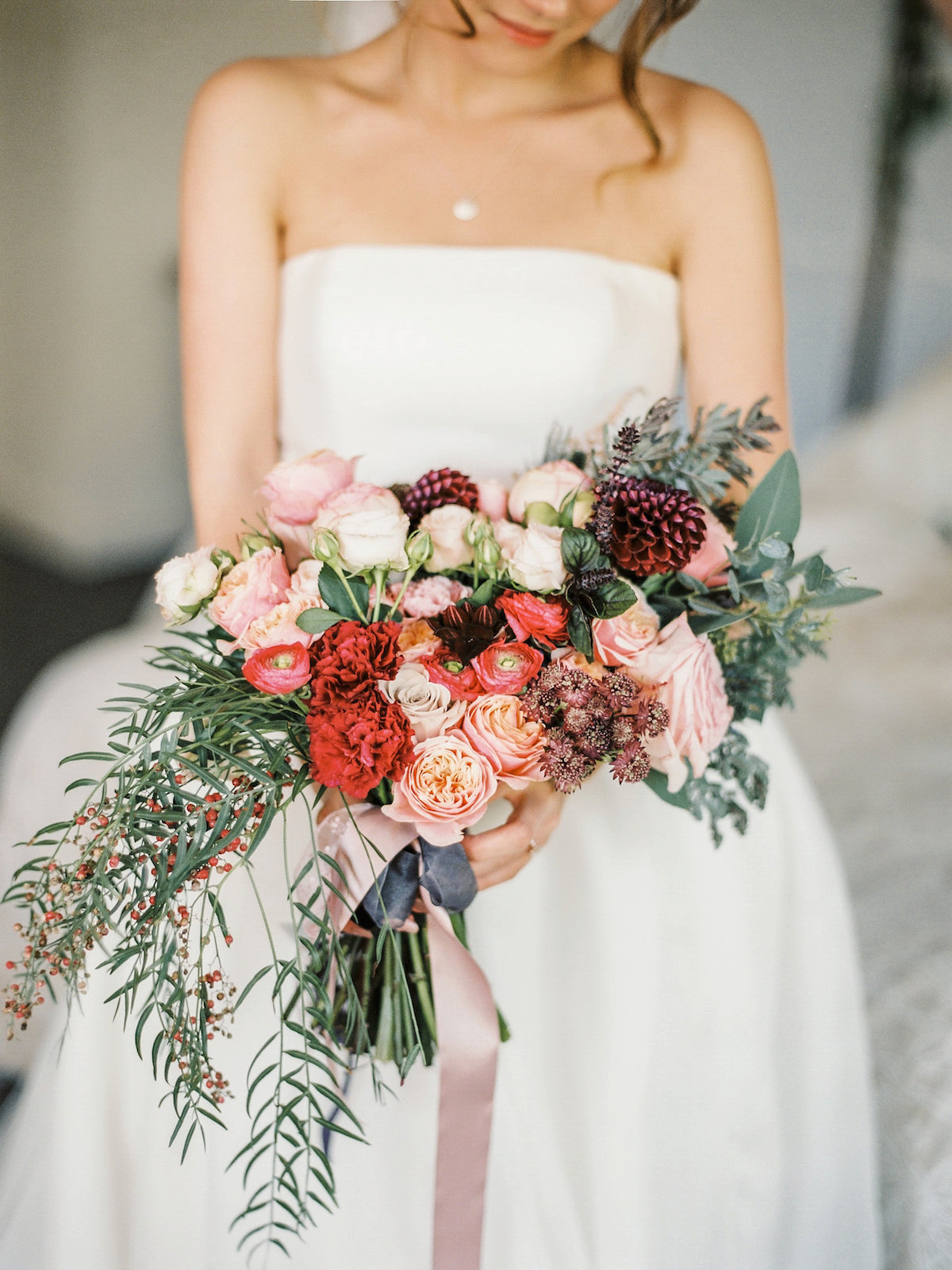 Anastasia wore an elegant Jesus Peiro gown.
"I was very relaxed about dress shopping in the beginning but as I kept on trying dresses nothing really felt right. That's when I realised why everyone talks about finding 'their' dress."
"It was actually my mother who suggested my Jesus Peiro dress. On the day I loved wearing my dress and secretly hope to renew our vows in the future just so I can wear it again."
The groom and his father hired kilts from Jakes of London for the ceremony before Mark changed into a suave blue suit by Hugo Boss for the reception.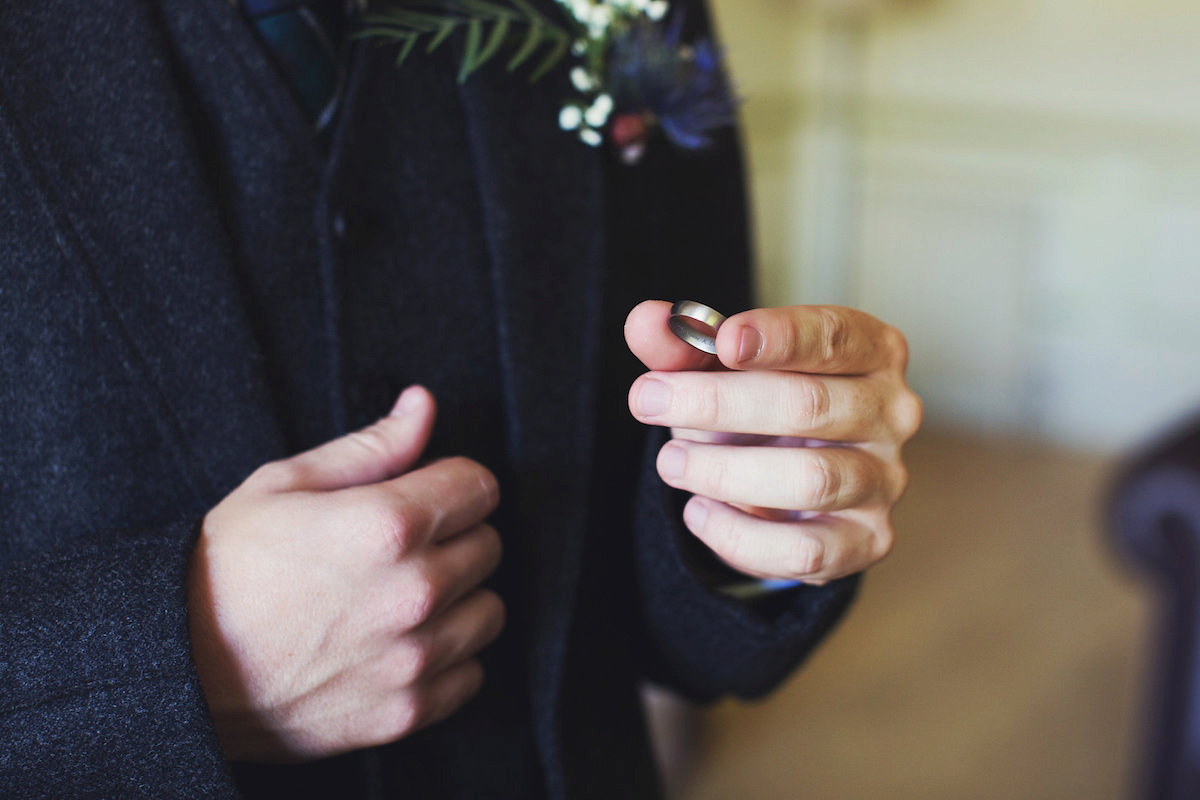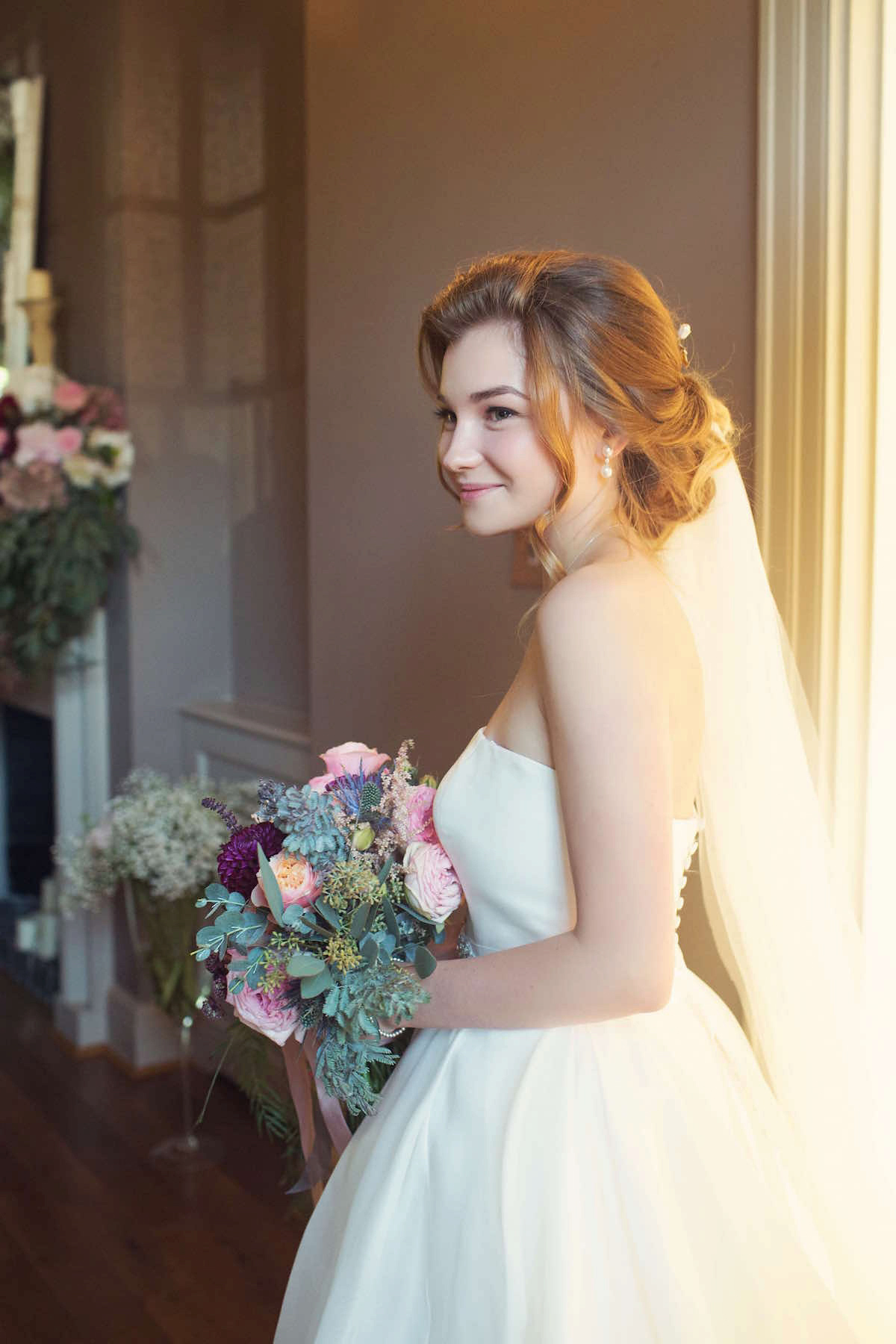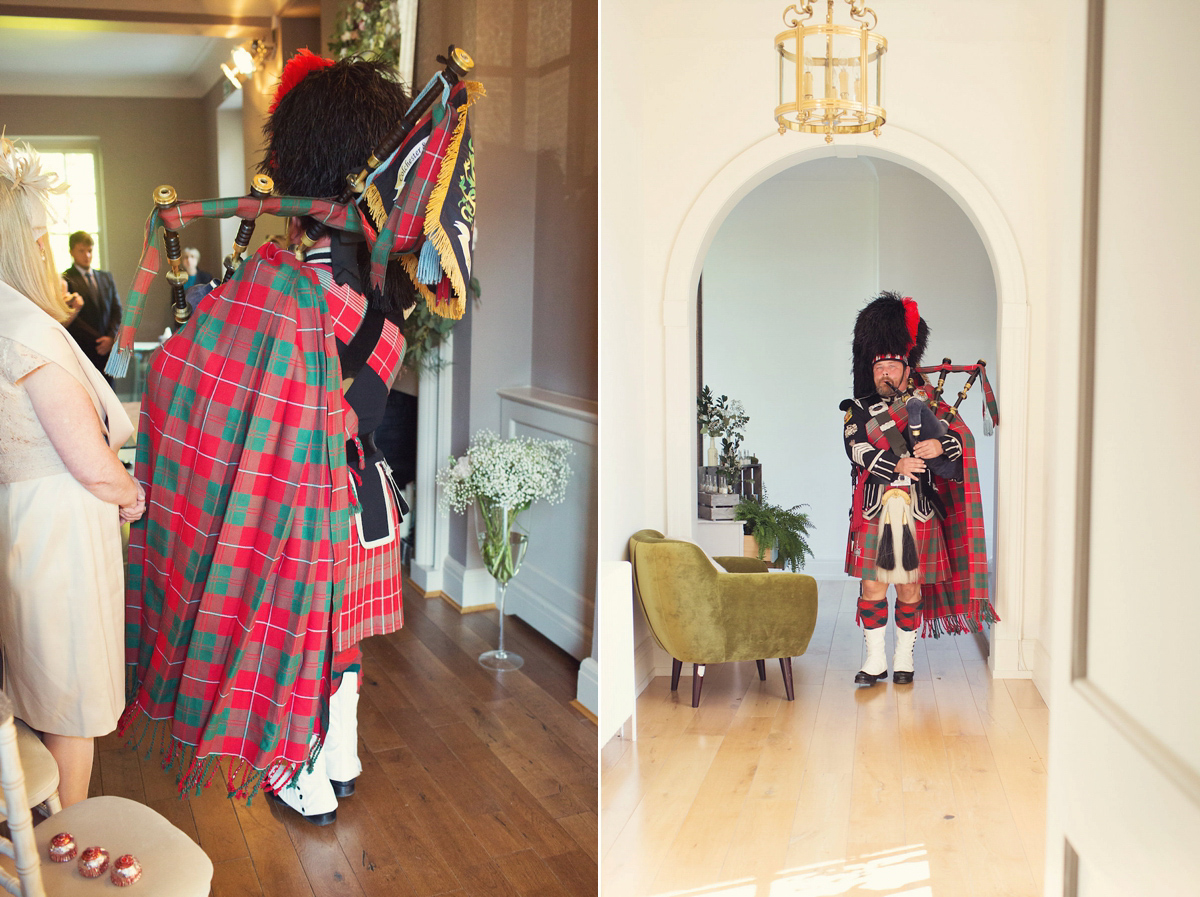 "My father couldn't make it to our wedding for health reasons and it just felt right to walk by myself, so that his place was not taken. I booked a Scottish bagpiper as a surprise for Mark as I walked down the aisle. He was in tears and I really tried not to myself. I did manage to hold on to read a poem I had written, Mark completely forgot his though!"
"We went to Promise Diamonds in Hatton Garden and I loved putting both our ideas into the ring, having that experience of creating something so personal together was wonderful, we really felt that we could trust them. It took some time to finally put the ring on but it was worth the wait. We also had the jeweller engrave our wedding bands in secret from one another, so we got to read them on the day. It was especially endearing that out of 20 available fonts we chose the same one."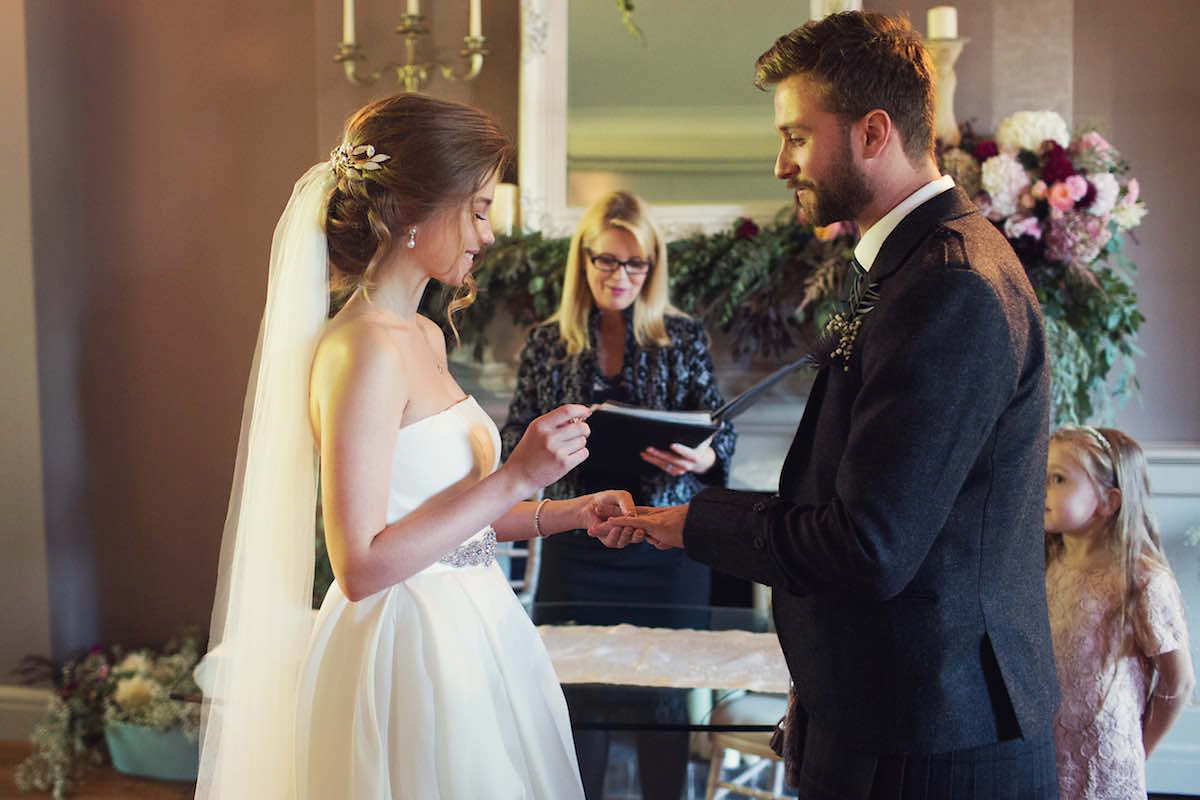 The couple wrote their own declarations, below is an extract from the bride's vows to her husband;
I love you when I'm mad at you, I love you when you're glad,
I love you when I piss you off, I love you when you're sad.
Like you and I will always be forever side by side,
My moon, my stars and all my life is yours like you are mine.
I'll never leave, I'll never waive – forever at your side,
So long as love you're here with me, so long as you are mine.
No fame or money in the world could mean a thing alone,
And if you're mine and I am yours our stars keep shining on.
I'll never leave, I'll never waive – forever at your side,
So long as love you're here with me, so long it's you and I.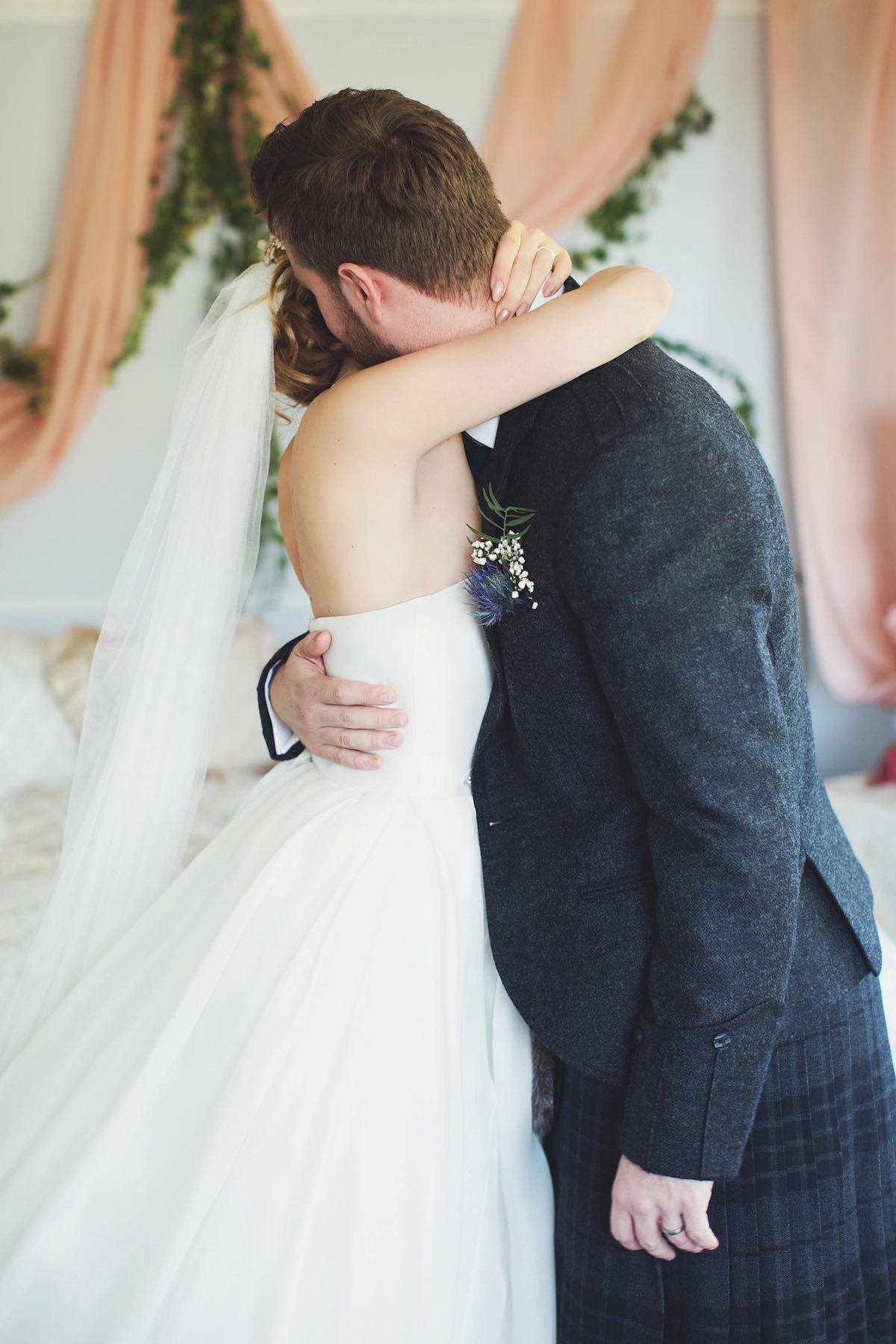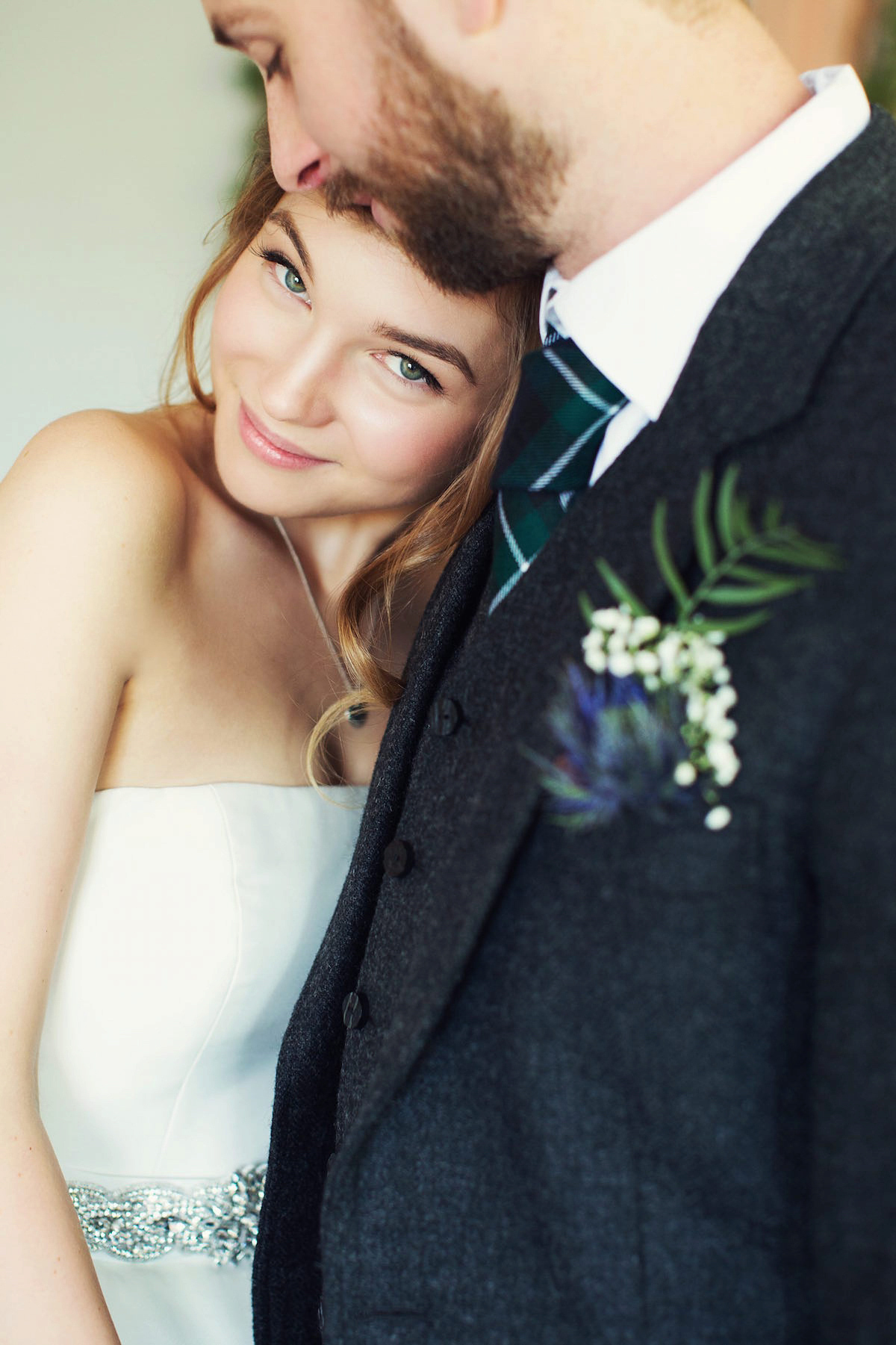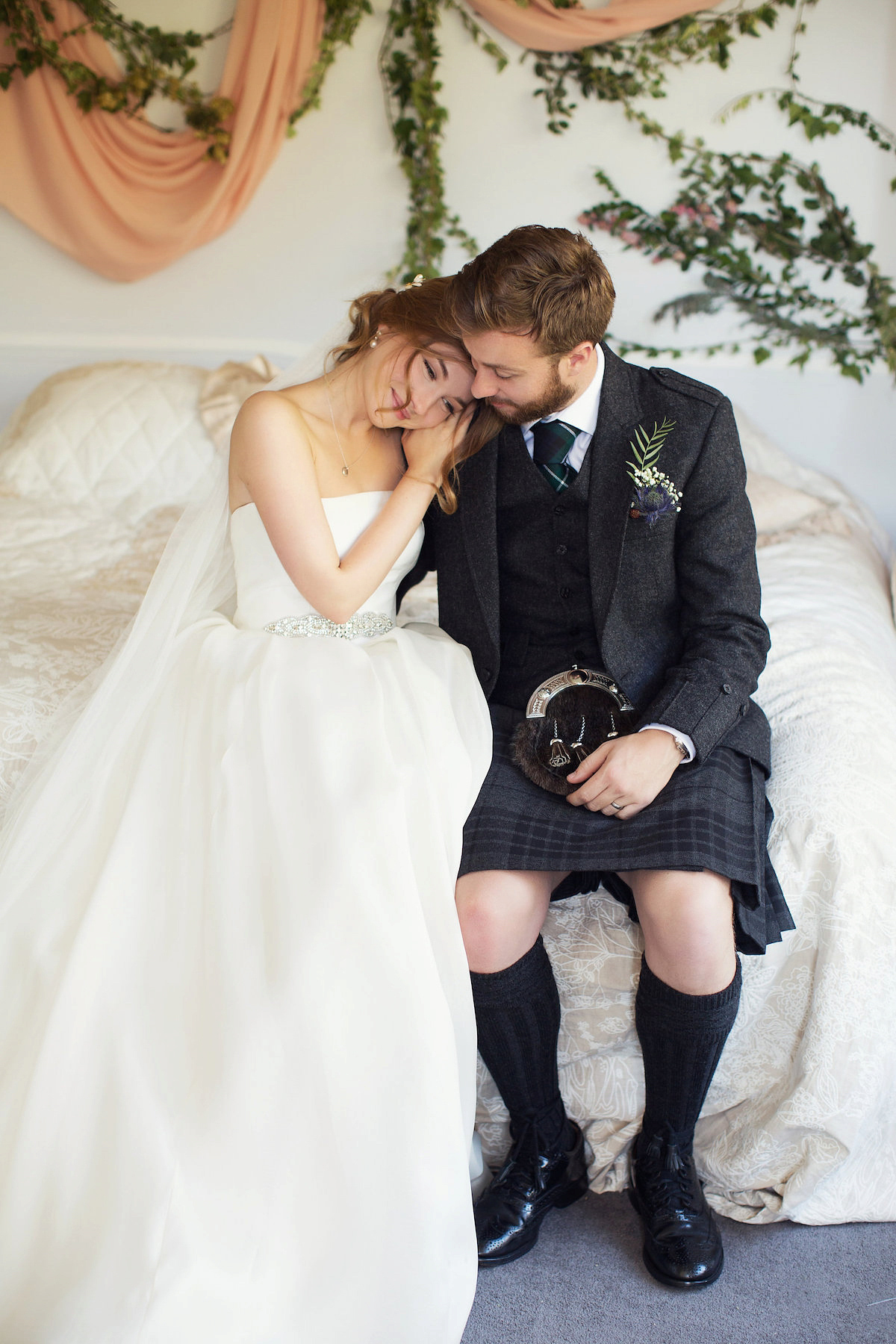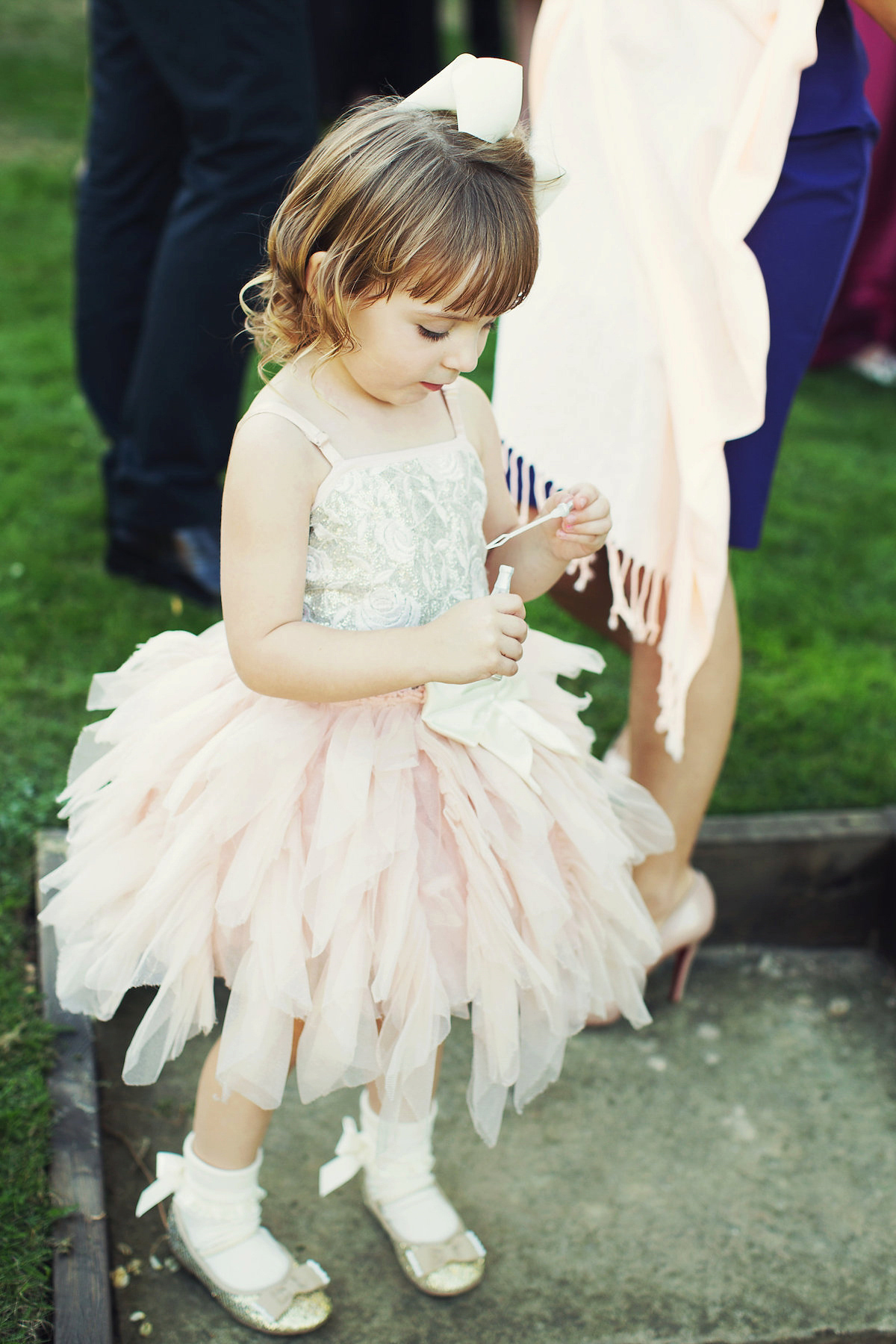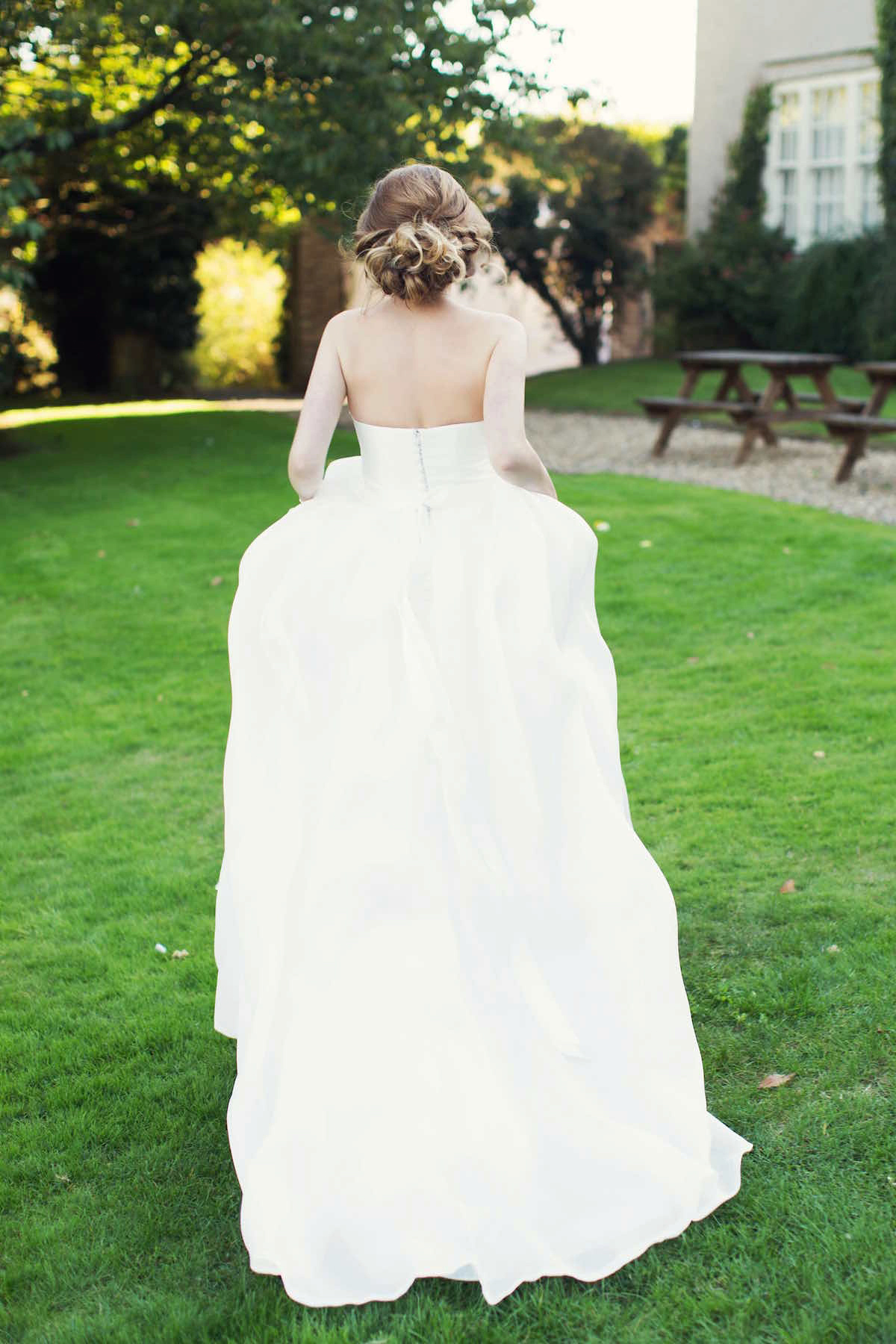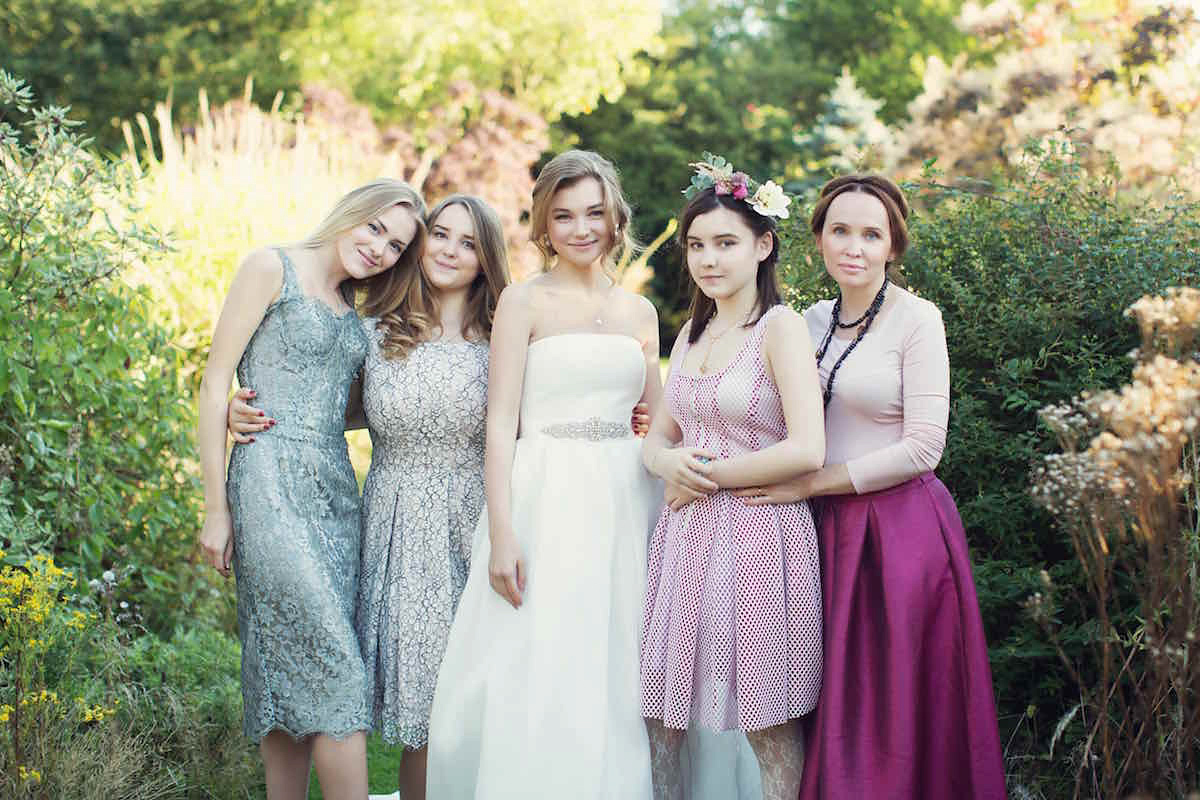 When it came to choosing a photographer, there was really only one choice for this bride. Based in Moscow, Lena Kozhina Photography had been on Anastasia's radar for years. Meeting with other photographers who weren't quite their style solidified this. Luckily when they contacted Lena, she was more than happy to travel to the UK.
"Lena was brilliant on the day, supportive and so efficient, we did not even see her there and yet she was with us every minute of our day. We could not have been happier with our choice, because when the wedding ended we just felt like the photographs took us back and that is priceless."
"Before the ceremony I had a little boudoir session in the bedroom, we got Wedhead to transform the bedroom with a flowerwall and a floral makeup mirror. It was fun and relaxing and made me feel extra special before putting my wedding dress on and Mark loved the photos!"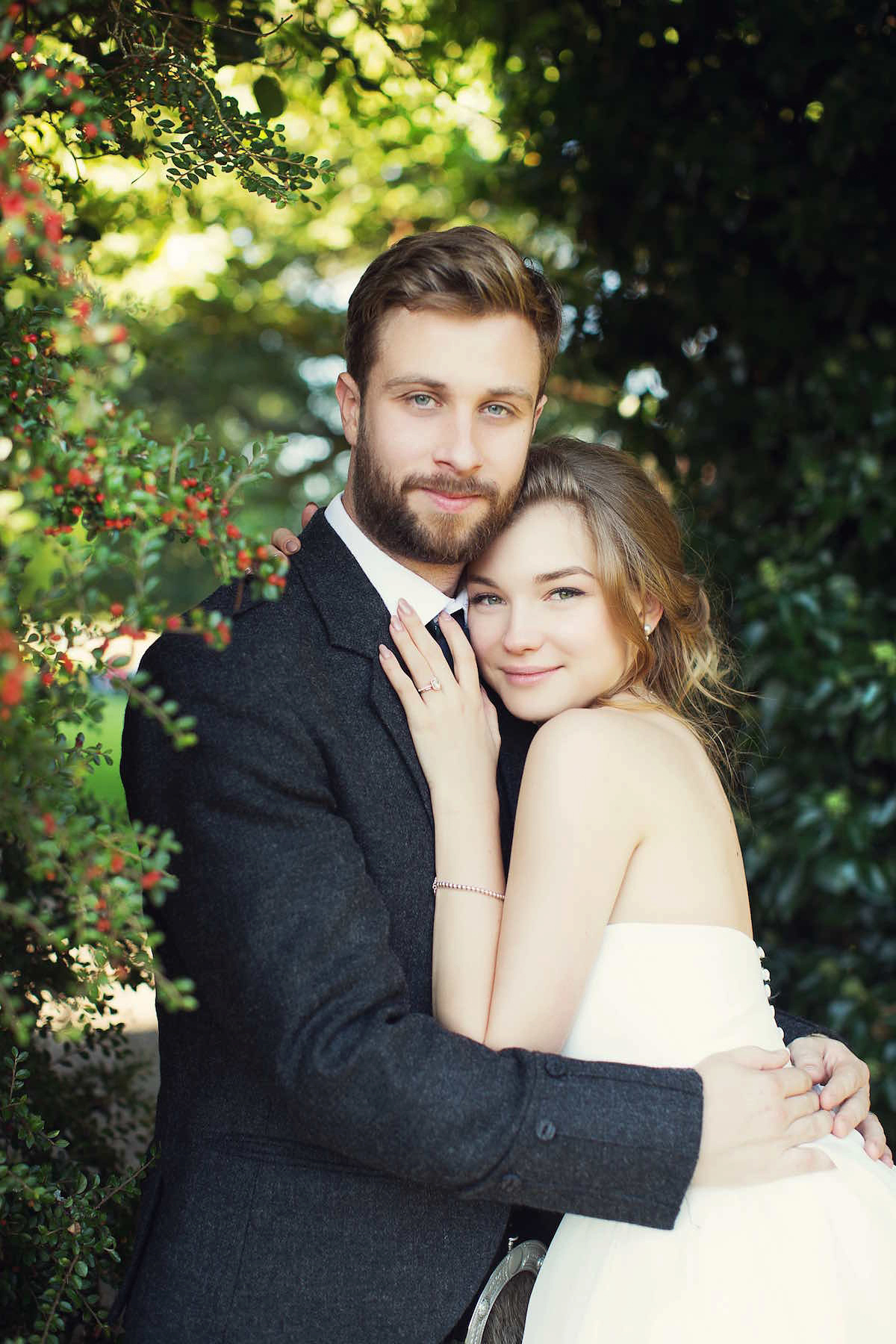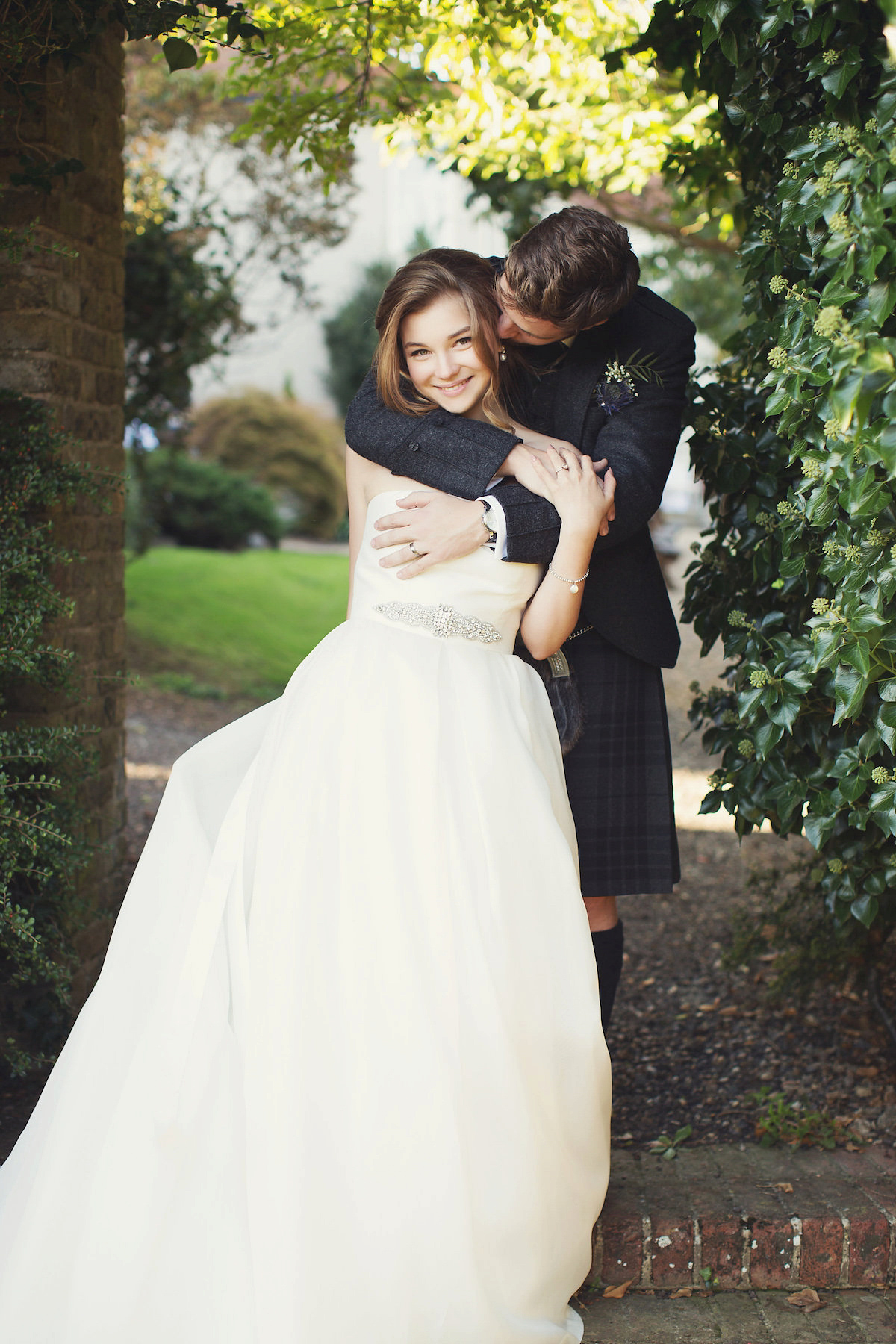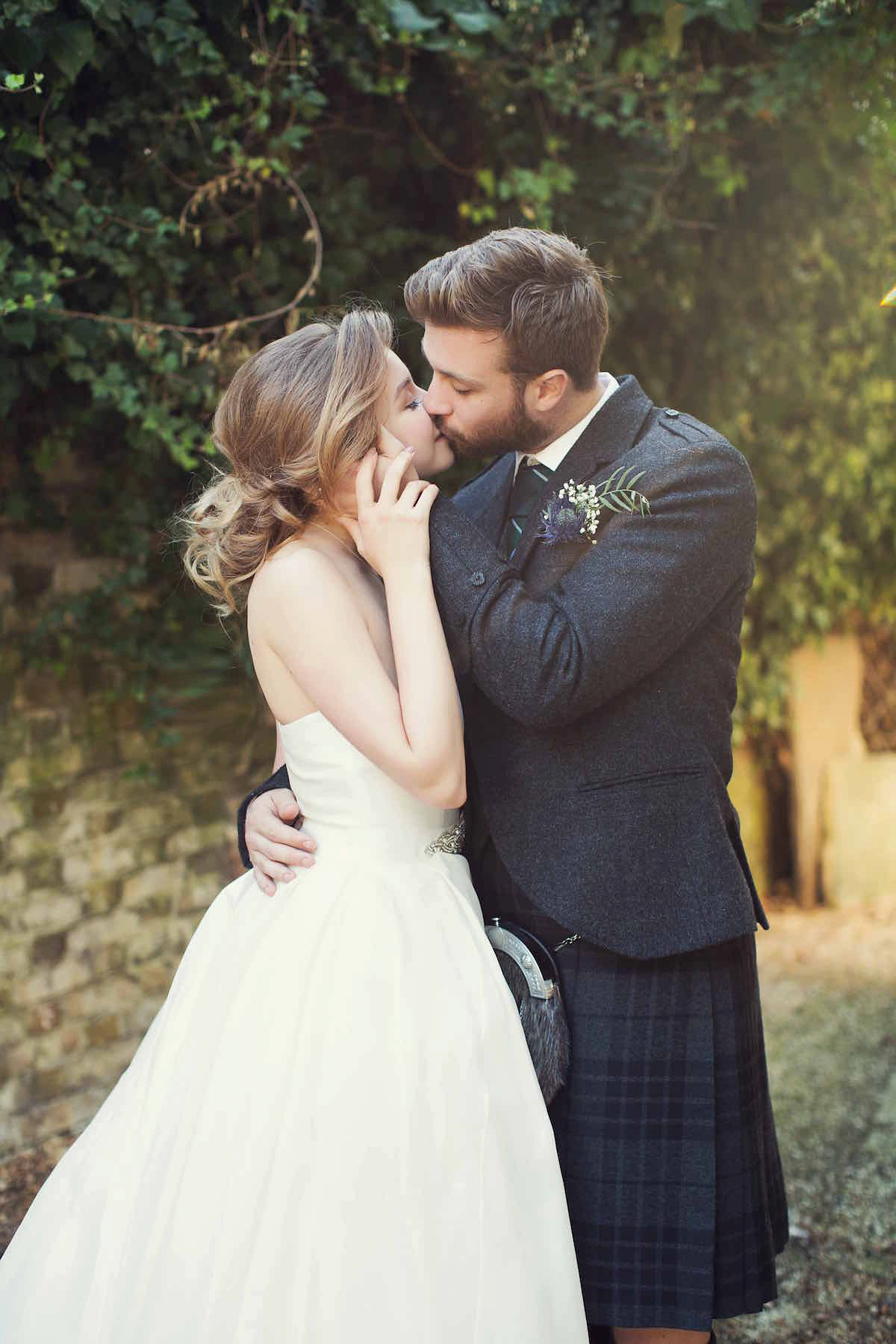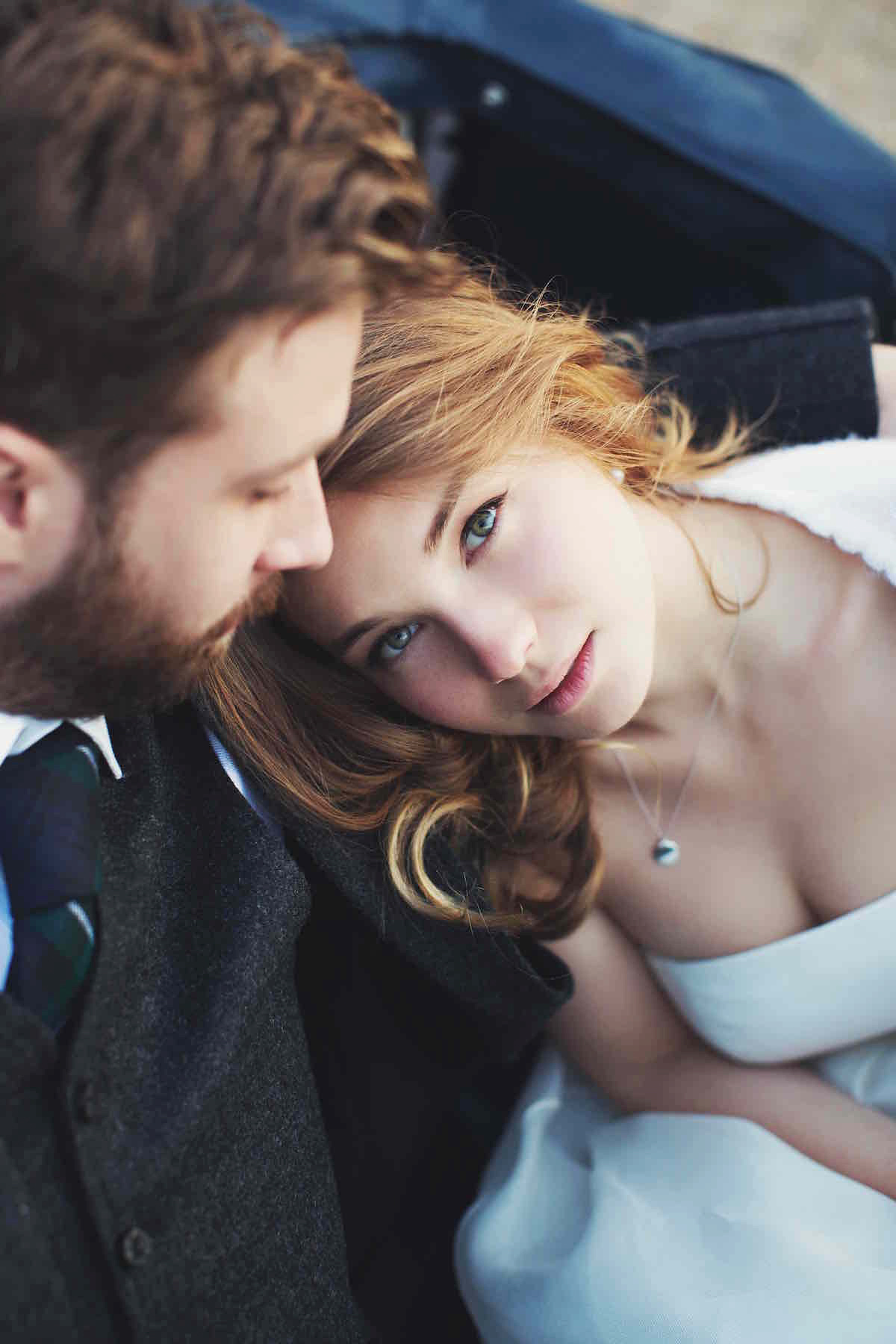 The couple met Fifi of Fifi's Cakery at a wedding fair and asked her to produce a cake which looked like it had been split apart with flowers emerging from the middle.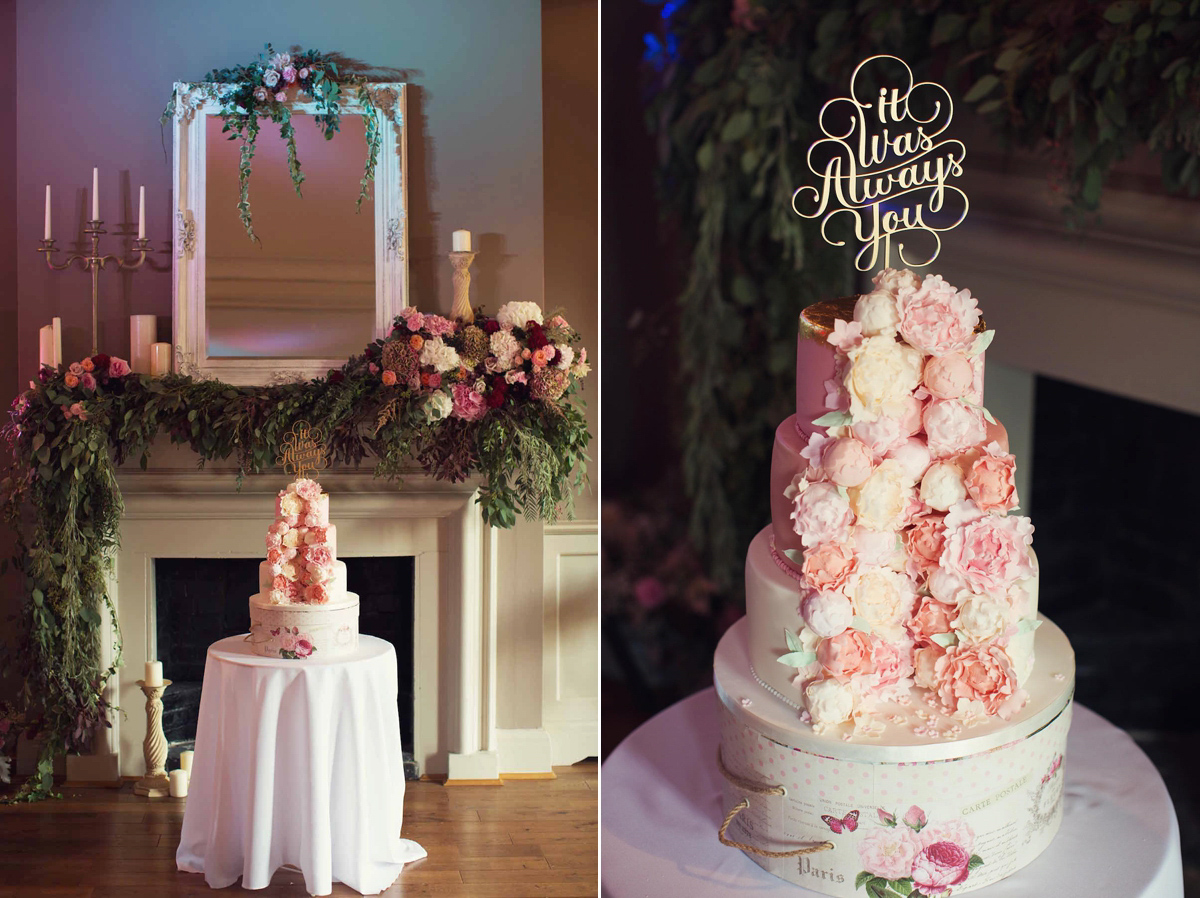 The effect is absolutely stunning and with a base of crunchy honeycomb, a middle layer of raspberry and white chocolate and a top layer of red velvet, the taste was out of this world too. There was only just enough left for the newlyweds to take a few slices home to enjoy on their one month anniversary.
"The essential idea was to create that 'cocktail' feel by removing mandatory seating – we wanted people to move around, talk to each other, make friends. So we placed sofas inside, chairs and tables outside on the patio, picnic tables on the grass and let everyone roam around. It was brilliant! We were extremely lucky with the weather as there was not a cloud in the sky the whole day."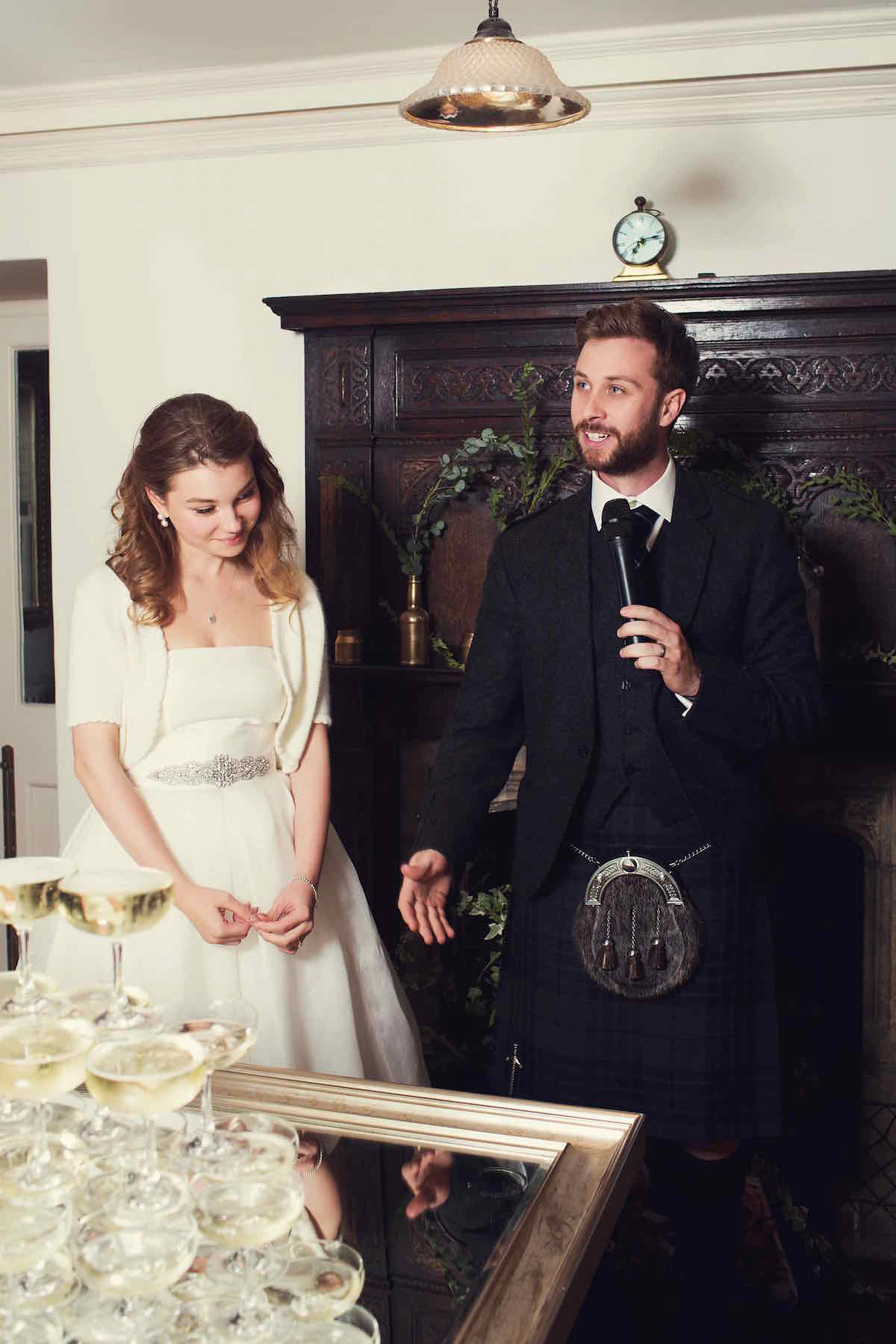 "Our catering company Premier Crew were brilliant at executing my idea of casual dining that would not be messy. They set up a street food stall outside serving salads in small bowls, baps of roasted lamb, skewers, mini burgers and so on. For dessert we set up a crêperie stall with sweet and savoury fillings, so people could help themselves. We also had a cocktail bar with a Moscow Mule for me and and Godfather Whiskey for Mark marking our distinct characters."
"Before the dancing started we had a champagne tower and everyone who wanted to say something grabbed a microphone, so we were just soaking up all the lovely wishes instead of scheduled speeches and Mark's mom wrote us an incredibly touching poem."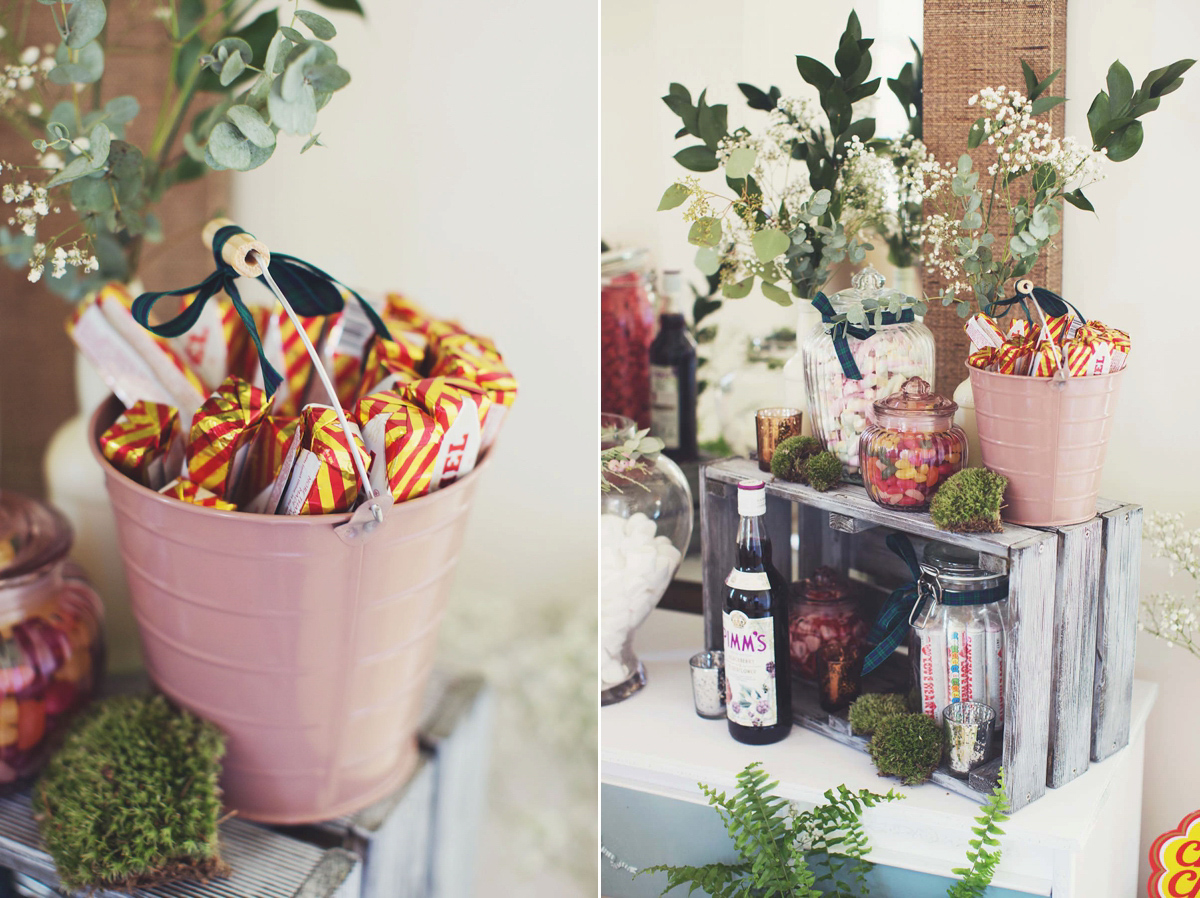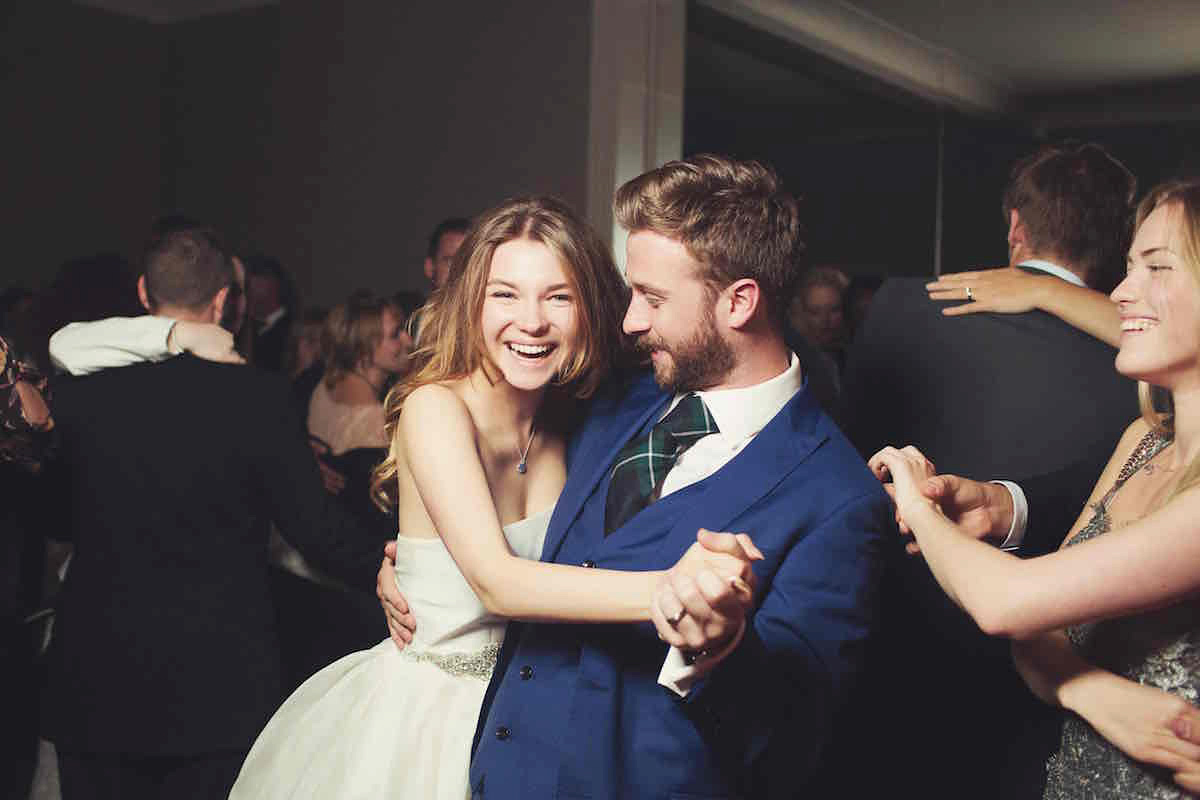 "We booked the guys from House of Chords two weeks before the wedding day when our DJ fell through. I really didn't think music would make such a dramatic difference, as much as I cared about the decor, the food and the weather nothing made our wedding more special than these guys. They travelled from Birmingham and sounded simply amazing playing all our favourite tracks."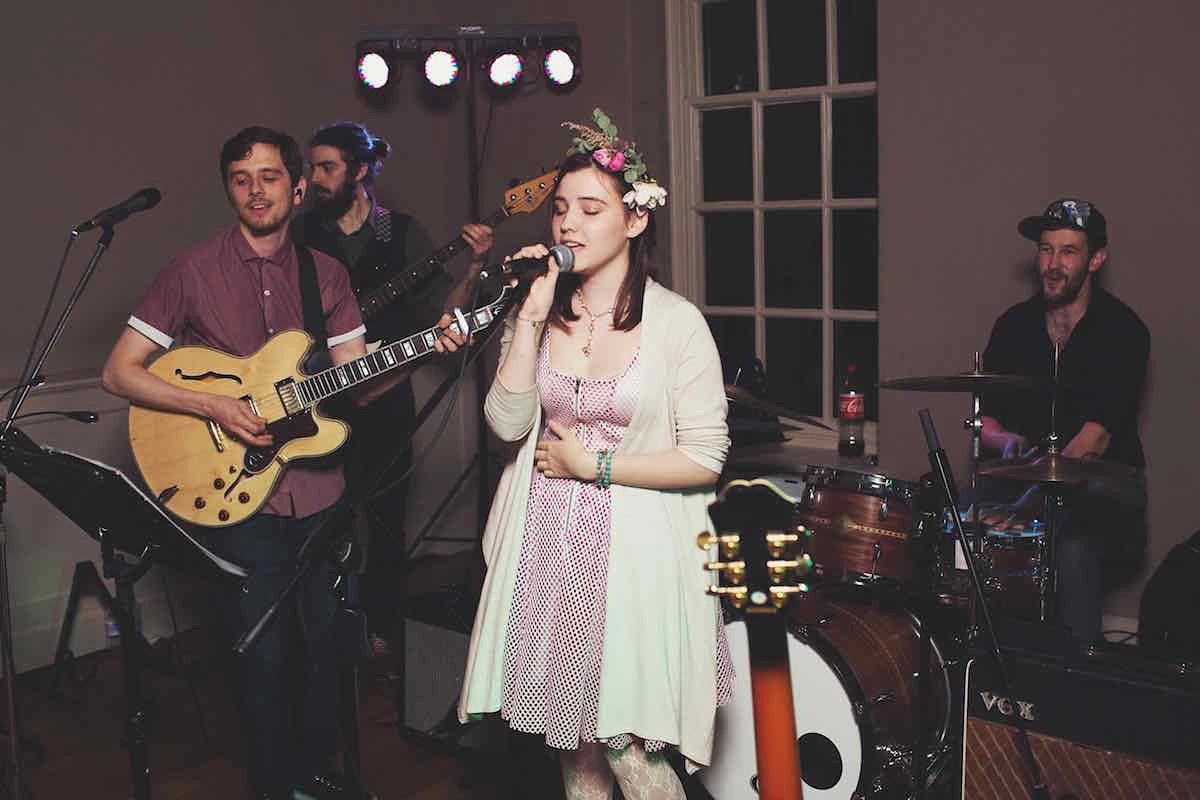 "They also learnt L-O-V-E for our first dance and later on in the evening my sister sang 'I Want to Hold Your Hand' alongside them (they even found a bit of time to rehearse in secret with her!) so I really could not describe how thankful we are that our DJ took a job abroad."
Mr and Mrs M. reflect on their most memorable moments of the day.
"At one point our band started playing 'Wonderwall' by Oasis. We were dancing with everyone in the room and I simply remember thinking I was so happy. In the exact same moment Mark leaned forward and said it to me. Somehow this is the most memorable part for me and the song now has a immense sentimental value. Mark's most memorable moment was me walking into the room with the bagpipes playing."
Words of Wedded Wisdom
"Think about how the things you do will make you and your guests feel and forget about trying to make your day 'perfect' – it simply will be if you just relax and take in every second of it. Just try to step away from all the details to see the bigger picture – maybe pretend you are 70 years old looking back – it will help to put things in to perspective."
Our thanks to the gorgeous Mr and Mrs M for allowing us to share this beautiful wedding and our heartfelt thanks to their wonderful photographer Lena Kozhina. Hoping you're all having a fabulous weekend!
Love Caoimhe xx