Thank you so very much for your sweet birthday wishes yesterday lovely wedding Belles (that's the name that members of our private Facebook page for brides to be and newlyweds have informally adopted!). I had a lovely day and it was all the more lovely for your kind words. This mornings wedding celebrates the nuptials of Danni and Dan, who tied the knot on 30th July this year in South Yorkshire.
Danni, head of marketing communications, married her beau Dan, a retail planning manager, with a ceremony at St Mary's in Kirk Bramwith (near Doncaster, South Yorkshire), followed by a reception at The Hostel at Hooton Pagnell. Their relaxed, romantic and quintessentially English wedding was captured by our super talented and wonderfully down to earth Little Book For Brides member – and my fellow North Yorkshire dweller, Georgina Harrison.
"We wanted our wedding to reflect our everyday lives, making sure everyone had a good time and felt at ease was the top of our priority list. Our venues were both historic but not grand and their country charm set the tone for the day. With beautiful surroundings it was important to pair back the styling to make sure it didn't look too twee, which meant our floral arrangements could be the stars of the show."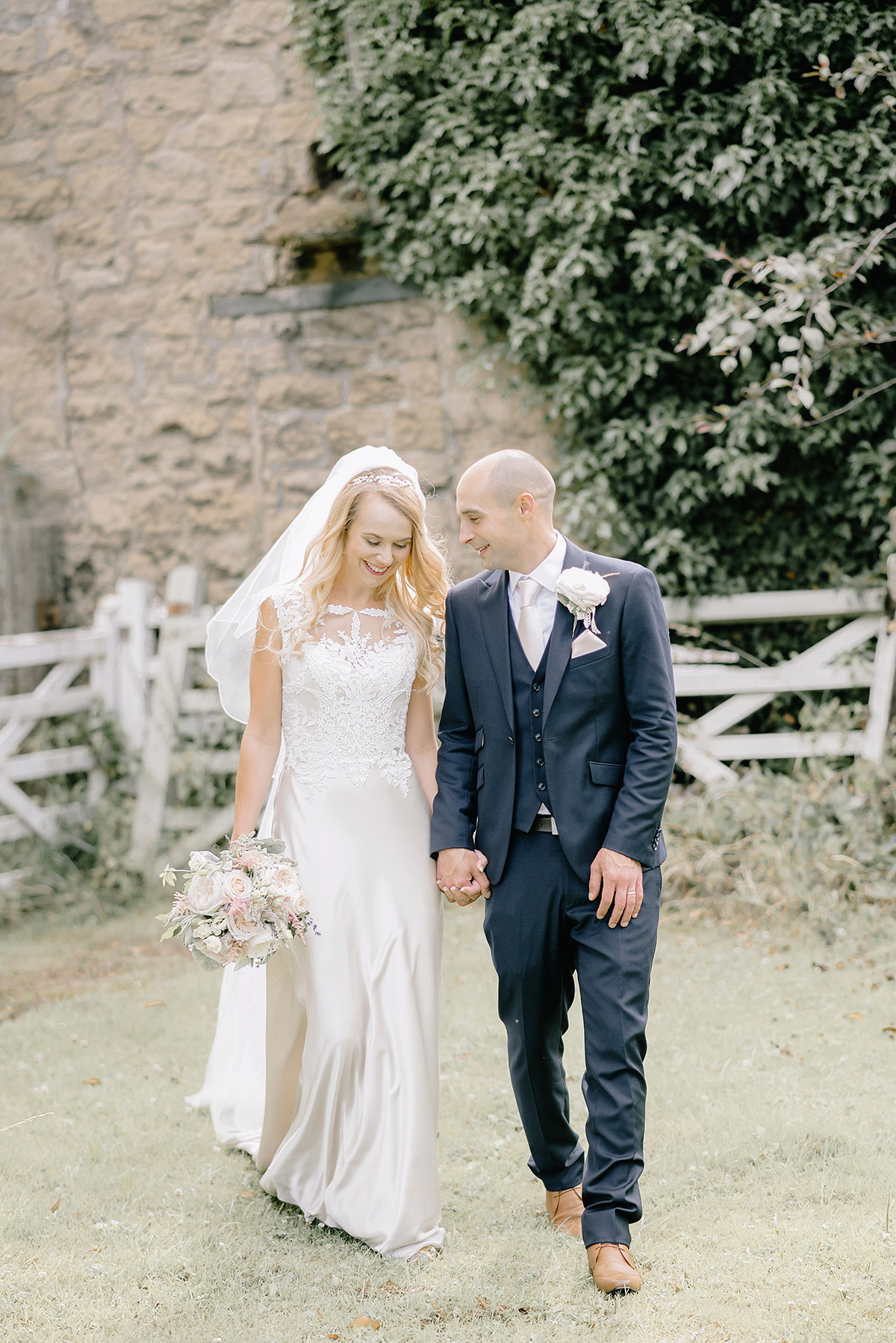 "I cannot compliment our photographer Georgina Harrison highly enough – from the first time I spoke to her she understood exactly what I had in mind and she has created beautiful images we will treasure for life."
"The chats we had before the big day really helped me to organise the logistics of the day, something you don't realise you will need! She was wonderful with the whole wedding party (including children and timid dogs!) and helped put us and everyone else at ease throughout the day."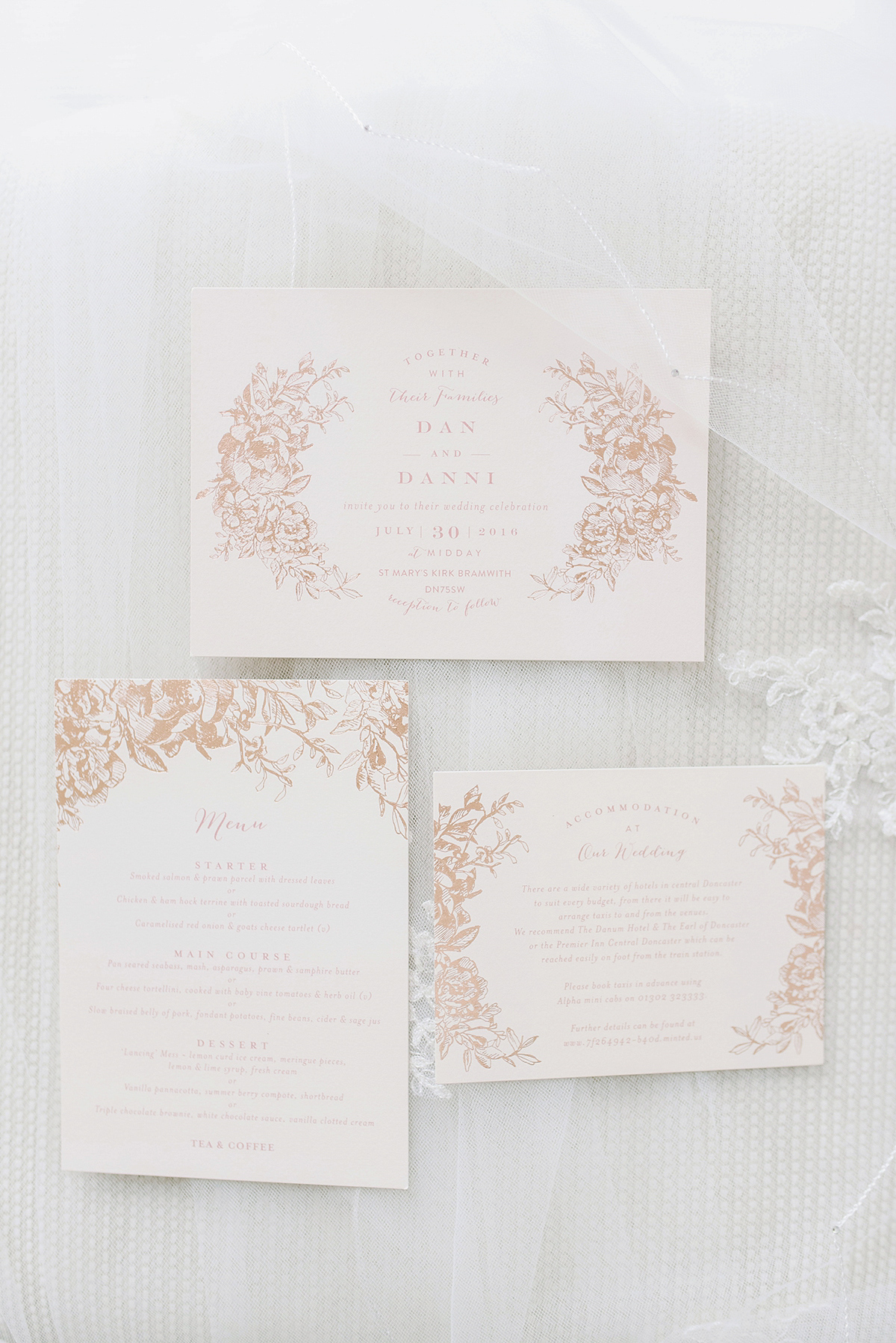 "A friend had advised me that it would be good to have a dry run at a wedding salon before I took my bridal party to narrow down the style and the designer that I wanted so the pressure wasn't too much when everyone was there. The day I found my Justin Alexander dress at the Georgian House Bridal boutique in Doncaster I was actually on my 'practice run' with my sister!"
"I tried my dress on and as they say – I just knew it was the one! I had always imagined a sleek dress with silky/satin fabric, which was elegant and timeless, but had been concerned that this might look too formal for my wedding style."
"So when I found my dress with the combination of champagne satin and white lace I fell in love, the leaf design in the lace was quite striking and modern whilst fitting my country theme, which gave me the timeless elegance look I was hoping for without being too glam."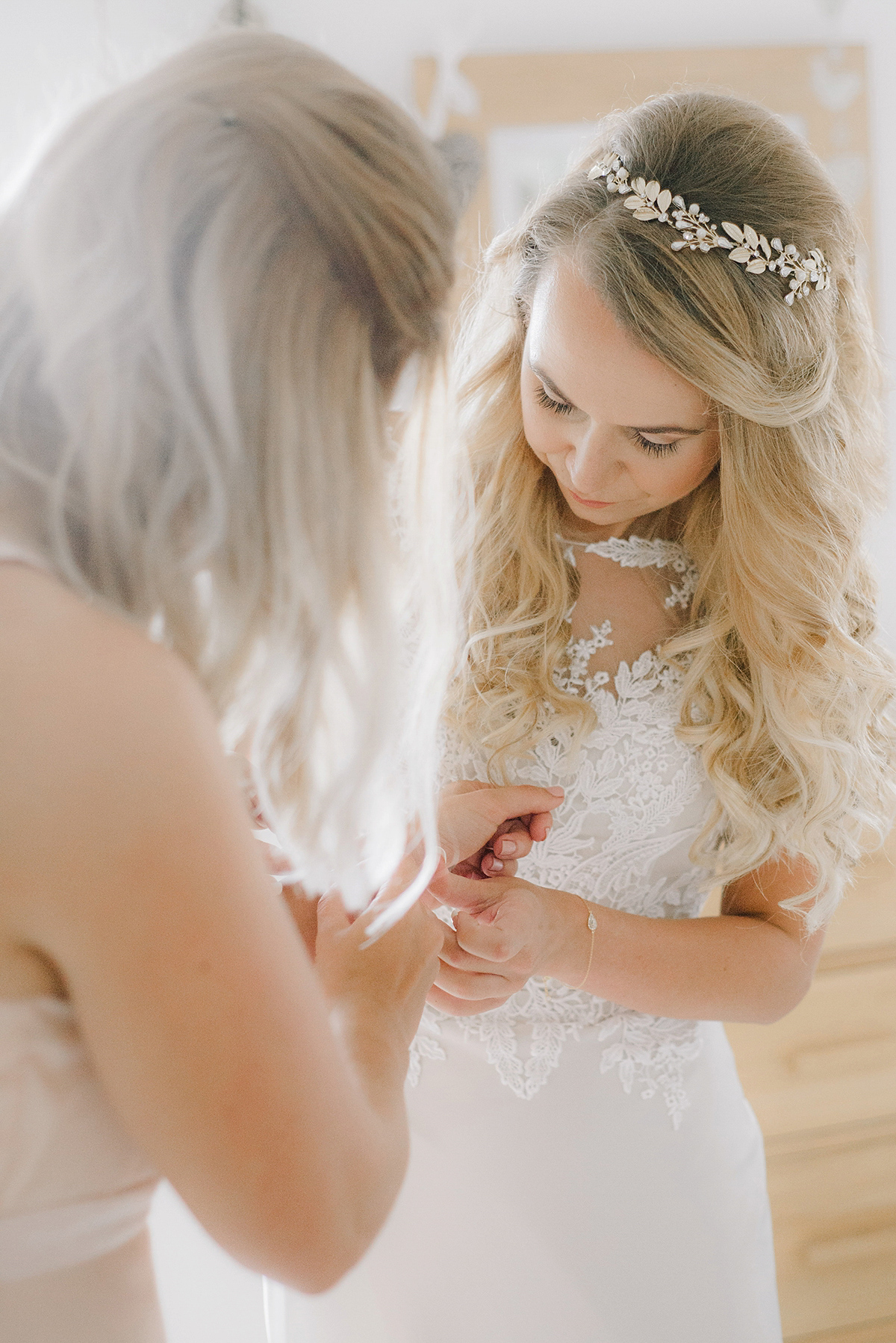 "I bought my shoes the day after Dan proposed from Non Non! I absolutely love Vivienne Westwood Melissa shoes and already had a few different styles, so I knew they would be comfortable for the whole day."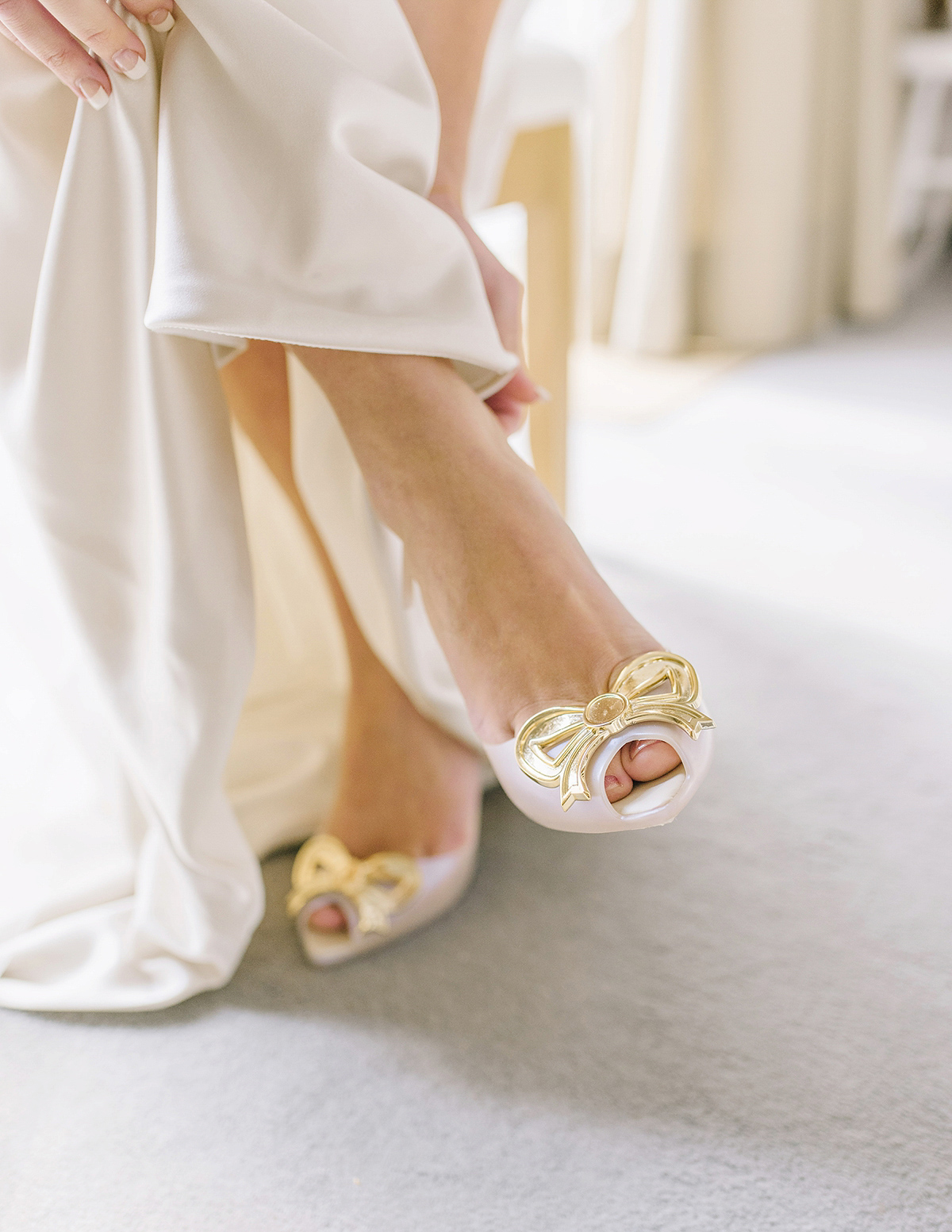 "Katie Chappell, mobile hair stylist based in Epworth. I got to know the lovely Katie very well in the run up to the wedding as I had hair extensions, colours and serval trials to get the perfect look before the big day. Natalie Hodge did makeup for both myself and my bridesmaids.
Scent is really important to me as it is so tied to our memories, so I opted to find a new perfume for the day. I chose Coco Mademoiselle by Chanel. I also wore gold leaf earrings also from ASOS and a gold halo clasp bracelet from the Z collection at Accessorize. I also borrowed my grandfather's wedding band (now worn by my nanna) for the day."
"I adore the famous picture of Grace Kelly in her veil so knew I would definitely go for a full veil. Mine was church length veil which overhung the train of my dress and a blusher. The veil had lace and diamanté applique, which added interest to the back of my dress in church which was plain on the skirt with the exception of buttons down the back. The veil was also from Georgian House Bridal.
Having ordered a few different head pieces and hair accessories which we tried during my hair trials, I eventually opted for a gold and crystal large hair slide from ASOS as its leaves design echoed the lace on my dress."
"Our florist was Paeony Floral Design. Like many brides I knew the look I wanted but not all of the names of the flowers, so Lauretta's approach was brilliant for me. After our first meeting she set up a Pinterest board for me to fill with inspiration and ideas of what I wanted for her to interpret. I imagined romantic pastel designs with lots of loose natural blooms and the end results was better than I could have ever hoped for."
"I had collected lots of vases for the reception venue which Lauretta worked with, as well as advising us on how to get the most out of her designs, with tips such as displaying the bouquets behind the top table and transporting big arrangements from the church to the venue."
"Dan and I met the old fashioned way and were introduced by a friend when I was working for a media agency in London. Dan grew up in Lancing on the south coast and I hailed from Yorkshire but we soon realised we had lots in common, his sister was actually a teacher at the school near Brighton where my grandmother had attended 70 years earlier."
"We first got together on the day of the Olympic closing ceremony in 2012 at a Blur concert in Hyde Park and moved in together a year later into a rented cottage in St Albans. After three years together living 'darn sarf' we decided to make the move up to my Motherland in Yorkshire and we took the leap on my 30th birthday."
"At first we stayed with my mum and her partner whilst we looked for a house of our own and six months later we moved into our own little 18th century cottage. After three weeks in our newly christened "Smithfield" cottage Dan proposed."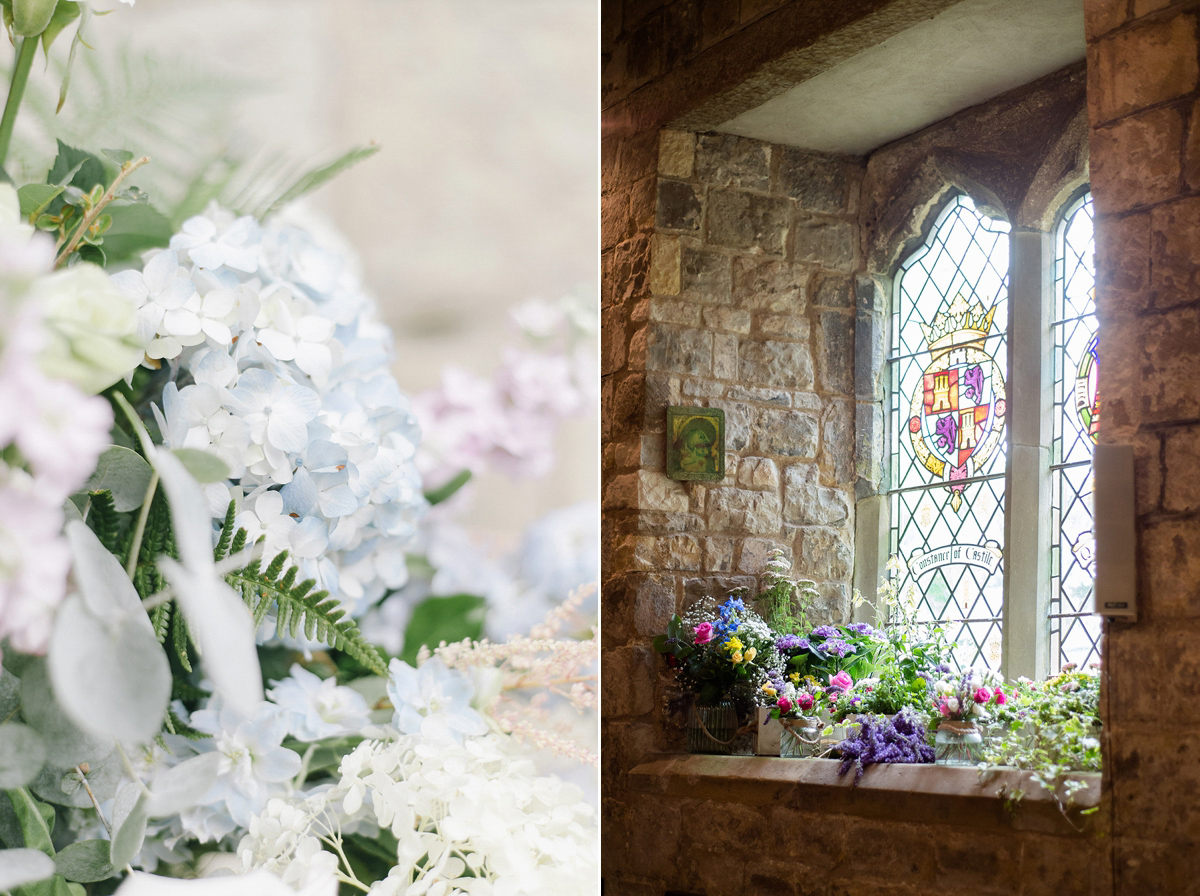 "The flower girls' dresses were from BHS (now closed, so they were probably the last ones!). They had matching bags and shoes too."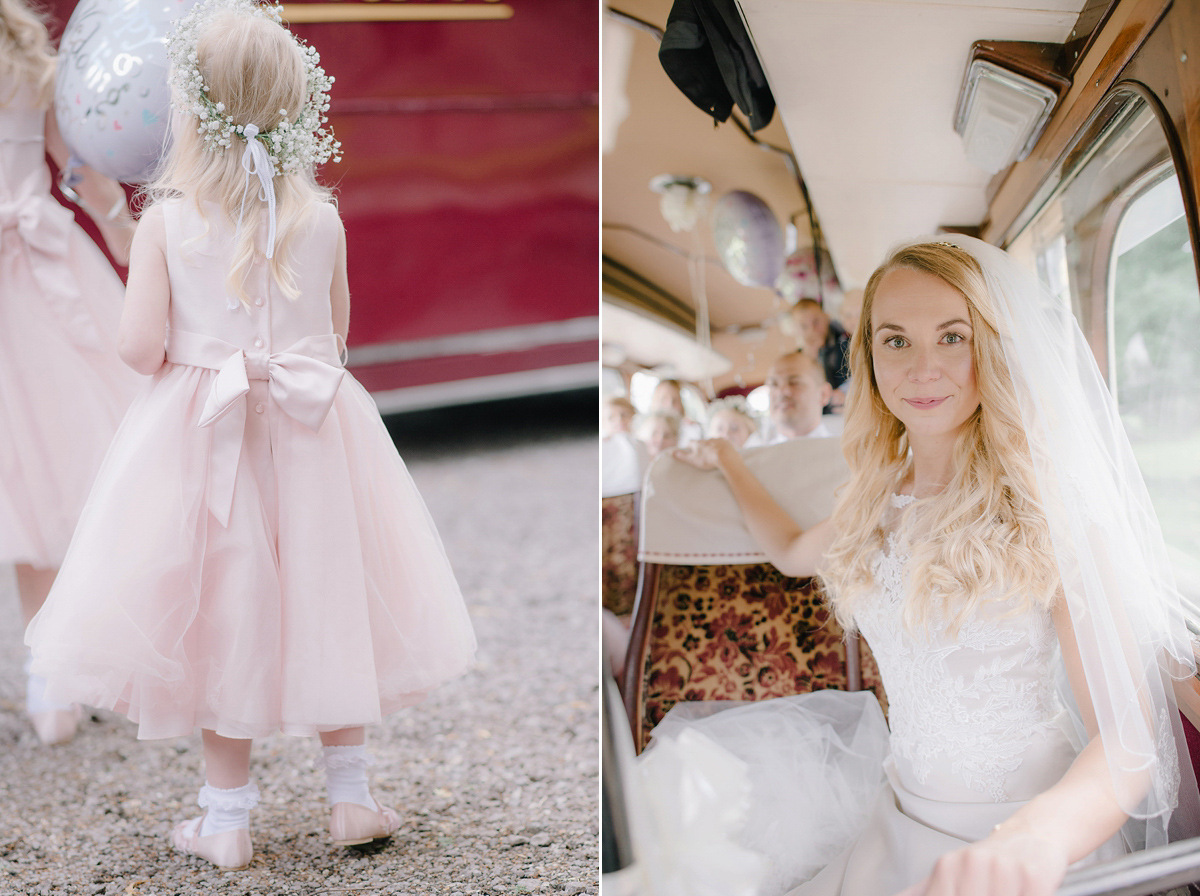 "I had originally wanted my girls in different colours but found the selection limited as I didn't want the dresses to be formal bridesmaids dresses. We opted for a an embellished blush midi dress from Monsoon for the bridesmaids, whilst my maid of honour wore a full length gown from ASOS. They also wore gold sandals from  ASOS."
"The bridesmaids hair accessories were from ebay and the flower girl's flower crowns were made by my wonderful florist Lauretta of Paeony Floral Design. They also wore a semi-precious filigree bracelet also from Z for Accessorize."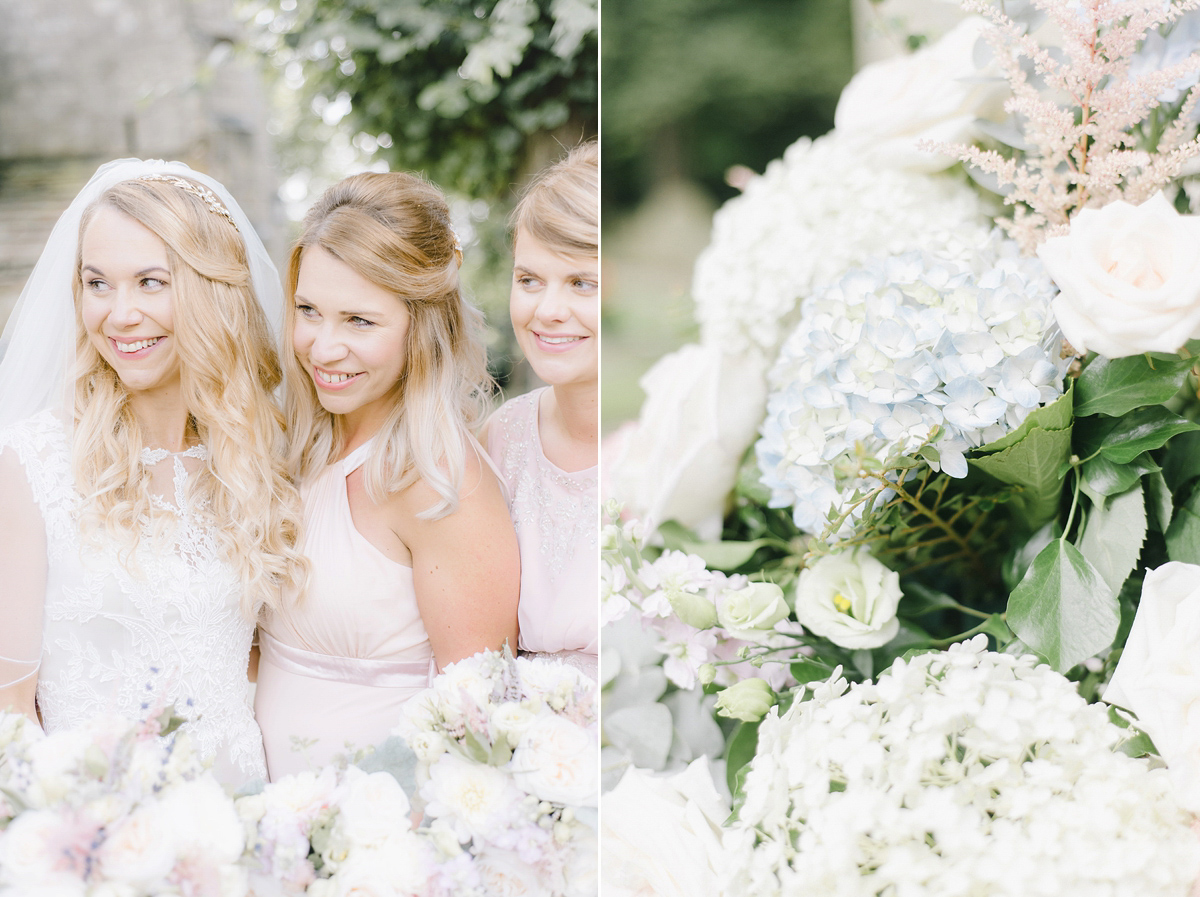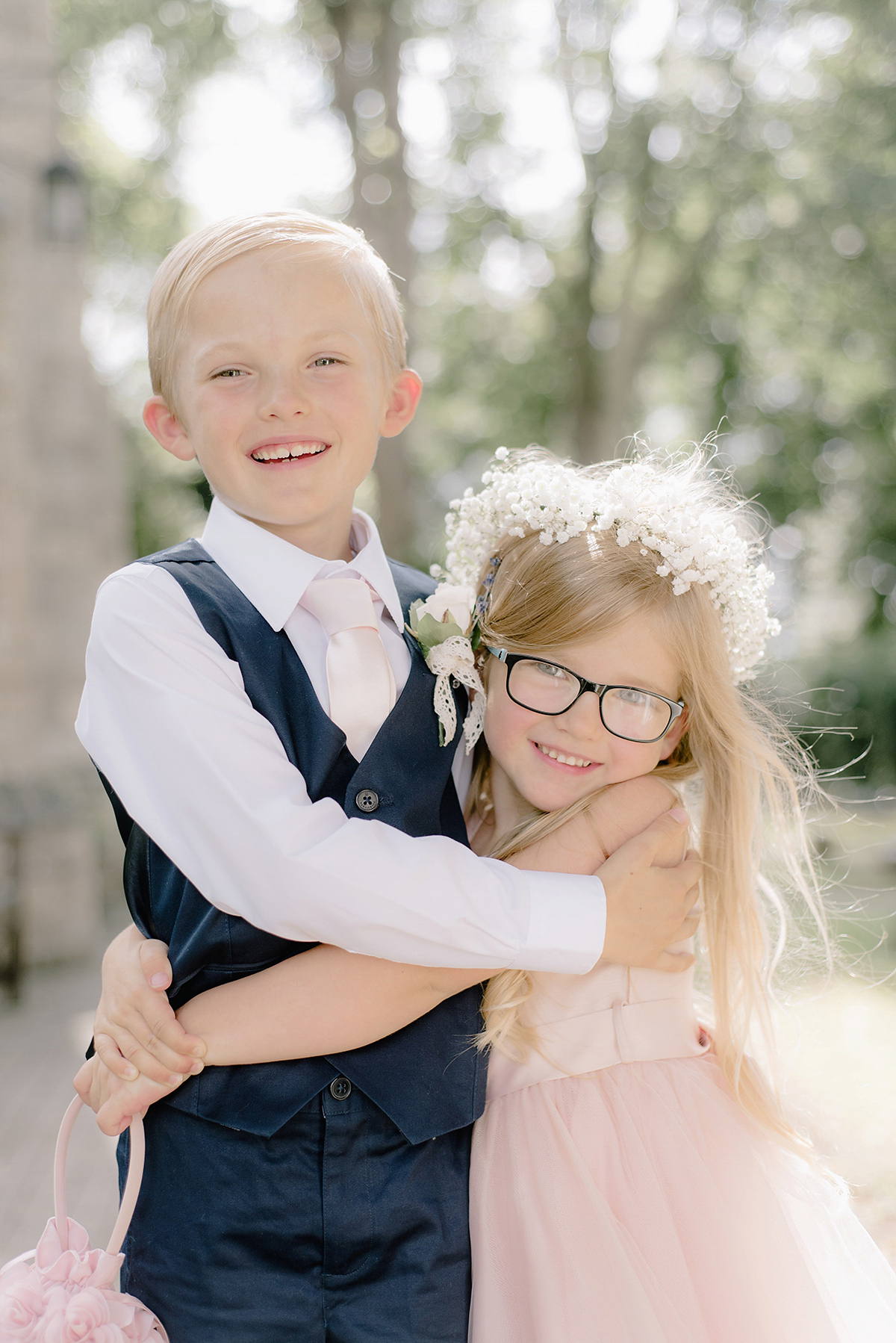 "I had always wanted to get married at St Mary's in Kirk Bramwith as it is my family's local church and where my parents had gotten married many years earlier. It's a beautiful Norman building full of history and memories, we took our little flower girls and page boy there in advance (they were all friends children from as far away as Essex) so it was important for us that they felt comfortable on the day – to avoid any meltdowns!
My grandfather has a memorial in the cemetery so we had a buttonhole made for him which Dan placed on his memorial before the service."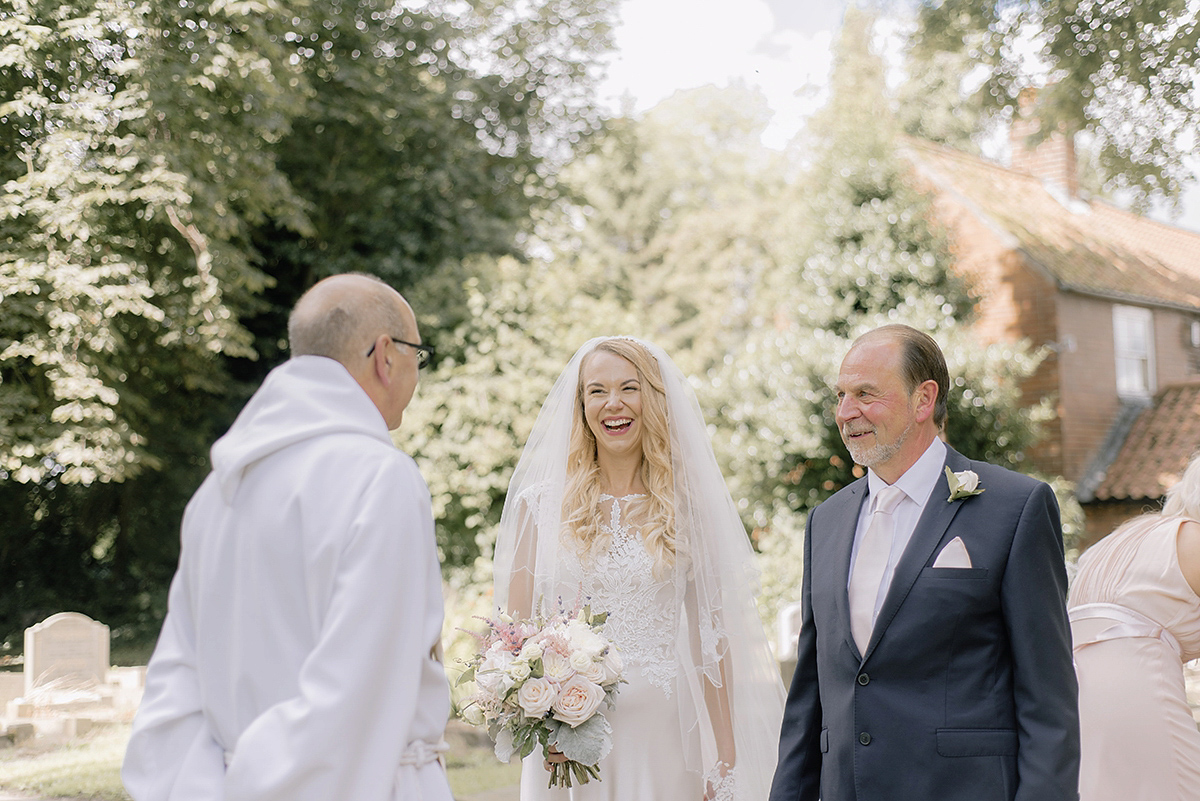 "I walked down the aisle with my dad. I chose for my bridal party to follow me down the aisle in the traditional English style. Keeping to tradition I chose Wagner's bridal chorus to walk down the aisle (Here Comes The Bride)."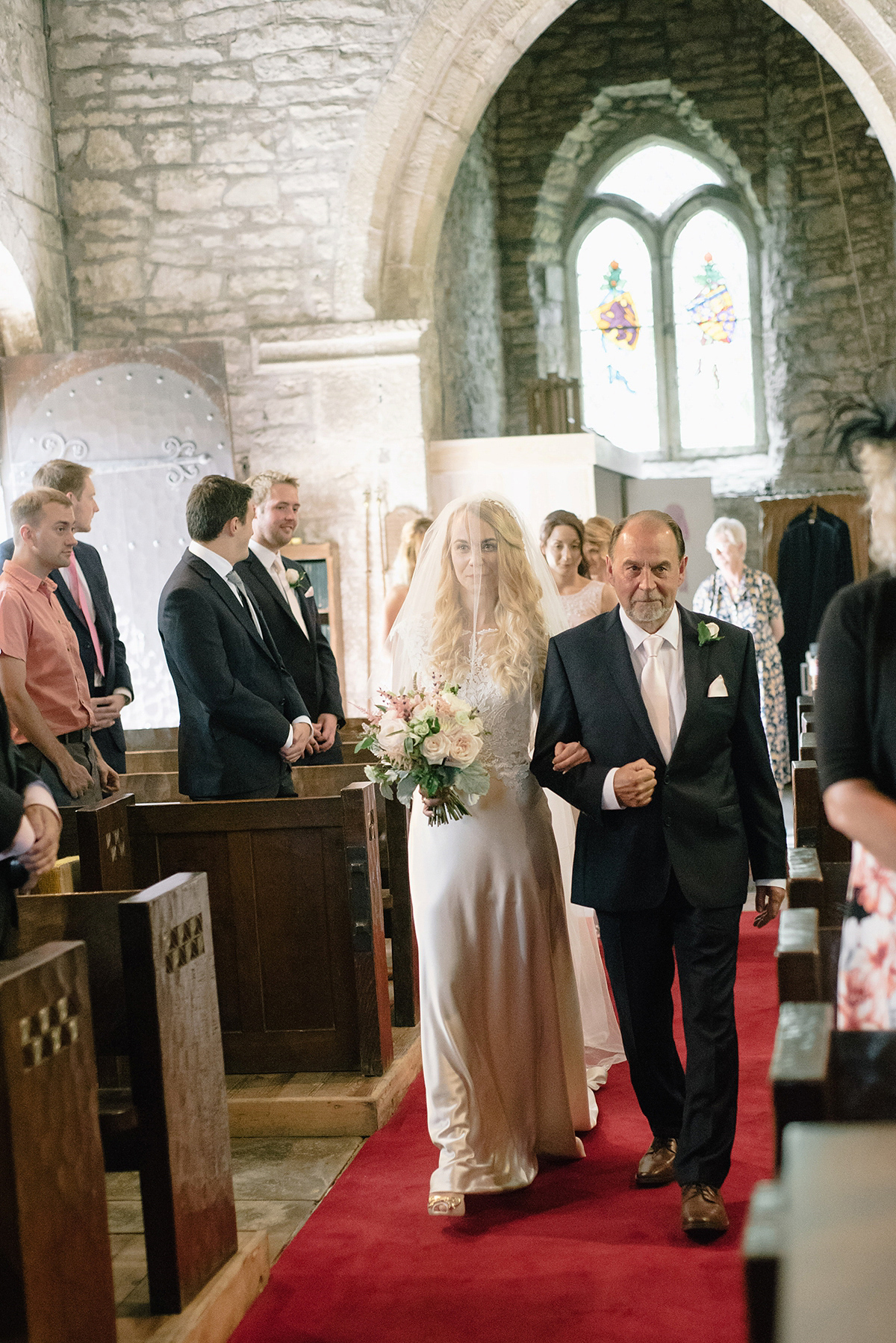 "We had traditional Church of England vows. We then adapted lyrics from the David Bowie's song 'Absolute Beginners' to create an original reading that would be personal to us…"
They've nothing much to offer,
There's nothing much to take,
They're absolute beginners
With promises to make

With eyes completely open
But nervous all the same
Today they'll join together
And she will take his name

If their love song could fly over mountains,
Could laugh at the ocean
Just like in films
There's no reason
To feel all the hard times
To lay down the hard lines
It's absolutely true

As long as they're together
I know they'll do okay
Because he absolutely loves her
And will love her all his days

As long as they're still smiling
There's nothing more they'll need
Because she absolutely loves him
I know they're certain to succeed

(Adapted from David Bowie's Absolute Beginners)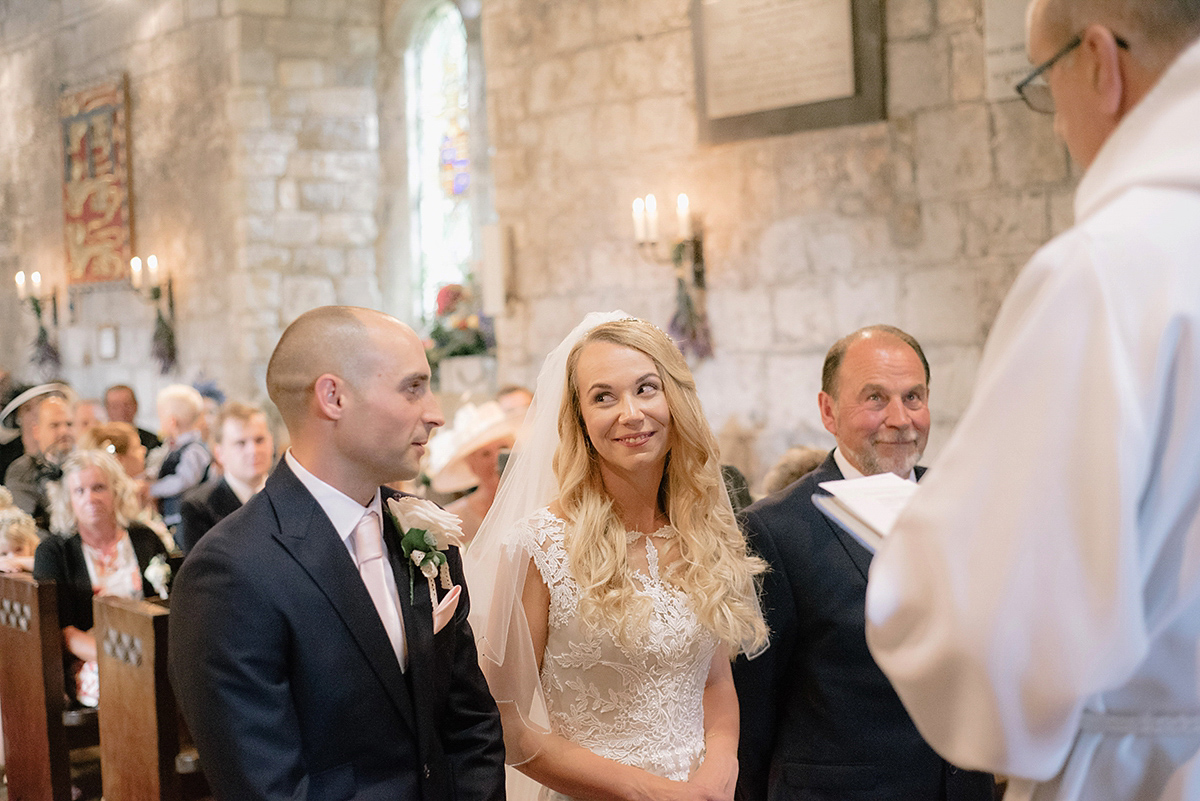 "Having a church wedding we knew we would have a bible reading, however I wasn't keen on Corinthians as everyone has it! So we went for this version of Romans 12:9-18 which was lovely for my grandmother to read to us. It also had an extra layer of meaning as my best friend and bridesmaid has recently lost her mum so she and I had a special moment during the reading.
Love must be sincere. Hate what is evil; cling to what is good. Be devoted to one another in love. Honor one another above yourselves. Never be lacking in zeal, but keep your spiritual fervor, serving the Lord. Be joyful in hope, patient in affliction, faithful in prayer. Share with the Lord's people who are in need. Practice hospitality. Bless those who persecute you; bless and do not curse. Rejoice with those who rejoice; mourn with those who mourn. Live in harmony with one another. (Romans 12:9-18,)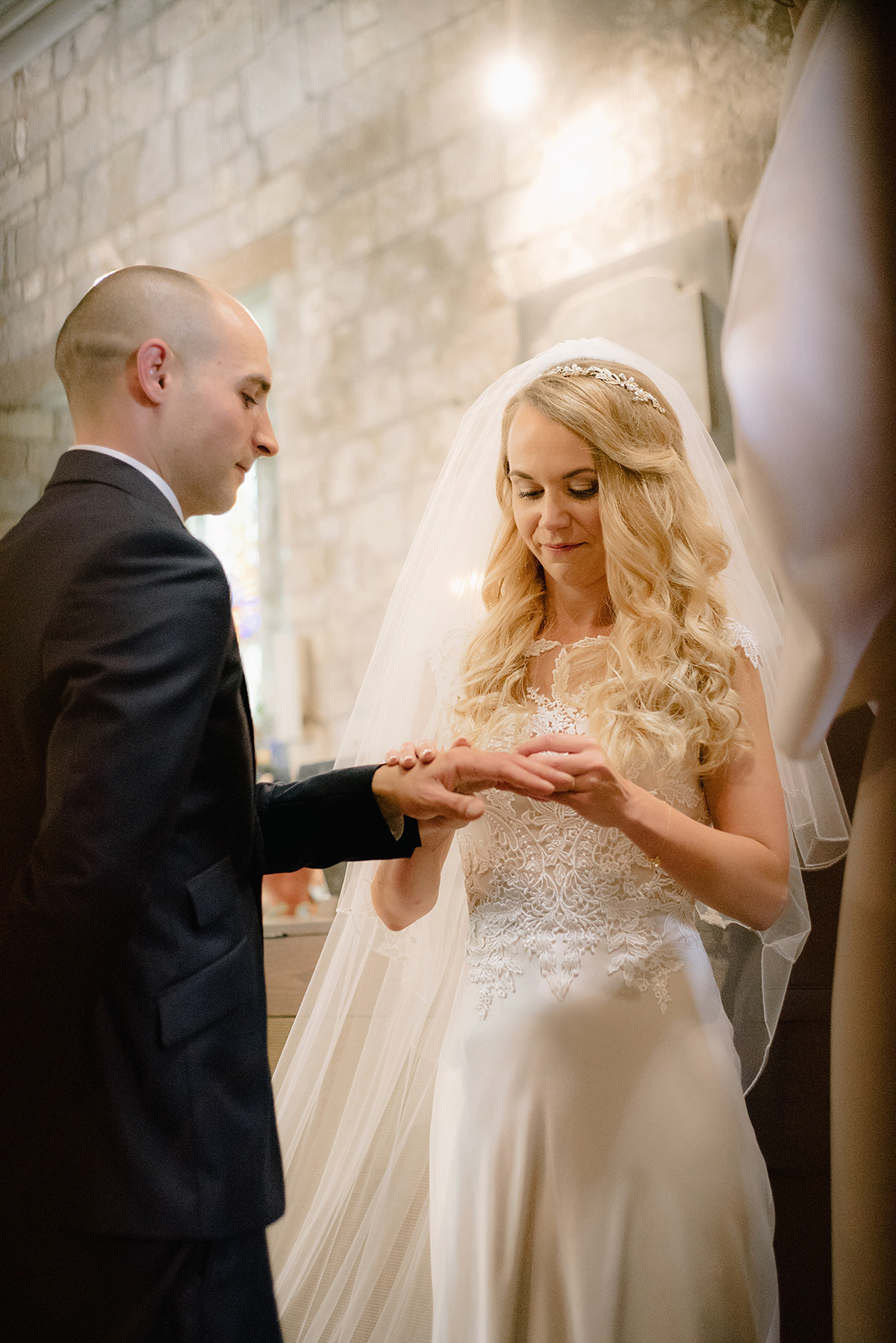 "Our rings were from Chapelle Jewellery in Doncaster. Having a yellow gold engagement ring with a champagne diamond and with white Pave stones, I really struggled finding a wedding ring that balanced this. In the end I opted to have a bespoke ring made by Chapelle, which included pave diamonds. Dan's ring was also from Chapelle."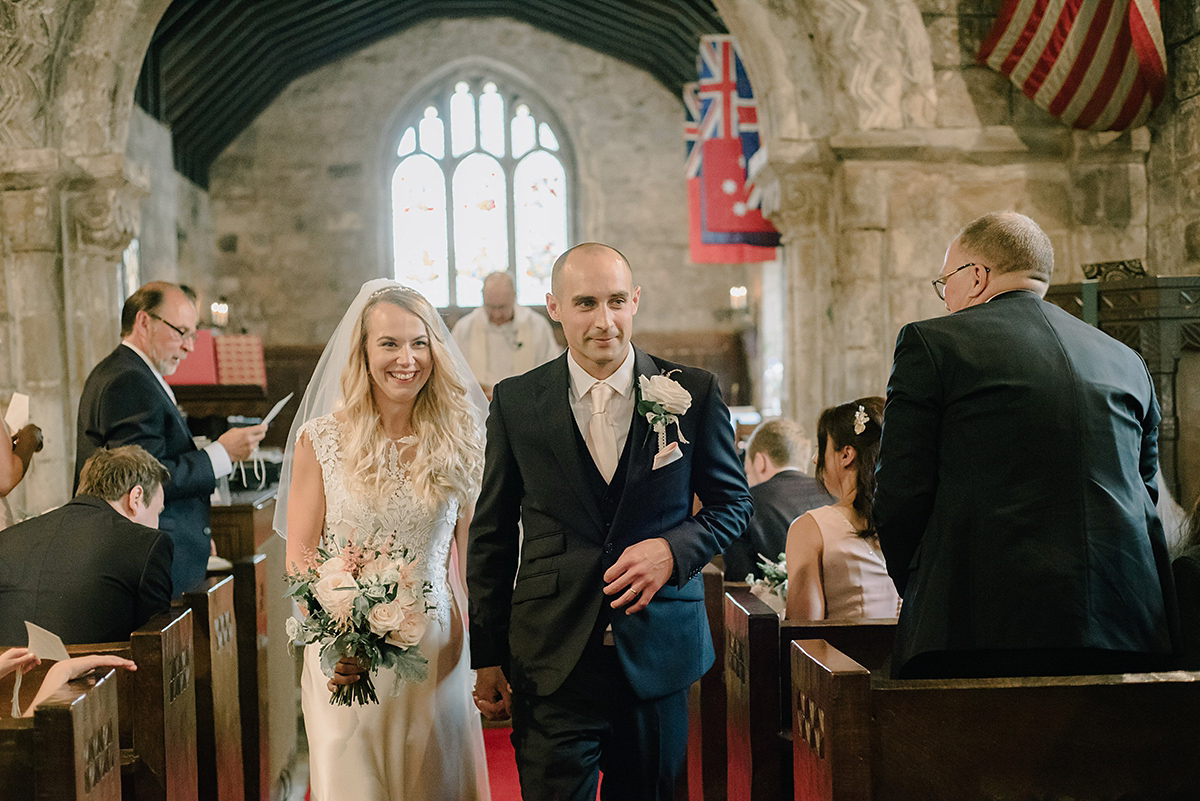 "We had rose petals instead of confetti on the day, one thing many of our guests didn't know was that the rose petals were from all the roses Dan had ever bought for me, which I had dried and kept over the years."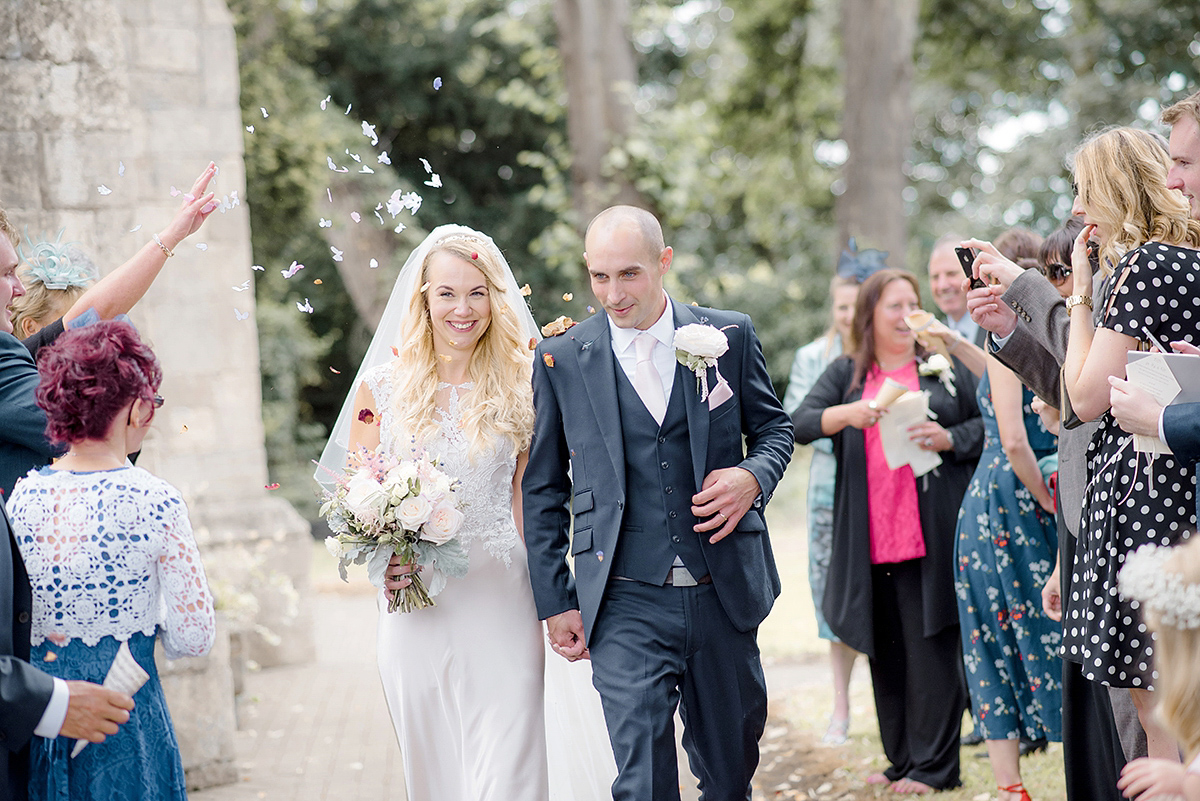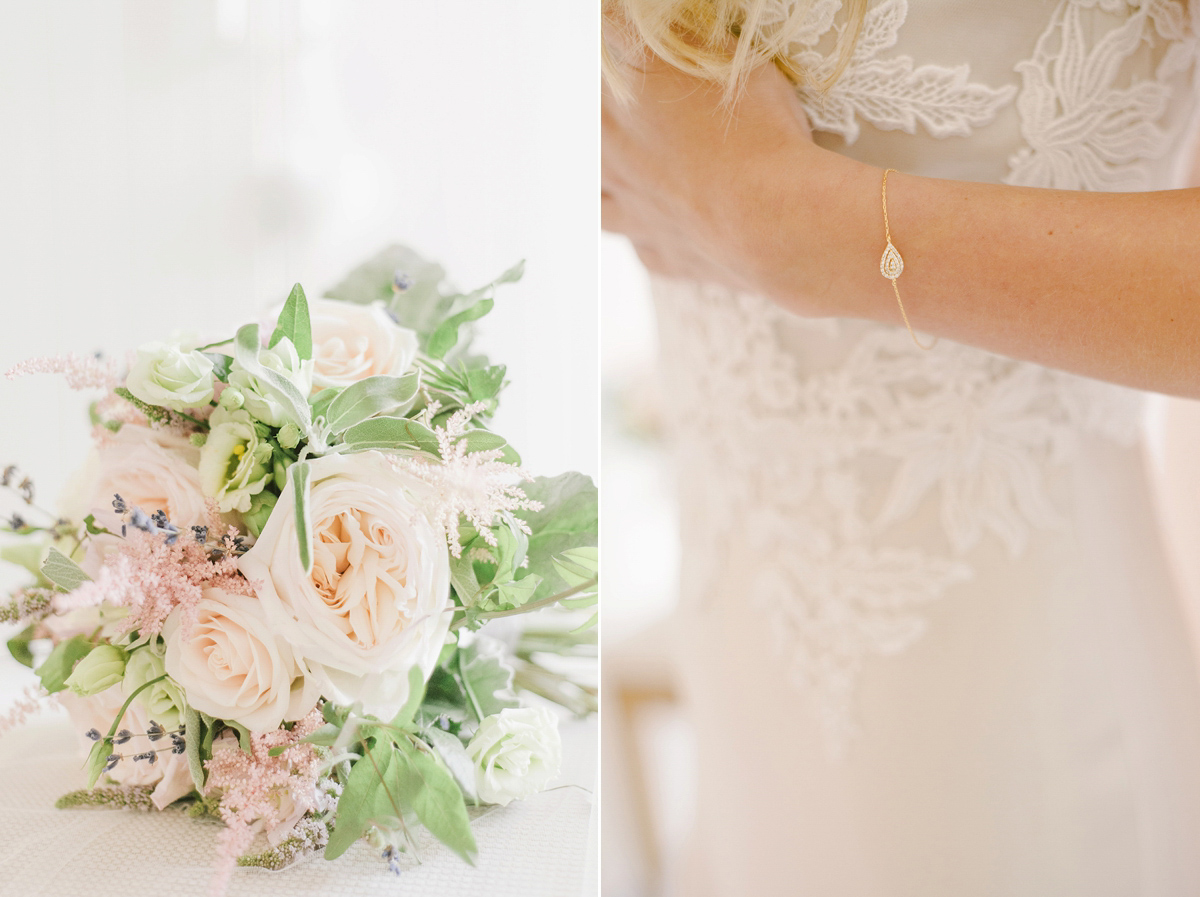 "Having a large wedding party with lots of little ones and their parents I really wanted to travel with them to the church, so I opted for a vintage bus from Vintage Vehicle Hire. With about 40 minutes between the venues I was conscious that I wanted to keep the party atmosphere going between the two, so after a drinks reception outside the church we were able to continue this on the bus through to Hooton Pagnell."
"This made the journey so much fun for everyone and Dan and I were even serenaded with a rendition of Let's Go Fly a Kite from Mary Poppins, which had been our exit music from the church."
"Acoustic guitarist Michael Mulholland was one of the highlights of our day and we have already decided to throw a house warming party just so we can hire him again! Michael played at both venues and during our ceremony and his set list was so good we struggled to narrow down our music choices for the five hours he played. He also learnt one of our favourite songs Baby I'm You're Light by Richard Hawley to play whilst we signed the register."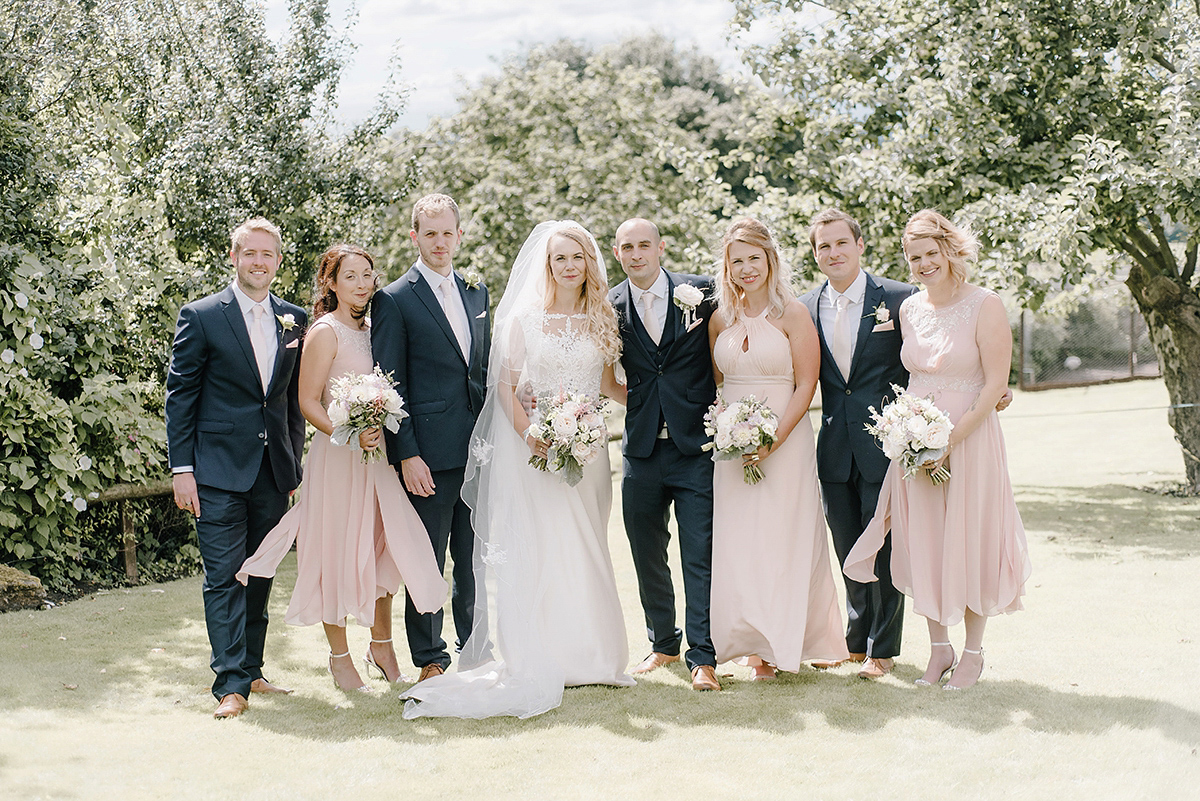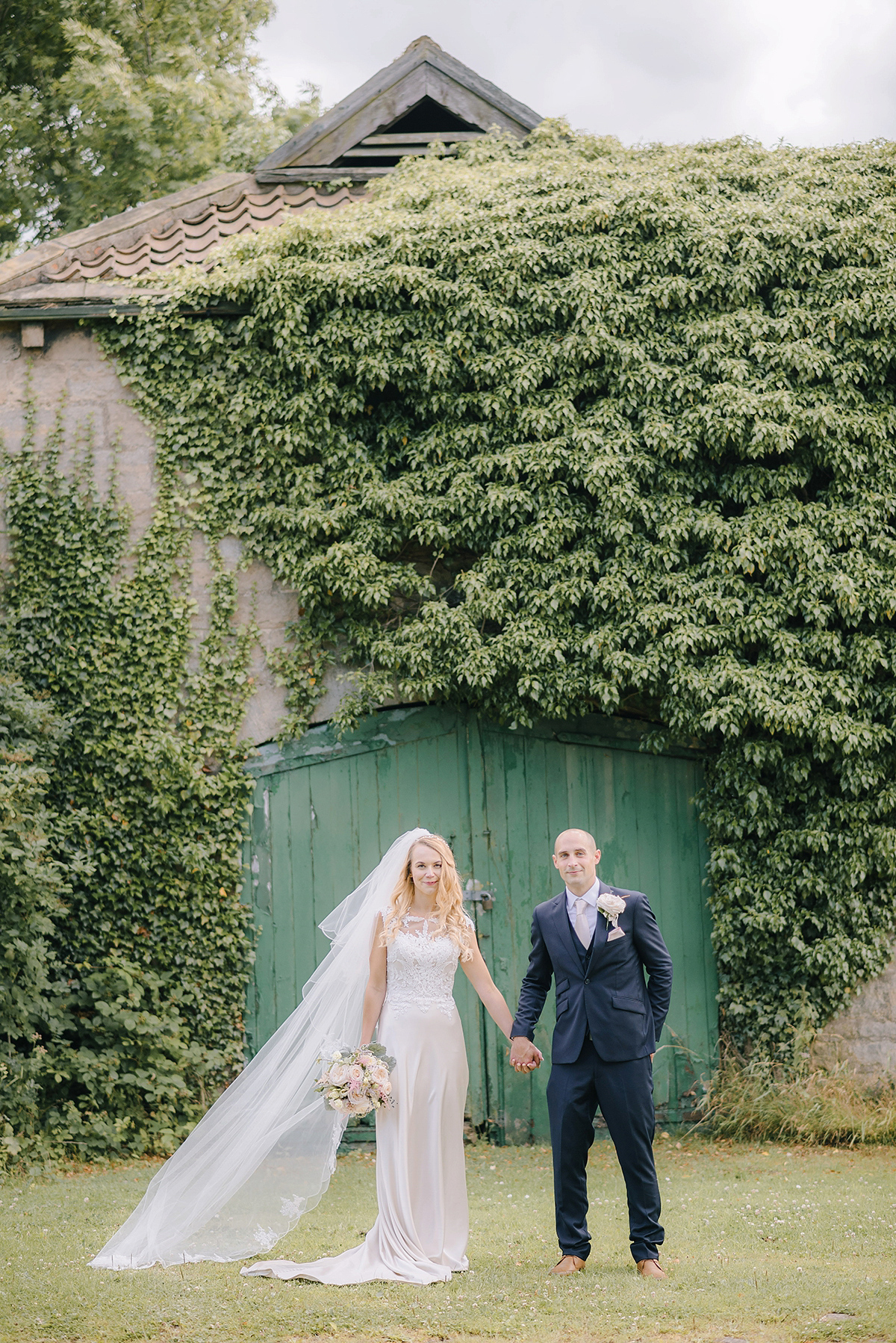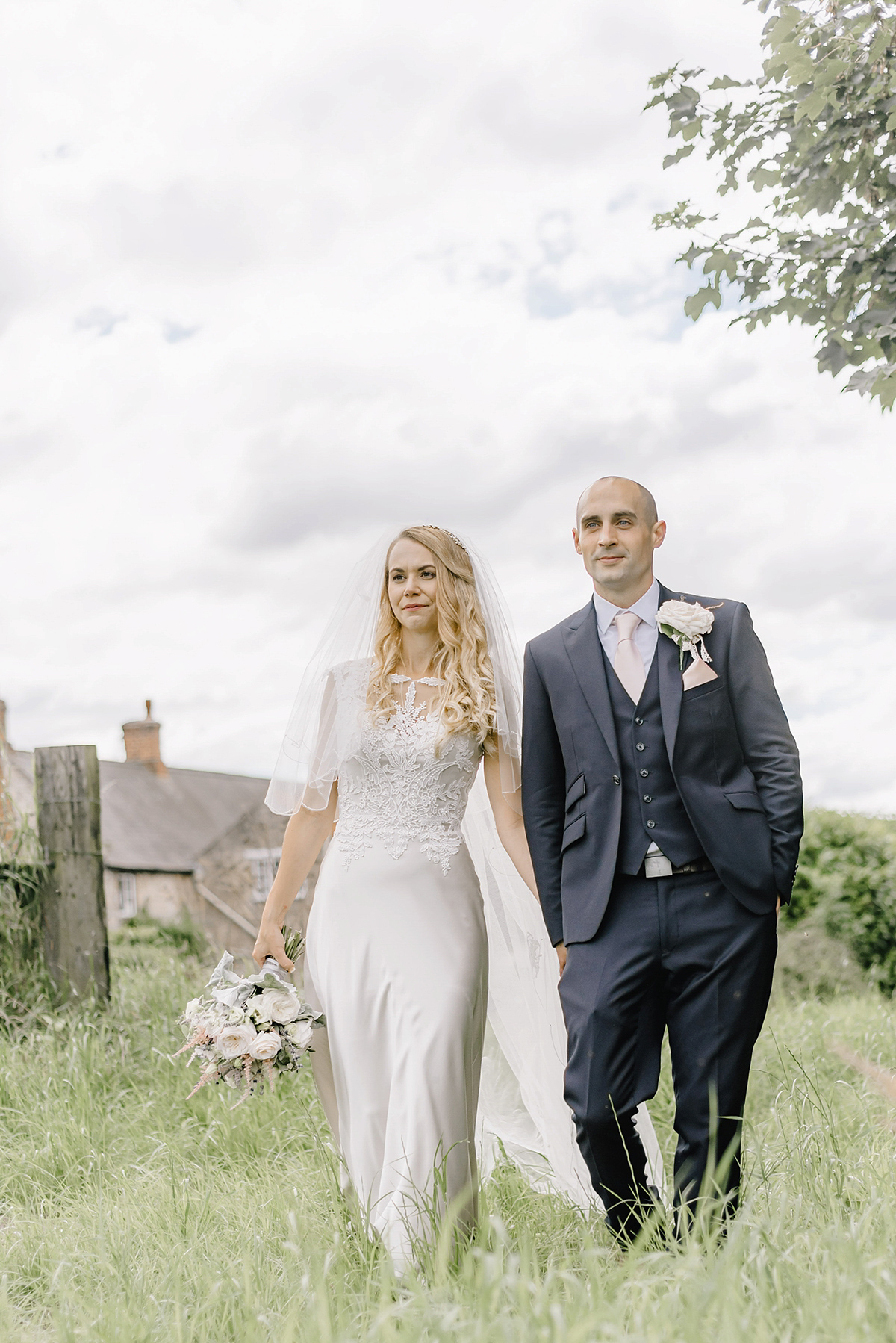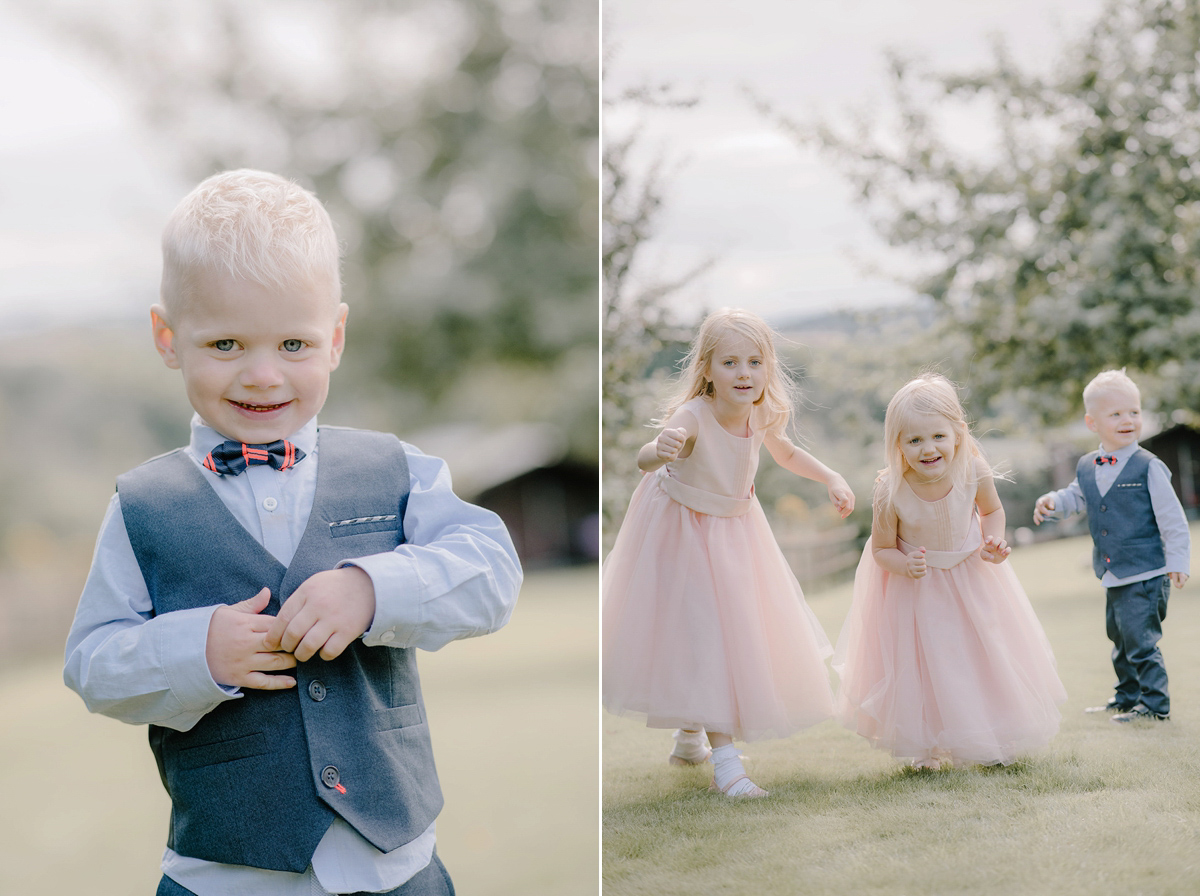 "Our reception venue was The Hostel at Hooton Pagnell. We had struggled to find a venue that suited us as a couple. It was important to us to have a relaxed atmosphere that wasn't too formal so that our friends and families would feel relaxed.
Many of them didn't know each other that well before due to geographical divides, so The Hostel and its country pub charm was perfect. We actually stumbled across it on our way to view a different venue, the Tudor building caught our eye and both of us knew immediately it was the place for us. The function room downstairs is the old village hall and its high ceilings and double aspect leaded windows gave it the bright ethereal look I was hoping for."
"Upstairs is a traditional old country pub, which would act as a second area should the weather have been bad – luckily it was a stunning day! Alison and Andy who run the hostel were brilliant and helped us with everything from designing our own menu to putting up 80 metres of bunting!"
"Dan and I share a passion for good food, so designing our own menu with Andy at The Hostel was a dream. Our guests had the choice of three options for each course which everyone ended up sharing and trying a bit of everything which creating an amazing atmosphere! The extra touches we were able to organise were amazing, with an epic cheeseboard of our favourite fromage through to our own choice of craft ales on tap."
"As children both Dan & I loved the film Mary Poppins, so there were little touches throughout our day that related to the film. Dan also loves animals and has been busy making friends with the local wildlife in our new garden, so for our favours I handmade love heart bird feeders with "feed the birds" tags which I took from a recipe on IntimateWeddings.com."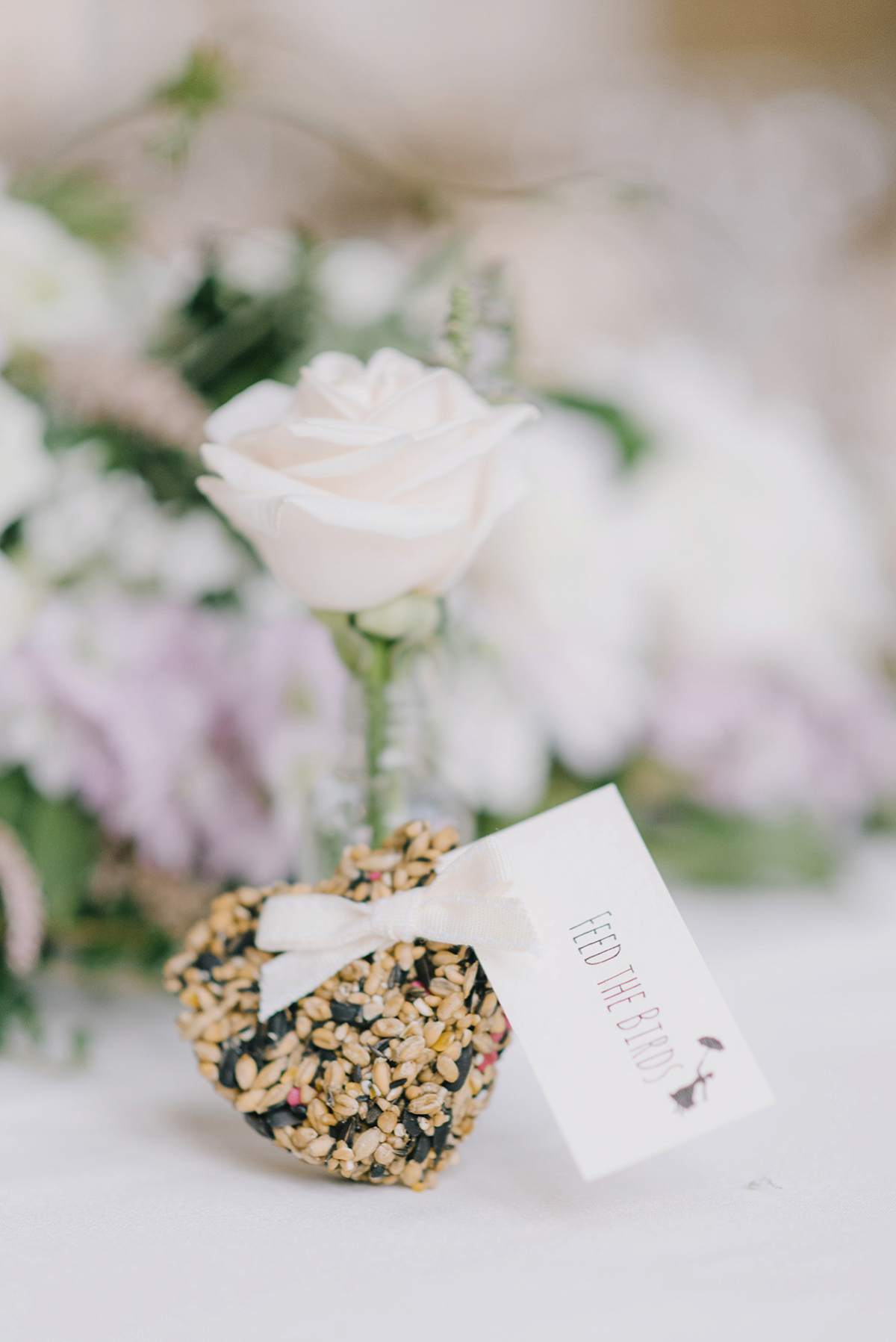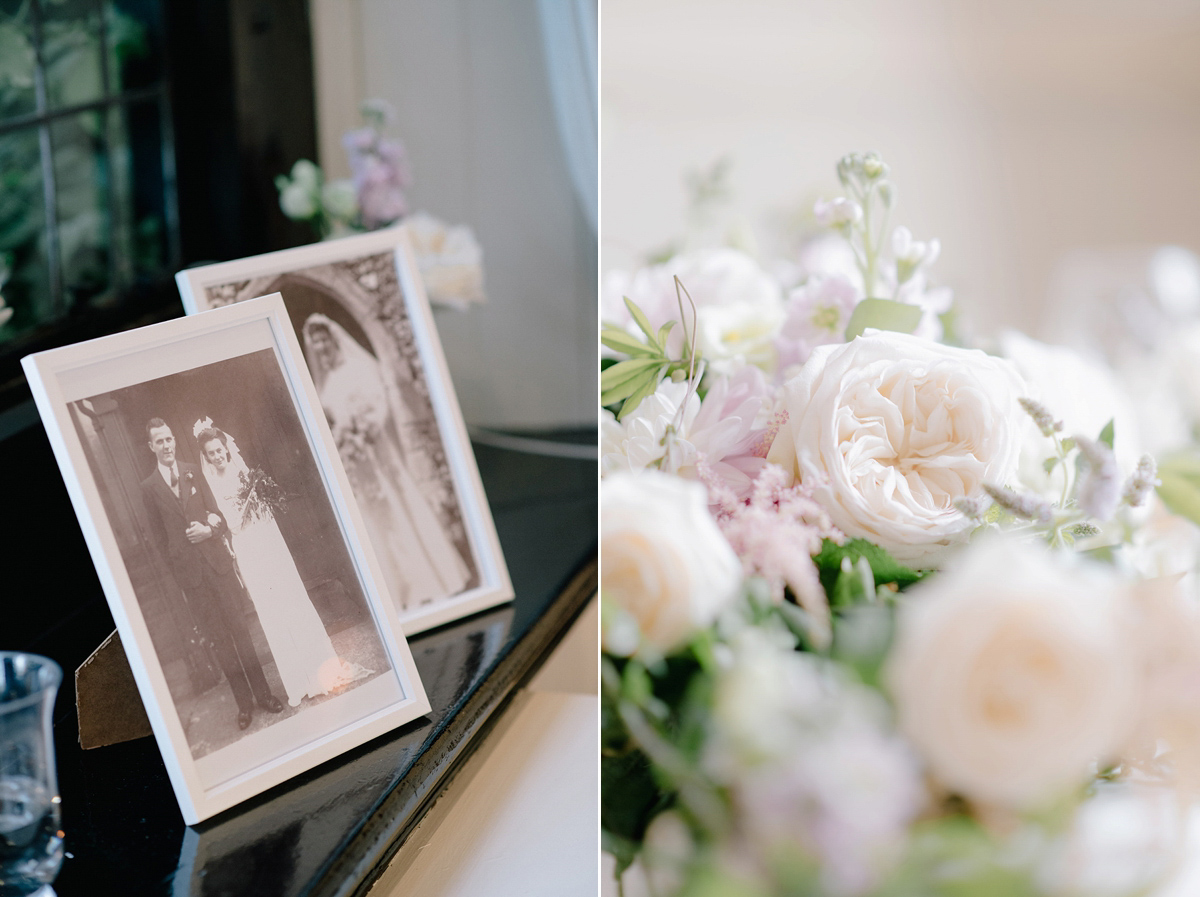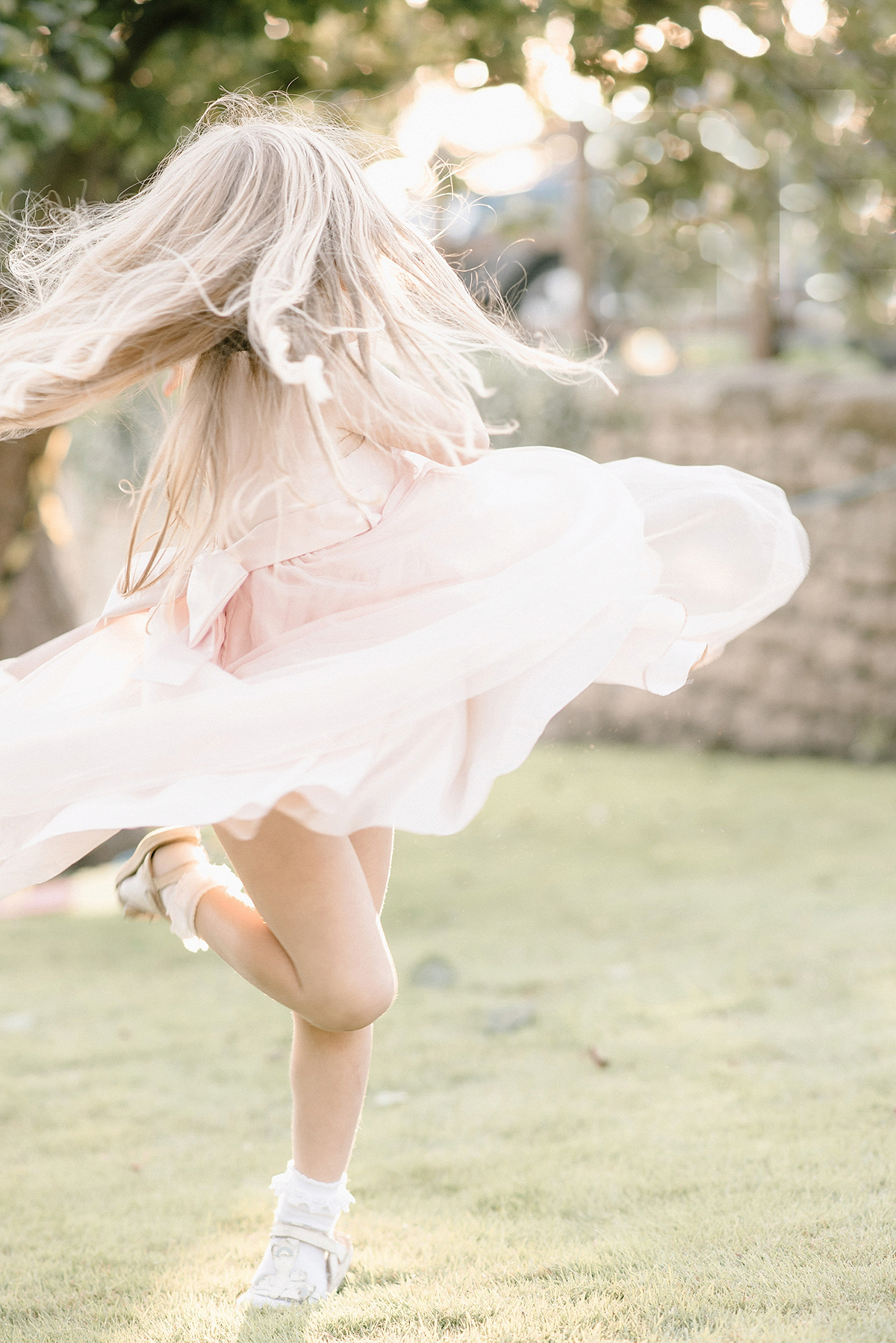 "I would have to say my favourite part of the day was when Dan and I had some time away for photos between the wedding breakfast and the evening do. The speeches had gone brilliantly (much to everyone's relief), our families were having an amazing time and we got to spend some time just the two of us. (With Georgie giving us some directions from the wings.) This was the point where we got to catch up about what was happening and just be in the moment with each other, it was really special."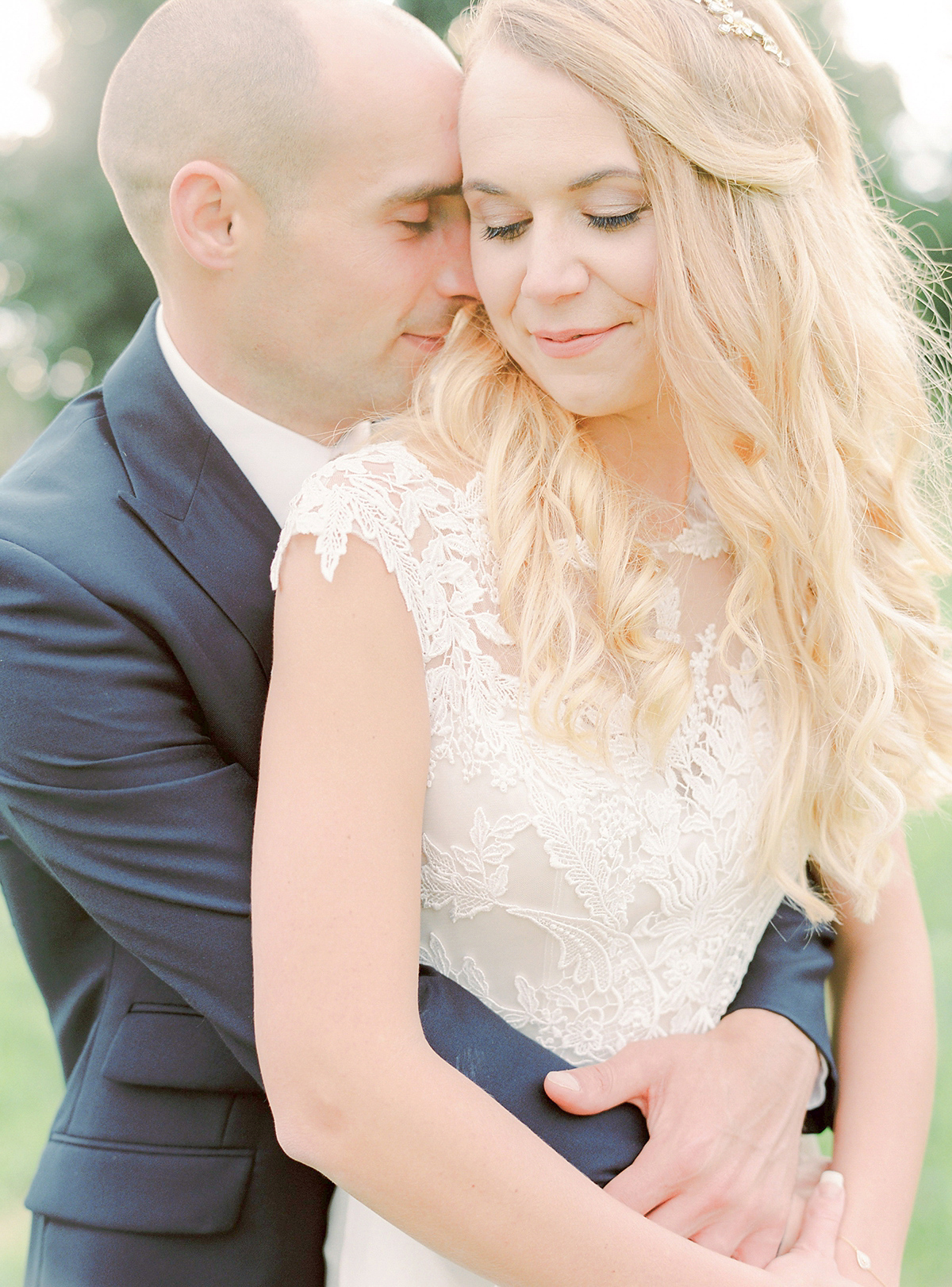 "We used a DJ for the evening entertainment from Dance Sounds Disco in Sheffield. Our first dance was 'You Make Loving Fun' by Fleetwood Mac, this has always been our song, made extra special when Dan's parents told us it was also their song! So part way through our first dance we encouraged them and the rest of the party to join us on the dance floor!"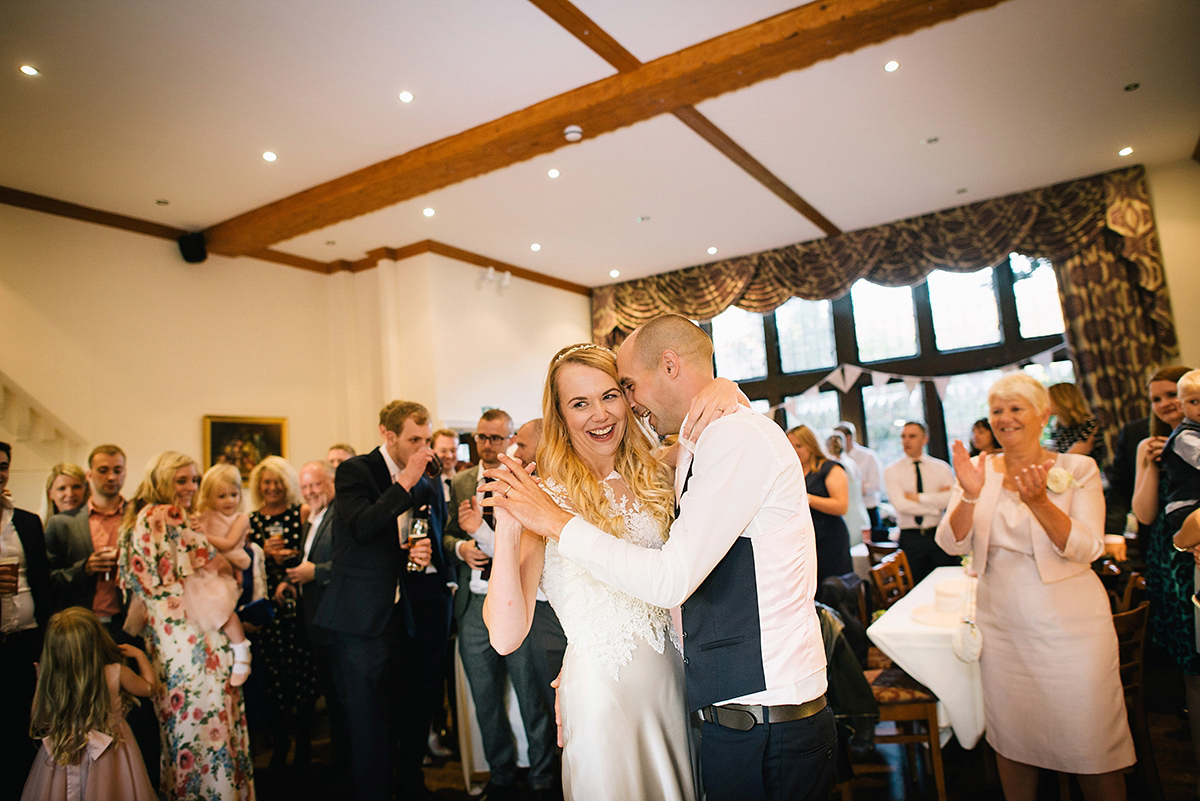 Words of Wedded Wisdom
"You'll find people want to get involved and help you with the preparations, but when you delegate jobs make sure you give very specific tasks with pictures of what you would like the end result to be (especially if it's a creative task) as people are very frightened of getting things wrong!
To fail to plan is to plan to fail. It's a cliché but whilst you might not stick to every detail of the plan throughout the day it is really important for your wedding party, (especially if you have young children taking part) suppliers and guests to know the order of the day. Let the professionals help you work this out as your venues, photographer and florist organise these events much more than you!"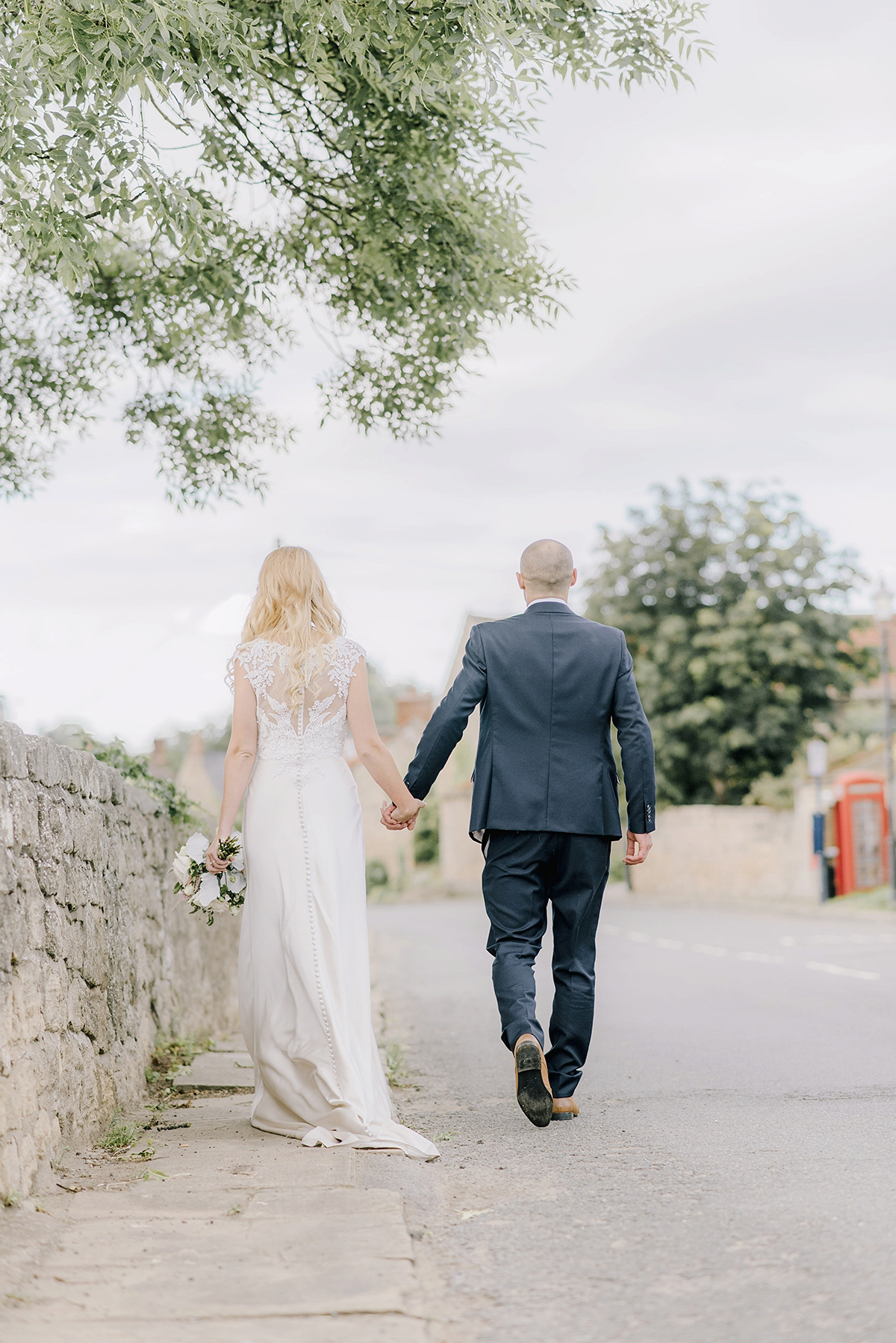 My huge love and thanks to you both Danni and Dan, and special thanks also to Georgina Harrison for once again sharing her work on Love My Dress. I absolutely adore Georgina's fine art style of wedding photographer, more of which you can see here on Love My Dress – I couldn't recommend her more highly if you're looking for that light, luminous and elegant style of photography.
Have a lovely morning all,
Annabel x