Good morning lovely ones! Friday is here and I am so delighted. It's half term week and I'm looking forward to spending proper time with my daughters today, and maybe even luxuriating in an hour on the sofa with a cup of tea and good book (the joy!).  I am keen to share this morning's wedding with you first though – a simply beautiful affair, captured in that gorgeous, soft, luminous fine art photography style by Melissa Beattie.
Solicitor Rachel and Venture Capitalist Dan's beautiful wedding was held on 28th May this year. The couple tied the knot formally with a ceremony at St. Michaels and All Angels Church in Hawkshead, the Lake District, followed by a marquee reception at Rachel's parent's home in High Wray. The couple hired Emma Tebbey of Tebbey & Co. to provide her expert assistance in both planning and styling the day.
"My mother suggested drawing inspiration from Cicely Mary Barker's Flower Fairies. My grandmother who is no longer with us loved them and it felt fitting given the reception would be held in Spring amongst all the flowers in our garden."
Photography by Melissa Beattie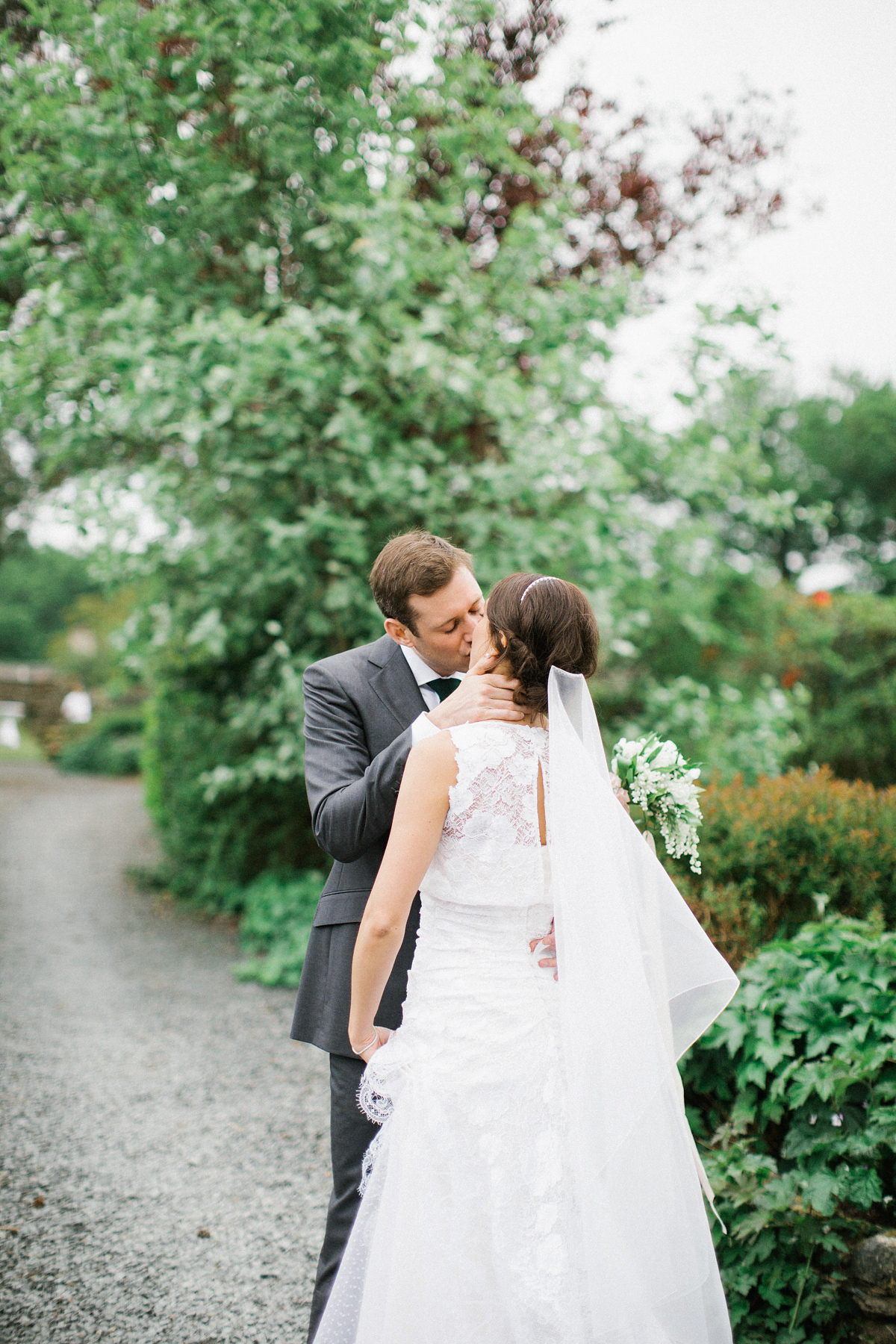 I simply adore this wedding for all it's effortless elegance and the gorgeous fine art photography style of Melissa Beattie
"Our photographer was Melissa Beattie. Melissa comes highly recommended by my family. We enjoyed having her with us tremendously and she captured some wonderful shots without being at all intrusive. We had many laughs with her on the day, she was a great addition to the party."
I'm also thrilled to see that the lovely Claire Gould of By Moon & Tide Calligraphy supplied the couple's stationery. We'll be sharing a very special set of images on Love My Dress from Claire very soon that I know you'll find beautifully inspiring.
"Claire Gould of By Moon & Tide Calligraphy provided our stationery – we also had double sided flower fairy image table names provided by Amoretto Wedding."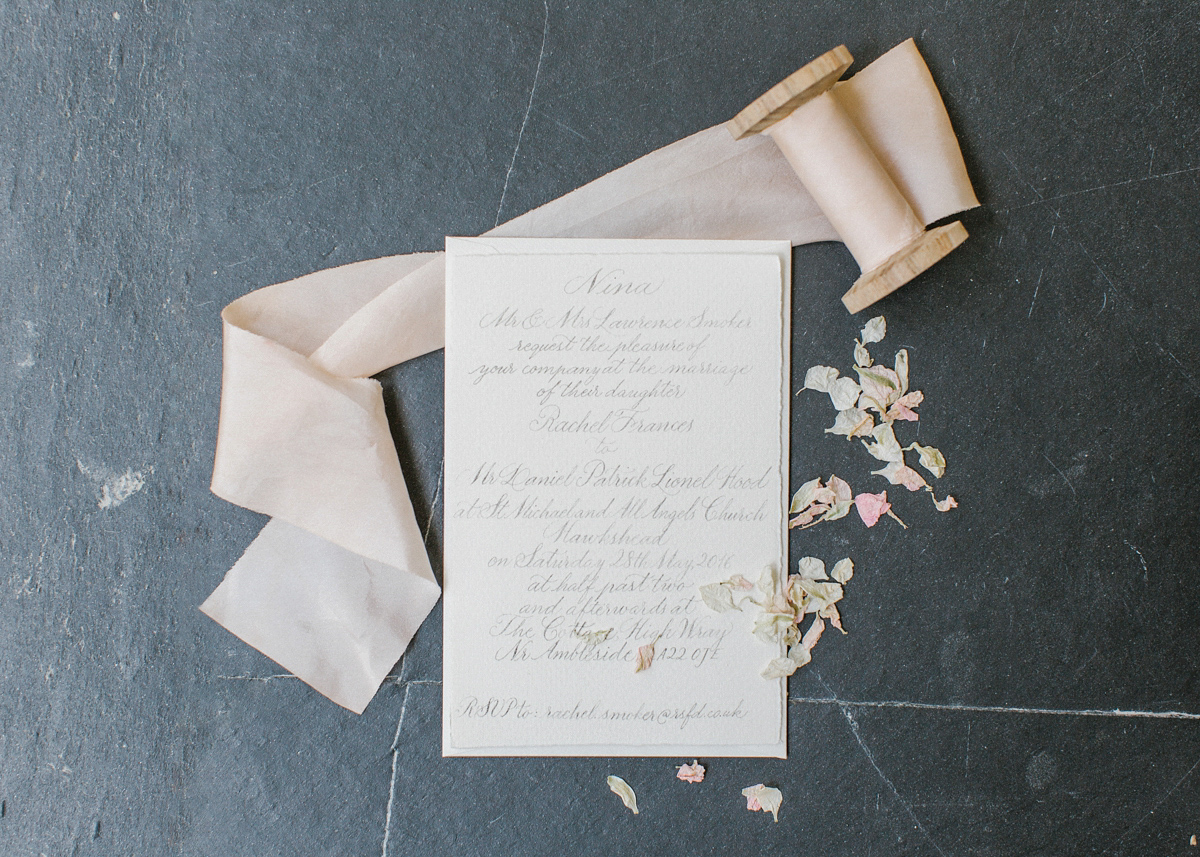 "We met at a picnic on Clapham Common the day Andy Murray won his first Wimbledon title in July 2013. The picnic was arranged by mutual friends. Dan proposed to me on March 20th 2015 in our front room just after we had moved into together and just after I'd returned home from my annual girl's ski trip to Chamonix. We were engaged just over a year before the wedding day."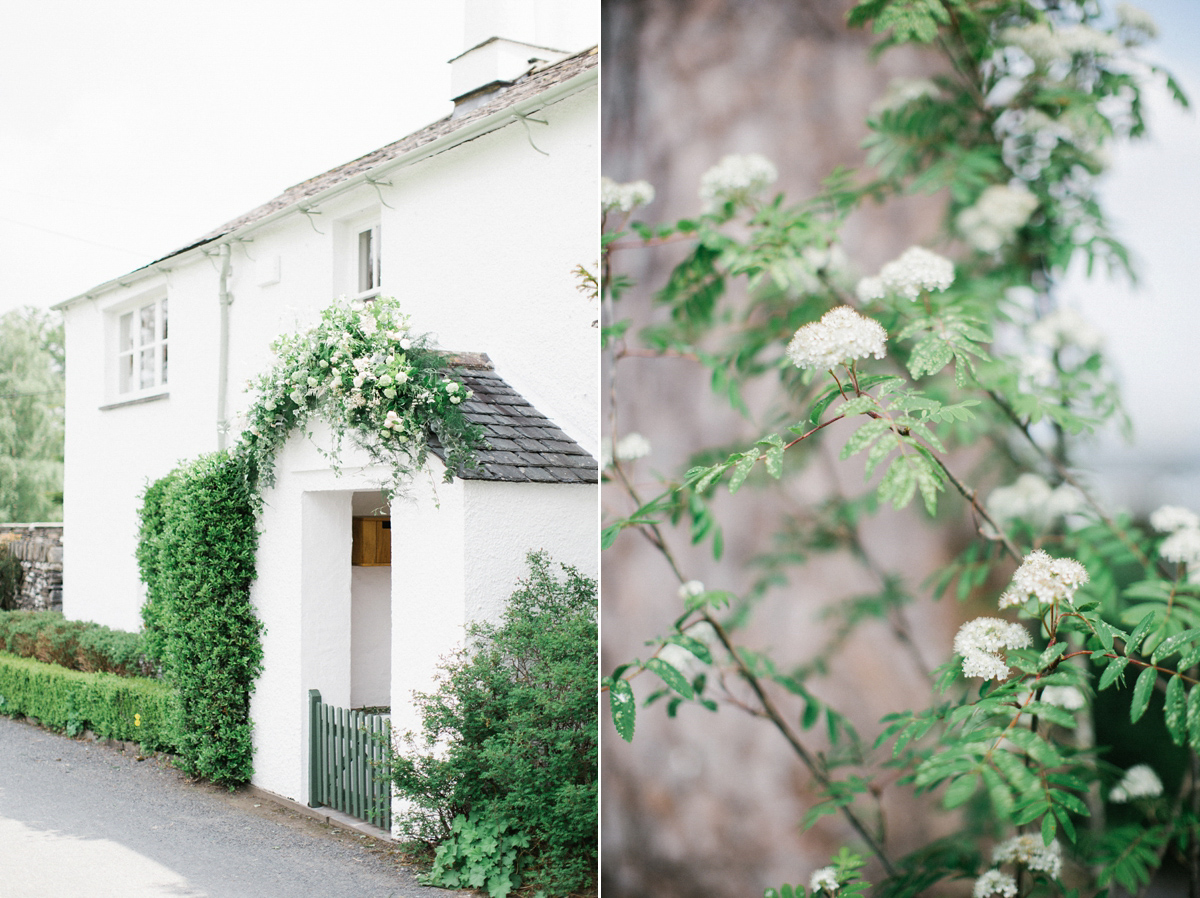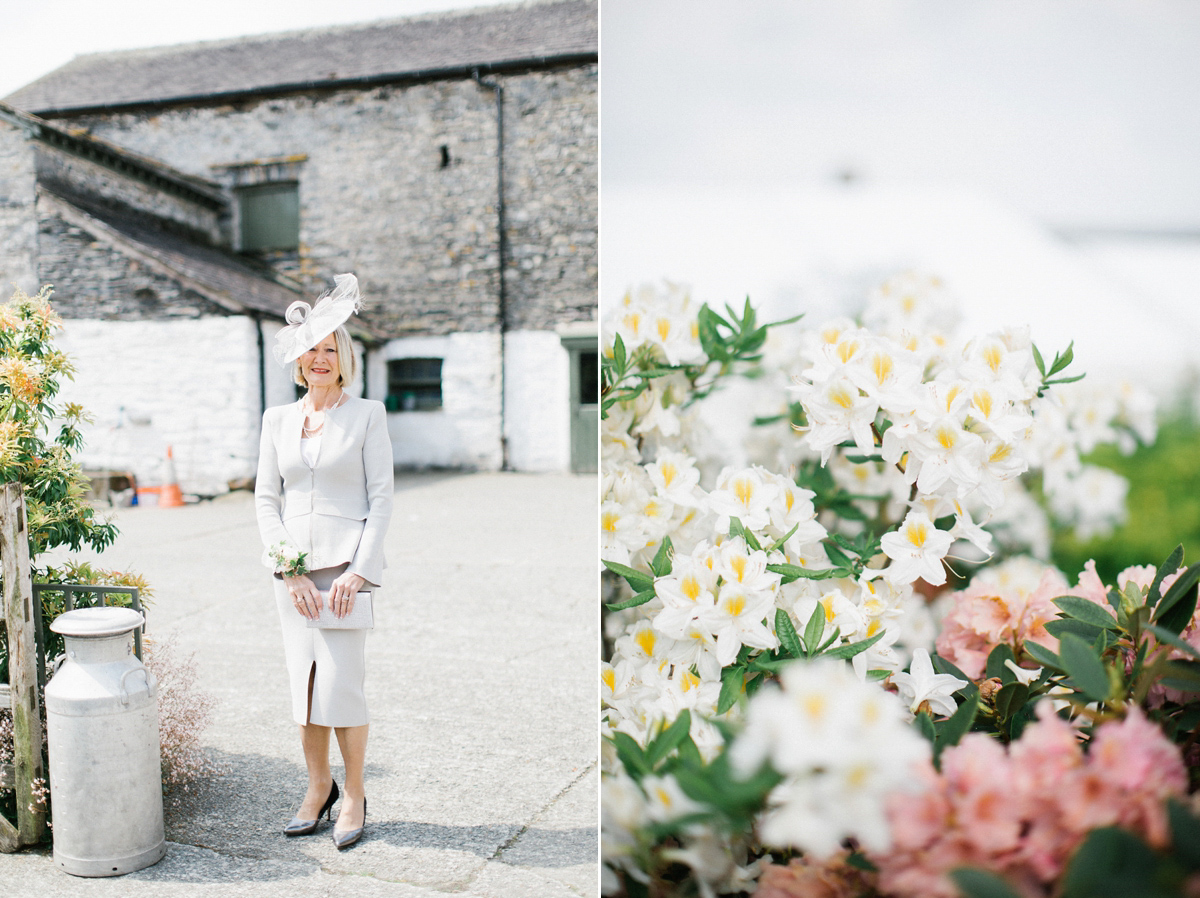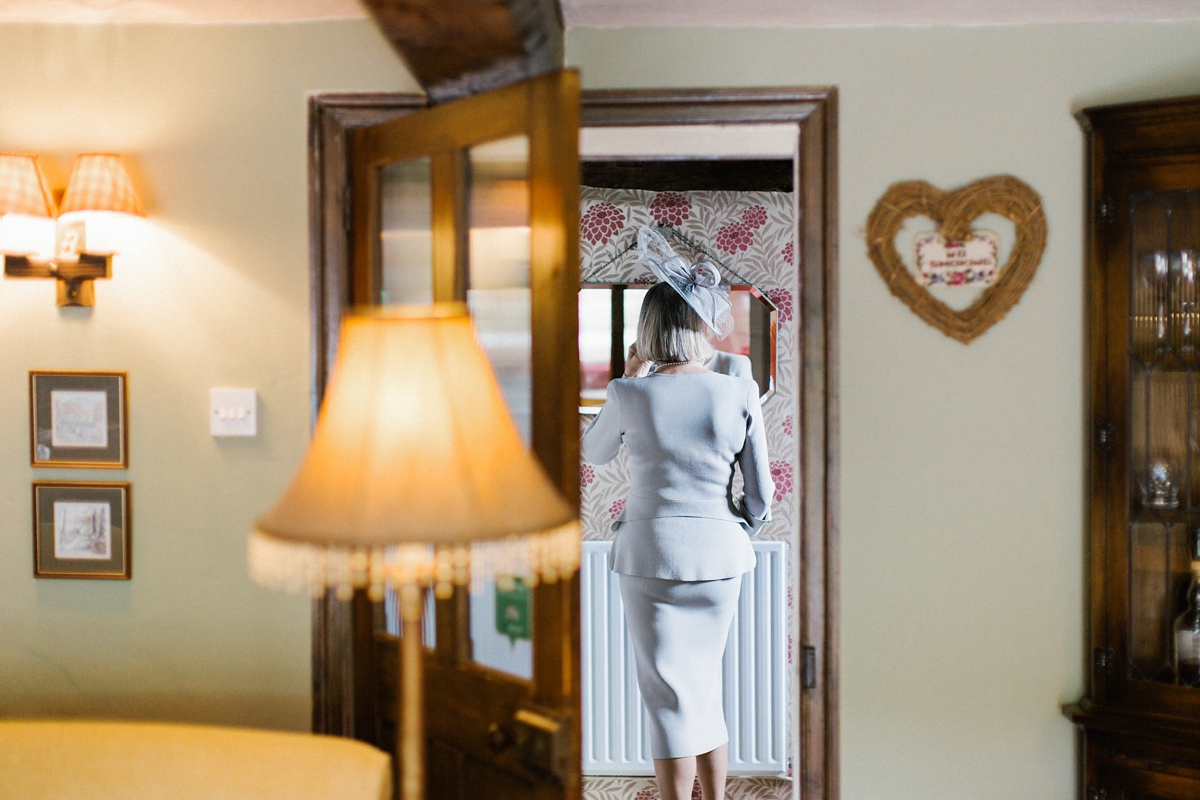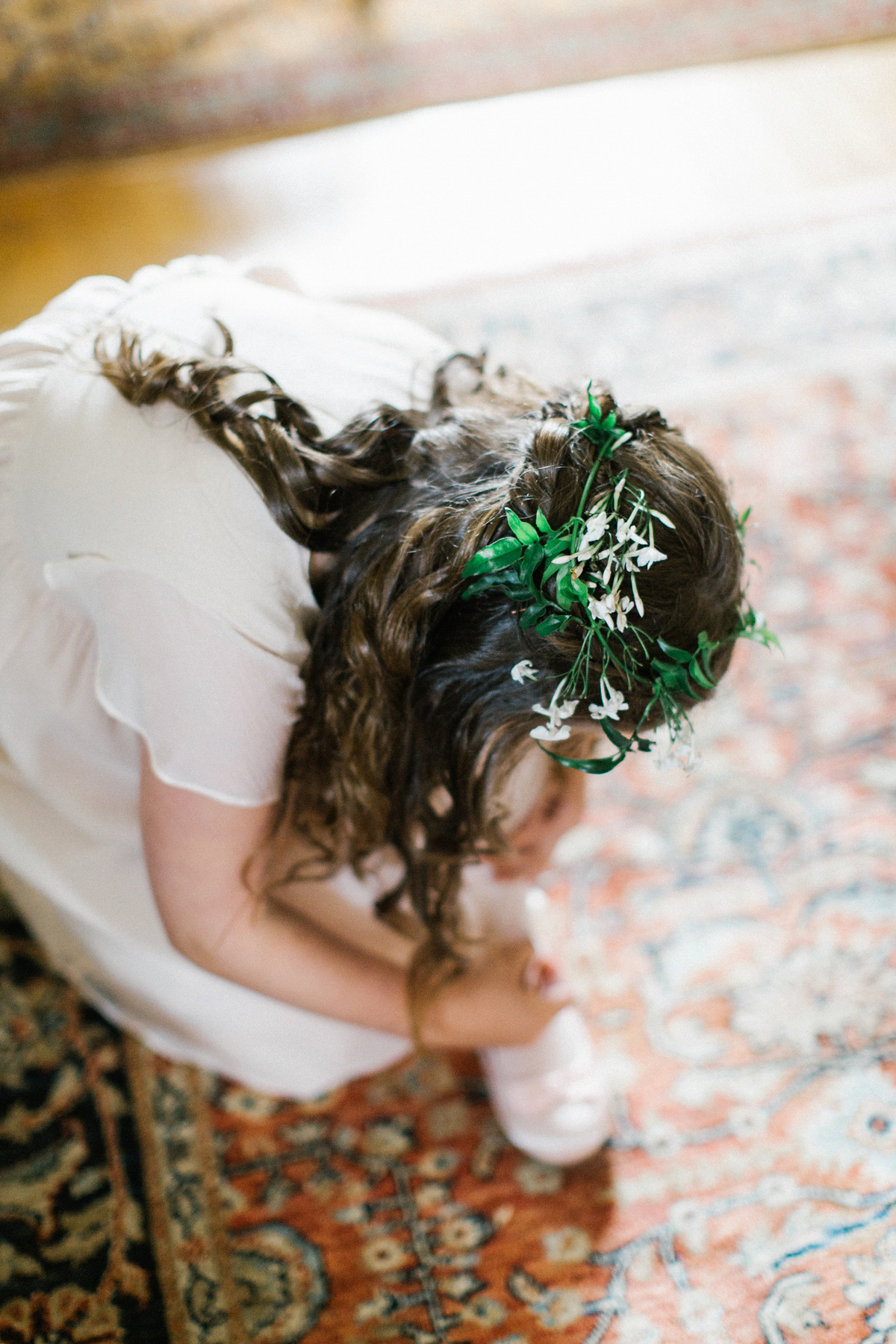 "My shoes were also Le Spose di Gio – they made me a pair of  beautiful blush pink velvet shoes."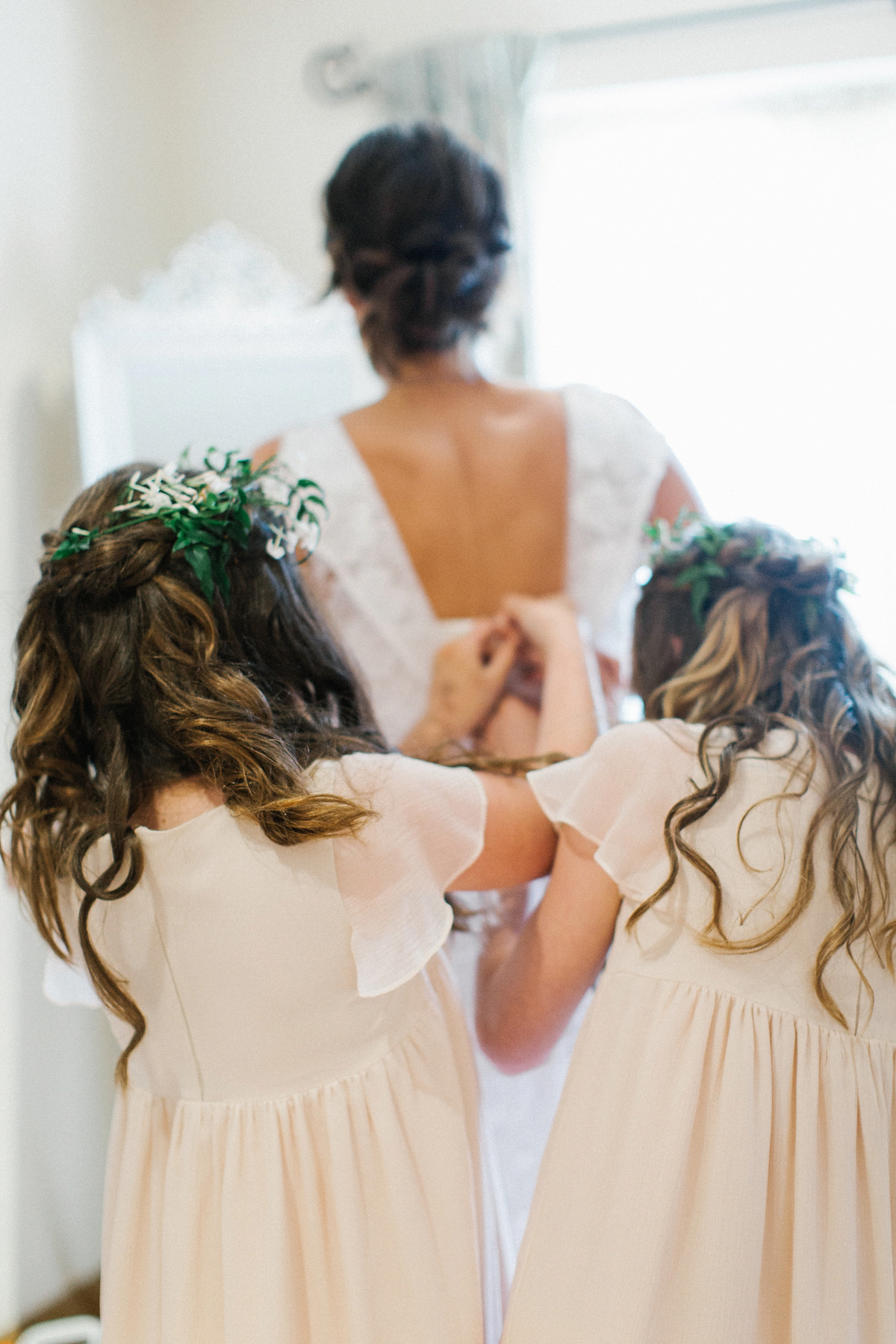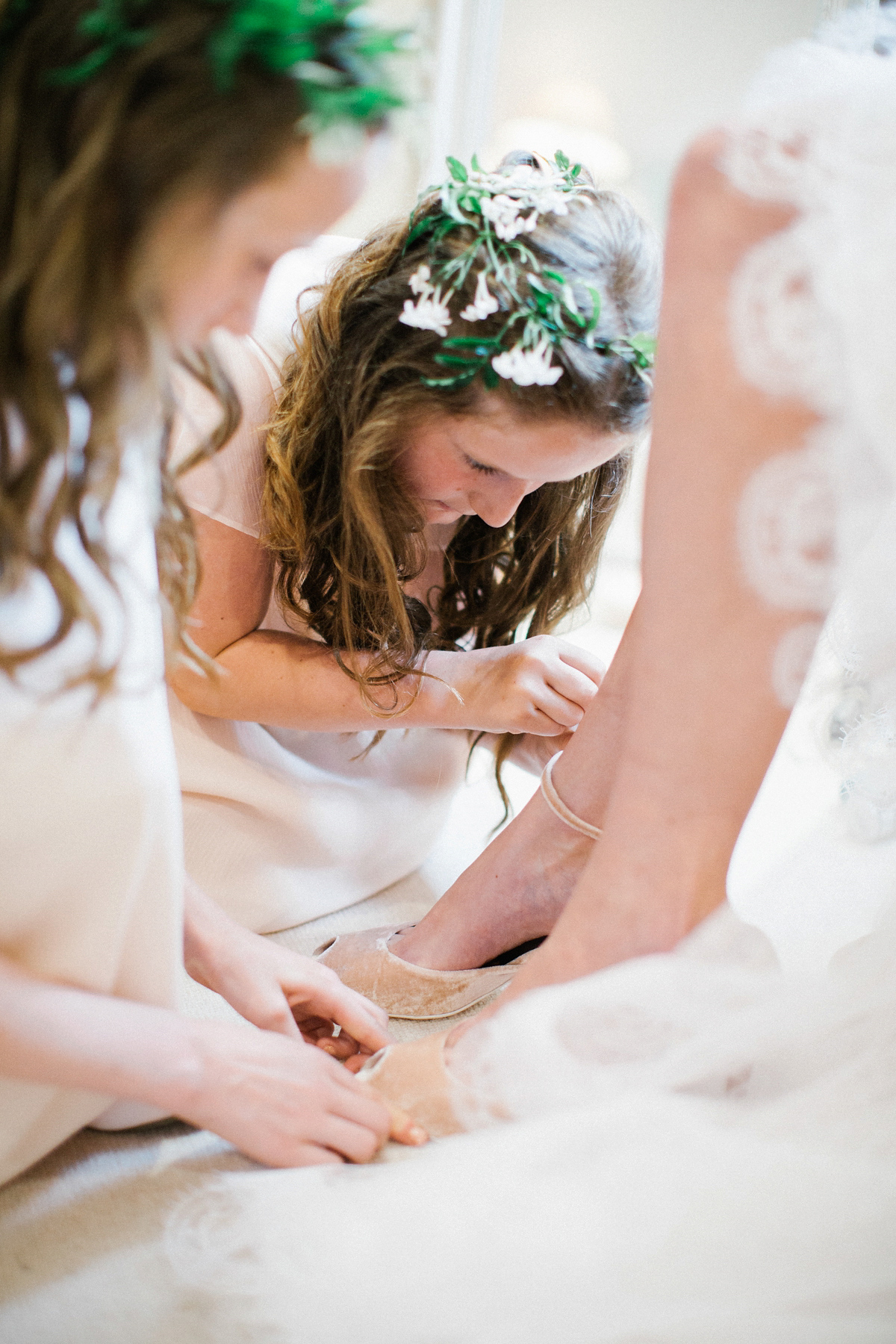 "I wore a scent by Ormonde Jayne in London called Ta'if. My Sister-in-Law, Penny purchased a tester kit for me for Christmas and said I could pick whichever was my favourite scent and she would sort me out. Funnily enough I picked the scent that she also wore on her wedding day."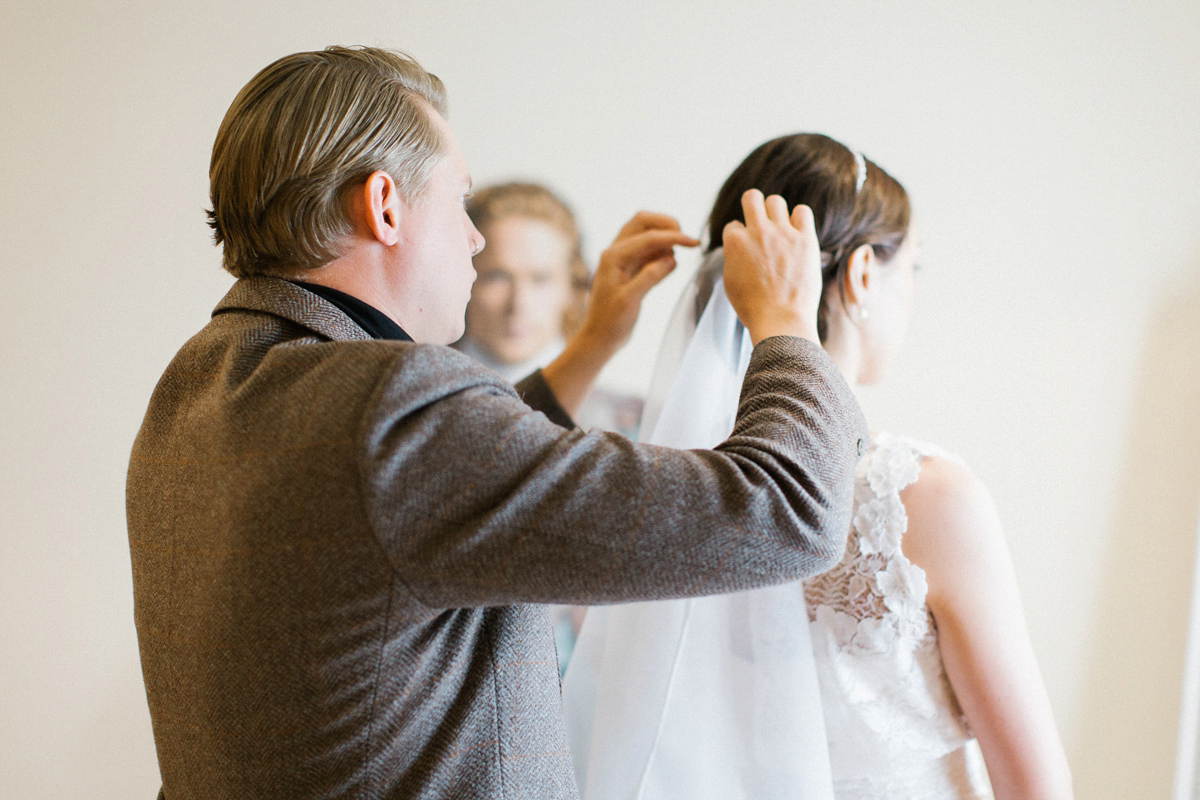 "My dress was by Le Spose di Gio. I bought it from the London boutique (it's actually the only boutique that Le Spose di Gio have in the UK). The lace was quite simply the most beautiful lace I have ever seen. I also loved that the silk shift underneath was blush it made it feel more modern and different."
"My veil was also Le Spose di Gio– it was a beautiful and simple rectangular piece of white organza. I wore Mikimoto pearl and diamond earrings Dan had gifted me for my 30th birthday, a beautiful green tourmaline and diamond ring from Dan's mother, Trish that she gave me before the wedding and my mother's tiffany cross necklace."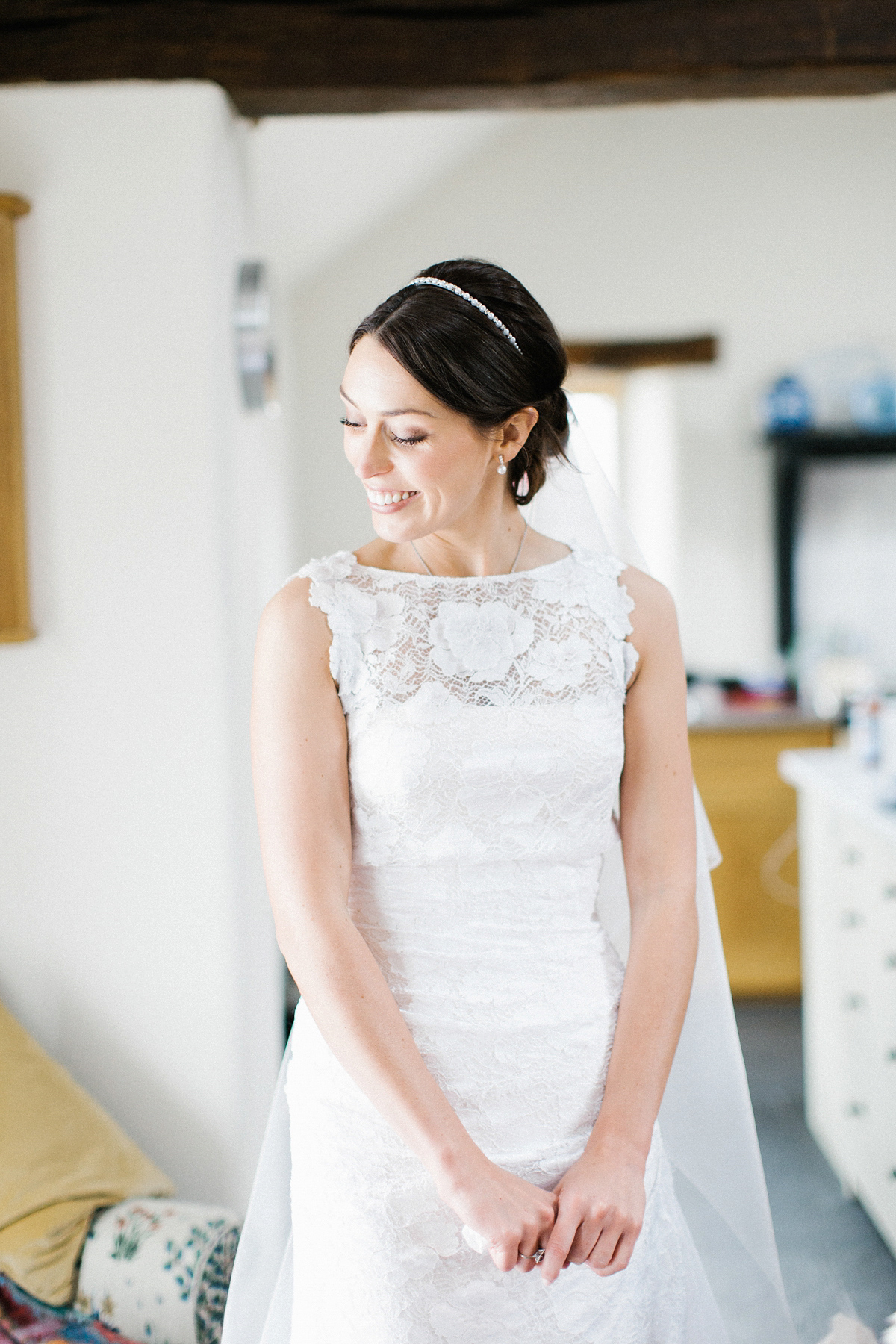 "My three flower girls, Holly, Amber and Darcey (our niece) all wore beautiful silk dresses bespoke made by Ele Horsley. Amber and Holly's dresses were blush pink and Darcey was in white."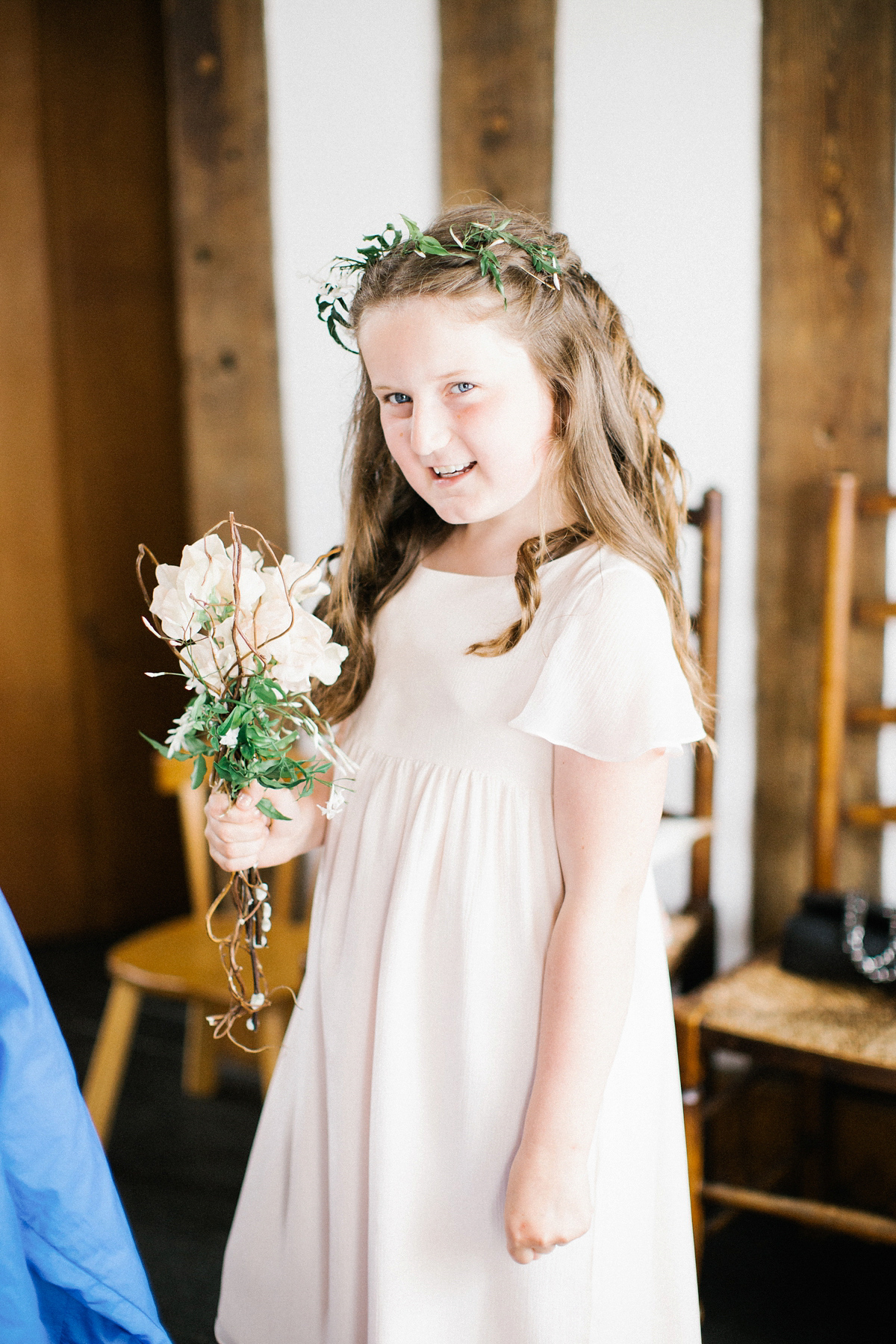 "Dan bought my sister beautiful Mikimoto pearls as a thank you for looking after me on the day. Holly, Amber and Darcey all wore little ballet pumps. My sister carried a small posy of blush sweet peas and the girls had twig wands in keeping with the flower fairy theme from Brackens of Bowness."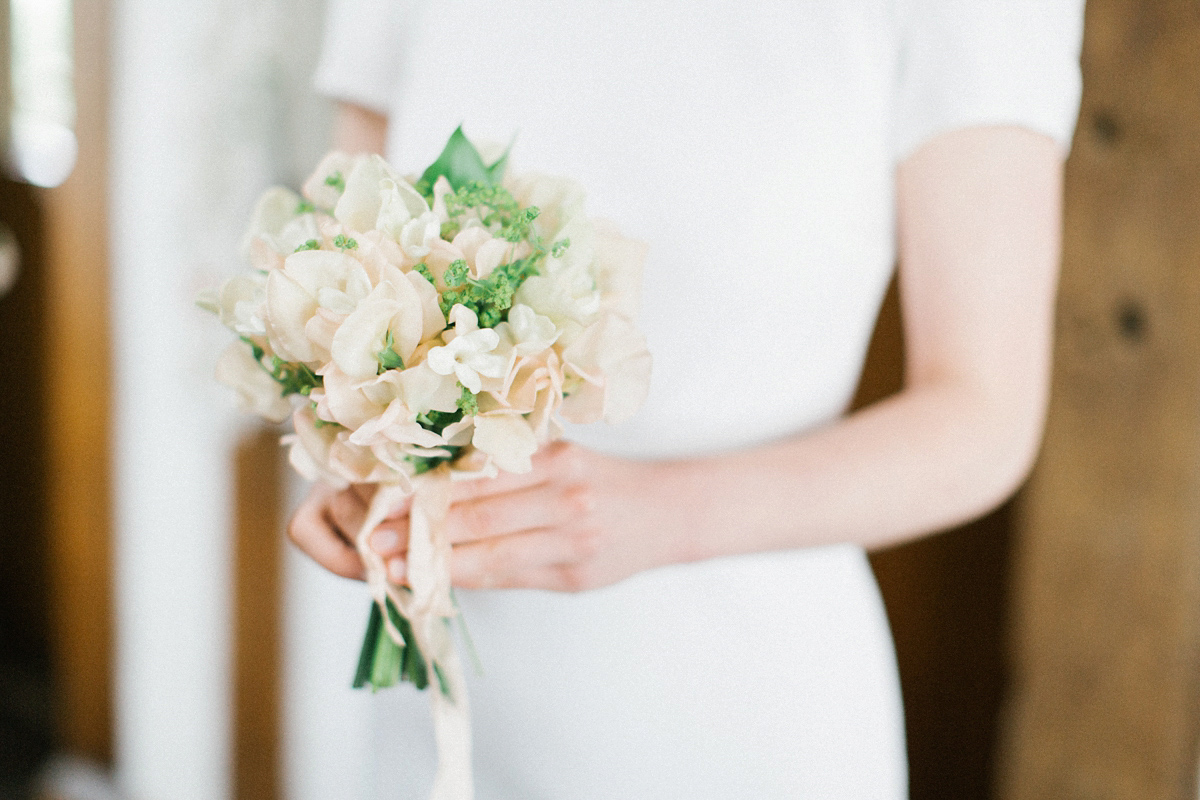 This shot reminds me of that famous Pippa Middleton image taken as she and sister Kate were waiting outside of St Paul's cathedral moments before The Royal Wedding. I just adore the dress Rachel's Sister Kate wore below and am thrilled to see it was created by one of our Little Book For Brides members, the talented Cherry Williams London.
"My sister Kate was my only grown up bridesmaid (chief) and she wore a bespoke white gown designed and made by Cherry Williams London. Kate had stephanotis in her hair and Holly and Amber my flowergirls had flower crowns of white jasmine."
"Our wonderful friend Will drove all the way from London in his wonderful Rolls Royce and performed the duty of driver on the day."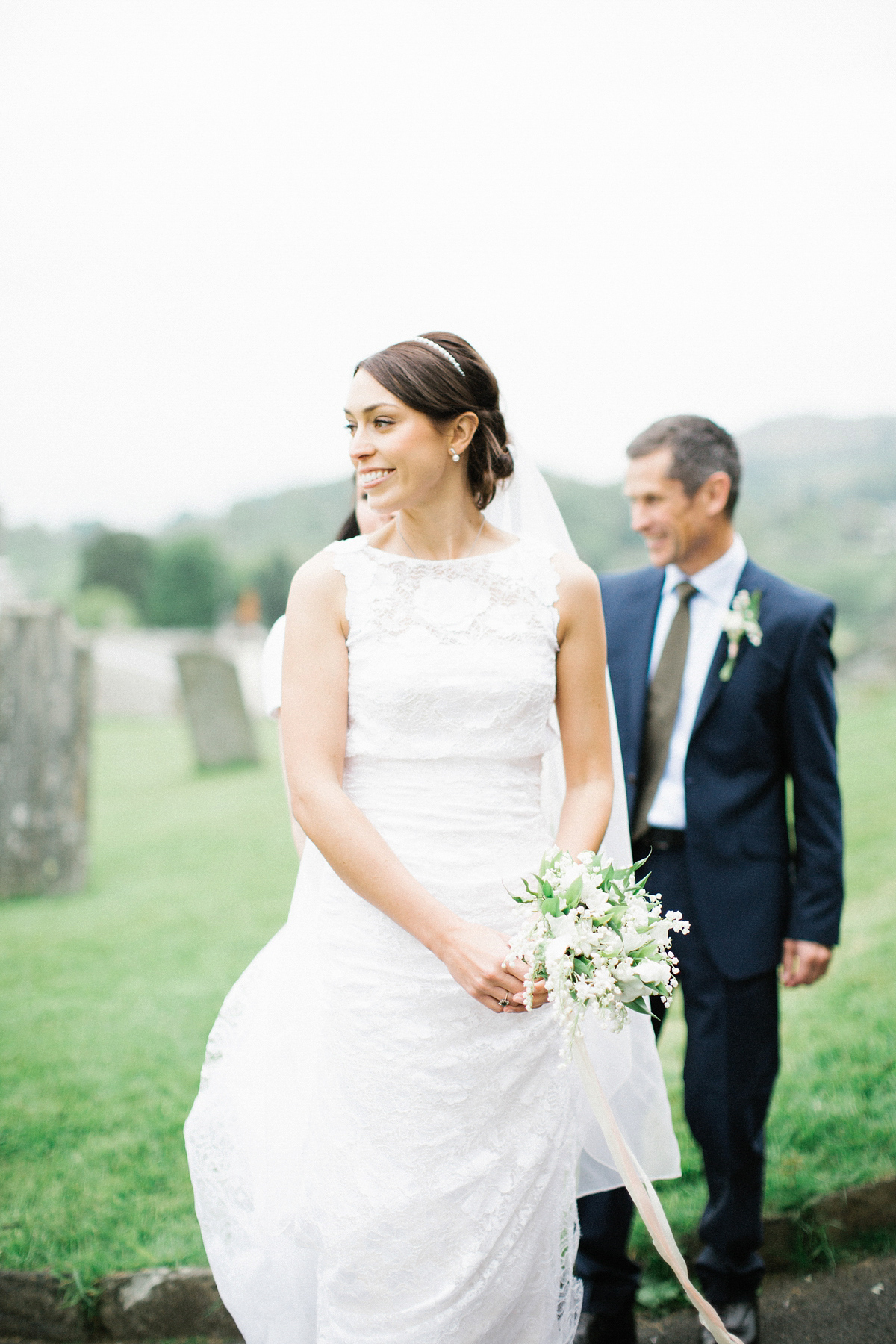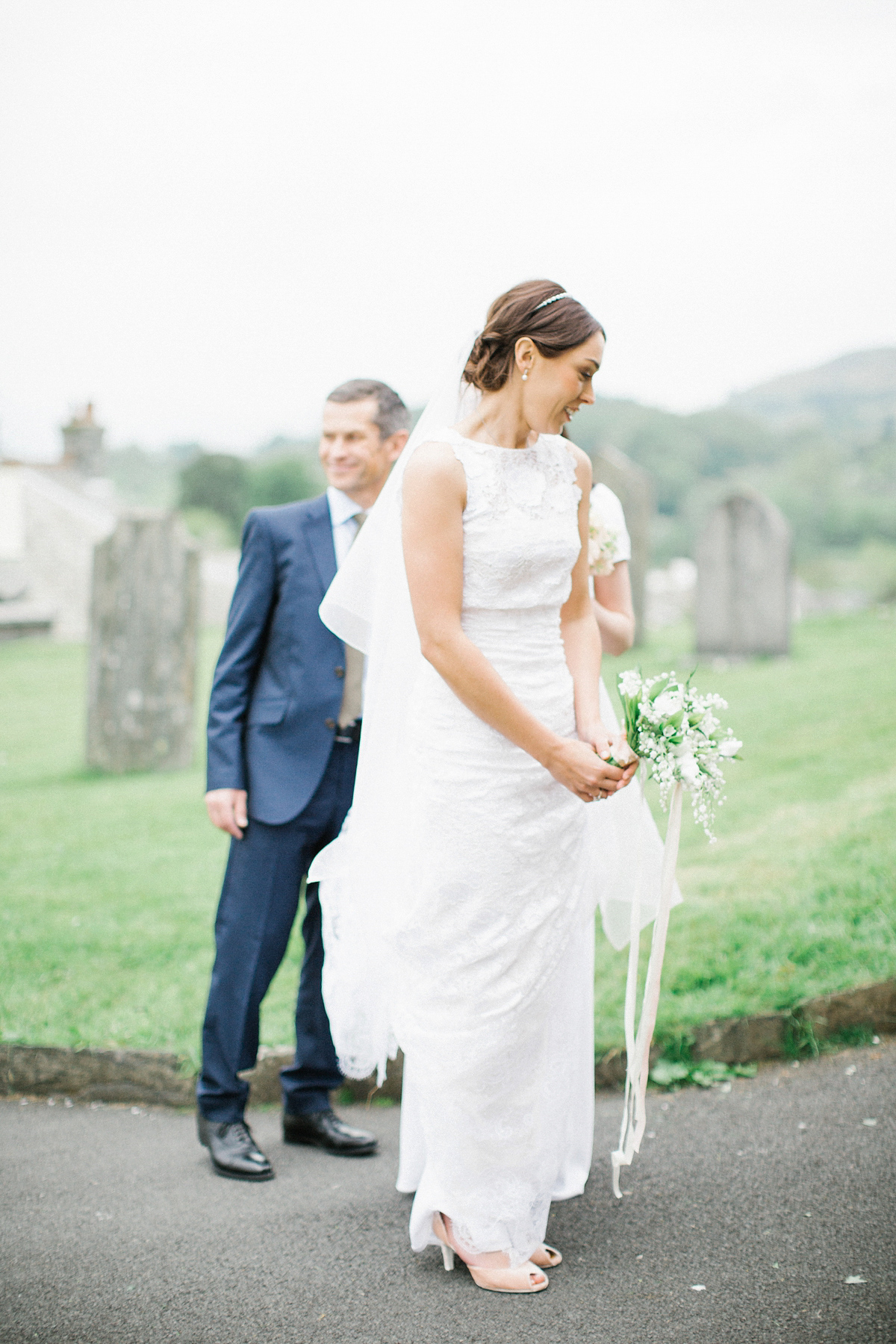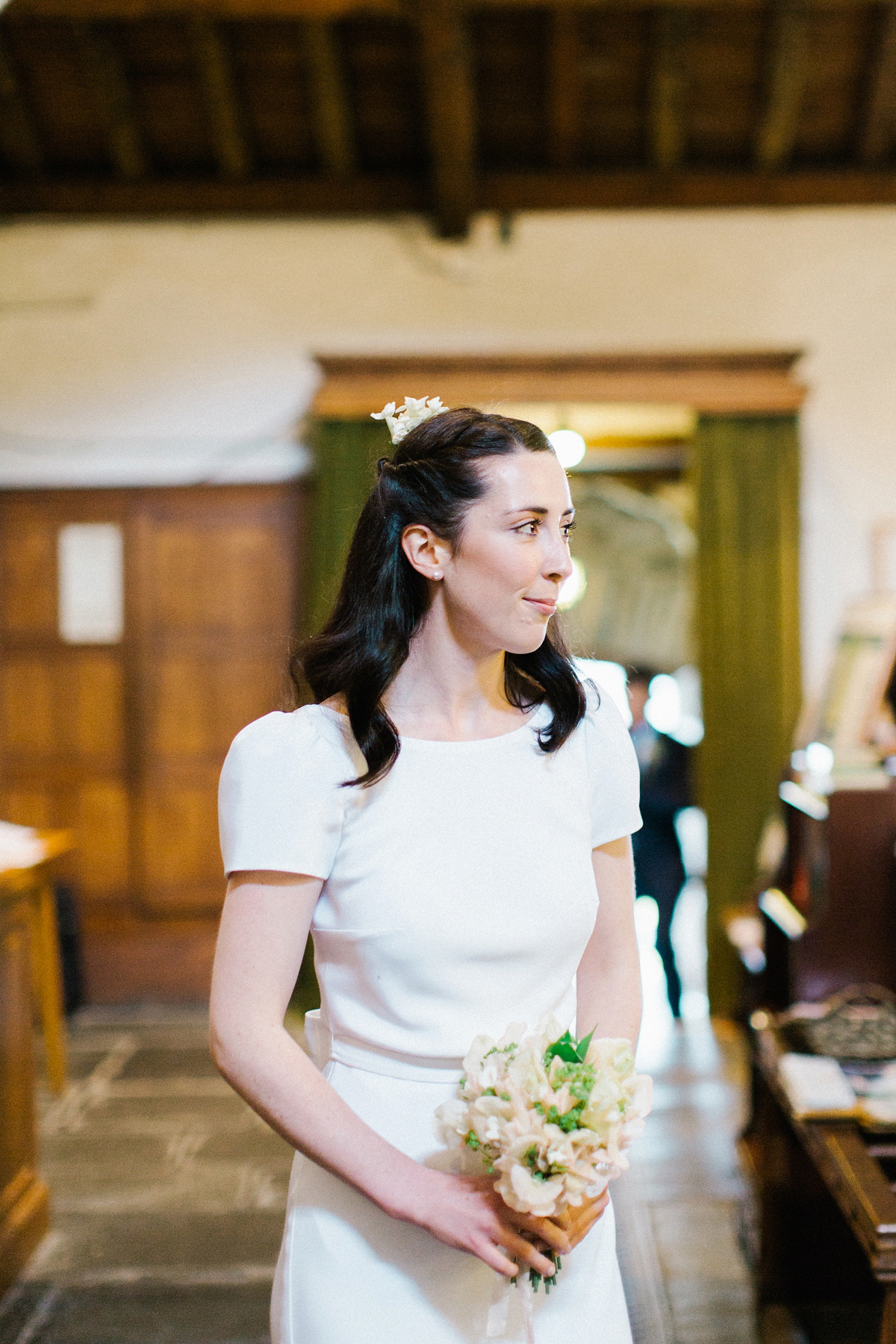 "My father accompanied me down the aisle – we had the wonderful Amabile Girls' Choir from Kendal singing as we entered the ceremony. They sang 'For the Beauty of the Earth' by John Rutter as I walked down the aisle."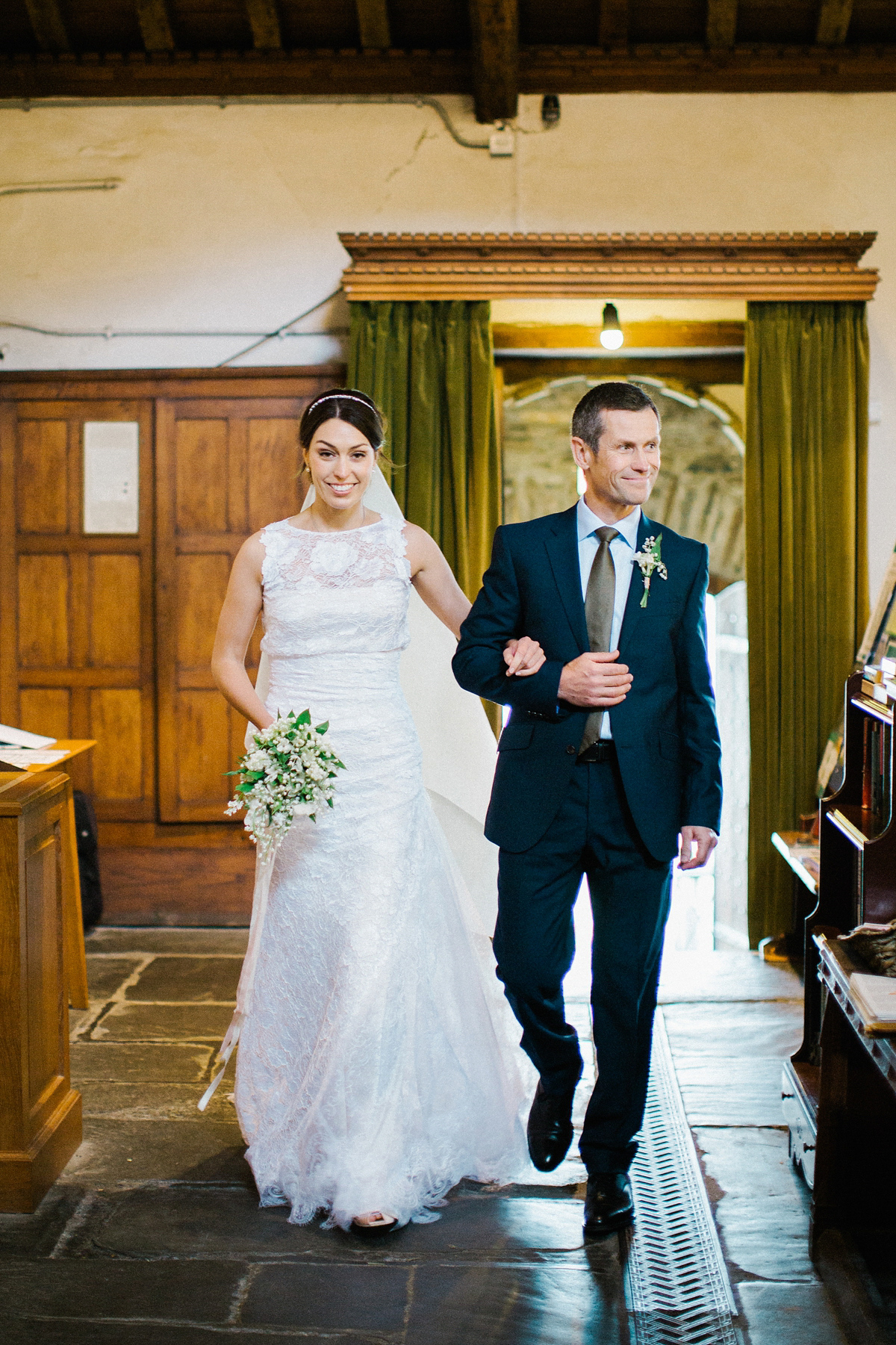 "My dear friend David Lofthouse read Colossians 3: 12-17 and Penny, Dan's Sister read Kahlil Gibran on Marriage. We chose Colossians as we thought of all the religious readings on marriage it made the most sense. Many people choose Corinthians but in our opinion we already know what love is. But we liked the idea of forgiveness and partnership. Our second reading we chose as it was suggested by my mother's best friend Christine (who was also our MC on the day). We think this is such a perfect reading for modern marriage. It resonated strongly with us both."
"My ring was a 2mm platinum band by Harry Winston. Dan's ring was his fathers, who sadly is no longer with us."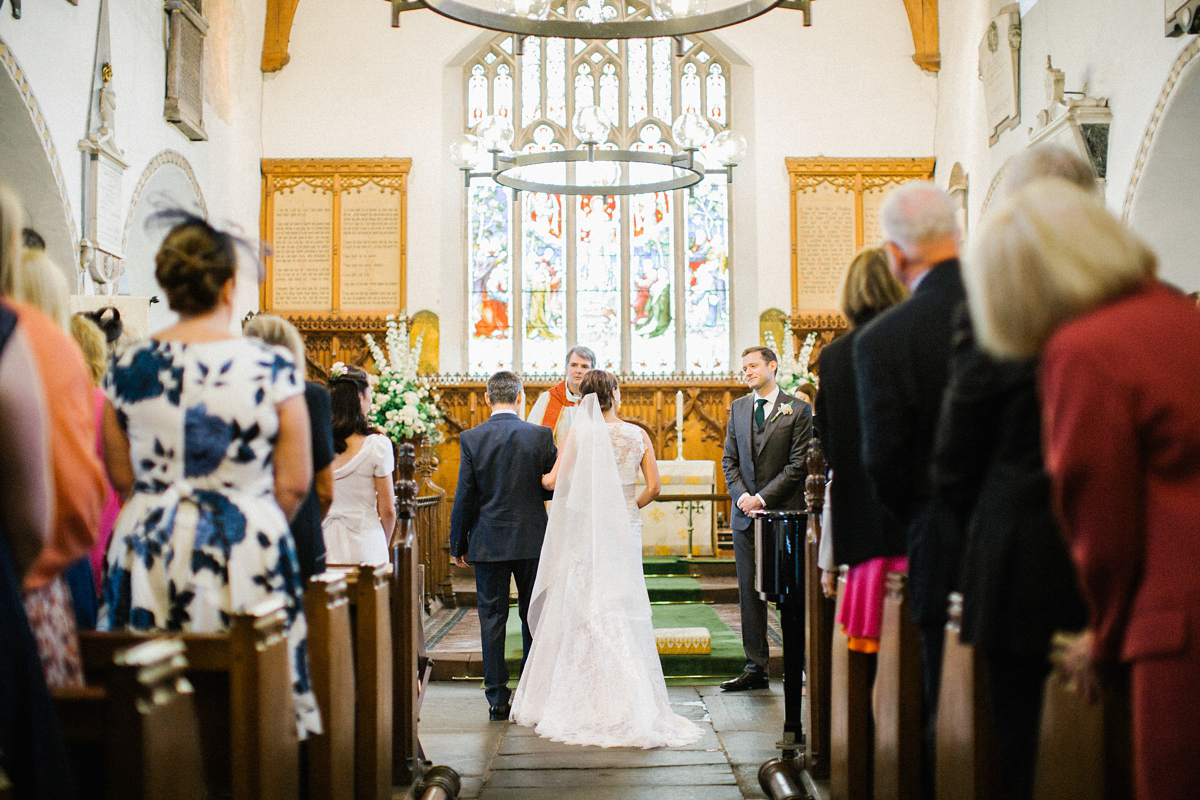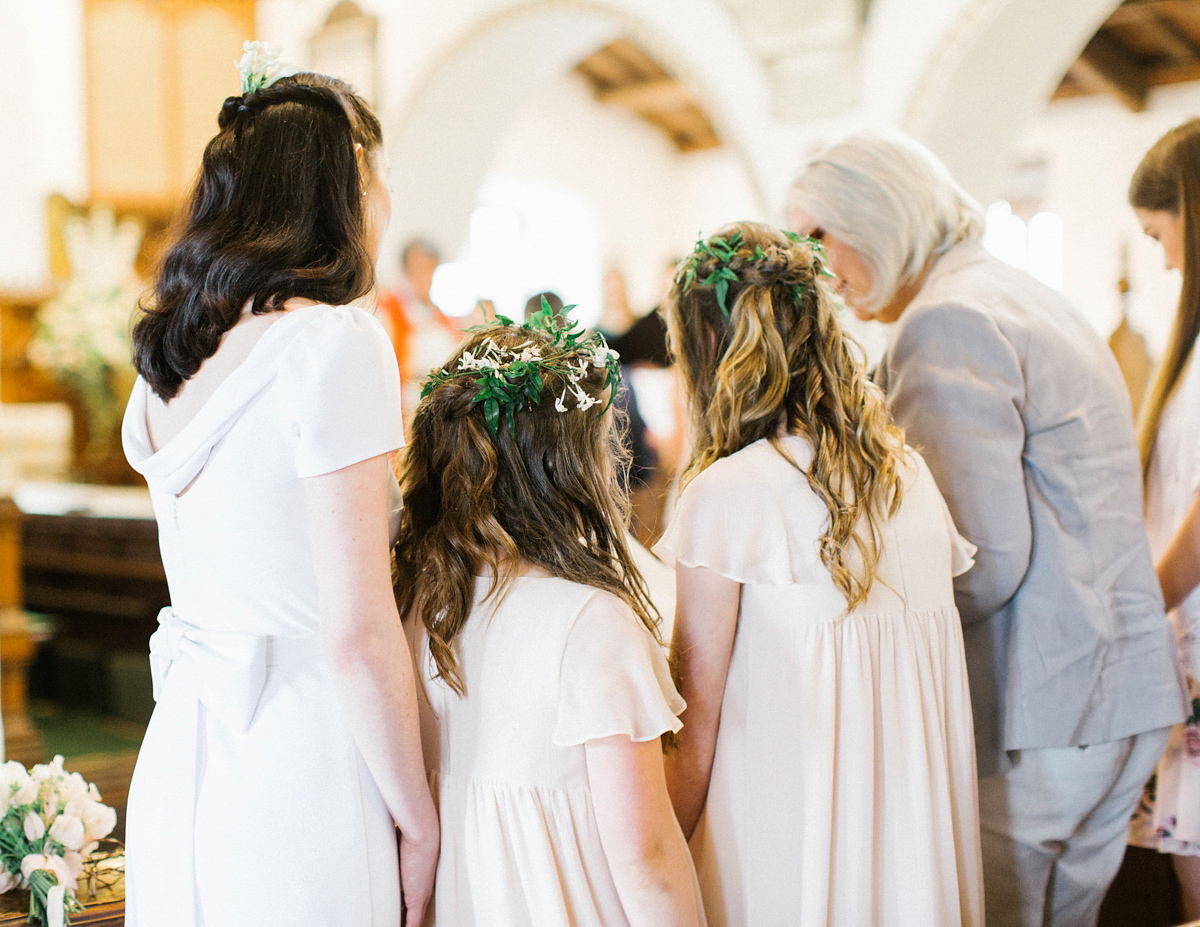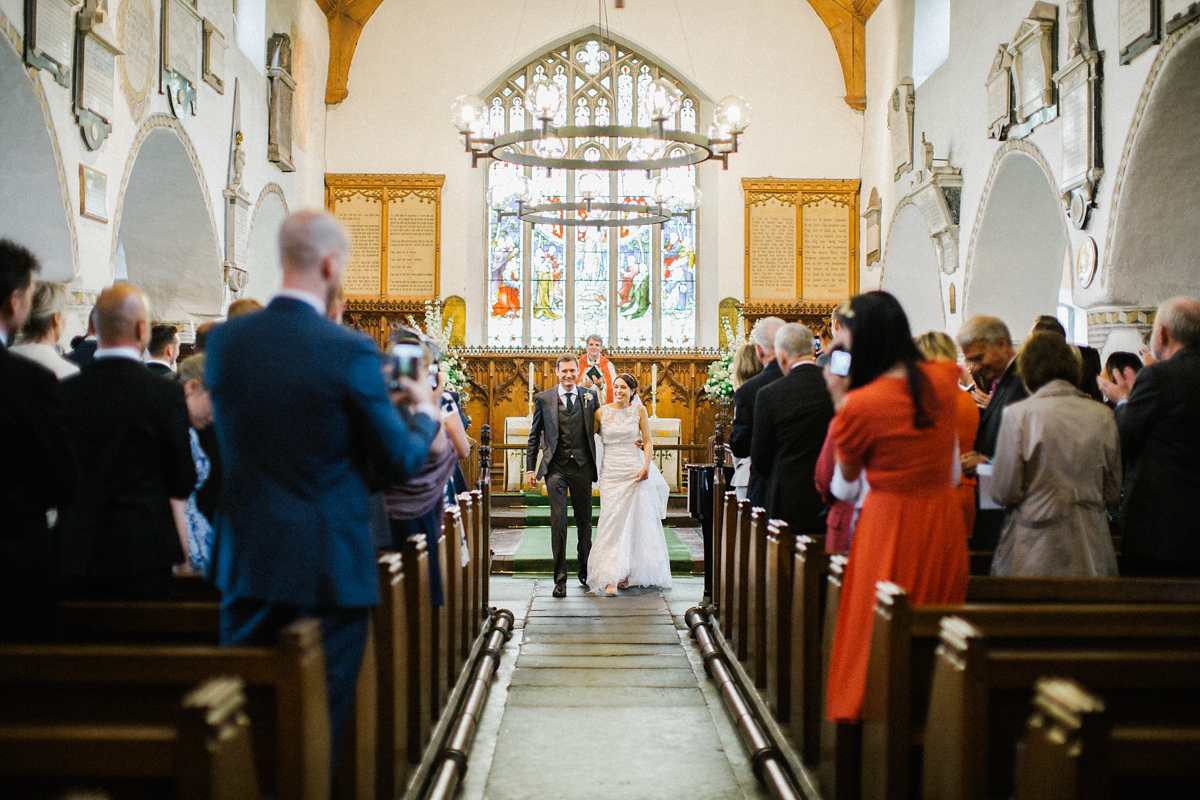 "After the ceremony friends and family showered us with delphinium petal confetti in pink lemonade from Shropshire Petals to echo our clean palette of white and green with blush accents."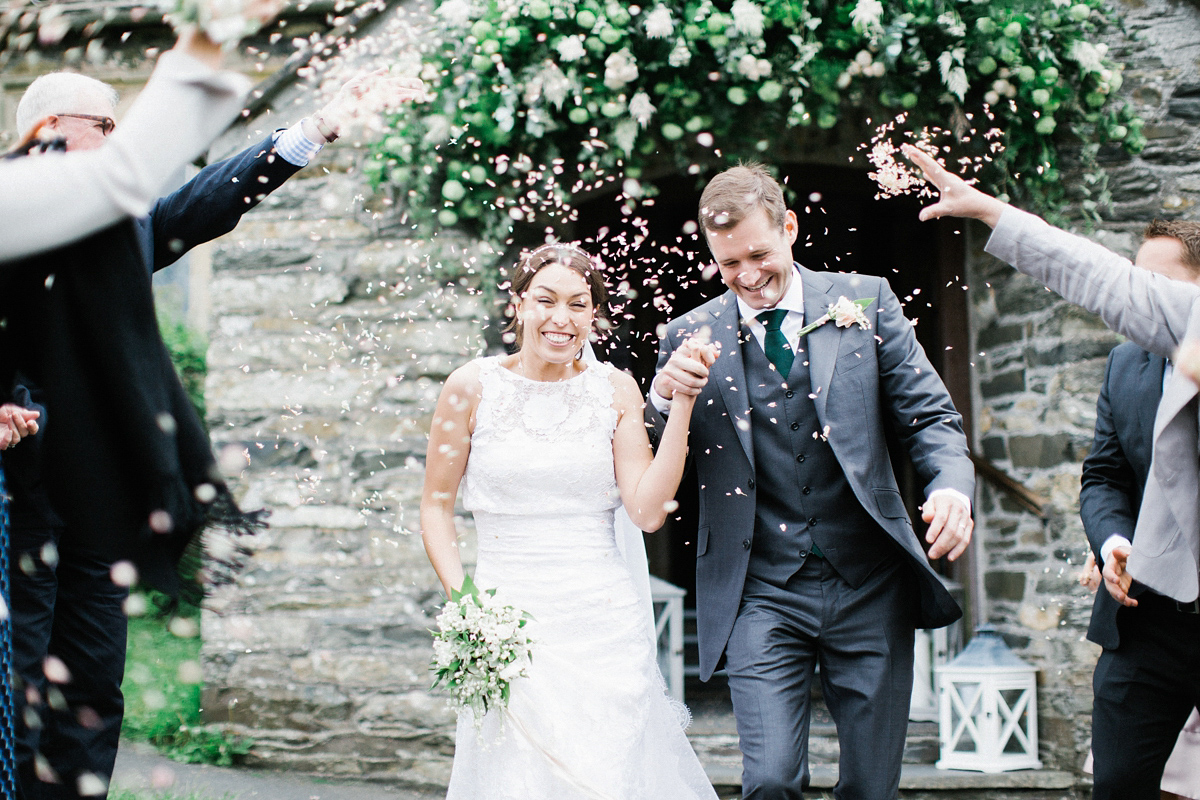 "Dan wore a bespoke Alfred Dunhill suit, shirt and tie.  He also wore a pair of Church's 'Oxfords' in black. My father bought him a beautiful IWC Schaffhausen watch as a welcome to the family gift which he also wore."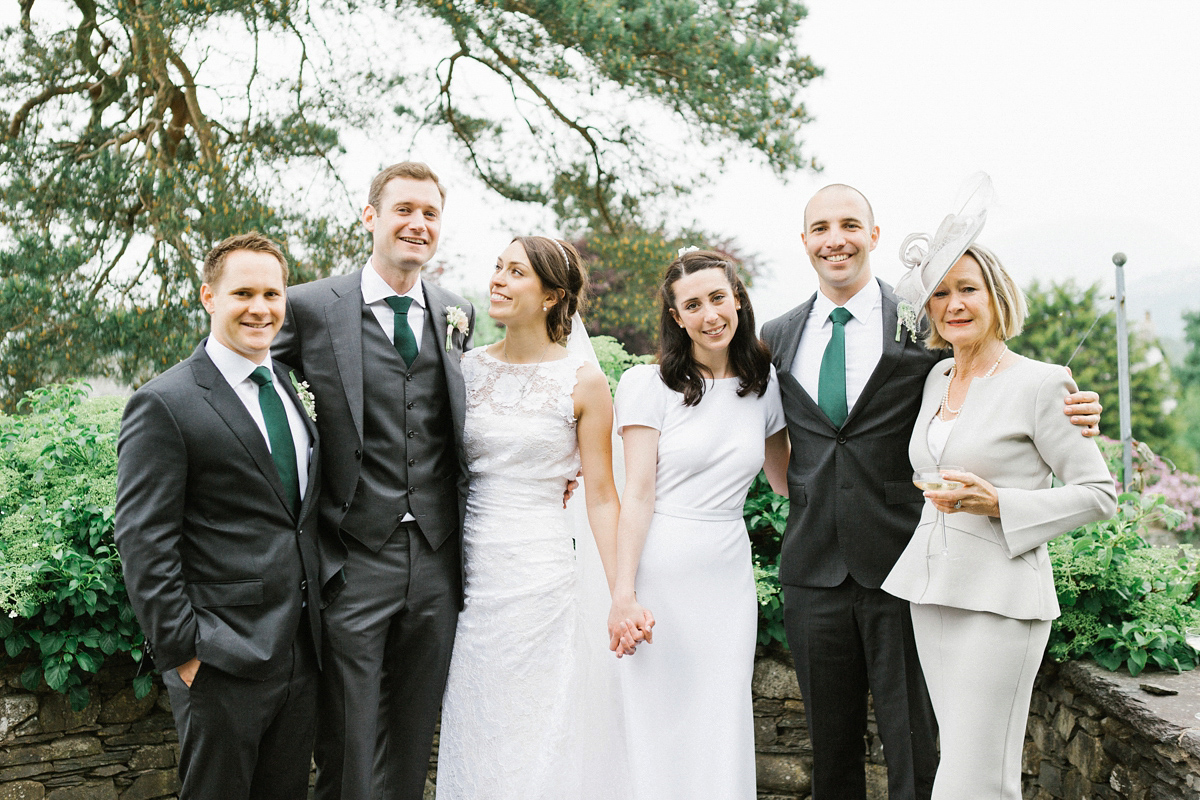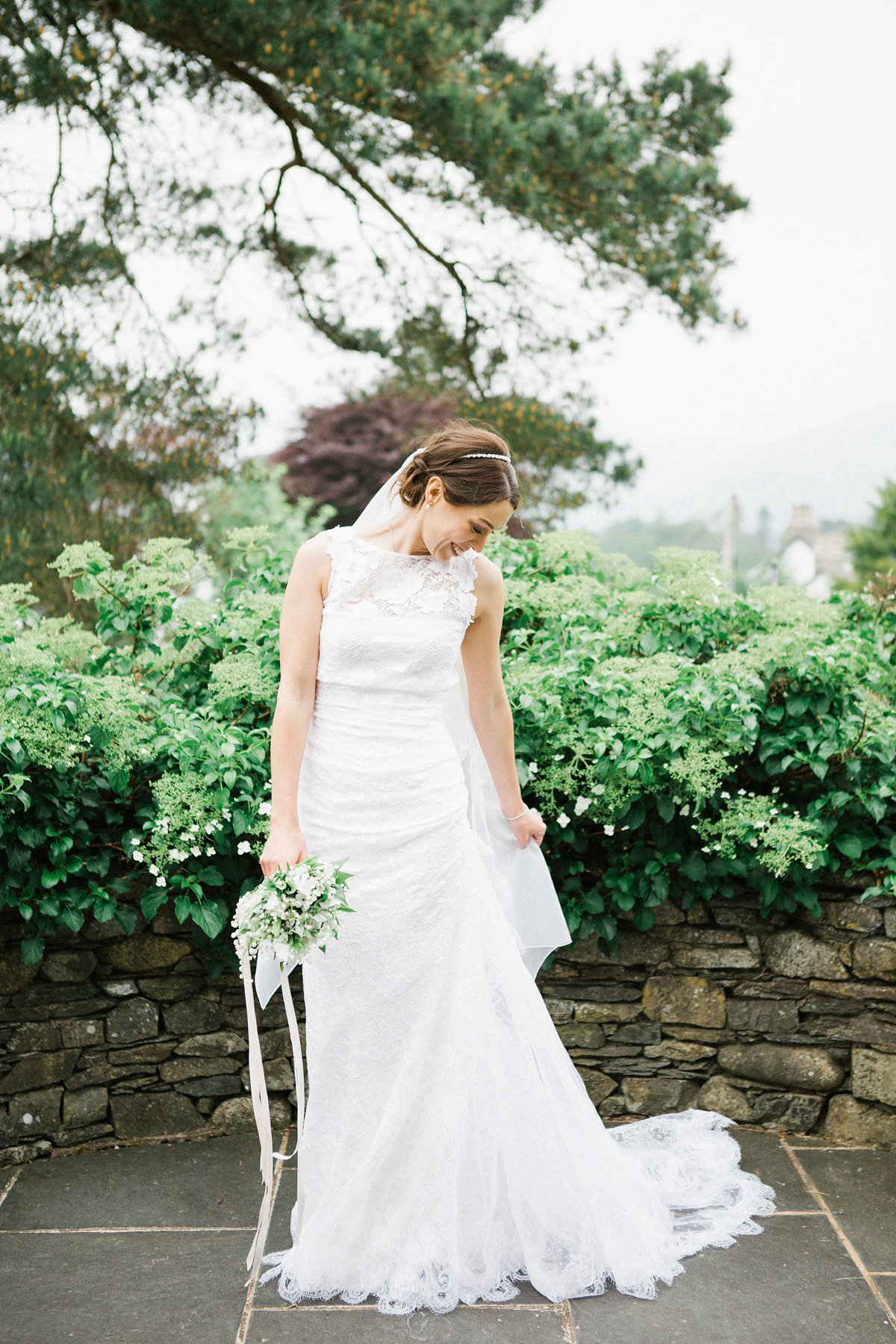 "My favourite part of the day was in the car on the way back from the Church. We were married and couldn't stop grinning from ear to ear. Dan also presented me with the most beautiful diamond tennis bracelet as a wedding present. It felt very special having those few moments together before the madness of the day ensued. Dan says his favourite part was when he saw me walk through the church doors."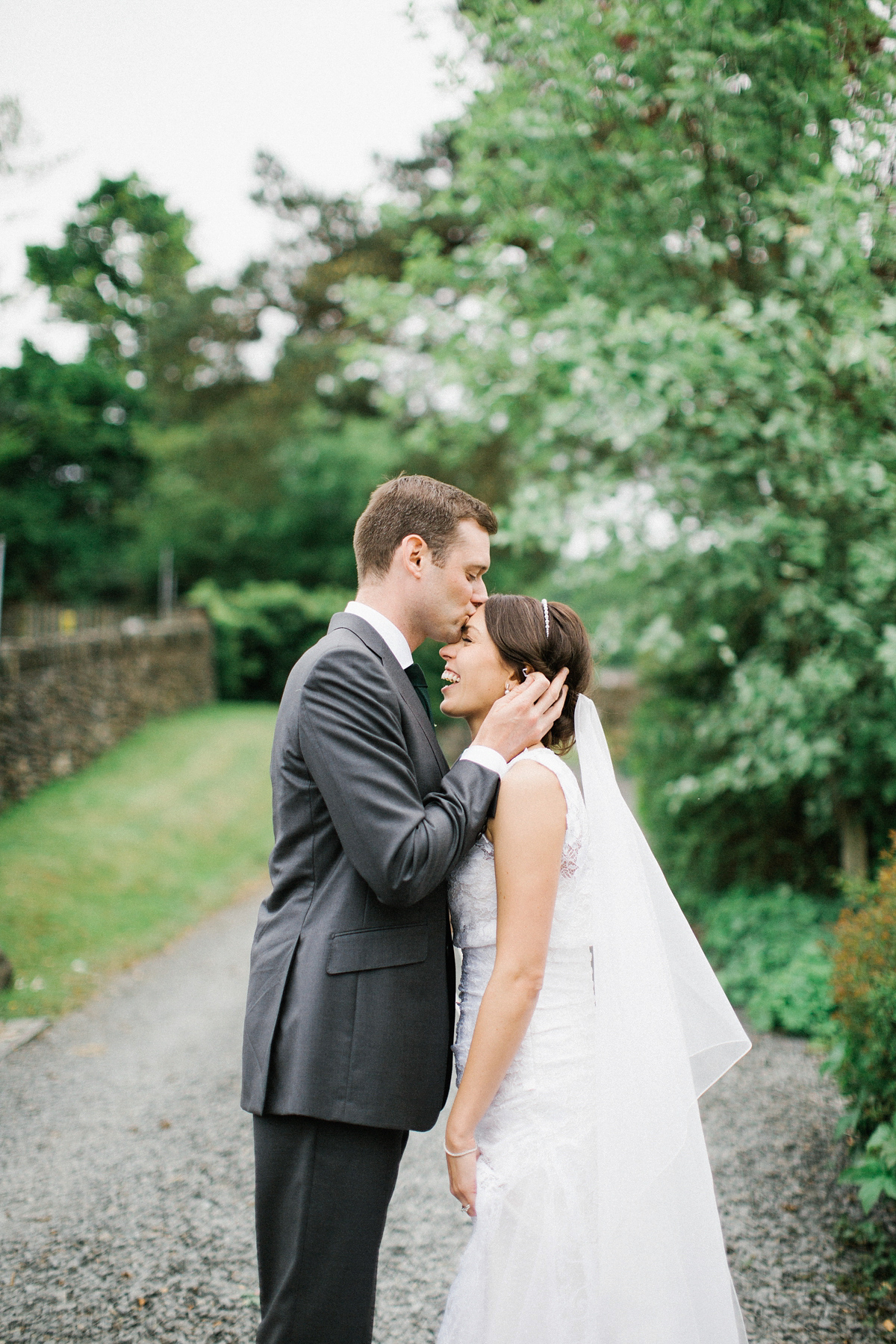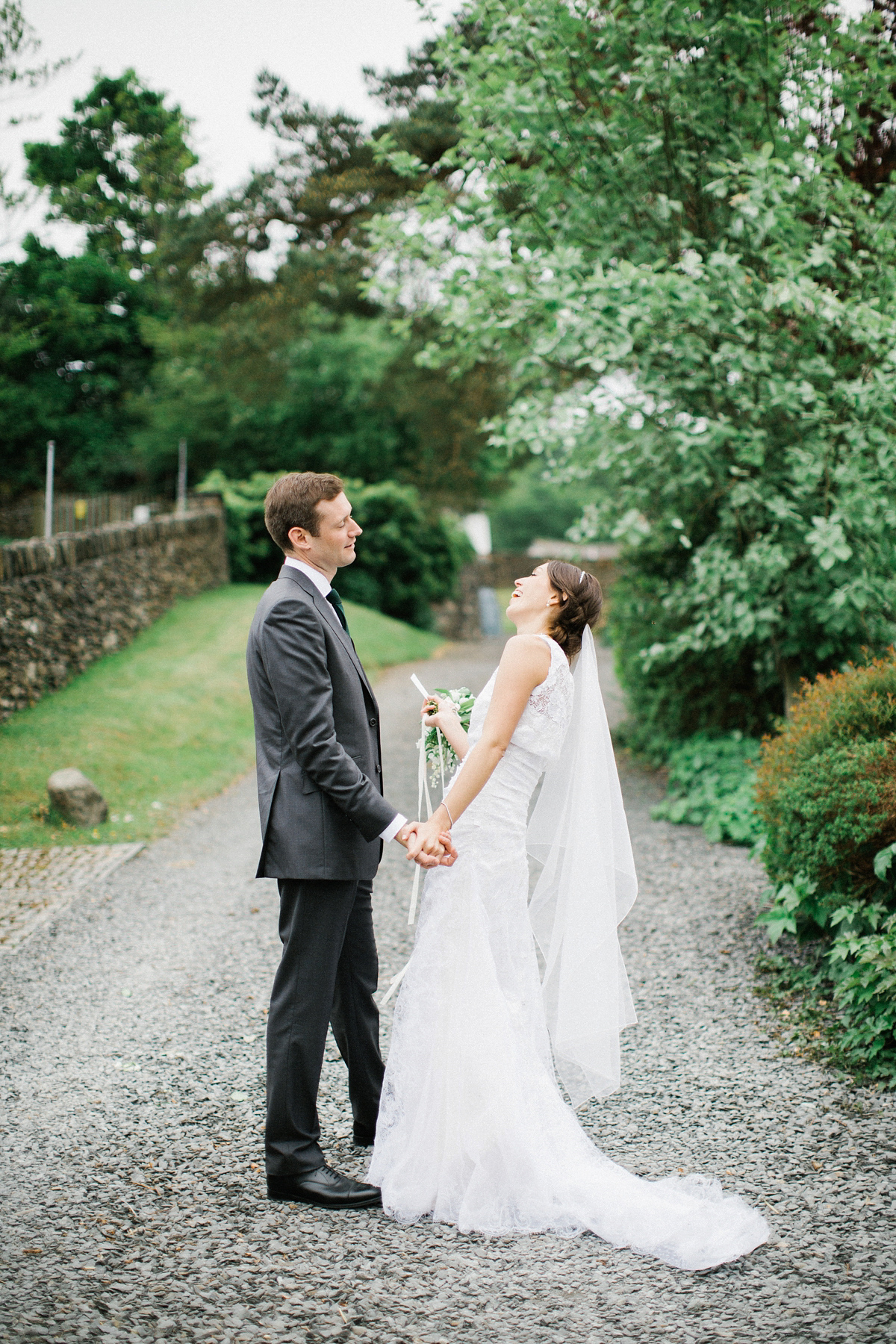 "Tebbey & Co. planned designed and styled the day using a marquee provided by Bakerwood Marquees and event rentals from Narrative Hire. Garlands & florals were created by Brackens of Bowness with lighting by Lightech Ltd." 
"His and Hers cocktails dressed with edible petal ice cubes from Edible Flowers greeted guests on arrival and an oversize hand lettered order of the day and menu on Westmorland slate signed the way."
"Our florist was  and our bouquets were styled with hand dyed bouquet silk ribbons supplied by Lancaster & Cornish."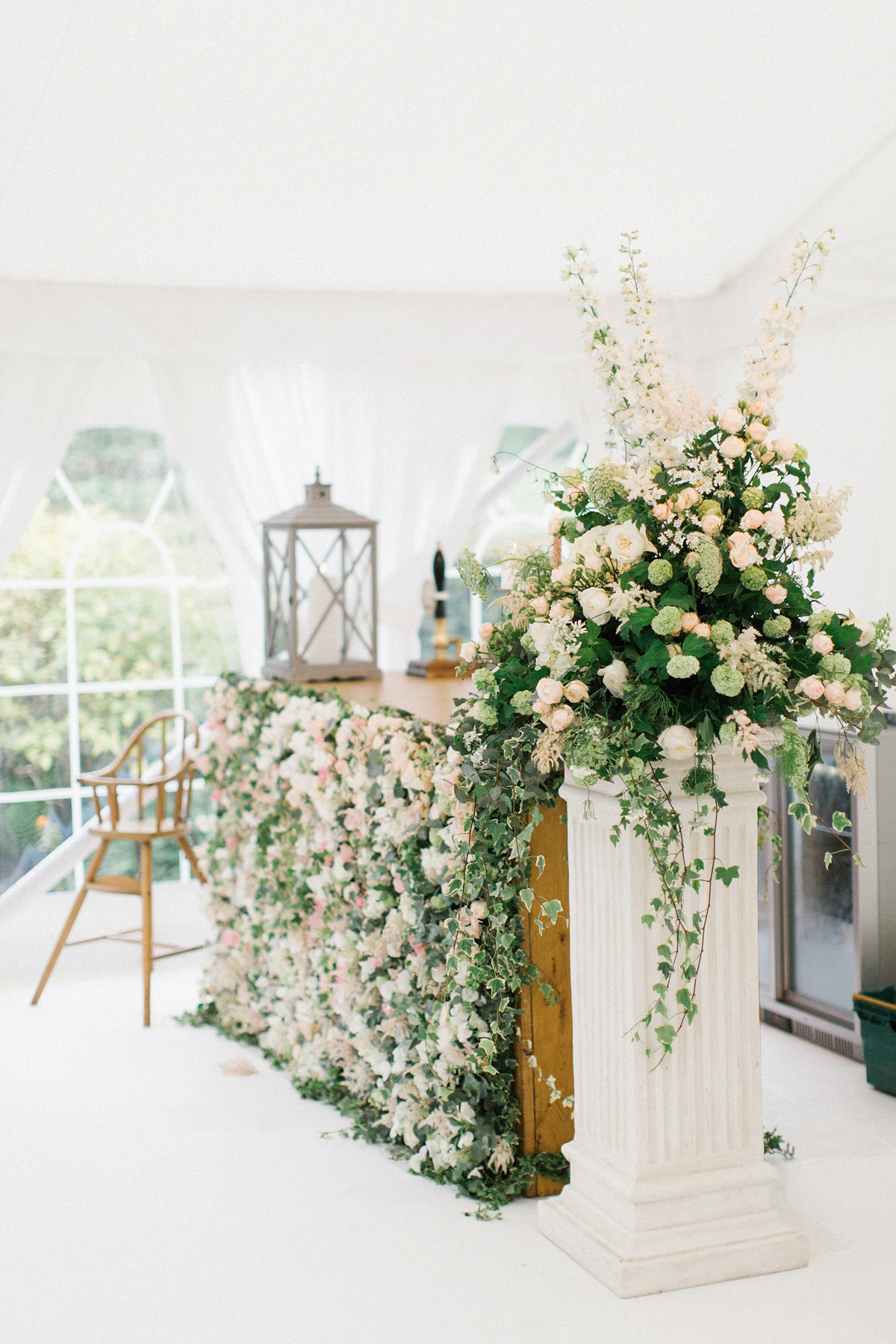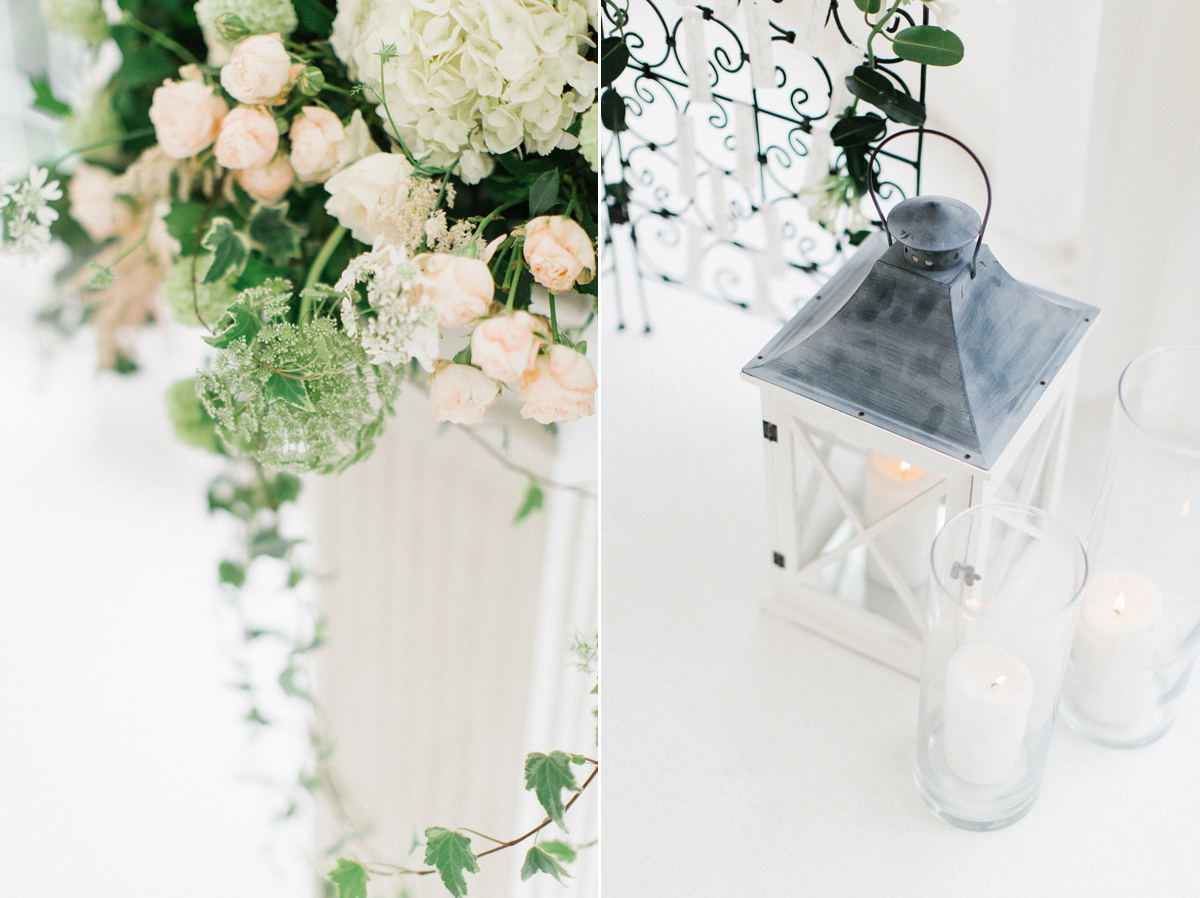 "We actually had two wonderful cakes. The first by Bakery at No.4 in Kendal was a Lily of the Valley masterpiece which had three tiers and three flavours. Chocolate and Guiness, Lemon Drizzle and Victoria Sponge. Over the two days of our wedding festivities the entire cake was demolished. We also had a cake made by our very dear neighbour Jane. This was a traditional fruit cake and the top tier is now safely tucked in the freezer."
"Our wedding favours were Gingerbread from Sarah Nelson at Grasmere, which were hand wrapped in white muslin by Tebbey & Co."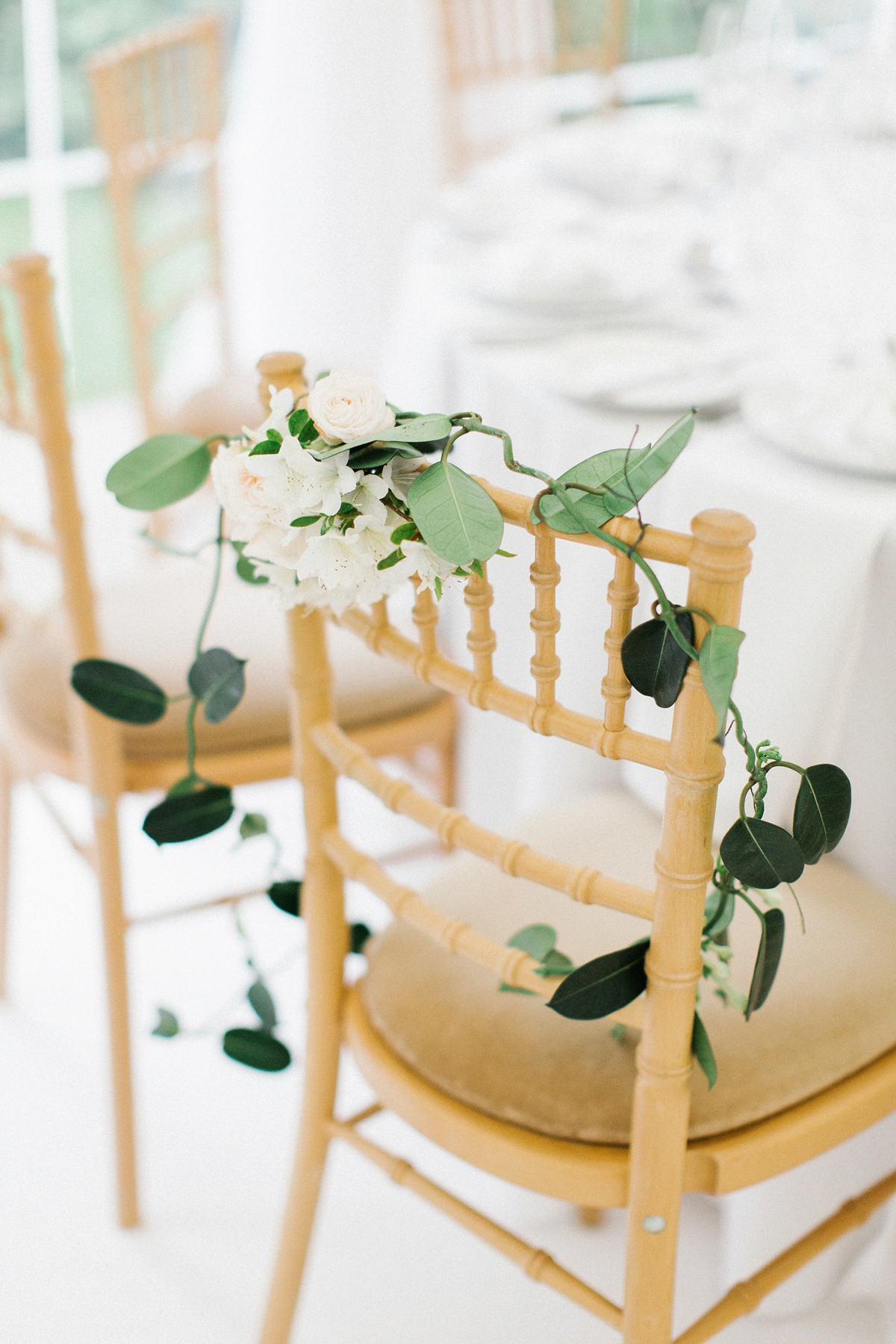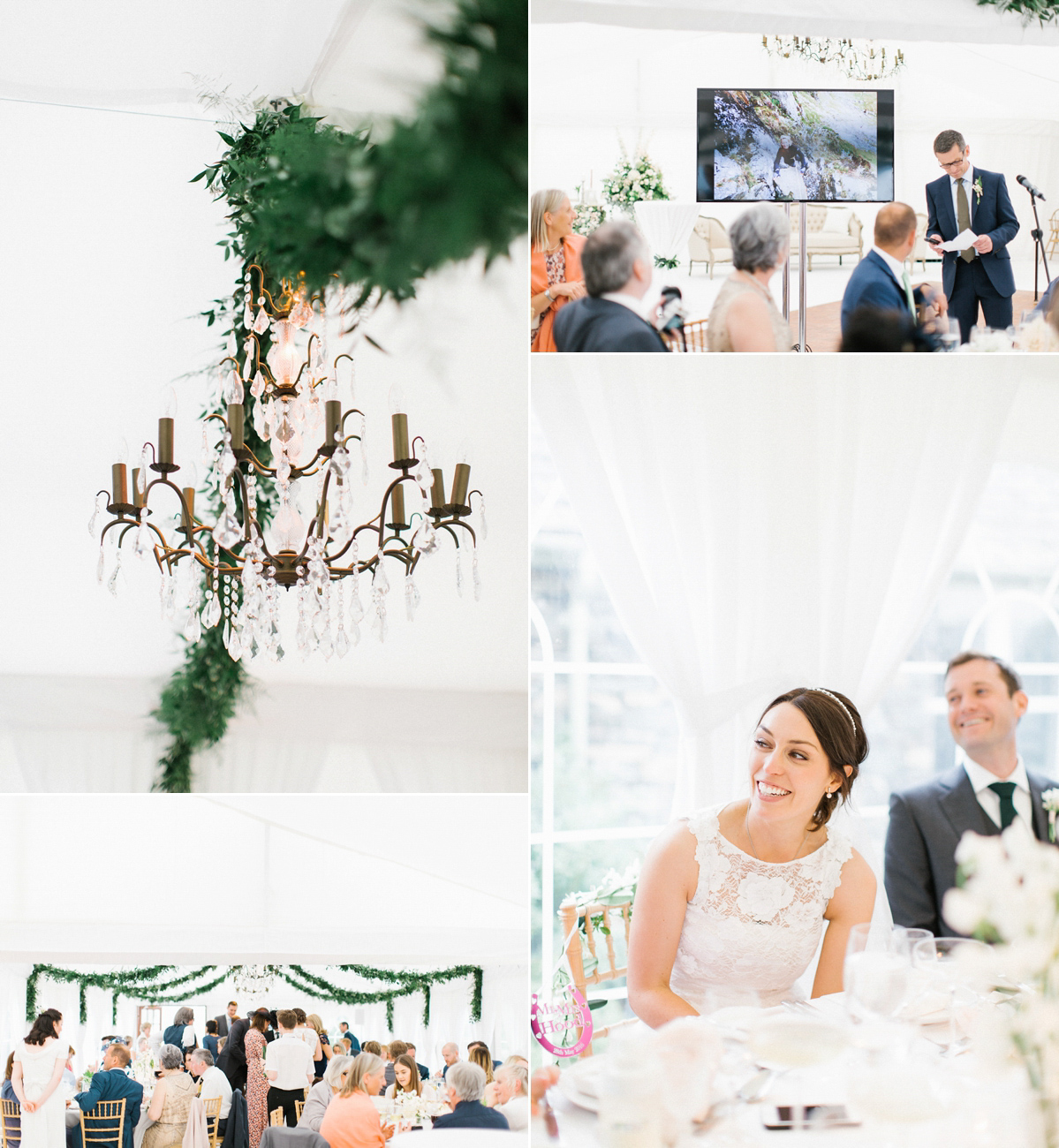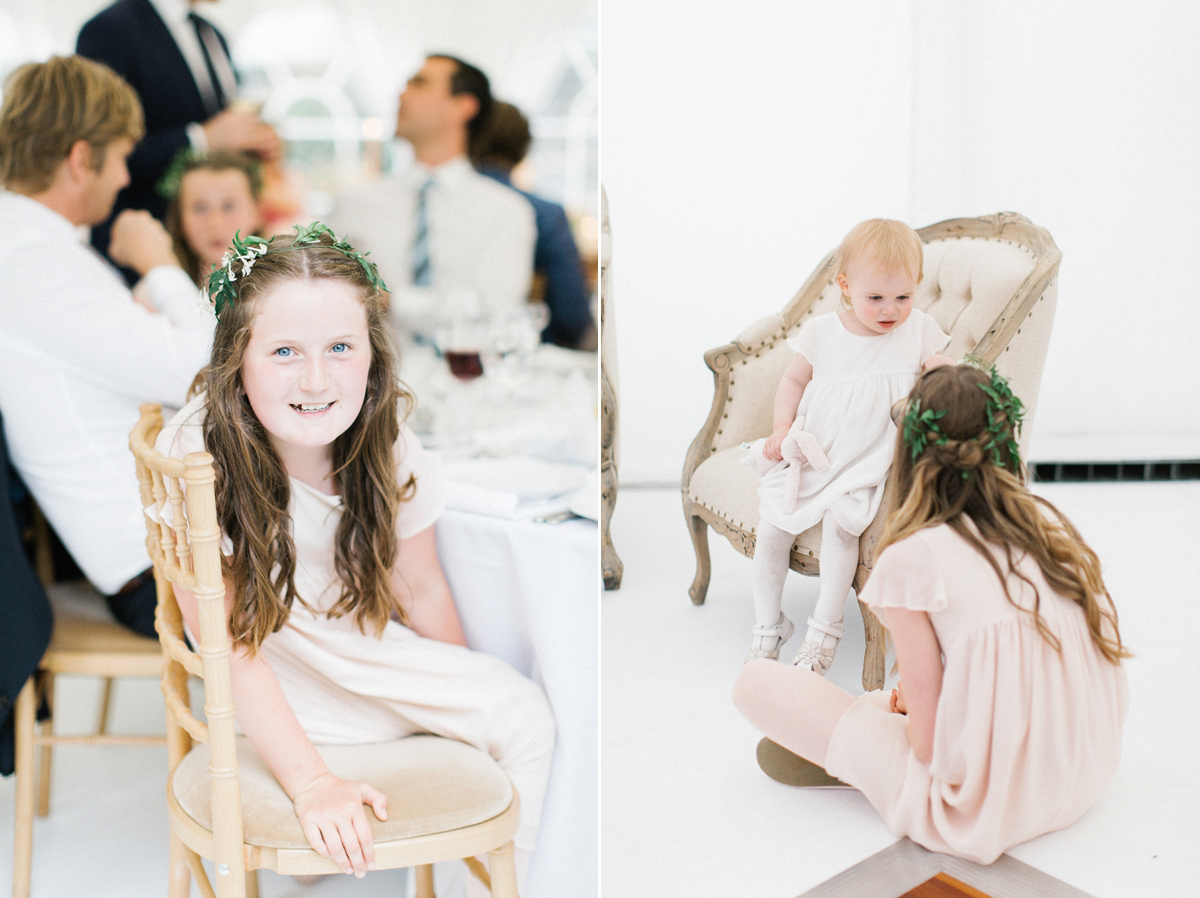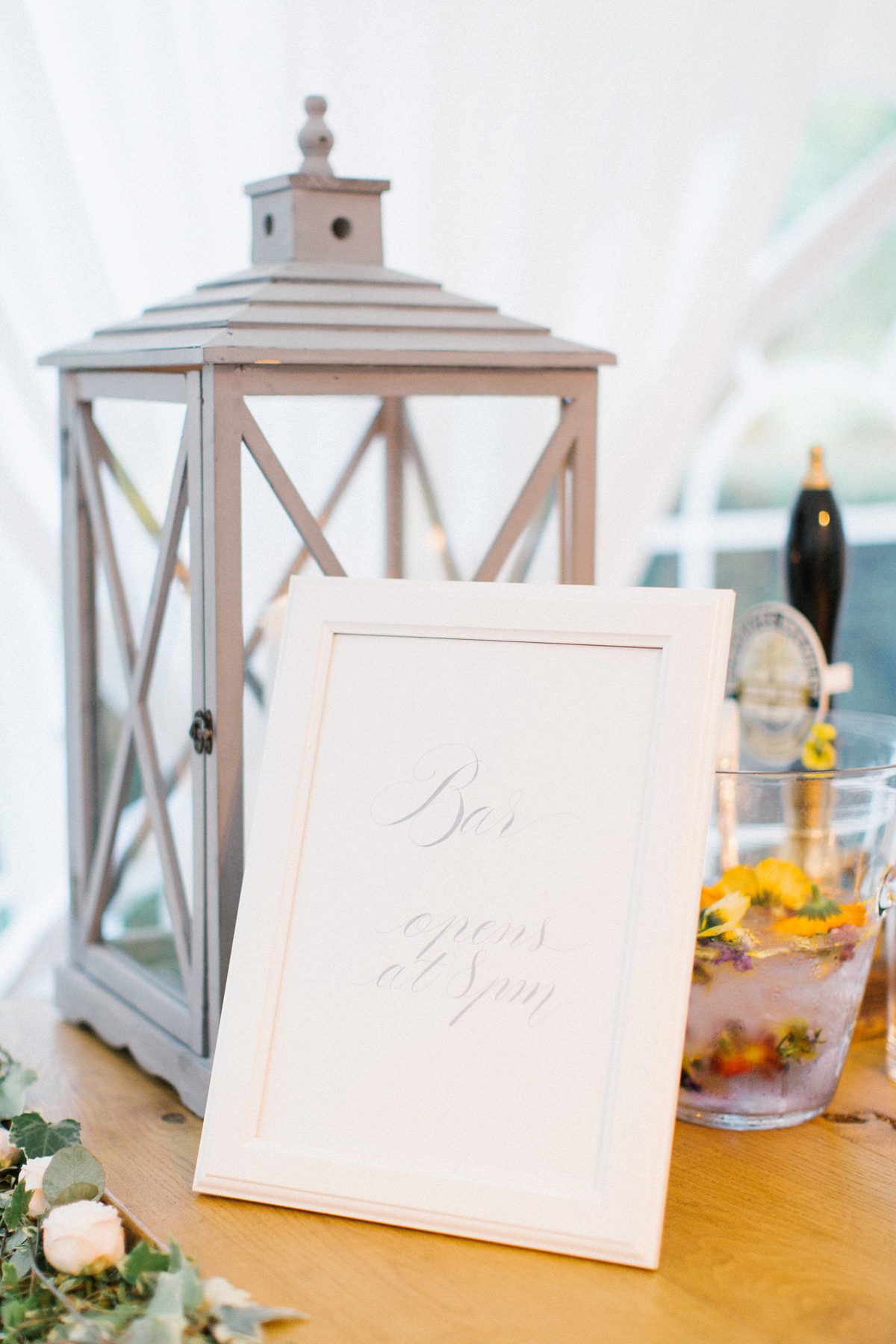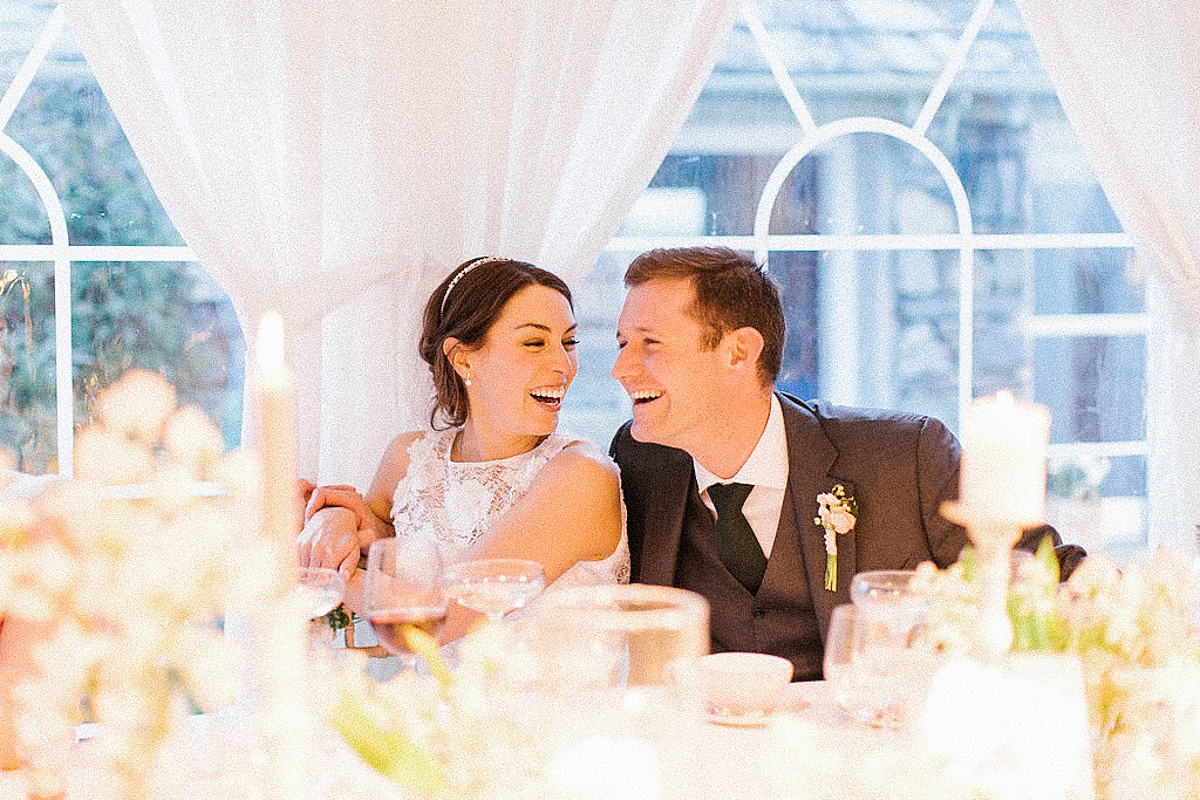 "Our first dance was to 'Cheerleader' by Felix Jaehn. Dan chose the track as he thought that it would get the party going and it certainly did. We also love the lyrics and 100% believe that we are each other's biggest cheerleaders in everything each of us does. He also made up a daft dance routine and made all the little bridesmaids learn it. It really was quite hysterical (although he will swear it was my idea… it wasn't)."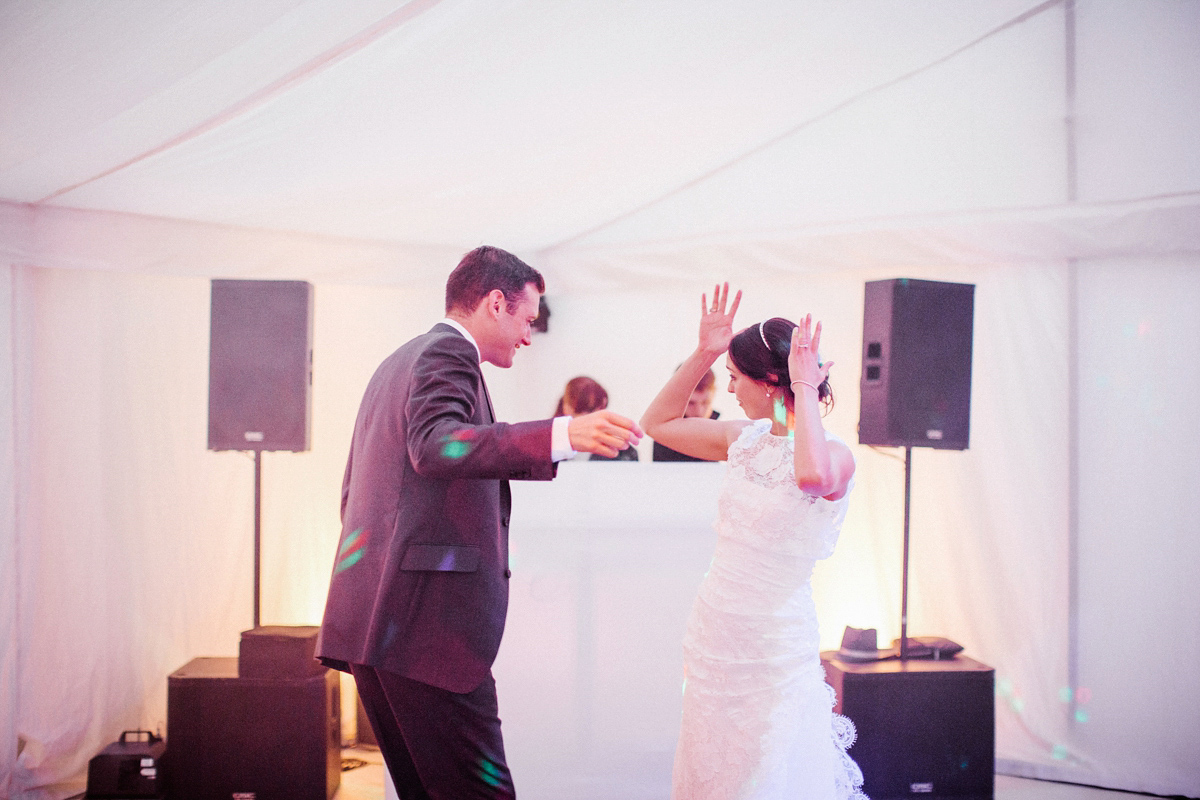 Words of Wedded Wisdom…
"Be cool. It really will all be ok. Remember to continuously thank all your suppliers and the people that are working so hard to make your day the most special day ever.
I absolutely loved the week before when the marquee was being built and so many people were coming and going from the house. I felt privileged to have such an enthusiastic, clever and creative bunch of people creating a wedding wonderland. It was all superb.
Remember also to enjoy yourself on the day, eat EVERYTHING, drink EVERYTHING, dance EVERY dance, hug EVERY person. It's a dream come true."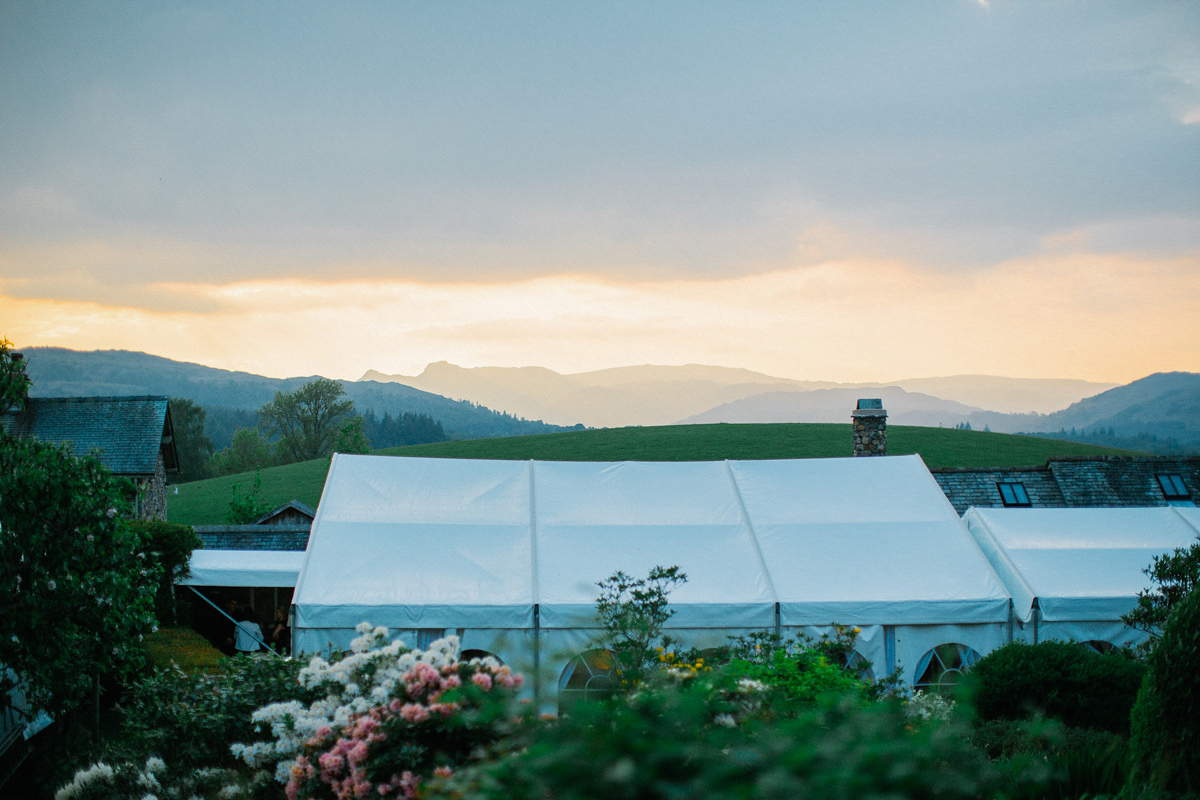 What a glorious day – I can just imagine the joy that was being felt as the sun set in this image. I would like to thank Emma of Tebbey & Co.  for submitting this wedding for a feature on Love My Dress, and our love and thanks to the beautiful bride and groom for sharing their gorgeous wedding today. I am completely and utterly smitten with it all.
Have a lovely morning all – we'll be back this afternoon with another wedding. Why  not take a moment to explore our new Style Files in the meantime? And if you're looking for a wedding directory you can trust – visit our Little Book For Brides.
Love Annabel x