Hello lovlies, thanks for joining me on this crisp Saturday morning! I'm so envious of you autumn brides incorporating this beautiful season into your marriage celebrations, and just as wistful thinking about those of you jetting off to wed overseas under the golden sun.
Today I'm sharing a beautiful Croatian destination wedding with you; full of romance, relaxed charm and one sensational Eliza Jane Howell dress. Tamara and Ollie, who both work in online fashion retail, wed at Fort George, overlooking the Adriatic on the beautiful island of Vis. We are very grateful to photographer Petar Jurica for sharing this beautiful wedding.
"The moment we sailed into Vis it was love at first sight. Ollie had been before and had been dying to take me and when we arrived I was in heaven. The island is so calm and peaceful, not to mention romantic, with such stunning scenery. So when Ollie proposed there was no doubt in our minds where we would have the wedding."
"For me it was ALL about the veil, I wanted it to be simple but with a bit of drama so I went for chapel-length. I had it made to order by a lovely women in the US who is on Etsy as IheartBride. We found our floral inspiration from a previous wedding of Tamara's, added together with some ideas from Pinterest. Anita got it spot on and everything was absolutely beautiful, especially my crown and bouquet."Tamara and Ollie chose Tamara Shatkova of Adriatic Weddings Croatia to help plan their dream day. The couple are filled with nothing but praise for the wonderful work of their wedding planner and her local knowledge and know-how.
"Like all couples, we obviously have our own style and we knew we wanted a relaxed, romantic wedding. So I set off on blogs and Pinterest, creating boards of ideas to share with Tamara our amazing wedding planner."
"We had a vision of our dream wedding day and Tamara certainly delivered. As we live in England Tamara's knowledge and services were priceless and without a doubt we couldn't have had such a stress free day without her. She was organised, professional and a wonderful person to organise our wedding with."
"We met at a festival in Manchester where we had both gone to see the same local band, Kid British. I was there with my sister (and maid of honour) Tash, sat in a bar waiting for the headline act to start and Ollie arrived with a group of his friends. I went to the bar to buy drinks and one of Ollie's friends went to sit in my seat; the next thing we knew we were chatting to the boys."
"I had my eyes on Ollie, however I turned around and he was exchanging numbers with my sister! Well at least I thought he was, but really he was asking my sister if I was single and had decided to add her on Facebook in case he needed to try to get in touch with me after the gig. She gave me the heads up and the rest is history."
Tamara gravitated towards a mixture of bohemian effortlessness and all-out feminine glamour when it came to creating her bridal ensemble. Her frothy gypsophila crown is set off perfectly by the embellished, beaded beauty of her Eliza Jane Howell dress. It's little surprise that this incredibly talented designer is one of our cherished Little Book for Brides darlings. Tamara and Ollie found their florist, Anita of Flower and sweet fairy, through a wedding organised by their planner Tamara.
"It has to be the detail and embroidery that I loved most about my dress. I wanted a more relaxed boho look but to still maintain the wow factor and feel feminine. I believe in fate and the dress I wore was actually a sample that I only found eight weeks before the big day. Lucky for me it my was size!
Like so many brides, Tamara wanted a natural, elevated version of her everyday look when it came to her make-up. Artist Lucija did just that and made the lovely bride feel like a million dollars.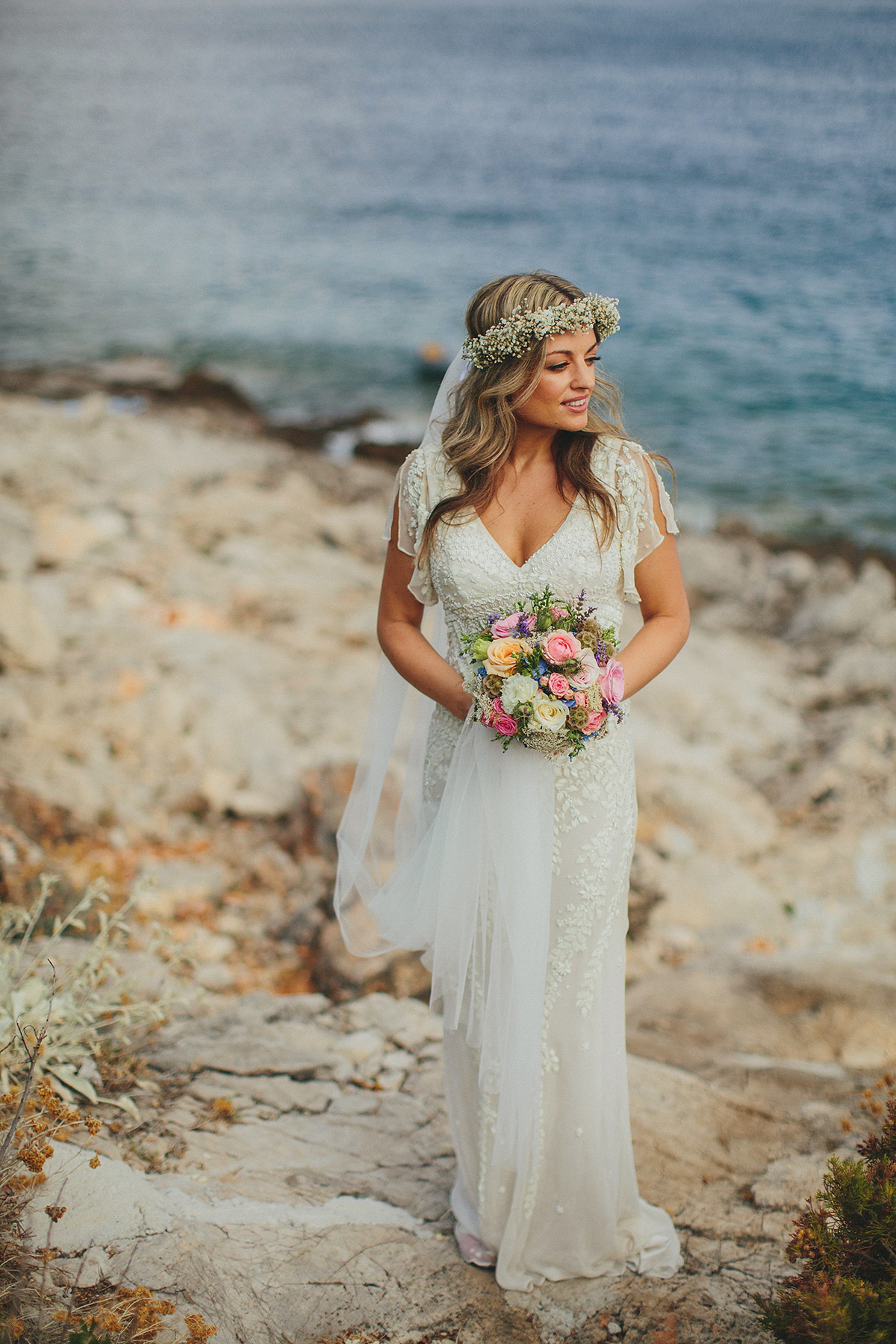 Groom Ollie awaited his beautiful bride at the top of their outdoor aisle in the gardens of Fort George, oh so cool and breezy in a powder blue linen suit from Moss Bros and sharp pocket square from Reiss.
Tamara made her way down the aisle on the arm of her father to Bob Marley's Is This Love – a song that just felt right. I can just imagine the happy tune floating on the breeze as Tamara made her way towards Ollie. The bride's older sister Natasha read the lyrics to a Stevie Wonder Song; You Are The Sunshine Of My Life, which was really special to both the bride and groom having seen it performed live by the man himself.
"My engagement ring is 1930's vintage so I had a wedding ring tailor-made to suit the style and shape. Ollie wears his grandpa's wedding ring which gives his a lot of sentimental value."
"A year before the wedding we visited the island to meet Tamara and to find a venue for the ceremony. She had a few suggestions but as we walked through the arches into the Fort's gardens, my breath was taken away. Ollie and I just looked at each other and we knew it was the place. The venue itself is rustic and romantic so exactly what we were looking for and a for the views…there are no words really other than wow."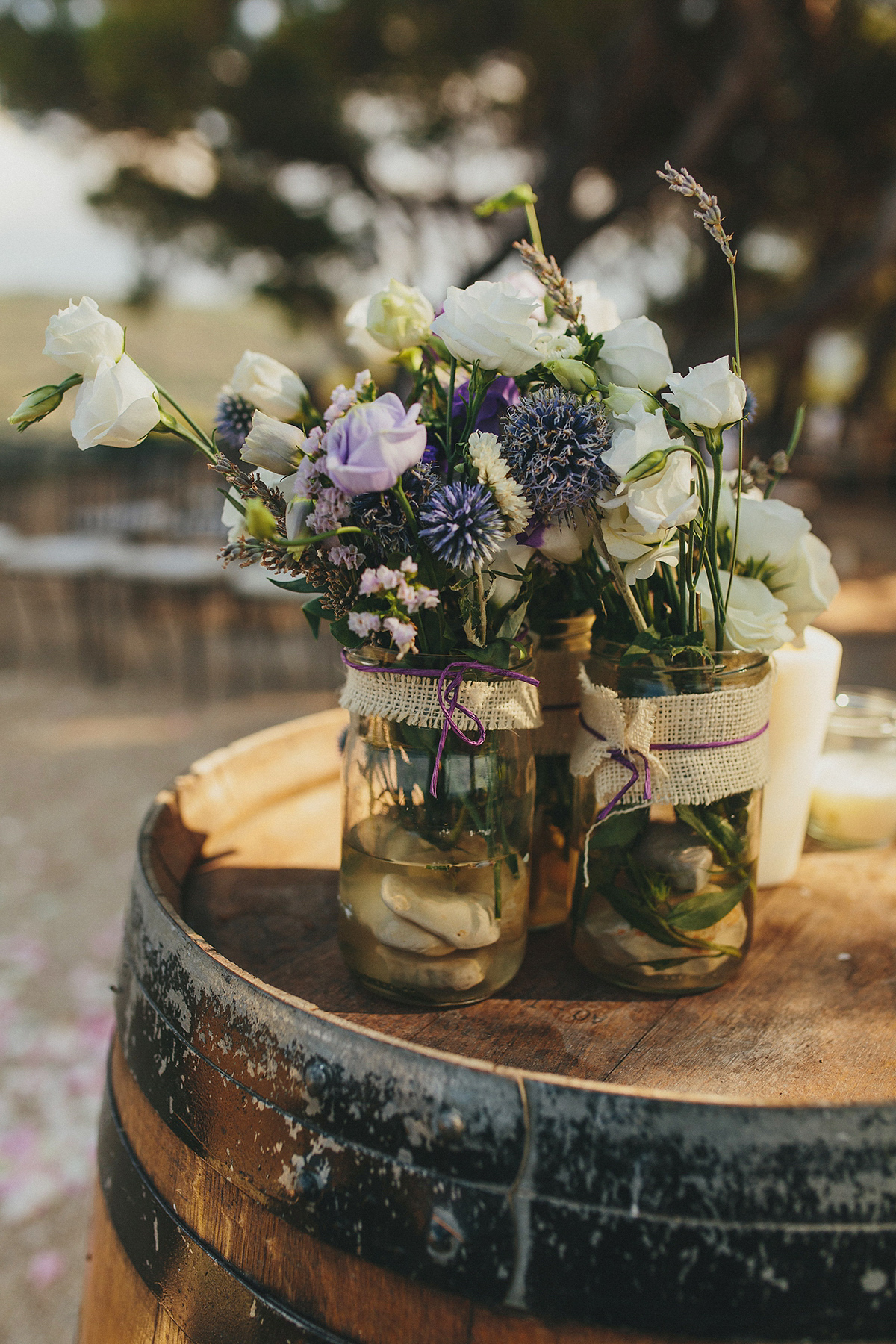 "We had the ceremony at the back of the gardens overlooking the ocean and there was a beautiful breeze. The venue itself didn't need decorating as it was already to our taste, but we decided to add a flower petal floor to add a bit more romance into the ceremony area. We had also bought heart shaped paper fans for each of our guests to keep them happy and cool which were laid out on each of their chairs."
I do so love wedding rings that are handed down through the family and effectively given a second life – I feel like there must be so much love and history stored up in that little circle of metal.
The bridesmaids look gorgeous in colourful dressed from ASOS, which all three girls paired with their own flat sandals and a pair of earrings gifted to them by the bride.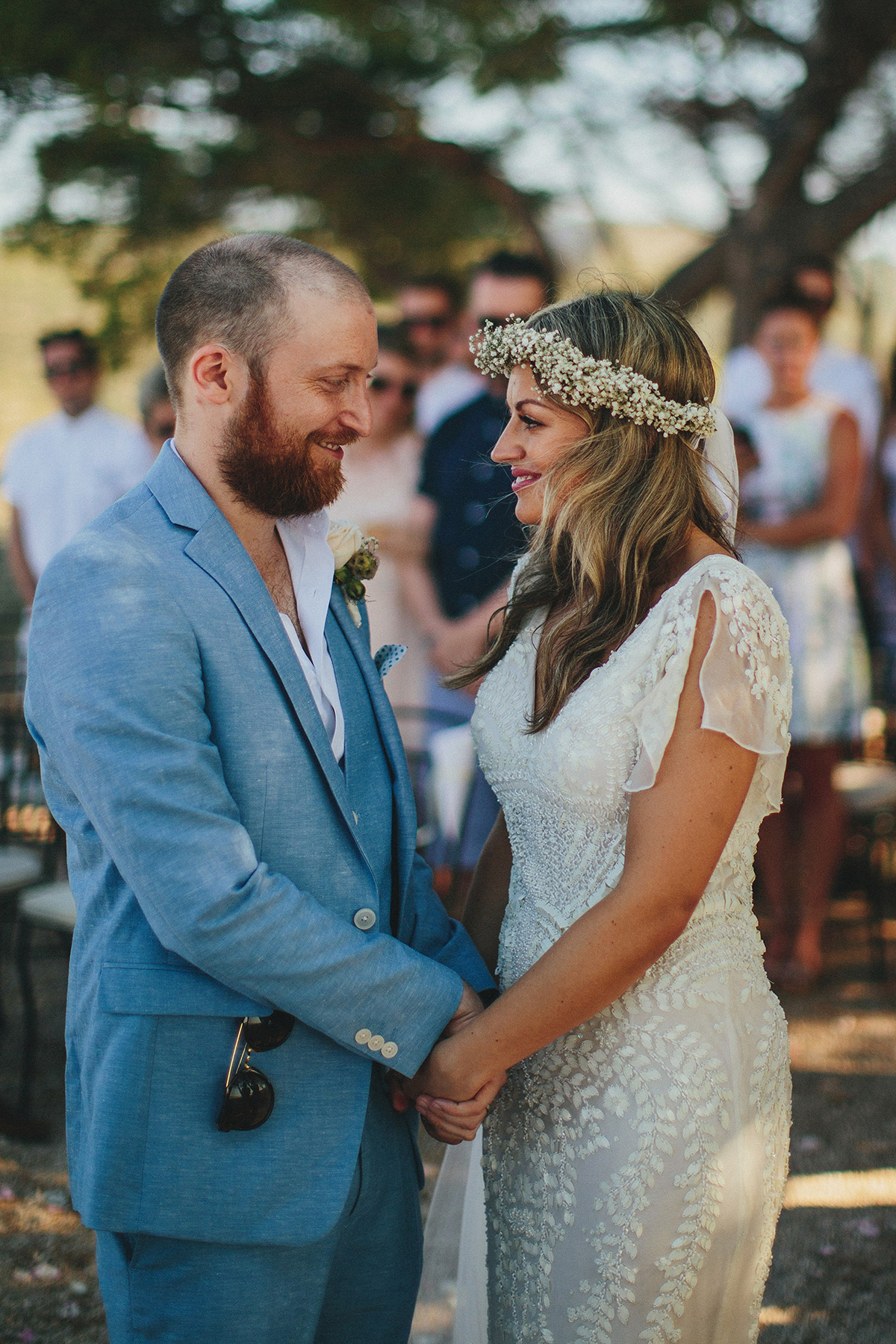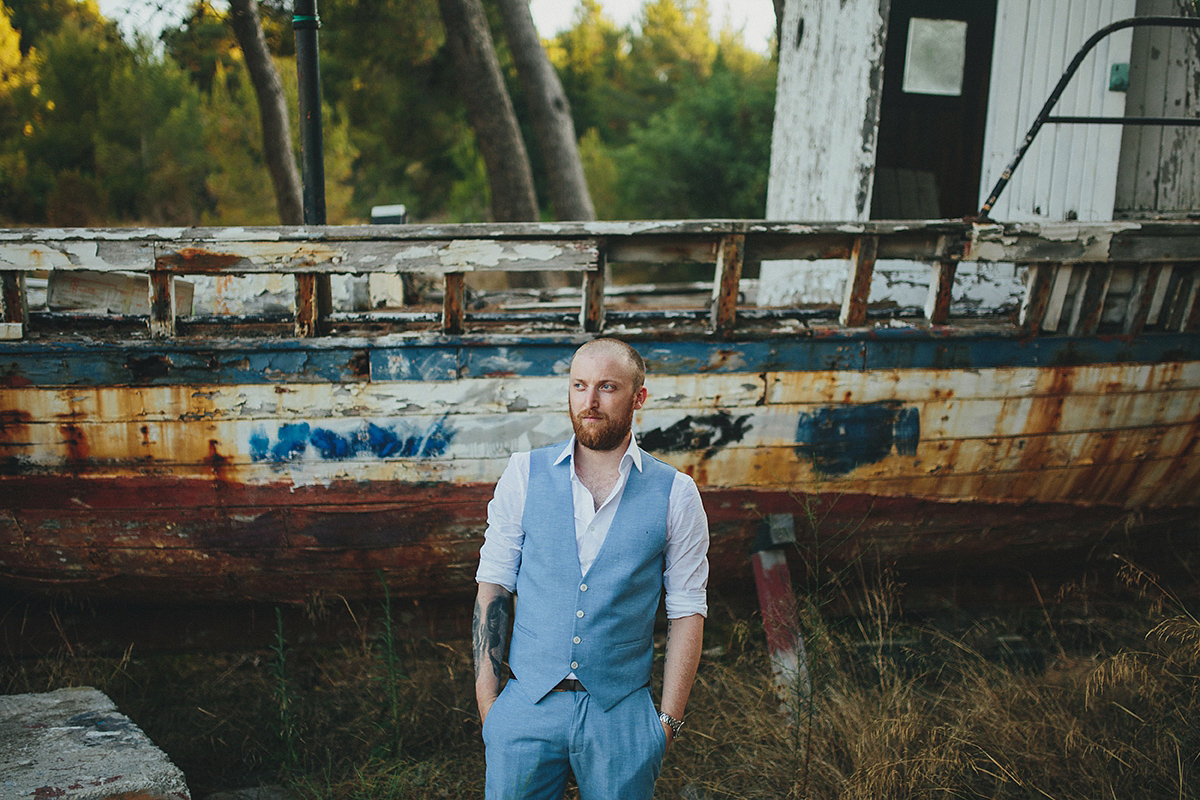 Photographer Petar's work plays with light so beautifully – capturing broodingly-lit atmospheric stills in black and white alongside sun-drenched shots filled with joy and colour.
"Petar is an amazing artist and a really lovely guy. We are so pleased that he was able to join us on our wedding day to capture the memories and special moments from that day so beautifully. His work is incredible."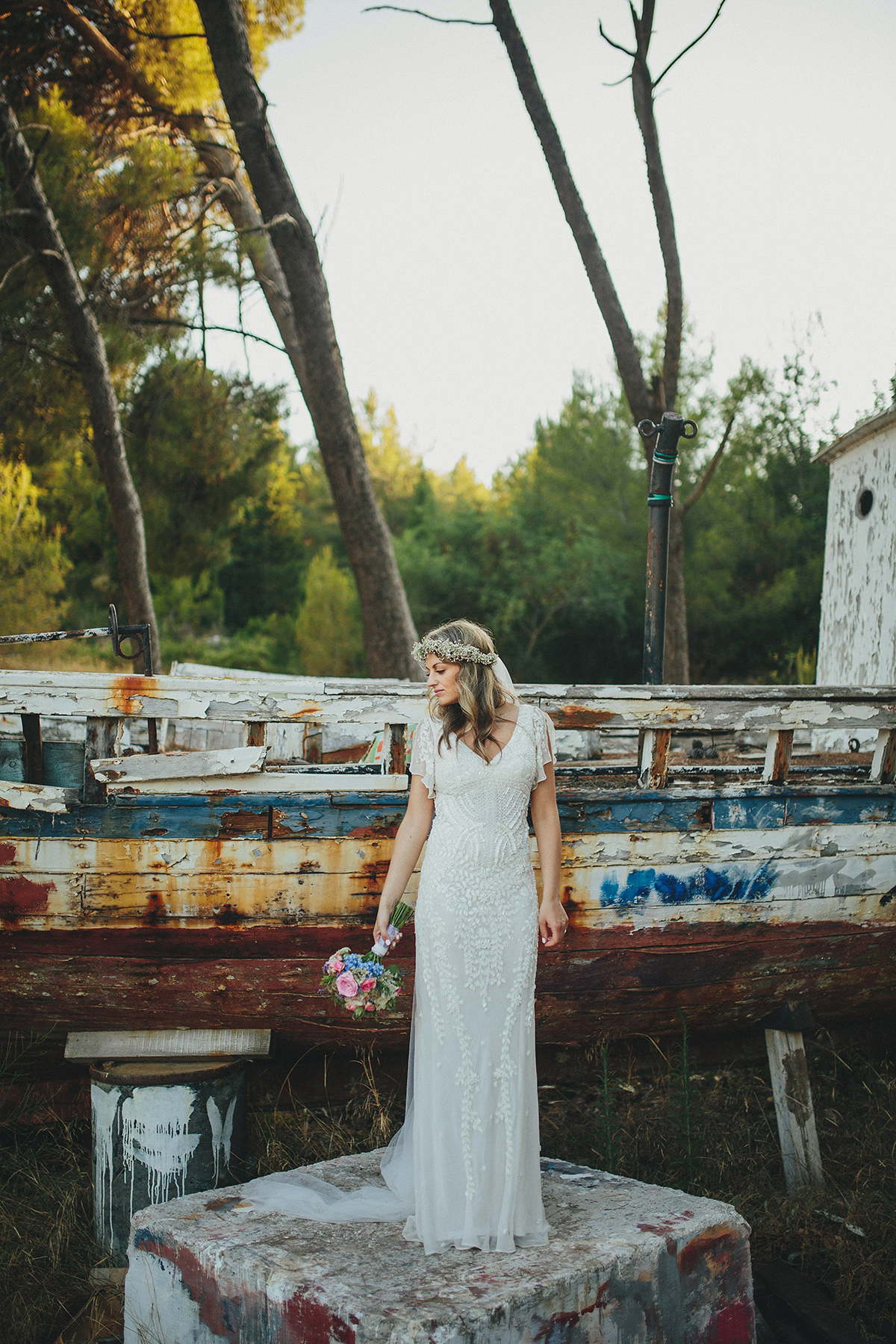 I adore the stunning simplicity of Tamara's sweeping veil – are you planning to wear one on your wedding day? Our bride wore a sentimental piece of jewellery and chose heels from Misguided to complete her look, sweetly personalised with the couple's wedding date and names by the footwear designer; a lovely perk associated with Ollie working for the company.
"I wanted to create a beachy boho look but still feel bridal, so chose to wear a flower crown. The only jewellery I wore was Ollie's mother's sapphire ring in her memory as my something borrowed, old and blue. Ollie's sister asked if I would wear the ring which meant a lot to Ollie and I, and it felt very special."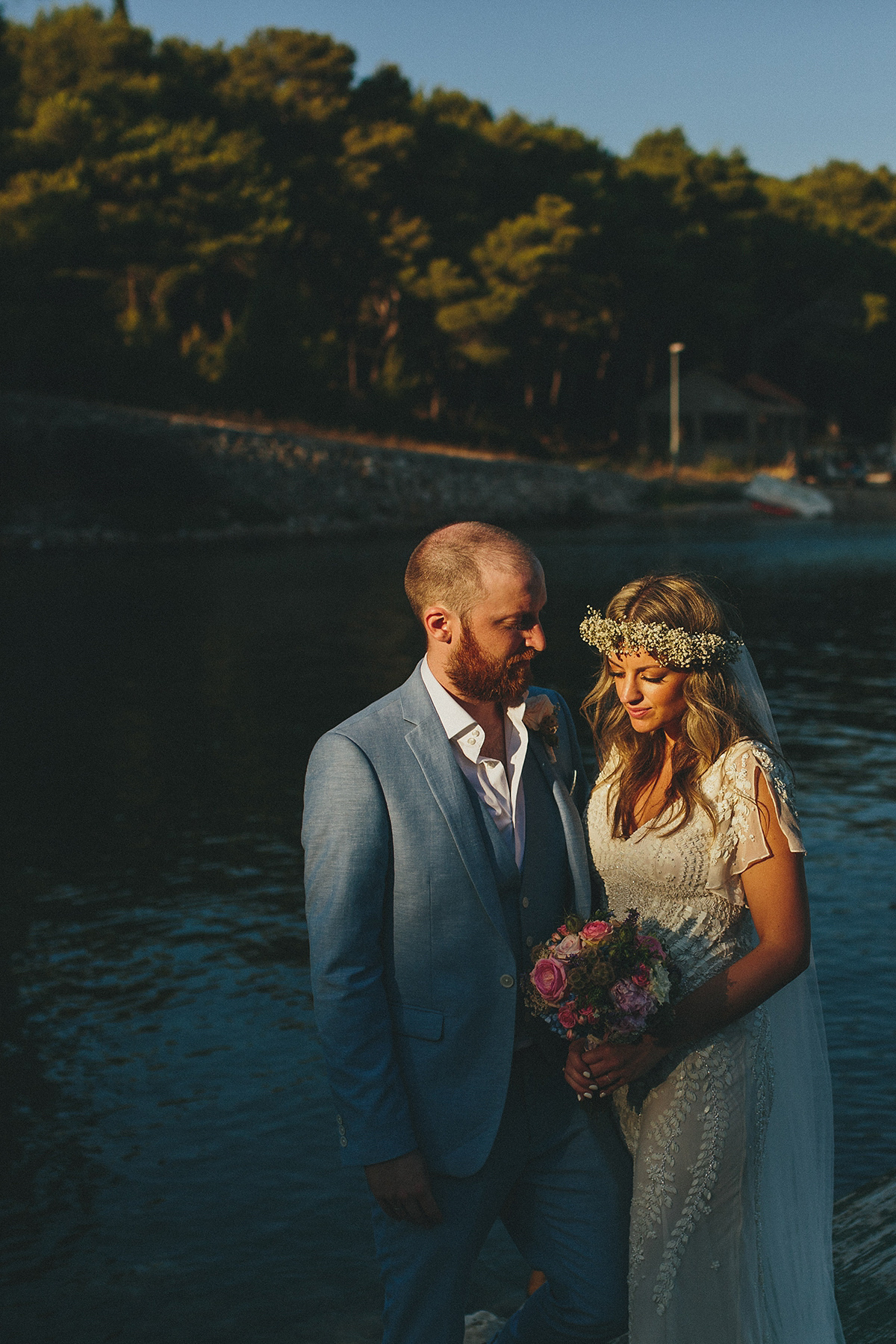 After the ceremony, Tamara and Ollie along with all of their loves, made their way to the blissfully pretty Lola, a luscious garden restaurant with scrumptious food.
"I would describe Lola garden restaurant as a little slice of paradise – with lush greenery, flowers, candles and natural lighting it was the dream setting for our wedding reception. Puri and Ivica (the owners) have great taste and one of the reasons we love the venue is that is has its own natural beauty and décor, so we only needed to think about table flowers and adding in a few personalised touches like the blackboard message with our hashtag."
"We used a white chalk pen and the framed mirrors and windows that were already at Lola for the menu and table plan, which we asked a friend to write for us. We bought wooden numbers for the tables themselves, but we also named each of the tables after places that are important to Ollie and I, including the place we met and the Thai beach where Ollie proposed."
When it came to selecting a menu, Tamara and Ollie were spoilt for choice; Lola uses local ingredients sourced from around the island, which gives their food that extra special something. The couple also decided they weren't really bothered about having a cake, opting instead to provide their lucky guests with a secret midnight snack of delicious ice-cream. Yum!
"I wanted to try to include Ollie in everything but he naturally wasn't as interested in wedding blogs as me so I just made sure I ran all my ideas by him. He did however come up with all the sweet and romantic ideas and personal touches like the personalised hand painted jam jar shot glasses we made as our favours and used as name places and for the final toast with a local spirit."
"As a guest book we decided to use a globe as Ollie and I love to travel and we met some of our guests on foreign adventures. It also meant so much to us that our guests travelled from all over the world to join us in Vis for our big day, some even from as far as Australia, so we thought a globe was the perfect place to capture the guests messages. We also collected lots of photos of our family and friends, which we then hung up on string around the dance floor as happy memories and to let our guests know how much they have all been such a special part of our lives so far."
Music plays a huge role in Tamara and Ollie's social life and in fact it's the very thing that brought them together, so it was always going to be an important part of their day. And choosing a first dance track was really challenging – a decision the couple only managed to make a week before the wedding.
"For the ceremony at the Fort we requested a guitarist that could also sing to create a romantic and carefree atmosphere. At our reception we wanted our music to appeal to everyone but also represent our own music tastes, so Ollie created a playlist that we played through the sound system.
"Ivica the owner and head chef at Lola is also a DJ, so we were really happy when he asked us if we would like him to play his own playlist as lounge music before we put Ollie's laptop on for the dancing. For our first dance we went with Happy Together by The Turtles as the lyrics were perfect and it's upbeat so I could jump around like an idiot. Ollie can dance, I cannot!"
Oh Tamara, I feel your pain! Both my fiancé and my dad, the two men I'll be dancing with at my own wedding, both know how to move while I have all the rhythm of a rusty teaspoon!
"I honestly can't say what our favourite part was, the whole day was a dream and I wouldn't have changed anything. It really was perfect."
Words of Wedded Wisdom
"Stay true to yourself and your partner. It is easy to get carried away and influenced by what is classed as 'traditional', but really you want your wedding day to represent your style and taste and who you are as a couple. Just relax, SMILE, be happy and enjoy it!"
Thank you ever so much to the lovely Tamara and Ollie for whisking us away to sunny Croatia with you today – now I really need a holiday (and an Eliza Jane Howell dress). If you can't get enough of this wonderful day, you'll find more gorgeousness through the eyes of Tamara and Ollie's lucky guests on Instagram using #becomingthehalls. And of course a massive thank you to Petar Jurica Photography for these incredibly atmospheric images.
I'm off to explore our stunning ranks of Eliza Jane Howell brides, and to make myself a massive mug of Yorkshire gold, anyone joining me?
Until next week lovelies,
Em x