Whilst Love My Dress is a predominantly UK wedding blog, we also have a significant readership from elsewhere across the globe – I love to share these weddings, the ones that have taken place outside the UK at the weekend – there's just something about the weekend that feels adventurous, ready to explore!  We've already shared Tamara and Ollie's Croatian island wedding this morning and admired Tamara's beautifully embellished Eliza Jane Howell dress, but this afternoon I'm whisking you all away to Slovenia to enjoy the nuptials of Tjaša and Jure, and one utterly divine black bridal gown.
Beautiful bride Tjaša and her beau Jure tied the knot on 11th June this year at the majestic Otocec Castle in Slovenia – a backdrop beautiful enough on it's own to create a most beguiling set of images, but it was that black lace and tulle gown by Alexandra Grecco that truly stole the show.
"I knew I wanted to be in black too, since it is my absolute favourite colour and I feel best in it. Everything had to be not only something special, but it had to represent us and our aesthetic values, which are quite minimalistic and non-kitschy. We love animals and one of our favourite ones is a squirrel, so the whole stationery and decor was woodsy."
Photography by That Happy Day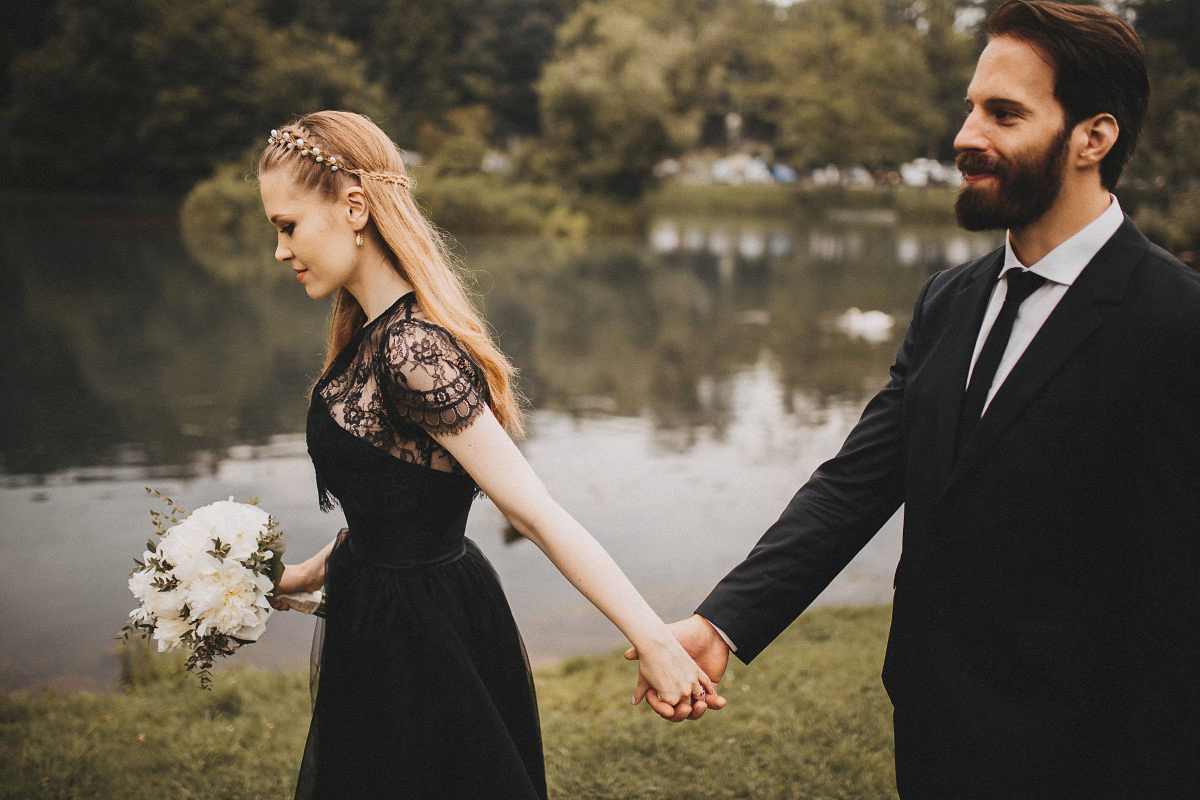 "We tried to keep our wedding natural, but also very elegant and sophisticated. We also strived for an intimate and small wedding, with only 30 guests – just immediate family and best friends. This included our sweet dog, who is now unfortunately no longer with us."
"We met online in spring 2010 and talked on Facebook for about three weeks before meeting in person. We became a couple immediately after the first date and he says he knew immediately that I was the right girl for him and that some day, I would become his wife. It didn't take long for me to realise that he too was the love of my life and everything I could ask for in a man"
"Jure took me on a trip in the middle of August 2015. It was a surprise trip, like so many others that summer, so I didn't have a clue about his plans. We were strolling through some of the most beautiful parts of our country and ended up in an excellent restaurant Casa Franko in Soca Valley.
I can safely say it was by far the best meal of my life. After our meal, Jure seemed to become really nervous and grabbed my hand – he said some words I can't even remember, and then popped the question!"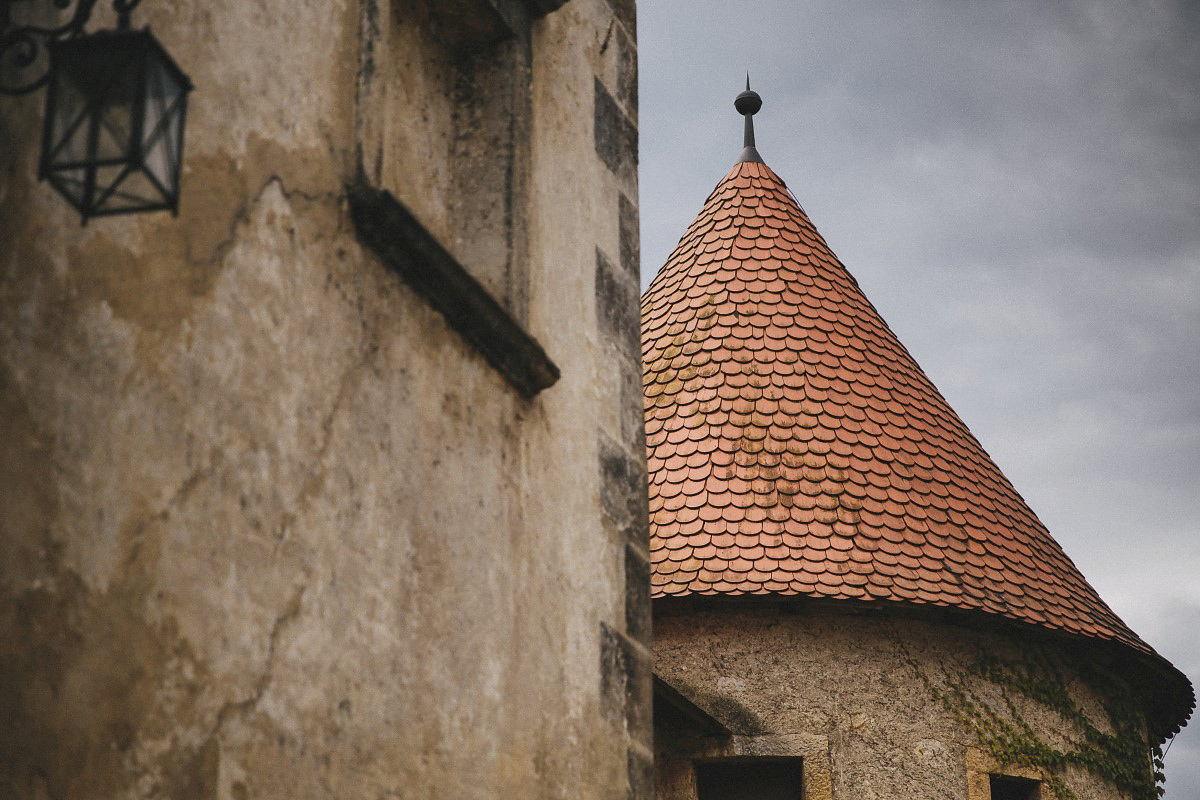 "I had goosebumps all over my body like never before and couldn't stop smiling. It even took me a while before I said yes –  that's how shocked and overwhelmed I was. It was really a perfect day, like a dream and I was so excited."
"We were engaged for a little less than 10 months before our wedding day."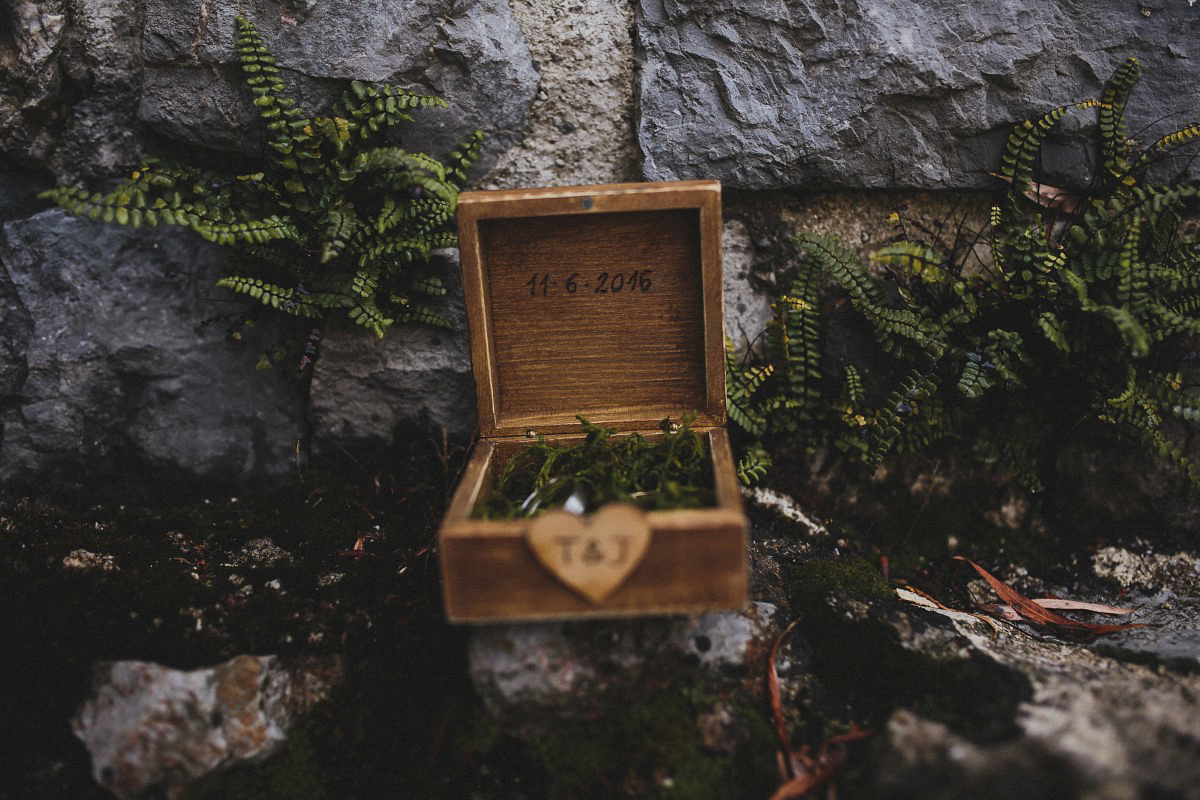 "Rings were important to us and actually, we both had an engagement ring, because he wanted to wear one too. Mine is rose gold vermeil with white diamonds in a halo shape from Monica Vinader and his is from Etsy. My wedding ring is a white diamond rose gold eternity ring from Purely Diamonds and he has a wider matte white gold wedding ring from Elma Jewellery London.
I possibly have a bit of a  jewellery obsession – I put lots of research into our rings, and it took me quite a while to find the perfect rings, but I enjoyed the experience very much."
"The castle is located on a small island in the middle of the Krka river. We both love to spend time being outdoors and within nature, so wanted an outdoor ceremony. We chose Otocec due to its magical setting, magnificent nature and majestic architectural surrounding. It was raining most of the day, so our ceremony had to be moved inside, but in retrospect, it didn't matter.
"I wore a custom made Alexandra Grecco dress in delicate black lace. I randomly stumbled across this dress on Instagram even before the engagement, fell crazily in love and couldn't stop thinking about it. When we got engaged, I ordered the dress immediately. I just couldn't see another dress that would come even close to it. It was just the right mix of unusual, elegant, simple, delicate (tulle and French lace – beautiful!) and sophisticated."
"It was important for me to have a dress that I would wear again after the wedding too, and since the dress actually comes in two parts (a tea length strapless dress and a cropped top) it's very practical and comfortable to wear as well."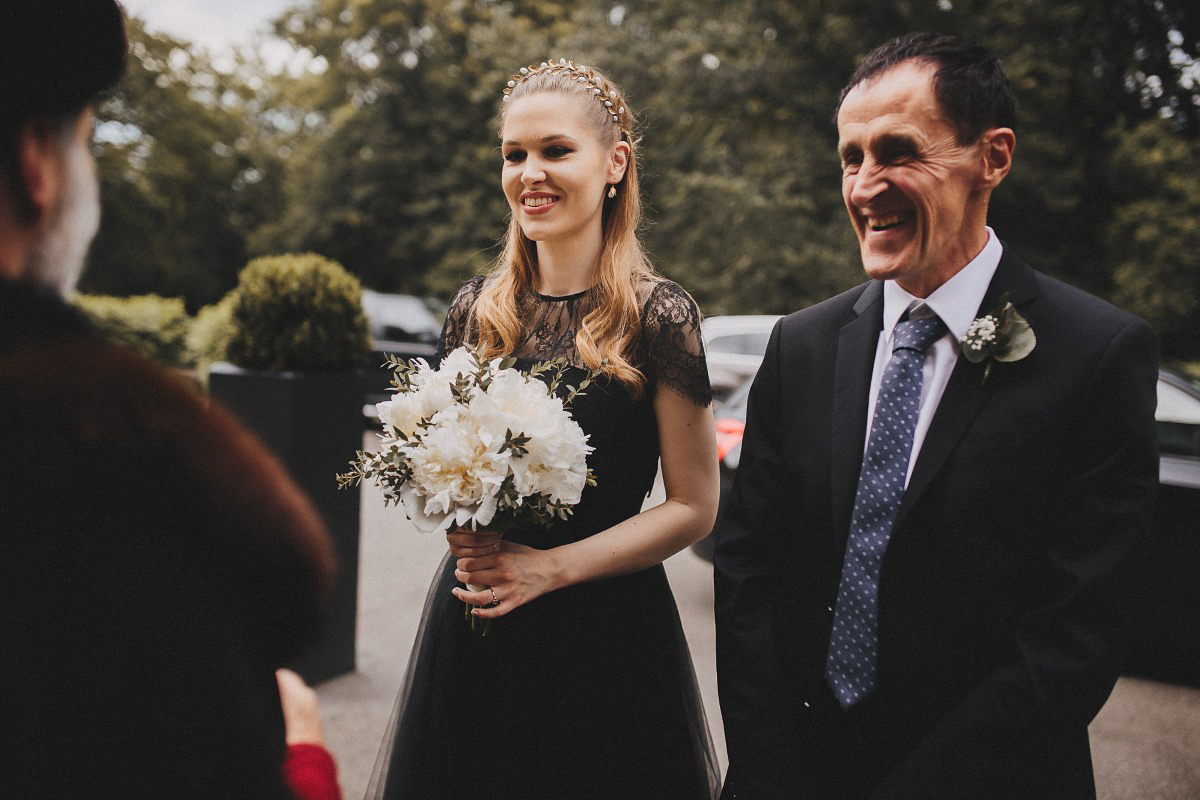 "My father very proudly accompanied me down the aisle to meet Jure, to the sound of 'River Flows In You' by Yiruma."
"We didn't tailor our own vows for our ceremony, since we thought it would be a little too personal and difficult to read them in front of others, but our ceremony officiants made both the vows and readings very meaningful and emotional."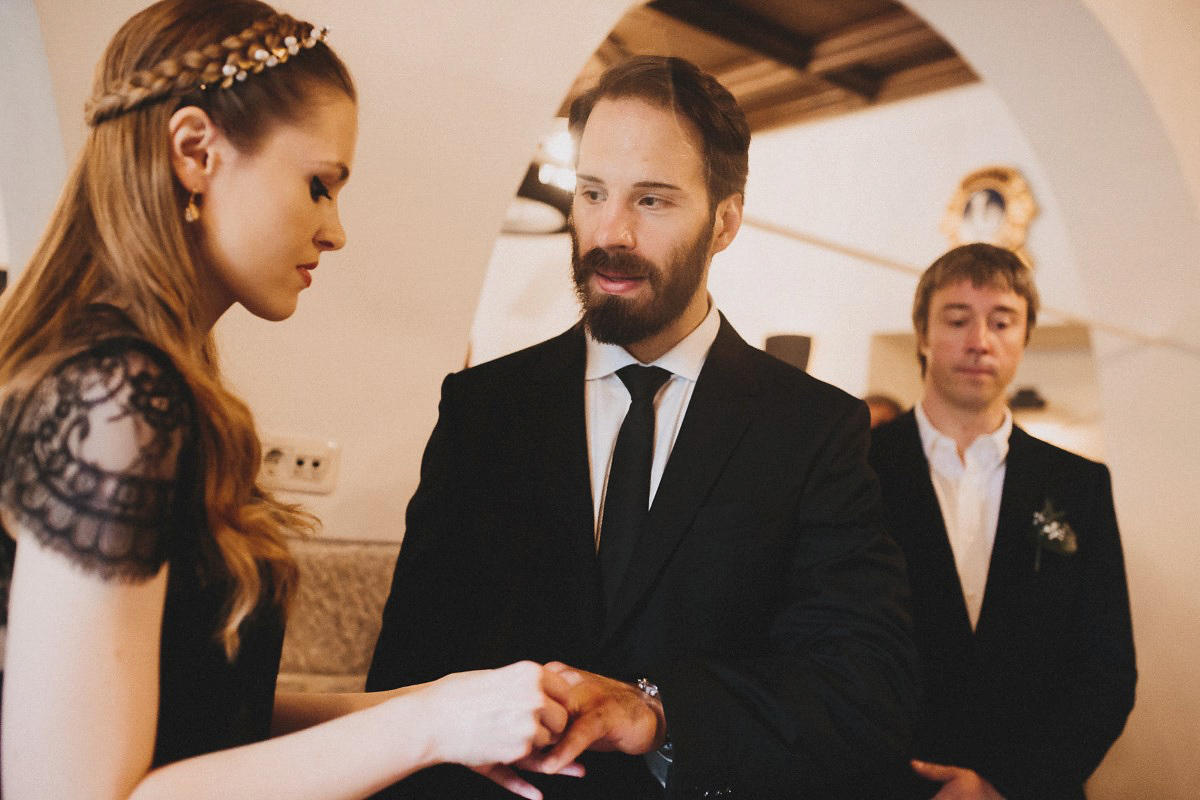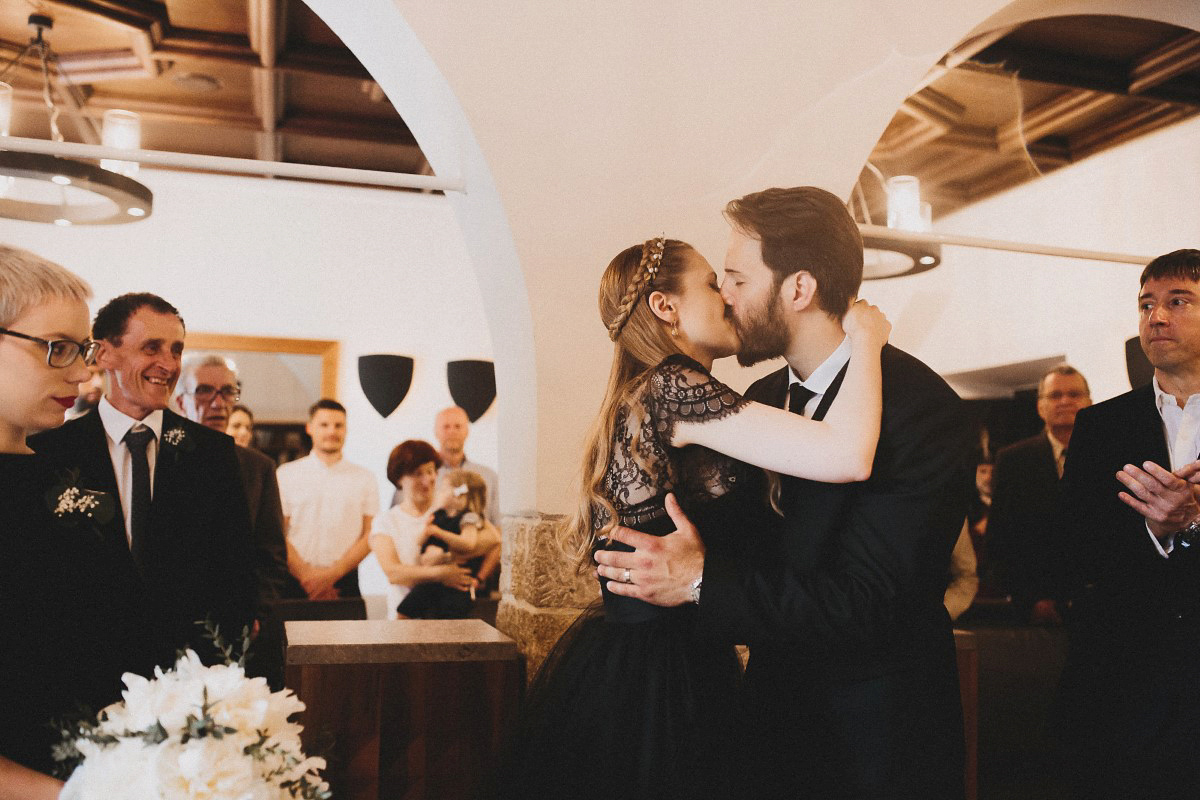 "I wore a beautiful gold plated crown with leaves and white freshwater pearls from Flower Rainbow on Etsy."
"I have a florist in my family so we came up with an all-white minimalistic bridal bouquet and centrepieces with lots of greenery. I wanted for my bouquet flowers to be white peonies, because they are my absolute favourite and for greenery we chose gorgeous eucalyptus."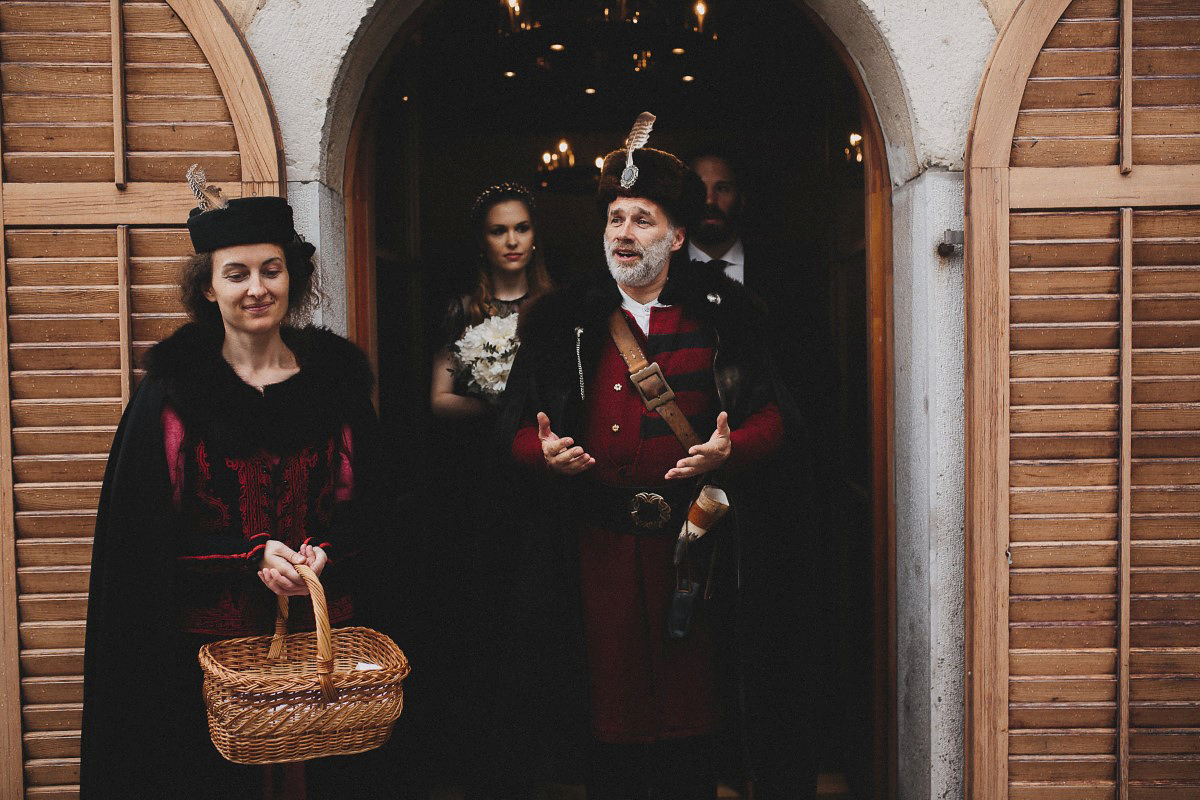 "Our photographers were That Happy Day. These two extremely talented guys just rock and we couldn't be more satisfied with the way our photos turned out. We are both incredibly camera-shy, but they brought the best out of us."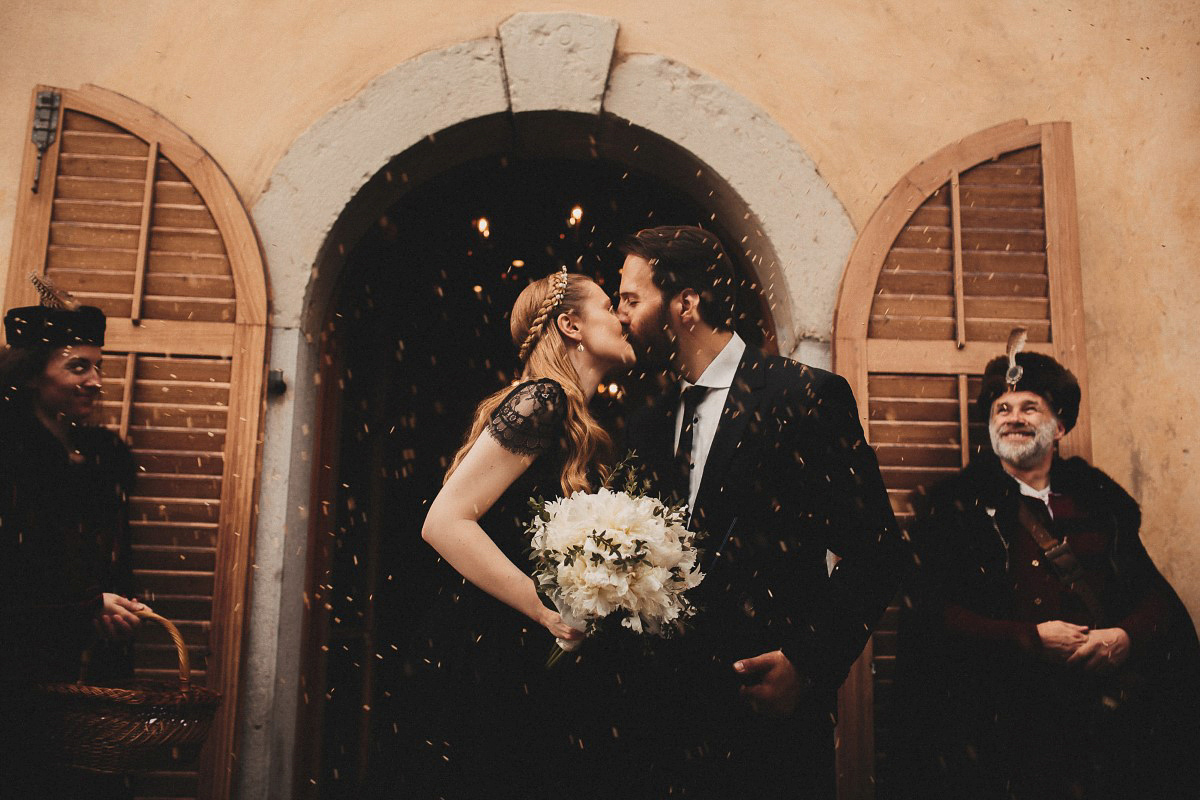 "We weren't even aware they were taking our photographs for most of the time. Nothing beats spontaneous wedding photography that shows joy, that just-married bliss and all the emotions of the newlyweds and the guests."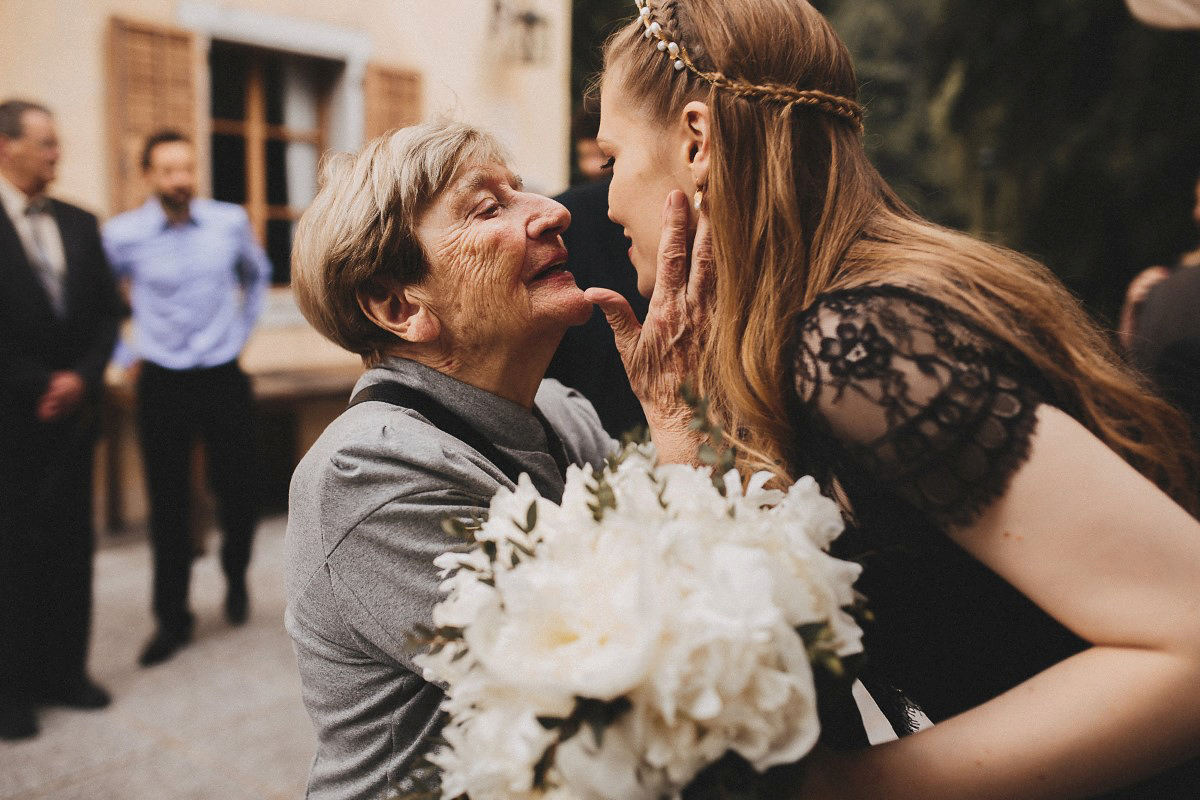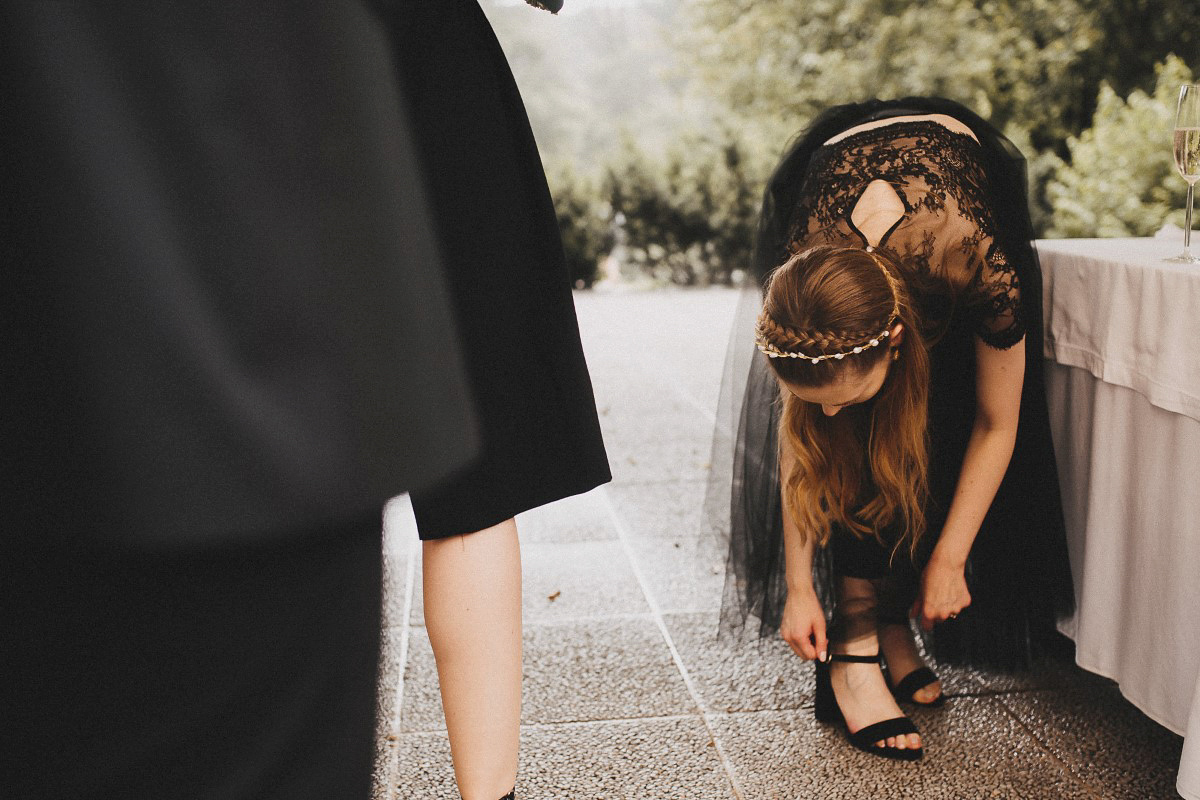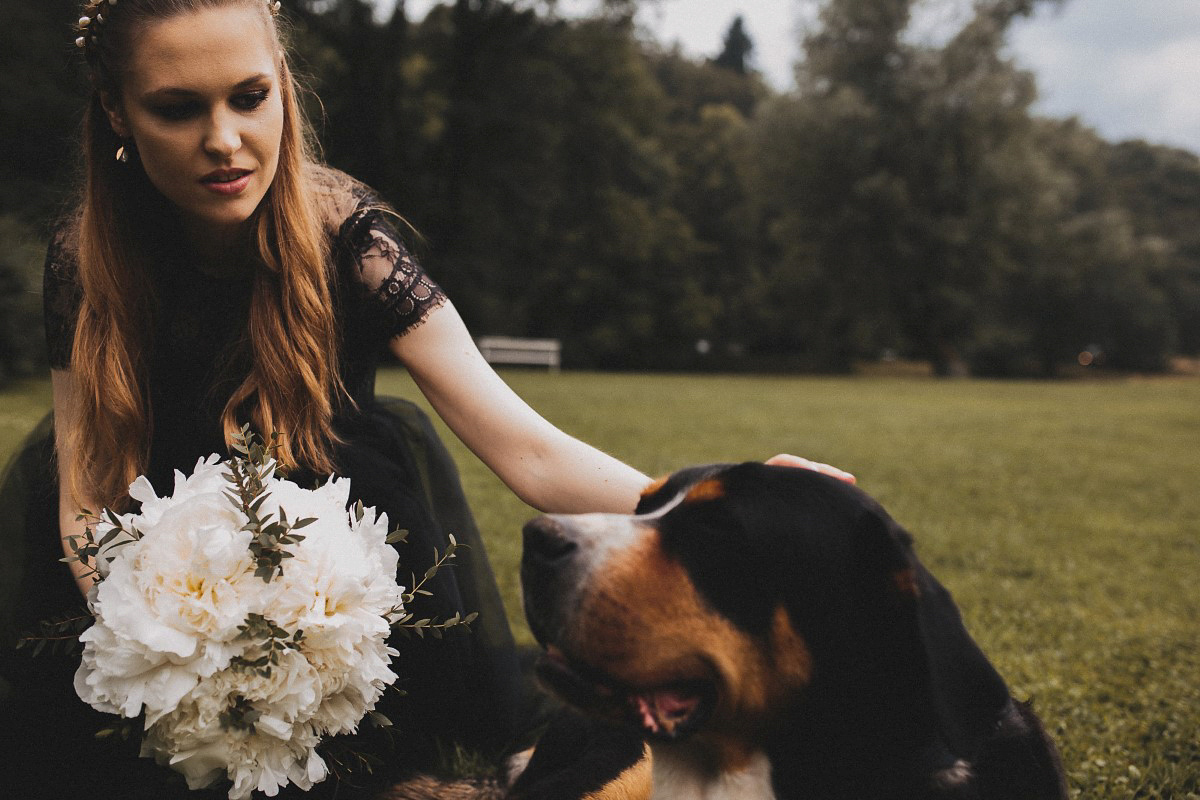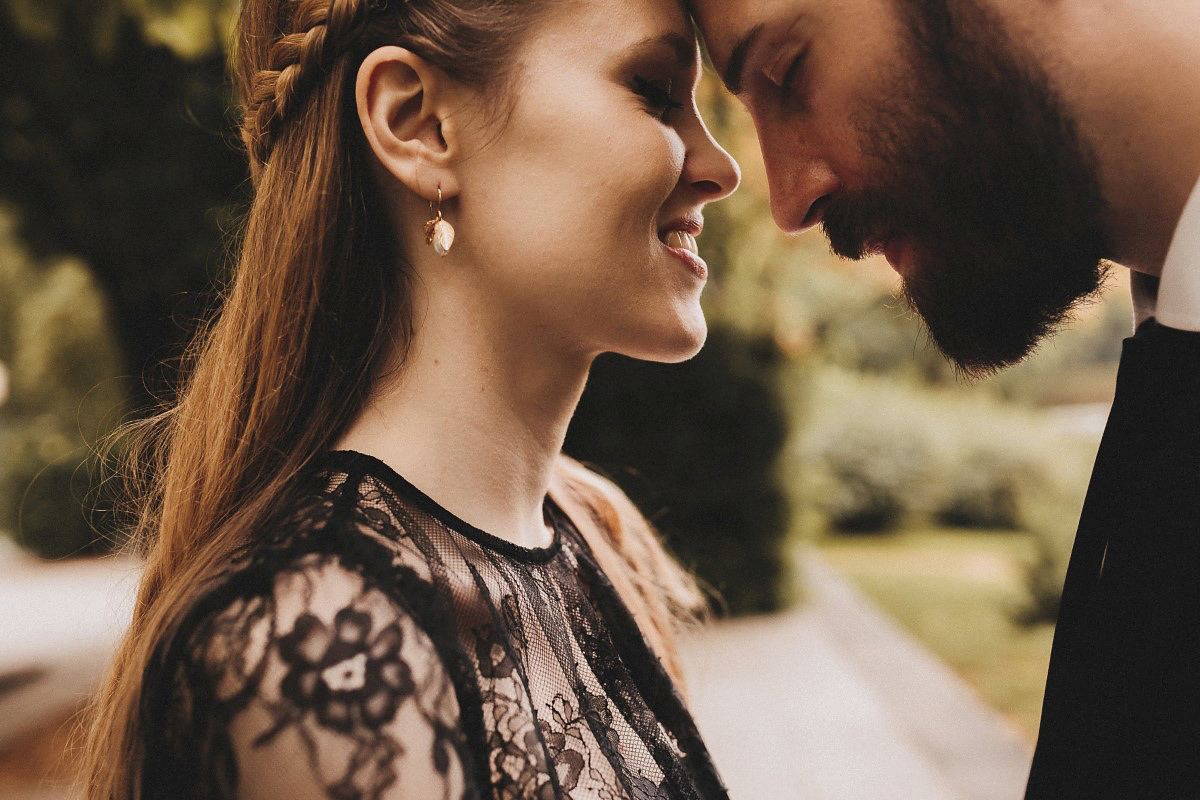 "I wore Chanel Chance Eau FraÎche perfume on the day – it's freshness reminds me of early summer, when the wedding took place. It was also my 'something borrowed'."
"I also wore a pair of custom made earrings that I designed myself to match my crown – they were created by the same designer who created my headpiece – Flower Rainbow on Etsy."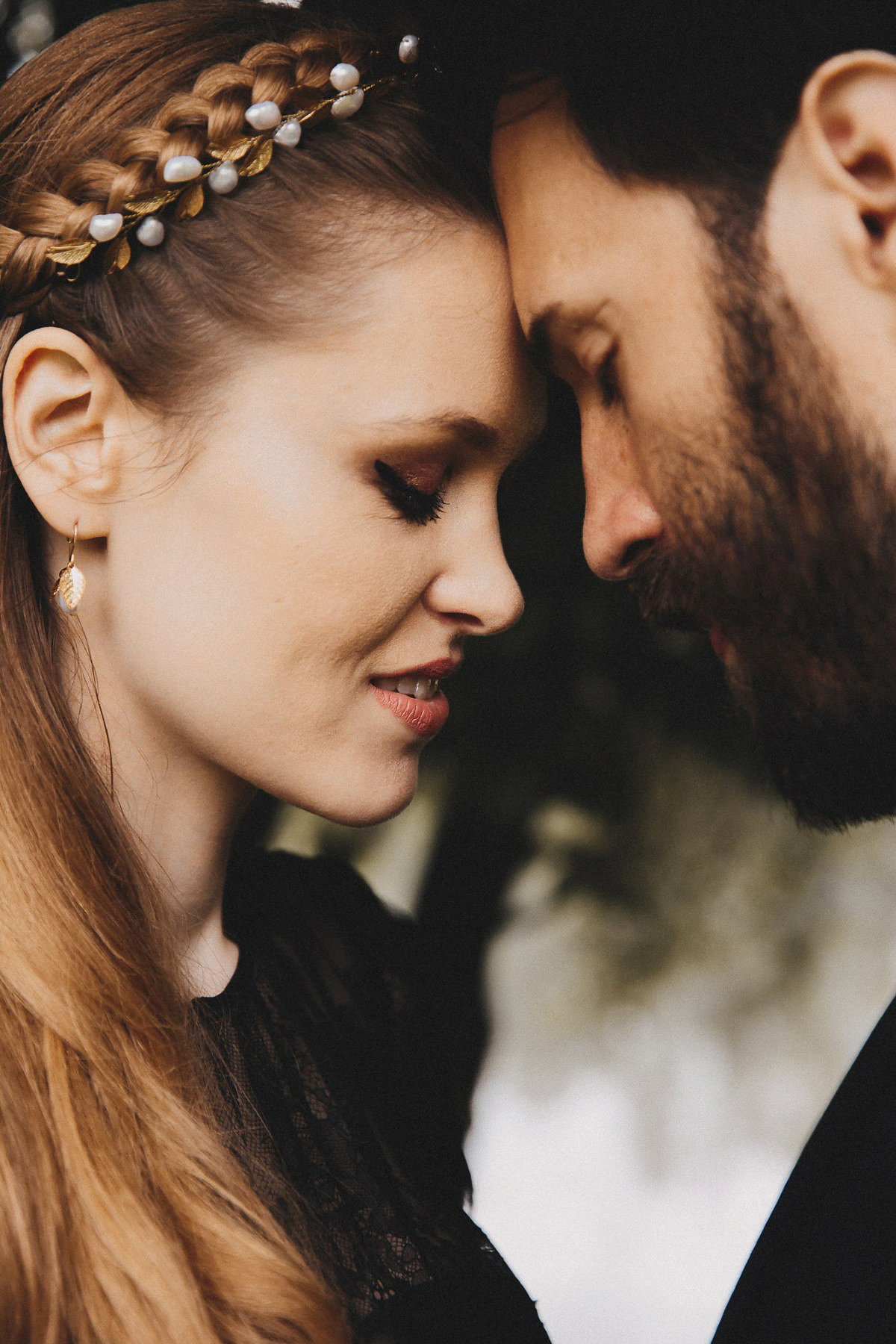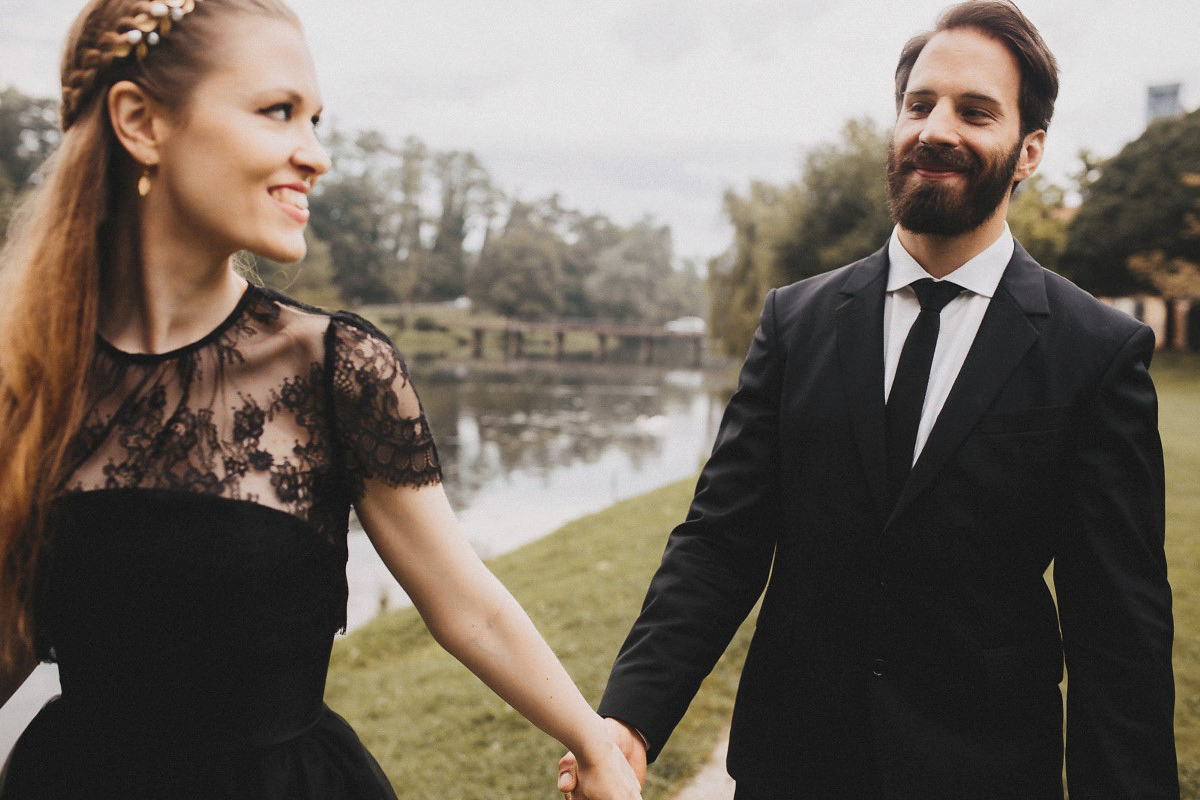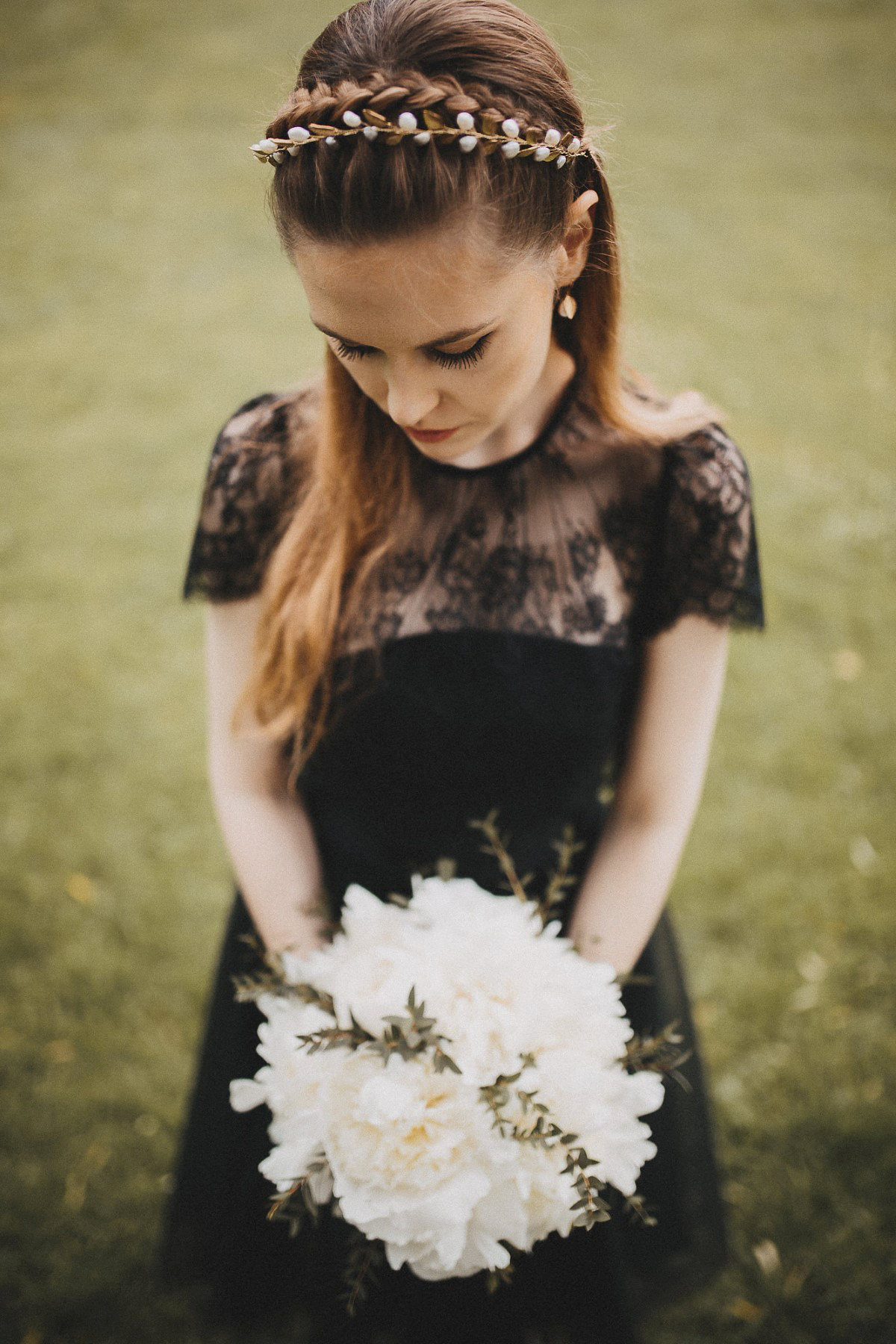 "We had a reception at a private vineyard cottage near the ceremony venue. They provided food and drinks for us."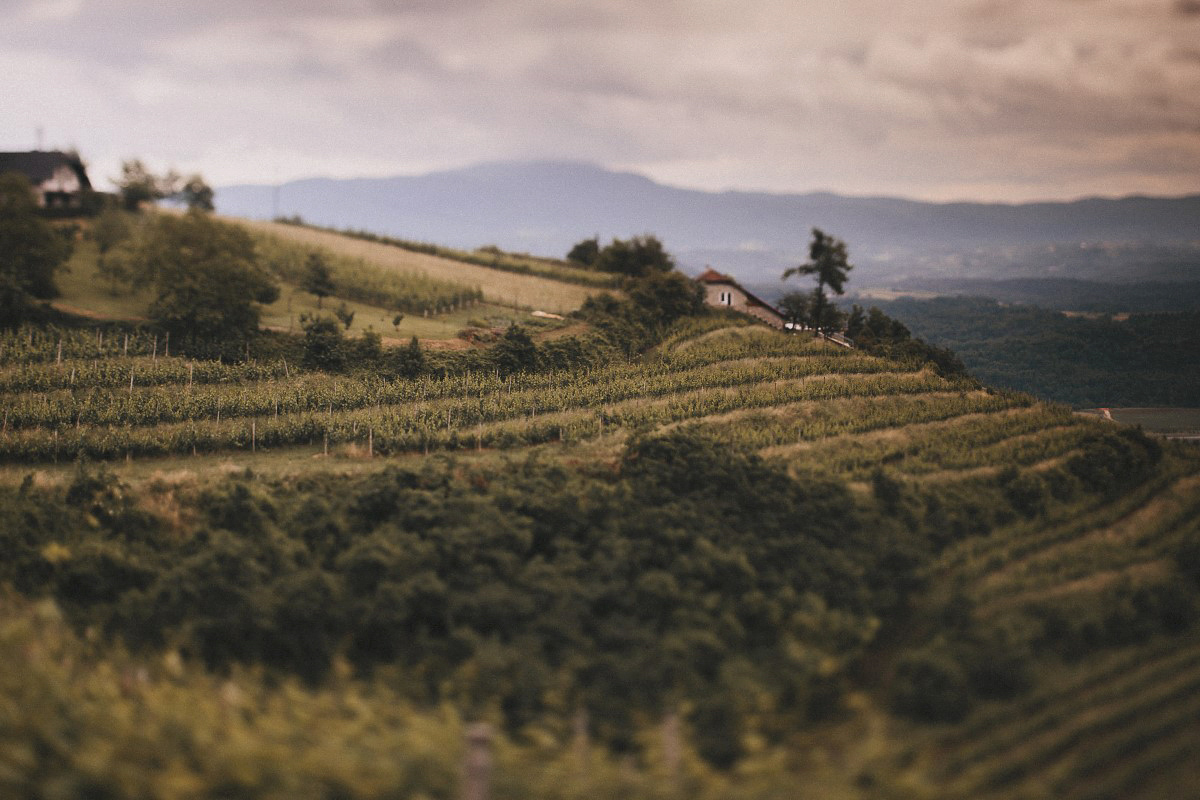 "Our favours were miniature bottles of chilli sauce that my father made (he has his own brand, Fotrovi Ciliji) – it contained edible gold hearts!  I designed the packaging for the bottles too. "
"Along with the flowers we had lots of black lanterns with candles and a wooden Mr & Mrs sign on our table. The table setting at the reception was really classy, all white with black details, silver trays and ivory organza."
"We left the caterers to do their best and were pleasantly surprised by the result."
"As a graphic designer and illustrator I designed all our wedding stationery by myself. It included gold offset printing, watercolour woodsy illustrations and also my calligraphy on gold envelopes. It was a pleasure doing something so important for us by myself and I wanted for it to look nothing short of perfect."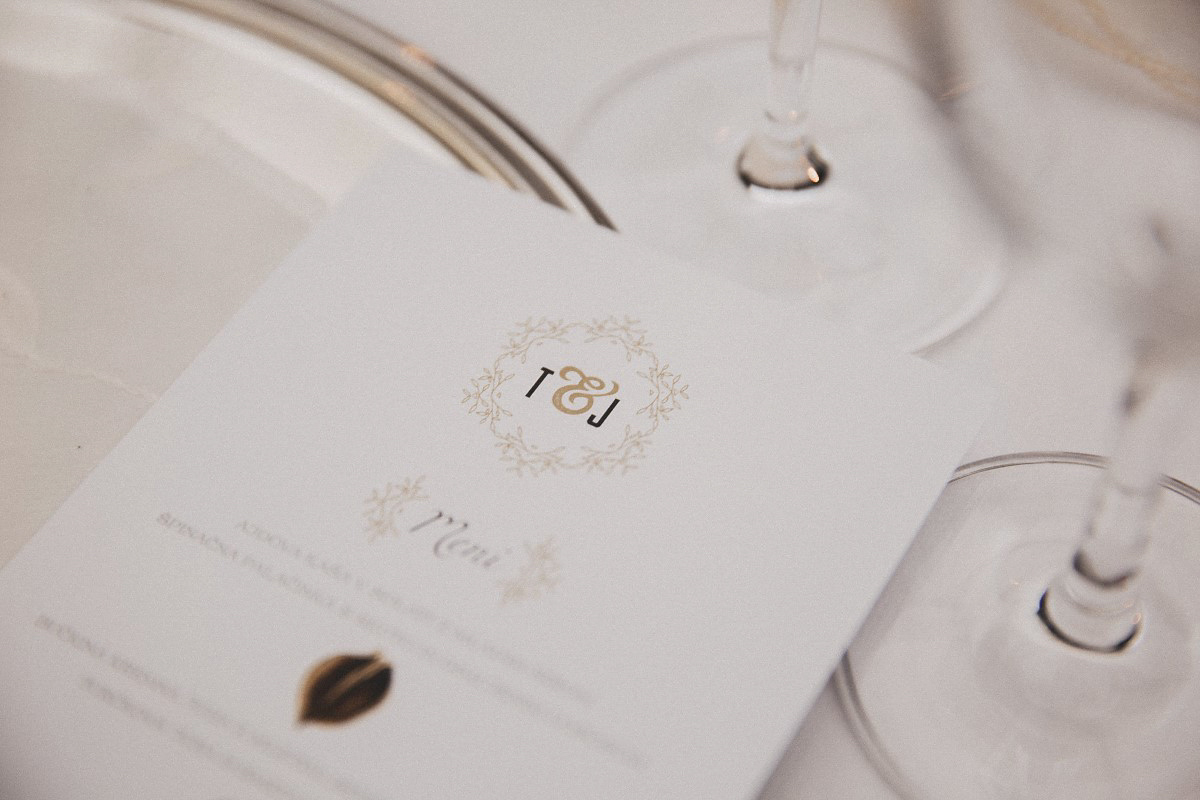 "Our reception table centrepieces were really original and reminded of terrariums, more than classic bouquets. Along with previously mentioned flowers there were baby's breath and galax leaves included and for the boutonnieres we chose the same. We believe less is more, but it has to be significant and special."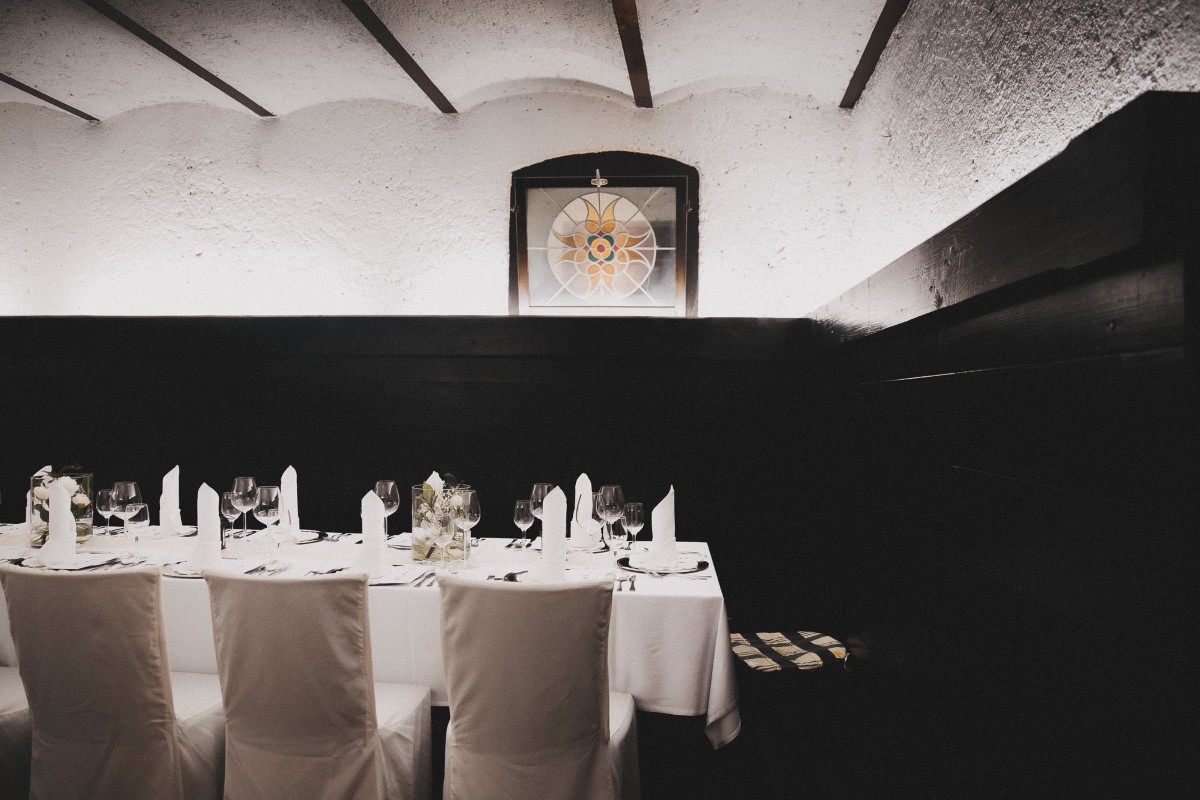 "Our cake was supplied via Pcakes – an amazing baker and artisan. She came up with a really unique creation based on our exact wishes. The bottom tier was layered black and the top one was simply white, decorated in style of our whole wedding – with greenery, gold leaves and hazelnuts to represent the woodsy theme. There were hazelnuts also in the cake, along with forest fruits, dark chocolate mousse and white chocolate ganache. Delicious!"
"Our first dance was to 'Never Tear Us Apart' by INXS, because of its beautiful and meaningful lyrics. We had rock music during the whole reception, our favourite."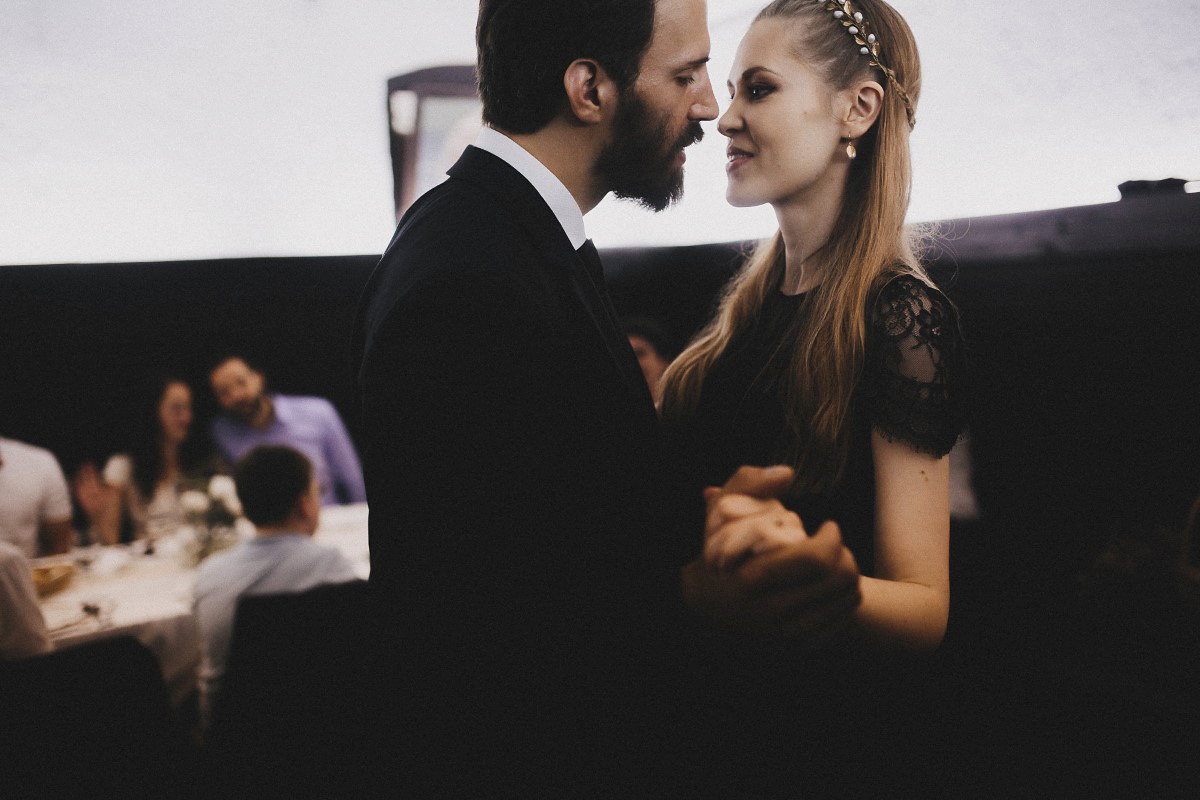 "My favourite part of the day was our 'first look' – when my husband to be first saw me walking down the isle and couldn't hide his surprised reaction and happy tears. My second favourite moment of the day was his emotional speech after our first dance. It was out of this world beautiful and at this point I burst into tears. I will never forget how it made me feel."
Words of Wedded Wisdom
"Despite trying to accommodate your guests wishes on this happy occasion, stay true to yourself and create the day as you envisioned it – this is something you will all appreciate in the end. Don't be afraid to be different – forget about old customs and traditions – make new ones instead! Your day is completely yours, so set your priorities and don't skimp on things that are important to you.
To avoid exhaustion, don't take on too many DIY projects since you'll lose more in time and patience than save on money. On the day before the wedding, don't worry too much about the details as even with the occasional hiccup it will still be the best day of your life.
Finally, Love My Dress is by far my favourite wedding blog, because it shows in detail how other couples handled everything. It served me as an inspiration for what I want or do not want to include into our wedding day."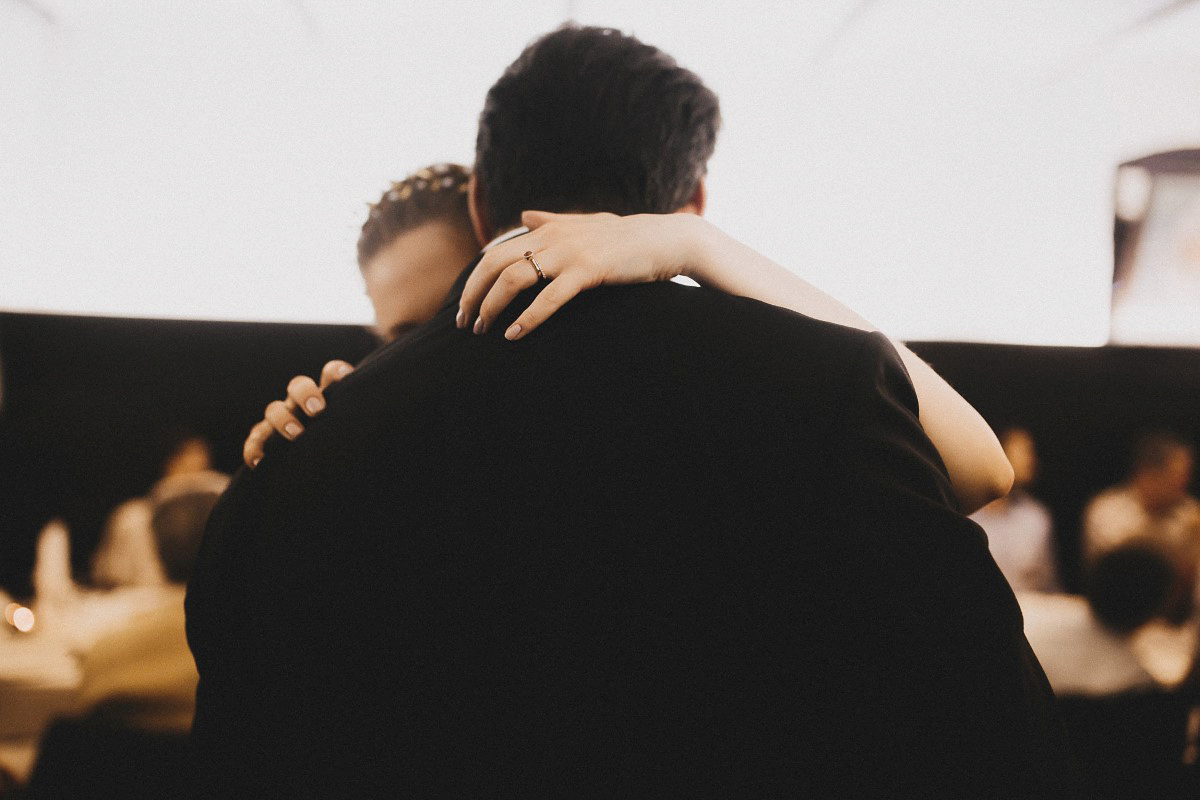 Oh Tjaša, thank you so much for your very kind words, I'm so delighted that you found inspiration through our beloved wedding blog pages and I'm honoured today to be sharing your exceptionally beautiful wedding – thank you so much for entrusting us to do so.
Readers, if you are keen to follow in Tjaša and Jure's footsteps and create a modern, romantic wedding day that doesn't adhere to wedding tradition, you might want to take a look through our 'coloured wedding dress' or Alternative Weddings categories.
Have a lovely Saturday all,
Love Annabel x