This time of year is a super creative charged time for those working in bridal fashion. New York bridal week (happening now) brings the best in bridal fashion to the Big Apple to launch their new 2017 collections, the gowns that will be gracing the windows of your favourite bridal boutiques in the coming months. Large numbers of designers and press flock to the city to attend the various runway shows and exhibition fairs and parties hosted by the likes of Martha Stewart. New York is where it's at in wedding world right now and despite deciding not to attend this year (largely because we've got some really big blog projects going on), I am so excited by all the beautiful PR imagery filling my inbox right now.
There's one designer, however, that I was prepared to put my Saturday on pause for to hop on my laptop and bring you these images to you this very evening, and that is Katharine Polk. Katharine is the lead lady over at Houghton – I've met her twice now, in Barcelona last year and London this year – the latter meeting I blogged about here.
Katharine founded the ridiculously cool Houghton, a brand I would describe as 'fearless fashion for the fearless bride'. This is not a brand of bridal wear for tradition loving gals. These are gowns designed for modern women who feel sexy in their own skin, comfortable with the way they look and who want to own their confidence and looks on their wedding day through statement making fashion.
To promote her new collection, Katharine enlisted 10 inspiring, real women to star in a documentary style fashion film, featuring the Fall/Winter 2017 collection.  This film, entitled 'The Houghton Girl', and the new collection, was presented via a private screening in West Chelsea with a special music performance by Grammy-nominated singer-songwriter Morgan Kibby during New York Bridal Fashion Week this week.
Two things that struck me instantly about this film and these images; (1) they are being modelled by beautiful women who don't conform to the stereotypically media driven 'bridal fashion look', and (2) they oooooooooooze sexiness and confidence. I truly, absolutely bloody LOVE them.
Houghton NYC's Fall/Winter 2017 'Not Your Baby' collection was inspired by successful, sexy and strong women. In the same spirit, Katharine chose to launch this new collection with a big focus on women.
"I invited nine real Houghton Girls to participate in the project and designed looks with each individual woman's personal style in mind to tell their story in the film."
Polk, who appears in the film herself, was inspired to design for real women in her collection for the first time after writing a personal essay for HarpersBazaar.com chronicling her own nine-year battle with an eating disorder.
After doing so many traditional runway shows, I felt compelled to create a more personal and inspirational project and add meaning to what I was designing. These women epitomise what a Houghton Girl is. They are beautiful, loyal, loving, tough, sensitive and most of all brave. I am proud to call them family and have them be a part of this journey with me. I believe that we can help others by drawing back the curtain and sharing our stories. The film follows the women as they explore how they cope with the unrealistic standards and pressures that so many women face in their daily lives while modelling looks from the collection.
The cast also includes Jenné Lombardo, co-founder of Milk MADE and founder of The Terminal Presents, model Chloe Norgaard, Lulu Frost designer Lisa Salzer, singer-songwriter Morgan Kibby, Taste the Style's Cyndi Ramirez, fashion consultant Kelly Francis, and three trainers from the elite downtown New York City gym 'DogPound', including Dara Hart, Keyla Castillo and Bianca Vesco.
Continuing Houghton's commitment to providing looks for every day to wedding day, Polk has christened the Fall/Winter 2017 collection the 'Not Your Baby' Collection, which features flowing Chantilly lace slip dresses, off-the-shoulder silk gowns, high-low pastel tulle skirt and embroidered sequin bandeau sets as well as cashmere wide leg suits.
The collection also features looks for the adventurous bride, including a selection of dusty rose, lilac and mint green statement pieces, custom, stretch crushed velvet with curled sequins, fur, suede and leather. Highlights include intarsia slogan sweaters, a colour blocked Mongolian fur motorcycle jacket, periwinkle suede jogging pants, hand painted logo moto jackets and a blush and gold jacquard, gypsy-inspired flowing gown.
"I collaborated with Jessica Gatlyn of Boho Ink on custom calligraphy logos and artwork, which can be seen on limited edition, knit sweaters, MC jackets and individualised embroidered baseball jackets."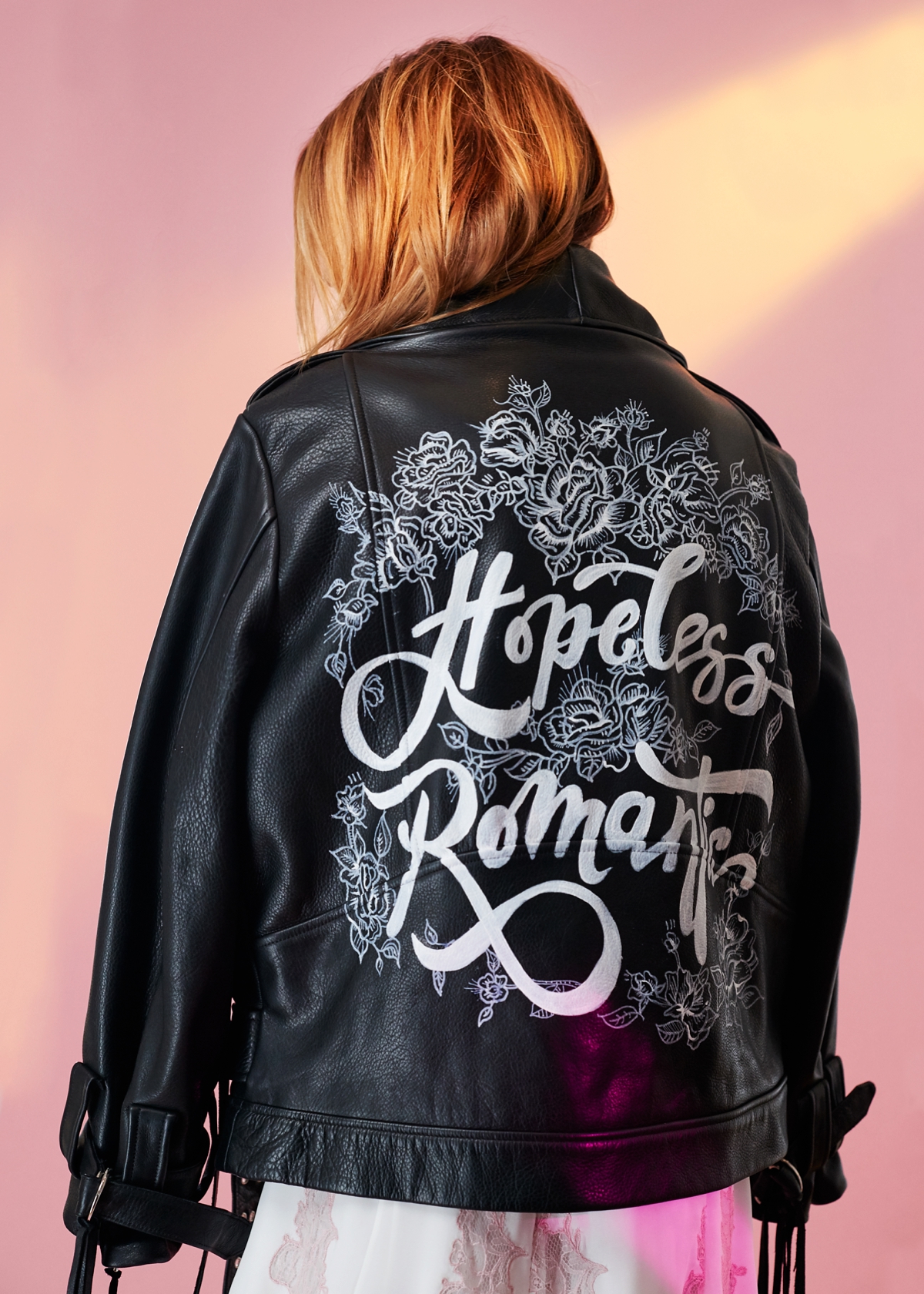 "Also seen in the film is the Houghton x Lulu Frost custom capsule collection of silver, rhinestone and satin chokers and earrings."
Designer Katharine Polk below modelling one of her own cheeky designs…
After introducing a 'Buy Now, Wear Now' collection at Houghton's April bridal presentation, certain pieces from the Fall/Winter 2017 collection, including the limited edition 'Not Your Baby' silk baseball jacket in lilac and rosé, will be available immediately through Houghton's e-commerce and at Houghton's West Chelsea Atelier.
UK brides looking for a Houghton stockist should contact Miss Bush Bridal in Surrey – full contact details below.
The wedding industry needs designers like Katharine Polk – brilliant, ballsy, clever, creative, artistic, altruistic women. Women who love women. Women prepared to shake things up and challenge the status quo. I salute you Katharine for a superb, ground breaking, boundary pushing new collection – I'm only sad I couldn't attend this show this year.  I wish you every success with it. All hail Houghton NYC!
To find out more, visit the Houghton website, where you will find all social media links.
Love Annabel x
Credits & Thanks
'The Houghton Girl', directed by Garen Barsegian
Produced by Whooden
Executive Produced by Katharine Polk & Houghton Event Production: Modatech
Hair: Linh Nguyen for Cutler & Redken
Makeup: Keri Blair for MAC
Music: Morgan Kibby aka White Sea
Special Thanks to The Garret West & Albright Fashion Library