Hello again loves – have you had a moment to enjoy this morning's wedding yet? This afternoon's beautiful and romantic affair is a Love My Dress wedding through and through and I'm so delighted we have the pleasure today of sharing it on our wedding blog pages. Lucy, a Community Development Co-ordinator, married Matthew, a Marine Manager on 10th September with a charming and very special ceremony at St Johns Church in the Vale, followed by a reception at Lingholm Estate in Portinscale, Keswick, The Lake District.
The coupled turned to talented photographer Lottie Elizabeth to document their day and Lucy wore a gown by one of our favourite British designers, the wonderful Naomi Neoh – I encourage you to explore Naomi's page in our new 'Style Files' (click the image below).
"I got my Naomi Neoh dress from Evelyn Bridal in Holmfirth, near where I grew up. Anna from the shop was absolutely amazing and Margaret the steamstress worked her magic. It was a sample dress so it needed altering to fit. Naomi Neoh dresses are so feminine but not fussy. The fabric oozed elegance and it just felt so comfortable."
Photography by Lottie Elizabeth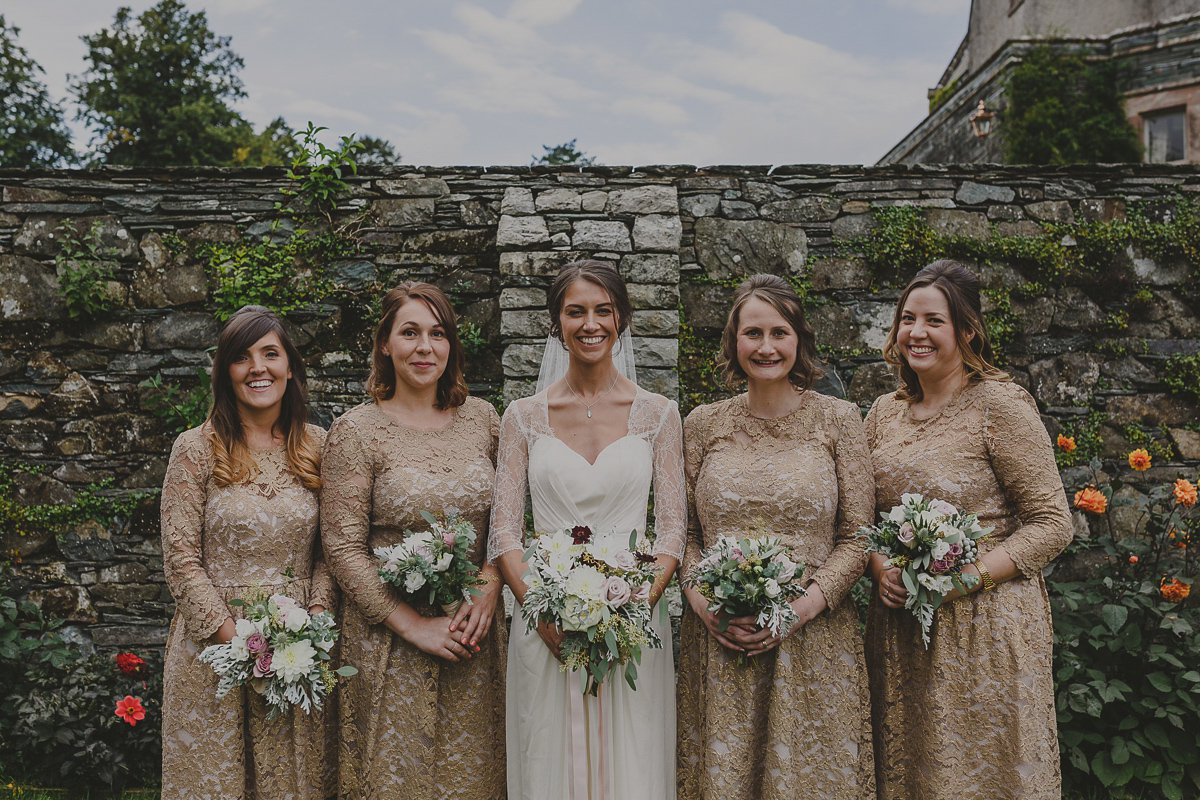 "Matthew is from the Lake District and we knew we wanted to get married in a church. St Johns is in Matt's old parish and I fell in love with it when he showed it to me, it was so gorgeous and hidden away within the fells.""I didn't really have a style for the big day, we knew what I liked and what I didn't like. We are really in to beautiful old property, knew we had a great florist and love gin so I guess those were our inspirations."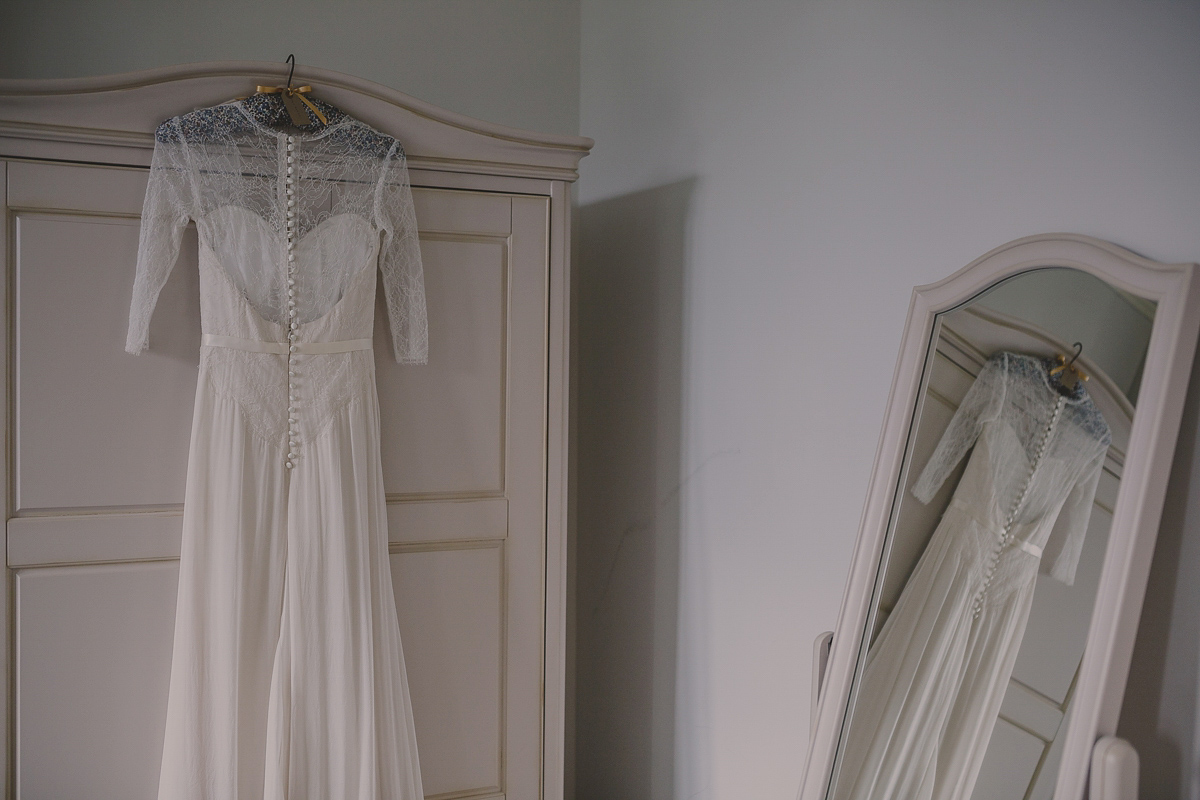 "My hair piece was my something borrowed, my Sister in Law gave it me as a brooch and Matthew turned it into a hair piece.
I completely forgot to pack my perfume, one of my very kind bridesmaid sprayed the old classic, 'Vera Wang' 'Princess'."
"My shoes were 'Agnes' by Rachel Simpson. They were so cute and comfy. While I had the pictures in the field across from the church I changed into some Joules Wellibobs to save the gorgeous Agnes shoes."
Readers – these beautiful shoes are currently in the sale over on the Rachel Simpson website – save yourself £55 and order today!
"My earrings were from Cawthorne Antiques Centre in Yorkshire, they were very art deco. My necklace was a last minute purchase – I actually bought it off the internet on the Thursday before the wedding, again it was a 1920's style."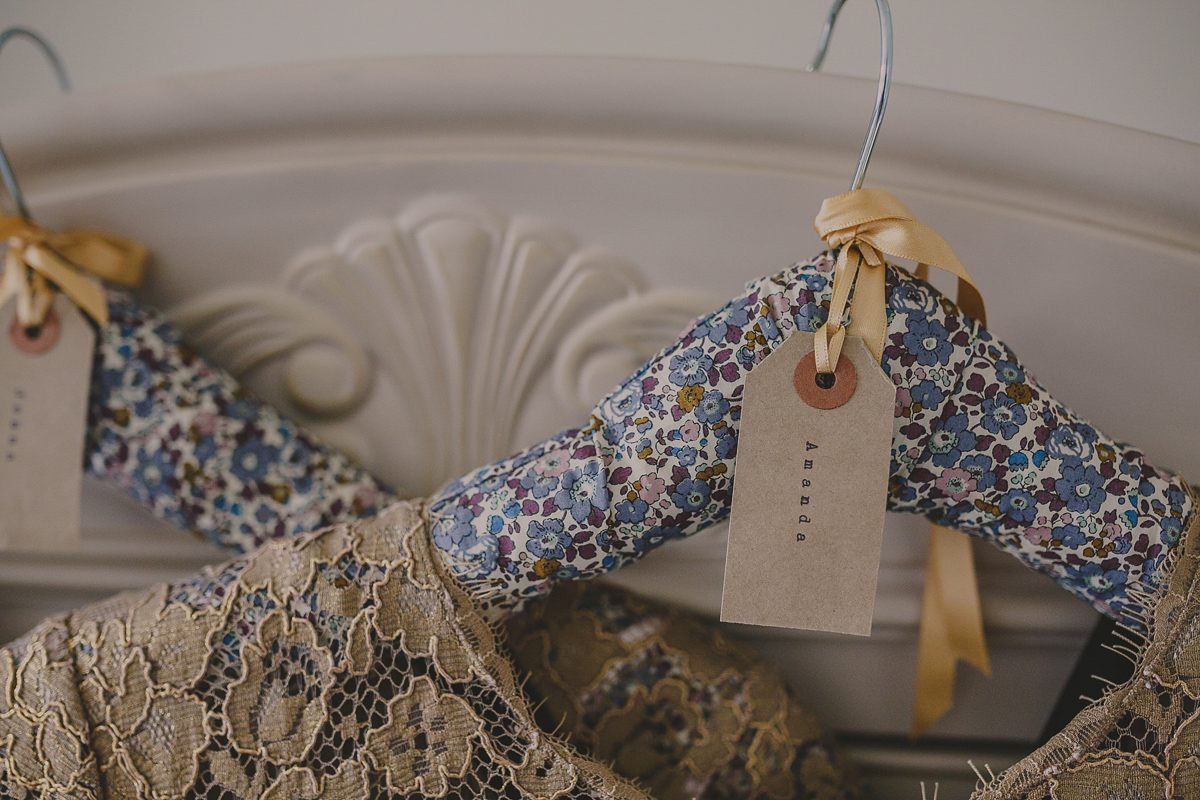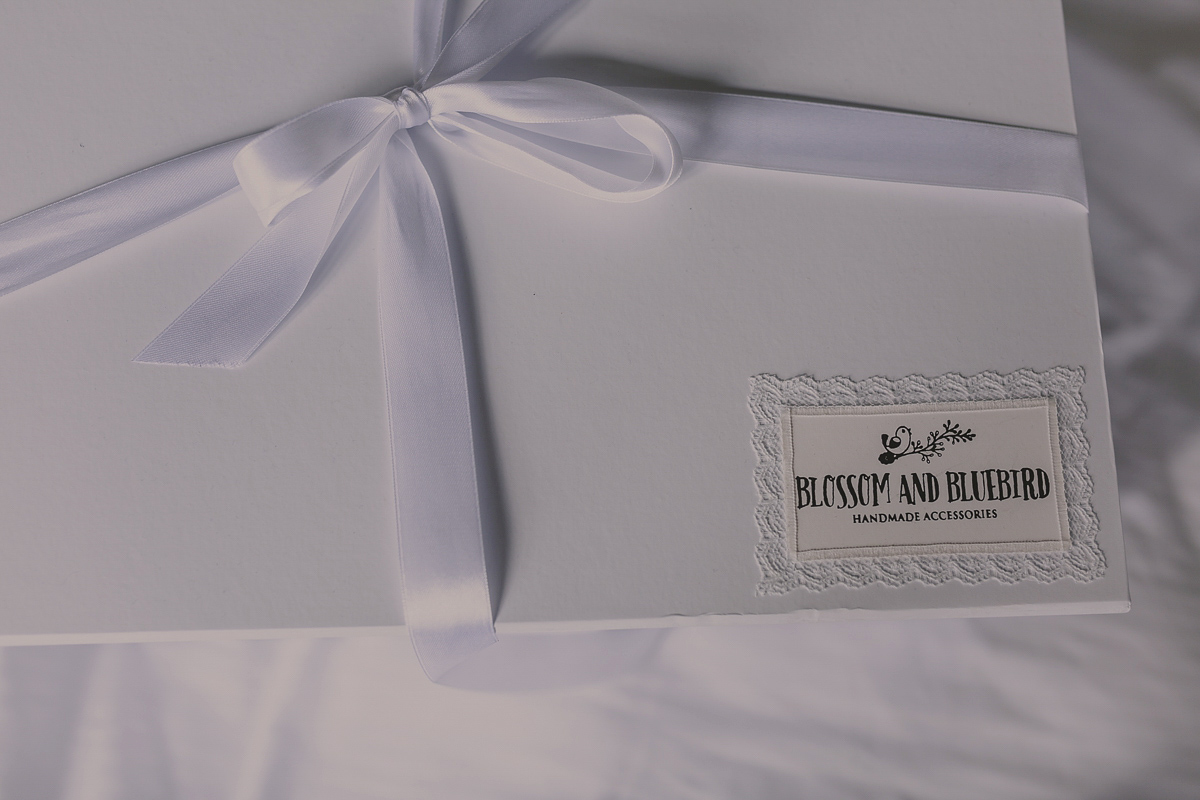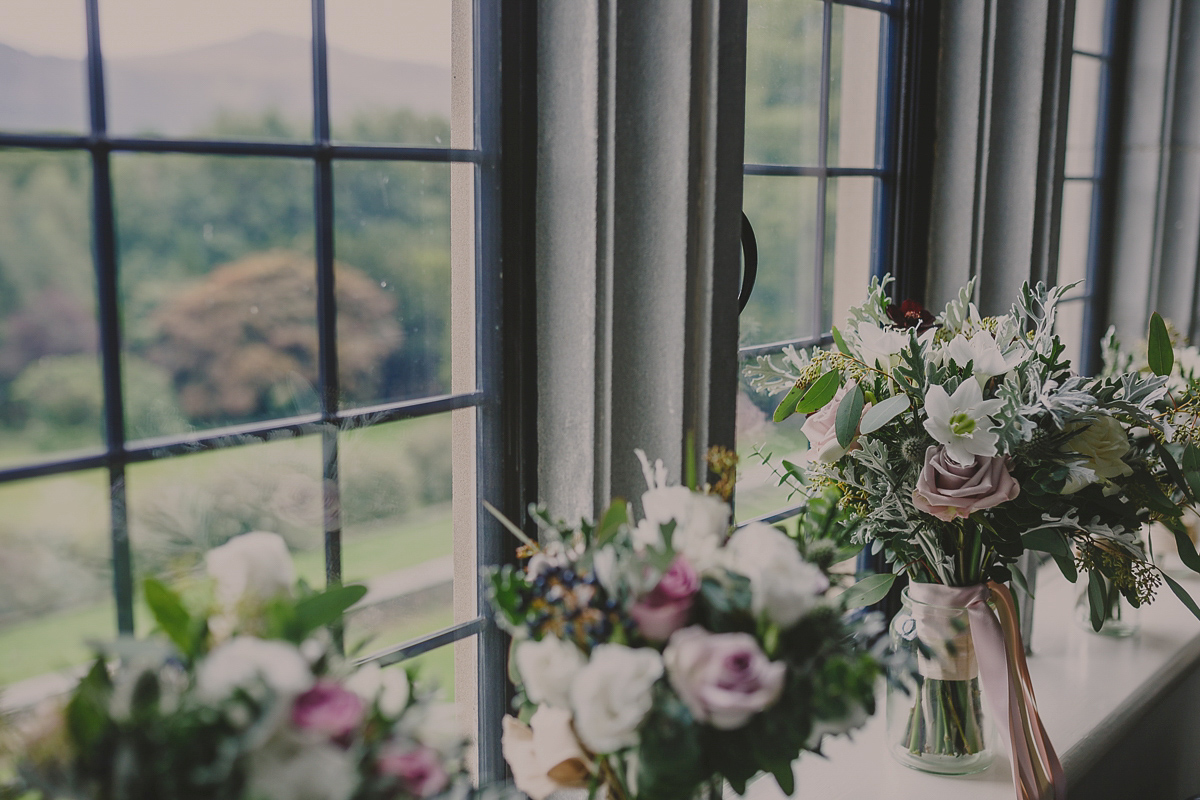 "My veil was from Blossom and Bluebird on Etsy. Sian Collins customer service is second to none and I absolutely loved the veil. I didn't want to overshadow the back of my dress as the lace detail is so delicate so the veil worked perfectly."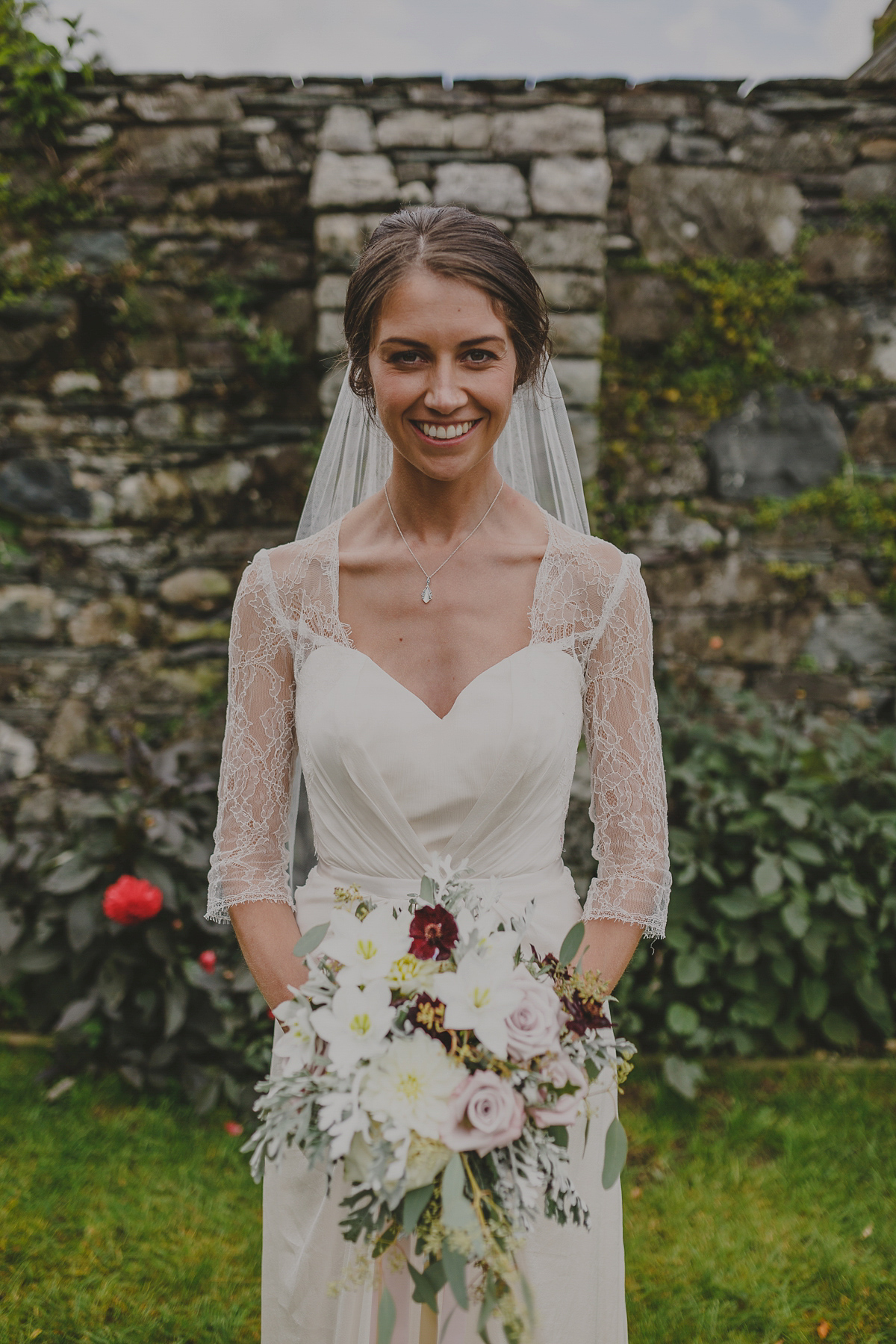 "The bridesmaids dresses were from a sale at Boden. Because they were in the sale I only had two weeks to return them- this proved to be a little difficult when the bridesmaids don't live nearby."
"Boden were amazing and actually extended the return time. Also my sister-in-law announced that she would be 6 months pregnant on our wedding day- I was lucky to know a very good seamstress who adapted the dress. I was so pleased with the bridesmaid dresses as i hadn't seen the dresses together before the big day."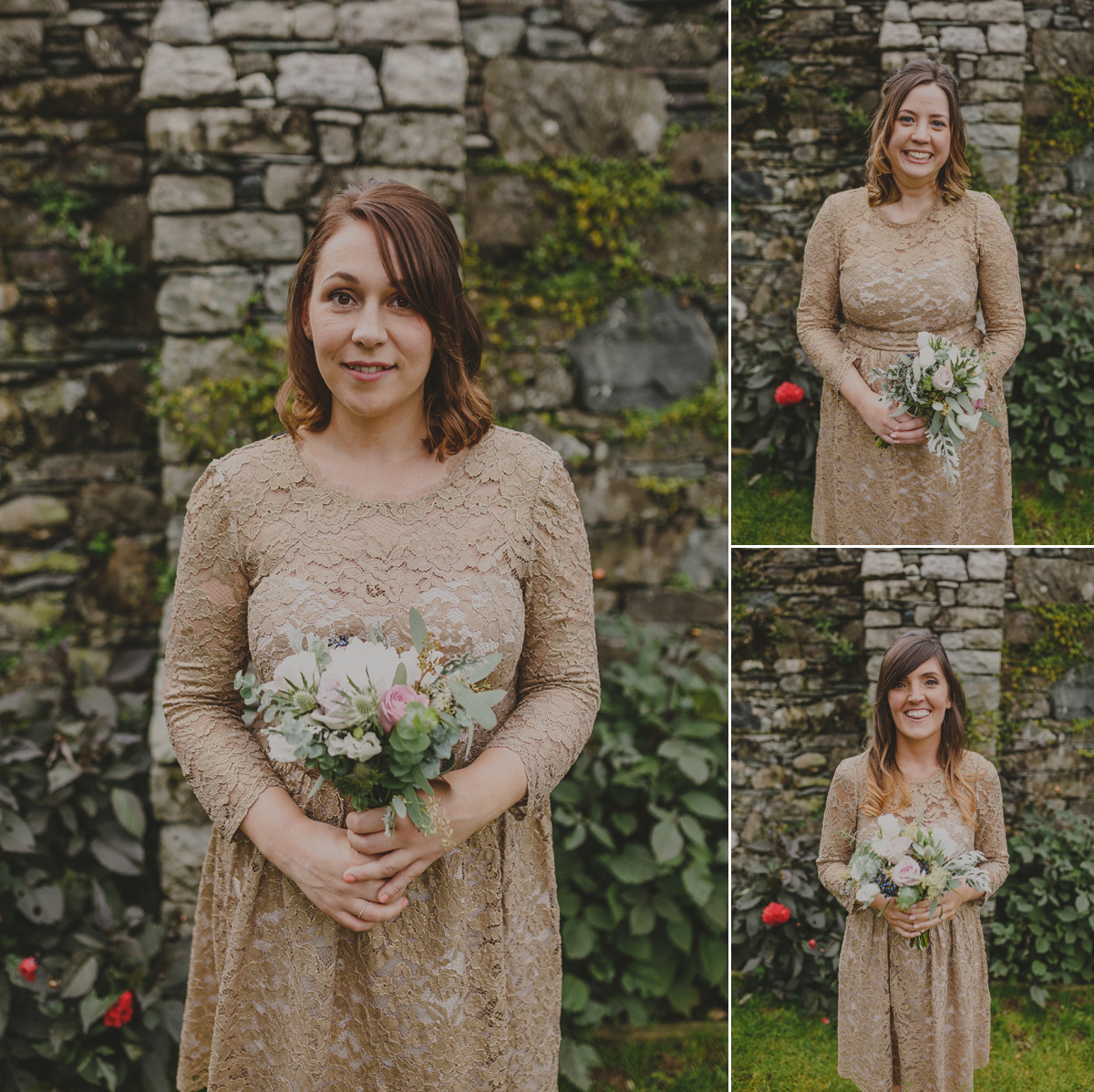 "Lingholm was still undergoing refurbishment when we first visited, they hadn't done any weddings within the main house before but we could tell from from the quality of the work in other areas that Jenny and her team were creating a beautiful venue."
"The estate does only a few weddings a year – I knew it was fate when one of the only available dates was 10th September (this is the same as my Mum and Dad's wedding anniversary). Lingholm was absolutely amazing and Jenny and Joe the owners were so lovely and so down to earth."
"I bought Matthew a pocket watch as a present which he wore it on the day. His shoes were a very sensible buy from Clarks. I bought some Liberty fabric for the ties and pocket squares. One of the bridesmaid's step- mum's is very talented and she made all these for me by hand. I was so pleased. We had some left over fabric which my mum used to make coat hangers for me and the bridesmaids.
The groomsmen's suits were from Next."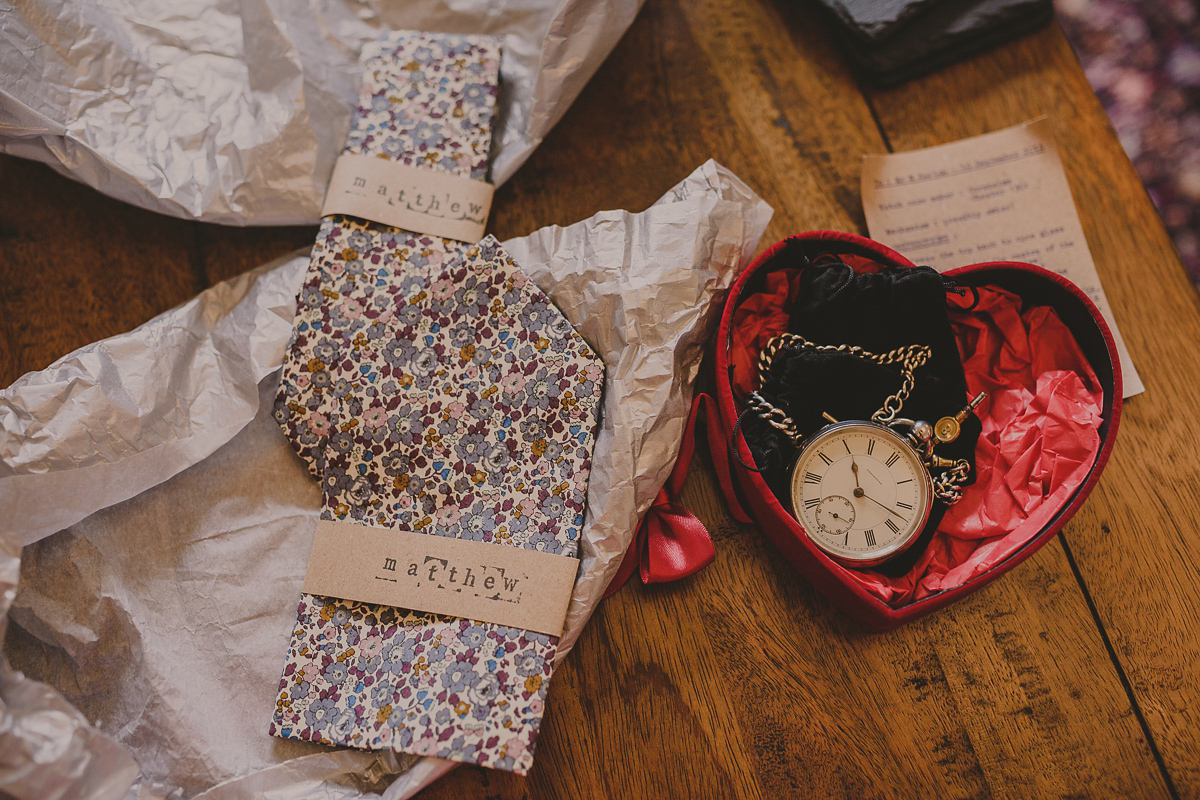 "This was the second suit that Matthew bought. Unfortunately Matthew has a booty like Kim Kardashian from too many squats. So he ended up in a tailored tweed suit from Charles Tyrwhitt."
Ahem, 'unfortunately', Lucy? 😉
"We met in a bar in Manchester. Matthew proposed to me in the rain, on my birthday, in Tatton Park in November 2014- I wasn't expecting it at all. We were engaged for nearly two years before the wedding. We were trying to do up a house at the same time so the wedding took a back seat for the first 12 months."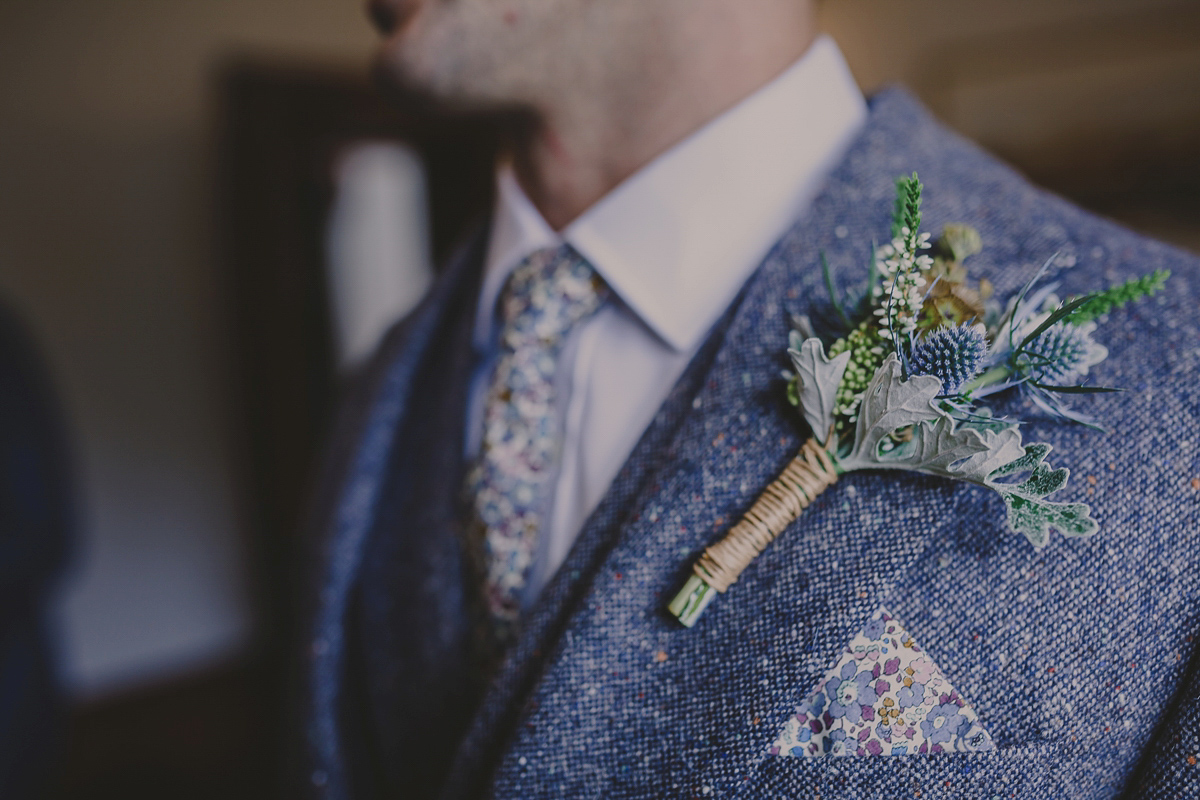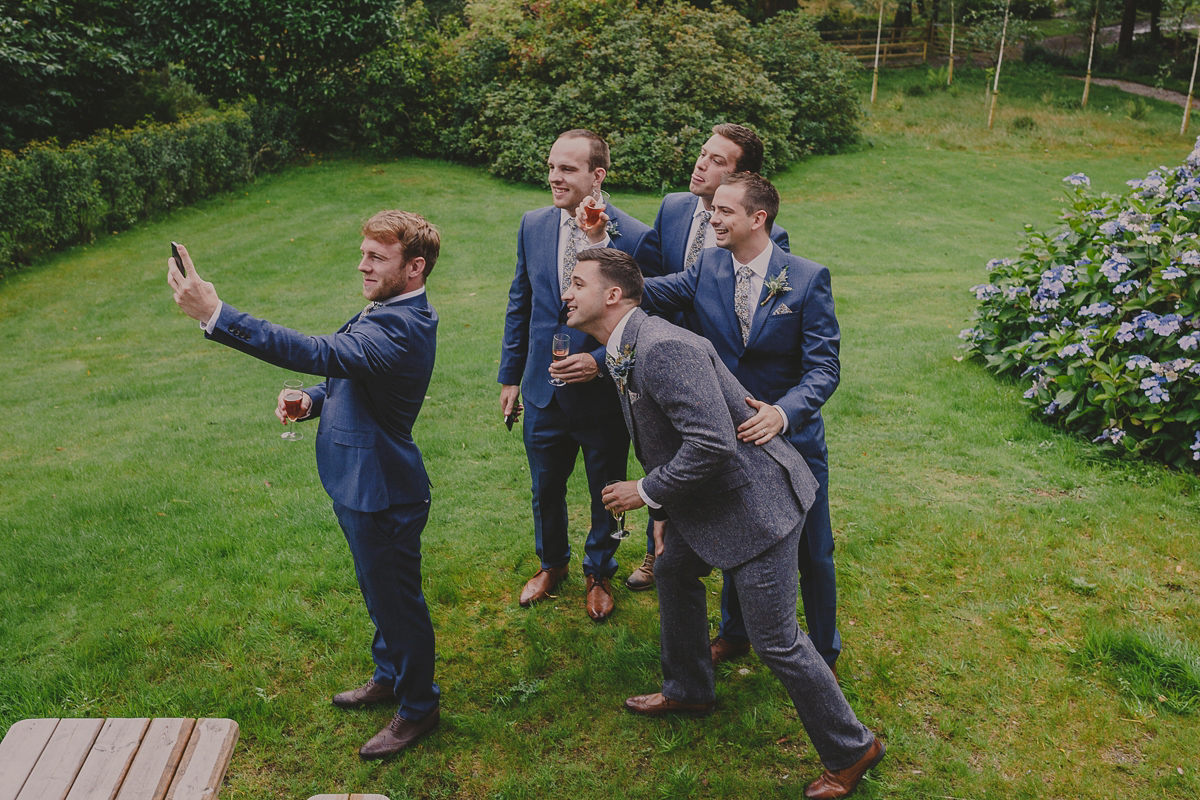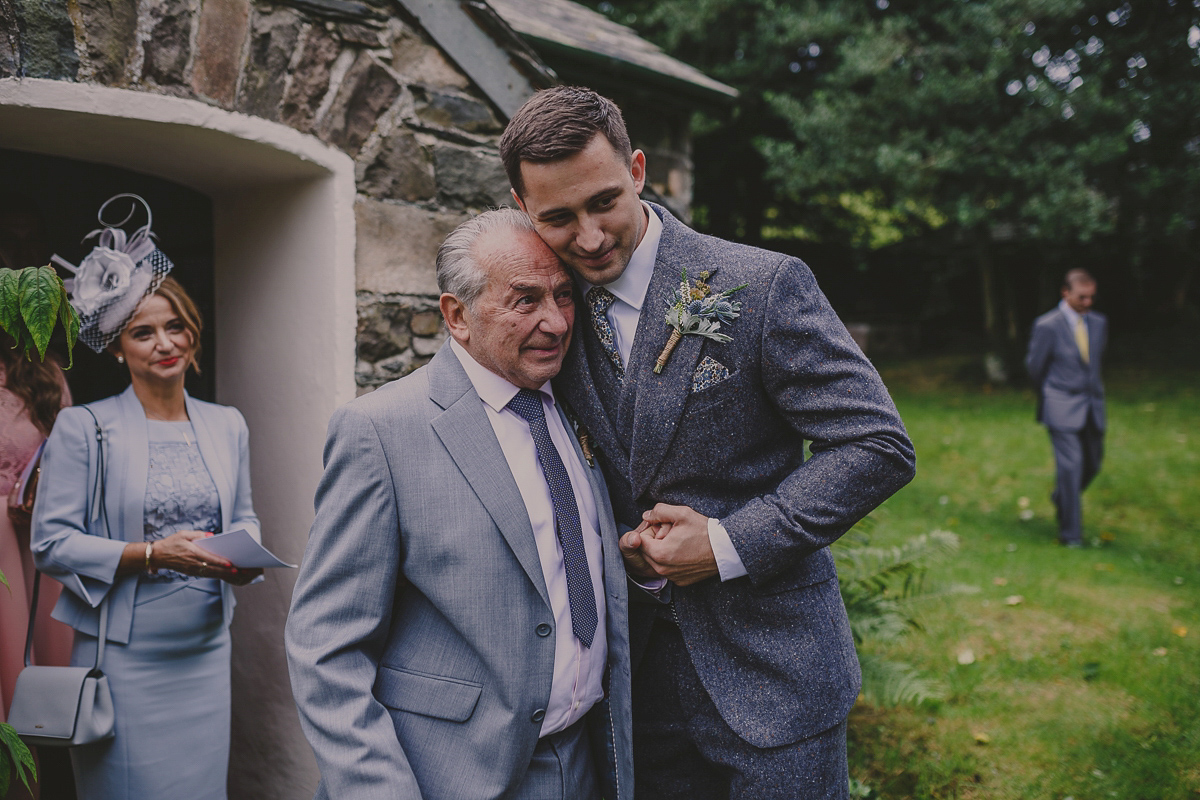 "The order of service was a music sheet that belonged to my grandma- if you look very closely you can see her name. 'Hand in Hand, we go together' just fitted perfect."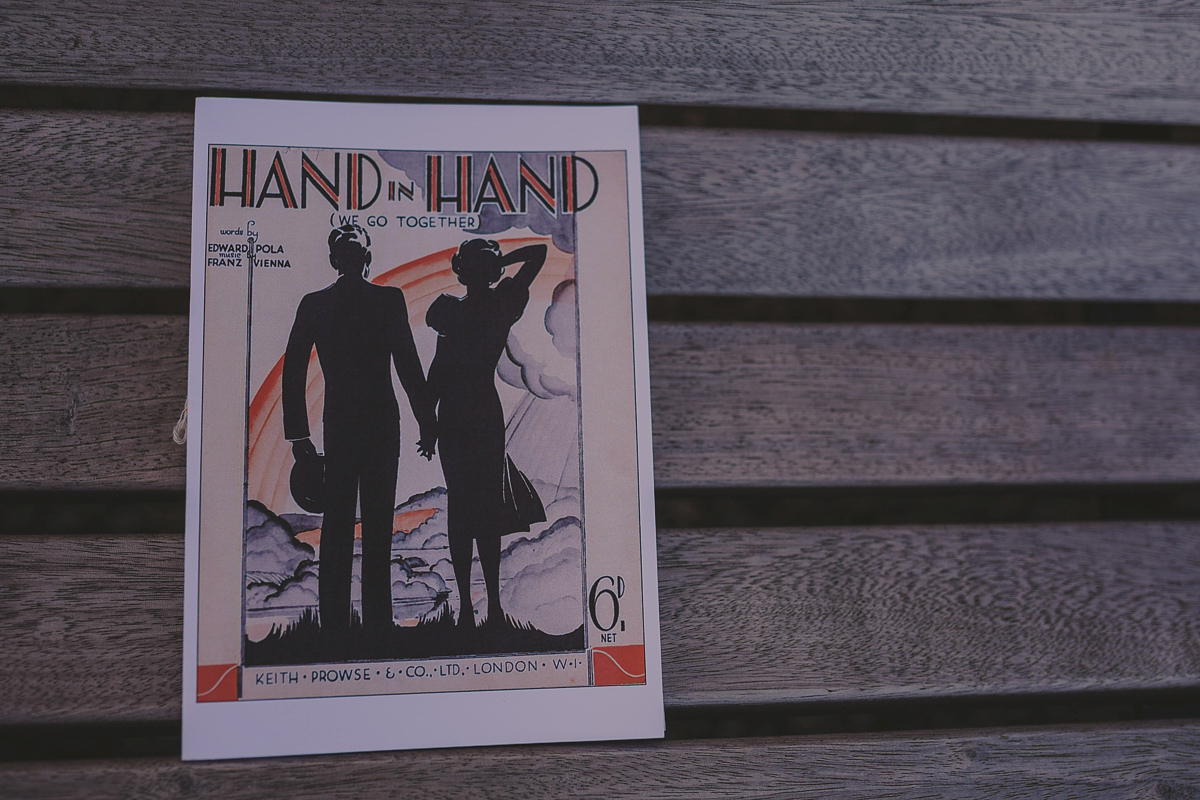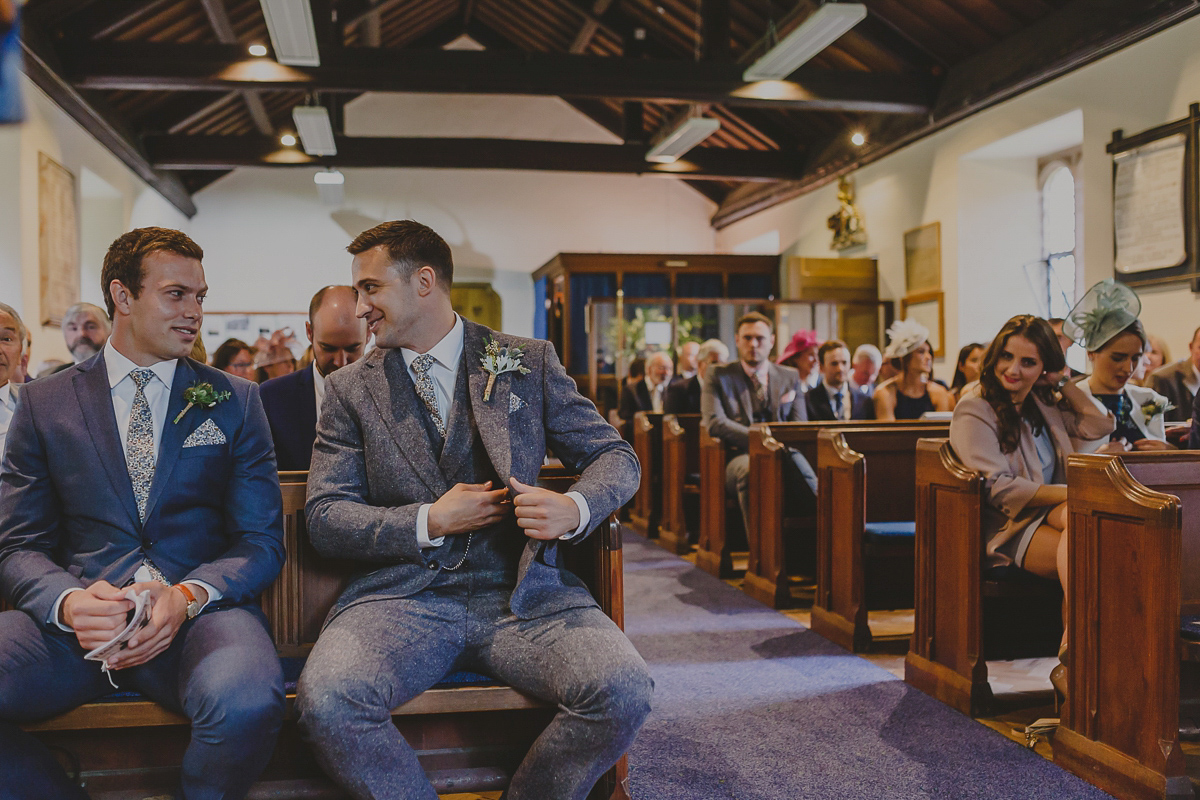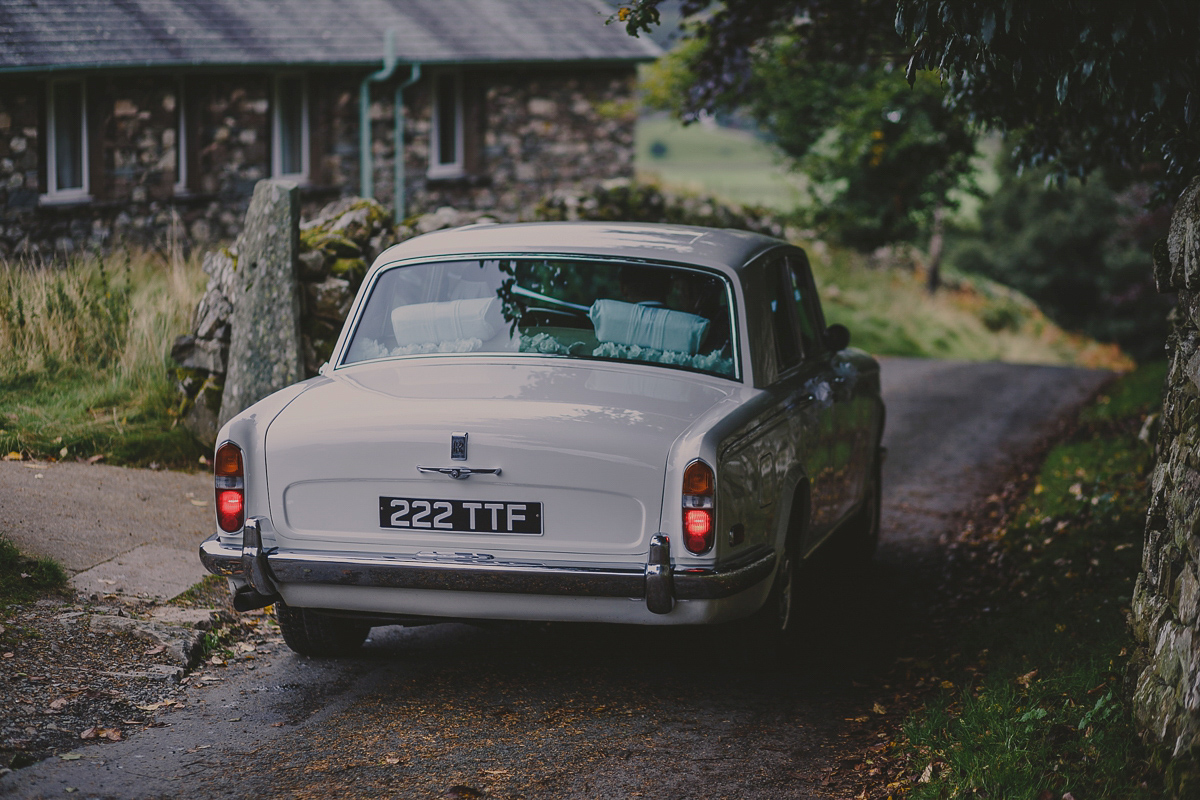 "I just ordered one car. The bridesmaid travelled in a Range Rover that was borrowed from one of the family members. I originally booked a triumph herald but soon realised that without a roof it might be a big gamble, so we changed to a classic Rolls. Sharon from Cumbrian Classic Wedding Cars was fantastic. She called me up two nights before to go through timings, location etc. Her dad drove us to the church which was a really nice touch."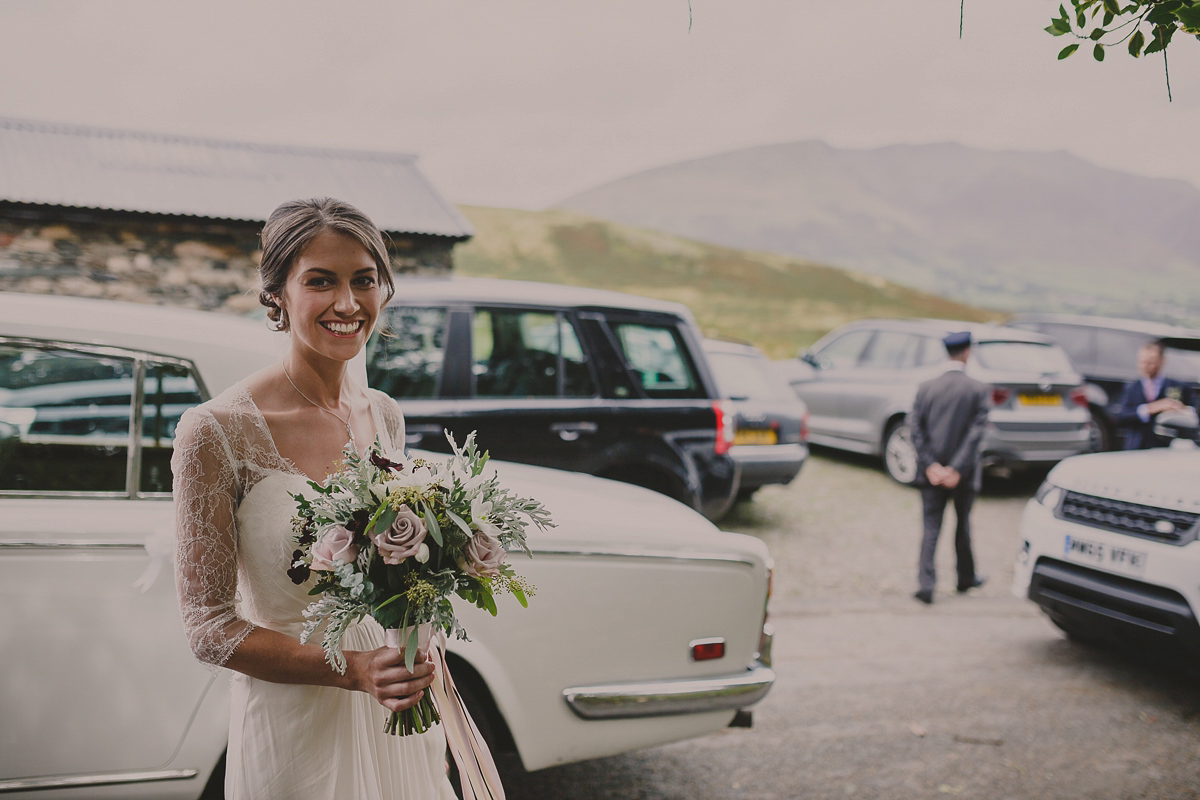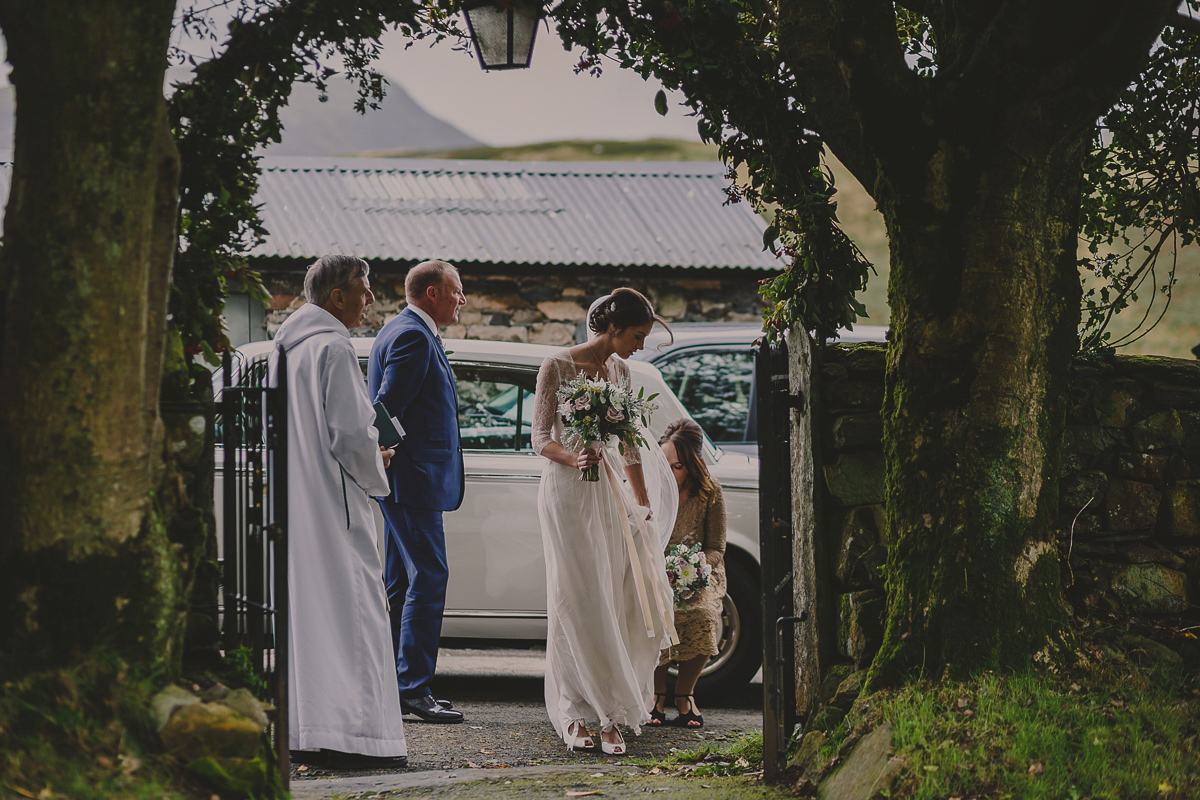 "My Dad walked me down the aisle – I thought I would be really nervous but in actual fact I was really excited and couldn't wait to see Matthew. We were accompanied by the sound of The Bridal Chorus from 'Lohengrin' by Wagner."
"The Reverend at St Johns was very accommodating and allowed our family Reverand to take one of the readings and also lead on the prayers. This meant the world to my Mum and it meant that is was so personal to us."
The reading we chose was Corinthians 13:4-13, this is by far the most common reading but there is a reason for this, the words are so relevant."
Love is patient; love is kind; love is not envious or boastful or arrogant or rude. It does not insist on its own way; it is not irritable or resentful; it does not rejoice in wrongdoing, but rejoices in the truth. It bears all things, believes all things, hopes all things, endures all things. Love never ends. But as for prophecies, they will come to an end; as for tongues, they will cease; as for knowledge, it will come to an end. For we know only in part, and we prophesy only in part; but when the complete comes, the partial will come to an end. When I was a child, I spoke like a child, I thought like a child, I reasoned like a child; when I became an adult, I put an end to childish ways. For now we see in a mirror, dimly,* but then we will see face to face. Now I know only in part; then I will know fully, even as I have been fully known. And now faith, hope, and love abide, these three; and the greatest of these is love.' (Corinthians, Chapter 13, verses 4-13)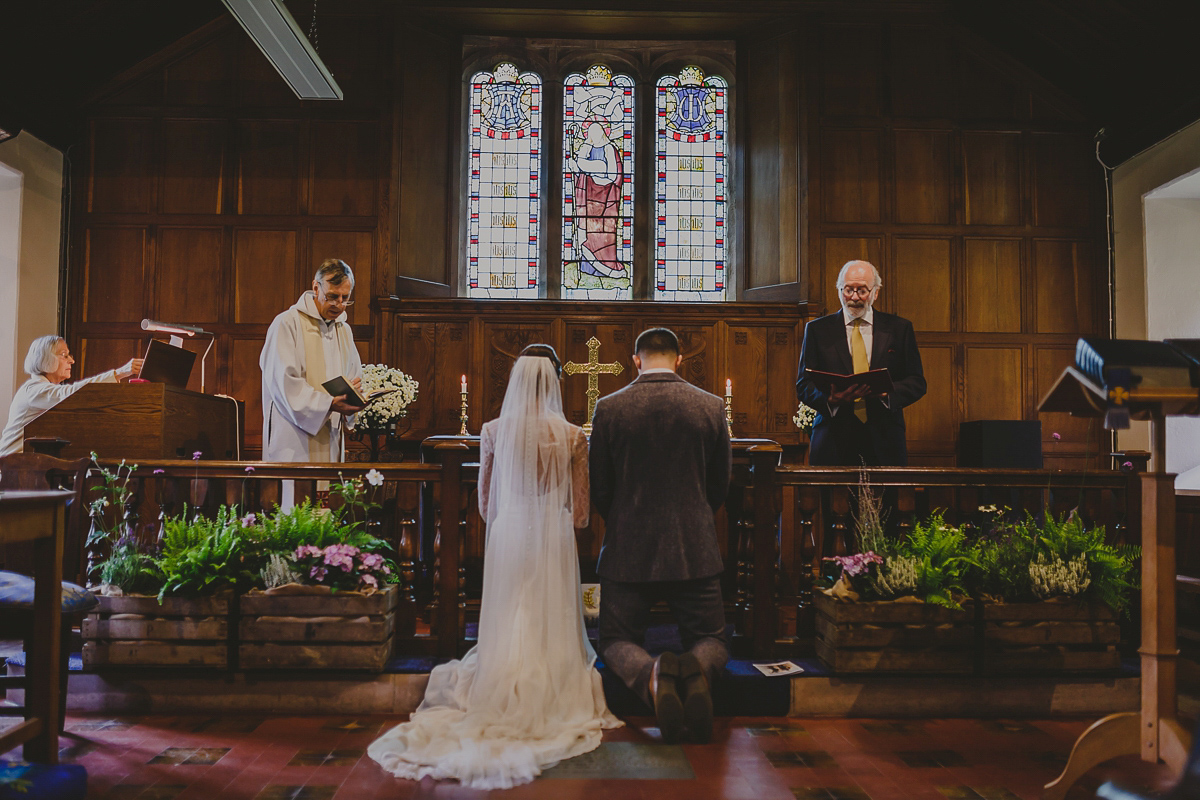 "We went and bought our rings from an antiques fair in York, Matts is very old and mine was actually brand new but was perfect as I needed something delicate to go with my tiny engagement ring, so I chose a thin art deco half eternity ring."
"Our best part of the day was the service, seeing everyone we loved in the church right behind us showing their support and commitment to us as a couple was overwhelming."
"The service was upbeat and happy, everyone got involved in singing the hymns (we chose hymns that everyone would know)."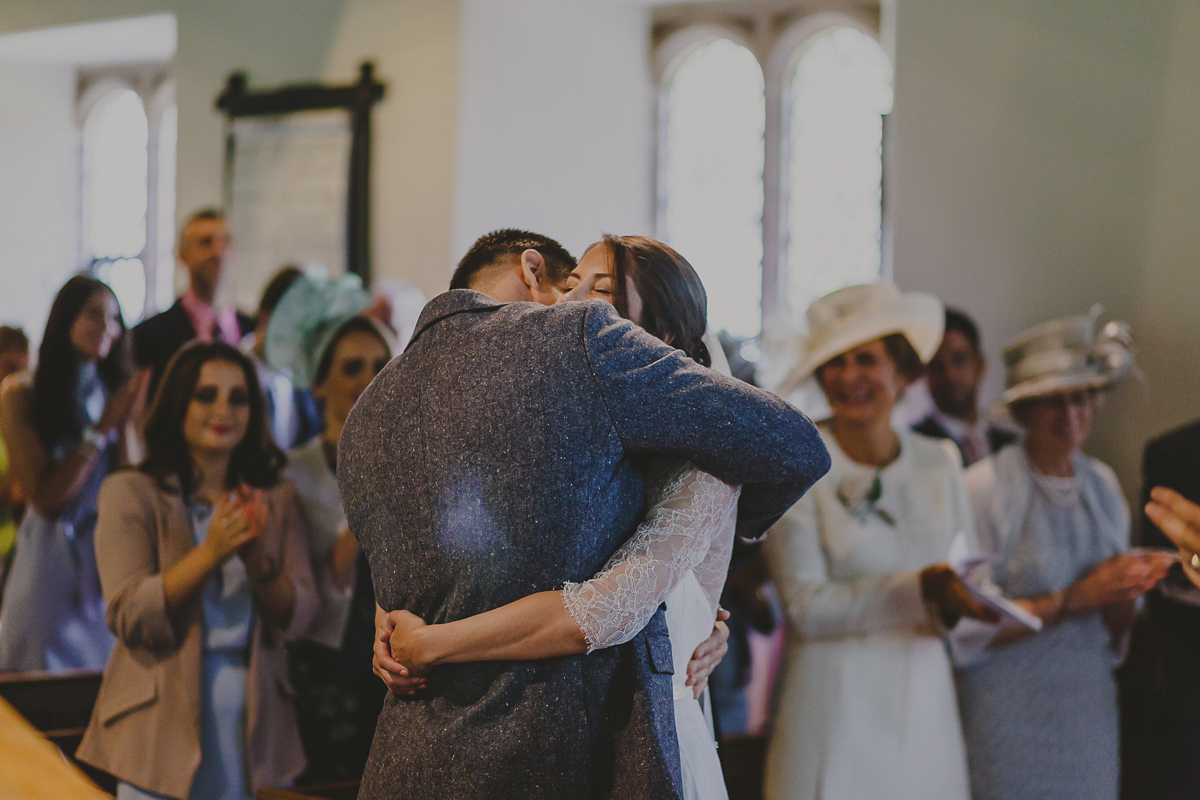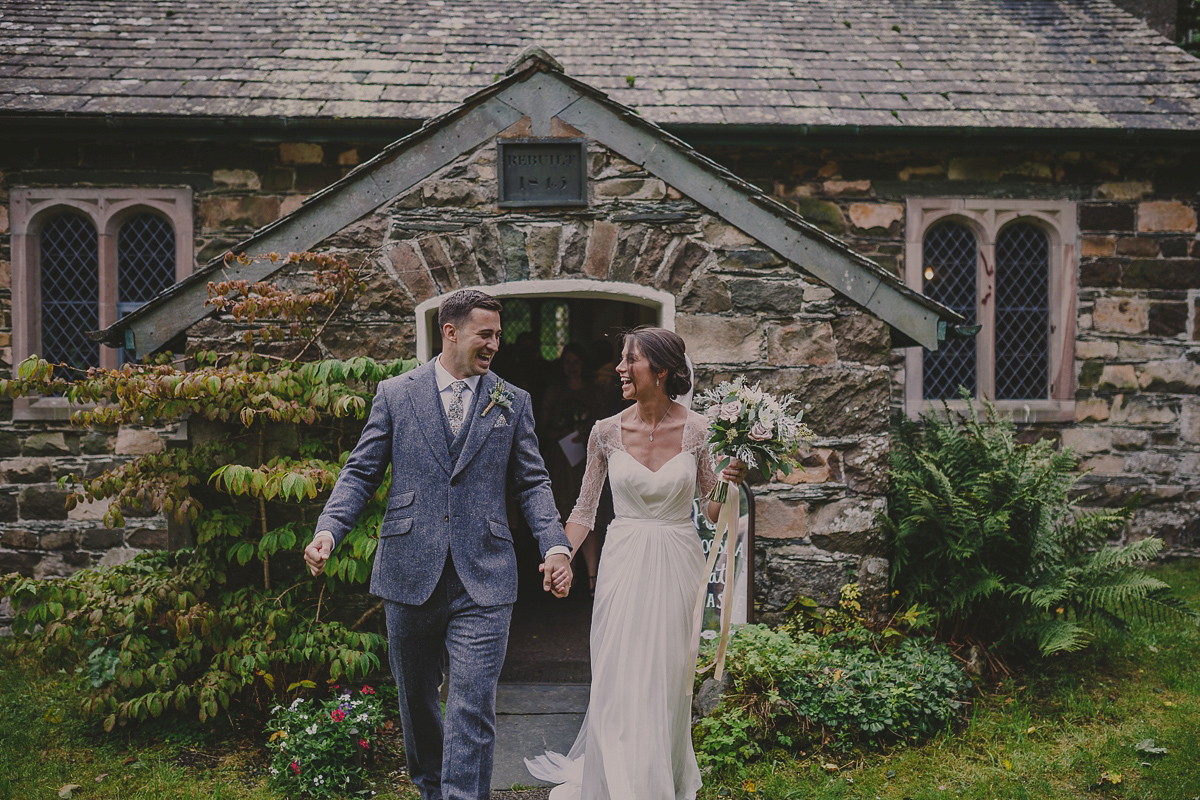 "Well what can I say about our photographer Lottie Elizabeth? We can't recommend her enough! I throughly enjoyed having her around on the big day."
"Lottie has so much energy, she made me and Matthew feel so special but was so discrete. I love the emotion that she has captured and the pictures really do tell our wedding story. All our wedding guests all commented how lovely she was and she just fitted into our day."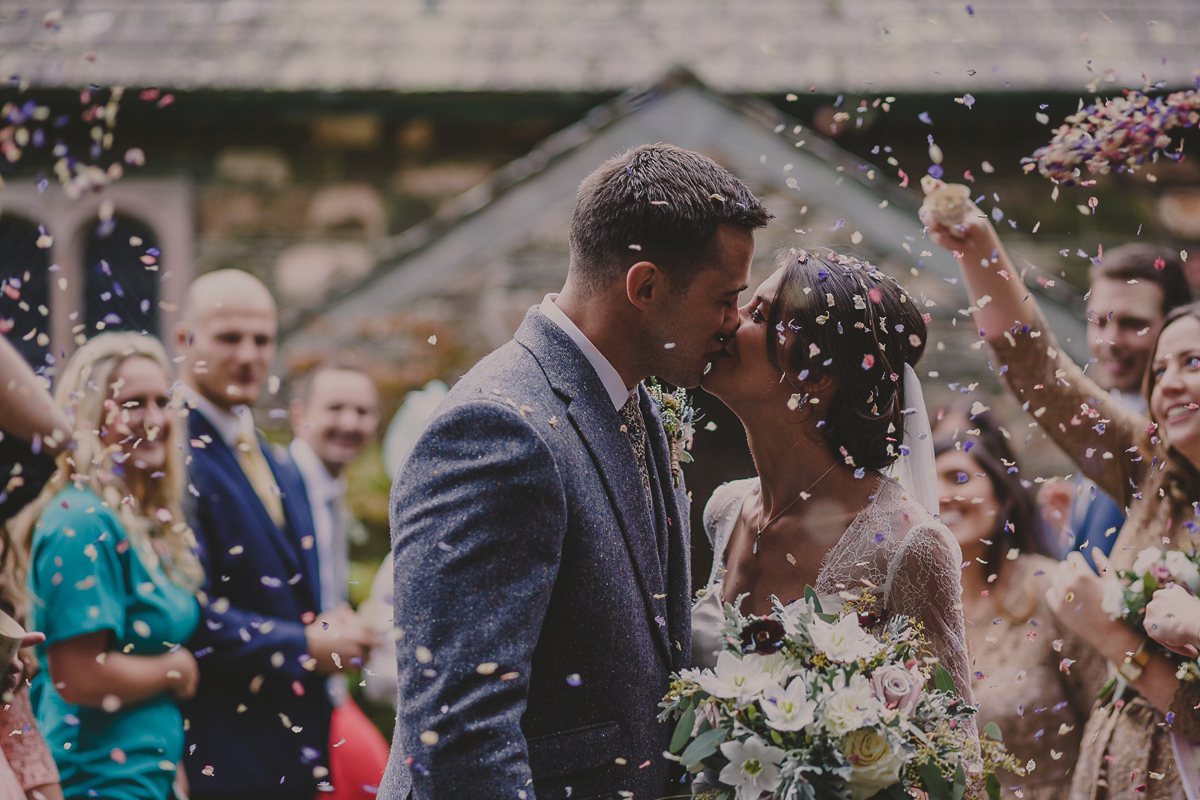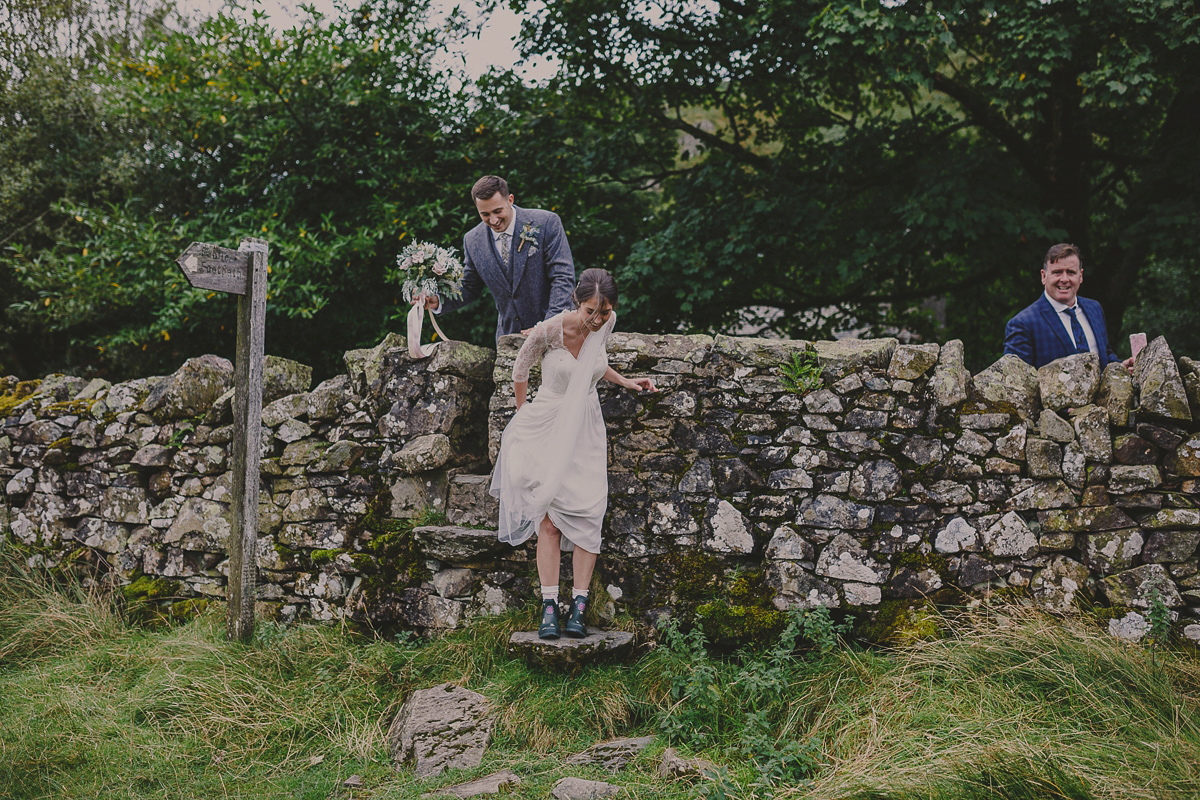 "We loved going out on the boat, which was a bit of a last minute decision, although it was quite hairy at times and there was a few occasions were we got a little wet. Lottie has captured some great pictures on the island which we absolutely adore."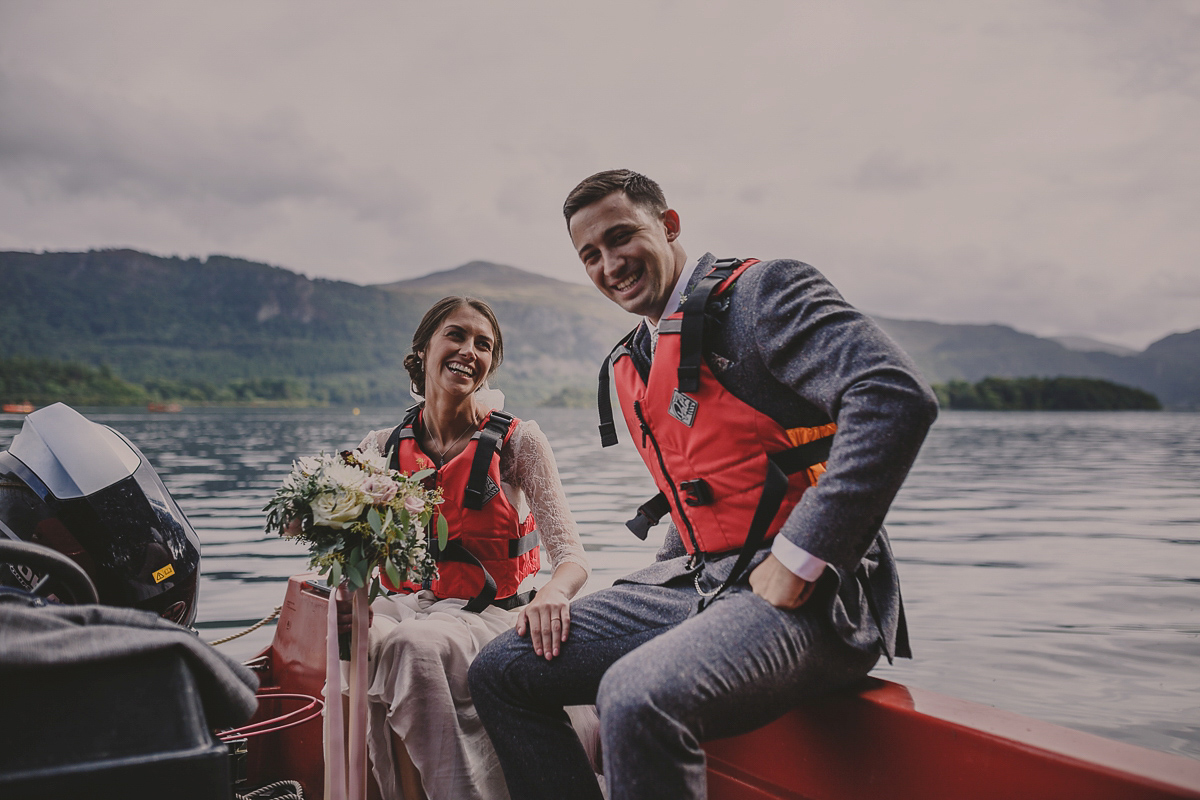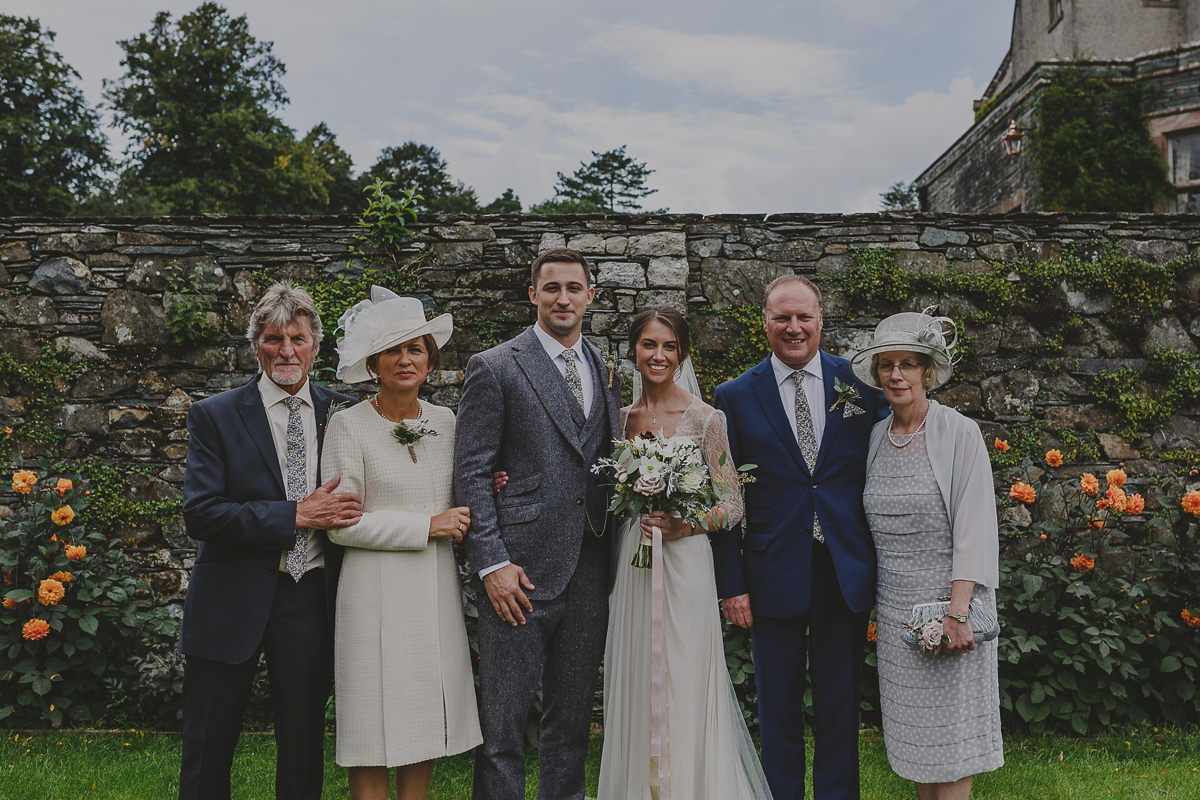 "Two of my bridesmaid needed wide fitting shoes, so these T-bar suede shoes were from the trusty Marks and Spencers."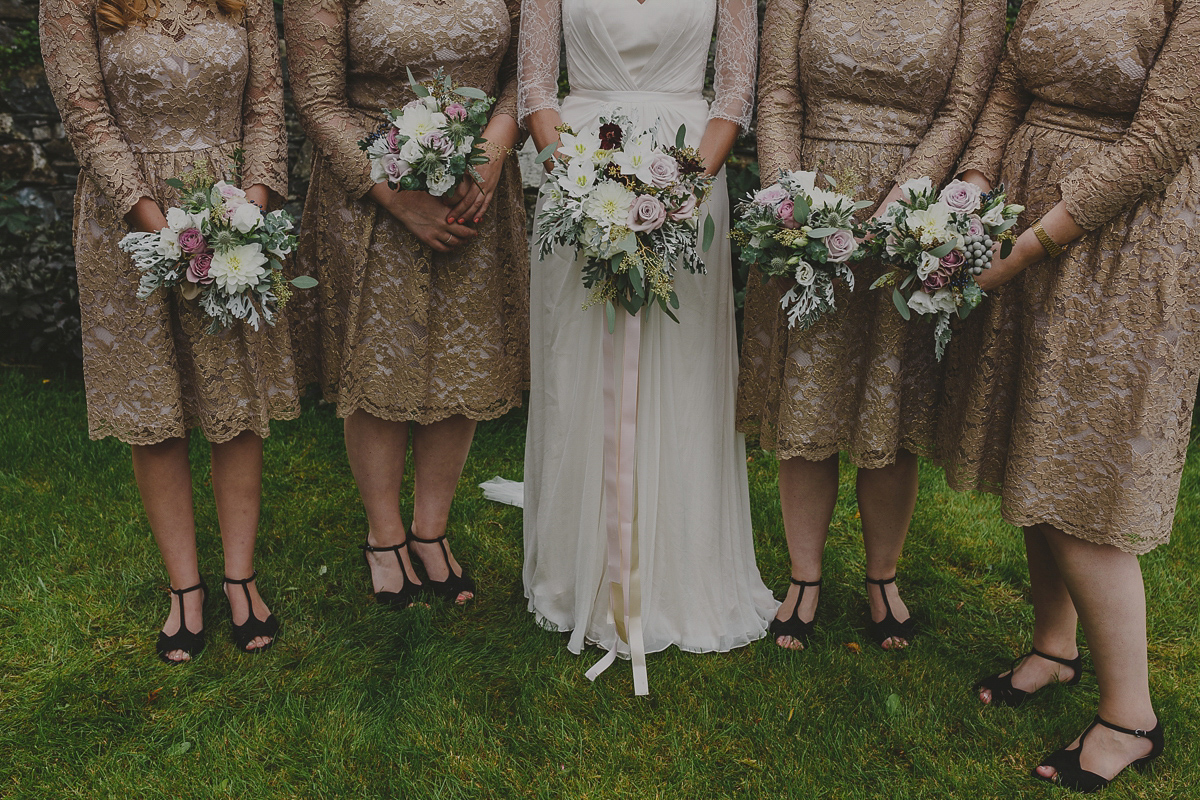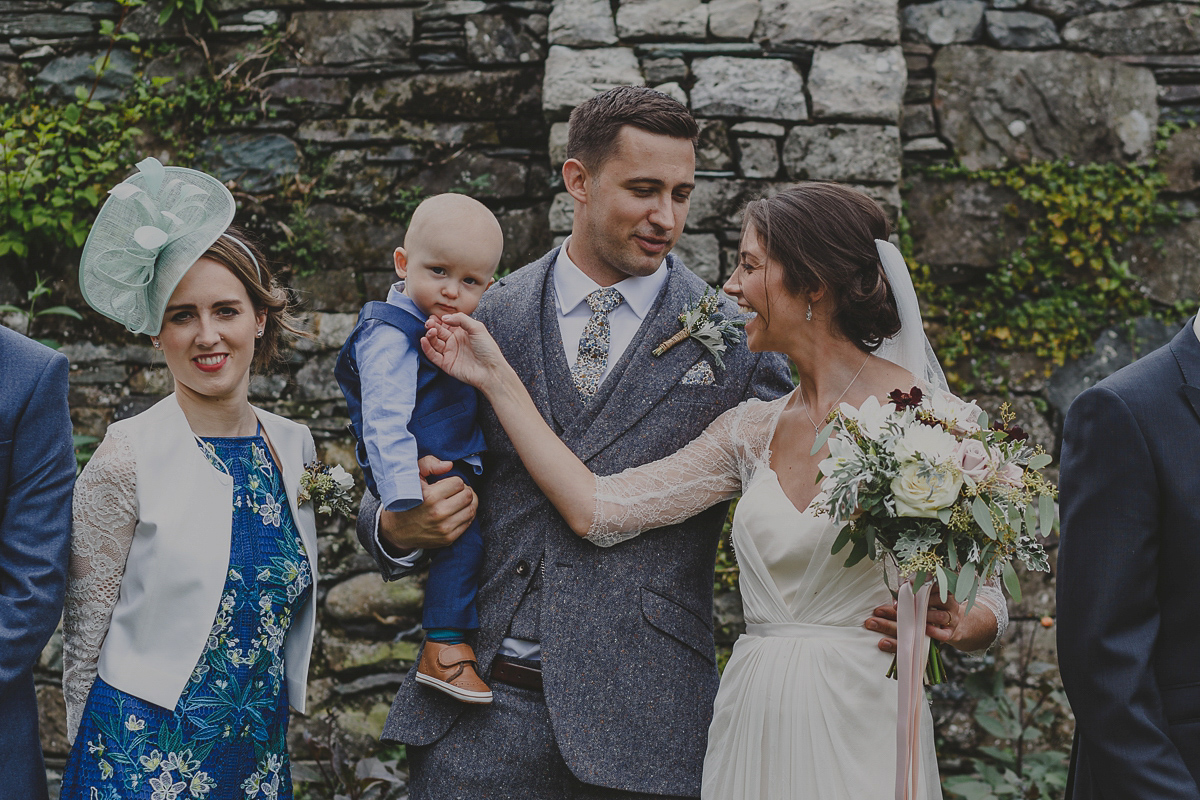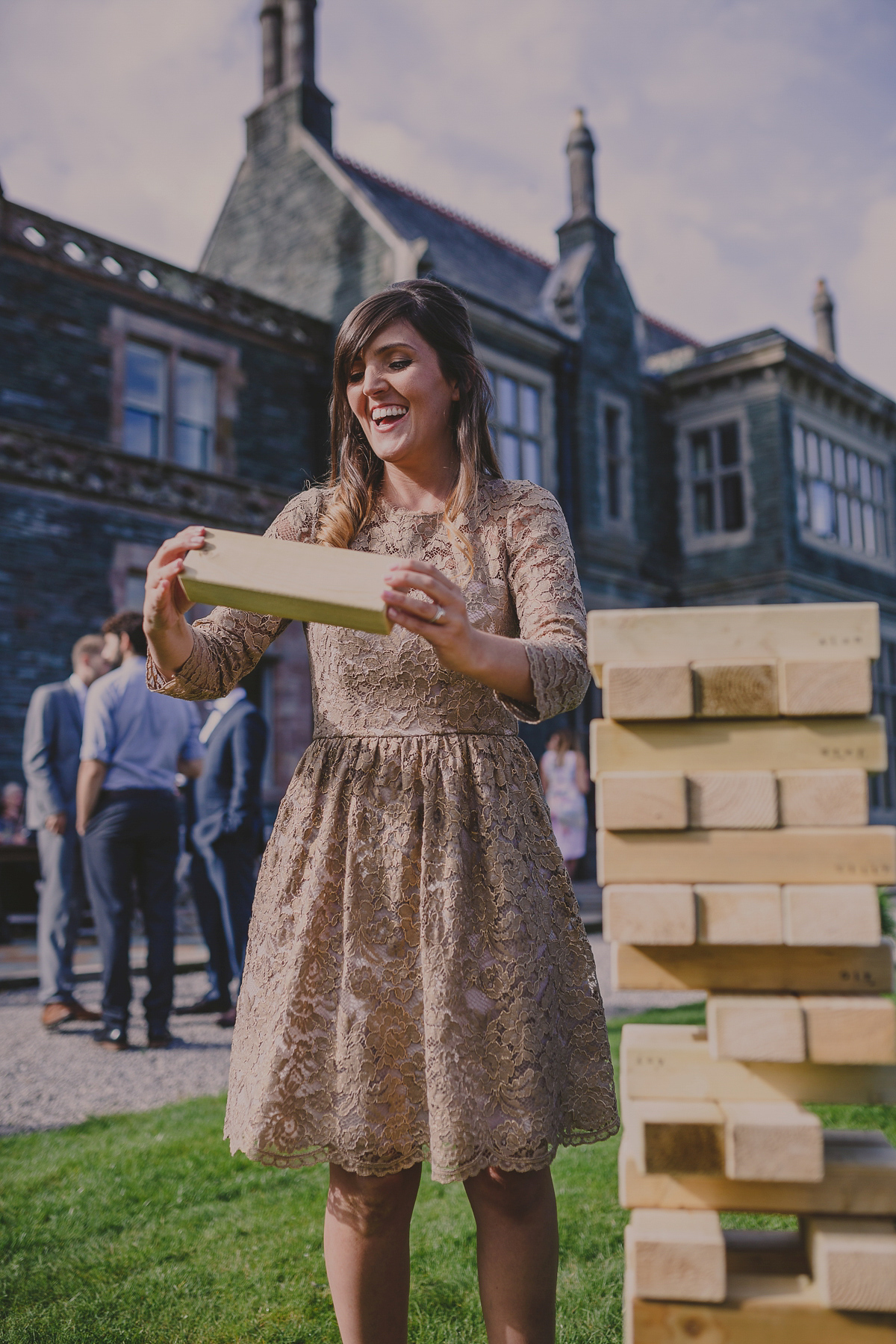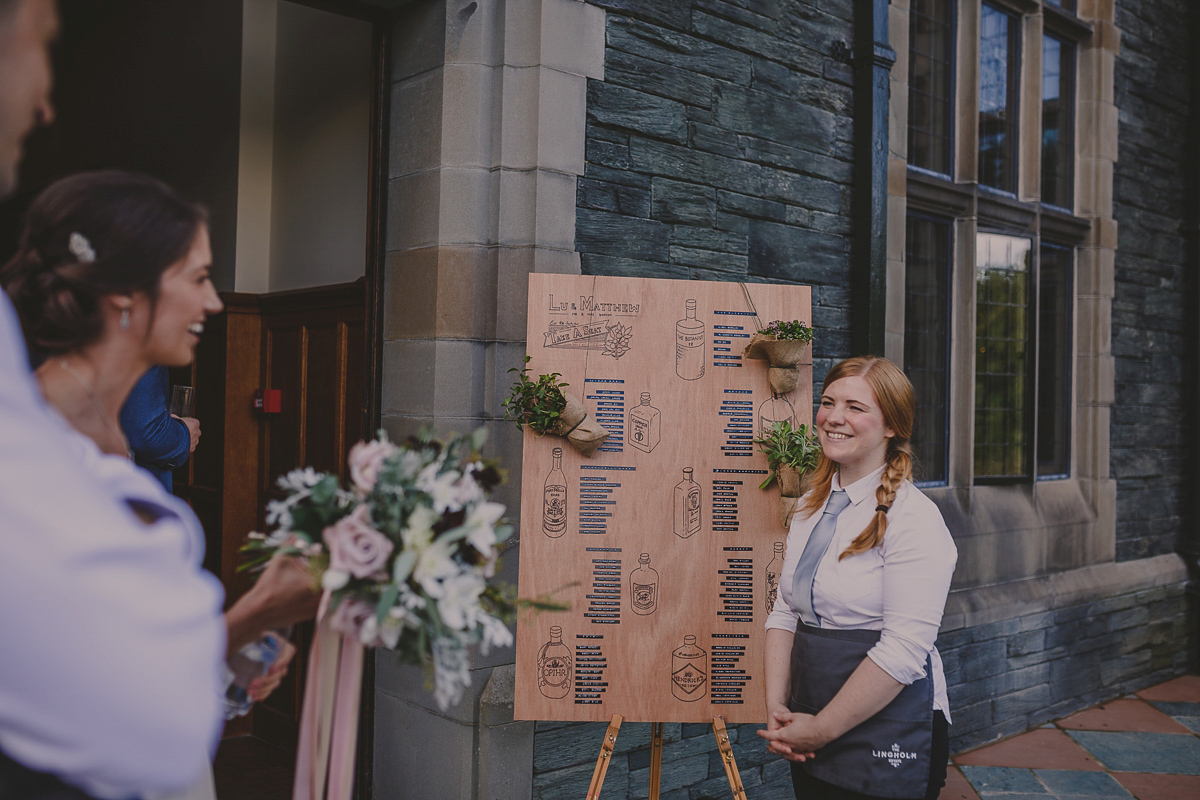 "Matthew designed the table plan and it took hours with a sharpie and dymo machine to finish."
"Our florist was a family friend called Christine Harrison. She did Matt's brother's wedding and did an amazing job so there was no question who were going to use. I gave Christine the fabric to the ties and a few gin bottles and let her do her thing."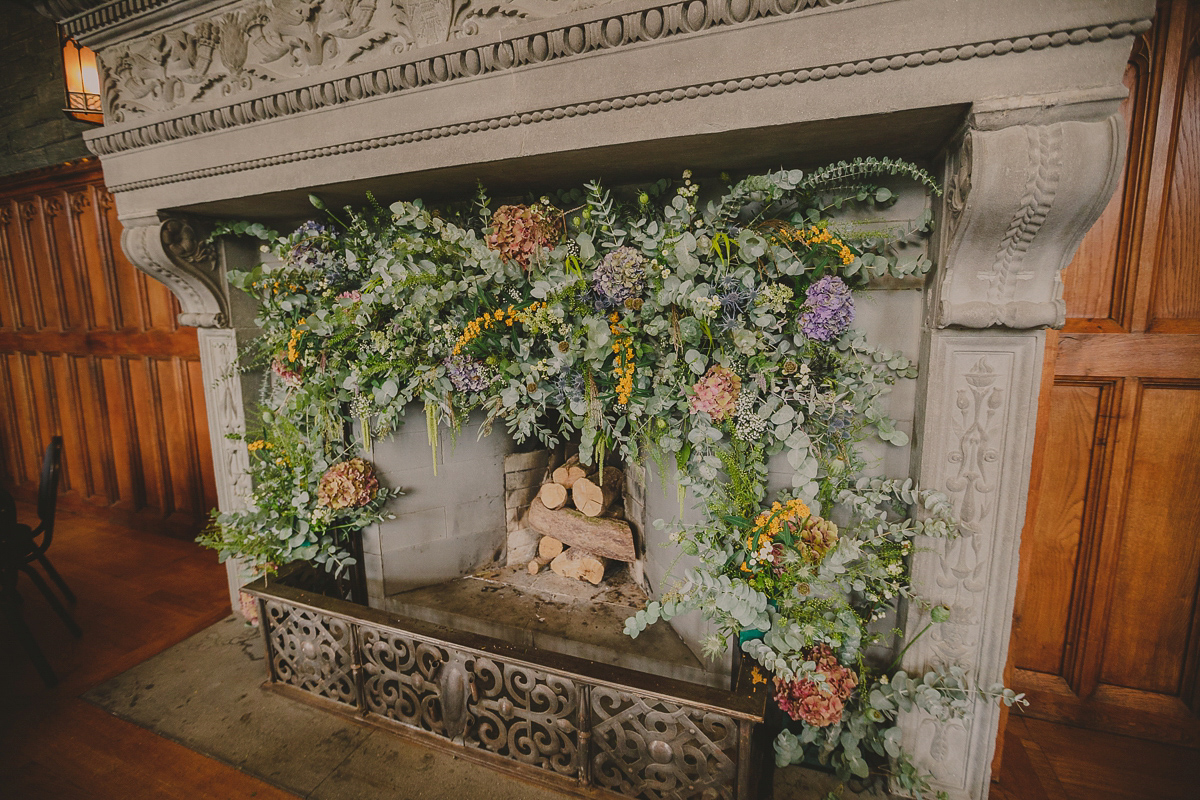 "She blew us away, with spectacular table displays, trees and a custom built frame to dress the fireplace in Lingholm. We both like gin and decided we could use this for the table names. We had great fun collecting the bottles. My work colleagues and family all enjoyed collecting them too. We had a few spare bottles that weren't used and Christine decided to hang the bottles with florist wire from the coat hooks."
"Christine made all the centre pieces by using scaffold poles and adding bark. The trees worked so well as it used the height of the room. The trees were placed on vintage mirrors and succulents were put in martini glasses."
"Lingholm is such a grand place so we wanted to enhance rather than overpower it. Christine had a fireplace stand custom built- this really added to the wow factor. Two 4 meter Silver birch trees were put either side of the top table, again bringing the outside in. The trees were actually a gift from one of our guests."
"My mum did all the name places – my Grandma who sadly isn't with us anymore bought the typewriter for my mum when she was 14 so it was so lovely that we could use it. We used it as a prop on the wedding day."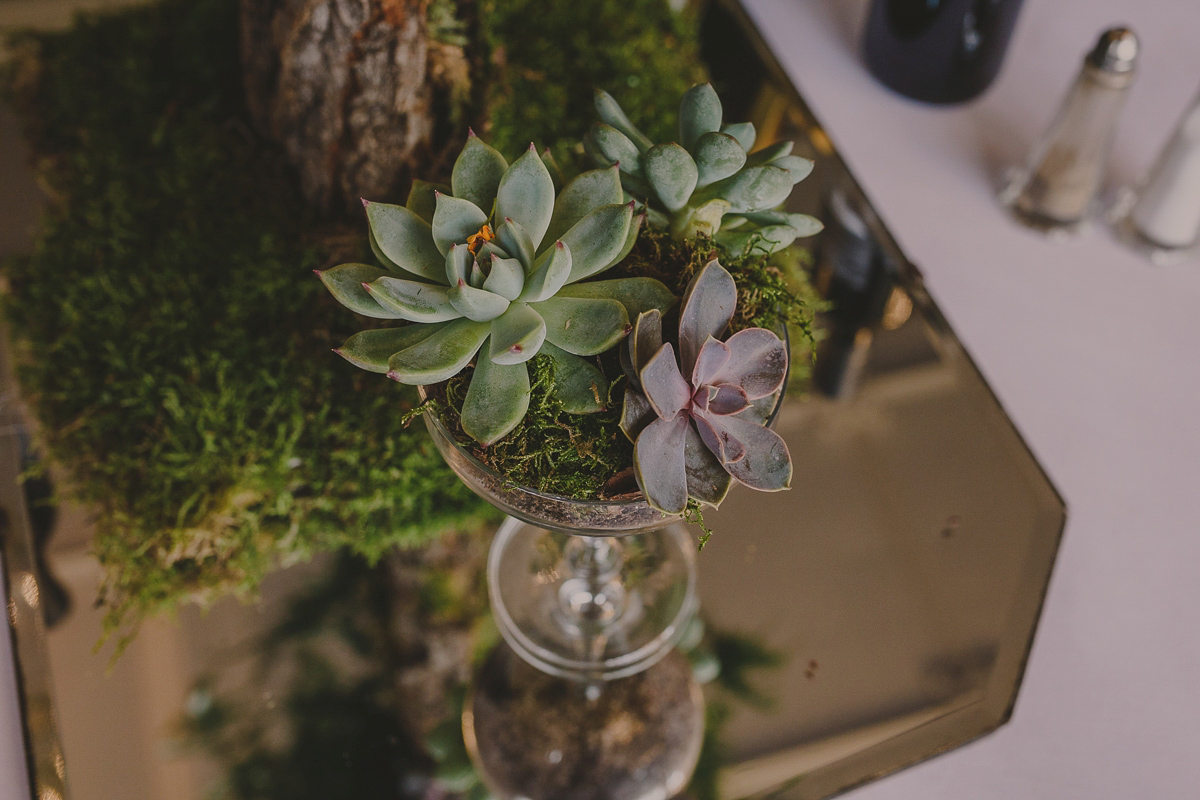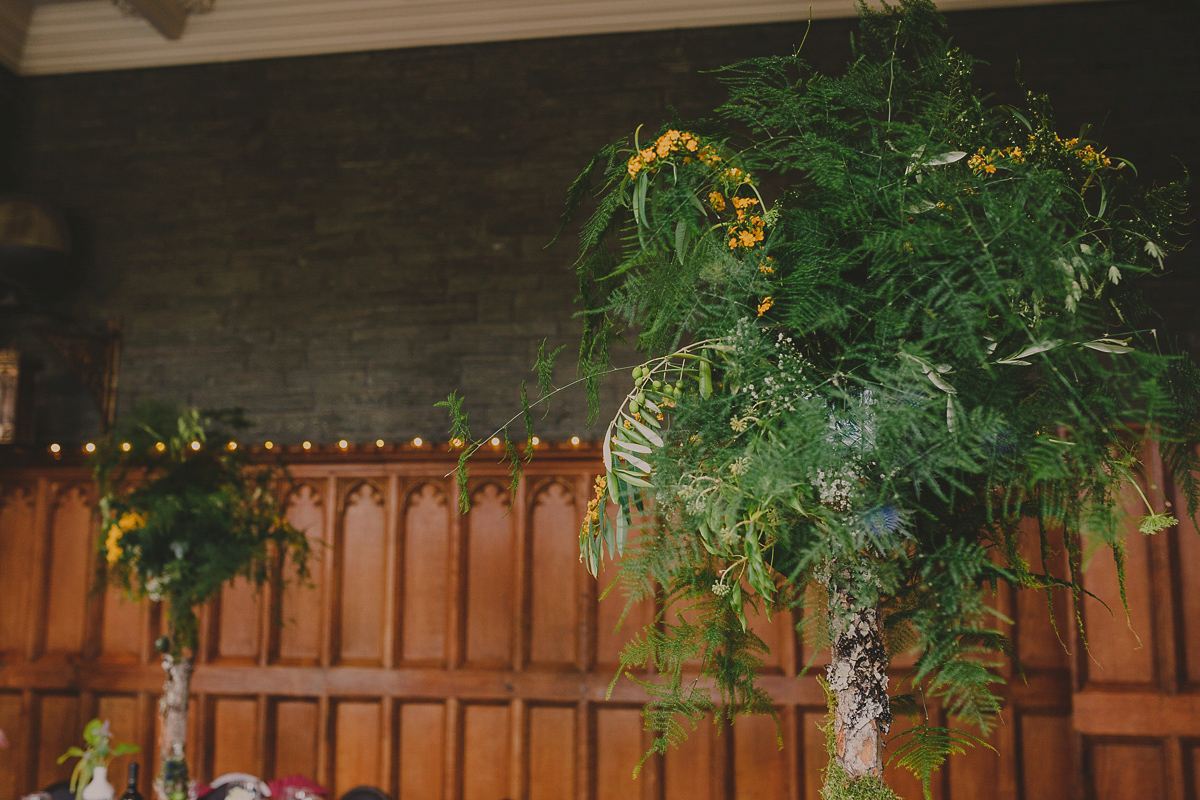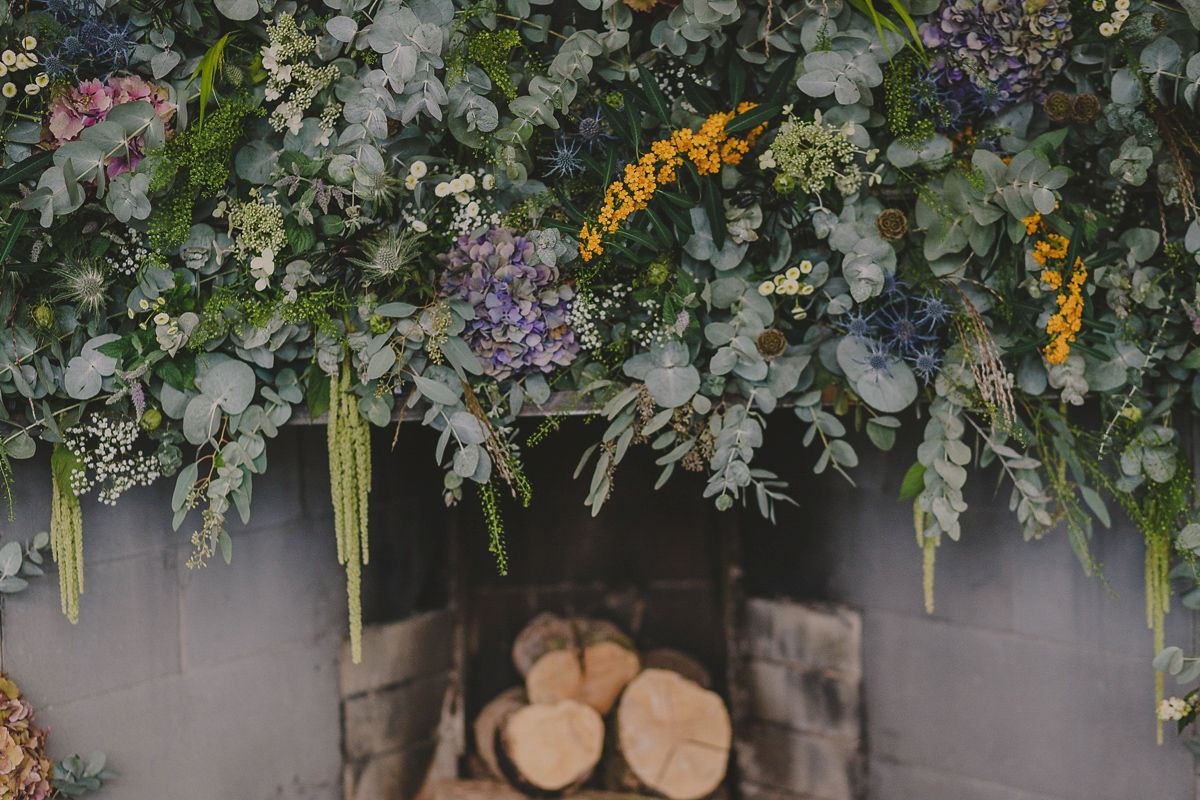 "Fell and Dales Catering based in Kirby Stephen supplied our food. Maria and Hillary are two farmers wives that have a real talent. They produce good honest food, we had big canopies as starters that was served outside. For main we had steak and ale pie and for dessert we had four of our favourites served afternoon tea style, we were conscious we didn't want to over face people, so people could pick and choose. For the evening food we had hog roast which went down a storm."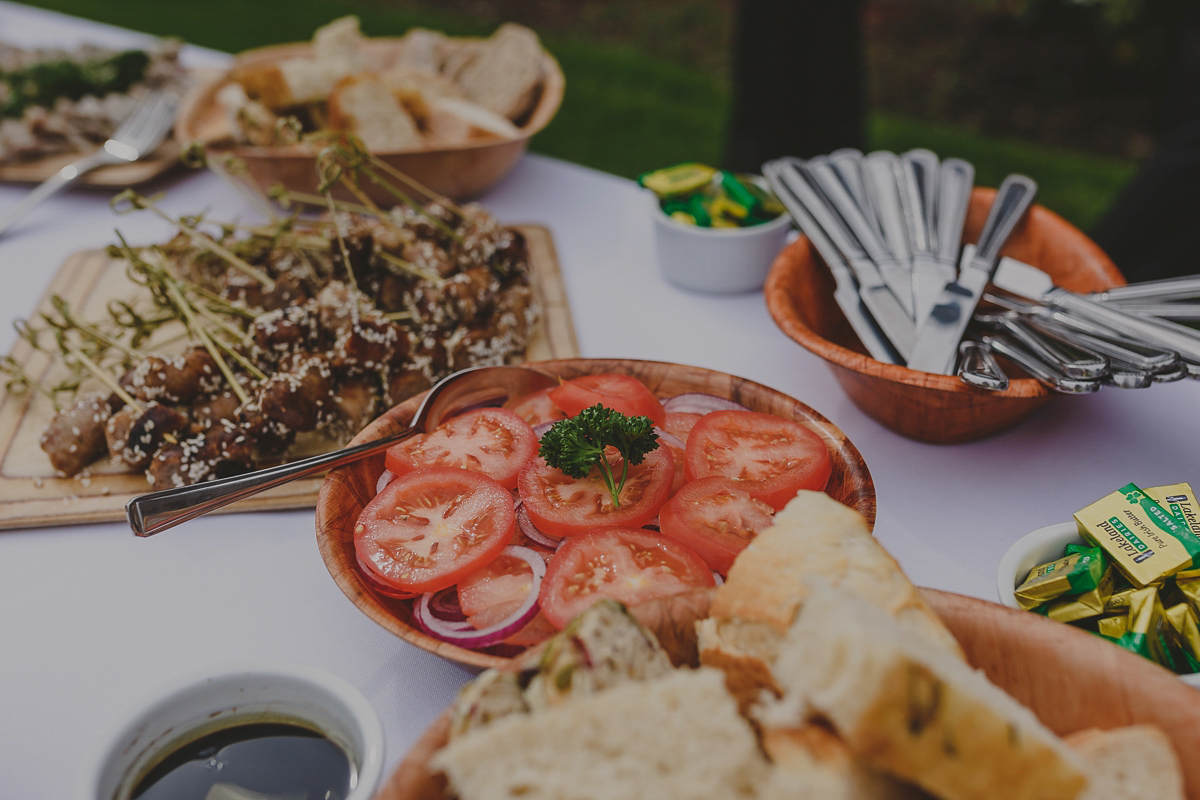 "My mum made the fruit cake- this was very simple, i didn't want a lot of fuss as i had already ordered a cheese cake from Godminster."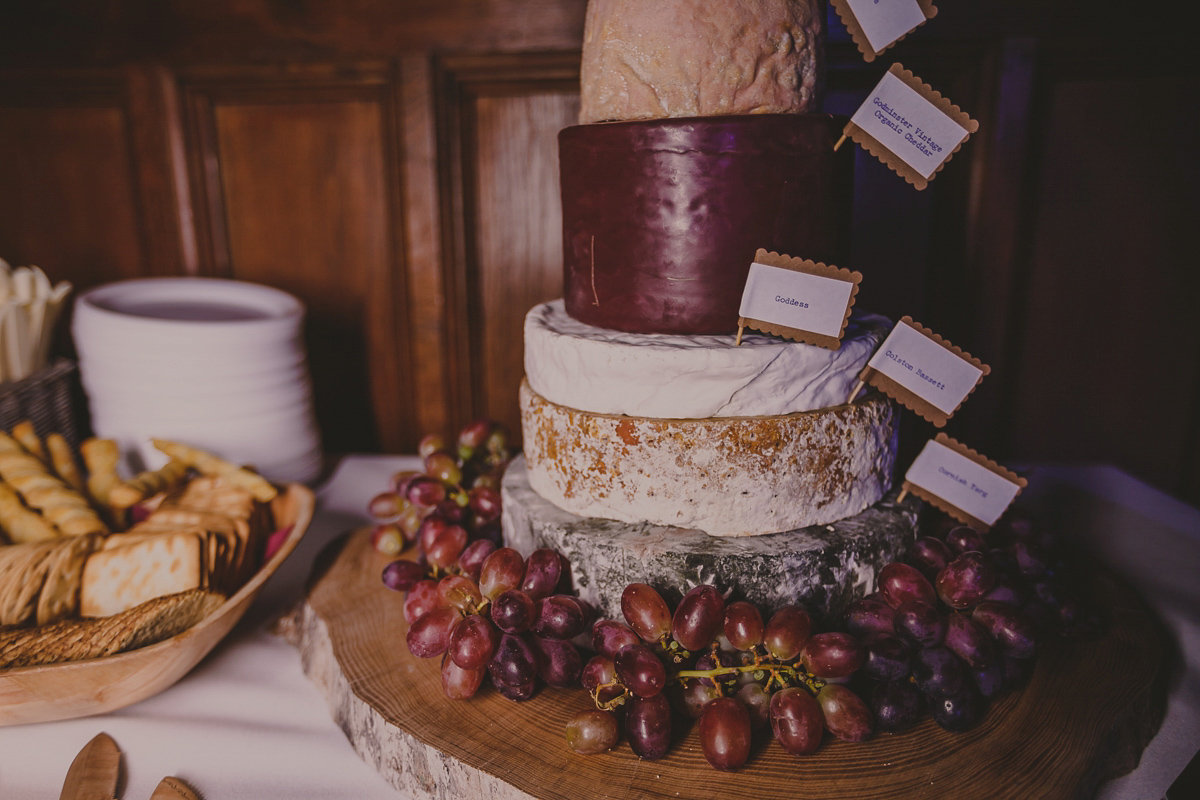 "We didn't have a band, but hired a DJ via 'Amplified Entertainments' for all day to ensure that we could have backing music whilst eating. Josh was great, the dancefloor was packed all the way through the night. As part of our RSVP we asked people to provide us with their favourite song- this meant we could cater for everyone.
We really struggled with our first dance, we didn't want anything too cheesy and I think we both struggled to be in the spotlight. We decided on 'Baby I'm Your's' sung by Artic Monkeys. This was a really sweet short song with just the right amount of romance."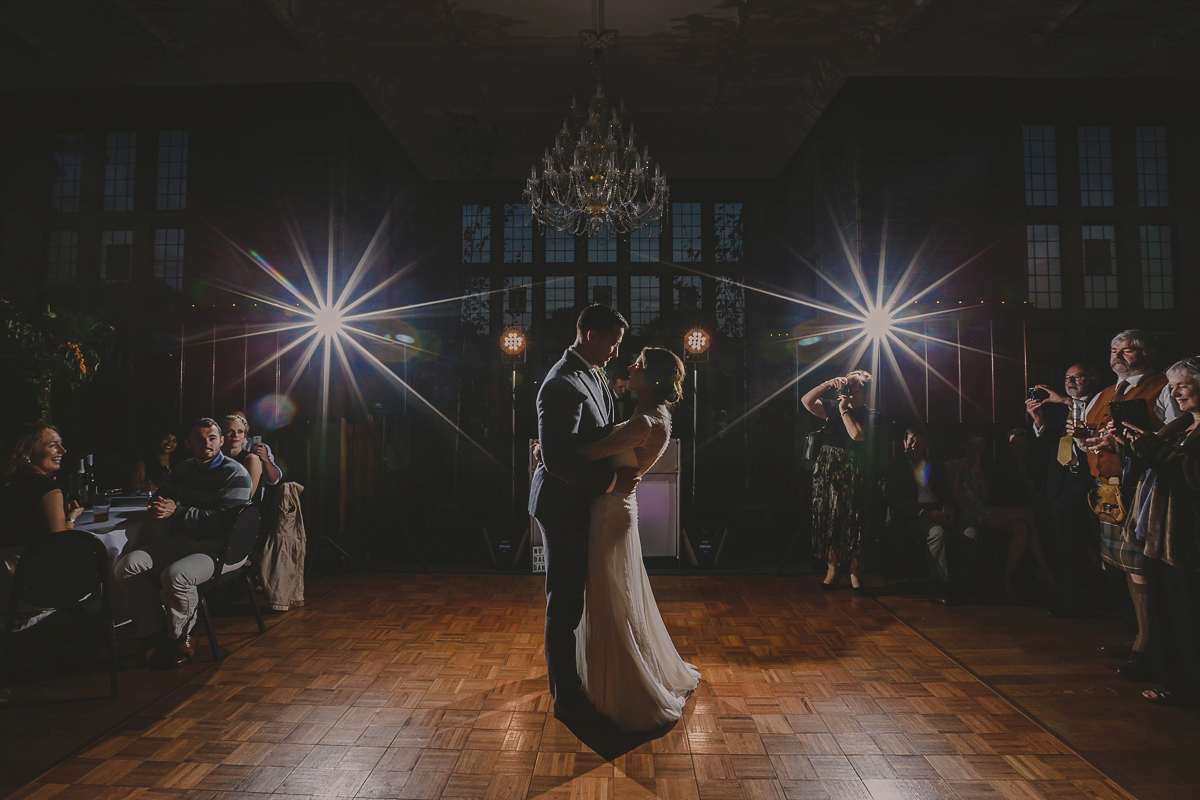 Words of Wedded Wisdom
"I was annoyed at how stressed and worried i seemed to be getting over the whole thing until a friend reminded me that actually it's natural to be a bit stressed about your wedding. At the end of the day there is so much emotional attachment to it and you have never planned a wedding before so its normal to worry whether you are doing it right or not. On the morning of the wedding all my stresses and worries disappeared and i was so excited to see Matthew in church. The people make the wedding, everything else is a bonus.
We decided not to provide wedding favours, I've been to a lot of weddings were wedding favours were left and I hate waste. We decided to buy 20 books on Keswick Walks and Kendal Mint Cake, these were for both day and evening guests to help themselves to.
Make sure you keep a few weekends free before the wedding… we left it a bit tight and were doing some crazy trips before the wedding to try and fit everything in- it probably didn't help with the wedding stress. Also pick your wedding suppliers carefully, we chose them all on people who we could get along with, this makes a massive difference."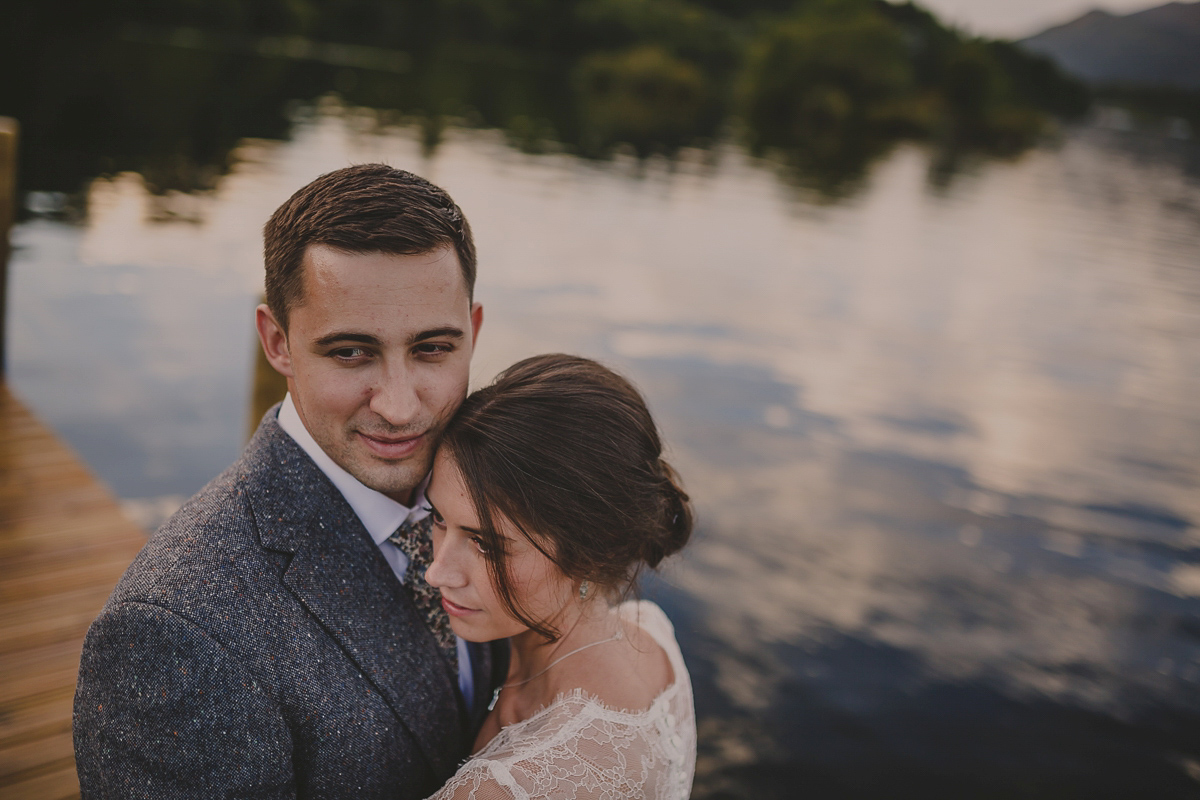 Good gracious, what a beautiful day! So much lovely, honest detail and images beautifully captured by photographer Lottie Elizabeth.
Love Annabel xx