Good afternoon ladies and gentleman! I apologise most sincerely about the lack of post until now today – it looks like Love My Dress is suffering some repercussions from the major DNS 'attack on the internet' that occurred last Friday, 21st October. This has led to the blog being intermittently offline for much of the morning. We're hoping the worst of it has now passed but if you are experiencing problems accessing any area of our lovely wedding blog, please report them here. Love Annabel.
________
I hope you're warm and ensconced somewhere cosy (preferably in some much loved PJ's or at the very least a scarf) to enjoy our Tuesday wedding blog offering. I've always enjoyed the spectrum of weddings shared by Love My Dress, and feel we cater for such  wide variety of styles, visions and budgets, all with that extra sprinkling of inspirational magic. Such is the heartfelt celebration I have for you to enjoy this morning, it doesn't take itself too seriously and reminds us all to experience the joy of simply marrying the person who is  your world. Today I have the pleasure of introducing you to Thijs, a coffee roaster, and Laura, a Physiotherapist. Weeton Village Hall became the serendipitous location of their gleeful union on 30th May. Emphasis was placed on the couple's love of the great outdoors and non-traditional views.
"We wanted to keep it informal, casual and easy-going. We didn't want a traditional English wedding, because we wanted to be playful with the concept of getting married. Central to our ideas were to be able to enjoy and have fun on the day. We love being outside and were aiming to have much of the day themed around the outdoors."
Photography by Martin Crombie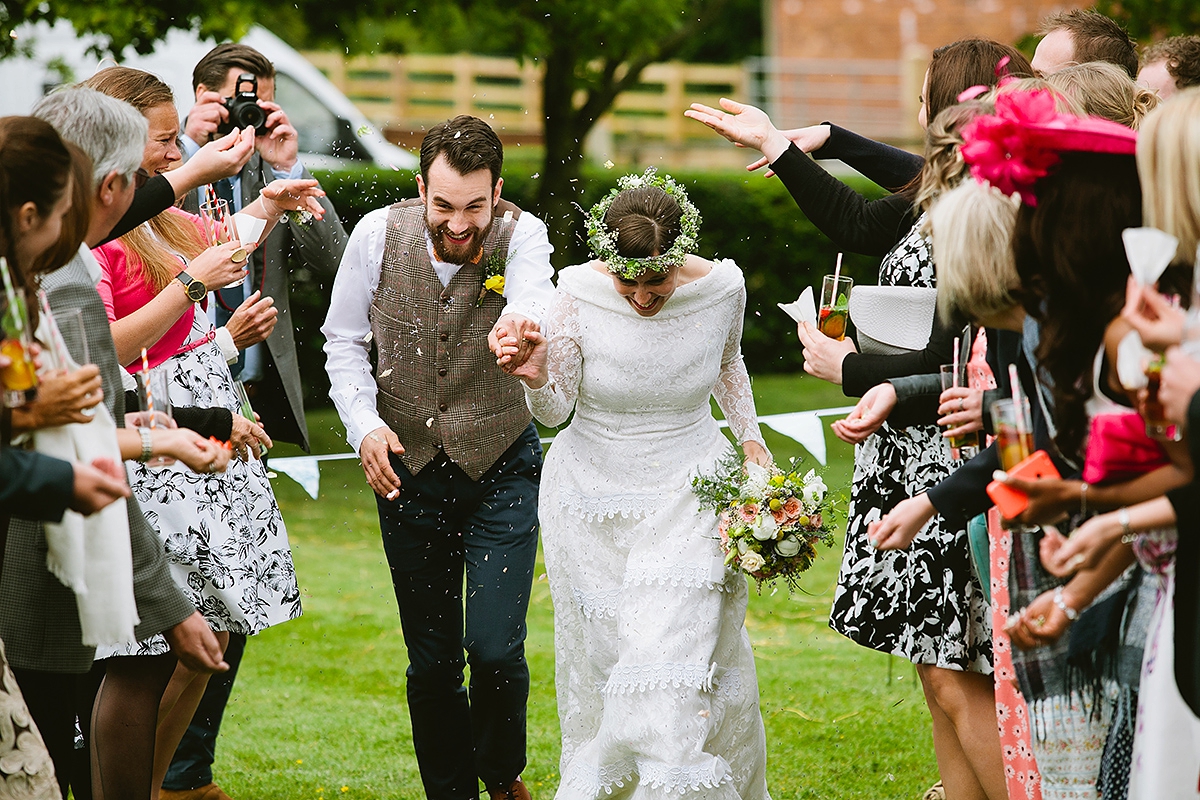 It seems the couple took an organic approach to wedmin, and the perfect components of their wedding found them. Whilst enjoying an ice cream at Greenwich Village Market, they stumbled upon this 1940's vintage gown and snapped it up for £100! This was the first wedding purchase made and was fitted to our beautiful bride back in Blackpool.I adore that the dress has such a whimsical back story and the vintage neckline and exquisite lace looks perfect on Laura. For more inspiration from the post-war era, check out more 1940's-loving gorgeousness here.
Vibrant, spring flowers were provided by Sonje Jones Design Team. Gypsophlia, daisies, pastels and hints of yellow matched the cheery disposition of the day.
"At first we only ordered a small selection of flowers, we loved that they came fresh from the market almost that day. We gave some rough directions of what we wanted but gave free rein. A few days before the wedding we went in and ordered a lot of extra arrangements and it was pulled of brilliantly, flowers turned out to be a main feature of the wedding!"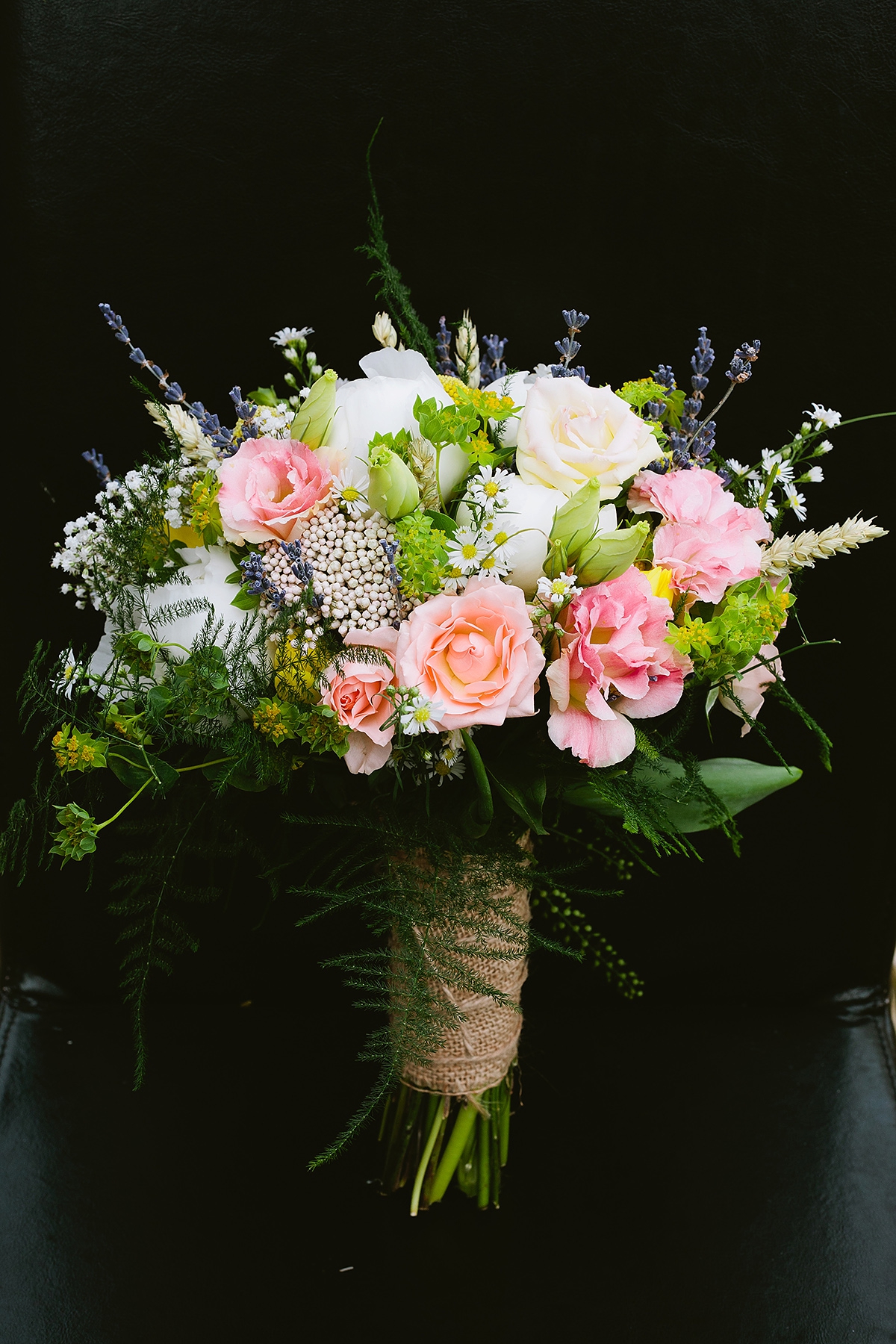 A garland of seasonal flowers adorned Laura's elegant up-do that was perfectly coiffed by Indigo Hair Design. The simplicity and vibrant freshness of this crown matched the romance of vintage dress and feels bridal without being overly styled. Urban Decay  make up was used by our bride to create a natural glow. Pearl earrings and vegan sandals from Roni Kantor on Etsy finished the look in a subtle and graceful way.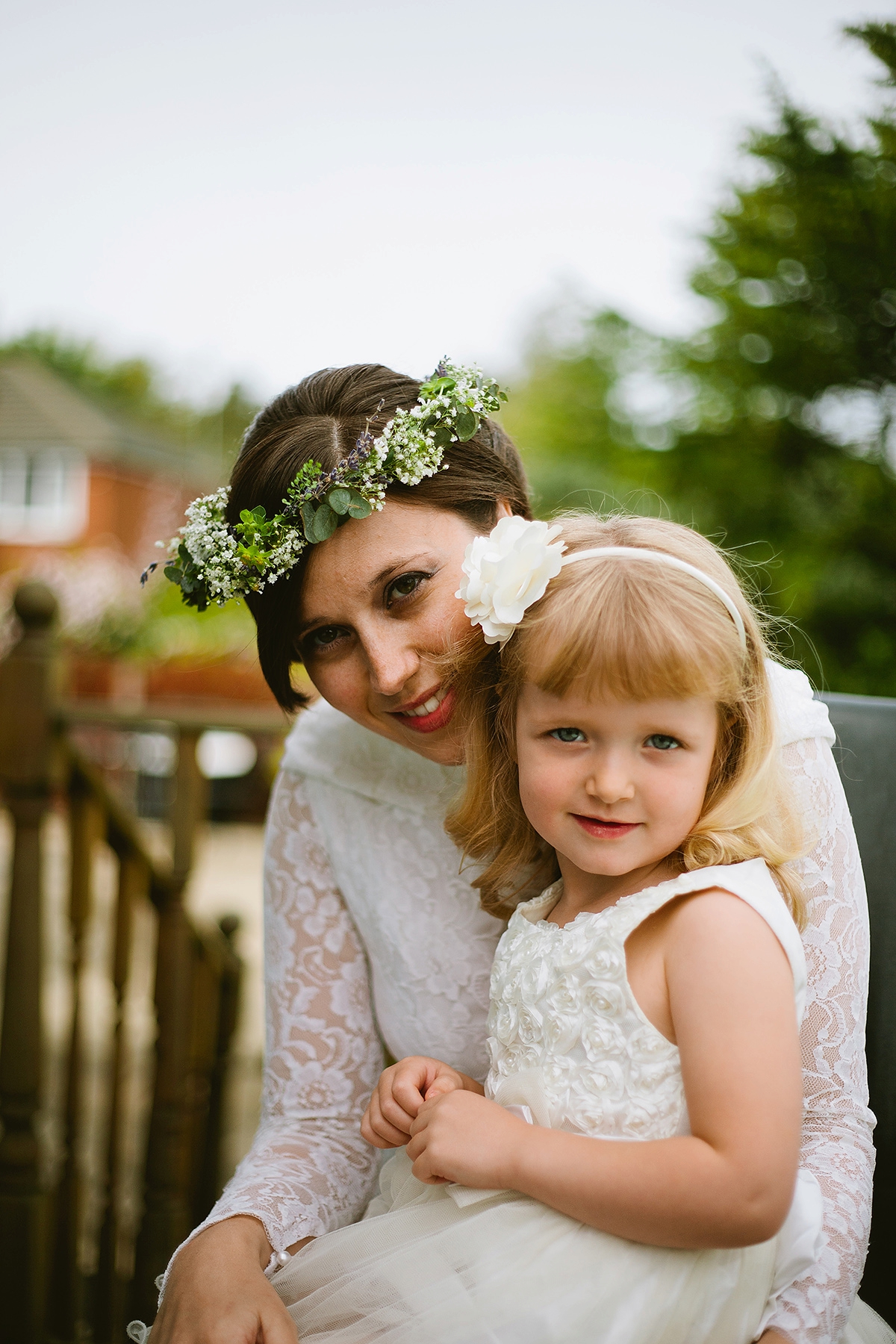 Groom Thijs shares the journey that he and Laura have shared, including an incredibly thoughtful and romantic proposal. Getting a peek at the love story behind buoyant Big Day smiles is one of my favourite parts of sharing real weddings, each one is unique and I'm always amazed by how people find each other.
"We met whilst studying abroad in a tiny town in Finland. We became best friends and began to fall in love. Our studying came to an end; I went back to Amsterdam and Laura went back to Blackpool. We felt like our relationship was more and when, a year later, Laura got a job in London, I didn't hesitate to come and join her there. Another year later we got engaged in our studio flat in New Cross. I took a day off for her birthday and filled the house with roses, romantic music and candlelight. I didn't have a ring because we were going to fit a diamond from her Dad's ring. We were engaged for more than two years before the wedding day."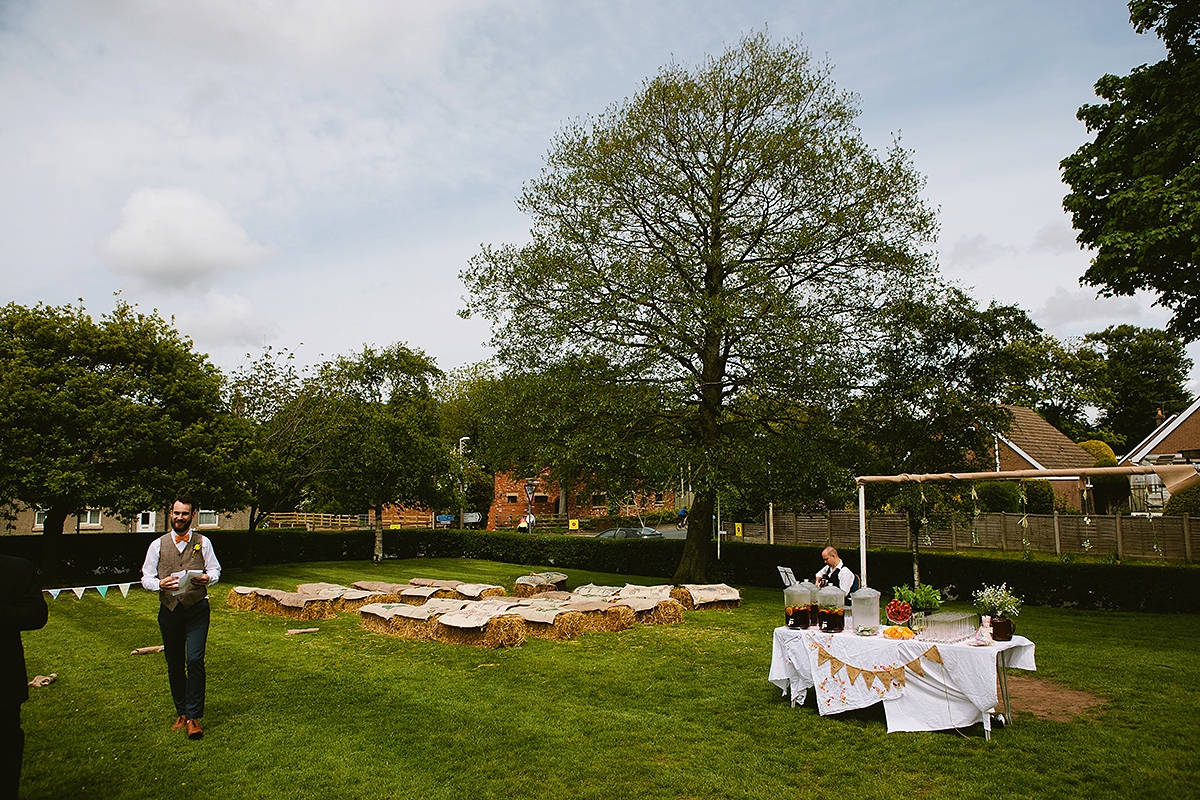 Bridesmaids and Groomsmen were given free rein to scrub up in outfits they would feel comfortable in, yet fit within the 1940's vibe. Groom Thijs collected pieces for his wedding look from a variety of places, his trousers from Ted Baker, shirt from French Connection, bow-tie from Mrs Bow Tie and waistcoat bought on his stag do in Amsterdam for 10 Euros. Both bride and groom therefore were wearing original, unique pieces that were total bargains!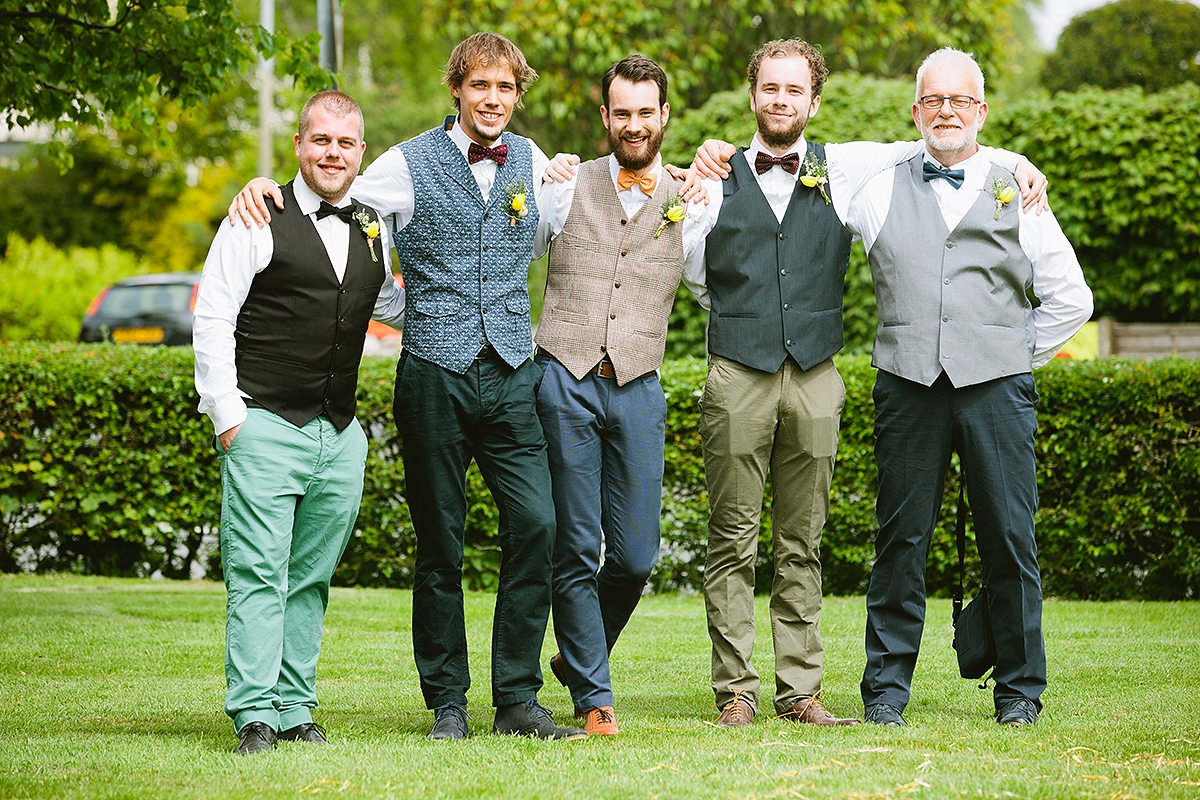 Laura's Mum accompanied her down the aisle to her man (and tree) whilst 'Cupid' by Sam Cooke was played by Michael from Deadbeats Band on Spanish guitar. Groom Thijs reflects on their Humanist ceremony:
"We wrote our own vows. I had a whole piece about the things I promised to do as a husband. Laura had more of a romantic anecdote about our time together in Finland and that she felt the same way when we are together now. We both kept forgetting our words, resulting in the MC reading it to us. You will see me walking around with pieces of paper in my hand, trying to get the vows right. It feels like its really important, its not."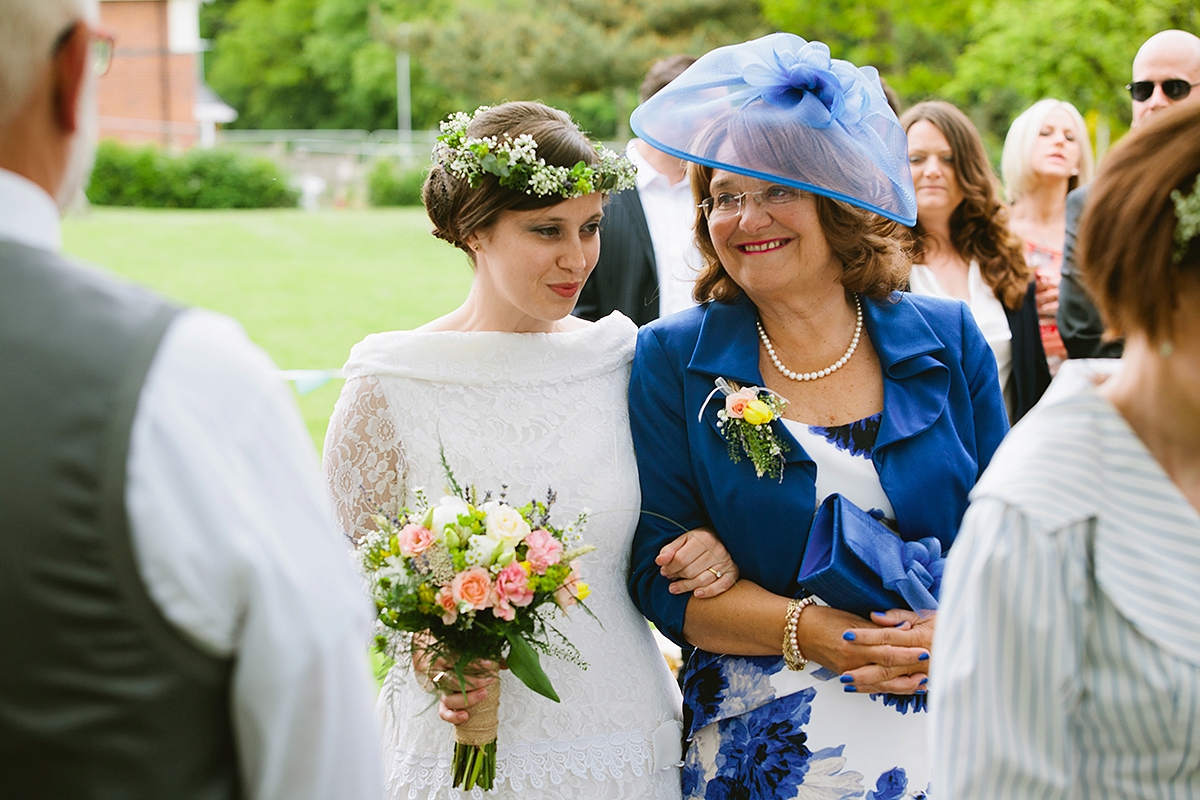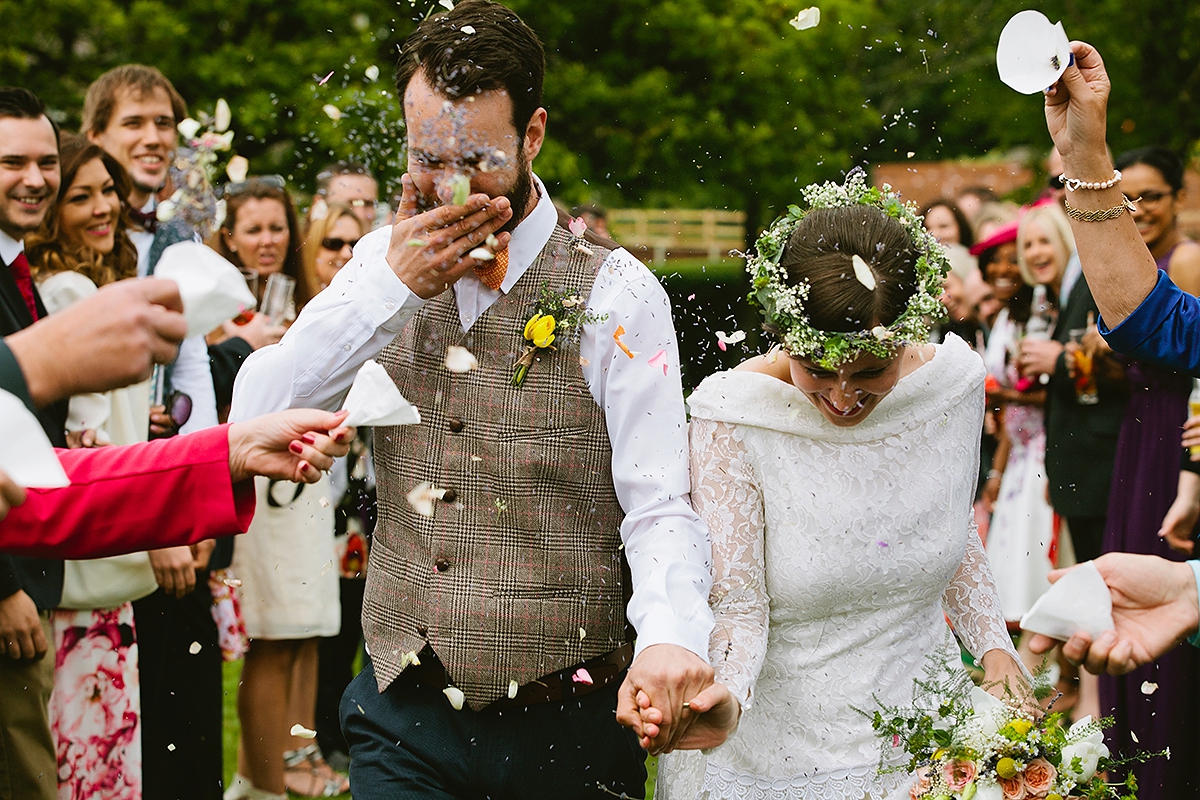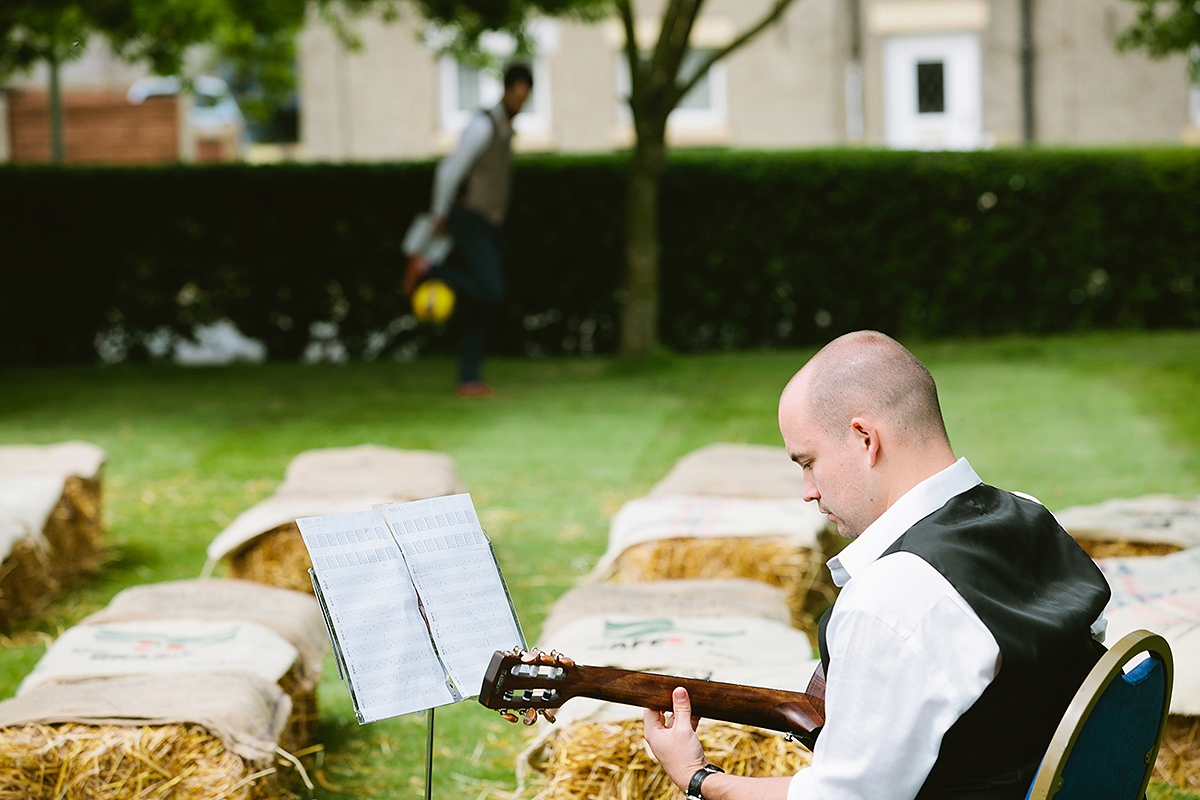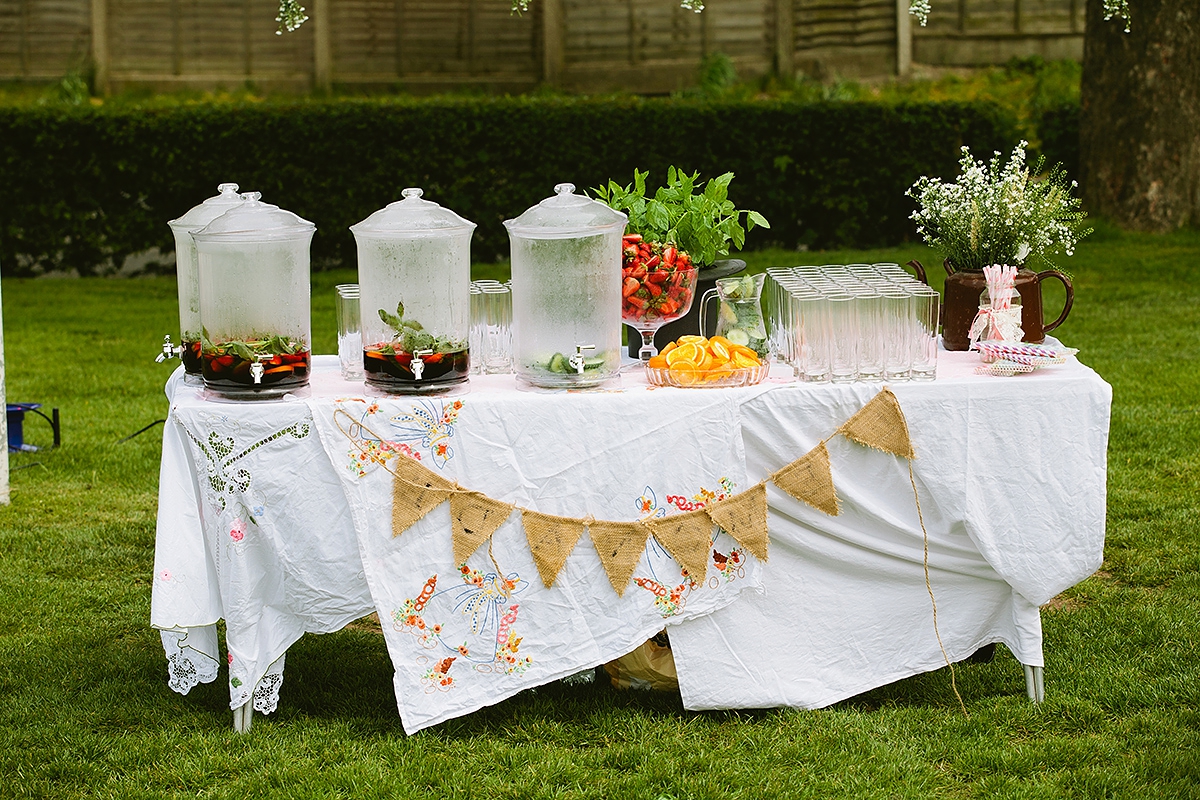 Decorations were handmade, with bunting being sewn and signage being made by family members. Hay bales came from the local farmer and hessian coffee bags from Thijs job as a coffee roaster! Favours were perfectly silly and colourful and comprised of Blackpool rock with personalised text inside.
"The venue was a last minute decision. The village hall had just been done up and we would be the first to have a wedding there. We drove past Weeton Hall after visiting another hall that was fully booked. It was available, close to where Laura grew up and managed by lovely lady. We fell in love with the communal outside area and tree instantly."
A veritable vegan feast was created by Kwizeen Outside Catering. The sharing platters running along the middle of the tables look utterly divine and the colourful, varied assortment of food is a credit to Kwizeen.
"They were really brilliant. They helped us create a vegan wedding (a unique concept in Blackpool) and were a huge help with the organisation. We got our tables, crockery, cutlery and linen from them as well. Marco and his team created a fabulous sit down vegan meal for our guests to enjoy, it looked and tasted great."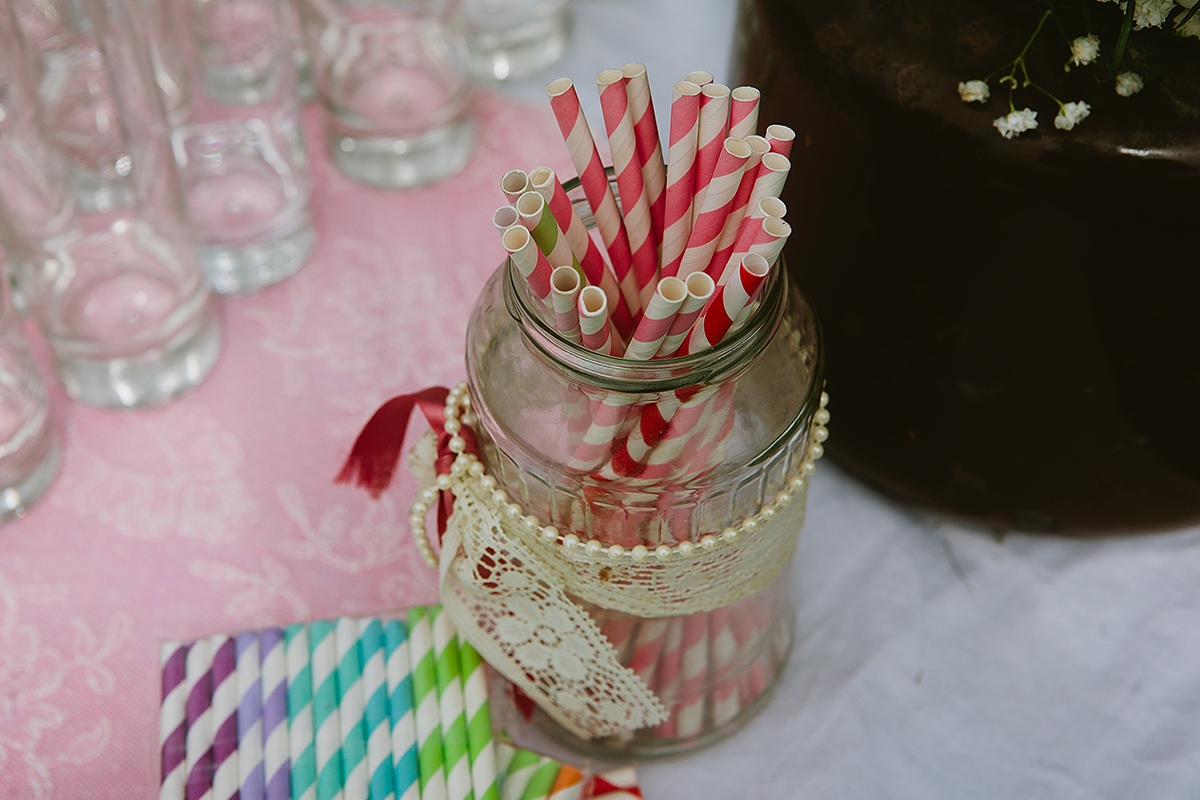 Calling upon talented friends is all part of that wedmin process, and Thijs and Laura luckily had the best kind of pal: a cake maker. Cupcake Blackpool made the most delicious looking table of sweet treats in a menagerie of happy colours and appetising styling.
"Every single thing was vegan. Vikky is an old school friend and one of the bridesmaids on the day. For our wedding she made a huge cake table with a rainbow cake as a centrepiece, surrounded by many other types of cakes, scones and cupcakes."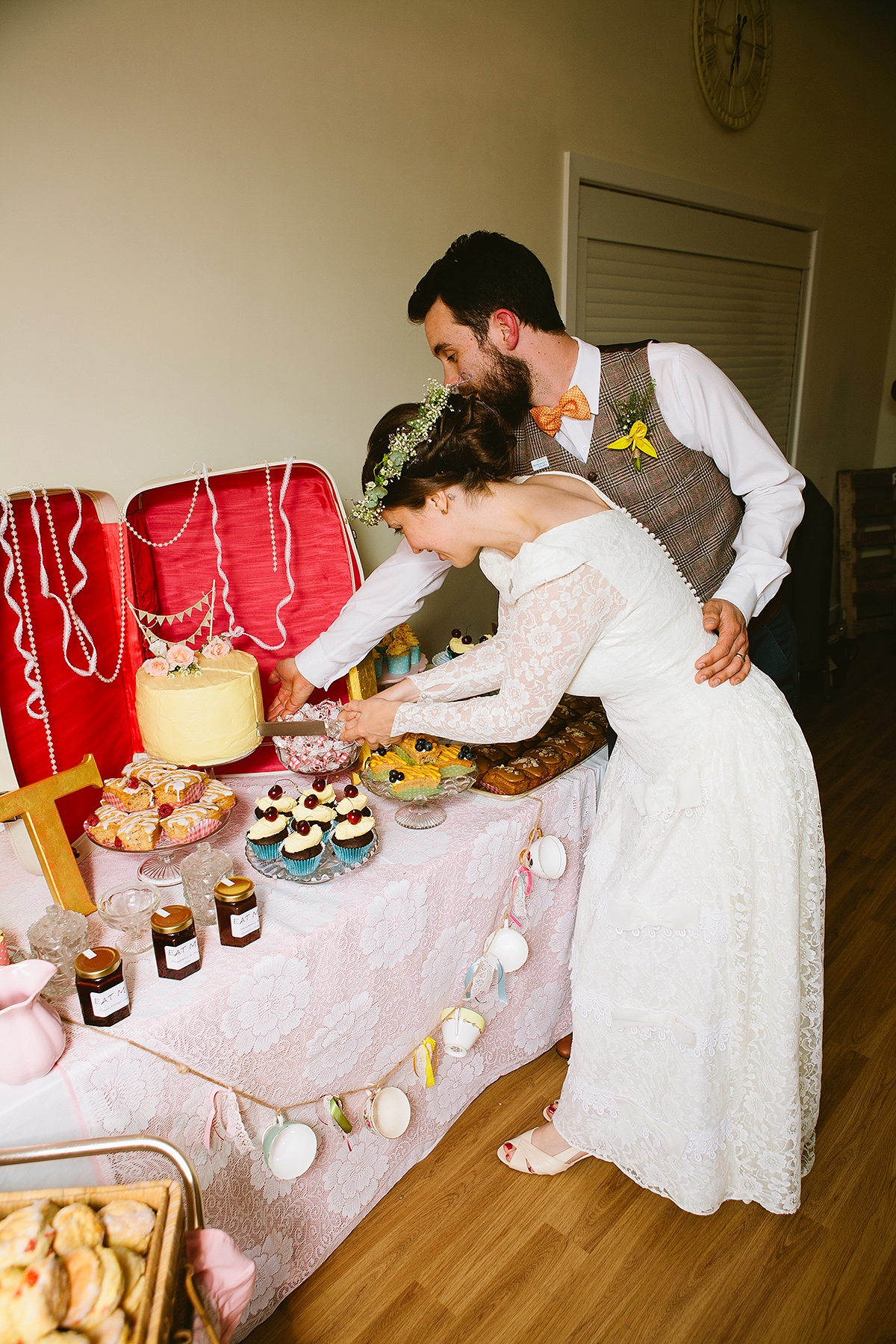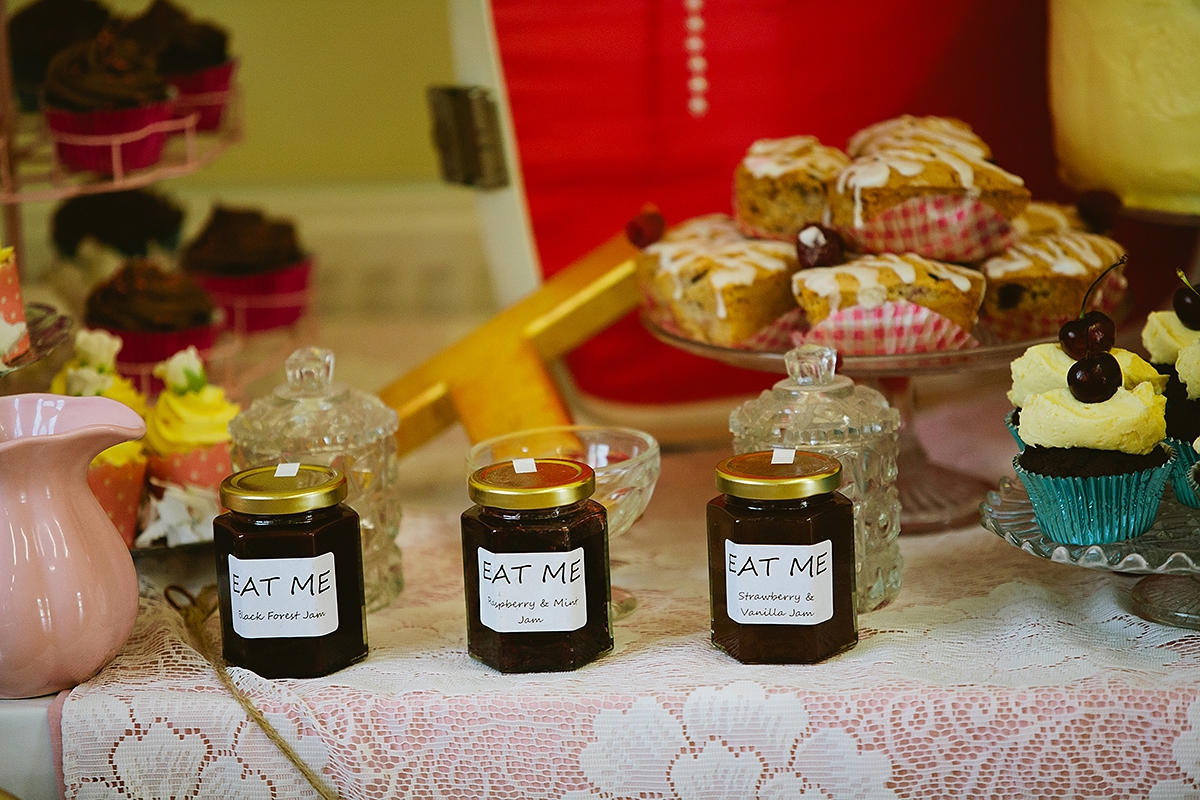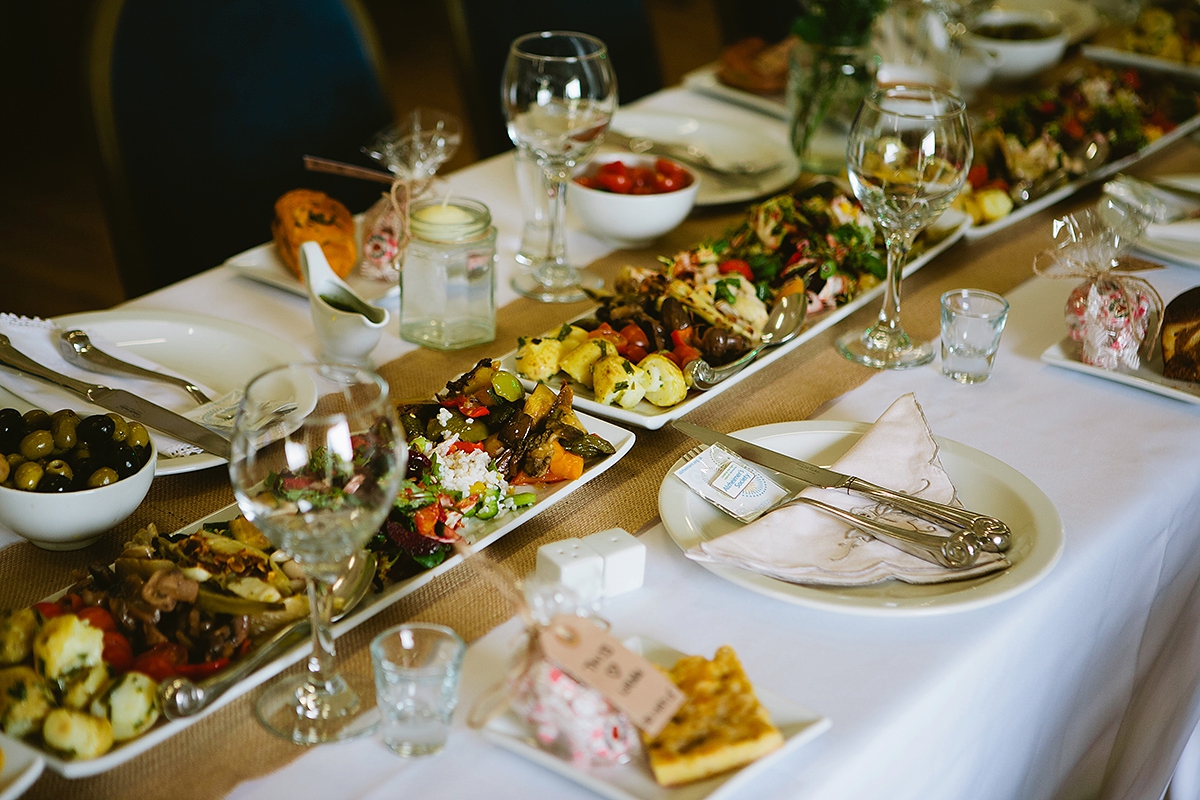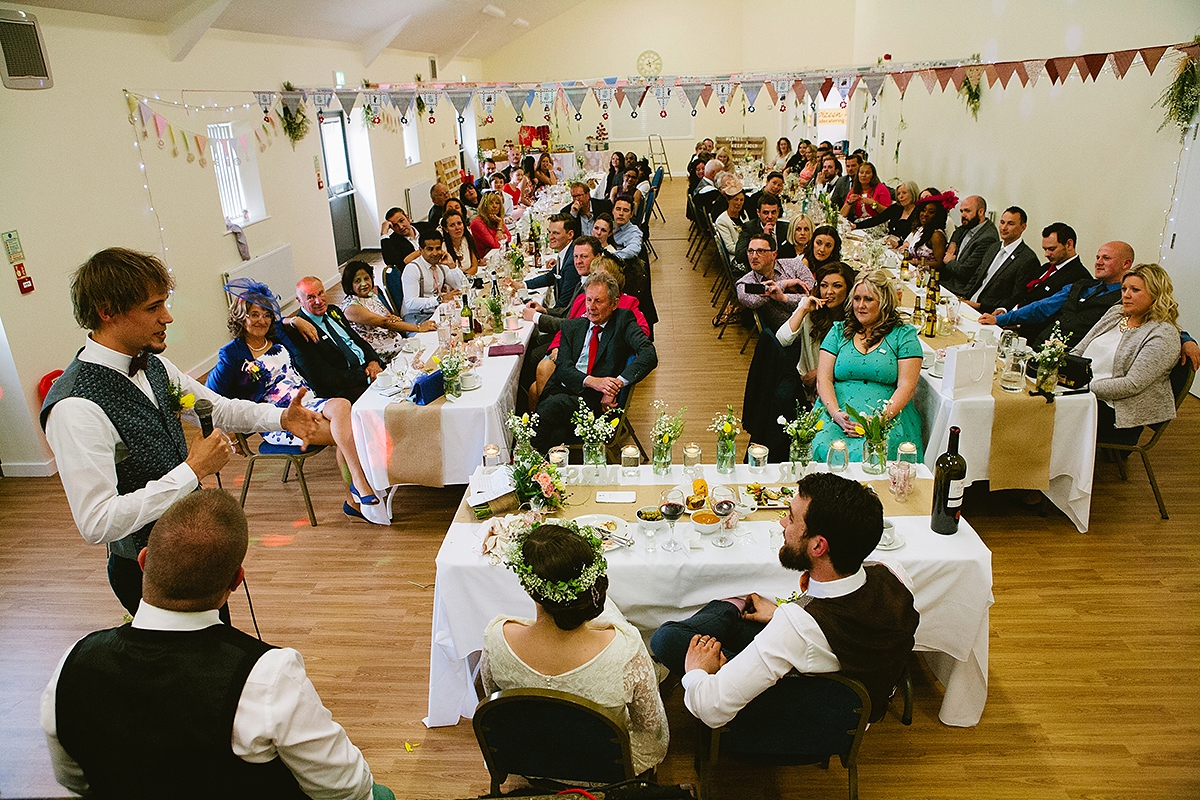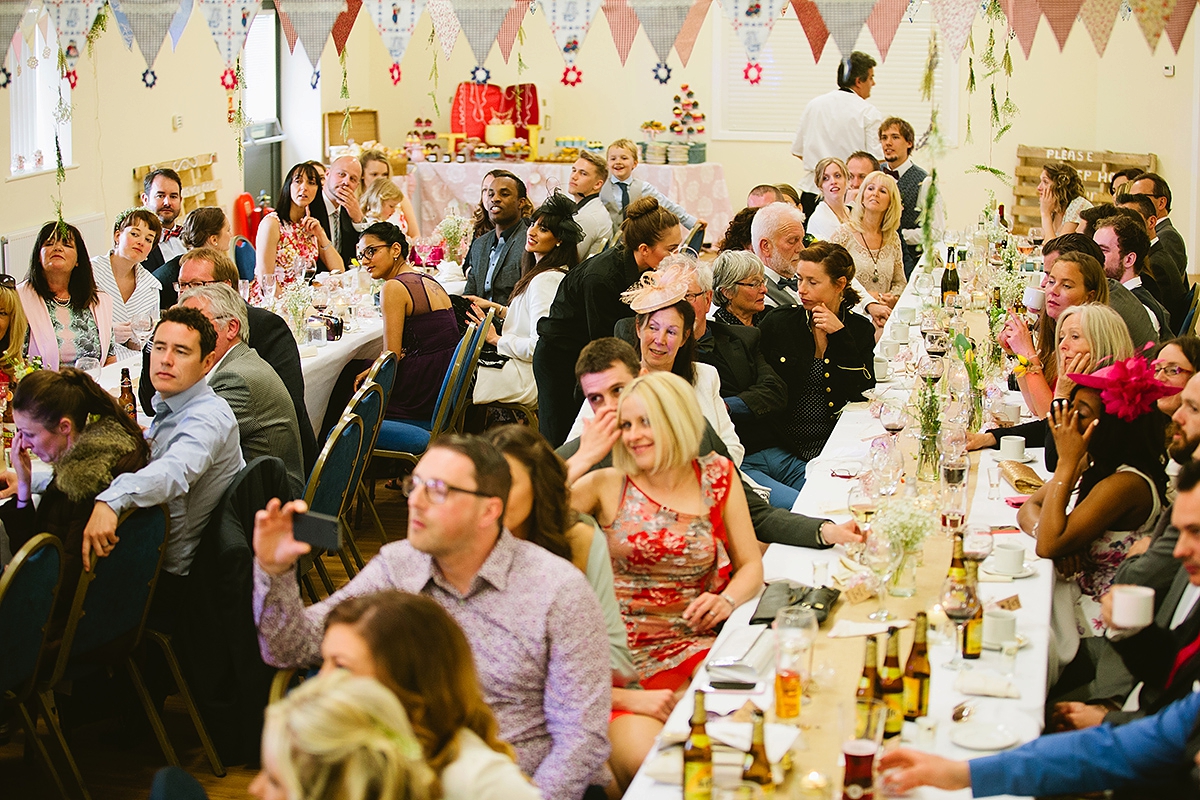 Capturing every last bit of fun, and an amazing balance of classic couple portraits and hilarious sack-race action shots was Martin Crombie. Integrating into a wedding whilst getting those perfectly timed pics is all part of a true professional photographers role, Martin became a guest (with a fancy camera) and Laura and Thijs couldn't be happier with the results.
"Martin Crombie captured our favourite tree, the fun and games and our slightly awkward poses perfectly. He was as much a part of the wedding as any other guest we invited and the pictures are just stunning. We had a super fun engagement shoot at Blackpool Pier too."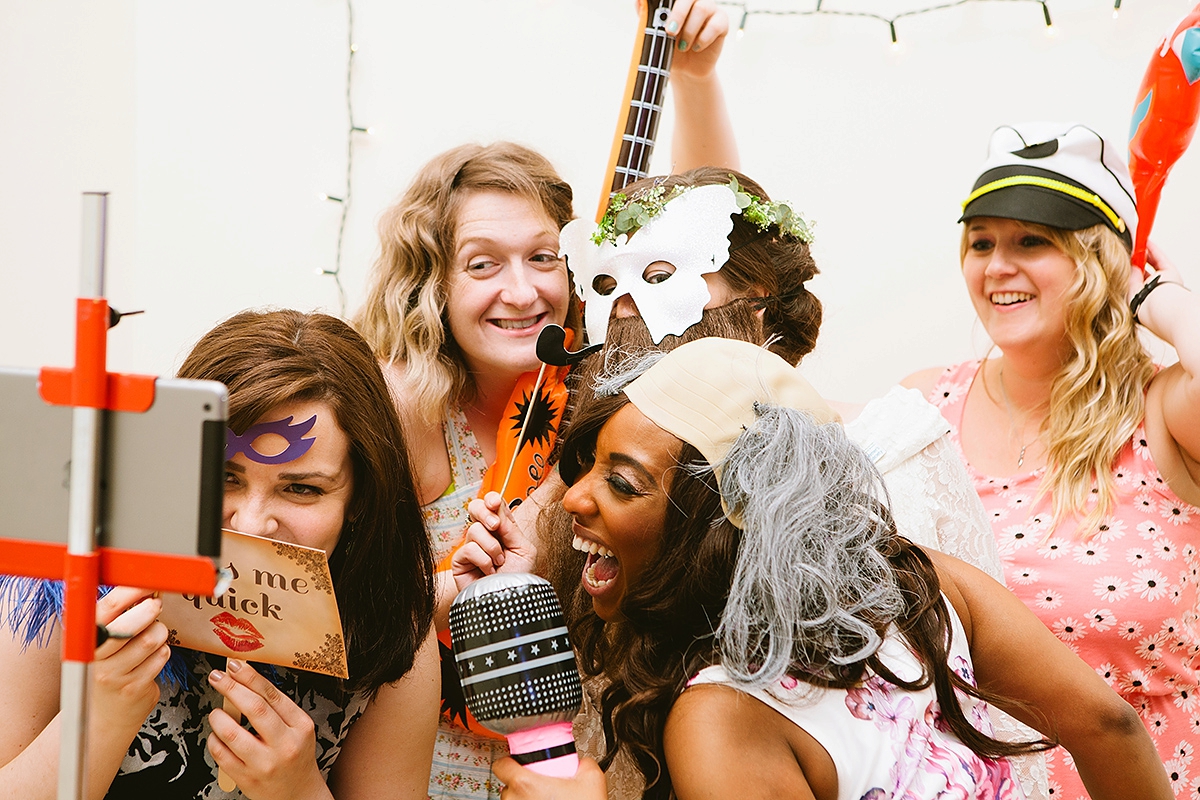 Booking a band can be stressful; with so many options and variants of sounds and styles. Thijs and Laura chose Deadbeats band for their energetic performance and floor filling reputation, they weren't disappointed!
"You know you booked a good band when every single person is dancing. They were incredible! They learnt our first dance song and it ended up being one of the best versions of a Sam Cooke song we've ever heard. Huge amounts of energy and so much fun."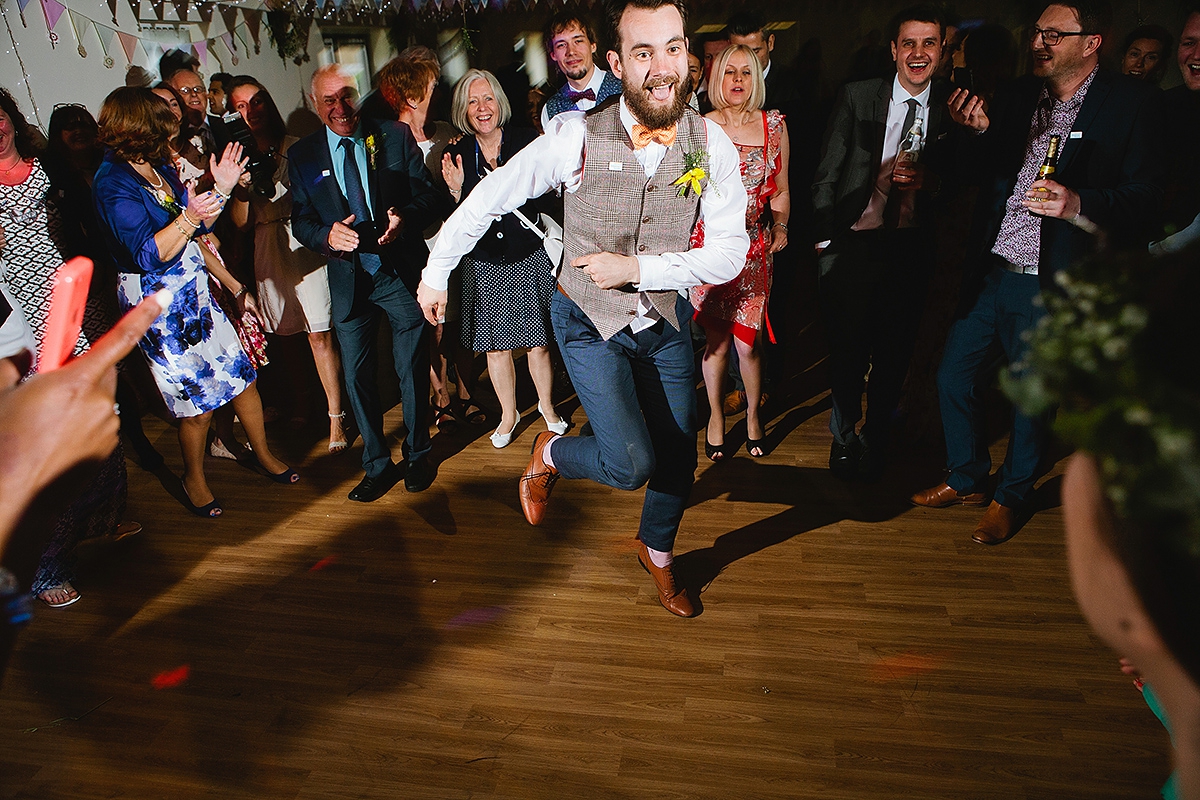 Words of Wedded Wisdom
"Organise your time and budget well in advance. There are so many things that we could have done in the build up but actually did two days before. You can easily avoid this by sitting down and looking at your calendar and your budget. Be very strict with yourself about what you want to do and when. The activities we did added massive value to the day; the sack race made people laugh and forget social awkwardness near strangers. Pimms made by people who don't know how to make Pimms gets people drunk really quickly."
I think what we've learnt here is that amazing food, a venue that you feel connected to and a whole sack (race) load of fun will make your wedding one to remember. I know you all join me in thanking Thijs, Laura and Martin Crombie for being responsible for our Tuesday treat today. Village hall weddings are such heartfelt, charming occasions and you can enjoy more of them here. If you'd like to stay outside in the fresh air this morning, have you watched the stunningly beautiful film from the Emmy collection at H Samuel yet? Our beloved Annabel was part of the team that produced the film and it was shot in her very own dreamy meadow (that you may recognise from her Instagram feed).
So, 6 weeks married, we have our wedding pictures back (stay tuned for more on this) and I can finally deal with my wedding emotions and feel truly calm once more. Progress!
Love and hugs,
Emily C