Good morning gorgeous ones, well, it looks like after the horrible denial of service attacks, that we might be returning to some semblance of normality here at Love My Dress. I apologise that our schedule has been a bit out of whack as a result – things will be back to normal as of tomorrow, with posts going live at 6am, 12 noon (if we have a lunch time post) and 2pm. So, onwards! Today's real wedding was sent in by one of my absolutely favourite photographers in the whole wide world – someone I heartily recommend through our Little Book For Brides, and who I have thoroughly enjoyed working with really since Love My Dress was born almost 7 years ago now. Her name is Caro Weiss and she is like a photography ninja – always there to capture every wonderful moment. I adore her and her photography.
Emma-Jane, a Dental Hygienist Therapist married Simon, an Architect Technician on 6th August. The couple had a ceremony at St. Joseph's Chapel in Stepps, followed by a reception at St Joseph's Parish Centre right next door to the chapel.
"I am in the fortunate position of working with a catering company who have catered for lots of weddings – one of my favourites was a laid back, informal wedding held in a village hall. Ever since this wedding, I've known I wanted something similar. St Joe's Parish Centre had recently been refurbished with all white walls and wooden floors. The whole 'blank canvas' idea totally appealed to me. Si's Dad looks after the hall so I knew anything was pretty much possible (even if he said no at first – we always managed to talk him round). We had so many ideas and this venue gave us the freedom to create them."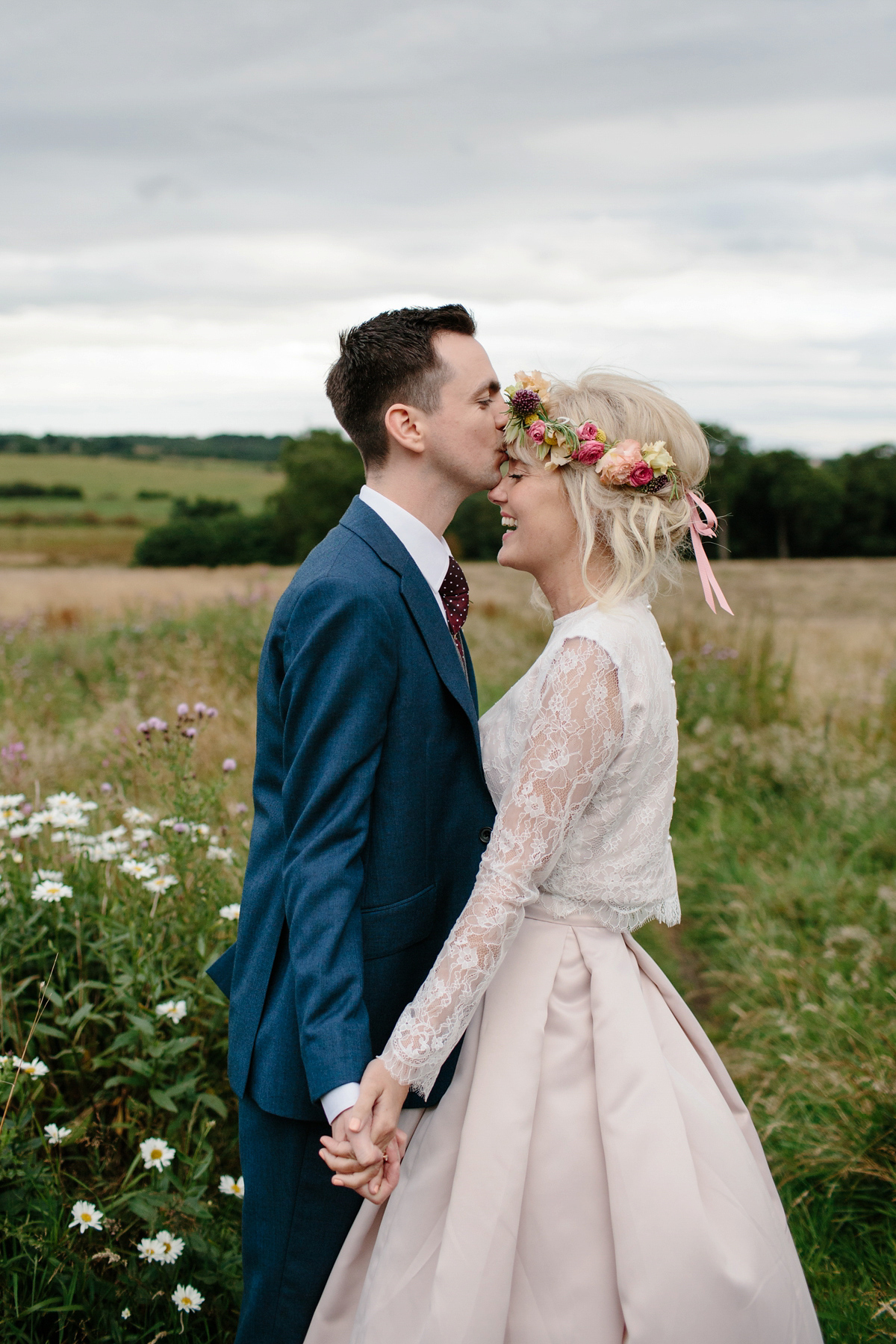 "Our photographer Caro Weiss was a dream – not only is she one of the nicest people I have met she is so incredibly talented. We also knew that we wanted our wedding photographs to be a natural record of the day without too many staged photos and that's exactly what Caro is all about."Emma-Jane decided against the traditional wedding dress shopping experience, opting instead for her friend to create separate skirt and lace top. Bridal separates are increasing in popularity – many of the designers listed in our Style Files and Little Book For Brides offer similar styles if you love Emma-Jane's look.
"My dress was made with love by my friend Jan Hutchieson. I knew from day one that I would never find my personal vision of my wedding dress in a shop, so I was very lucky to have my very talented friend (Jan) make my dress. All I knew is that I wanted a skirt with a lace top, I never meant for it not to be white- that just happened when Jan and I went material shopping after a few Prosecco's! I absolutely loved my dress and I am determined to wear it again one day."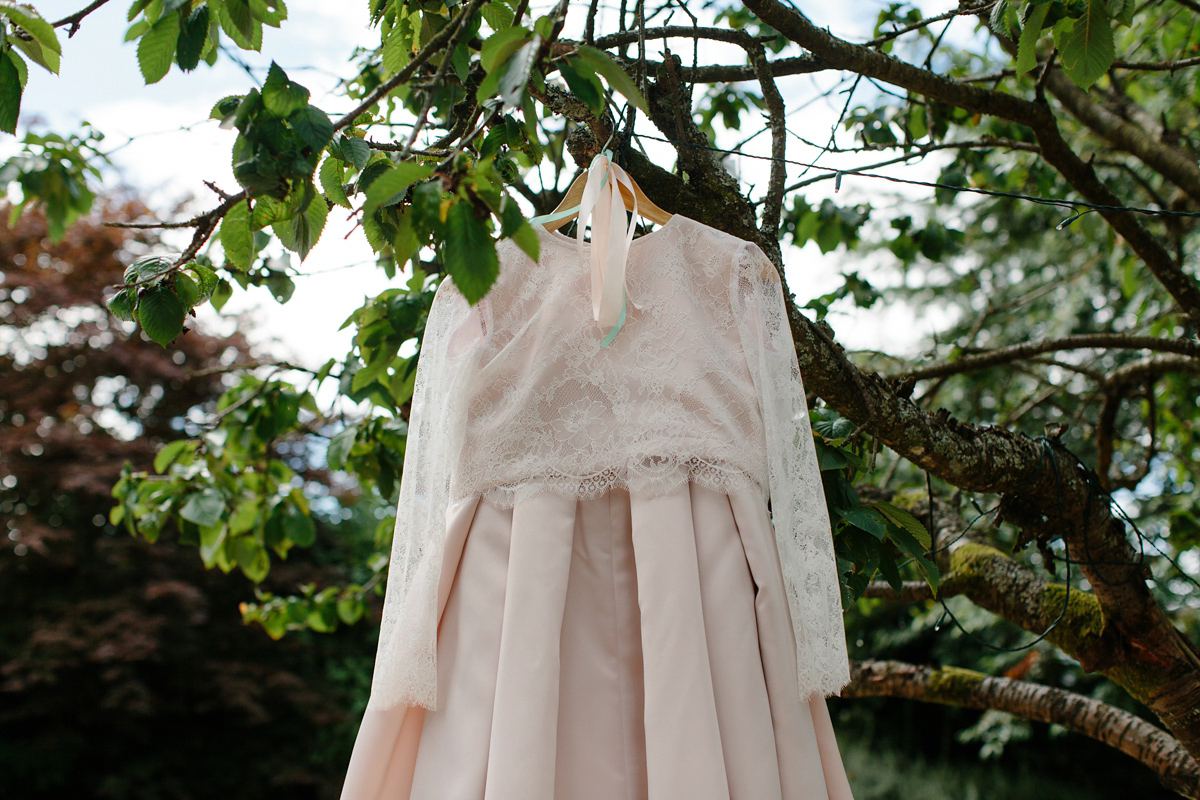 "Florist Lisa of Sparrow and Rose is really lovely – I wanted bright colours and that was all I really knew. The rest was up to her, I put all my trust in her and left her to do what she knows best and she way exceeded our expectations."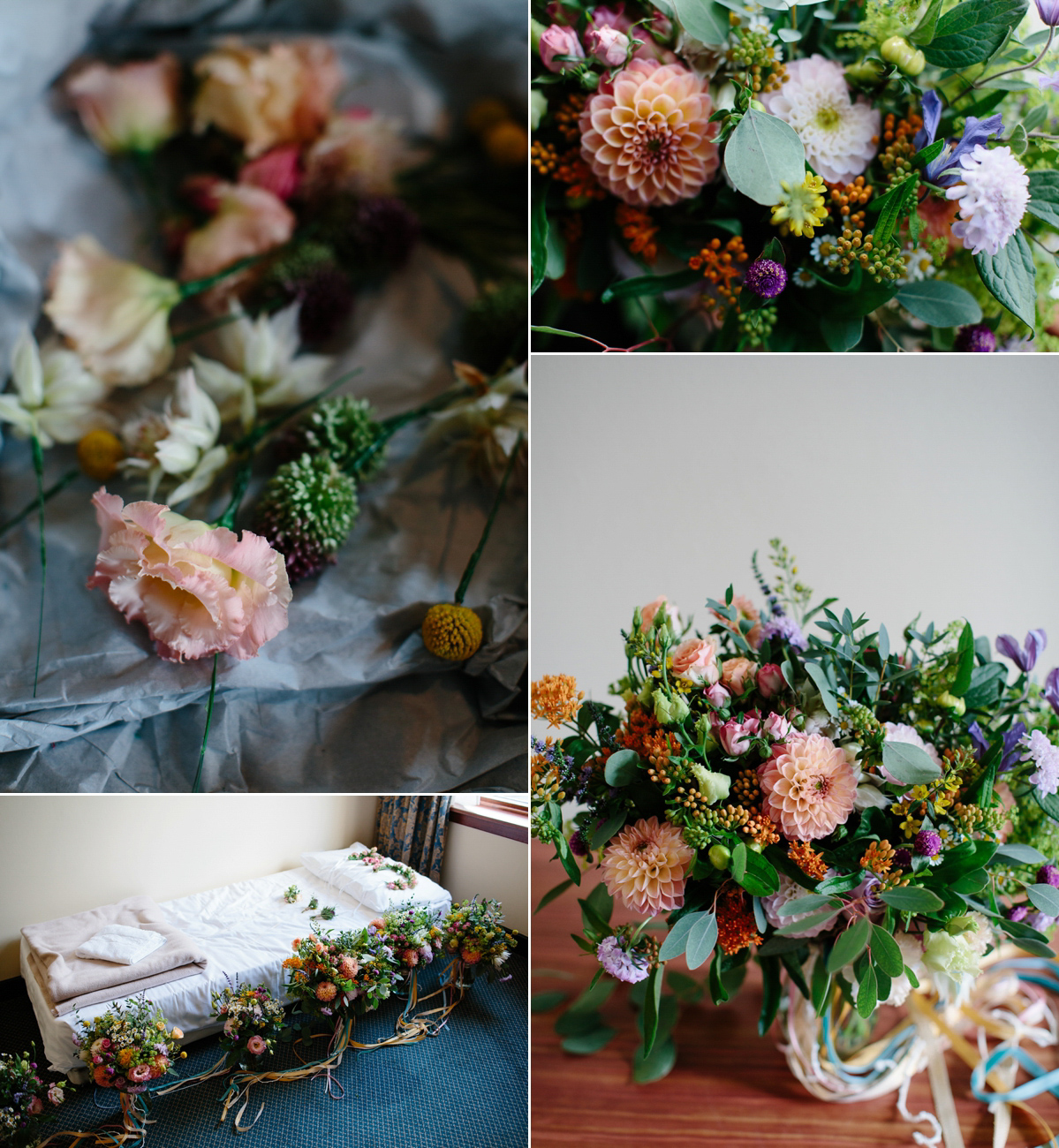 "Makeup artist Lynsey Murray was a delight to work with, she was so professional and attentive. I have no clue when it comes to make-up but she really knew what she was doing which put my mind at ease."
"I know I am biased but everyone in the bridal party was beautiful! My hair was styled by Holly and Anne Marie of Anne Marie McElroy."
I do adore seeing a beautiful wrist corsage like the one below – such a lovely way of adding floral styling to a wedding without the need to carry around an actual bouquet – a perfect option for the mother of the bride, flower girl, even bridesmaids!
You can view other weddings that feature pretty wrist corsages here.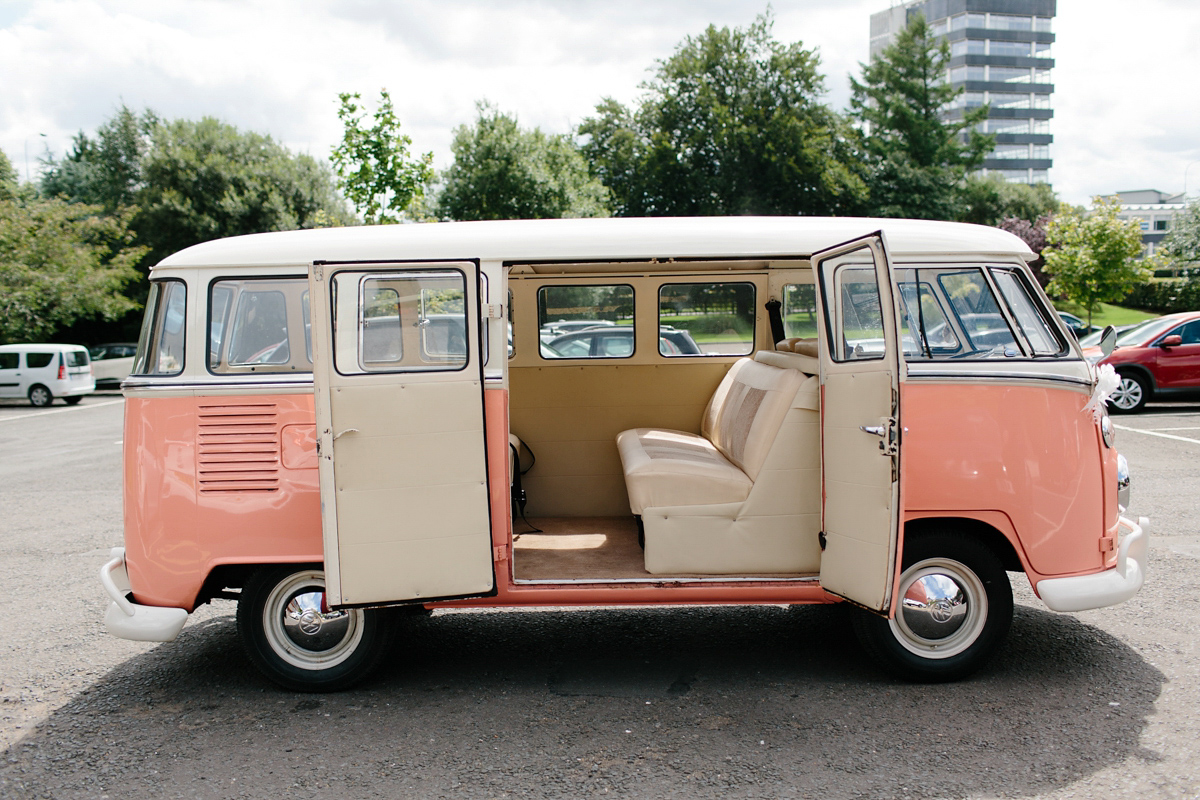 The bridesmaids wore gowns made by the same dressmaker that made Emma-Jane's dress. They also wore Pandora birthstone rings in pale pink – gifts on the morning of the wedding from Emma-Jane.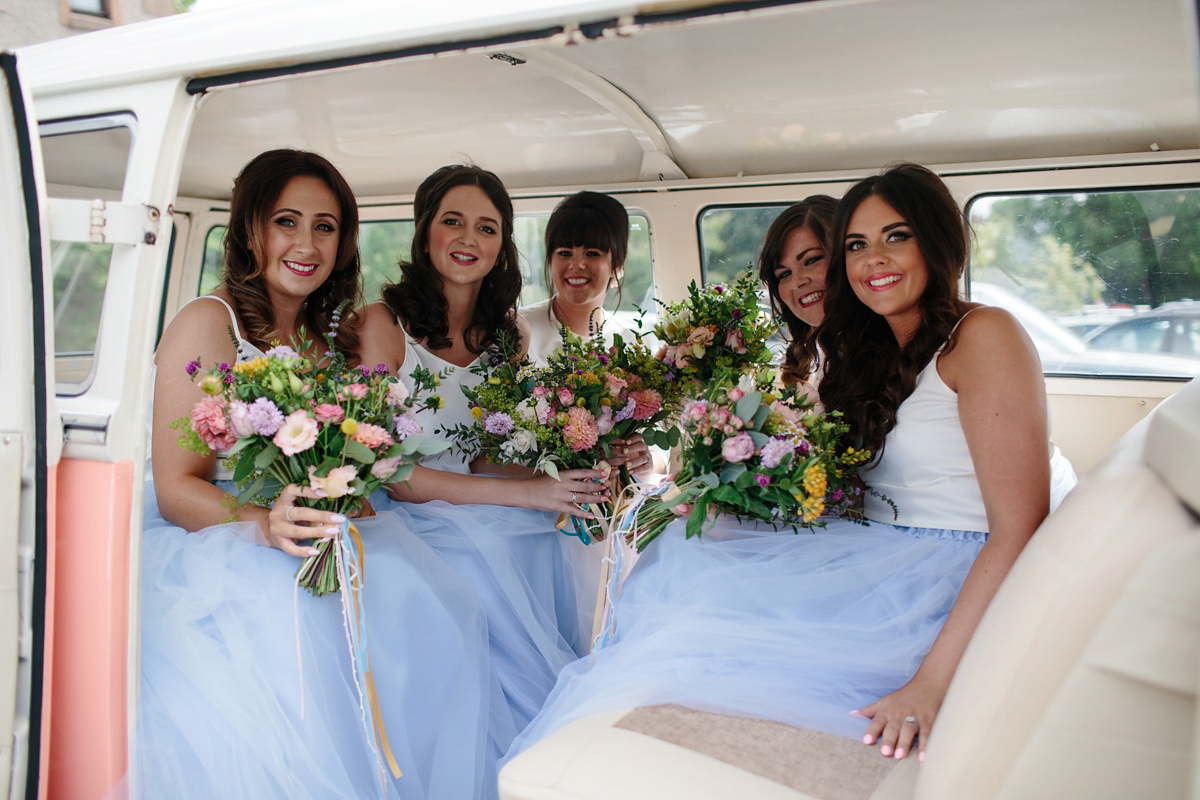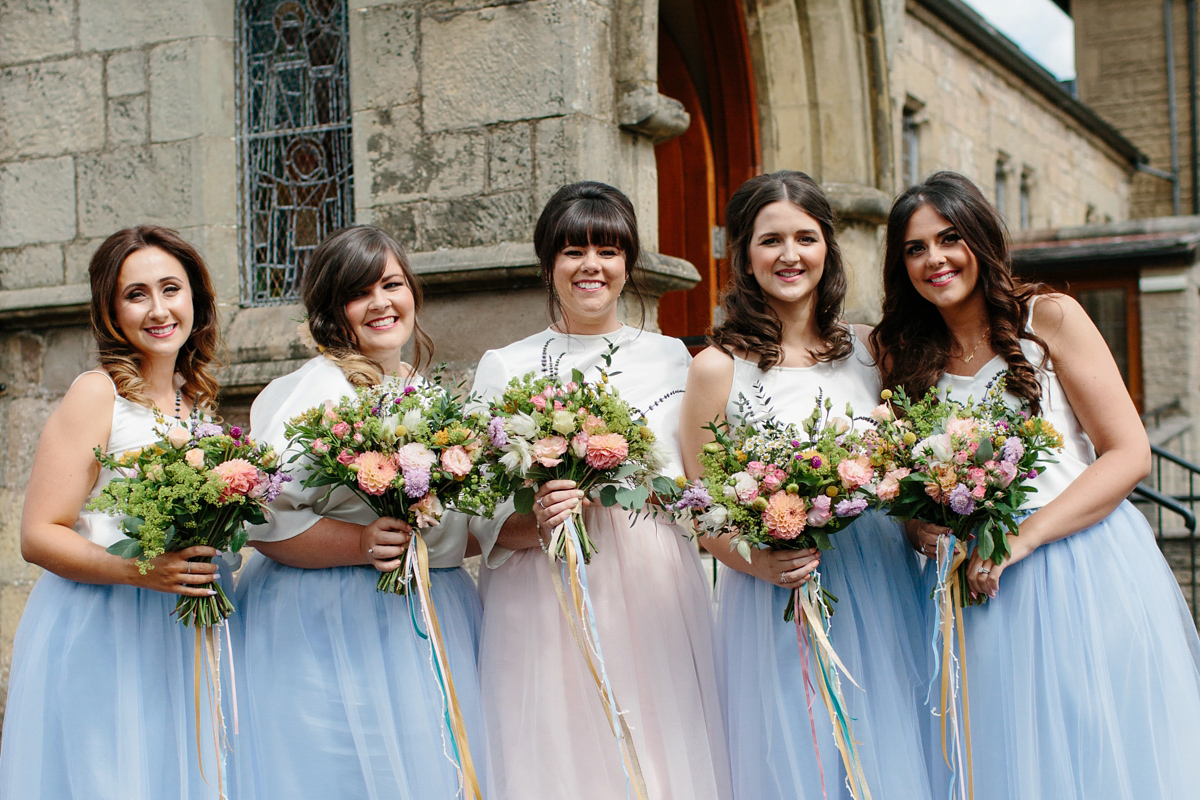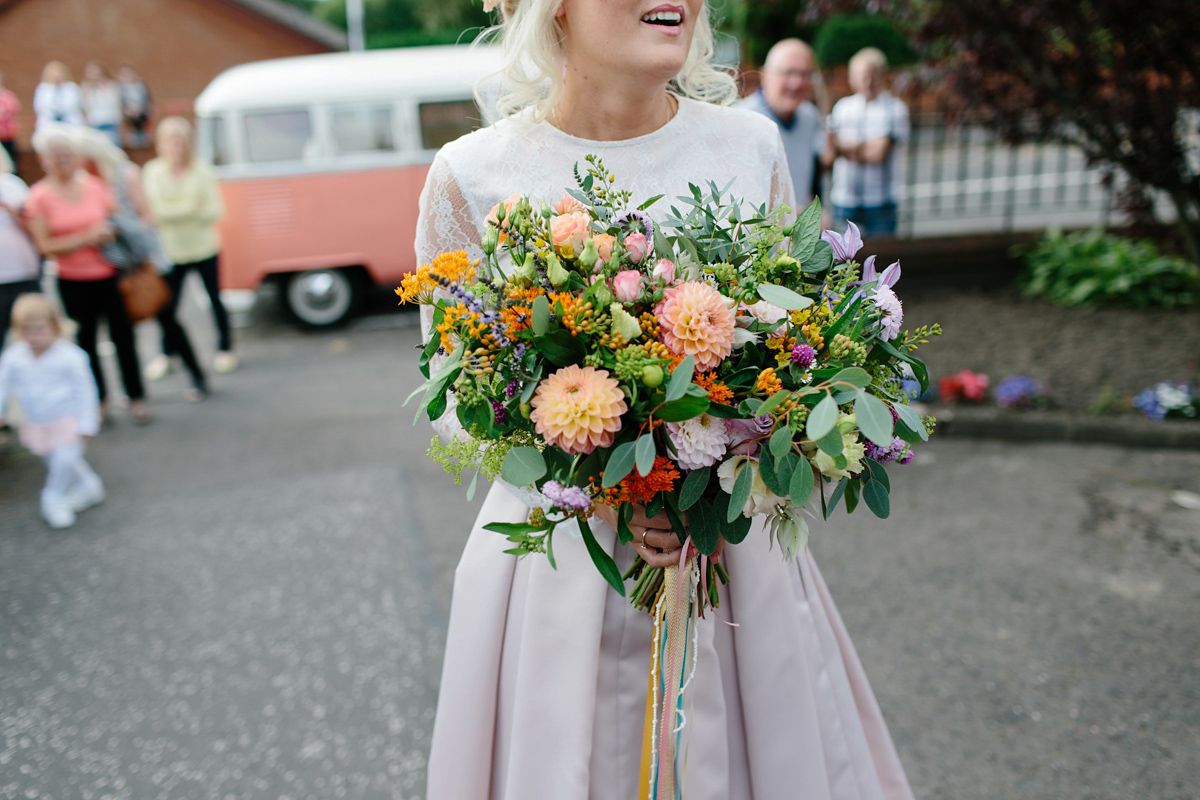 "I showed Emma  of Design ER a few ideas of invitations/stationery I'd found on Pinterest but I found it impossible to choose my favourite. Emma really listened to what we wanted and came up with the most beautiful designs, she knew exactly what I wanted before I did."
"We met in high school and were together for a few years in our late teens/early twenties. Thankfully, after ten years apart, we finally found our way back to each other."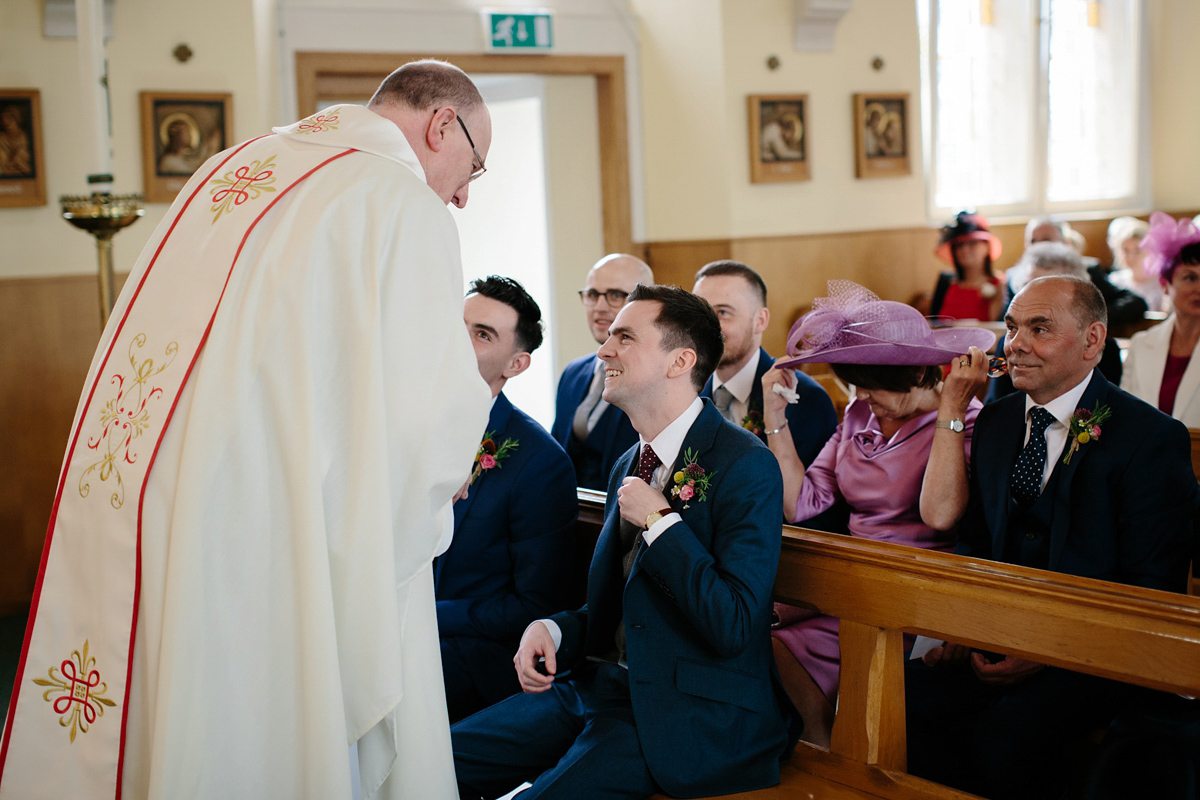 "We were engaged for just over a year. The proposal took place in Si's living room, filled with candles and champagne and our wedding song playing in the background – Arctic Monkey's version of Baby I'm yours! We then walked down to his family home to show off my engagement ring, where both our families had thrown us a surprise engagement party to celebrate! I really have the loveliest memories of that day."
"I have wanted to get married in a chapel since forever. St Joseph's is a beautiful building, Si's mum and dad got married here, the priest is a close family friend, so really, there was never anywhere else it could have been."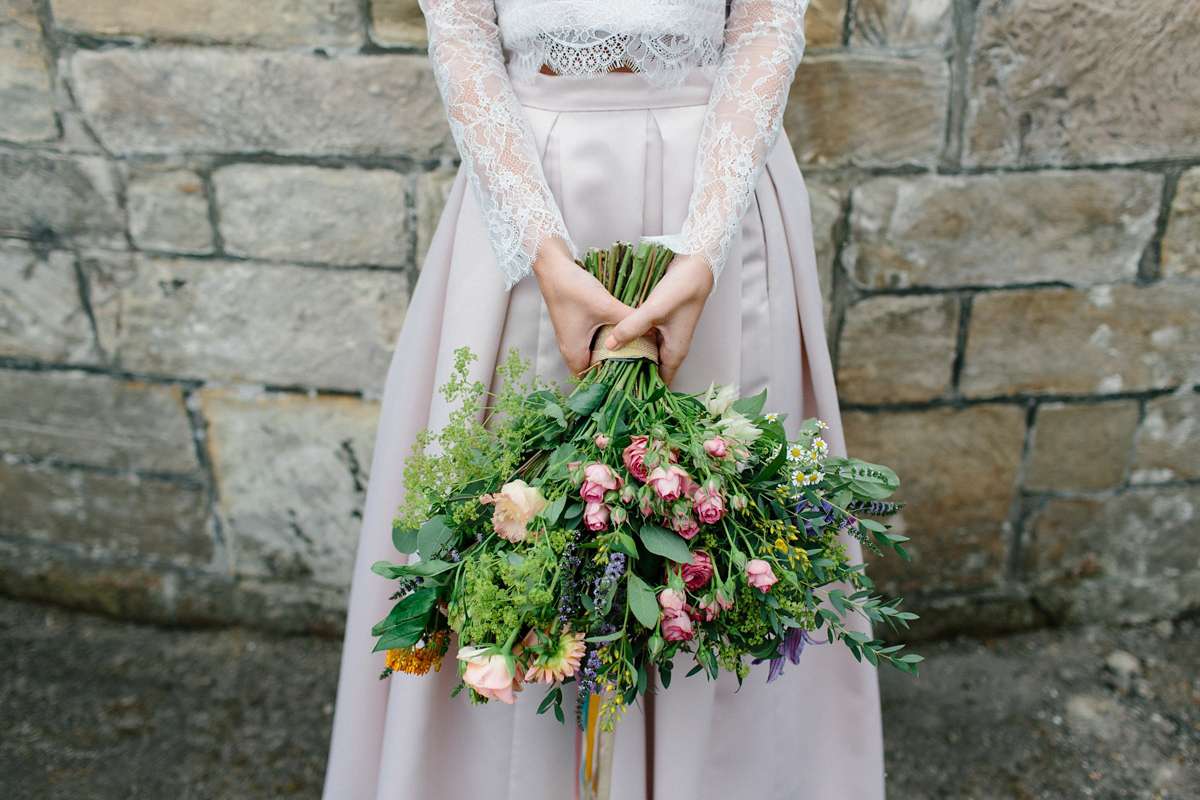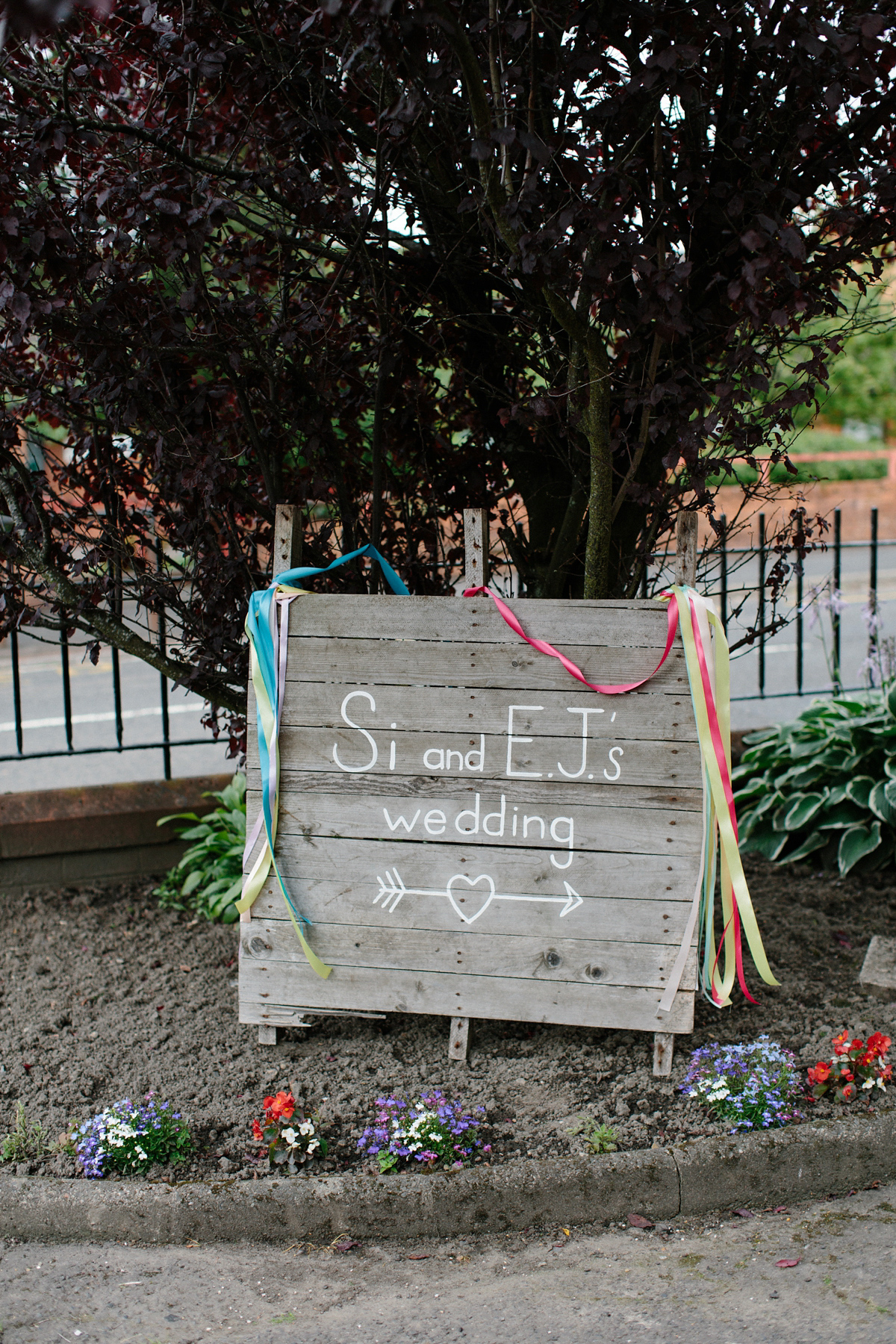 "We used Virginia's Vintage Hire who provided us with a range of vintage tables and chairs. They delivered and collected everything without any issues. The whole process was effortless and the furniture really made an impact."
"All other decor was a family effort. We had 240 pom poms! It took us 10 hours to hang them and we had to hire in scaffolding – so worth it though!"
"We had the venue for a whole week in advance so most days family and friends spent hours making our dreams come to life. It was such a team effort – We are very lucky!
"Sam Saxby and Julie Revell of A Couple of Cooks catered for our wedding. We had a grazing table with our champagne reception, which looked as good as it tasted and Vietnamese buffet style main course. We totally put our faith and trust in A Couple of Cooks to create something unique for our day and they did not disappoint. People still talk about it as being the best wedding food that they have had.
The team at A Couple of Cooks took care of everything – their attention to detail, thorough and efficient organisation and sheer hard work really helped make our day what it was. I know we couldn't have achieved that without them."
"Our favours were miniature bottles of Prosecco for the girls and miniature bottles of whiskey/Buckfast for the boys, which we sourced via Tesco and Morrison's."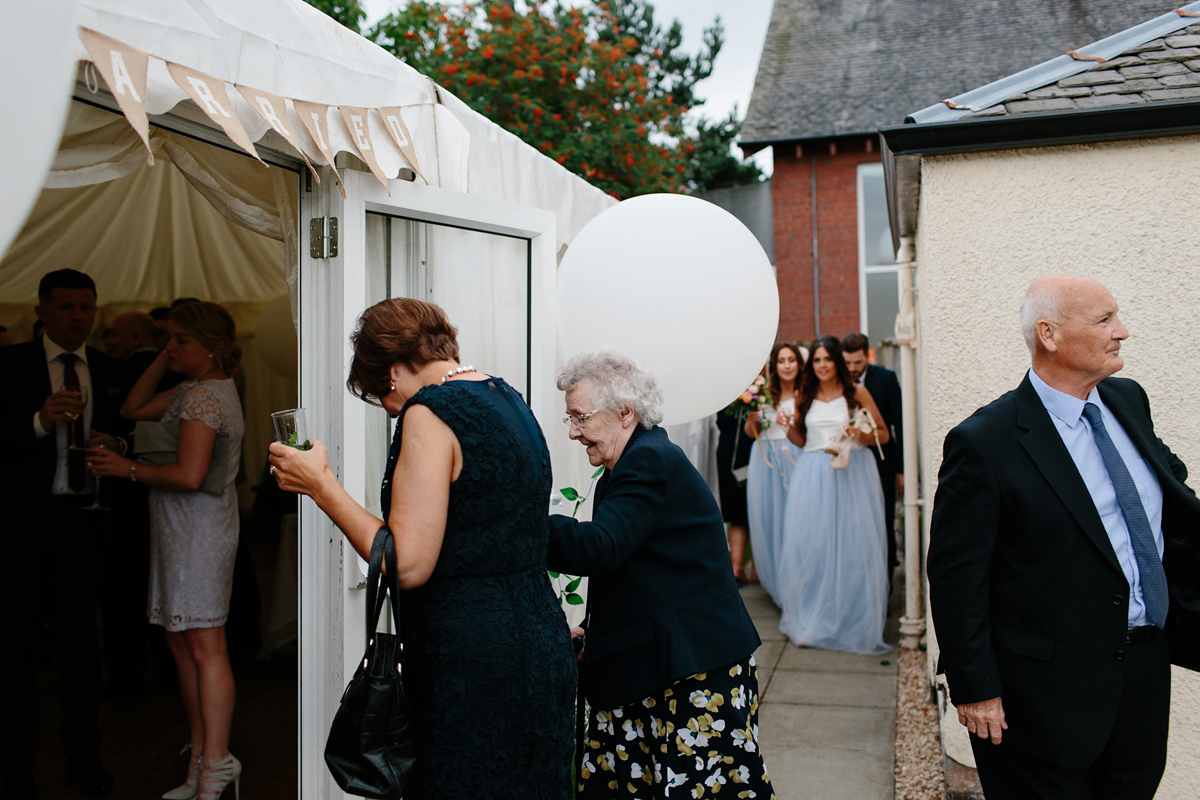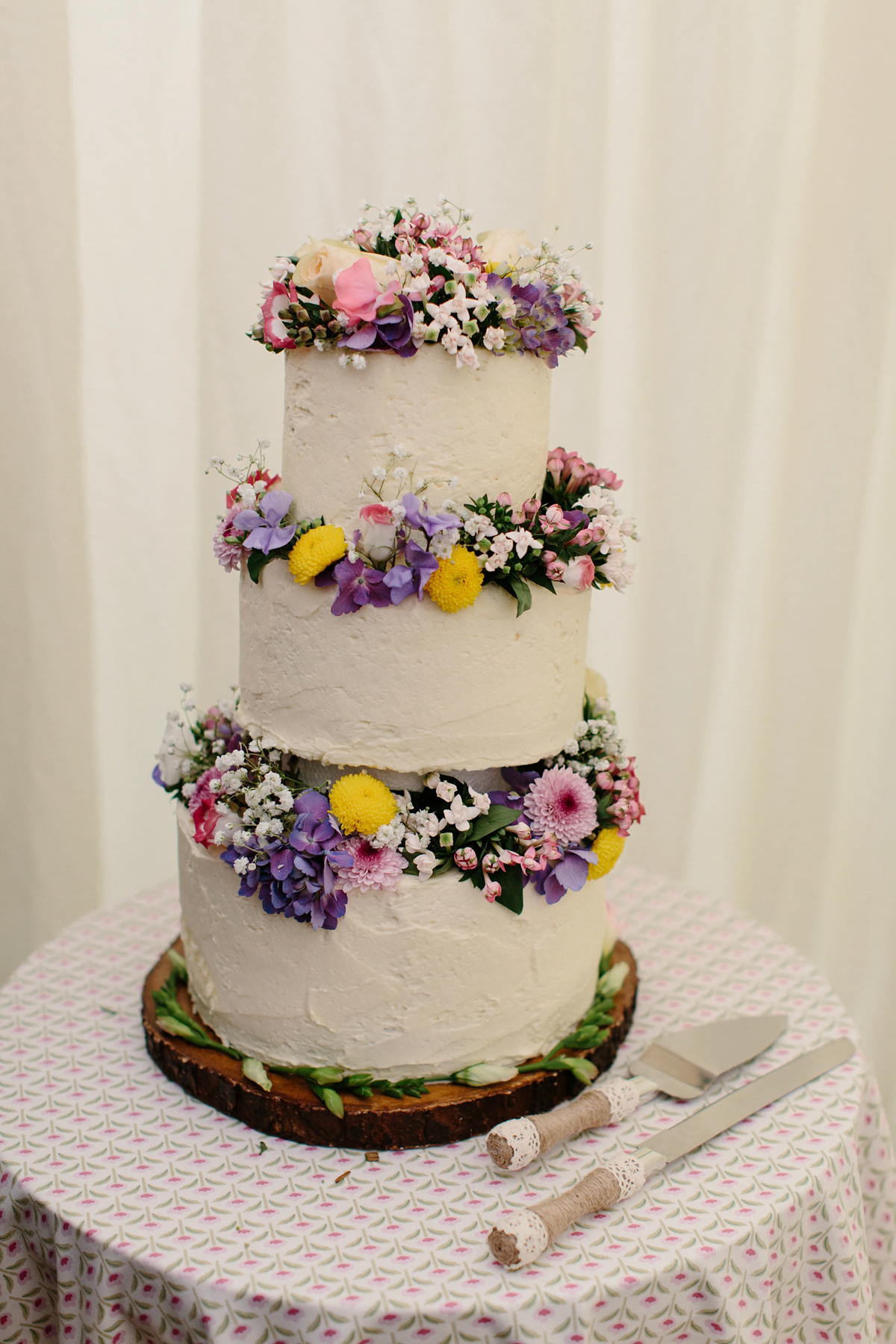 "Our cake was baked by Si's mum, Gemma. I don't really have a sweet tooth but if I can ever be tempted it's by Gemma's cakes. It was three tiers including carrot cake, plain sponge , vanilla frosting and perfectly decorated with flowers".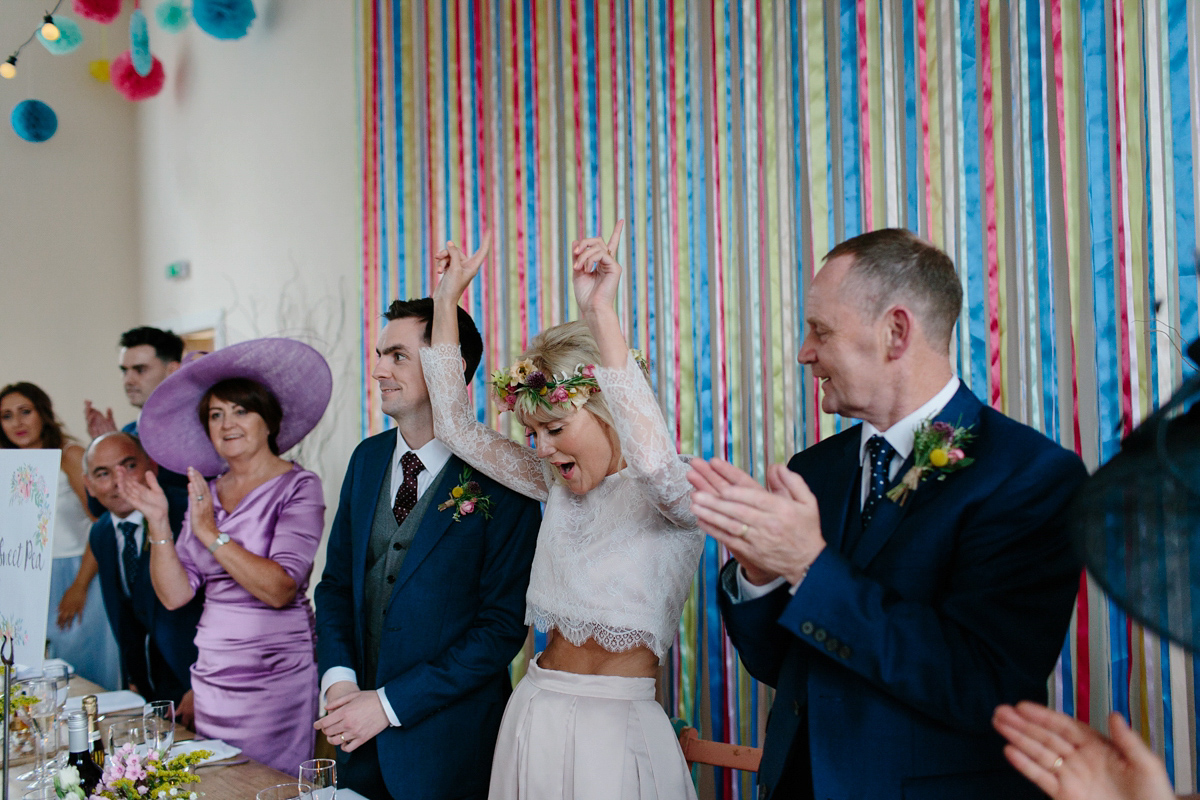 "It is really impossible to specify a favourite part of the day. My mum sharing the journey to the chapel with my dad and I was very special."
"Actually saying 'I do' is a vivid memory. Another favourite moment was our photographer finding a beautiful field I never even knew existed (literally a 30 second walk from my house) and told us to just spend some time together and talk about our day – I will never forgot that."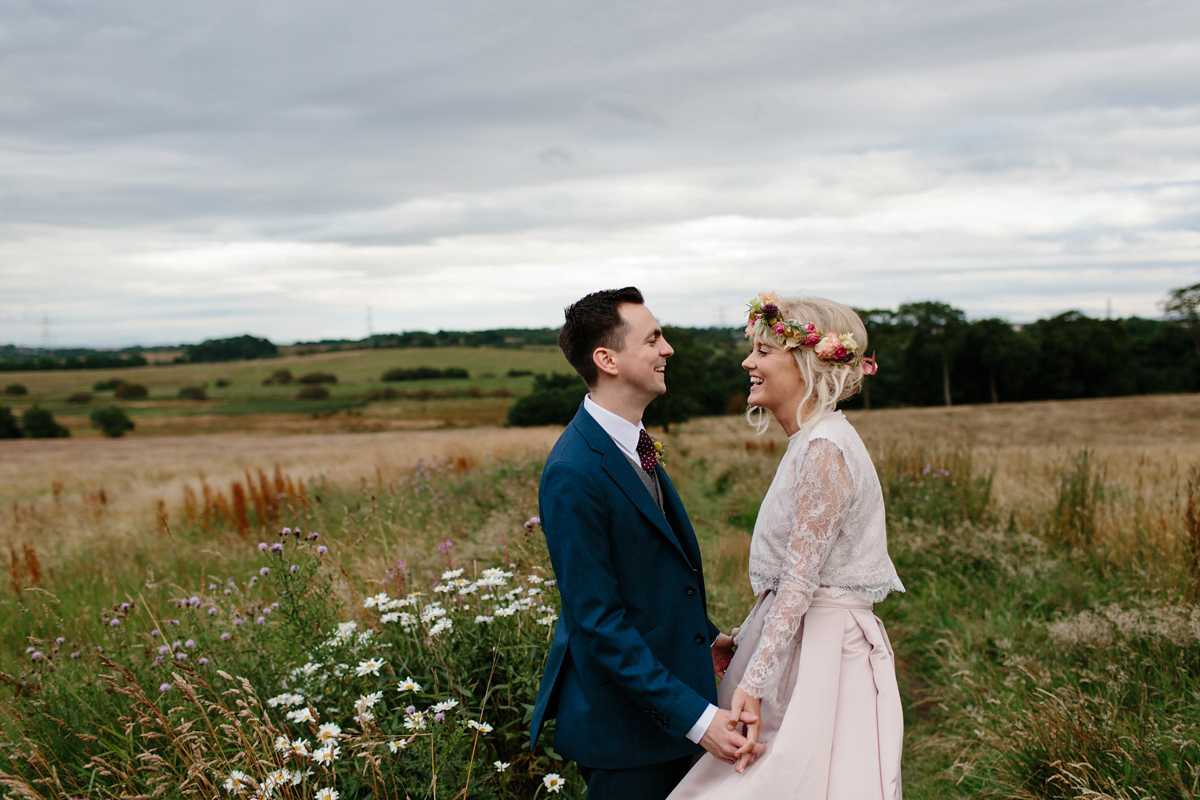 The couple danced to 'Baby I'm Yours' by the Arctic Monkeys for their first dance…
"We really can't recommend the guys at Pin Up Nights enough – we hired a DJ through them.  The dance floor was packed from start to finish. Totally first class…from DJ'n in their suits to just being really lovely, approachable guys, they were perfect. They really helped make our wedding the party we wanted it to be!"
Words of Wedded Wisdom…
"Don't try to do everything yourself – people offer to help because they genuinely want to, so let them.
If you are planning to organise everything yourselves, don't underestimate how much time it takes up and don't expect it to be cheaper.
It's important to surround yourself with people who are genuinely excited for you and remember what's important to you might not be as important to the groom…like having floral toilet paper in the ladies, just for example….! 🙂
Everyone told us to make sure we spent enough time together on the day and we didn't and that's the only thing we would do differently. Take some time to go for a walk together, talk about your day, watch everything go by – the party will go on without you."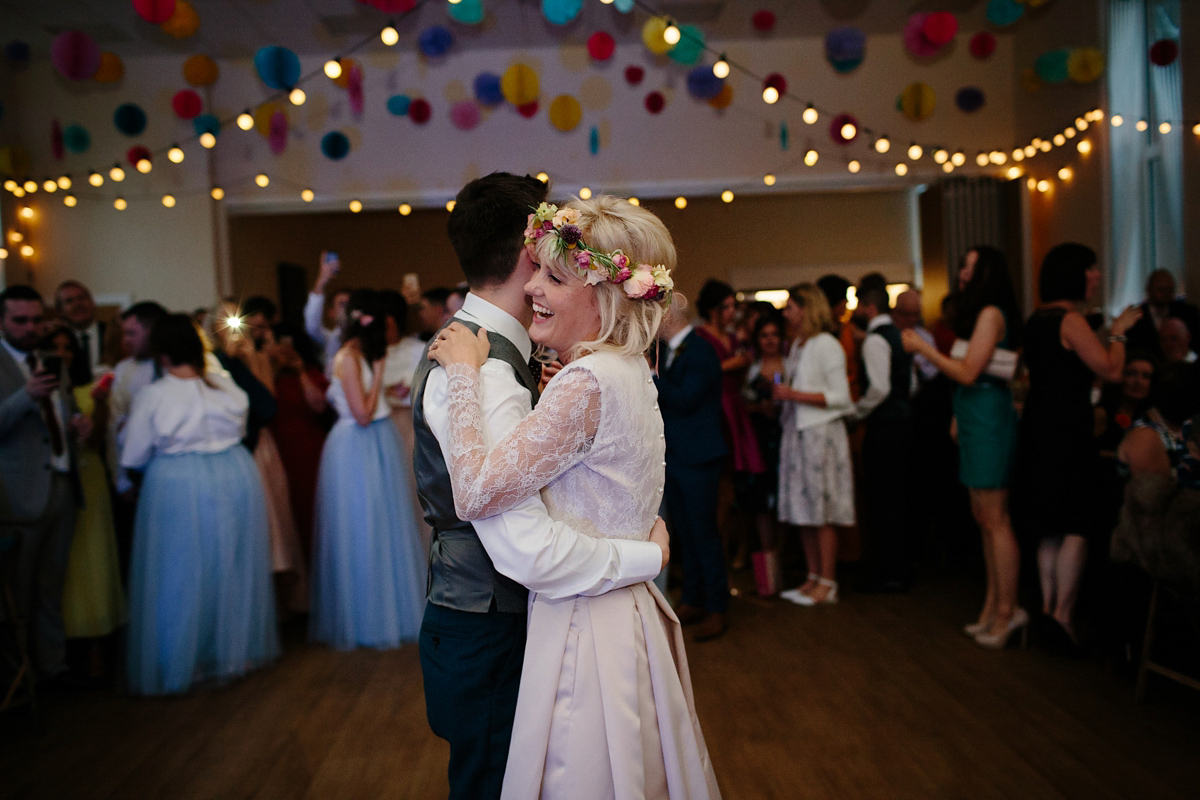 What a super, super gorgeous day – full of colour, love, smiles and joy!  So encouraging for all those brides keen to have a gown of their own created by an independent designer too. Huge thanks to Caro Weiss for sharing this gorgeous day and our love and congratulations to you both Emma-Jane and Simon for the most wonderful wedding!
Readers – you can see more from Caro here on Love My Dress.
Love Annabel xx