Oh Friday! I thought you'd never arrive! It's been a long, long week and I'm so ready for a rest this weekend. How about you? What are you most looking forward to over the next couple of days? I'm travelling to Leeds to meet a friend today which will be lovely and something I'm very much looking forward to, then it's back home later today and a weekend spent with my lovely family. This mornings wedding is Love My Dress through and through and features the most effortlessly stylish bride who has shared so much useful information.
Laura married her beau Adam on 25th June this year at Cortijo del Marques in Granada, Spain. Their wedding photographs ooze that kind of effortless elegance that I'm so drawn to – Laura looked sensational in her beautiful bespoke gown, tumbling locks and rose gold accents. The Andalucian mountains played backdrop to this lovely destination wedding, which has been documented so beautifully by our Little Book For Brides wedding directory member, Claudia Rose Carter.
Film by Moon and Back 
"It all flew by in a beautiful dream and I wish we could relive it all. There were so many highlights but I guess my favourite parts of the day were all of those little 'beginnings' – the excitement as you start the ceremony (with sunlight streaming through the open doors and swallows tweeting in the trees), that moment you walk out together as husband and wife and finally get the chance to say hello to everyone. Just magical."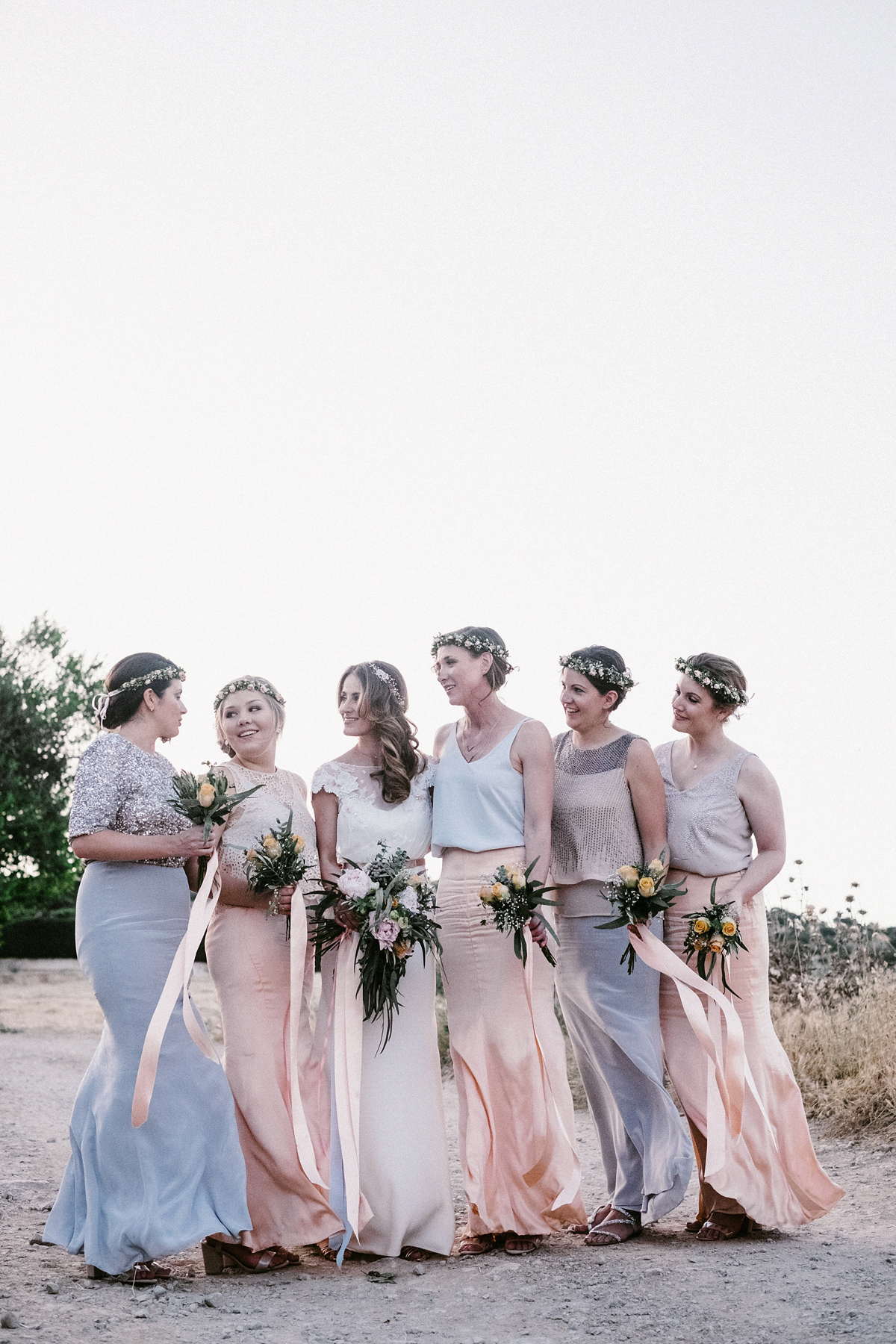 "Despite a number of trips to Spain, we really needed help with finding good suppliers and Lucy Bennett at The Boutique Wedding Co in Spain (together with her partner Jesús) was invaluable help. Lucy was our girl on the ground, filling her car to the brim with candles, flowers, pomegranates (not easy to hunt down in June, months before the fruits come into season), hurricane vases, easels, signage and even props for a Moorish themed chill out area. And despite all of that she didn't squash the piñata she sourced for us and filled with glow sticks!"
"We had a great time getting to know Lucy and Jesús during an impromptu bar crawl in Granada one cold March night. Lucy quickly got the look and vibe I was going for and was our trusted guide to suppliers and the sometimes very different ways in which suppliers work over there. She was also realistic and knew which things were just not going to be available (or available within budget) in Spain."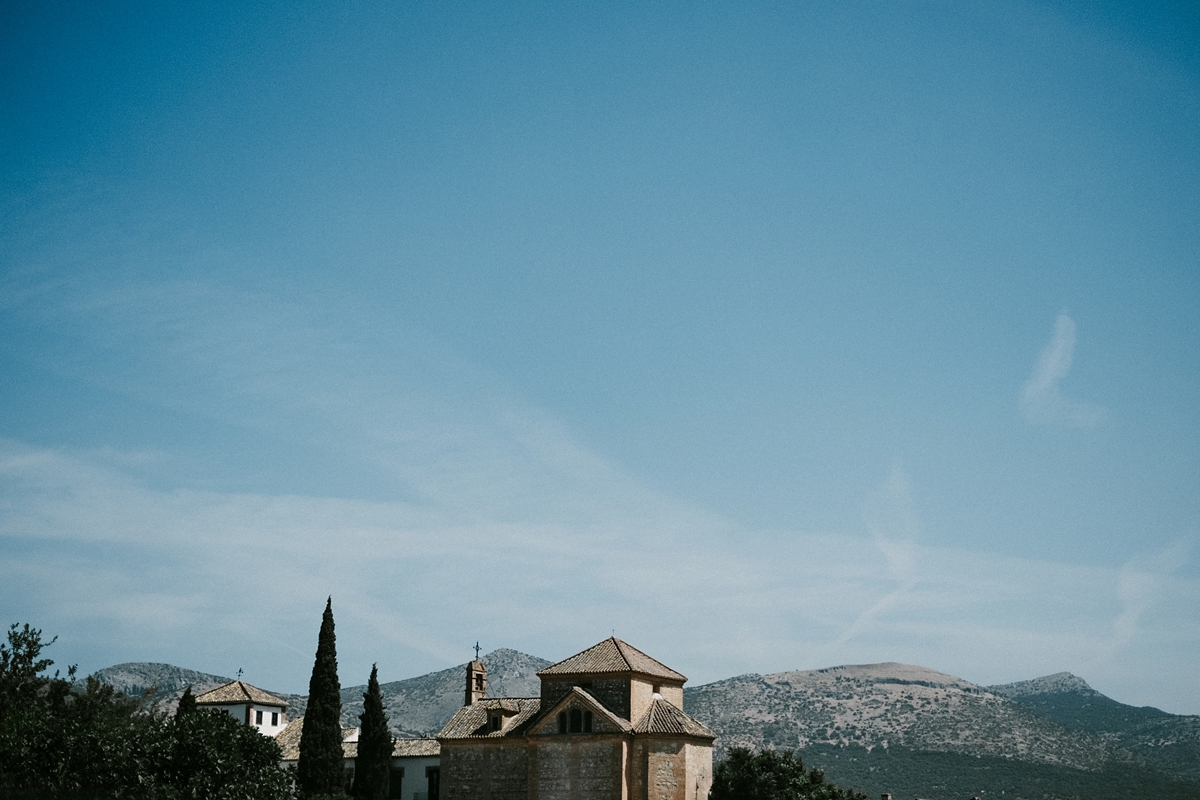 "Lucy and Jesús worked incredibly hard to help realise our vision, not only on the design side but also liaising with a coach provider to make sure that the guests were picked up from central Granada and helping to secure a great bar in the old Albaicin quarter of Granada for our welcome drinks on the Friday before the wedding.
My personal highlight was probably seeing the chapel for the first time, which Lucy had beautifully decorated with dozens of candles in hurricane vases along the aisle, which was scattered with orange and cream petals."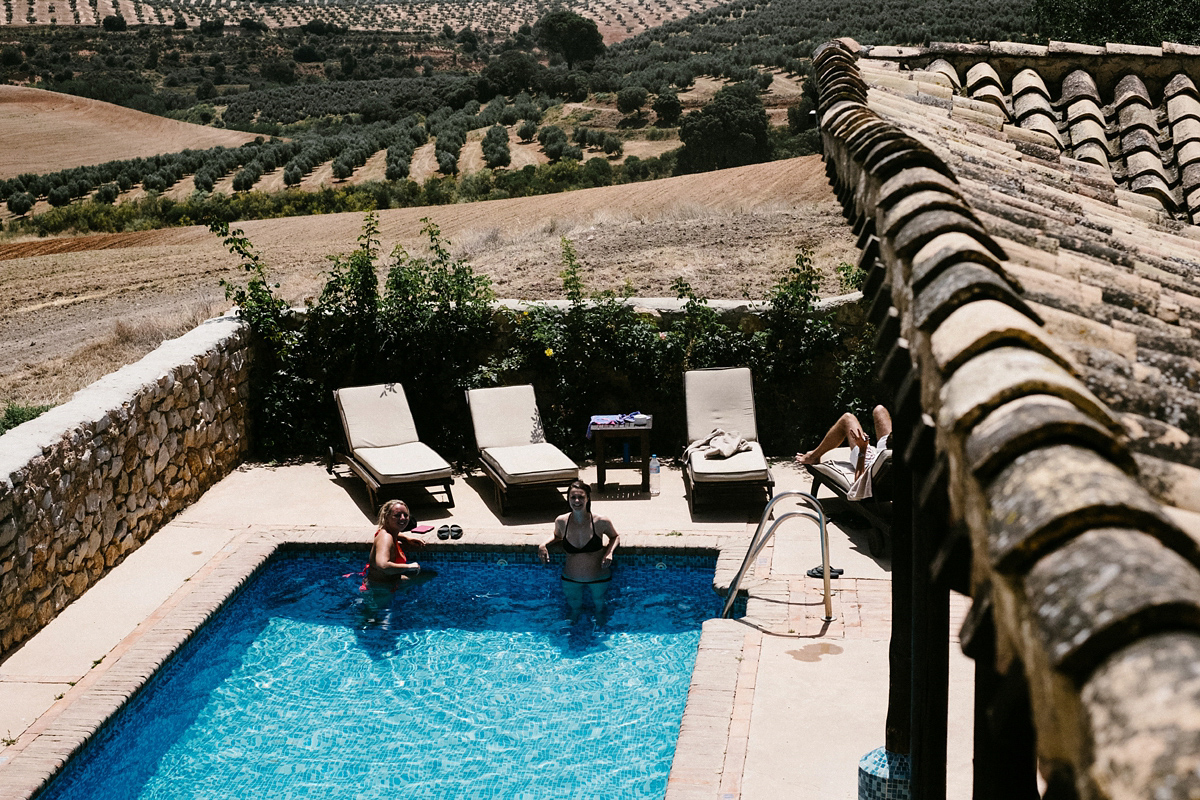 "We met back in 2008, like so many people, through work. After quitting my job in 2014 to do some travelling around South America, Adam joined me for the highlight of my – 2 weeks in Peru to visit Macchu Picchu (I had only been going on about it for the previous 4 years). It was a 4am start to watch the sun rise over Macchu Picchu, but of course there was no visible sun to see rise that morning.
Instead we had a sweaty and rainy climb up Huayna Picchu (for that classic postcard view over the Macchu Picchu site) and spent a good hour staring at dense cloud with my mood rapidly matching the dark gloom of the cloud."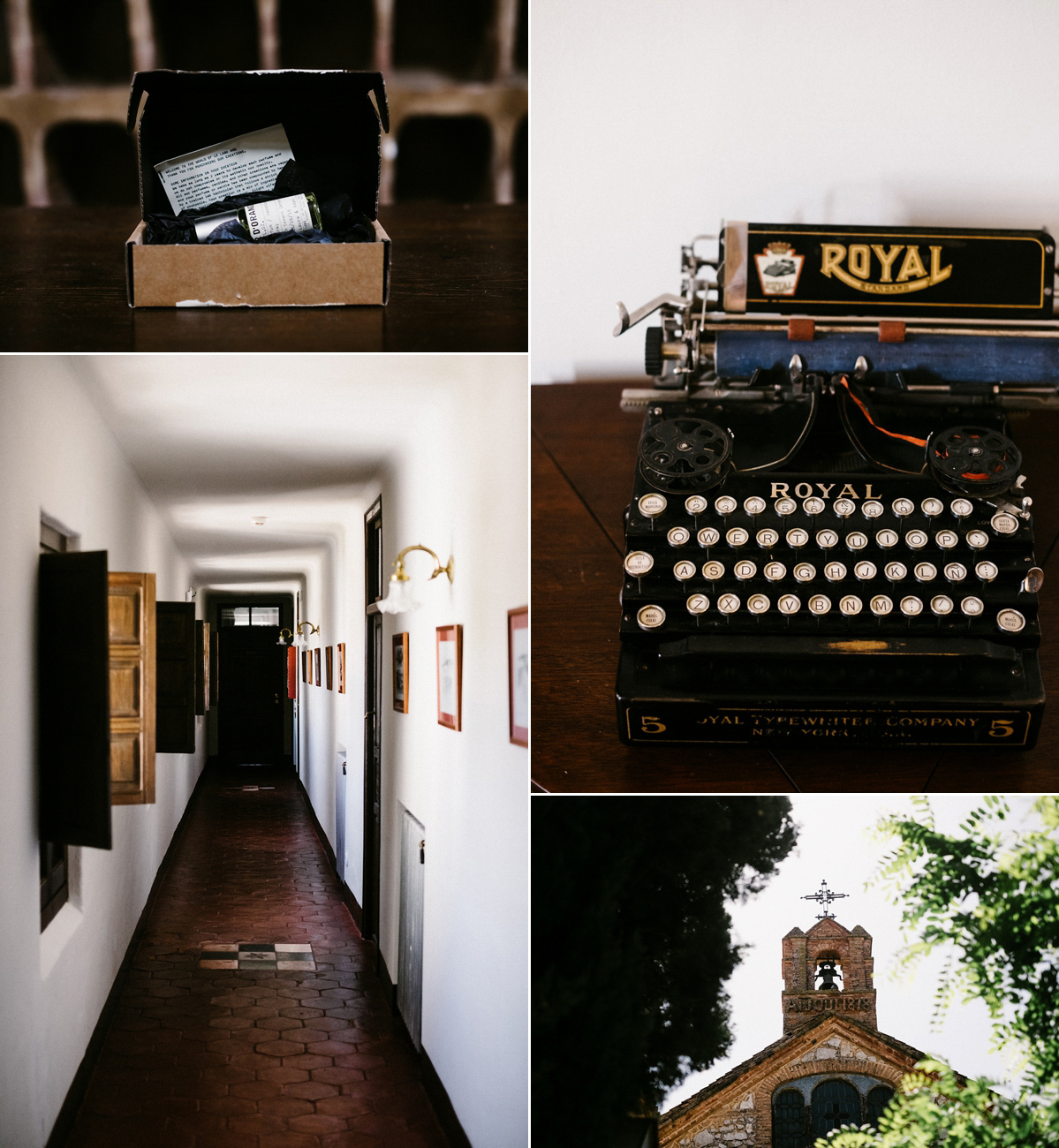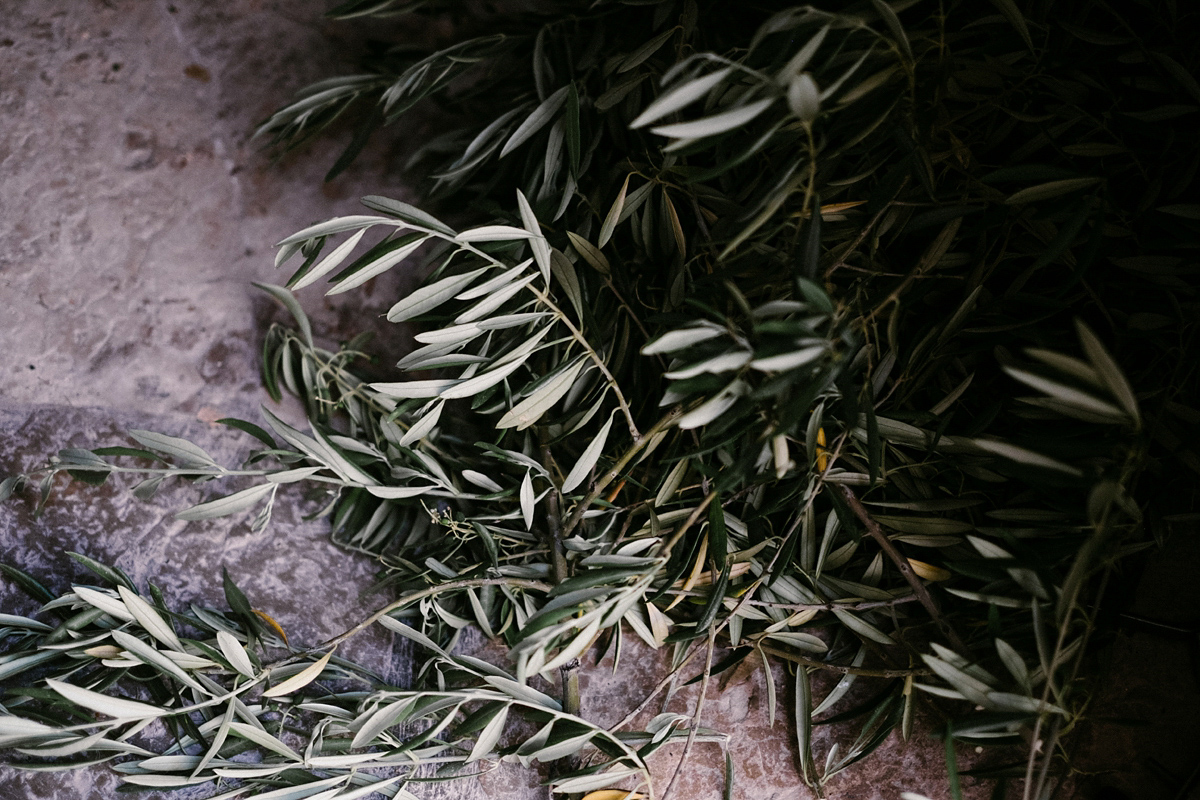 "After what seemed an eternity and a bag full of percy pigs, finally, the clouds broke just enough to reveal the ancient city for a few minutes. At long last! With me finally cracking a smile, Adam chose this perfect spot to propose!"
"We originally planned to marry in 2015 but after a couple of "almost" bookings at UK venues and with Adam's brother then setting a wedding date for May 2015, we decided to have a break and moved things to 2016."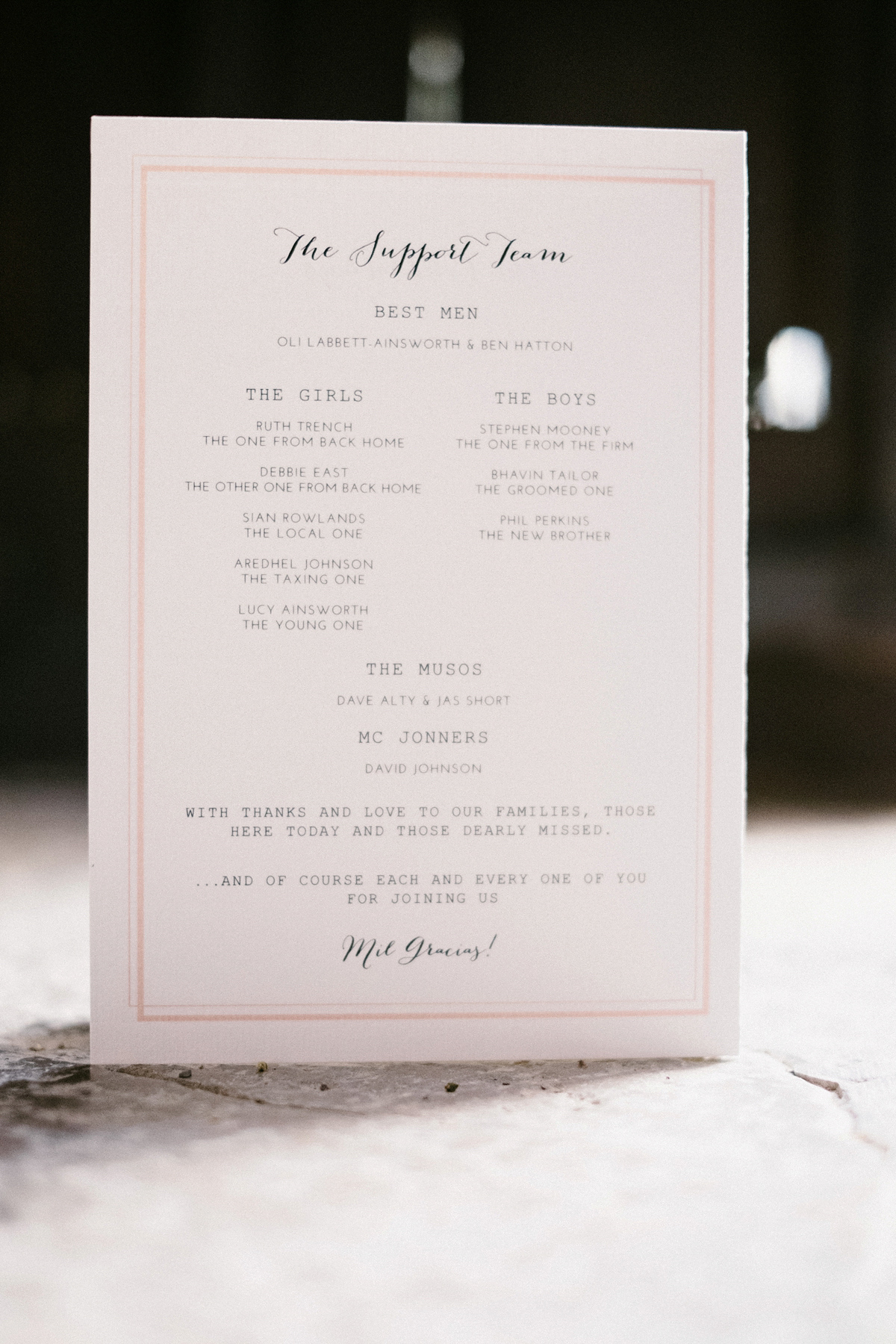 "I wore a rose gold back necklace from Etsy which I customised with a rose gold feather pendant from another necklace. I was struggling to find some funky but suitable earrings and stumbled across Pamela Love's awesome collection.
Rose gold was a bit of an accent colour throughout the wedding so I loved finding these rose gold sandals by Sophia Webster and refused to take them off all night."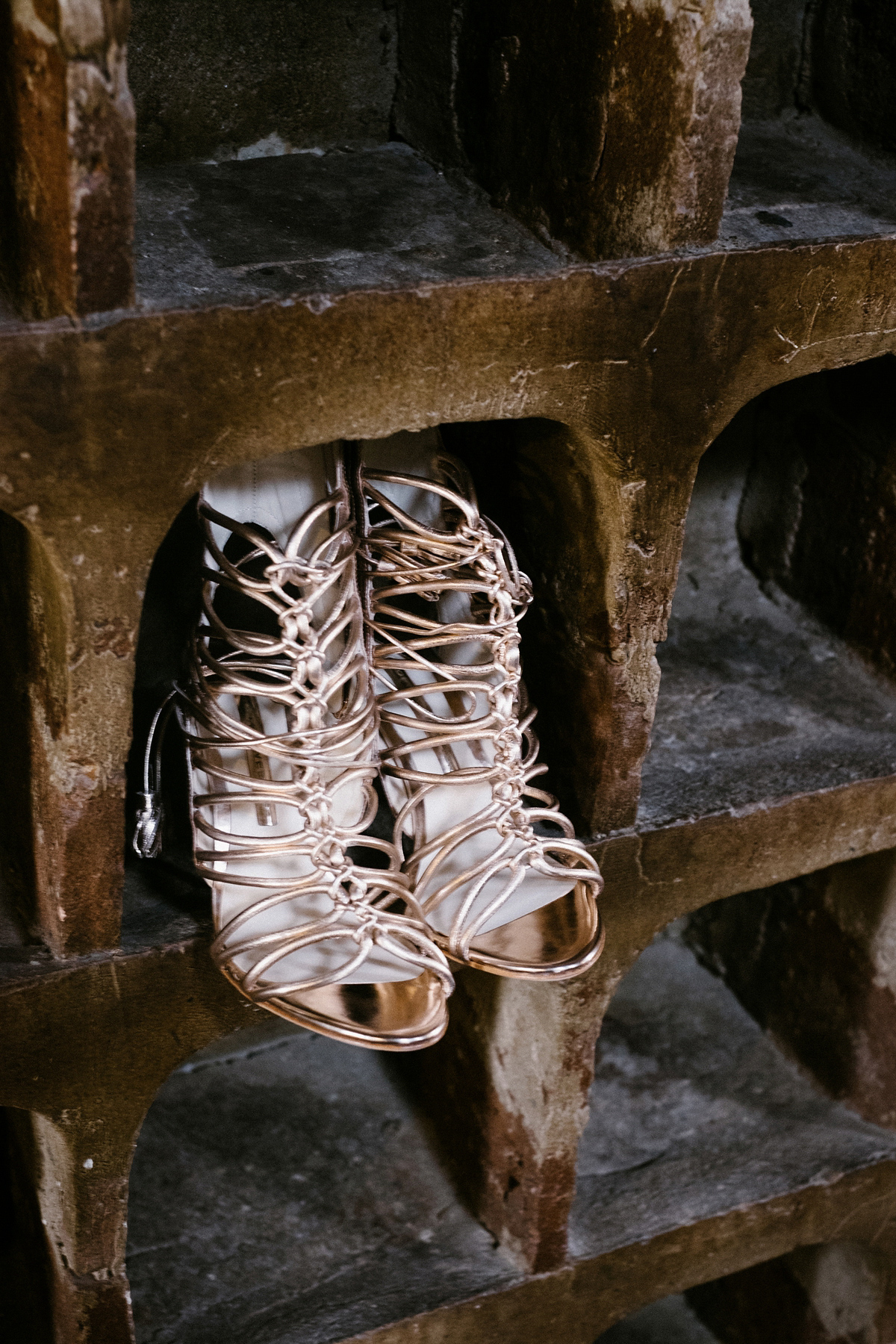 "My rose gold spike earrings arrived with only a few days to spare as they were shipped from the US (and yet another last minute f*ck it splurge but at least they are versatile enough to wear day to day!)."
"We were looking for a venue we could call home for a few days, with a few rooms to accommodate friends and family. The Cortijo is a beautiful restored farm building nestled in the hills north of Granada, surrounded by olive groves. A beautiful and private spot but still close to the city."
"There is a chapel which gave the non-religious ceremony a real sense of occasion, whilst the reception drinks and wedding breakfast took place outside in the courtyard. We moved to the barn, lit up with festoon lights (had to have festoon lighting!) and a fairy light curtain backdrop, for the dancing and lounging after sunset."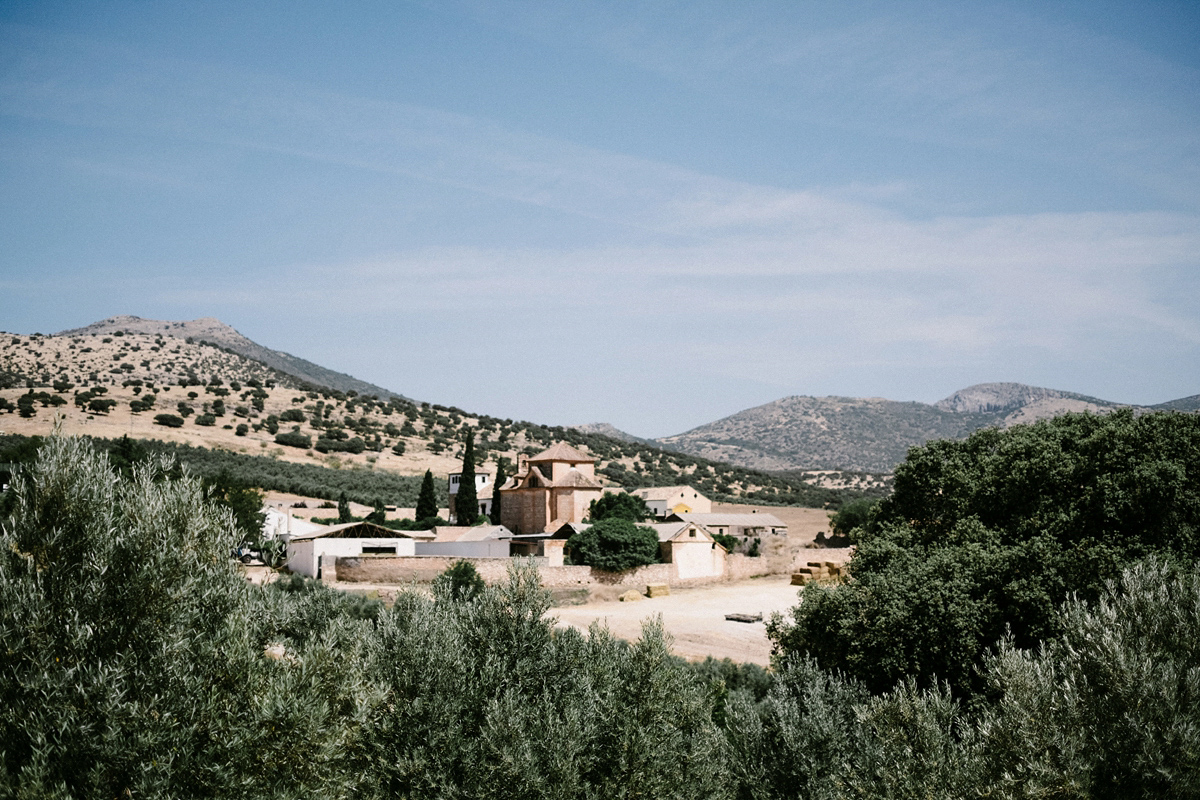 "The symbol of Granada is the pomegranate (Granada being Spanish for pomegranate), so these were a big feature in our styling. Adam even had a silver locket engraved with the pomegranate logo, which my brother delivered to me the morning of the wedding when he picked me and mum up from our hotel in central Granada (albeit rather unromantically as I was catching my breath after a last minute sprint to Sephora for some lipstick)."
"Sylvia and Eilko are such welcoming hosts and incredibly accommodating wherever possible, from venue décor to menu choices. They have created a fantastic team at the Cortijo who are friendly and always happy to help, even if they may not always speak much English (I much prefer it that way!)."
"Having the venue to ourselves also meant that we could host a big paella lunch on the Sunday. For a change of mood, lunch was served in the barn (also to escape the afternoon sun) and we reused the surviving table decorations. We were blown away by the number of friends and family who travelled back on the Sunday (we didn't put on transport for the Sunday) which meant we ran out of paella in record time!"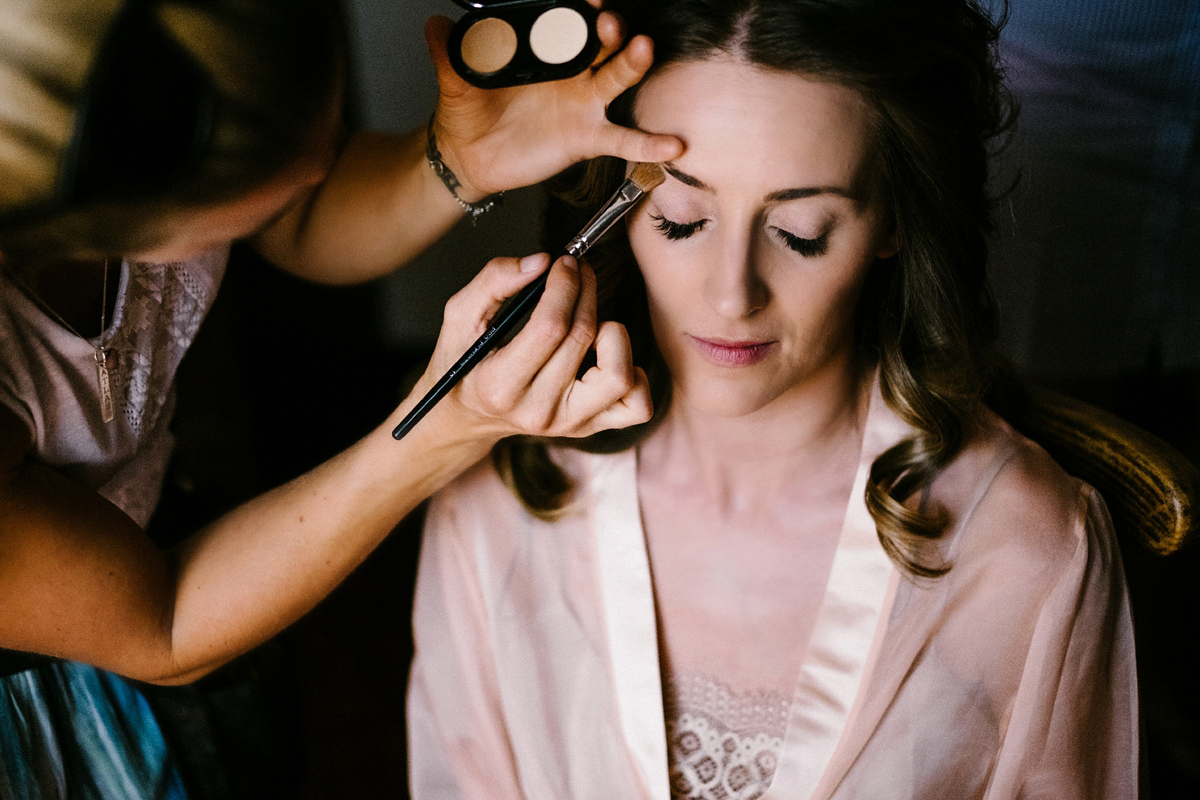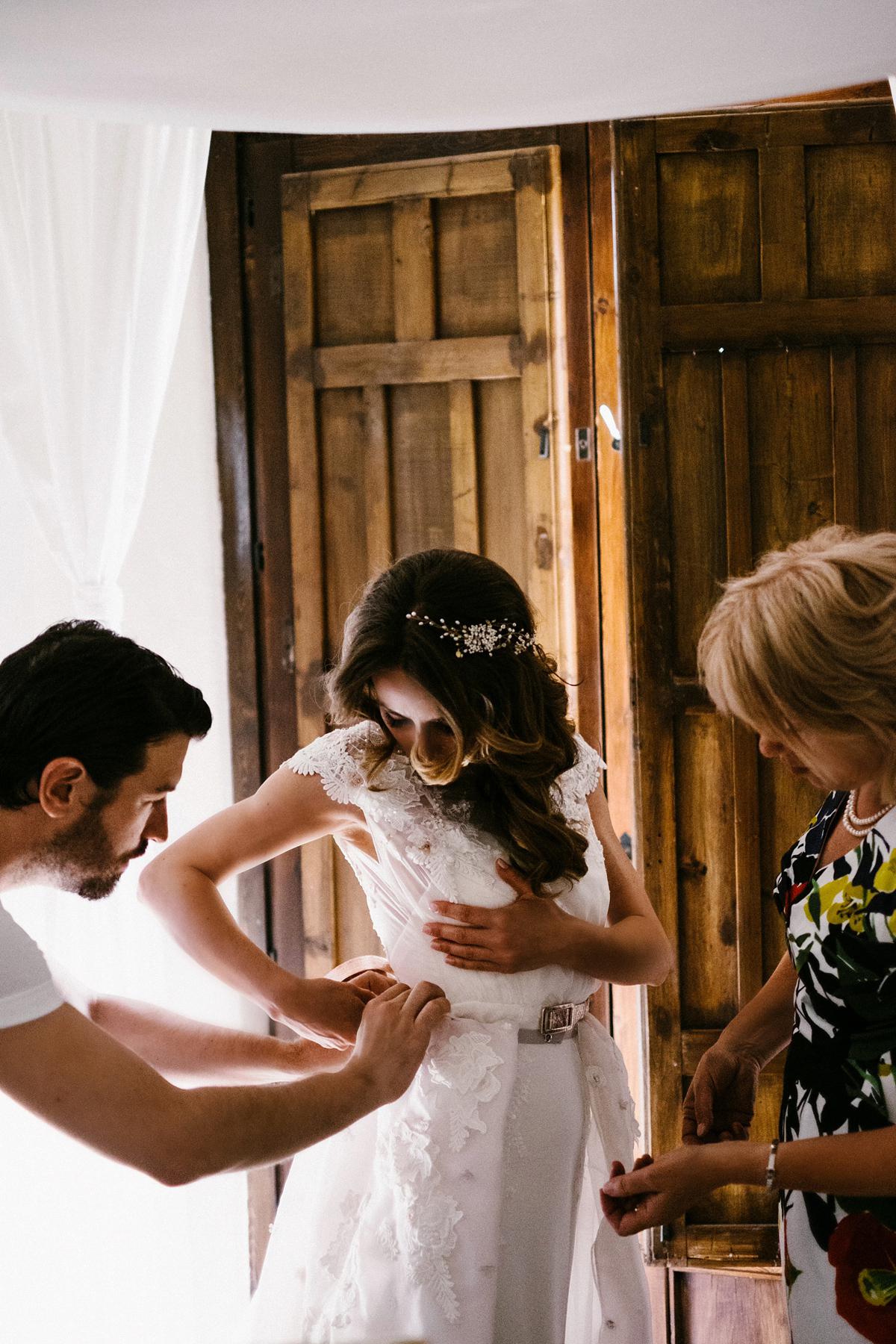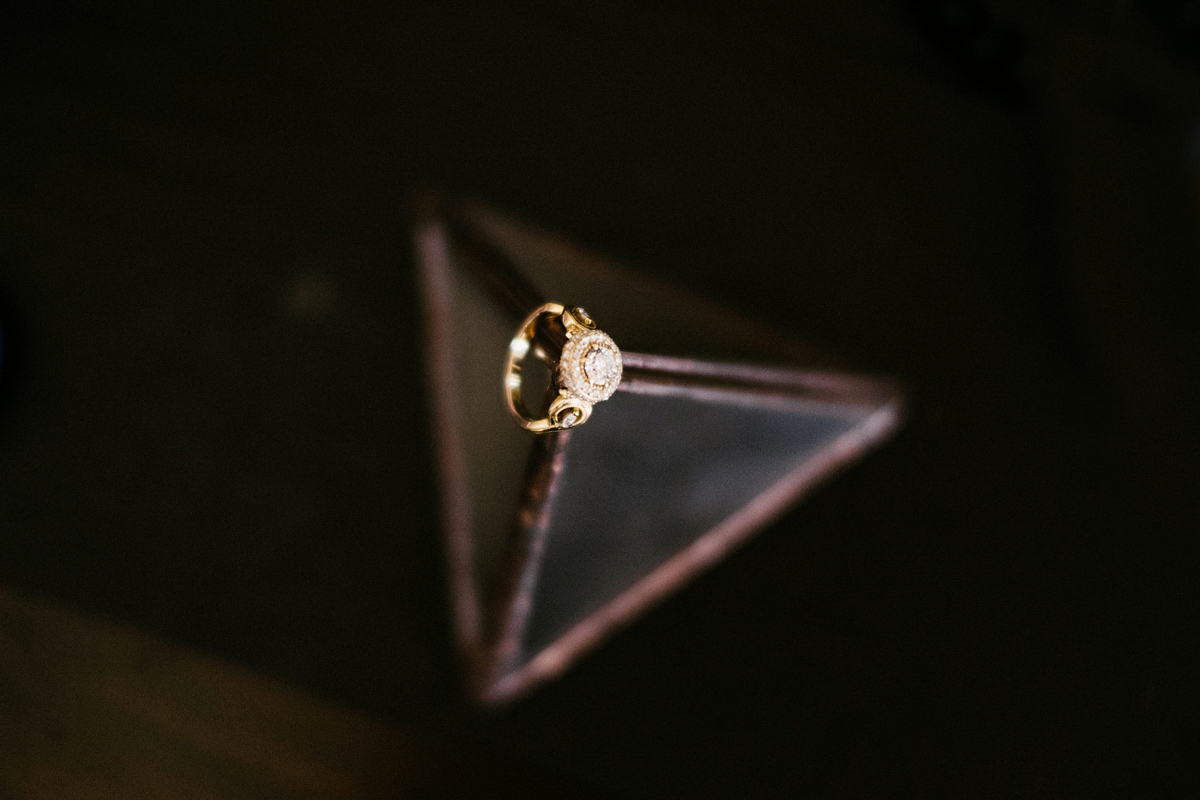 "My perfume was Le Labo – a new, heady summer scent that takes me back to Spain every time I spray it."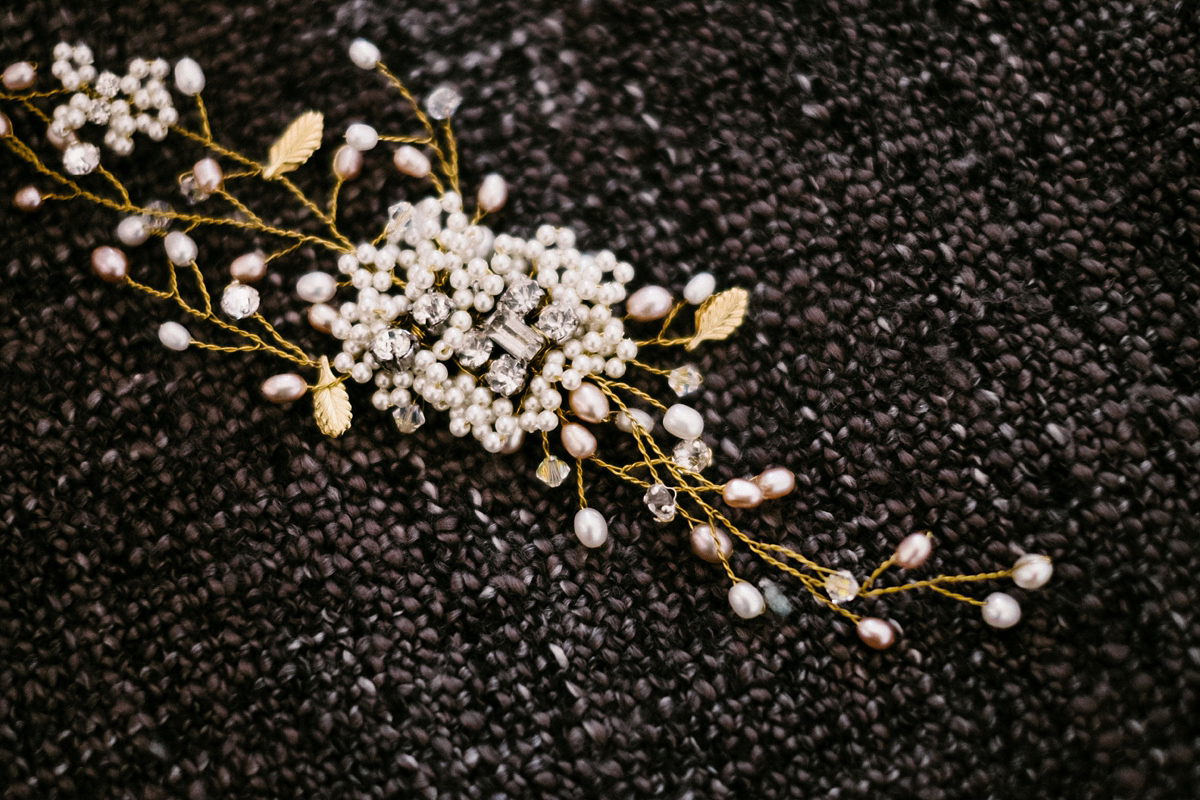 "Jennifer and the team were so helpful pulling together a last minute mantilla style veil with only a vague request for 'eyelash lace' and a few images of some lace samples potentially to be used on my dress for inspiration. I was in two minds about the whole veil thing (which is why it became a very last minute thing).
It didn't seem like me and even when we were playing around with it the morning of the wedding I was a bit embarrassed to be honest. But when it was gently draped on my head literally seconds before we headed down for the ceremony, the reaction from the girls told me it was that final special touch (I couldn't even look at myself in the mirror once in the dress, emotions were running so high, so I had no clue what I looked like!)."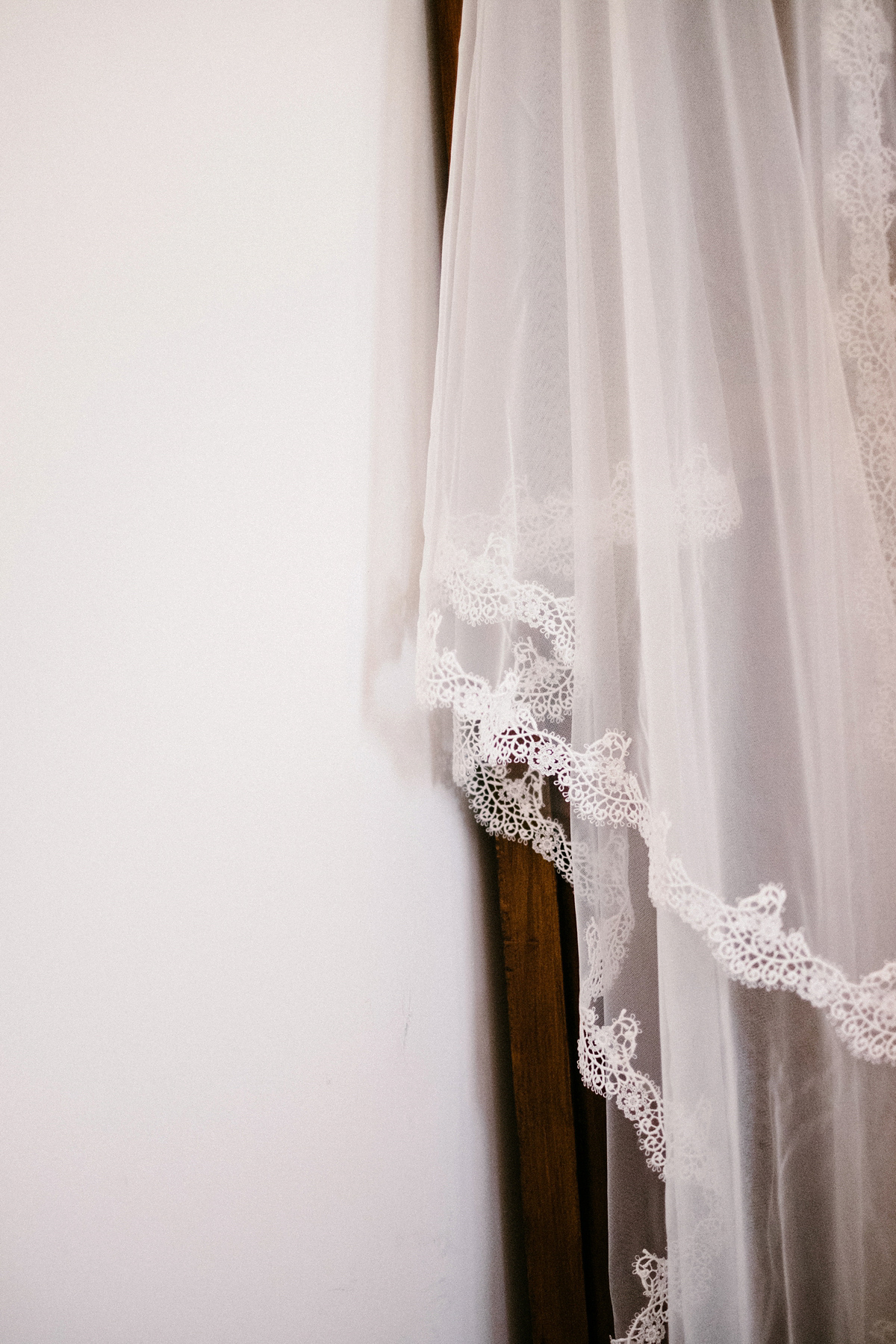 "My dress was crafted by the incredibly talented Charlotte of Wilden Bride. Having been to a lot of weddings over the past few years, I felt like I had seen so many of the wedding dresses around. Either that or it was a case of 'I like the top half of dress X but the bottom half of dress Y'. It also seemed a little odd to spend the most I have ever spent on an item of clothing only for it to fit badly and have to be altered (wasting inches of beautiful material from the hem with my short legs).
As it happens, the veil very nearly didn't make it to Spain at all. Turns out that Mum left the veil, along with my brand new Gillian Million hair vine, on the train only hours after these items being given to her for safe delivery to Spain! Luckily the Virgin East Coast train team were on the ball and sent the abandoned box back to York station for mum to collect the following day. Funnily enough, Mum only admitted this little incident to me a few weeks back. 
Gillian Million's Teddington shop is such an Aladdin's cave! I could have easily come out with another three dresses and arms full of hair accessories."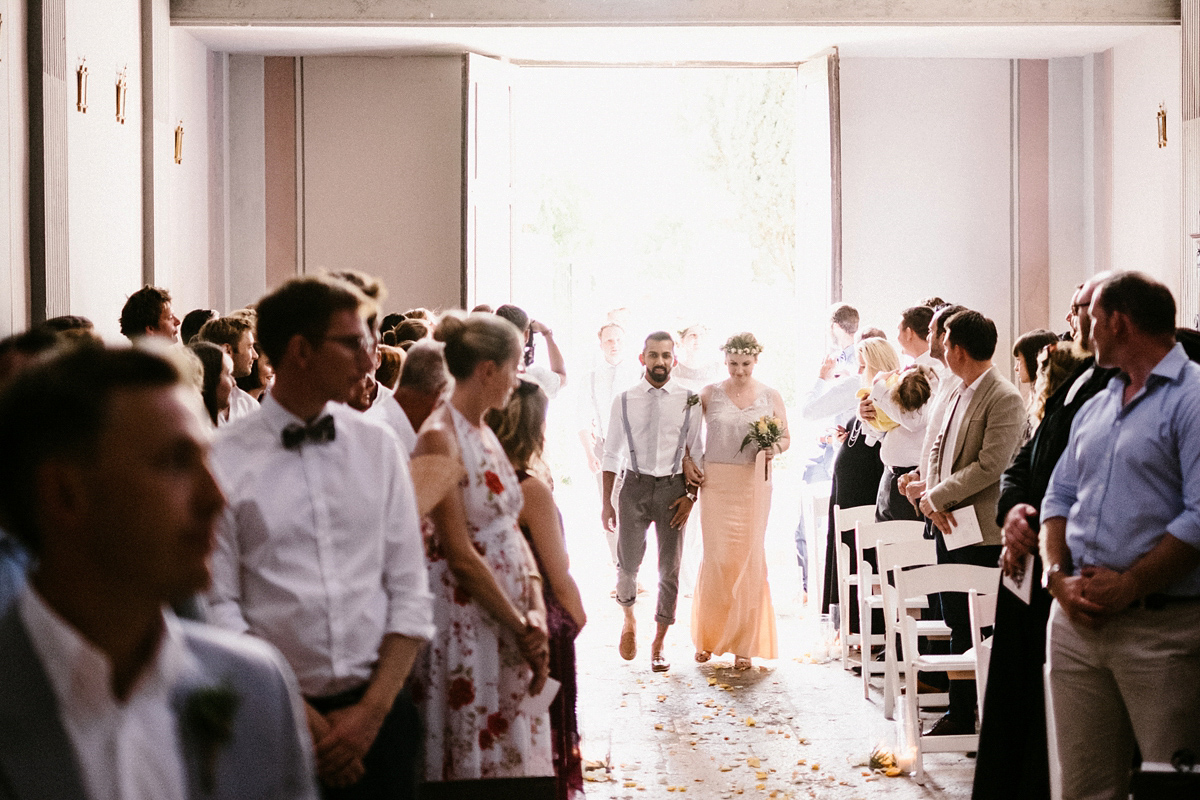 "I lost my dad aged 18 and it felt like he was the only person who should accompany me down the aisle. I was pretty stubborn about going it alone but also terrified at the thought of walking by myself with everyone staring at me (and had visions of tripping over my dress and taking a tumble). So after a lot of soul searching, I asked Adam to walk down the aisle with me. He still wanted to get a a first look moment of sorts but said he would then walk up to pick me up.
However…we failed to think through the logistics and didn't get the chance to do a rehearsal run. On the day, my mum was stood with me at the top of the aisle. I was grinning at Adam like a maniac trying to convey the message 'come on then, come and get me!' whilst Adam was just completely confused and rooted to the spot."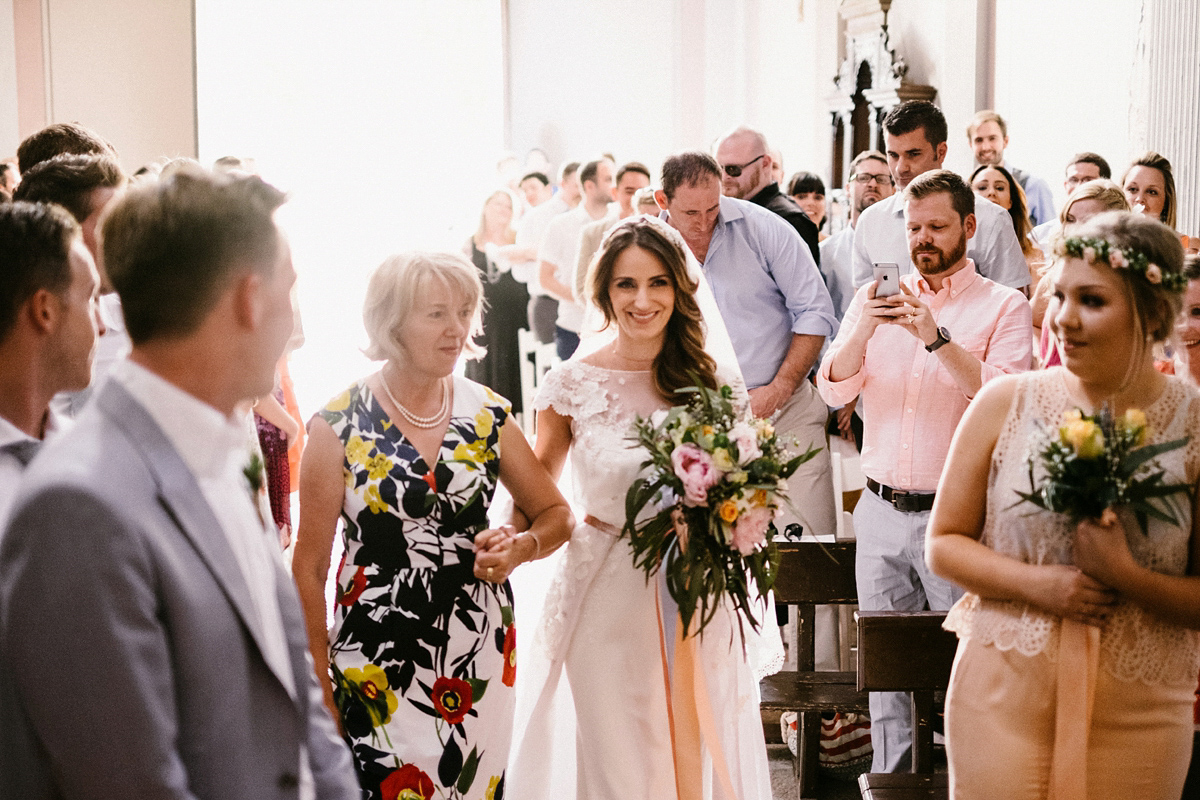 "So it was actually mum that walked with me (and looking at the film, we pretty much raced down that aisle!!). But maybe it was meant to be that way and I was proud to have her by my side – she has been a rock and is a hugely important part of my life. I did have a little framed picture of my dad hanging from my bouquet and also carried one of his old handkerchiefs to mop up any stray tears (as it happens, there were no tears but it was useful for dabbing Adam's sweating brow!)."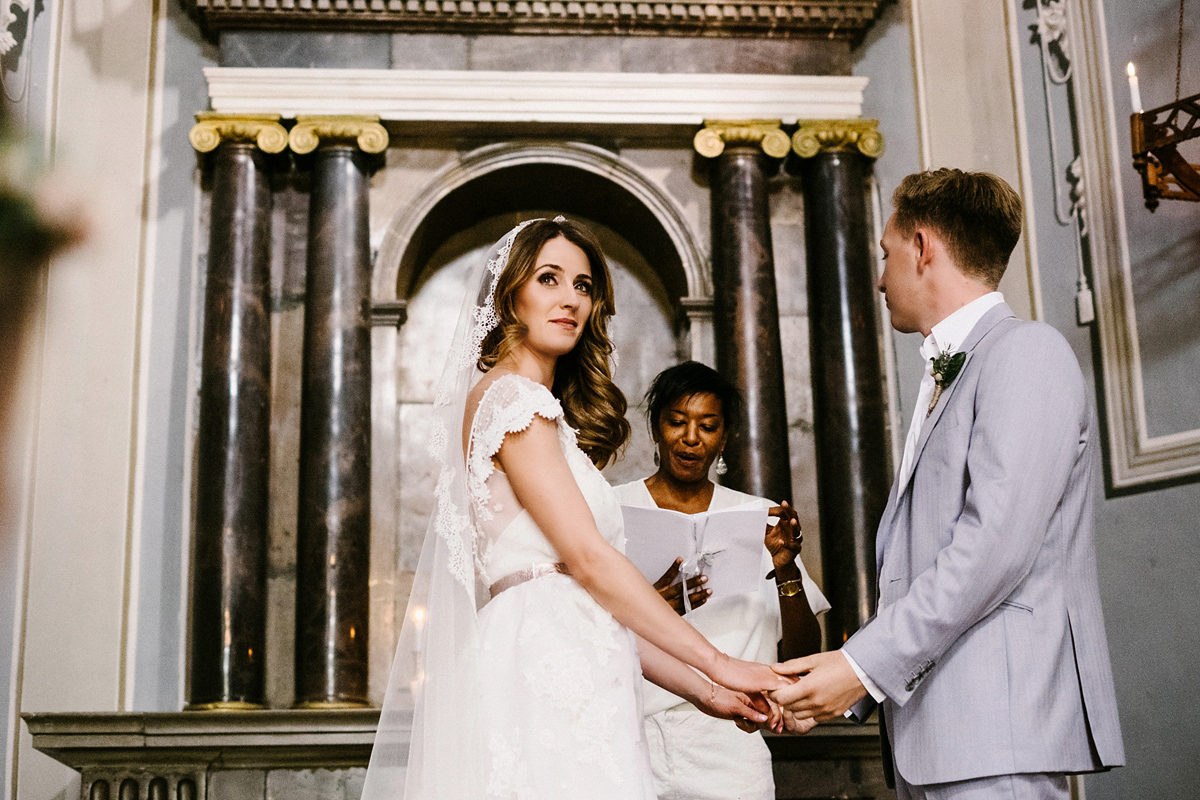 "Adam's uni friends Jas and Dave were our musos during the ceremony and played Let Her Go by Passenger as I walked down the aisle. Odd sounding choice perhaps but Adam first saw Passenger busking in Manchester years ago and bought his CD. Whilst I was away in South America, Adam listened to his music a lot and this song quickly took on sentimental meaning."
"The ceremony and vows actually turned out to be one of our favourite parts of the day. Something about being in sunny Spain made the ceremony so much more relaxed and we were able to tailor every part of it. We didn't write our own vows (we are a little too shy for that) but our celebrant, Natasha Johnson, worked with us to create a really personal ceremony full of laughter. We met with Natasha once before the big day and it was like having a coffee with an old friend."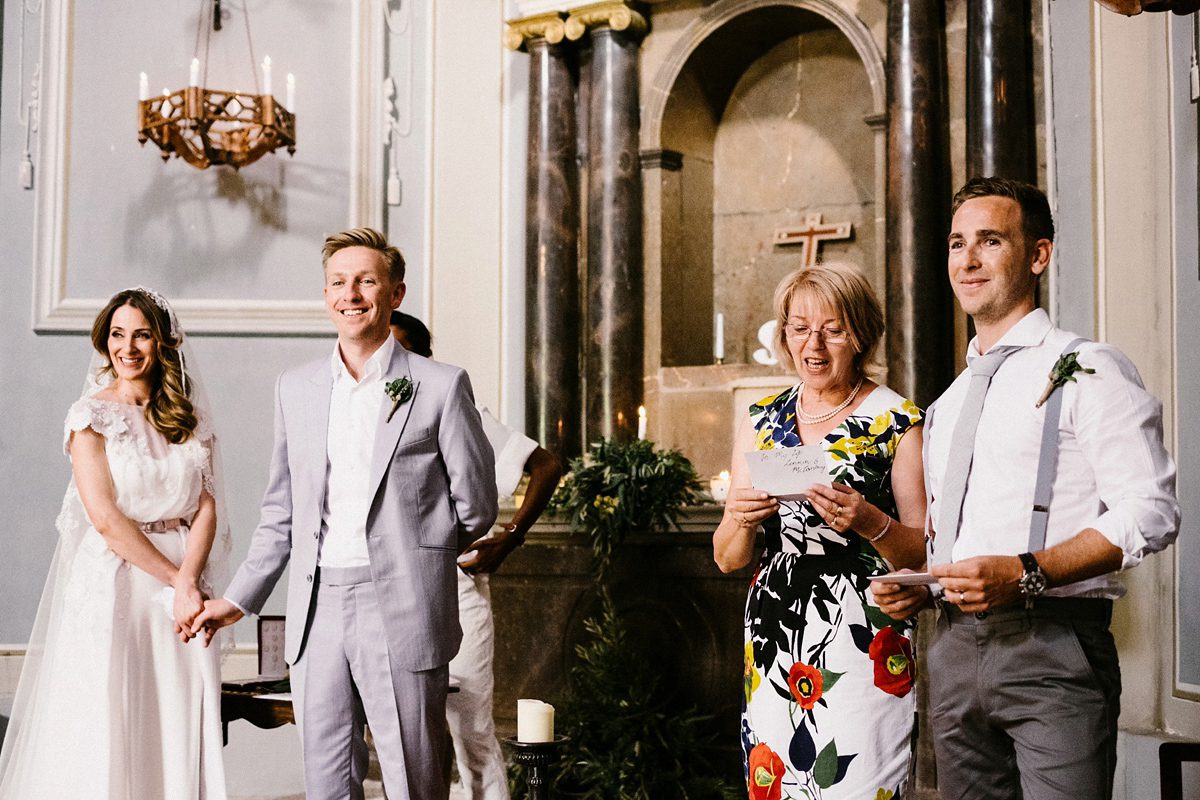 "On the day, she was the image of serenity, despite getting lost and almost being late! For me the highlight of the ceremony was the singalong to Andy Williams' You're too good to be true we surprised our guests with (it had to be a song that everyone would know the tune to and was fairly easy to sing/shout). Song lyrics were taped underneath the chairs so our guests had no idea they were going to be performing. I would really recommend anyone to personalise and inject a little fun into the ceremony.
It can be pretty nerve wracking stood up there and nothing like laughter to break the tension. One of the biggest complements was a friend saying to me that they would have recognised the ceremony as mine even if I hadn't been there."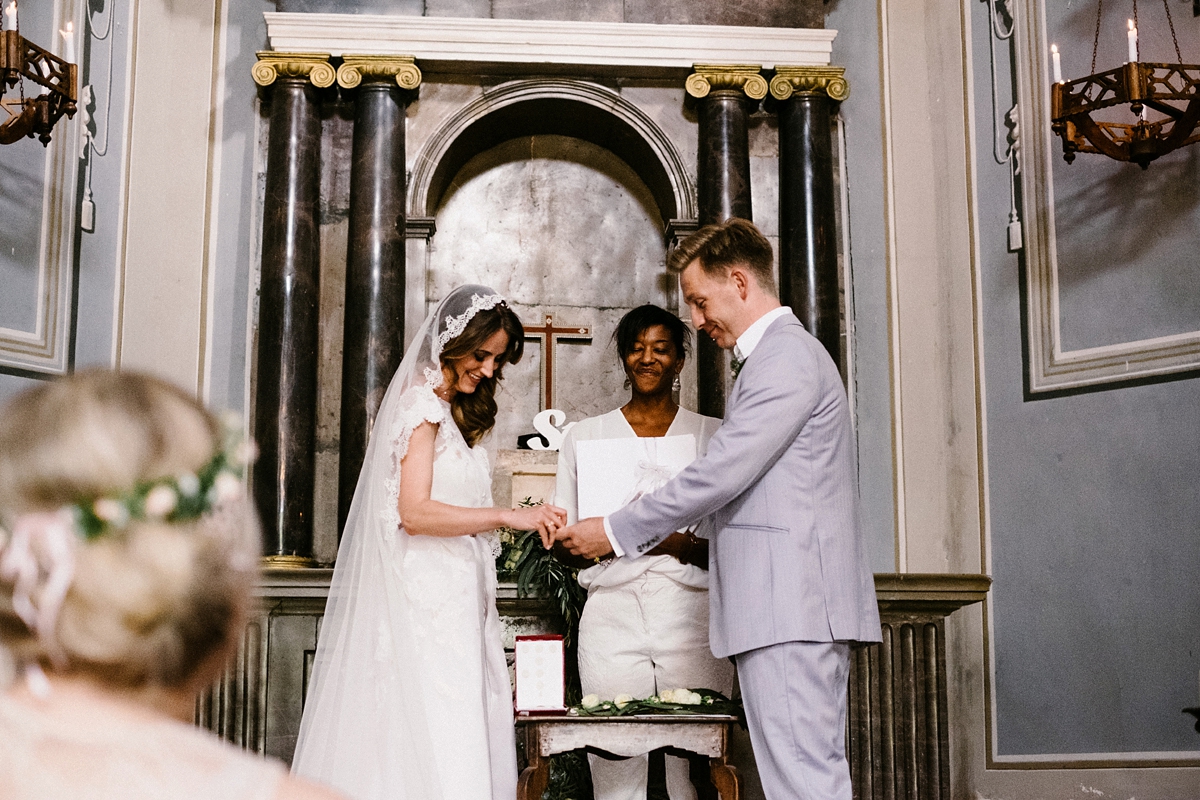 "It is frustrating that weddings in lots of beautiful destinations are often not legally recognised in the UK. The obligatory trip to registry office seems like a distinctly unromantic experience as it is not the actual wedding (and a little odd as you look across to all the other brides surrounded by all of their friends and family)."
"We didn't want to be legally married before the ceremony in Spain (what we considered the actual wedding) so we planned the registry office for the end of October, just before going on honeymoon. However, this has left us in a bit of limbo the past few months."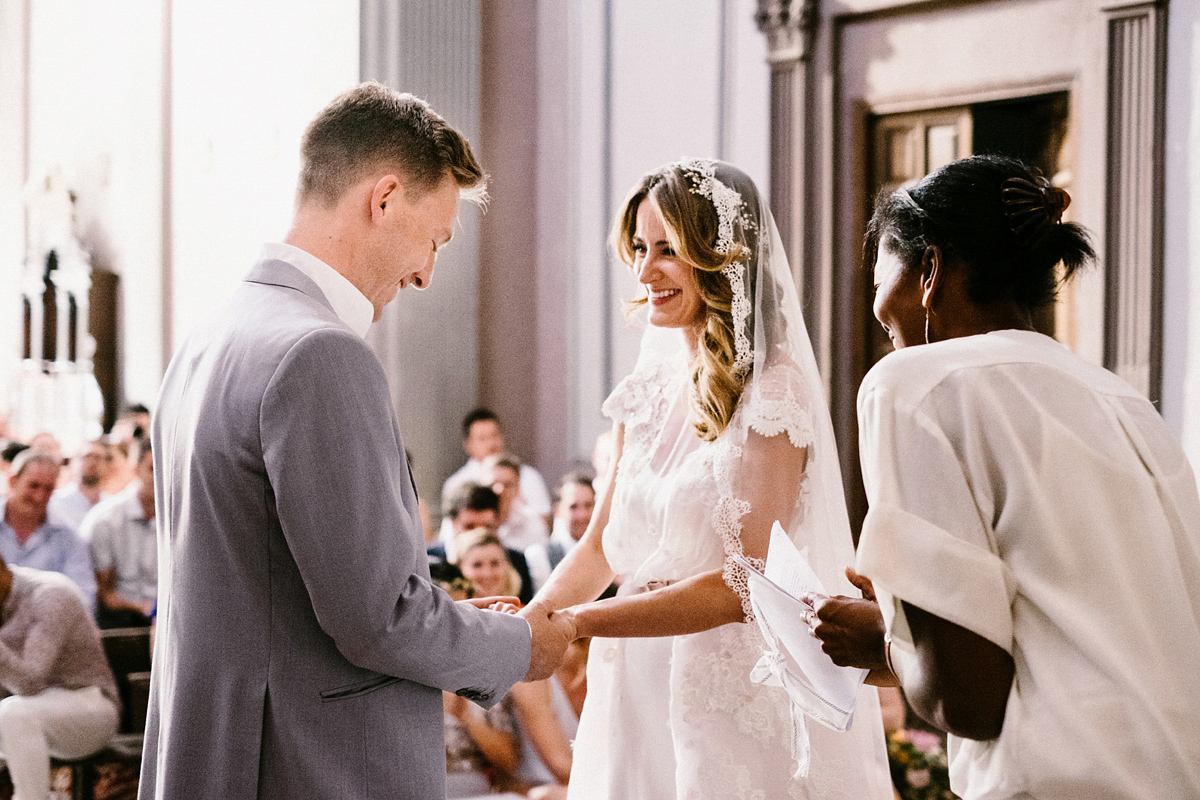 "We actually found it quite difficult to find readings that, for us, struck the right balance between meaningful and non-cheesy and that we also hadn't heard more than twice before. In the end, we started with Charles Darwin's 'Note on marriage' (as I studied Biology at uni and am still a bit of a science geek at heart) with a few tweaks and which we split between our good friends who are also married to keep it tongue in cheek.
We then went with musical references – Bob Marley's "He's not perfect" and Lennon/McCartney's "In My Life" which my mum read in German to make my German side of the family feel part of the day."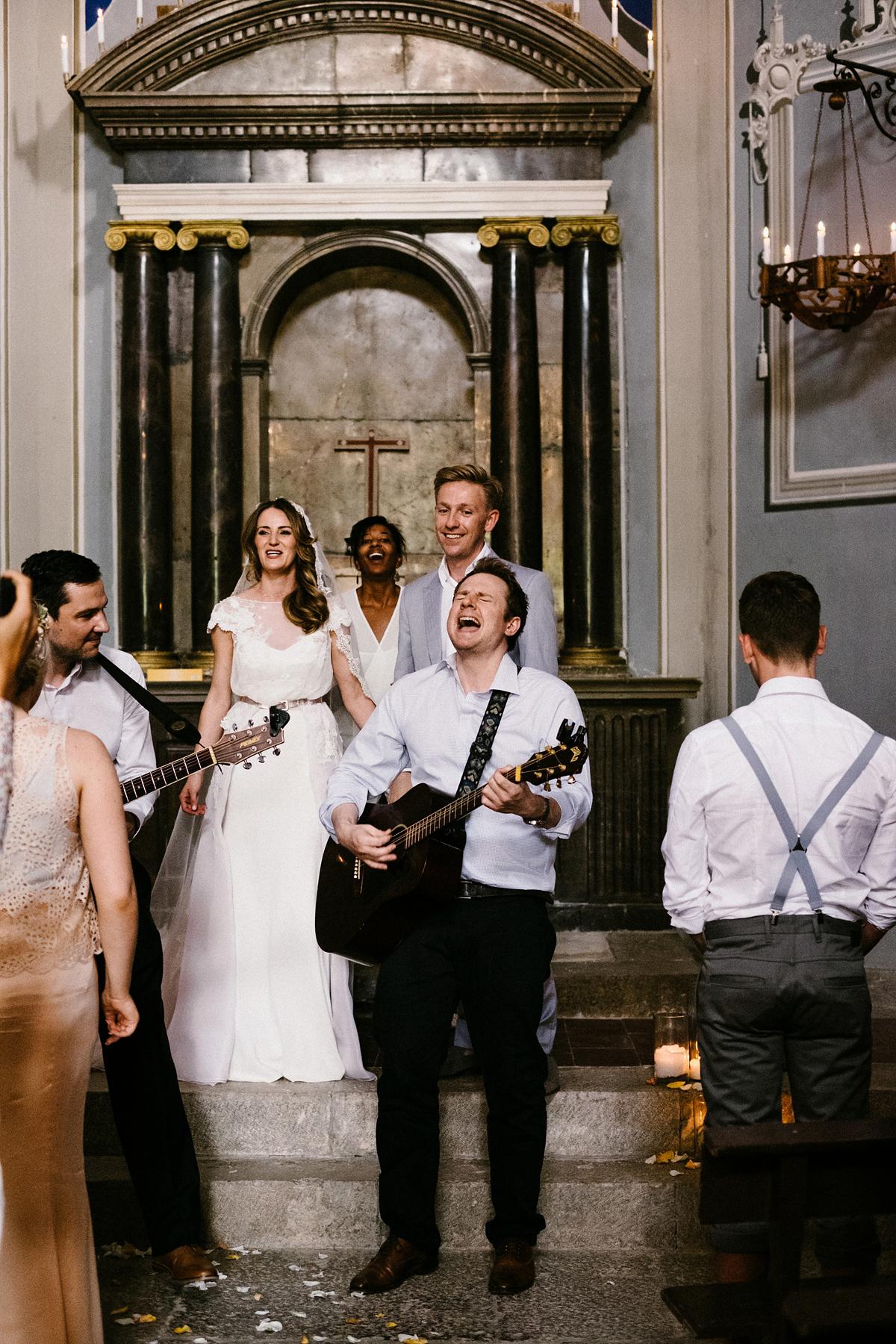 "We found Arabel Lebrusan, a wonderful designer who uses only ethically sourced metals and diamonds. Entirely by coincidence, she is also Spanish! I didn't really know what I wanted, something vintage-esque but not a replica or pastiche.
I loved learning about the wedding ring design process and generally chatting with Arabel. Unfortunately, I have now also fallen in love with all of her other beautiful jewellery."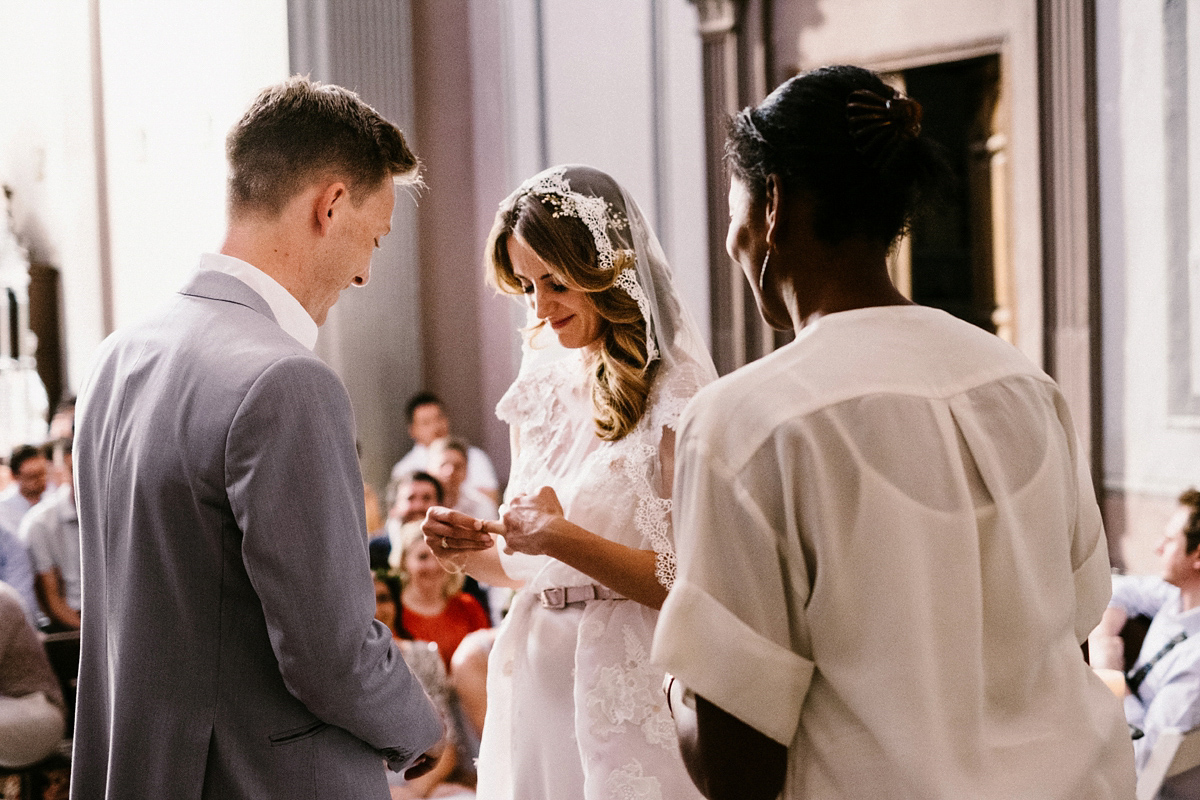 "Since I was going down the bespoke route, it was only fair that Adam could have the same. Also, with the wedding being in sunny Spain, Adam wanted to be able to choose a lightweight fabric without looking like the man from Del Monte. I think he looks very dapper in his suit and the colour really suits him! It was a nice surprise for me on the day too, seeing him in his new suit."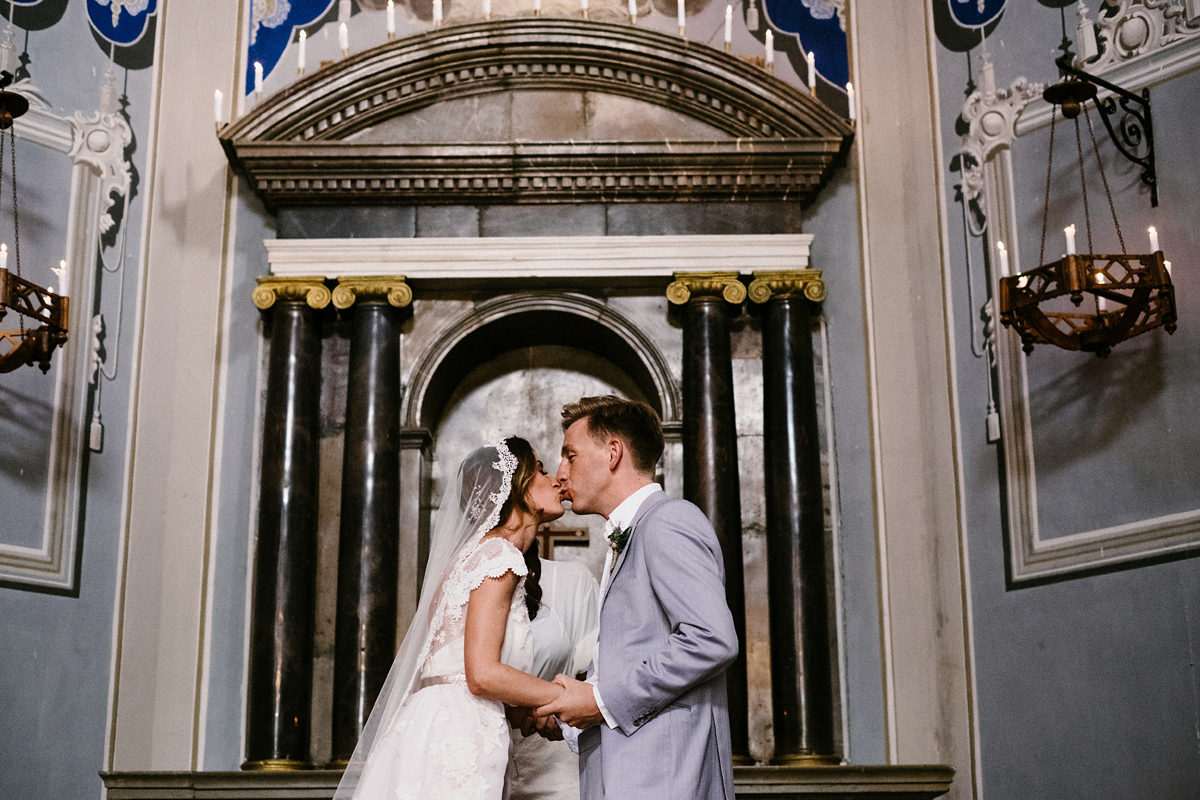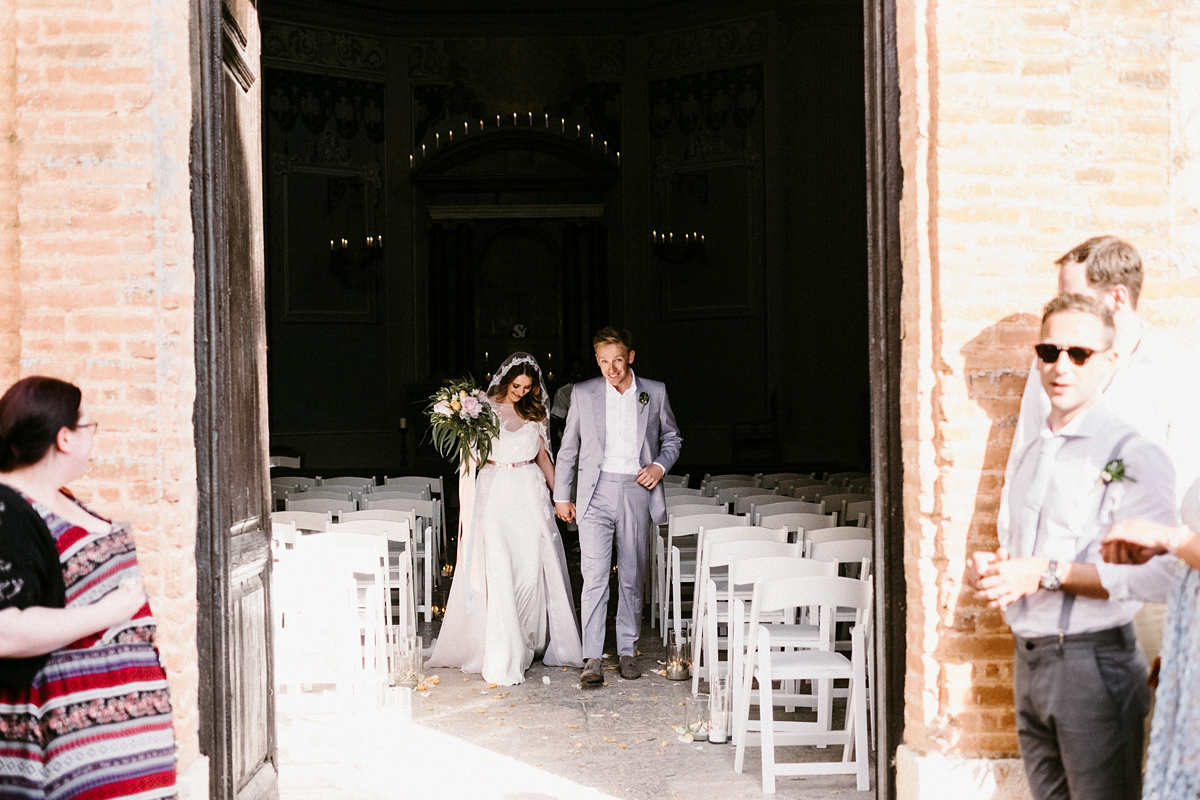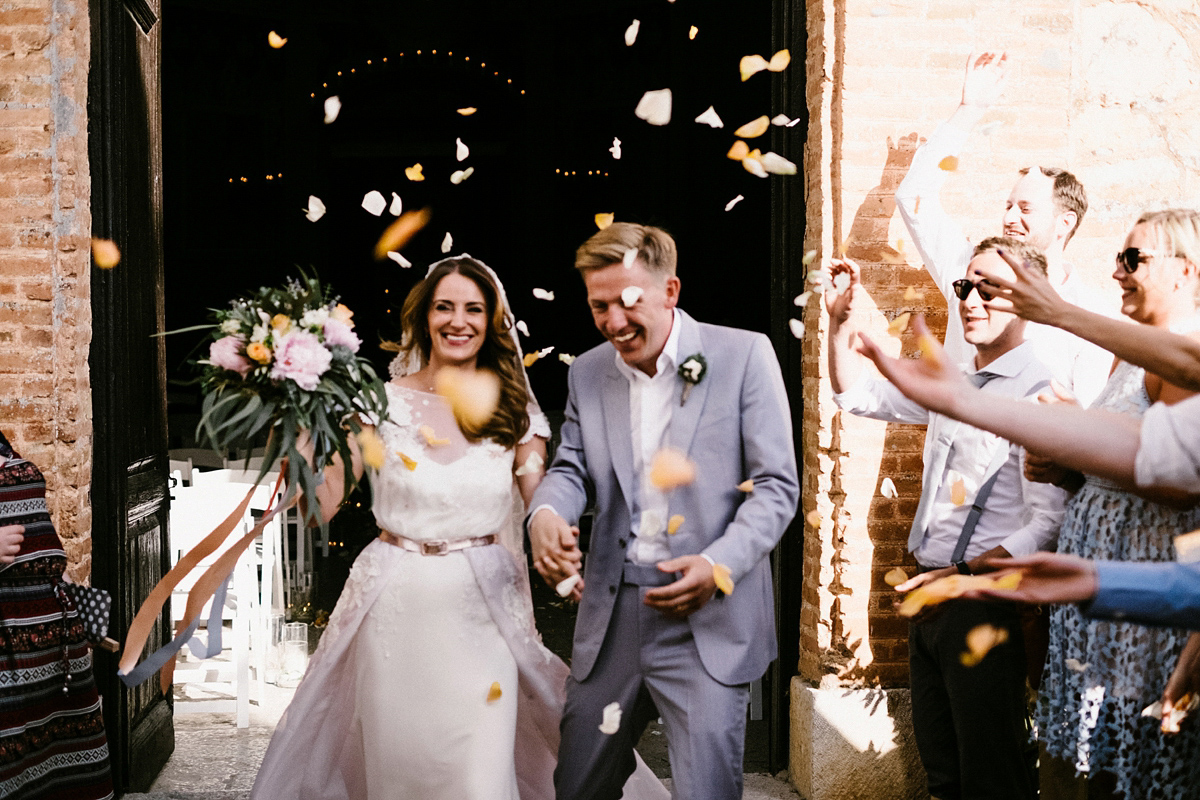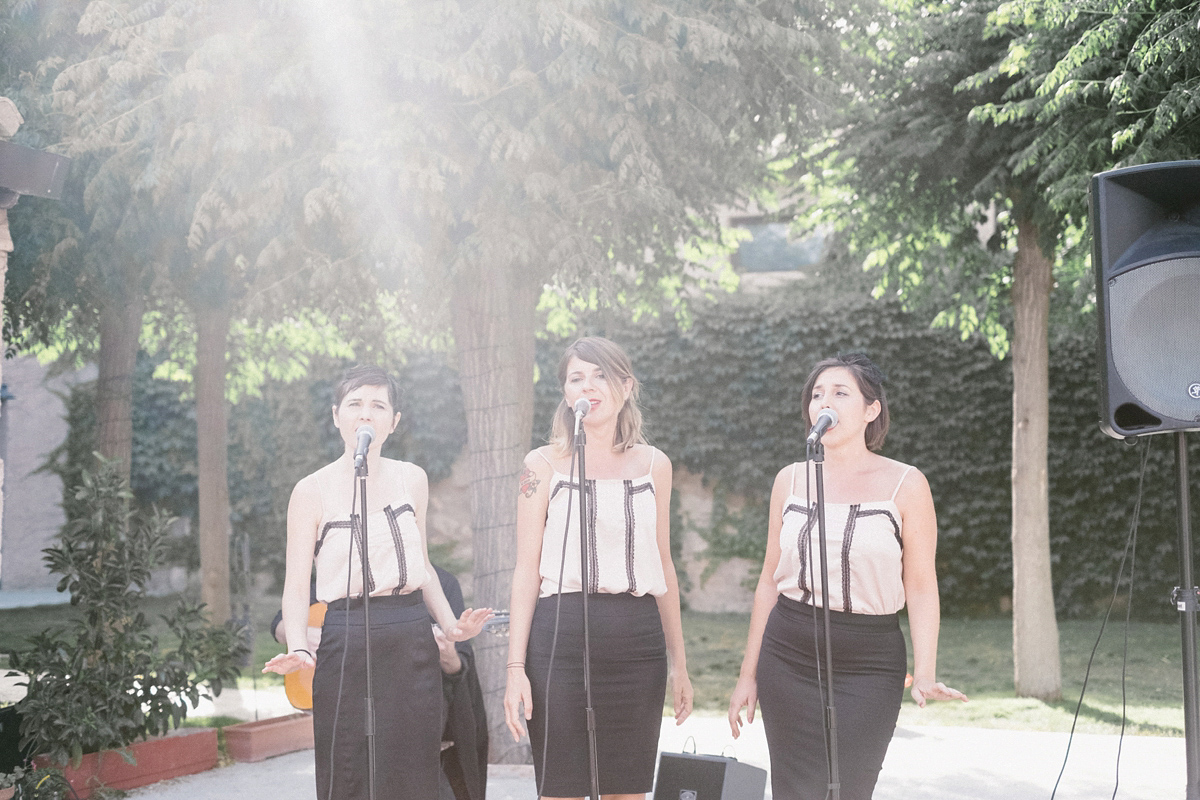 "I had visions of wild table runners of olive branches cascading down each table but it turns out sourcing meters and meters of olive branches is trickier and much more expensive than one thinks."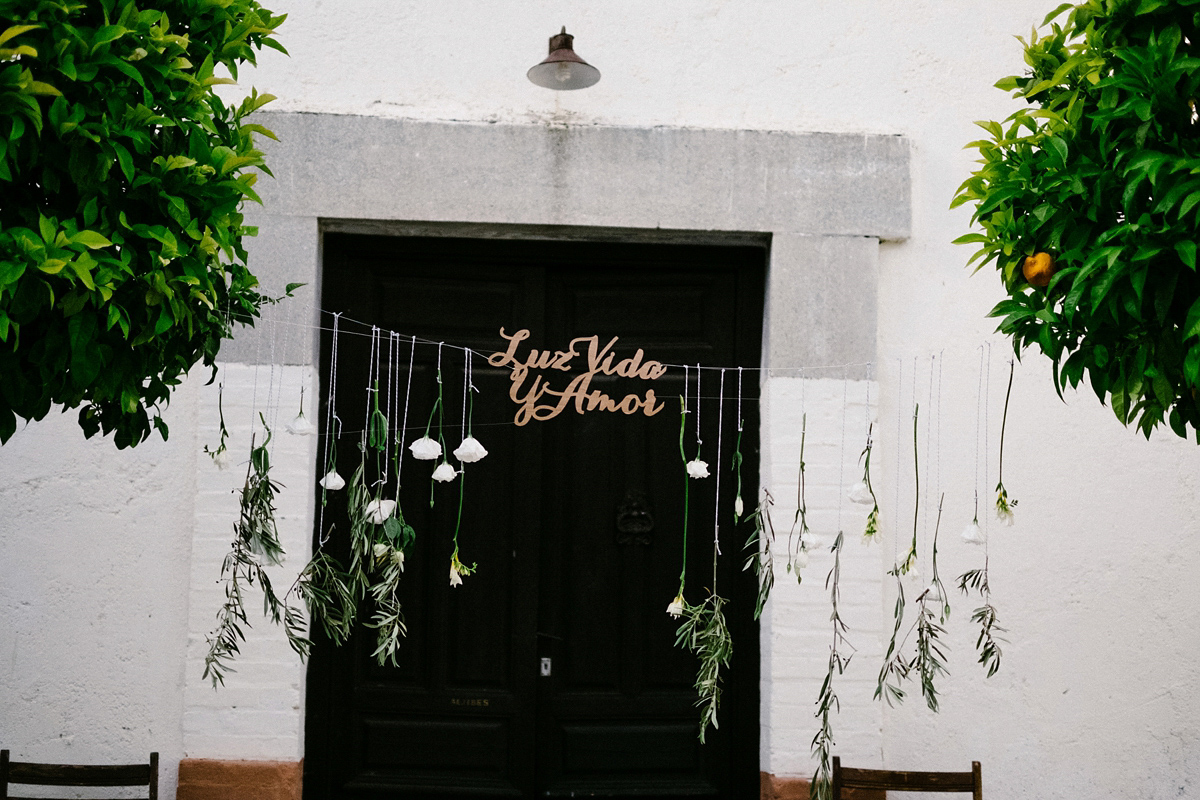 "Our wedding planner, Lucy, sourced the flowers. We wanted the flowers to feel very natural, with plenty of greenery such as olive branches and eucalyptus to reflect the Spanish setting."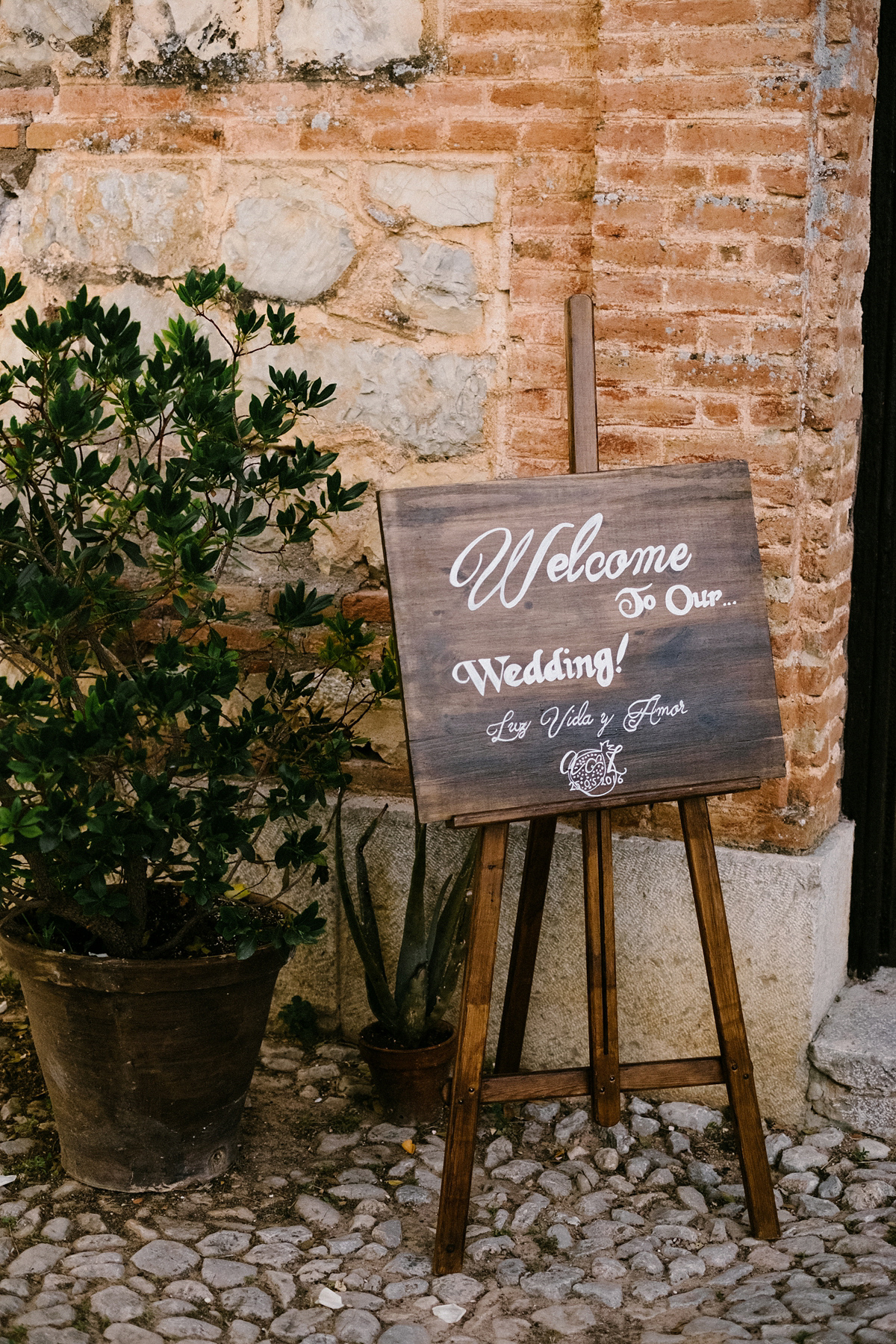 "Once in Spain, I got to work on folding as many paper cranes as I could in greys and peaches – turns out that it takes a LOT of time, even with the help of my mum and a friend's husband!! We strung them up across a seating area but it was so windy, they quickly became tangled for a slightly wild, angry birds look."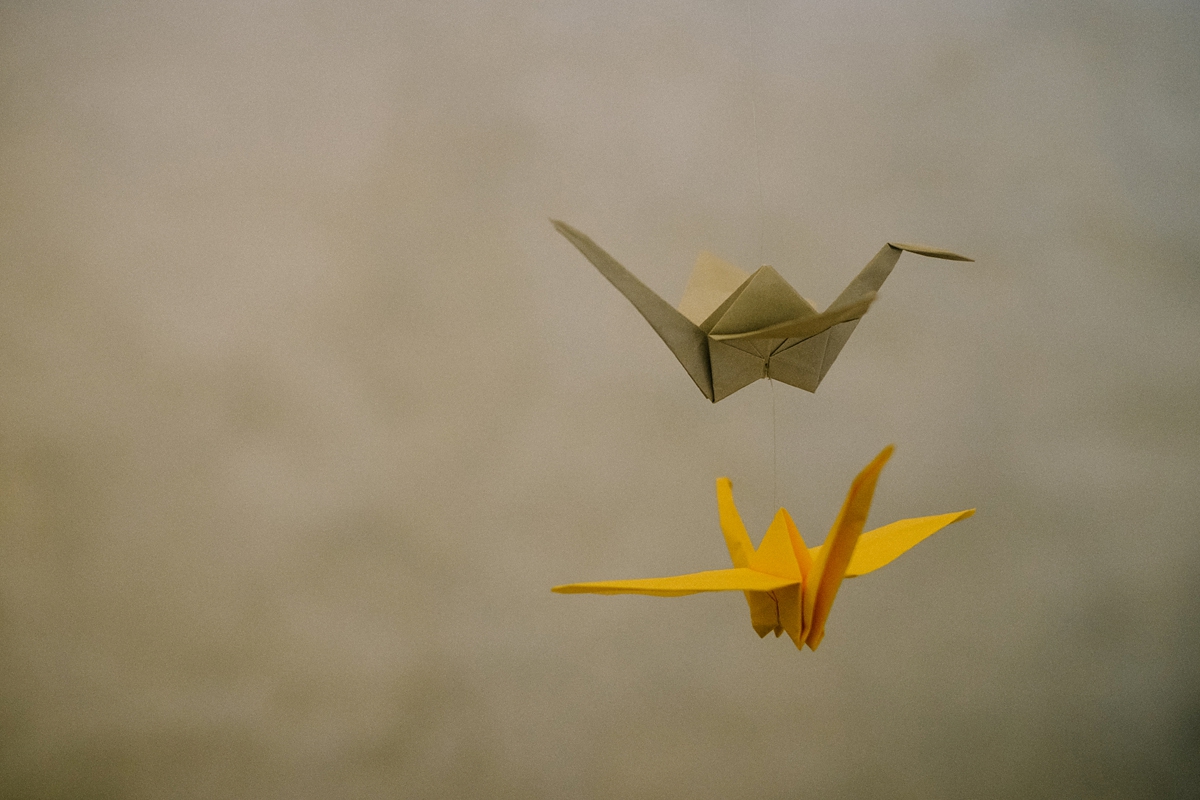 "With the wedding being abroad, we were truthfully expecting 60 maybe 70 or so guests so I decided to create the seating plan with pictures of everyone in little kiko frames which could double up as a take home favour. The project got a little out of hand with around 100 of our brilliant friends and family coming out to celebrate with us!"
"We tied the frames to metal rings fixed to fishing line and threaded through ribbon streamers and hung these from an old wooden door the Cortijo let us borrow for the day. We should have really started this project way earlier than we did, with poor Adam sat on the floor tying knots in fishing line looped around his feet at 2am one night."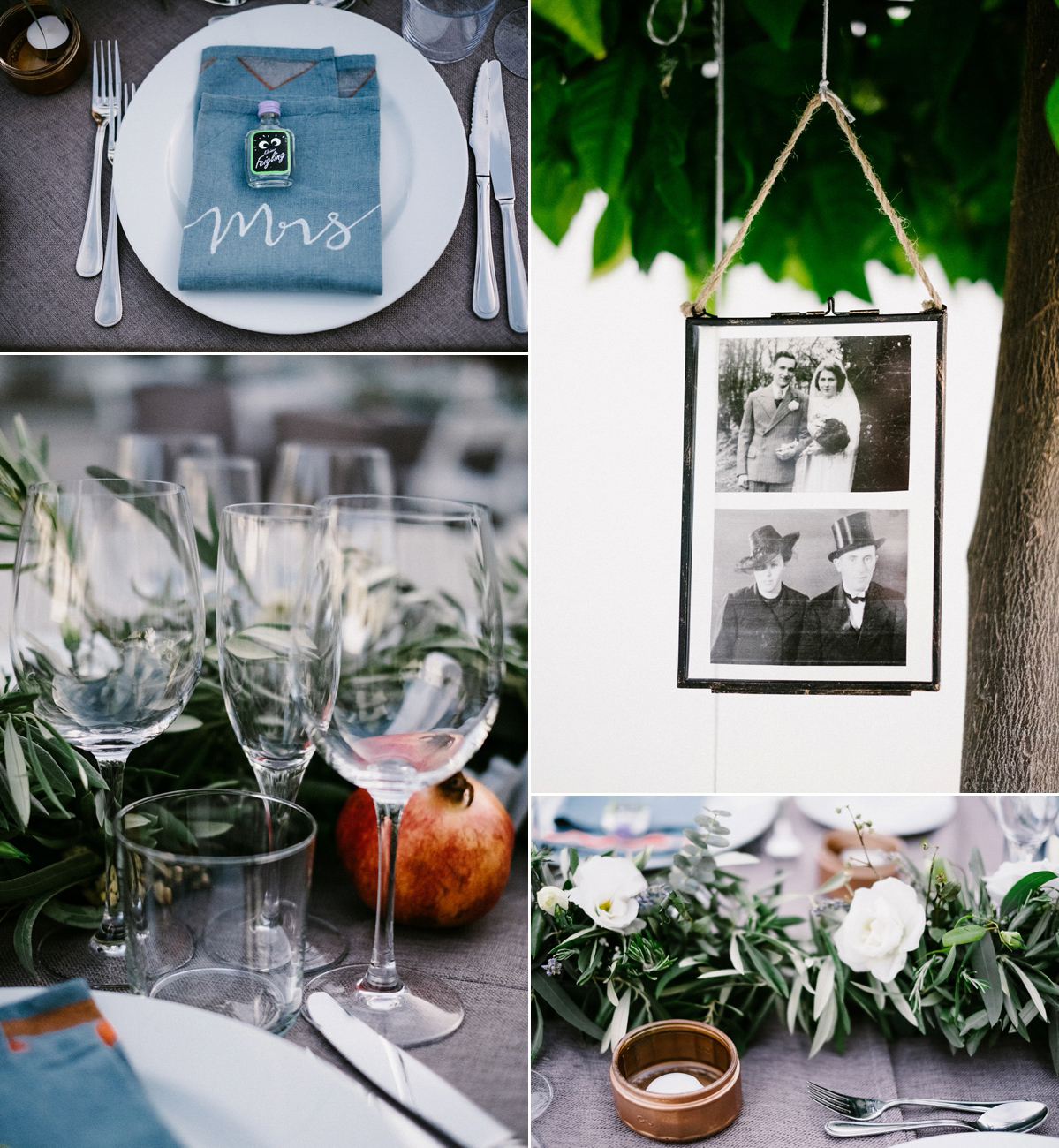 "I decided to create personalised napkins for all of our guests (again, initially thinking we would be around 60-70 in total). We found some grey linen napkins on Etsy and I then invited my five bridesmaids round for an afternoon of stamping the napkins with a neon orange chevron border. We got through all of about 20 between 6 of us!! I don't think the curry I got the girls as a thank you was anywhere near enough compensation for the pain I put them through that afternoon!
This little project was a steep learning curve as I had to figure out how to get through another 80 or so napkins at a much quicker pace…Definitely a case of biting off more than you can chew."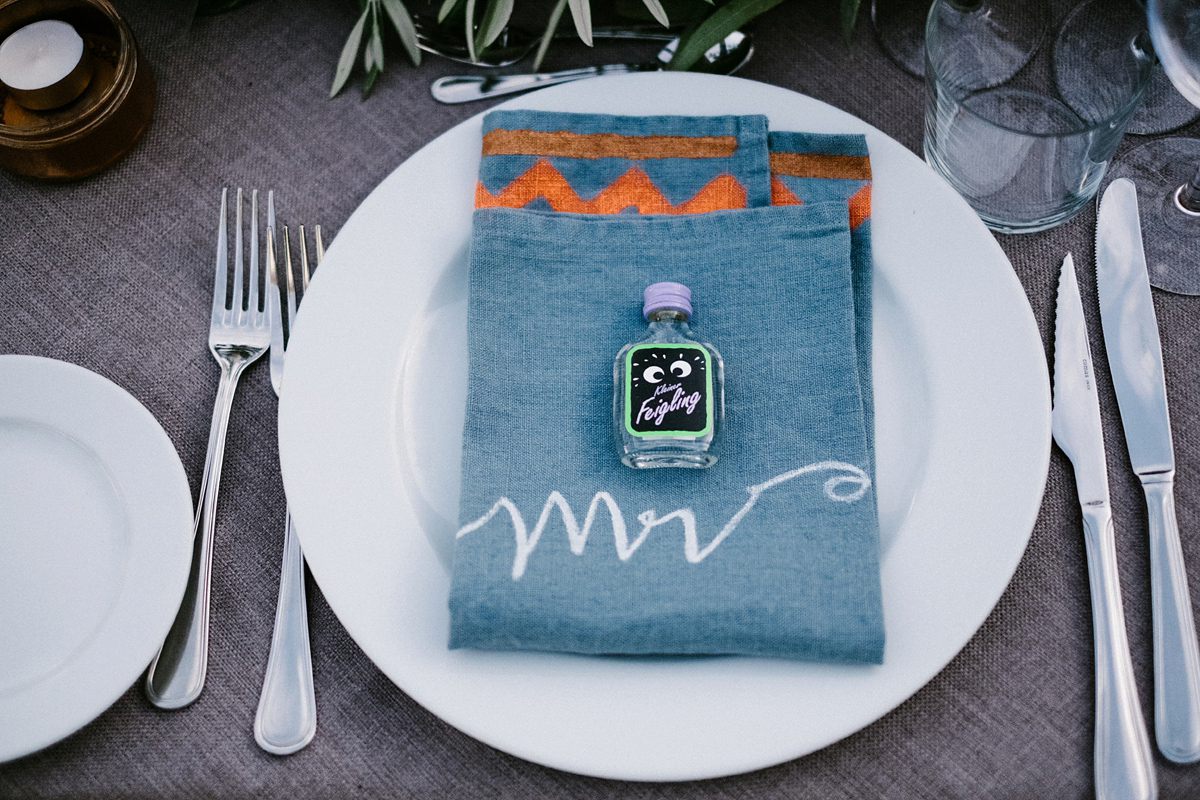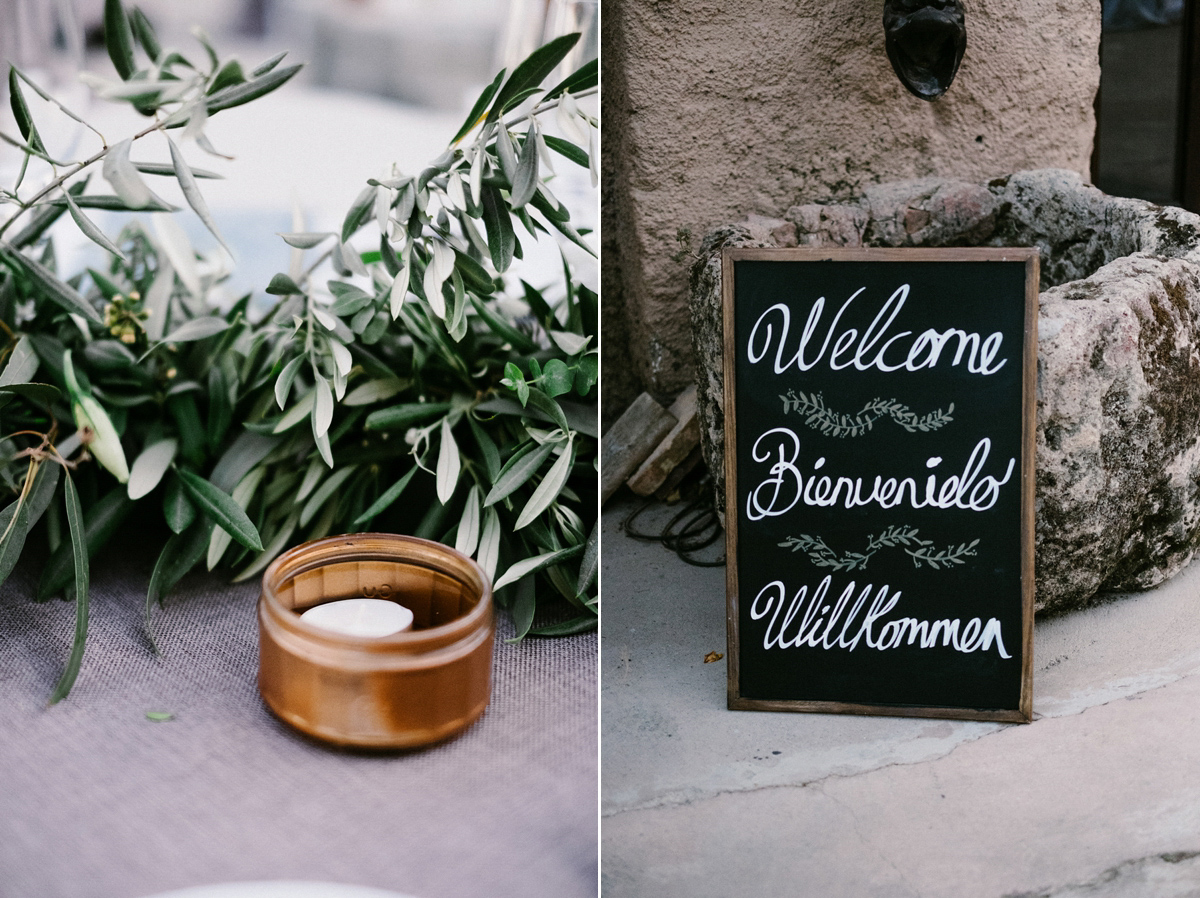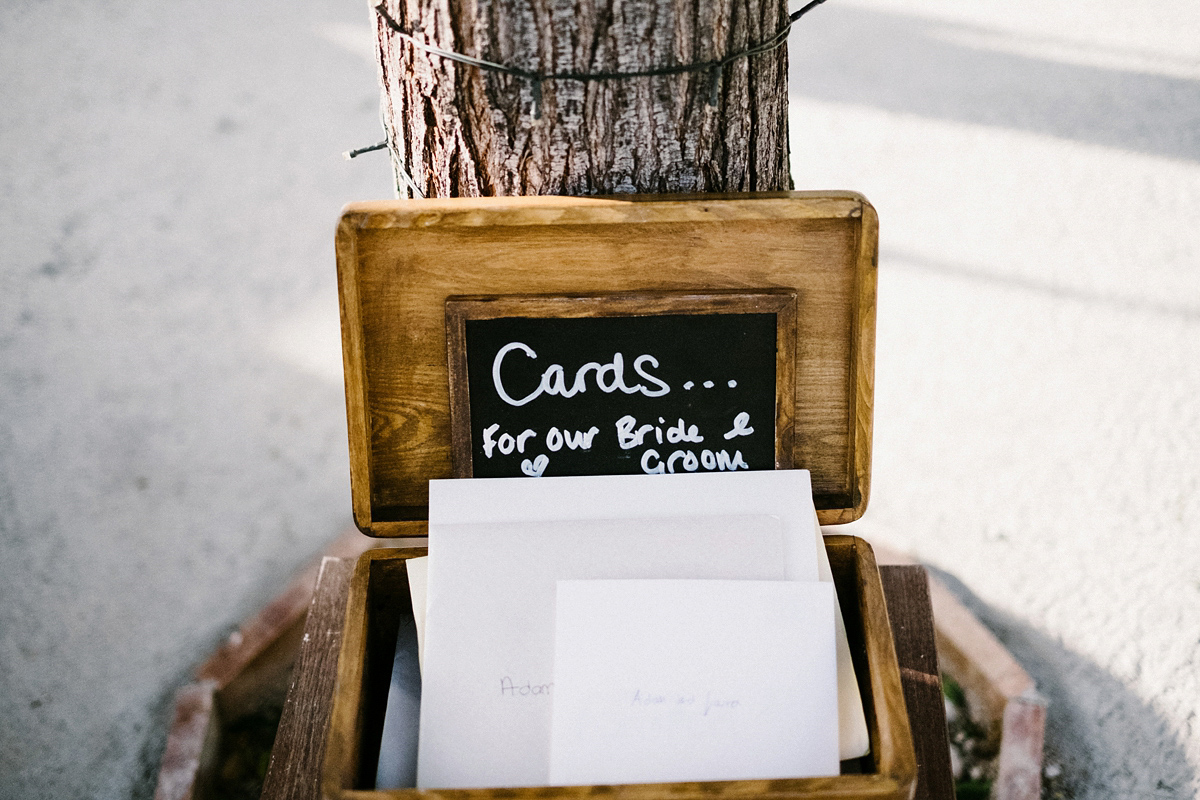 "I've been a big fan of the recent geometric trend so I bought peach hexagonal wire baskets for each of the tables and when they ran out of peach, I got them in white and spray painted them rose gold. We also ate a LOT of gu puddings over the course of 18 months (what an excuse!) to use as tea light holders on the tables, which I also sprayed rose gold and copper. For the table names, we used black and white images of iconic landmarks of the North West (where Adam is from) and North East (where I am from), with the top table being represented by a Yorkshire and Lancashire rose."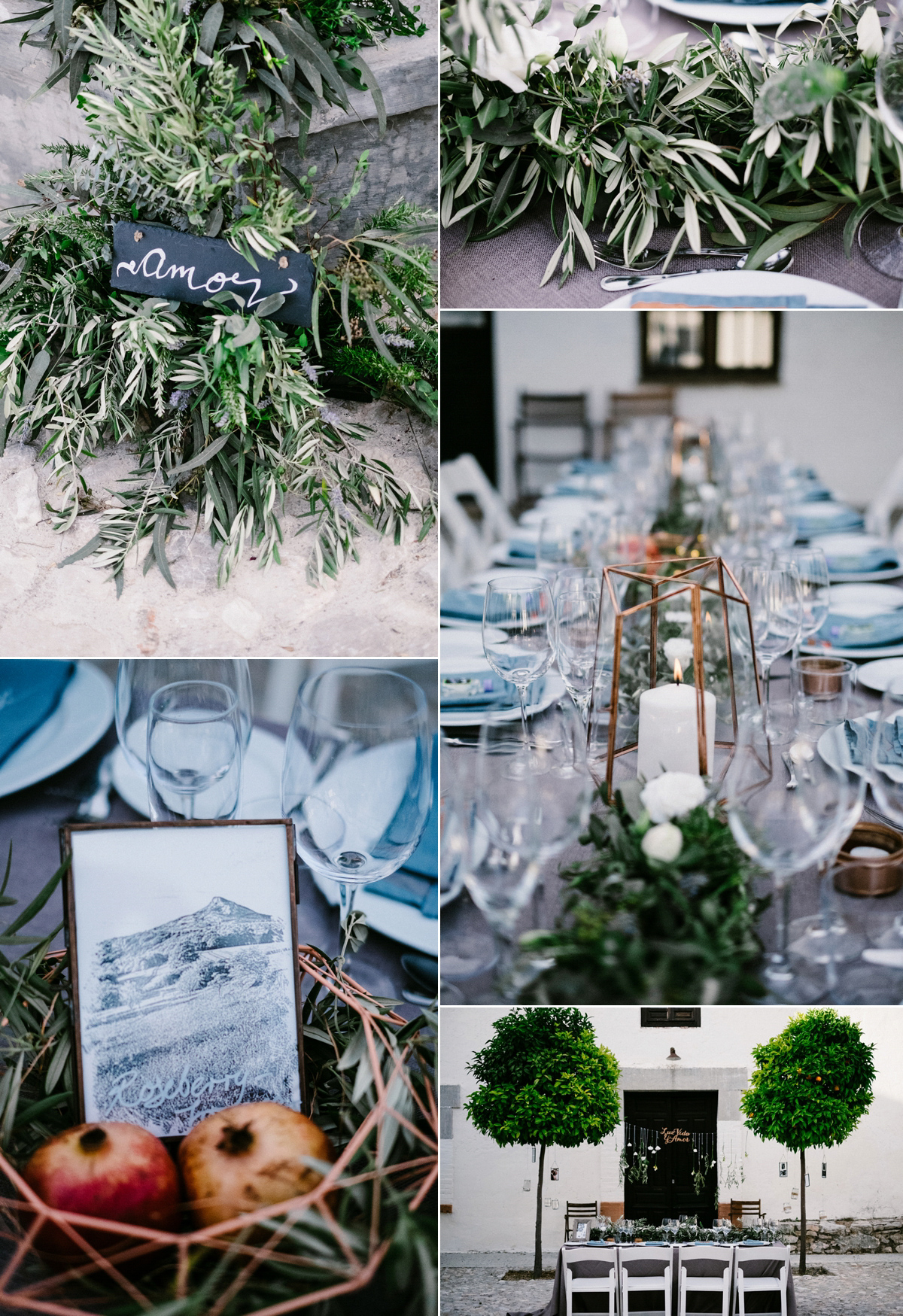 "The Cortijo provided all of the delicious food and made sure we were well fed during the days leading up to the wedding.  During the reception drinks, we served a selection of Spanish tapas alongside wedding cocktails named after us, the Adam's 'Labbettoni' and my 'Perky Pisco'. For the main meal, we gave our guests a choice between fish, beef and pork which sounded like a great idea but created a lot more work for the Cortijo team. Miraculously, everyone at least appeared to receive the correct dish!
The menu was refined with a distinctly Andalusian feel – delicately poached salt cod, Cordoba style slow cooked beef cheek and pork with plum stuffing, together with big sharing bowls of vegetables and traditional potatoes with peppers."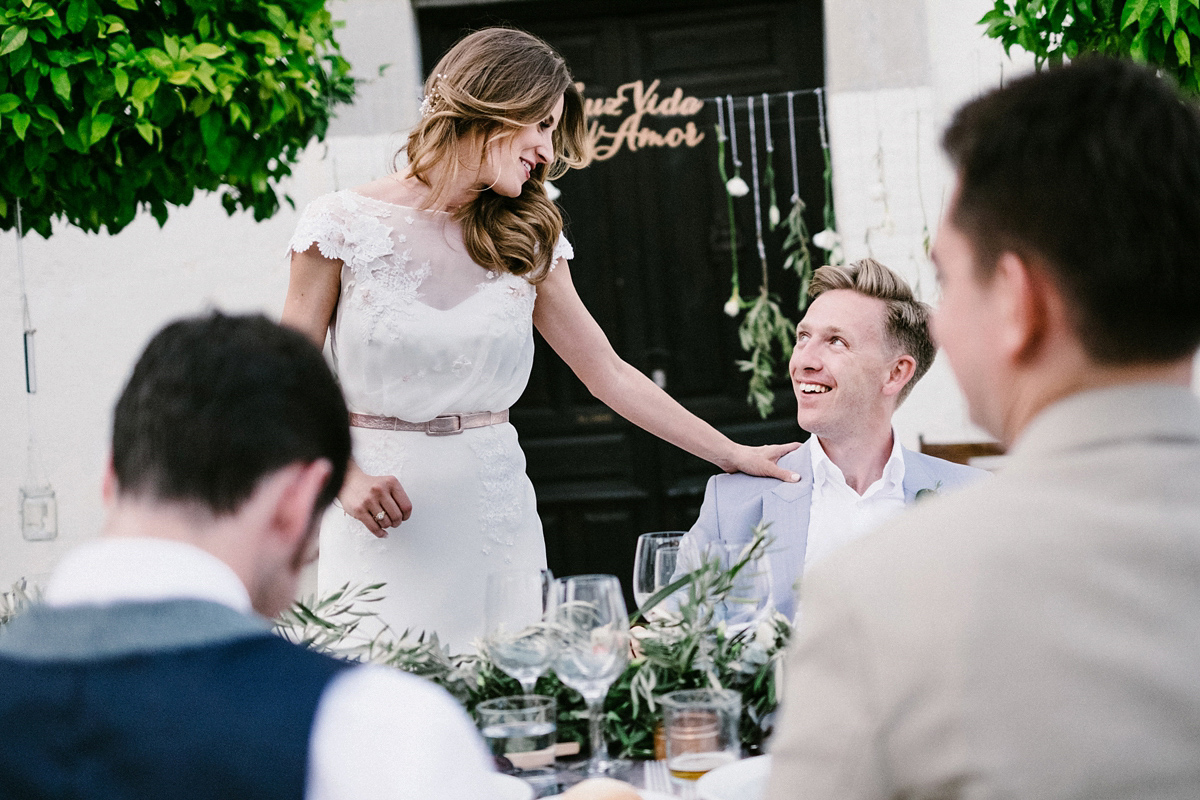 "Working with my dressmaker Charlotte Wilden was a dream. She patiently reviewed my Pinterest obsession, I mean, inspiration, and deciphered decidedly non-techy lingo like "a bit oomphy" or "lacey but not floral" or "something like this and this" (*wildly waving hands around*). I loved learning about the dress making process and seeing it come together over the course of months (along with getting a peak at the other beautiful creations Charlotte was crafting for other lucky girls). And the dress fit. Perfectly." 
"What a privilege to know that it was all Charlotte's hard work in her cute little studio. The bonus of a bespoke dress too, is that you get to change your mind, just a little. For me, this is not to be underestimated particularly given the lead time between ordering a wedding dress and the big day itself and Charlotte generously took all of my last minute 'bridey' requests ("I NEED some satin buttons, somewhere, anywhere!") completely in her stride."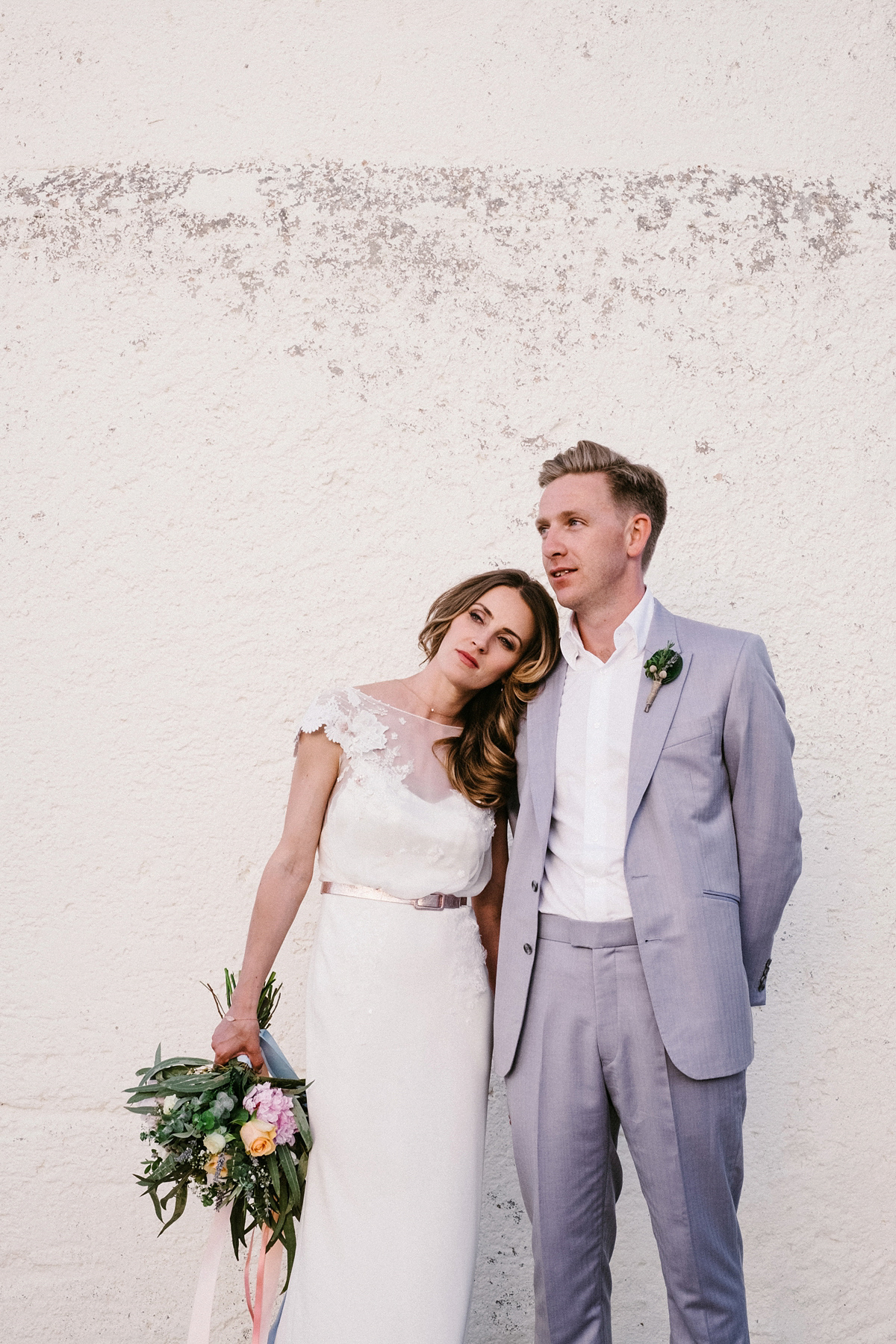 "Basically, I was being indecisive; like so many brides, I wanted something elegant and slim fitting but then again, couldn't completely shake off that little girl's vision of the big dress.
Charlotte helped me choose amazing quality fabrics that were lightweight and would work in the hot Spanish summer.
I really love the drape of crêpe du chine together with its matt but rich texture and colour, so that was our starting point. Something quite simple but figure hugging in shape, with a sheer blouson top with a deep V at the back. We added scattered lace cascading down the dress for detail – I particularly love the eyelash lace on the cap sleeves."
"For the drama, Charlotte created a detachable tulle over-skirt, with voluminous layers of ivory and pink – yes pink! I am not a pink kinda gal but it is so soft that you have to look twice and it really worked well in the warm evening light. I have to admit, I put the over-skirt back on over my PJs on the morning we were packing up and getting ready to leave, I loved all that tulle swooshing behind me. It would look great with a sharp white shirt."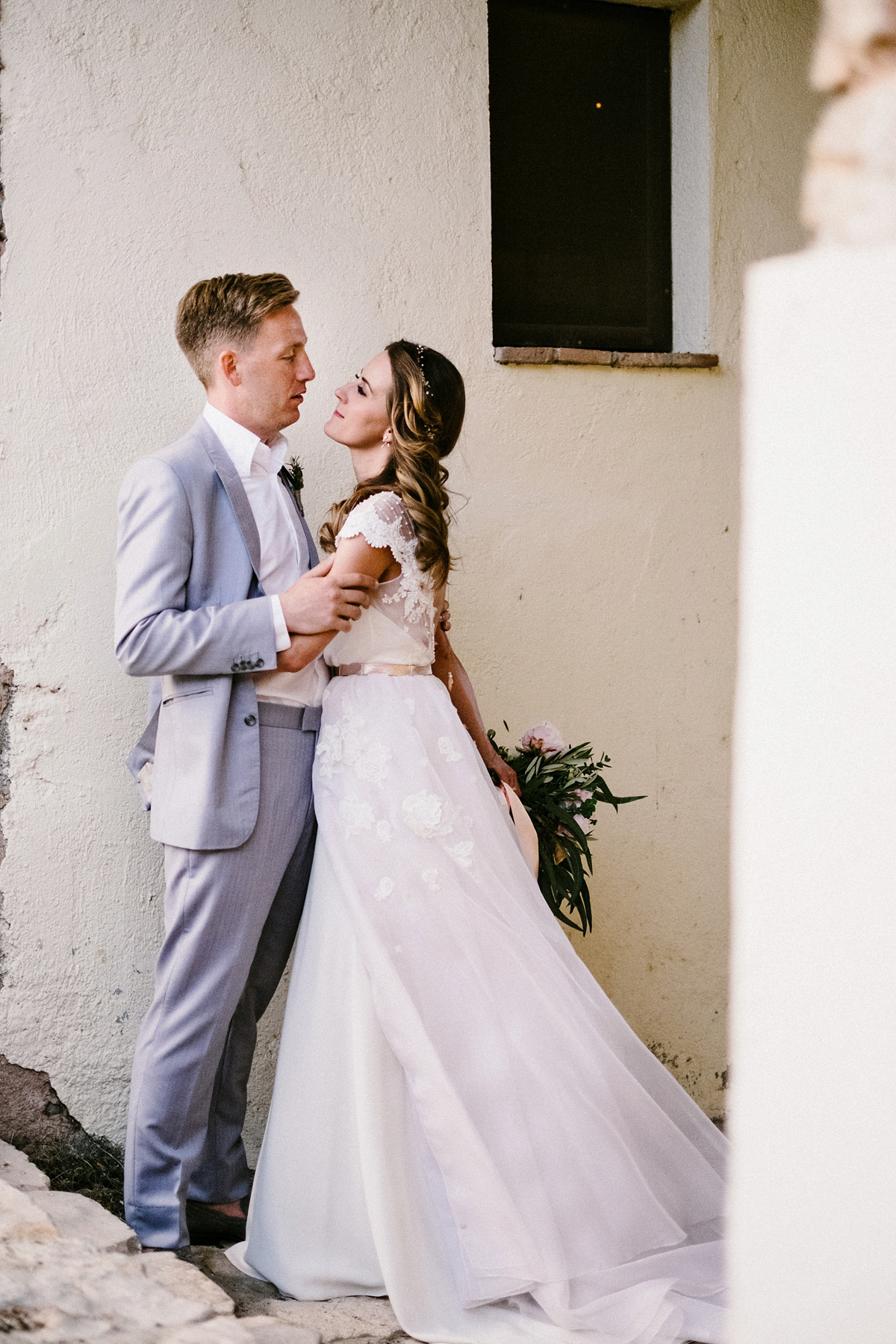 "To tie the 'big skirt' look together, Charlotte added some lace accents and commissioned an awesome rose gold belt that matched my shoes! I was convinced I would wear the belt with everything from jeans to a LBD forever more but now realise that my waistline has already expanded a little too much."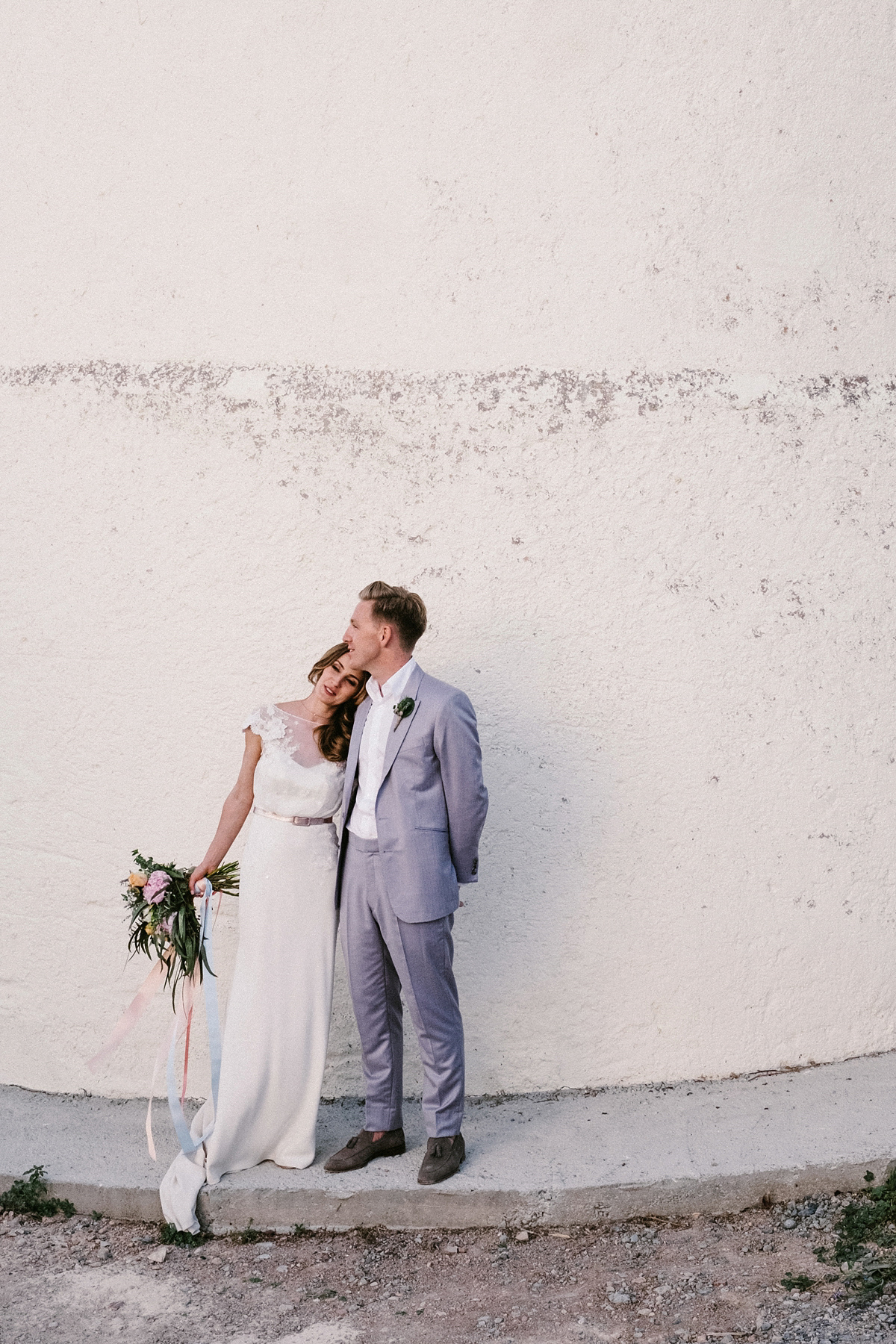 "The wonderful Steve at Moon and Back documented our wedding on film. Steve is usually found shooting beautiful vineyard weddings in Australia so we were lucky to nab him during his summer break shooting weddings across the UK and Europe. Originally, video was definitely out of budget but Moon and Back put out a special offer which I happened to see on a wedding blog. Steve was free on our date and happy to travel so I took it as a sign…!
Steve did such a great job and picked us a fab 'theme tune' for our highlights film. He worked incredibly fast to send us a little teaser the following evening, a real goose bumps moment, which had me (and others!) in tears, a release of all of the emotion I had been holding onto. It was a pleasure to have him as part of our team and a shame he isn't staying in the UK a little longer."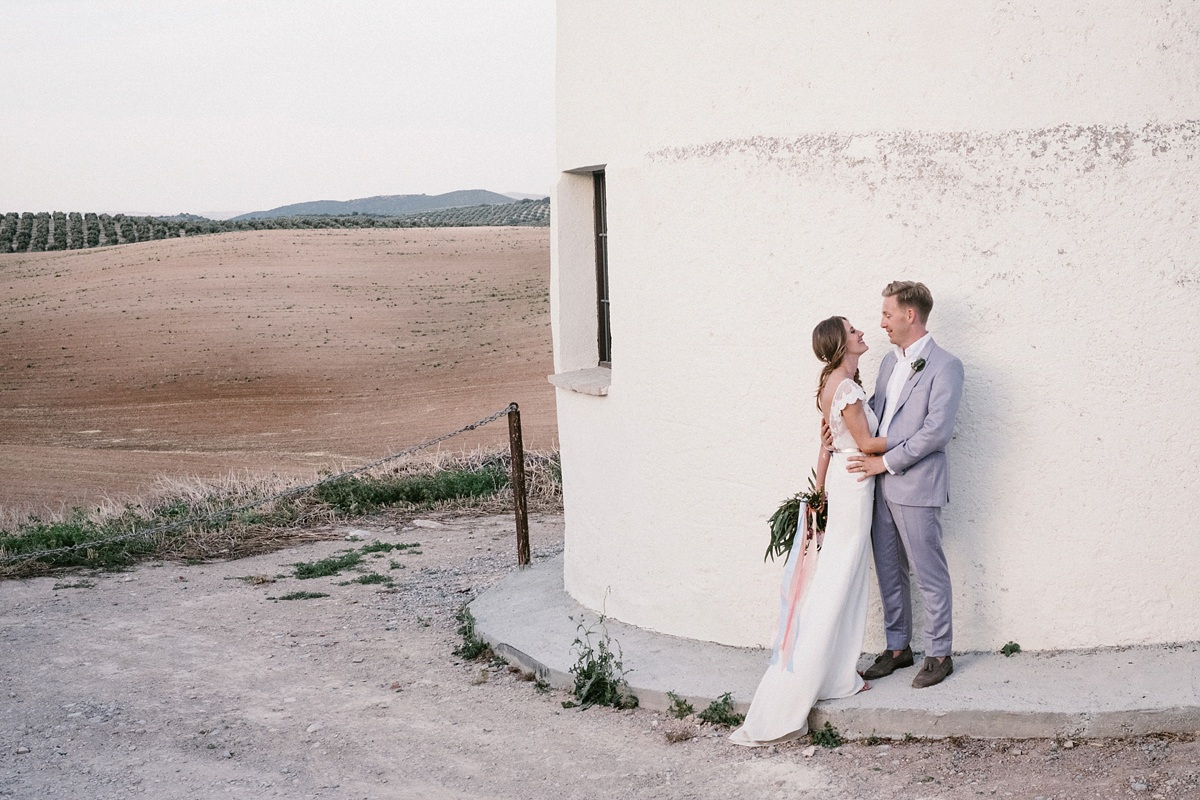 "My bridesmaids wore skirts created by the lovely ladies at Finiks, at Shepherds Bush. They were very quick and kindly let the girls come for fittings at various different times to work with their schedules (and as a couple of girls were coming from the North West). I bought each of the girls something personal rather than matching accessories."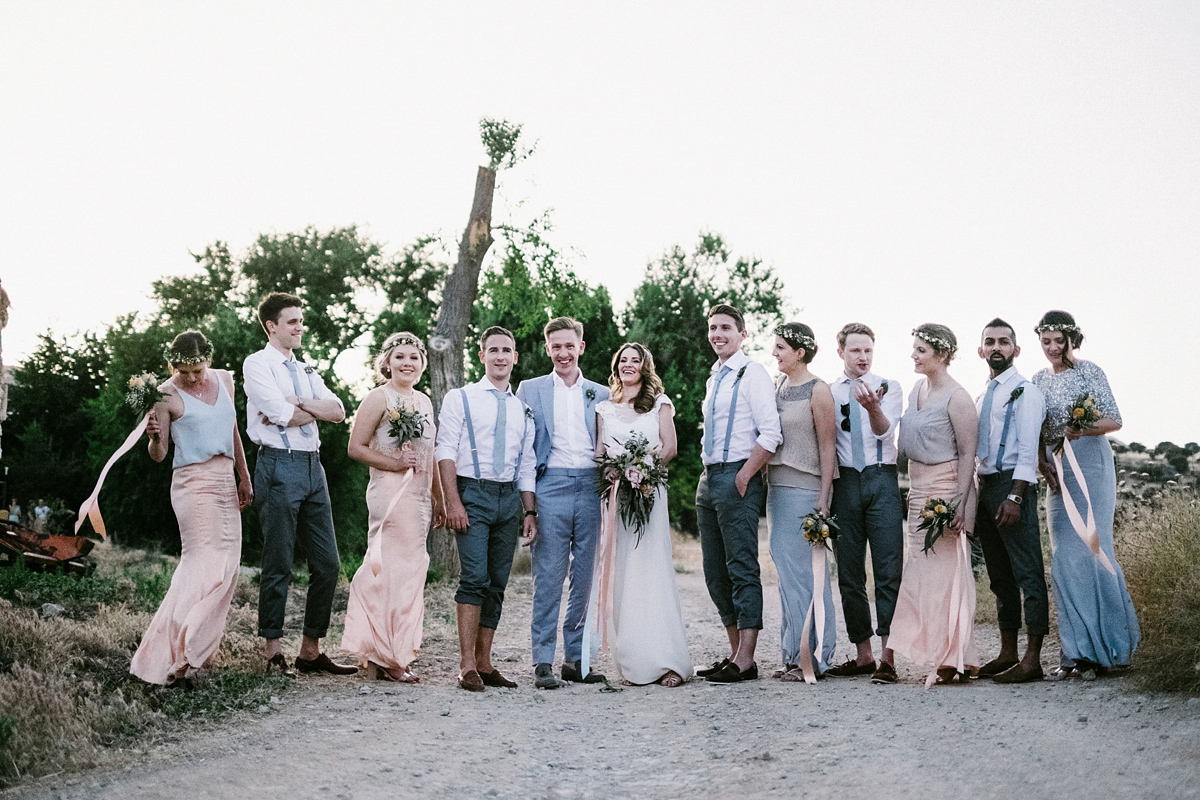 "I'm not sure the boys were on board with, what they considered to be, their boyband look! Our main concern was them being uncomfortably hot all afternoon. We hoped some light chinos paired with a shirt with the sleeves rolled up would make them a little more comfortable. Adam vetoed a bow tie (so the boys had a lucky escape there). Instead we gave them all braces and skinny ties from Mrs Bow Tie to add a little colour. The height of the trouser leg roll up was entirely their own doing…"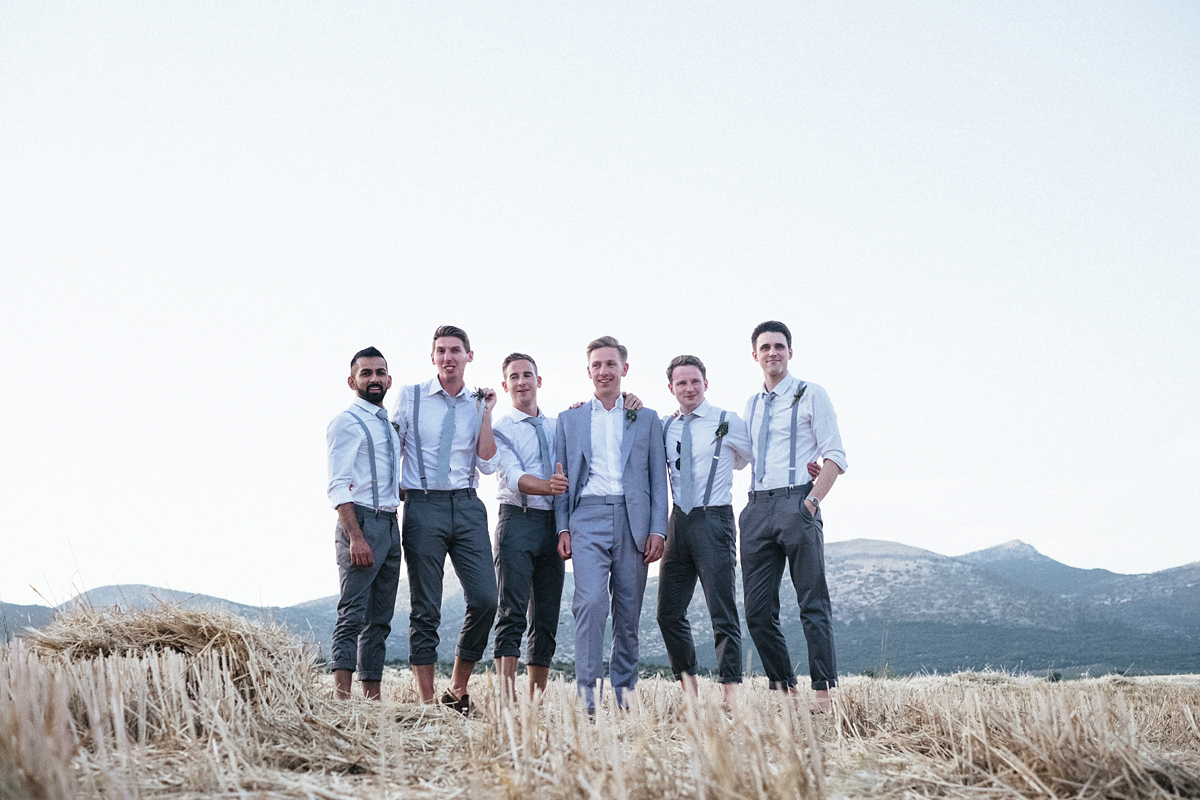 "Also a special mention to Emma Marshall who accompanied Claudia at the last minute – this turned out to be a very good thing given that (a) Claudia took the 'scenic route' trying to find our venue (I don't think the hire car was expecting off-road touring) and (b) Emma speaks Spanish and has a beautiful raw aesthetic which leads to some incredibly powerful images. Her portraits are full of emotion and I have no doubt she will go far."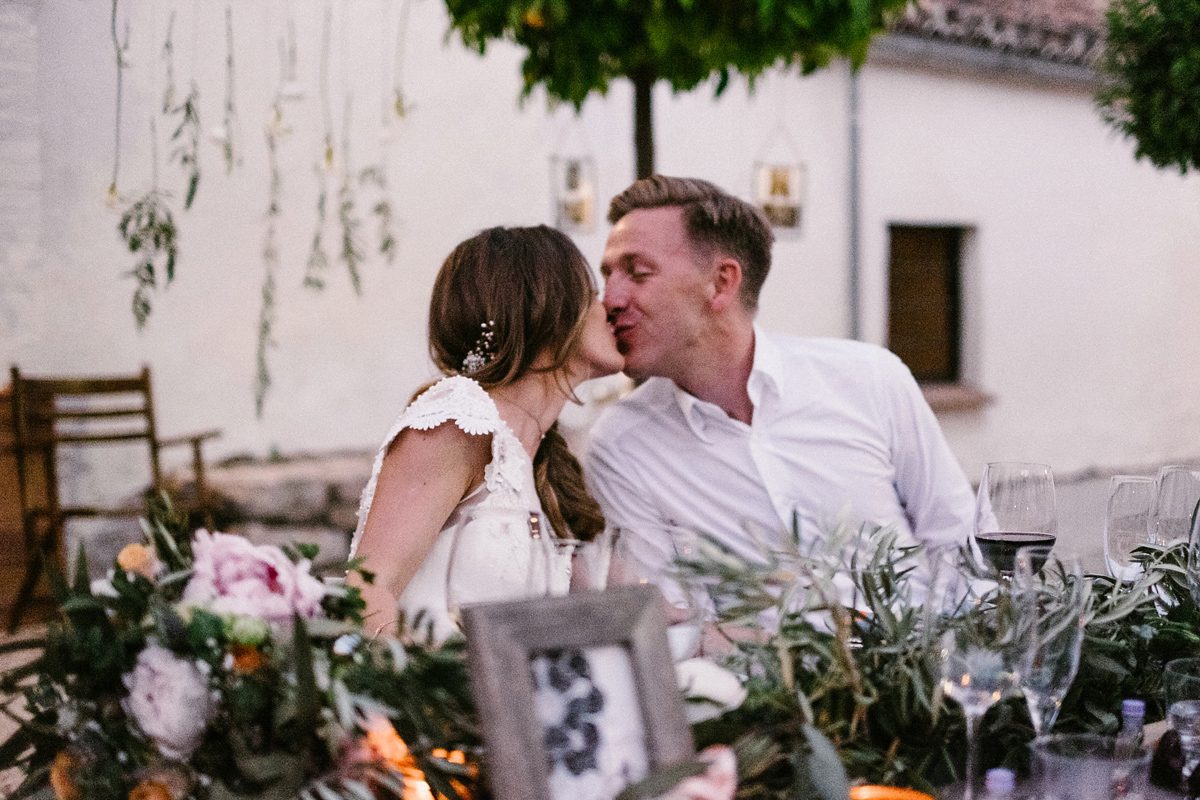 "Claudia's images are simply beautiful, not heavily posed and never clichéd. Her portfolio stood out to both Adam and me immediately, such an effortless style and creative use of light. I first met Claudia in a Camden coffee shop back in 2014! I wanted a photographer I got on with and we clicked immediately (or at least I think we did! Claudia?!). So I provisionally booked her in, without a venue, date or even a general wedding location."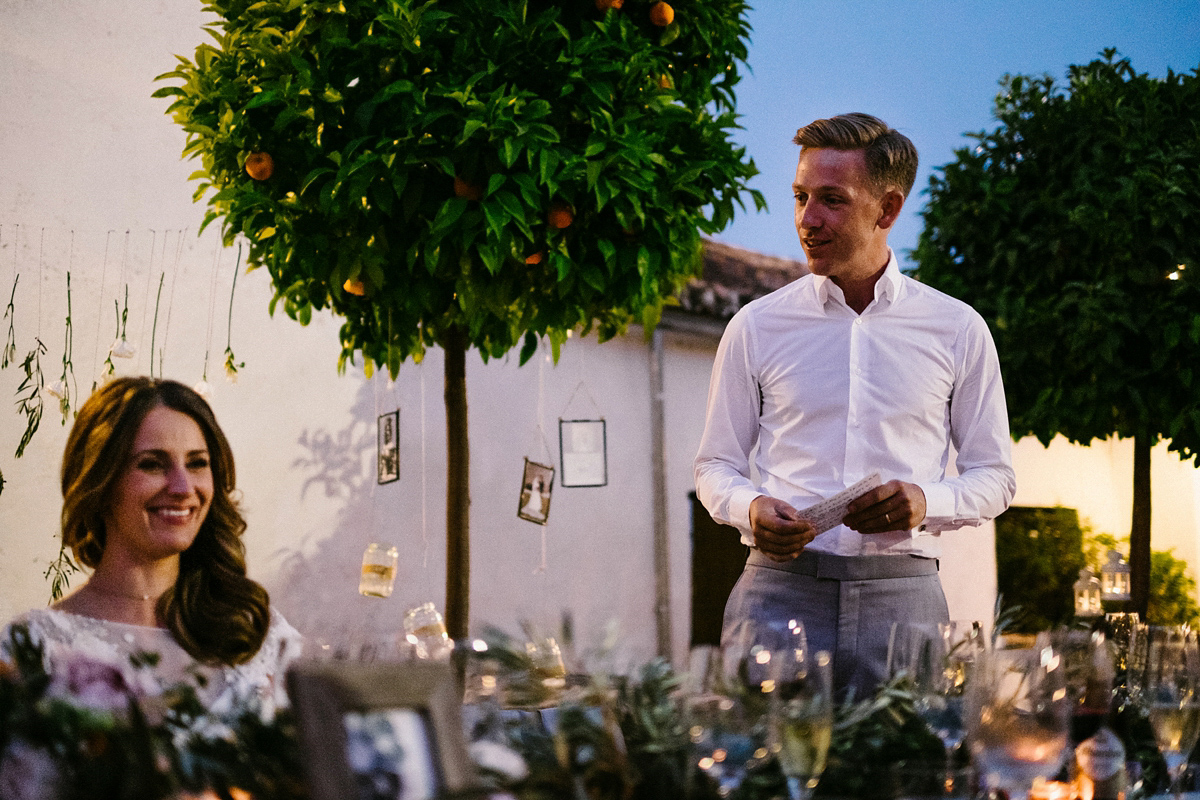 "Adam and I knew we wouldn't want to be taken away from our guests for hours on end and Claudia's style is so unobtrusive you forget her finger is hovering on the shutter at all times! It is wonderful how many of our guests she captured over the course of the day, pretty much everyone's best side is caught somewhere.
Claudia is great fun to have around and honestly, she was like an extra bridesmaid on the day, helping the girls out and making sure stuff got done – going above and beyond. There's no messing when the feisty Scot comes out."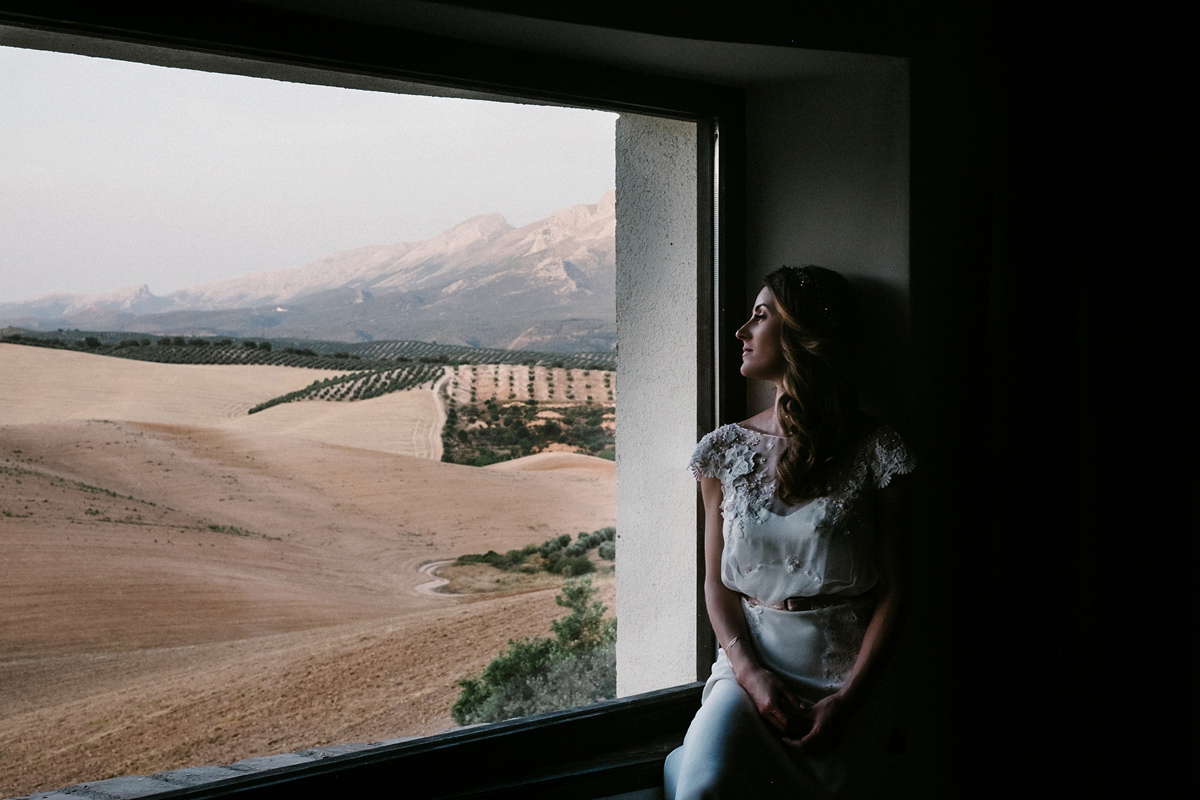 "Lucy recommended DJ Scott McNaughton, who generally DJs in Gibraltar and Tarifa, as she works with him a lot. She arranged an initial meeting over coffee to chat tunes – he is great fun and a lovely guy, he totally got our music vibe. He was also very generous with his time, arriving early to help sort out sound and rig lighting at the venue."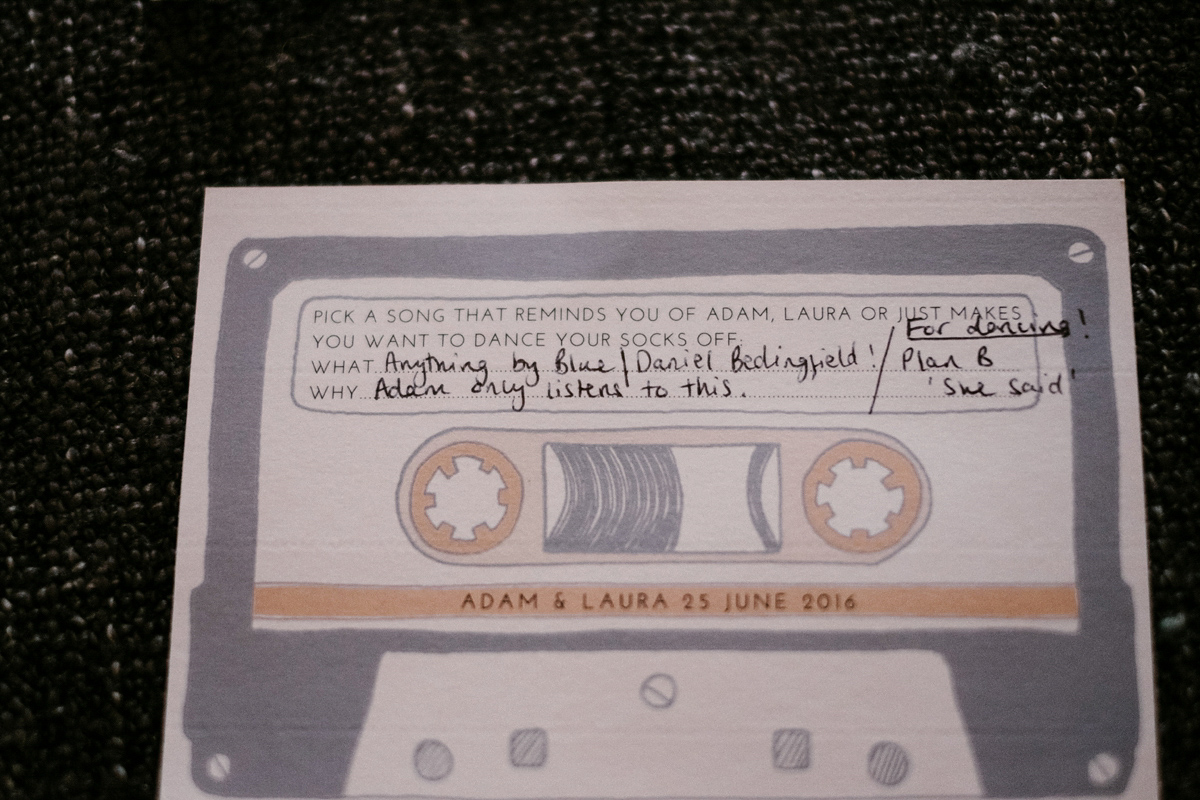 "I love the Eagles' Hotel California and it really reminds me of my dad but it is a bit dark for a wedding dance! Then I stumbled on the Gypsy Kings version – perfect, a first dance salsa in Spain! Neither of us can dance although I would love to be able to. We (well, I) wanted a first dance that was fun and would surprise everyone so I took full advantage of the fact that this would be the first and only time I would be able to convince Adam to get some dance lessons."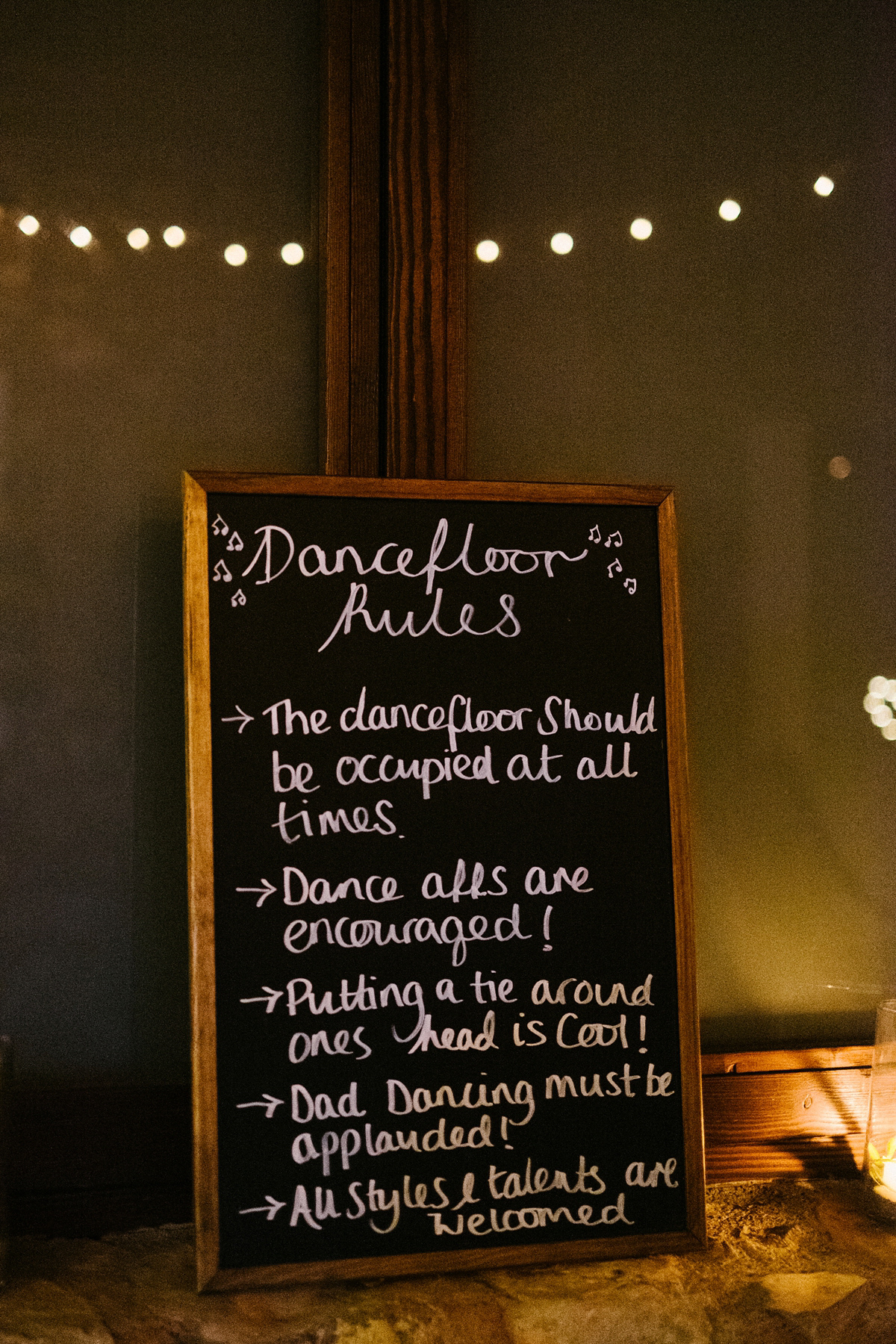 Words of Wedded Wisdom
"Step away from Pinterest. Really. Step away from Pinterest. Ok, no one is going to listen to that! 
Even if you are planning a wedding abroad, do factor in that all of your invited guests might actually come! With many of our friends having small children, we were prepared for the wedding to be rather smaller than it would be in the UK. To our complete surprise and joy, nearly everyone came, which was fantastic but did affect the budget somewhat!
More pragmatically, you may sometimes think you are being relaxed and easy going by telling your bridesmaids/groomsmen that they can choose all/part of their outfits. But you may actually be giving them a huge headache as they try and decipher what they think it is you really want. Rather than second guessing your tastes, they may just prefer to be told what to wear to keep you happy!
In the last few weeks before the big day, the budget will go crazy no matter how carefully planned over the previous months. With all the big payments going out to suppliers, it's easy to go crazy with lots of little additional spends (after all, what's another £50 after paying for the catering…). The f*ck it end of the budget. Try to resist as it all adds up and those lean months after the wedding are blue enough without more financial worries."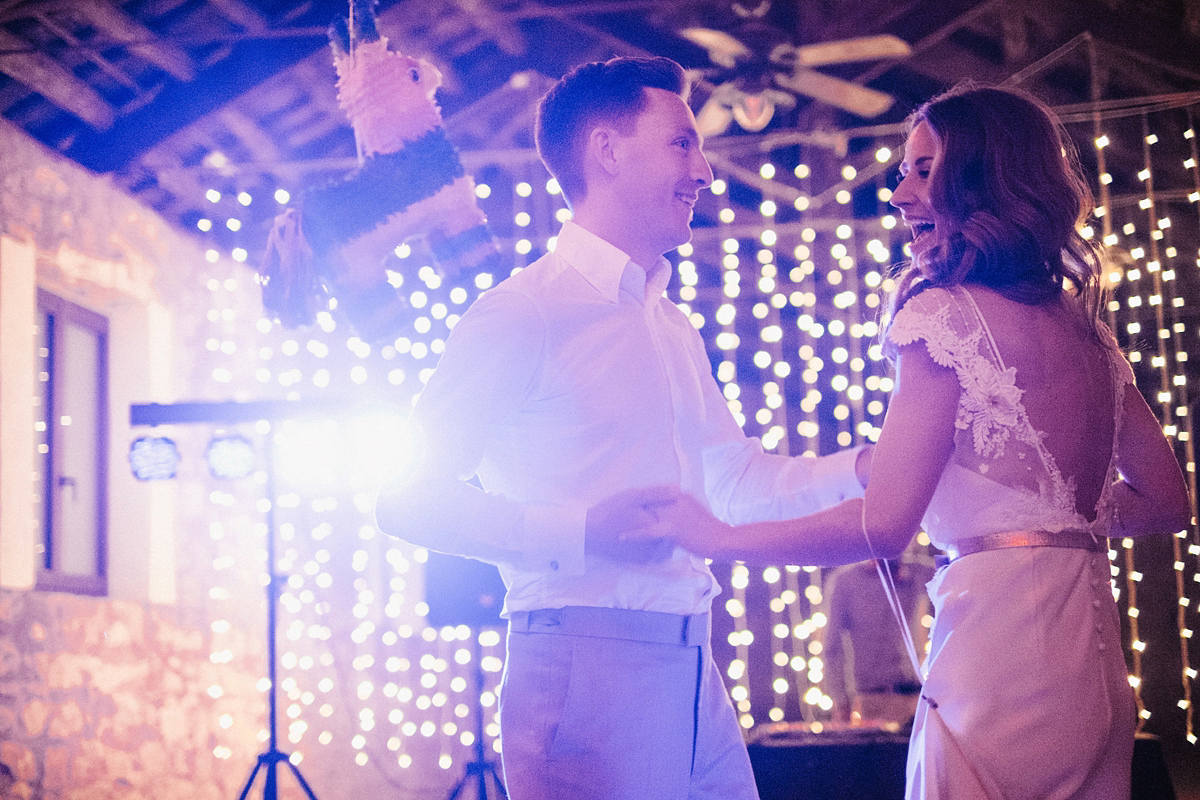 "Although it is a real treat to have personal DIY elements, they can be really hard to pull off if you are not a natural crafter and take time, lots of time! I completely underestimated how long it would take to prepare everything – hours and hours for those paper cranes and we only got to about 200! It meant that we didn't even have a quick rehearsal or run through, so on the day of the wedding, we were a bit clueless and still deciding things like how the bridesmaids would enter the chapel (alone, in pairs, with a groomsman?). In some ways, the time focussing on little details, however beautiful they were, meant we didn't spend enough time on some of the more meaningful things.
And honestly? It would have been nice to have had a calmer few days in the run up to the wedding to spend with friends and family who had arrived early rather than running around trying to make and buy last minute items (for example, I decided to create gift bags for people staying at the venue and so was still buying local loose leaf teas two days before the wedding). The long to-do list permanently running through my head during those days also created unnecessary tension between me and Adam who would have much preferred me to be enjoying the company of friends and family we don't get to see enough of."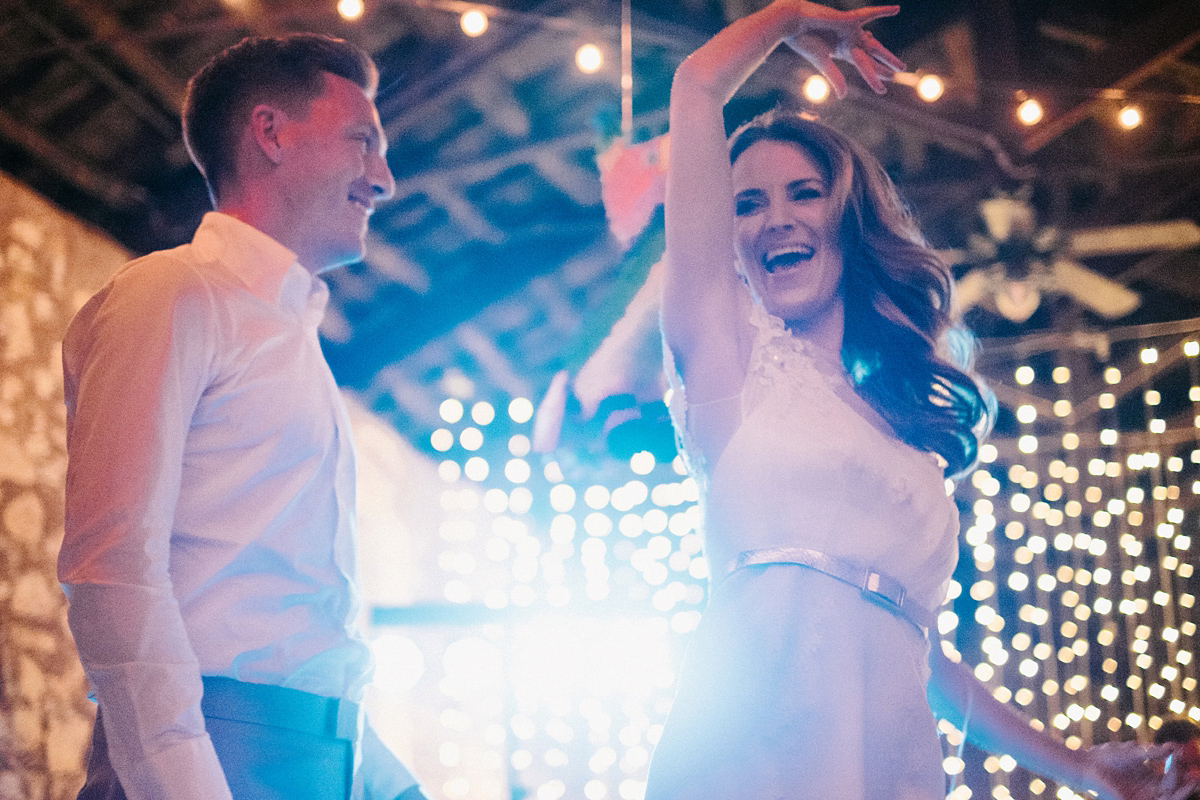 How gorgeous is this whole day! Thank you so very much Laura for taking the time to share such incredibly useful, helpful and inspiring detail with our readers, I'm so grateful.
Readers – you can see more beautiful weddings captured by Claudia Rose Carter here on Love My Dress, including this utterly gorgeous floral wedding dress – images of which went viral after the feature on Love My Dress.
Have a gorgeous Friday all,
Love Annabel xx