Falling HARD for weddings is part of the job here at Love My Dress (something I'm sure our readers partake in also). There's just so much creativity leaping out from unique celebrations, joyous shouting of love from the rooftops and windows into lives other than our own. Sometimes my heart enfolds the couple; the people behind the joyous grins and beautifully executed script writing. Their love and commitment strike a chord, their story or values resonate within my own journey and the happiness exuding from the photographs means that little bit more. Today's bride and groom feel so wonderfully in sync with each other that I can feel a lifetime of adventure and laughter coming their way, its almost enough to give Tuesday that Friday lift. Just wait until you hear about the gifts they exchanged on the morning of the wedding…
Its my pleasure to introduce Zena, a Senior Account Manager and Tom, a Support Worker about to take on a Masters. After meeting at University and enjoying many a far-flung trip, they decided to get hitched at The Reid Rooms in Margaret Roding, Essex on 4th March 2016. As people who relish life and the opportunity of travel, Zena and Tom's day set about championing their passions: climbing and exploration. The results highlight the importance of staying true to yourselves with the world of weddings, and that gold should be dusted on everything; two things I feel exceptionally strongly about.
"Our overarching idea for the wedding day was that it would represent our love for adventure as much as possible. We're both dirtbag climbers at heart so the idea of having an a la carte menu at a fancy hotel just didn't sit right with us. So instead we served vegetarian Mexican food (we're both veggies), our best man carried the rings on a carabiner and we had an atlas for our guestbook."
"At one stage we were referring to our theme as 'woodland glam' as we had plenty of logs and pinecones and put gold leaf on anything that could take it – including the cake!"
One of the *sweetest* stories I've had the pleasure of sharing on Love My Dress, Zena and Tom really are totally in tune with each other. Sigh.
"If I needed any extra encouragement that I was marrying the right person, on the morning of the wedding we exchanged gifts and realised that we had both picked out the same wrapping paper and actually got each other the same gift! Somehow we both decided on engraved vintage-style compasses. Tom picked a beautiful brass one and had some insignias from our wedding engraved on it for me. I also chose a brass one with a wooden disc inside which was engraved with our wedding date and the quote 'for the pathless woods' as a nod to the Byron poem."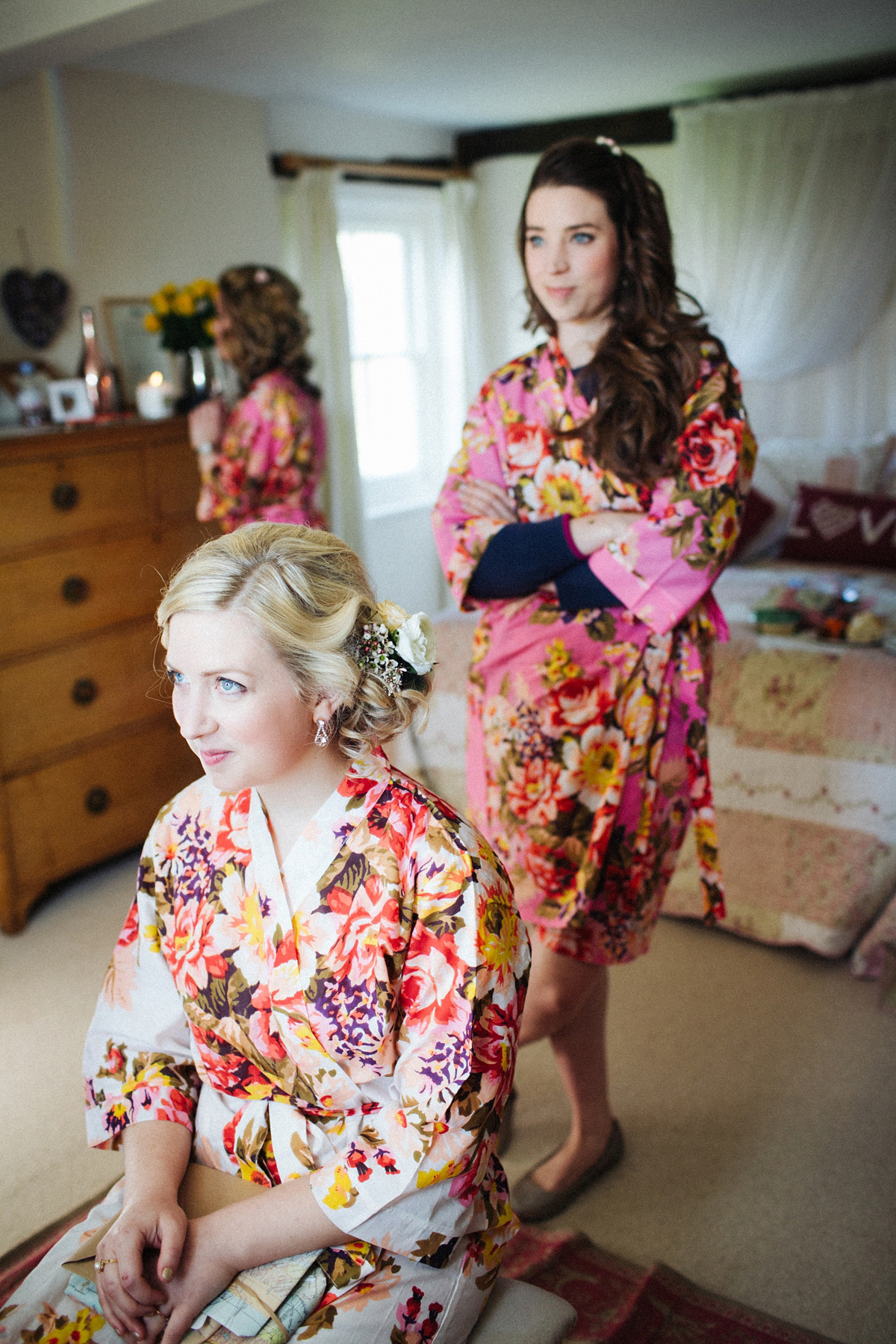 "I love flowers and have a not-so-secret dream of being a florist one day. I was quite particular about the style I wanted, lots of foliage, not too formal and must haves included ranunculus, thistles and eucalyptus. I was happy to be led by Sam at Violets and Velvet's expert guidance and other than the ceremony room, I did all of the venue flowers myself. My favourite part of these arrangements (other than the floral crown) was the foliage backdrop in the ceremony room."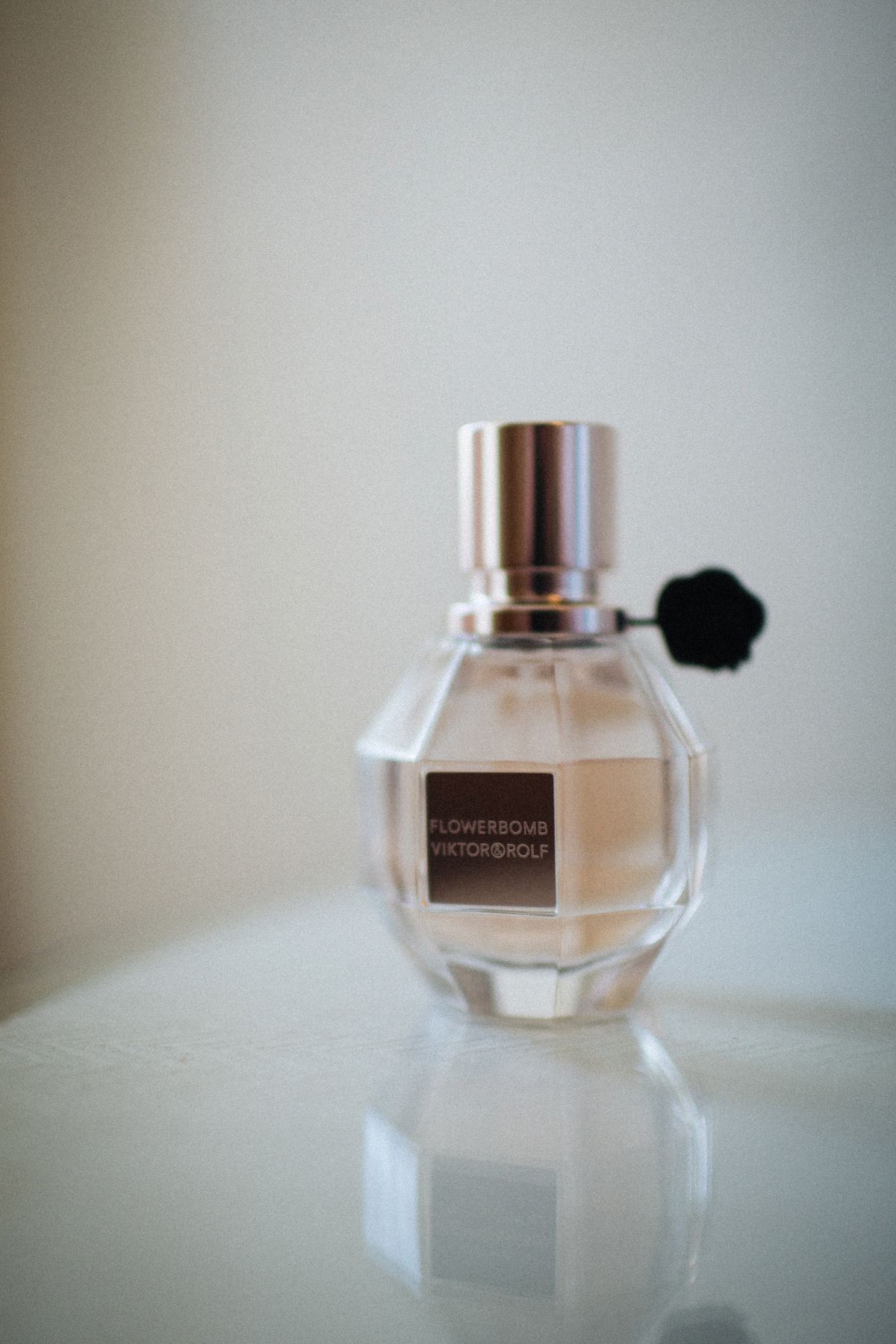 The age old dilemma of dress shopping is a fickle beast. Each bride experiences her own pressure, indecision and concerns however this task is approached. Zena purchased her Stella York gown at Fleur de Lys Bridal in Saffron Waldron. Striking that much longed for balance between elegance and bohemian lightness, the blush pink tones, strapless romance and addition of a gold belt fit perfectly on our bride and within the 'woodland glam' vibe of the day.
"I found my dress at the first shop I looked in, it instantly caught my eye because of its blush pink tulle and simple design, which stood out in a sea of white. I loved my dress when I tried it on and my Mum cried (although this didn't influence the decision). I'd pretty much decided that this was the one but went too another shop just to be sure. I thought it was possible I'd find another dress that I liked equally, but unlikely that I'd find one I liked more – it was so reasonably priced I'd have been a fool not to buy it. My only hesitation was that I found it on the first day I went looking which was about 15 months before the wedding. I was worried I wouldn't like it as much all that time later but fortunately I loved it even more on the day."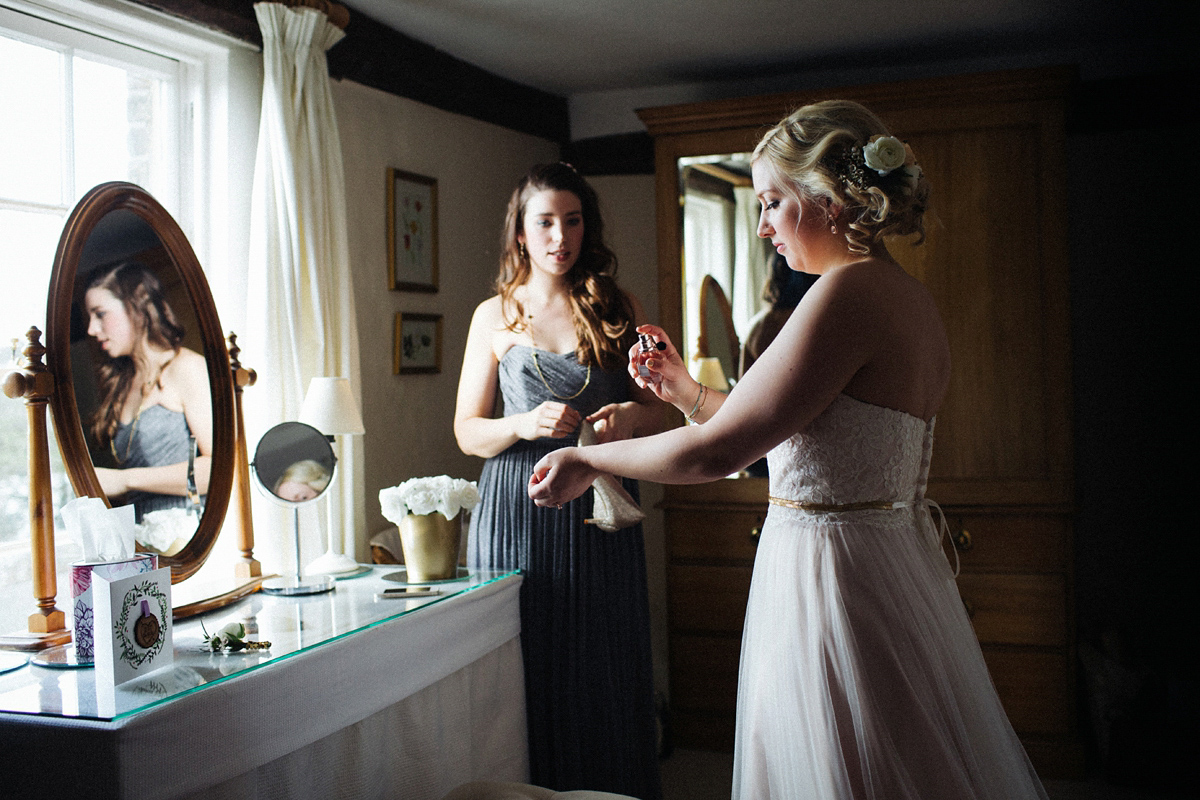 Zena's shoe requirements were as gold and sparkly as possible and she bought these little beauties from Untold at House of Fraser. Viktor and Rolf's Flowerbomb was chosen as the bridal scent for such romantic reasons: Zena used to spray this on letters sent to Tom in the early days of their relationship.
"I also wore three pieces of jewellery from my grandmothers who are no longer with us, which were all vintage. There was a daisy chain bracelet, a pearl ring and a brooch on my bouquet."
I have so much love for this floral crown! Created by Violets and Velvet, it's unstructured and natural beauty add a free-spirited vibe to the romance of Zena's beautiful blush gown. Predominately small wax flowers, foliage and a few ranunculi and roses weighted on one side, I adore the relaxed vintage look that the up do, Ted Baker earrings and flowers create.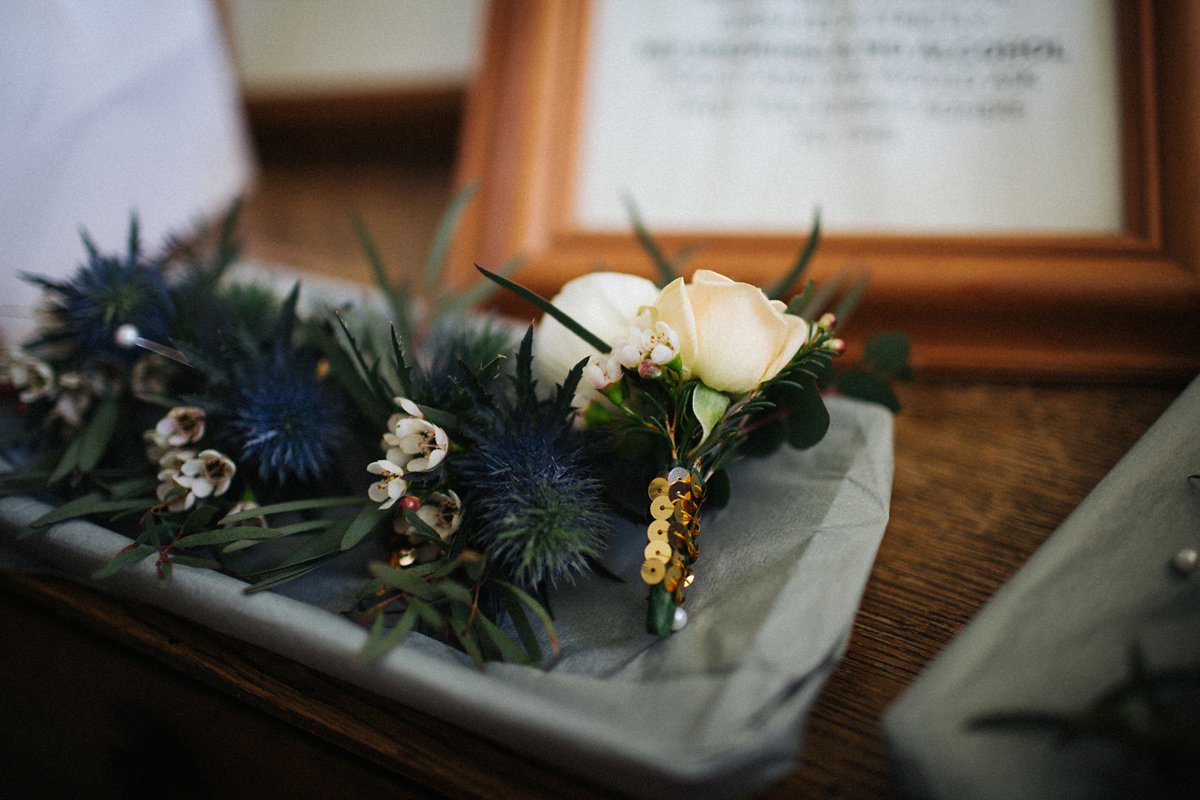 The Reid Rooms, near Chelmsford offer a beautifully rustic and timber framed backdrop to giddy joy. Agricultural ruggedness, corrugated roofs, and that barn charm feels befitting for a couple who wanted to feel comfortable and relaxed on their day.  As a firm believer in things happening for a reason, the following tale about a chance encounter leading to this wedding venue being booked made me smile.
"We'd looked at a few wedding venues in Suffolk but they were all a bit far away and not quite right. We were at Saffron Walden's Saturday market when we overheard a guy on the phone talking about a great venue around 40 minutes away that was a series of connected barns. We stalked him until we heard the name of the venue! We loved the laidback atmosphere and friendly staff (the room with sofas and a big log fire was a big plus) and were grateful that they offered discounted rates in low season as our budget was quite tight."
Zena and Tom were keen to ensure their wedding was equal, and shunned some traditional elements that they felt were cliché or sexist. Both the mother and father of the bride accompanied her down the aisle to the sounds of the 'Blindsided' by Bon Iver. If you haven't felt the beauty of the vows exchanged within the ceremony, watch Minty Slippers film immediately, you wont regret it.
"One of my bridesmaids and one of Tom's sisters did a reading. My bridesmaid Megan read 'Scaffolding' by Seamus Heaney and blubbed the whole way through. I tried to pat her on the shoulder as she walked back to her seat but she was closer than I expected so I accidentally kind of punched her. People laughed, it was fine. Tom's sister Rachel read 'When Two People are at One' by I Ching."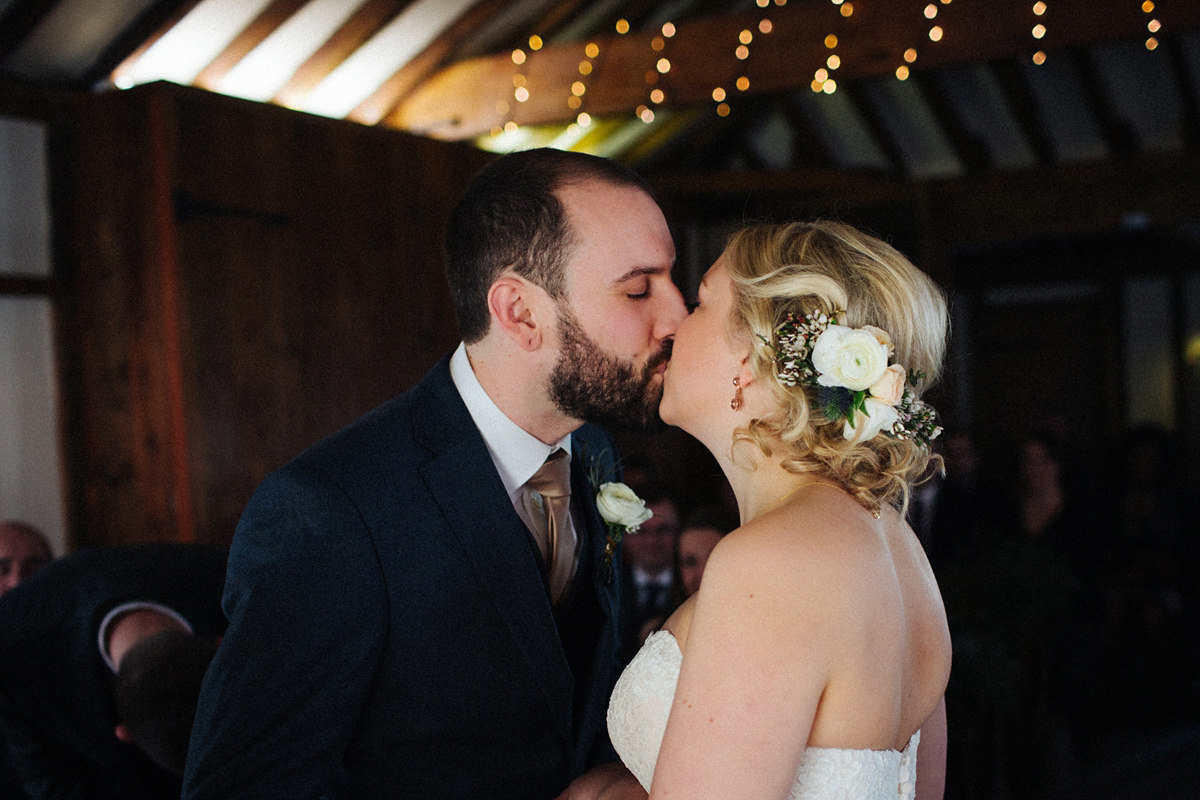 Ensuring the couple's passions flowed through the day, they walked back down the aisle to 'Aint No Mountain High Enough' by Marvin Gaye and Tammi Terrell  as a nod to their love of climbing.
"We took a bit of time to ourselves after the photos to go and drink some special Chinese tea that we'd ordered just for the occasion and to reflect on the day so far. We used to live very close to a Chinese Tea House and became aficionados early on in our relationship. We have a cake of Puerh that we've been aging since we got together in 2010 and we drink it once a year on our anniversary."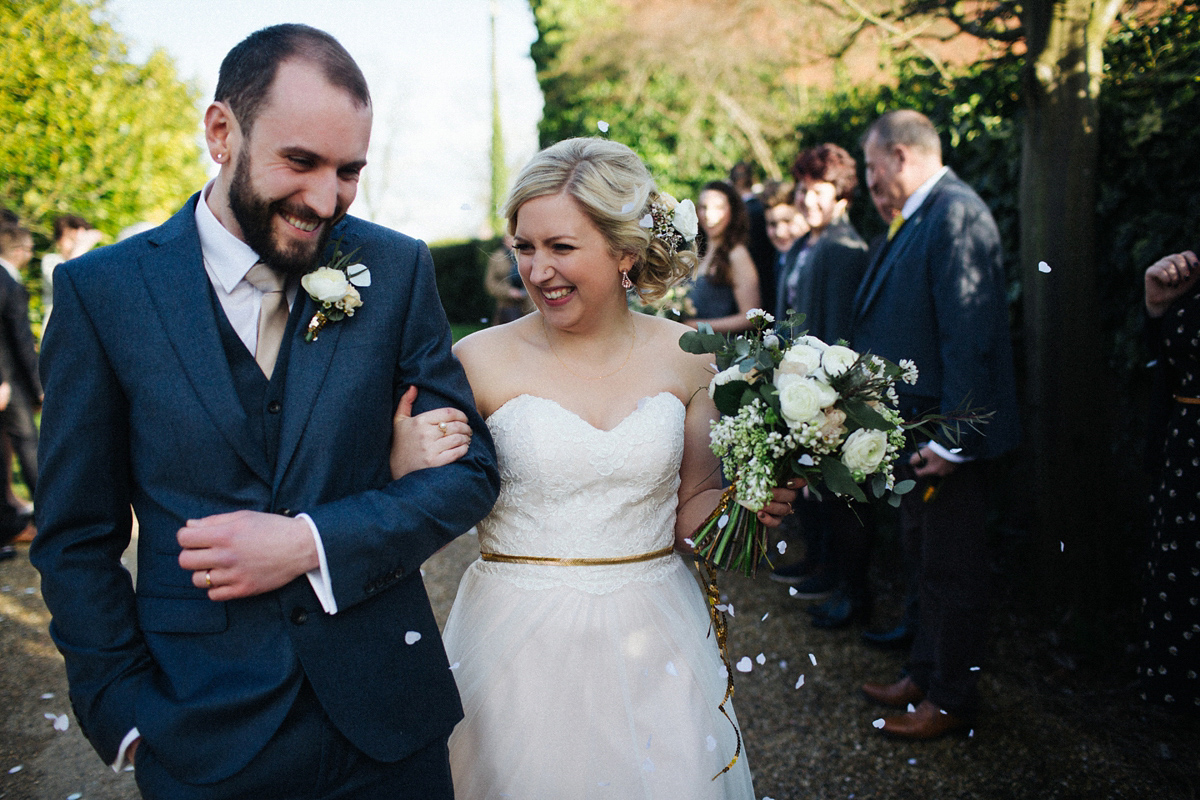 Those 'dirtbag climbers' sure scrubbed up well. Groom Tom wore a suit and tie from Next, shoes from Jones and some New Zealand coin cufflinks from Etsy.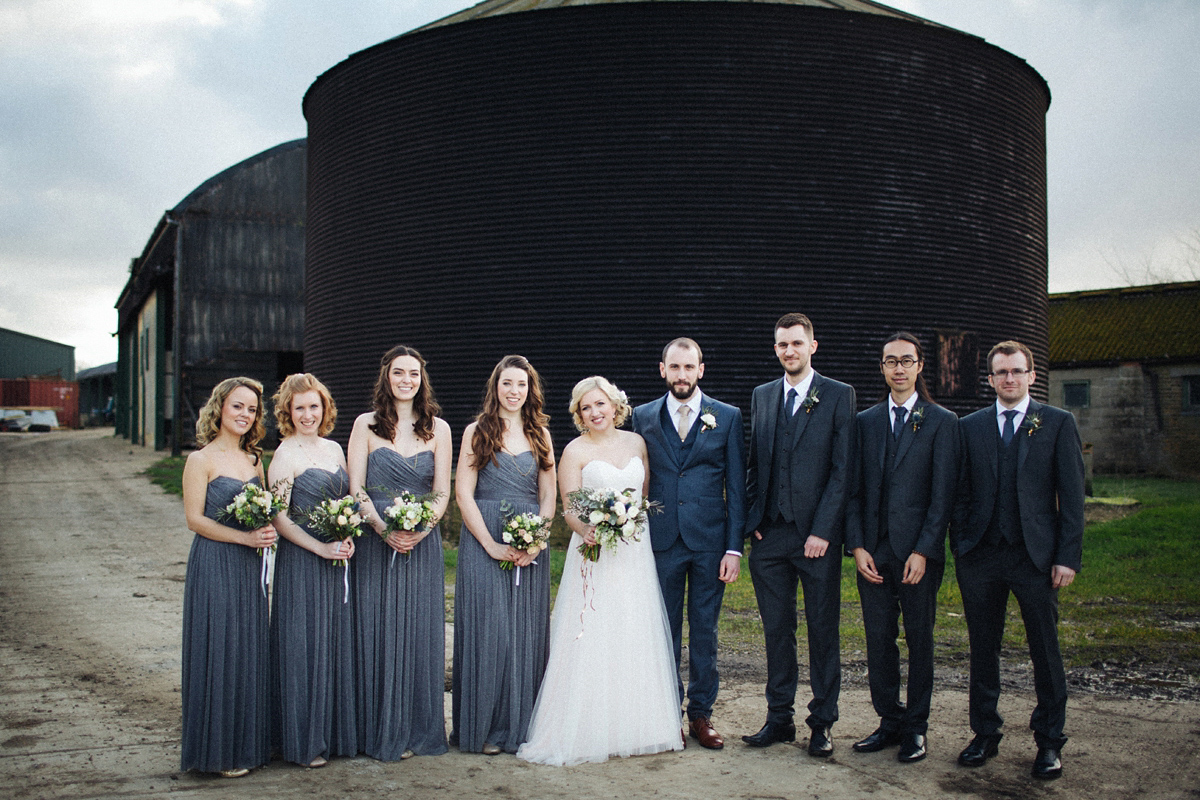 Gobsmackingly, these sparkly, perfectly muted bridesmaids gowns are from, wait for it, Tesco! A seamstress was tasked with making them all fit Zena's squad perfectly, and even remarked how well made they were. High street finds, and thinking outside the box for bargains can all pay dividends when trawling shops and websites to bring to life the wedding visions you have in your head. Flower hair pins and Labradorite jewellery from Accessorize completed this budget friendly but beautiful bridesmaid look.
As a talented creative type herself (check out our bride's own website at Happy Kettle Films), choosing a photographer was always going to be a tough decision. Obviously, they came up trumps with Claudia Rose Carter, who has captured a dreamy recollection of the day in the soft Spring sunshine.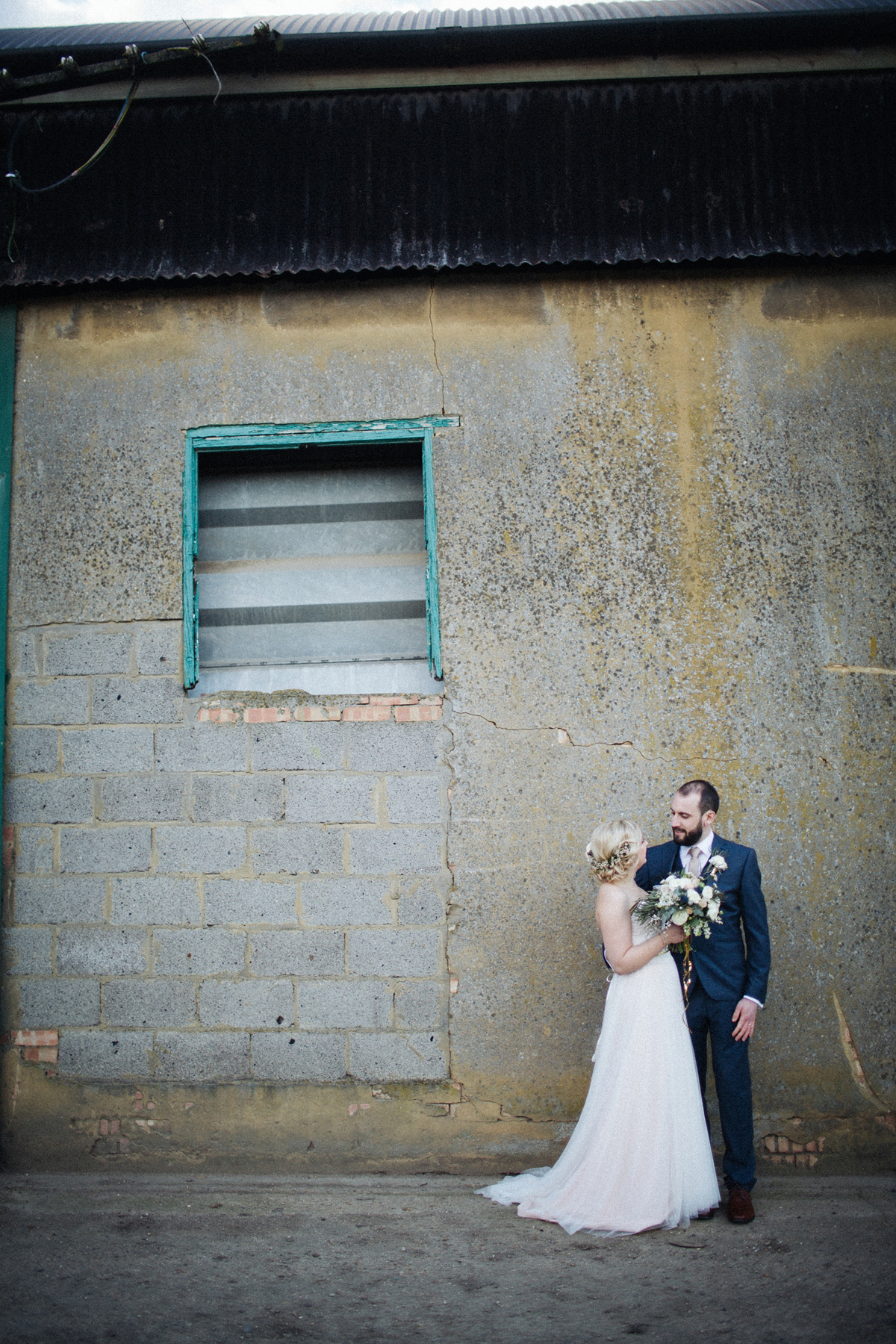 "Choosing a photographer was one of the earliest and hardest decisions to make. Working at a filmmaking magazine and being involved with professional photography magazines, I was bombarded with exceptionally talented photographers everyday. With this expectation and our tight budget, I felt we had a potential receipt for disappointment. I instantly loved Claudia's high contrast, reportage style and she was so friendly we felt she'd be a pleasure to have around on the day.
I couldn't recommend Claudia (and her assistant Jason Williams) more, they both captured the spirit of the day beautifully and managed to get some lovely shots of camera shy people."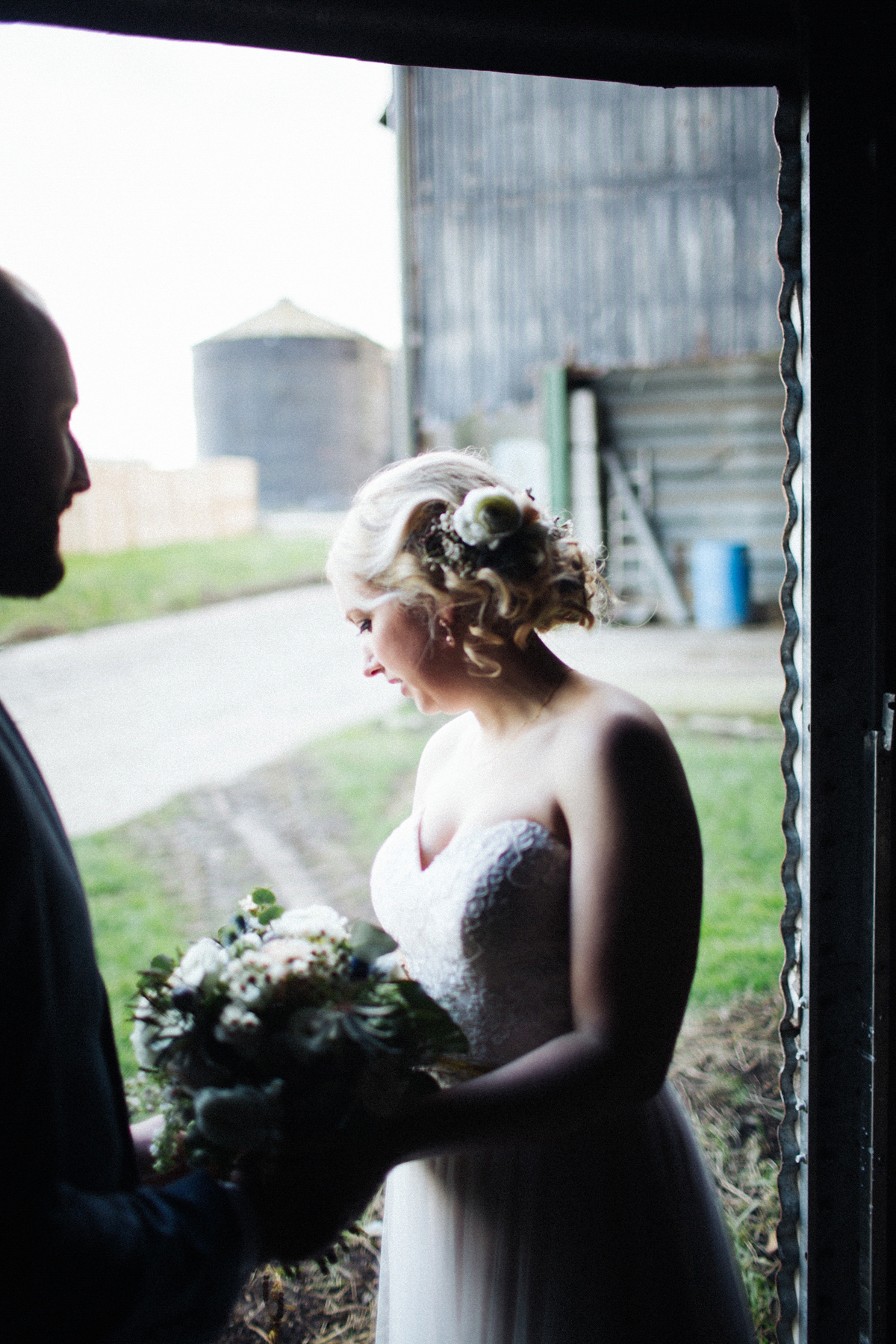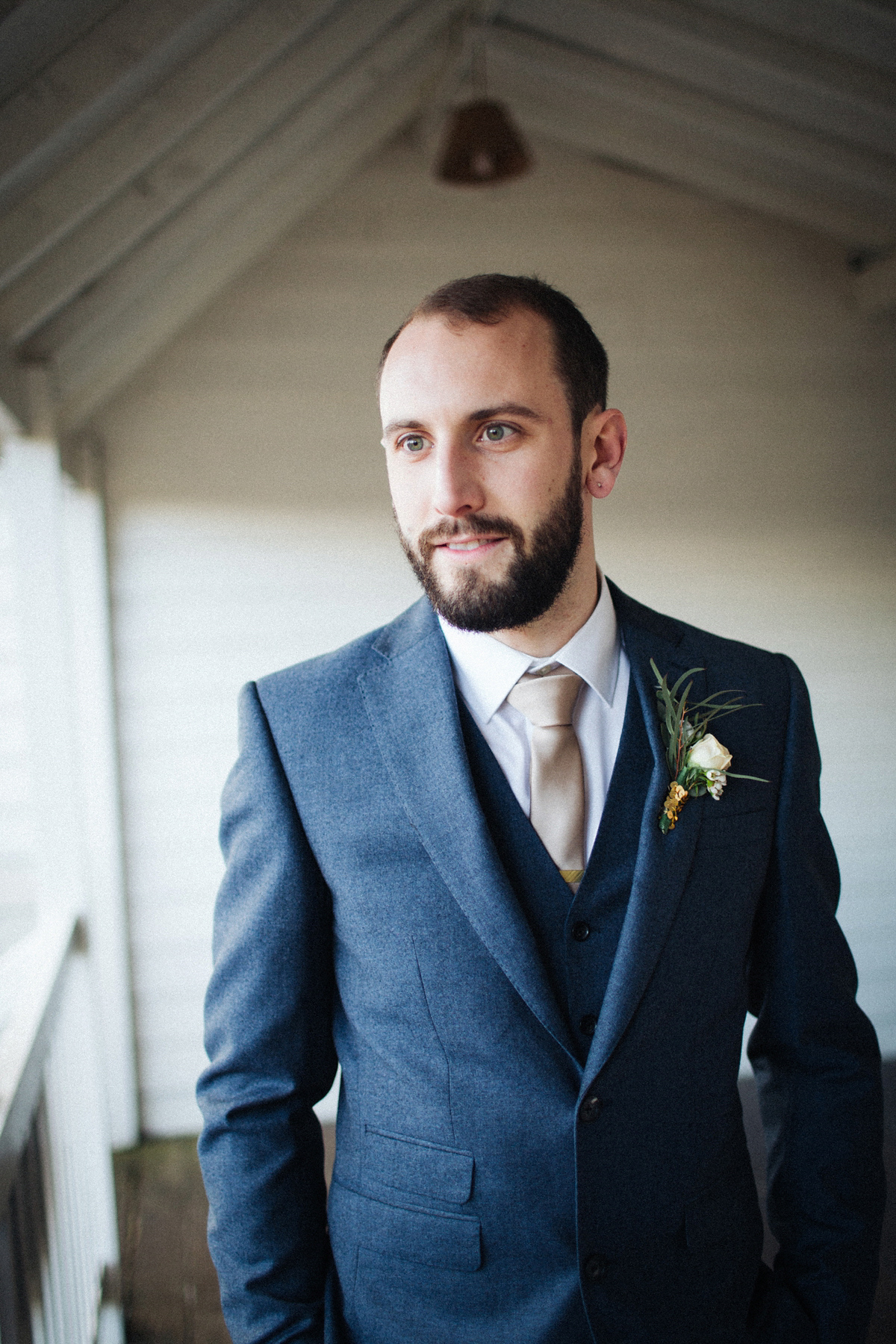 A sweet little moment captured by Claudia, was taken out of the day for Zena and Tom to indulge in a good old cup of tea!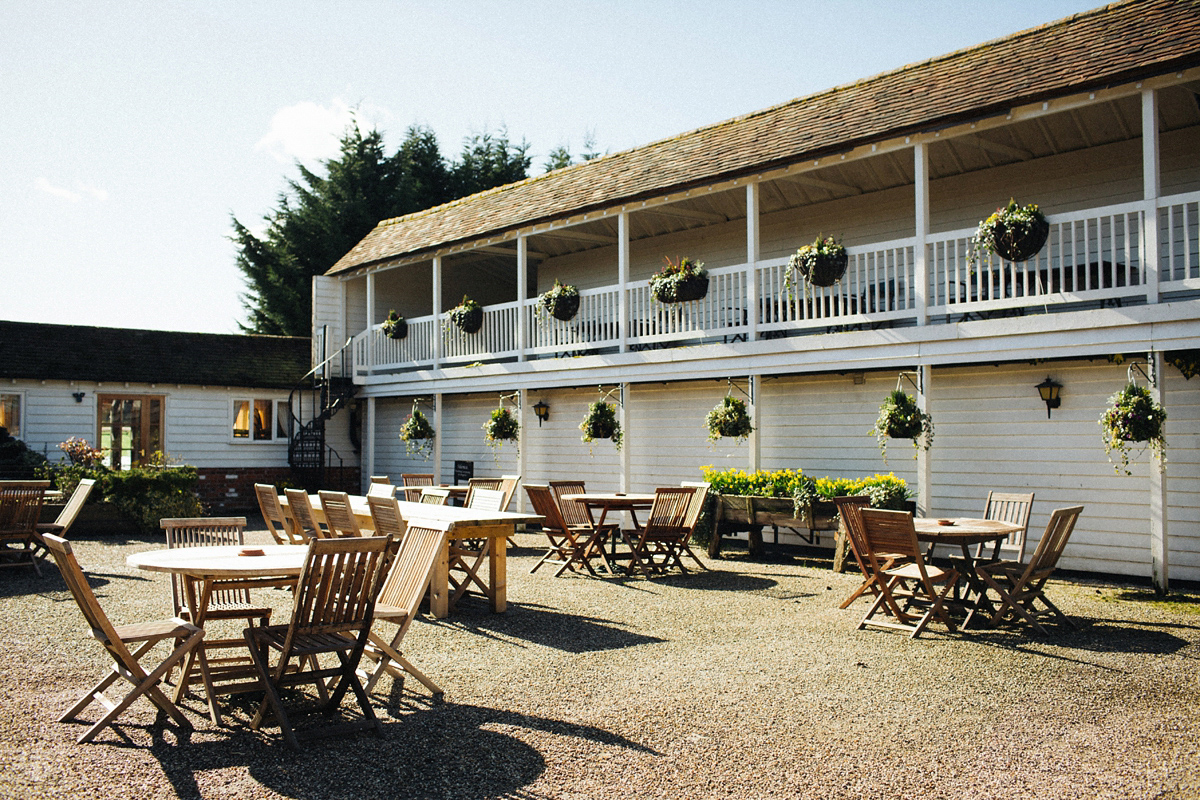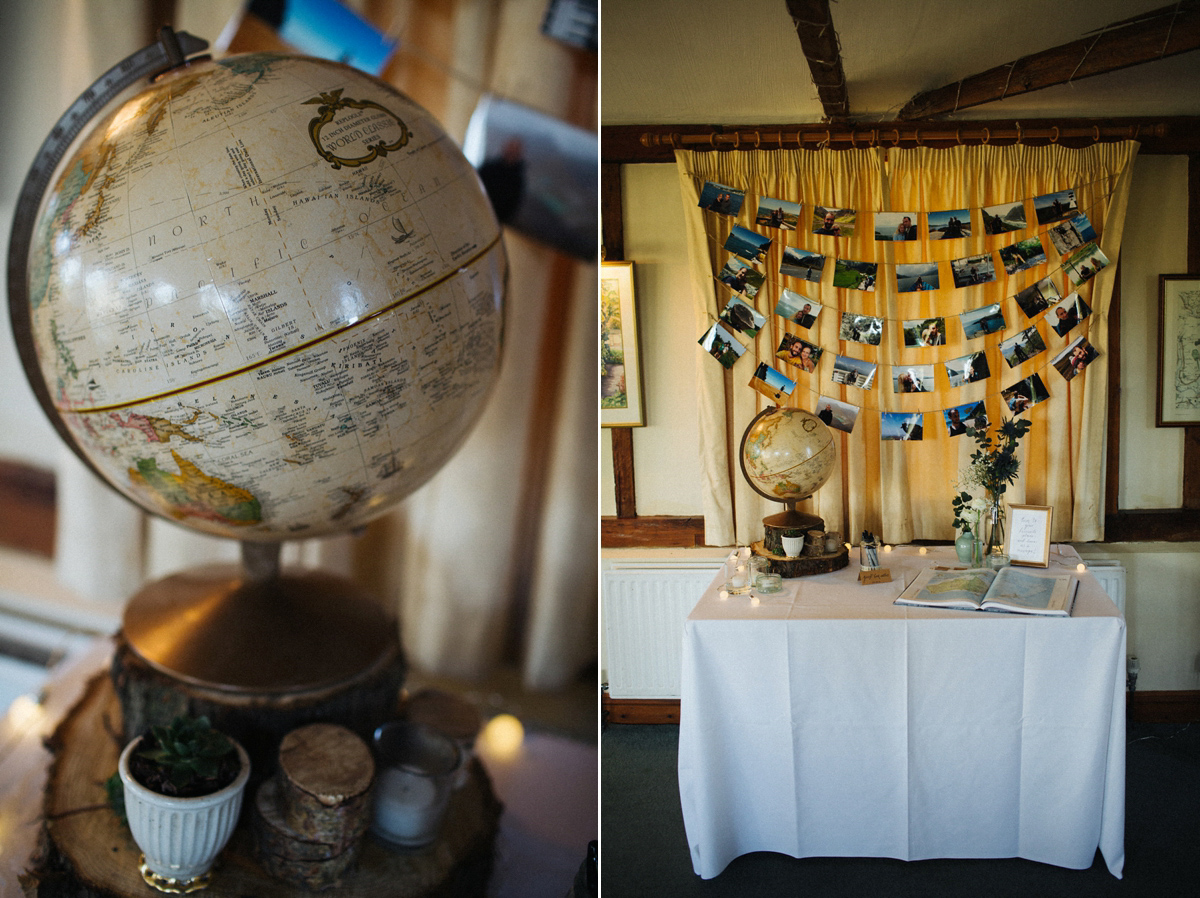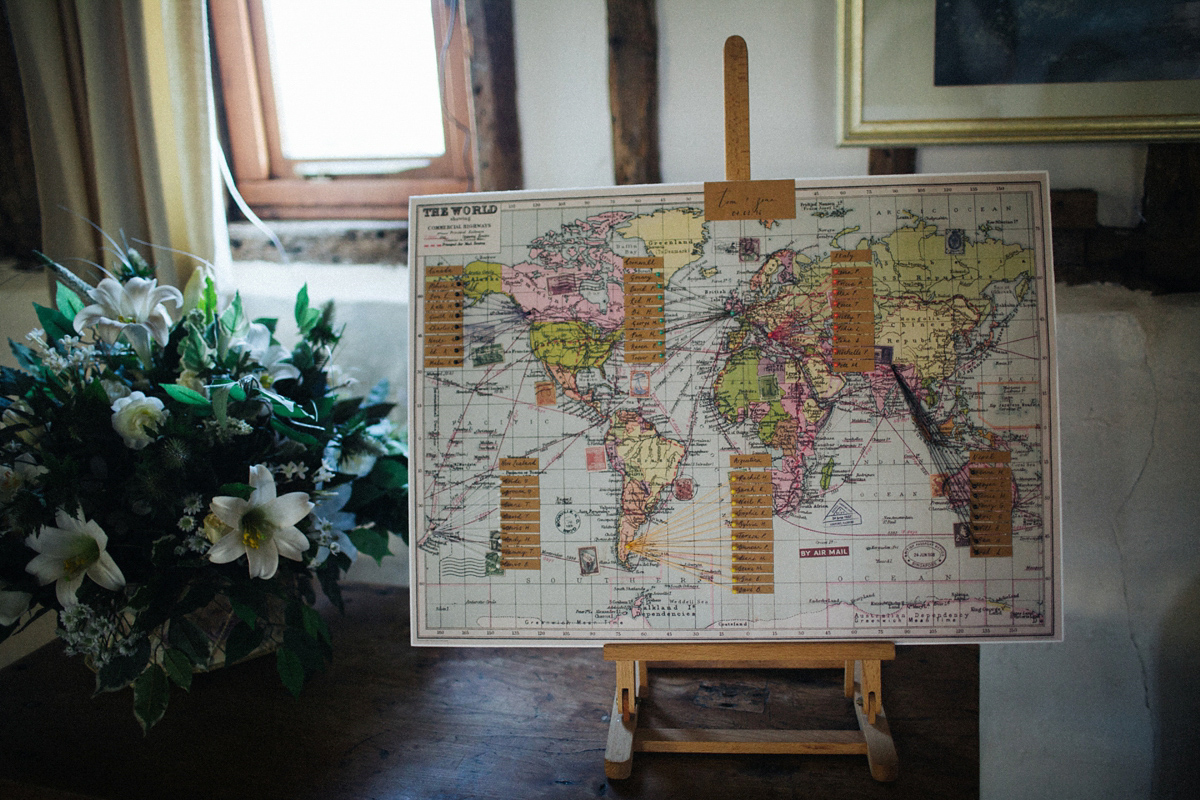 Jam Tartz whipped up a Mexican feast that was purely vegetarian and sadly Zena cannot remember who made this beautiful iced naked cake with gold leaf edges. Totally simple and with the addition of thistles and foliage on top, this is a modern take on a simple tired cake.
Tables were dotted with succulents, logs, pine cones and dashes of glinting gold. Favours were the always welcome Ferrero Rochers and handmade mixtape CD's of songs that were important to Zena and Tom: a super personal idea and one that I would just love to receive at a wedding.
Over 100 metres of fairylights were used to transform the ceiling and catch the gold hues dotted around the room, what a way to create atmosphere.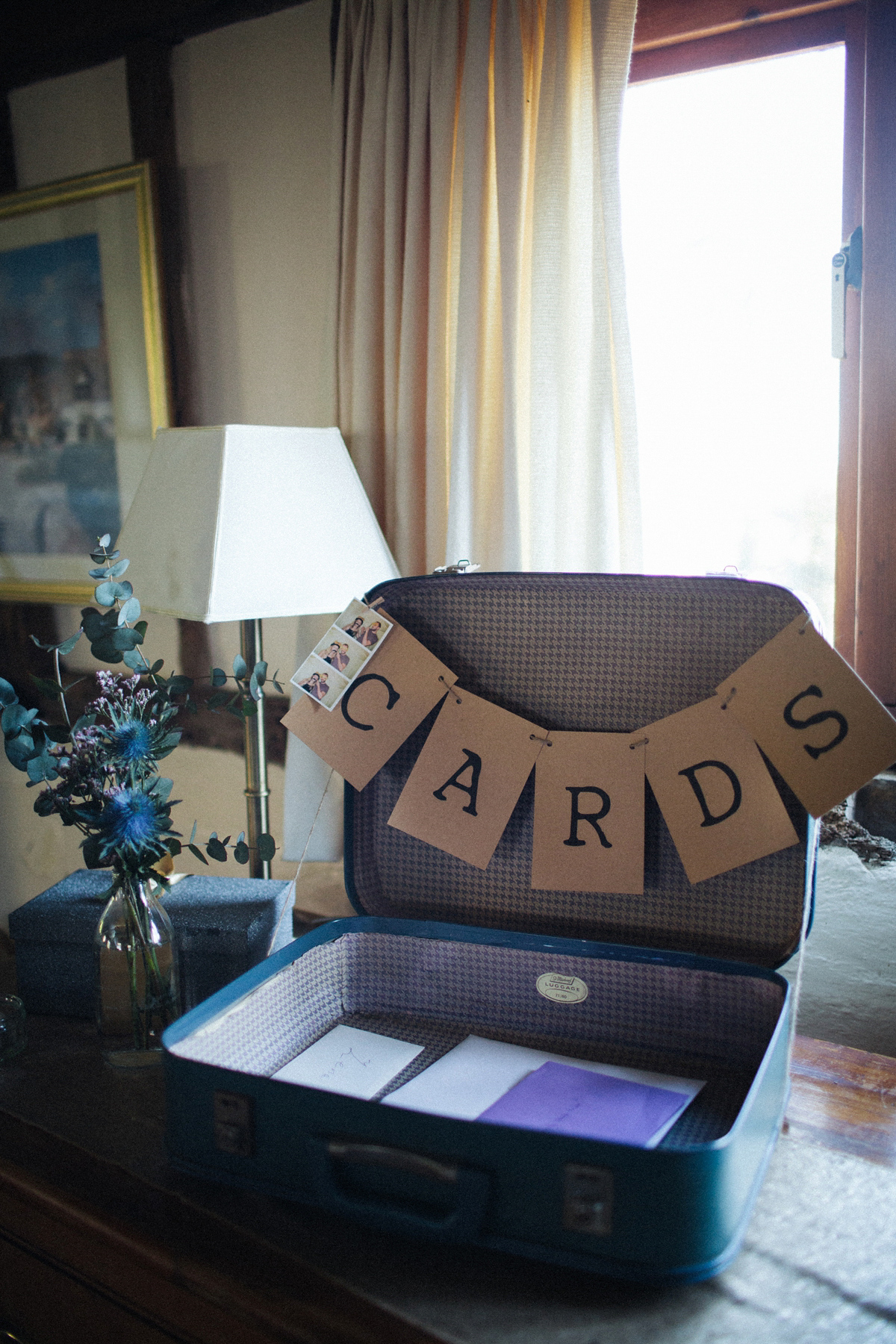 An utterly fabulous idea for those of you with lots of speech makers, or just to keep things within a set time frame, shots were dolled out as punishment for speeches going over 5 minutes. So much fun!
"We had six speeches to get through and had both been to weddings where the speeches felt like filibuster, so we enforced a 5 minute limit per speech. A willing guest was given a stopwatch and a bell, if anyone went over their time limit the bell sounded and they had to do a shot. Tom's speech went over ten minutes so he had to do two."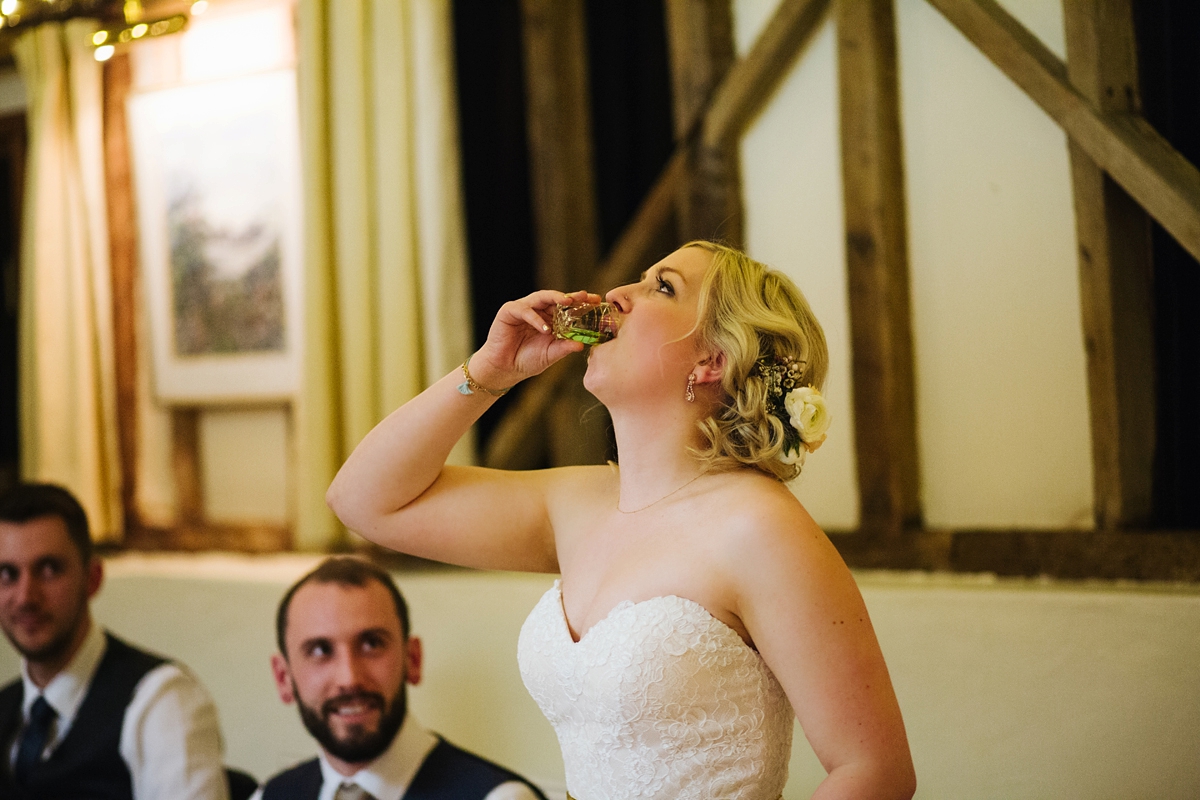 Words of Wedded Wisdom
"Banish the word 'should' from your vocabulary when you're planning your wedding. Everyone from the media to the next door neighbours dog will be telling you 'traditionally the father of the groom should do this' or 'normally the bridemaids should do that'.
While you cant control what other people will tell you, try to know in your heart that every decision you make about your day is based purely on the desires of you and your future spouse. If you want a totally traditional wedding then go for it, but don't be afraid to pick and choose the bits that don't work for you, there are degrees of compromise.
Also, a word of warning to any women planning on keeping their own name, I could write a whole blog post on this, but the main headline is stay strong. Peoples ignorance and assumptions will challenge your faith in humanity (particularly when they say things like, yes, but what's your legal name?!) but if its important to you, hold onto it. And expect to get annoyed with the Royal Mail when they want to charge you per surname for mail redirection."
I've thoroughly enjoyed sharing this deeply authentic day full of genuine emotion and golden loveliness. Huge thanks to Zena and Tom for inviting us all to be inspired by their togetherness and style. Happy high fives also go to Claudia Rose Carter for capturing these moments for us all to enjoy so beautifully. You can see more weddings inspired by a love of travel here.
I hope you've all had bundles of that amazing Autumnal sunshine on your face recently and are enjoying the transitional feelings and wardrobe joy this most glorious time of year brings. I cannot tell you how happy seeing the tree in our garden change colour makes me, its the simple things!
Much love,
Emily C xxx