Happy hump day lovelies! Now you all know how much we love it here at Love My Dress when couples are 100% true to themselves, whether that be totally traditional or super alternative. From colourful weddings dresses to first looks, anything goes, and we're so proud to celebrate love in all its forms. Today's bride Jade, a Dance Teacher, wed Rik, a Hospitality Manager, on 20th May this year at Beeston Manor in Preston, and just as she'd always dreamed, Jade was a beautiful boho bride and she and her husband celebrated their marriage in joy-filled, laid-back style.
"I knew I wanted to be a boho bride and we both wanted a really laid-back wedding. That's why we chose to have a barbecue rather than a formal three course dinner, so there was more of a relaxed atmosphere."
Photography by Kerry Woods
Jade chose a stunningly detailed lace gown from Sottero and Midgley, which she purchased from Aristocrats of Chester, along with her Perfect Bridal Shoes ribbon-fastened heels. I'm a complete sucker for a backless gown and the deep V style of Jade's dress is particularly gorgeous in contrast with the higher neck and little cap sleeves.
"I wanted a simple fitted dress and I loved the subtle detailing – the gorgeous lace, slinky open V back and beaded detail around the neck and back."
Jade chose to wear a crown of fresh roses and gypsophila atop her tumbling chocolate-brown tresses in keeping with her boho vision. Are you thinking of wearing a flower crown on your wedding day? If so, look no further; we have oodles of gorgeous inspiration for you right here.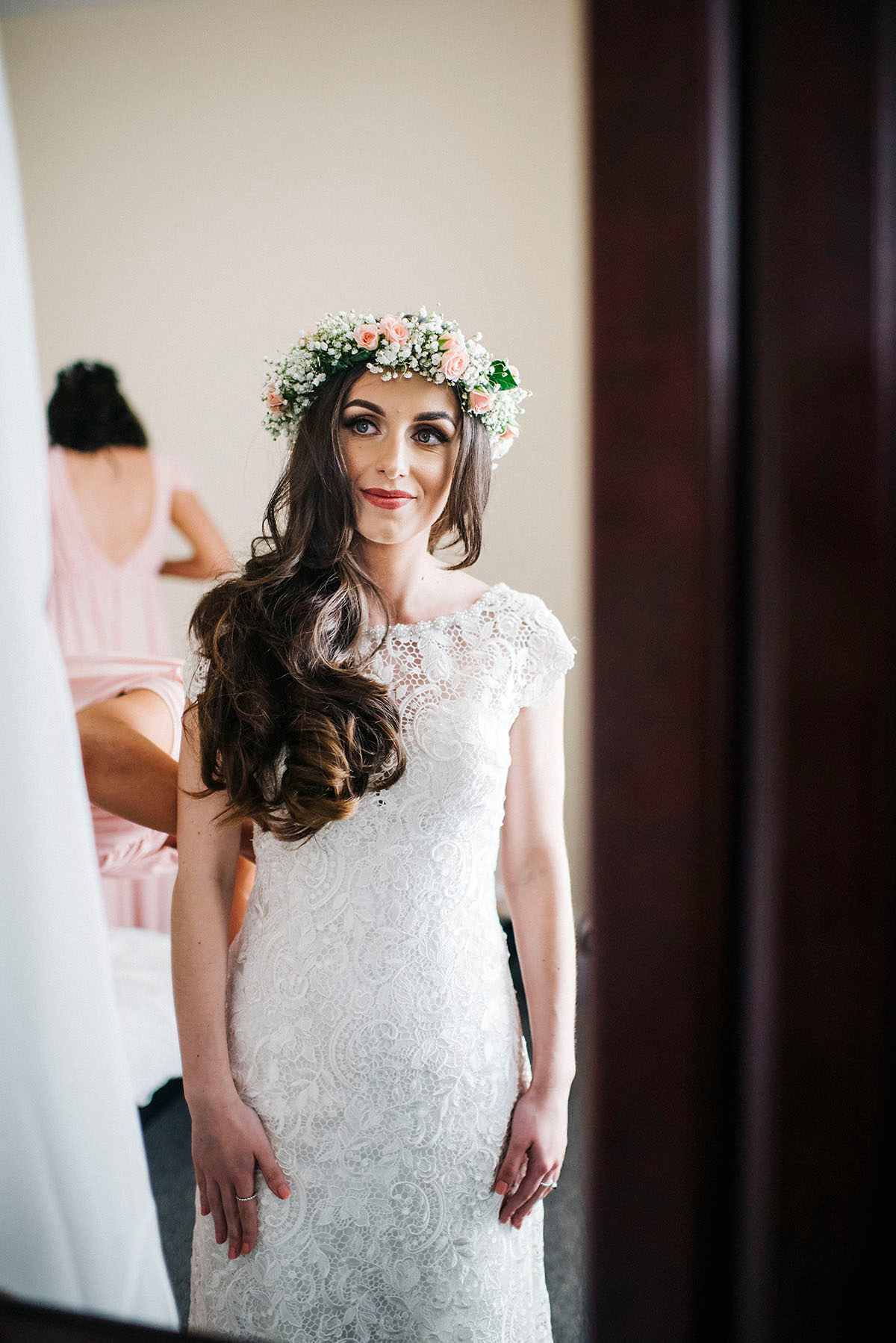 "We designed all of our invites and place settings ourselves, though we did order some lovely save the dates from Norma & Dorothy."
We do so love Norma & Dorothy and the rustic, honest nature of their designs. You can find out more about this creator of sweet, hand-crafted stationery in our beautifully curated wedding directory, Little Book for Brides.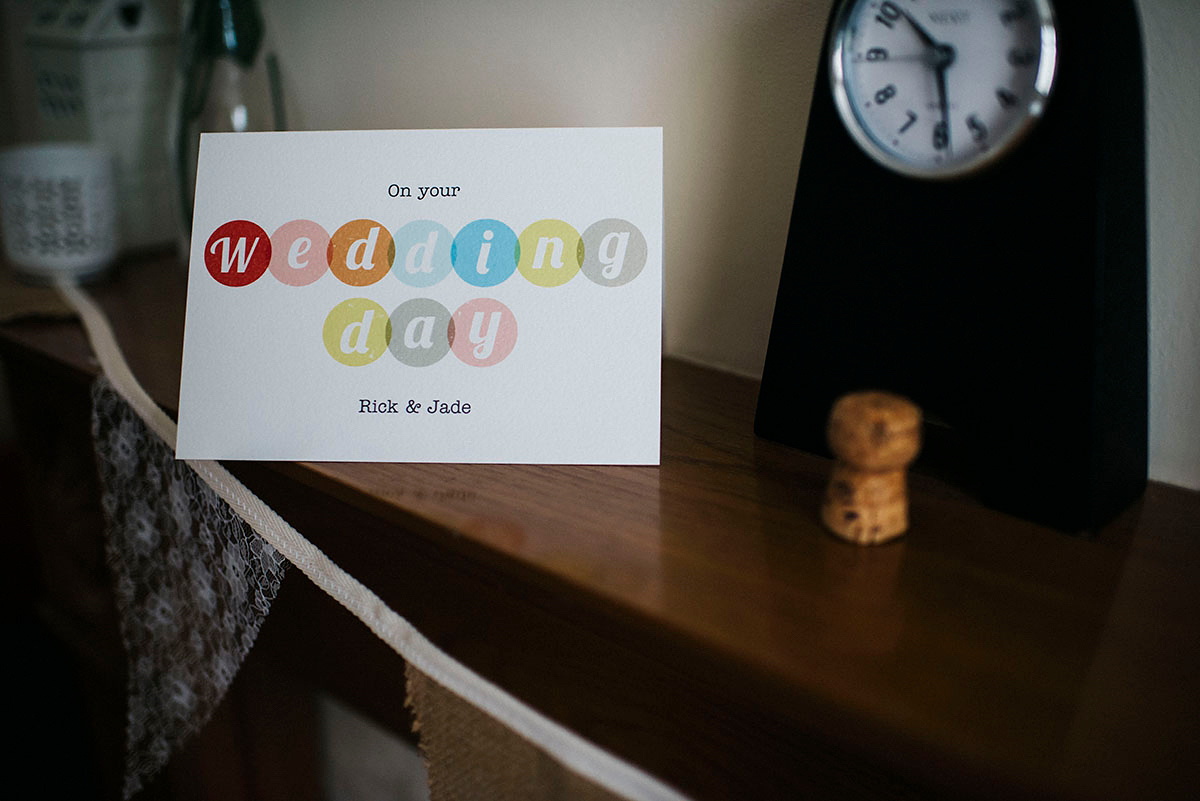 Does anyone else have serious hair envy? Our bride's luscious, voluminous curls, as well as her make-up, are the handiwork of artist Molly Field. Jade's bridesmaids, who wore dusky pink dresses from ASOS teamed with metallic heels from Dune, also had fresh flowers woven into their curls, and I just adore the sweet rose gold Kate Spade bangles that Jade bought them to wear on the day.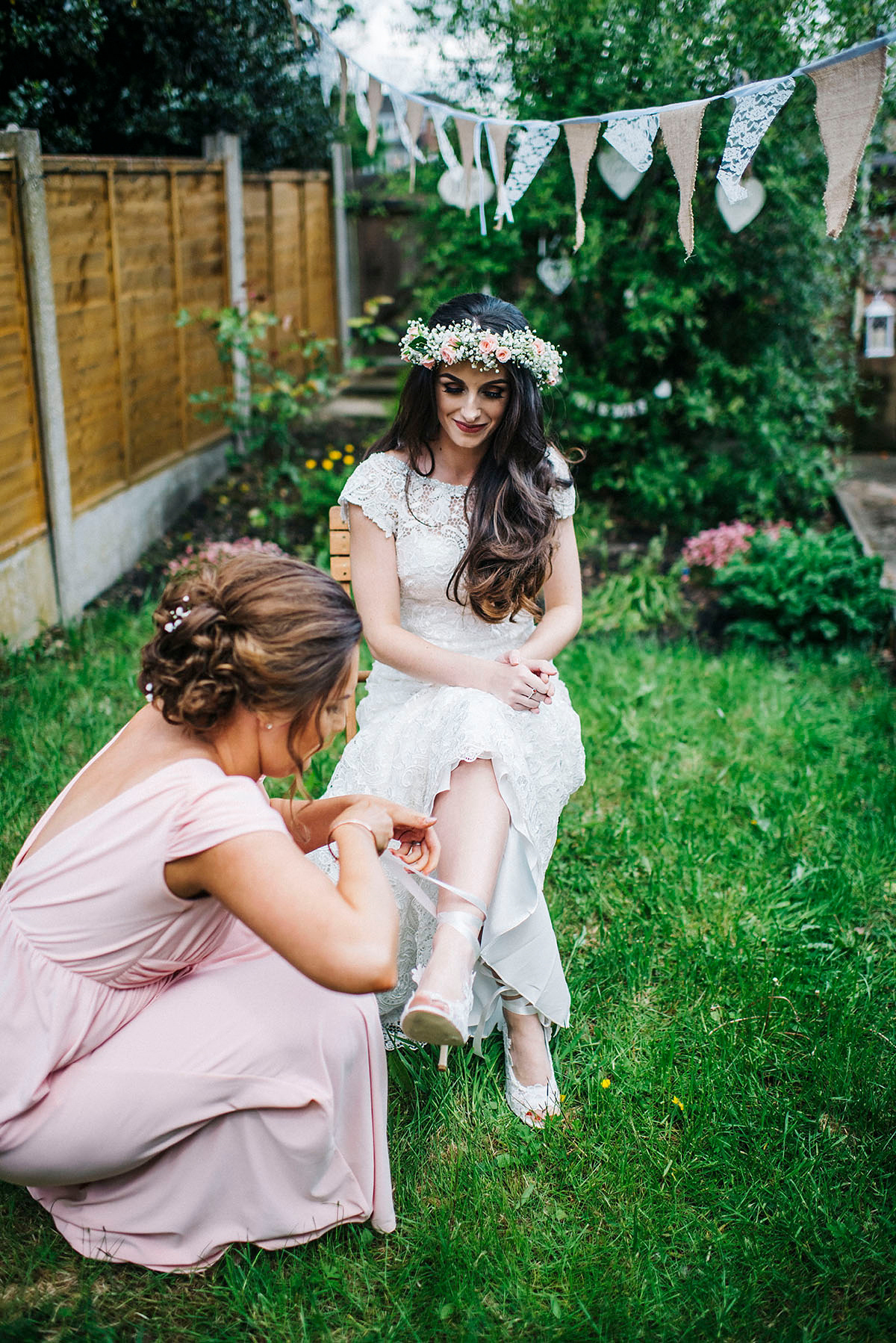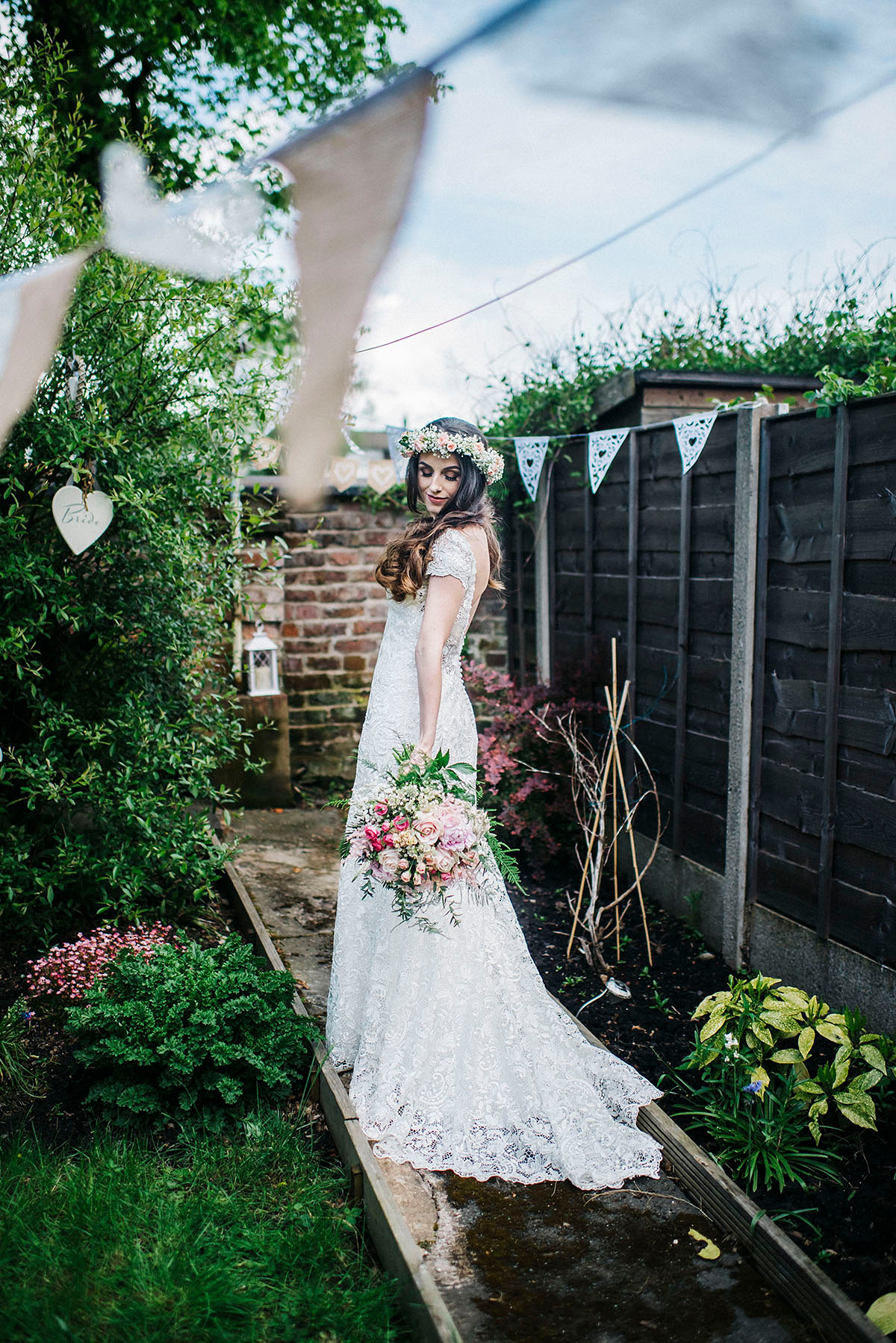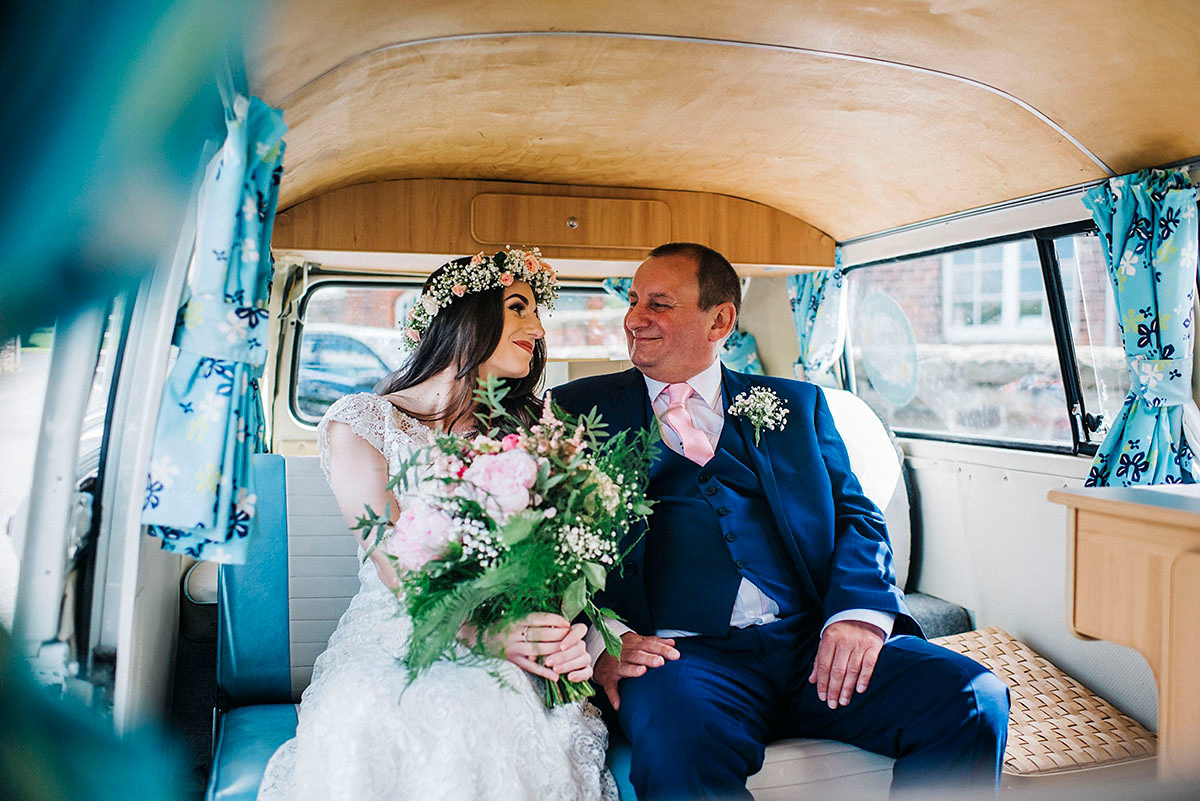 Jade, her maids and her very proud papa travelled to Beeston Manor together in a lovely turquoise Campervan hired from Chase the Sun.
There Rik waited gleefully at the top of the aisle in his stylish ensemble pieced together from Ted Baker and Moss Bros, with a dickie bow and braces from Slaters Menswear.
"We met in college almost ten years ago. Everyone warned me against him at first as he was known as a bit of a player. I don't think anyone would have guessed we'd end up getting married one day! He proposed in Fiji and we planned the wedding for almost three years."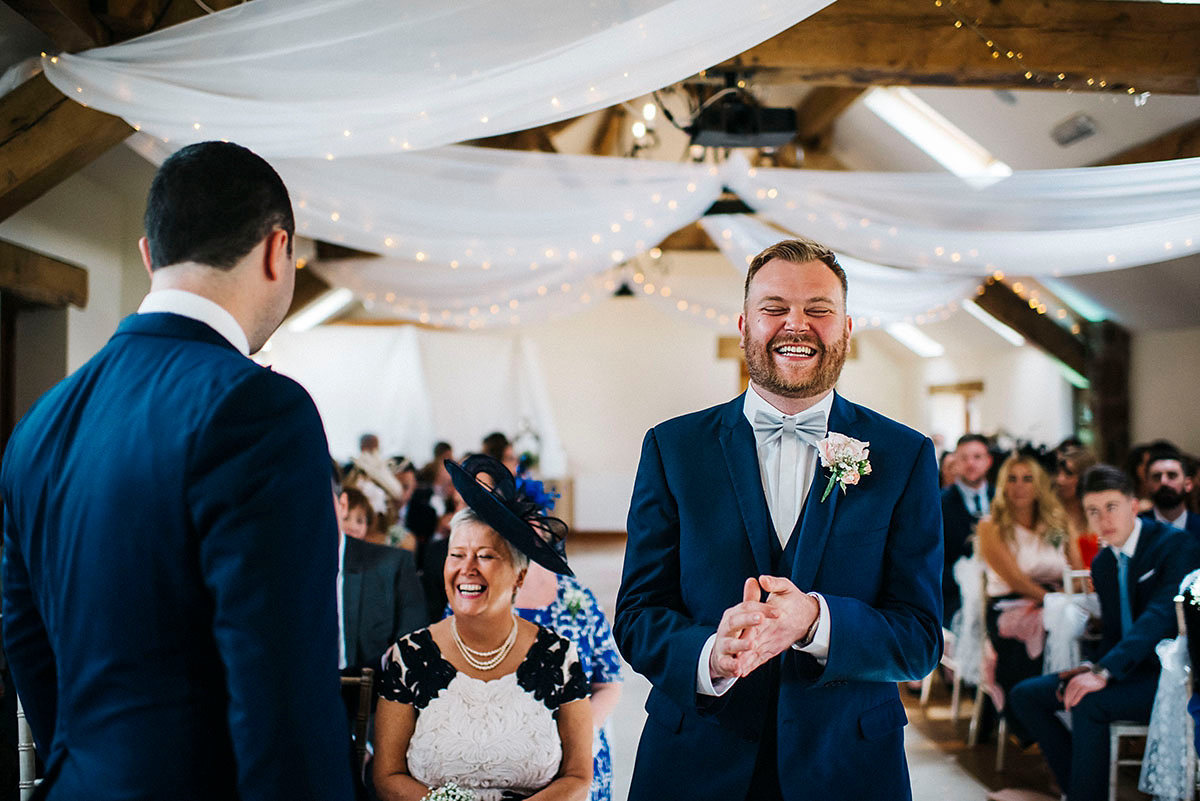 "We searched long and hard for a suitable venue and this was perfect, we loved the converted barn features and the grounds, as well as the management team."
Jade walked underneath billowing canopies of soft white fabric and twinkling fairy lights strung from the characterful beams on the arm of her father. They were accompanied down the aisle by the sounds of Kodaline's The One and Jade carried a gorgeous bouquet of springtime blooms, lush with greenery and dotted with sweet gypsophila.
"Our beautiful flowers were the work of a family friend, who used to have her own floristry business. I wanted lots of greenery in my bouquet as well as spring colours."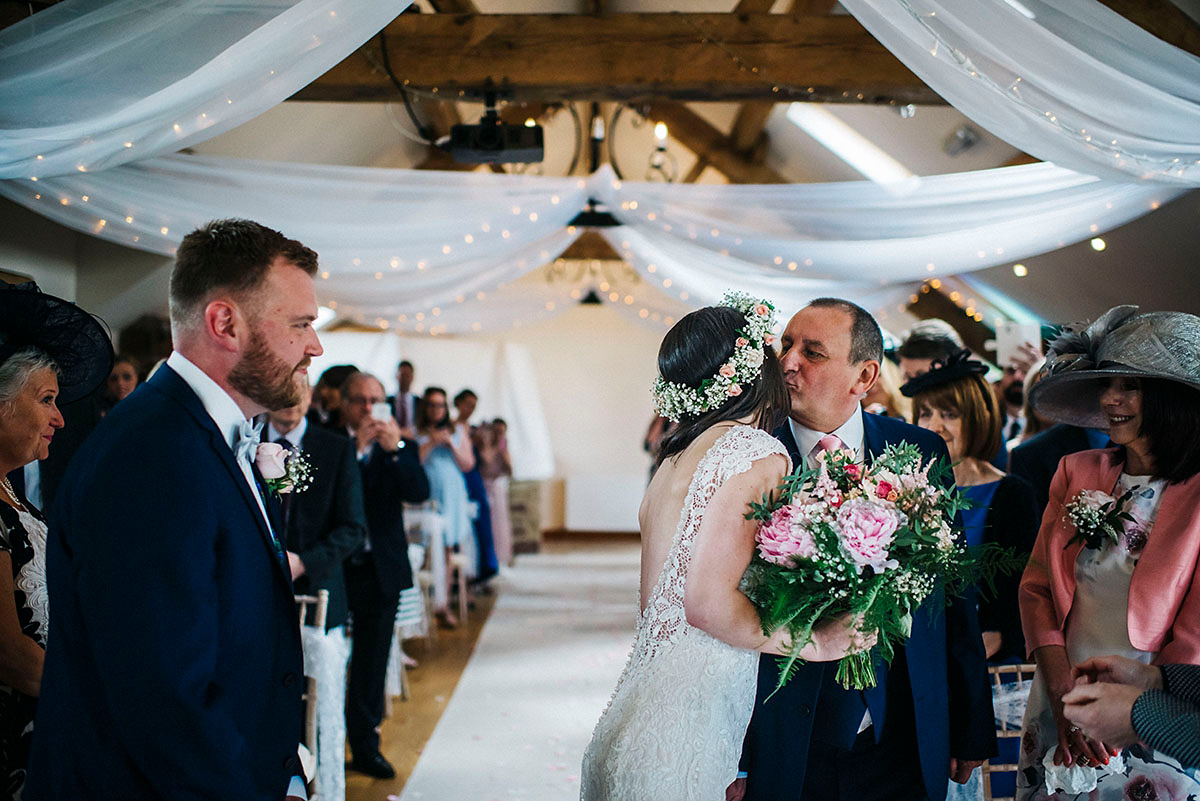 Rick and Jade exchanged rings from Ernest Jones and invited a number of their loved ones to share readings during their ceremony.
"I think I was most excited during the ceremony, when we were saying our vows in front of everyone we love. We had two readings – one was a personalised poem which included both of us as well as the best man and both mothers. The second was a beautiful verse from Captain Corelli's Mandolin."
Love is not breathlessness, it is not excitement, it is not the proclamation of promises of eternal passion…That is just being 'in love', which any fool can do.Love itself is what is left over when being in love has burned away, and this is both an art and a fortunate accident…To have roots that grow towards each other underground, so that when all the pretty blossom has fallen from your branches you find that you are one tree and not two.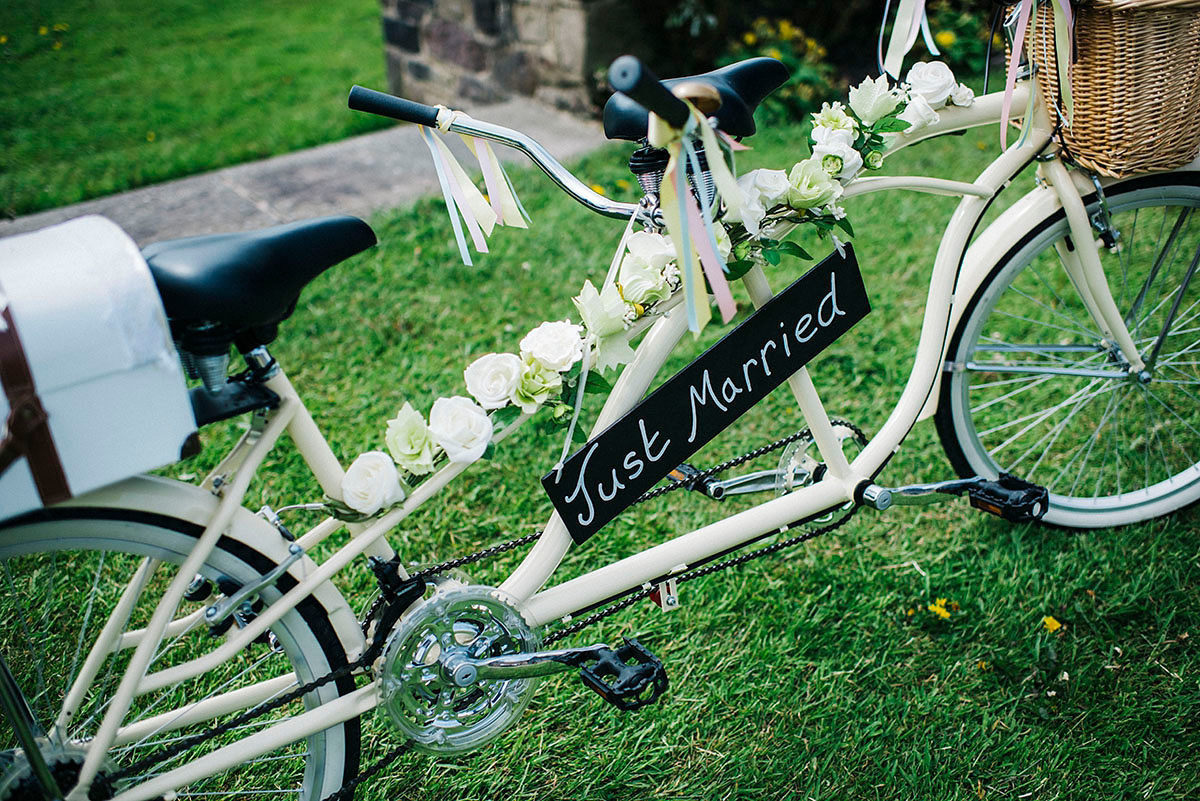 The couple chose the talented Kerry Woods to document their day, her documentary style of photography just perfect for their laid-back feel. We've featured a lovely little array of weddings shot by this brilliant lady, just take a look at our glorious archives. Kerry has captured some really candid, light-hearted shots of the wedding guests enjoying sweet treats from the ice cream cart Jade and Rik hired, and some seriously cute portraits of the couple, framed by that gorgeous turquoise Campervan.
"We chose Kerry Woods as our photographer; we love her unique style and she offers amazing value for money."
"We decided to kill two birds with one stone and use our favours as place settings. I loved the idea of tiny succulent plants in terracotta pots. We managed to buy these in bulk from a garden centre, and then we simply made flags with people's names on to stick in."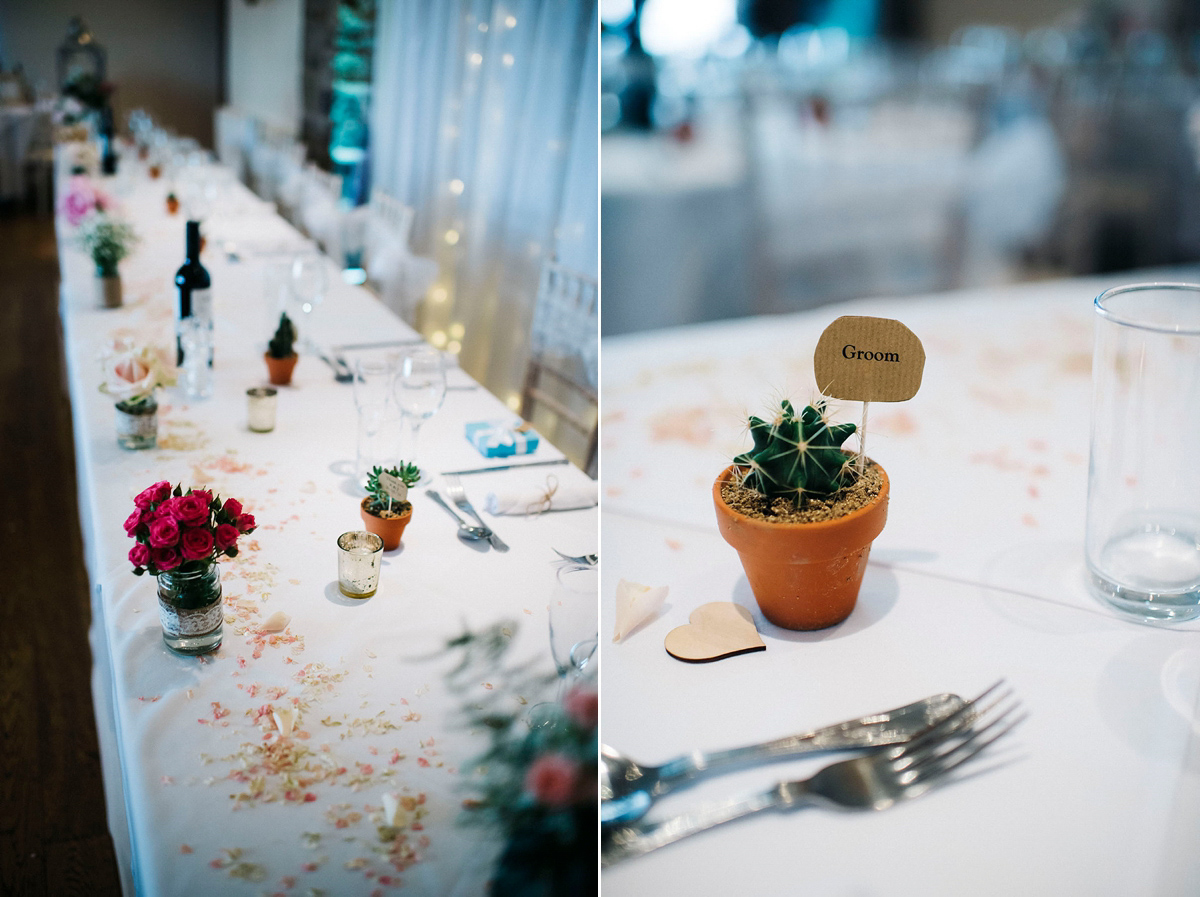 As well as their sweet succulent place settings, Jade and Rik decorated their reception room with gorgeously bloom-filled letters from The Word is Love. What a lovely, fresh alternative to light up letters. And I'm sure there were giggles galore coming from the Campervan photobooth the couple hired for the duration of the night. Give me a moustache on a stick and a massive pair of novelty glasses and you'd never get me out of there.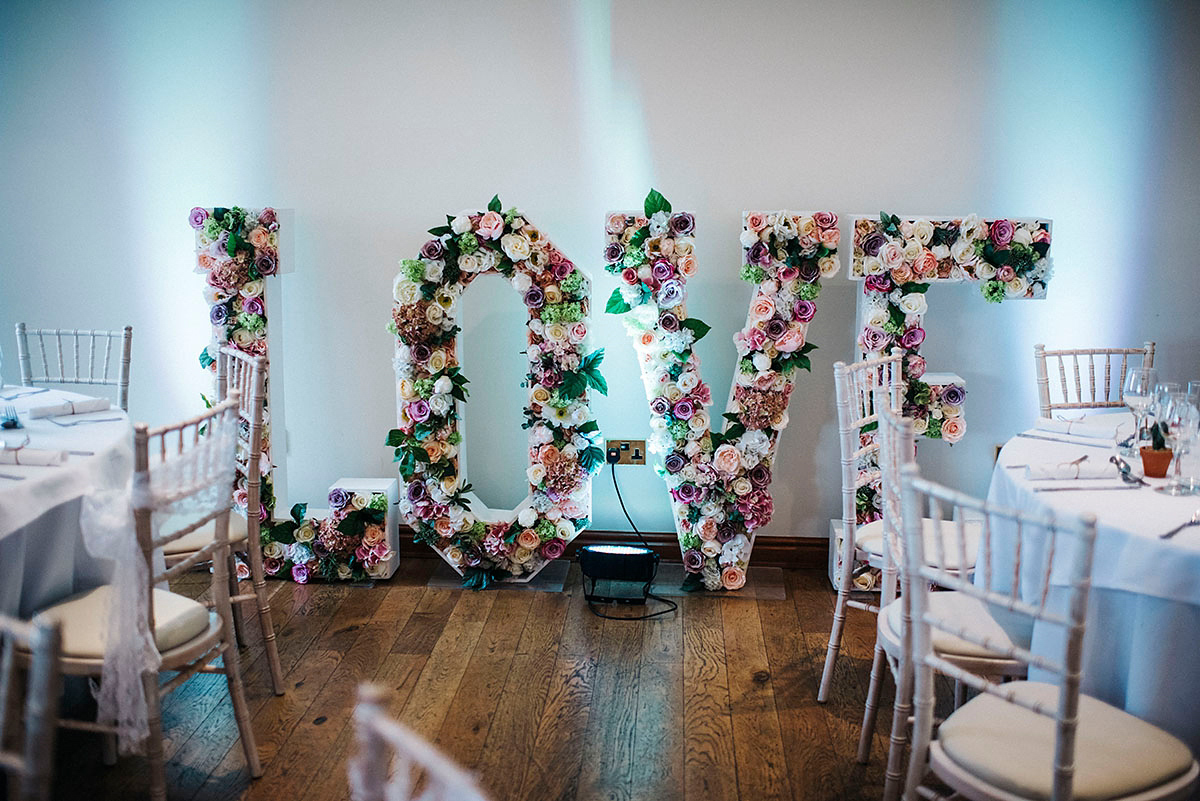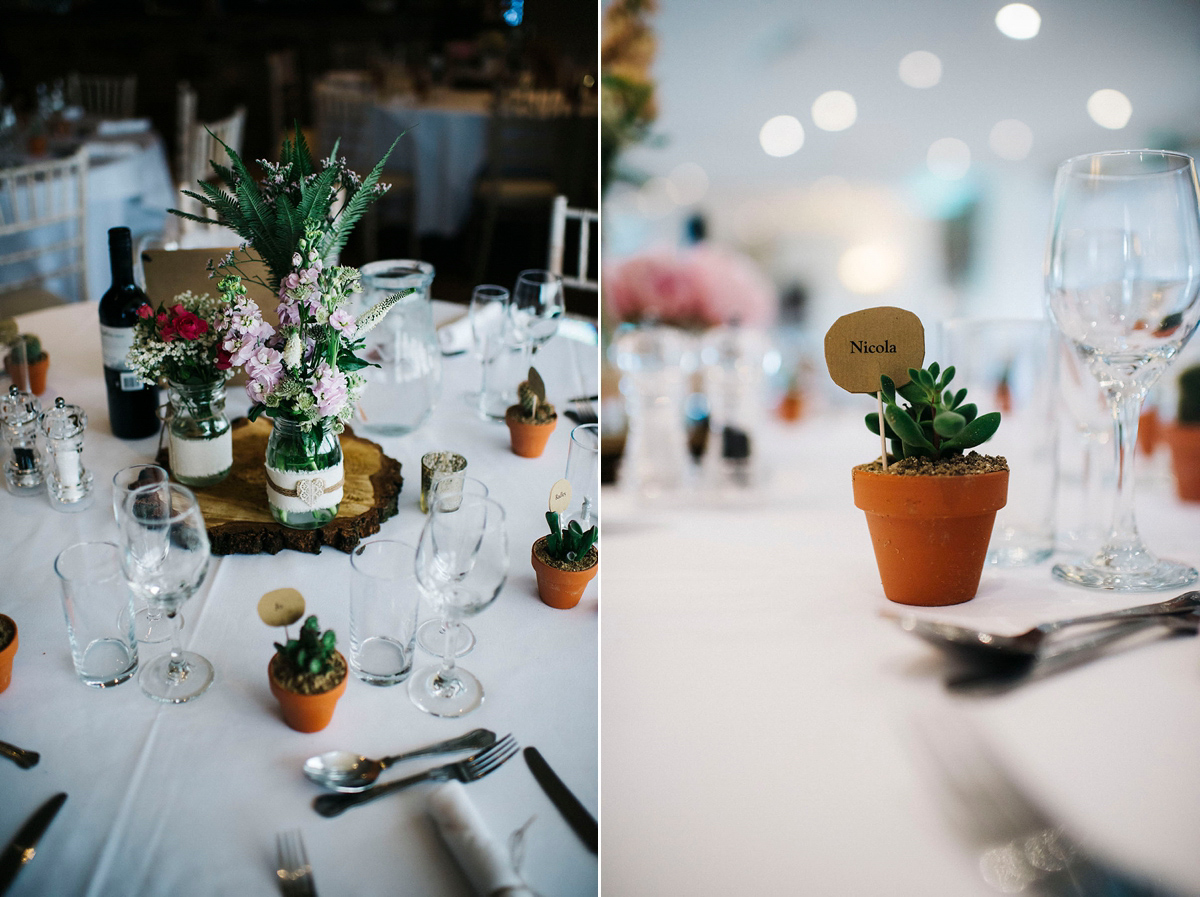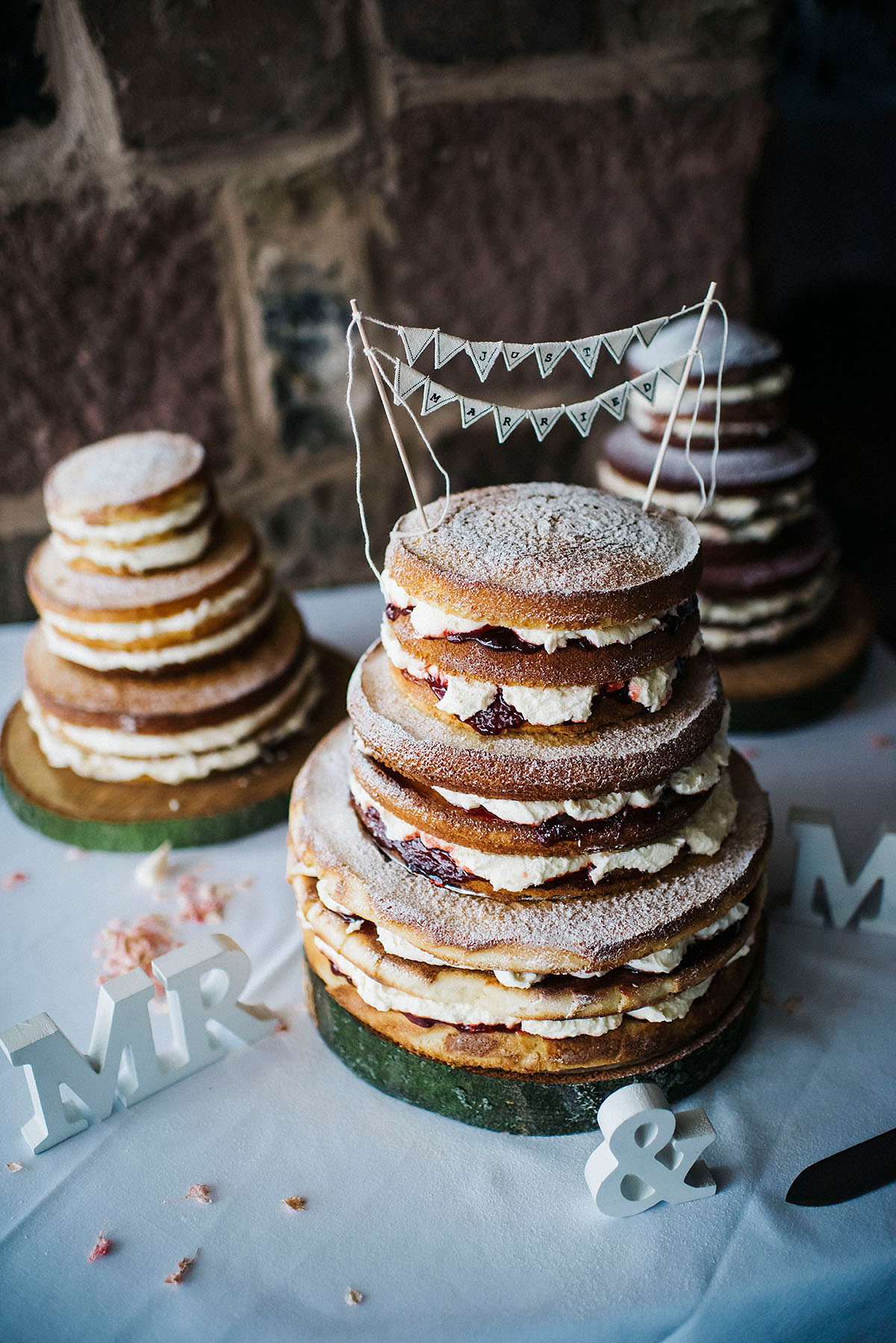 Guests were treated to a relaxed barbecue and plenty of refreshing drinks while they were serenaded by musician Jay Orchard. Later the happy bunch sat down for the speeches in the cosy barn atmosphere of Bestow Manor, which were obviously hilarious if the gleeful faces of the newlyweds are anything to go by!
"My favourite part of the day was probably when we were all sat down eating and the speeches, as I was a little more relaxed. I have my very talented friend to thank for our (three!) naked cakes. We don't like traditional wedding cake so loved the idea of a naked cake, and thought it really fit with our day."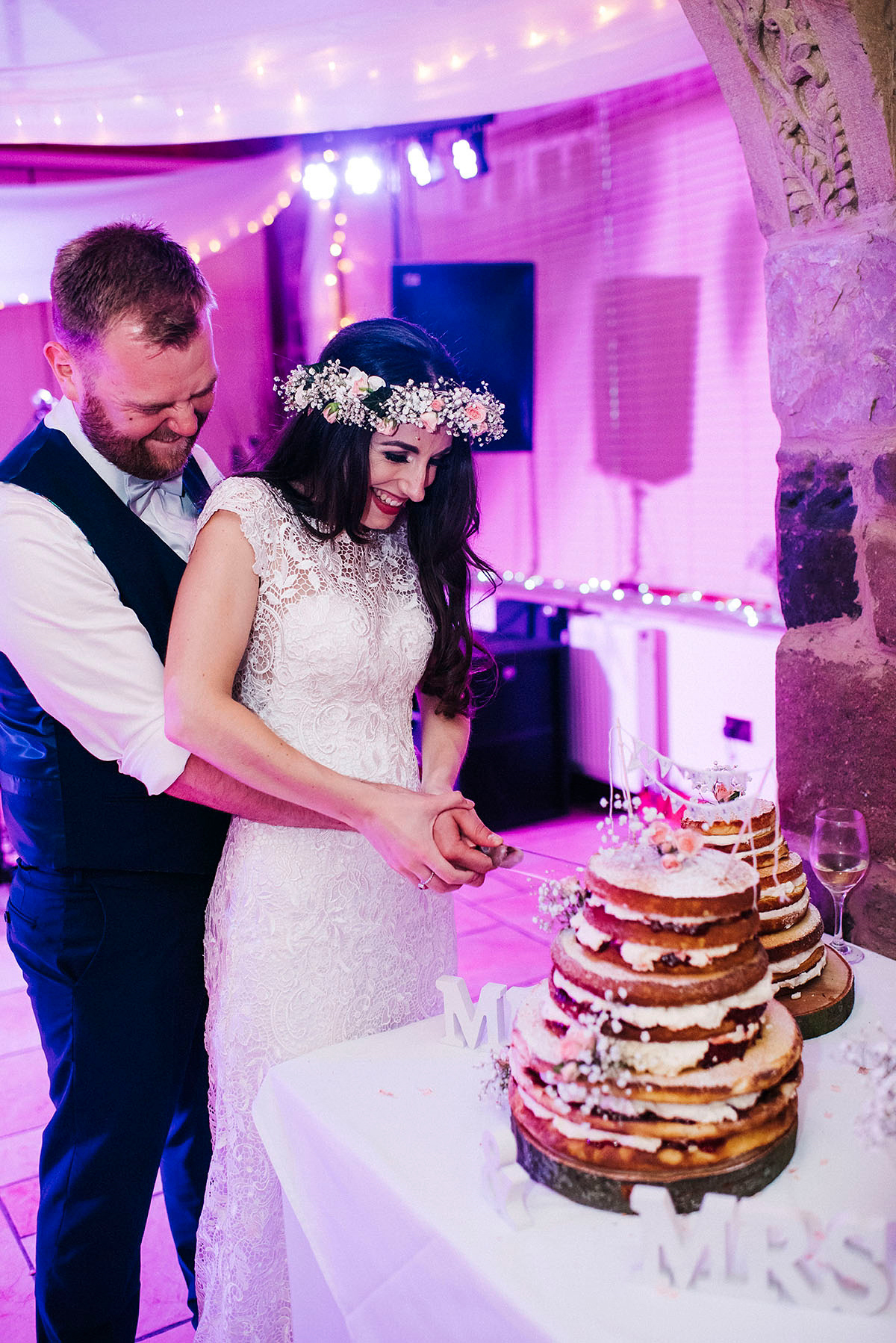 "We couldn't choose just one first dance song. We decided to have a mash-up and surprise one another. I chose two songs and Rik chose two songs and we told our band, Madison, who mixed them together for us, so we had no idea what we'd be dancing to."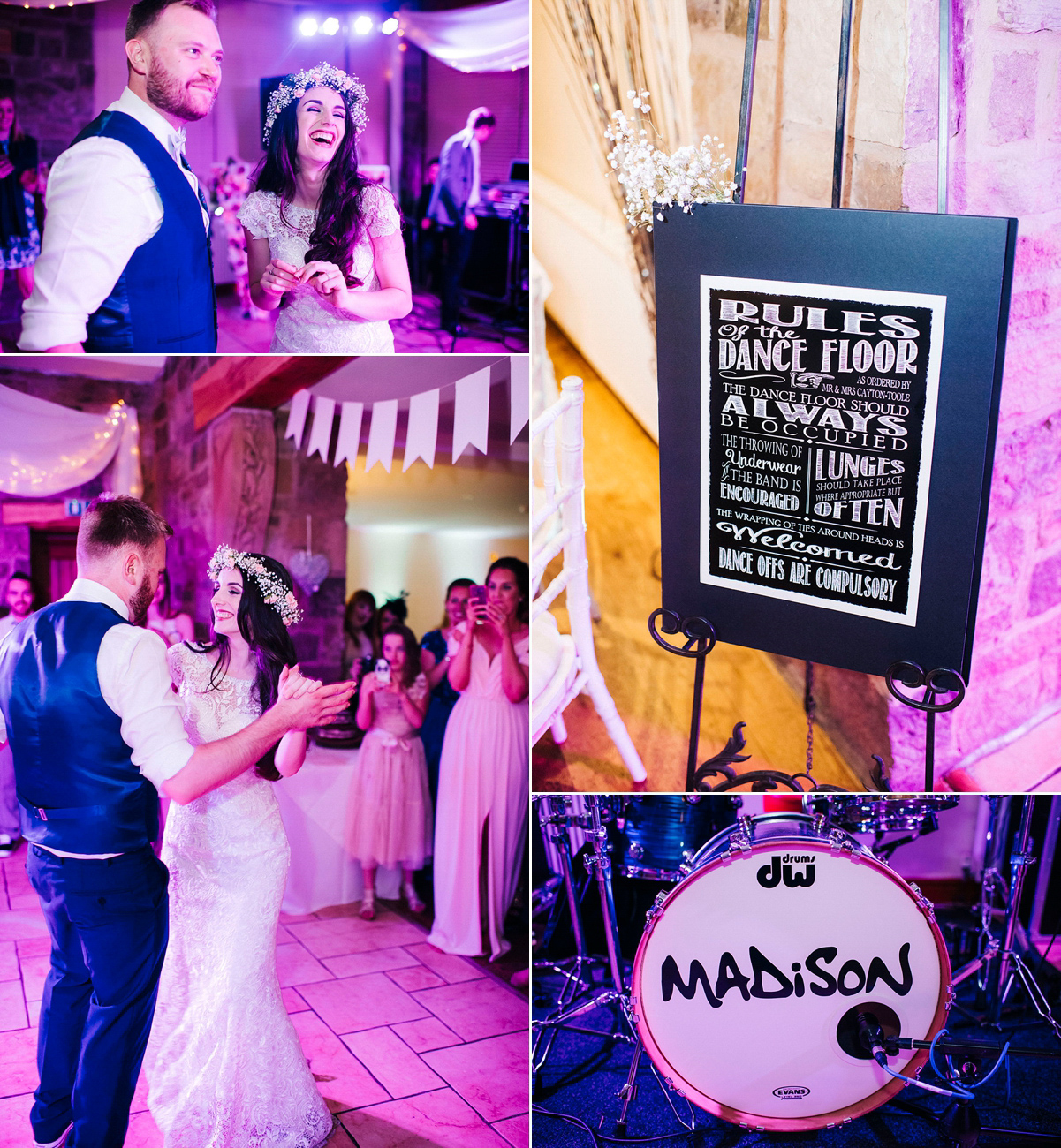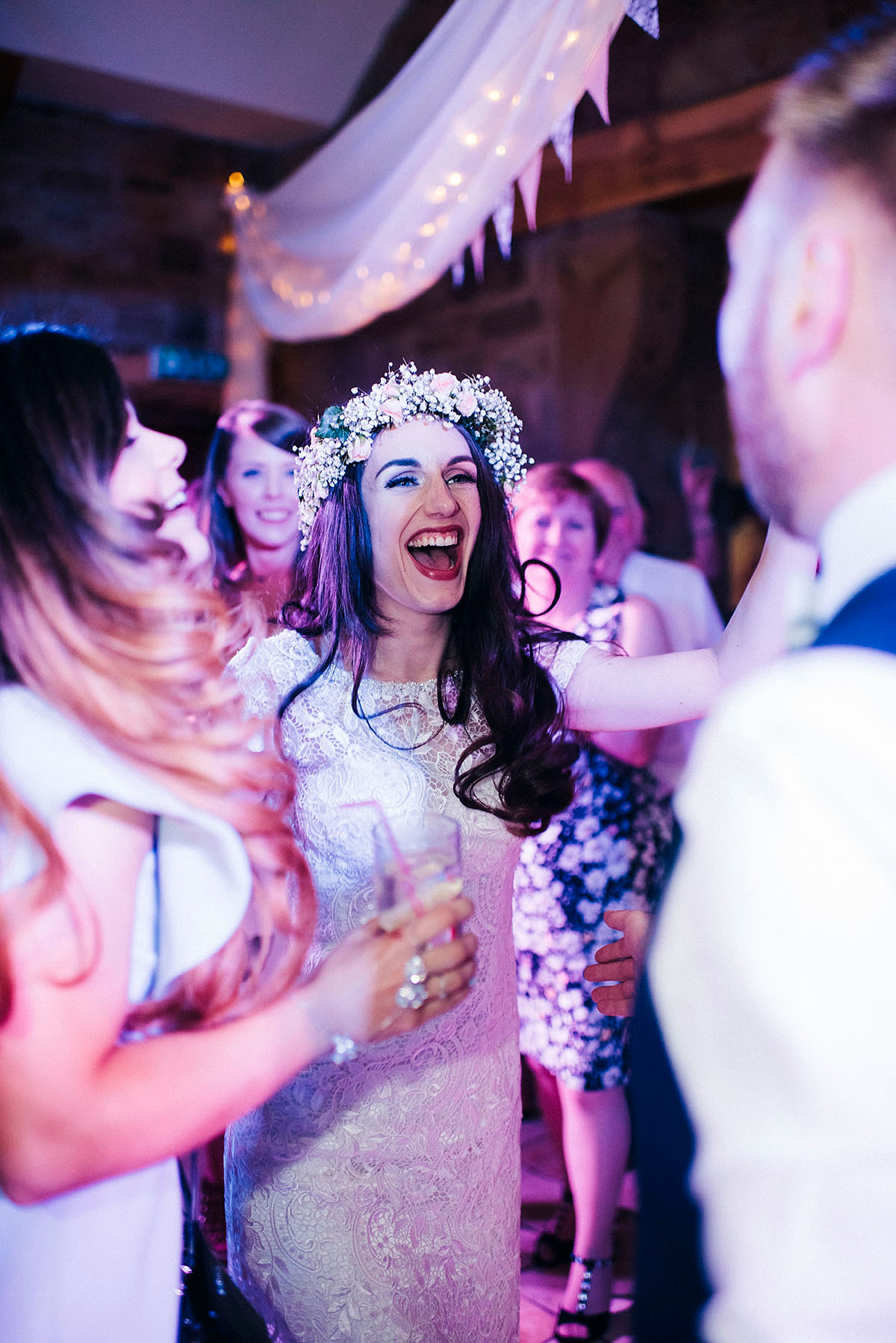 Words of Wedded Wisdom 
"Just do what you want! The only time you'll get stressed planning your wedding is when you put other people's feelings before yours. It's YOUR DAY! So whether your mum is getting upset because you don't want to stay over at her house the night before (like mine did), you're too scared to seat certain family members at the back of the room (I've been there) or you feel pressured to provide button holes to all of your extended family, (yep, me again) just do what you feel is right."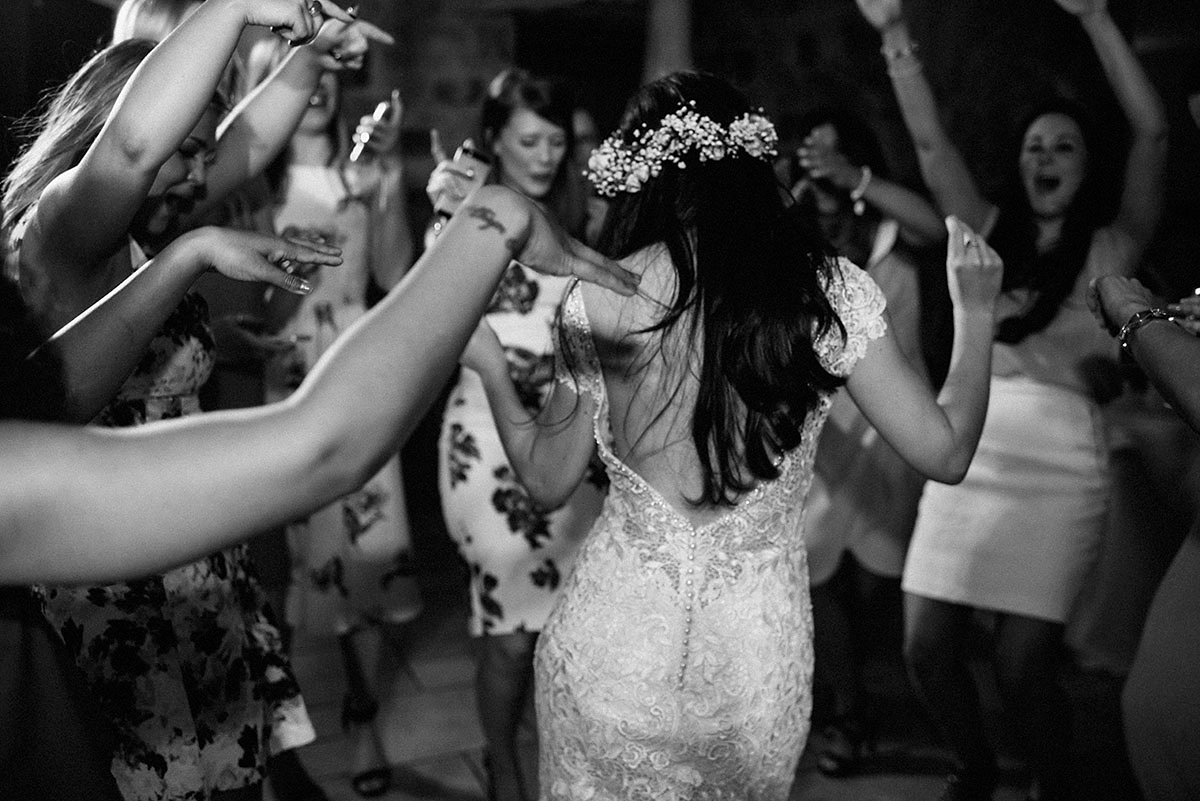 Oh Jade, I'm sure those words will resonate with so many of our readers. Did you happen to read this From the Heart piece written by our lovely blog reader Karys? It's truly incredible how many times we hear that the main source of wedding-related stress is trying to please everyone around you.
Finding a balance is so important but it's definitely not easy – just one of the many reasons our private Facebook group for brides and newlyweds is so über-brilliant is that it provides you with a safe space to air your concerns, ask for advice or just be buoyed up on the love and support of hundreds of other wonderful ladies all going through the same crazy emotions and mounting excitement as you. In short, it's a blooming miracle.
Thank you so much to Rik and the gorgeous Jade (who you can find on Instagram) for sharing your day with us and of course our very many thanks to the lovely Kerry Woods Photography for these loved-filled images.
Love, Em x