Love My Dress promotes bravery and the beauty of deciding to approach something in a way that is unique to you, the path that feels right and brings the utmost amount of fulfilment. Feeling the freedom to celebrate your love in a way that simply fits the world you have created with another human gives me that wonderful lightness that a true happy thought brings with it. The beautiful people you see beaming in the following exchange of vows did just that, making a pilgrimage to Scotland to become husband and wife in a place that had captured their hearts. Bright blue skies with a smattering of cloud, a smorgasbord of greens all dappled in sunlight and an outpouring of in-the-moment joy; today's highly personal and laid back union transports us from desks and trains to the enriched air of Holyrood Park, Edinburgh. Breathe that outside in.
Tatiana, a Third Grade Teacher, and Matt, Manager of Member Value and Engagement for a Non-Profit Organisation live in New York but chose to enjoy a summer day in Scotland as they made things official on July 8th 2016. Having family ties to this land of wild beauty and wanting to experience the suns gaze and sweet scent of grass whilst promising forever, Holyrood Park was chosen as the setting for this American love story.
"Our day was inspired by our love of Scotland. Matt wanted to wear a suit made of Scottish Tweed and I chose a dress that reflected the natural setting. We chose this venue because Matt is part Scottish on his mom's side. We also think Scotland is one of the most beautiful places in the world."
Photography by Carley Buick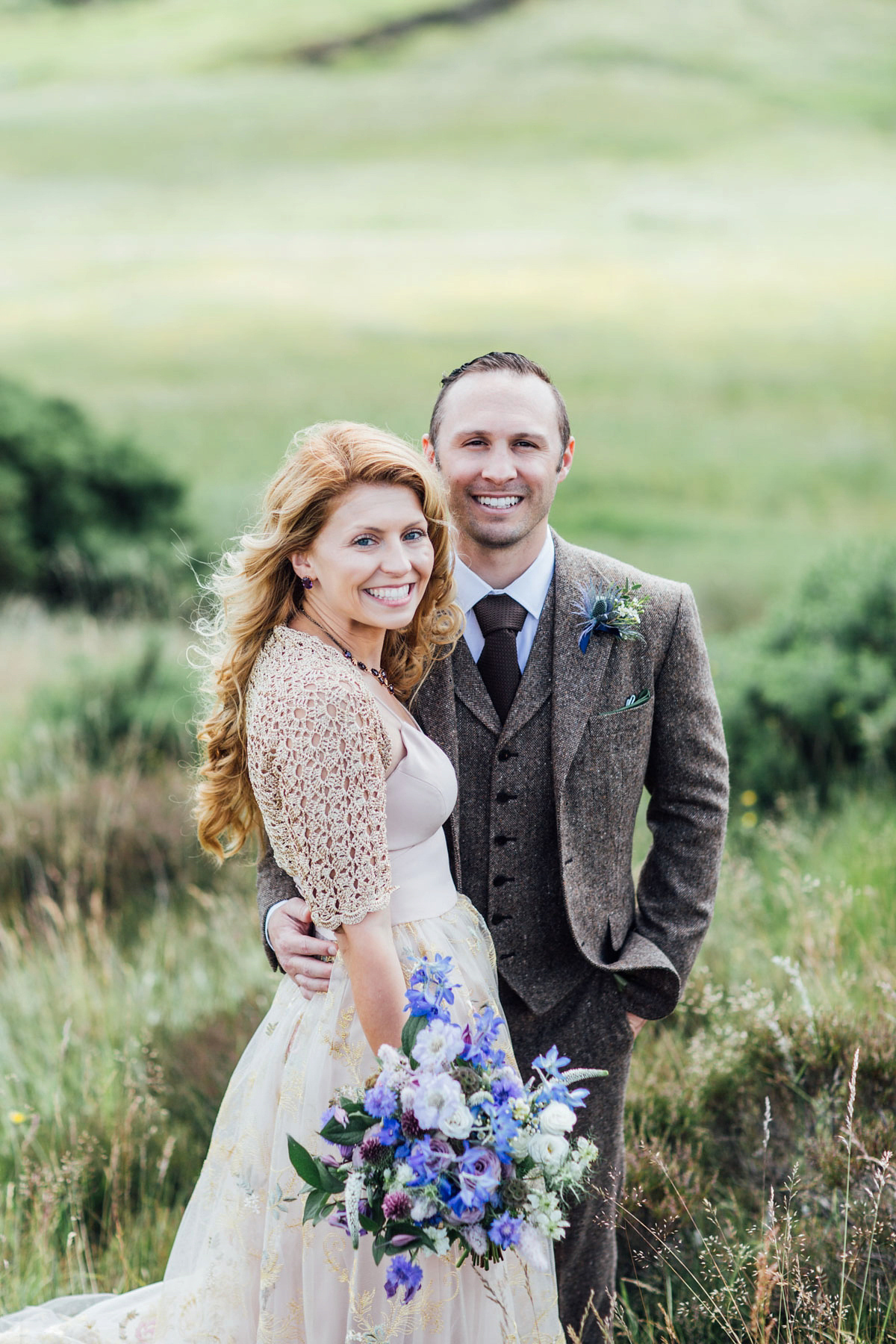 The Ireland gown by Tara Lauren, via BHLDN
(currently half price!)
"We wanted to get married in a natural setting and the park was so wild and gorgeous, it was the perfect place for our ceremony. The ceremony took place in a clearing on the Salisbury Craggs with Arthur's Seat in the background."
Usually, I am advising excited brides-to-be where to purchase the dainty heels seen peeking from beneath a brides dress, but today I love that I am informing you lovely lot where to purchase Tatianna's wedding hiking boots. Layered on top of those glorious American flag leggings, were Rockport Cobb Bethany Hiking Boots that were purchased from Amazon . Comfortable, tongue in cheek fairy princess is certainly a bridal trend I hope to see catching on!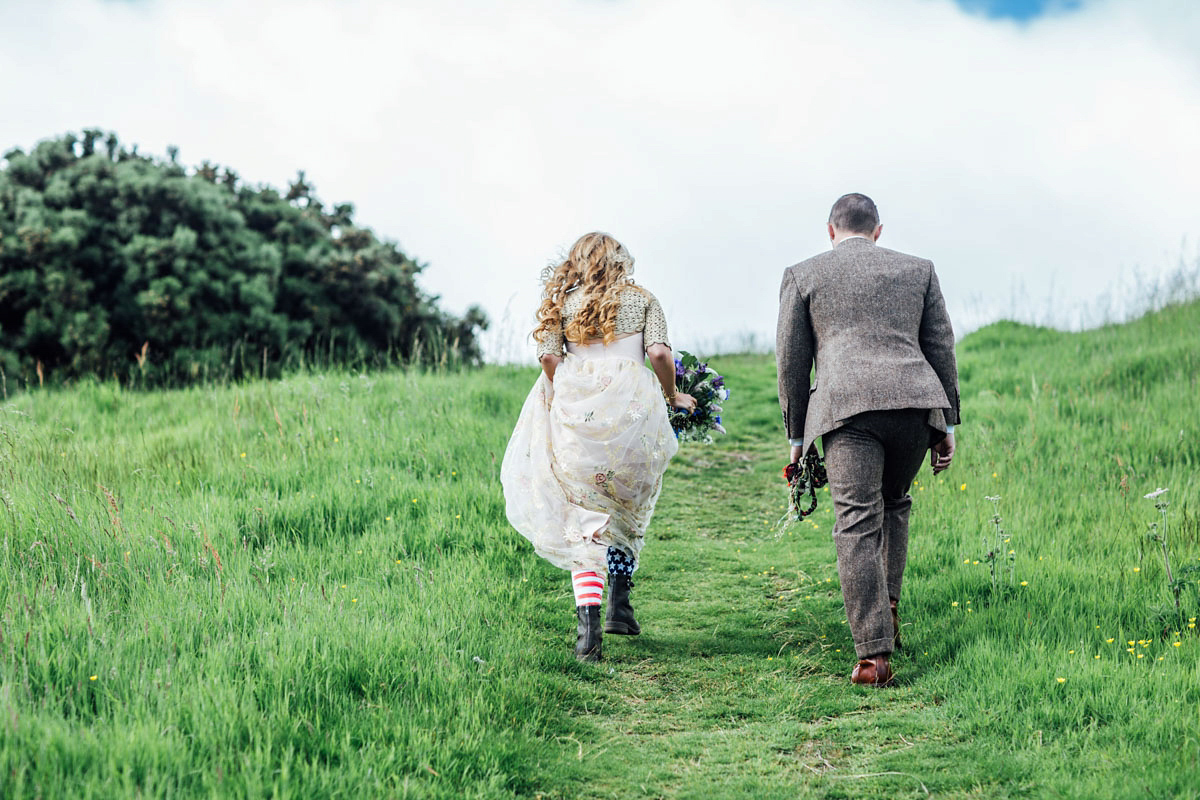 Embracing the character and customs of Scotland, native blooms and thistles were chosen for Tatianna's bouquet, created by Narcissus Flowers. I love the purple and blue hues that pick out the golden tones of the bridal attire, and contrast so wonderfully with the vivid greens within Holyrood Park . The ceremony itself was also influenced by the location, and a traditional hand fasting took place.
Deciding on the 'Ireland Gown' by Tara Lauren and purchased through the heavenly wonder of BHLDN, this dress could almost have been created by fairies, such is the ethereal and fragile nature of its simple beauty. (P.s is currently half price on BHLDN, just FYI).
"I loved everything about my dress. My favourite colour is gold and I loved that it was different and non-traditional. I felt that it would fit in nicely with our chosen location. The ball gown skirt made me feel like a fairy princess, but it wasn't so poofy that I couldn't move."
"Matt and I met in  Science Class at Quinnipiac University in Connecticut. We met during our junior year, but didn't start dating until after we graduated."
"We dated for 7 1/2 years before we got engaged. Matt proposed on December 5th 2015, we went out to lunch in NYC and then attended a performance of the Nutcracker Ballet at Lincoln Center.
"After the performance we went for a walk in Central Park and Matt proposed to me next to the carousel. We were engaged for 7 months before we were married."
Tatianna's bridal style is completely on point, and I've become slightly obsessed with her exquisite golden mane of hair. Tatianna's name itself means 'Fairy Queen',as well as the obvious Midsummer Night's Dream connotations, so our bride decided to channel this into her dress decision.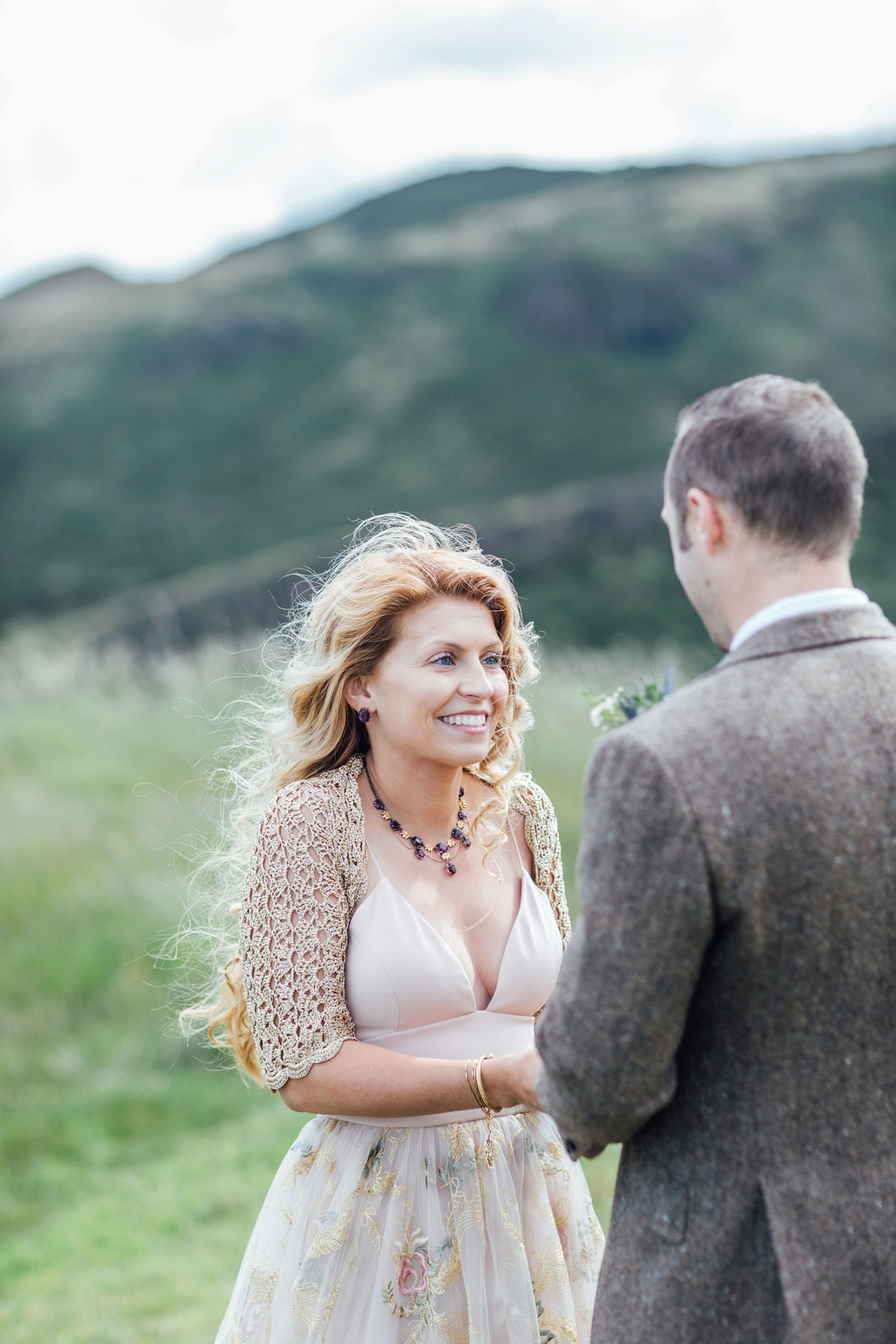 "We chose to include a  traditional Scottish handfasting in our ceremony, I created the cords we used. Matt's cord represented his great-grandmothers Scottish clan tartan (blue, red and green) and my cord represents my great-grandmothers Irish clan (green, gold and black)."
Tatianna and Matt exchanged matching rings from Greenwich Street Jewellers, choosing the 'Roman Ring' style for their hammered and oxidised effect. The following first kiss was cited as their favourite moment of the day .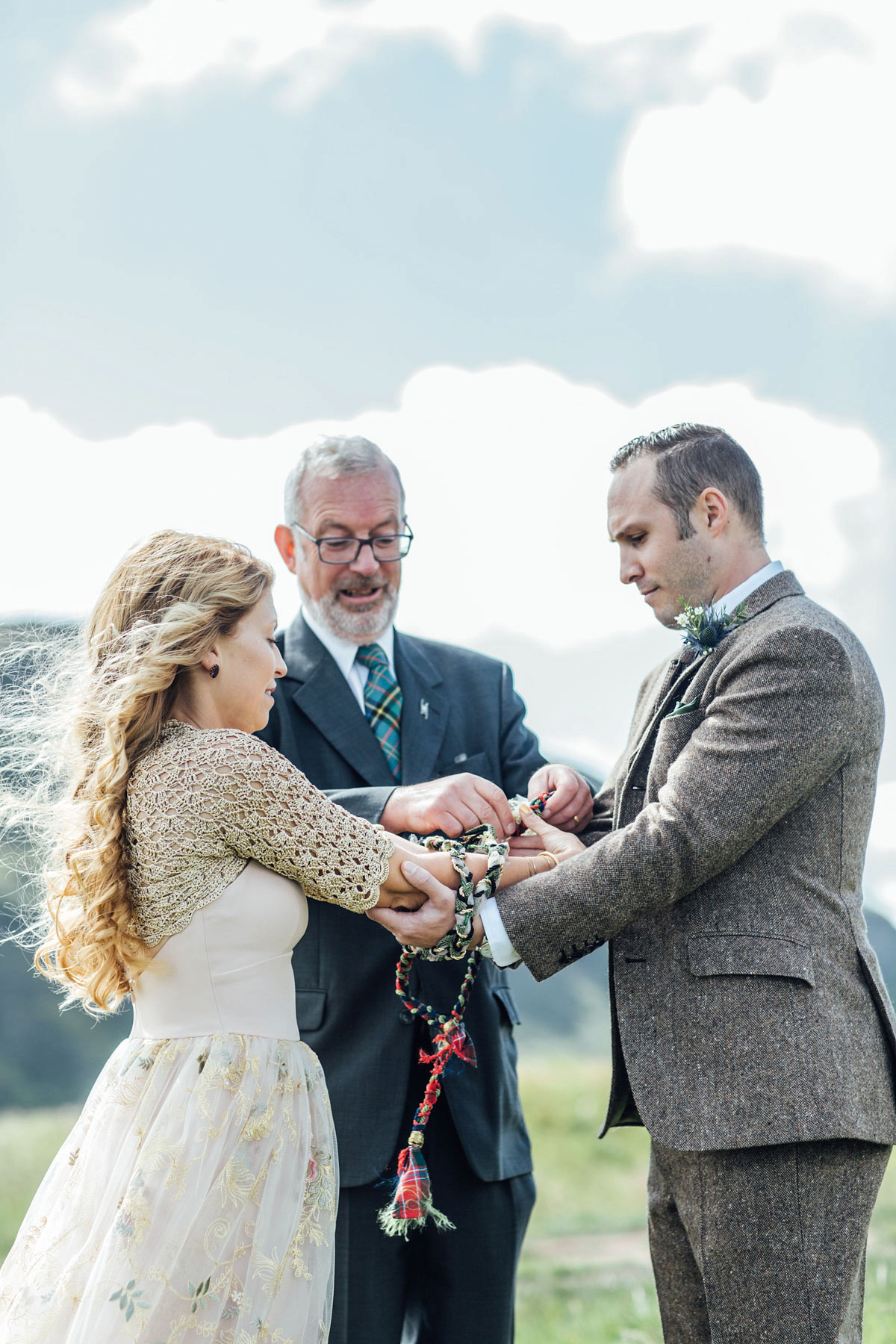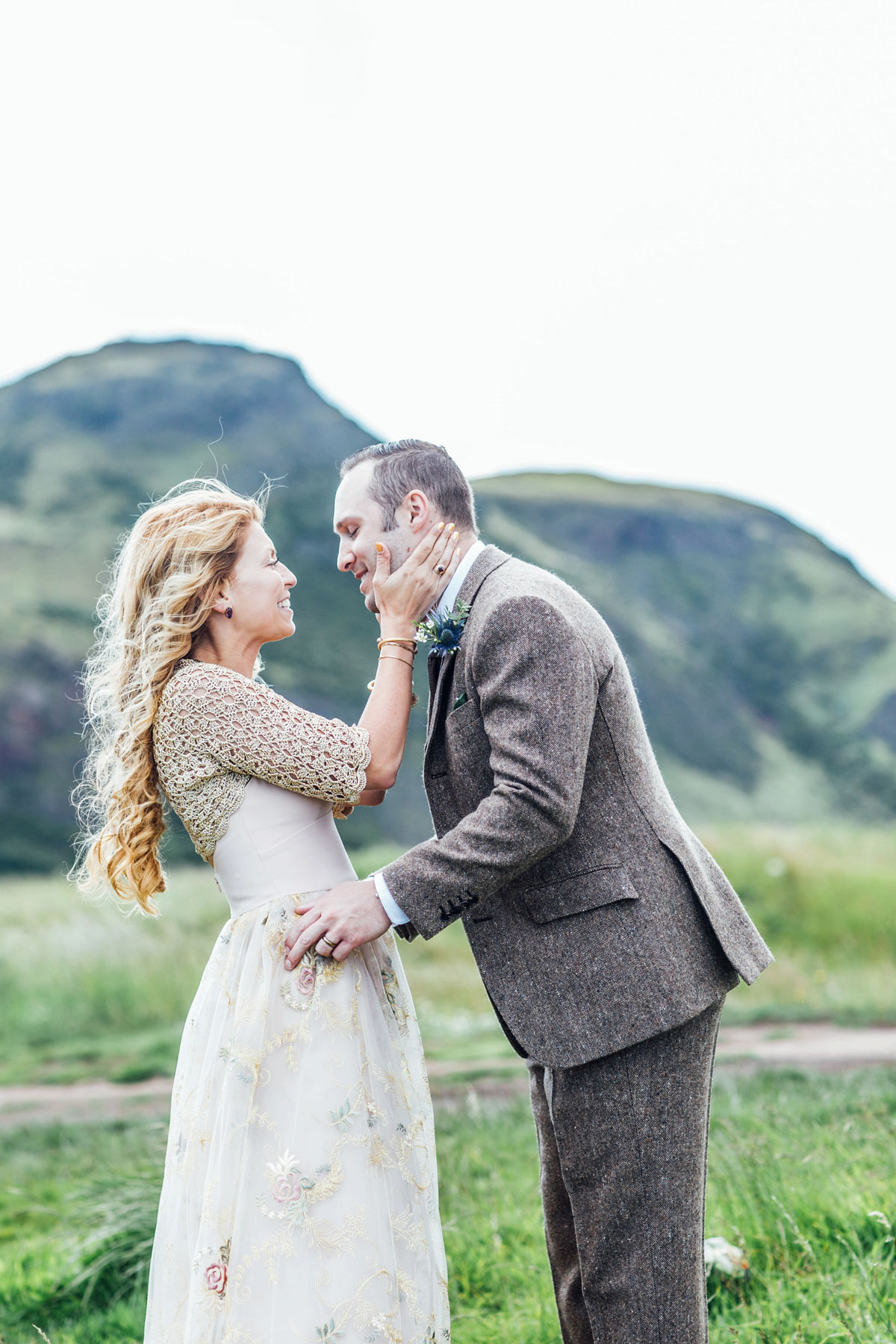 Carley Buick was given the pleasure of accompanying these lovebirds on their hike/ceremony. My favourites are the shots with Tatianna and Matt overlooking Edinburgh, it feels symbolic to see them standing together, ready to face the world. Photography is always such a huge consideration, but never more so than an elopement, as these will be the sole snapshots of a moment that so many will be eager to see.
Carley showcases the mood and surroundings of that moment in time in all of their elated bliss.
"Carley was absolutely wonderful. She took gorgeous photos and was very easy to work with. she made us feel so comfortable and captured the essence of the day perfectly."
Jewellery was an important aspect of Tatianna's look and ensured echoes of family members were present on that hillside in Scotland.
The yellow gold and amethyst necklace and earrings, bracelets and garnet ring were borrowed from her mum, the sixpence coin from Matt's mum and the charms a gift from Matt for good luck.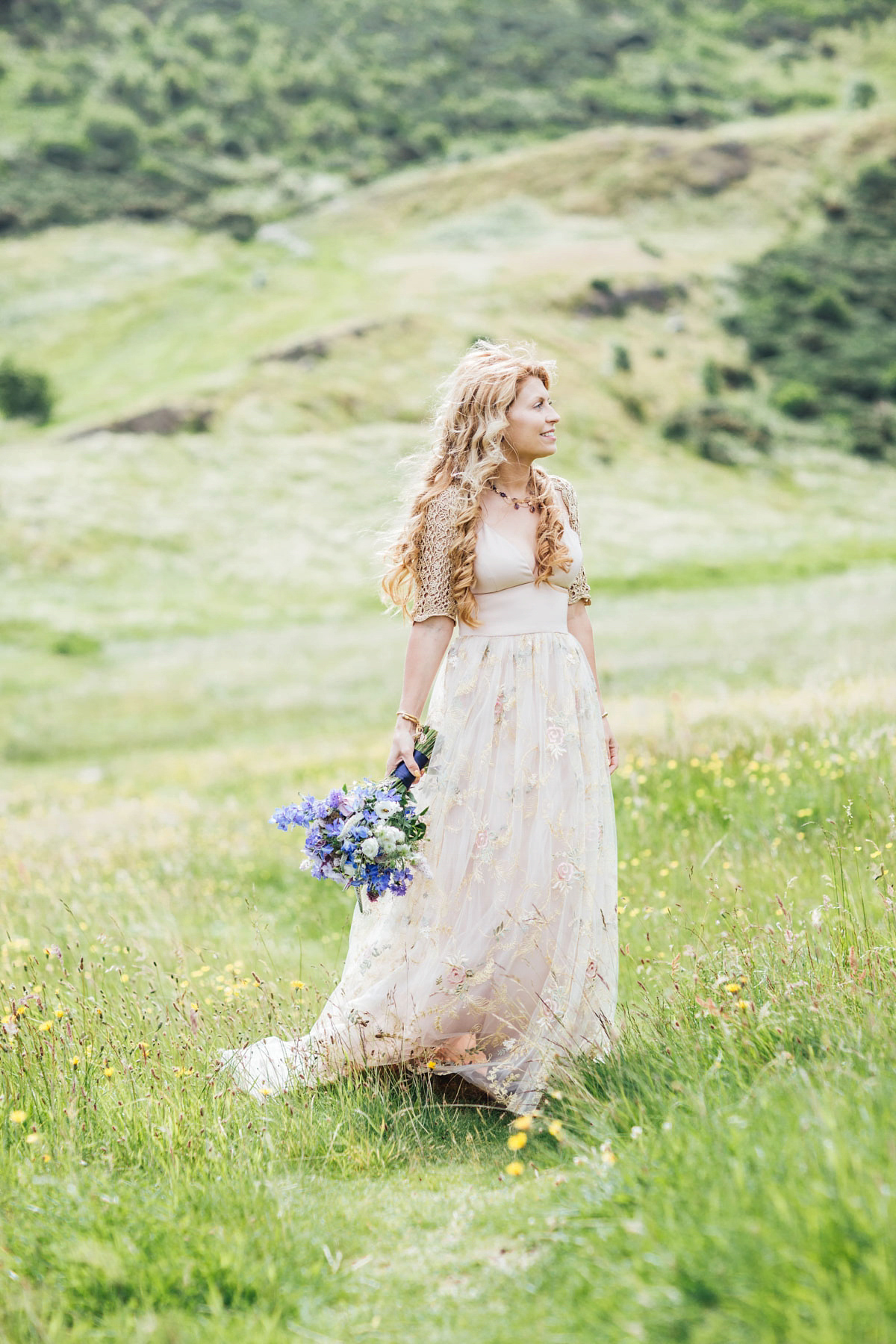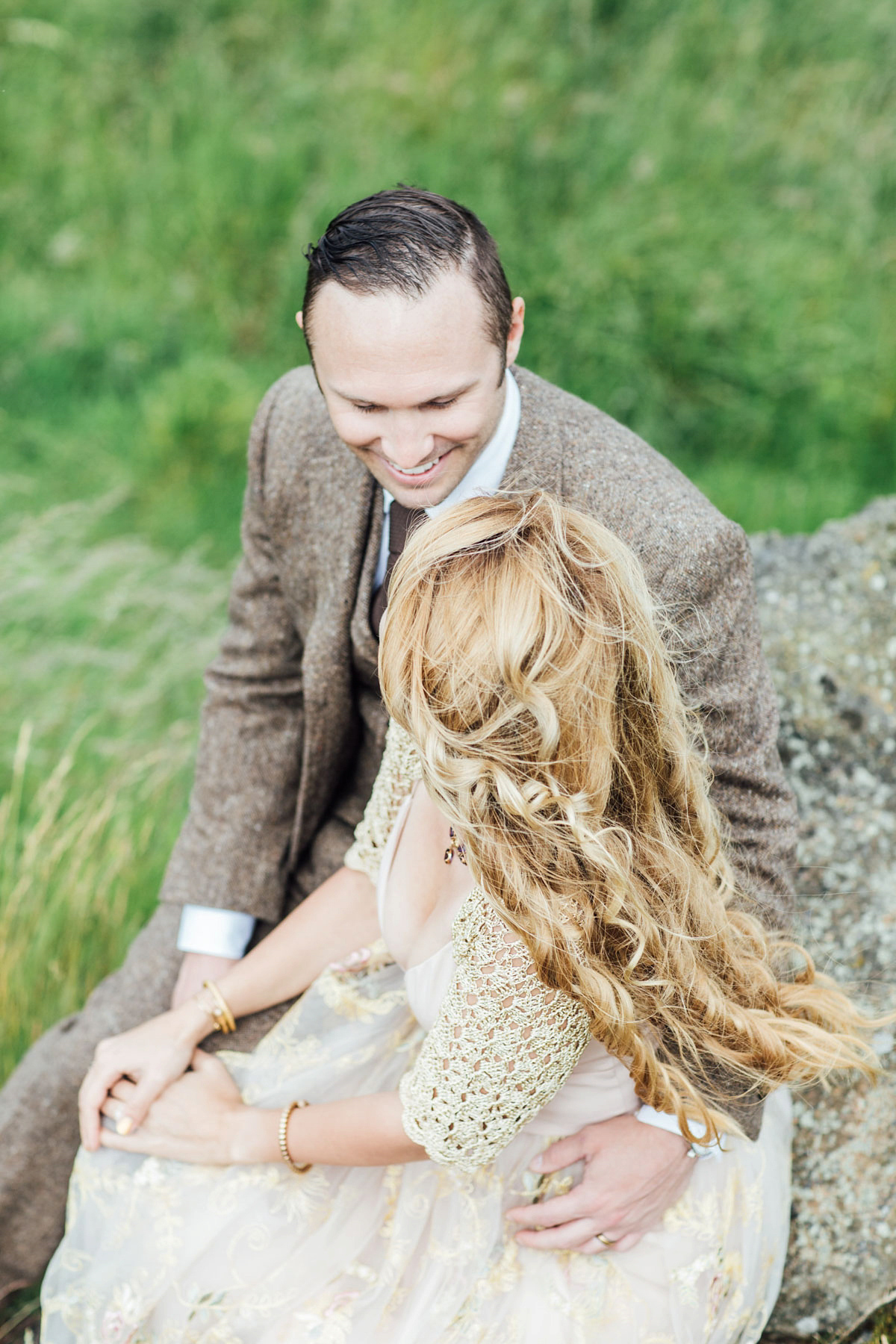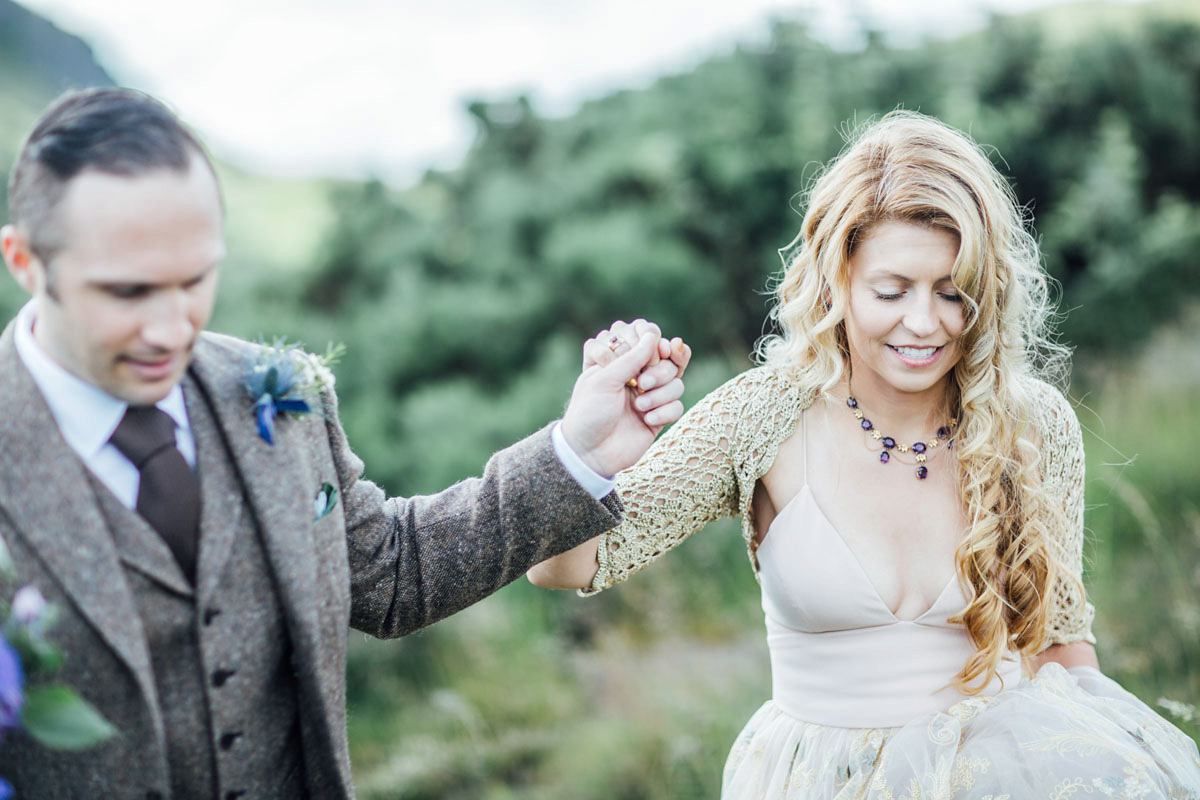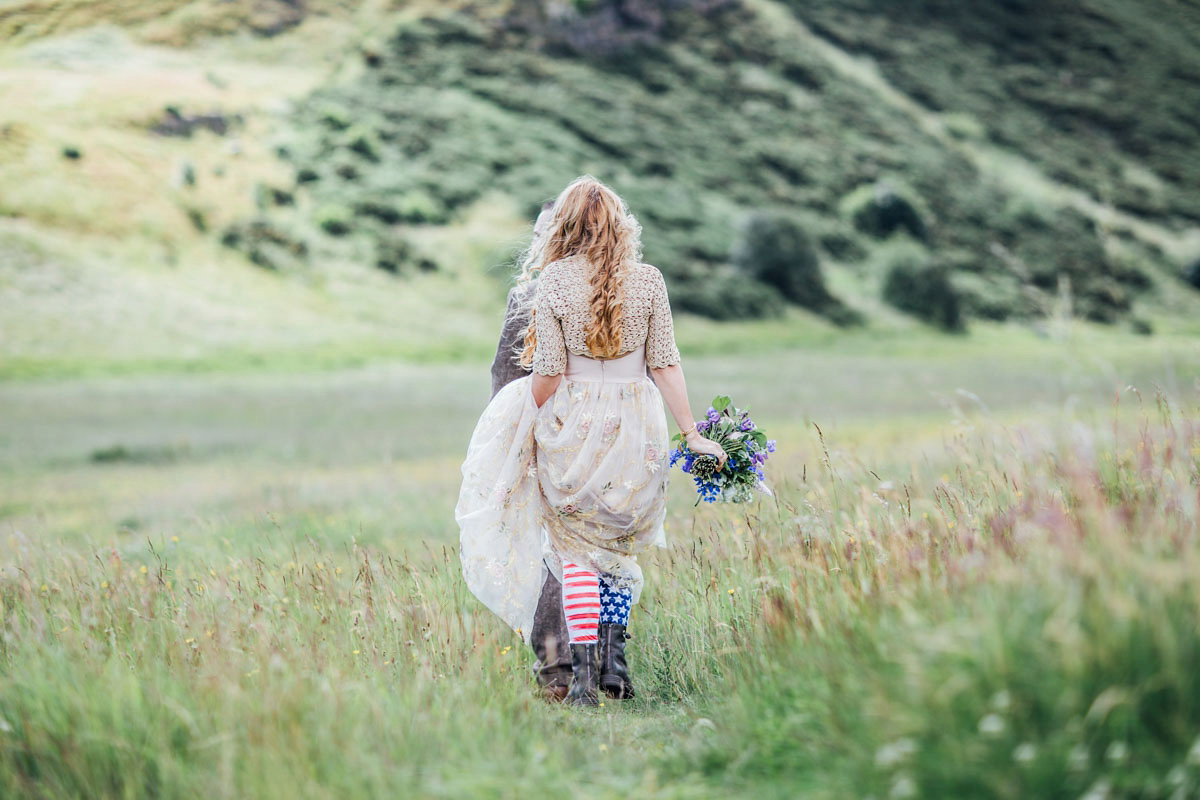 Words of Wedded Wisdom
"It is your special day, so make sure that you have made choices as a couple that make you happy."
Short but sweet words of wisdom from Tatianna that sum up exactly what these guys did, the happiness pours out of these photographs. There's something infinitely romantic about an elopement don't you think? You can see how more couples approached this bubble of togetherness here and I'd love to hear your thoughts in the comments if you eloped yourself.
Thank you hugs go to Tatianna and Matt, as well as the lovely Carley Buick for sharing their personal celebration with us. Whilst were on the subject of doing things your way, did you get to see breath-taking black wedding dress we featured last week? All of the atmospheric feels and heart-eyed emoji love for such an elegant and bold choice.
Wishing you all wonderful weeks of wedmin,
Emily C xxx