Have you always dreamt of doing things a little differently? Throwing the rule book out the window and planning a wedding so reflective of you and your love that it seems like a waking dream? Well if you're newly engaged and visiting us for the very first time, welcome to Love My Dress, where 'should' and 'have to' don't exist.
I'm delighted to be sharing the beautiful wedding of Daniel and Lottie today. Dan, an Offshore Surveyor and Civil Engineering student, and Lottie, a Doctor, wed on 21st May this year at St Augustin's Church, North Shields before their stunning, floral-inspired tree-top celebrations. We've shared some truly gorgeous weddings at Alnwick Treehouse so I'm very proud to be adding to this loveably quirky category with the pastel-toned delight of Lottie and Dan's union.
"I love anything floral and botanical, having a great love of designs by Cath Kidston, Laura Ashley and William Morris. I've always been a great believer in making things myself and homemade styles. I wanted to have a range of colours, particularly pastels. The Treehouse is such a magical setting and when we thought of it, we knew it would be the relaxed, individual venue we were hoping for."
Photography by Sarah-Jane Ethan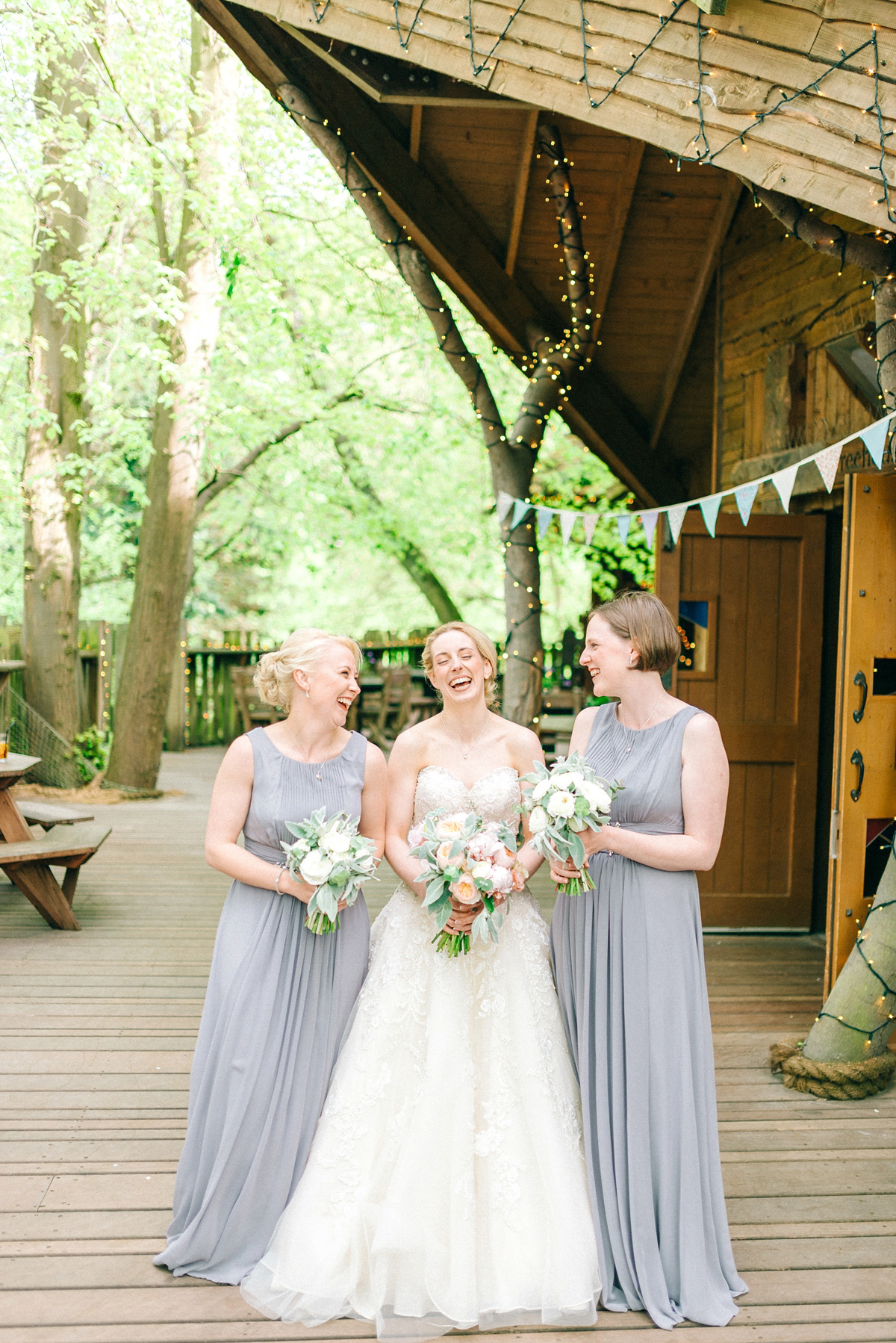 "Our photographer Sarah-Jane was wonderful from the moment we met her right until after the wedding when she sent the photos to us, and beyond. She is a lovely, lovely person and could not do enough to keep me calm and happy. Not only is she a fabulous photographer, she went the extra mile, helping keep my hair neat, helping me take my shoes off and put them back on for a walk on the beach and generally keeping everyone organised. Her photos are exquisite."Lottie and Dan found each other through online dating and we're super proud to have a whole category of gorgeous married couples who were united via the internet ether.
"Dan proposed to me one Sunday morning, the day before he was due to go offshore. He brought me breakfast in bed (which he does most weekends) and there I saw a ring box in amongst the boiled eggs! Dan had splashed out on a Claire's Accessories £2.50 'diamond' ring to propose and we had a lovely Sunday going to a jewellers to buy the ring together (which was actually not dissimilar in style to the original ring) and had a lovely Sunday lunch at Vallum Farm, near Hexham. We were married fifteen months after we got engaged."
Lottie's besties meanwhile looked gorgeous in smokey-pastel gowns from House of Fraser. I do so love the shots of the girls helping Lottie into her dress and fixing her veil, after an extremely emotional daddy-daughter hug. These are the moments of joy it's just so important to capture on camera.
"I wanted my two bridesmaids to be comfortable wearing their dresses for the day and therefore asked them to choose the dress. Fortunately, as I had virtually every colour in my scheme, they had a lot to choose from. The only stipulation was 'not yellow' from one of my bridesmaids. The both wanted to wear floor length dresses and the silver-grey suited their skin tones beautifully."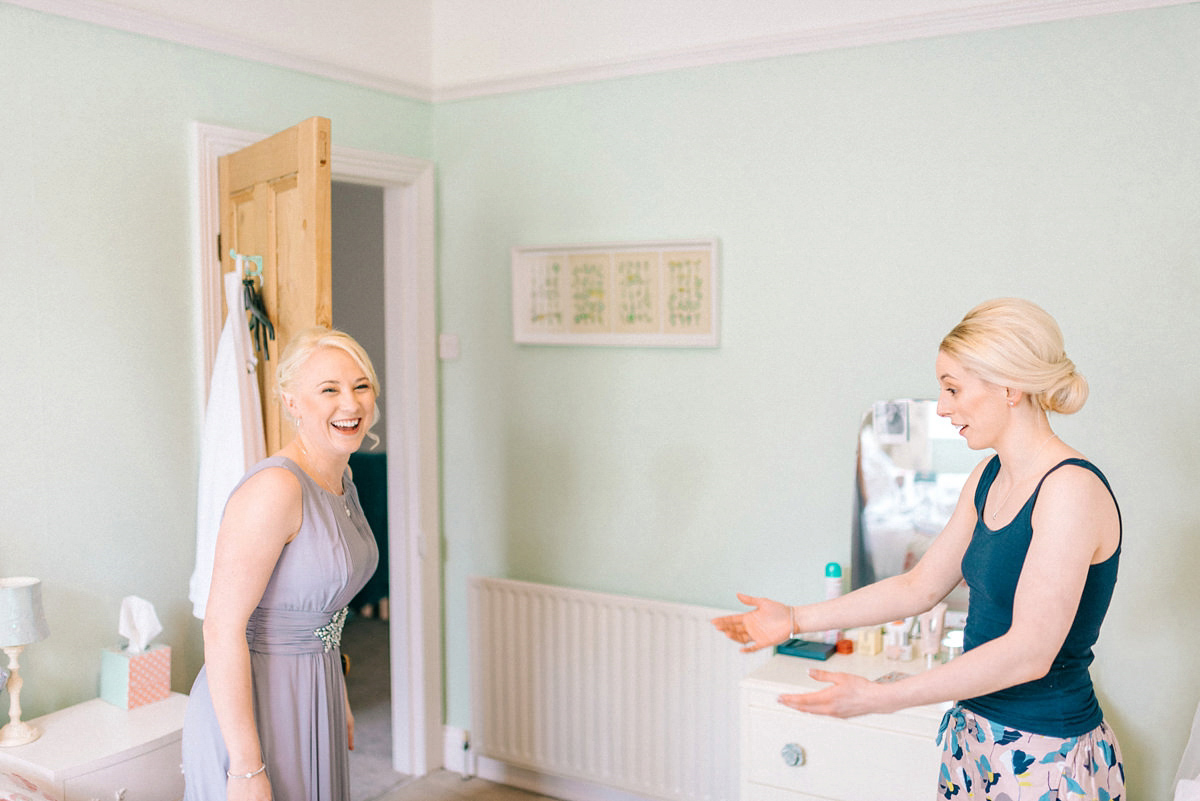 Lottie chose a heavenly champagne-toned Mori Lee by Madeline Gardner gown from Kathryn Trueman Bridal in Morpeth. The intricate beading and gloriously full skirts just ooze romance.
"I had initially wanted an A-Line vintage dress but found it not to suit my figure. I found that the fuller dresses made my waist look small which I loved and I fell in love with the colour of this dress and the amount of detail on the bodice and the full length of the dress."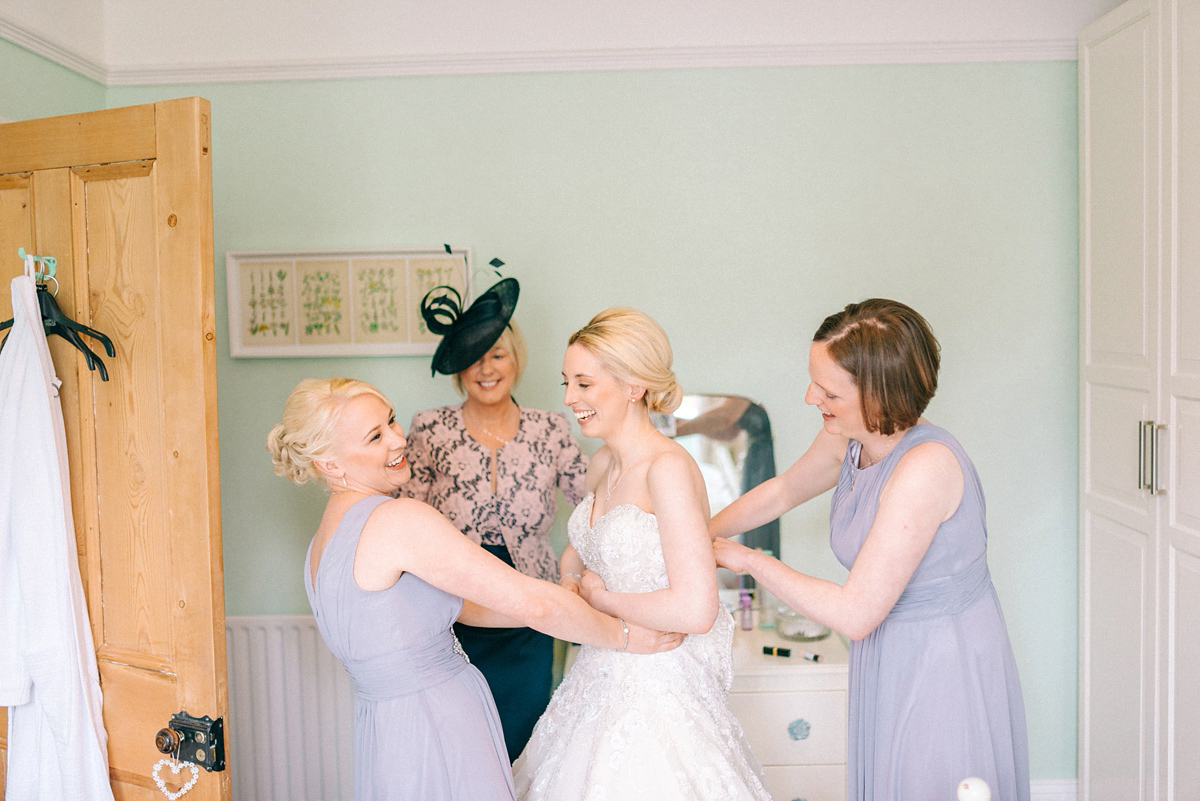 "It was the only dress that when I tried it on made me and my best friend cry. Then I knew I had found 'the one'."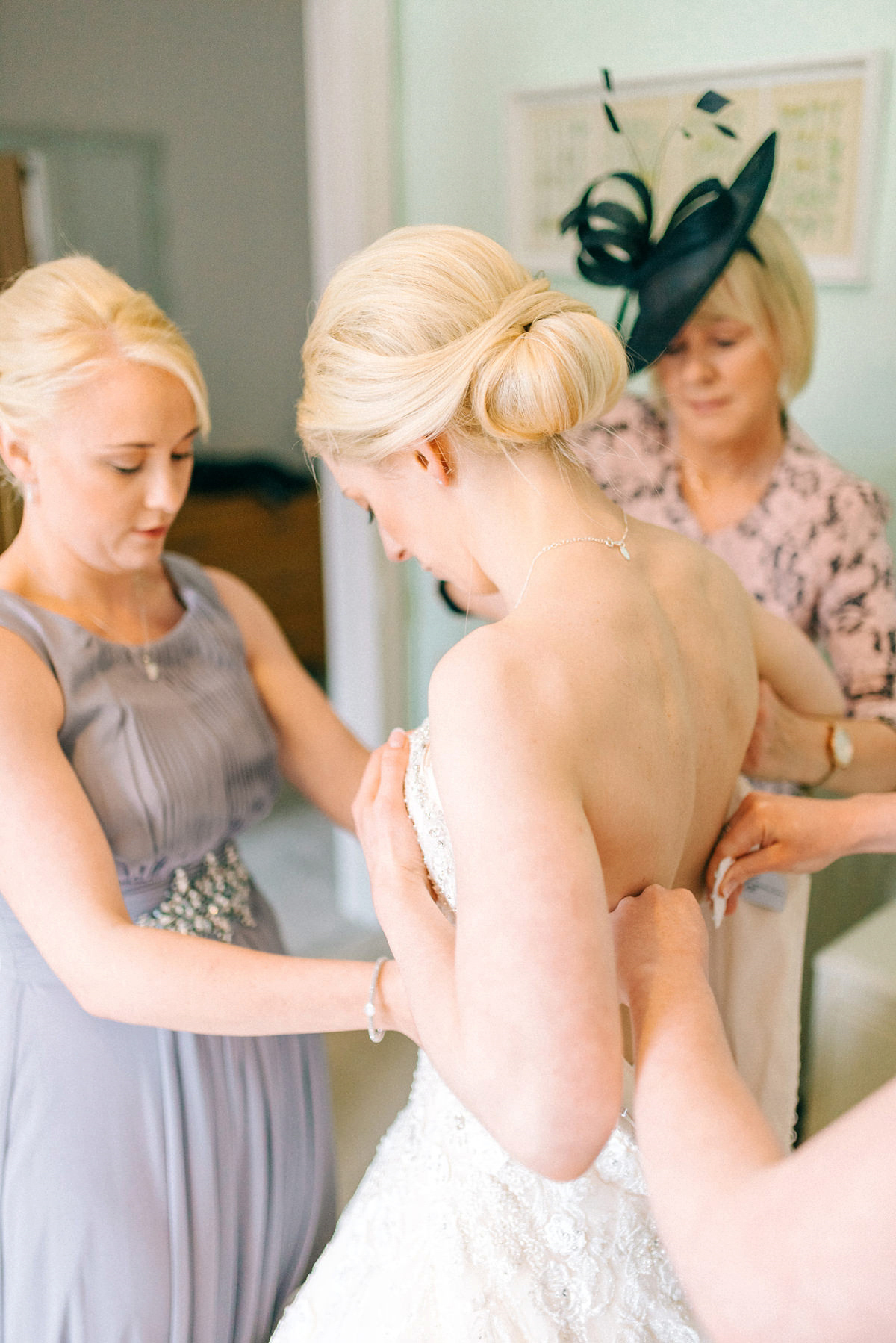 "Kathyrn Trueman and her wonderful team of ladies were all fantastic. I felt no pressure at all to buy a dress there and tried on my dress three times before I committed. I was able to try the dress on numerous times to check that my accessories suited and they weren't phased at all when I rang up to ask what their flood defences were like when I heard that the river at Morpeth was rising and their shop is on a flood plane."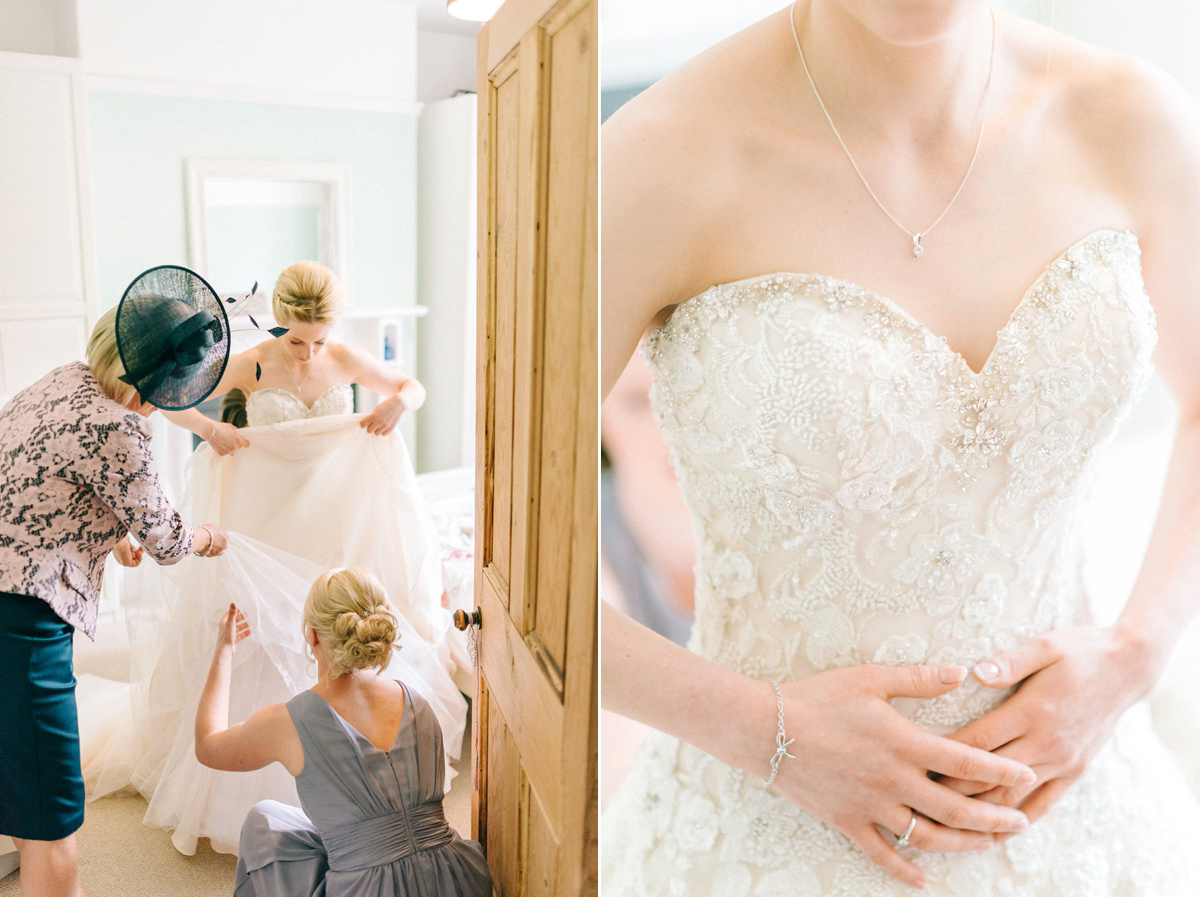 "Turns out, I wasn't the first to ring up and check and they keep all the dresses upstairs!"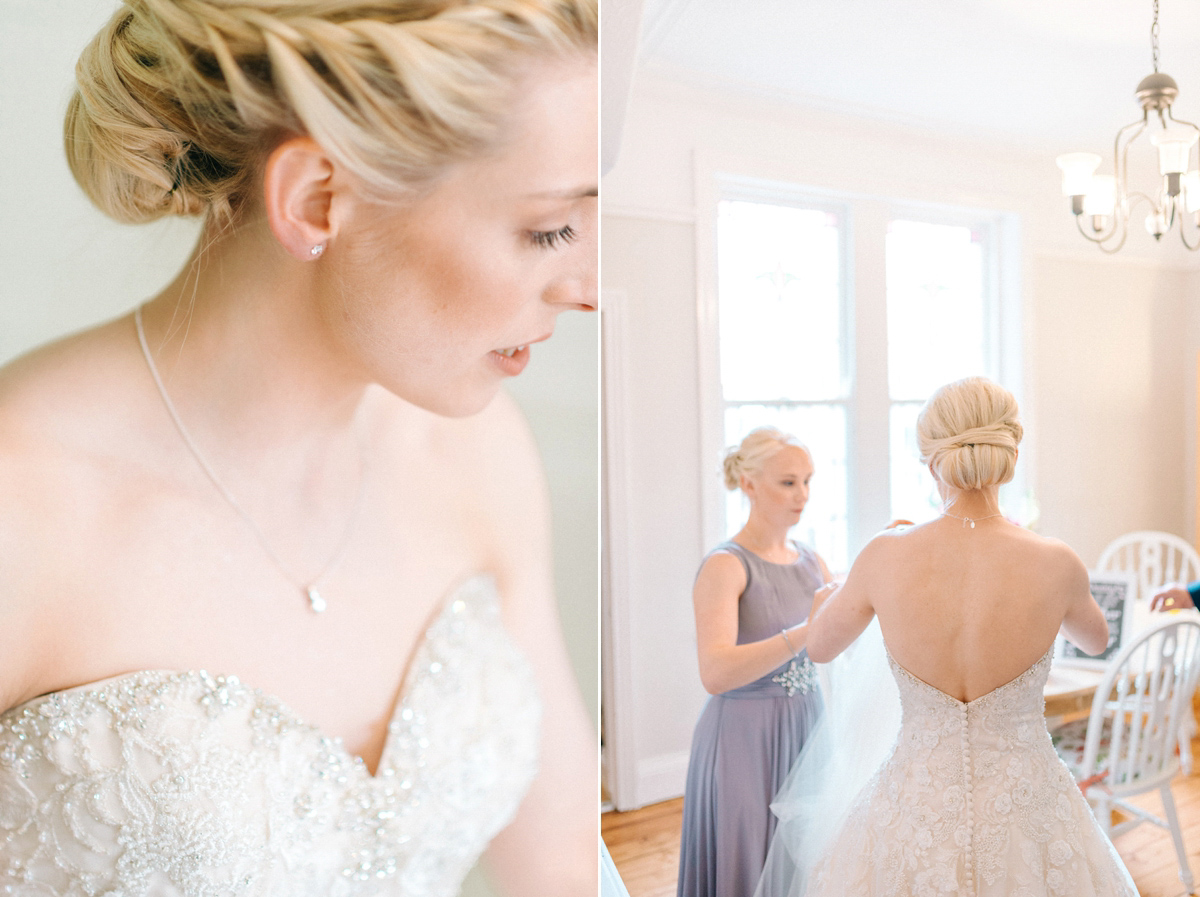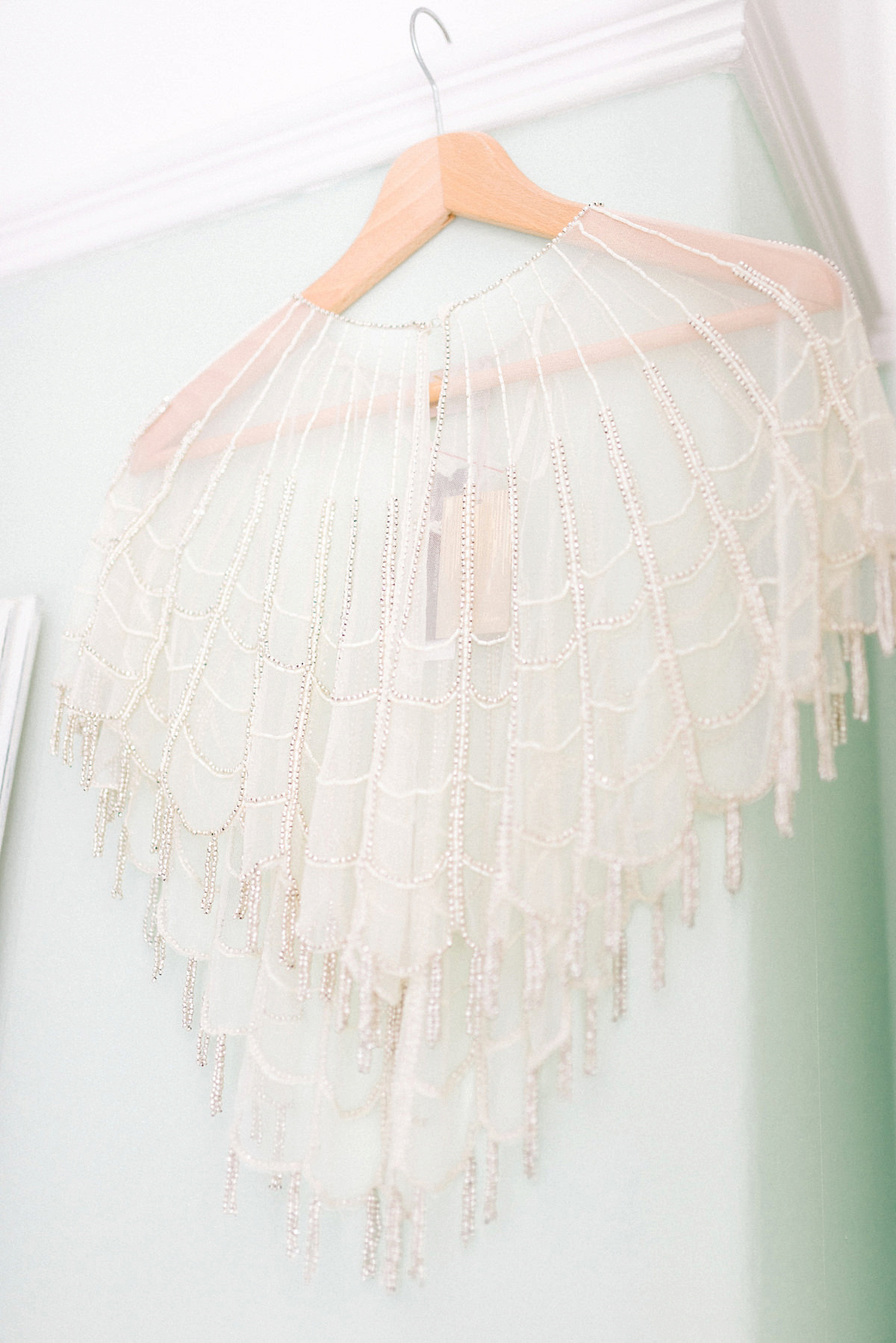 "I wore Chloe 'Love Story' – I found this perfume when my mum and I were shopping for a mother of the bride outfit and it was lovely with a rather appropriate name."
"I also wore a bracelet given to me by Dan on the morning of the wedding from Hot Diamonds and I borrowed a necklace from one of my best friends (and bridesmaid), Claire."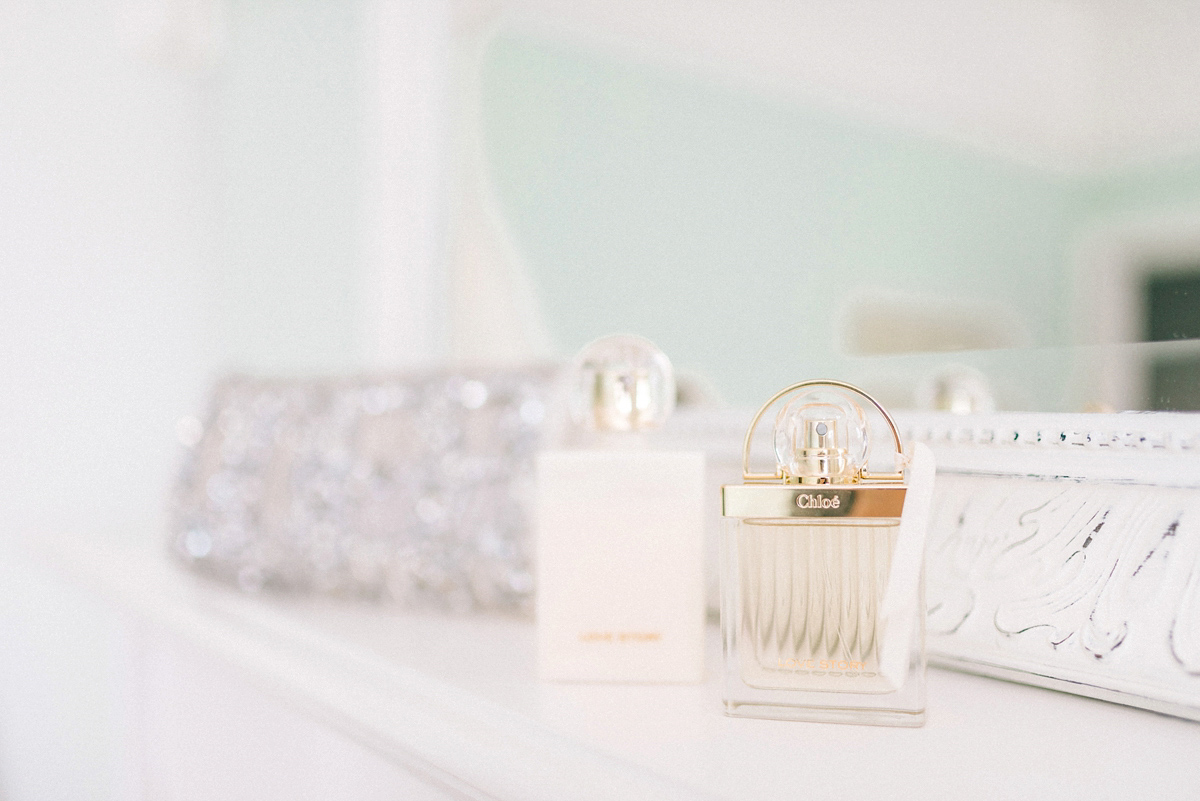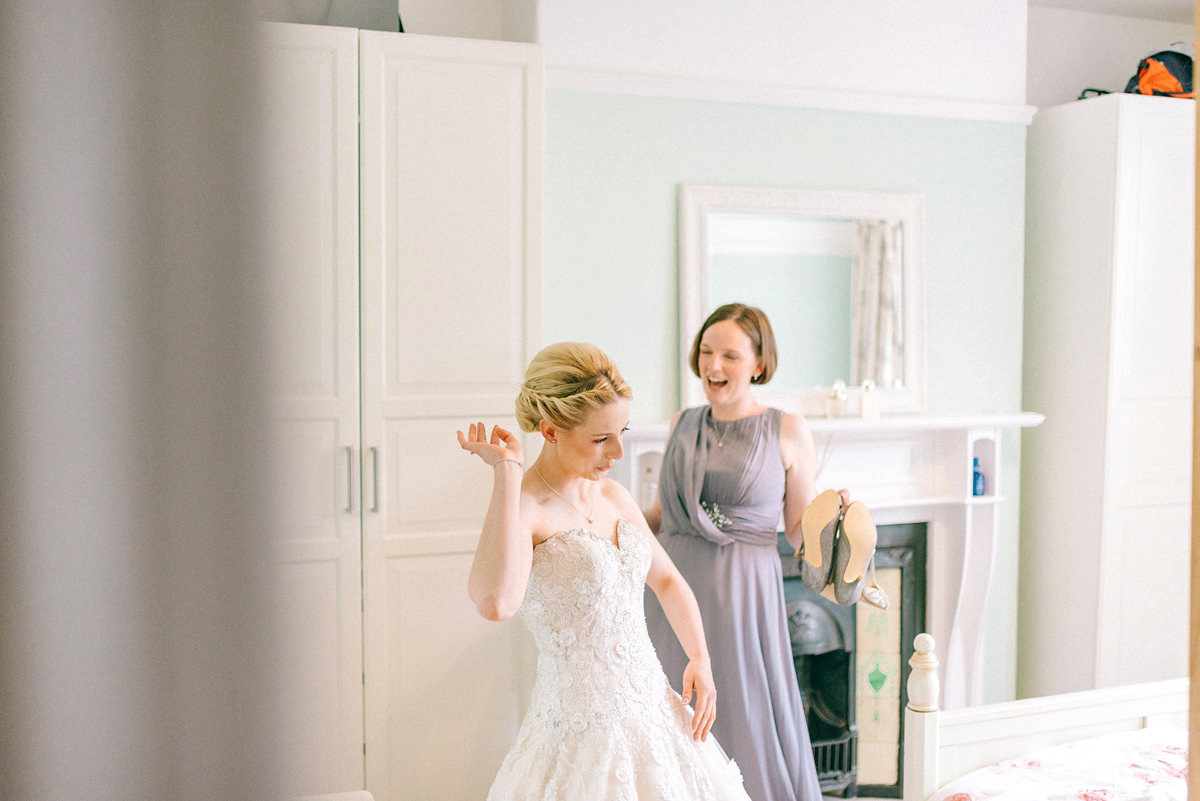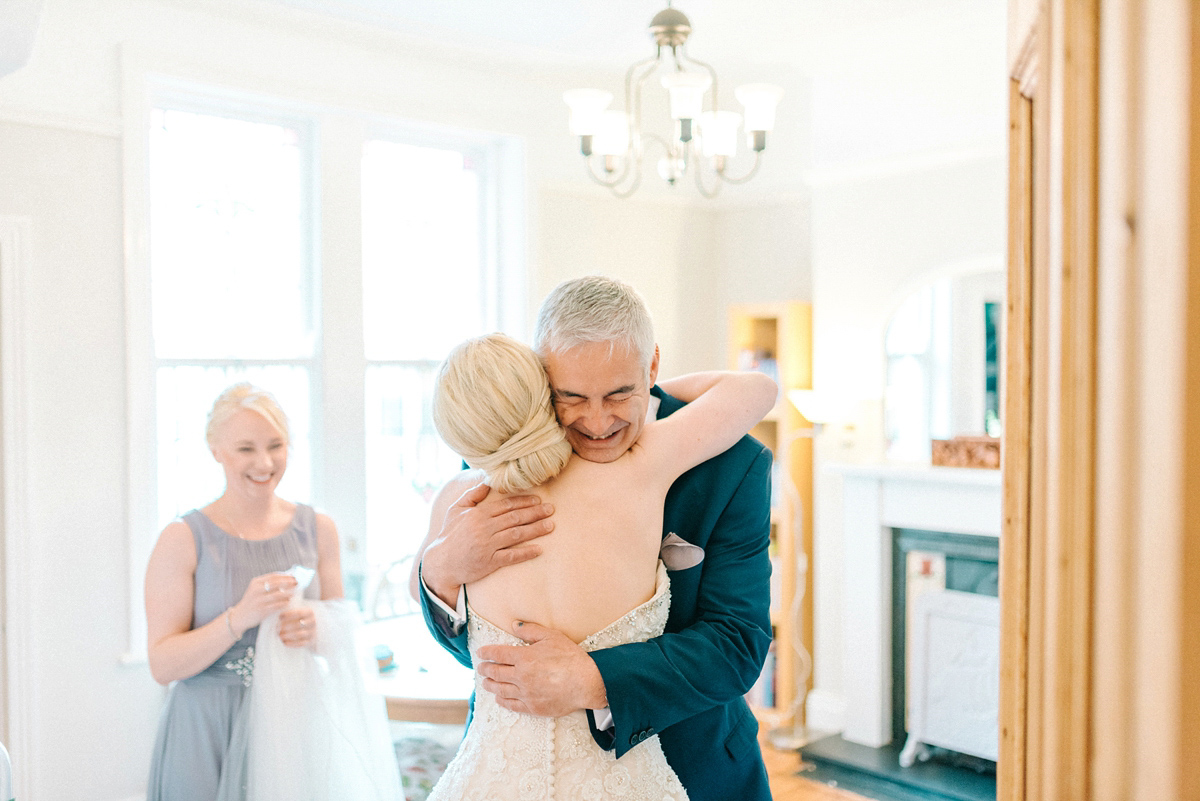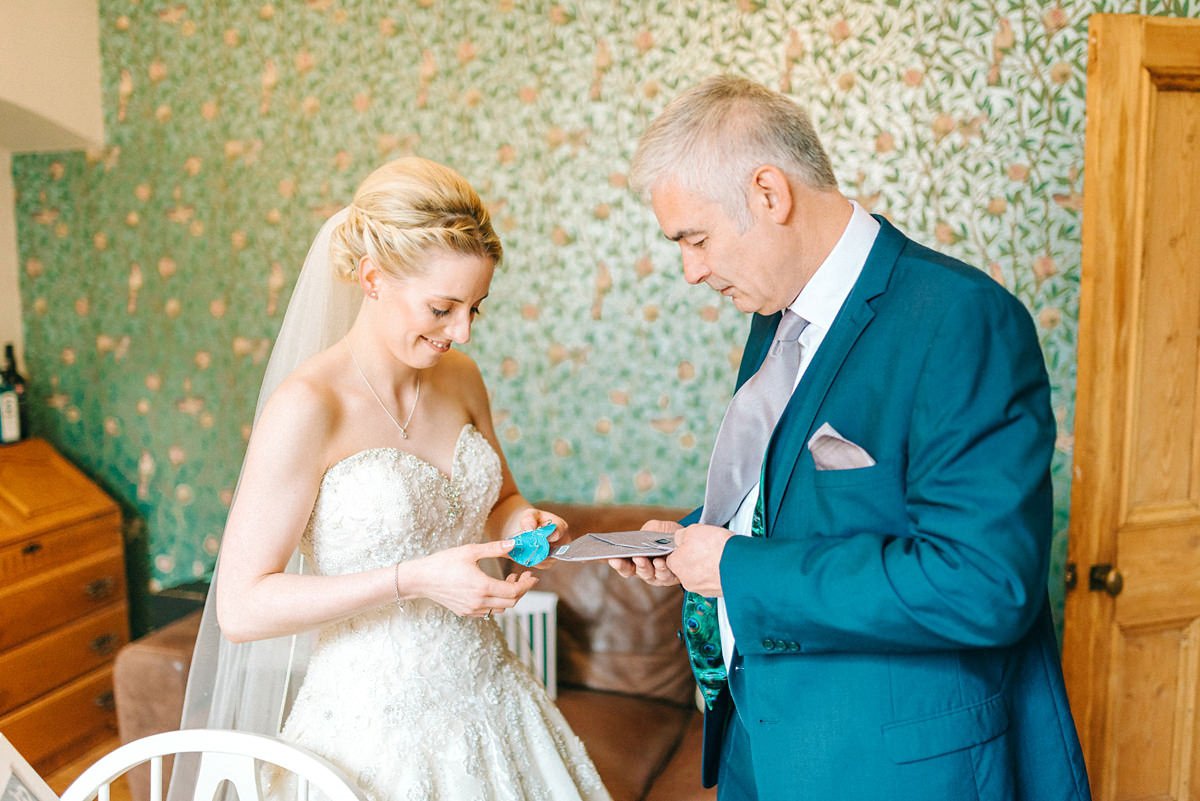 Lottie also purchased a delicate veil from from Kathyrn Truman and opted for Roland Cartier heels as well as comfy Converse. The light-champagne hue of that stunning ballgown just sets off our bride's flaxen locks so beautifully and her soft, natural make-up by Gabriella Dorward of Champagne Makeovers is simply flawless.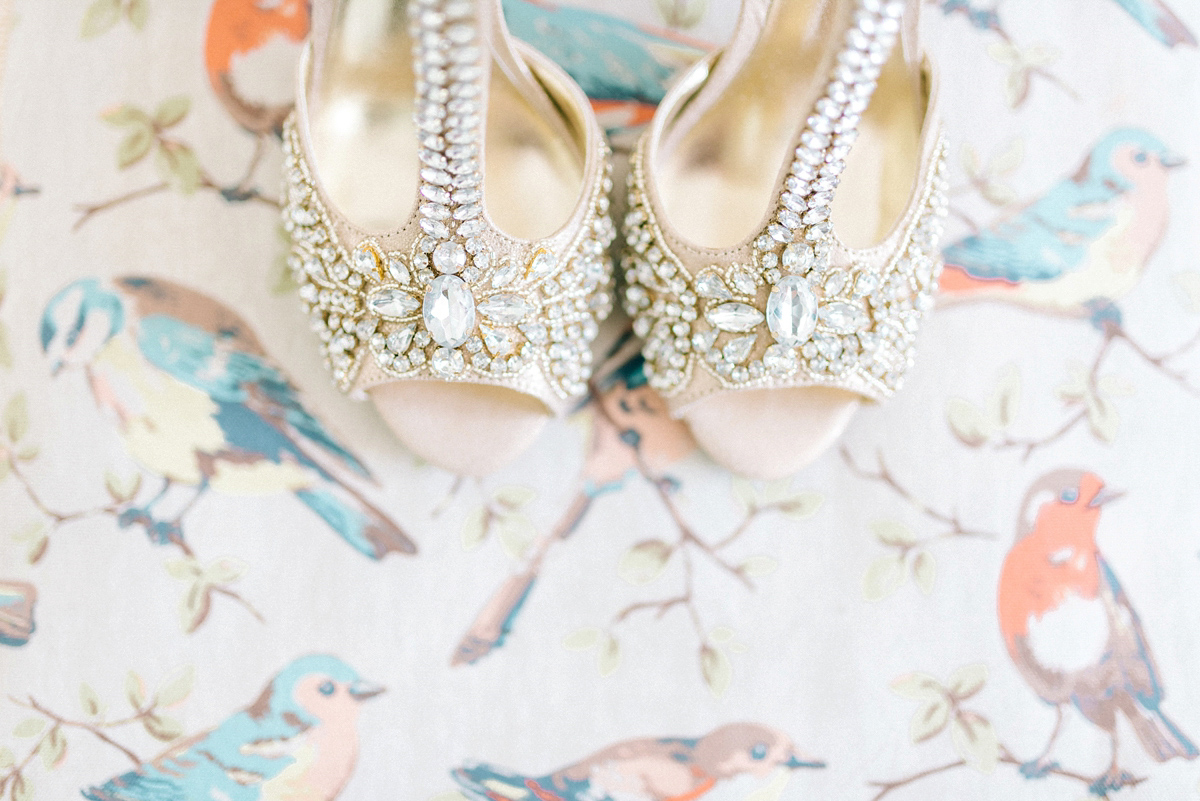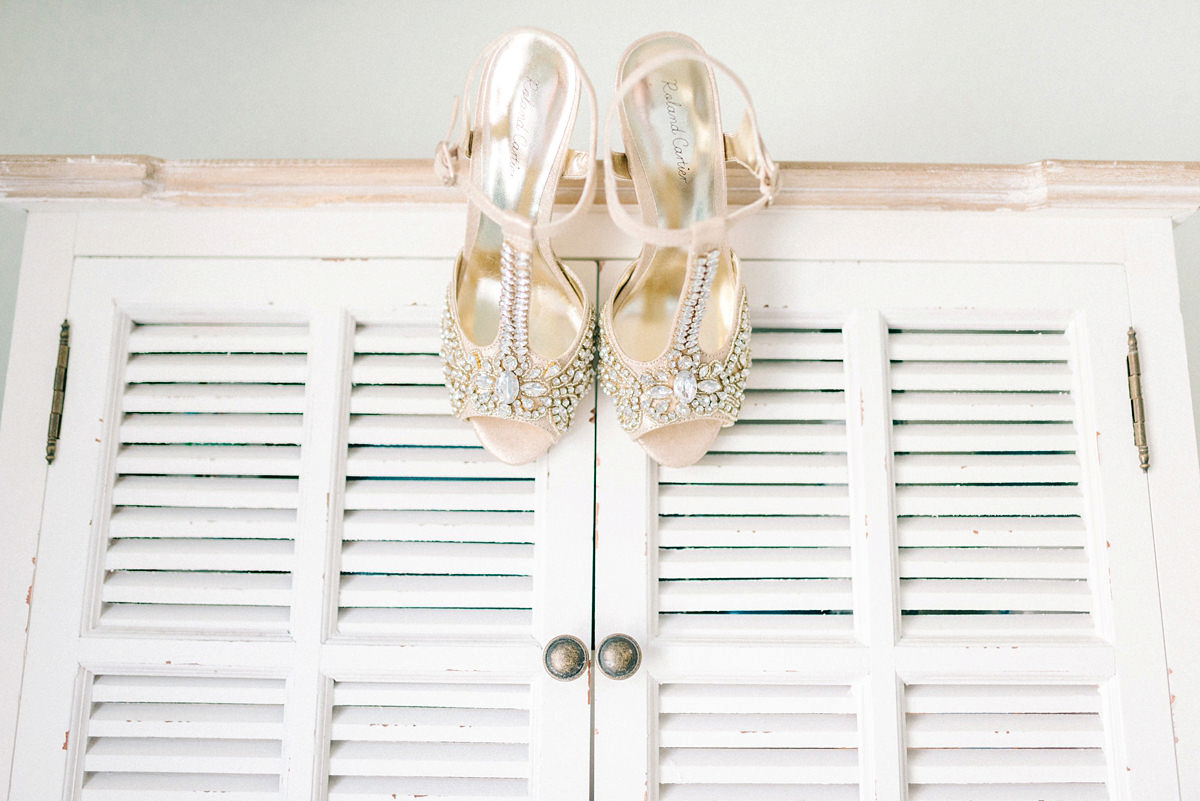 "Jules Fleur Floral Designs was recommended to me by a friend who was also planning on getting married, the year before us. As I attended her wedding, I had the chance to see her work first-hand and it was stunning. Jules also has a fabulous stall at our local market in Tynemouth, where I frequently go and she creates the most wonderful arrangements, using such high quality flowers.
She doesn't just go for the same old colour and flower combinations and her passion for flowers is contagious. Jules created mine and my bridesmaids' bouquets, the centre piece flowers, the buttonholes and even supplied the church flower ladies with flowers and helped guide them with the church floral arrangements."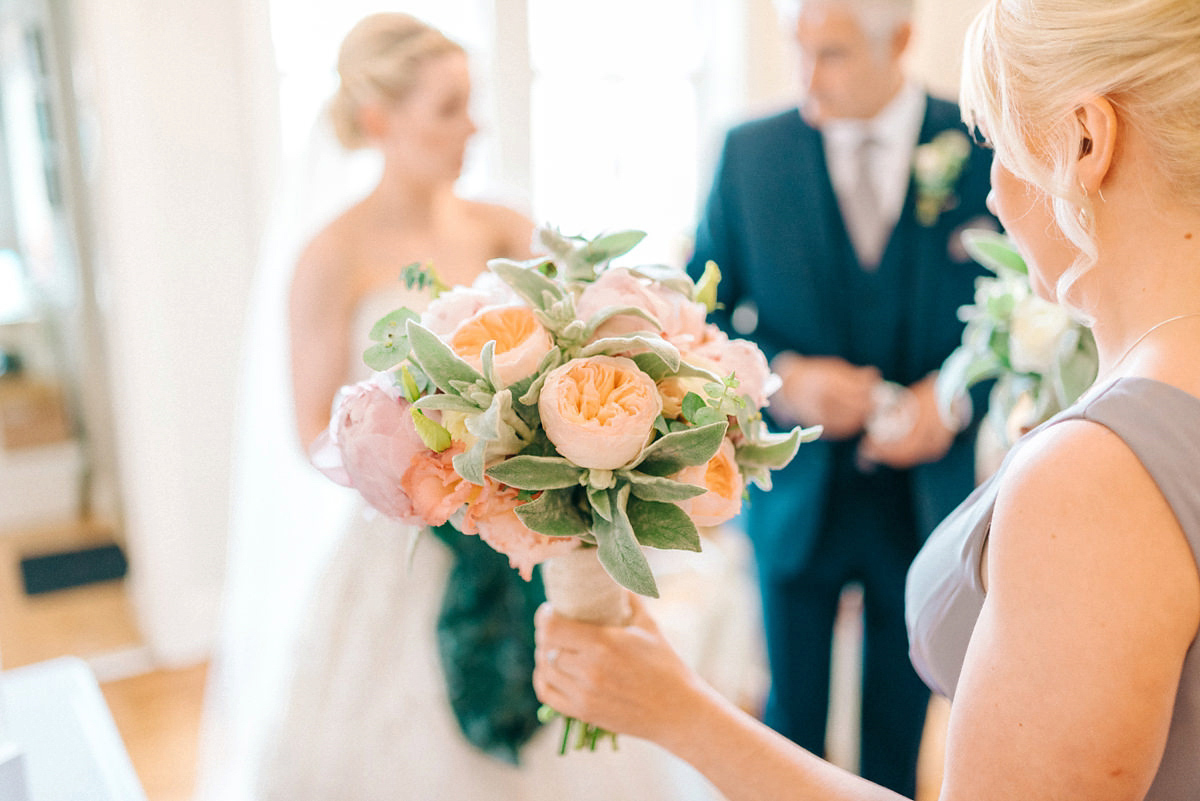 Lottie was whisked off to St Augustin's Church in a beautifully restored VW Campervan supplied by Brooklands Wedding Cars. Driver Dave, a true gent, took the utmost care of our lovely bride and her papa.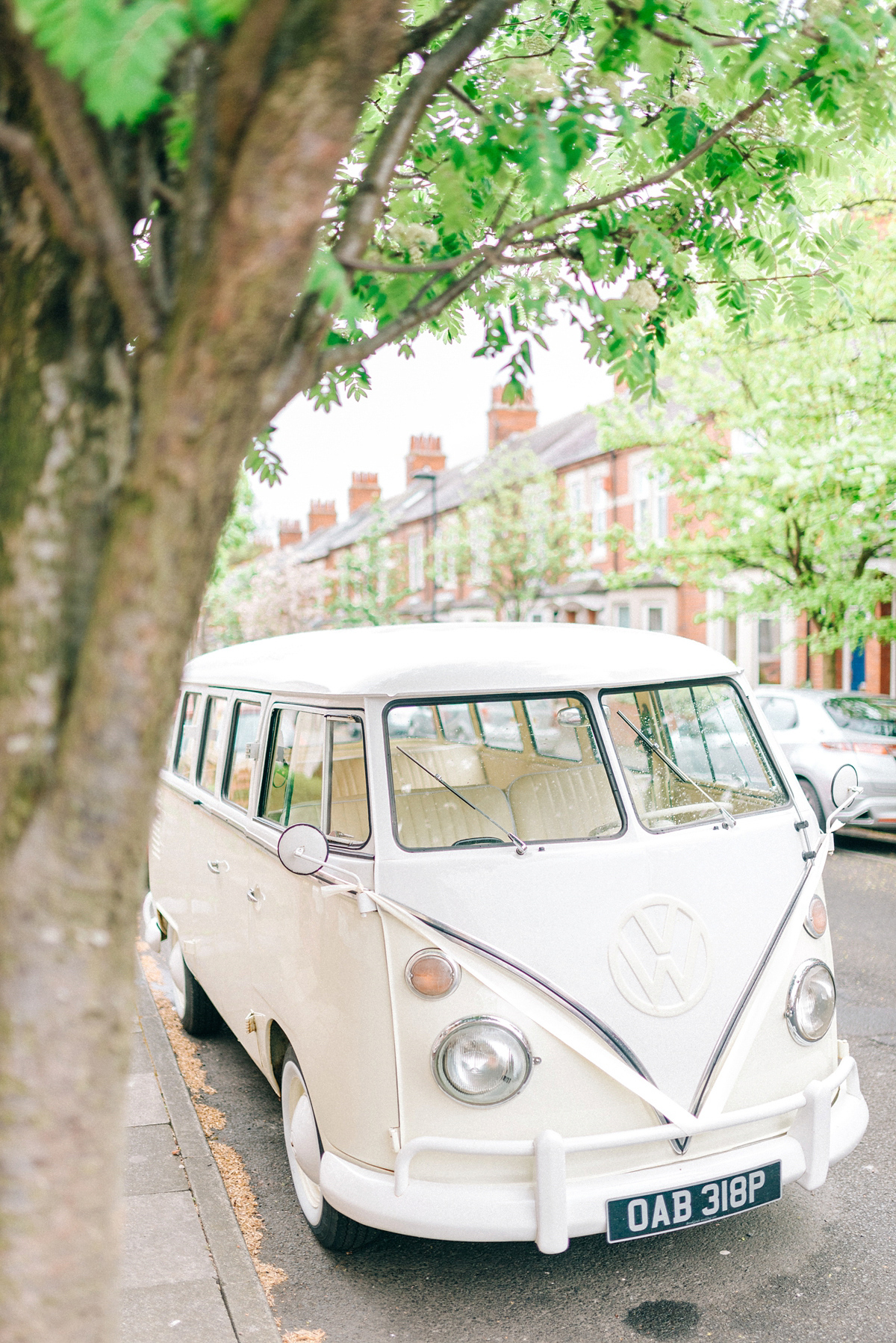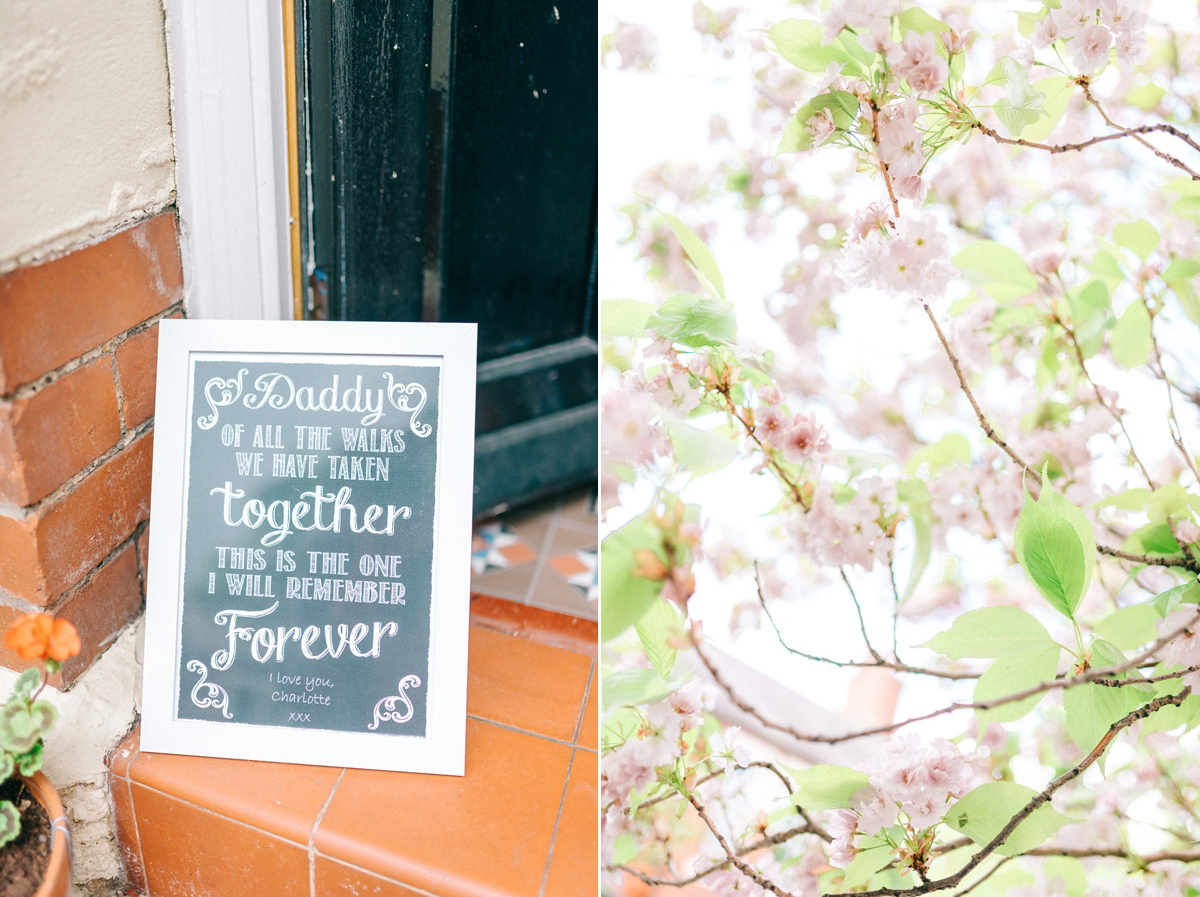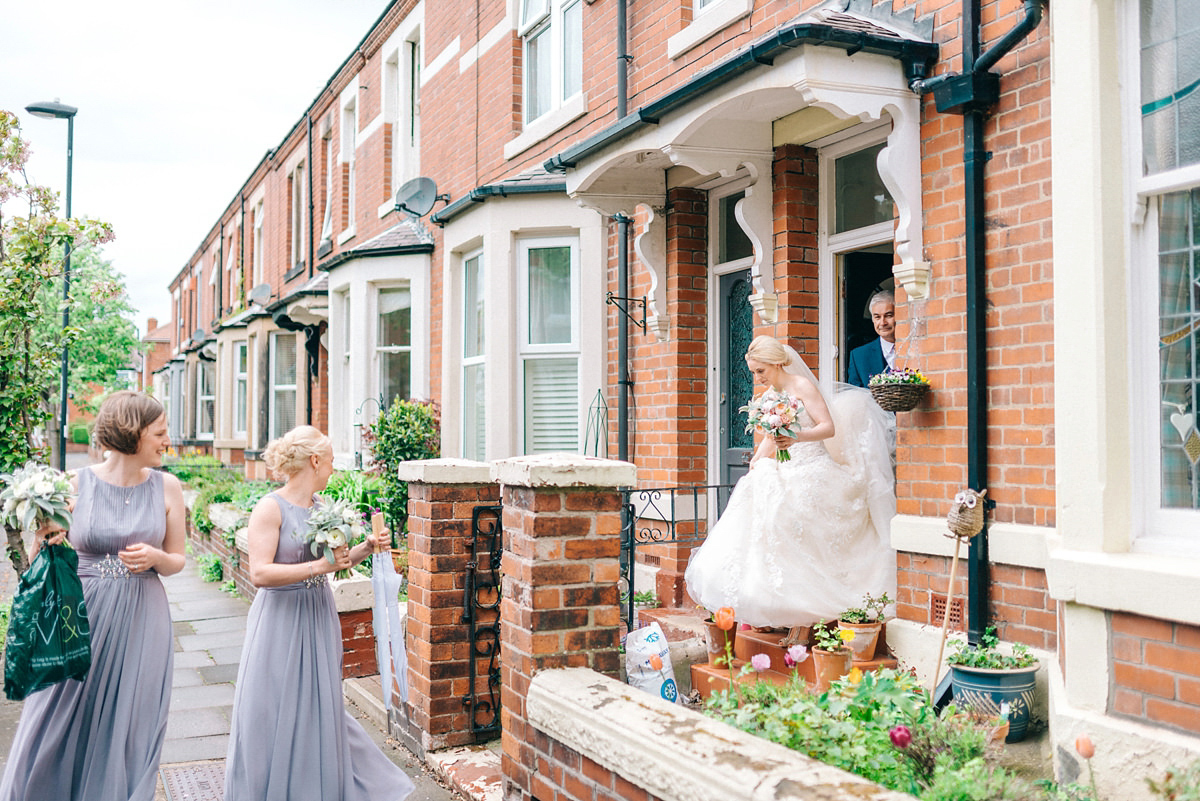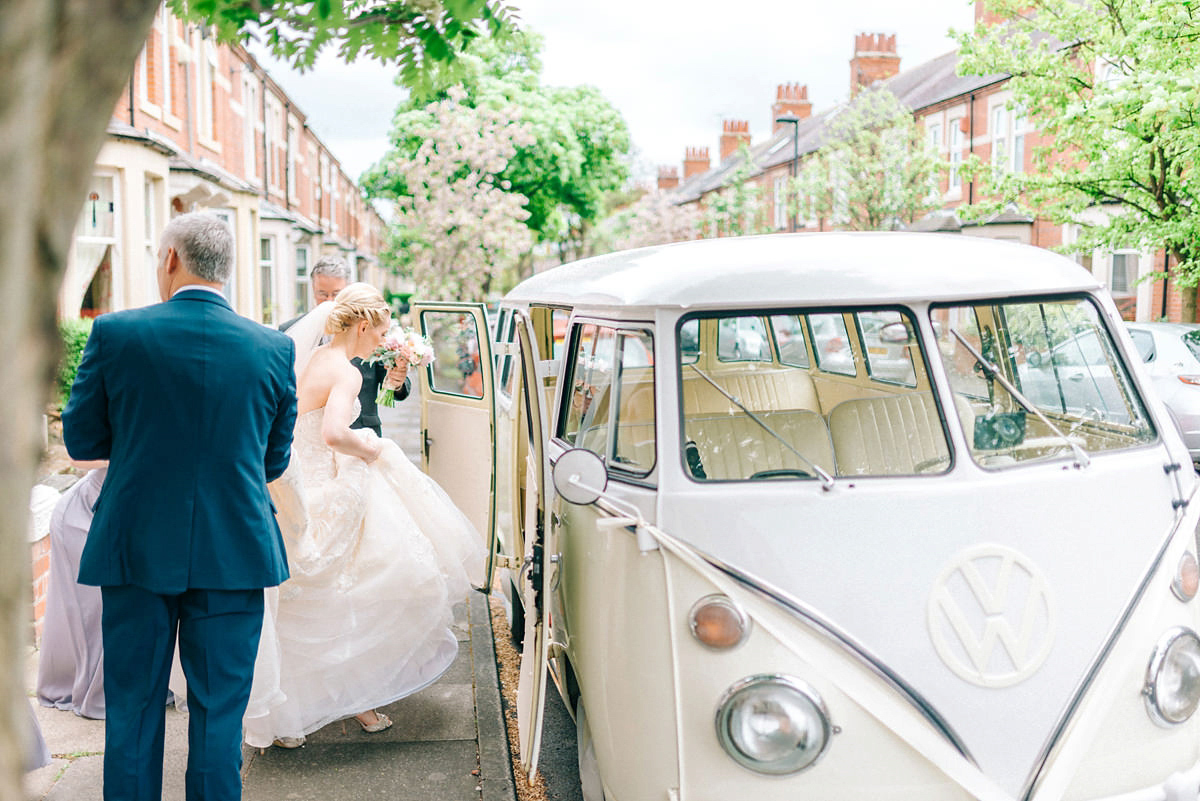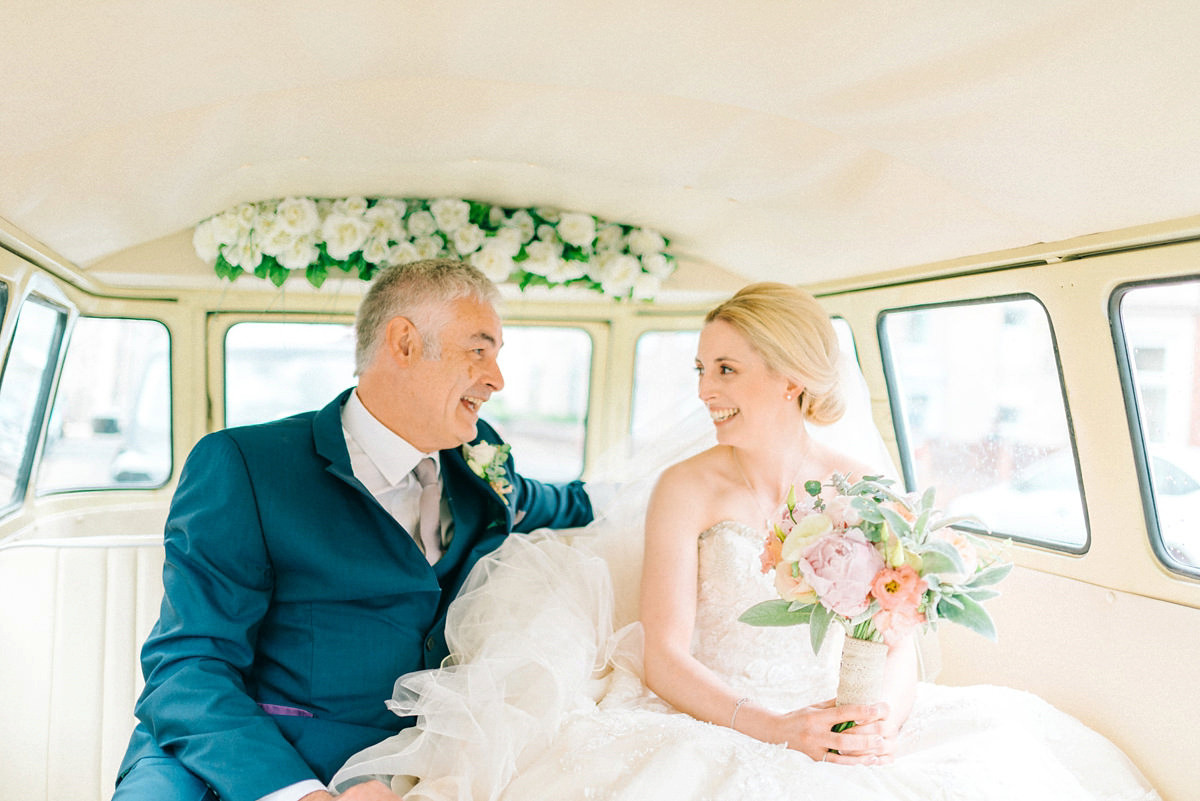 Dan chose the 'Lounge  Lizard' suit by Ted Baker, hired for him and all his best guys from Moss Bros. Dan paired his smart ensemble with shoes from Marks & Spencer.
"Dan's only request was that he choose his suit for the wedding and he did just that within about five minutes of walking in to the shop. The suit was really well fitted and actually despite being a slim-fit, suited all of builds of the six men in the wedding party very well. Dan his best man and ushers looked so smart on the day."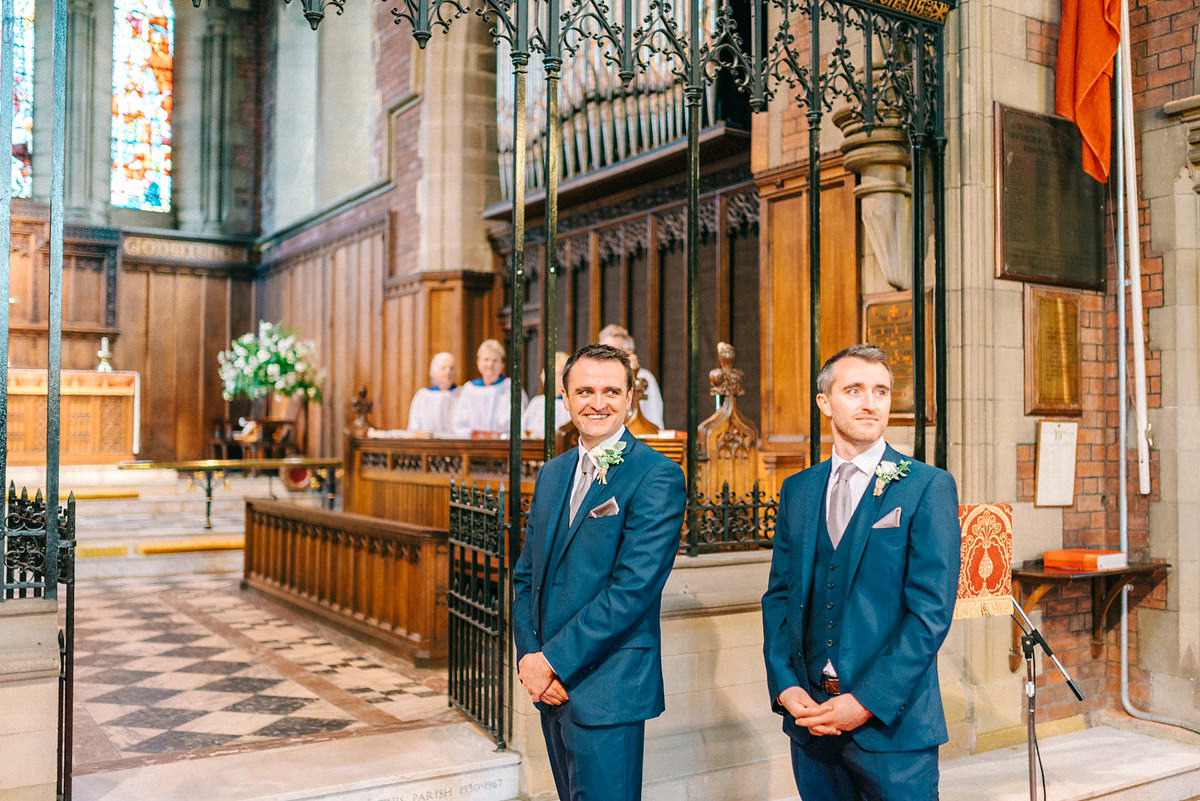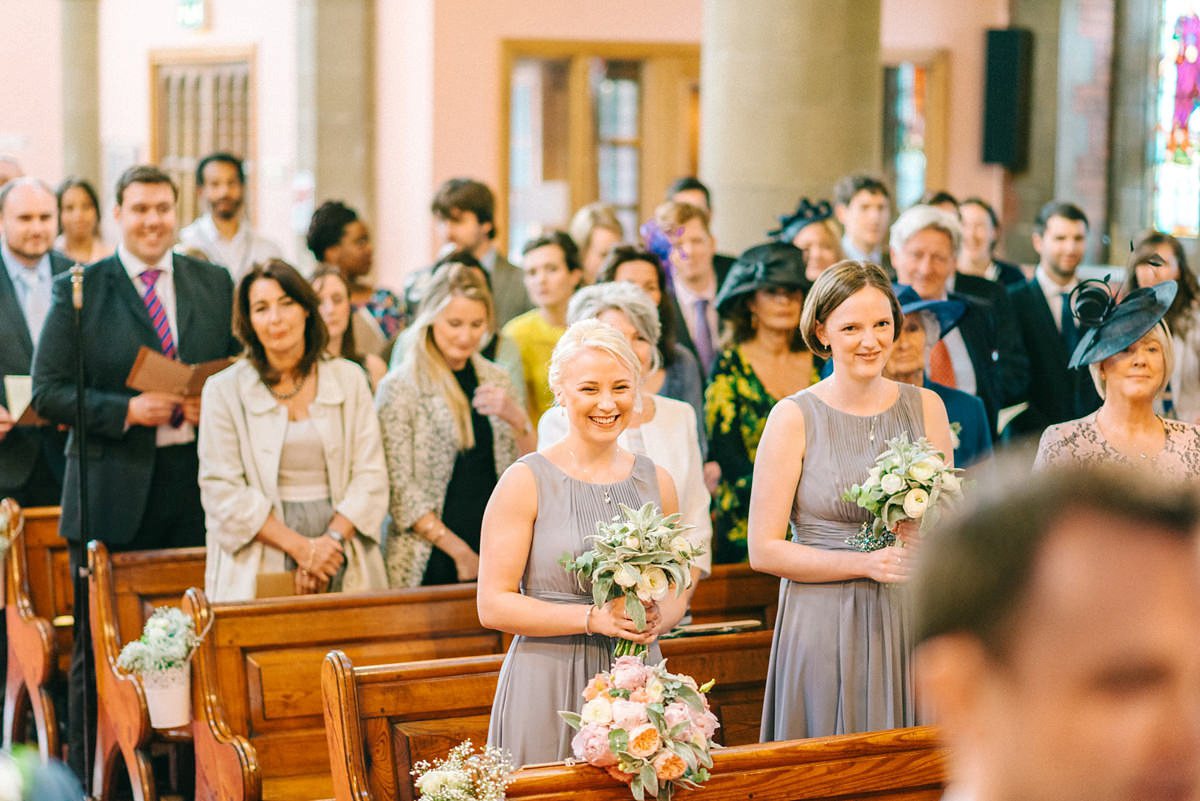 Lottie walked down the aisle on the arm of her father, musically accompanied by the church organist, David, who played Handel's Arrival of the Queen of Sheba.
"Our vows were traditional, as part of a Church of England marriage ceremony and we had two readings, a bible passage: 1 John 4:7-21 and some 'wise words' from Winne the Pooh:"
"If you live to be a hundred, I want to live to be a hundred minus one day so I never have to live without you."
Piglet sidled up to Pooh.
"Pooh?" he whispered.
"Yes, Piglet?"
"Nothing," said Piglet, taking Pooh's hand.
"I just wanted to be sure of you."
"We'll be friends forever, won't we Pooh?" asked Piglet.
"Even longer" Pooh answered.
"If ever there is tomorrow when we're not together… there is something you must always remember. You are braver than you believe, stronger than you seem, and smarter than you think. But the most important thing is, even if we're apart… I'll always be with you."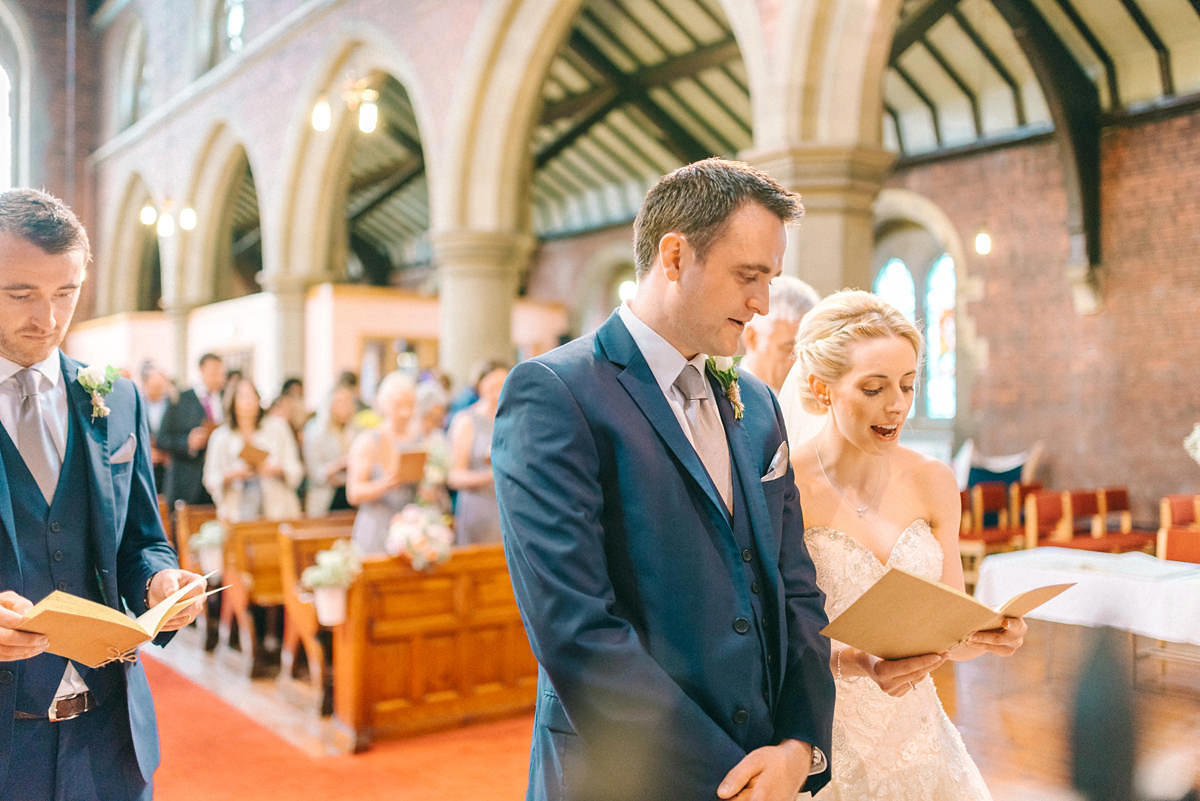 Oh Pooh bear! I love this sweet reading. The newlyweds exchanged rings from Wedding Rings Direct, Lottie's sitting alongside her engagement band from Goldsmiths. They exited the church to the triumphant sounds of All You Need Is Love by The Beatles, played on the church organ and paying a little homage to the film Love Actually; one of Lottie's favourites.
"Wedding Rings Direct are a very professional company. We chose them because they were good value and gave us the option to have samples sent to our home to try different sizes and styles of bands, which was incredibly helpful in the decision-making process."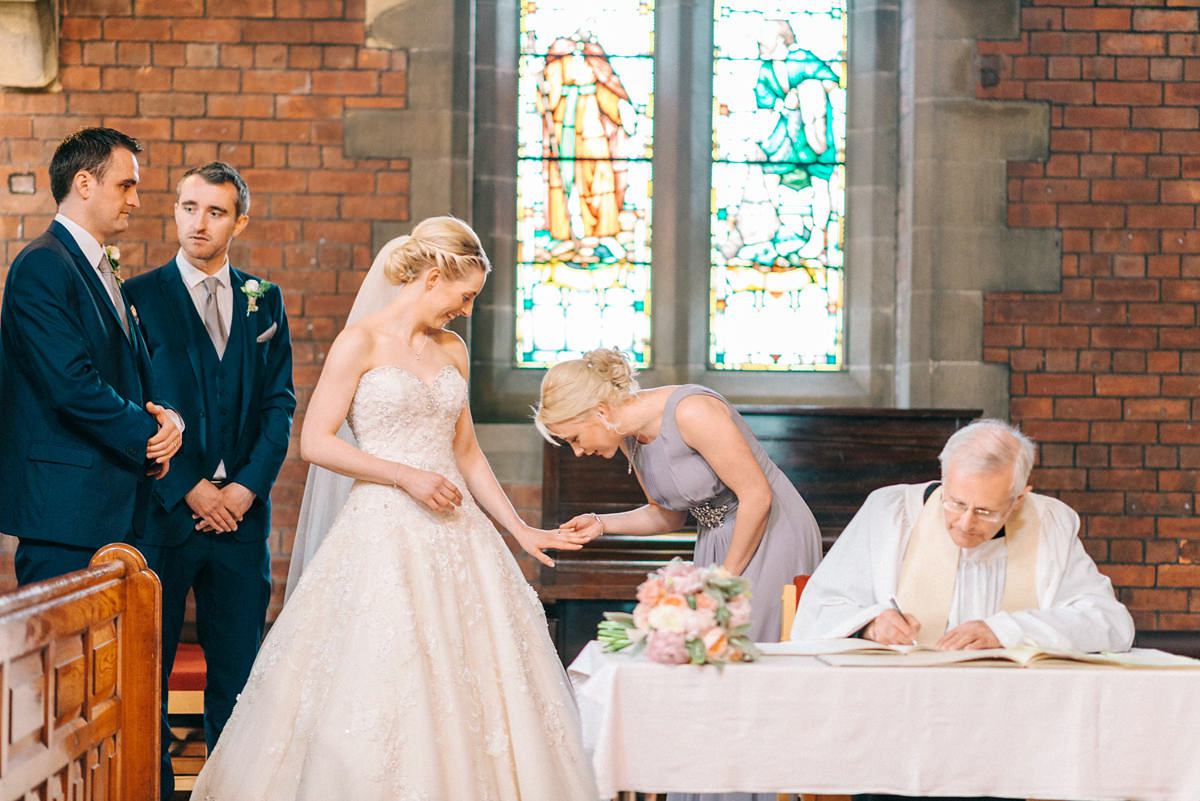 "My favourite moment was walking down the aisle feeling so terribly nervous, almost crying every time I looked up and saw my friends and relatives, and then seeing Dan and he mouthed 'you look beautiful' and then everything suddenly felt better."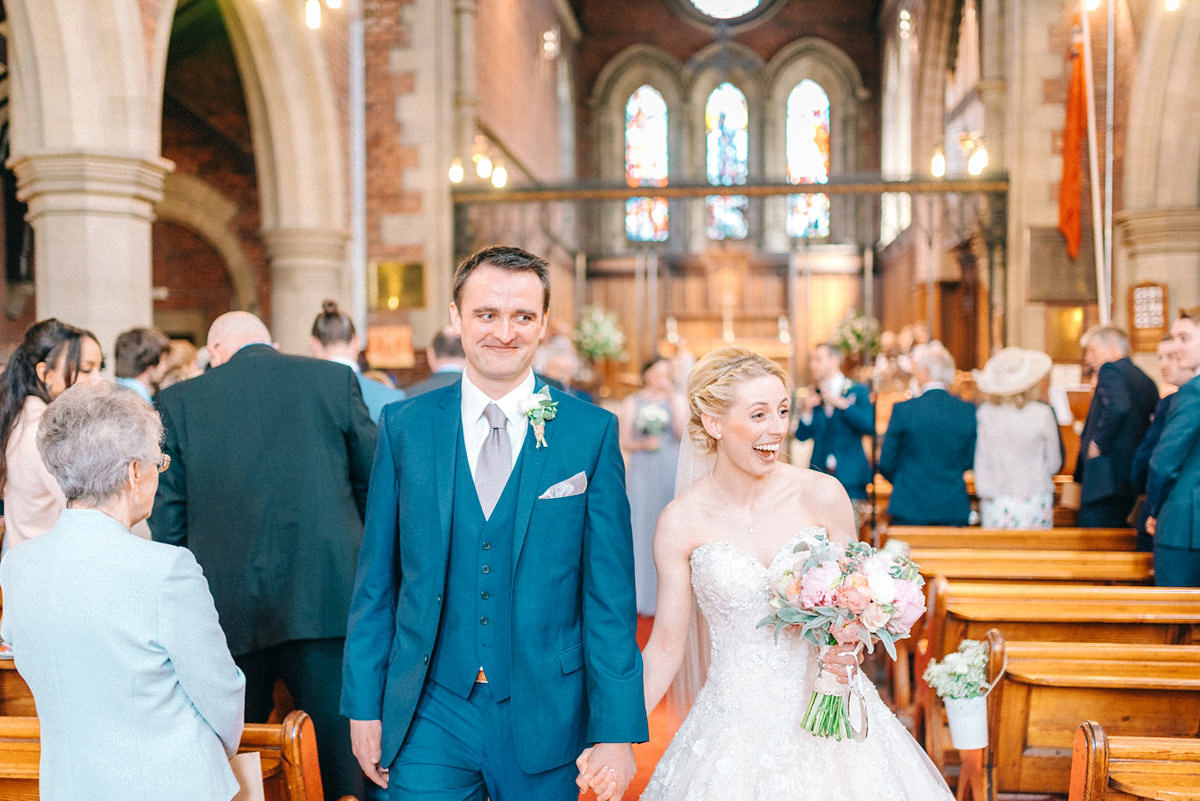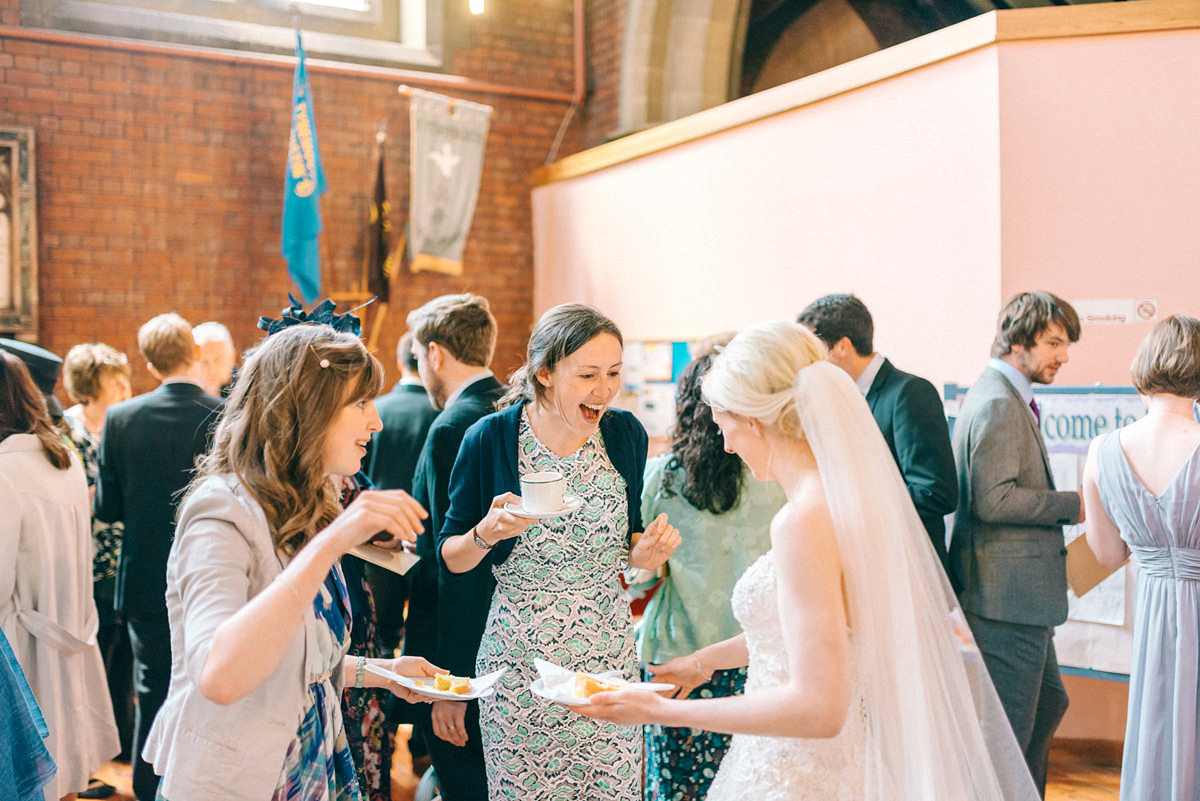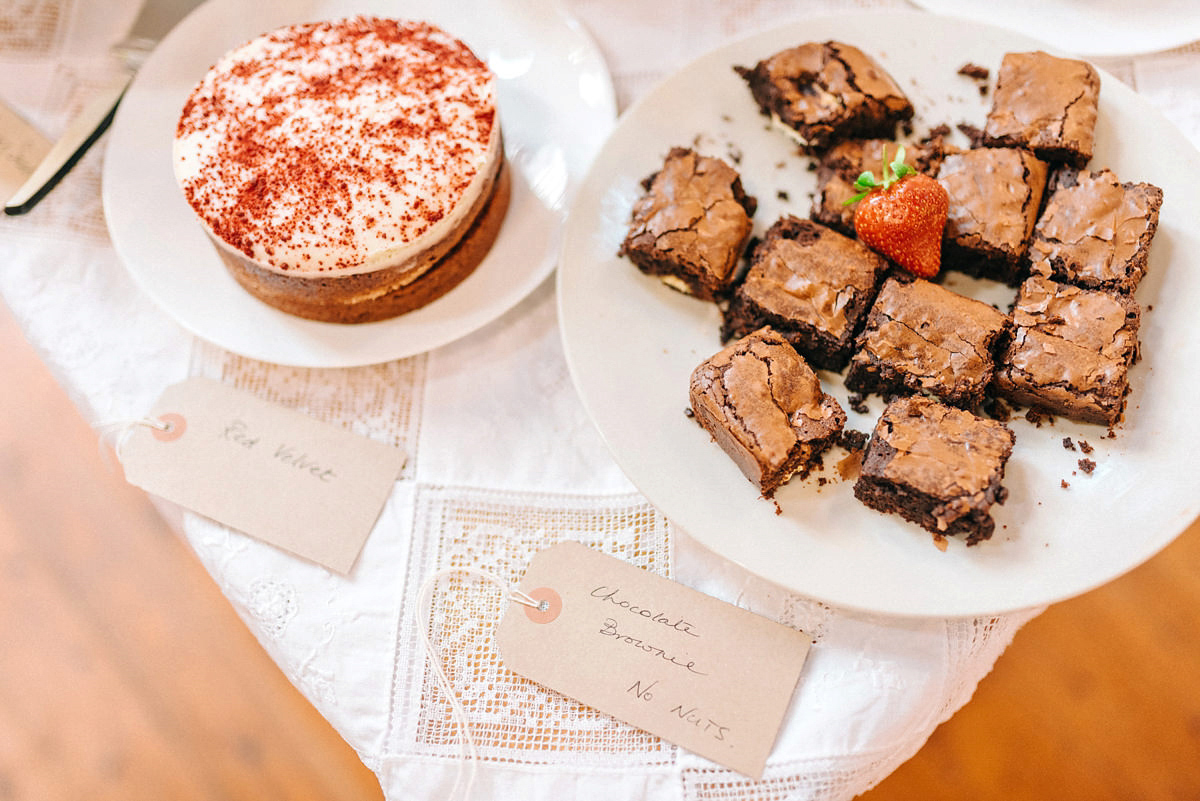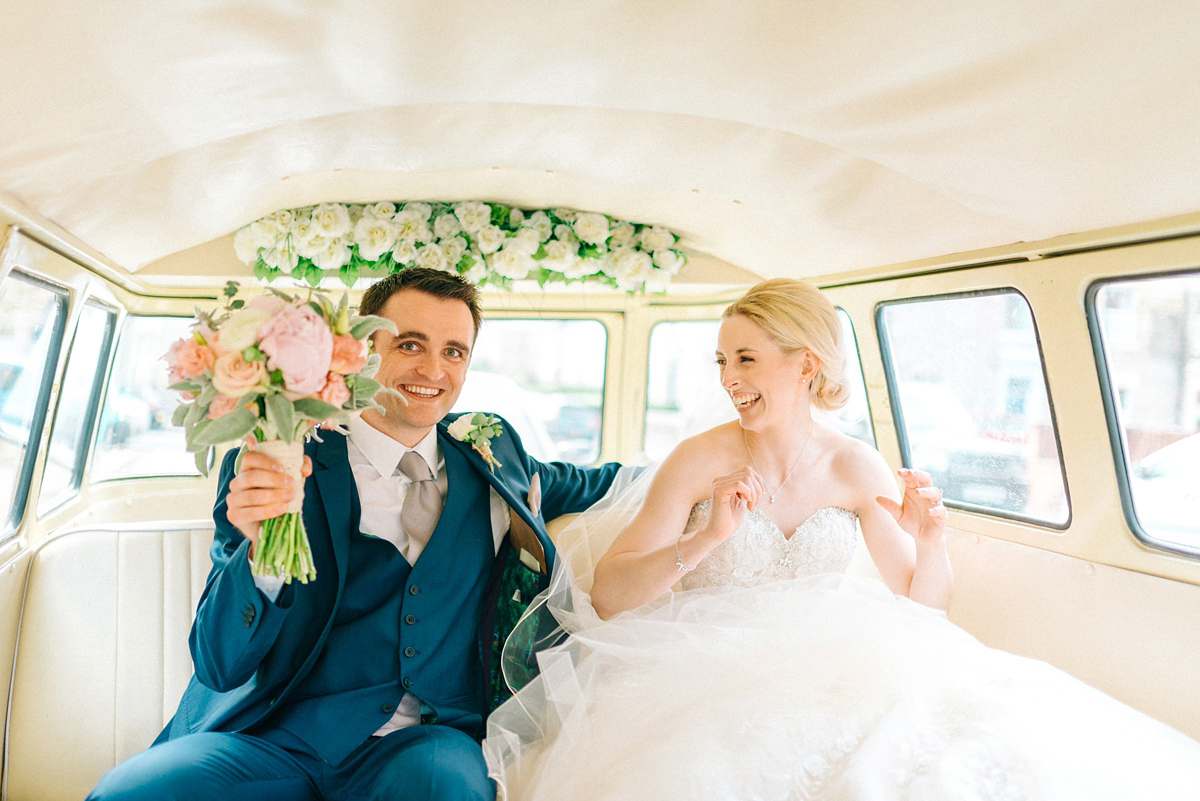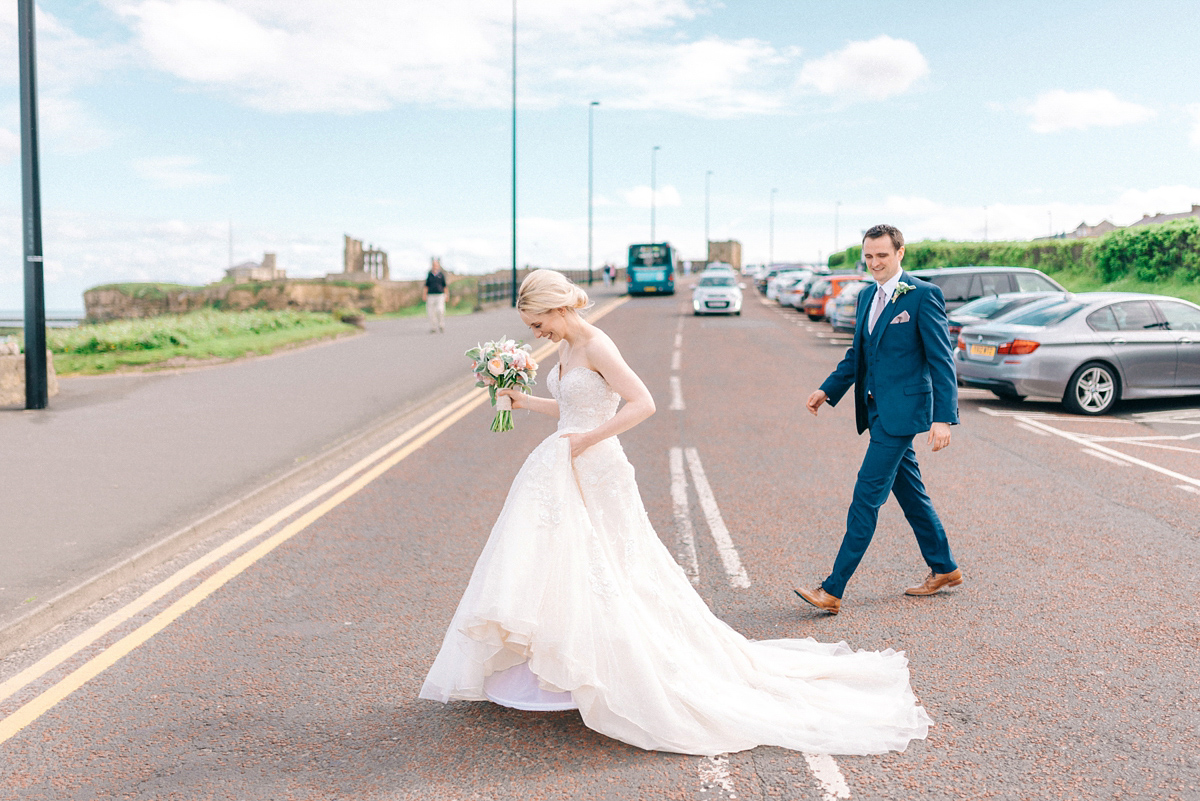 I love the idea of slipping away with your new husband for a little while before the celebrations start – a few quiet minutes to revel in the absolute joy of being married. Lottie, Dan and their photographer, Sarah-Jane Ethan, travelled down to the beach to capture some of this just married joy and I just love the sweet romance of these stills.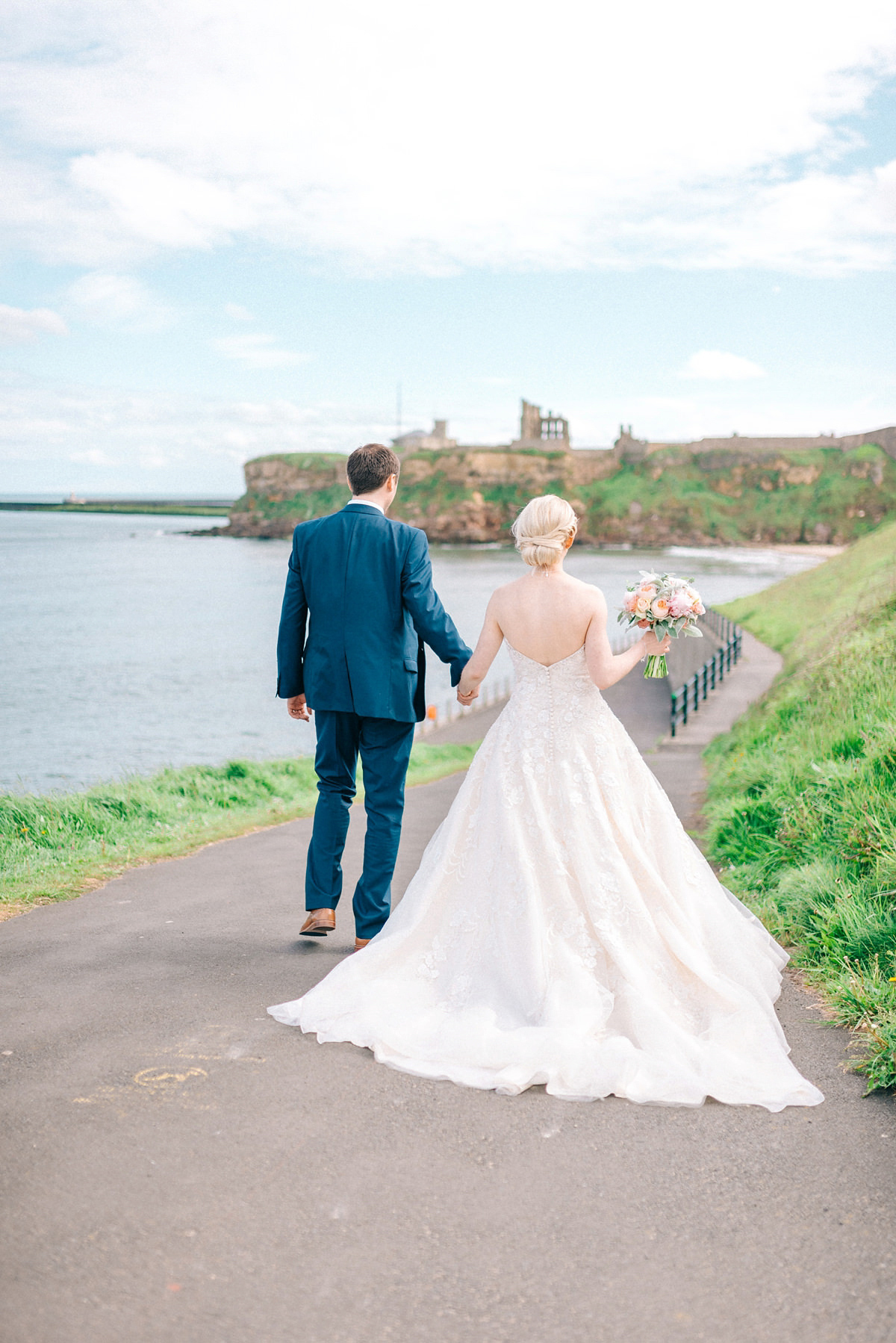 "Spending time with just Dan, having photos on our local beach together and up to Alnwick Treehouse (a 45-minute journey) was wonderful. We got to talk about everything that happened so far and our feelings before the ceremony and talked about how excited we were for the rest of the day's events to unfold."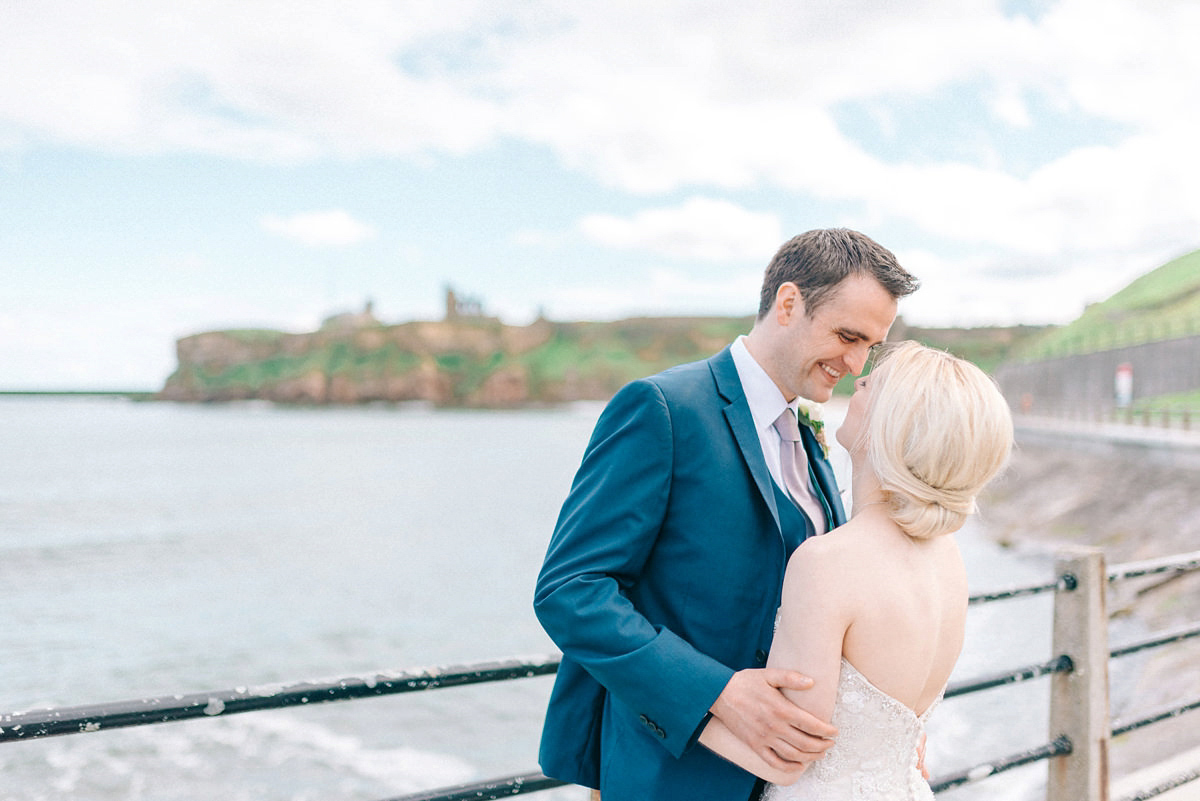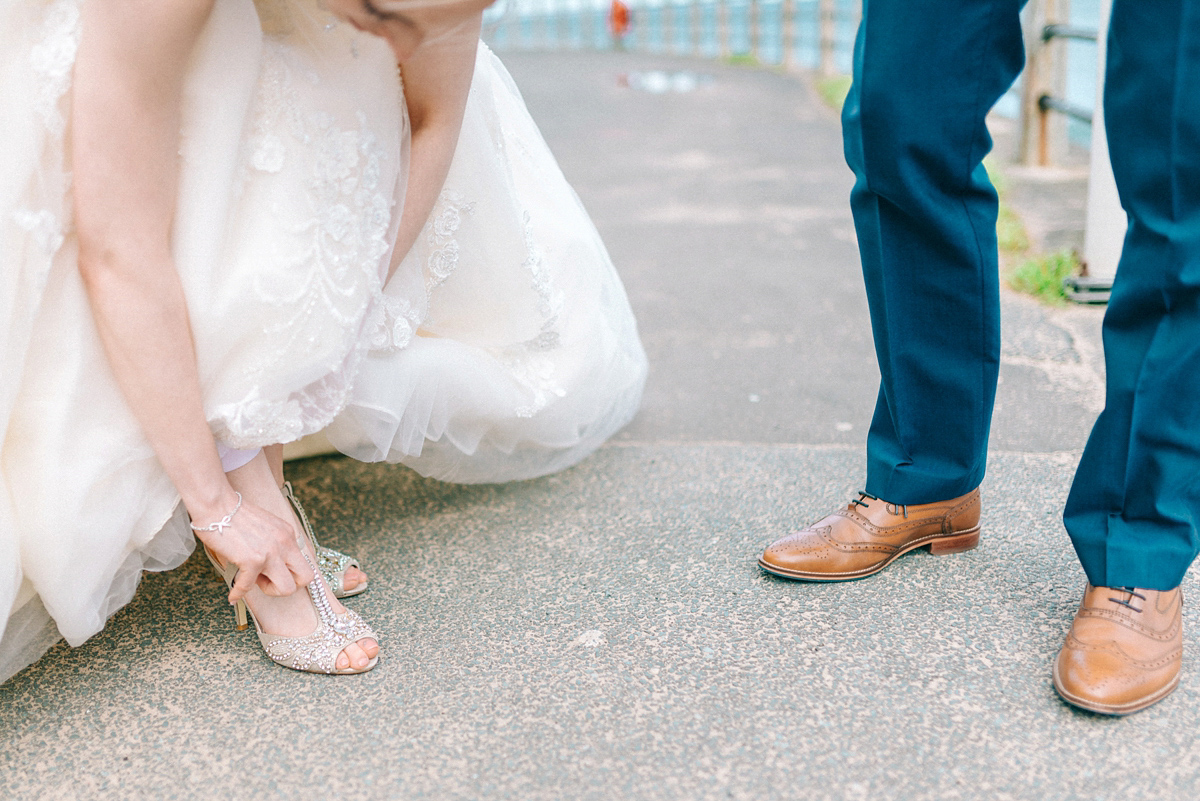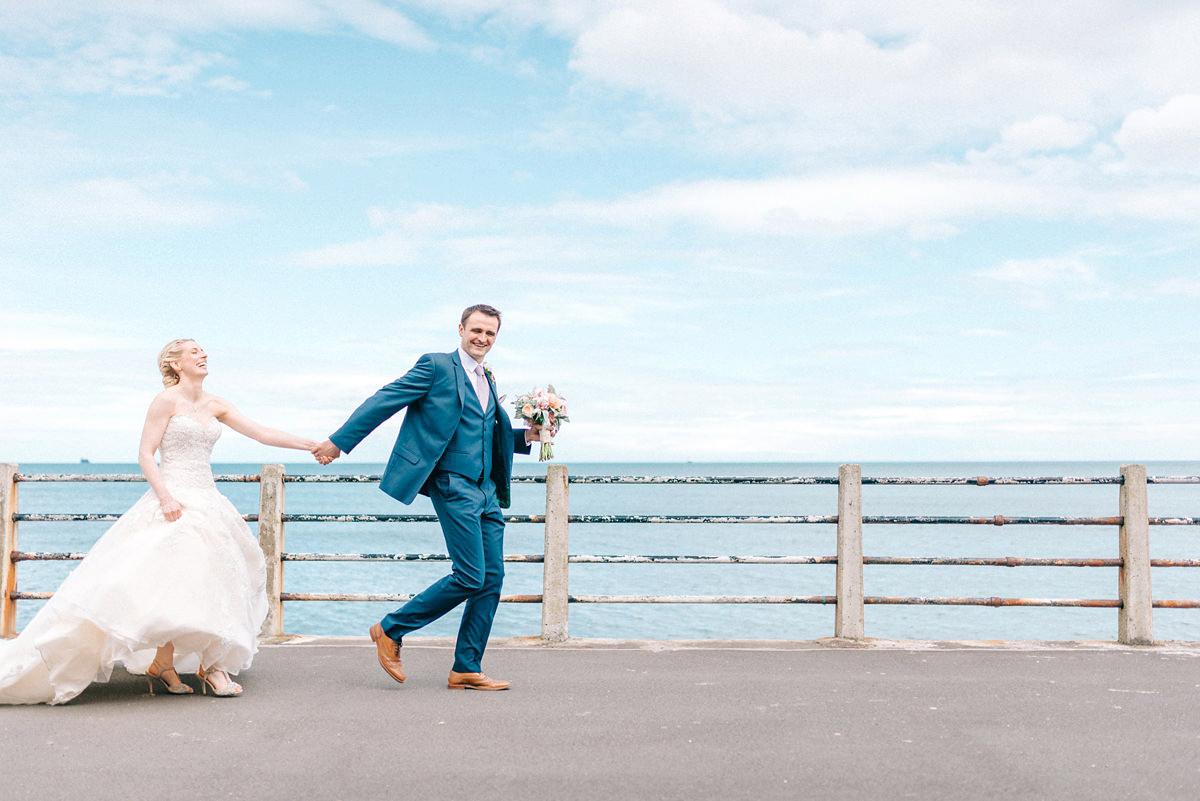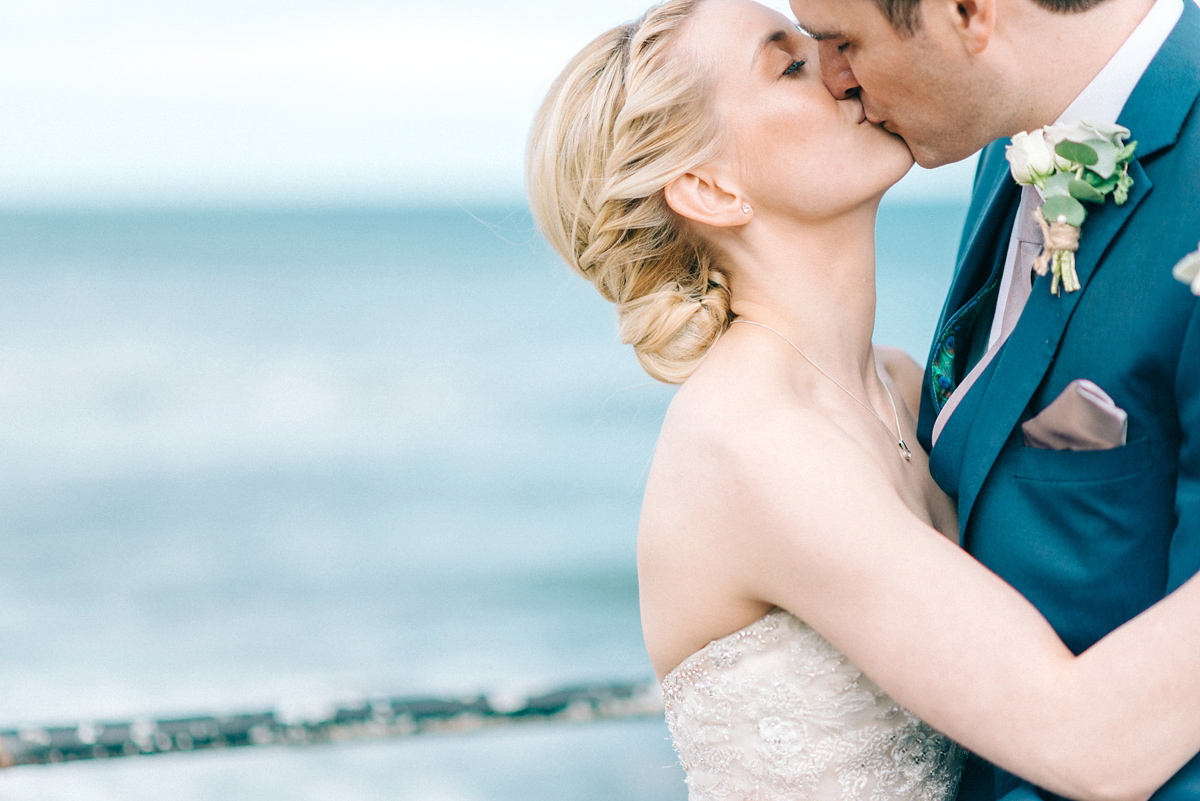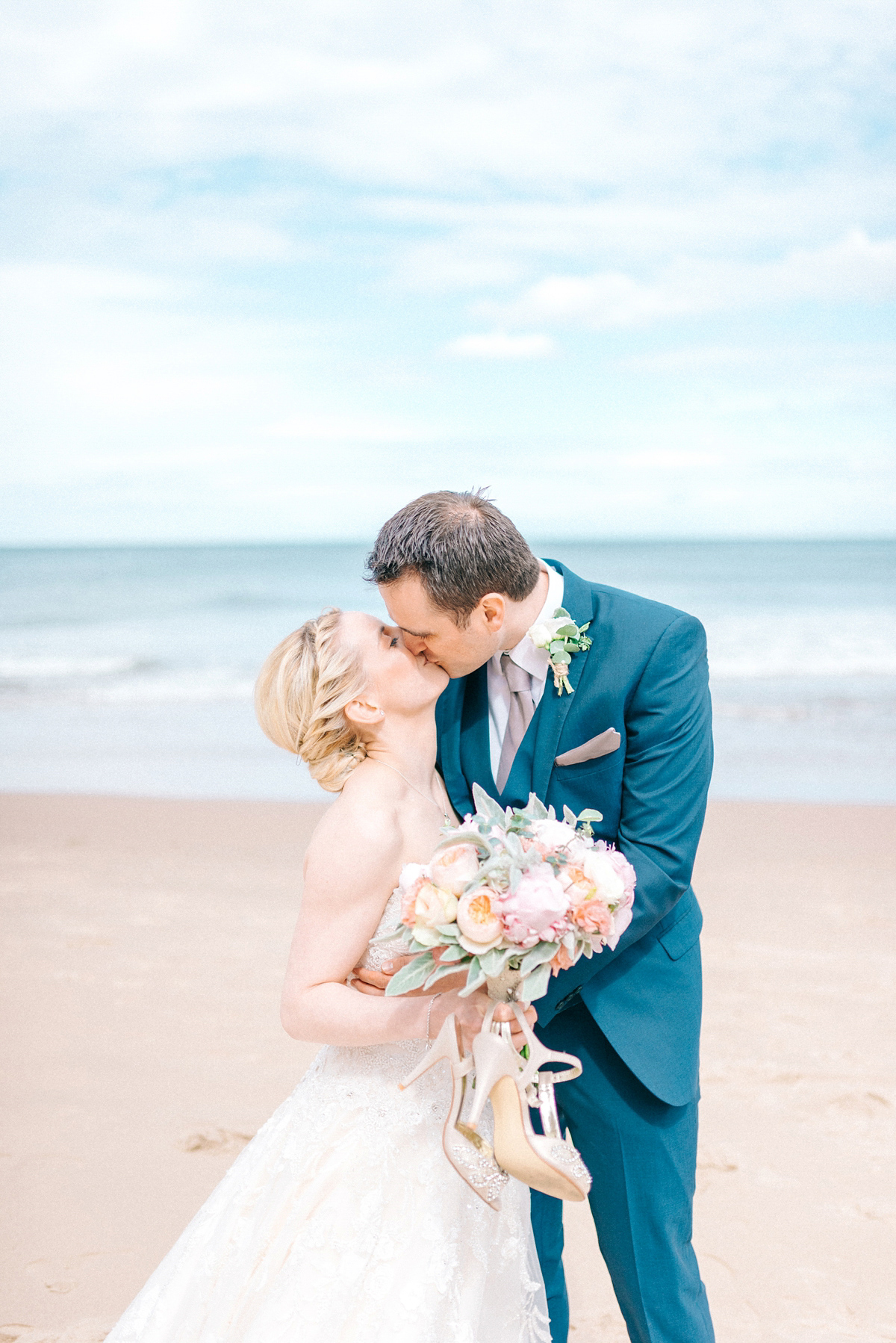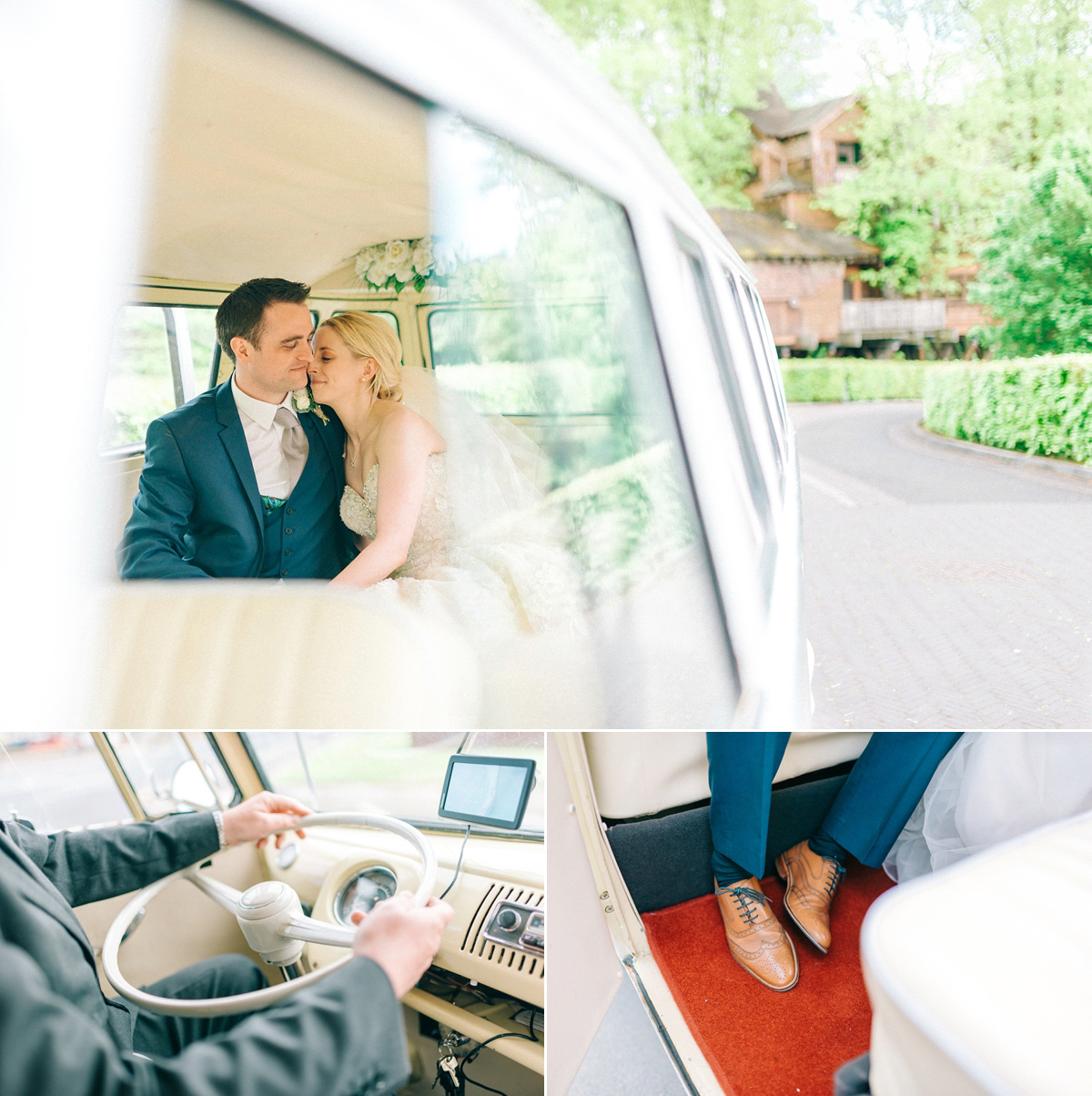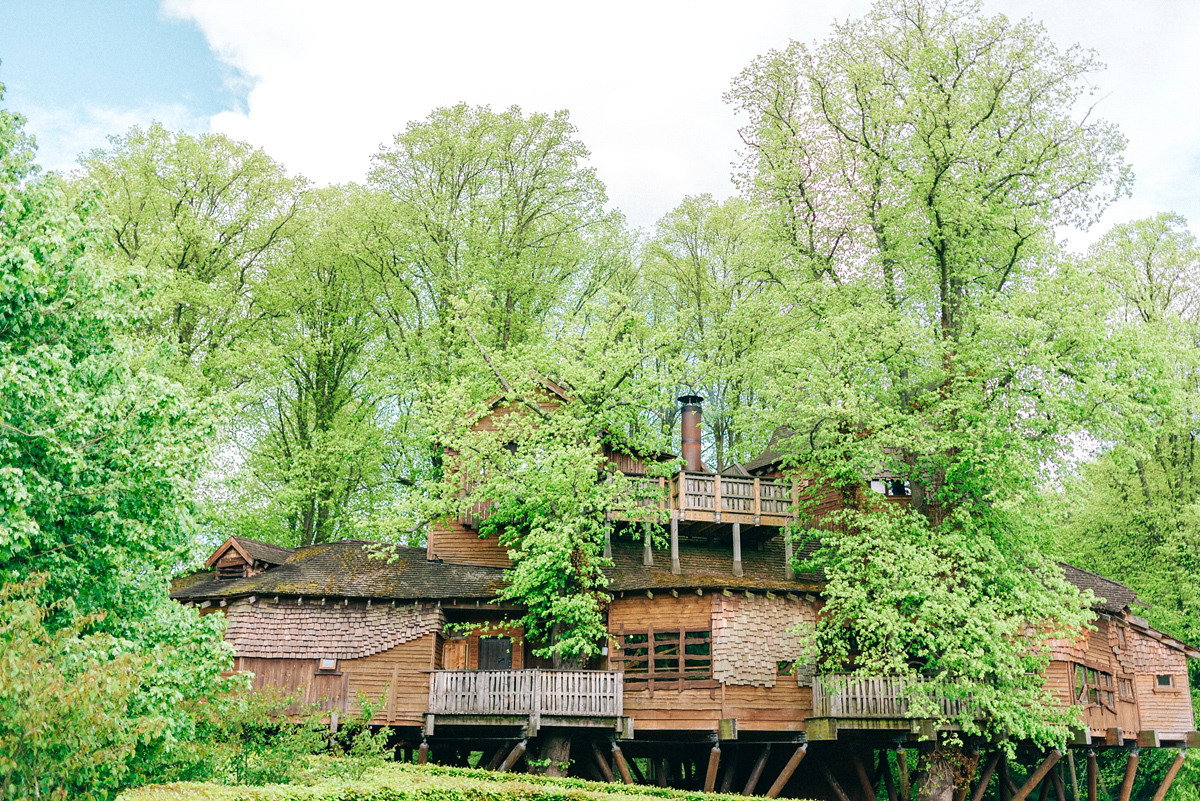 "Wendy, the wedding organiser and her team were all incredible. They were all so polite and professional, making us feel so special and nothing was too much trouble. Wendy went above and beyond to cater for my needs not only with the food, but with the decoration of the venue and the precision timing of the day. The food was stunning and received a lot of compliments from the guests."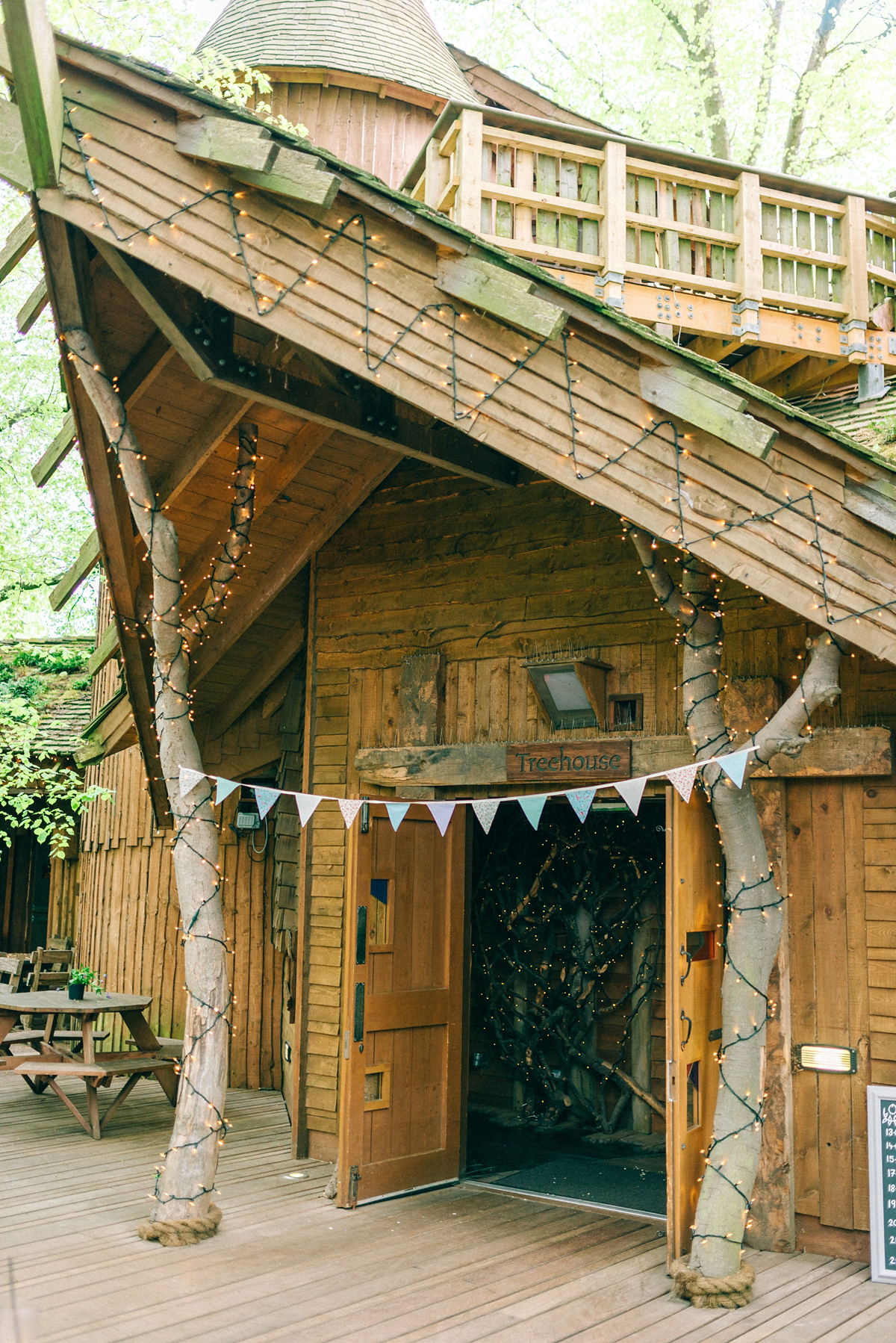 The newlyweds were showered with confetti supplied by Shropshire Petals as they arrived at Alnwick Treehouse, beautifully decorated with twinkling lights, fresh cut blooms and pretty bunting sewn by Lottie.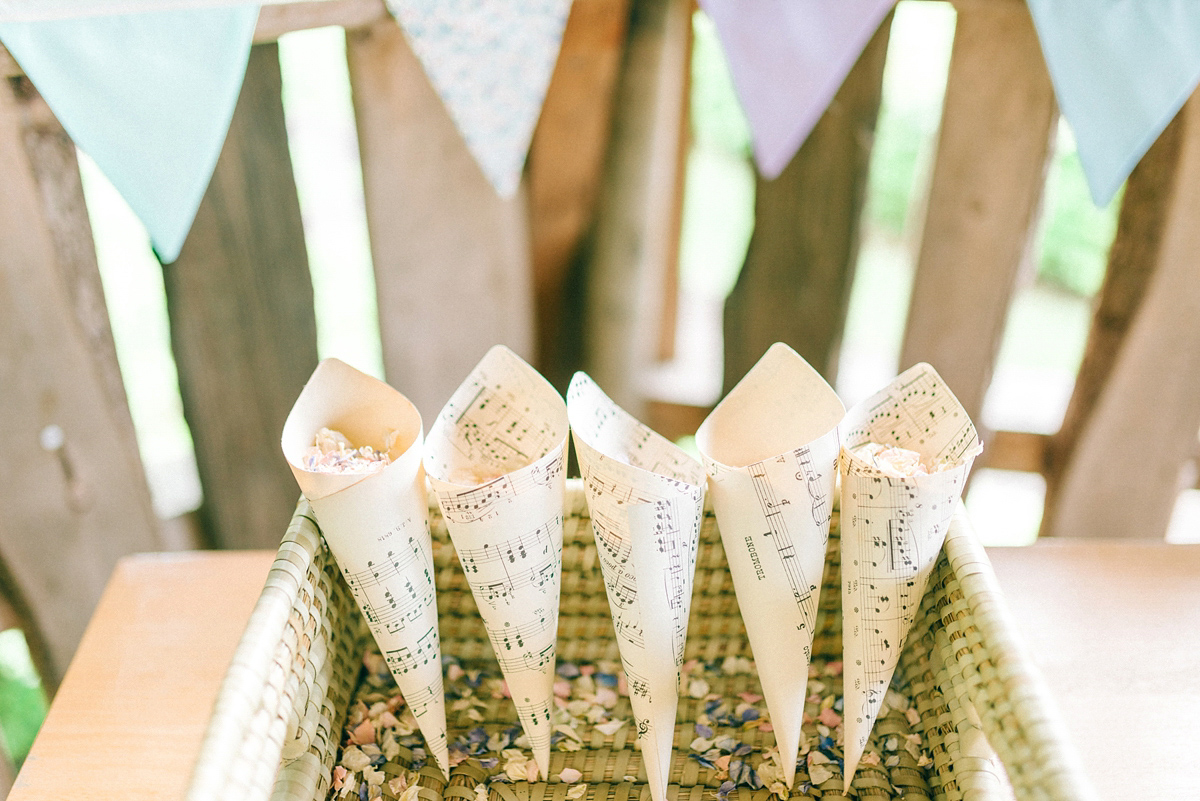 "I made 100 metres of bunting on my sewing machine and I also hung Polaroid-like photos from our pre-wedding shoot with S-J on string attached with minature pegs. A friend supplied me with logs that we sliced to place the table settings on and I collected tea cups, jam jars and tin candles to be used as vases and tea-light holders."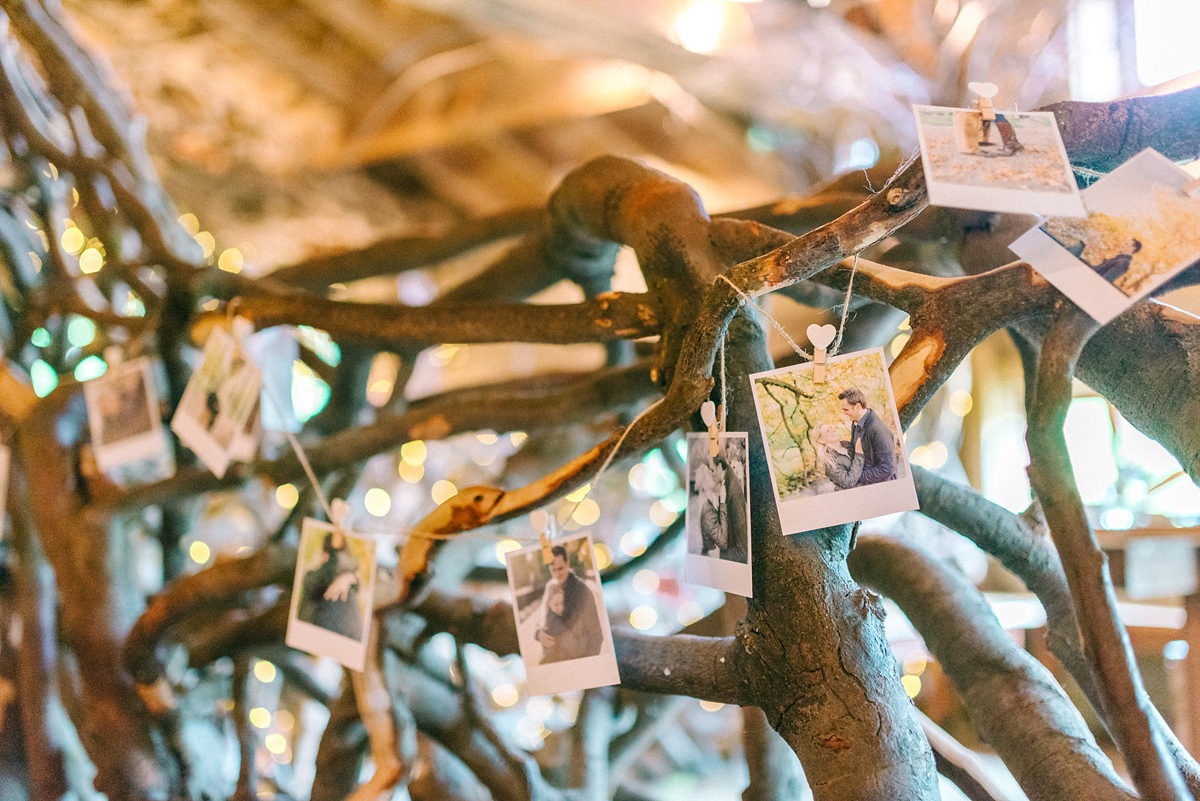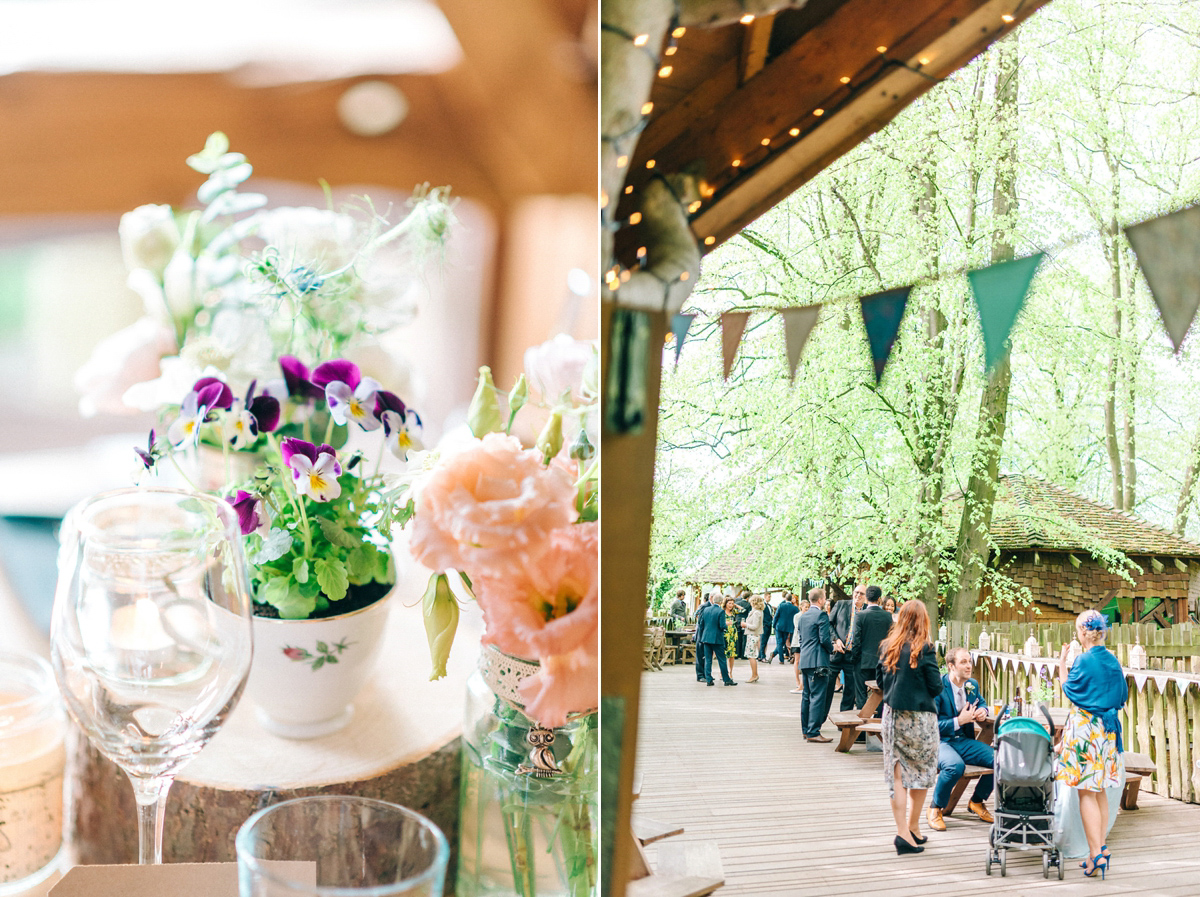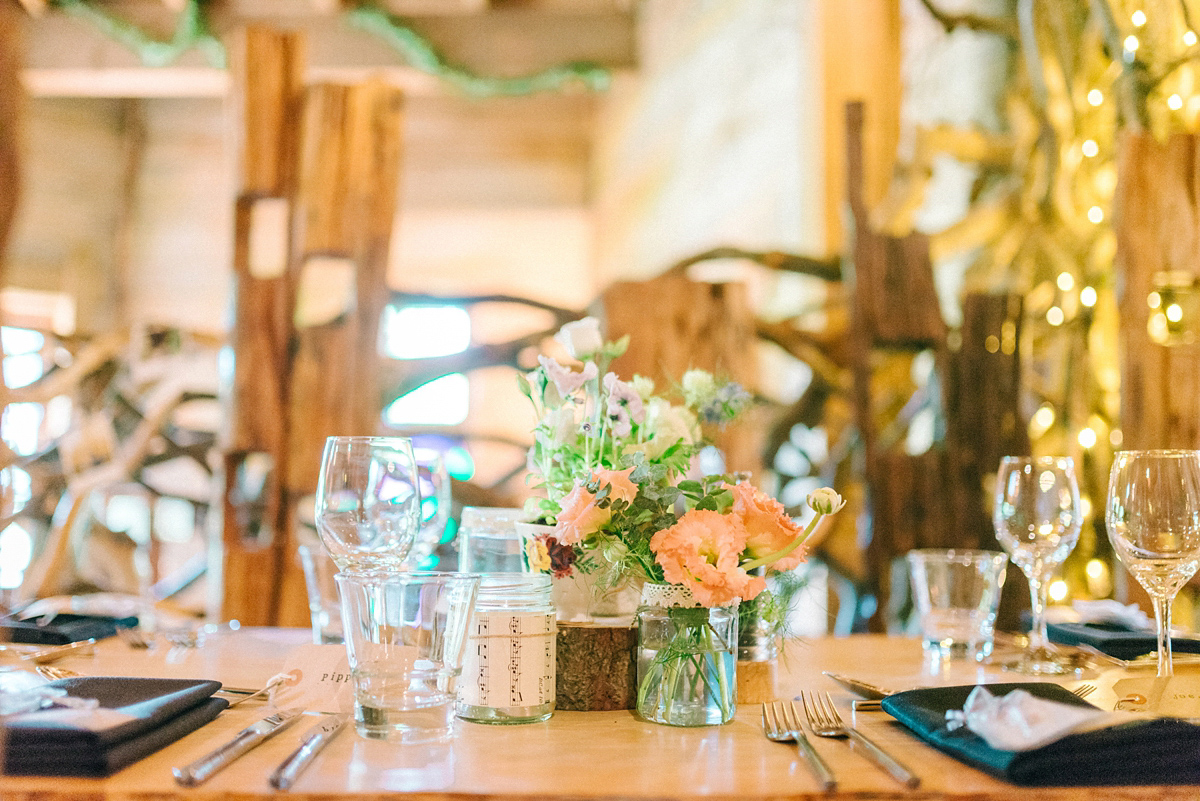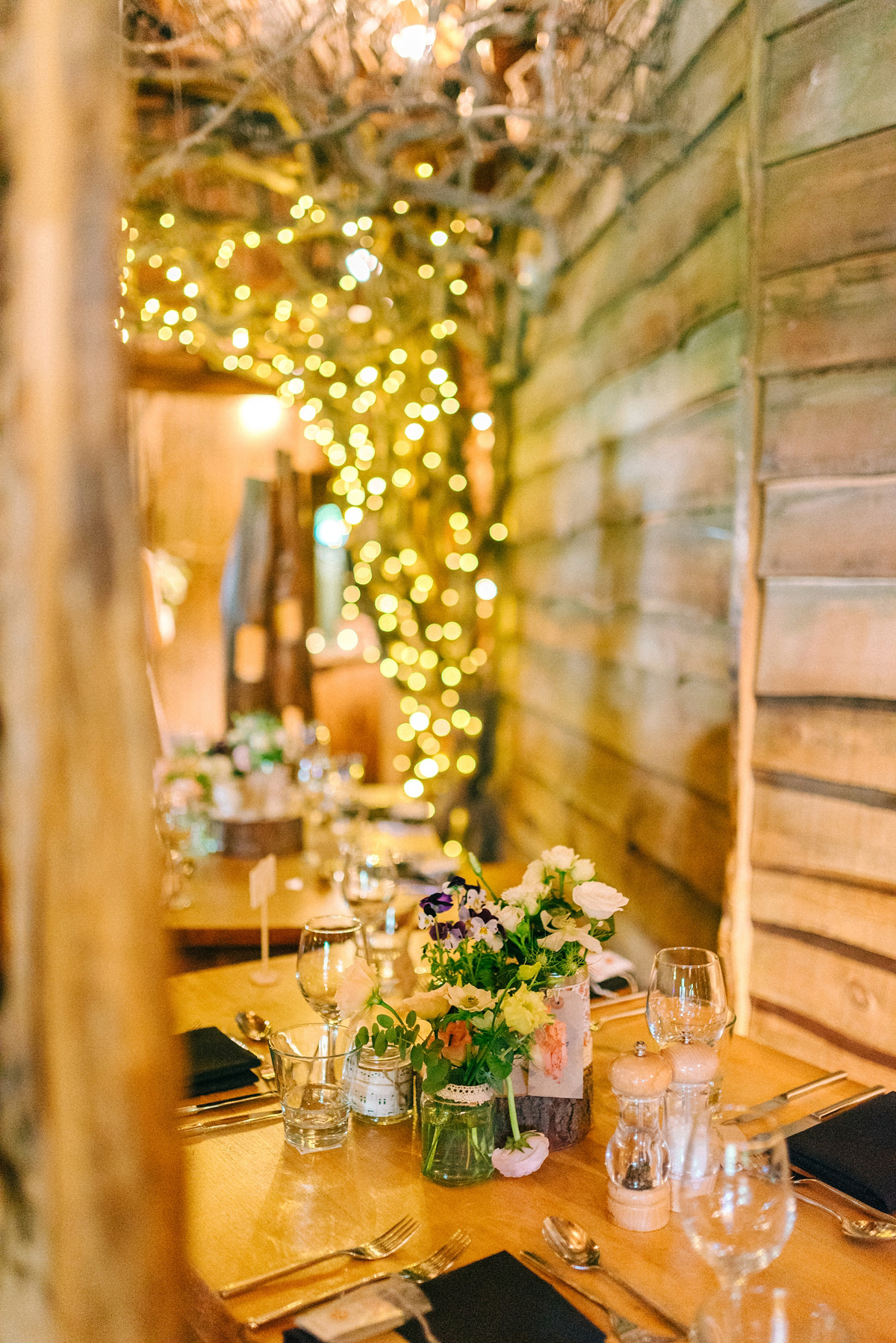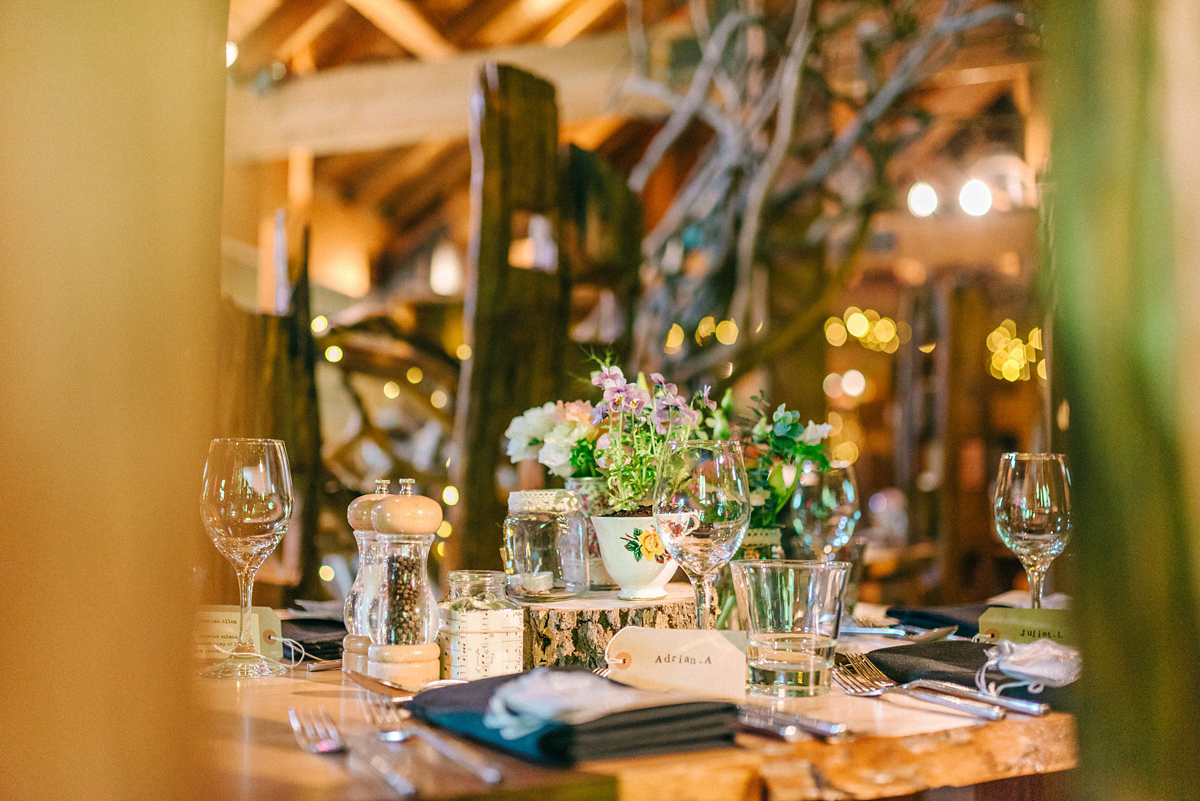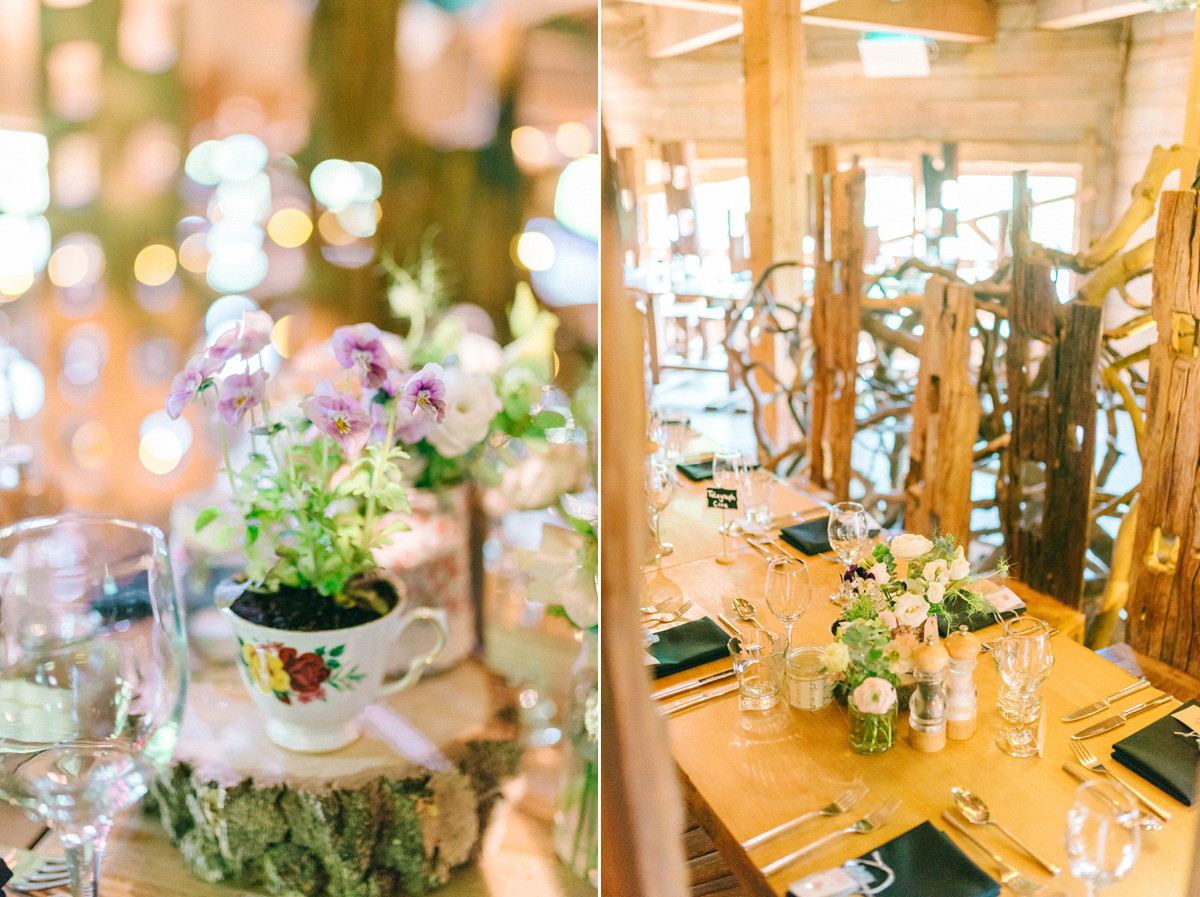 Lottie and Dan put a lot of thought into wedding favours that would really mean something to them as a couple and to their guests. In honour of Dan's late father the newlyweds chose to dedicate their favours to an extremely meaningful cause.
"Sadly, Dan's father died two years ago of lymphoma and in order to honour him and make him a part of our wedding day, we decided to support BloodWise. We made a donation to the charity and they provided a pin badge for every guest. I designed and made a label to attach to the pin, explaining what the favour meant to Dan and I."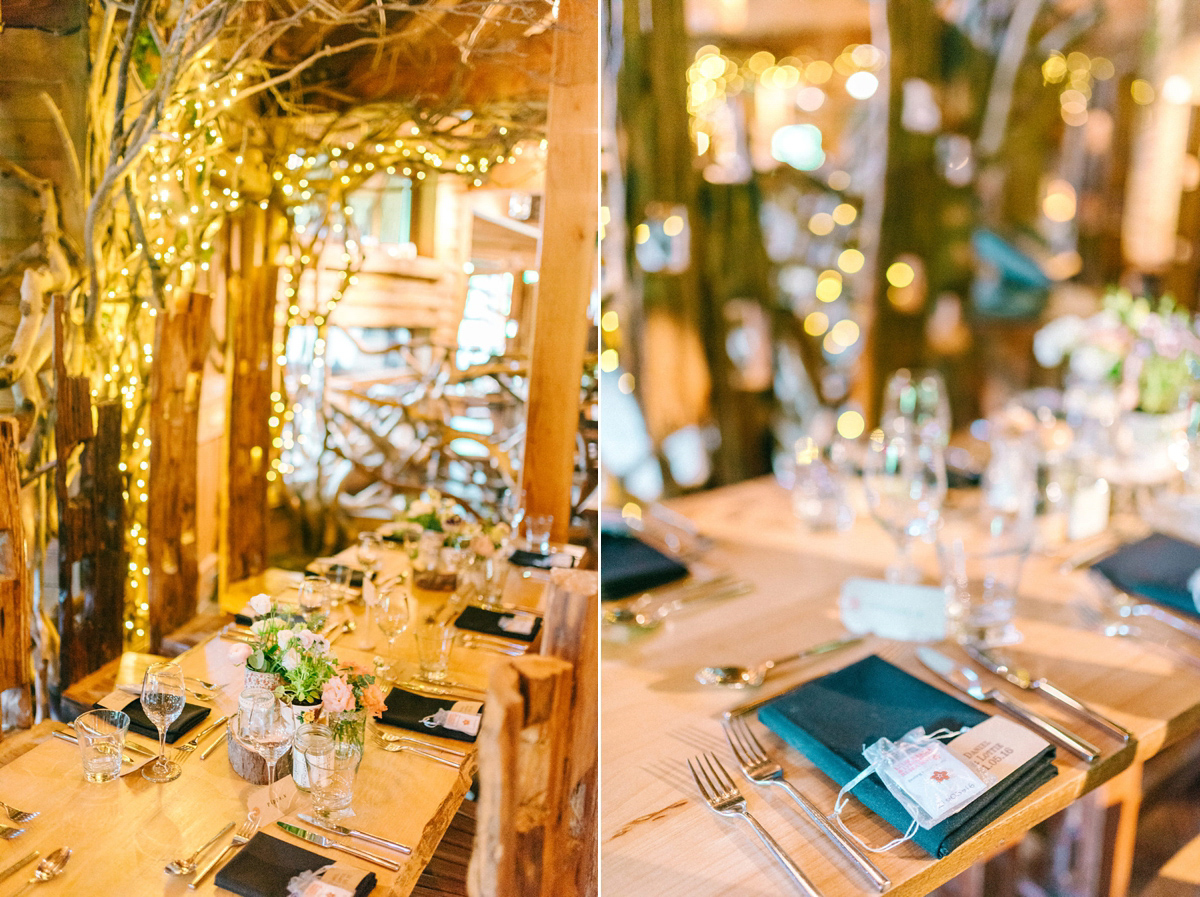 "I made the save the date cards, wedding invites, menus, order of service, place cards and favour cards and when it came to flowers, I went for a variety of delicate 'blousy' flowers with layers and pastel shades including peonies, David Austin roses, ranunculus, nigella, stocks, lisianthus."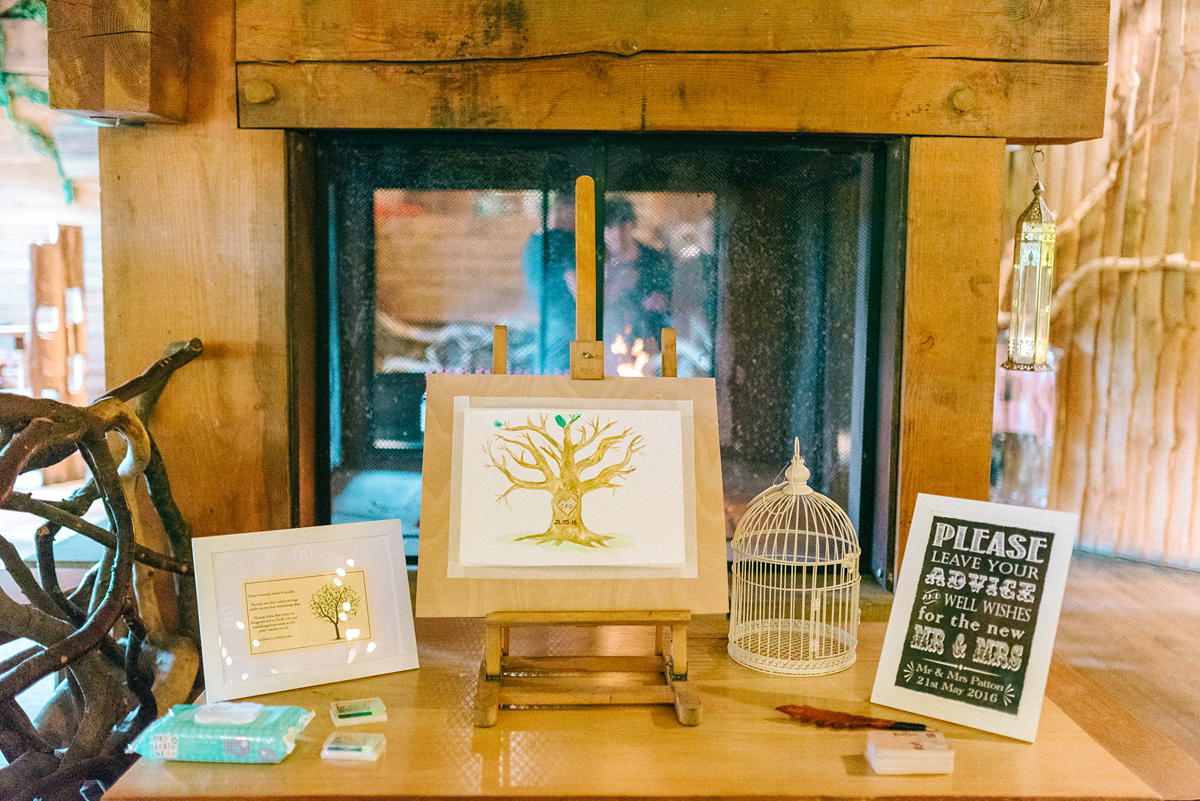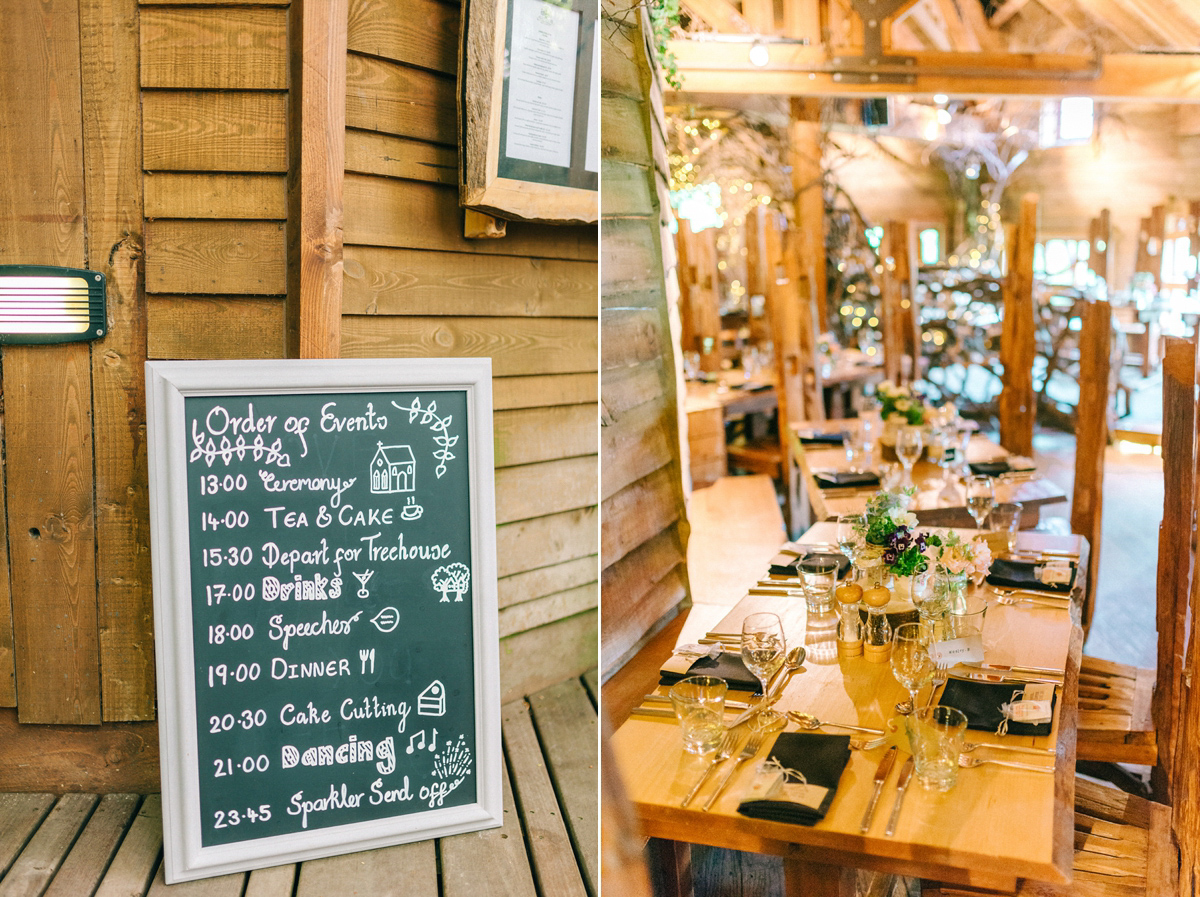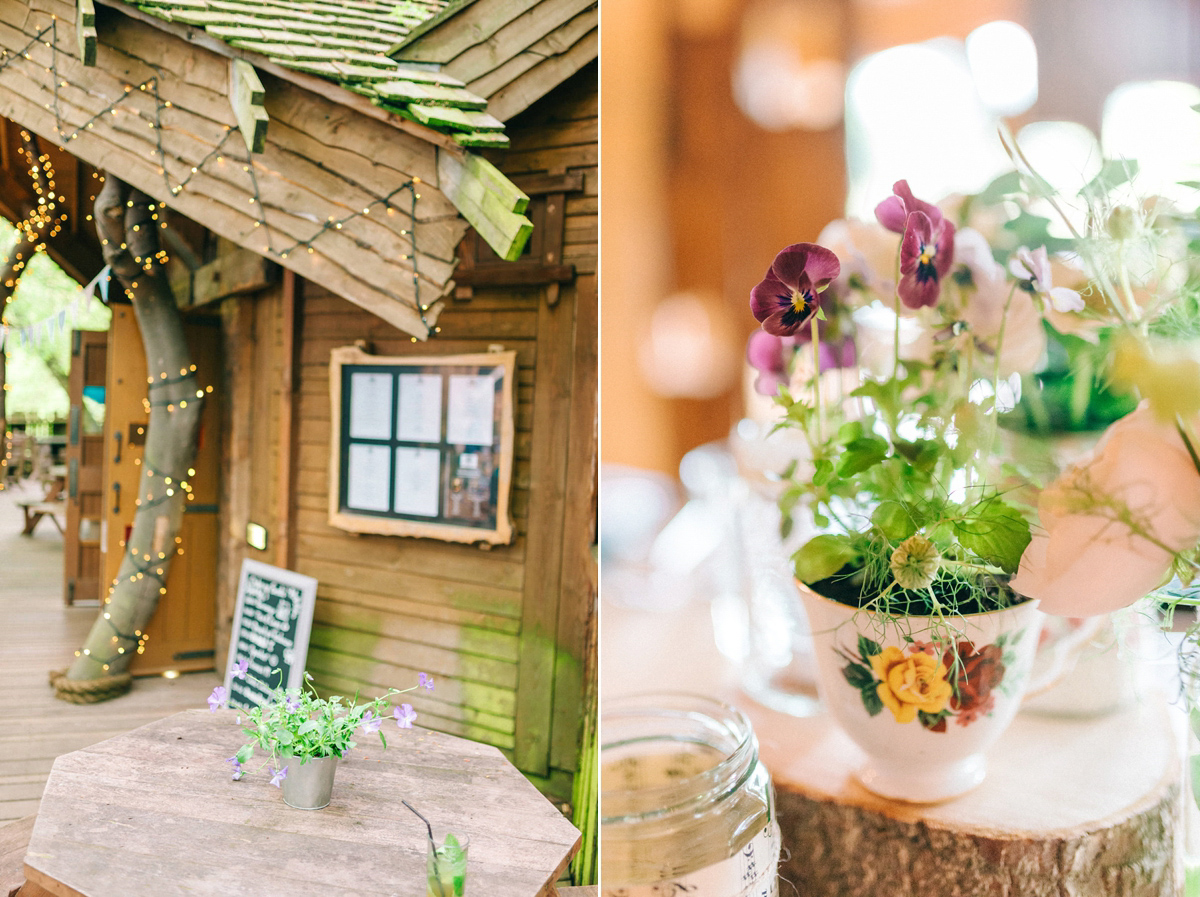 "Our cake was beautifully crafted by my other best friend (and bridesmaid). Pippa is very clever and makes beautiful, tasty cakes and this wedding cake was not her first. She is a doctor but I wouldn't be surprised if one day she opened a patissery-come-knitting shop! It was a naked cake of lemon and elderflower sponge with a marscapone and raspberry filling, decorated with edible flowers supplied by Maddocks Farm Organics."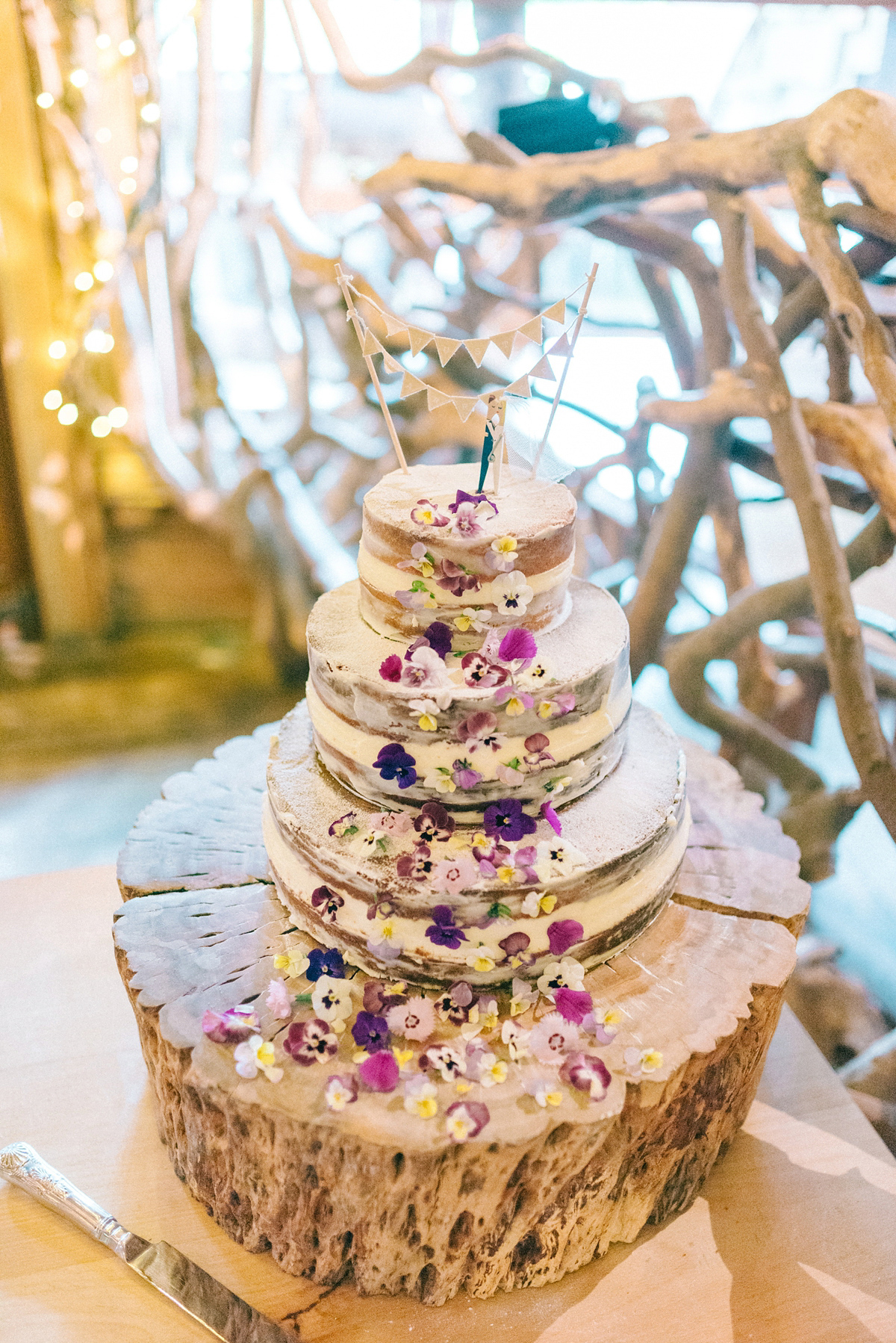 "Jan Billington was very knowledgeable about the edible flowers I wanted and knew if they would be available at the time of year we were getting married. She was easily contactable by email, responding in a timely manner. The flowers were delivered the day before the wedding to the treehouse and were wonderfully fresh and colourful."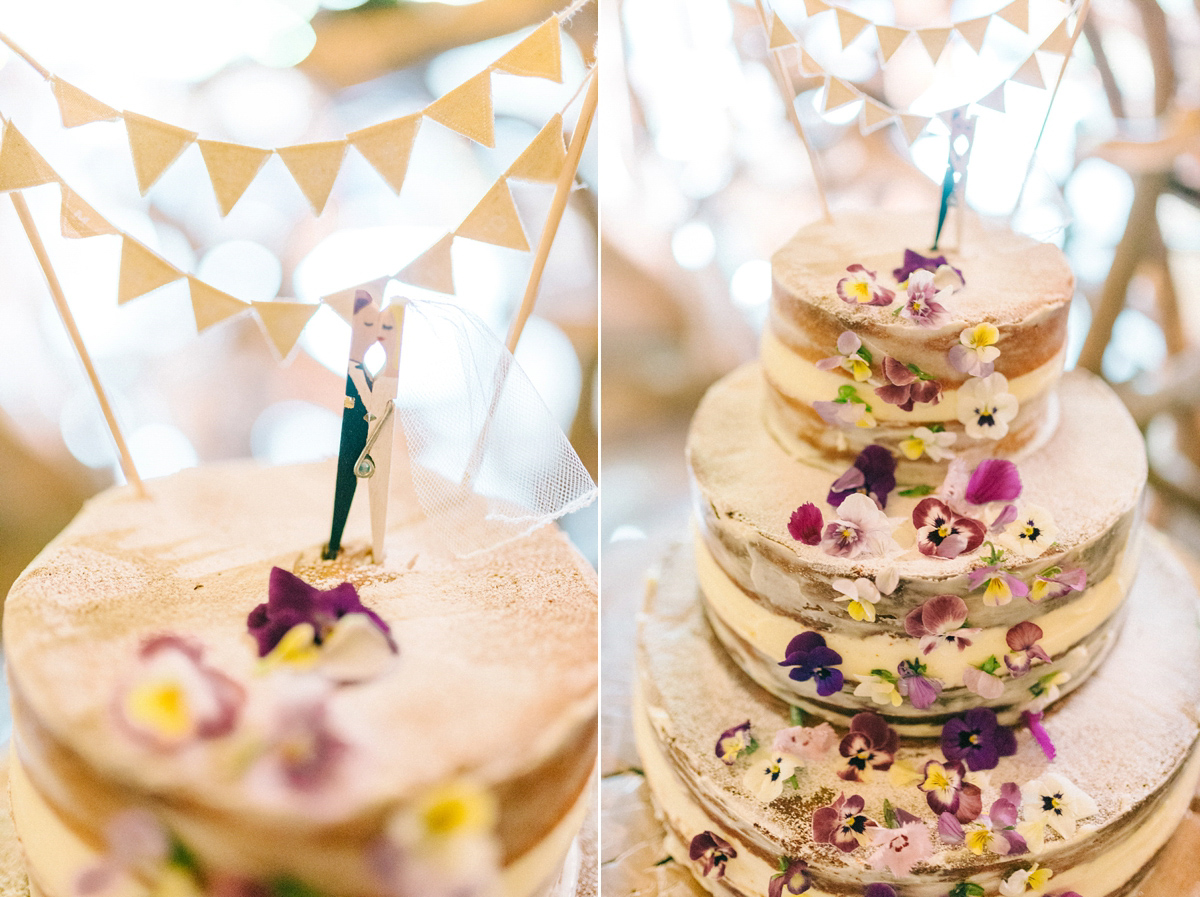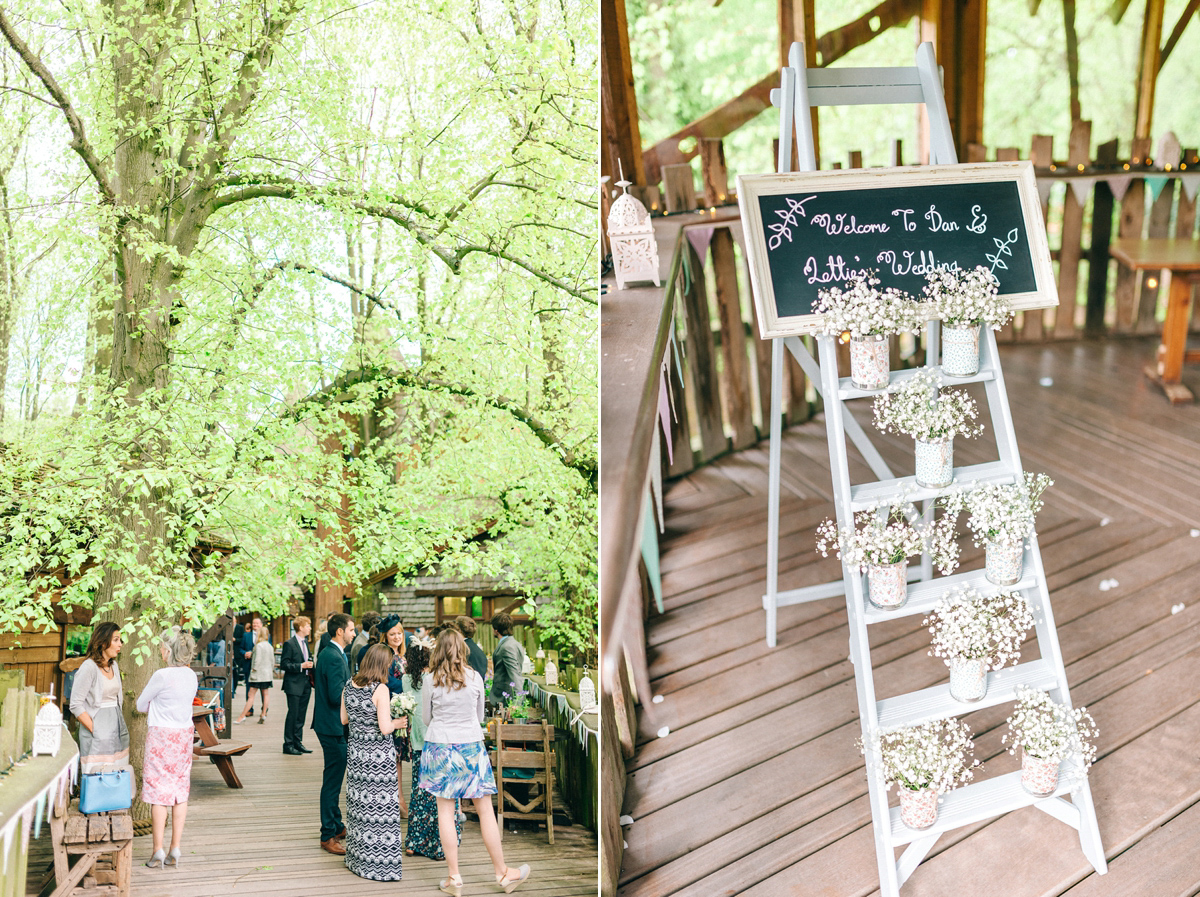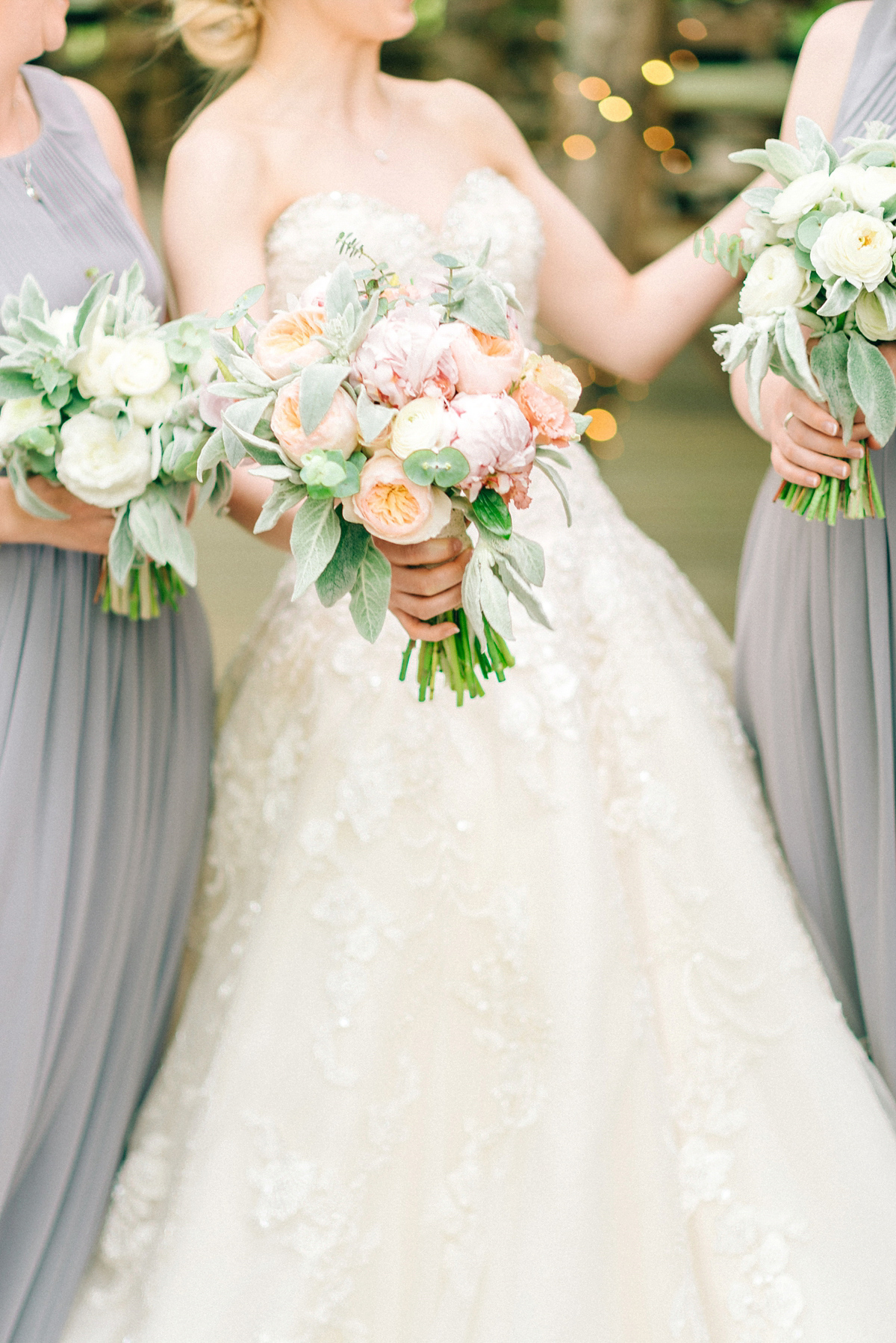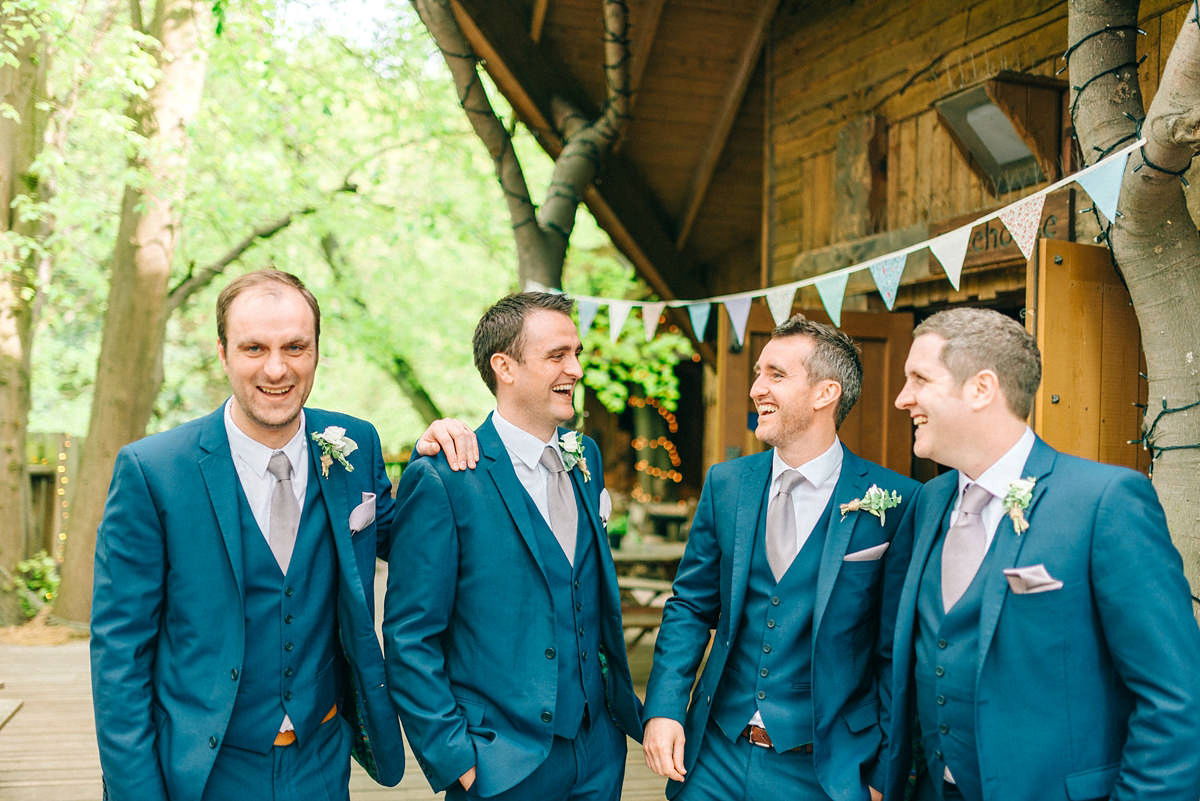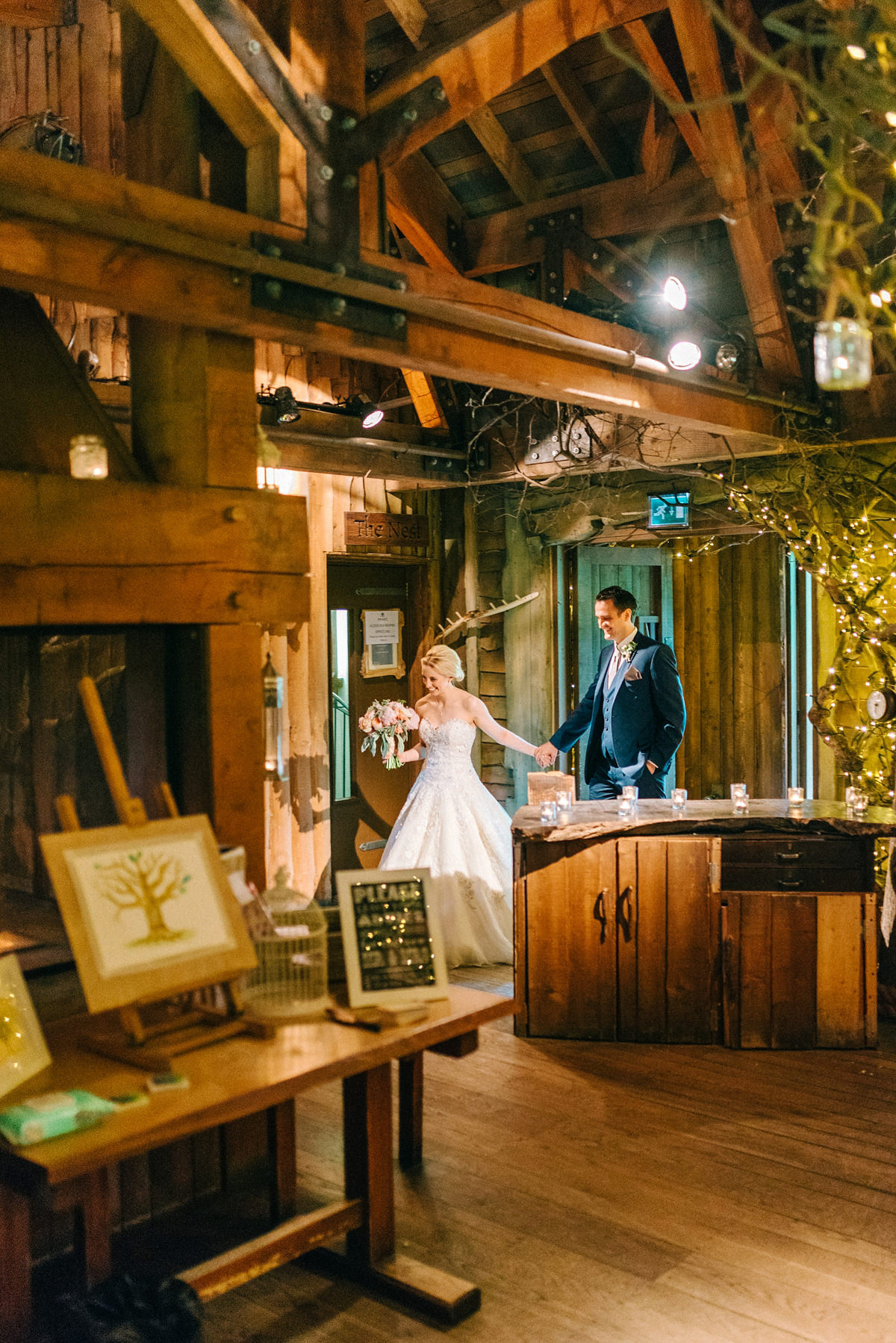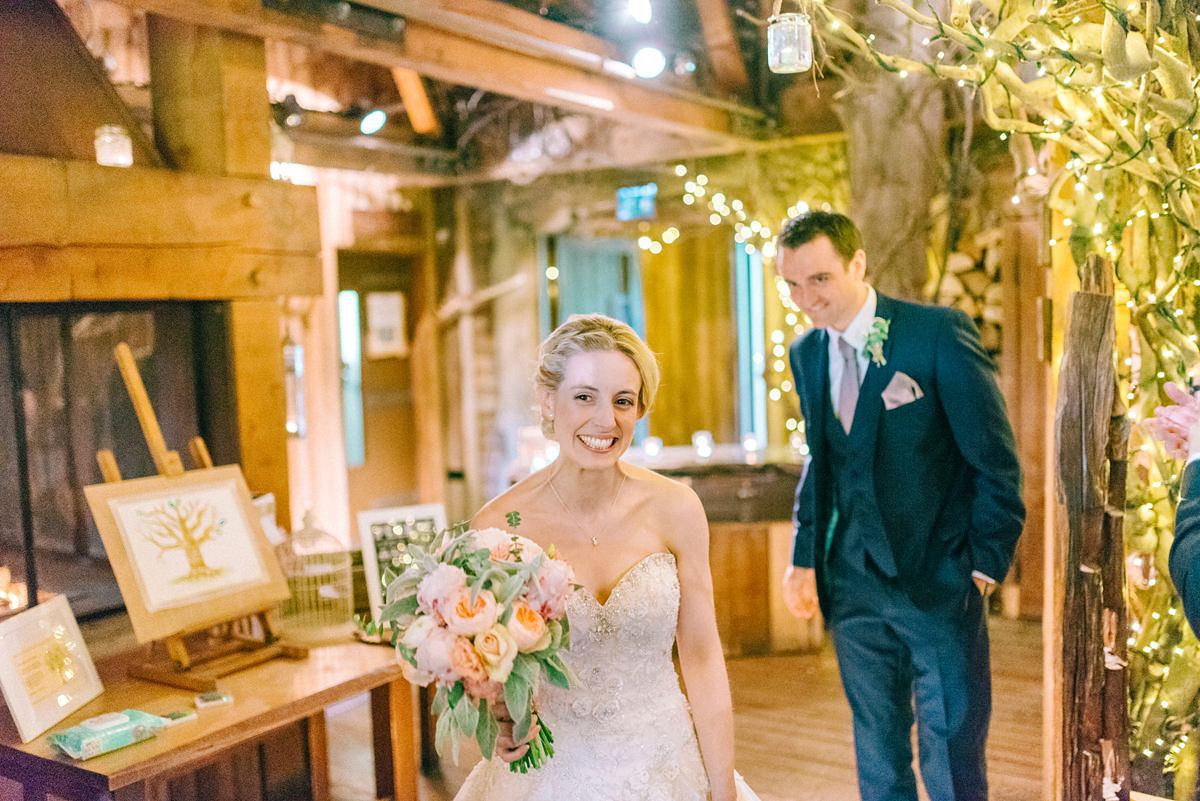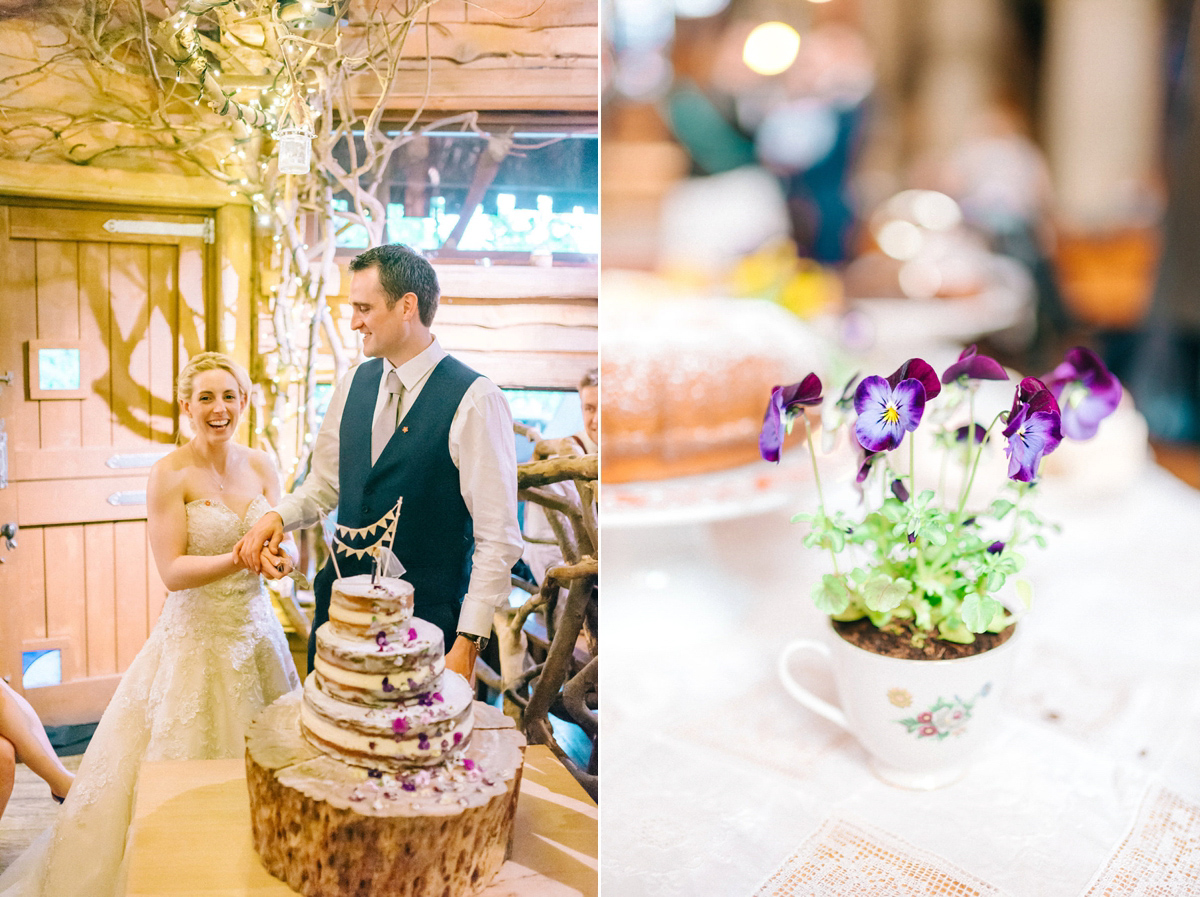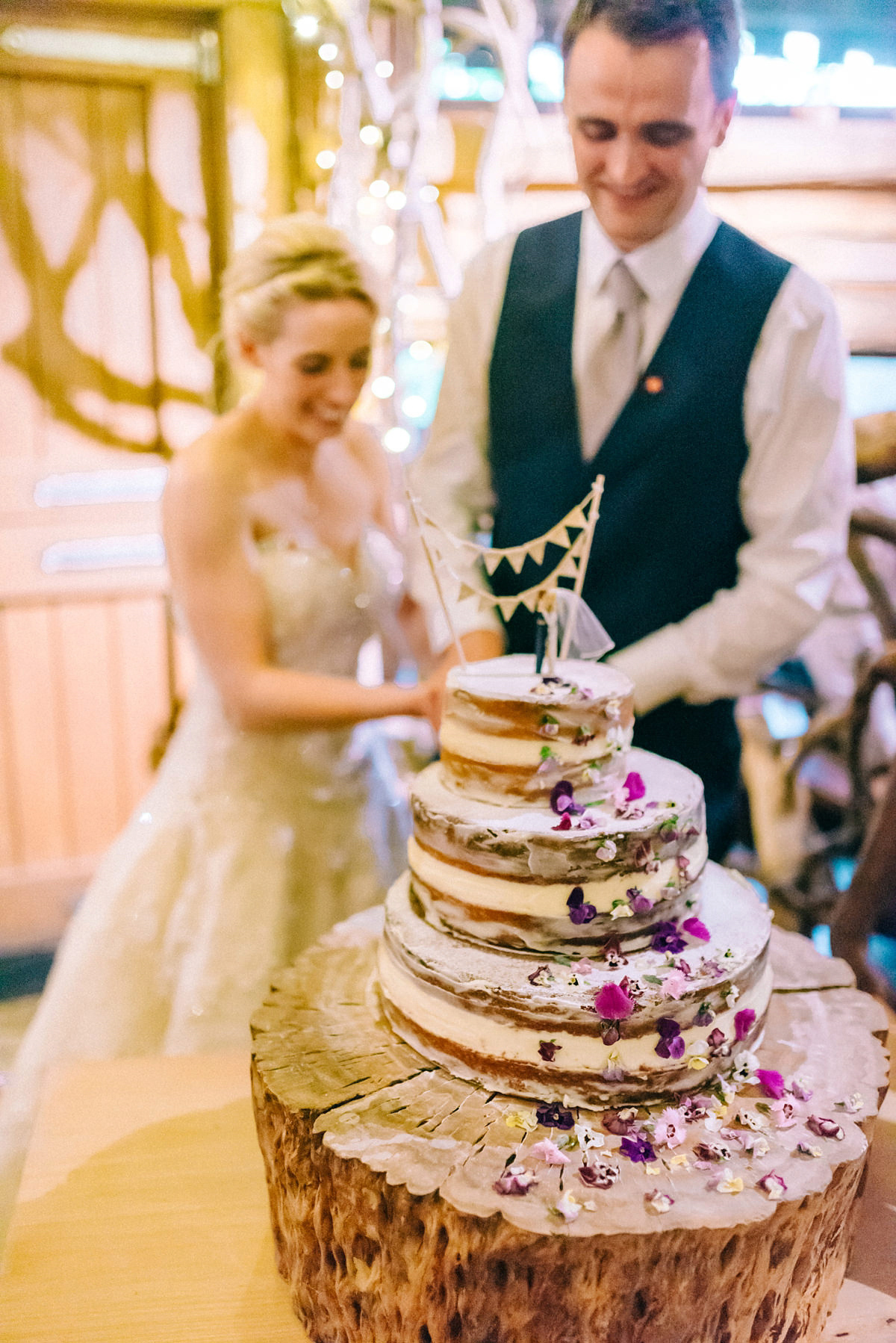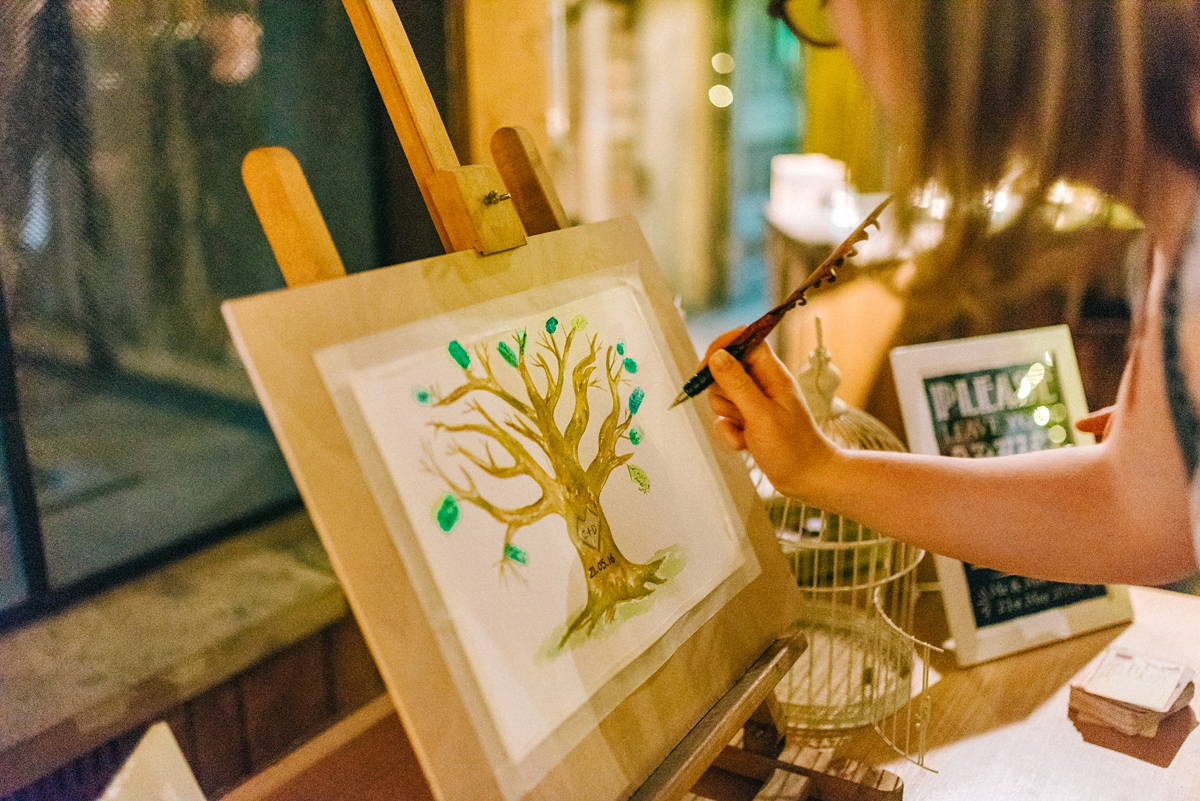 "Every single person and company we had dealings with when organising the wedding were so lovely and friendly and would do anything to be accommodating and understanding. It was a fantastic experience. The venues were perfect, the weather was warm, the flowers stunning, my hair and make-up perfect, the band sang amazingly, the groom was handsome, I scrubbed up well and everyone was incredibly happy. What more could I ask for?"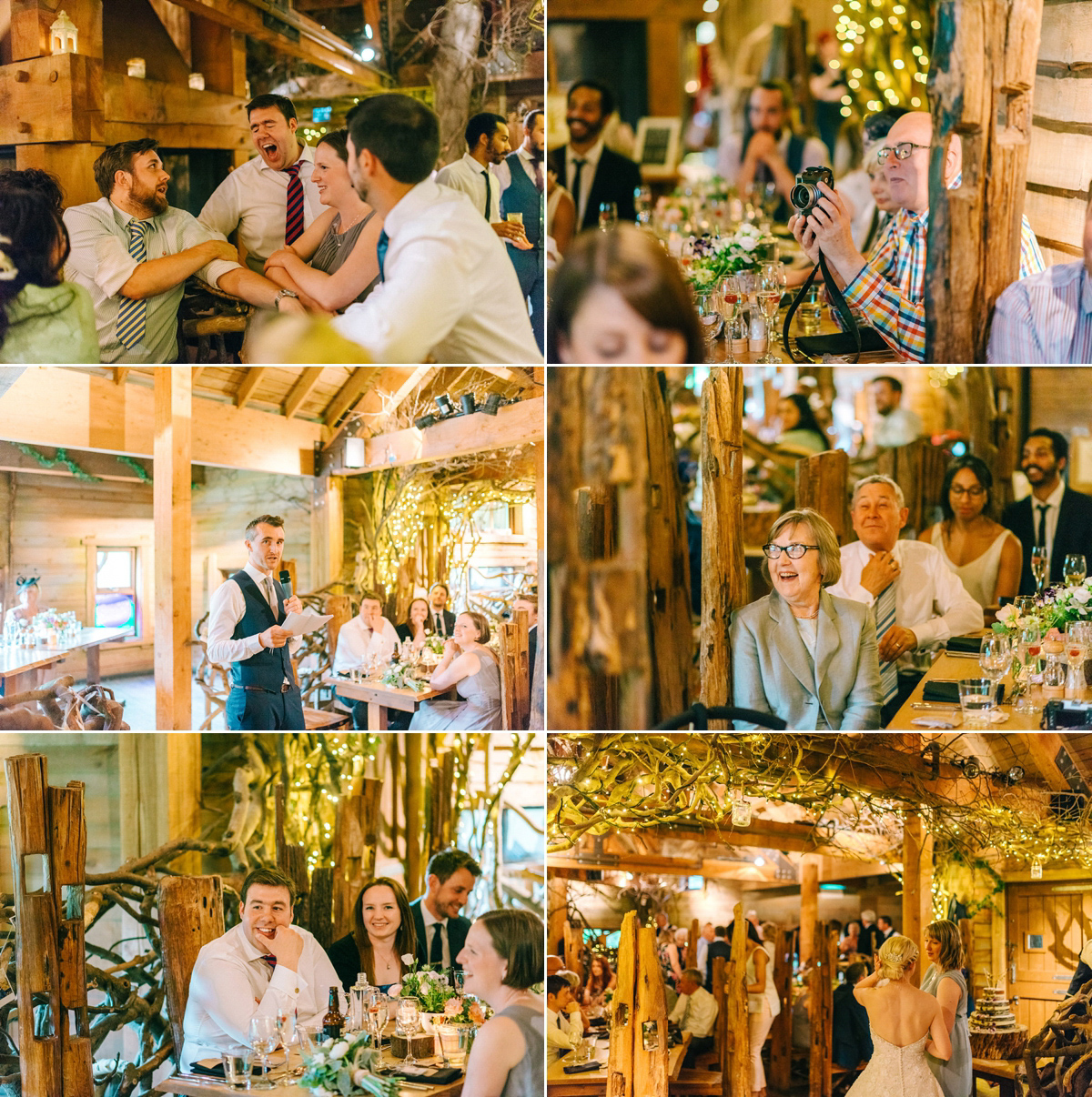 Lottie and Dan booked band Switch to boogie the night away to and also hired a fun photo booth from Not Just a Pretty Face PhotoBooth to entertain their guests. The soundtrack to their first dance as Mr and Mrs was Kodaline's The One; a song which the couple feel really summarises their feelings for each other so well.
"The band invited us to one of their rehearsals and that was great. Sheridan is 'the boss' and was a wonderful lady to speak with; so chatty, friendly and accommodating. We even got to hear our first dance song beforehand, so we knew it was right for us. The boys of the band are all talented musicians and such lovely guys."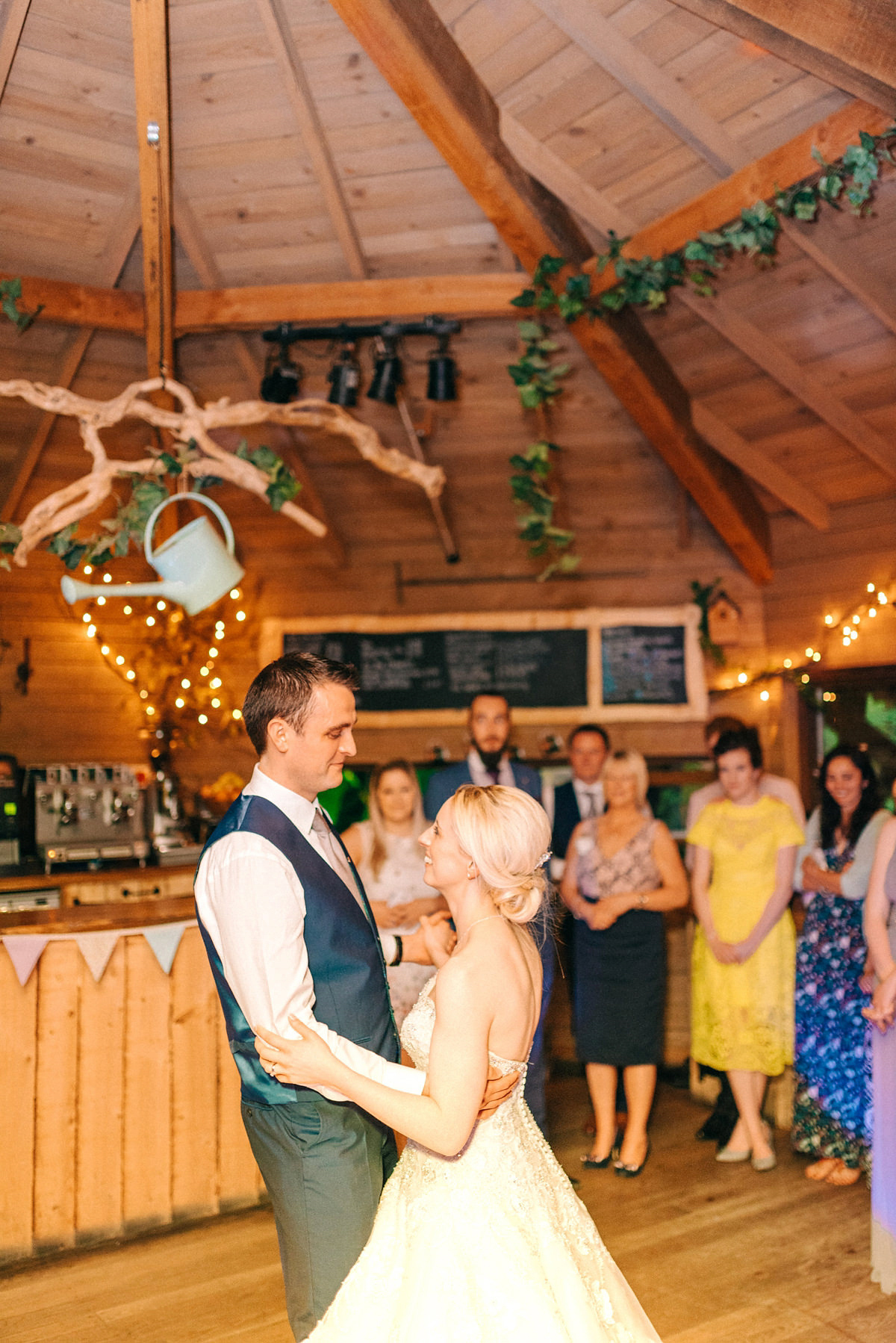 Words of Wedded Wisdom 
"Be organised! You probably need more time than you think; make lists, plan ahead.
Set a realistic budget. Pay for things as you go along, so there is no massive bill a few weeks before the wedding. Our aim was to be able to get married knowing that we had paid for everything the day I walked down the aisle. We did and it feels great!"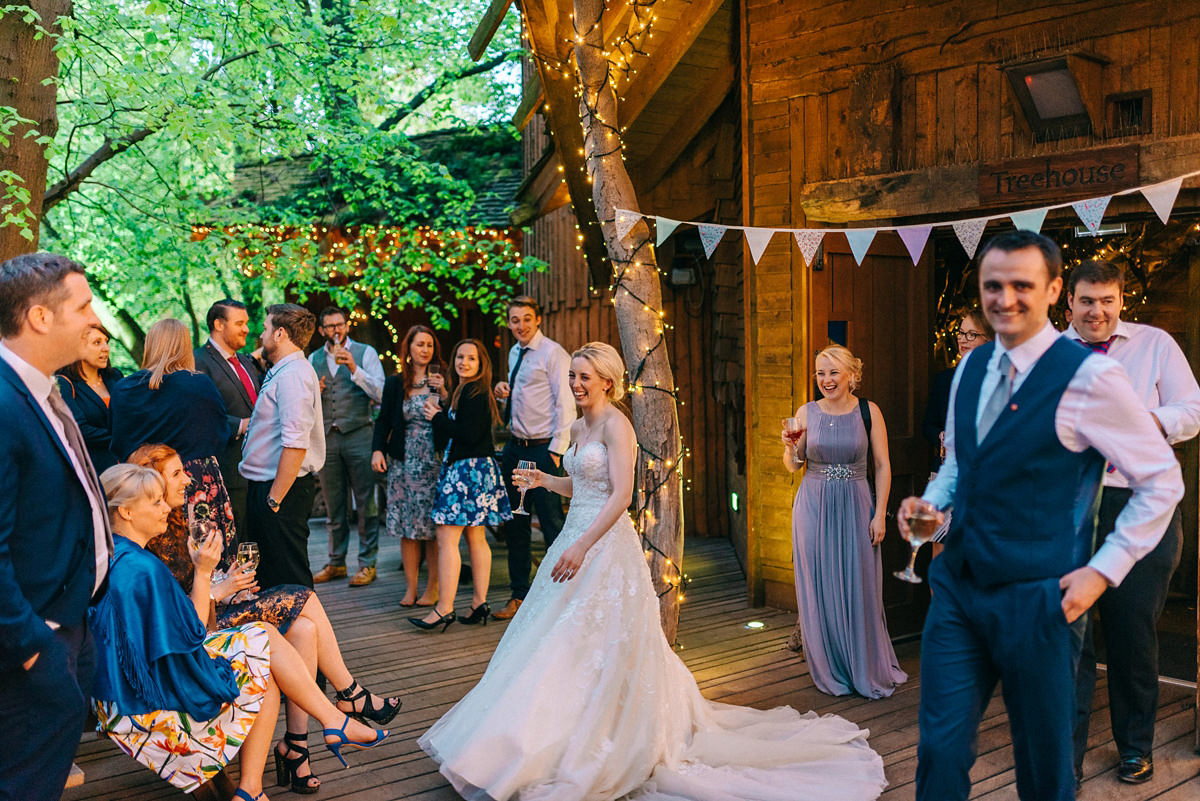 "The dress you THINK you want, is not the dress that you will end up buying.
When it comes to who to invite, someone will end up getting upset because you haven't invited someone they wanted to come. That's ok, it is your wedding and they will recover from the upset. Do what you can to accommodate people, but we all have budgets and a maximum guest limit, so not everyone can attend."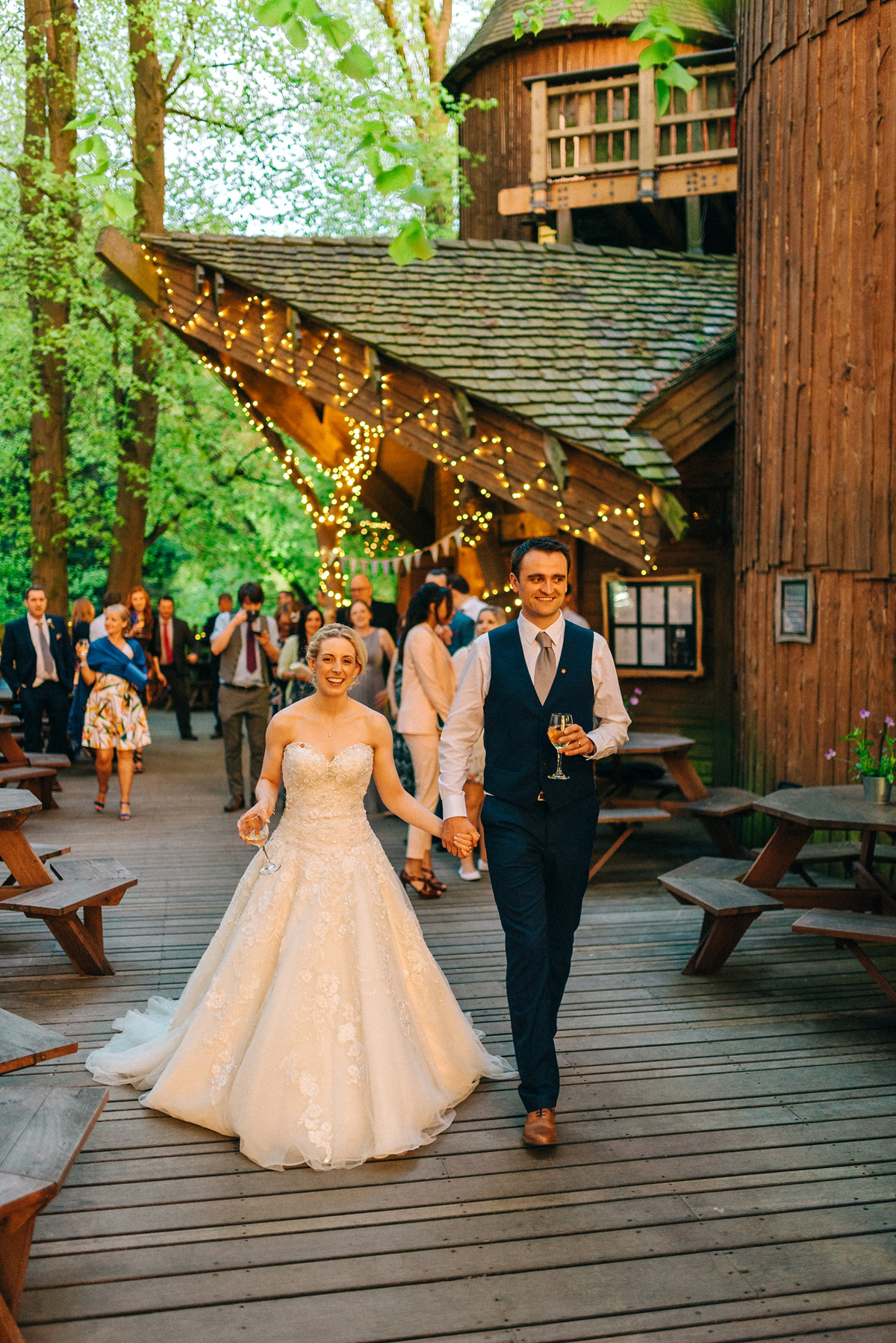 "Do make things yourself – the feeling of satisfaction is incredible when people admire your handiwork and you gain such a sense of achievement. I think I probably should have delegated more but old habits die hard. Through making the bunting I developed my sewing skills and I have  since learnt to make curtains which has been a great skill to acquire.
If you have a skilled baking friend, ask them to make your cake. It gives a personal touch and saves you hundreds of pounds."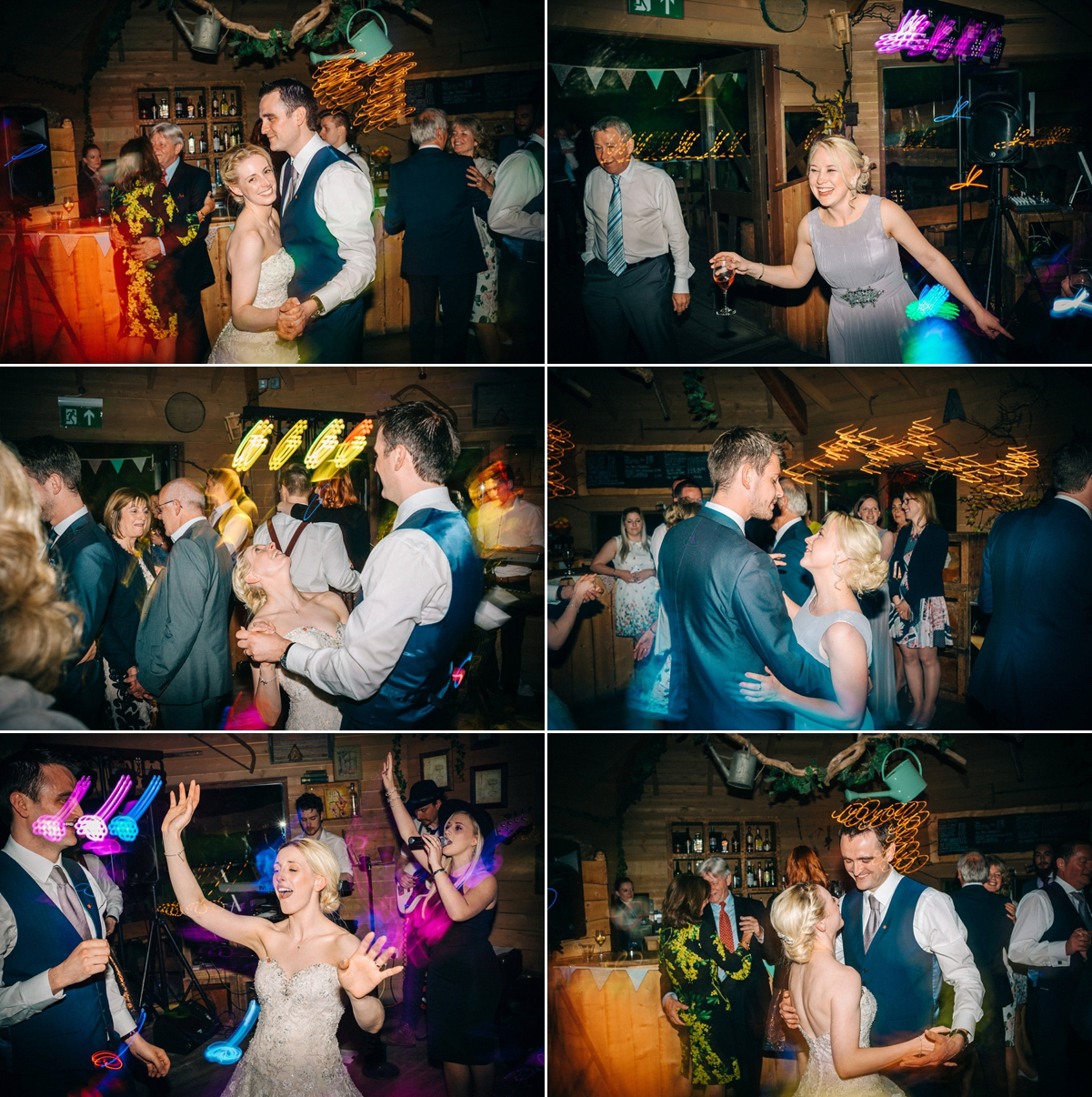 "Do go for a live band if possible for musical entertainment. The atmosphere was wonderful and everyone was on the dance floor.
We had a lot of flowers at the wedding and I didn't want them to go to waste. My florist, Jules, suggested that we donate them to a local nursing home for them to be enjoyed for a second time. We did just that, with her help, and it was lovely to know that someone else may gain some pleasure from them, as well as us. Have a chat with your florist and see if you can do something similar.
Favours are something that often people leave on the table and completely forget about. To give a favour with more meaning and that can help others, think about making a donation to a charity that is special to you or your family. Our guests found this to be a more personal touch and they had the pin-badge as a small keepsake of the day."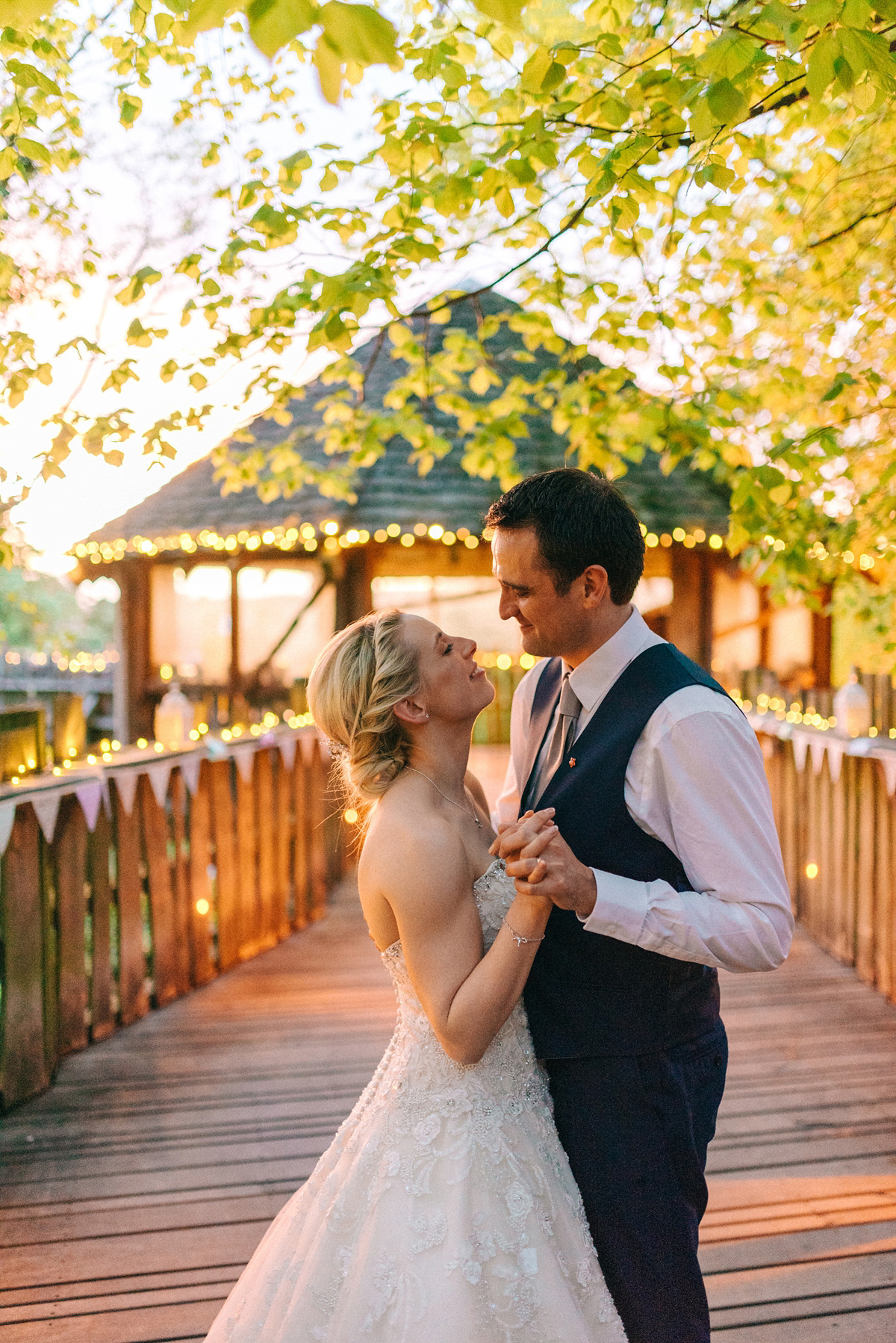 "My bridesmaids were fantastic, supporting me in such a way that they left me to my own devices during the planning stages because I am very independent, but also letting me know that they were there if I needed them. They were there for me on the morning of the wedding when there was a crisis (some of the ushers became unwell) and completely kept me together. I am eternally grateful for their support. I would advise that you choose bridesmaids that you truly would like to be with you at every step of the way and don't simply choose them because you are related to them or feel obliged to ask them.
Decide between you and your fiancé, which things you want to discuss and make decisions about together and which things you can just go ahead and arrange without his 'approval'. Dan is very laid back and was happy to go with most of my plans (providing they were within budget)."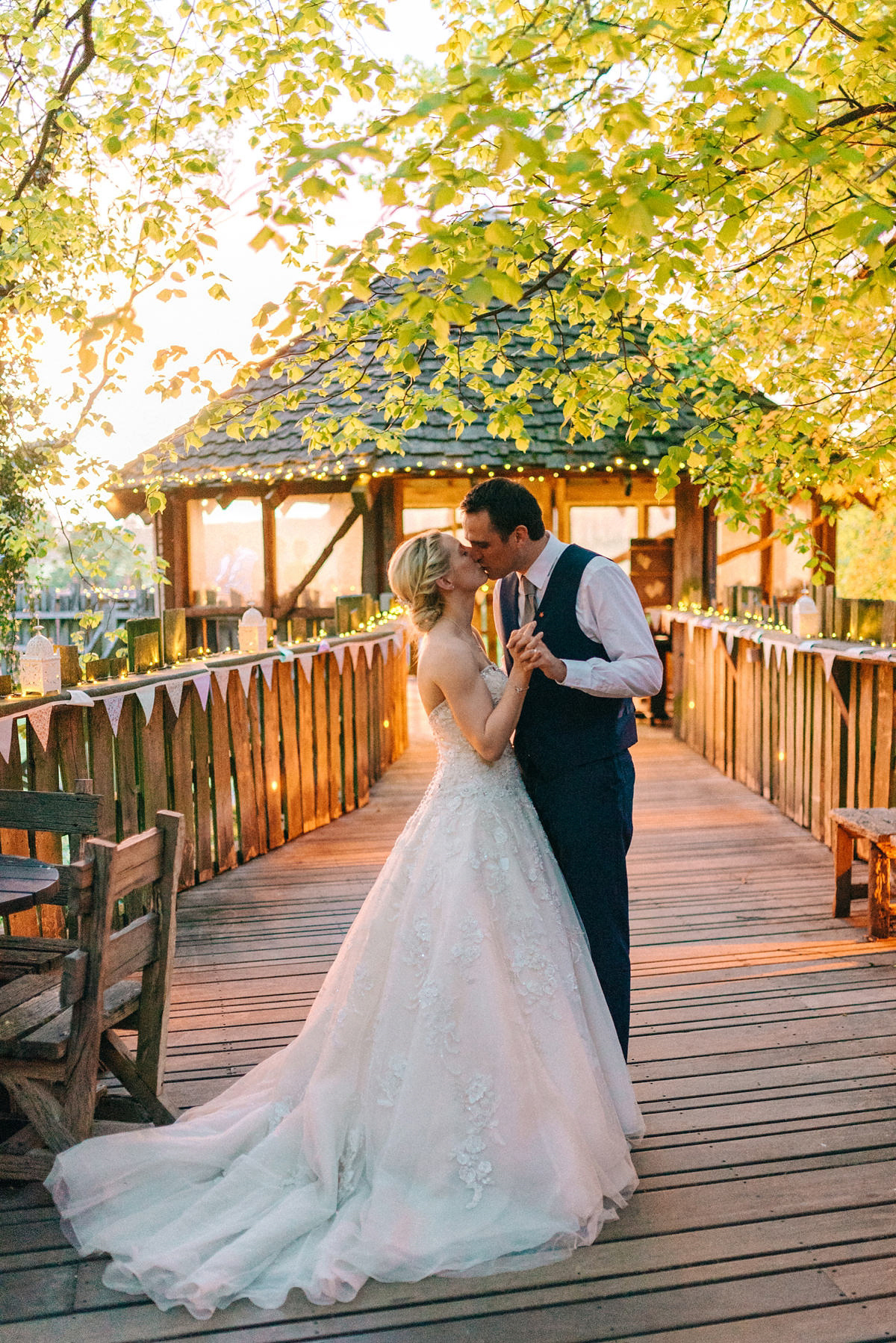 Oh my gidders, Lottie thank you so much for the wonderful words of advice! Just reading these pearls of wisdom makes me feel calmer. A huge thank you too to groom Dan and to Sarah-Jane Ethan Photography for allowing us to bask in the tree-top glory of this charmingly lovely day.
Are you holding your wedding celebrations in an unusual venue? Being naturally curious (a massive nosy parker), I'd love it if you let us know in the comments box below.
Love, Em x