Good morning lovelies, I hope this week will be kind to you all – did you get a chance to catch up on our Sunday post which talked about some of the realities of wedding planning? I'm in rural Tuscany at the moment, enjoying a tasting with our (slightly scary but totally brilliant) wedding caterer. So. much. pasta. Even more terrifying however is the fact that I have a dress fitting far too soon to allow for all the food I've just consumed…oops.
Without further Italian-related ado, allow me to introduce you to today's sweet couple, Rob, a Project Manager, and Marisa, who works as a Head of Buying. Lartington Hall in North Yorkshire (my glorious place of birth) played host to their divine, stylish day of marriage celebrations on 21st May this year. This sublimely elegant day was captured beautifully by two of our Little Book for Brides favourites, husband and wife duo, Paul Joseph Photography. We just adore this clean, crisp, light-filled style and the infectious joy that this lovely pair have documented.
"I travel a lot for my work and Italy has been like a second home to me for the past twelve years. Since meeting Rob we have visited many times and share a love of Italian lifestyle. We wanted the wedding to be in a formal setting but with a relaxed Italian vibe – with plenty of wine, delicious food and laughter. The palate was kept muted to black, cream, white and gold."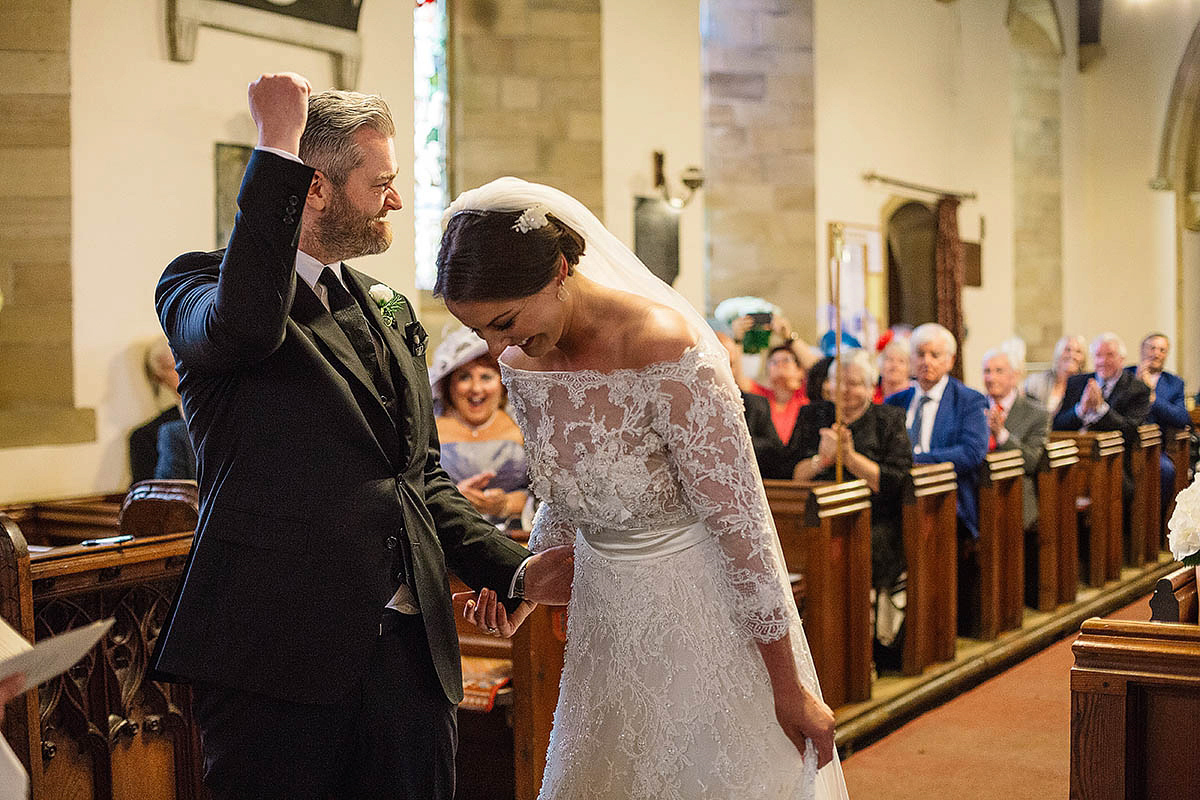 "Our photographers Paul and Kelly were an absolute dream. They felt like two old friends who were there to enjoy the day with us. We can't recommend them or the beautiful moments that they catch enough."The combination of Italian food and joy (I swear no-one loves a wedding as much as the Italians) with a sophisticated colour scheme of clean colours and shimmering hues sounds just heavenly doesn't it? And just wait until you see the absolute beauty of a dress that Marisa chose – I may have let out a little squeal when I first laid eyes on the swathes of delicate lace, shimmering under the lightest shadow of a soft tulle cathedral length veil.
"My dress was Elie Saab bought from The Wedding Club in Birmingham. I love the designer and it was my dream choice – I knew I wanted a long-sleeved lace dress and as soon as I saw the fabric and intricate beading I was enchanted."
Marisa wore a pair of rose gold (second squeal) Jimmy Choo shoes; the 'Lottie,' with a botanically-inspired, glittering, hair piece from Jenny Packham. Her fragrance was Santal Blush by Tom Ford, and she accessorised this gorgeous ensemble with Monica Vinader earrings.
"My hair was done by James Reid and my make-up by Emma at Jo Leversuch. My flower girl wore a dress from John Lewis and my bridesmaids wore White By Vera Wang dresses and gold leather headbands from H&M."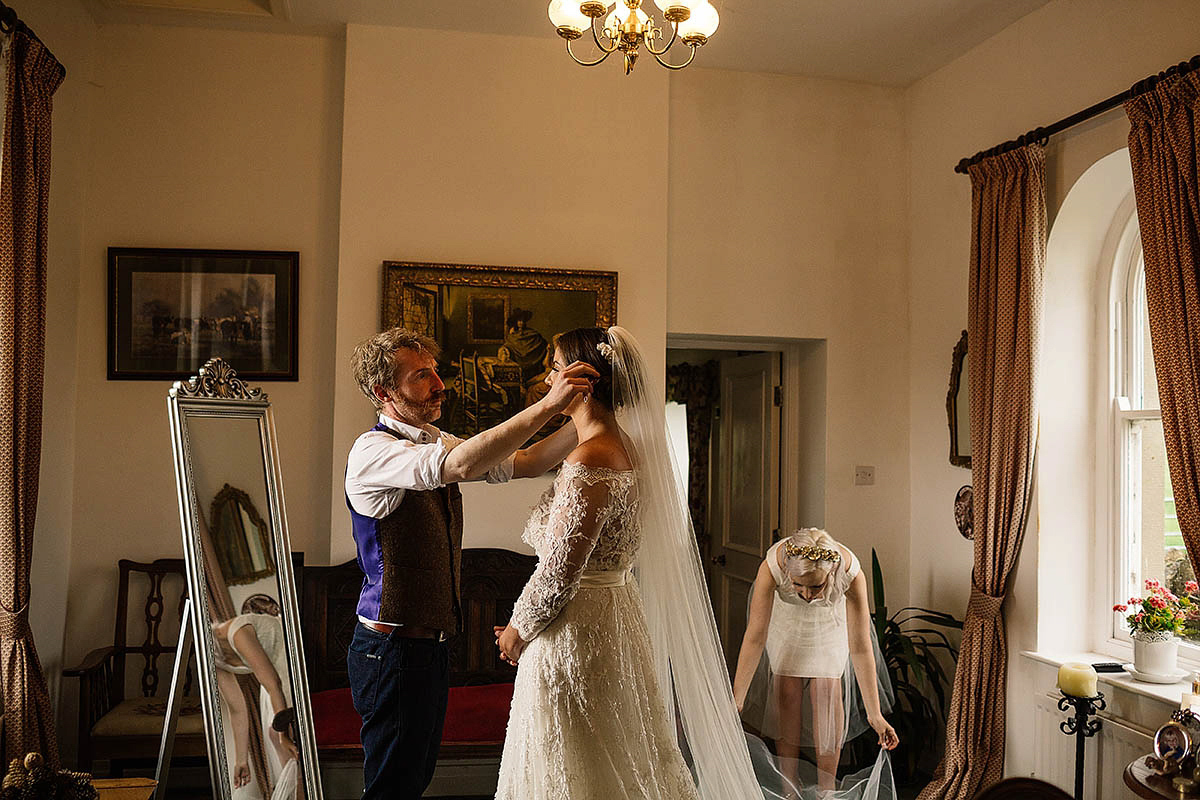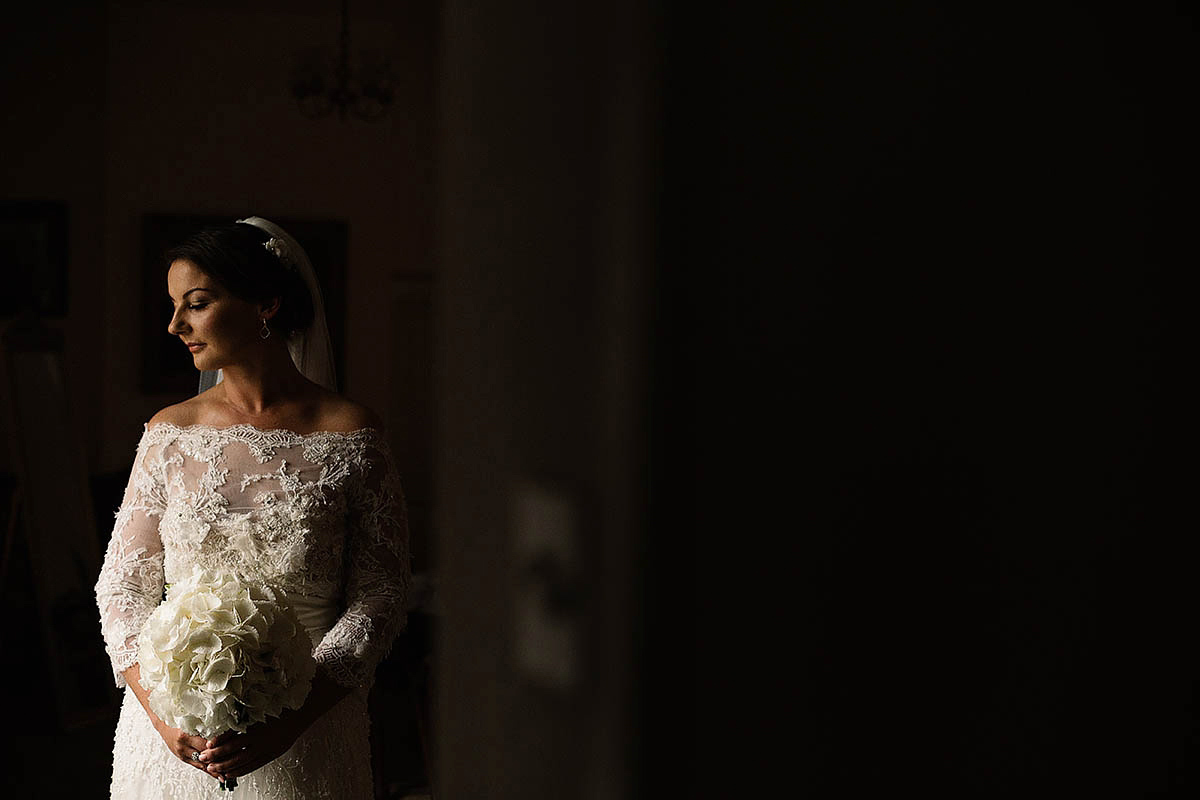 "Our florist was Sarah Meeson at Vintage Essence. She totally got the vision from the first meeting of opulent all-white arrangements with hydrangeas."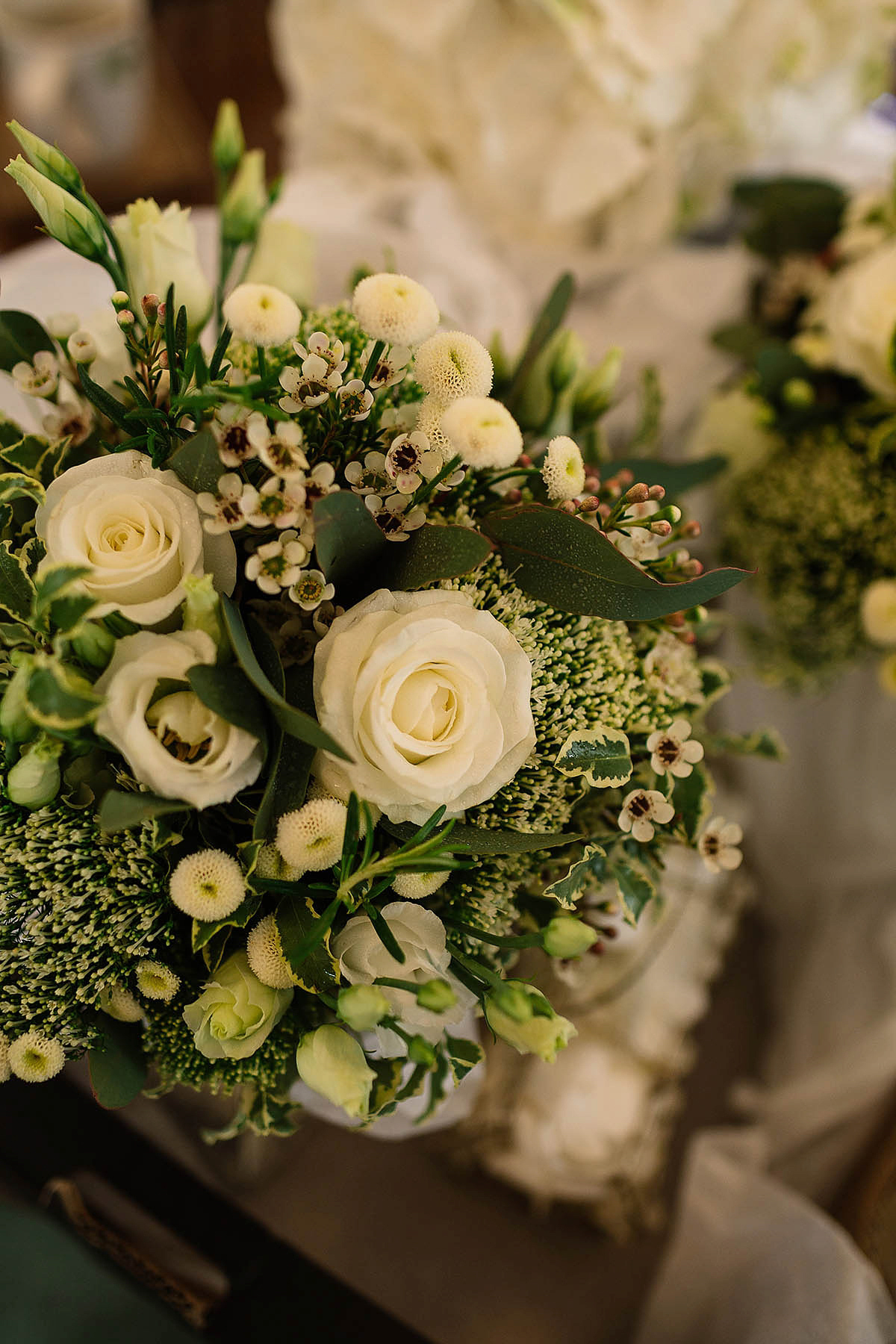 Marisa and her proud papa travelled to church in a beautiful 1968 Jaguar hired from Brooklands Wedding Cars, where her groom awaited her with one of the biggest grins I think I've ever seen.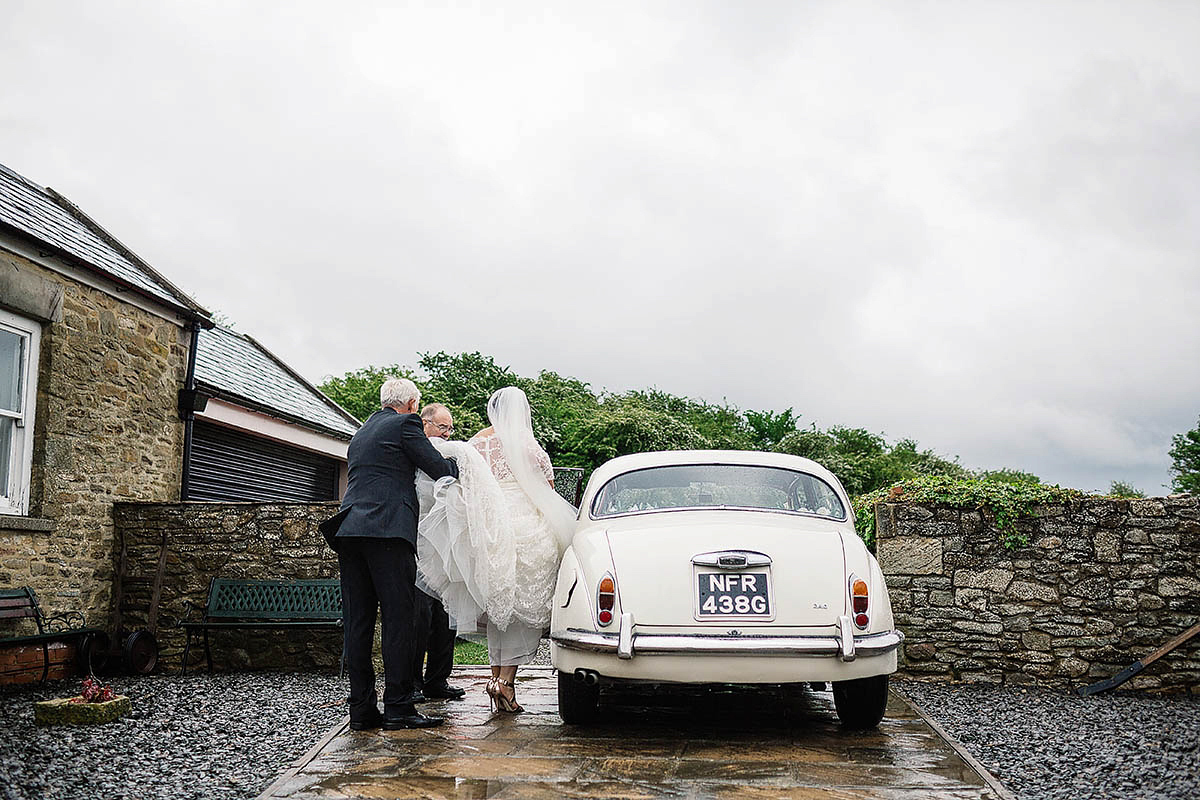 Rob wore a slick Canali made to measure suit bought from Flannels with a Dolce & Gabbana tie and Church's shoes.
I just adore the ceremony captures by Paul Joseph Photography; they just radiate the heady emotion of two people committing their lives to each other in front of the people dearest to their hearts. This honest, joy-filled style of reportage photography is my absolute favourite.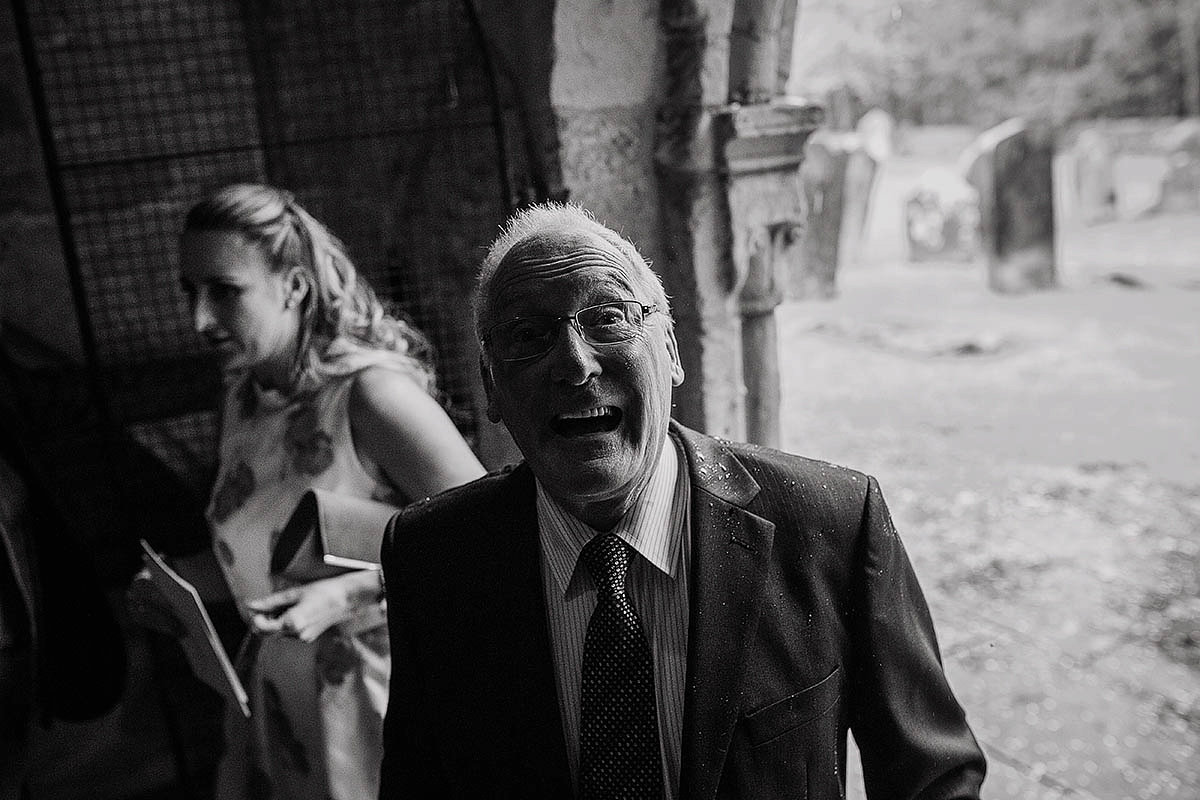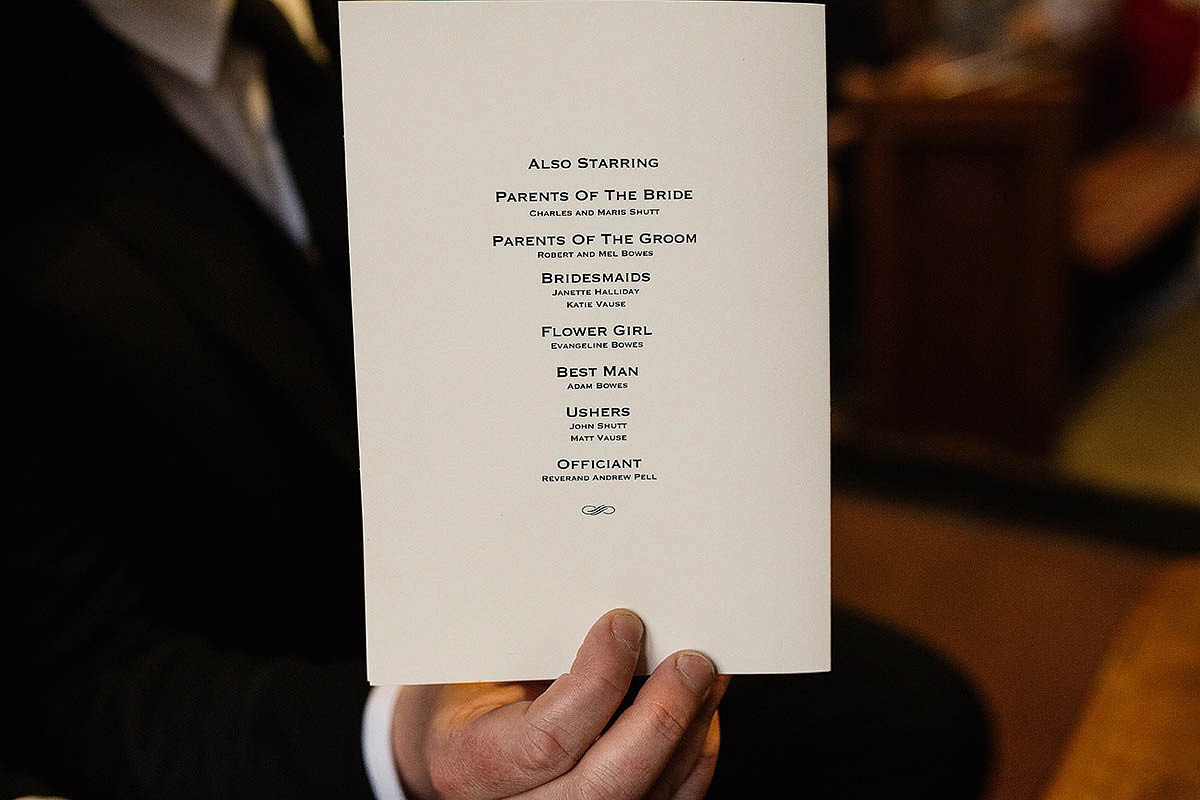 Marisa's dad, Charles Shutt, walked her down the aisle to her beloved to the stunning track Hoppipola by Sigur Ros – I truly adore this song and I urge any of you ladies still searching for that special 'aisle track' to give it a listen – it's simply beautiful.
"For our readings we chose The Velveteen Rabbit and Corinthians – both just resonated with us. We bought our rings from Steven Stone in Hale as they had the most sparkly fine band we could find!"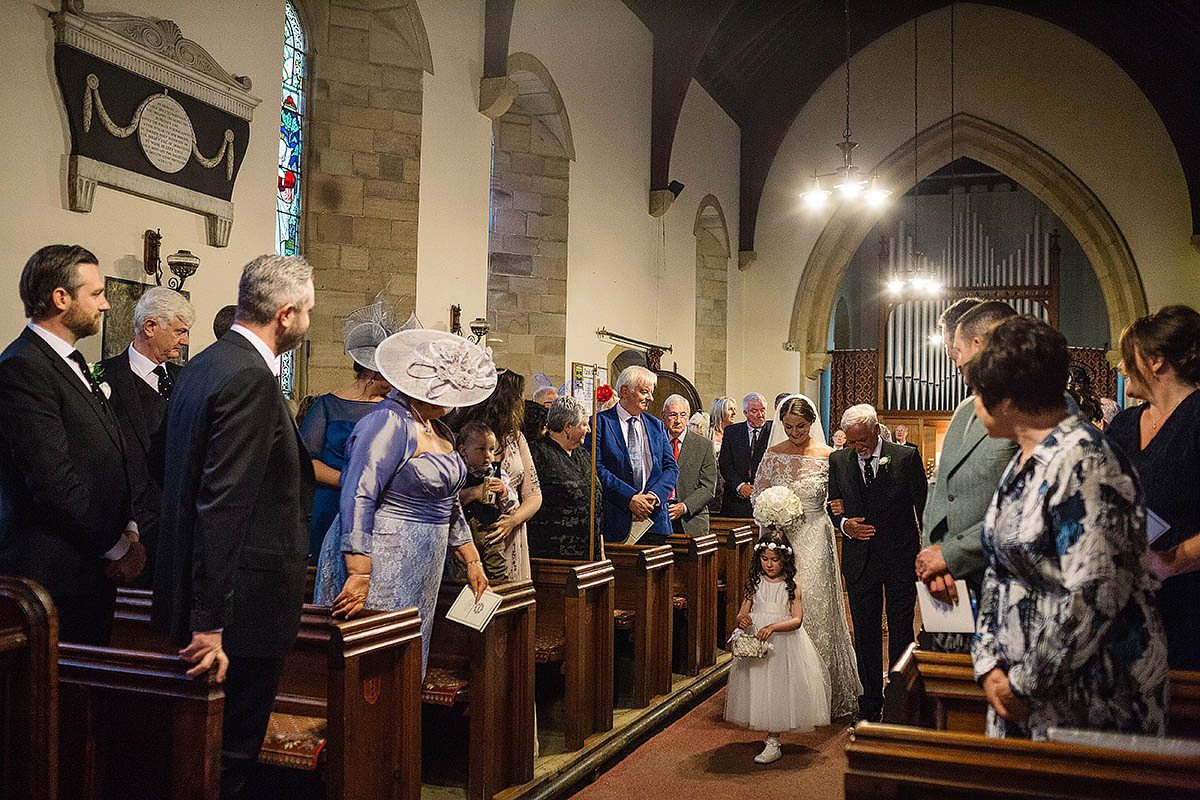 "We met in the summer of 2010 at our best friends' wedding where I was chief bridesmaid and Rob was an usher."
"On a rainy day in 2015 Rob took me for a picnic at Windmill Wood in Alderley Edge and proposed over a champagne picnic with our dog George in attendance – we were married the following year."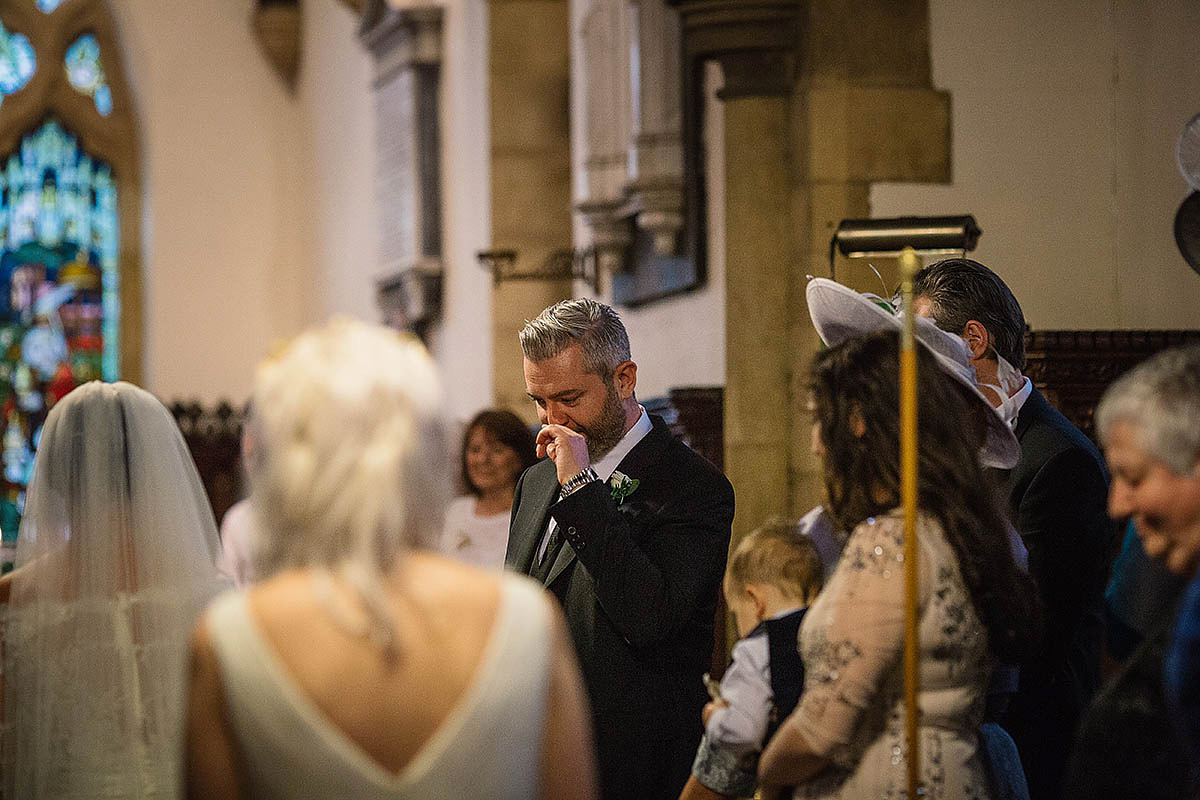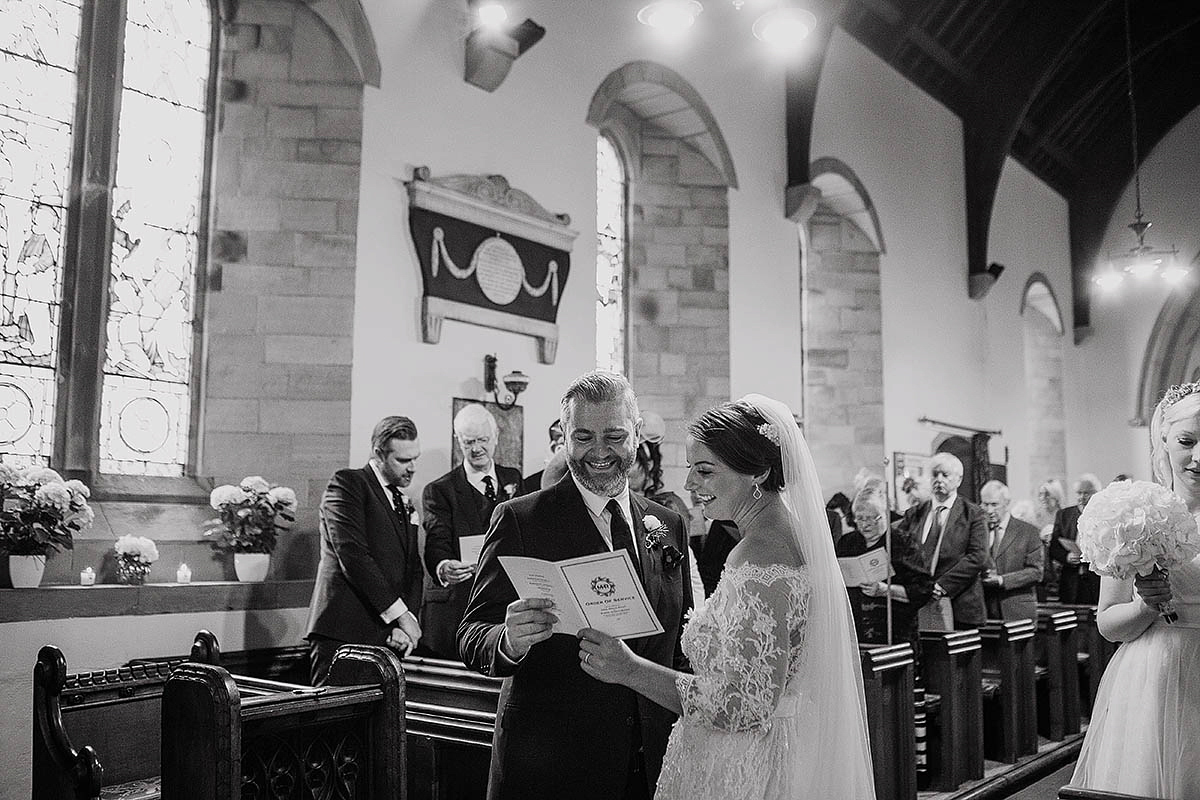 It's no secret that we're all for making your own wedding rules here at Love My Dress, and brides who opt to have their maids rocking white dresses is a particular favourite of mine. There's just something so totally elegant and pretty about a bridal party all in this pure, clean colour, and Marisa's girls' headbands really pop in contrast. Our stylish bride continued this elegant colour scheme into her gorgeous blooms.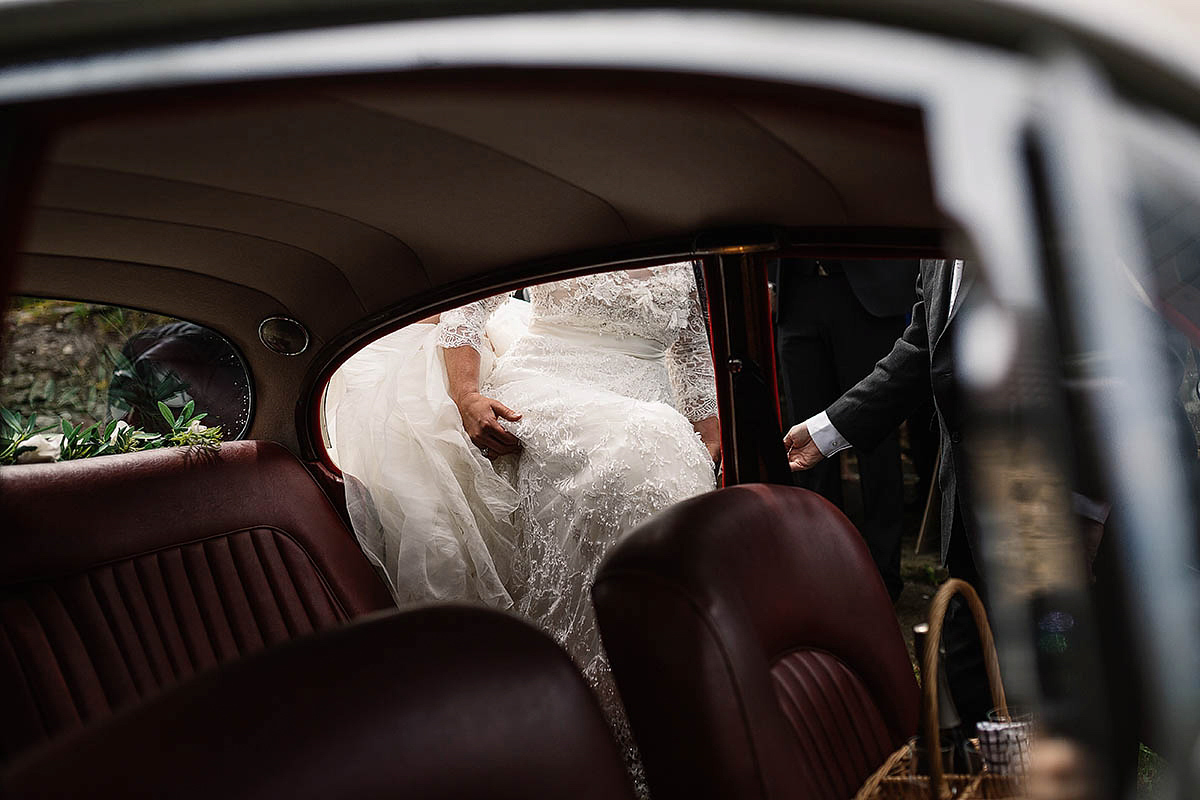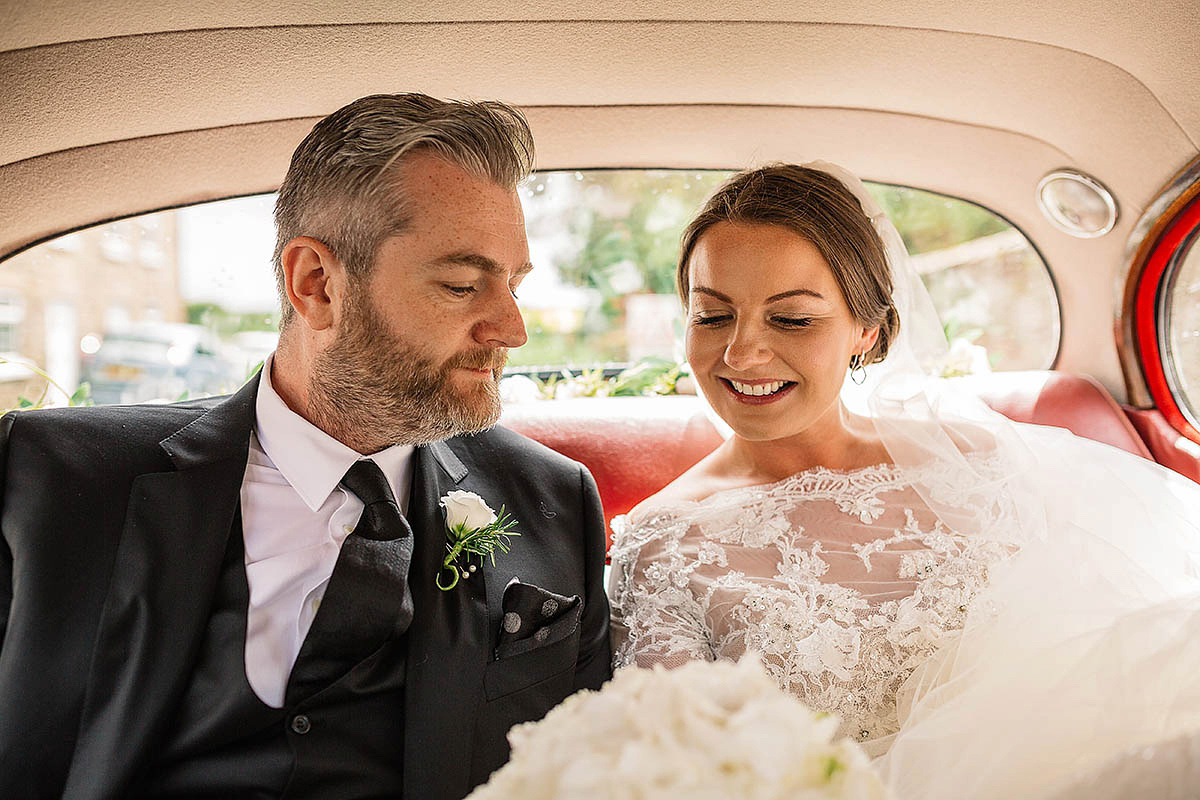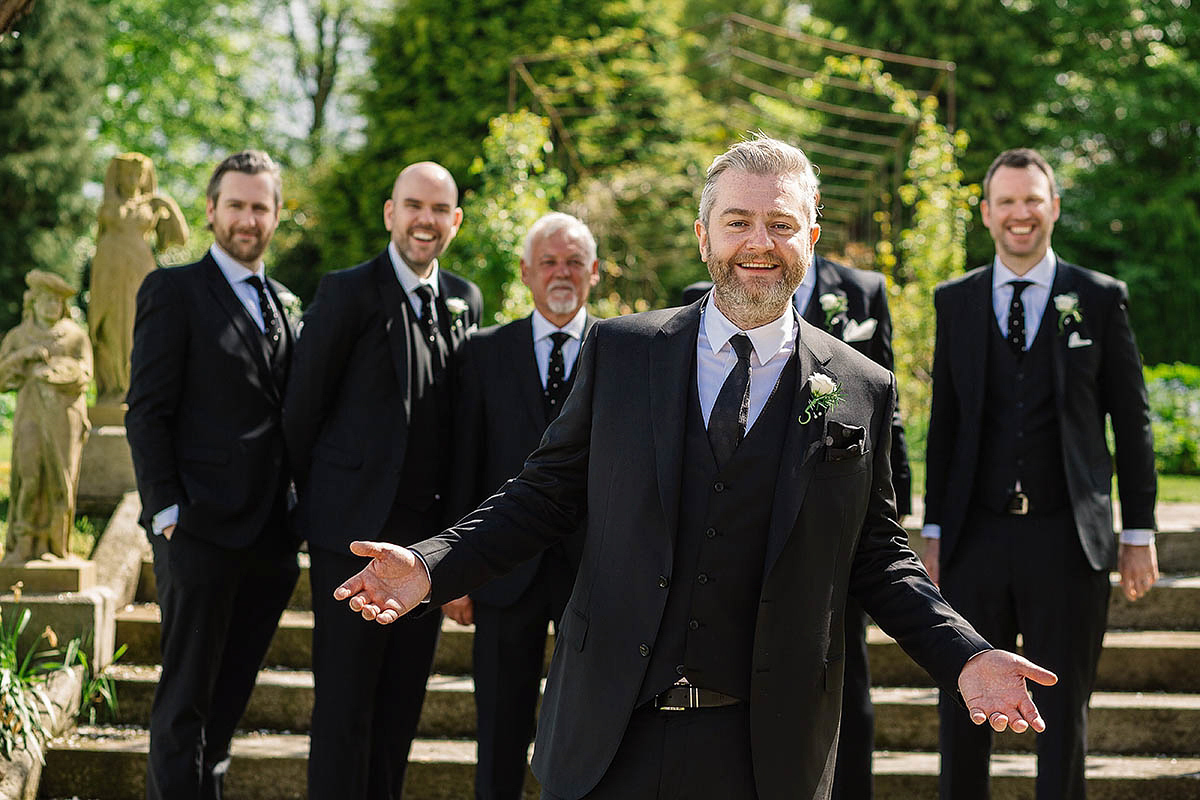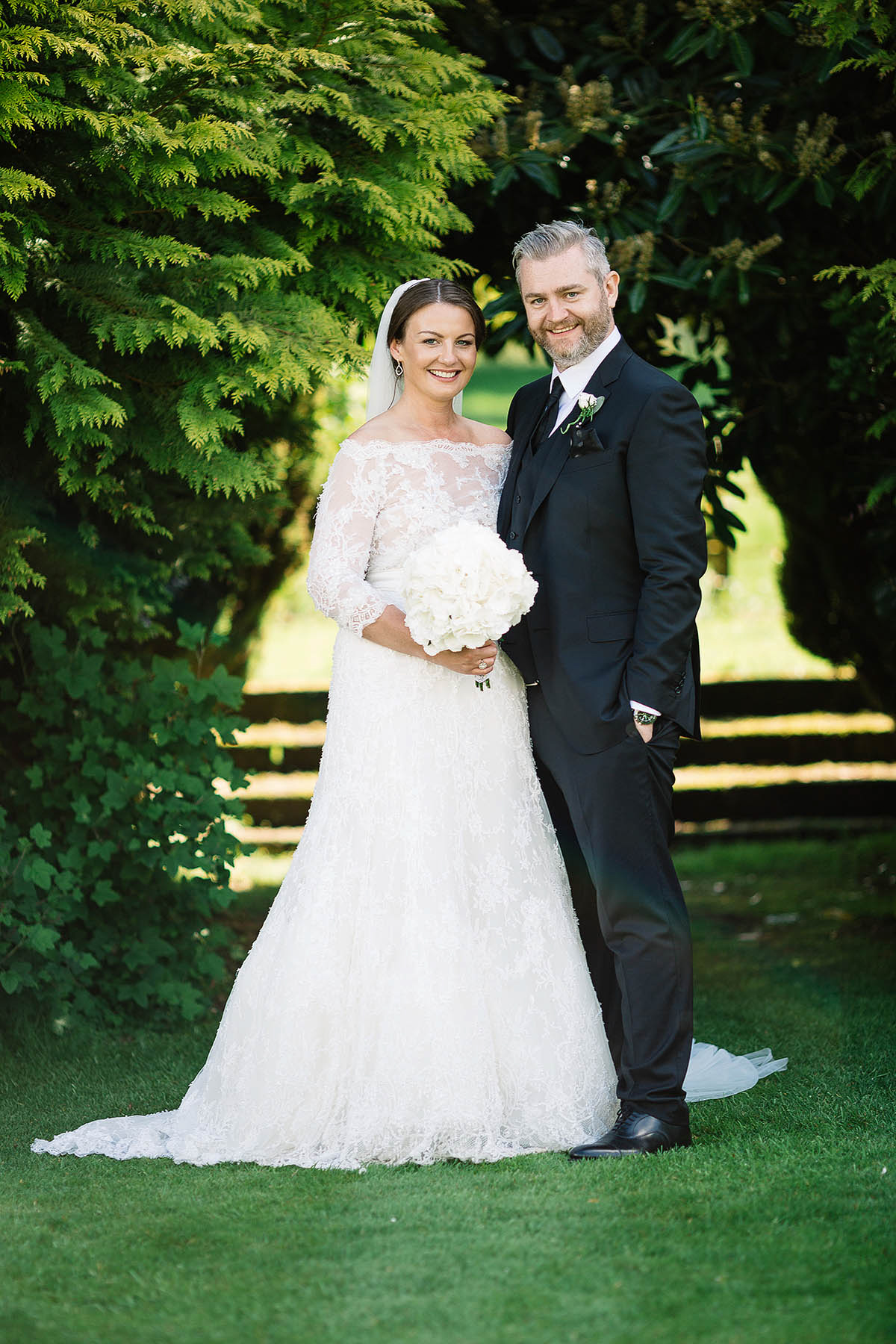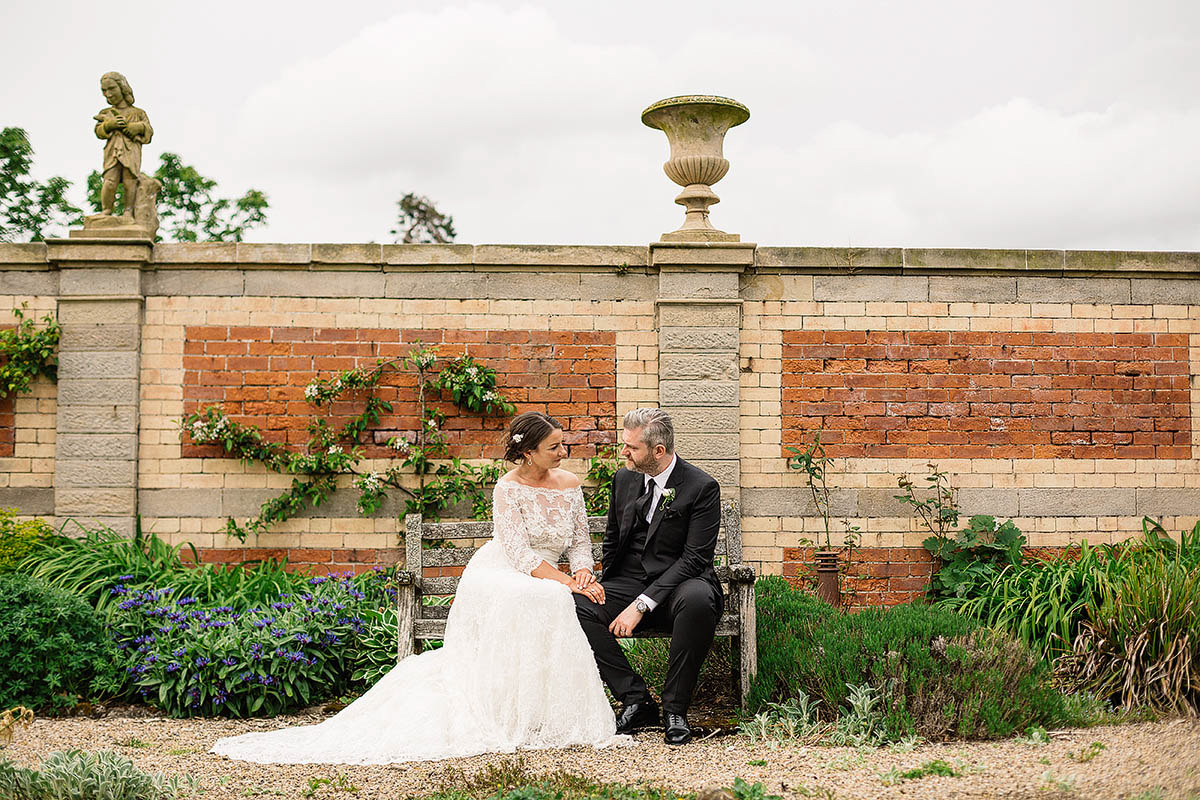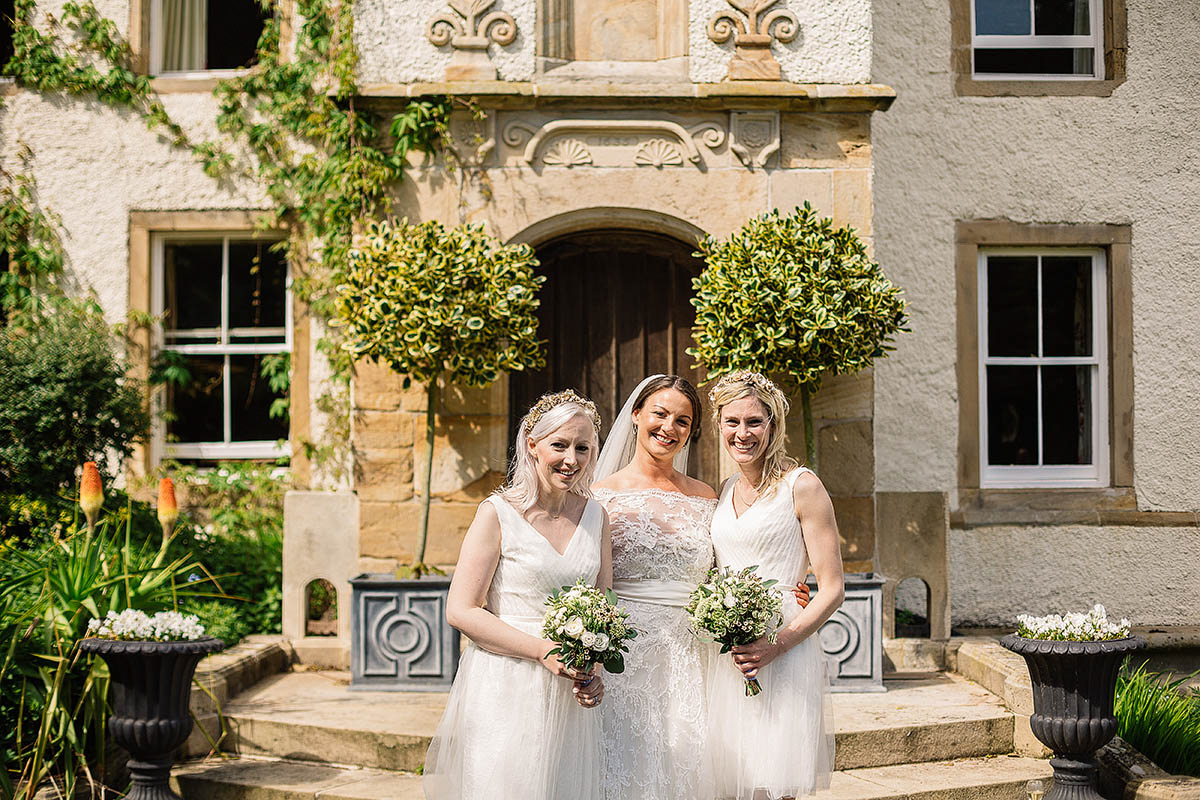 Utterly triumphant and blissfuly happy, Rob and Marisa snuggled back into that gorgeous white Jaguar and were whisked away to their elegant reception at Lartington Hall.
"We chose Lartington Hall in North Yorkshire for our reception because it was by far the most beautiful private venue we had seen."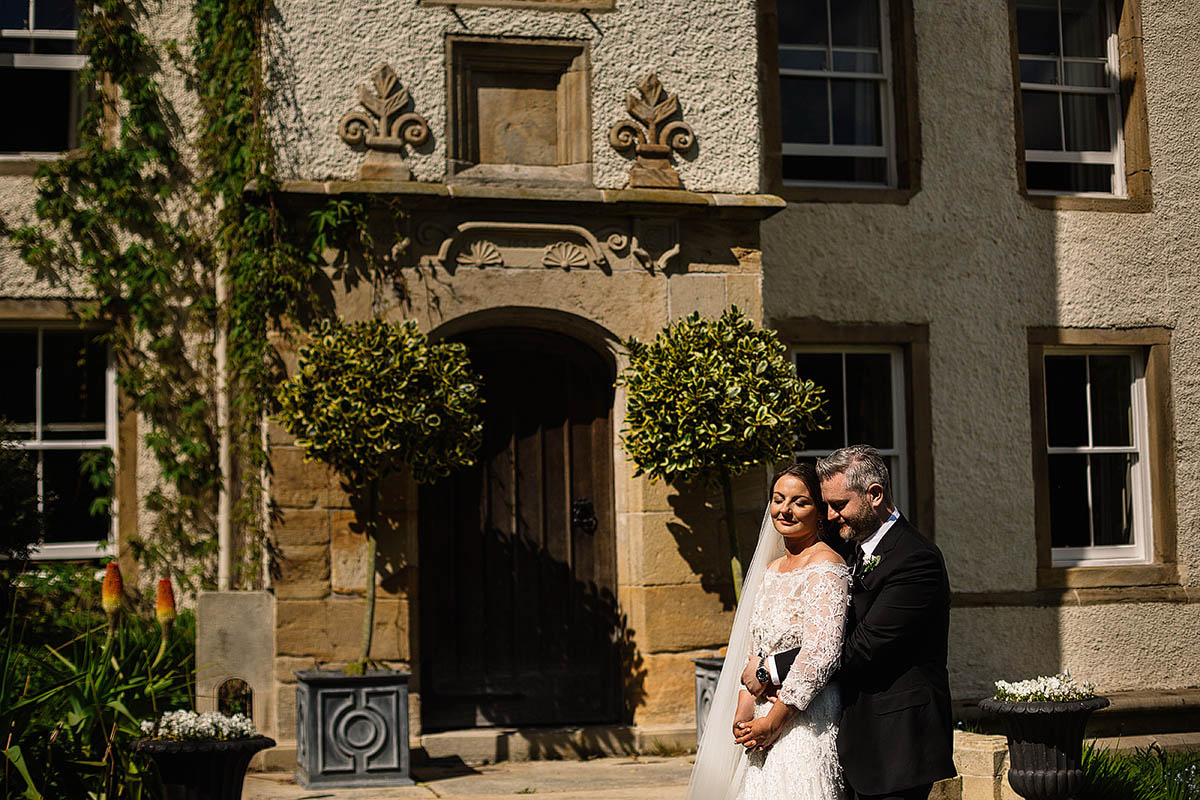 "Our favourite moment of the day was greeting our guests when we arrived at Lartington – we made a conscious effort to speak to everybody and it was so special to us to see them all so excited for the day ahead. On reflection we would maybe have the ceremony earlier so we could have an even longer day."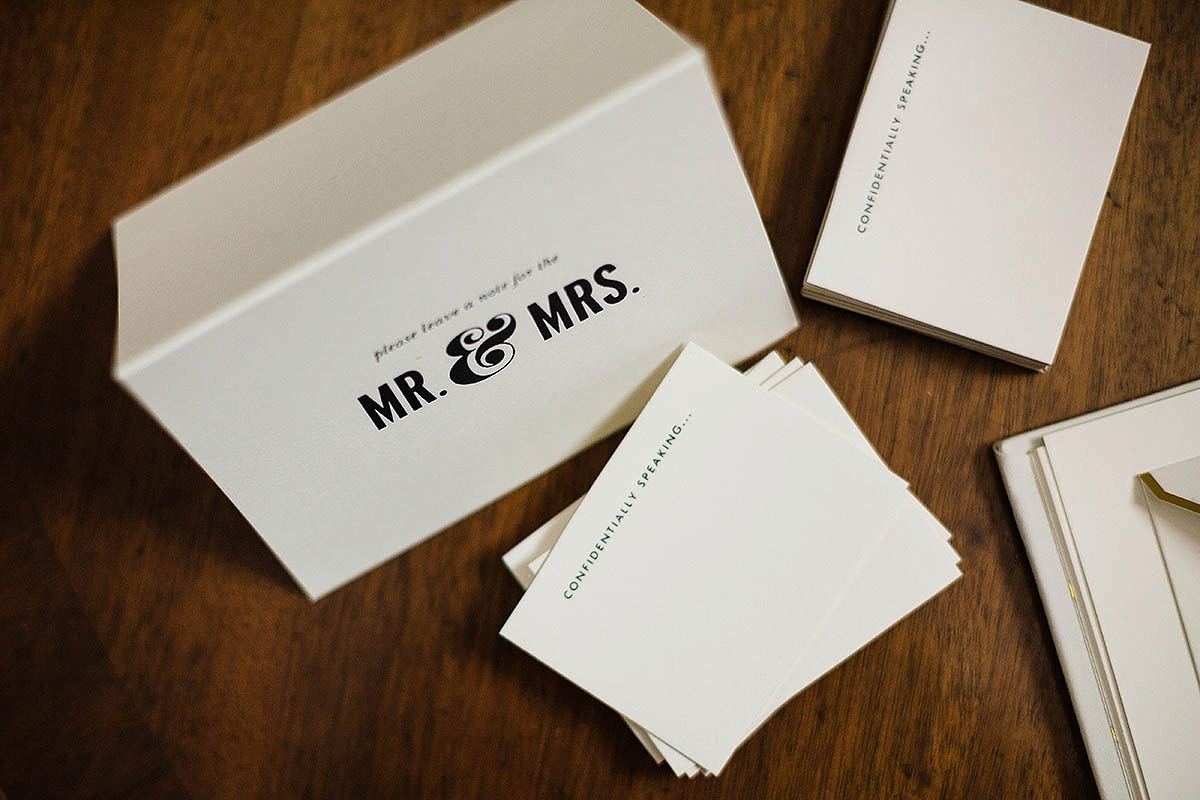 Guests enjoyed fizz on the beautifully green lawns of the hall before heading inside to a scene of pure stately grandeur, abundant foliage and pure white blooms, and a wedding breakfast catered by Coghlans at Lartington Hall.
"Our favours were created by Mark Butterworth at Rebel Art Syndicate; the font and layout was inspired by a Jo Malone perfume bottle, and we had Nkuku Lanterns from Coggles as part of our décor."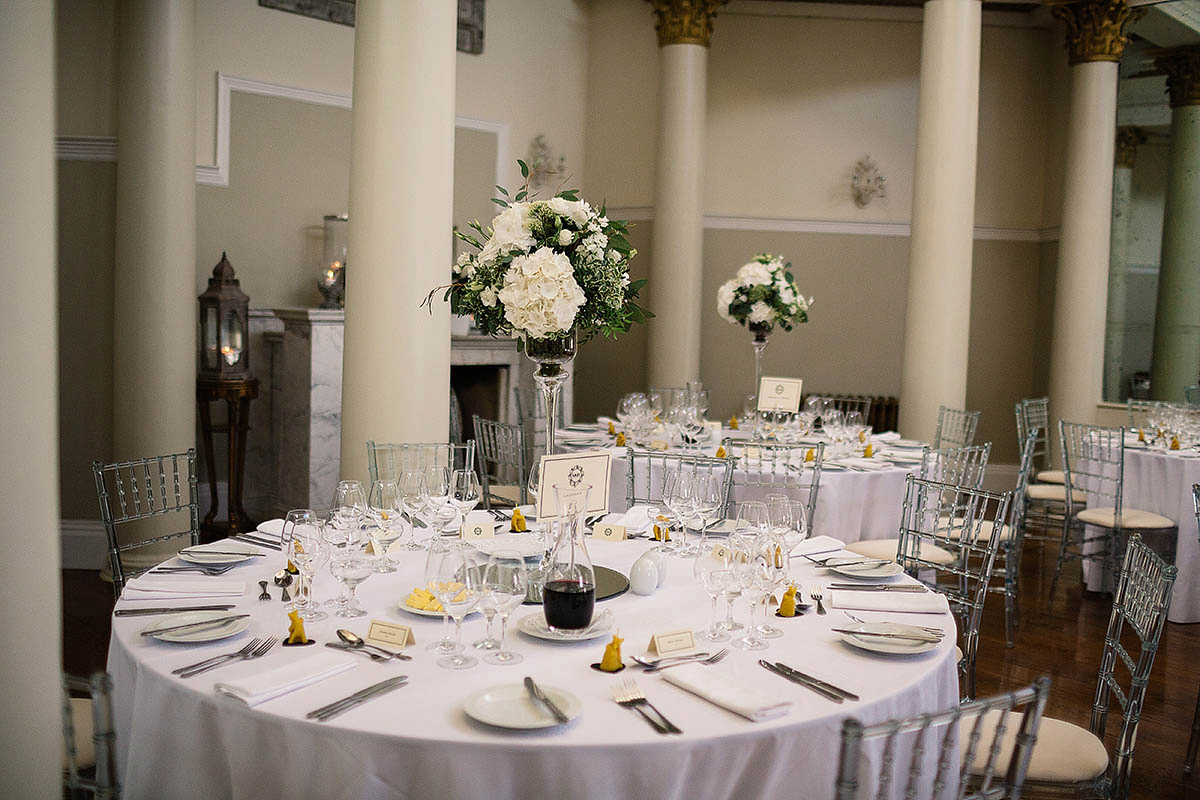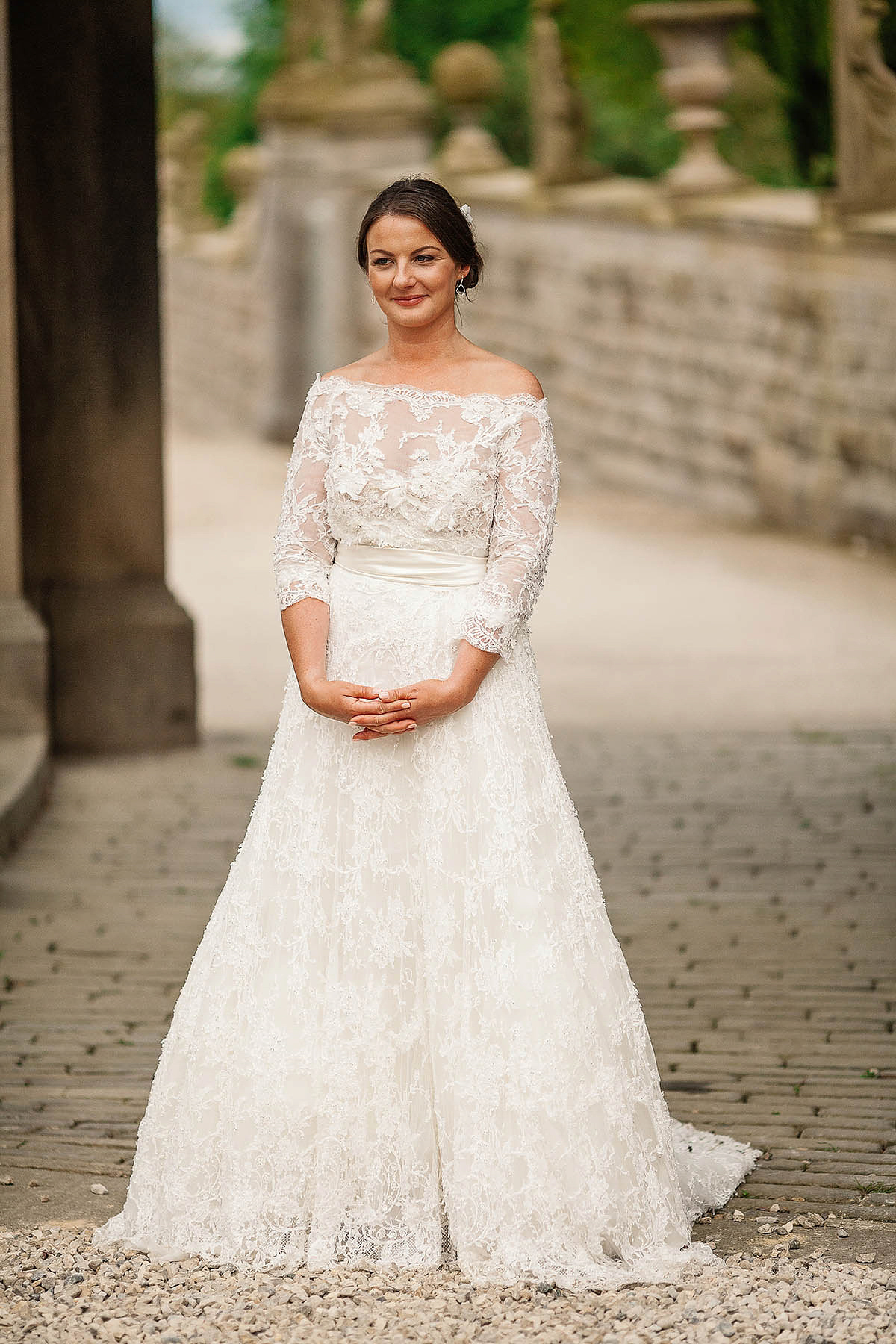 "For our first dance we chose Coldplay's 'Sky Full of Stars' because the words mean so much to us. We really do brighten each others worlds and we are huge Coldplay fans. Post-wedding we had a mini-moon at Glastonbury and saw them perform it live – it was magical."
Attention must be paid to the collection of beautiful cakes crafted by the fair hands of two of Rob's most special ladies. Carrying through the chic white and gold colour palate, these sweet concoctions look way too good too eat (though I'd certainly give it a good go).
"My mother-in-law and sister-in-law, Mel Bowes and Kathryn Jenkinson, make cakes for weddings and they made ours with love and dedication to the white and gold theme."
Marisa and Rob hired The Entertainment Company band to satisfy their guests' itchy feet, kept well-fuelled for dancing by a mouth-watering cheese tower of course (seriously, how am I even hungry!? All I've done this past weekend is eat!)
I so love it when our lovely newlyweds tell us the heart-warming stories behind their choice of first dance – we relate so many memories and make so many emotional connections with certain pieces of music, so having a song that instantly transports you back to one of the happiest days of your life can only be a truly wonderful thing.
Words of Wedded Wisdom 
"I know everybody says this but enjoy every second, the day goes by in the blink of an eye and its hard to remember every special moment, so live them. Let your hair down and cherish having everybody you love in one room getting to know each other."
'Cherish' is such a perfect word – holding your dear ones close to your heart and just revelling in their company. Thank you so much for these lovely words Marisa, and thank you so much to you and your new husband for sharing your sublimely elegant day with us all.
And of course all of us at Love My Dress want to extend our very heartfelt thanks to photographers Paul and Kelly for these crisp, creative captures. Please do feel free to peruse our ever-expanding archives for more beautiful Elie Saab brides and a whole heap of gorgeous weddings caught on camera by the talented Paul Joseph Photography.
Love, Em x