Well, the best laid plans of mice and men! You're going to have to forgive me for the lateness of this post today. The current state of renovation (my office is in the middle of all this!) has put paid to all my plans to be organised and on time this week. We're getting there, but there have been several 'can we just have the electricity off again for a little while?' requests from the builders, which interrupt the flow of my day. On the upside, I get to choose a posh new toilet for downstairs. Hoorah! Who honestly knew that renovation could be so much fun? 😉
But I digress – today's real wedding feature is that of Environmental Advisor Sarah and Insurance worker Phill, who tied the knot on 24th September this year at Middletons Hotel in York – one of my very favourite cities in the UK – and one we're lucky enough to have only an hours car drive away. The couple's wedding was a celebration of the bride's love and adoration of the Yorkshire Dales she grew up in and the quintessentially pretty English woodland and wildflower meadows that played a backdrop to her childhood memories.
"I had never thought about getting married, so I hadn't had anything in mind until I actually had a date set and planning started. The concept really came from my flowers; I knew I wanted wildflowers as I am from a farming village in the Yorkshire Dales and as a child, I loved finding the flowers in the fields in summertime. I simply asked my florist for colourful flowers you would find growing wild in England in September. This inspired the table names and we chose English woodland animals; a perfect theme as we were to become Mr and Mrs Partridge! From then on we decided to celebrate the best of British and source all our suppliers as locally as possible to really support and show off what our city has to offer"
Photography by David Lindsay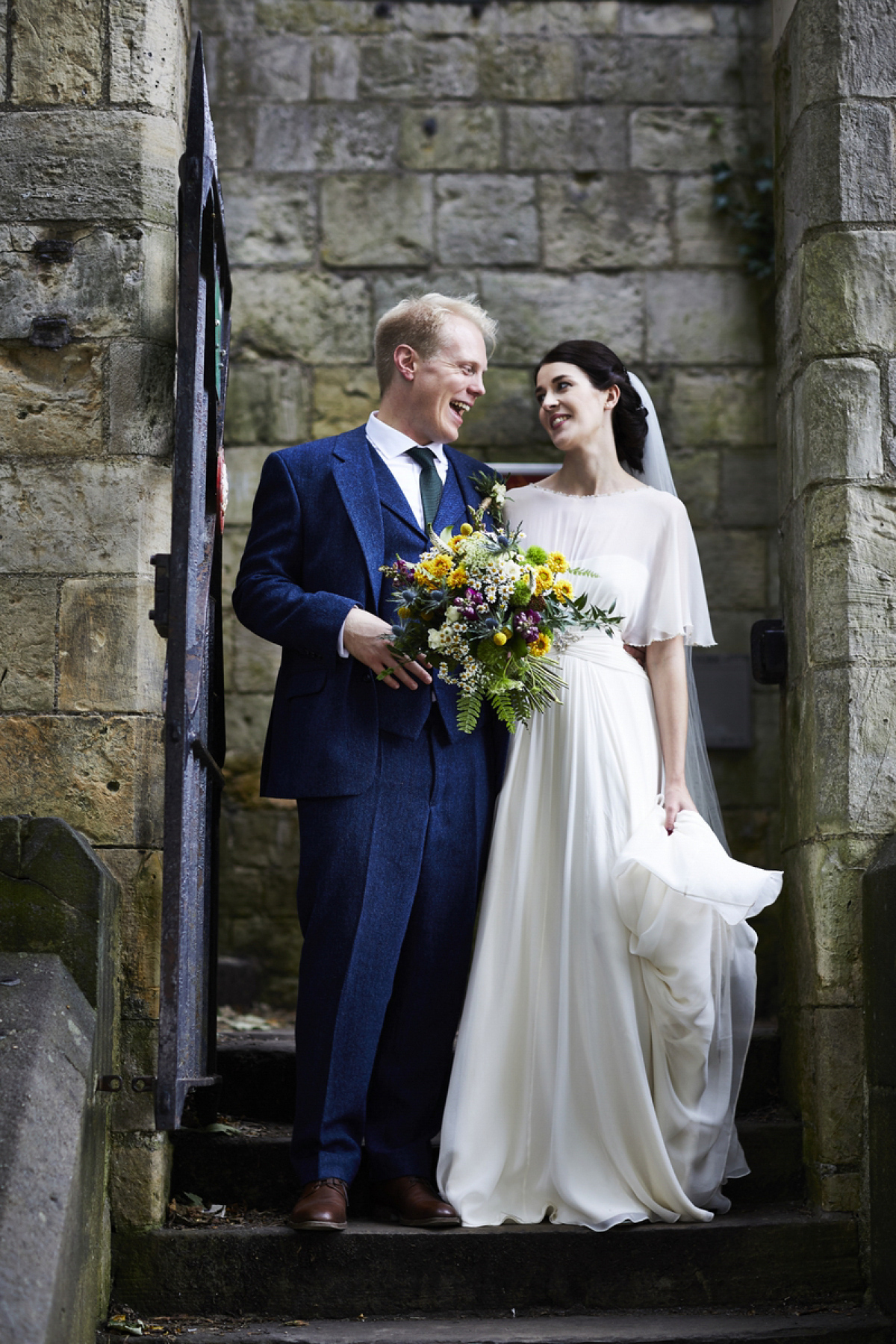 Flowers by Greenhouse Florists in Ripon
"This was always important to me given my line of work! For example Phill's suit was tailored by Mullen and Mullen based in York, our brownies (as opposed to a cake) were made by Brew and Brownie our favourite coffee shop near York Minster and Phill's favourite butchers created a giant Pork pie for our guests to enjoy. The venue itself its quite rustic inside so the decoration needed wasn't much and we jazzed it up with some gold, ivory and white decorations to let the flowers colour really stand out.""Phill and I met in 2011 at our work Christmas party; we had worked in the same company for a year and somehow never met or been introduced until I literally bumped into him at the bar! His first comment to me was that I looked like Morticia Adams, Luckily I took that as a compliment and after a few weeks of emailing at work Phill asked me on a date on Christmas day and we have been together ever since."
"We moved In together after 2 years, and unbeknown to me, Phill had decided that if he could live with me happily for a year then we would marry me. A year later (to the day) we were at a friends birthday celebration in Leeds and whilst we were dancing Phill told me about this decision he and made and asked me to marry him. We didn't tell anyone for six weeks as I was determined to tell my mum in person (she lives in the Lake District and we weren't going to see her until then), so we had a lovely period of keeping our little secret."
"I remember being so excited together looking for rings and thinking about when we could get wed, it was one our favourite times together. We were married just over two years after we got engaged."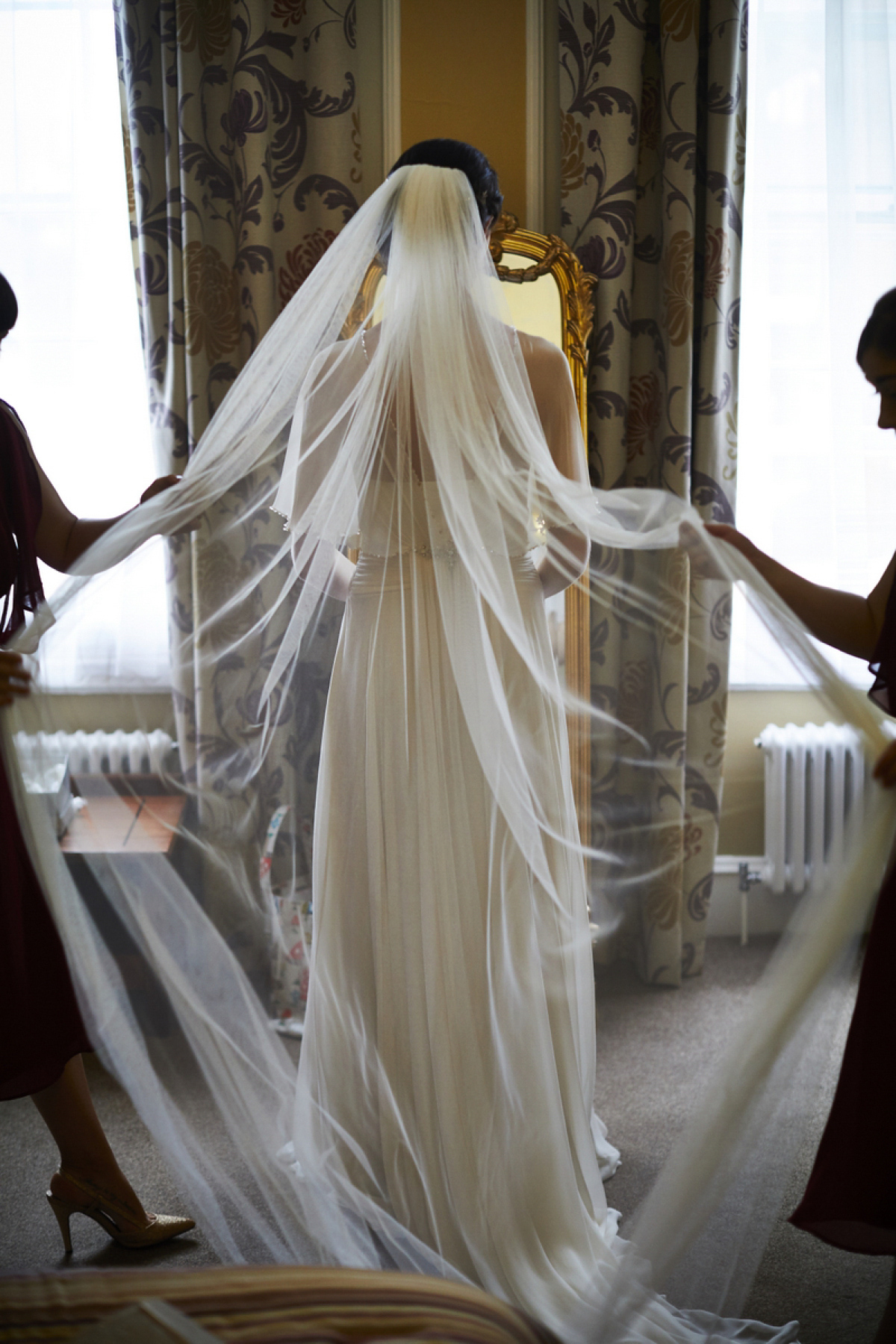 "I bought my Jenny Packham 'Betty' gown from Mia Bridal in Carlisle. My mum, my sister and I had booked a visit to see Sarah at Mia Bridal in Carlisle as our first ever dress shopping trip. I wanted to get my dress local to where my mum lives as it was a very special time for her and it was lovely for us to have that link. We chose Mia Bridal as opposed to the larger stores in the area as she had such a wonderful collection of designers."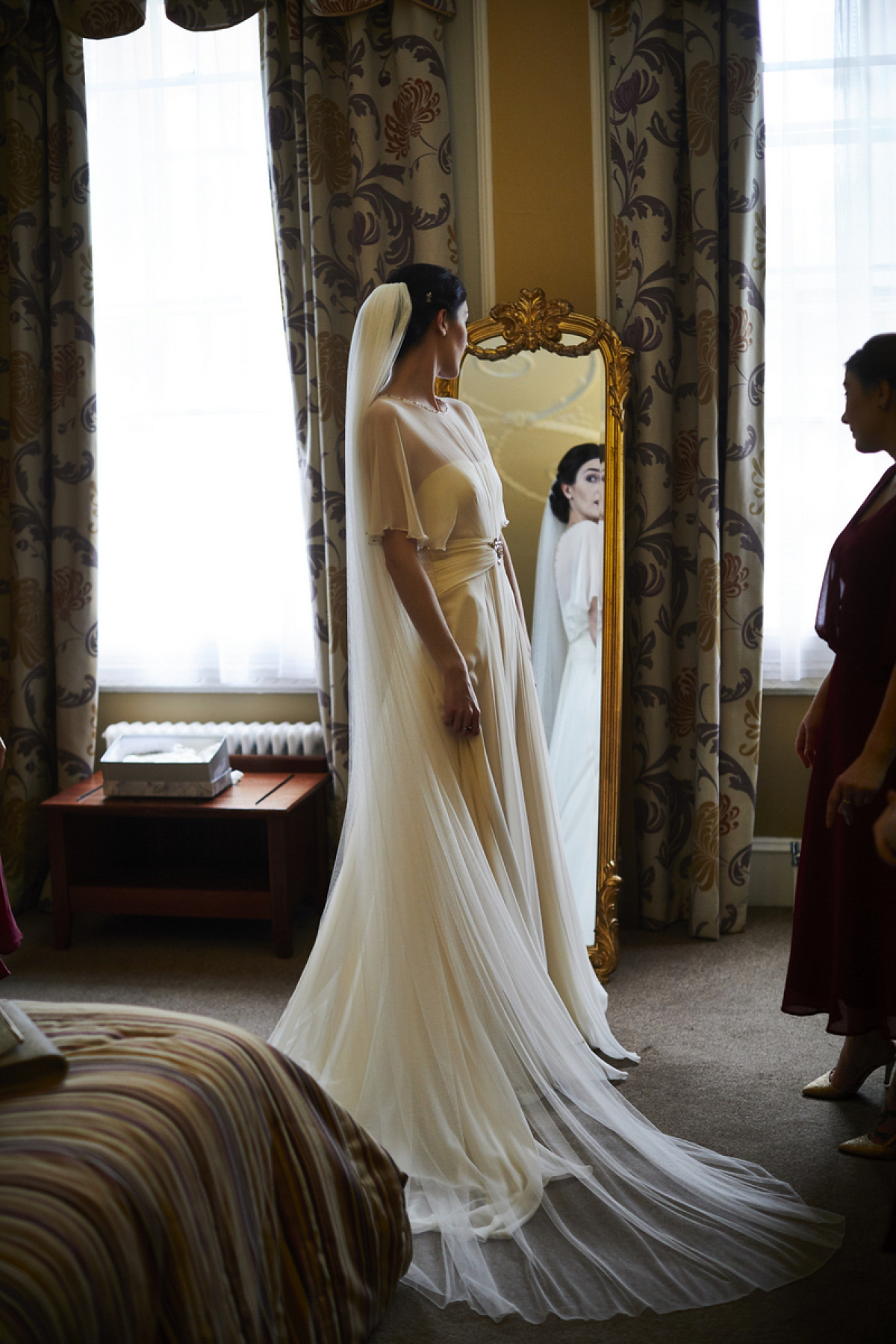 "I wore my everyday perfume that I have worn since I was 18 – Vivienne Westwoods Boudoir. This is my absolute favourite scent and something I would consider a signature. I wanted to feel like myself on the day so I decided not to try a new perfume; instead I bought a new body wash that I had never used so that that fragrance would remind me of the wedding day. I also wore small pearl earrings that my mum gave to me on the day and a lovely gold and blue cocktail ring given to me by Phill's mum which used to belong to her Aunt."
"Cath from Elite Mobile Hair and Beauty is from the same Yorkshire Dales village as me and had cut my families hair for many years and is now based in Harrogate. She was the only choice for me as she is so much fun and very talented! We all had such a lovely morning chatting and enjoying my 80s rock party playlist!"
"I hadn't expected to buy Jenny Packham as I considered her designs to be out of budget, but my mum and sister wanted me to try one. As soon as I put the Betty gown on I didn't take it off for about 20 minutes! It was just perfect for me, it was light and so effortlessly elegant; I have always been drawn to that simple 30's style so there was never any other contender from that point! And if that wasn't enough, we happened to arrive on the day Sarah had started a sample sale so I was able to get my dream dress and within my budget!"
"My shoes were Rachel Simpson's 'Mimosa' in Mint.  They were the shoes I tried on with the dress and they were perfect, green is my favourite colour and they were so unbelievably comfortable! My mum and stepdad bought them for me as a Christmas gift."
"I purchased a set of dawn chorus hair pins from Laurel Lime which added a little bit of fun with the floral and bird design. I also wore a silver bee hair pin I had had for many years."
"I only ever wanted to use Amy from Greenhouse Florists in Ripon after I saw her incredible work at my Bridesmaid Ambers wedding 3 years before. Amy has now moved on to other ventures so I was very lucky to be able to utilise her talent on my big day. I knew I wanted wildflowers and we came up with the idea of wild and whimsical bouquets to tie in with the woodland theme and compliment my simple dress.
We also wanted flowers around the venue in beer bottles, as we are both from Brewery towns and wanted to celebrate our home towns. They were the only surprise I had on the wedding day and they arrived with my Dad just before we were ready to head out to the ceremony!"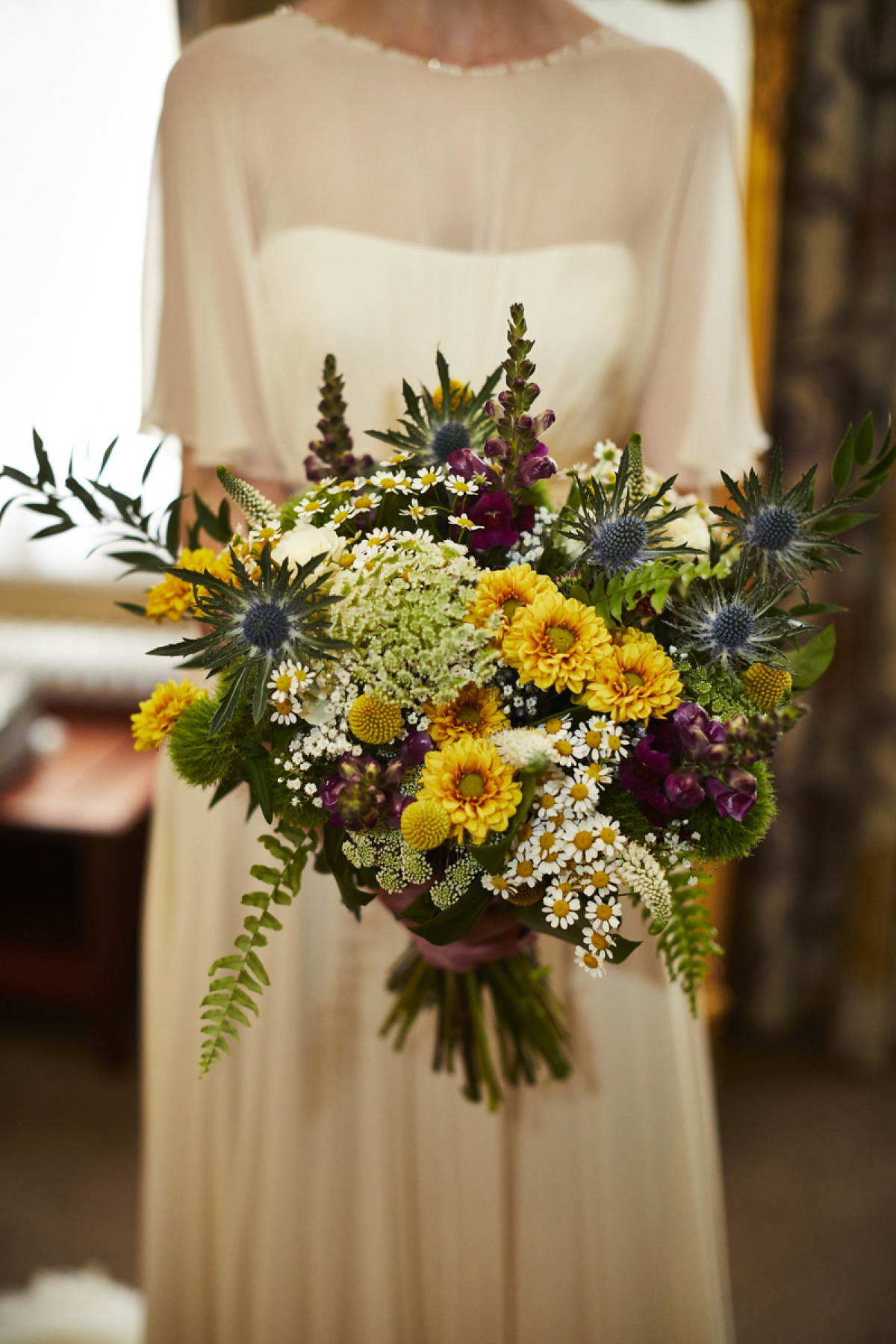 "We bought five dresses from ASOS as originally I had five bridesmaids, so we could get the right sizes for everyone. They were an instant hit with all the girls and we ended up with one spare to send back as my best friend from school Kirsty had just discovered she was expecting a baby, due 7 days before the wedding!"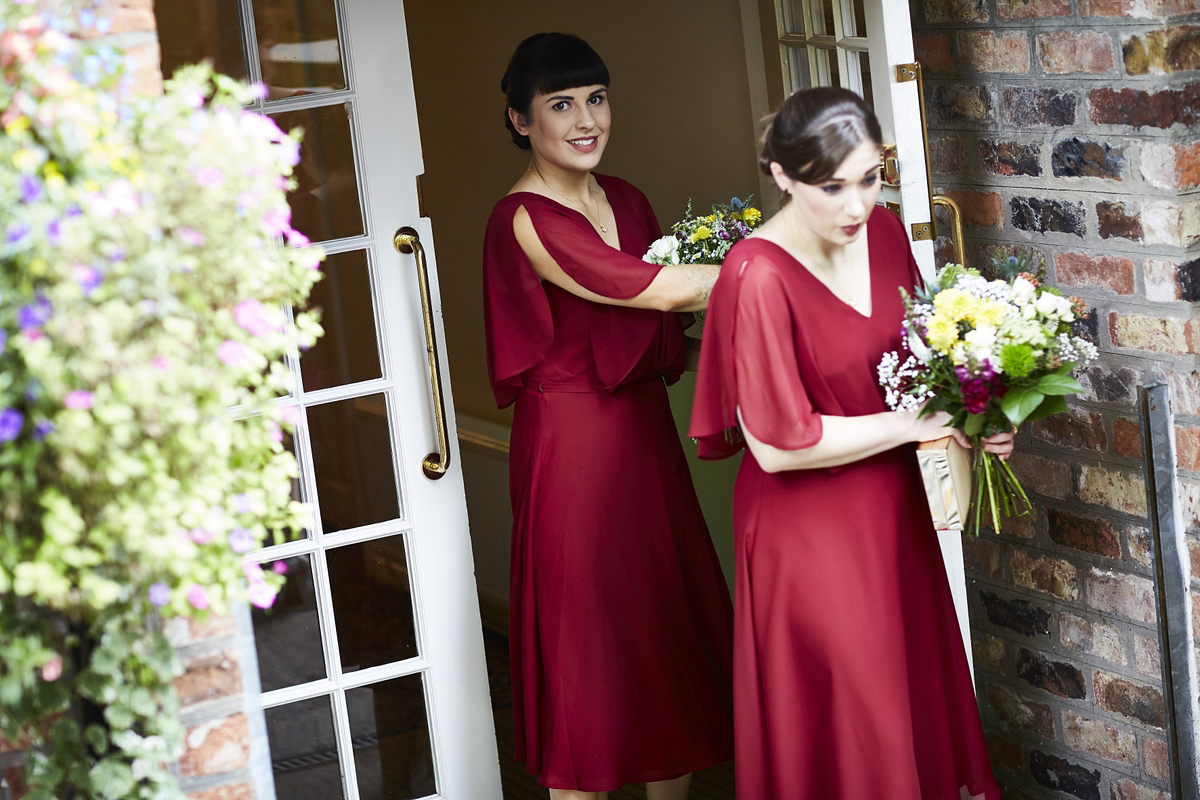 "Luckily she was still able to come to the wedding as her beautiful boy Caspar was born two weeks before the big day!"
"I bought each of the girls a gold bee necklace and they wore their own earrings. For my sister I bought gold bee earring s and a gold necklace featuring a compass as she loves to travel and I wanted to encourage that free spirit! I purchased these gifts from UK sellers on notonthehighstreet.com and Etsy."
"York is where we met and where we live so there was only one choice for wedding location! York has some incredible old buildings but the majority were well out of our price range or had restrictions on times they could be used or even footwear that could be worn (for conservation reasons)! So we started looking at smaller more unusual venues that could host the laid back day that we wanted."
"Middletons Hotel is a beautiful old building set back from the river, close to the city walls and Clifford's tower. We felt it had the right amount of history and charm whilst still providing green space outdoors and the perfect indoor spaces for our celebrations. It also has excellent food which was a must! It was the only venue we visited and we booked it the next day!"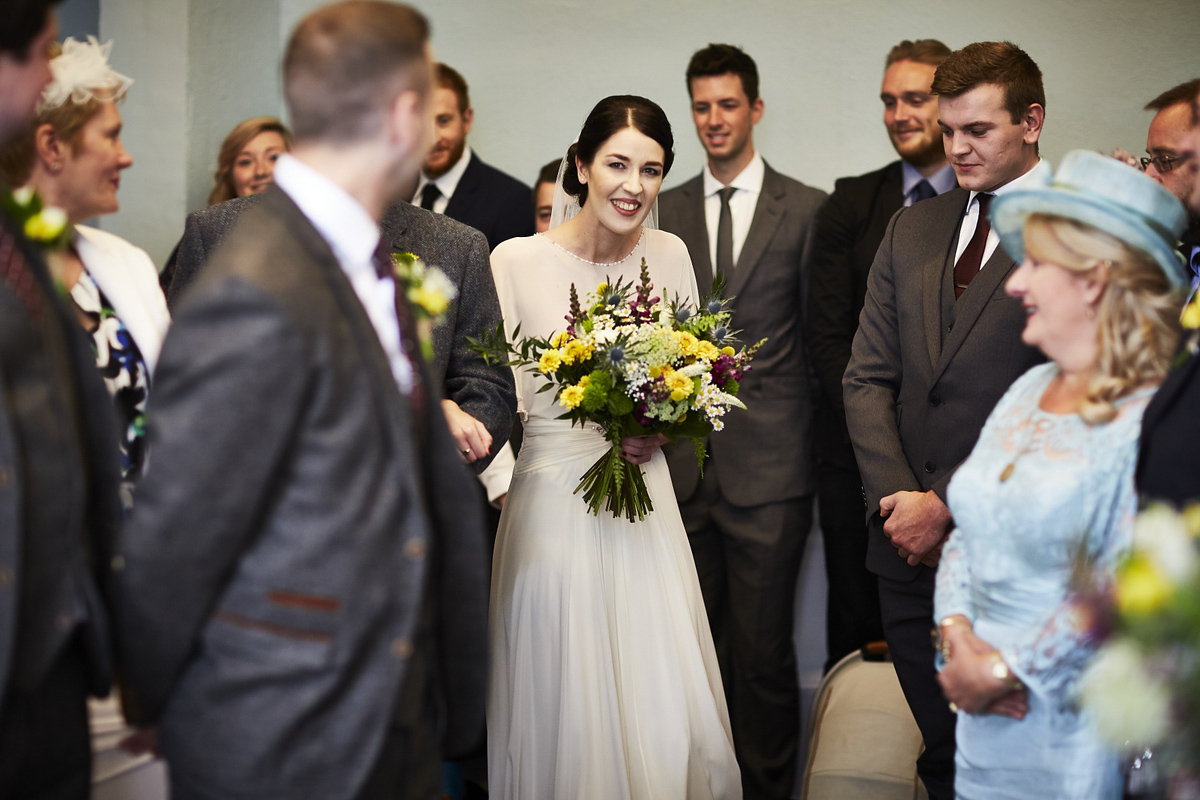 "My dad walked me down the aisle, I don't know who was more nervous, but as you can see from the photos as soon as we got in to the ceremony we were all smiles!"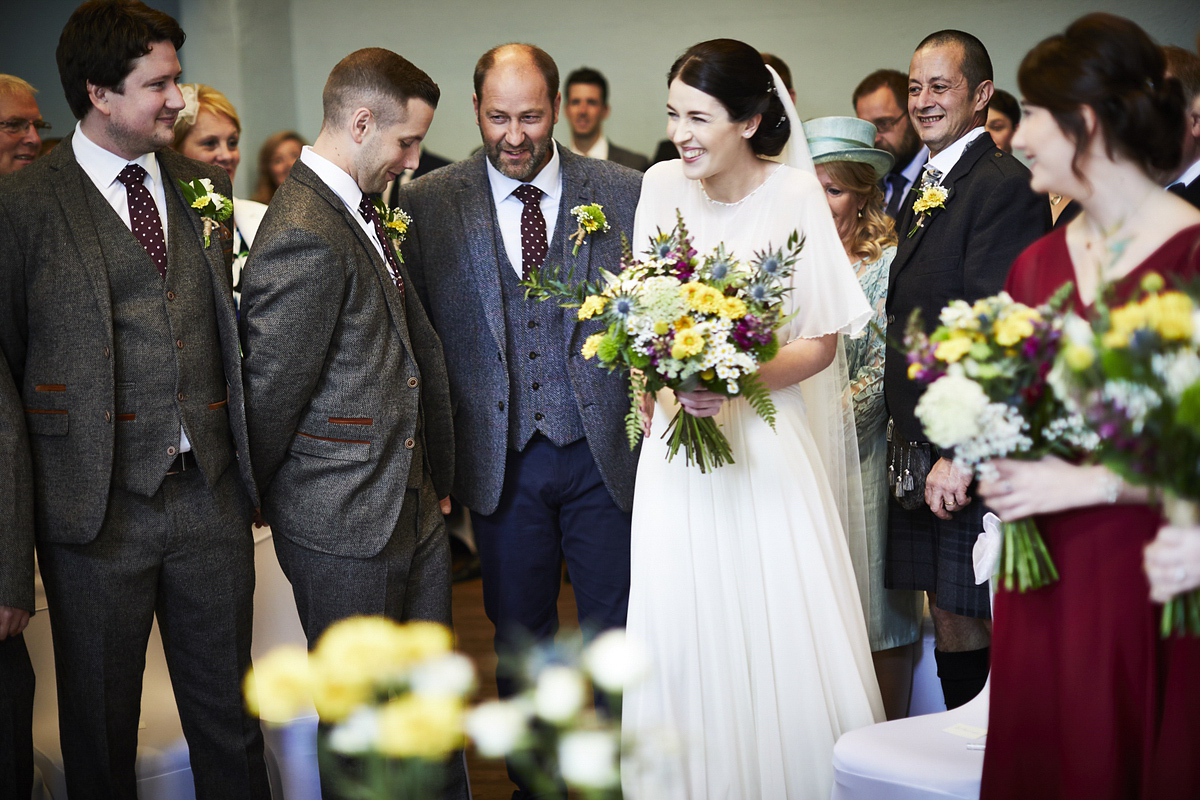 "I walked down the aisle to Friday I'm in Love by the Cure. This has always been one of my favourite songs and I wanted a track that would be really upbeat and happy. It was also the song my mum and stepdad walked back down the aisle to when they got married 8 years ago."
"Phill had such a great experience choosing every aspect of his wedding suit (as he is so particular in what he likes!) quite by chance he was helped through the whole process by an old school mate! The suit looked seriously smart right up until one of the groomsmen jumped on Phill during a particularly energetic rendition of Jimi Hendrixs Foxey Lady (photos included!) which resulted in Phill ripping his trousers. He has since encouraged a good friend of ours to have his wedding suit made there for his wedding in April."
"Phill went out to buy his tie and pocket square a few months before the wedding with simple instructions to buy a tie in either red, blue or yellow; so naturally he came back with orange. He was advised to return this one and try again!"
"Second time around he came back with a green tie and I gave in (I knew I was marrying a man who knows his own mind haha), it actually complimented his suit perfectly so I was very impressed with his eye for detail and looking at the photos, anything else just wouldn't have worked as well! He (eventually) purchased his tie from Reiss. His pocket watch was a gift from his Dad, which used to belong to his Grandpa. I bought Phill some Partridge cufflinks as a gift for the morning of the wedding which he chose to wear on the day."
"We chose gold bands from Goldsmiths in York. I ended up with a sparkly band not using diamonds but cut metal which I was much more comfortable wearing."
"We chose the simple vows offered by the registrar as we felt uncomfortable making any huge declarations to each other in front of lots of people and we didn't want to run the risk of messing up our lines or crying halfway through! So we chose short and simple as we are content to be soppy to each other in private. Phill was so nervous about forgetting the words that he was intently repeating them back to the register until I reminded him that he was marrying me and so he needed to say his vows to me, which got a big laugh from everyone on the room!
"My bridesmaids read the lyrics to 'You've got a friend in me' from the film Toy Story. My sister and I have always been big Disney fans and I chose this at the last minute after I heard it randomly on a tv advert and actually registered the meaning of the words. I thought it was such a beautiful sentiment and had a meaning to me thinking about my best friends and my sister and of course about Phill; I think if you can always be best friends you will have a long and happy marriage. Phill chose a quote from Albert Einstein about relativity for his groomsman Jono to read, it was very appropriate for both of us being science nerds. My dad was not at all keen to do a speech later in the day so that left a lovely opportunity for my stepdad Paul to be involved and he read us a Celtic wedding blessing."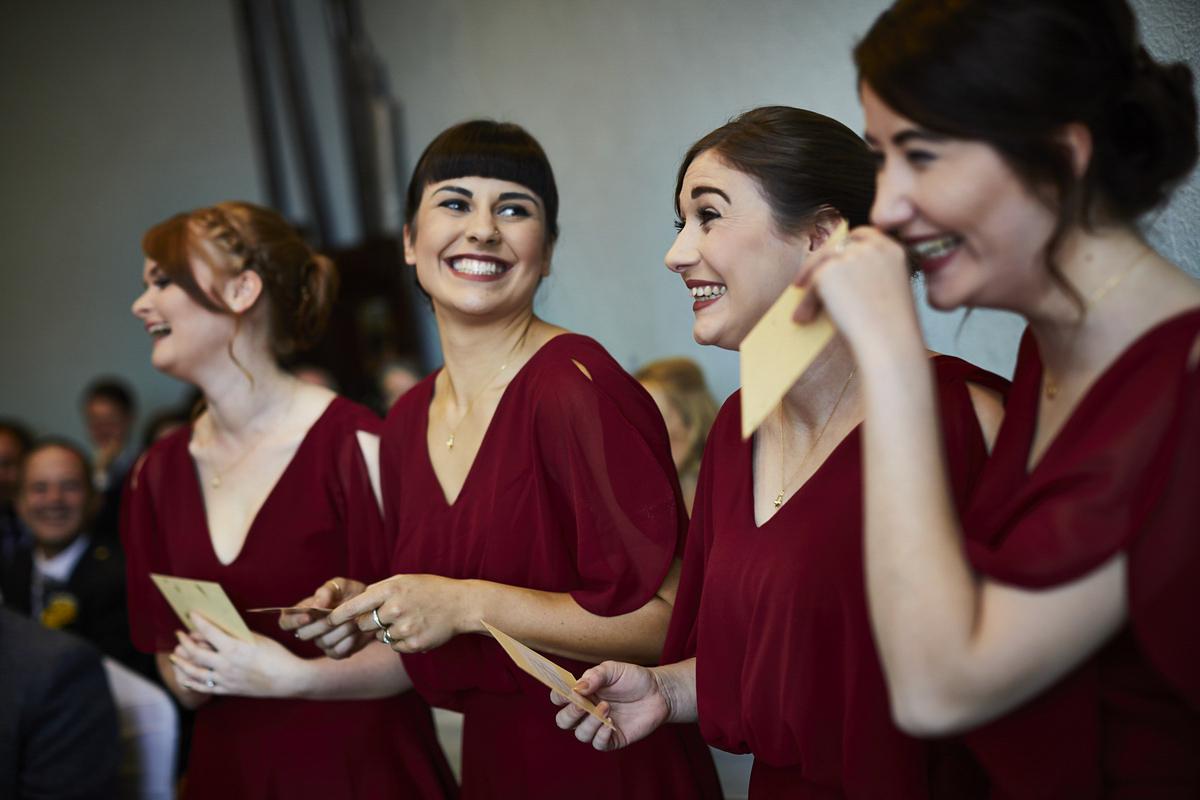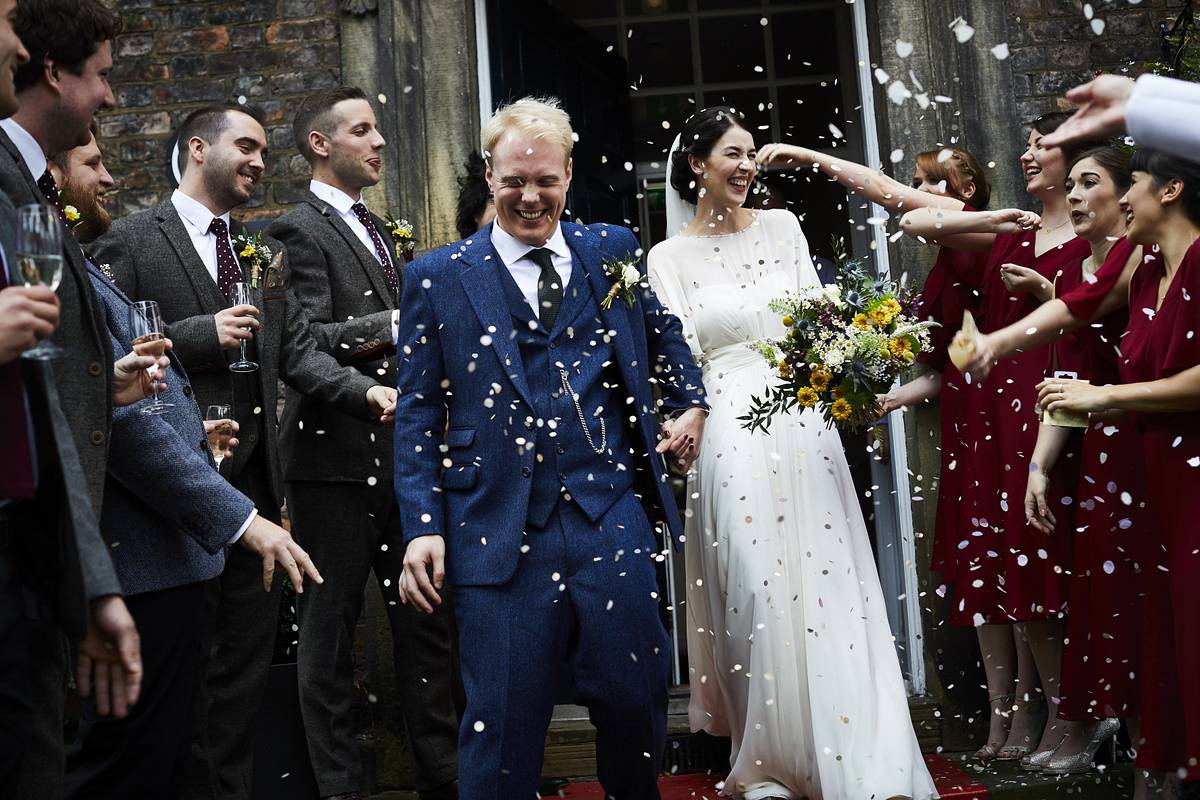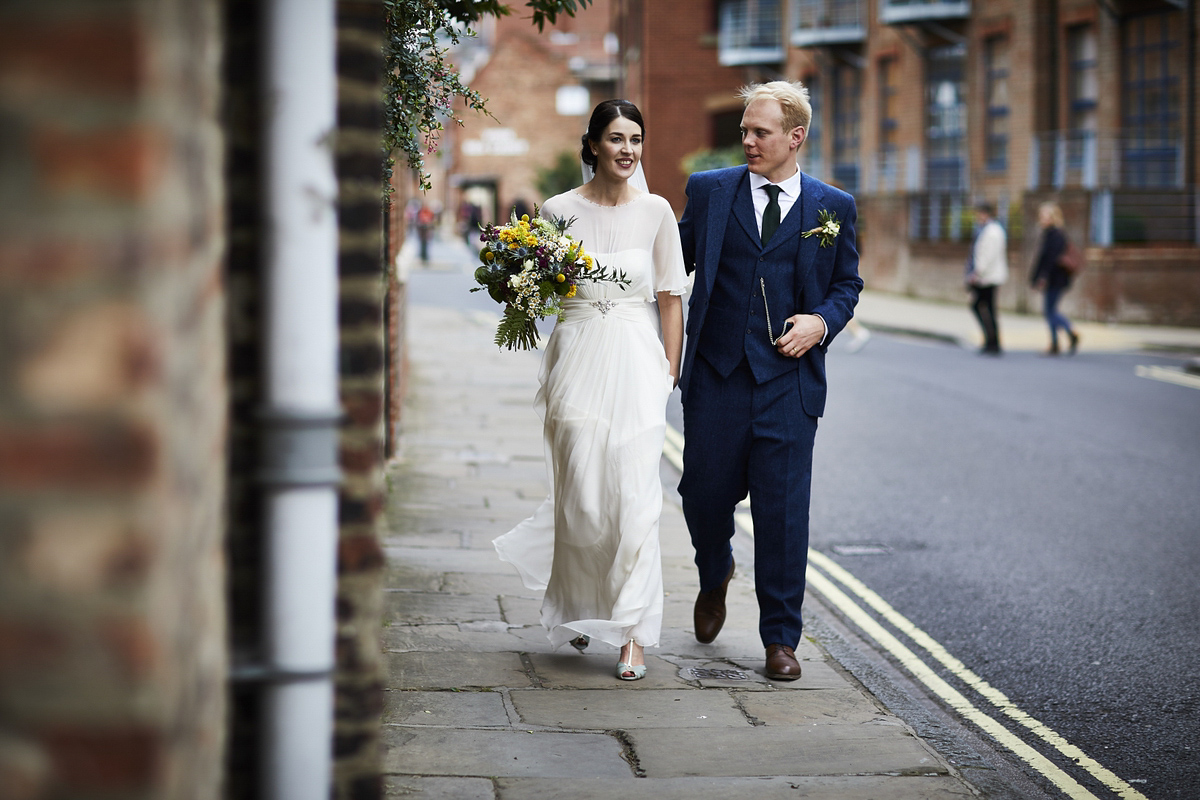 "We only had one person we wanted for our photographer, David Lindsay. David shot Phill's sisters wedding 5 years previous and I had always admired the photographs."
"I really love his style as he manages to capture so many special moments and I really think you can feel the emotion of the day through the images. The colour and clarity in our photos just blew us away when we got them back and the compliments came pouring in from friends and family."
"He is great to work with, (he even roped in his girlfriend to help us capture my floating veil shot that I so desperately wanted!) and fits in so well that during the day I don't remember seeing him at all!"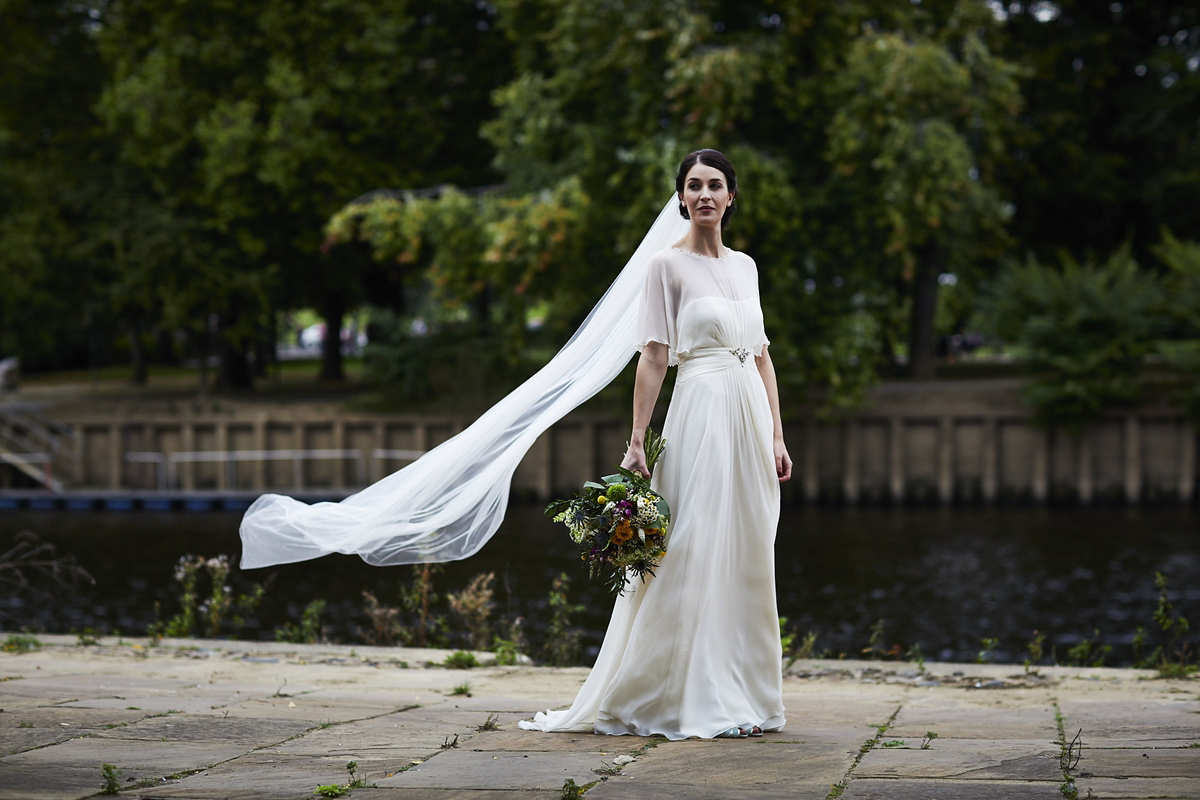 "Our save the dates and invites were made by my incredibly talented Auntie Ally who makes her own cards and sells them locally (she doesn't have a website unfortunately)."
"We get so many amazingly thoughtful designs every Christmas and birthdays that we could think of no one better. We came up with a lovely chalkboard design with a Partridge and wildflowers. We received so many compliments on the stationary and we were very proud to have such a lovely unique personal design!"
"For decor, we used paper pom poms, lanterns, banners and bunting in white, ivory and gold. In the dining room we decorated with my collection of observers books and other vintage wildlife books. I wanted to all the colour to come from the stunning flowers."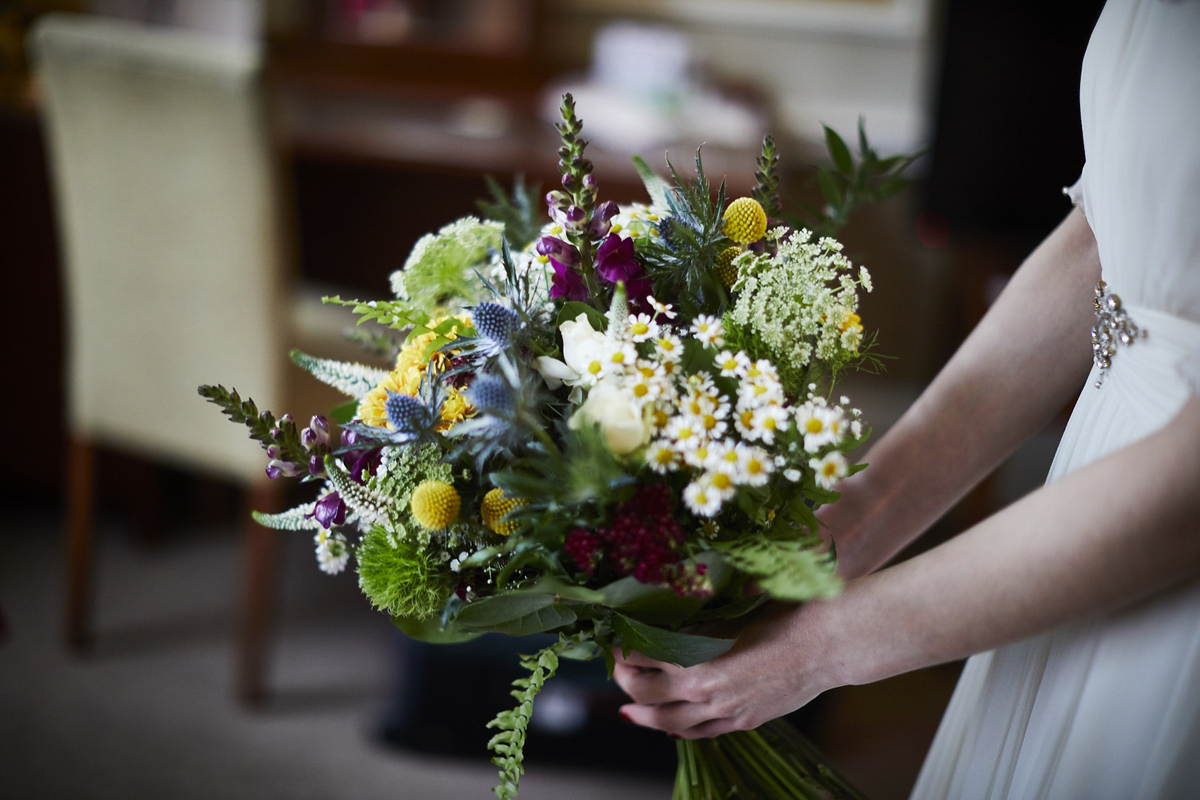 "Everyone got a polaroid style photo as their place setting, we chose the most retro or embarrassing we could find to get everyone laughing and talking."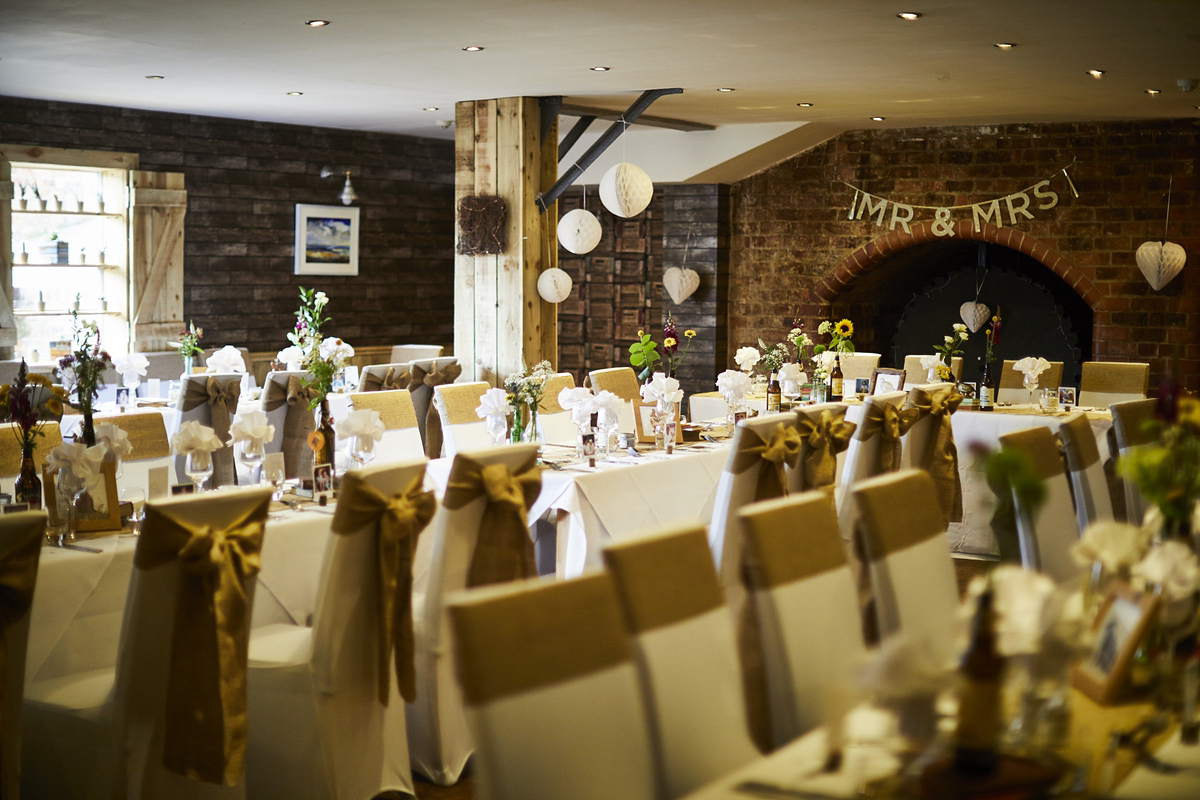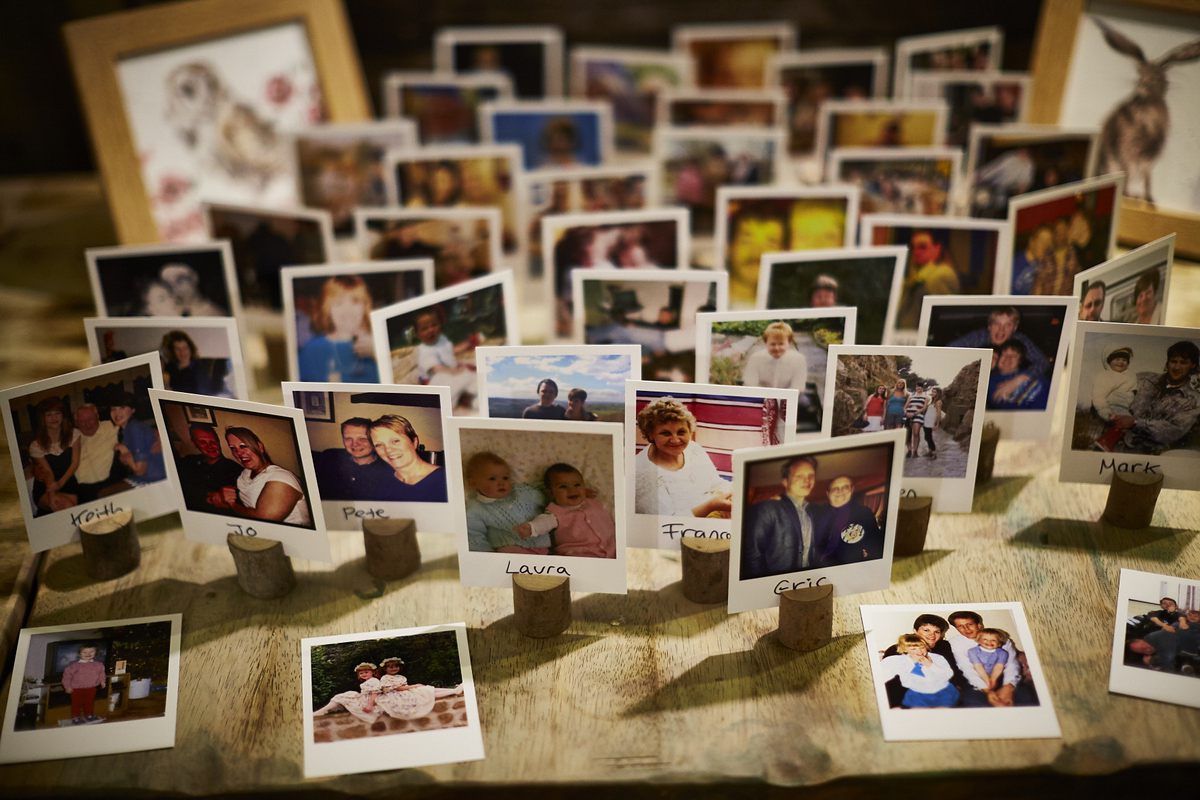 "We chose a selection of brownies from our favourite café near York Minster, Brew and Brownie a large one of Phill's favourite homemade Pork Pies from Andrews Traditional butchers in Wetherby  and a selection of cheeses from Love Cheese in York. These were all lovingly decorated by Phill's sister Sam and her husband Toby."
"Our first dance was 'You make my dreams come true' by Hall and Oates. We chose it because whenever it came on the radio we would always stop whatever we were doing and dance to it!"
"We wanted out first dance to be fun and everyone got involved by the end, it went down a storm."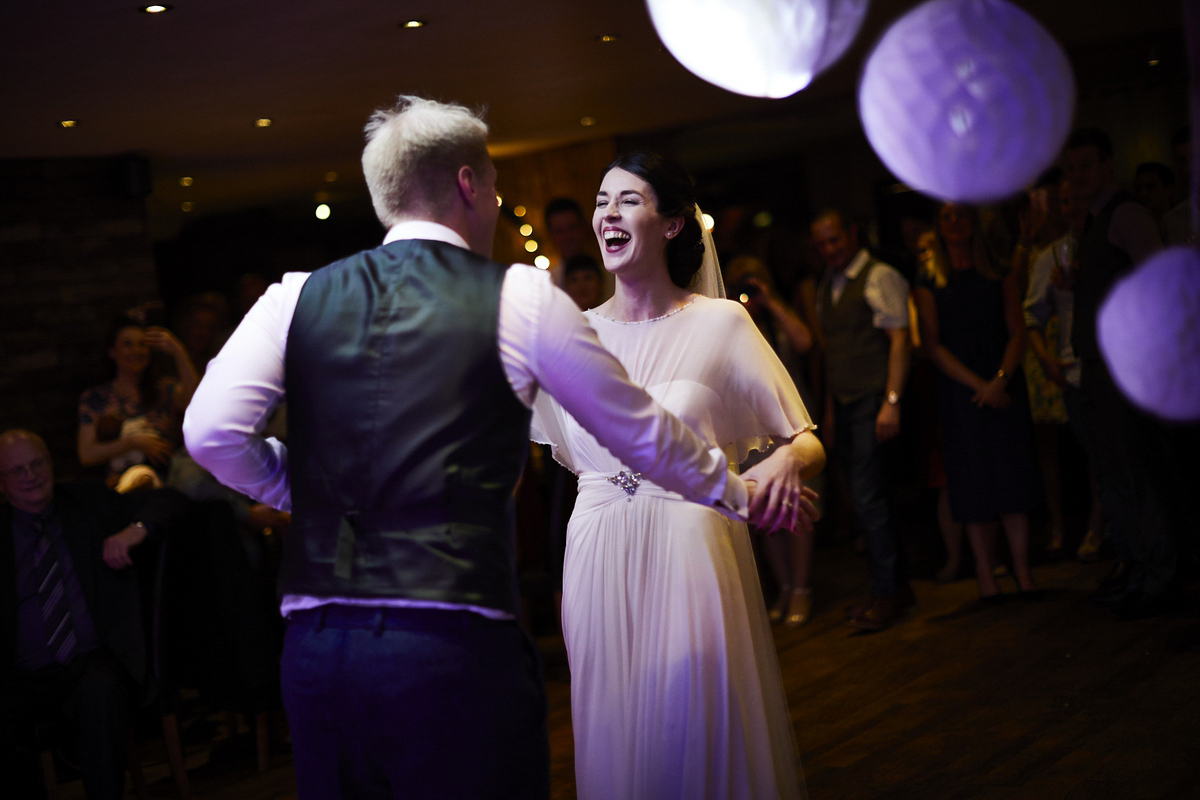 "We had a DJ organised through the hotel who kept everyone (particularly the groomsmen) dancing all night."
"Our wedding was genuinely was the happiest day of our lives and what we both said was that it was our friends and family that made it for us, everyone got to know each other and had so much fun which was all I had wanted. I must say I particularly enjoyed out photo session down by the river and on the city walls, we had so many well wishes from passers-by and it felt really special, especially a tourist boat full of people cheering and waving as they went by."
Words of Wedded Wisdom…
"I think I would have delegated a little more, I find it hard to trust people to do things the way I want them to, but everyone did an amazing job in the end! Particularly my poor mother who put up with my endless planning.
Don't spend time worrying about any little thing which might go wrong, have faith in your planning and in the people that you have trusted to help you. It doesn't matter about your hair, your dinner, your decorations or the weather, its all about the person you are going to spend the rest of your life with, once you see them waiting for you at the end of the aisle you won't care about anything else, I promise."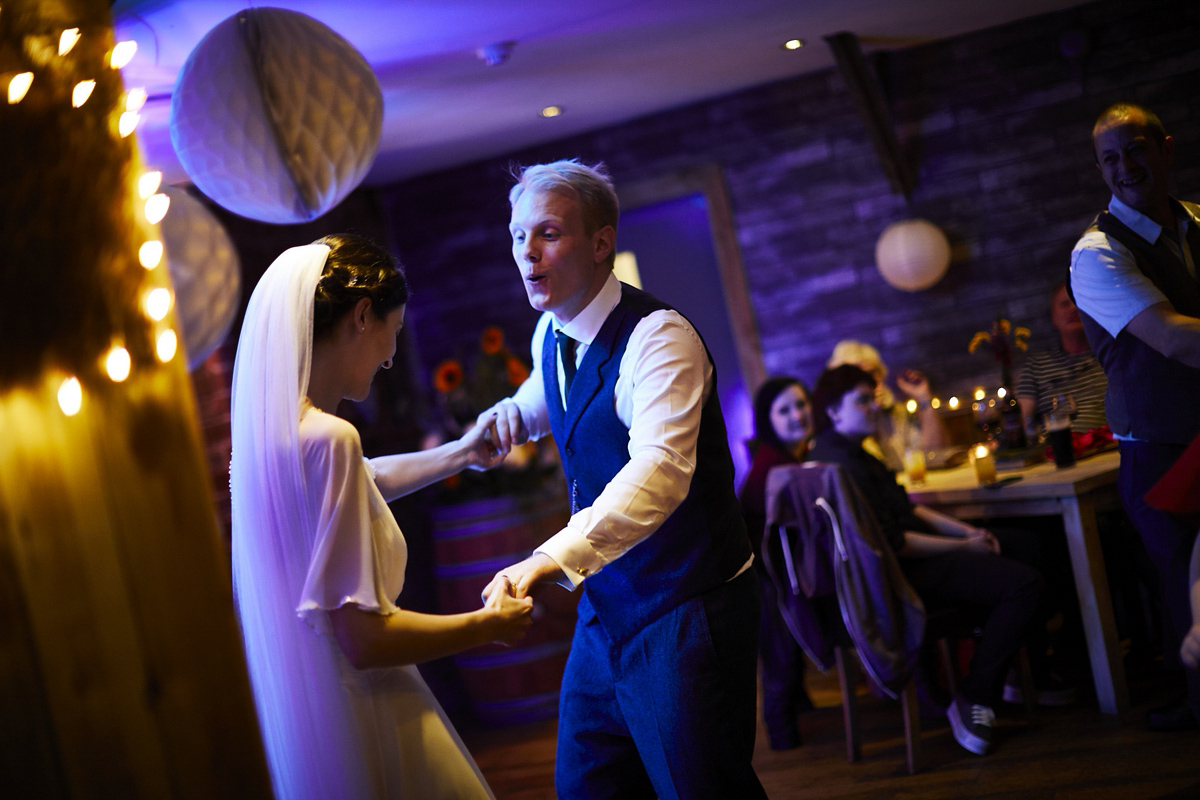 What a beautiful, colour-filled day.
Love Annabel x