Please forgive me for being a little self indulgent lovely readers, but I've been reminiscing recently about my own wedding day, as yesterday was our third wedding anniversary.  Where on earth have the last three years gone? It seems moments since we were exchanging our vows while the rain crashed down outside and yet a very long time all the same (in a good way).  The dedicated Love My Dress reader I was then wouldn't be able to believe that I'm lucky enough to write for the blog these days, that's for sure, and I'm still so pleased to be able to keep a foot in the door of the wonderful world of weddings.
Talking of wonderful, I'm thrilled to be sharing today's beauty of a day with you- I fall in love with every wedding I write up, I know, but today's is so utterly lovely, mostly outdoors (which I love) and so natural, pretty and honest.  The images are by Deborah Grace, a new photographer to me, but one who I will be certain to follow in future- her pictures are full of light and capture the important moments so beautifully.  Meet Paul, who works for Innovate Finance and Sophie, a rehabilitation worker and photographer, who married on the 1st July 2016 at Sophie's parental home in Oxfordshire in an outdoor Christian ceremony, followed by a marquee reception.
"The service and covenant of what marriage is was the most important thing to us. We love being outside and I had always dreamed of getting married surrounded by hills, so a service and supper in nature was the first thing we decided on – come wind, rain or shine!  We both wanted to celebrate the simplicity of the outdoors using trees as our canopy and fields for our surroundings as we made our vows to each other."
Photography by Deborah Grace supported by Green Antlers Photography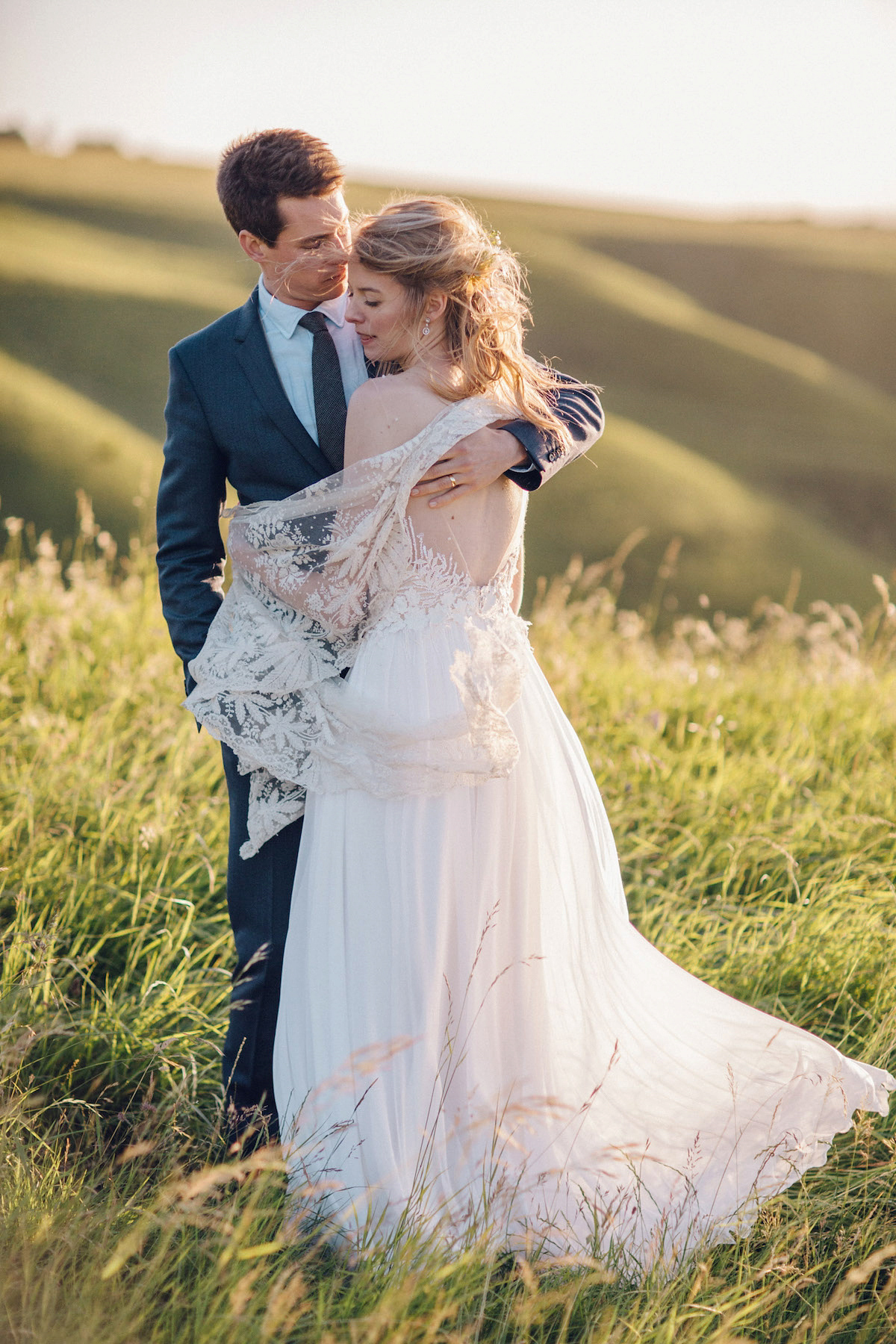 Sophie's midsummer dream of a gown was a bespoke commission from Venetia Flint, who sadly only works by word of mouth and doesn't have a website.  I may have to track this woman down as this dress is truly exquisite.
"Venetia hand-made the dress from scratch.  She is incredibly talented and it was a wonderfully calm process.  Each fitting was such a special time as my sisters and mumma would come too, which was a really nice preparation for the big day."
"I loved the delicate and ethereal feel of the dress.  The skirt had three layers; the first was ivory silk and the second two layers were 'brilliant white' chiffon so it felt wonderfully heavy."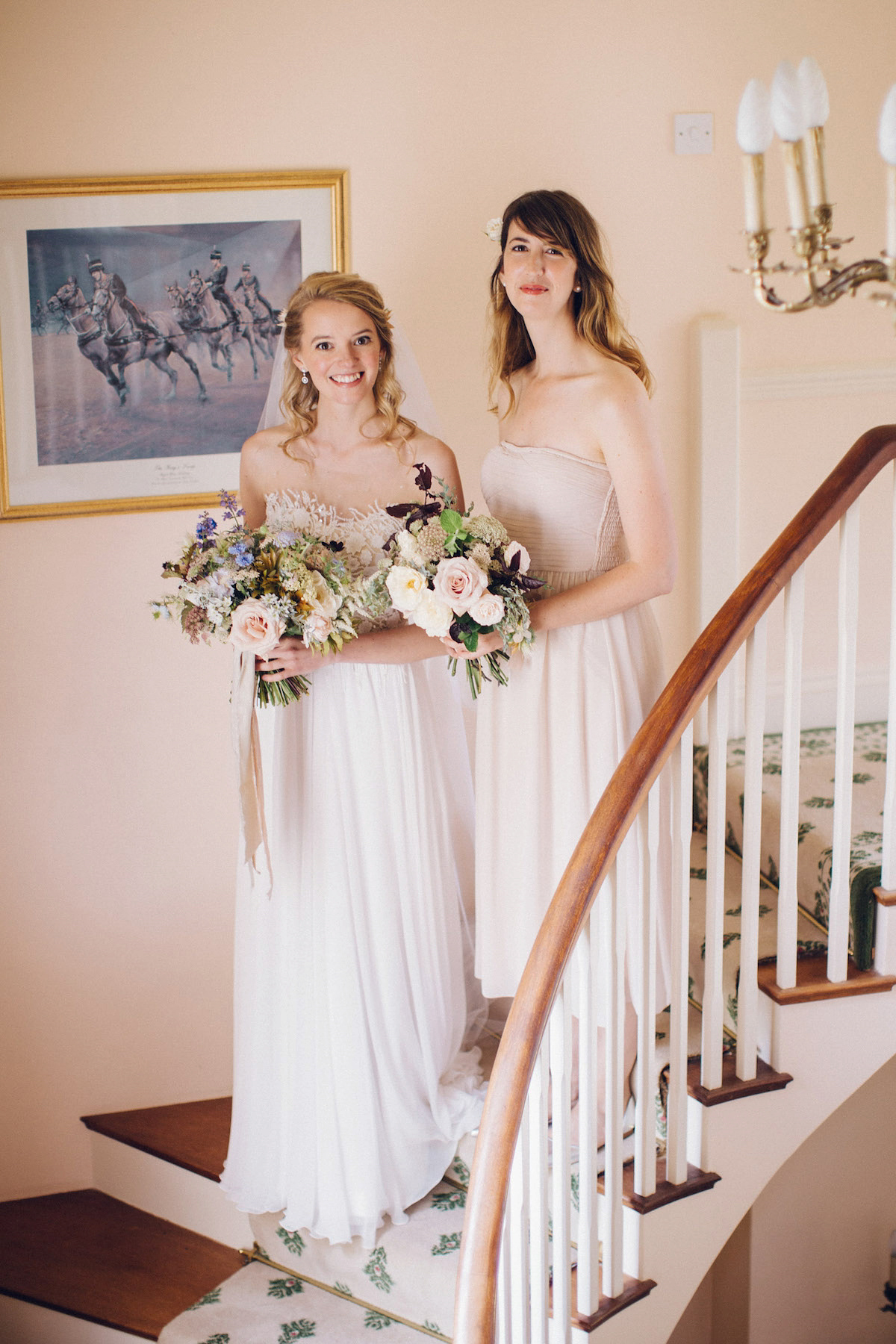 "I wanted the bodice to reflect our surroundings for the day, with a mix of delicate embroidered flowers and winding leaves which I hand-picked from Broadwick Silks in Soho."
"The intricate beading was done by hand and the sheer nude straps at the back created an illusion of the leaves and flowers sitting delicately on my skin.  The heavy, slinky skirt was my favourite part though.  It had the best time blowing around when Paul and I climbed the hill in the afternoon and I loved hearing the wind flapping through the fabric."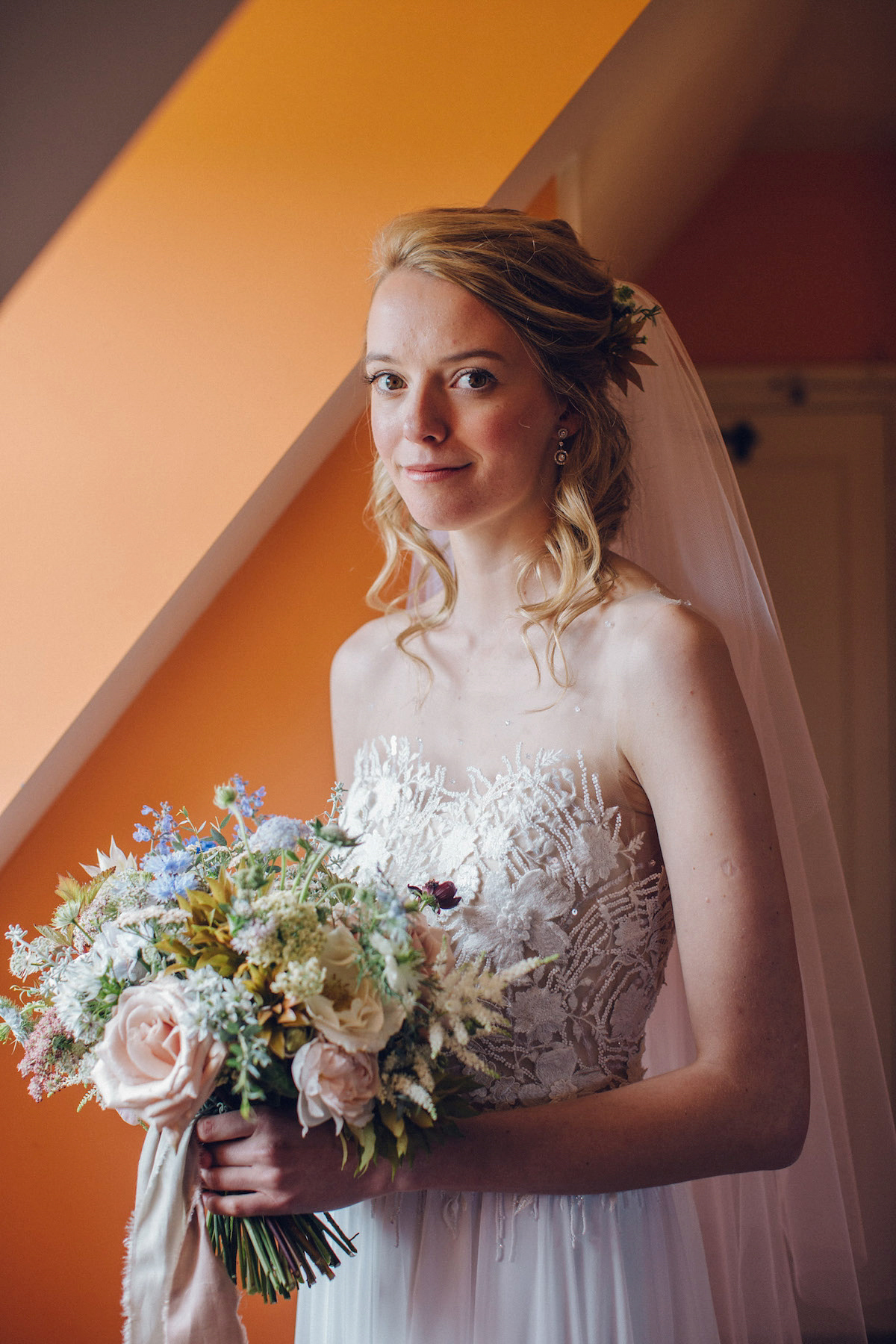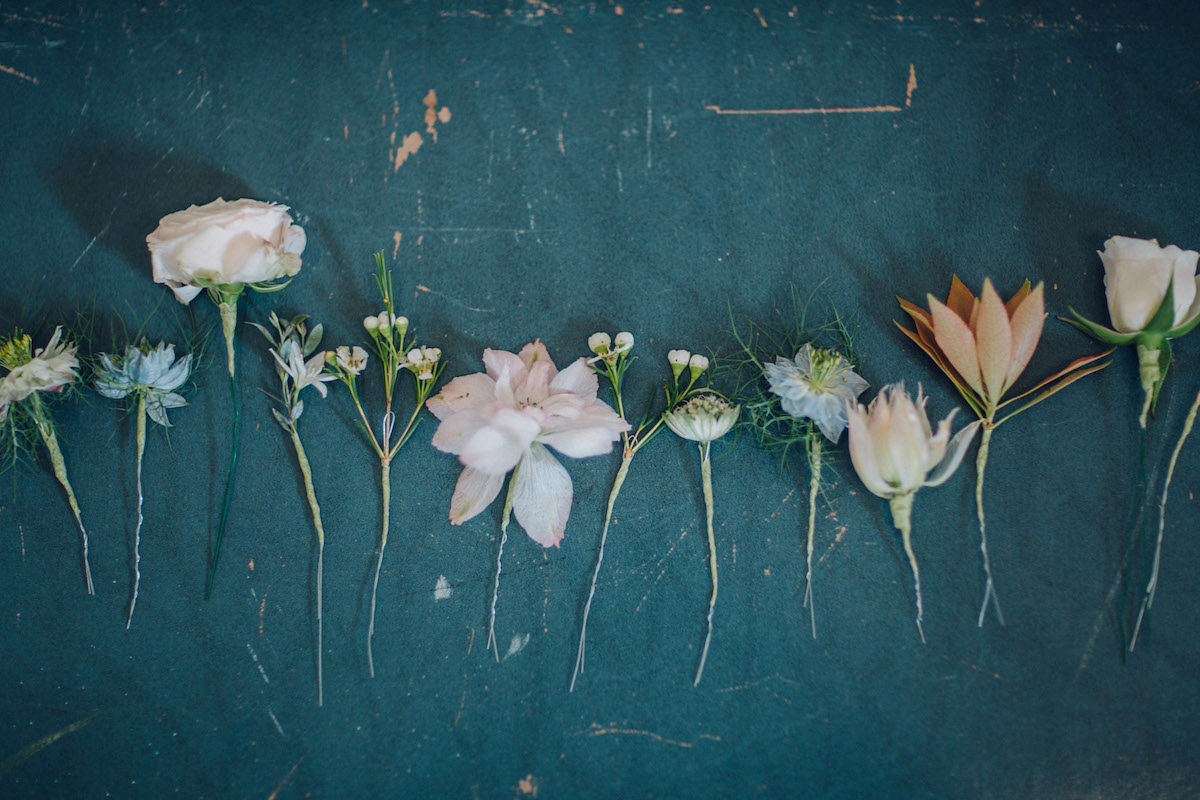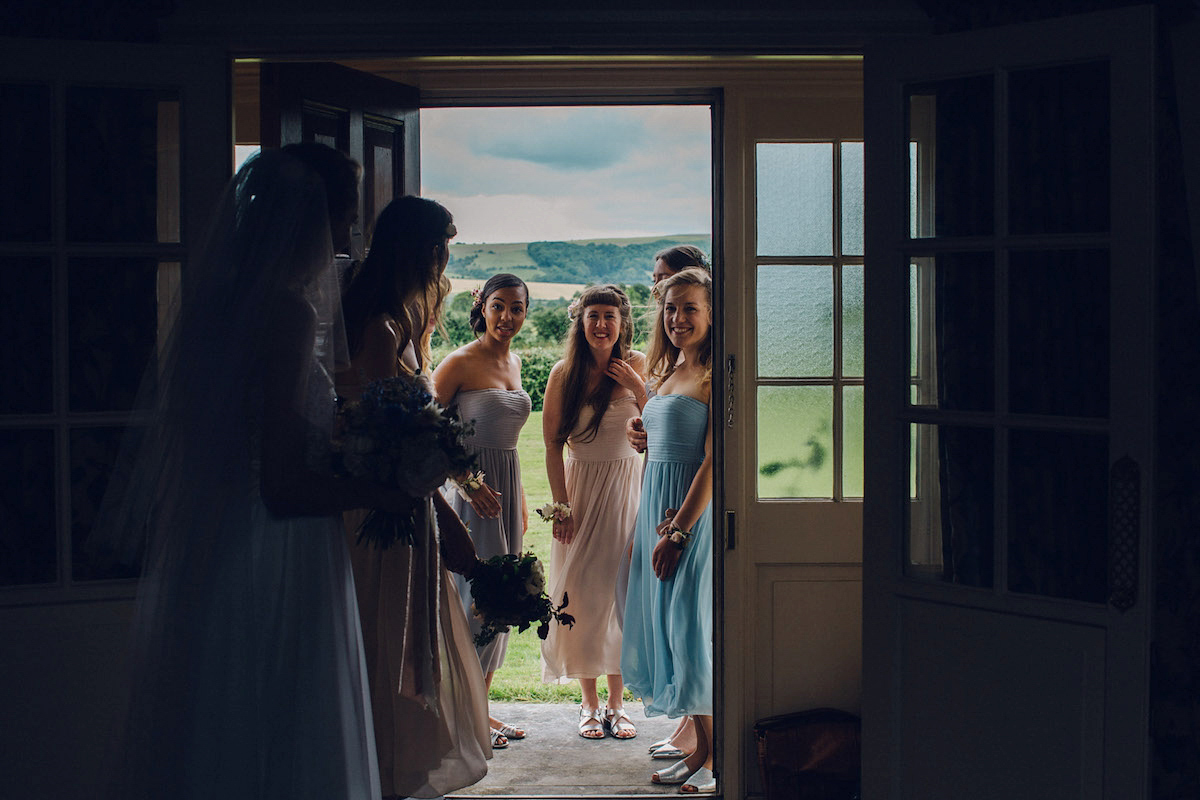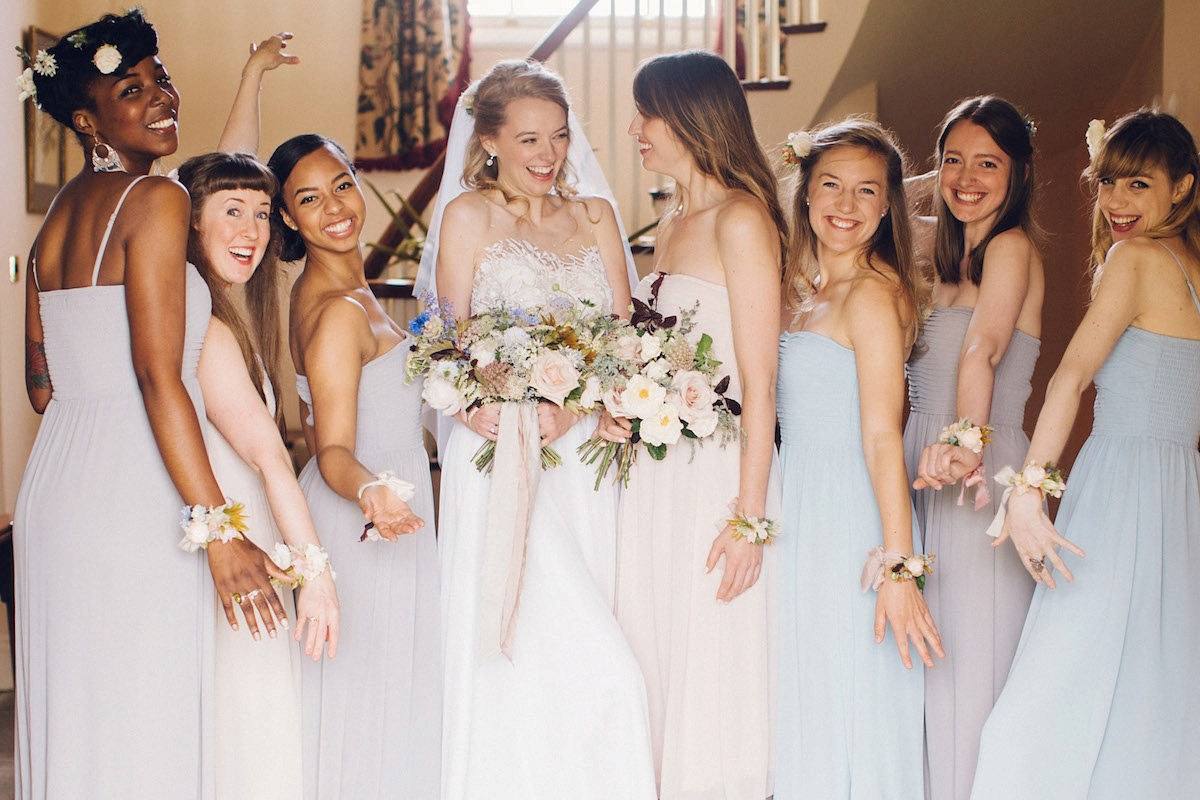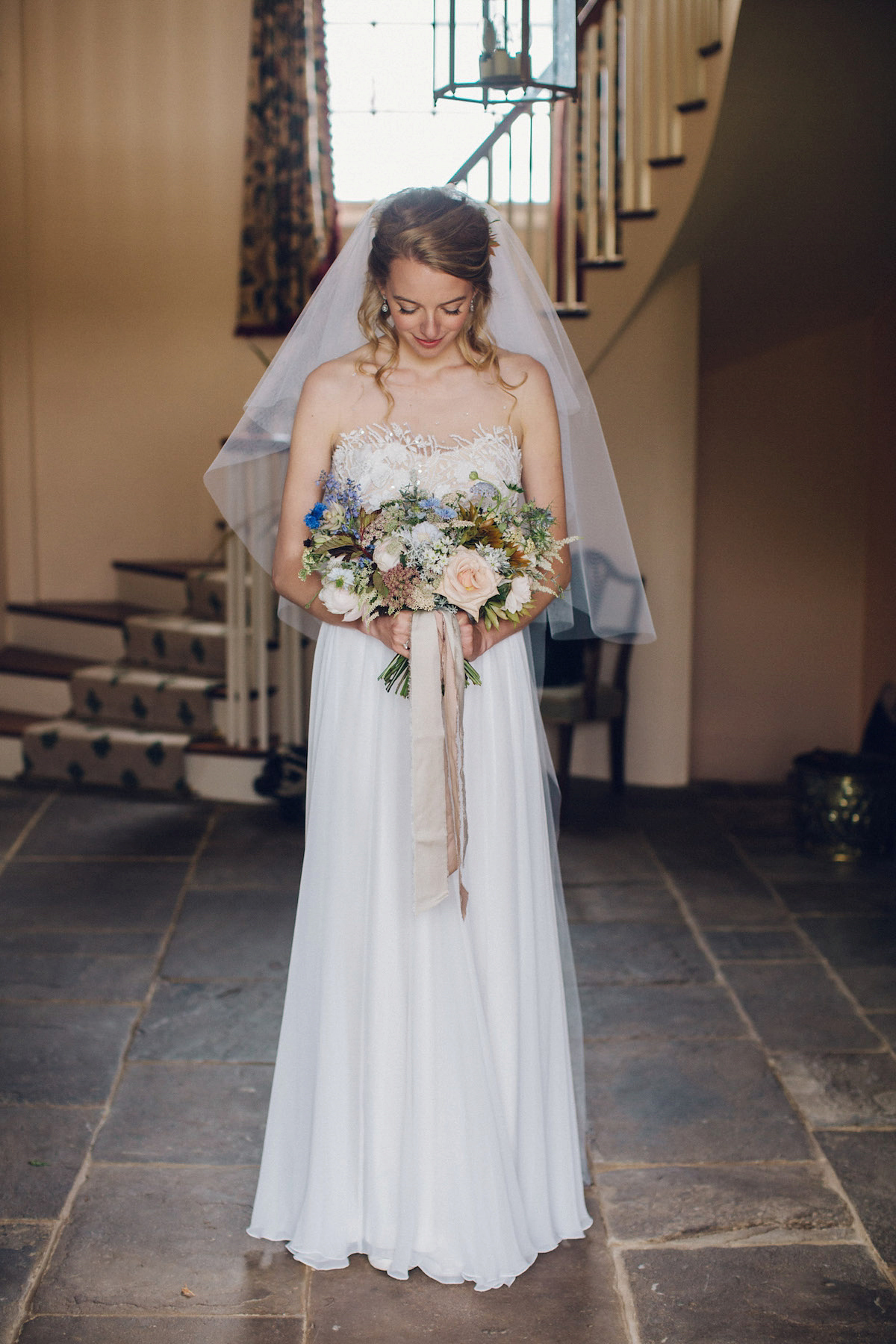 The gorgeously blowsy floral arrangements and bouquets were the work of Petalon– Sophie's favourite florists.
"It was a dream to have Petalon doing the flowers at my wedding.  Florence and her husband ooze warmth and passion for their work and I adore their combinations and choice of flowers. Their colour palettes are always beautifully subtle and their arrangements are romantic and whimsical which emphasised the natural and bohemian feel of the day."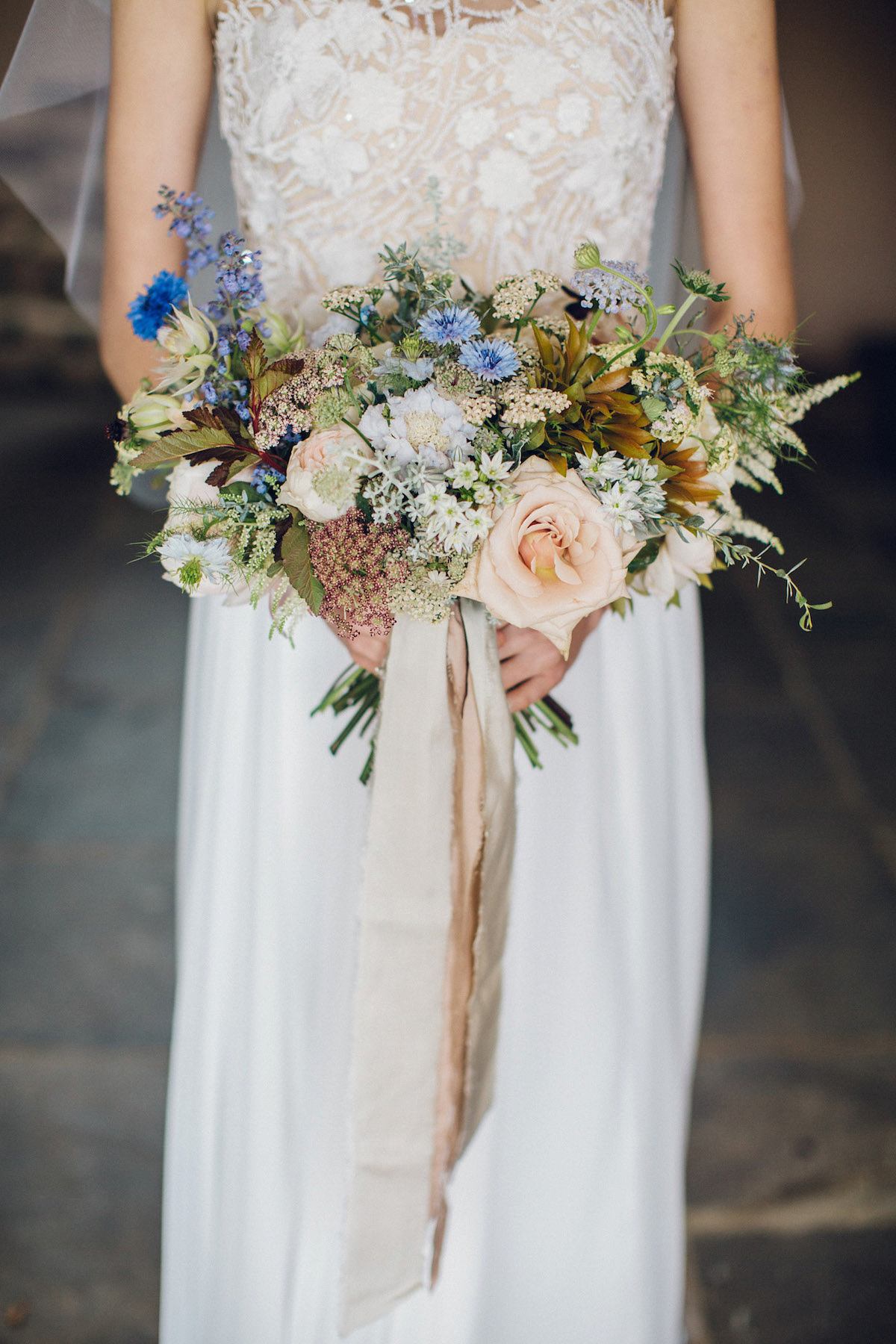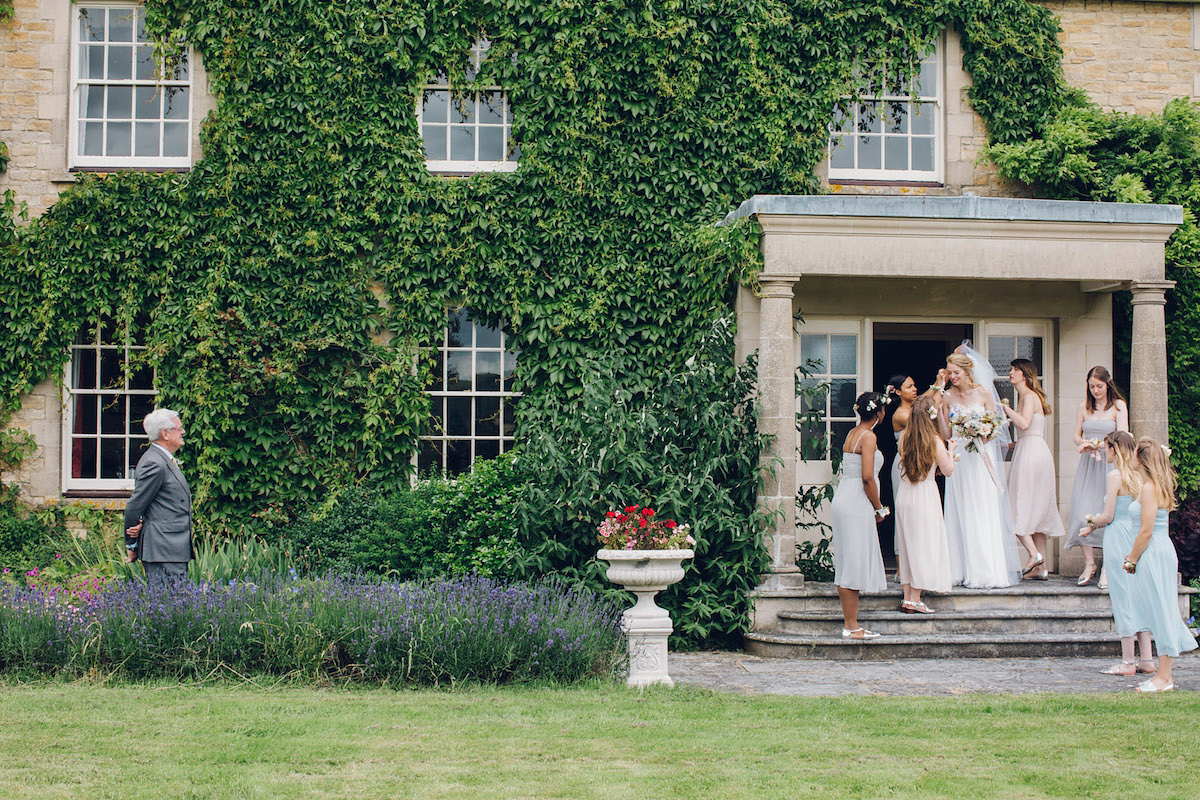 Sophie's shoes were by Kurt Geiger, while her floaty veil was also the work of Venetia Flint.  Fresh flowers in her hair completed her ethereal look.
The bridesmaids looked fresh and summery in gowns in a range of pastel shades purchased from ASOS, worn with their own silver shoes, fresh flowers in their hair and a silver bracelet from Etsy, bought as a gift for each of them from Sophie.  The little flowergirls and pageboys wore outfits from Neck and Neck.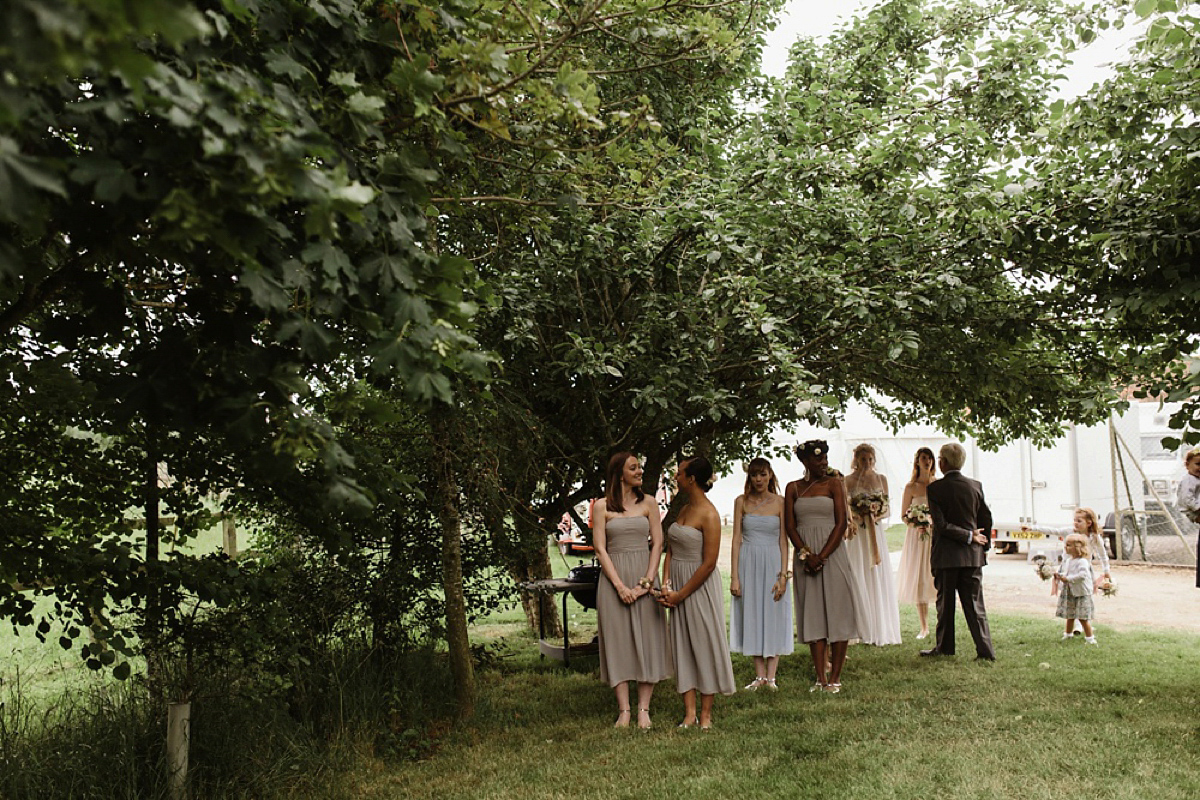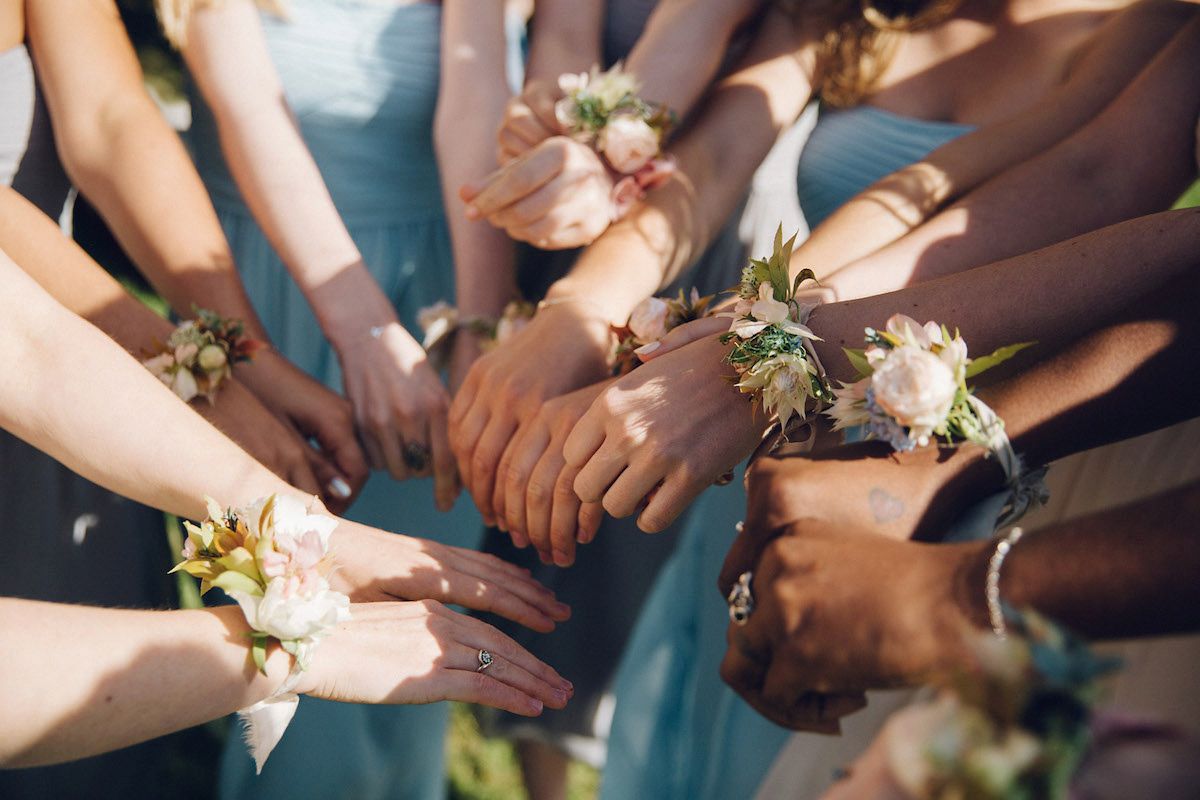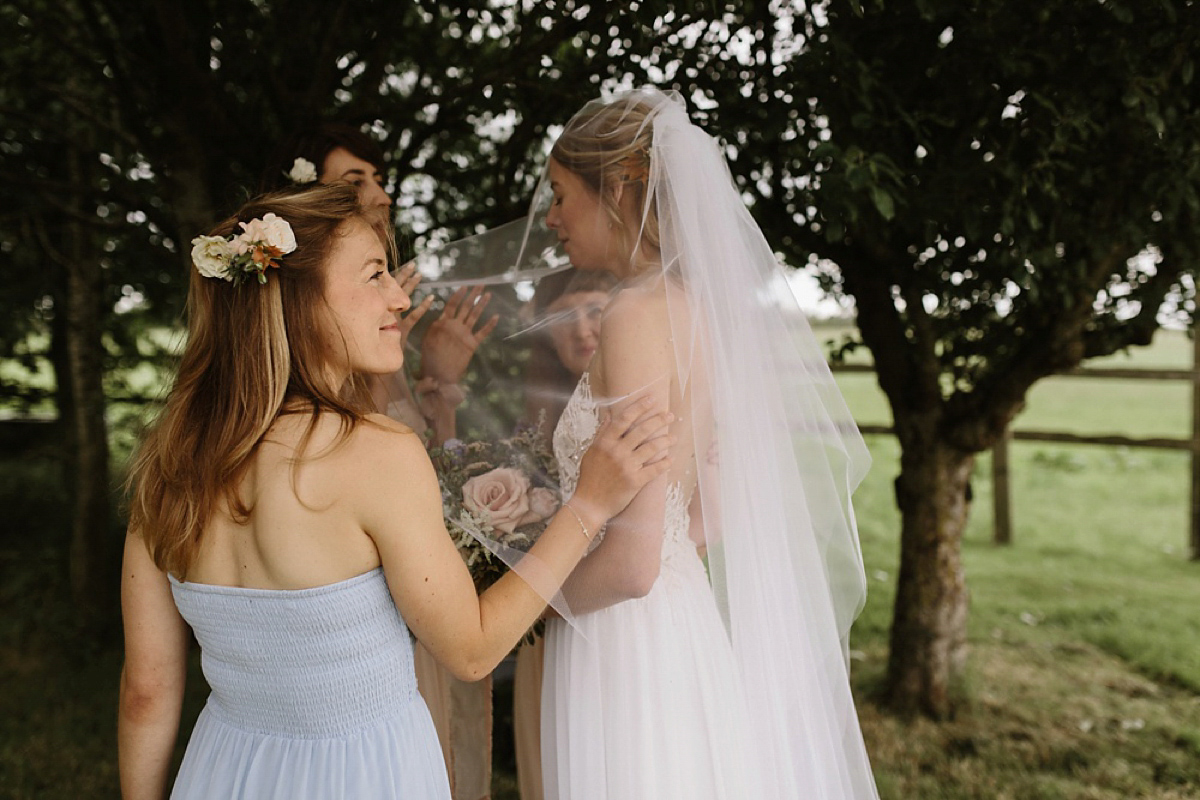 The couple said their vows under a handmade arch (made by Paul's brother-in-law, Steve and decorated by Petalon) and they exchanged rings from M & A Kaae.
"We used the gifted Christabel Balfour to hand cut our invitations and orders of services. She creates beautifully detailed cut outs, one of which was the first present I bought Paul. It seemed natural to ask to her to design our stationary and we were delighted with the results."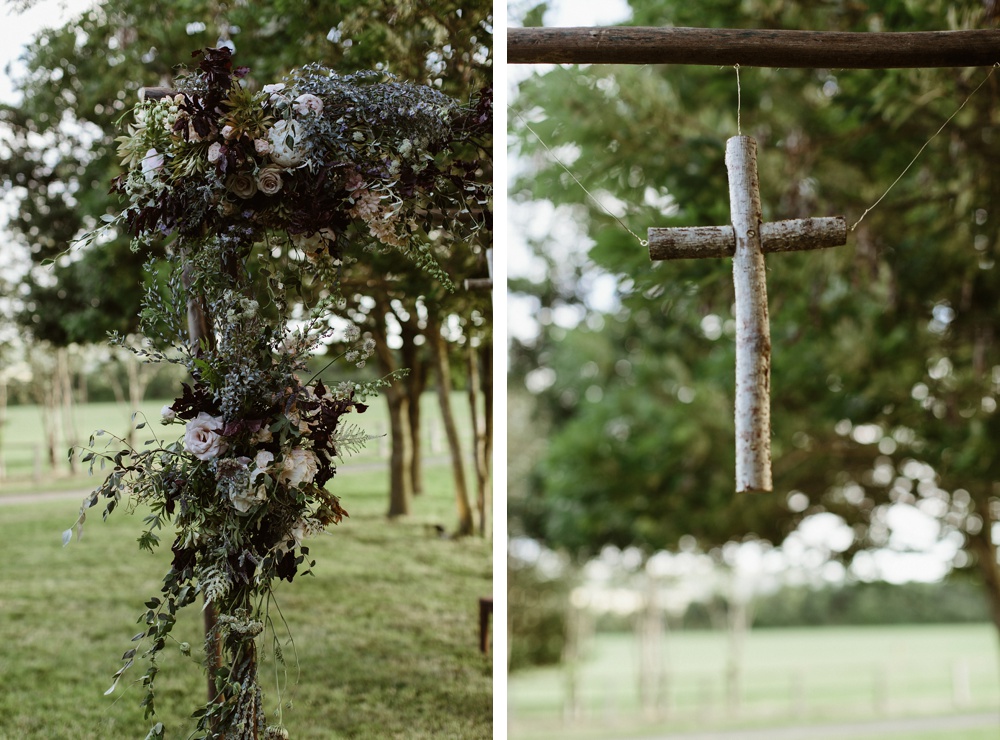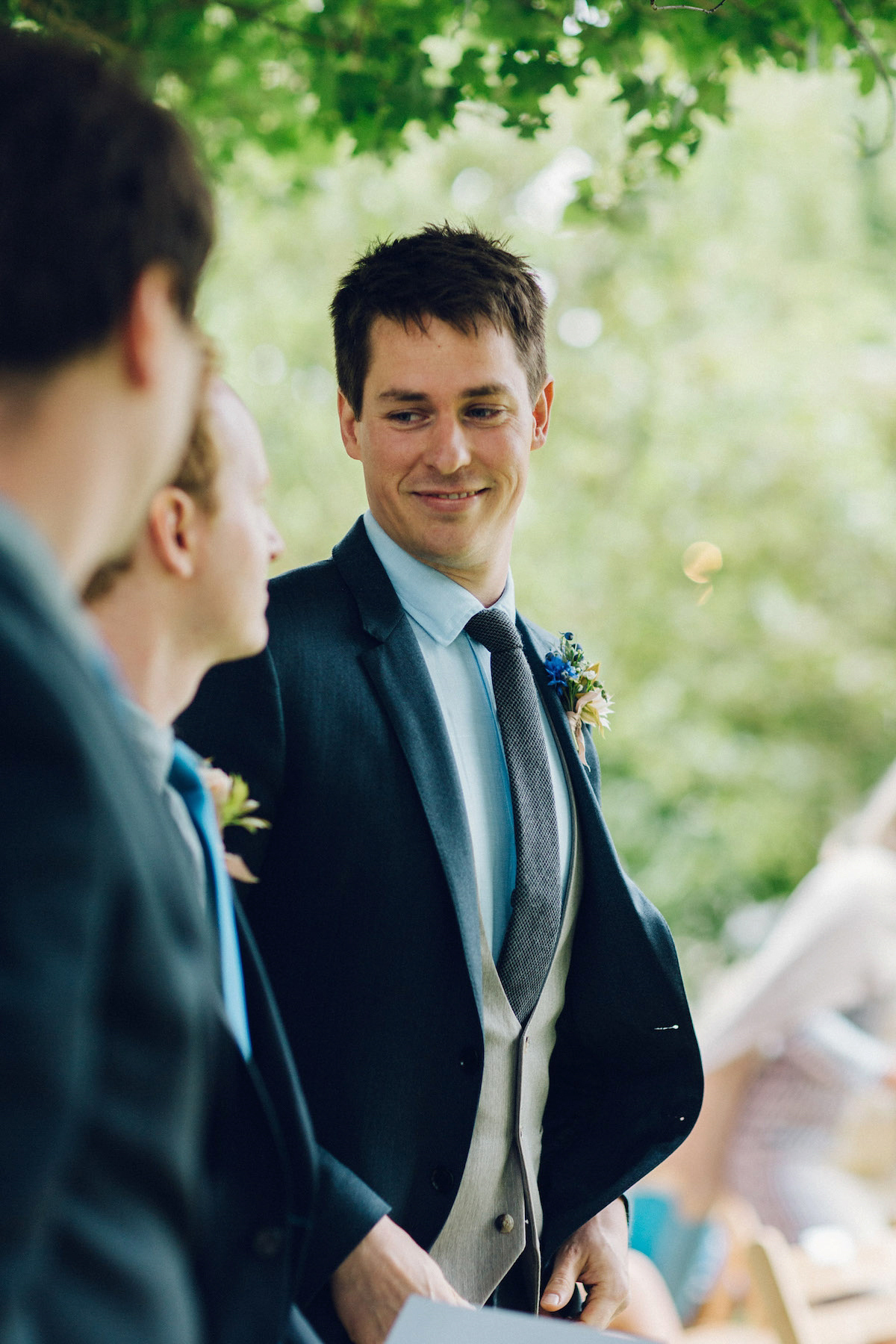 Sophie was accompanied down the aisle by her father Charles, to 'Hymn' by Brooke Fraser, sung by one of the bridesmaids.   As committed Christians, the ceremony was extremely important to both Paul and Sophie, and they enjoyed the ceremony planning more than anything else, which is really lovely to hear.  I just love how the whole service was so personal to them and featured so many of their talented friends and family too.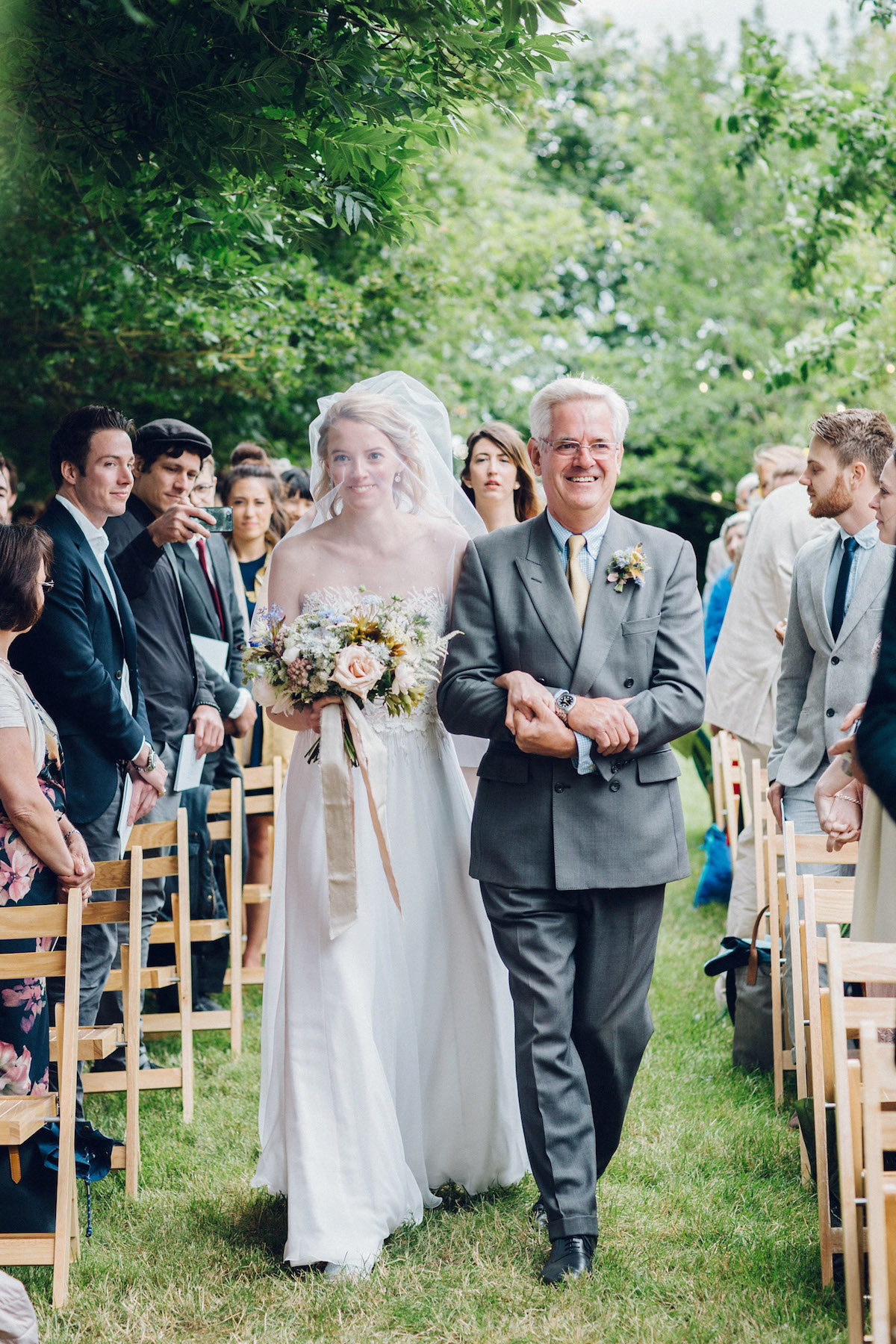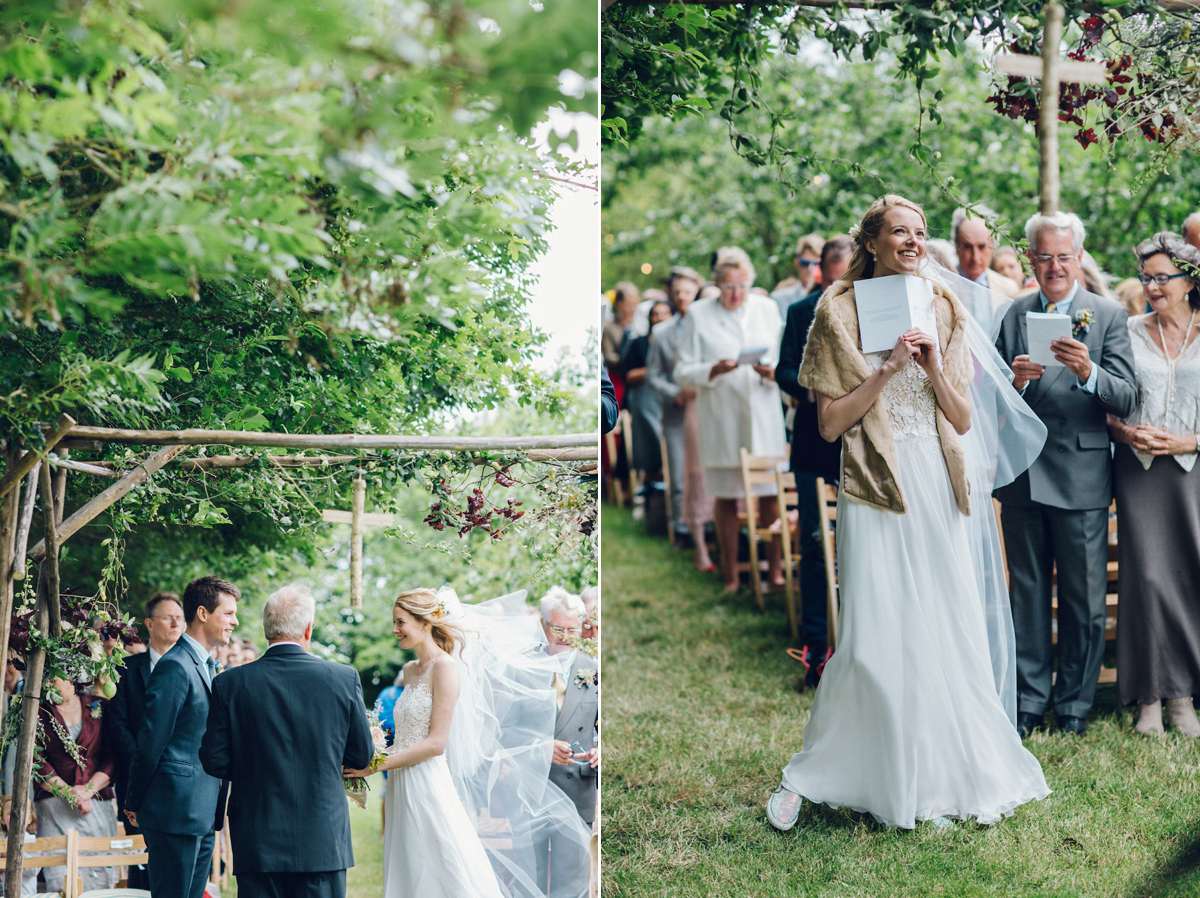 "We used a few of the traditional vows and picked and chose the words which we felt most resonated with us. In some ways the ceremony was very traditional with a strong focus on bible passages and prayers from friends and family. In other ways, it was very relaxed with plenty of celebration.  We didn't want the focus of the service to be too on us, but a space for people to be able to connect with God themselves, outside the walls of a traditional church."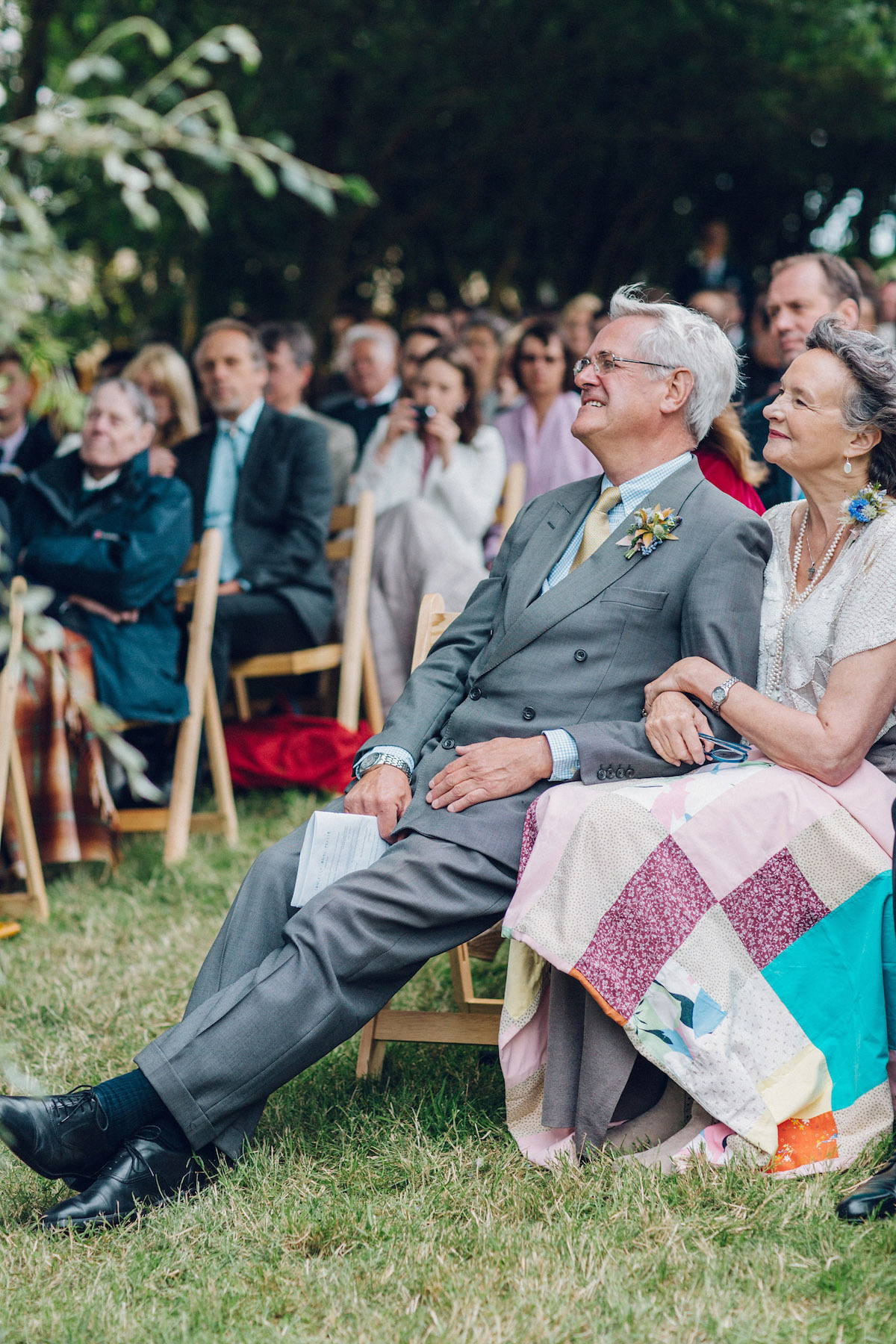 "We had the 'The Prayer of St. Francis' read by an usher, Richard, and the Revd. Adam Scott also wrote us a personalised congregational prayer which took parts of scripture and weaved it together as a prayer for us and our lives together."
"We also had John 15:9-15 and Luke 6:46-49 which formed the foundation for the address by Wendy Rolt about loving when it isn't easy.""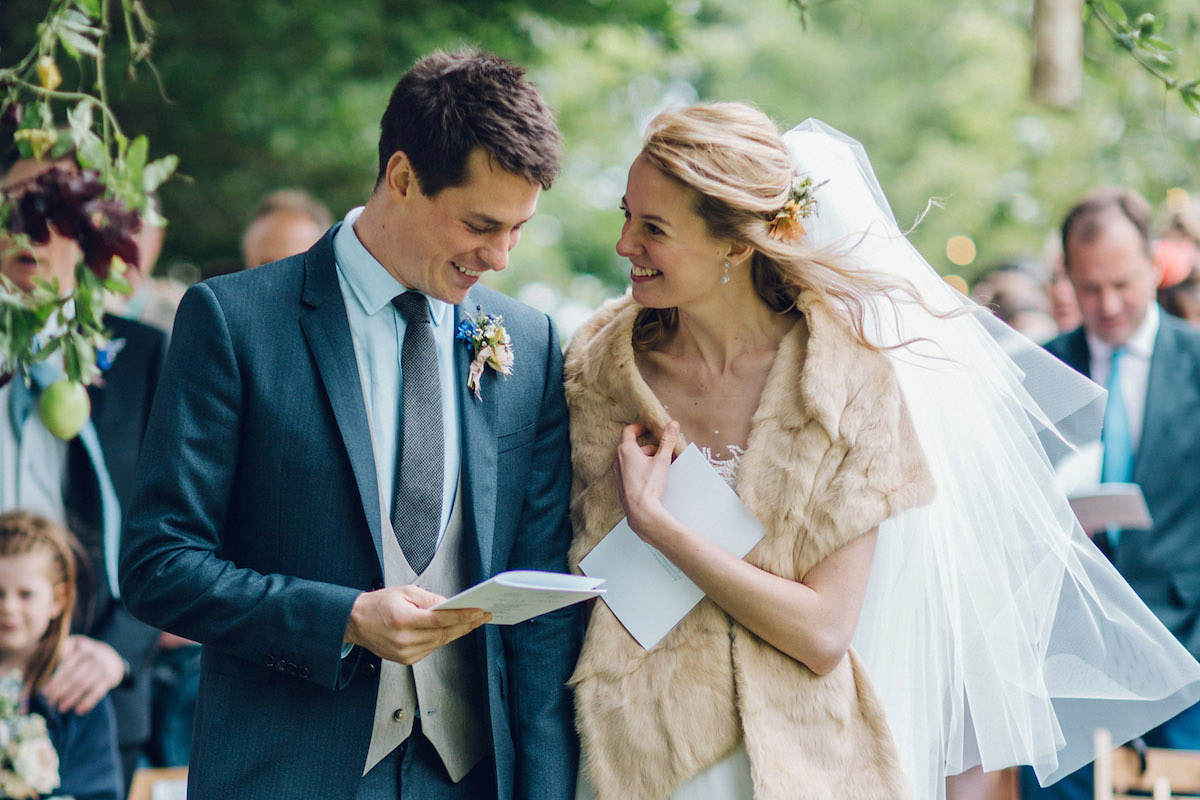 The wonderful poet (and bridesmaid) Anna Westin wrote a poem entitle 'On love' and the amazing musician Miles Peckover (who is also friend of ours) wrote us a song called 'The Ballad of Sophie and Paul', which was a light hearted way to end the service and rather amusingly tell the story of how we got together."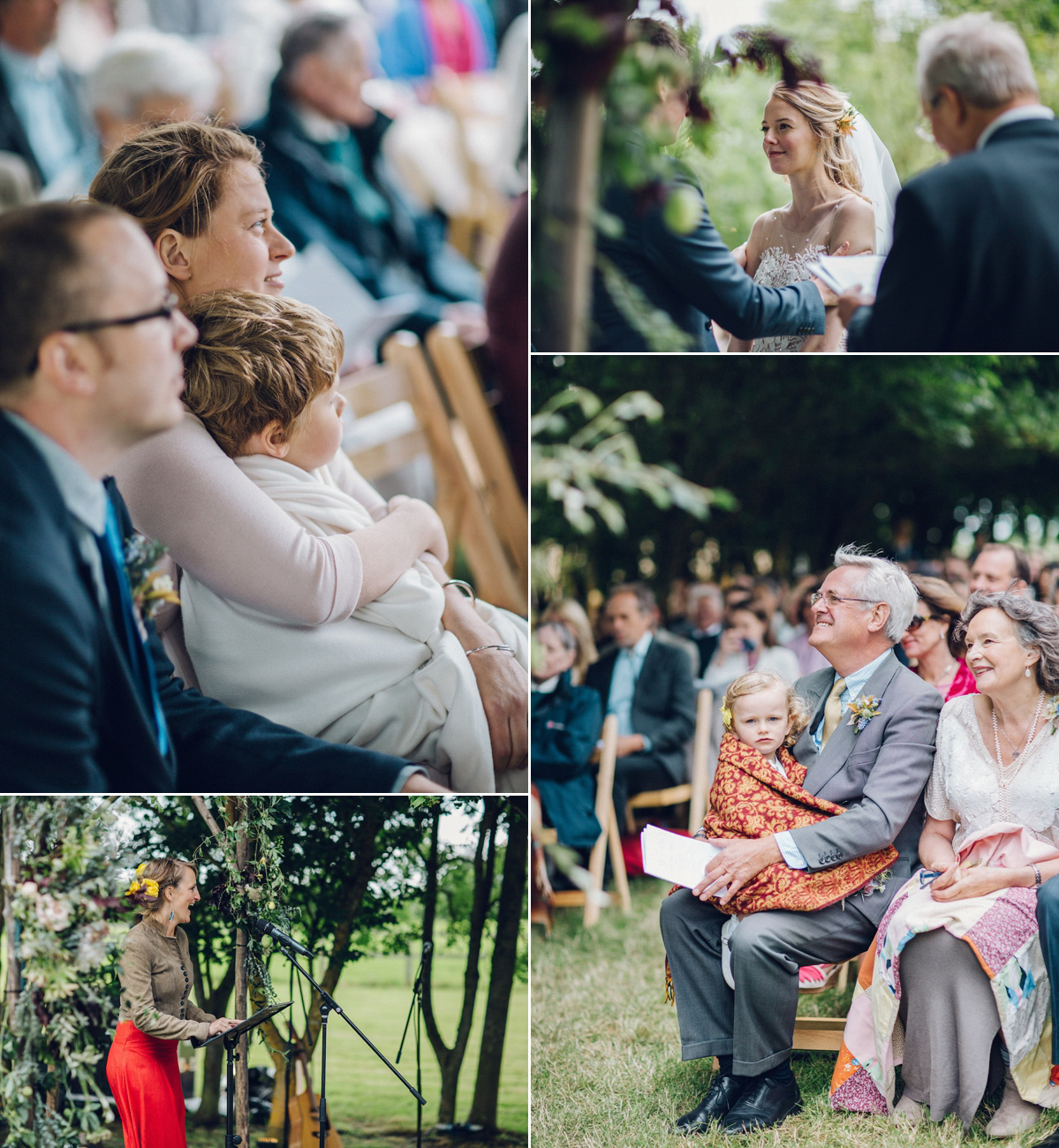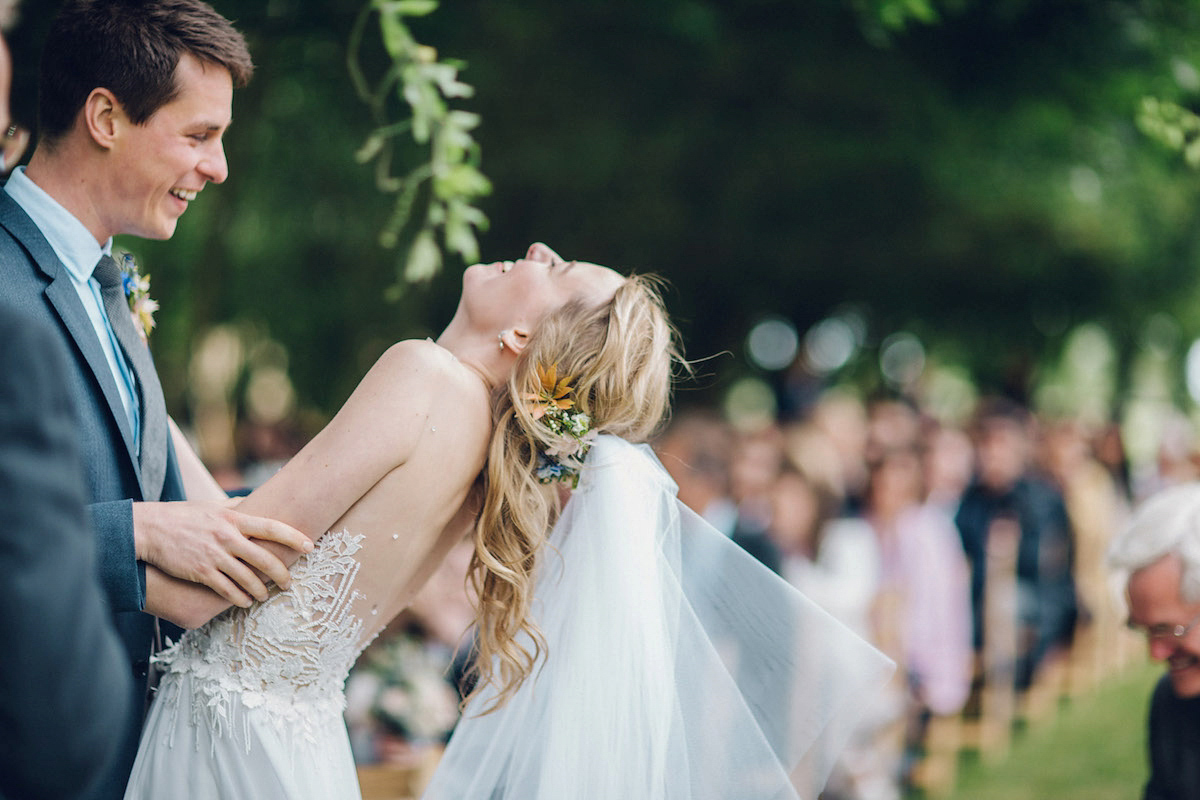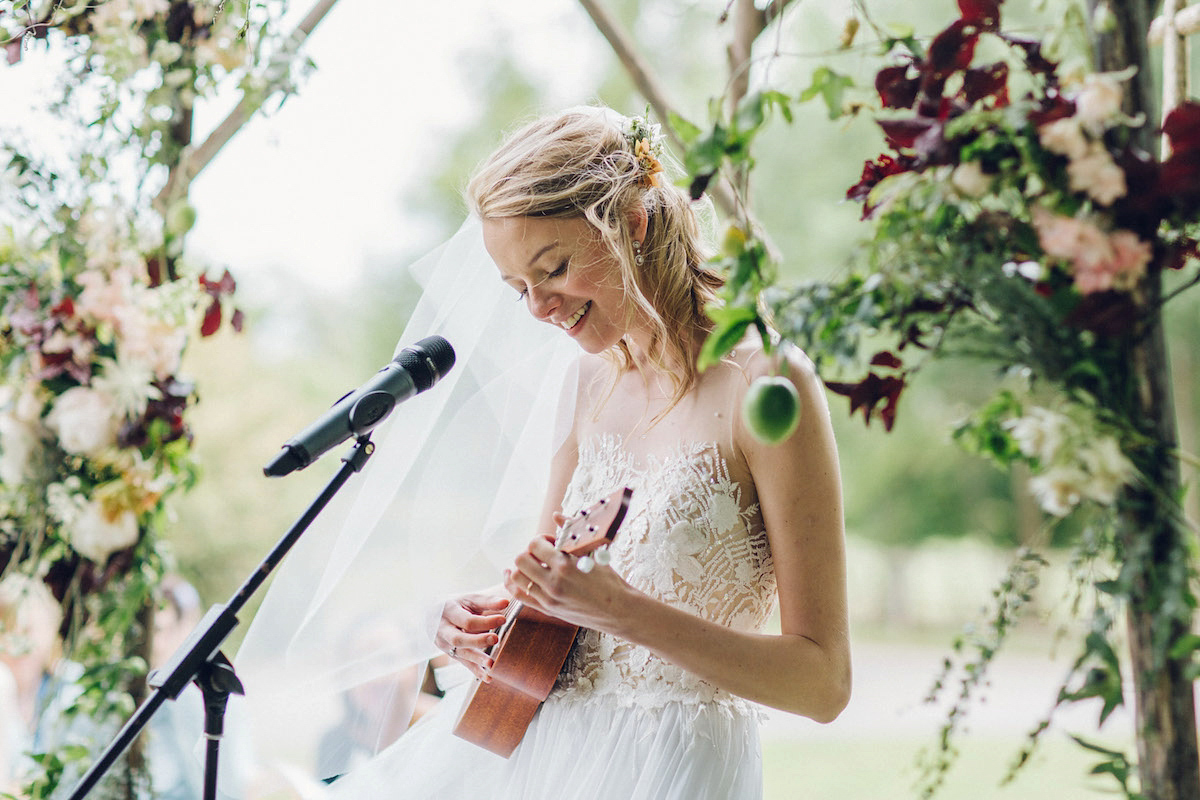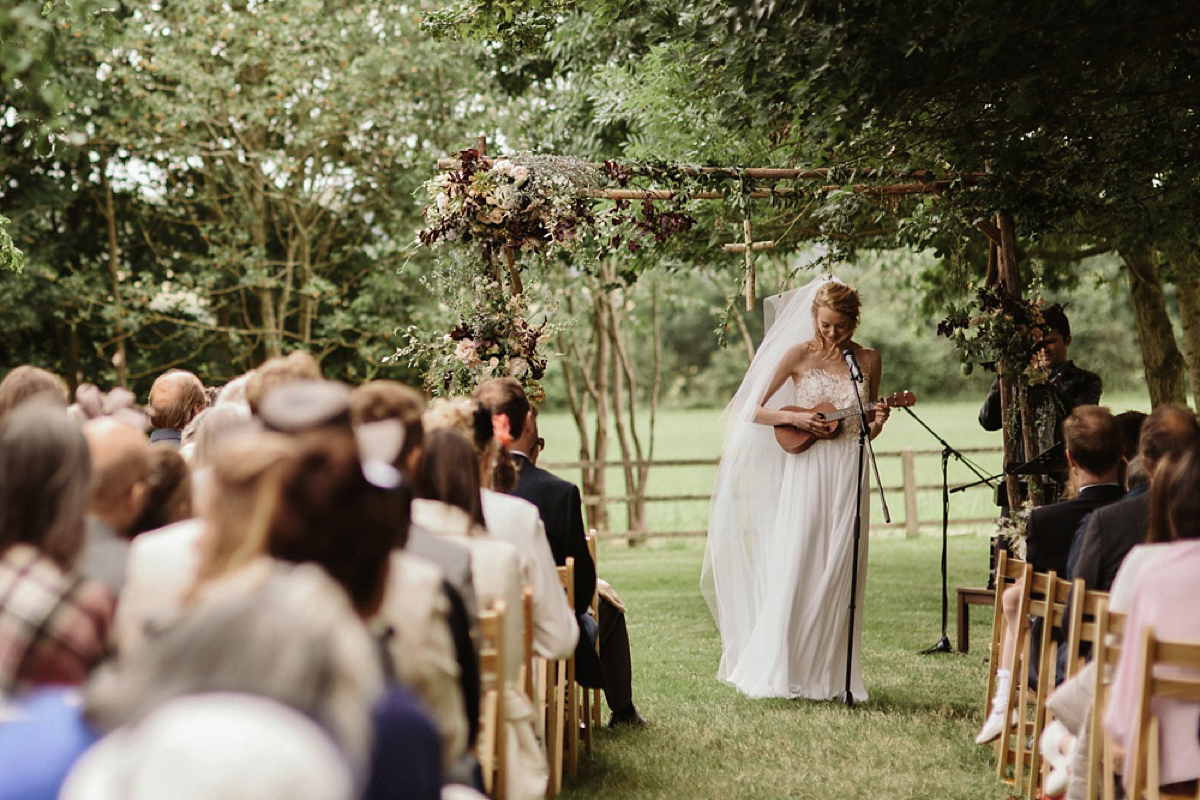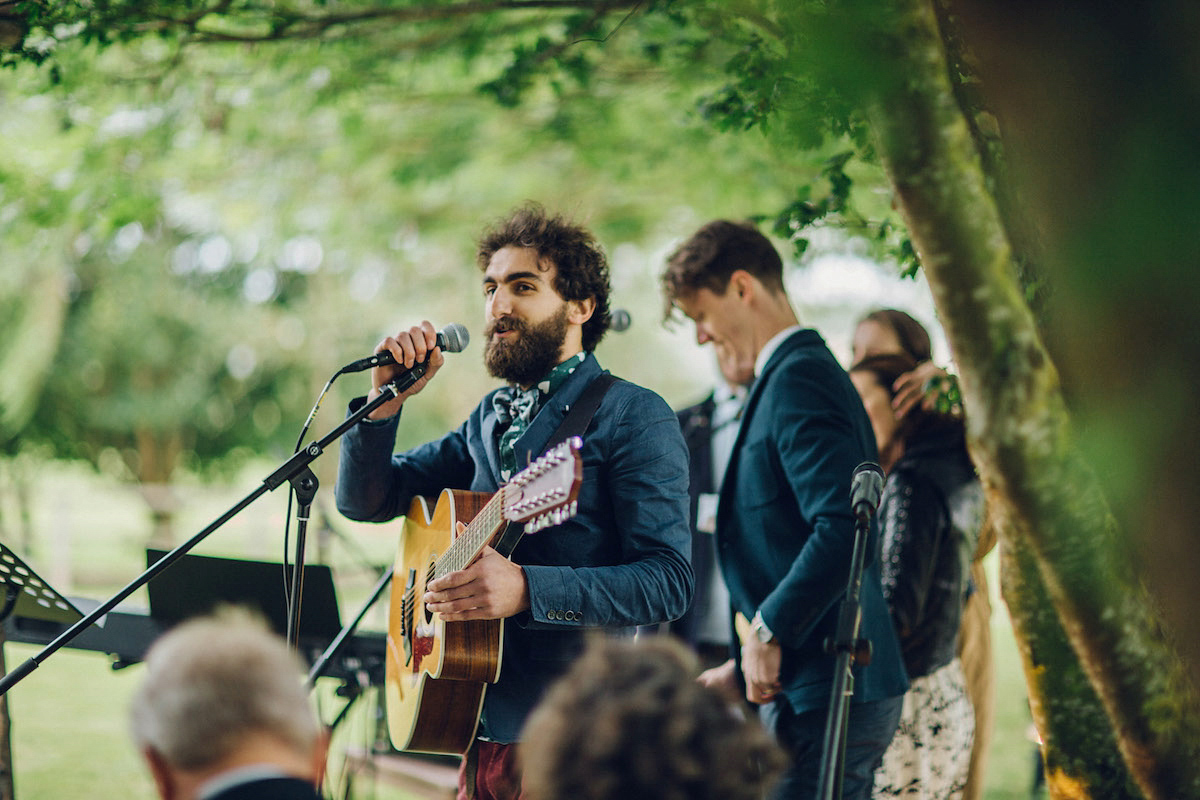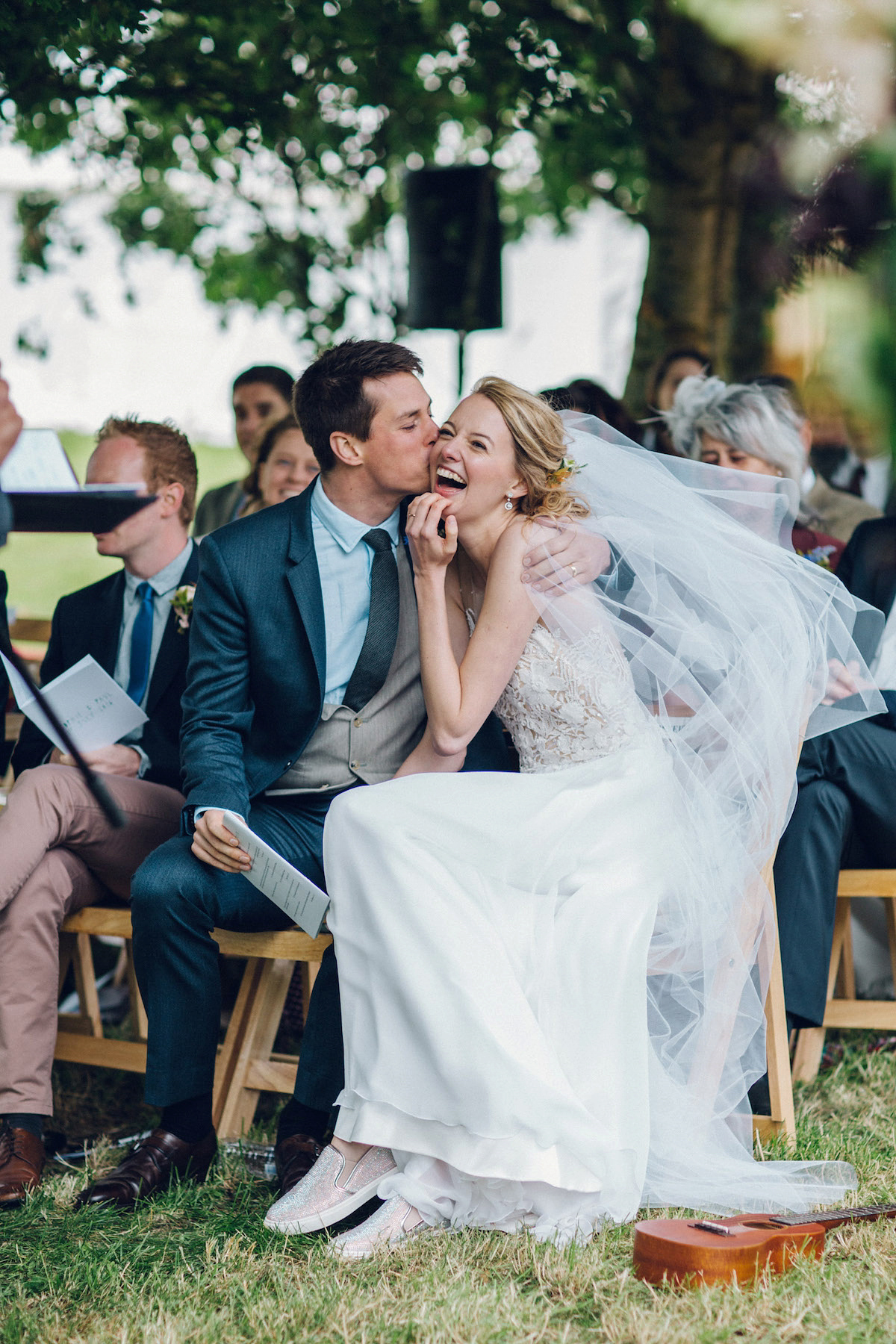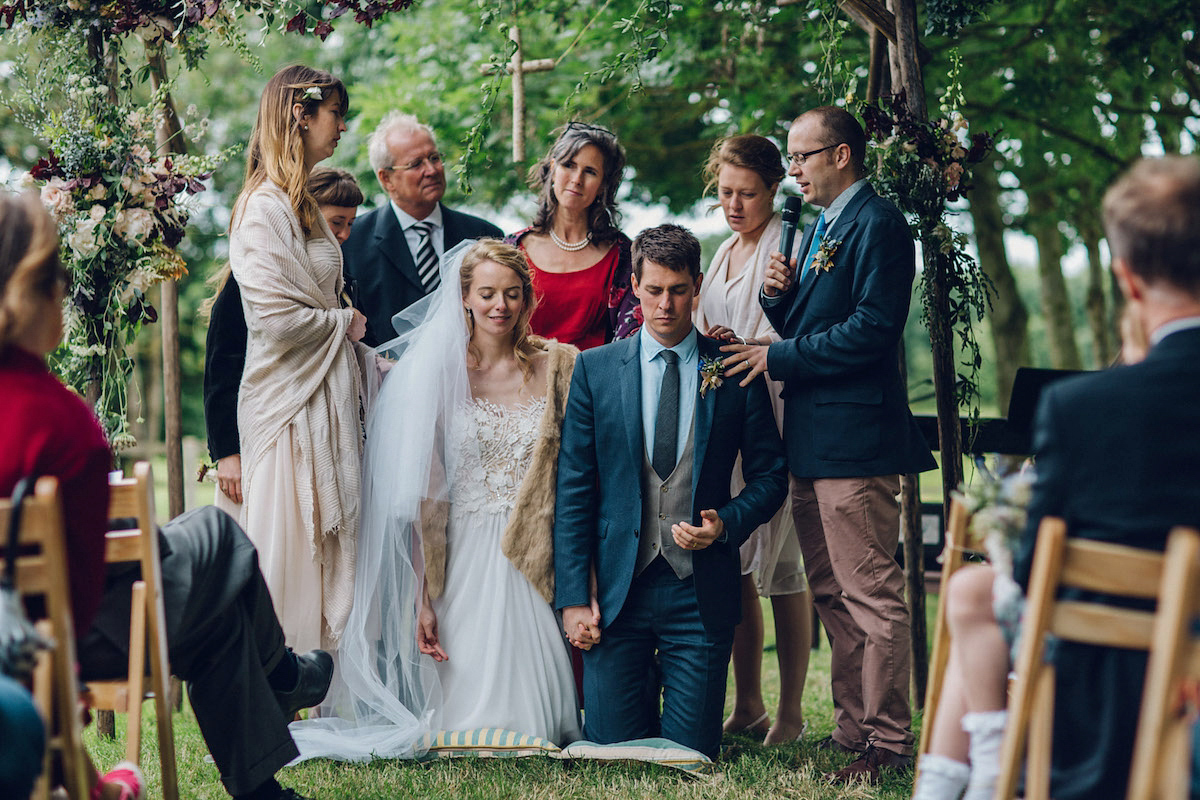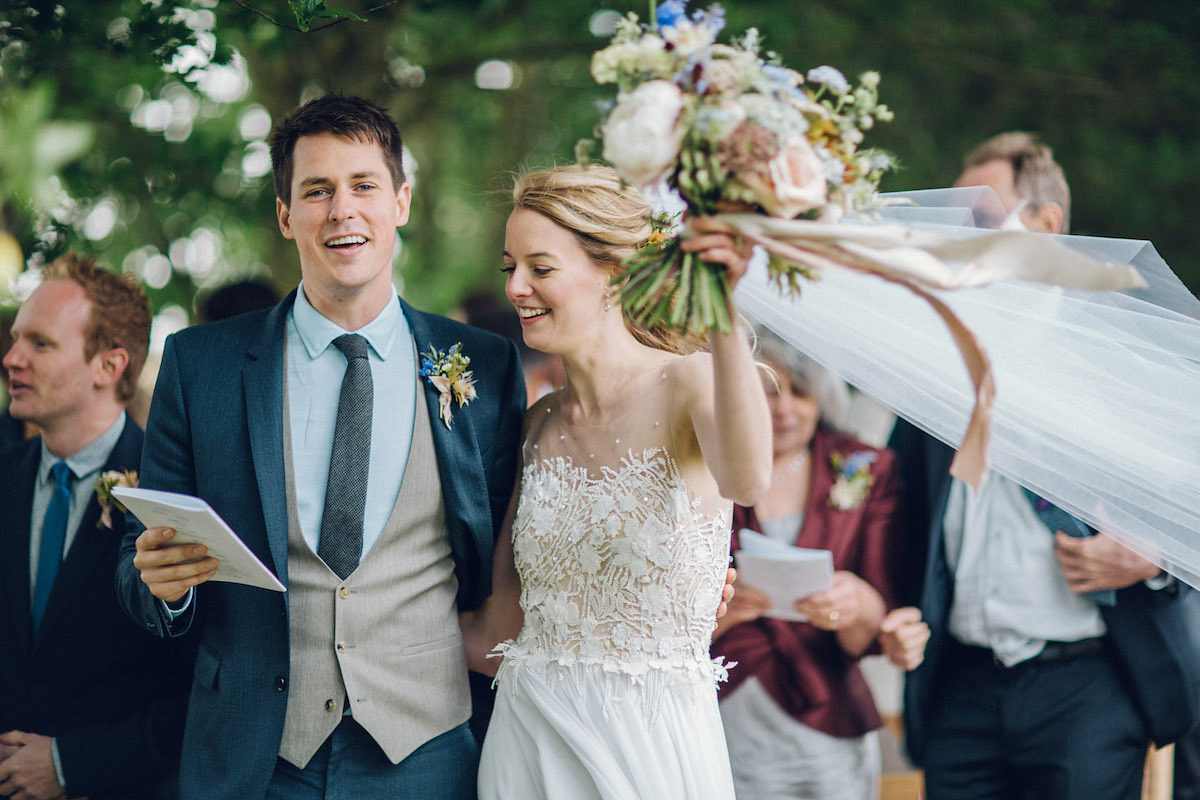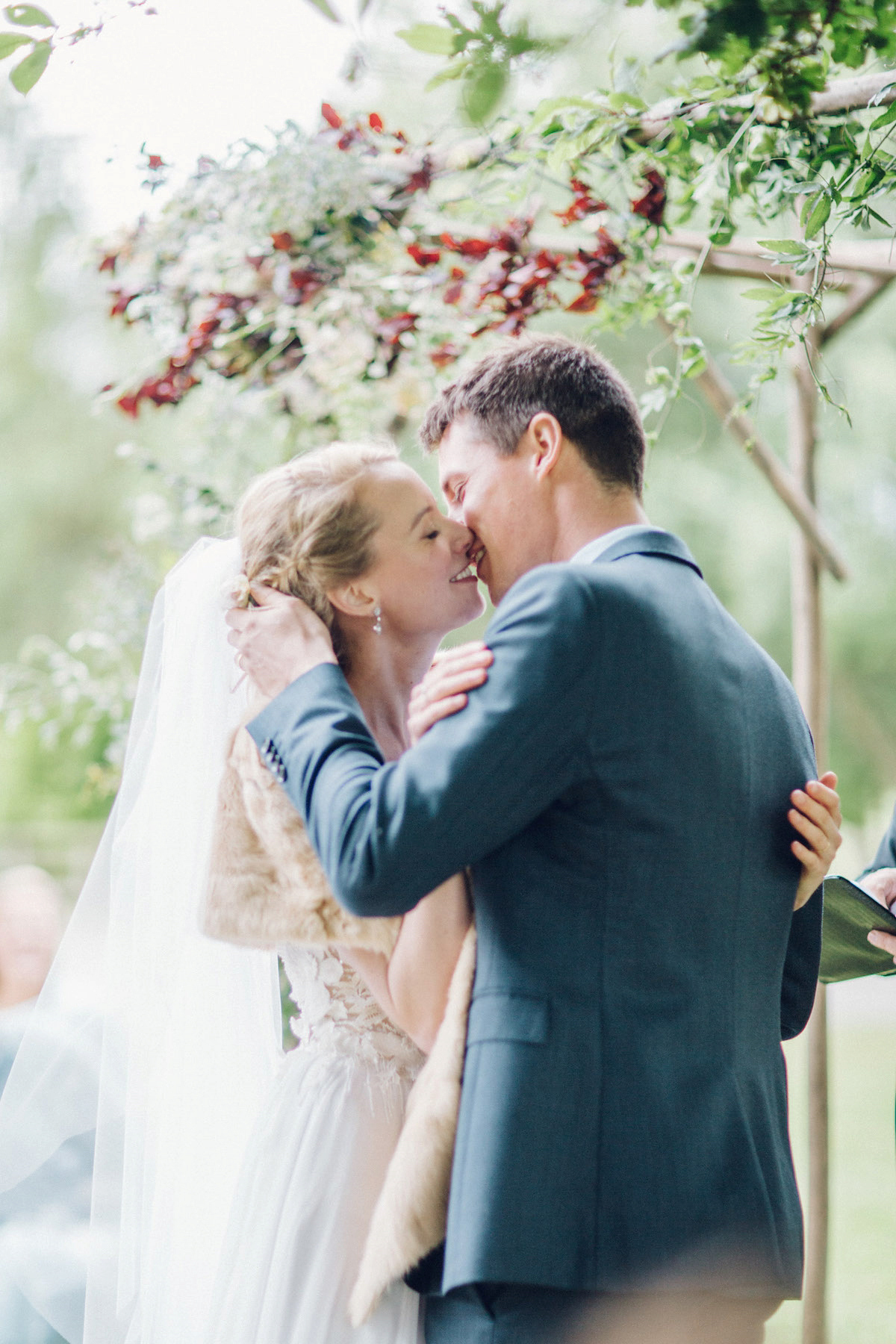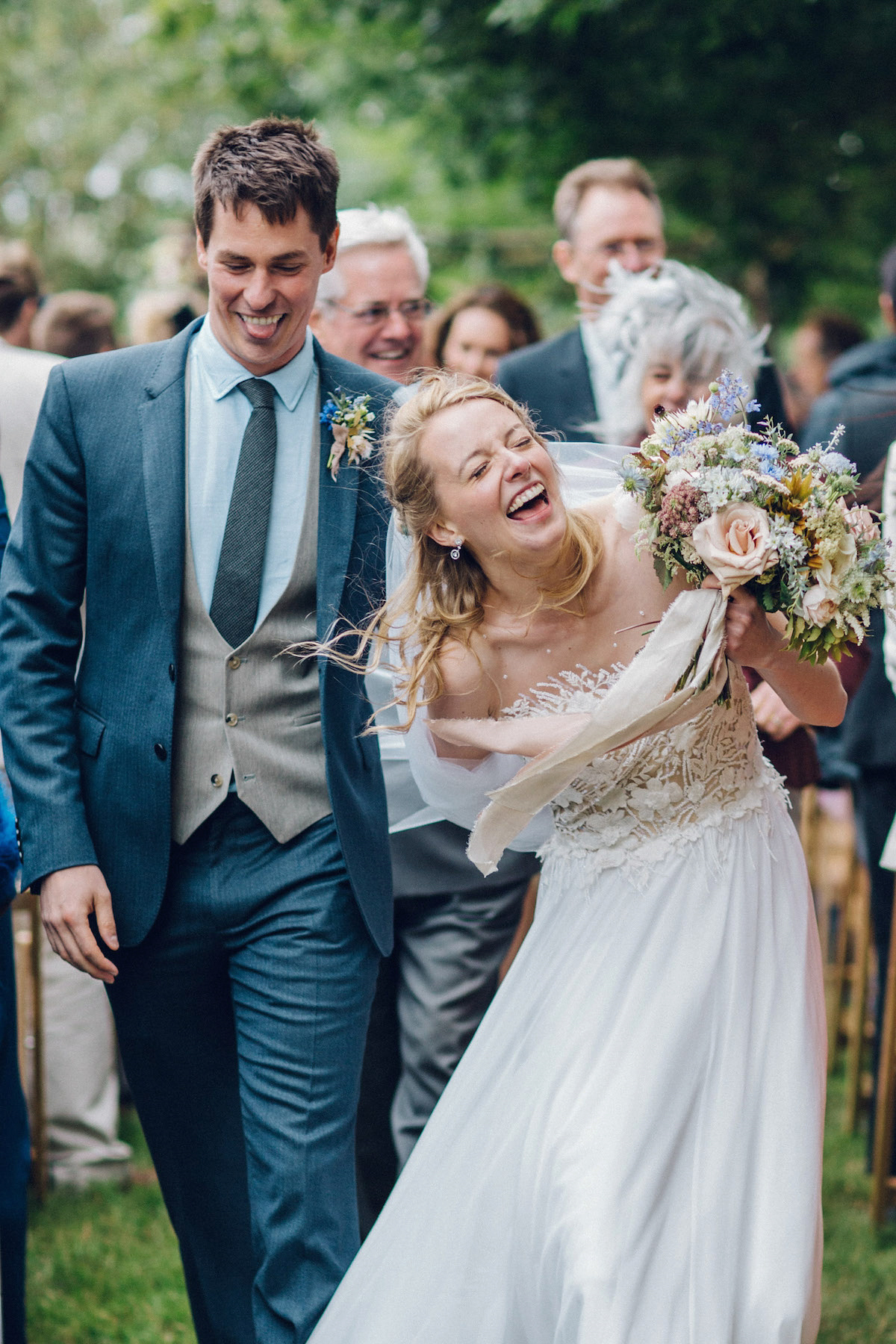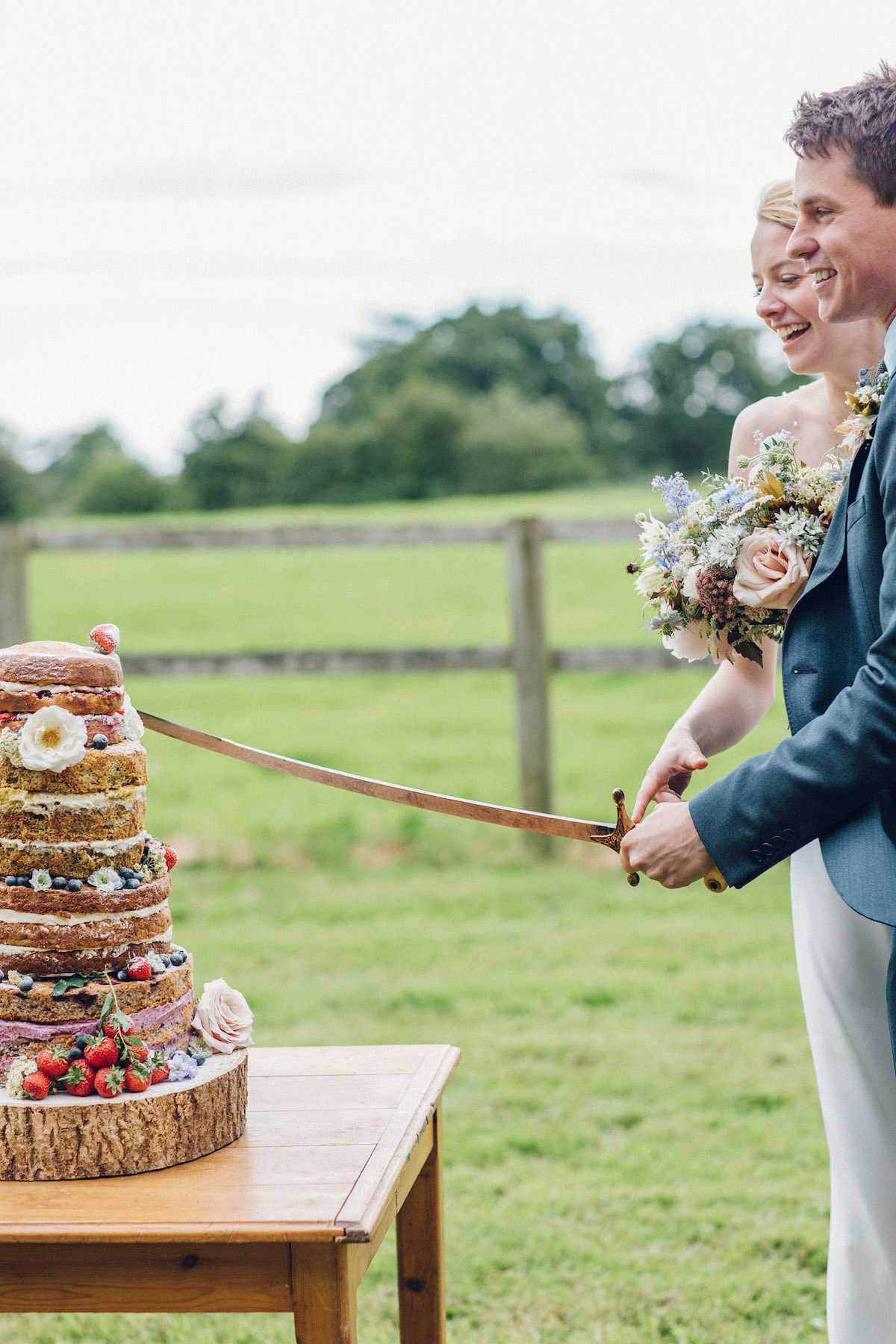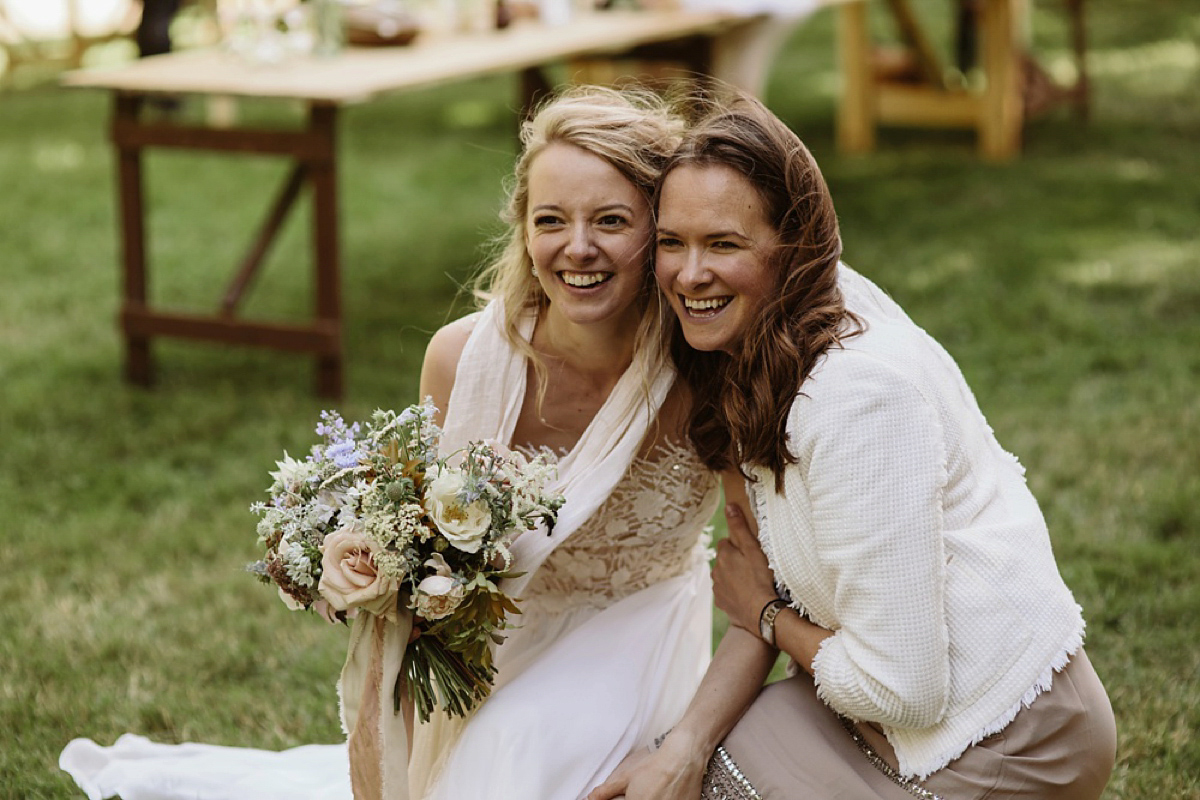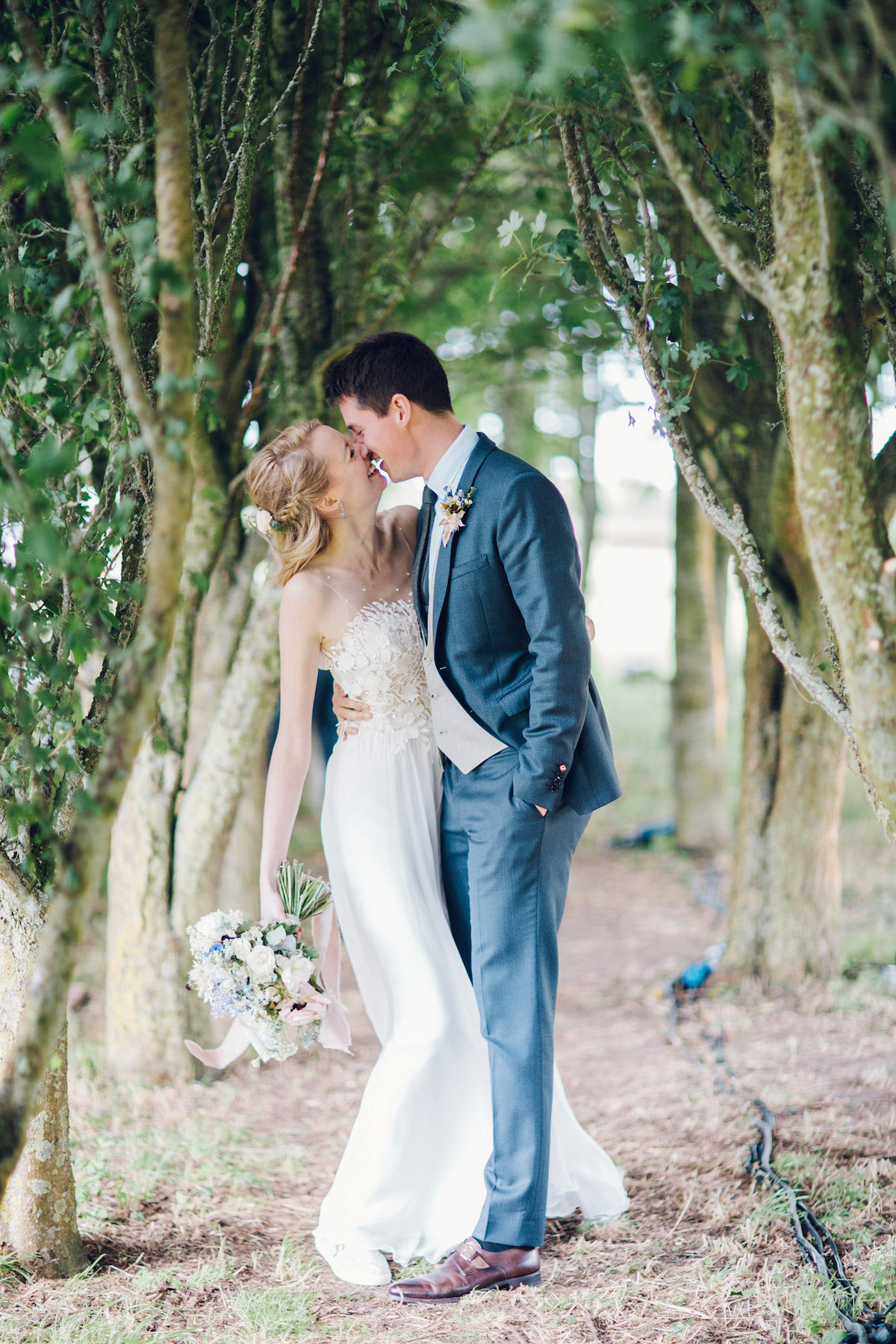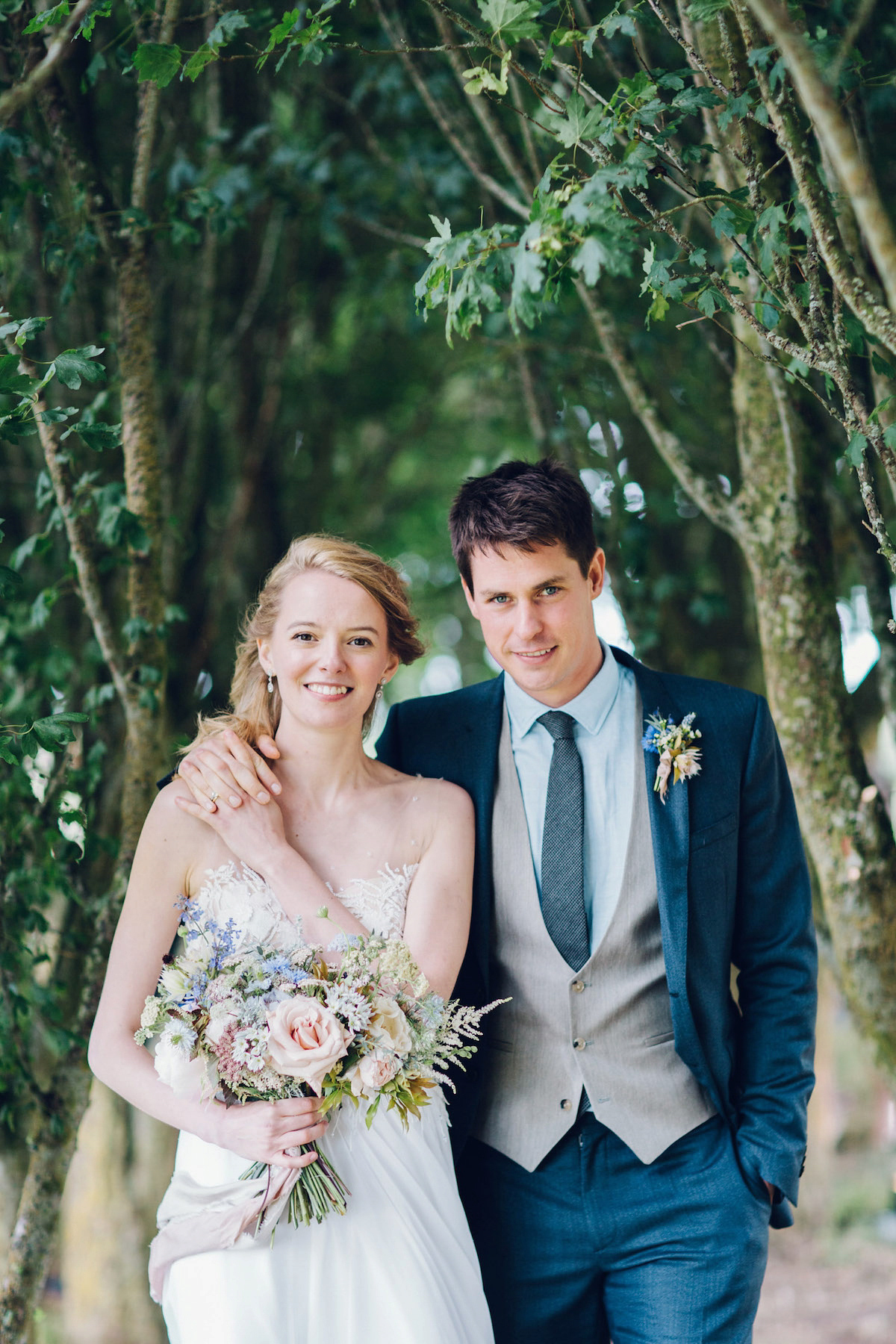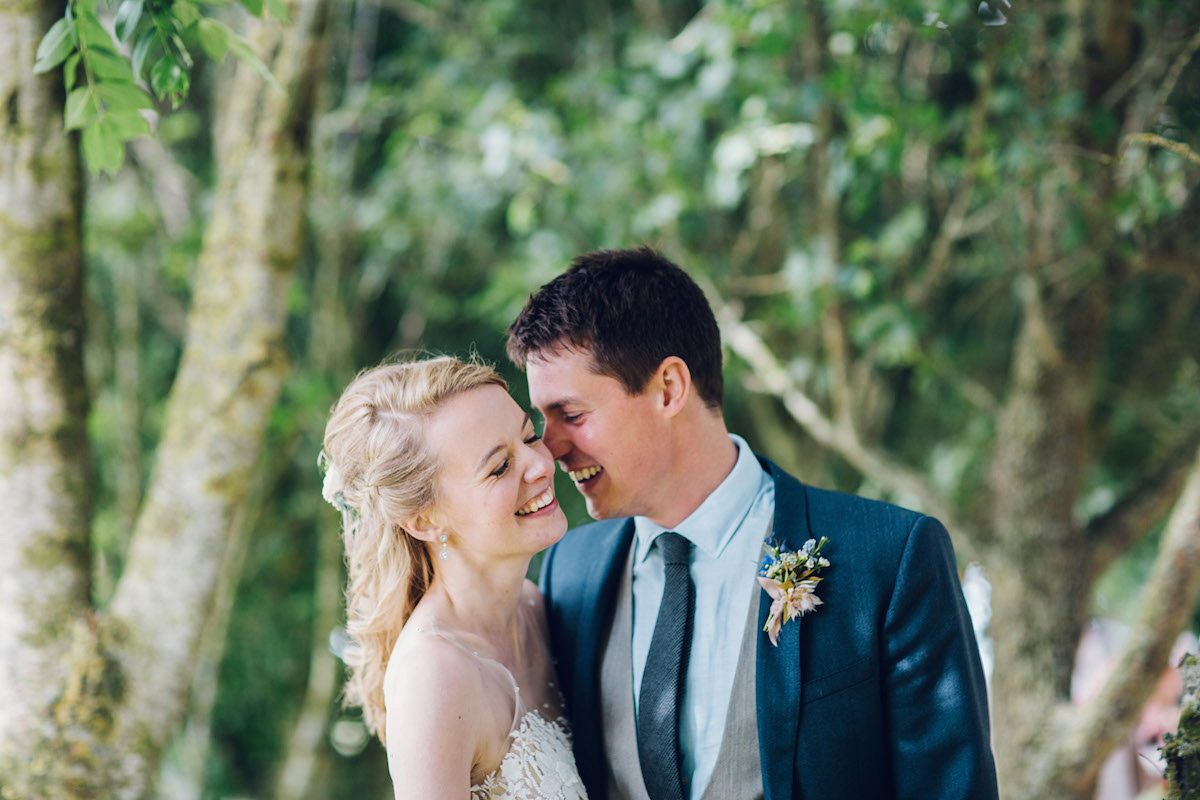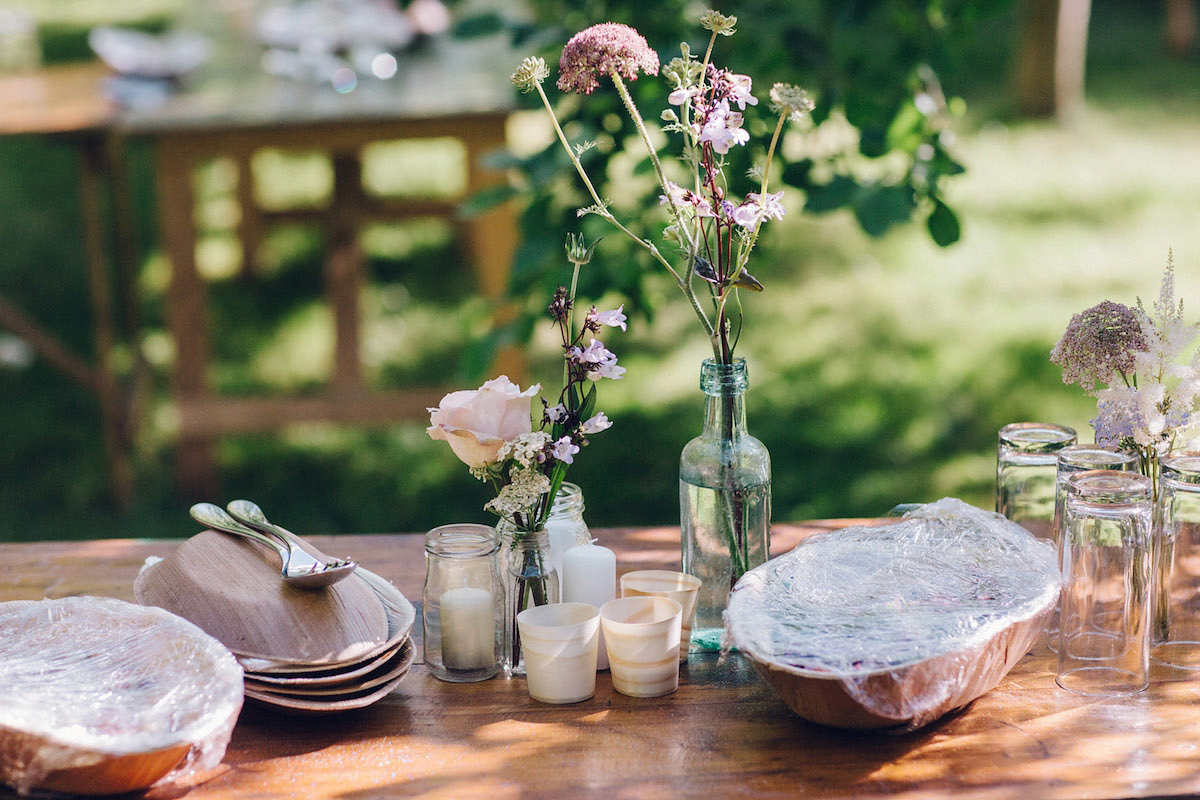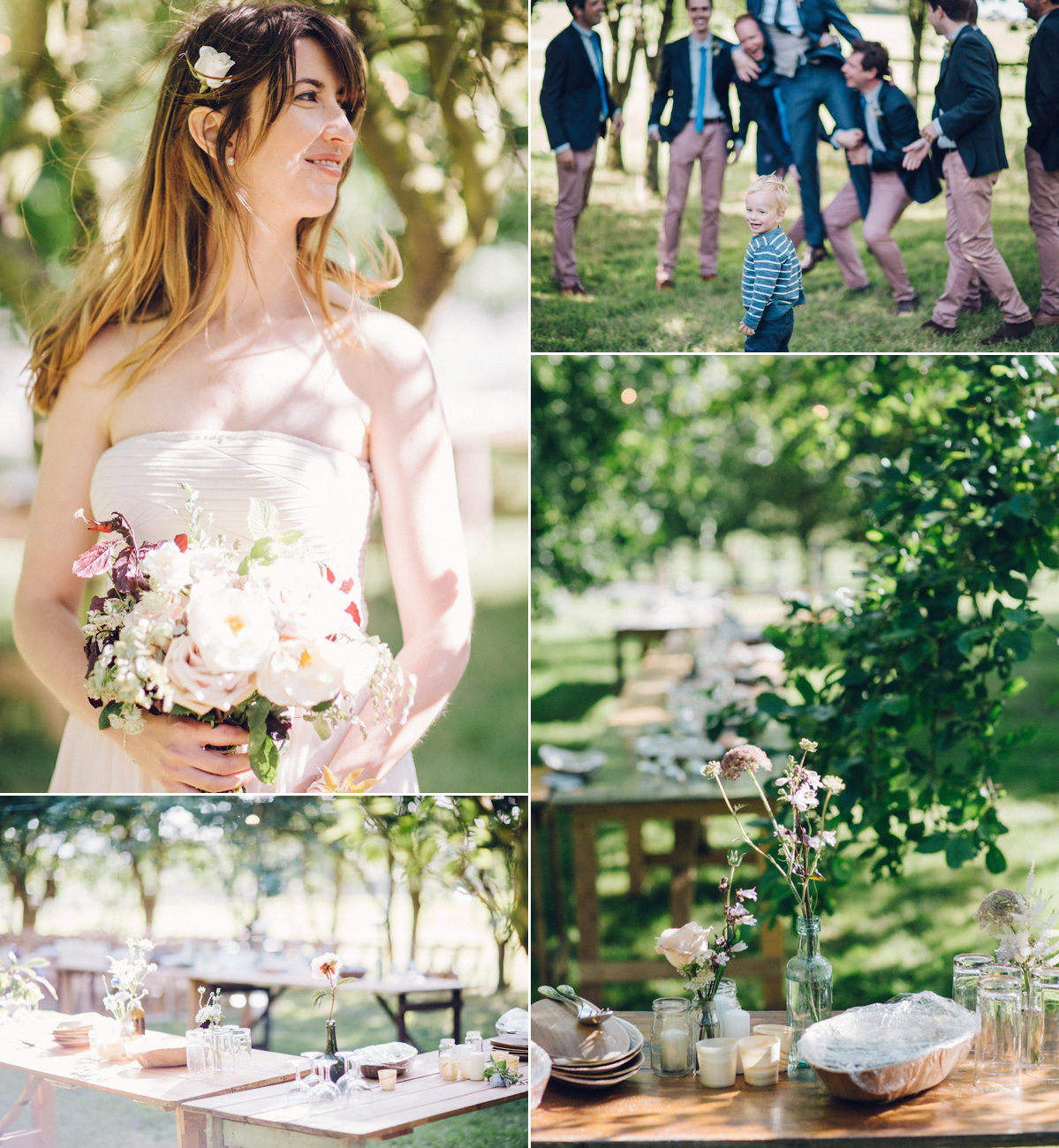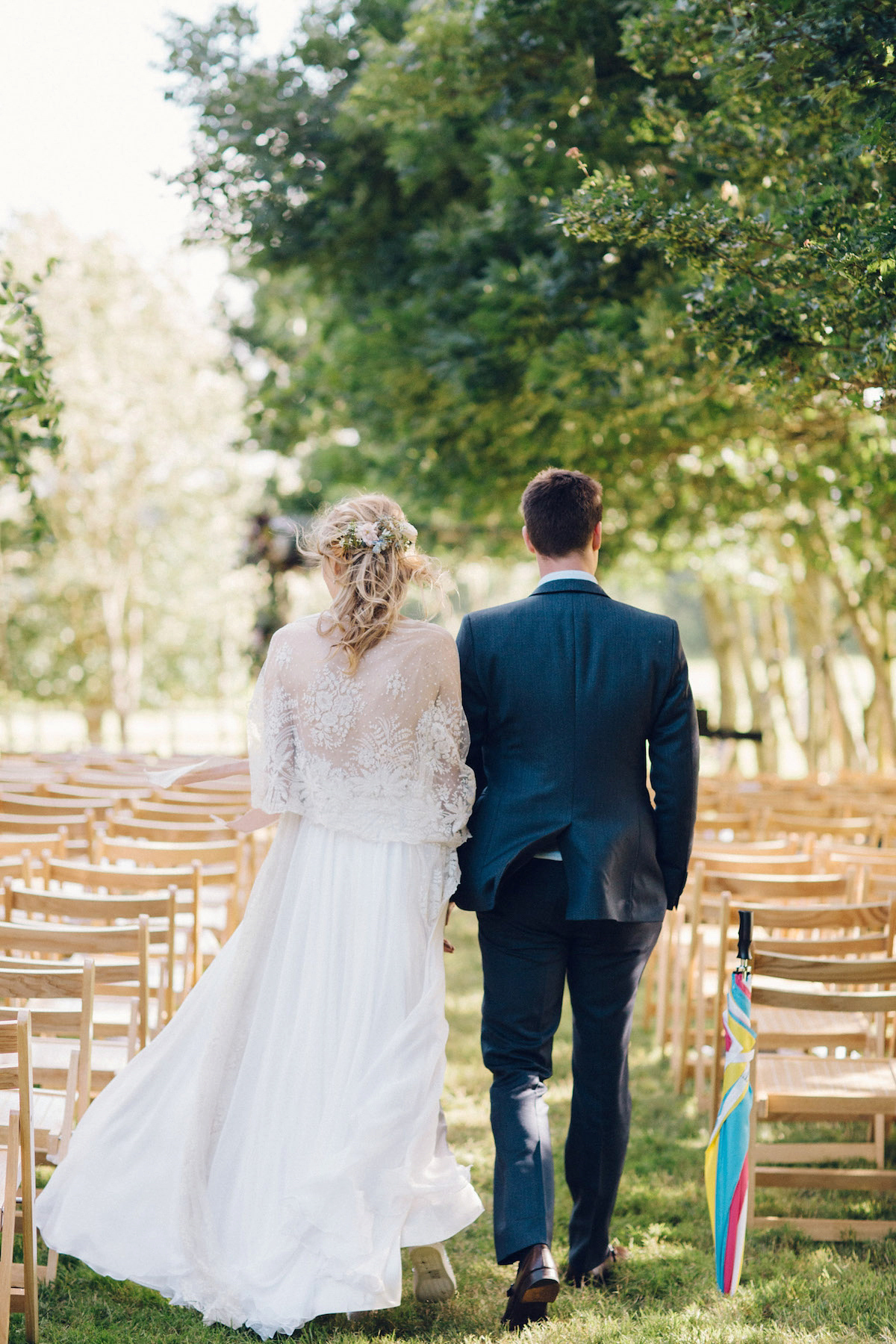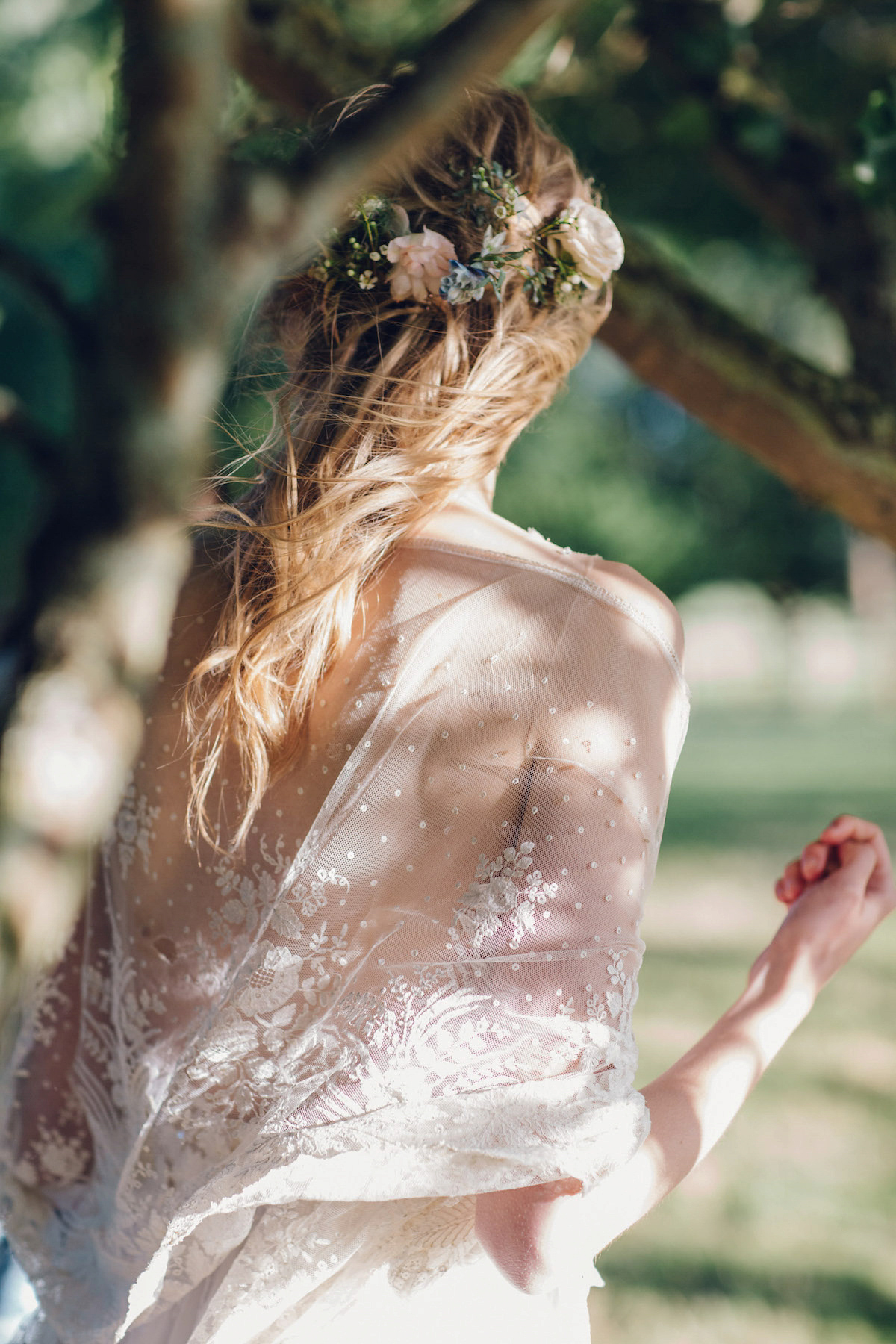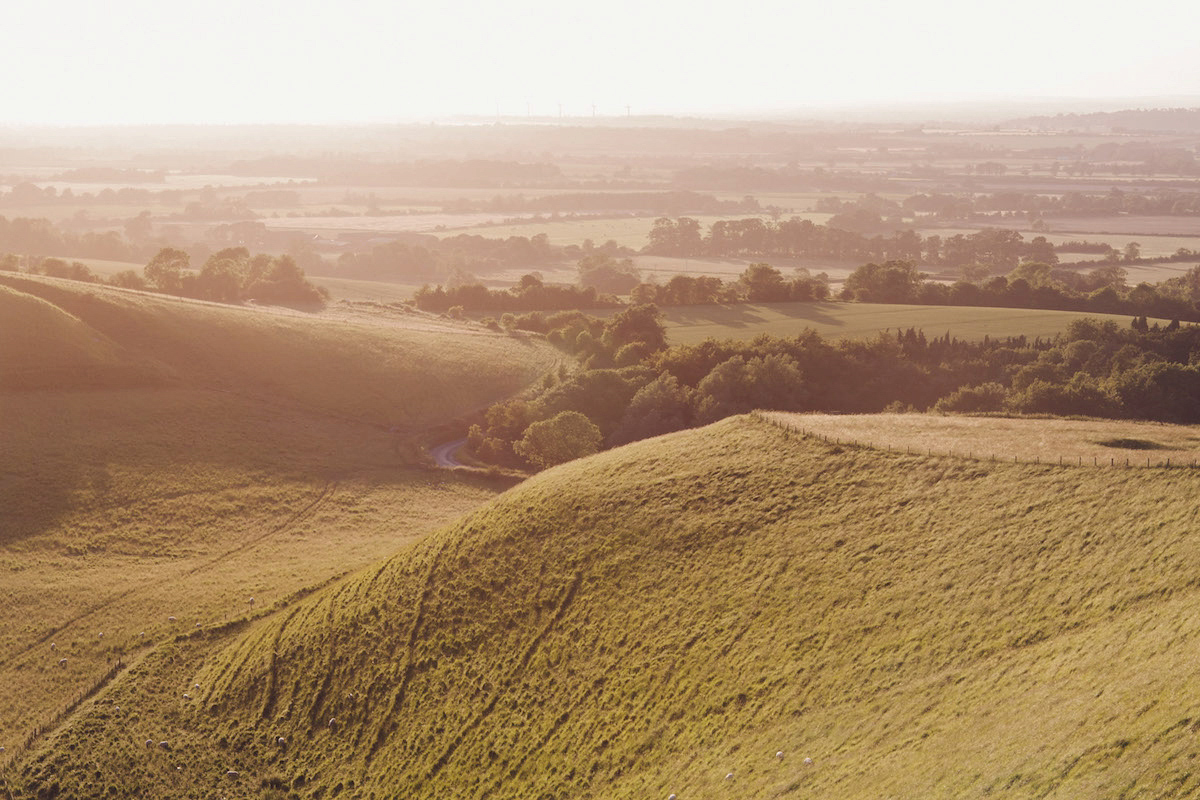 I absolutely love all the little moments Deborah captured throughout the day – memories to hold forever, and all filled with light and smiles.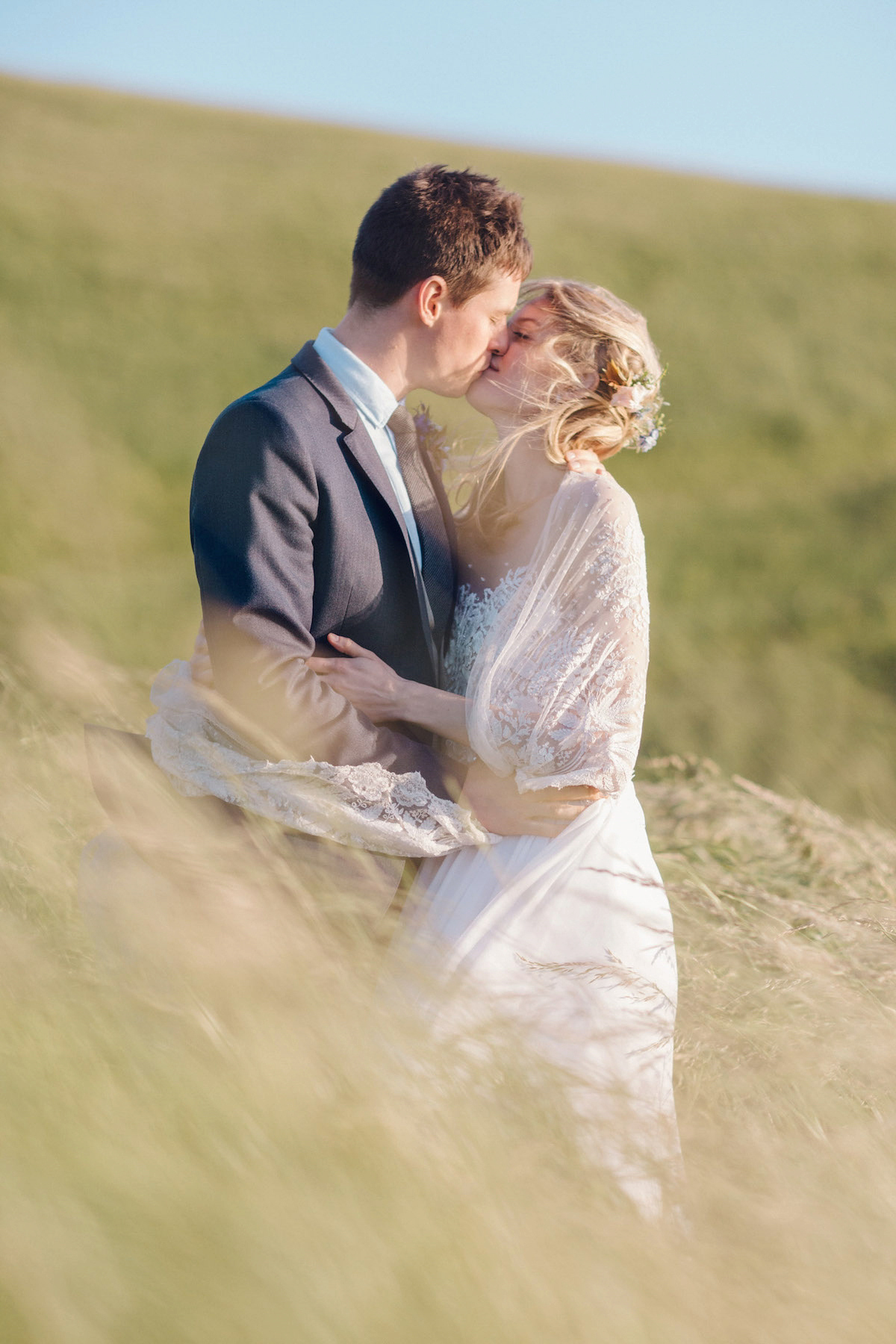 "Debs is a dear friend and the most talented photographer I know; her appreciation and love for the tender exchanges between people extends to her photography.  Effortlessly and inconspicuously, she captures the moments when you think no-one is watching."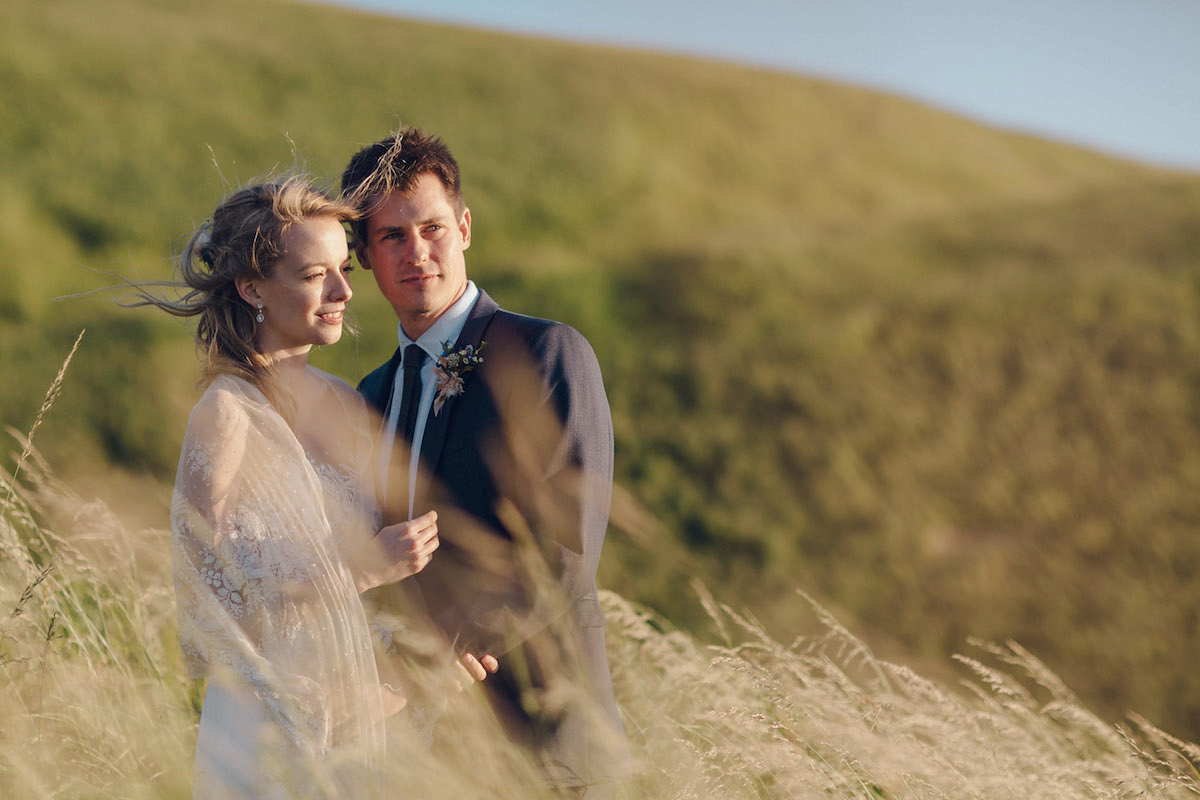 "We were overjoyed to have her shooting our wedding, and we really didn't want to pile pressure on her, demanding certain photos- it's her job, and we wanted her to feel fully able to extend her creative wings and have all the freedom to do what she does best.  She made us feel so relaxed that we almost forgot she was there."
"Green Antlers Photography also shot the wedding and took some film.  We were exceptionally blessed to have such talented photographers with us on our day."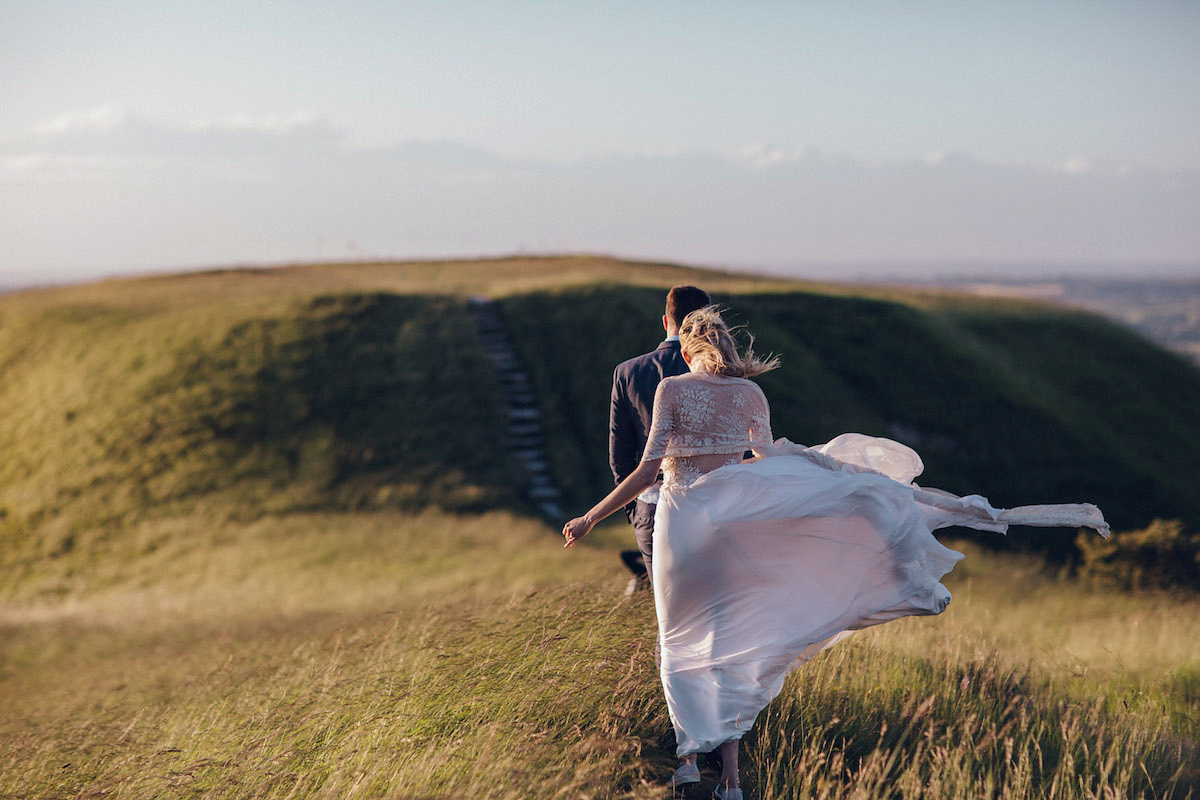 For transport the couple were driven by Sophie's father in his beloved car 'Brutus', a British Racing Green vintage Austin Healey convertible- I'm not really a car person usually, but isn't it beautiful?
"While my dream has always been to get married outside, Paul's has been to have a BBQ at his wedding. Both of us love food, so this part was important to us. We had a selection of different 'Firebreads' from the Well Kneaded pizza van, as well as an amazing selection of different BBQ dishes from the London BBQ expert Mark Blatchford and his team at Slow Fire London and for dessert, some delicious mini ice-creams from Judes served with brownies.  Our delicious cake was from Sarah Ward."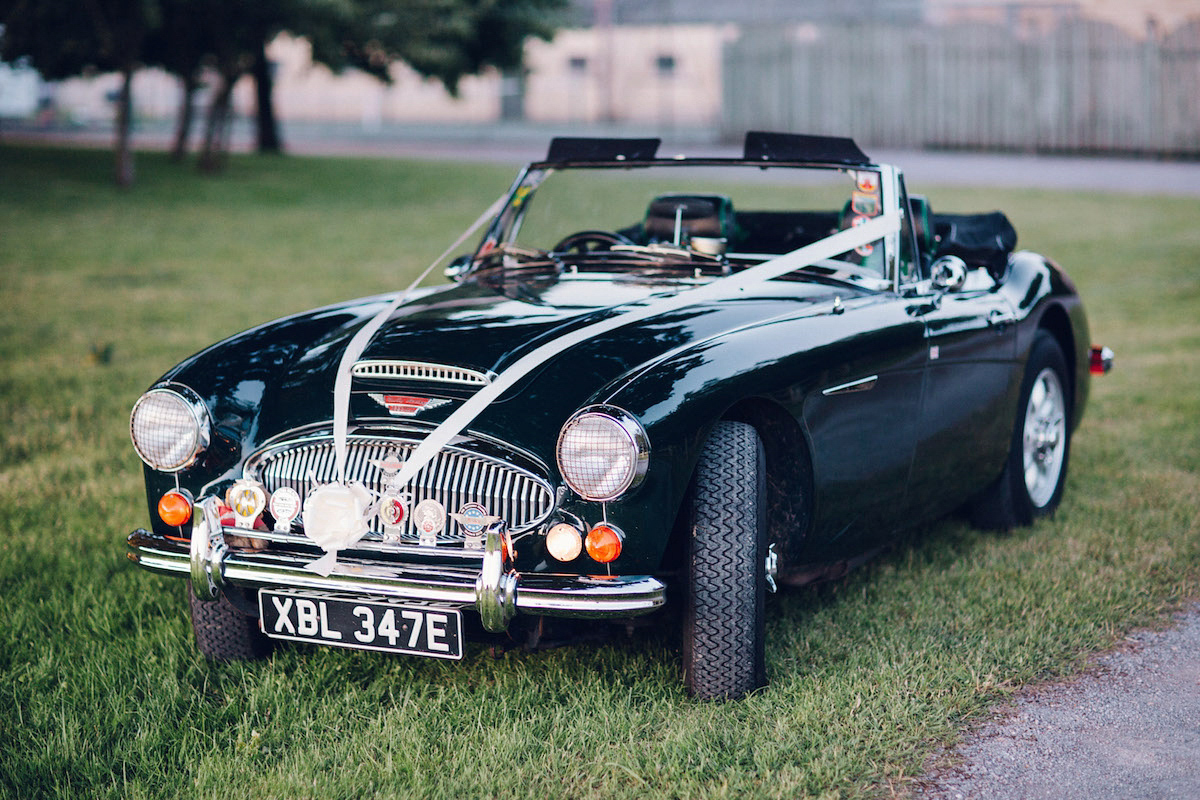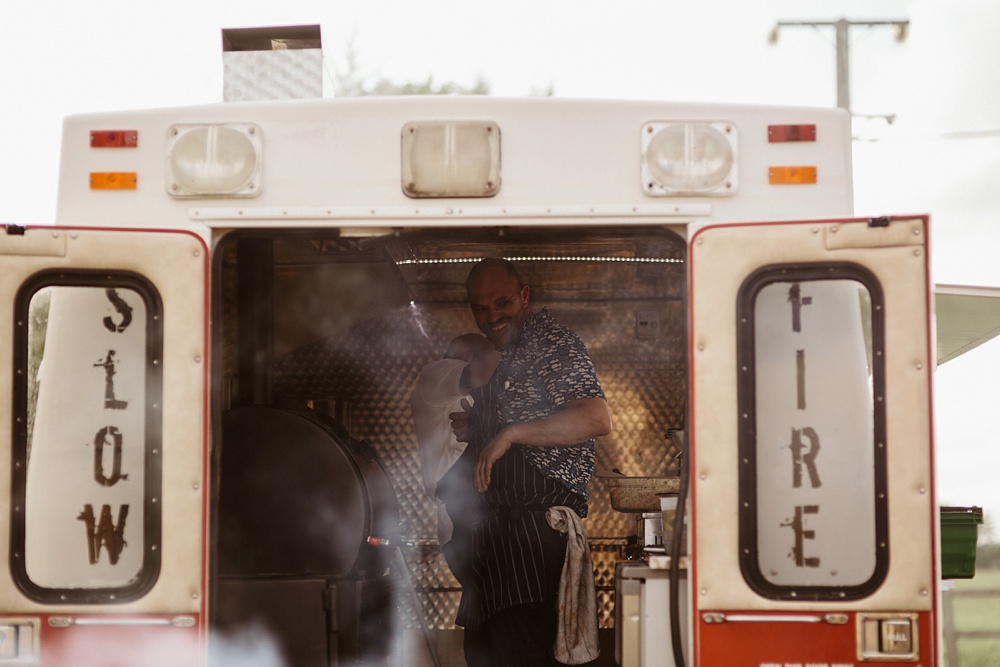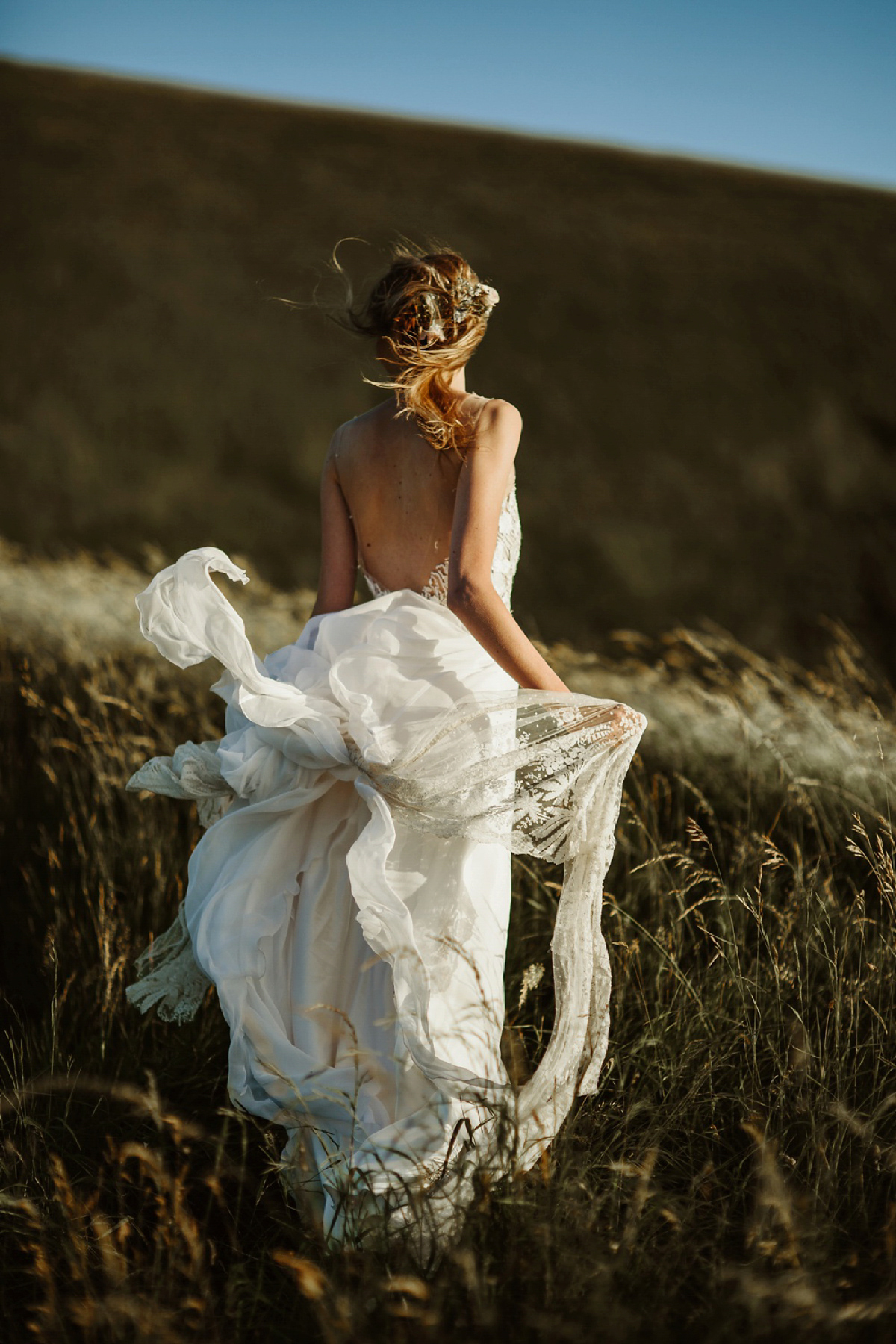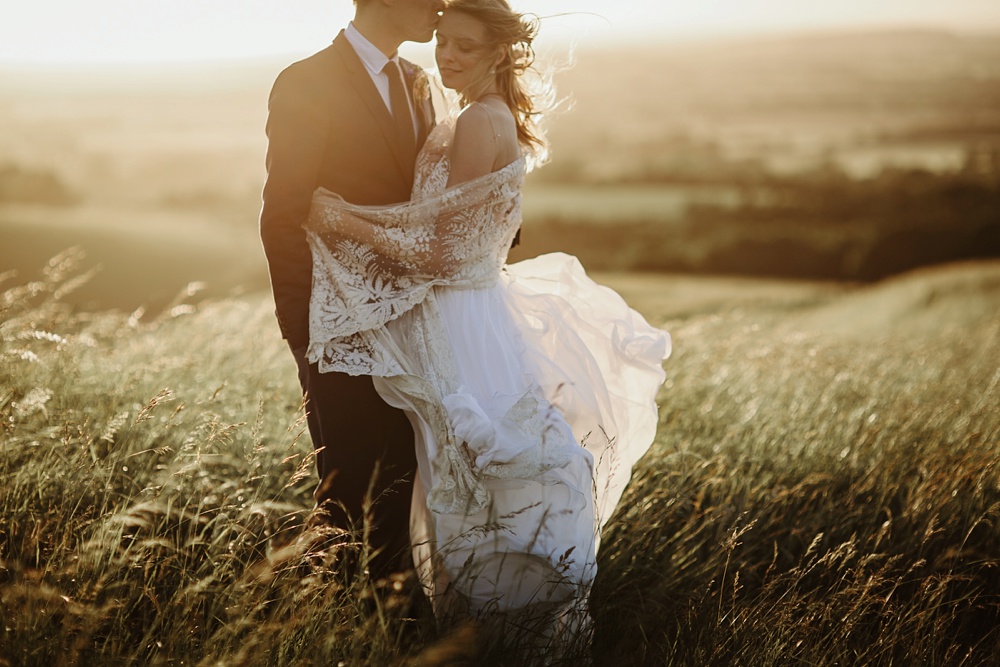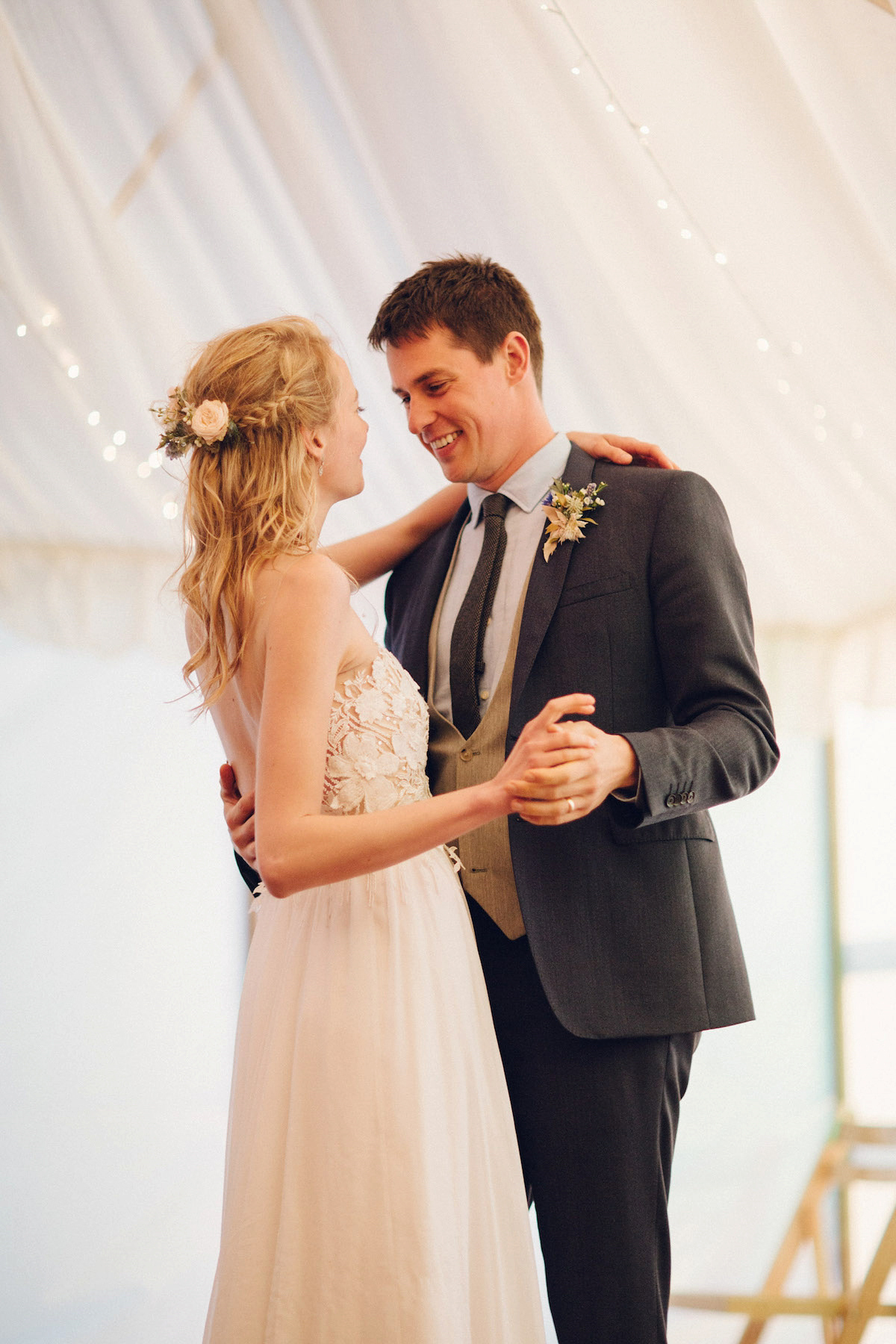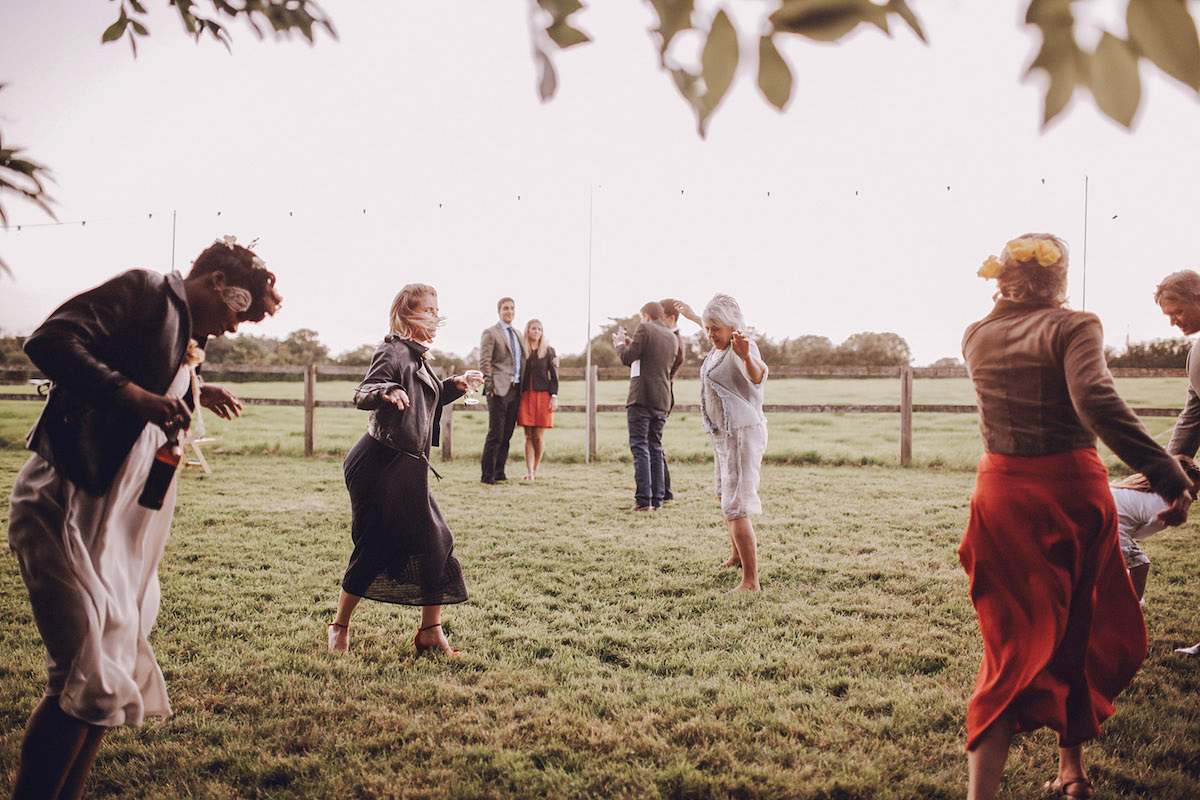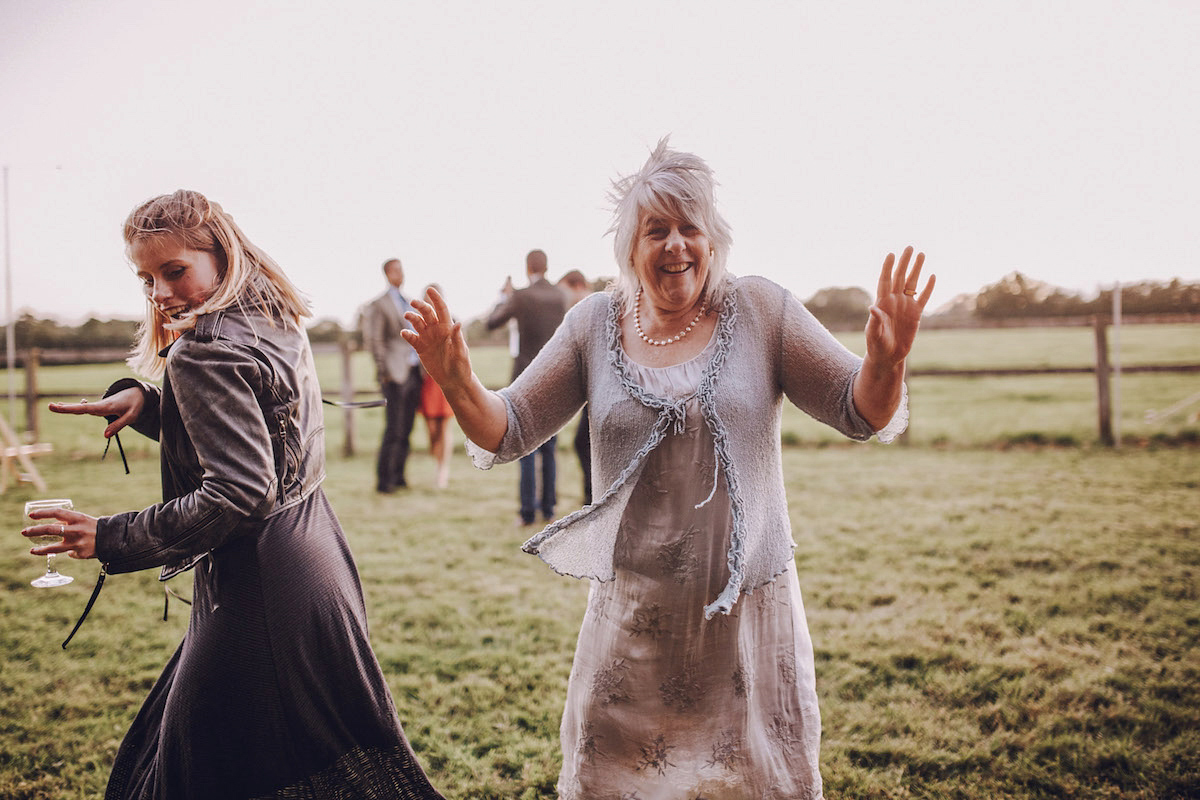 For entertainment the couple booked Paul's favourite DJ, Adam Utting, who kept the dancefloor packed all evening.
"Your wedding day is just the first day of your marriage.  Although it's a wonderful celebration with all the people you love most- the most joy will come from living out your vows; loving and committing to that special person every day for the rest of your life.  It's every day after your wedding day that truly counts."
What a gorgeous farewell shot! So many thanks to Sophie and Paul for sharing their beautiful and heartfelt celebration with us, and also to Deborah Grace for sharing her work with us all.  I'm so envious of those who say their vows under the open sky.  Have a peek at our archive of gorgeous outdoor weddings for some further inspiration.
Much love,
Shona x