Maybe the winter freeze obliterates my more vivid Autumn memories each year, or maybe I'm right and this year's colour palette has been particularly spectacular. As the leaves tumble from the trees and my garden becomes a carpet of yellow-hued mulch, I'm contemplating just how important the beauty found in this season has felt. While the world spins to an increasingly frightening tempo, we are reminded how much simple joy can be found in the natural, the colourful, the creative and the honest beams of love that pass between us. Whilst weddings can become a frantic, time consuming sob-fest, they are at their heart a celebration of all we can hold onto in these trying times: family, connection, meaning and that all important, not to be forgotten or desensitised  L word.
Luckily today, we also get the added benefit of giddy glamour, the importance of travel and a good old kilt-clad Scottish knees up. Having just been to Edinburgh myself, I can feel that friendly, joyous energy saturating this fun-filled and romantic occasion. Beaming bride Megan, an American dancer and model, married her Scottish beau Gary, a marine engineer on 9th July 2016. Seton Collegiate Church was chosen as the ceremony location, for its beauty, historical significance and proximity to this beautiful city, the party was then moved to the Apex Grassmarket Hotel to delight in the view of Edinburgh Castle.
"We wanted a classic and traditional wedding that was very personal to us and blended Scottish and American traditions. We also included a travel theme into the reception since we have been fortunate to travel all over the world together."
Photography by ChicPhoto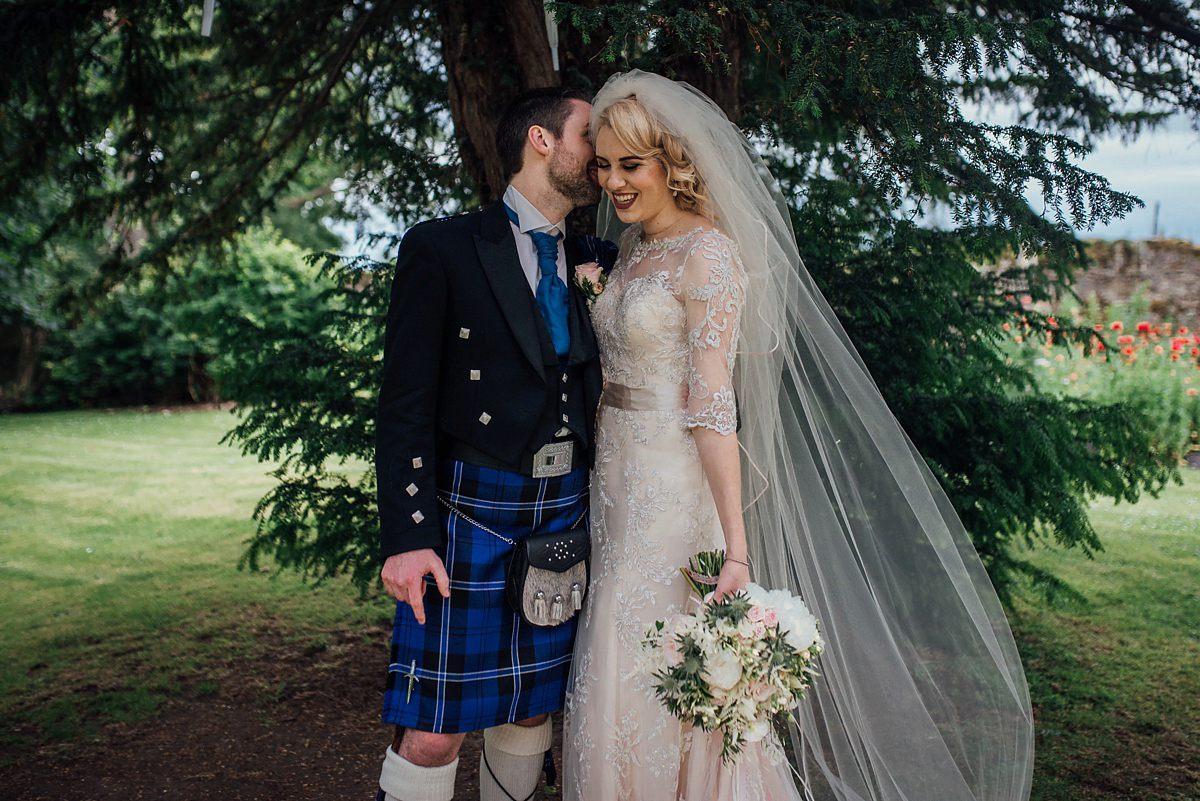 Megan planned the whole wedding from America, an impressive feat when considering just how many considerations we know there are to contend with throughout this amazing process. Wanting to ensure her bridal look was classic and graceful, Megan chose her intricately embellished  gown, all whilst living out a little girls dream. This dramatic, frothy vision is 'Verina' by Maggie Sottero, purchased from Renaissance Bridals in York, Pennsylvania."I knew I wanted a vintage look and was drawn to the 3/4 length sleeves and classic silhouette. It felt special to find my dress in Renaissance Bridals as its a beautiful boutique shop with impeccable service and I used to purchase my school dance dresses there when I was a girl. I had always wanted to come back one day and find my wedding dress."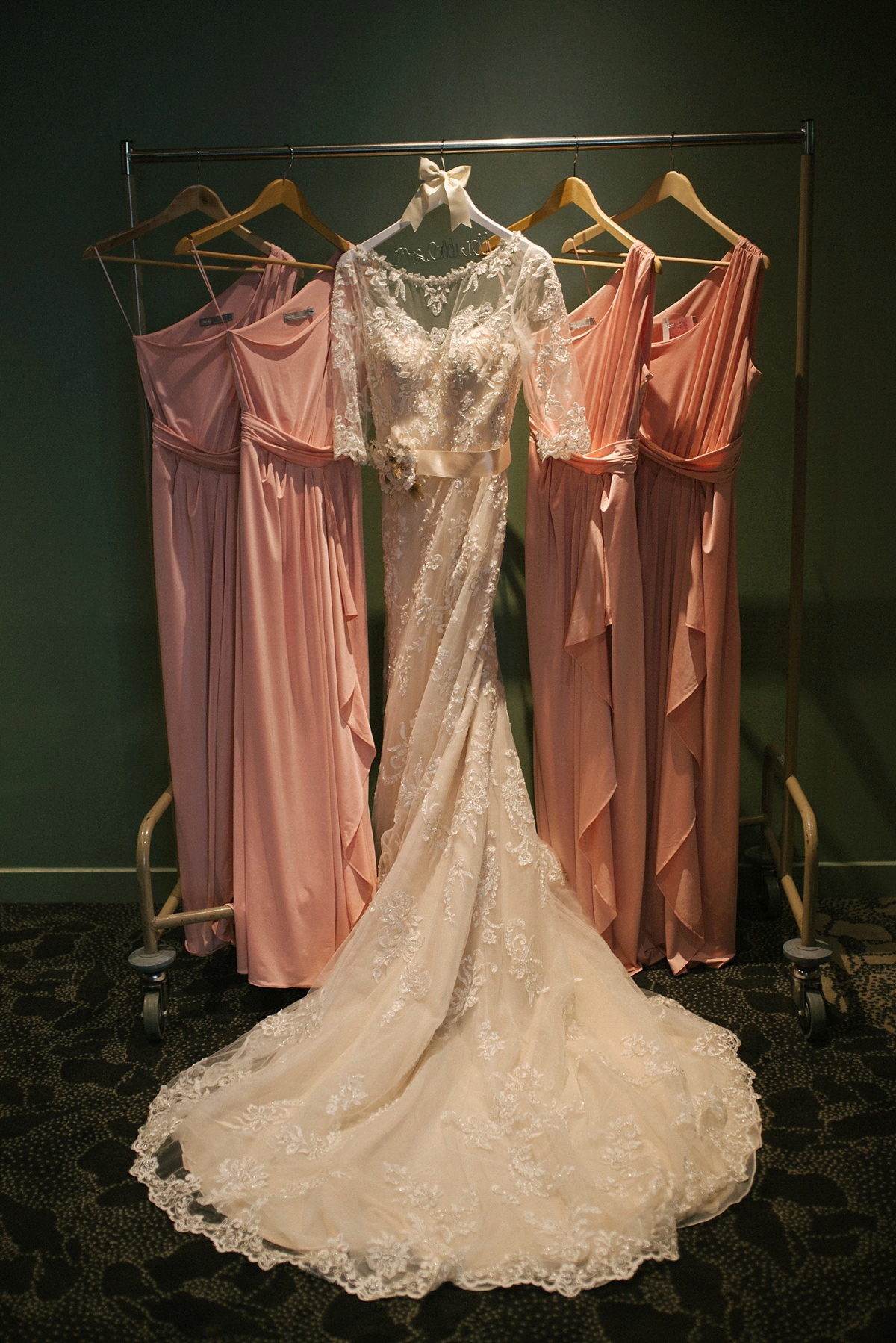 Suppliers where chosen based on internet research and family recommendations, showing the importance of online wedding communities like our facebook group, and suppliers recommended by those in the know, aka Little Book for Brides.
The eponymous Rachel Simpson T Bar shoes added a metallic twist to the pure elegance of Megan's Maggie Sottero gown, yet another win for Little Book for Brides! A spritz of 'Amber Rose' by Victoria's Secret was the icing on the cake.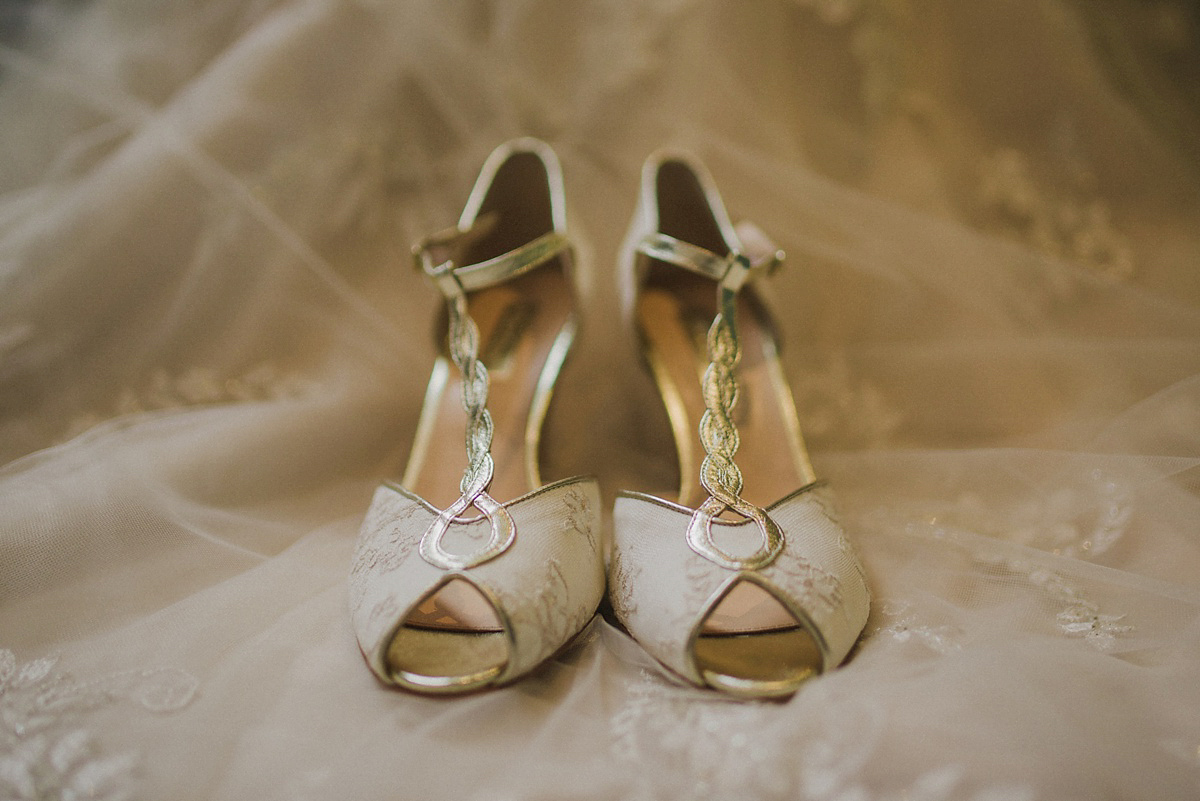 Laura Gray Bridal Team set up a serious beautifying station for Megan and her gang, enhancing the classic aesthetic desired by our bride with sweeping lashes, pretty pink lips and a vintage inspired, wavy chignon.
I love the giddy joy present on Megan's face as she is fastened into her gown, finally being able to wear that dress of dreams is an incredible feeling.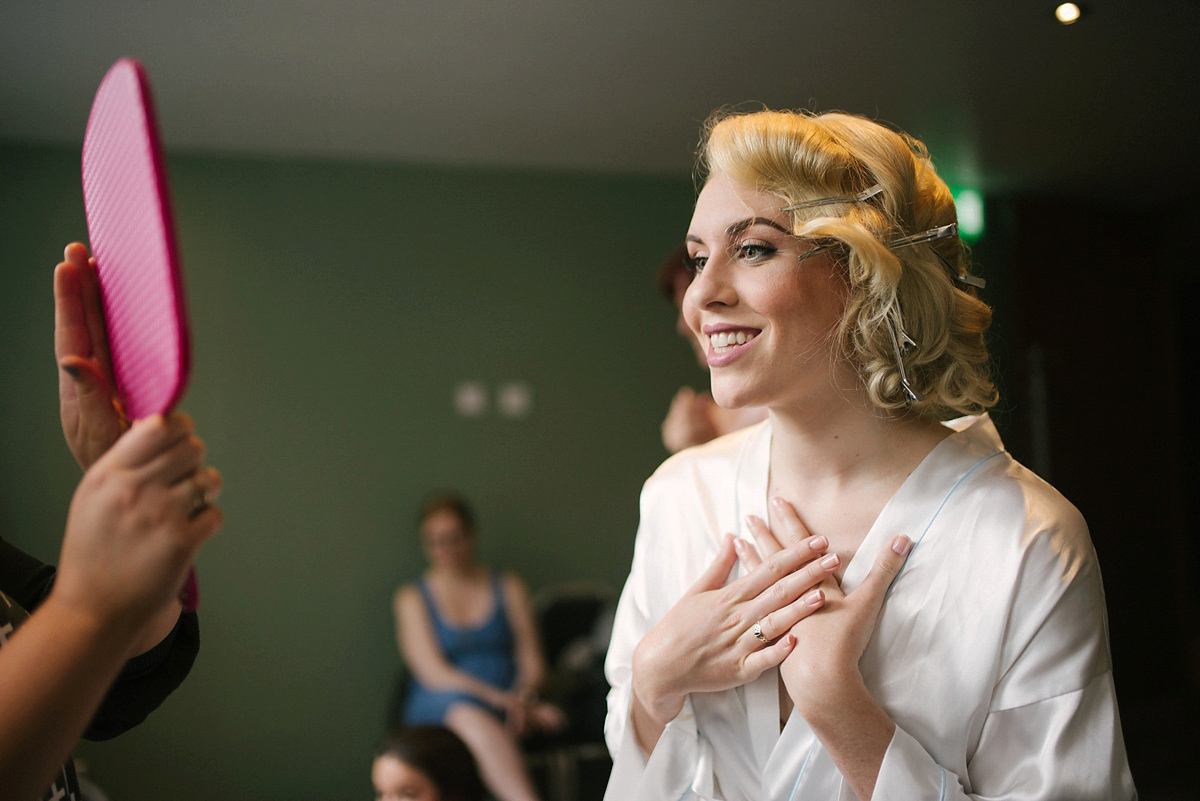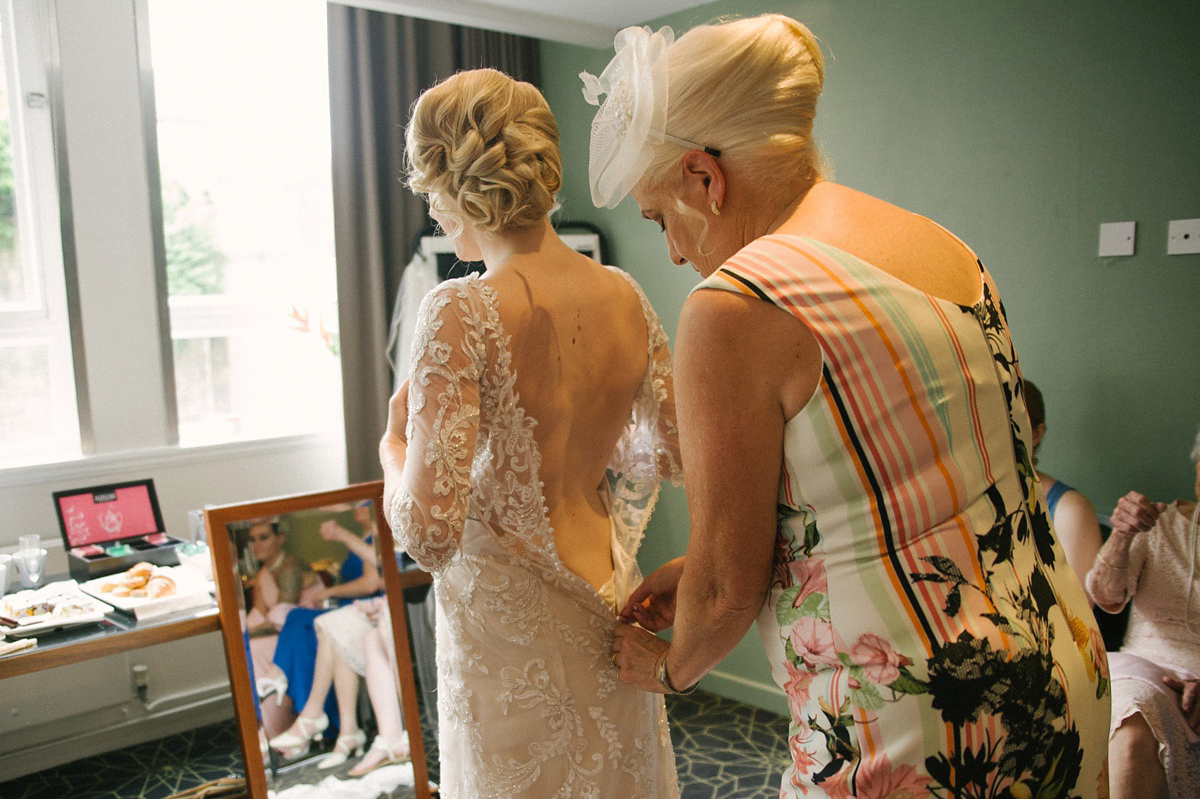 "I wore a vintage lavallliere (pendant) that my late grandmother wore at her wedding. My bracelet is a diamond tennis bracelet that my husband gave to me on our second Christmas together. Earrings were purchased at Renaissance Bridals along with the dress and veil."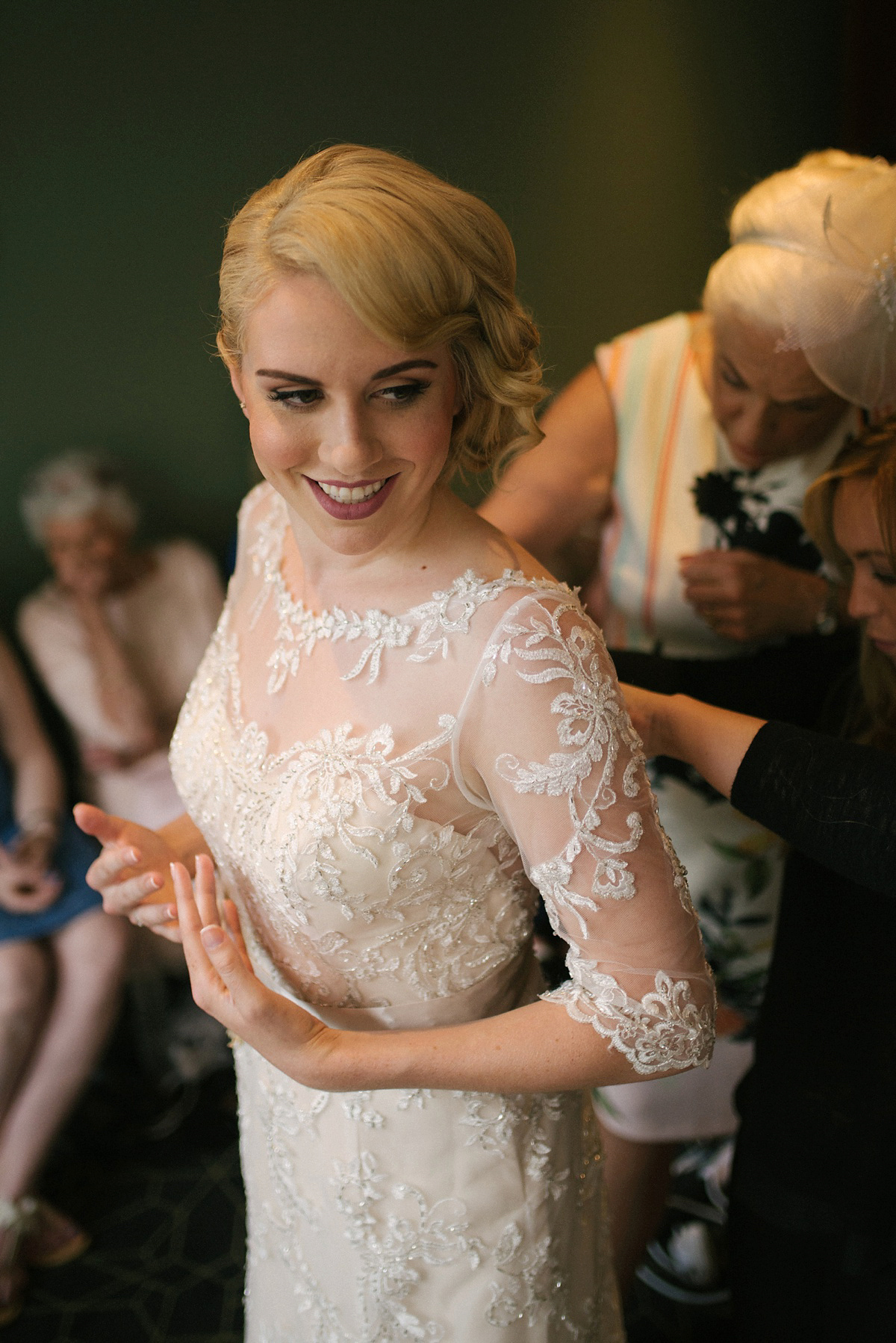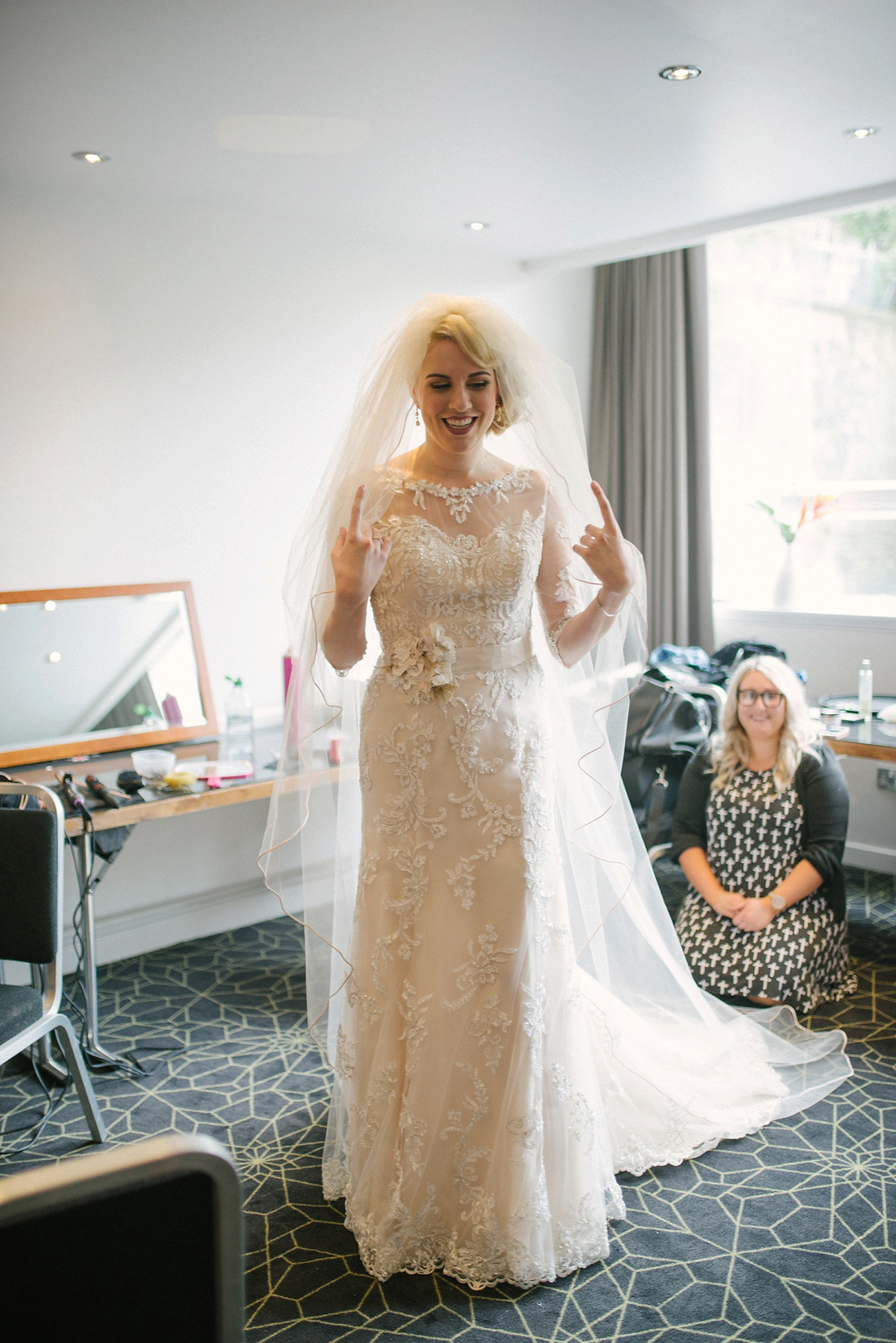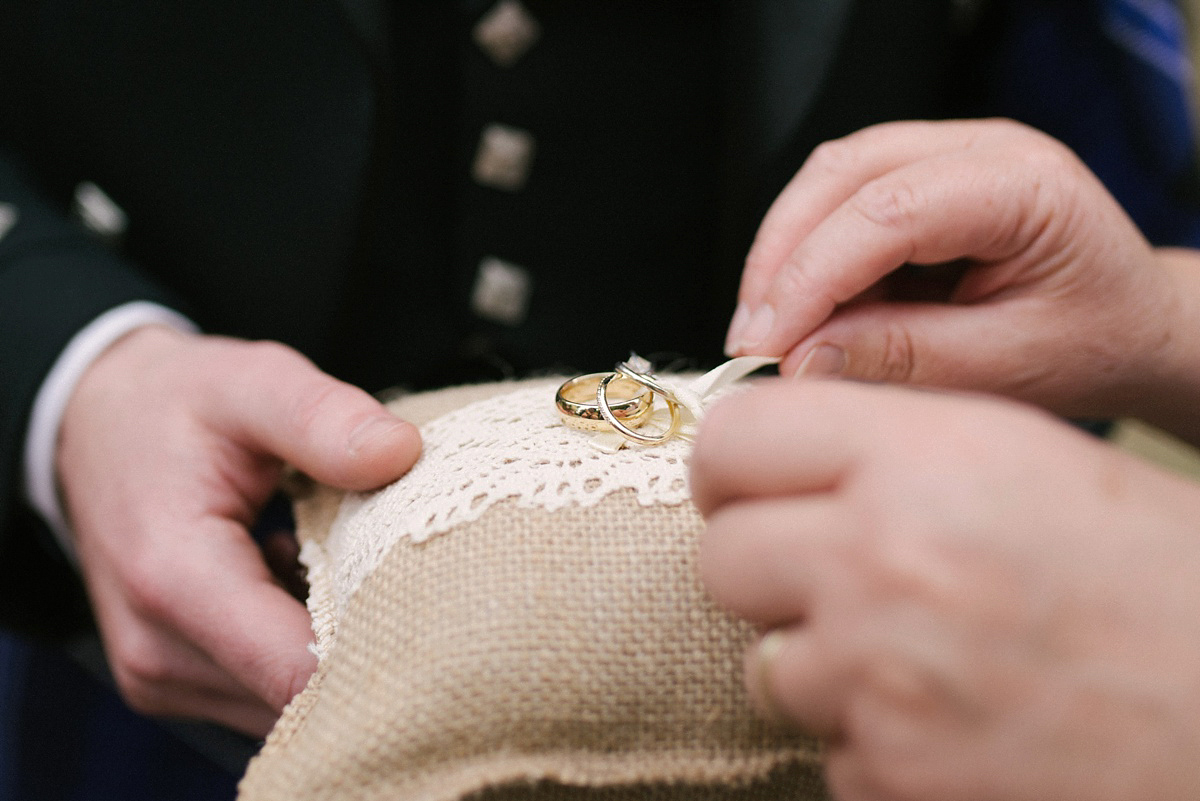 Bridesmaids looked pretty in pink with one-shoulder gowns from the consistently glorious ASOS, carrying pale posies from Sparrow and Rose.
They were given free rein to choose metallic shoes and jewellery to compliment their gorgeously draped dresses.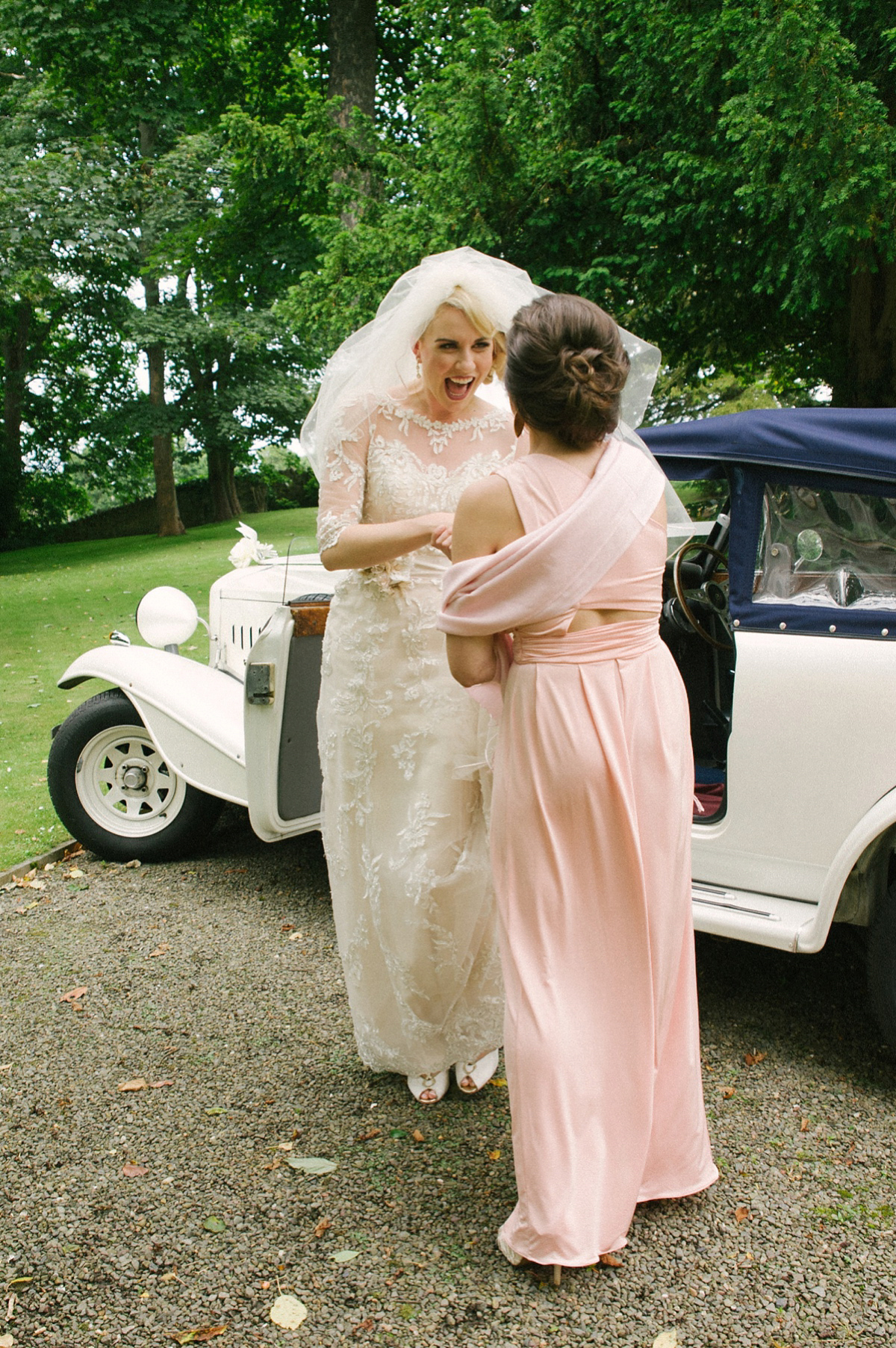 "We met while we both worked on cruise ships, Gary as an engineer, me as a dancer. It was my first professional job as a dancer and we met about two weeks into my contract. I actually spotted him while he was doing a fire drill in his fireman's uniform! We dated and sailed around the world for two years, before I made the decision to take dancing jobs on land to ensure we had time together, with him being Scottish, me American and our work on ships this was a consideration."
"He proposed while I was visiting him 3 1/2 years into our relationship on a secluded beach in St Croix. We decided Scotland would be the setting of our wedding and gave ourselves about a year and a half to plan everything."
Walking down the aisle with her father, Megan embodied the notion of the blushing bride, dwarfed by the lofty heights of Seton Collegiate Church . Helen Macleod played the nostalgic notes of 'Morning Has Broken' on the harp as they made their way to a beaming Gary.
Rings from D& R House of Diamonds were exchanged during a ceremony led by Jane Patemore from Your Service In Scotland that drew on elements of both Scottish and American tradition. You can see more heartfelt hand fasting ceremonies here.
"We had two readings, the first was called 'Love Effect' by Theodore Parker and hung in my aunt & uncle's bedroom. My uncle gave it to me in a beautiful letter he wrote after we got engaged. My aunt has passed and it was a way to include her in the ceremony and pay homage to the beautiful marriage she had with my uncle. The second was a reading by my Mom called 'Union' by Robert Fulghum."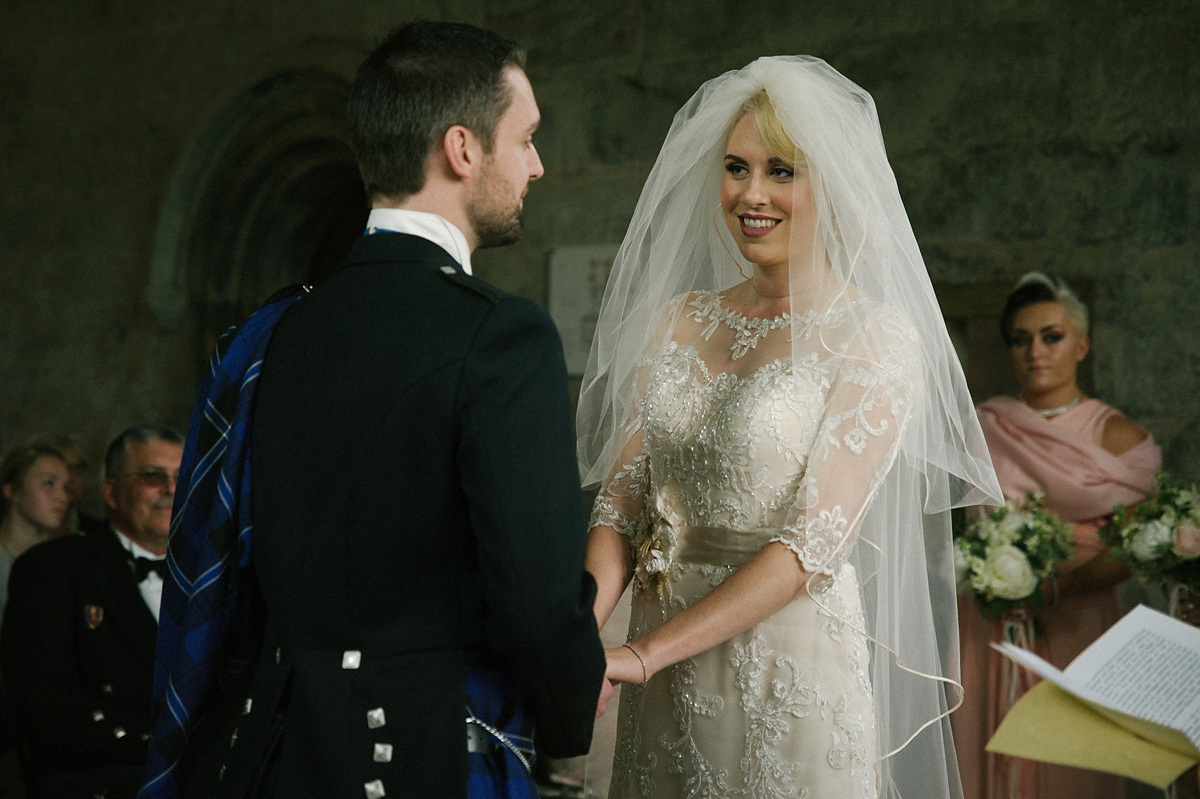 "We did a traditional Scottish handfasting and spoke the verses from the Bible that my parents spoke to each other on their wedding day, the grooms words are 'Arise my darling, my beautiful one, come with me. See! The winter is past and the rains are over and  gone. Flowers appear on the earth; the season of singing has come and the cooing of doves is heard in our land. The fig tree forms its early fruit; the blossoming vines spread their fragrance. Arise, come, my darling, my beautiful one, and come with me.'"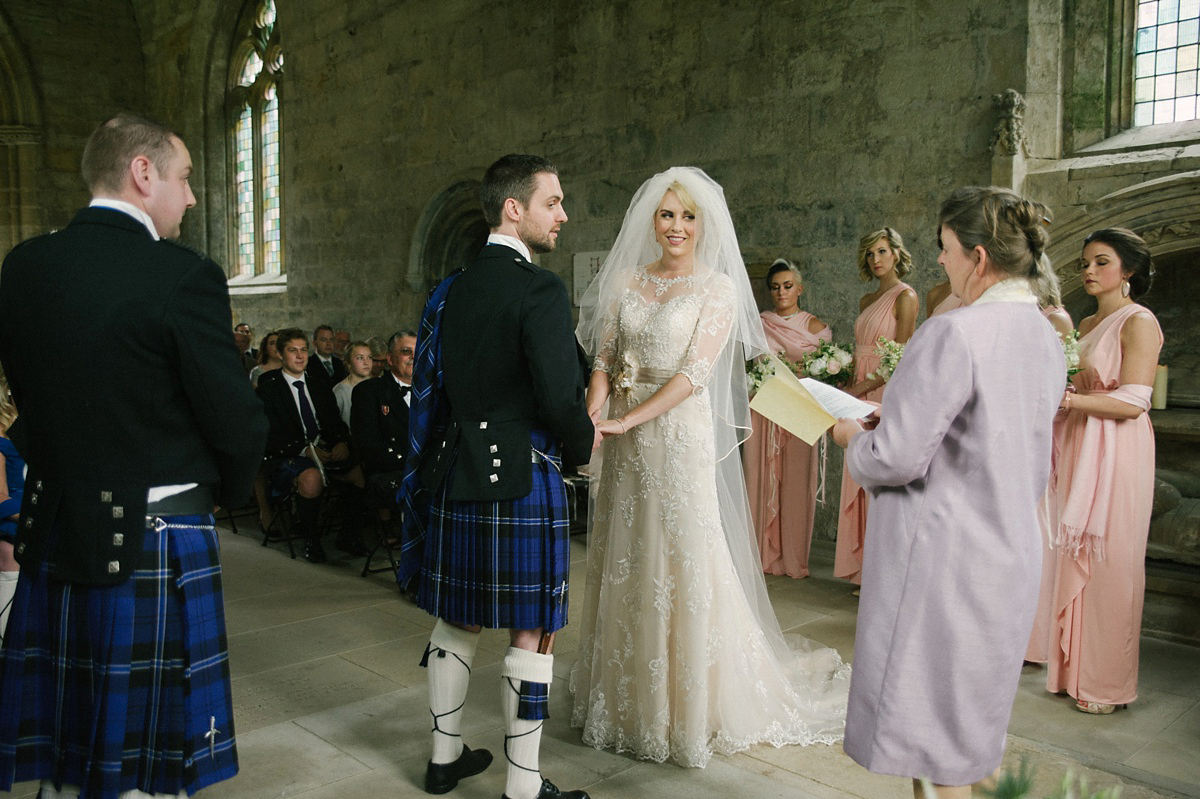 "We then sang Song of Songs before I spoke the bride's words: 'Wherever you go, I will go. Wherever you live, I will live. Your people will be my people and your God will be my God too. Wherever you die, I will die. And there I shall be buried beside you. We shall be together forever and our love shall be the gift of our lives. Ruth Chapter 1"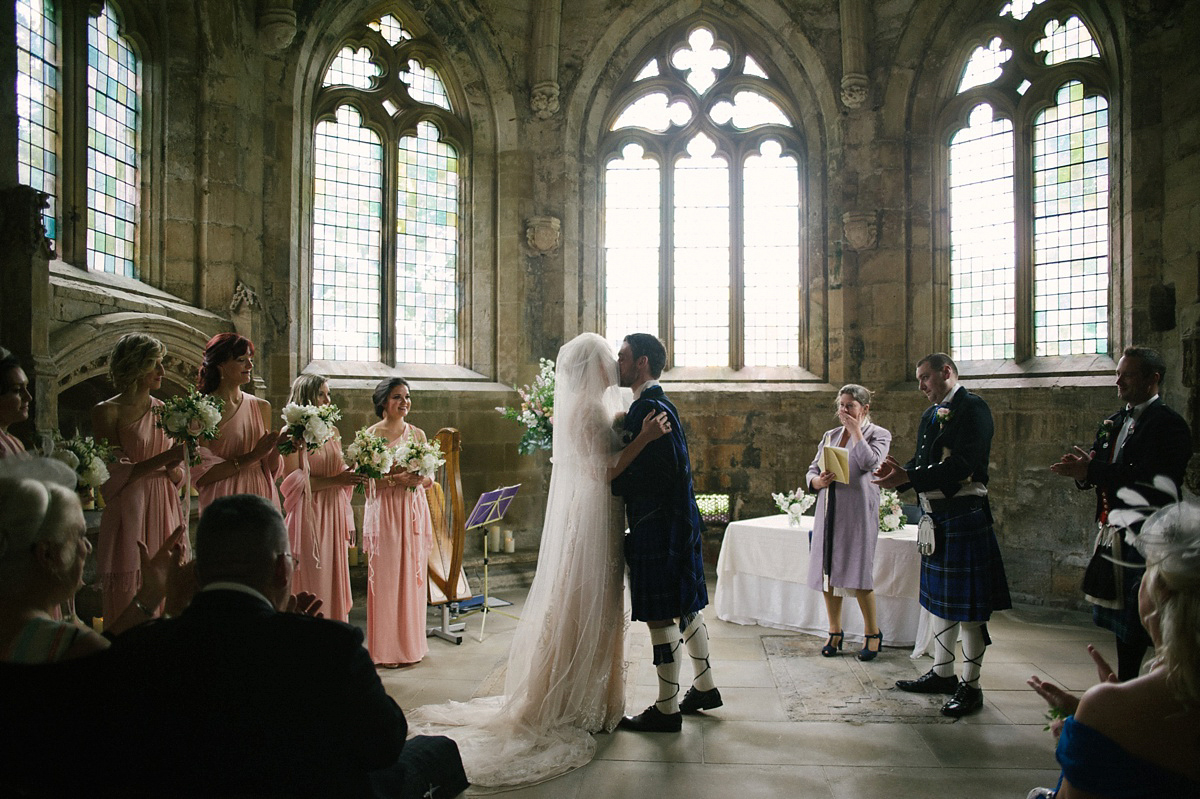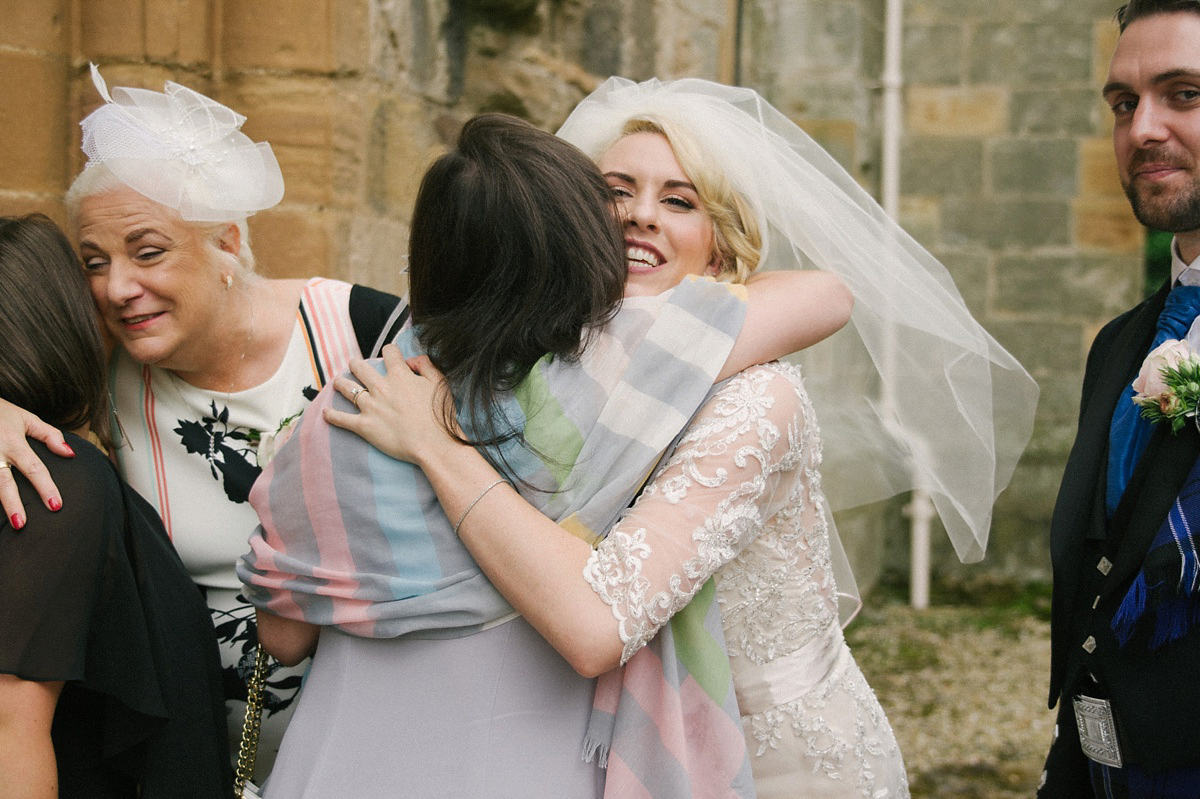 Of course, no fusion of American-Scottish love would be complete without some kilts! Gary wore his Spirit of Kinross kilt with pride, joined by his best man and father. Groomsmen were encouraged to wear their choice of kilts and the resulting posse makes quite the Scottish impact.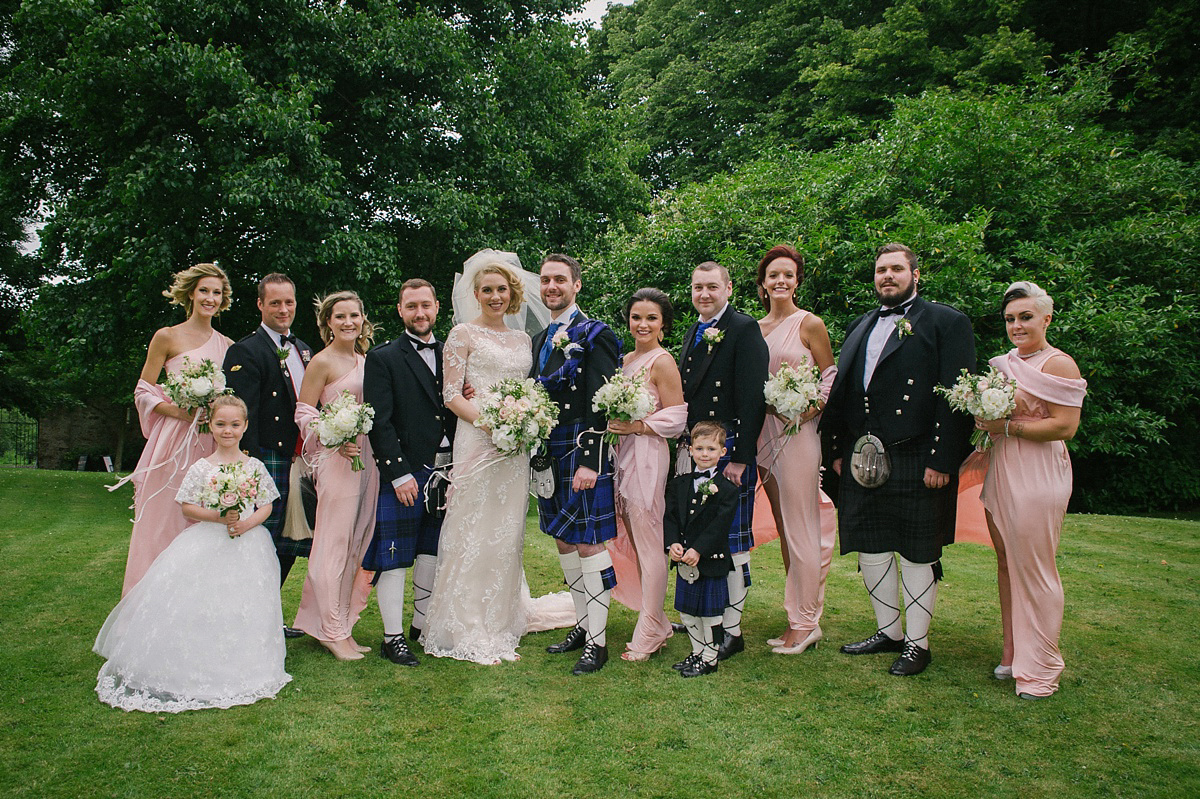 Blooms were kept softly romantic, with bundles of classic roses and pops of gorgeous green foliage against the rich creamy, blush tones. Sparrow and Rose were chosen on recommendation and Megan was delighted with the style and beauty of the blooms that worked so well with her venues.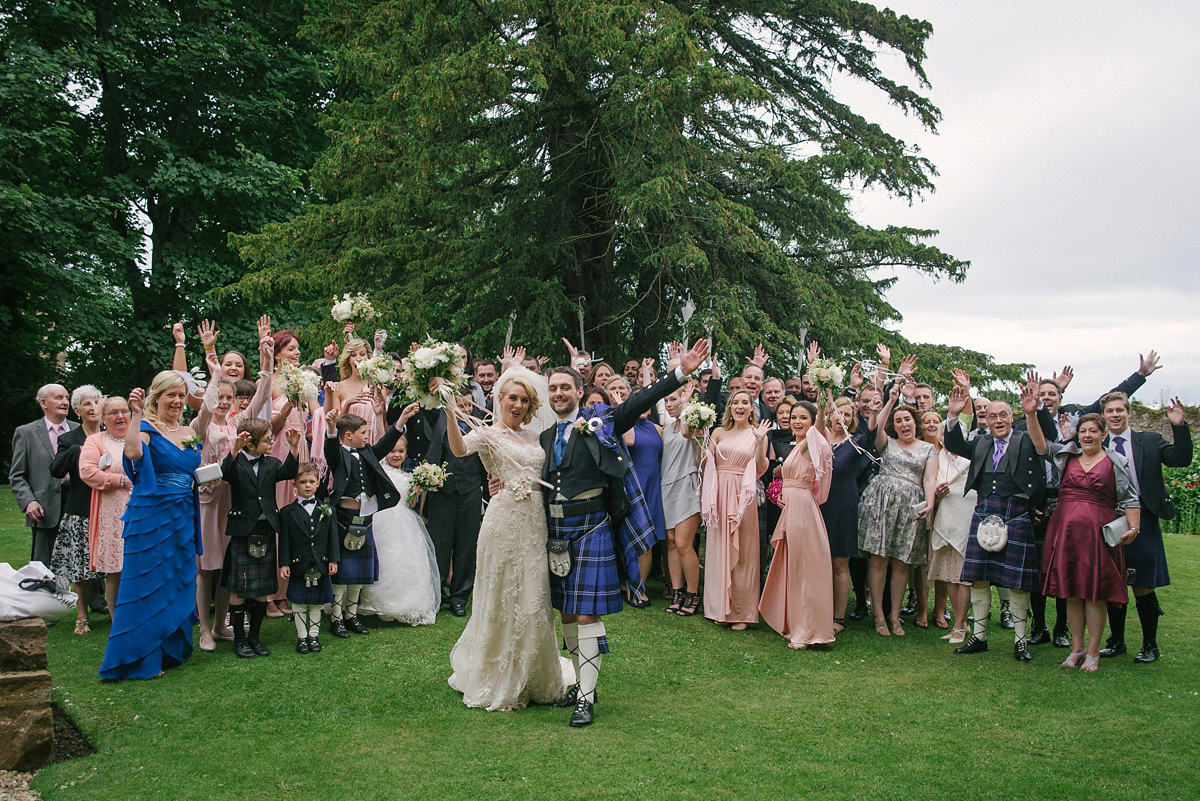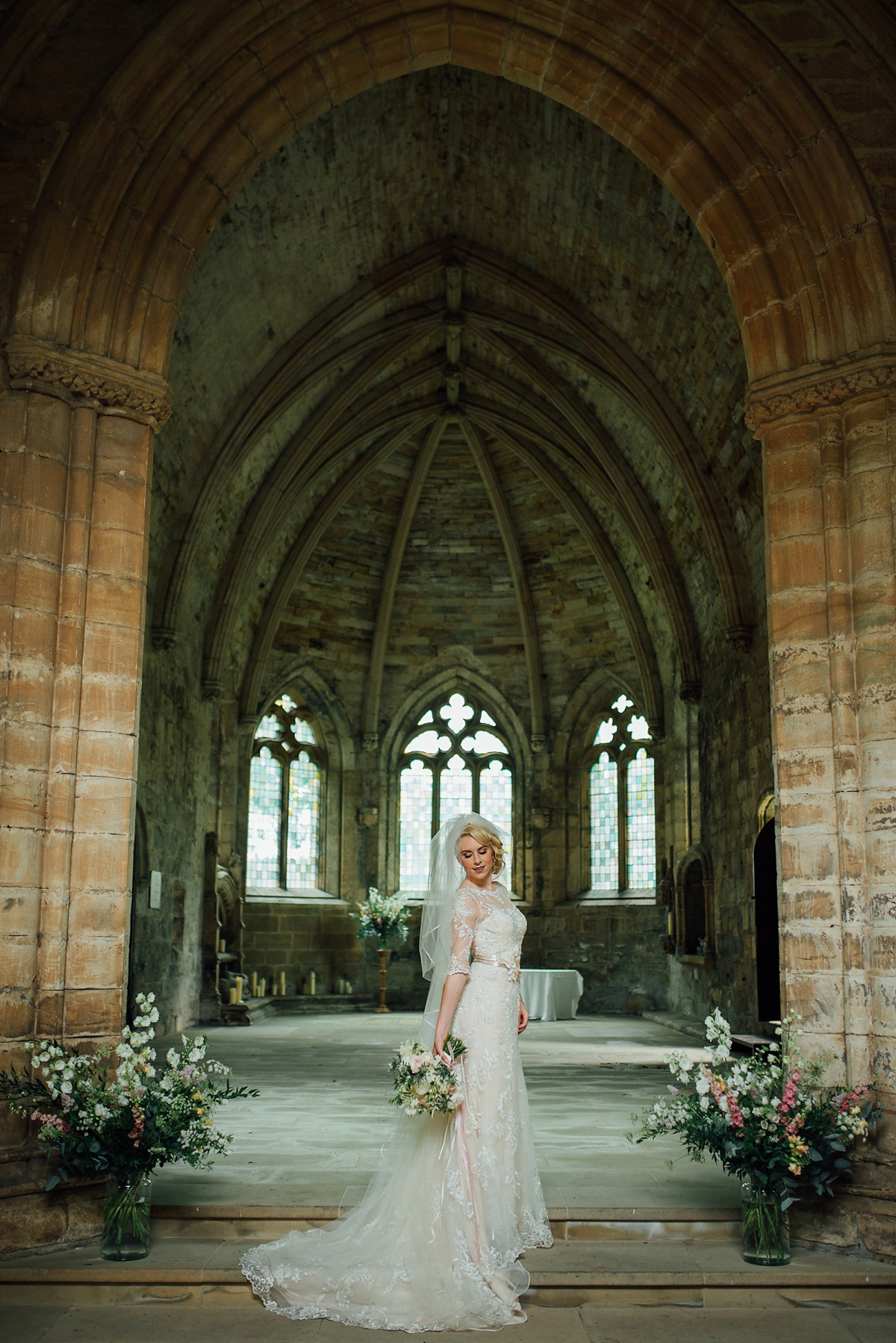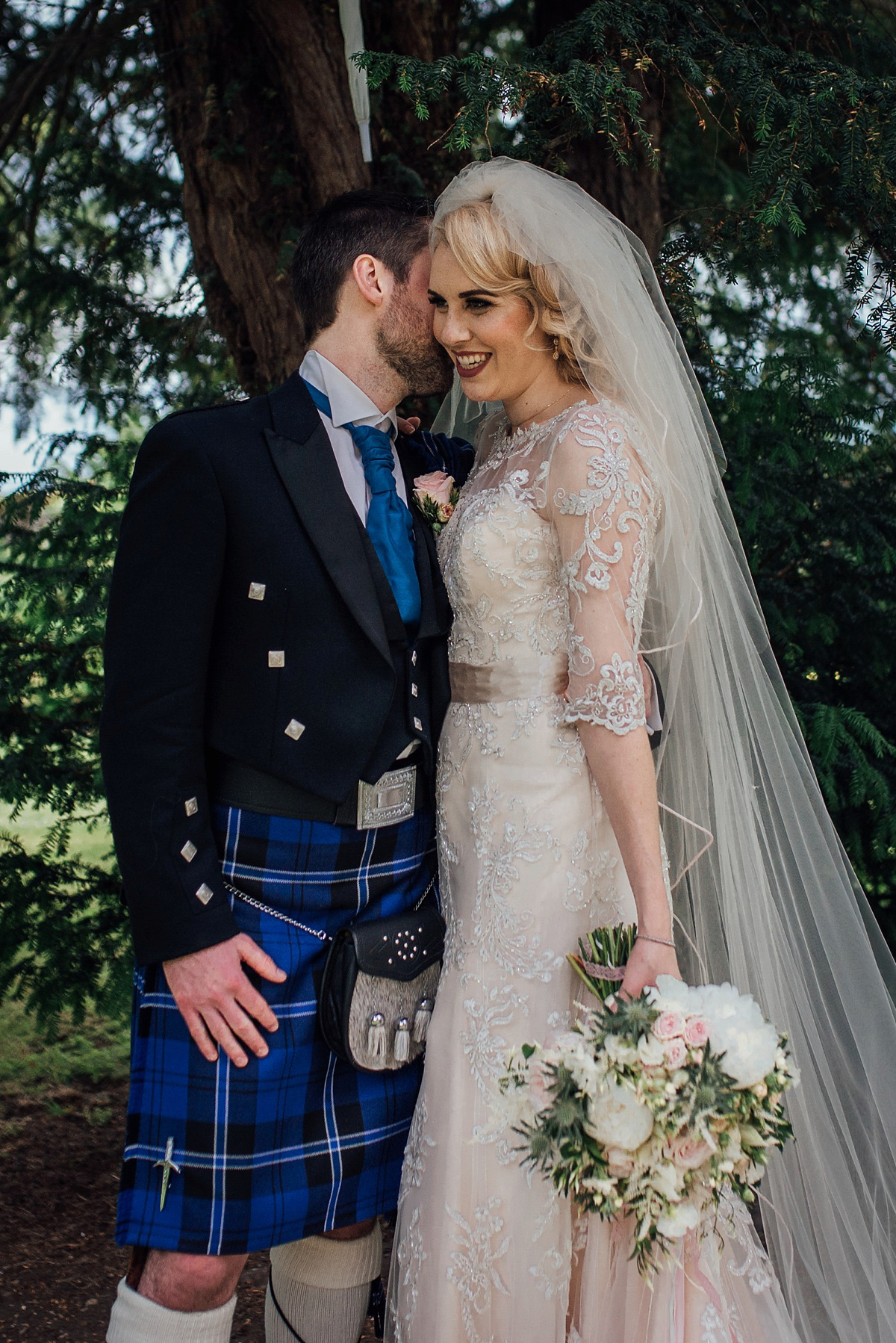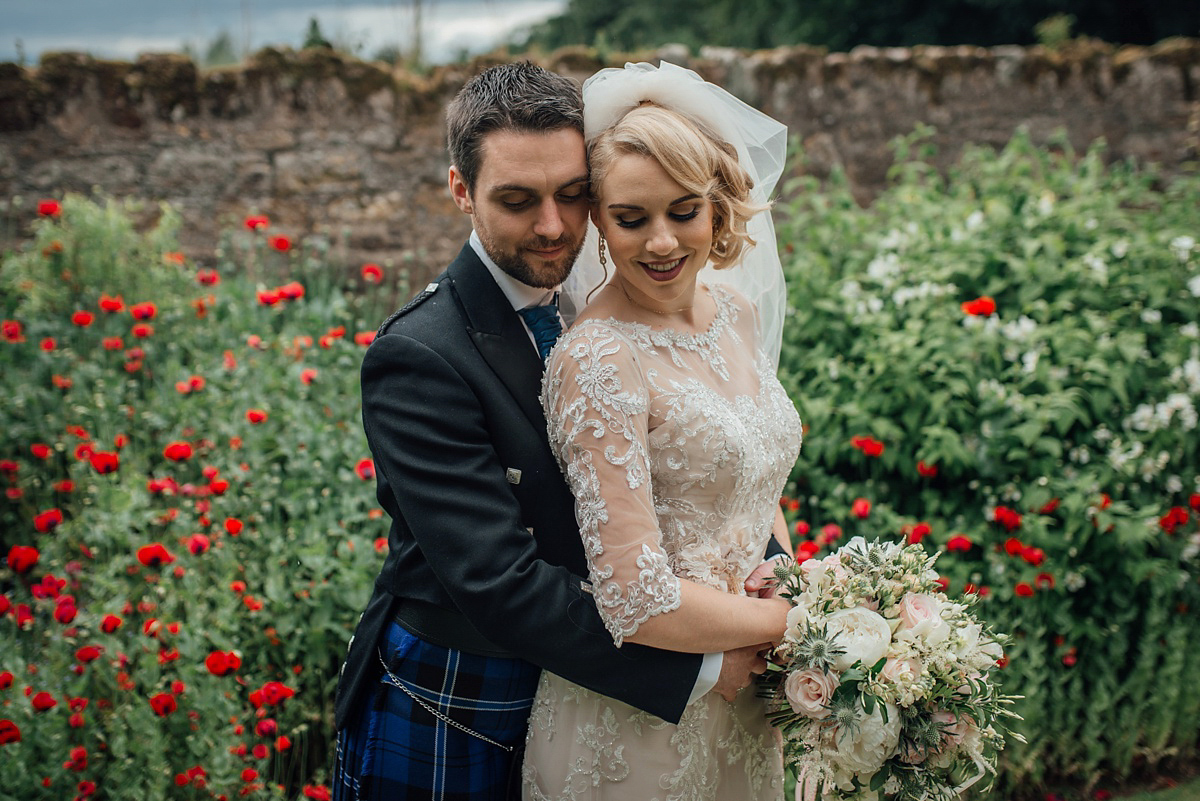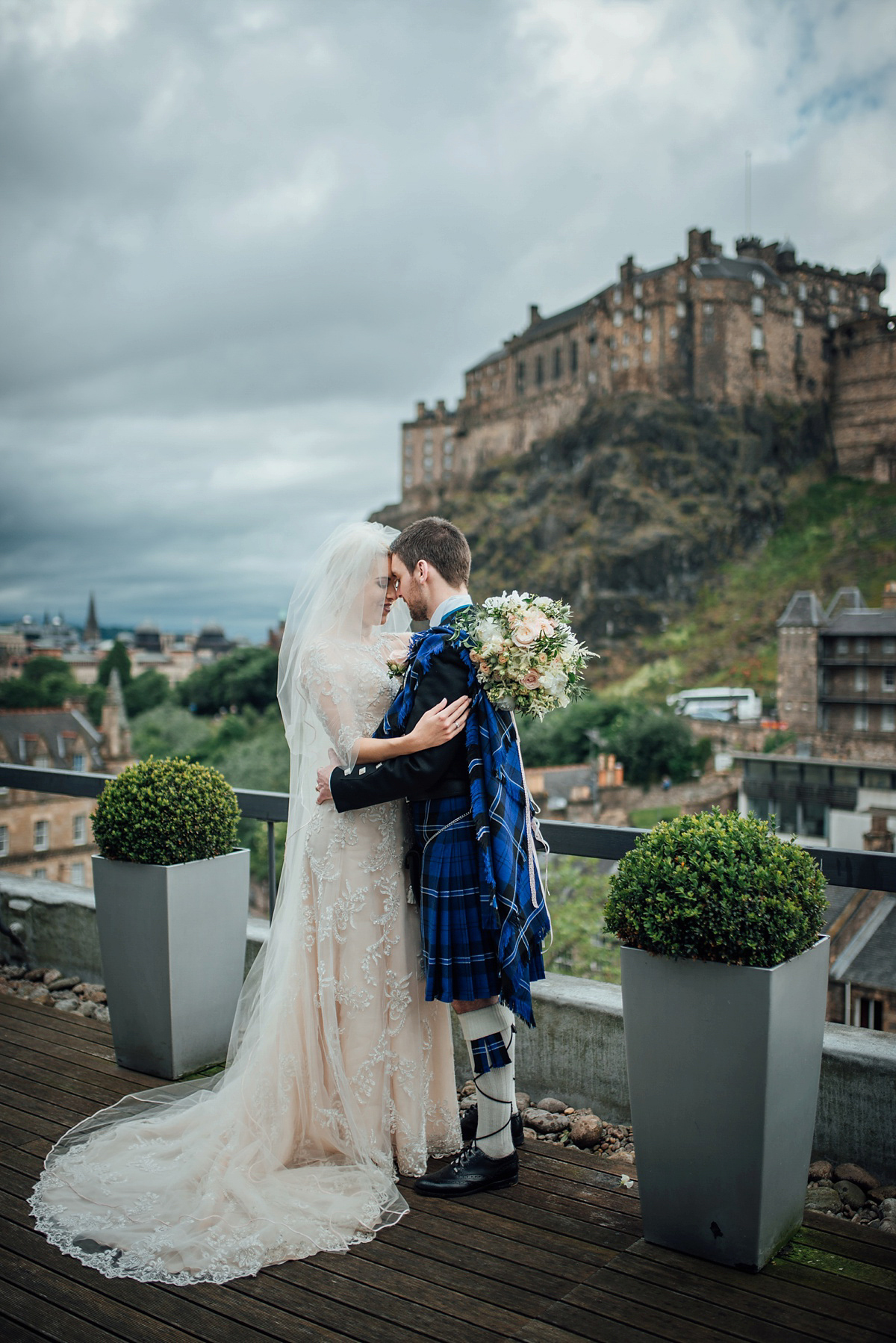 The legacy of travel that is so important in this couple's love story was celebrated with picture collages of countries visited by Megan and Gary alongside a map table plan.
Apex Grassmarket Hotel were invaluable in their assistance to Megan and provided stationery and aspects of décor as well as delicious in-house catering for her hungry globe-trotting guests. Mini-mes of the bride and groom topped a simple three tier cake from Liggy's Cake Company, decorated with additional fresh flowers from Sparrow and Rose.
Favour's were 'Around The World' boxes from A Wedding Less Ordinary, filled with sweets from Glickman's Confectionary in Glasgow.
Guests enjoyed a photobooth from Blushbooth and the band, Kickback kept the dancefloor jumping long into the night.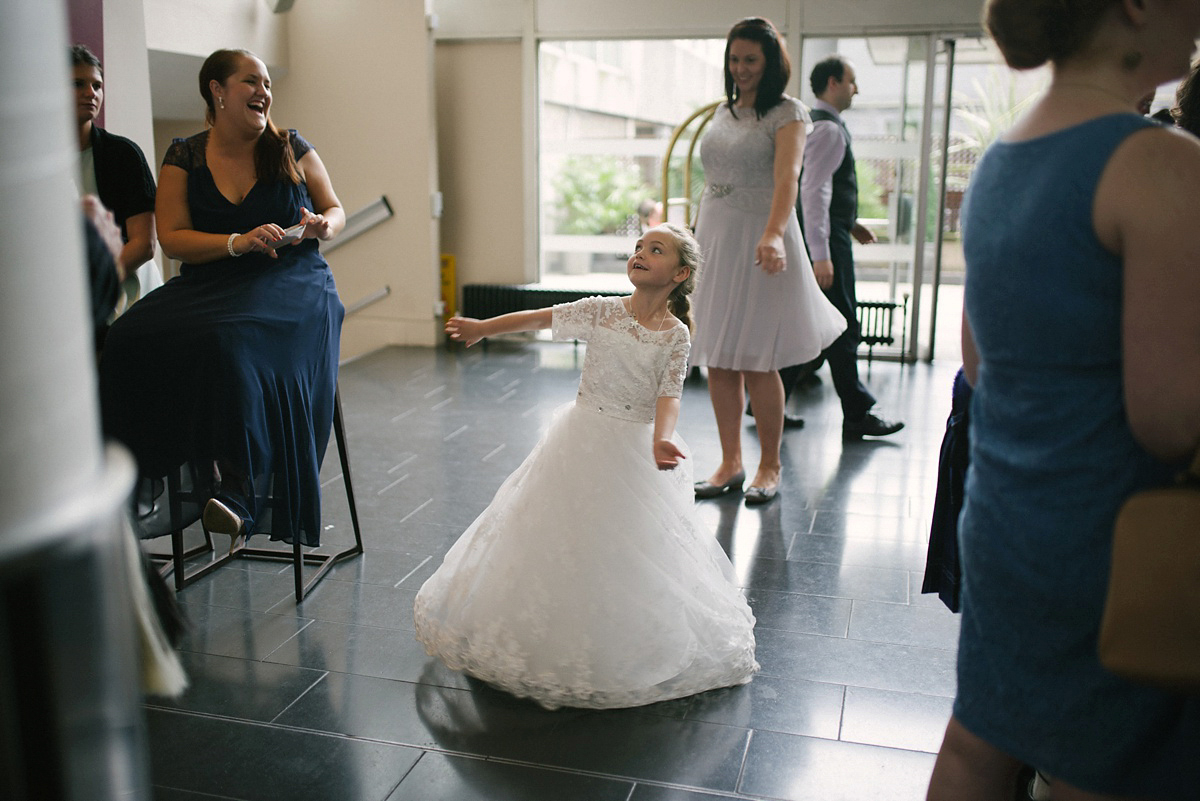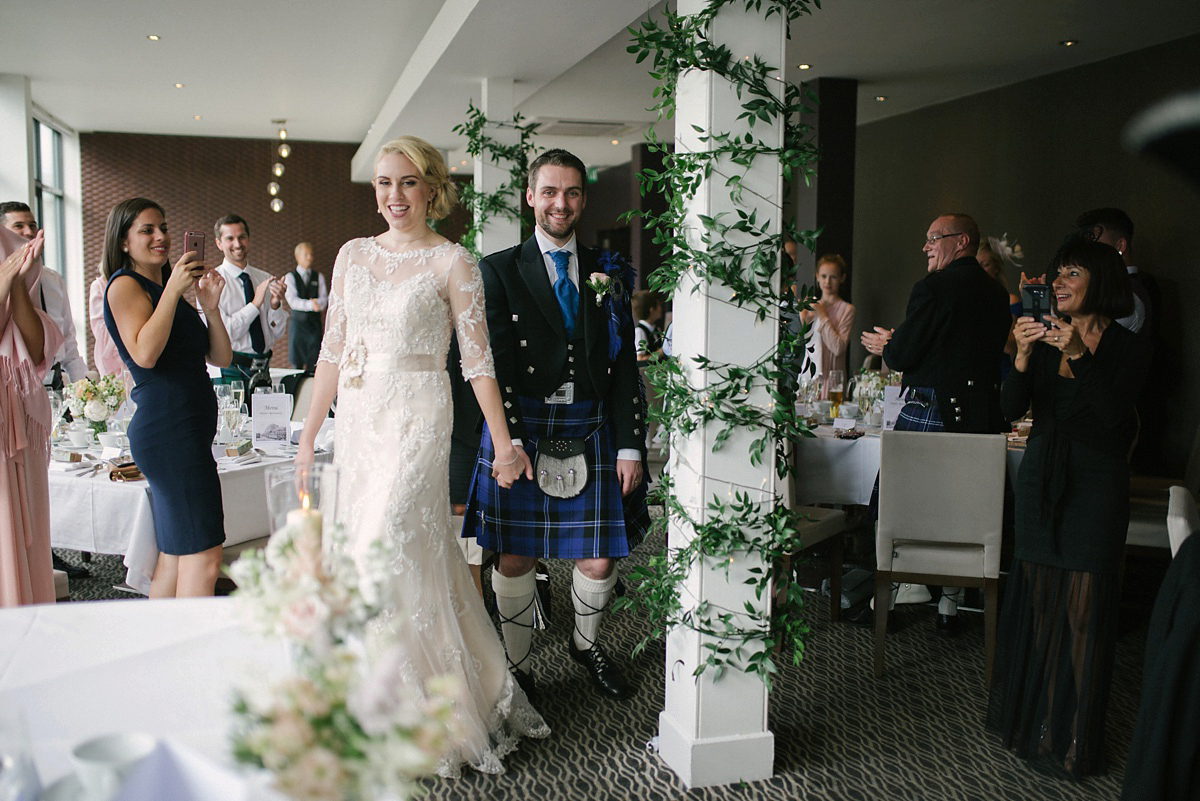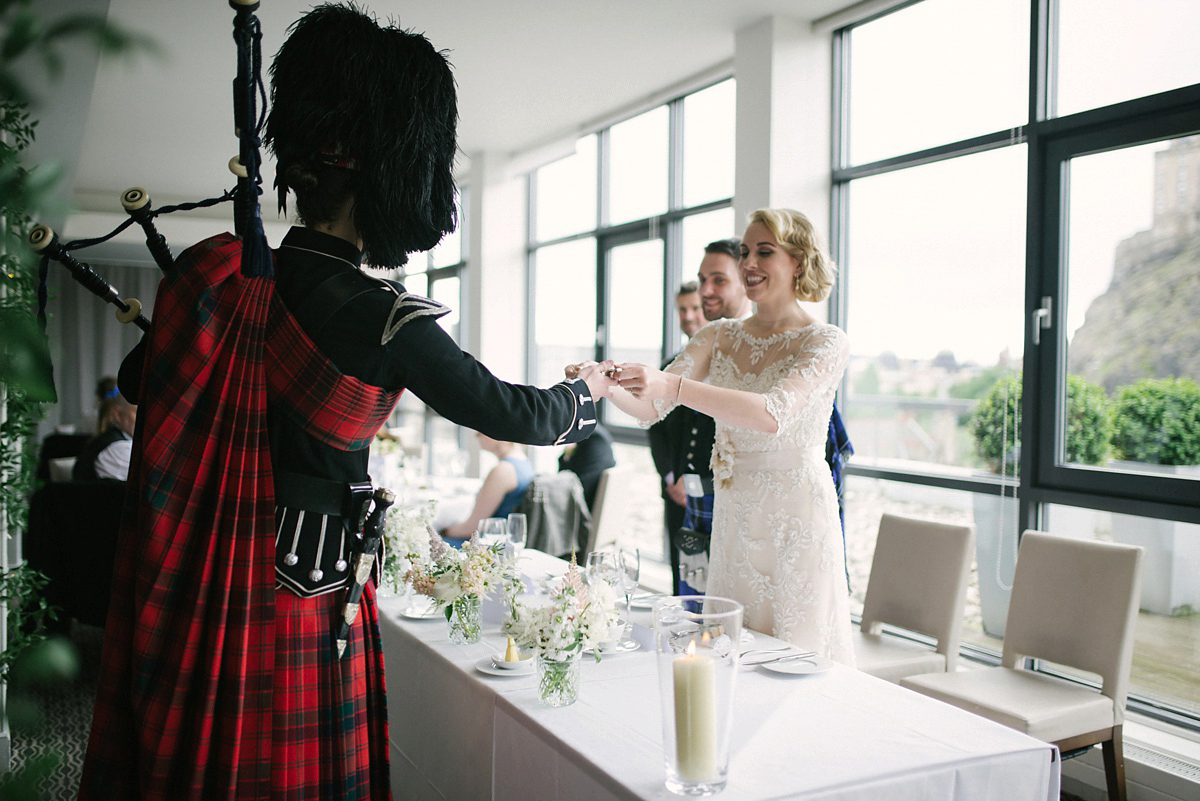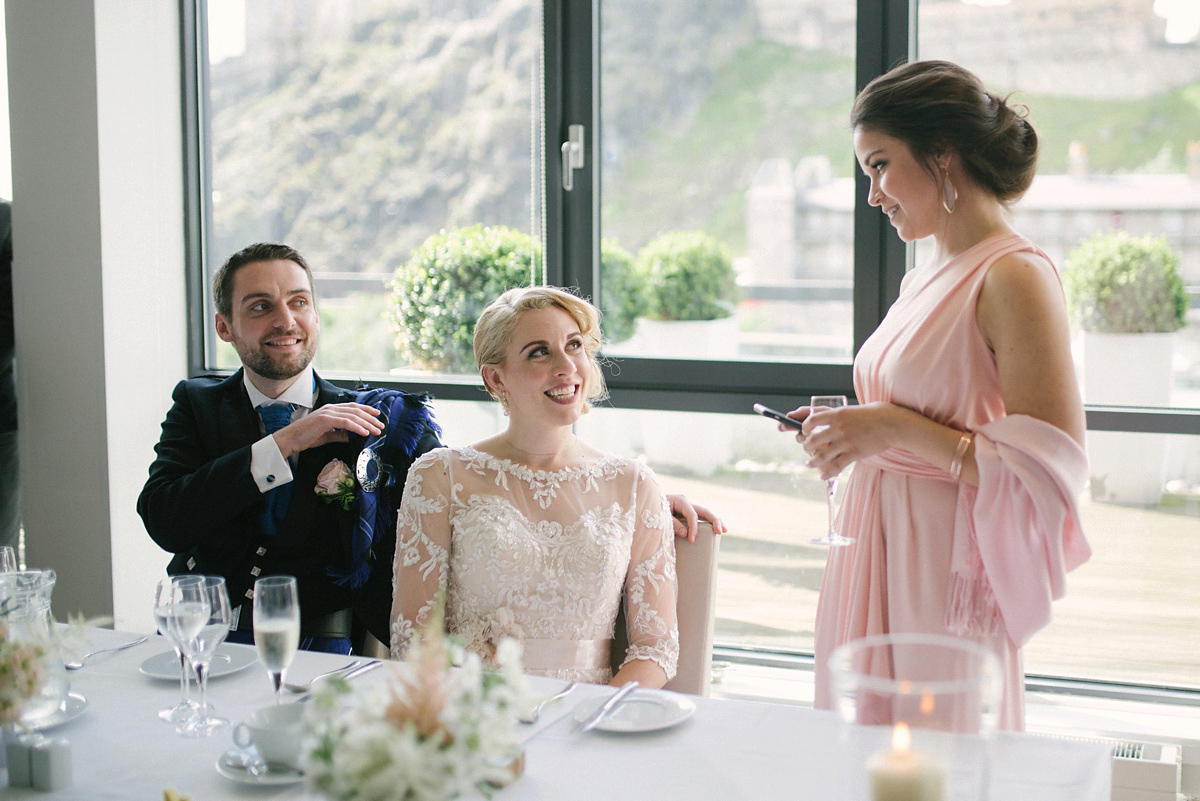 Photographer Jacqui Paterson of ChicPhoto revelled in the equally delectable locations that were enjoyed throughout the day. I adore the golden hour exploration of Edinburgh, a moment for the couple to digest the day together within this most charming of cities. You can sense the meaningful feeling shared by Gary and Megan in these intimate portraits of inter-continental love.
"Such a positive experience all round working with Jacqui! She was very responsive whilst when going through the booking process and answering questions. On the day of the wedding she was so organised and helped keep things moving in a non-disruptive way, capturing everything naturally as it was happening. She was such a joy to work with and we felt very comfortable. All of this was great, but her work and the end result is what matters and she delivered amazing photos! We could not be happier with the documentation of the whole day and highly recommend Jacqui!"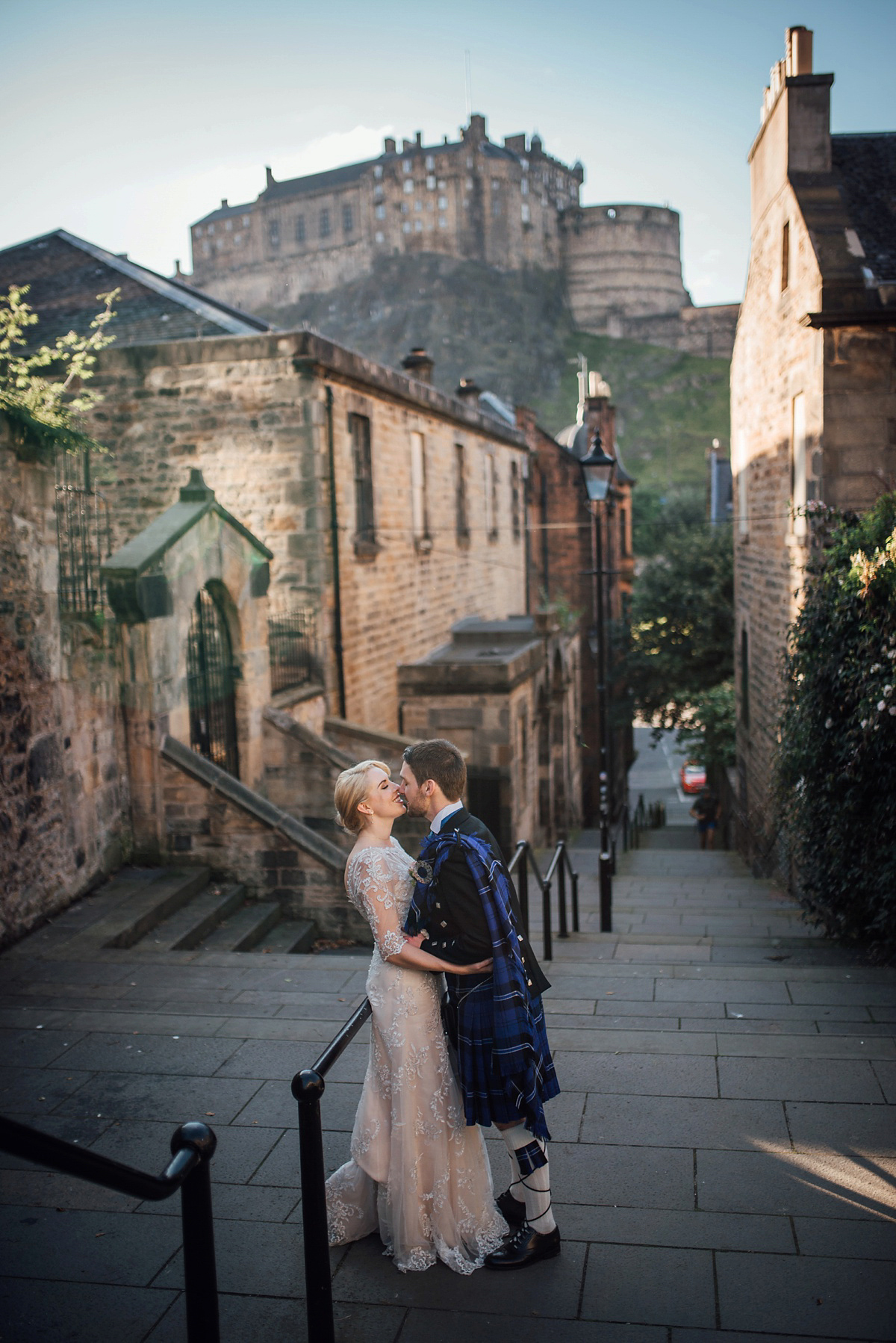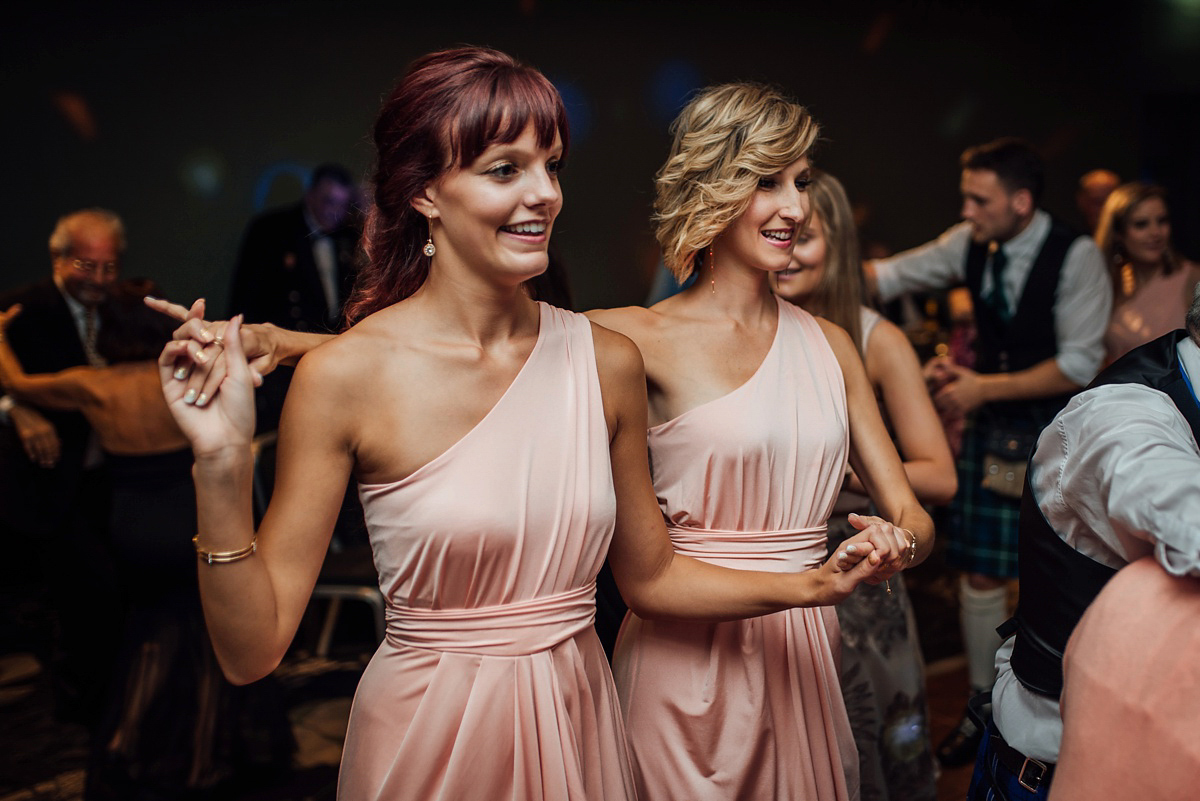 Words of Wedded Wisdom
"I think the best advice  that I got and would repeat is to try to relax and be present in each moment of the day. You've worked so hard to plan everything, so on the day relinquish control to the professionals to do what they do best. Remember the real reason why everyone has come together on the day, to bear witness to two people vowing to love each other for the rest of time."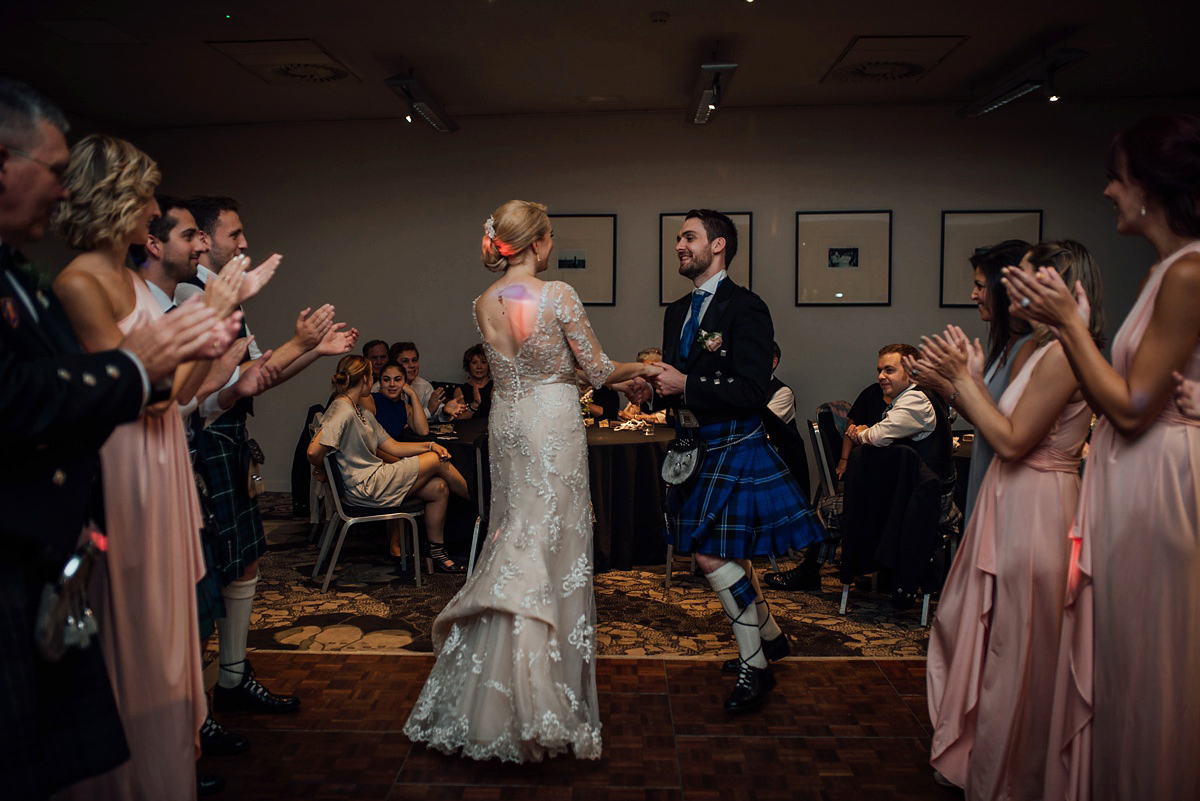 Huge thanks to the lovely Gary and Megan for sharing their special day with us today, alongside ChicPhoto's smile-inducing photographs. In homage to our bride and groom finding each other aboard a ship, you can see more travel inspired celebrations here, I love it when things work out how they were meant to.
Make the most of your Tuesday lovelies,
Emily C  xxx