It was such a delight to receive an email from calligrapher Claire Gould recently. Claire has been producing artfully written wedding calligraphy for a number of years now but has recently rebranded as By Moon & Tide Calligraphy. I adore the name, it really seems to capture the spirit of Claire's work, which has been so beautifully documented throughout this photoshoot by Vickerstaff Photography.
I used to dream about becoming a Calligrapher. I don't think I have the delicate hand capable of producing such exquisite work, but I can still admire the beautiful written art that fills these pages. I adore these images too – they seem so perfect to share at this time of year – all those deep, robust Autumnal shades. I hope you enjoy browsing through these gorgeous photographs as much as I have…
"This is wedding inspiration for free spirited, creative brides. Our artisan bride, in touch with nature and her soul, embraces true craftsmanship and the beautiful chaos of nature. Our bride is a writer, an artist, a fascinating creature. She loves with her heart and soul; she creates, dreams and dances."
Captured by Vickerstaff Photography
"As a calligrapher based in the English Lake District, I feel so lucky to live a creative lifestyle in the most wonderful surroundings. Nature inspires me daily; the sea is a minute from my studio; the mountains are my horizon."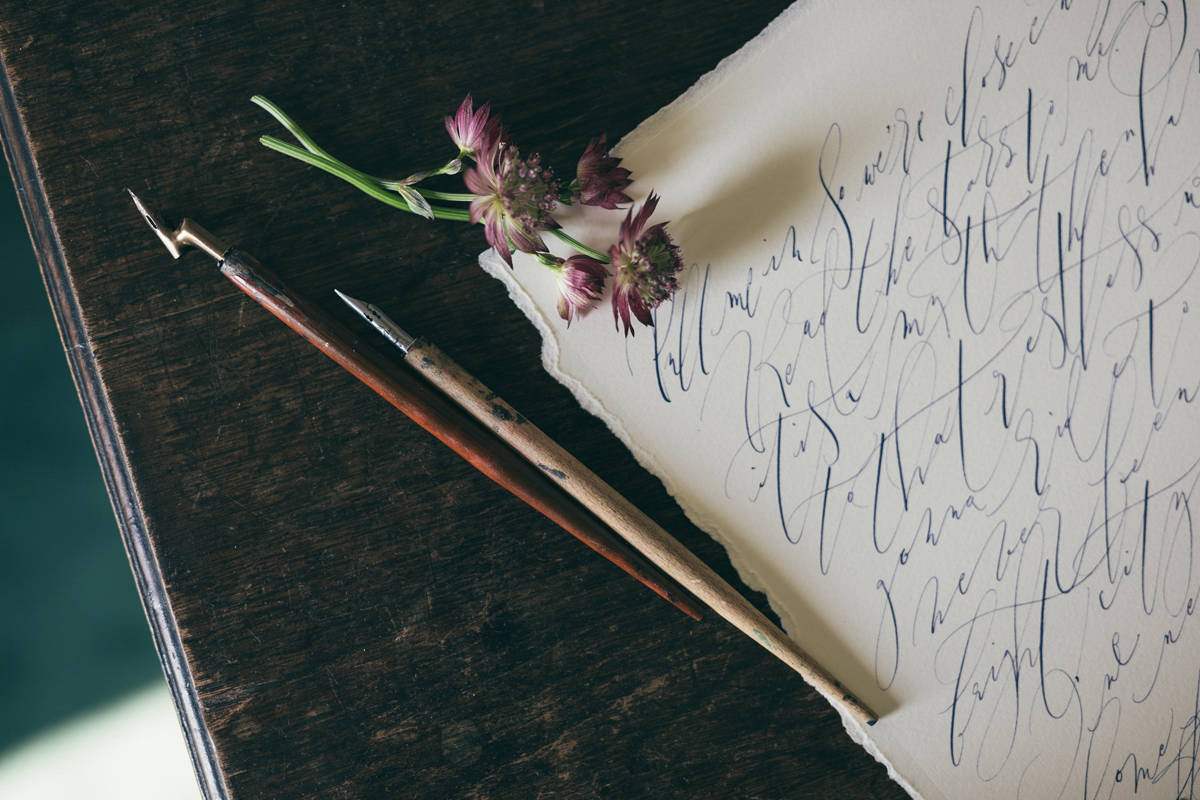 "My calligraphy is organic in style, free and unstructured. For our artisan bridal shoot I wrote a love letter and complementary stationery suite in midnight blue on Italian art papers, and an invitation suite in gold on handmade black papers – both wonderful for an artisan inspired wedding."
"I simply adore working with handcrafted materials and art papers with rough edges and dreamy fibres for an authentic, personal look."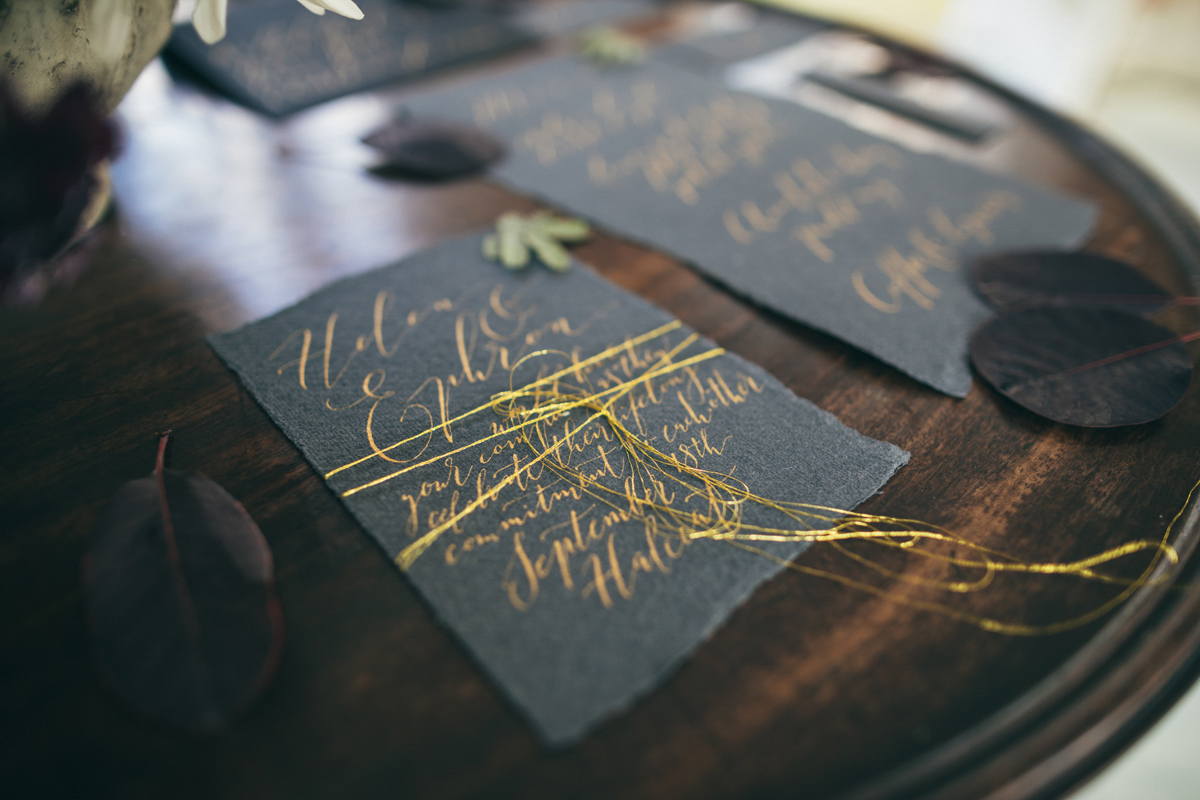 "Fabulously talented, up and coming Cornwall bridal designer Ailsa Munro customised one of her most beautiful dresses especially for our romantic, artisan and wonderfully feminine styled shoot. Her 'Elin' bridal gown is deliciously light, crafted from a pale grey organic chiffon fabric."
"Our stunning model Rachel loved wearing the bespoke gown, which swirled dreamily and moved beautifully with every step. Ailsa's softly plaited dusky pink belt was the sweetest, prettiest touch for the morning of our shoot, and for the afternoon we swapped it for the exquisite lace sash which Ailsa had created so perfectly for the artisan theme."
"Our model Rachel has the loveliest curls and a perfect 'English rose' look, so our super talented make up artist Stefanie Grisdale created a wonderful updo with fabulous shape and loose tendrils to frame her face. Make up is soft, pure and romantic, with a subtly dark eye and prettily pink lips – a wonderful look for a naturally beautiful artist."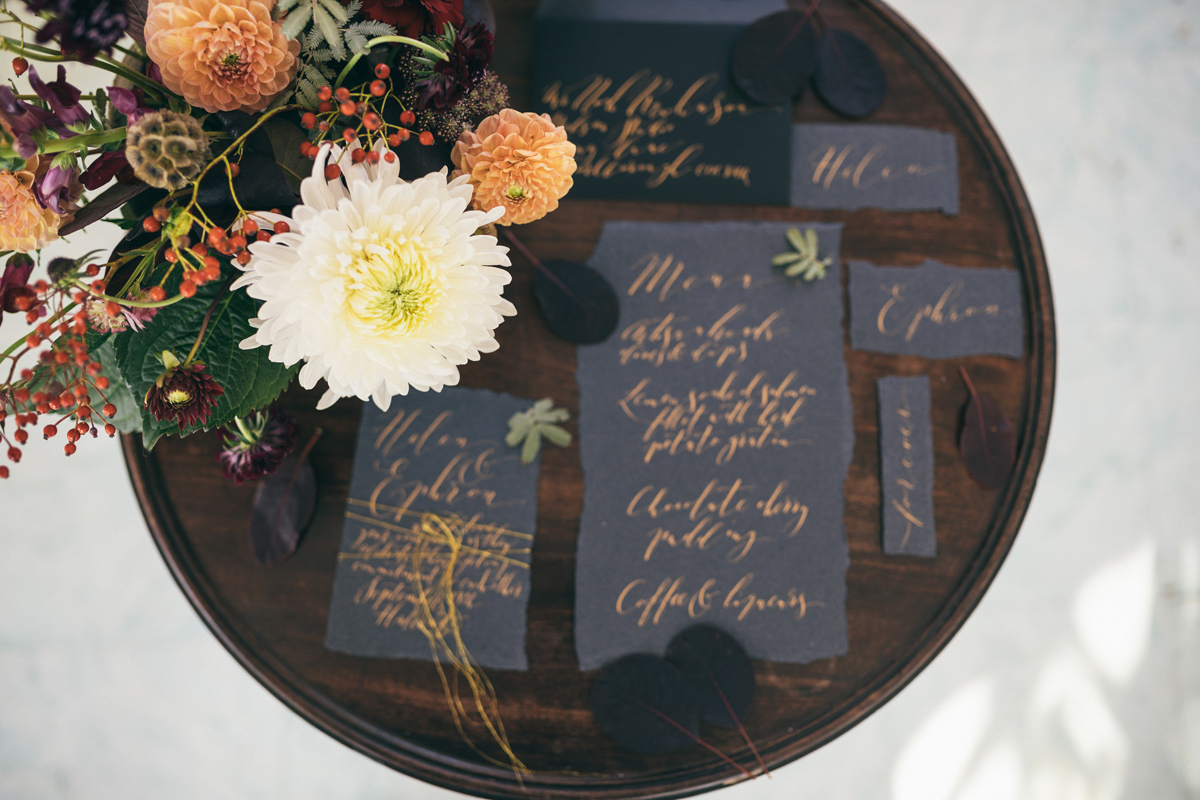 "Hair accessories were all handmade by Welsh designer Amy Swann. Amy's unique craftsmanship is stunning: our bride's peony hairpiece was a dream to wear, delicately pretty while making such a sensational statement of creativity and loving nature. Amy also designed the stunning cake – tiers of wonderfully rich marbled icing in delicious grey tones, ornamented with sugar flowers each meticulously coloured, curled and crafted into the most breathtaking statement cake."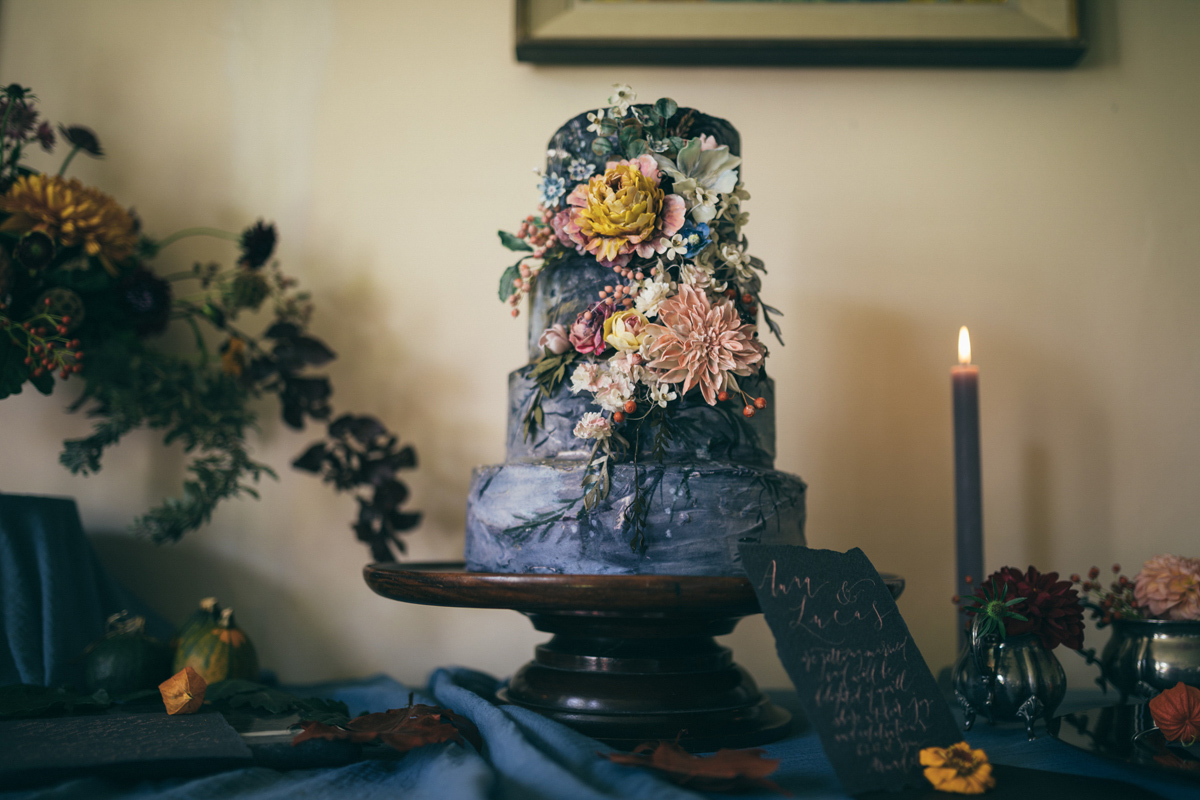 "The wonderfully organic and natural florals were the centre of this shoot. Katie from Made in Flowers created breathtaking unstructured arrangements overflowing from antique vessels, trailing, unbound, with dark foliage and soft textures. By incorporating berries and seed heads alongside statement blooms, delicate dahlias and chocolate cosmos, Katie worked her magic with an unforgettable, dreamy flowerscape to inspire our artisan bride."
"Images of the day are by the wonderfully talented Vickerstaff Photography. Looking ahead to trends for 2017 wedding styling, Jamie's images capture the artistry of our Lakeland bride so beautifully. The portraits pick out the wonderful flowing shape of the stunning dress; the beauty of every glance, every moment."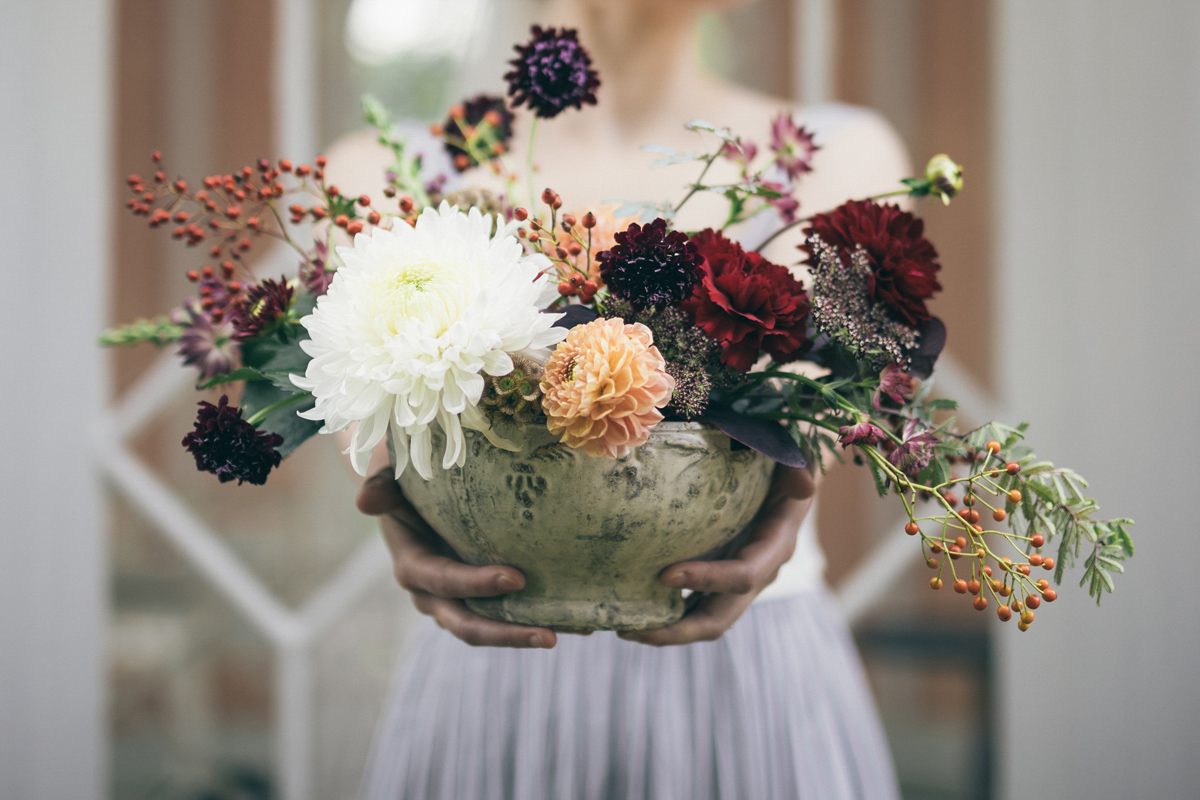 "Lakeland venue Halecat House is an incredible location for an intimate wedding: with wonderful gardens and an aesthetic which is as eclectic as it is welcoming, I fall in love with Halecat every time I set foot there."
My love and thanks to Claire of By Moon & Tide Calligraphy and her creative team for choosing to share these lovely images on Love My Dress. Please take a moment to explore the websites of these talented creative wedding suppliers – I recommend Claire at By Moon & Tide Calligraphy most highly if you are looking for a calligrapher for your own wedding.
Love Annabel x