I just love a wedding which so clearly comes together thanks to the talent and support of the bride and groom's friends and family.  Today's pretty wedding  is exactly the kind of day that flies in the face of those magazine articles which complain about how expensive and over the top the wedding industry has become (wrongly, we feel), and reminds us that it really is all about the love, which is very definitely at the centre of this laid back and relaxed, laughter filled day.
Meet Hannah, a bridal designer and dressmaker and Matt, a civil engineer and army reserve officer with the Royal Engineers, who married at Matt's family church in Welton, Cumbria on the 20th June 2015, followed by a reception at the nearby Skelton Memorial Hall. Their day was full of vintage inspired charm, bridesmaids in mismatched gowns, fun and joy, all of which has been most beautifully captured on camera by photographer Ash James.
"We are both Christian so definitely wanted a church wedding and I have a degree in costume design so wanted a historically inspired feel.  We had vintage bridesmaid dresses, a historical style wedding dress, cottage flowers, lavender and herbs, natural fibres, linen, wood, and a 'gather and create' approach to décor."
Photography by Ash James
Once again I am thrilled to introduce you to another talented seamstress.  Hannah made her own gorgeous gown and took inspiration from one of her favourite Georgian/Regency period of the 1790's.
"I wanted to incorporate some of my Mum's wedding dress as she passed away when I was nineteen and it felt like a wonderful way to include her in the day so the sash, petticoat and lace trim were all from her dress.""The rest of the gown was made from Chinese silk dupion in dark ivory with a vintage embroidered trim, purchased from The Cloth House, Berwick Street, London, which I hand appliqued – finishing two days before the wedding.  I also made a full, historically accurate corset to go underneath."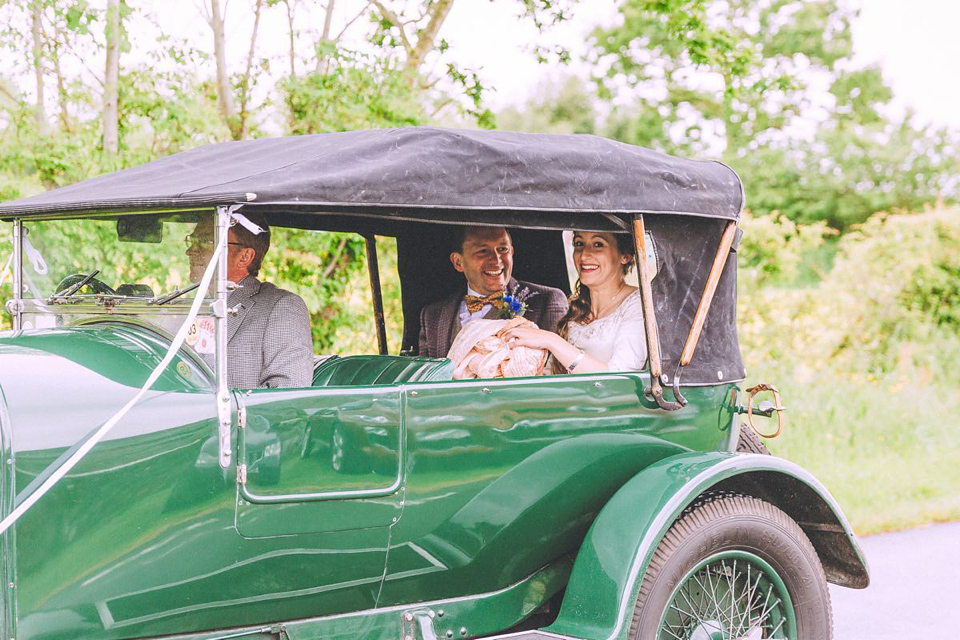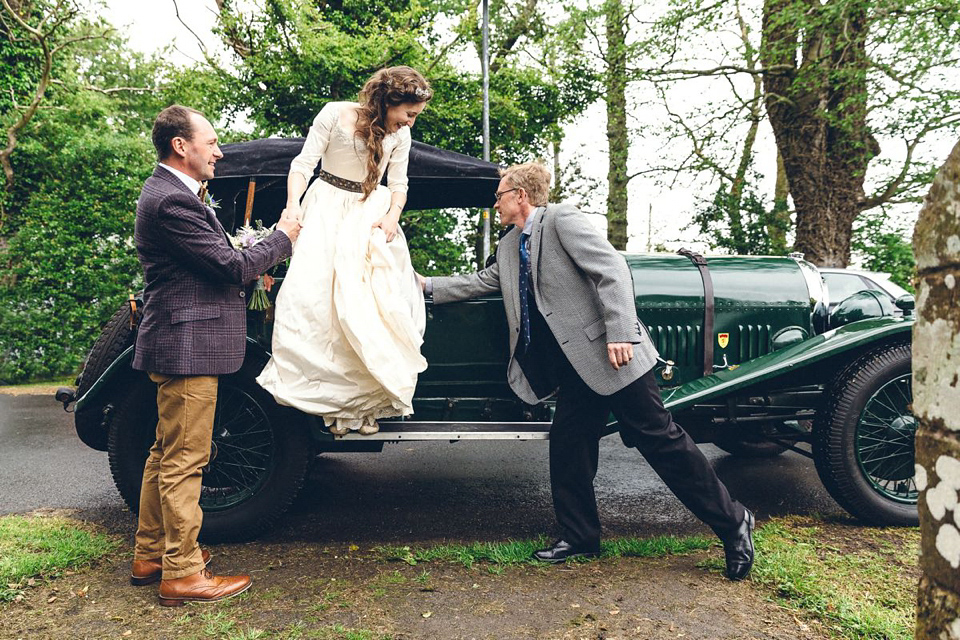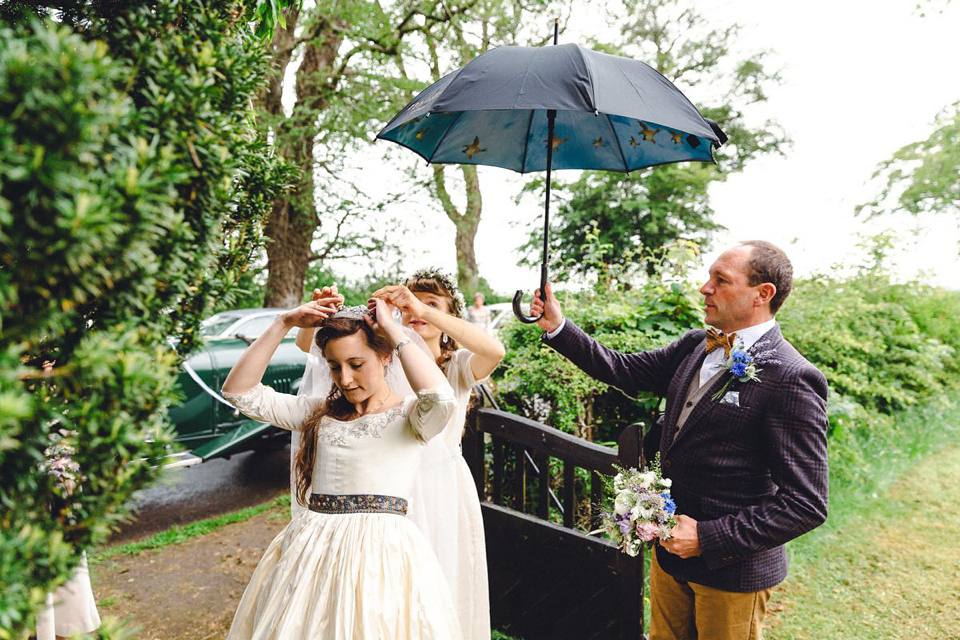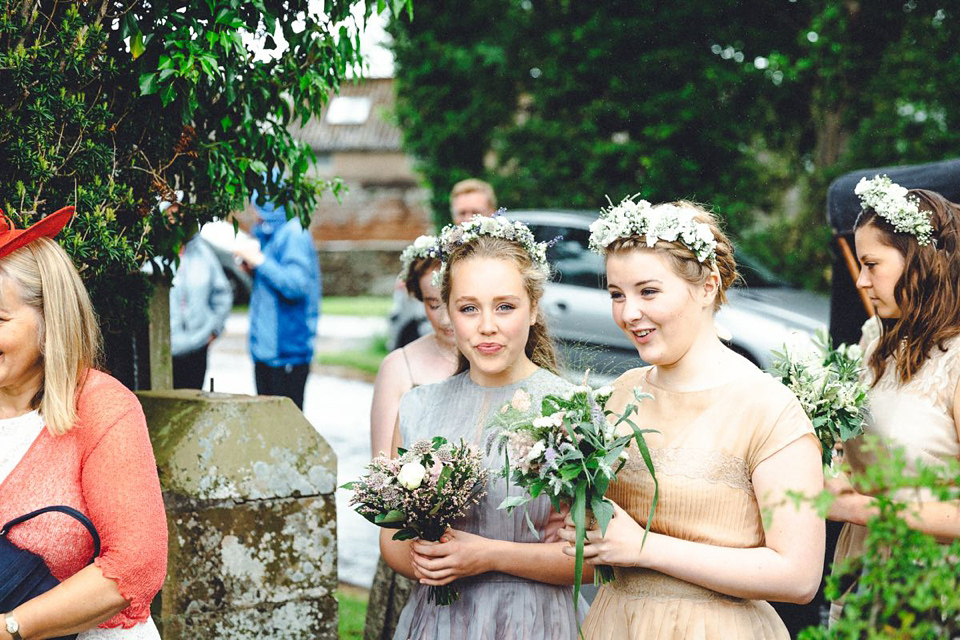 The bridesmaids looked wonderful in a range of different vintage dresses bought from different sellers on Etsy, with several from Dear Golden Vintage.
The dresses ranged from the 1910's to the 1960's and the ladies accessorised with real flower circlets made the night before in Hannah's kitchen.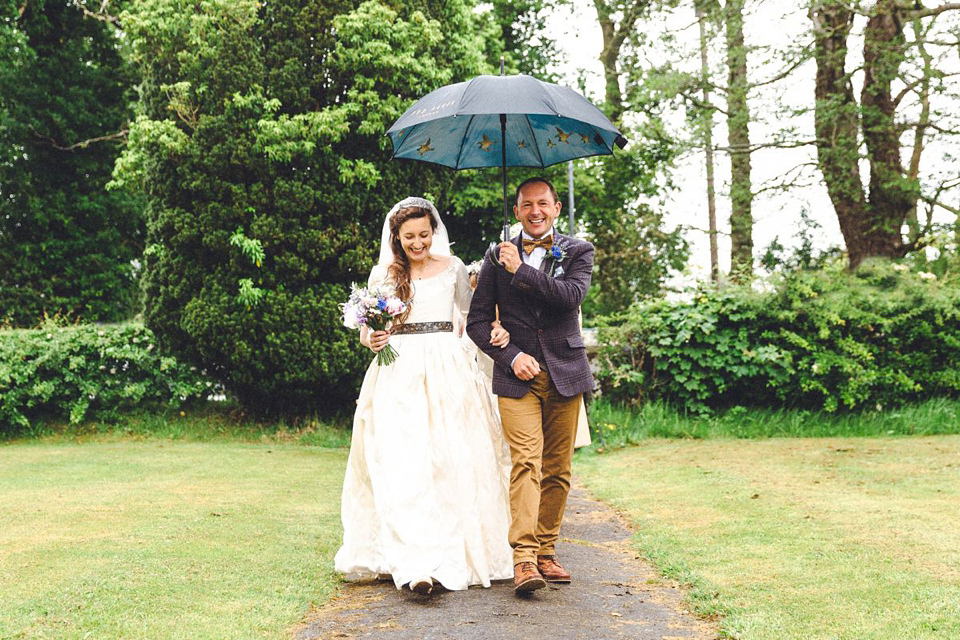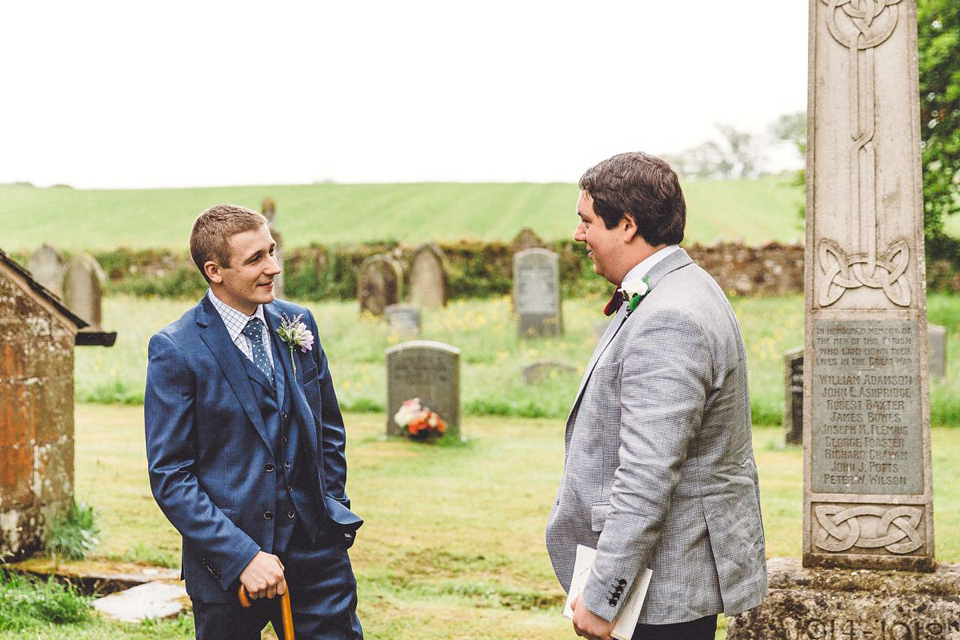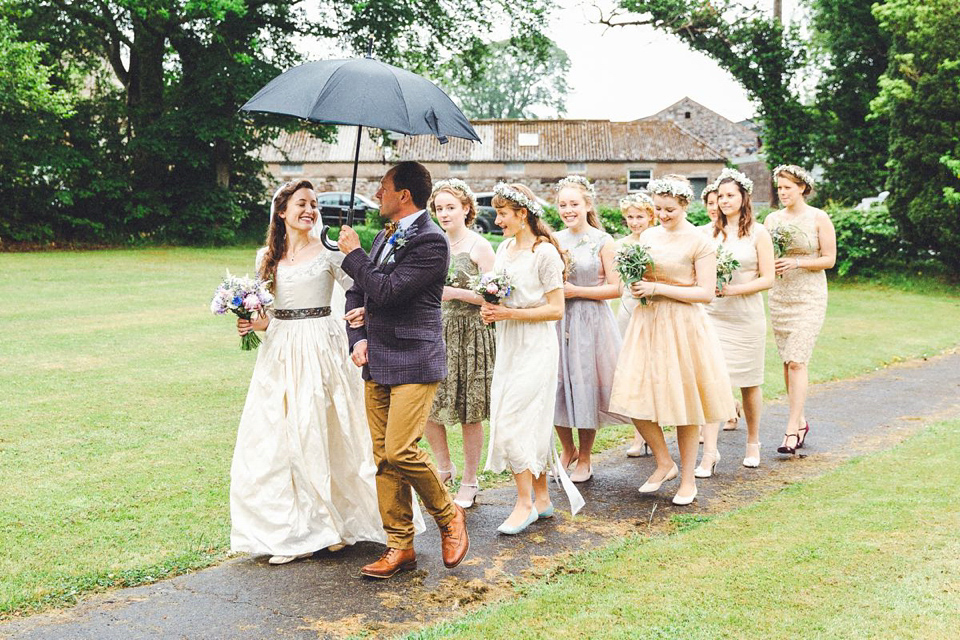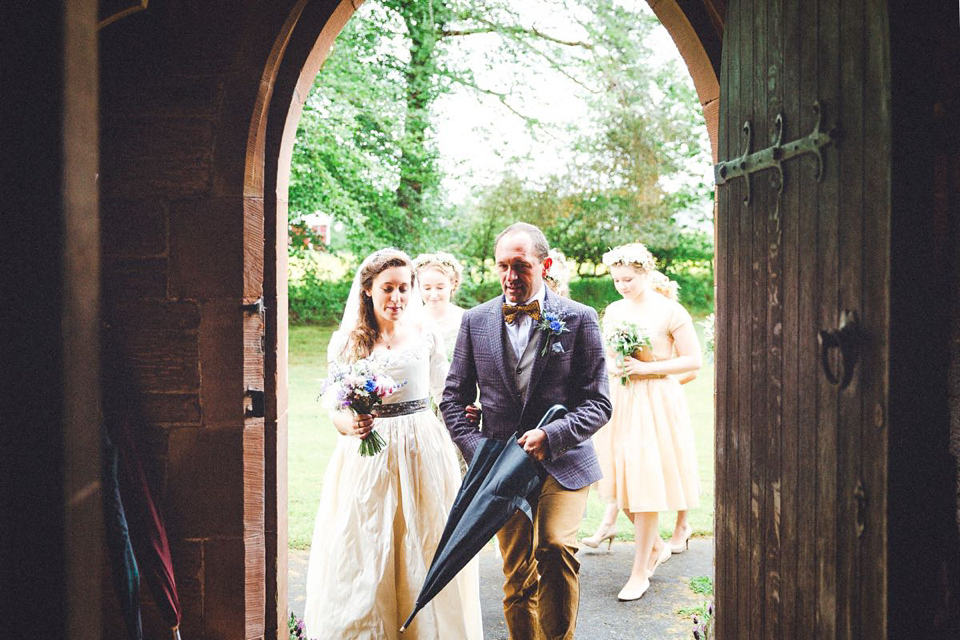 "We met at a Graduand's Ball in Durham.  We were sat next to each other at dinner and hit it off over an arm wrestle challenge."
"It turned into an epic night of adventures, staying up til dawn and then we wrote each other Facebook letters nearly every day for three months while Matt travelled. The day Matt returned to the UK we had our first date in London."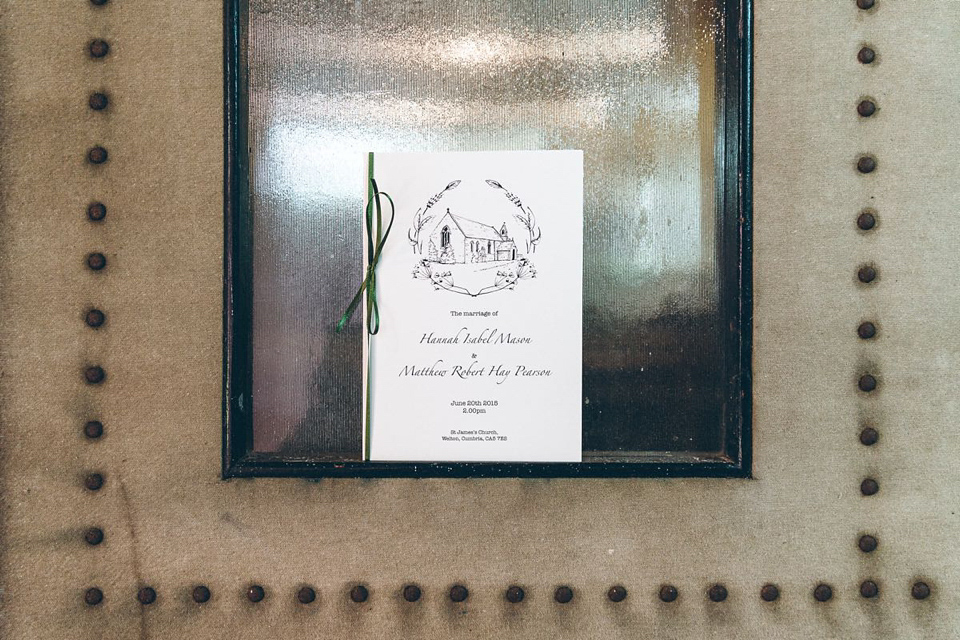 Matt wore a smart blue suit from Casanova Menswear in Carlisle, paired with a checked shirt and spotty tie from Debenhams.  I love the fun contrast of the spots and checks.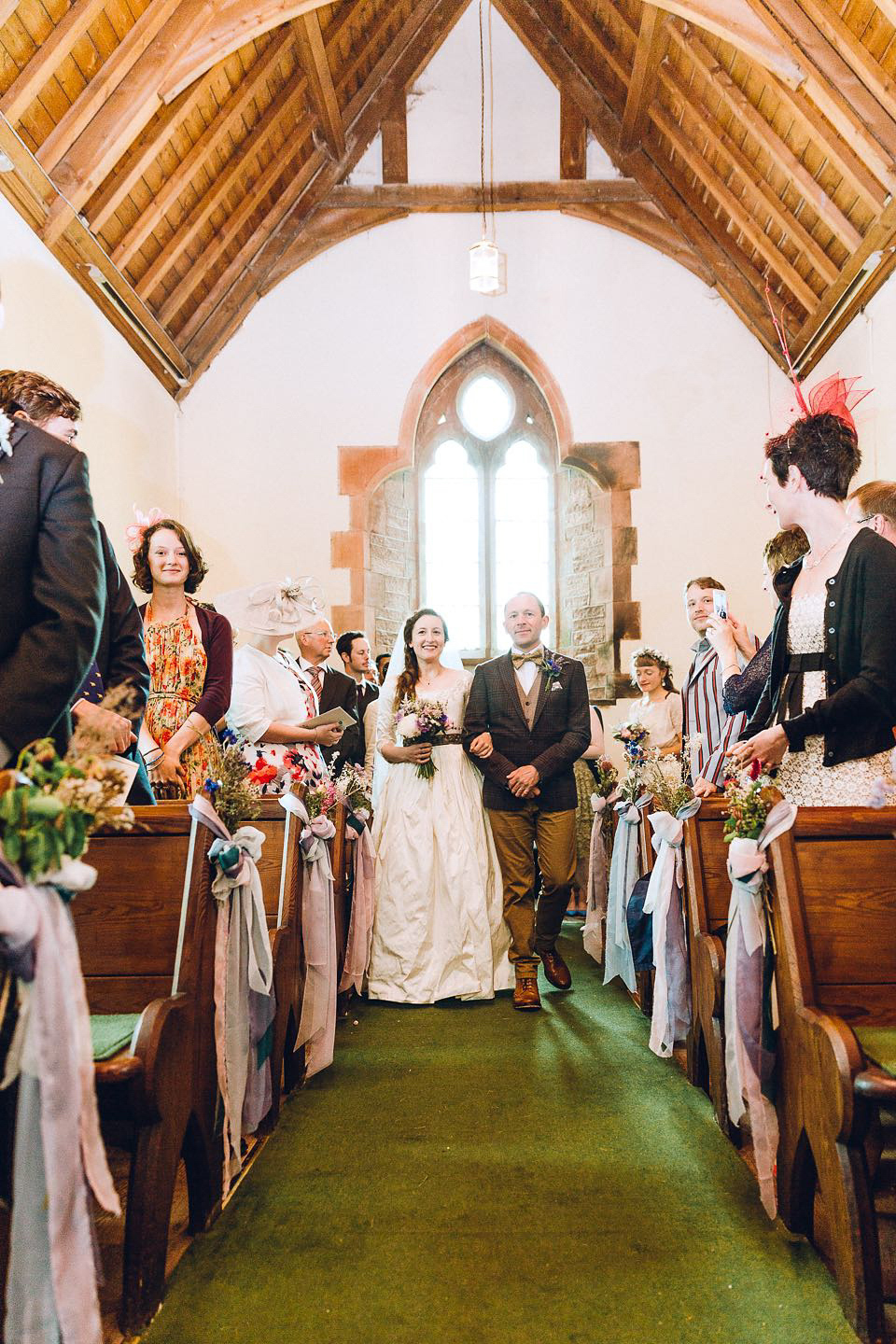 Hannah walked down the aisle on the arm of her nattily-dressed Dad and entered to 'Frank Churchill's arrival' from the film 'Emma', played on the piano.
The couple chose two readings for the ceremony- 'Us two' by AA Milne, read by a family friend, and 1 Corinthians 13.  This latter reading was chosen because when Hannah's mum passed away, she left a note thanking everyone for caring for her through her cancer, and at the end was the final line from this passage: 'the greatest of these is love'. This was read by her sister, Hannah's Aunt Sarah and must have been an incredibly emotional moment.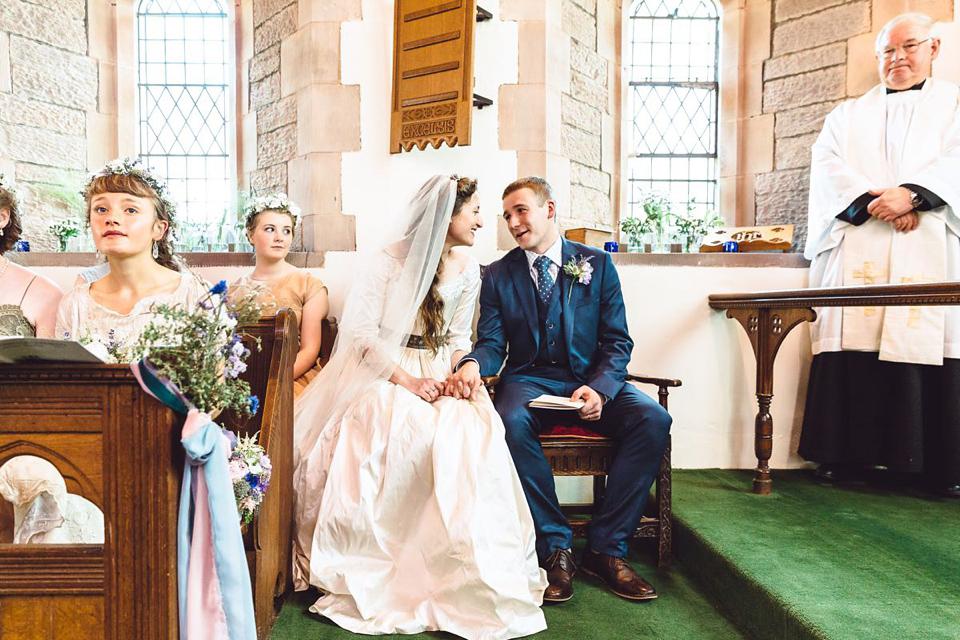 The beaming newlyweds swapped rings from J K Harris, Carlisle, now sadly closed.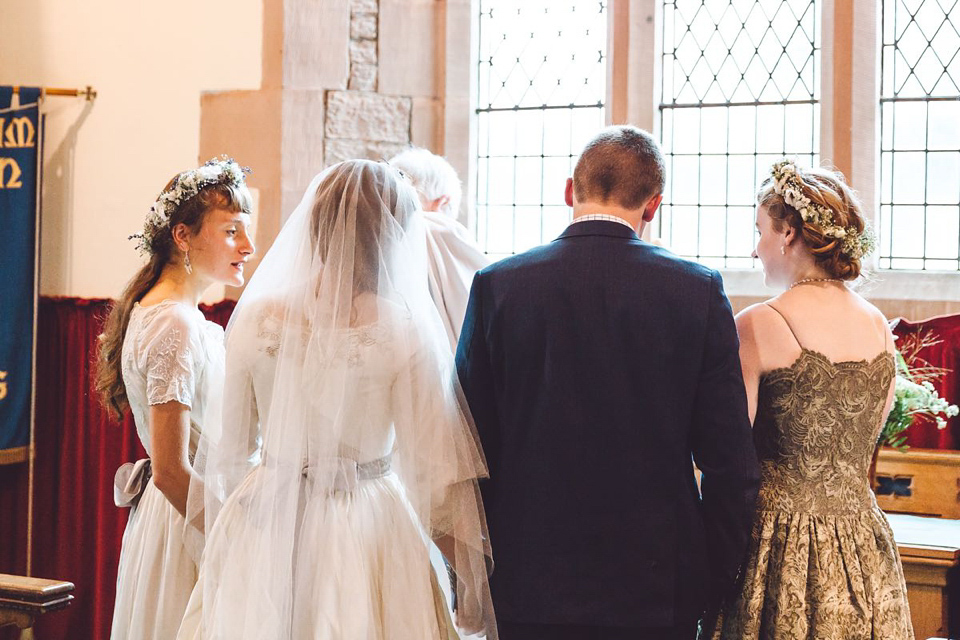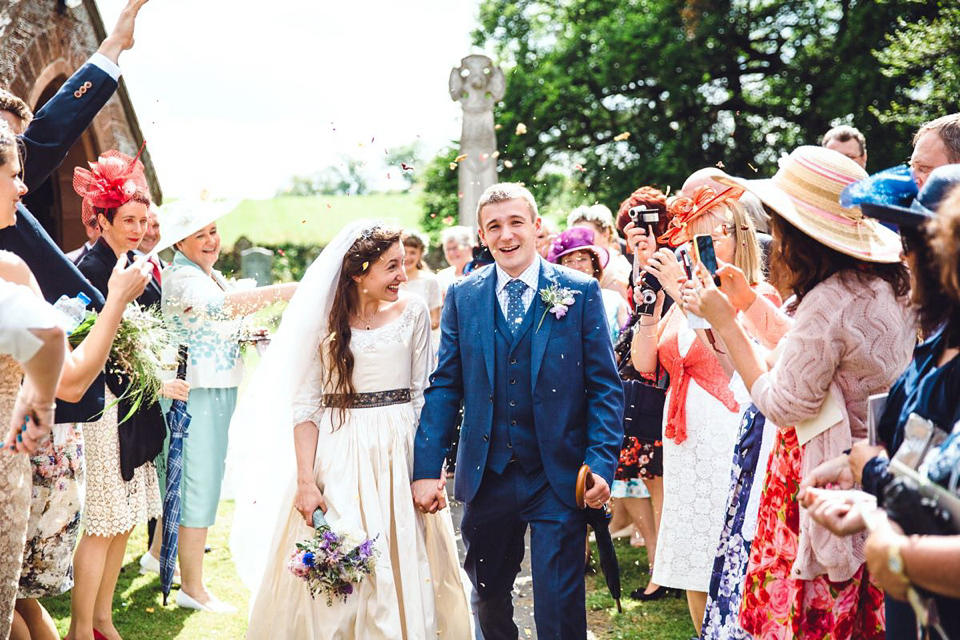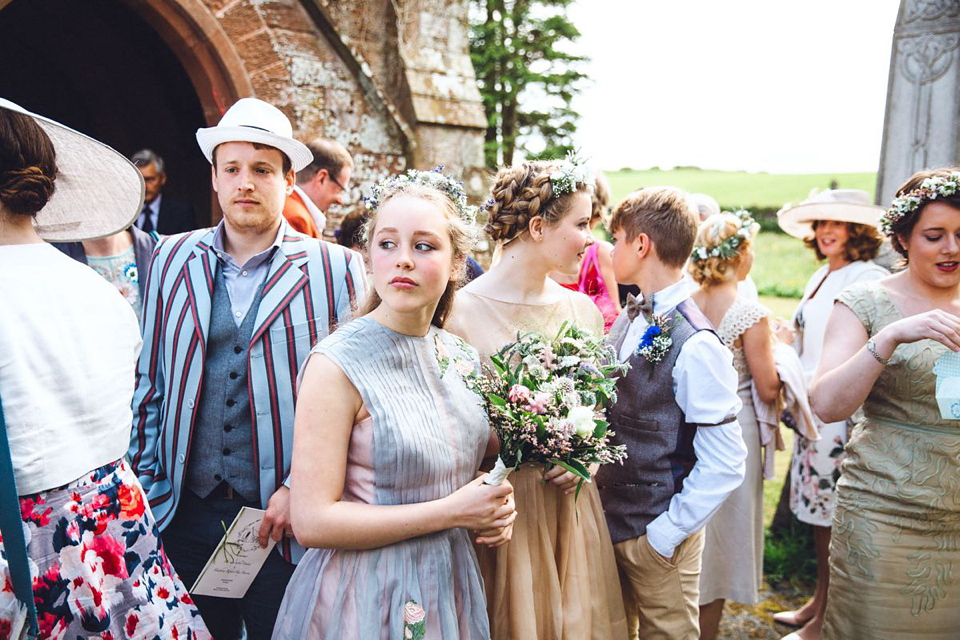 For accessories, Hannah turned to heirlooms worn by her mother on her own wedding day; a veil in silk tulle, satin ballet shoes, a gold and amethyst necklace and her Mother's engagement ring.  Her silver bracelet and earrings were gifts from Matt.
She finished with a hairband made of four vintage brooches from Lila's Jewels and a fresh floral headpiece. For perfume she chose J'adore by Dior because, in her words, it 'smells of friends' which really made me smile.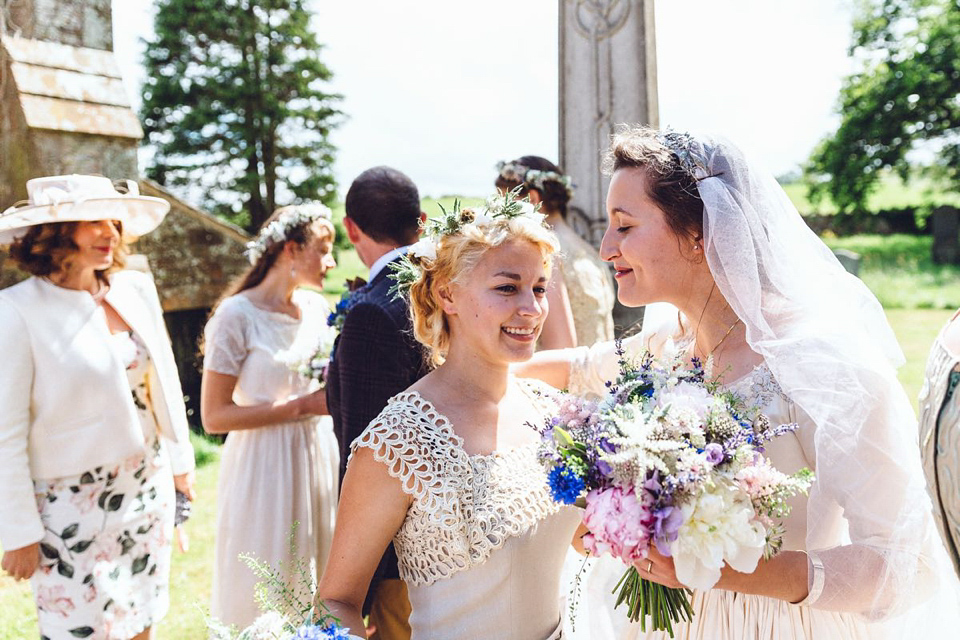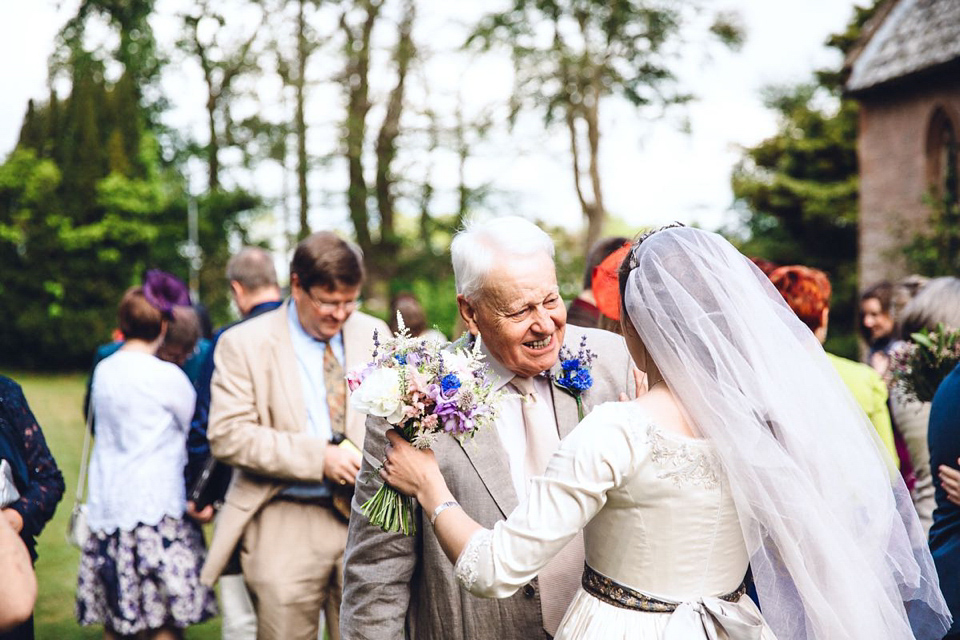 Flowers were the work of school friend Josephine of Josephine Baker Flowers and Hannah's sister Jess of Charlie and Jess Flowers.
"The flowers were heavily influenced by my mum and she loved lavender and purple freesias so those were both included. Jess loves working with grasses and ever-last flowers, so she suggested white thistles, fountain grass, scabia seed heads, olive and cotton. We went for colours and textures we loved, wanting a hand picked, morning in the meadows, explosion of nature's beauty kind of feel."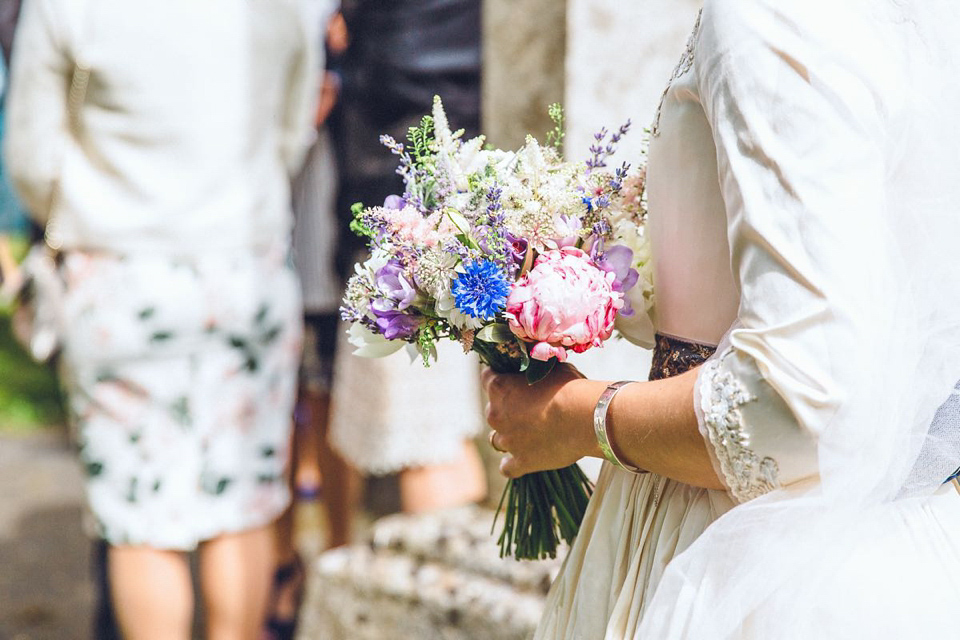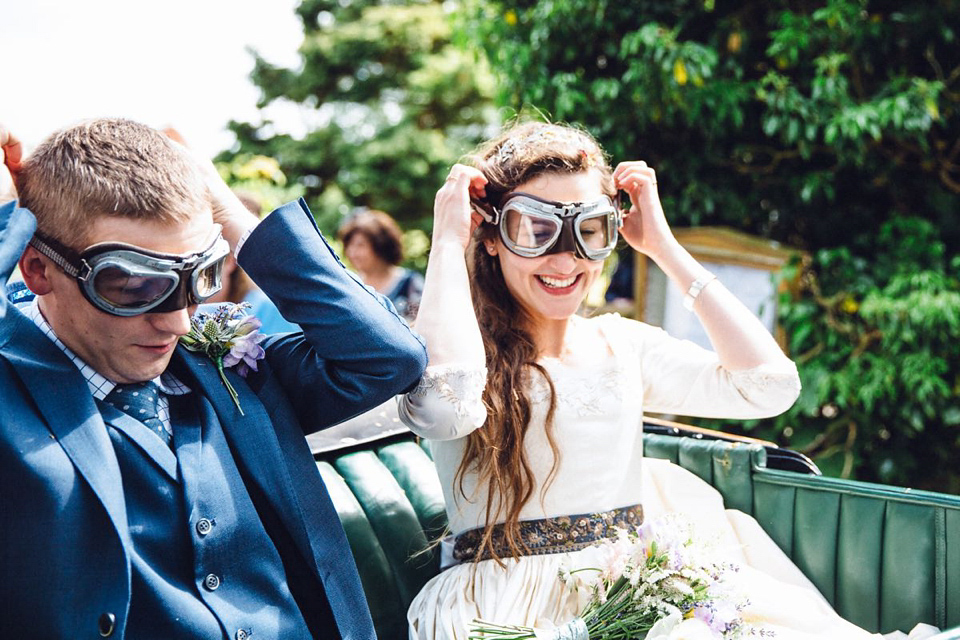 I adore the soft vintage style of these images, which works perfectly with Matt and Hannah's day.  Most of all I love the photographs of the newlyweds out in their vintage car (loaned and chauffeured by a family friend) up on the hill tops, walking through the grass and looking out towards the mountains.  It's so unbelievably Wuthering Heights!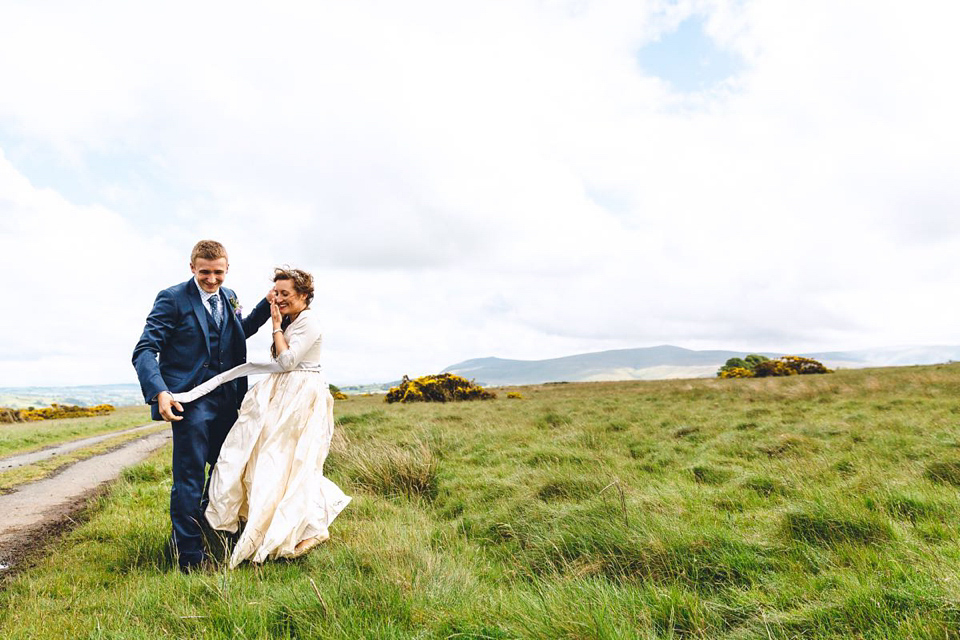 "My sister Jess had worked with photographer Ash James previously and recommended him to us.  He was absolutely brilliant, ever so unobtrusive and yet got some amazing shots."
"We were adamant we wanted the photos to be as natural as possible, and he managed to make even the few staged photos we had to do ever so fun, quick, and natural."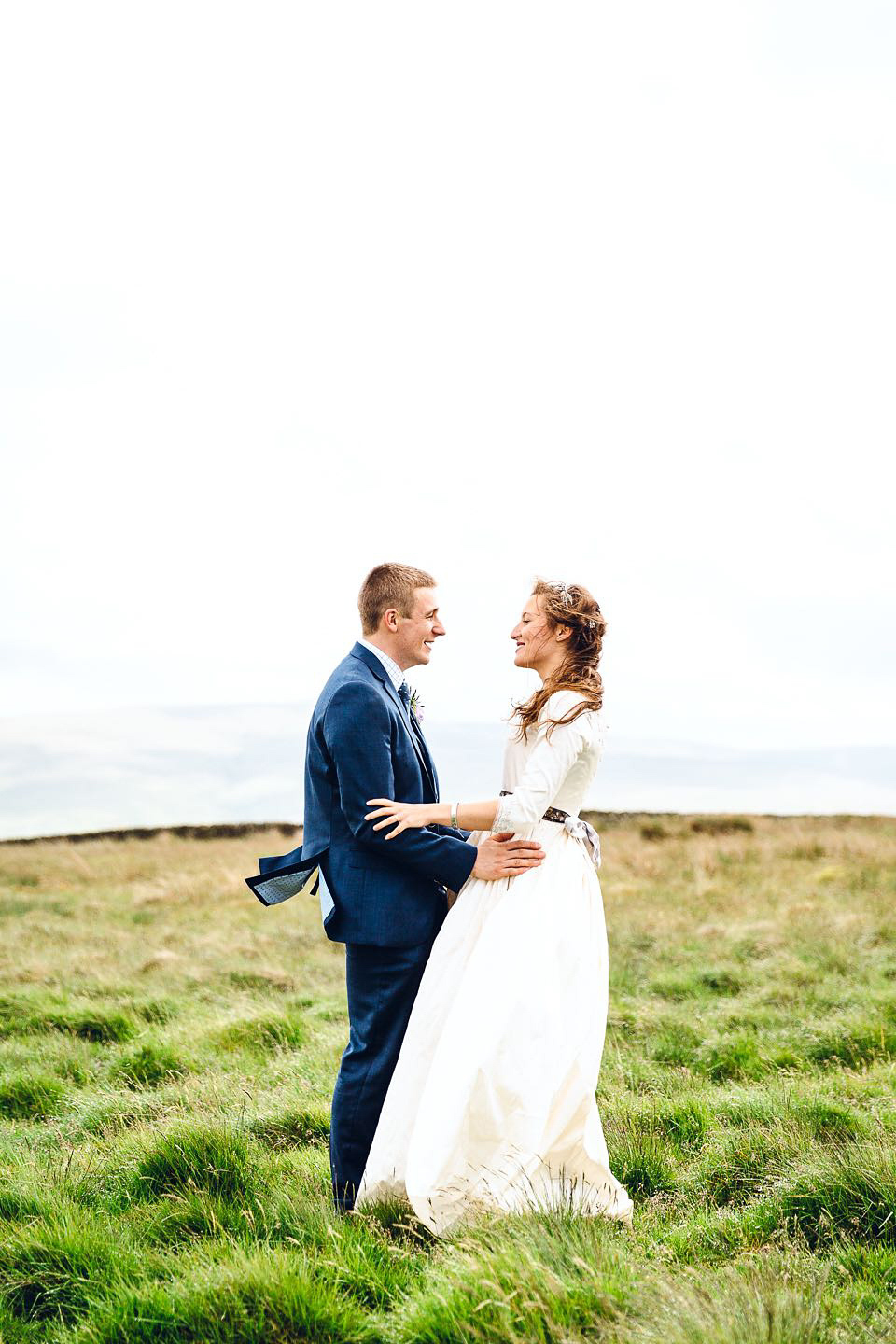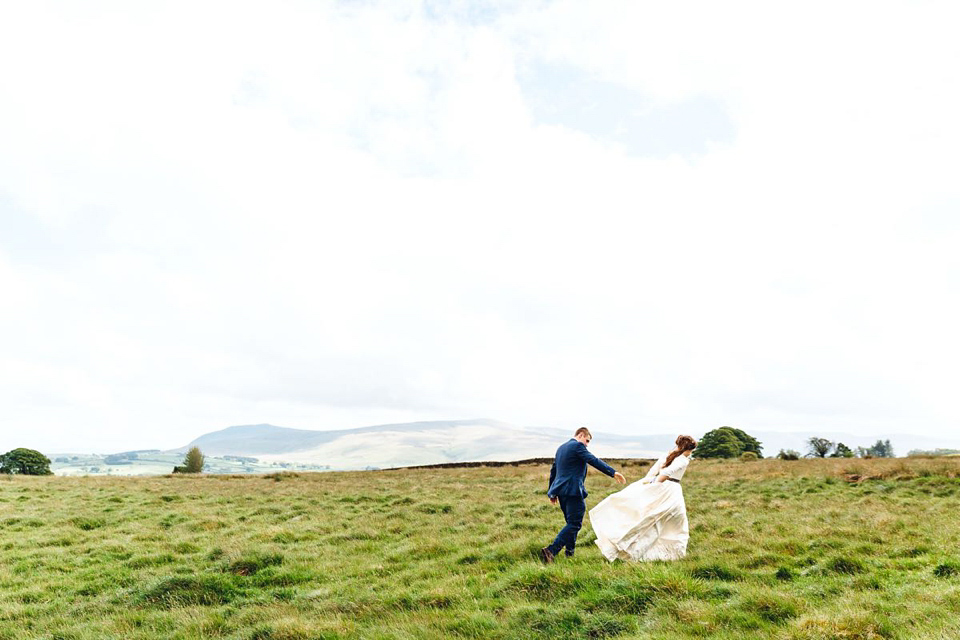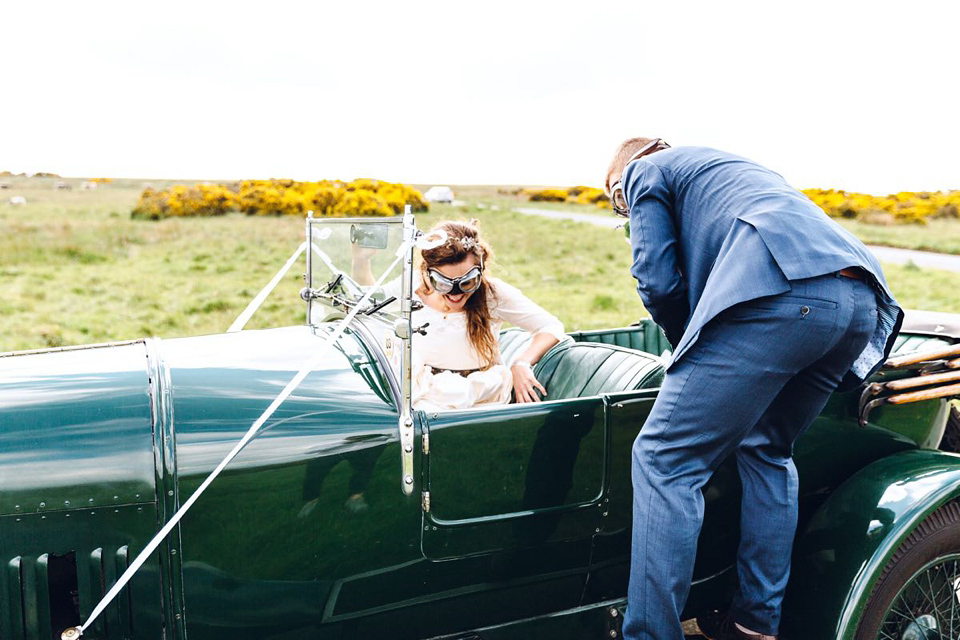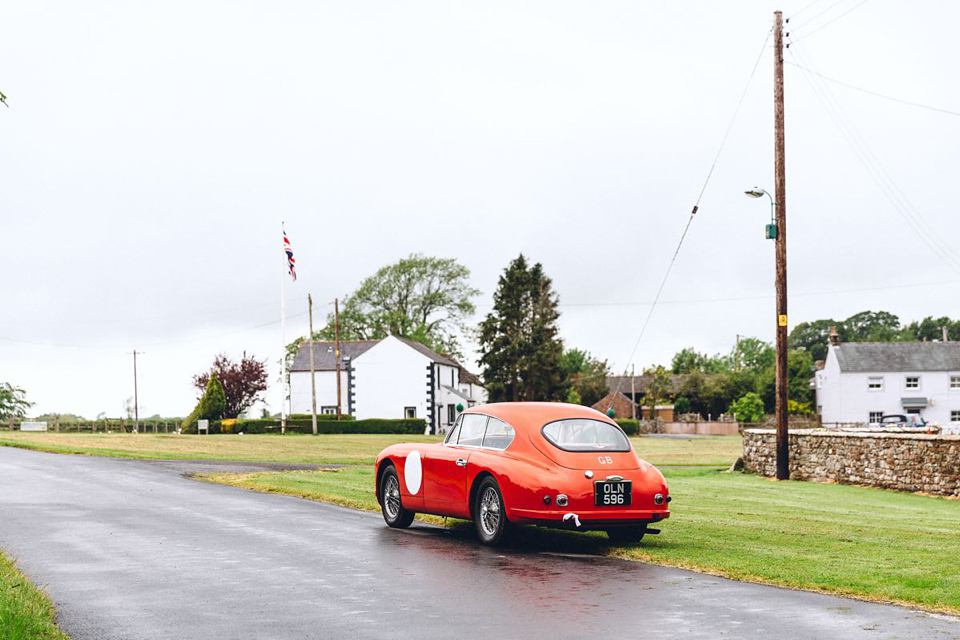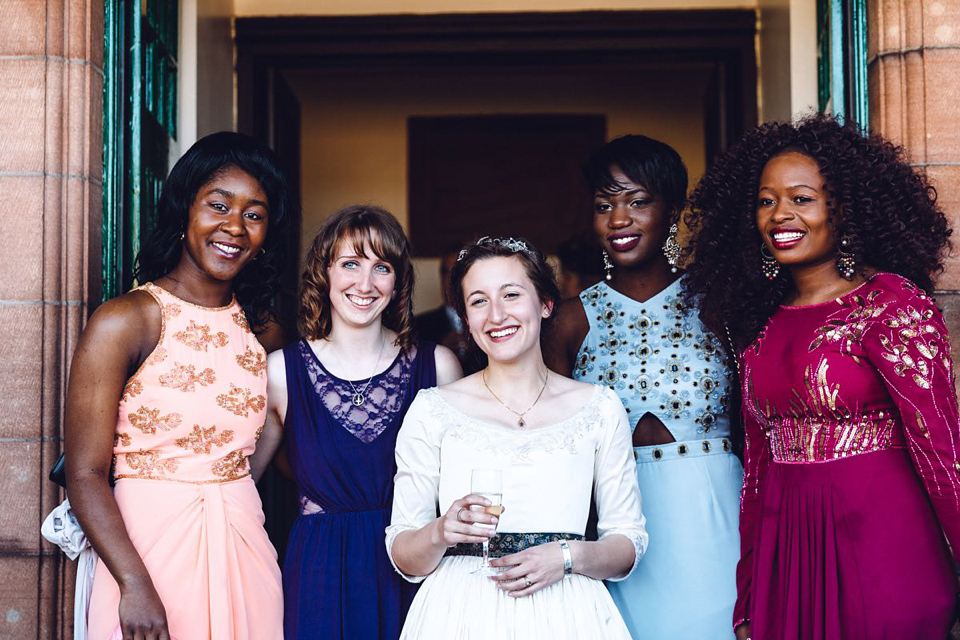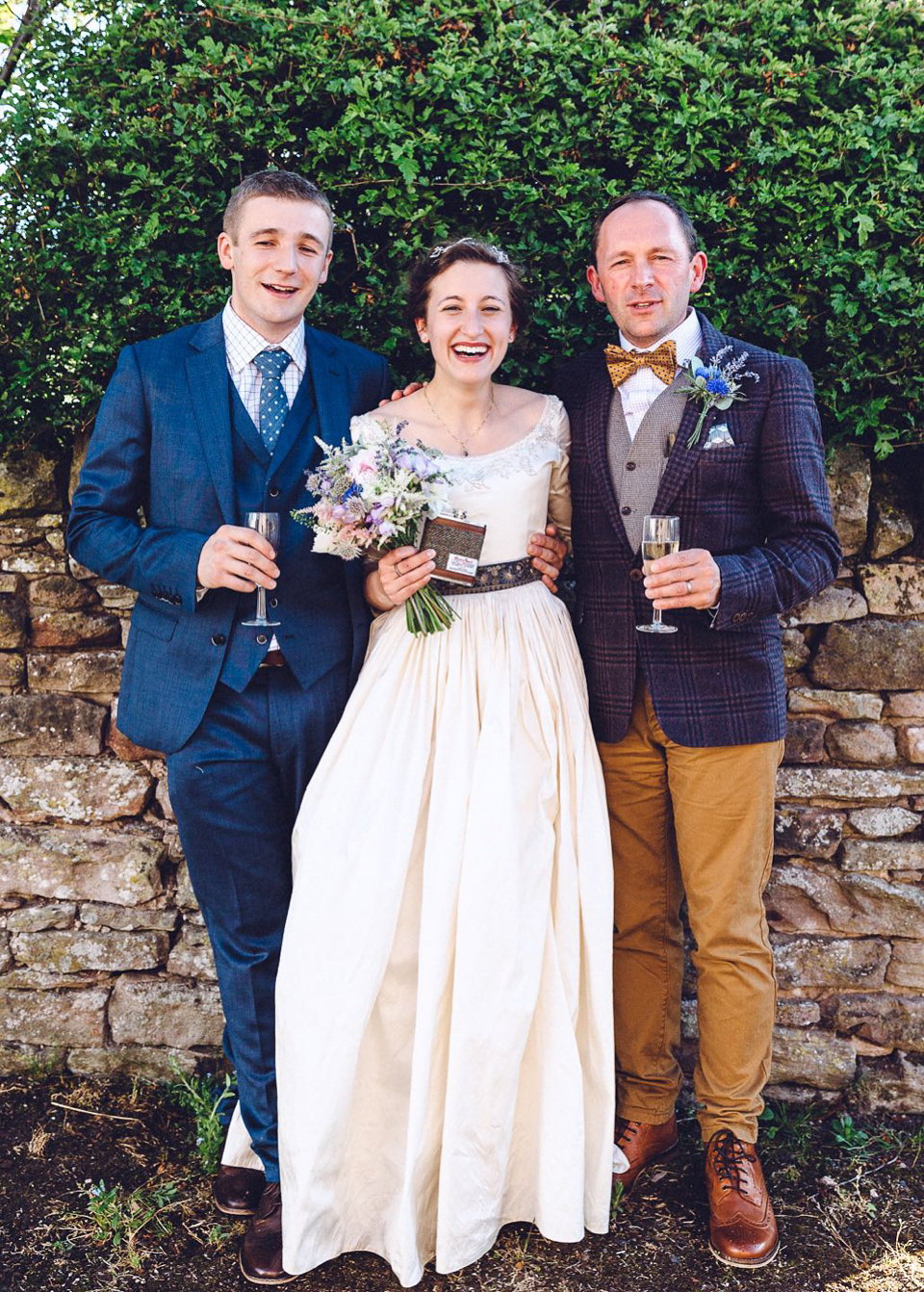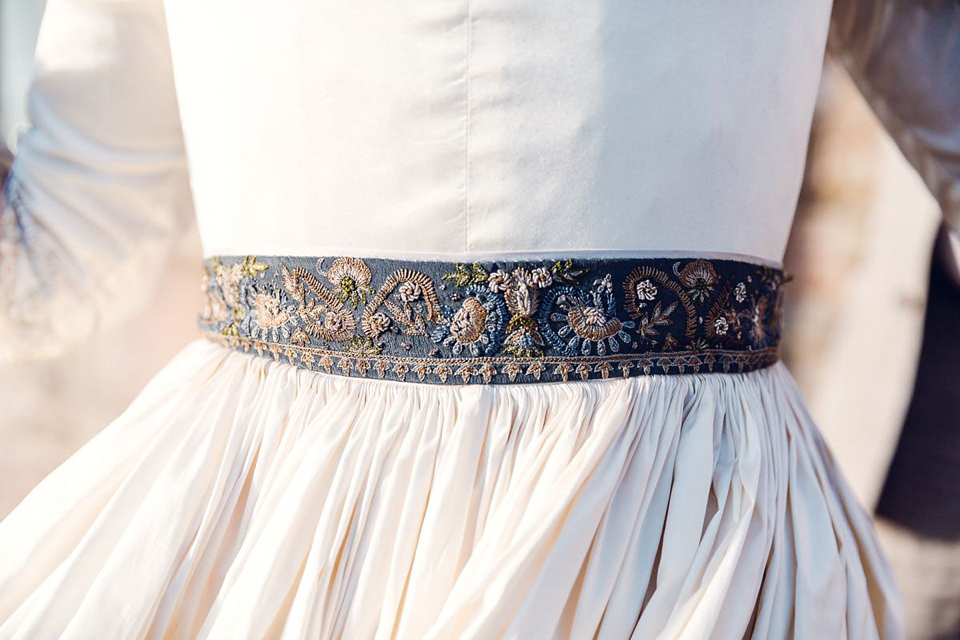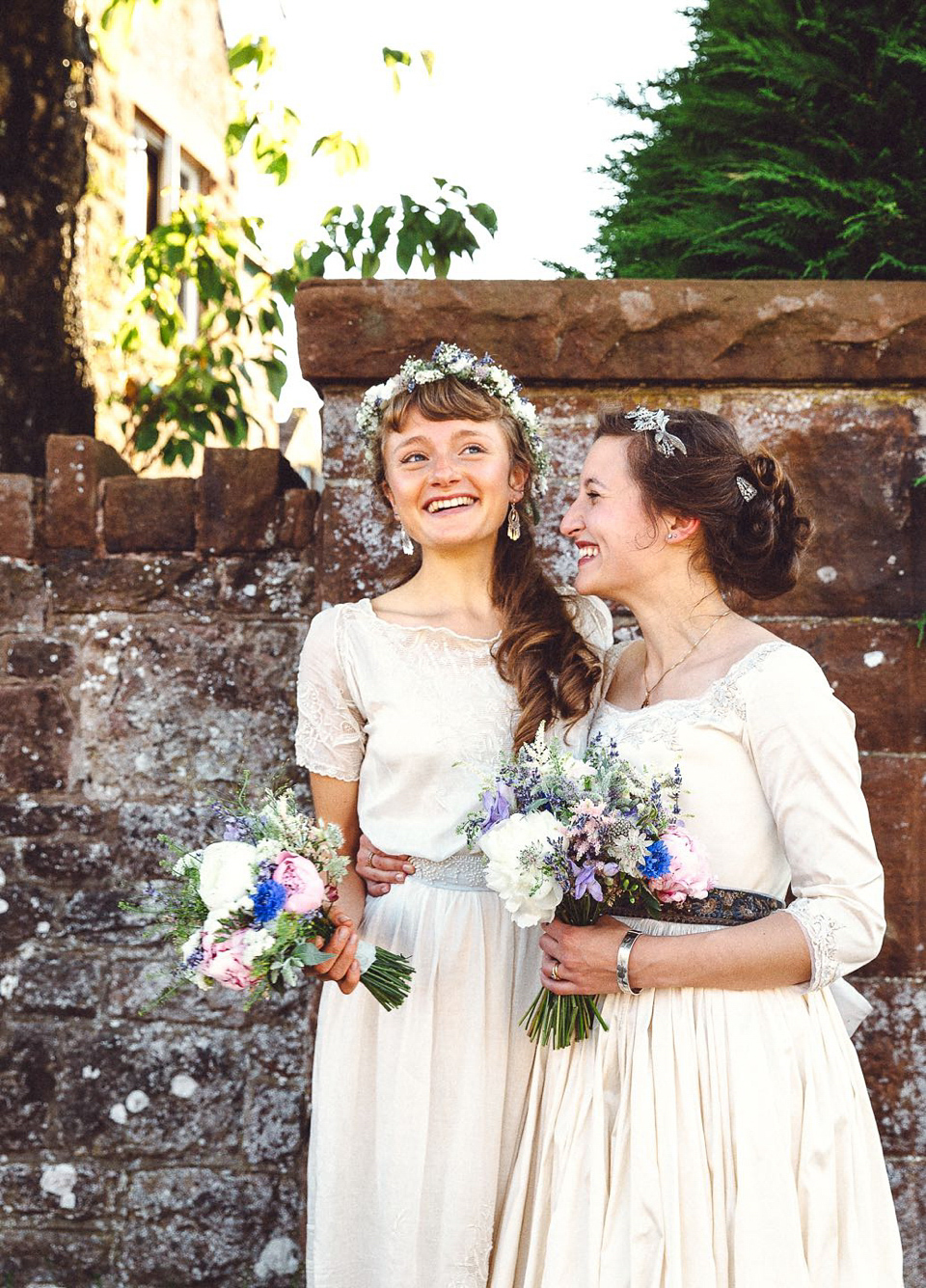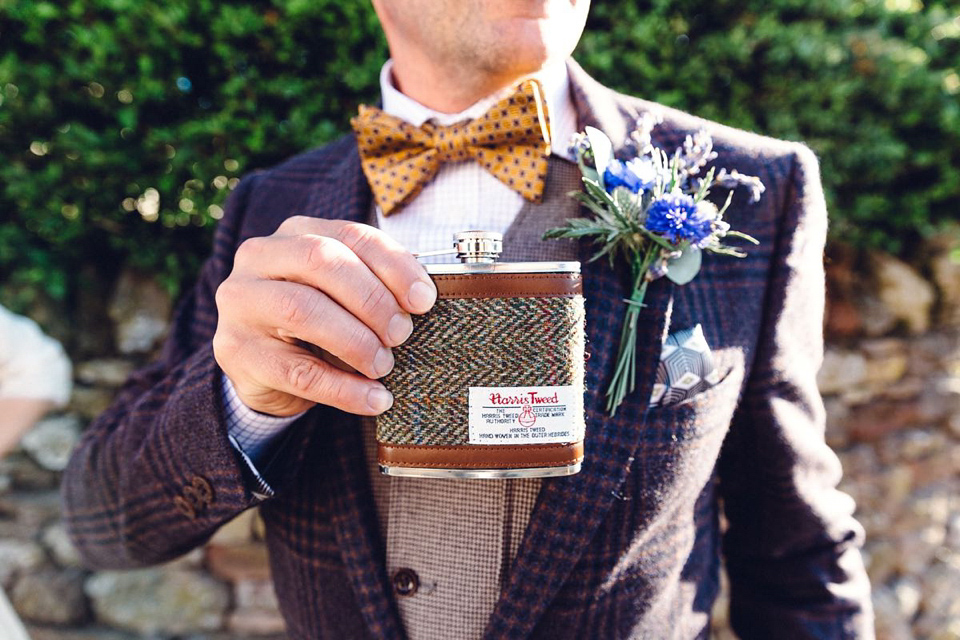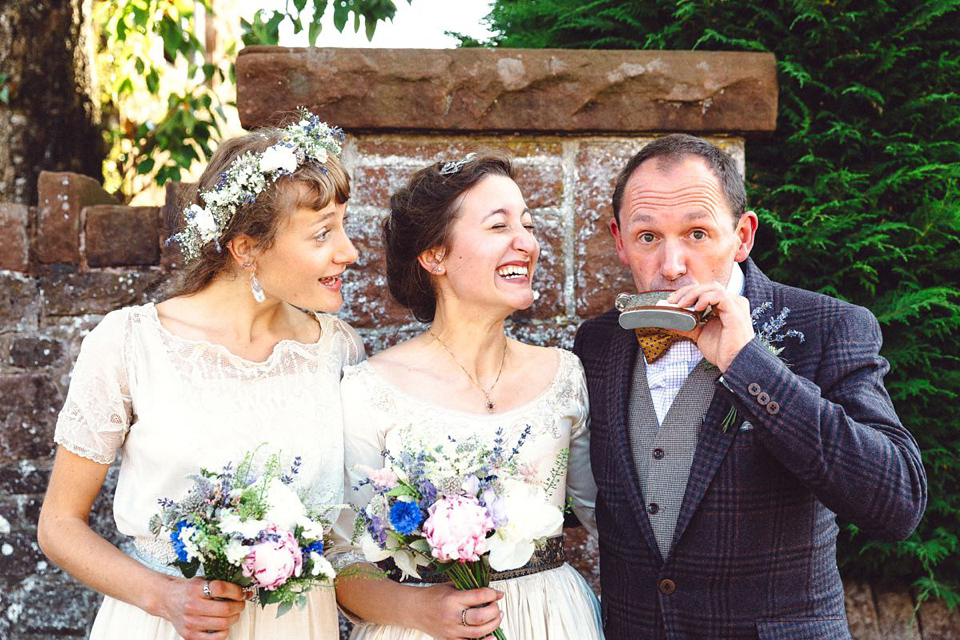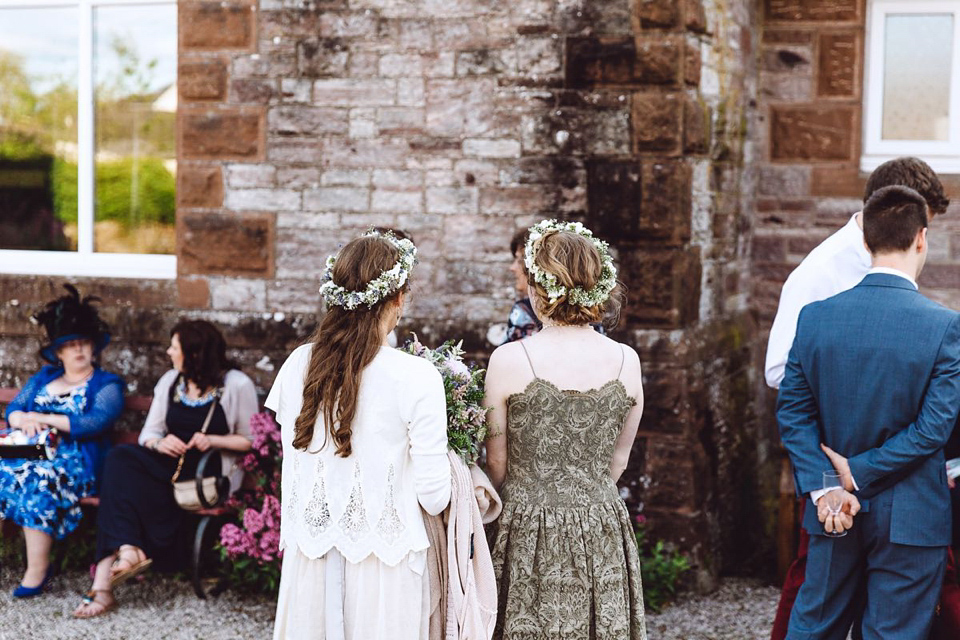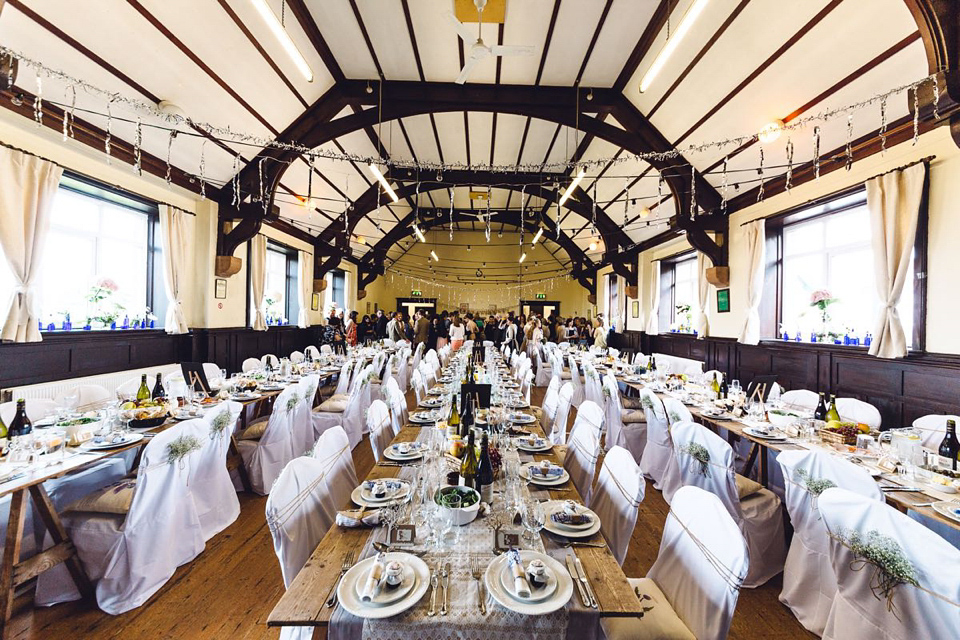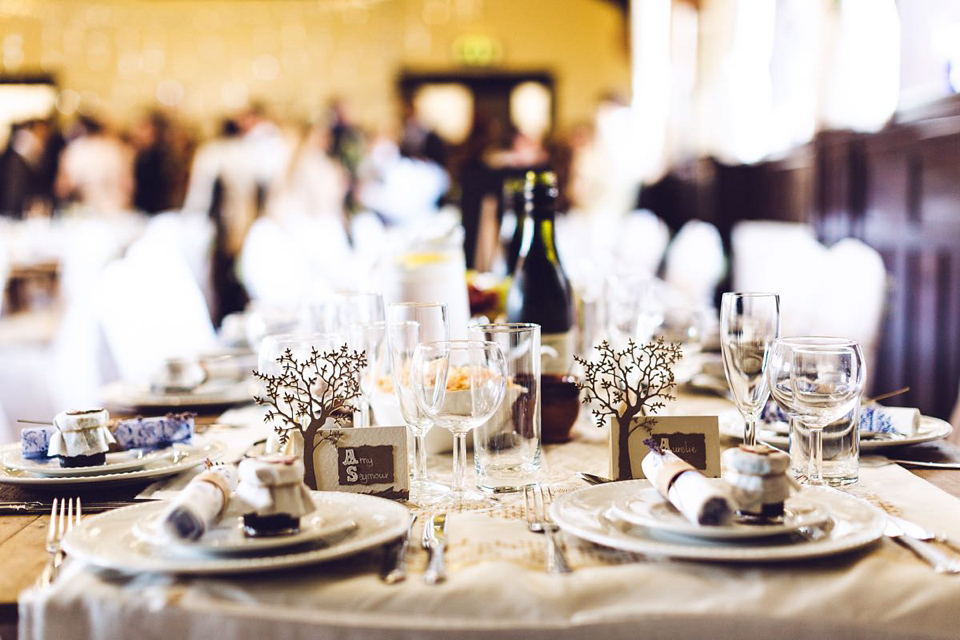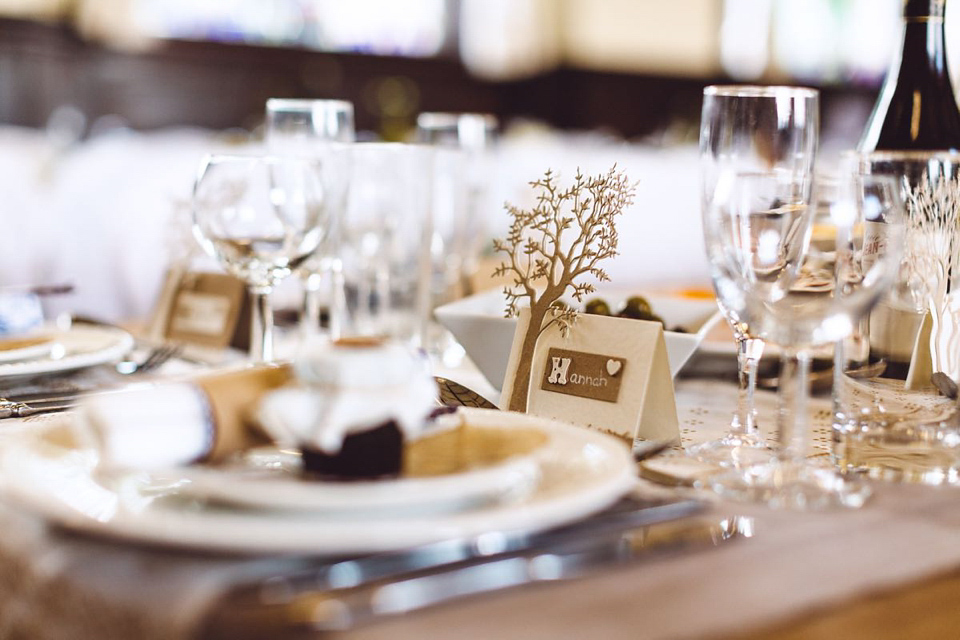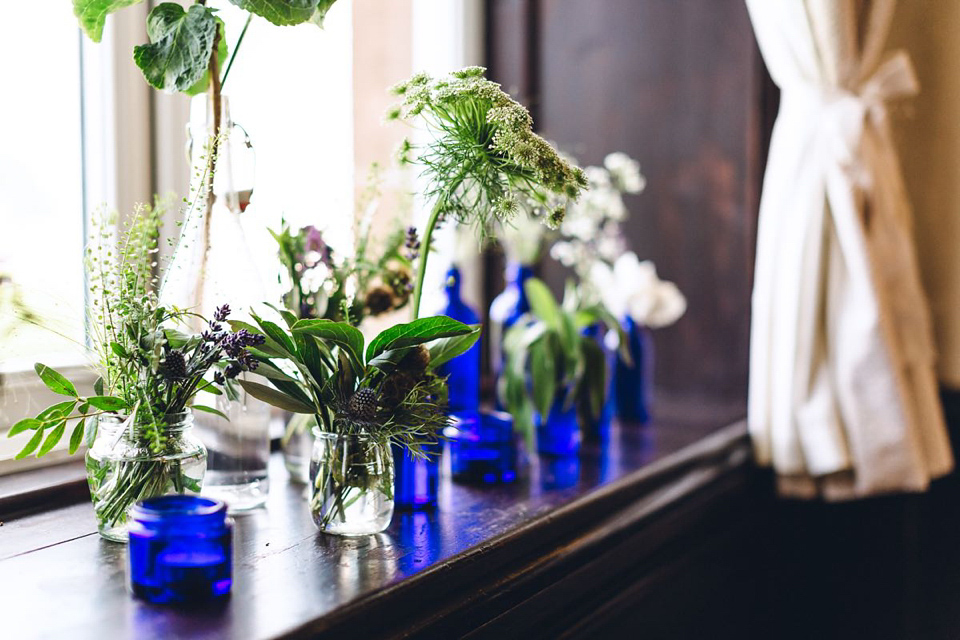 "Jess visited India the previous year and brought back some beautiful lengths of cloth as well as some traditional Indian wedding bunting – silver streamers."
"The cloth we used as table runners and the bunting we hung from the ceiling, next to festoon lighting, hired from SVL Hire, to create more of a festival atmosphere for the ceilidh."
To make the hall chairs more wedding friendly, Hannah hired chair covers from Simply Bows and Chair Covers and customised them by tying brown string around the backs with gypsophila frothing out the top to great effect.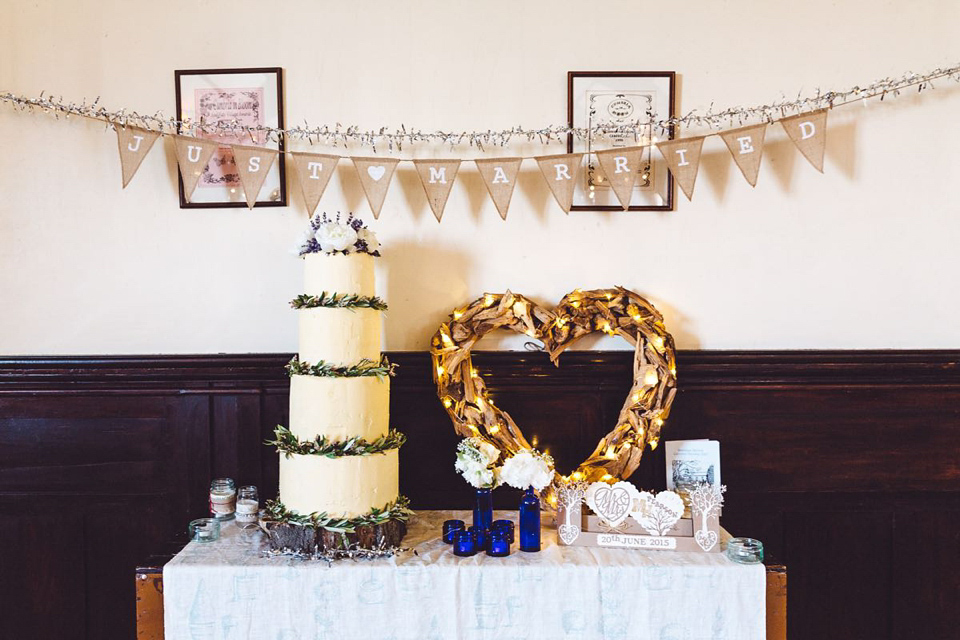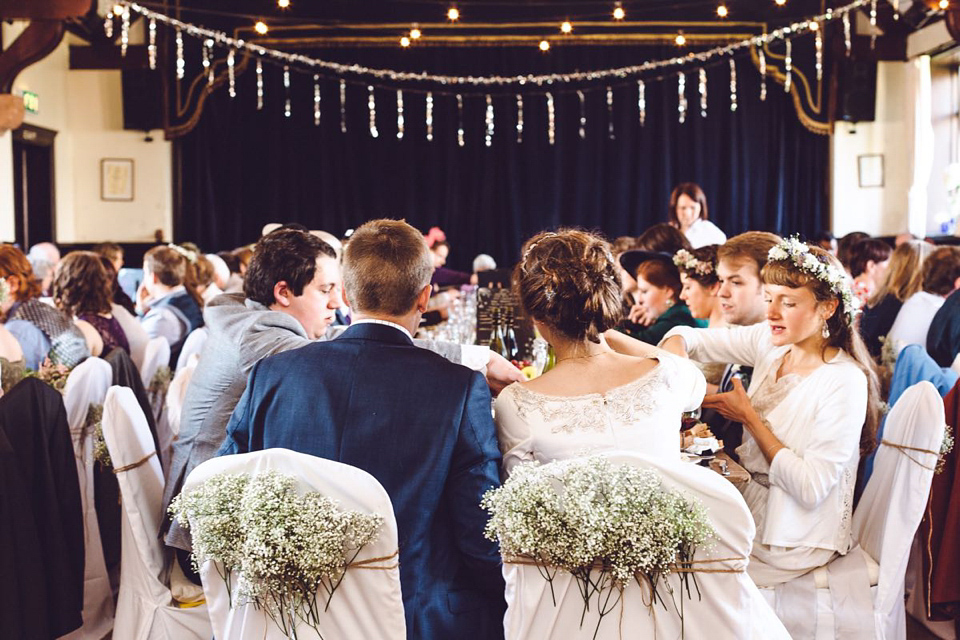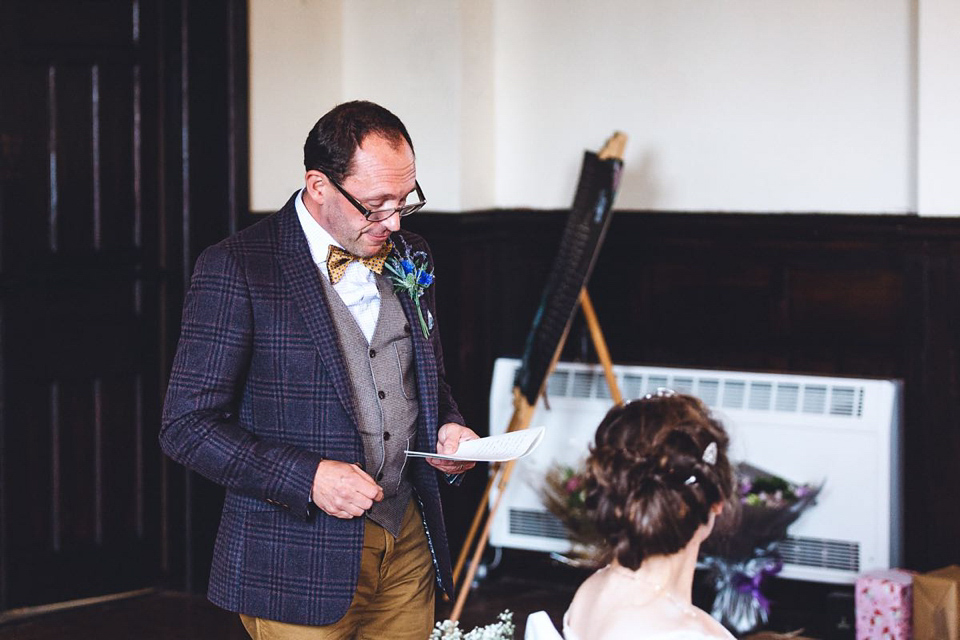 "Our catering was by Susan Armstrong from Denton House Guesthouse.  We wanted a 'Hogwarts' style feast for our wedding breakfast and Susan created the most incredible spread of dishes worthy of a medieval banquet and a wonderful afternoon tea style buffet for later in the evening."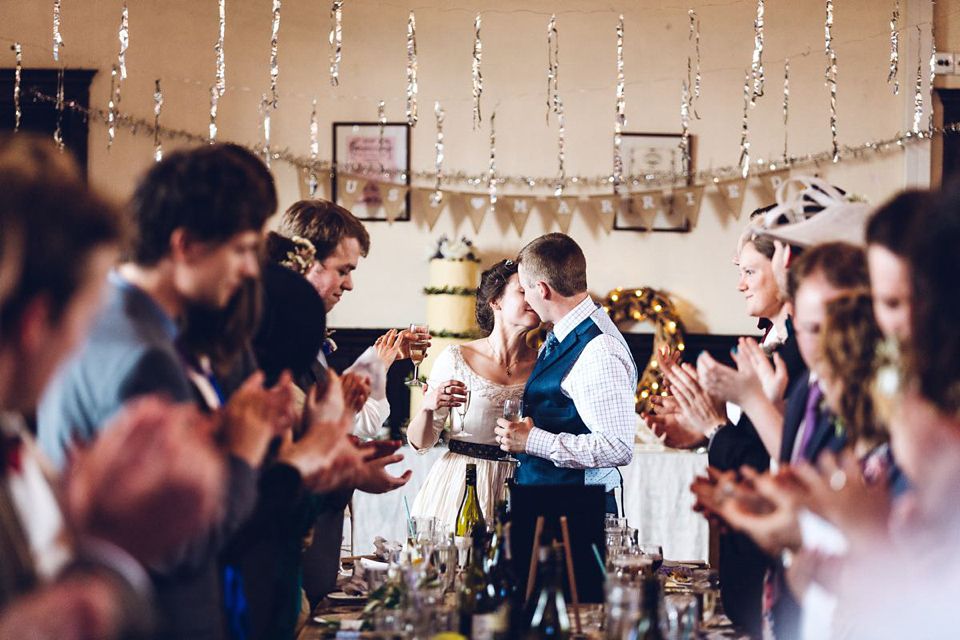 The towering cake was the work of  friends Murray and Alison, who created the four tier beauty (in layers of ginger, chocolate, lemon and fruit), covered it with vanilla buttercream and decorated it with lavender, olive leaves and peonies.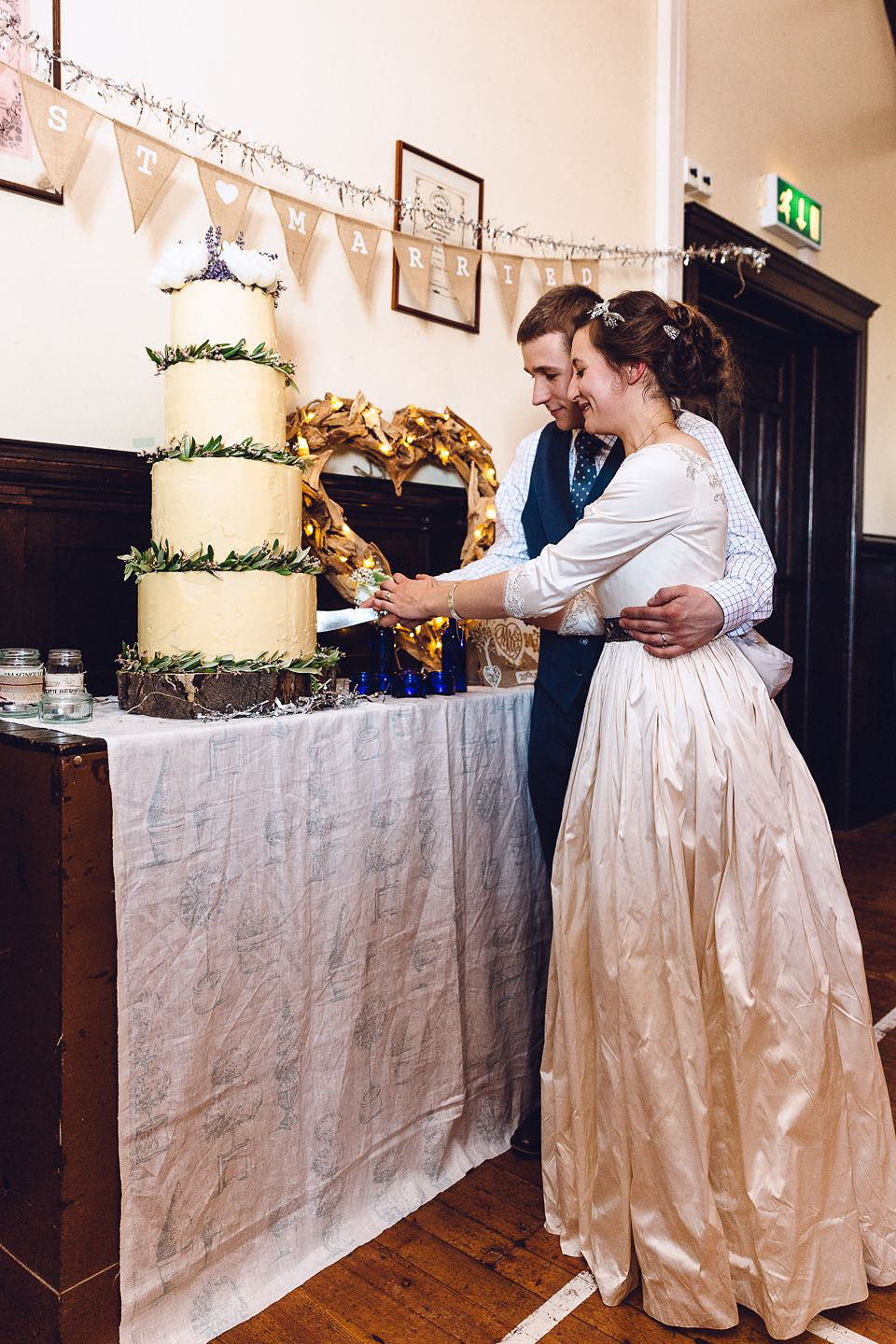 Instead of a first dance alone, Hannah and Matt chose a big group ceilidh dance, played by their band, Jiggery Pokery, which looks so much fun.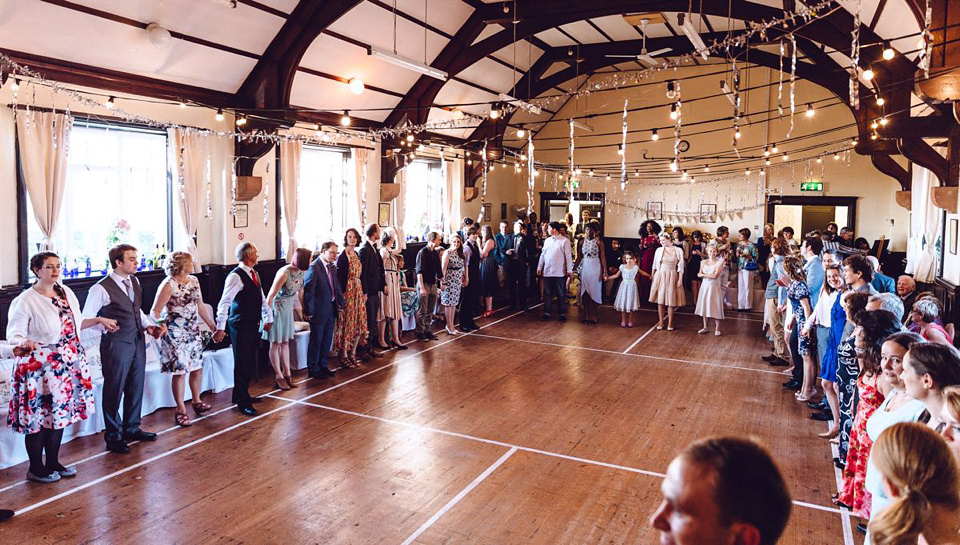 Matt's favourite parts of the day were the first dance (where he accidentally ripped Hannah's dress…), tapping the beer kegs and seeing Hannah walk down the aisle, while they both loved running out into the sun after the ceremony and having a private few moments together.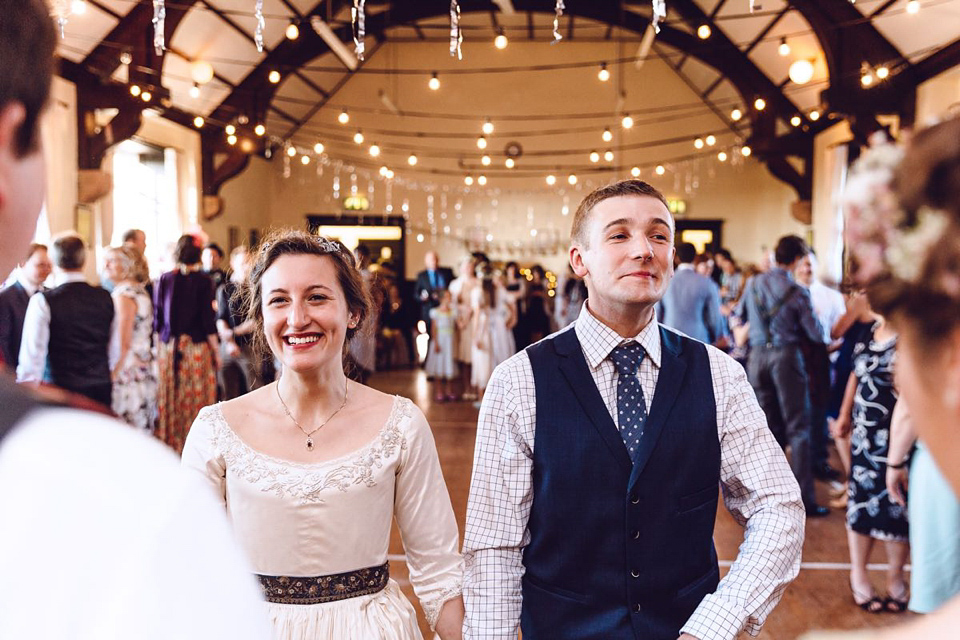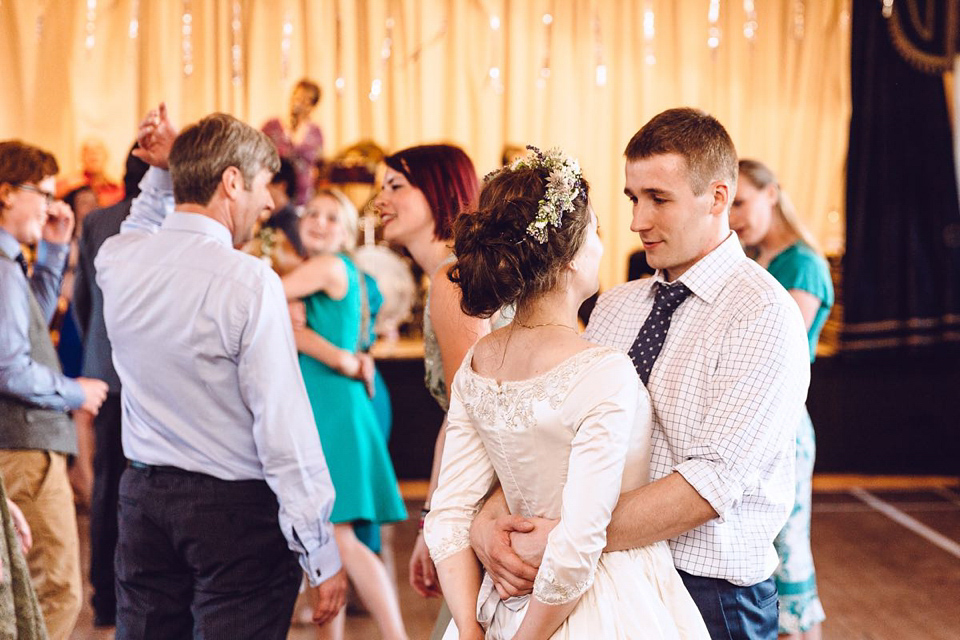 "Saying our vows, in our own little bubble at the front of the church was one of my very favourite moments, it felt like it was just us and the vicar and no one else was there."
Words of Wedded Wisdom
"If you're making your own dress, plan ahead and don't leave it till the week before, as there will be so many other things to do by then!
Don't be put off if others can't visualise your creative vision for the day, it will all come together in the end and be fabulous."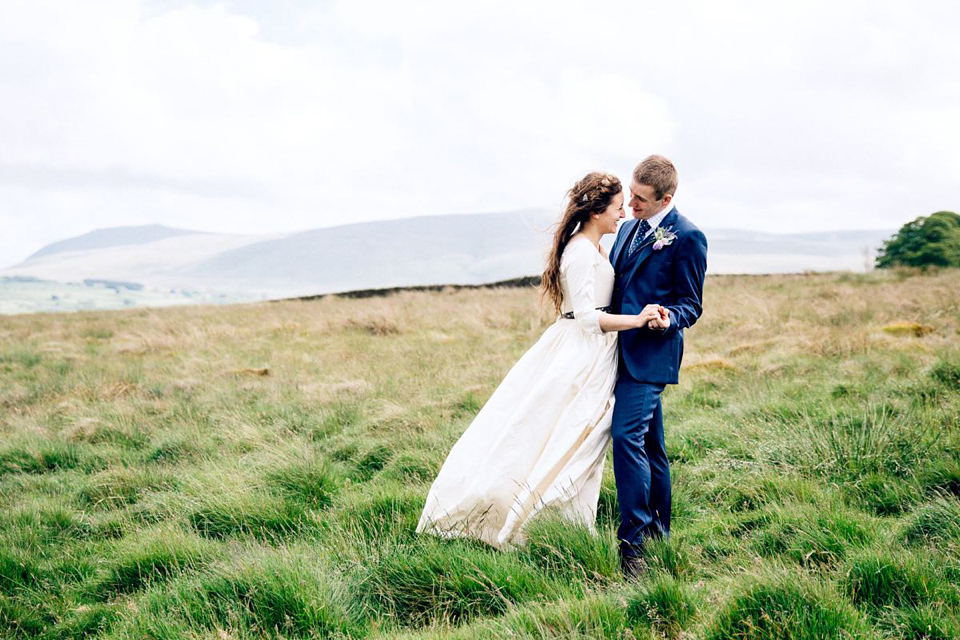 Such a gorgeous day, full of love.  Thank you so much to Hannah and Matt for sharing and to Ash for the images.  Finally, I noted as I wrote this feature that Hannah and Matt are due their first child in the next few days so I would like to send the very biggest of love and best wishes from the Love My Dress team.
Shona x
Credits & Thanks
Photographer - Ash James
Venue - Skelton Memorial Hall, Cumbria
Bride's Dress  - Hannah Pearson (bride), made with silk from The Cloth House, Berwick Street
Veil - Belonged to the bride's mother
Hairpiece - Lila's Jewels
Jewellery - Pieces belonging to the bride's mother and gifts
Shoes - Vintage, belonged to the bride's mother
Scent - J'adore, Dior
Bridesmaids dresses - Etsy, several from Dear Golden Vintage
Bridesmaid's accessories -
Groom's Outfit - Suit, Casanova Menswear, Carlisle; shirt, tie, belt and shoes, Debenhams
Flowers - Josephine Baker Flowers and Charlie and Jess Flowers
Rings – J K Harris, Carlisle (now closed due to retirement)
Engagement ring - St Nicholas Galleries, Carlisle (01228 544459) 
Caterer - Susan Armstrong from Denton House Guesthouse, Cumbria
Cake - Made by friends
Stationery - Matt's mum Claire and Matt's cousin Ashley
Entertainment - Jiggery Pokery
Chair covers - Simply Bows and Chair Covers
Festoon lighting - SVL Hire