I'm just about bursting with joy to be able to share today's sensational union with you all. Not only is this gorgeous celebration held in one my favourite places on the whole planet (and also the location of my own impeding nuptials, eek, seven months to go!), it's also the very beautiful wedding of one of our much-loved blogging brides; otherwise known as the Lovettes.
Kate, a Charity Events Manager, wed Tim, who works in a bank, on 31st May this year in stunning Tuscany. Their ceremony at Palazzo Pretoria in Certaldo, and reception at Dimora Di Coloni in San Donnino were smattered with local charm by our fantastic Little Book for Brides member, Wiskow & White (spot Kate and Tim on the LBFB listing for these wonderful wedding planners). And you can read more about Kate's wedding planning journey in her charming series of Lovette posts.
"I love flowers and wanted to pay homage to our two grannies who sadly had both passed a few years earlier. They both adored flowers too; mine had been a florist and Tim's was a very talented gardener. So that ran throughout with lots of flowers in jars and vases, hanging flowers, garlands, and our tables named after their favourite flowers, 'Iris' and 'Pansy'. We didn't have a very strict colour 'theme', but choose a range of pinks, pale colours and greens – to match in with the natural colours of the landscape. And we tried to source as much as possible from charity shops and that became a fun little project."
Captured by Gert Huygaerts Fine Art Photography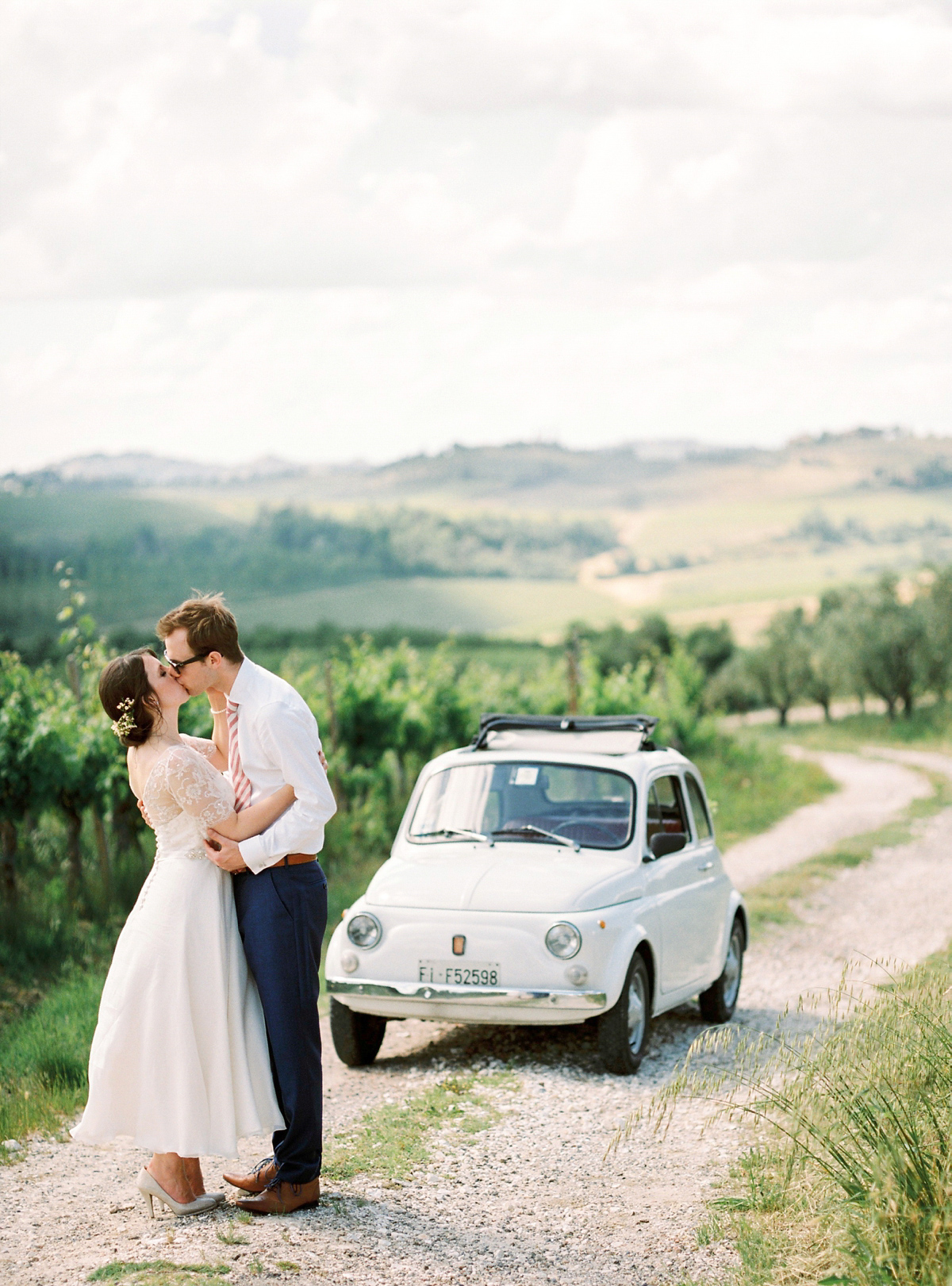 Kate and Tim started hunting for a venue at the start of last year, their hearts set on a villa they could hire for their wedding and as a place to stay with family and friends.
"Tim frequently joked that I must have looked at every villa in every corner of Tuscany. In the end, we booked a short trip to go see our favourites. Dimora Di Coloni was the last villa we saw. We had seen a few already and none of them quite felt right for us.""We stopped at a café bar to work out what we were going to do and for some reason I checked my junk email; inside was an email replying to an enquiry I had made a few weeks before to Dimora Di Coloni saying to come visit at 3pm on that day! So we did and the rest, as they say, is history."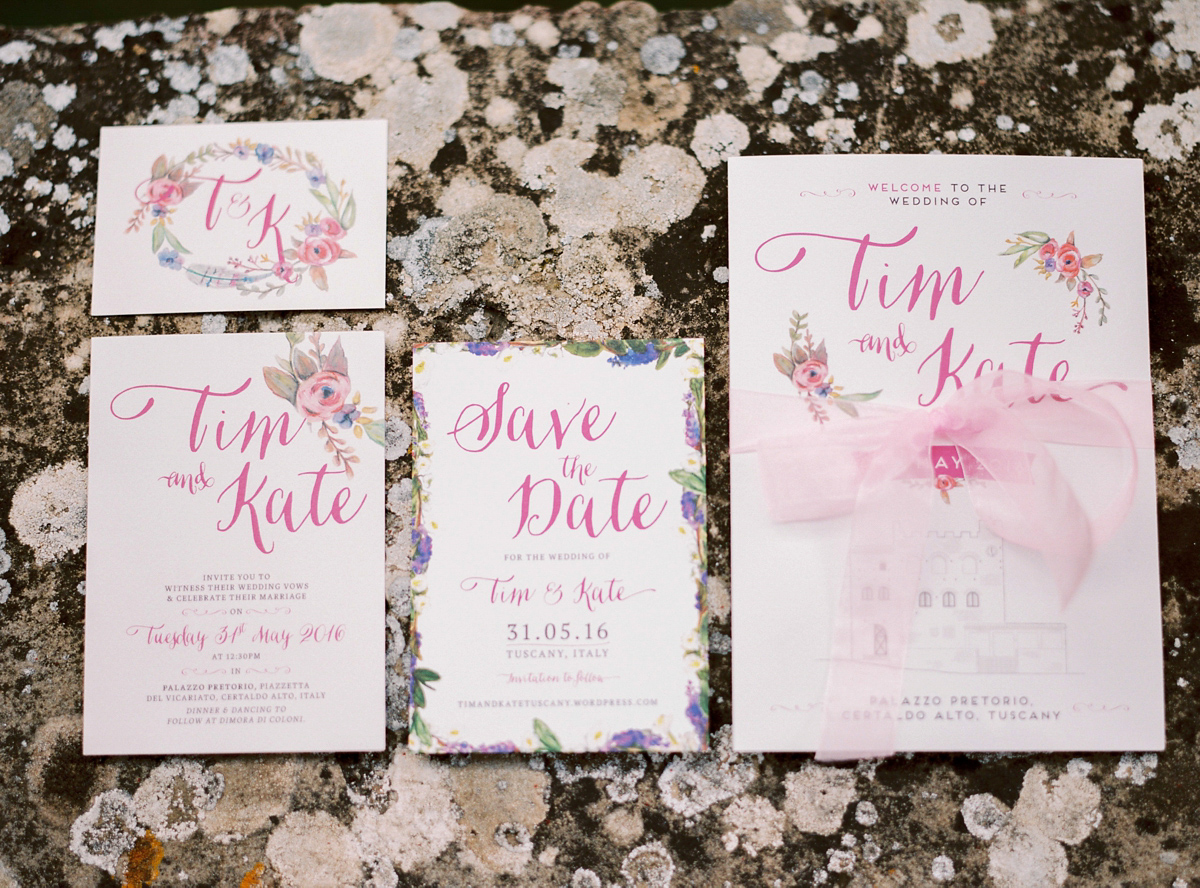 "I really struggled to find a make-up and hair artist would was happy to travel around Tuscany, so was delighted when I found Guilia Cresci (who I found through other weddings on Love My Dress). On the day she made me feel so beautiful and also very much still 'me'."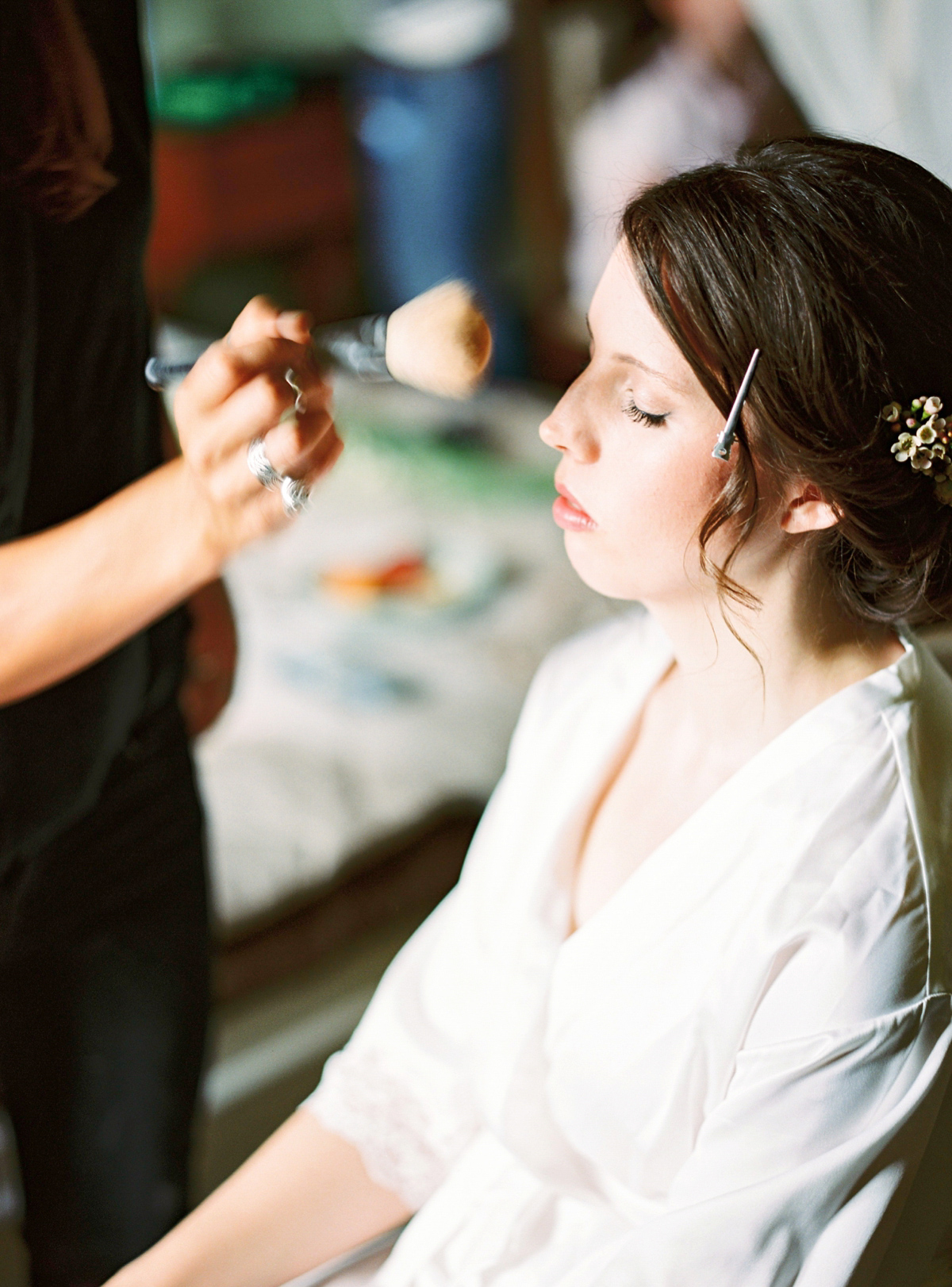 After a lengthy dress search, Kate turned to Oxford-based dressmaker Anna Fink to create her chiffon-skirted beauty. Ballerina-length gowns are just so elegant, and the perfect excuse for two pairs of shoes; something Kate whole-heartedly agreed with when choosing her budget-friendly sparkly M&S numbers and pretty No. 1 Jenny Packham at Debenhams heels.
"I tried on quite a number of dresses and went to some truly lovely bridal shops but try as I might to fall in love with the gowns, none of them felt like what I had in my head. I had seen one that Fearne Cotton had worn at her wedding and absolutely adored the ballerina length and the way the chiffon floated on the skirt, and couldn't put it out of my mind."
"Luckily a friend recommended Anna Fink to me, who was right on my doorstep.  I arrived with sketch I had drawn (which didn't look a million miles away from what a child might draw…) and a few photos. Anna took me into her studio room, which is basically a treasure trove of clothes and talked me through how we could create it. I was sold."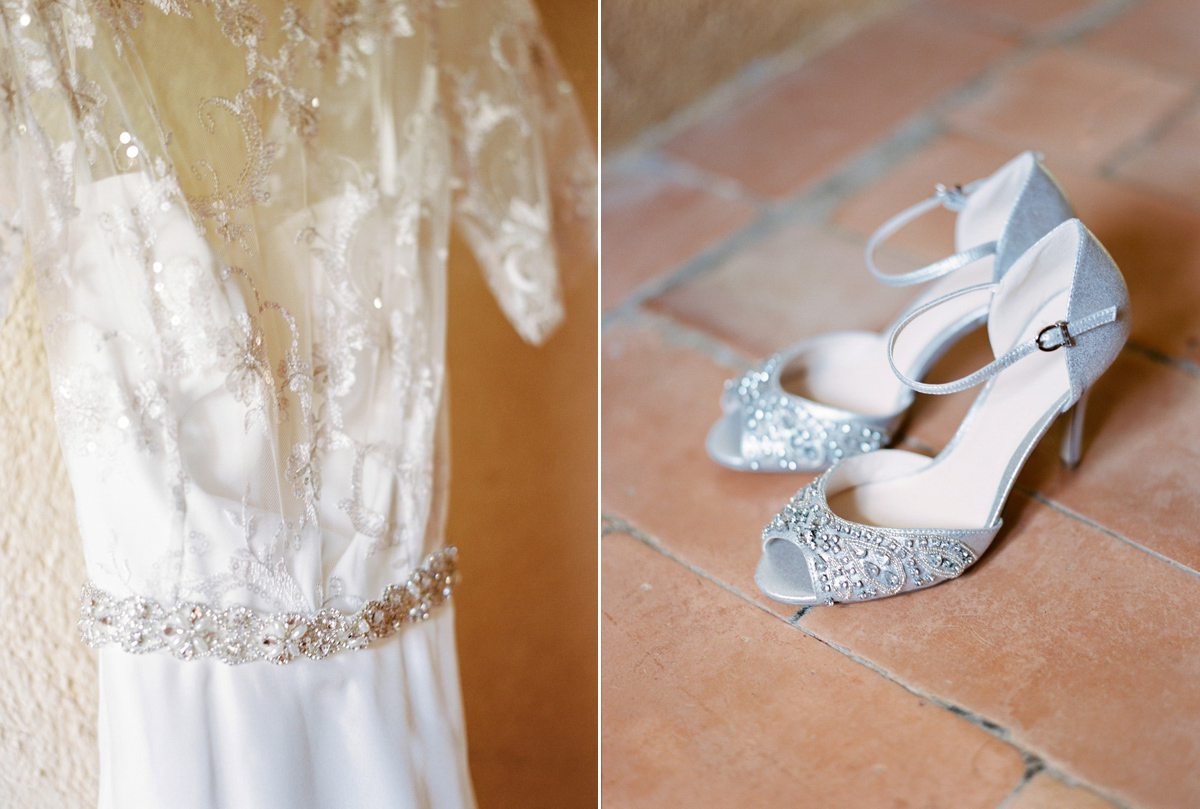 "Going to Anna's home to pick fabrics and then watch as the dress came together over the coming months was such a unique experience. Every garment in her studio had a story and I loved asking about the new ones that had arrived each time I visited. To see every little stitch and every sequin put on a dress you had designed is an incredibly special thing and I am so thankful to Anna for all the time she gave to making it."
Jo Malone's 'Peony and Blush Suede' was Kate's scent of choice, bought after a recommendation from a fellow bride in our Love My Dress Facebook community to indulge in a bridal consultation. Her necklace and bracelet were gifts from her dad and her earrings were from Swarovski.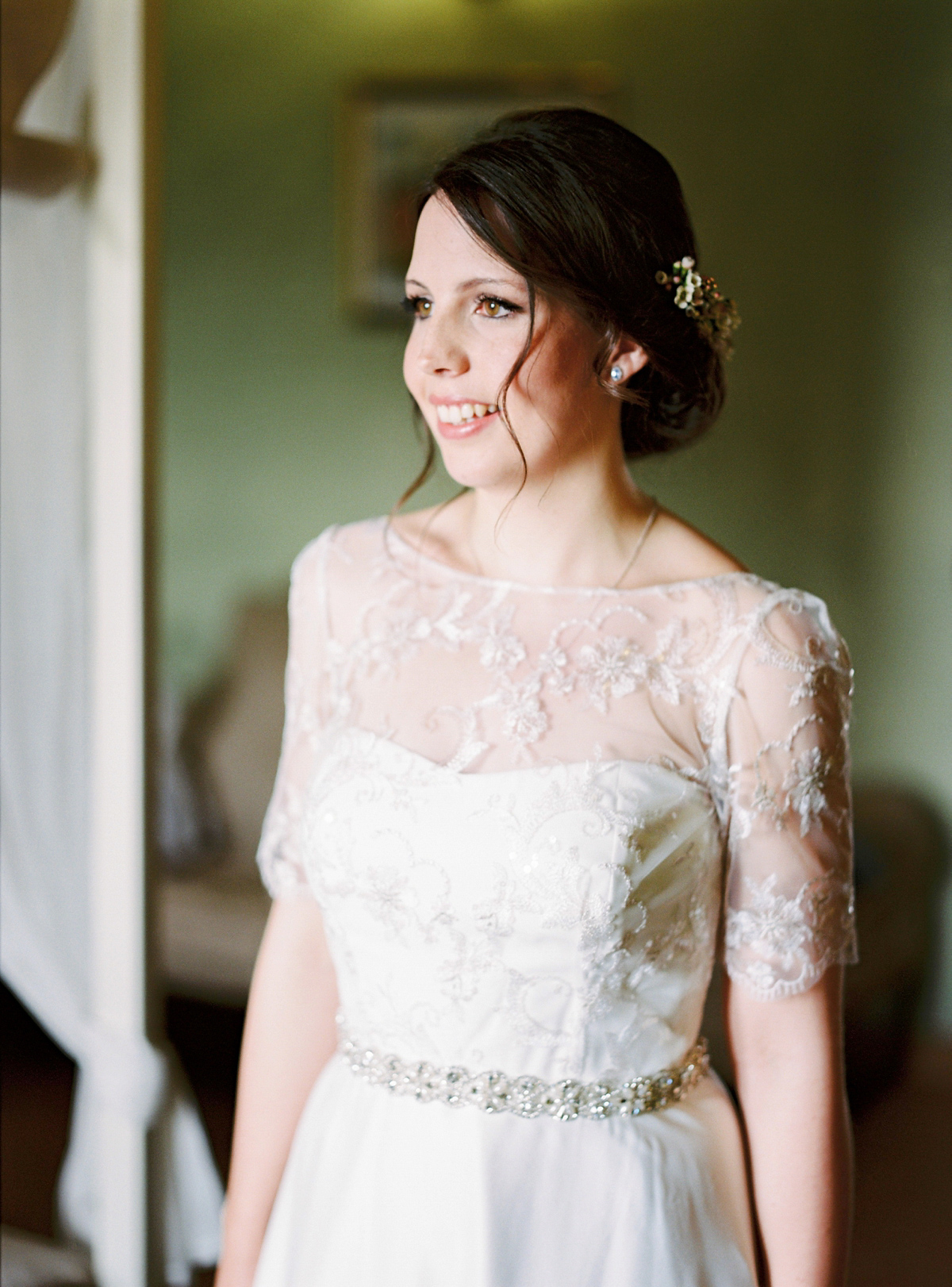 "My bridesmaids wore sparkly heels from Roland Cartier (Dune), which were an absolute bargain, and my sister, who was my maid of honour, wore sparkly sandals from Debenhams. Two of my bridesmaids wore sequin gowns from Quiz (on sale at the mo!) and my MOH wore a dress from Monsoon."
"The girls wore sprigs of gypsophila in their hair and their own jewellery and I bought them each a Kate Loxton handbag from Wild at Heart Gifts, which is the sweetest little gift shop chain in Oxfordshire. Emily, who owns the business along with her husband, found me a handbag for each of the girls with a message that suited each one of them."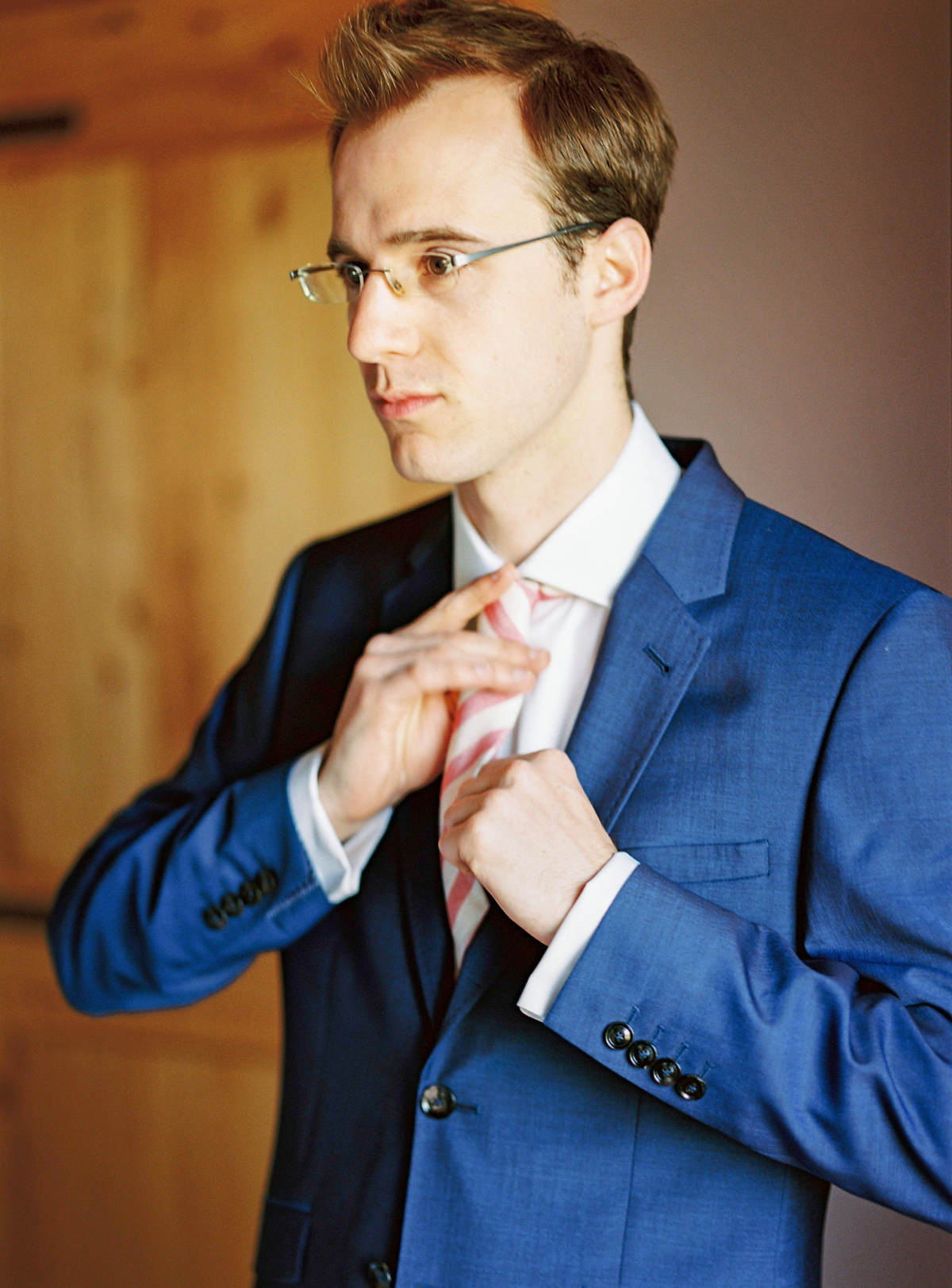 I so love a happy ending and I'm a total hopeless romantic so Kate and Tim's sweet engagement story made me all warm and fuzzy inside.
"We're childhood sweethearts and have been together eleven years. Tim proposed when we were at Martha's Vineyard in Cape Cod on 24th October 2014, so we had been engaged for eighteen months when we got married."
"Tim suggested going to the beach for a walk. I had been waffling on about lunch and other such things, when I turned around and Tim was on his knee. He said some lovely things and produced a gorgeous Tanzanite ring, to which I said "are you sure?" FIVE times. He said he was sure and I said yes!"
"Sadly the stone came out my beautiful engagement ring about six months later, which was very sad. Fortunately this led us to discover Gavin Mack Jewellery. Gavin makes bespoke jewellery from his workshop in Birmingham jewellery quarter and was able to make a new ring to match the style of the original but with a sapphire stone, which is a lot hardier than Tanzanite."
"My Dad walked me down the aisle and also drove me to the ceremony. It was such a nice moment to have some time together, trying to master the art of driving a vintage fiat 500 along winding roads. As we drove up the cobbled hill to the town hall there was a marching band and a load of children dressed as bees, and all our guests were there clapping. Surreal, but wonderful."
"Our friend Phil played acoustic guitar for us during the ceremony. We walked in to 'Here Comes the Sun' by The Beatles and during the ceremony we had 'Can't Help Falling in Love' by Elvis Presley. We walked out to 'Ho Hey' by The Lumineers and our friend chose to read 'The Lovely Dinosaur' by Edward Monkton and adapted it to us."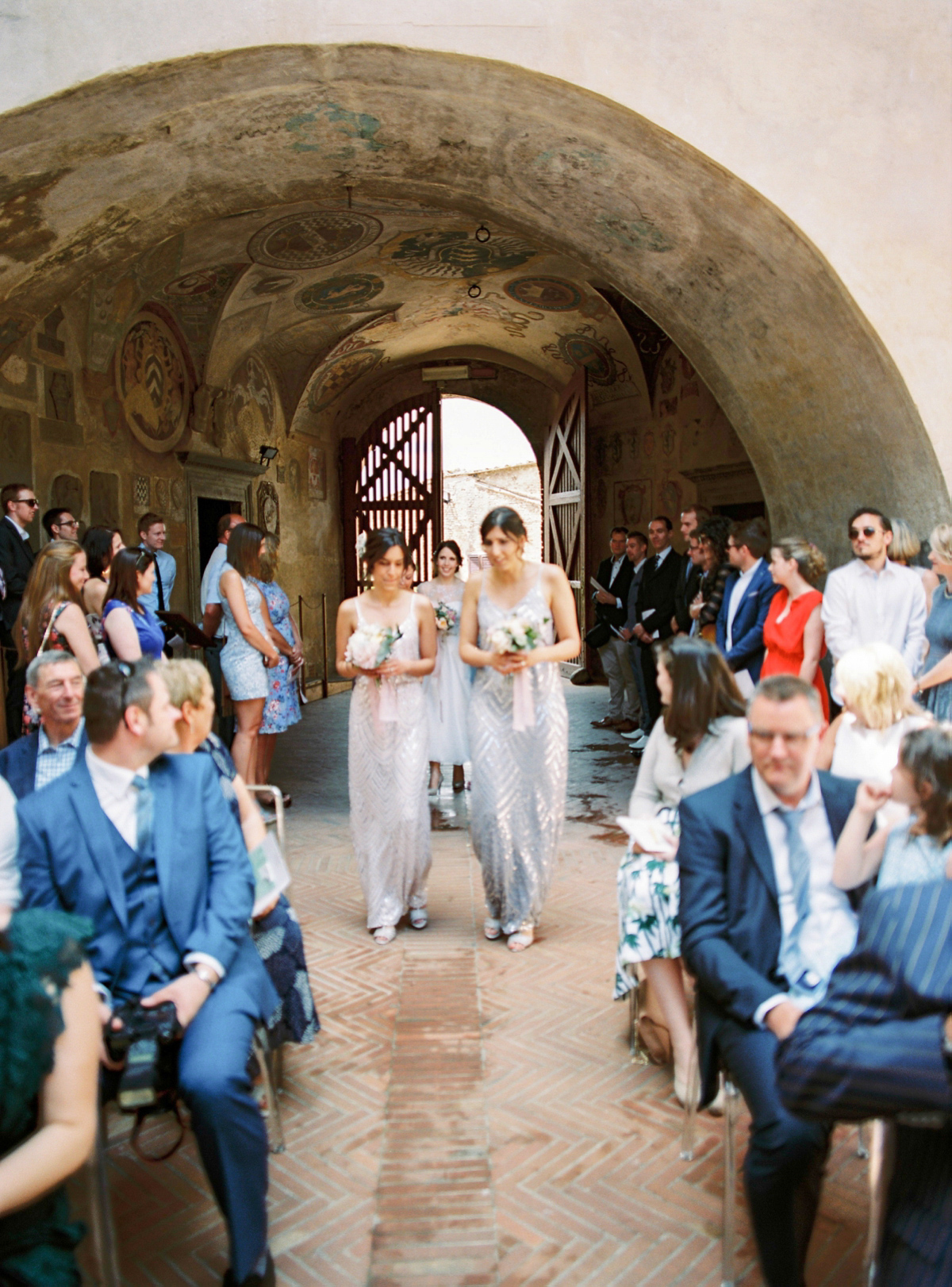 "We had our ceremony at Certaldo Alto, a medieval walled hilltop town, which is part of the main 'modern' town of Certaldo. They have the most beautiful open courtyard in their town hall, where you can have a legal ceremony. It's restricted to cars so, except for our wedding car, our guests had to travel up by cable car or walk up the hill. It is a very pretty place – cobbled streets, tiny little cafés and shops, which look out across more rolling hills."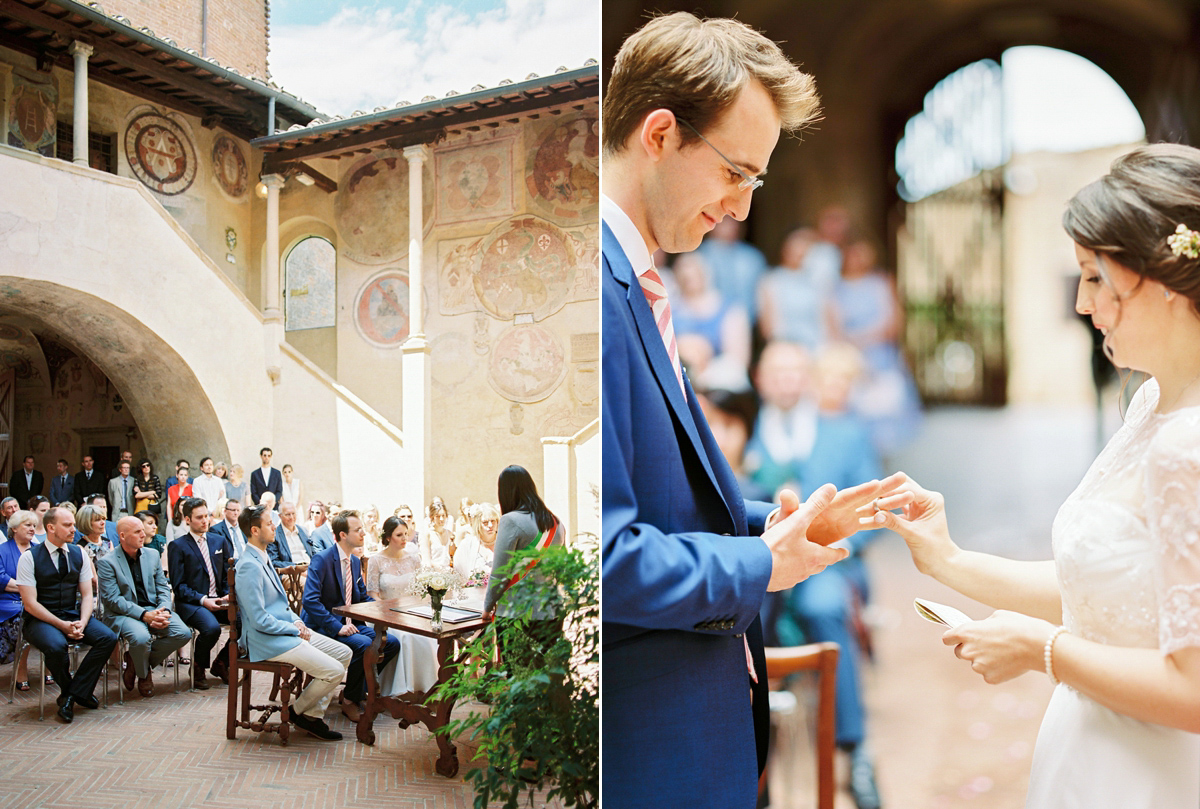 I so love that Kate and Tim both decided not to share their wedding outfits with each other before the big day; Tim looks so lovely in his Ted Baker suit.
"We decided to both surprise each other with our outfits, so I had also never seen Tim's outfit before the day. I can really recommend this, even though a LOT of people told me I was mad to do it. It one of my favourite moments when my friend came rushing out of the town hall when I was stood outside waiting to go in and said 'Tim looks SO handsome'. He really did."
Kate chose a delicate shoulder-length version of the 'Isabella' veil by Britten Weddings.
Our lovely bride was so impressed with the wonderful customer service of this fabulous Little Book for Brides supplier.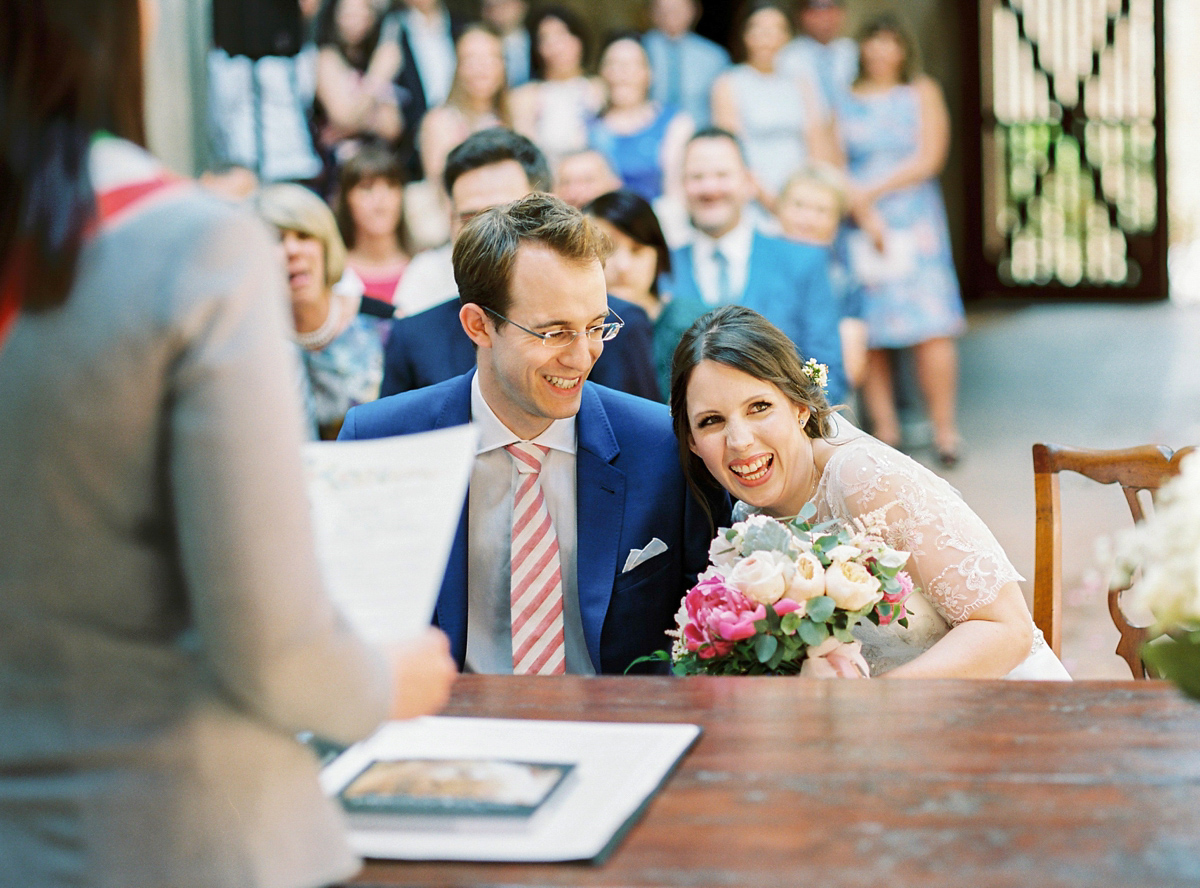 "The veil came in a really pretty box with ribbon and a personalised note, truly an example of how talented and thoughtful wedding suppliers can be. In my hair I had a half floral crown, which our very talented florist Chiara made.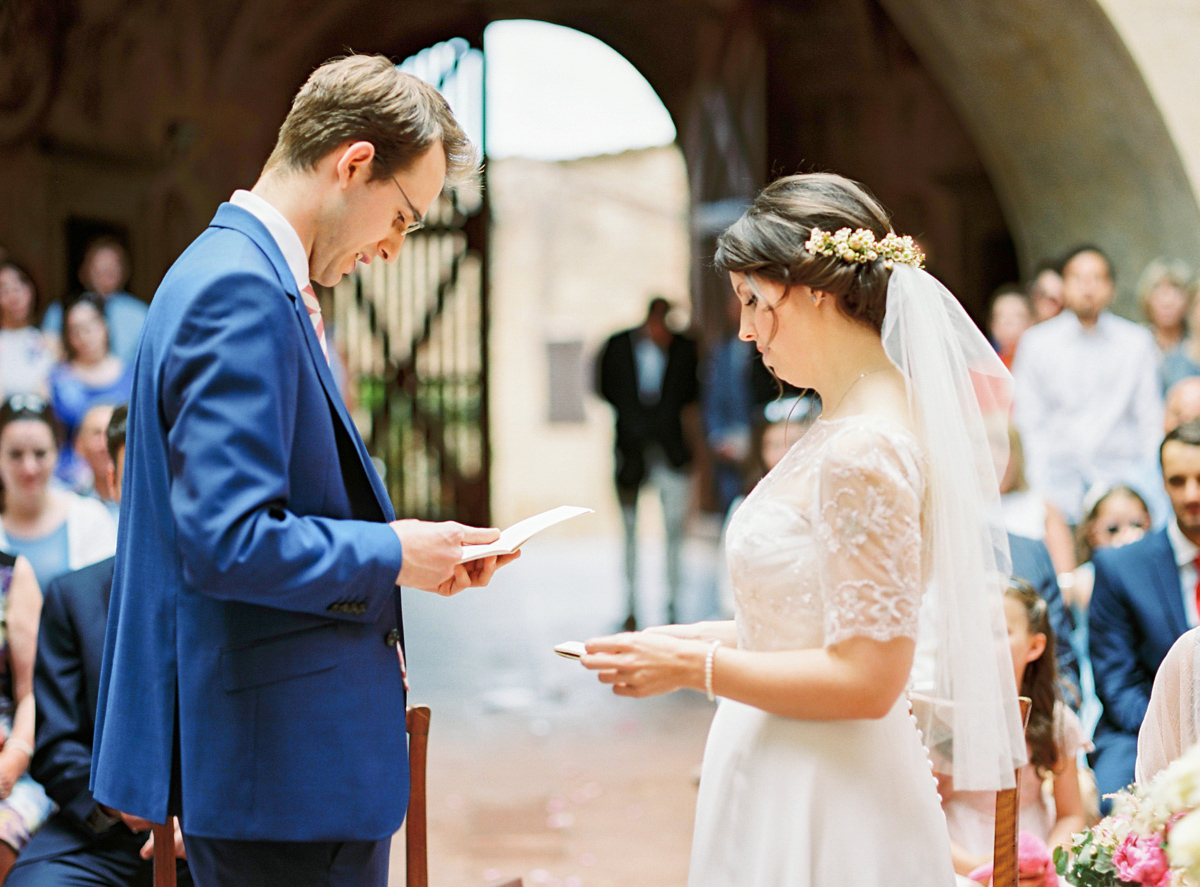 Writing their own vows was one of the couple's favourite wedding planning moments; penning shared words that they could both practice beforehand to get rid of any nerves:
Today I join my life to you. Not only as my spouse but as my best friend. 
I promise to always be there, to love you and make you smile. Wherever you want to go, I'll be right by your side. 
I promise to help you when you need help, and turn to you when I need help; to always be honest with you, kind, caring, patient and forgiving.
To forever laugh with you and be your companion as we grow old together.
And I promise that no matter what lies in our path that it will be our path that we walk together, hand in hand! 
These are the things I give to you today and all the days of our life.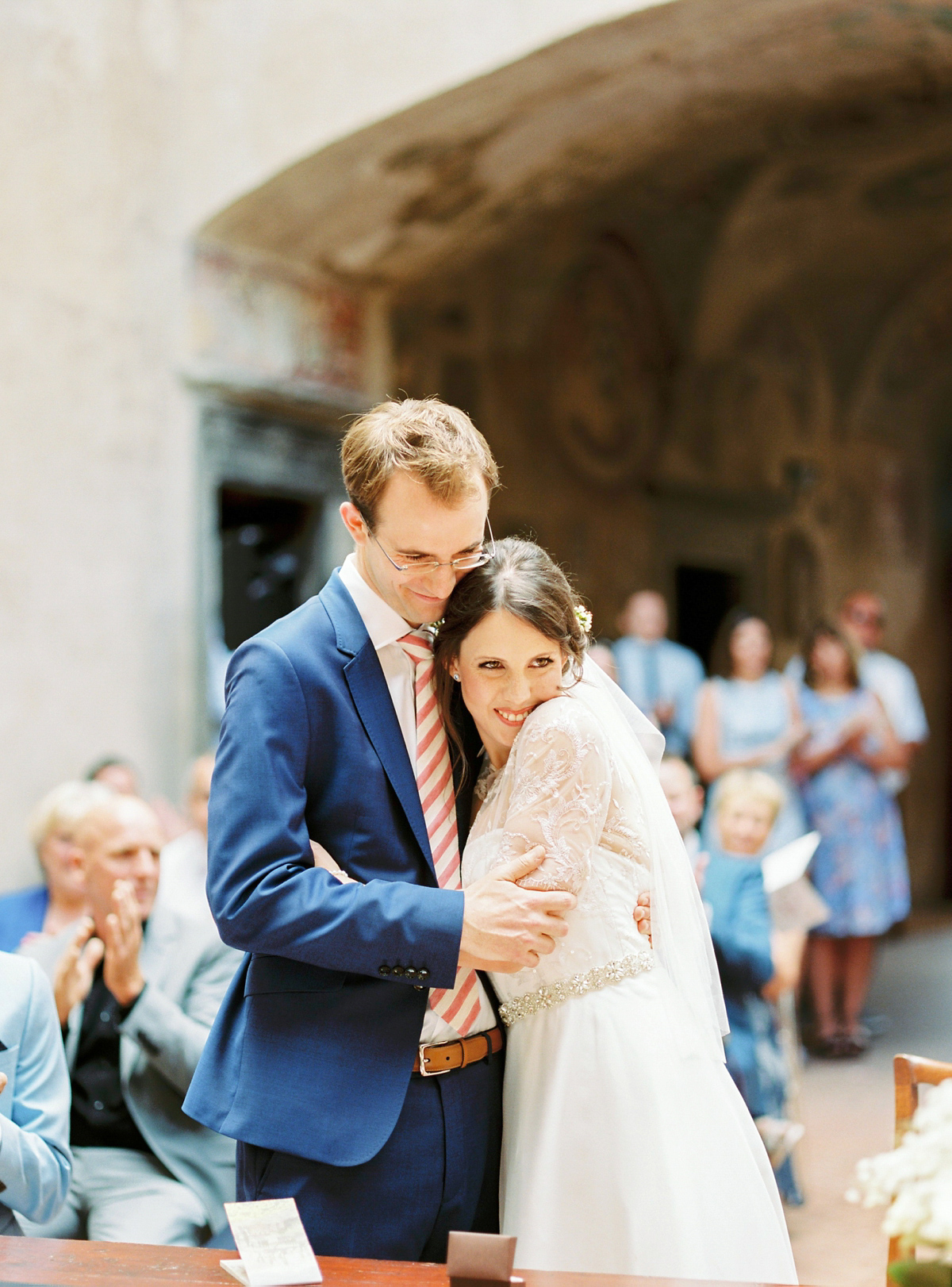 "There were so many beautiful moments, it was like a dream; the ceremony, as I was walking in with my Dad to 'Here Comes the Sun' and saw Tim there, then saying our vows – that was really special."
Kate's sweet flower girl wore a pink 'Estella' dress from Monsoon (yet another of our Little Book for Brides listings) with a pair of pretty sparkly shoes, which were so adored by Kate's littlest maid.
Once the gorgeous bridal party were ready, Kate travelled to the stunning Palazzo Pretoria in a vintage fiat 500, decorated with blooms by florist Chiara Sperti.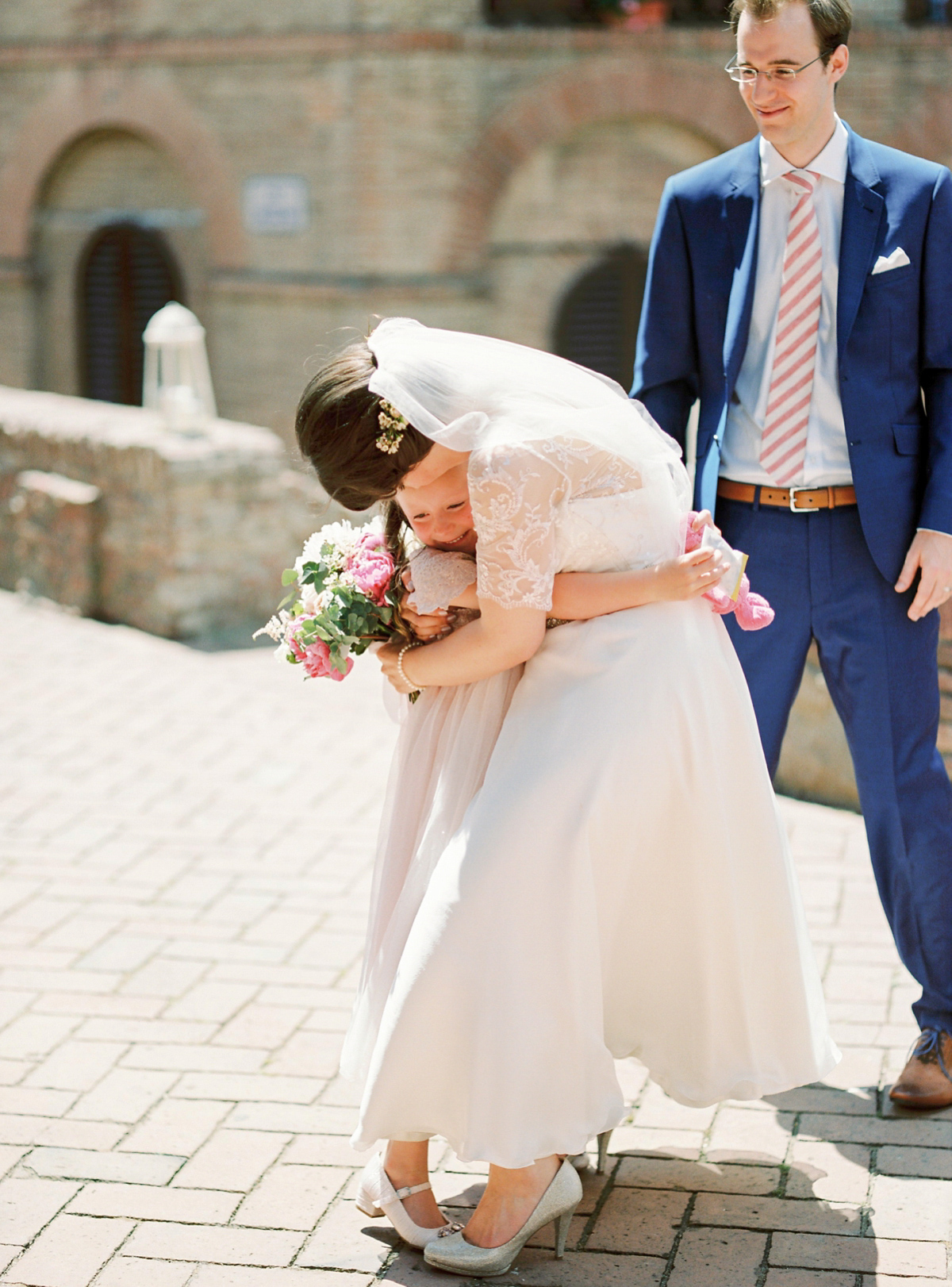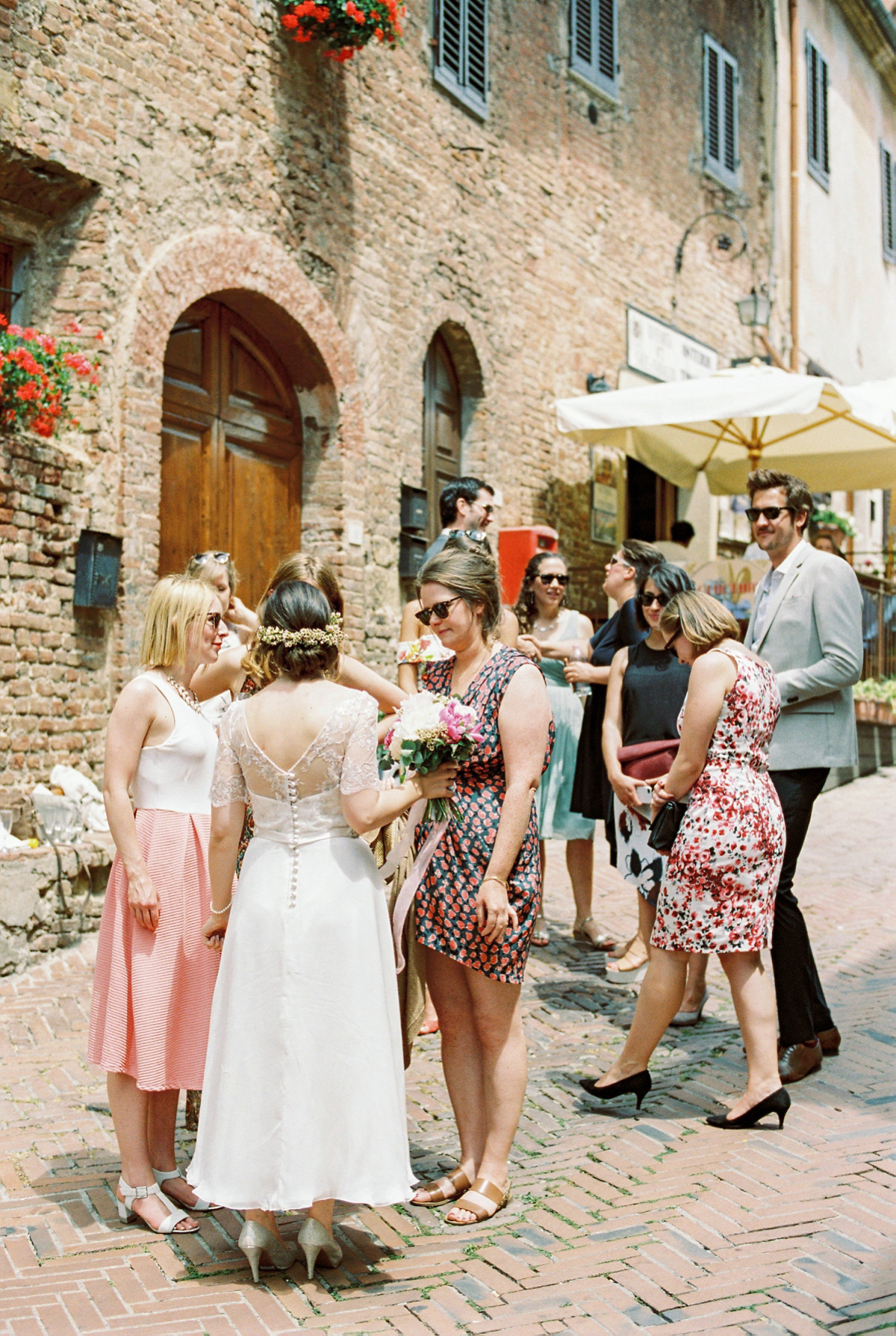 After exchanging their incredibly poignant vows and rings from Gavin Mack Jewellery, the newlyweds and their guests enjoyed a glass of Prosecco al fresco at Bar Boccaccio.
I so adore Kate's beautiful smile and the sweet embraces she shared with Tim during the ceremony – the pure unadulterated joy is so wonderfully captured in light-filled stills by film photographer, Gert Huygaerts.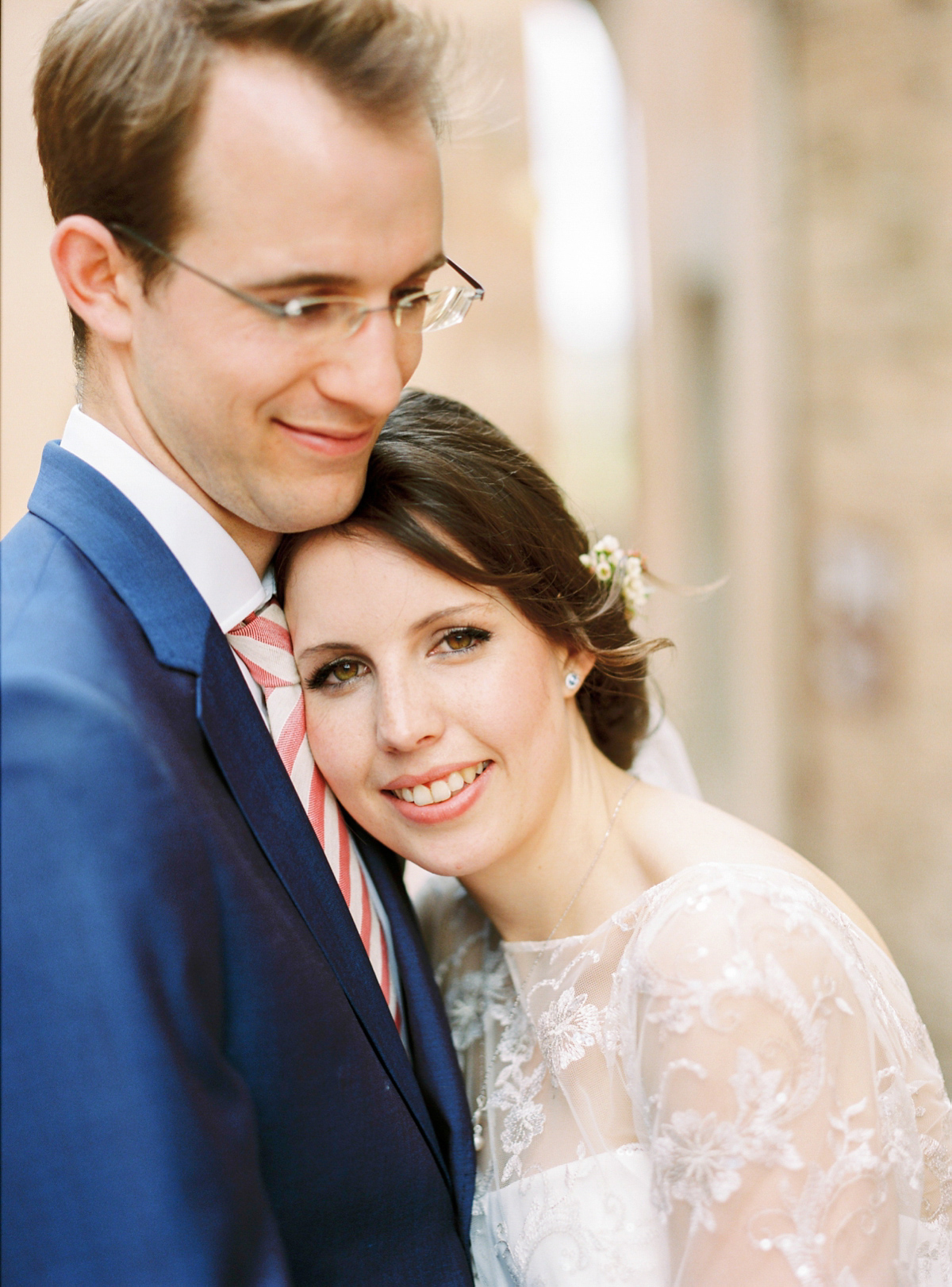 "We wanted a photographer who would really capture the light in Tuscany and the beautiful scenery, and that really is Gert's style in a nutshell. He shoots on film so all his pictures have a beautiful romantic, soft feel. He was so caring in the build-up and even came to shoot our pre-wedding pizza party the night before, 'because he was in town'. All our guests commented on how lovely he had been."
"It's so important to have photographs you love as these are your lasting memories, so I'd really recommend taking the time to research and find a photographer you love. We couldn't be more pleased with the photos Gert gave us and look at them literally ALL the time."
One gorgeously iconic and quintessentially Italian Fiat 500 ride later, Kate, Tim and their wedding party arrived at the flower-strewn haven of Dimora Di Coloni, their outdoor dining area framed by beautiful olive trees and rolling Tuscan hills.
"The owners are very kind and they will do anything for their guests; it's a really special place and we felt so lucky to have our wedding party there."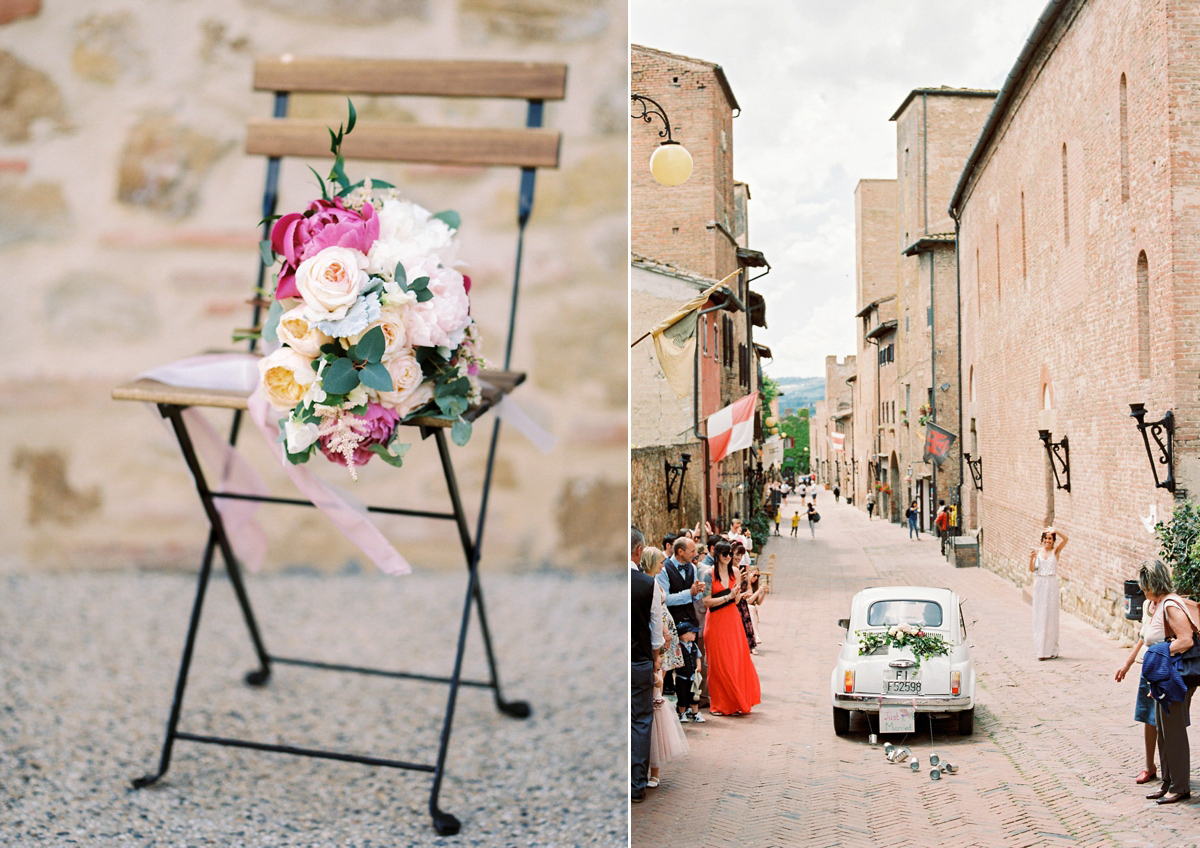 "When we decided to get married in Italy, we had no clue where to start – then we found Lucy and Danielle, aka Wiskow & White, and it all fell into place. I really worried initially that having a wedding planner would mean that I wouldn't have the same 'wedding planning' experience, but this wasn't the case at all."
"Lucy and Danielle took care of the suppliers and getting us cheaper prices, the legal bit and were there on the day to make it run smoothly, but we got to do the rest…basically the fun stuff. They are also the kindest, most lovely pair and they both felt just like part of the family on the day. They sourced lots of extra bits in Italy to suit the style, like the vintage bicycle and candle lanterns. It was absolutely unforgettable and we had the happiest day ever. We couldn't have done it without them."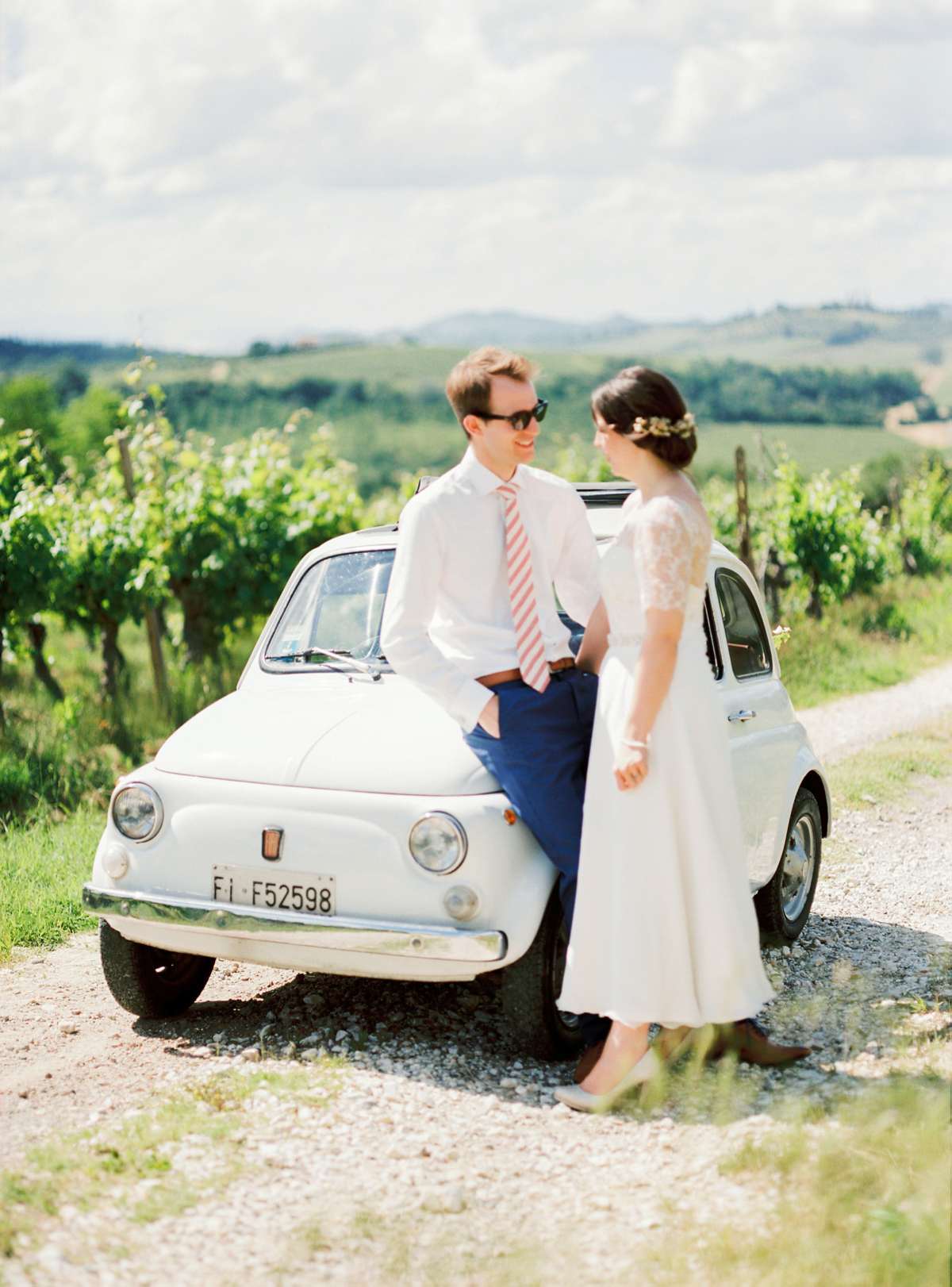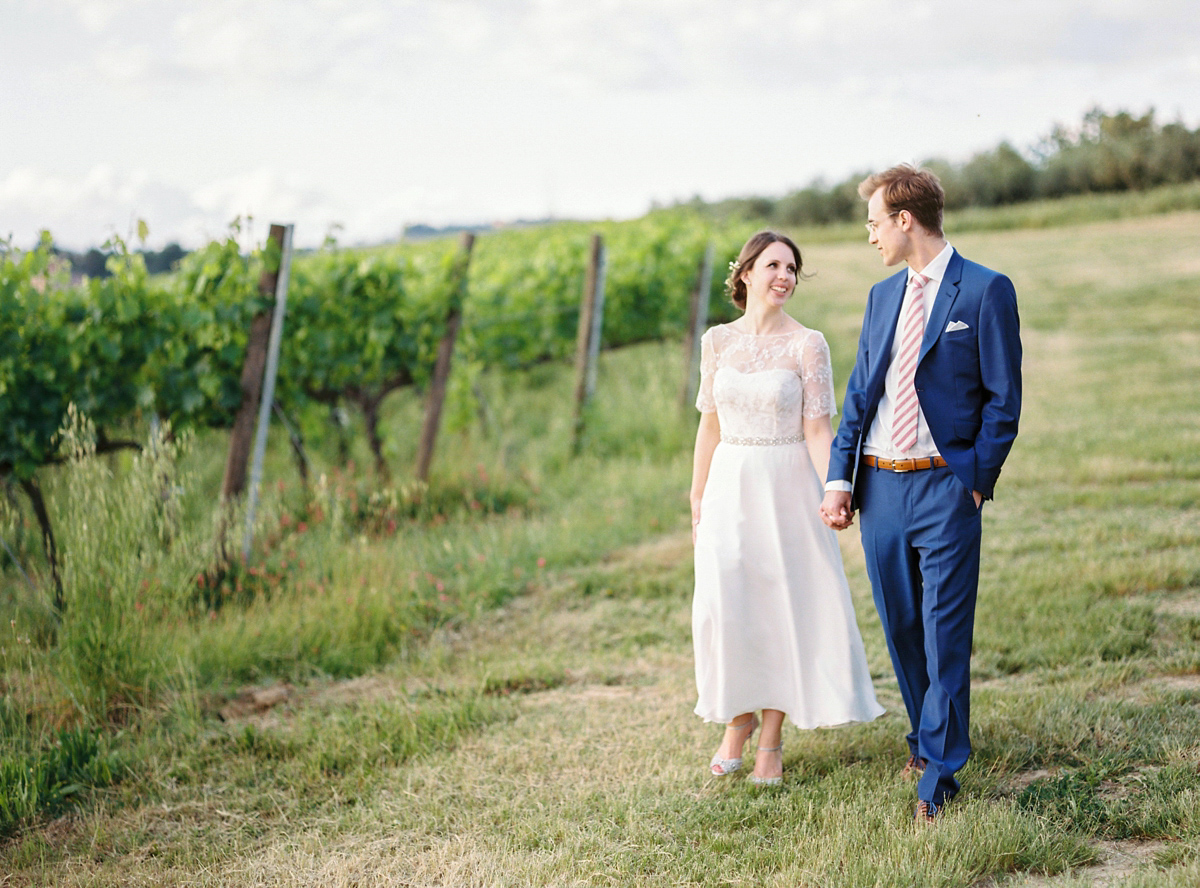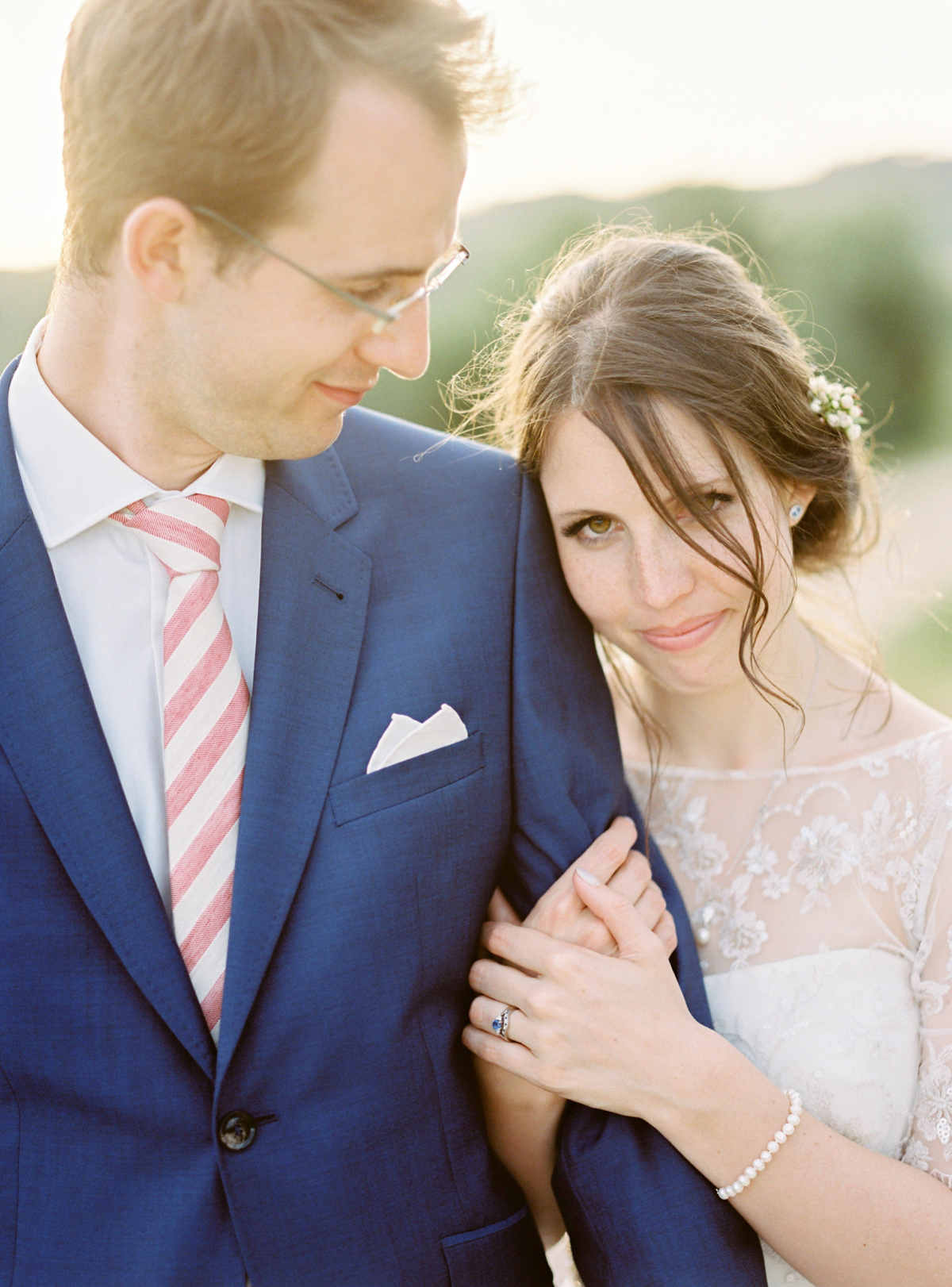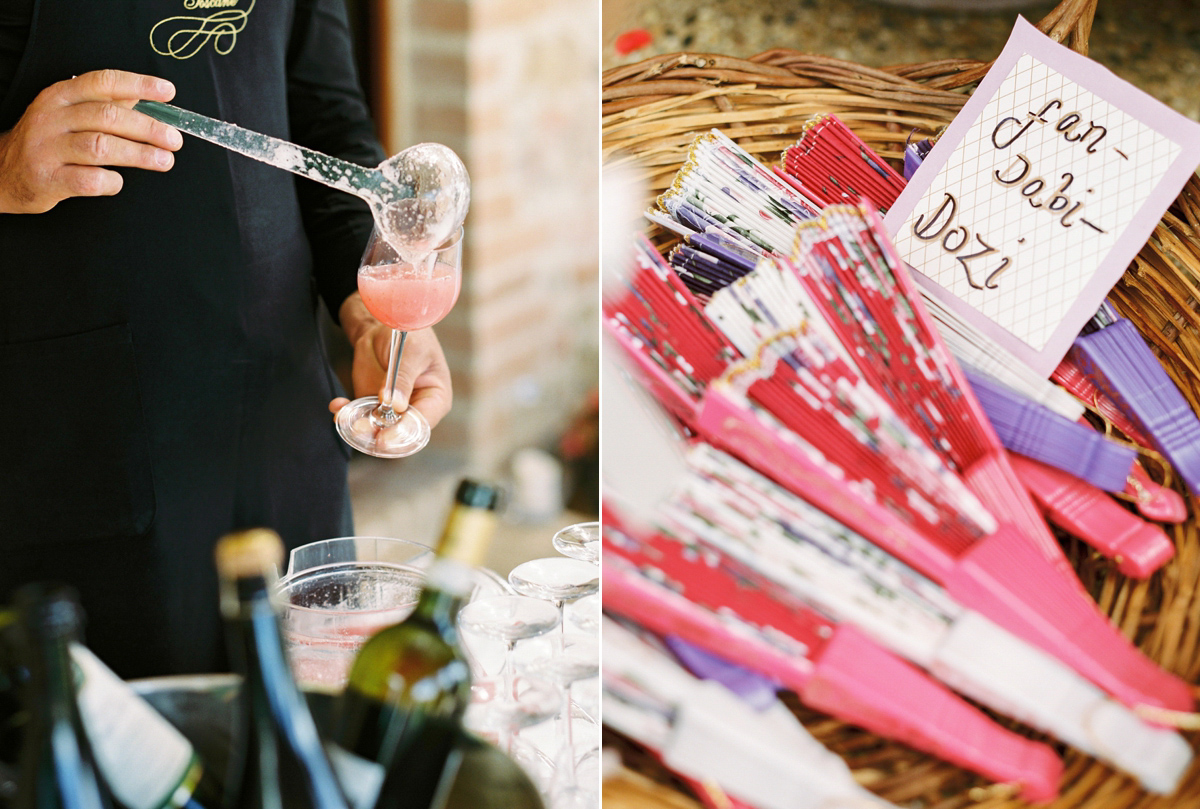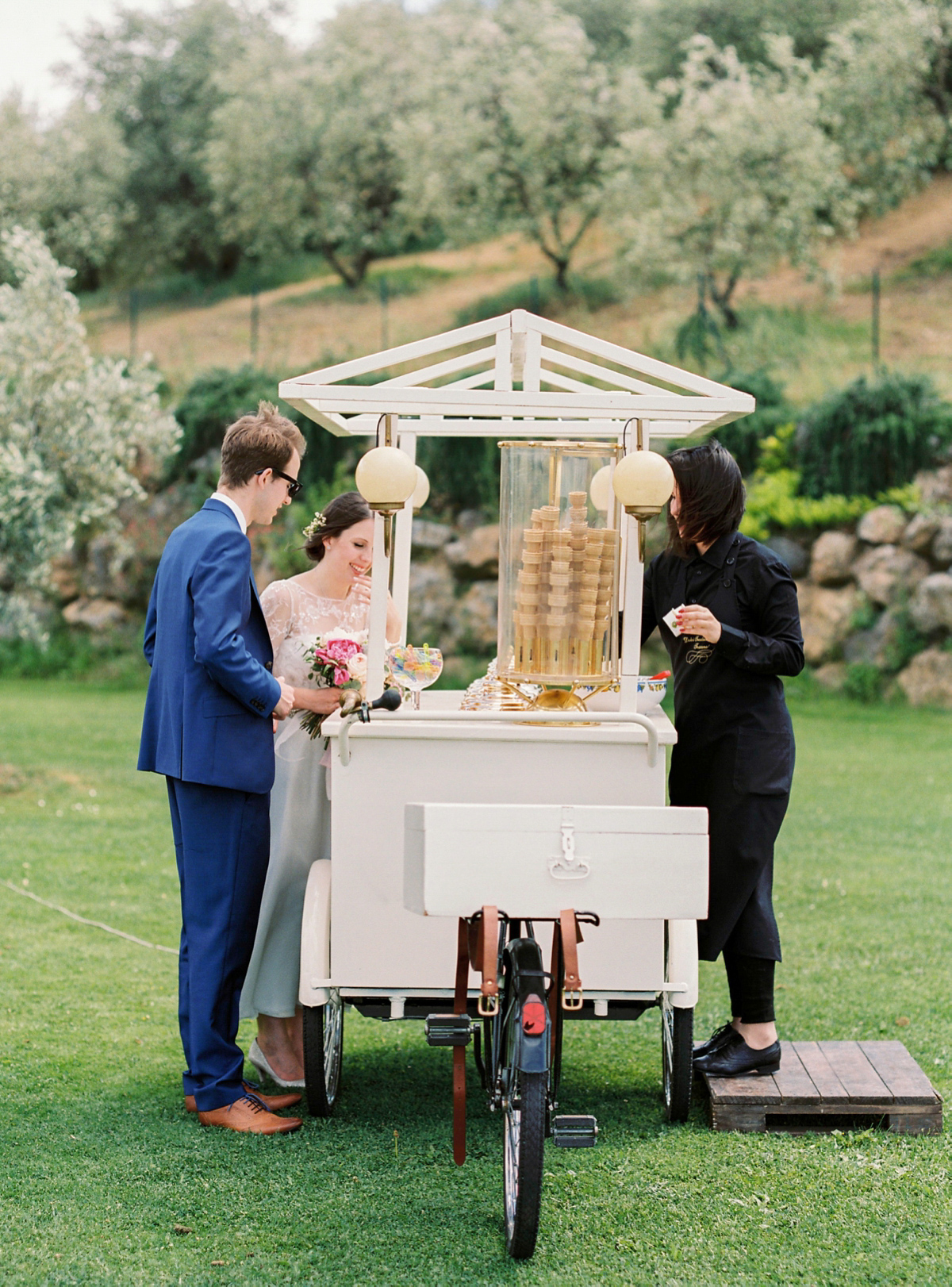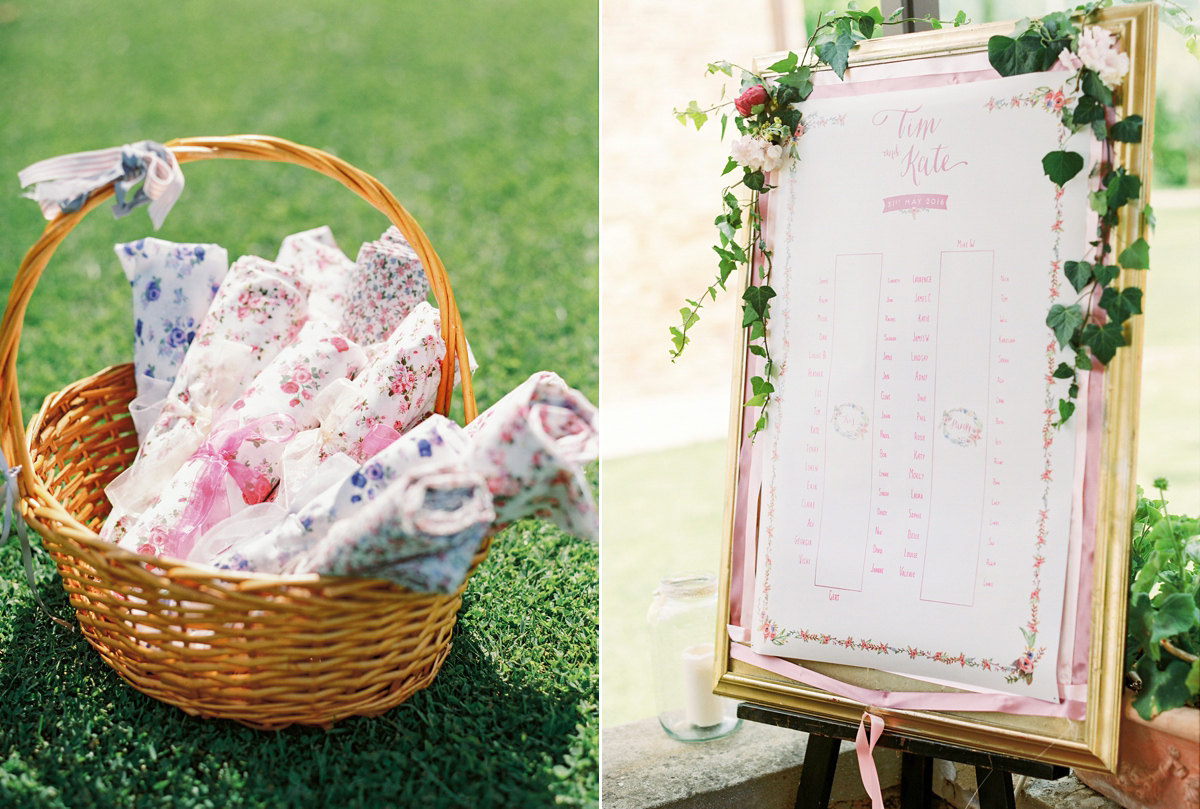 Kate's talented mum painted gorgeous floral watercolours, which Ben of The White Creative transformed into the couple's stationery.
"It was such an enjoyable part of the planning to having Mum create the drawings and then work with Ben to incorporate the design into all our stationery. On our order of service, we included tissues 'in case you shed a tear', which my sister kindly put in each one with a piece of dried lavender."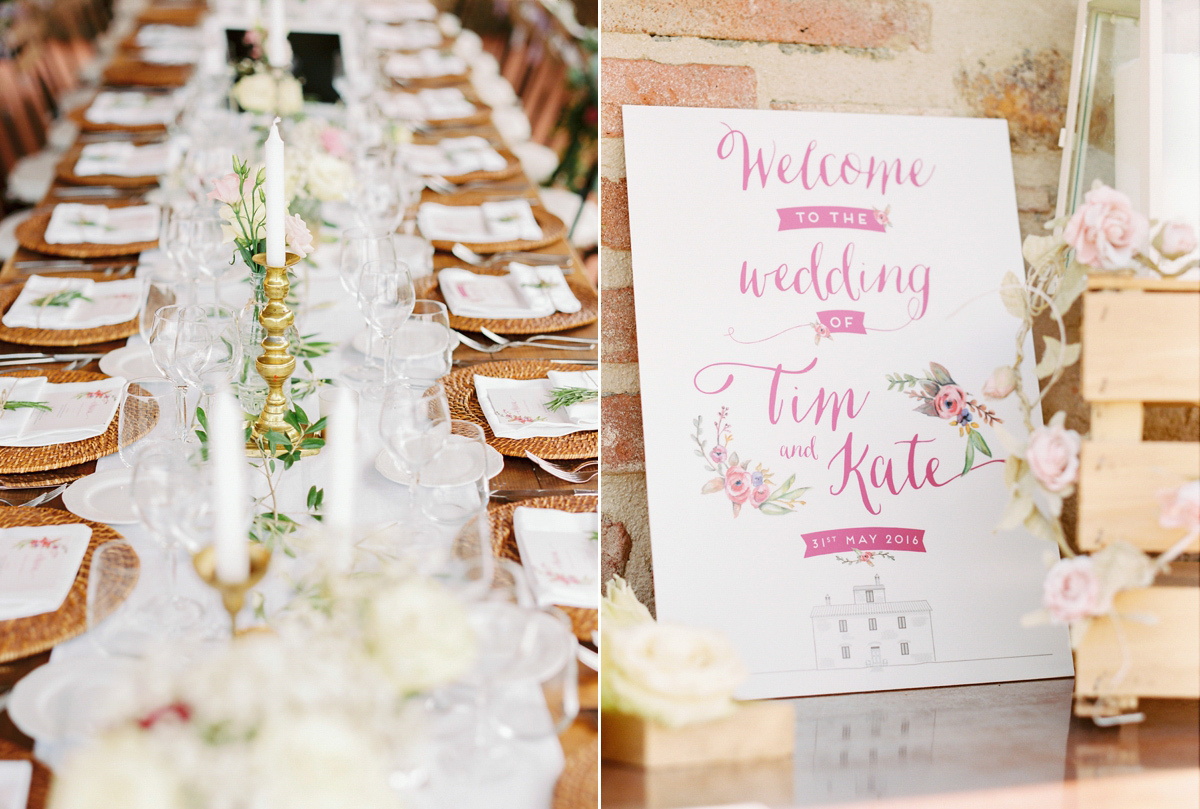 Wiskow & White are also responsible for uniting Kate and Tim with their talented florist, Chiara Sperti, who so beautifully honoured the memory of their grannies through these sensational blooms.
"Chiara is very talented and also super lovely. I basically shared a few flowers we liked and a few pictures found on blogs and Pinterest, but said to keep it seasonal and 'romantic.' We were completely blown away by what Chiara created for us."
"We also bought some extra buckets of flowers from the local wholesalers, so we had quite a few arrangements dotted around the villa. Lucy, one very brilliant half of Wiskow & White, and my friend Sophie made us lots of floral arrangements in our jars, tins and vases, as well as hanging floral chandeliers. My mum also got up early on the day and tied some flowers to the backs of the chairs, it all looked stunning and we were overwhelmed with love for everyone that had come together to make it happen for us."
"We also love picnics, so tried to incorporate that into the day with guests having antipasti 'picnic style'. We bought lots of floral sheets and had those dotted around, with cushions and crates sourced by Wiskow & White. All the baskets, vases and candle holders were all charity shop finds along the way. In the end we both got really into it and we were most proud of our gold candlestick collection. I still recall a moment when we were looking at the laid tables and Tim said 'I think this is the perfect number of candlesticks'."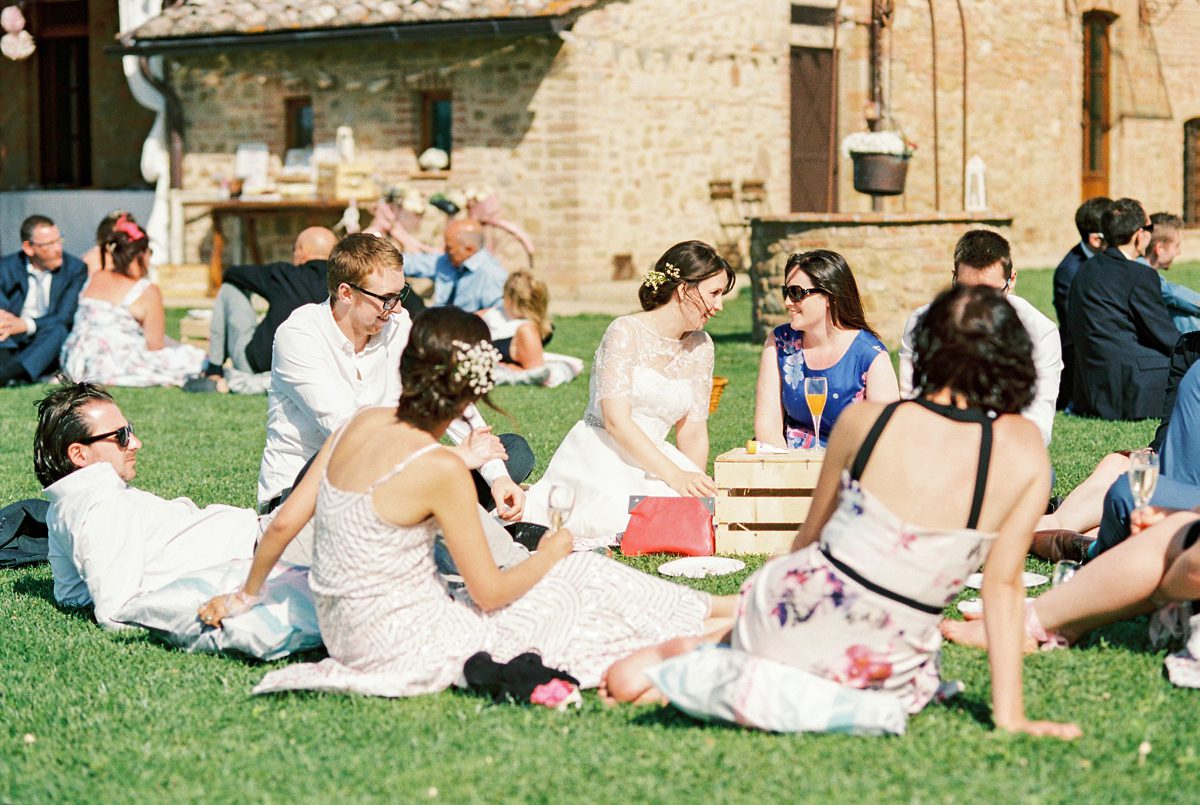 Kate and Tim chose a traditional Tuscan menu, supplied by Dolci Tradizioni Catering; course after course of delicious food spanning many hours in true Italian style.
"We started with an aperitif with a strawberry Prosecco cocktail, a giant wheel of parmesan and olives, followed by antipasti with foccacia, cured meats, cheeses  and tarts, then a 'primi' course of stuffed ricotta & spinach pasta and 'secondi' of pork with roast potatoes and vegetables, topped off with pastries and coffees. In the afternoon we also had a gelato cart, with vanilla, chocolate, pistachio, melon and fruits of the forest gelato."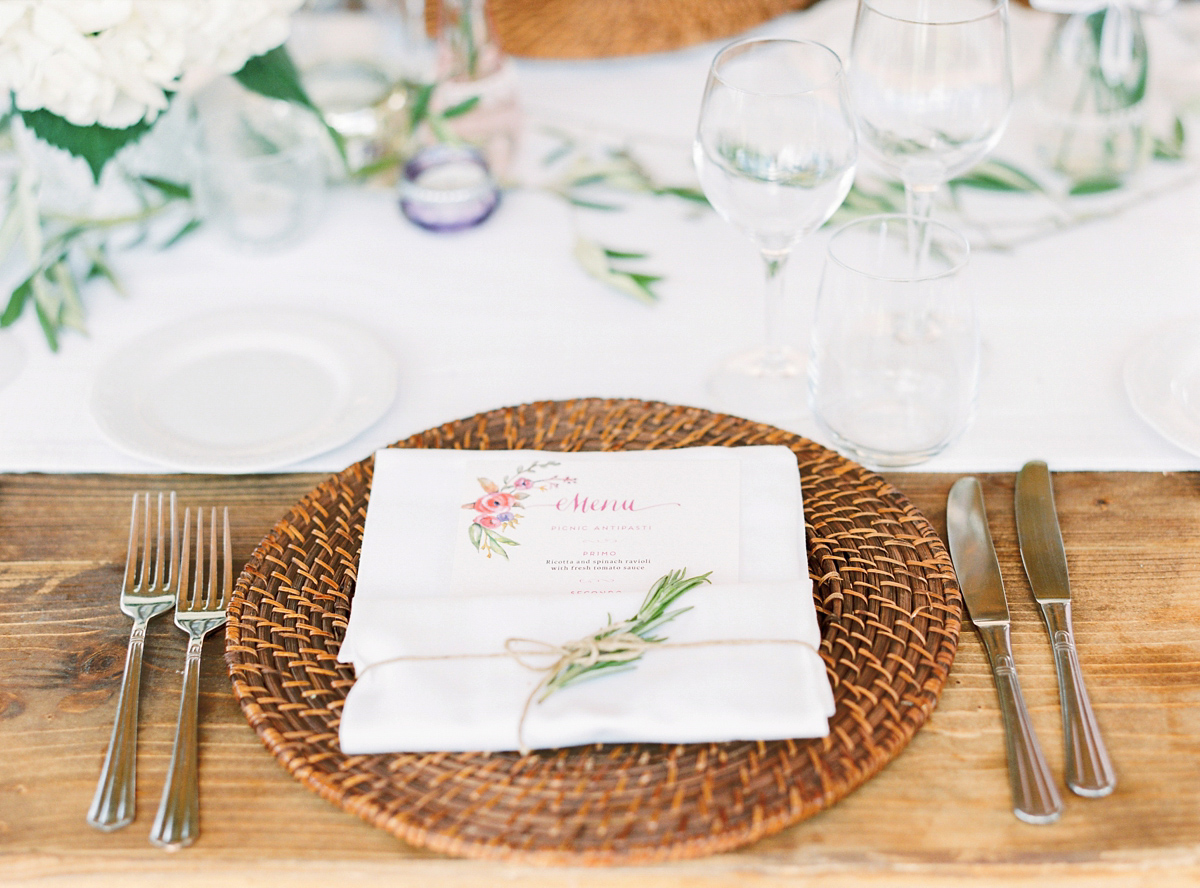 My mouth is watering before I've even had a chance to mention Kate and Tim's magnificent traditional Italian wedding mille feuille, oozing with custard and berries.
"Our mille feuille was made in the local town of Colle Val D'Elsa. It's traditional in Italy to put the cake on your new husband's face, so I tried to create this 'traditional' moment but missed and it went straight down Tim's lovely new suit. Oh dear!"
"We chose not to have a first dance and instead everyone just got up and danced with us. One of my favourite moments was late in the evening when I was sat on a hammock with my flower girl, my niece Erin, and she was telling me all about her favourite parts of the day. I could see everyone dancing and enjoying themselves, then she turned to me and said 'Auntie Kate, you looked so beautiful today….but you looked really silly with those hair rollers in.' I couldn't have loved her and everyone there any more than I did at that moment."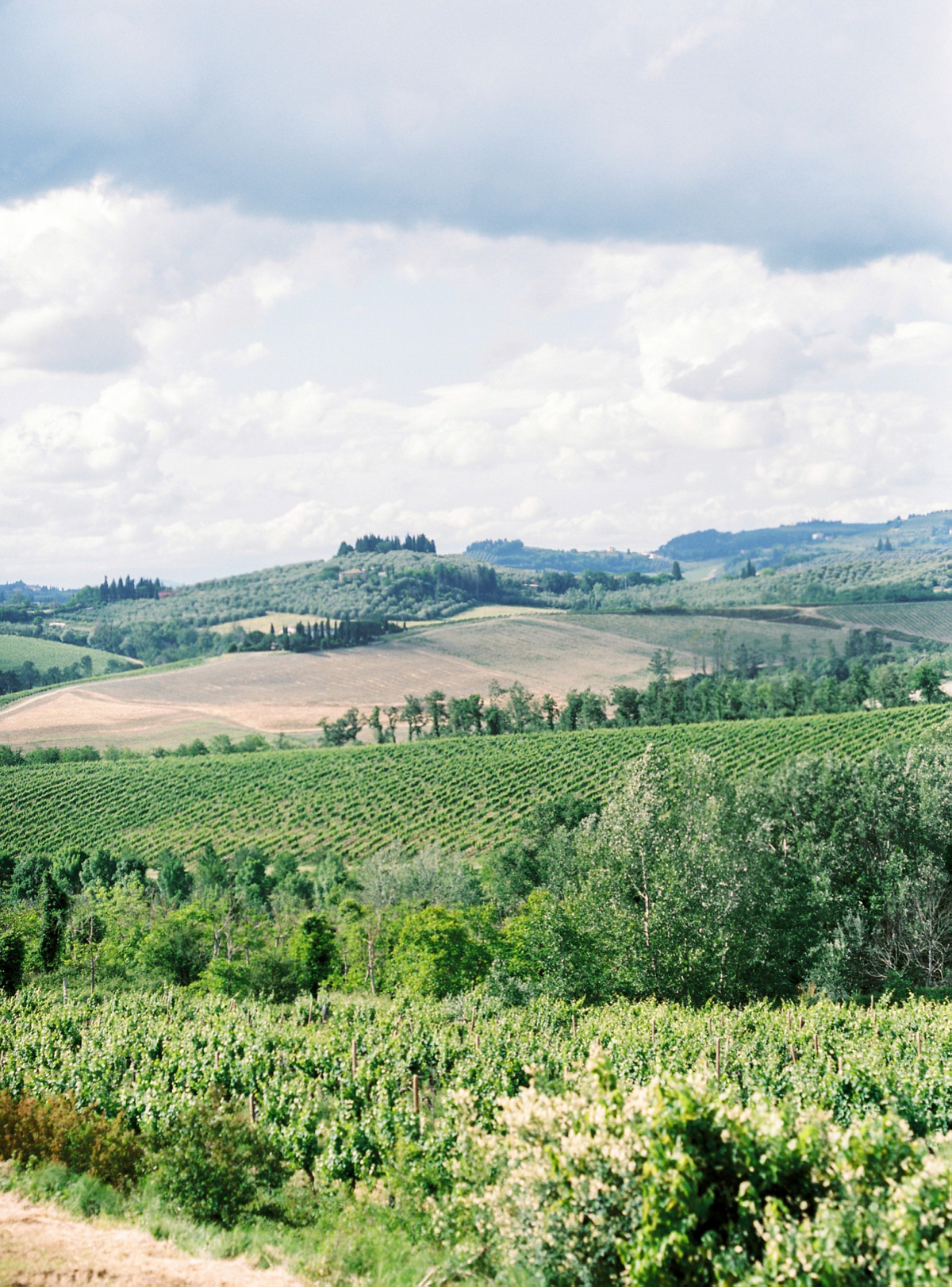 Words of Wedded Wisdom
"Love My Dress has been my favourite blog for such a long time and continues to be such a source of daily inspiration for me. The closed community group on Facebook has the same ethos with kind, friendly advice and was so invaluable during the planning. Annabel and her team put such care into the blog and it really shows. Long may it give future brides what it has given me – faith that you can do it 'your way' and that everything and everyone is beautiful.
I would generally advise couples to use the rule, 'do the things that make you happy'. We did that throughout and that worked well for us. We made the choices that really brought us happiness and tried to only take on 'extra' projects that did the same. I didn't finish all the projects I'd originally planned, like making my own napkins and creating personalised photo wedding favours, because they started to take a lot of time and create stress. Whereas sourcing flowers and all the charity things made me very happy, so I did that until the car was absolutely stuffed to the rafters! It can feel very liberating to let go of some off the plans, to give you more time to actually enjoy it all."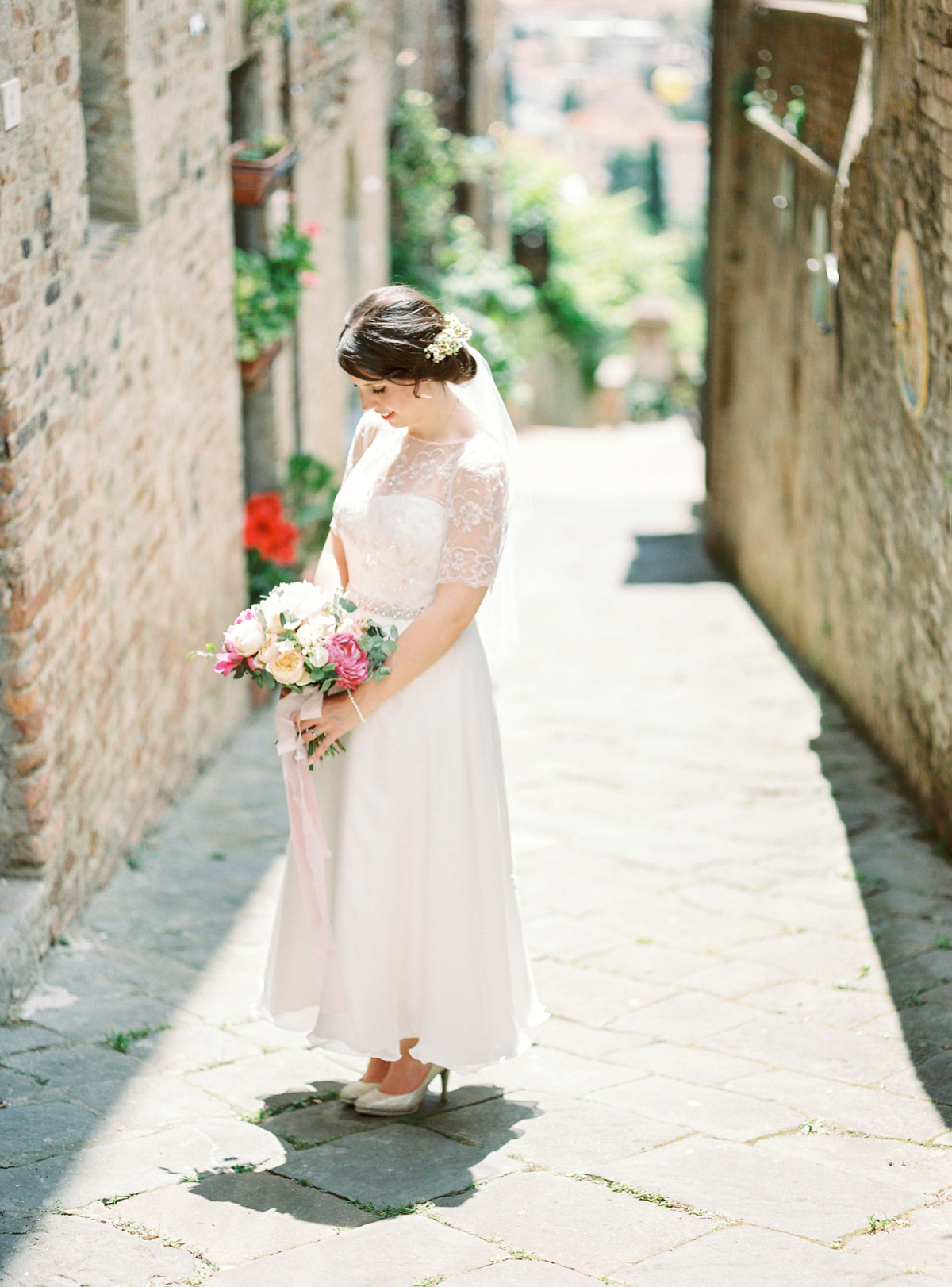 "The other advice I'd give, particularly to those who choose to get married abroad, or a long distance from home, is really embrace and love your choice to do that if that's what you both really want. The worry was the hardest part for us. Were we asking too much of people? Could people afford to come? Would people feel put-out they would have to use holiday time? Honestly, we shouldn't have worried. Our guests who did make it really enjoyed it and have since asked us for an annual 'anniversary' party in Tuscany.
You can be polite and courteous to your invitees by explaining you truly do understand if they can't make it. And there might be times you feel sad when people can't make it but you have to remember that it is you both getting married, not anyone else, and you should do so in the way that makes you both feel happy. A friend of ours wrote a card, which said 'How lovely that you should start your married in the way you want to live it.' That's truly the way it should be.
For those that can't get there, you will find a way to celebrate – we had a lovely 'Italy' party for my Nan who was unable to travel and it was a perfect way to extend the celebrations."
I feel totally compelled to create a little book just to file away these wonderful words of advice. I can't begin to thank Kate enough on a very personal level for her words of wedded wisdom; not just above, but also in our private Facebook group where she's full of helpful Tuscany-related gems and general wonderful supportiveness for all us fellow brides.
My very grateful thanks too of course to Kate's lovely husband Tim, and to Gert Huygaerts Fine Art Photography for these sun-drenched, love-filled images, which have so perfectly captured the rustic charm of rural Toscana. Oh Italy, you have my heart.
With love (from Paris),
Em x