Never ever underestimate the power and impact of beautiful lighting. That's how I'd like to open this Friday feature, because in the past few days I've realised the very real truth behind those words. From climbing open-mouthed up the great stone steps of a Tuscan castle for our wedding tasting at the weekend, adorned with majestic lanterns and flickering candlelight, to repeatedly revisiting this image on Instagram from one of Team Love My Dress' all-time fave photographers, Ed Godden (this gorgeous just-married bride is one of our readers and a member of our community Facebook group too) – it's finally dawned on me that any space can be completely and utterly transformed by the glow of fairy lights, the dancing flicker of candles or the gentle warmth of festooned bulbs.
So yes, I may have just bought a tonne more fairy lights and asked our caterer to add a gazillion lanterns to our order and my fiancé may now be so sick of the word 'twinkly' that he's about ready to kill me, but do you know what? Our wedding will be a lot more atmospheric. Without further ado, it's my very great pleasure to introduce you to the lovely Ruth and Joe, who held their wedding celebrations on 23rd April this year in a relaxed, super cool warehouse venue in Deptford, London. I can't believe this gorgeous place is just around the corner from my home in Greenwich and I've never heard of it.
"Our venue was One, Friendly Place in Deptford. It ticked the boxes of being near where we live, having a relaxed feel, and an ability to fit our numbers somewhere for the ceremony and reception. I spent a fair number of hours on Pinterest but overall just going for an informal and not over-styled look was the inspiration behind our day."
Photography by Thierry Joubert
In keeping with the laid-back style of their wedding day, Ruth did her own make-up and chose a gorgeously minimal dress from J.Crew, which she ordered from the US. I love the simple neckline and soft drape of the fabric, adorned with pretty buttons mirroring Ruth's spine.
"My dress was simple and affordable. I wore shoes from Nine West, which I bought from eBay – there's quite a big height difference between me and the groom so I needed to be comfortable but still wear a tall heel! In my hair I wore wax flowers from our florist.""We met at university, but only started dating a few years afterwards. We got engaged after seven years of dating at the top of a mountain in Patagonia, and got married about thirteen months later – although only started planning the wedding about six months beforehand."
Ruth and Joe's florist was Tove Carroll at Mary Jane Vaughan. Feathery green foliage, blush pink blooms and pure white flowers made up the fresh bouquets and more green and white tones adorned the windowsills and tables of the studio space.
"Tove and I had worked together in a professional capacity, and she kindly agreed to do the wedding. She got exactly what we wanted despite a probably very unhelpful lack of clear direction."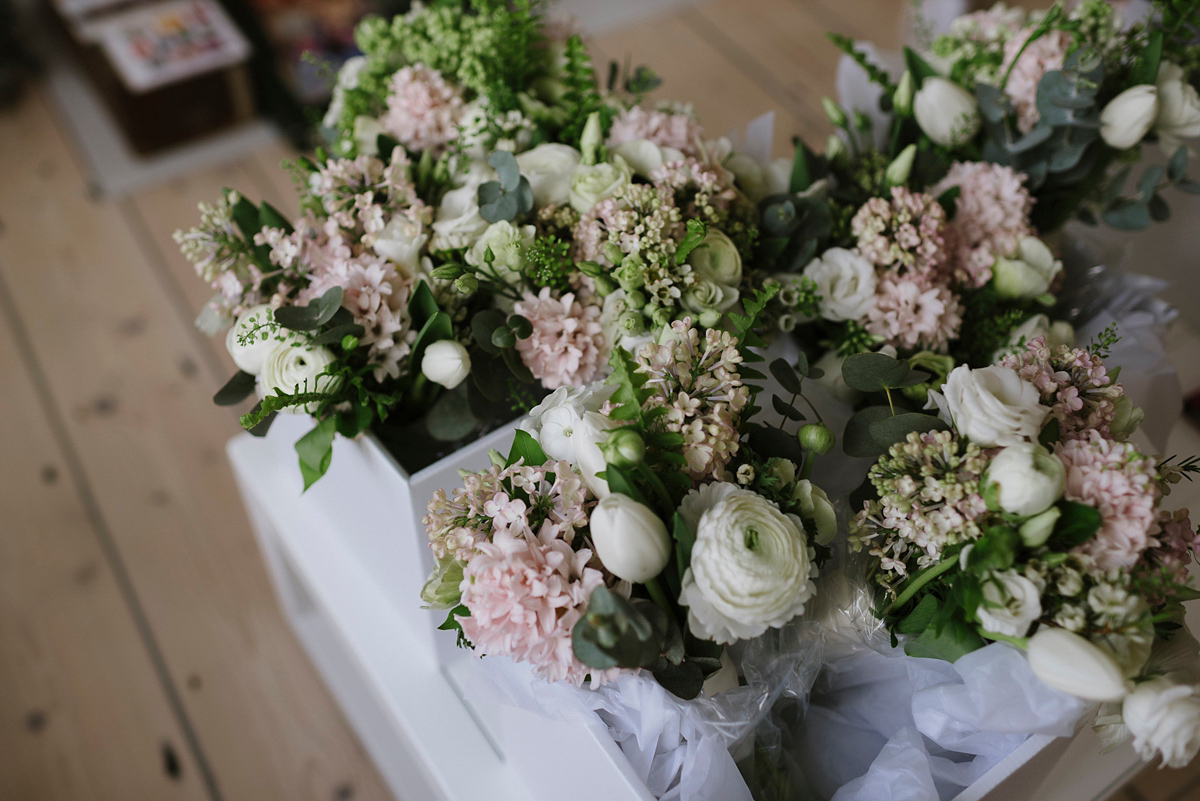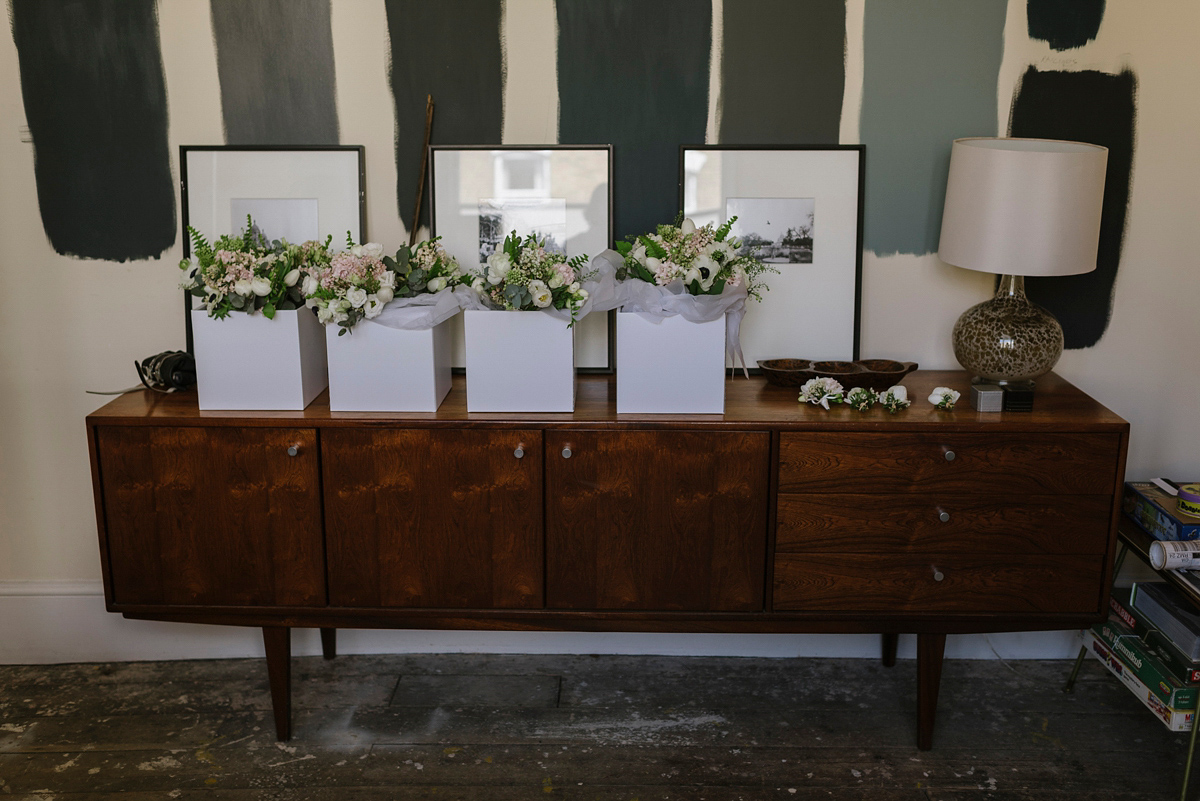 I absolutely love the jewel-like wax flowers studding Ruth's swept-up hair, styled by Perry at Blue Tit London in Peckham.
Now a studio location, One, Friendly Place was built in the 1930's as a spice warehouse and comes with its own roof terrace, and acres and acres of raw, industrial charm.
"Friends and colleagues at an events company gave me a hand with initial thinking and recommended an unflappable events coordinator to manage the flow of things on the day."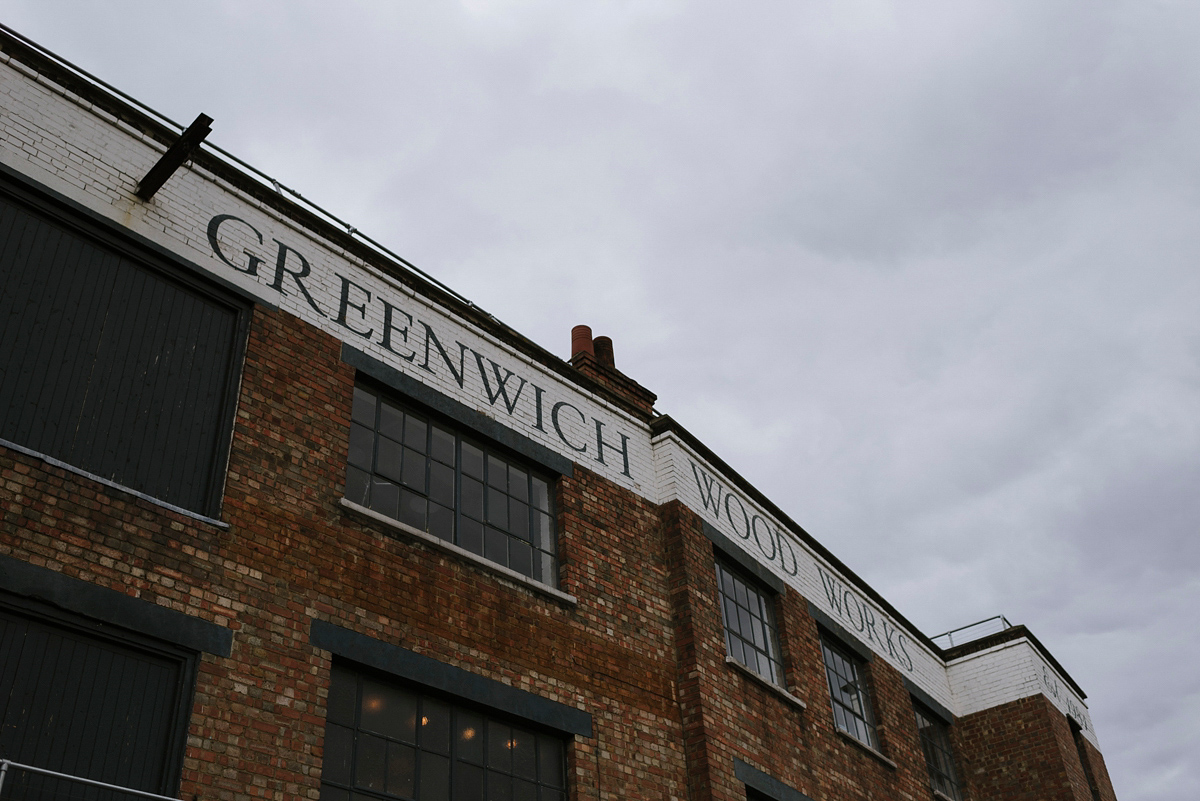 Ruth hopped in an Uber to the venue and walked down the aisle to J.S. Bach's Violin Sonata No.3, Largo, played beautifully by the talented Flora Curzon. Personal, pretty stationery was designed and created by Ruth's brother-in-law, Simon Riviere, and festoon lighting added to the atmosphere of the intimate ceremony space.
"We got our lighting from IA Sound & Light, otherwise our décor was just a long-suffering team of people who helped move around all the different props in the venue the day before. And an even longer-suffering selection of brothers who put stuff back the next day."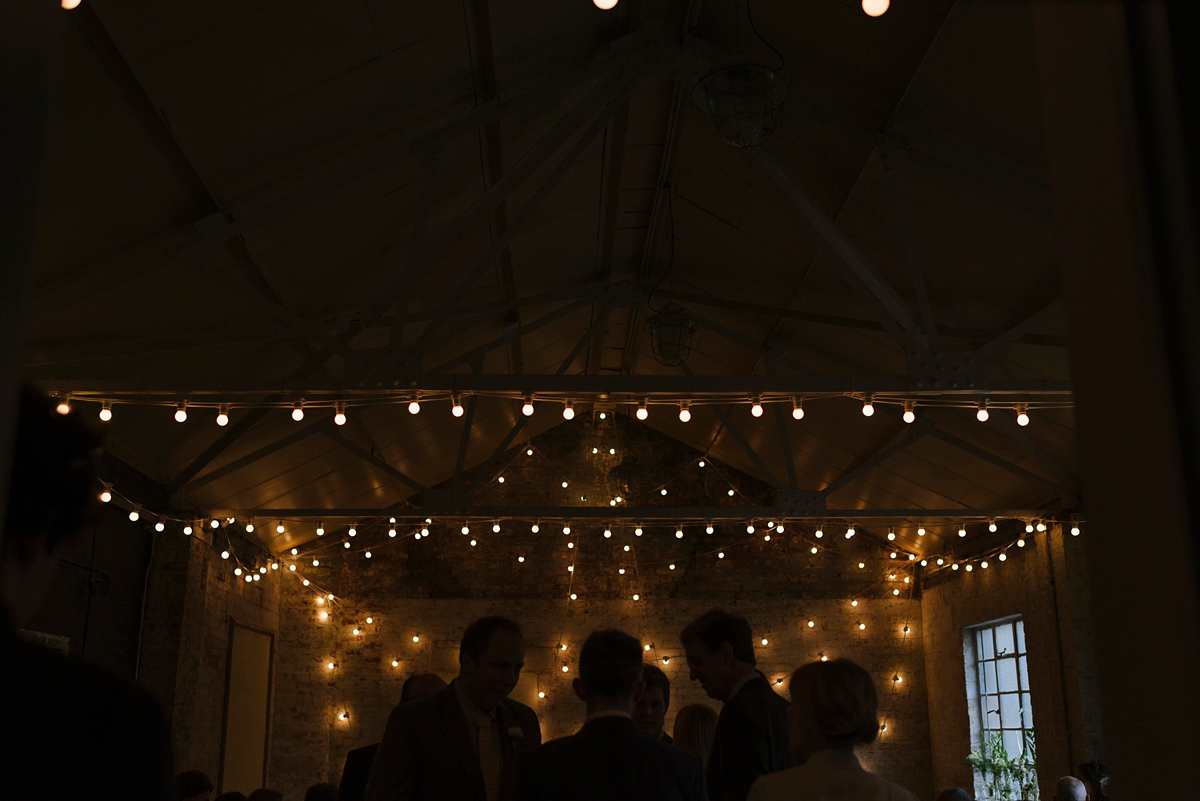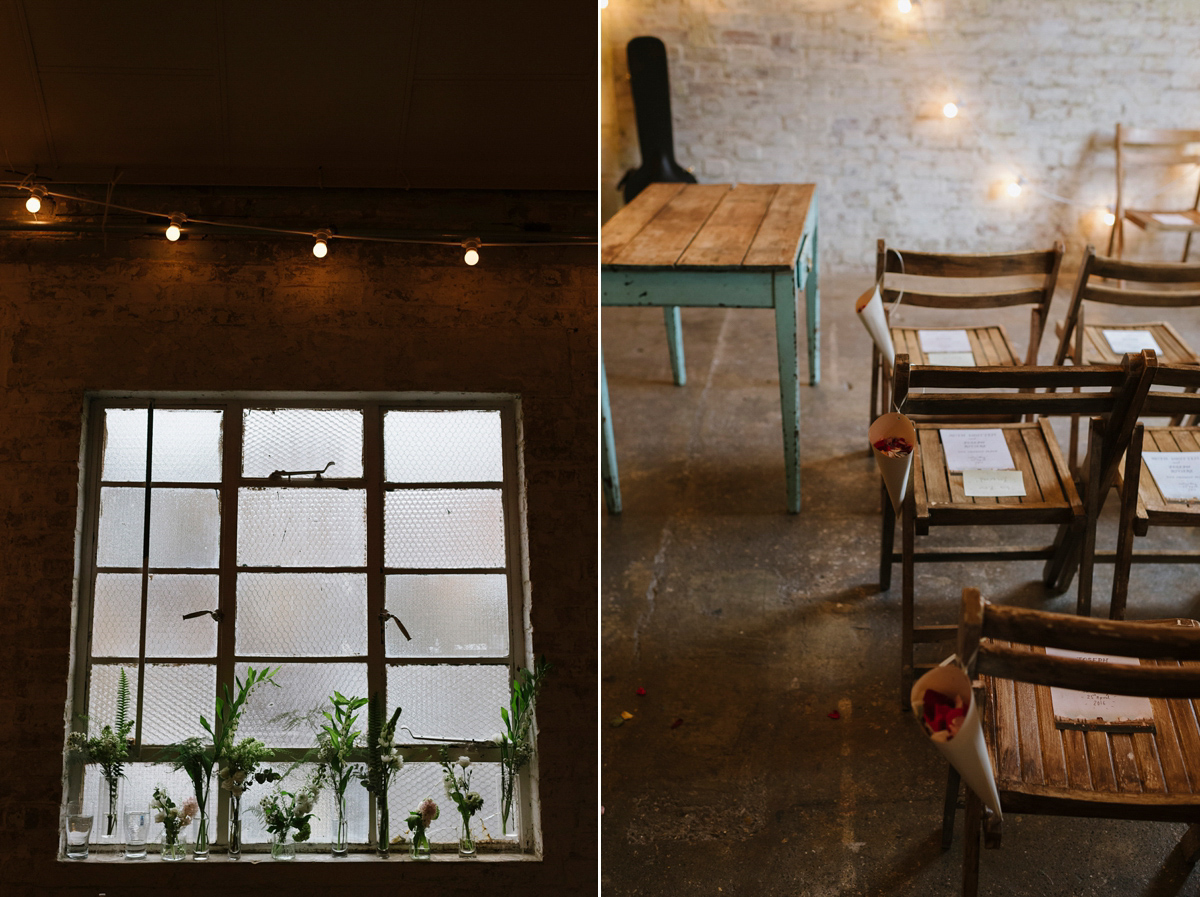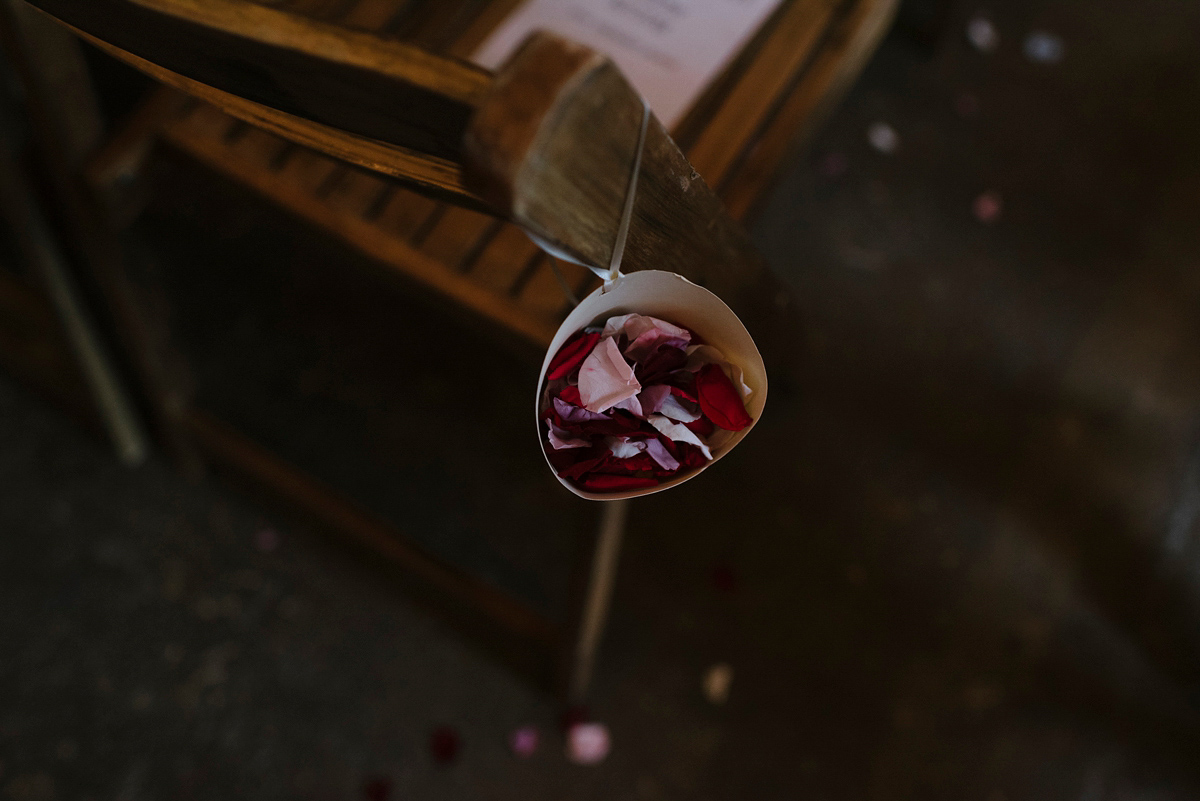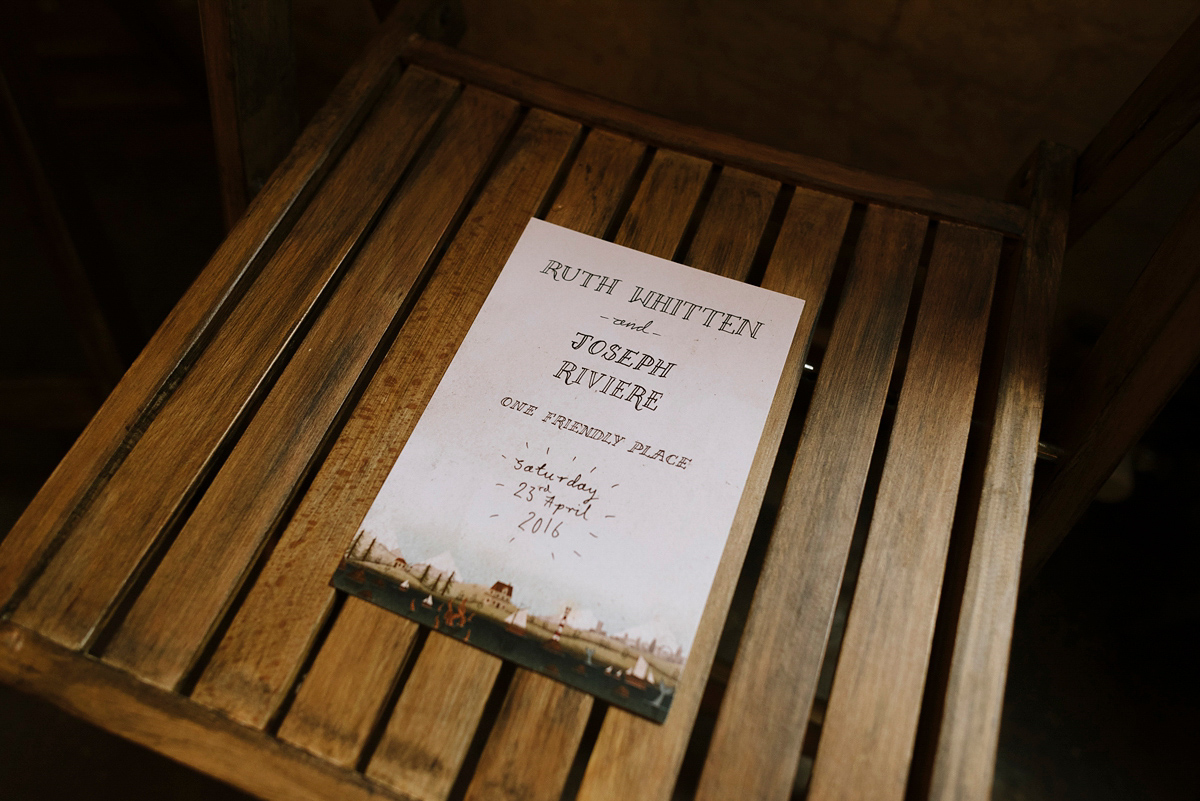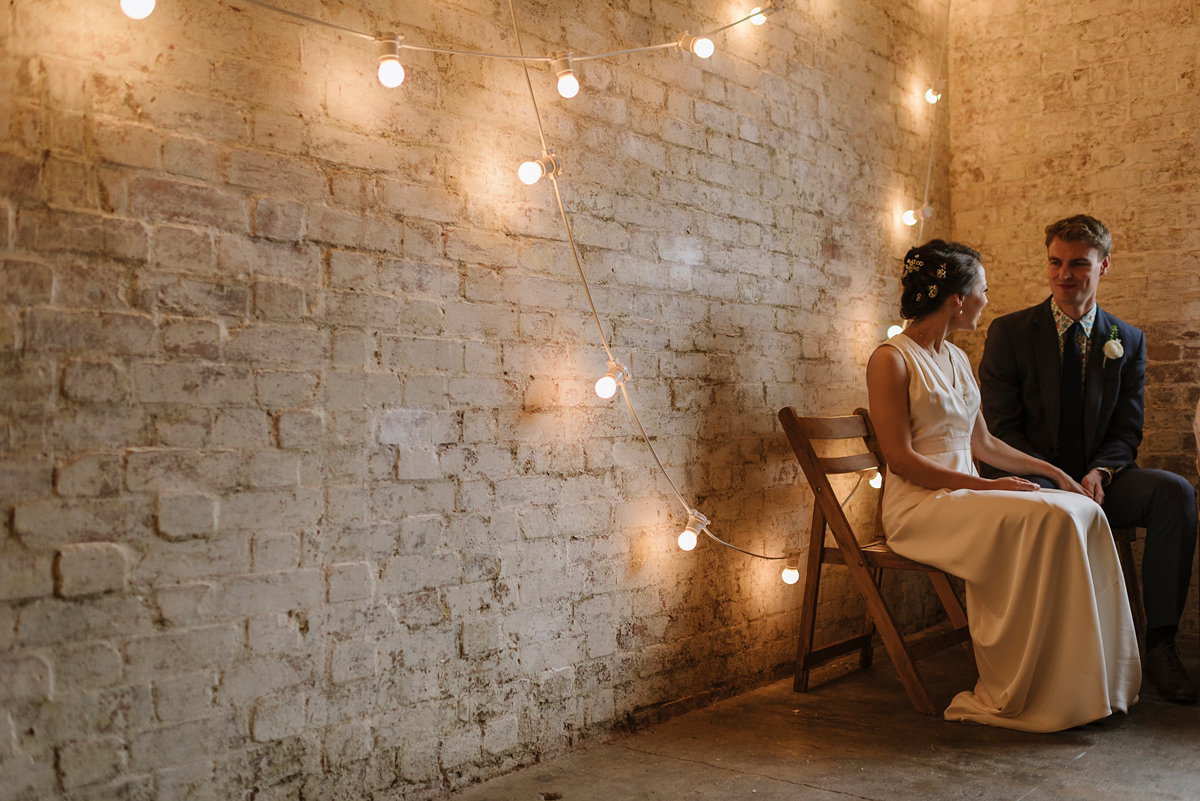 During their ceremony, Ruth and Joe were serenaded with a song composed, played and sung by Ruth's brother Jon Whitten. The couple also chose the readings Song of Solomon 2.10-13 and Pathways by Rainer Maria Rilke:
"Understand, I'll slip quietly
away from the noisy crowd
when I see the pale
stars rising, blooming, over the oaks.
I'll pursue solitary pathways
through the pale twilit meadows,
with only this one dream:
You come too."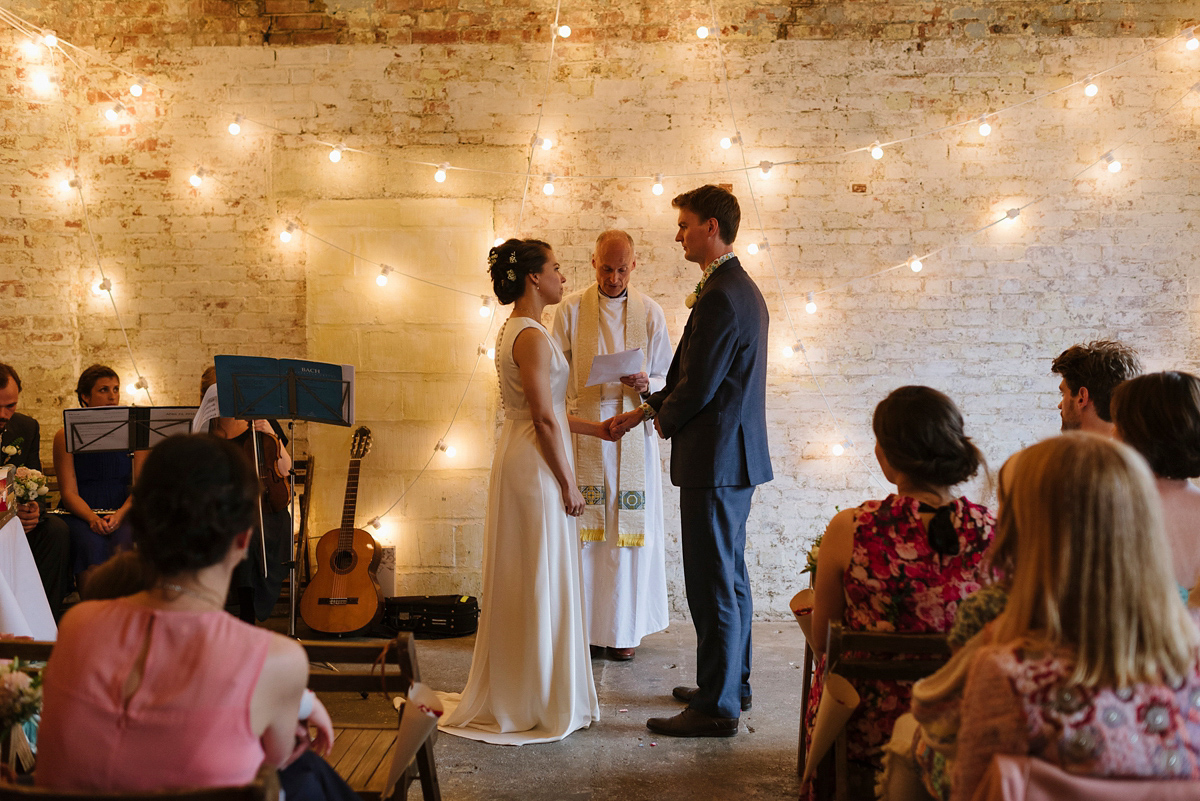 "My engagement ring is an heirloom from Joe's granny and our wedding rings were made and engraved by Brian and his team at The Gilded Lily."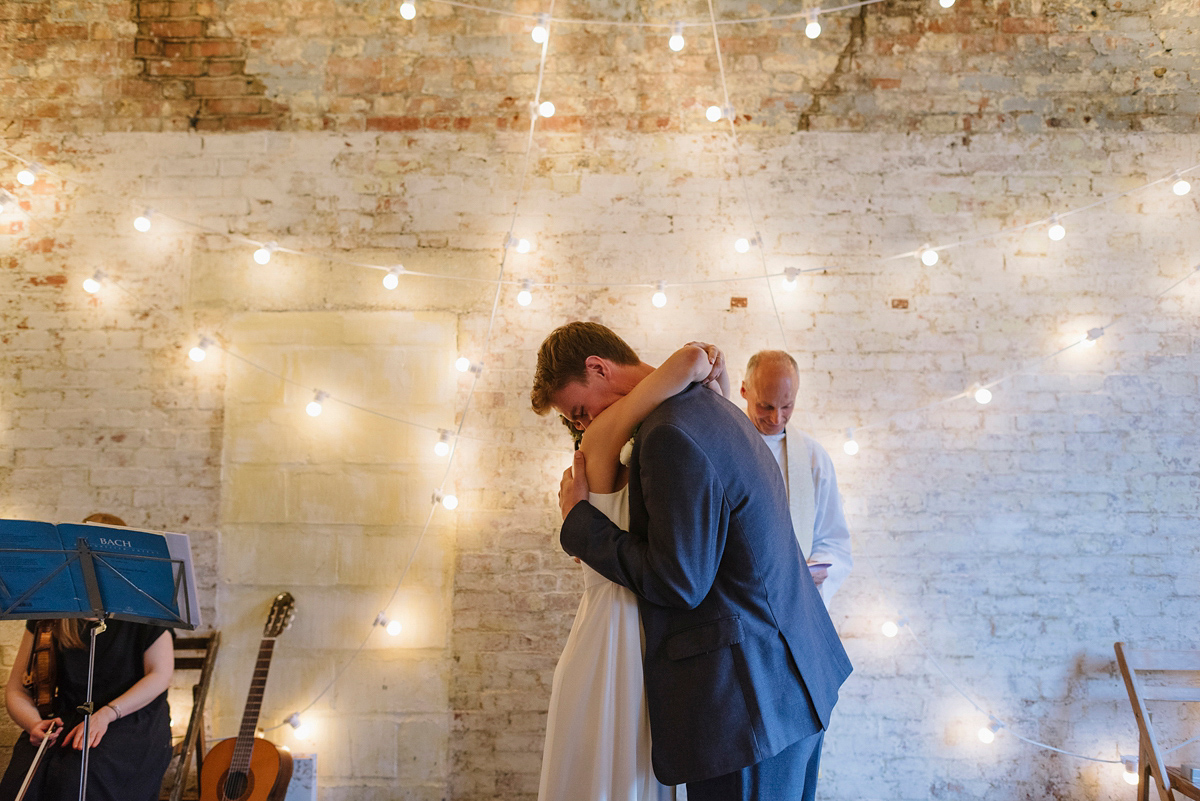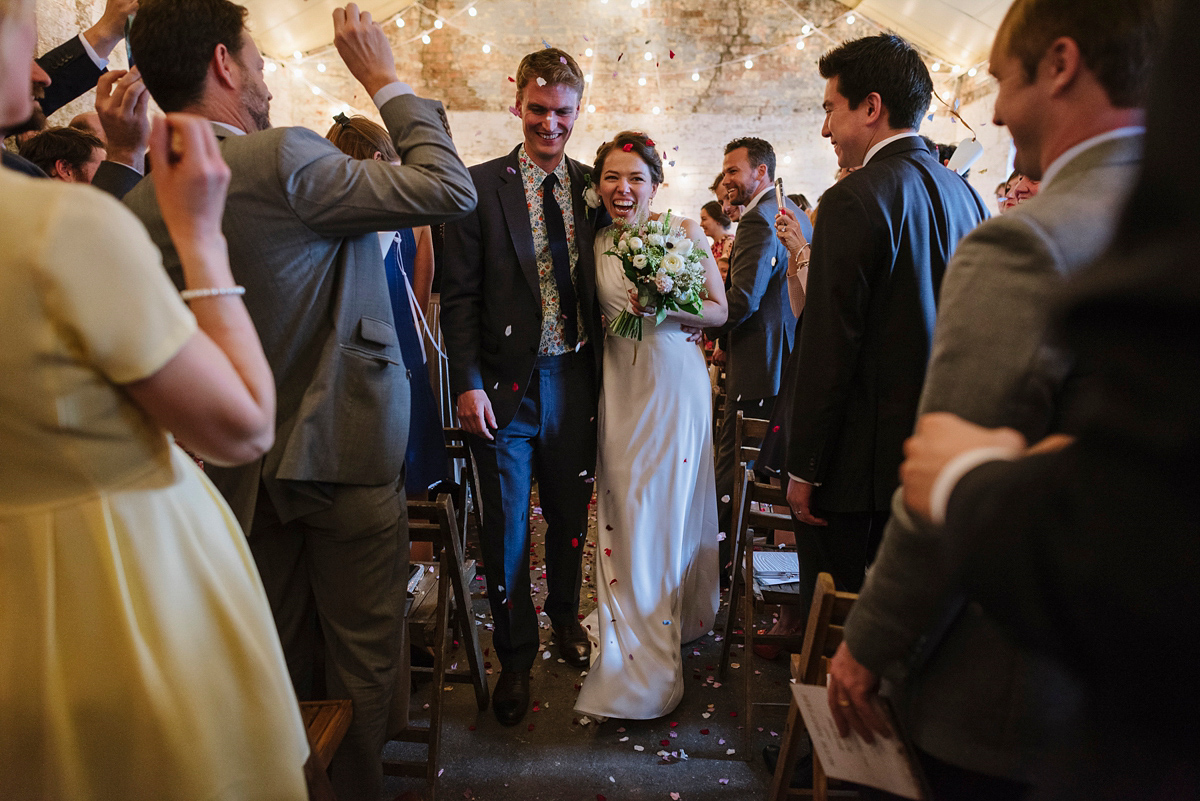 Confetti thrown, Ruth and Joe disappeared for a few quiet, just-married moments together before sitting down with their loved ones in the transformed ceremony space to a delicious meal catered by Canababes.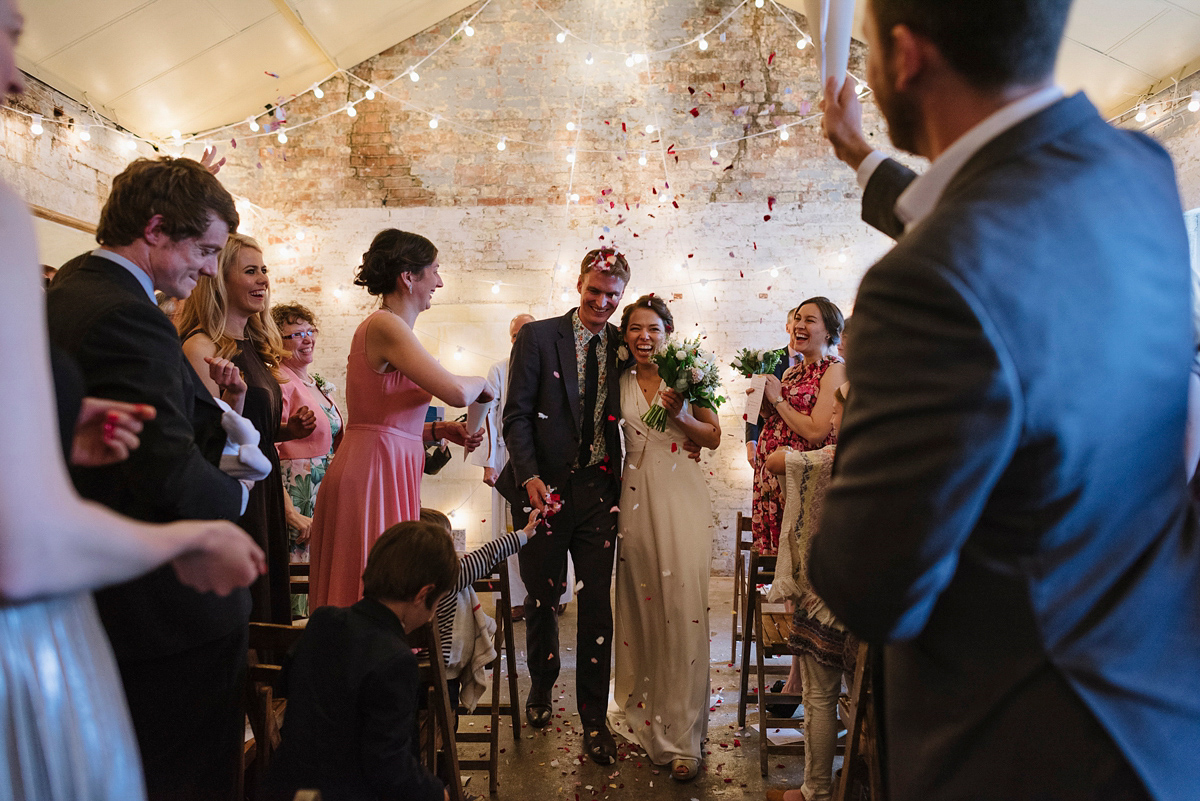 Ruth and Joe chose Thierry Joubert to document their day. Thierry is based in France but travels all over the world to shoot weddings and tell the stories of the couples he meets. I haven't seen his work before but I'm going to be following his adventures with great interest from now on; these are some of the most atmospherically lit reportage style images I've seen.
"Our photographer was the wonderful Thierry Joubert, who captured the happiness of the day perfectly and subtly, and was awesome to work with from start to finish."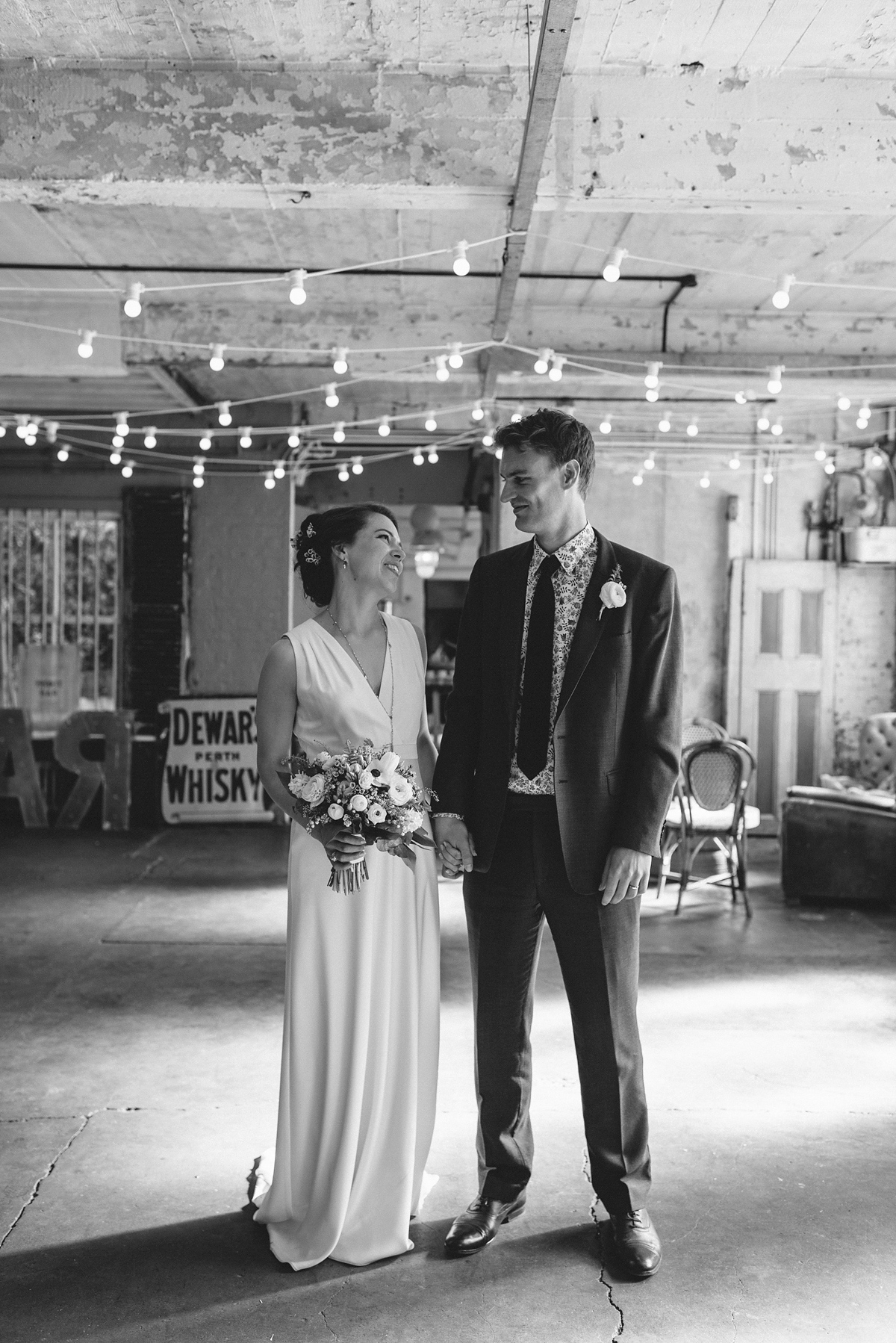 "I don't remember at all if I put perfume on! I'm assuming I put on some of my normal Jo Malone, Dark Amber & Ginger Lily. I wore pearl earrings, which were a gift from my parents ages ago and half of an Isabel Marant necklace set from Net-A-Porter (suggested by my wonderful friend Sarah after she bore the brunt of a last-minute panic about jewellery)."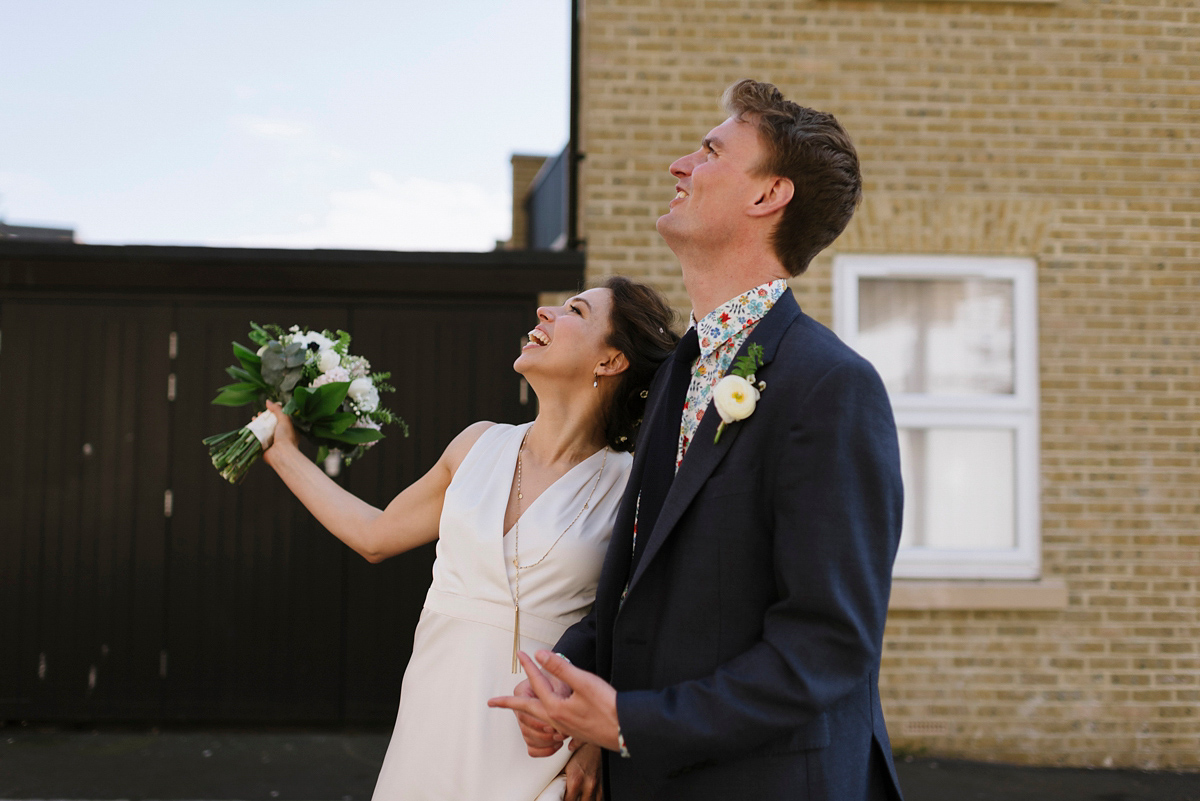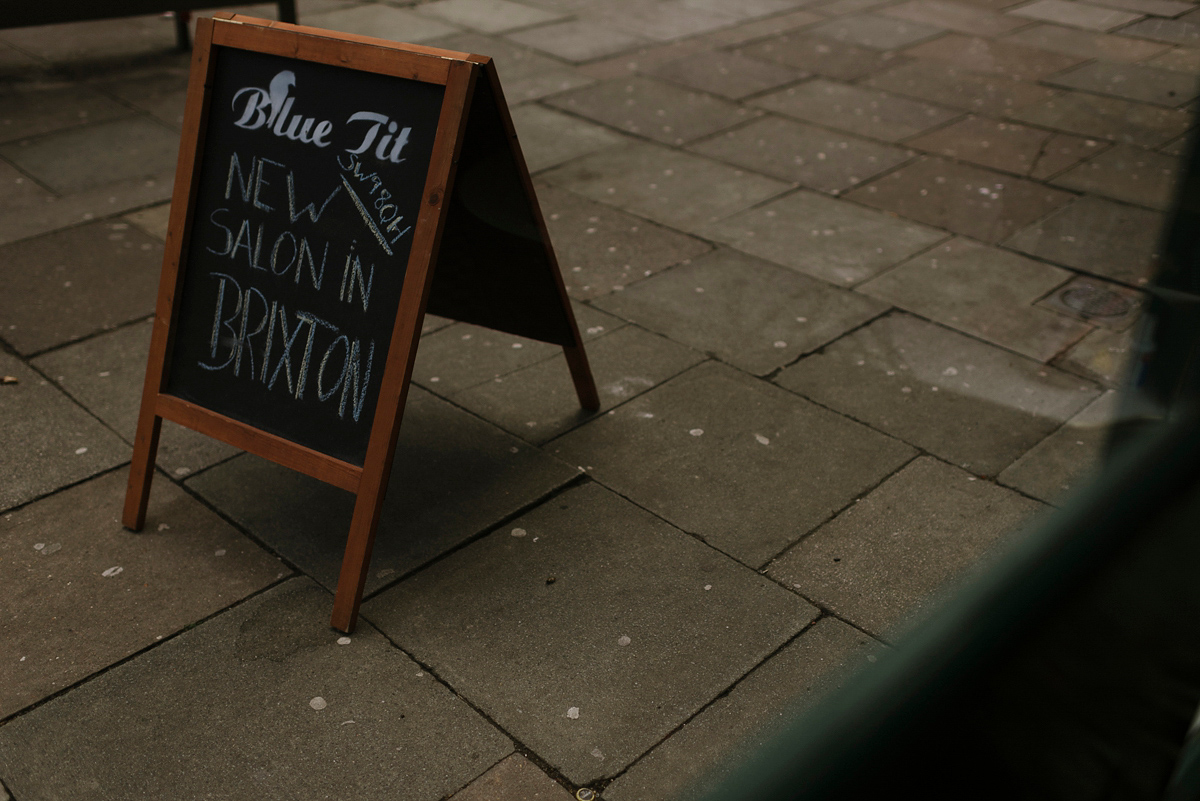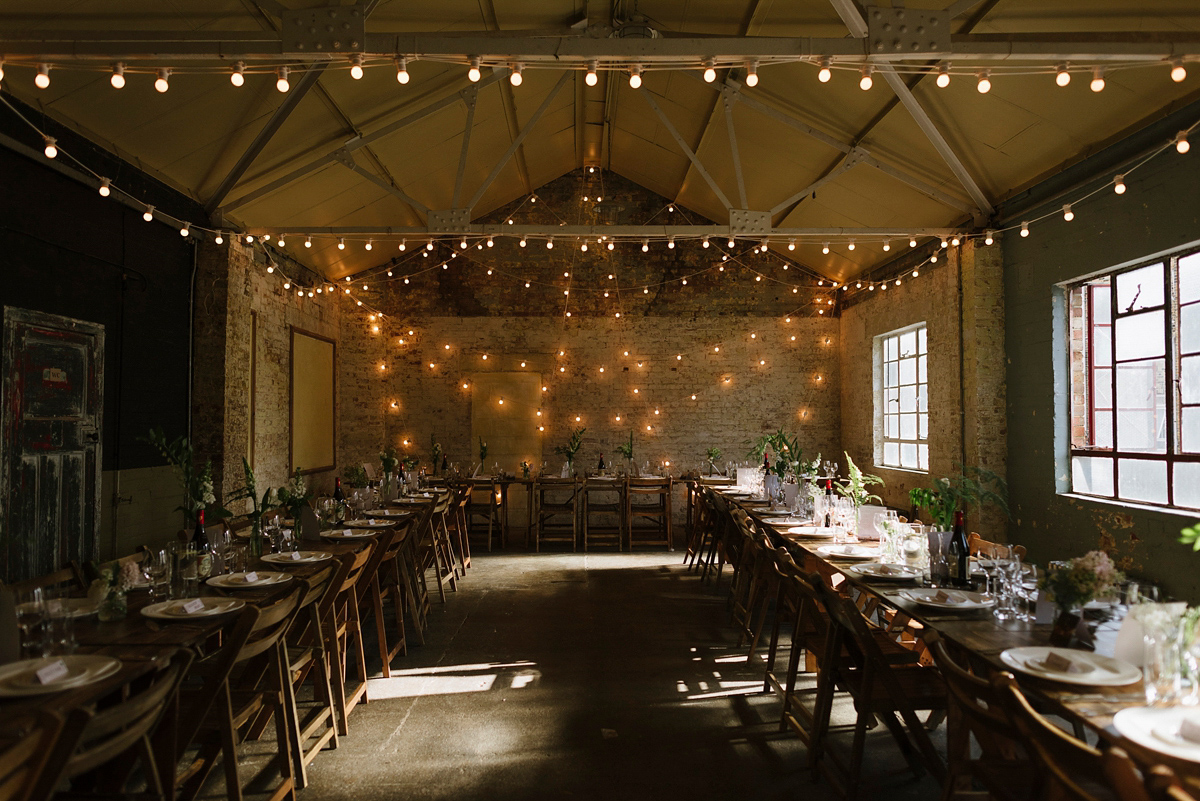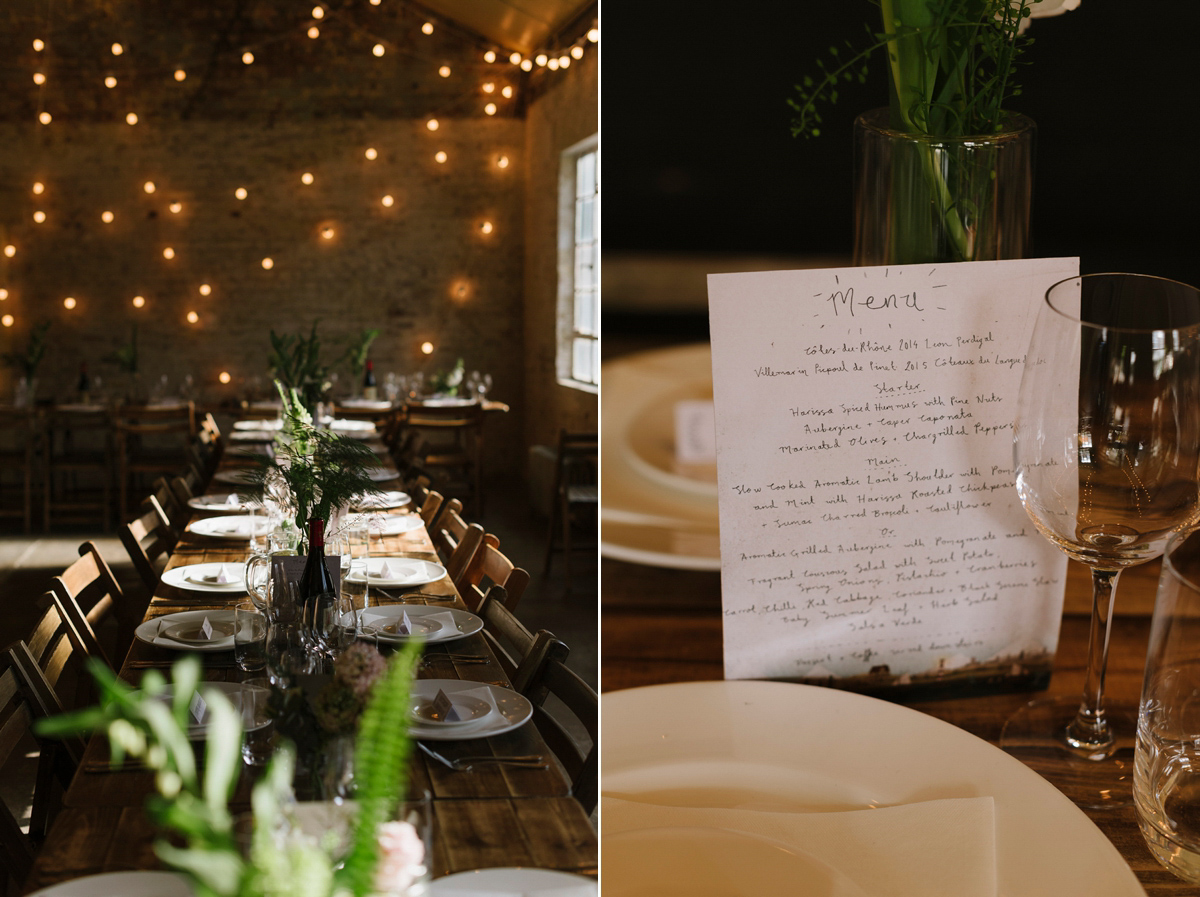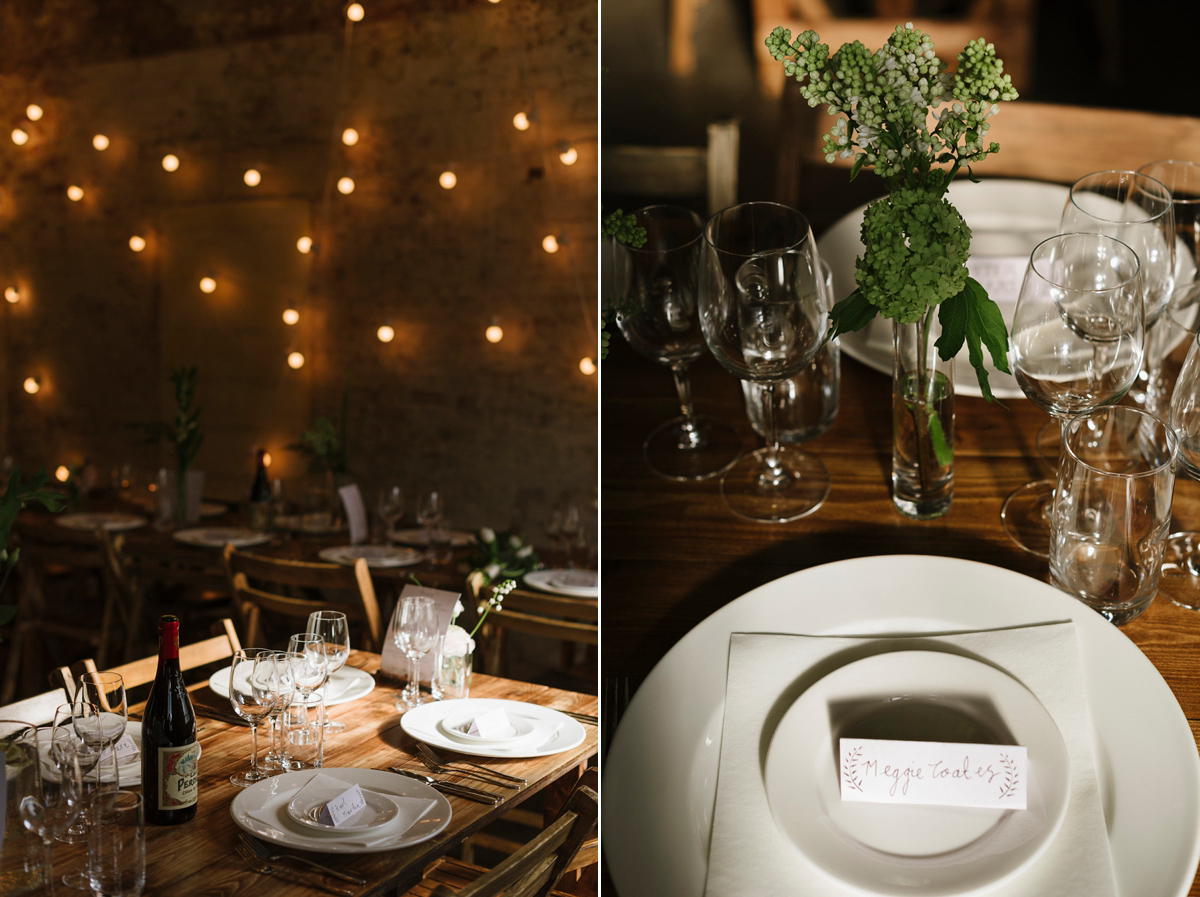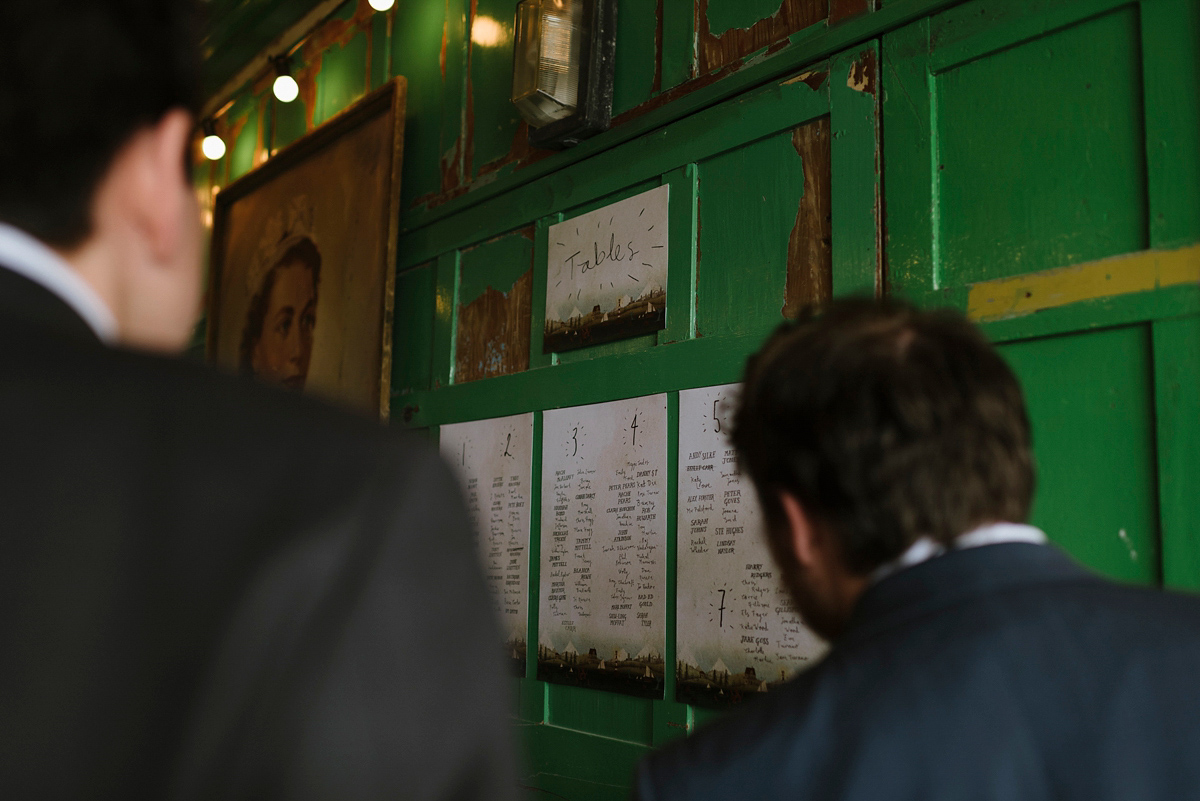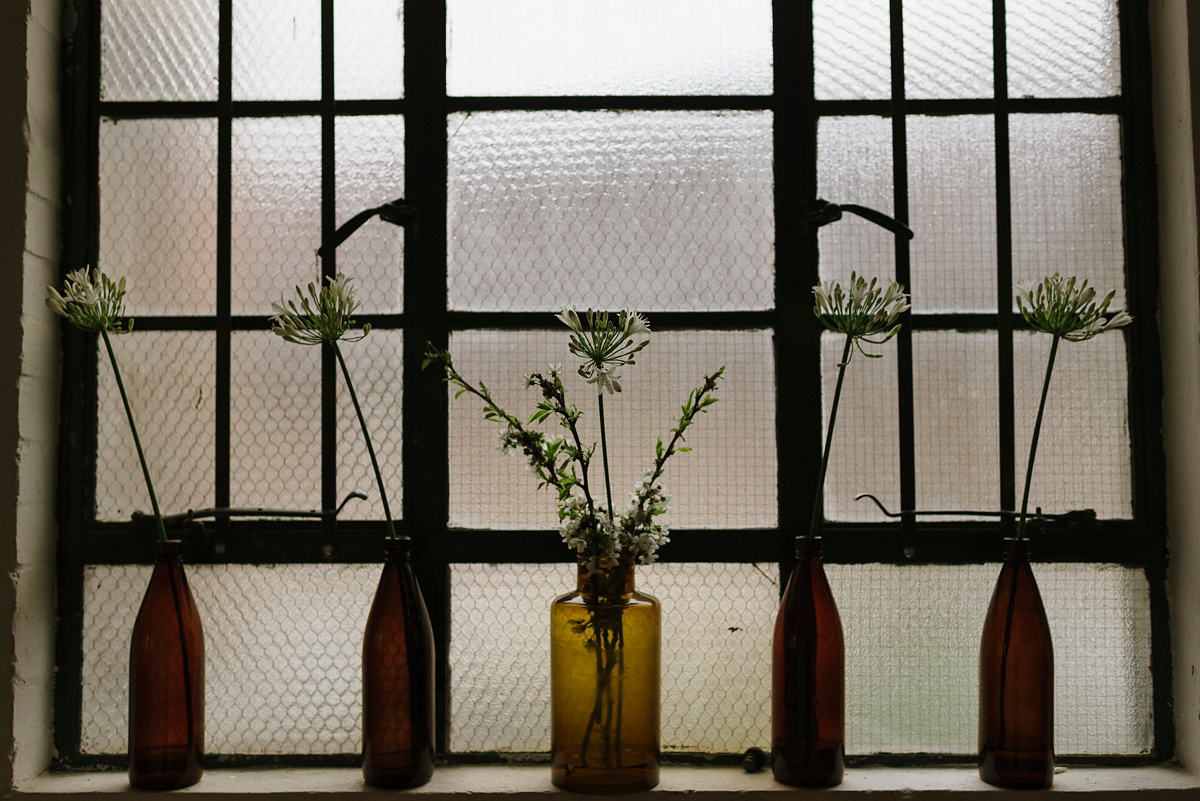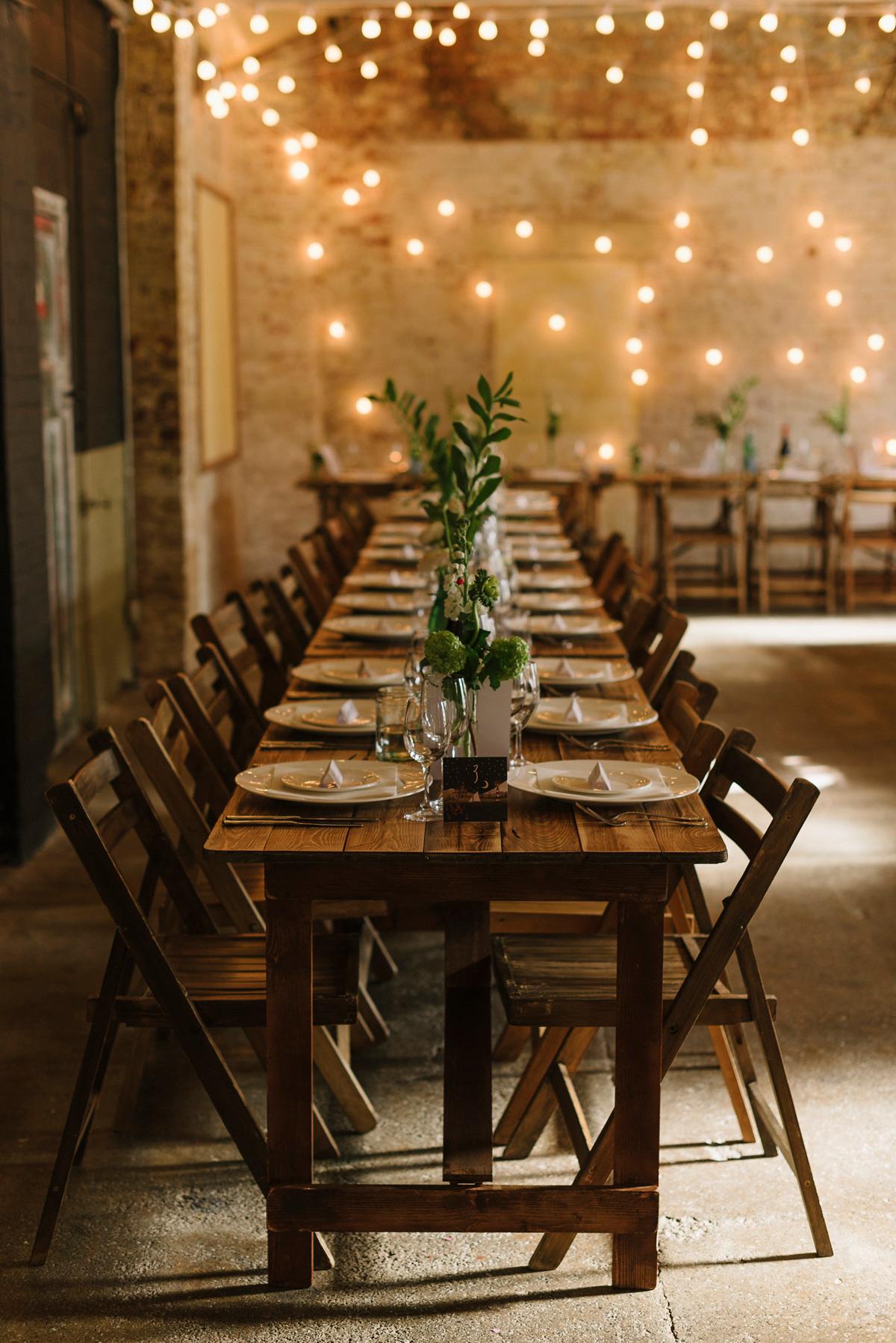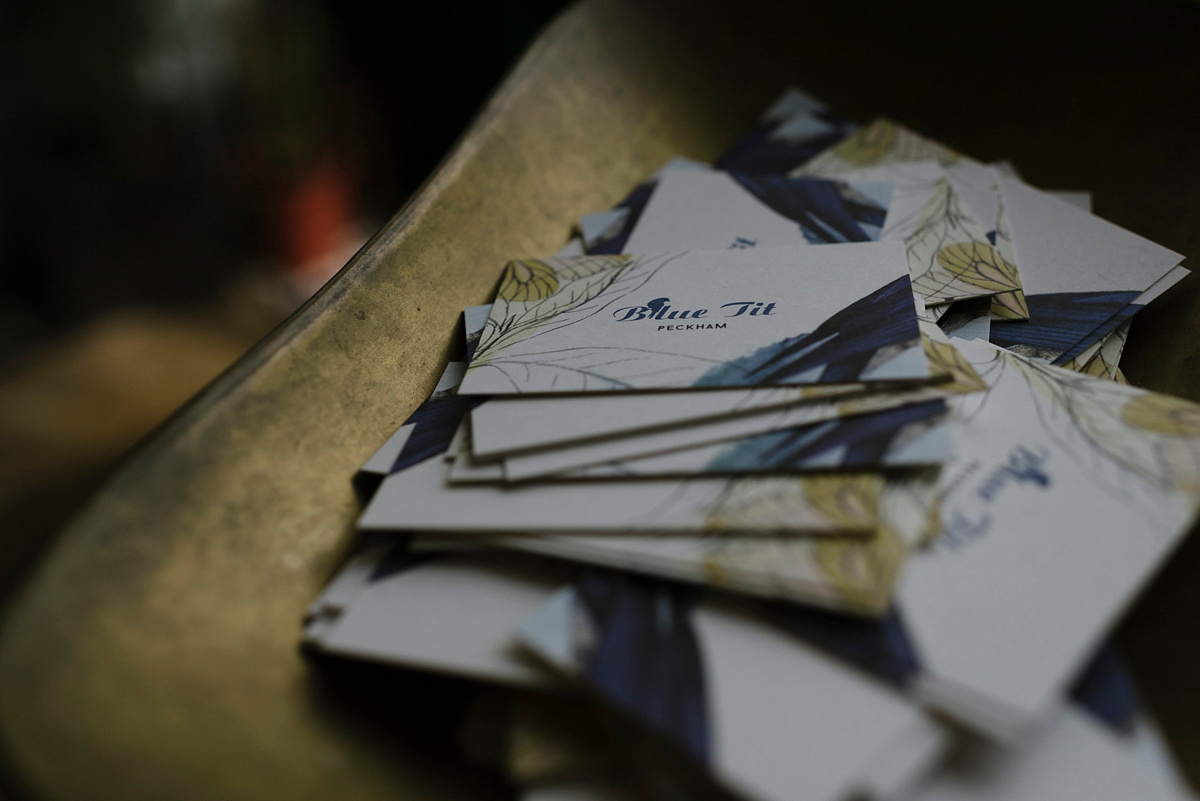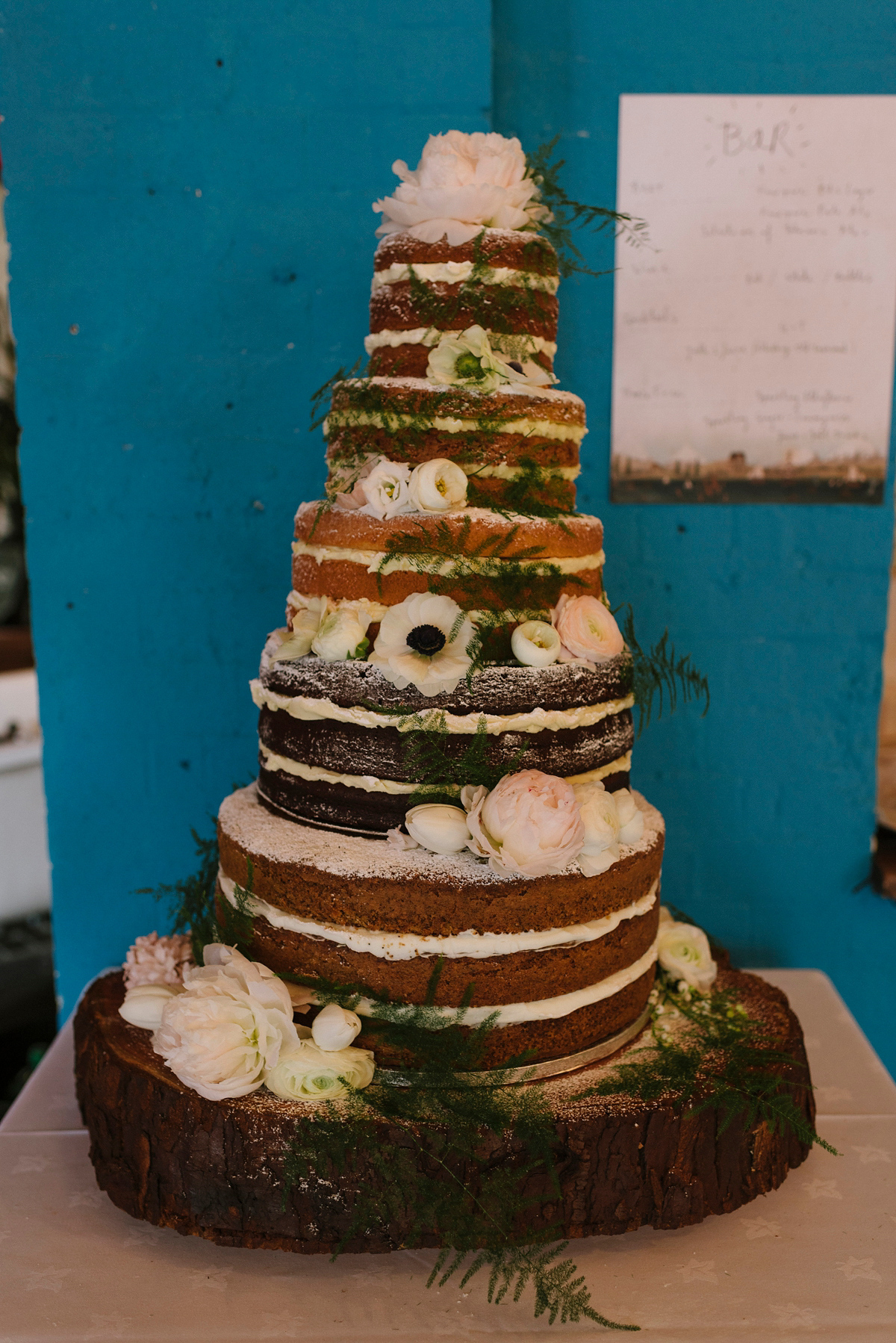 "Ours was definitely the best food I've ever had at a wedding, and some slightly less-biased people also said so too. My mum made our wedding cake, with different layers contributed by Joe's mum and an expert American baking friend, Teresa. The flavours were carrot, lemon and poppy seed, courgette, chocolate and one other one, which I now can't remember."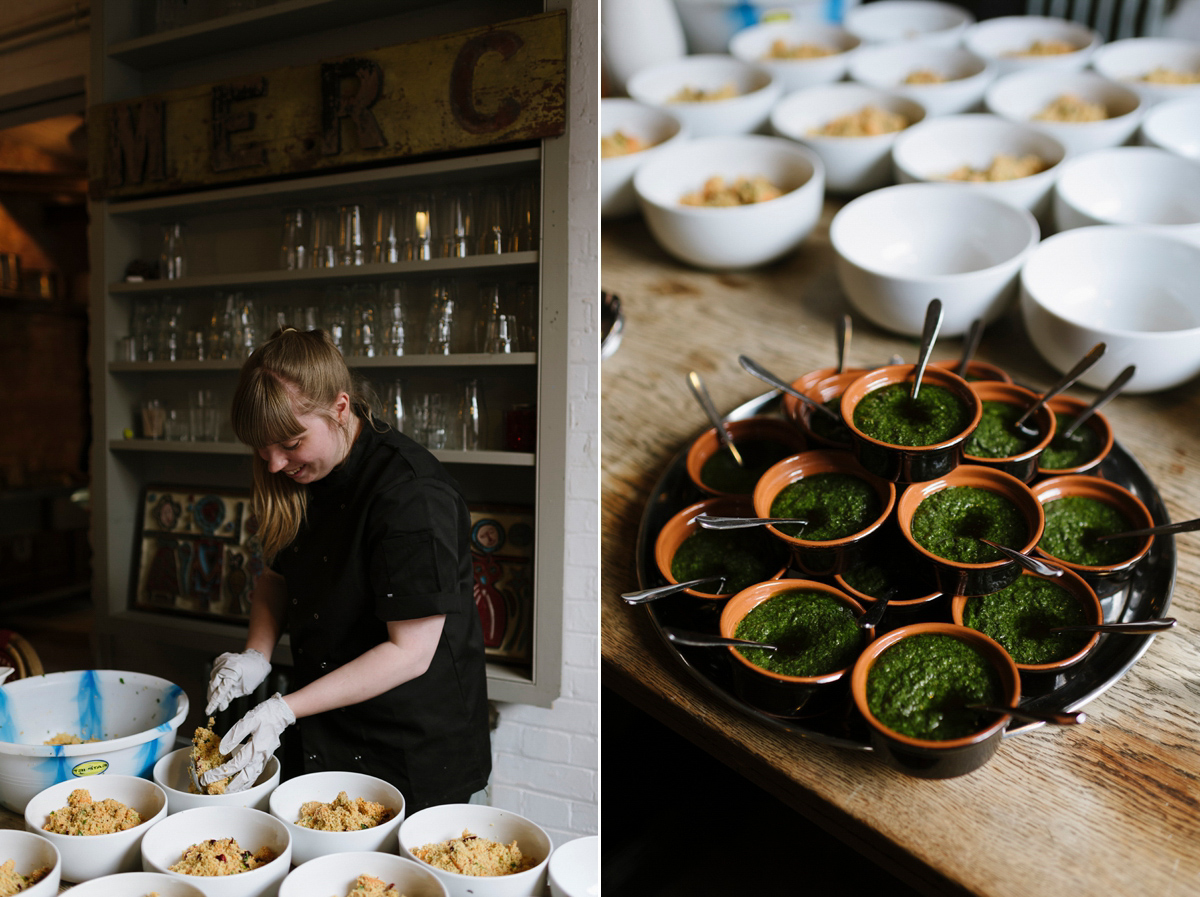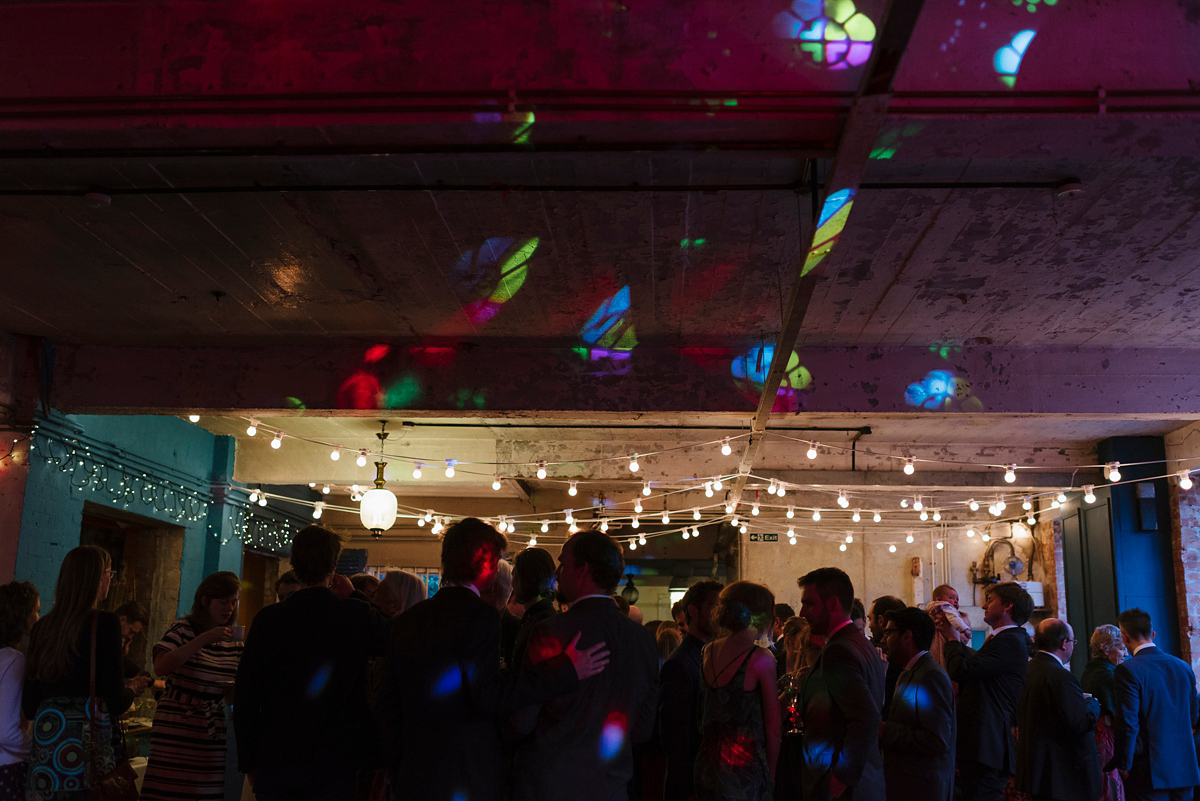 I love that Ruth made a speech, it's something I've been thinking about more and more recently – I don't want to regret not saying something to our guests at our wedding, to thank them personally for travelling all that way to be a part of our day.
Ruth's words certainly seem to have brought a tear to her groom's eye and this emotional image of Joe makes me even more keen to follow Ruth's example; it seems like such a special moment.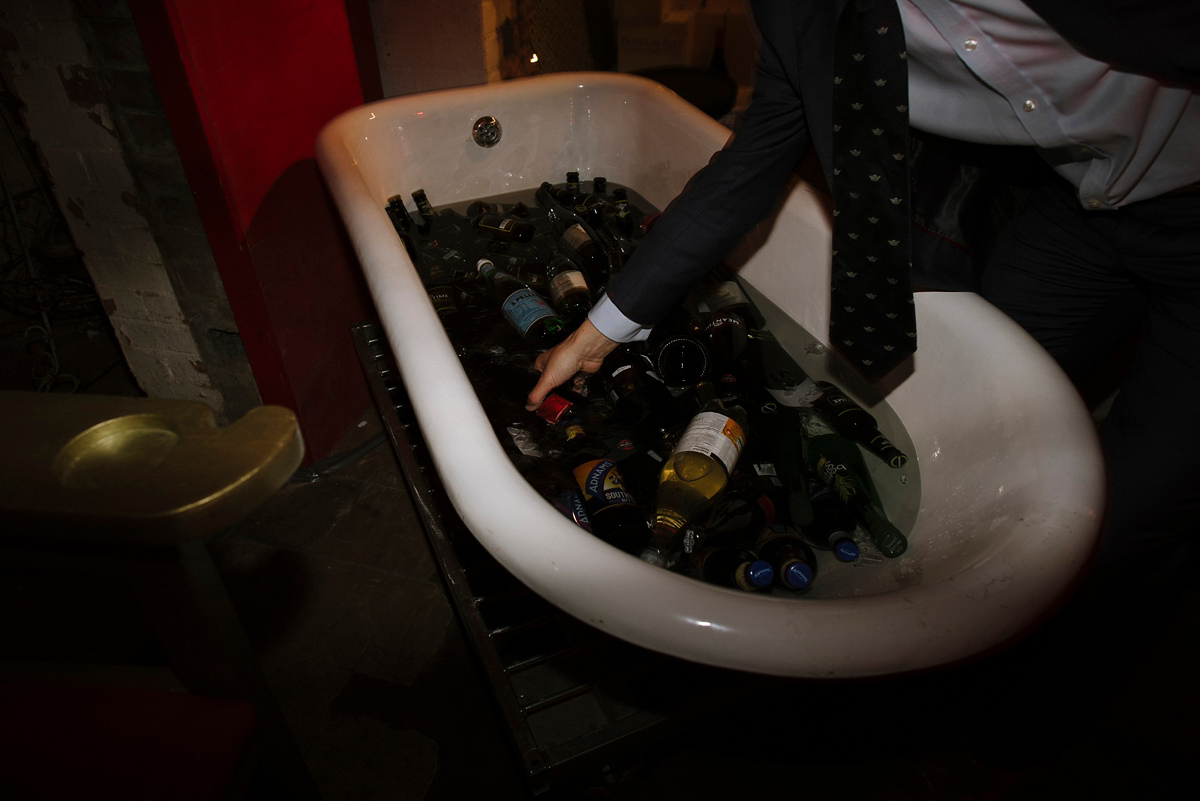 "My friend Dan provided our entertainment as a DJ and not having a first dance was one of our earliest decisions! Just having so many people from different parts of our lives in the same place having a good time was our favourite aspect of the day – completely overwhelming."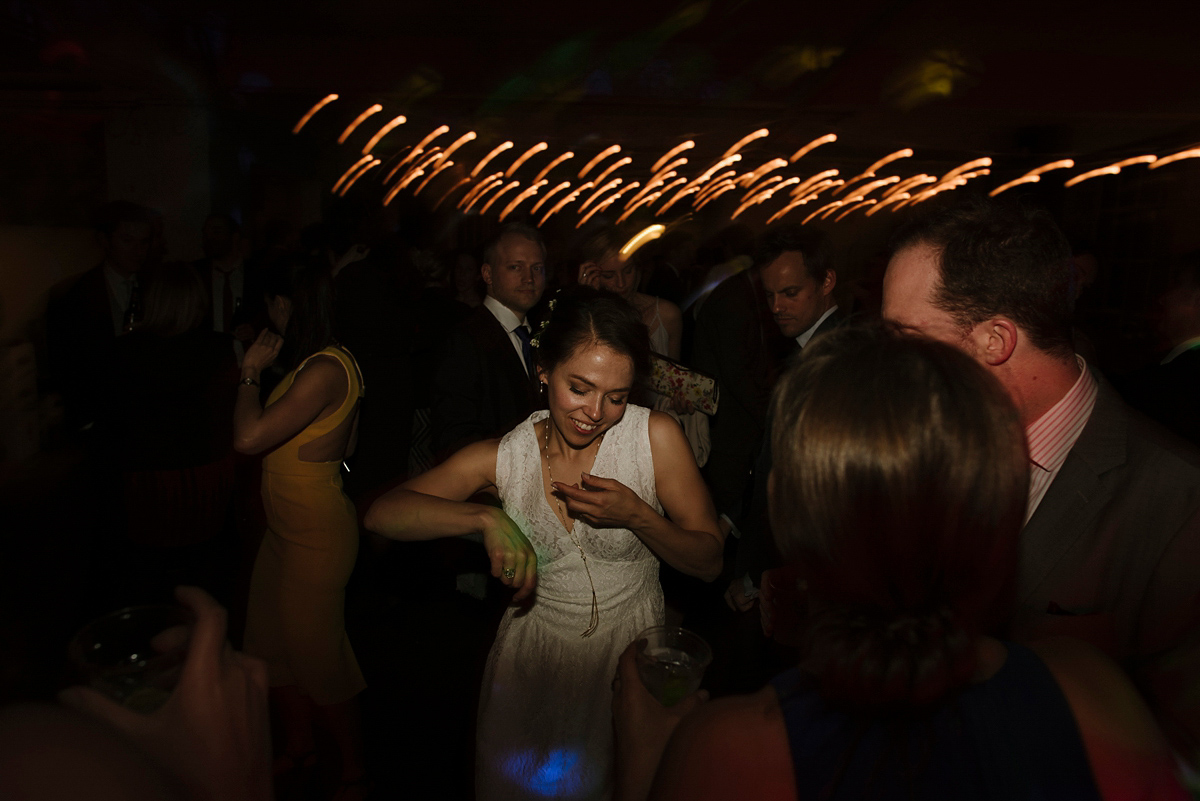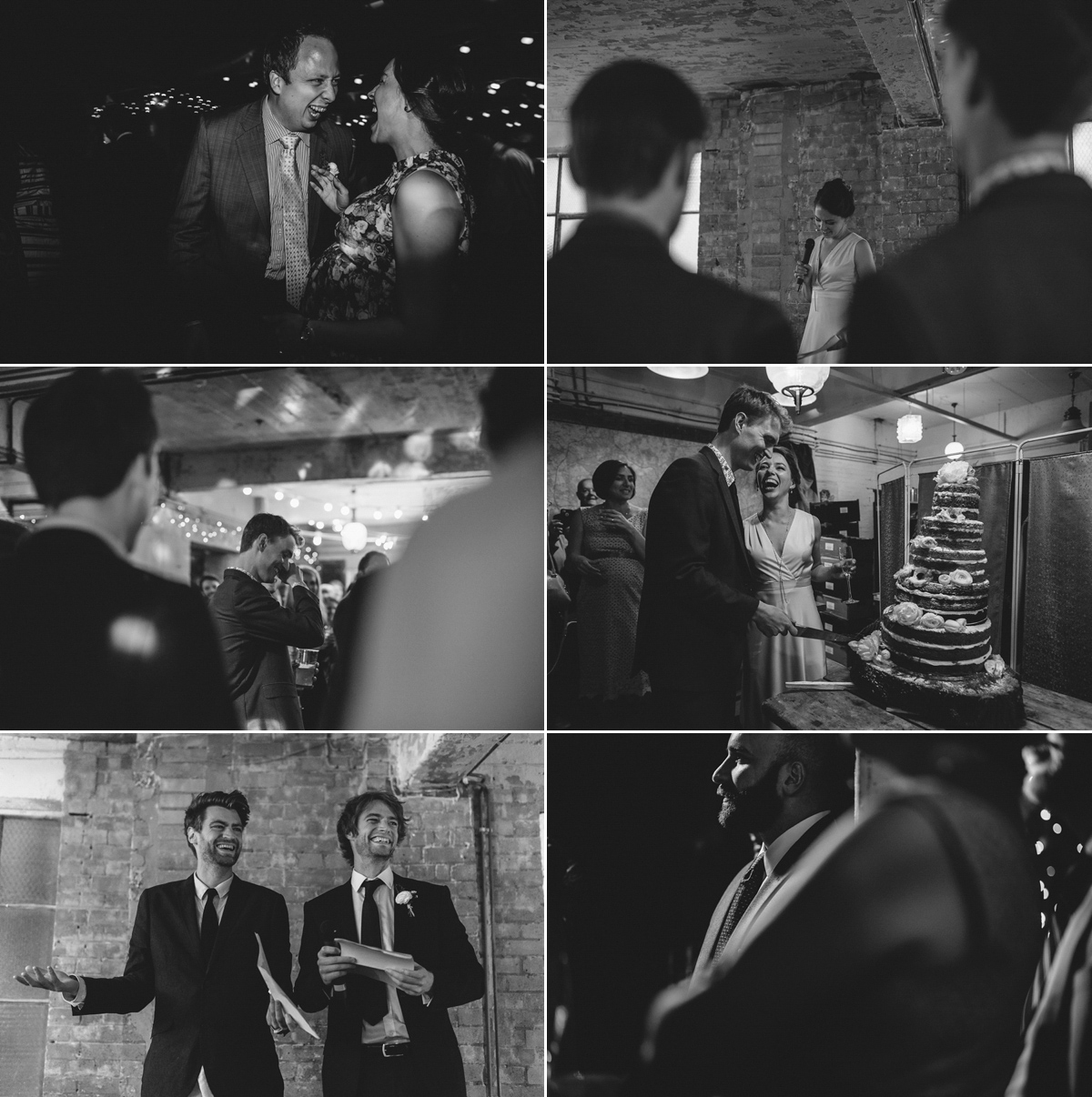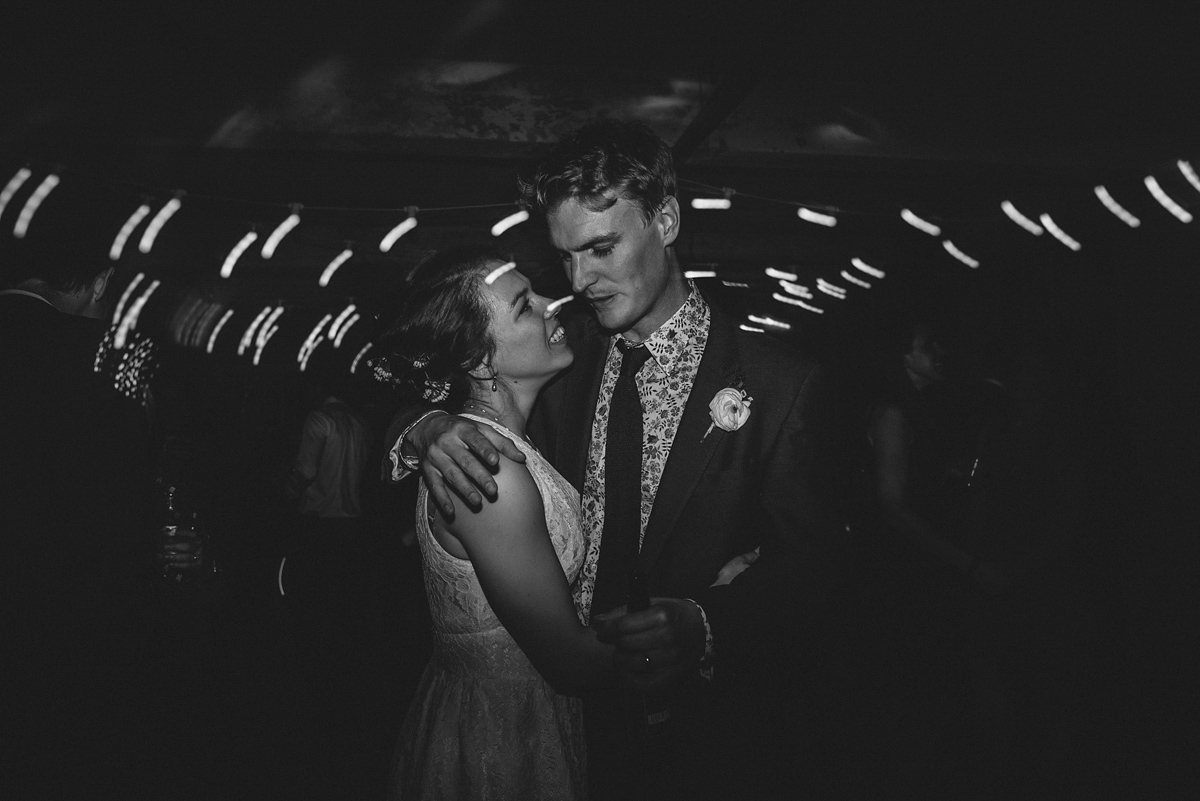 Words of Wedded Wisdom 
"Dry hire is a huge amount of work. I didn't really realise what I had signed up to, so only do this if you have a huge appetite for sourcing and planning or you have someone doing that for you.
Having an experienced events manager on the day was brilliant and money well spent. It meant I could not think about logistics and the running order and be more present. Not having a wedding planner but having someone on the day can be a good compromise.
I was a little cavalier about how long it would take to get ready, and so ended up running a bit later than I wanted to. Listen to the professionals when they give you recommended timing."
I can't thank Ruth and Joe enough for sharing their gorgeously laid-back day with us all, and for demonstrating the impact of beautiful, atmospheric lighting. Our very heartfelt thanks also go to Thierry Joubert Photography for these stunning captures.
If you're considering a J.Crew gown for yourself or your maids, take look at our wonderful wedding archives for brides who did the same.
This week I'm in Denmark and I just wish I could share the view from my bedroom window with you all. I'm snuggled in a huge chair with my duvet and laptop looking out over the restless sea to the Swedish coast and it's pretty magical.
With love (and hygge), Em x