On Wednesday, my husband (also my business partner and Creative Director at Love My Dress) and I took the train to London to visit the brand new Emmy London boutique on Fulham Road in Chelsea. For those of you new to visiting Love My Dress and the world of wedding planning – allow me a moment to explain briefly who Emmy London are – and highlight my absolute passion and very firm fondness for this brand.
Emmy London was founded by Emmy Scarterfield, a designer of beautiful, luxurious shoes for weddings and special occasions. I first discovered and fell in love with the brand way back in 2008 when I was planning my own nuptials, and knew in an instant that I had to save to invest in a pair of my very own 'Emmys'. It really was love at first sight. I felt like a Hollywood star in my exquisite pair of shoes on my wedding day, and I have treasured that pair of shoes in the 7 years that have passed since.
And in those years, my fondness for Emmy London has taken deep root and grown into a very genuine passion for the brand and admiration for the woman at it's helm. I've watched Emmy go from a small enterprise creating beautiful things, to a global brand supplying some of the most luxurious boutiques and private clients around the world. It's one of those 'women in business success stories' that is hugely inspiring and shows just what hard work, determination and belief in yourself can do.
Photography by Annabel Beeforth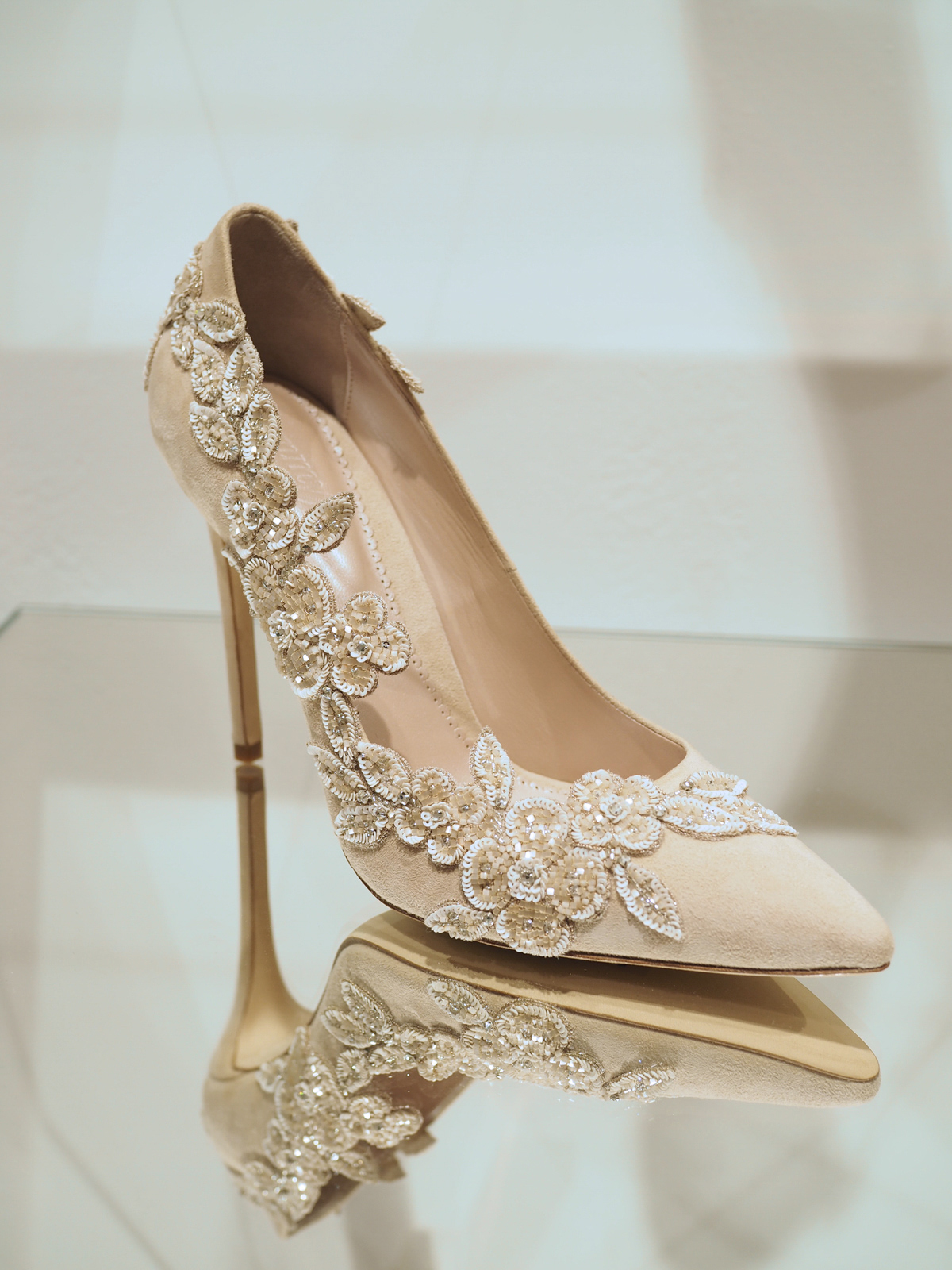 The Isadora shoe
What makes this incredibly successful journey extra special for me personally however, is that I feel I've been by Emmy's side for all of it and have witnessed for myself how grounded and kind and grateful throughout that time Emmy has remained. It's easy to let success go to your head, but Emmy simply isn't that kind of person – she oozes humility and downright loveliness.
The Alice shoe
For the past few years, Emmy and her team of talented artisans have been working hard building their empire whilst tucked away above a street level boutique. This meant that, unless you had specific directions, it might have been a little difficult to locate the store as there was no street level shopfront. Those times are now a thing of the past as on Wednesday this week, Emmy proudly unveiled her glamorous new flagship boutique at 74 Fulham Road in the heart of stylish Chelsea.
There are no photos with those IDs or post 681519 does not have any attached images!
The boutique is beautiful and has an air of refined elegance and effortless glamour about it. There are touches of gold everywhere to reflect the Emmy branding, and I spotted pretty pastel stationery lined up in a row from one of Emmy's brand partners, the excellent Cutture.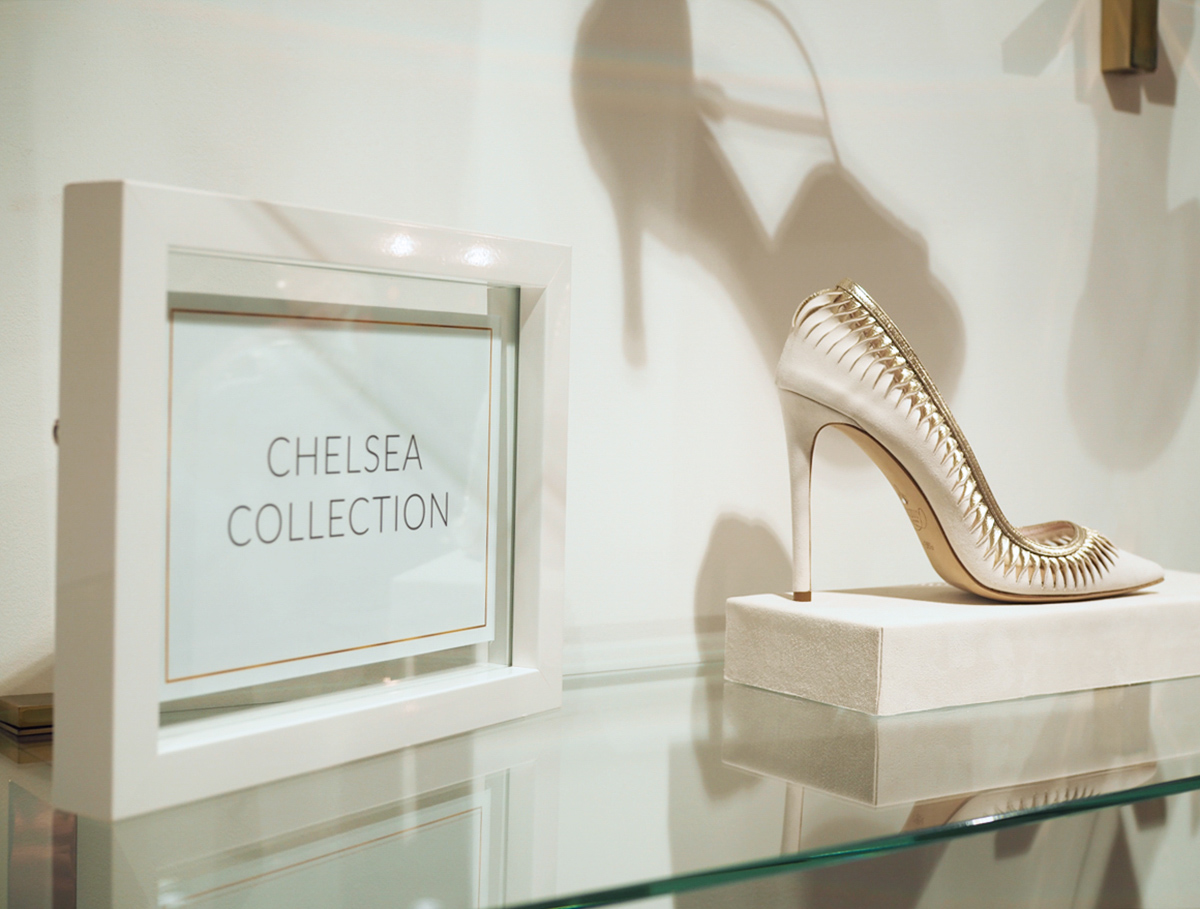 We were also there on Wednesday to join Emmy in celebrating the launch of her brand new 'Chelsea Collection'. So new in fact, that they aren't yet available for viewing through the Emmy website – thought fear not. The designs are currently gracing our Style Files pages.
The shoes and accessories that form this new collection incorporate the loveliest and most delicate of botanical references that have been inspired by London's iconic Chelsea Flower show, and the boutique's new home.
Emmy's luxurious new flagship store also boasts a dedicated 'Couture Room' where brides can book appointments with the designer herself to create their very own couture shoes and accessories from scratch.
The luxurious, warm and inviting space will operate on both an appointment and walk-in basis catering to brides and those looking for a very beautiful pair of shoes to wear to a special event or occasion.
Focusing on feminine and sexy silhouettes the collection includes a number of wow factor high heels and elegant designs for the modern bride.
New designs for 2017 incorporate a gold slash and twist construction, pioneering traditional hand craftsmanship with a stylish, contemporary edge.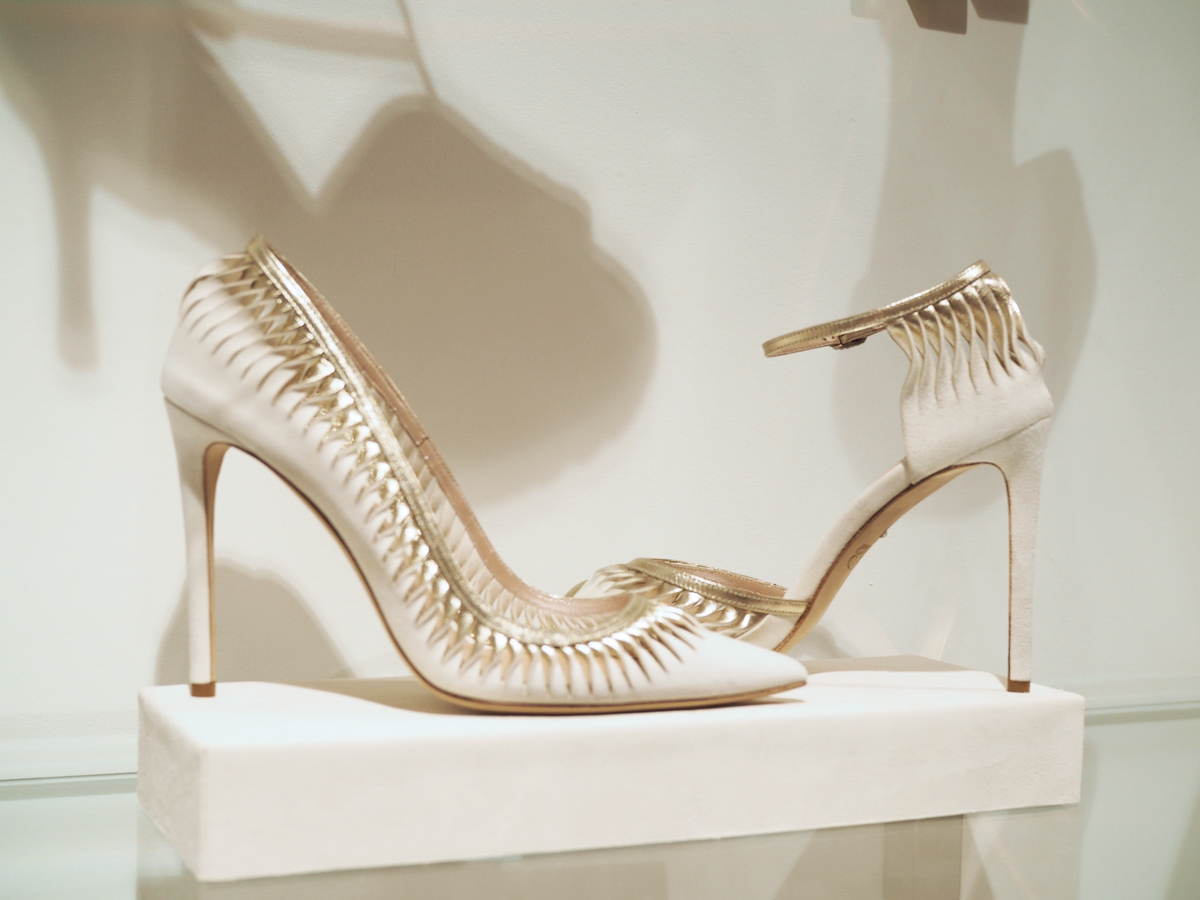 The introduction of 'Lipstick' – a scarlet shade of suede – offers an injection of bold colour for fashion-loving brides-to-be.
The collection presents the perfect balance of simple shapes combined with signature Emmy intricate detailing. This approach can be found throughout the collection encapsulating shoes, clutches, hair decorations and belts, creating a feminine, elegant and luxurious head-to-toe styling ethos that has an undeniably beautiful and quintessentially British style.
Step out in a pair of these heels, and watch heads turn.
I fell in love with this glorious pair of plum heels and absolutely will be treating myself to a pair in the very near future.
Emmy has a distinctive signature that for me, means you can tell a pair of her high quality heels a mile off. For Emmy, it's all about the perfect shoe shape (believe me, this woman has spent more hours of her life dedicated to creating the perfect most comfortable heel height and shoe structure than you could possibly ever imagine).
It's also all about the detail;  the shoes are crafted by hand which is why some of them take several weeks to receive from ordering – talented artisans painstakingly hand bead and prepare embellishment that is applied to only the finest, most luxurious of leathers.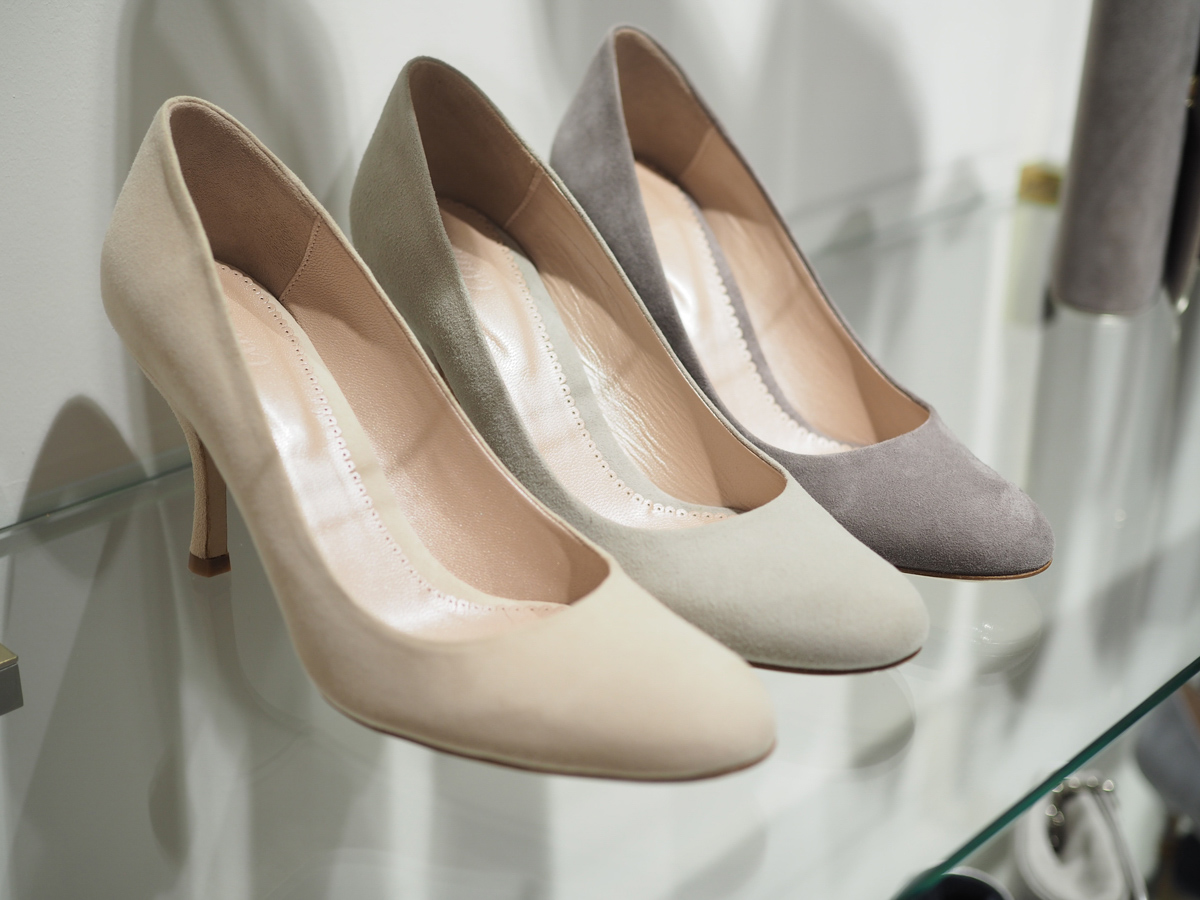 As well as shoes and accessories (hair pins, earrings, belts, hair combs etc), Emmy has also created the perfect clutch bag. It's an ideal size to carry your wedding day essentials, with an inside pocket and shoulder chain. I think you already know that you need to treat yourself to one. There are embellished clutch bag options too – to match your shoes.
Emmy is also venturing into cashmere – there were several jumpers on display in her boutique to match the sublime muted, pastel shades and beautiful blue suede that each bags come in.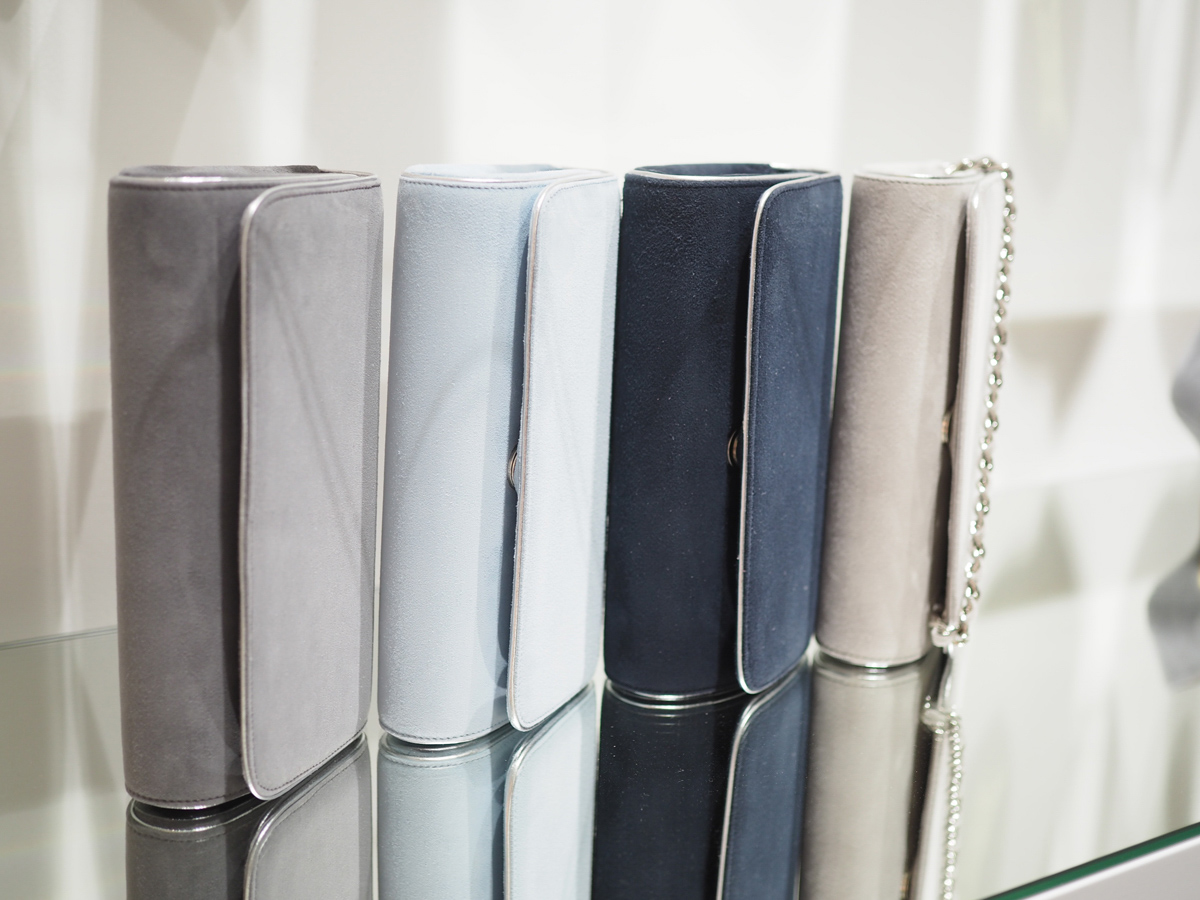 It was also wonderful to be able to see the rings from Emmy's recent collaboration with H Samuel the jeweller up close and personal again (and of course, try a few one). I'm genuinely proud of this beautiful collection, having been involved in this promotional photoshoot over the summer.
Take a look at this glorious film, part shot in our very own lovely wildflower meadow if you haven't already – it really captures the feminine spirit of this very elegant collection of diamond jewellery.
There are no photos with those IDs or post 681519 does not have any attached images!
The Chelsea collection will be available from the Emmy London boutique, online at www.emmylondon.com and through select retailers from January 2017 onwards. It is absolutely sublime and I encourage any of you considering investing in very special pair of wedding shoes to make some time to explore the collection in full.
Images below by Claire Graham
There are no photos with those IDs or post 681519 does not have any attached images!
I hope you've seen something that you adore ladies, and there really is so very much to adore.
You can connect with Emmy London through Instagram, Facebook and Twitter. Do also take a moment to visit her website, and her Style Files pages right here on Love My Dress. We also recommend Emmy as a preferred supplier through our wedding directory over at Little Book For Brides.
Have a lovely Saturday all.
Love Annabel x
Emmy London is an advertiser with Love My Dress. However nothing I've said above about wouldn't be said if they weren't. I'm an Emmy fan-girl through and through.