Happy Winter Solstice, readers.  Today is the shortest day of the year and from tomorrow the days start getting just a tiny bit longer and brighter each day until spring comes back – I for one can't wait. That said, it's almost Christmas, I'm gearing up for a few days off with family, friends and my beautiful cat and looking forward to some time to relax, so feeling in a very good mood right now.
In the spirit of all things relaxed, you're going to love today's laid-back London wedding, with twice the dress goodness.  Meet Kate and Lauren, who married on the 24th September 2016 at Chelsea Town Hall, London, followed by a reception at The Jolly Gardeners in Earlsfield. The couple commissioned our talented Little Book For Brides member, Claudia Rose Carter, to document their day in images.
"We wanted something local and understated, but with a hint of the history and glamour that comes with the Kings Road! We are very laid-back people and we wanted to reflect that in our wedding. Nothing too formal – we just wanted people to have an amazing time, wearing whatever they were comfortable in, while they drank great wine, ate amazing food and then danced."
Photography by Claudia Rose Carter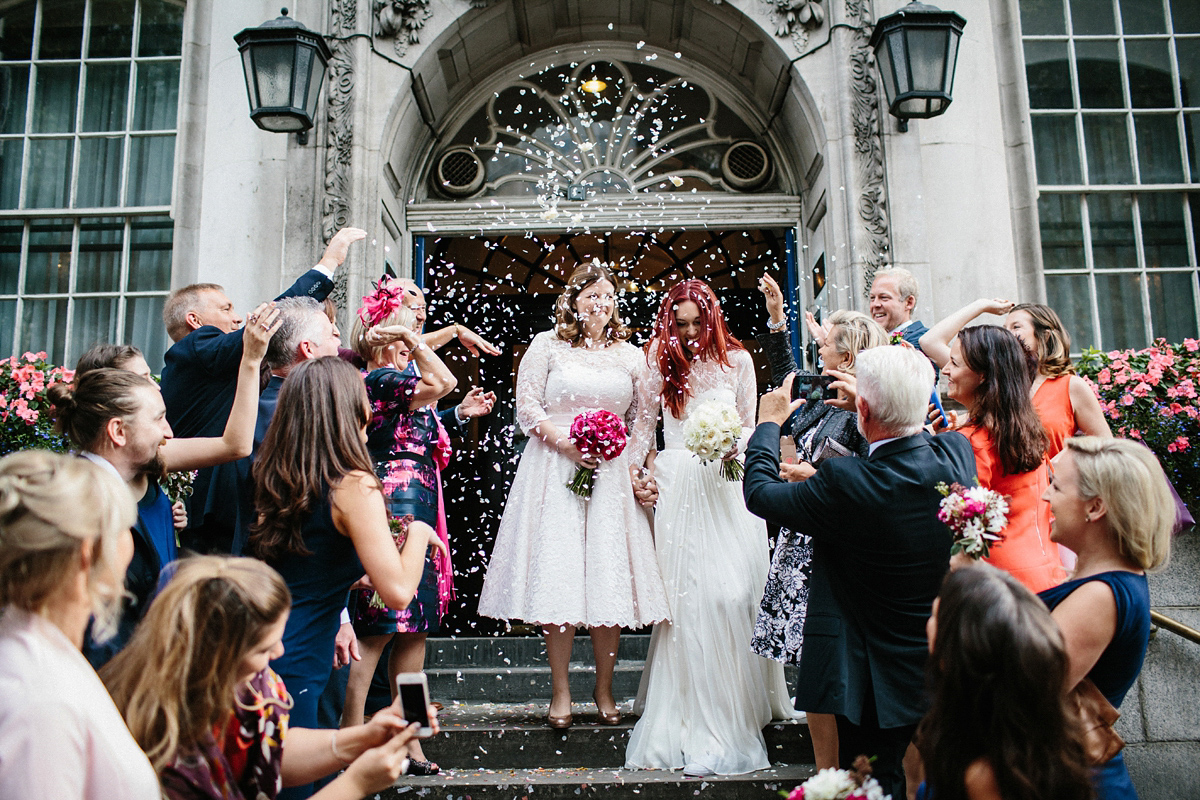 Lauren chose a fabulous vintage style Catherine Deane gown, while Kate went for fifties chic in Candy Anthony (these are our second Catherine Deane and Candy Anthony gowns shared this week!)
"I (Lauren) thought I was going to go cool, minimal and elegant, but completely fell in love with the vintage, Grace Kelly-esque neckline and the beautiful sleeves.  Kate wanted something fifties and fun and was taken in by the blush colour of her dress.  She also had a bright pink underskirt which ended up matching her Havaianas on the dancefloor." "We met at work and were engaged within seven months.  We both knew pretty early on that this was something special.  It was nearly two years to the day we first met when we got married."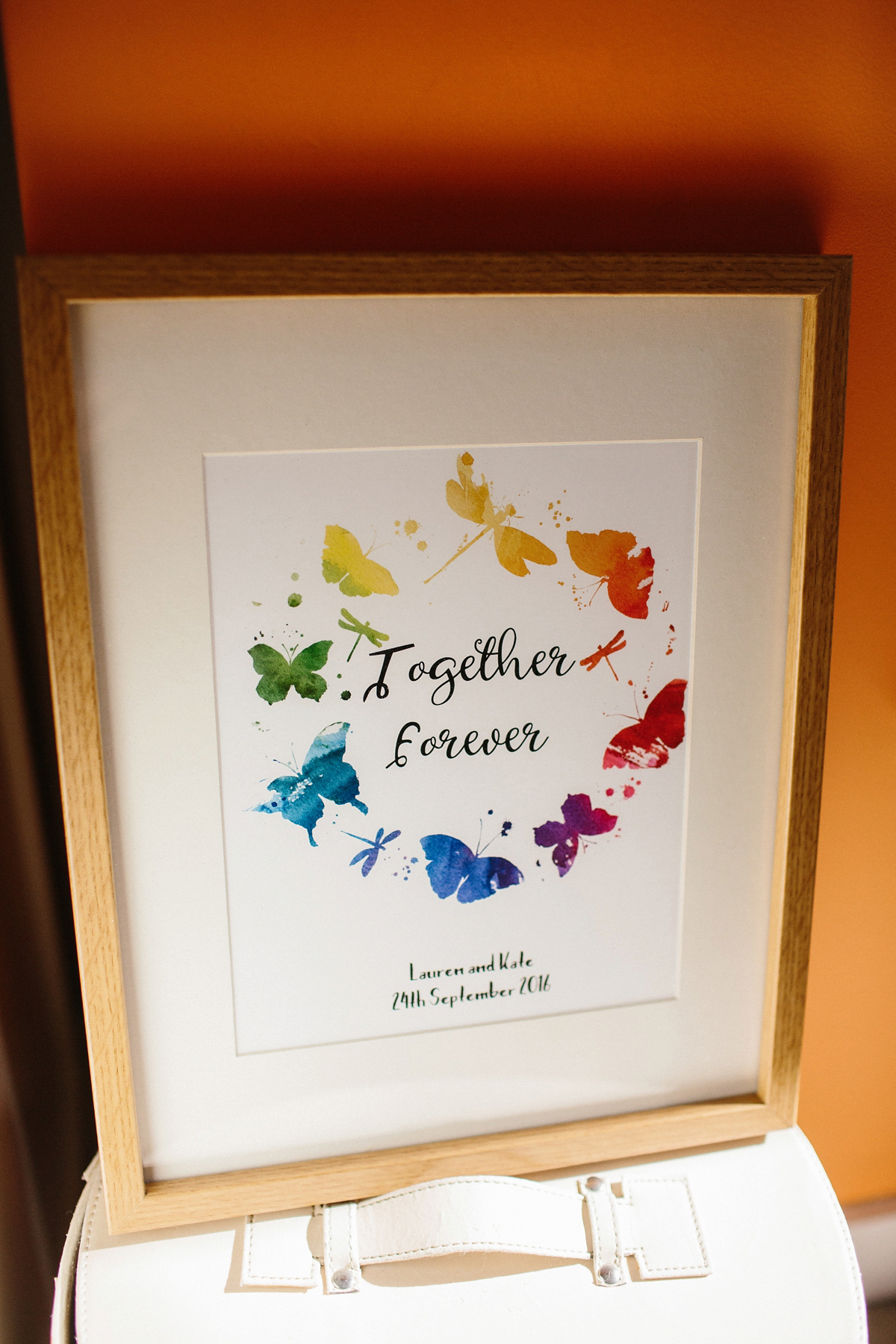 Hair and make up for all the ladies was the work of Katrina and her team from Toni & Guy in Wimbledon.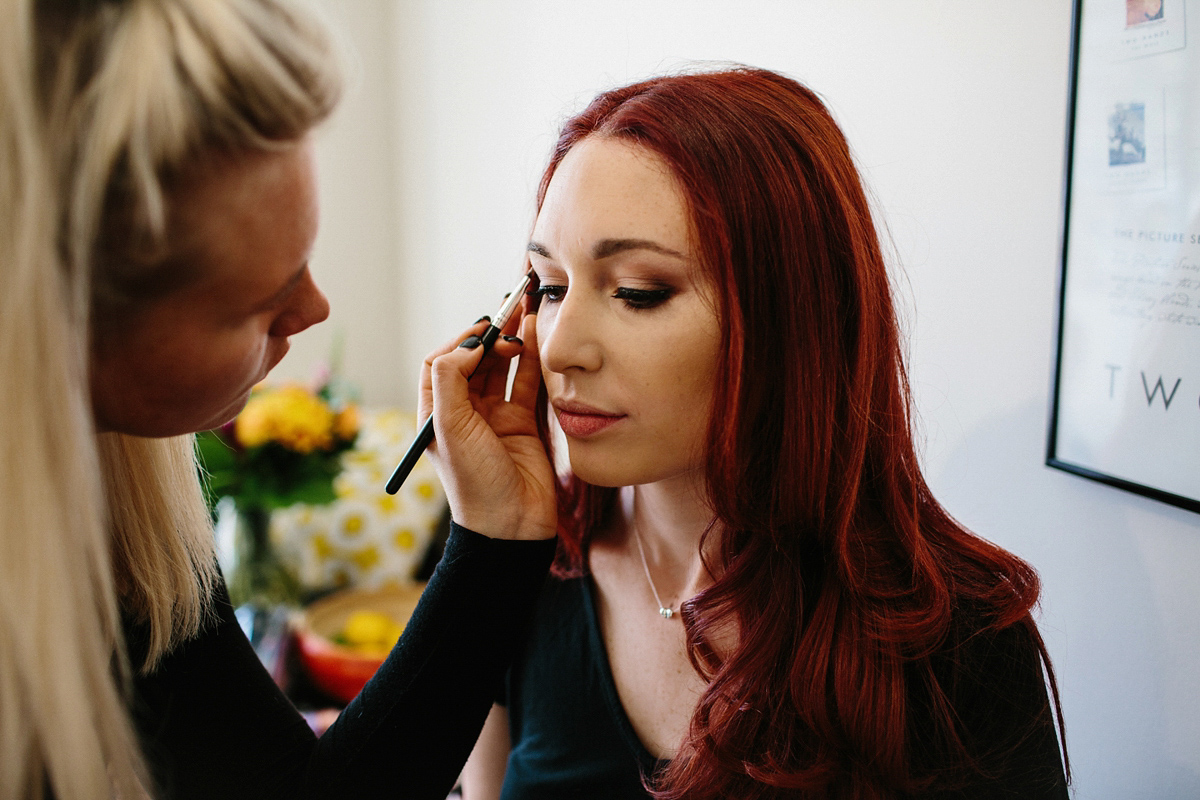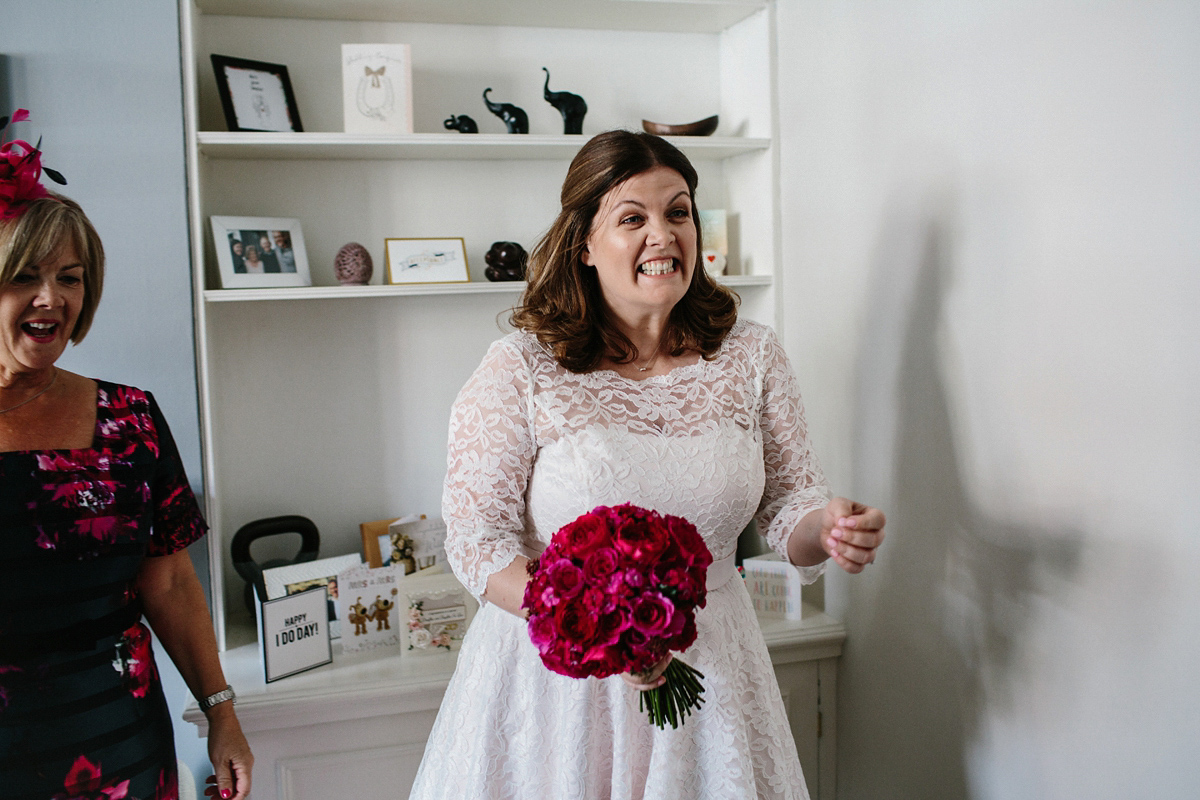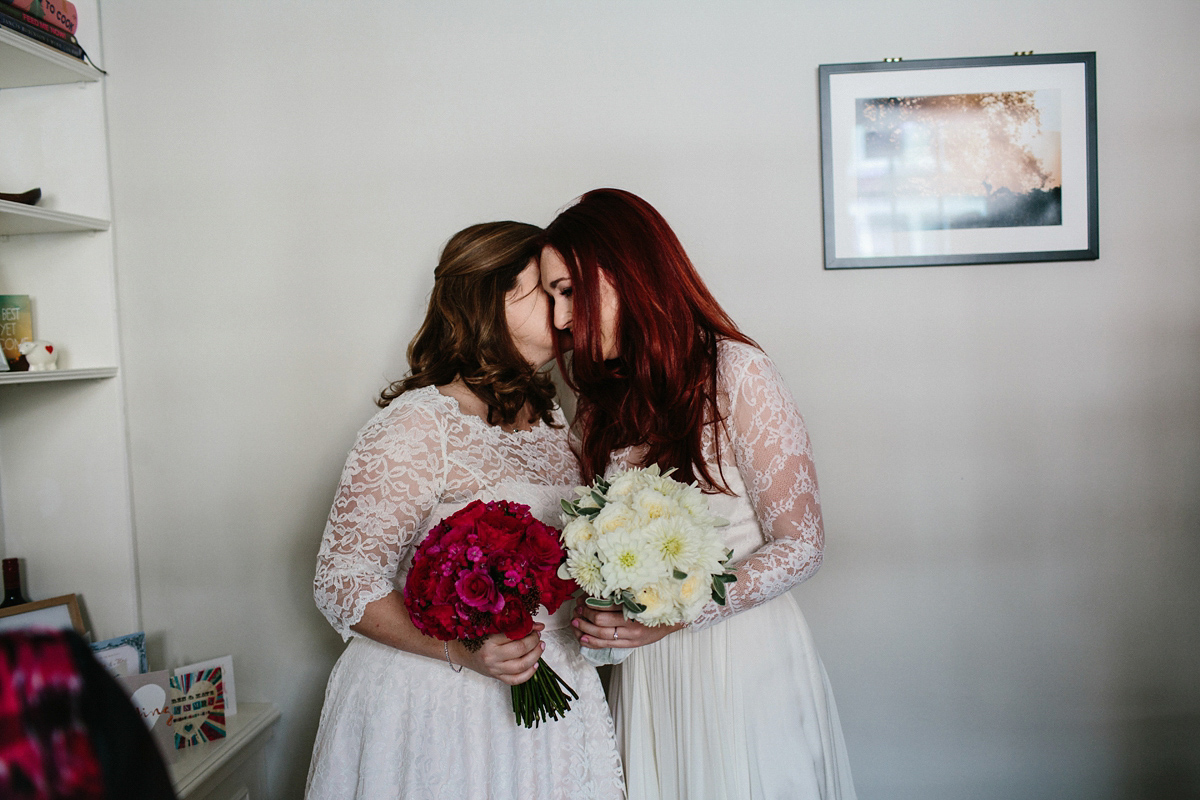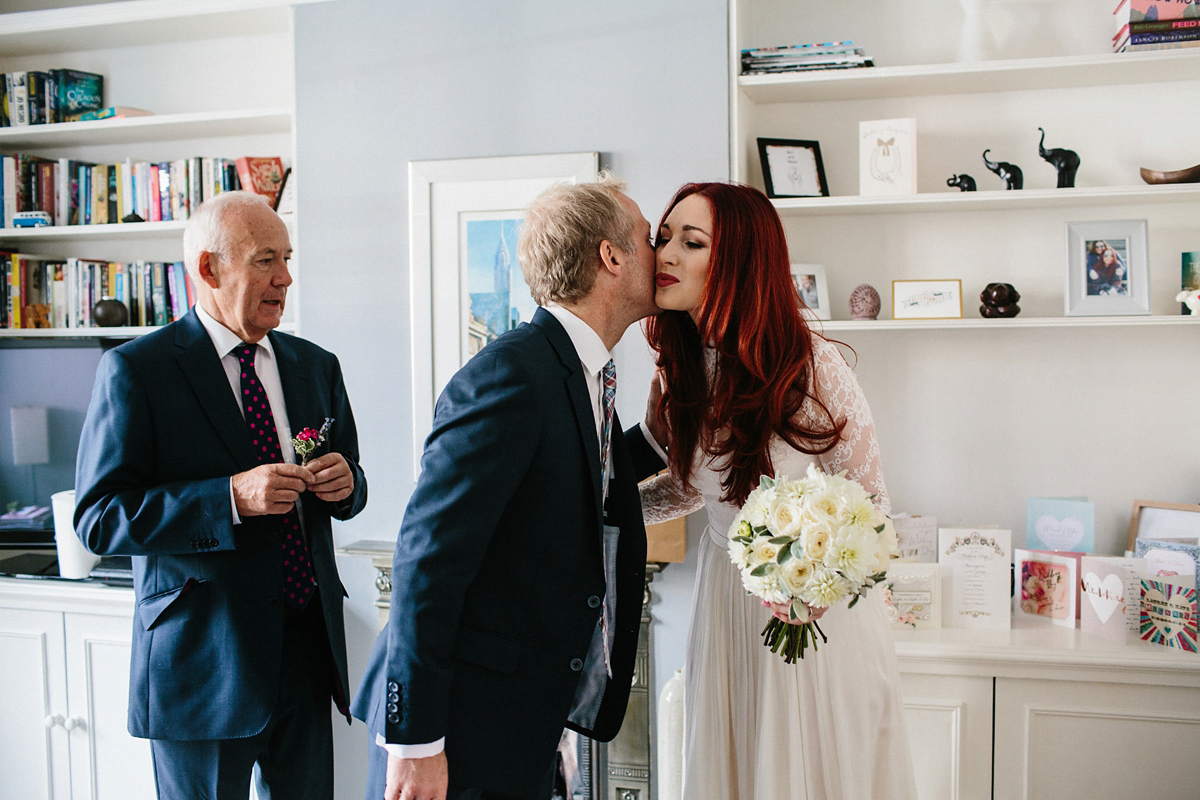 The day was captured on film by the uber-talented Claudia Rose Carter, who has graced our pages so many times with her beautiful work.
I just love how crisp her images are and how she doesn't miss a glance. We're immensely proud that Claudia is a member of our Little Book For Brides.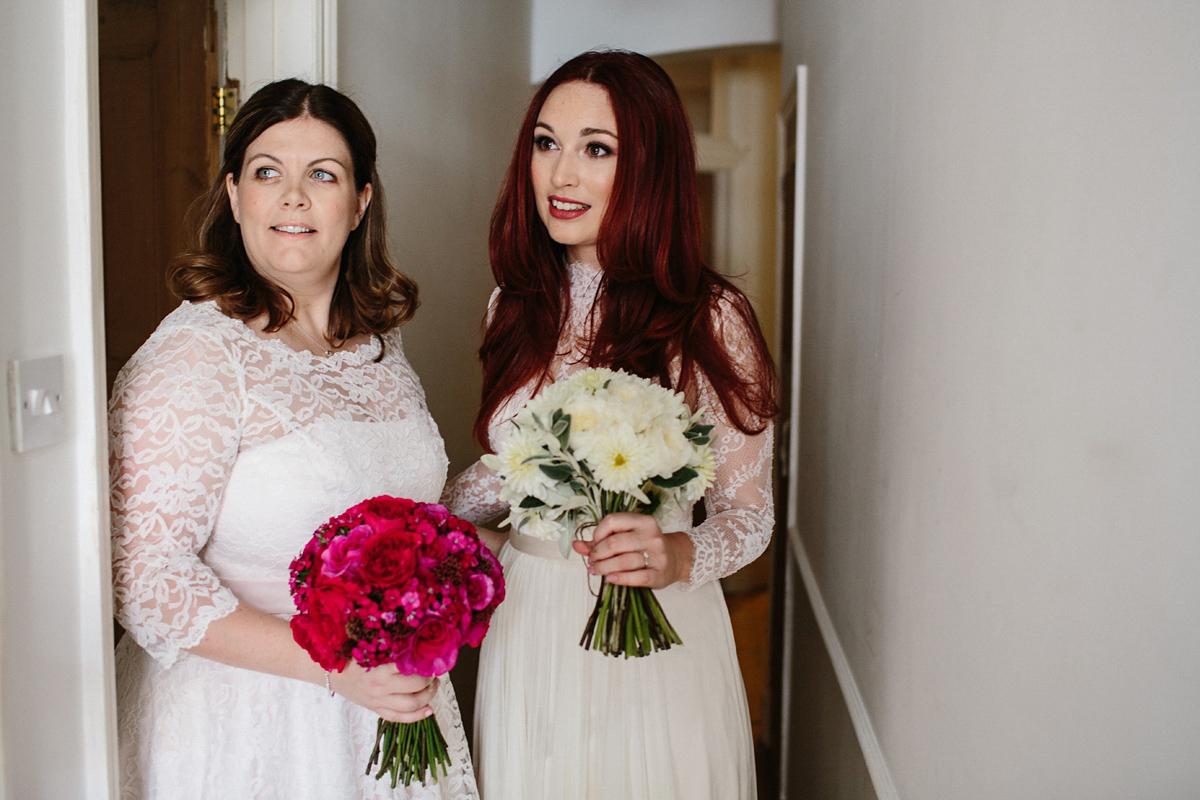 "We had the wonderful Claudia Rose Carter photograph our day and she did so perfectly. Claudia and her assistant were relaxed, friendly, attentive and professional; we couldn't have asked for a better photography team."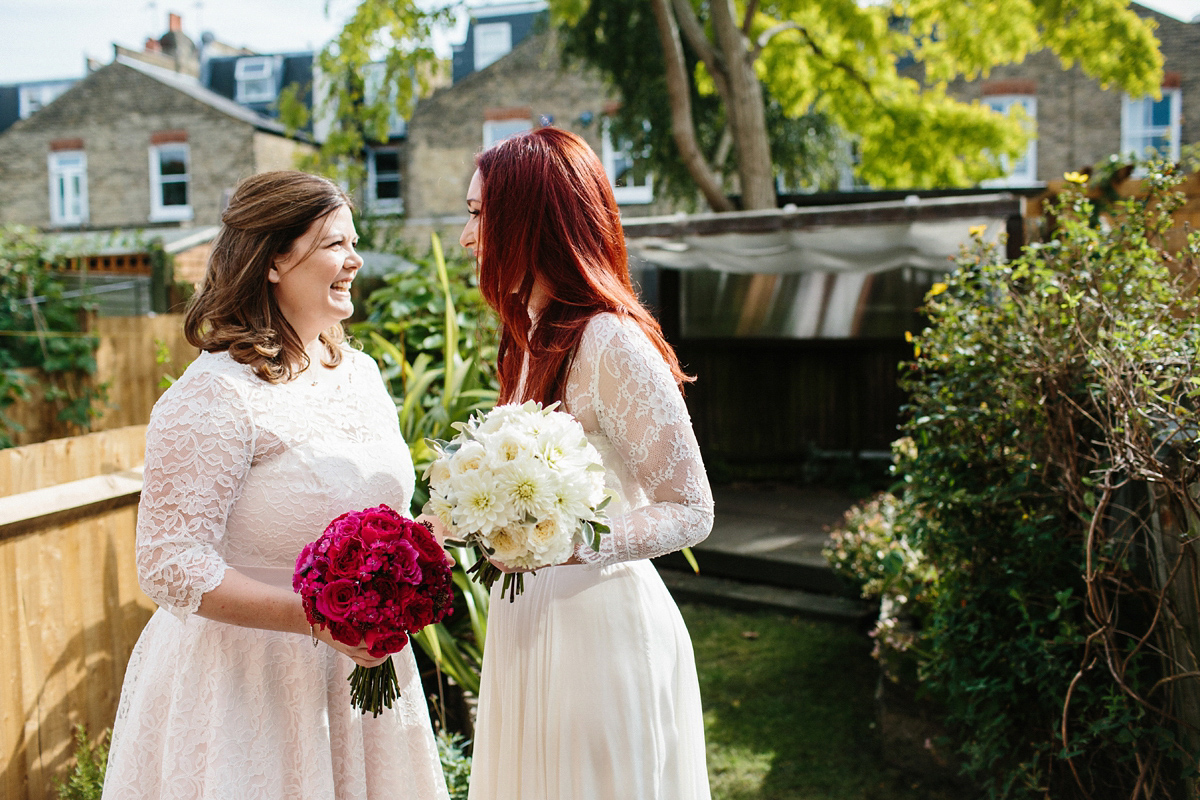 "For flowers we chose Augustus Bloom who we loved from the moment we saw his website. His flowers were bold yet understated and rustic yet polished – perfect."
Lauren chose pure white Converse to go with her long gown and accessorised with a beautiful sapphire ring which her Mum received for her 21st birthday. It helpfully doubled up as her old, borrowed and blue.
Kate chose gold LK Bennett heels to complement the short skirt of her dress and also chose to wear an accessory belonging to her Mum – a diamond bracelet – as well as her own trusty Tiffany bean necklace.
"With two brides and five bridesmaids, we asked our (very understanding) bridesmaids to wear whatever they wanted as long as it was blue. They complemented each other perfectly."
Kate was accompanied down the aisle by her Dad, while Lauren walked with her Mum, both to an instrumental album track by Coldplay- 'Reign of Love'.
"Surprisingly, both of our favourite part of the day was the vows.  We expected to be too nervous to enjoy it but we were grinning from ear to ear throughout the whole ceremony."
The ladies exchanged rings which they purchased on a lunch break in Hatton Garden.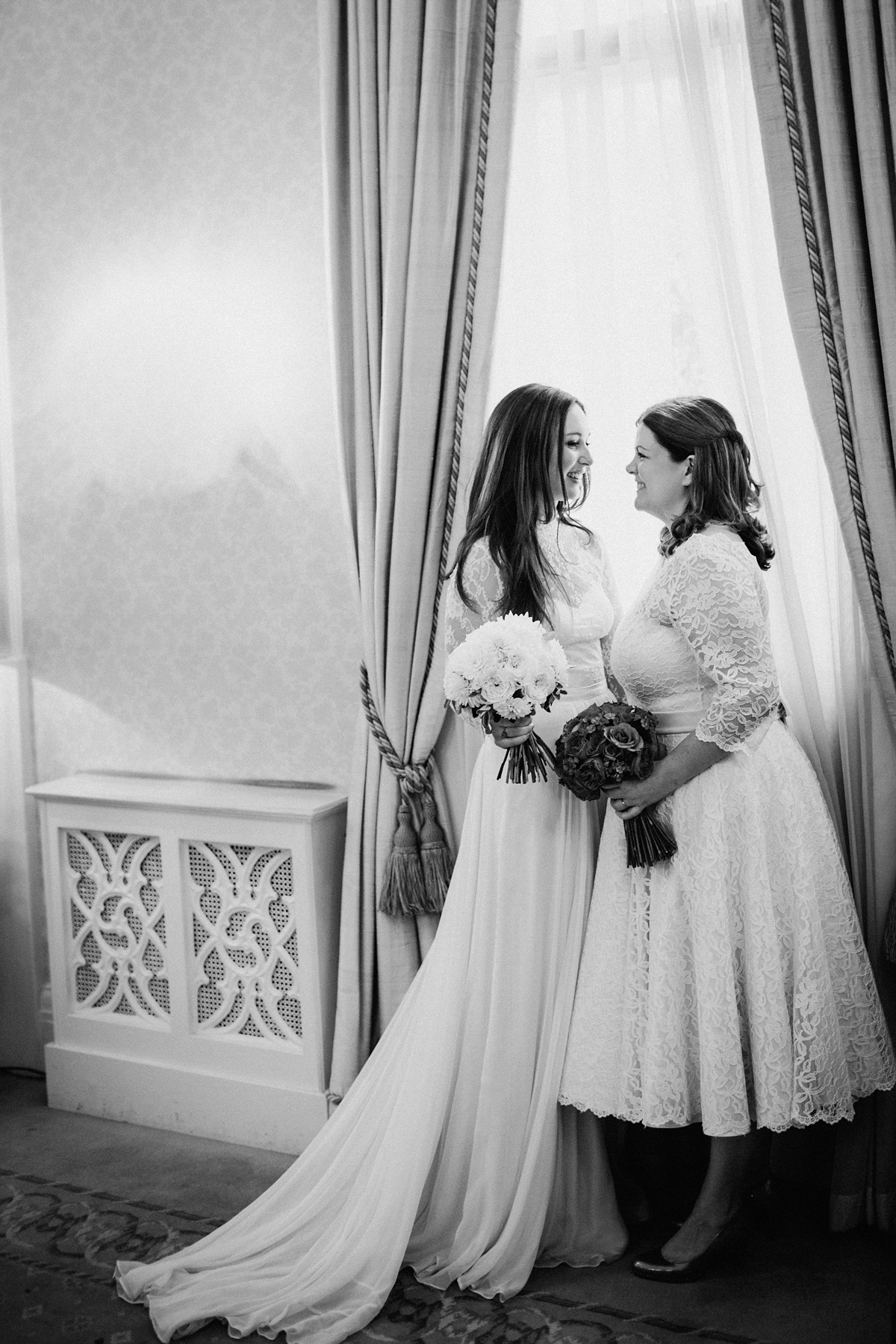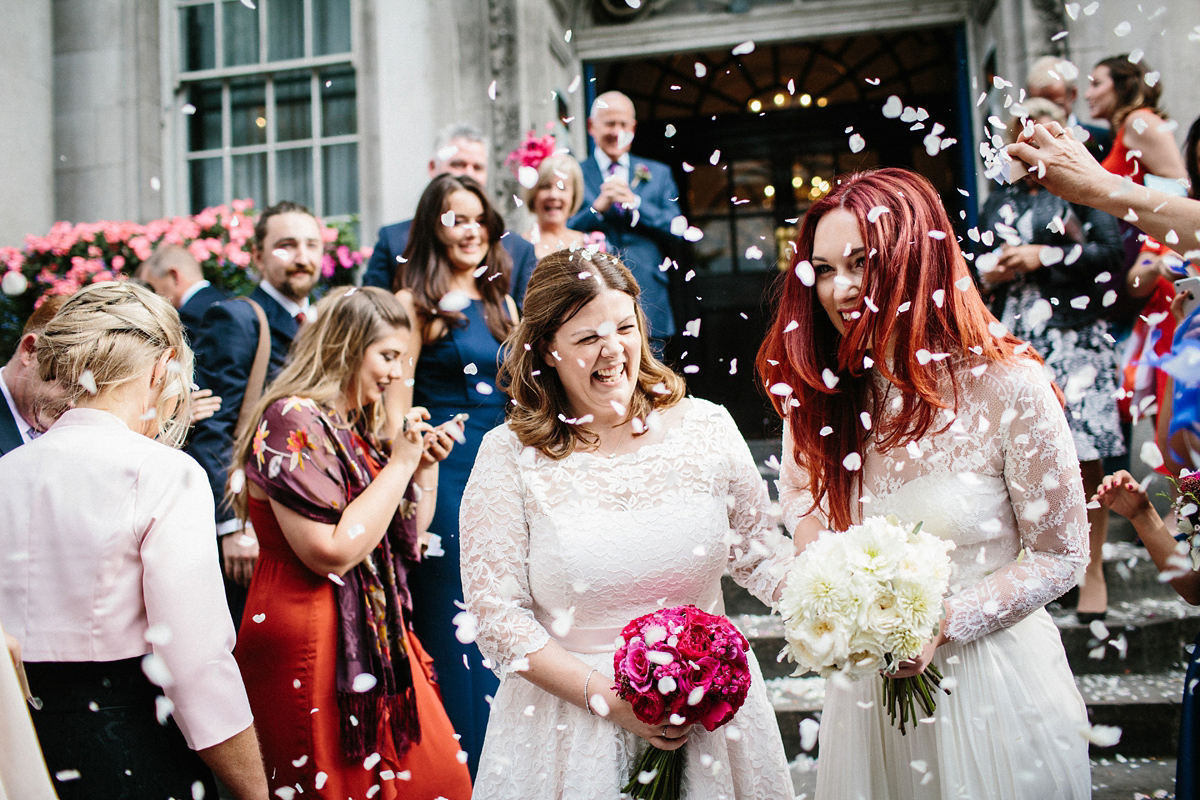 The couple hired a classic red London bus to transport themselves and guests from the ceremony venue to their reception at The Jolly Gardeners in Earlsfield.
Lauren described it as 'clichéd but lovely'. I say just lovely!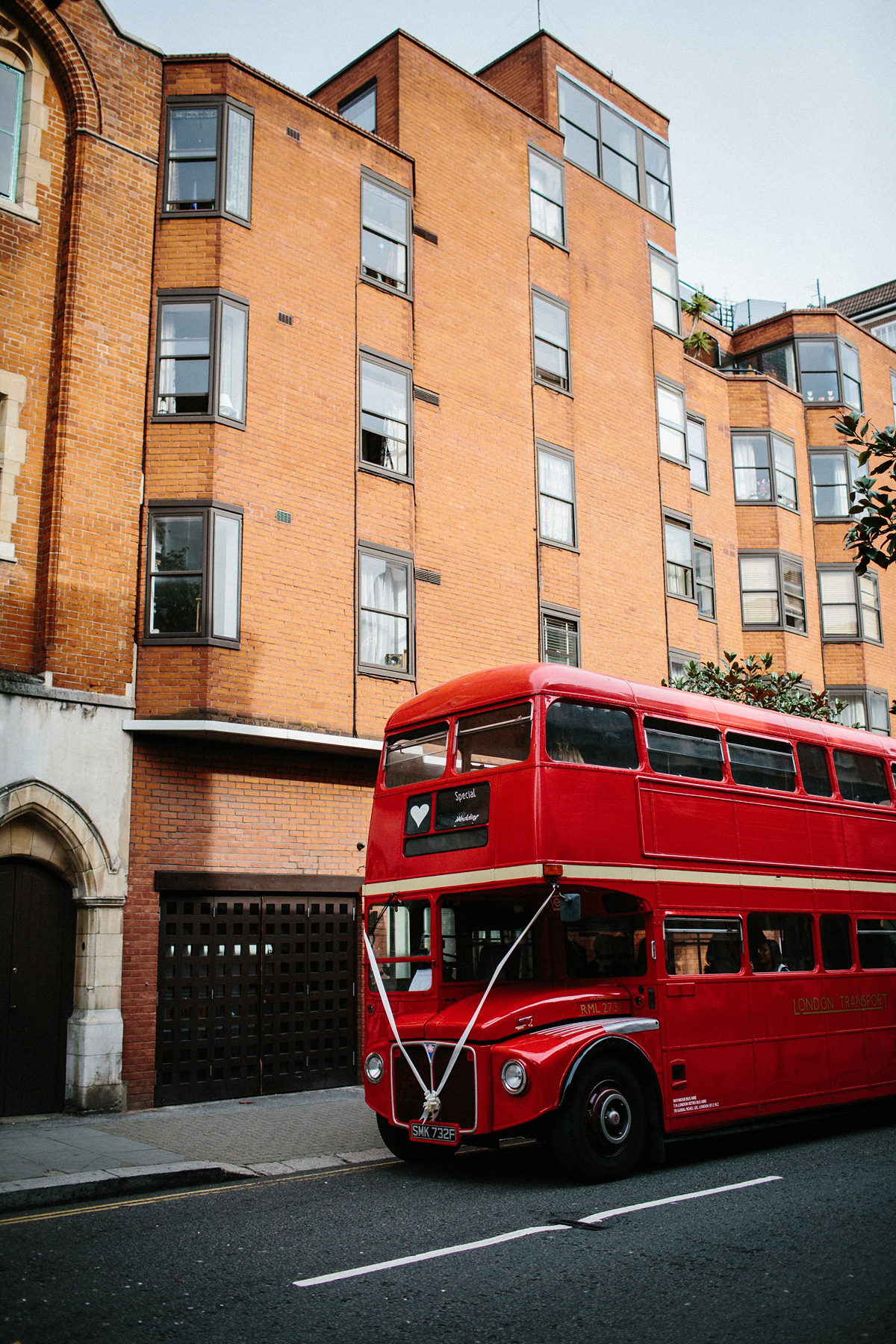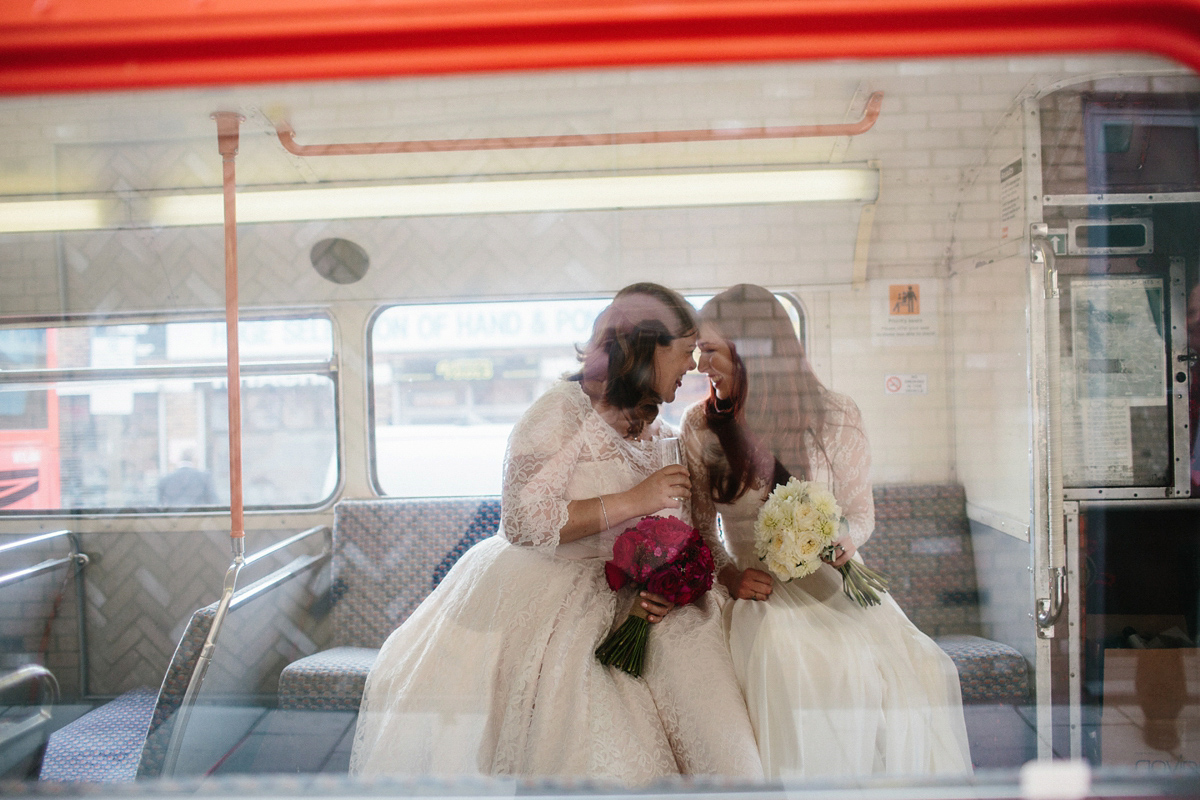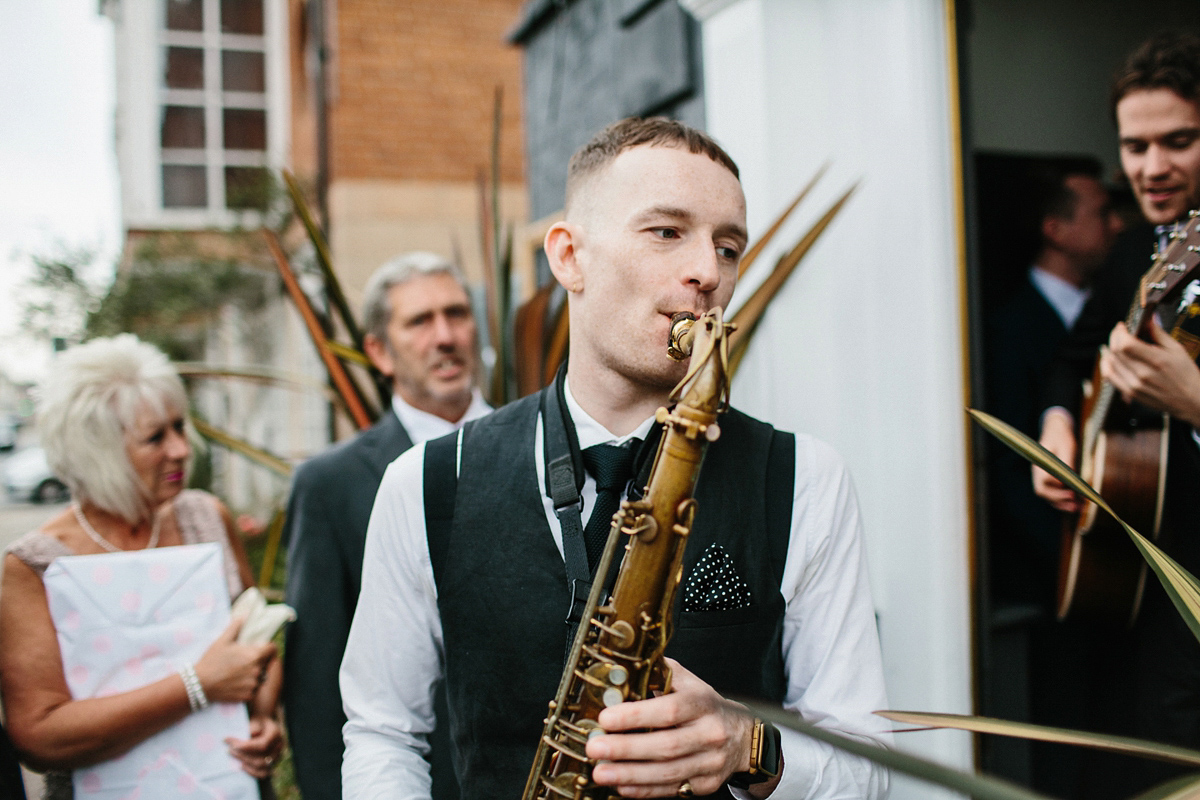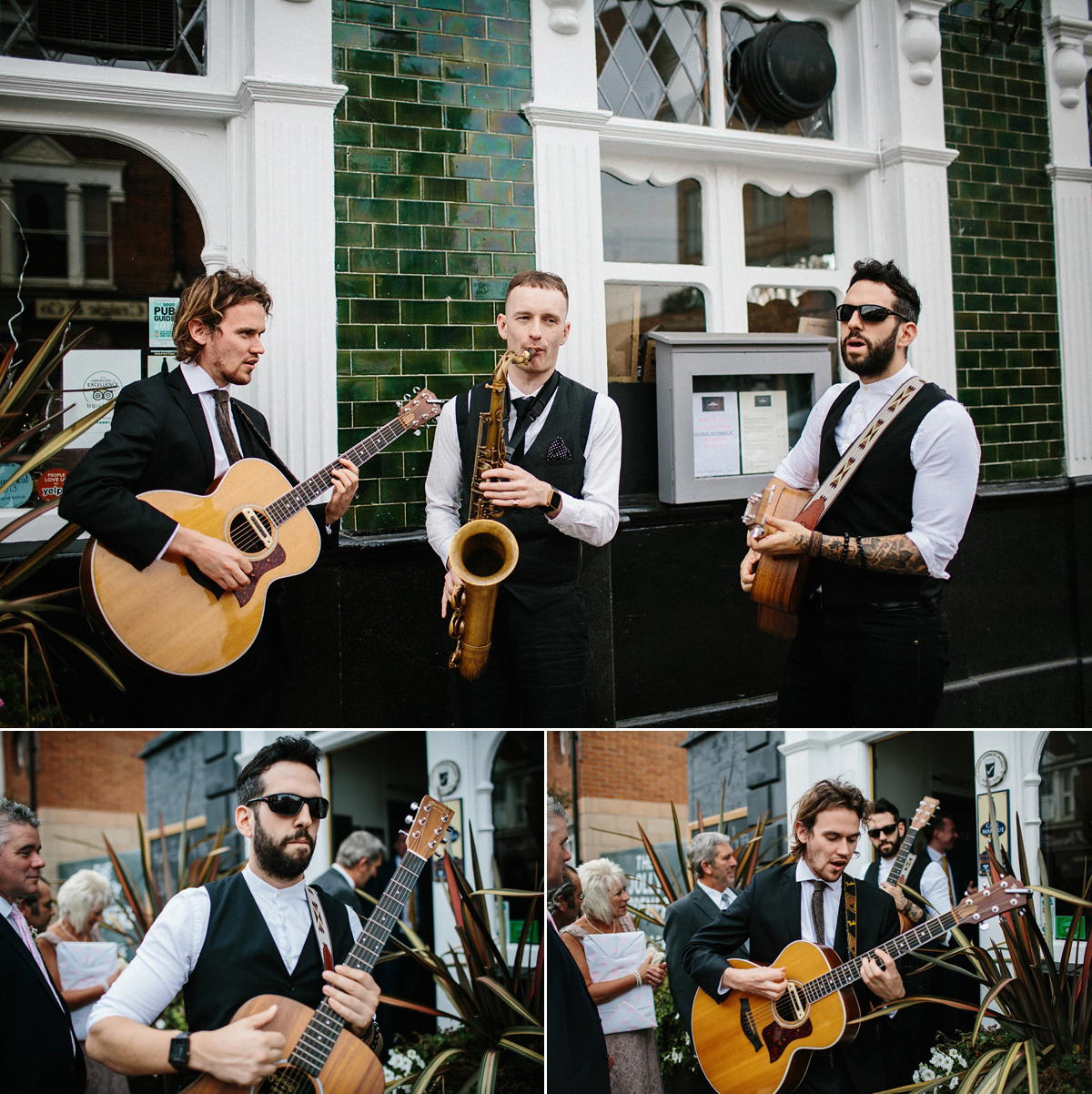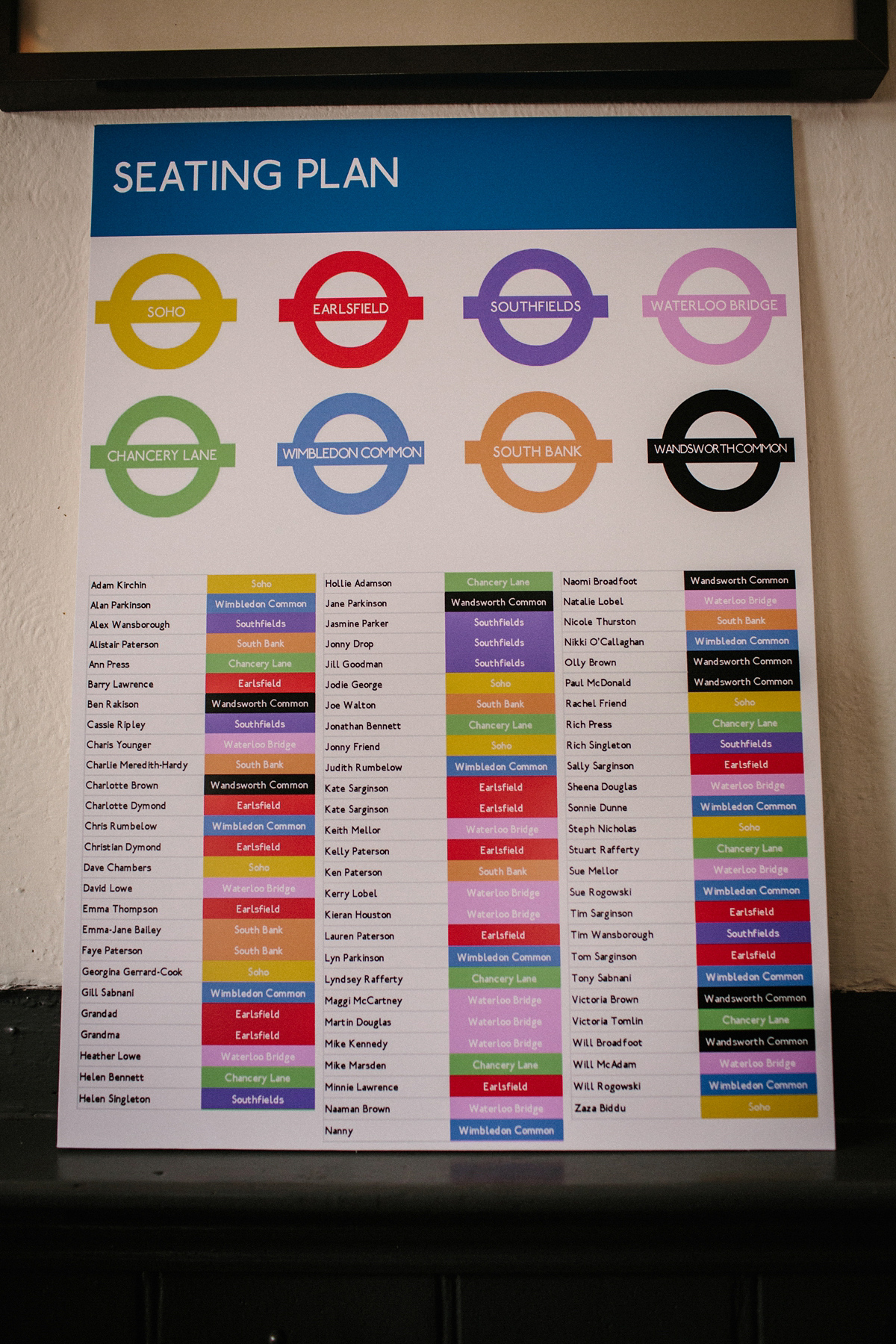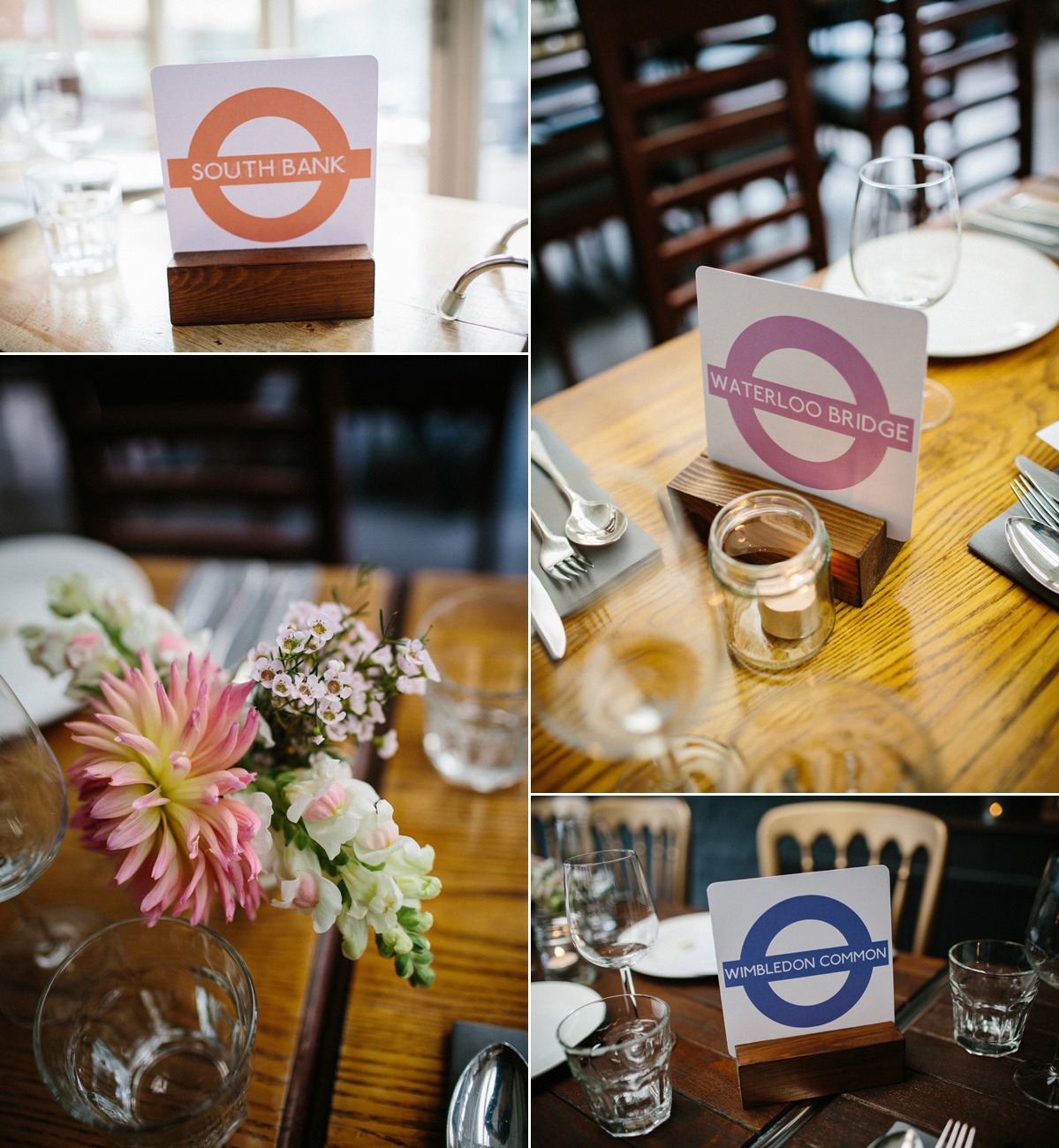 "As Kate is from the Lake District, we chose to order some local cheeses for our four tier cheese-cake from Churchmouse Cheeses."
"The fruit cake layer was provided by a farmer's wife the cheesemonger knew, which we loved.  Such a personal touch and they were so attentive and helpful when planning the cake."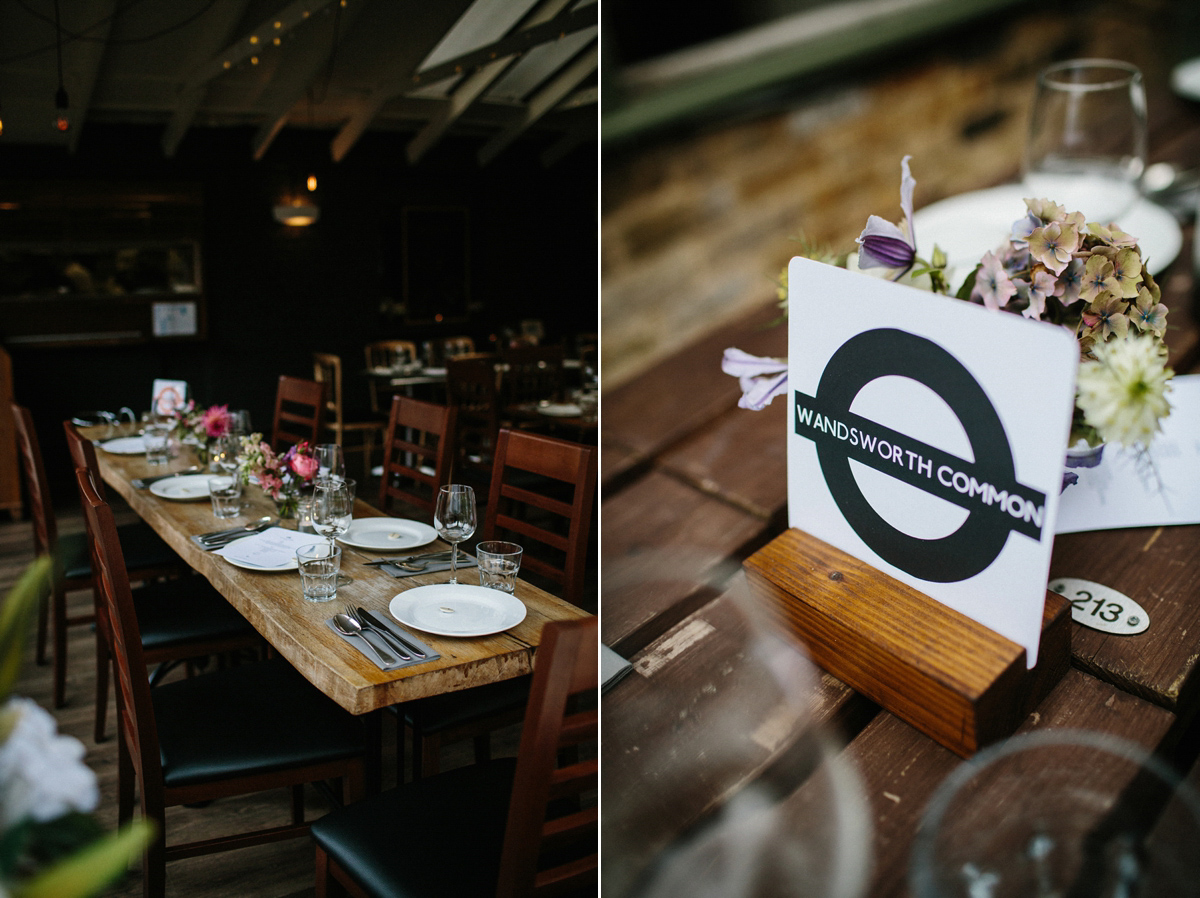 For favours, the couple also went Lake District-themed, serving Grasmere gingerbread to guests (which is absolutely amazing- we used to insist on buying it as children when in the area and I still do now).
"All of the catering was taken care of by the wonderful Adam and team at our venue, The Jolly Gardeners. We wanted something a bit different and went with a Malaysian-themed, family-style feast."
Entertainment was provided by a roaming band Free To Roam (such a cool idea) and later, guests danced into the night to classic cheesy tunes provided by a DJ from Articulate Music.  Lauren and Kate had their first dance to Dionne Warwick's 'This Girl's in Love with You' – a perfect choice for these loved-up ladies.
Words of Wedded Wisdom
"Don't sweat the small stuff.  We spent so much time worrying over pictures in frames as decorations and table plans, but when it came to it, nobody was even looking at them – everyone was chatting, dancing and enjoying the day."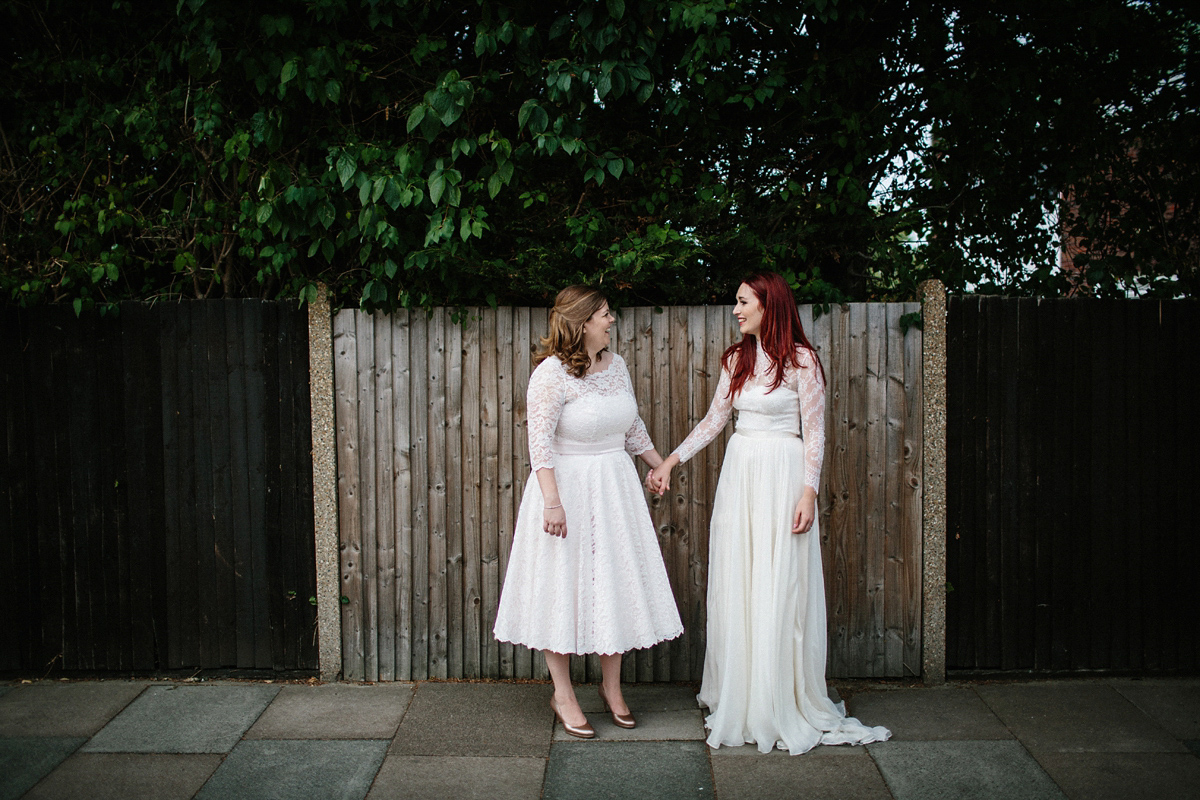 So many thanks to Lauren and Kate for sharing their beautiful day with us all – have a wonderful first Christmas as a married couple, ladies. So many thanks too, to the wonderful Claudia Rose Carter for sharing her work with us all.  For more brides in Candy Anthony, take a peek at these past weddings, and the same here for brides in Catherine Deane.  I wouldn't be able to choose between the two personally…
Much love,
Shona x