Oh ladies, this wedding – I simply adore it! The bride has the most beautiful smile – the love and sense of joy and celebration in these photographs is truly palpable – amazing work from one of the best British wedding photographers I know, the wonderful Tom Ravenshear of course! Rebecca, Jamie Oliver's Editor (whose famous face can be spotted in these photographers a little further down) married James, Founder and Creative Director at Superfantastic, tied the knot on 3rd October at Camden Town Hall, followed by a reception at St. John in Smithfield. I simply love how Tom has captured the spirit of this day. Enjoy!
"Tom Ravenshear was recommended to us by Izzy at St. John – we met for a beer at James' studio and felt that he got us straightaway. Tom only does ten weddings a year, and throws himself into it when he does one. He assured us he would blend into the background and capture real moments, which he totally did, and we knew that he would stay for the long haul to get some epic dance-floor shots. That's one of the things we loved about his previous shoots, and he definitely delivered."
"We wanted the day to feel effortless, timely and seasonal, so kept everything quite simple. We wanted it to feel super-relaxed, with minimal formality, and for everyone to have a brilliant time. We realised the things that mattered most to us were good food, a great party, and a venue intimate enough to put everyone at ease from the outset, where all the action would happen in one central space – that's one of the main reasons we fell in love with St. John. Izzy Curtis from St. John was super-helpful getting everyone set up – it was effortless."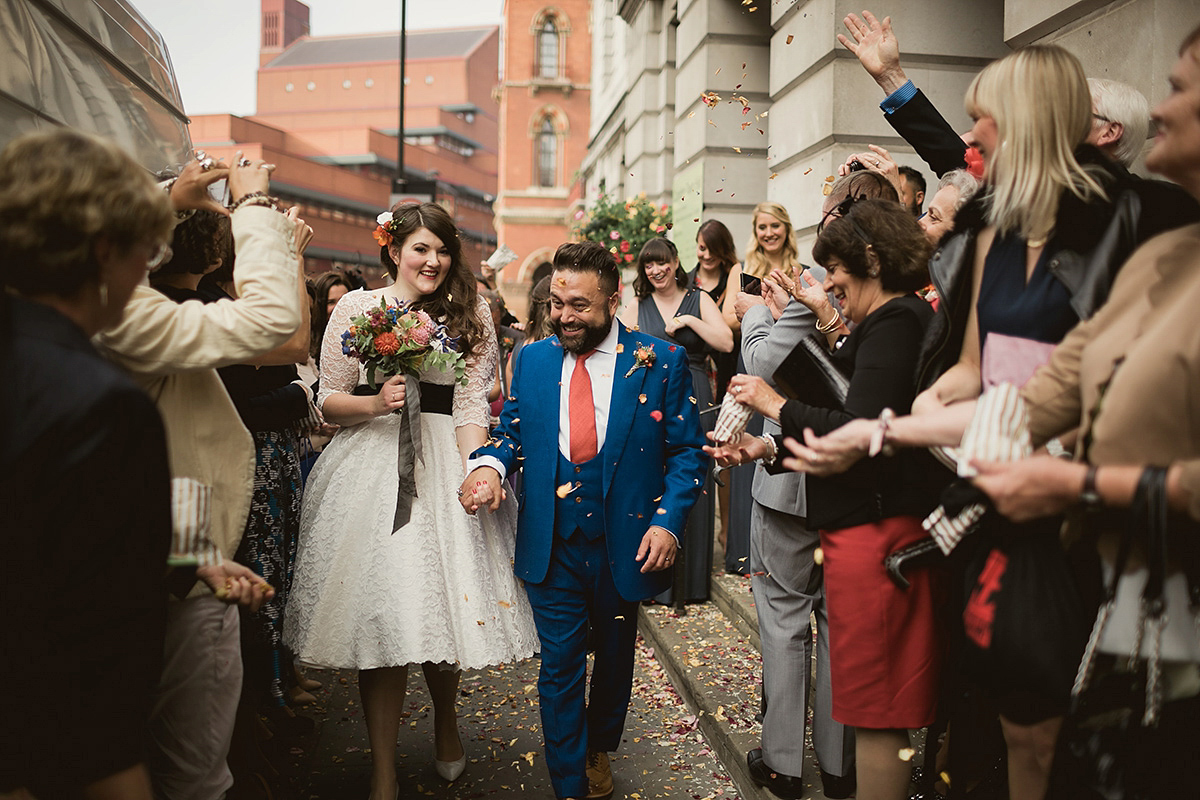 Rebecca's dress – which couldn't be any more perfect for her, was discovered via the divine Candy Anthony – a wonderfully British vintage inspired brand that you'll be seeing more of on Love My Dress in 2017.
"My dress was from Candy Anthony and made me feel happy from the moment I put it on. I loved the shorter length, the flattering cut, the way the skirt moves as you walk, and the fact that I could choose a sash in a different colour and match it to a petticoat (and go for a 'double layer' for maximum volume!). It felt like 'mine'.""James and I met through work but on a social level at a festival, and since then have been lucky enough to work together on lots of creative projects. We got engaged in March 2014 on a trip to New York. James had my ring designed and made, carried it across the water through security and kept it in his pocket ready for the perfect moment – a picnic in Central Park. We celebrated with lots of Champagne and an amazing dinner at The Spotted Pig."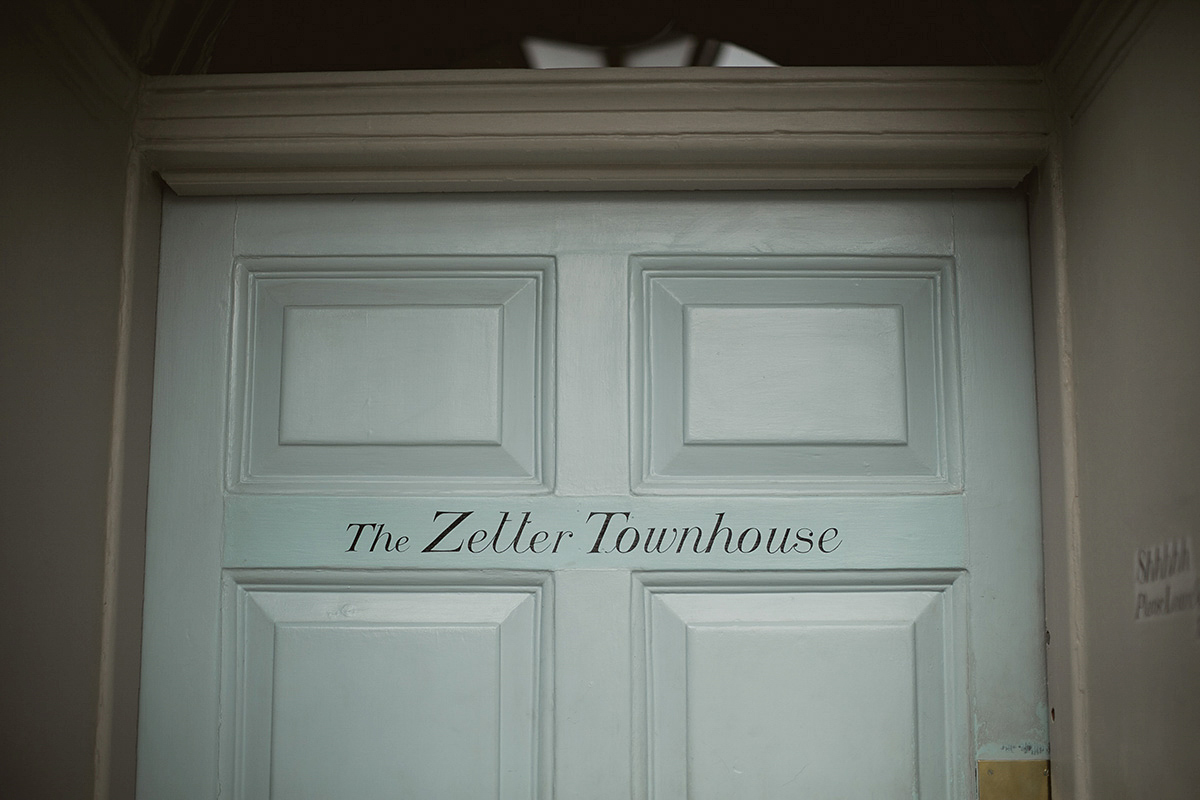 "I wore a pair of Crispin Shoes – they were simple but I loved them."
"My makeup artist was Julia Bell – I know Julia through work, she'd done a couple of friends weddings ahead of ours."
"It was important to me that everyone felt at ease getting ready, and I knew Julia would be amazing, she did everyone's make-up and her friend Abbie Tyler took care of things on the hair front."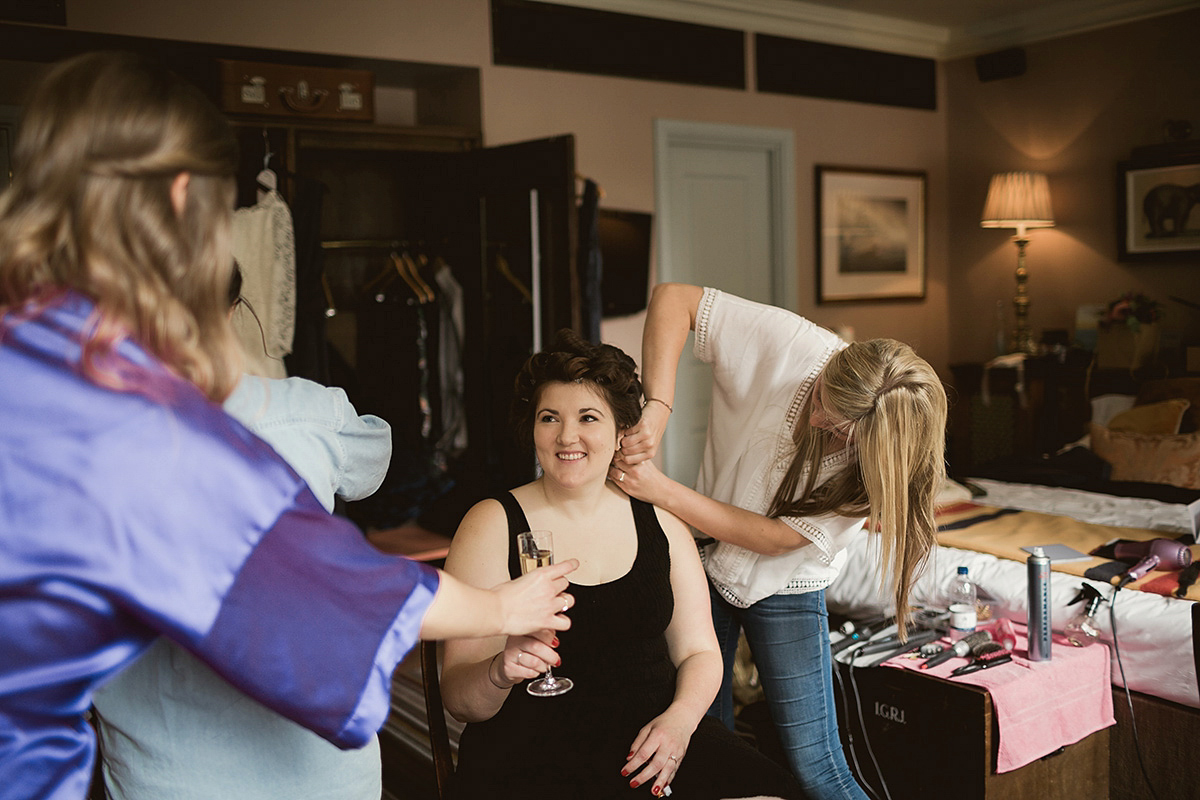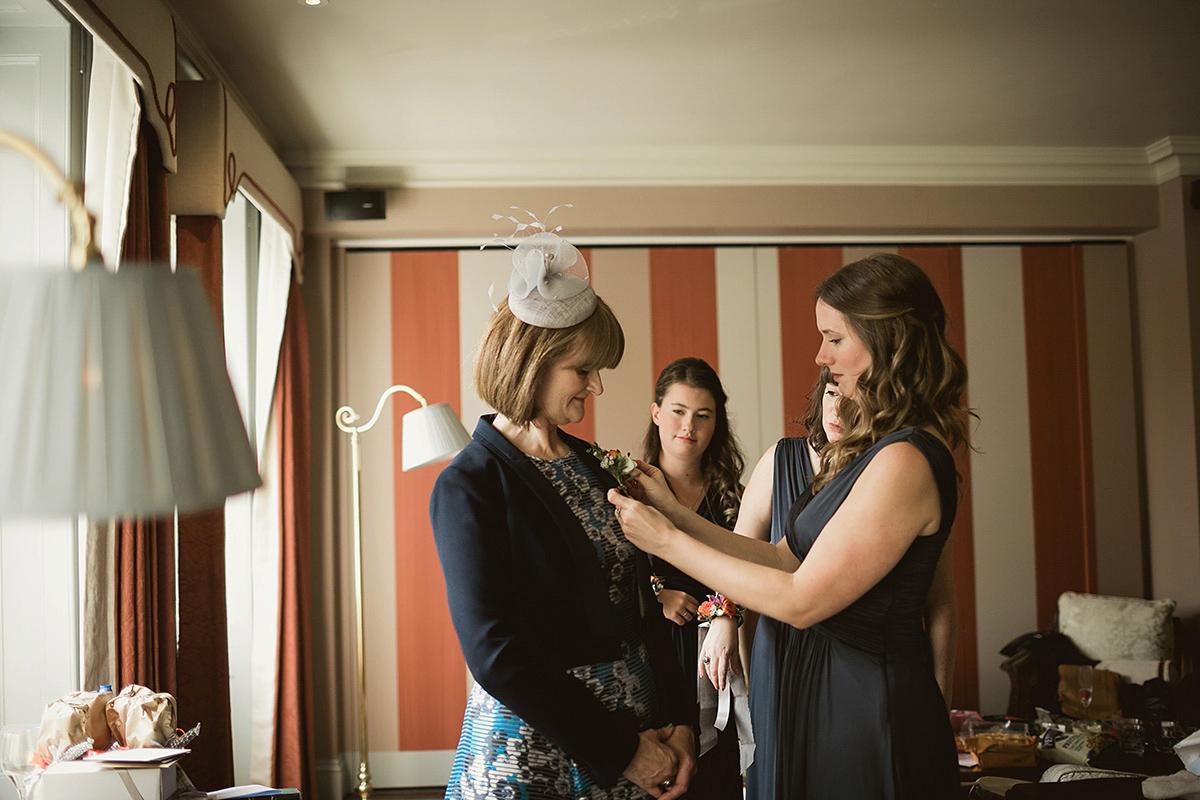 "I had fresh flowers in my hair, which our florists, One Flew Over, prepared and delivered to me on the morning."
Rebecca's bridesmaids wore gowns from John Lewis.
"It was the Frances Jersey maxi dress in grey – super flattering and a lovely shade that allowed their wrist corsages of flowers to really sing out."
"Each of the girls bought their own, the only brief was to choose shoes in coral so there was a bright pop of colour peeking out from their long grey dresses, that also matched the flowers."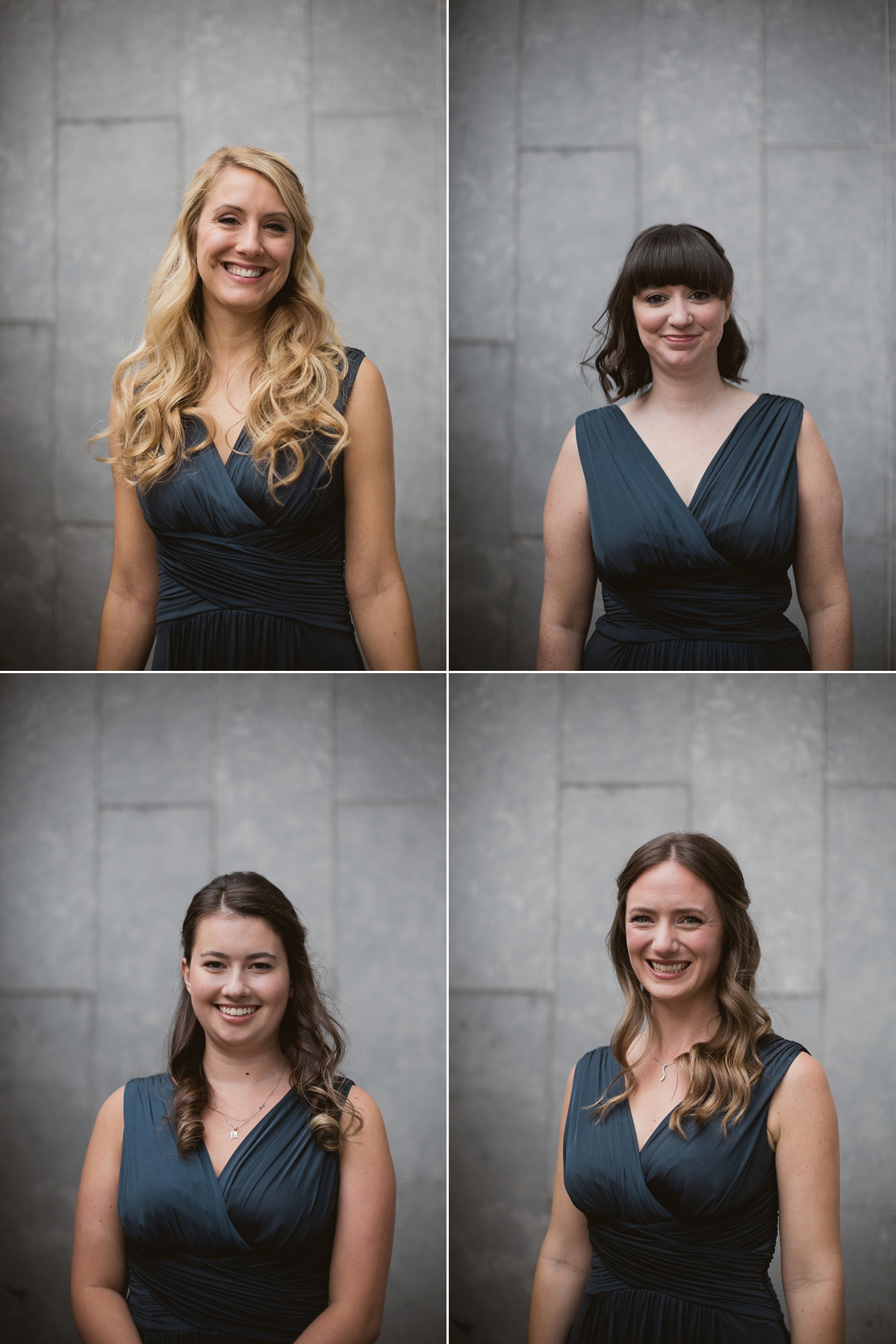 "My earrings were by Monica Vinader – my mum wanted to buy me something special I could keep, and we choose the most beautiful Riva Diamond Shore studs by Monica Vinader, in rose gold to match my rings."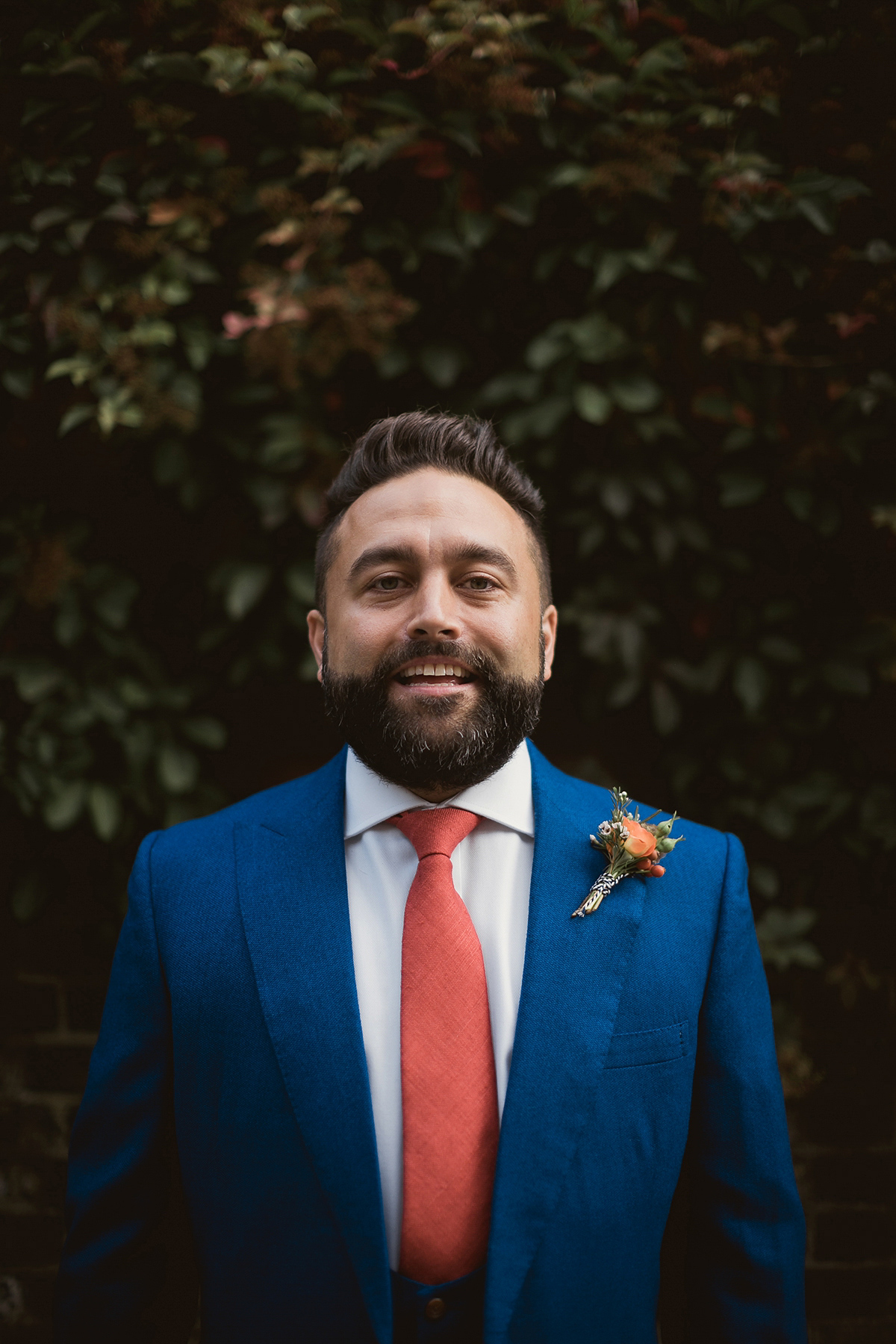 "I was almost tempted to let James walk down the aisle ahead of me as his Cad & the Dandy suit was so incredible. He always knew exactly what he wanted – a Tommy Nutter-inspired cut in bright, vibrant blue. Cad & the Dandy were amazing – true craftsmanship. James' beautiful coral tie was from Drakes."
"James wore brown Archies from Grensons – they're one of things people know him for (along with Happy Socks so he couldn't – and didn't want to – deviate. We also bought a pair of their Stanleys for my brother, to say thank you for walking me down the aisle."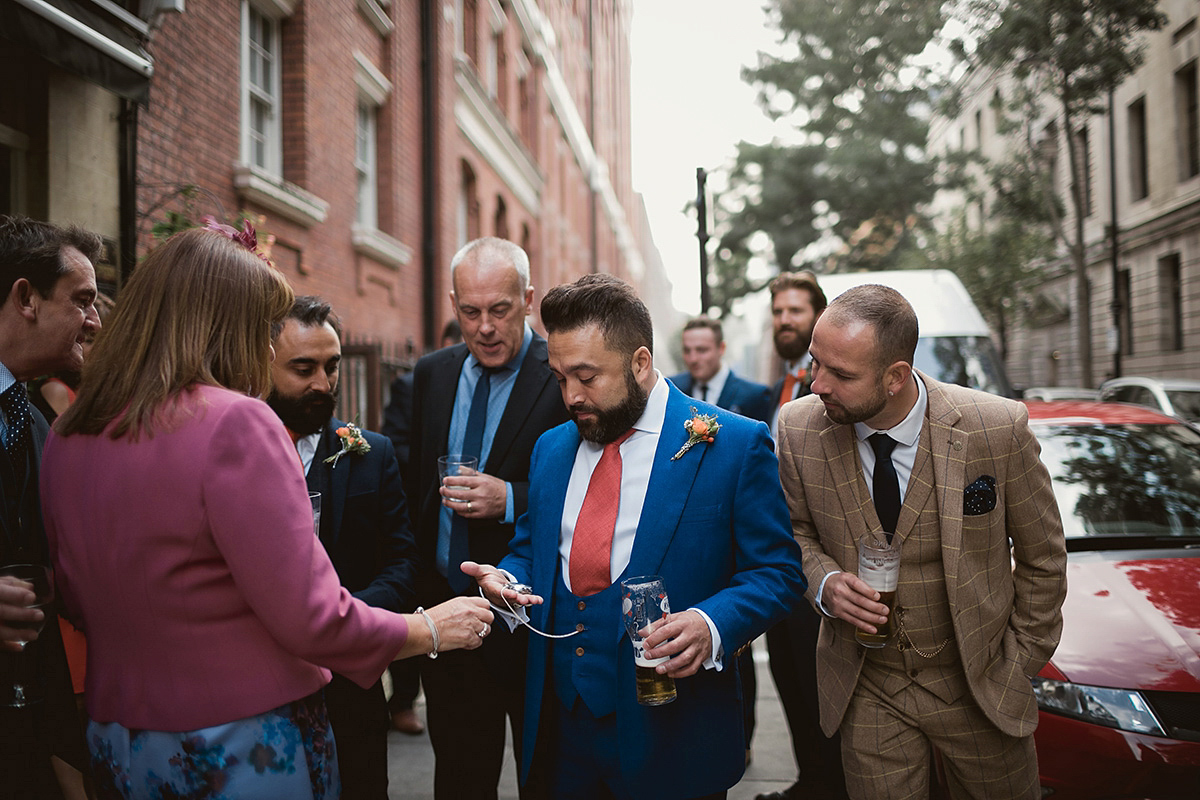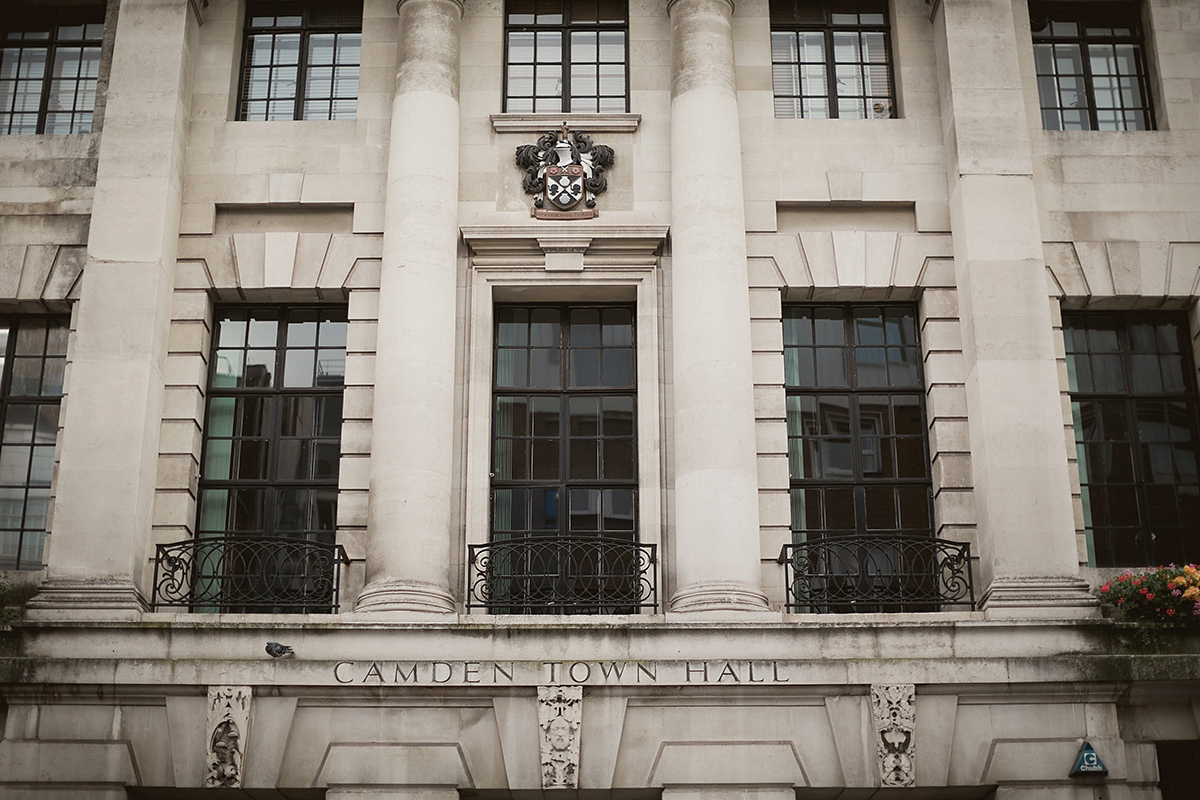 "My little (big!) brother Ned walked me down the aisle on behalf of my Dad, and was very good at calming my nerves before we went in. We had to split up and come down different passages to get to the centre of the room at Camden Town Hall, which meant an impromptu little dance move was necessary so we could swap back to the right sides. He also did the most heartfelt, wonderful speech at the reception, which blew me away."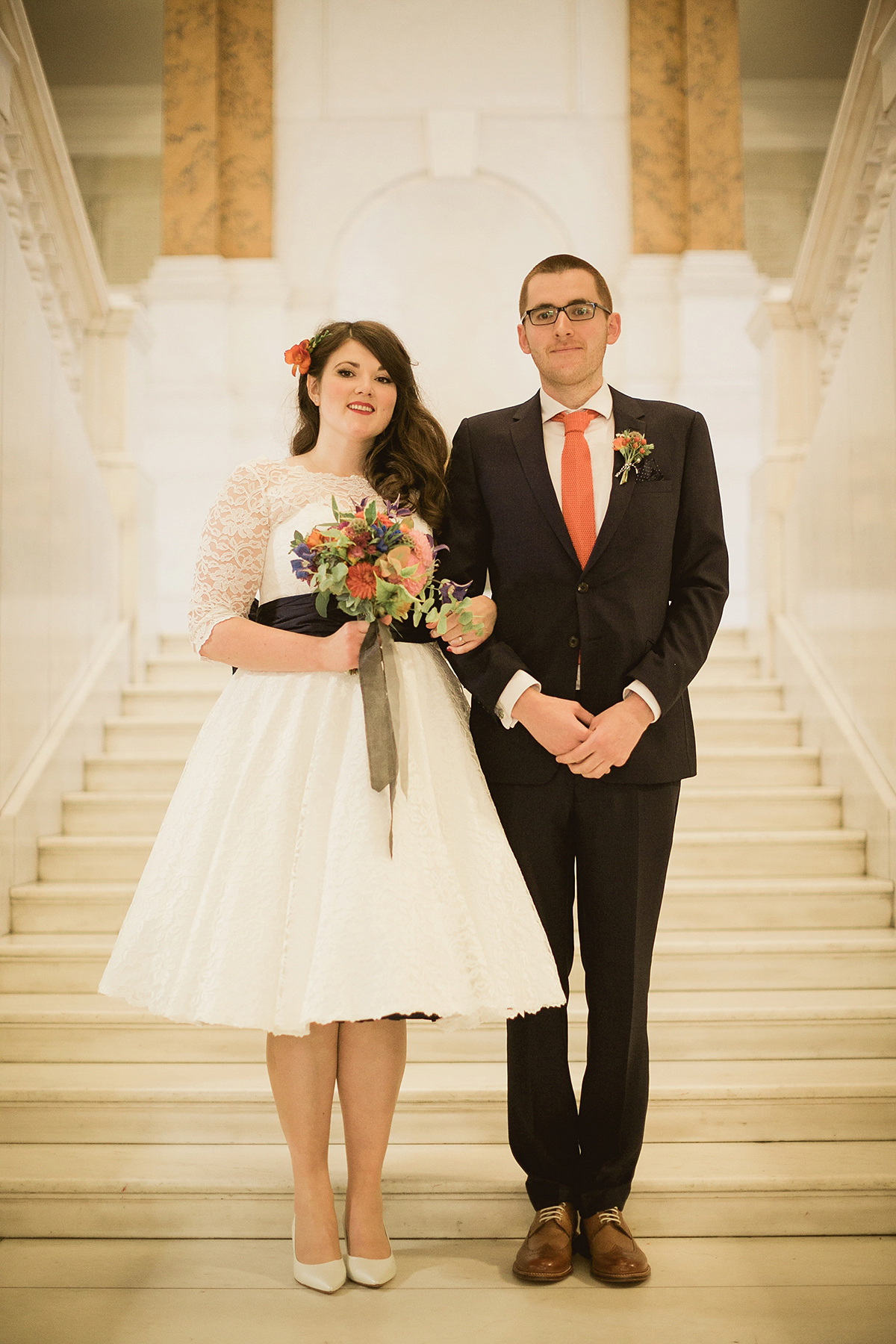 "I wanted to choose a song that meant something to us as a family, and to James, so we went for Nina Simone 'Feeling Good' – one my Dad loved (and more ceremony-friendly than Elvis!)."
"My bridesmaids went in when it started, but Ned and I waited for the music to really kick in before we entered. It was a good moment."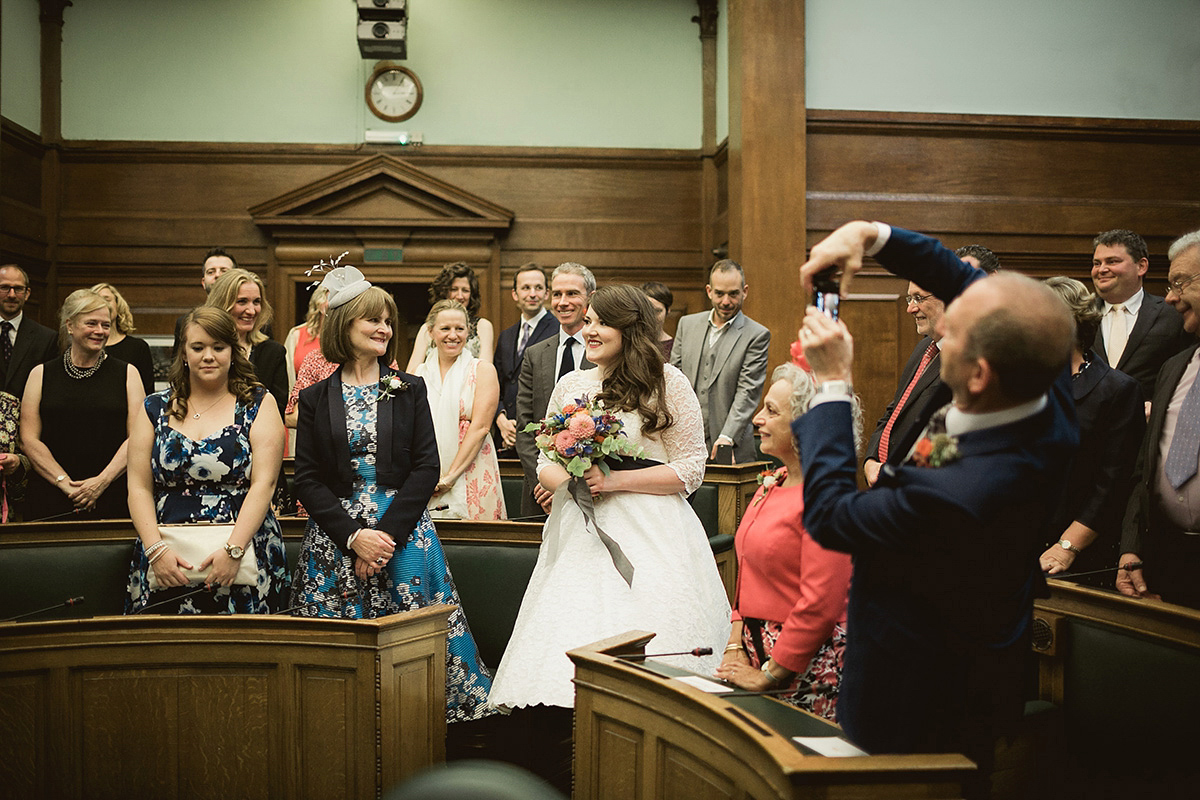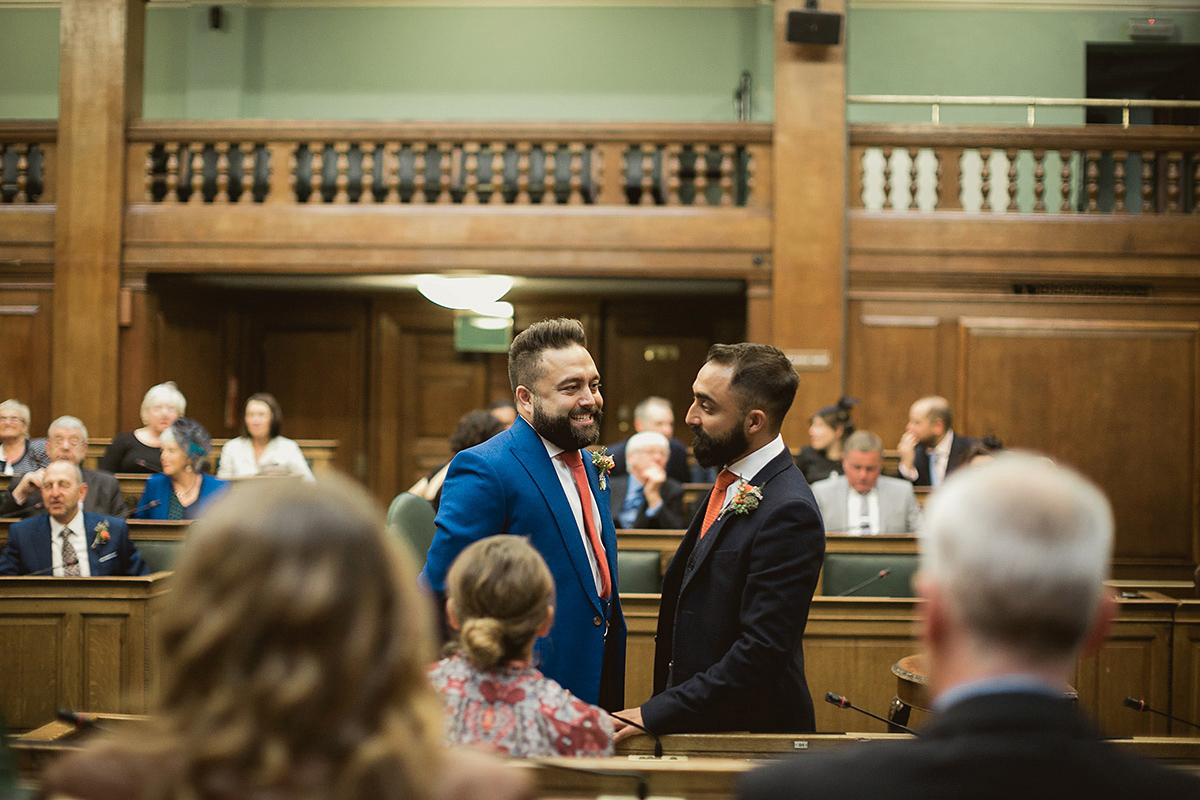 "We'd chosen a town hall for our ceremony, because we didn't feel we needed any religious content, and we decided to put our own vows together based on all the various options we were given, picking and choosing our favourite parts. We wanted it to be about a celebration of love and friendship and being stronger together. We added our own vows we'd found for the exchanging of rings: "With this ring, I give you my heart. I promise that from this day forward, you shall not walk alone. May my heart be your shelter, and my arms be your home."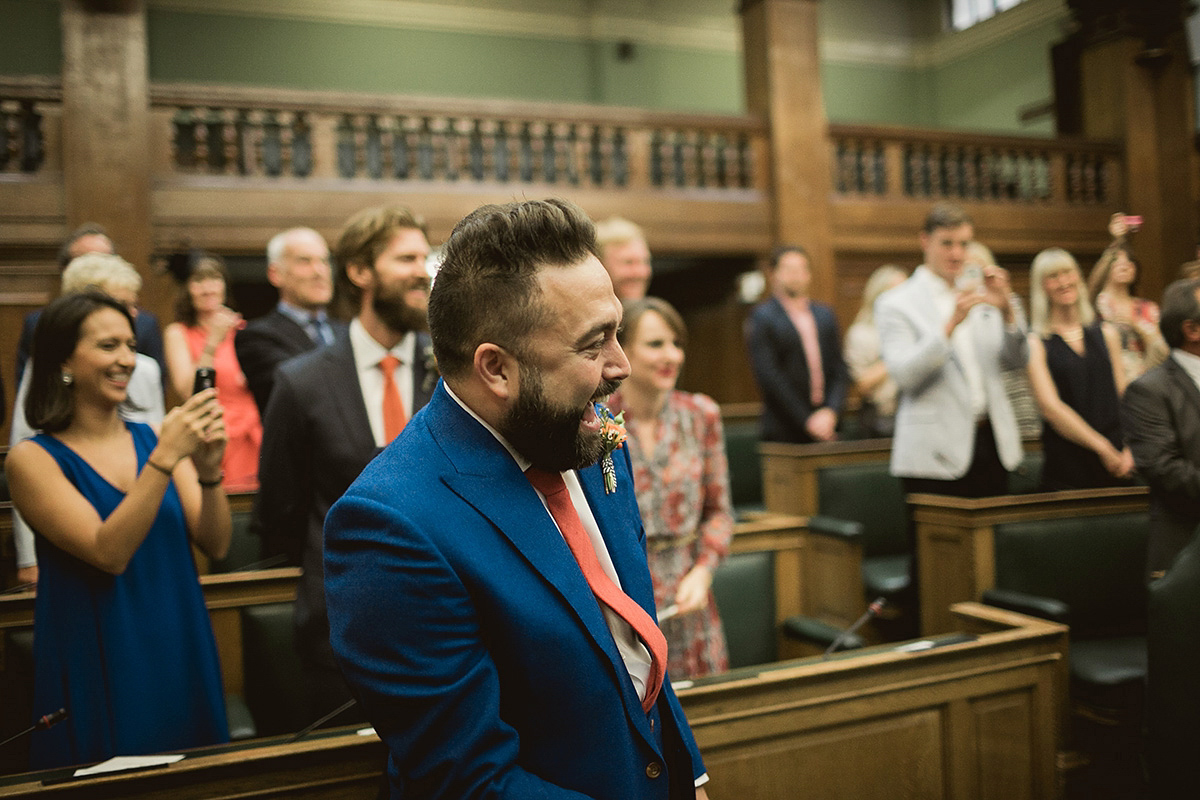 "My friend Kirsten read a poem for us that I found and couldn't stop re-reading…"
These are the hands of your best friend, young and strong and full of love for you, that are holding yours on your wedding day, as you promise to love each other today, tomorrow, and forever.
These are the hands that will work alongside yours, as together you build your future.
These are the hands that will passionately love you and cherish you through the years, and with the slightest touch, will comfort you like no other.
These are the hands that will hold you when fear or grief fills your mind.
These are the hands that will countless times wipe the tears from your eyes; tears of sorrow, and tears of joy.
These are the hands that will tenderly hold your children.
These are the hands that will help you to hold your family as one.
These are the hands that will give you strength when you need it.
And lastly, these are the hands that even when wrinkled and aged, will still be reaching for yours, still giving you the same unspoken tenderness with just a touch.
"We had our rings made at Hatton Gardens. I confess I wanted all the diamonds – set in rose gold– to complement my engagement ring, and James went for a simple platinum band."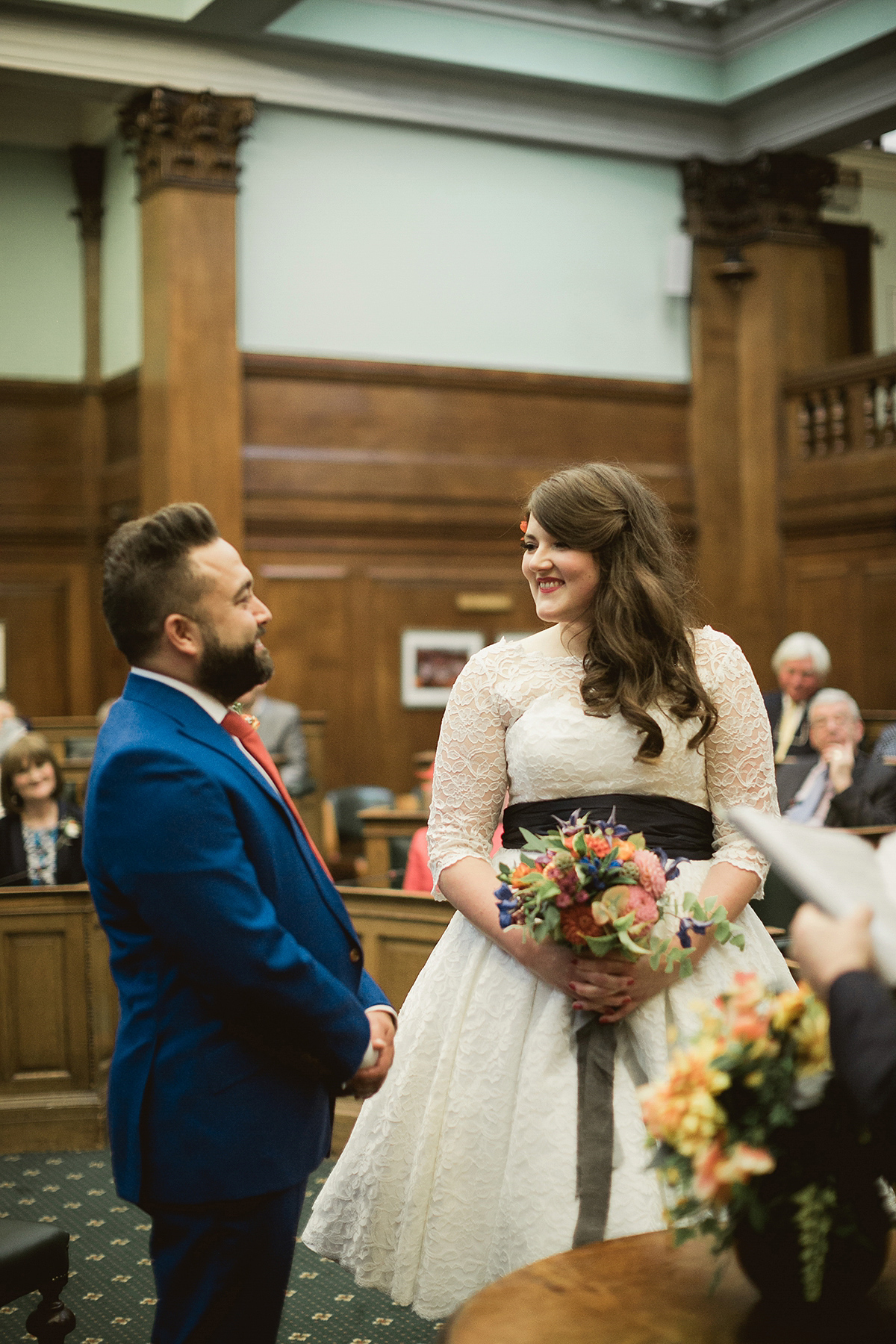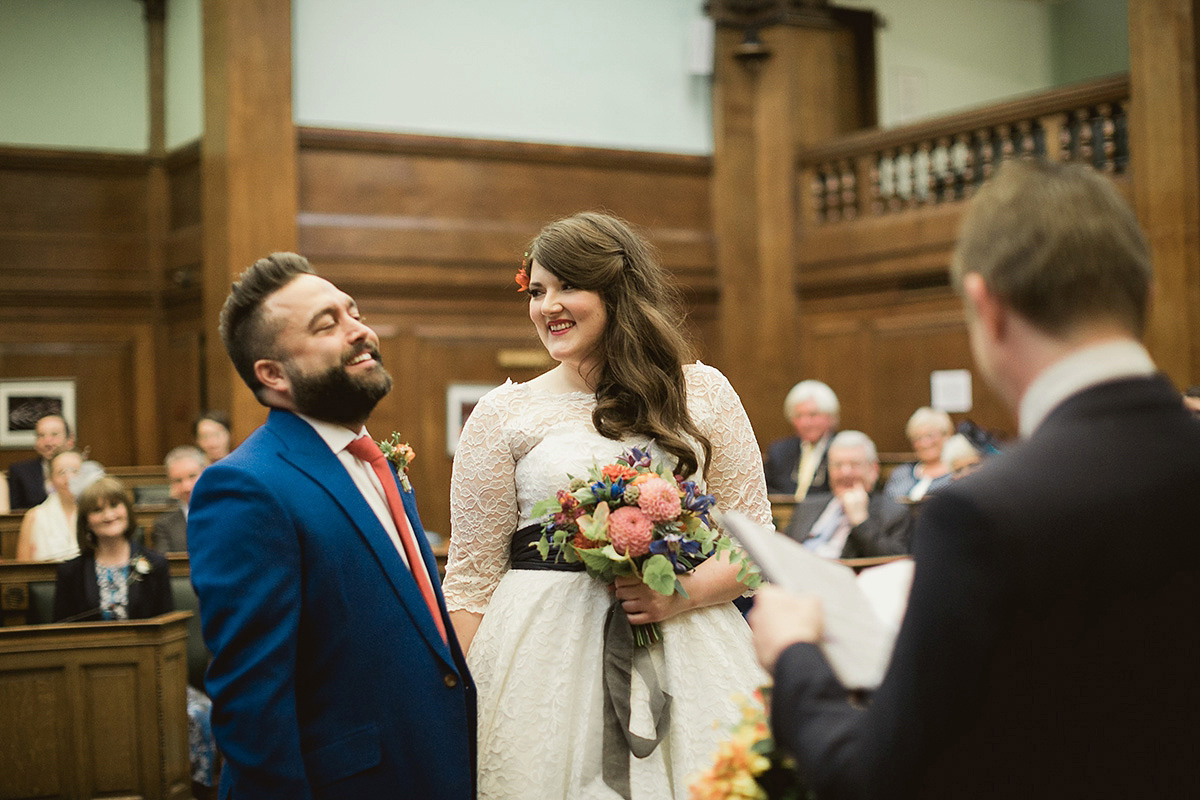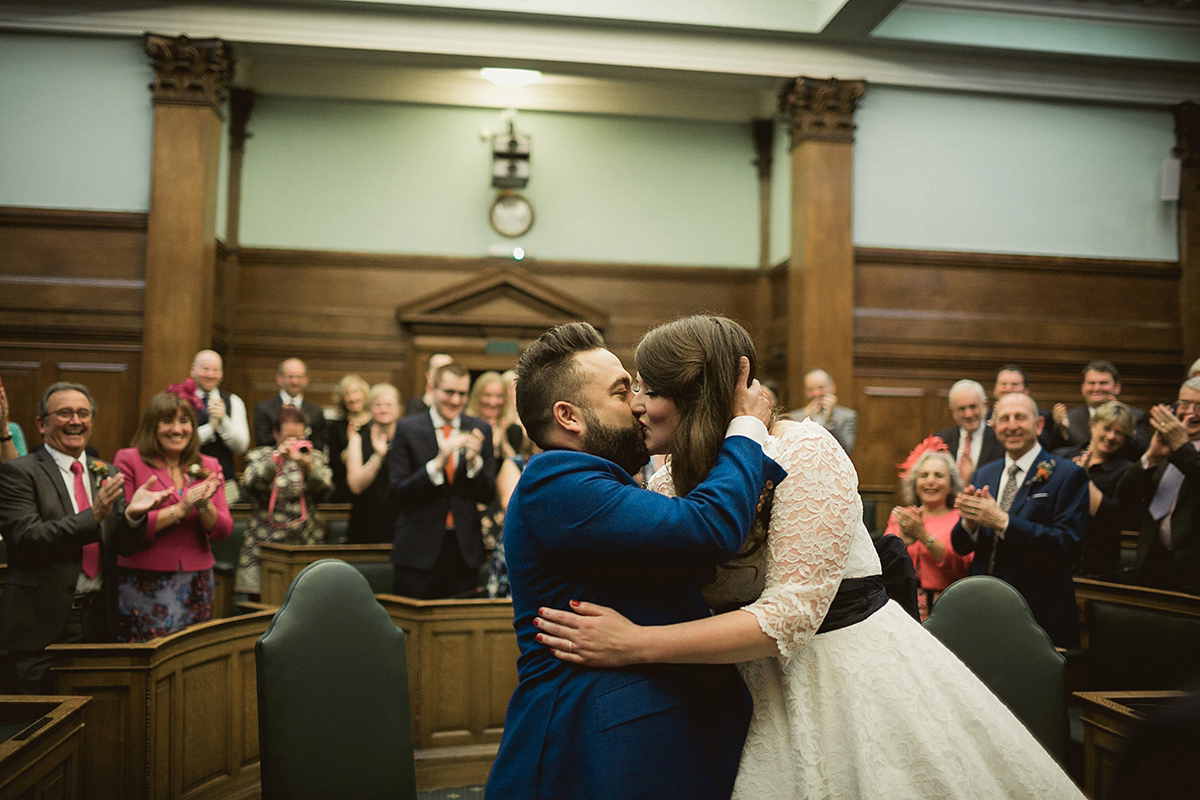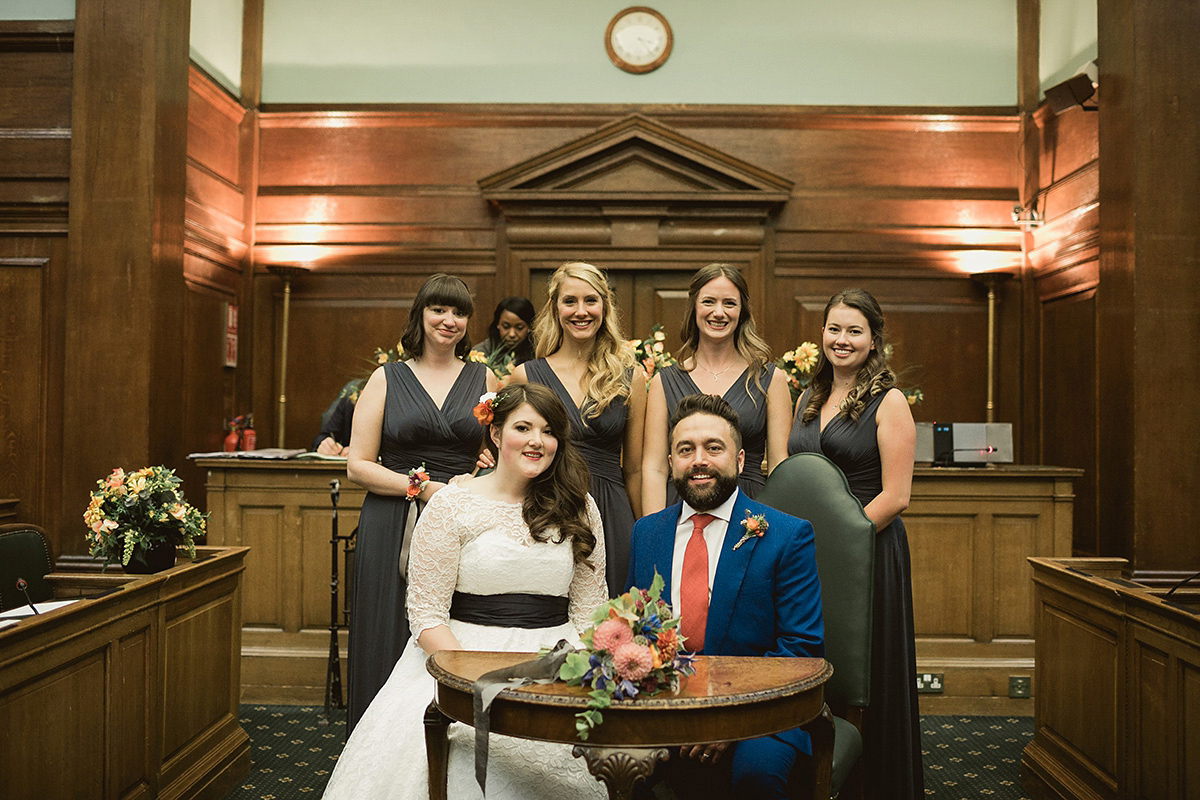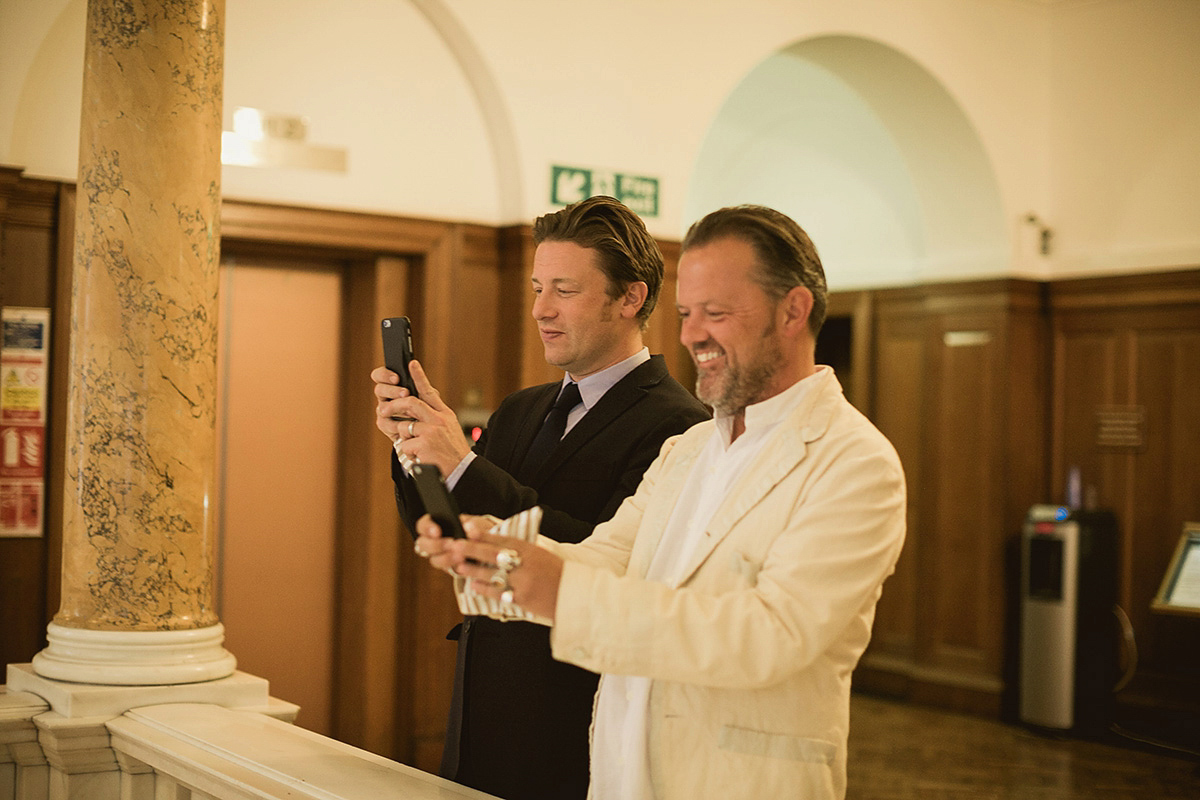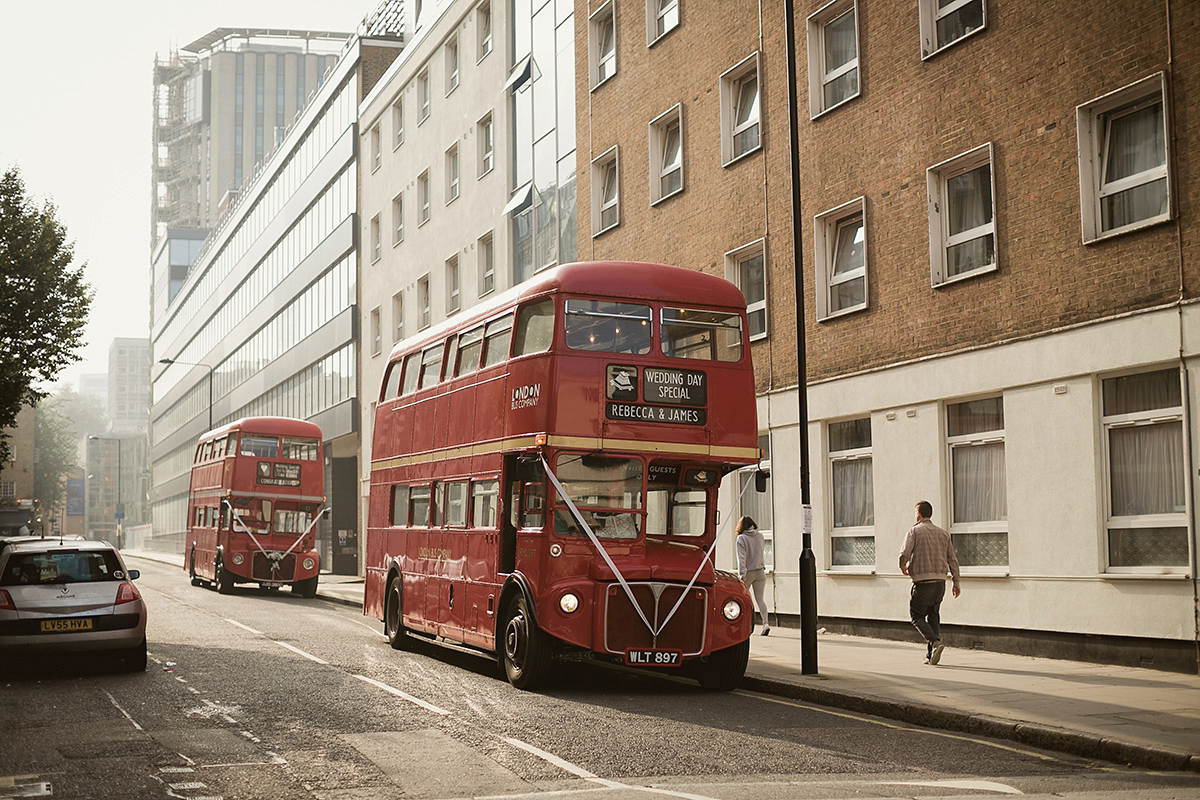 The couple hired a beautifully British double decker London bus to be transported to their wedding reception venue, via The London Bus Company.
"We hired a red double decker to cart everyone from Camden Town Hall down to St. John, and we hopped on the first run with everyone (while a few selfless people popped for a drink to wait for the bus' return!)."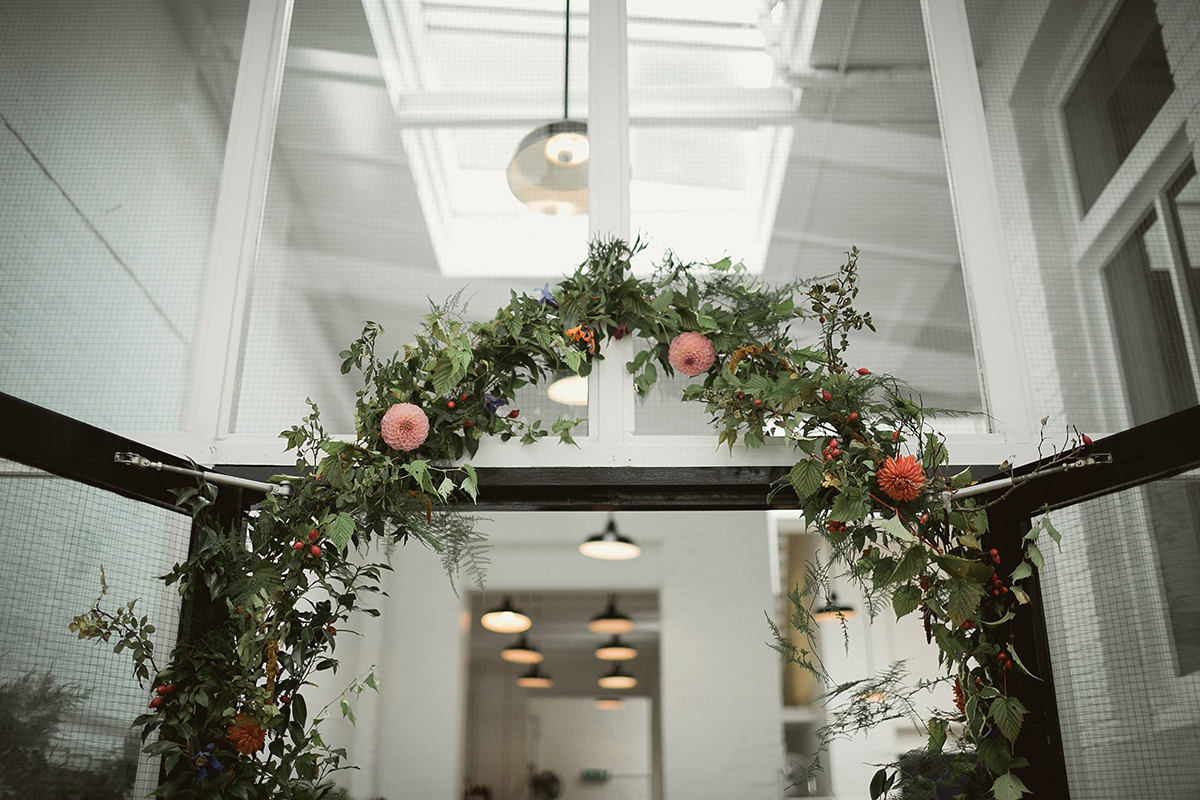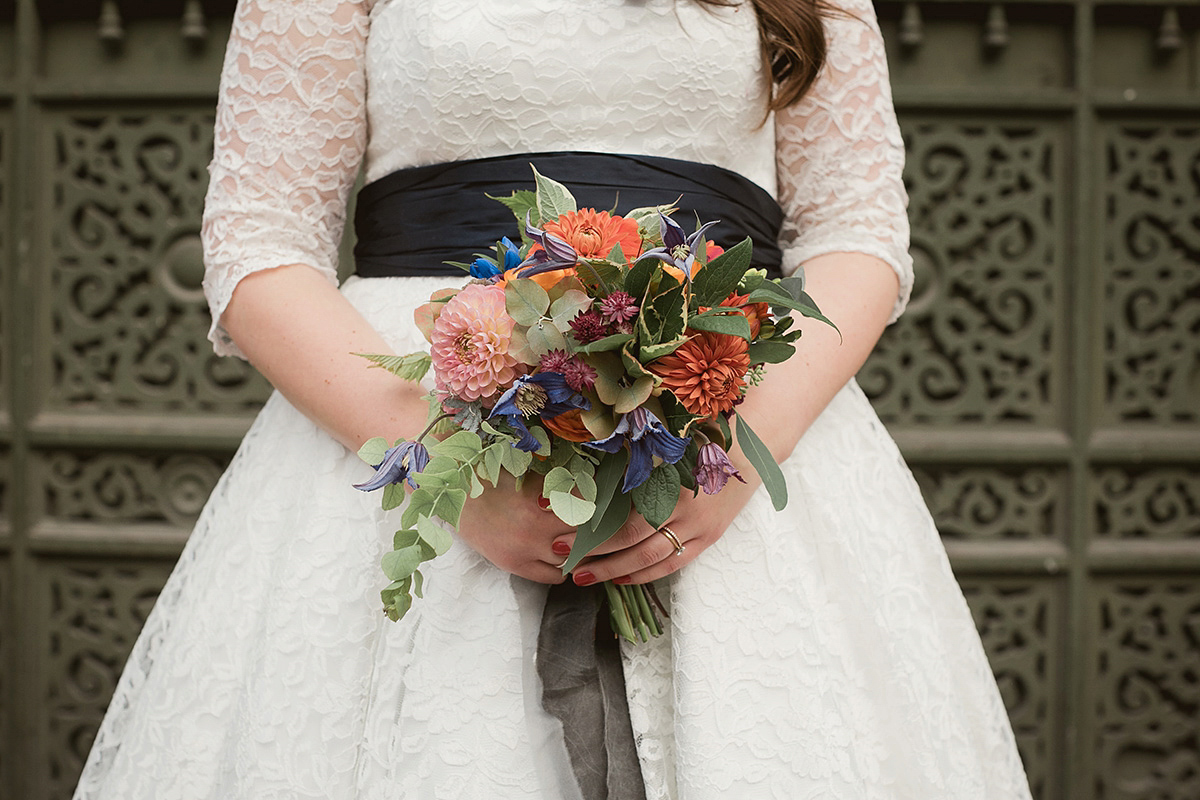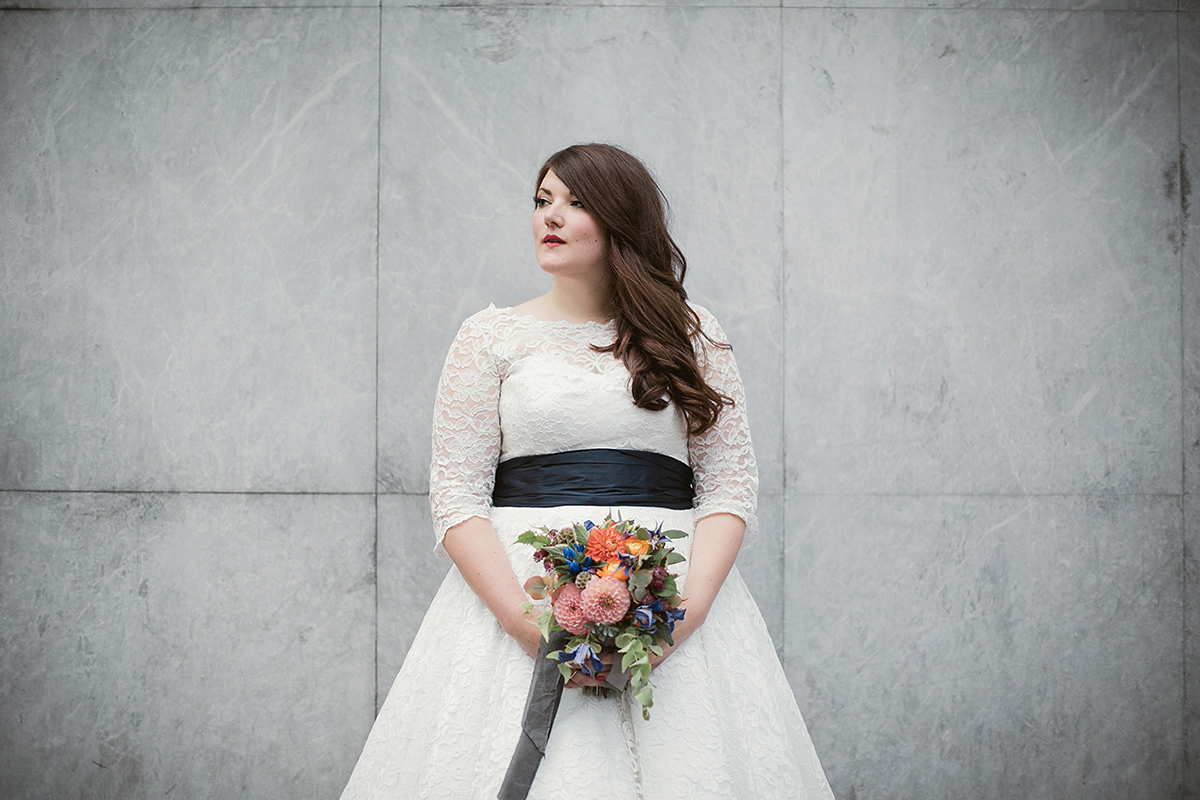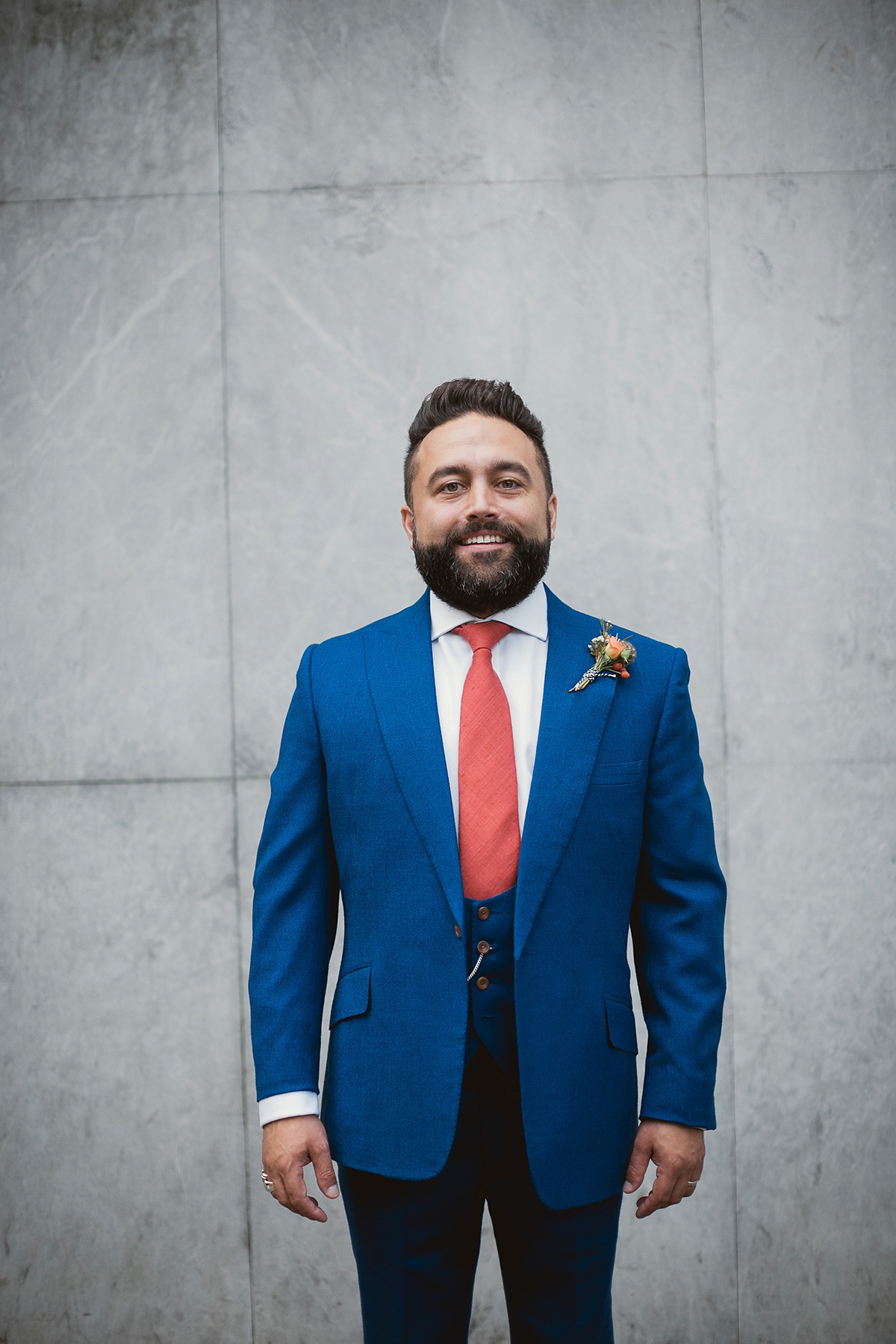 "James co-owns a creative agency, so we put everything together ourselves. James designed our save the dates, invites, menus and favours (with just a little creative direction on my part), and our invites were printed by Cotton Letterpress. We hand-painted our table plan, table numbers, and various other signage using chalk paints on blackboard, with a little gold thrown in, too.
We made collages of photos of us before we met each other, and of us together, as a simple way to celebrate all the people we love who were sharing the day with us, and to make sure Dad and Craig were present in that way, too."
"We also made our confetti and bagged it up in stripy stamped bags – me, my mum and James' mum picked and dried petals in the lead up, with a spritz of perfume in each bag it was perfect."
"ChoosingSt. John for our venue meant we were in the safest possible hands on the food front. We took our brothers along when we chose the menu and wine, which was amazing fun. We went for a selection of seasonal canapé and their Champagne on arrival, followed by the most incredible sit-down meal."
"Everything was served up family-service style, with big sharing platters on each table. For mains we opted for incredible slow-cooked braised lamb, an unbelievably good pastry topped hake and leek pie, which people still talk about, and oozy lentils with goat's curd for the veggies. With roast potatoes and seasonal greens on the side it was a true feast."
"We were lucky enough to be gifted the most incredible wedding cake, made by my dear friend Georgie Hayden. We went for a carrot and caramel base layer, red velvet in the middle, and lemon with lemon curd filling on the top. One Flew Over saved some offcuts for Georgie to decorate the cake, and our favourite finishing touch was that the whole of the red velvet layer was covered in gold leaf – totally epic. We cut the cake and served it for dessert, and it went down a treat!"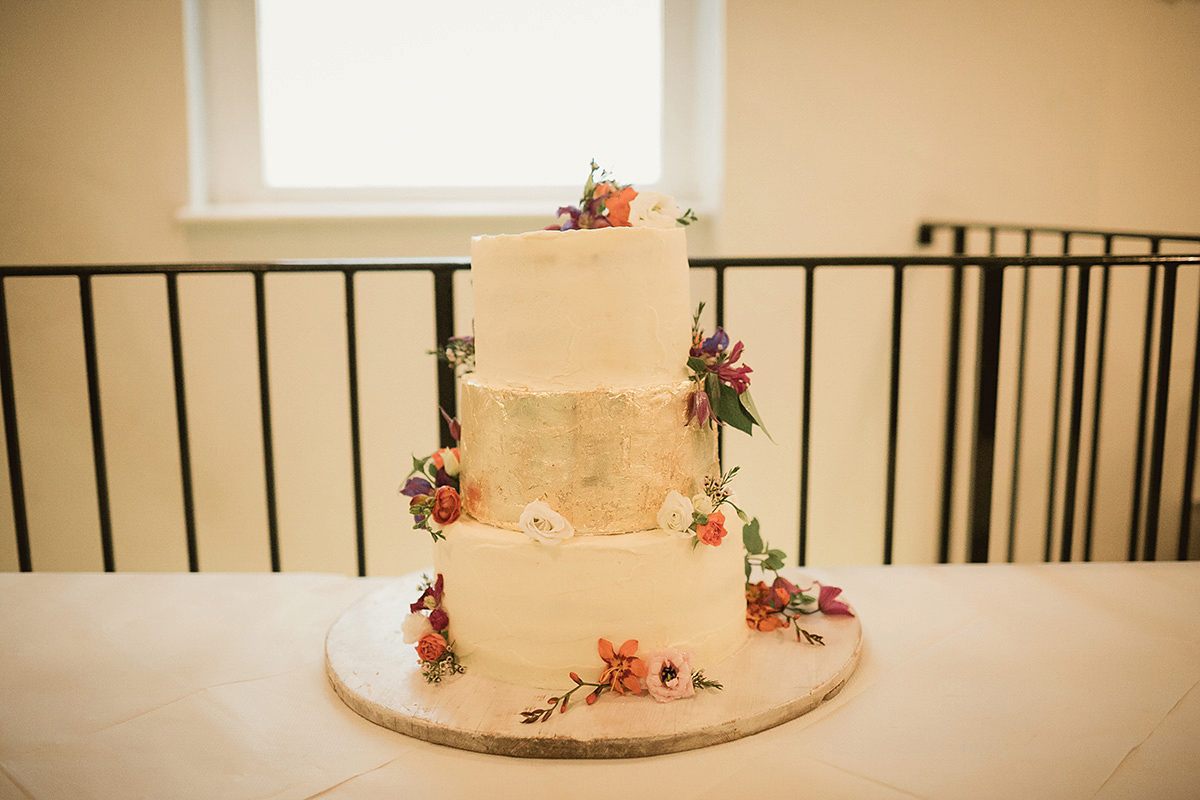 "As well as the wedding cake, we had lots of lovely cheese, which everyone tucked into throughout the rest of the evening. We had midnight snacks of Welsh rarebit and their legendary doughnuts (choice of jam or custard), which were VERY popular. All the wine recommended to us was fantastic, and we also had negronis available all night as our cocktail of choice."
"Our florists Charlie and Jess of One Flew Over were a dream to work with. We were hooked in by the beautiful visuals on their website, and once we met knew that they could bring what we had in our heads to life. They were full of wonderful ideas but coaxed out of us what we wanted, and the blooms on the day were stunning."
"St. John looked amazing, especially the foliage arch around the doorway and the green garlands trailing through the pegs in the dining room. I adored my rustic bouquet with trailing ribbons, and the wrist corsages for my bridesmaids. Every detail was spot on, including the name-tagged delivery boxes dropped off at the Zetter Townhouse, where we were getting ready."
"The space at St John works perfectly so that everyone can move seamlessly between the rooms and always feel involved, the white brickwork and industrial decor meant we only needed carefully chosen flowers and foliage to complete the look we wanted, and above all, we knew the food – and booze – would be knockout, and served to our guests by experienced, passionate people. Plus, they let you turn the bakery into a DJ booth – hard to beat!"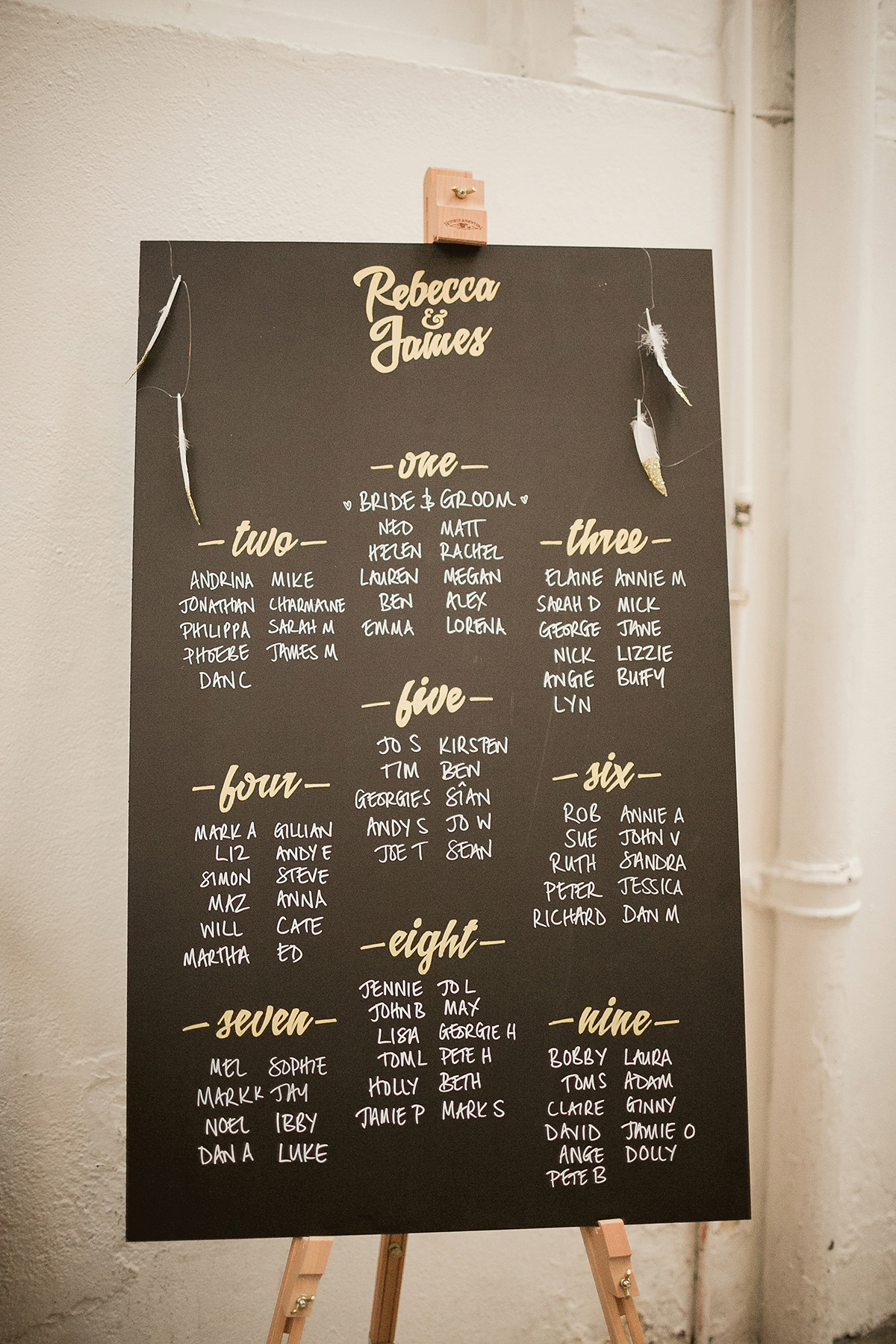 "Instead of favours, in honour and appreciation of our guest's company, we made a donation to four charities dear to us, in memory of the people that should have been beside us on our big day – my Dad and James' best friend and missing usher Craig. We chose The Royal Marsden Cancer Charity and the Bluebell Railway for my Dad, Yorkshire Cancer Research and Maggie's for Craig."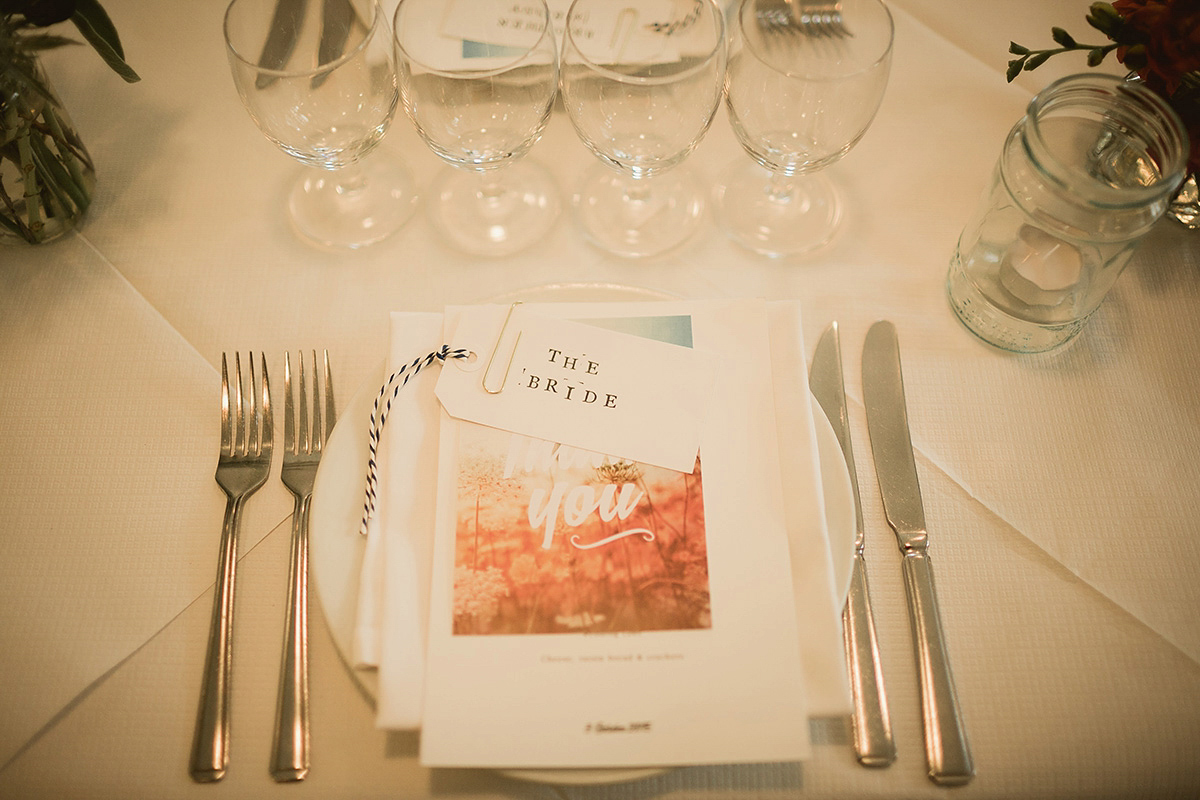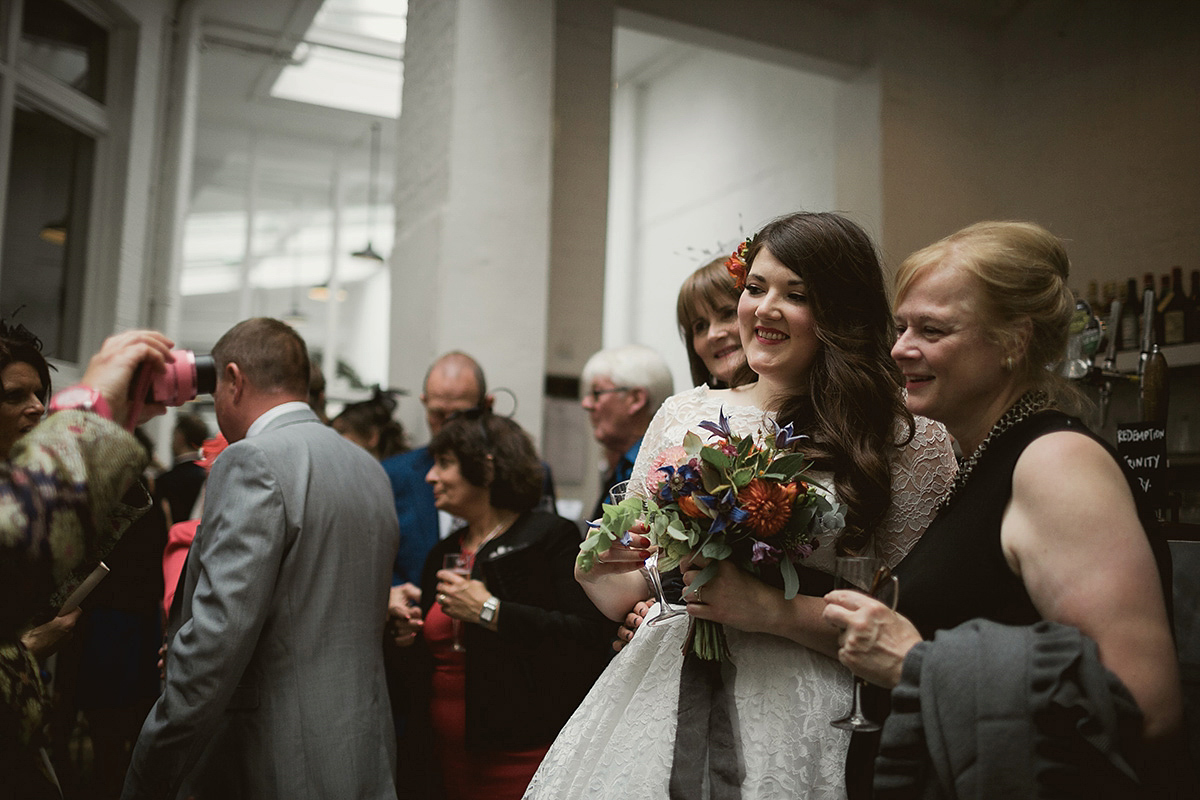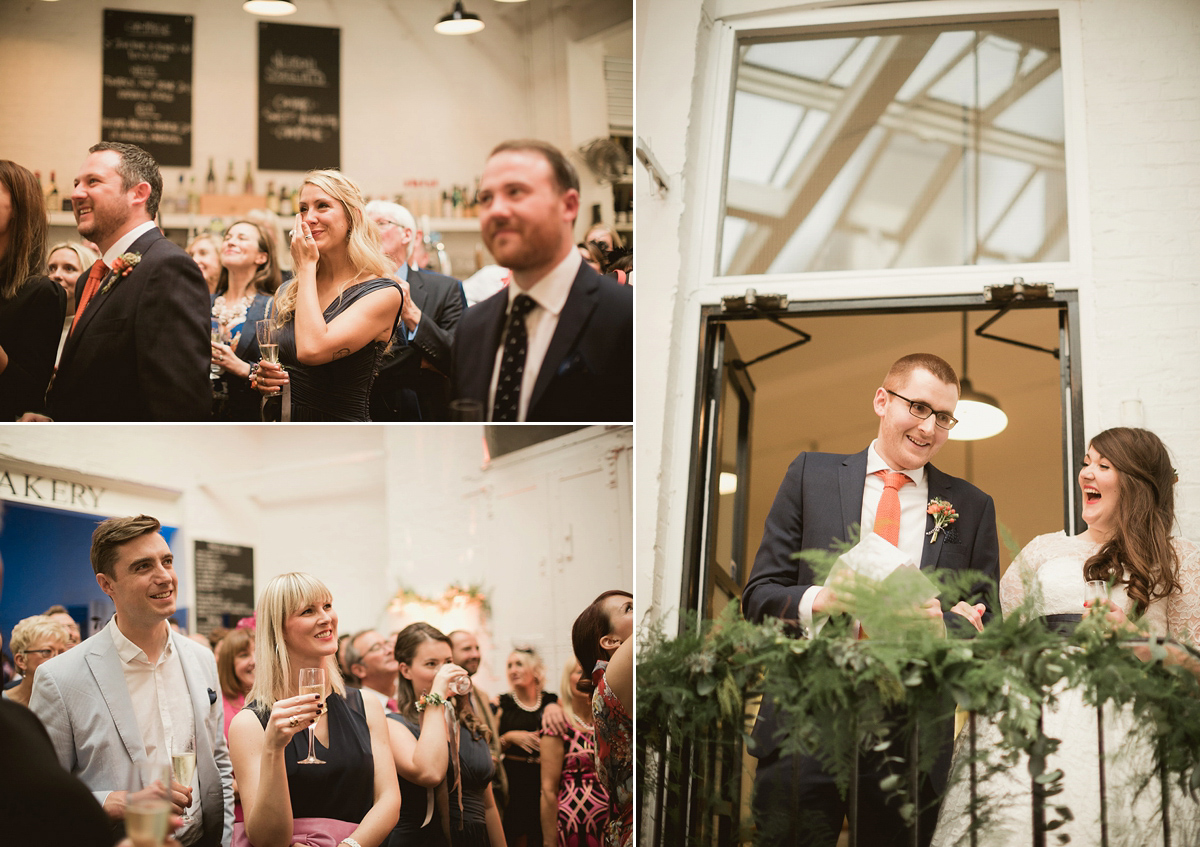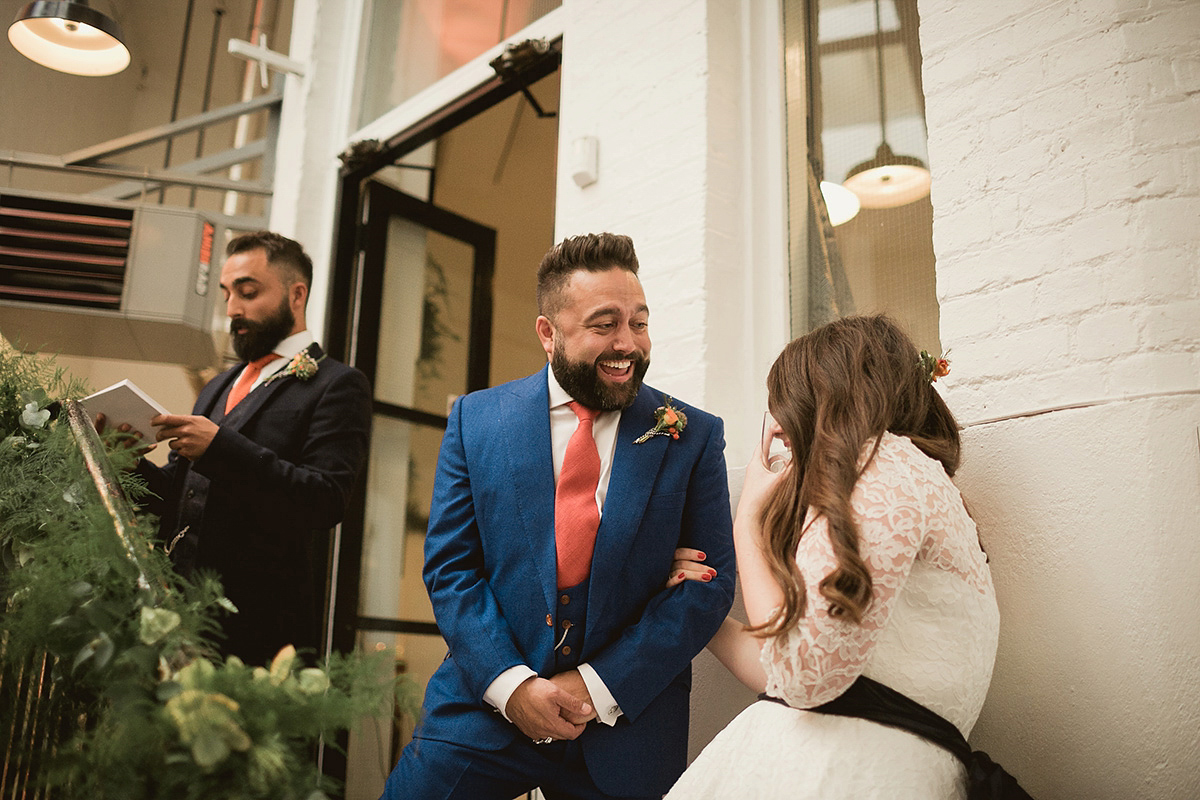 "The best man speech was hilarious, and ended with a grand reveal of James' leopard print trousers from his DJing days, and the advice not to wear them again – Matt had them on under his suit and needed two people to help him get them off afterwards!"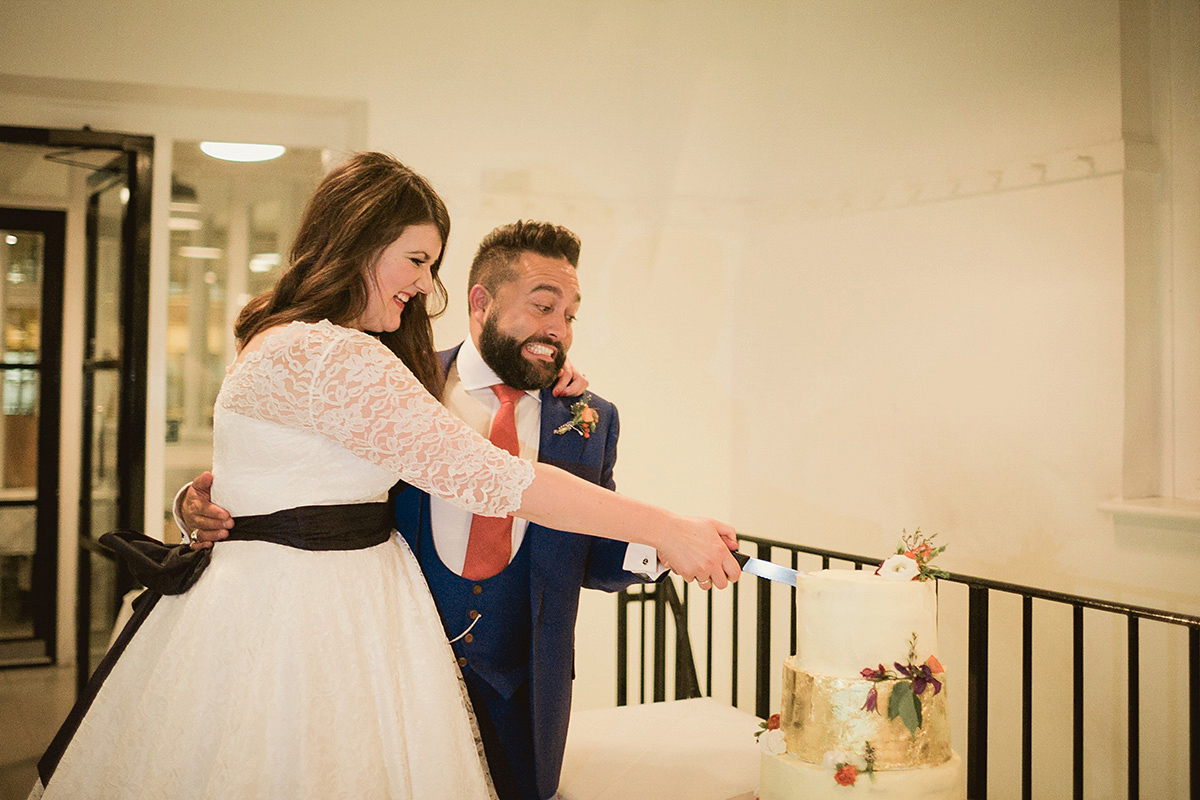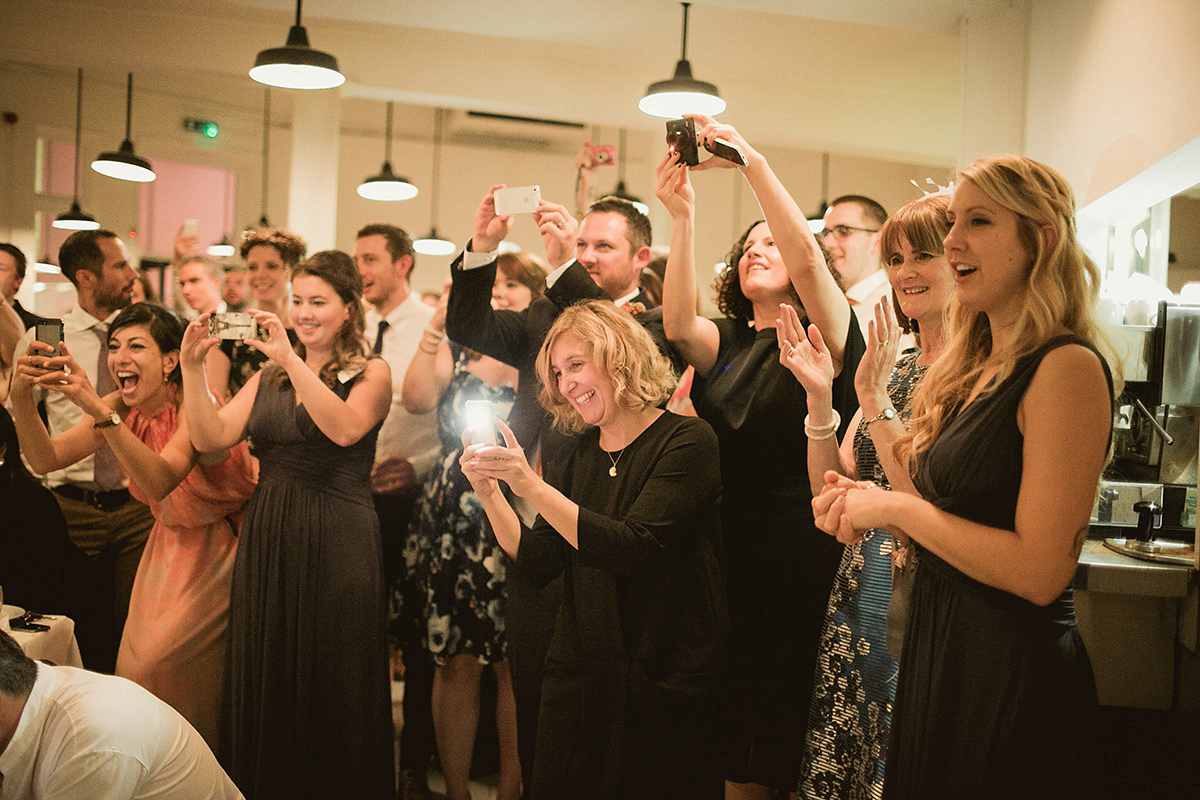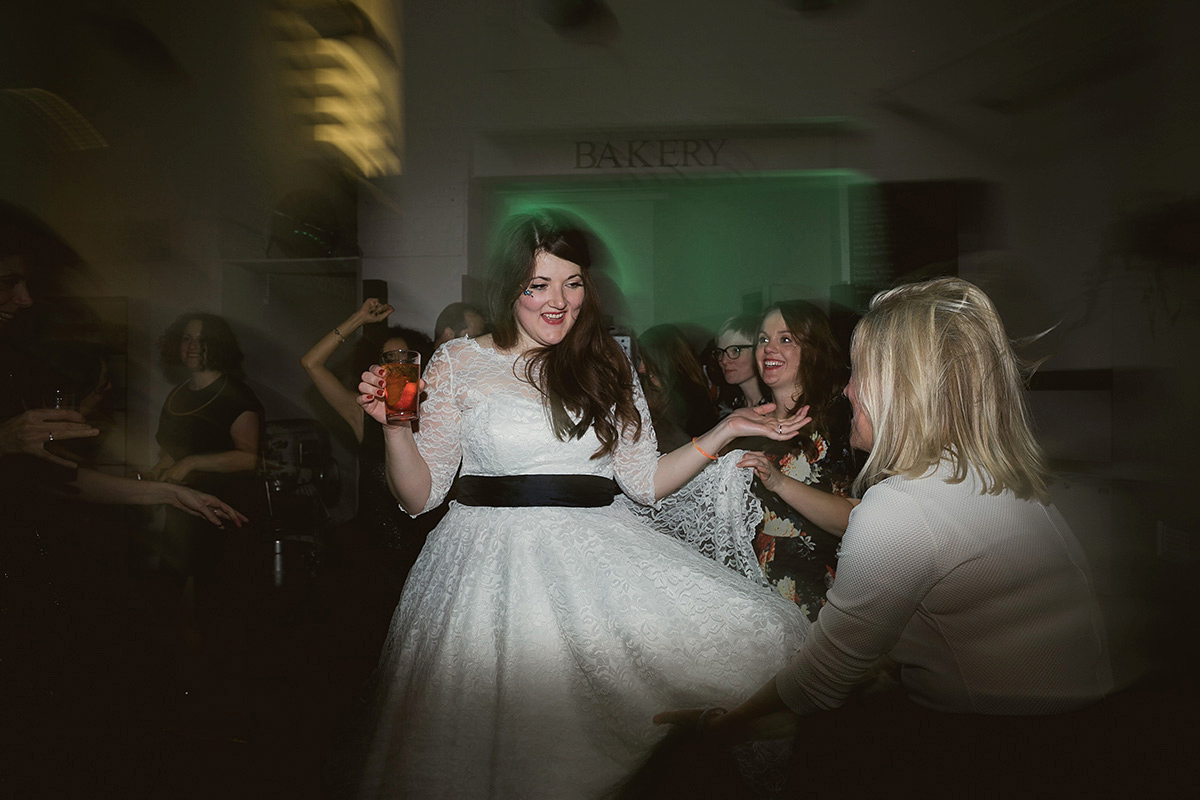 "We danced to 'Blame it on the Boogie' by the Jackson 5. We wanted something fun that everyone could get involved with. James' brother Matt also did a mash-up of snippets from our favourite cheesy love songs, from Dirty Dancing's Time of my Life to Power of Love from Back to the Future – we can send you a copy – which he played before the main song kicked in, teasing everyone as to what it would be."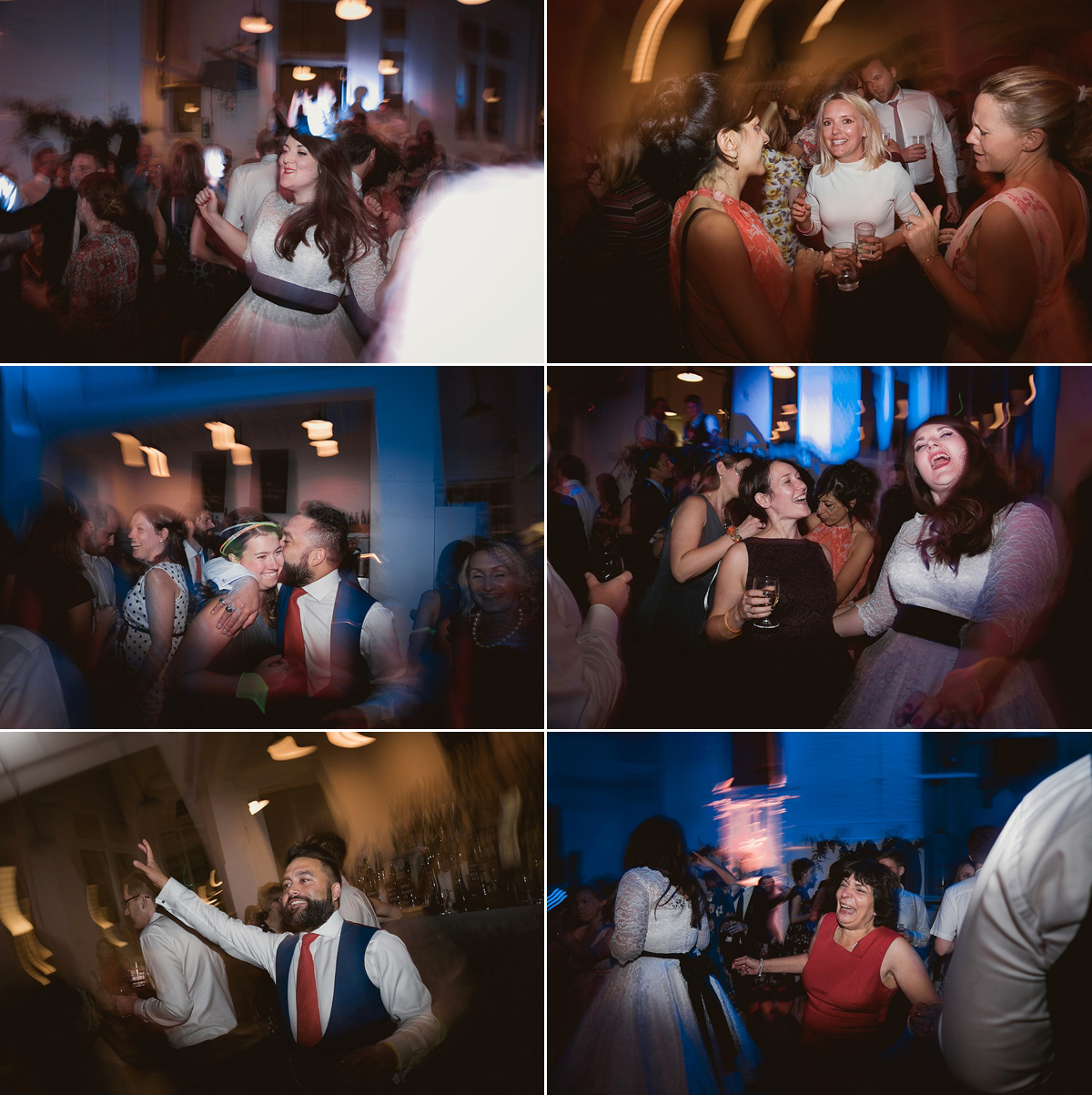 "James has always DJ'ed so rather than hiring someone in we compiled an epic playlist of all our favourite tunes. That played from the moment we arrived at St. John, and throughout the evening James and his brother Matt hopped on and off the decks, too."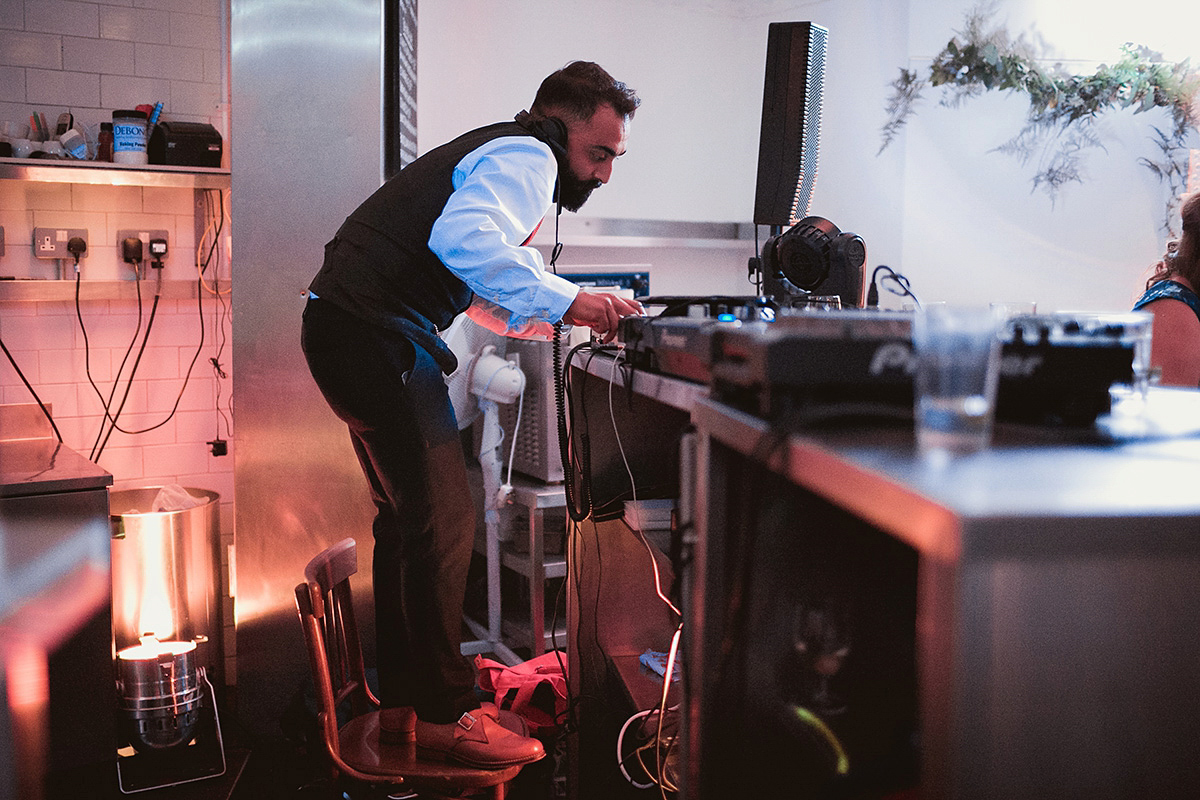 Words of Wedded Wisdom
"Don't worry about the detail – when it comes to the big day everyone is so happy to be sharing it with you that nothing else matters. Remember to smile when you walk into the ceremony – that's an easy one, it's impossible not to with all those beaming faces looking back at you. A friend said to me before our big day to make sure James and I took a few minutes together at some point, as early as we could, to quickly chat about everything we did that morning – once you get into the reception, there's so much to take in and reminisce on together, you might forget those precious pre-wedding moments before you saw each other. And make your own confetti by drying petals – it's so beautiful."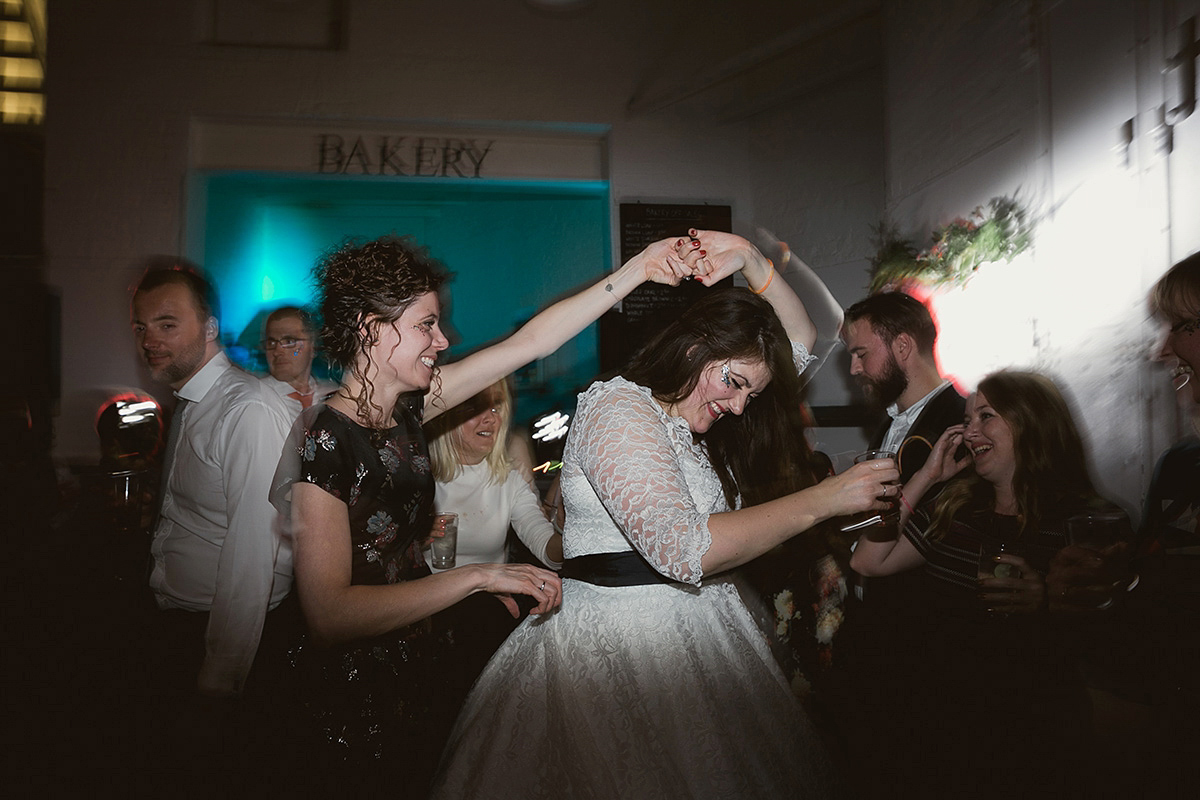 Ahh, thank you so much Rebecca for sharing your day, and for you wonderfully kind words about Love My Dress too!; "The amount of real, visual inspiration is brilliant – so much to look through and so many ideas you can glean from seeing what other people have done. Really lovely to see real people, real moments, and not just staged shots."
Use the tags and category links below to find similar content ladies and gents and if you want photographs as good as these, do visit the website of Tom Ravenshear – he is BRILLIANT! You can see more of his work here on Love My Dress.
Much love to you all this fine Tuesday,
Annabel xx