OK, time to confess that things have been a little bit busy round here these past few weeks. But particularly this past week. And by busy, I mean barely catch your breath busy. Very exciting last minute client proposals, an annual digital magazine to design, our site redesign and a WHOPPING new project for 2017 that we'll be announcing details of in January have been consuming our every waking hour. But you honestly didn't think that meant we'd not be sharing a wedding today, did you? 🙂
This particular wedding was submitted by the beautiful bride herself (those kind are always my fave).  Chioma, a bridal and fine jewellery specialist at Tiffany & Co (handy!) who also creates beautiful stationery and blogs about weddings, married Sales Executive Isaac on 28th May this year with a ceremony at the House of Inspiration at St Peter's Church in Brockley, followed by a reception at Walthamstow Assembly Halls. I adored Chioma's initial email, it was full of newlywed, loved up excitement and recollection of beautiful wedding day memories. But it was on reading through her wedding questionnaire that made me realise just how much respect and love I have for this beautiful lady. Firstly – there is an honest reference towards the end under the 'Words of Wedded Wisdom' paragraph that highlights the fact that not everyone planning a wedding can share their excitement and joy with their parents. Life often isn't as straight forward and as rosy as that – but beautiful joy-filled weddings are still possibly, regardless.  Secondly, and for me most importantly, Chioma touched on an issue that has is close to my heart and one I try hard to address through Love My Dress; diversity.
Photography by James Green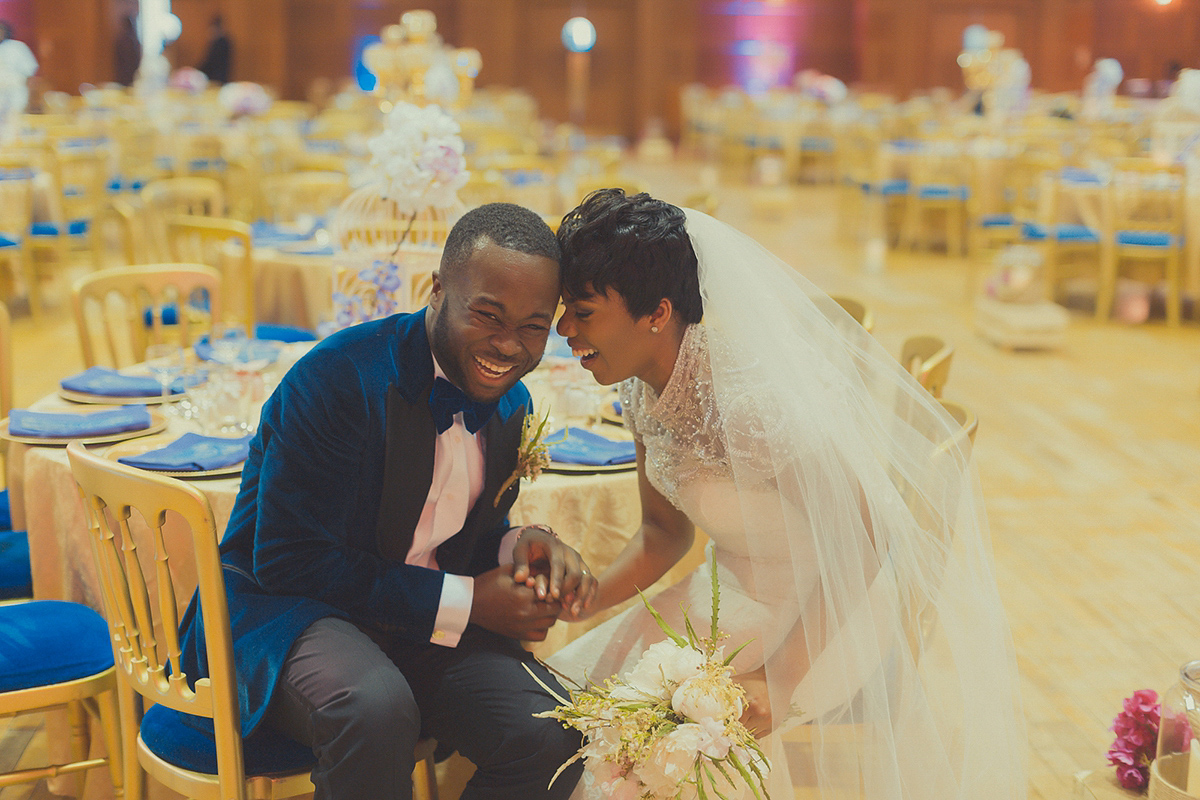 I am unapologetic about stating that prior to me collaborating with Nova Reid of Nu Bride on this important blog post, the wedding industry had displayed a relatively pitiful attempt to address diversity. The very obvious lack of cultural weddings and beautiful brides of colour on wedding blogs was glaringly obvious. Some excellent progress has been made since (take a look at the Nu Bride blog for a start) but sadly, I feel, not near enough.
I'm both heartened and saddened by Chioma's words below and hope they send a strong message not only to the industry that this is still an issue, but to all the many gorgeous brides out there too who dream about having their weddings celebrated on a blog like this one. It's not a completely straight forward issue and certainly not one I mean to overshadow the purpose of sharing this beautiful feature with you – but it is a vitally important issue and one I don't ever want our readers to feel afraid to discuss.
Film by Love One Films
"Love My Dress was one of my inspirations when I started blogging – I've been addicted for years. Each wedding is so different, unique and personal. I love everything about it, but I particularly like the personal posts – they prove there's so much more to a wedding than the material aspects. I also like the fact that there is quite a lot of diversity on the blog. Most black couples veer towards blogs for people of colour because the sad truth is we do not 'fit' in with most commercial blogs. And sadly we are discouraged from submitting because there's the assumption we won't be selected."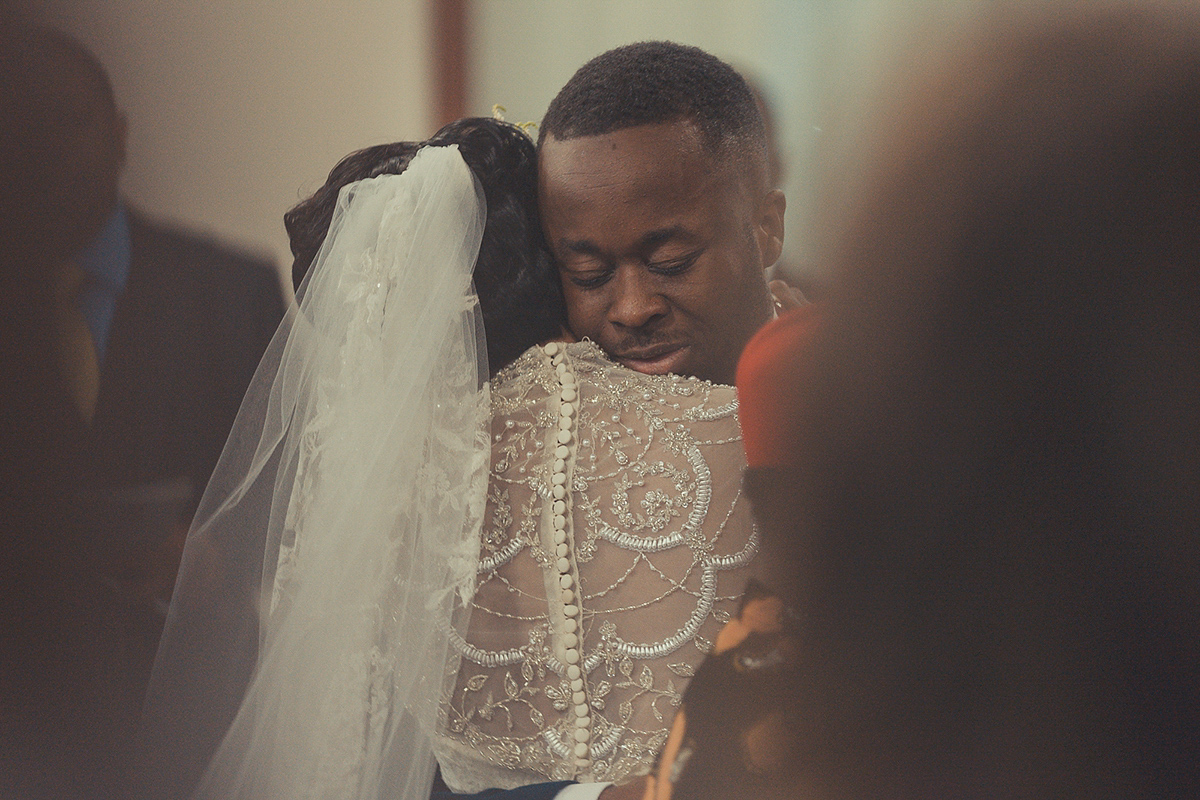 "I was approached by many blogs through my vendors, but choose Love My Dress. I actually assumed you would say no; it was a huge shock for me. I followed my heart because colour aside you were the only blog that seemed personal and wasn't going for me because they want to fill a 'quota'. The style of your blog fits my style! I can't thank you enough."
"My hair was done by Terika of Virtuous Hair Beauty. I wear my hair long usually and my short hair was one of the surprises for Isaac on the day. There was one Christmas before years ago he had seen me rock a shorter style which his 'moment' of hot realisation! I cannot recommend Eni of Demure Mode enough. She just got me! I have never looked so beautiful and she really is the sweetest."
"IMT Event Management took on the the logistics and helped us pull it all together and co-ordinated on the day amazingly. I have worked with many people in the industry and Ope truly was a pleasure to work with. Hiring her was the best decision ever."
"I've been in love with the Aerin Lauder fragrance 'Ikat Jasmine' for a while and always wanted to wear it on my wedding."
"I love the design and the gemstone style top for obvious reasons! The ladies at Harrods were so lovely in selecting."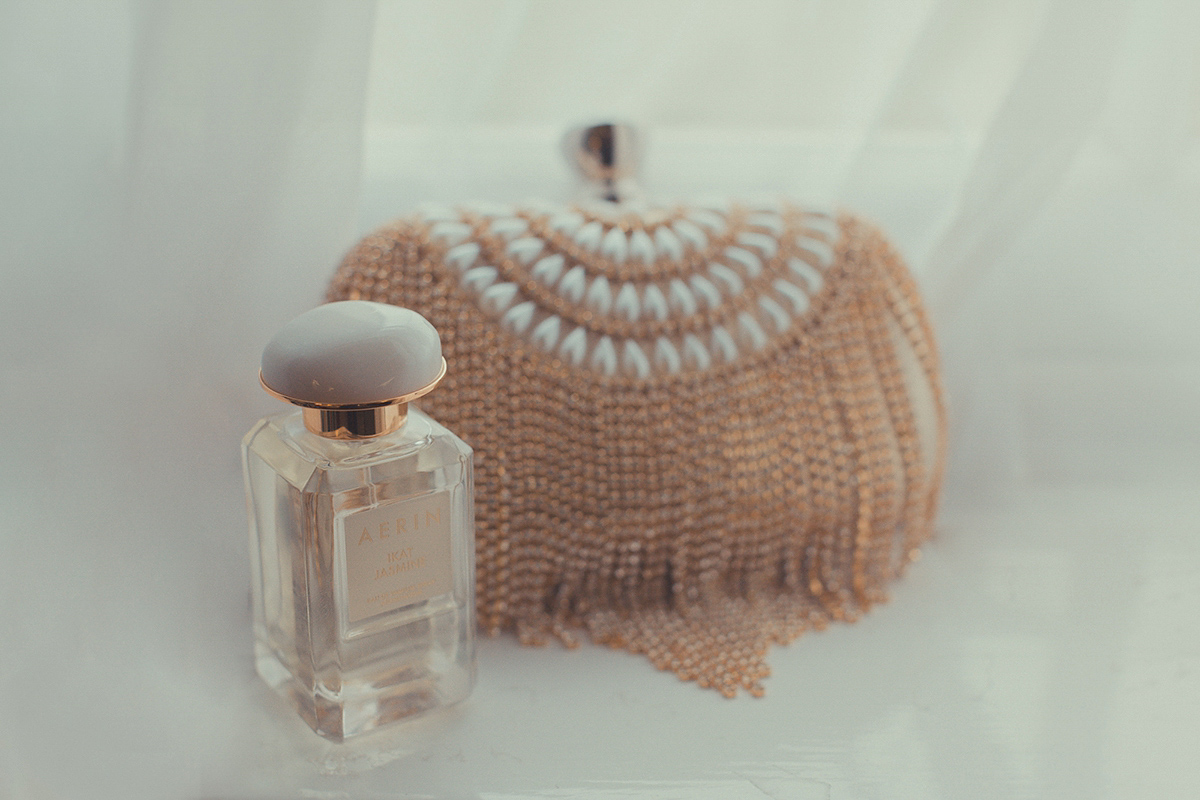 "Flowers are a big deal for me – I always knew I wanted peonies in my bouquet, as they are my absolute fave – so romantic and pretty. I'd worked with florist Barbara before on photoshoots, so knew she was the very best. She totally understood the vibe I went for and managed to create all the florals with such care and detail. She also managed to incorporate my vintage French velvet ribbon I had spent months sourcing. She surprised me by coming on the day in person to deliver them."
"I have styled countless brides so picking my wedding jewellery was to me as big as picking our reception venue. My engagement ring is a funny story; we picked the very same vintage ring and of course with my big mouth I ruined the surprise and dragged him down to the shop to show him the ring I 'must' have! He just kept laughing! I couldn't believe he wasn't taking it seriously! 🙂 The whole shop seemed to find me amusing and I later learned why. He'd agreed to put a deposit down on that very same ring that weekend!  Which is testament to the fact that even though I do this for a living – he still knows me best."
"Of course, I wore Tiffany Diamonds for wedding jewellery. I opted for a pair of Tiffany earrings in the larger stud size, so that they really stood out in the pictures. They were a once in a lifetime investment I know I will hand down one day."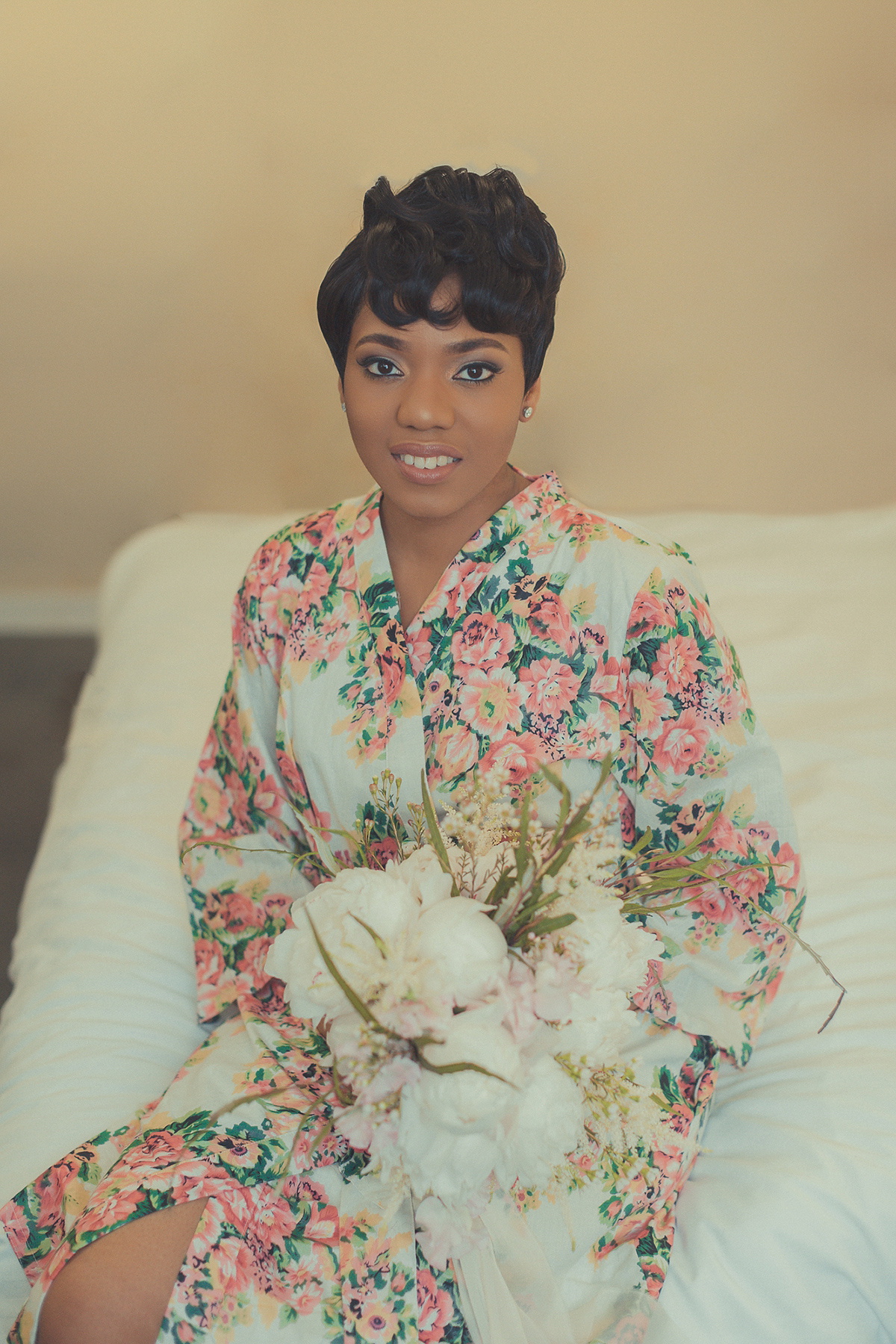 "I was born in the wrong decade! I always say I should have been born in the 1920's and Gatsby Era. I'm in love with vintage sparkle – but I also wanted to involve my Nigerian culture and styling as well. Nigerian weddings are typically very big and 450 dining guests is actually not very much for us. But I still wanted the wedding to have a sense of intimacy."
"I found it super difficult to find a dress I liked, as I am very picky. I wanted my dress to be vintage-inspired and to flatter my curvy figure but dresses from my favourite era, the 1920's, tend to work on a slimmer frame – so I resolved to have my dress custom-made and go into David's Bridal just to try on dresses and have that experience.
I asked my family and friends to pick out dresses that would suit me as I only had in mind two I wanted to try. I initially saw but walked straight past my wedding dress, but one of my maids of honour and my sister took it out for me to try.
"I tried on five dresses in all and the dress I ended up wearing was the third one I tried on. The moment I saw myself in the mirror, I knew it was mine.  It turned out to be half price and on sale. I loved the beadwork on it and the silhouette that was adjusted for me. I could move in it and it felt like 'me'."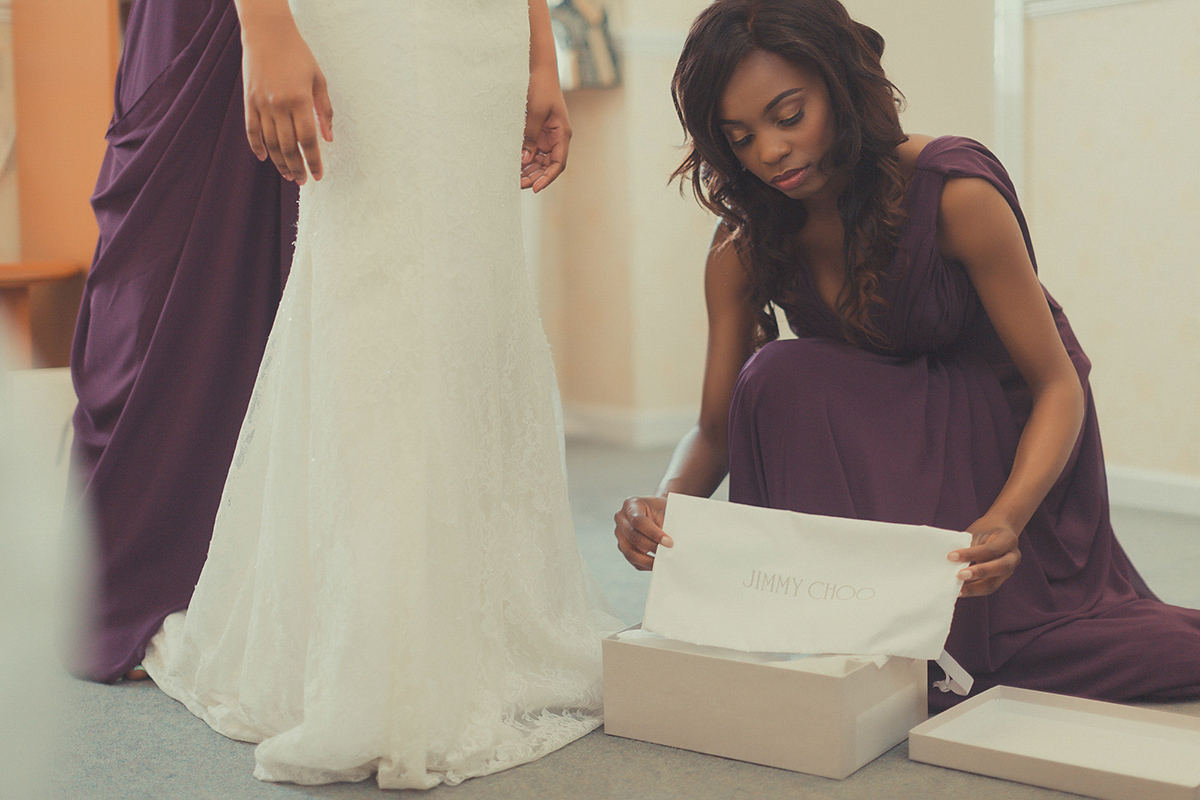 "I've always wanted a pair of Jimmy Choo's but never treated myself. They were a wedding gift from Isaac. I am biased, but he is pretty awesome!"
"I really wanted to have some surprises for Isaac and orchestrated a master plan. The first surprise was having Ash, James's assistant, turn up in the morning to capture pictures of Tobi in the morning. An extra we decided we couldn't afford. At the point of him getting dressed I had his best man present him with a large box I'd put together. Inside the box there were three numbered boxes with notes attached.
The first box contained Tiffany cufflinks and the second the same model of Armani watch I had bought for him that was stolen over a year ago."
"The third box was the Cartier wedding ring he had fallen in love with but we had both agreed we couldn't afford. I'd done a lot of secret saving!"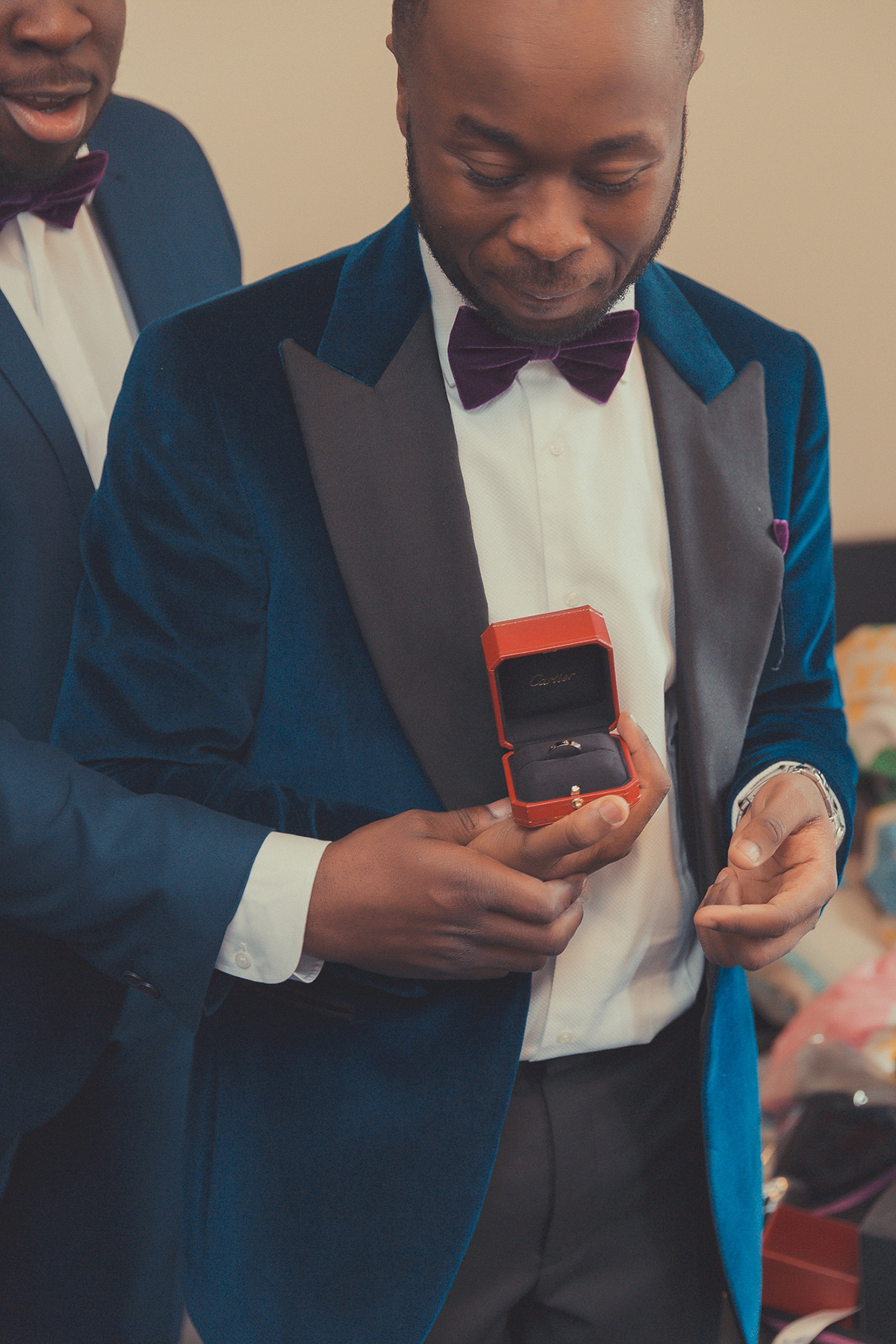 "The guys looked amazing in Moss Bros and Bow Ties from the legends that are Mrs Bow-Tie. Their service was excellent."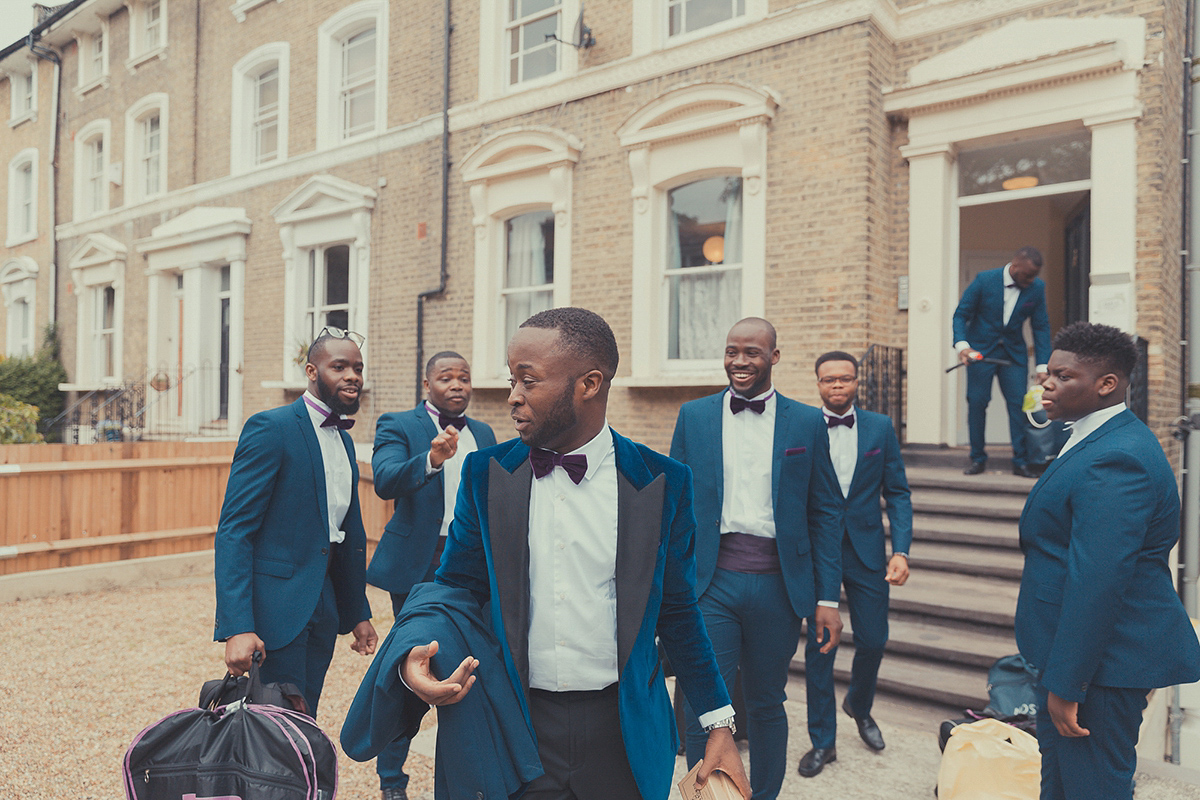 "I always knew I wanted flowers in my hair and Barbara from Afmena Events understood my vision completely and created a peony headpiece with real flowers!"
"My veil was also from David's Bridal – I loved the lace border."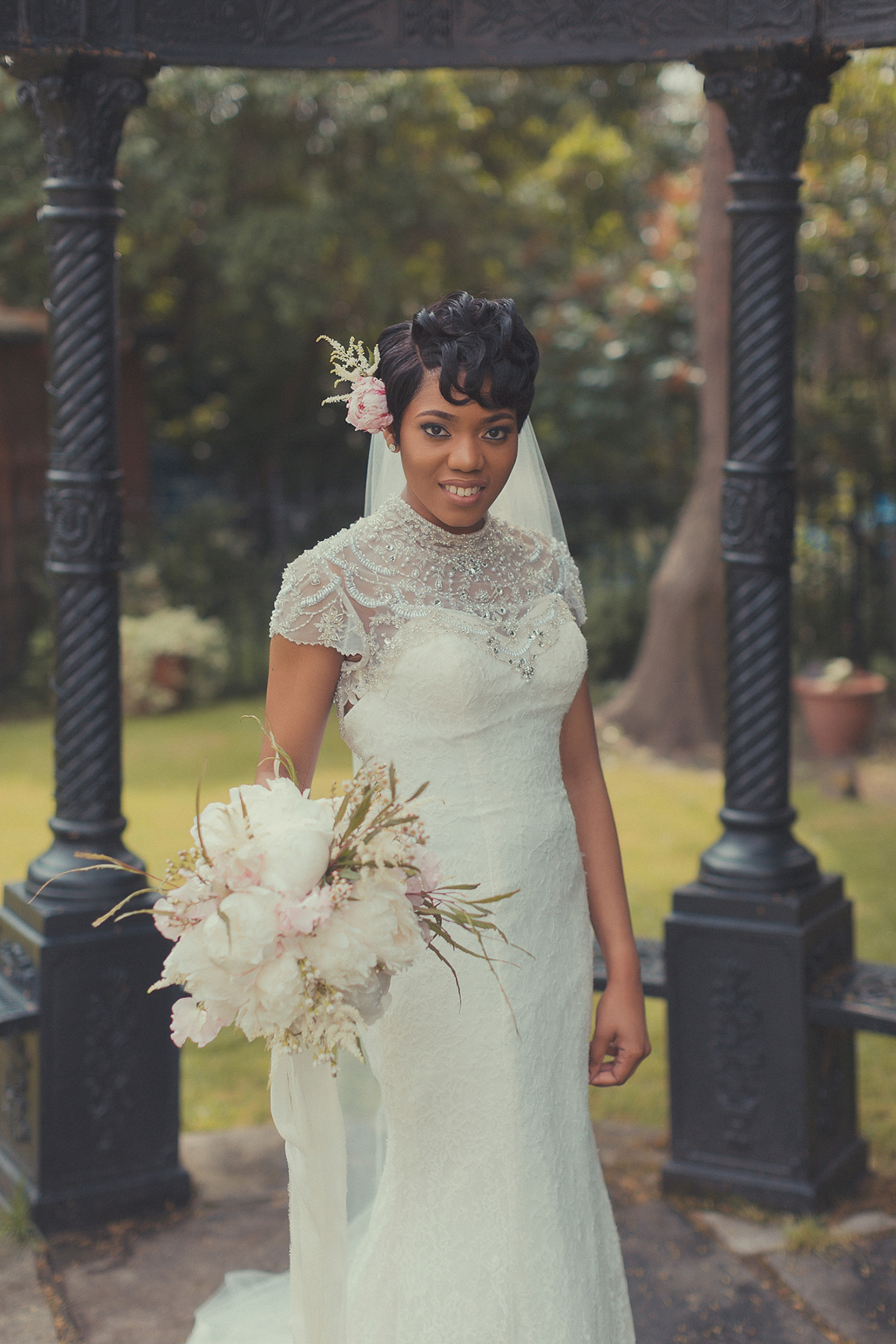 "I am in love with Monsoon Children and both the flower girl and page boy were dressed head to toe in them. Our page girl was my minister's daughter and I have known her all her life. I was babysitting her brother while she was being born and saw her mum at the beginning of labour!"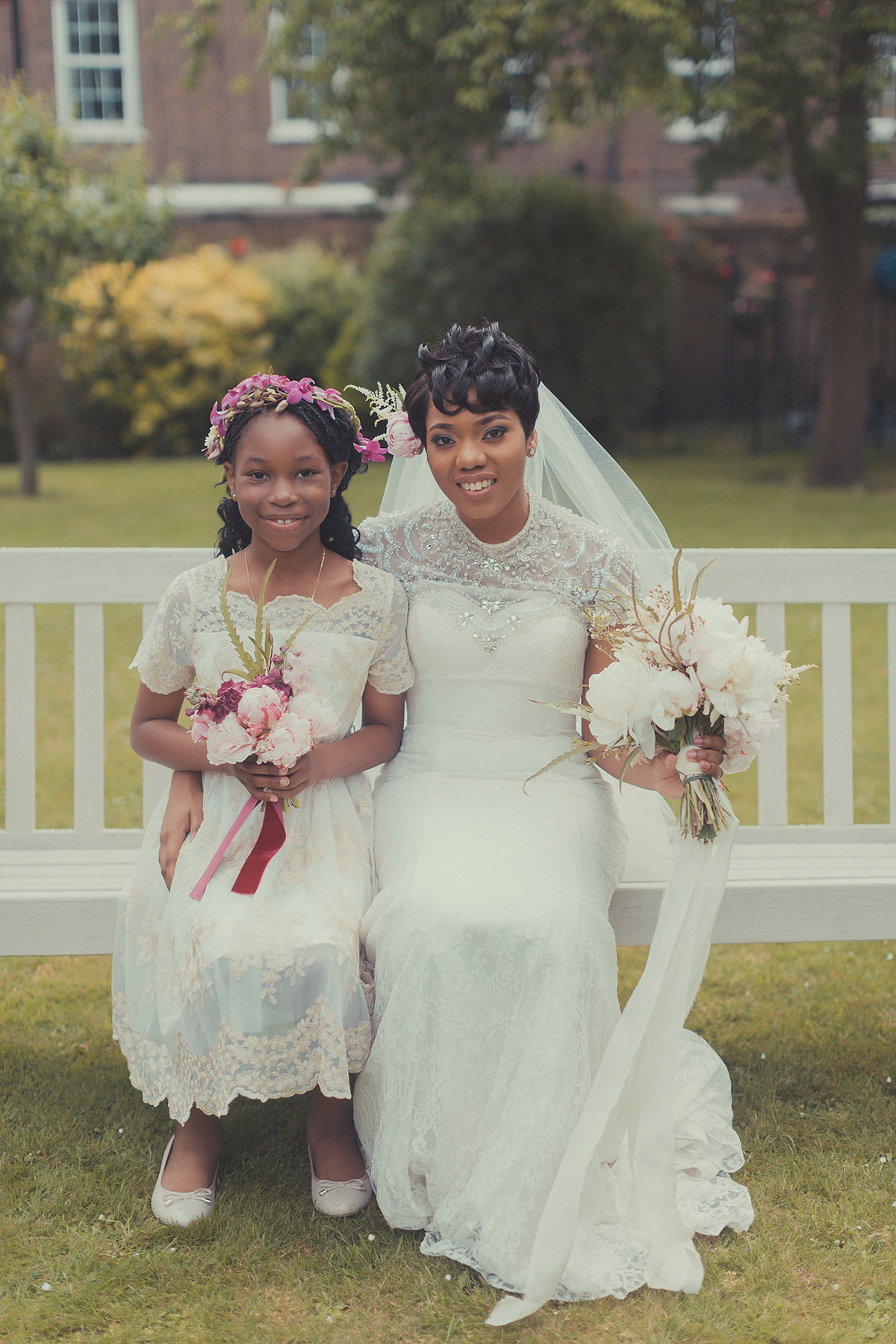 "I hate too much uniformity and so I asked my bridesmaids to pick a style of chiffon dress they liked from JJ's house. The quality was better than anything we saw in boutiques /stores and all the dress are made to order. They had a real romantic vibe and moved beautifully. Tip: their sizing, unlike most online websites, is very accurate! Don't order up a size and end up having costly adjustments made like we did!
The bridesmaids wore earrings from Marolsha on good old Etsy which I was addicted to the whole way through the process. Marolsha was great to deal with on such a large order."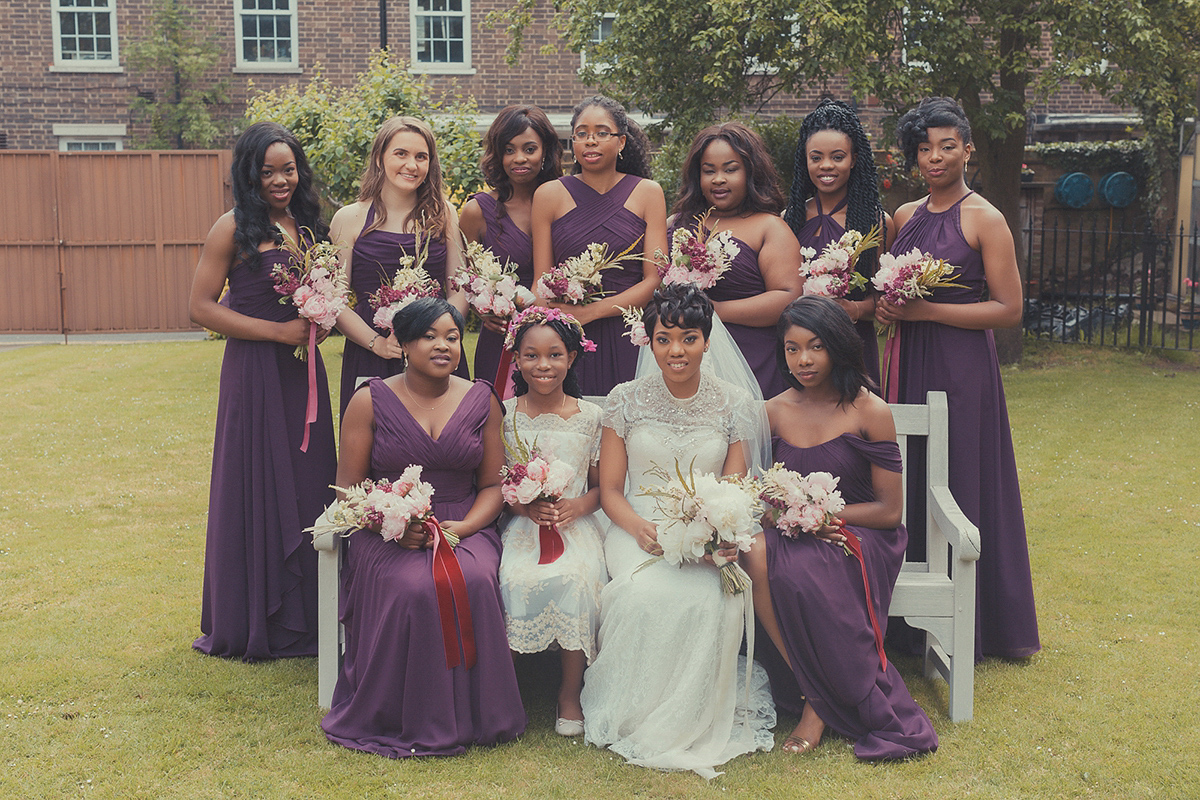 "We met for the first time when we were just nine years old at Church. We were apart for a few years but I was always especially close to his family because I became best friends with his sisters. We ended up being a part of the same Christian Youth organisation and volunteered and taught kids together one summer."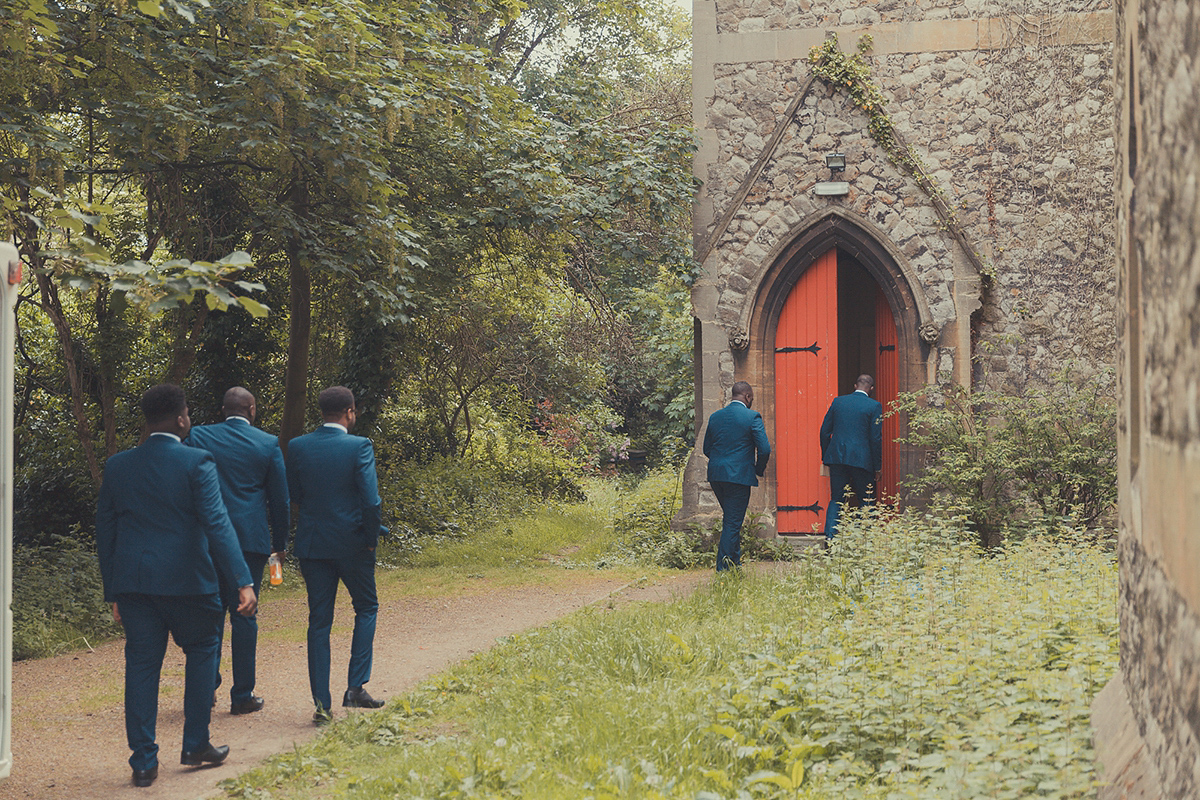 "Our friendship grew whilst we were at university and it became very apparent that Heaven had plans for us! We both knew the ordained plan and when it was the perfect time, God was like, ok, I'm tired of waiting. Sparks now please! We were in a Christian Courtship for under two years and engaged for a year."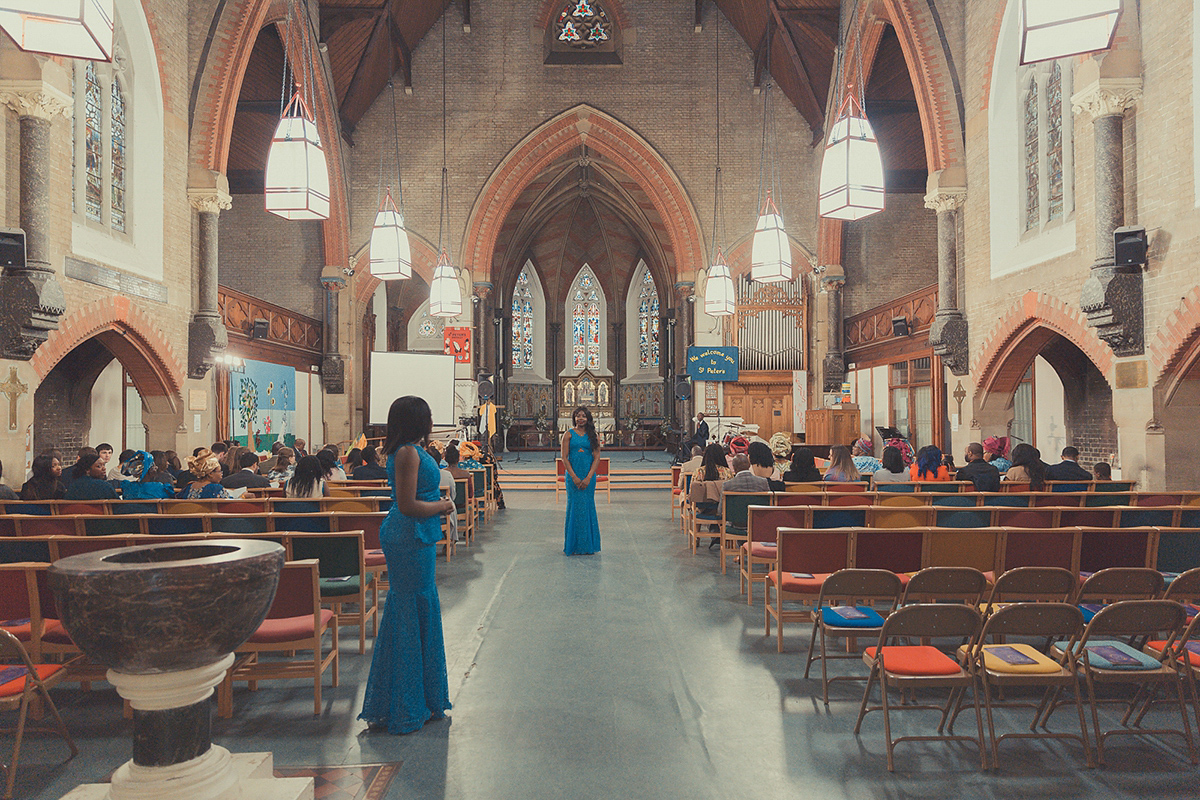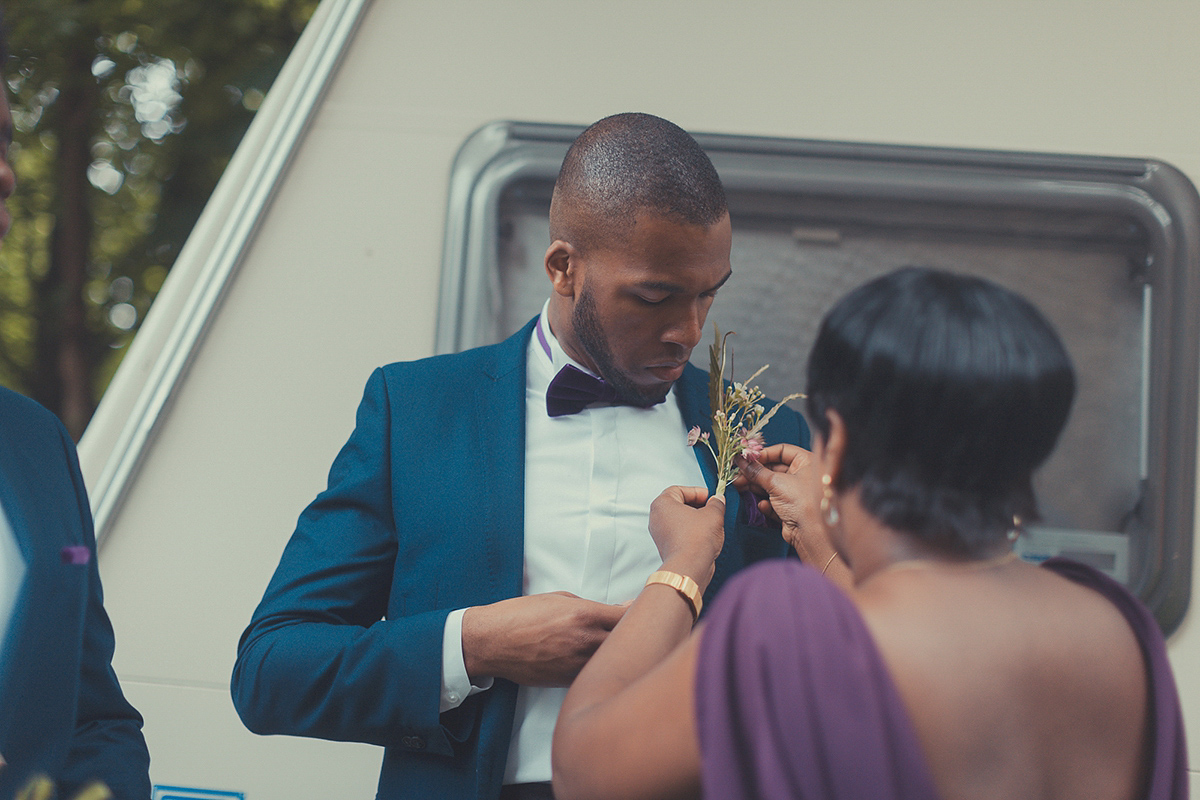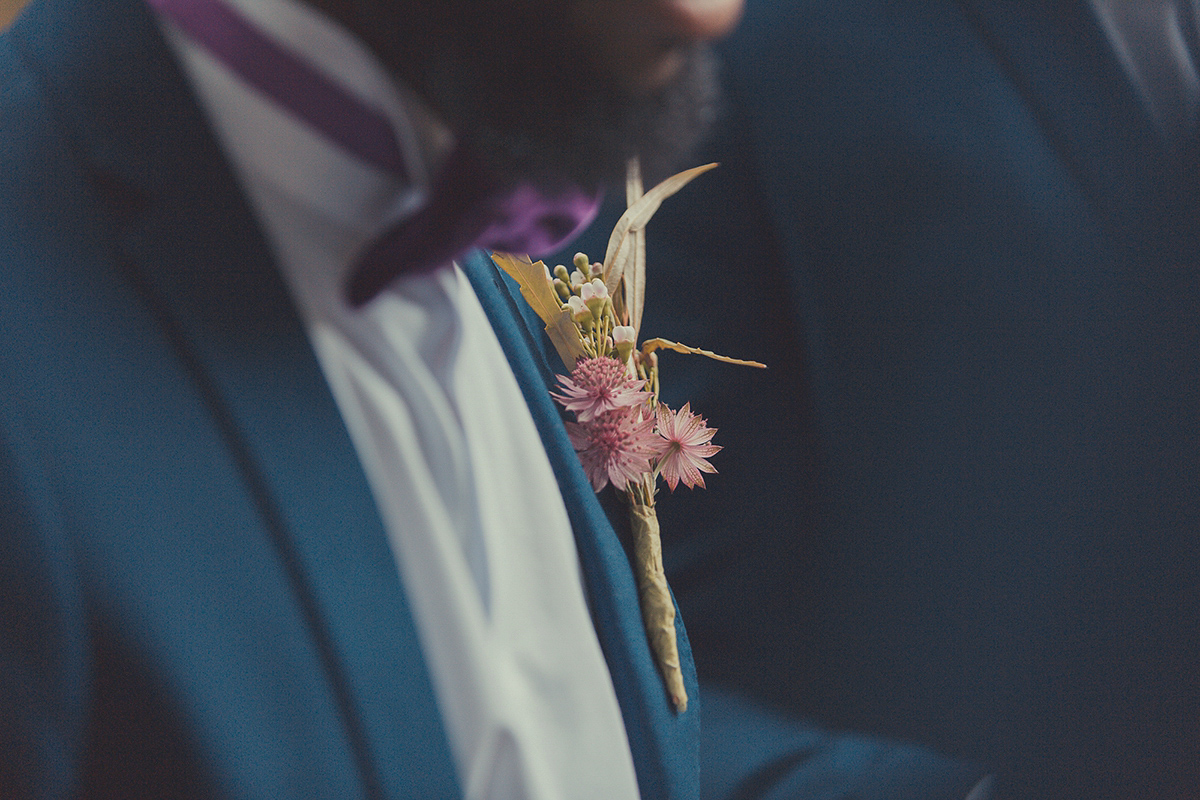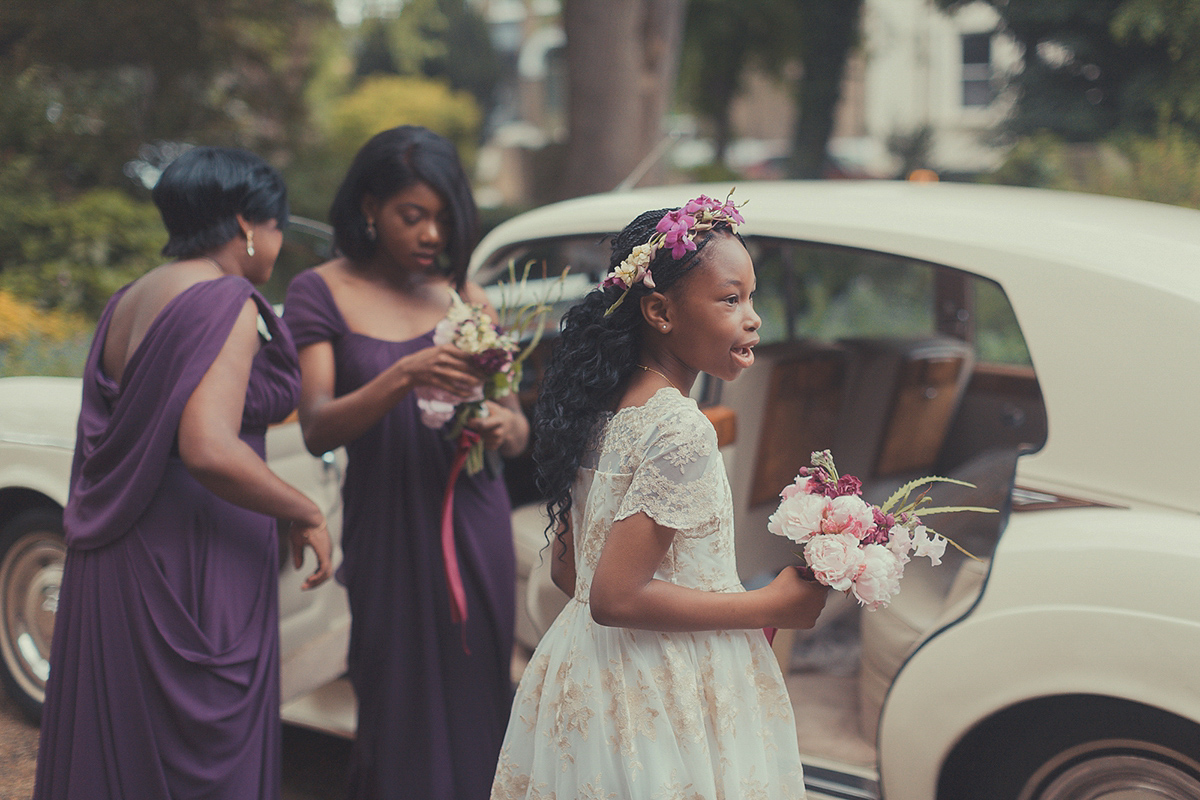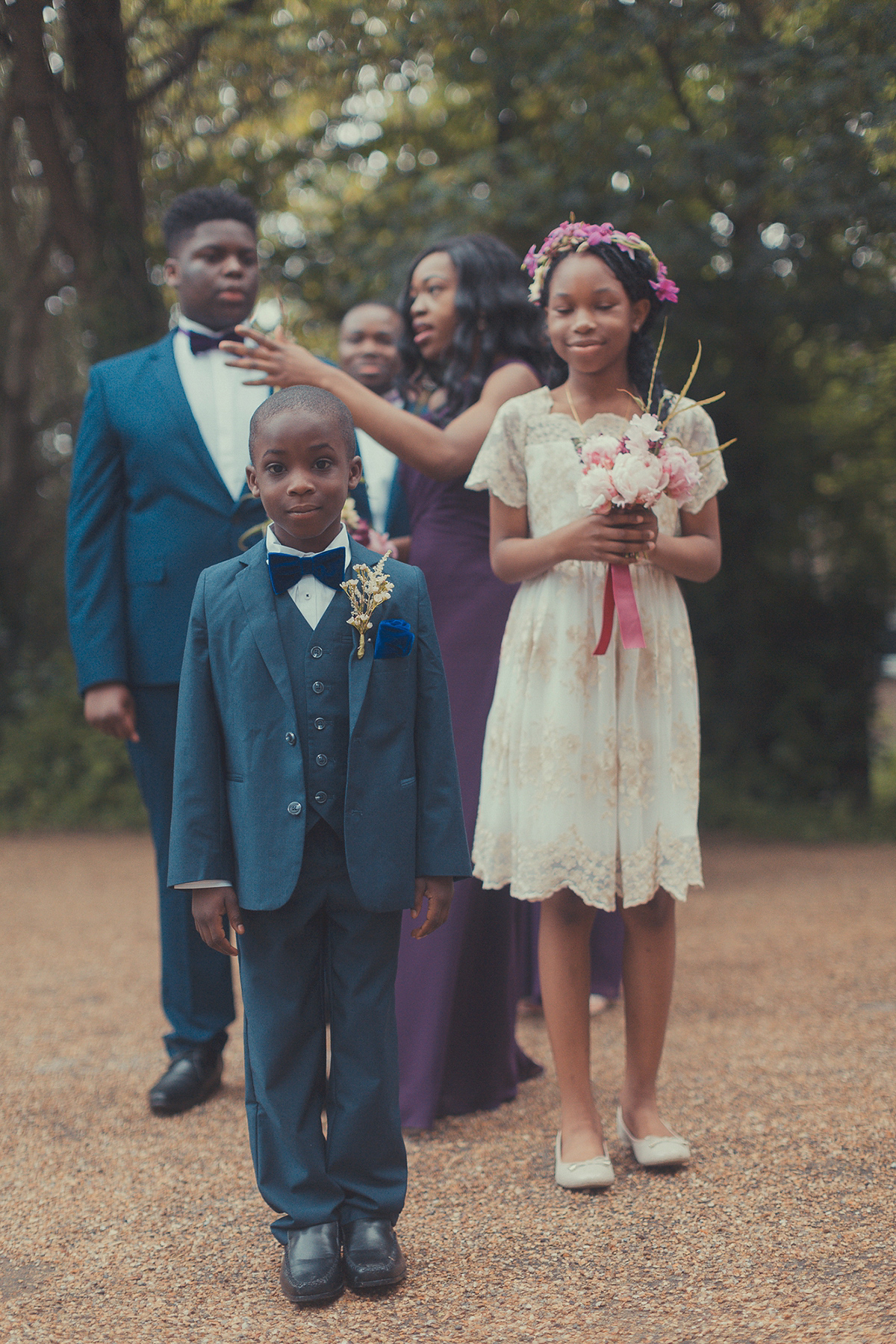 "Our transport was a gift from my very generous younger siblings. We had the most beautiful vintage rolls Royce as a bridal car. I love vintage cars!"
"I designed all the stationery accented with the Bible verse we choose for our wedding 'I am my Beloved's and my Beloved is mine'. On our menu cards we had a quote by CS Lewis from the "Chronicles of Narnia", my favourite childhood book and our favourite theologian."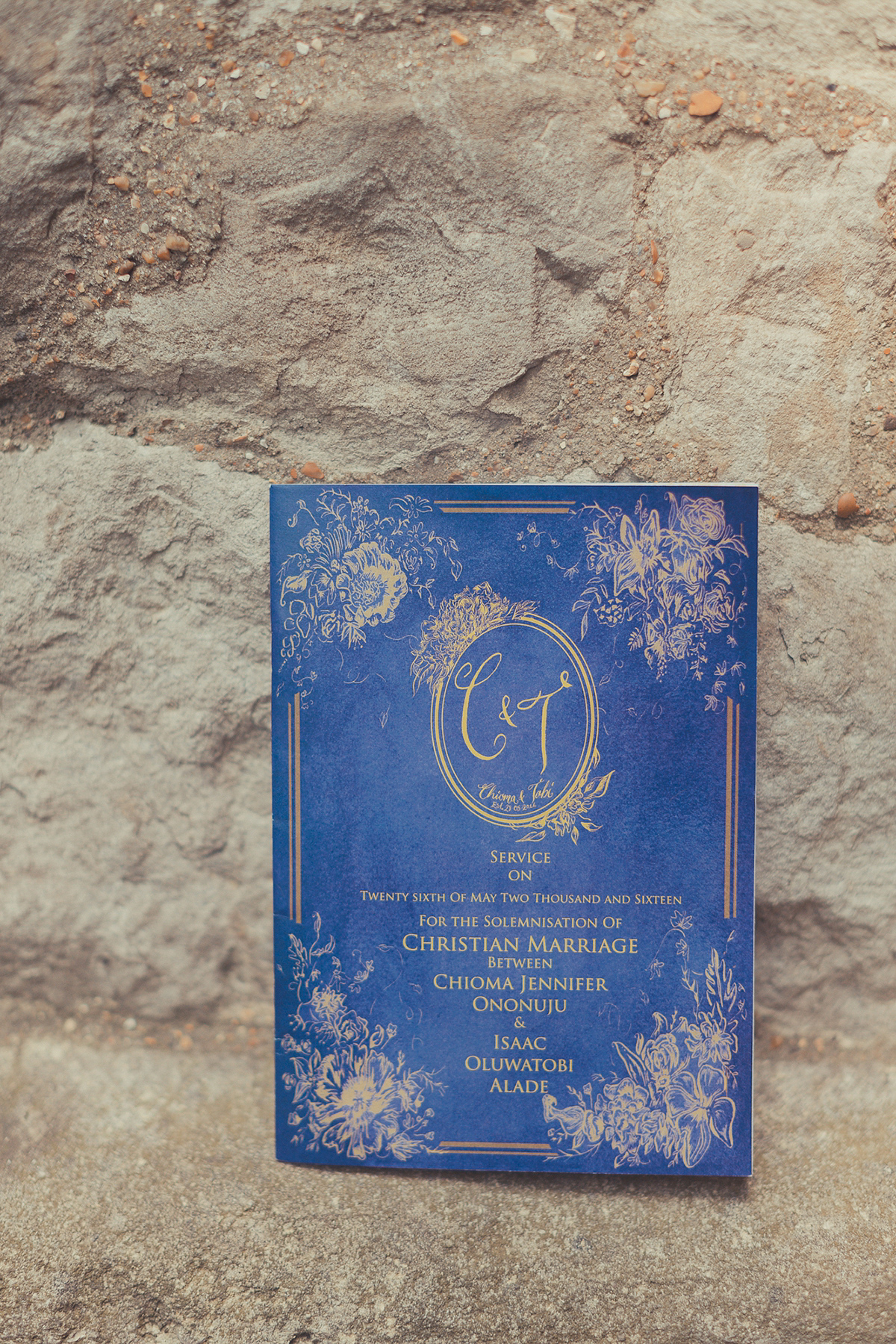 "As Christians there was no better choice than to get married at the Church we fellowship at and grew up together, literally. God is the most important element in our relationship. The Church connects on the deepest level, its home for us."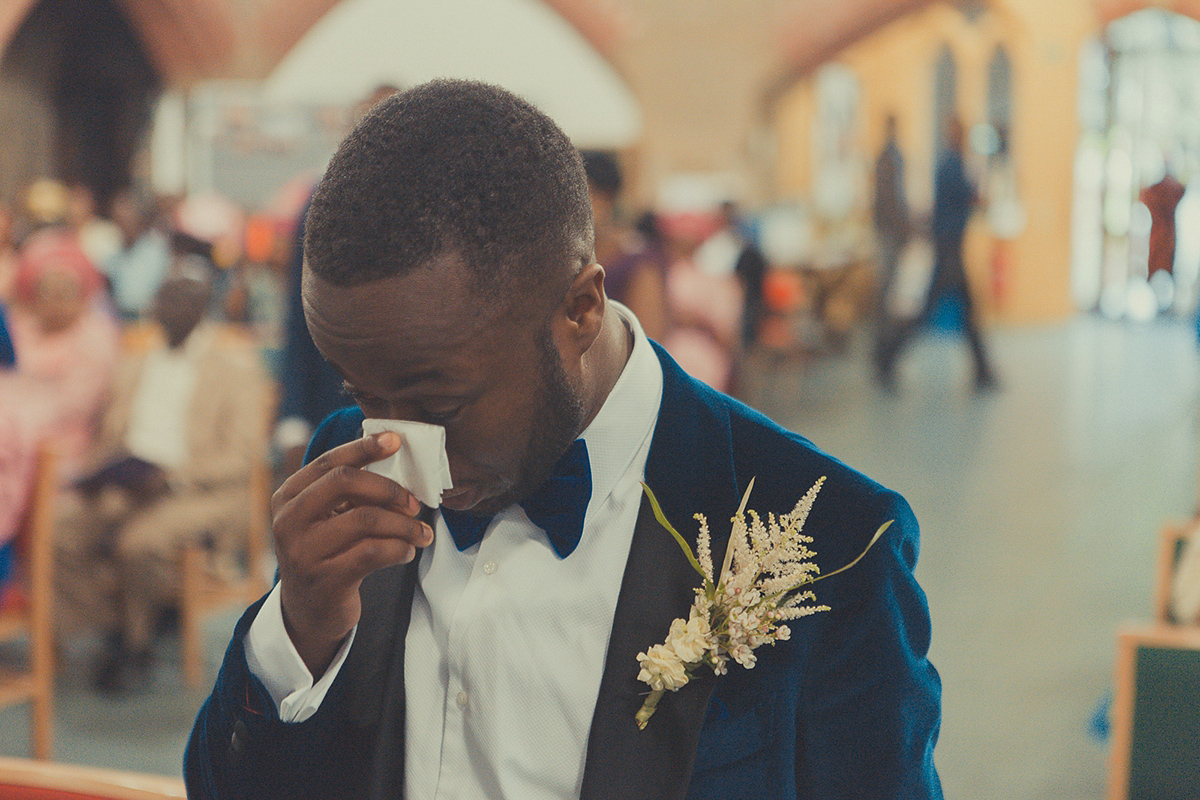 "My favourite part of the day? Seeing the way he looked at me as I walked down the aisle, the ceremony the private moments we had together in Ainslie Wood taking photographs. We were also stuck in traffic for an hour en-route to the reception and it was the sweetest one. We never kissed before we got married and believe sexual purity before marriage."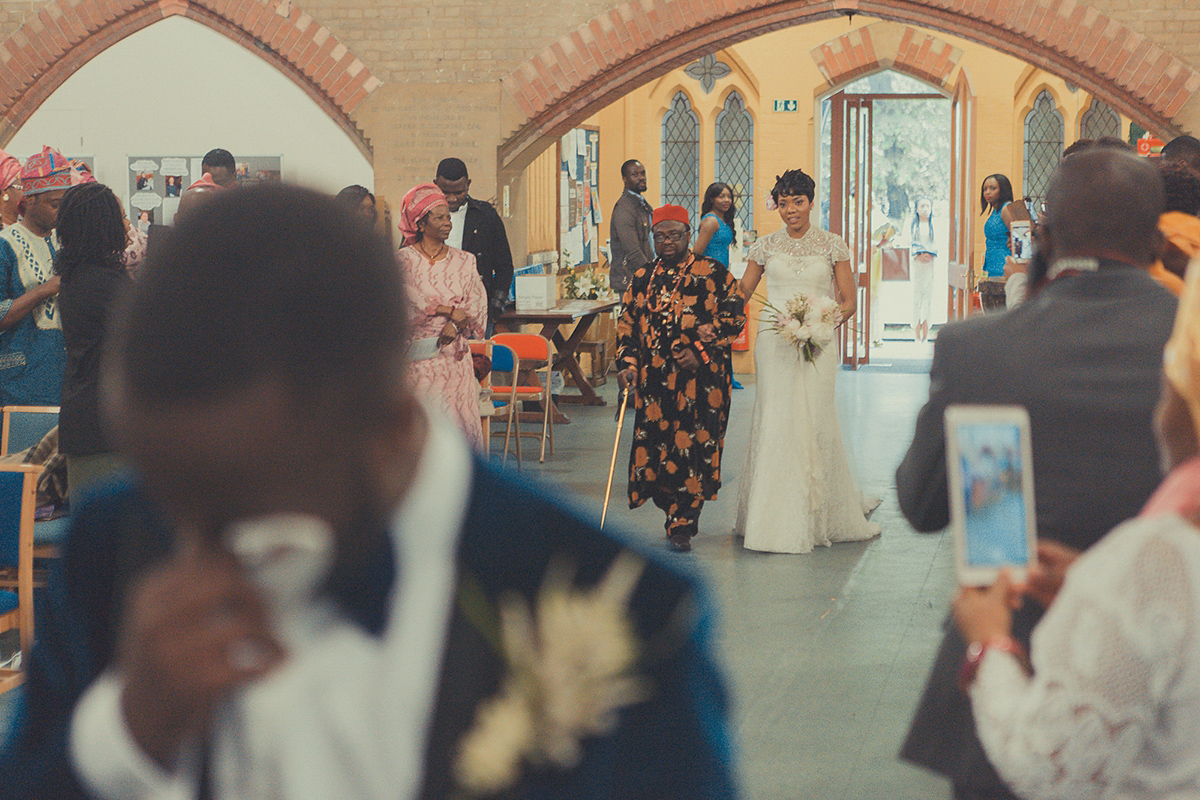 "We had our first kiss in our getaway car! We had speeches from our siblings as both of us are very close to them. We opted to have sibling speeches which worked really well as I knew I wasn't going to have a father of the bride dance or speech."
"My brother and sisters are my best friends. I cried more the most the whole day hearing them speak."
"Tobi's Suit Supply suit was a surprise for me and he knows how much I love velvet! He was smoking, just smoking hot! His bowtie was from the nice people at Mrs Bow Tie."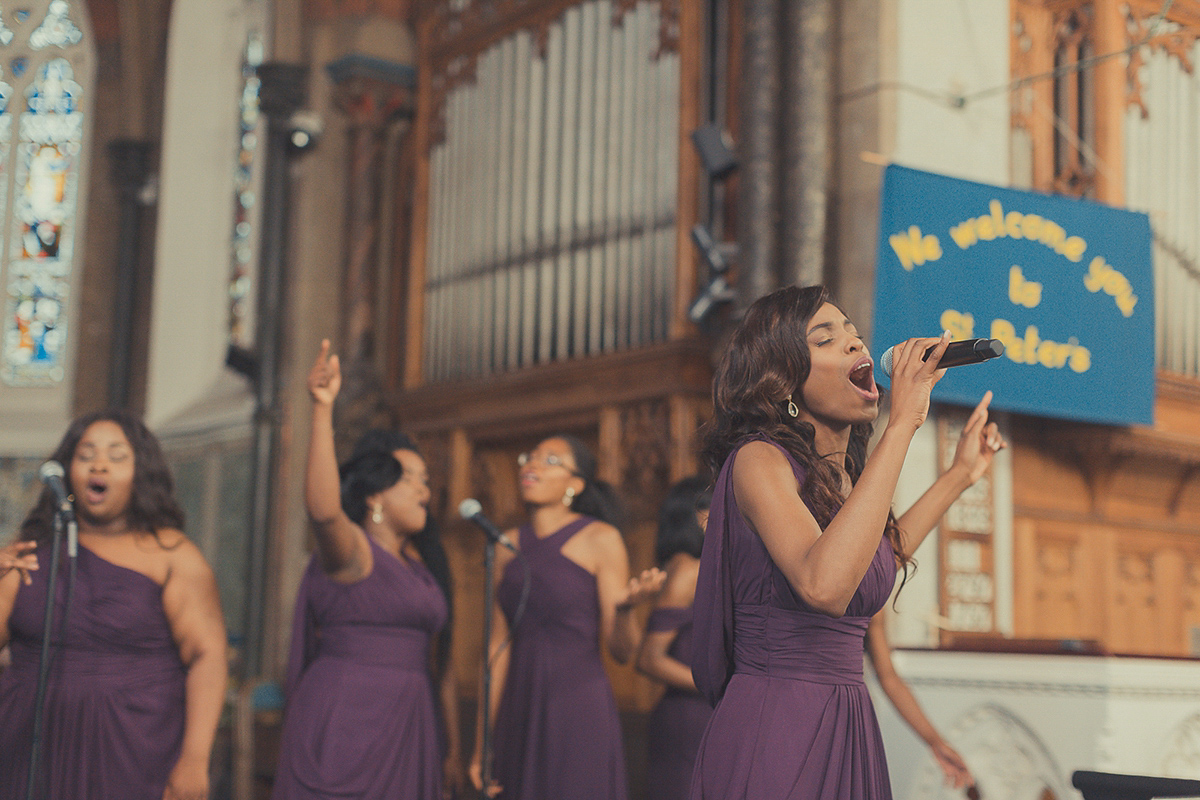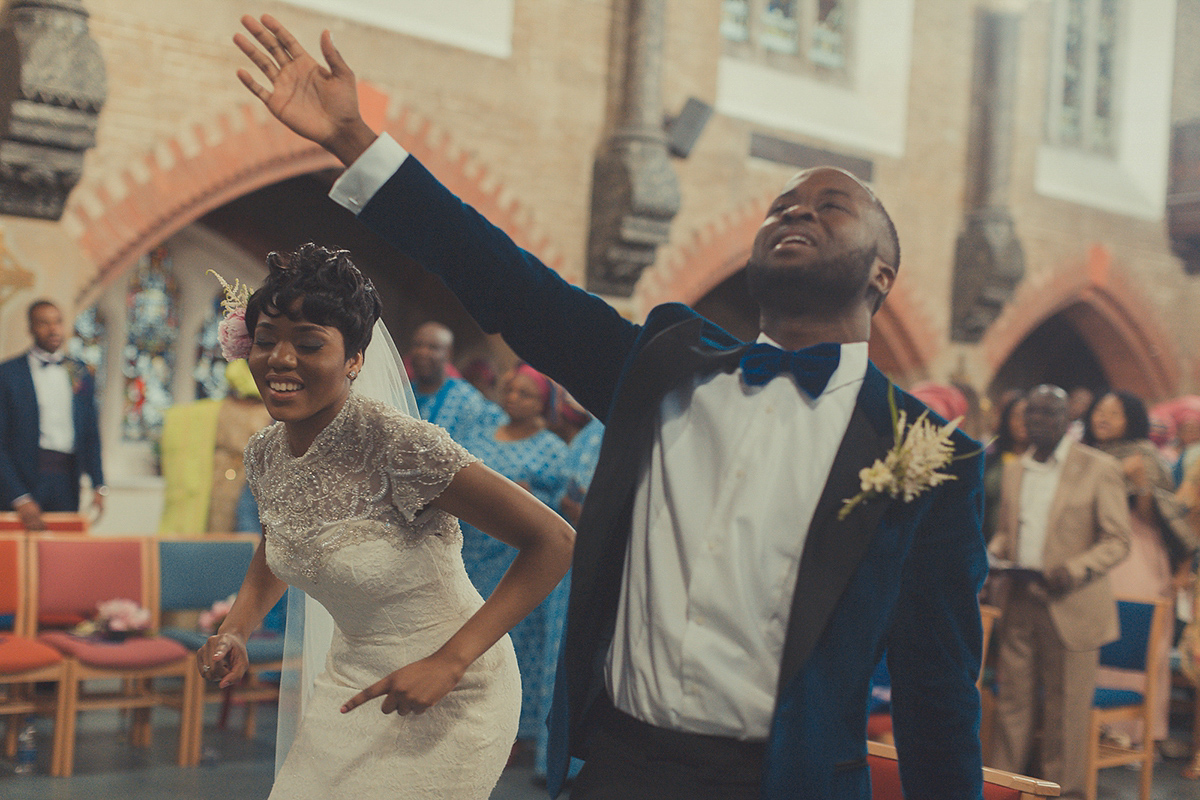 "We followed our Church's vows which are quite special – there was a particular line we loved that read; 'After this pronouncement, you will be no more two but one'. We also had some of our favourite Bible verses read by our closest friends and family during the ceremony." 
"My ring was a super simple platinum band from Tiffany & Co and Isaac's was a Cartier love ring. He fell in love with the design because he says the nail imprint reminded him of his commitment to me."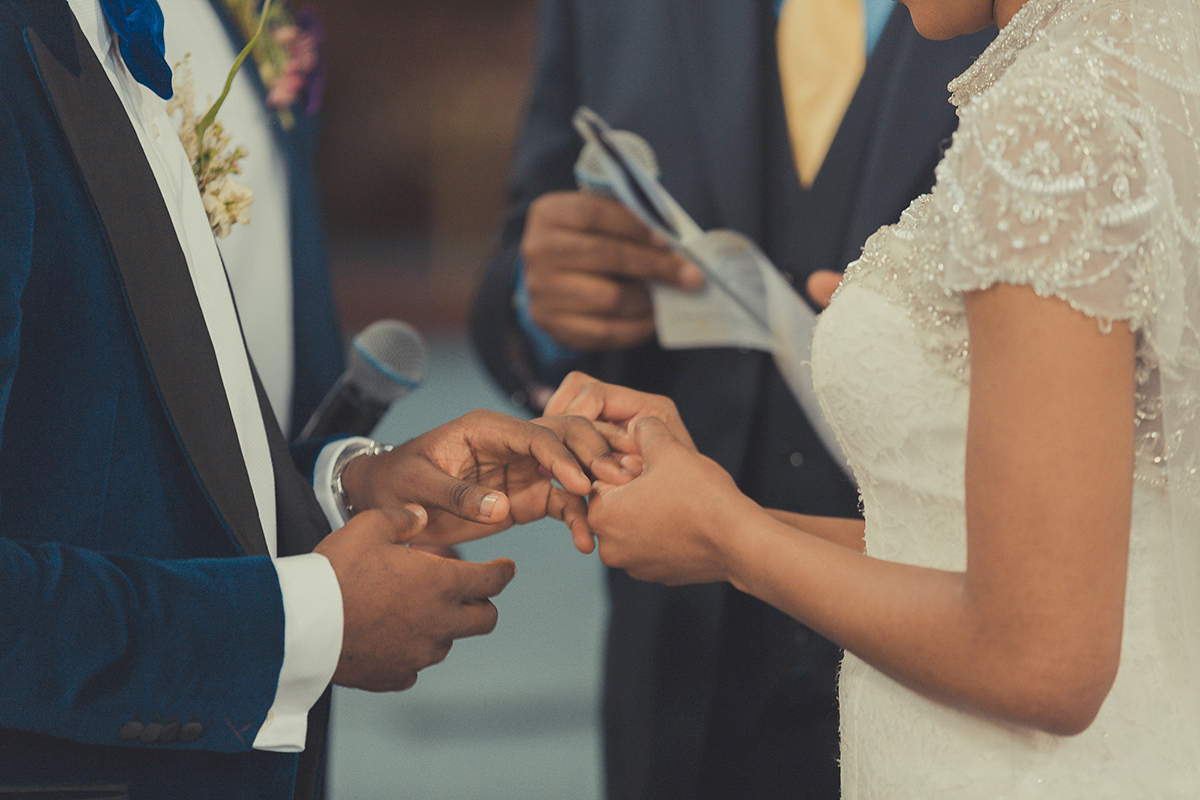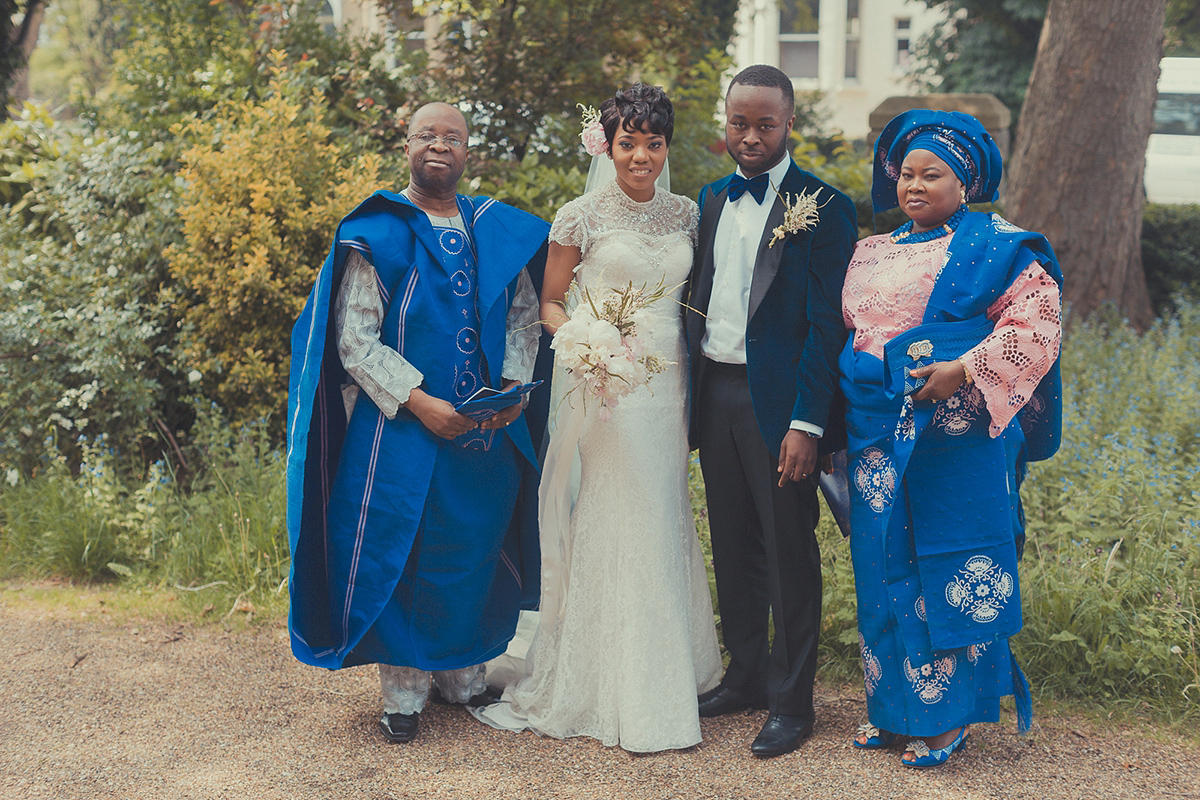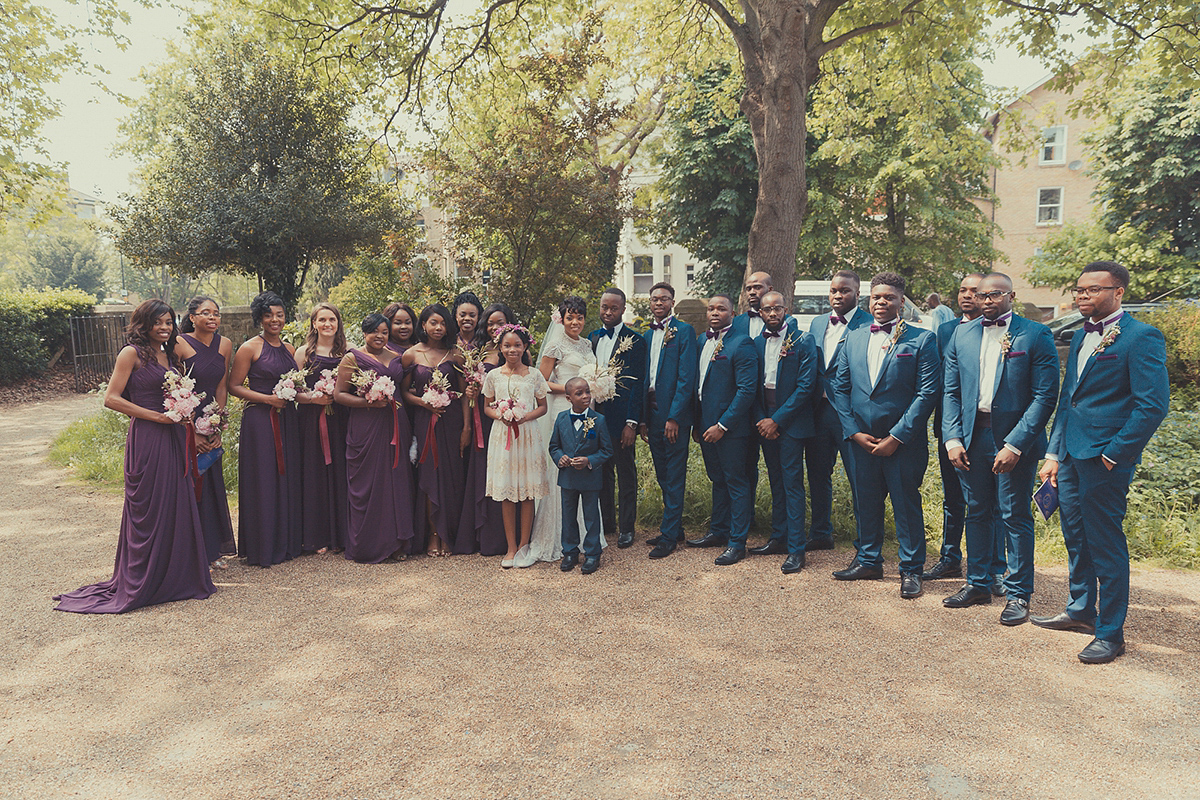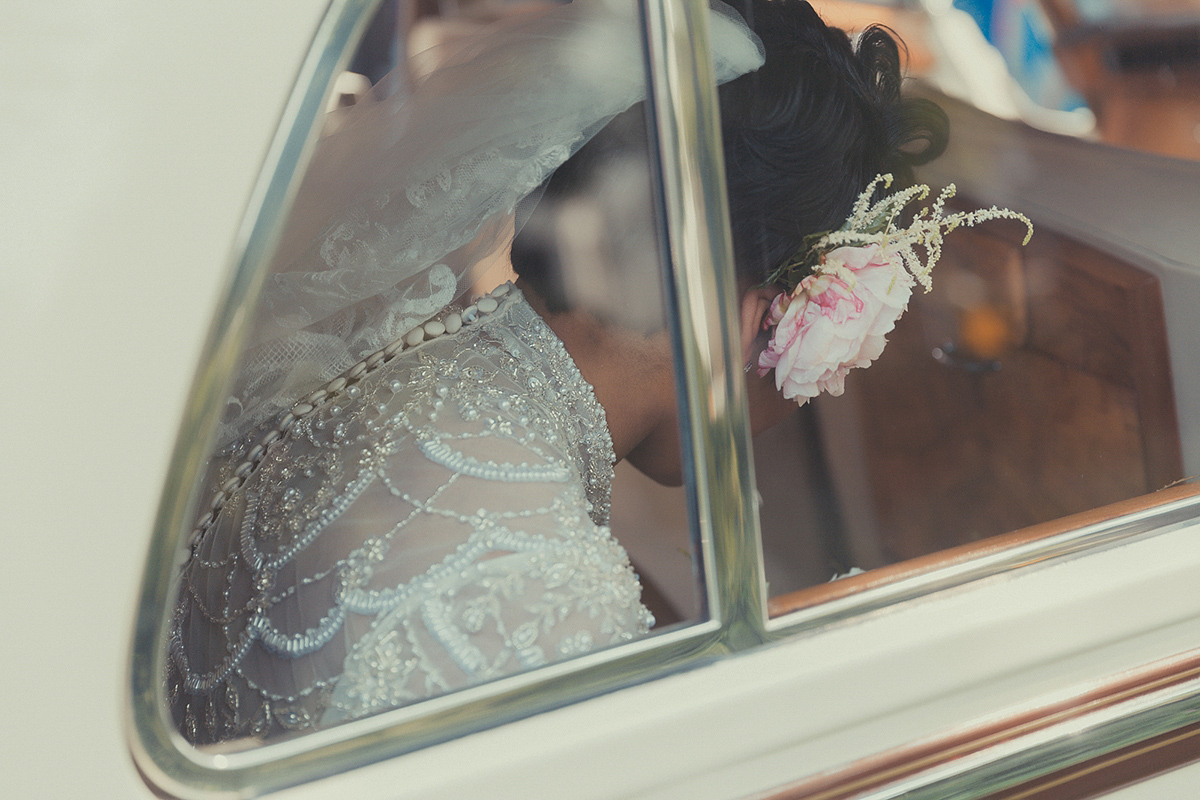 "I have studied photography and we both wanted the best so I hunted our photographer James Green down. He had taken photographs at some of my friends' weddings and I knew about him through blogging too. He is very sought after so I wasn't sure what to expect."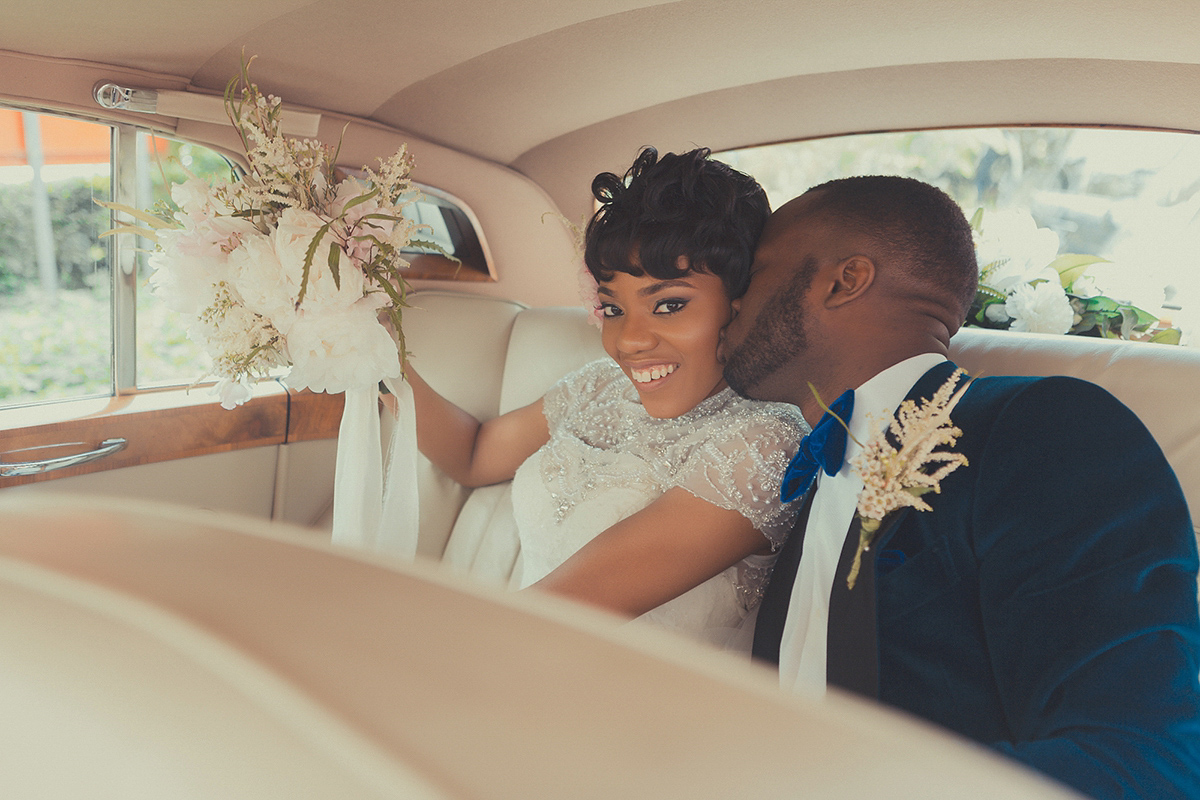 "We had a Skype chat with him in which we talked about everything *except* weddings for about 40 minutes! He is literally like the coolest friend you never met and made us both feel so comfortable – super professional and so incredibly talented. He captured every single moment and every detail. We completely forgot he was there. James and his assistant Ash James were fantastic! They are undoubtedly the best. Thoroughly recommend."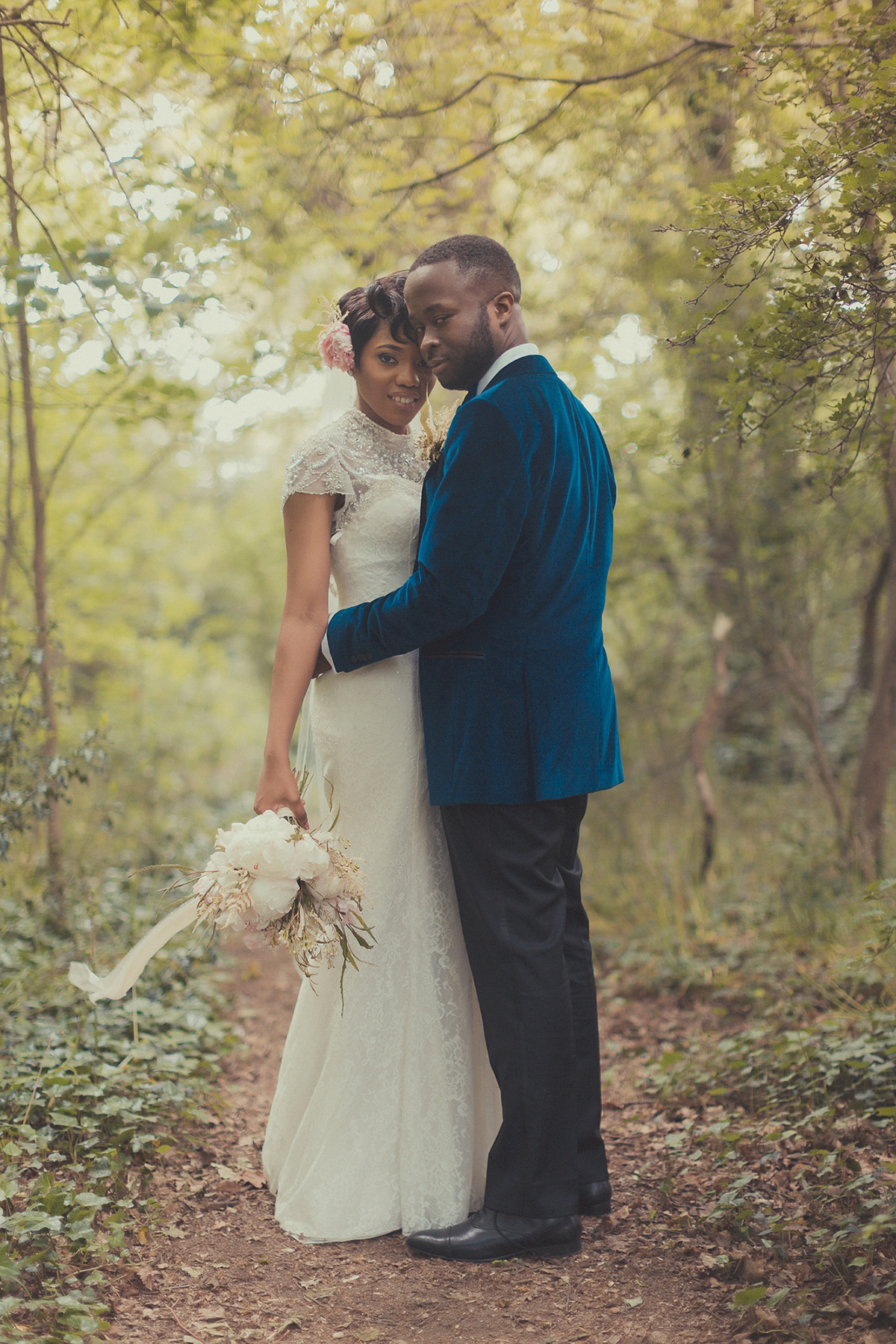 "Belgi of Love One Films was amazing and came to us by high recommendation. He captured our day so beautifully and was super friendly and we had so much fun with him on the day! His video felt like a movie. We will treasure it forever."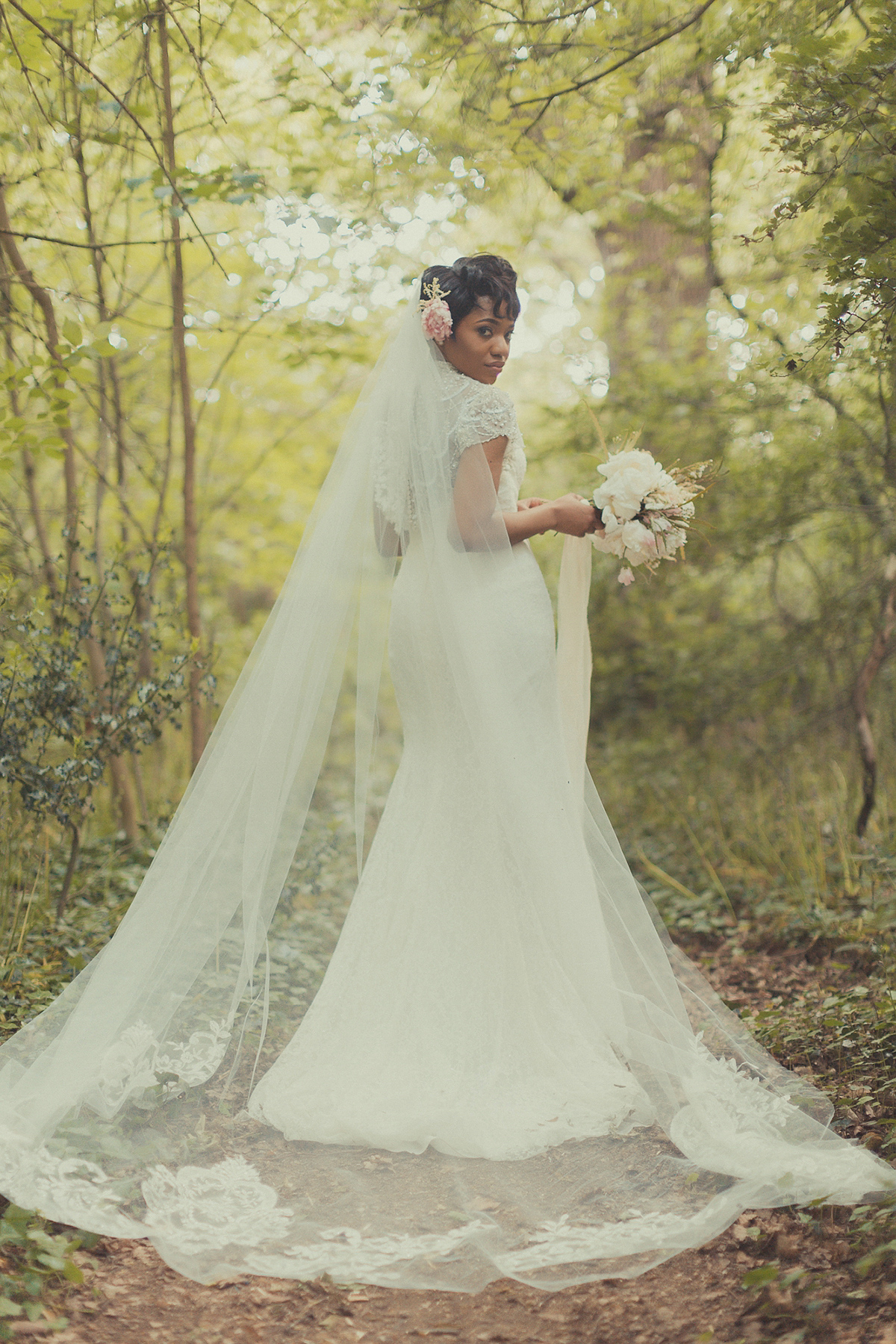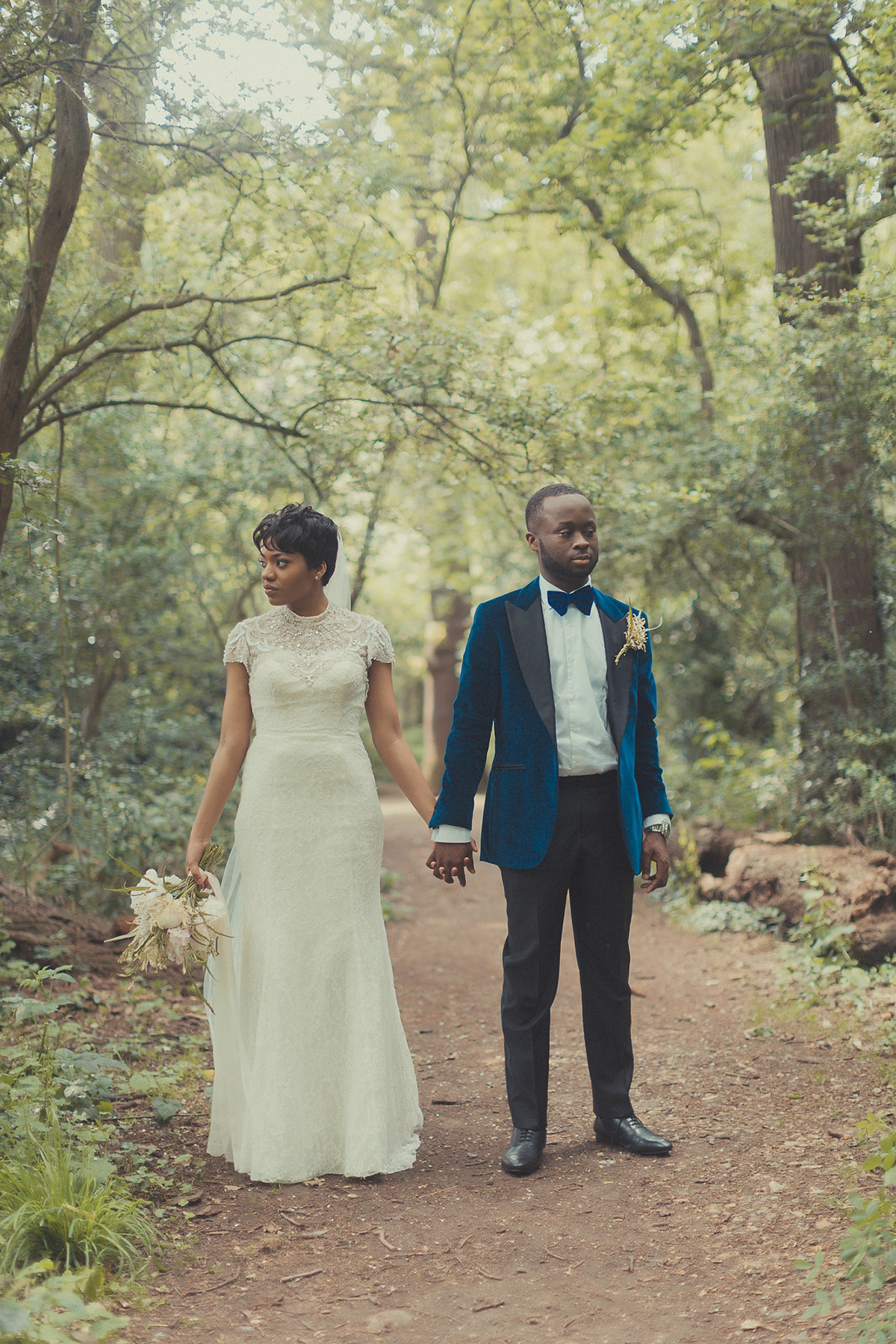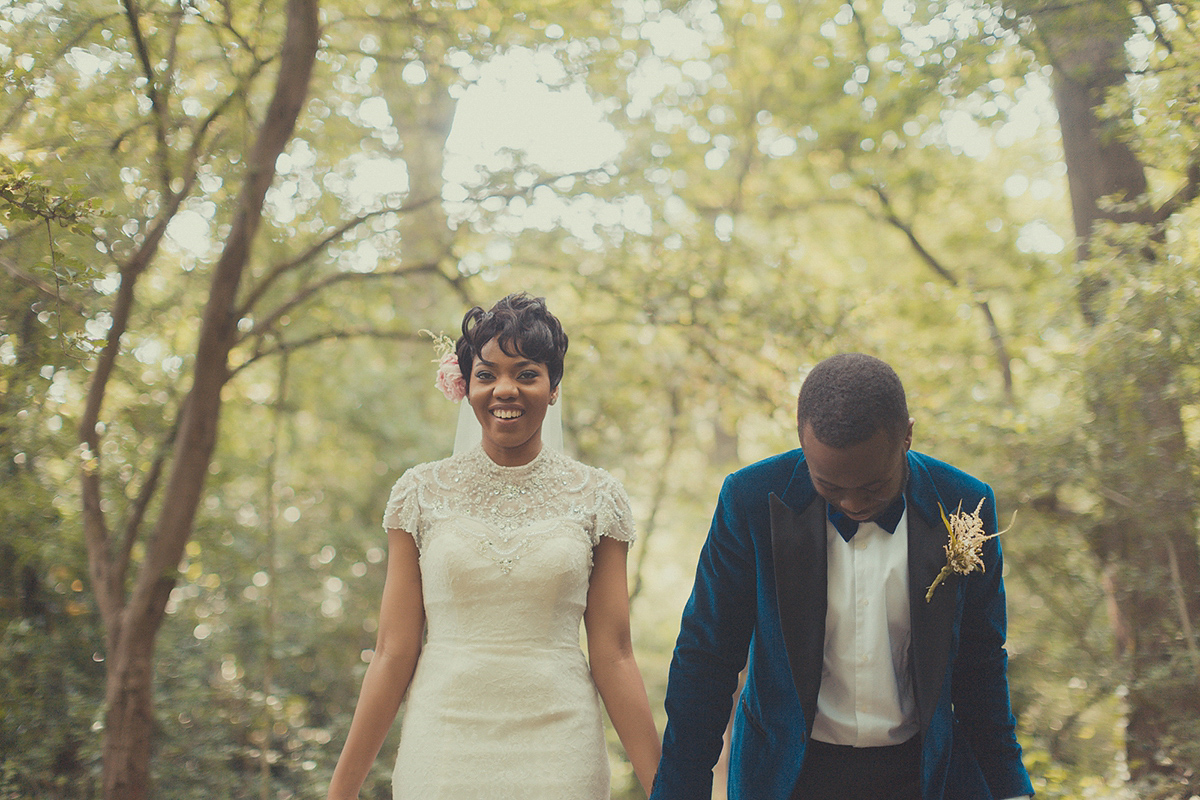 The couple had a little assistance in planning their big day.
"I planned and styled my own wedding as I had a really definite idea about the style of wedding we wanted. I cannot thank Ope of IMT Event Management enough for her support – and Isaac's family, my siblings and our Church all did so much for us."
"Our wedding reception venue was super difficult to find as, including evening guests, we were expecting over 500 people – and we wanted it to look nice! Walthamstow Assembly Halls was perfect."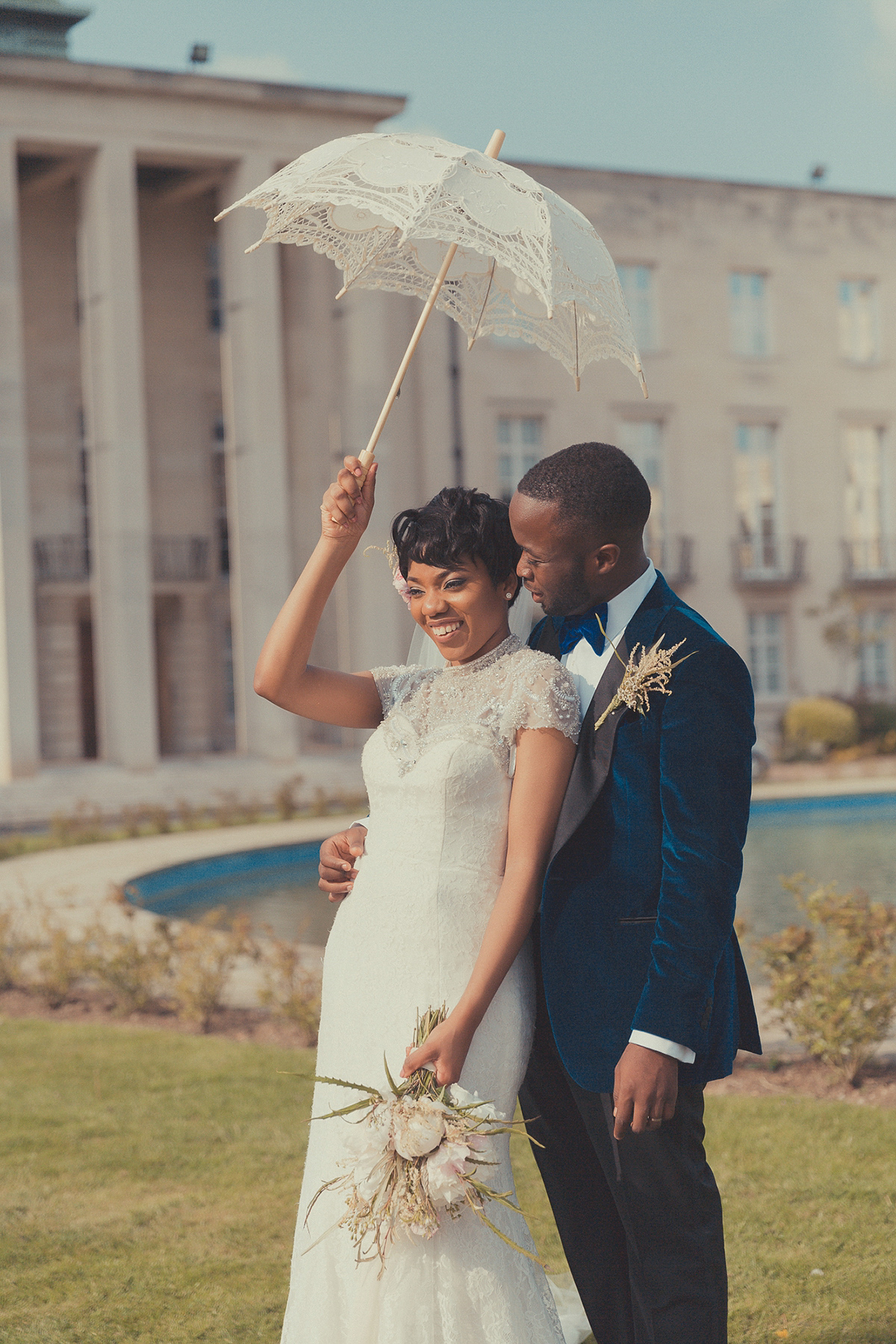 "Nigerians are big on wedding favours. Family and friends even give out favours on your behalf. We purchased pashminas for our guests. My sister-in-law managed to source our favours and had 450 butterfly boxes filled with our favourite teenage Nigerian snack, chin chin. The boxes were at each setting and the pashmina scarves were accompanied by fans in gold bags."
"We had custom-made tote bags made for us by Isaac's family and filled with tea towels and flannels with our names on them too."
"Apart from our faith and family, cake was pretty the next most important thing in our wedding. As a baker and cake lover myself, it was a very serious element of our day!  Just so you understand, the guests were probably more looking forward to seeing the cake than the dress! It had to look as good as it tasted."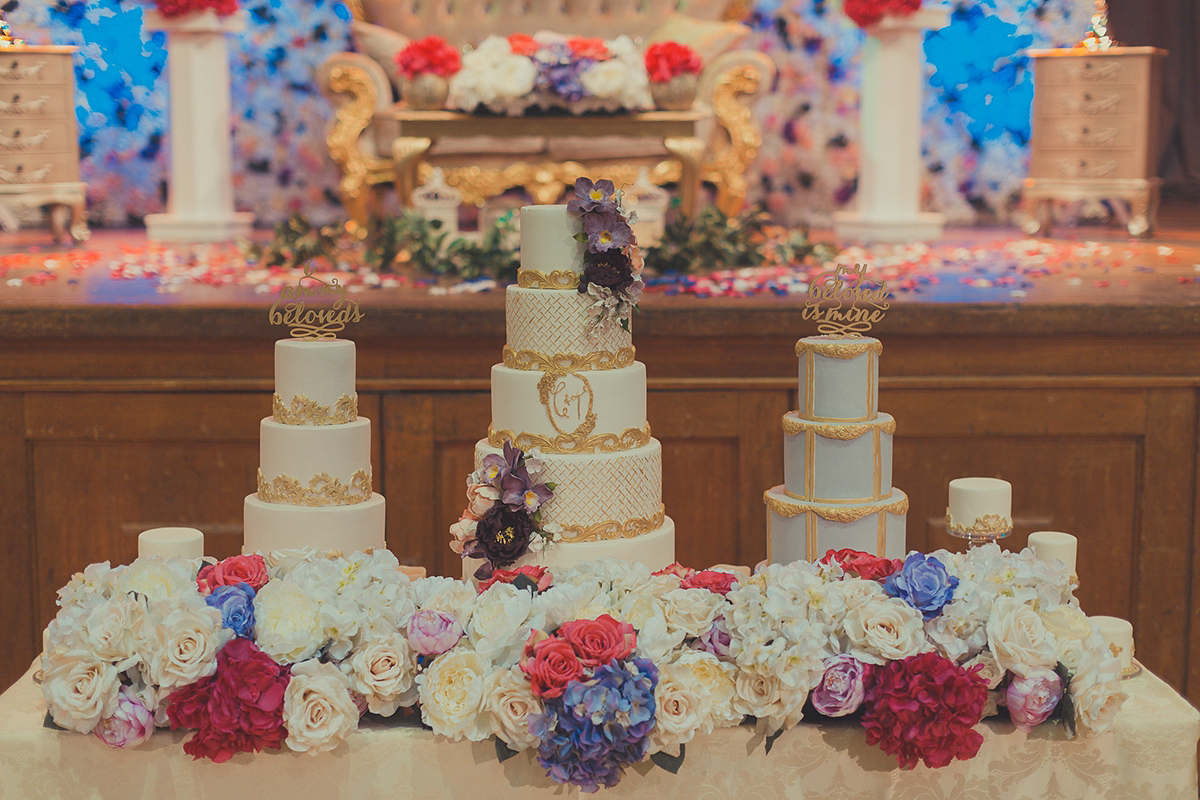 "We had one five-tiered cake and two three-tiered cakes, mini cakes and cupcakes of course. Marbie Davies was amazing! Our cake tasting lasted three hours and she fed us with what seemed like every flavour under the sun! We eventually settled on 6 flavours; vanilla, red velvet , coconut, lemon, salted caramel and chocolate. She helped bring our dream to life and even managed to pipe the logo I designed onto the cake too."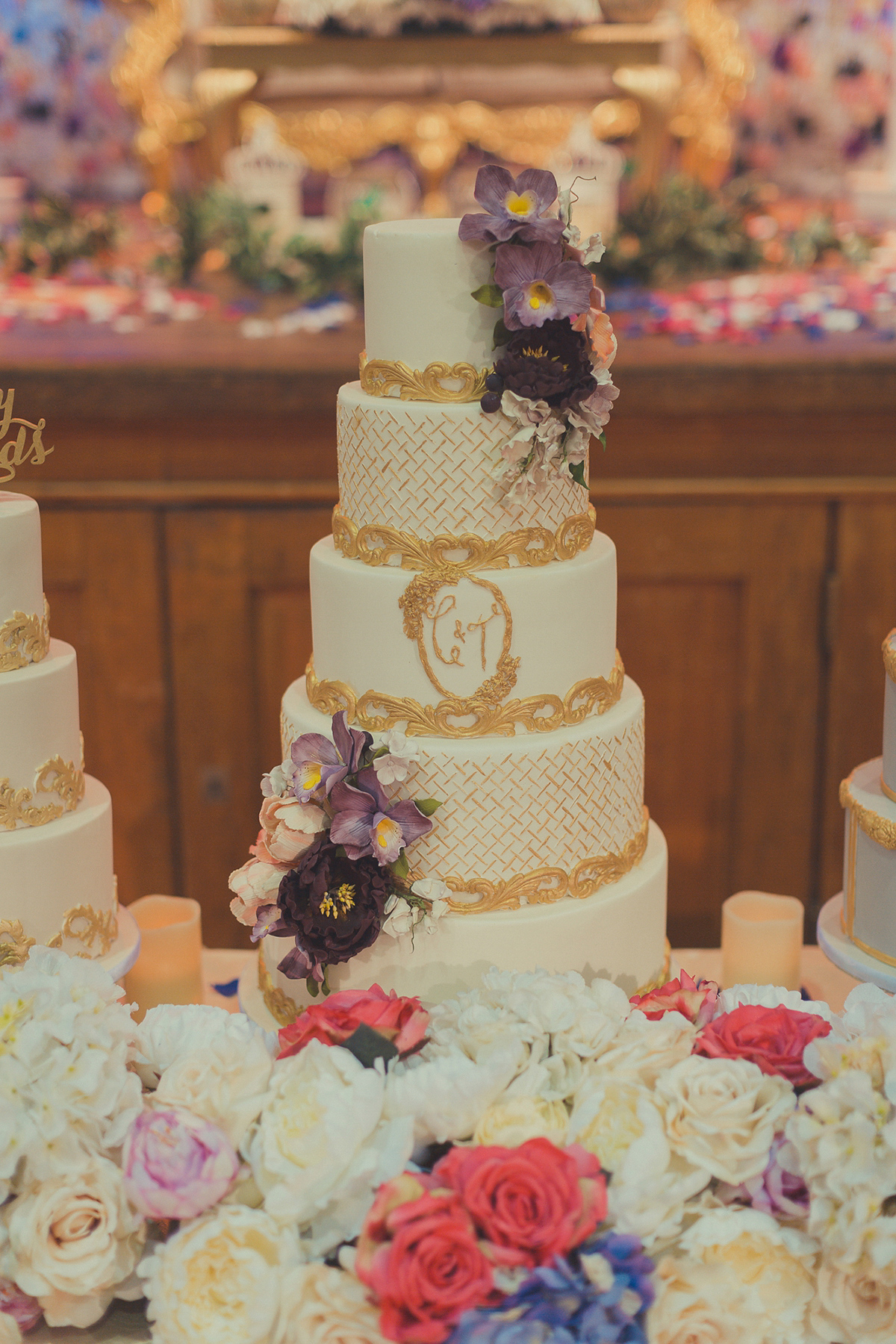 "Doing a drinks reception and dinner for 450 dining guests is not easy. We had no alcohol at our wedding and OKK Cheers were fantastic. Ben from OKK Cheers sourced the non-alcoholic sparkling drinks we toasted to in our pictures."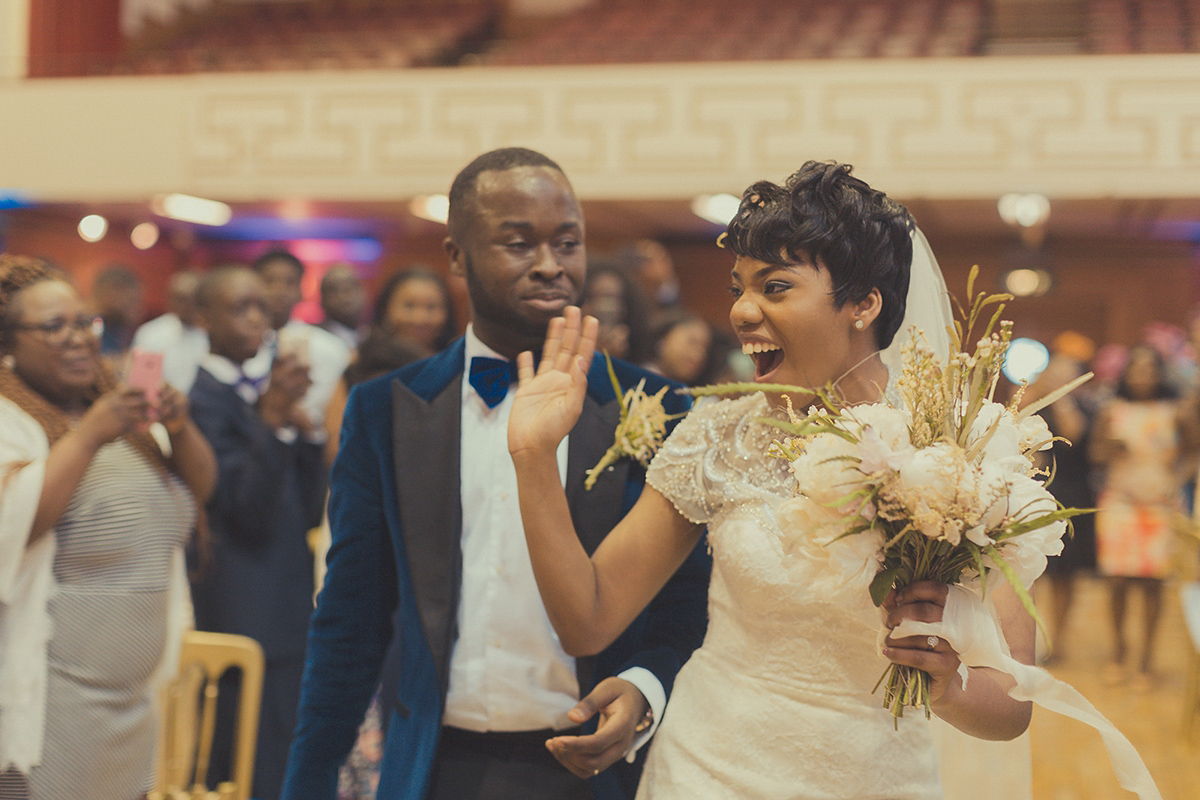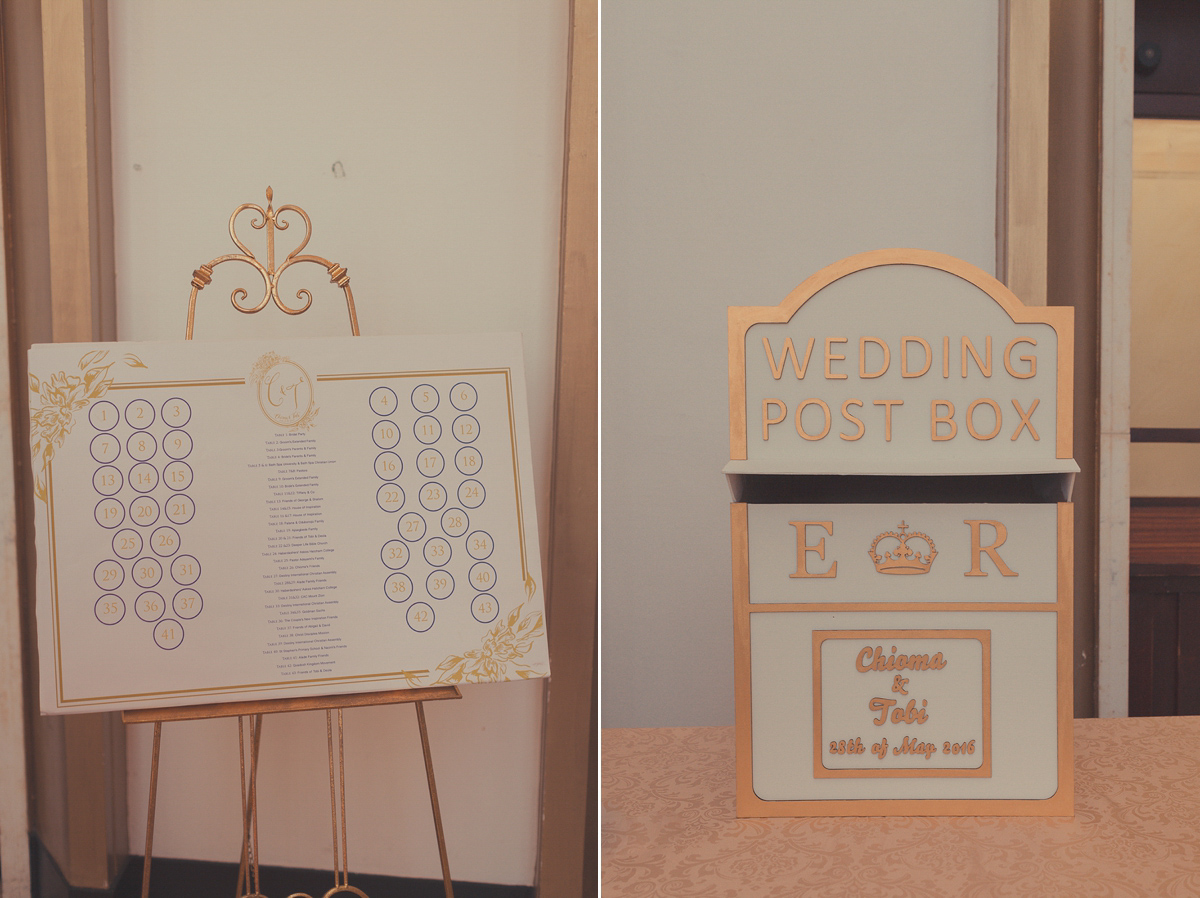 "I sent out a moodboard to my suppliers really early in the process and picked people I had worked with before. Choosing Stella from Events Royale to do the décor was the best decision I made. Decorating for 45 tables and making each one look unique and special. Unfortunately we found out we couldn't have open flames at our venues after we booked but she managed to track down LED ones."
"She created three different centrepieces and framed our childhood pictures with my calligraphy for our table numbers. I have recommended her multiple times since! Our custom flower wall was created by Temi of Victorose London."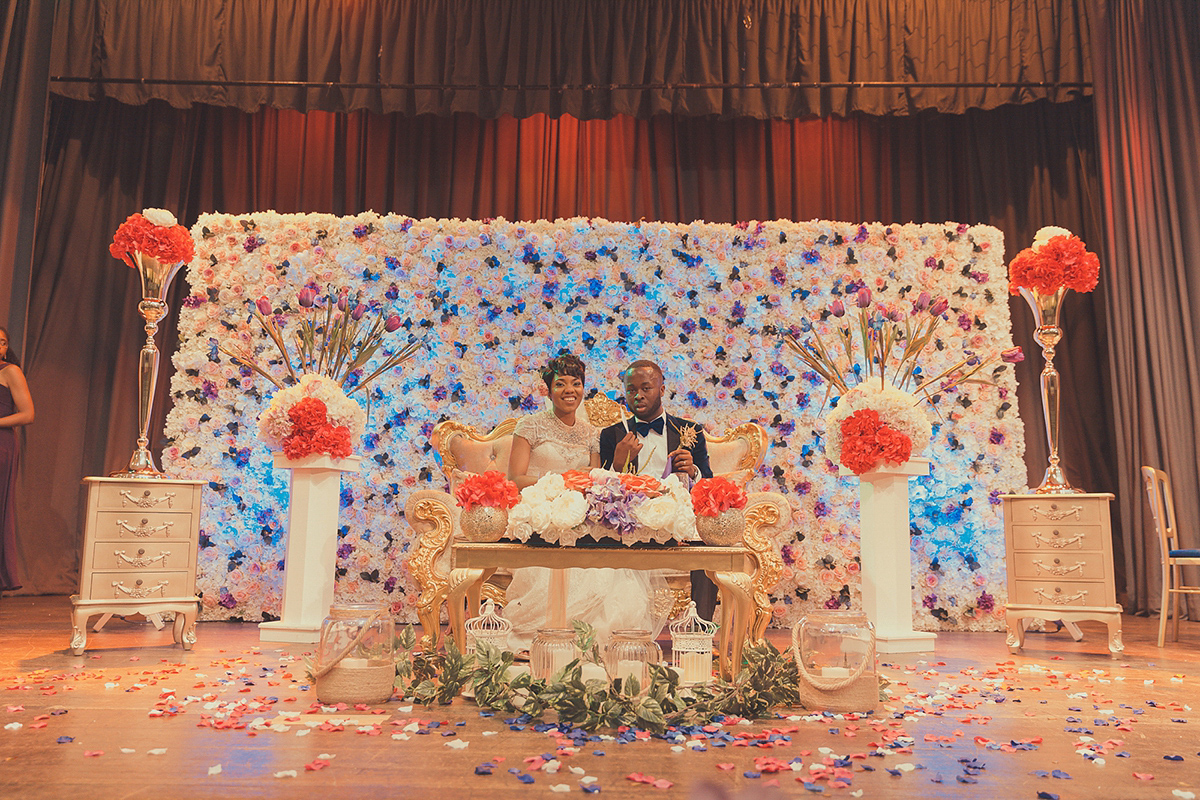 "Isaac's mother is the best Nigerian caterer I know and I jokingly hired her to do our wedding when me and Isaac were just friends. I had no idea then I'd marry her son! We had a cocktail hour with food from Blossom catering and my mother in law's company 'Flurry Catering' introduced our guests from all around the world to Nigerian cuisine.
We had our aunts make Tobi's favourite Chinese rice and other auntie make her epic Apple Crumble. We had canapés and a cocktail hour to allow me and Tobi time for pictures."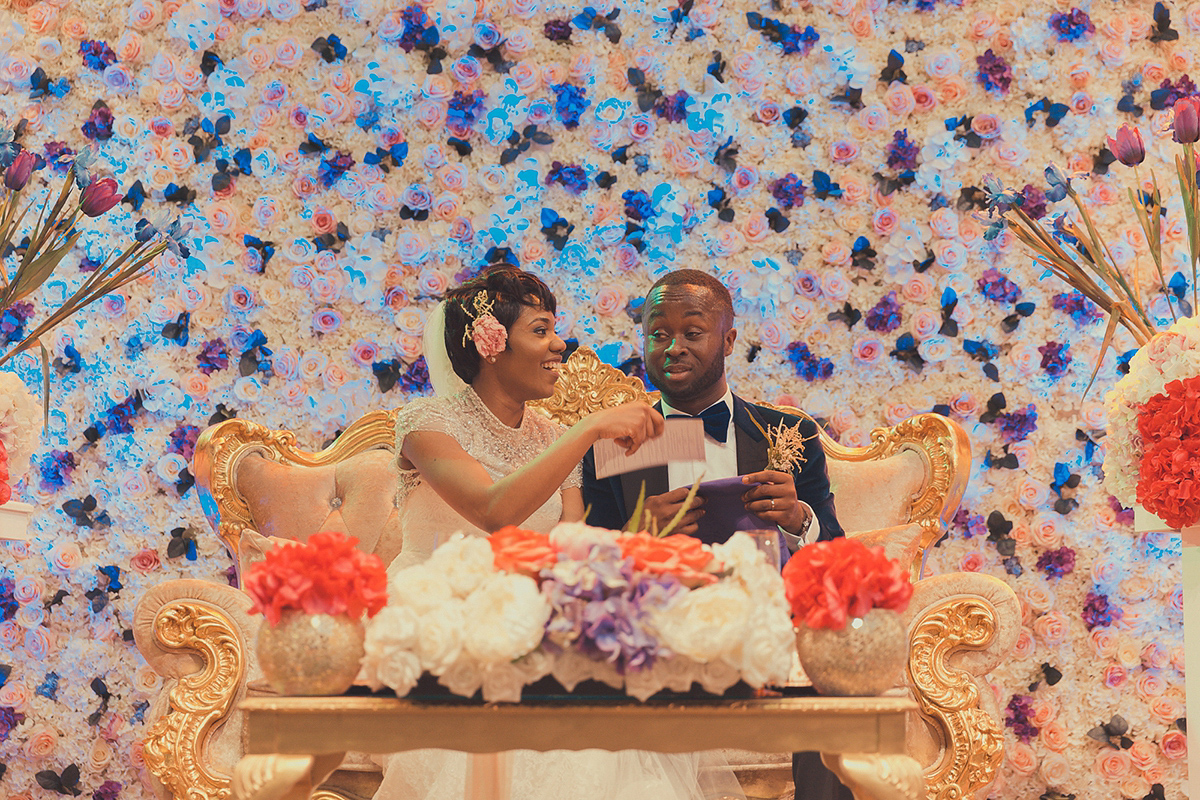 "Entertainment and tradition are very intertwined in Nigerian weddings. We had a DJ, Big John, and a Nigerian live band, Dele Achiever. There are multiple entrances in a Nigerian wedding; the parents on both sides dance in to the wedding reception as does the bridal party and bride and groom. We had the live band play for family and friends as they danced in and we had the DJ play one of our favourite songs 'Godwin' by Koredo Bello as we danced in."
"Our MC was amazing and a lot of fun! In Nigerian tradition, the bride must feed her husband the cake to symbolise how much she will care for him – so as I walked away having done this, our MC called us back and had me sit down again. Love is two-sided after all! He had Isaac feed me drink after I had had a 'long hard day at work' – it was hilarious!"
"Our second outfits were in the traditional style of Isaac's Tribe, the Yoruba's. My mother in law went to a lot of effort to find the perfect outfit for us, travelling to Nigeria and Switzerland just 2 months after we were engaged! The aso-oke which is the hand woven fabric around my waist and over my shoulder was custom-made for me in Nigeria and the lace was the finest custom Swiss she could make.
She had the aso-oke embroidered with flowers as a surprise because she knew how much I loved them. The blue was an ode to my obsession with Tiffany. The beads were also custom-made for me by the groom's cousin."
"We entered our reception again whilst dancing in our traditional Yoruba attire, the tribe from which Isaac is from."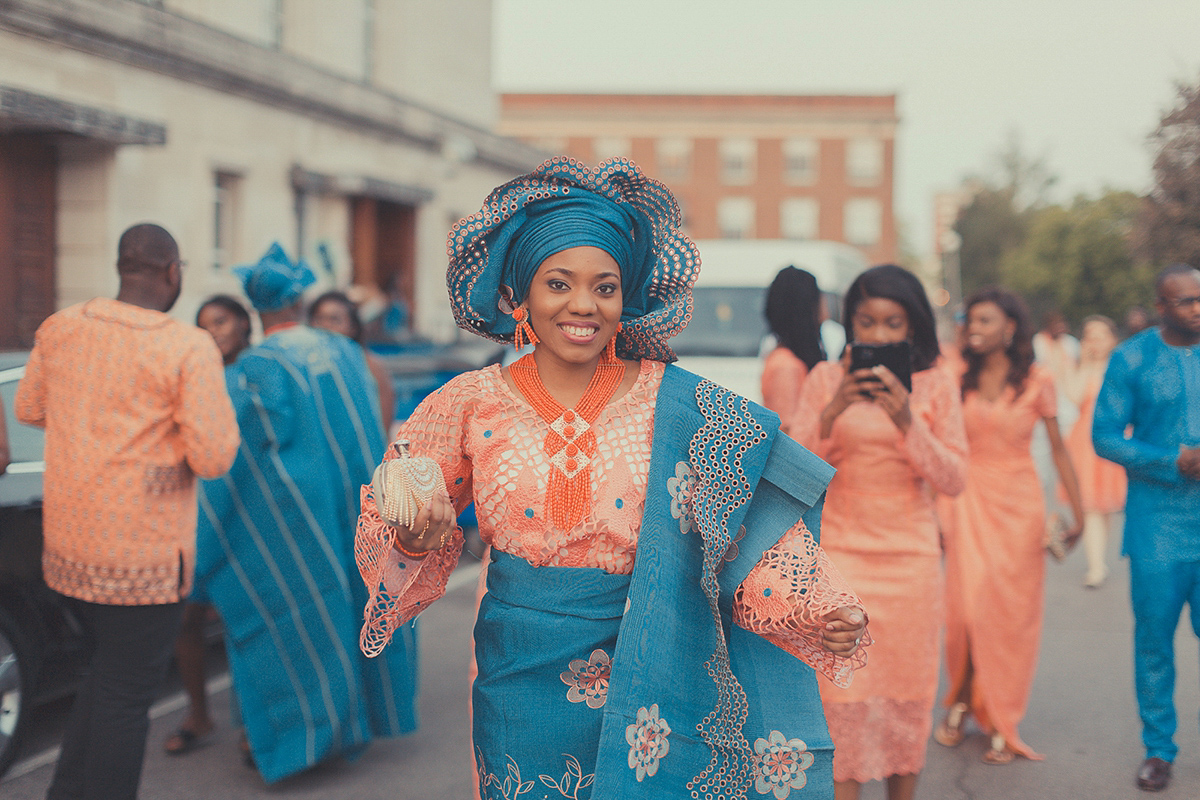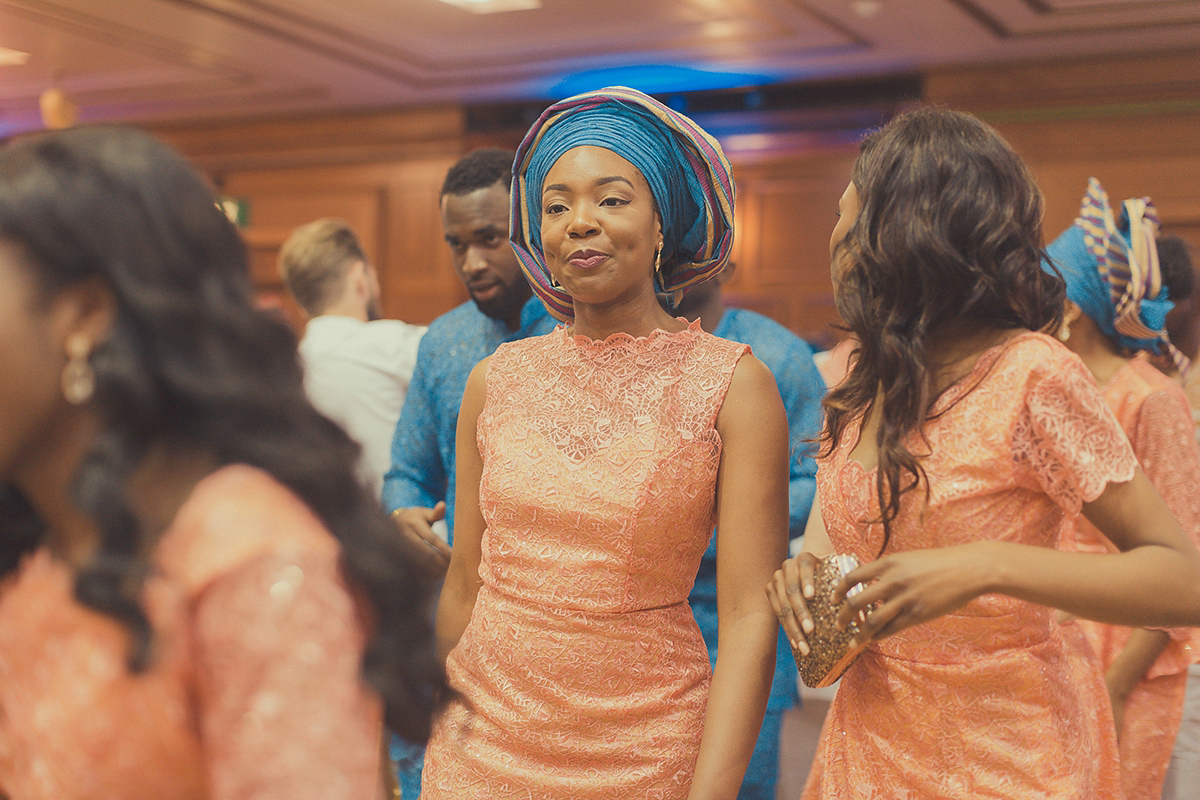 Words of Wedded Wisdom
"My parents choose to not be involved in planning our wedding day and didn't come to our reception. Anyone who has ever been a bride knows how important your parents are in helping you feel special in the run up to the wedding. My future in-laws, siblings, Church and friends did their absolute best to make up for this but I was heartbroken. I wish I had seen all the greatness that happened and not allowed so much to hurt me before the wedding. I am so blessed to have such amazing people around me. Don't allow anyone to rob you of your joy in regards to anything during the wedding! I learnt that my situation is not so uncommon. If you have lost a loved one or don't have great parental bonds, know you are not alone. Don't allow yourself to be robbed further of one of the greatest times in your life. Breathe, relax and choose to be happy regardless.
Don't be afraid to make your own traditions. We had sibling speeches and I gave a speech as well as Isaac. We also didn't have a kiss at our Church service and there was still plenty of romance.
Planning a wedding isn't always easy; remember at each challenge why your getting married and never forget. It will keep you smiling. Also don't get so wrapped up in planning you forget each other. We had a lot of dinners with wedding talk banned.
My Maids of Honour put together a spreadsheet for the morning of the wedding to get all 10 of us out and on time. It worked! They also helped me get dressed me on the morning of the wedding. They've since started a business doing it for other brides called 'Morning Belles'. The people you pick are so important, so choose wisely!
Finally, I wish we had given the confetti to a bridesmaid. We left it in the car! I also would have given the photographer a short list to capture of favours and food we put so much effort into. He kept asking and texting me and I never did it. Major annoyance!
Darling Chioma, I cannot thank you enough for sharing this heartfelt account of your wedding day, and for your sweet, kind, genuine words about Love My Dress.  I adore your wedding – it truly is a privilege to be able to share it on my beloved blog and I know that it will inspire many brides-to-be. I give you my word that we shall continue to feature as many diverse and beautiful weddings as possible going forward.
Huge thanks to photographer James Green for once again kindly sharing his photography on Love My Dress.
With love always,
Annabel x