There's always something about a wedding that really blows me away, it can be anything from a dress to a clever way of displaying the table plan, the main thing is that it's always there. This wedding's photographer Shutter Go Click takes that crown. The nuptials of Mr and Mrs Anderson took place at East Keswick Village Hall on the 30th of July in a picturesque village near Leeds and it is shot beautifully. There's a DIY feel to the wedding, the couple did a lot of the work themselves, including the gorgeous wildflower bouquets with an array of seasonal British flowers, they transformed their blank canvas in keeping with their outdoor surroundings. Every image will have you wanting more.
Looking at these images, there's no doubt why the couple chose Little Book for Brides member Ryan of Shutter Go Click Photography to photograph their special day. He has caught the joyful and emotional moments of the day and I love the wonderful shots of the couple around the village.
"Ryan was a better photographer than we could have wished for and we got on so well right from that first meeting in our local pub. His pictures are truly beautiful and not only can he capture an image like a piece of art, he is able to capture people at their most relaxed. We could not be happier with the service he provided and the end result of some truly amazing photographs."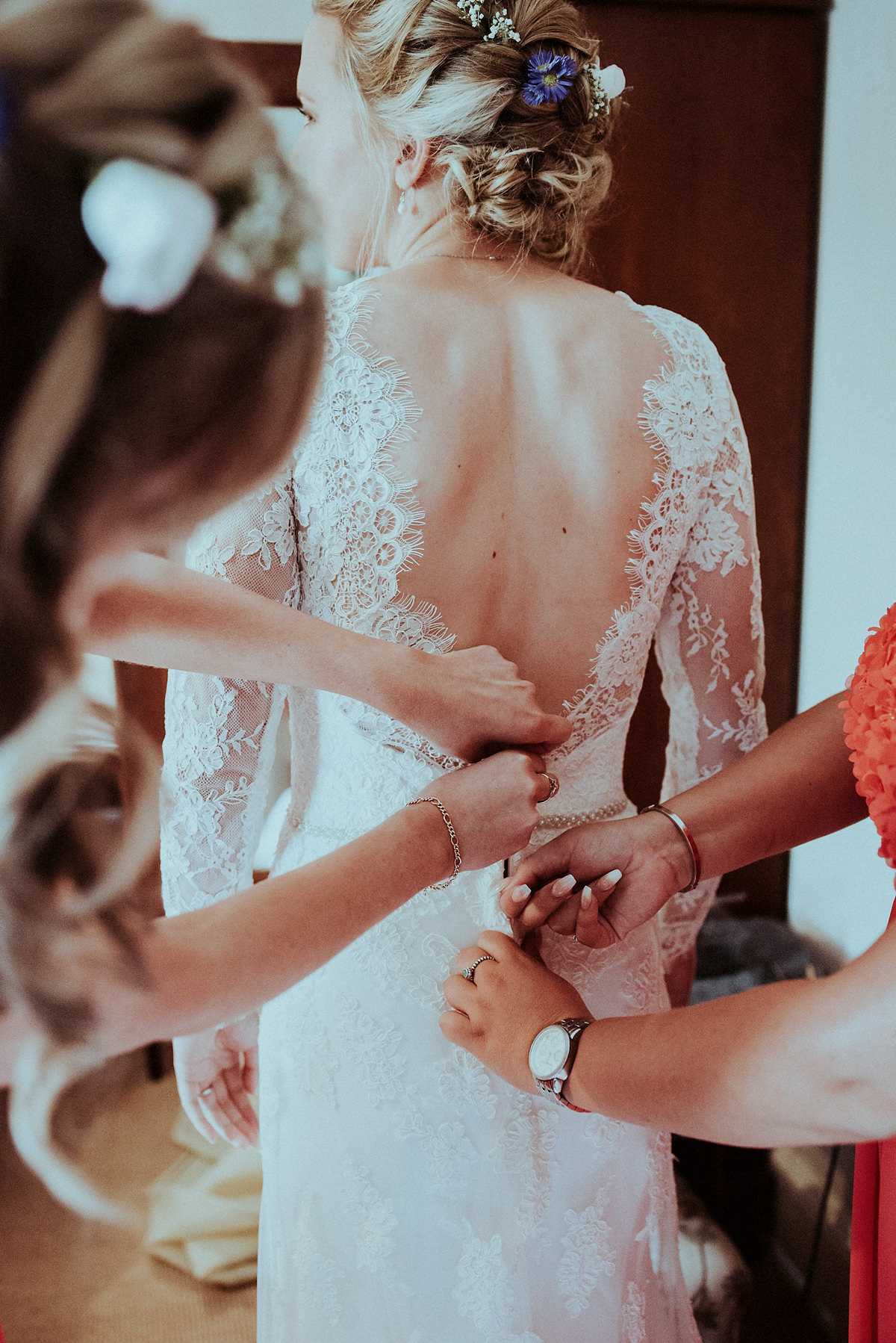 "In essence we wanted to create an atmosphere at our wedding that would allow people to be relaxed and have a great time. nothing too formal or structured. Our style of bunting and DIY decorations combined with a great outdoor area and a number of different areas that guests could move around allowed people to mingle and move around easily helped us to achieve this."
Mrs Anderson's lace, long sleeved Essense of Australia dress is a picture of elegance and the beaded belt was an addition by the bride for the princely sum of £4, she just ordered the beaded fabric online and her seamstress sewed it on. She finished her look with wild flowers threaded through her hair and a simple veil borrowed from her sister in law.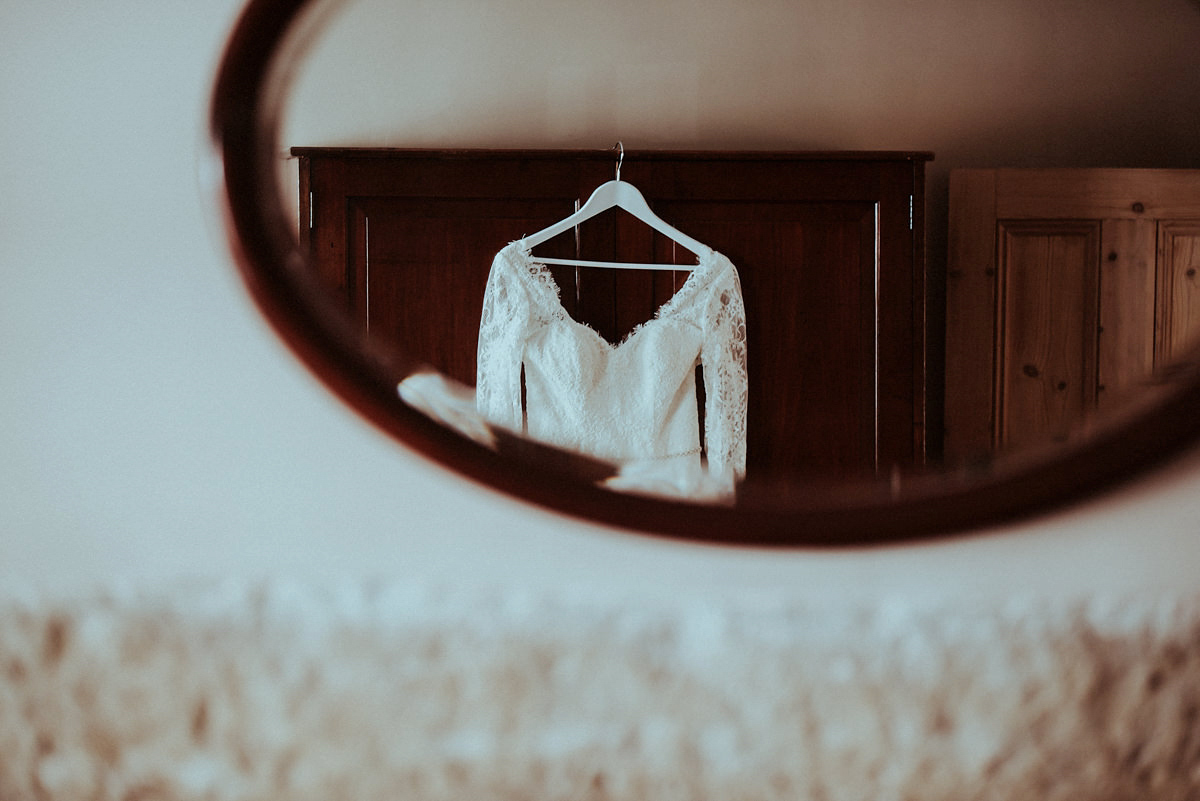 "I liked the idea of lace and long sleeves so had a rough idea of the style I wanted. I also wanted to get a bargain and was happy to look at pre-owned dresses, however I fell in love with a current season Essense of Australia dress in the gorgeous Ava Rose Hamilton bridal boutique. As soon as I tried it on I knew it was the one."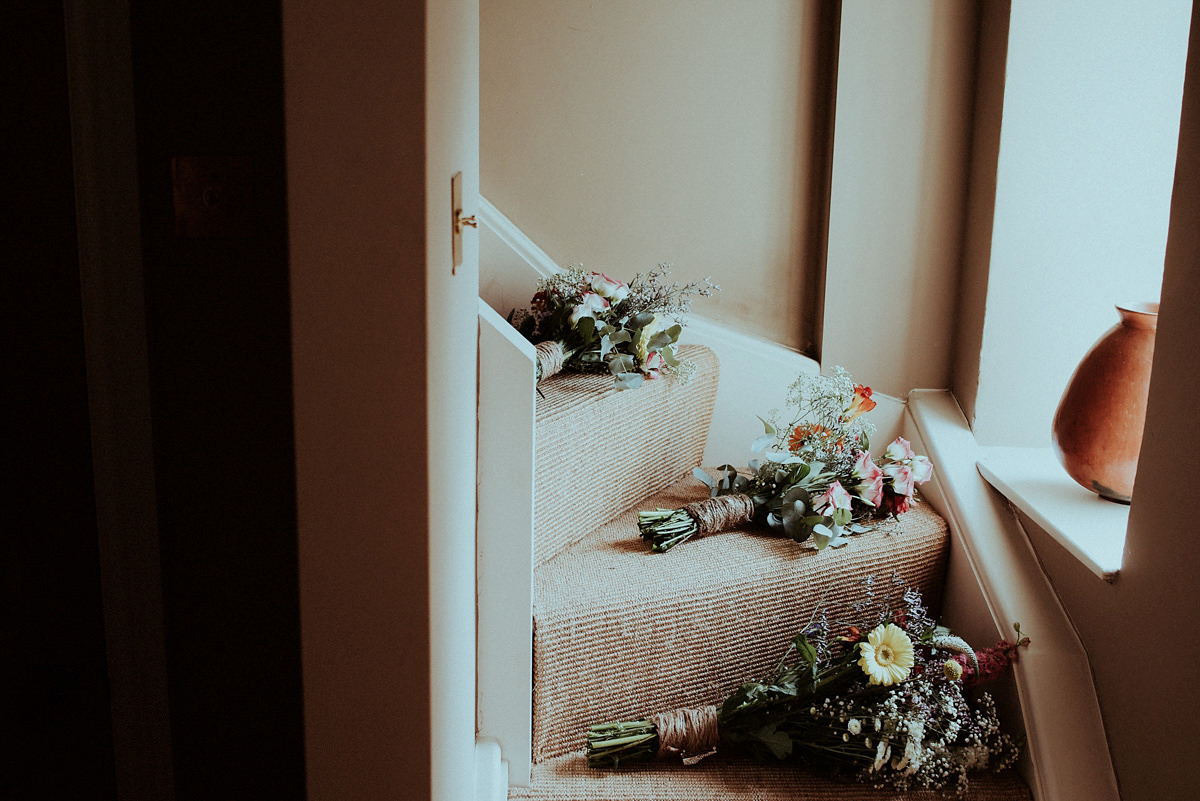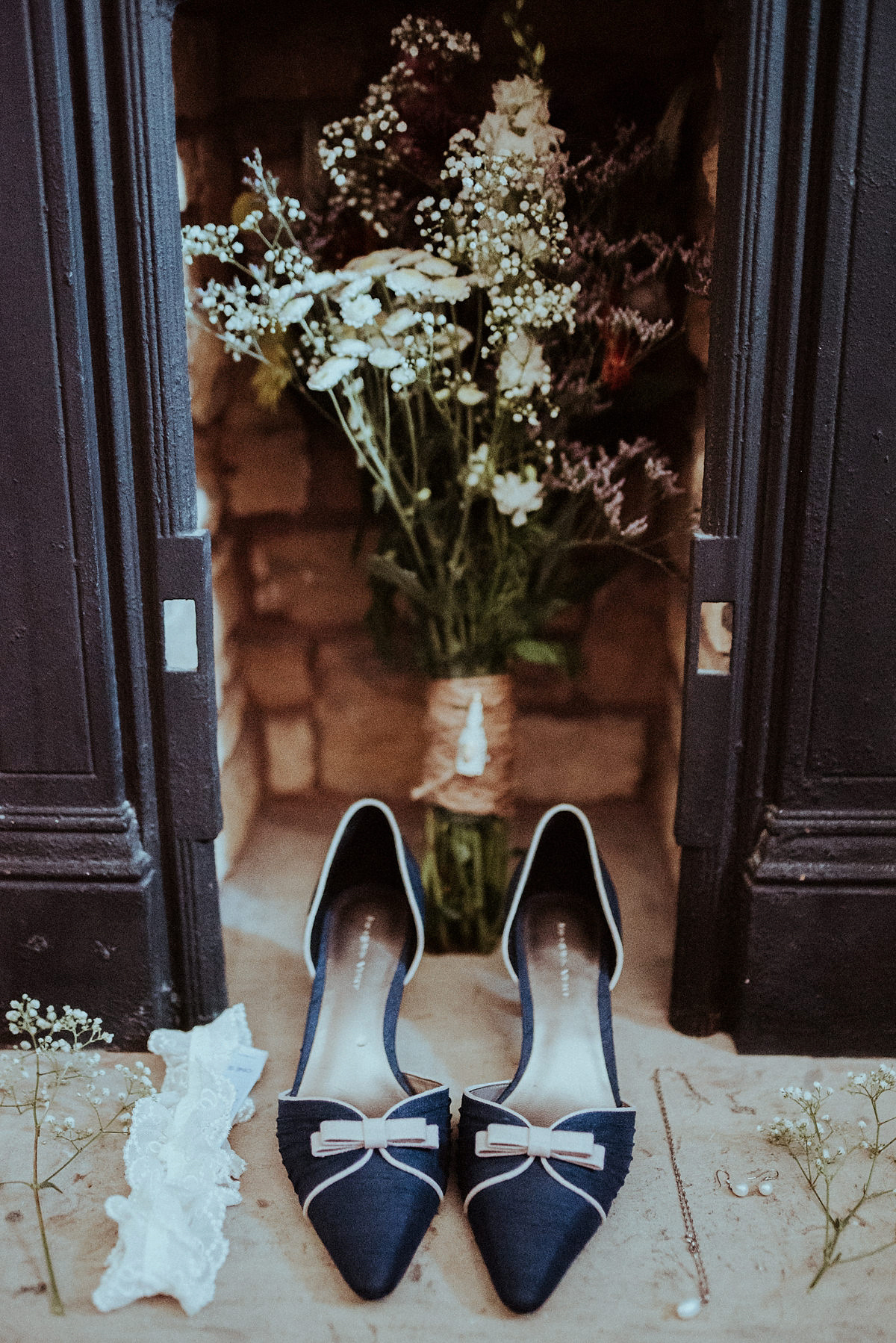 "I went to Jo Malone and a lovely lady helped me to pick out a body cream (wood and sea salt) and perfume (earl grey and cucumber). With its distinctive smell it reminds me of our wedding day whenever I wear it."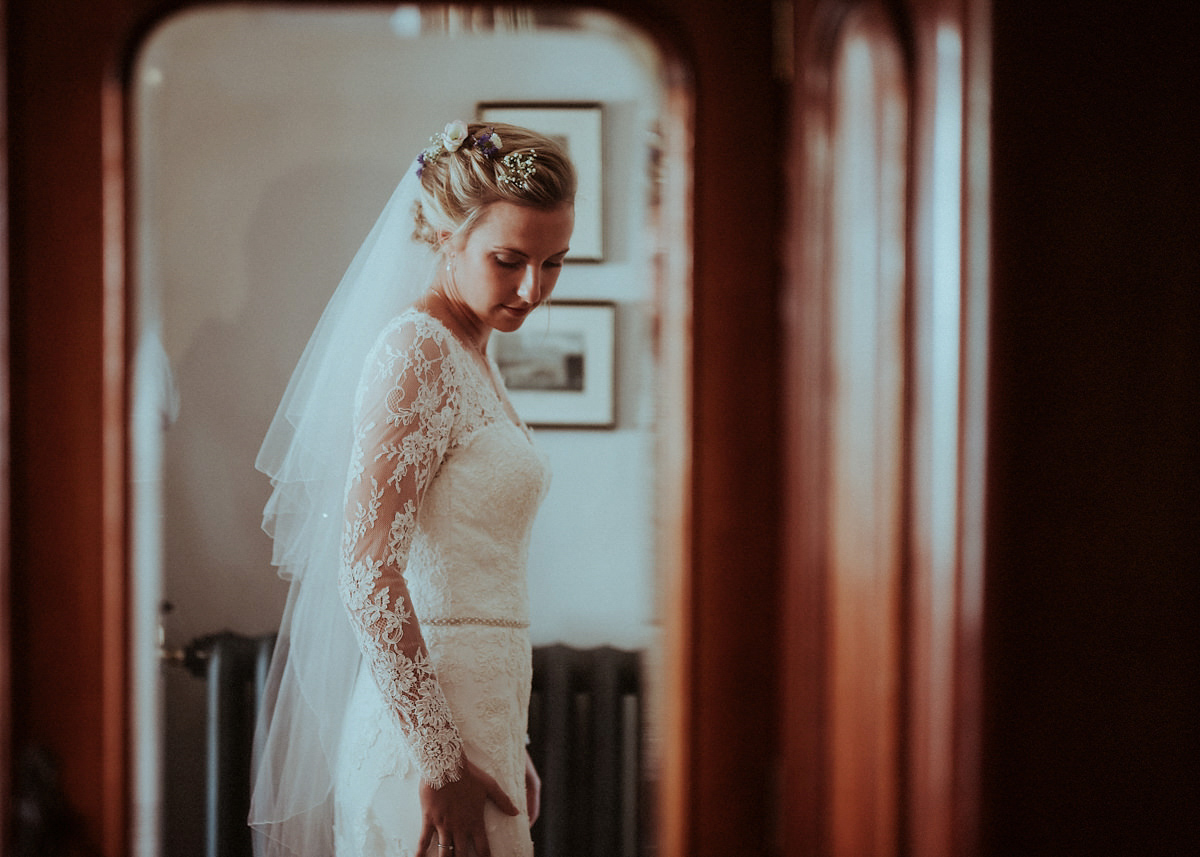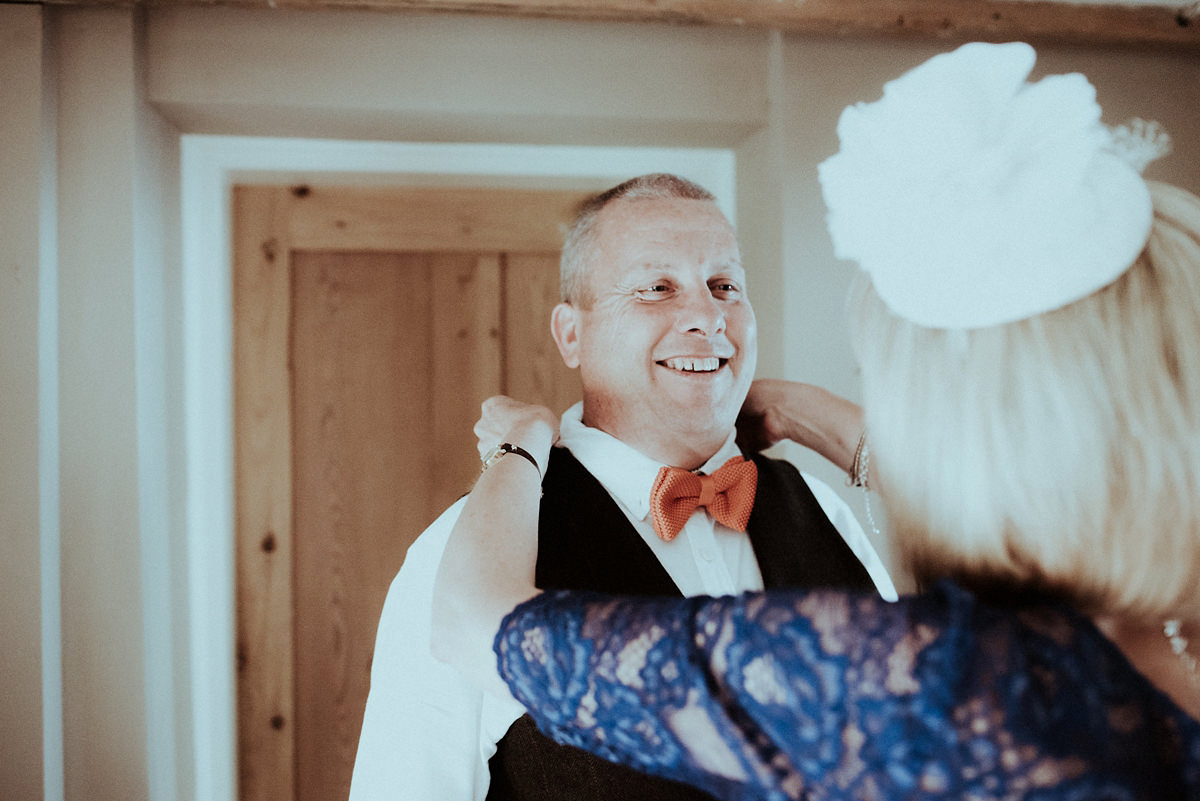 The two bridesmaids look fabulous in their Debenhams dresses, a perfect summer colour which compliments the surroundings beautifully.
I adore the mix of colours and the 'just picked' look of the floral arrangements. The bride bought the flowers from wholesaler RG Flowers and arranged them beautifully with some help from friends and family.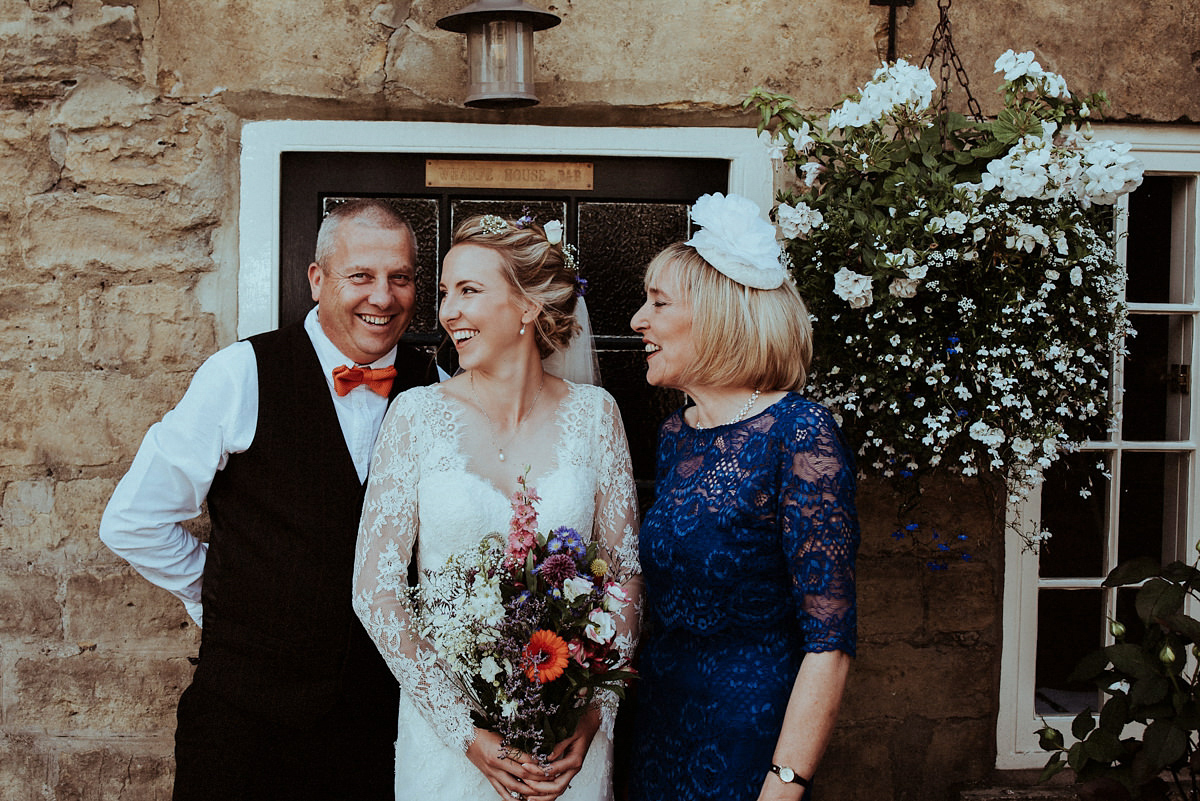 Not to be outdone in the style stakes by the gorgeous bride, the groom opted for a blue wool three-piece with half moon waistcoat and green knitted bow tie from ASOS. His groomsmen wore a selection of different tweed suits and waistcoats from Moss Bros.
The bride made her entrance on the arm of her father while 'Fairytale' by Ludovico Einaudi played and her groom waited patiently at the top of the aisle.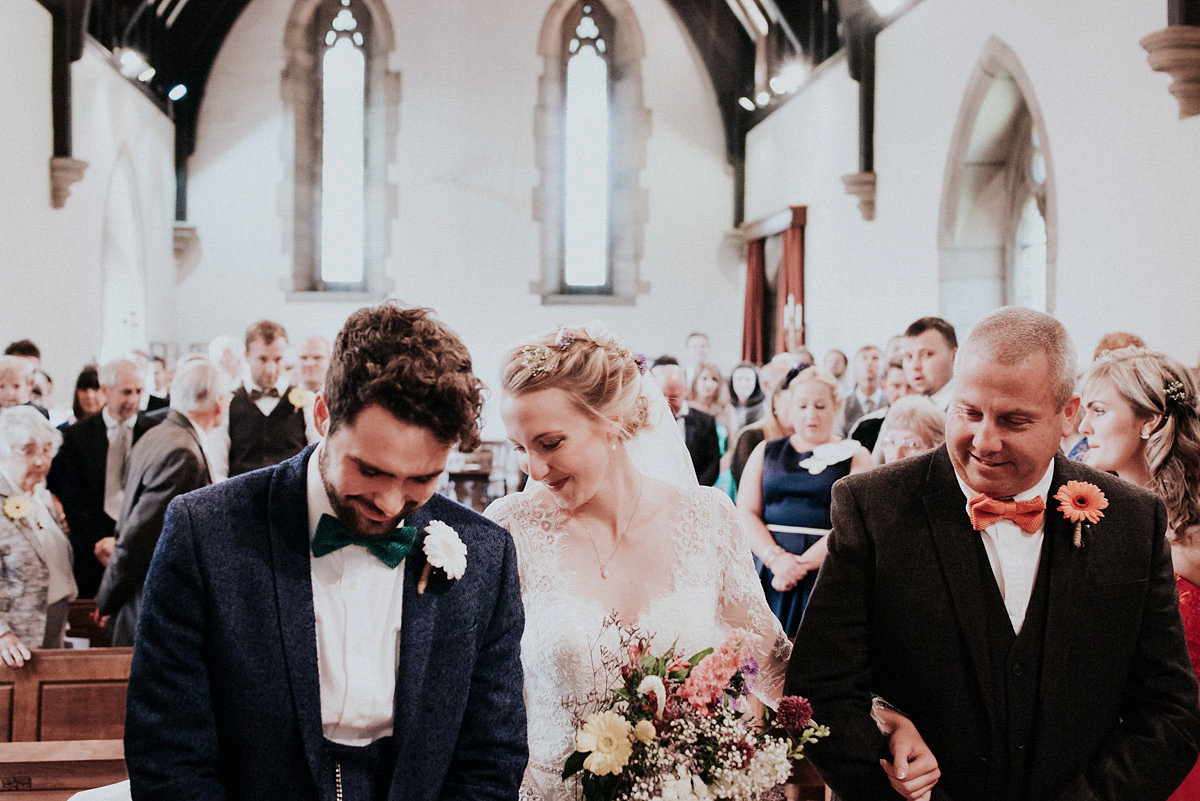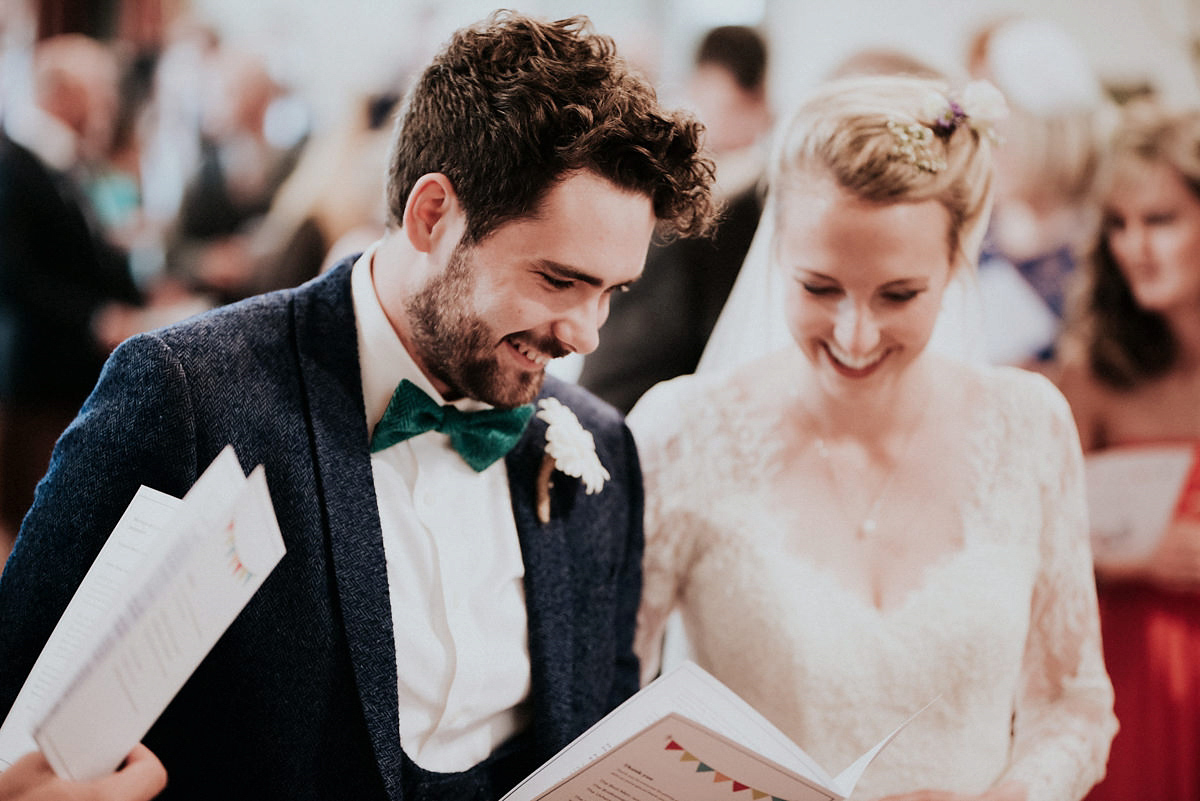 The couple chose two readings to personalise their church ceremony, a romantic piece by Percy Bysshe Shelley called 'Love's Philosophy' and 'He's Not Perfect' by Bob Marley which gives a real view of the day to day. Together, they create the perfect blend of their idea of marriage.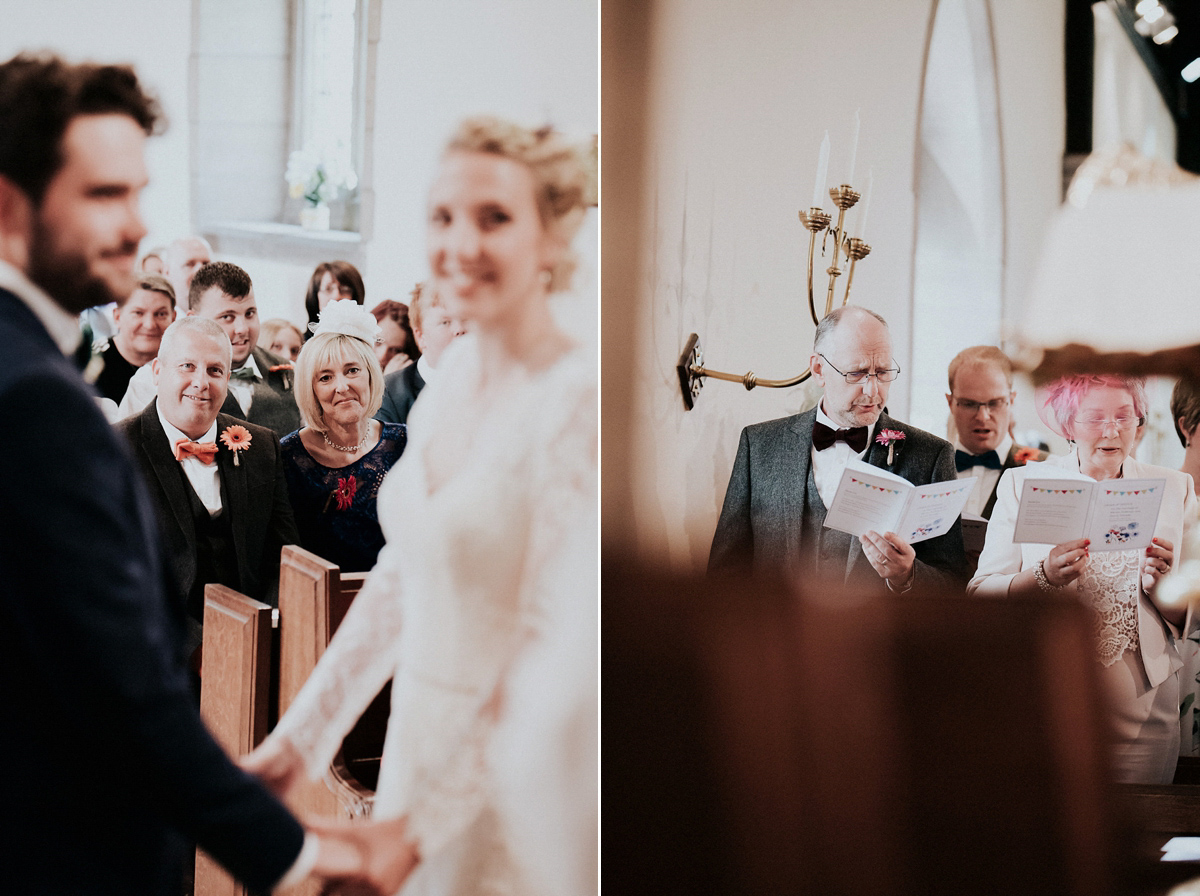 "My husband wanted to design my engagement ring himself. Form Jewellery are relatively local to us and Tim and the team provided excellent customer service so we returned to have our wedding rings made there because of the high quality and my husband's great experience there."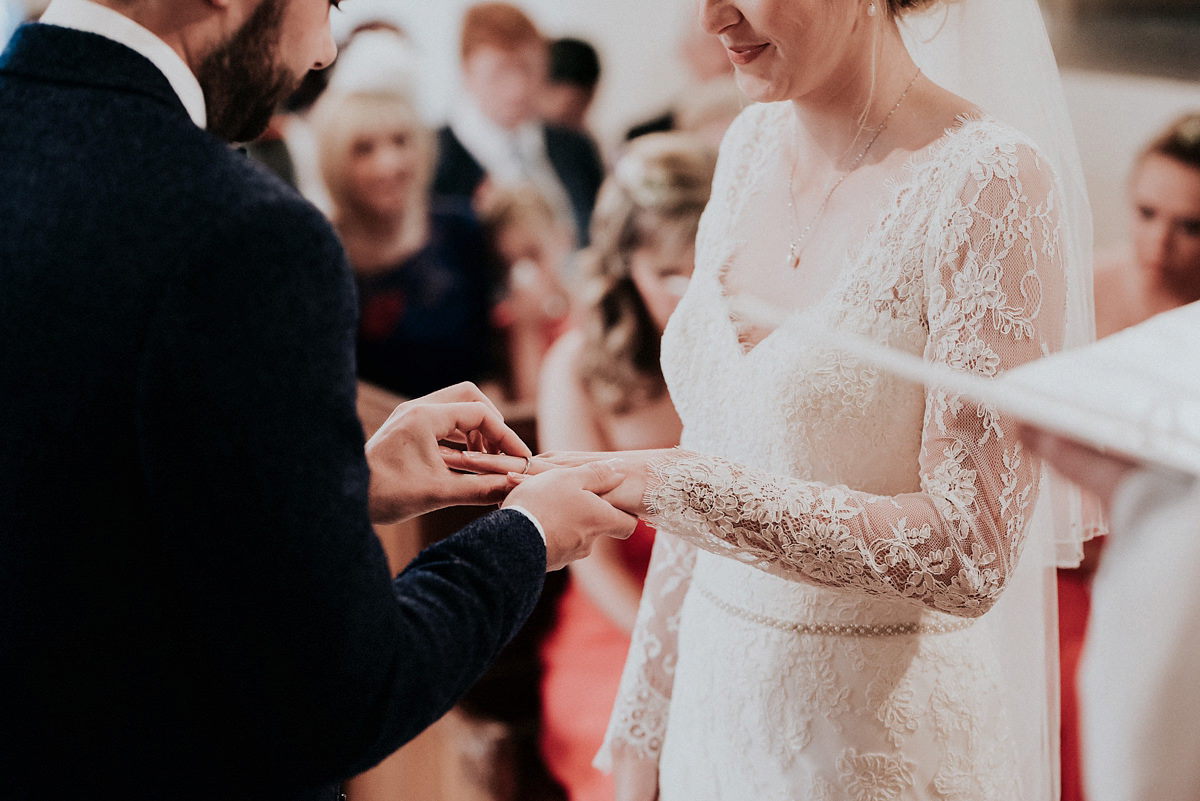 "The church service was a very important part of the day because it was a realisation of something we were both wanting for a long time. Later on, we loved seeing all our hard work pay off and we were able to relax and enjoy our day knowing that we had nailed it!"
"We couldn't believe how well the day went. Putting in the effort beforehand to create a relaxed atmosphere enabled us to relax and have a great day with our friends and family."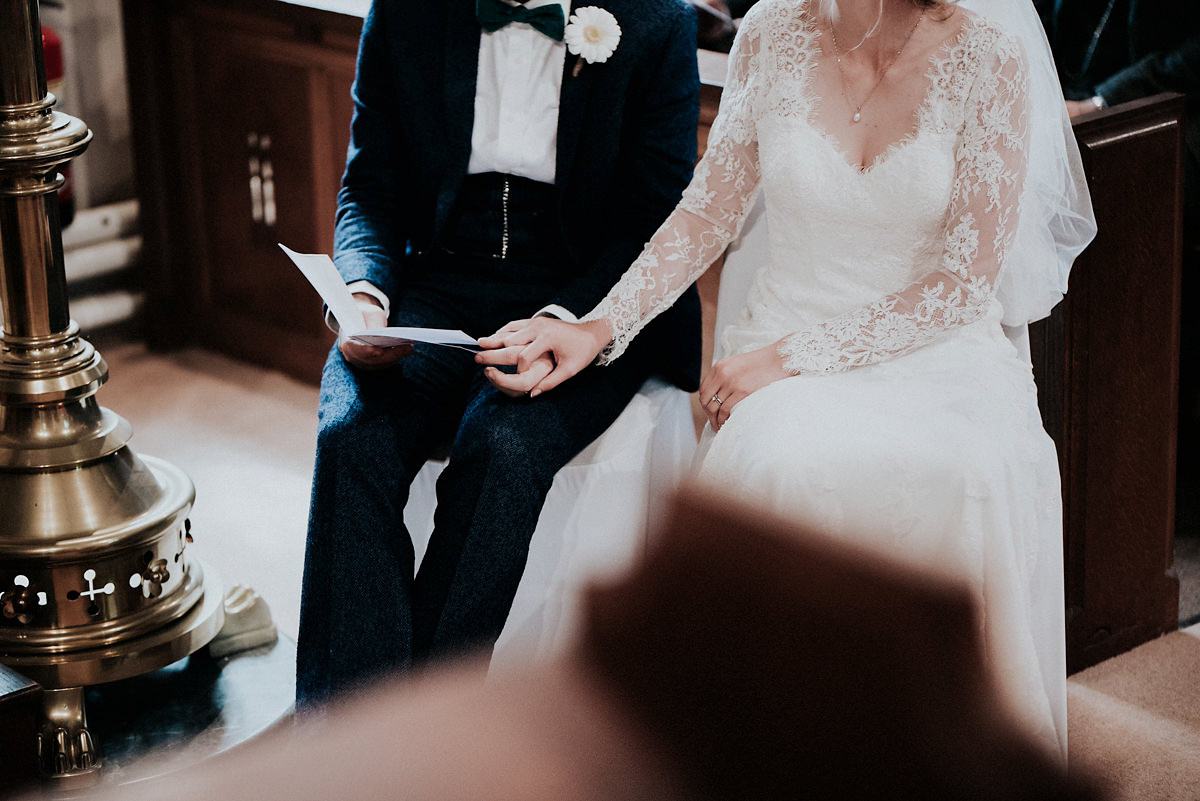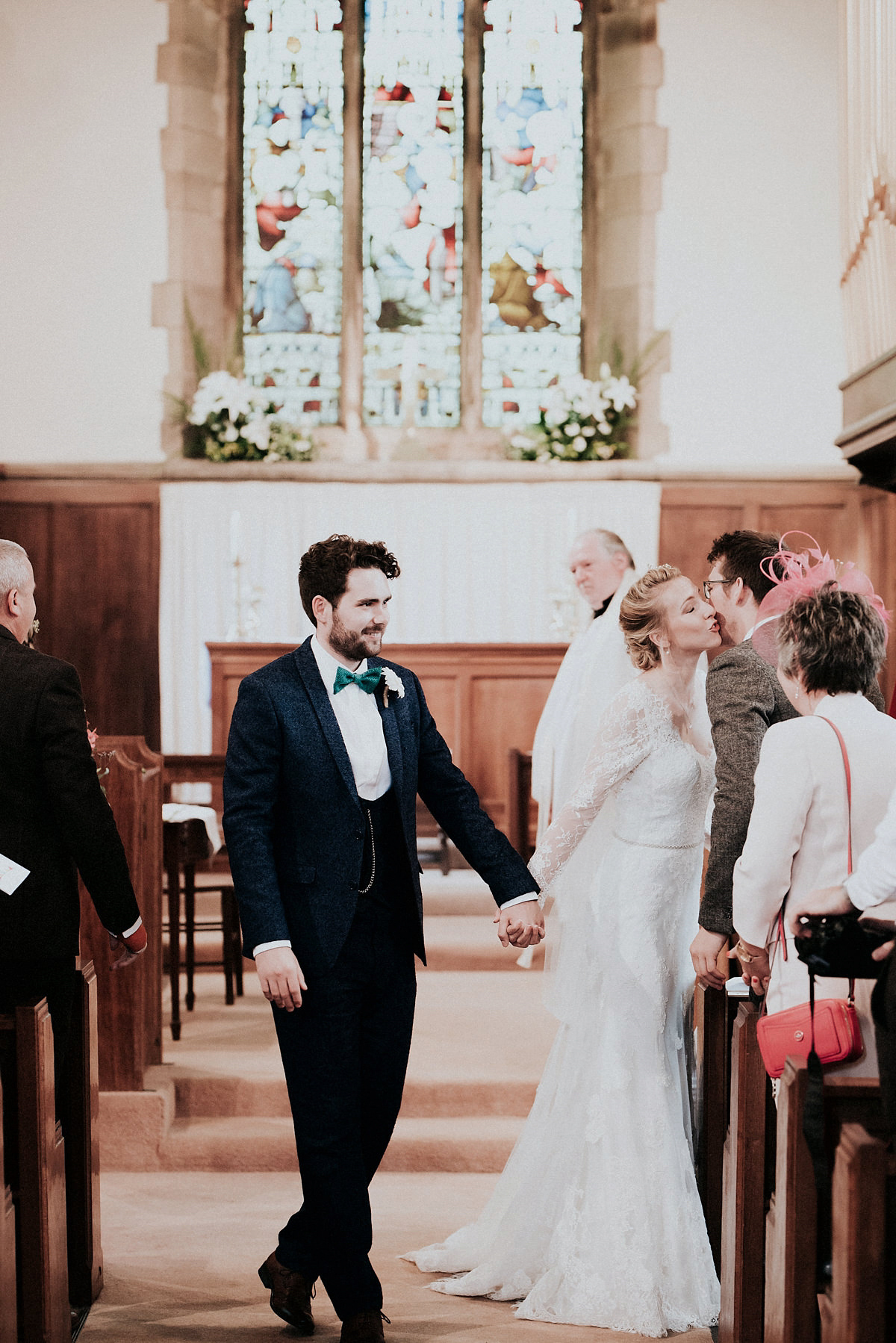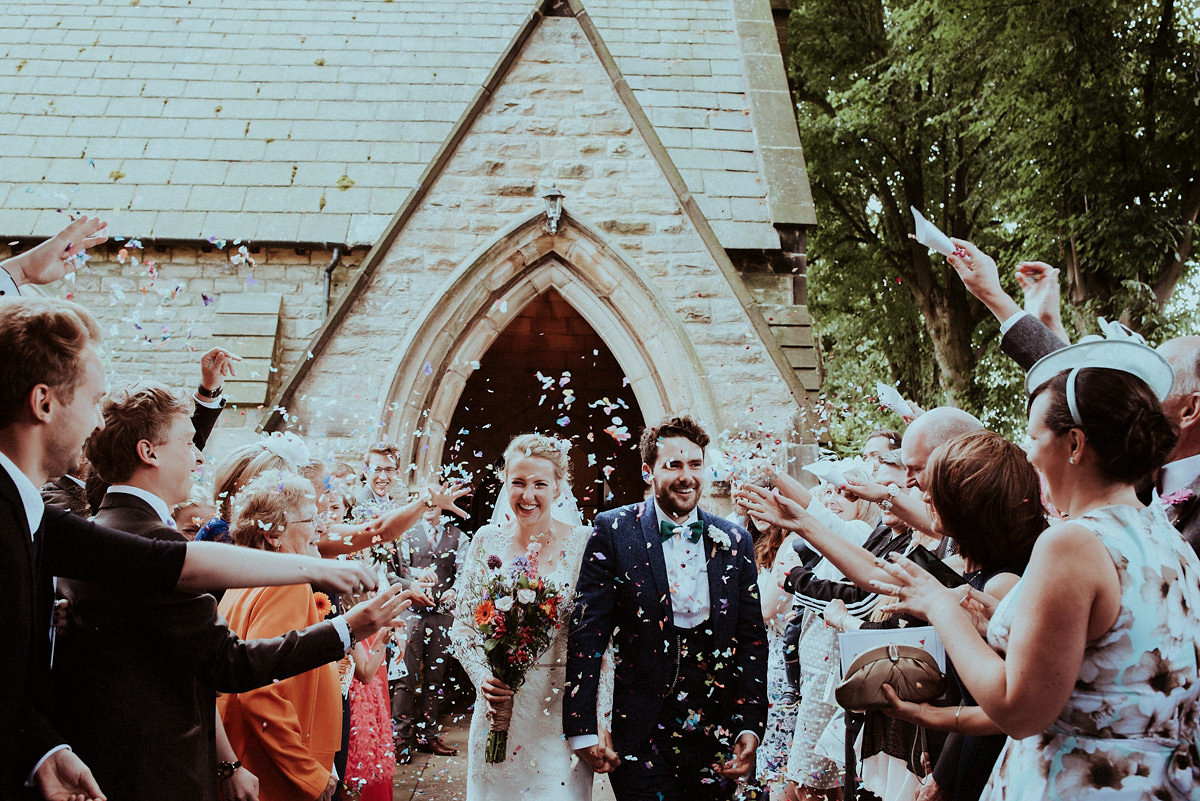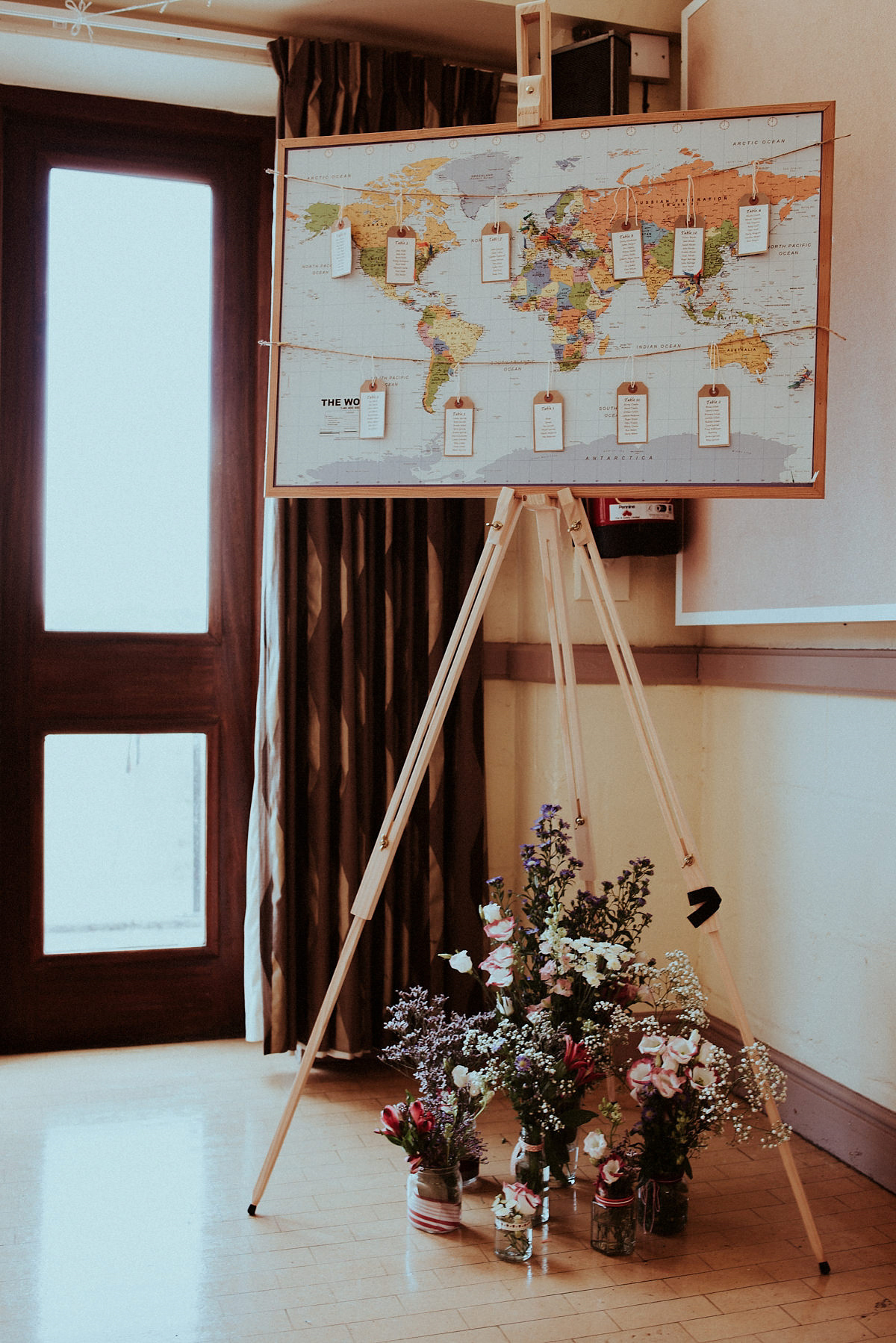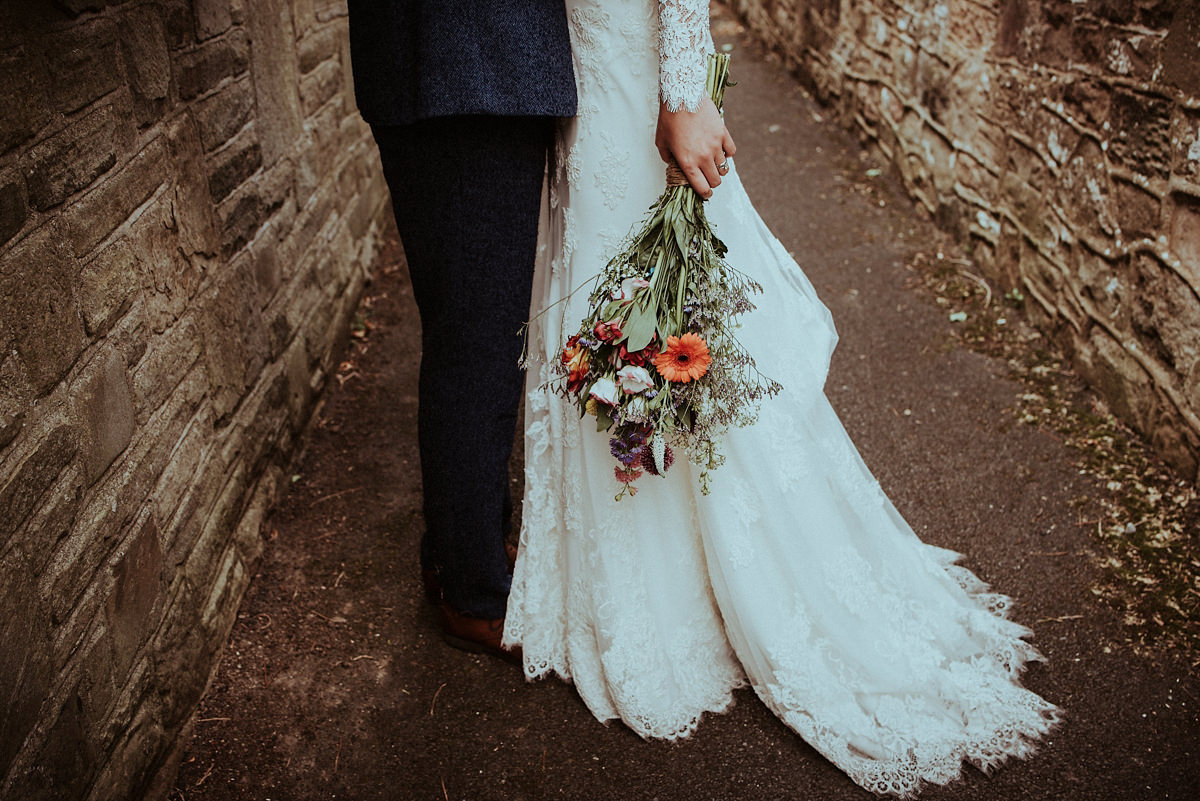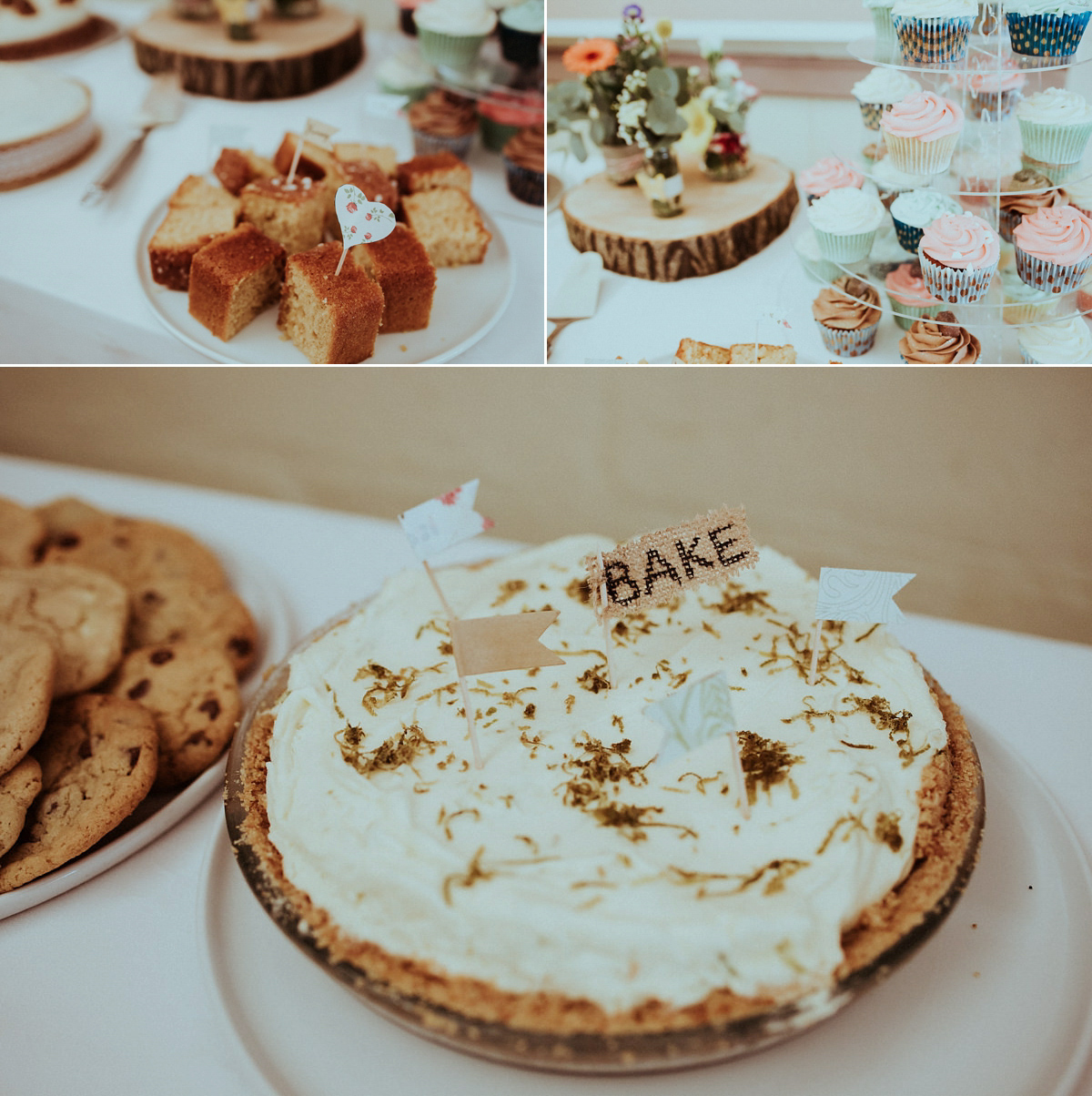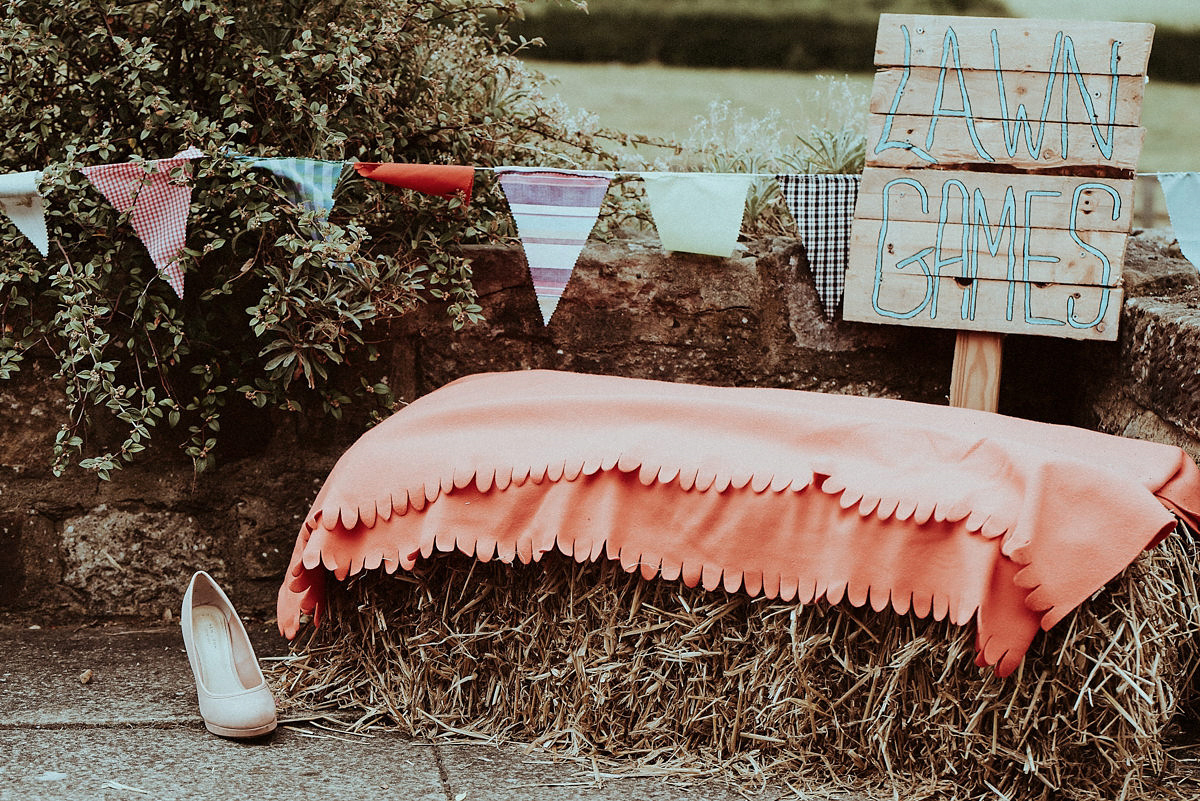 "We chose 'Nearness of You' by Norah Jones going into 'Home' by Edward Sharpe and the Magnetic Zeros for our first dance. We love both songs and wanted something that reminded us of when we first started dating, followed by something upbeat that everyone would get up and dance to."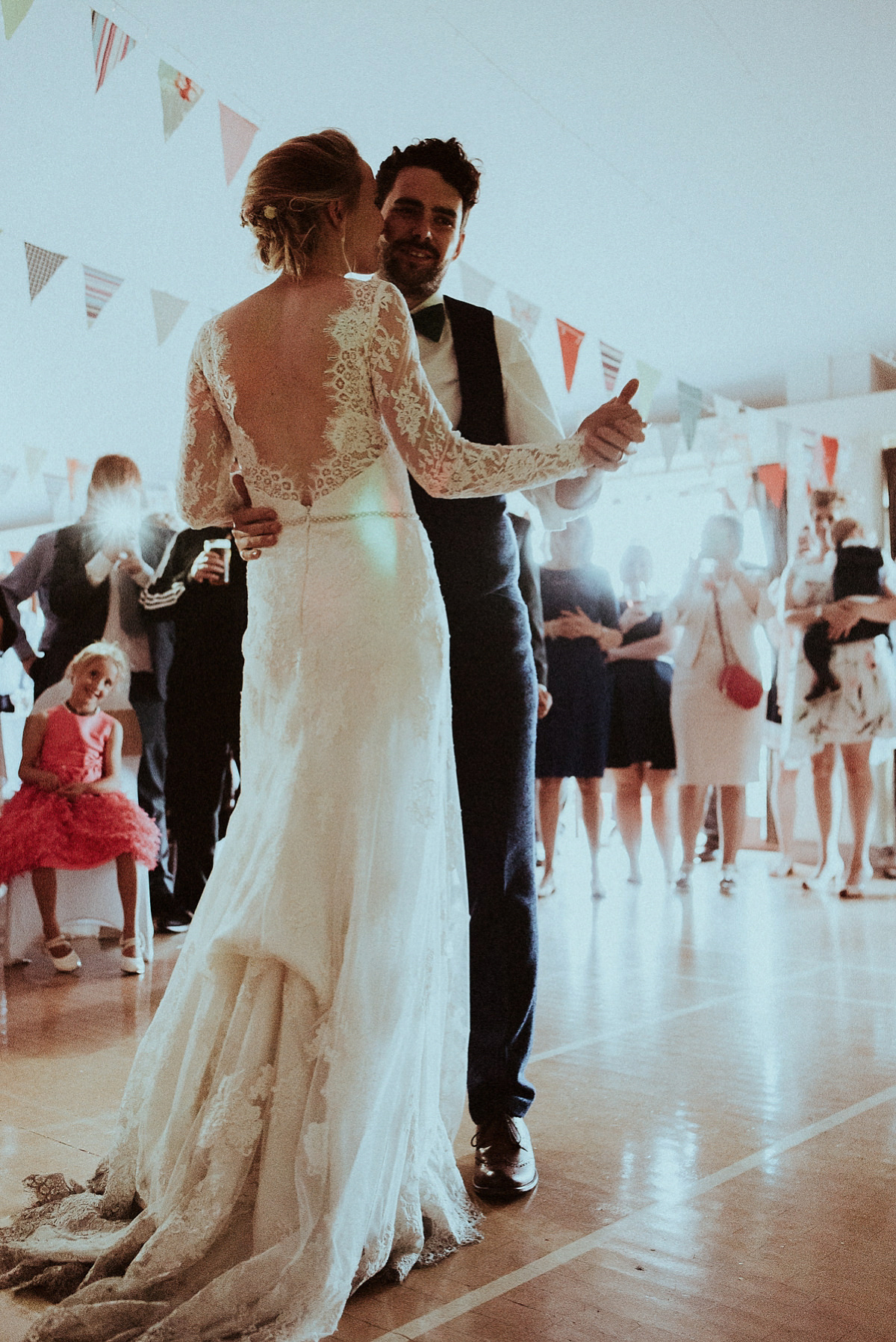 Words of Wedded Wisdom
"The more of the wedding that you plan yourselves the more organised you have to be. There is more work than you think but it is worth every bit of effort. The planning is a massive part of the whole wedding experience and you should enjoy it. We love a good spreadsheet, and when you have payments going everywhere it is a great way to keep track of your budget.
Our wedding was about creating a day that we would remember as being relaxed and a great celebration – for us great food, great photography and live music helped us achieve this. Our guests were well fed, well drank and ready for a party!"
Thank you very much to the newlyweds for sharing your day with us and to Ryan of Shutter Go Click for the sublime images. I know you haven't had enough so here's a link to more of his work.
Love Caoimhe xx