Hi festive lovelies, how are you this evening? I'm so flipping giddy about Christmas and my hen do next week that I'm sure I'm driving everyone I know mad! Isn't this just the most magical time of the year? I always feel very loved up and grateful at Christmas time to have such wonderful people in my life (fiancé, if you're reading this, I love you and I would really really like a puppy in my stocking). So in the spirit of love conquering all, love that's like oxygen, love that's a heady rush of joy and passion and care, allow me to introduce you to the truly wonderful Helaina, a beloved Love My Dress reader, superstar Little Book for Brides supplier and all-round beautiful individual in every sense of the word (take a look at this beautiful post, and you'll see what I mean!).
Helaina, who juggles her job as an Executive Assistant in the finance industry with her gorgeous wedding styling venture (and the small matter of being a mum of three!), wed her lovely husband Dan, who owns his own flooring company, on 16th July this year, which was also Dan's 40th birthday. Their intimate, beautiful ceremony took place in Asia House in the heart of Westminster with a decadent lunch served afterwards at The Ritz, all followed up with a stunning second union in France on 6th August. You simply must keep your eyes peeled for the inside scoop on Helaina and Dan's French celebrations – Annabel will be sharing this very soon and I'm more than a tiny bit excited! And Helaina has the nicest things to say about our beloved blog.
Photography by Emilie White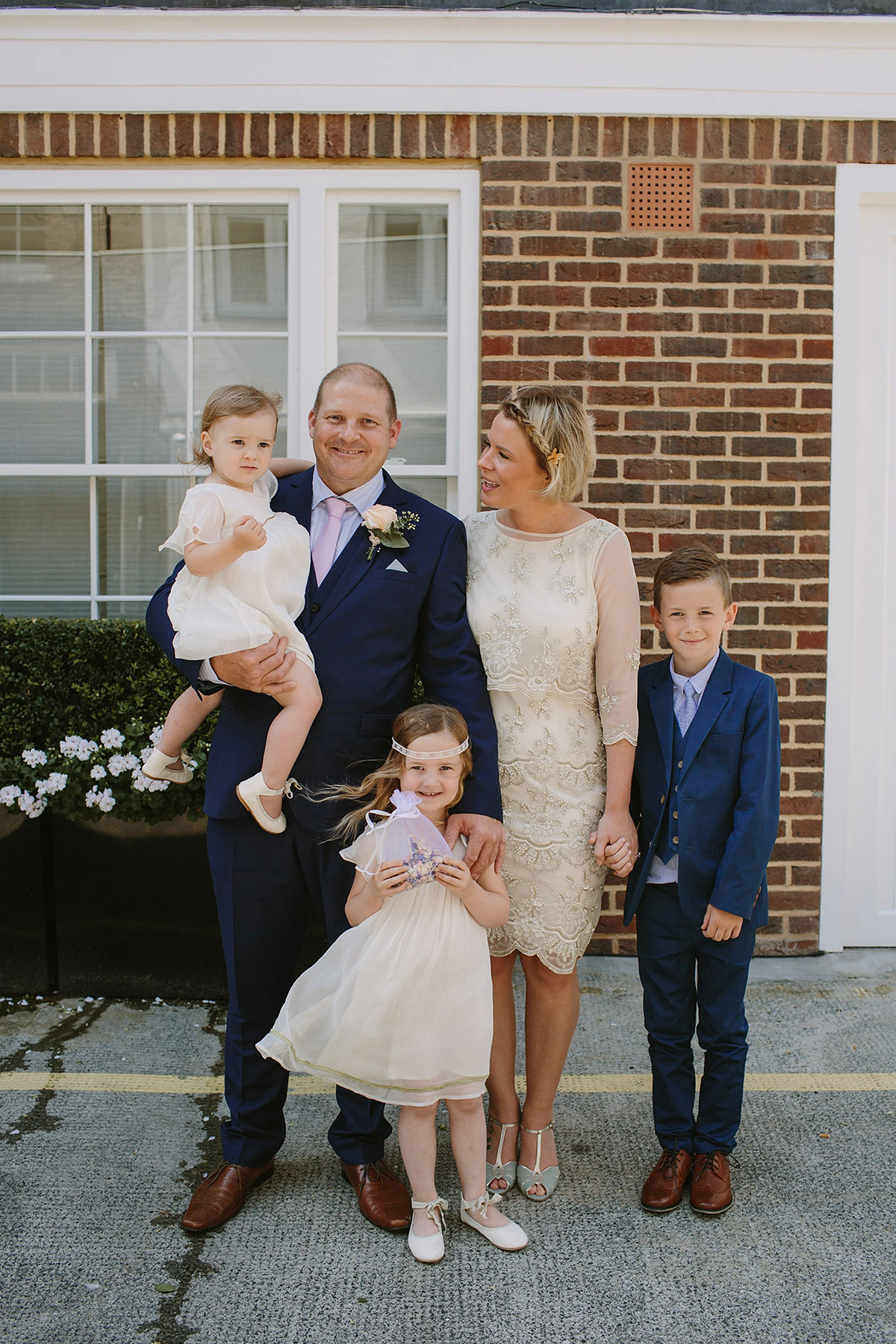 "Love My Dress is so much more than a wedding blog. It's real. Real emotions and thoughts and feelings rather than just adverts and promotions and aesthetics. The Little Book for Brides site, the Facebook group and the From the Heart features are absolutely genius and  the wedding industry is a better place for Annabel being a part of it. Thank you, I don't know how any bride would survive without you and your huge heart and incredible knowledge and passion."Oh Helaina! After reading those lovely words I was totally and delightedly unsurprised to see that Helaina chose a gorgeous host of suppliers to help create her intimate London ceremony, many of whom we are super proud to support through our carefully curated wedding directory.
Just take a look at Helaina's beaded beauty of a dress, pastel-toned shoes and beautifully intricate hair accessories – all from some of the very best in the business. Subtle tones of blush, sage and gold weaved their way through a day so full of love and happiness it makes my heart swell.
"We kept styling for our London ceremony to a minimum and it was solely about the act of getting legally married for us. We wanted to save the extravagance for our wedding in France. Our theme was really just simple and sophisticated with subtle nods to the France wedding colour scheme which was sage, blush and gold.""
"We loved that we could have a typically British backdrop to the day in the heart of London, in complete contrast with the rural French countryside. Originally we had planned to keep the official and legal element before our big celebration in France as 'non-wedding' as possible."
"I stayed at my mum's with our two daughters the night before just to add to the excitement, which was the sweetest little evening. The four of us did face masks and had a slumber party; it was very cute and so much fun. Dan stayed at home with our son and had a boy's night watching films."
"Then Dan and I chose to meet up at the front of the venue which was amazing. Sharing that little moment before the ceremony was truly special and kept it from feeling too much like a 'real' wedding. It also made for some great 'first look' style photographs which I have always adored. Seeing the registrar together rather than separately also helped a lot to calm my nerves as I was feeling pretty overwhelmed until that point. It was all so much more relaxed from the moment Dan was by my side, making me giggle."
We love a first look at Love My Dress, and we're building a a pretty gorgeous collection of these joy-filled moments in our archives. Please let us know in the comments box below if you're planning to do the same – I still wonder from time to time if it's something I should do on my own wedding day – I just adore the resulting images; so candid, personal and full of emotion. Photographer Emilie White has certainly provided Helaina and Dan with some truly beautiful stills that they're sure to treasure forever.
"We were adamant that no matter how low key and top secret we kept this part of the marriage process, we wanted an amazing photographer to capture the day we legally became husband and wife, as pictures and memories mean EVERYTHING to us. There's just nothing like looking back at precious little moments in time, to take you back to the joy you felt and relive it all over again."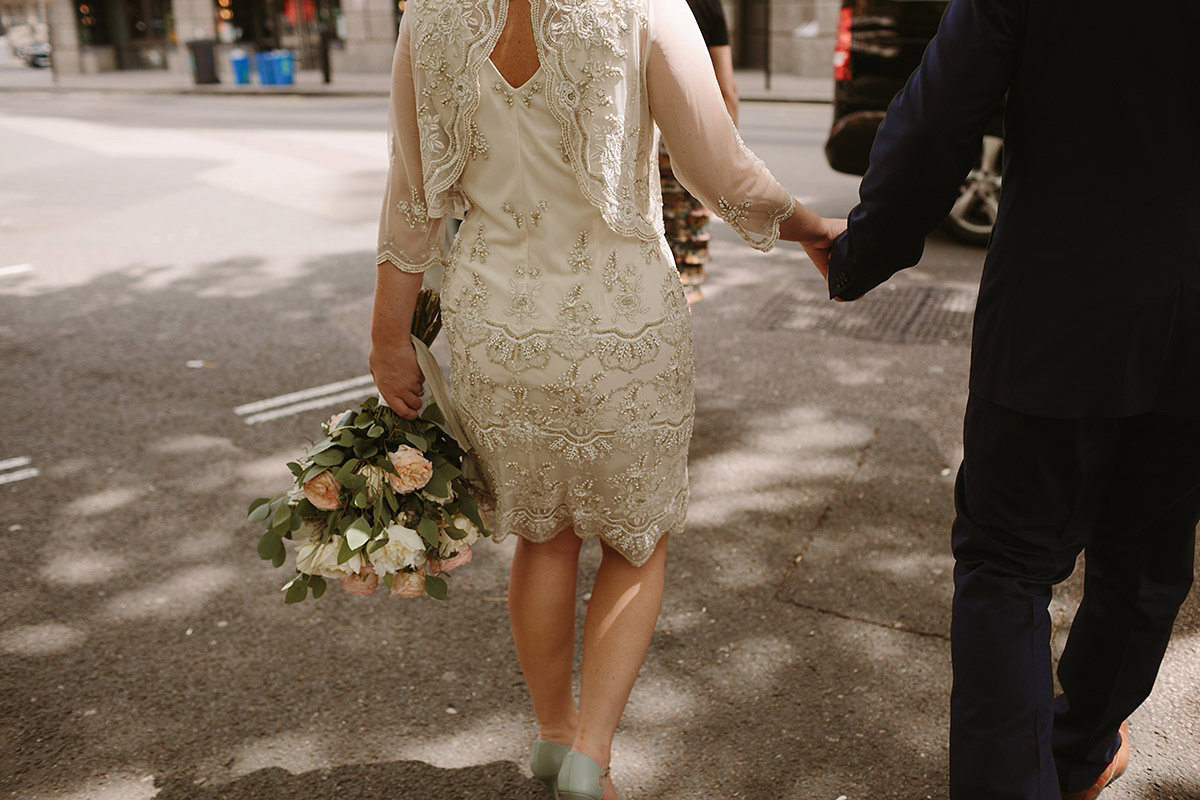 "We adore Emilie White's raw style and how her main focus is on people and emotions. She was so friendly and personable and worked so hard on the day. We were impressed that she stopped at nothing to get the perfect shot, (even jumped in front of traffic) and still made it look so effortless and made us feel so relaxed and comfortable. Emilie even fit the overall theme as she is French, which was lovely and funnily enough our photographer for France was from London.
Emilie is an absolute technical expert with a warm heart and incredible eye and we were blown away by her final collection of images."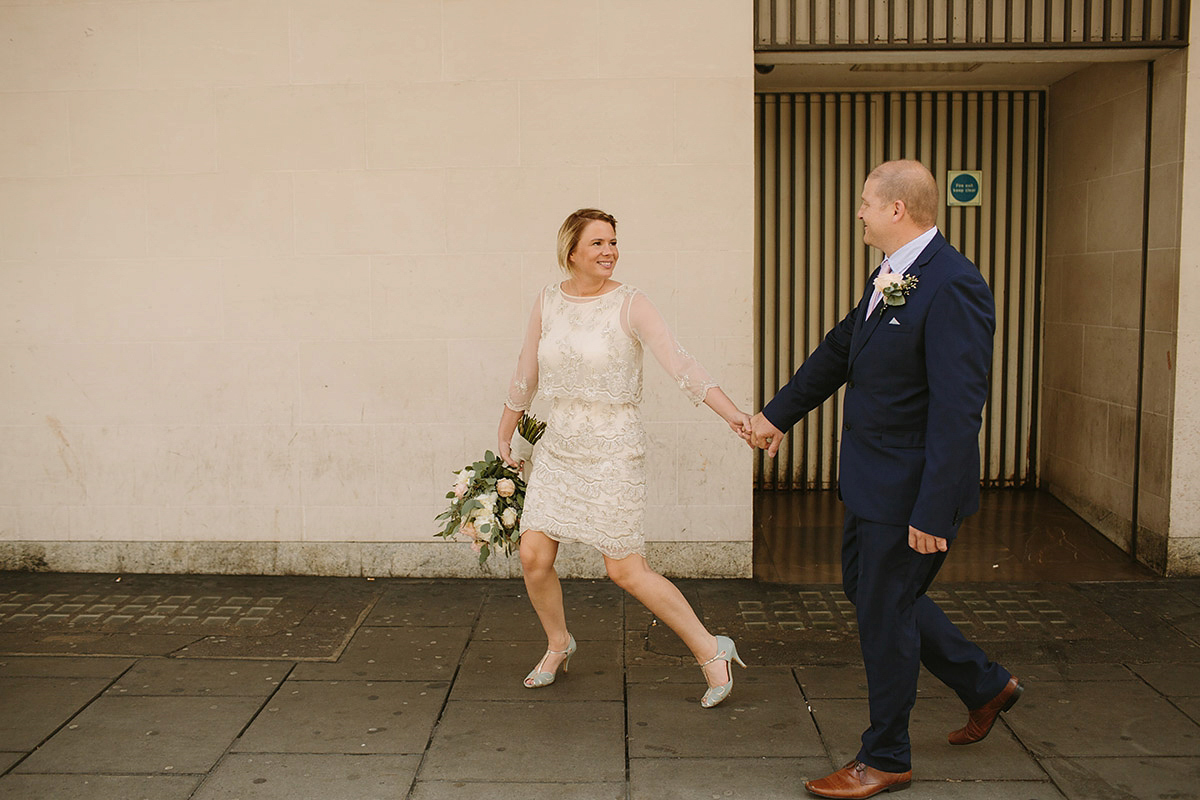 "I truly believe photography is the most important part of a wedding budget, no matter what your taste. I would suggest a good photographer to document your day should be top of the list no matter what your style, guest numbers, venue or level of detail. If there is ever a bad day or a low point in my future, I am certain that I could just pick up our album of this day and realise immediately again how blessed life is.
We are so pleased we made the decision to include photography in this part of the budget, as initially it wasn't in the equation. You just cannot put a price on those memories."
"We had every intention of simply popping to our local registry office one week day in jeans and t-shirts and then straight on to the school run afterwards as though it had never happened."
"However, the more we thought about this, the more we began to feel that although France was THE WEDDING in our heads and the date we would consider our anniversary and exchange rings, this was still going to be a moment that meant the world to us both and it would be a shame to underplay such an immensely important occasion in both of our lives."
"We also decided that the idea of shooting straight off to collect the kids from school, having not had them included in our fun little secret, would be rather anti-climatic and to have them there with us, along with our mums as witnesses and each of our brothers, would be super special and still wonderfully intimate."
Helaina and Dan chose the perfectly appropriate venue for their family-focussed ceremony; Asia House, with its gorgeously intimate library room, and just a short walk away from The Ritz, the setting for a true opulent and delicious just-married lunch. And Helaina's intricately beaded knee-length dress just fits so perfectly with the laid-back, elegant feel of the day.
"Our new approach became a 'Secret Mini-Pre-Wedding in Disguise' as we planned it for the day of Dan's 40th birthday in Central London, purely as an excuse to combine it with lunch at The Ritz, which we had always wanted to do. Two little celebrations rolled into one!"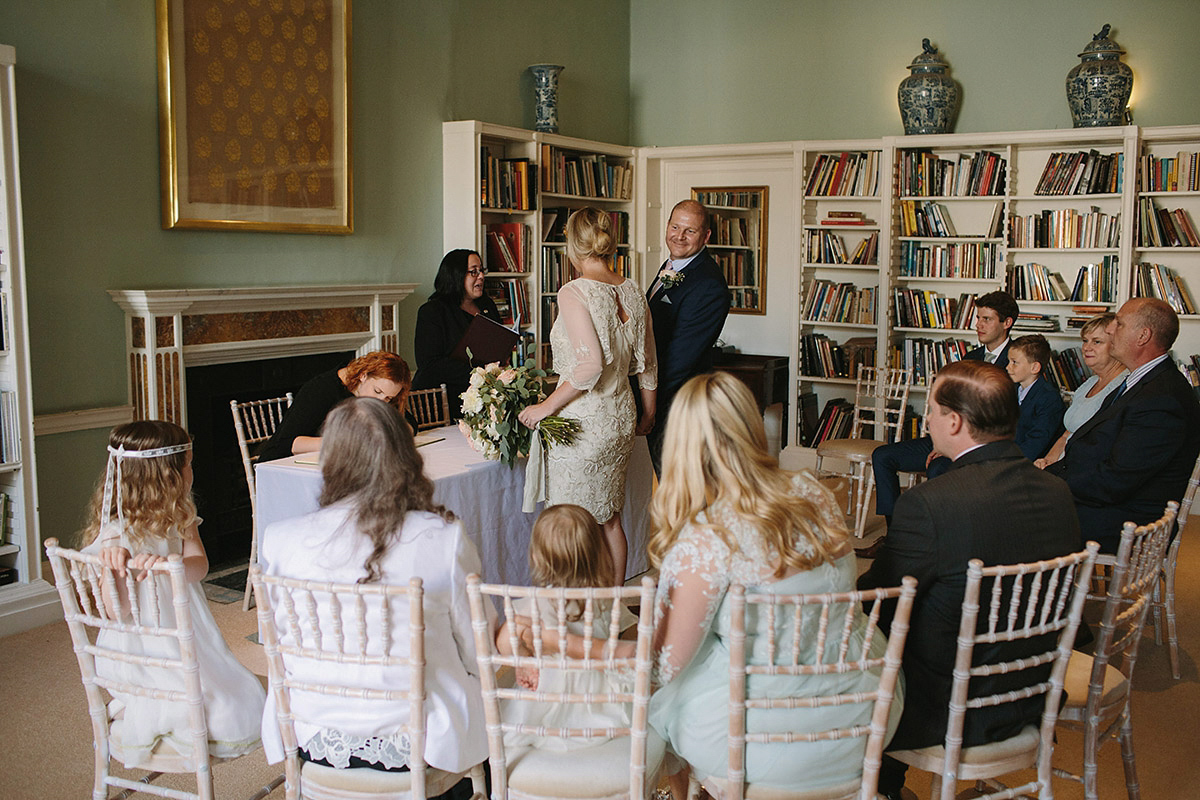 "I knew that I wanted something knee length and fairly understated for our London ceremony and had seen a particular style online in Monsoon's bridal range. My mum and I arranged to go to one of their bridal events for me to try it on and when I did I knew it would be perfect. I loved the vintage style and the option of the extra layer which was reversible so it was basically three dresses in one, and gave a lovely silhouette worn with the opening at the back."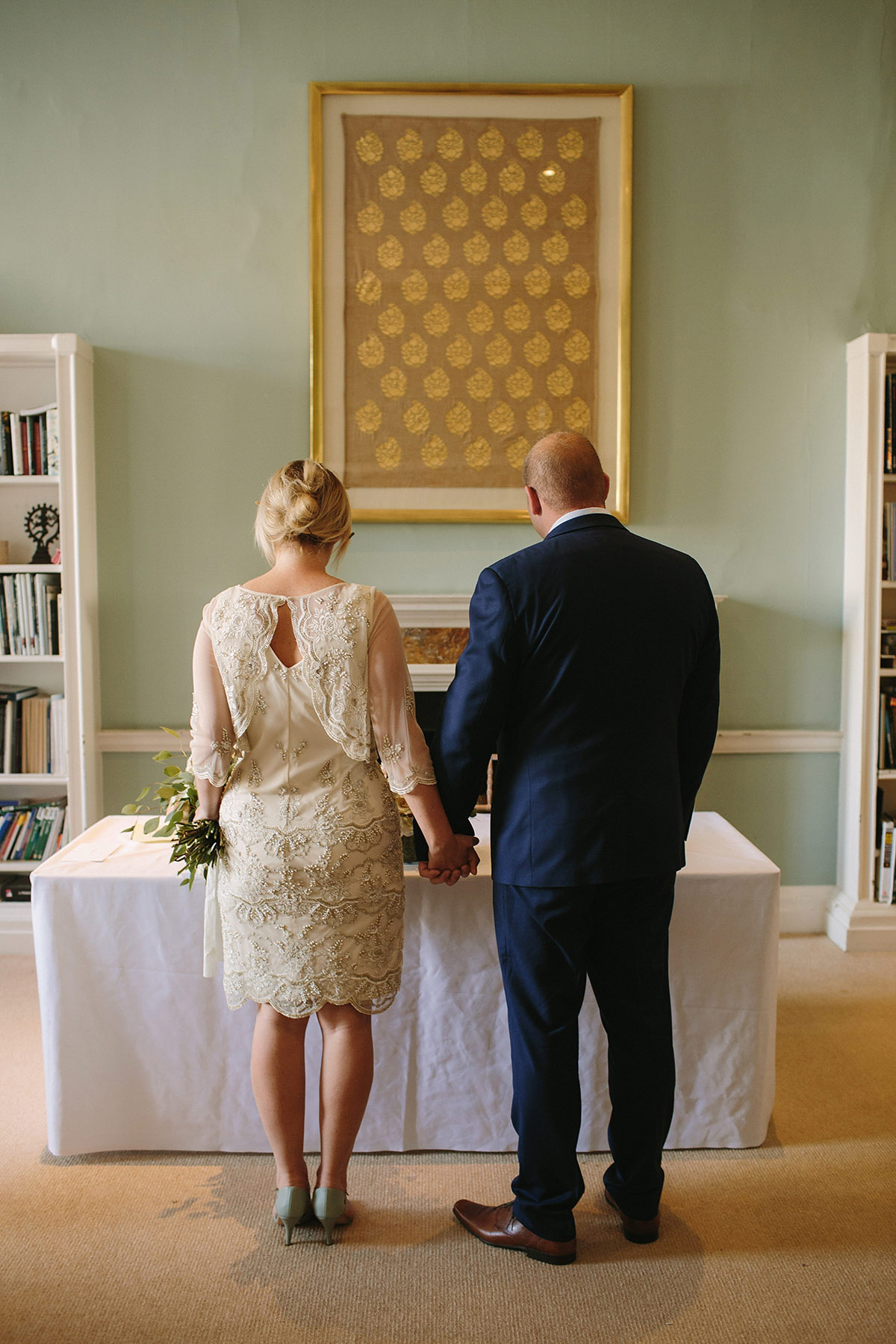 Helaina surprised Dan by having Ludovico Einaudi's Nuvole Bianche played while they signed the register, a beautiful piano track they heard every morning and evening at the B&B they stayed at in France while planning their wedding.
"The sound was so uplifting and would fill the building and gardens, playing over breakfast and dinner. Every time we hear it, we are transported back there and seeing his little smile when it played at the London ceremony gave me such a warm, fuzzy feeling."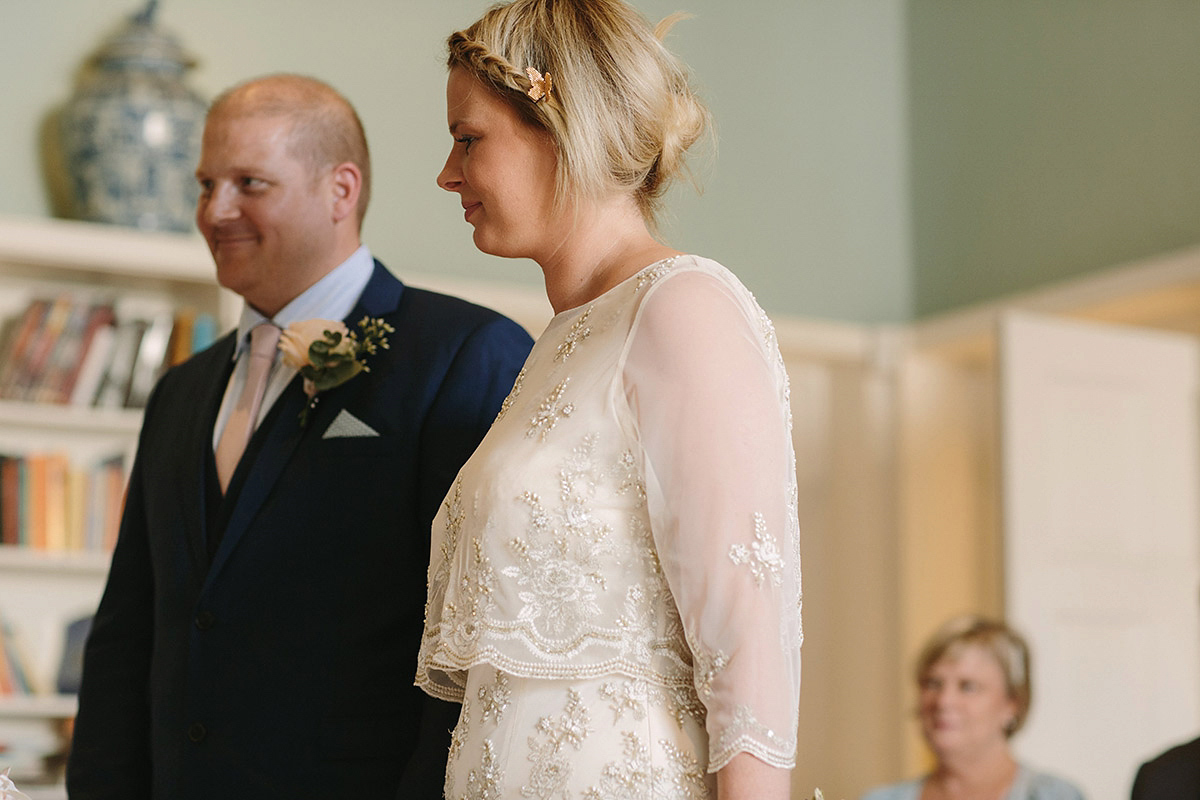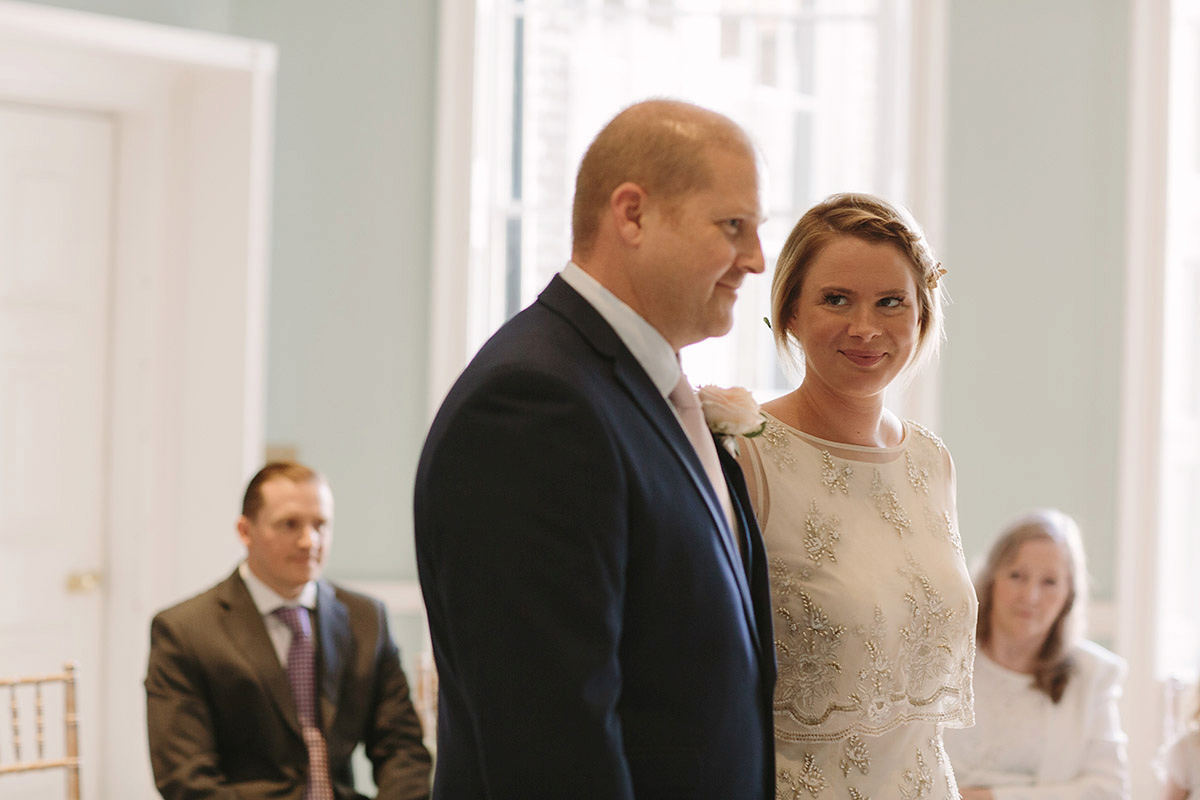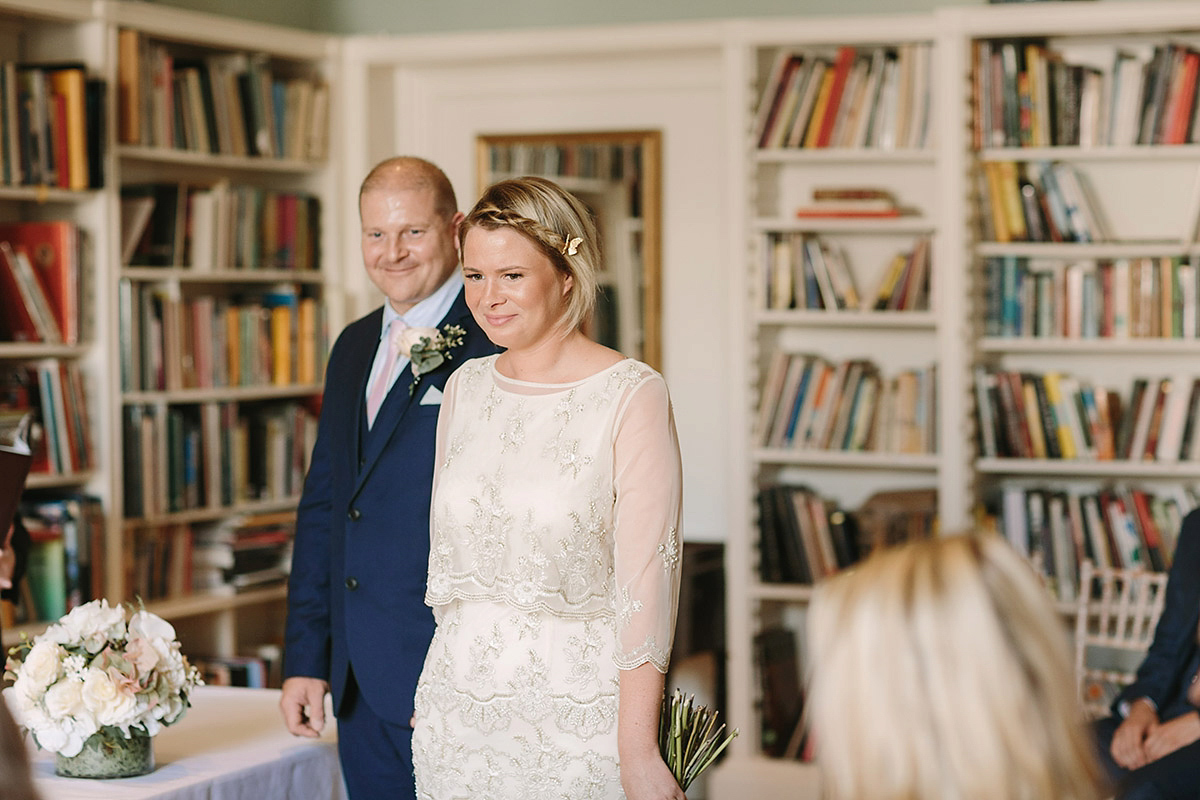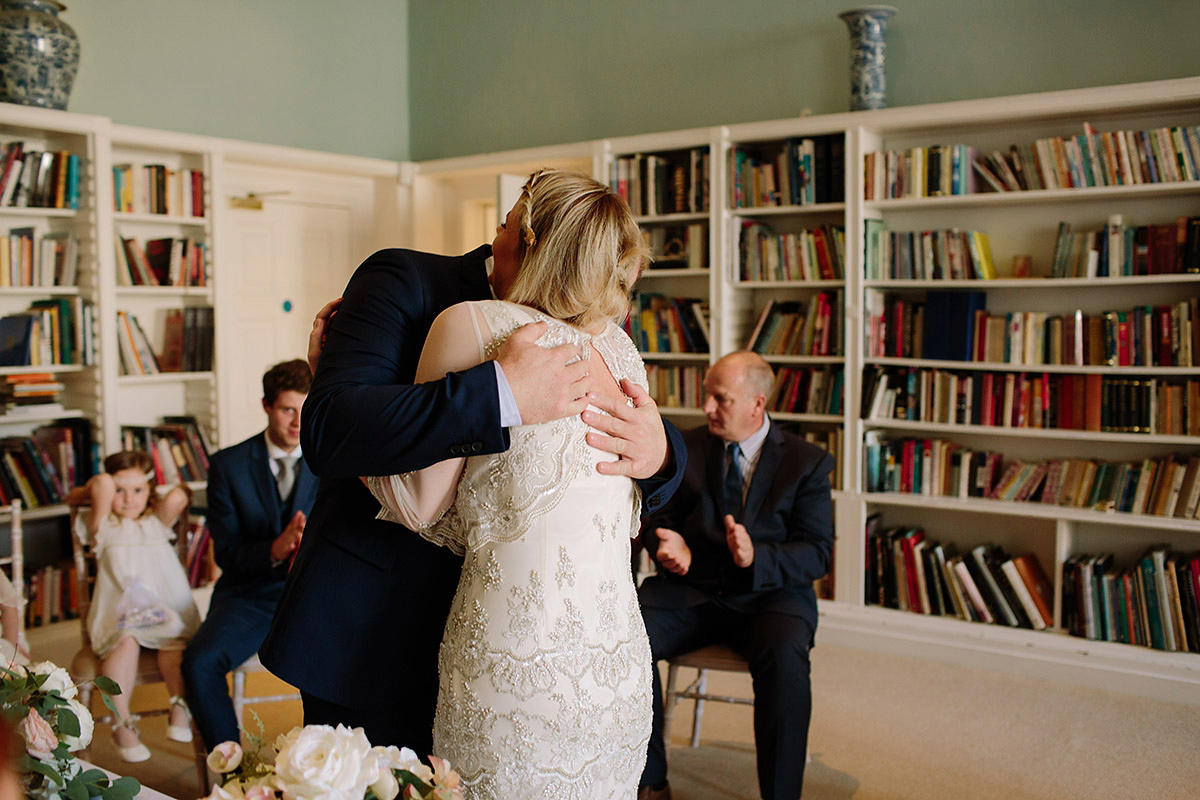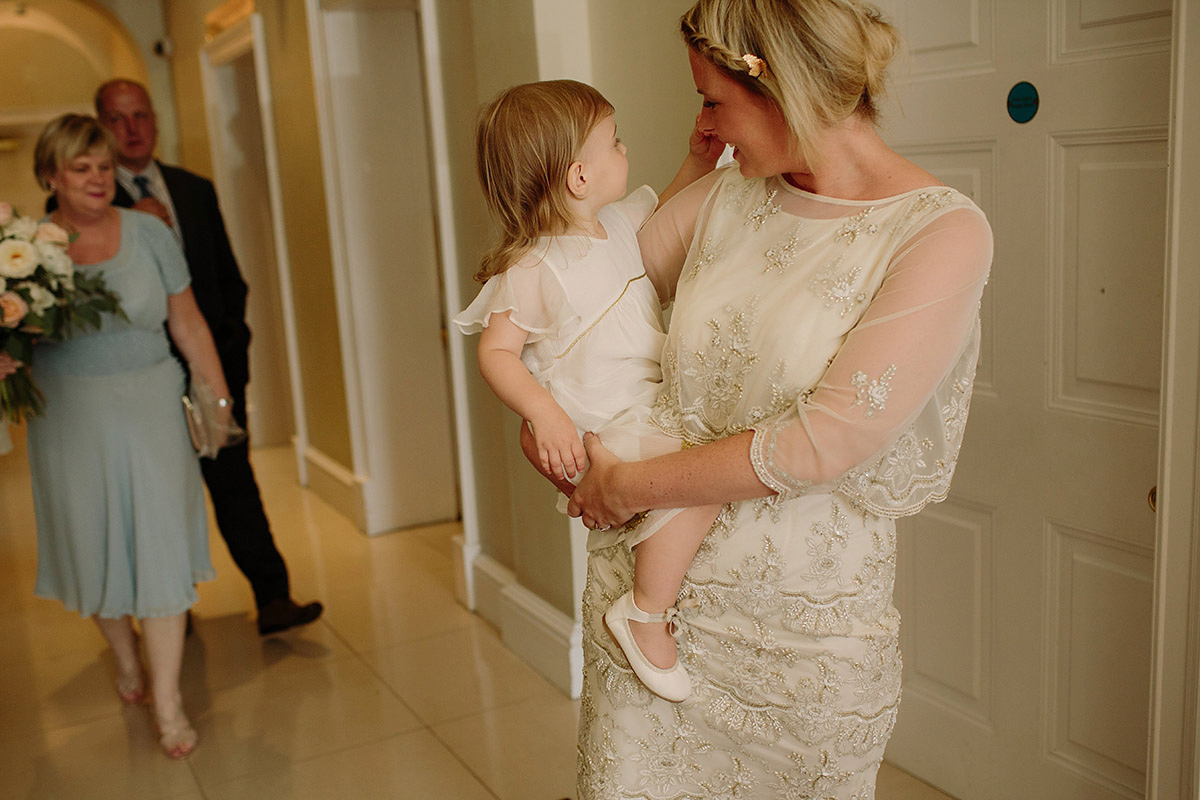 Our bride fell in love with Rachel Simpson's Mimosa shoes; their shimmering gold accents and vintage style so beautifully complementing her dress and dainty hair accessory by our Little Book for Brides sweetheart, the wonderful Clara Francis, nestled in that pretty plaited up-do that Helaina crafted herself along with her glowing, golden make-up.
"I felt so drawn to Clara's adorable personality, emotional story and her unbelievable talent; I asked her to design a bespoke piece for France and also the most beautiful, dainty little gold butterfly hairpin for London. The outstanding level of care and intricate detail that goes into Clara's work is phenomenal. I think of Clara's gorgeous little Maude every time I hold its delicate, fragile, beautiful wings in my hands. I have so much respect and love for this brave, wonderful woman and her family."
"My shoes were incredible value for such gorgeous craftsmanship and were like gloves for my feet. They were so soft and comfortable and not too high, which I knew would be ideal for the walk along Oxford Street between the ceremony and The Ritz. I discovered Clara Francis Jewellery when I read about Clara's own wedding to Jason Watkins on Love My Dress. It moved me so much, we actually went on to book the same photographer for France."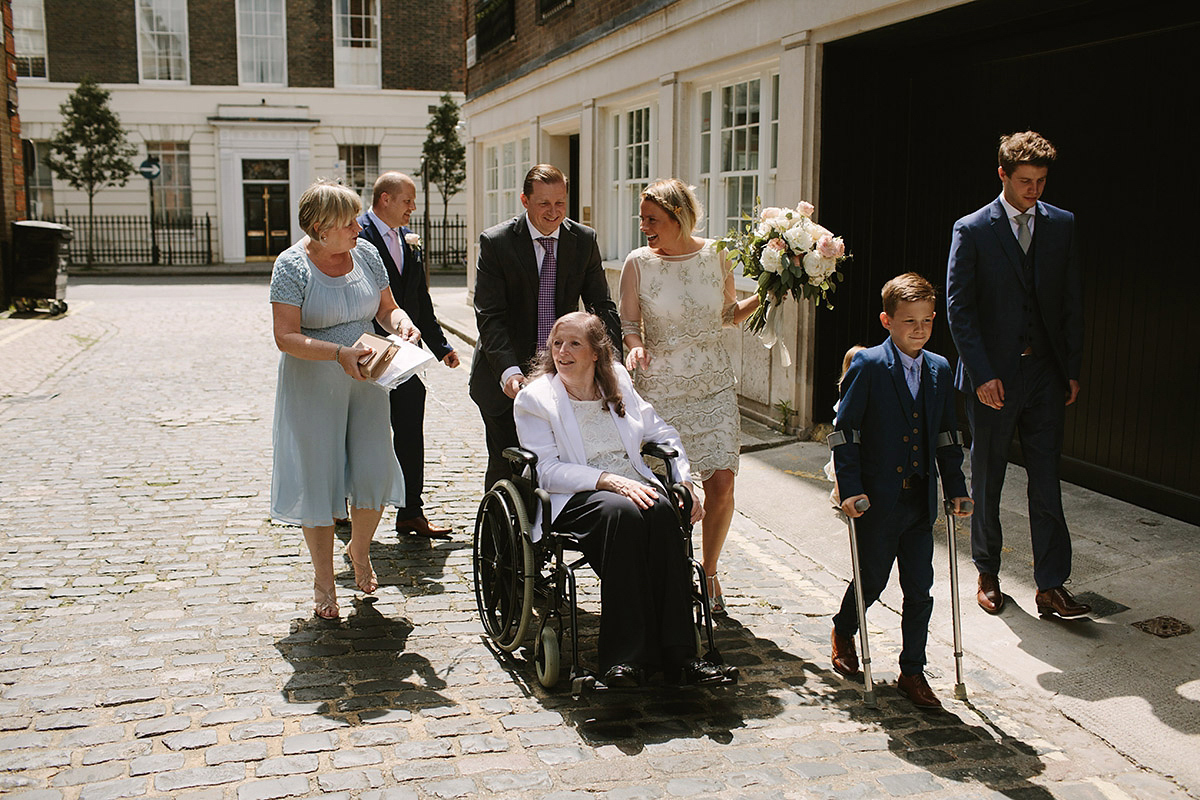 "After the ceremony and some adorable family shots outside in the sunshine (just how cute do Helaina and Dan's daughters look as flower girls look in their Wild & Gorgeous dresses and headbands? Not forgetting the couple's son; so dapper in his John Lewis suit and tie), the newlyweds jubilantly walked hand in hand to The Ritz, taking in the buzz of vibrant London. How I imagine heads must have turned as Helaina and Dan floated by in their finery, Helaina with a soft and blousy bouquet from Bloomingayles in hand; a beautiful arrangement selected to complement that beaded gown.
"Just as jeans and t-shirt escalated to an ivory beaded dress, no flowers very quickly escalated to a bouquet and button hole. It was just enough to feel that little bit more special and like an actual bride and groom and not like any other ordinary lunch date. I had already admired Gayle's work online and then when I found out she lived just around the corner from my Mum's house and would hand deliver on the morning of the wedding it was a no brainer.
I asked for a 'thrown together' style bouquet as though I had just grabbed it from a bucket in the local florist on the way, with lots of foliage. I was blown away when it arrived. Gayle described the bouquet as very 'Carrie Bradshaw,' which was perfect. It smelt glorious and I hadn't expected it to be so huge; it weighed a tonne, and Dan actually had to carry it for me for some of the walk through London. Gayle kindly stayed to add some of my own Silk & Willow ribbon I had ordered in my favourite sage green which was the perfect finishing touch."
Helaina and Dan's love story is so beautiful and I'm totally in awe of Helaina's bravery and her pretty hilarious approach to winning Dan's affections!
"I moved back to the UK from Australia alone with my four month old baby when I was just nineteen and Dan became my new next door neighbour."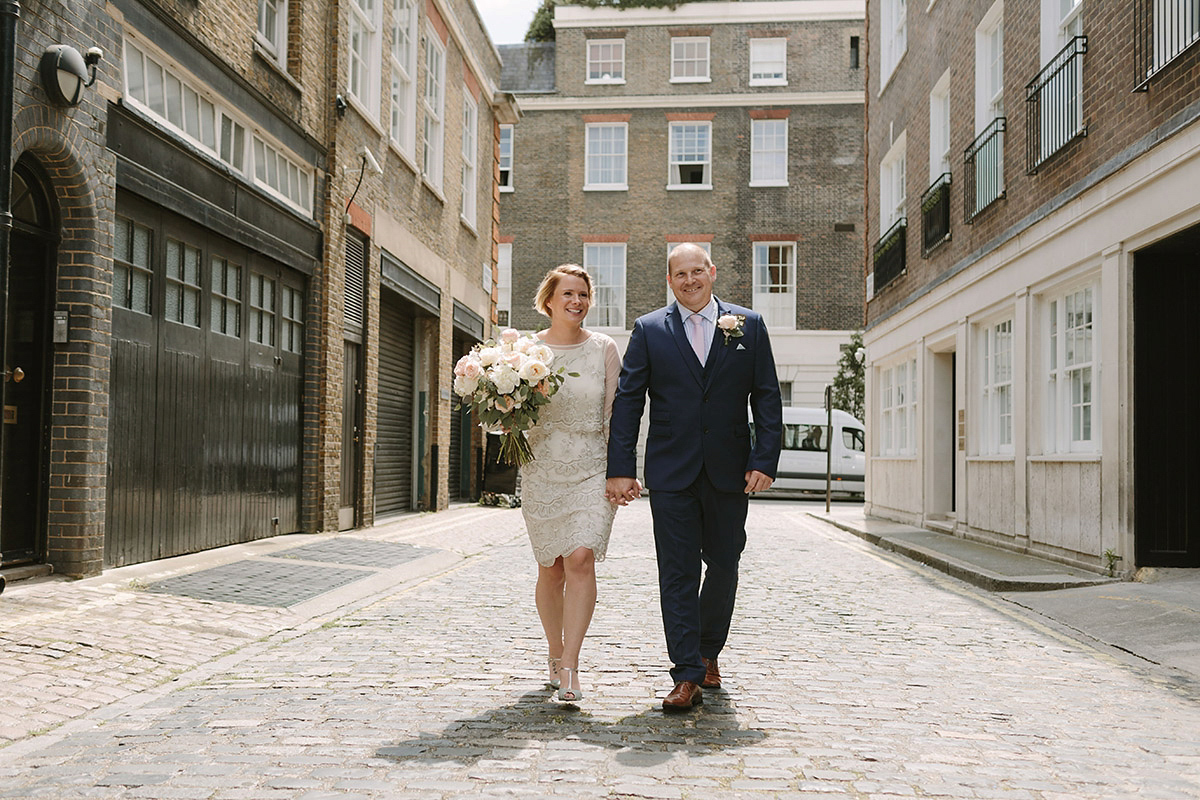 "Having exchanged many shy glances and smiles, a little Dutch courage one evening and a girlfriend of mine over to encourage me, resulted in me knocking on his door in the early hours to properly introduce myself. Unsurprisingly, he refused our invite next door at 1am on a Monday morning, so I posted an apology note through his letterbox, signing off casually with my phone number. I was absolutely convinced he was the one. I just knew."
"Within a few months, I had moved in with the boy next door and five years later we had had two more beautiful children and were engaged to be married after he whisked me off on a surprise trip to Paris and proposed at the top of the Eiffel Tower.
We set the wedding date for almost three years after that, as I was six months pregnant with our youngest at the time, and we didn't want too much pressure to plan and for me to feel totally myself again after the baby. I had remembered after the first two babies how long it can take to get back to feeling like a normal human, and could only imagine it being even harder with three!"
Dan wore a stylish Next suit with a tie from Reiss and a Ted Baker shirt, all topped off with the most gorgeous accessory, a Cartier watch, which was his 40th birthday gift from Helaina. I can only imagine the excitement and joy he and his very soon to be wife felt getting ready on the morning of their ceremony after staying apart the night before the nuptials.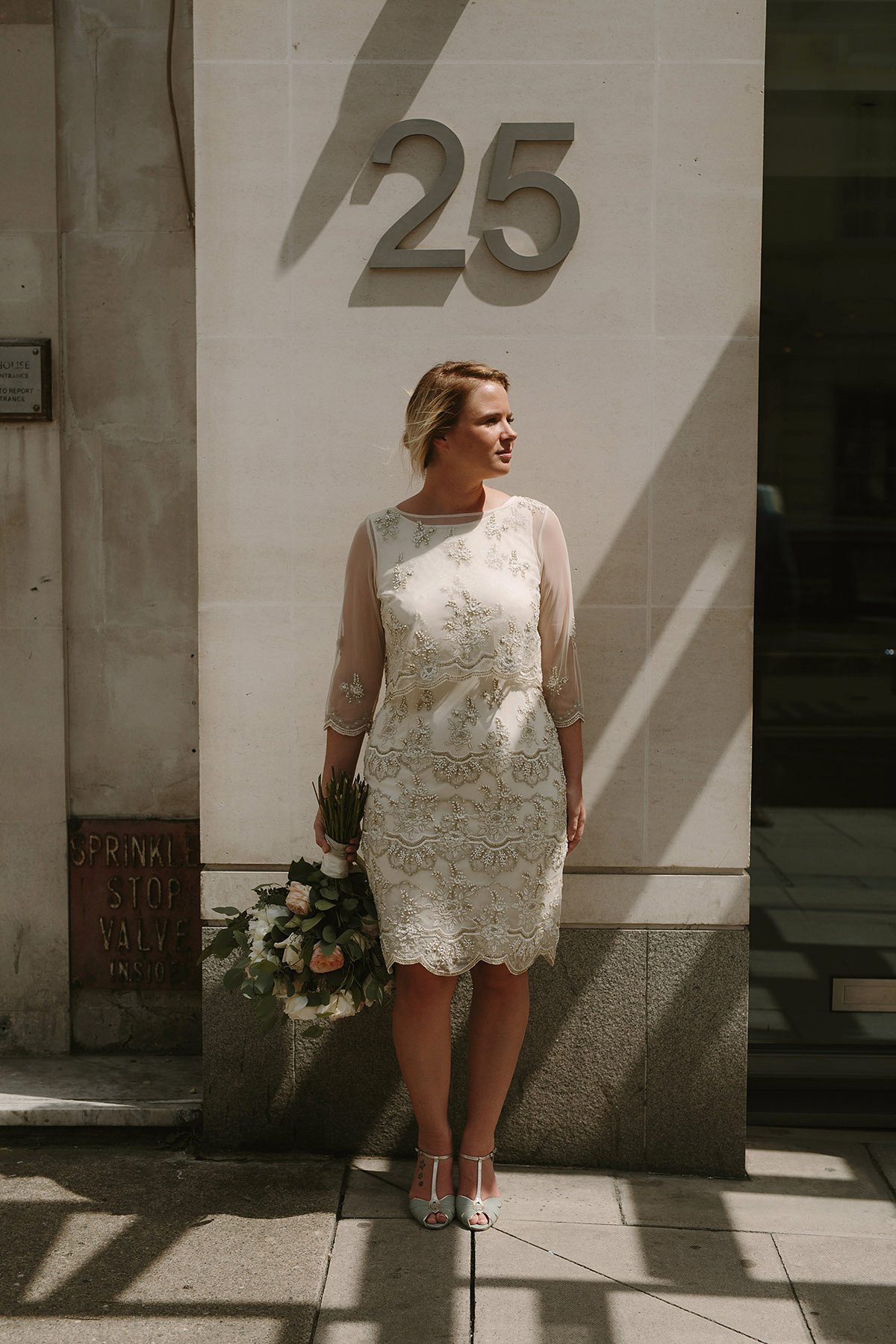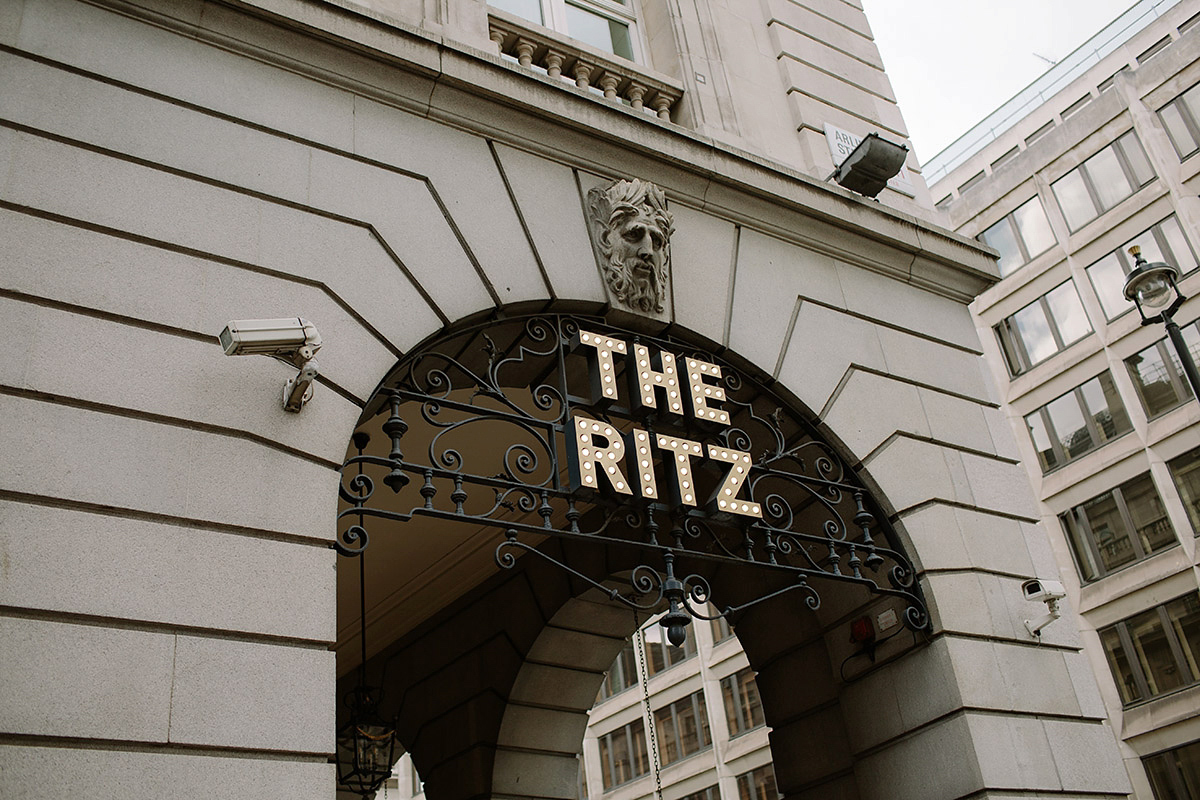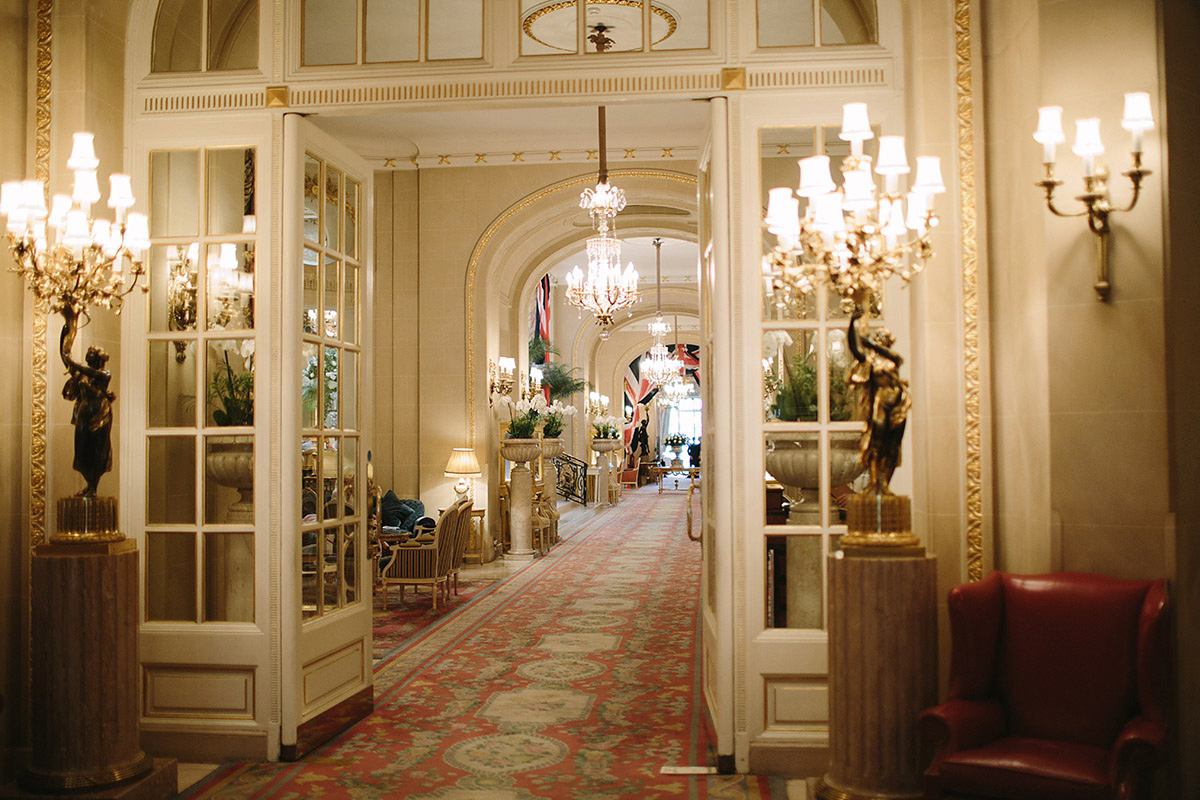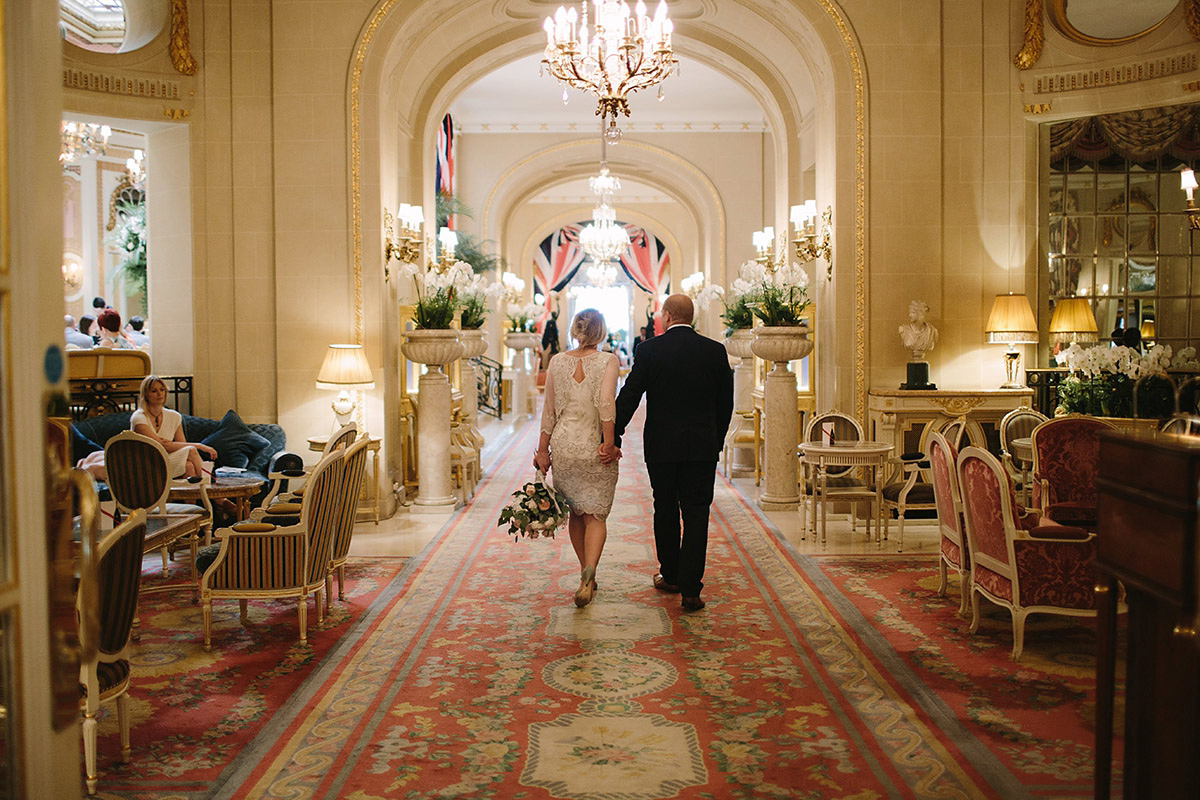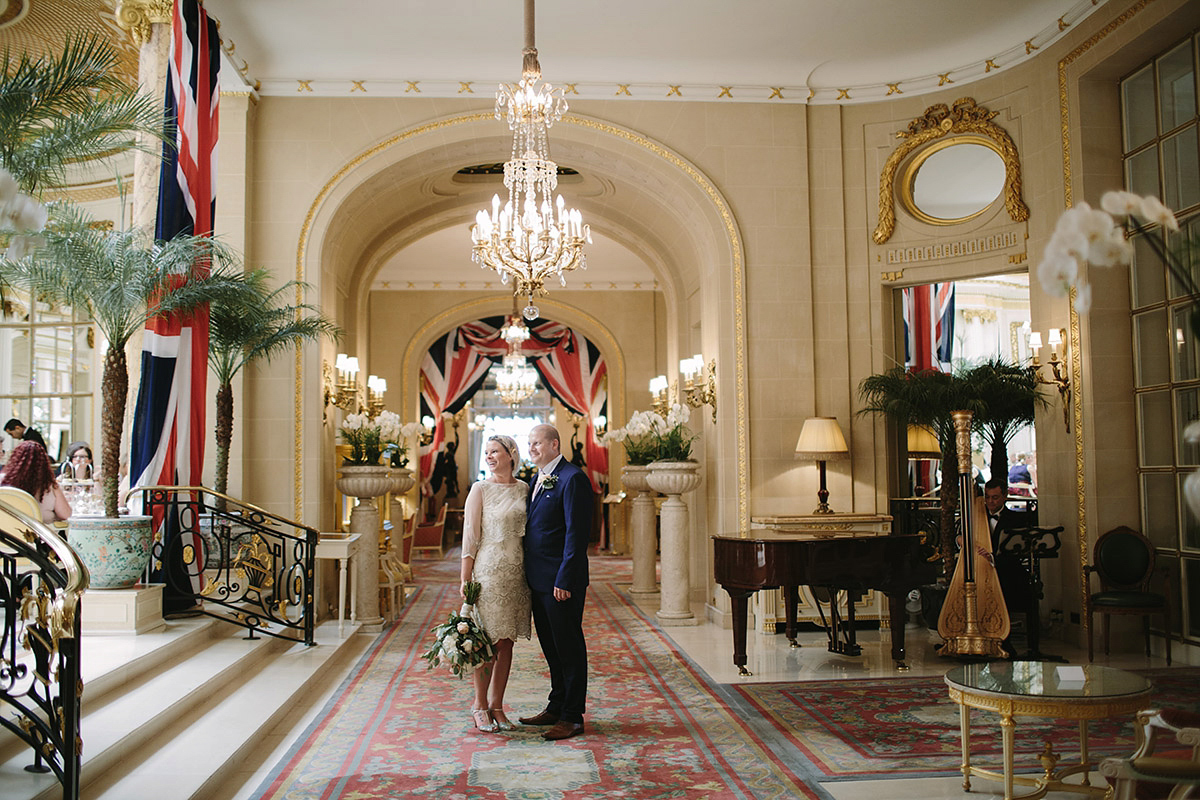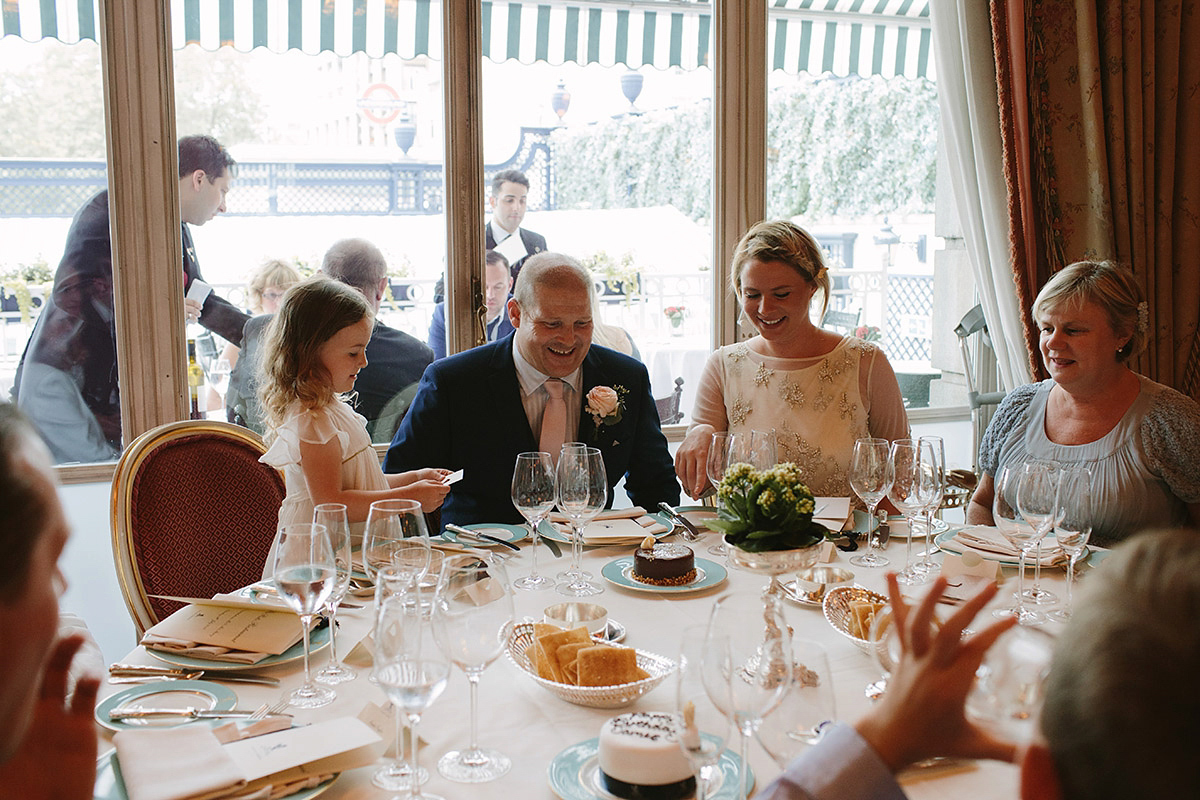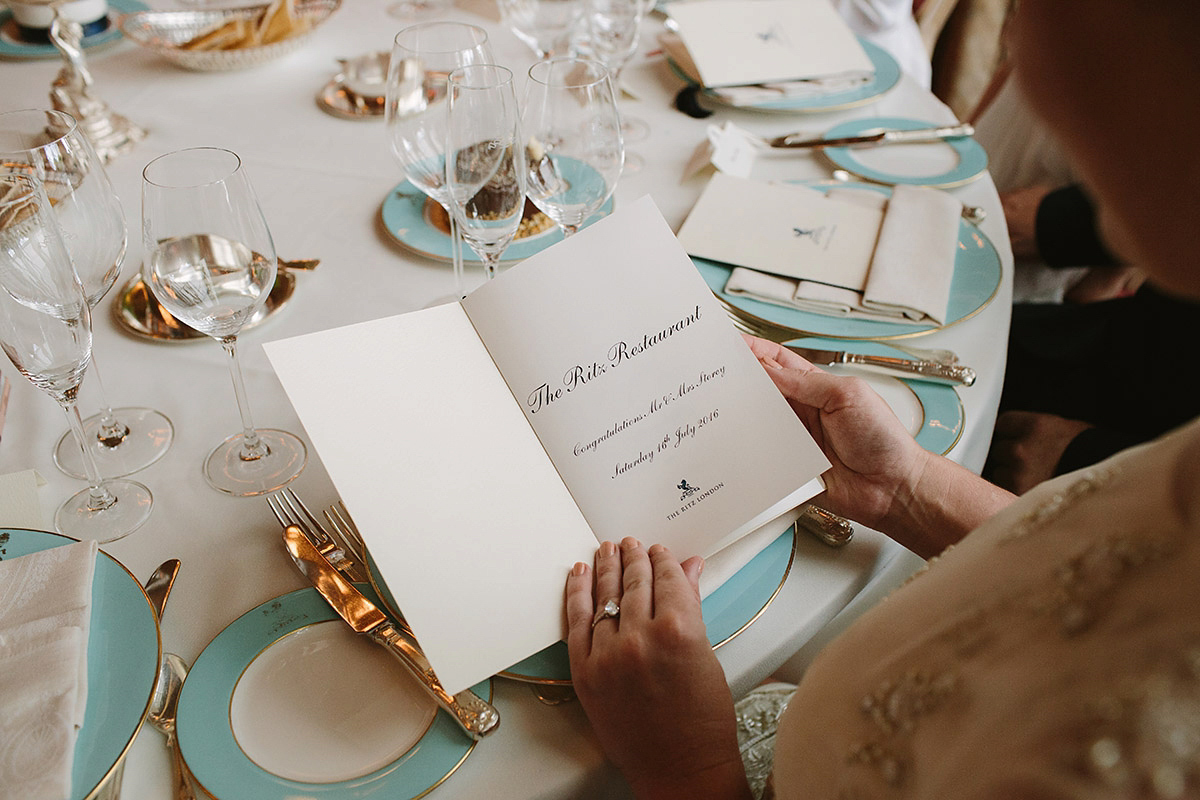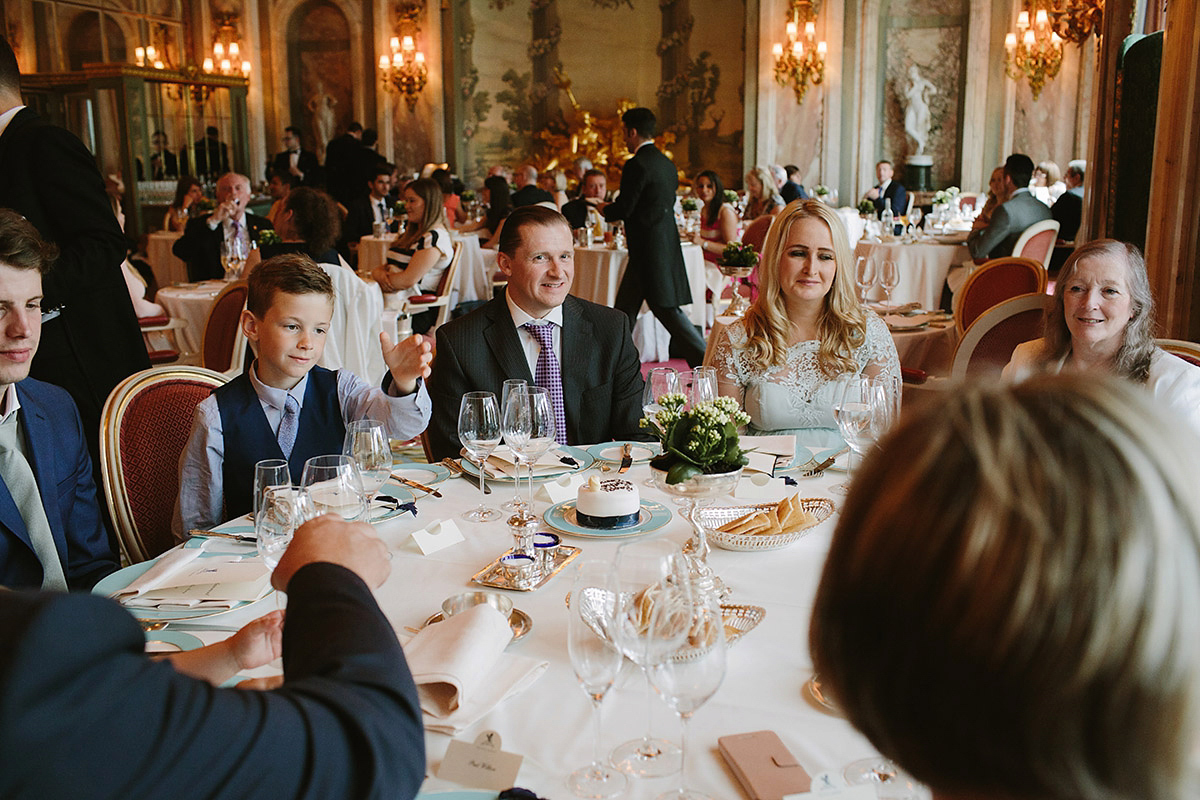 Words of Wedded Wisdom
"This part of our wedding celebrations really made it clear to us what it's all actually supposed to be about. We feel so incredibly lucky and privileged to have had two very special and completely different wedding days, and the best of both worlds.
Our London ceremony just cemented the fact that at the end of the day it is about LOVE. The frills and extravagance of France was an incredible added bonus for us and the most wonderful wonderful thing, but you don't really need it. London was such a pure, stripped back, perfect day and all that really mattered was that we got married. Anything else above that is extra and while it's amazing if you have the budget for floral masterpieces, fancy stationery and a live band; if you don't, it doesn't matter one bit. What counts is that you are together.
It's very easy to get swept away with inspiration on Pinterest and Instagram (I did planning France!) but I have discovered that details in often styled shoots can be unrealistic or extremely difficult to pull off on a real wedding day. Our London wedding didn't have any of those details but these images are every bit as beautiful to us because they have captured the love and the joy and the memories – all that marriage needs."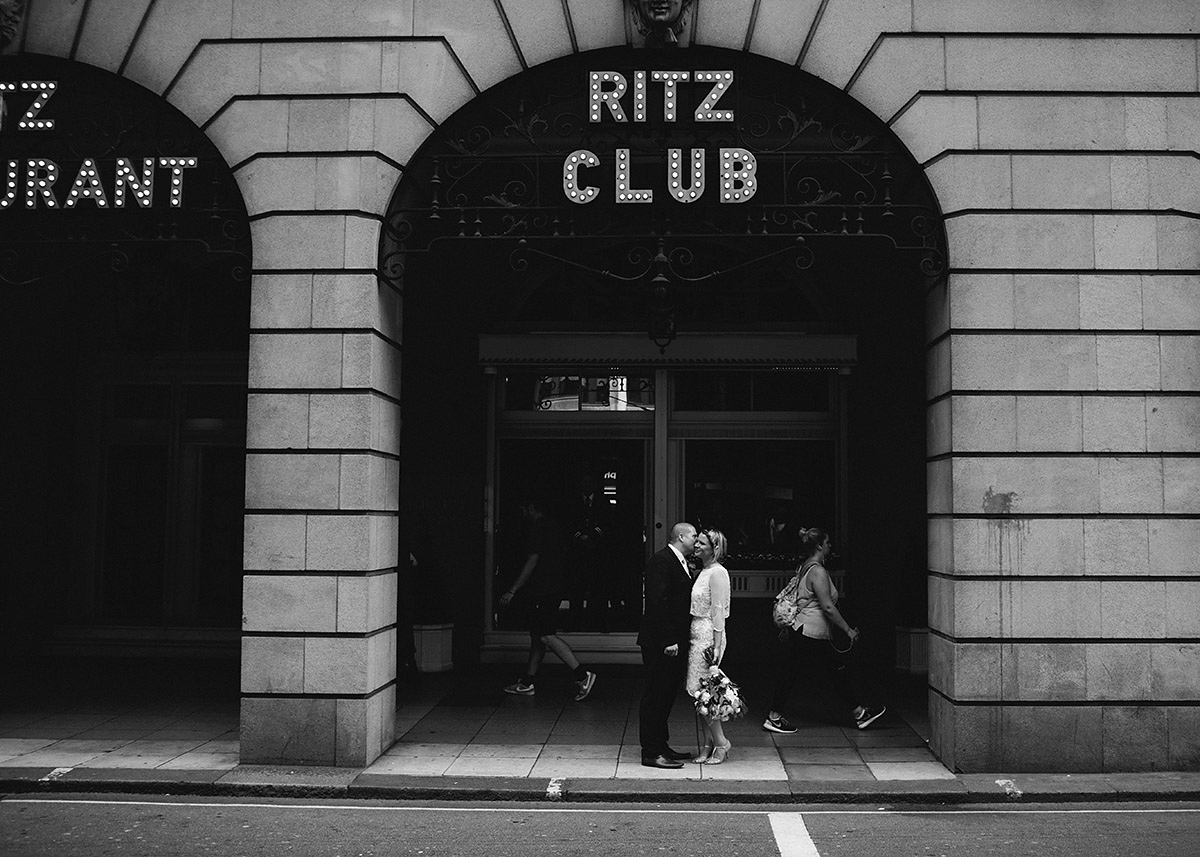 I'm beyond honoured and so grateful to Helaina (do check out her sublime Instagram) and Dan for allowing us to share their gorgeously styled and intimate day, and of course a big thank you also goes to Emilie White Photography for these lovely images.
Now I'm off to gorge myself on Terry's chocolate orange (it's definitely mine).
With love, Em x