We're on the countdown to Christmas oh lovely ones, and it feels so good! There are just a few features for 2016 left now, ahead of us sharing a beautiful digital magazine for you all to enjoy over the Christmas break. And for the first time in a long while I feel super-organised. Having moved house on this very day last year (and also 4 years ago too), this year we decided to get organised nice and early. All the shopping is done, all the gifts are wrapped, the tree is up and our shopping trips to the market to purchase fresh fruit and veg is planned for 24th, when I'm also looking forward to attending midnight mass in our beautiful village church. How about you, are you all sorted for the festive celebrations?
This morning's feature is for all you brides planning a winter wedding, and especially if you are drawn to the wild, natural, majestic outdoors. These images were sent in by cake-maker extraordinaire, Amy Swann – whose utterly gorgeous creation made an appearance on last night's 'Kirstie's Handmade Christmas'.
"A few months ago I was approached by Channel 4 to be on 'Kirstie's Handmade Christmas' and create a cake to represent 'A Great British Christmas'. I immediately resorted back to my roots for inspiration and wanted to celebrate the magic and majesty of the Welsh countryside at this time of year."
Photography by Jess Petrie Photography
"I was so happy with the result that I decided to work on a spin-off project with photographer Jess Petrie, where we collaborated on the theme of a 'wild winter bride'. I have always wanted to create a shoot inspired by the magic of winter."
"There is such a wealth of inspiration in the woodlands and hedgerows of the midwinter countryside. This winter bride has a deep love of nature and is at home in the wilderness where she is at one with herself. She is a true romantic and belongs where the wild things are."
"My inspiration came from gathering berries, seed pods and foliage from the Welsh landscape close to where I grew up. Their colour and textures all influenced each outcome and flow through each element."
Let's take our hearts for a walk in the woods and listen to the magic whispers of old trees…
"The berries and most of the foliage are hand-made in flower paste for the cake garland and using an everlasting medium for the crown. The stationery suite comprises hand painted illustrations inspired by my beloved homeland."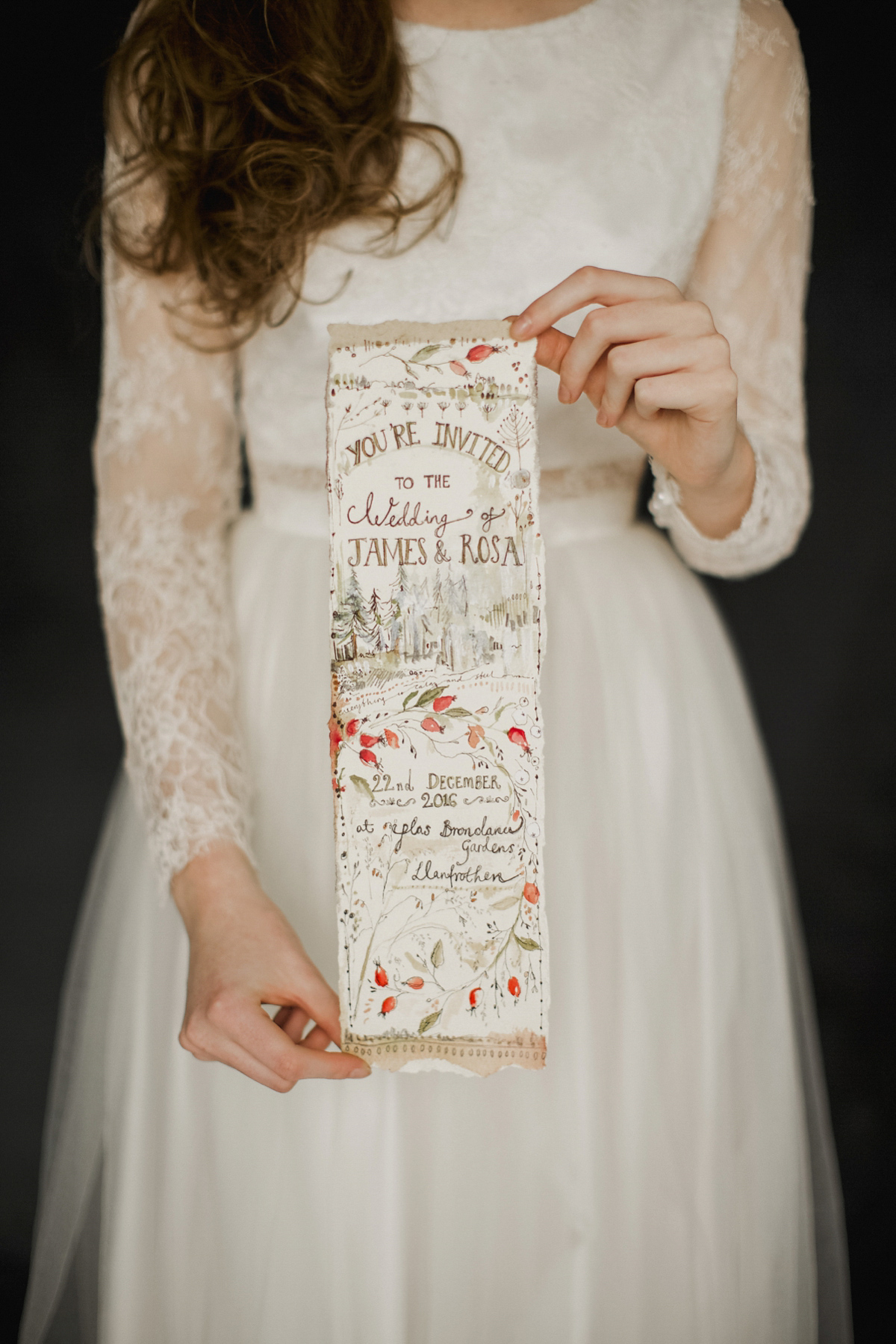 "Jess and I worked collaboratively on this concept; she is a creative kindred spirit. We both share such a strong love of nature and its beauty so her sensitive, fine art photography approach creates a perfect combination."
The mountains are my bones, the rivers my veins, the forests are my thoughts and the stars are my dreams. The ocean is my heart its pounding is my pulse. The songs of the earth write the music of my soul.
"My work always represents a little piece of me but this one especially celebrates two of my favourite things; winter and its beauty and the amazing treasures to be found in the wild Welsh countryside."
Huge thanks to the creative team behind these gorgeous images, but especially lovely Amy Swann for asking for these images to be shared with the Love My Dress community.
You will find more winter wedding inspiration here on Love My Dress.
Love Annabel x