It's the final day of work for most of us before Christmas well and truly takes over in all its tinsel-strewn, glitter-smattered, chocolate-orange-laden (seriously Terry, back off – they're all mine) glory, and I'm delighted to be bidding my Love My Dress farewell to 2016 with our final real wedding feature for this year – the truly awesome nuptials of Gillian and Chris, also known as The Curries. I've been lucky enough to pen several real wedding features captured by this incredibly talented photography duo and it says a lot that they were the creative pair who documented one of my all time fave Love My Dress weddings.
Gillian and Chris, who split their time between London and Glasgow, are also very proud members and founders of The Wedding Collective – alongside all that, they somehow found the time to tie the knot on 4th April 2015 at the supercool Woodside Warehouse (very sadly no longer hireable as a wedding venue). Allow me to set the tone of their amazing day with this sublime video by Sugar8 Wedding Films.
"We searched high and low for an industrial style venue; a real blank space we could dress how we liked and create a really immersive experience for our guests. We came across Woodside Warehouse in Glasgow and after our wedding we then went on to run wedding events there. We were conscious of the potential cold feeling of a sparse venue so we wanted to bring a warmth and depth to the space. Adding texture and colour and a certain richness was the aim. I'd love to have a really sleek minimal taste but I much prefer layers of colour and texture."
Photography by Dan O'Day
Gillian wore a intricately detailed, colourfully floral gown by Temperley London that I'm openly admitting I'm obsessed with; long-sleeved, alternative, delicate perfection. She paired this beauty with a custom-made veil and New Look shoes, trading her heels for old Spanish boots for their atmospheric portraits at Loch Lomond, and later pink Adidas trainers for dancing.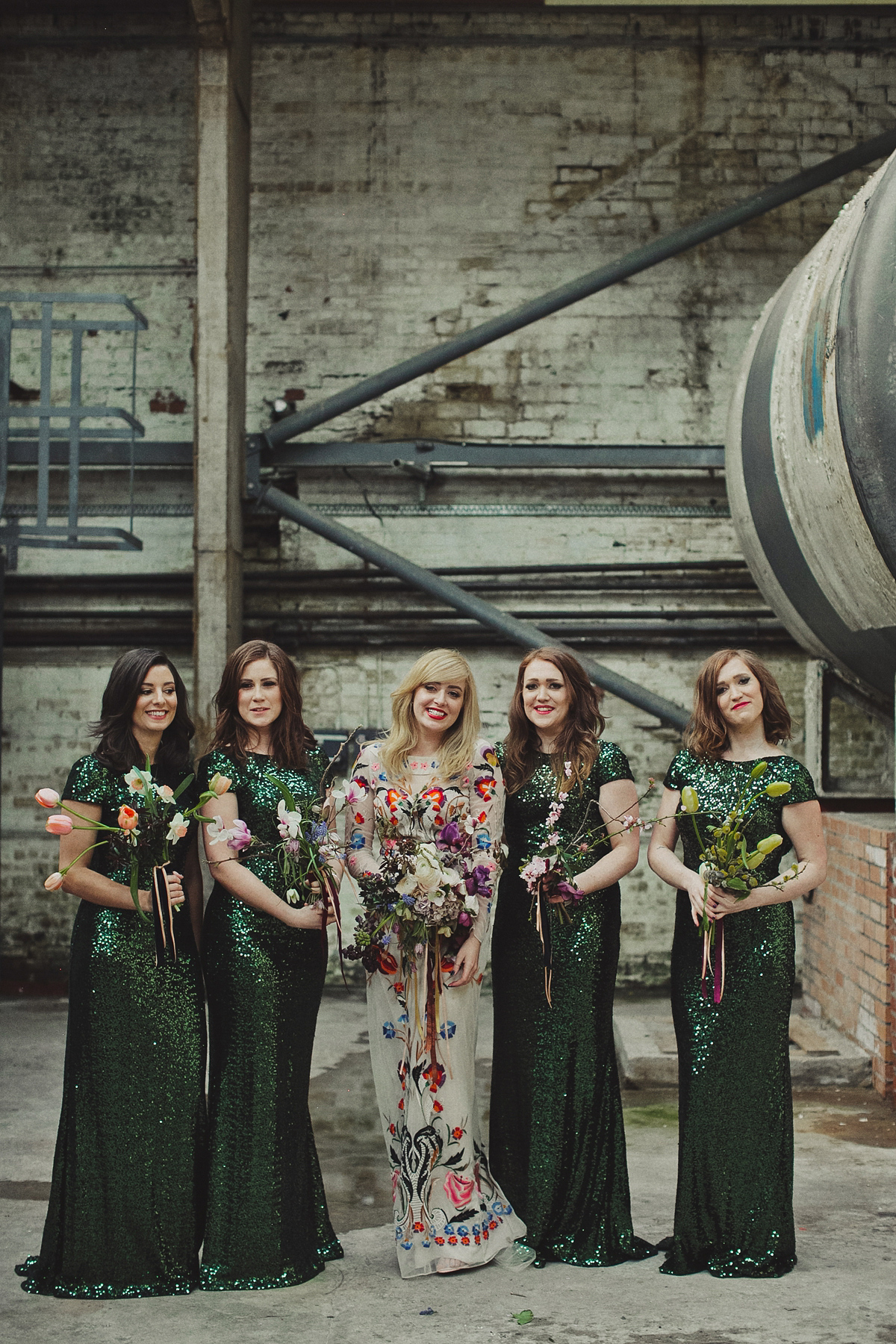 "I loved the comfort, the colour, the cut; and that I was unlikely to come across another bride wearing it on a weekly basis. I wore a simple hand chain I bought on Etsy and my other rings were just my normal day to day pieces – mostly from Catbird in Williamsburg. My hair was styled by Anne Marie McElroy and my make-up by Julie Diplacito.""We were introduced by our bosses who were dating each other too. Chris had just moved to a new city and I was back from university trying to figure it all out and we met."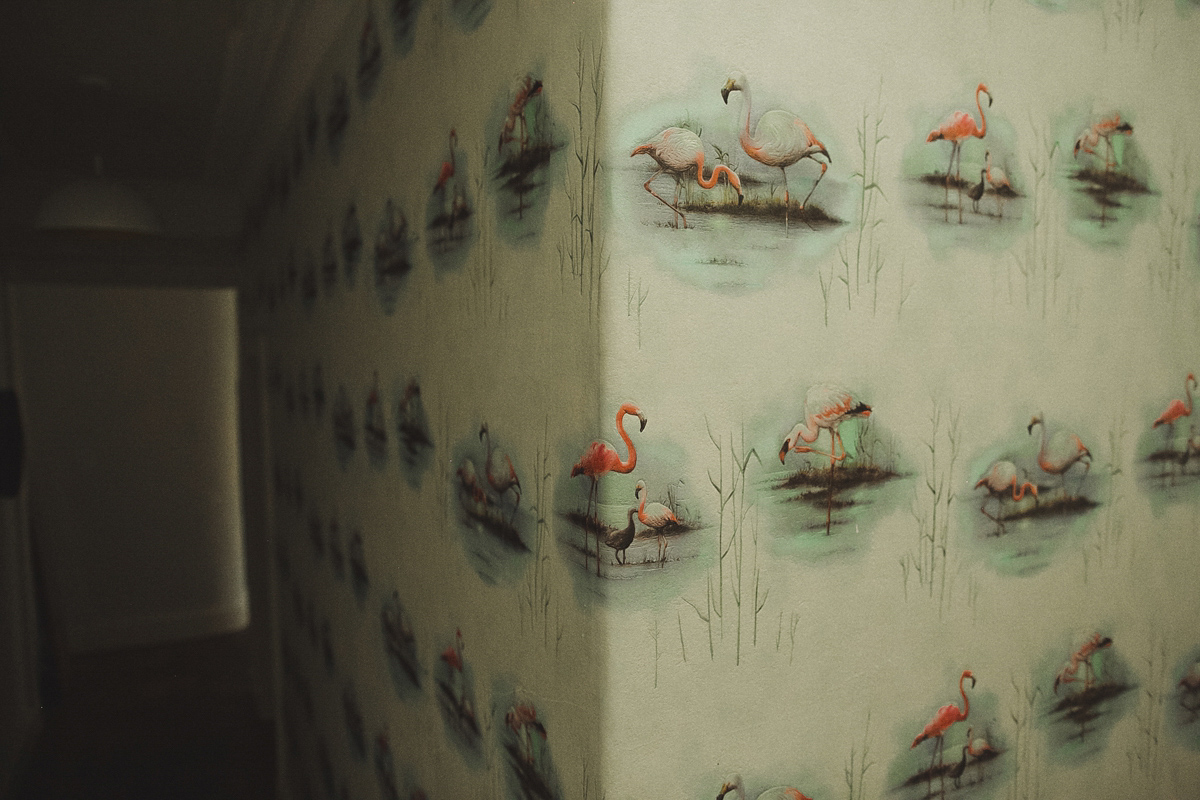 "I moved to Toronto to start a new PR job three months after we met, but we were both heartbroken and I returned taking up a rubbish job in a chain restaurant so we could be together while Chris worked in a photography studio. It really changed the direction of both our lives and we started our business together. We got engaged after four years together and married two years later."
Chris rocked a sharp suit from The Kooples and Grenson shoes.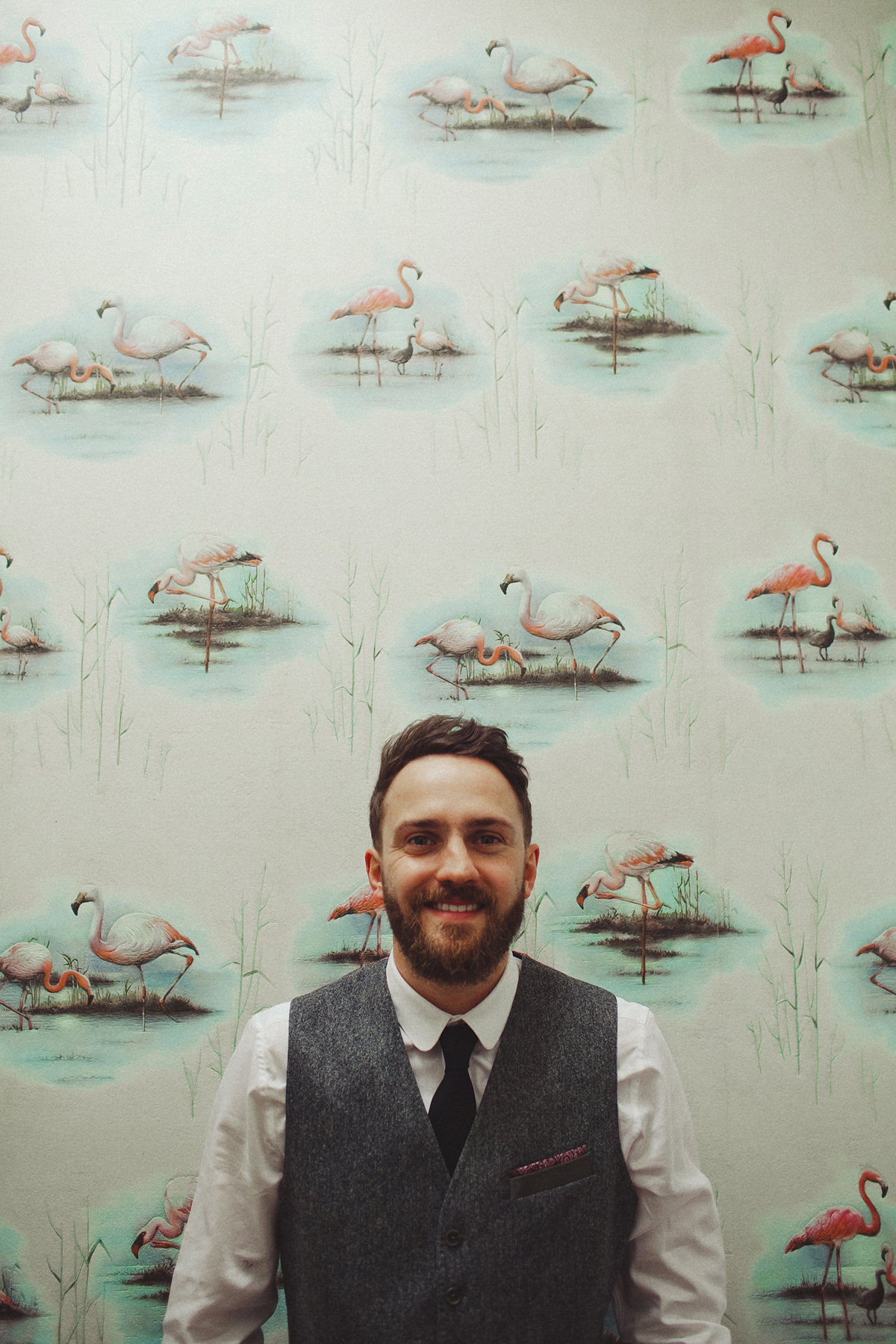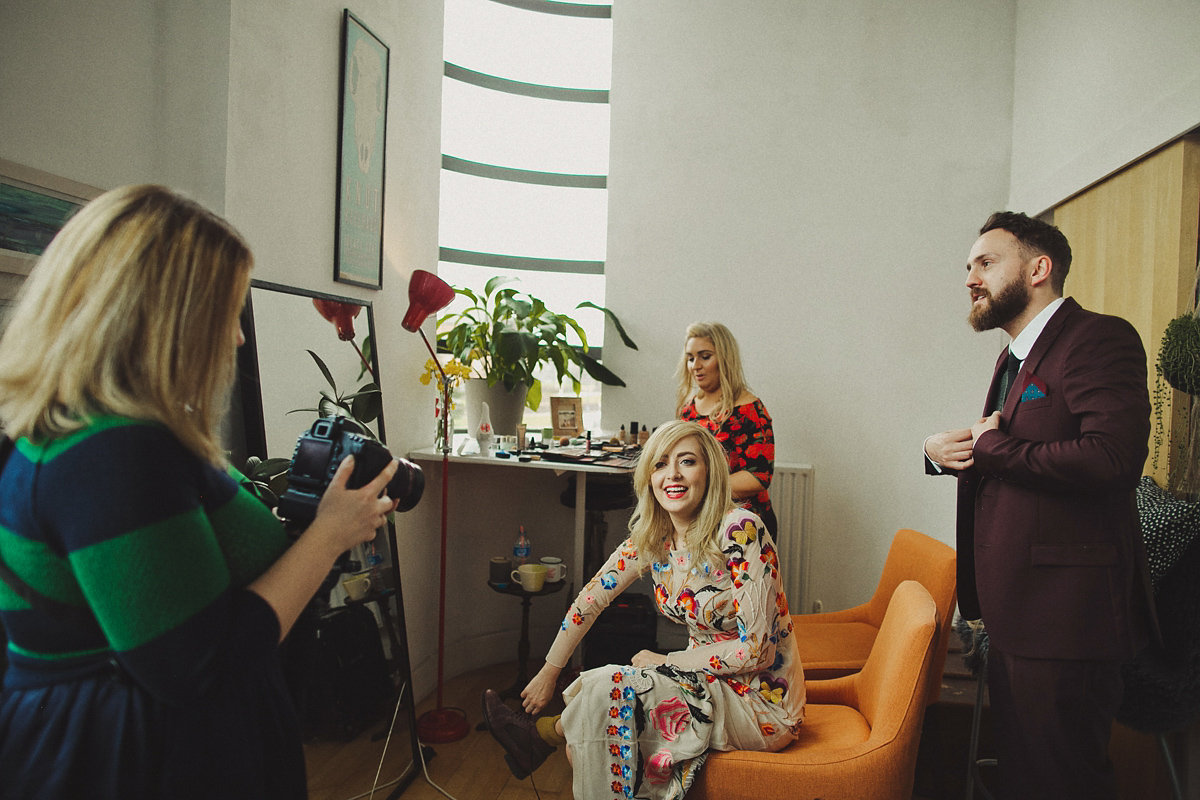 Before their warehouse ceremony, Gillian, Chris and their photographer Dan O'Day made the 45-minute journey from Glasgow to Loch Lomond to capture some of the most scenic, atmospheric couple shots I've ever laid eyes on.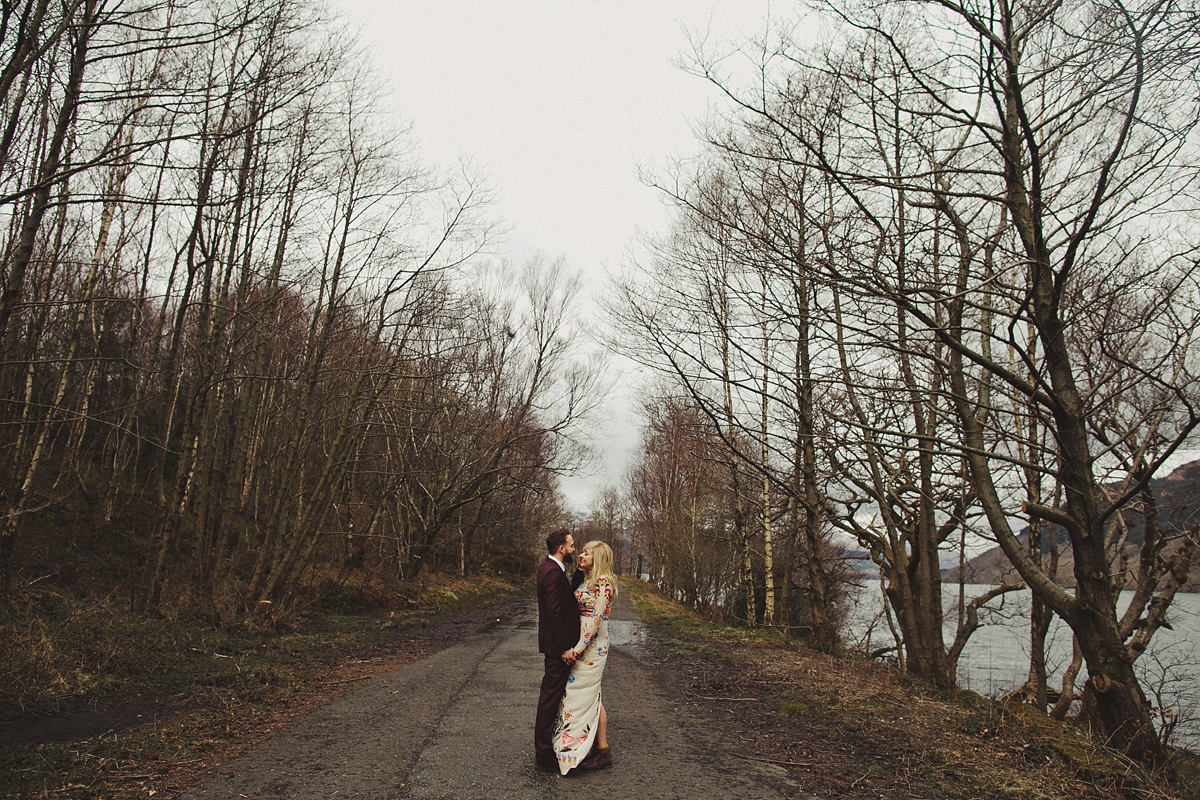 Picking the right people to document their day was always going to be a difficult task for the couple, but I think these images demonstrate a match made in creative heaven.
"Our videographer was Sugar8 Wedding Films. Eileen was an absolute gem; she made us feel so comfortable and captured everything we hoped to have captured on film and obviously made us cry when we saw it. And photographer Dan O'Day (magic man) worked alongside the lovely Andrea."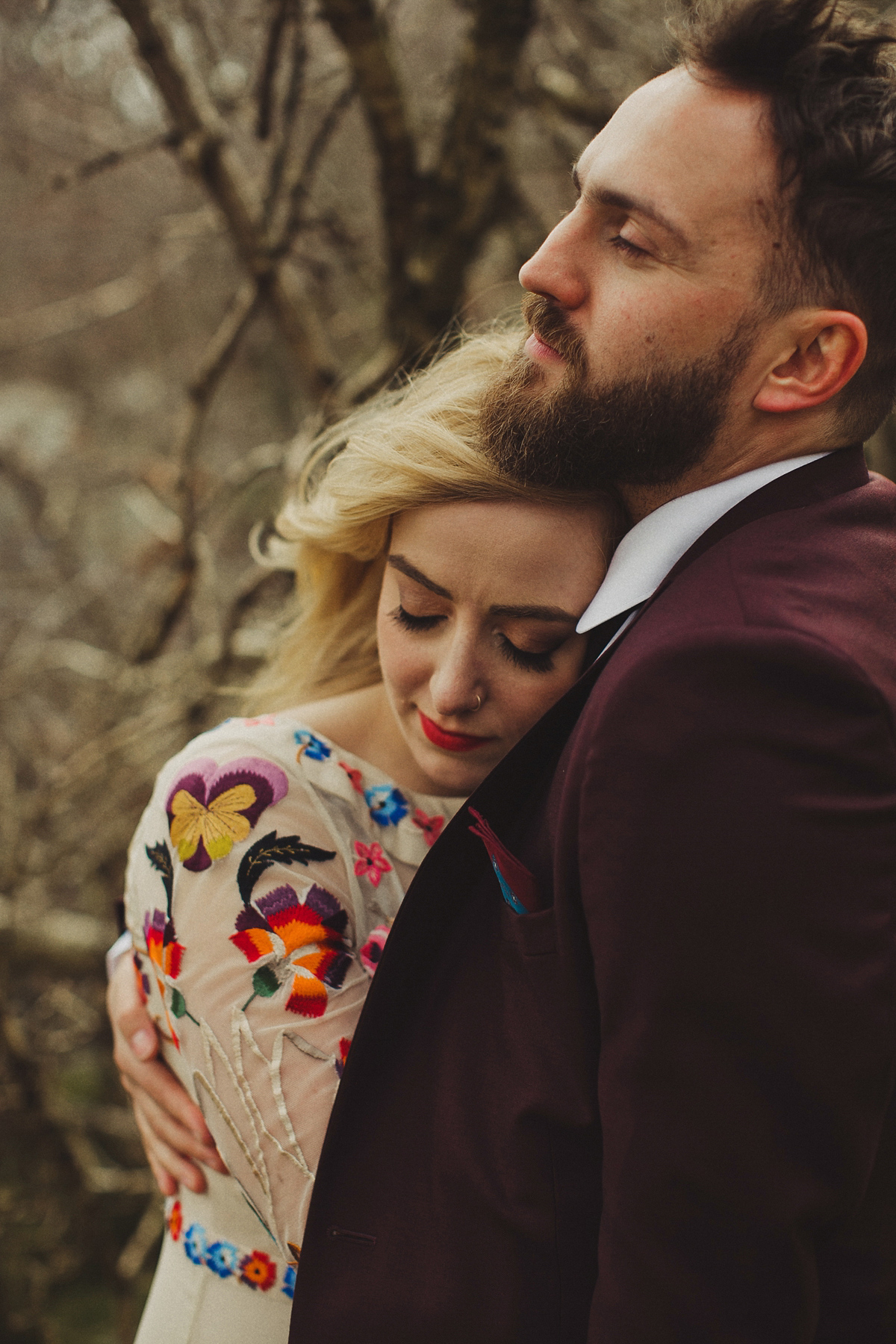 "It was a biggie for us to choose a photographer having so many talented friends here in the UK and also finding loads more British photographers on our search."
"I think we always knew Dan was our man – we loved his work from the very beginning of our photography journey so it was kind of a no-brainer that we wanted him to capture our day."
"We knew he'd fit into the party feel of our day and get the vibe we were looking for. I think what really cemented it for us was when he showed us previous warehouse weddings he had done in hard lighting situations where his work still excelled and was so artsitic."
"The fact they stayed and drank whisky till 3am led to some killer dance floor shots – messy but oh-so-brillant. Our deadline was really quite tight for going up to Loch Lomond and doing all the other parts of the day too and it they must have had half the time they are used to for portraits but still totally nailed it."
"We absolutely adore the images. We just had an album made and it's twice the size of our client albums – seriously a double yellow pages thick because we couldn't choose."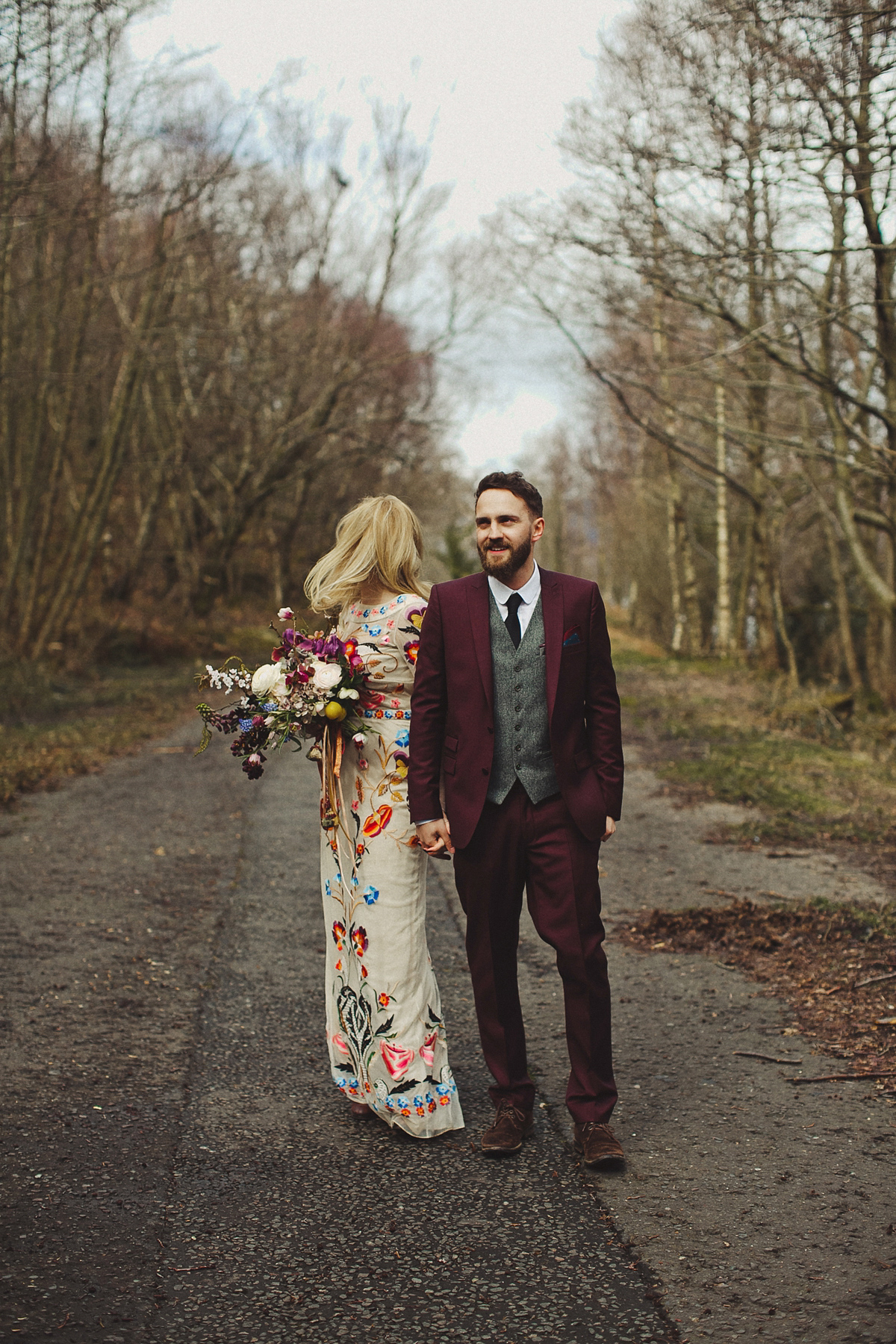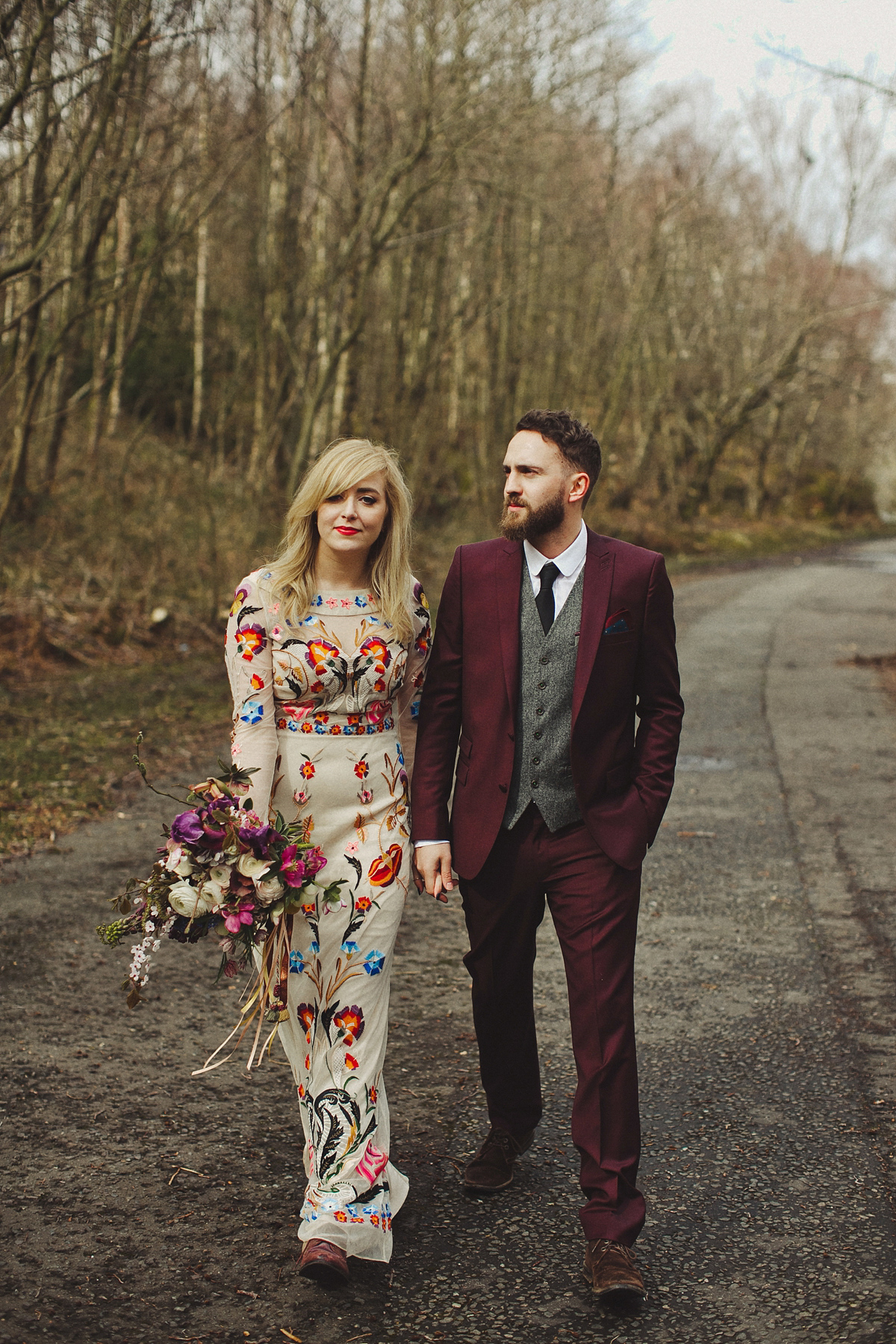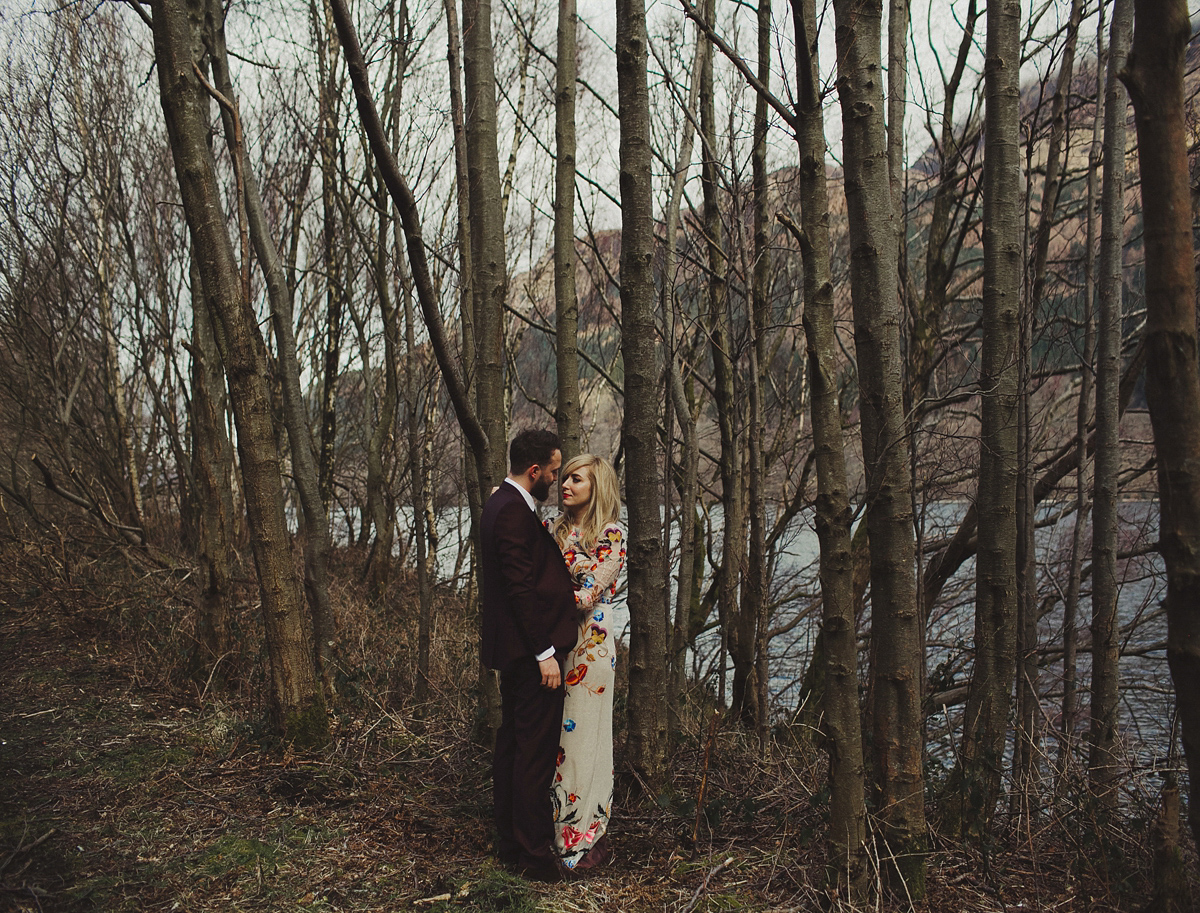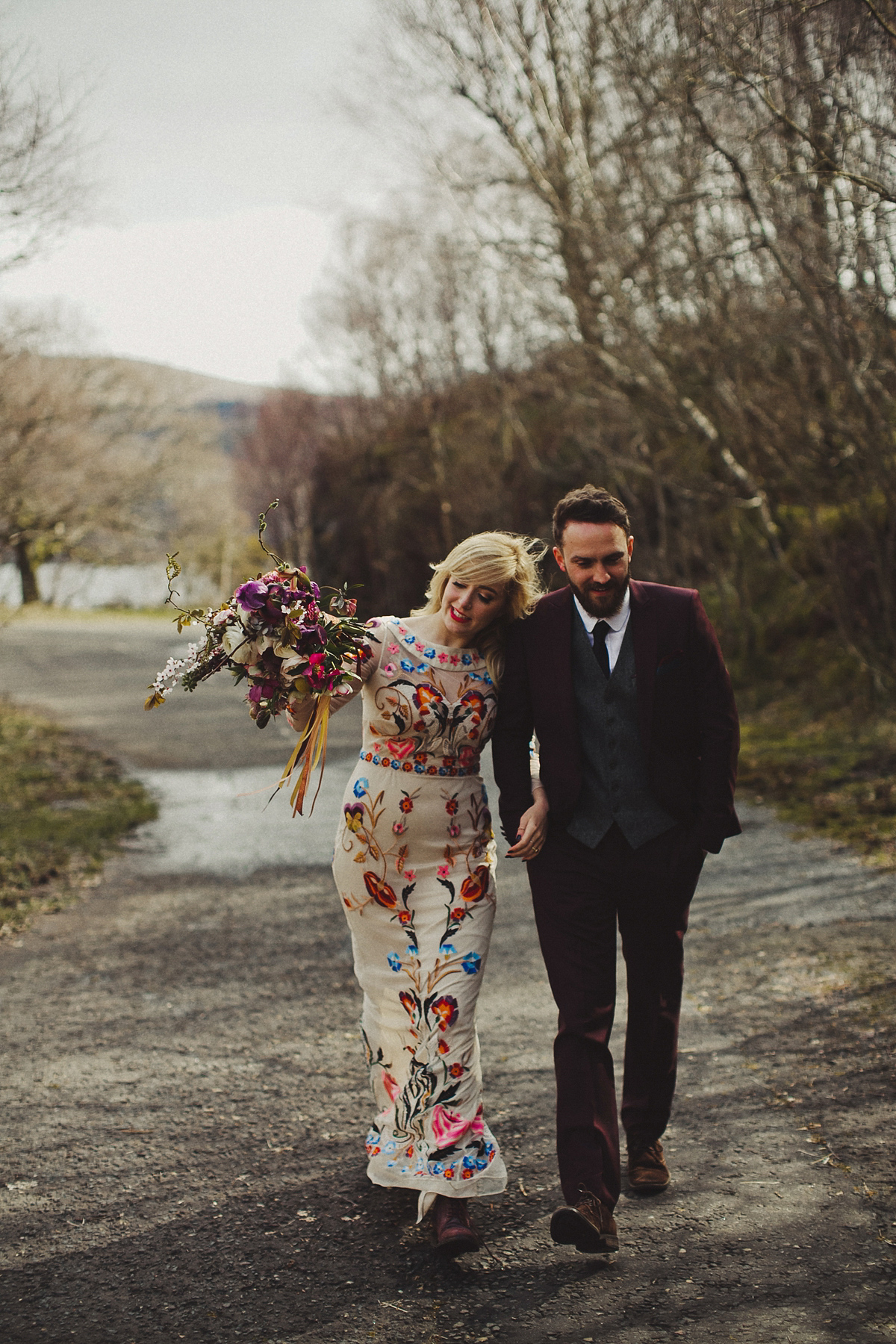 "I wore perfume from Diptyque – it felt rich, dark and special and kind of reminded me of the perfume my mum used to wear getting ready. I wanted something different from my normal fresh scent."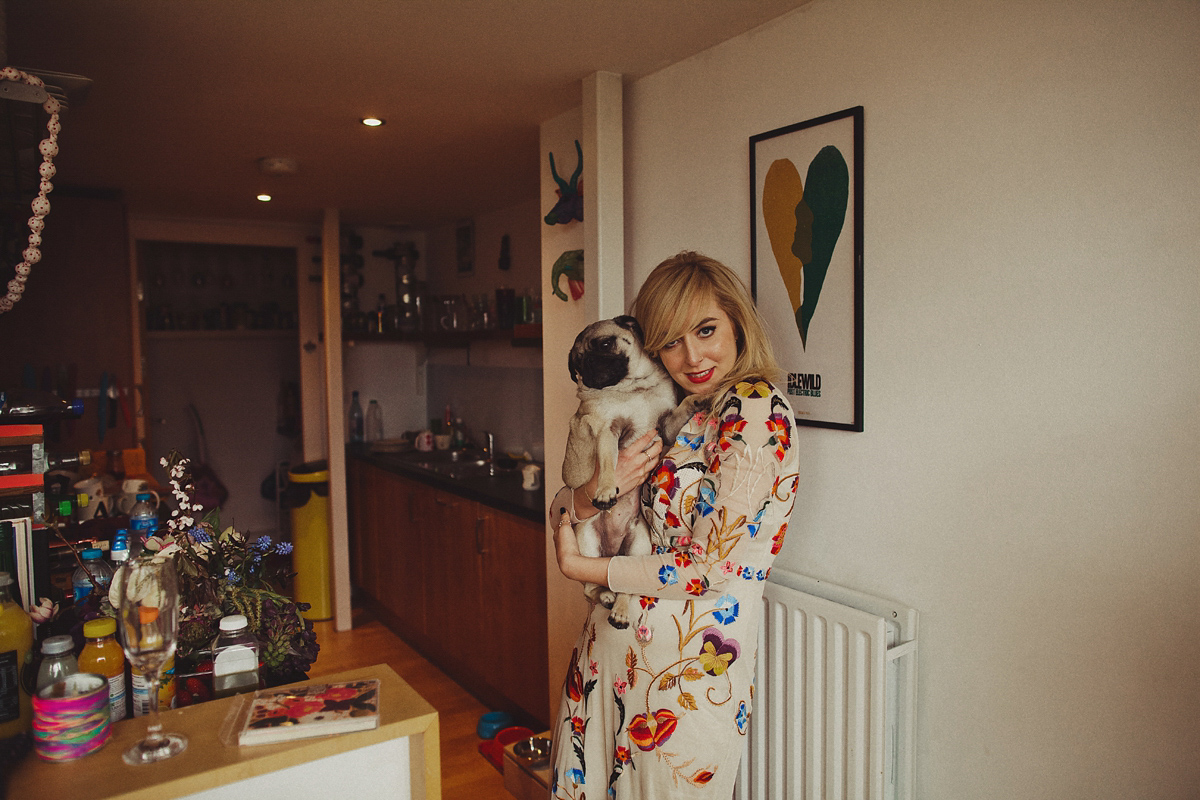 "It also helped that I bought in New York with my bridemaids when we were drunk shopping! Their Badgley Mischka dresses we also bought while a little tipsy in New York – once they tried them all on, there was no going back – we knew nothing would compare. I wanted them all to feel killer and look hot, which they did – total babes."
"They were one of our biggest expenses (hence my New Look shoes!) but I had no regrets."
What a gorgeous line-up! Gillian gifted her maids with custom small rose gold initial necklaces, which they wore with their shimmering sequinned gowns.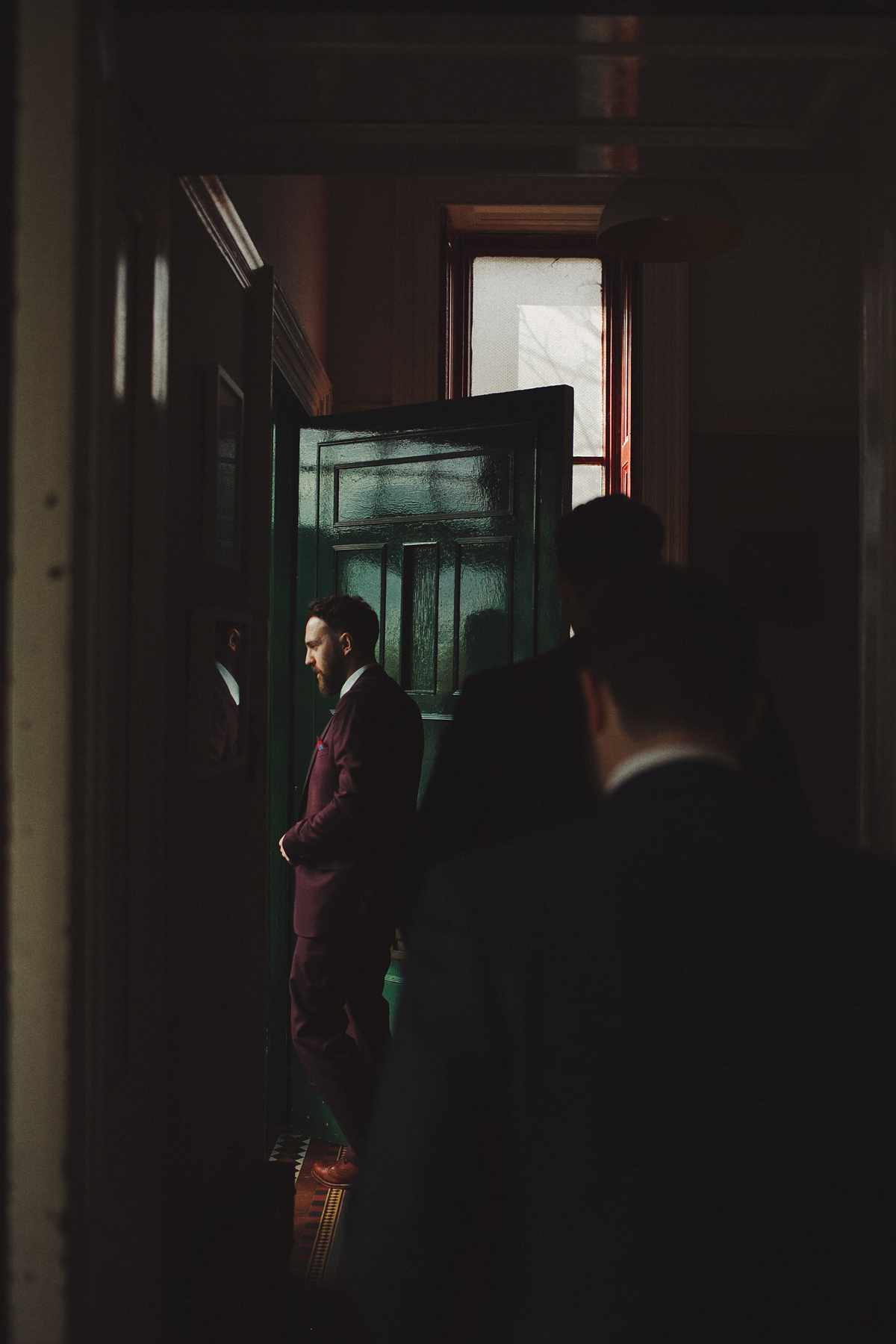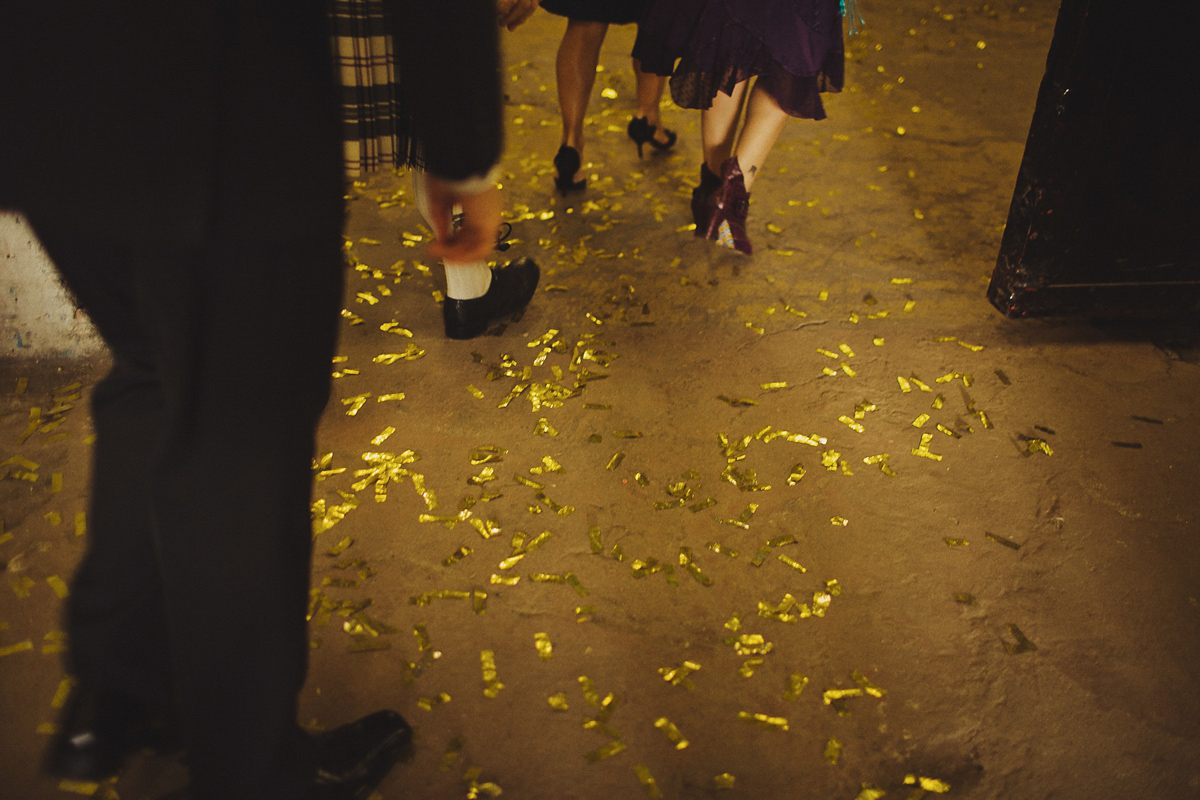 "Our guestbook was a fabulous Photo Booth ran by our darling friends Steph & Joe at  The Bygone Photo Booth Company. They made us a Photo Booth with prints and messages on the day so we got to take it home that night. It was the first thing we looked at when we woke up in the morning. So funny and lovely to look through it all!'"
After their scenic photoshoot, the couple headed back to Glasgow for a touch-up of Gillian's sweeping fringe and a flash of brightest red lipstick, so wonderfully tying in the colours of her divine dress, before hopping into taxis to Woodside Warehouse.
I have come to instantly recognise the creative genius that is PYRUS Botanicals the second I lay eyes on their extraordinary work – so you can imagine the squeal of excitement when  I first saw the photos of Gillian and Chris' floral venue styling – actual clouds of dried blooms.
"I gave PYRUS a really messy and over-excited brief because I wanted everything! But they defined it brilliantly, creating something that was a little fun, celebratory, a little kooky and felt immersive for the guests."
Gillian and Chris used Risotto Studio for their wedding invites and our fabulous Little Book for Brides suppliers, the truly gorgeous EYI Love supplied all the other stationery goodness on the day itself.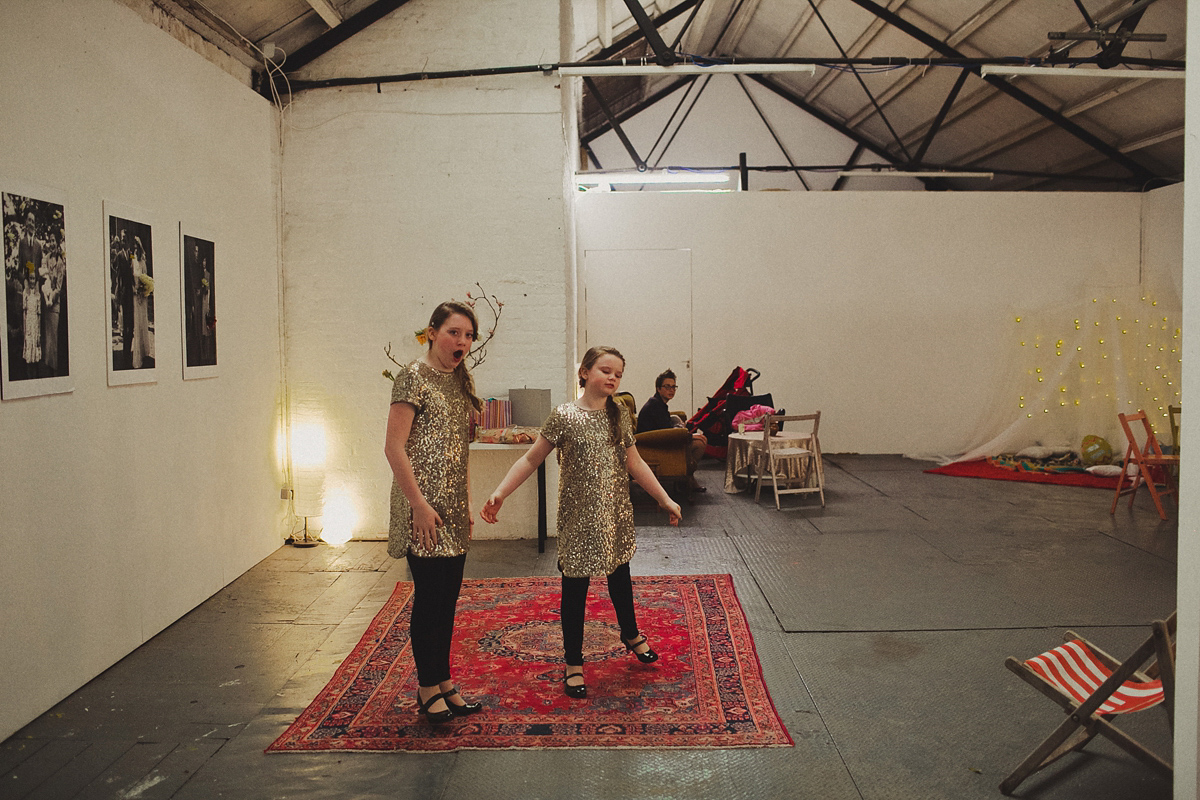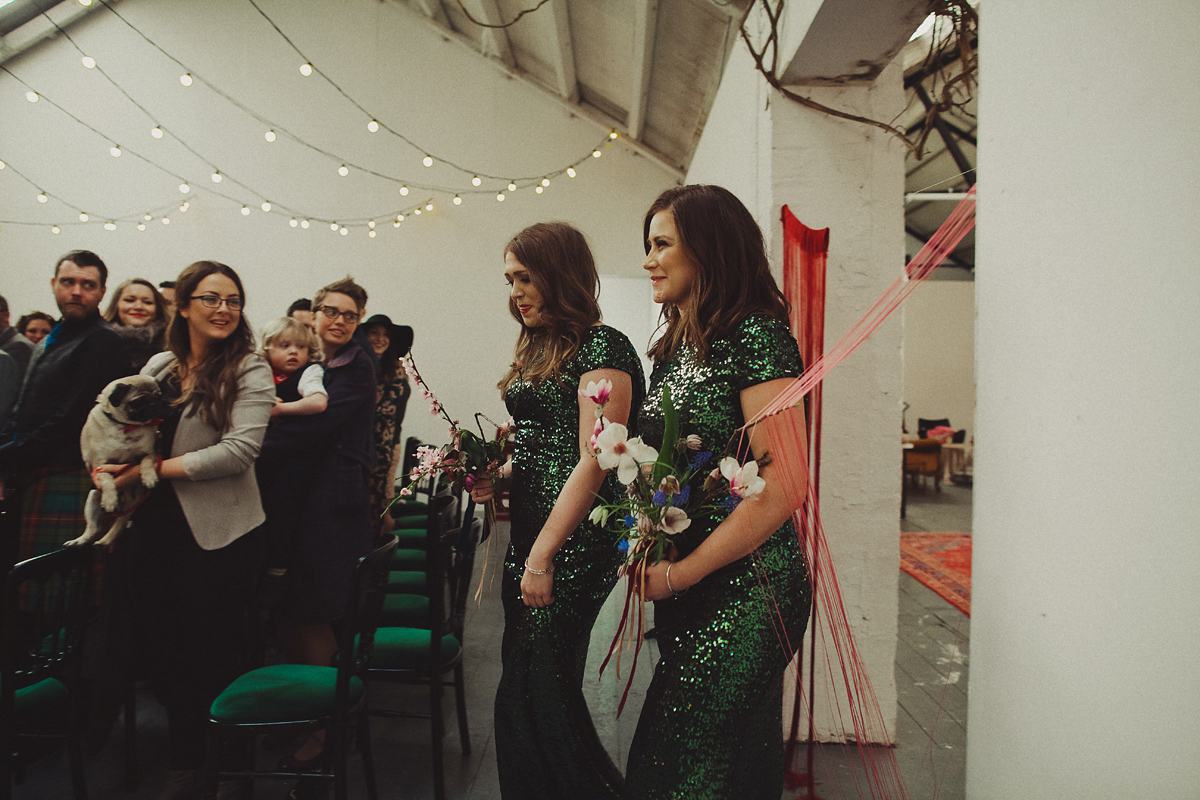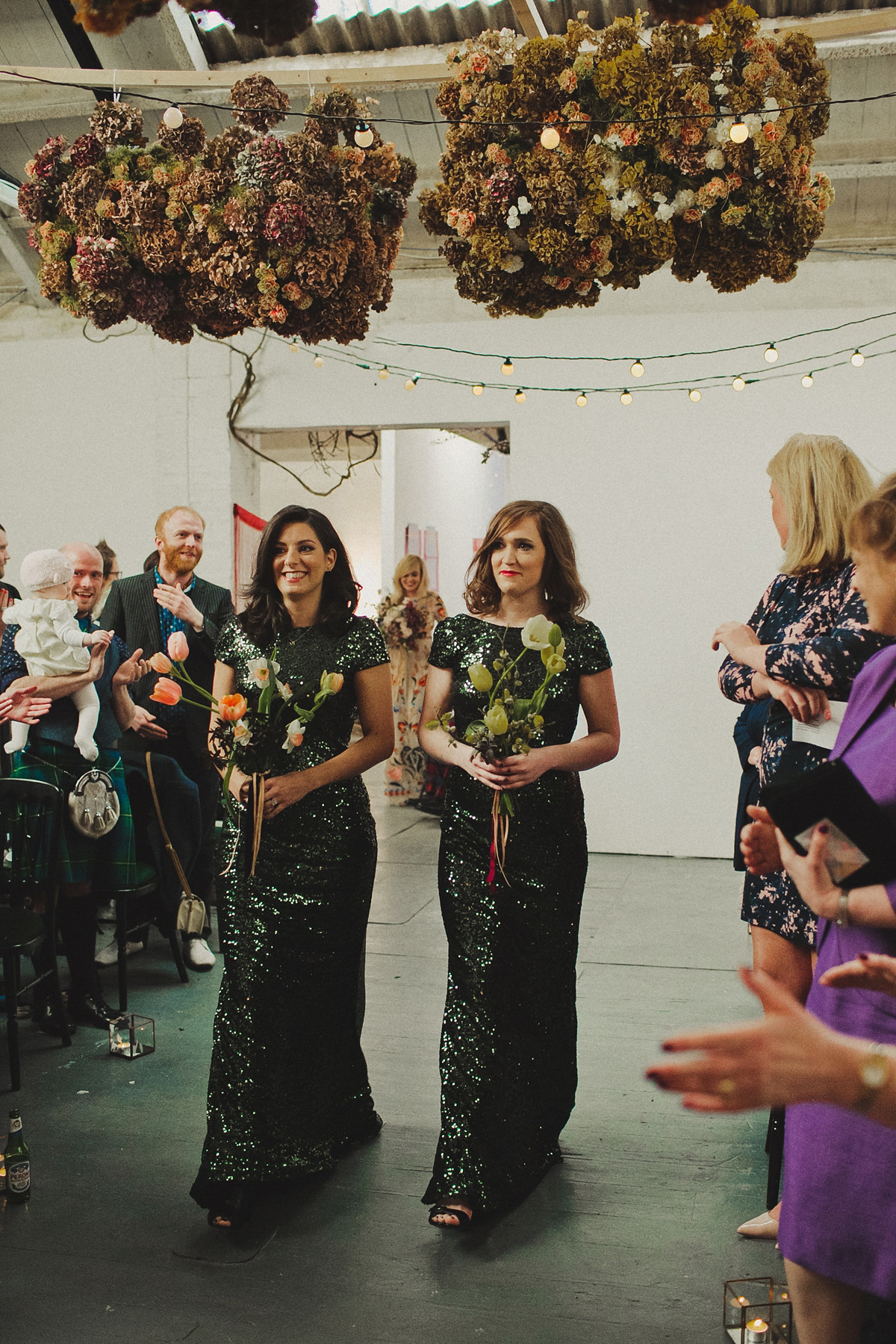 "I was worried about the tones all coming together on the day with my dress, the girls dresses and Chris' suit but they absolutely nailed it. I was absolutely gobsmacked when we walked down the aisle and saw the dried flower clouds for the first time. And they put plums in my bouquet – amazing!"
"Our friend Lisa of Sparrow & Rose created table arrangements for our dinner the night before and we were able to re-use some on the day too, which was brilliant."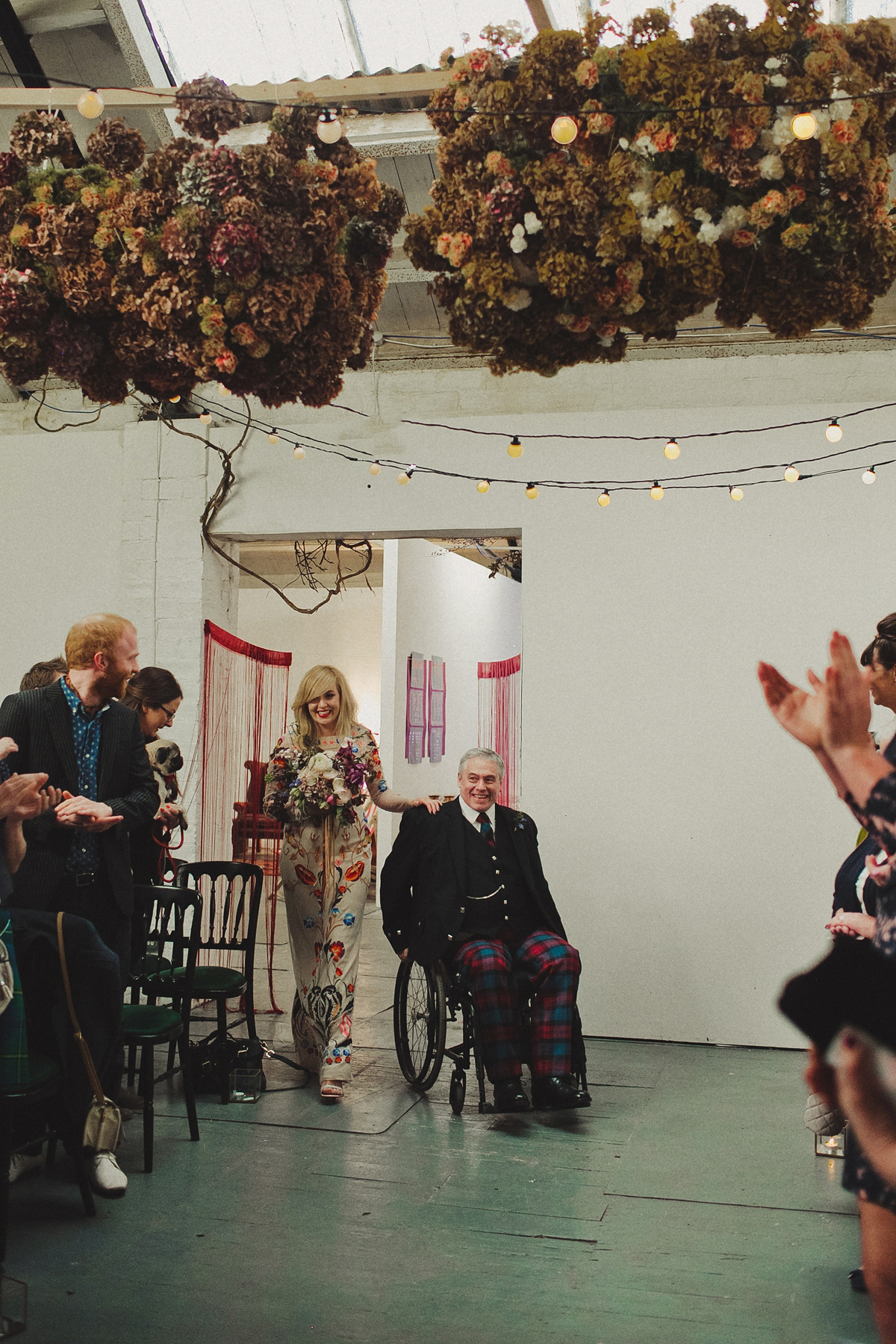 "My dad walked me down the aisle to Let's Get Married by The Proclaimers. We chose a total cheese-bag, tongue-in-cheek song; it's such an emotionally fuelled moment we wanted people to feel like they could clap or sing along."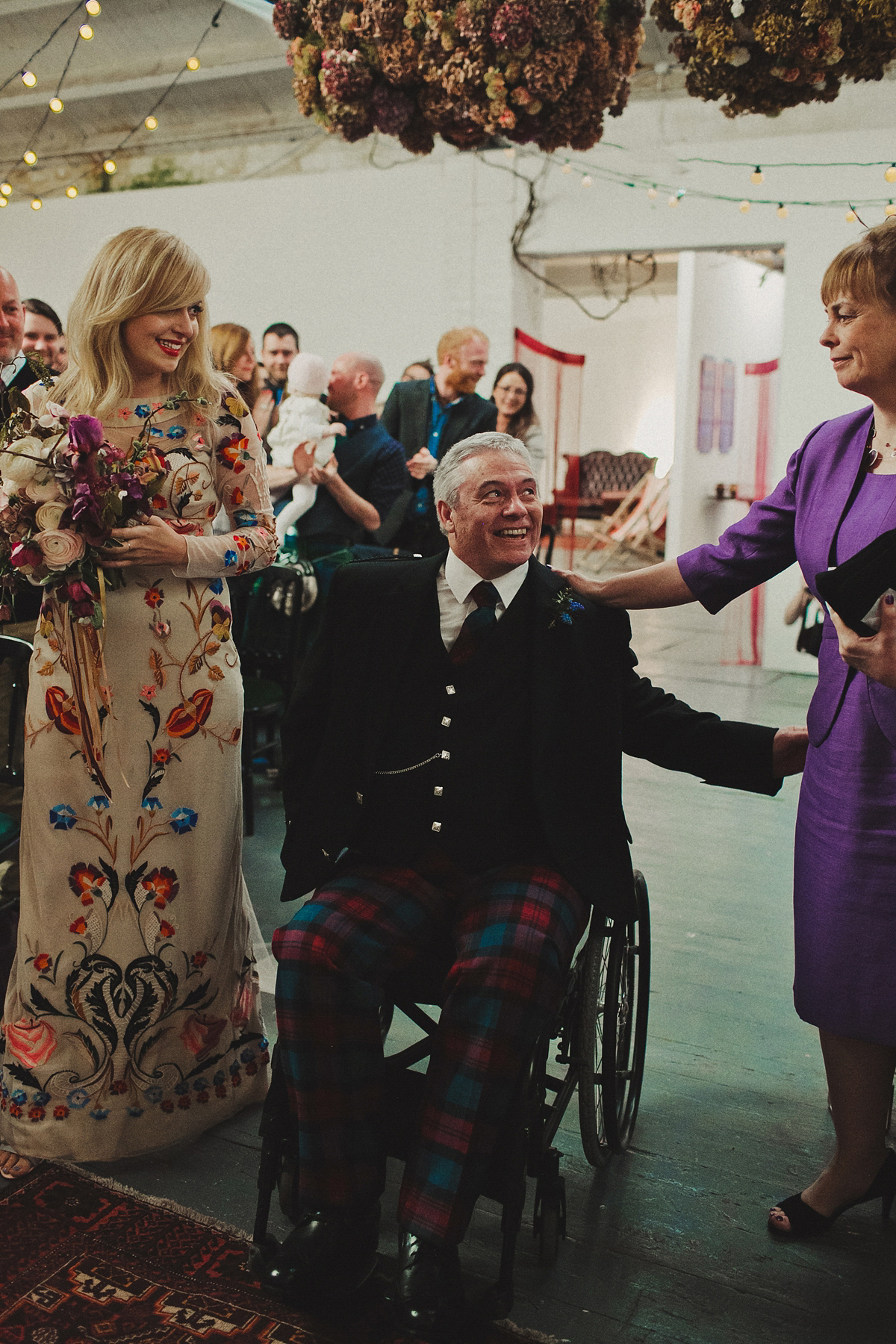 "It totally took the tension away. Our family loves a Proclaimers sing-along; one of my finest memories is going to see Sunshine On Leith with my dad. We both cried loads so it felt like a good song choice for us. I did a proper big blub at the top of the aisle."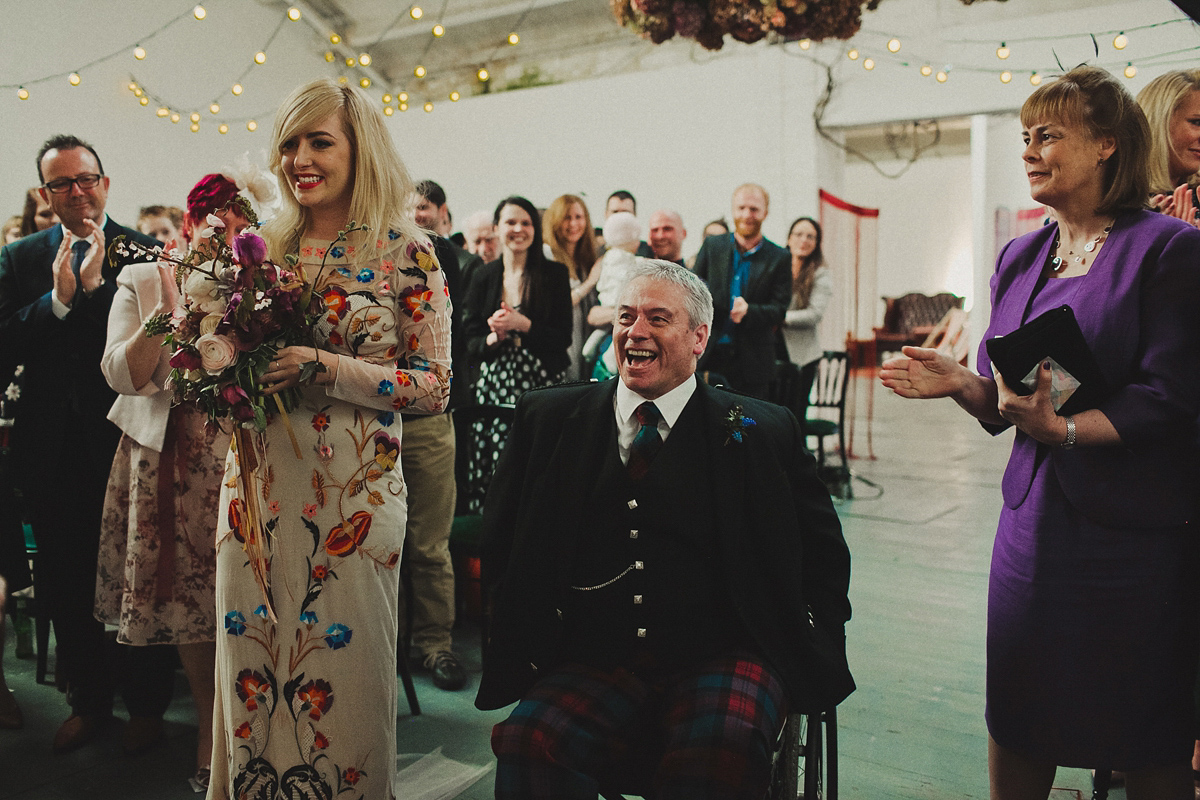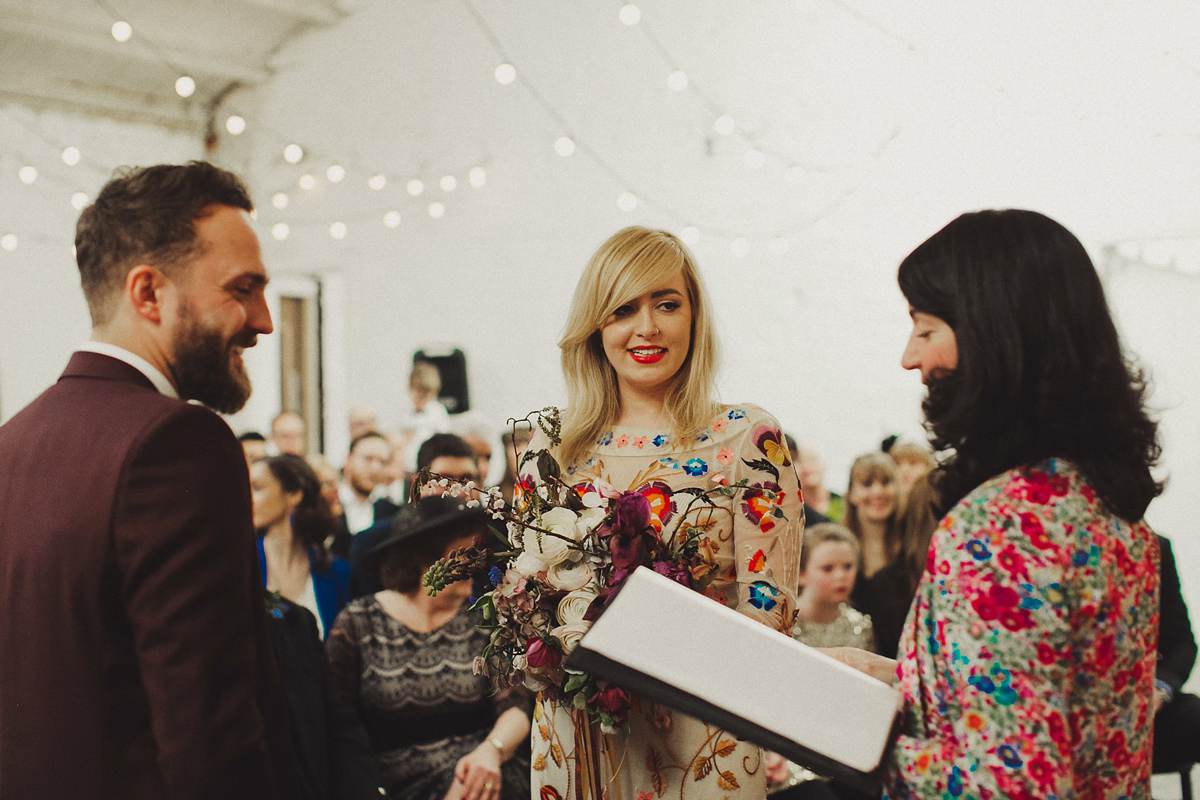 The couple's rings were made by their dear friend, Alison Macleod Jewellery. Gillian opted for two bands; one made form her dad's old yellow gold wedding ring and one made, like Chris's, from white gold. Gillian and Chris both love their rings; Chris' laboriously crafted into a piece that was both classic and chunky.
"We said as little as possible in our ceremony – I felt unbelievably shy during and could barely look Chris in the eye. I'm so glad we didn't have long personal vows to recite; it's so not our bag. I totally respect people that can open their hearts up like that! We had John Cooper Clarke's – 'I wanna be yours' read by my dear friend Kirsteen."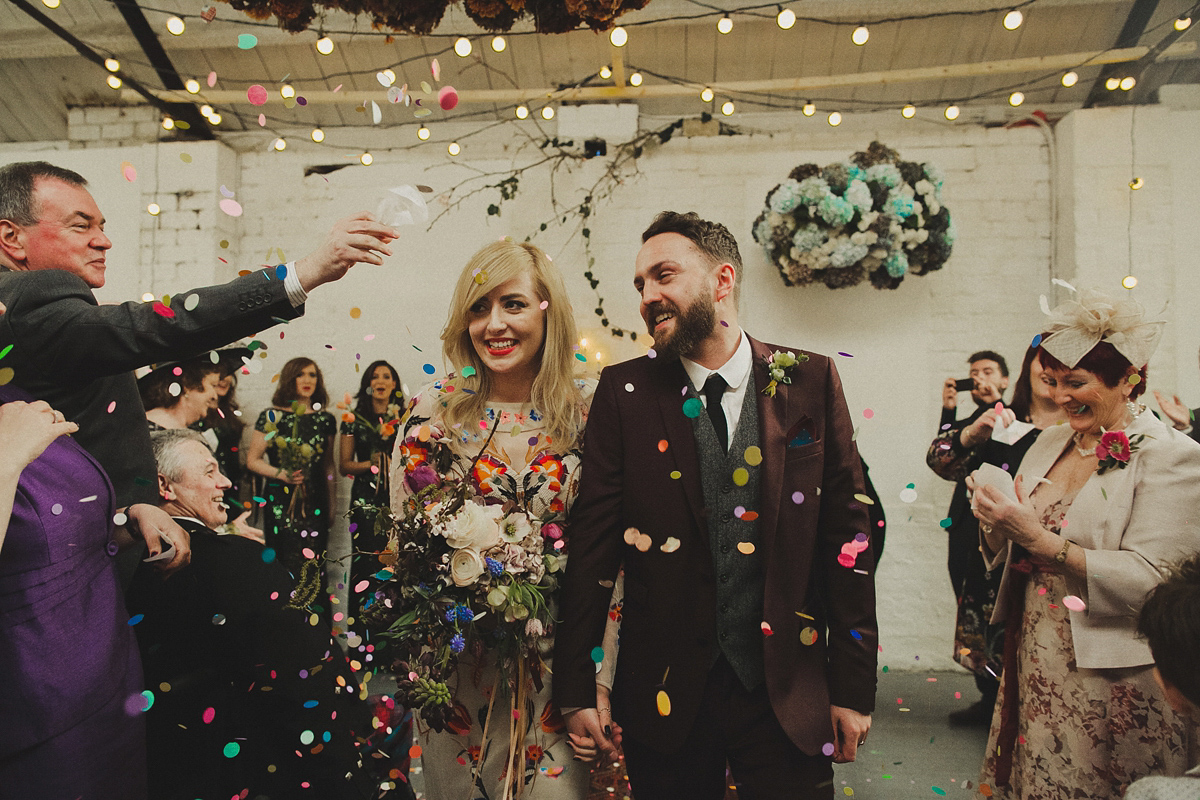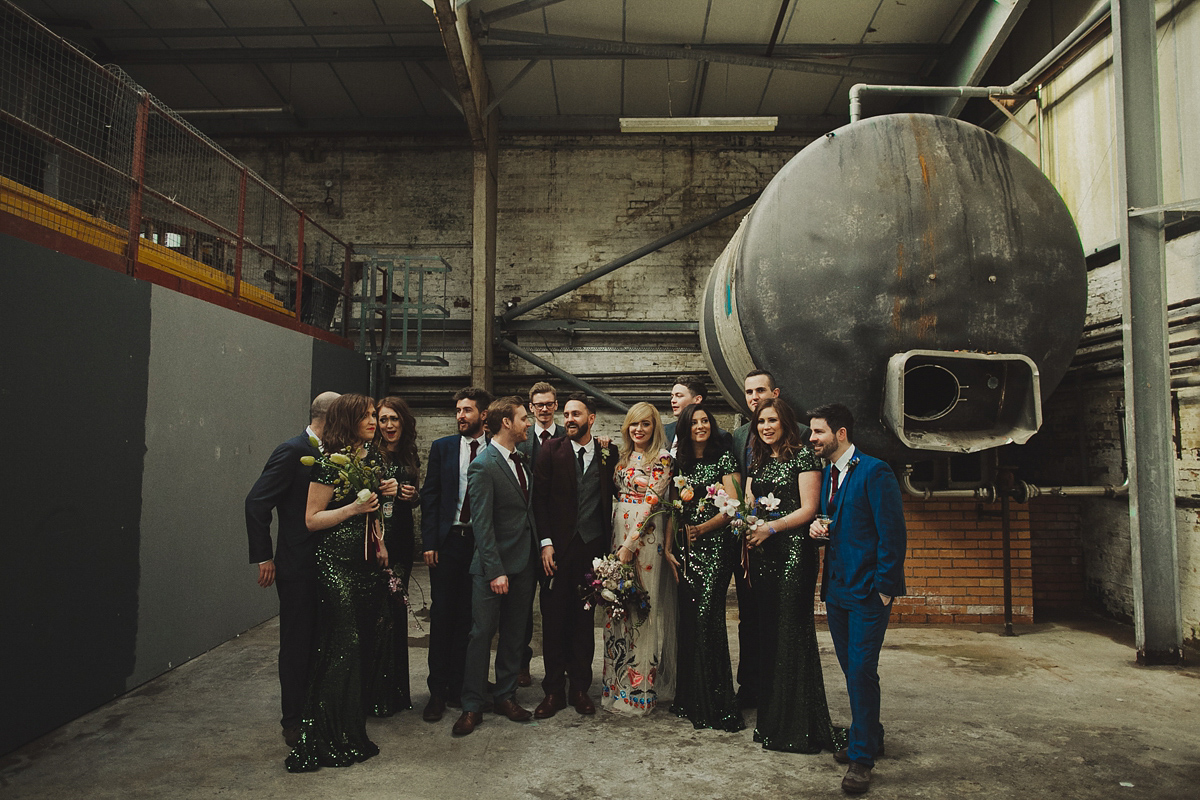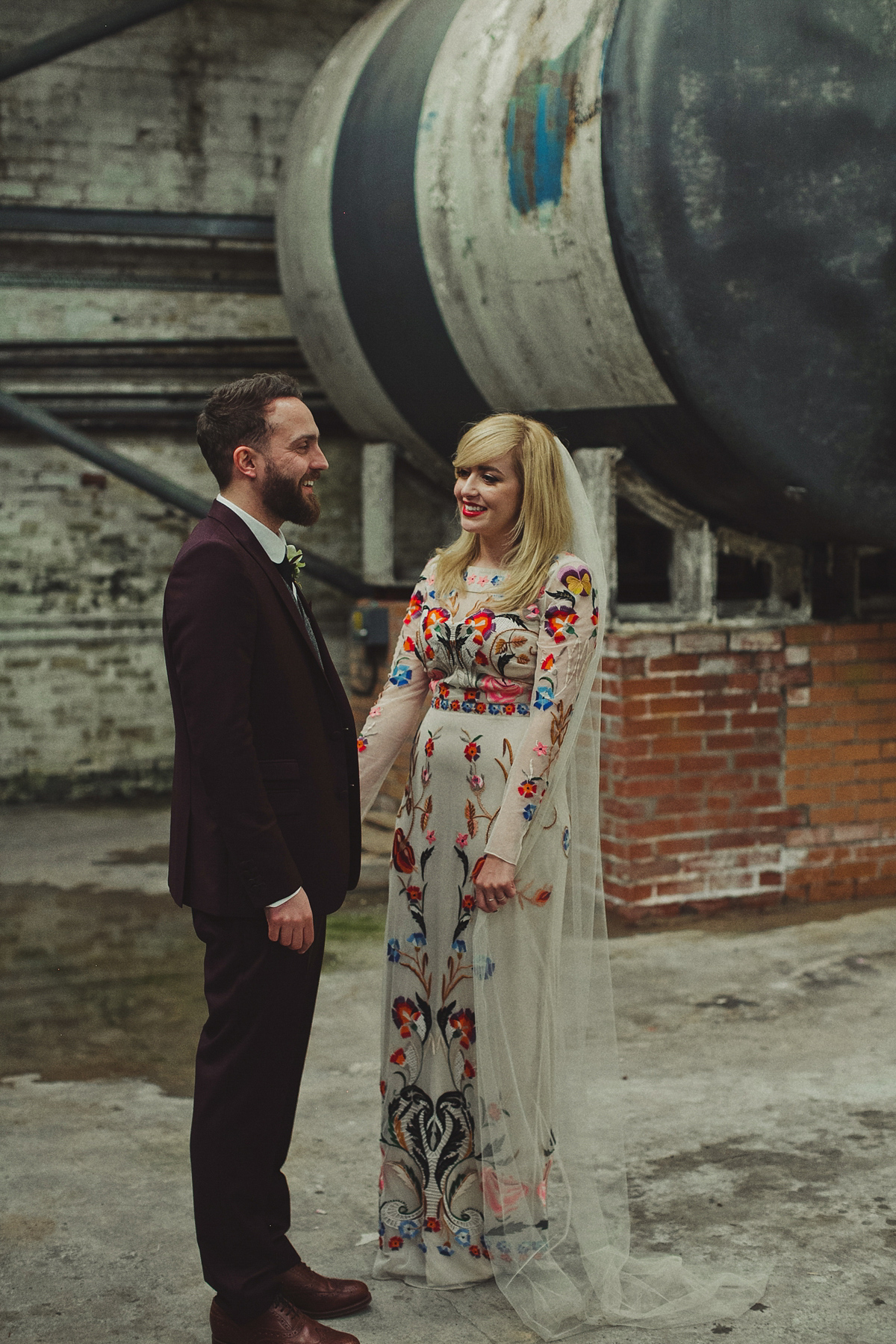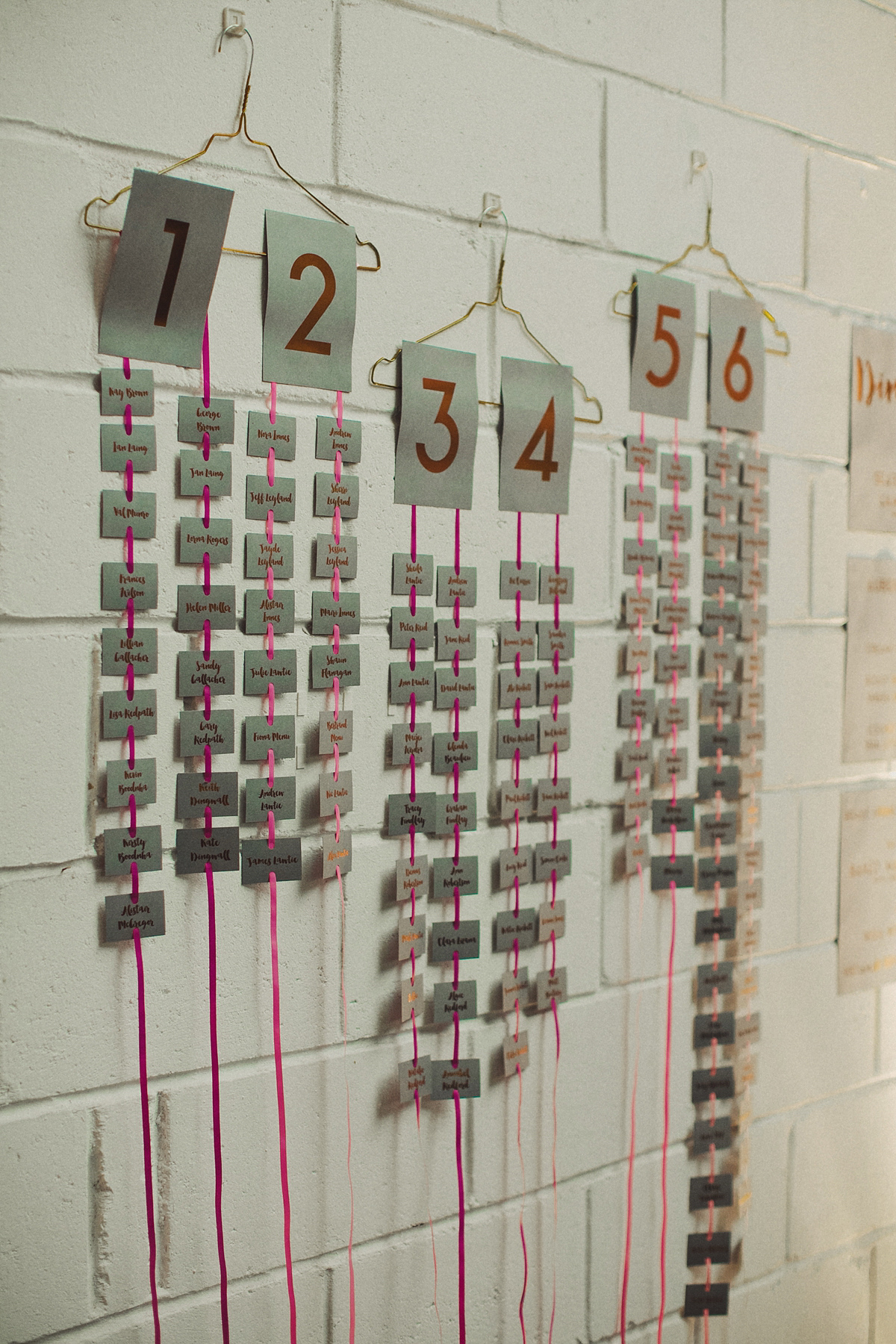 Wedding planners Claire and Nikki from Be Eventful helped craft the wonderfully warm and inviting vibe in the couple's venue."
"Tables from Virginias Vintage Hire, sofas from Butler & Taylor and all manner of crates and vases from Sparrow & Rose nestled alongside festoon lighting, metallic confetti and tonnes of sweet personal details.
"Ox and Finch created a family feast; a big Easter dinner with lamb and salads and beetroots and spring flavours and we've had SO many compliments about the food. Its hard to serve great, fresh, hot food to a 120 people! These guys worked their butts off to make it happen."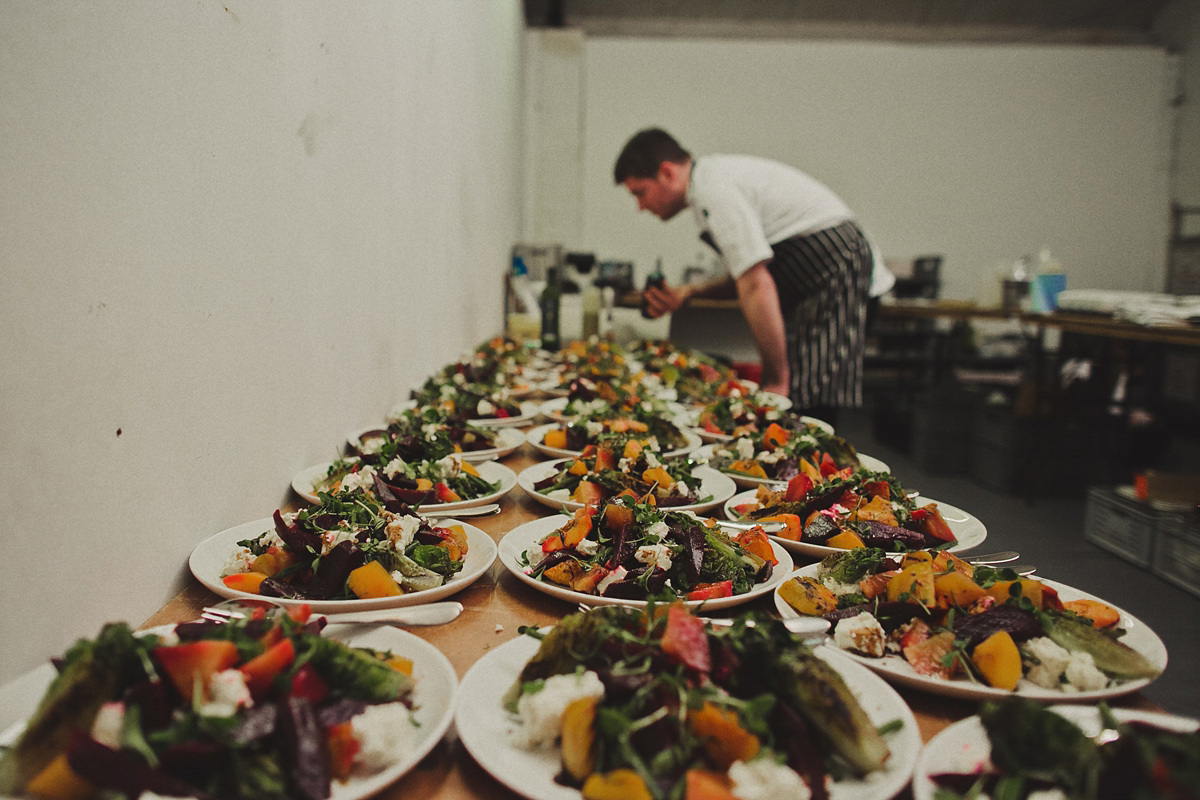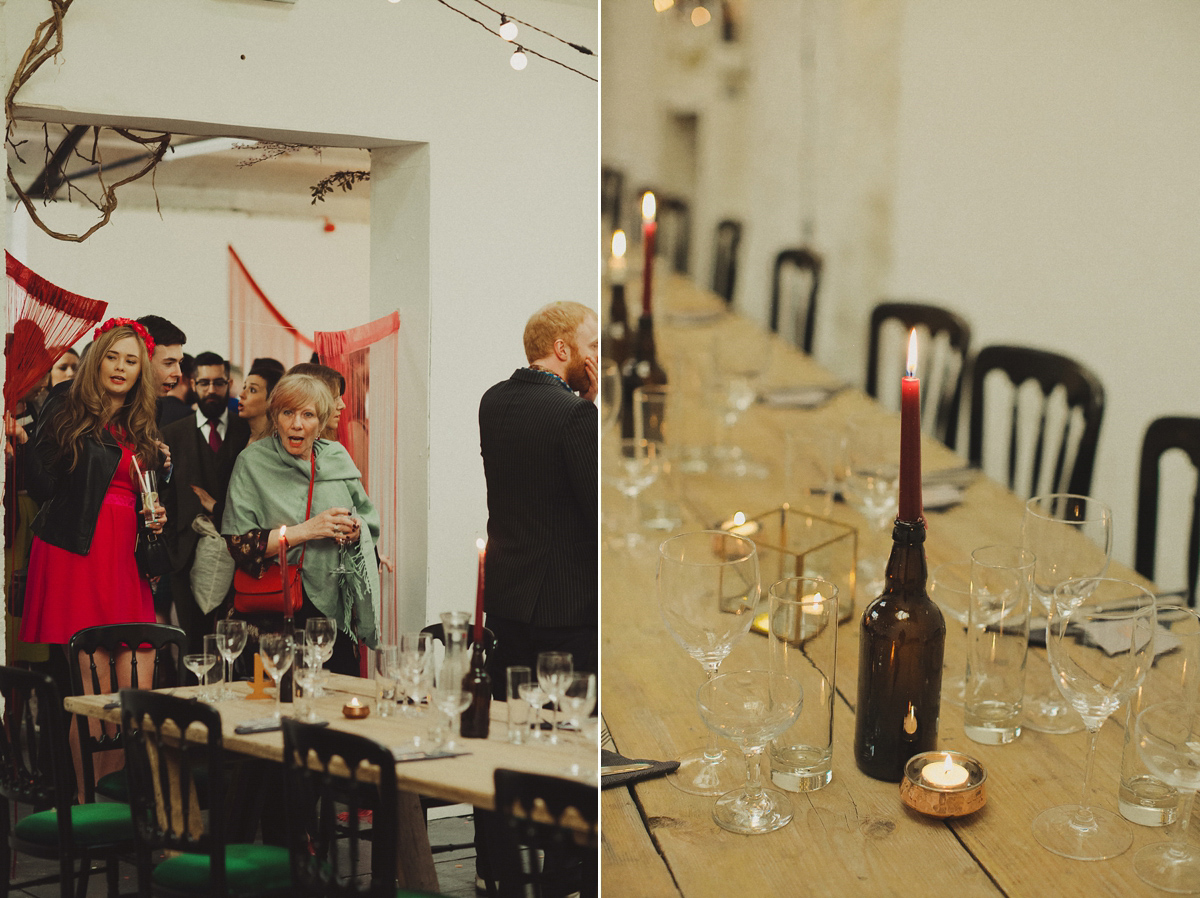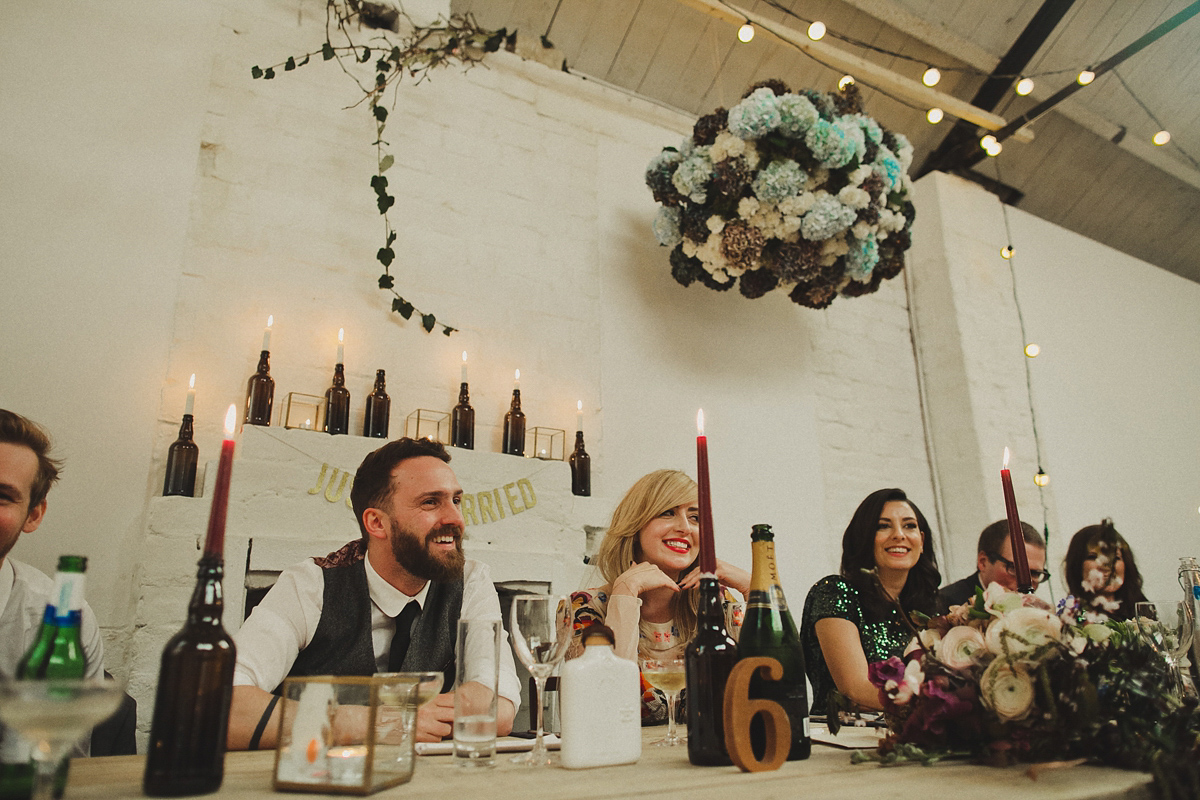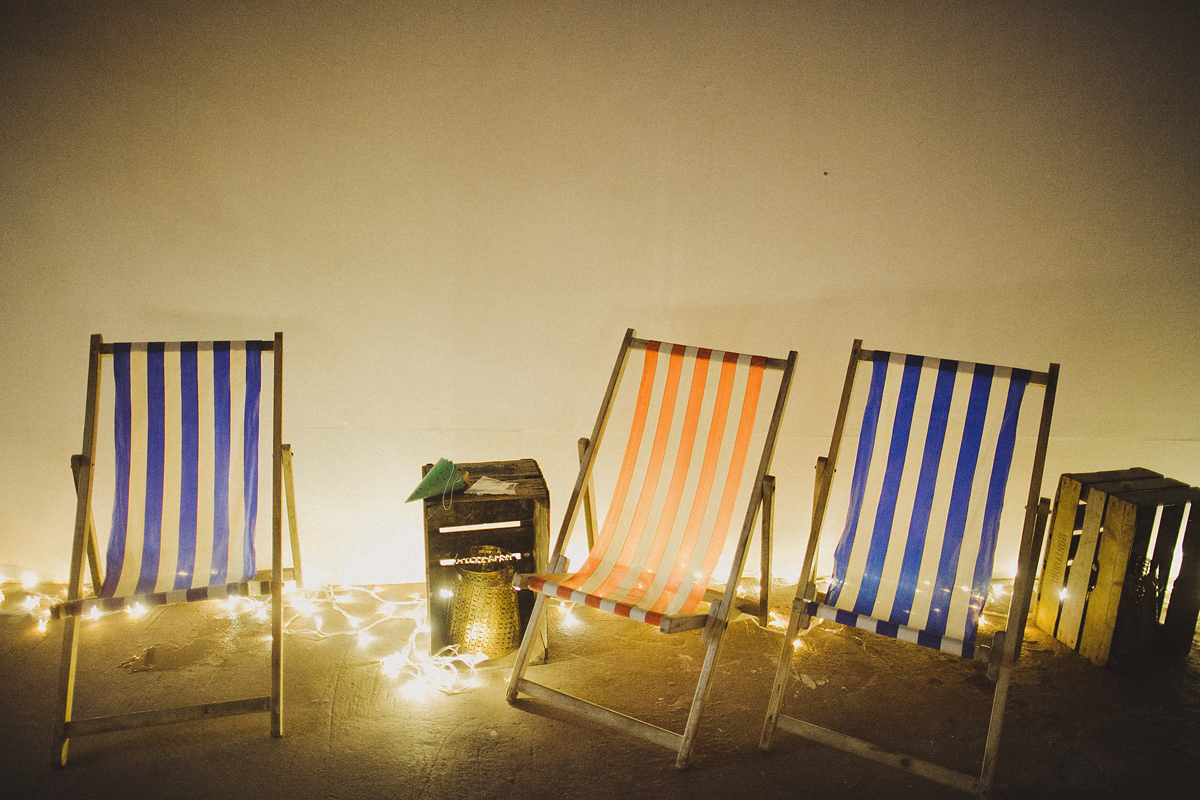 "I was not a very clear client when it came to what we wanted for our wedding cake; I just wanted it to feel like an exciting cake table with lots of colour and flavours. Big Bear Bakery they did an amaizng job with all the textures and the edible flowers, the wee tarts and the meringues. They were amazing to deal with and had incredible ideas when we didn't know what we wanted."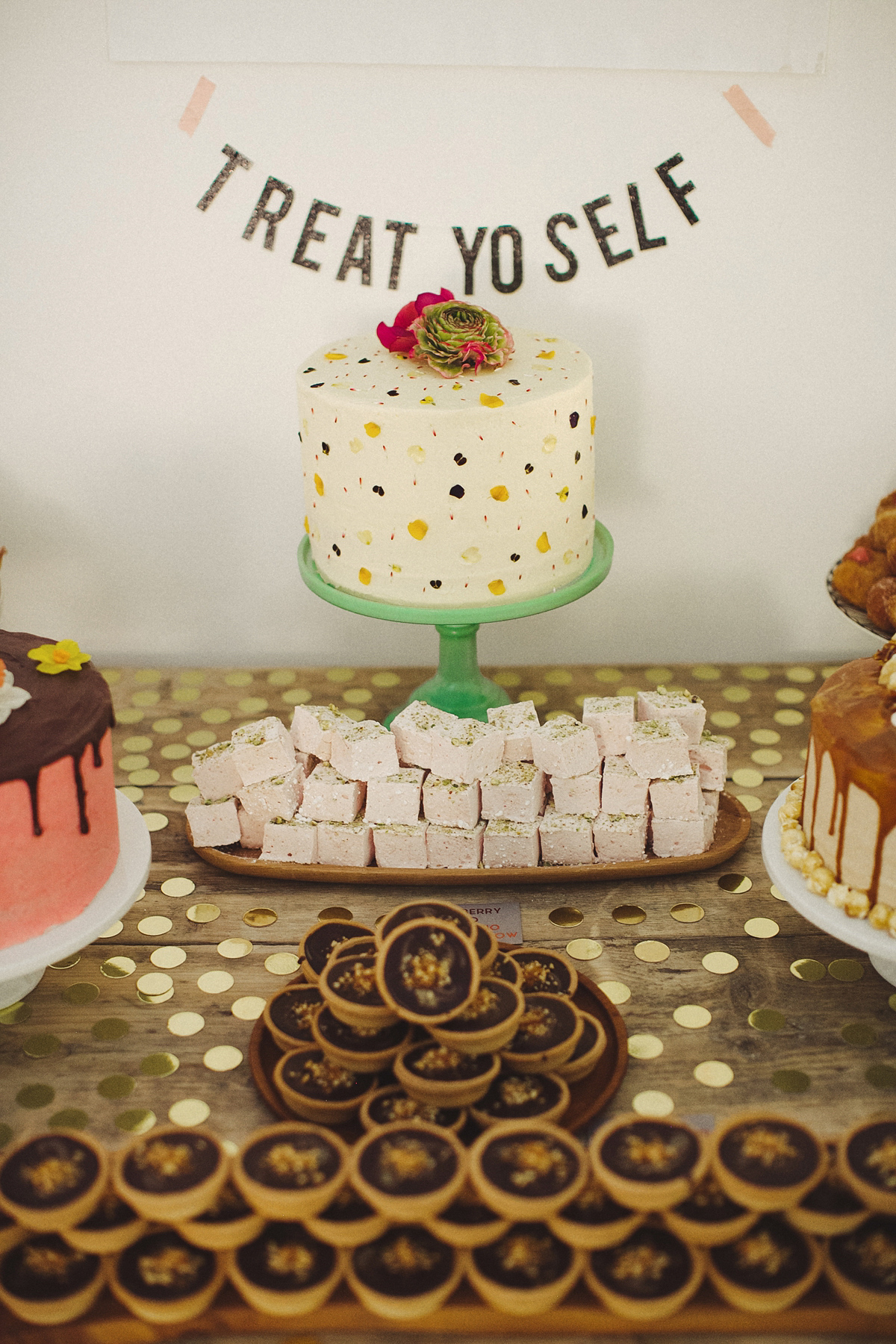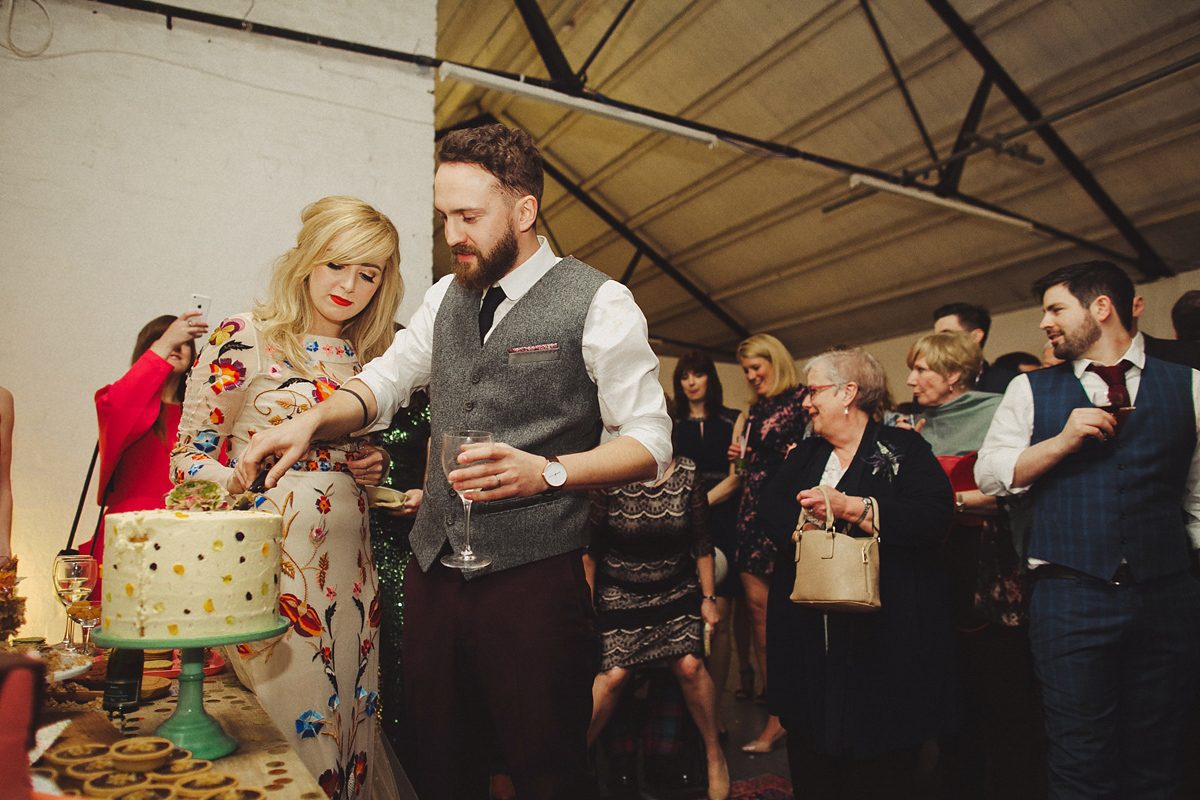 "We avoided a first dance like the plague! Although we did end up in a friendly mosh pit/jumpy-group-thing with all our mates to LCD Soundsystem's – All My Friends, which kind of became our first dance and happened naturally. That felt really good and I think is one of our favourite parts of the day."
Guests got on their ceilidh dancing shoes to the Dave Mackey Band and were also treated to the musical stylings of the very cool band The Shiverin' Sheiks and DJs Pin Up Nights. This looks like one heck of a party!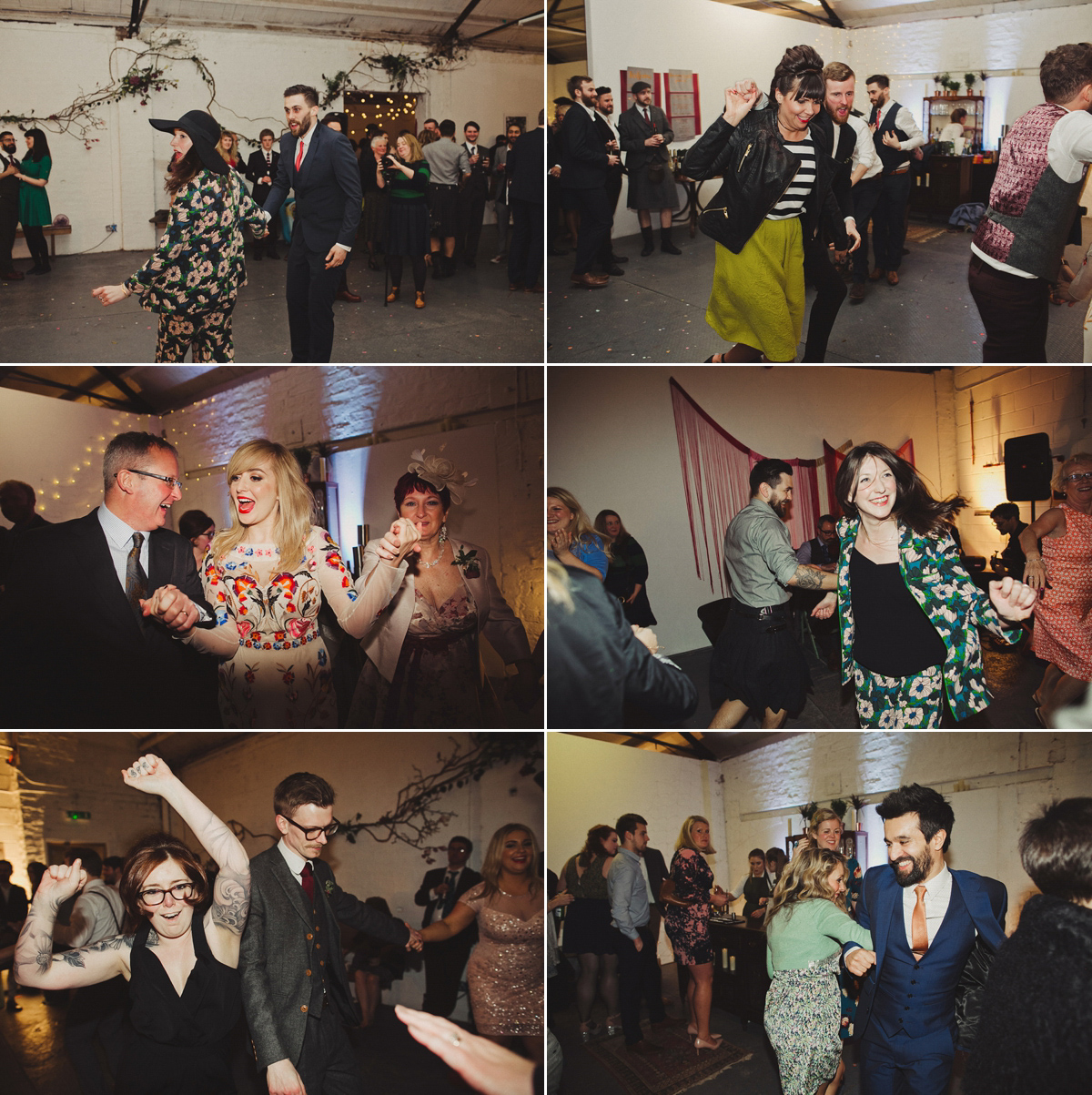 Words of Wedded Wisdom
"Get a plan in place! In hindsight I would not have partied for two days after and left all the clearing up to my family and poor wedding planners. Sorry guys! I don't think we'll ever live that down."
I can't quite believe this is the final wedding I'll share with you all in 2016 but by 'eck, talk about going out with a bang! Thank you so so much to the über-cool Gillian and Chris for sharing their truly amazing day with us all, and massive thanks too to the talented Dan O'Day Photography for these divine captures.
Merry bloomin' Christmas lovelies!
Em x