Are you up to anything nice this coming weekend lovelies?  I'm meeting an old university friend who I lost touch with a few years ago and I'm so excited to catch up with her.  First though, I have a really lovely, colourful day to share with you.  Meet Lindsay and Josh, who married on the 3rd of September 2016 at Hill Place in Hampshire, with a ceremony in the morning room and their reception in a marquee in the gardens.
This beautiful, colourful, vibrant photography was captured by our Little Book For Brides member, Angela Ward-Brown.
"I fell in love with Angela's beautiful photos which really capture the emotion and love. On the day she was so easy to work with and captured everyone having fun which is exactly what we wanted."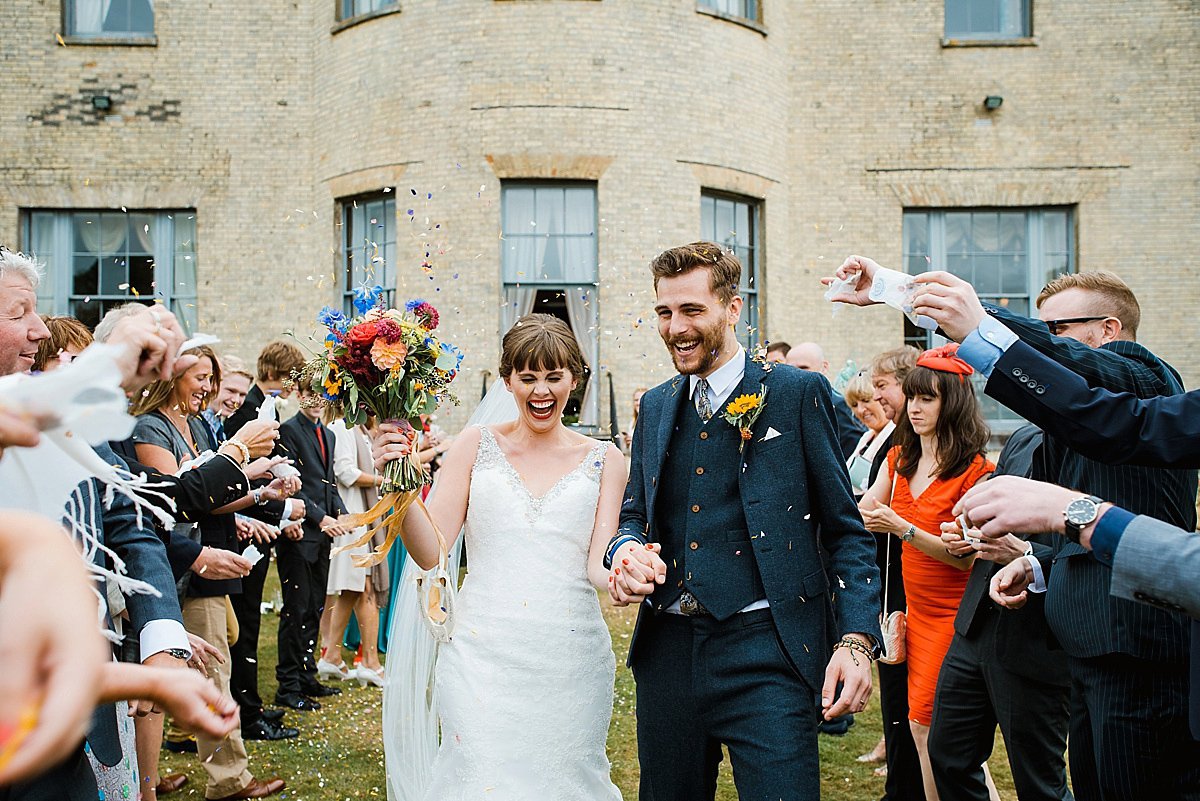 "We just wanted the day to be about us and our journey together so didn't have a specific theme from the outset.  We also knew we wanted lots of colour and as we went through planning we ended up with a few elements reflecting our travels and also some more retro styling.""We first visited Hill Place on a miserable January day but the whole house just felt so warm and welcoming.  Its a beautiful place- old and grand but also not so formal that you don't feel comfortable just sitting down on the sofa and having a cup of tea.  We loved the total flexibility to have our day how we wanted."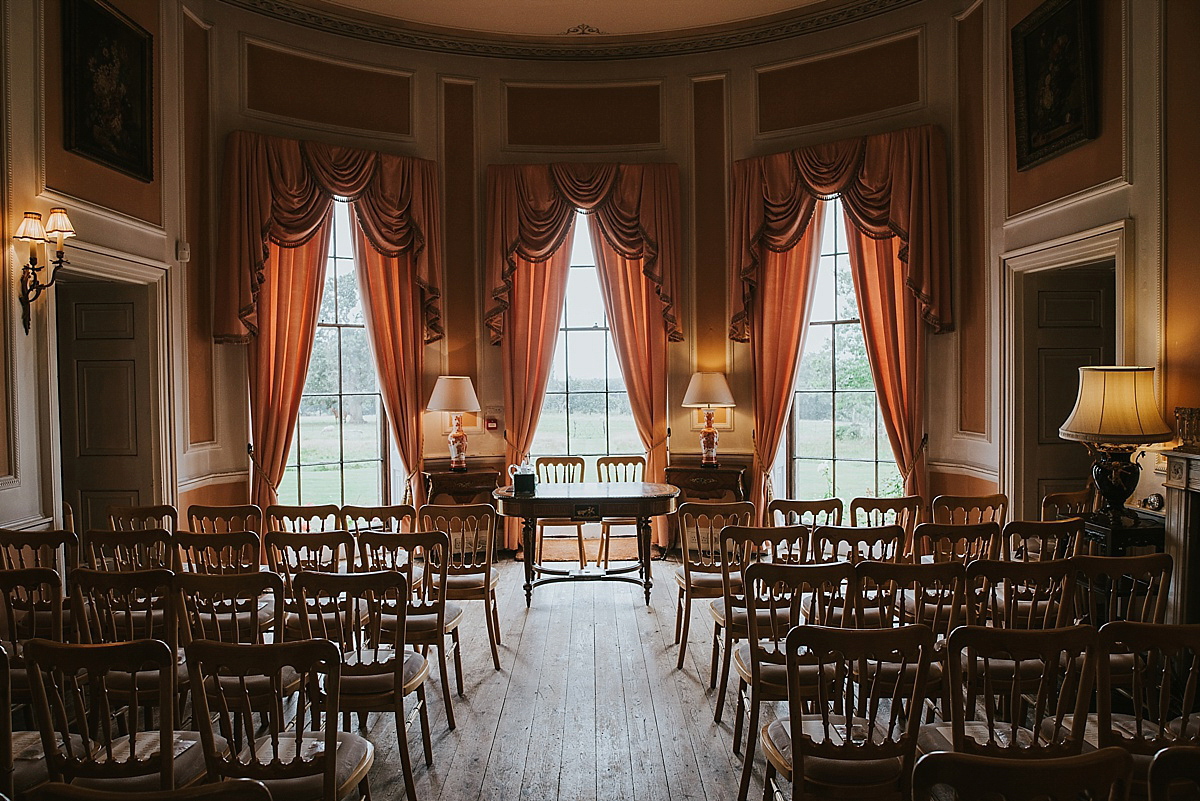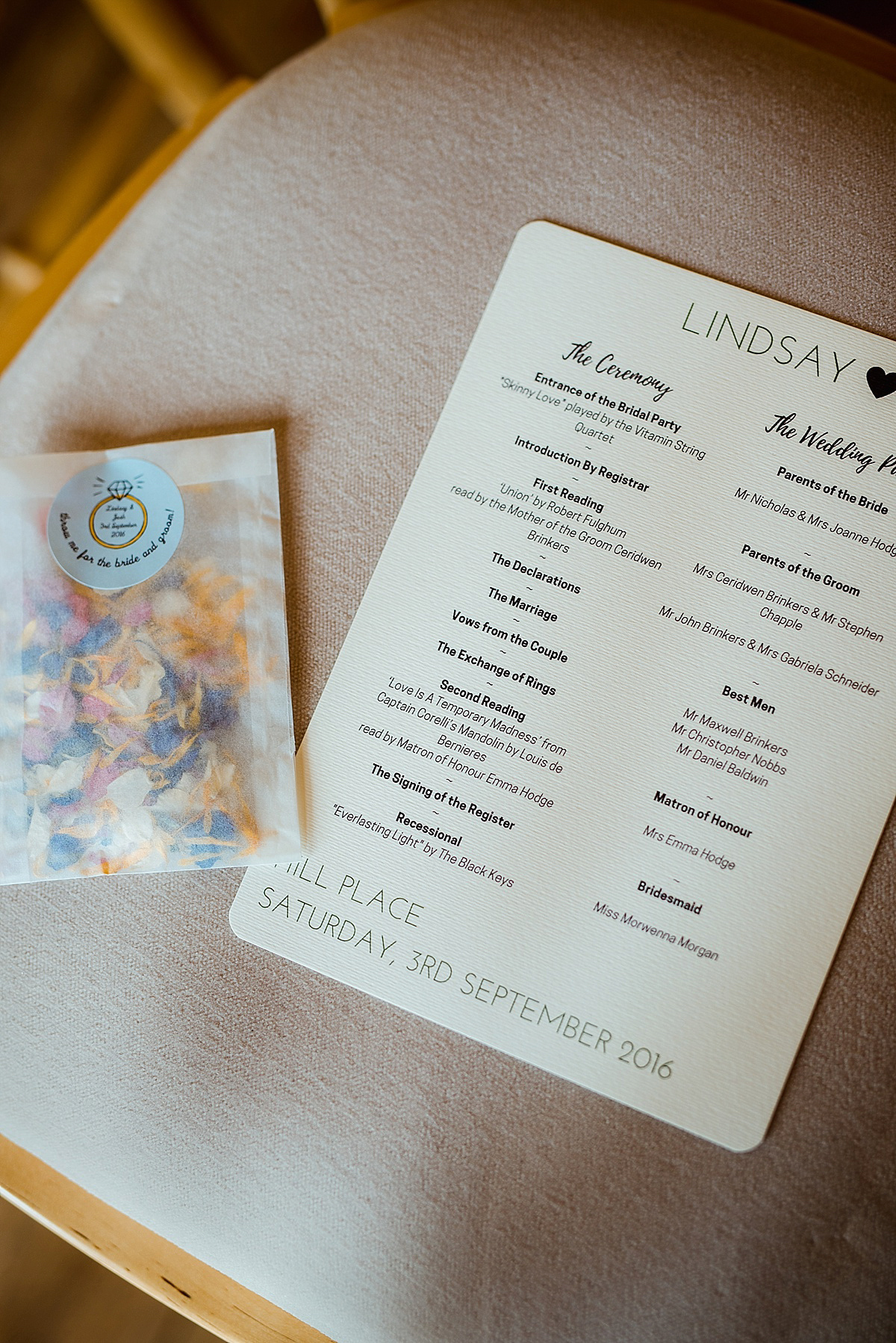 The bridesmaids looked lovely in convertible teal dresses from The Peppy Studio on Etsy.
They wore hair combs from Accessorize to match the detailing on Lindsay's dress and each lady wore a rose gold necklace with her initials on, bought as a gift from the bride from Custom Chic.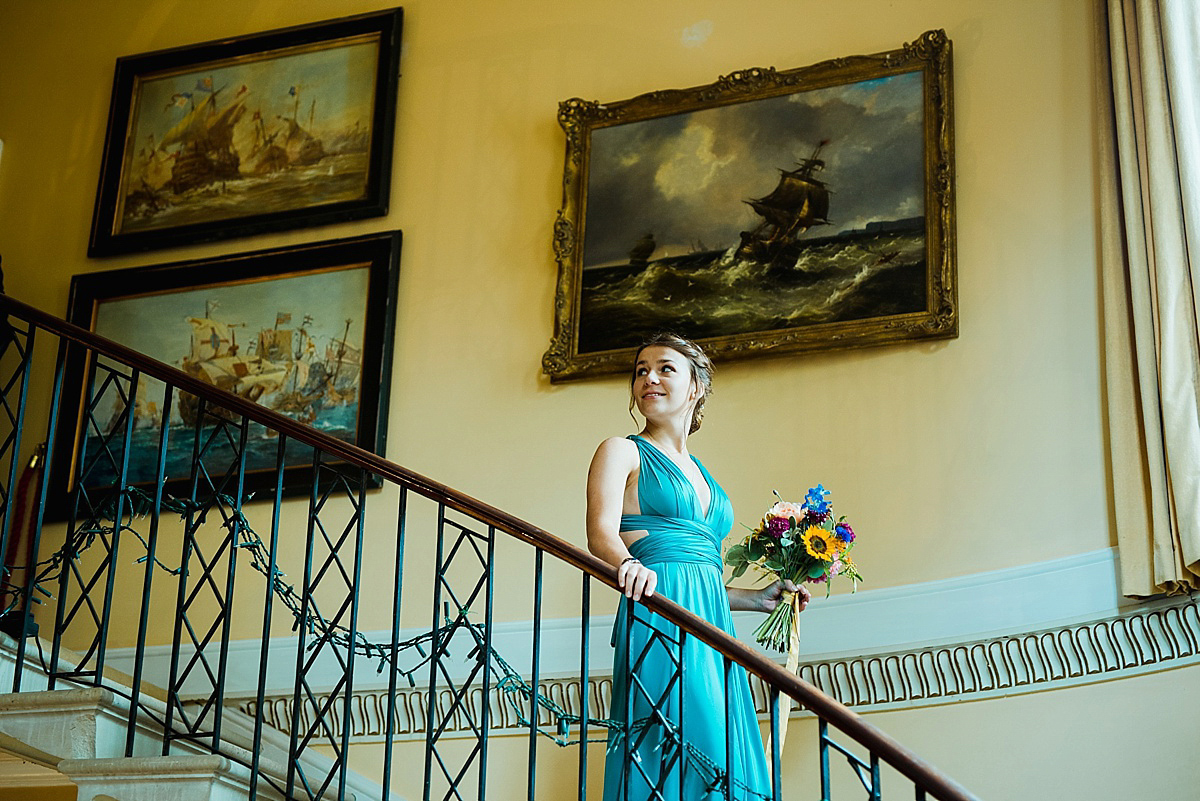 Lindsay wore a beautiful Justin Alexander gown (style 8738) which she purchased from Wedded Bliss Bridal Studio in Dibden Purlieu.  Isn't it glamorous?
On her feet she wore the gorgeous Rachel Simpson 'Mimosa' in mint green, purchased from Brides of Winchester and for jewellery she chose a small pair of studs from Accessorize, so as not to take away from the effect of the beading on her gown.  For scent, she chose Liz Earle Botanical Essence No. 20.
"I think I tried on about twenty-five dresses over the course of two very intense days and I've never been so tired in my life.  There were several that were very close contenders but the one I chose was in the final shop we went to.  When I put it on I knew instantly; it made me feel amazing – like an old Hollywood movie star."
"I wanted to feel like the best and most attractive version of me on the day and my dress, whilst still being bridal, had the low back and fishtail shape that really gave it the wow factor."
"I went for a completely new fragrance as I wanted it to remind me of the wedding and also tried to wear it to meetings in the run up to the day (meeting the florist, our engagement shoot etc) so it reminded me of the whole planning process as well."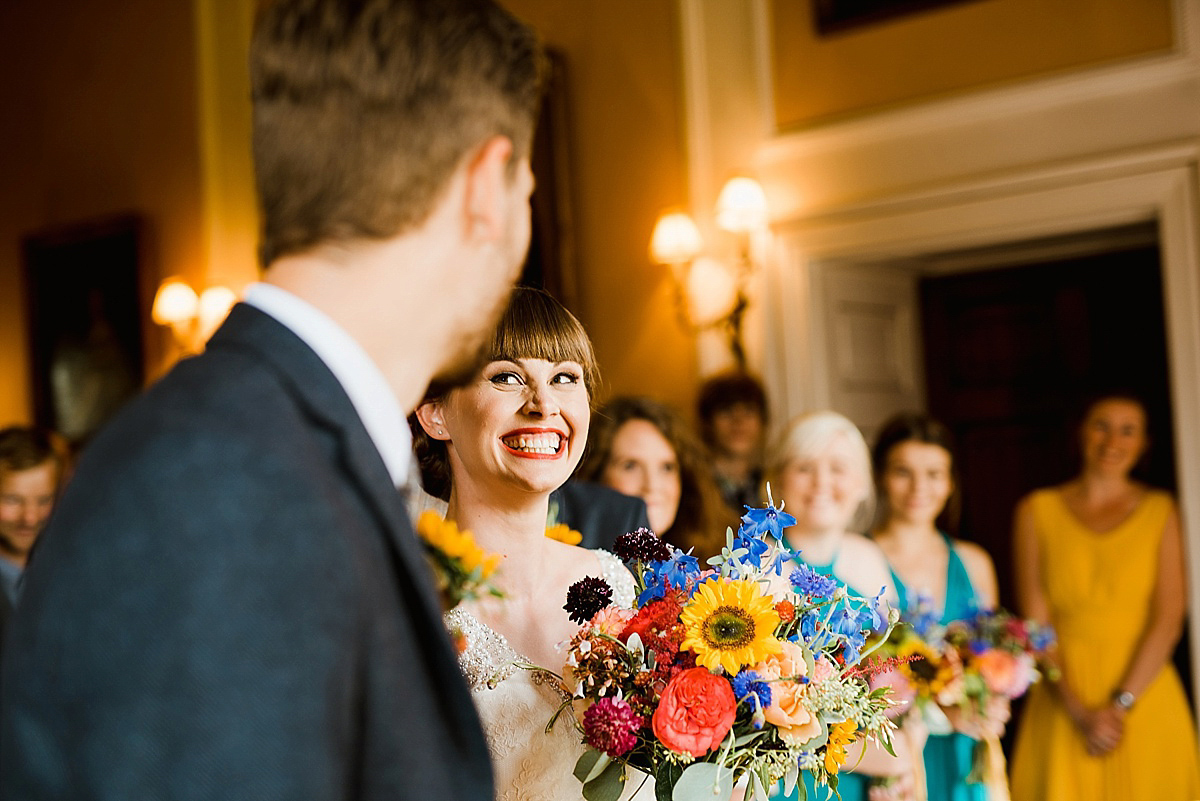 Josh looked super smart in a three-piece navy wool suit from ASOS, while his ushers wore two-piece navy suits from Tesco with their own shoes.
"I made the ties for the groom, father of the bride and groom and best men from Liberty paisley print fabric.  They all had individual tie pins as gifts with their initials and the date stamped on and the buttonholes  were all different with fruits and flowers to reflect the wild look.  Josh wore brown boots from Red Wing Iron Rangers, which he has owned for a while."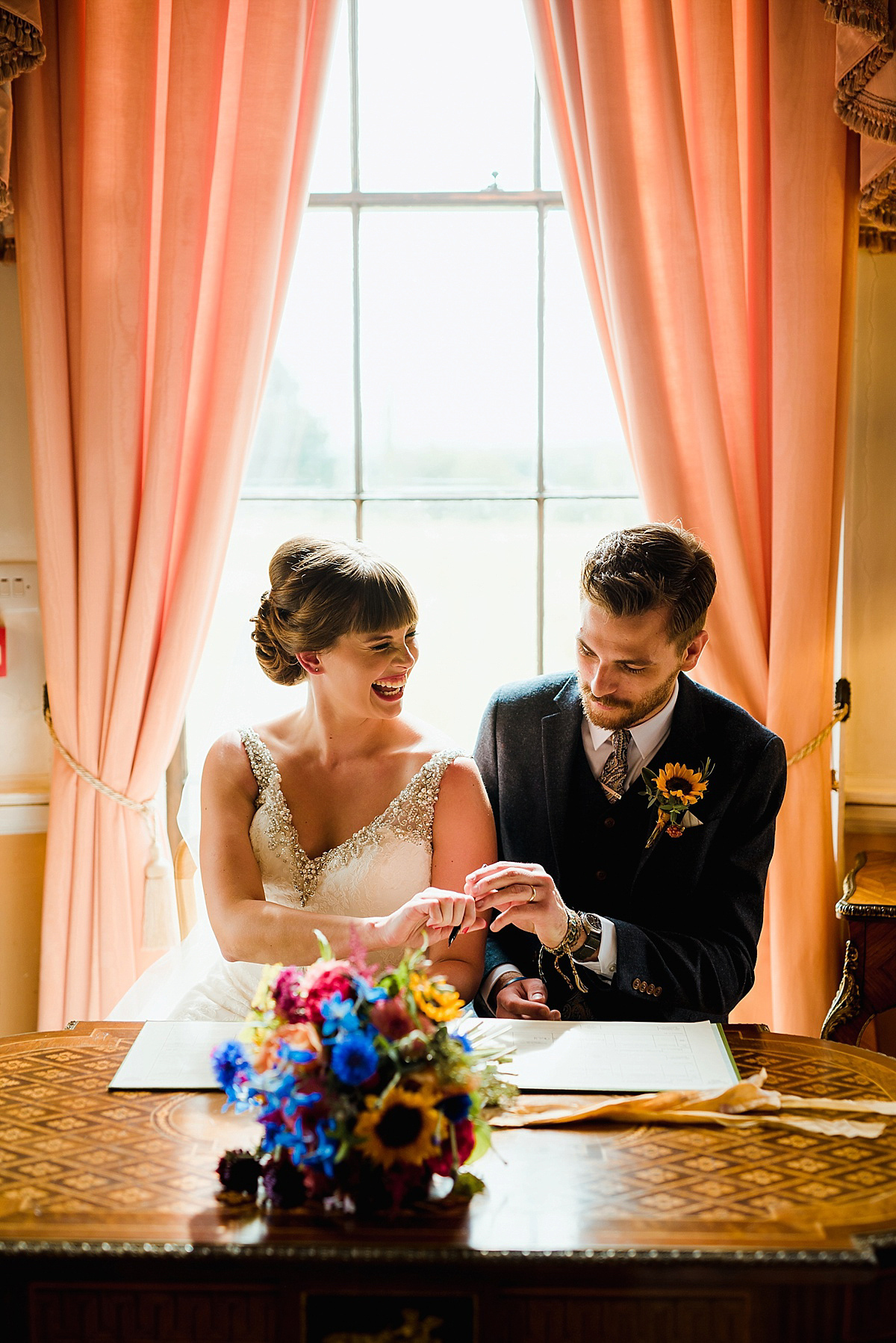 Lindsay's simple but very pretty veil was purchased from BridalStar on Etsy.
"I had originally started to make my own veil but it soon became evident that it would have pulled my hairstyle out because of the weight of it, so this was a last minute purchase."
"I'm glad I went for a simpler veil though as I wouldn't have the beautiful pictures of it blowing in the wind with something heavier."
The incredible flowers were put together by JenniBloom Flowers.
"I know nothing about flowers and regularly kill house plants, but knew what I wanted – a bright, colourful, wild look that didn't look too 'put together'.  Jenni created an amazing wild oversized bouquet with copper trailing ribbons and so much colour and the marquee was decorated with more colourful wildflowers in terracotta jugs and an amazing arrangement on the top table full of greenery and herbs."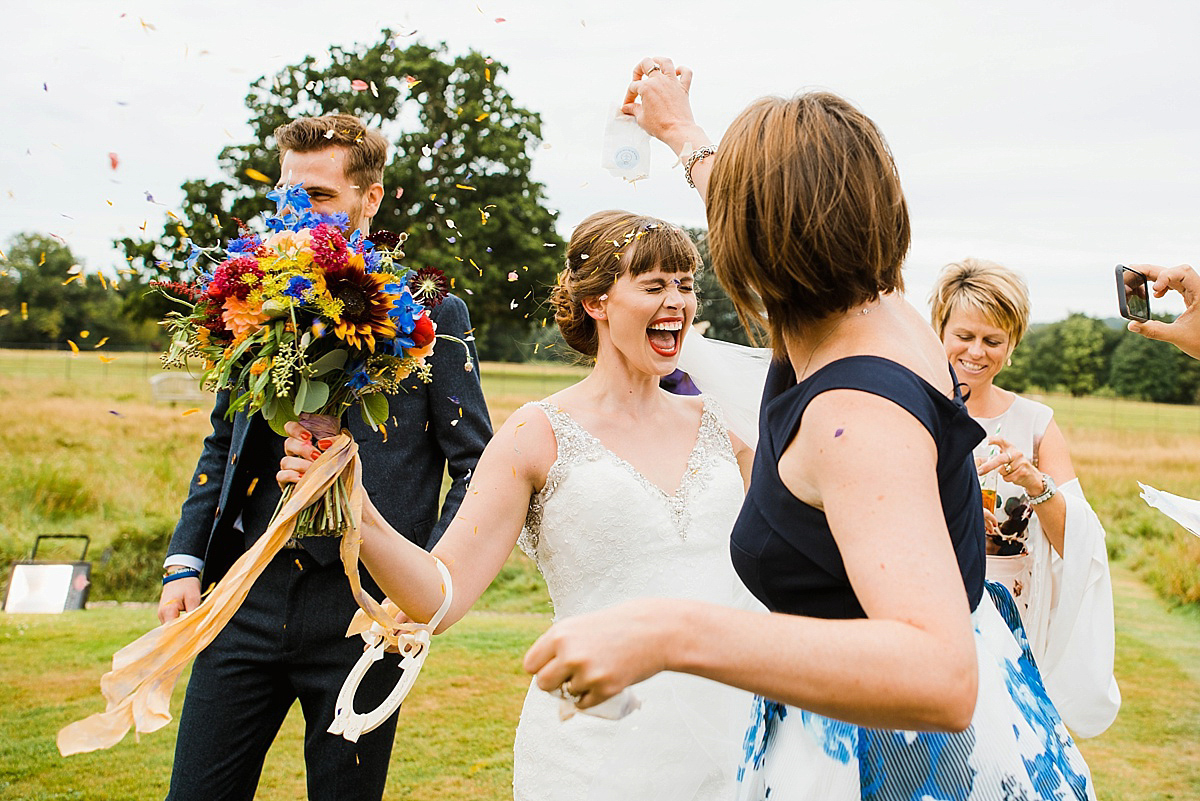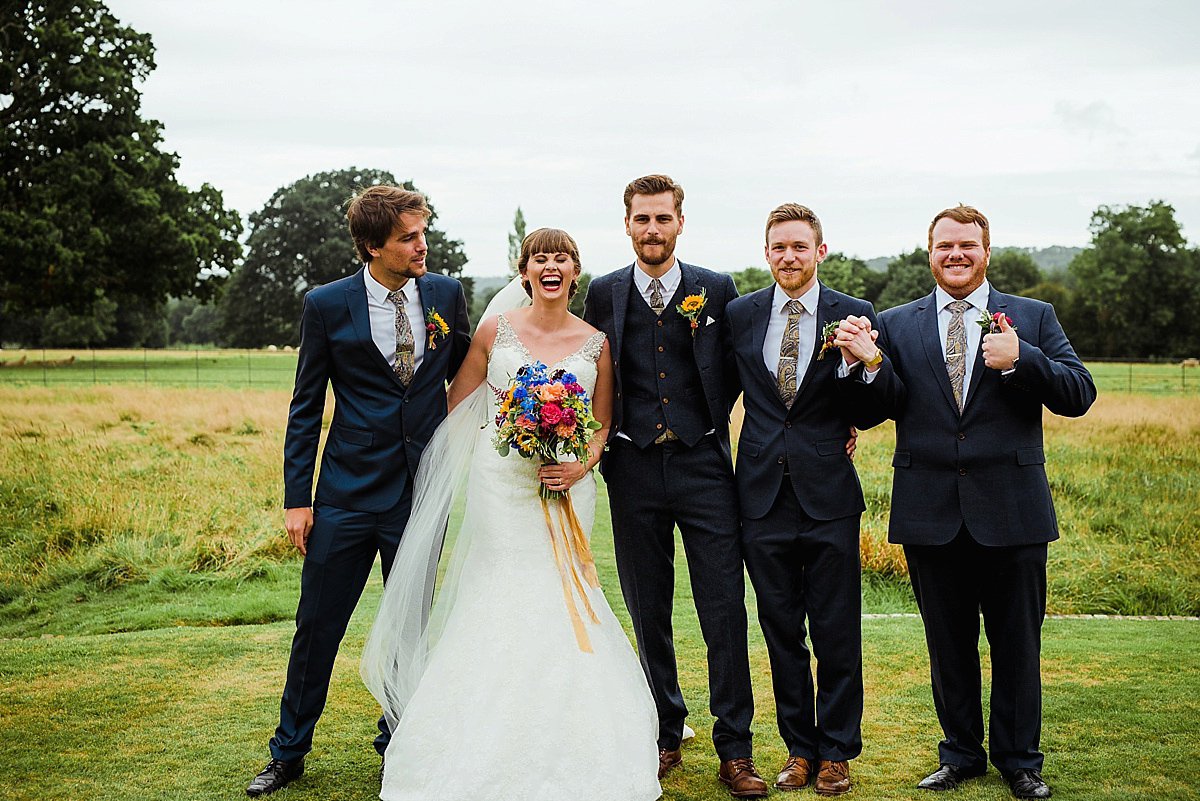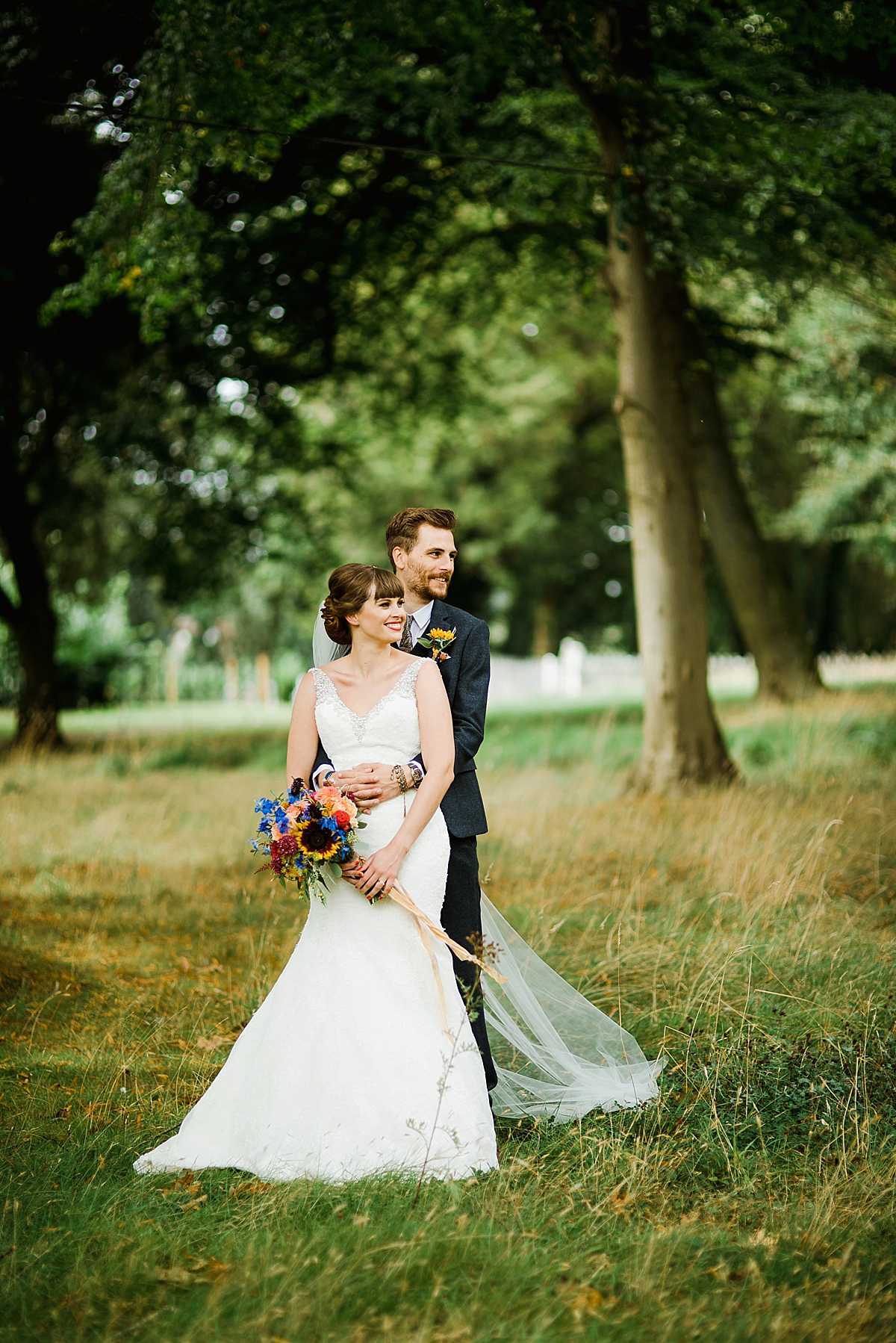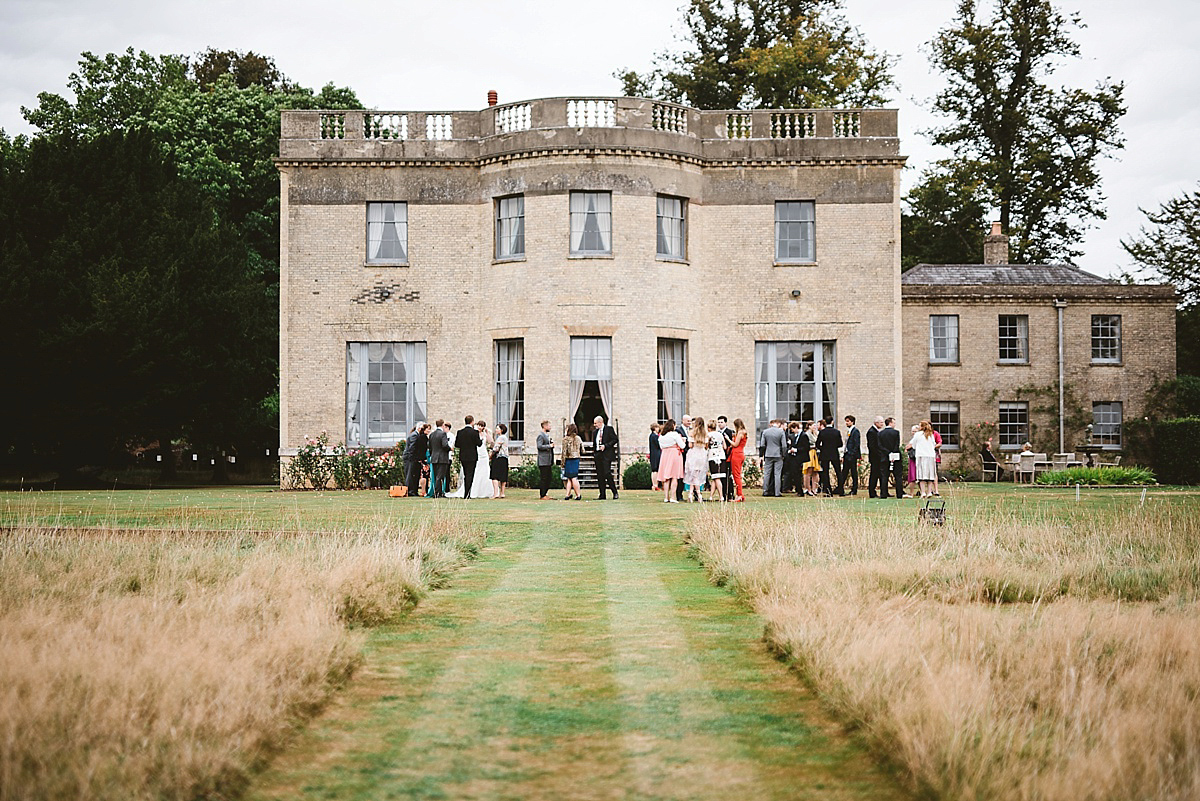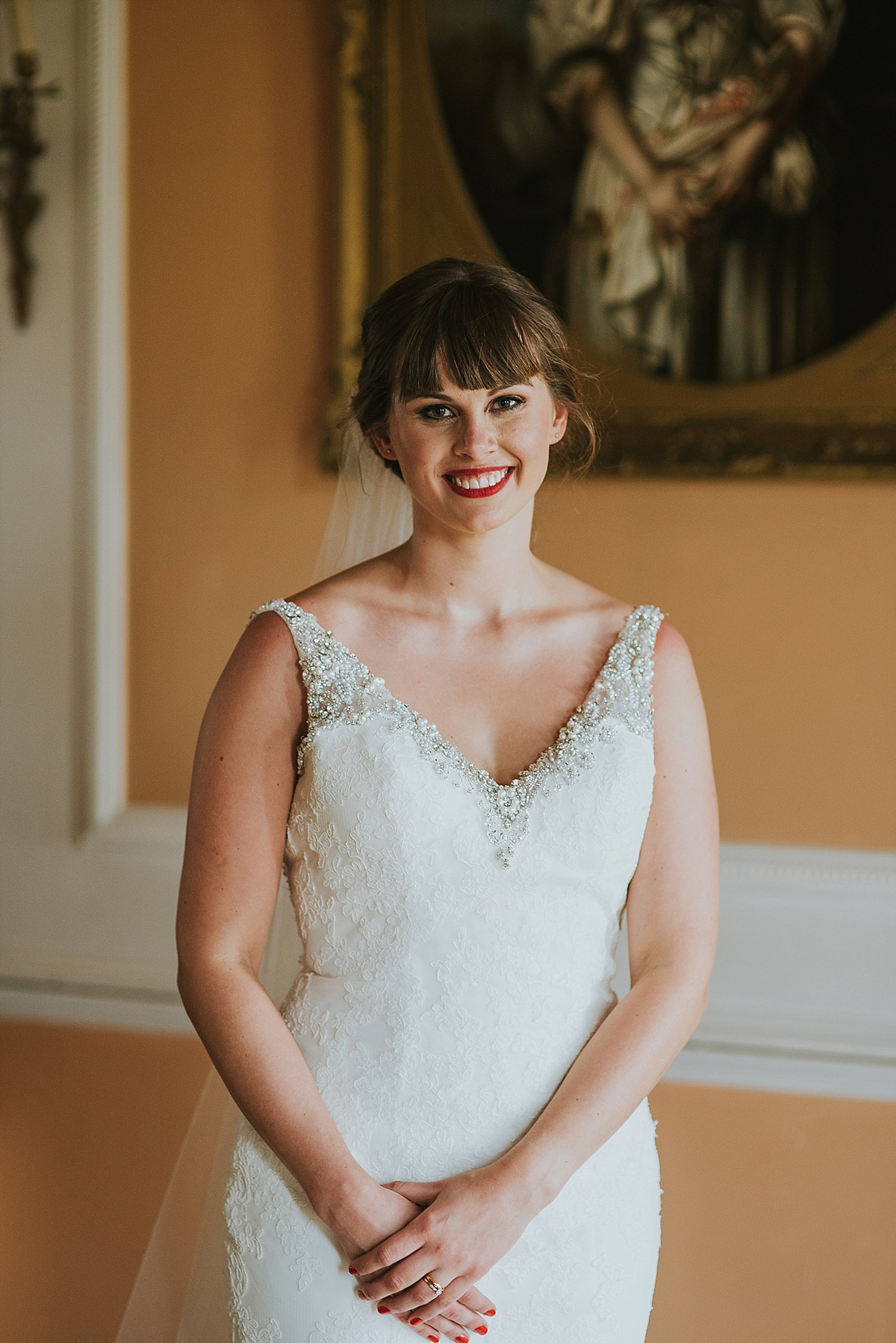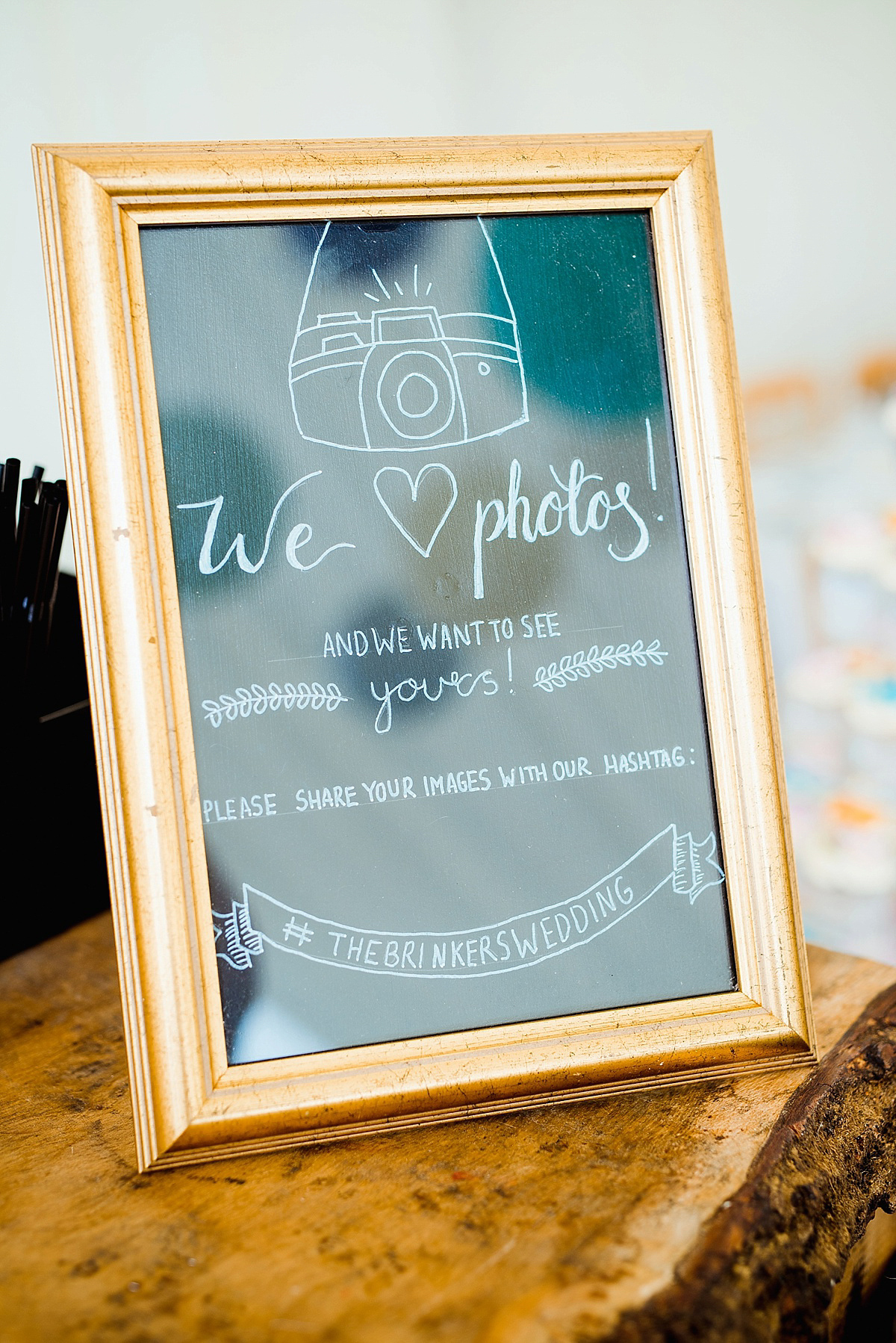 "The house itself we didn't decorate but the marquee was a blank canvas.  I wanted something that would add some colour and also have a big impact so we ordered fifty lanterns from The Hanging Lantern Company which we then hung down the centre of the marquee. "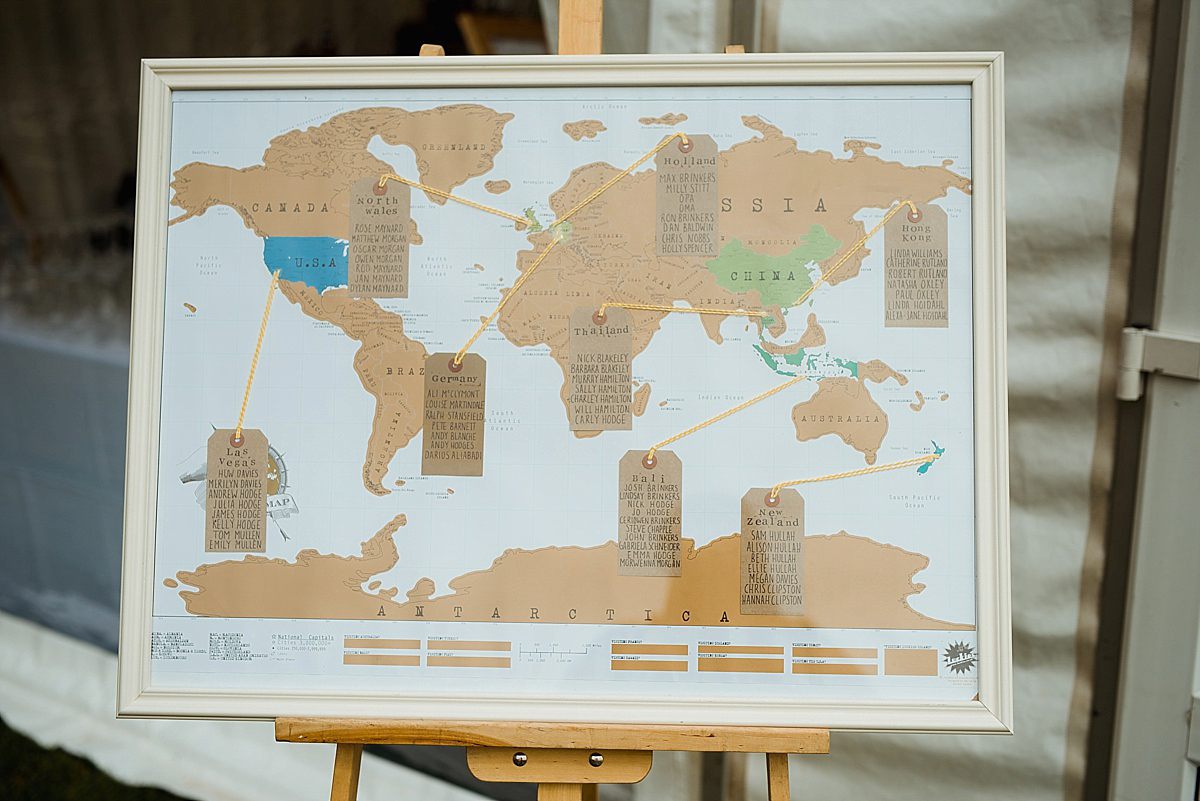 "Our 'LOVE' letters were hired from our marquee supplier Quality Marquee Hire.  We put them on a colour change cycle and they lit up the dance floor really well."
"We also displayed our save the dates at the bar which were tea towels from The Original Wedding Tea Towels."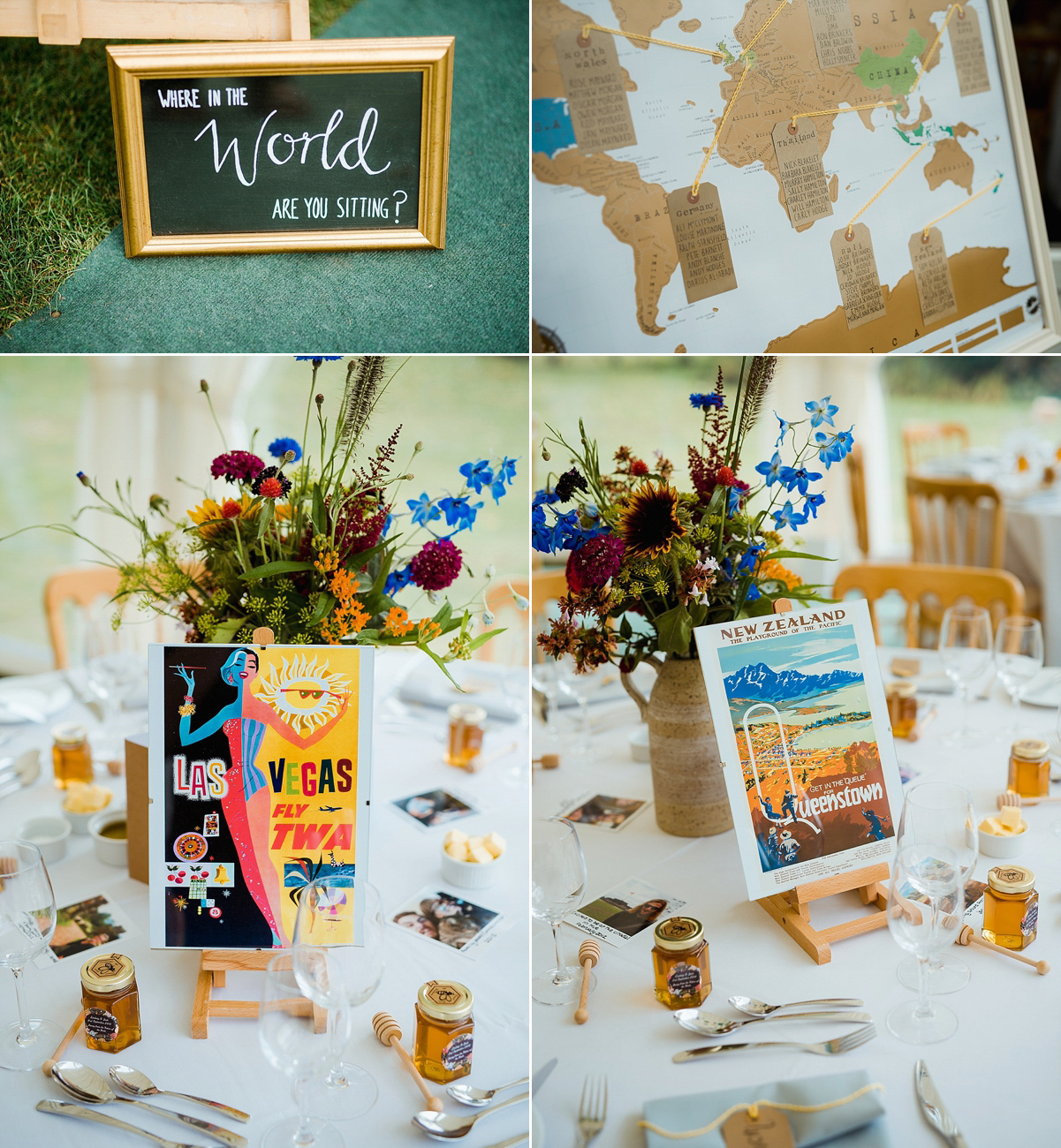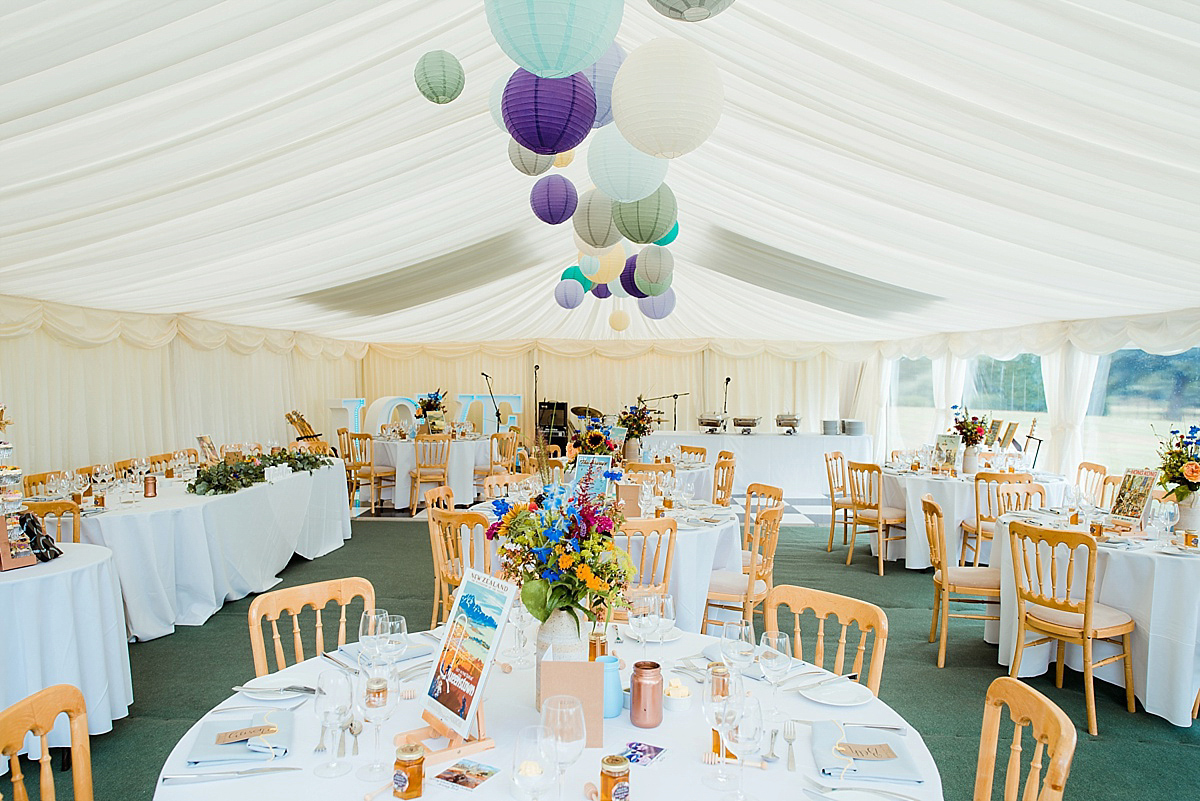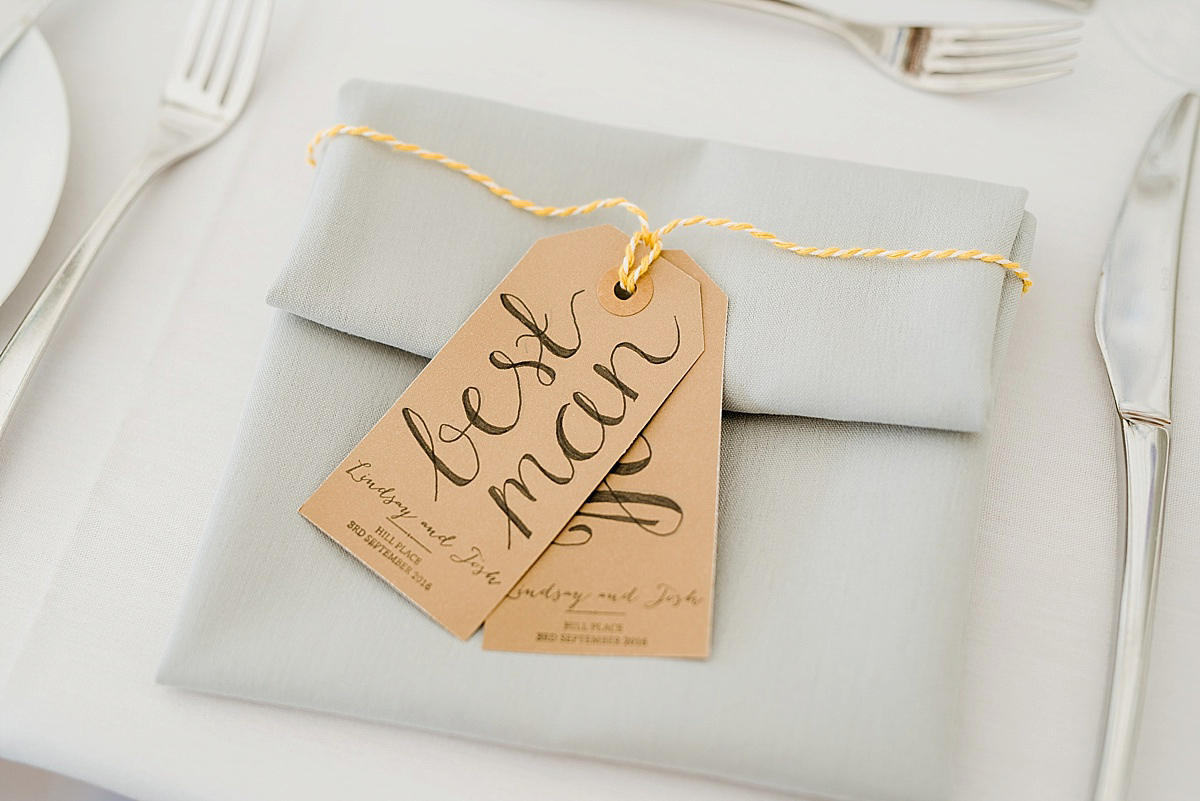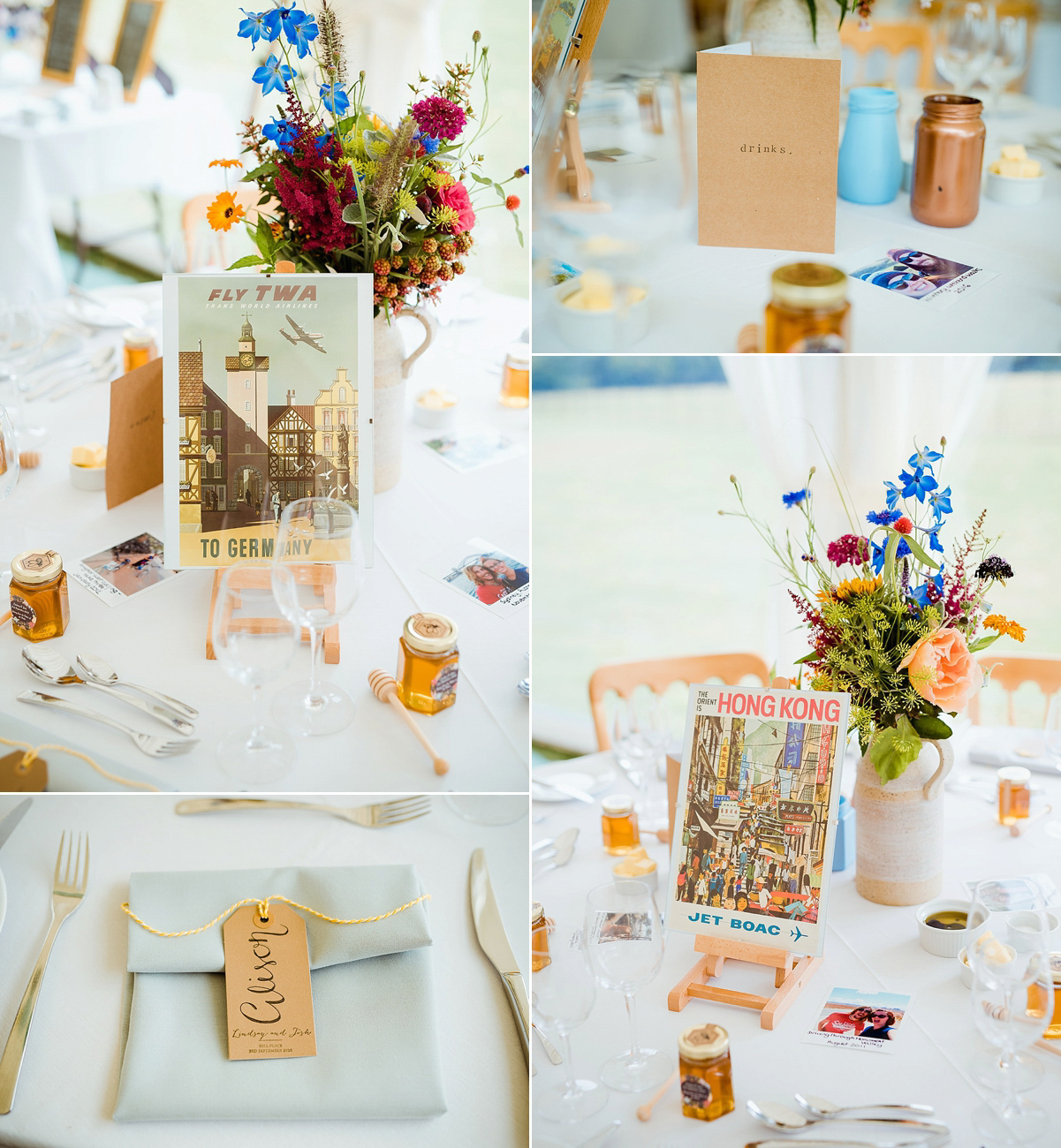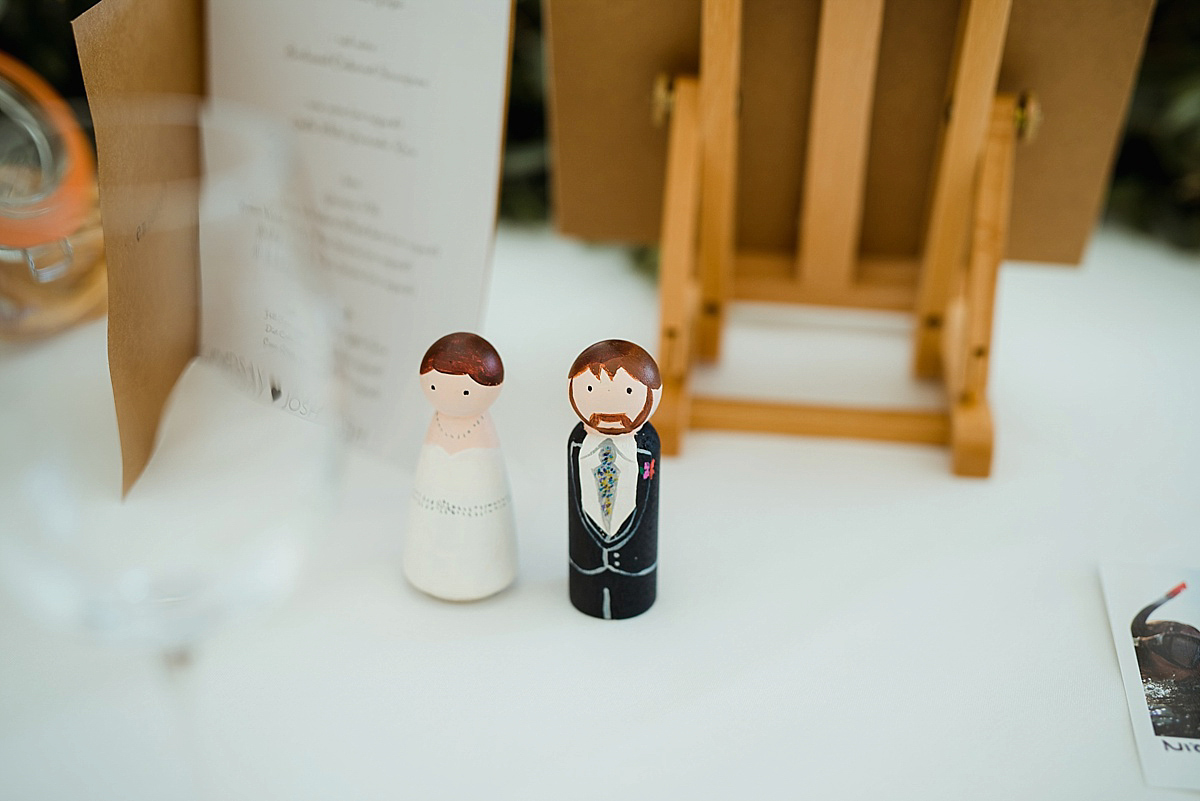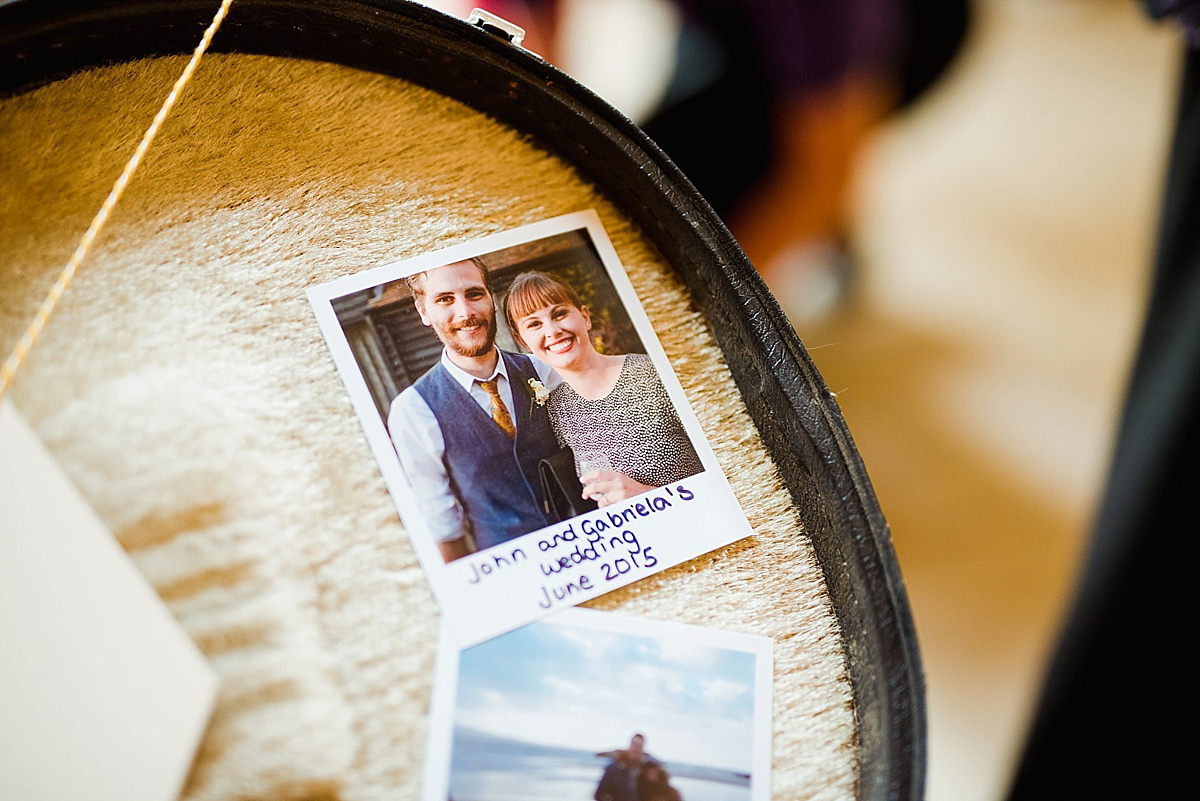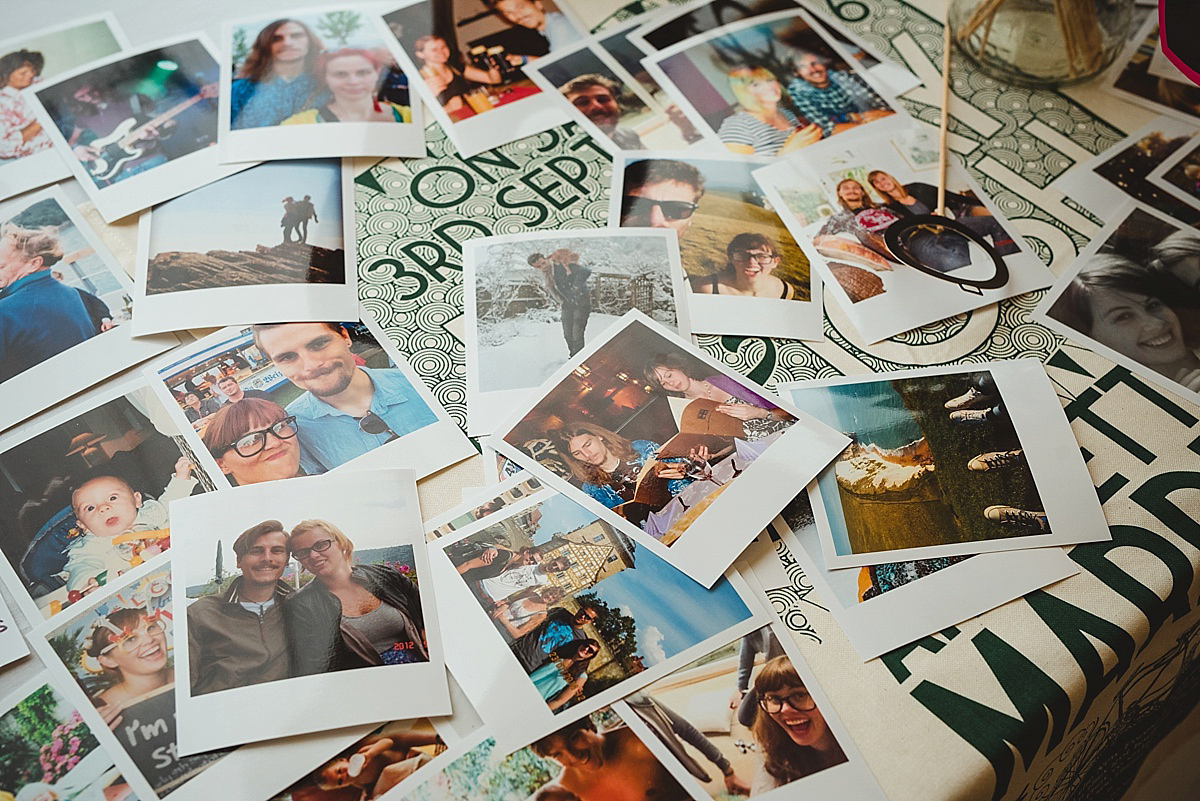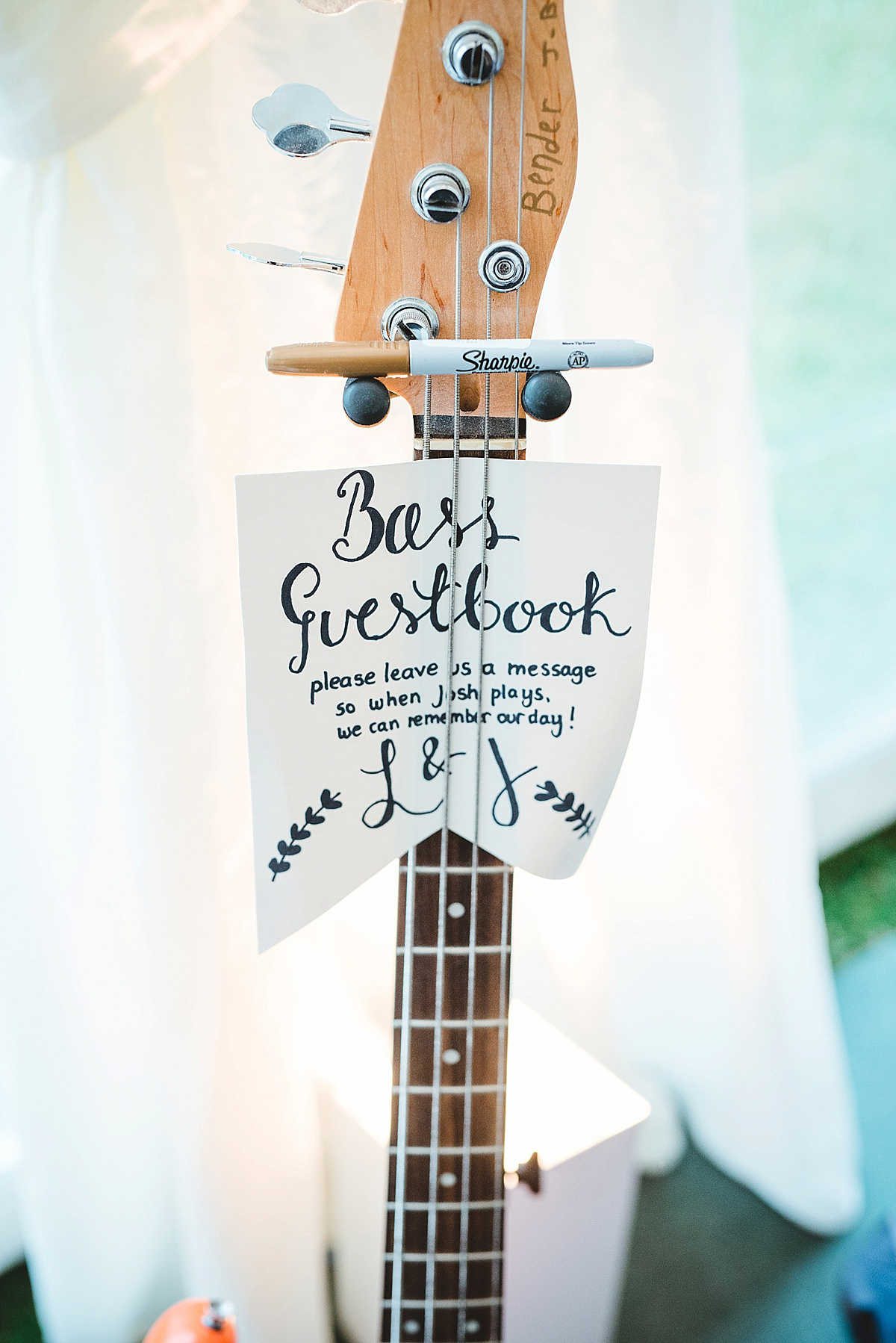 Catering was by Smallpiece Catering, who Lindsay described to us as 'way more than just a caterer!'
"Ann (head chef) and her daughter Gemma (event manager) are like wedding angels and became friends.  They know Hill Place inside out so I could put complete trust in them, something that the control freak in me loved.  They event-managed our day for us and were there for guidance every step of the way.  We didn't want a formal meal so picked a light, Mediterranean inspired buffet."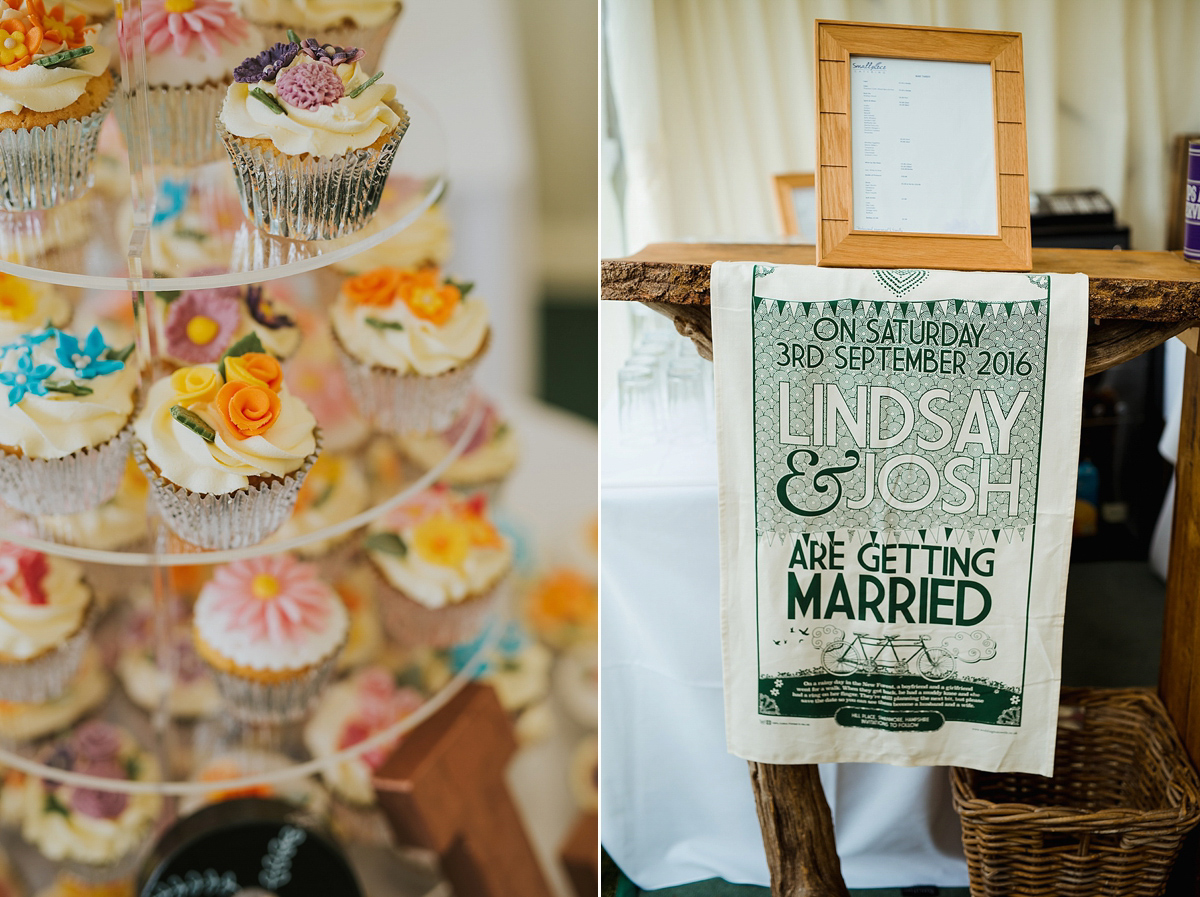 For cake, the couple chose a cupcake tower made by friend Linda, with a topper from CapolaDesigns on Etsy.  Smallpiece Catering also made a cake of cheese with a theme of places that mean something to the bride and groom.  For favours, the couple gave out little pots of honey, as Lindsay's dad is a beekeeper.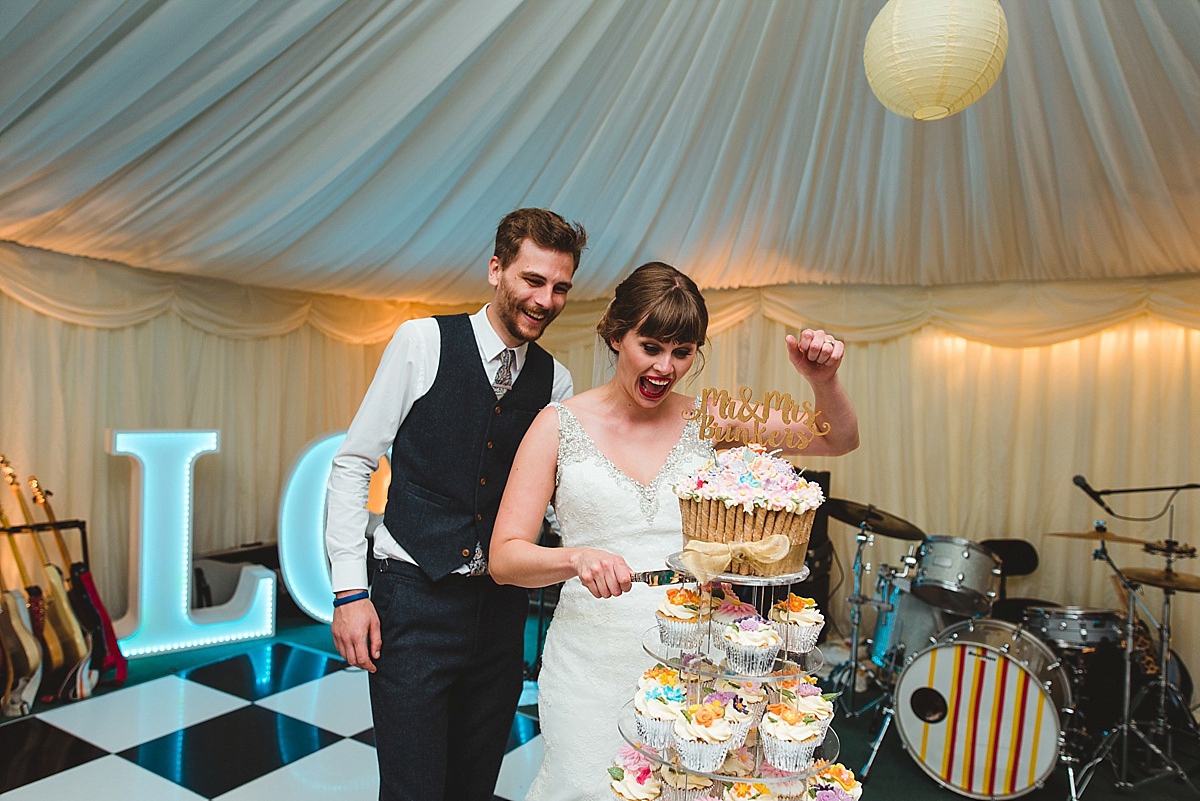 Entertainment was provided by Josh himself and friends, who performed as 'JB and the Groomsmen' and played a set of covers from all eras that got everyone up and dancing.  The band are now playing at other weddings too, so it was a great success.
"We had a Spotify playlist to follow (as Josh did want to enjoy himself and have a drink at some point) and the dance floor was full all night."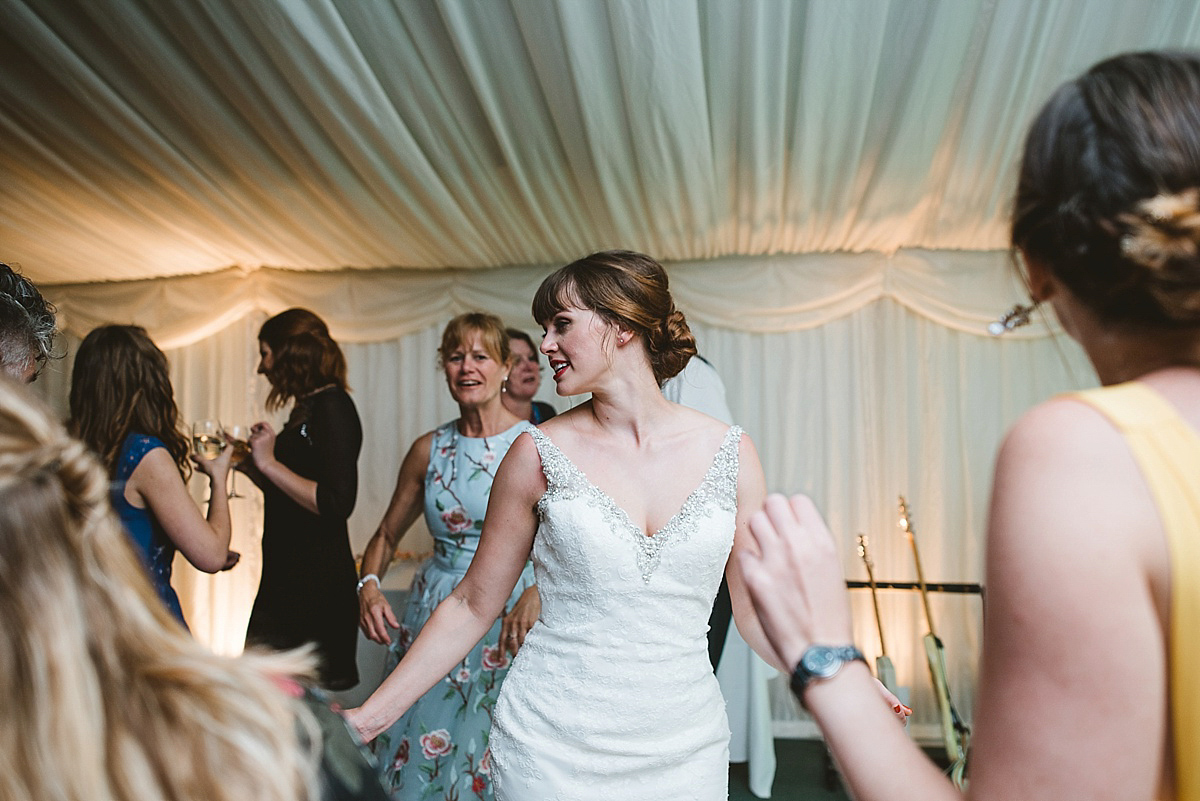 Words of Wedded Wisdom
"Relinquish control.  I lived and breathed our wedding for nearly two years and it was the biggest thing I'd ever planned, so naturally I wanted everything to go perfectly.  For ages I really struggled to let people help me, but people love weddings and really do want to help and weddings bring people together.  During the process I saw sides of people that I didn't realise existed (in the best way possible).  Everyone really stepped up because they loved us and I wouldn't have seen that had I controlled everything and done everything myself."
Lindsay was a member of our Facebook group for Brides (the Wedding Belles as they have named themselves) and found them an amazingly helpful bunch during her planning, do join us if you're a bride to be!
Thank you so much to Lindsay and Josh, and of course, to Angela Ward-Brown.
Much love,
S x