If you're back to work this week after the Christmas holidays, where you feasted on lunch with all the trimmings (then did it all again with leftovers for days) and relaxed whilst glued to your new book by the fireside (in my case by the beach, but I won't go on about it as that really is very mean of me), then I have the perfect remedy to cope, with the utterly delightful summer wedding of Mr and Mrs May.
Chris, a digital marketing manager at The Brain Tumour Charity and Kerris, an illustrator (view her brilliant work on Etsy and follow her on Instagram) married at Chalton Village Hall in Bedfordshire on the 25th of June 2016. Their utterly lovely and emotion-filled photographs were taken by a wonderful photographer whose work we have proudly featured over the past several years on Love My Dress, the talented Mark Tattersall.
"We didn't have a style; we just talked about what we wanted and how we could bring it all together. We always just wanted to have a big party – good food, flowing drinks, and dancing – so our decisions were often centred on making those aspects work."
Photography by Mark Tattersall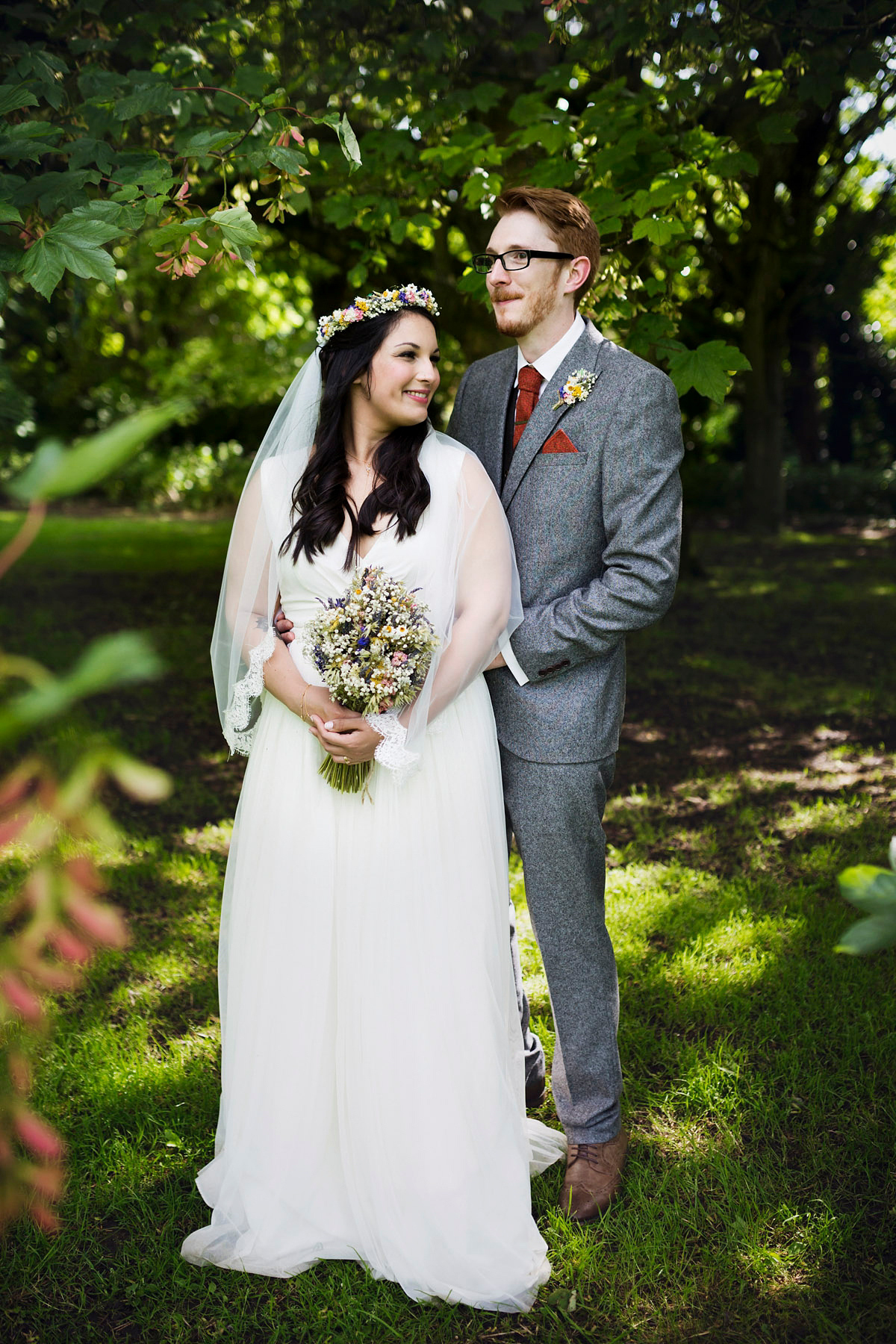 I completely adore the beautiful ensemble Kerris donned for her big day. Adding a divine veil from Rainbow Club, the 'Chinaberry Pop' heel from Clarks and a glorious dried flower crown by The Artisan Dried Flower Company, Kerris was every bit a beautiful boho bride.
"I purchased a dress from ASOS in a sale and then later a skirt from the bridal line, while experimenting with different styles. On a whim I put the skirt on over the dress and fell in love with the result. My mum then put them together to make the dress I was looking for – she is a skilled and brave woman!""I loved the simplicity of it. I knew I wanted wild flowers in my hair and pretty lace veil so to me the dress was more of a canvas than a centrepiece. I didn't like the idea of spending out a lot on a dress I'd wear once, so the price pleased me on many levels! It also helped that the skirt swooshed pleasantly when I danced."
"My mum and I were brainstorming ways to reduce wedding stress and I confessed how nervous I was leaving the most important part of the hall and bridal party decoration (the flowers!) until the big day."
"We decided to research dried flowers so I could get my hands on the flower crowns and bouquets a few weeks before which eased a lot of my (probably unfounded) worries."
"I am so, so glad we went for this option for the majority of our flowers – the dried blooms from The Artisan Dried Flower Company were stunning and more than I could ever have asked for. They also fit easily into our budget and were beautiful gifts for the bridesmaids to take away and frame."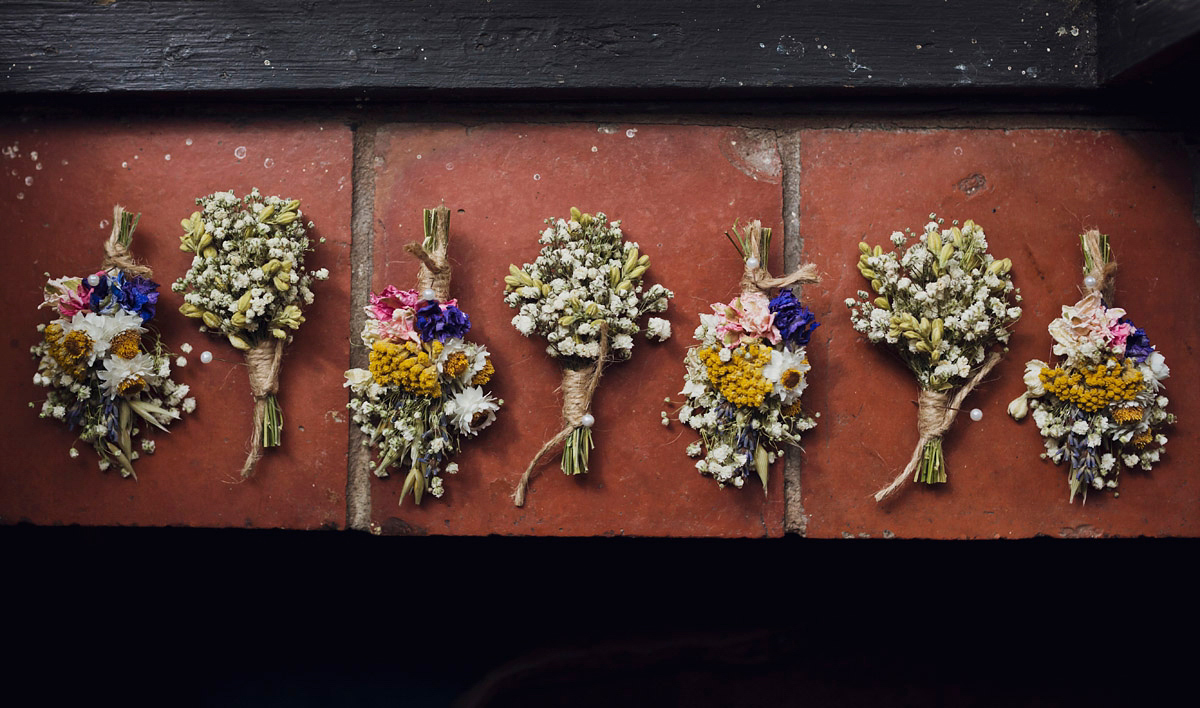 "The fresh flowers we ordered for the day from our local florist The Cottage Garden Flower Shop were put together from a list of my favourite wild flowers – most of these I watched my parent's plant in my childhood garden so were very important to me. They were then arranged into higgledy piggledy vases by my godmother, Jackie, who has an eye for these types of things!"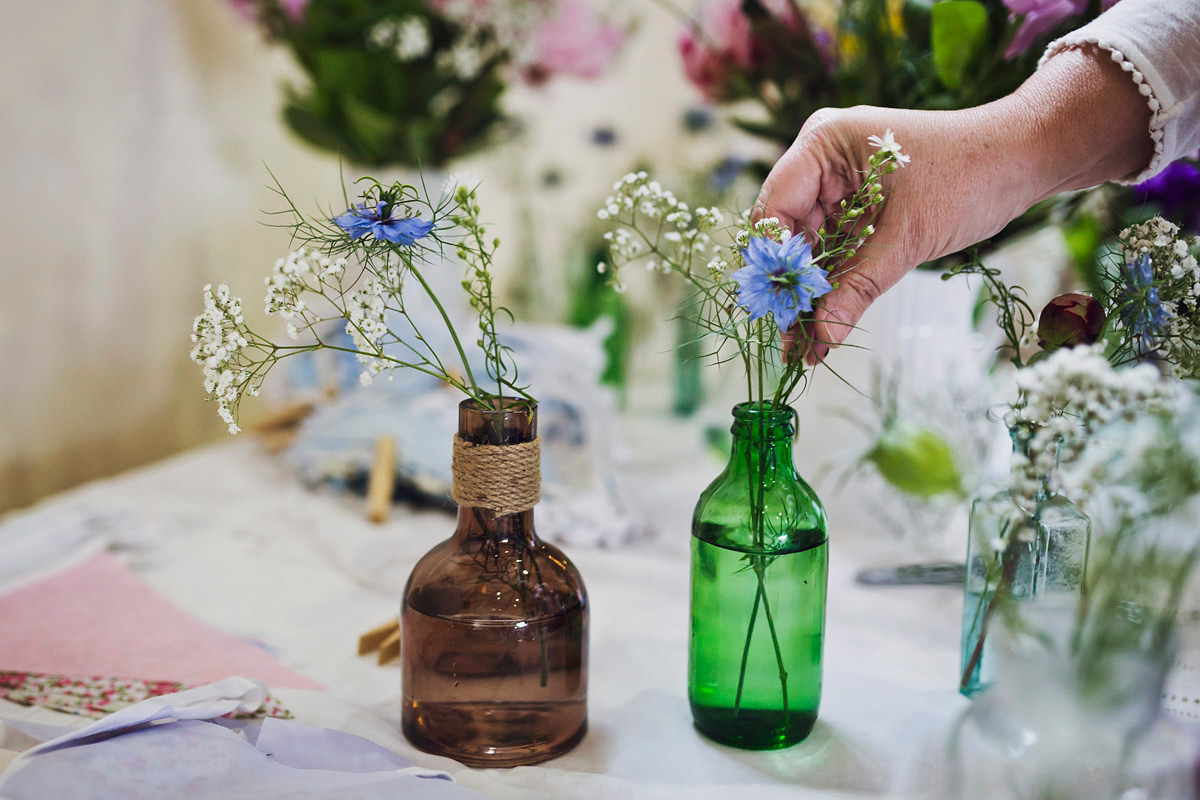 The pretty maids also wore dried flower crowns and the creative mother of the bride made their divine dresses.
"We bought the material from Croft Mill (the Caroline Poplin print in three colours) and my mum altered a pattern to suit what I envisaged. She's a star!"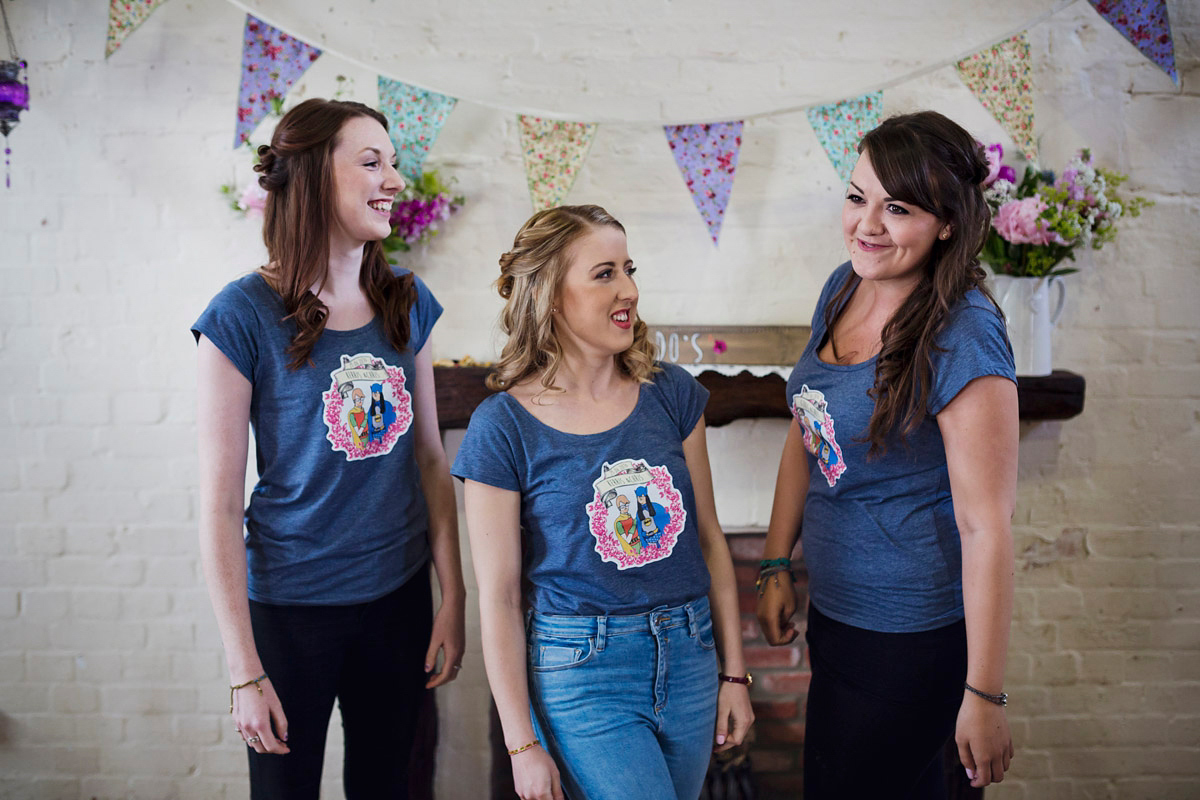 "The girls then added cheap and cheerful shoes via New Look and bracelets by ThreadAndRock on Etsy."
"Our hair was done by Megan at Chicks Crop Shop in Dunstable and we all did our own makeup."
"As a freelance illustrator with a shop on Etsy, I really like to support fellow sellers who create their products by hand. My necklace, bracelet and hand-chain were by 'GEHATI' on Etsy and my earrings (ear climber) was from 'sigalitaJD' on Etsy."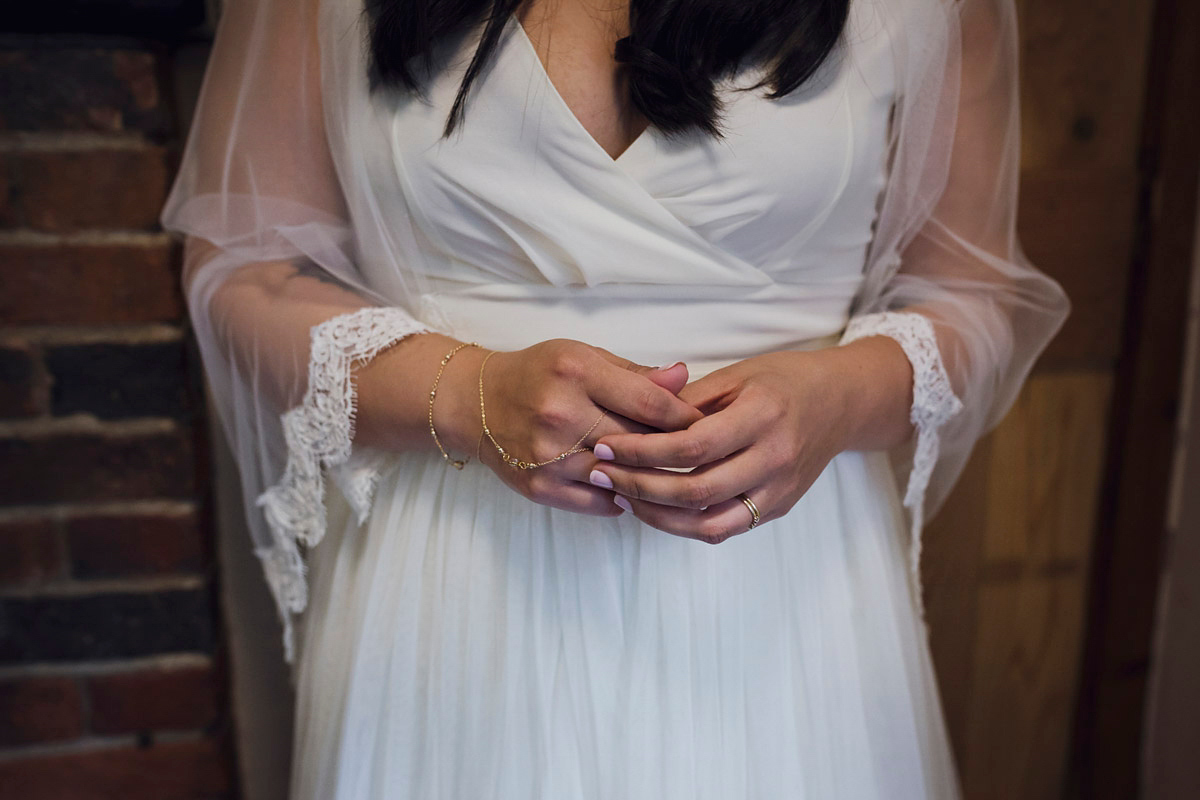 Chris made for a dashing groom in his tweed suit and waistcoat from Next, tweed tie and pocket square by BeTweedy on Etsy, River Island shoes, dinosaur socks from Topman, and personalised cufflinks made by Kerris (with tiny drawings of lego people!).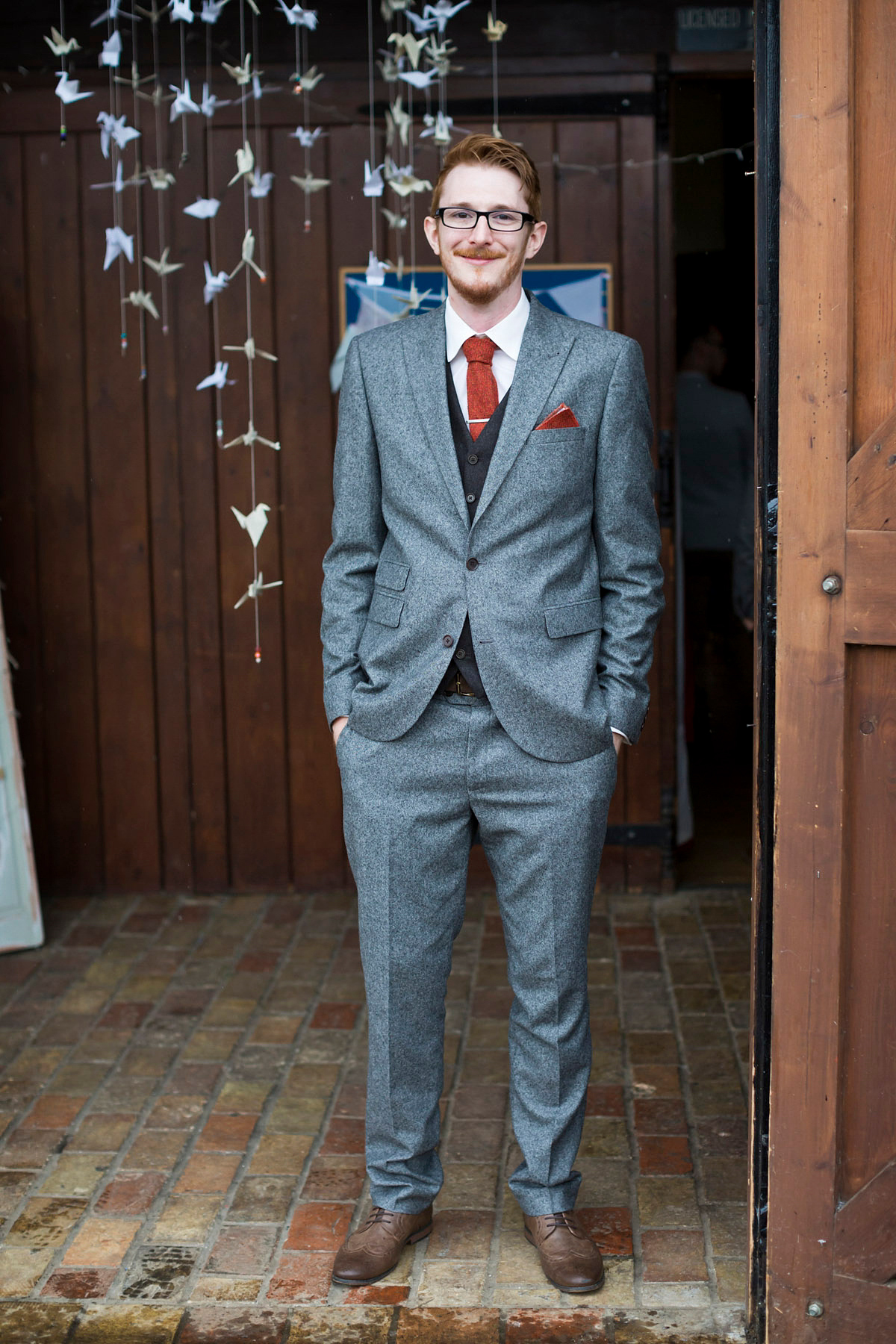 "We met online and exchanged messages through December 2011, and met for the first time during a blizzard in January. I proposed on Tuesday 2nd September 2014 while we were on holiday in Wales. I snuck the ring onto a walk and got down on one knee along a muddy track next to a waterfall (that looked a lot better when I scoped it out online first!)."
"I knew I wanted to propose before we went travelling in Asia … we flew out to Malaysia on the 7th. We were engaged for almost two years."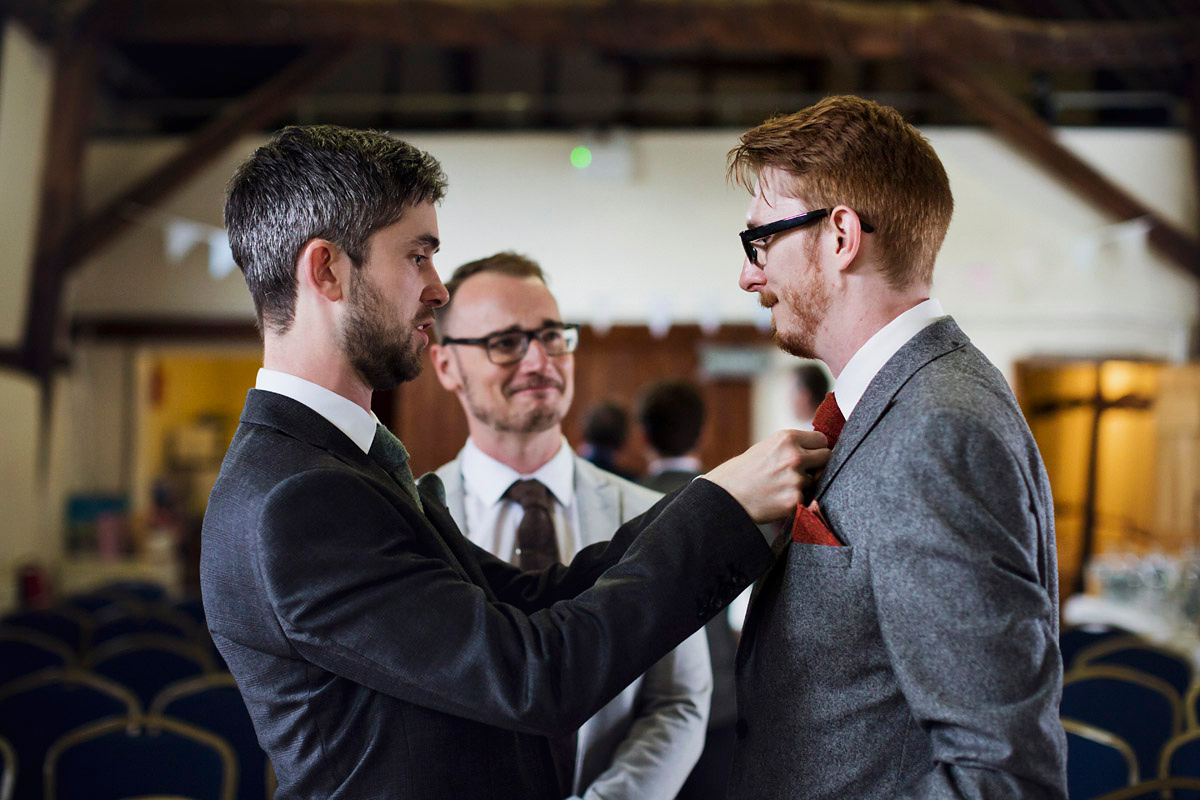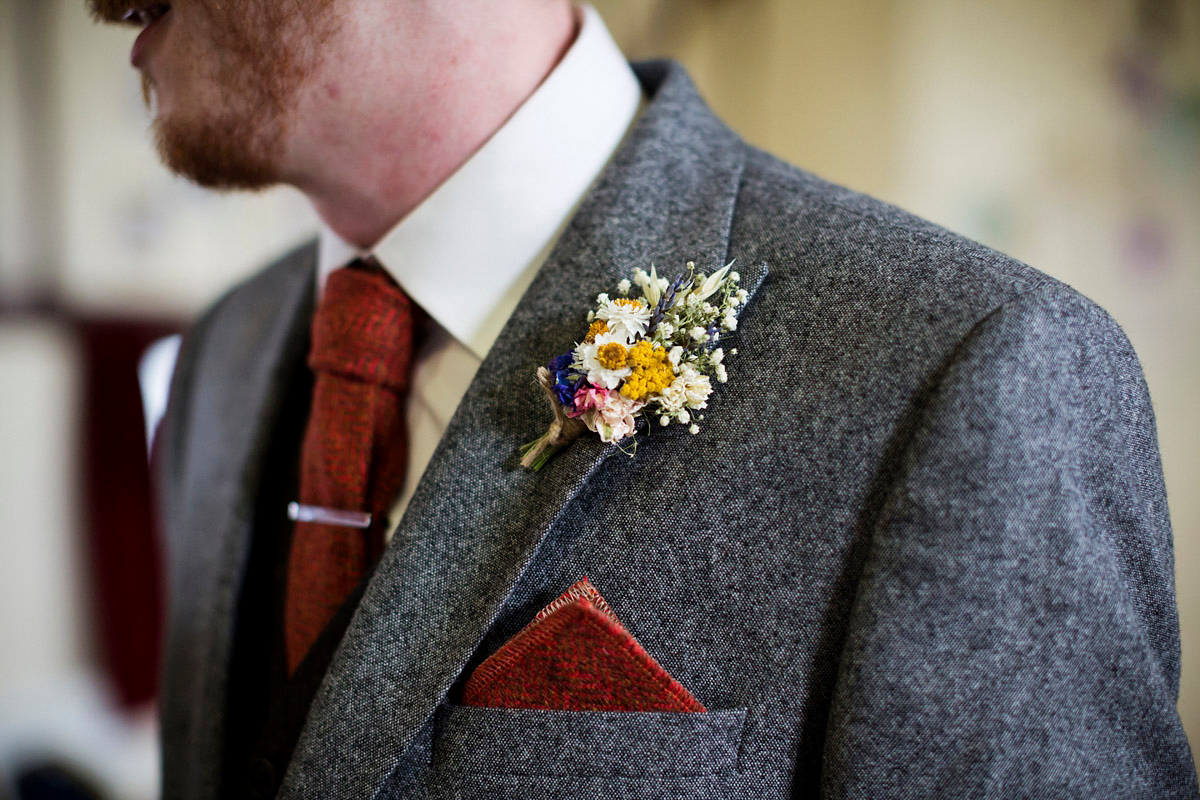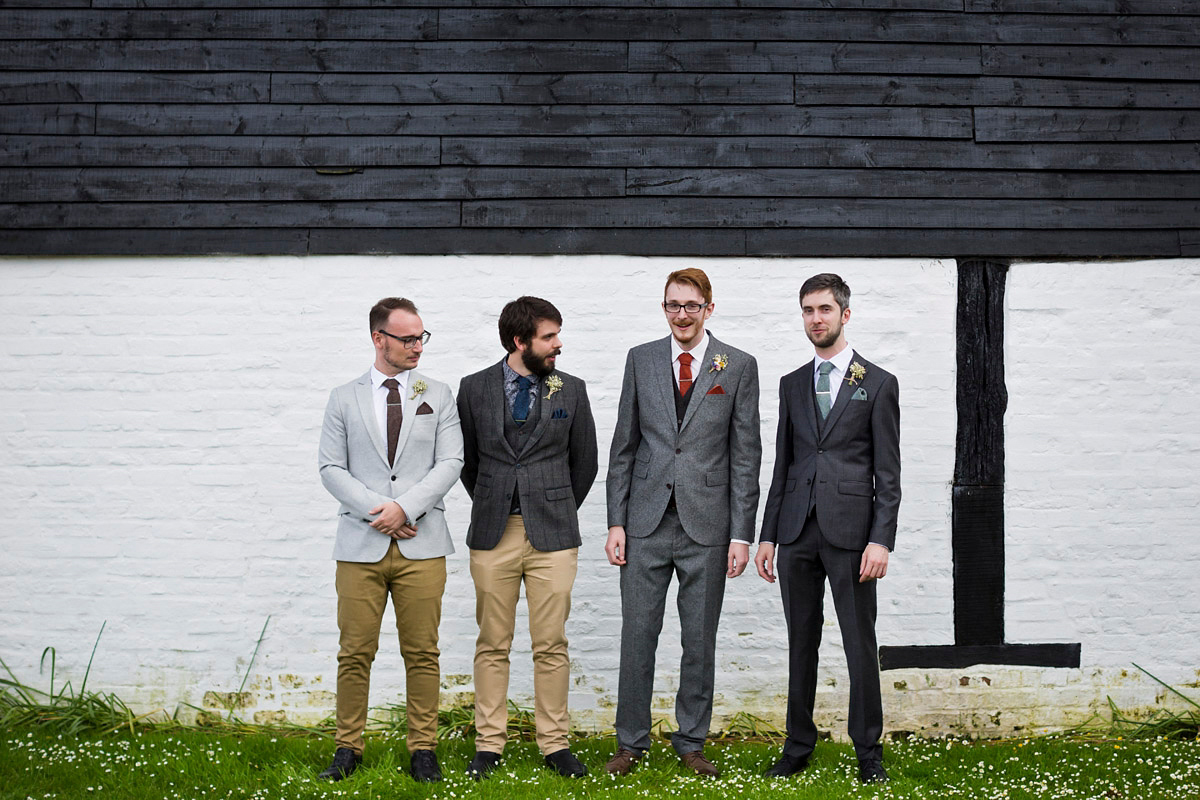 "Family and friends came together to create hundreds of paper cranes from paper and books. We strung these on string weighted with old beads I collected as a child. They were then hung in the entrance to welcome the guests in."
"My dad accompanied me down the aisle to 'I'll be Your Mirror' by Nico and The Velvet Underground. The touching lyrics and haunting voice of Nico resonate with Chris and me; it's a beautiful song."
We chose to write our own short but sweet vows and wanted to read them together. This small paragraph sums up our relationship and suited us down to the ground:
You know me better than anyone else in this world and somehow you still manage to love me. You are my best friend and one true love.

You make me smile. You make me laugh. You make me dance. I love you for all that you have been. All that you are. And all that you're yet to be.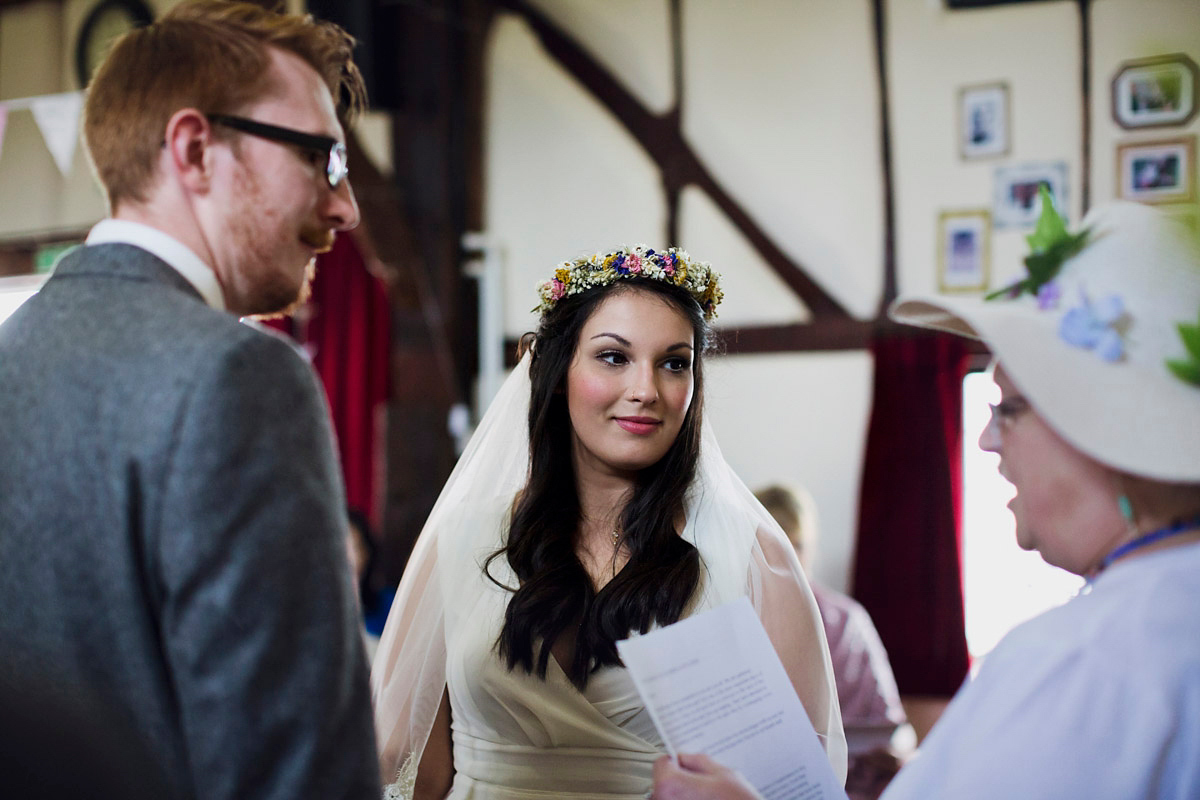 "We had two readings at our wedding and my godmother, Jackie, also said a few heartfelt words. One reading we chose was 'Union' by Robert Fulghum and Chris's sister, Charlotte, chose a beautiful reading to perform called 'Epithalamion' by Hopkins. It was bizarre and beautiful and really suited the day!"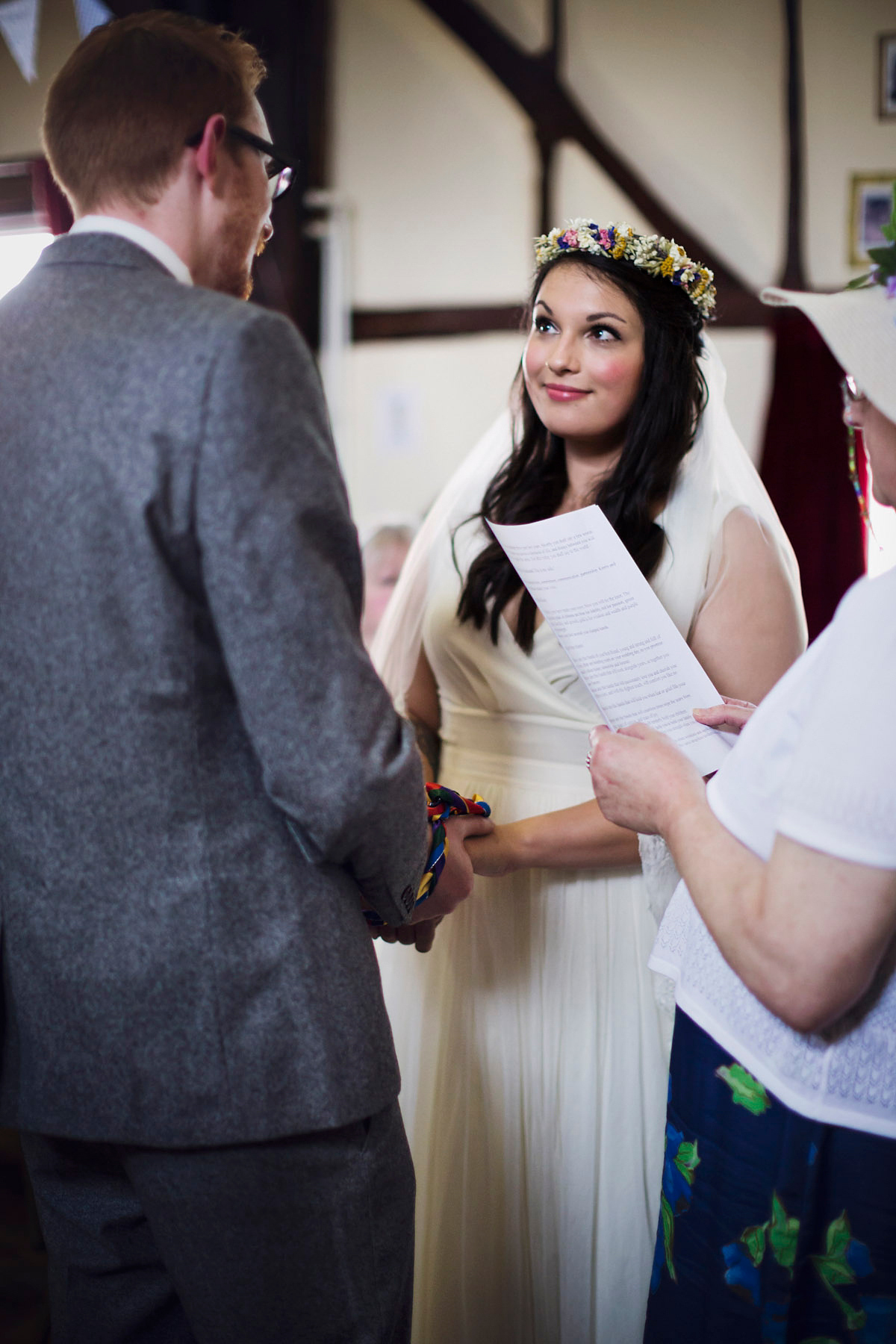 As an illustrator, it was fitting that Kerris create their save the dates, invitations, order of service, and thank you cards. There were also several other handmade elements to Chris and Kerris's wedding and they had friends and family lend a helping hand. The comic book confetti is a personal favourite and utterly genius idea!
"To make the confetti, Chris hand-punched into stars and hearts old and unloved comics from his collection – we then contained them in little comic book cones displayed with an illustration by me."
"The illustration depicted our heroic alter egos (Batman and Robin, Only Fools and Horses style!)."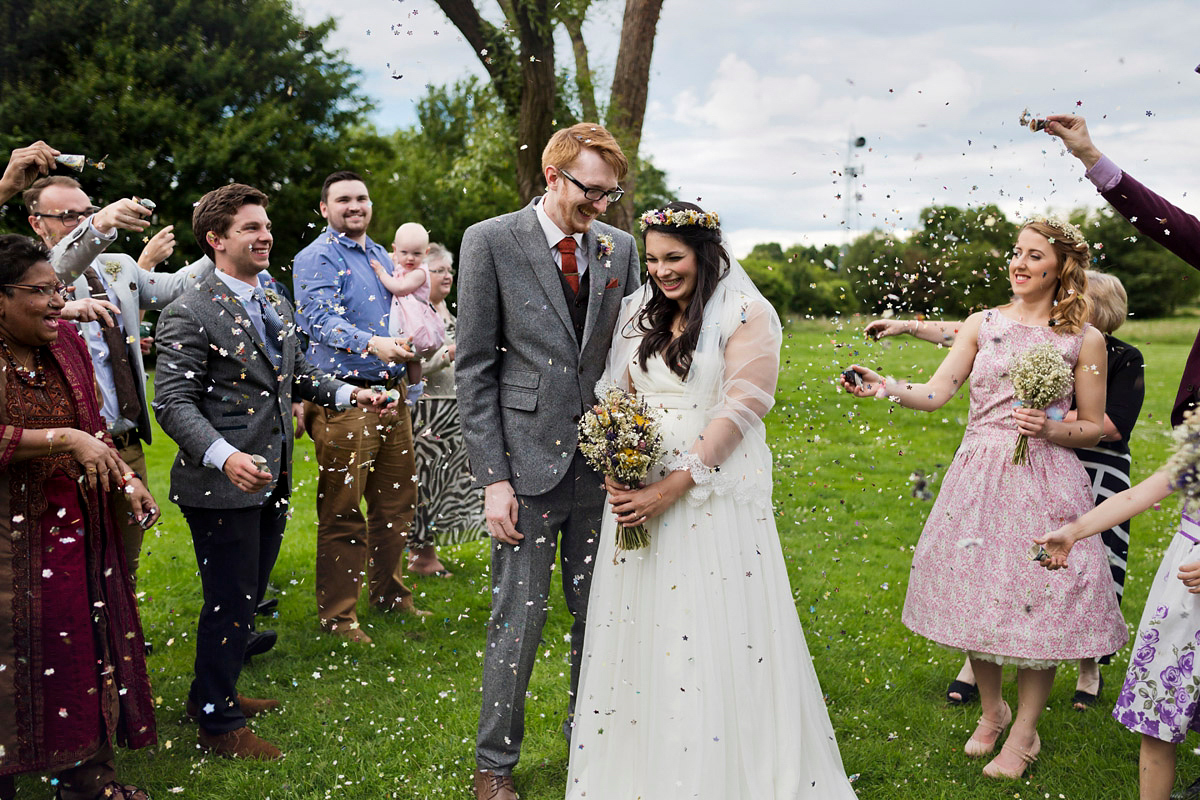 "I can't say enough good words about our photographer Mark Tattersall – he managed to take pictures of two very awkward nerds and make us look cute and confident! He has a mastery of light a natural framing that strays into obsession and his results are stunning; the pictures speak for themselves."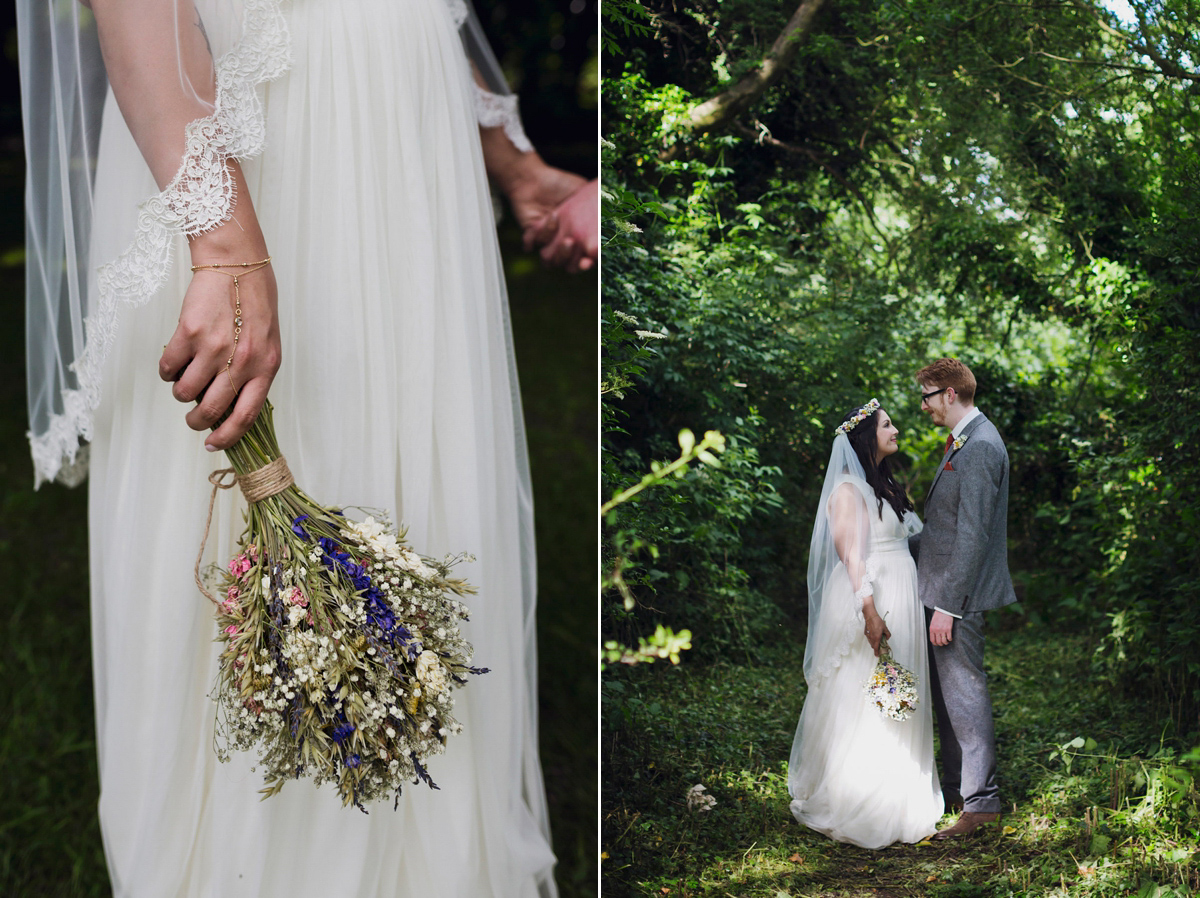 "Mark even bashfully managed to turn down a flirting bridesmaid whilst wearing a Star Wars T-shirt – a man of many talents!"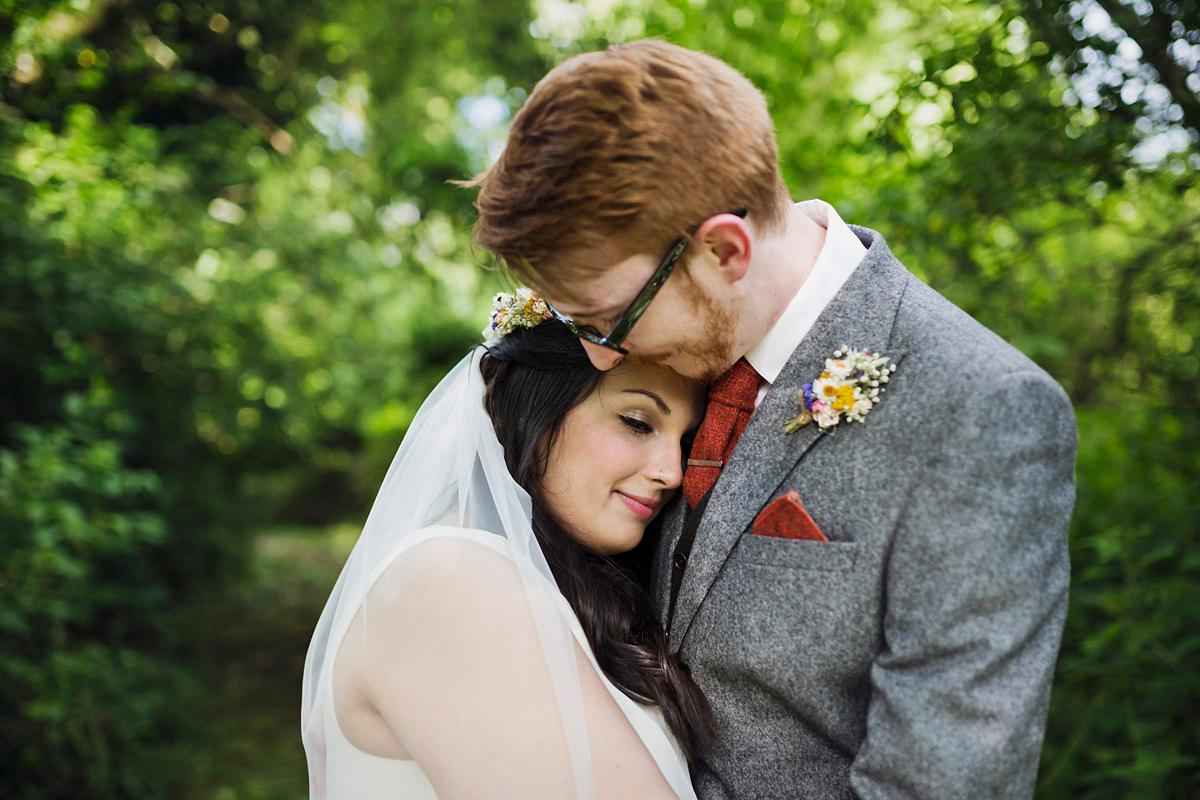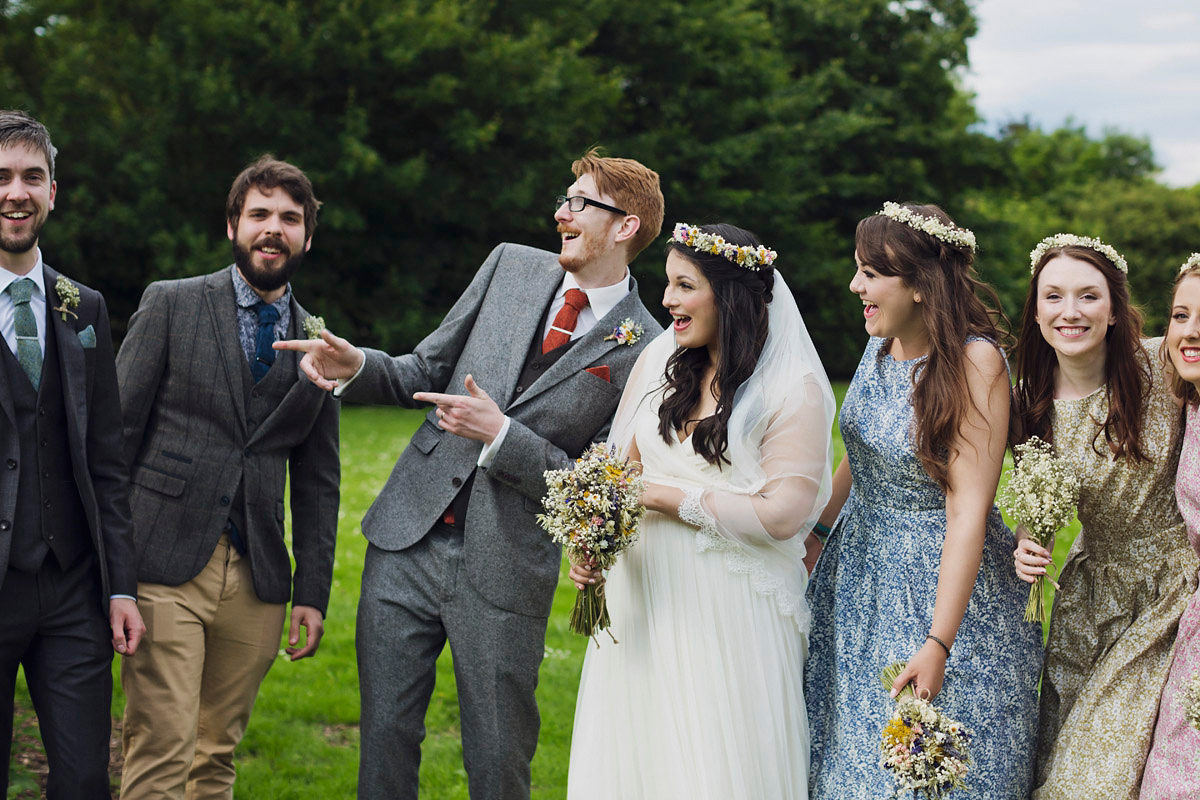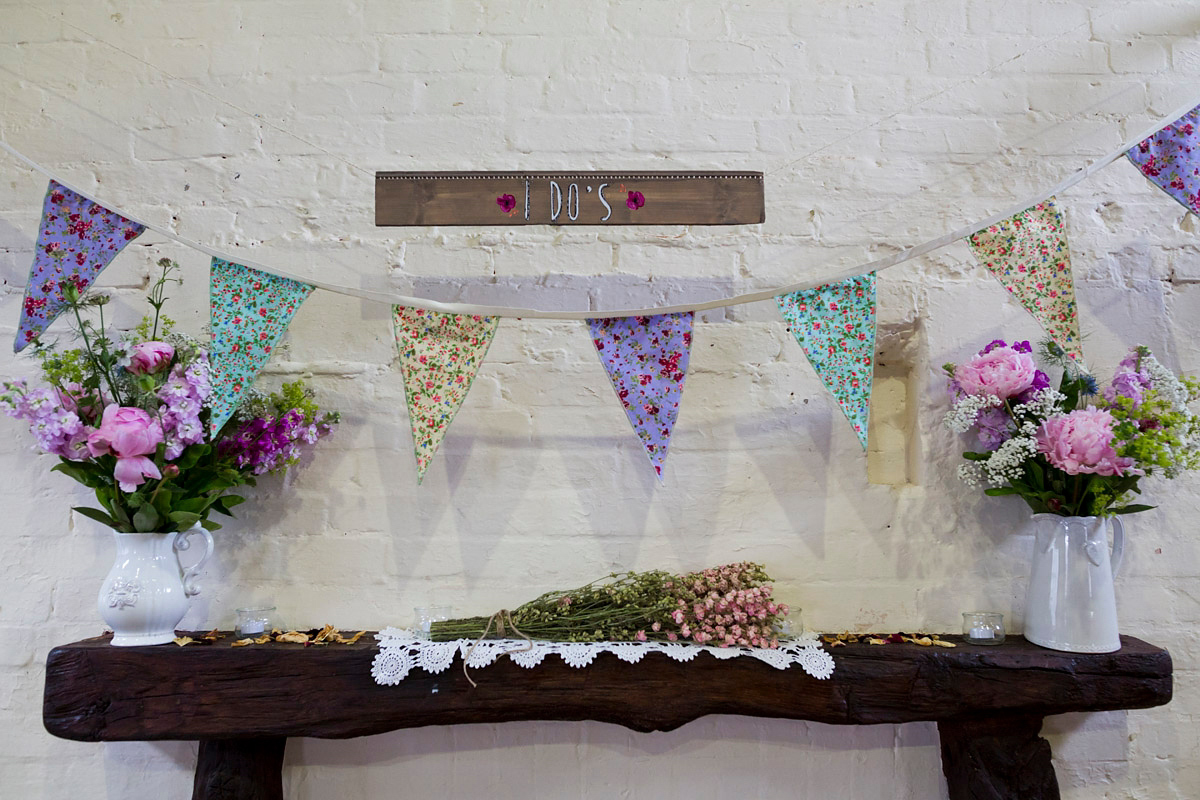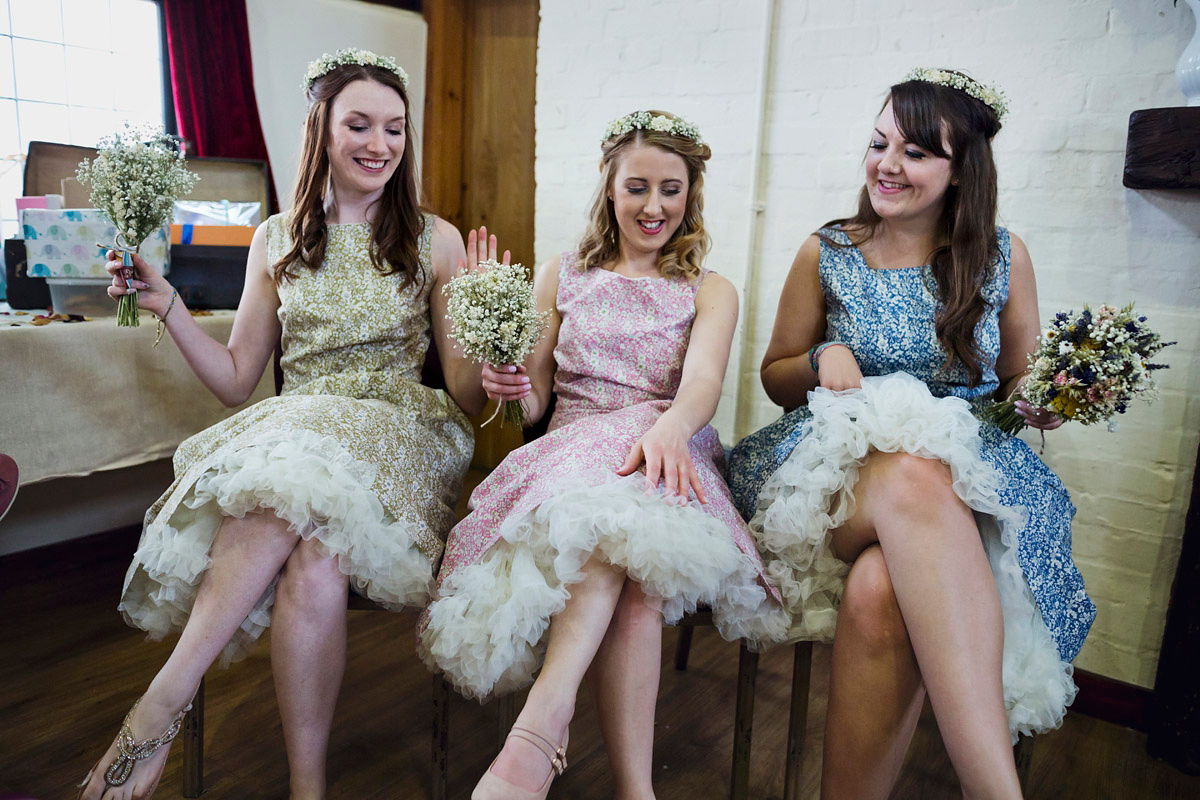 "For the flower vases and candle holders – our father's drank lots of beer and cider and ate copious amounts of crème brûlée so the glass bottles and dishes could be put to good use. What brave men! And the handdrawn signs were made with love and dedication by the maid of honour, Anna Vanderwall. She hand painted every single one based on the invitation designs."
"We made the wedding favours ourselves – a selection of love-themed pick and mix and homemade fudge the bride's father spent months making, freezing and cutting into tiny hearts. We popped them all in to small cellophane bags, held together with a brass star paperclip. The groom and I put them all together the evening before the wedding while talking over how nervous and excited we were!"
"My uncle's sister made the Victoria sponge, whilst my mum made the huge batch of butter icing for the filling. Me, my mum and Chris's nan, Sheila, built and decorated the three-tier cake with wild flowers. This craziness all happened on the wedding morning at the venue. It was a 'naked' cake so only really needed plopping together but it came together beautifully … and only a little bit rushed!"
"We also encouraged all our family and friends to bring homemade cakes to show off."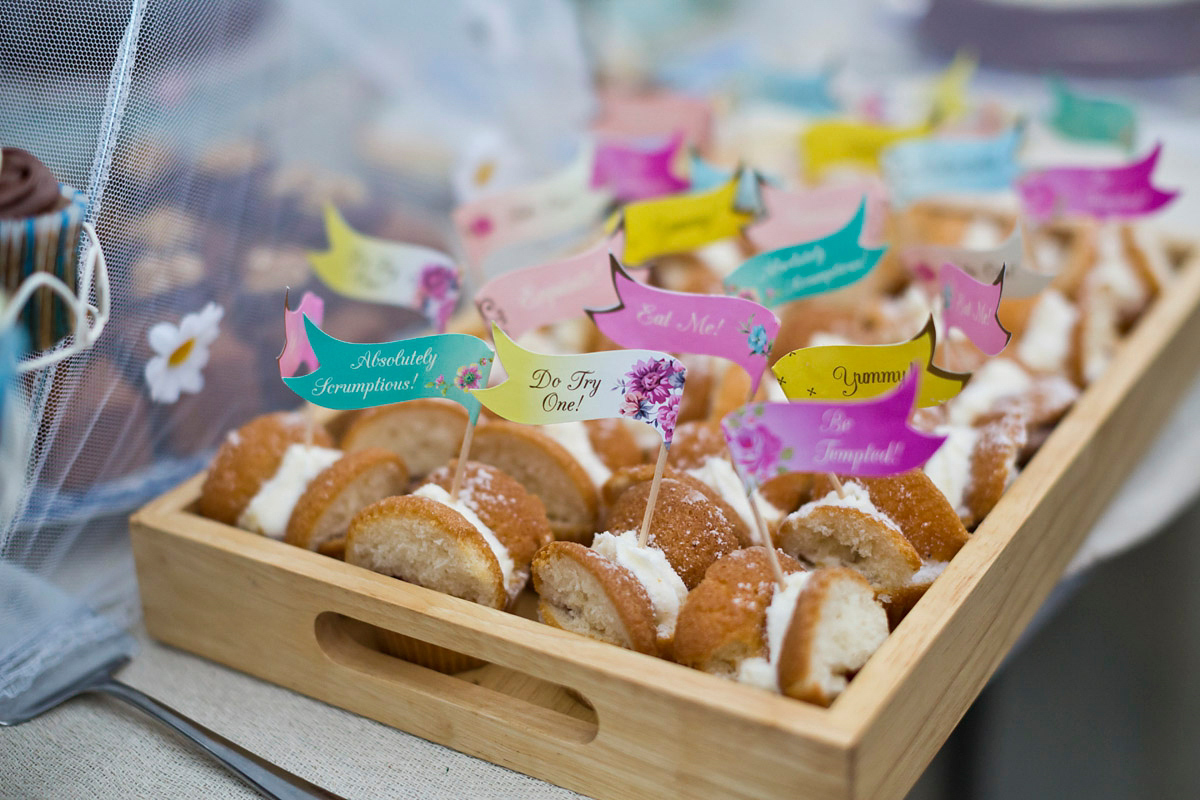 "A friend of the family, David Ramsay, runs his own tiny Jamaican catering company who made us an amazing spread of the tastiest curries ever to grace our mouths. My dad also made us a batch of his infamous vegetarian mutton for the plant eaters at the wedding, which went down a storm. Along side this we had an incredible 'cheese cake' made of our favourite cheeses from Waitrose."
Are you dreading the first dance part of your wedding night? Take heed from the couple and choose a song that automatically gets you dancing and it's guaranteed to take the stress away!
"The first dance was an aspect of the wedding that Chris and I were trying to get away with not doing! We both dislike the limelight and are self-conscious dancers. In the end we chose a song that we always dance around the living room to in the hopes it would loosen us up on the day; David Bowie's 'John, I'm Only Dancing'. The funky song and the cocktails we'd been drinking worked, and we had a funky bop together. We then quickly encouraged our loyal friends on to the dance floor to turn awkward into awesome."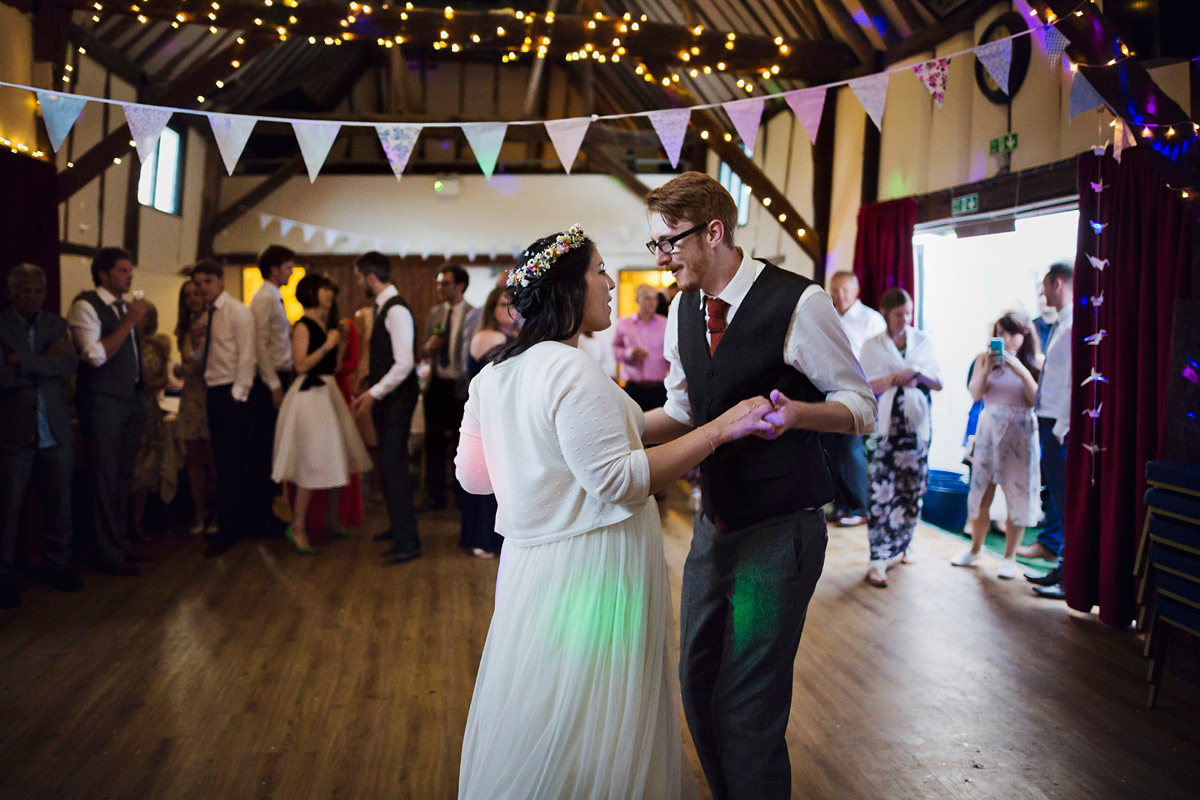 Creative Chris, a drummer and music nerd, made four playlists for the day, which throughly entertained the guests.
"The playlists had titles such as 'quiet background tunes' and 'super banging disco party'. We spent a long time planning our background sound and getting excited about all the tracks that had particular memories for us."
"Our favourite moment was a few songs into the dancing, when everyone was on the dance floor and we were able to cut loose and just dance and laugh with all our favourite people. There were a few moments when we managed to observe the wedding rather than be the focus, like when we finally got to sit down and eat, and it was amazing to see all of our friends and family gathered together (often in bizarre groups/combinations) laughing and smiling. We both loved that."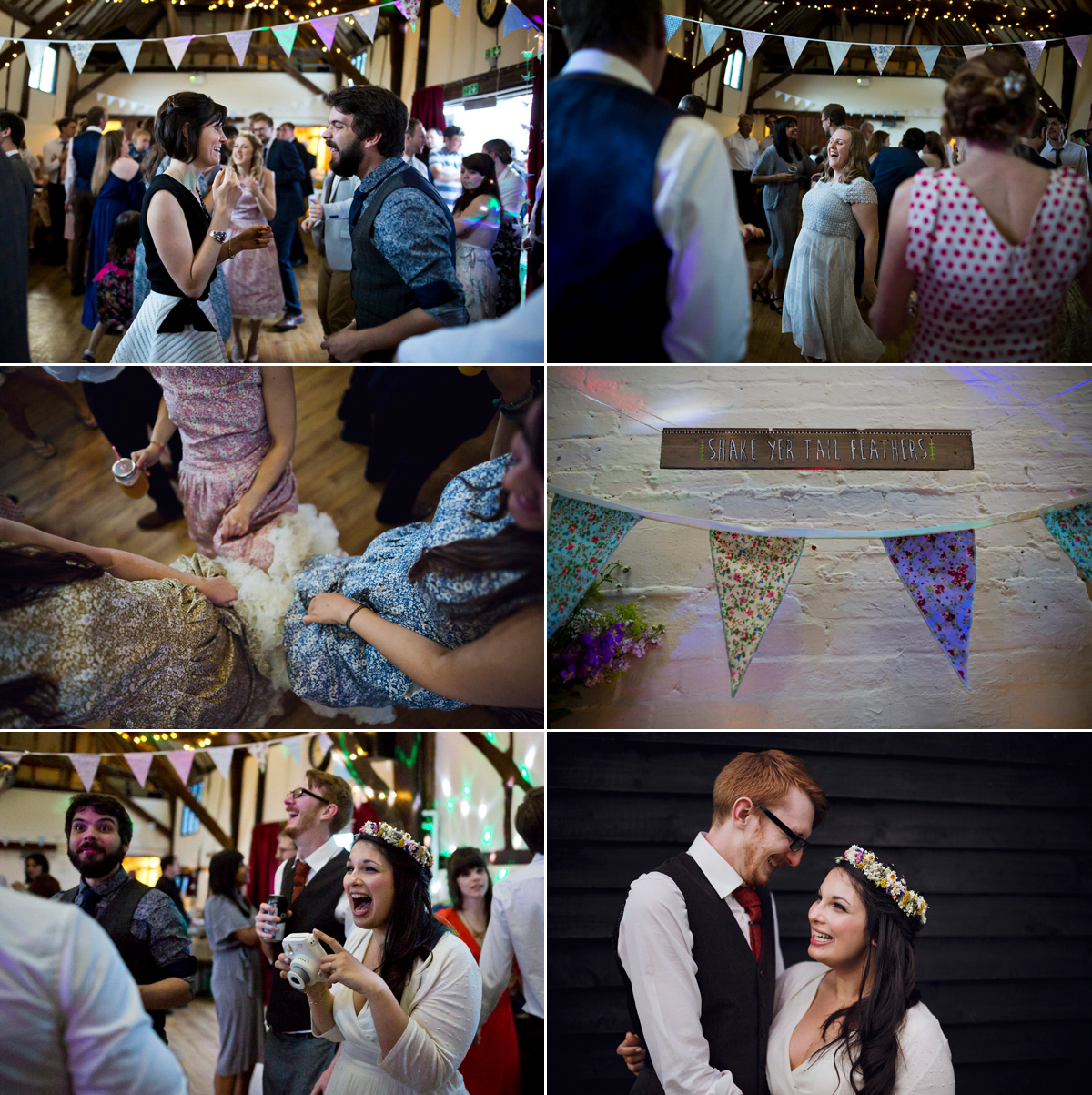 Words of Wedded Wisdom
"Just make the day you want. In the planning stages people were sometimes surprised at how much we veered from tradition, but we knew what was important to us and focused on that.
My biggest advice when planning a 'DIY' wedding – be flexible and get as many people helping out you possible can. Parts of the big day will have to be different than what you obsessively planned for, but if you have all your friends and family problem solving along beside you, all the bumps can be ironed out. Also, keep an open mind!
We always joke we should have got a wedding planner and saved ourselves a lot of stress, but then the wedding wouldn't have been ours in the same way, and we really made our own perfect day. So no, no changes."
Golly gosh – I am totally over any post-holiday blues after viewing these gorgeous images. Kerris and Chris, I can feel the happy vibes from your delightful day positively oozing from Mark's photos and wish you both loads more fun and exciting adventures ahead.
If you've fallen for the pretty dried flower crowns, be sure to see here for even more inspo.
Happy New Year little lovelies!
Love Jo -x-