2017 has arrived, and with it came a whoop of joy from our gorgeous little wedding community – so many of you get married this year! I remember feeling that same heady rush one year ago, as impatience mingled with the tang of disbelief and bubbling excitement. My head spins as I think of how quickly those 365 days have gone, how much has changed and how much has been achieved. I feel impossibly proud of the wedding we created and can't wait for you all to see it next week right here on Love My Dress. Those precious moments that become the steps to your wedding day of dreams are so fleeting that I implore you all to grab hold of them with all of your might; don't check your emails, get hangry or put pressure on yourself to feel a certain way, rather throw yourself into feeling the whole spectrum of expectant bride, you look back upon that giddy time so fondly.
I can't think of a better way to feed the increasing, expectant joy than with todays brightly coloured offering. Elizabeth, editor of a cookery magazine, and Laurence, an insight analyst, wed in an explosion of wild flower and pom-pom pizzazz, weaving in huge quantities of fun and colourful photo ops in the process. Old Oak Farm in Curry Rivel, Somerset was chosen as the setting, 13th of June 2016 the date, and so began the pom-pom making. Adam Lyduch made one of the most moving wedding films I've ever seen and the Laurence's words about his new wife will make you cry. Watch it, soak up these images and forget its January and you can't eat everything you come into contact with anymore. The beautiful sights and sounds of the countryside mingle with Elizabeth and Laurence's love story, total gorgeousness.
I know I'm not alone in soaking up the emotions that swell from each getting ready shot; that apprehension and excitement are powerfully beautiful. Elizabeth was surrounded by loved ones as she was made up by Portia Channell and had her locks pulled into the perfect relaxed up-do by Ashlee from Melanie Giles Salon in Bath. Finally slipping on the gown you've been longing to wear (and show off) is a pretty amazing feeling, and Elizabeth looked sensational in her Laure De Sagazan dress from The Mews in Clifton, Bristol.
Captured by The Retreat Photography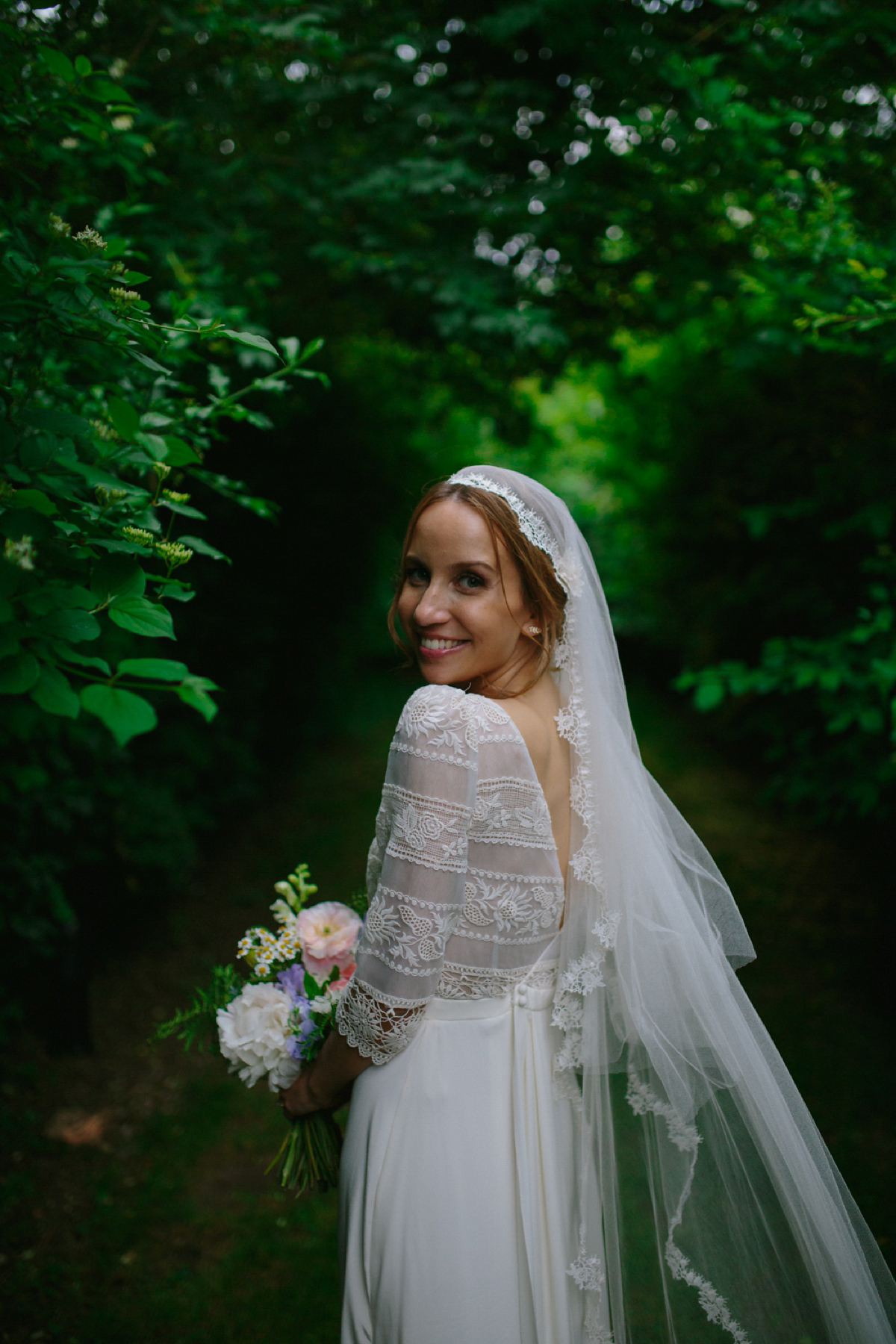 Being the most stylish wedding blog out there, we have featured many a beaming Laure De Sagazan bride in the past, why not soak up more boho vibes here.
"I adore Laure's designs, they feel so effortless but the fabrics she uses are so chic. My dress felt timeless, and the lace was so unique, I couldn't stop thinking about it as soon as I left the shop. Shopping for the dress with my mum was one of my favourite parts of the lead up of the wedding, as we got to spend real quality time together and was something I'd dreamt about doing together since I was little. No one tells you like it is like your mum, so she was the best person to take with me!"Searching for that relaxed, colourful atmosphere with a huge dollop of fun, Elizabeth and Laurence knew they needed a venue that allowed them to make choices and project their personalities without conforming to a long list of rules, which they found at Old Oak Farm. If the venue's magic unlocks your own magical feelings, you know its a winner.
"We were looking for somewhere that we could put our own stamp on, without restrictions on our food and wine, and somewhere we could decorate ourselves. We also were looking for somewhere where people could camp – weddings can be so expensive for guests and we wanted to give people the option of free accommodation if they wanted it."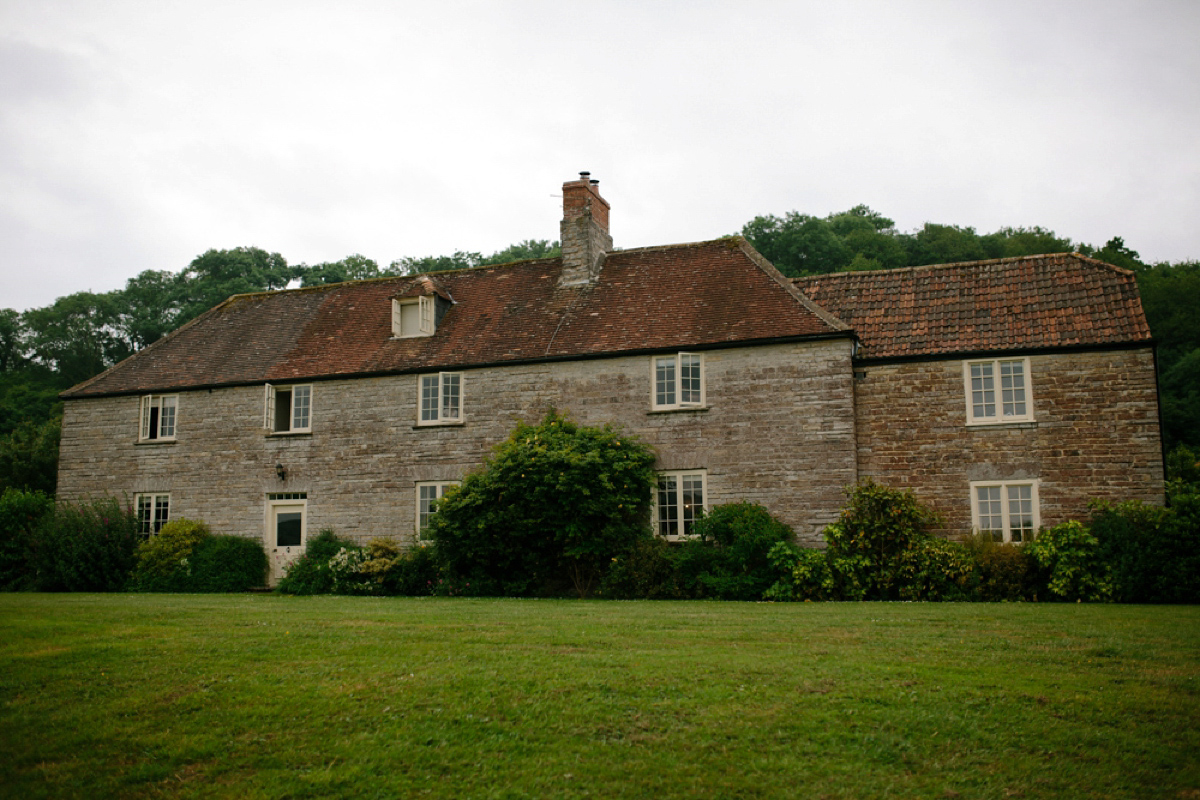 "Plus we love festivals and camping so it suited us! As soon as we visited Old Oak Farm we knew it was the perfect place for our wedding as it felt so magical. They have built an amazing stable bar there with a secret garden, and the vintage marquee with the bespoke bar and tables made for a beautiful backdrop. Even with no flowers or decorating, this venue looked gorgeous."
Taking inspiration from June's floral hotlist and wanting to celebrate the wondrous natural colours of the season, blooms were a huge part of Elizabeth and Laurence's day and leap out from these wonderful images. Kate Gibbins at Windmill Farm Flowers  brought Elizabeth's vison to life, along with some highly personal additions.
"As soon as I looked at Kate's website I knew she was right. Firstly she knew the church and the venue so she'd know what spaces needed to be filled and where everything should go. And her style is just beautiful, and very relaxed. She grows a lot of the flowers herself, we had drawn up a plan of the sort of flowers I wanted but a lot of it came down to the weather and what was in flower and I loved that- the sort of natural spontaneity of it all."
" From foxgloves to peonies to feverfew, there was a real mix of flowers. I gave Kate cut-offs from the bridesmaids bouquets that she tied around them, and I had some ribbon from my granny's christening gown that was tied around mine. I also took some myrtle from my grandma's garden to include in the bouquet as a nod to both of them."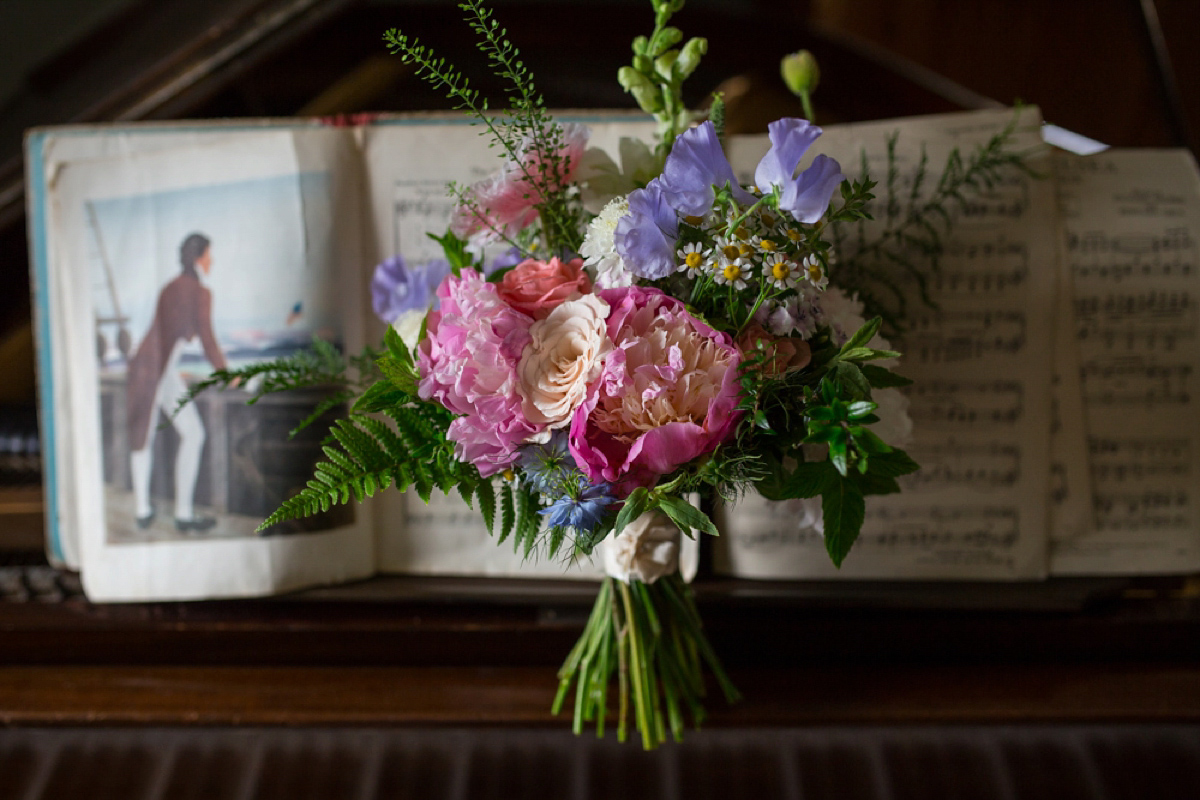 As someone who can find an excuse to purchase anything and (literally) everything, I feel a pair of Jimmy Choo's are completely necessary when planning such important footwear. Elizabeth fell in love with these strappy, sparkly beauties and thankfully managed to get a discount on her dream heels.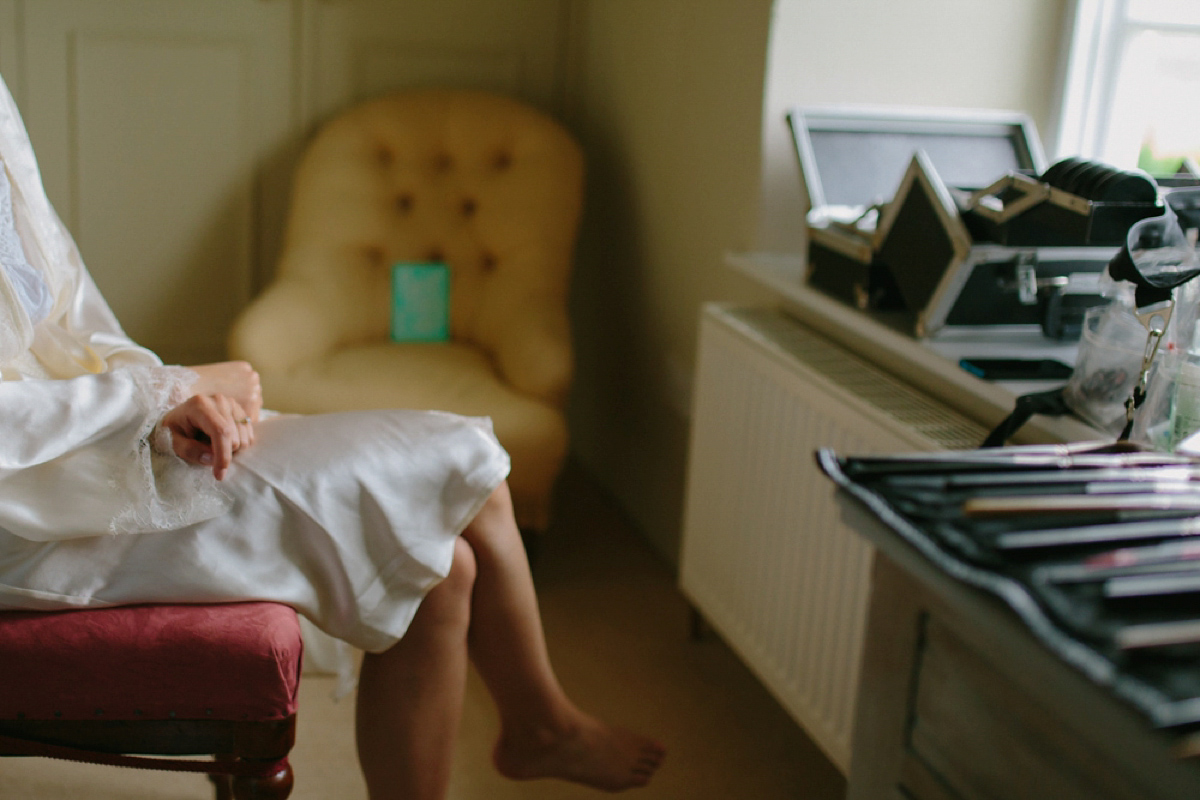 Sadly, I can't provide you lovely lot with a link to purchase this Juliet cap lace veil, as Laurence's mum made it!
Providing a stylish statement and a lovely retro nod that tied in with all of this lovely whimsicality, this hand made and long-dreamed of veil was the icing on the cake to Elizabeth's bridal look.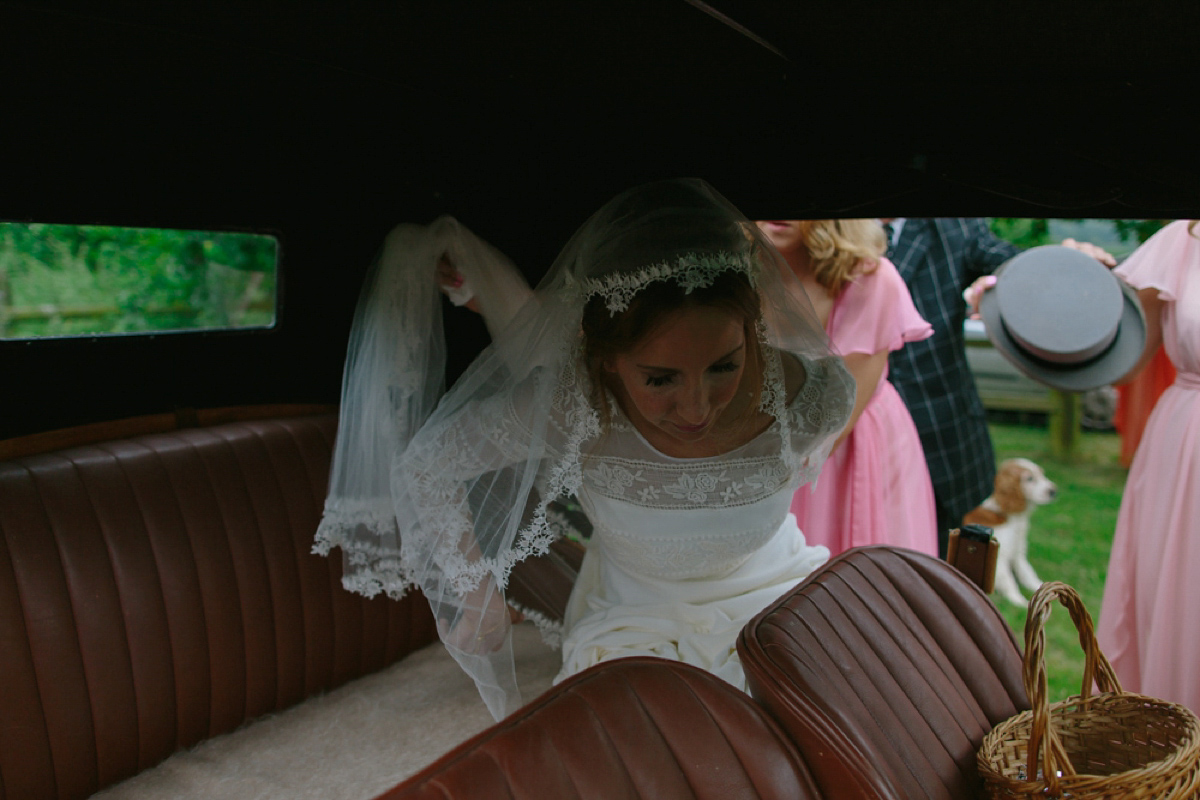 Elizabeth was accompanied down the aisle by her very emotional dad, who later confessed that slowing down was a way of calming his nerves. 'To Build A Home' by The Cinematic Orchestra played during this special moment, a song that means so much to our bride and groom.
Laurence looked dapper in his Reiss suit, and I love that Elizabeth got to be surprised by her love's attire too, she had no hand in picking this gorgeous grey check.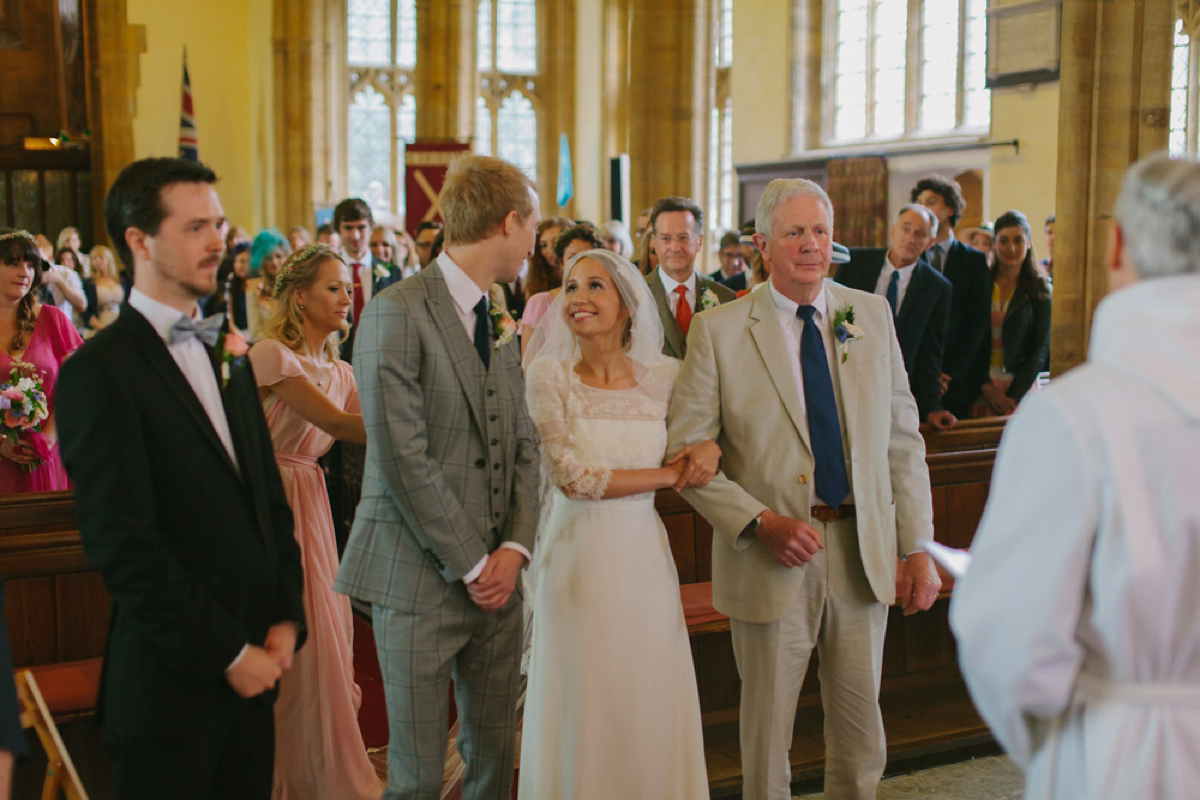 "We had a friend read a bible reading,1 Corinthians 13 The Gift of Love, and my brother read 'Song of the Open Road' by Walt Whitman. The words from both have a lot of truth and good advice in them! We found it hard to pick them as there are so many beautiful readings out there, but we wanted something that reflected us and what we believe in for our marriage. The ending of the Walt Whitman reading is so beautiful:
I give you my love, more precious than money,
I give you myself before preaching or law:
Will you give me yourself?
Will you come travel with me?
Shall we stick by each other as long as we live?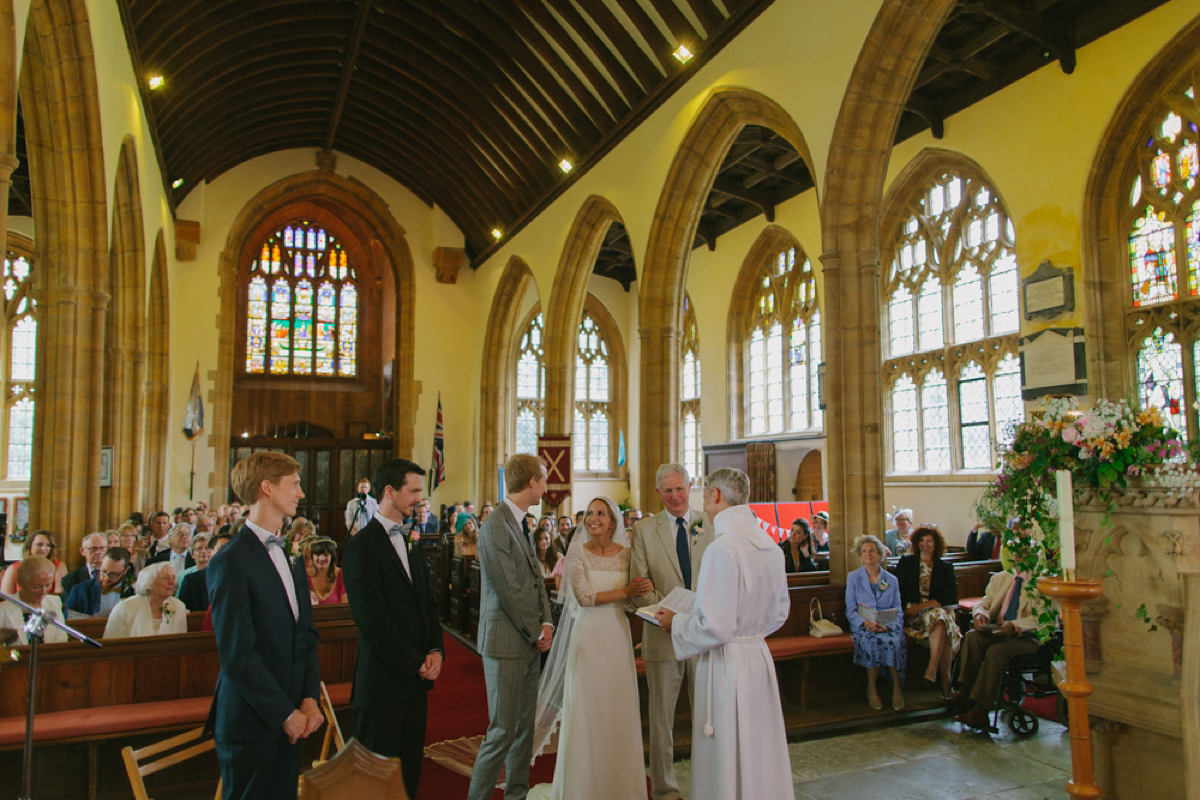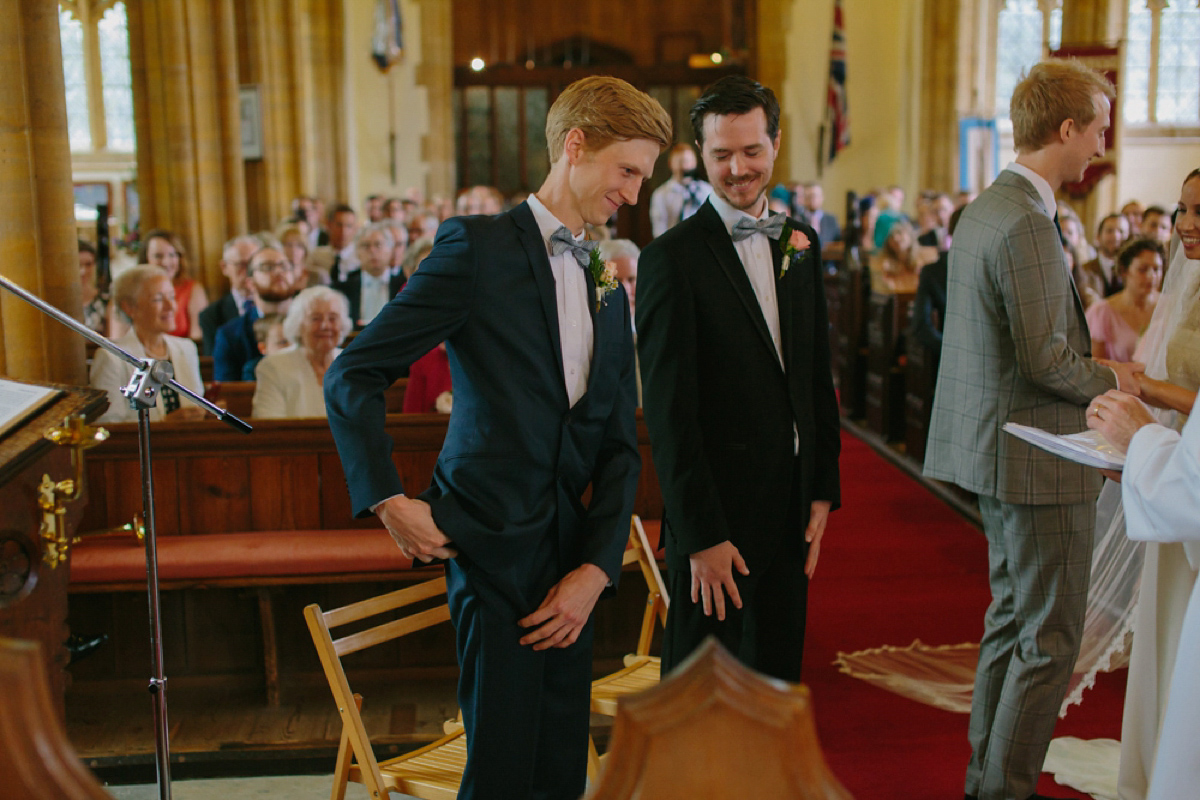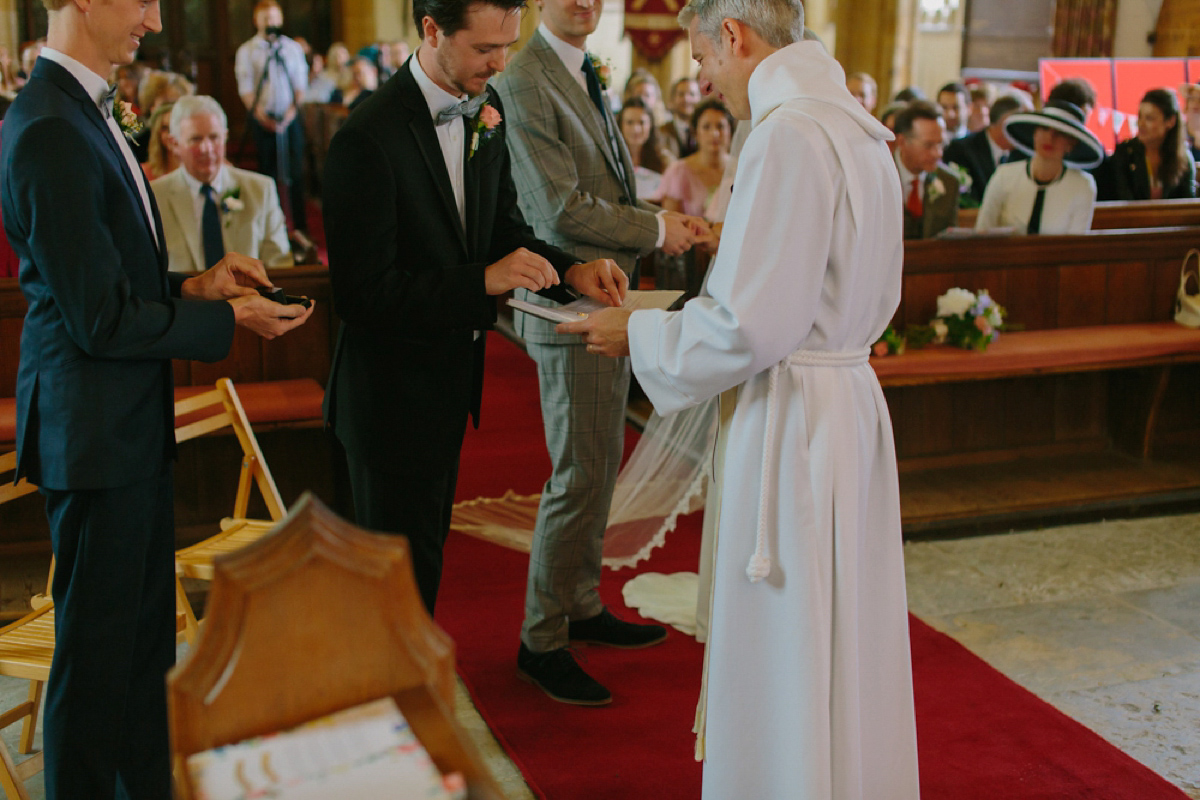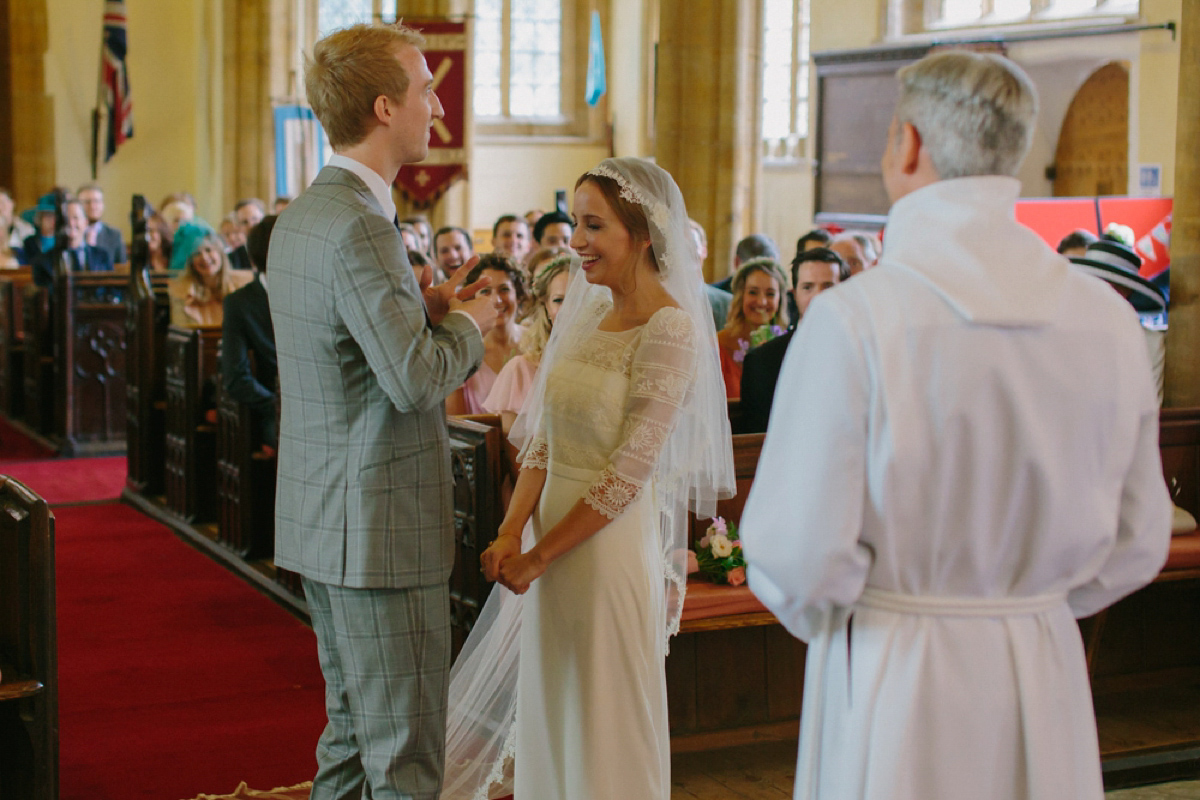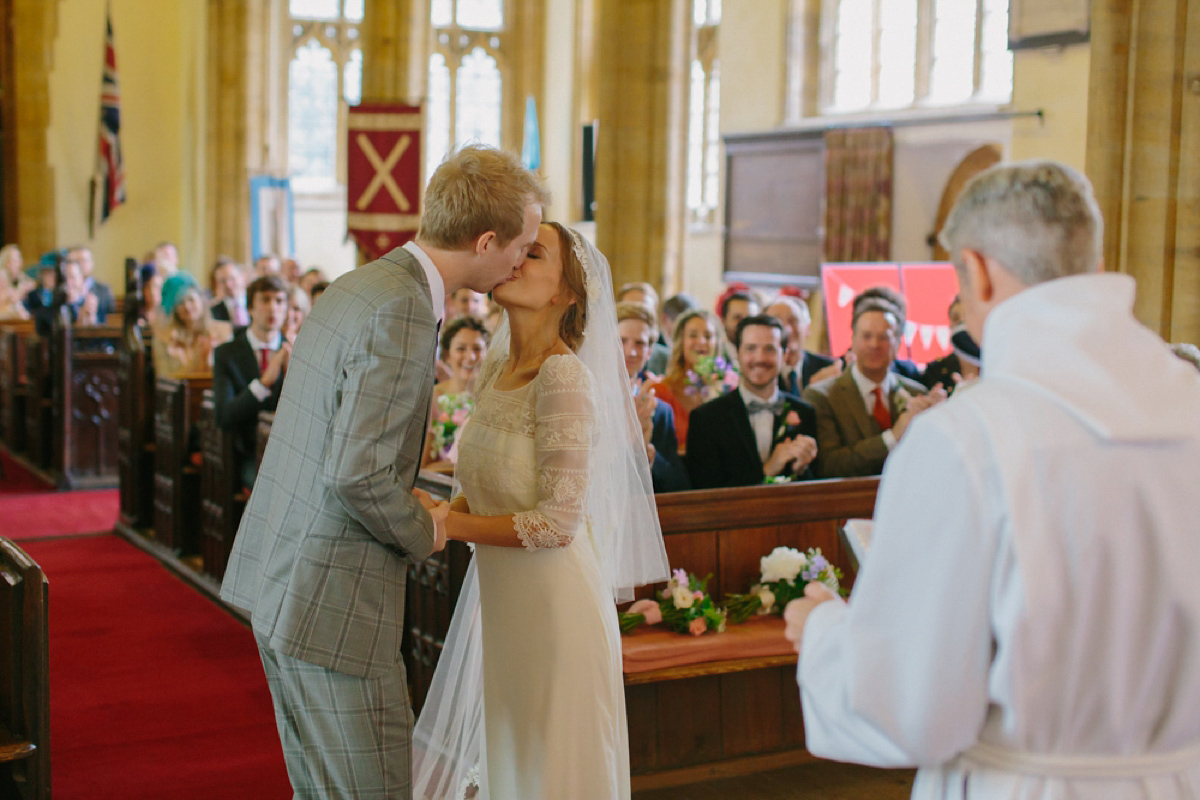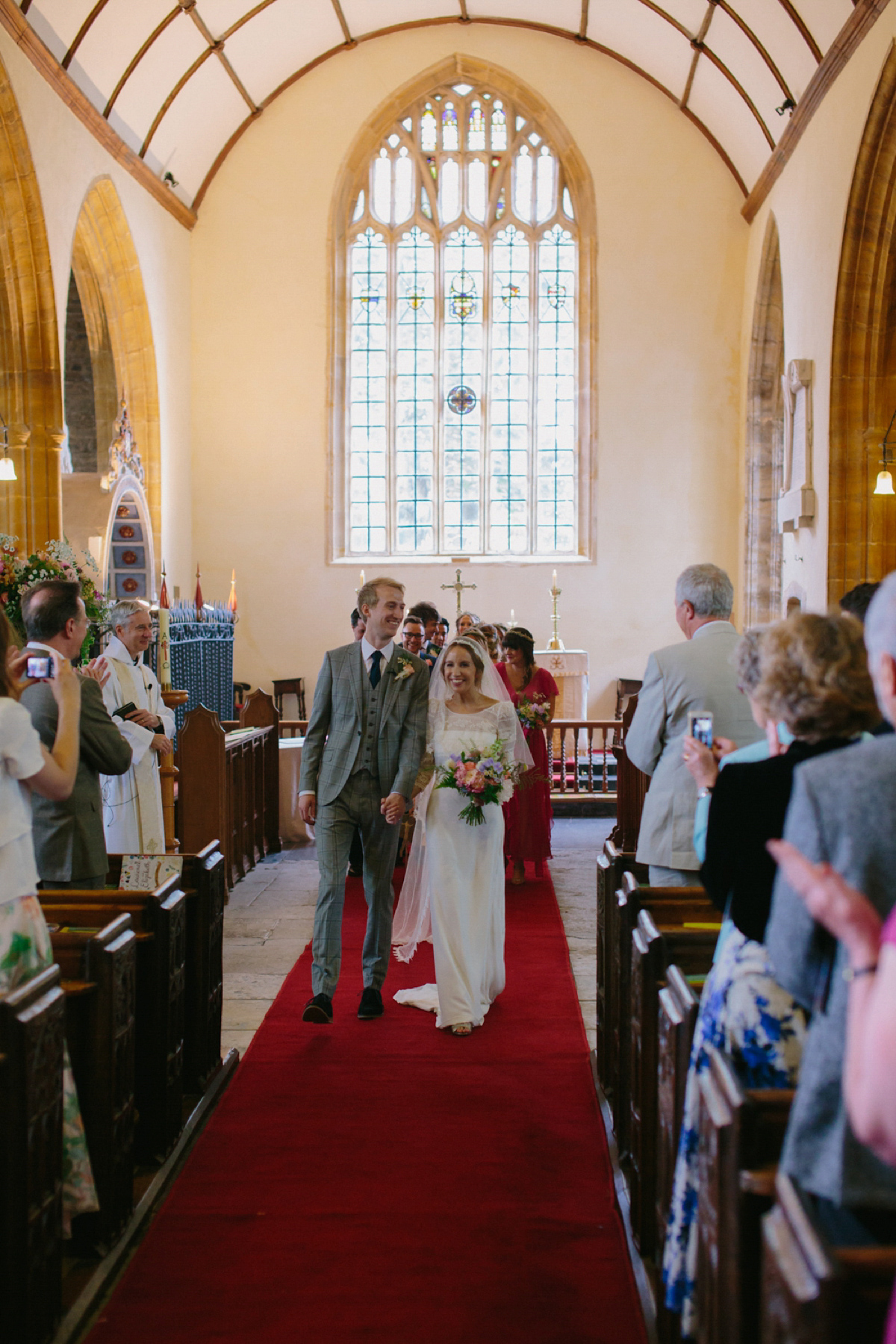 Bridesmaids wore the prettiest pink tones from Cherry Williams, and paired with crowns and bouquets of smile-inducing blooms look like happiness personified.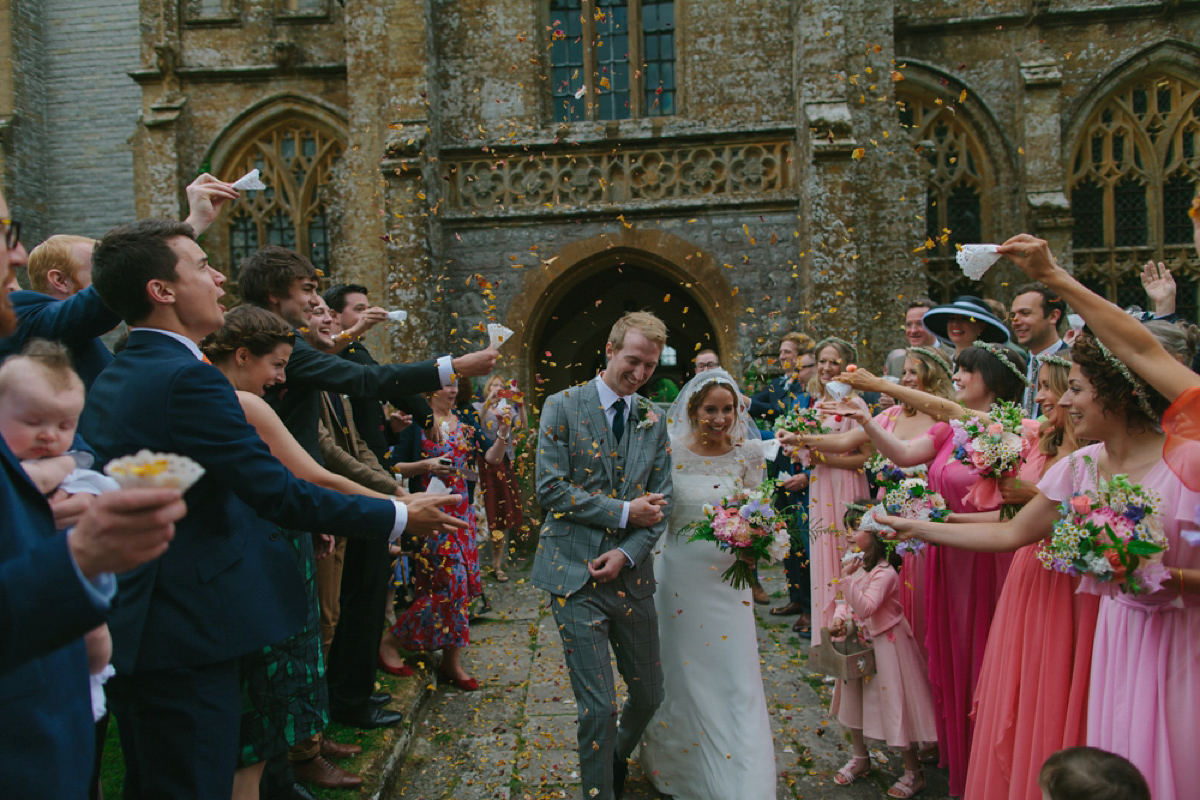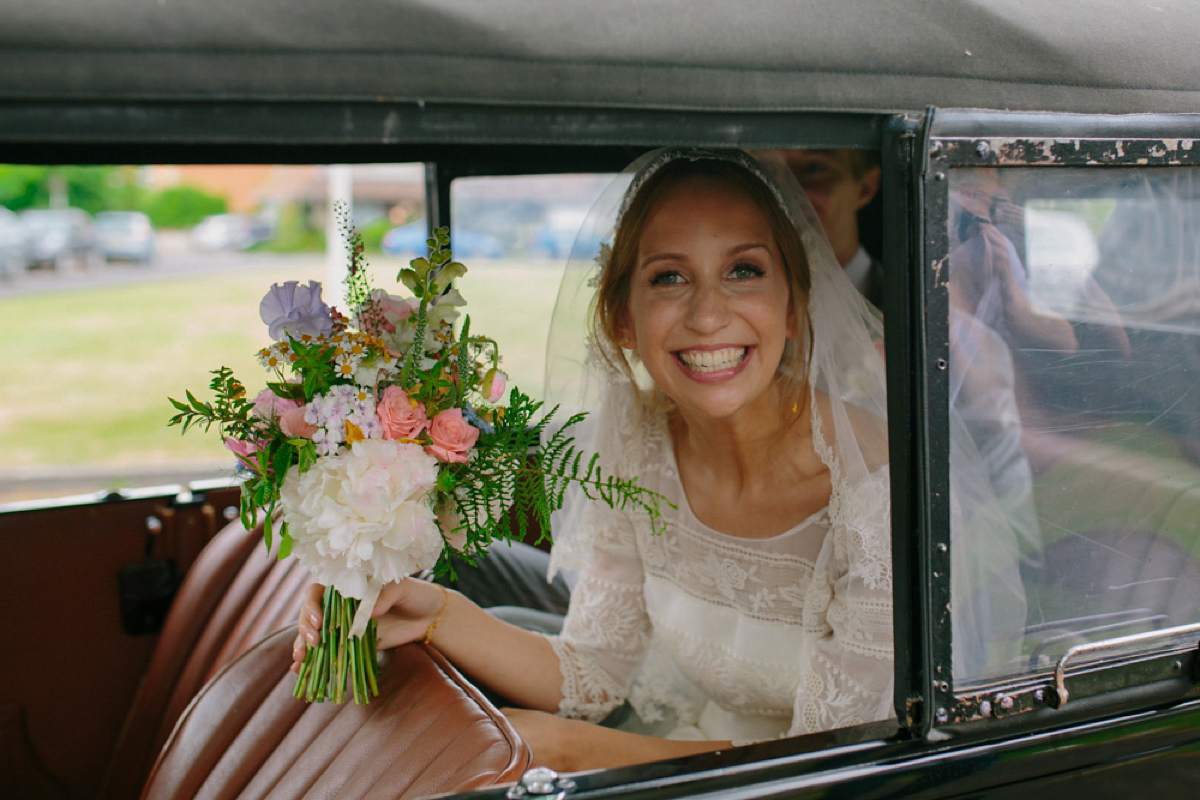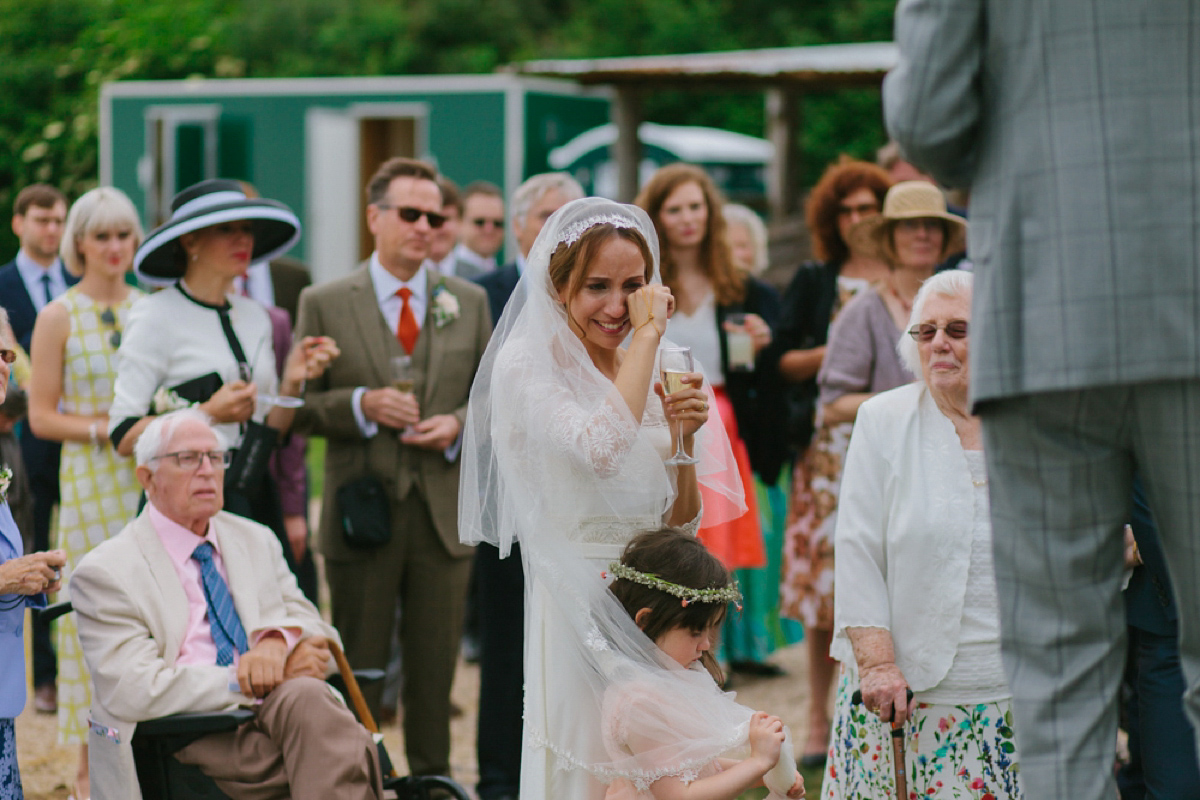 Capturing every single smile, pom-pom and fox reference in *such* a joyful tone was Matt Bowen of The Retreat Photography.
"I was very lucky to find Matt through one of my bridesmaids and he turned out to be fairly local to where we were getting married too!"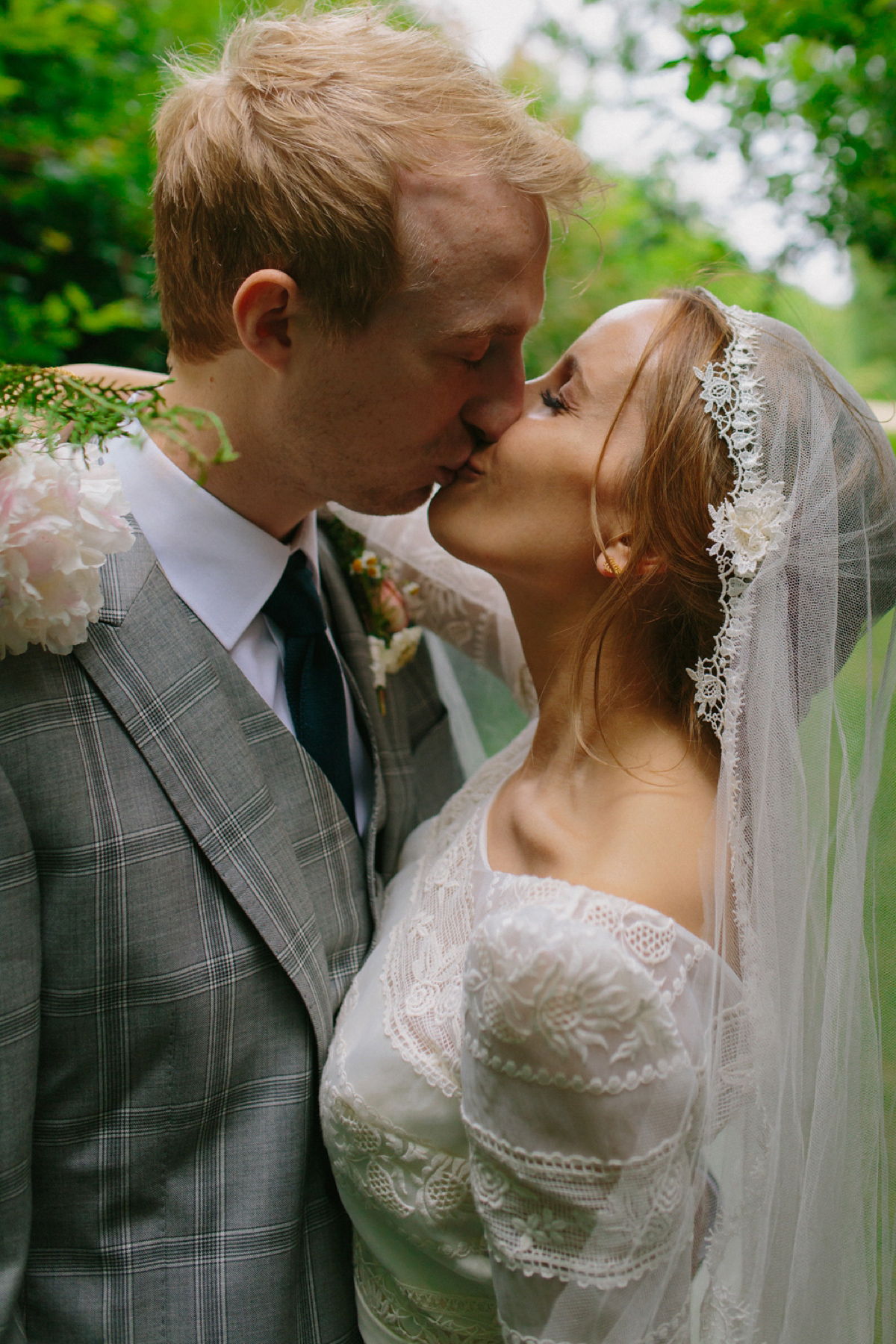 "Matt was great throughout the day, he is fantastic at reportage photography and capturing moments that we didn't get to see. He made us all feel at ease, and photographed so many beautiful shots of our guests looking happy and relaxed!"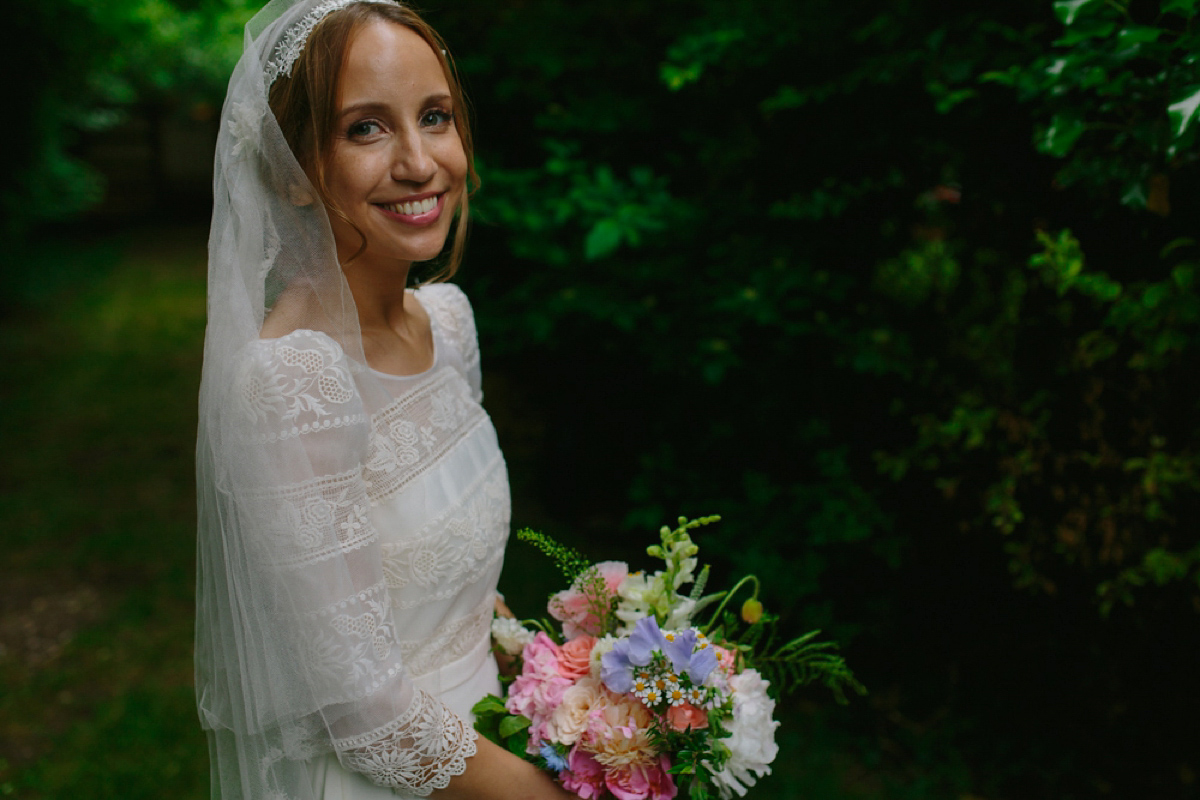 "We were so happy with the photographs and he managed to capture the vibe of the day so well."
"We knew about film maker Adam's work as he had filmed Laurence's sister's wedding, and we loved it. He has a very cinematic style, and he edits everything together amazingly. He captured the day perfectly, and we especially love the 5 minute highlight film that encapsulates it all so well, sometimes we just watch it during the week and it never fails to bring a smile to our faces!"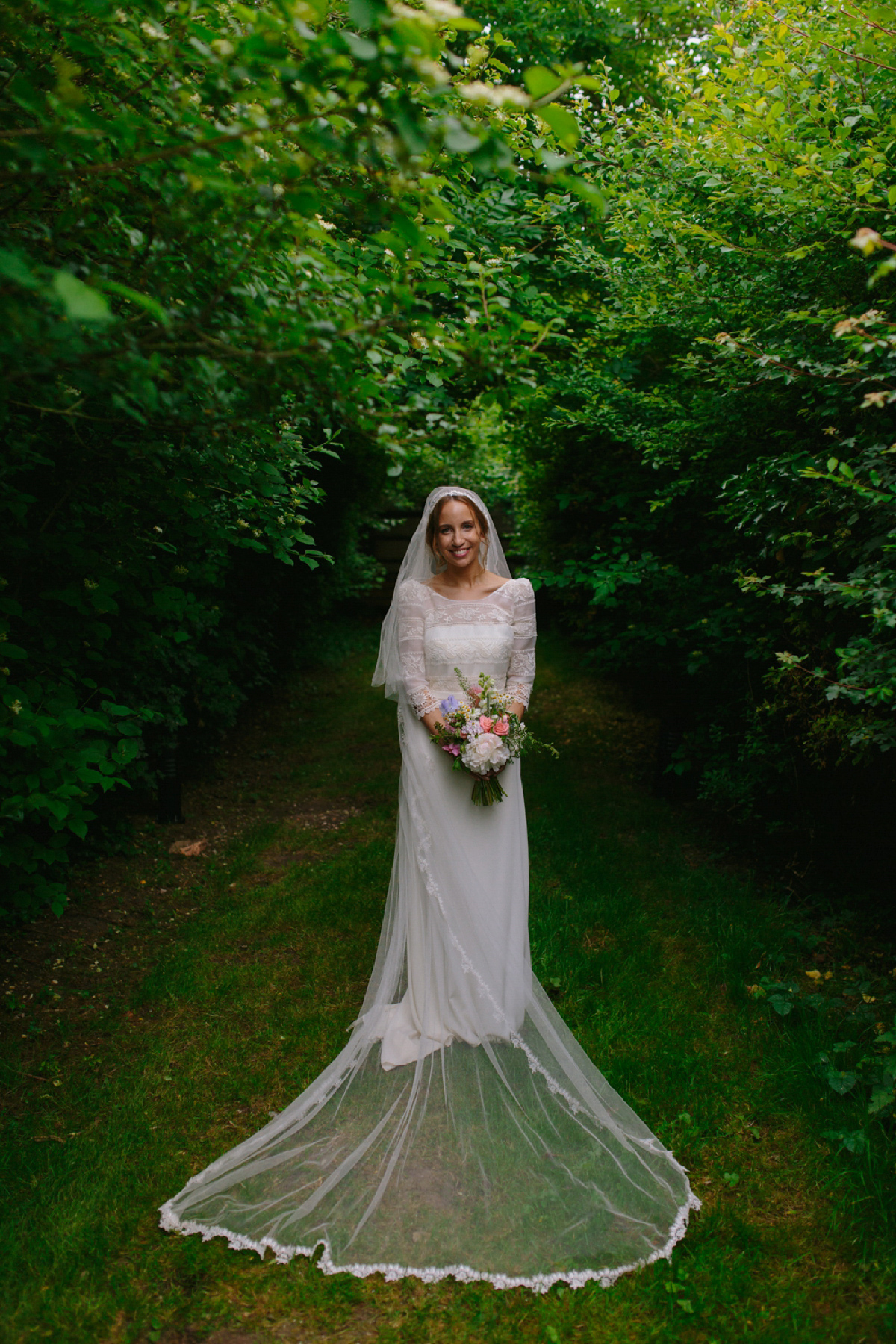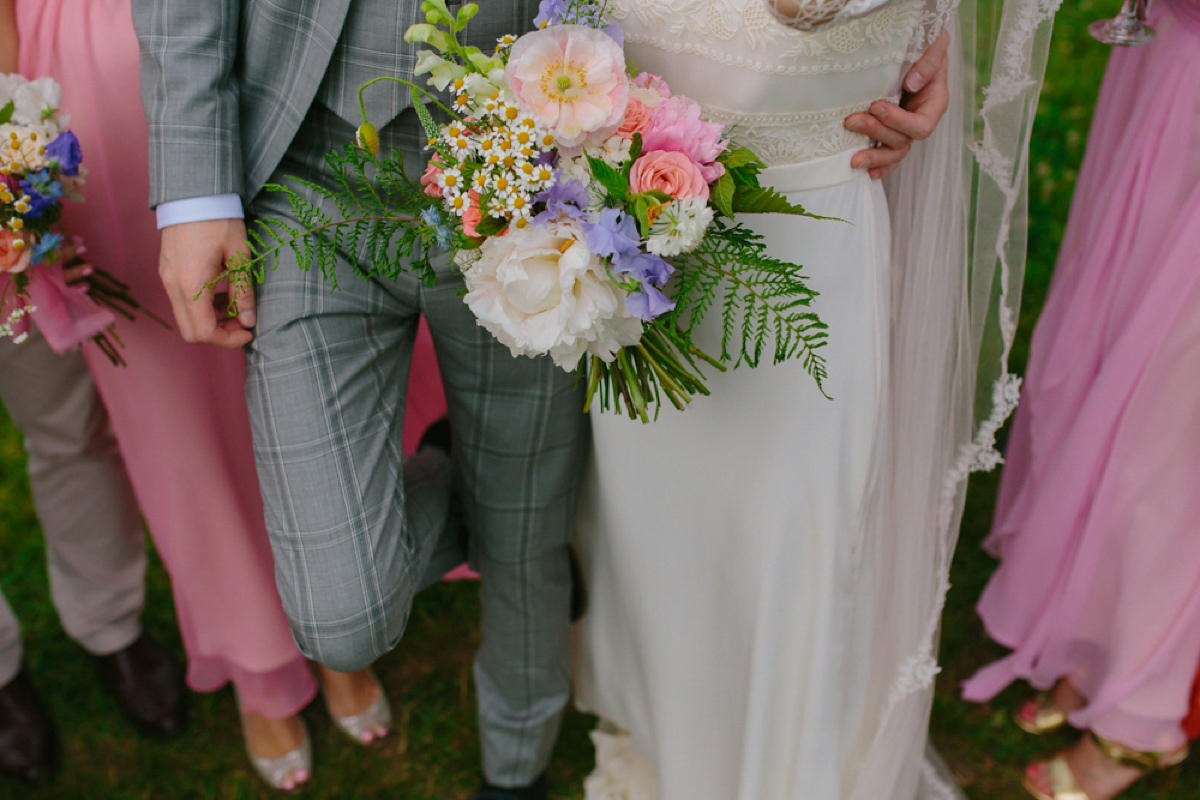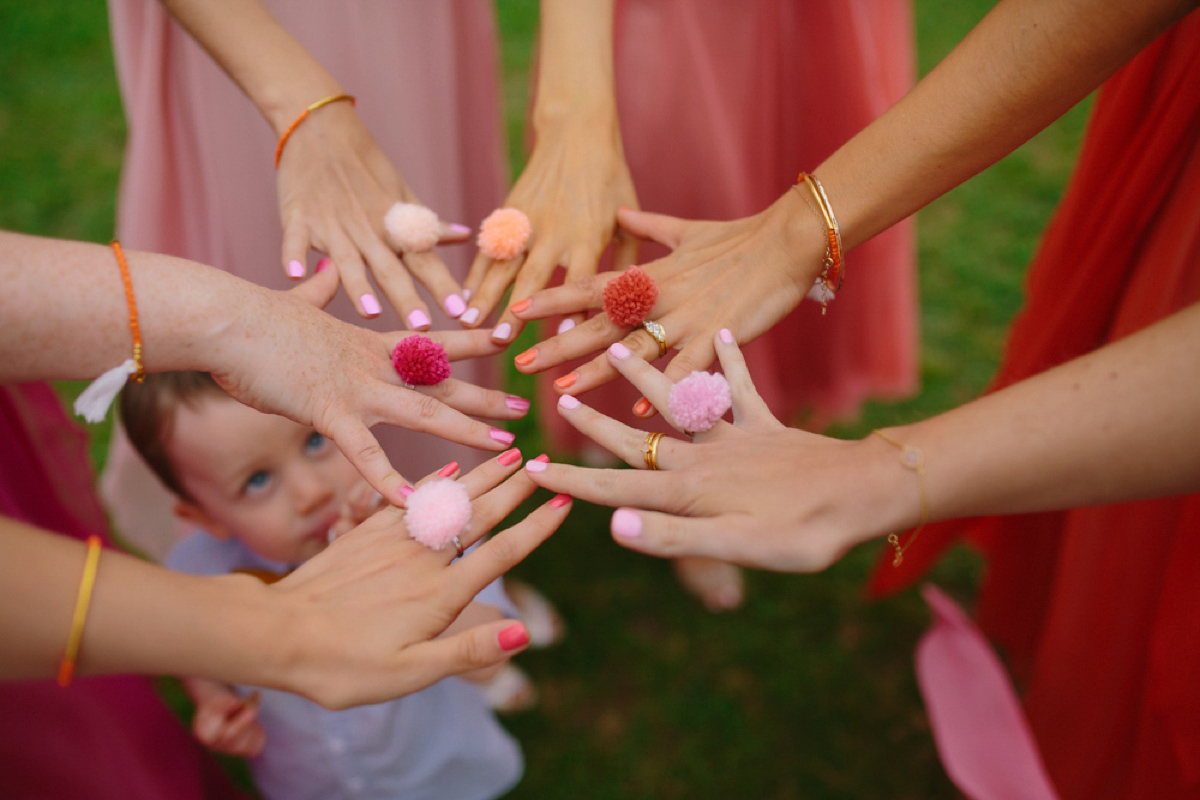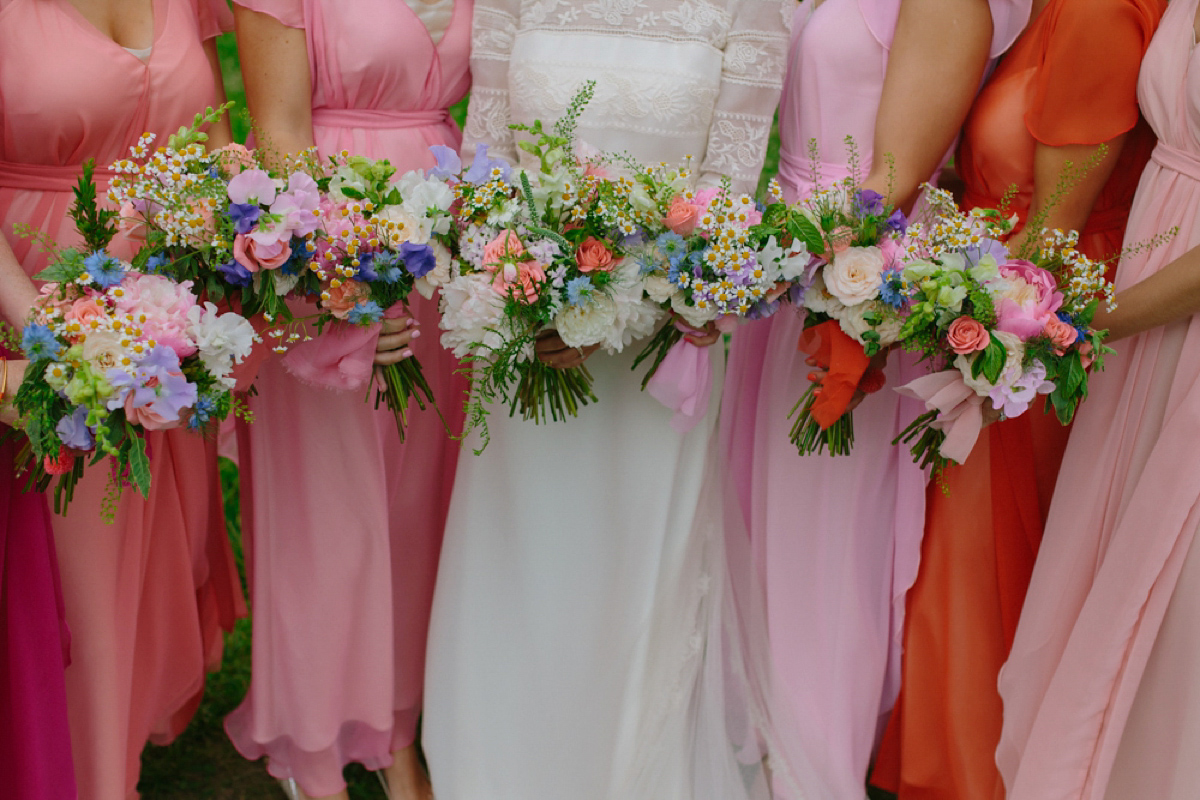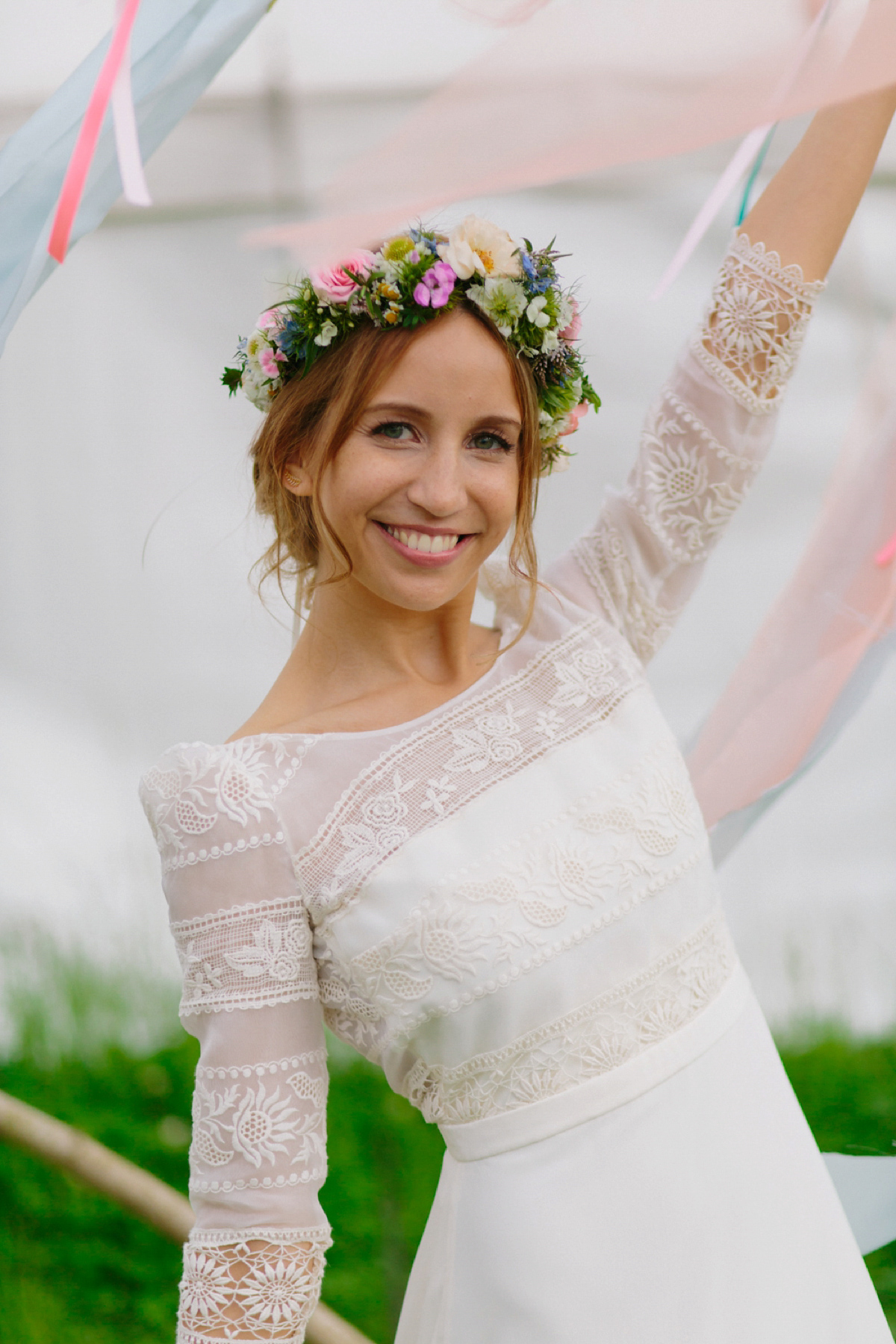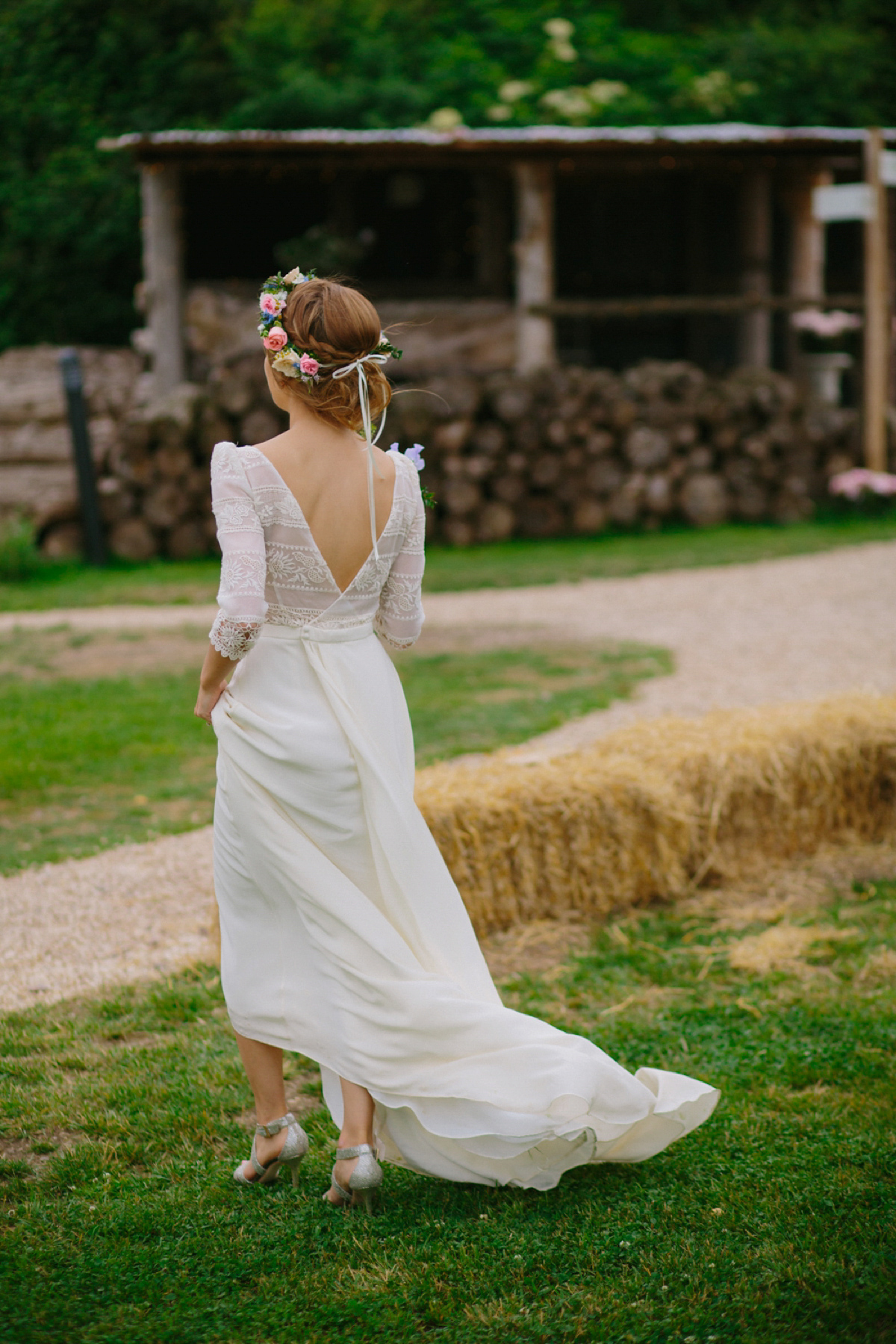 "My dad made an amazingly bonkers photo booth that consisted of a fireplace and bookshelves, with a water feature."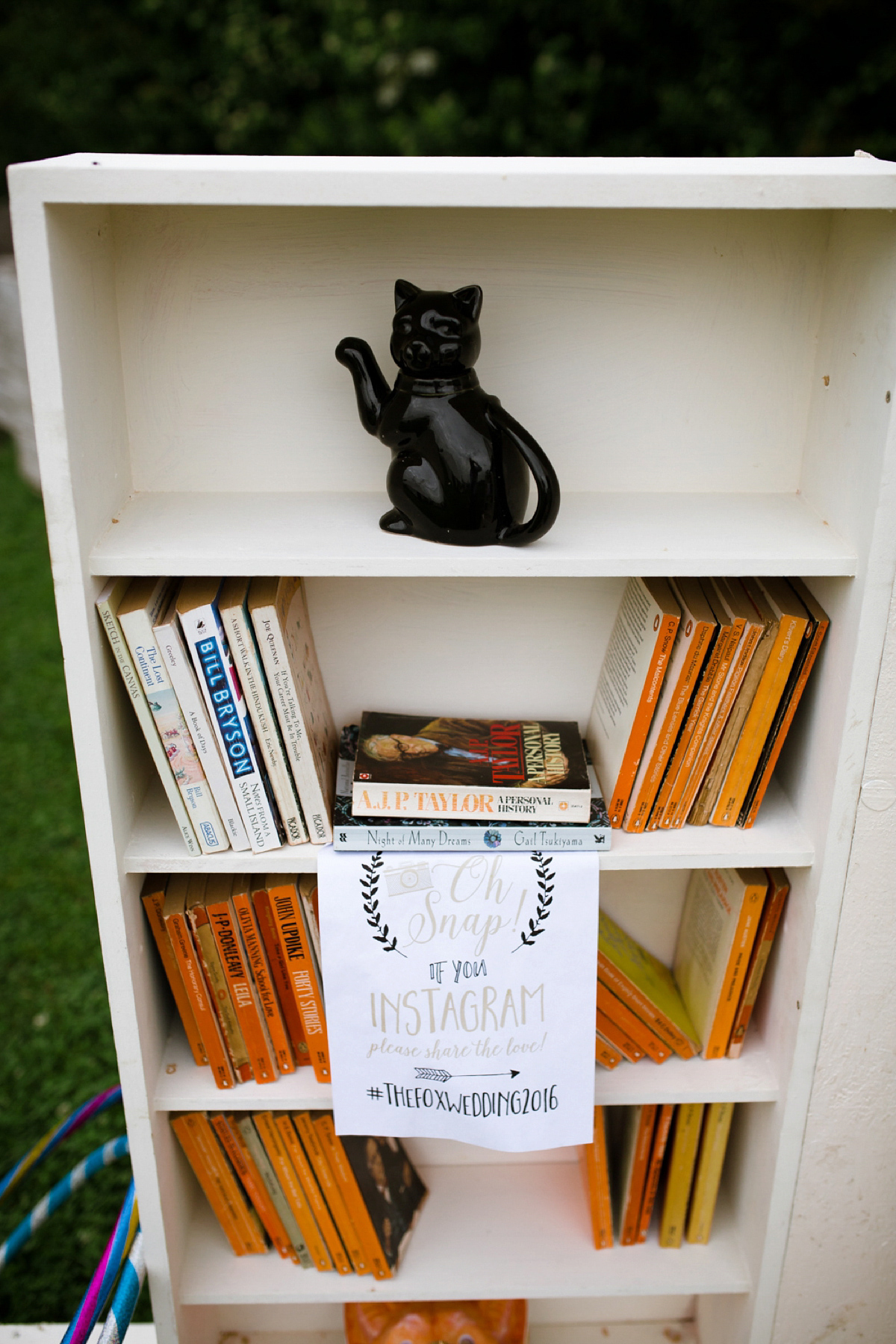 "We got and made lots of props and masks for people to take pictures with an instant camera. It was much cheaper than hiring a photobooth (thank goodness for my dad's creativity) and proved to be popular with our guests."
"My dad also made a wooden frame out of old branches, and the bridesmaids and I tied long swathes of fabric to it that ended up looking beautiful in the wind and also a perfect photo backdrop!"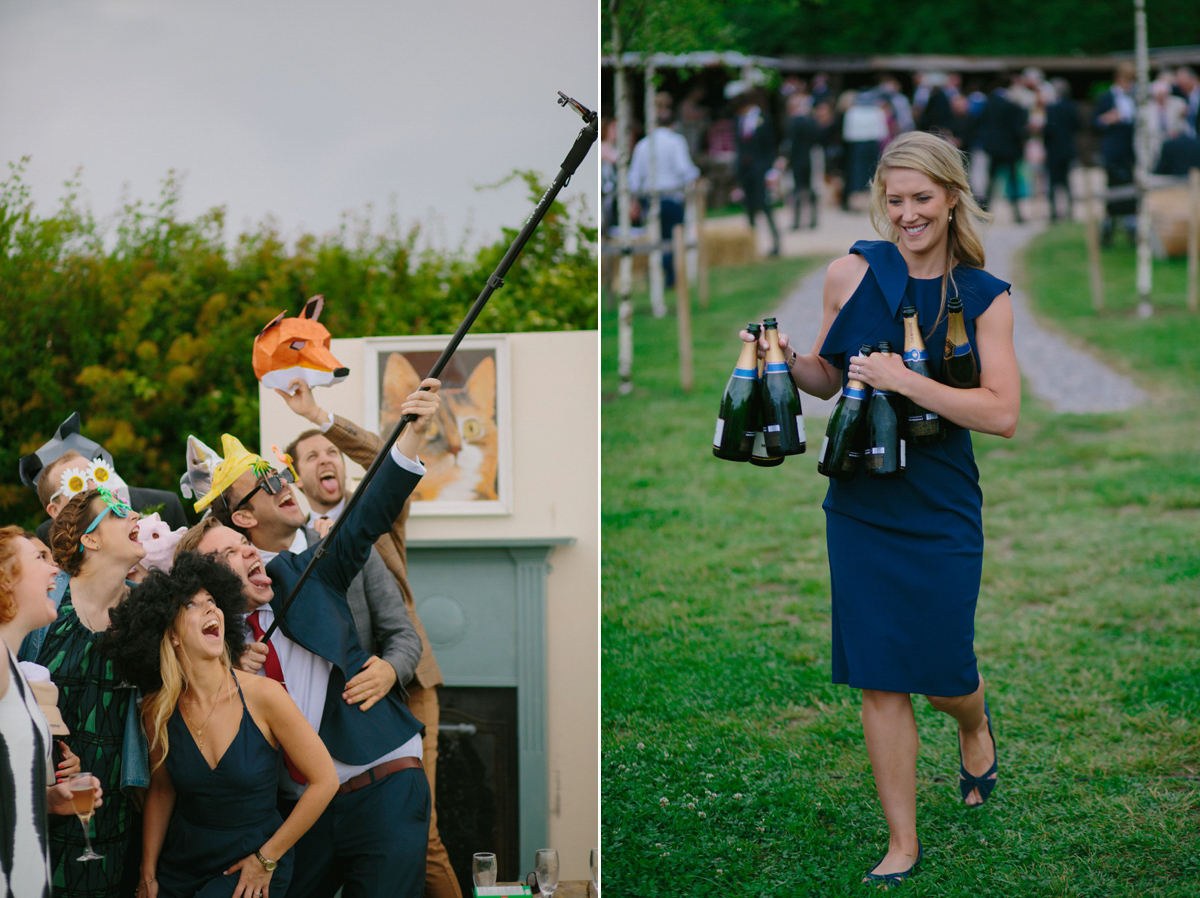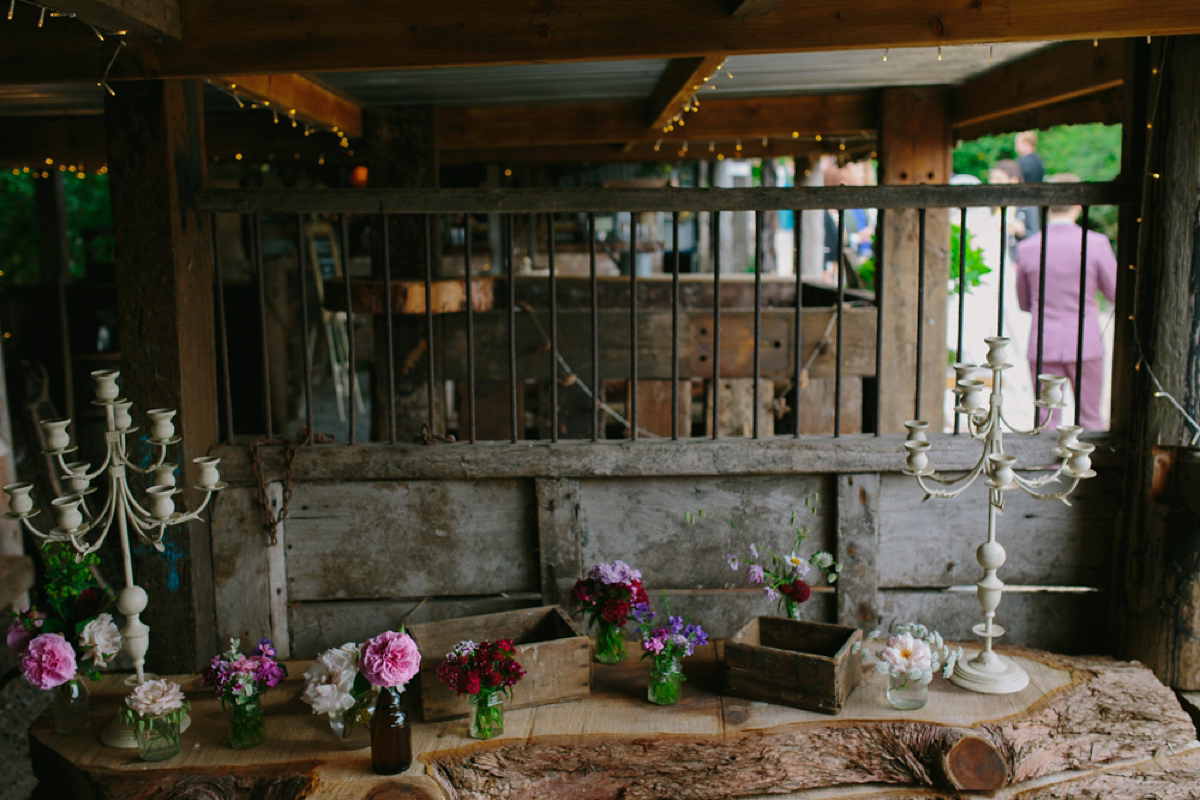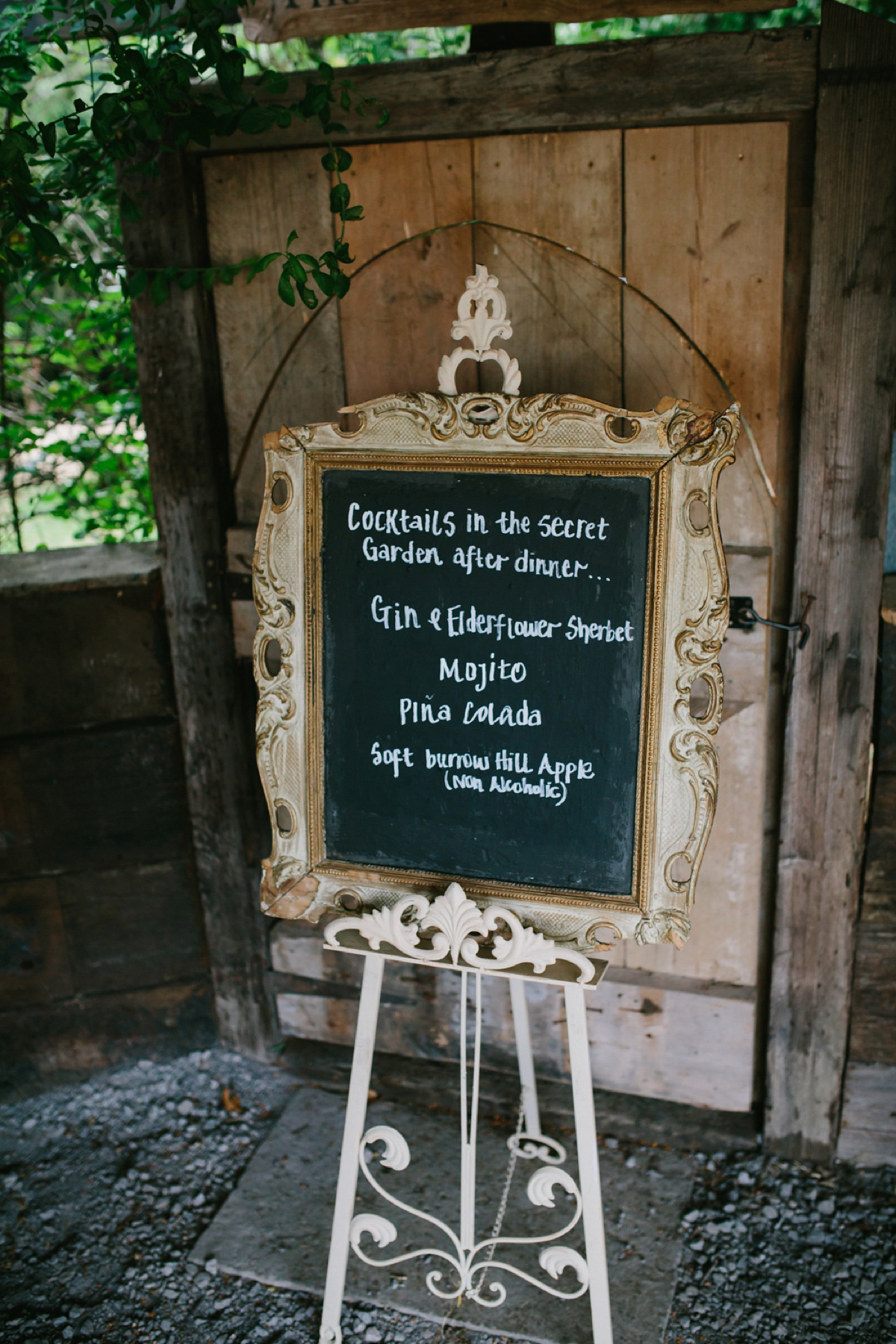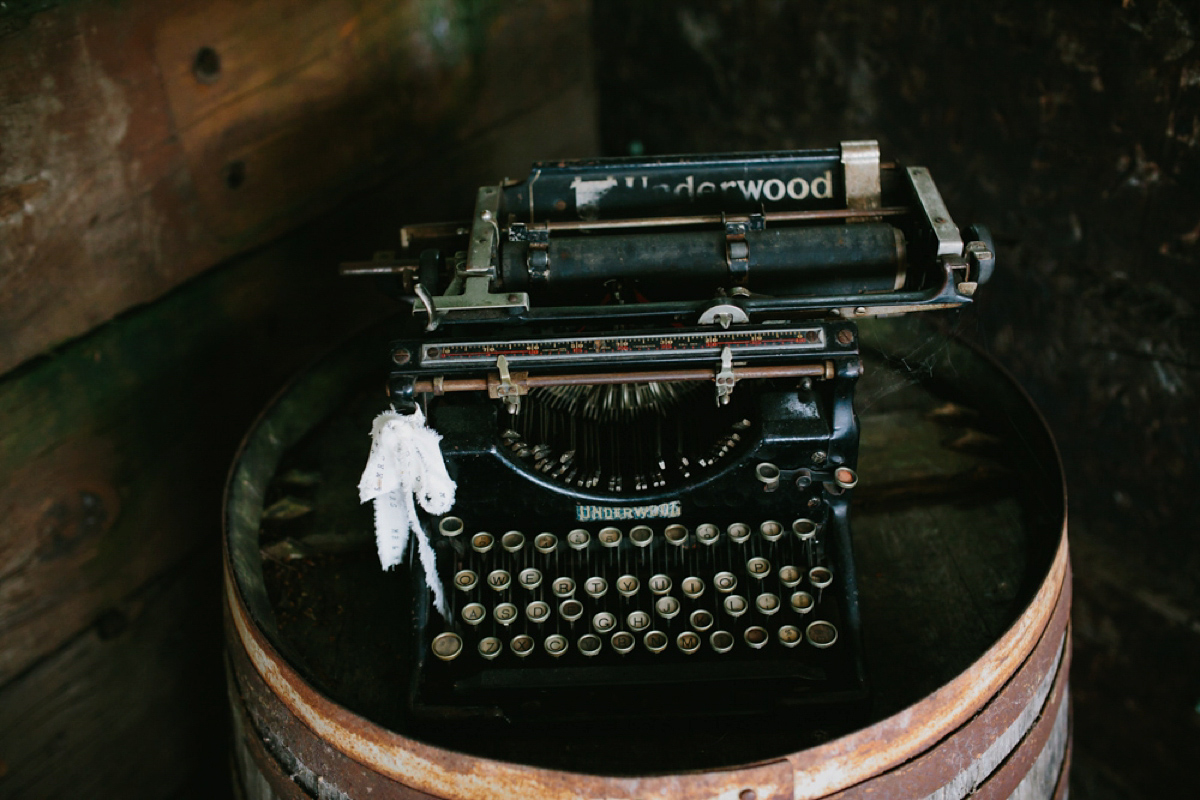 "When we started thinking about decorations, the main thing we wanted was it to reflect us and our style rather than a generic wedding theme."
"We started making moodboards of colours that we liked, we were particularly led by flowers (which is why we chose June as the month to get married in, as there are so many beautiful natural wild flowers at this time of year) we wanted lots of foliage and colourful flowers – a sort of 'Midsummer Night's Dream' celebration feel."
"I adore pom poms, so roped in my mum to get pom pom making and I made pom pom garlands with ribbons to hang around the marquee. And I decided to make our name places from toy animals adorned with decorations that we did ourselves and called them 'party animals'."
"Laurence really wanted colour and the wedding to be fun and relaxed, so luckily we both wanted the same thing."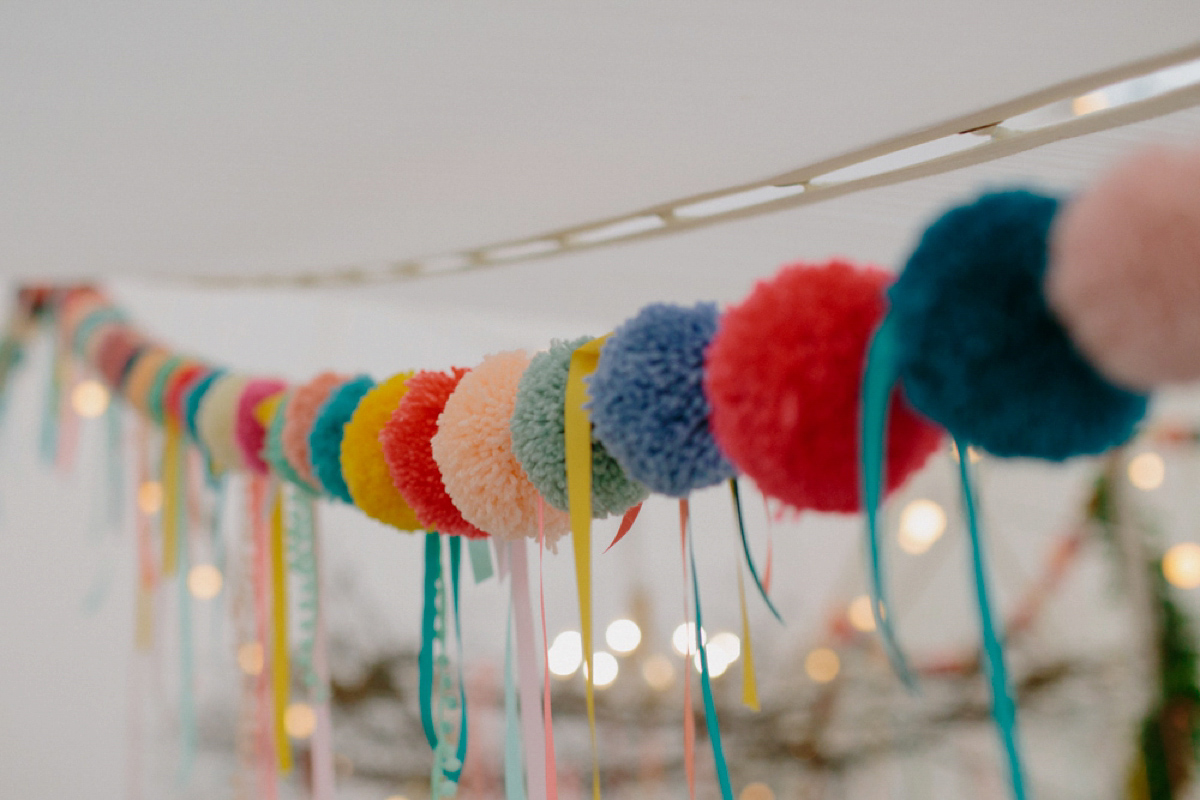 It was all in the details and decoration for Elizabeth and Laurence, and their fun and colourful celebration was an excuse to get creative with all of the fun stuff!
"Handmade party animal place card holders each decorated with their own ribbons, hats, poms poms and glitter, and we drilled in wires to hold the cards. I know a very talented lady called Monaz Dumasia who wrote the place cards and they made ALL the difference."
"The food was really important to us (especially to me as I work in food and food is my life!) and so we really didn't want run of the mill food. Helen Upshall let us work with her for the menu to create something that we loved. She was brilliant and had the same passion as me about food. We wanted the dining to be fun and inclusive."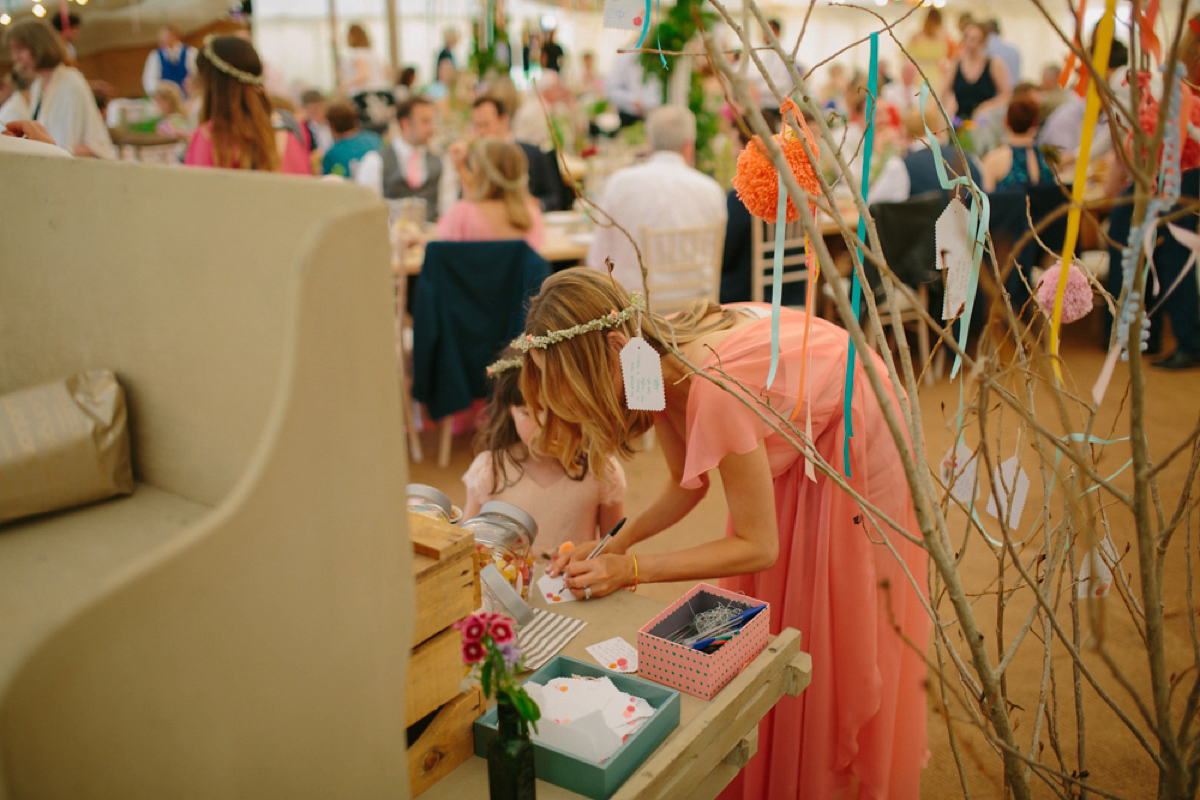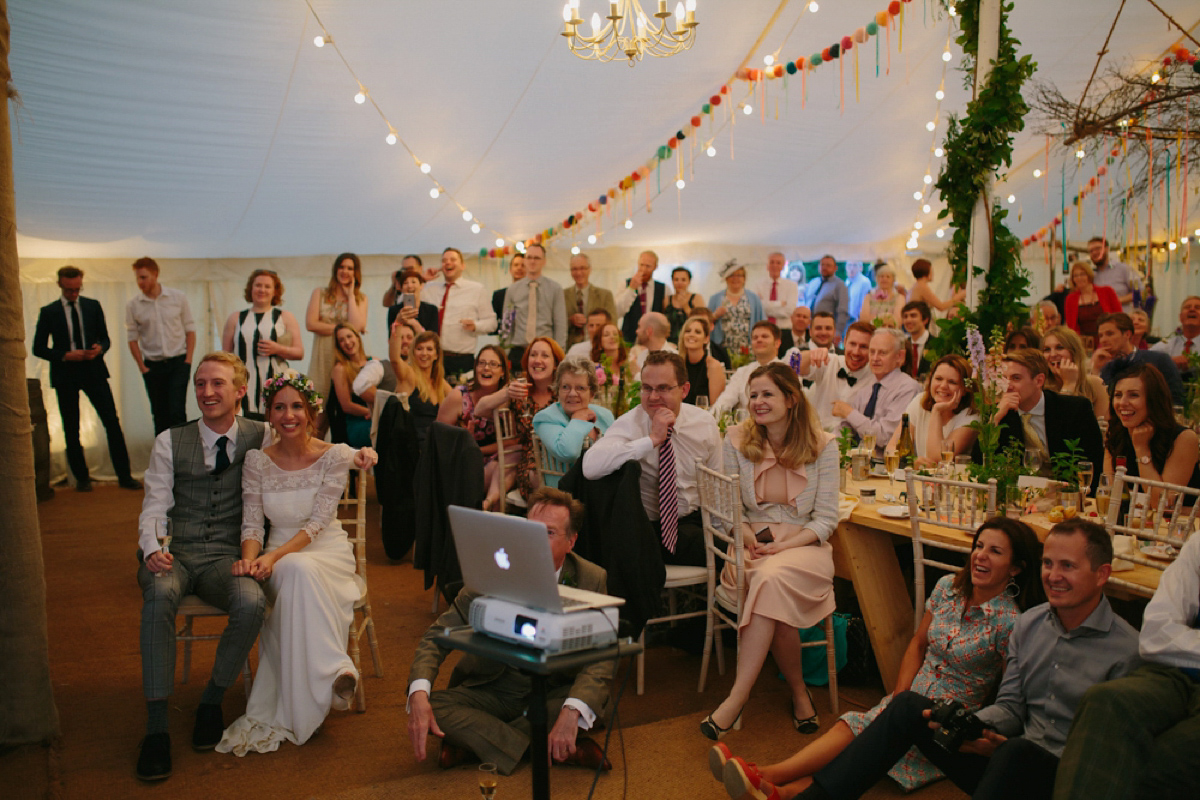 "I made the cake myself. I've made wedding cakes for lots of friends, and there was a lot more pressure for theirs as you want to make it perfect. The bottom was chocolate, salted caramel and peanut, the middle layer was carrot cake with orange cream cheese and the top was vanilla with passion fruit curd. I decorated it with biscuits and sweets."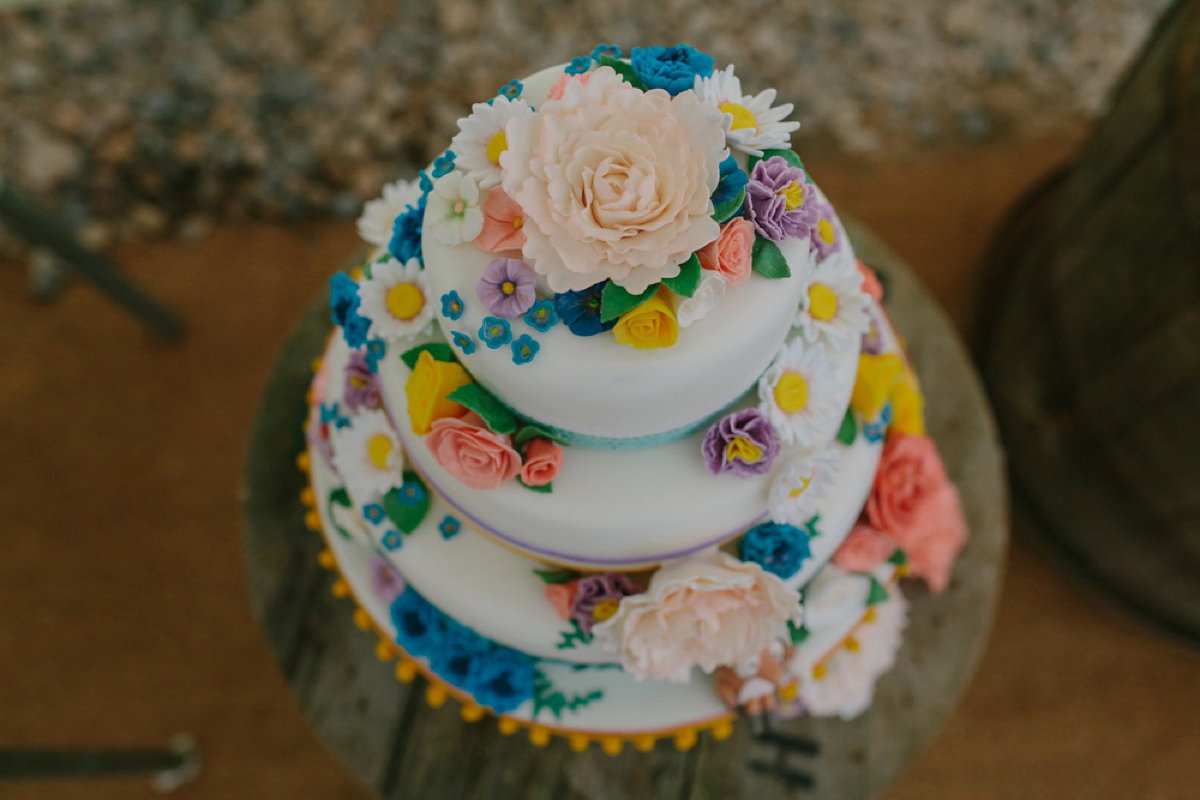 "When it comes to your own, I was a bit more laid back….which was a good thing as Dad managed to squash one of the tiers on the way down from home (that I rescued the night before the wedding)."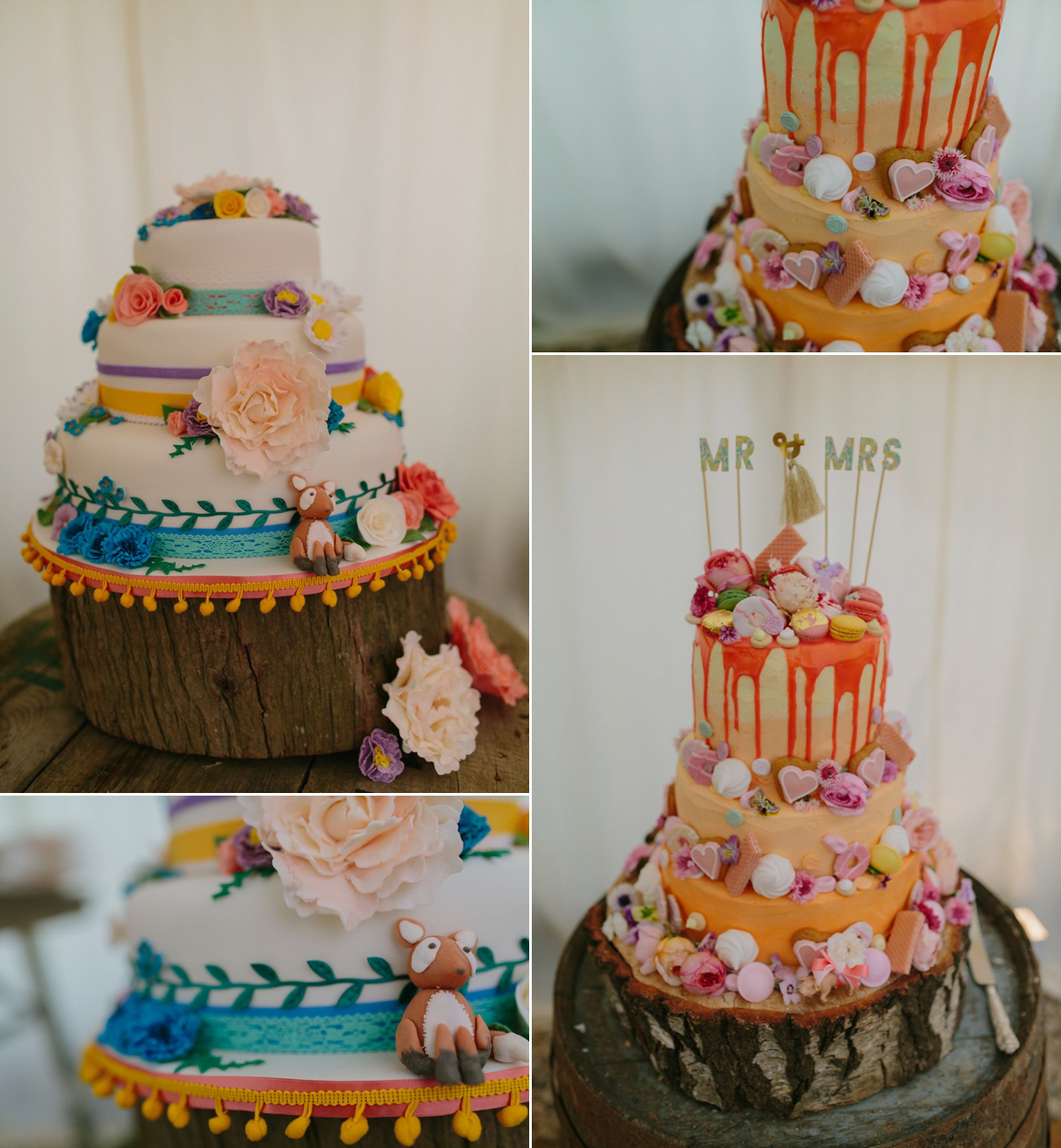 "I had a lovely moment with one of my bridesmaids very early on the wedding morning when we took the cake from the house we were staying in down to the venue and finished decorating it together. It was lovely time, and gave me a chance to look back at the venue and take it all in."
The Disco Shed were in charge of entertaining guests with awesome mixes that had caught the couples eye (or ear?) at festivals and had the honour of being the first wedding component booked!
"Later on in the evening we had a silent disco with the Disco Shed, which worked so well and everyone got involved, it also meant that people could remain in the marquee and have a conversation if they wished!"
Words of Wedded Wisdom
"Just enjoy it, remember what its all about. You're about to get married to the person you love surrounded by people that love you. It doesn't matter how many people or how much you spend on a wedding, it will be perfect no matter what. I know it's hard not to get wrapped up in the small things, but on the big day just let it go and be in the moment, its like a walking on a cloud and nothing is worth spoiling it.
We really enjoyed using small businesses and local people where possible as we would rather spend our money to support them! And the service was so great as you feel like these companies and people really care about you."
Lovely words of wisdom, and a reminder to look at our carefully curated list of companies who truly care on Little Book for Brides. Thank you to Elizabeth and Laurence for brightening up the frosty nip of January with so many colours and quirky delight , and of course The Retreat Photography.
Those of you totting up those imposing wedding costs will want to make sure you've entered our exciting new competition to win £500.00 worth of glorious Norma & Dorothy stationery (you're welcome) and I'm still fawning over our festive feast of highlights in the delectable Love My Dress magazine, you may even spot a sneak peek of my own celebration towards the end.
Be kind to yourselves lovelies, 2017 is just getting started.
Love,
Emily C xxxx