Happy New Year everyone! We're not technically back with a regular schedule of blogging until tomorrow, but I couldn't help treat you to something lovely today to celebrate 1st January 2017. I hope that not too many of you are nursing hangovers and instead getting to enjoy some slow time today with family. Just incase you missed it, we published a beautiful 2016 magazine here that contains 40 of my personal favourite weddings from last year, alongside some super-useful links to our most popular discussion posts. Bookmark this link and read it when you have time to sit down with a cup of tea.
I cannot tell you how excited I am about the the next few months of content, but January in particular. I tend to save my very favourite submissions for the January, February period, so you can expect some ruddy beautiful weddings here on Love My Dress over the coming weeks. And it had to be a very special set of nuptials saved for the very first wedding of 2017. Social worker Jillian and Public Affairs worker Ryan tied the knot on 6th August 2016 at Monachyle Mhor in Balquhidder, Scotland. Jillian says that both Pinterest and wedding blogs (in particular, Love My Dress) were her sources of inspiration – and I'm delighted that the couple chose our Little Book For Brides members, Mirrorbox Photography, to document their day in images. For those of you new to visiting Love My Dress, Little Book For Brides is our beautiful wedding directory (you won't find another wedding directory like ours out there!).
"Our photographers were Sam and Hannah of Mirrorbox – who were both lovely to have about on the day. We are delighted with the results."
Captured by Mirrorbox Photography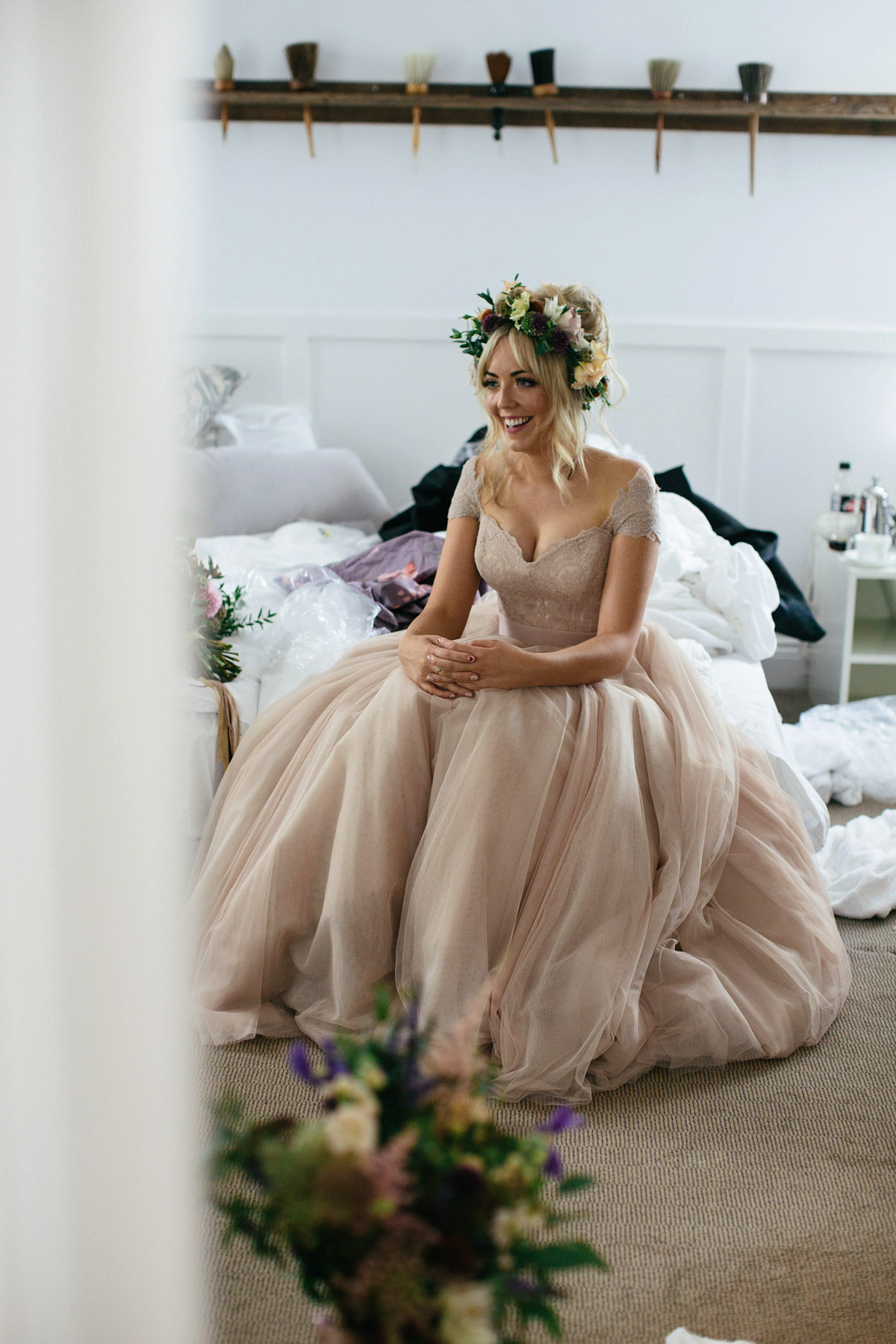 "Sam spent the morning with Jillian and her bridesmaids as they got ready and Hannah joined Ryan and his Best Man and Groomsmen. It's great to look back and see how happy everyone was. It was raining for most of the day and they did a great job using that to produce great photos. We couldn't be happier."
"We chose a summers day and planned for an outdoor wedding. We didn't give too much thought to what to do if it rained, despite living in Scotland. On the morning of the wedding the sun was shining but as the ceremony drew near the heavens opened. We decided to go ahead with the ceremony outdoors and looking back wouldn't have it any other way."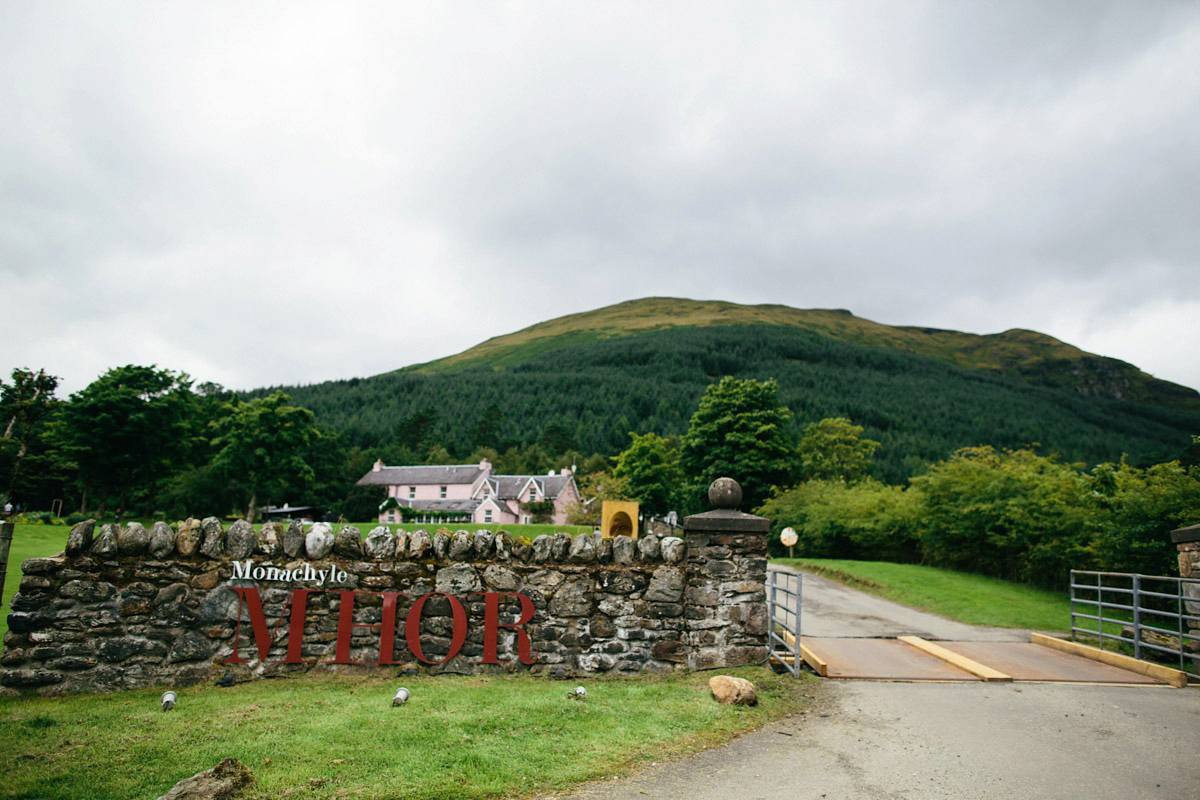 "It made for an intimate and informal ceremony with our family and friends huddled under umbrellas. Our floral arch was blown over by a gust of wind and we laughed the whole way through it."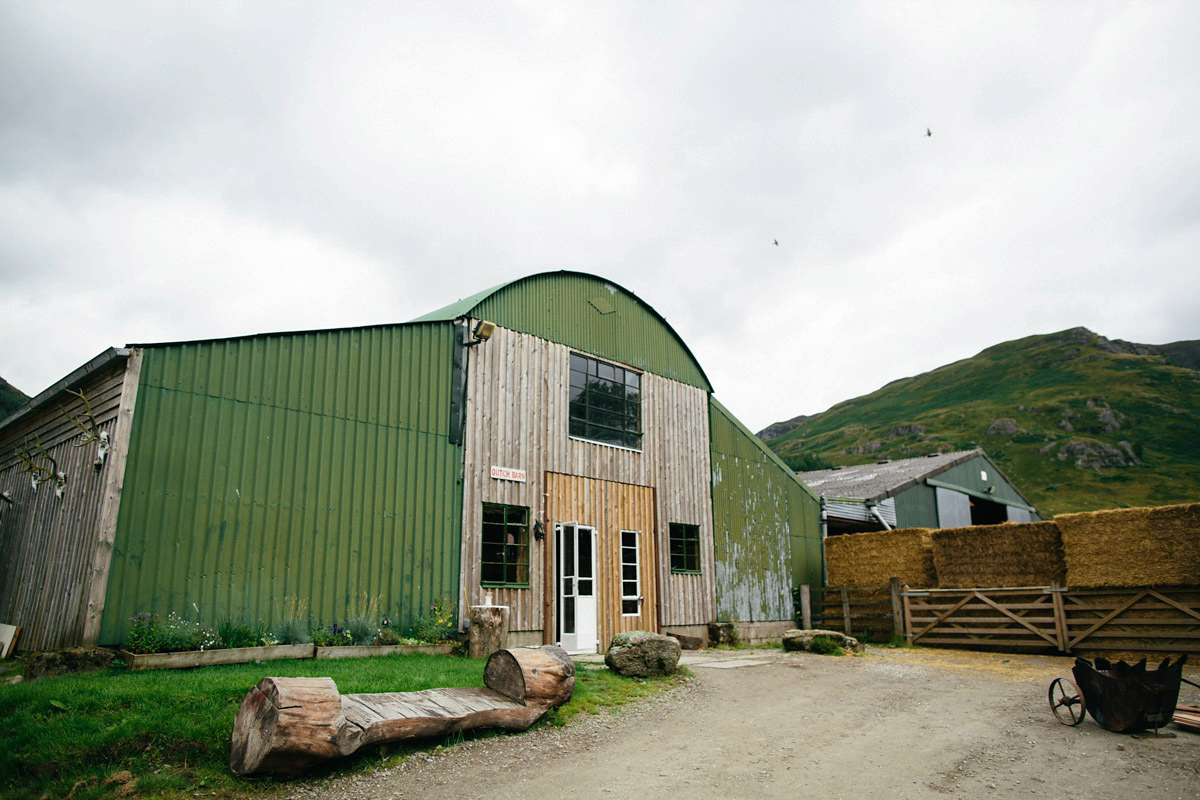 "Our venue ticked all of our boxes – good food, beautiful scenery by the loch and a big barn which was the perfect place to party at night."
"We ordered out wedding invitations from Peggy and Kate on Etsy. Kate designed beautiful invites featuring our venue and bride and groom foxes. We were chuffed to bits and loved how original the invites looked."
Jillian hired Danni of Anne Marie McElroy Hair and makeup artist Louise Hamill to style the bridal party.
"Everyone was absolutely delighted with both their hair and makeup and I wouldn't hesitate to recommend Danni and Louise to others.
"I wore a two-piece dress by Watters from Anne Priscilla Bridal in Glasgow. I never usually wear white and was drawn to the dusky pink colour of this dress. I tried it on in the very first shop I went to and although I liked it I ruled it out as I wasn't keen on the idea of wearing a strapless dress."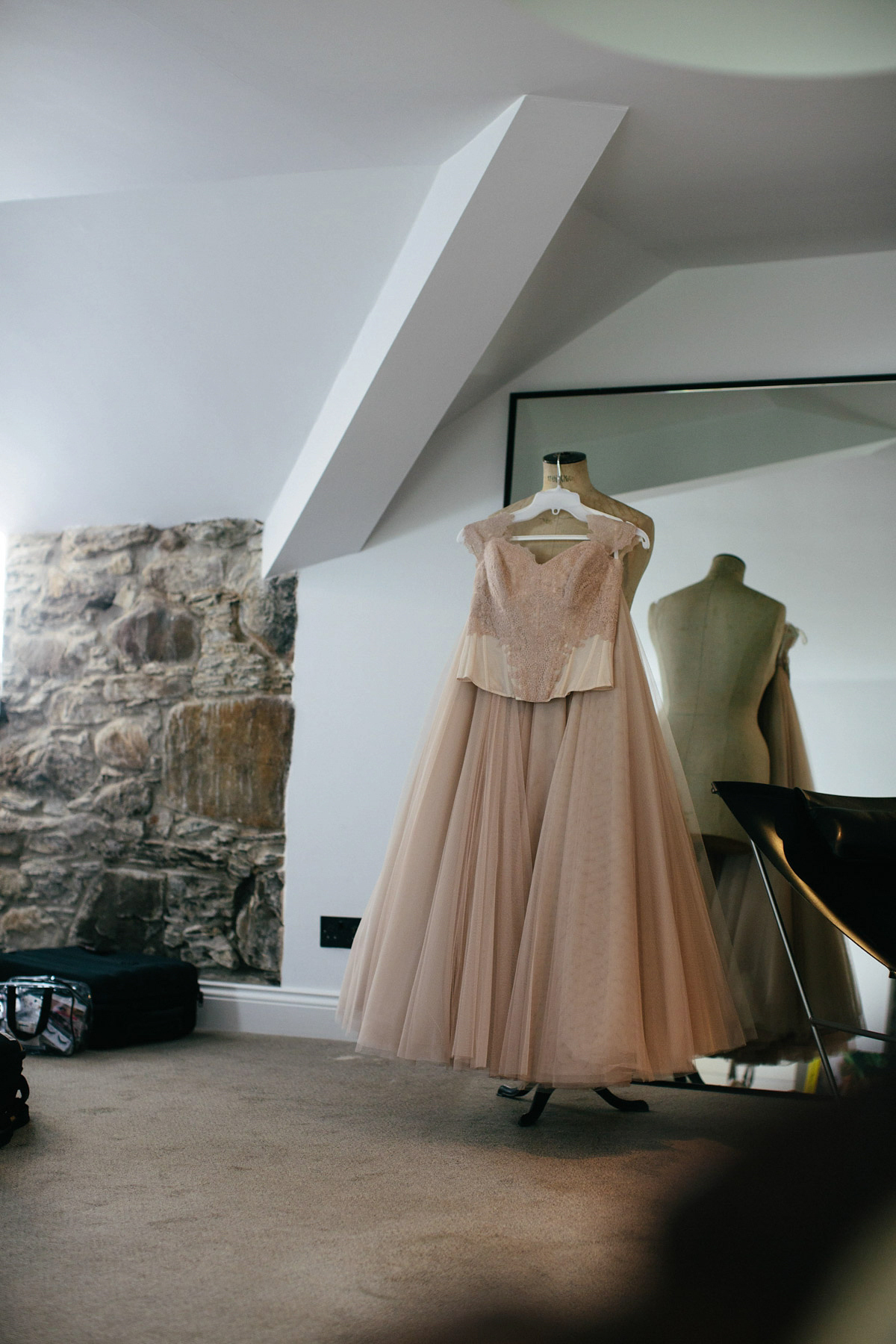 "After visiting another nine shops (and becoming a bit fed up of dress shopping) I hadn't found anything that I liked as much as this dress."
"Darotta at Anne Priscilla reassured me that she could alter the dress to exactly how I wanted."
"She was absolutely fantastic and over a few fittings transformed the dress by adding off the shoulder sleeves and by shortening the hem to ballerina length (perfect excuse for a fancy new pair of shoes!)."
"Our florist was Lisa of Sparrow and Rose. Lisa had supplied the flowers for my sister's wedding a few years ago, so we knew we were in safe hands."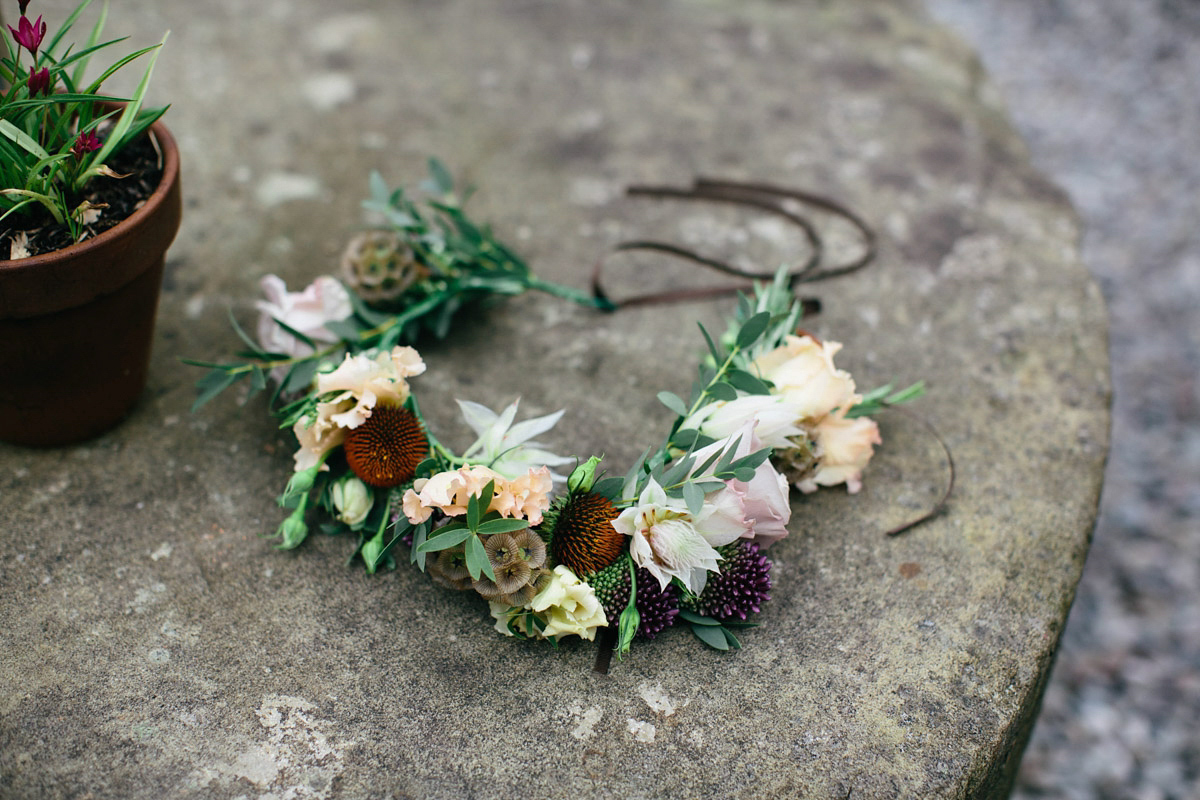 "We were absolutely delighted with the flowers on the day. The barn looked incredible and I was especially pleased with my flower crown."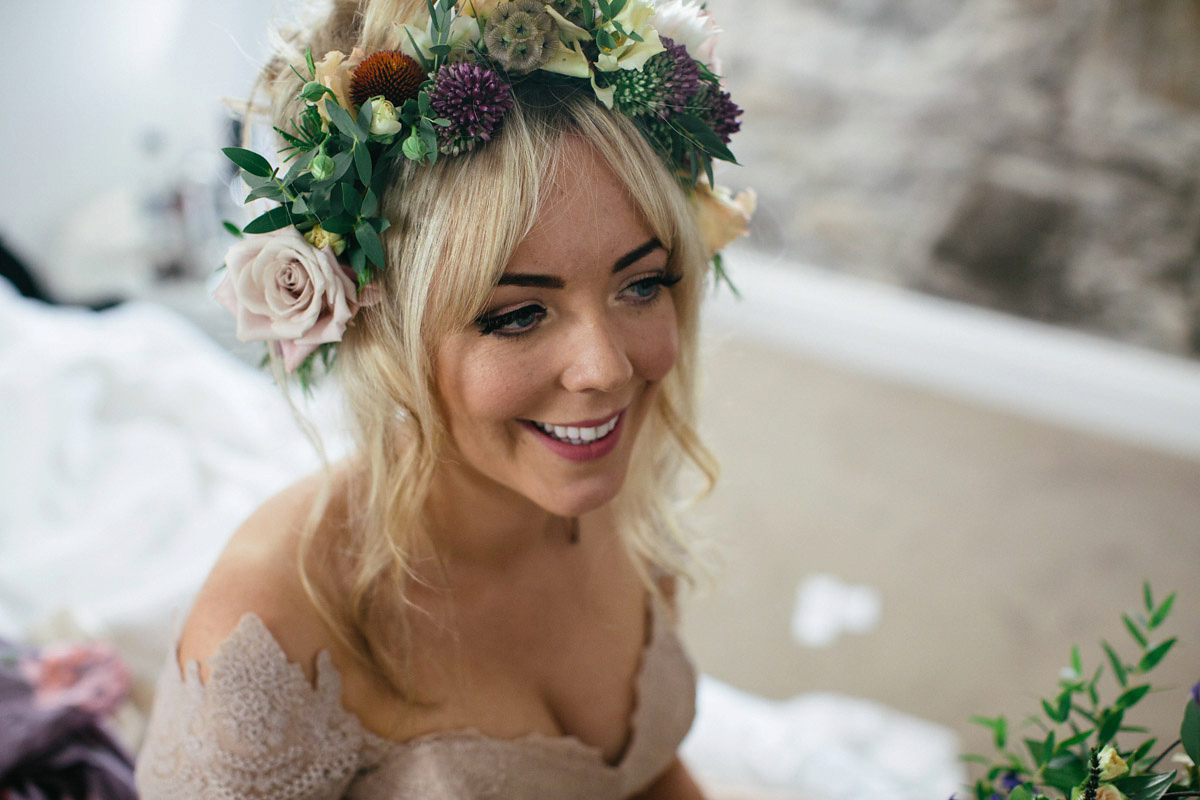 Jillian wore an Alex Munroe fox bracelet, which was a beautiful gift from Ryan on the day. She also borrowed a pair of earrings from her big sister and her Gran's ring.
"My bridesmaid's dresses were from David's Bridal in Glasgow. I was keen for the girls to have dresses in different shades and slightly different styles. However, it was actually pretty difficult to find three dresses that looked good together as opposed to just the one dress. After lots of searching we eventually got full length dresses from David's Bridal which I then had altered to midi length. Their shoes were from ASOS."
The bridesmaids also wore flower necklaces by Alex Munroe which were a gift from Jillian on the day.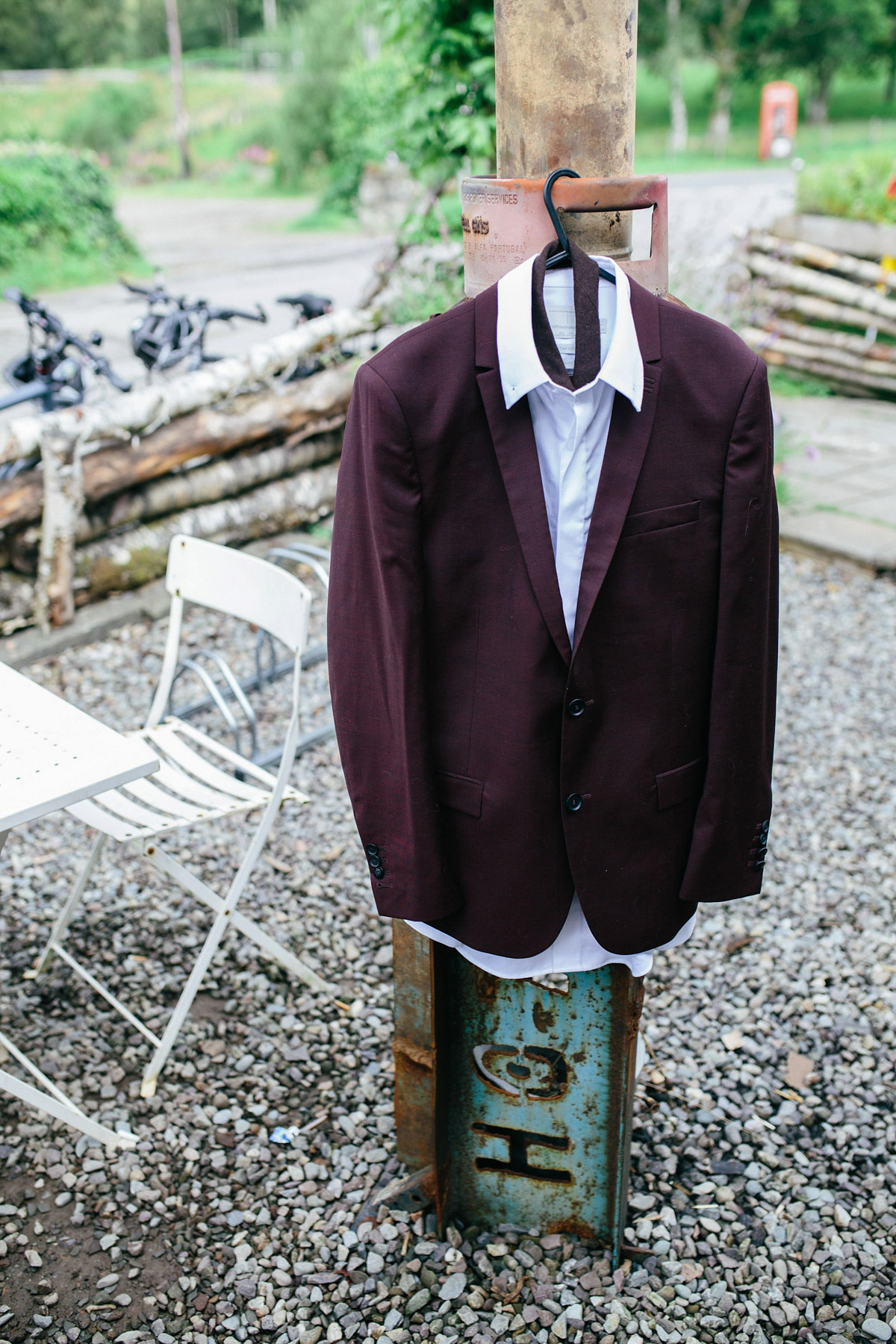 "Ryan's best man wore a suit from Moss Bros. We got the groomsmen a selection of trousers and waistcoats from Debenhams and Moss Bros to tie in."
"We met at University 13 years ago and were great friends for many years before becoming a couple three years ago. Ryan proposed during a festive trip to Edinburgh in 2014."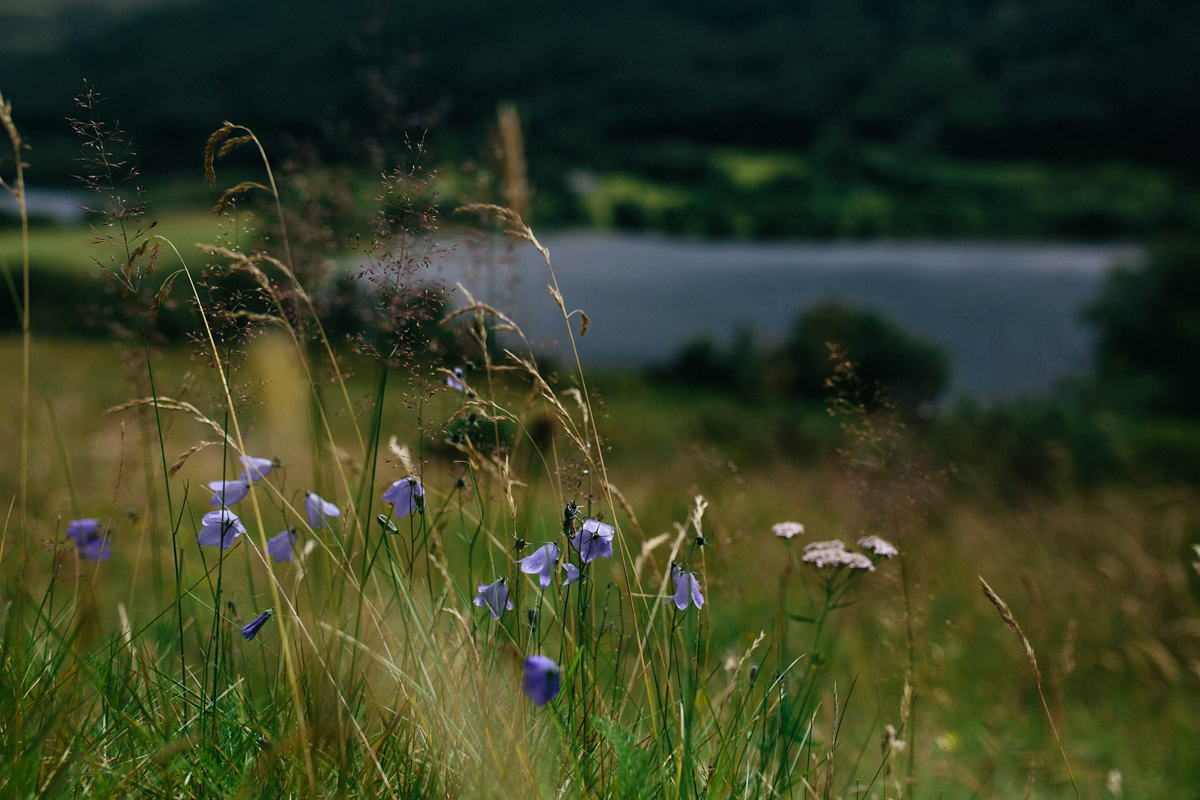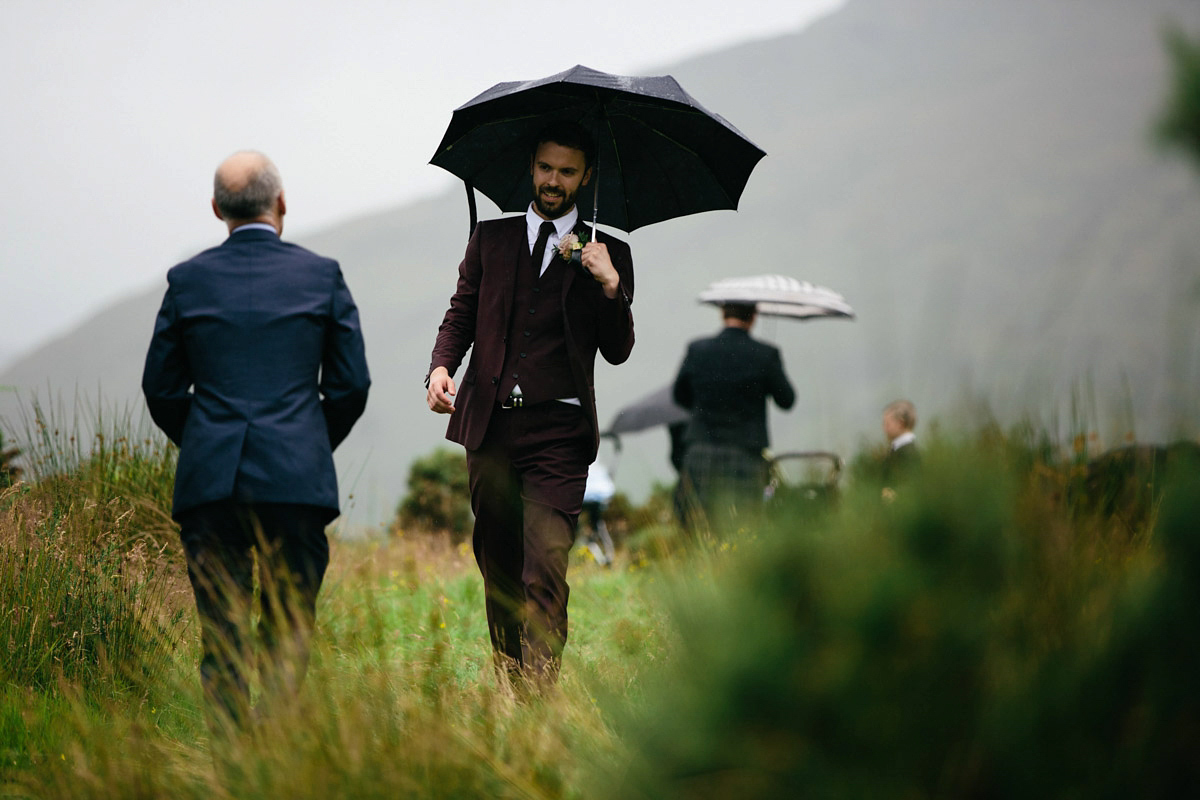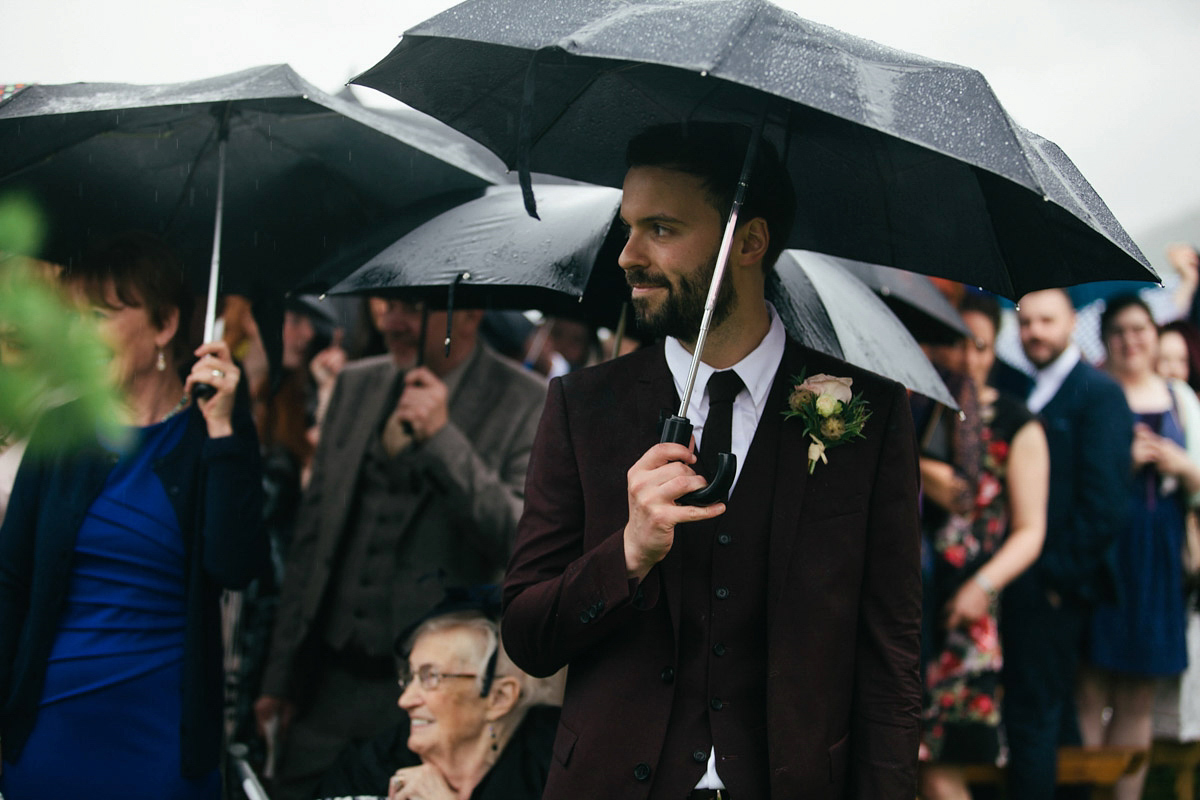 "I wasn't too keen on the idea of 'being given away' and instead had my Mum and Dad accompany me down the aisle (or up the grassy hill!) to the sound of 'Blackbird' by The Beatles being performed by our band, The Jim Jams."
"I wore a pair of Prada gold strappy sandals. I was a bit nervous about walking up the grassy hill to the ceremony in such high heels (and had a back-up pair of flats just in case) but they were actually pretty comfy and didn't come off until much later in the evening during the ceilidh dancing!"
"We kept our vows pretty simple as neither of us wanted the pressure of having too much to say. Our humanist celebrant Sheena Johnston suggested fitting vows and performed a hand fasting ceremony. She also really personalised the service and was fantastic on the day battling the elements without a brolly."
"Our ceremony readings included an extract from Charles Dickens, Great Expectations, 'The Unspoken', by Edwin Morgan and 'All That Heaven Will Allow' by Bruce Springsteen."
"We met studying English at Glasgow Uni and Great Expectations is a book we both enjoy. The Unspoken is a beautiful poem set in Glasgow and Ryan's hero is Bruce Springsteen."
"Both our engagement and wedding rings were from Mr Harold and Son in the Argyll Arcade in Glasgow."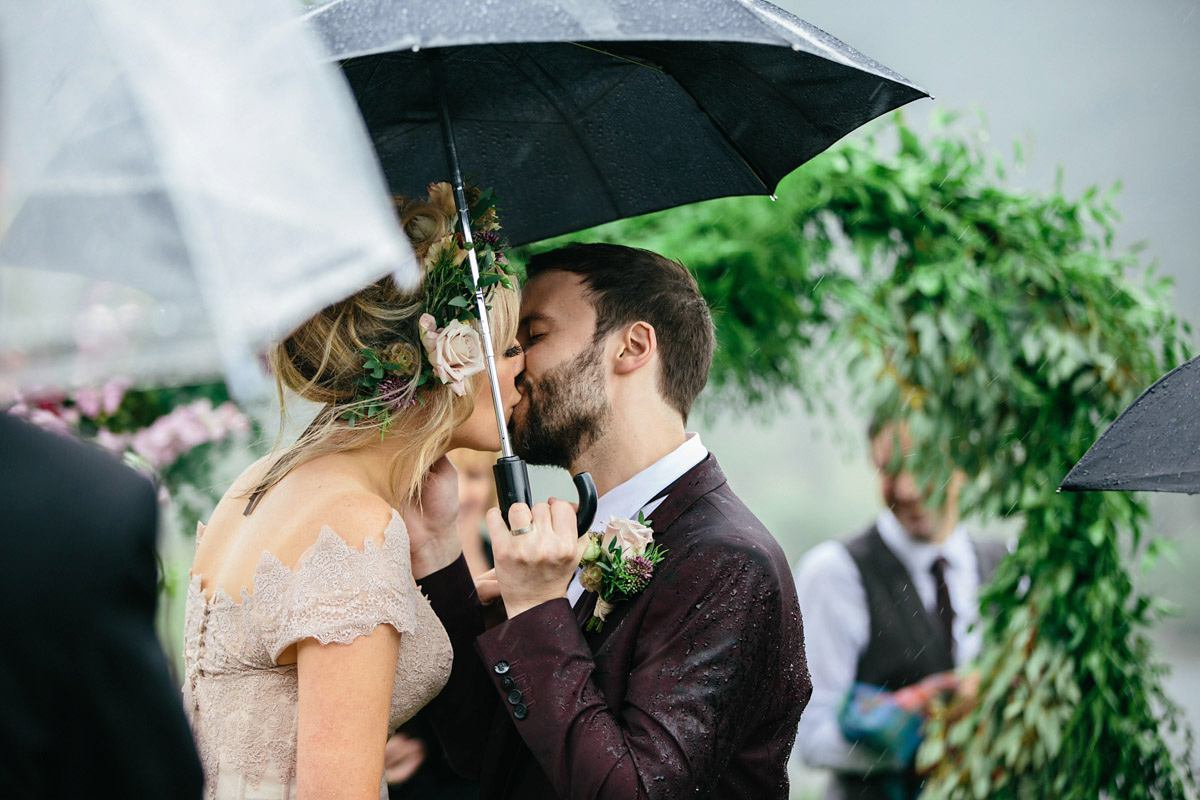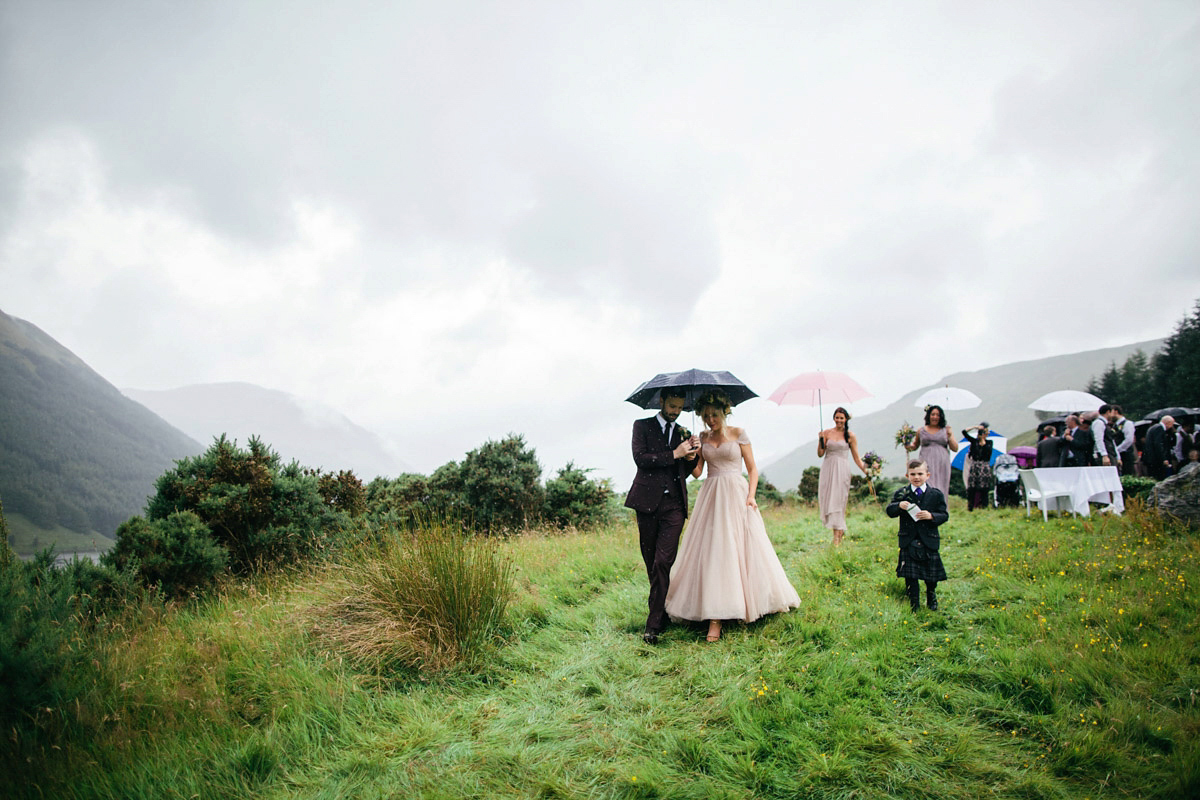 "Barry of Worldly Nomads was another great person to have about on the wedding and we love the video that he made. It's nice to be able to look back and see everyone having fun. He captured lots of lovely little moments that we might have otherwise missed or forgotten."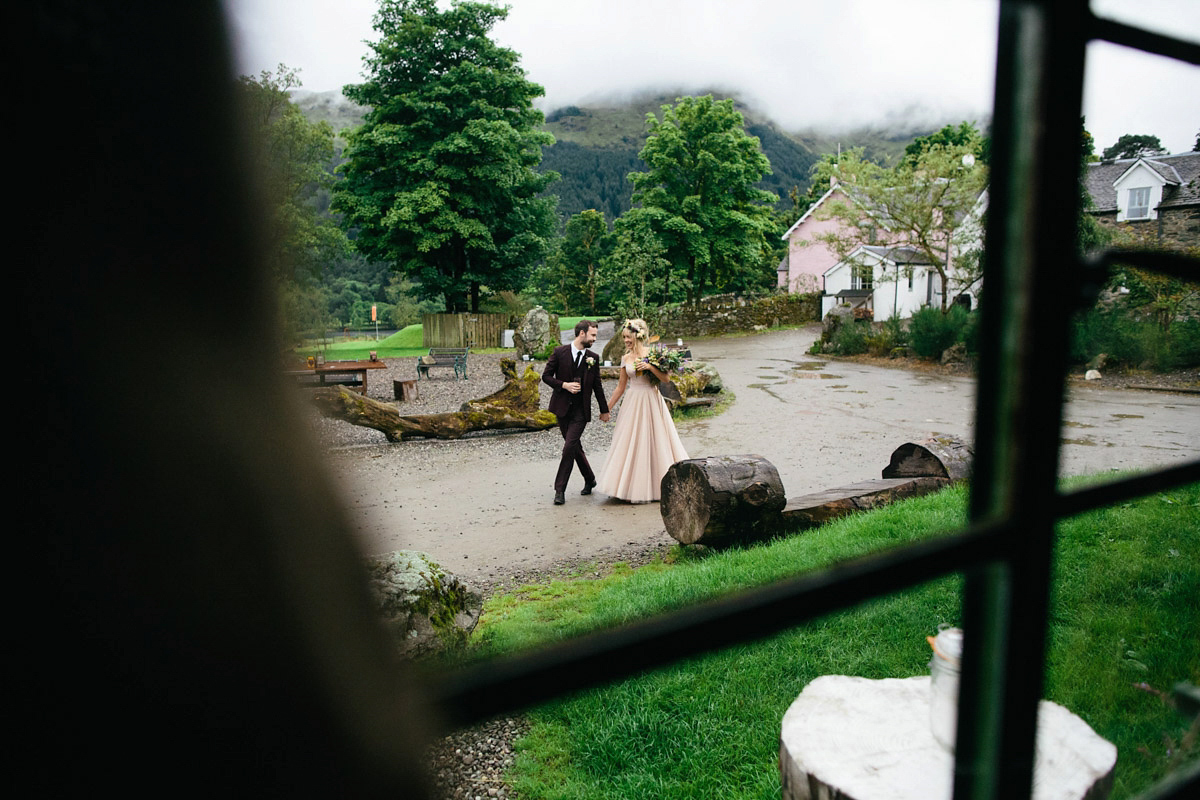 "We ordered Wes Anderson prints from Etsy to use as table names (which are now nice artwork for our house!)"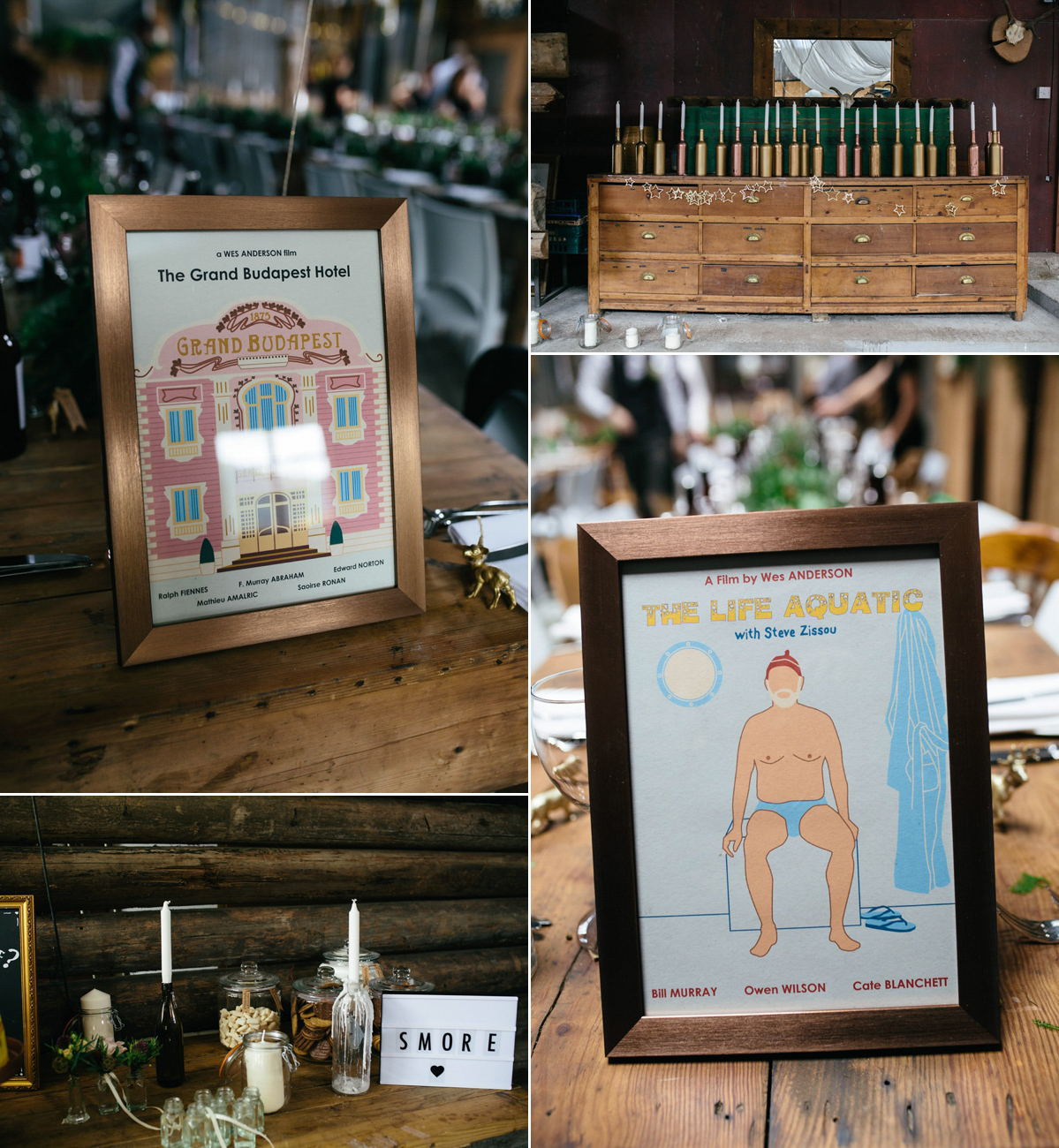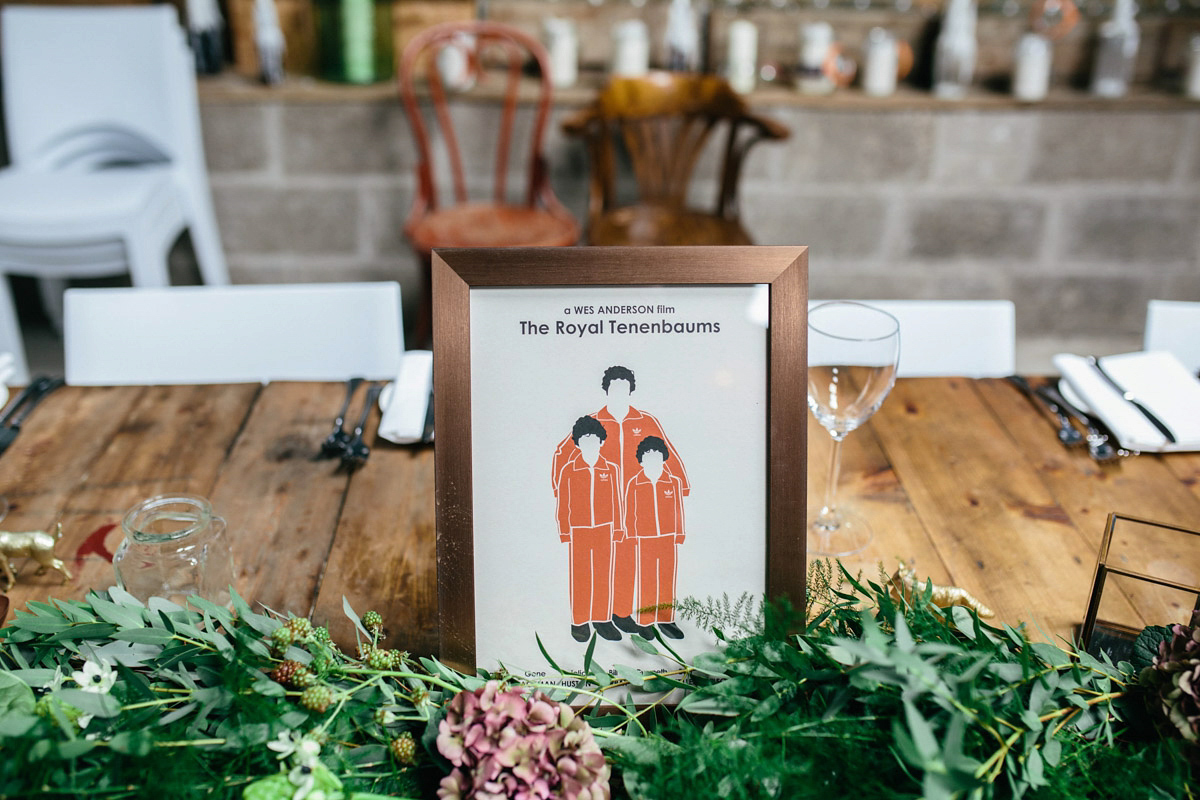 "We brewed our own beer at Crafty Brew in Linlithgow which was a fun day out. We named the beers after our cat Bruce. The labels had pictures of Bruce wearing a bow tie and top hat. It took a fair while to get Bruce to keep the hat balanced on his head long enough to get a photo."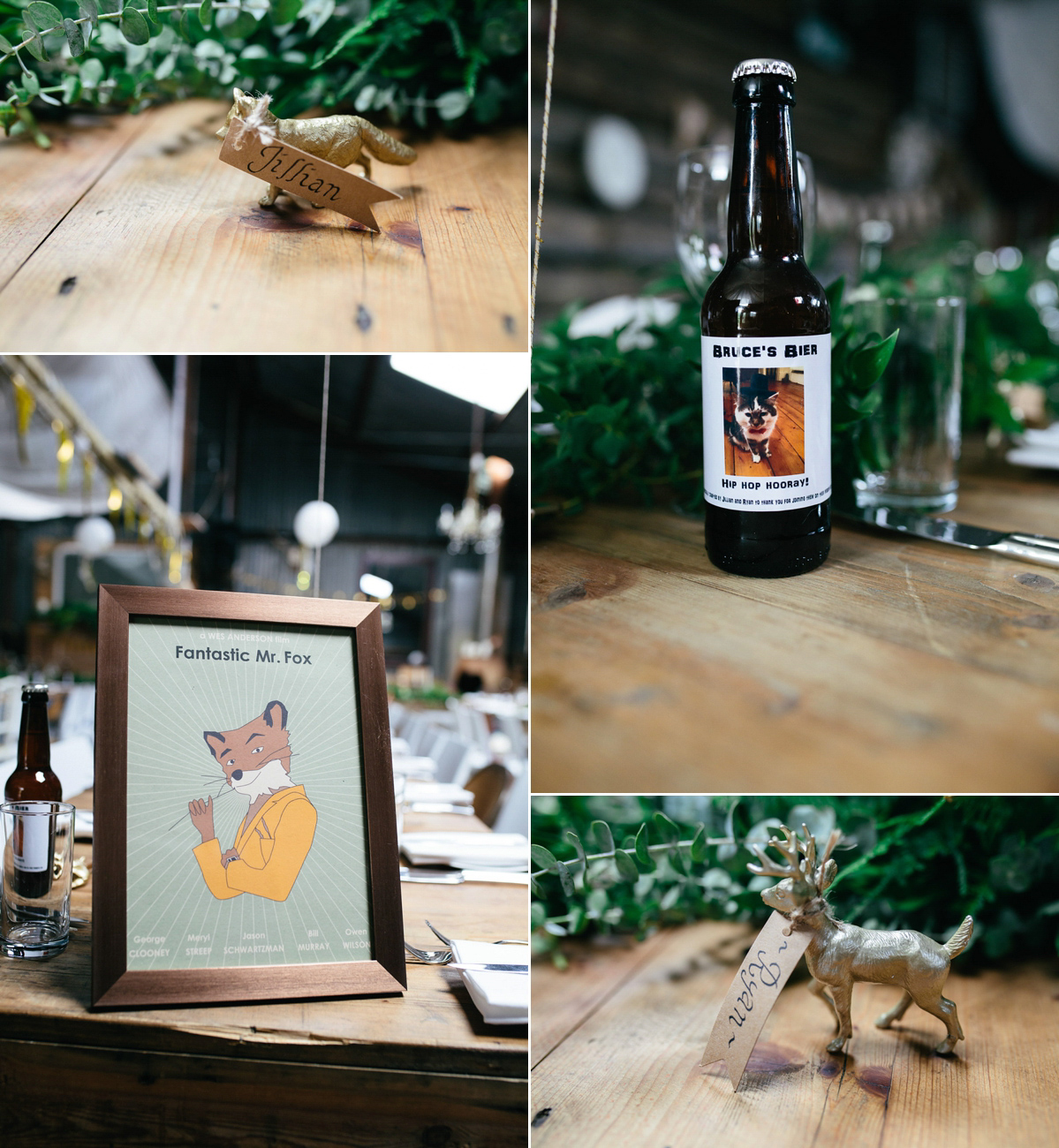 "My younger sister and bridesmaid Hayley baked all three cakes – a three-tier raspberry and coconut cake, a lemon cake and a salted caramel drip cake."
"They tasted as good as they looked and we're very much encouraging her to enter the Great British Bake Off!"
"Lisa of  Sparrow & Rose filled the barn with lots of lovely foliage and we added tonnes of candles. We also attempted a wee bit of DIY with bottles and woodland animals spray painted gold. This was a fiddlier task than we realised and quite time consuming but good fun in the run up to the wedding."
"Monachyle Mhor delivered an excellent wedding breakfast. They also a fish and chip shop in Callander which catered for our evening buffet and was a real hit with guests. We had a fire pit later in the evening to toast mallows and make s'mores (Jillian was particularly excited at tracking down veggie mallows for this)."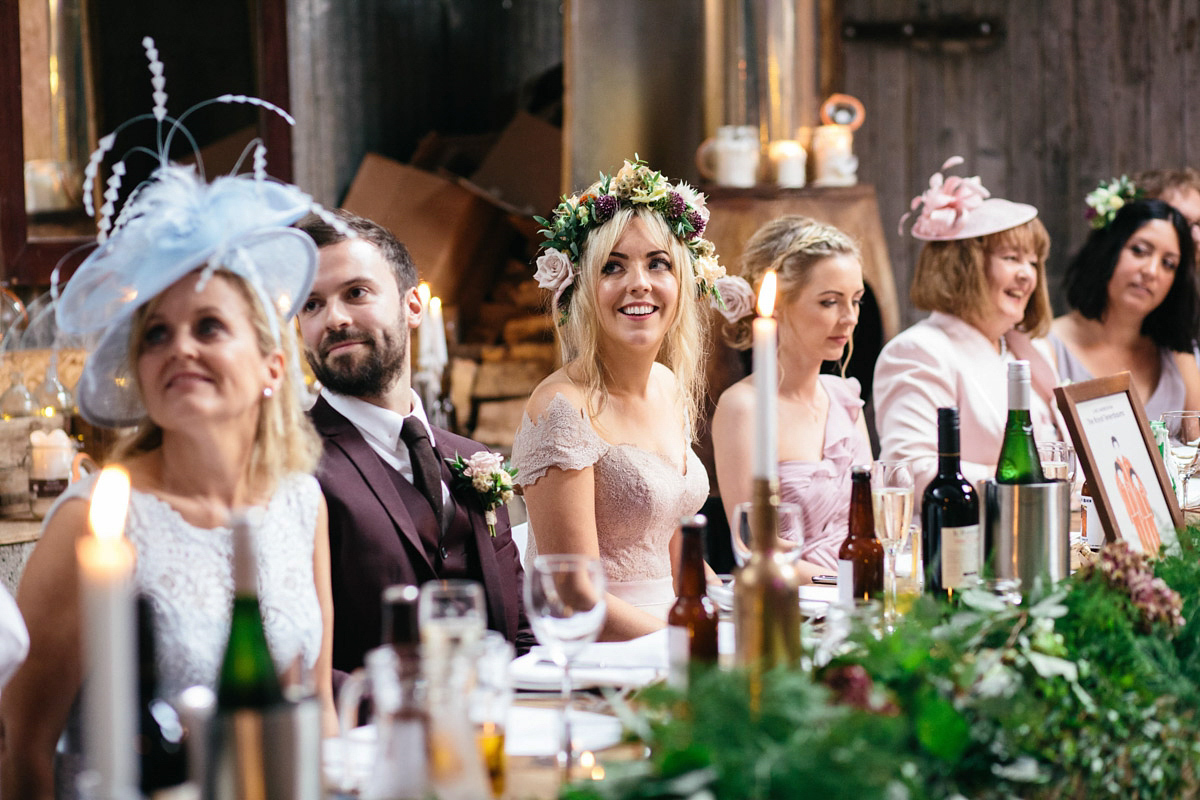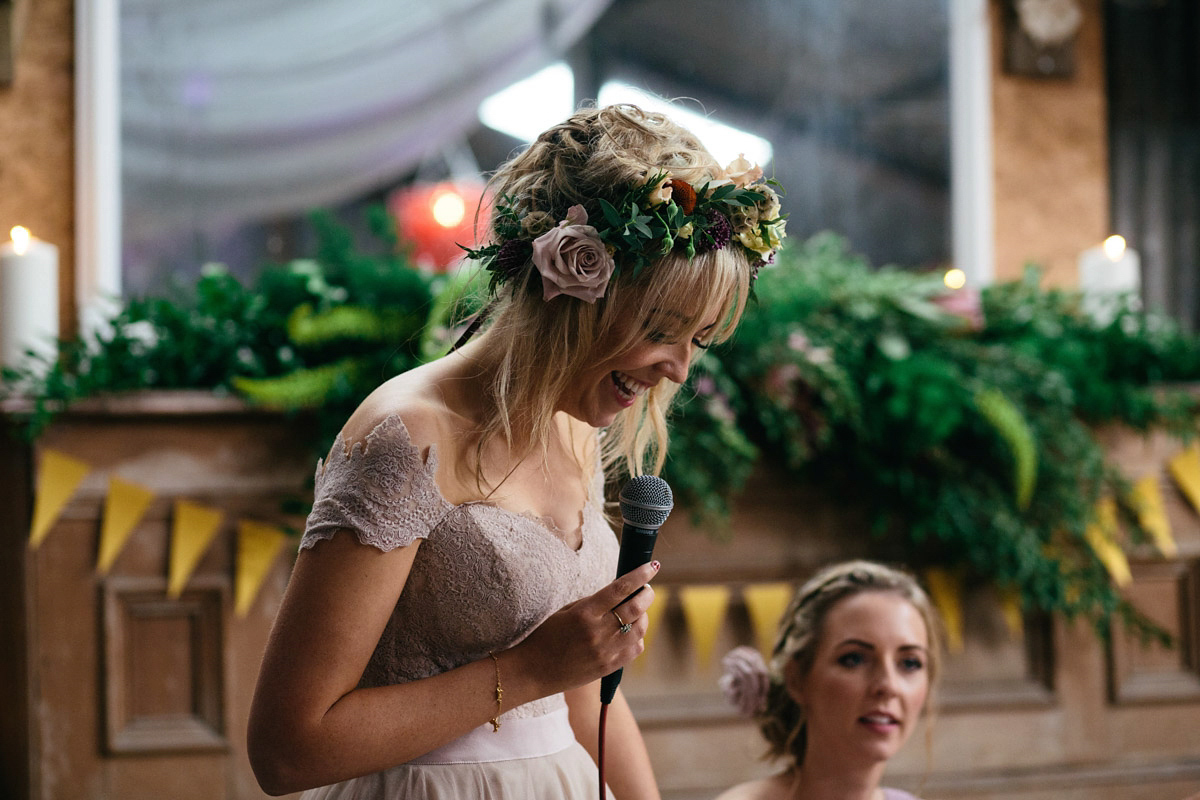 "We loved it all but Ryan said he will never forget seeing me walk up the hill towards him before the ceremony. There were lots of lovely little moments throughout the day."
"We both really enjoyed the ceremony, the dancing, seeing all our friends and family have a great time and being in such a wonderful setting. It was a great day."
"The Gramaphone DJ's played a music set during the drinks reception and The Jim Jams did an absolutely cracking ceilidh and a DJ set in the evening. Our first dance was to 'Romeo and Juliet' by Dire Straits – we didn't settle upon our first dance song until about 5 minutes before it was played."
"We had a couple of contenders which we put to Barry, Sam and Hannah on our way to the barn and they ultimately made the choice for us! We were sure of our second song though (Belle and Sebastian – The Boy With The Arab Strap) as we wanted to get everyone on the dancefloor."
Words of Wedded Wisdom
"Enjoy all the planning in the time leading up to the day itself."
I hope you've loved our very first wedding of the year – we have a such a week ahead packed full of beautiful weddings for you.
Have a beautiful, restful, love-filled 1st January 2017 everyone.
Love Annabel xx