It is such a joy to be able to share an array of delightful weddings every week and I got a little frisson of excitement when I opened up this gorgeous wedding, it has a lovely natural feel to it. To reach 15th century Seton Collegiate Church you walk down a winding path through a small woodland, which then opens out into a view of the church as you step through the old gated walls that surround the grounds.
Rosa and  David then travelled with their guests in a vintage Routemaster to the Secret Herb Garden, nestled by the Pentland Hills, where they had a delicious vegetarian feast in a glasshouse and finished the night with a ceilidh in a Berber tent. Not only did they two chose amazing venues for their 2nd of July wedding, but creative Rosa made the bridesmaids dresses, designed all of the stationery among other things and David made cake. To top it off, the wonderful Little Book for Brides Member Caro Weiss captured the day in all its glory. Rosa's choice of a long sleeved lace dress from our highly recommended eco-lux brand Minna, is absolutely gorgeous. Despite being a self confessed 'ditherer' when it comes to shopping, she knew this was the dress as soon as she put it on.
"I always loved the thought of getting married at an old chapel in the middle of the woods and we felt that Seton Collegiate Church evoked that sentiment. The Secret Herb Garden is another amazing venue – it is incredibly unique and full of character. It was really special to see our guests' faces as they walked through the glasshouse, which was bursting with flowers, fruit and greenery. Everyone commented on how magical it was. We both love the outdoors and the natural world so we ended up with lots of greenery, herbs and flowers in greens, white and teal which complimented both venues and us as a couple."
Photography by Caro Weiss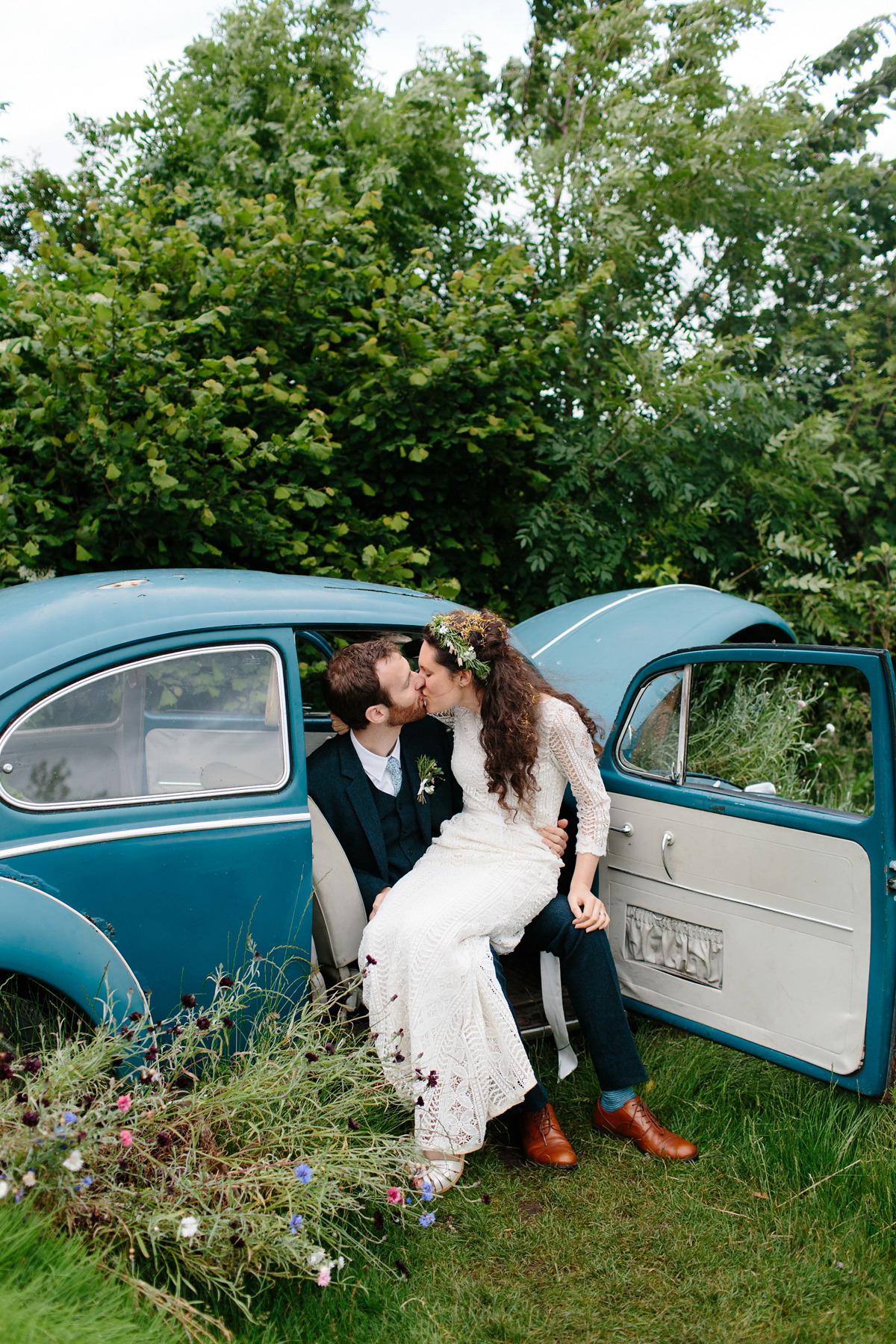 We have been sharing Caro Weiss' work for some time now and I always get excited when I see we have one coming up. There's a little bit of magic in every image, especially those first stolen moments as husband and wife, Rosa and David look so utterly in love as they dance around outside the glasshouse.x
"Caro was absolutely fantastic. She is such a lovely person, not to mention a very talented photographer. As soon as we met her we clicked and knew that we would be comfortable around her on the day – this was really important to us as we are both pretty camera shy. We loved how her photographs tell a story and I would find myself becoming emotional looking through her photos of other couples, even though I didn't know them! She is brilliant at capturing the mood and emotions of the day in a very relaxed and natural way. On the day, she fit right in with our other guests and caught all those special little moments we might otherwise have missed or forgotten about.""I designed and made all of the stationery based on a hand drawn illustration I did, inspired by the winding foliage in the glasshouse at the Secret Herb Garden. We then used our 'logo' with our names and wedding date on our order of service and website as well."
"I love Swedish Hasbeens and thought they made the perfect wedding shoes, even if they aren't a typically 'bridal' style, they fit the feel of our day and were so comfortable."
"Tina from Lipstick, Lashes and Locks did our hair. I knew I wanted to make the most of my curly hair and to keep the look quite loose and natural with a flower crown so Tina styled it half up with little braids and twists to create texture. She then positioned my flower crown so that it didn't cover up all the detail at the back."
"We all did our own make-up. I very rarely wear make-up so instead I went for a bridal trial at Space NK and treated myself to some lovely make-up. On the day, I really enjoyed having that bit of time to myself when getting ready."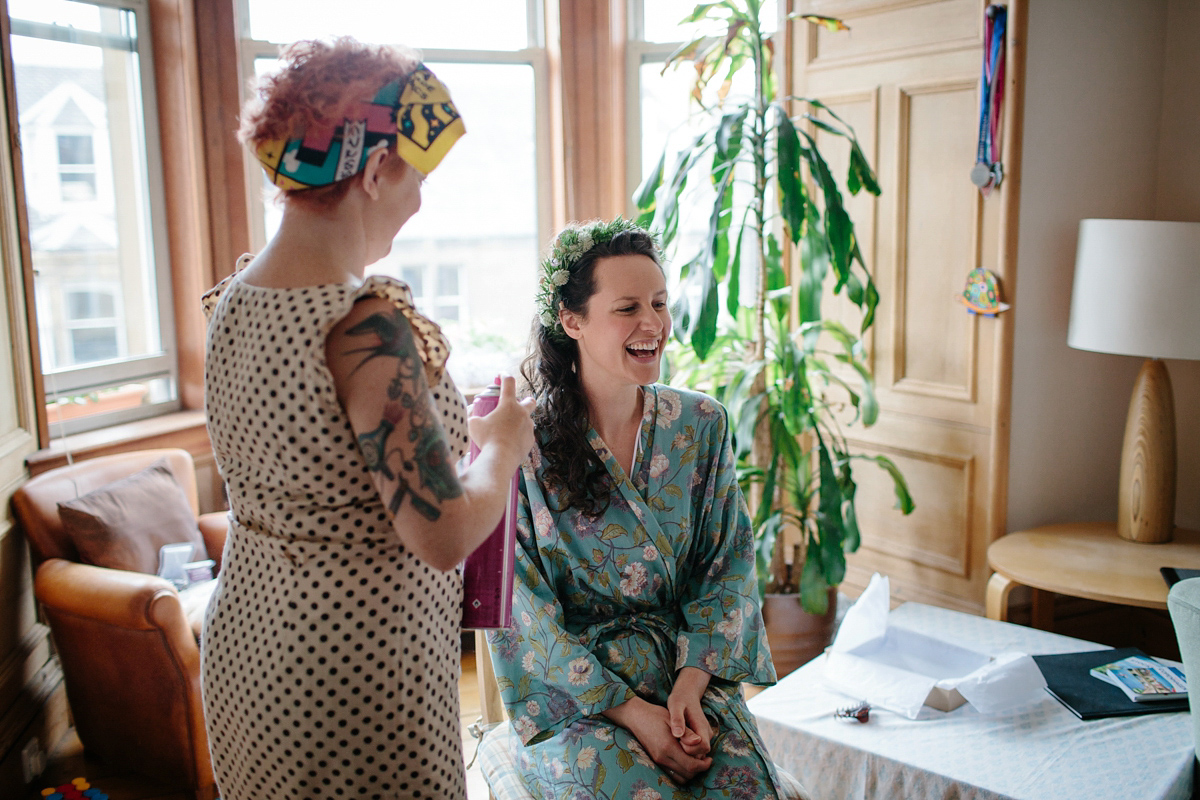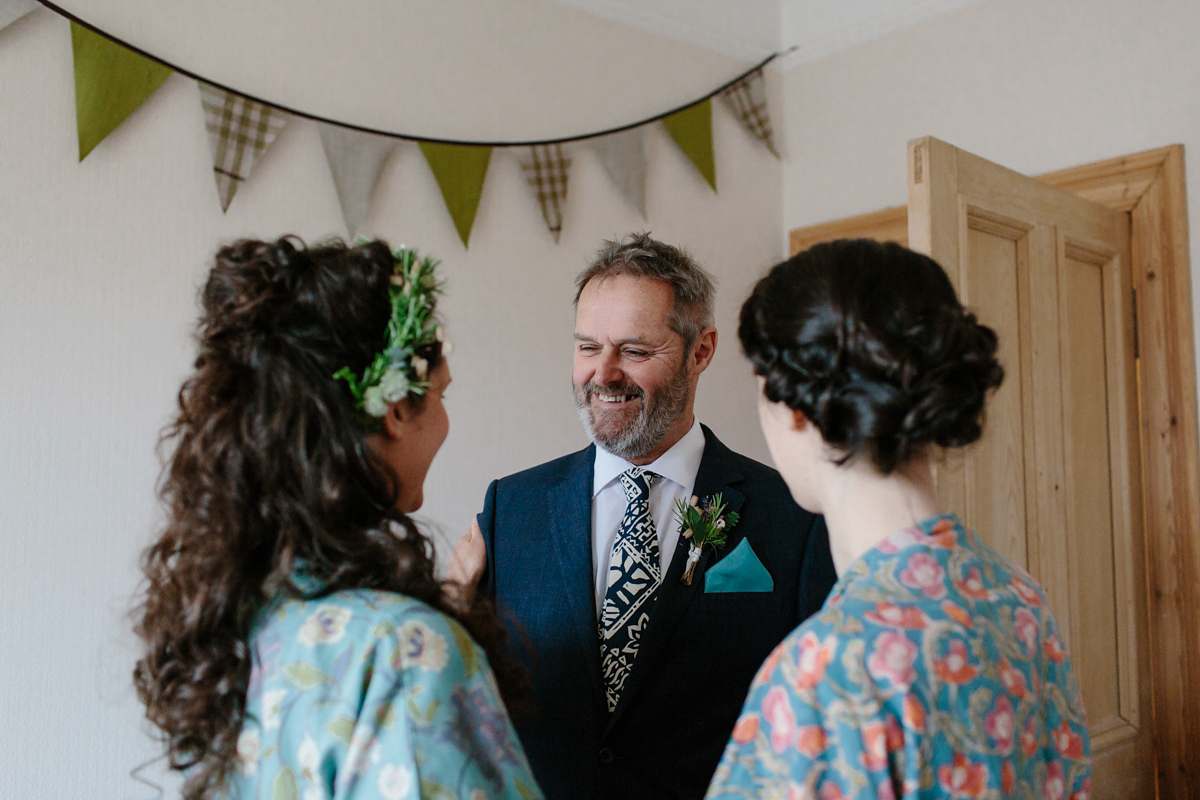 "Rachel from Hedgerow did such a wonderful job of the flowers with my vague brief of 'wild, loose and natural looking'. My bouquet was tied with silk ribbons hand-dyed at Millpond Flower Farm using her own flowers and plants to produce the colour."
"I was blown away when she delivered them in the morning. I pressed my crown, along with some of the flowers from my bouquet, and it made me feel less sad about having to throw the rest away when we left for our honeymoon."
"I love sewing and wanted to make something special for my bridesmaids so I used the 'Kim' sewing pattern from indie pattern designer By Hand London and fabrics in different shades of green from Japan."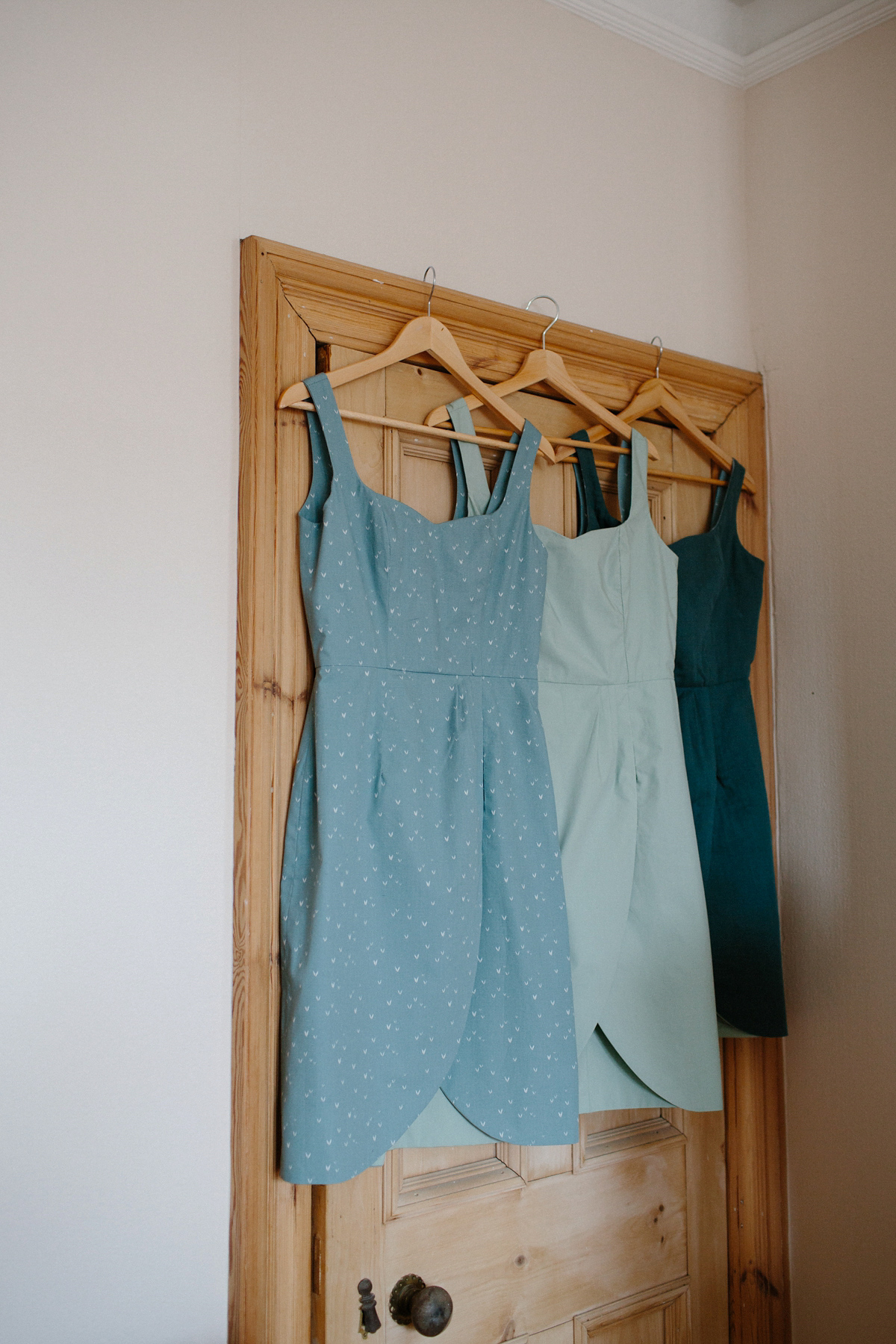 "The girls all looked so beautiful and the petal shape to the skirt tied in perfectly with our natural surroundings and the lace pattern in my dress."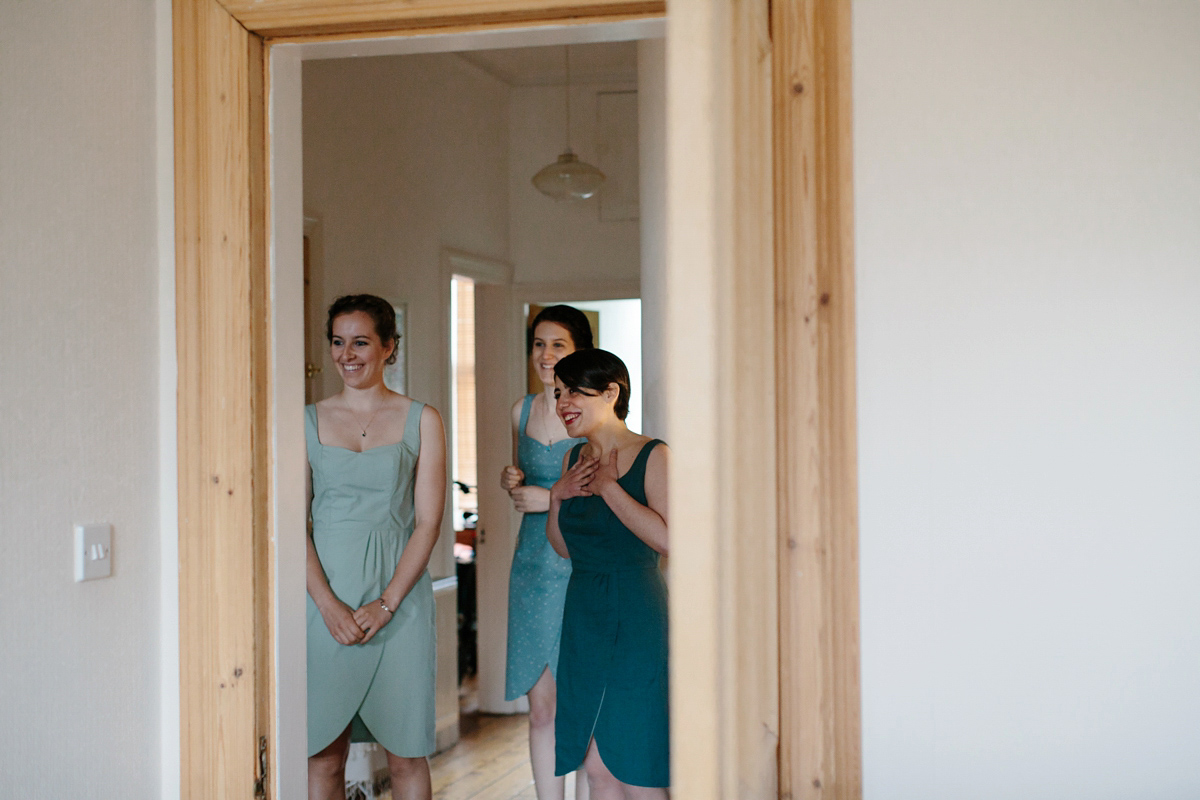 "I definitely had a 'this is the one!' moment. I loved the lace design on my Minna dress, and the simplicity and elegance of the cut, it was so different to anything else I had seen."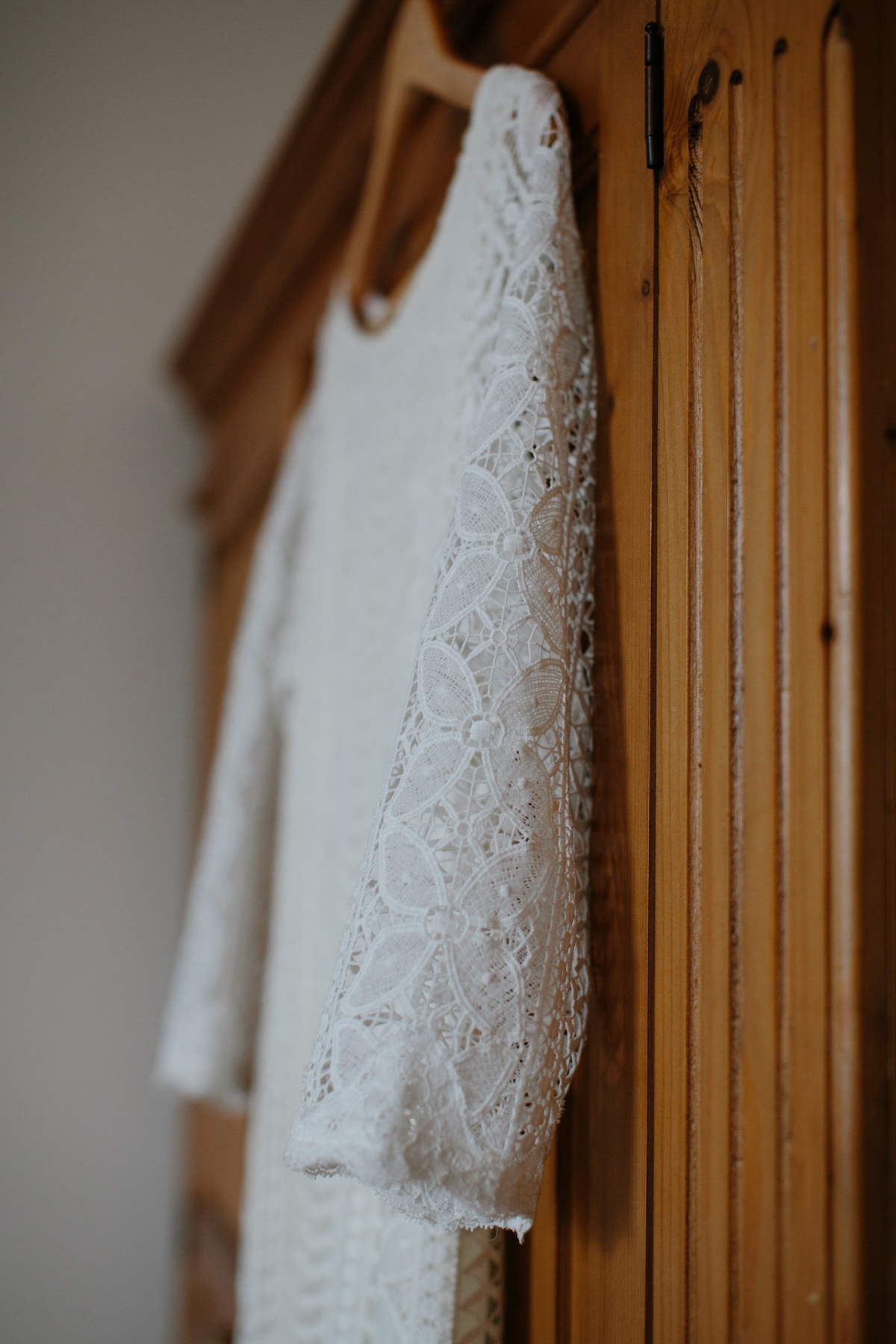 "I felt comfortable in it and I felt the dress reflected my personality in some way – the Cecile dress ticked all the boxes and when I looked in the mirror I could completely imagine getting married in it."
"I also made a tea-length dress in Japanese ivory linen to wear for our ceilidh in the evening (although there aren't any photos of it), that was perfect for dancing in"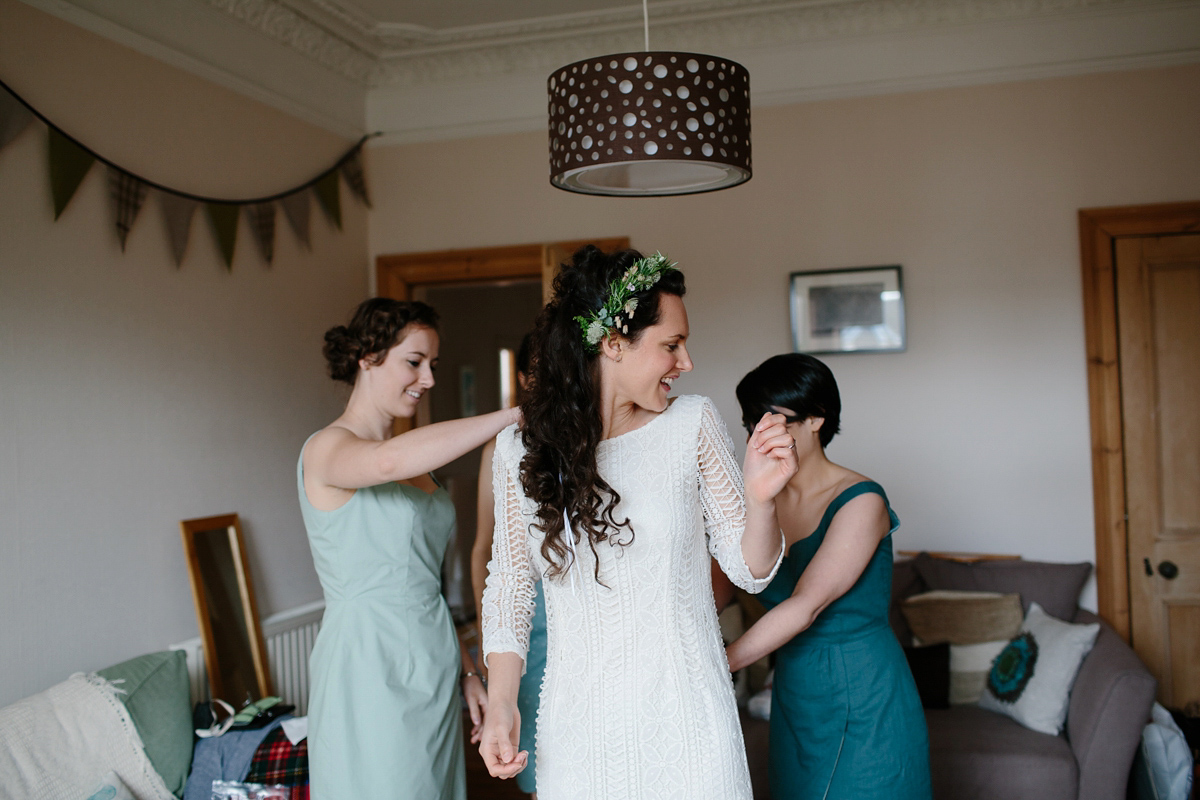 Not wanting to detract from the striking lace of her dress, Rosa wore a delicate flower crown of herbs, small flowers, grasses and seed heads. She accessorised with a pair of petal shaped earrings by Northumberland based jewellery designer called Maike Browning. David also gifted his bride with a necklace by the same designer on the morning of the wedding which she wore later in the evening.
"I wore Wood Sage and Sea Salt by Jo Malone perfume as I loved the idea of having a scent that would always transport me back to our wedding day. I got the bottle engraved with our wedding date and 'timeless as stars', a line from one of our readings."
"David and I met on a fieldtrip during our undergraduate degrees at the University of Cambridge just over eight years ago. Six months later, and after drinking a bit too much Pimms, we decided to go on our first date."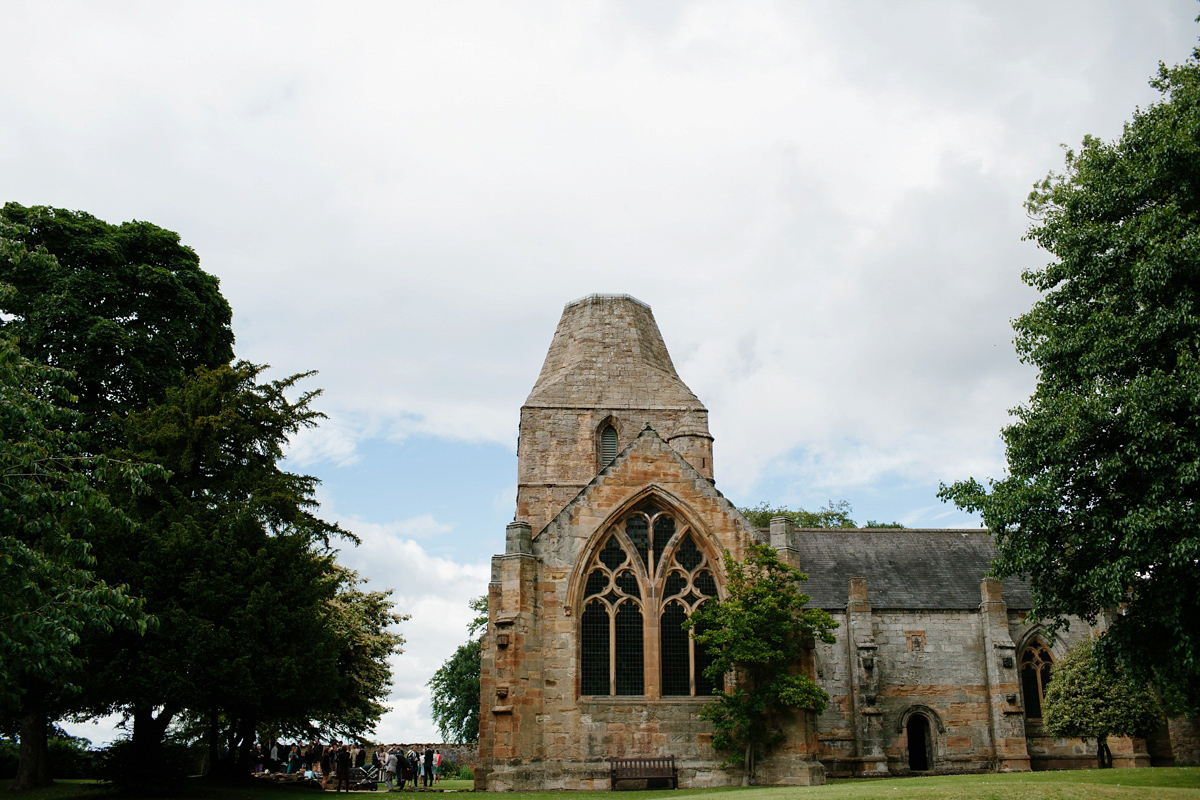 "David proposed while we were wild camping on a beach along the coast from Edinburgh on a perfect summer's evening. We stood out watching the sunset and as the stars started coming out, David asked me to marry him. Of course I said yes, although not before insisting that he got down on one knee on the wet sand! Afterwards, we popped open a bottle of Prosecco that David had sneaked along and we were even lucky enough to see a few shooting stars."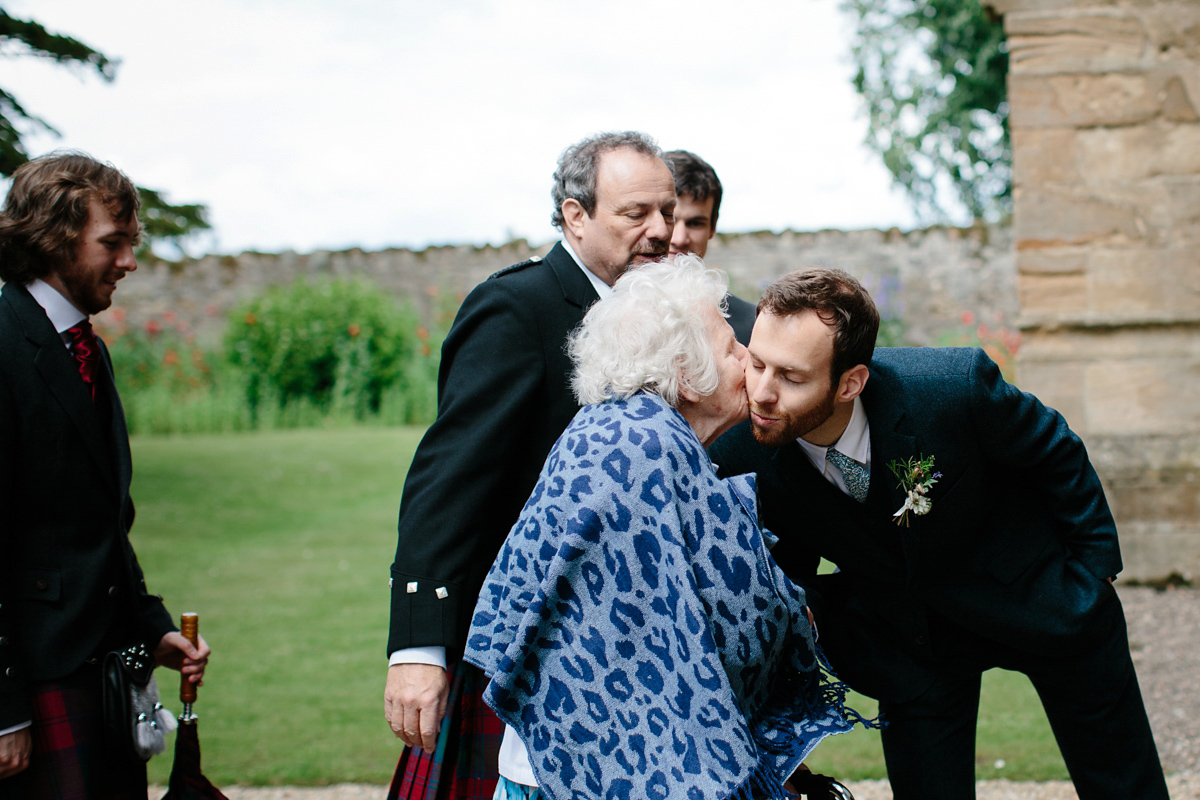 "David wore a beautiful navy herringbone tweed three piece suit from Walker Slater and I made his tie using Liberty fabric. We were happy for the best man and groomsmen to wear their own suits with green ties we had bought for them"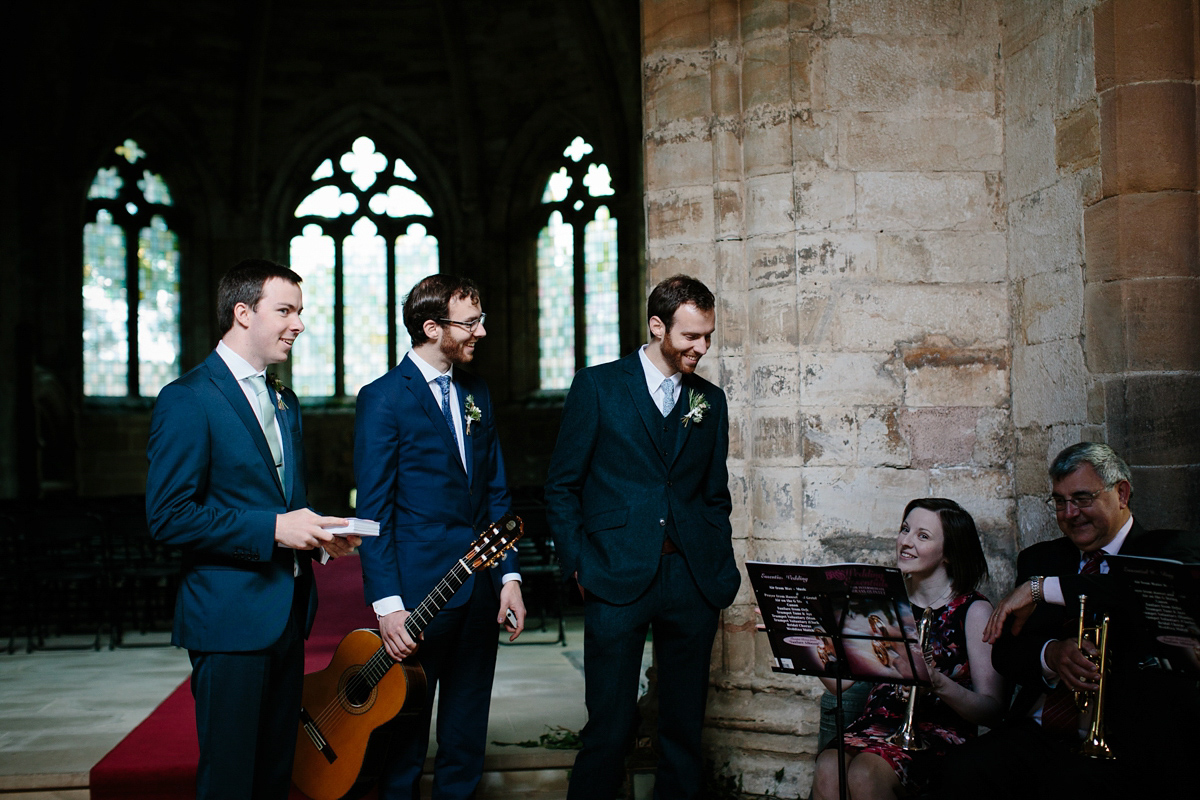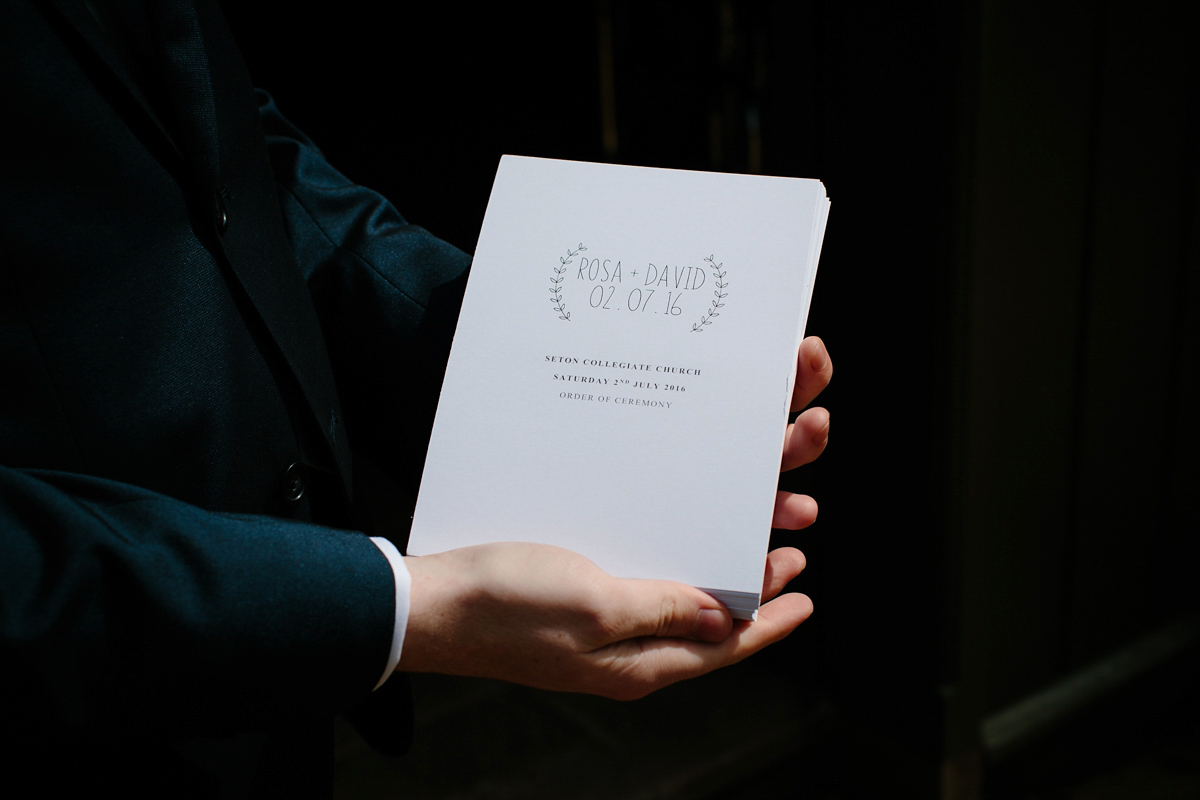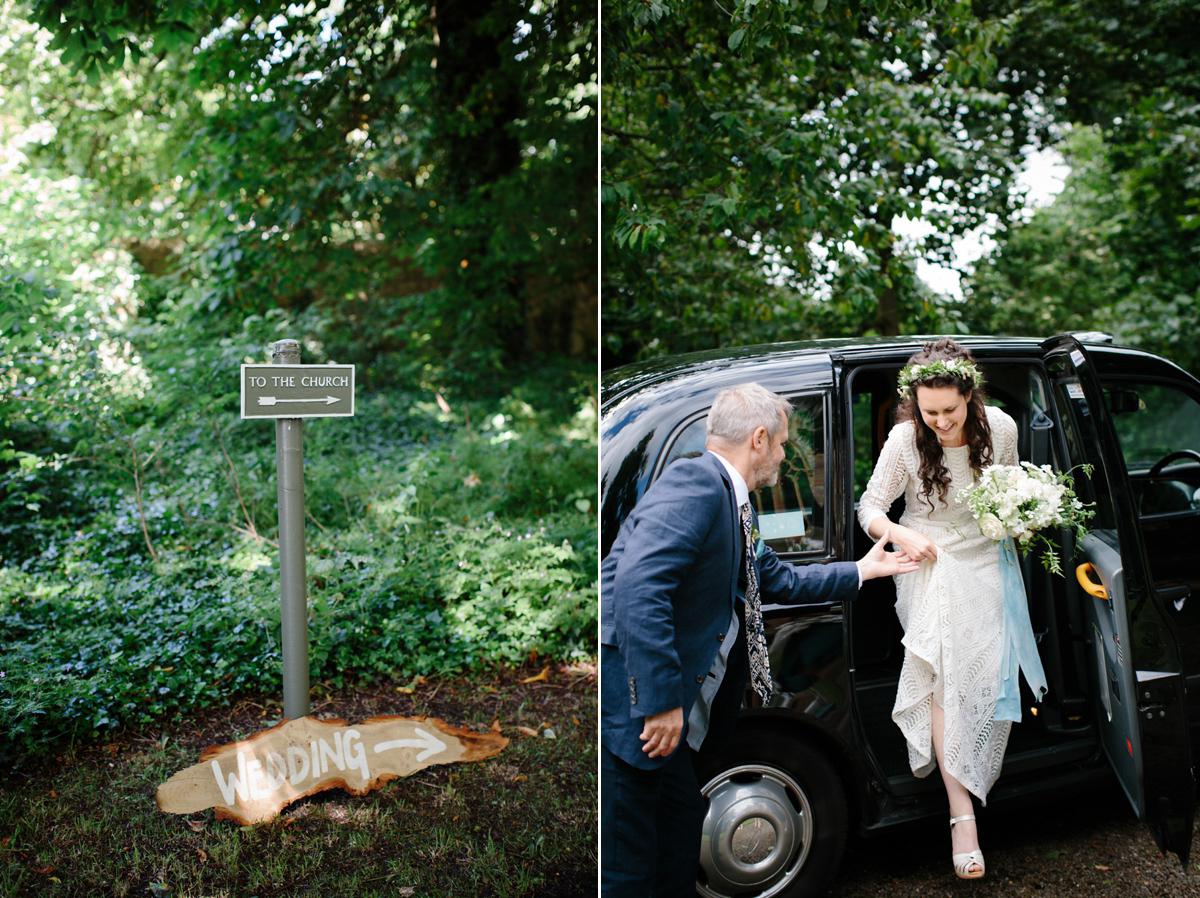 "David is a member of The Dalkeith and Monktonhall Brass Band and they provided a small eight piece ensemble to play entrance and exit music for our ceremony. The acoustics inside the church were gorgeous, and the band sounded amazing. During the signing of the register, David's twin brother Alex played an enchanting recital of 'Frog Gaillard', by John Downland, on classical guitar."
"Having both the band and Alex playing during the ceremony was another way of making the ceremony particularly magical and personal to us, and of course they all did an unbelievable job."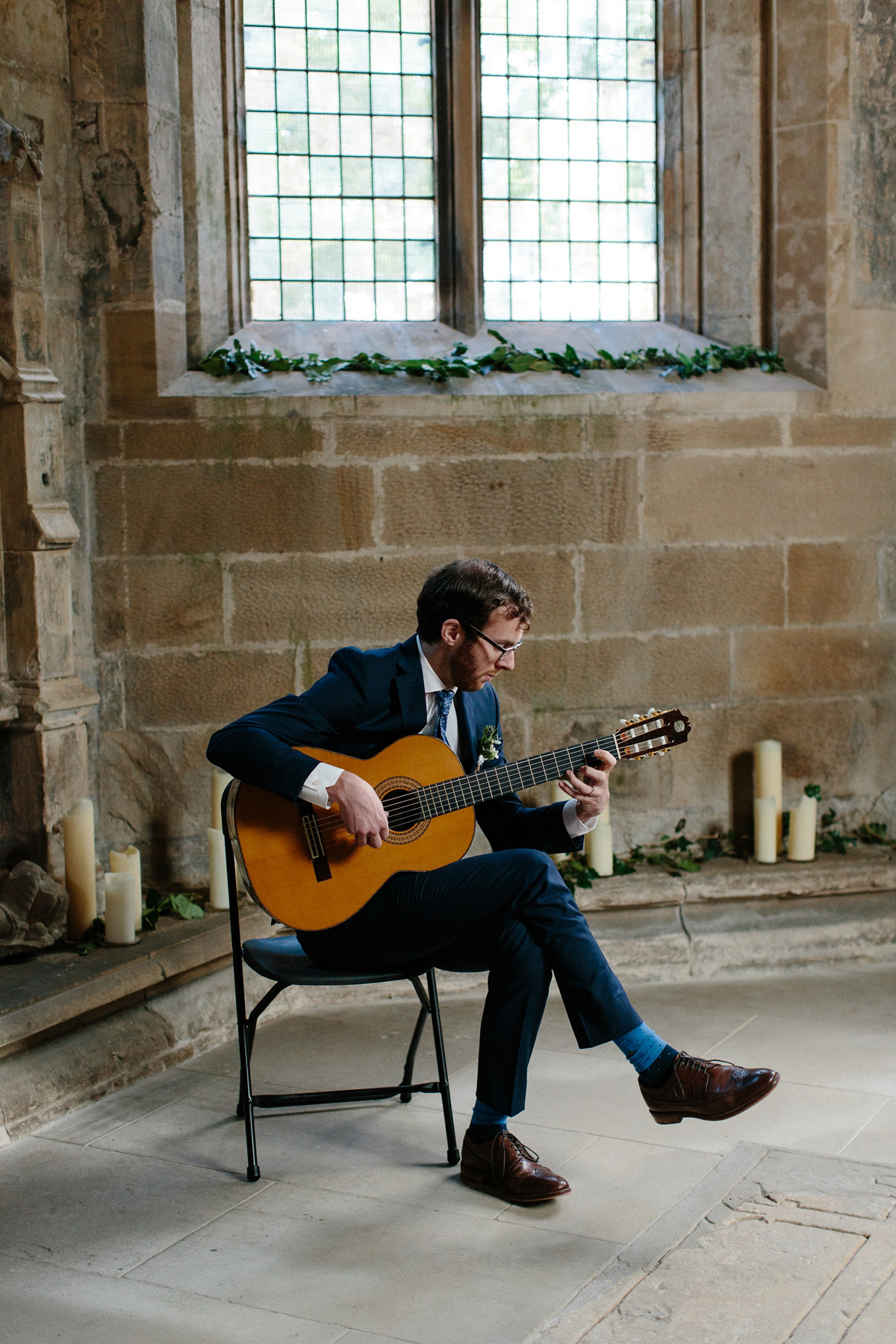 "I walked down the aisle with my Dad but there was no sense of him 'giving me away' – it was just a lovely chance to share that special moment with him (plus it was good to have someone to hold on to, as I was shaking with nerves)."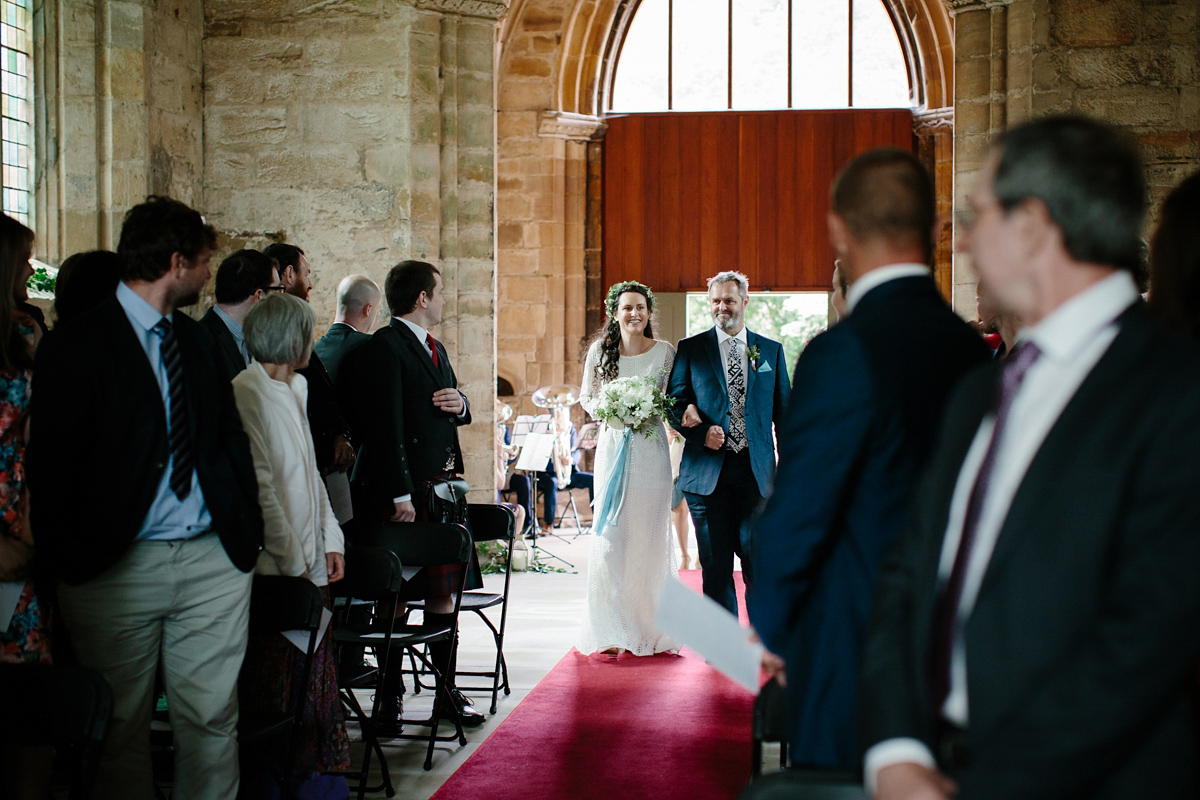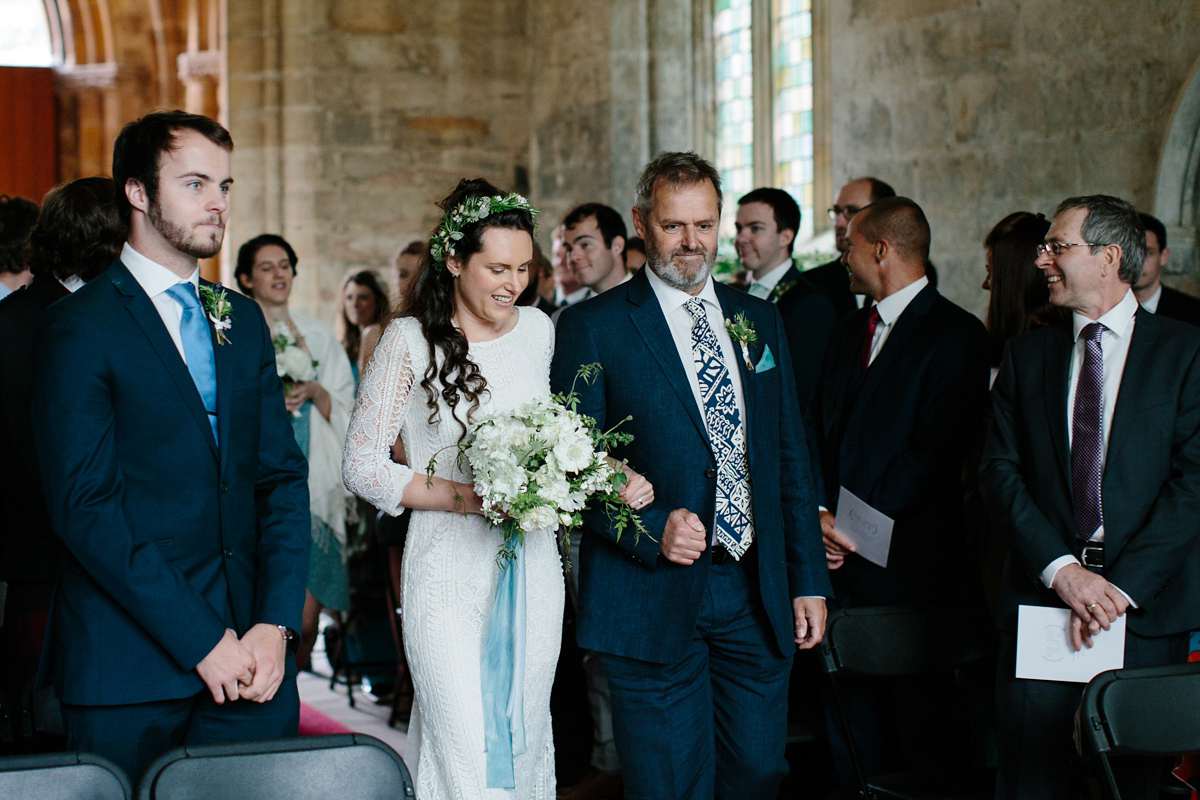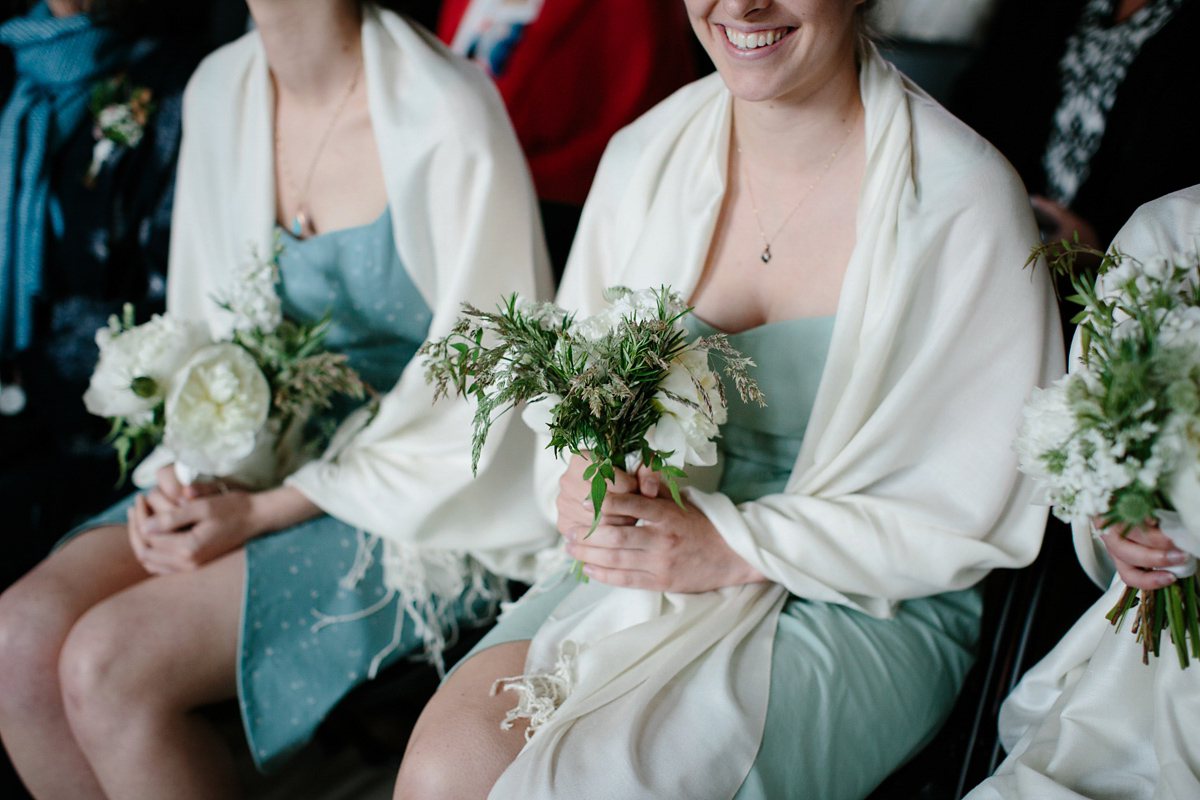 "We went for fairly simple decor in the church, as we didn't want to detract from the architecture, using lots of greenery and ivy, plus pillar candles and a few glass lanterns to add to the romantic feel. Lesley Peebles-Brown, who looks after the property for Historic Scotland, was absolutely fantastic at helping us set up and my aunt did a wonderful job of arranging the greenery and flowers in glass jars that came from my family home in Dorset."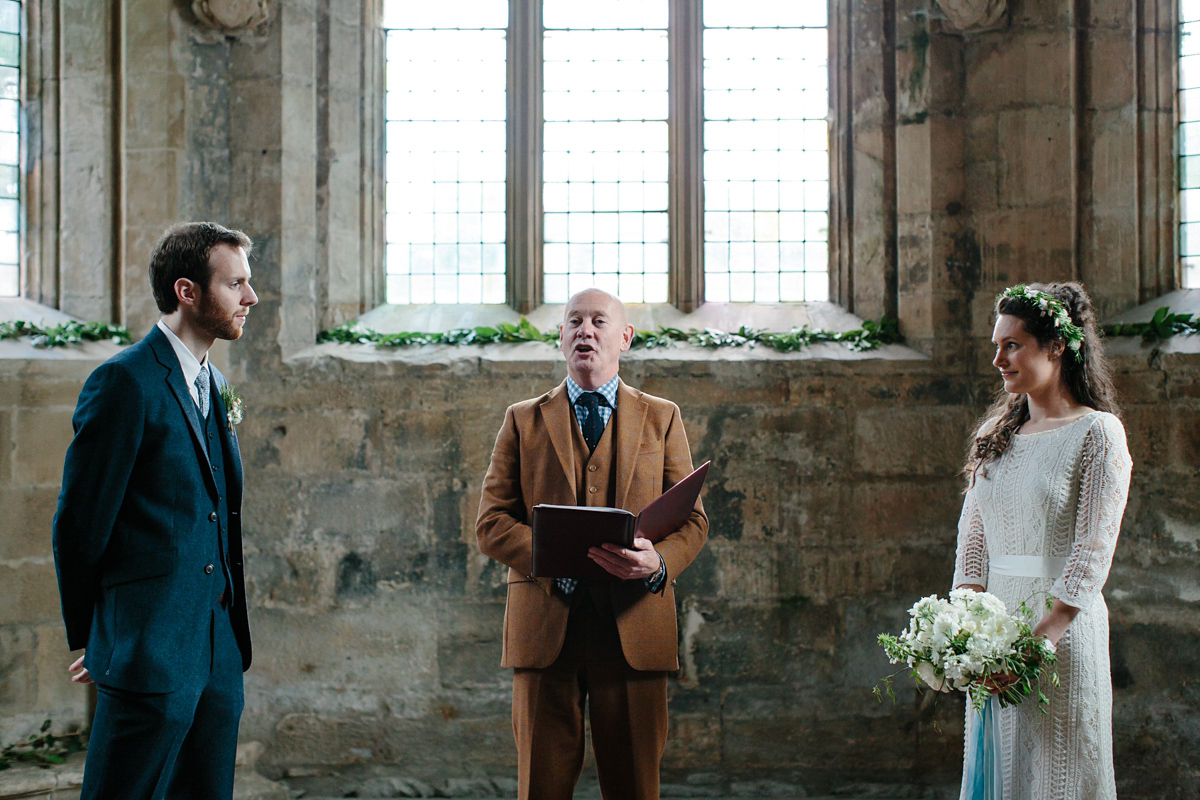 "It was so special having some of my childhood home there on the day."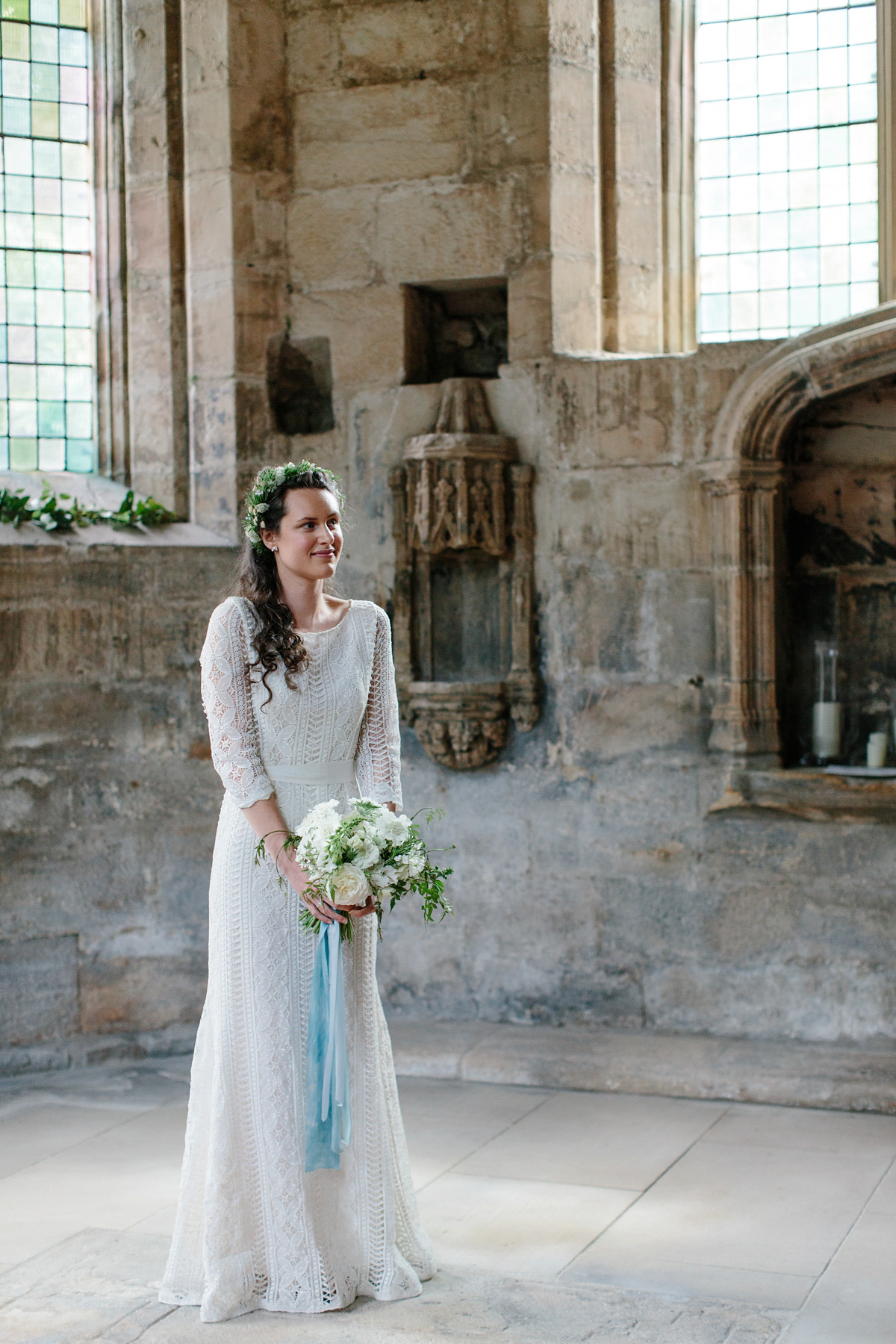 Rosa and David wrote their humanist ceremony themselves. Their celebrant, Tim Maguire, asked them to write their story along with ten reasons why they wanted to get married and ten things that marriage means to them. The idea was to do this individually before sharing what they had written with one another and for this to form the basis of their ceremony.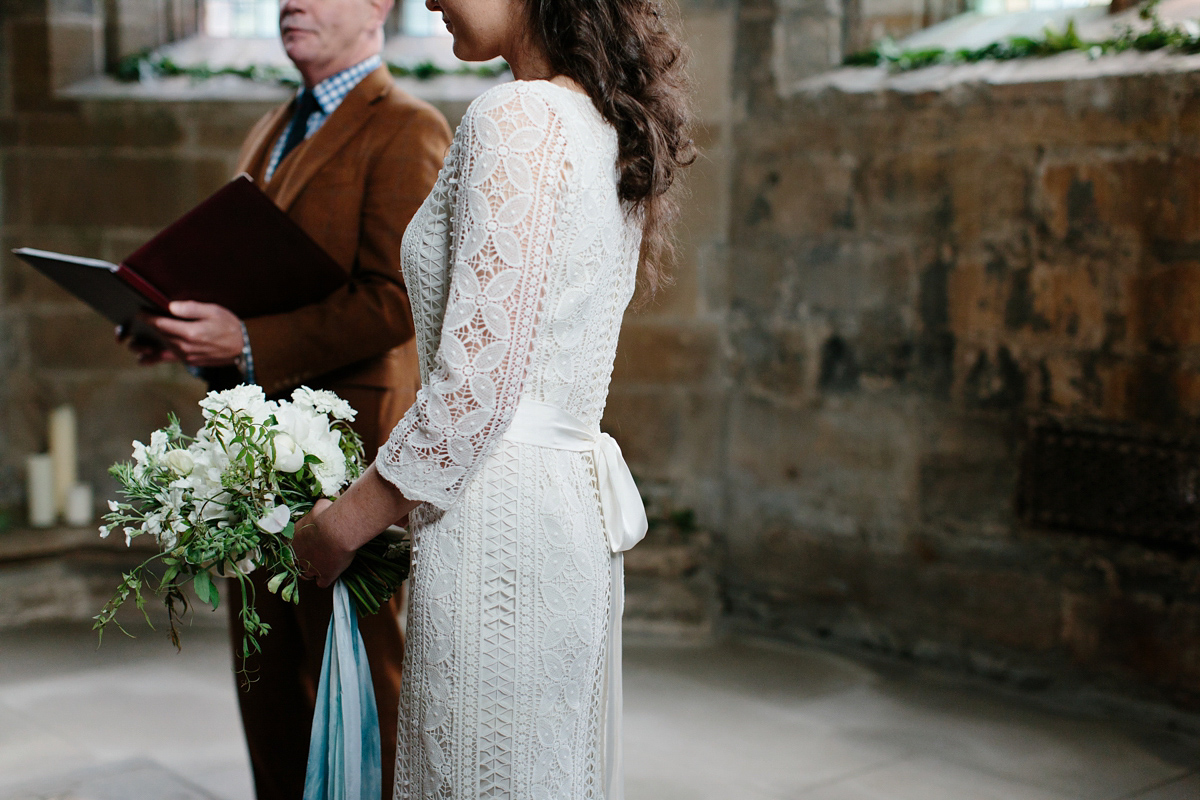 "We loved having a ceremony that was completely personal to us and reflected all the reasons why we wanted to get married. Our vows were a combination of the best bits of what we had written individually and, we both said the same vows as we felt this best reflected our equal partnership."
"We included two readings in our ceremony, '1 Corinthians 13 New International Version (NIV)' and 'There Will Be No End' by Alison Macleod;
There will be no end to the joy, my love.
We will stand together as the stars
sweep the Cuillin, rounding into morning
the bright new morning of the tender heart.
And where we sing, the song will be a fine one
and where we dance, our steps will never fail
to tap the springs of life, of love and laughter
timeless as stars, the wheeling, circling stars
that dance and sing, and sing and dance again;
and there will be no end to the joy.
"Kate Pearse from Glasswing Jewellery made my bespoke engagement ring and our matching hammered finish rings. She uses recycled metals and diamonds; it was very important that our rings were ethically produced, with a lower environmental impact."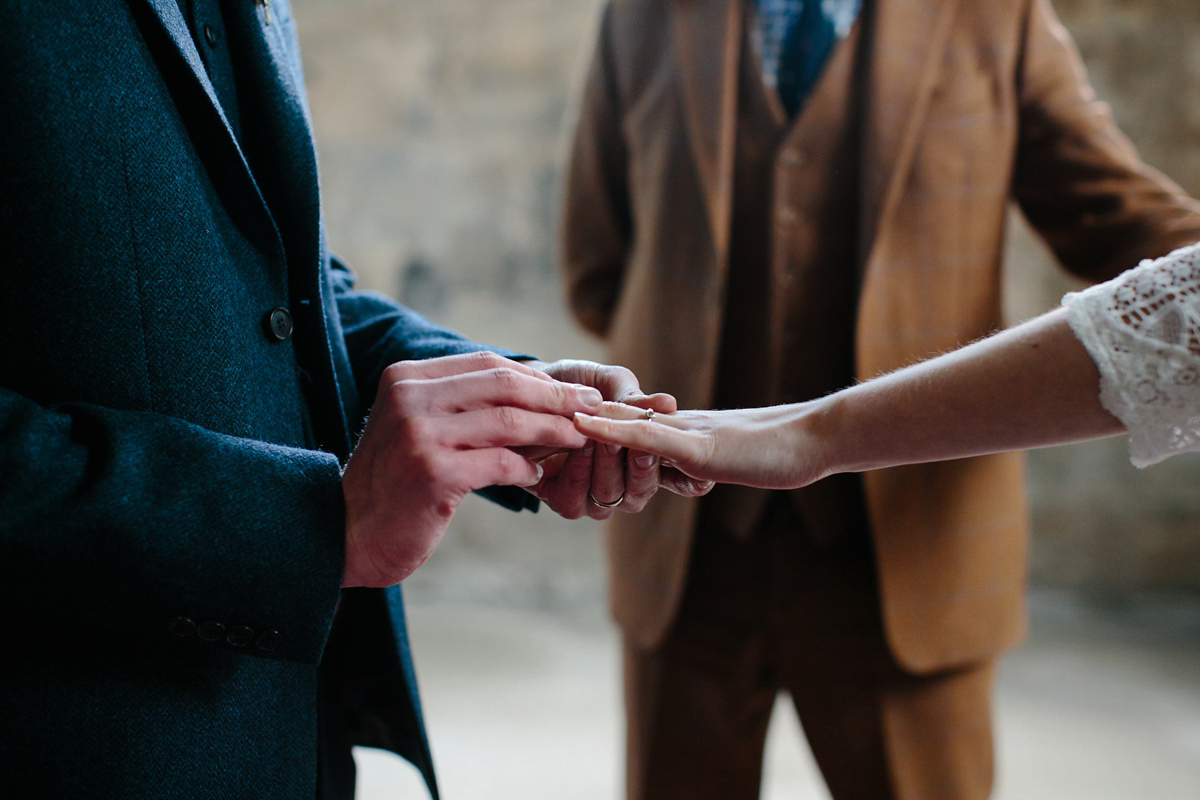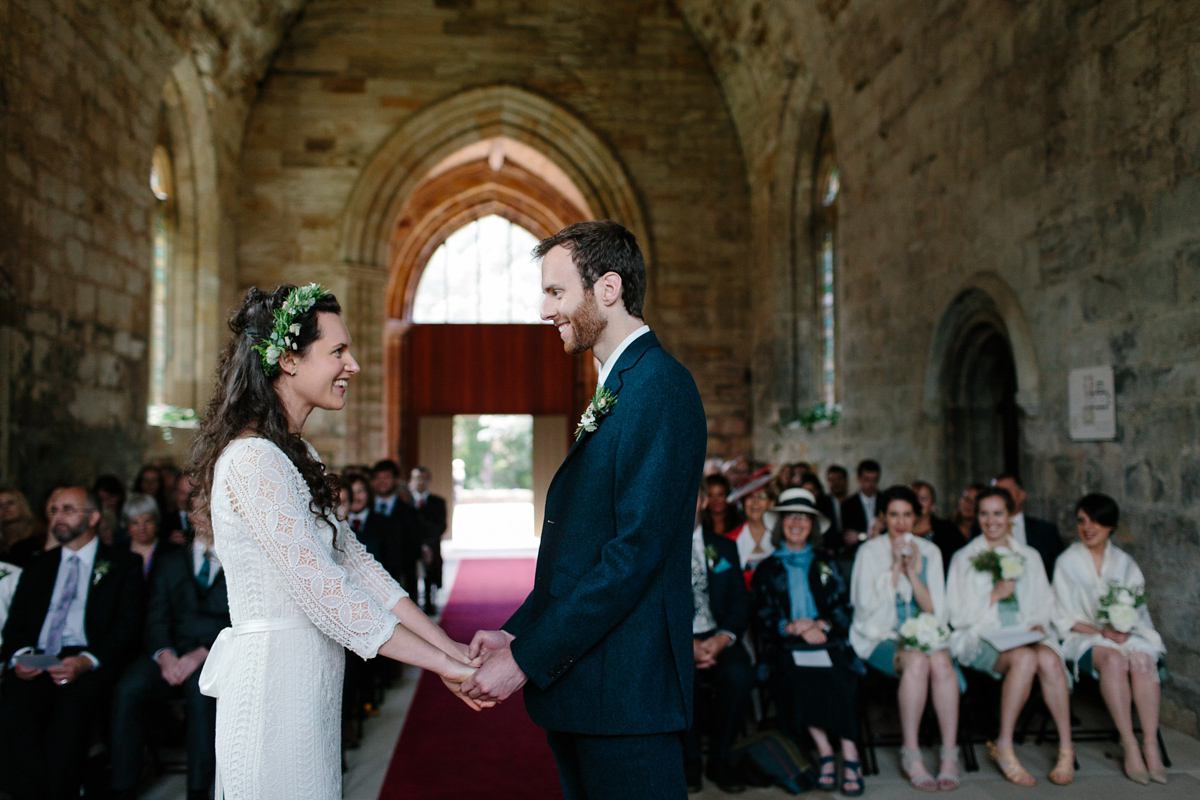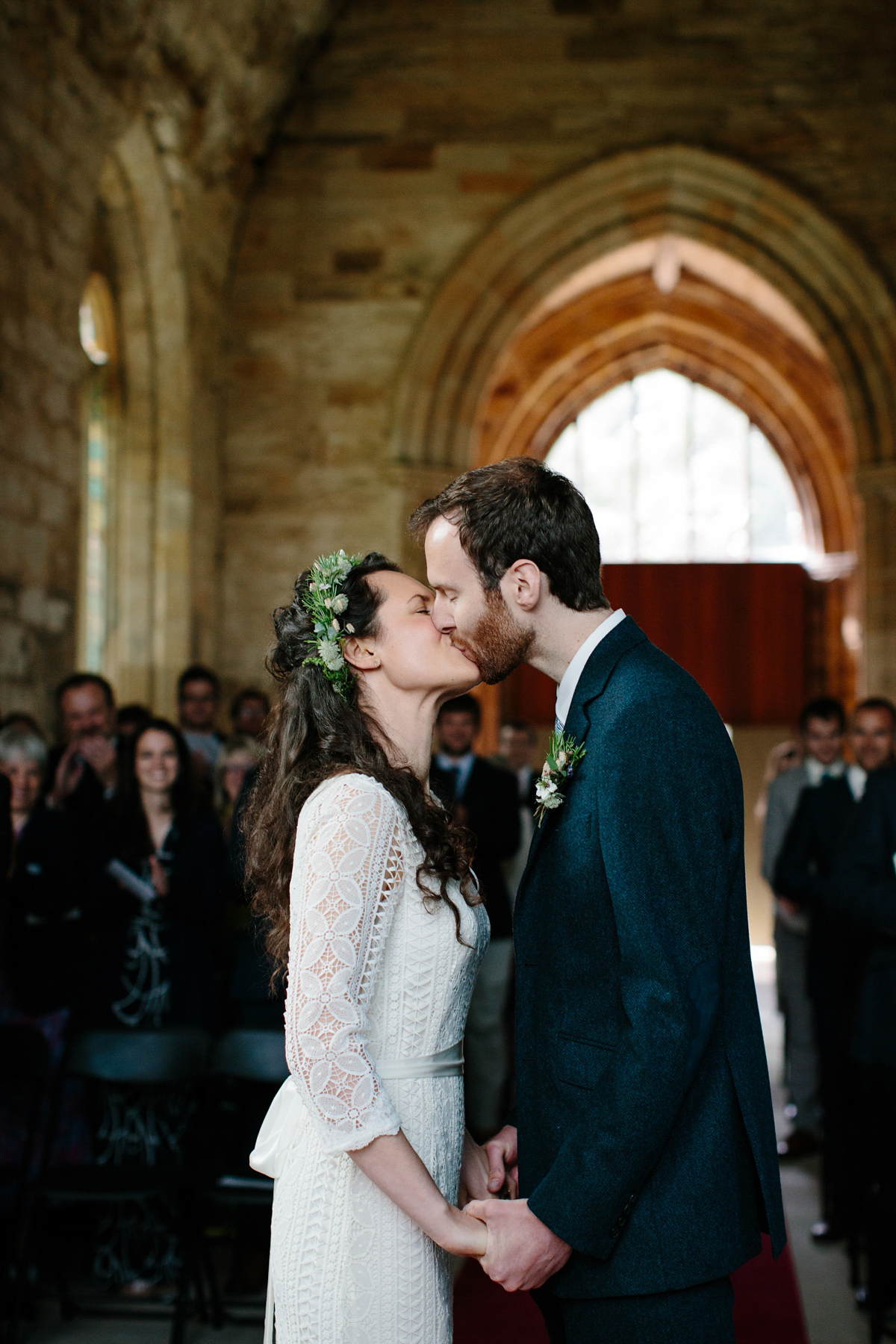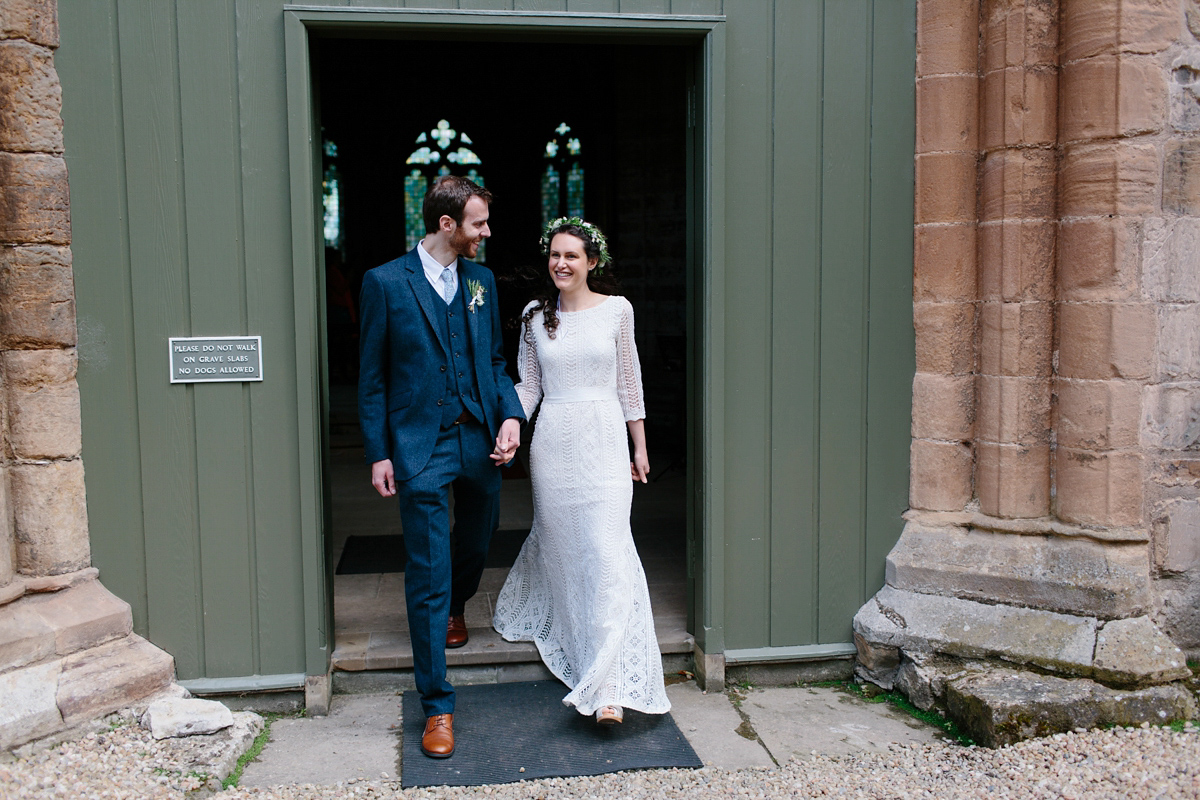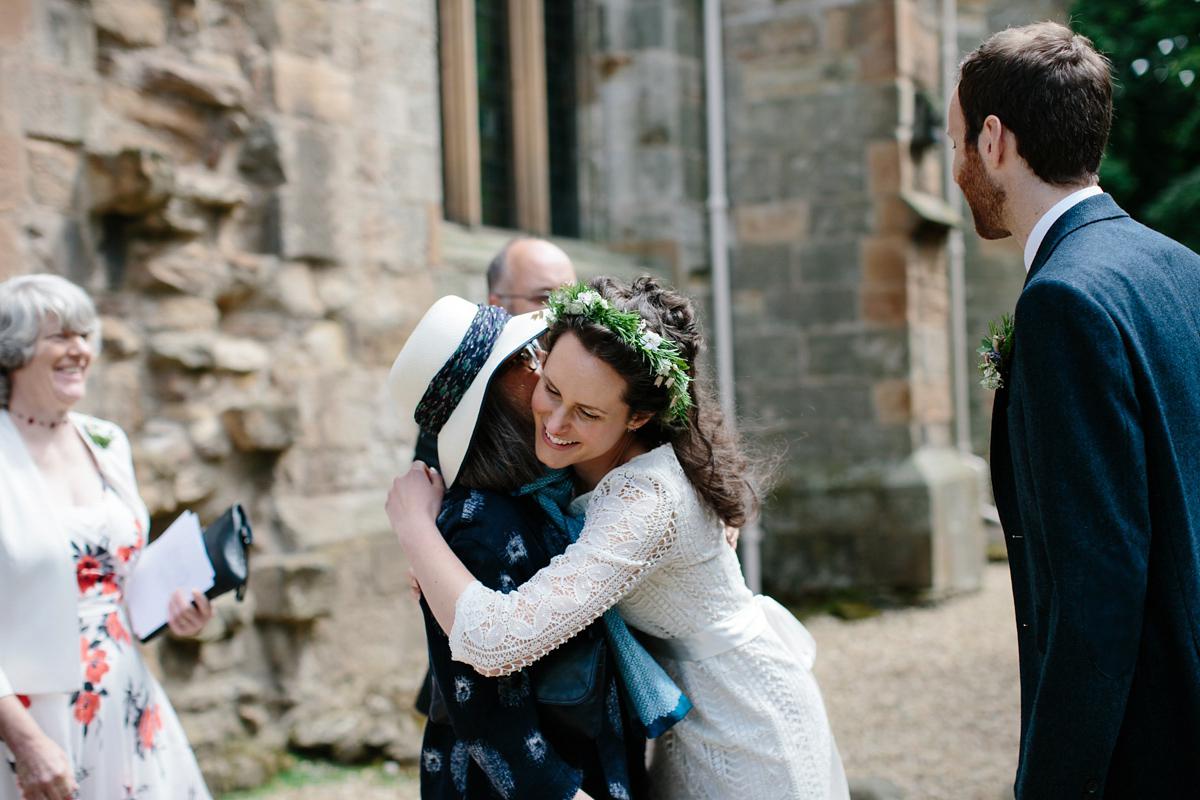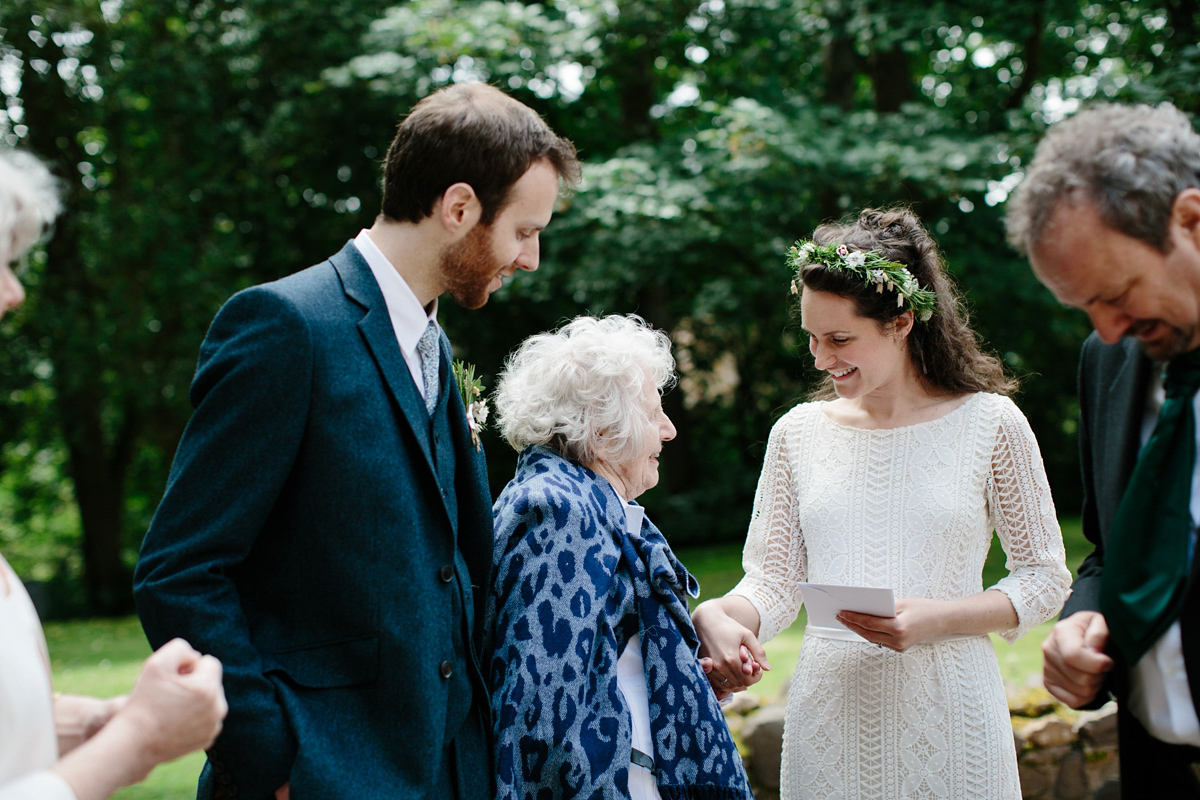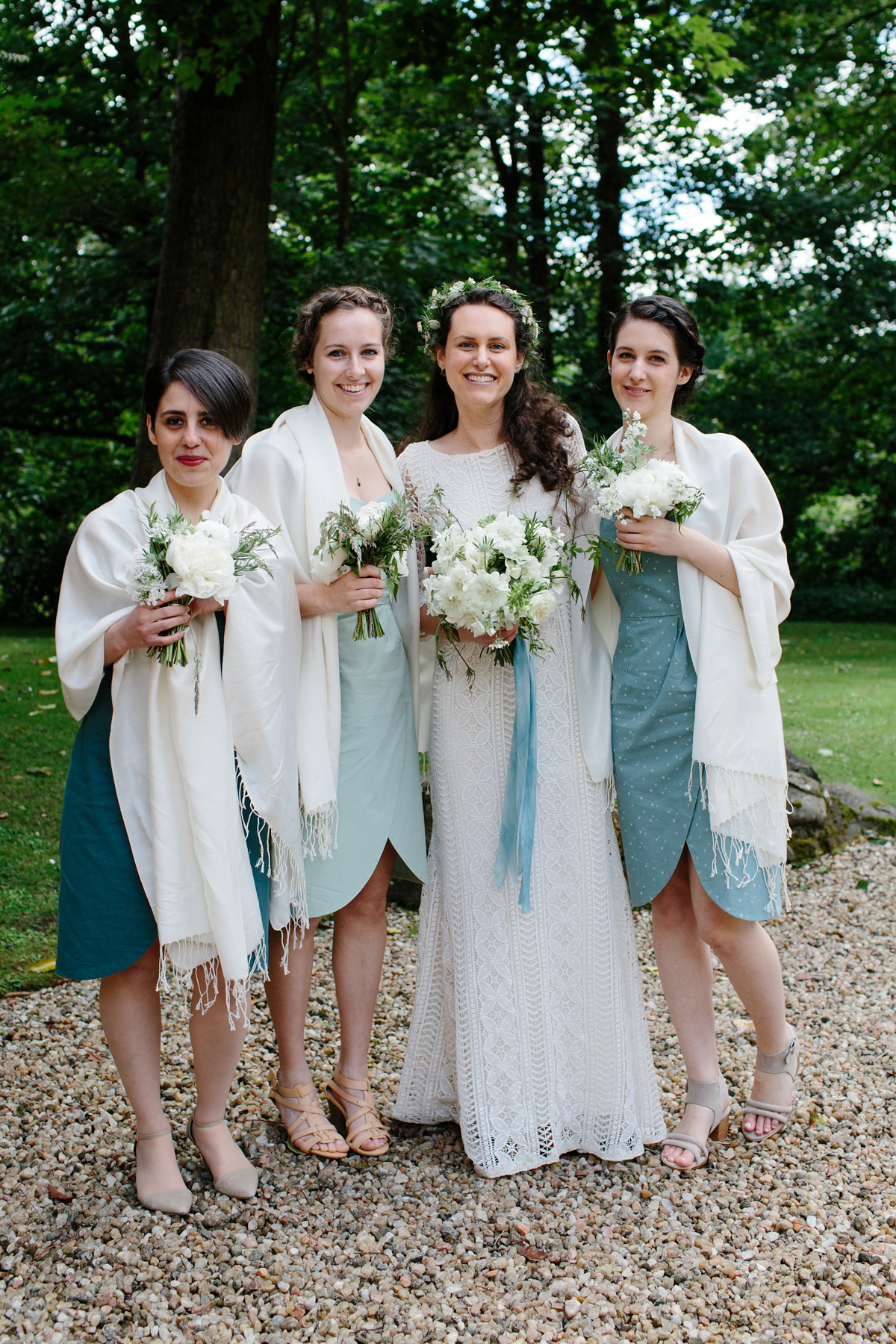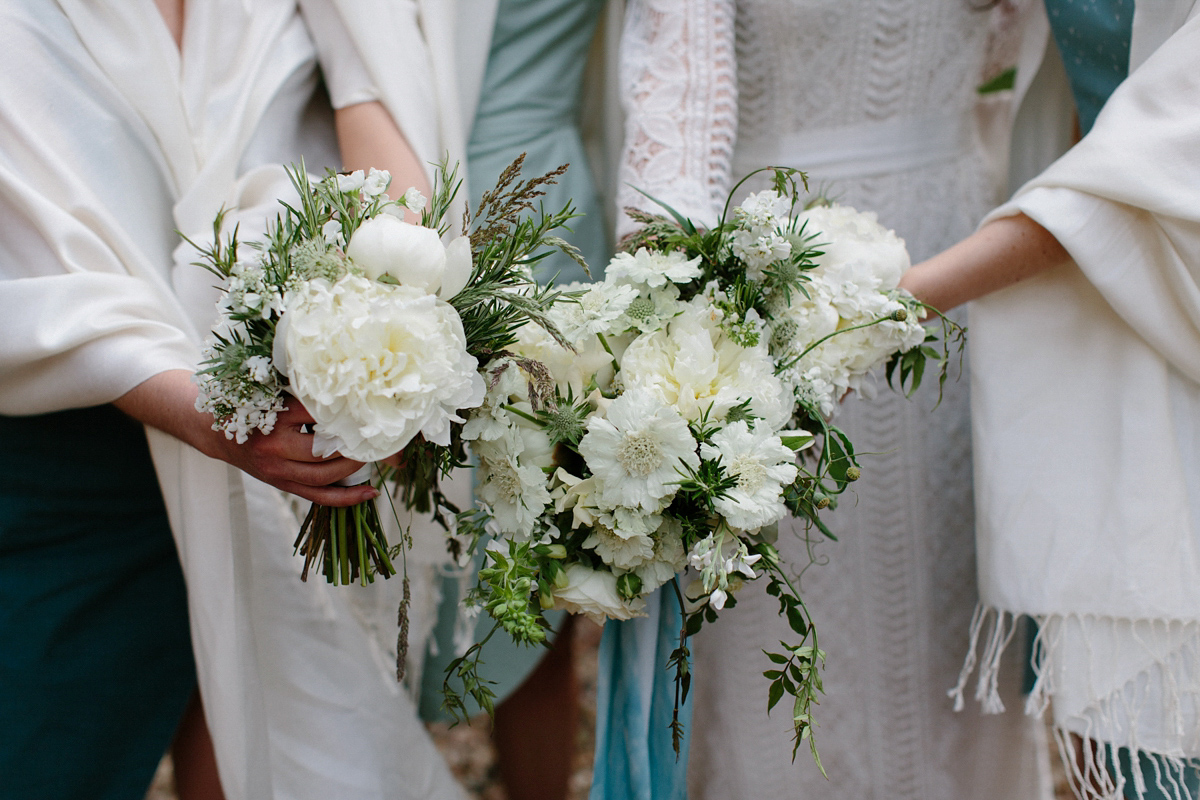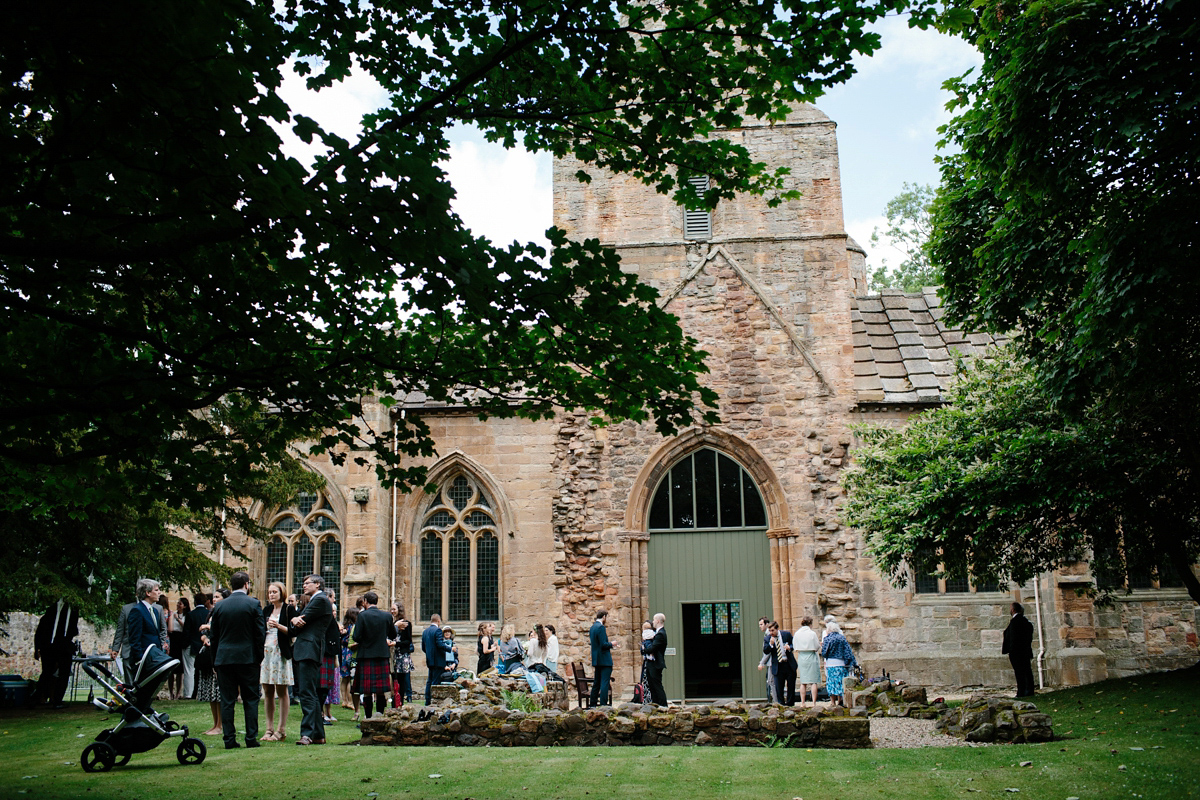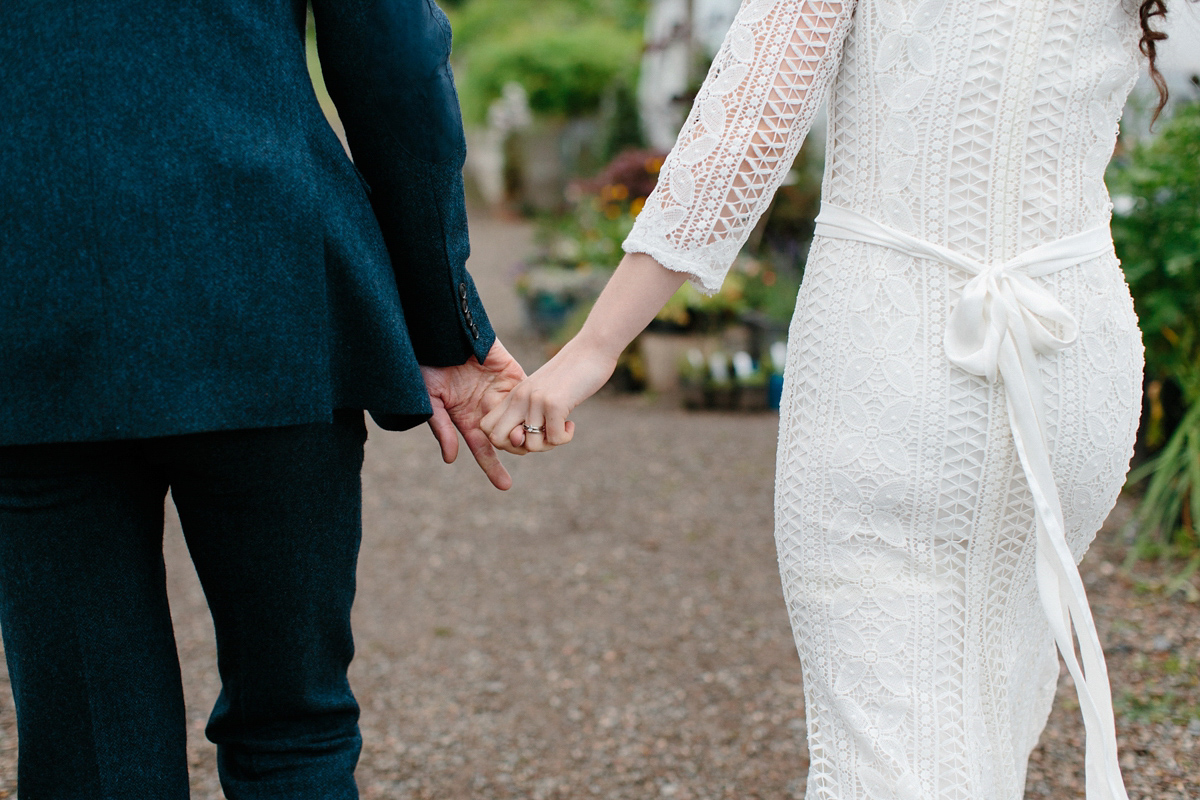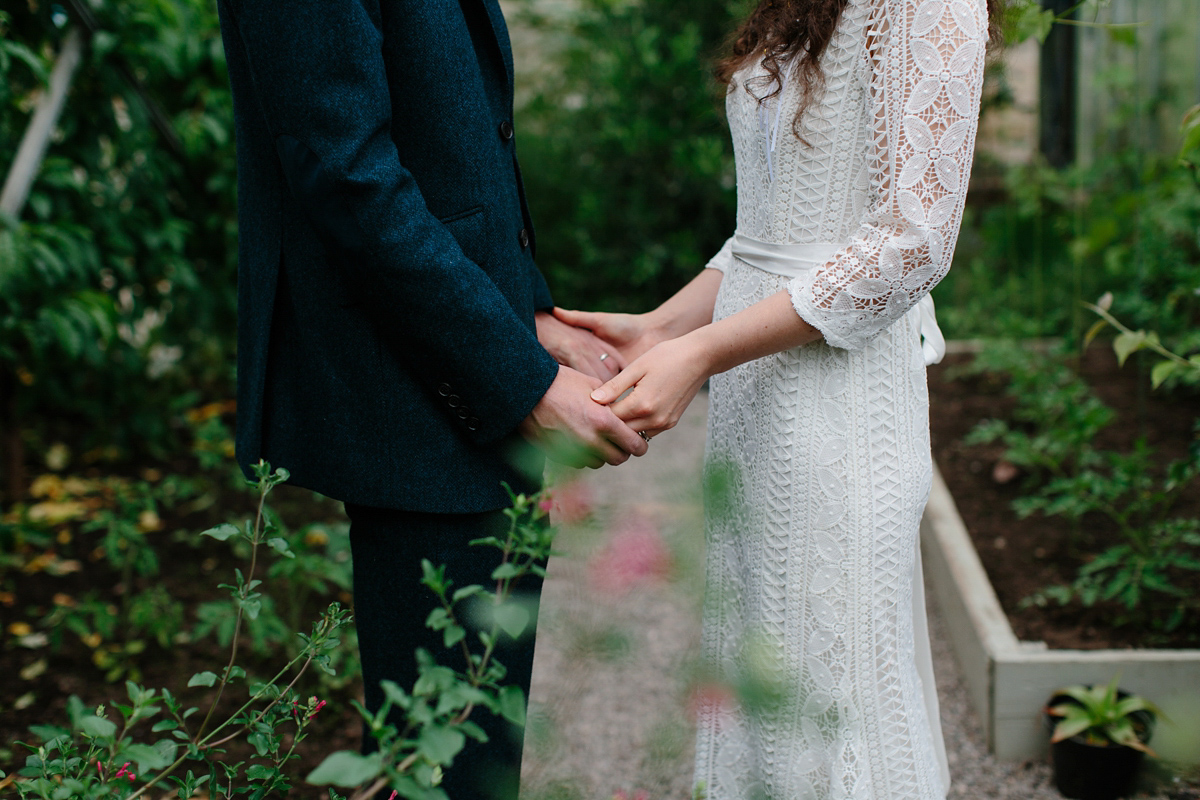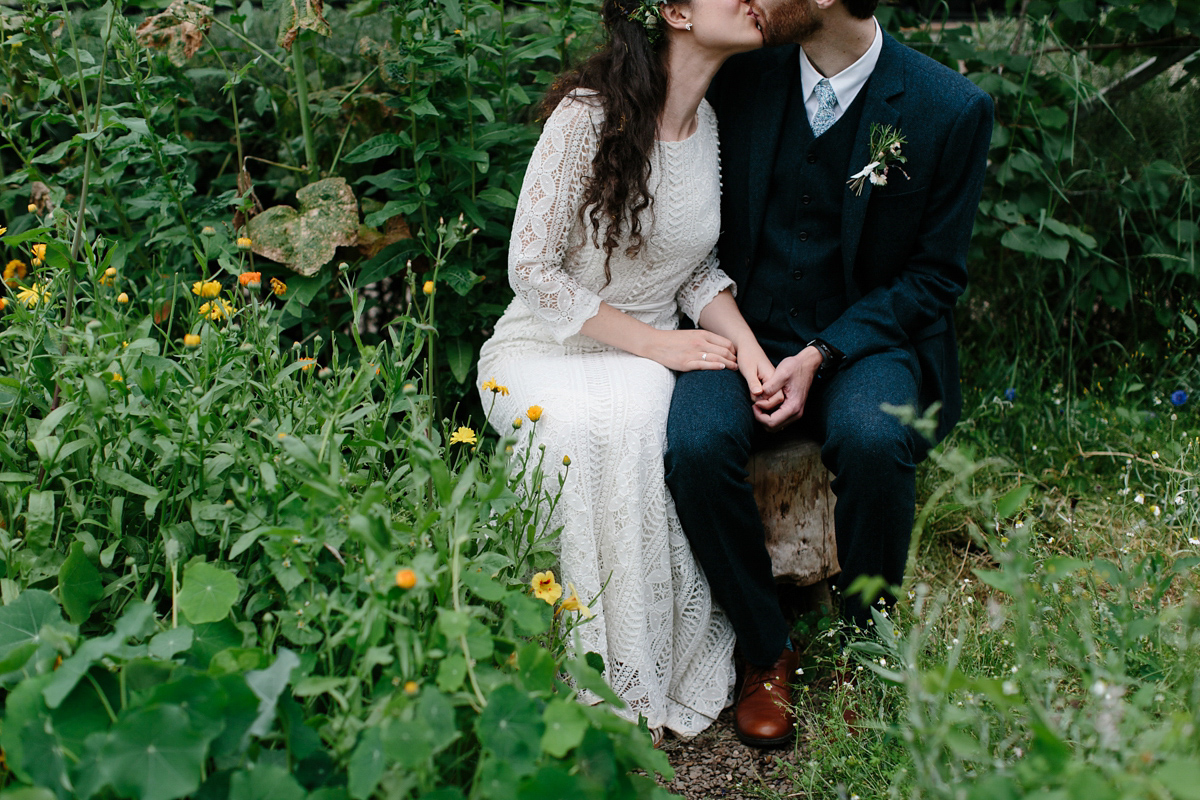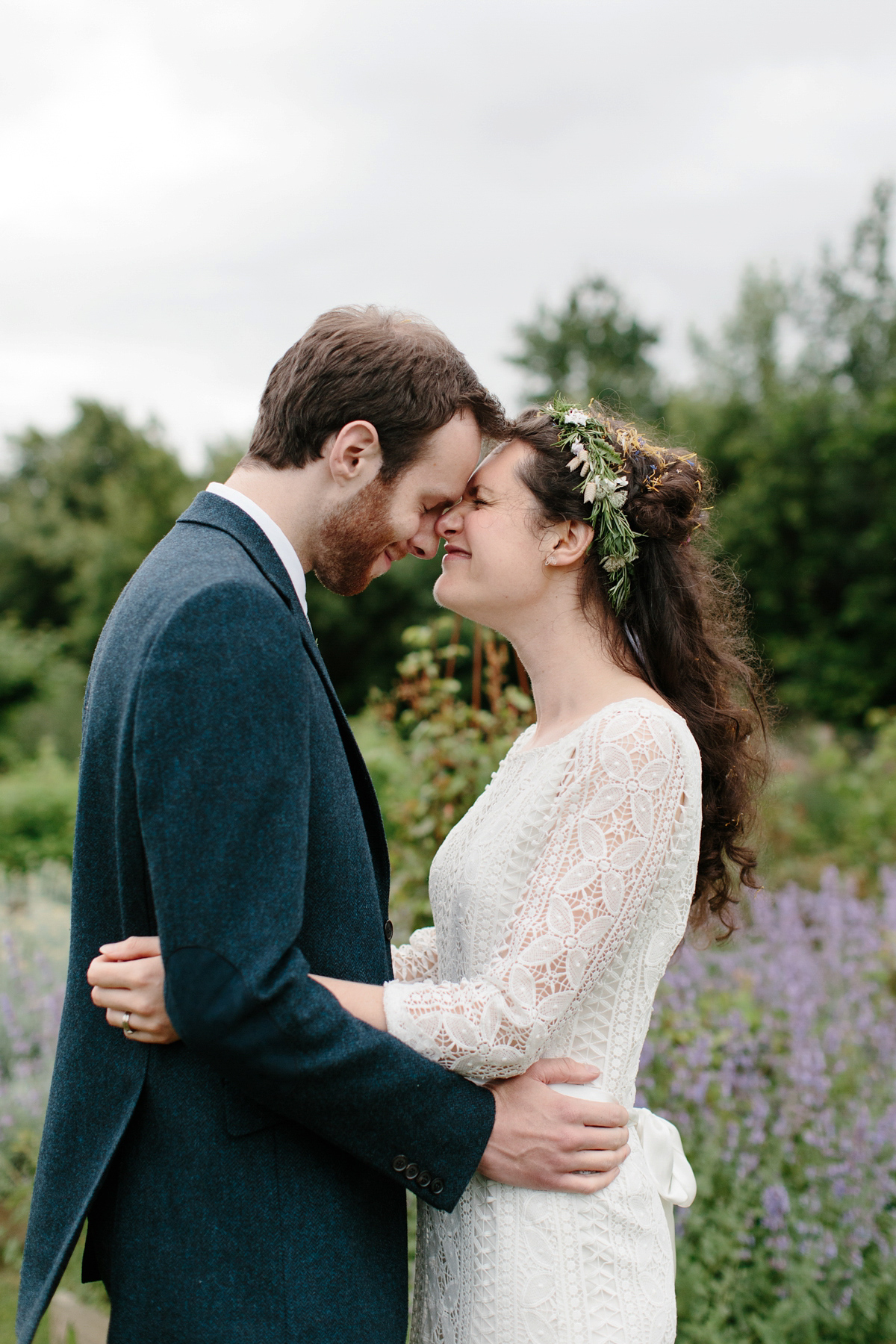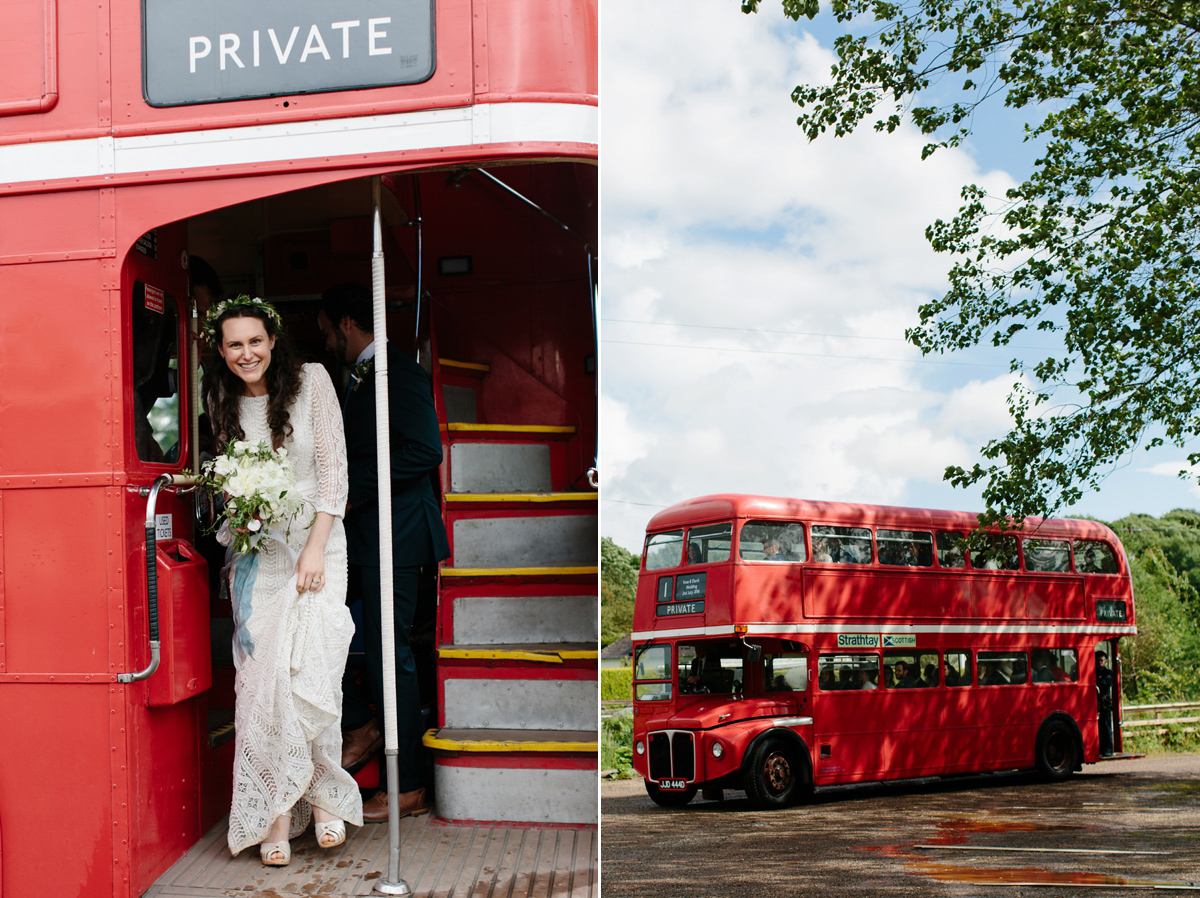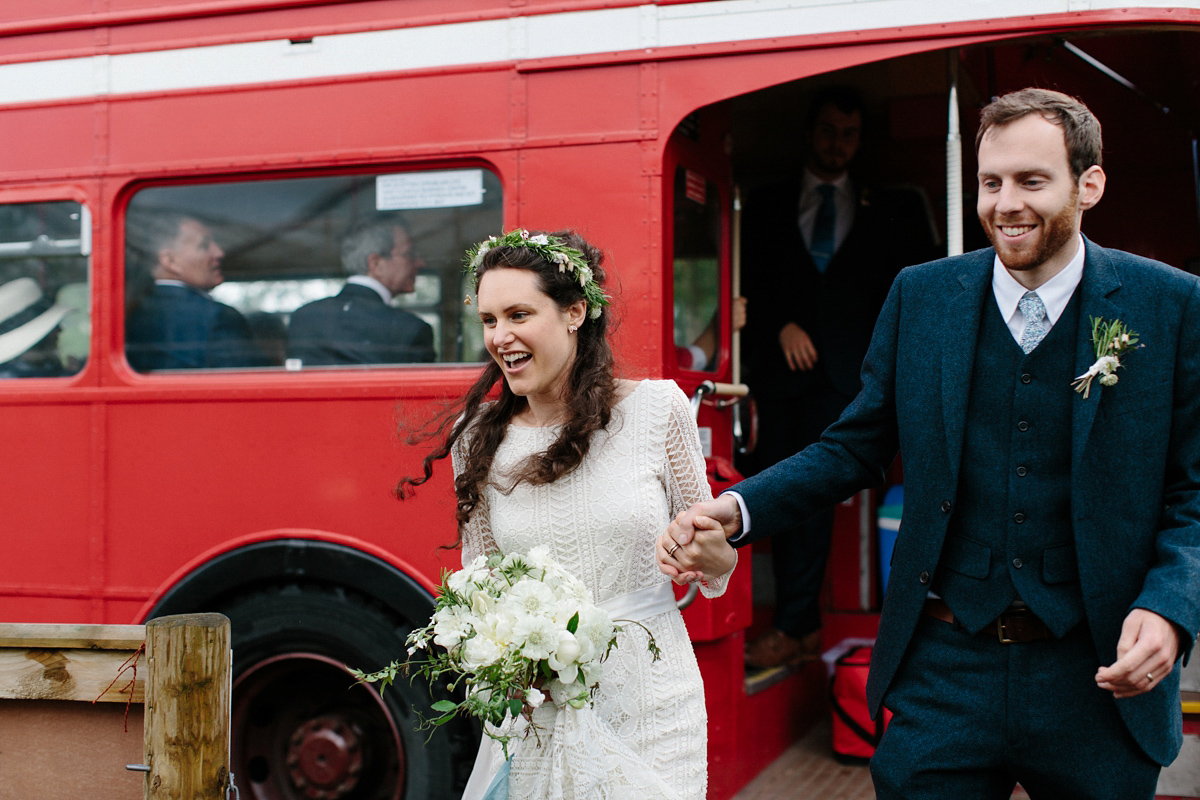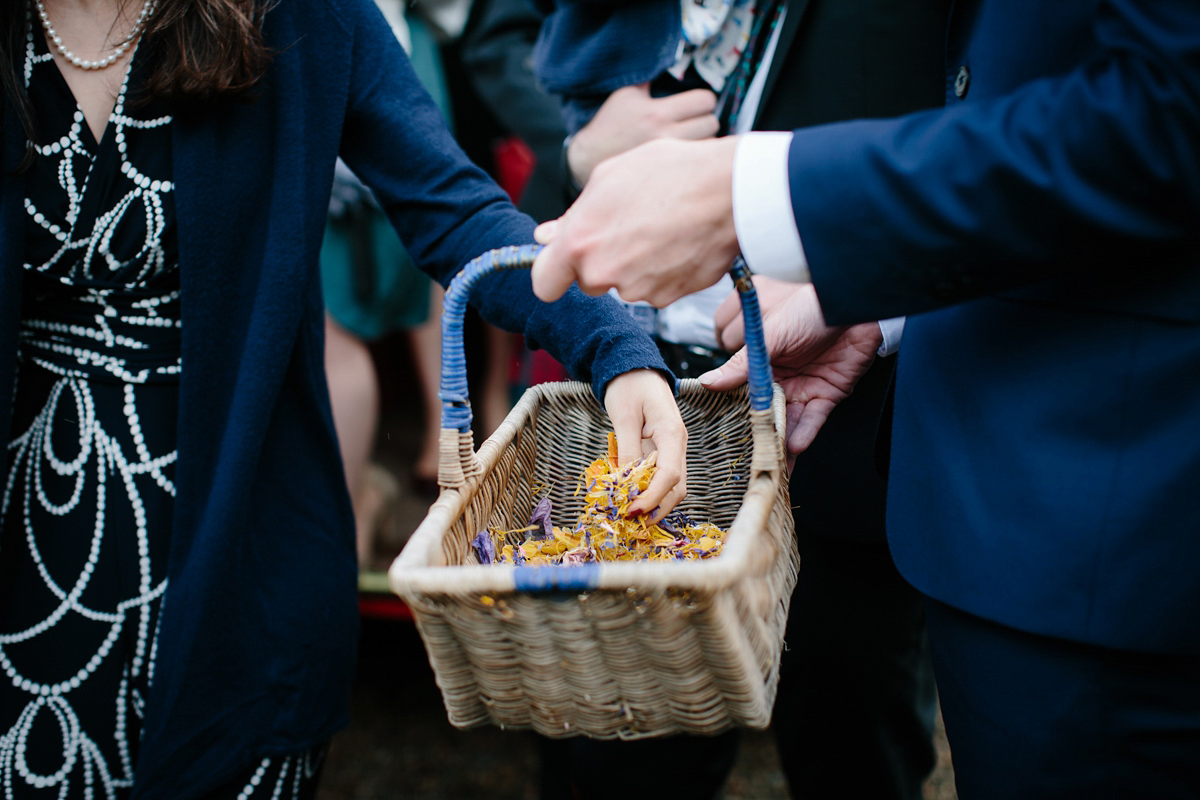 The team at the Secret Herb Garden were fantastic too and went above and beyond to make sure that we had the most perfect day. It was so nice to have that extra help setting everything up and for us to know that everything was being taken care of on the day.
"We could have done nothing to the Secret Herb Garden and it would have still looked stunning so we complemented the dining area with hundreds of metres of white bunting made by my mum from Indian block printed fabric."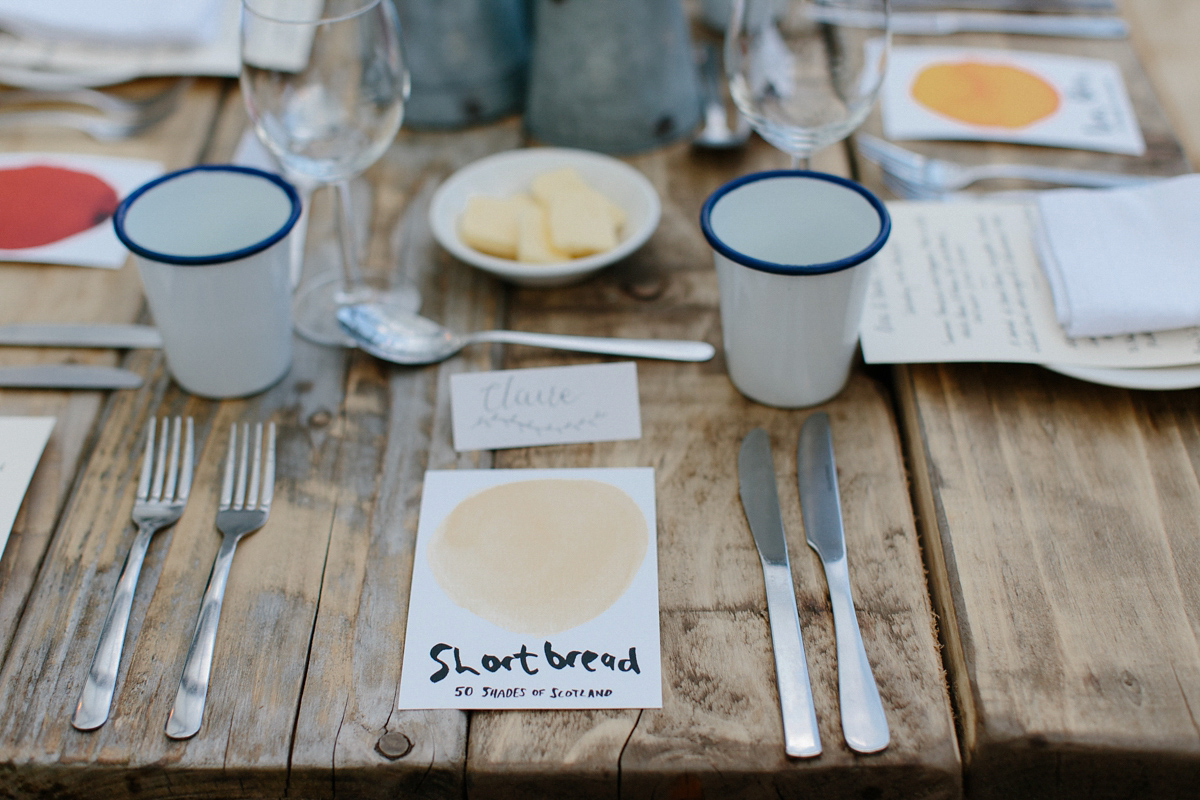 "We displayed our guest book, the record player, card box and framed photographs from our parent's and grandparent's wedding days on a long table and, the Secret Herb Garden team set up a couple of huge flower displays for us too, full of gorgeous blooms from their gardens."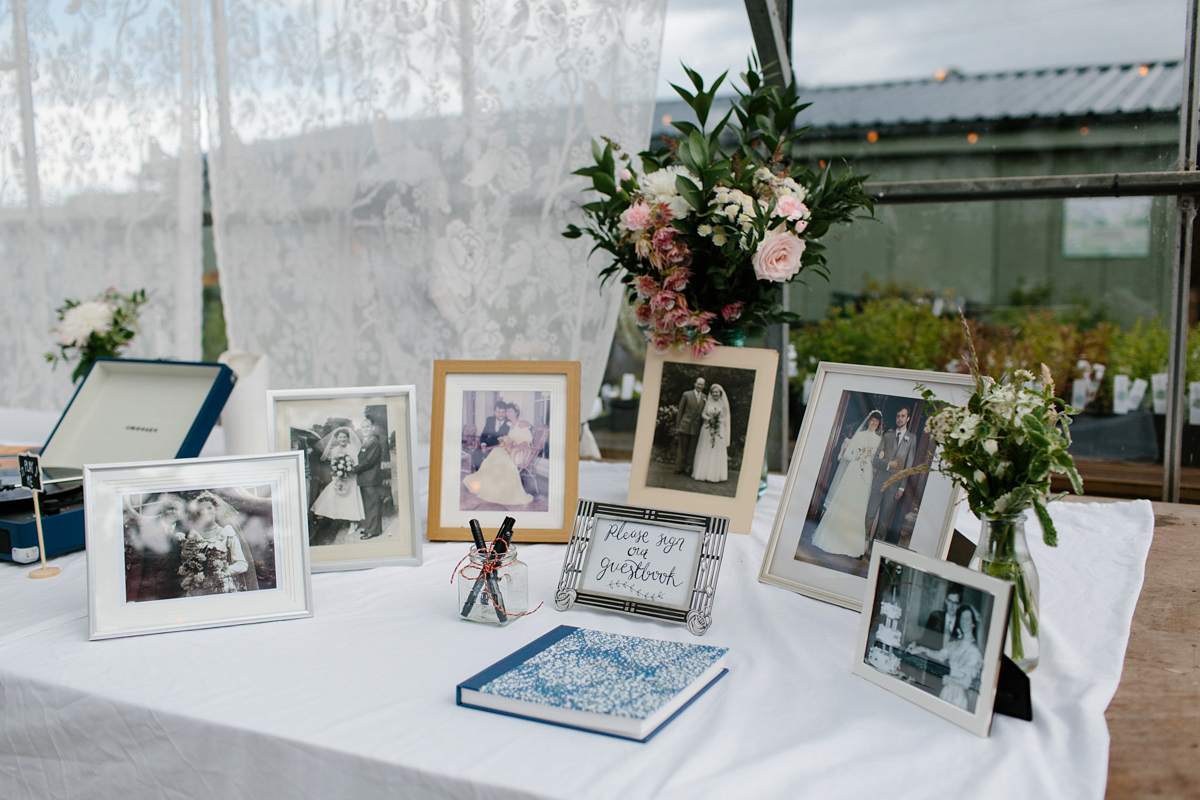 "We decorated the Berber tent with more of my mum's bunting, in greens, blues and white and a friend of mine donated an old bike wheel that I covered in artificial ivy and hung ribbons from to create a central hanging feature. It was so much fun seeing our friends and family's faces when they walked into the glasshouse and then the tent – it made us so proud of all the work we had put in to creating a day that was as magical for our guests as it was for us."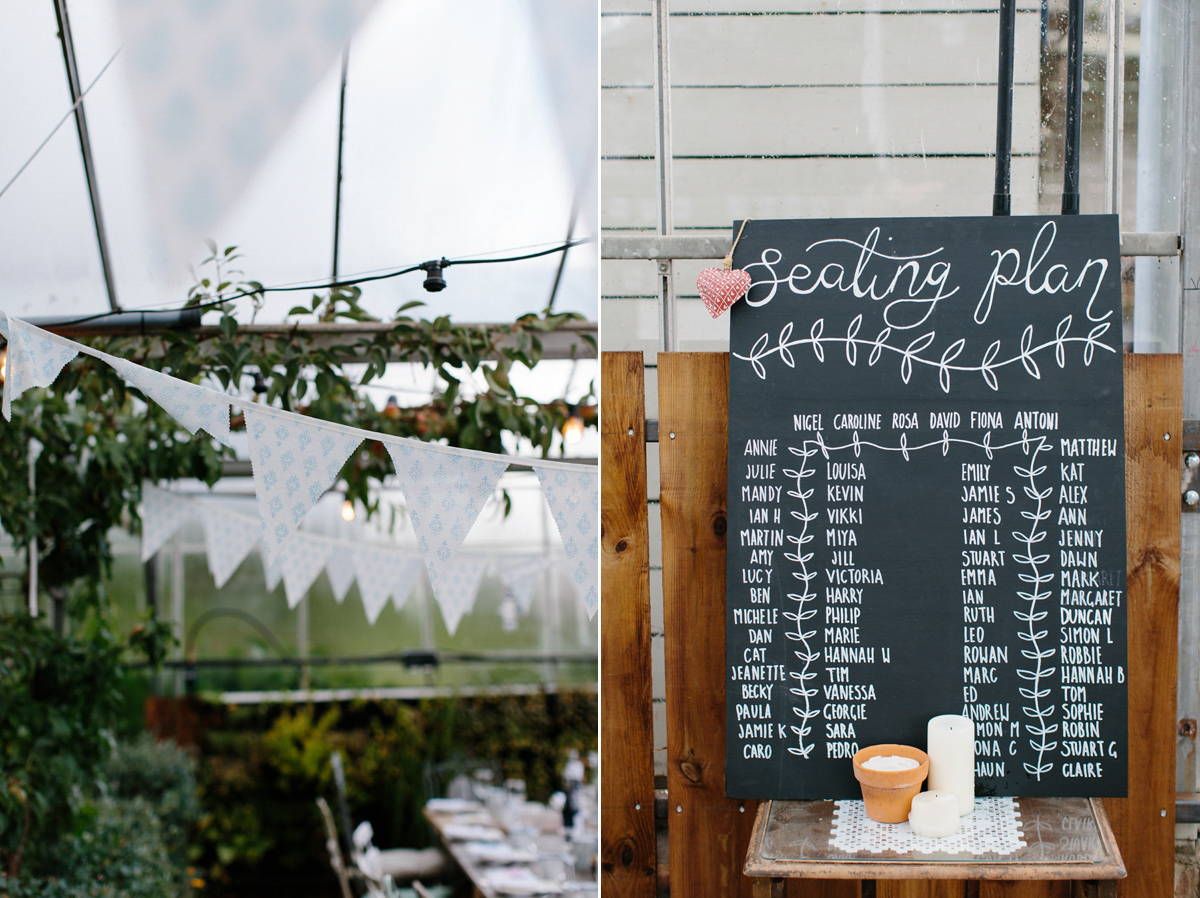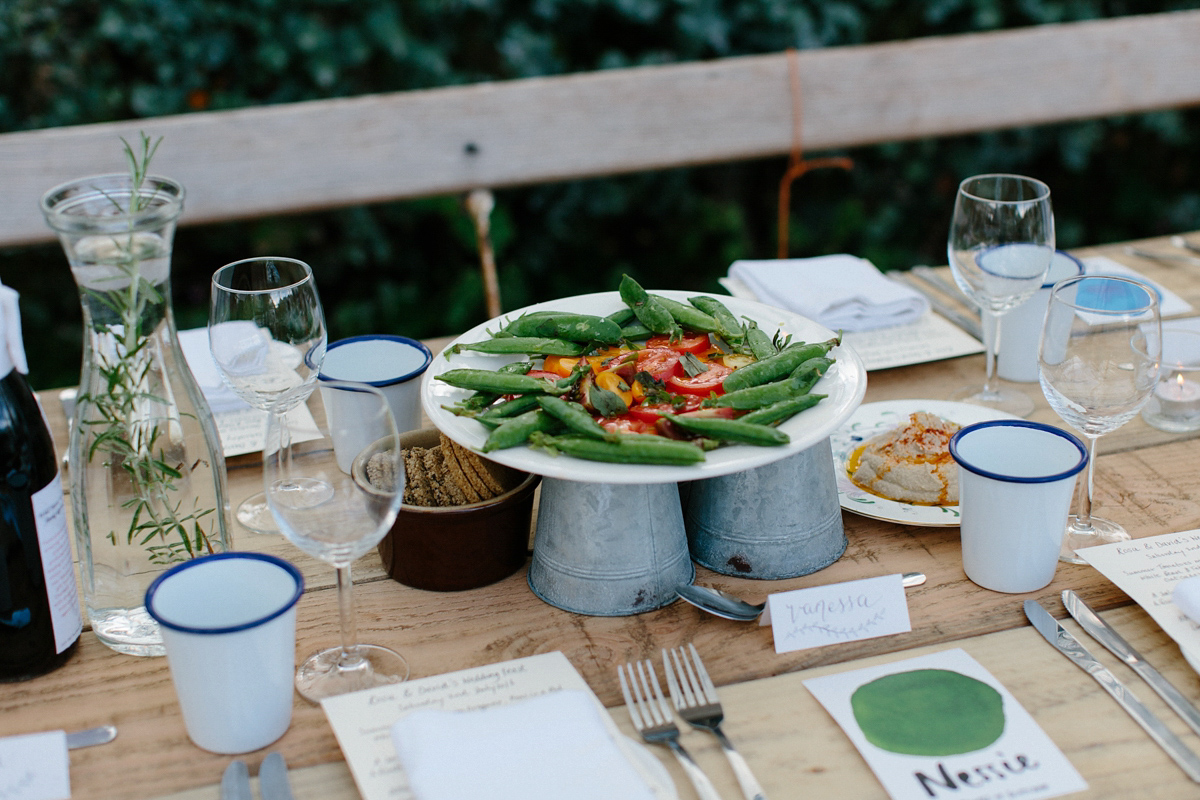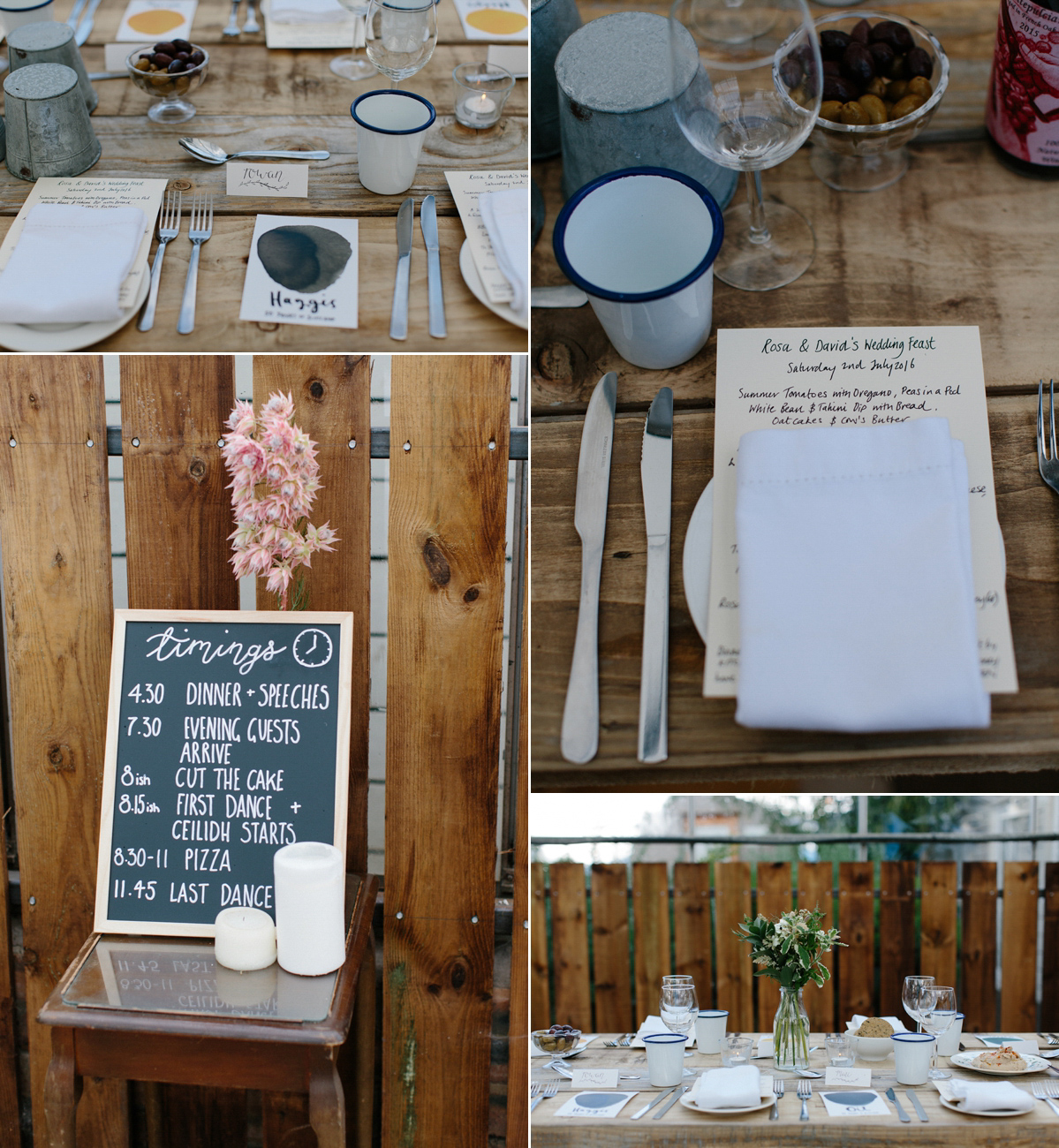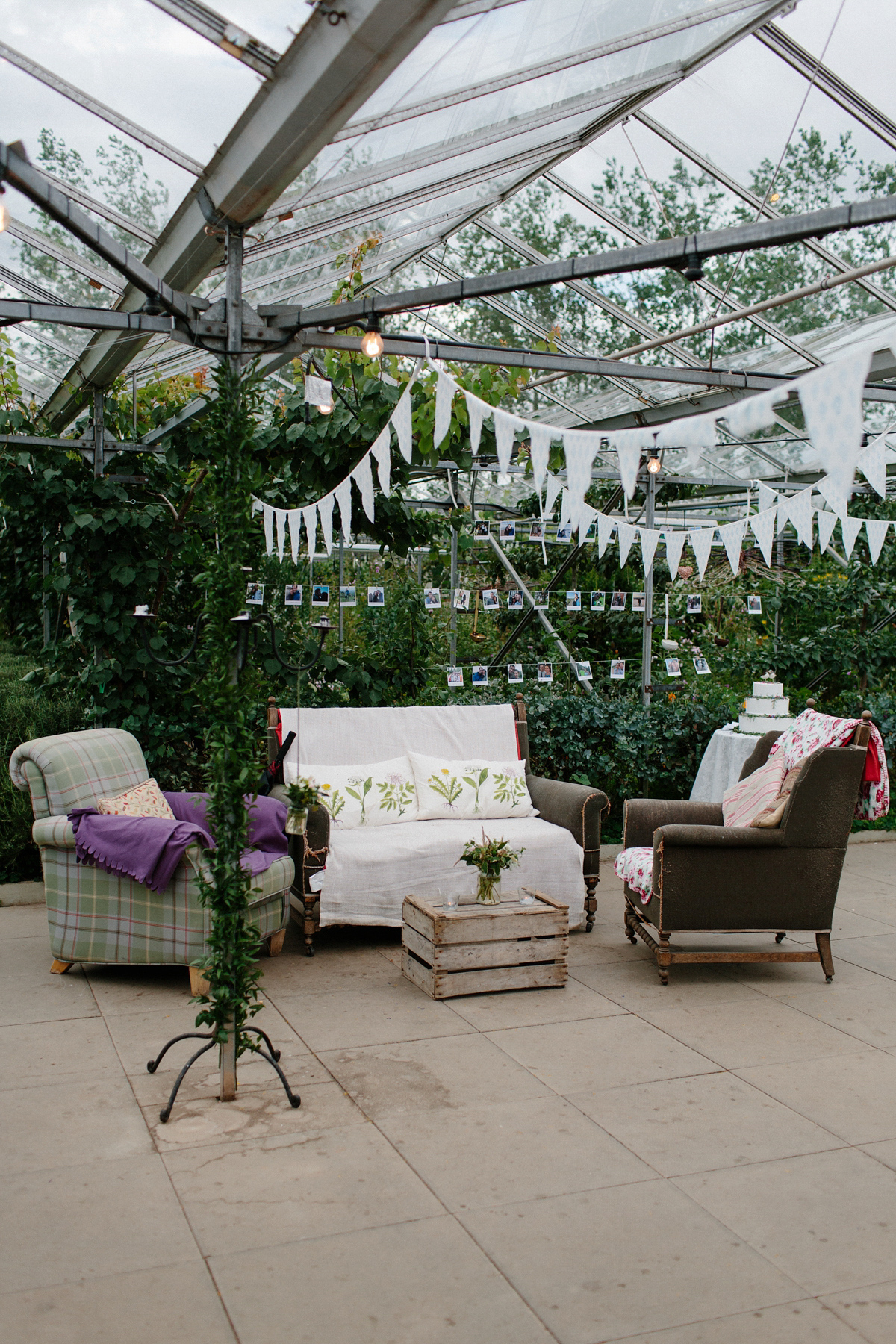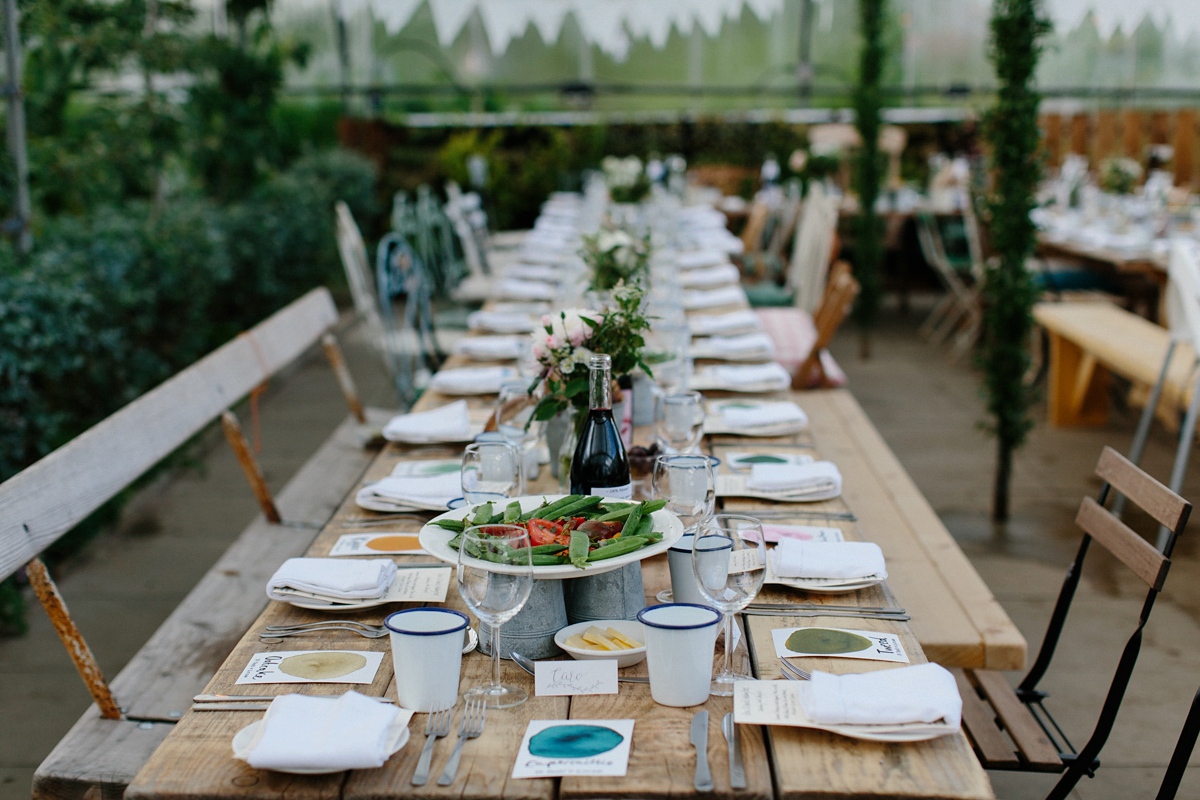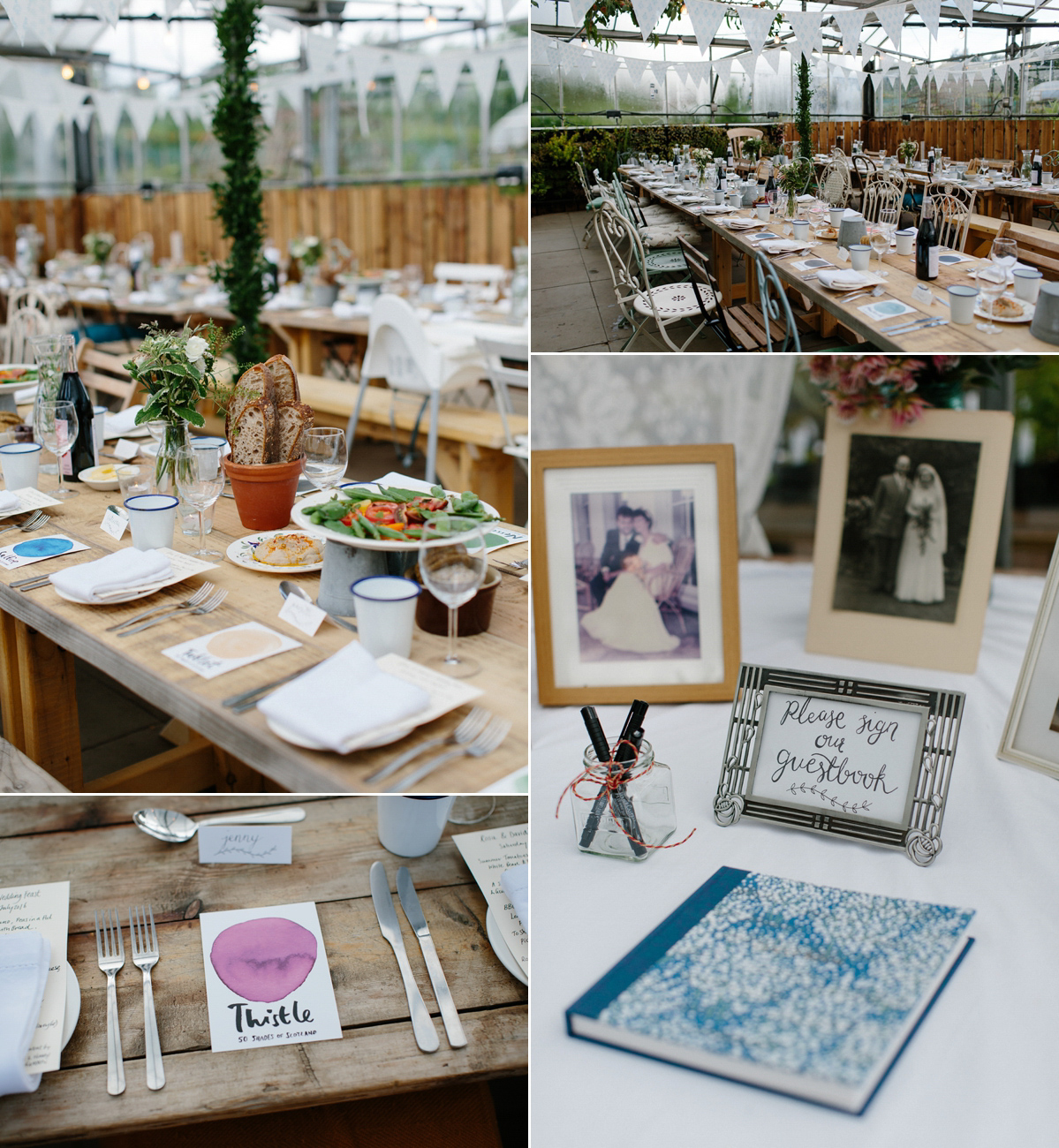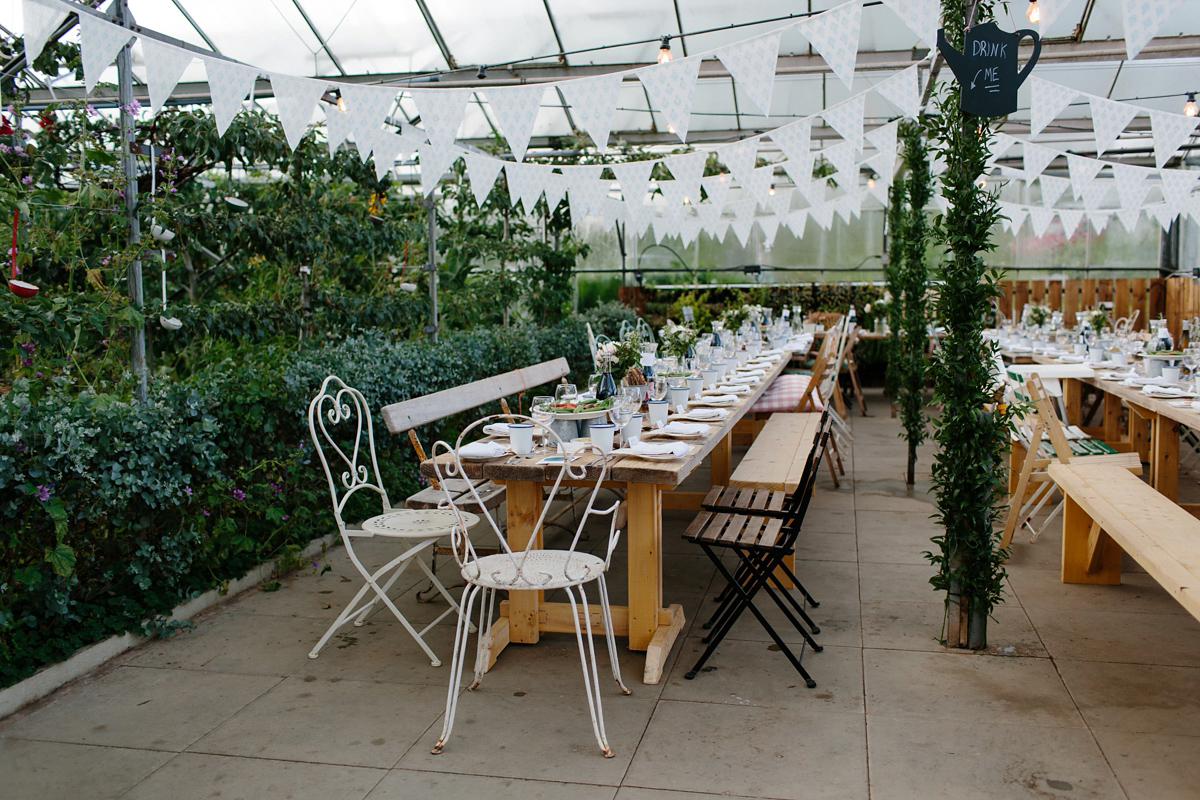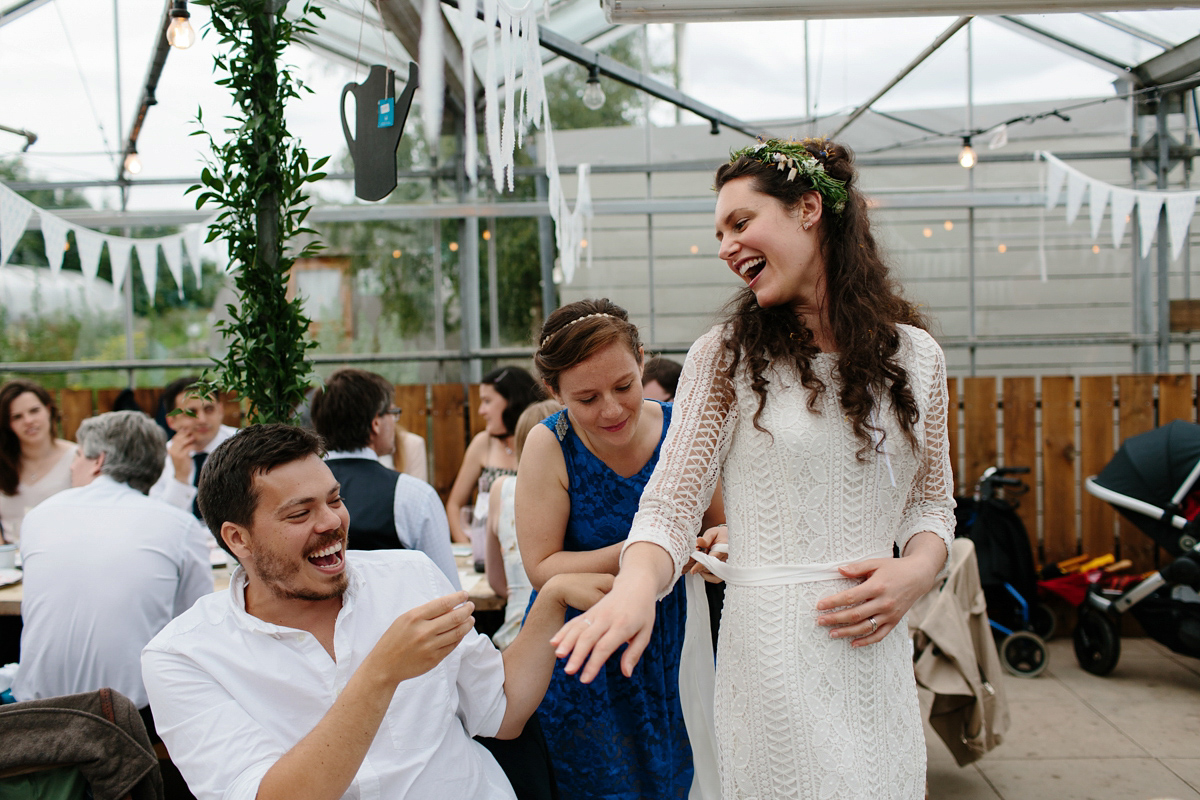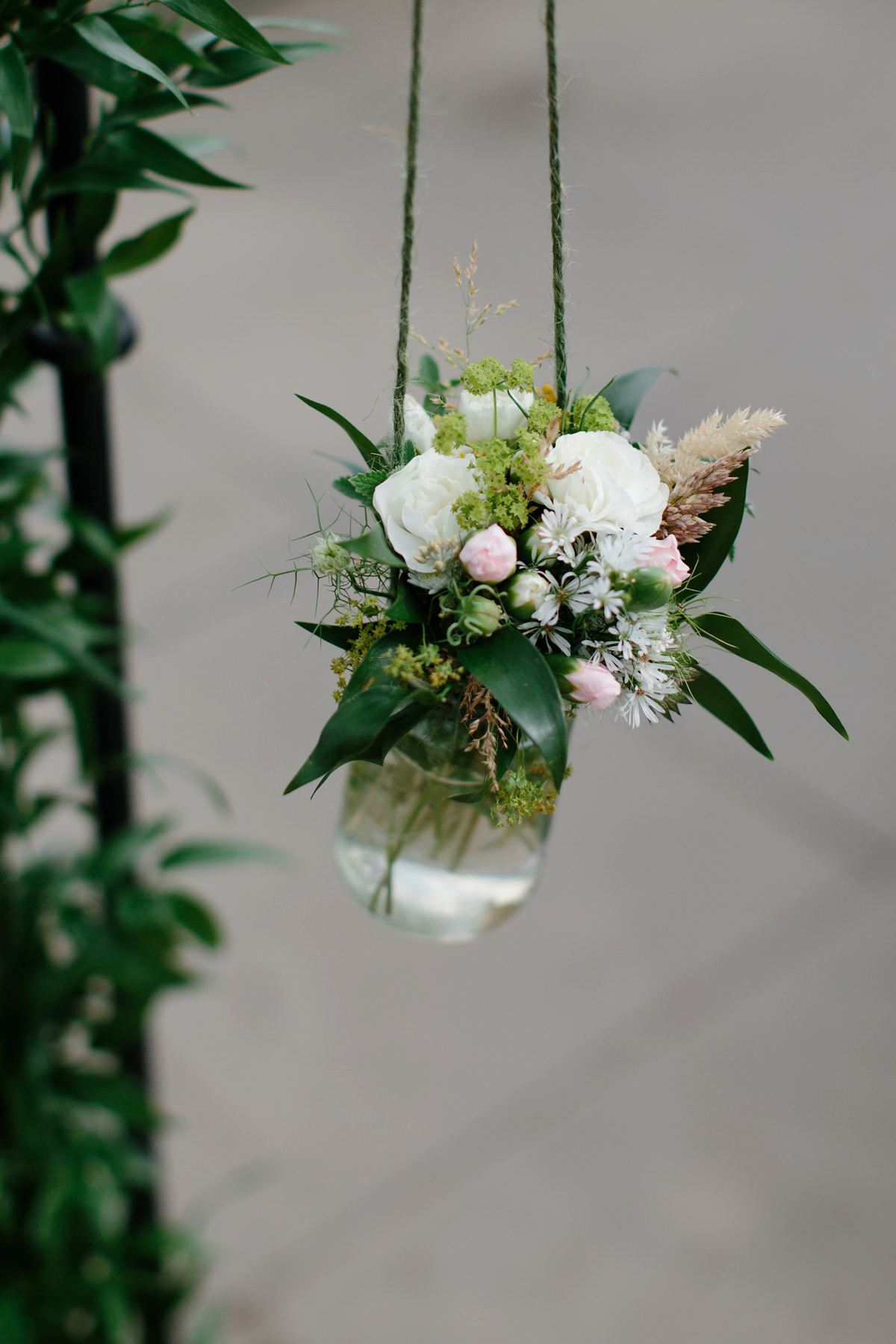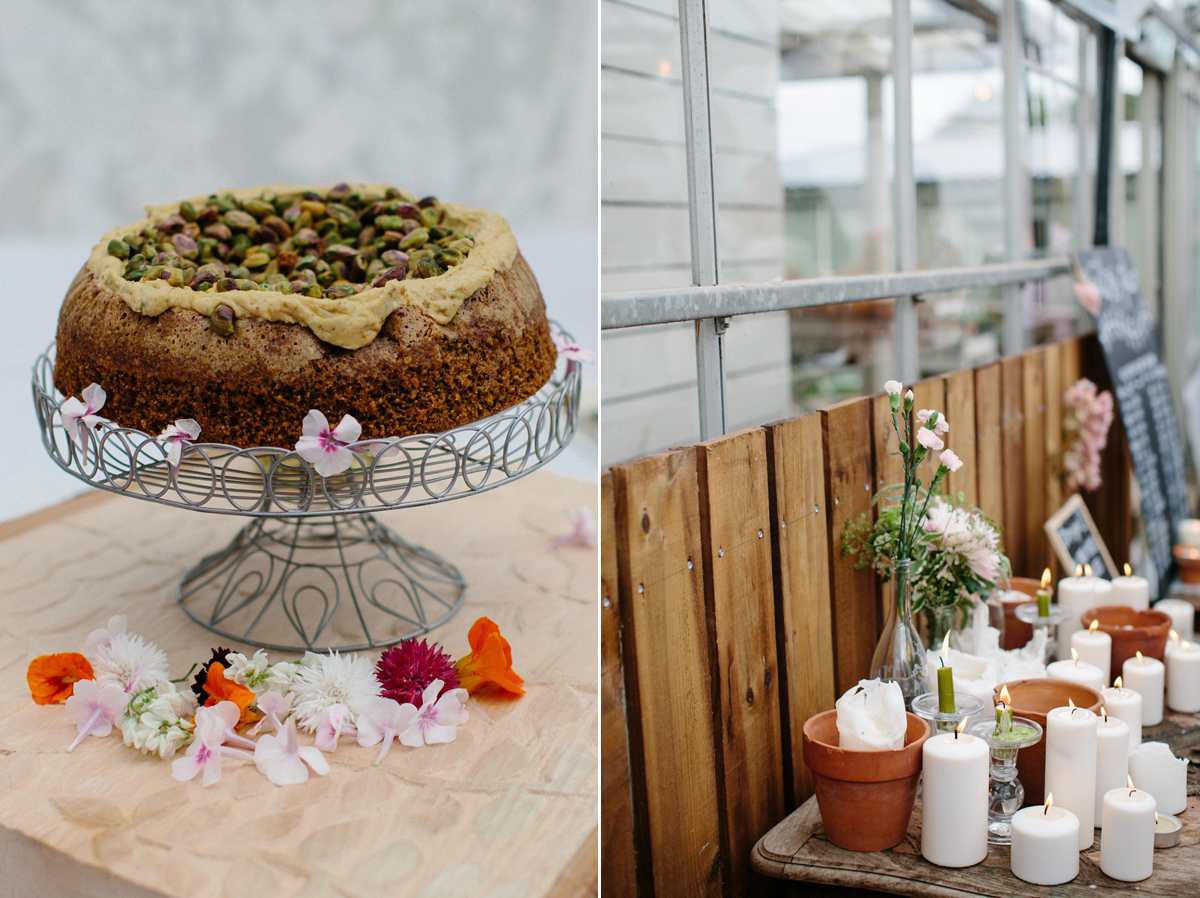 "We used '50 Shades of Scotland' postcards by local illustrator Emily Mackenzie as wedding favours. We had so much fun matching them up to each guest and they acted as a bit of an ice breaker when everyone sat down for dinner."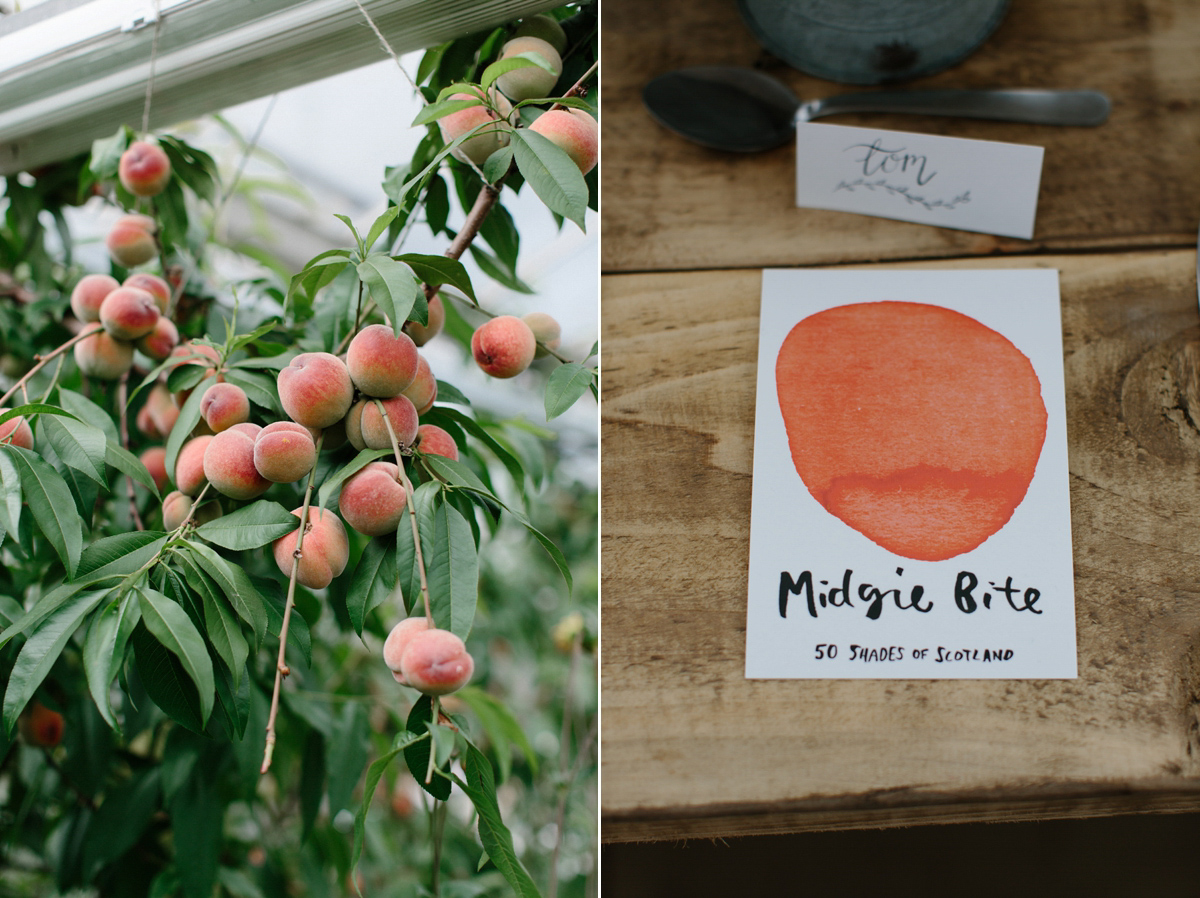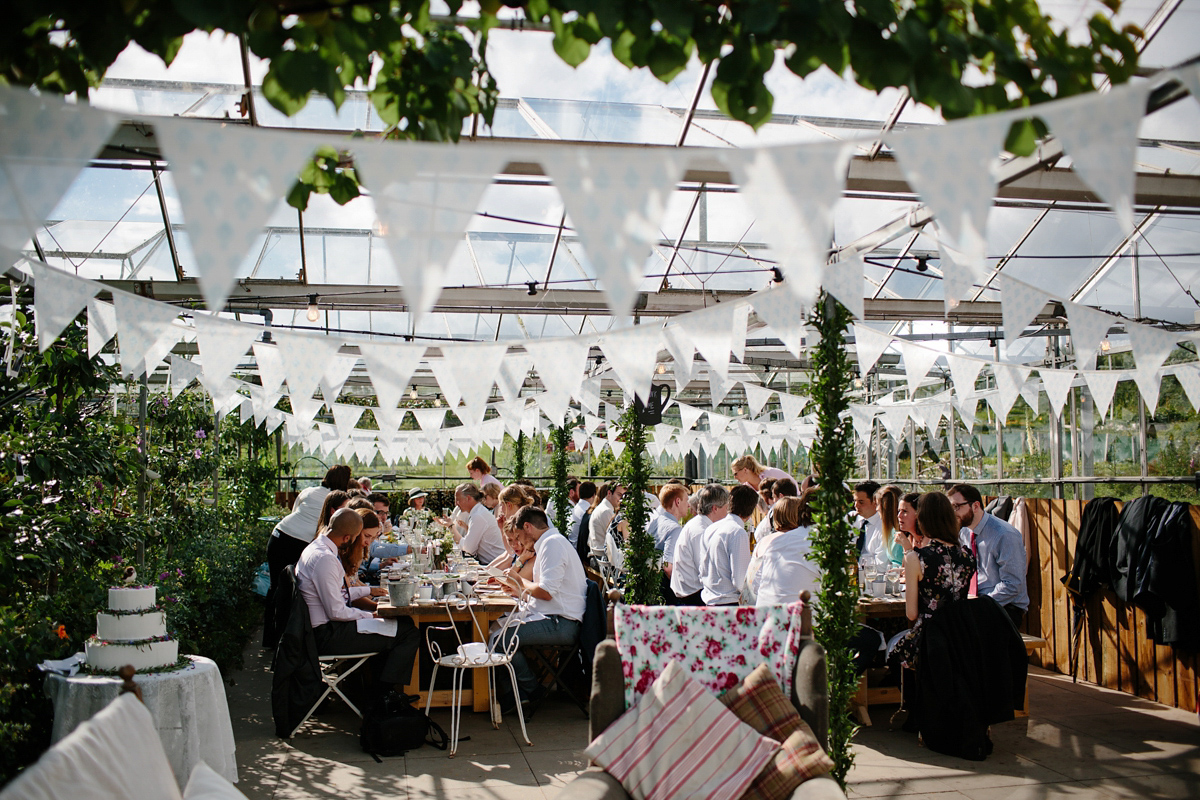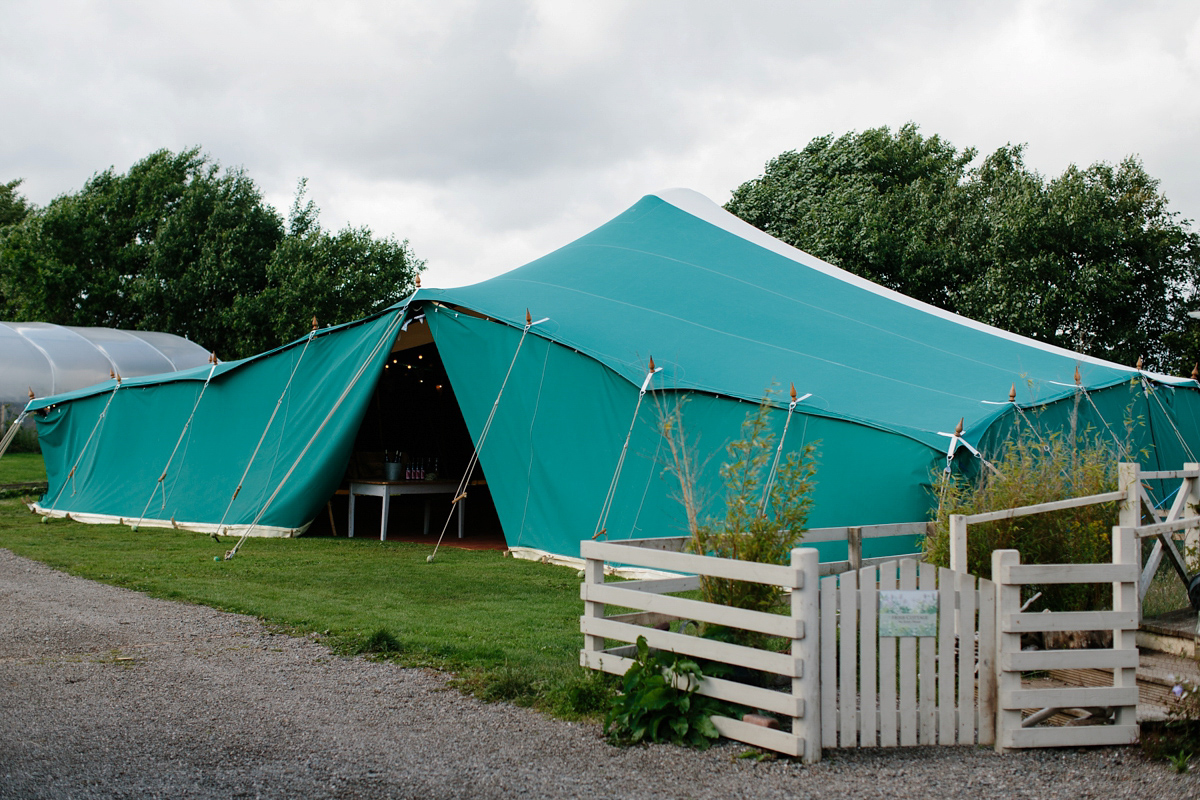 Rosa and David are passionate about local, seasonal, vegetarian food so they enlisted Polly Higginson at Kitchen East to create a delicious feast of delicious vegetarian fare.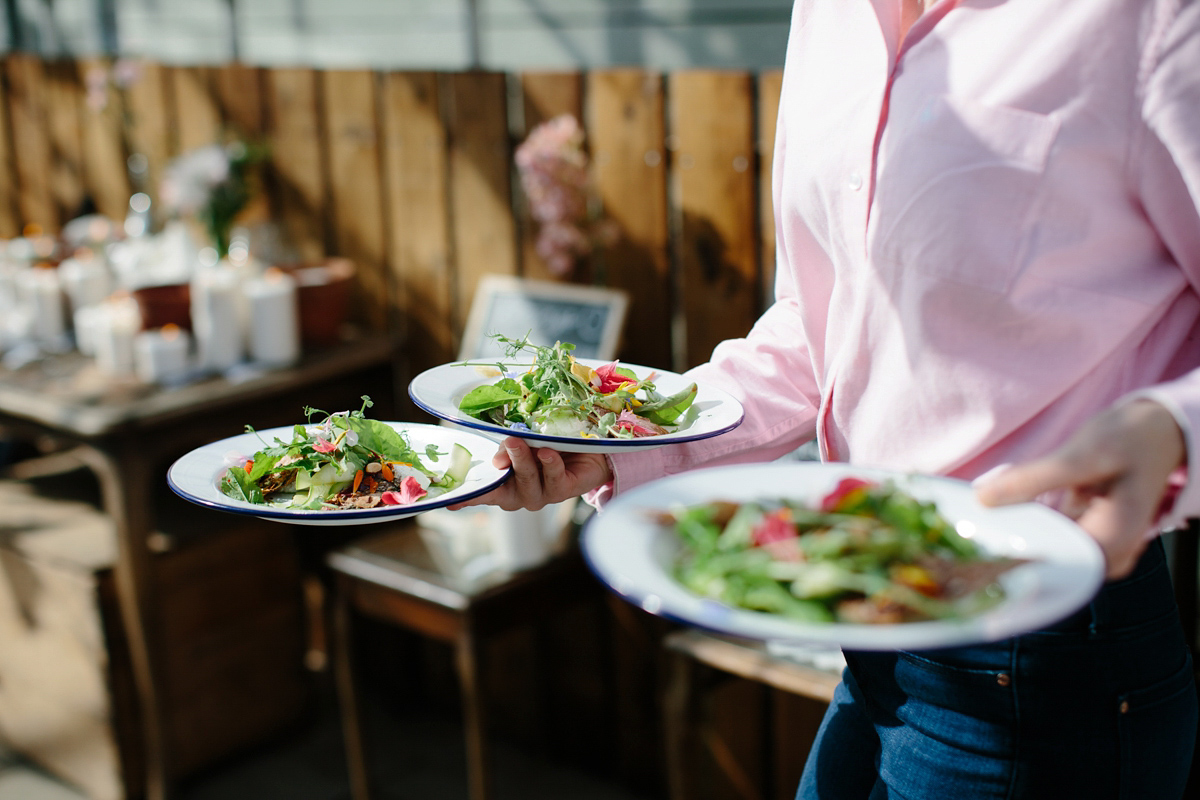 "Polly was incredible and totally got what we wanted. She was a pleasure to work with and made the most of the summer produce, even incorporating ingredients from the Secret Herb Garden itself such as herbs, salad, edible flowers and honey. We really appreciated how much effort she put in to creating a truly fantastic celebratory feast; she went above and beyond our expectations.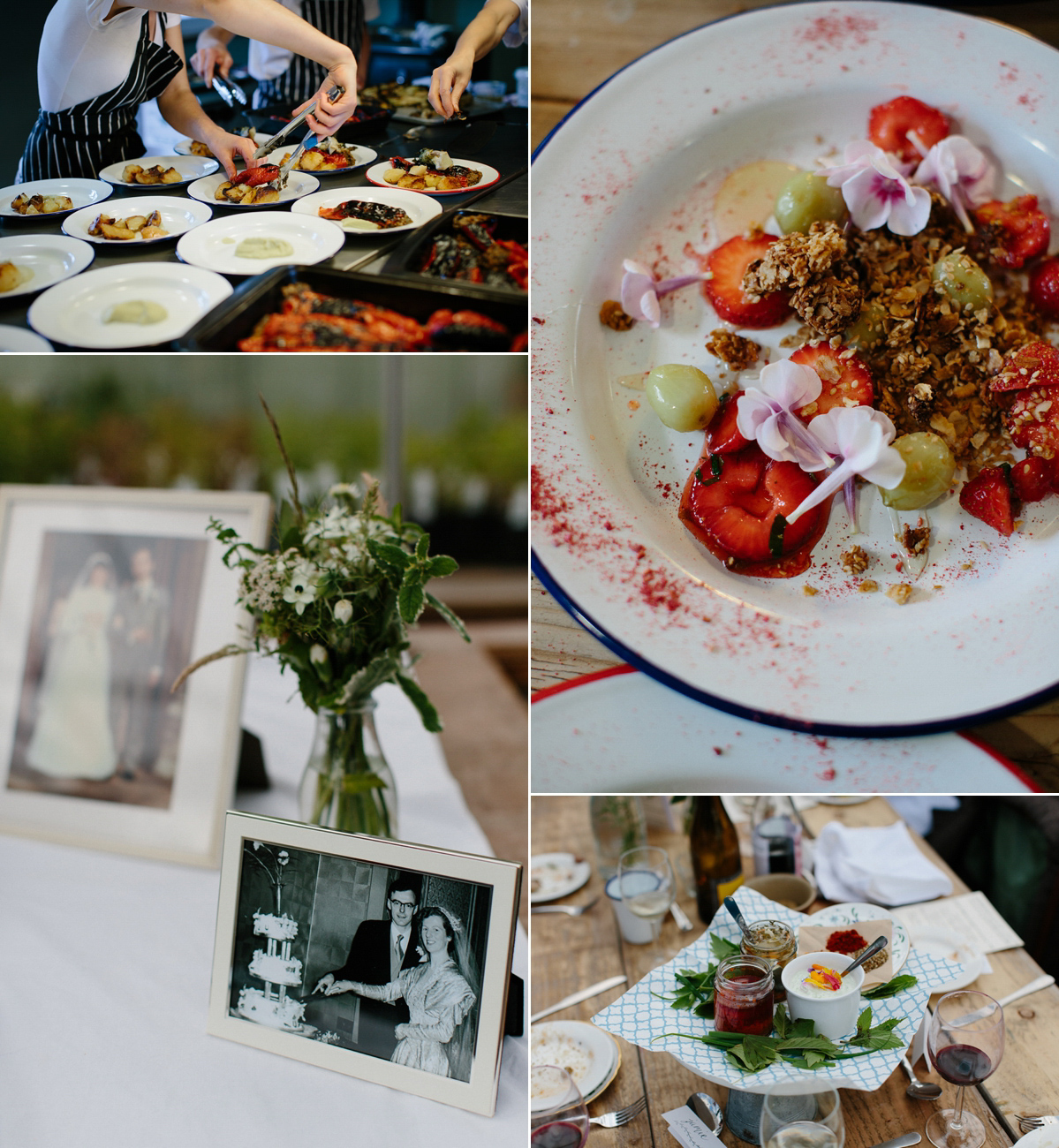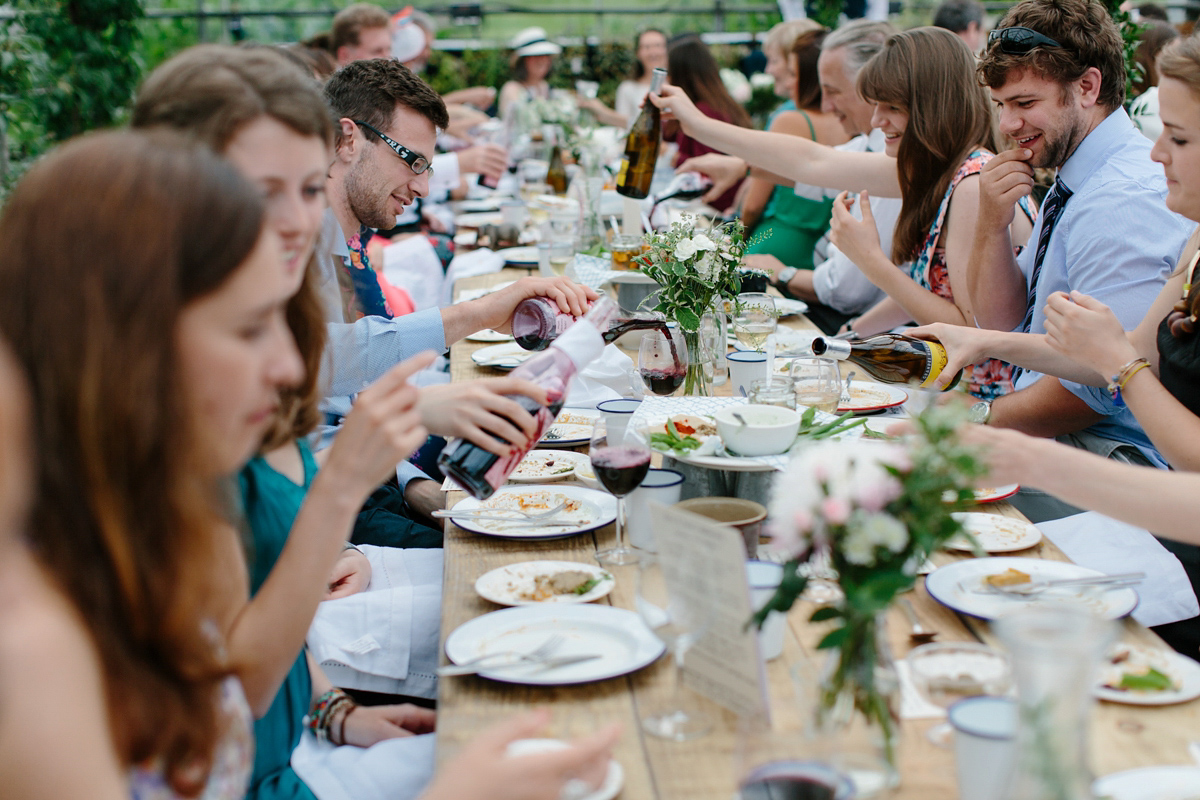 "David made our wedding cake; a classic three-tiered fruit cake, decorated with fresh rosemary, edible flowers and doused in plenty of whisky. It was delicious!"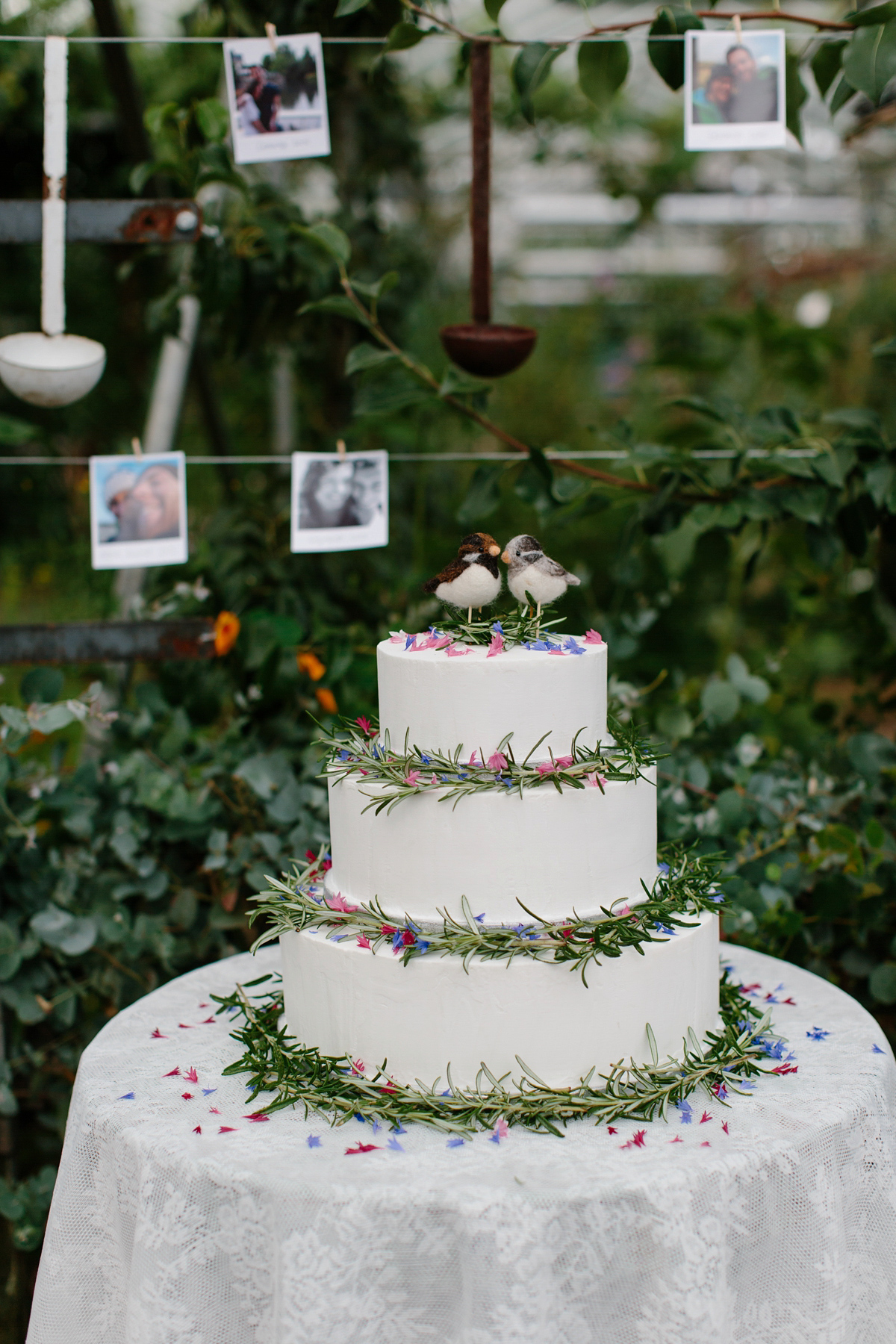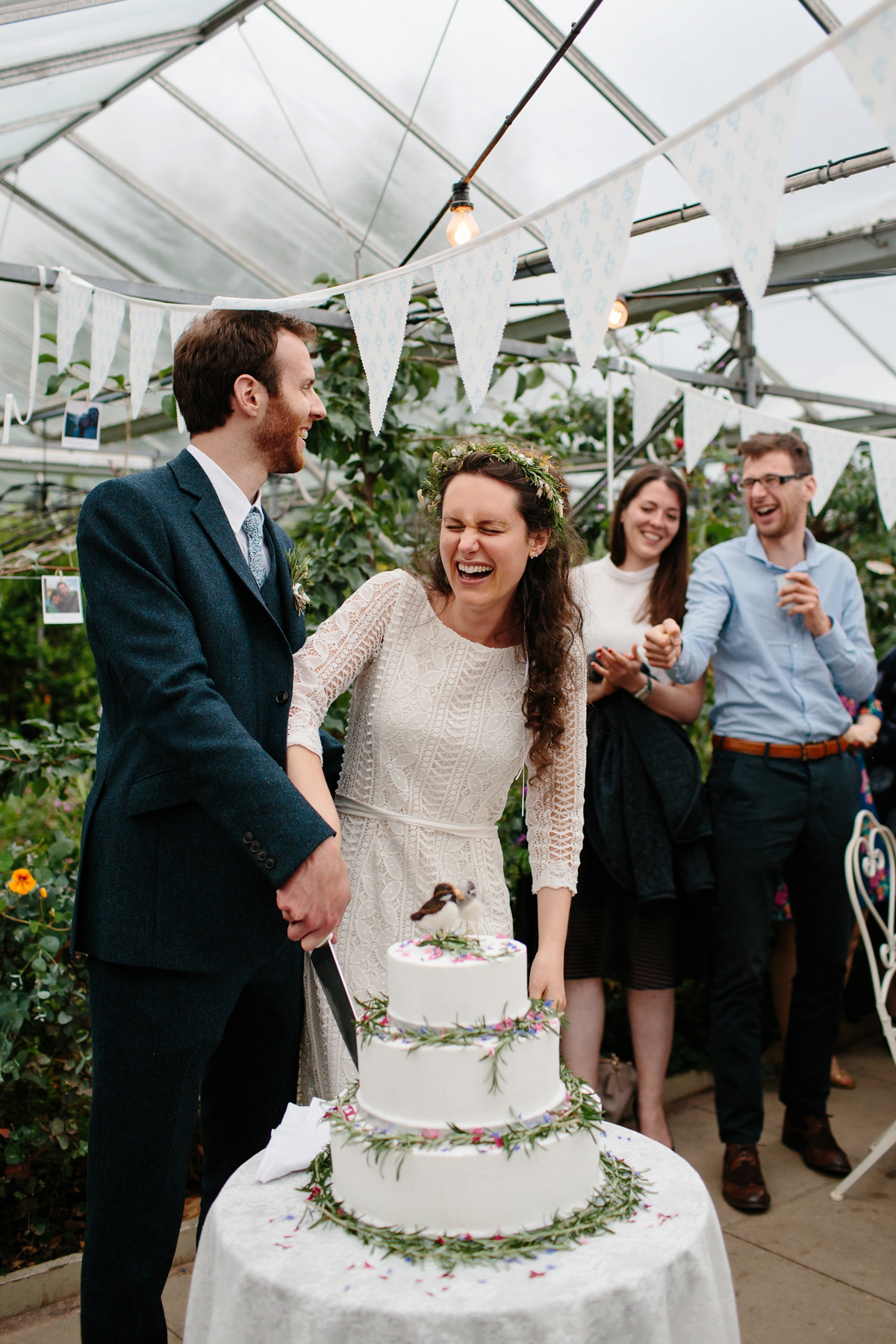 "My sister Annie, handmade the two bird cake toppers which now live on our mantelpiece. We also had a gluten and dairy free cake, presented on a slice of wood, hand carved by my dad, baked by Izzy from Izzy's Bakes."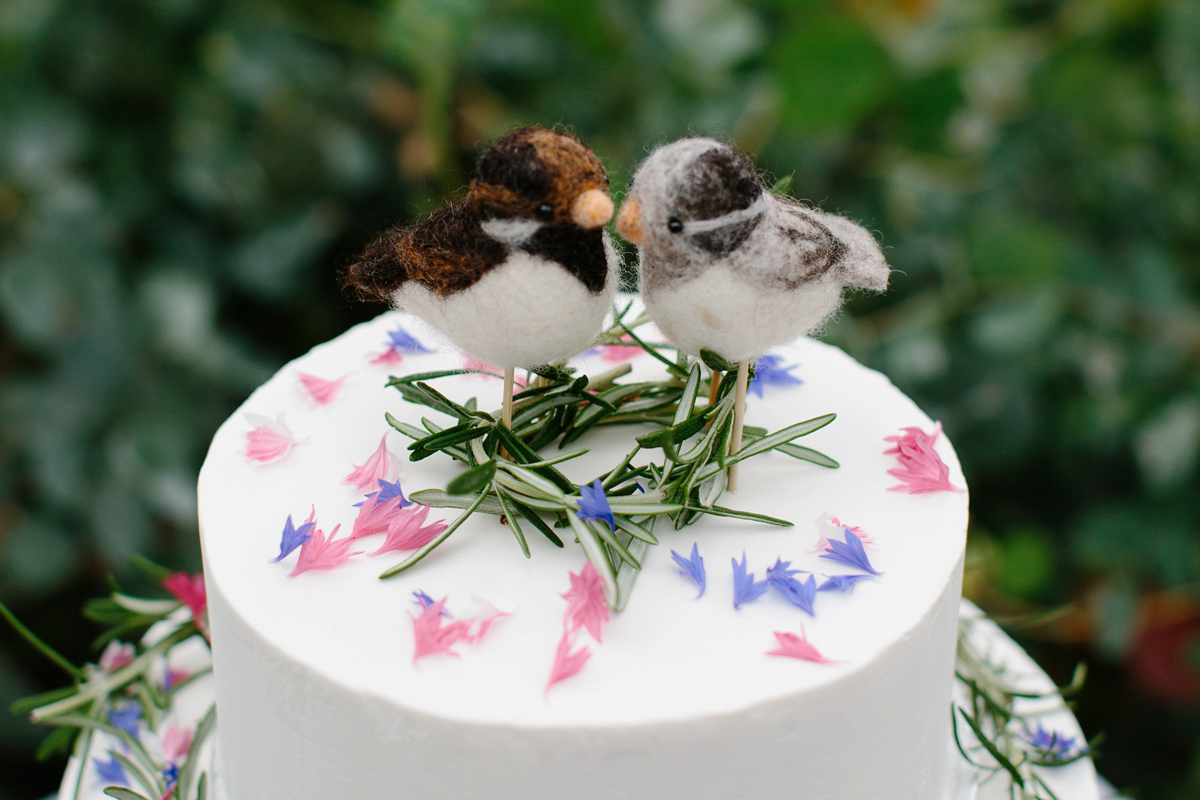 In the evening, The Big Blu Pizza Van served pizzas straight from their wood-fired oven in a vintage Citroen H van. We thoroughly enjoyed the leftovers the next day!"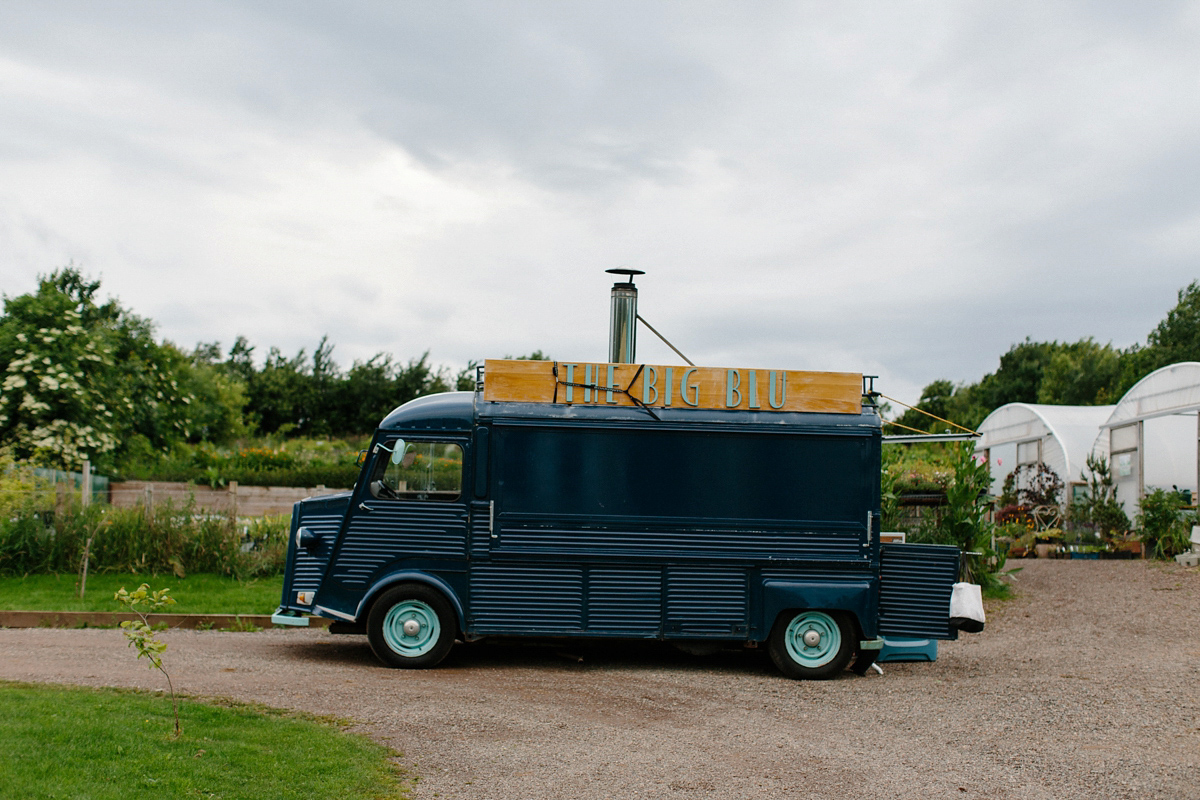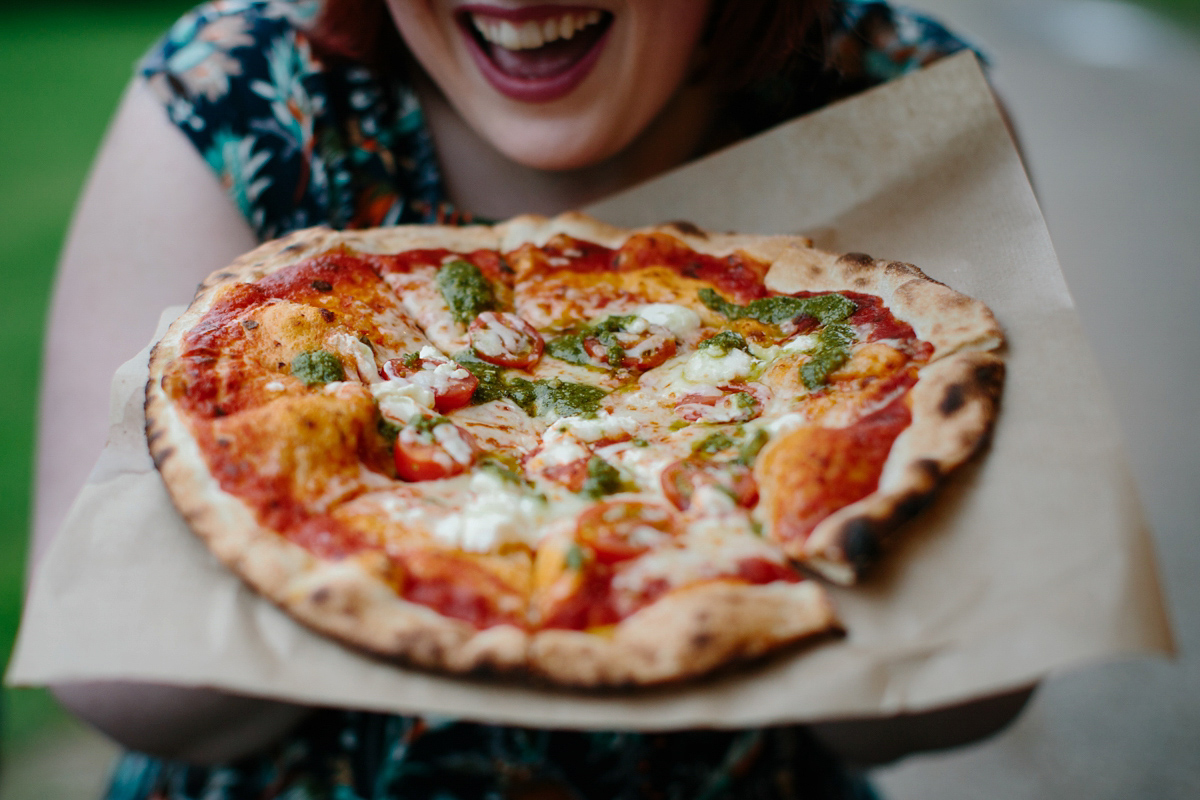 "We had a Crosley record player playing jazz records during the meal and later, we all moved through to the tent for a ceilidh with The Homecoming String Band. A ceilidh is so much fun and great for getting everyone dancing, we even hired the Berber tent from Curious Tent Hire especially so that we would have enough room."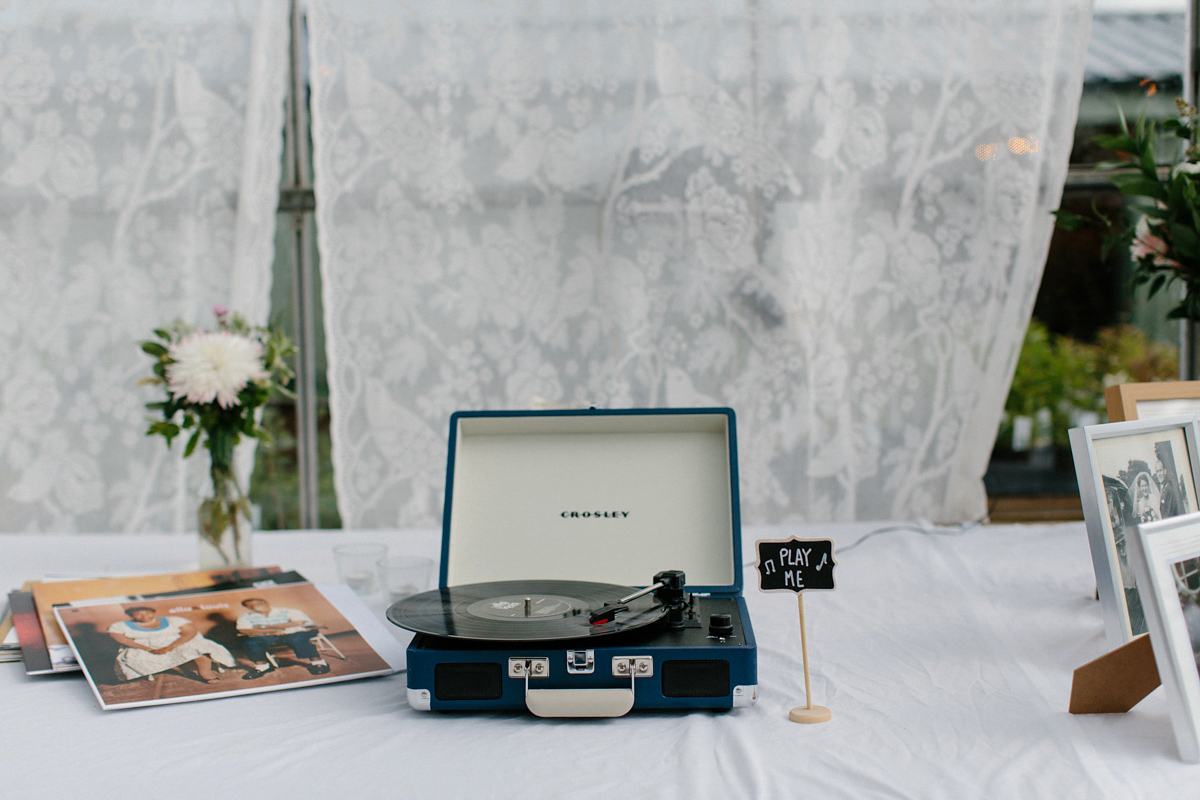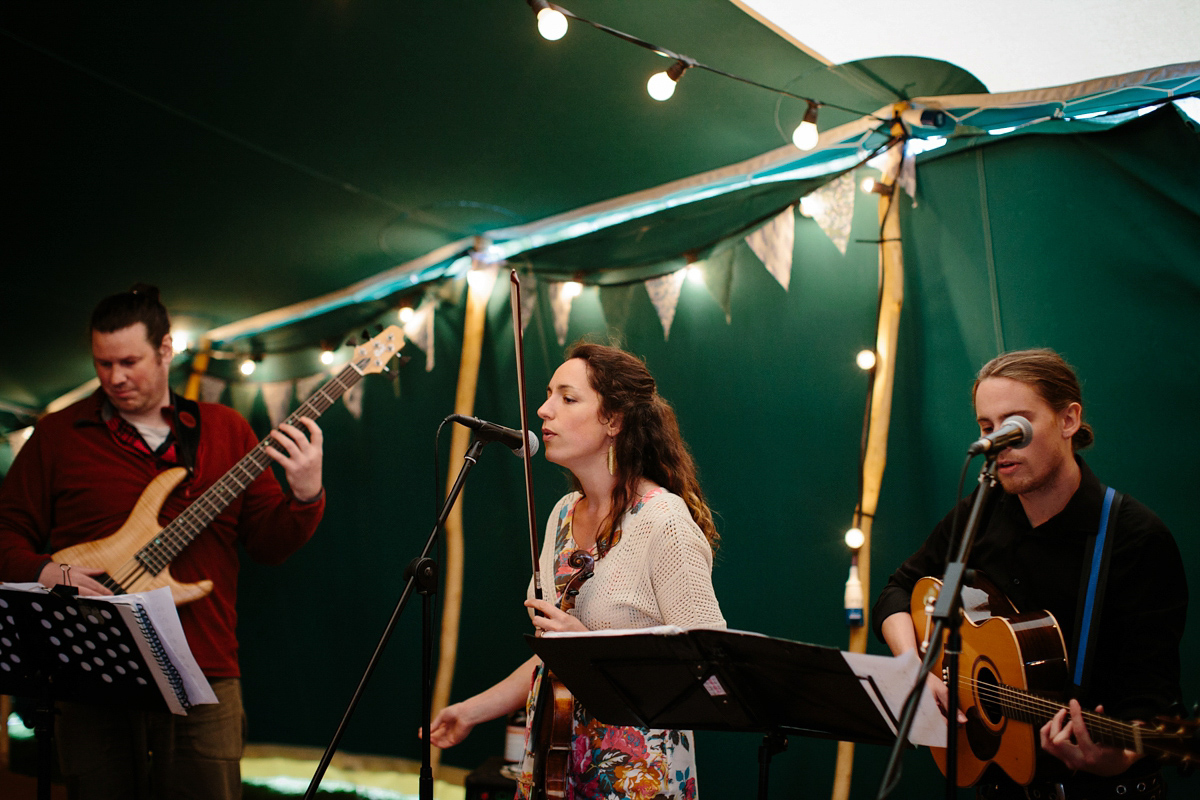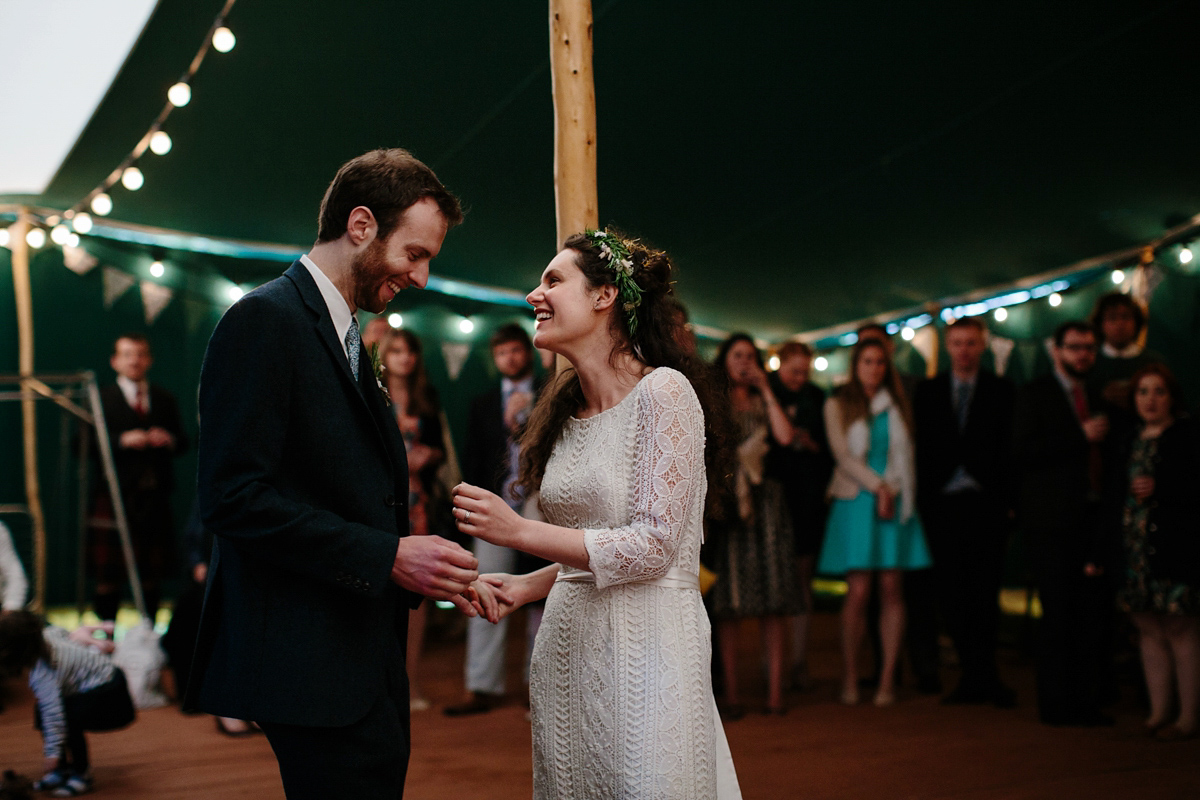 "We had such an amazing day from start to finish that it is difficult to pick a single best moment, but it felt particularly special walking out of the church immediately after the ceremony, officially married."
Words of Wedded Wisdom
"Try to share as much of the planning and decision making as possible, then split up the tasks so that you can be more efficient with your time and play to your individual strengths. It can be very intense planning a wedding and having someone there by your side makes the world of difference. We handmade a lot of elements of our day, from the cake to the bridesmaids' dresses, as well as writing our ceremony.
Whilst this added to our list of things to do, it also made our wedding day completely unique and personal to us. We also had lots of wonderful contributions from family members, which was lovely. Weather-wise, I didn't realise that it was pouring with rain all morning before our ceremony, until we received our wedding photos! I was so caught up in the excitement and anticipation that it didn't make any difference what was going on outside.
Try and enjoy every moment, but also don't beat yourself up if you aren't able to relax straight away.  It can be hard to let go but, there is so much love on the day itself and everyone just wants you to be happy."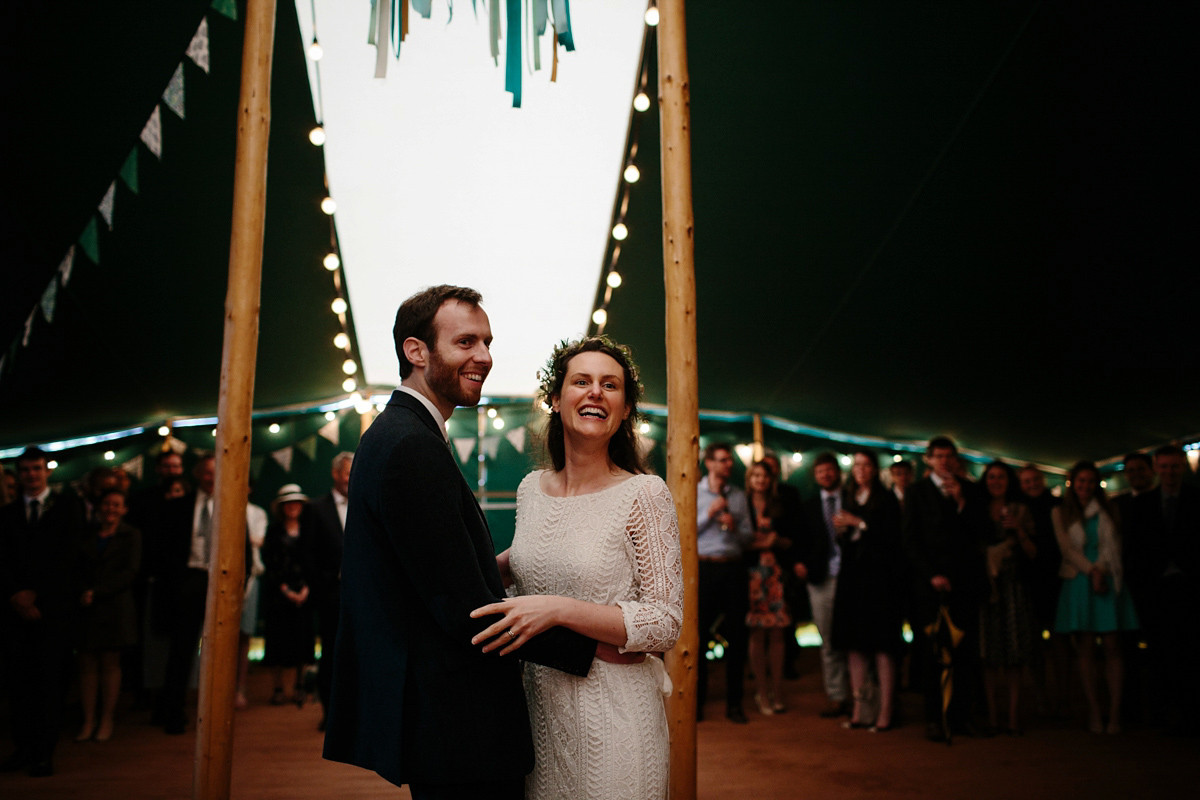 Thank you so much to Rosa and David, it has been an absolute pleasure sharing your beautiful wedding. Thanks also to Caro, whose images will always brighten up a dull winters day.
Love Caoimhe xx