Oh. My. Goodness. This is a feature that's going to make you smile, make you happy and potentially make you swoon a little at the downright gorgeousness of it all. And especially so, I think, if you enjoyed the 70's disco vibe of the wedding we shared this morning. Today, I'm beyond happy to welcome back to Love My Dress Alice and Hannah from the incomparable Belle & Bunty.
This wonderfully stylish duo is with us to talk about made to order wedding dresses and explain why they're everything a bride could ever wish for…
What exactly is a 'made to order' dress? How does that differ from the designs that a bride would find in a bridal boutique for example?
Alice: In a nutshell made-to-order means your wedding dress is made especially for you. We don't hold stock of our dresses and no one else will have ever tried it on.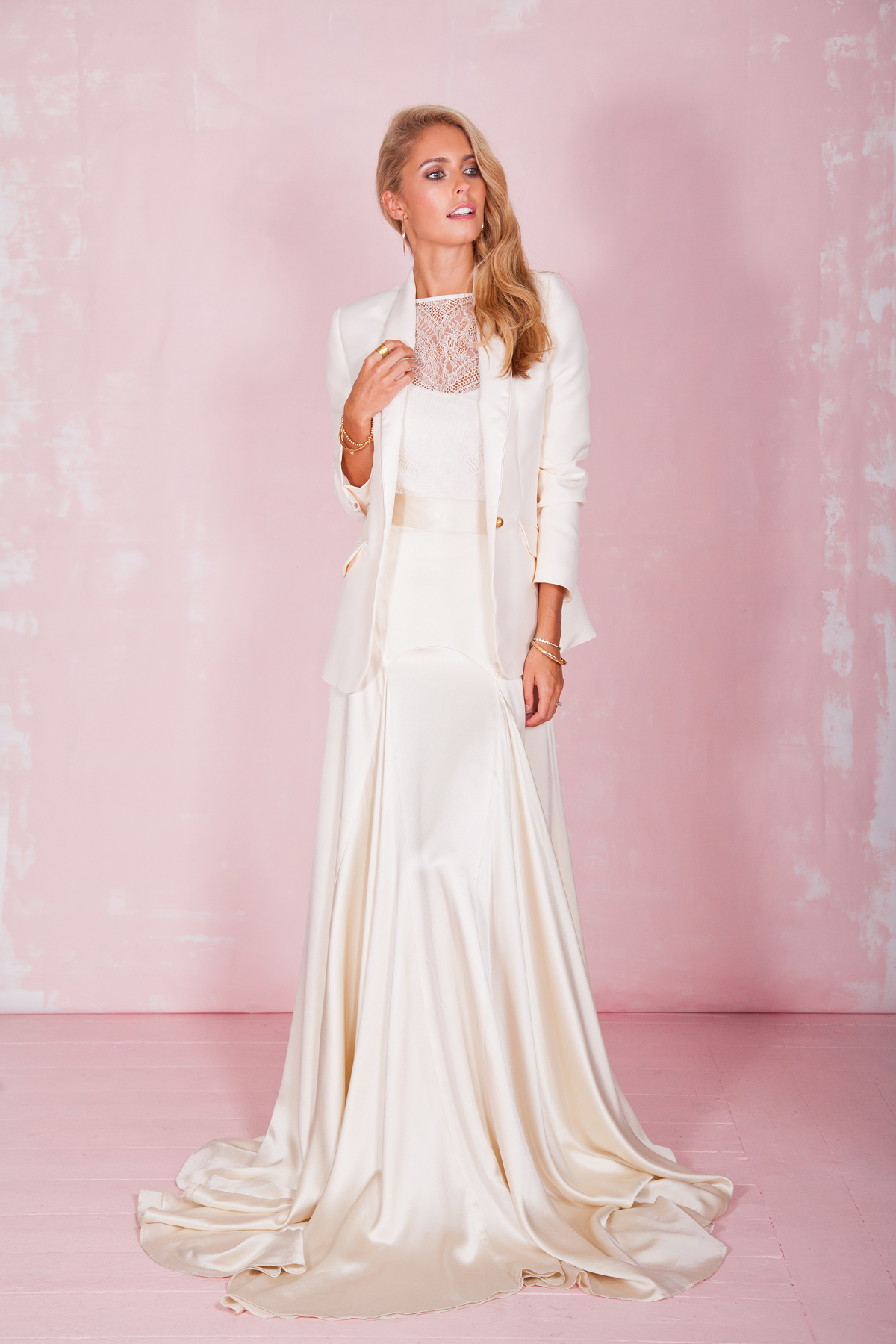 We were both trained in design at the The London College of Fashion so we are massively passionate about fabrics, cut, construction and quality. Each bridal piece we make is unique and together with our skilled team we are hands on at every stage of the making process – from selecting the very best lace, cutting the fabric, sewing the dresses and adding and special requirements for the individual bride.
We will often work with our brides on changing elements of their wedding dress be that the sleeves, embroidery, trains, necklines or anything really to make it their dream outfit. We can therefore offer a huge amount of flexibility, which might not be so possible in a bridal boutique. Our in-house tailor offers the best alteration service so we are able to fit and sculpt the dress to create your perfect dress.
What are the main benefits of working with an independent designer?
Hannah: Both Alice and myself are on hand to talk brides through our bridal collection and offer help and advice on fabrics and styles best suited to your shape.
Many of our brides tell us they came to us looking for something unique. Some know exactly what they want and what suits them and therefore are looking for a designer that shows off their personality and style. Other girls have no idea what style will suit them but know they want something comfortable and fun to dance in whilst looking chic and elegant!
We are happy to offer help and guidance where needed for any type of bride. The process of having an independent designer make your wedding dress is very personal. We take so much pride and care with each bride we work with that it's always a very special process. We have such lovely letters from our brides after their weddings and very often we will see them again bringing their newly engaged friends to the studio to help them find their dress. So all in all it's a very special, calm and nurturing experience that we love.
How does the process start when a bride works with an independent designer?
Alice: It always starts with a trip to our London Boutique to meet with one of us, or one of our stylists, for a private appointment. We begin with a very informal chat over tea about what you're looking for because we like to really get to know our brides and explain to them how we work. We will then show you through the collection, suggesting styles that might work. Once you start trying on samples you can usually gauge the silhouette you like and we can talk you through different fabric and colour options.
We also have a beautiful range of accessories- belts, jackets, veils and headpieces so it becomes a bit of a dress up session. It's very informal and relaxed. We only see one bride at a time so you have the shop to yourself there is no limit on how many dresses you can try so it really is a lovely experience.
How do you go about narrowing down the bride's options and creating the dress that the bride loves?
Hannah: After trying on different styles a bride can really whittle what she likes down to a couple of styles, its at that point that we can help make decisions in terms of specifics details like colours an details. We are always happy to discuss ideas that any brides have to make each dress their own or to offer our advice. Saying that, some girls see a style they like and fall in love with precisely with what they see!
What are a bride's options when it comes to fabrics, colour and embellishments?
Alice: All Belle & Bunty wedding dresses are made in the most luxurious pure silk, but there are a number of finishes to choose; whether you prefer the shine of a silk satin, the modern chic look of a matt silk crepe, the tailoring qualities of a silk morocain, the soft and feminine drape of a Georgette – the list goes on and on.
Our most popular colours are ivory or cream although we offer a nude blush tone and have just introduced a pretty soft pink called Rose too. We are also able to make all the non lace styles in different colours and in the past have created gorgeous dresses in red, emerald green blue, lemon, hot pink, peach and silver greys amongst lots of other shades!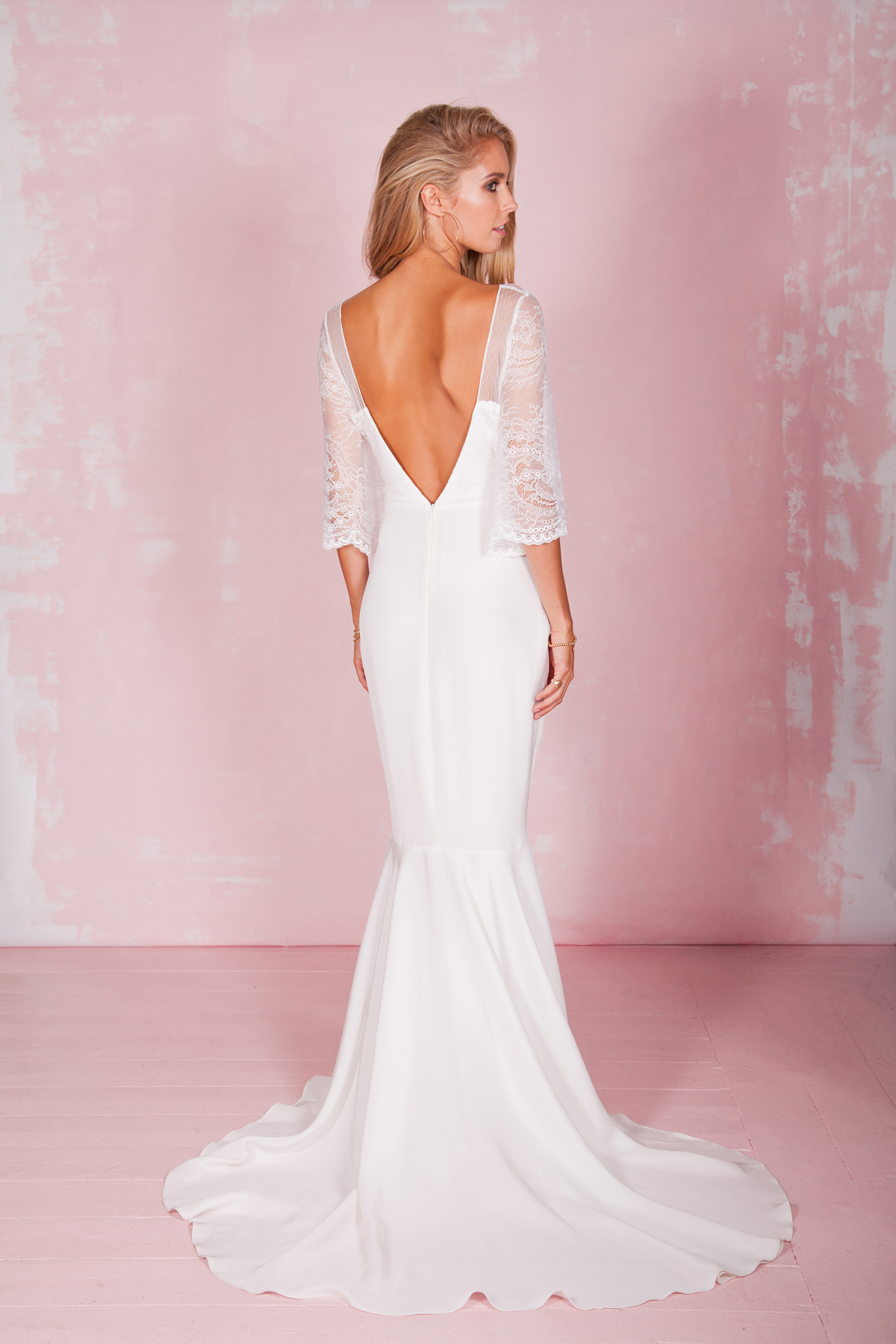 How many fittings might a bride have and how close is the working relationship with the designer?
Hannah: We are always on hand to offer advice and are very involved in all the fittings. As trained designers who can pattern cut we understand what is or isn't possible when it comes to garment construction and tweaking shapes. Usually 2/3 fittings are required from start to finish and taking your dress away.
Does made to order cost significantly more than a collection gown from a boutique?
Alice: There is probably a misunderstanding for some brides between made-to-measure and made-to-order. The latter is not any more expensive than the average wedding dress price as we make a standard UK size from our pattern library and then with our tailor alter to fit each individual bride. Therefore there are no new pattern or toile costs, which is what pushes the price up the made-to-measure process. Our bridal range starts at around £1200 and goes up to £2500.

How should brides go about selecting the right independent designer for them?
Hannah: I believe you usually get a feeling for someone a soon as you meet them and we like to think our pretty, pink boutique and informal, friendly style puts brides at ease in what can be a particularly nerve racking time! Working directly with an independent designer means that we will be on hand throughout the whole process and you can liaise directly with us to get your perfect dress, there is no middleman.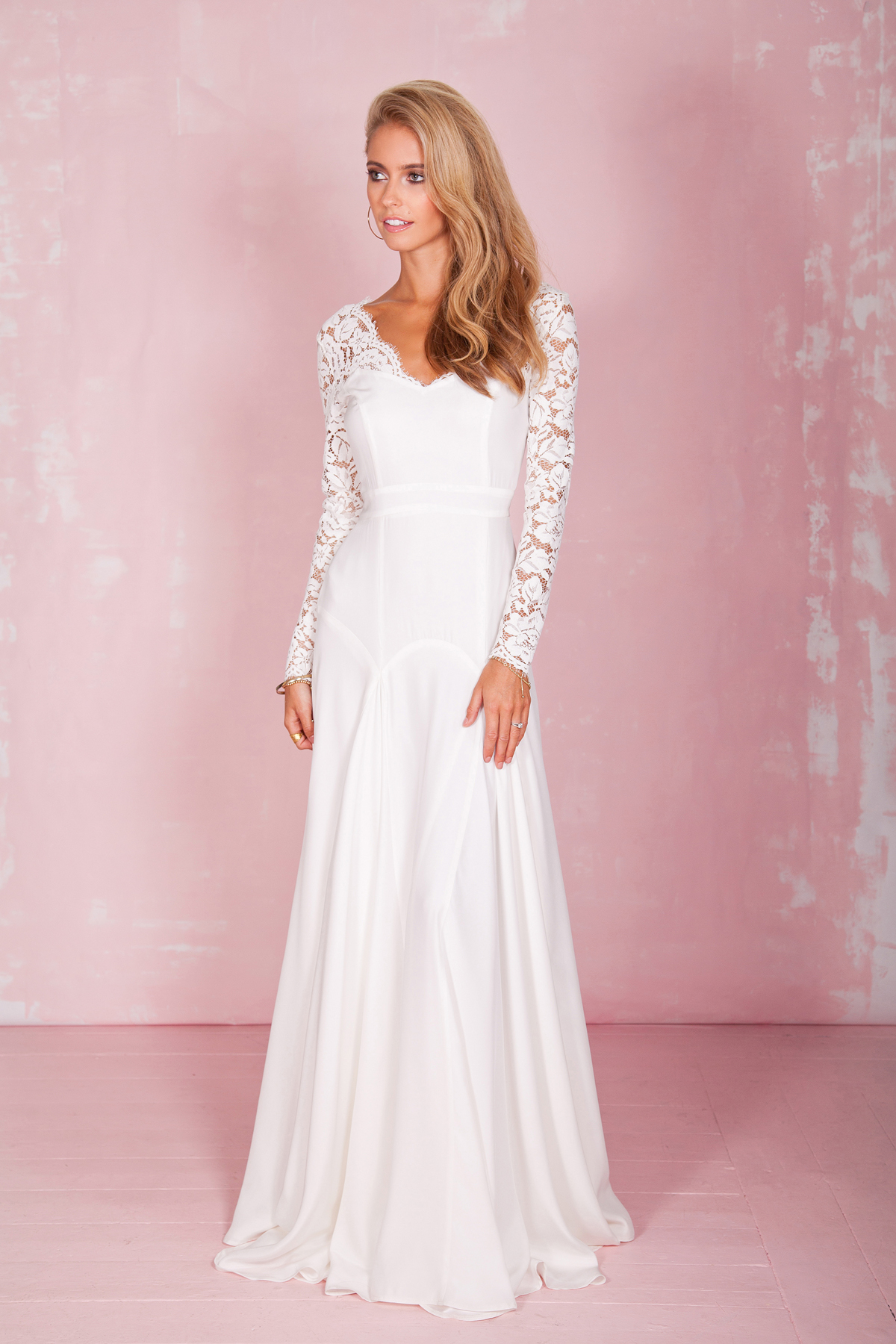 To finish, can you tell us a story or two about brides that you've worked with to create their unique dress?
Alice: Of course! Laura is a friend of ours and was really interested in a two-piece wedding ensemble so we created a bespoke outfit for her! She tried on styles from our existing bridal collection and talked through aspects she liked and fabrics/colours/details and together we sketched out a few options from which she picked. This was the start of our venture into separates, which has proved immensely popular!
Hannah: Another of our brides, Lucy, came into see us and knew that she wanted a yellow dress as it was a particularly sentimental colour for her. We worked together to help select a style from our collection that she loved and then sourced various shades for her to choose from. She loved her wedding dress as it was so 'her' and it looked fabulously unique.
There are no photos with those IDs or post 681500 does not have any attached images!
Alice and Hannah, thank you so much and doesn't made-to-order sound wonderful? Utterly perfect for a once-in-a-lifetime occasion…
All Belle & Bunty gowns are handmade in London and the pure silk bridal collection ranges from £1200 to £2500. For more information on the latest collection, the boutique in London or stockists in your area, do take a look at the Belle & Bunty website for more details or book your appointment at the boutique via [email protected] or click here.
You'll also find Belle & Bunty on Facebook and Twitter and you just have to  follow Alice & Hannah on Instagram. Their feed as is gorgeous as their designs – it's full of super stylish images and lifestyle goodness so you need to have Belle & Bunty's Instagram brightening up 2017 for you for certain!
Love,
Tamryn x
_____________
Belle & Bunty are a long term sponsor of Love My Dress.