Brrr! So winter has finally arrived and I'm delighted to prolong the jumper-wearing days for as long as I possibly can – have many of you had snow? London has a palpable air of wintery-anticipation, I'm keeping everything crossed for crisp white mornings and steaming mugs of hot chocolate, yum!
Today's London-based nuptials are the perfect example of why the city I've chosen as my home can be pretty blooming spectacular. All manner of wedding venues dot the map in the capital; from beautifully historic to achingly cool and modern, prettily quaint to quirky and fun. Today's mega-cool bride Bianca, who works in Events Management, and husband Alex, a Production Manager, chose two locations in North London to host their fun-filled, gold-smattered nuptials on 10th September last year. Their ceremony was held at Islington Town Hall followed by a disco-inspired reception at New Unity Hall. These fabulous images are the handiwork of the über-talented Emma Case who we absolutely adore; just take a peek at a few weddings from our real wedding archives, (which includes this beauty that we shared earlier this week), and you'll see why.
"Our day was inspired by lovely London Town! We wanted the wedding to reflect our life in London which is simple and full of fun. We are both old romantics and love a vintage look, so we mixed in vintage with some traditional London elements such as Pearly Kings and pie and mash. I also have an undying passion for DISCO! Hence a lot of gold – gold tinsel, gold curtains, gold balloons, gold bunting; all complimented the vintage elements of the décor."
Photography by Emma Case Photography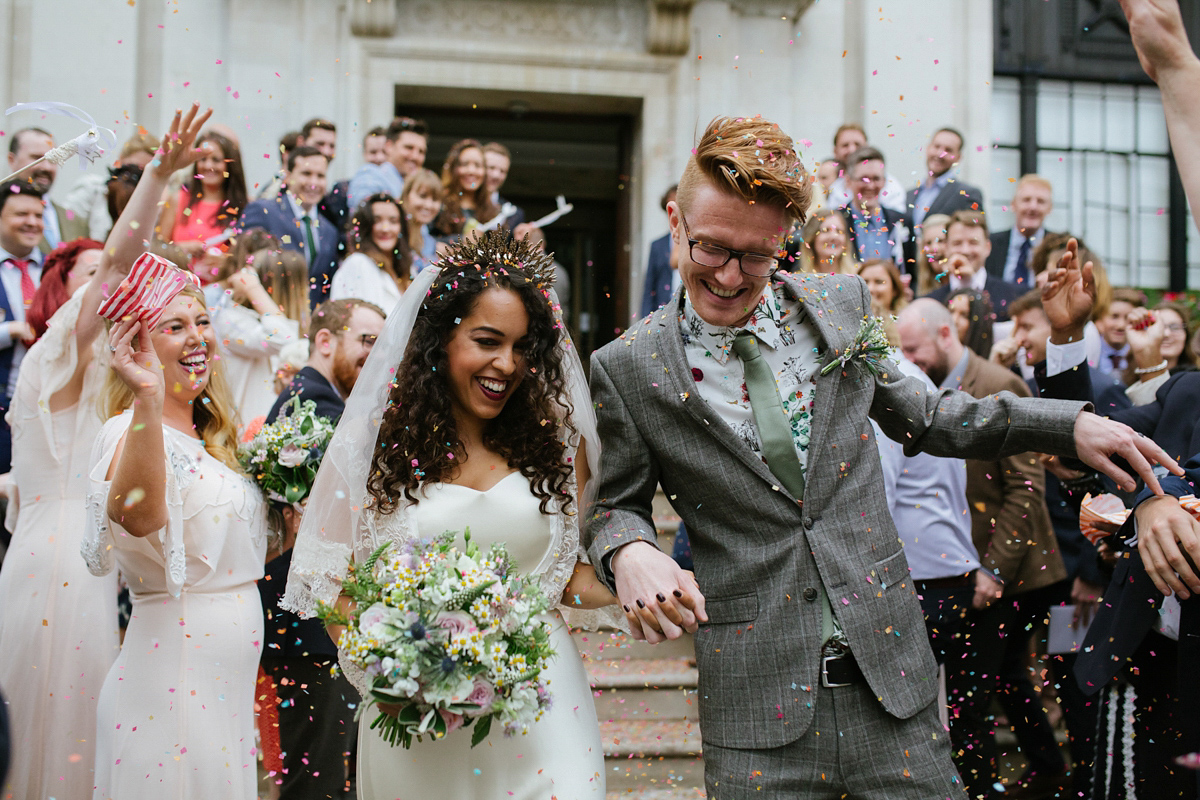 "We wanted a stylish day but it was all planned by us and executed by friends and family. We are lucky enough to know so many talented people so we had the option to do it ourselves. The venue gave us the freedom of a blank canvas and were flexible with us; many other venues we visited were not so accommodating. It was hard work but the venue had our stamp on it. We had help from all our lovely events team friends and four events producers working with us on the day aside from ourselves. And I read Love My Dress religiously everyday before the wedding. It has such beautiful content and weddings I could relate to and take inspiration from."
Bianca originally bought a beautifully beaded dress from Needle & Thread via ASOS for just £150, but after developing a little bit of wedding dress addiction, settled on a gorgeous satin dress from Catherine Deane, purchased from BHLDN.
"I didn't want to spend half the wedding fund on my dress. There are so many out there and my original dress came from ASOS, but I couldn't stop looking and I fell in love with another dress. I love a vintage wedding dress, but being a modern girl I do not fit into the tiny sizings of the past. I was looking for something romantic that I could feel comfortable in."
A Phase Eight veil, dyed to the perfect shade with Yorkshire Gold tea by Bianca's mum (gosh I love this, and Yorkshire Gold!) teamed with the bride's dream shoes from Dolce & Gabbana, perfectly complemented her period-style gown.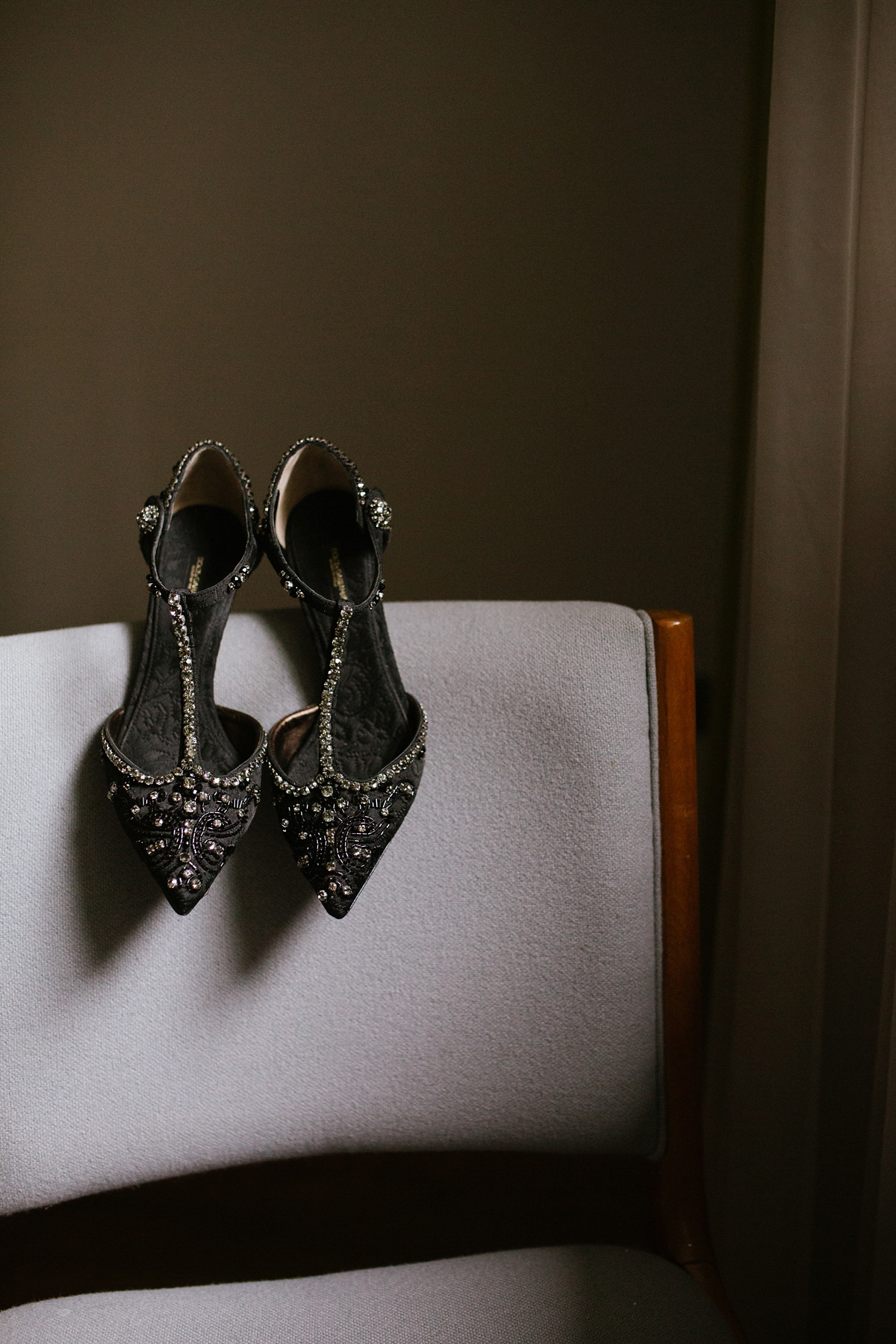 A seriously cool bespoke statement headpiece crowned Bianca's gorgeous curls, which she styled herself.
"I choose to invest in quality new make-up instead of a make-up artist as I never like when other people do my make-up; my bridesmaid Donna bought me a lovely YSL lipstick.
I also did my own hair as it has a life of its own and nobody knows how to deal with it! The bridesmaids also did theirs and it was a lovely morning doing our hair and make-up together."
"I wore Daisy Dream by Marc Jacobs perfume; my something new/blue and a gift from my parents, plus it kept the Daisy element (Bianca's maiden name). My something old was Alex's great-grandmother's engagement ring from the 1930s, which was loaned to me by Alex's grandmother."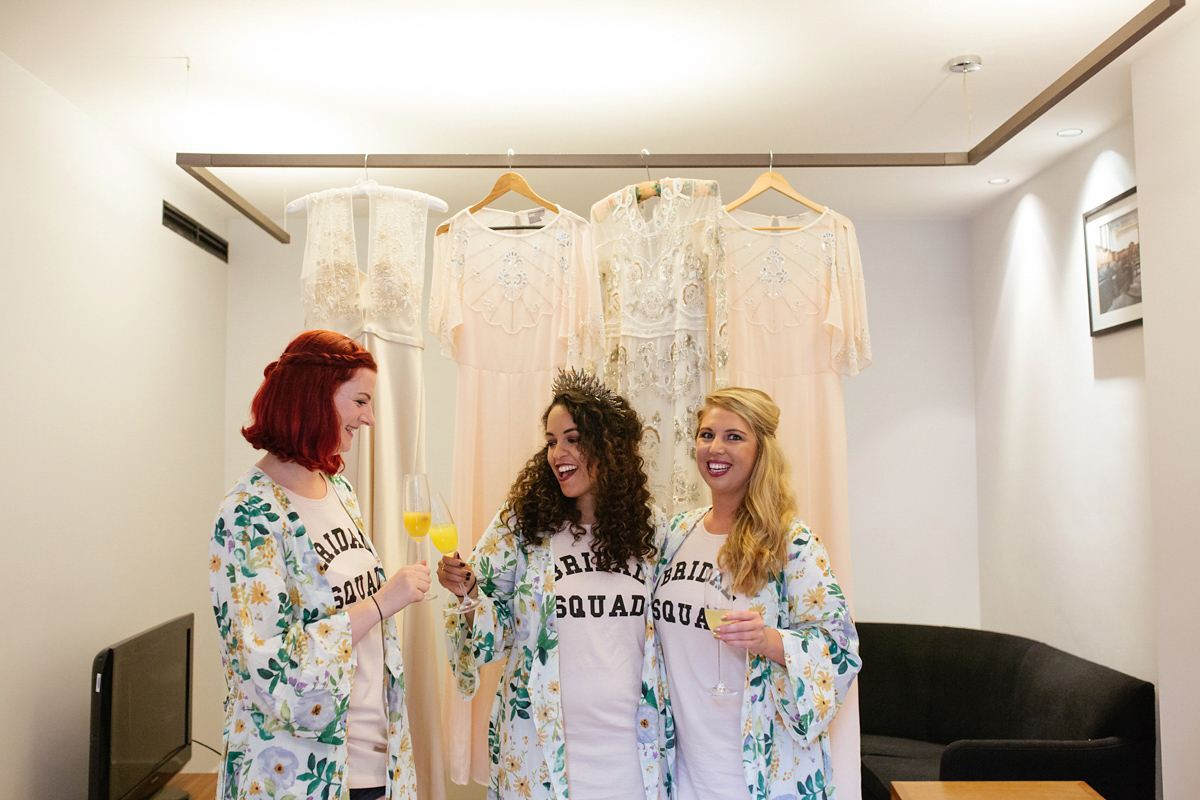 "I adore the style of the 1930s; it was the most beautiful and decadent time for clothing, I can't get away with this style in everyday life and this was my big chance! As soon as I saw this dress I was in love; a 1930's satin gown with fine lace detailing. I didn't even try it on as it came from America but it fit like a glove, I just had to have the length taken up slightly."
"I felt like a gothic princess. I planned to wear my Needle & Thread dress later but I didn't want to get changed as I was too busy dancing."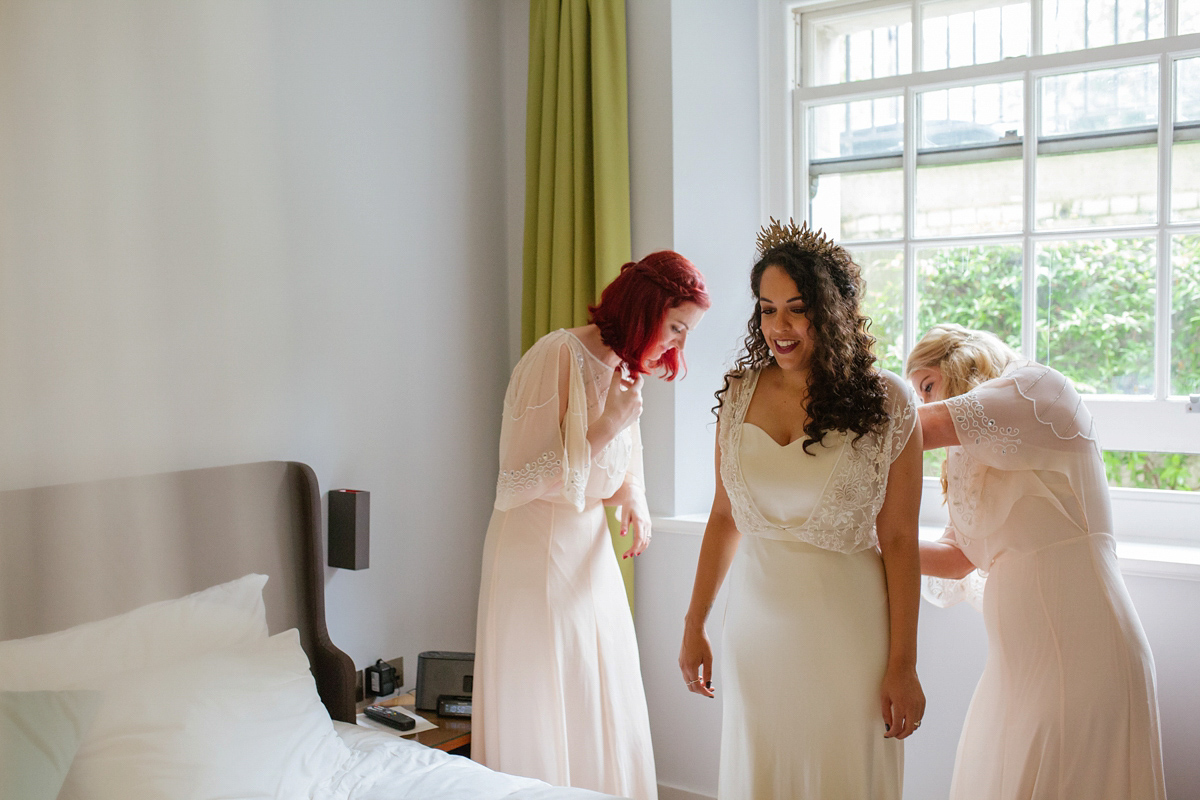 Bianca's stunning maids meanwhile, rocked floor-length gowns from ASOS and M&S shoes with their own hair pins and rose gold bumble bee earrings from Bill Skinner; a present from the bride.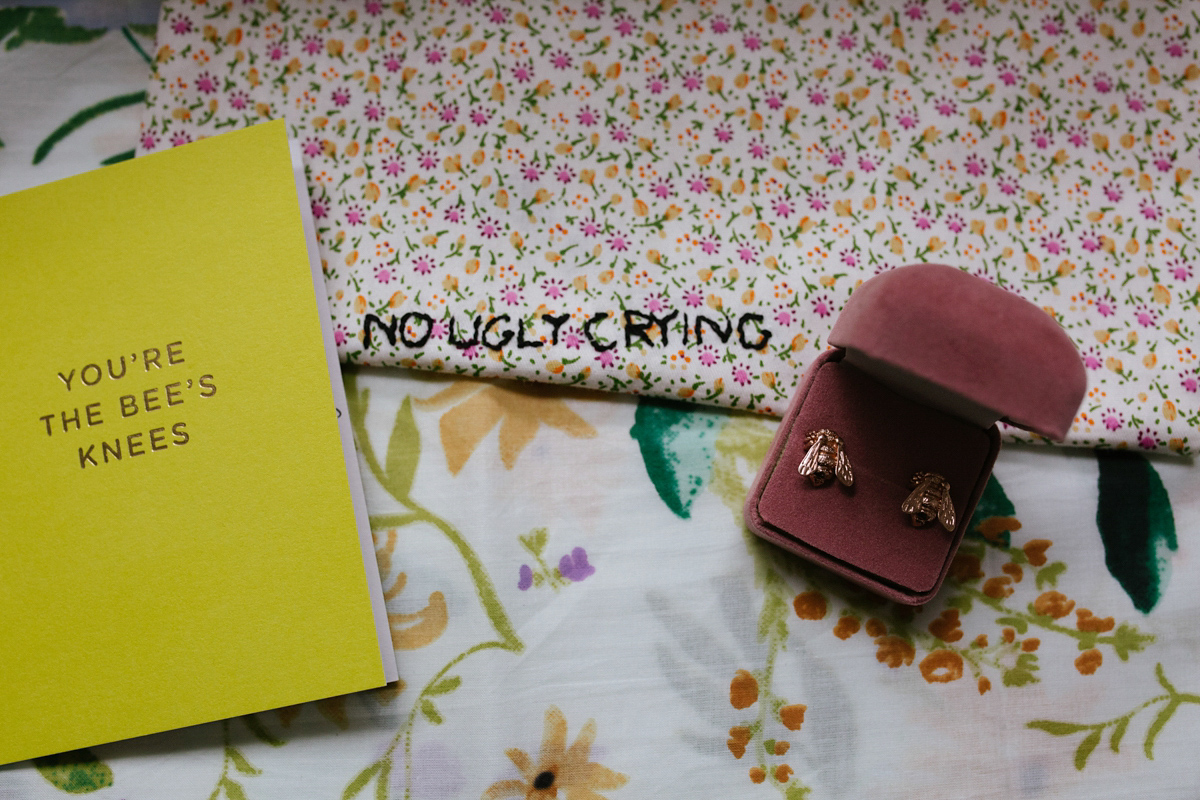 "Our lovely friend Martina Natali who is an Interior Stylist and Floral Designer, provided all the table arrangements and large arrangements. The bouquets and button holes were made by Dansk Flowers Islington."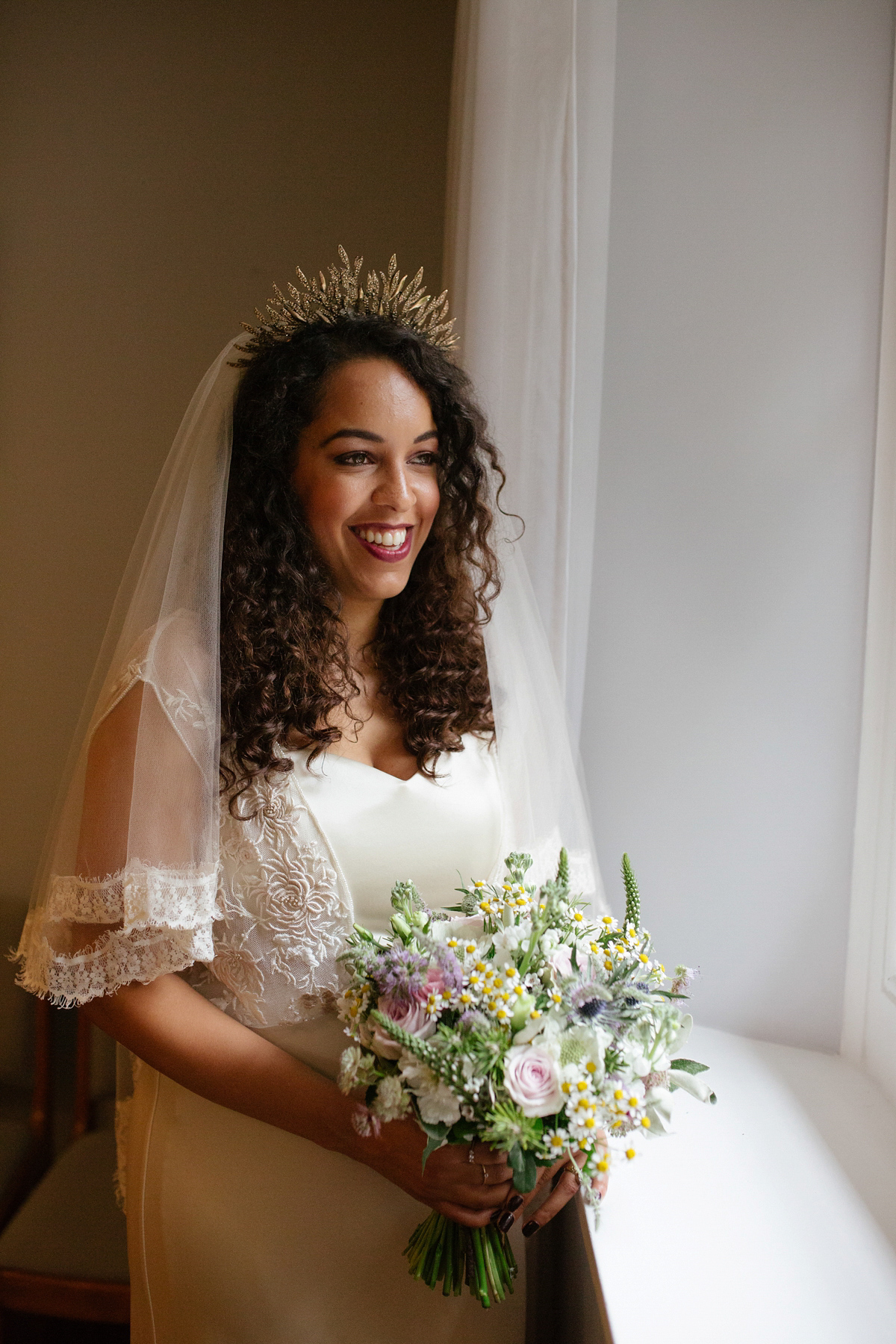 I love the purple thistles, fluffy veronicas and vibrant daisies in the girl's bouquets – the bright, varied blooms reflecting the happiness in their faces as they pick their way down the stairs to their waiting taxi and lovely cockney driver. Bianca simply hailed a passing cab to Islington Town Hall while Alex hopped into an Uber.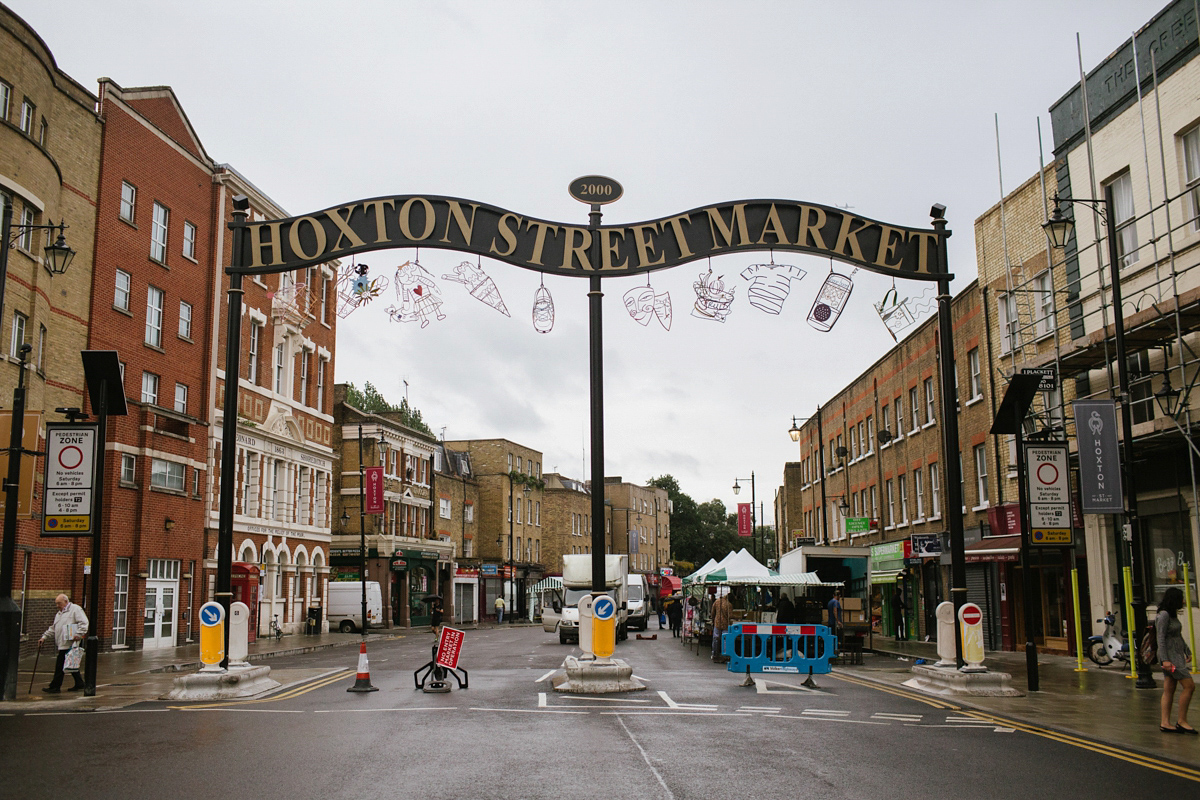 "Alex and I met at a garage night at Catch nightclub in Shoreditch. The air-conditioning was high and I was freezing in the corner of the club, so Alex lent me his jumper."
"I then managed to kick his drink out of his hand and I guess he liked me, as he followed me home!"
"We sent out a save the date and wedding invites all in one go to save time. It was a train ticket with a link to our wedding website, which we designed ourselves via Squarespace. Our train ticket invites were designed by our talented friend Claire Murray, who also designed our table plan and wedding chalkboard. These were sent out with vintage postcards of London and tube maps. Printing coming from Alex's old school friend Stephen from ProCo."
Alex wore a checked suit from the Camden Collection by Ben Sherman with a Topshop tie and patterned House of Fraser shirt. To finish off his cool ensemble, Alex wore a silver skull lapel pin from Hugo Boss; a gift from his lovely bride.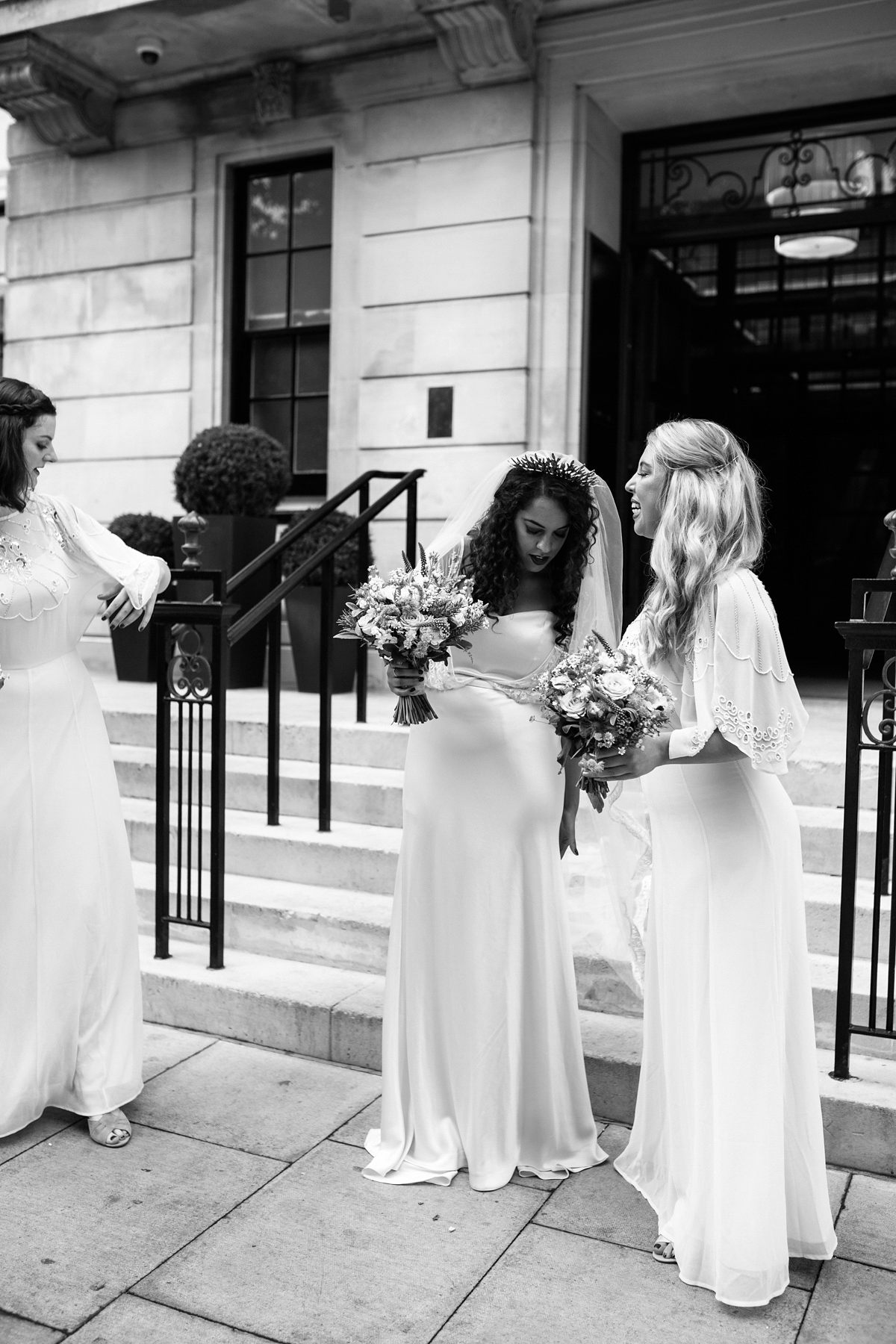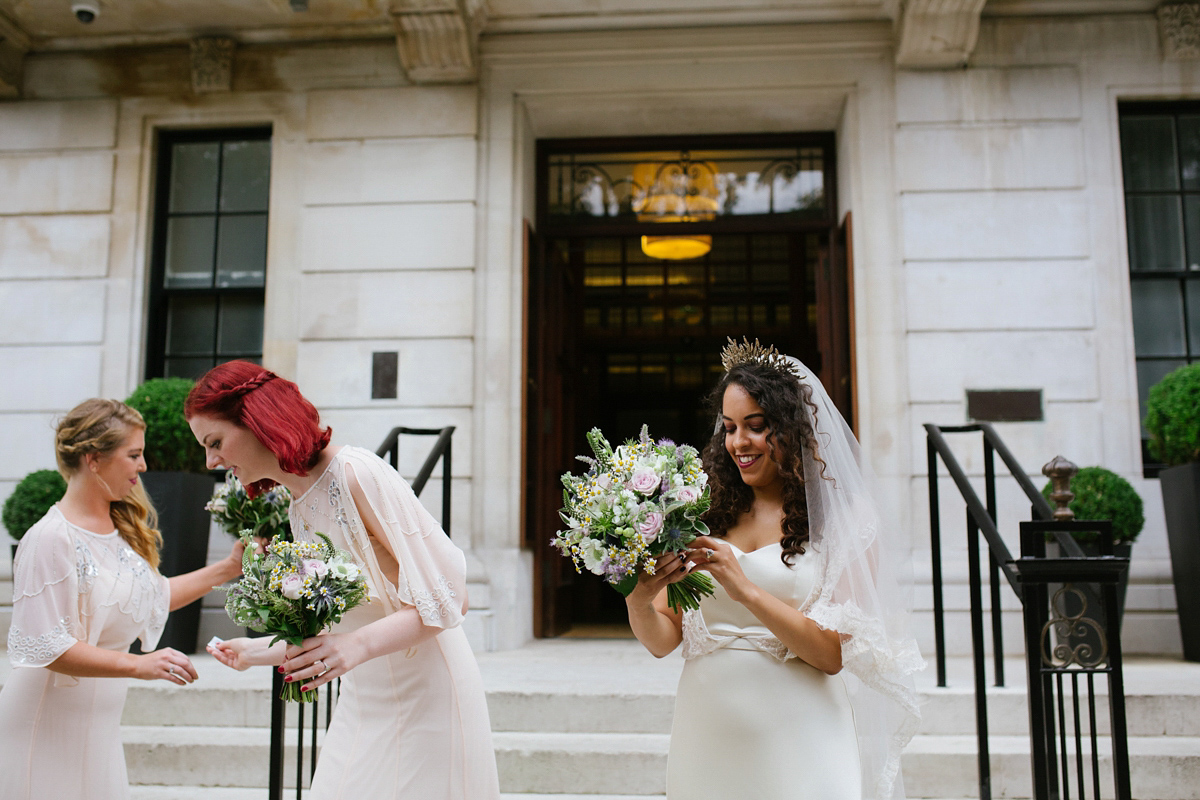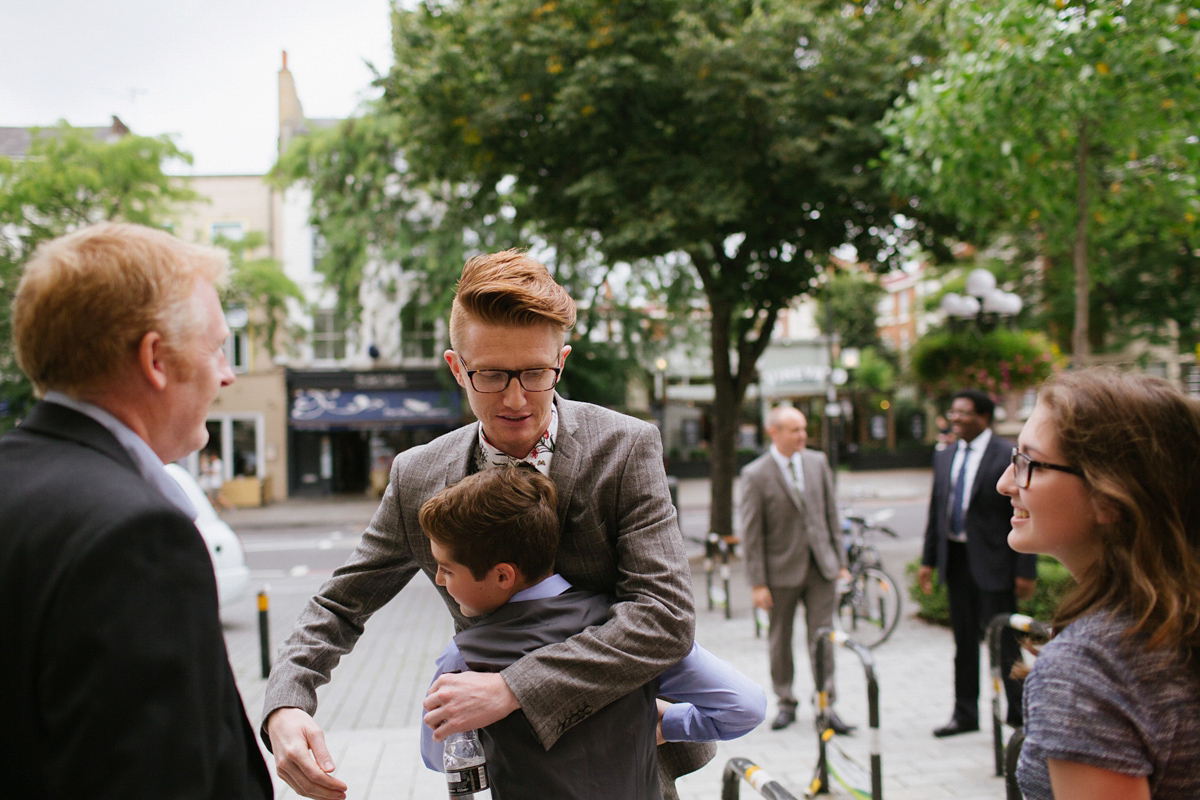 Mr Daisy, Bianca's proud dad, walked her down the aisle to a four string quartet rendition of Clean Bandit's Rather Be.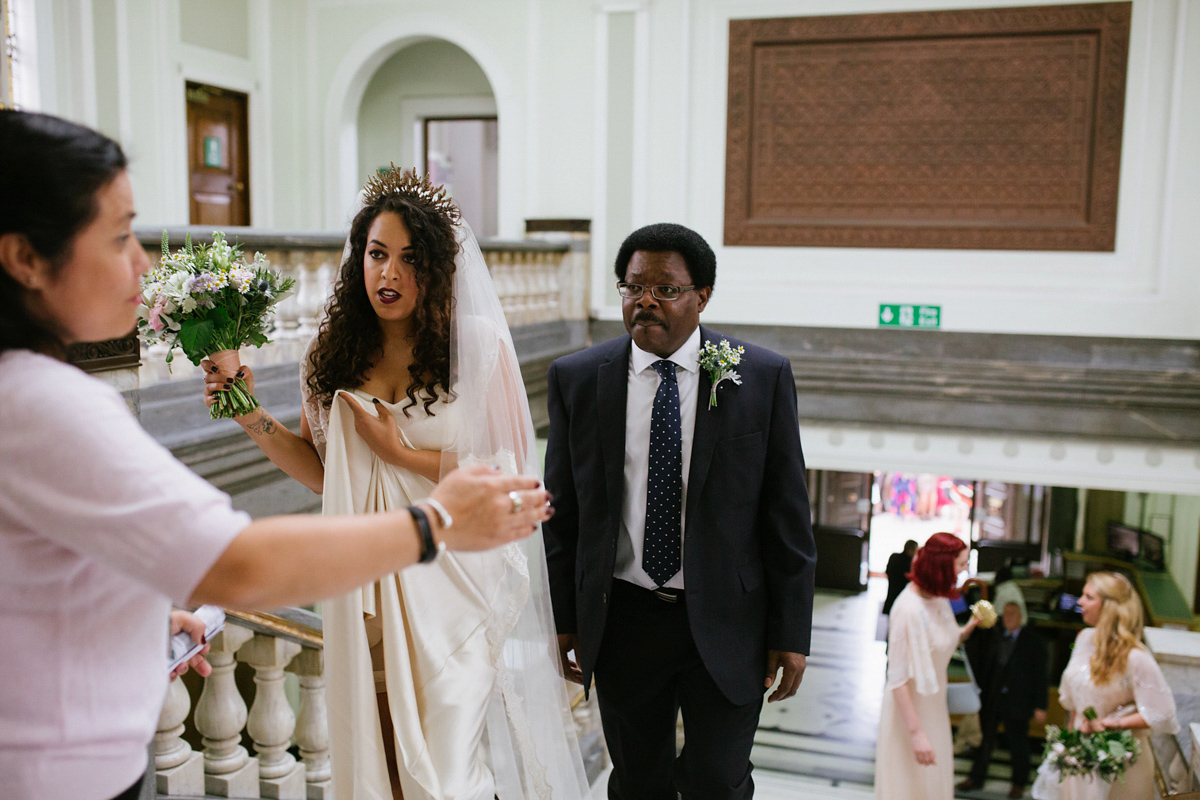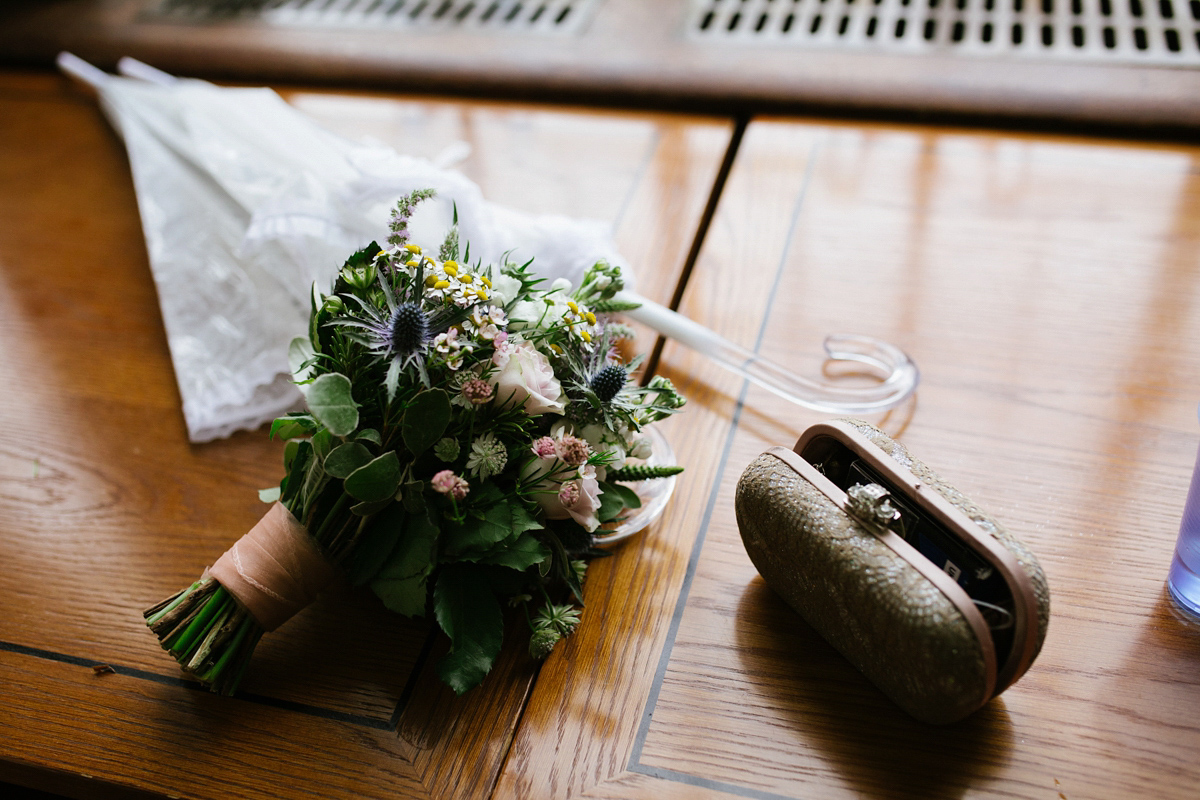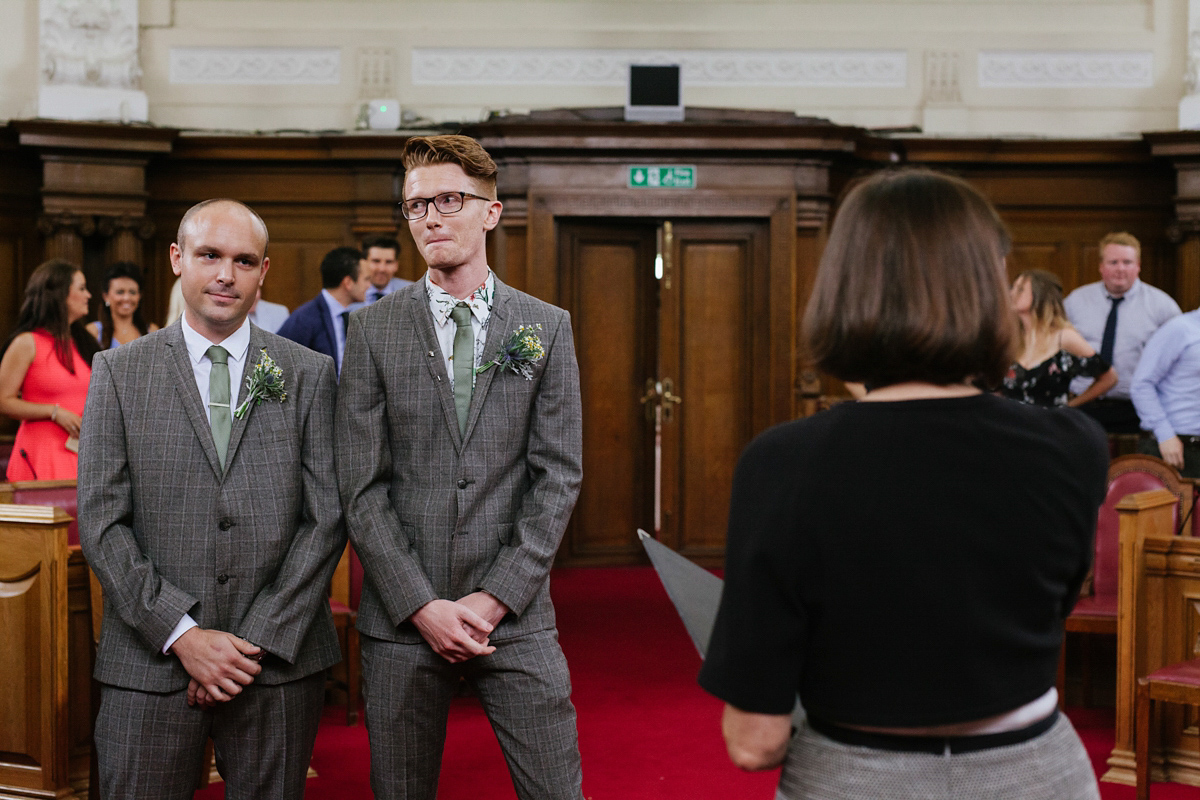 The couple chose to read the standard vows from 'The Purpose of Marriage,' provided by the Town Hall, which suited what they wanted to say to each other perfectly. They wove in some personal elements with their chosen readings.
"We had Alex's brother read 'He's Not Perfect' by Bob Marley and my bridesmaid Donna read 'A Golden Chain' by Helen Steiner Rice."
"We chose 'He's Not Perfect' as it reflected how neither of us is perfect and neither is marriage, but we accept and work with our imperfections for a perfect love. 'A Golden Chain' details how friendship, family and love are worth more than any amount of material possession and are as unbreakable as a golden chain. Love is built on friendship and marriage seals that friendship."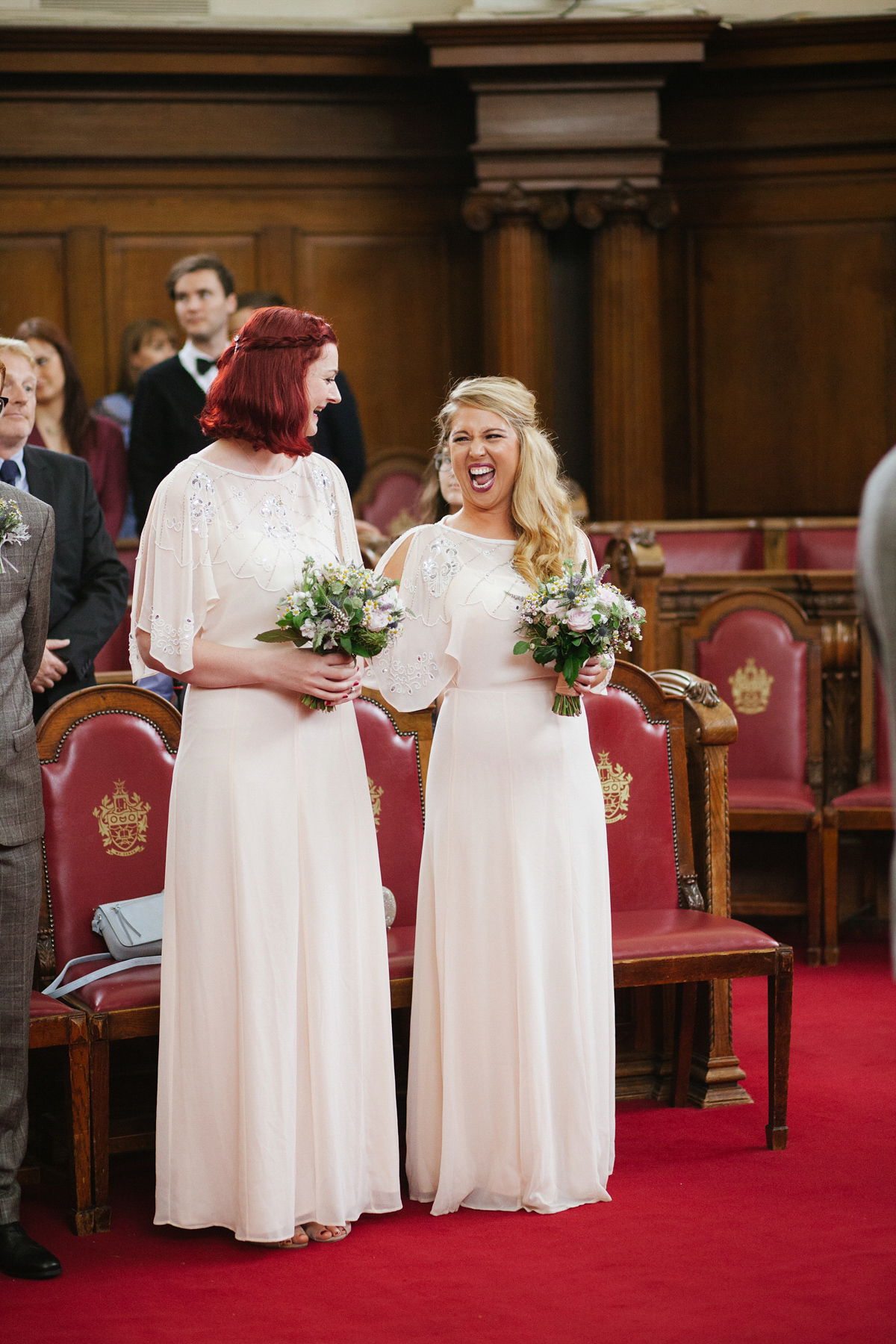 Bianca's wedding ring was a bespoke made piece from Ruberg in Camden Passage in Islington, made to sit alongside her antique engagement ring from the 1800s. Alex meanwhile opted for a black silicone band from QALO – the perfect solution for a man who works with his hands a lot. (Alex has genuinely seen someone lose a finger to a wedding ring related injury, eek!)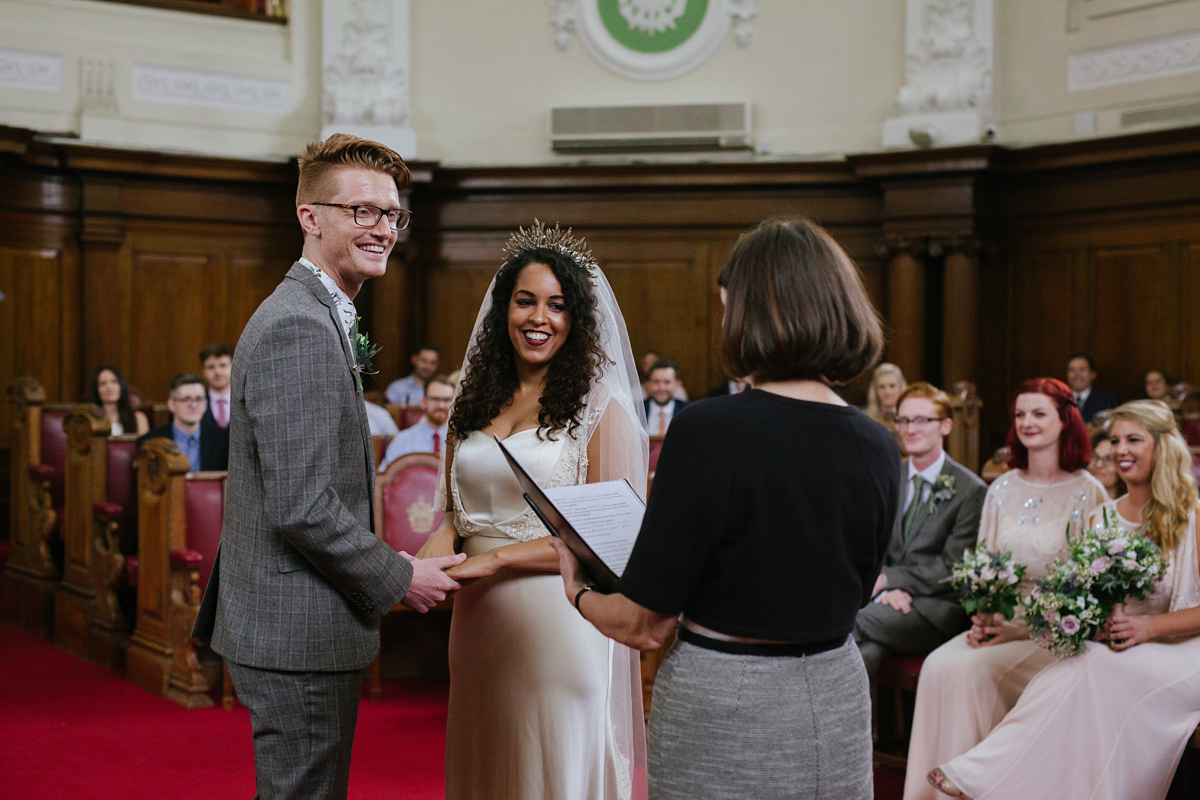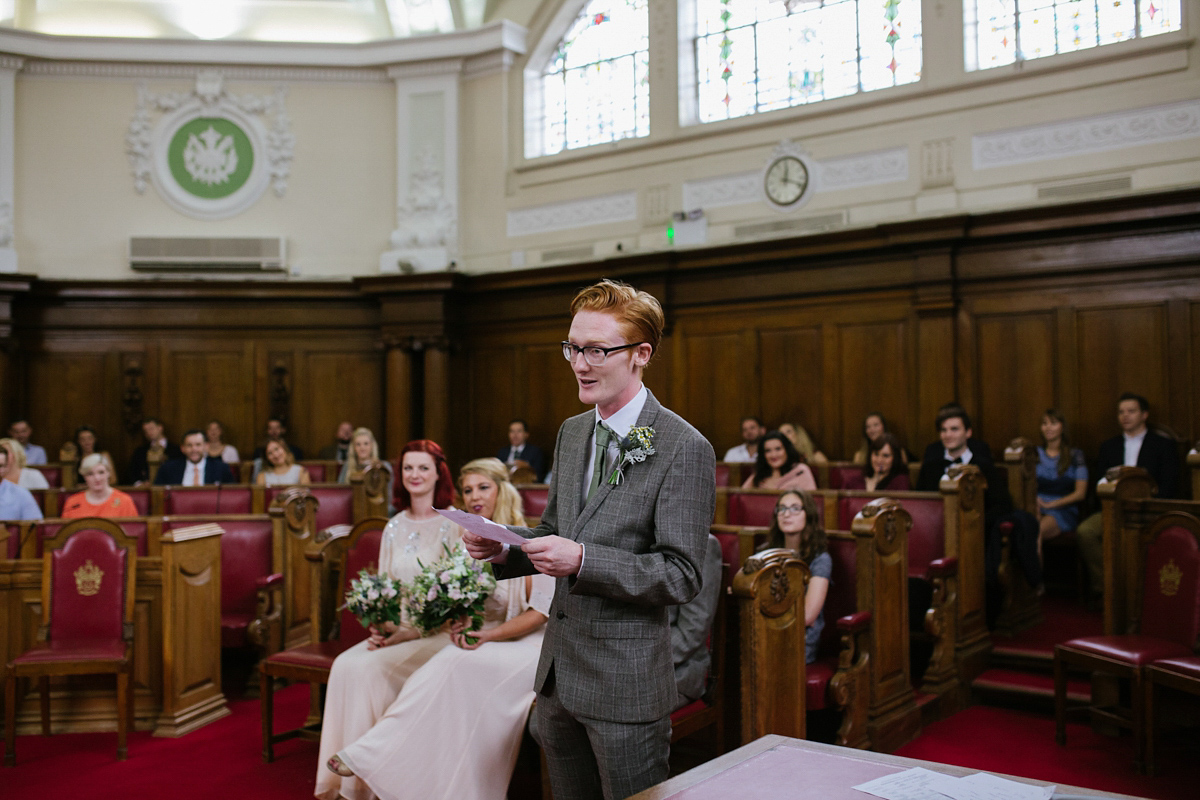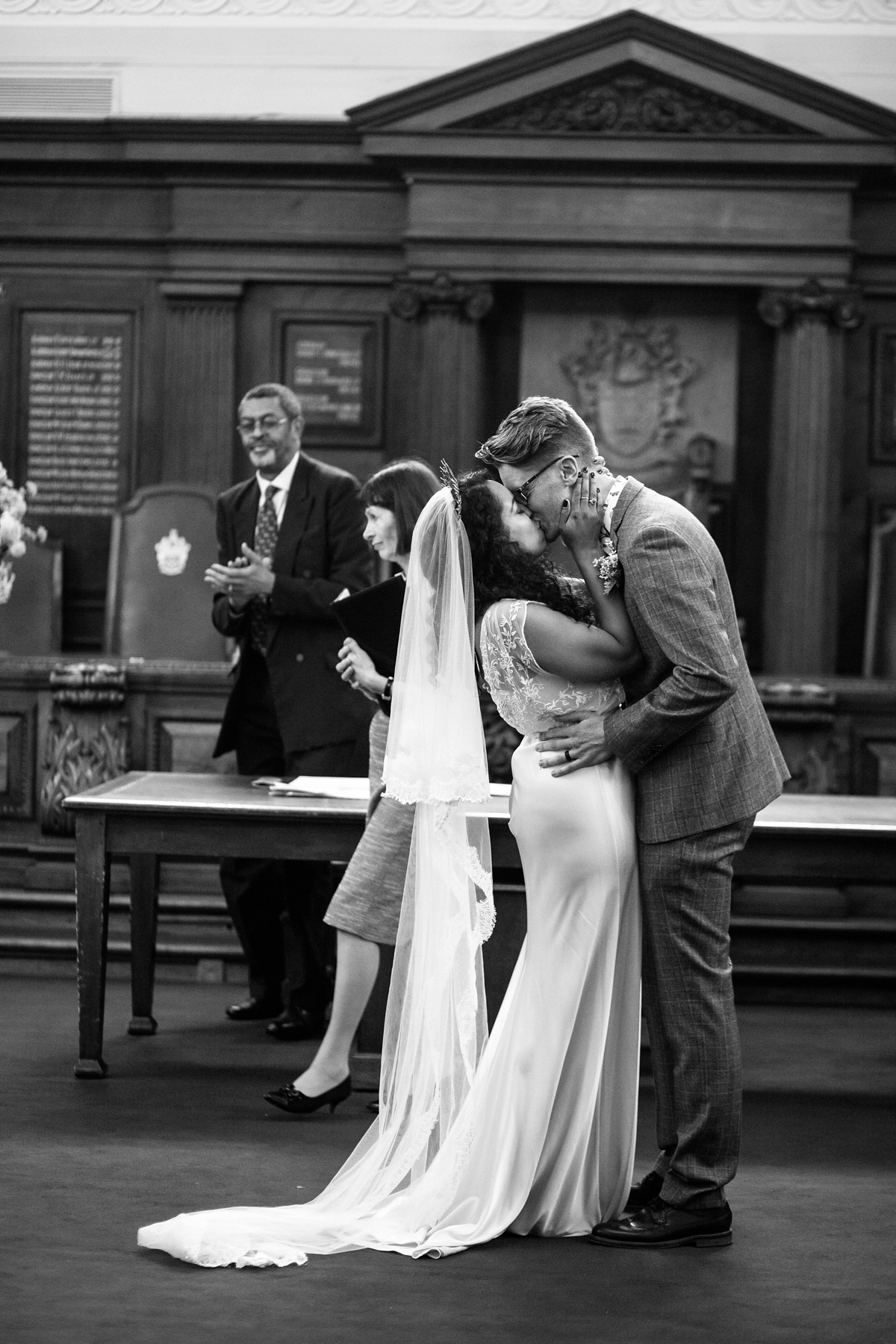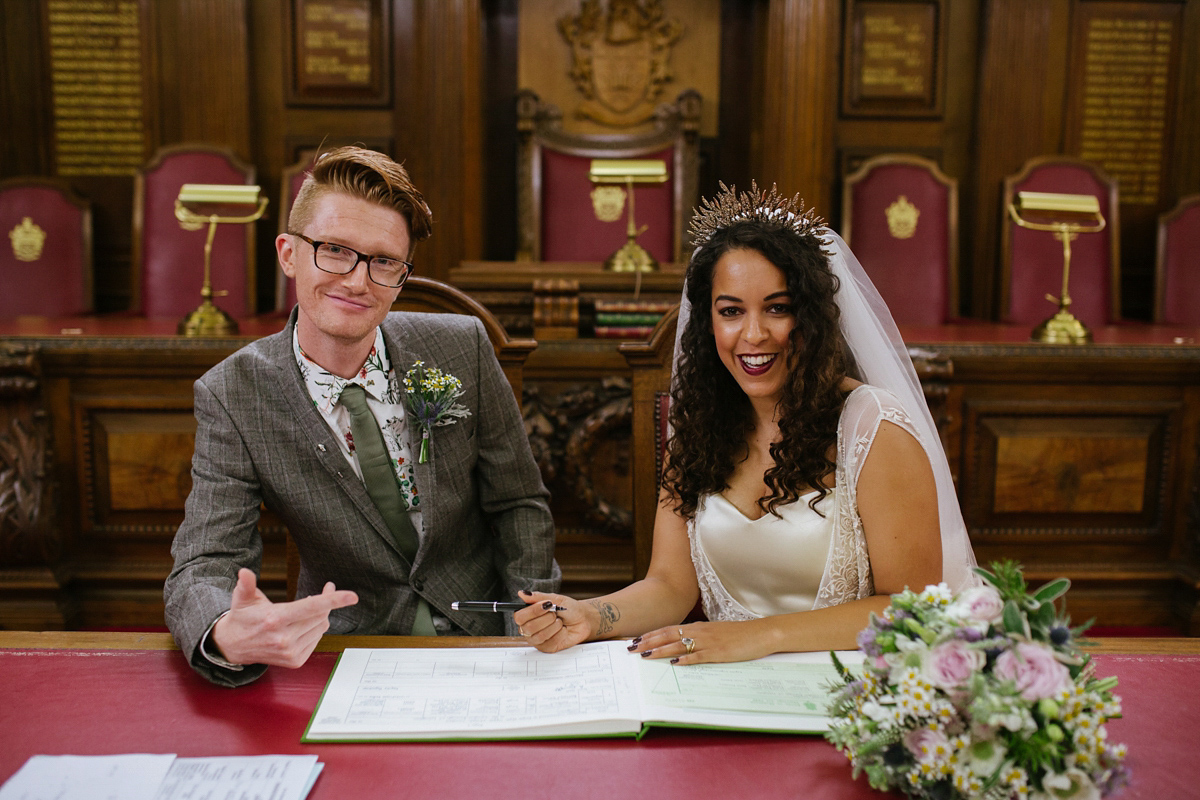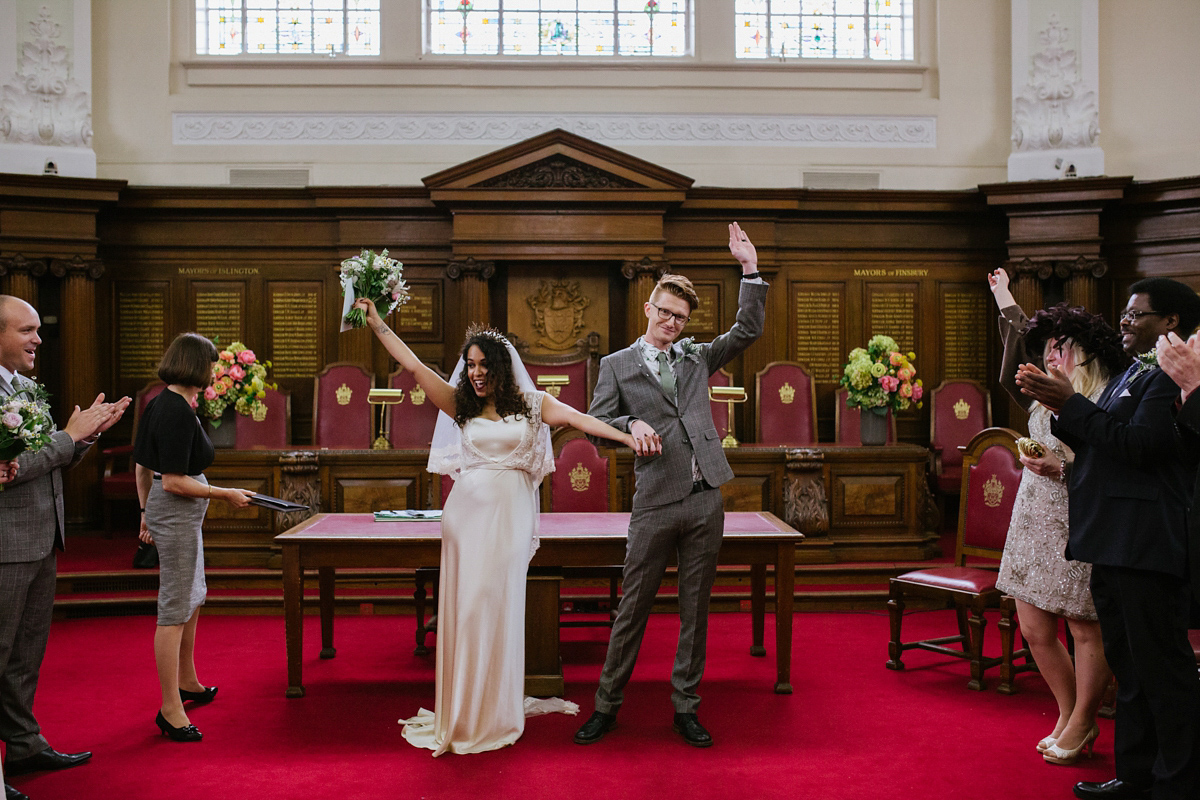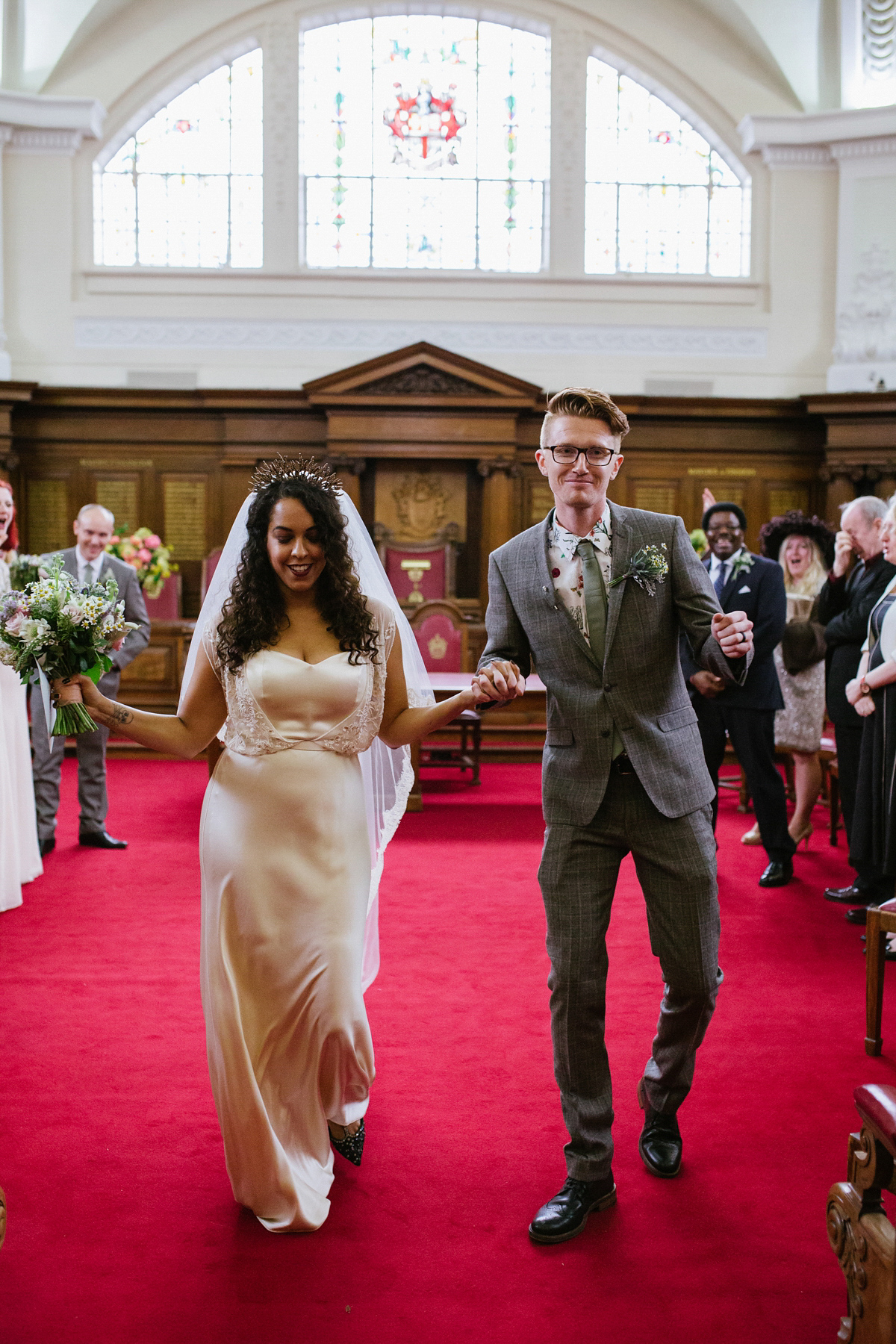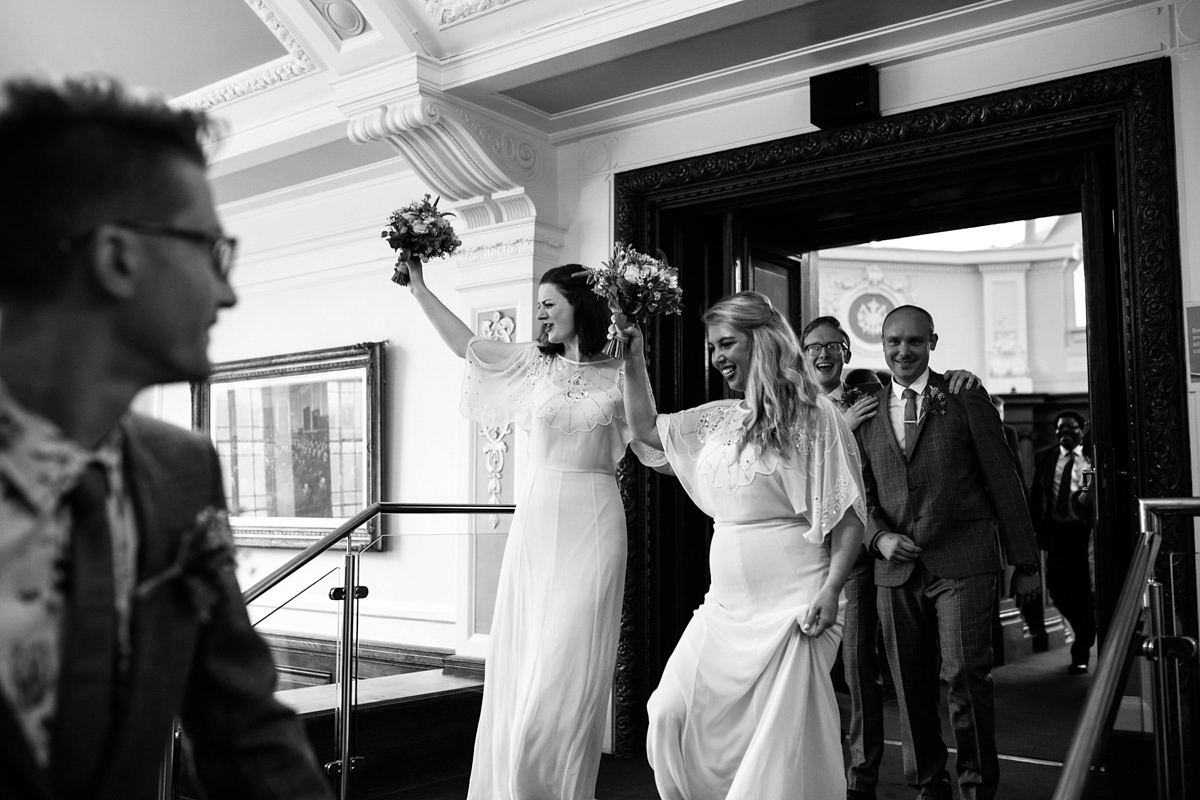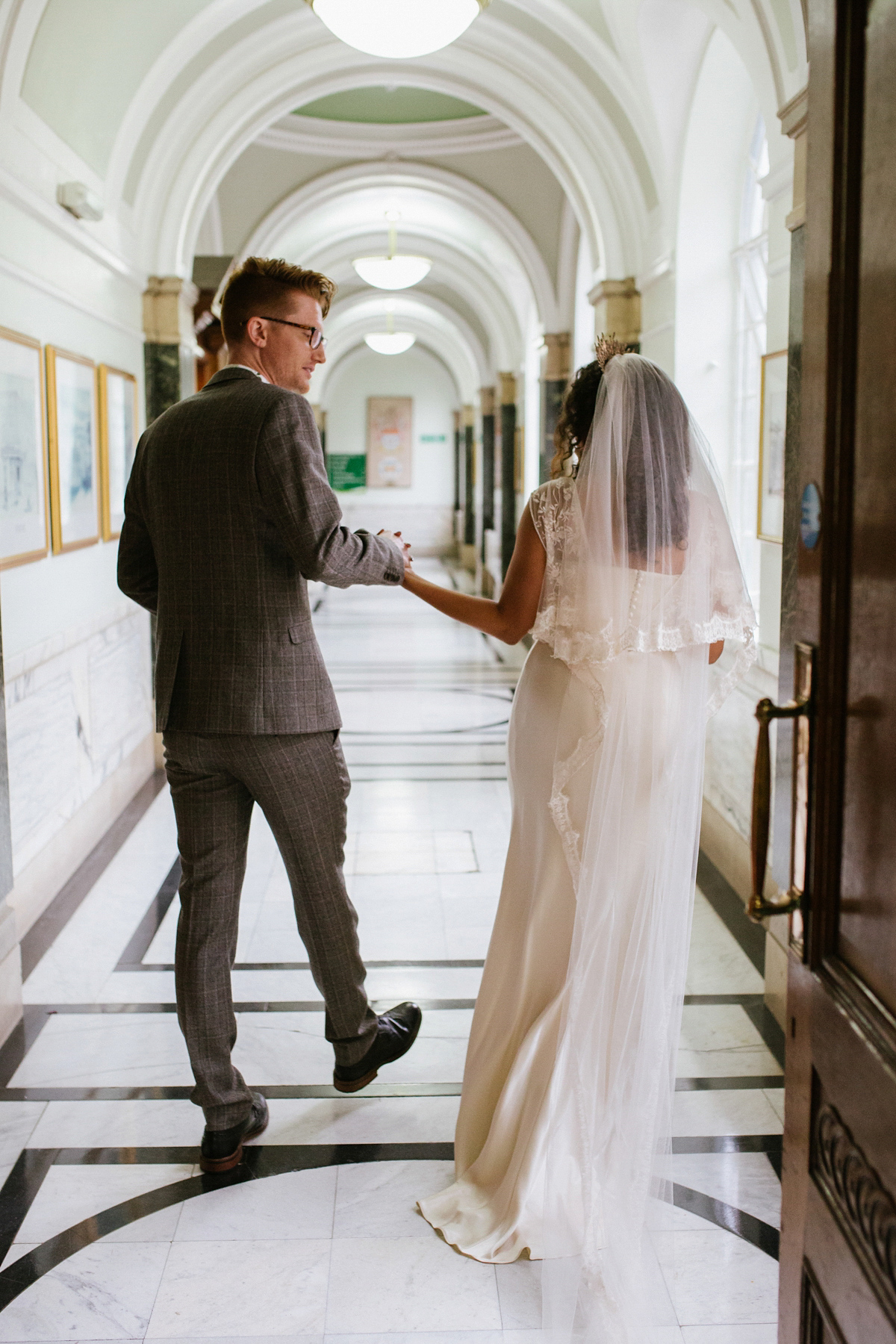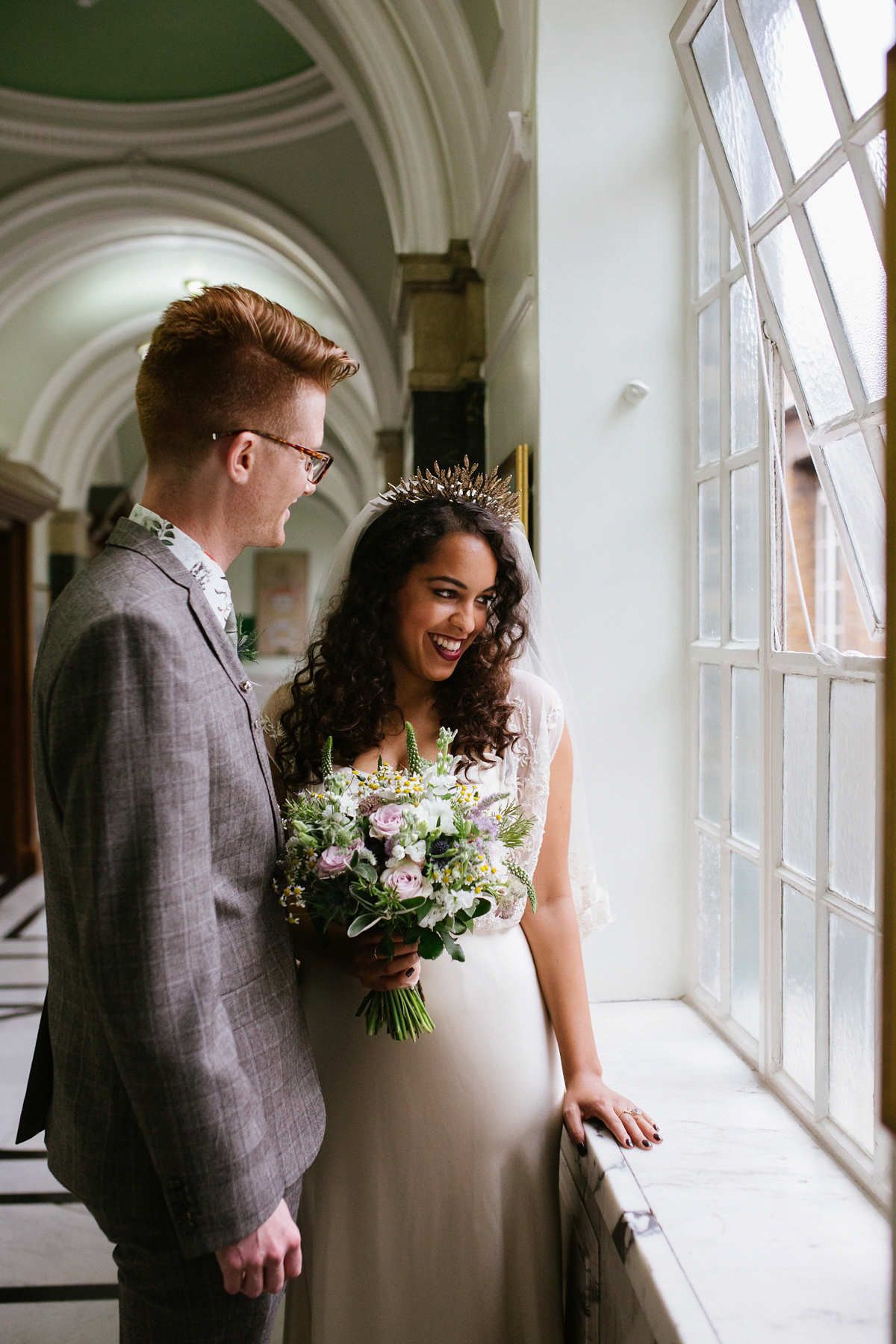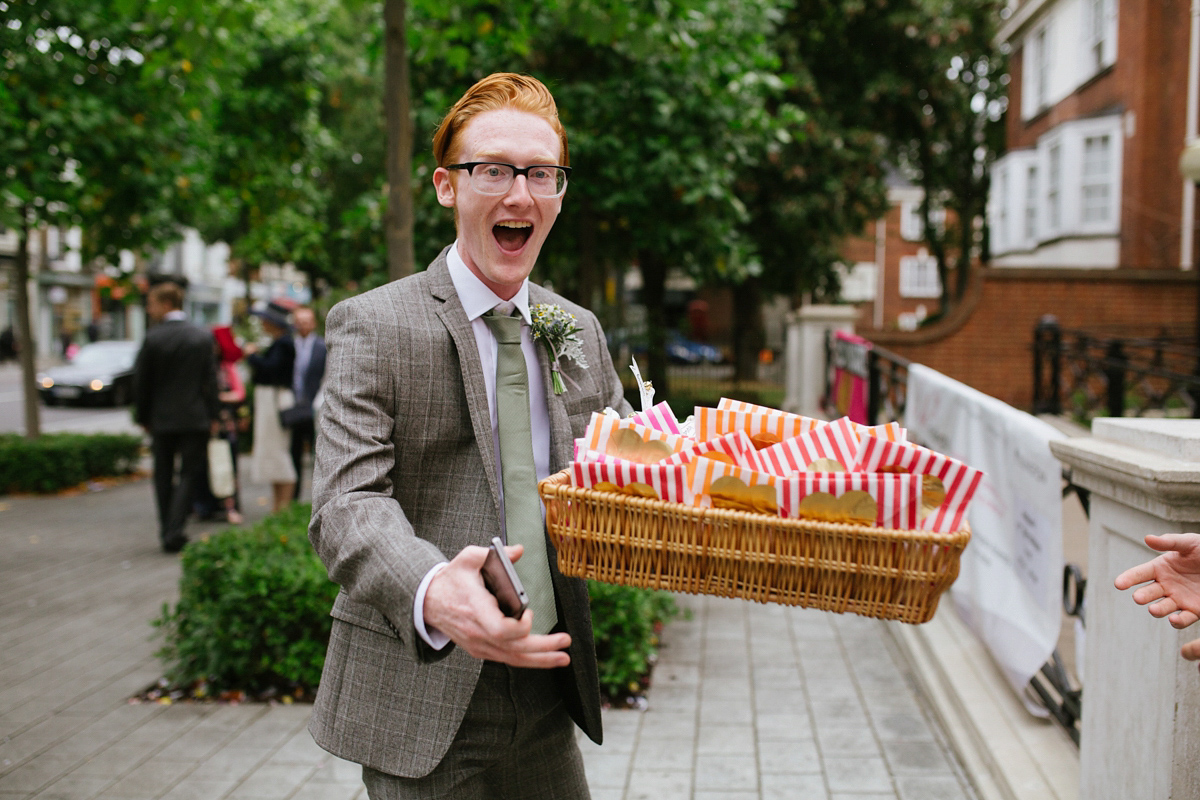 The very cool newlyweds made their exit to 'Le Freak' by Chic, leading their guests out of the town hall in a jubilant dance.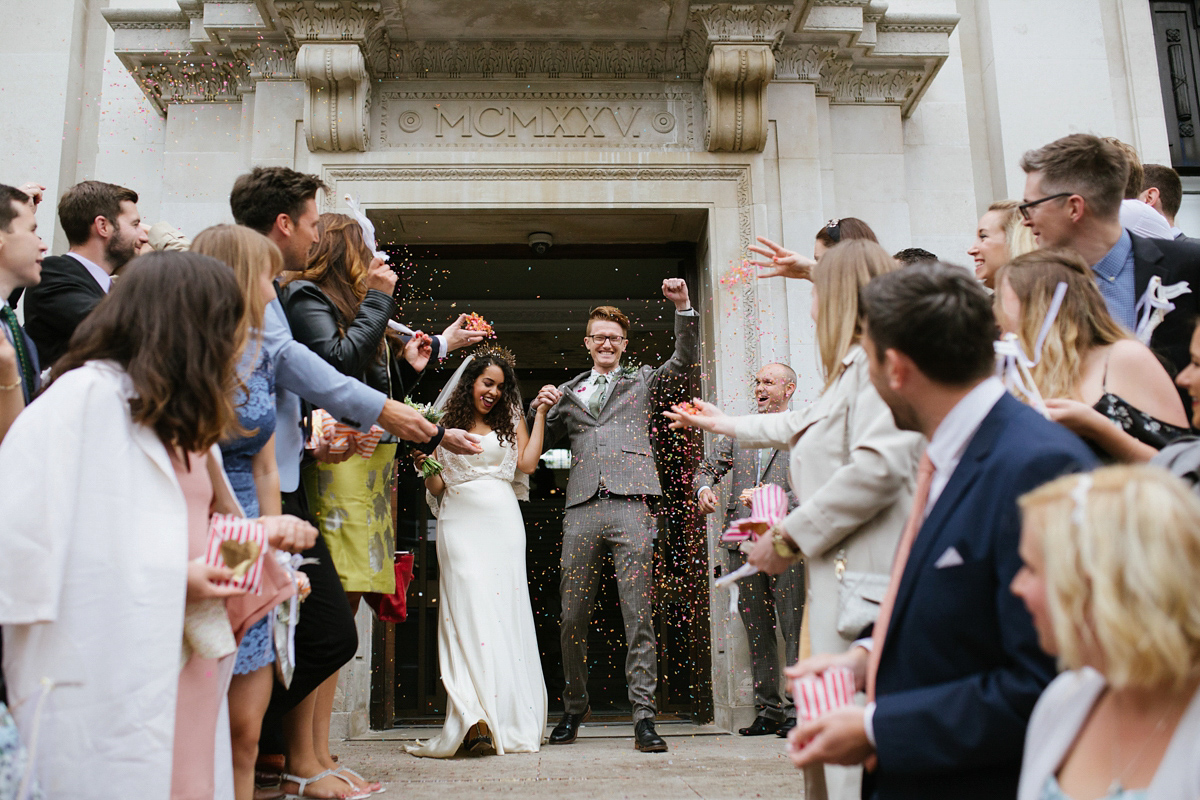 "We simply can't recommend Emma and Pete enough! They are a lovely husband and wife pair who made us feel like we were old friends and we were totally at ease with them."
"They combined to be a wedding fairy godmother and confidant. They also gave us exactly what we were looking for in our photos and some guests didn't even realise we had photographers as they were so stealthy."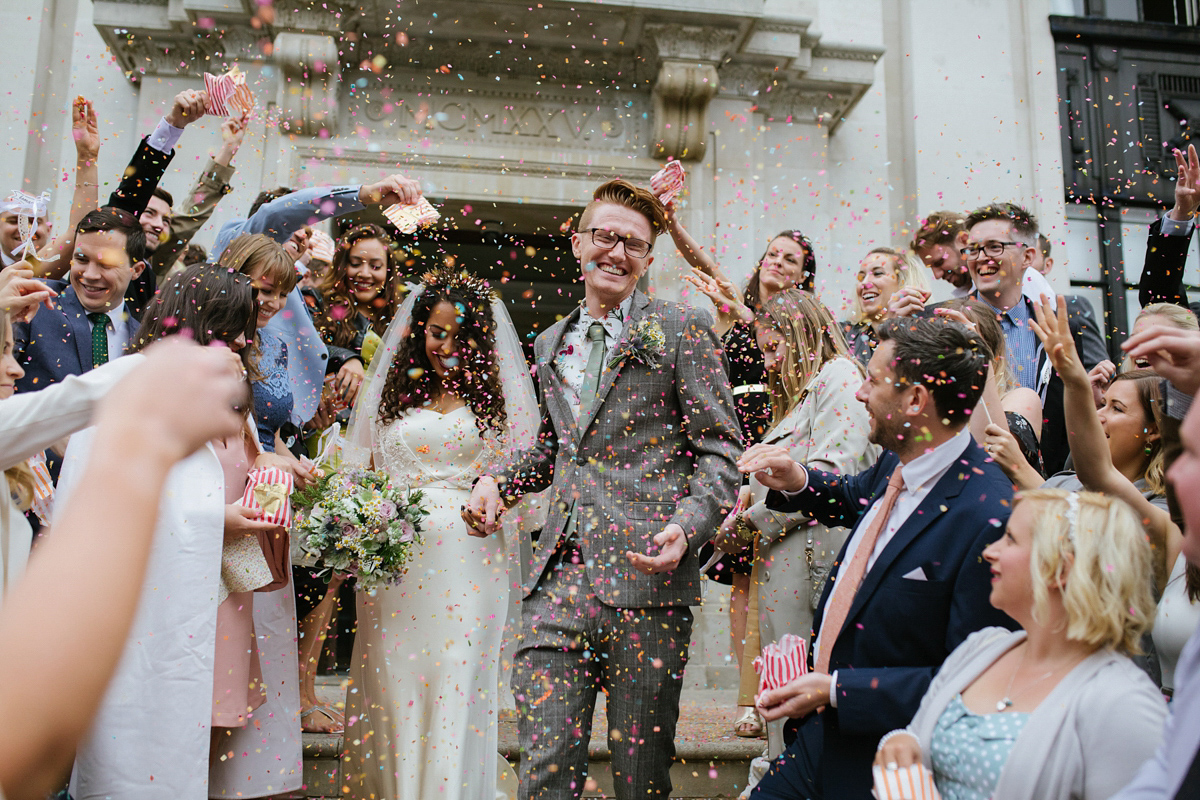 "We love their candid take on the day, they captured all the little things that matter. We're not into posed pictures but we manged a couple for the parents. We really will treasure the photos forever, we feel that photography is one of the most important parts of the day and you should invest in it."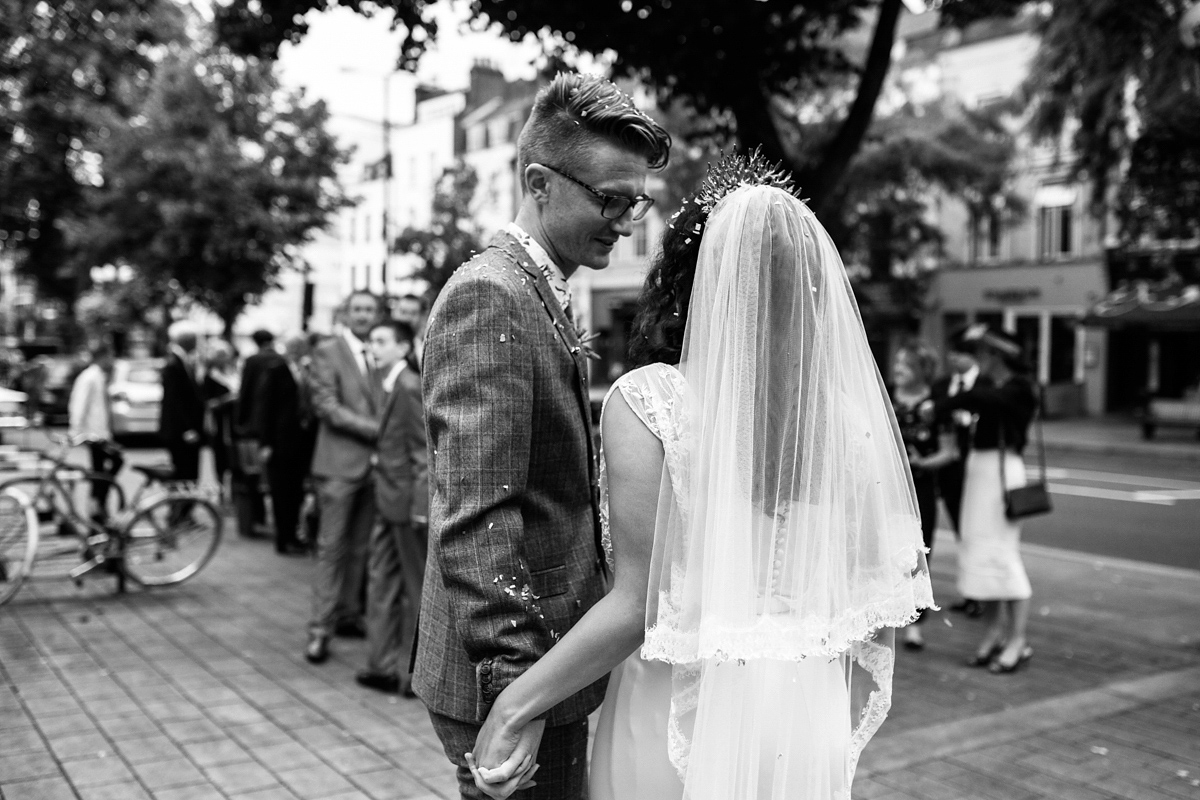 This joyous procession, led by Bianca's actor friends, Ben and Doug, was captured on camera by the talented Emma and Pete of Emma Case Photography. Their website proclaims them as 'best friends making honest, heartfelt memories for each other and our couples,' and that's exactly what they do – their personal, friendly, honest approach to photography is just heart-warming.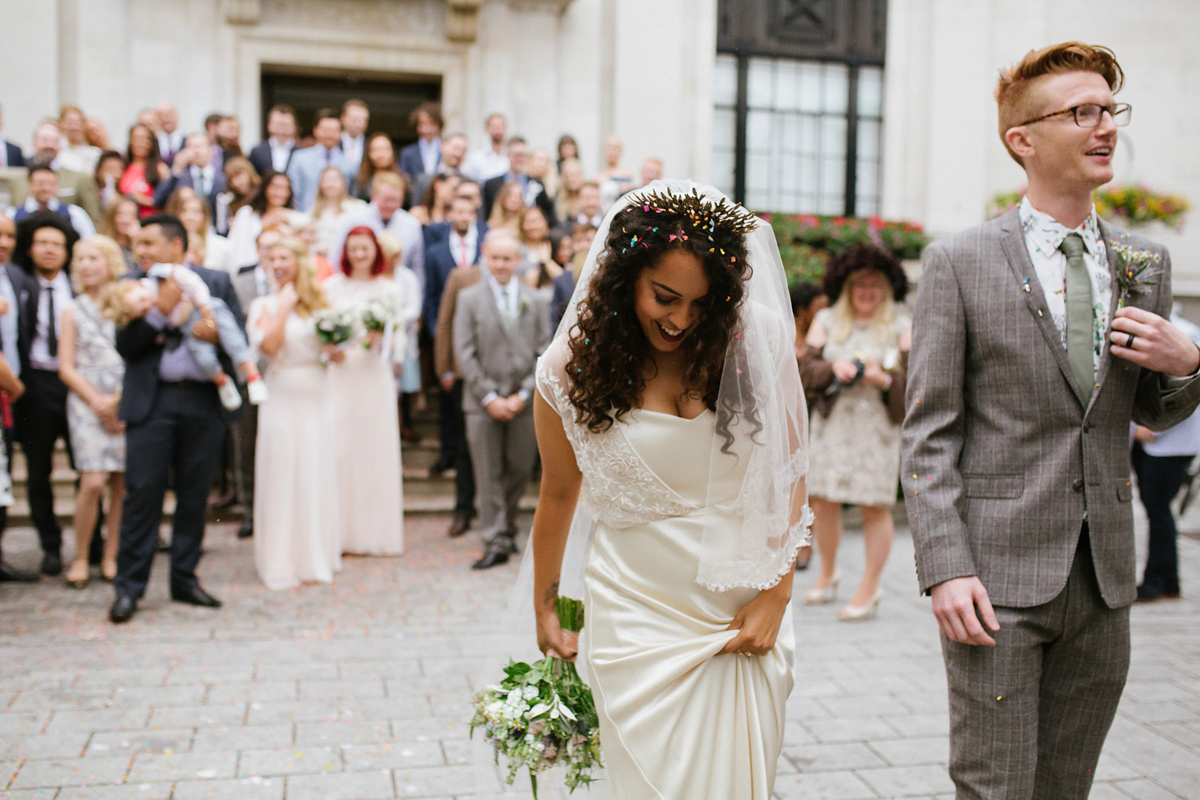 "My lovely friends Ben Watson & Doug Devaney stepped in as our Pearly Kings for the day. For me they ensured there was never a dull moment and kept momentum going all day. They played Ukes and sung old cockney songs as we went between venues. They entertained us with a cockney rhyming slang challenge, ran a sing-a-long, hosted a wedding bake off, MC'd the speeches and got everyone aboard the soul train."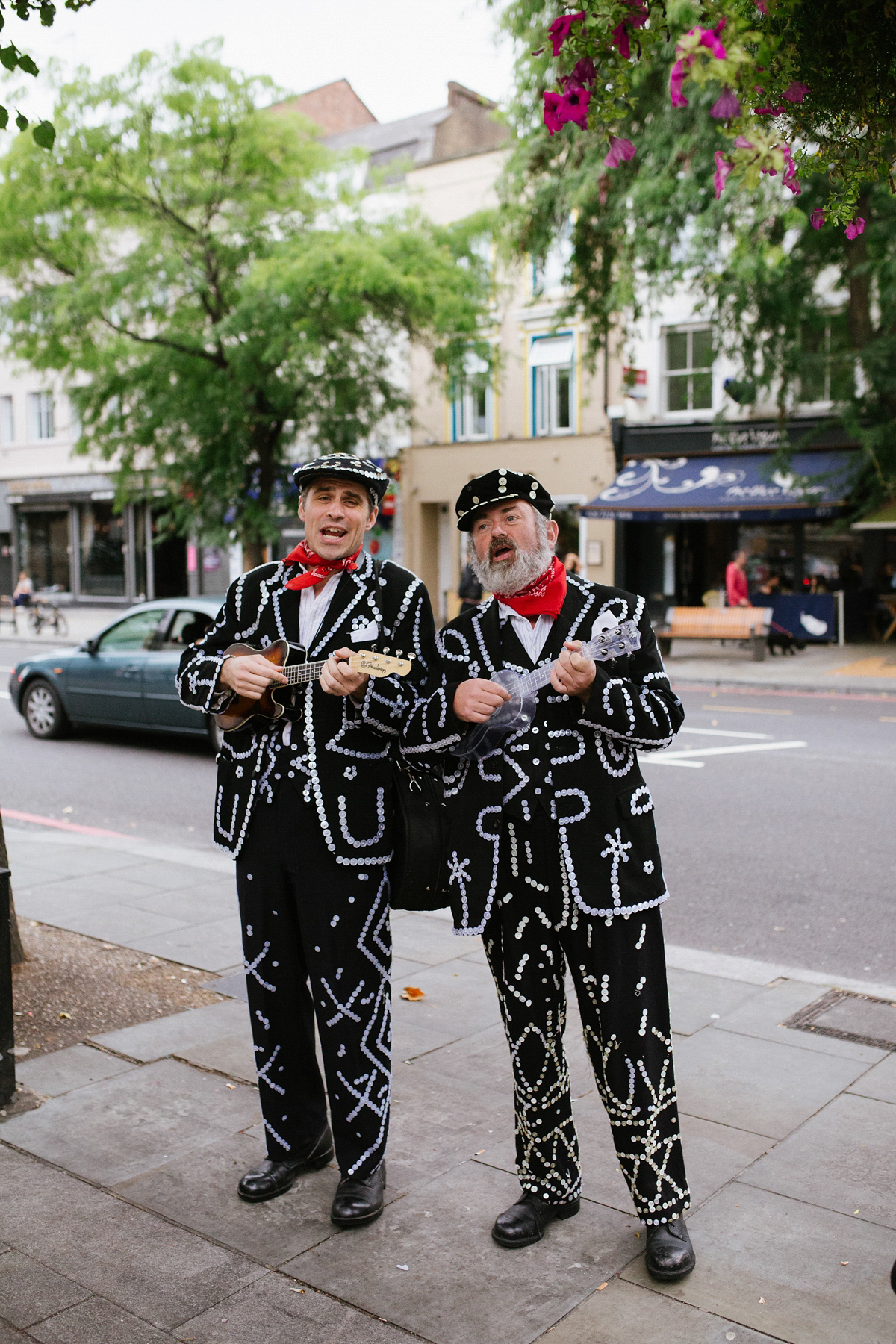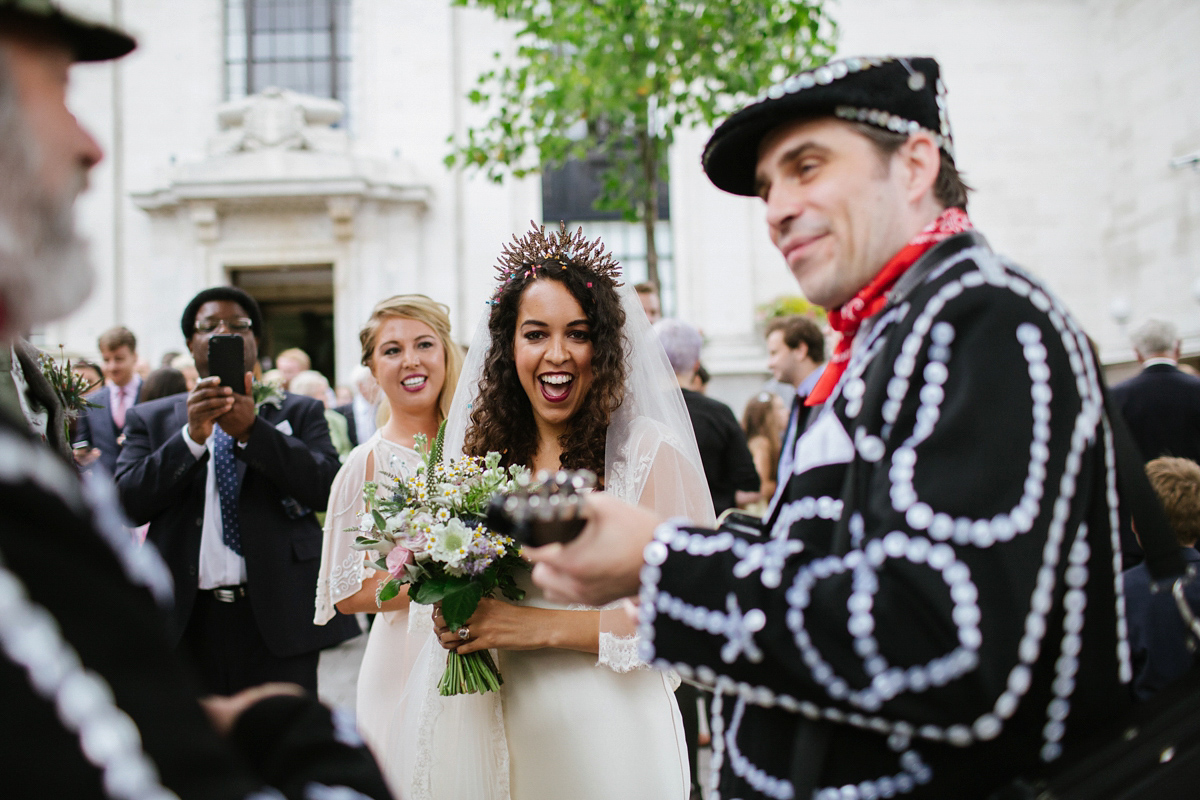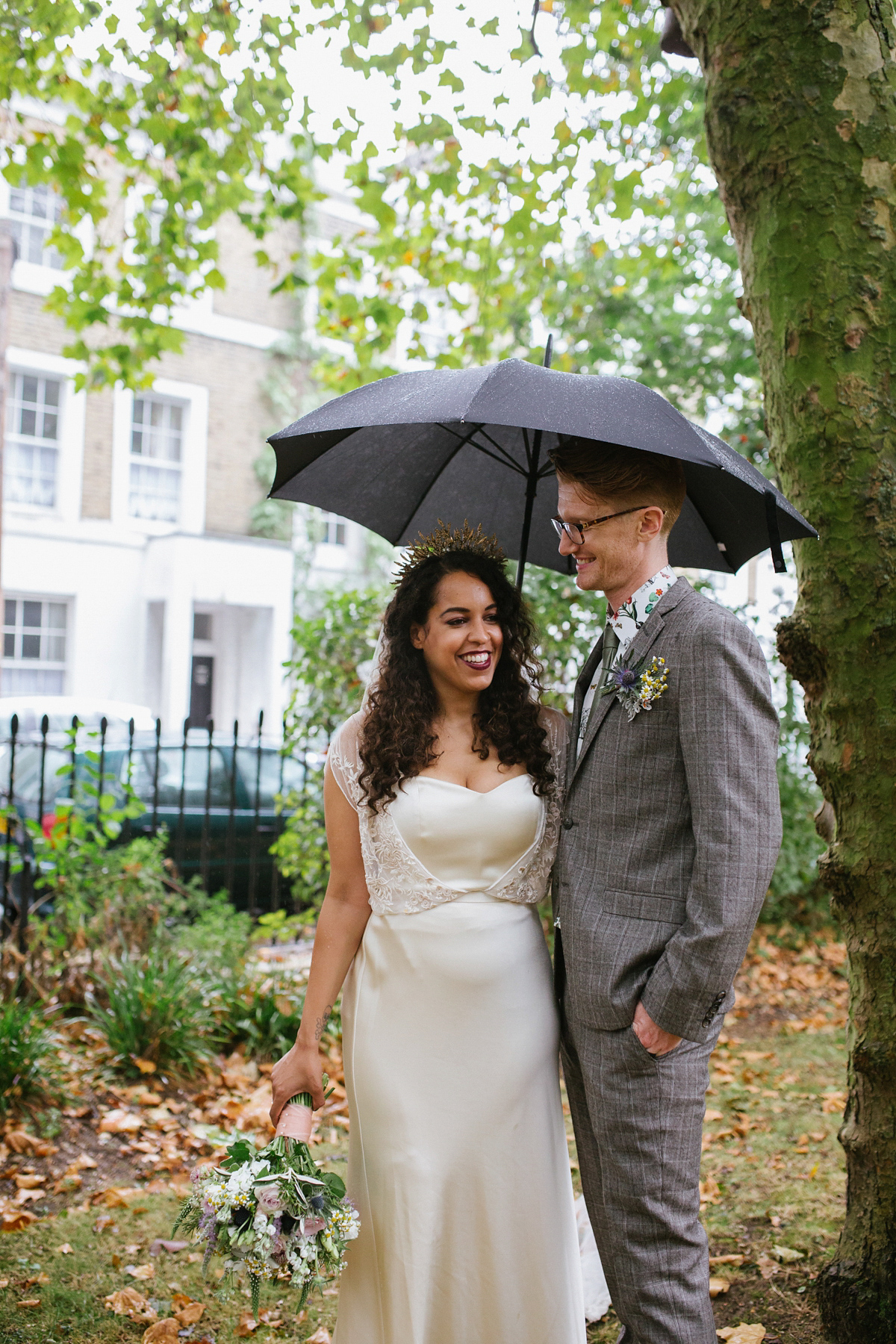 Bianca and Alex decorated New Unity Hall with an abundance of gold decorations, both purchased and handmade. This disco-inspired glam is such a cool refection of the couple's fun-loving attitude.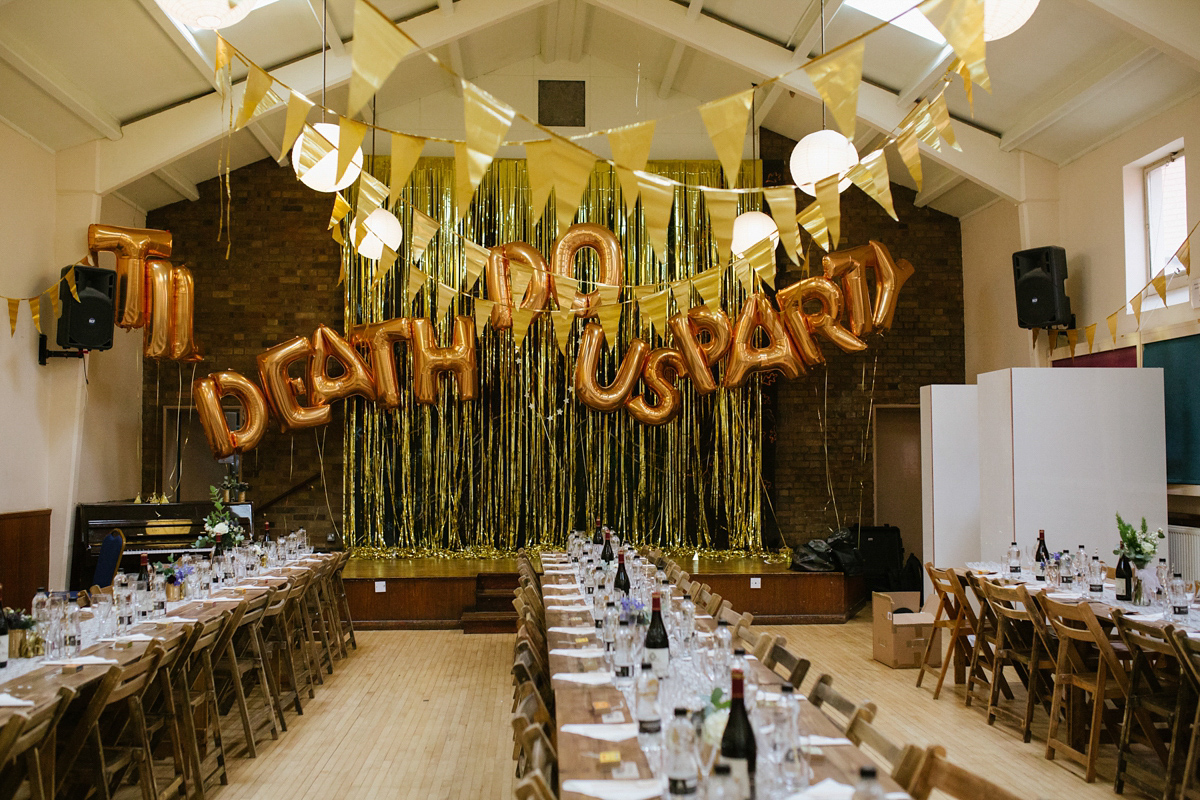 "We know a lot of suppliers through work and I'm pretty savvy with dressing so sourced a lot of dressing from eBay and highstreet stores, a lot of which was spray-painted gold."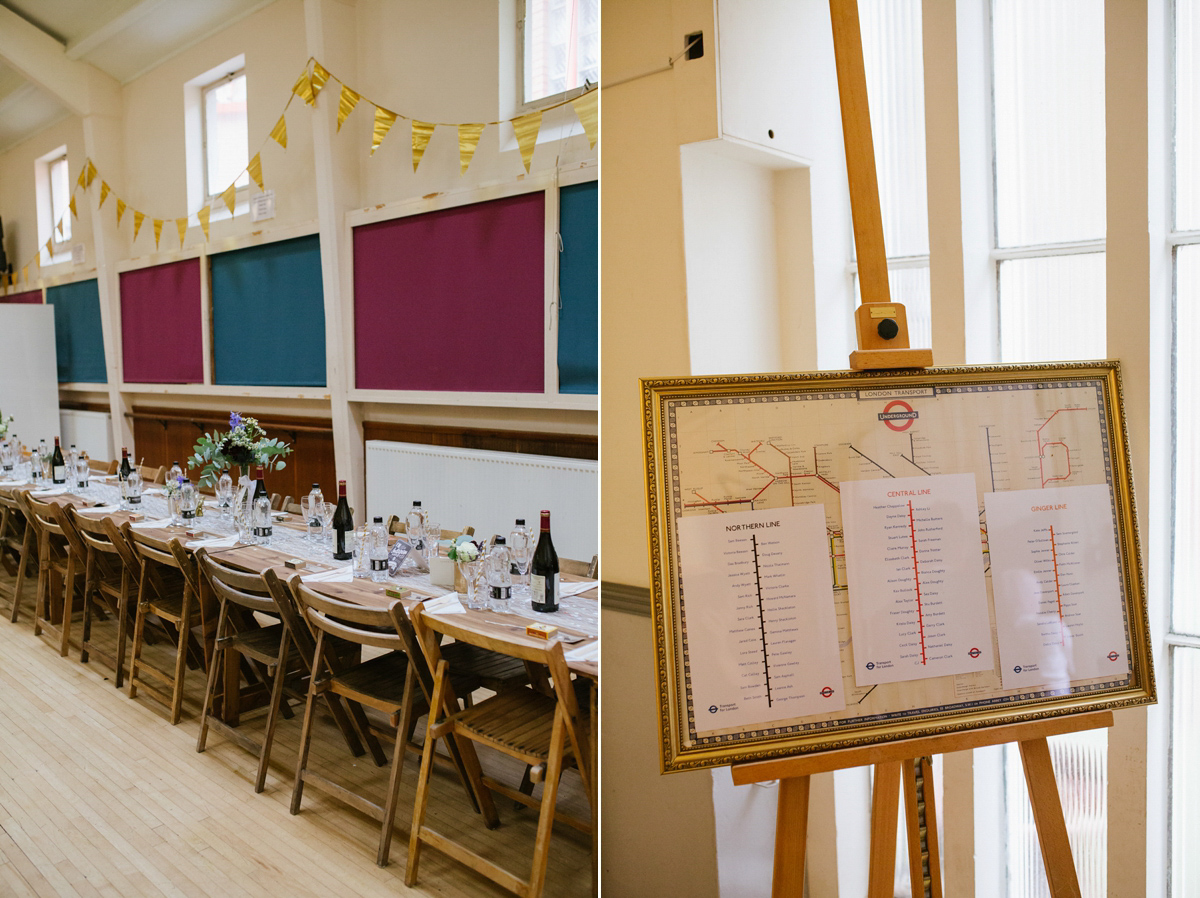 "Our table arrangements were displayed in bean tins (sprayed gold); we spent months eating beans and collecting them. If you want to and you have the time, you can make anything yourself."
As favours, the newlyweds gifted their guests with Match Box puzzle games and their iconic Pearly Kings gave out prizes to friends and family throughout the day, including sweets and rosettes. A fun tattoo station allowed guests to cover themselves in temporary designs before dancing the night away to the musical styling of DJ Chris Lawes, who played Disco and Funk in the evening.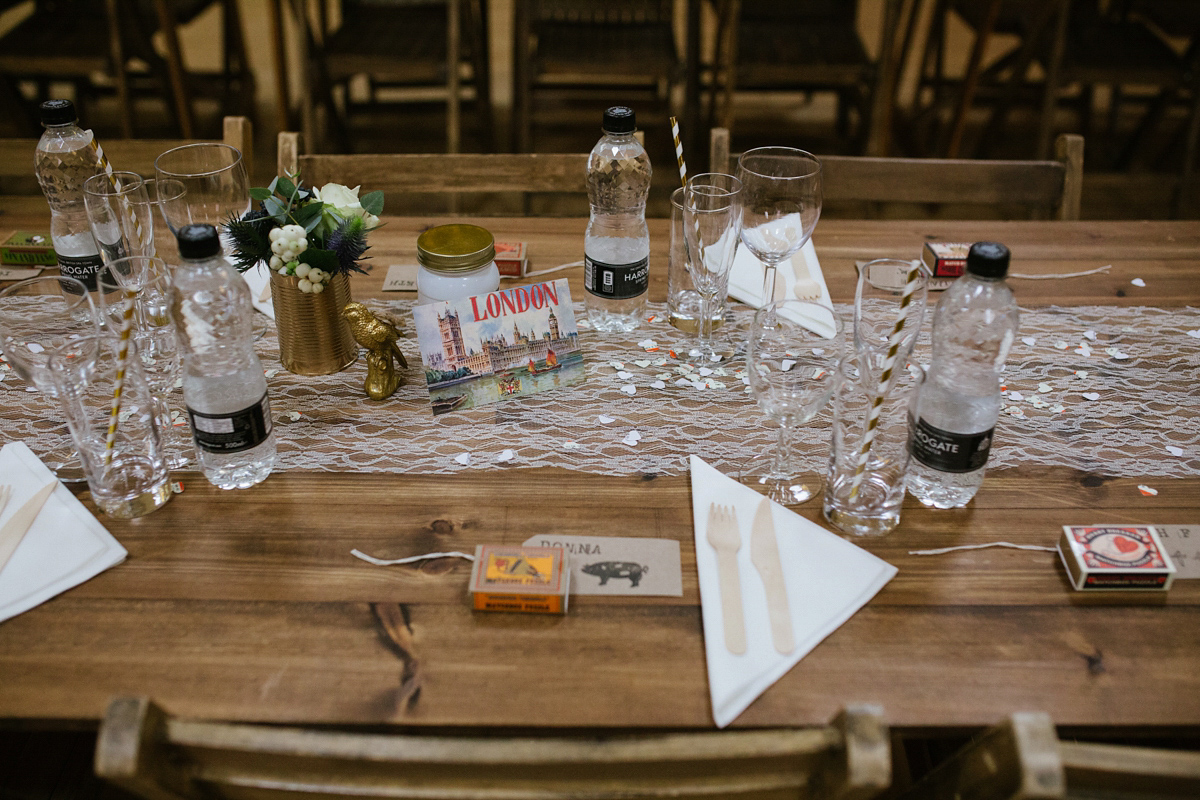 Caterers The Humble Pie Company served up a traditional London fare of delicious pie and mash to hungry wedding revellers. For Alex the wedding meal was one of the most special parts of the day – being able to deliver a speech and tell his loved ones, and in particular his wife, how he felt about them was such a highlight.
"We wanted to keep our food casual and who doesn't love a pie? They did a cracking BBQ in the evening; Toby and his team were fantastic and helped us get everything we wanted. They also ran our bar and we provided pickle juice for the guests to have our wedding shot 'A Pickle Back' – a shot of Whisky followed by a shot of pickle juice."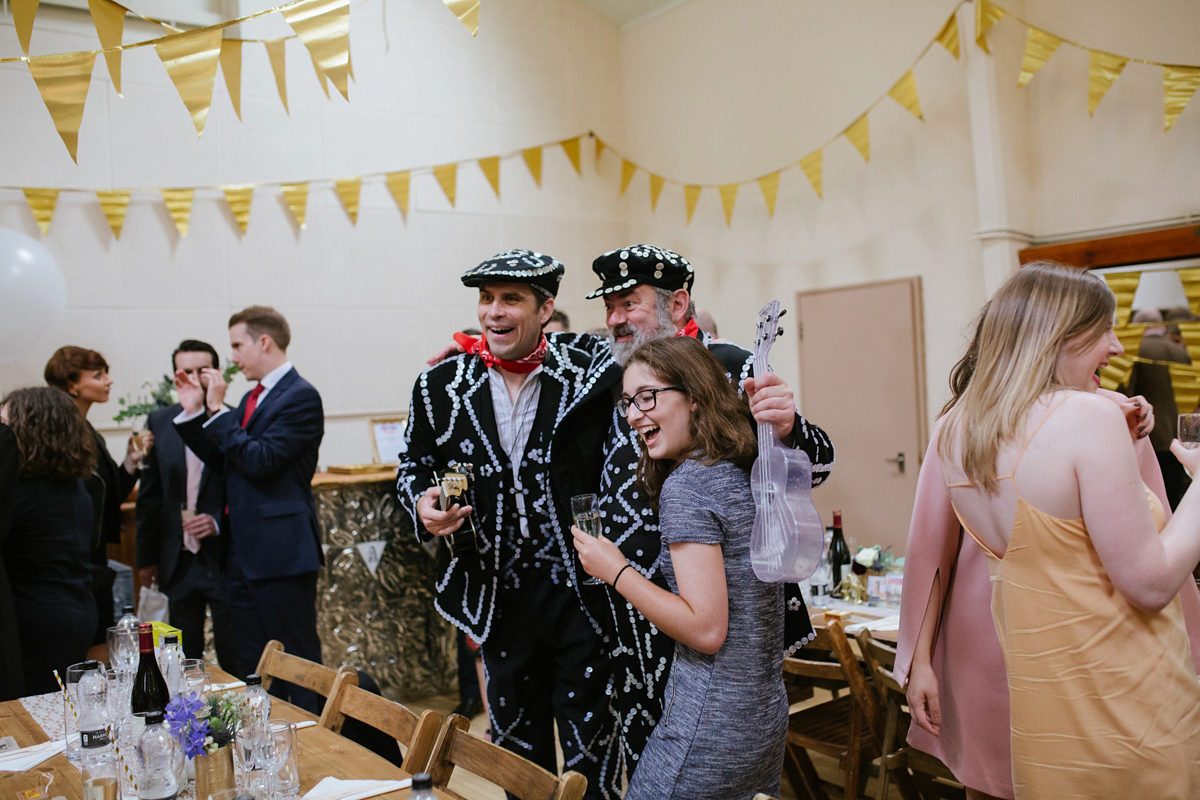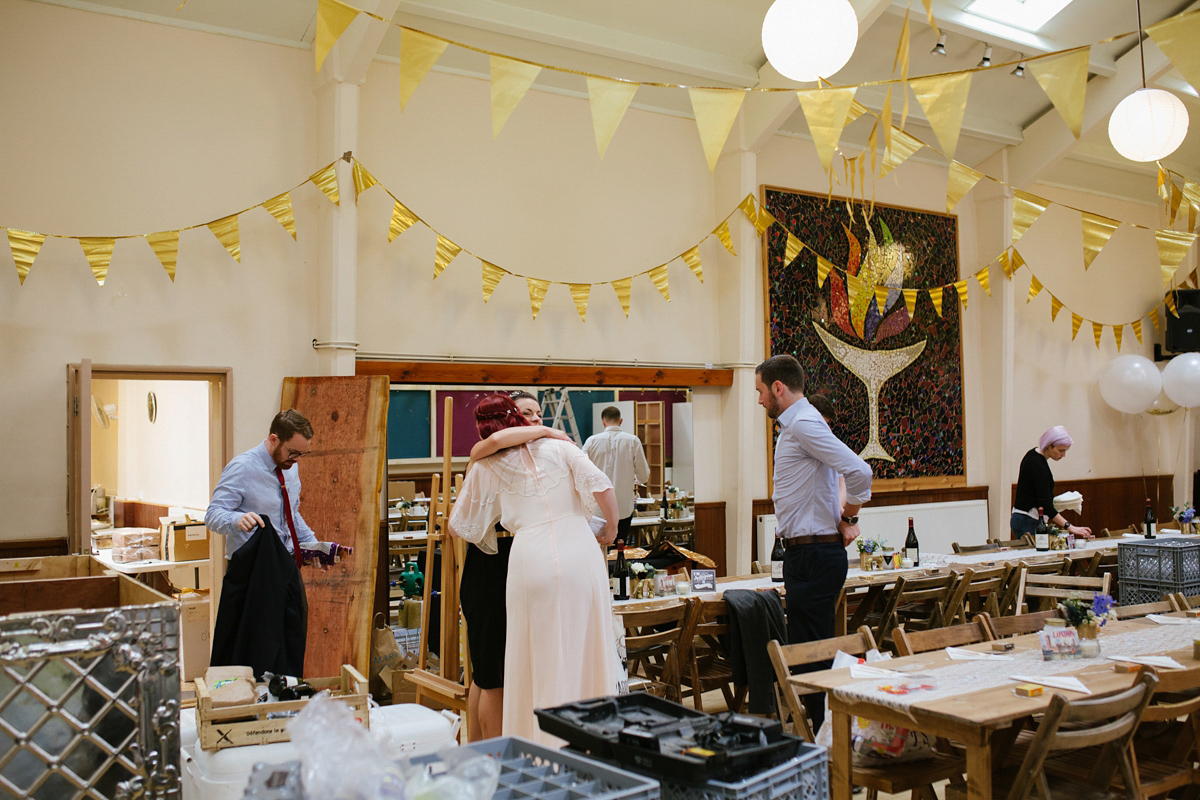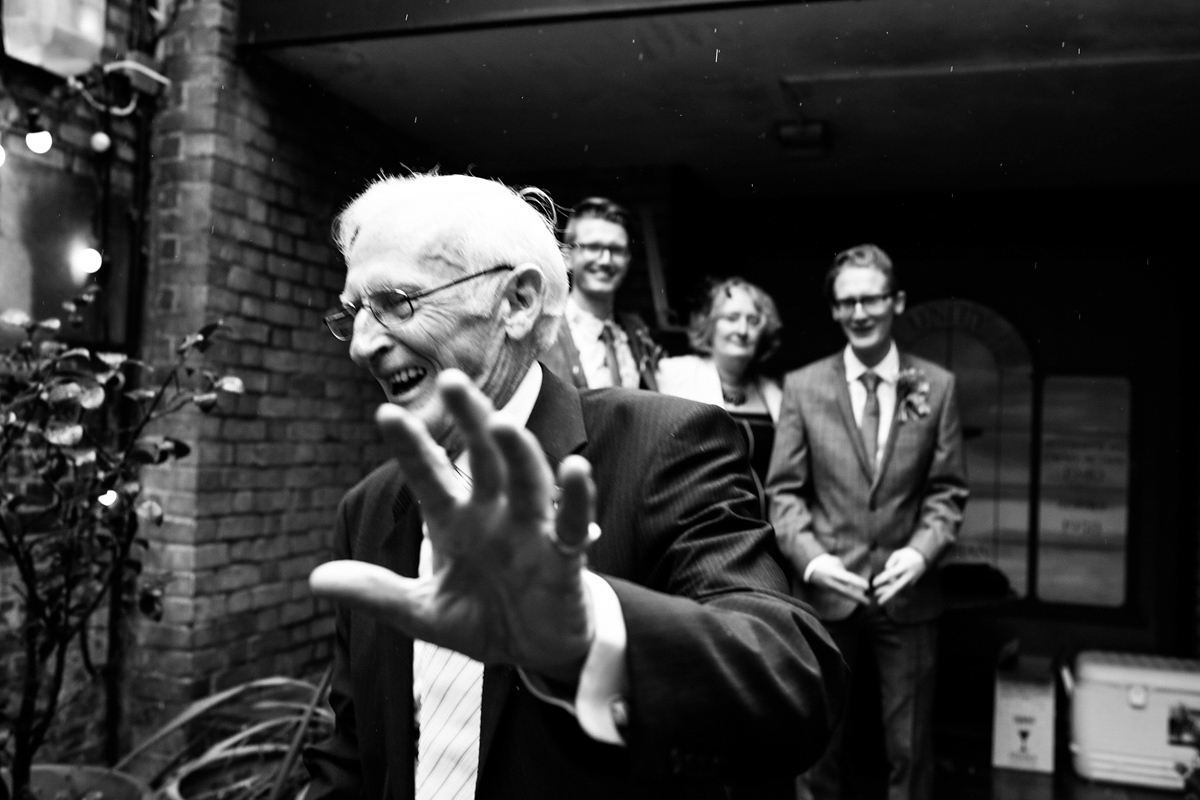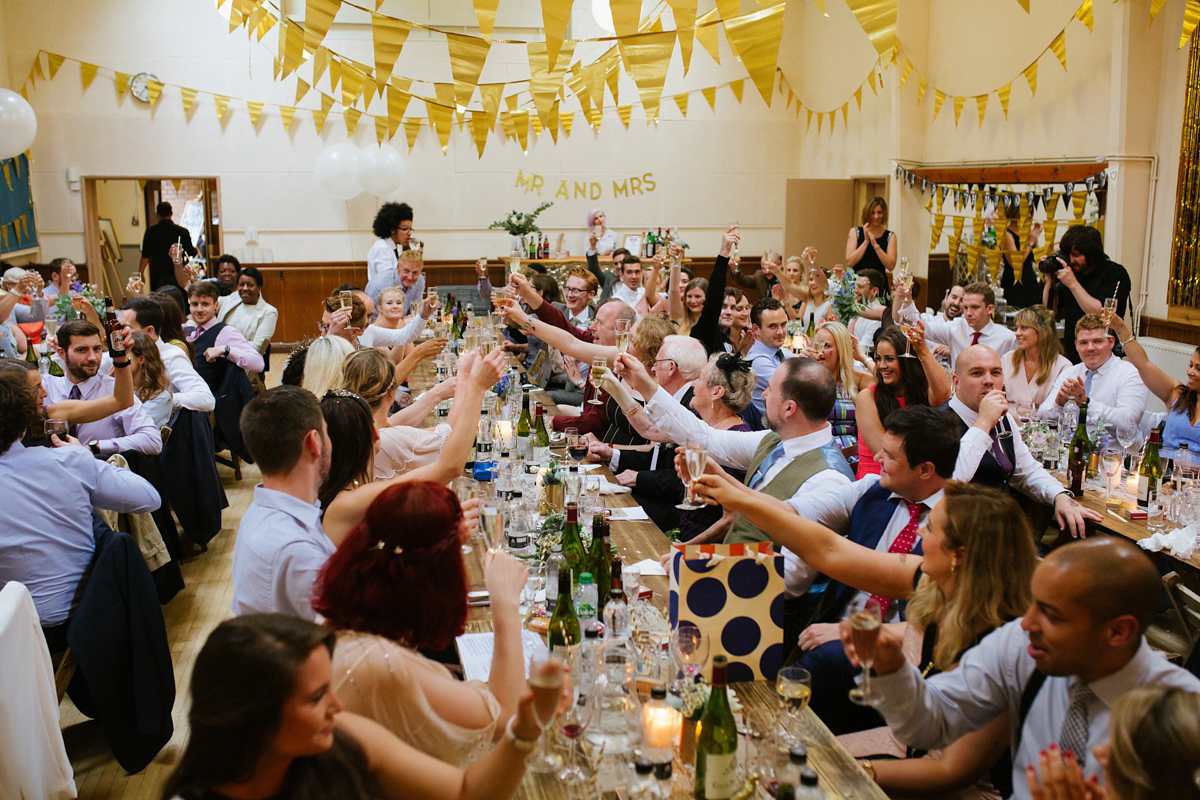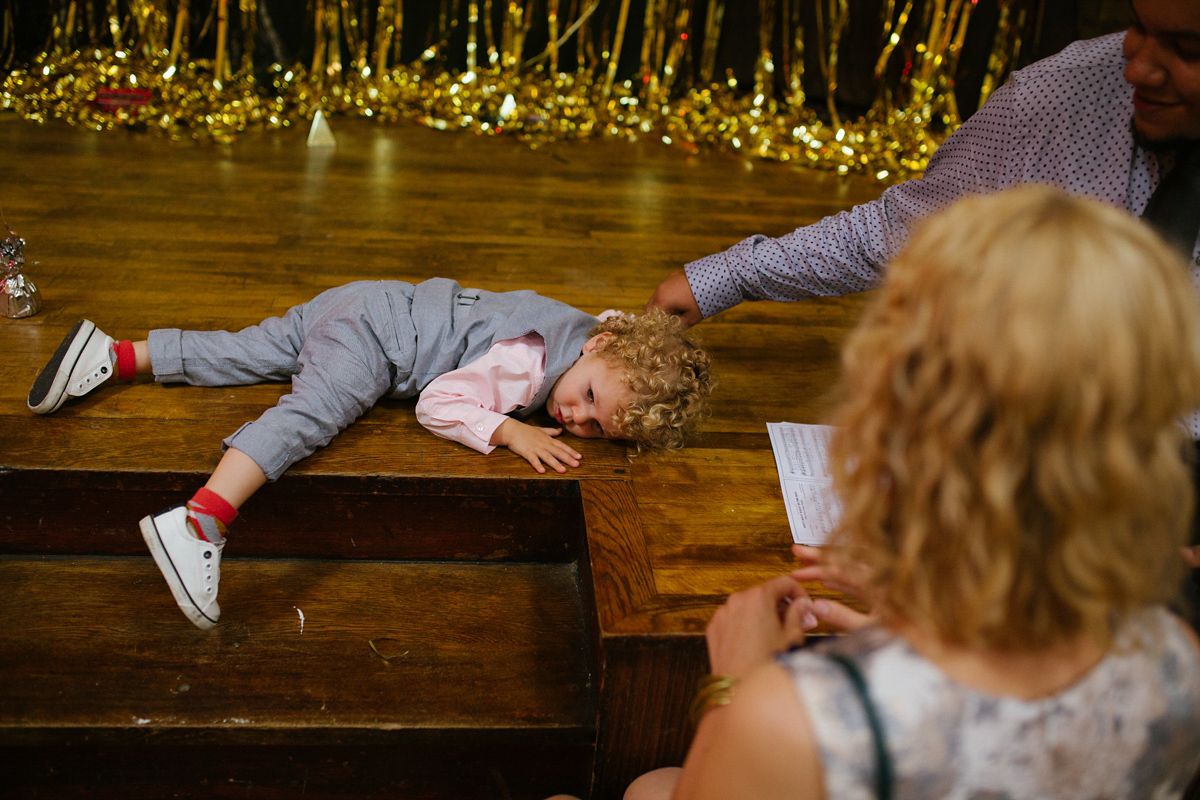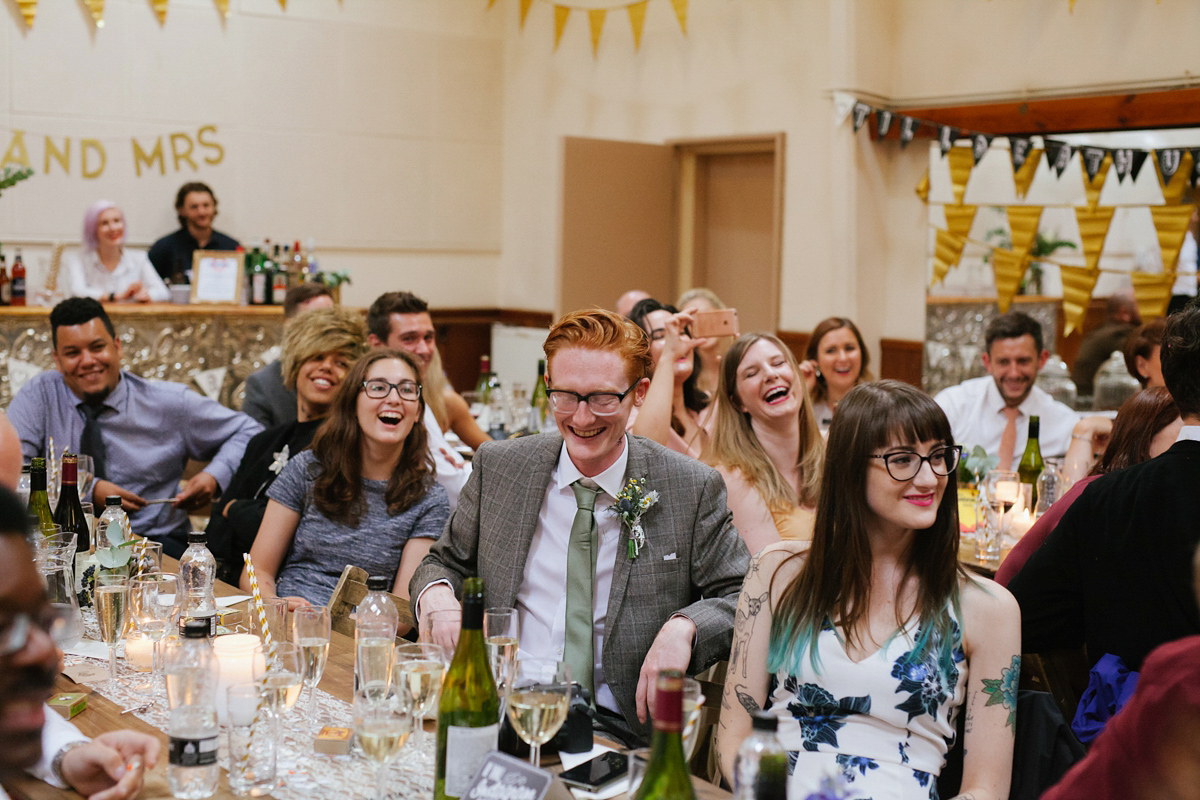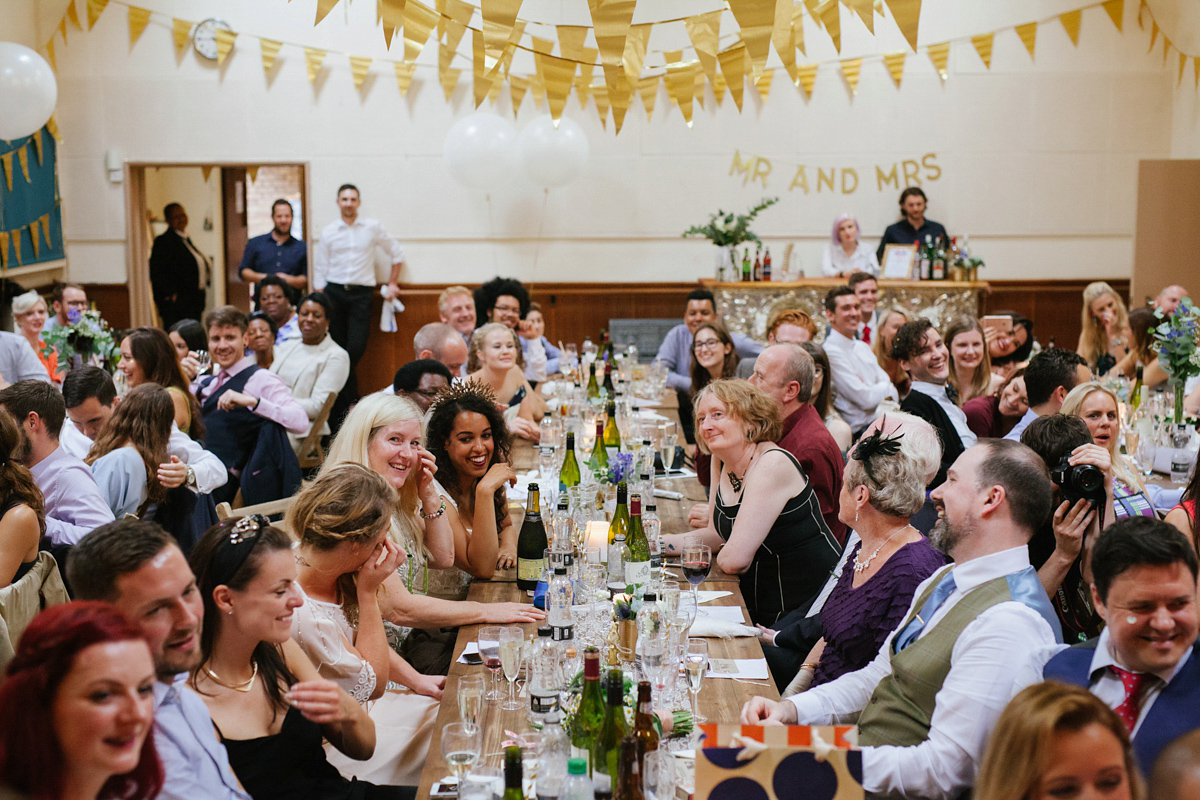 "The main wedding cake was made by my mother, Deborah Daisy, of Bunbuns and it made the journey all the way from Harrogate. We choose to have a traditional fruit cake, and my friend made us a 'Mr & Mrs Doughty' cake topper. We also had a 'Great British Cake Off' competition where we asked friends to bake cakes for us; we had some brilliant ones! We also had to have a cheese wheel wedding cake. All leftovers went to the fire station next door."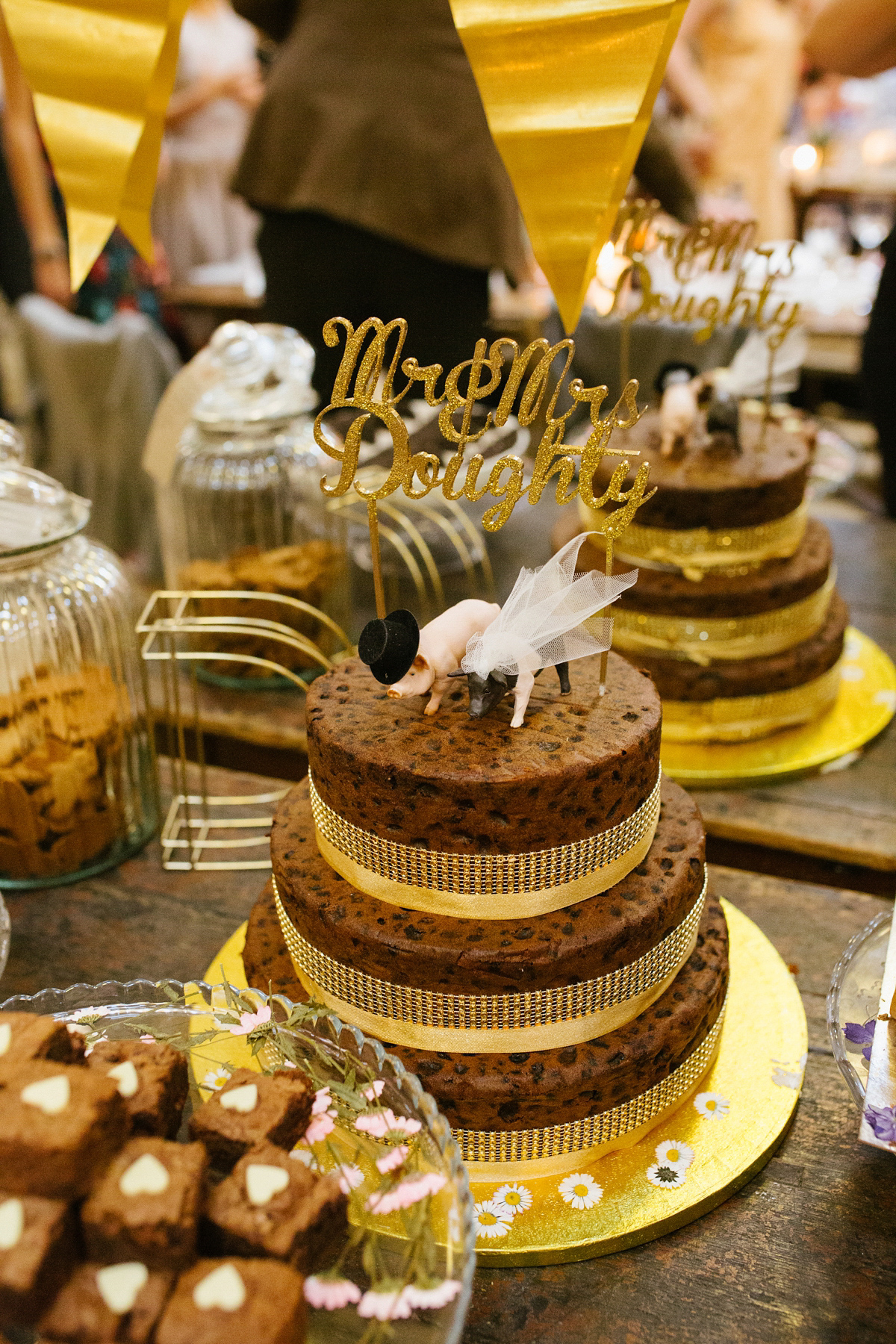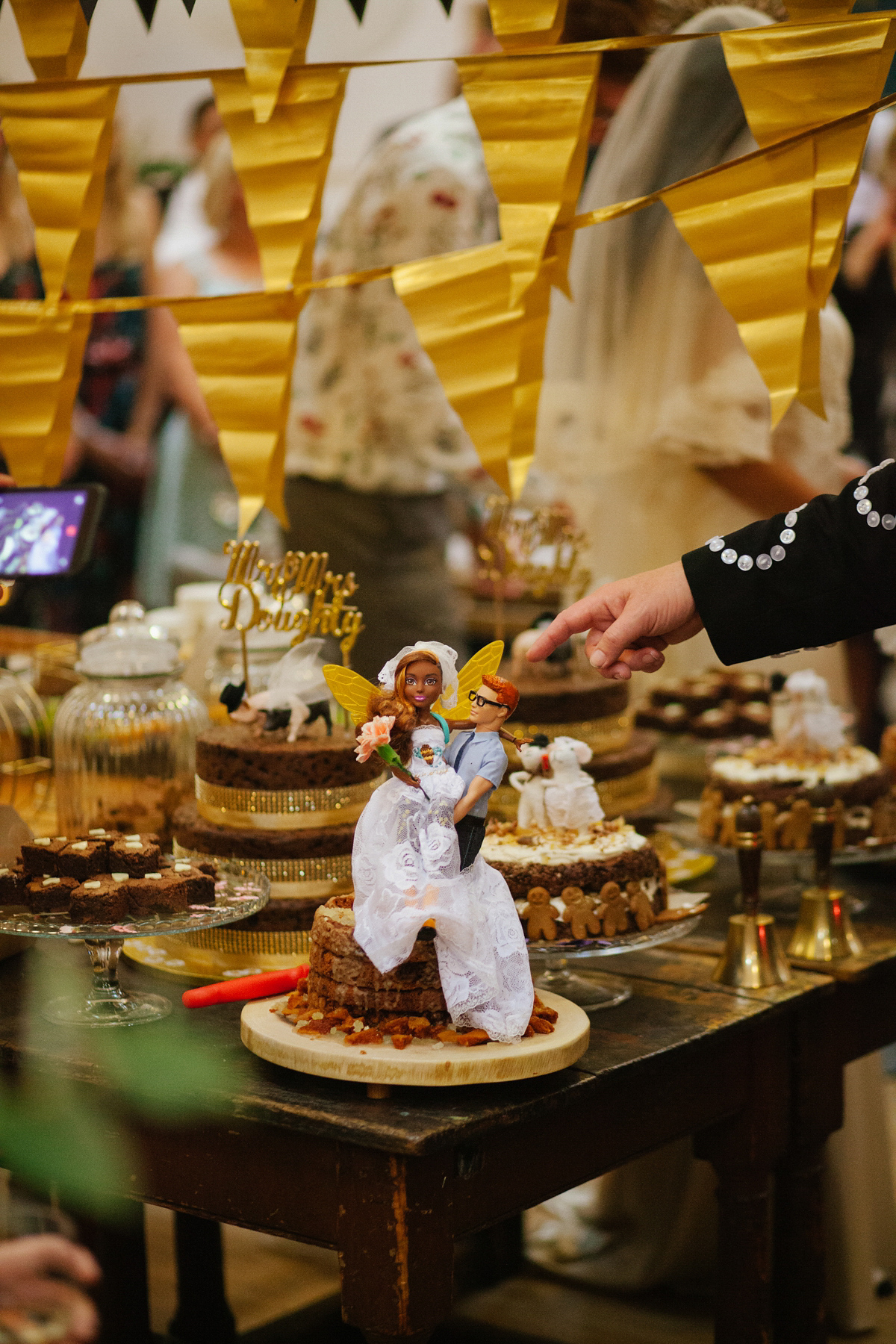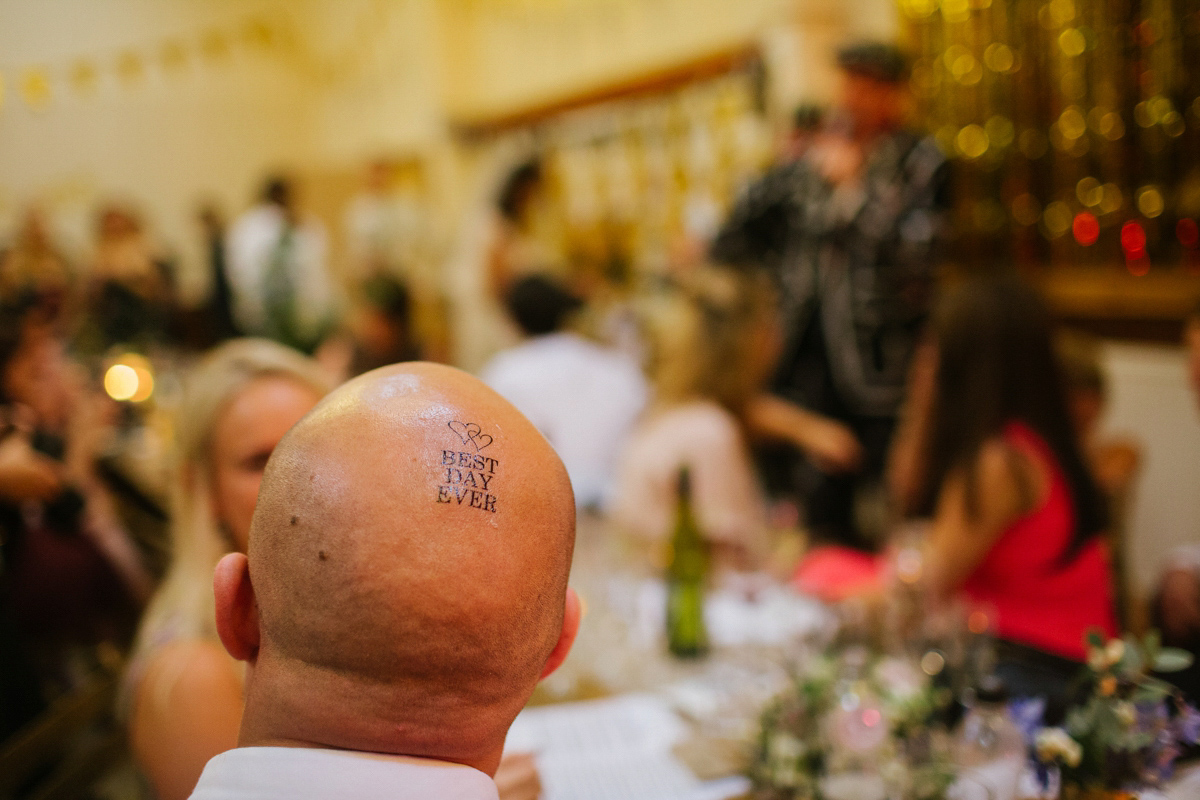 "Our first dance was to Caribou's 'Can't Do With Out You' – Alex stumbled across this track in the months leading up to the wedding, the words are simple, it starts off as a classic slow number as many first dances are but by the end you have everyone on the dance floor and the party can really kick off."
"Having all the people you love in one room and celebrating with them is the best feeling ever and worth every bit of stress in the build-up."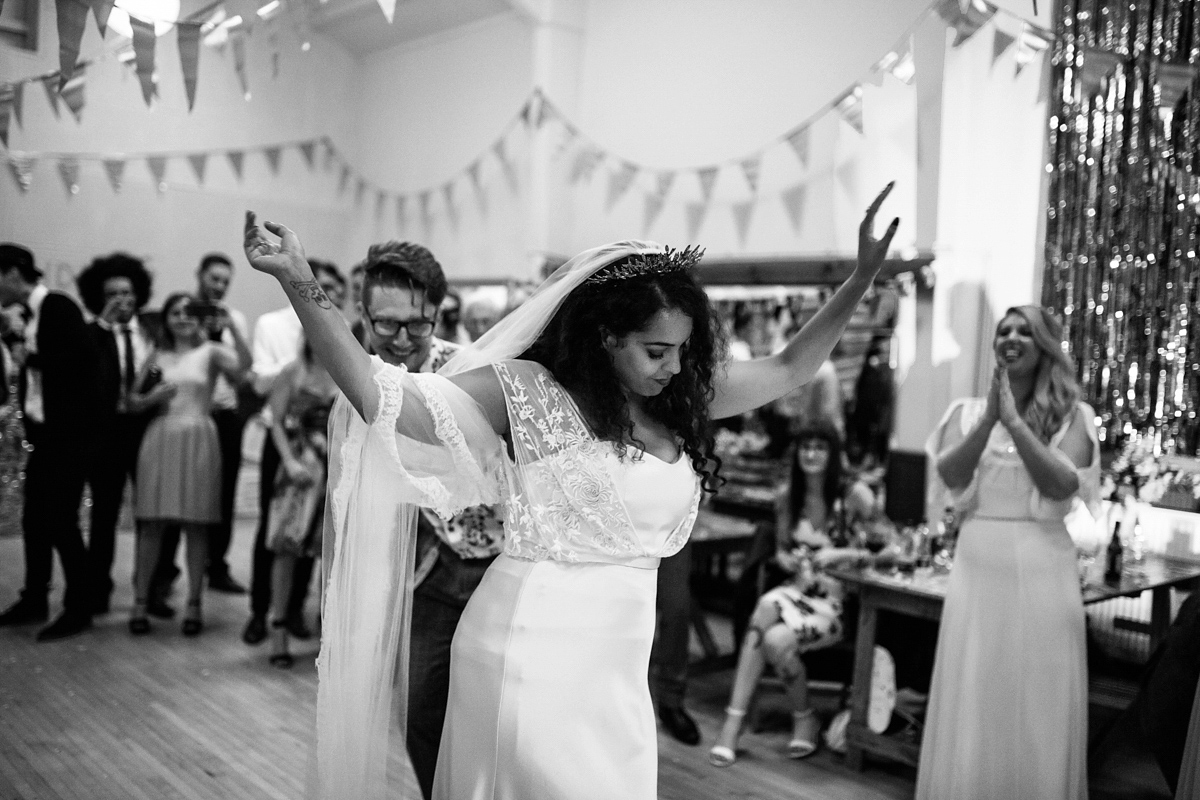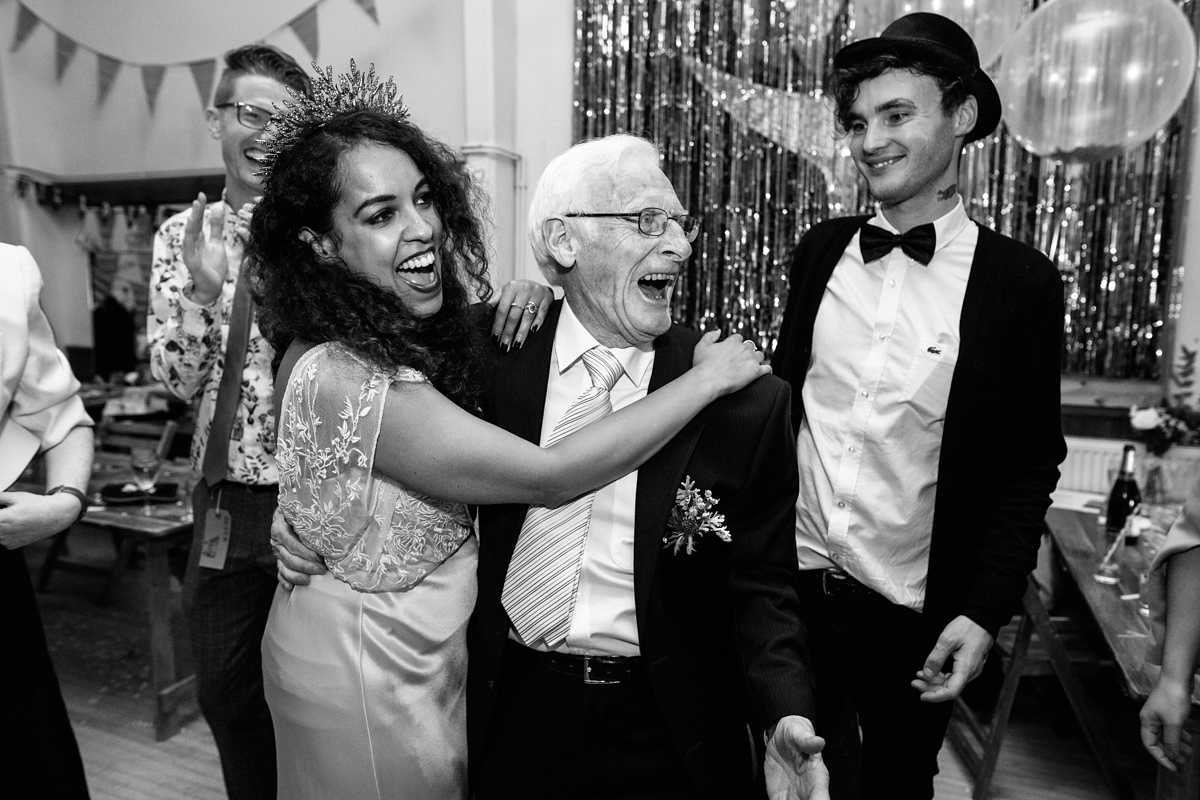 Bianca gifted her new husband with a custom leather jacket decorated with the words 'Pearly Groom of Hackney' while her own read 'Pearly Bride of Hackney,' before leading their loved ones in a 'soul train' to their reception at New Unity Hall.
"We made our photo booth ourselves with an iPad and app allowing users to be sent copies digitally and also printed high quality prints there and then. All costumes were also bought by us along with a polaroid wedding book and a load of selfie sticks were put out on the tables."
Words of Wedded Wisdom
"Don't sweat the little things, guests aren't going to notice what you know is wrong or missing. The day goes so fast so try and savour it; take some time together to take a step back and look. We took ten minutes away from the wedding together to celebrate our marriage alone, sheltering from the rain under an umbrella."
"If you can work something out for an after party do so. We're lucky enough to be in London so we had a space for fifty people in a karaoke bar organised. A lot of people want to crack on, even if you want to sneak away!"
If you just can't get enough of this fun-filled London lovely of a wedding, pop on over to Instagram and type in the hashtag #daisydoughtywedding – Bianca and Alex have amassed a gorgeous little collection of candid snaps.
I can't tell you how grateful we are to the lovely Emma Case Photography for sharing these gorgeous images with us, and of course I have to say a massive thank you to Bianca and Alex; two of the coolest newlyweds in town.
Love, Em x