Now those of you who visited the blog yesterday probably saw this post that interviews our brilliant Little Book For Brides members and highly recommended suppliers, Belle and Bunty, who we absolutely ruddy love. Not least for their glamorous bridal fashion (which is aces and absolutely perfect for the modern, fashion loving bride) but because the two designers (Alice and Hannah) behind the brand are so absolutely lovely – and fabulous! Have you seen their Instagram feed?!
Thus, it's a pleasure indeed today to be sharing a real wedding with a bride in a Belle and Bunty gown. Cheryl, a start-up Director at Mastered, married her fellow software start-up founder Alec on 3rd June last year at The Asylum in Peckham, London. I absolutely love how Cheryl shares so much useful supplier information in this feature – take note brides – pretty much all of these suppliers we highly recommend and are already listed in our beautiful wedding directory. And like to start this feature by sharing a most beautiful film by one of those suppliers, the wonderful Wagtail Productions.
(See the breathtaking, full length wedding film at the very end of this feature)
"I used Love my dress a lot for supplier recommendations (as you may be able to tell by the list of people we used!). And I really used the (Little Book For Brides) supplier directory – the directory is invaluable. I bought my dress from Belle and Bunty in their North London shop. I loved the elegance and simplicity of the Satin and the 1940's shape. I also loved that I could customise it – changing the neckline and removing some of the detail. It felt very glamorous and 'old Hollywood', which was the look I was after."
Photography by Ed Godden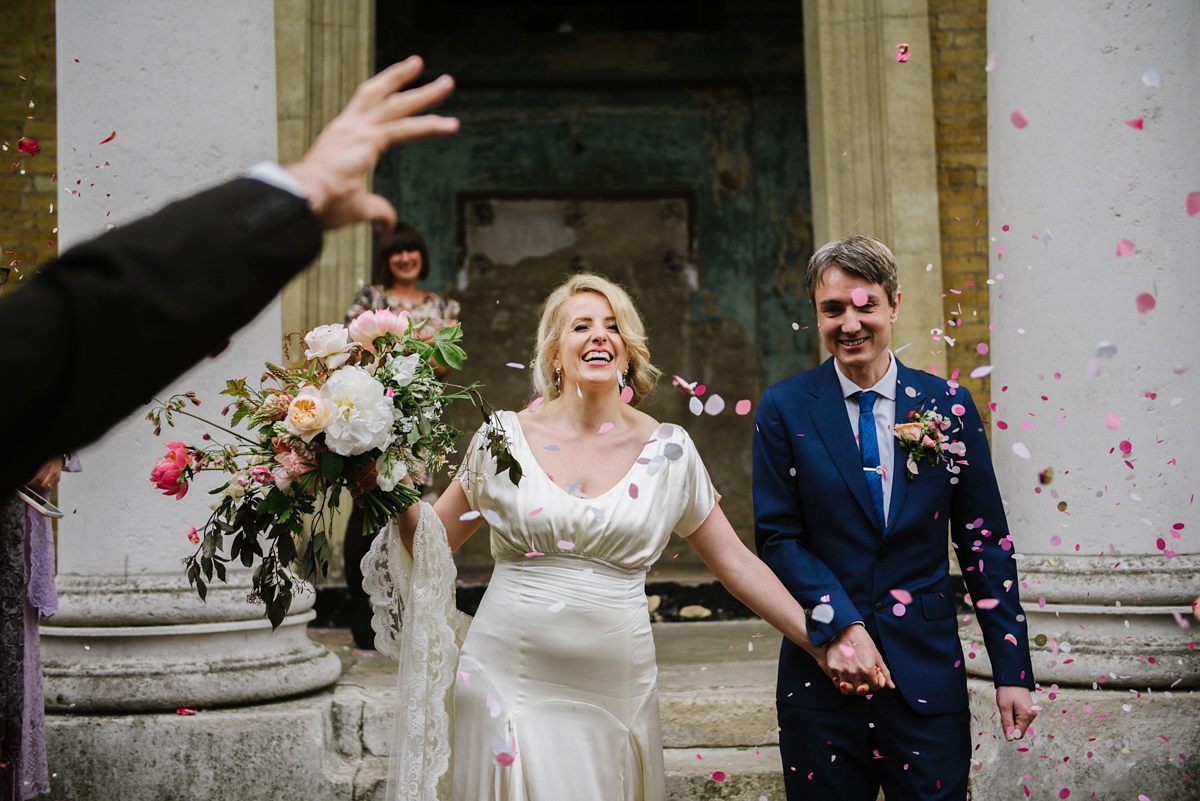 Flowers by Bloomingayles
"We both really like mid-century style and so I wanted to bring that feel and era into the reception. Alec wouldn't have enjoyed anything too fussy or overly feminine and I wanted to stay away from anything too vintage or rustic so that was what led us in the direction we chose. My phrase (!) was 'industrial glamour' – combining the warehouse feel with glamour too. Alec wound me up every day in the run up saying that he was translating this as 'steam punk', which I was not impressed by!
He wouldn't let me know what he was wearing and kept threatening to wear a cloak and a stove pipe hat. Luckily he played it down with a suit and some tiny cufflinks made out of cogs…"
"I found dress shopping a bit hard and was less excited by the dress than the details for the dressing the venue, but I did love the dress and definitely made the right choice for me."
"Back when we launched our first course at Mastered, we were given a Selfridges voucher for achieving one of our targets. I had just got engaged at the same time and so decided to save the voucher to buy my wedding shoes.
I'm not really into the white satin shoes or anything too weddingy and wanted some I would wear again, so went for Jimmy Choo gold glittery ones. Despite being very high, they were very comfy and lasted all night. I have worn them since which I love."
"We had a hilarious day shopping for bridesmaid outfits, and the girls were great at trying everything on. I knew I didn't want anything that was too bridesmaidy, but the most important thing was that everyone felt comfortable and beautiful in the dress rather than feeling out of sorts."
"I'd found the dresses online and hadn't thought they'd work, picking them more for the colour, but the girls all really liked them and all looked beautiful in them, so we went for it."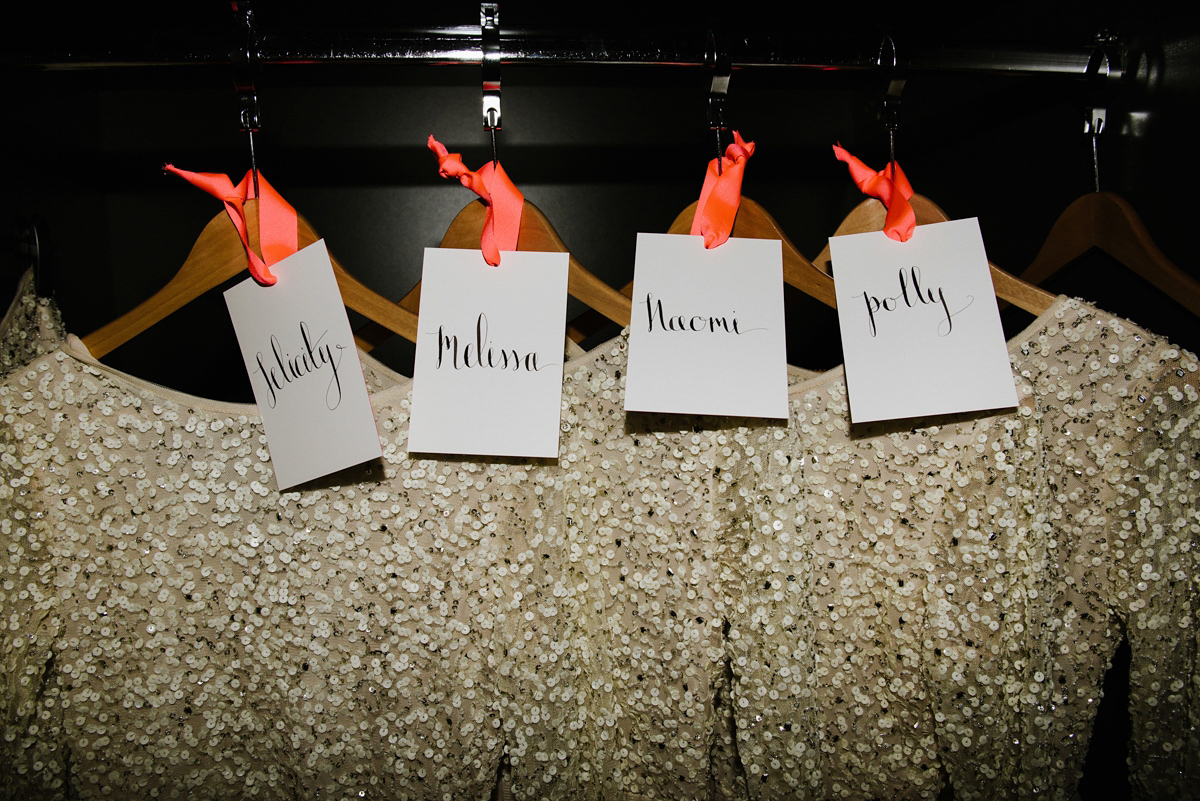 "I thought they looked gorgeous. I got them from Lipsy. We added a pop of colour with satin sashes from Belle and Bunty."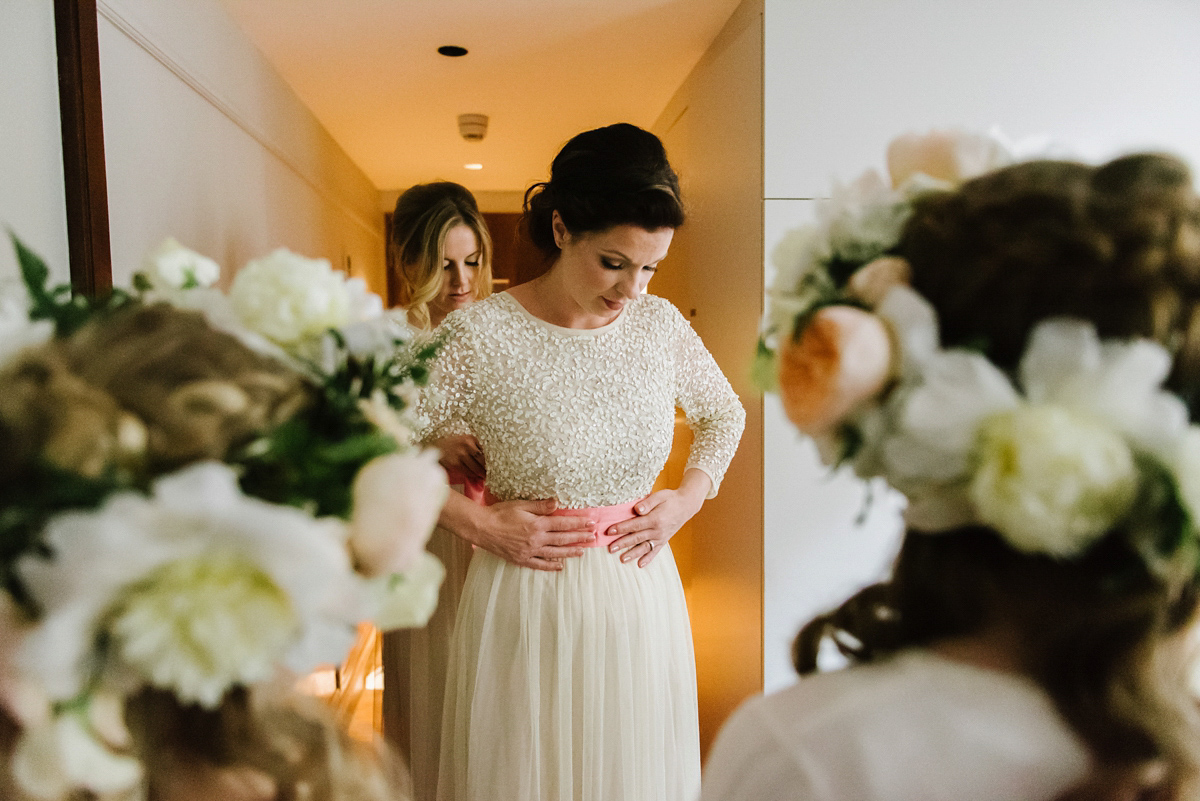 "We found the lovely Gayle from Bloomingayles to be our florist. We were initially drawn to her because of her beautiful, generous, loose arrangements.
We also loved that she is such a fan of bees as we've been looking to keep bees for a while ourselves, and also her eco credentials and the fact that she tries to use English flowers where possible. She's also a lovely, calm and creative lady so that definitely helped."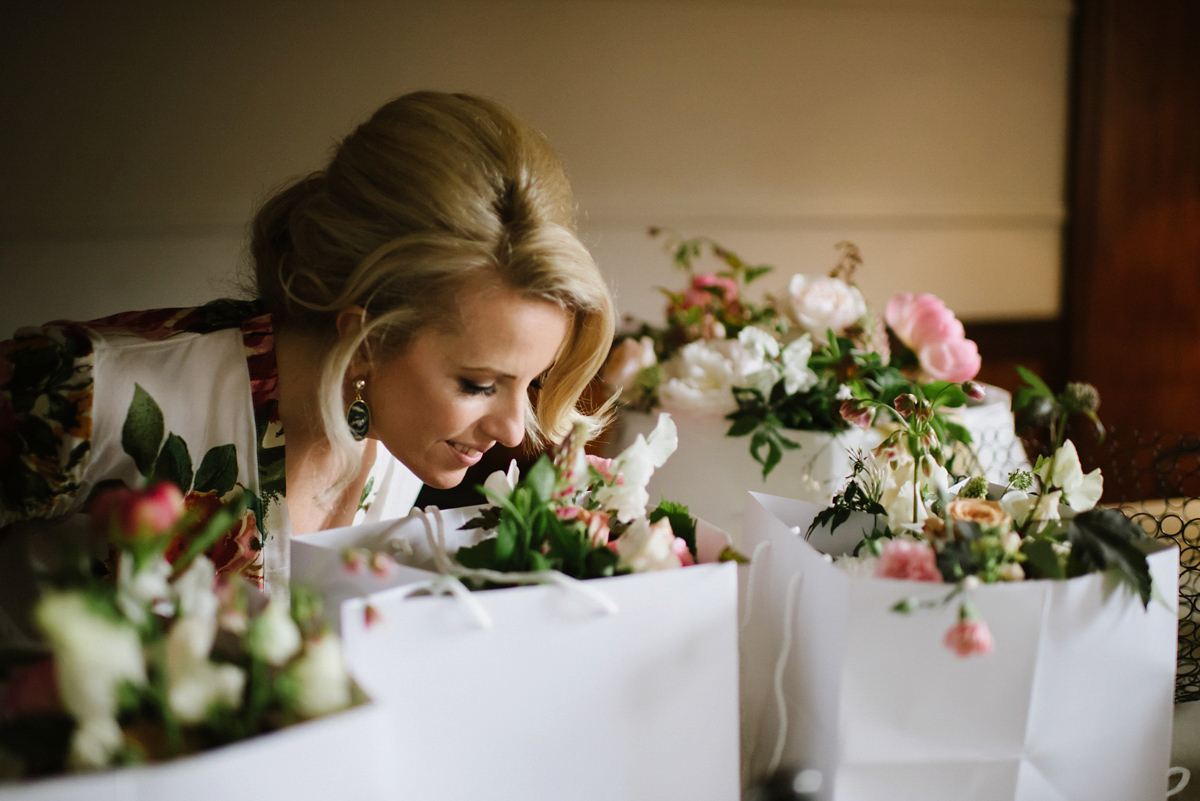 "We wanted to use lots of foliage, peonies and lots of scented flowers. Particularly sweet peas as they remind me of my gran (she was the best at growing them and the scent still reminds me of her garden).
My bouquet was full of all of these delicious scents and the venues smelt of sweet peas, jasmine and greenery. Beautiful."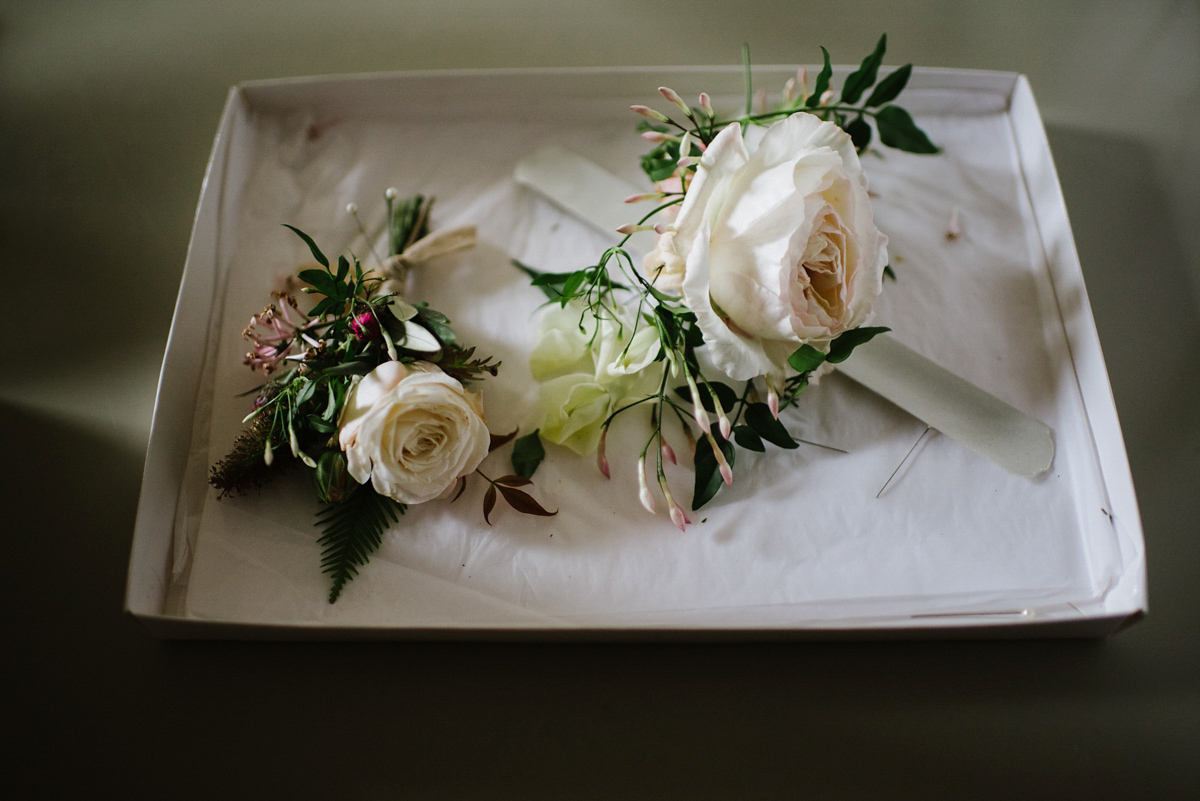 "We had simple arrangements in the Asylum and then fantastic hanging arrangements at TBW. I always hoped to have hanging arrangements as I love the way that they encourage you to look at the full space and I couldn't have been happier with them."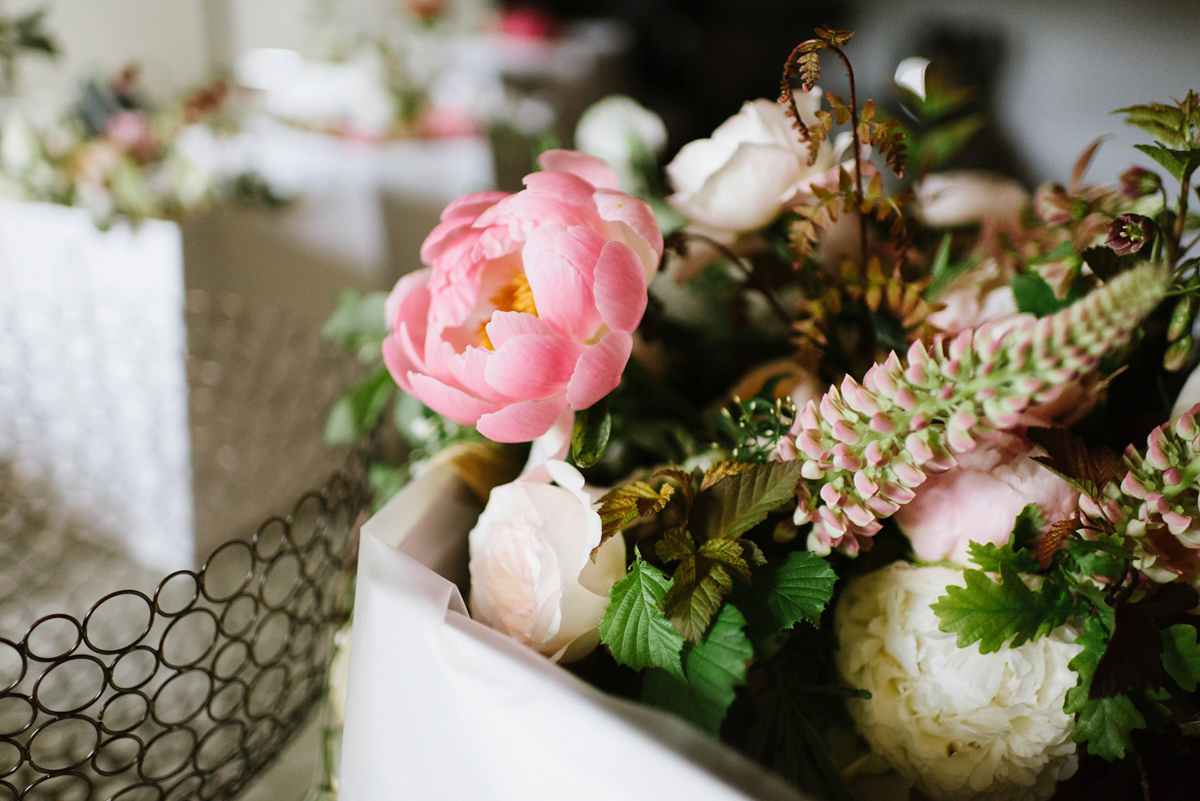 "At Mastered we're very lucky that our students are some of the best in the fashion industry. Our first course was a make-up program taught by Val Garland. Carla Francesca was one of our students and she was also recommended by one of my team who had worked with her at Hourglass. She was fab."
"I had my hair done by the lovely Zara at Portraits Bridal. She was a star at working with me to find something that looked right."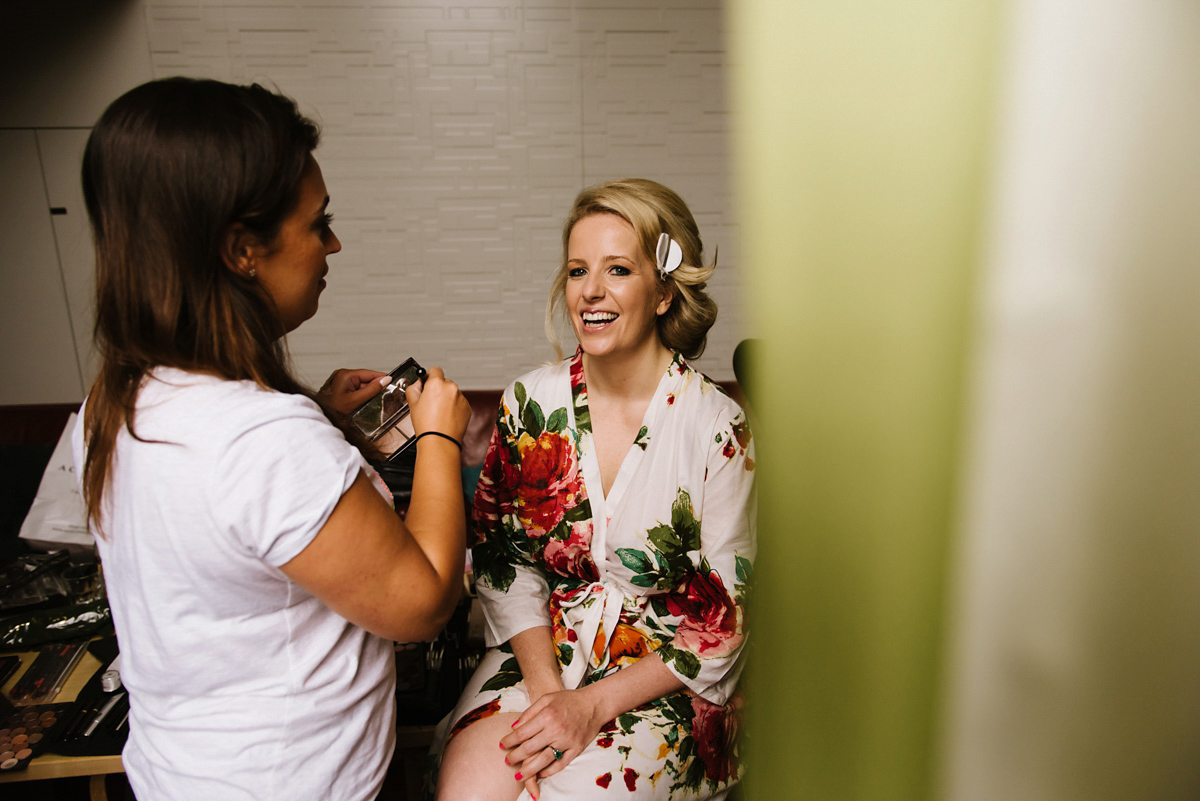 "I'm not a big jewellery person, so I didn't want to go all out. I had my amazing engagement ring which is the most beautiful thing I have ever owned and will likely ever own, which is an emerald so I thought I'd pull in the green from that.
I looked for earrings to match but couldn't stretch to emeralds so when I found these glass ones from Lulu Frost I decided to go for them from Liberty."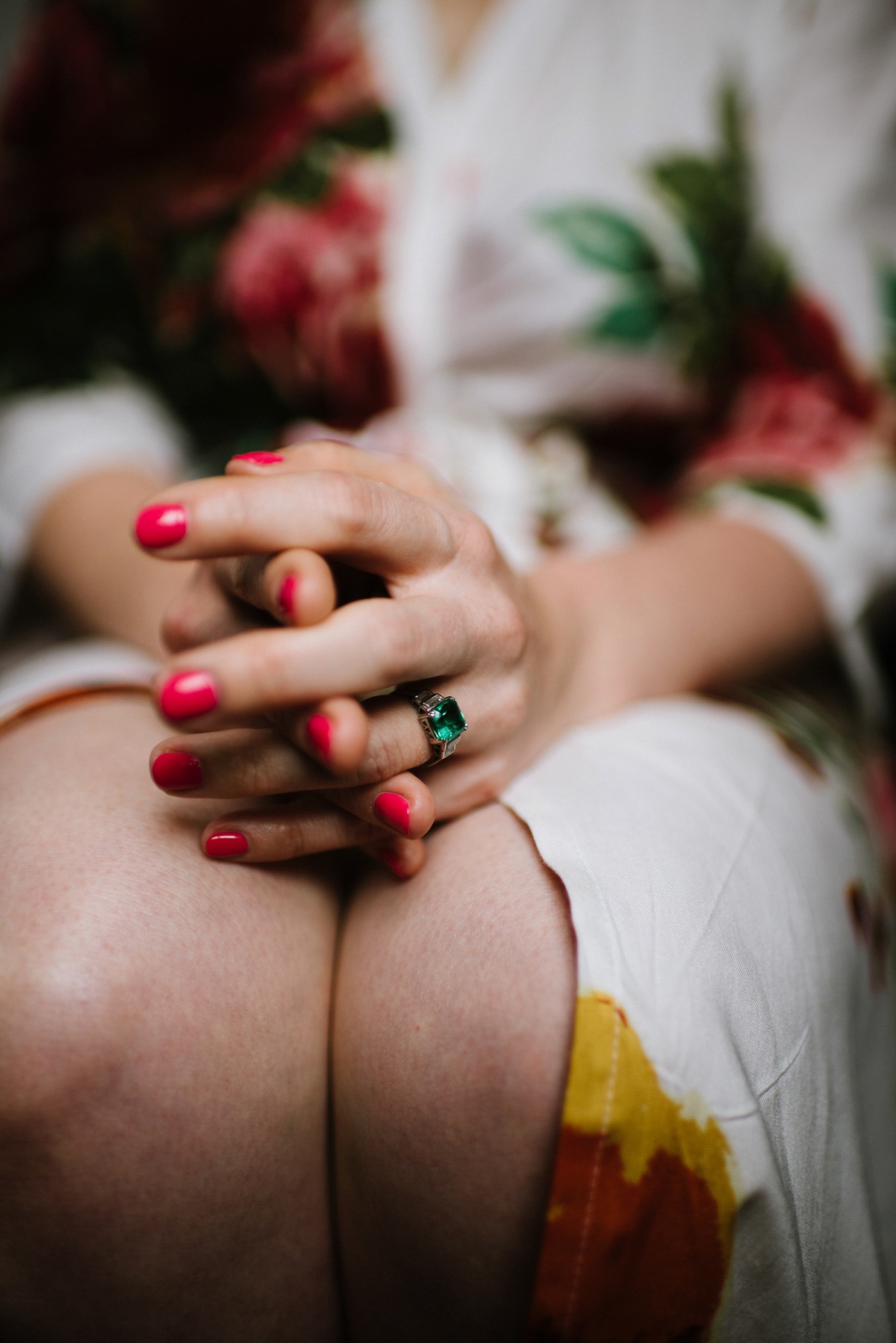 "I like that they're oversized and that they're not weddingy. They received a lot of compliments on the day."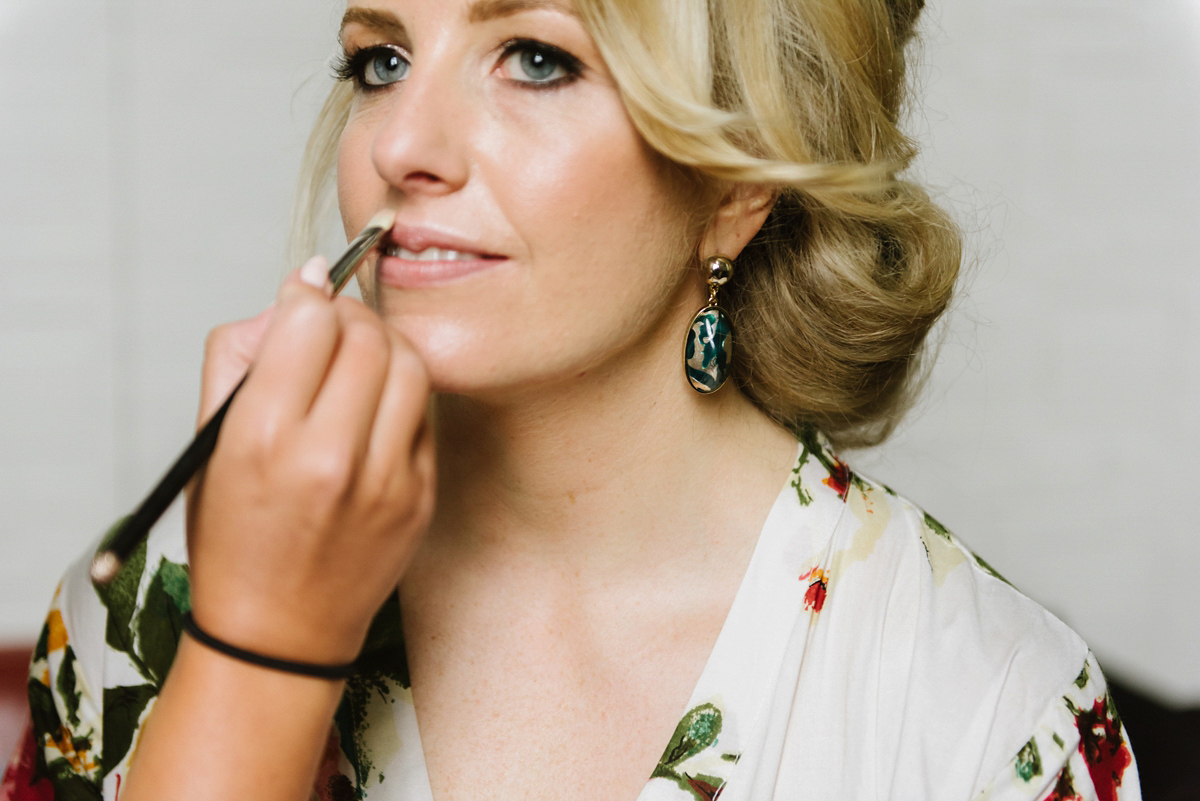 "I found Ann-Marie Faulkner at the only wedding fair I went to, Most Curious, at the Truman Brewery in London**. I loved that her veils were different, with some super cool ones with glitter etc. In the end she made me a beautiful full length one with French lace scalloped at the edge. I wanted to bring a little lace in here as the dress was so simple. She was so lovely to work with."
"I wasn't going to have a hair accessory but then Zara (hair stylist) suggested that I have something for when I took the veil off, so I found a simple deco shaped one at Liberty in Love."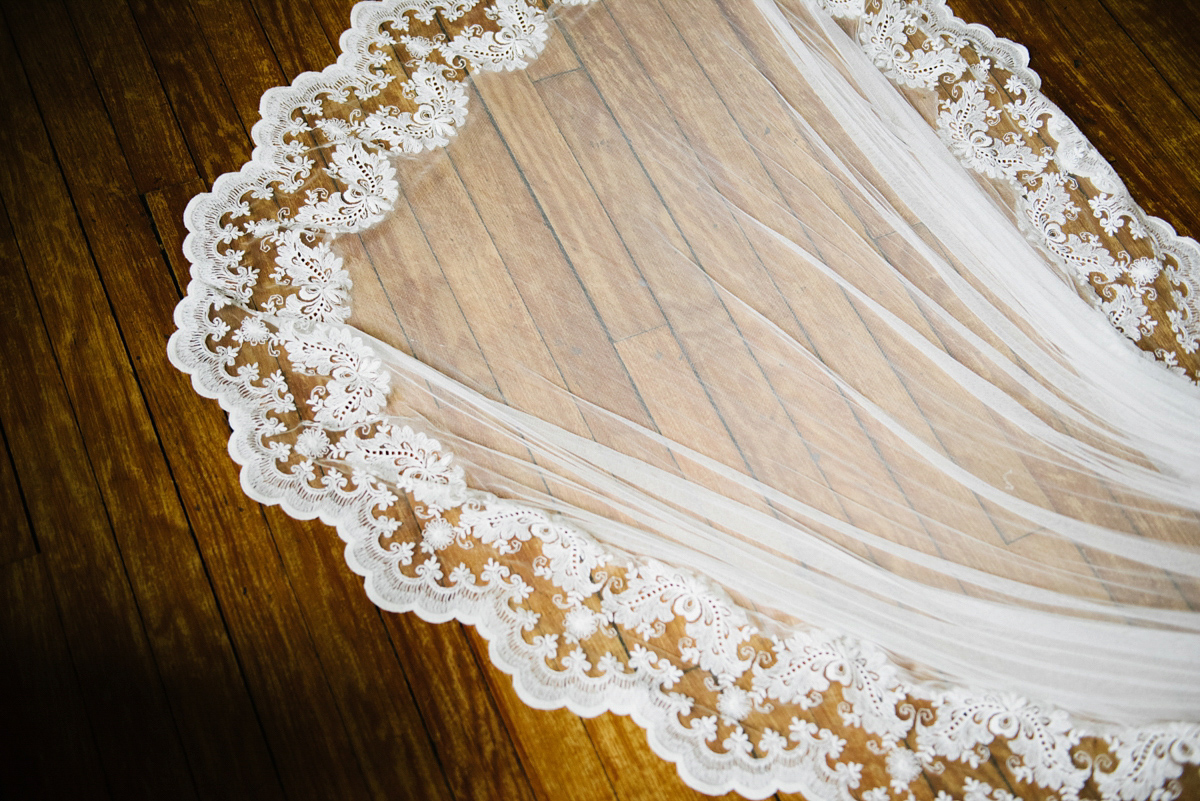 "I wore my normal perfume Escentric Molecules 01. Alec is a bit sensitive to scents and so I had stopped wearing a lot of perfumes, but last Christmas he bought me this one which we both like so I wore that. Mostly you could smell the flowers though!"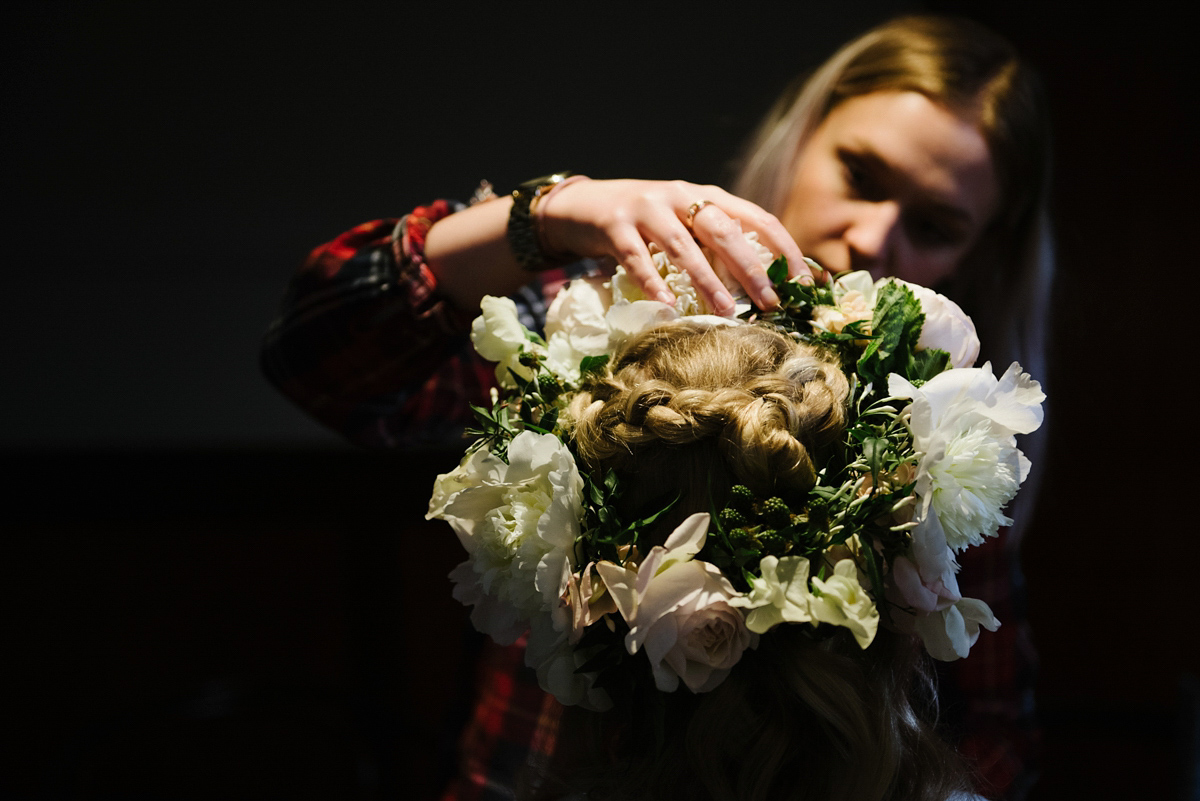 "Bringing in the sequins again, we got the flowergirl dresses from Monsoon Children. They no longer stock the gold/white that we had, but here's the same style in pink."
"Alec and I met in the Summer of 2012. It was the closing ceremony of the London Olympics and my friend Nicola invited me to the BBQ of her friends to celebrate. I had loved the Olympics that summer and the feeling of energy and optimism in London, so was feeling fantastic. I nearly didn't go, but the energy spurred me on and thank goodness I did."
"The BBQ was hosted by two of Alec's old friends (Drew and Bron) and he was in the garden with a giant cast on his broken leg. I felt sorry for him as he struggled to get food and offered to help. We ended up catching each others' eye as we watched the closing ceremony and whilst we didn't get the chance to speak individually we were laughing at the same things and I had a bit of a crush at thee end of the night. The following week I was at a friend's wedding in Biarritz and in a very out of character move, I went in for the bouquet toss and, embarrassingly, competitive spirit won out and I caught it.
As I tried to hide the bouquet in my bag I noticed a text from Alec asking me out. He'd tracked down my number through his friends and that was that.
We got engaged in February 2015 in front of the fire at home and then got married the following year."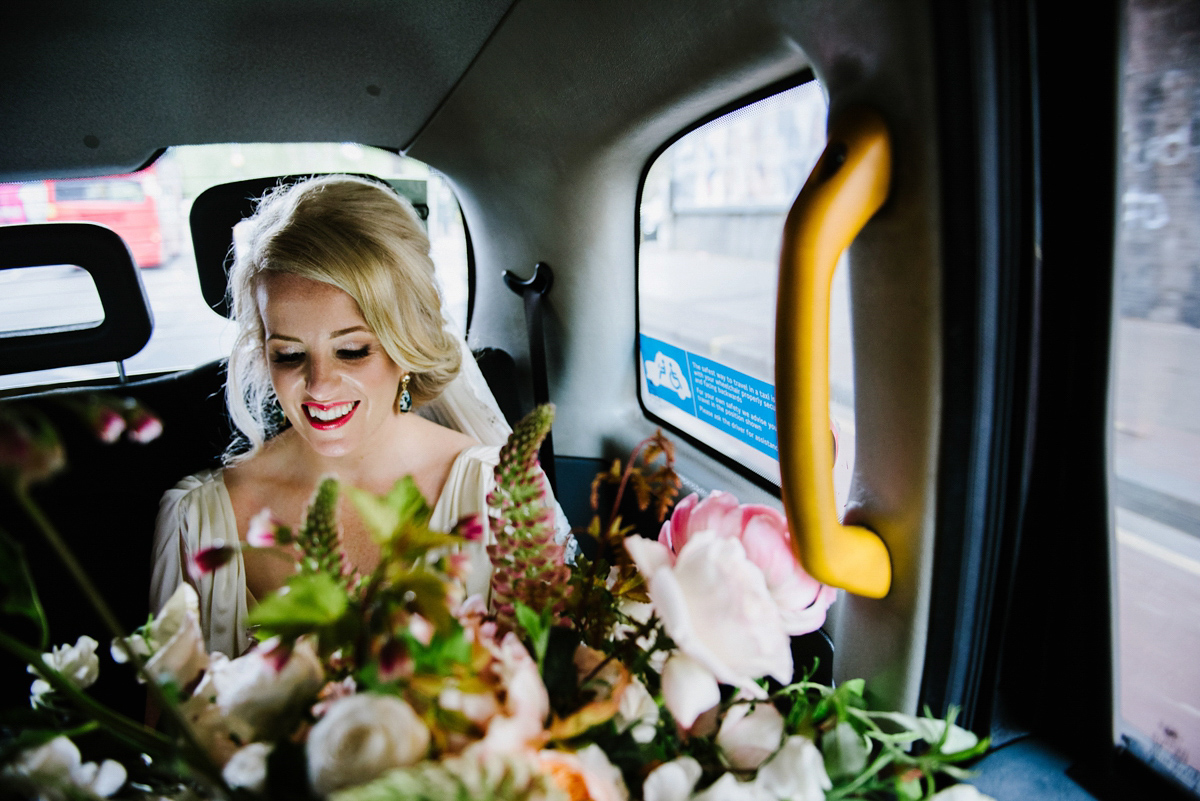 "The bridesmaids and I took black cabs to the Asylum and we organised Routemaster buses for the guests between the locations through Ensign Bus Hire, who were great as they allowed us to have mini Prosecco with straws (surprisingly not many people will let you do this!)."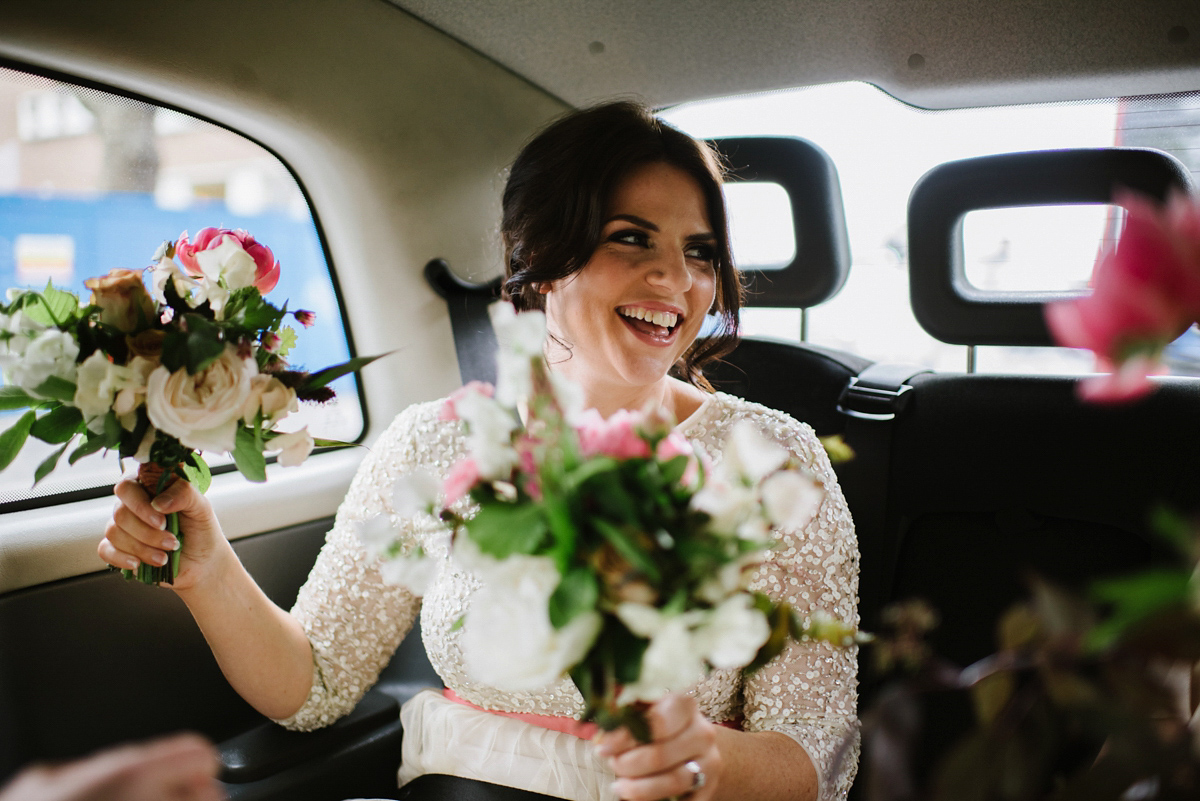 "We got married at The Asylum in Peckham in South London (aka, Caroline Gardens Chapel), and then had the reception at Trinity Buoy Wharf where the river Thames meets the river Lea. Alec is from Brighton originally and I'm from North Yorkshire. We felt that as we met and fell in love in London, it would be most appropriate to get married here."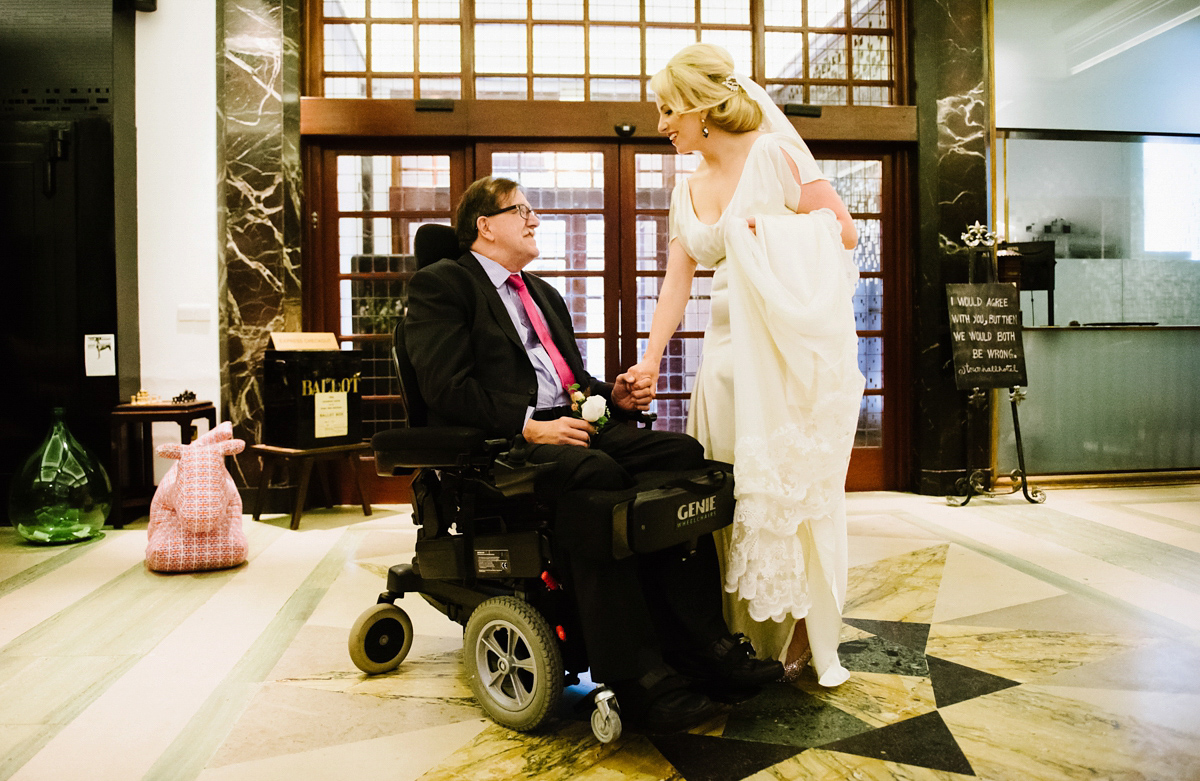 "I love stationery, so this was always going to be a big area for me. In fact I found it so hard to choose and to design that we ended up sending our invites out later than planned. We worked with the wonderful EYI Love in Glasgow, to design and print the stationery. We wanted something simple and elegant and also personal so we used the shape of my engagement ring as a motif and then rose gold foiling on a blush coloured board.
The invites were foil edged. I've always loved modern calligraphy and I wanted to use the skills I'd acquired through the workshop at Quill to good use so I wrote the addresses and names in calligraphy. A great idea, but come guest #175 a little time consuming. It was worth it from the reaction we got and I really believe that you set the tone and style for the whole wedding with the aesthetic and the words you use on your stationery."
"We wanted it to be beautiful, but not too traditional or formal, so people would be relaxed and well informed before coming to join us. I grouped the invite and the rsvp card with neon ribbon in the envelope and then I also ordered a wax seal with C+A in a sans serif font which we sealed with white wax to keep it fresh and modern. For the RSVP envelope I had a stamp made which had our names in calligraphy and our address is an sans serif font by Megan Riera Lettering, which I printed in neon pink too.
We also tracked down stamps that had bees on them (keeping with Alec's love of bees and nature) from Royal Mail and then used them too."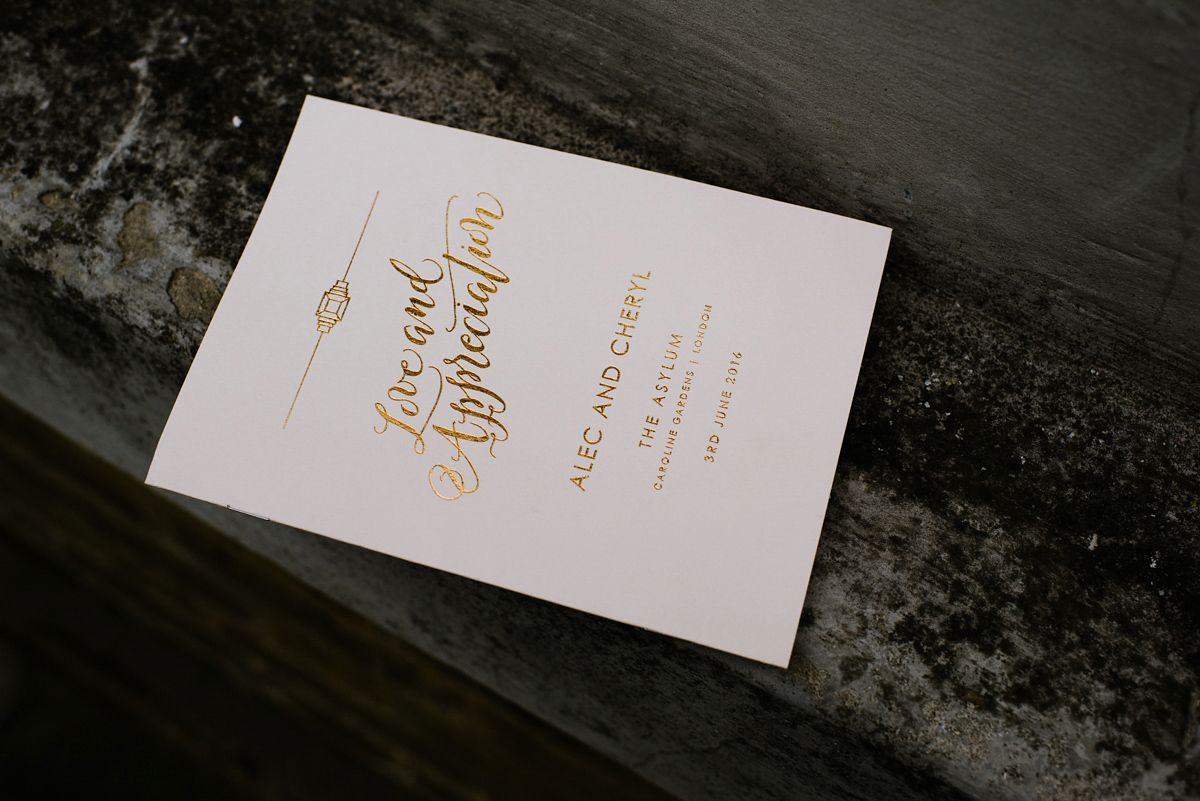 "After all the jibes about cloak wearing and ridiculous costumes I was very relieved to see Alec wearing a gorgeous blue Paul Smith tailored suit. The shirt was also Paul Smith – white with a floral cuff. He also wore a beautiful electric blue tie from Ozwald Boateng. The cufflinks and tie-pin were made from tiny cogs that he found online."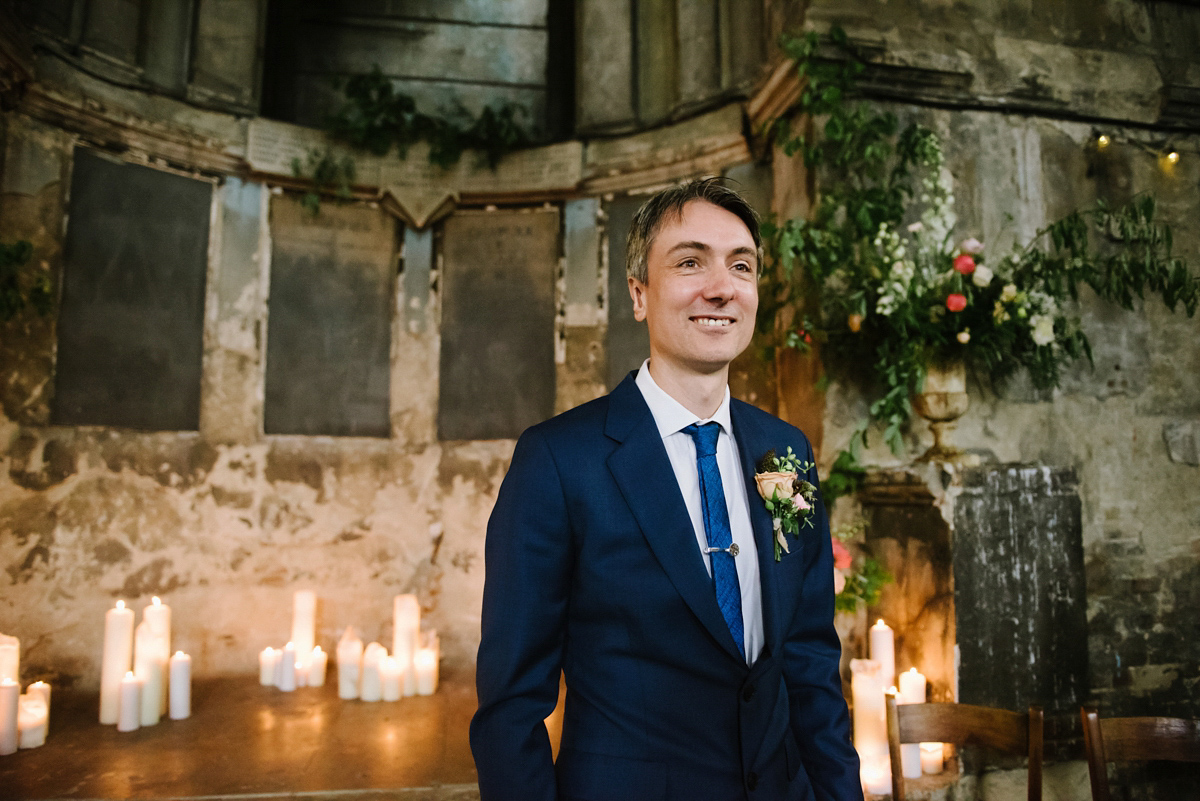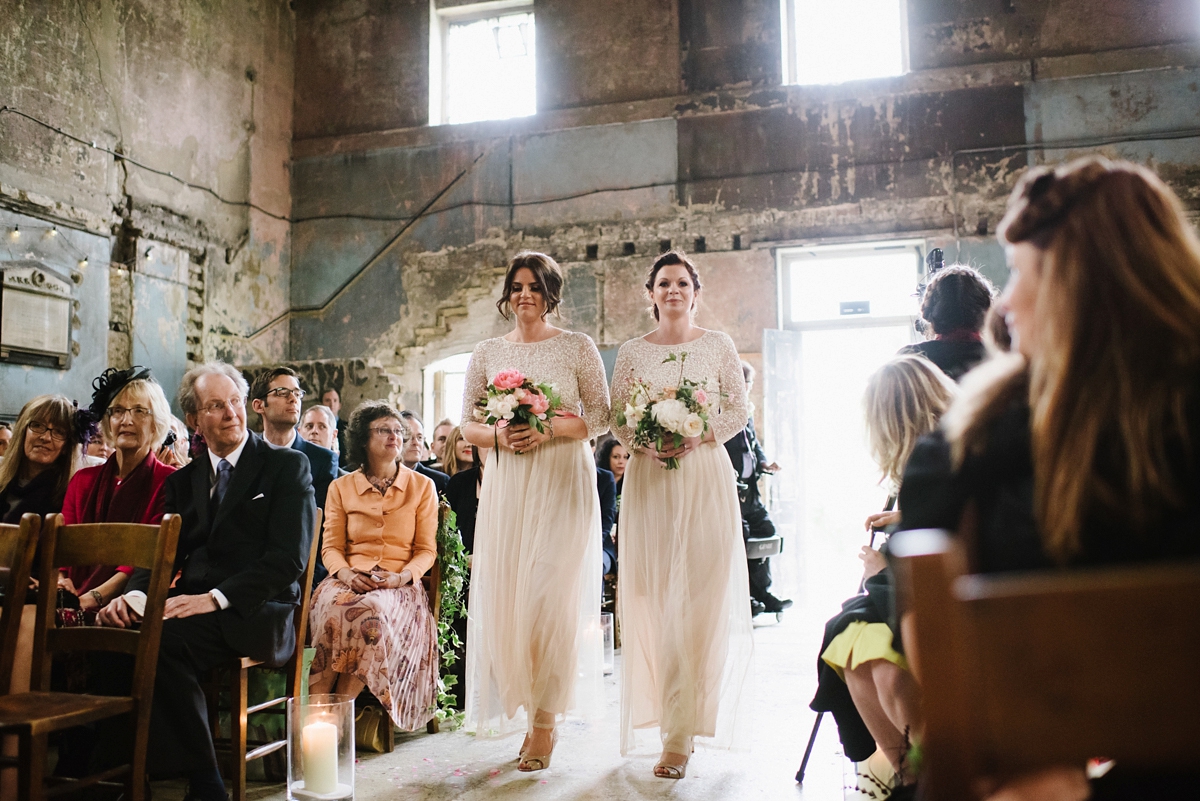 "One of the many reasons I love Alec so much is his eclectic mix of talents. One of them is being an exceptional pianist who composes his own music. He wanted to write music for me to walk in to, and what he created was beautiful. One of our very good friends Paul played it for us and it was fantastic. Even as he composed it at home I got teary, so hearing it as I waited to walk in and the finally walking down the aisle to it was incredible."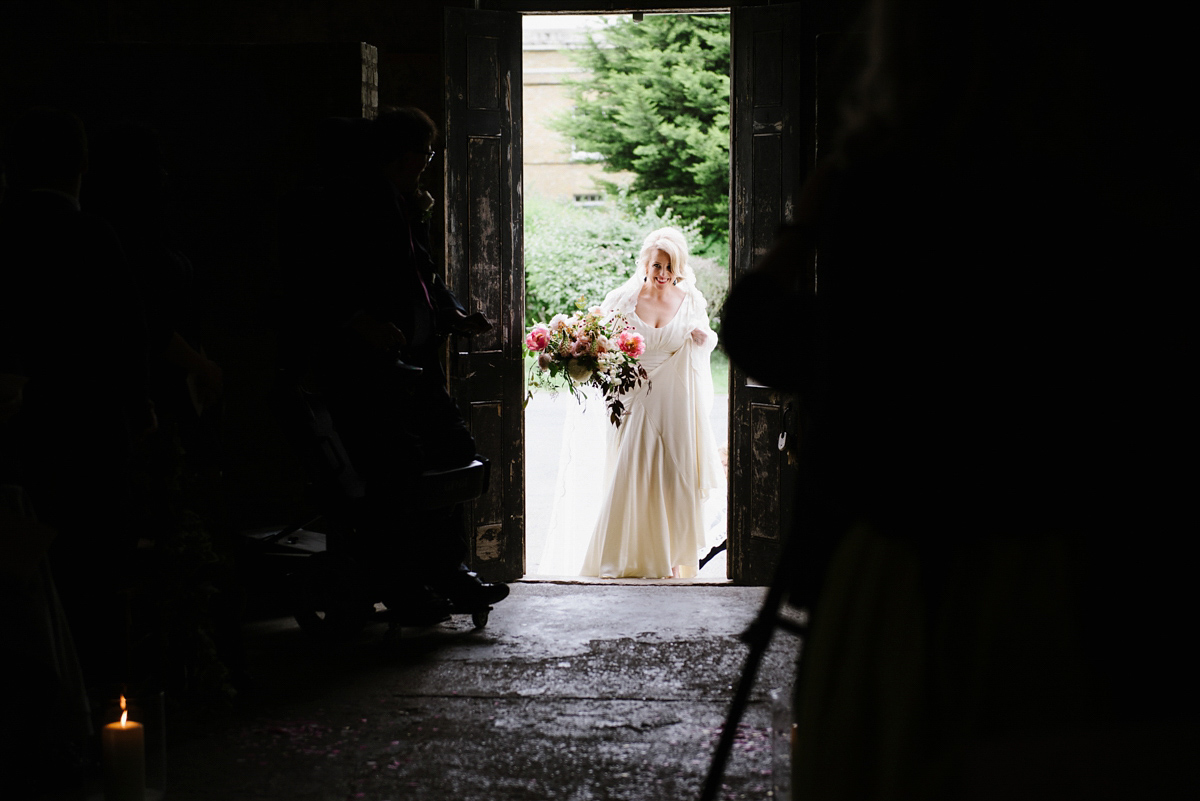 "My lovely Dad walked me down the aisle. He has MS so is in a wheelchair and over the years I knew that he would always love to give me and my sister away, but knew it might not be possible depending on the aisle width etc."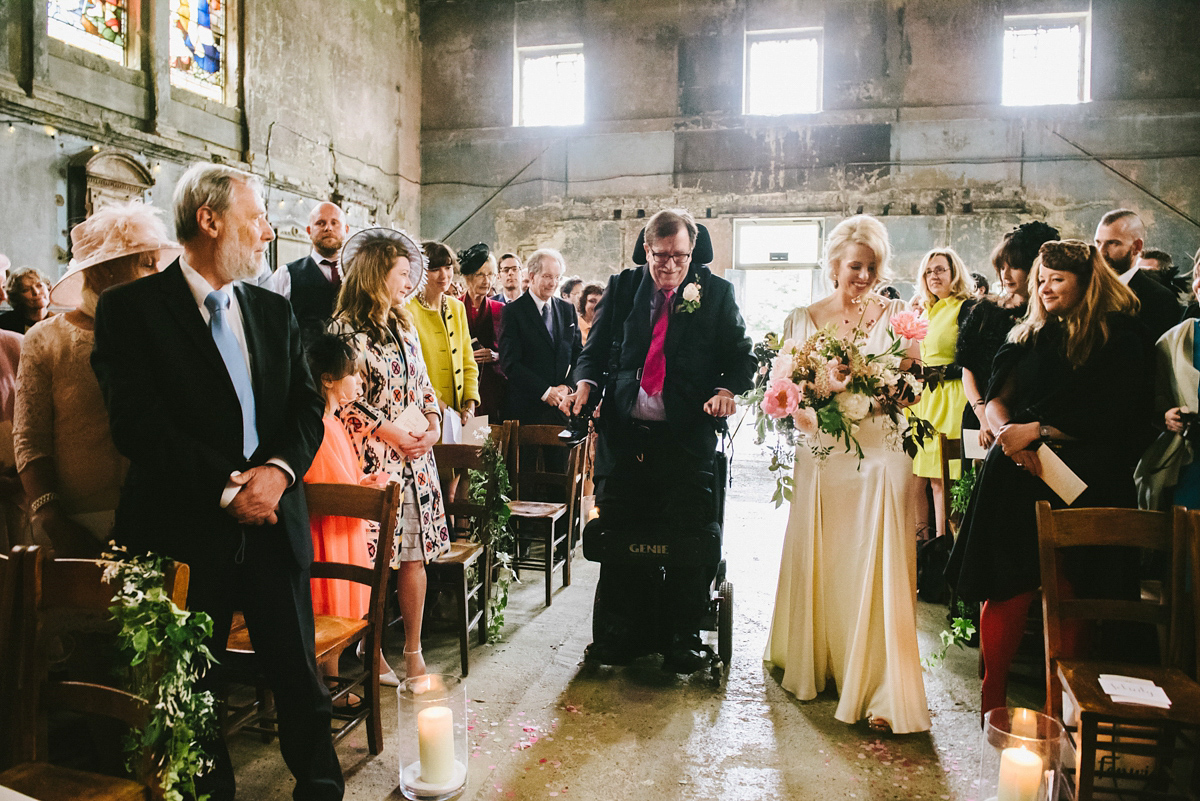 "In the end he tracked down a special wheelchair which allowed him to 'stand' as he came down the aisle so it was a very emotional moment for everyone."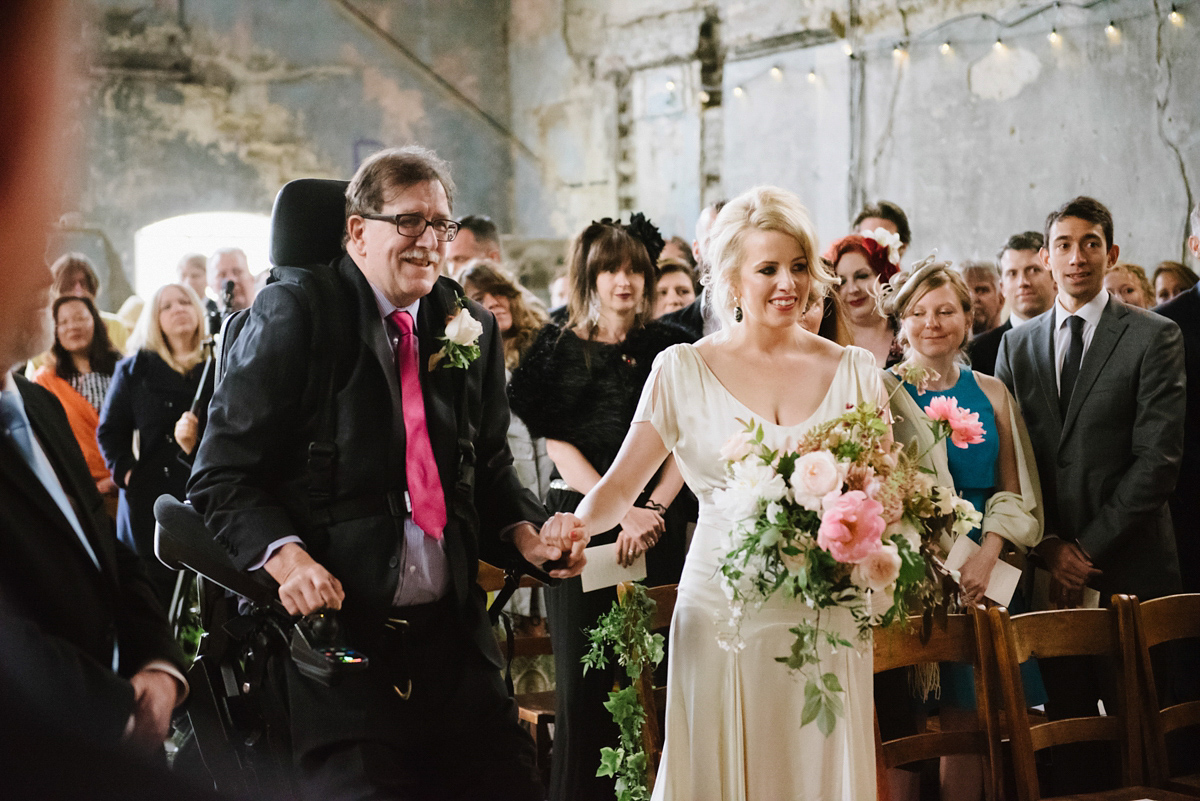 "I think Dad was mostly scared that he'd run over my veil as my sister had been drilling him on that for months, but it all worked."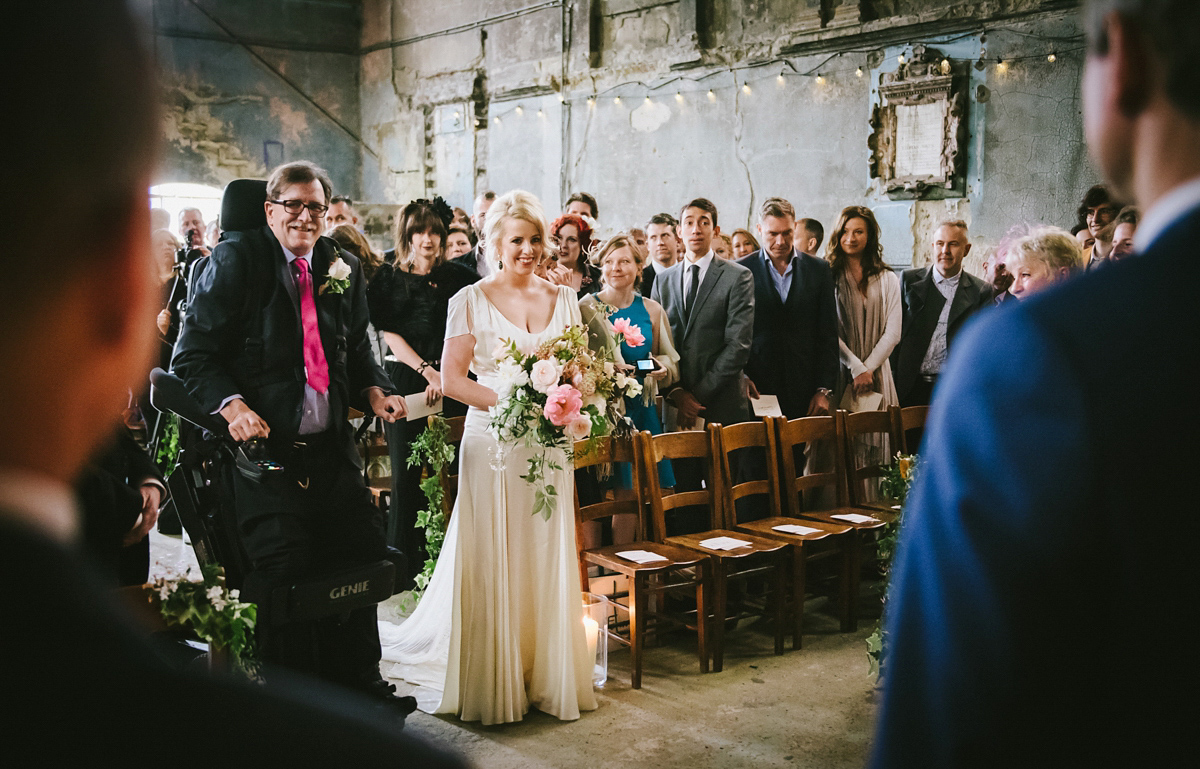 "Our ceremony was so personal and lovely thanks to the fantastic officiant, Zena Birch. We hadn't wanted a religions ceremony and I've found civil ceremonies to be a little impersonal and formal in some situations, so we both loved the idea of having something completely bespoke with a humanist ceremony."
"Zena was fantastic. She used our own words and our own stories to weave the ceremony together, including our friends and family in the most personal way. It was truly fantastic. It also meant that we could be completely free in our music choices, so we had Paul bashing out the piano to 'God Only Knows' and also 'Can't take my eyes of you…' two highlights of the day.
We also had our other talented pianist friends play for us too."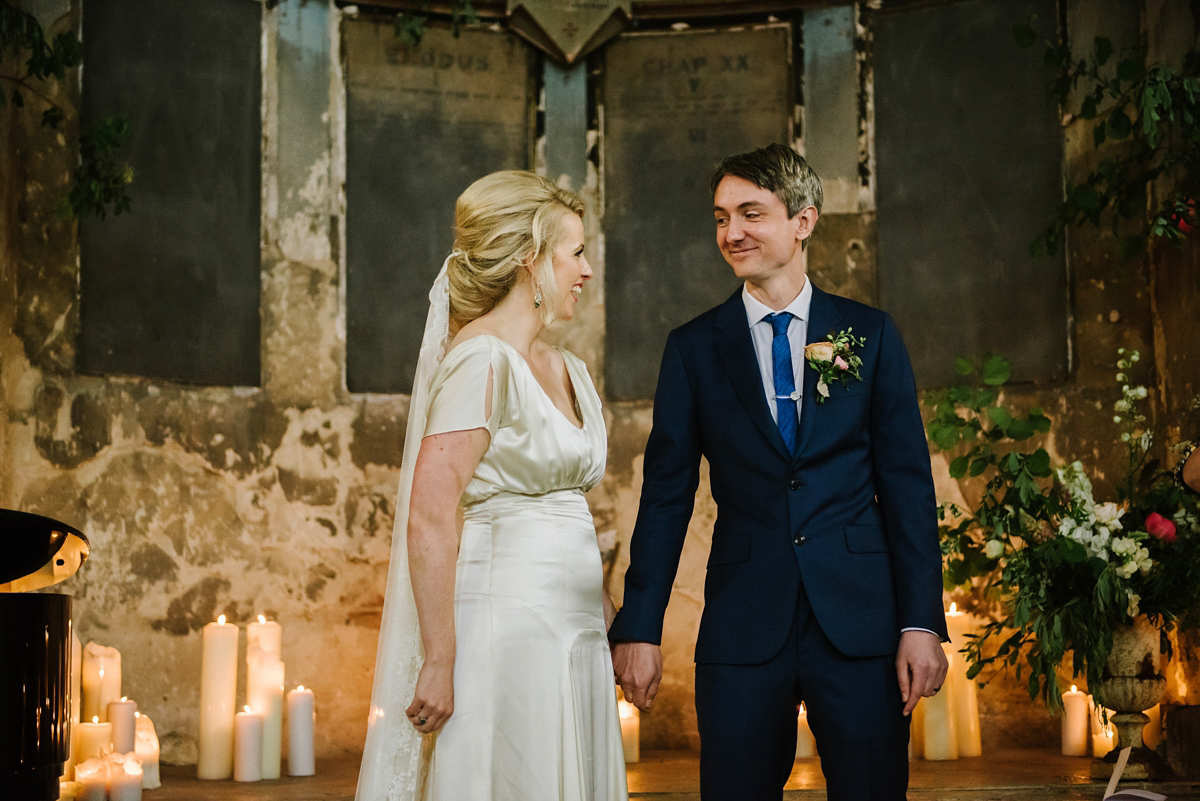 "We decided to write our own vows as it was important for us to make promises that were in our own words rather than repeating things by rote."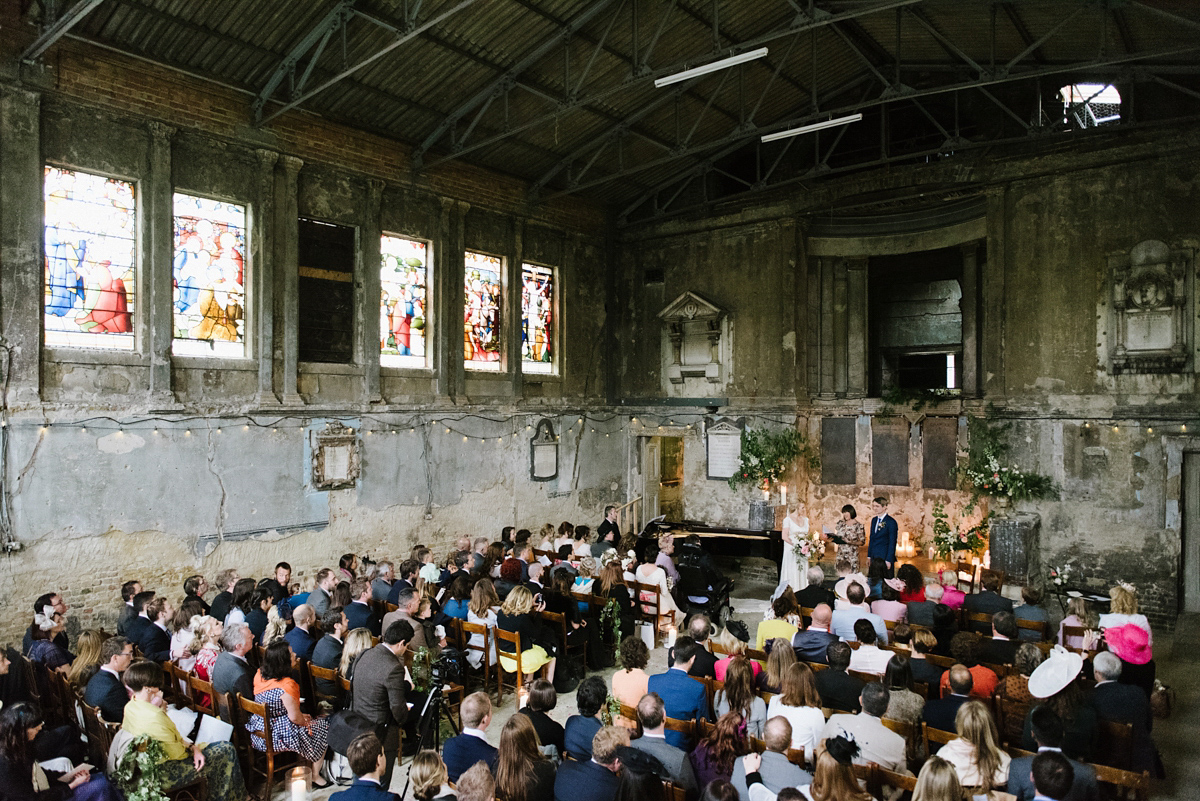 "It wasn't as daunting as you might think. We found some ideas online but really just sat together and chatted about what we did promise and what we did want to pledge to each other so it ended up feeling pretty organic. Zena was happy to help with this too."
"The best moment was when Alec slipped up and changed promising to 'look for the good in me' to promising to 'look good for me'.  Hilarious! I mirrored it back and so now we have to hold ourselves to that one."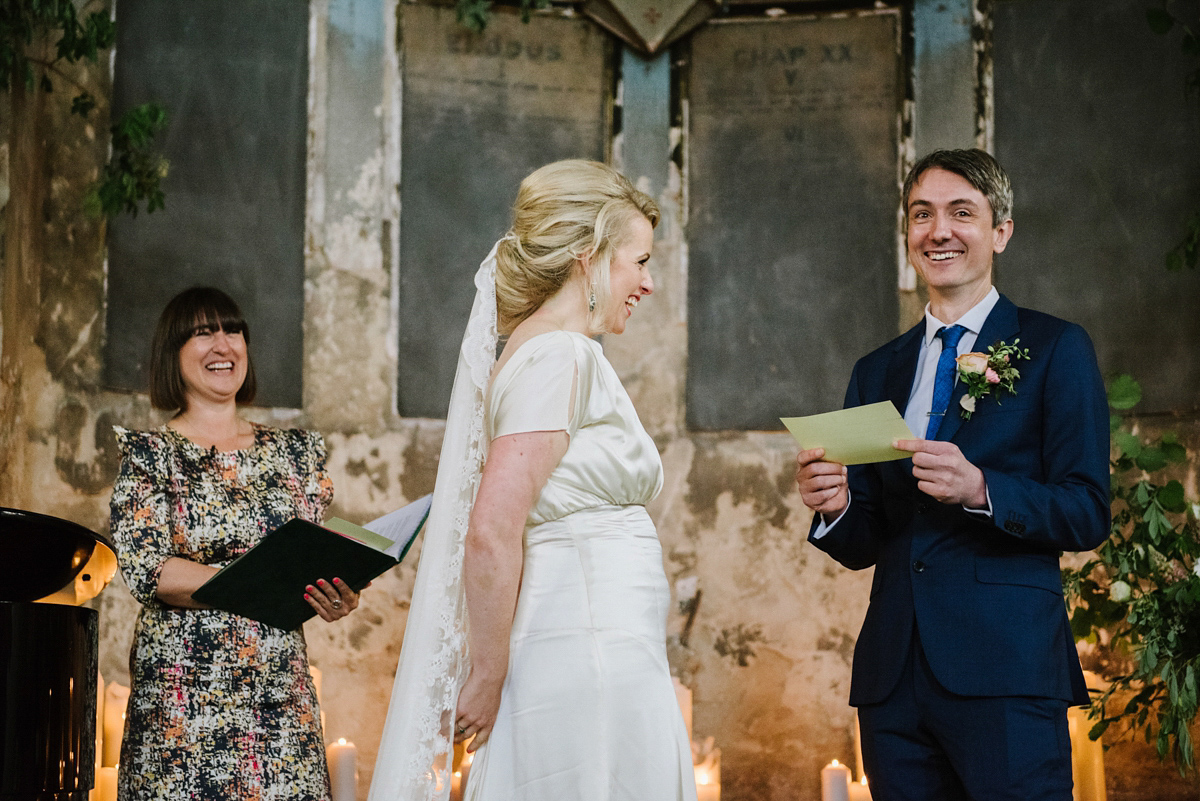 "We were so lucky with the readings. We had three readers, our very good friend Debs, Alec's older brother Luke, and my friend Nicola. Nicola read Pablo Neruda's Sonnet XVII which was special to us as I'd sent it to Alec when we first started going out together.
I always love the sentiment about not being able to explain why or how you love someone, it just being a fact which is how I felt when I first met Alec."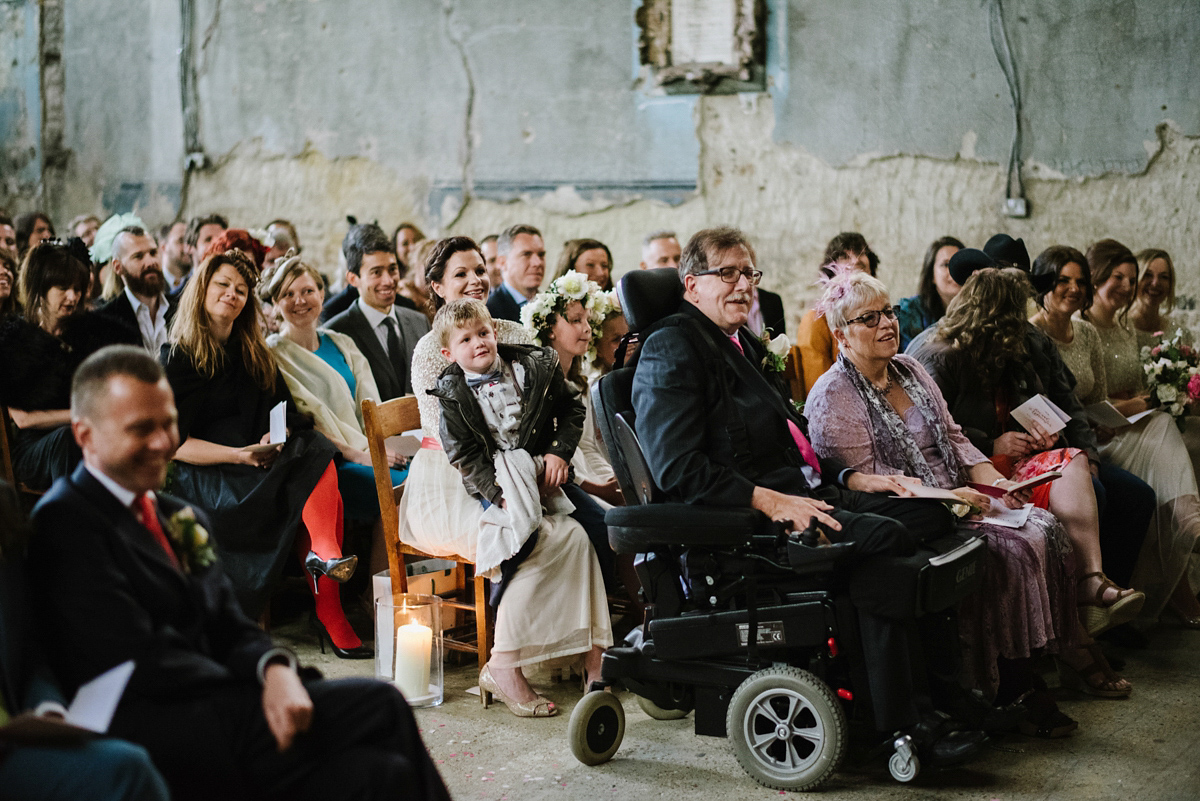 "Luke and Debs we gave free-reign and they surprised us by writing poems for us. They were incredible. Both of them had put so much love and energy into crafting these personal creations, and they were just fantastic.
Given my love of stationery, I'm planning to have them letterpress printed and so we can have them on display for ever."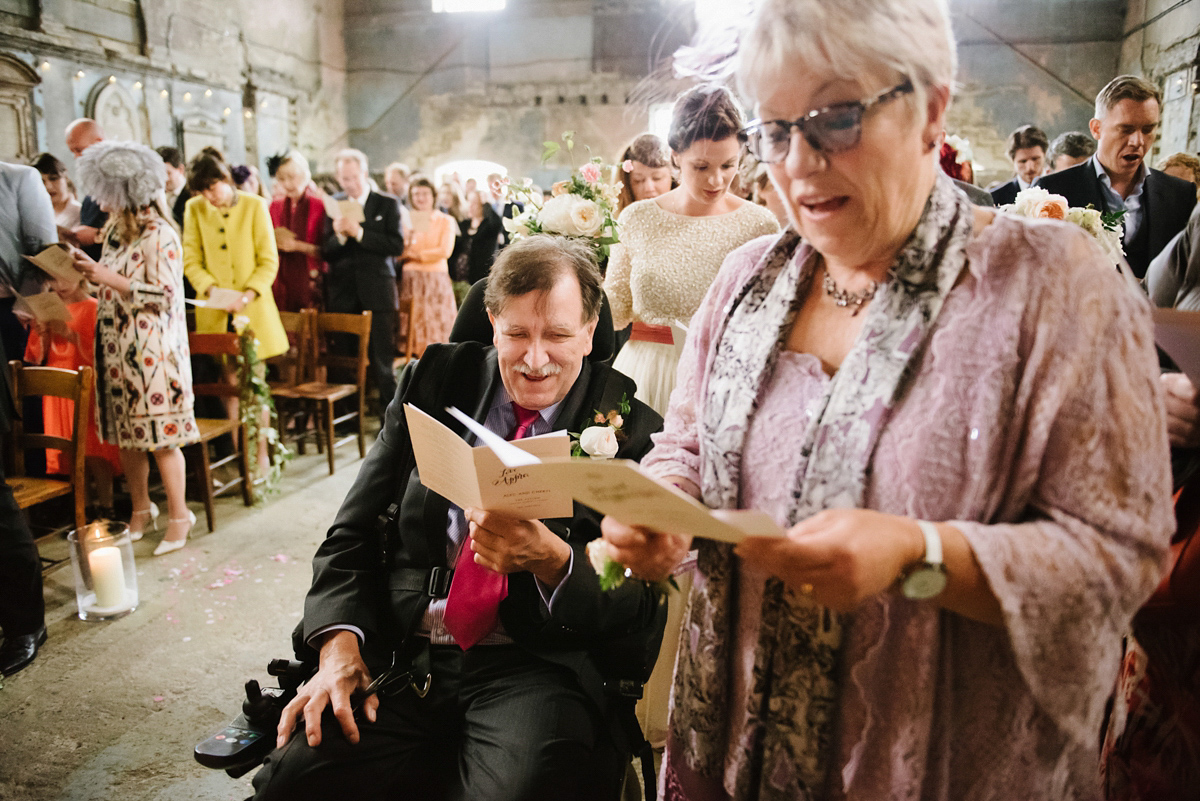 "I think the very best bit for me was the ceremony. It was so personal and looking out at all our friends and family belting out 'I love you baby' while Paul milked it on the piano was very special. That and hearing Alec's music as I walked in."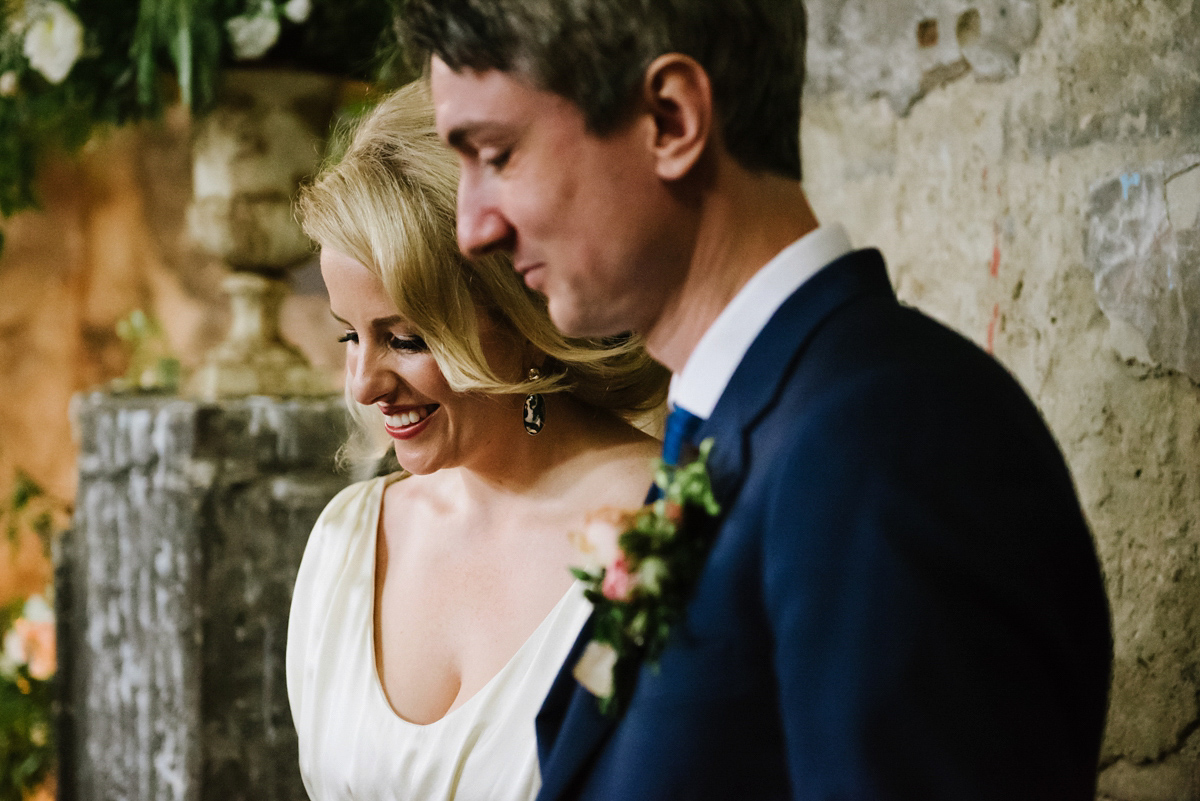 "We got our wedding rings from Simon Wright Jewellery in Clerkenwell. I had been doing some calligraphy classes at Quill London and one of the teachers, Megan, had a beautiful wedding ring. She told me that she'd had Simon make it so that was a really good recommendation. Because of the shape of my engagement ring, Simon suggested a 'Tetris' effect which shapes around it – I'm really glad that I went with his opinion."
"Alec wanted something really robust and hard wearing and so had a Titanium band. We chose to have our rings engraved – mine has the phrase 'Love and appreciation', which is something we used throughout the wedding with the date. Alec, ever the mathematician and computer guy has the wedding date… in binary code. Of course."
"The Asylum is just magical. It has the beauty and profound feeling of a chapel, but with the freedom to create an entirely personal ceremony. We loved the contrast of the classical entrance with the ramshackle stained glass beauty inside. 
I had a brief moment of thinking we should do the country house thing in Cornwall (where we spend a lot of time) but Alec couldn't bring himself to ask all of our friends and family to make the epic trek to the South West."
"We were quite lucky (or lazy) that we only looked at these two venues and went with them straight away."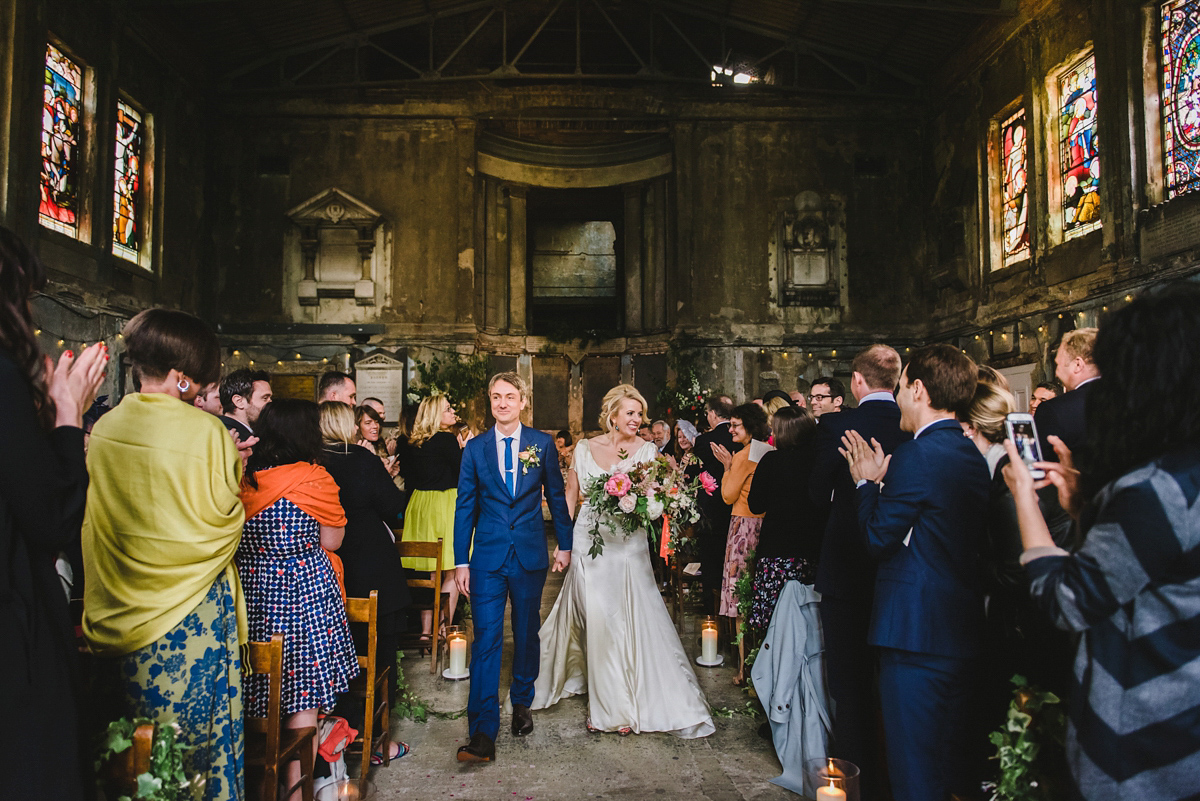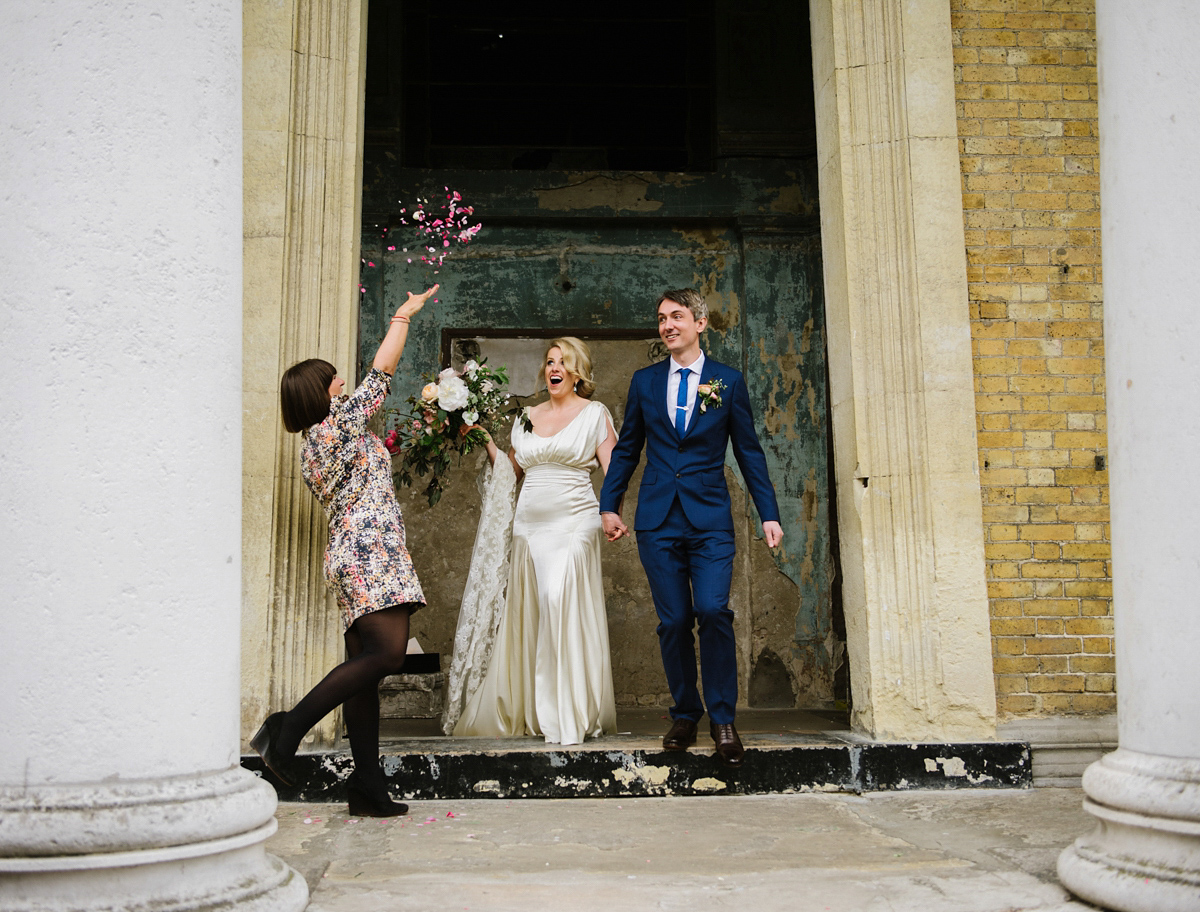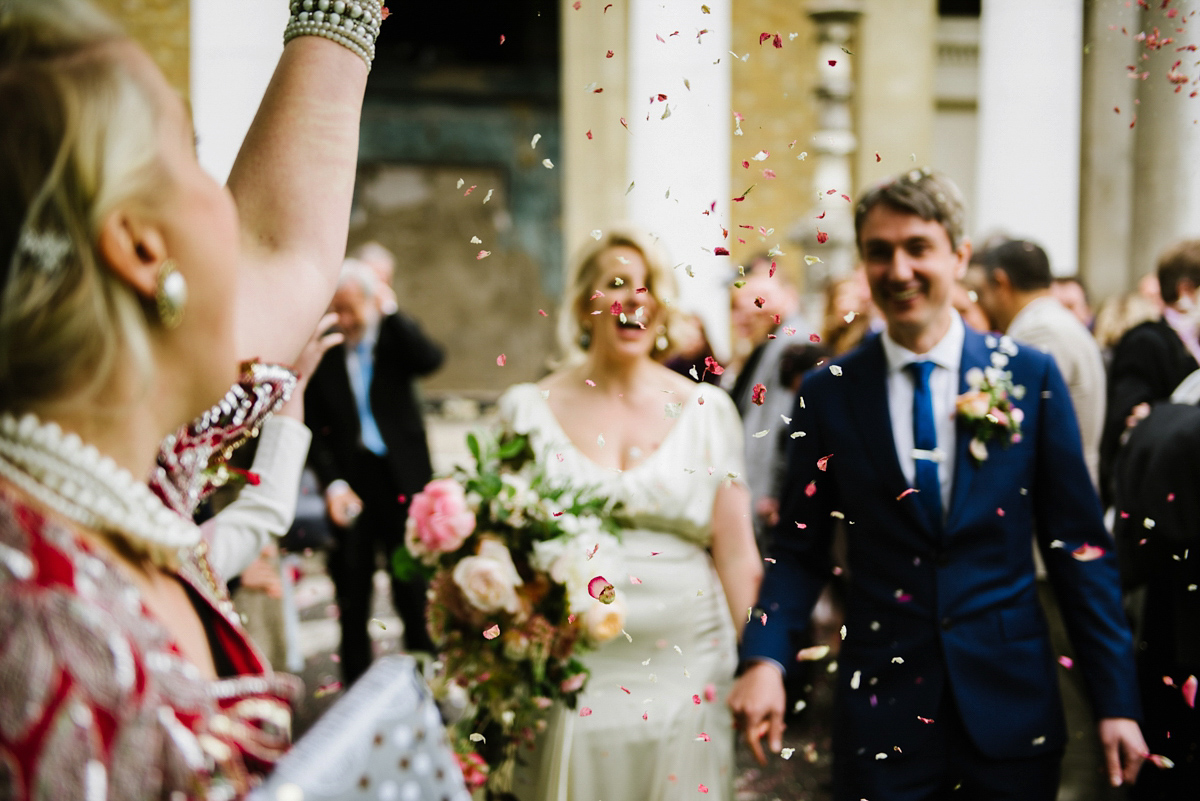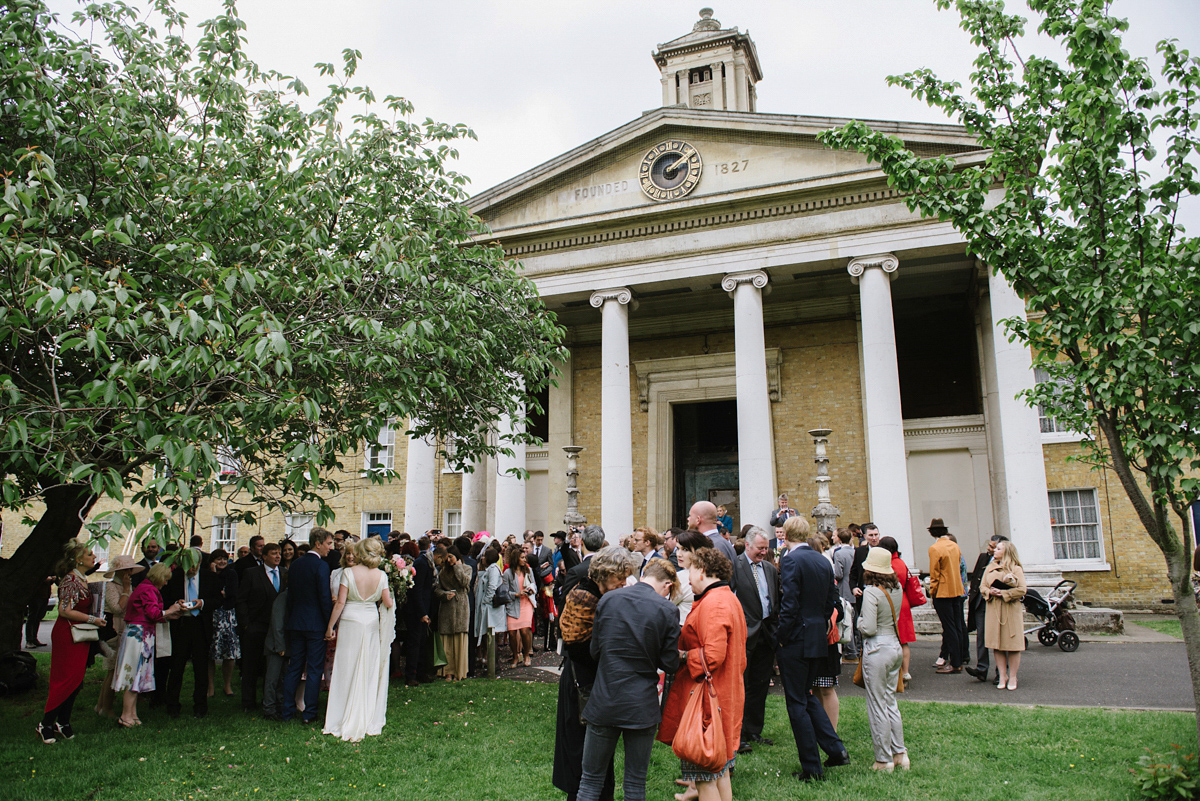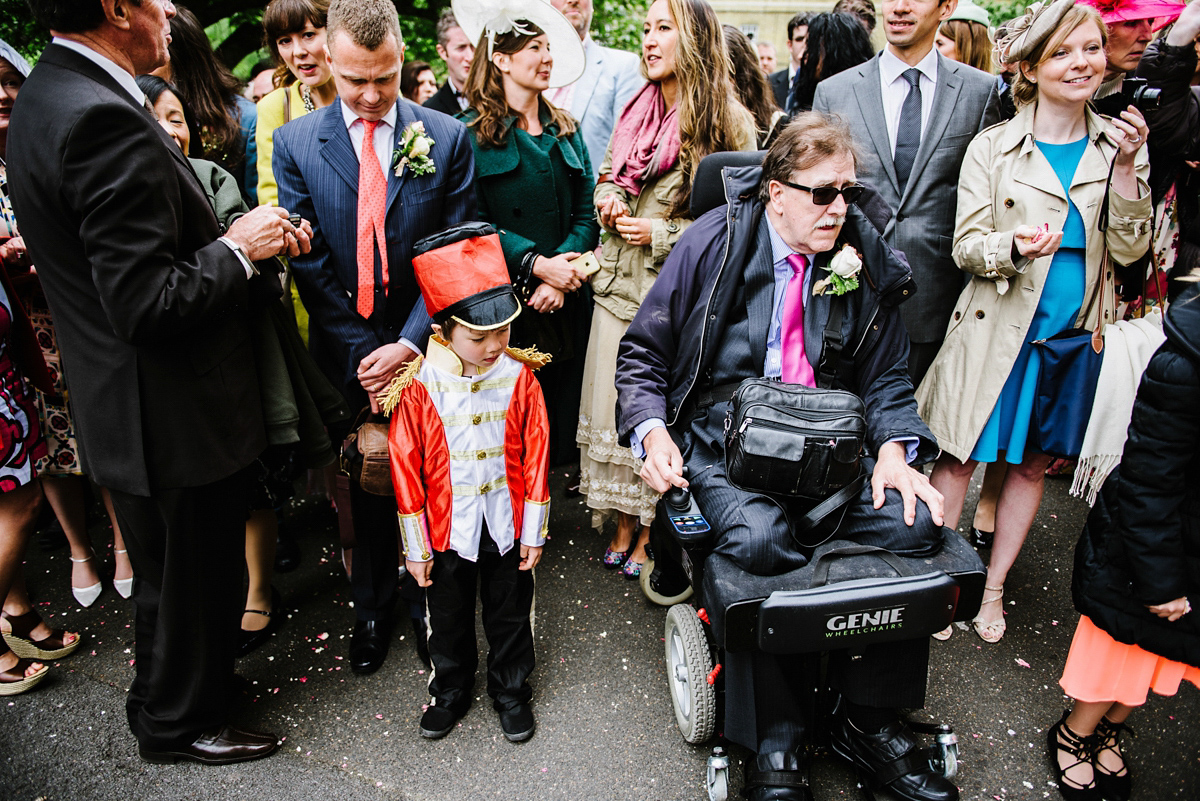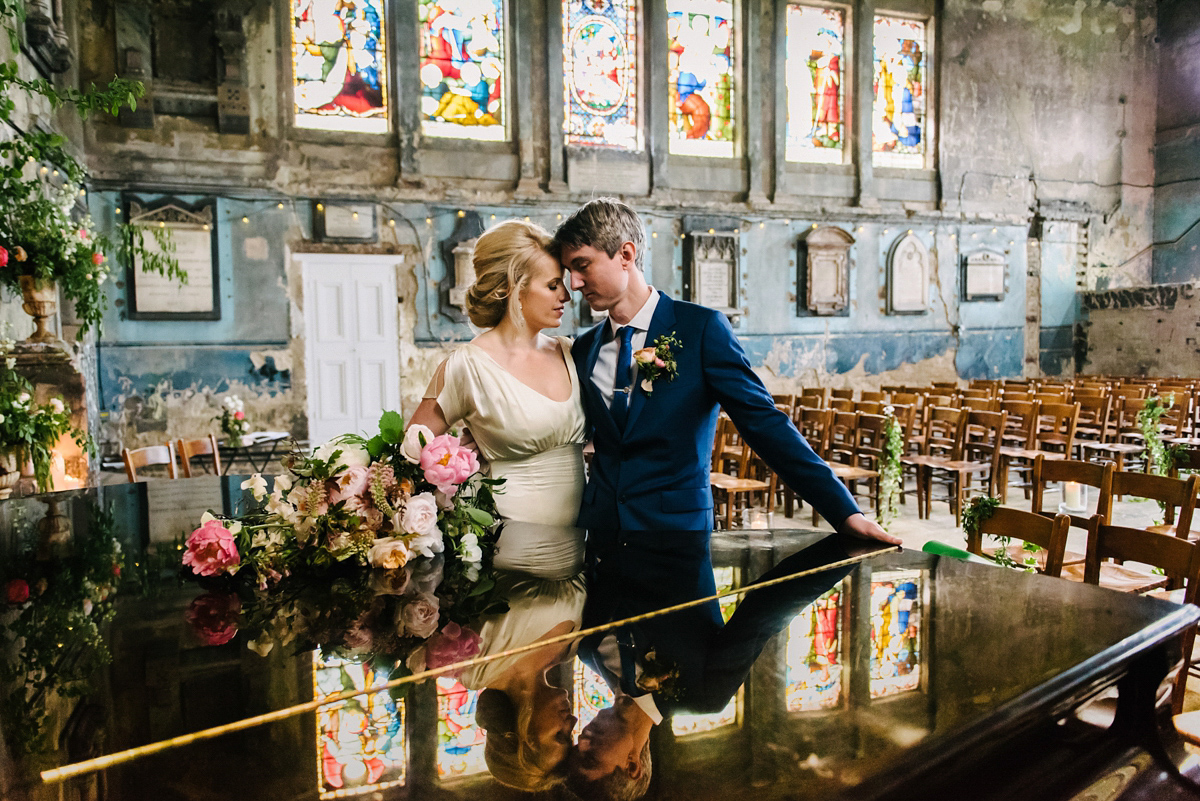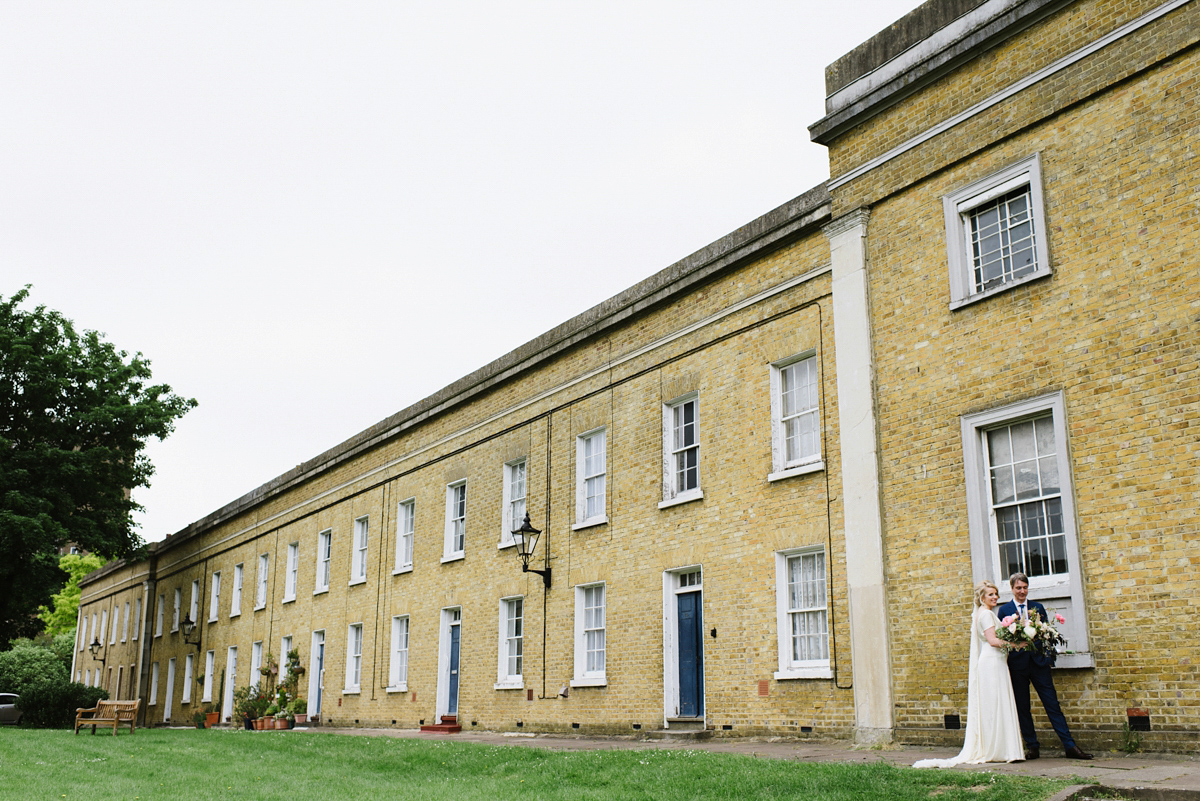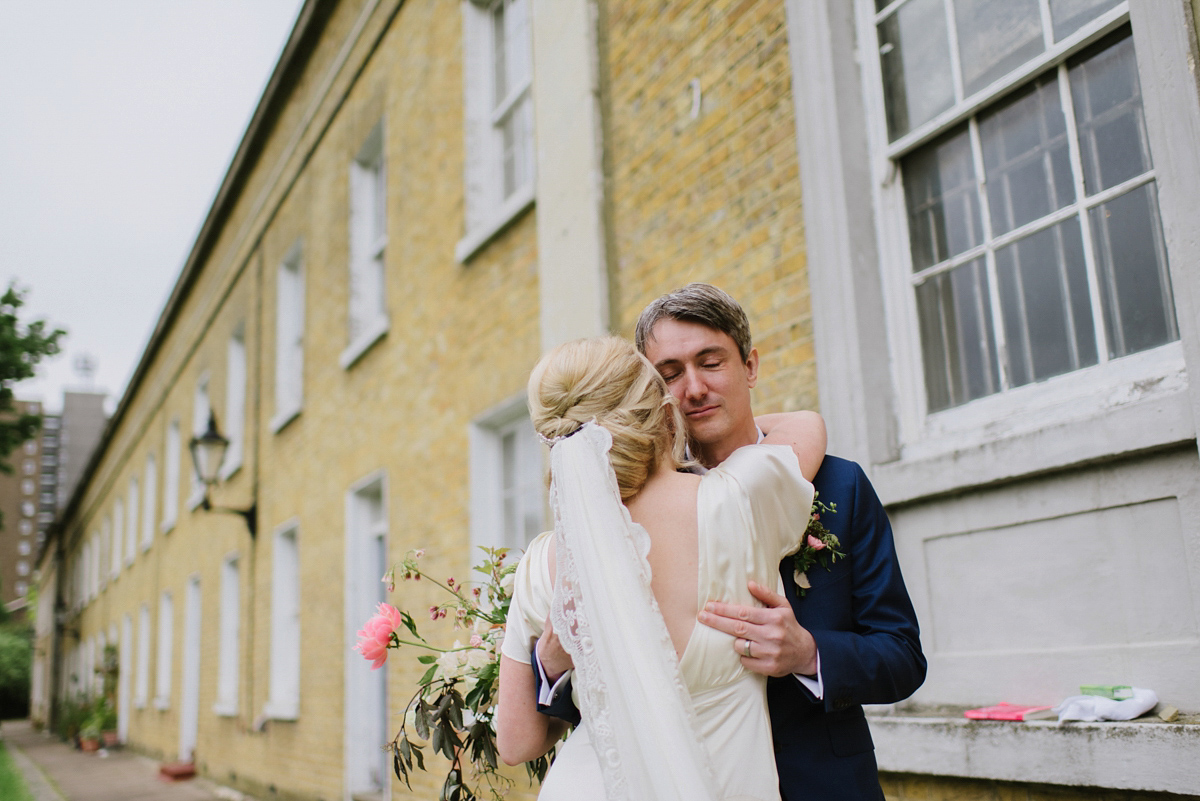 "Given the river location, Alec and I splurged on a boat trip from Tower Bridge to TBW where we sped up the Thames to the site of ridiculous waves crashing into the boat and poor Ed and Ayla getting thrown around at the front.
Great fun and although we missed the merriment of the bus, it was lovely to have this quiet time together. It was an old wooden motor launch provided by Thames Boat Hire."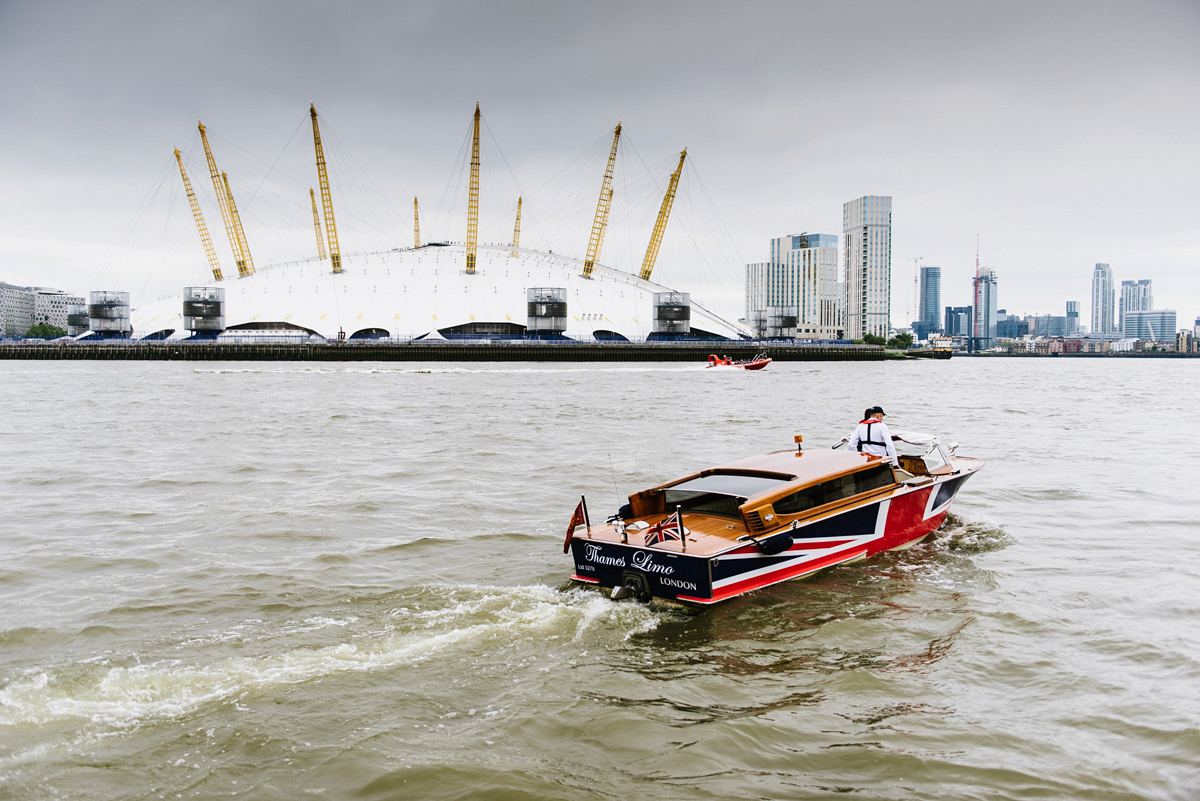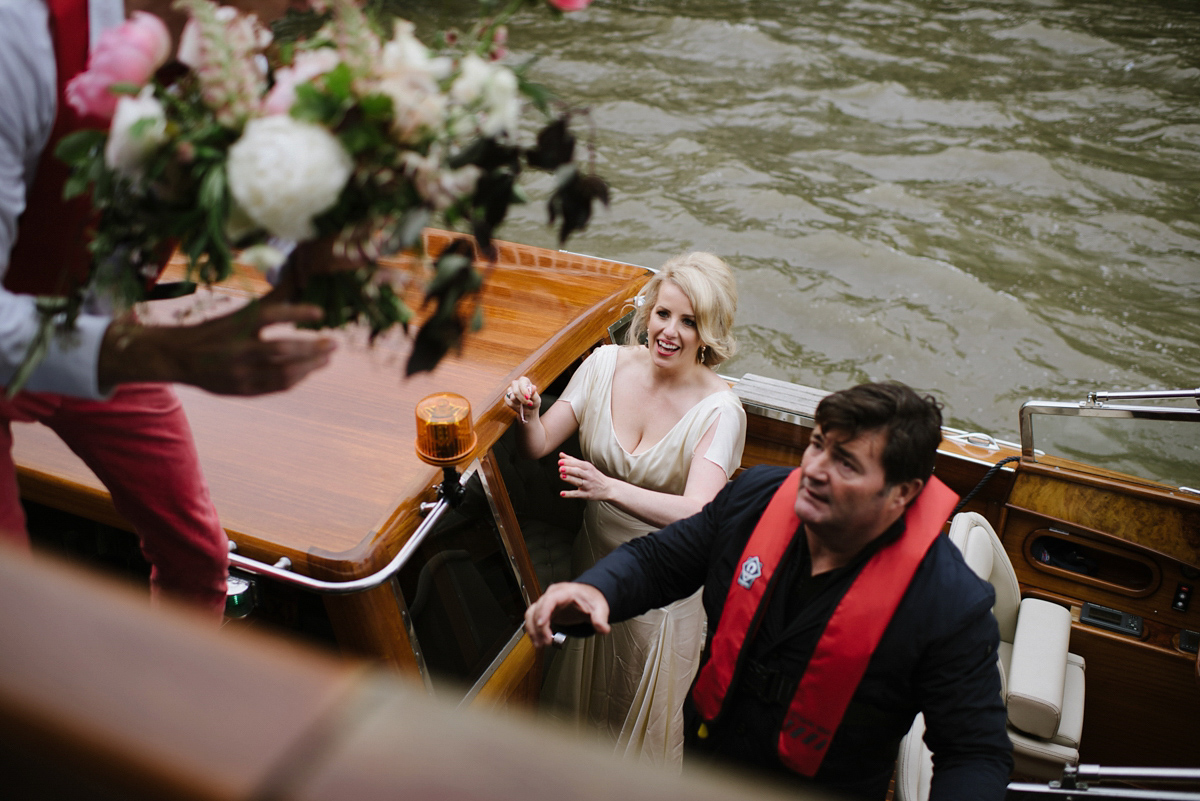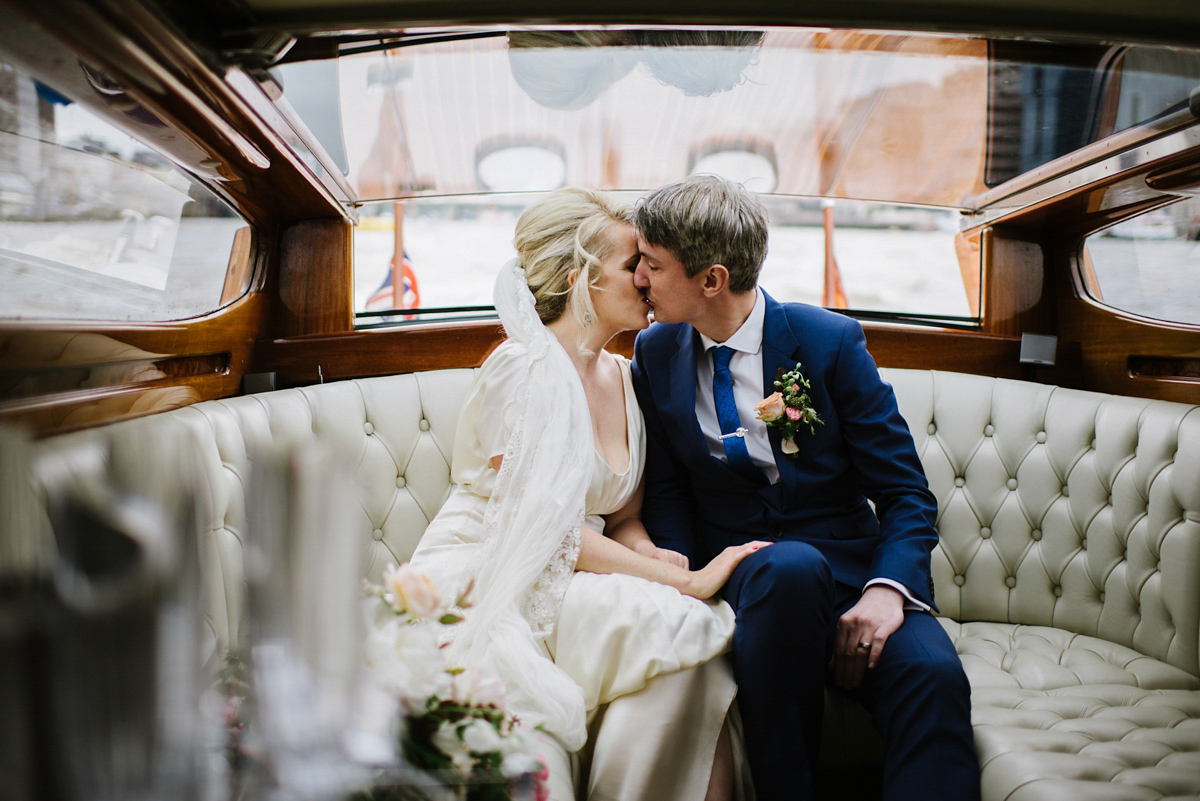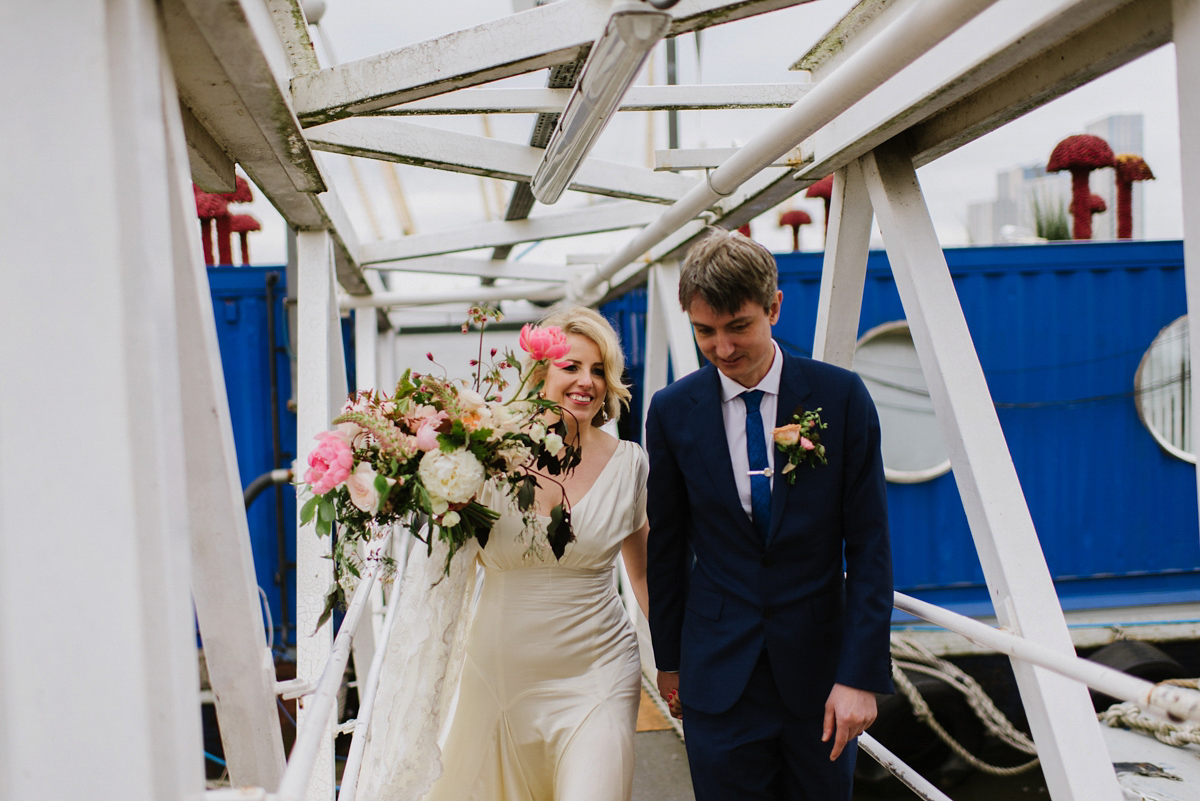 "We had a jazz band for the reception led by Mark Rose. We are lucky enough to know many talented musicians through Alec's piano playing and Mark was recommended to us. They were fab. We also had an old friend of Alec's for the evening band – Adam Paul Leach led this with rocky classics that had everyone dancing.
We had a great DJ who stepped in at the last minute between the sets, so we were very happy with all of the music at the reception."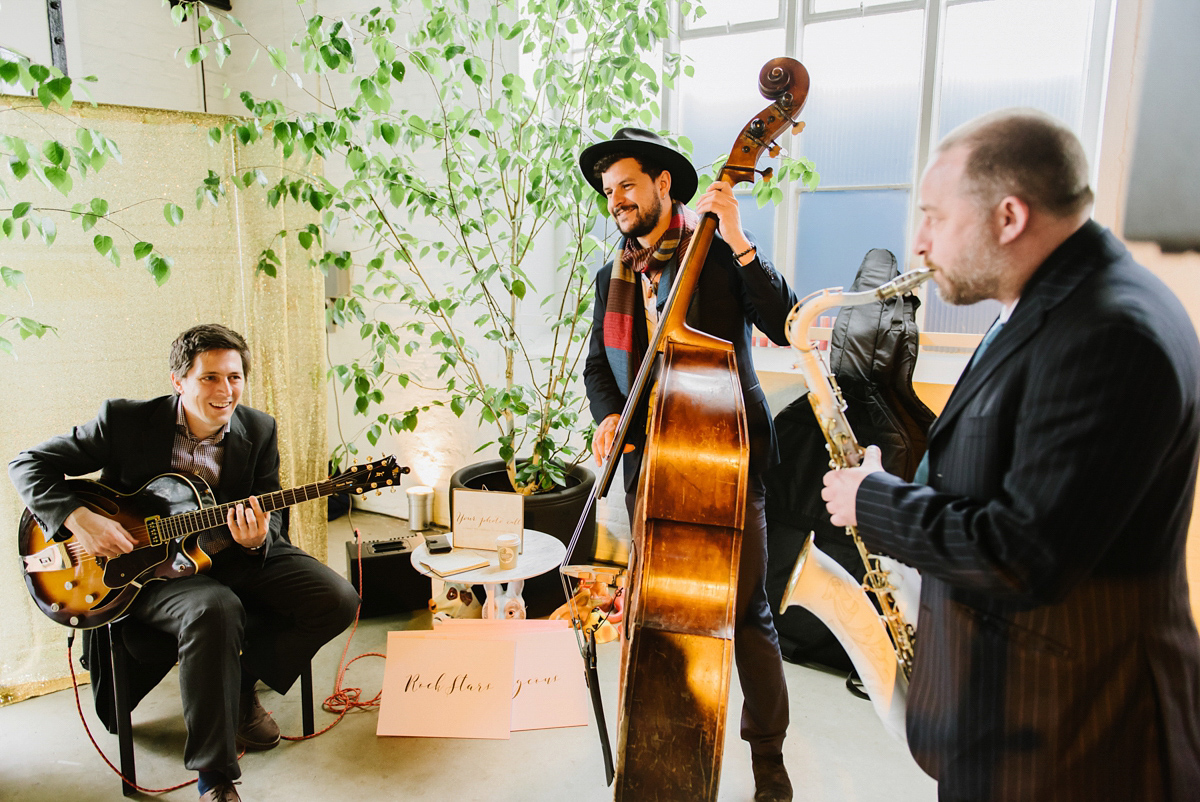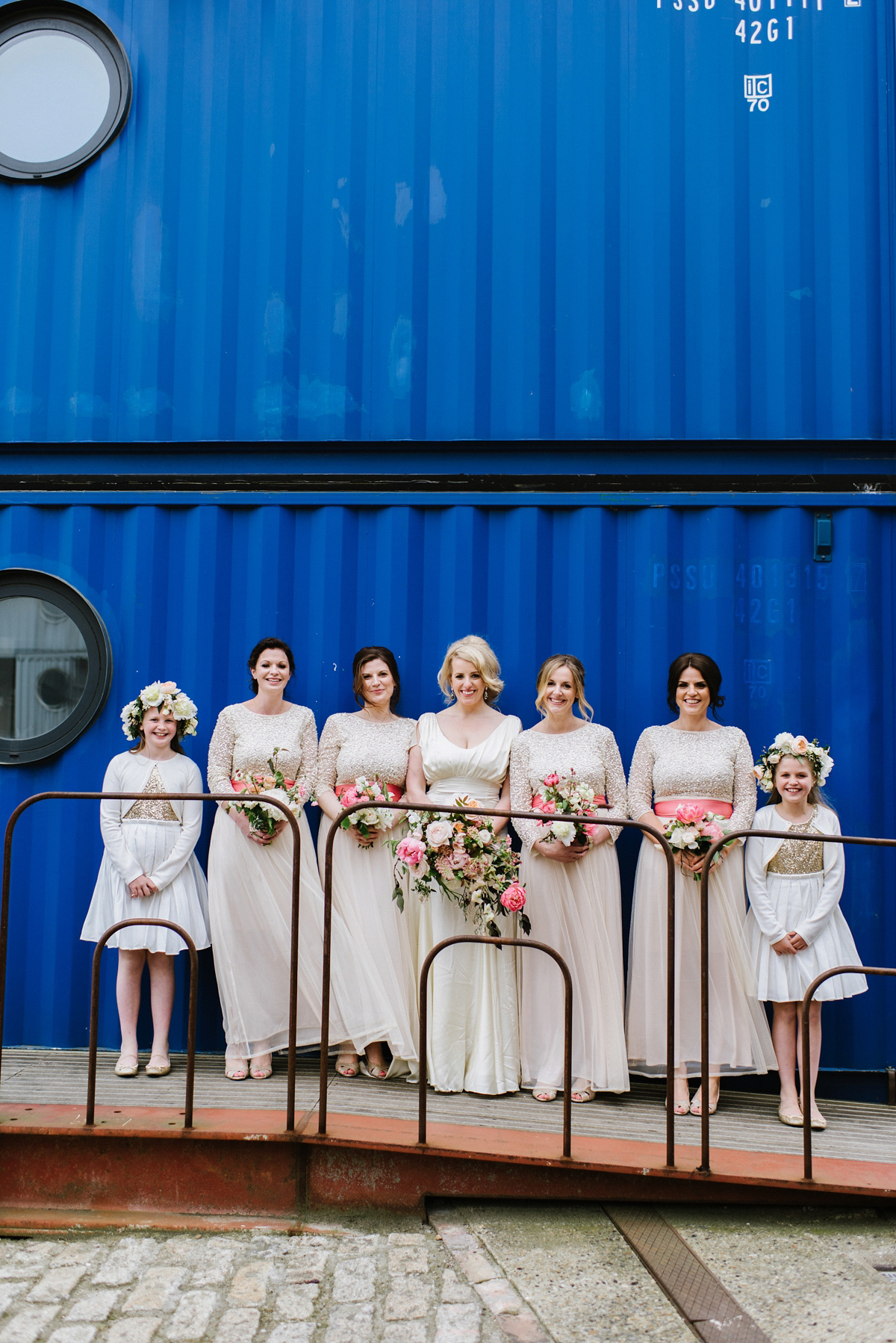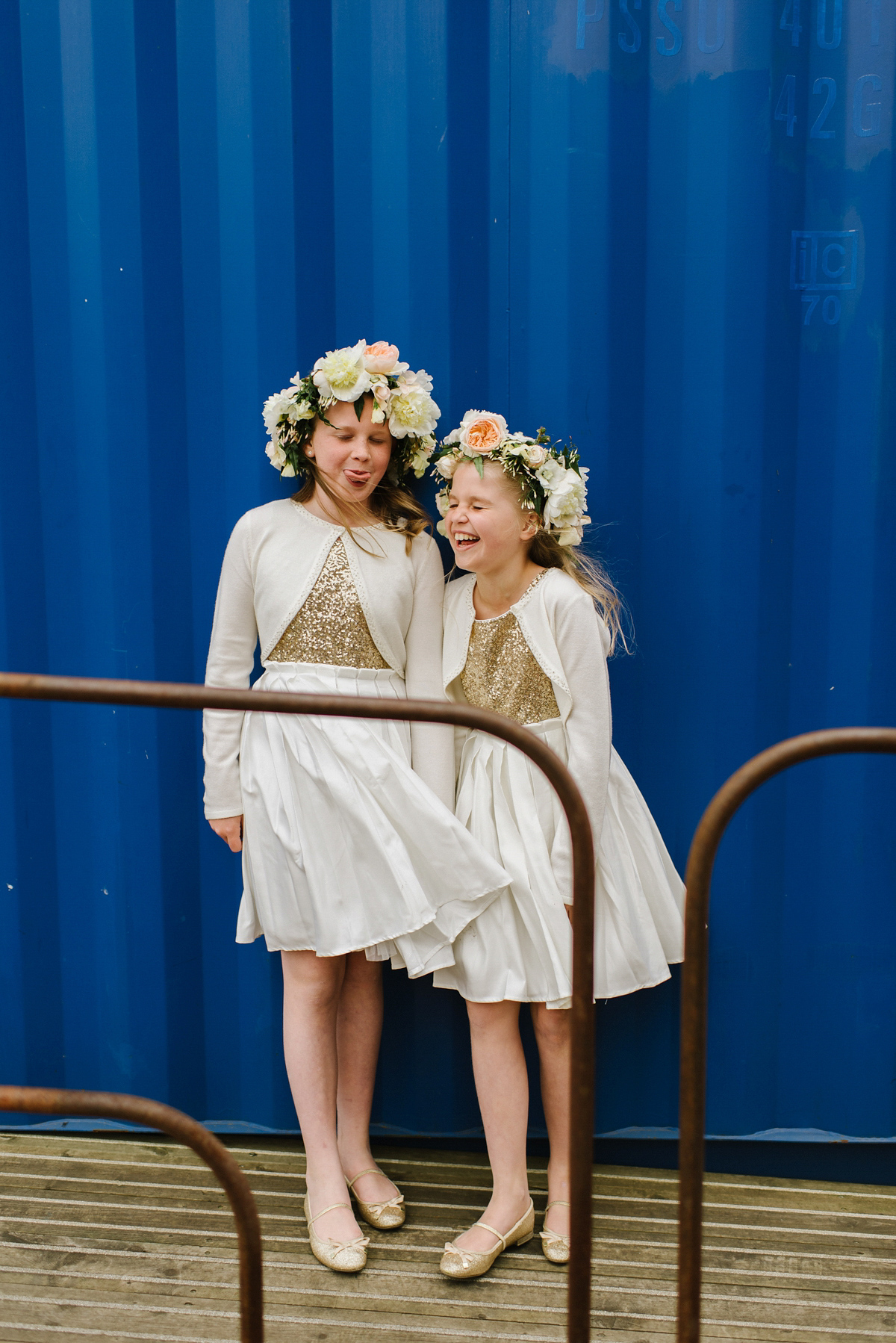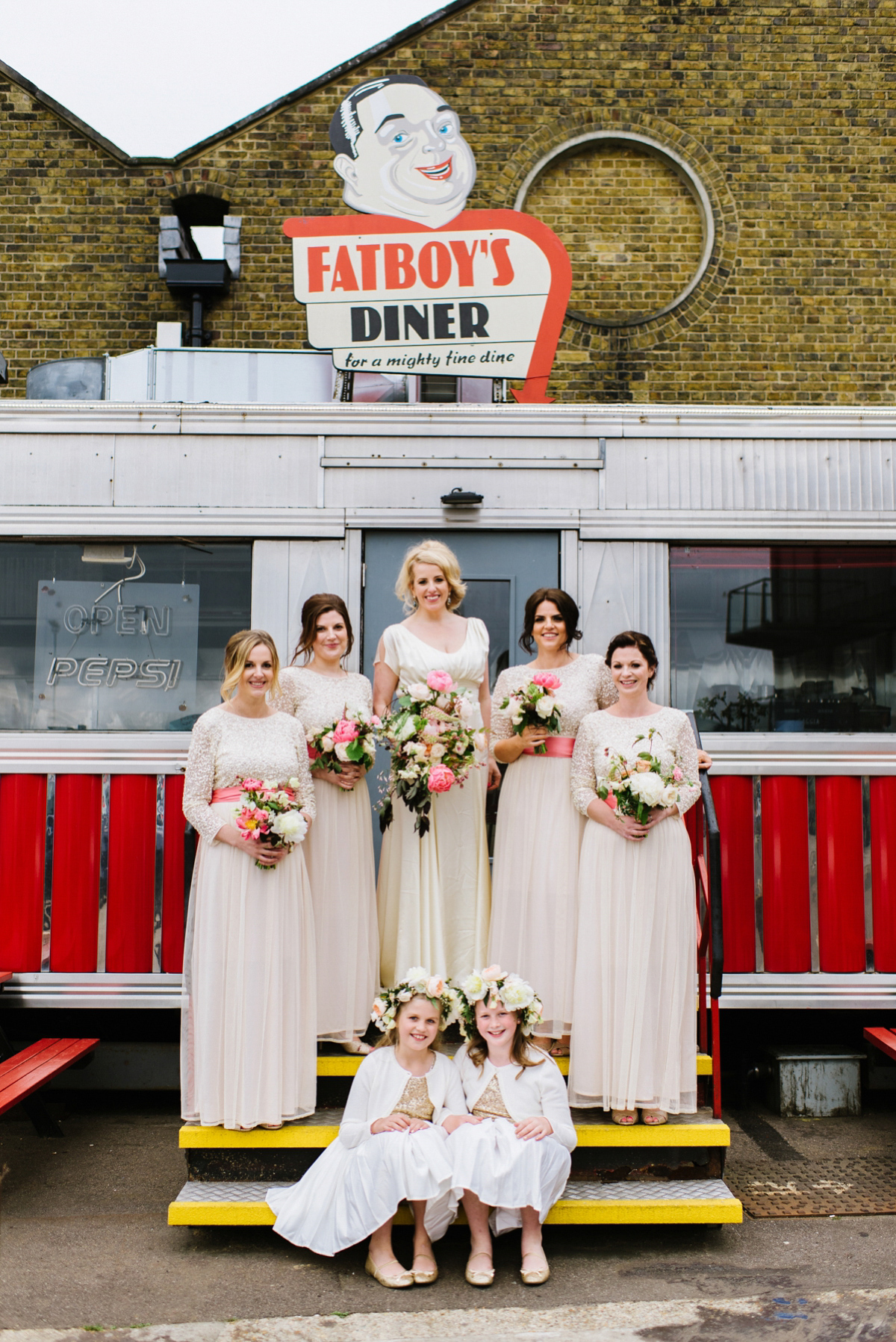 "Our photographer was the fabulous Ed Godden  – as you'll see from the pictures, his work speaks for itself. We really wanted a photographer who would capture the moments and the emotions of the day, rather than hoards of group shots so when we saw Ed's work and approach on his site, we knew he was the man for us."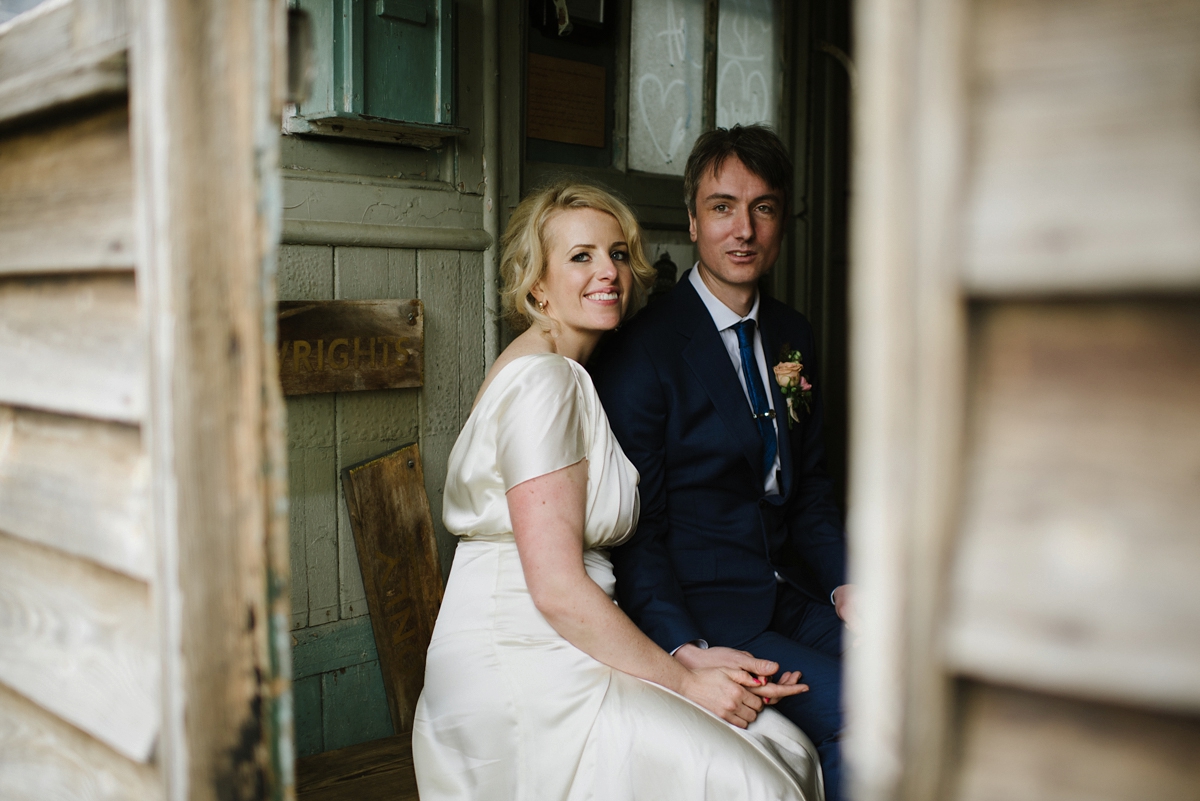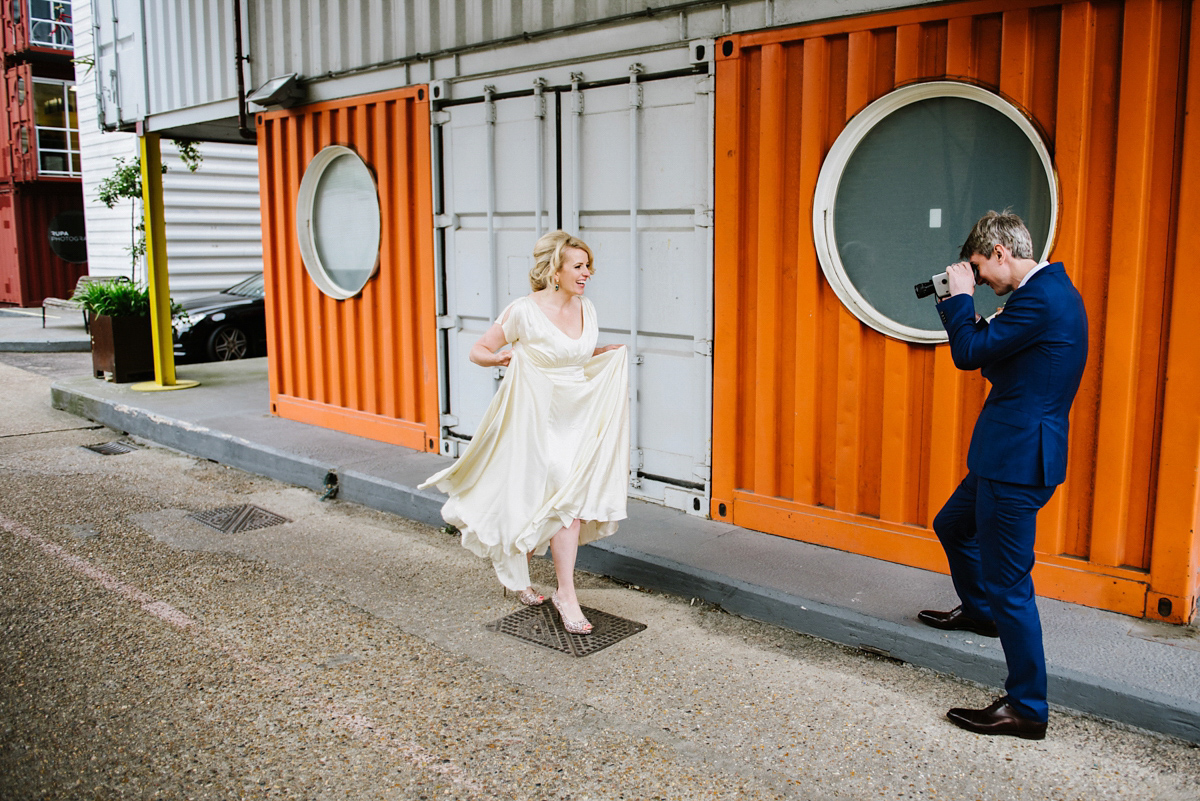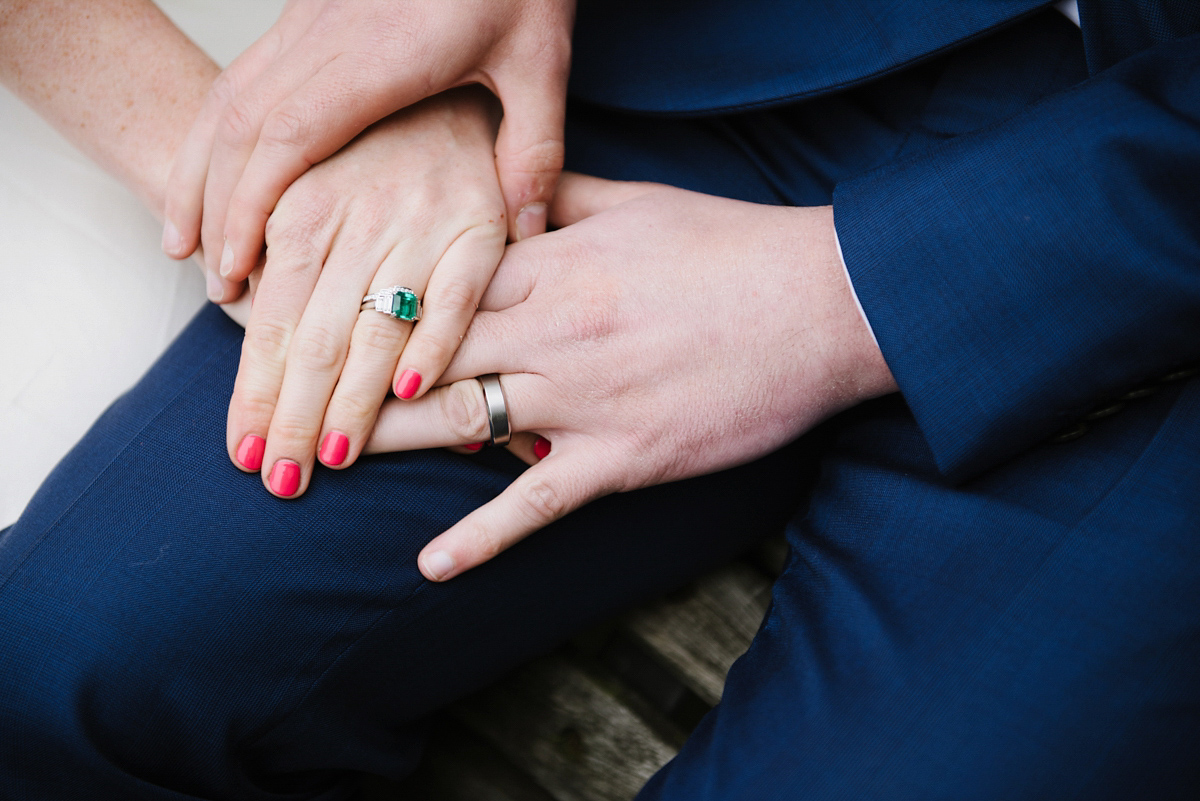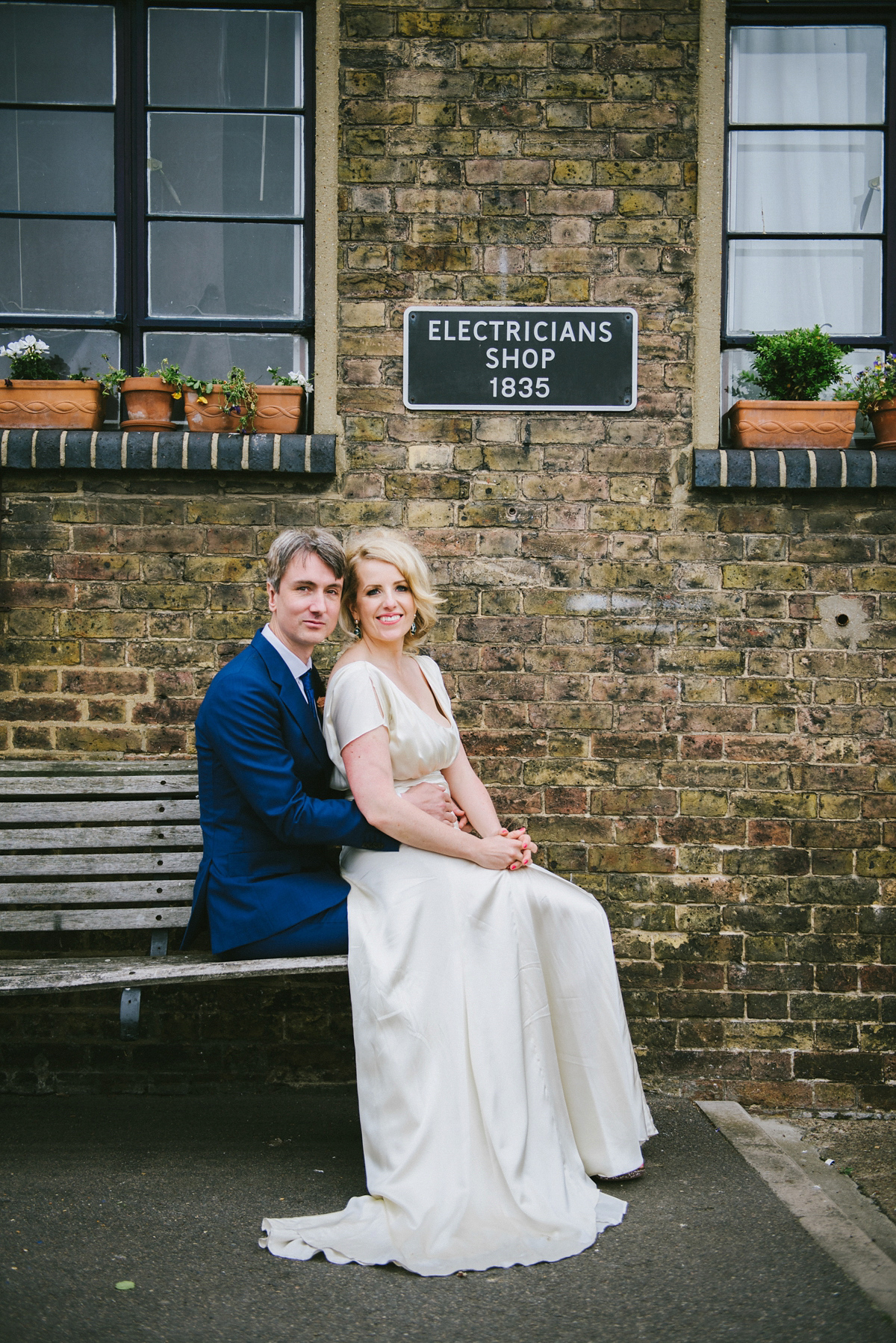 "Our caterers, Tasting Plates, took care of all on the day logistics at the reception so that helped us an awful lot. Back in 2008 after I left my job as a lawyer I experimented with wedding planning and assisted a handful of couples over the summer, so I was also relying on some latent skill myself!"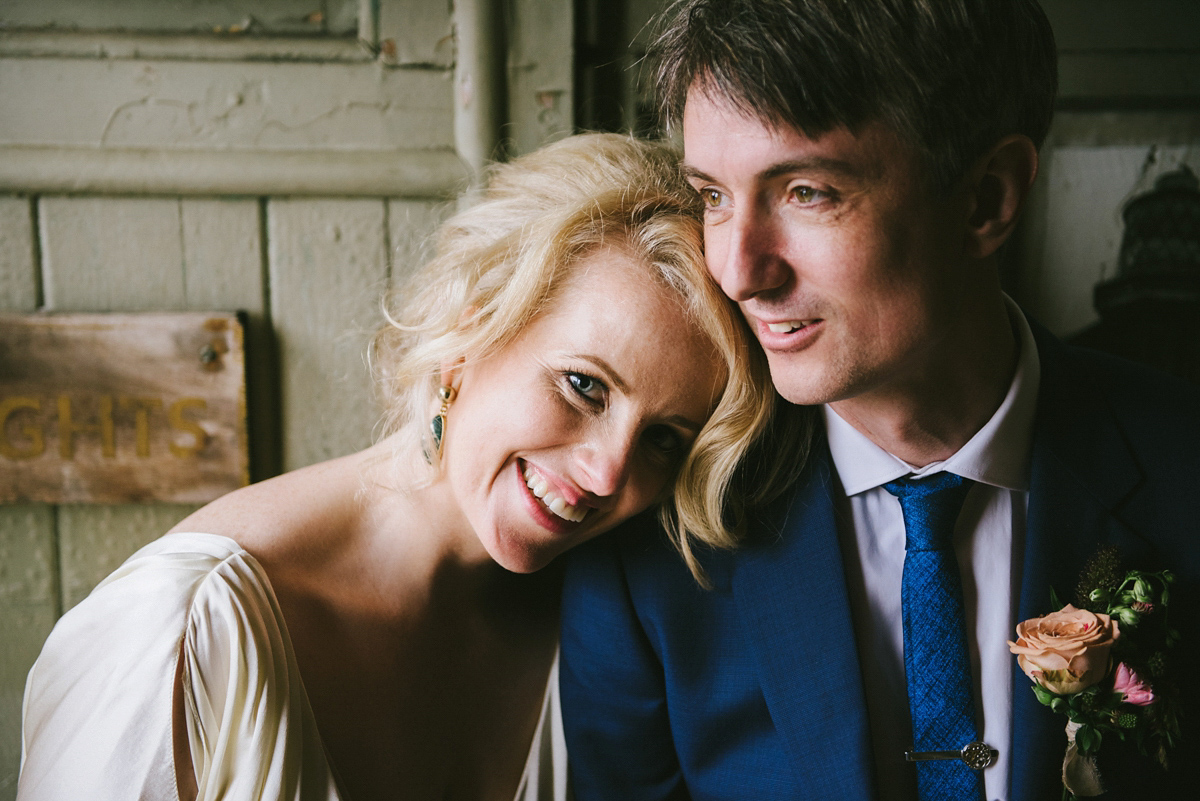 "Trinity Buoy Wharf again is a beautiful blank canvas. We wanted a dry hire venue so we could create our own occasion with our own suppliers, but we loved the history and the warehouse feel. Also, Alec is a massive water baby and so a river view was perfect for him. Before we knew it was a wedding venue, he used to canoe to Trinity Buoy Wharf from our house for fun. Practically, both our venues had great access for my dad, who is in a wheelchair too. They were both exactly right."
"For the table plan I covered a large canvas board with marble wallpaper and then we had mini polaroids printed of every guest with their name on. Again a mammoth task to find the pics, but worth it!"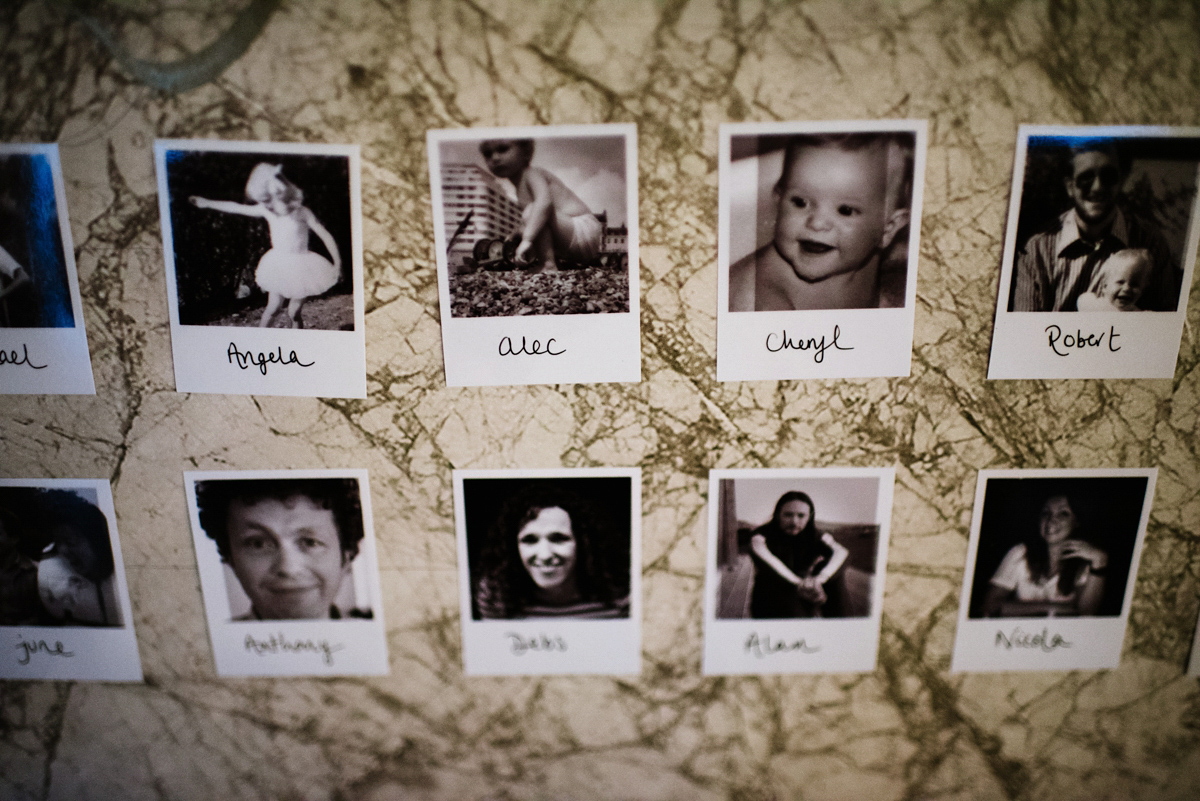 "Ah the decor! We worked with the lovely Rachel Bache at Another Story Studio to help us source and do the dressing for the reception venue. It was lovely to get her input on ideas and also invaluable to have her there styling on the day as I wouldn't have managed to get it set up in time. She was fab. She totally got my vision and ideas for the mid-century glamour and so really helped me track down what I needed."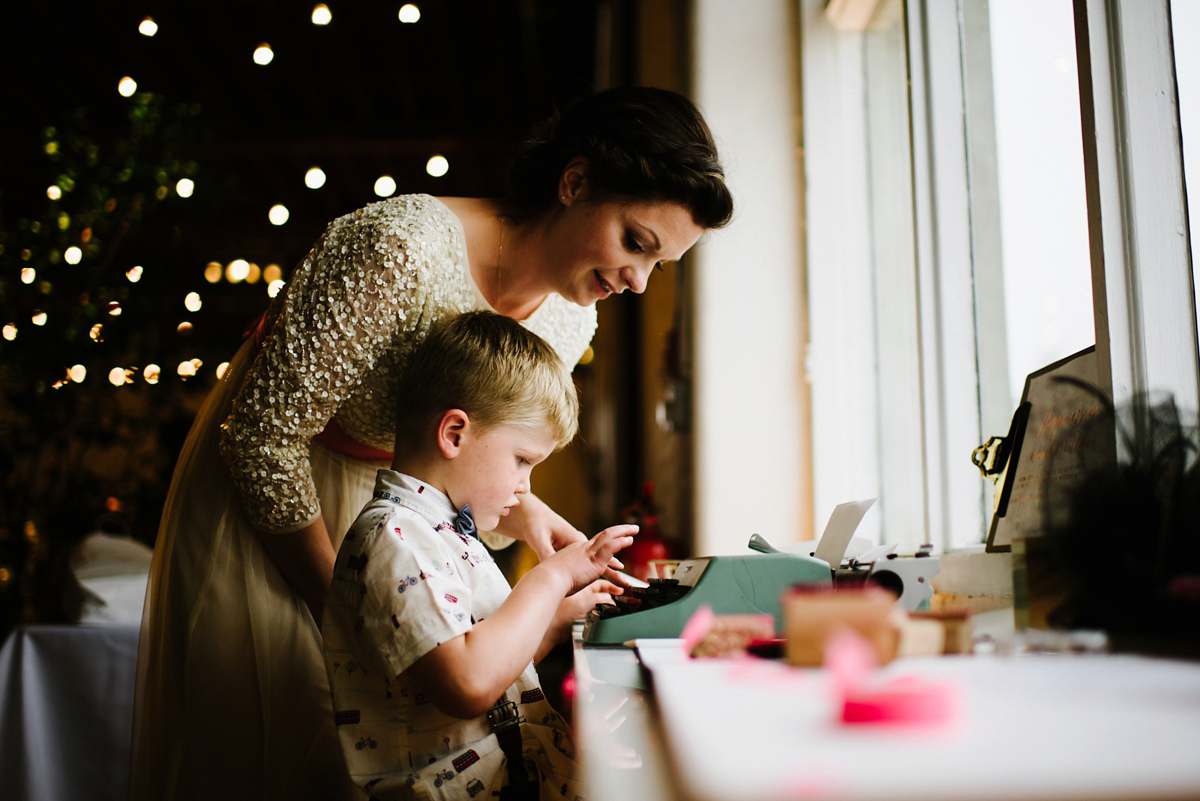 "The stationery table was always something I'd thought would be fab. Somewhere for people to write notes and get creative. I had the old typewriter and then picked up bits from different stationery shops. Again Megan Riera made us stamps which I commissioned with question starters like 'Always remember to…' and 'In ten years times you will…' and of course the 'Note of appreciation', which we'd used for the table cards."
"People stamped us messages and then filled them in. We also got some great notes from the typewriter. I found a 50s wire 'in tray', which I sprayed gold to store the cards and I found a little shelf unit which I also sprayed gold to store all the stationery."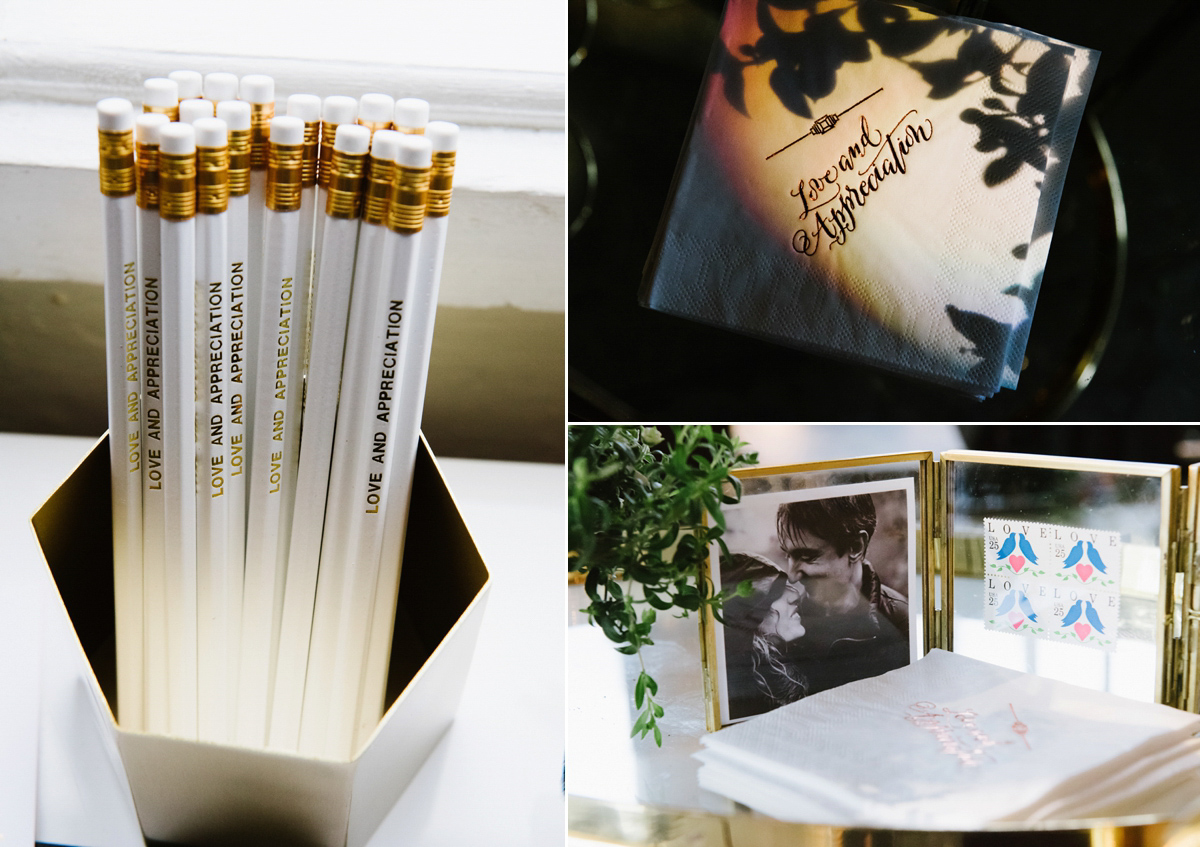 "Although it didn't end up being warm on the day, we had an outdoor area with astro-turf to bring some green to the outdoors, and then I found rugs at an antiques fair and a couple on line. We had beech trees we'd hired from the venue and also some outdoor furniture in a '50s LA' theme.
I found some great outdoor lanterns from Dunelm Mill and we dotted these around too. The styling spreadsheet was probably the most epic part of the organisation!"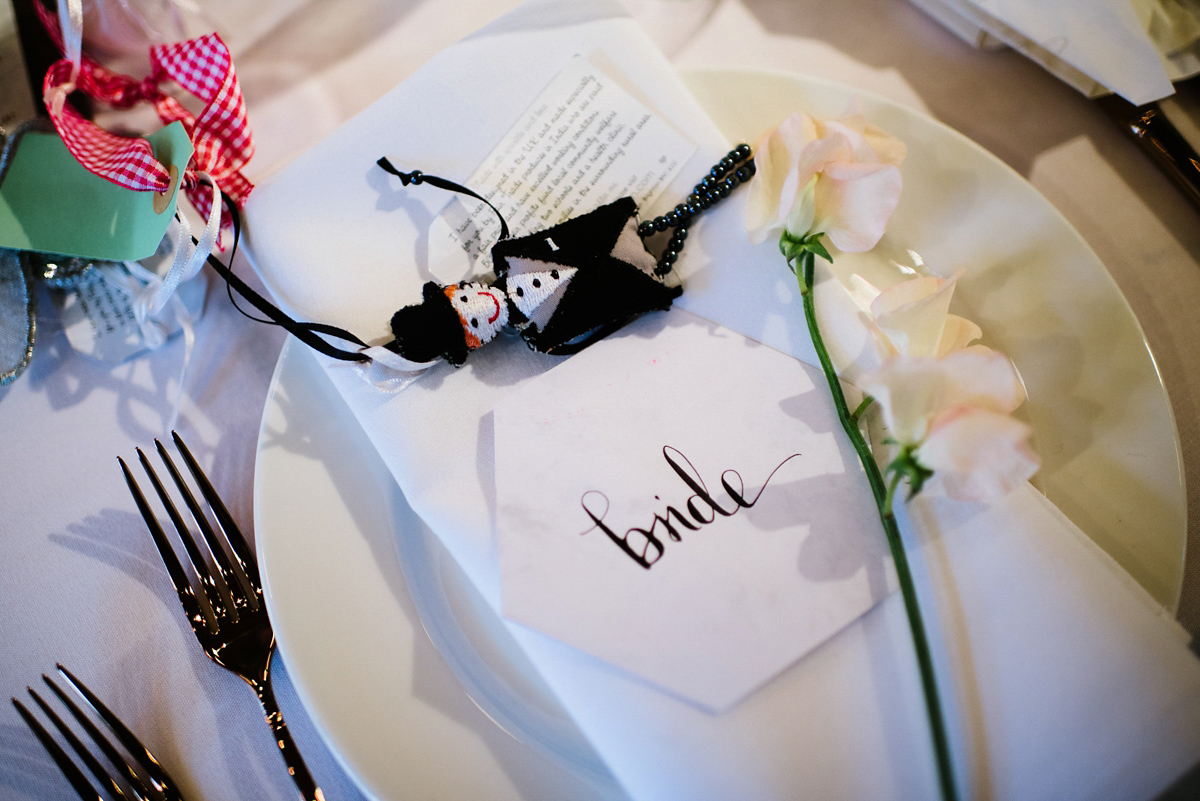 The couple decided against wedding favours…
"I've seen so many weddings when the favours are left so we decided against it."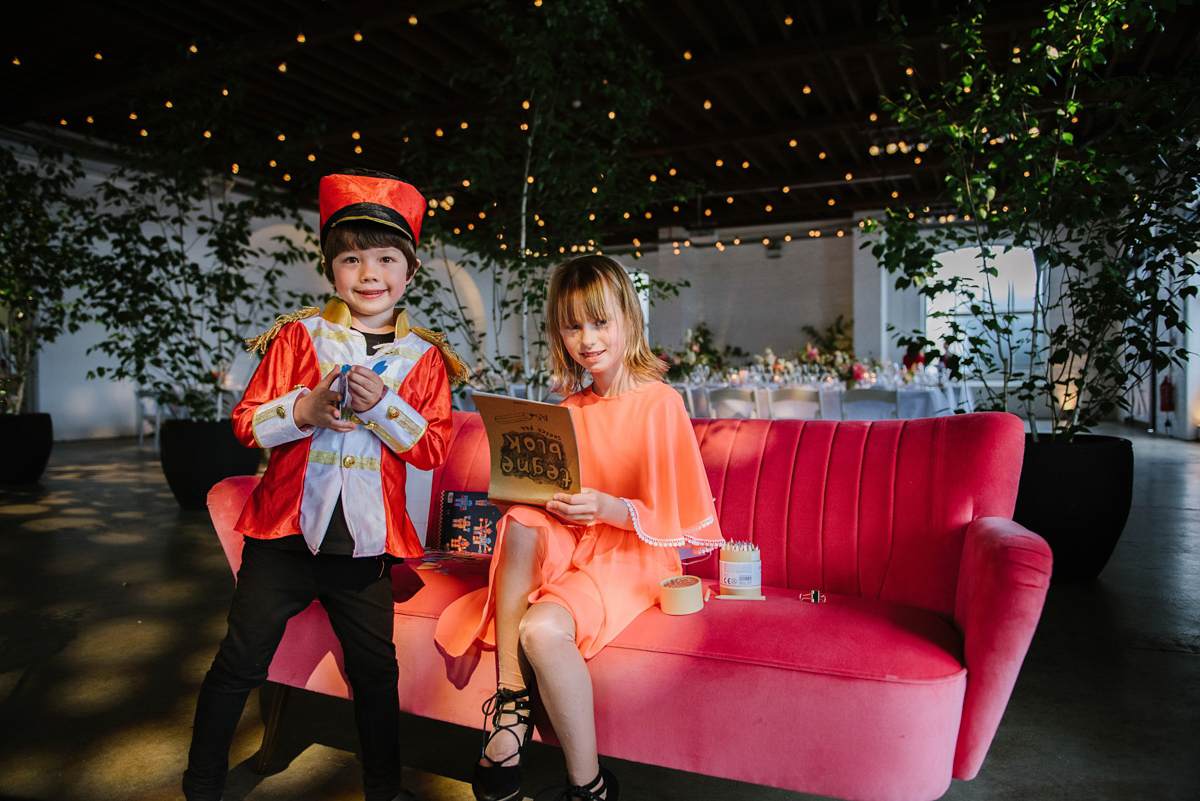 "We really wanted generous, sharing platters as neither of us like the formality of silver service or small individual portions. We both love to cook so the quality of the ingredients was also key. We were very lucky to find Martin and Sara at Tasting Plates who made delicious, abundant food and they also coordinated the reception too.
We loved how flexible they were, we ordered all of our own alcohol and made custom cocktails, and also brought our own brownies for the evening (the infamous Brownie A that I beat Alec with at a bake-off planned since our first date) – they were stars and everyone raved about the food."
"For the tables we had a mix of simple glass candle boxes and mini marble candle holders. I would have loved tapers but we couldn't have them at TBW and then the beautiful flowers from Gayle. I went with gold cutlery from Classic Crockery and after much deliberation kept it simple with clear glasses.
I had thought about trying to track down green or pink, but much though I love antique fairs and junk shops finding enough for 175 wasn't going to happen."
"We had the menus on the mini-clipboards and then the 'marble' hexagon place names. I also found large marble tiles from Topps which I wrote table names in calligraphy with a gold pen. Nice and simple."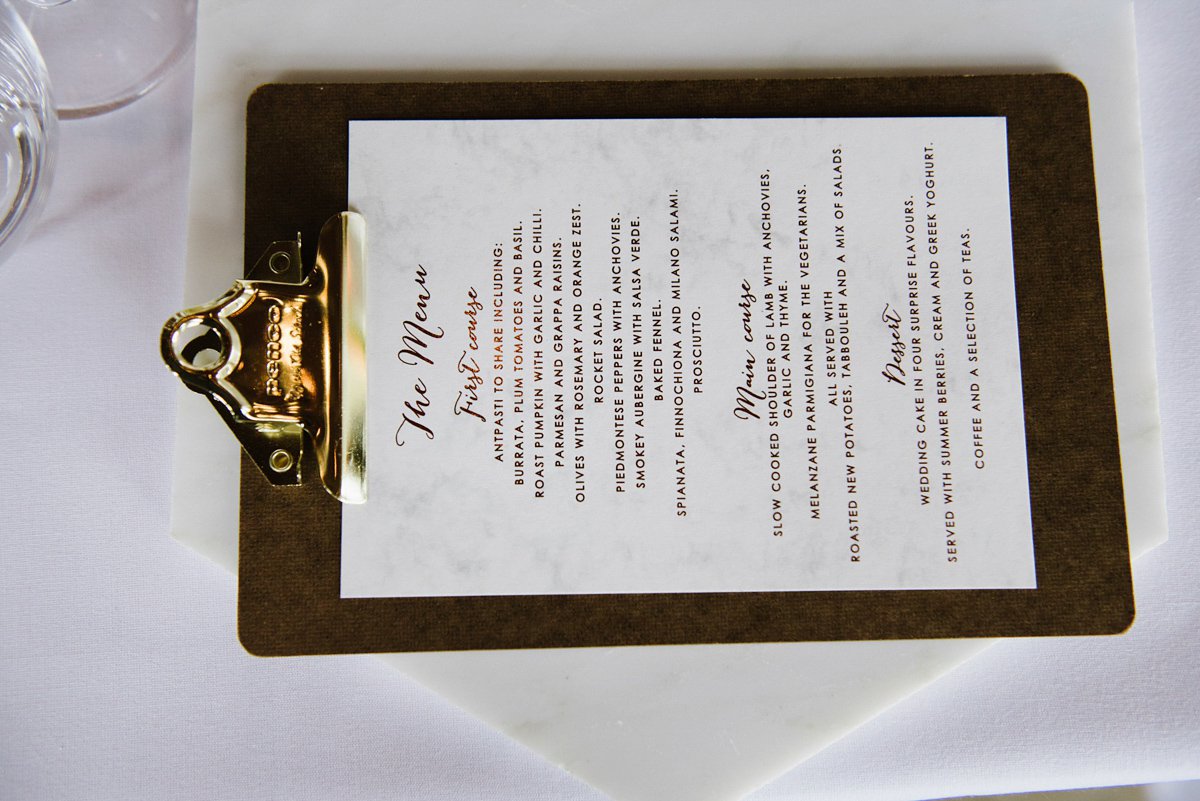 "The bar area was really important to get right as we were bringing our own booze and I don't like it when it's just laid out on trestles getting messy. I wanted the glamour of a mid-century, Mad men style bar!
Our caterers recommended the bar company, Background Bars, and we hired their New York bar with subway tiles."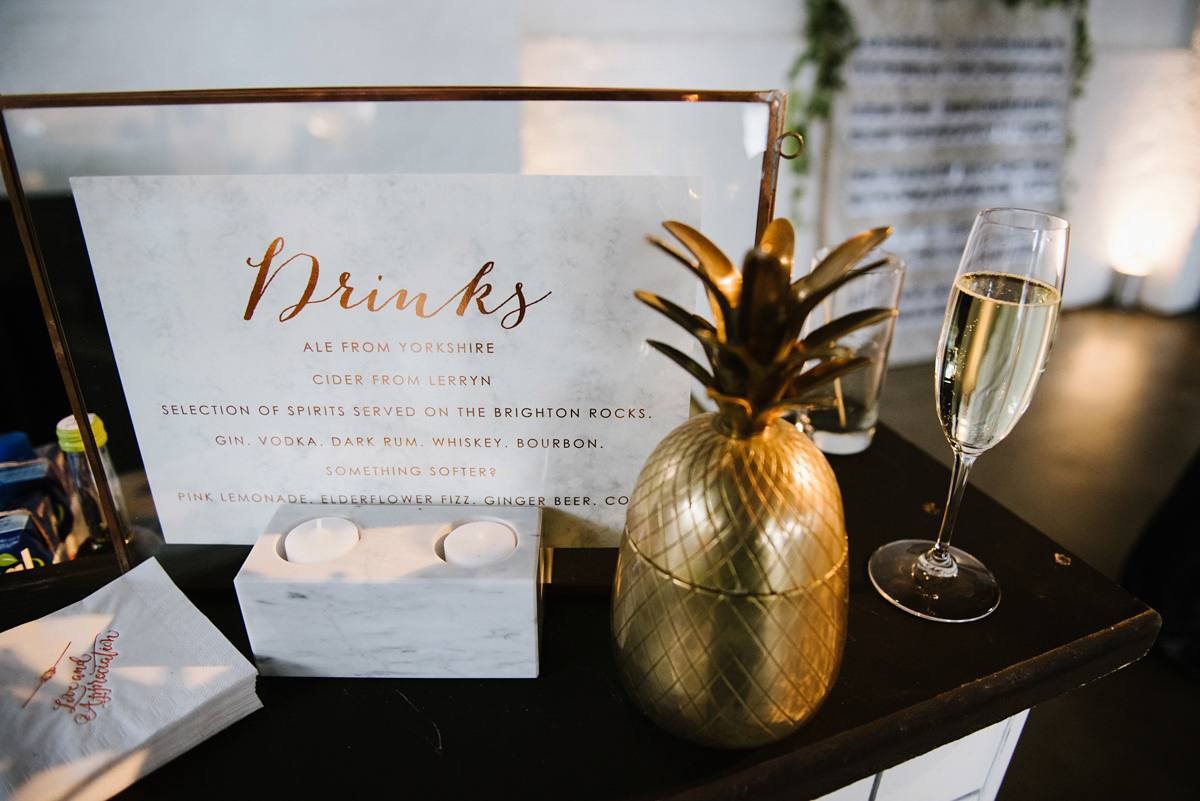 "For the stationery on the day, we had orders of service printed with the same ring motif and 'love and appreciation', as per the invite, and also had menus which I used mini clipboards to present. EYI Love foiled us some signs for the bar and the evening food which we loved too. For the reception stationery we used the same foil but on marble board to help it fresh."
"I found marble card and cut hexagons for every guest and then did a calligraphy name for everyone. On the reverse I'd had more calligraphy stamps made with 'note of appreciation', which I stamped fro everyone and then wrote a handwritten note for every guest saying what we most appreciated them for. It was definitely a bit of an epic job 3 days before the wedding, but I'm very glad that we did it!"
"Gayle made the beautiful hanging arrangement above it and Rachel brought her brass pineapples for the top. Rachel recommended furniture from Granger Herzog and we got the amazing green velvet beetle chairs from them to have at the bar."
" I loved looking into the reception venue and seeing how beautiful it all looked as it had all come together with styling, flowers, lighting etc. That was pretty special."
"For Alec, the most special moment of the day were the vows and my speech. I'd add that doing a speech was absolutely lovely. I didn't draft it or plan it too much, but having the chance to speak from the heart about Alec and all the people I care about was fantastic.
If you're on the fence as a bride, do it! Remember everyone in the room loves you, so it needn't be an ordeal."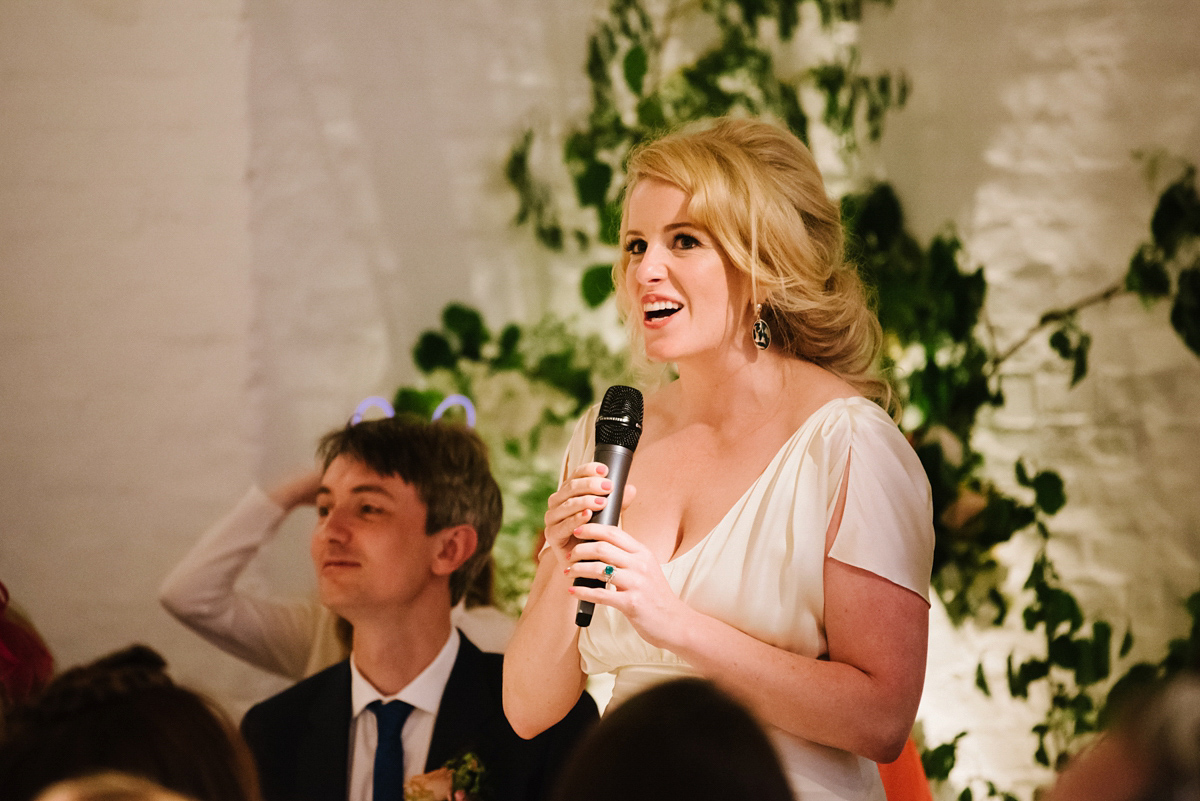 "As a keen baker I had thought about making my own cake, but I'm very glad I didn't! Instead, we had a delicious cake from Laura Marten at Yolk. Well, I know from everyone else telling us that it was delicious. Predictably we didn't eat it. Still gutted about that and I've asked Alec to think about one of Laura's cakes for the next big birthday!
Neither of us like fruit cake so we decided to go for sponge with simple buttercream icing."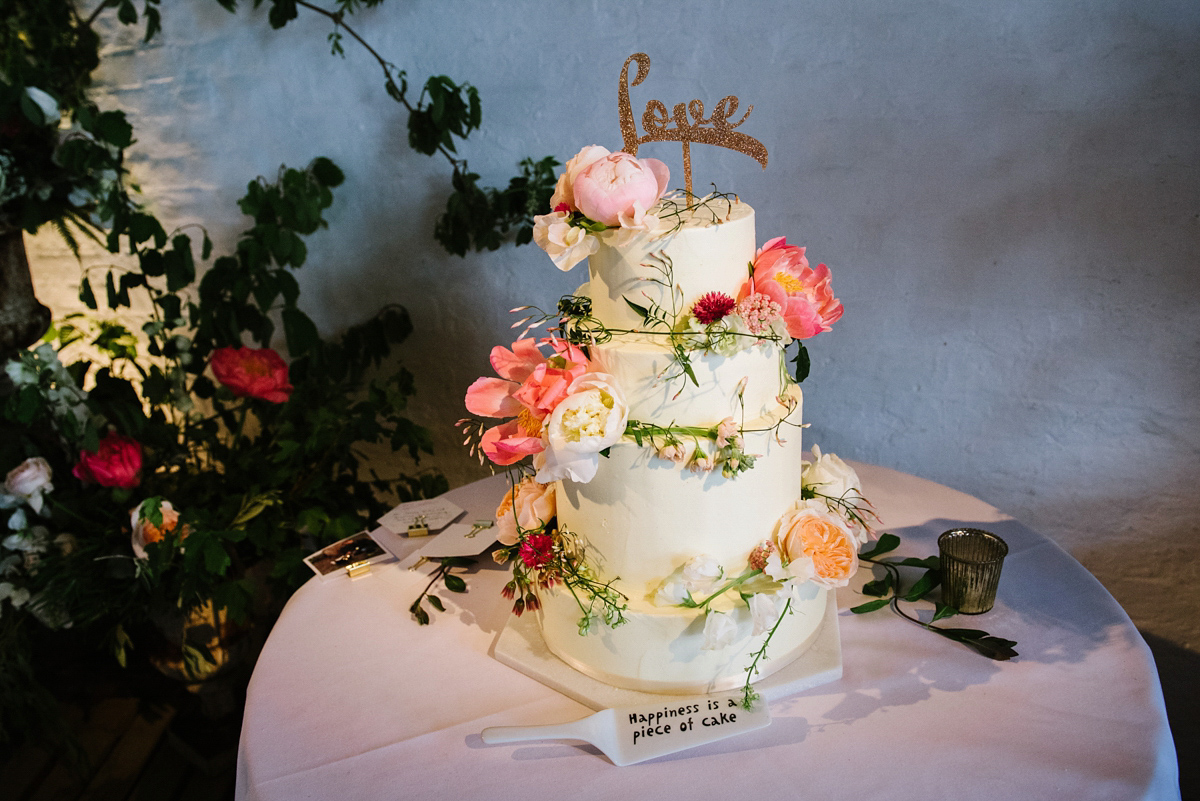 "The layers were: chocolate and raspberry, hazelnut with caramel, lemon and orange with mascapone. It was a beautiful creation. I found the 'love' topper on Etsy. And Gayle, our florist, supplied the flowers to decorate it with. The marble wakeboard was from Trouva.
Most excitingly, the cake used eggs from our own chickens (Shelley, Blanche and Yolko) which we had stockpiled – we loved bringing them into the day! And yes we know it's bonkers to have chickens when we live in London, but we're very lucky!"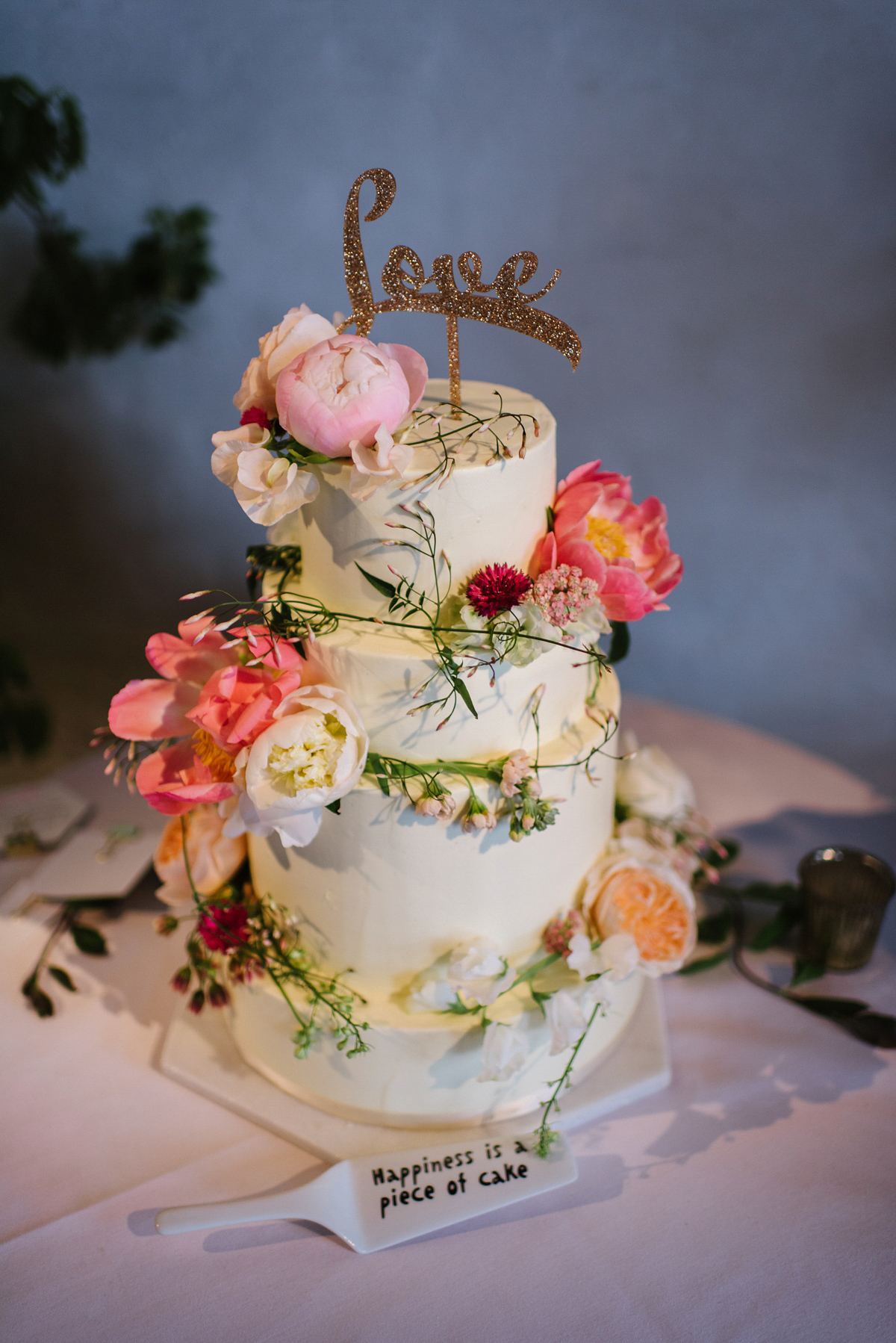 "The first dance was a big bone of contention since we got engaged. Alec definitely didn't want anything slow as he felt that we would 'die on the dance floor' if we just shuffled around, and no matter how hard I tried he was never going to be the groom who agreed to a choreographed routine.
Alas. He was well into clubbing in his teens/20s so my fear was that he was just going to freestyle and I would be left in the middle like a lemon – so we would have long discussions about this. It got to the day before the wedding and we still didn't have a dance."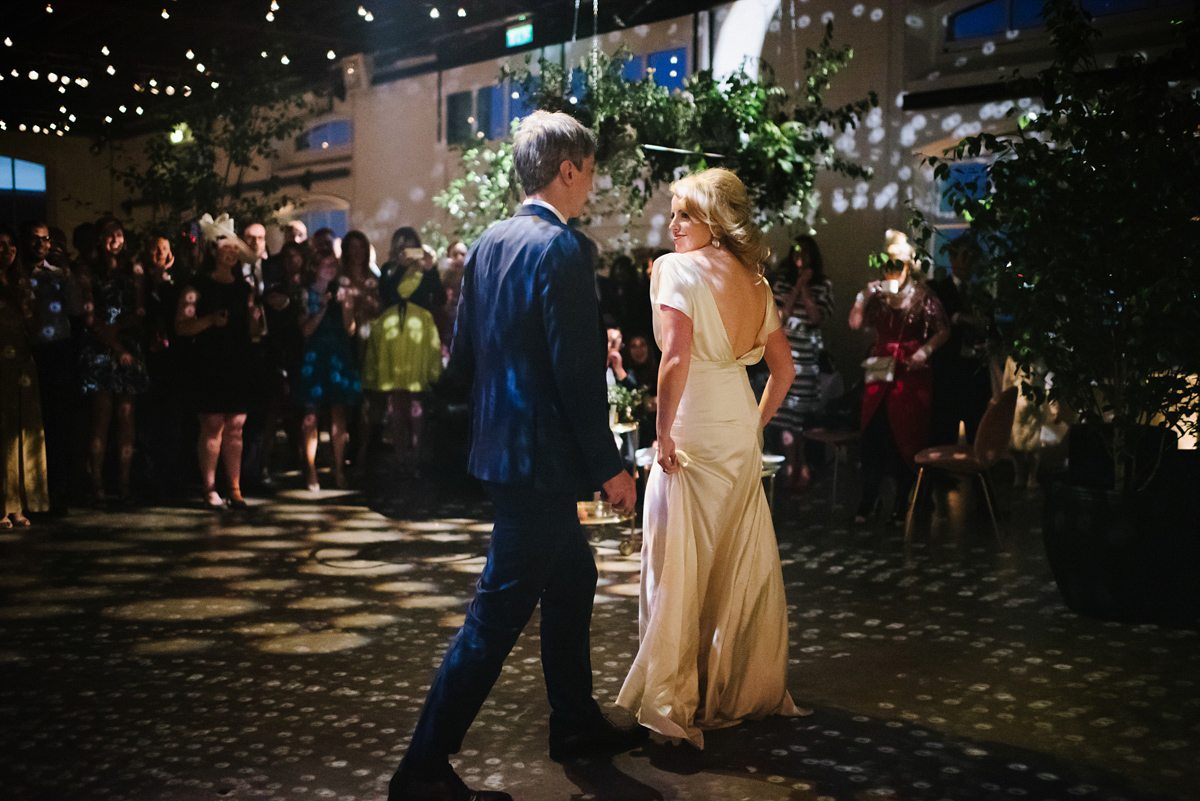 "It was at this point that I realised that I just had to let go so I agreed to a lucky dip approach. We each put our two favourite choices into Alec's sister Sally's hat, and the MC picked it out for us seconds before we were due to dance. The result: Alec's choice of Germaine Stewart 'We don't have to take our clothes off'.
Hilarious! It wasn't the romantic close first dance of the films but it was really funny and we both went for it."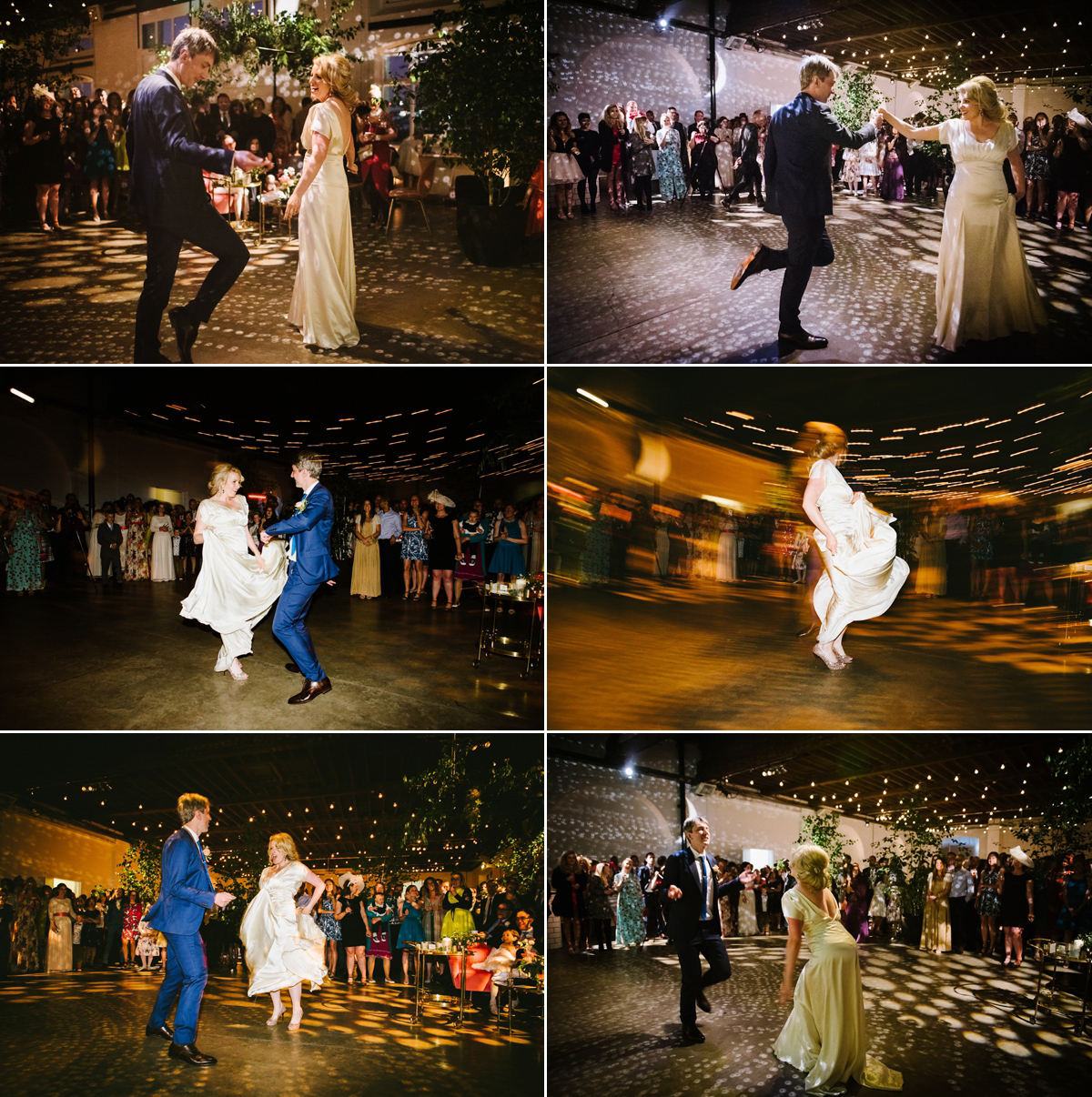 "I had always wanted a photo-booth, but wanted to make the set-up rather than have a big box. I found the gold sequin backdrop on amazon and then Rachel helped assemble it onto a clothes rail (she really is ingenious). Foliage from Gayle our florist and then props which I found online and boards made it really fun. We also had a soft seating area for people to chill out in.
The furniture was from Granger Herzog and we had details with some of the pics from our engagement shoot with Ed. I also found some old stamps to include and the frame is now in our house."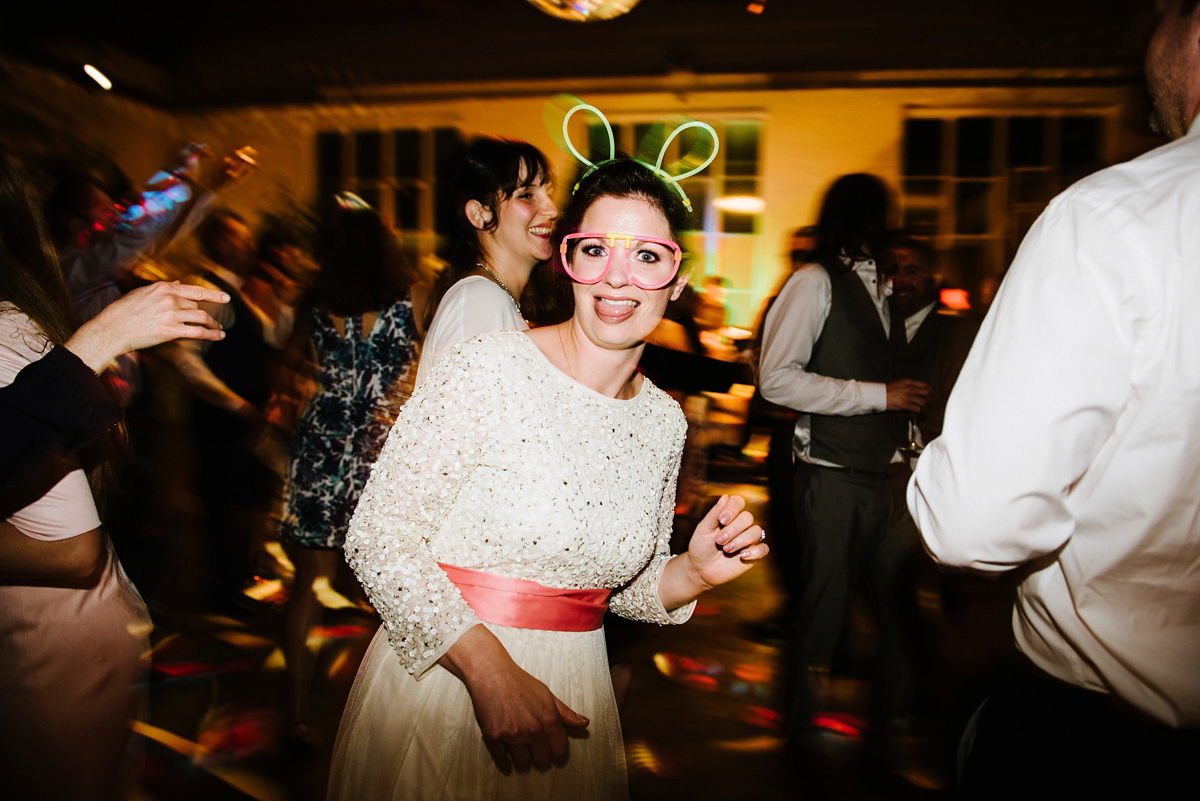 Words of Wedded Wisdom
"Oh goodness. There's so much wisdom out there, so I won't share the usual 'time passes so quickly, savour it', etc etc. But remember, it really does.
I think have the confidence to make the day as you both truly want. The best thing for us was how personal it was. We didn't feel confined by "you have to do this or it must be like that" which relaxed us and also meant that our guests felt relaxed and cherished. I loved our ceremony because it was bespoke and right for us. That didn't mean it lost any of the gravitas or weight, but it did mean it was special. Initially I'd been a bit bothered about doing the legal part on a separate day and then the humanist ceremony but that didn't matter a jot and it meant that the day itself was governed by us and not anything more formal.
Letting things out of your control allows for magic. Like Alec's surprise outfit or letting people pick their own readings etc. It means that there's space to be surprised which is pretty special. Similar trusting suppliers to be experts in what you're booking them for is great. Picking suppliers who you genuinely like is great too, and also taking time to get to know them or share your vision with them. We had a few words that we settled on to sum up the feel of the day and we were able to share these with everyone which helped unite people."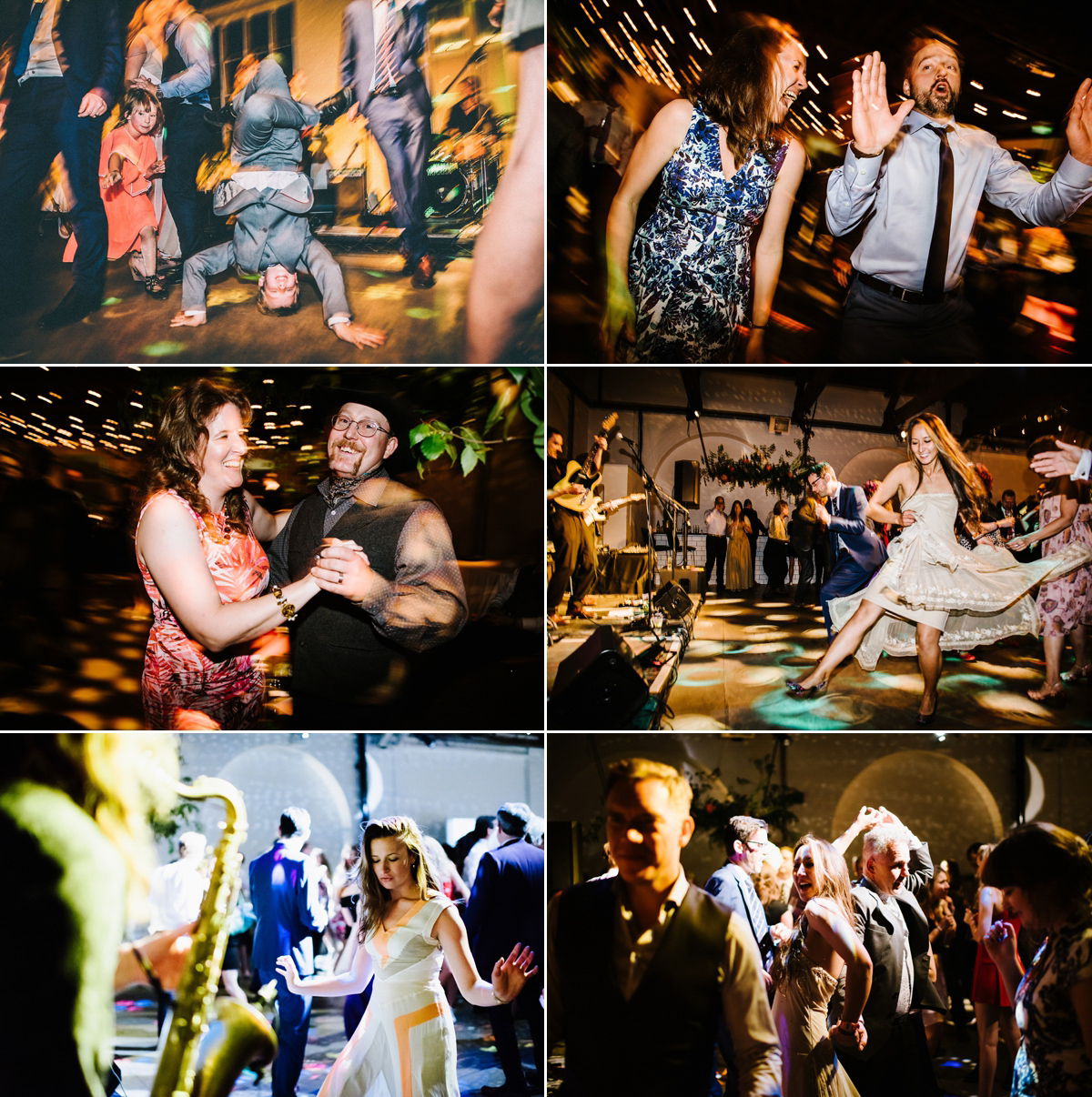 "In terms of what we'd do differently, we were so lucky with all of our suppliers and the generosity and creativity of friends and family in their contributions so that made everything very special. Some of the timings slipped which meant that we arrived on the boat before all of the guests on the buses which meant we lost our big entrance, and similarly we didn't get started on the dancing until later, so maybe I'd be more conscious of that, but to be honest it all unfolded in a natural and relaxed way so I wouldn't change it.
Part of my job and passion is creating fantastic experiences for people online and offline, so thinking about the flow of things and how you want people to feel at all points also means that you really bring the day together. Guests get nervous or stressed when they don't know what's going on – should they eat before the ceremony? Where do they need to be exactly? Are they going to be in photos or not? The more you can do to plan a journey for them and convey what they need the better. Practically having a detailed list of questions in your invites is great, but also things like proper signage and ensuring that ushers etc are well briefed is key."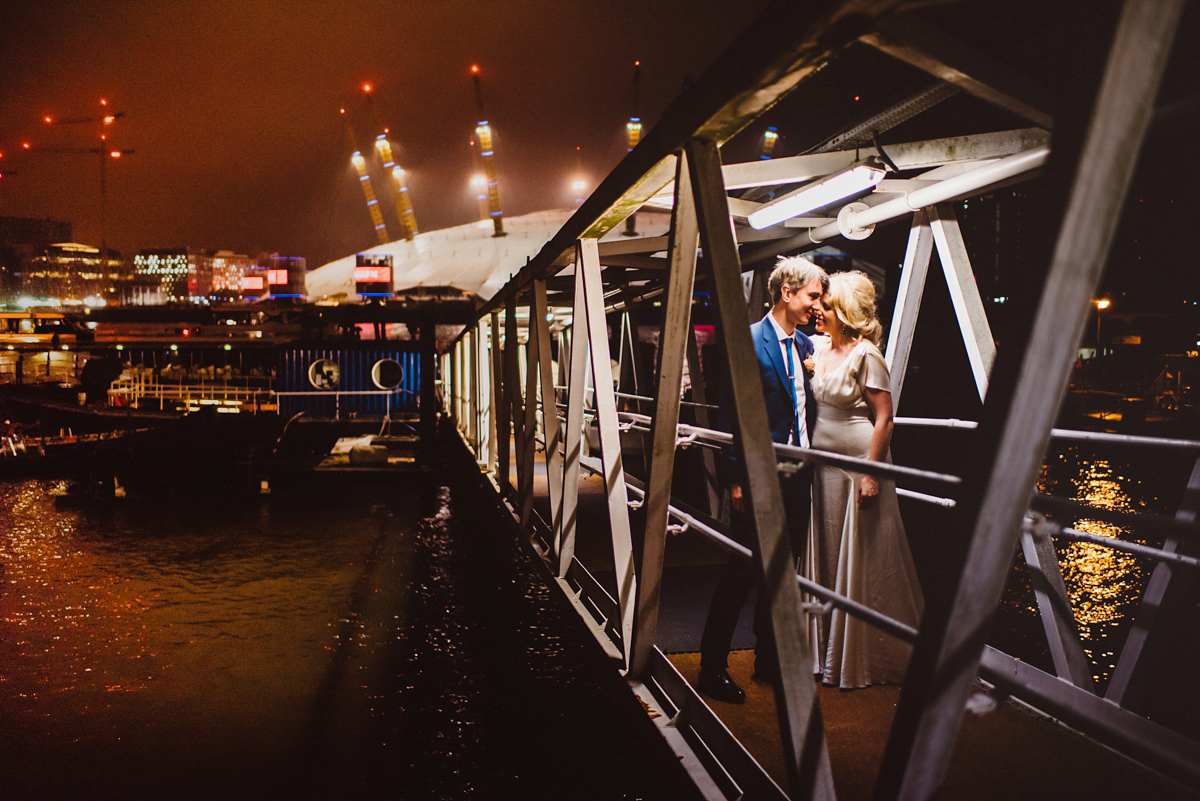 "Overall, the wedding is the celebration, but it's the new chapter of marriage which is the real focus. Having time in the run up to reflect on this and the change itself really helped me. Also taking time together to think about what you want for the marriage and your lives together unites you and reminds you of the reality of what you're doing when all the other conversations can get lost in logistics. If you're writing your own vows, taking this time to discuss your vision for the future helps too.
Finally, remember that you each have different strengths. At times I felt frustrated because I was doing a lot of the organising, but to be honest that's more my strength than Alec's and also I probably cared more about things like stationery tables at Photo Booth props. I, conversely, could never possibly write piano music and so him contributing in ways that played to his own strengths made a lot more sense.
I'd definitely make sure we had some wedding cake saved for us though!"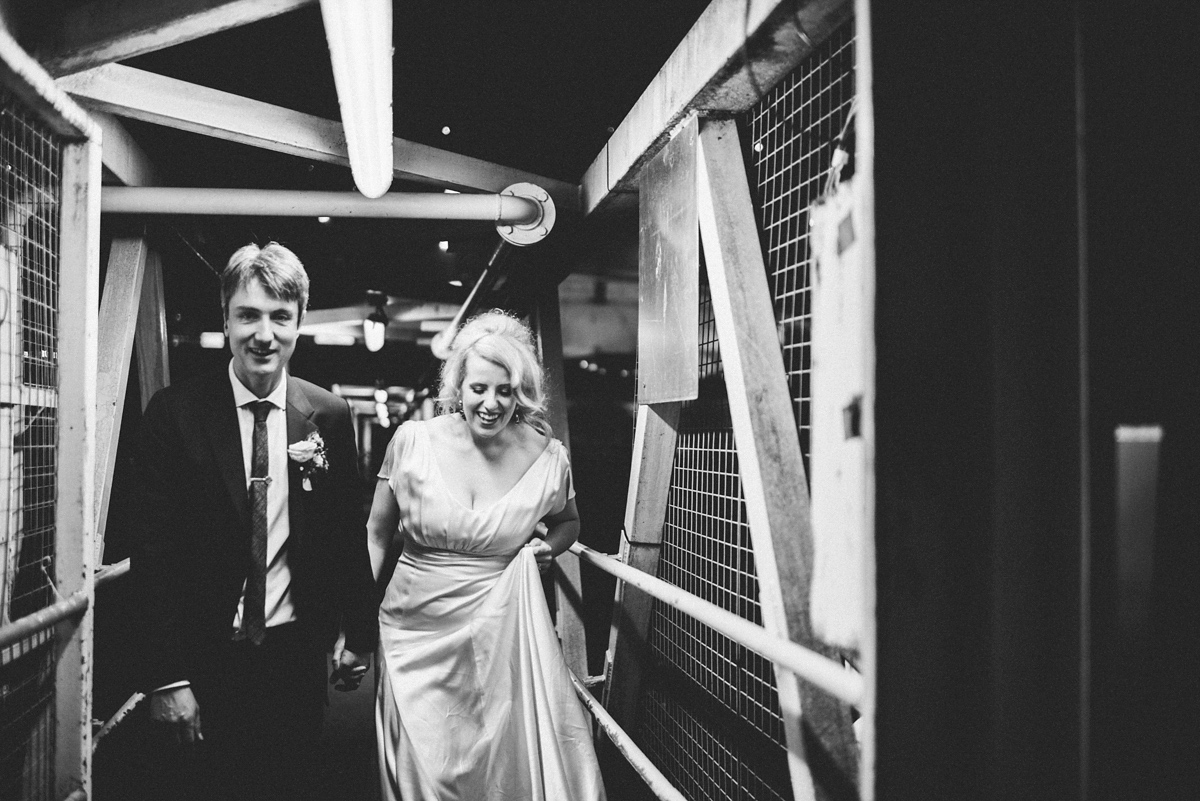 Absolutely wonderful, just wonderful – a heart full of love and thanks to you Cheryl for taking such time and care to share such lovely recollections of your wedding day, and brilliant supplier recommendations and information! I think you look utterly knock-out in your Belle and Bunty gown.
For those of you with a little time on your hands this Friday afternoon, here's a fuller length version of the gorgeous film by Wagtail Productions. ENJOY!
"Having the day filmed was something that I'd always hoped we'd be able to do. Initially Alec was less fussed, but when he saw the video that Ayla of Wagtail Productions had created, he confessed that I'd been right (testament to Ayla's skills!). I hunted for ages to find someone whose style I resonated with. I knew that a formulaic approach or long lingering shots of my shoes wouldn't be right for us, so I was super happy when I found Ayla and Wagtail Productions. I loved her eye and her way of bringing romance and heart to a film but without it being conventional or too soppy. It felt authentic.
The finished result gave exactly that. I know that some people worry about a videographer being too intrusive, especially with a photographer too, but that wasn't the case for us. It was discreet and lovely. I don't think our guests even noticed the day being filmed, but they certainly loved the results too."
Love Annabel x