Sometimes I open a set of wedding photos and I think that Annabel must have sent me a load of movie stills by accident! Today's wedding is definitely one of these – it reminds me of a beautiful 1950's film.  Set in the Veneto region of Italy, this wedding has the most film-set-worthy church, views to die for and is all captured in stunning photography by Federica Cavicchi– it's an Italian dream.  Meet Francesca and Joe, the new Mr and Mrs Q, who married on the 25th June 2016 in Feltre, Belluno in the Veneto Region of Italy.
"Italian culture played a huge part in all our planning.  We wanted something classic and traditional but also very personal to us. We chose the colour scheme navy, gold and white. The fact that it was a Catholic wedding also played a key role in a lot of things we did (my husband's family are all Irish Catholic)."
Photography by Federica Cavicchi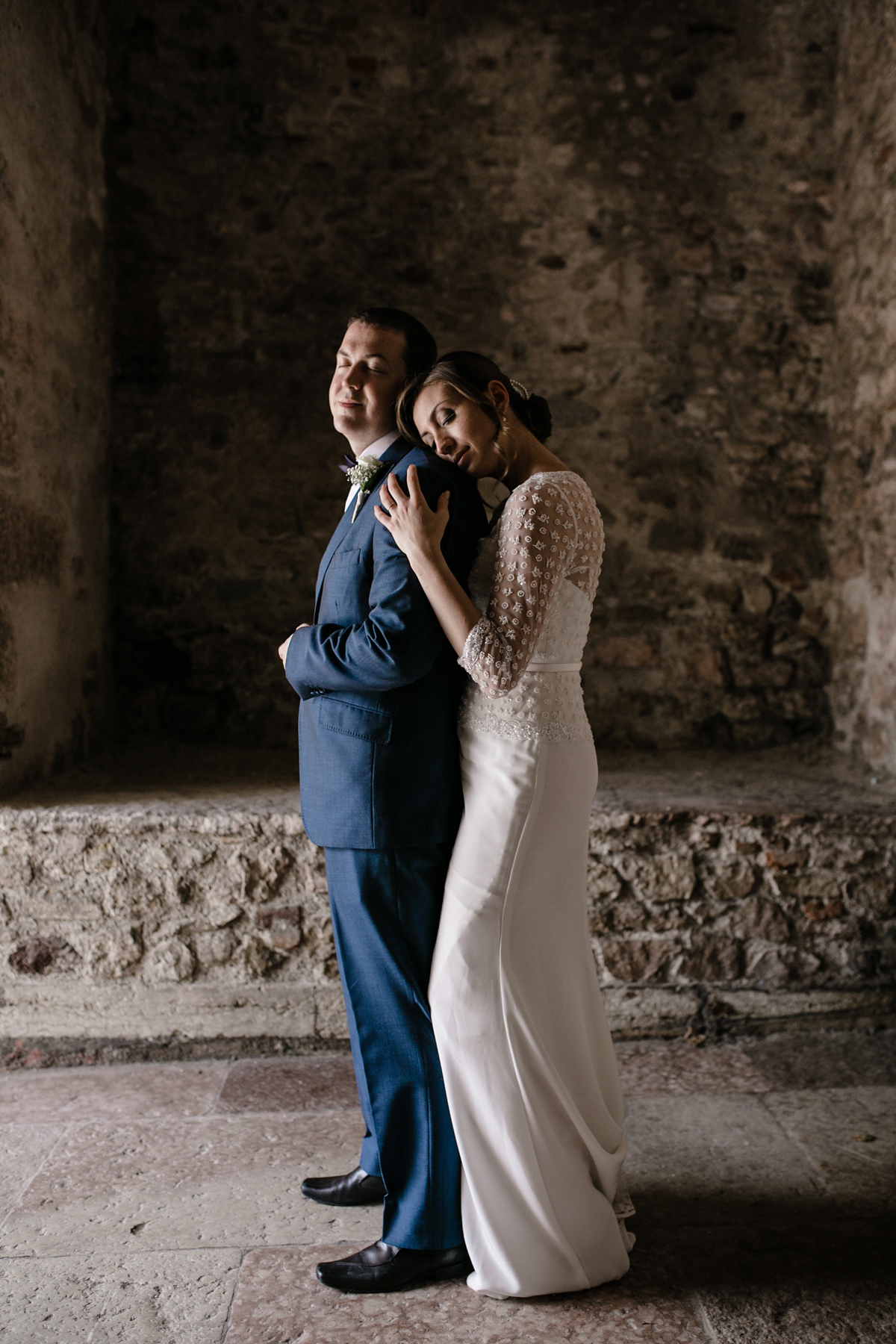 The bride's beautiful embroidered gown was from Rosa Clara, purchased at the Paris store.  I absolutely adore the beaded sleeves and sleek skirt.
"I first came across a picture of the dress on Pinterest and instantly fell in love with it.  I loved that it showed the model's figure without being revealing and I loved the simplicity of the plain skirt but the beading on the top added just the right amount of sparkle.  It was beautifully timeless.""I set about trying to find a stockist in London but soon realised the only way I was going to get this dress was to travel to Paris to the designer's shop."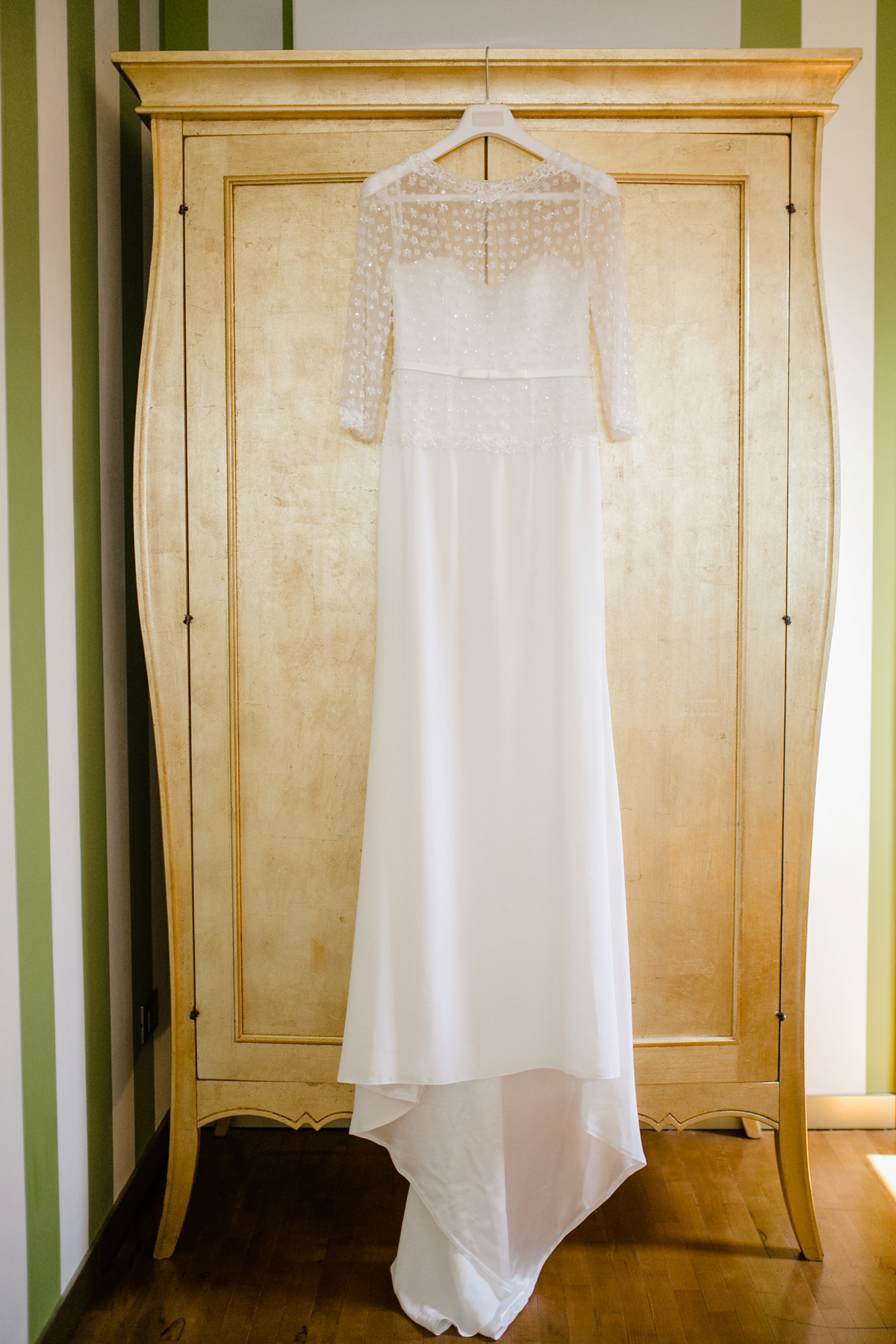 They didn't have the exact dress in stock so I tried on as many similar dresses as I could and then ordered it blind.  It was a huge risk but I knew I would never get that dress out of my head."
"When it arrived I travelled back to Paris with my mum for the fitting.  It was nearly perfect so they made a small amendment to the underskirt while we waited, and then we took it home on the Eurostar."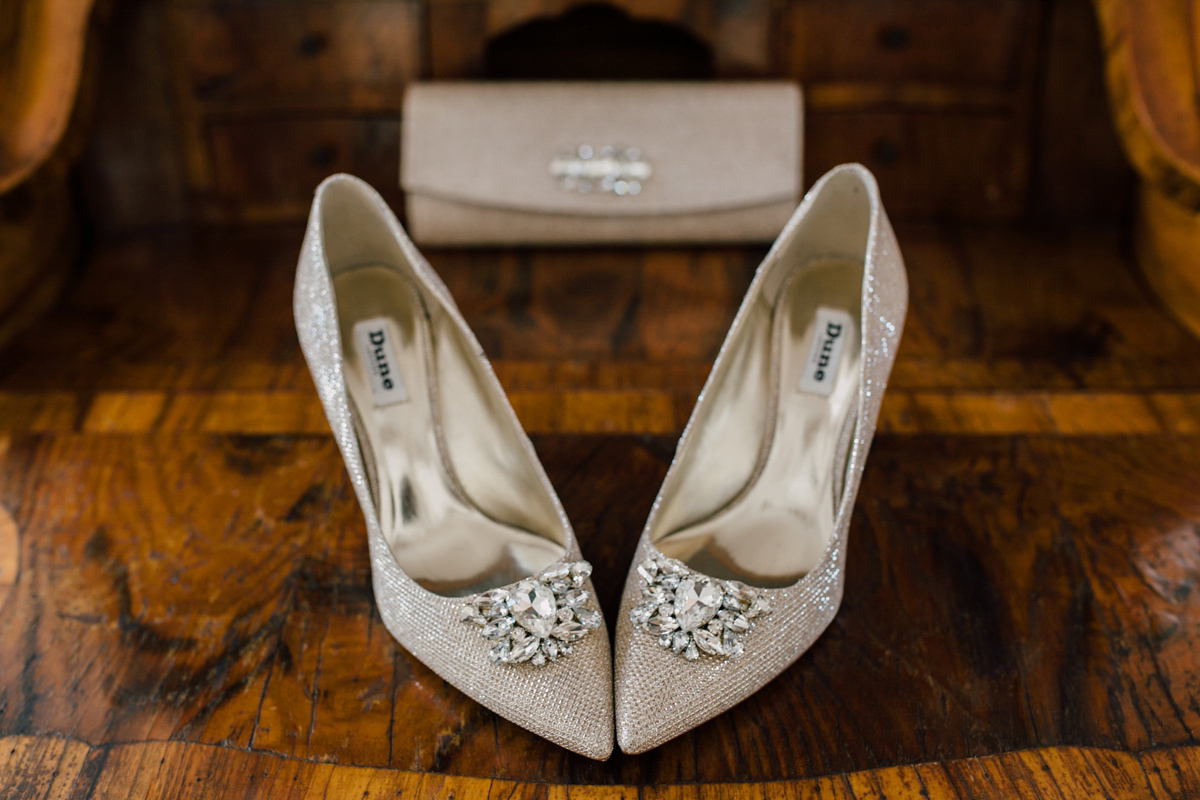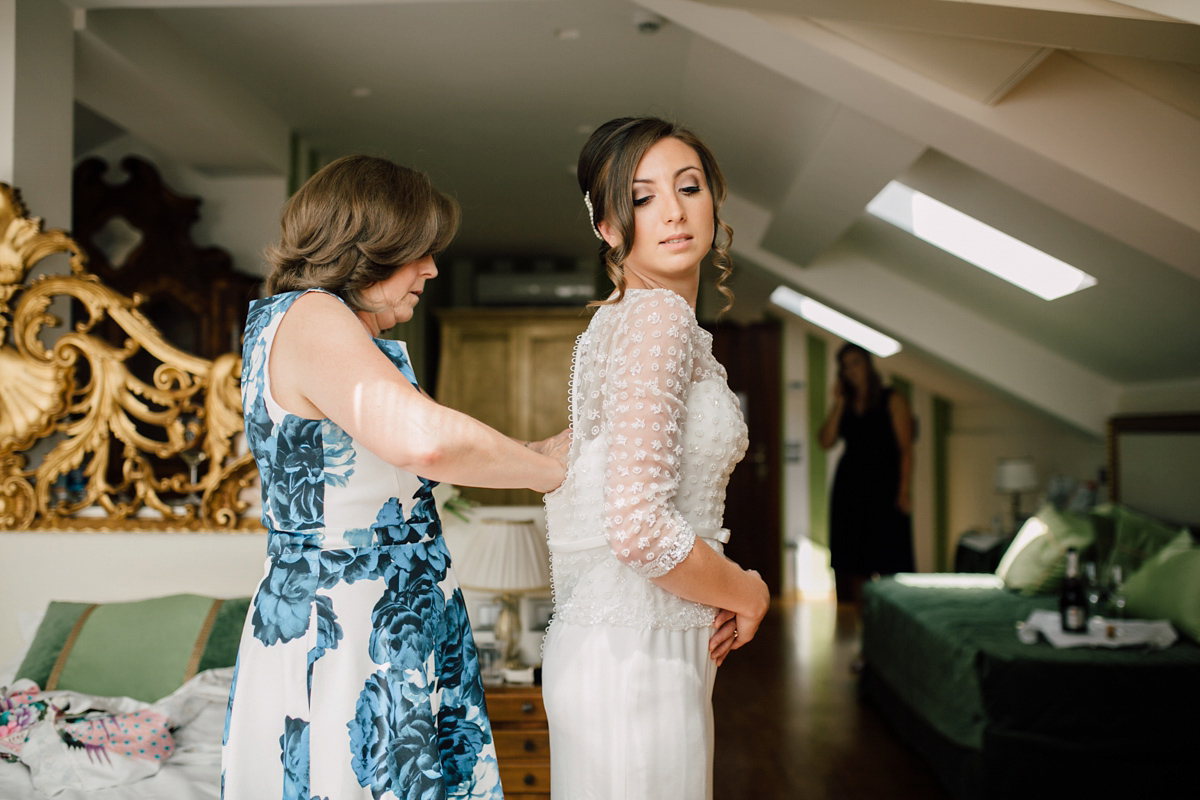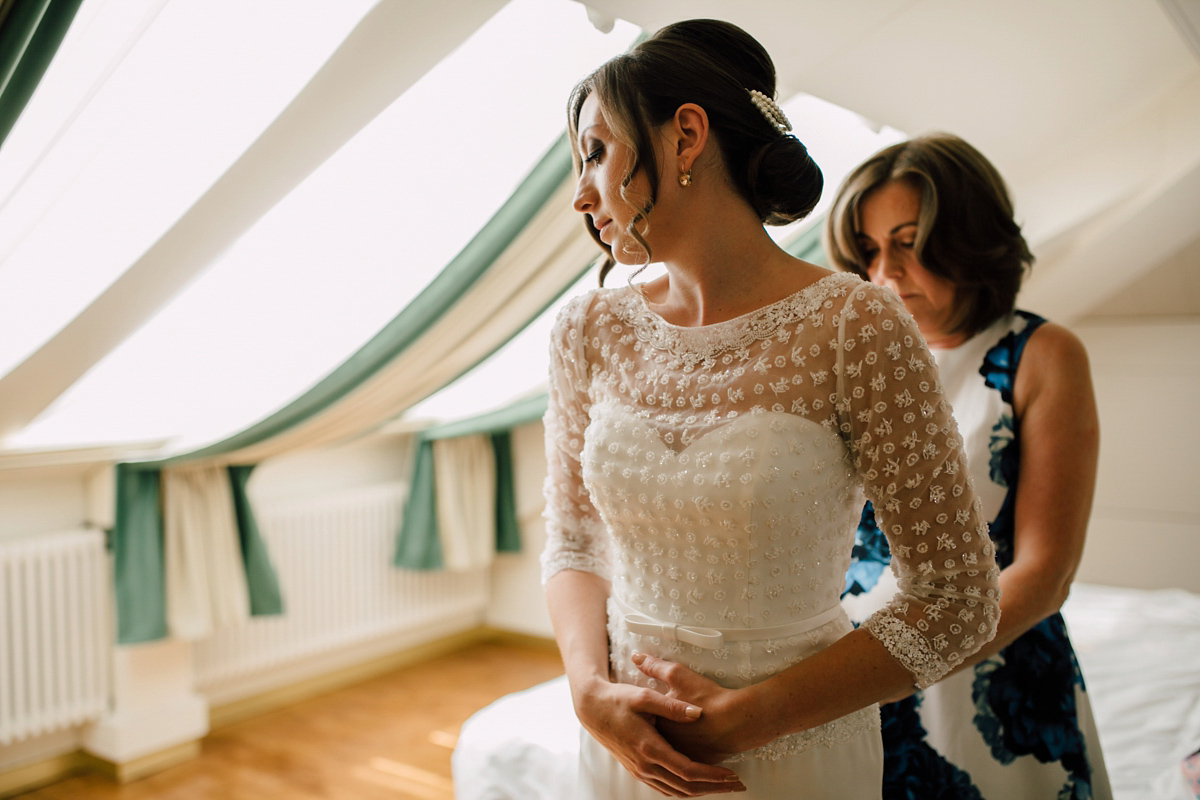 "My sister is a make-up artist (Martina Bassenger) so, as well as being my bridesmaid, she also did all the make-up.  We used a local hairdresser conveniently situated next door to the hotel."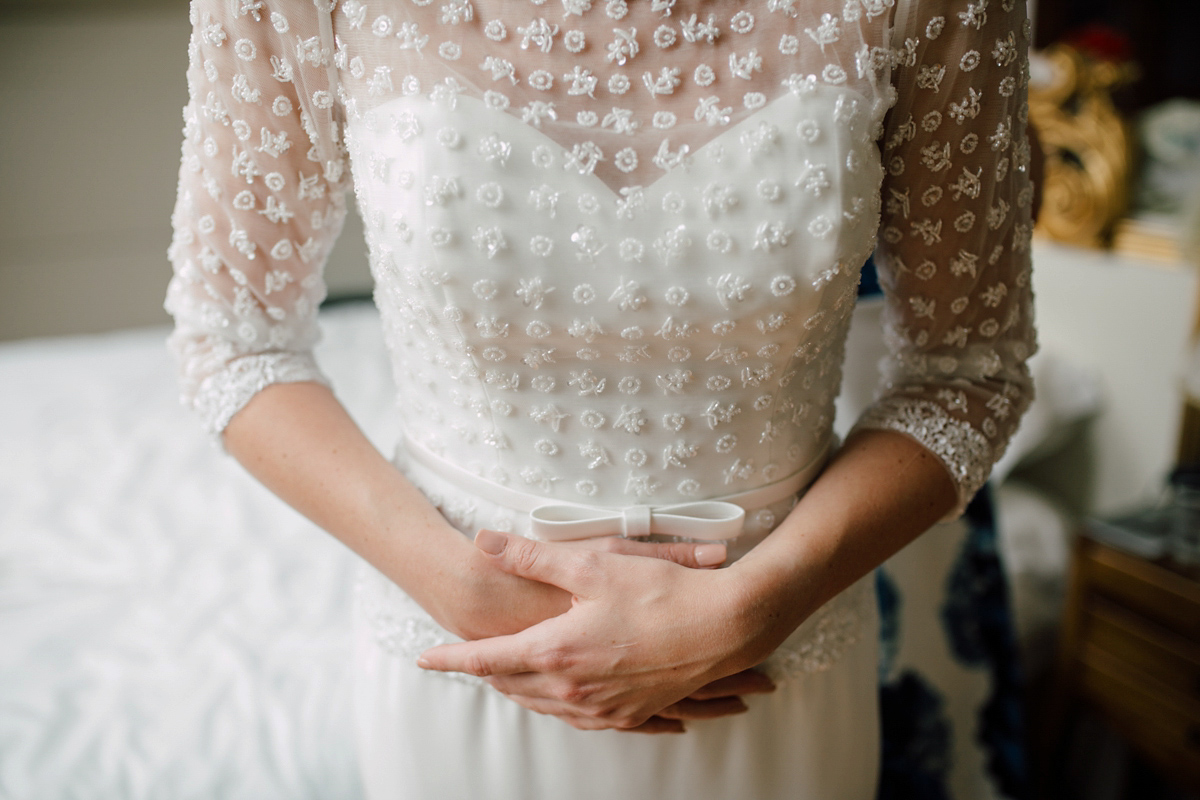 "I (Francesca) am half Italian and Feltre is my family town – we still own a house there that belonged to my great grandparents. We got married in the Duomo, a beautiful church that I've been fascinated with since a child. We would spend all our summer holidays in Feltre while growing up and I've never wanted to get married anywhere else.  It's my happy place!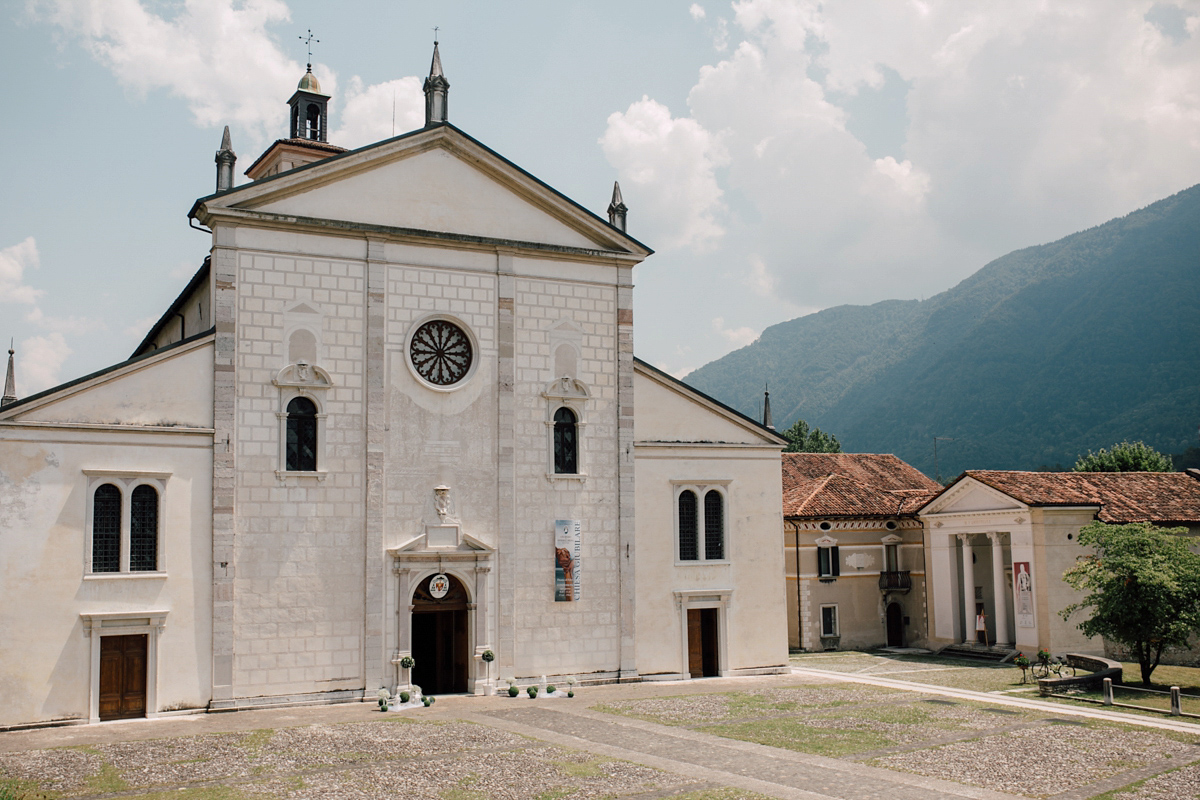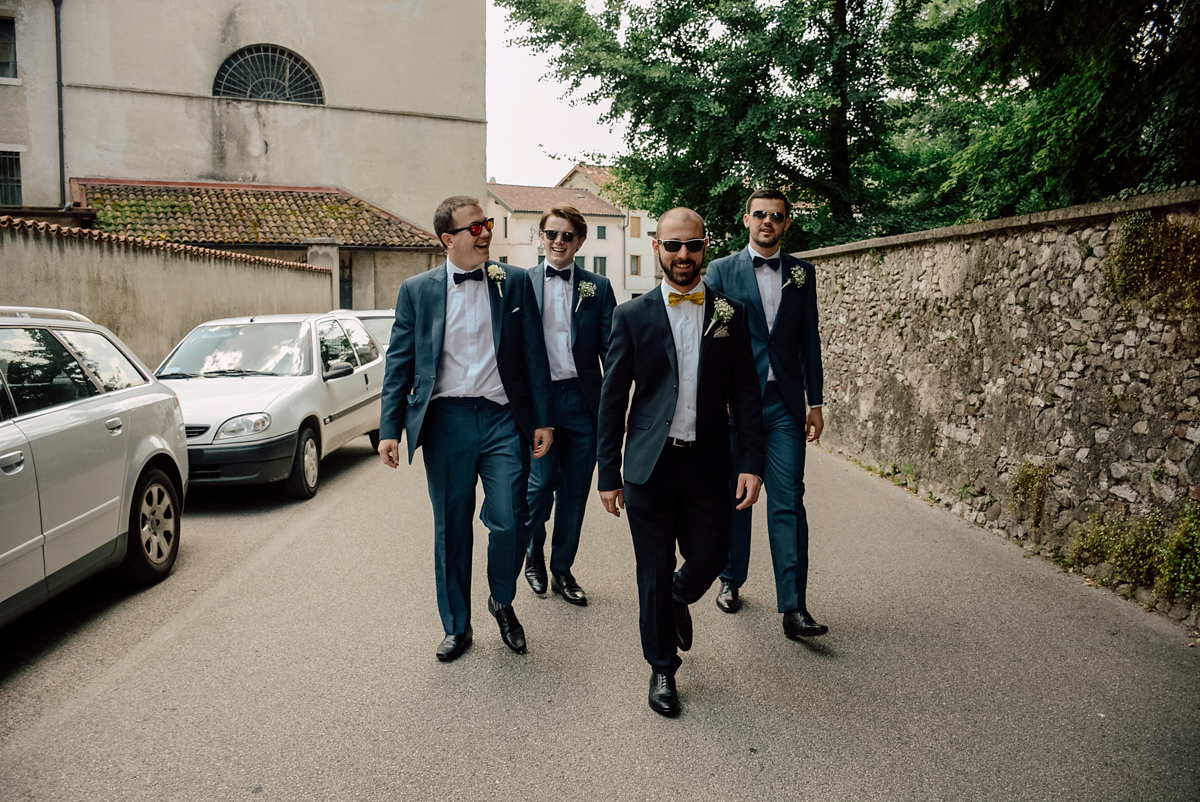 "We chose a string quartet to play in the church instead of hymns and they also played throughout the drinks reception and dinner. We then had a Mumford and Sons style folk band (Men on the Moon) who played all English covers as the evening entertainment."
"Everybody, young and old, was up and dancing – the band was incredible and really made the night."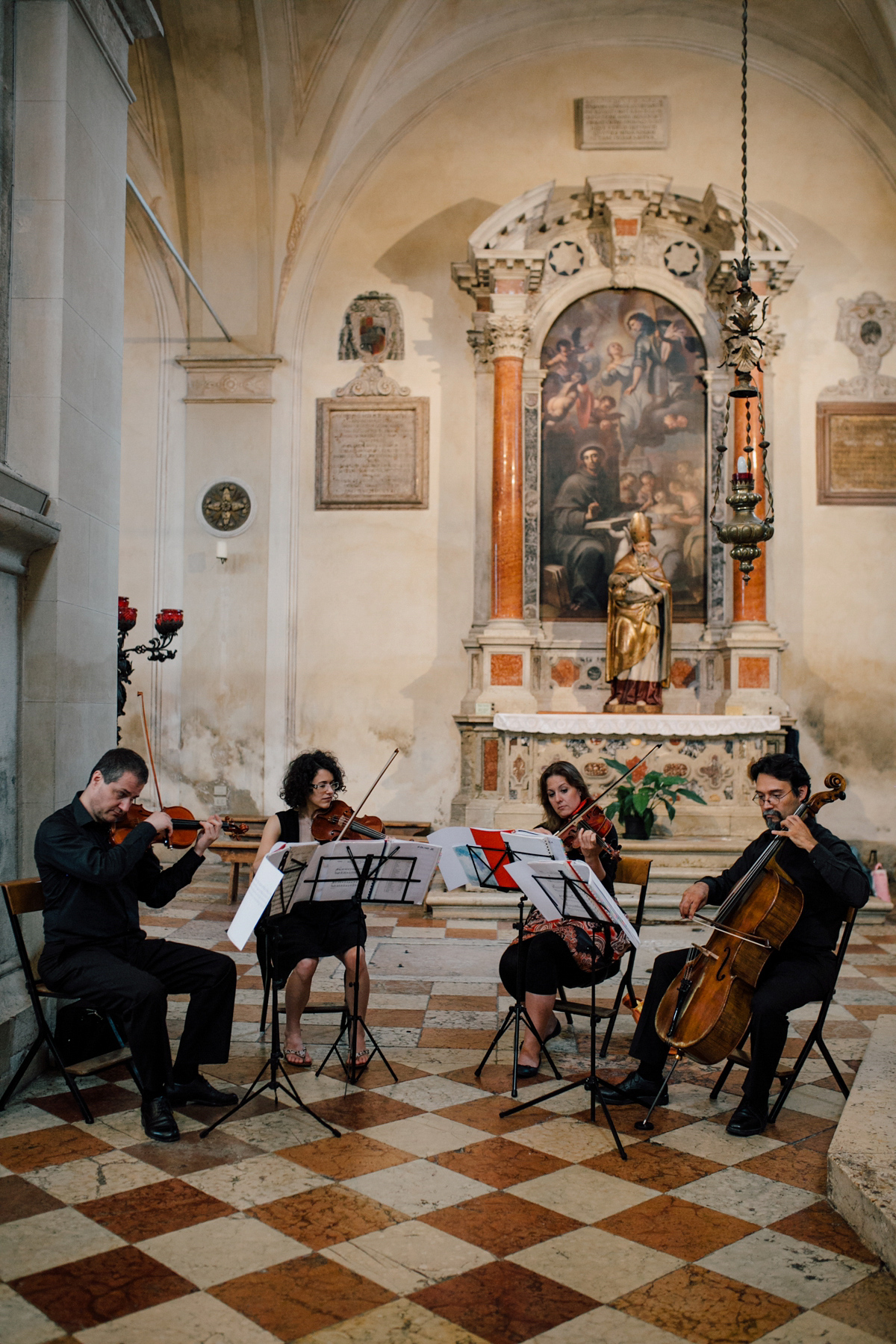 Francesca's dramatic veil was also from Rosa Clara and she paired it with pearls in her hair, provided by her hairdresser.   Her shoes were from Dune, as was the matching handbag and her scent was by Prada, bought for her as a gift from Joe to open on the morning of the wedding.
"I chose not to wear a necklace as there was plenty of beading on the top of the dress.  I had three different sets of earrings to choose from on the day but in the end went for a pair I bought from a little shop in Paris on the first trip we made to buy my dress."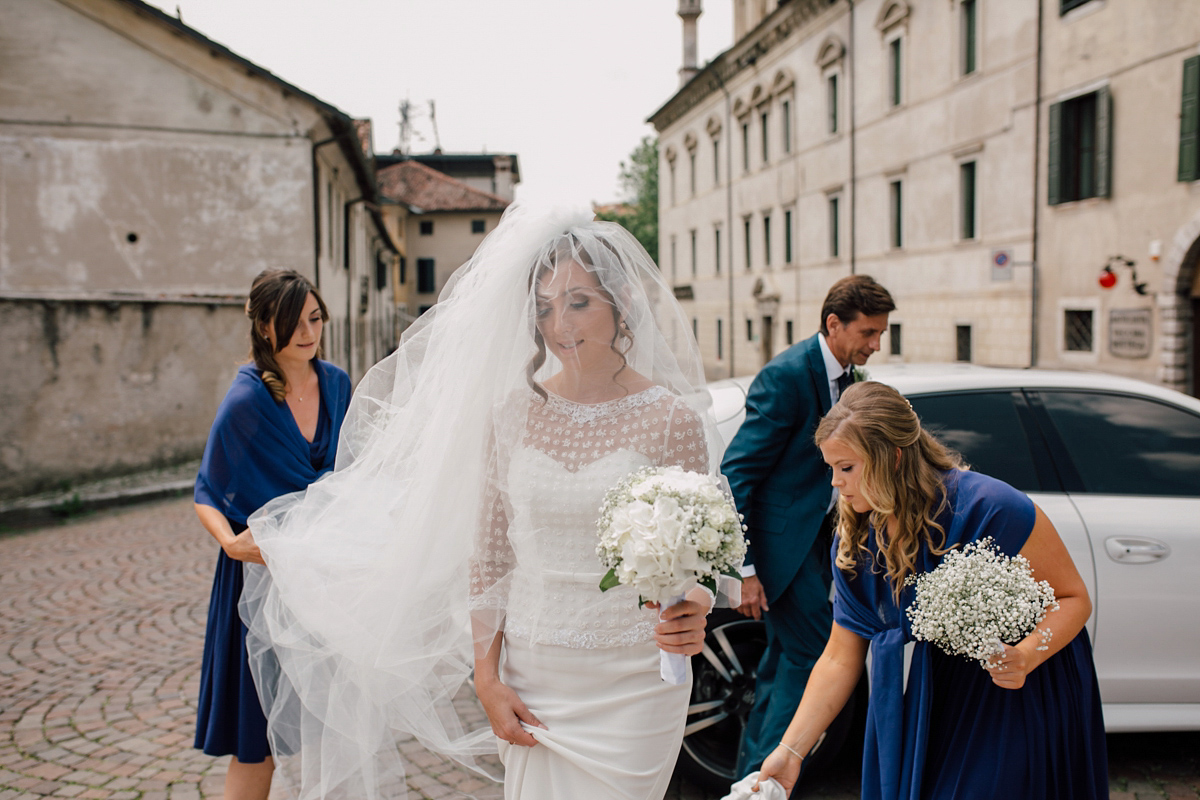 Flanked by his two cousins as joint best men, Joe looked incredibly smart in a dark blue suit, hired from Coles Menswear in Epping.  To complete the look he chose a bow tie and cufflinks from Marks and Spencer.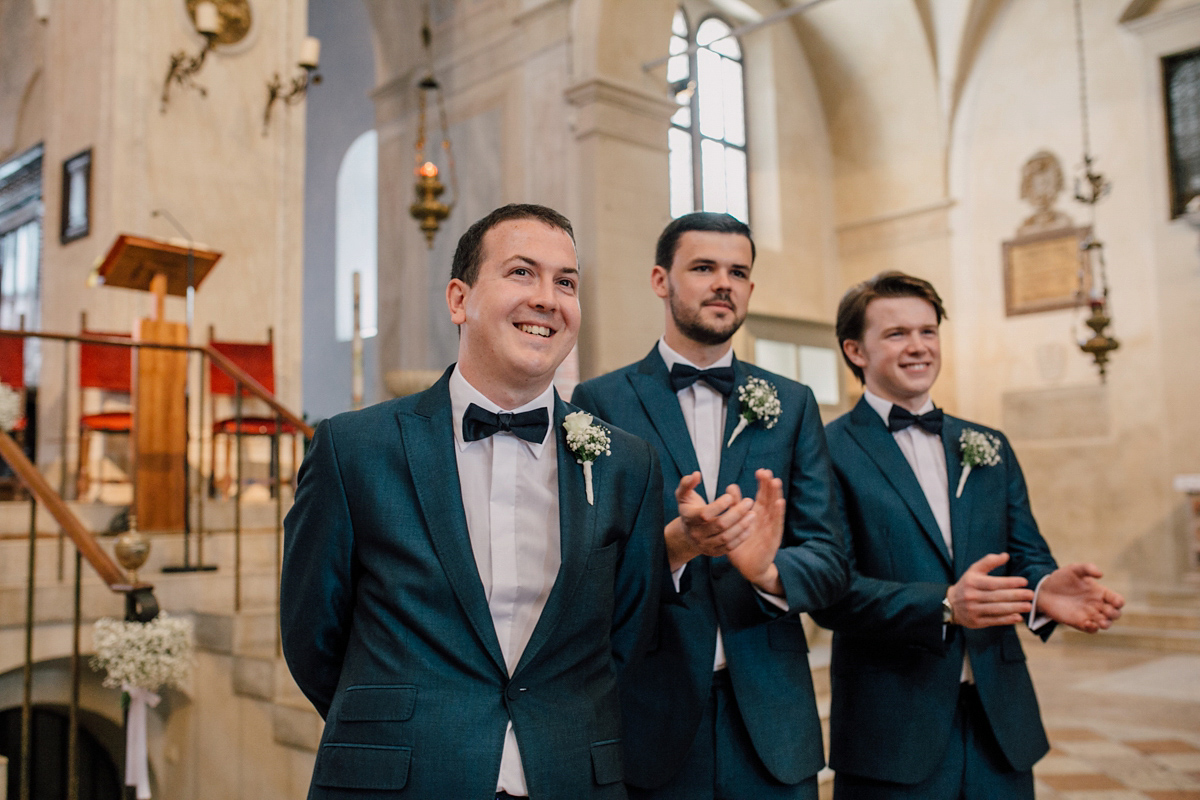 Francesca  walked down the aisle with her father to Pachelbel's Canone in Re Maggiore, which must have sounded marvellous in that huge space.
"Our vows were traditional Catholic vows and we said them in English.  Our priest was Don Carmelo – he used to be the priest at the St Peters Italian Church in London so he is used to doing bi-lingual mass but then he moved to Rome so we asked him if he would travel to Feltre to marry us."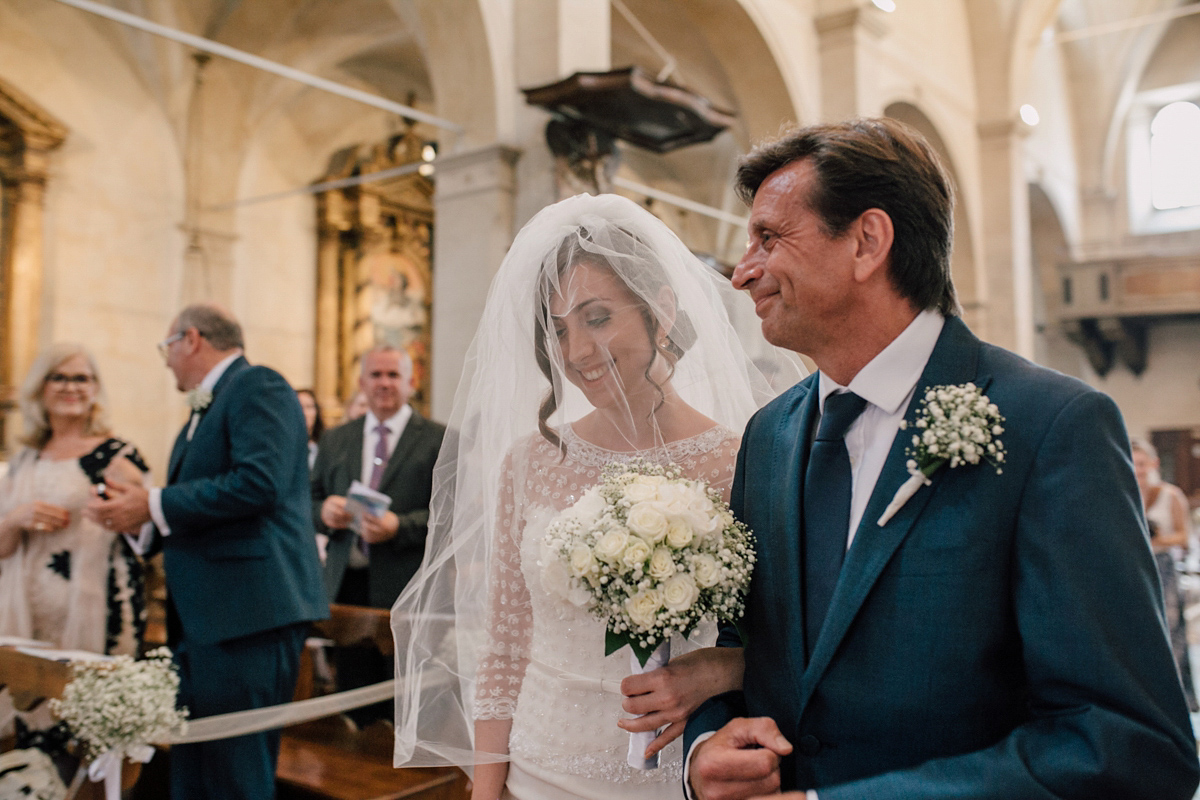 "He agreed. For me this was the most special thing because his enthusiasm and charisma really made the ceremony, plus everyone could understand and engage with what he was saying as he spoke both languages.  The order of service was written in both English and Italian and included some quotes we chose together that we felt summed up our relationship"
For readings, the couple chose 'Ecclesiastes 4: 9-12′ and' St Paul to the Colossians 3 12-17′ and the couple exchanged rings made by David Roberts in Leigh-on-sea in Essex.  Francesca's was made to match her engagement ring, rose gold with a very slim band and diamonds, while Joe chose a rose gold band.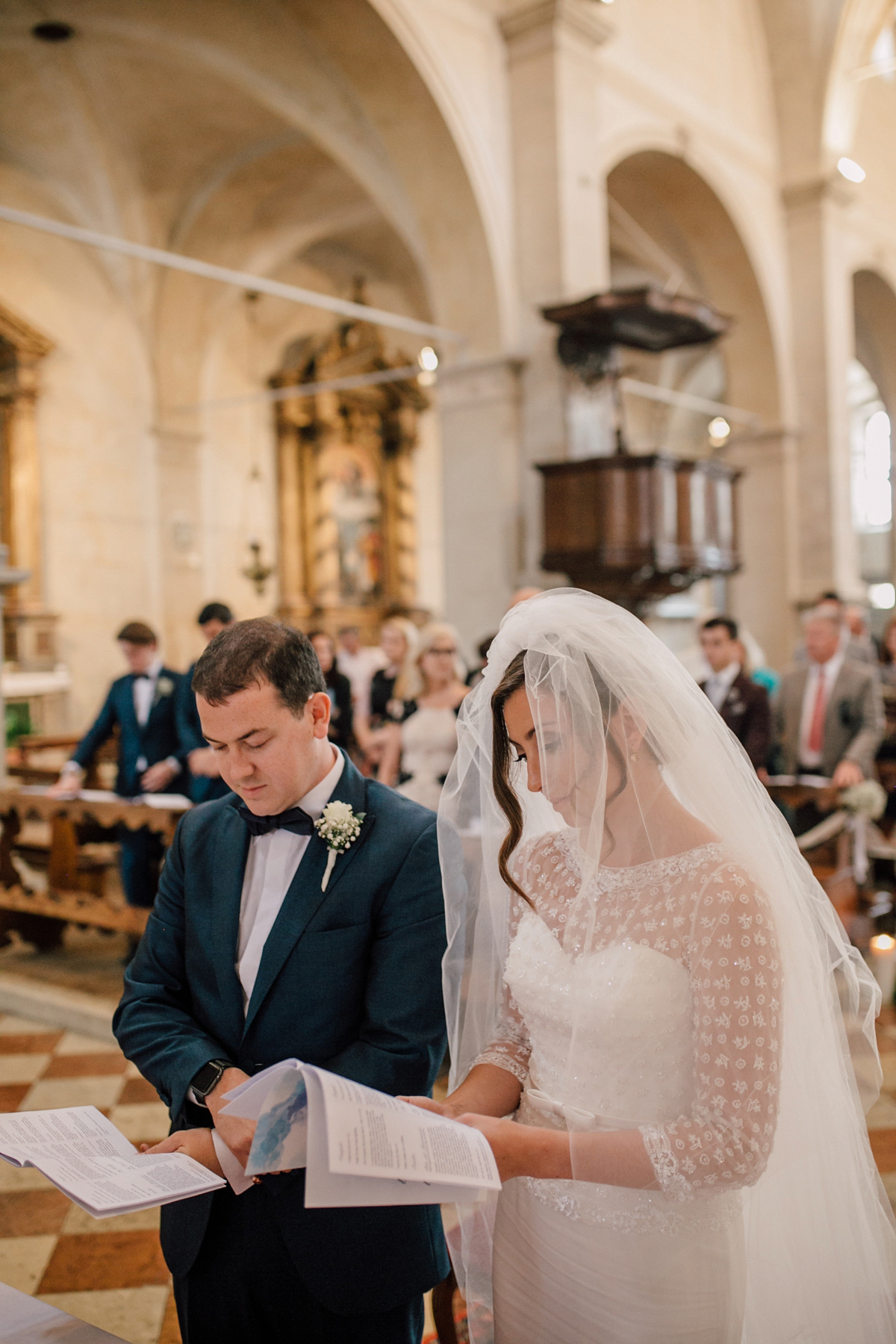 The bridesmaids looked fabulous in classically elegant dark blue dresses, purchased from ASOS and paired with shoes from Dune and hair accessories from Amazon.  Their jewellery was from Accessorize and part of a gift bag from Francesca, which she gave them the night before the wedding.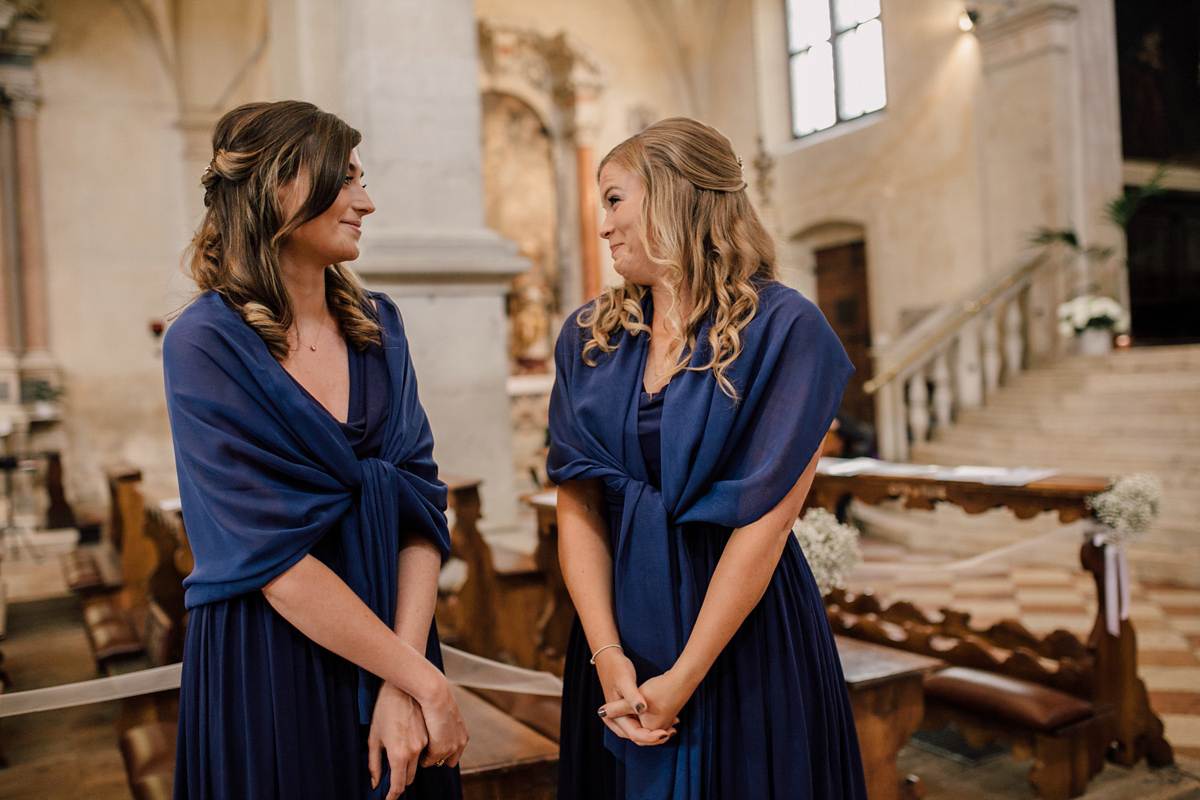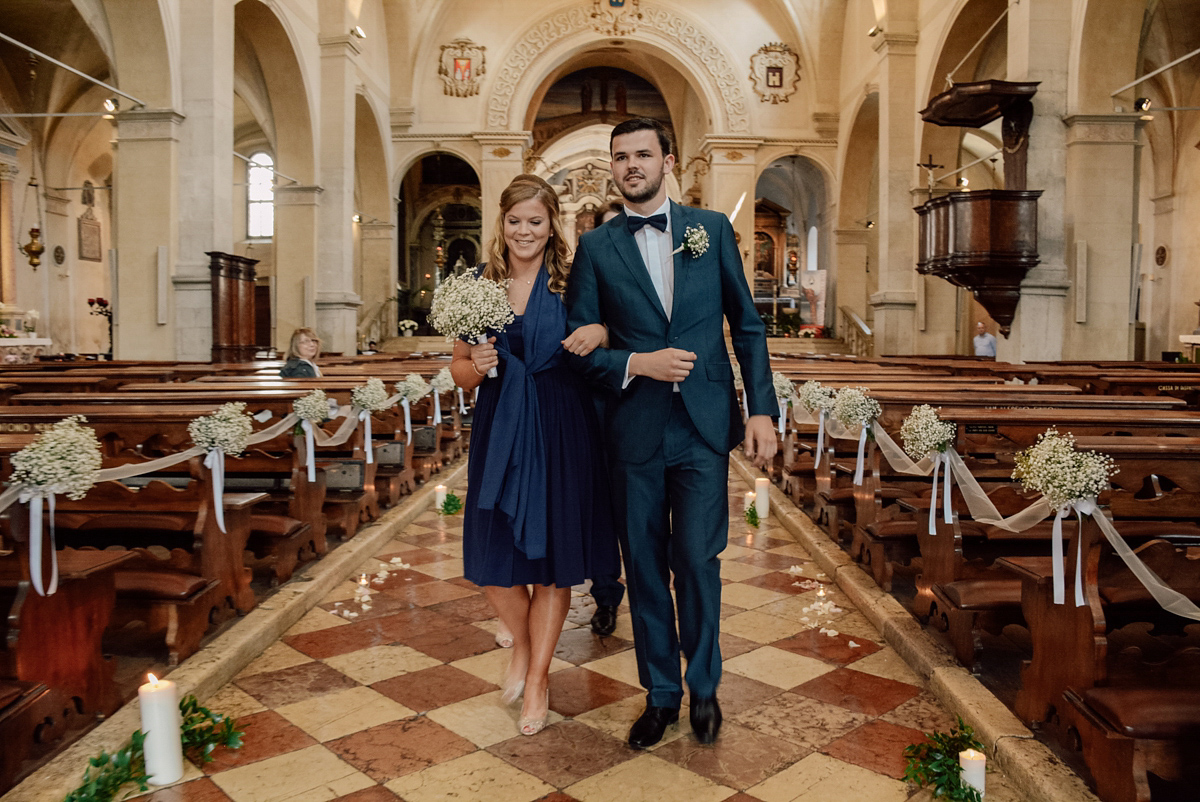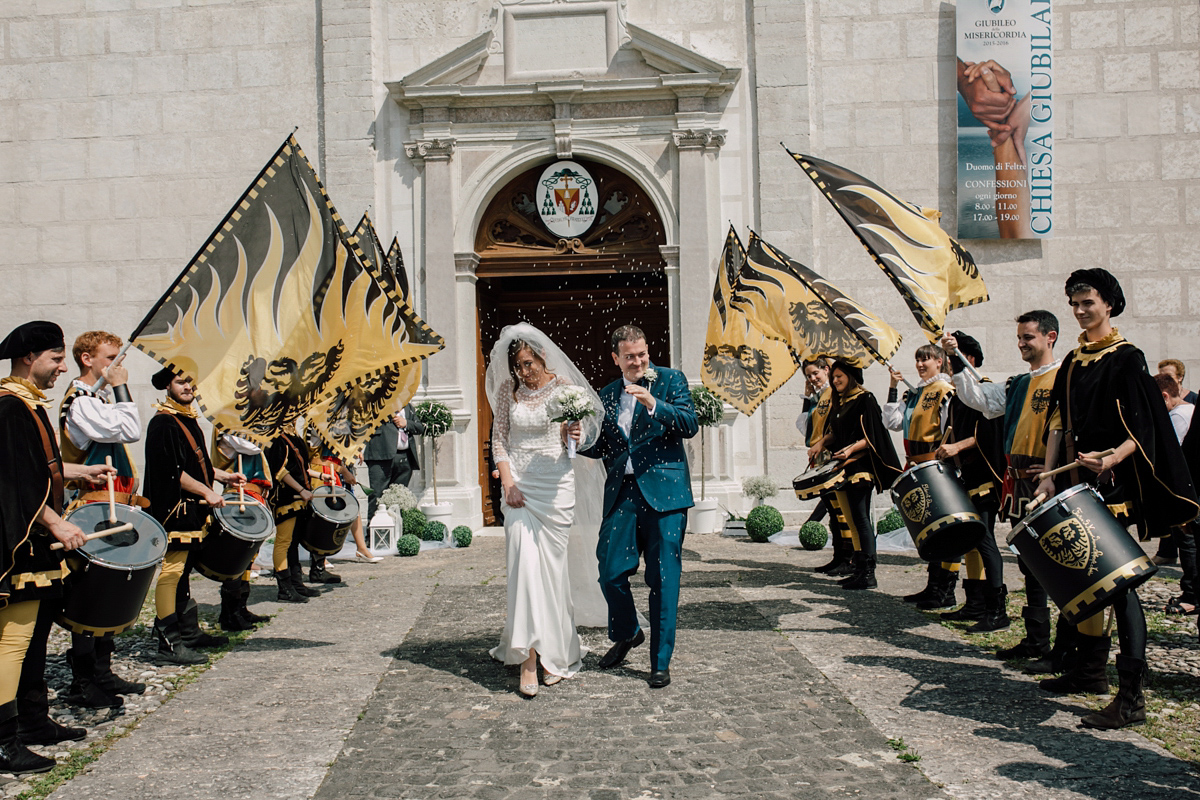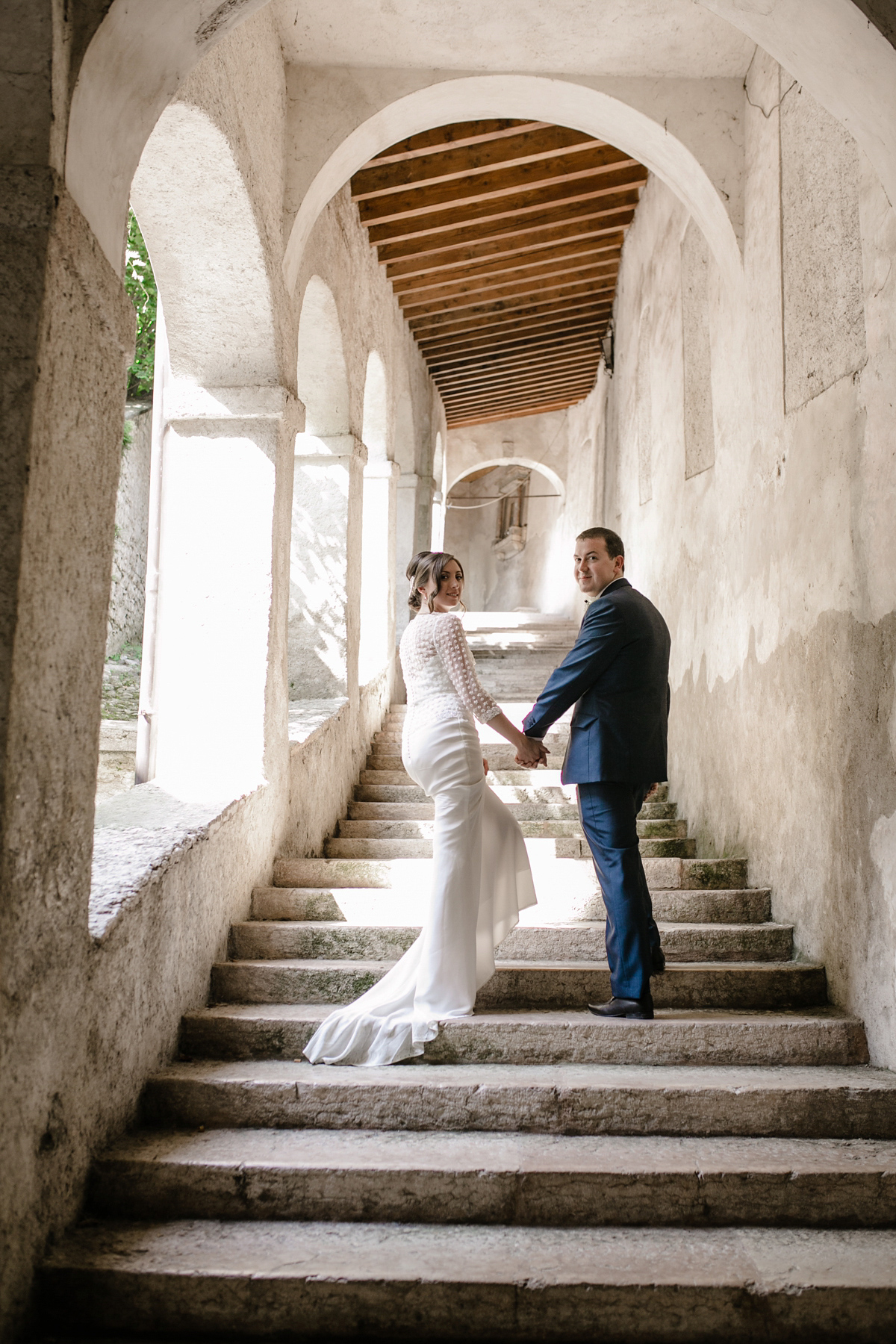 "Our photographers Federica and Adele were amazing.  They knew exactly how to make us feel comfortable and relaxed and were like photography ninjas.  We love the photos and the beautiful moments they captured."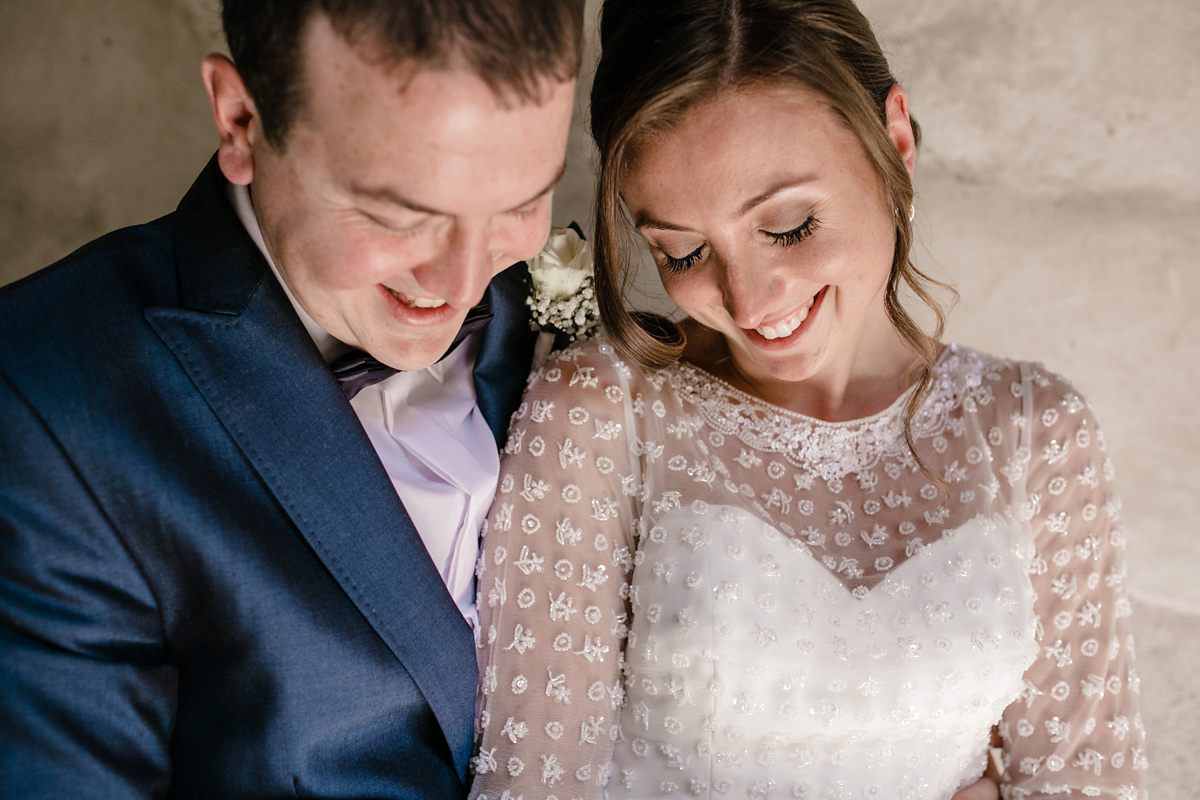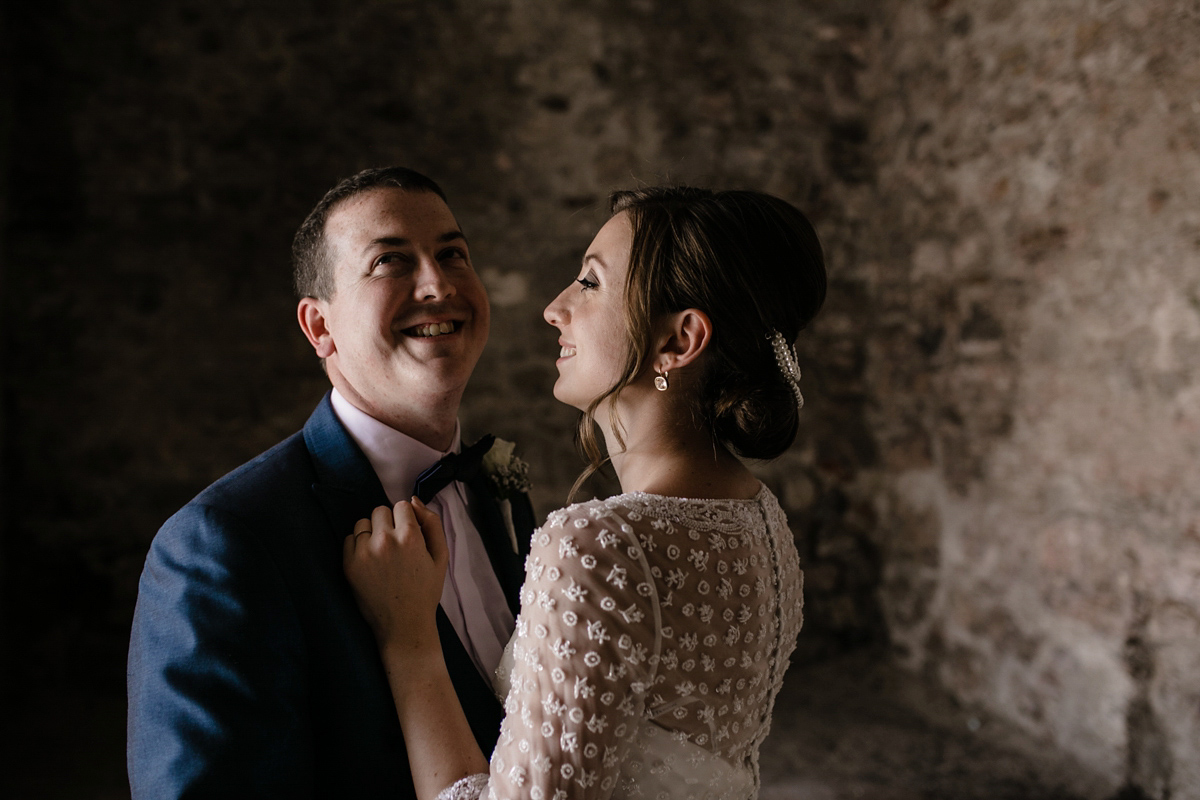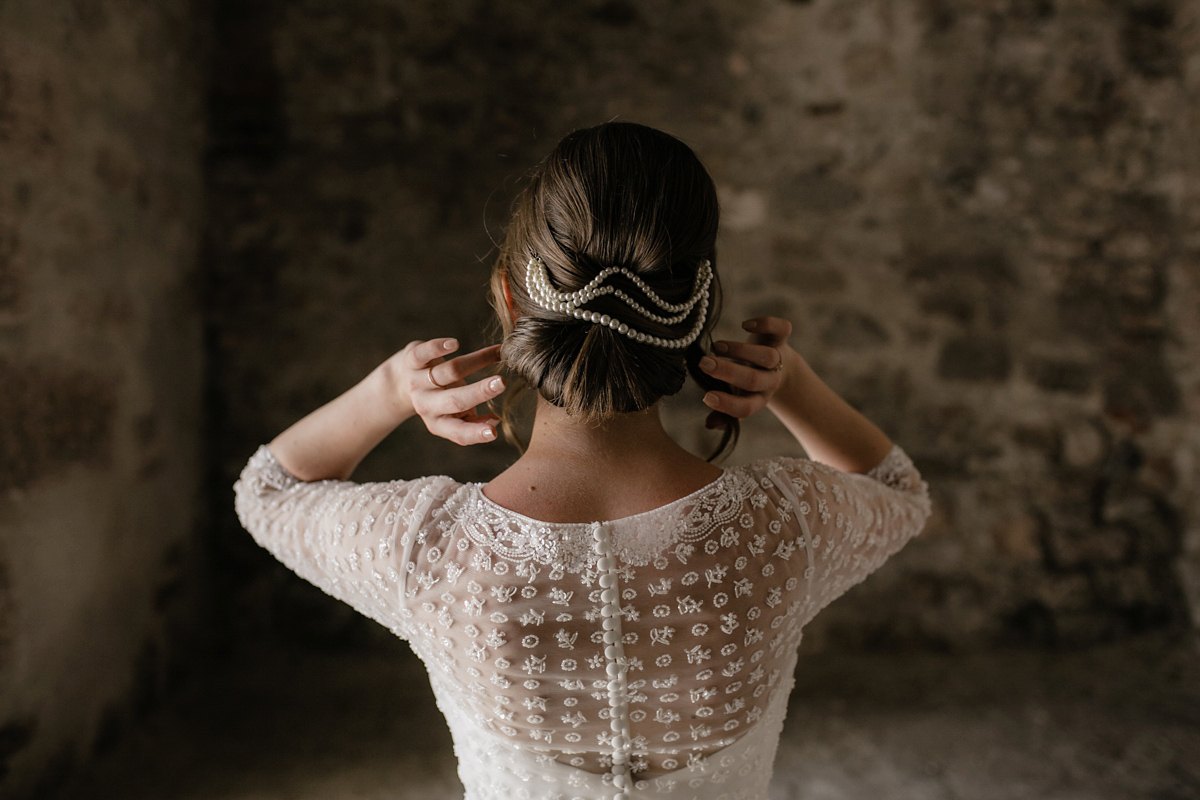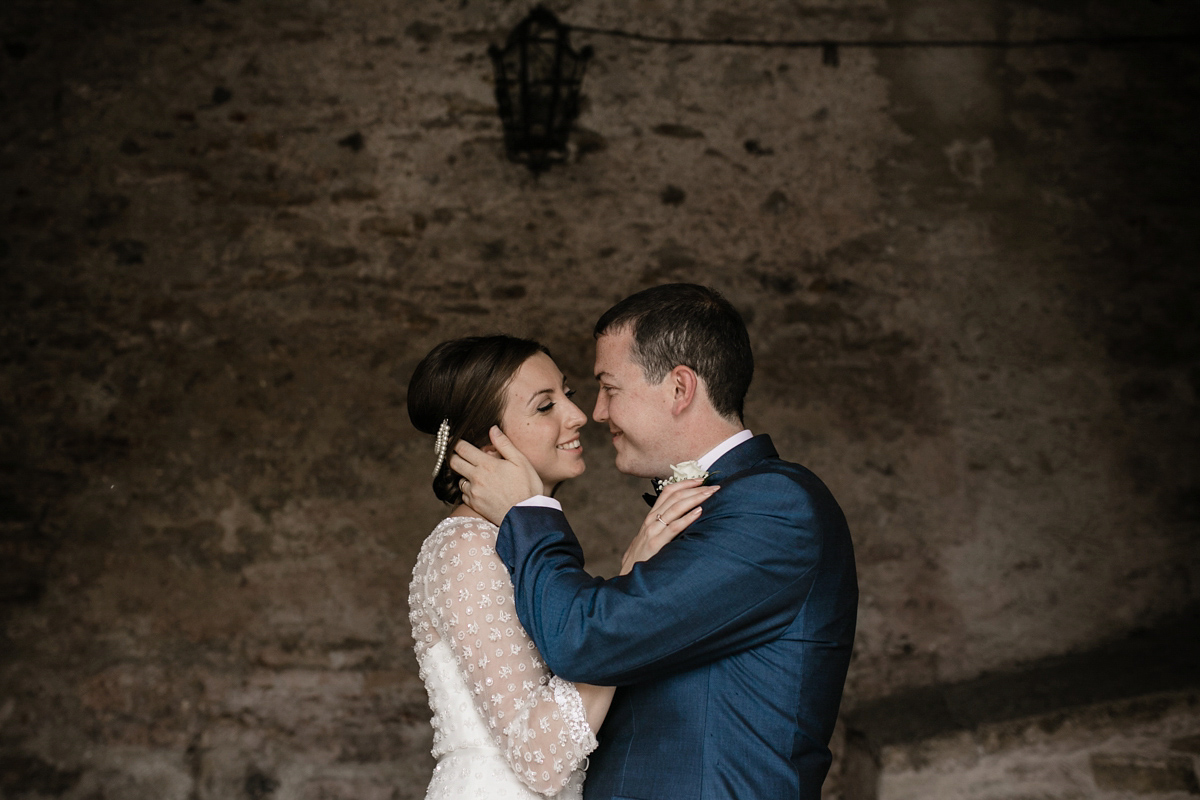 Flowers were the work of Fioreria il Coccio in Belluno.
"They're a garden centre too so we were able to hire all the trees, vases and candles from them. We decided to go with all white flowers and I particularly love the ethereal and romantic look of gypsophila so we used that a lot."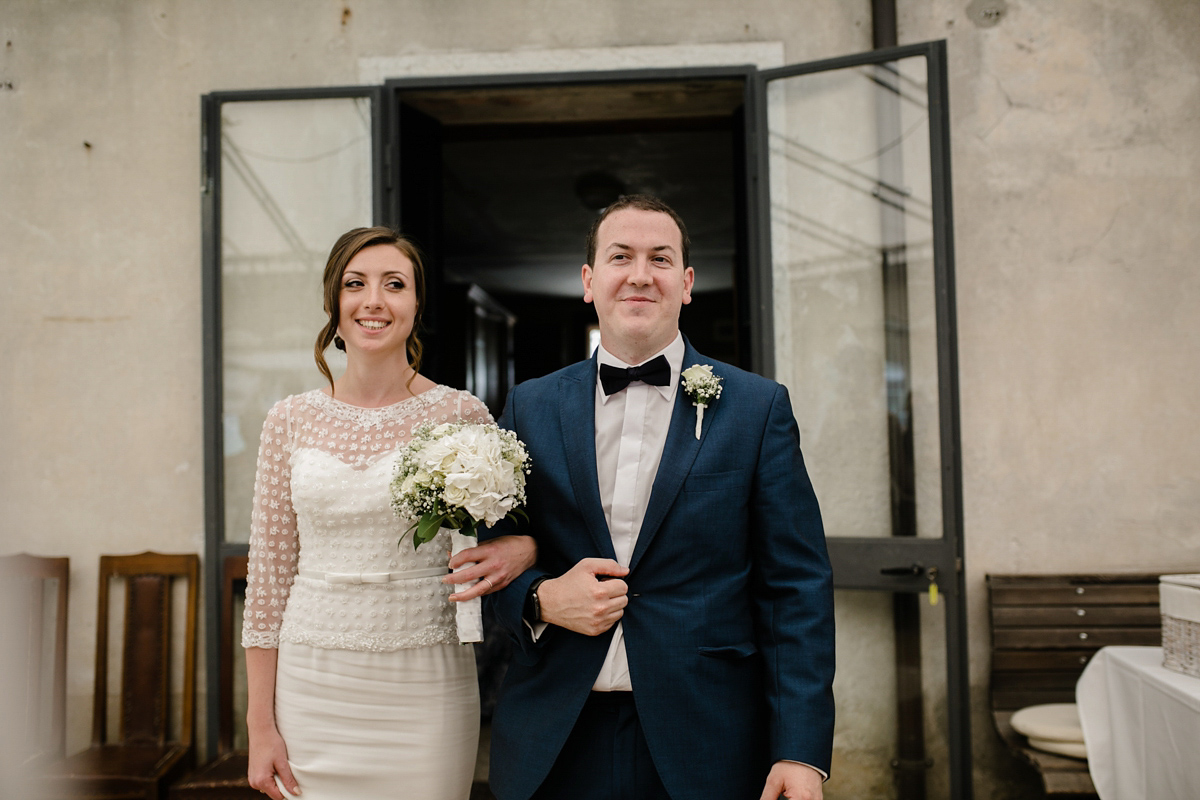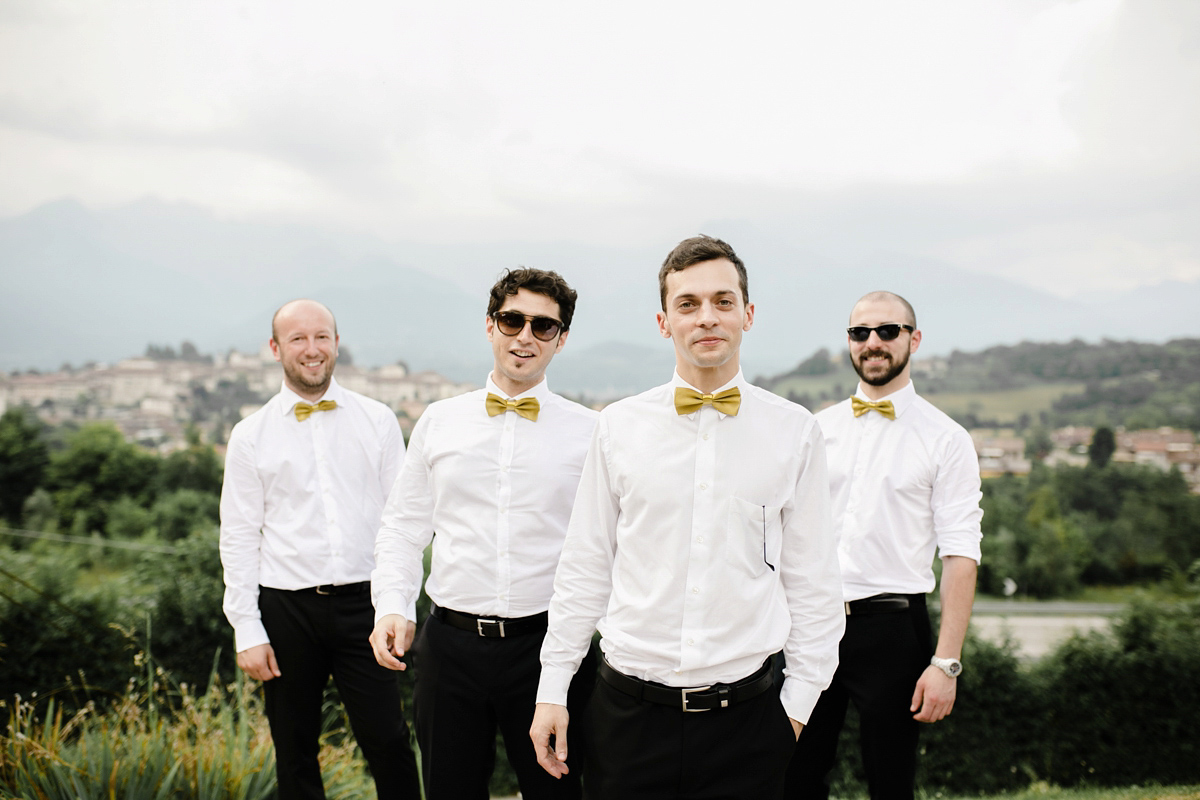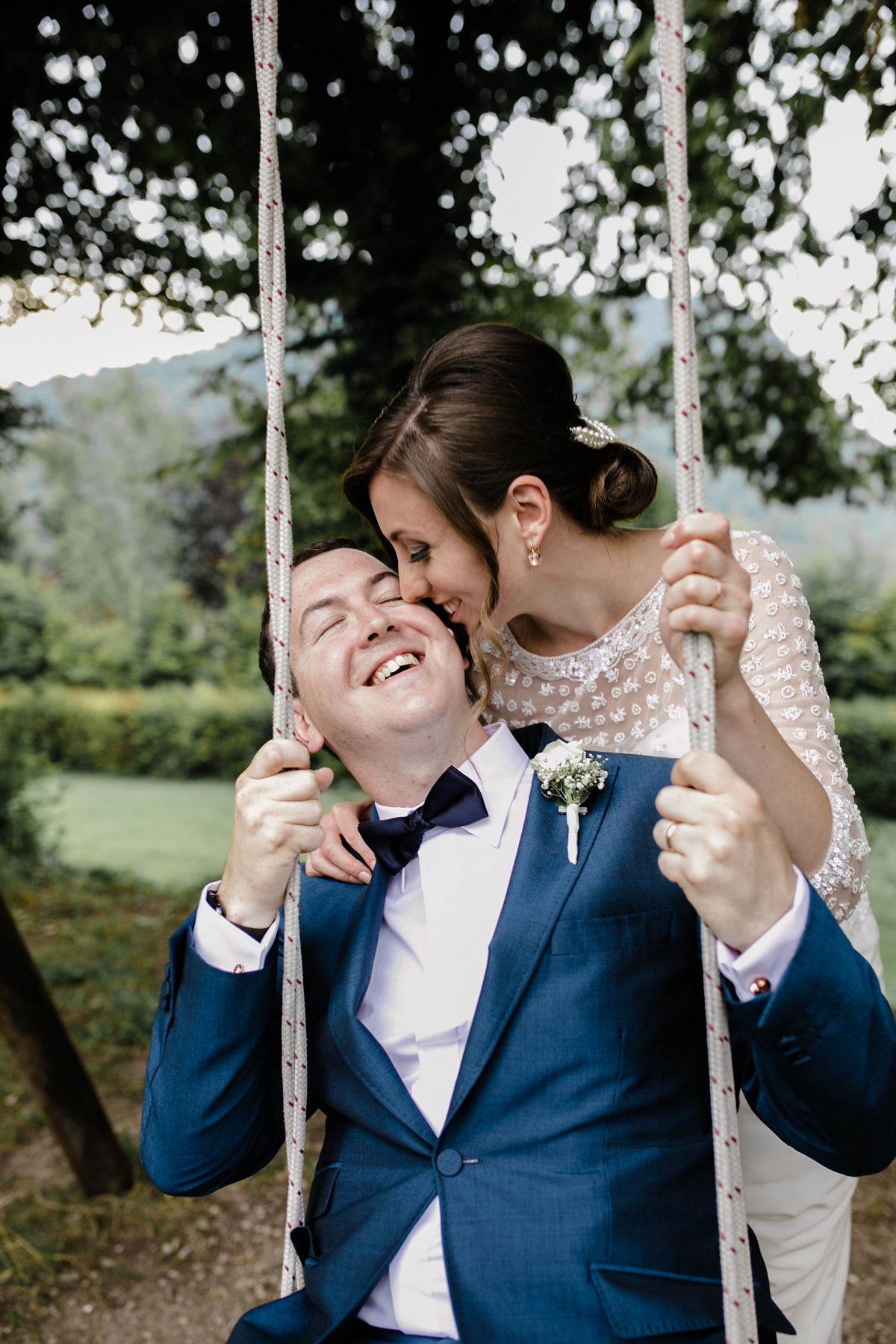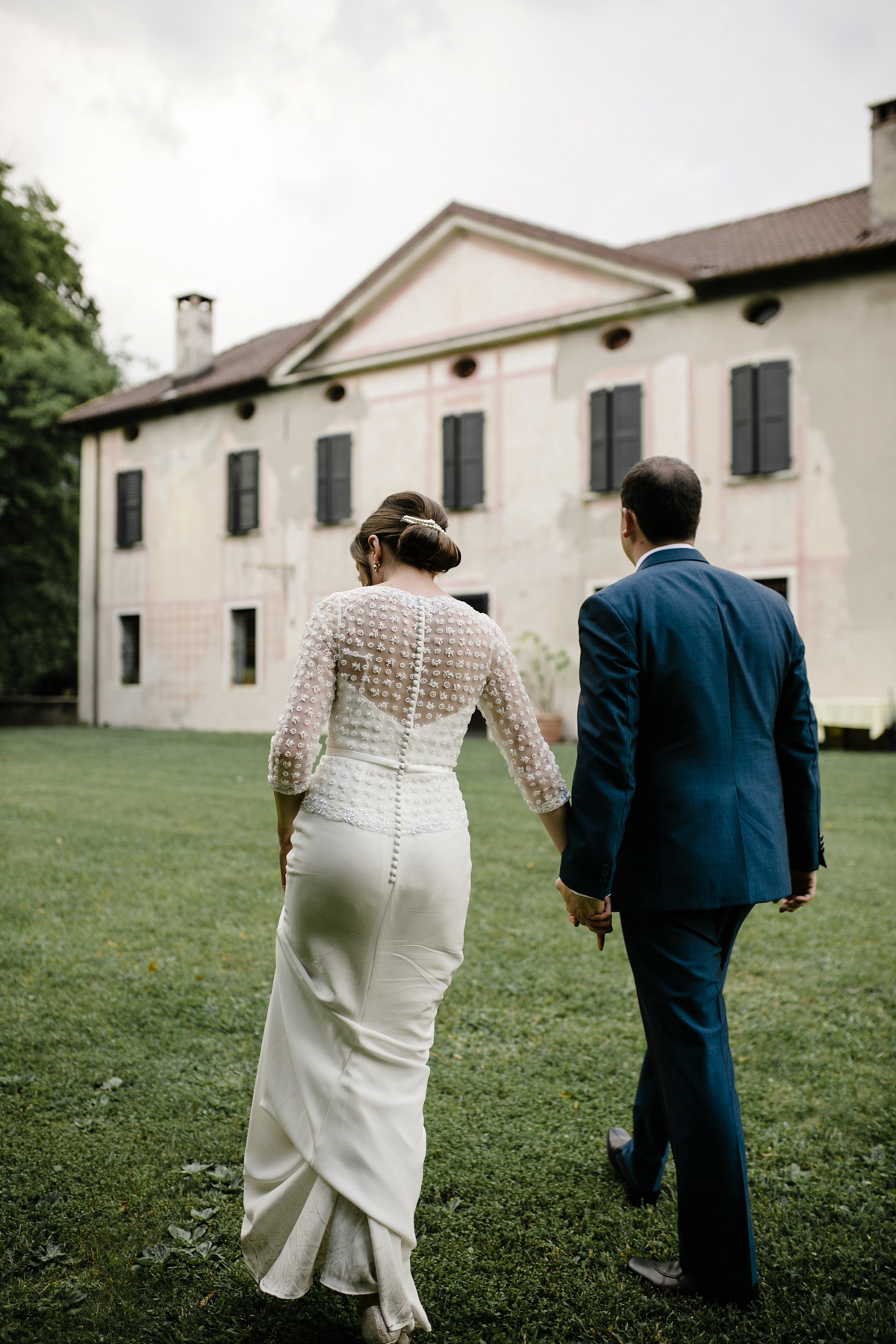 For the wedding breakfast, the couple chose a restaurant in Feltre (Ristorante San Fermo), situated on a hilltop with stunning views of the town.  Their florist decorated the tables and marquee with tulle, fairy lights and lanterns and Francesca brought the light-up letters from the UK.
"Neither of us are crazy about sponge cake and we wanted something we would really enjoy eating so we decided to go with an ice cream and meringue cake from Pasticceria Garbujo, a local patisserie. It was delicious.  For favours we had we had sugared almonds, ordered from the same patisserie. "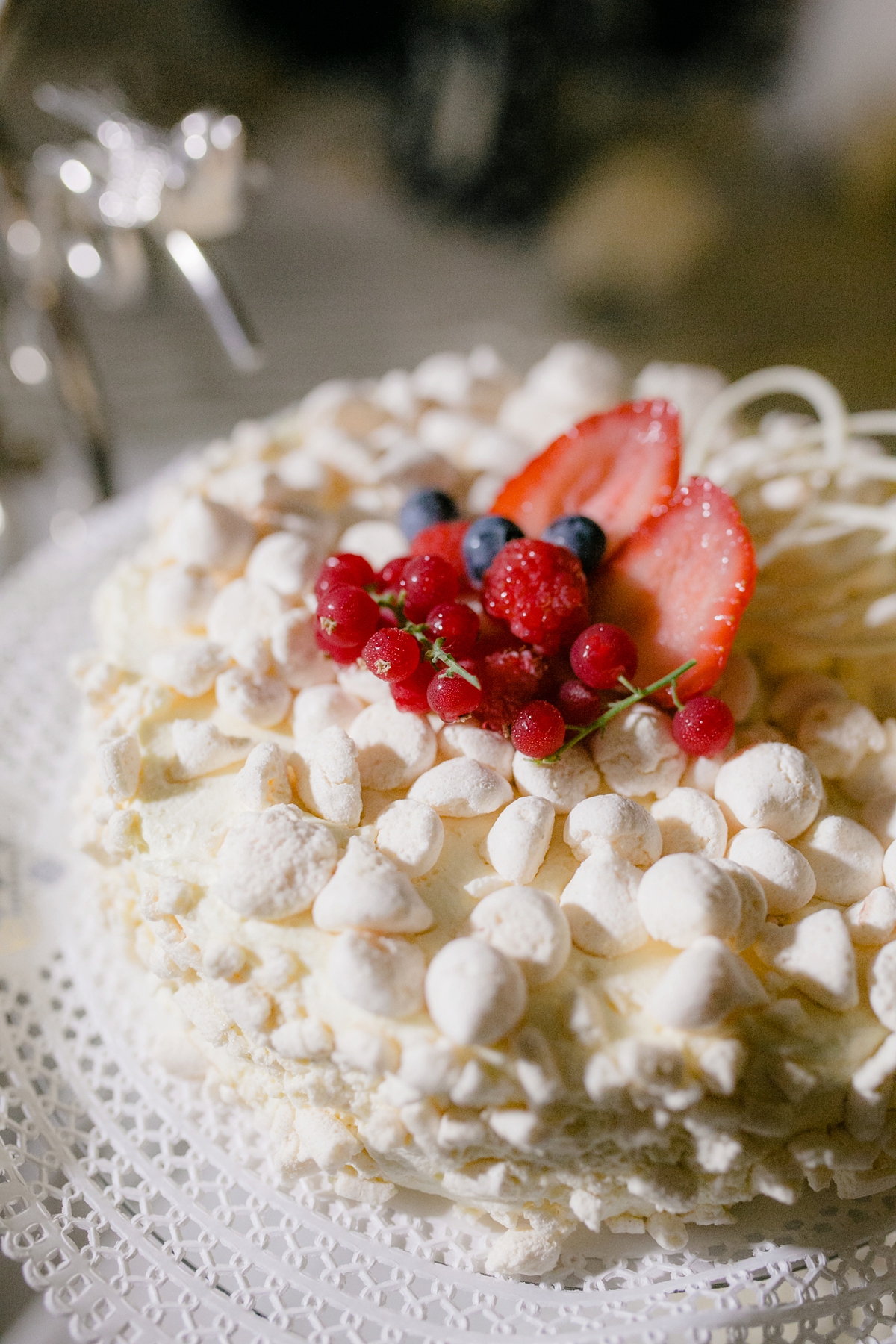 v
For their first dance Mr and Mrs Q chose 'Awake My Soul' by Mumford and Sons and Michael Jackson's 'Black or White' for the dance with Francesca's dad.
"He used to play it a lot when we were kids and it reminds me of dancing around the house with him."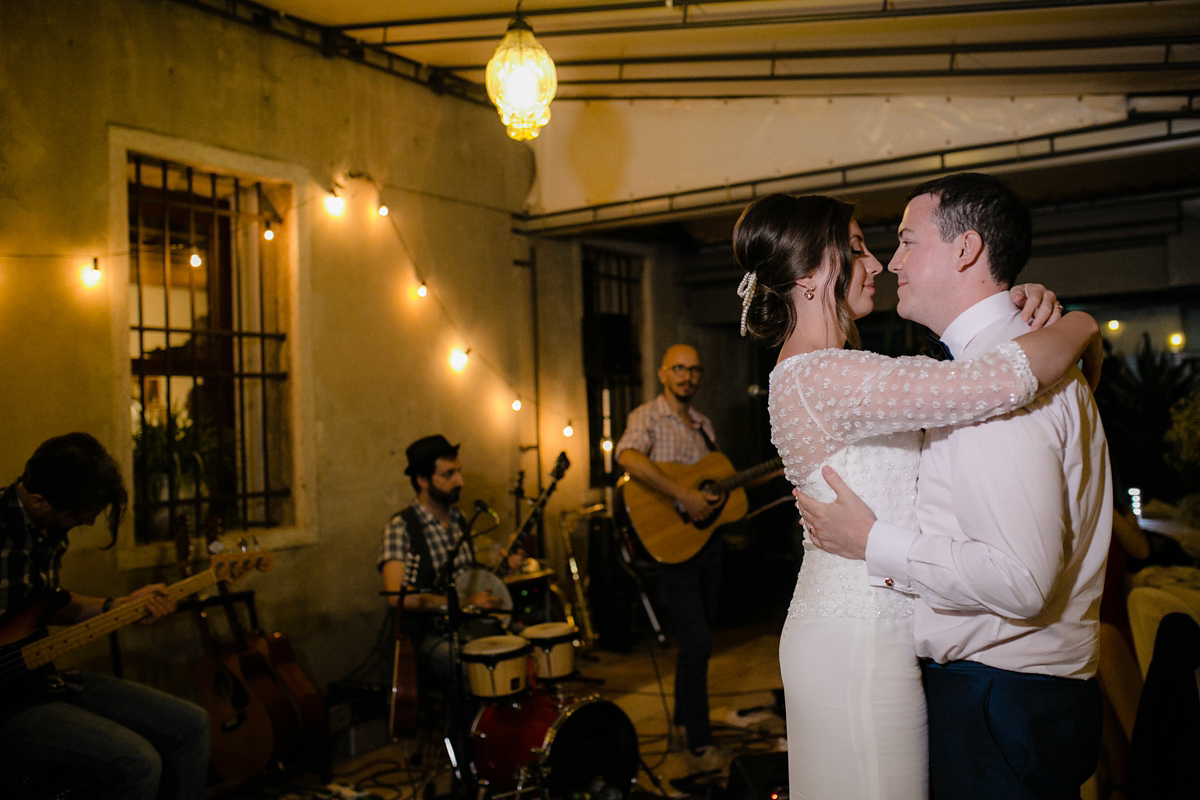 Words of Wedded Wisdom
"Stay true to what you believe is right for you and your husband – don't be swayed by other people's opinions if they don't represent who you are as a couple.
Good organisation is essential.  I had a spreadsheet detailing every aspect of the wedding and the bridesmaids, best men and master of ceremonies also had a list each detailing the things they were responsible for and any other important info they needed to know.  Because of all the meticulous planning I didn't need to worry about a thing on the day because everything was in hand.  The few things that didn't go quite as expected were out of our control and actually worked out for the better anyway."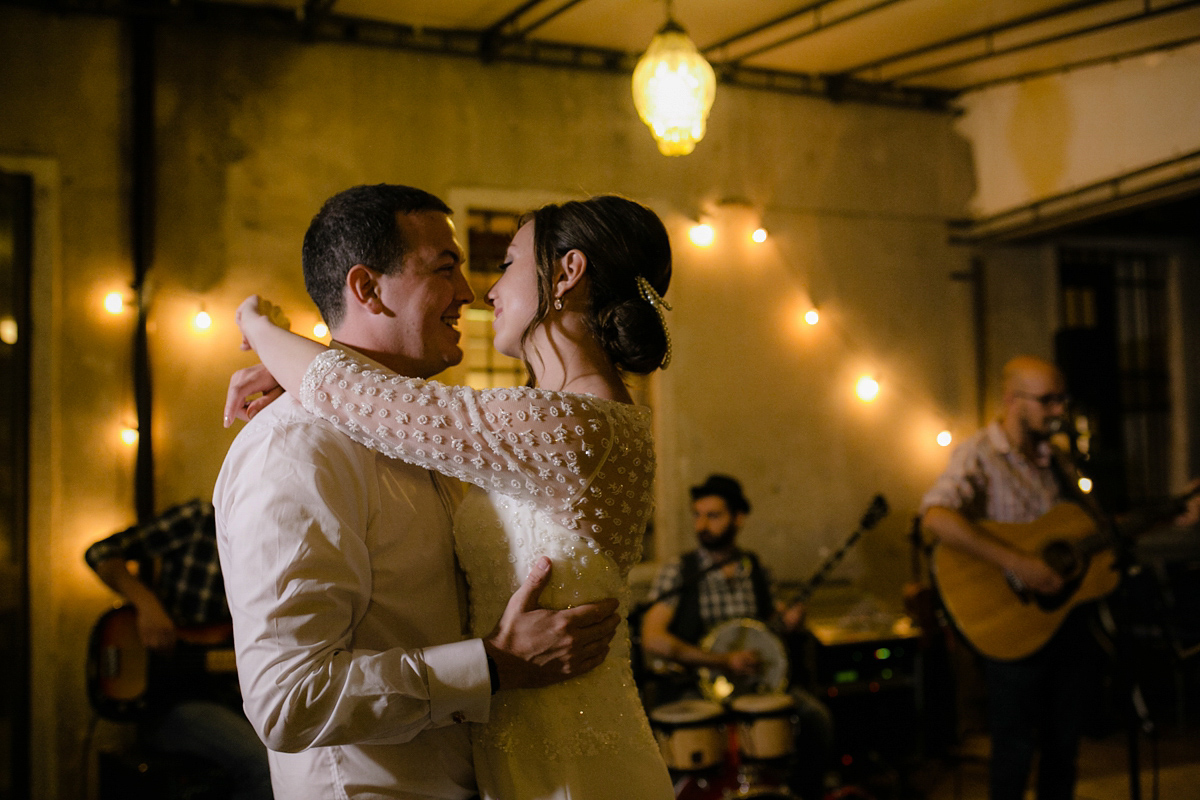 A woman after my own heart!  Organisation is definitely key.  Thank you both so much for sharing their wonderful day and to Federica Cavicchi for sharing these gorgeous and evocative images.  I shall have to really start nudging my husband about our possible Italian trip later this year now…
Much love,
Shona x