Good morning beauties! I'd like to share with you my week's scintillating wedding planning mission – underwear. Does anything exist that holds in that annoying little tummy and doesn't look like a giant piece of tarpaulin!? Answers on a postcard (or perhaps more helpfully in the comments box below).
I've got such a gorgeous gem of a wedding to share with you to help keep those January blues at bay. Antonietta and Matthew wed in wonderfully wintery style on 5th December 2015 at RSA House in London and chose a beautifully minimal suite of stationery by Emily & Jo to invite their guests, both suppliers we are delighted to support through our gorgeously curated wedding directory, Little Book for Brides. Our partner and regular contributor to our beloved blog, Katrina Otter Weddings, was not only responsible for pulling this stunning celebration together, but also played a starring role as her brother's best man. I recommend you bookmark each and every one of the features from Katrina's planning series pronto.
"Having a newborn baby throughout the planning process meant that hiring a wedding planner was a necessity. Thankfully we were in a very fortunate position as Kat is Matthew's sister and my now sister-in-law. Having someone from the family plan our wedding meant that we got to see Kat more and could discuss our wedding in the evenings or at the weekend over a meal and glass of wine. Kat's knowledge and support was invaluable."
Film by Reellove Films
"As we opted for a winter wedding, we wanted a classic, timeless, intimate black tie affair filled with an abundance of candlelight. In the evening, we transformed the vaults to create a party-like environment for our guests with a separate chill-out zone, gold mirrored circular bar, illuminated letters and a balloons lined corridor."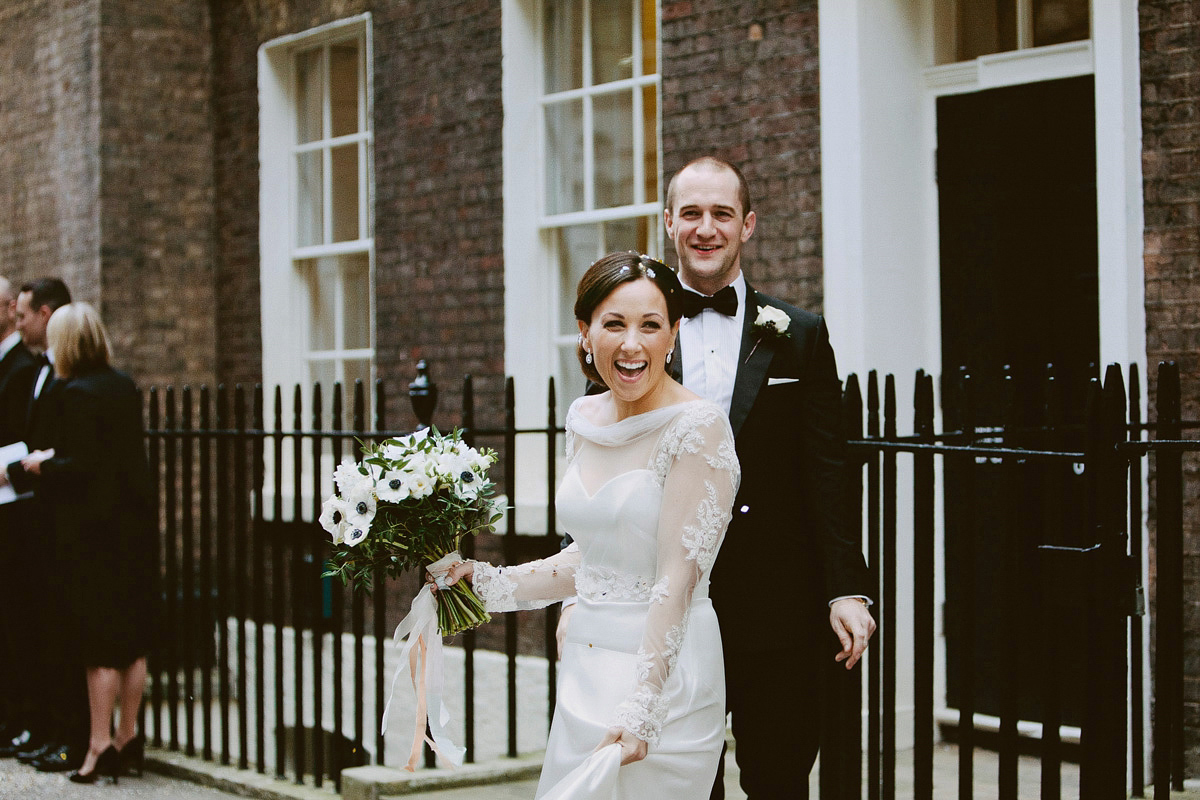 Antonietta chose a gorgeously versatile gown from Suzanne Neville; the regal train and shapely bodice subtly transformed by a delicately detailed lace top. A simple, sleek up-do and some truly beautiful jewellery complemented the elegance of her dress – I'm in love with that beautifully soft cowl neckline."My dress was from Suzanne Neville. I had a custom lace top created for the day, which I removed in the evening and added a customised diamanté black belt instead. Glamorous, luxurious and cut to fit; I instantly knew that my dress was the perfect choice for our black-tie city wedding."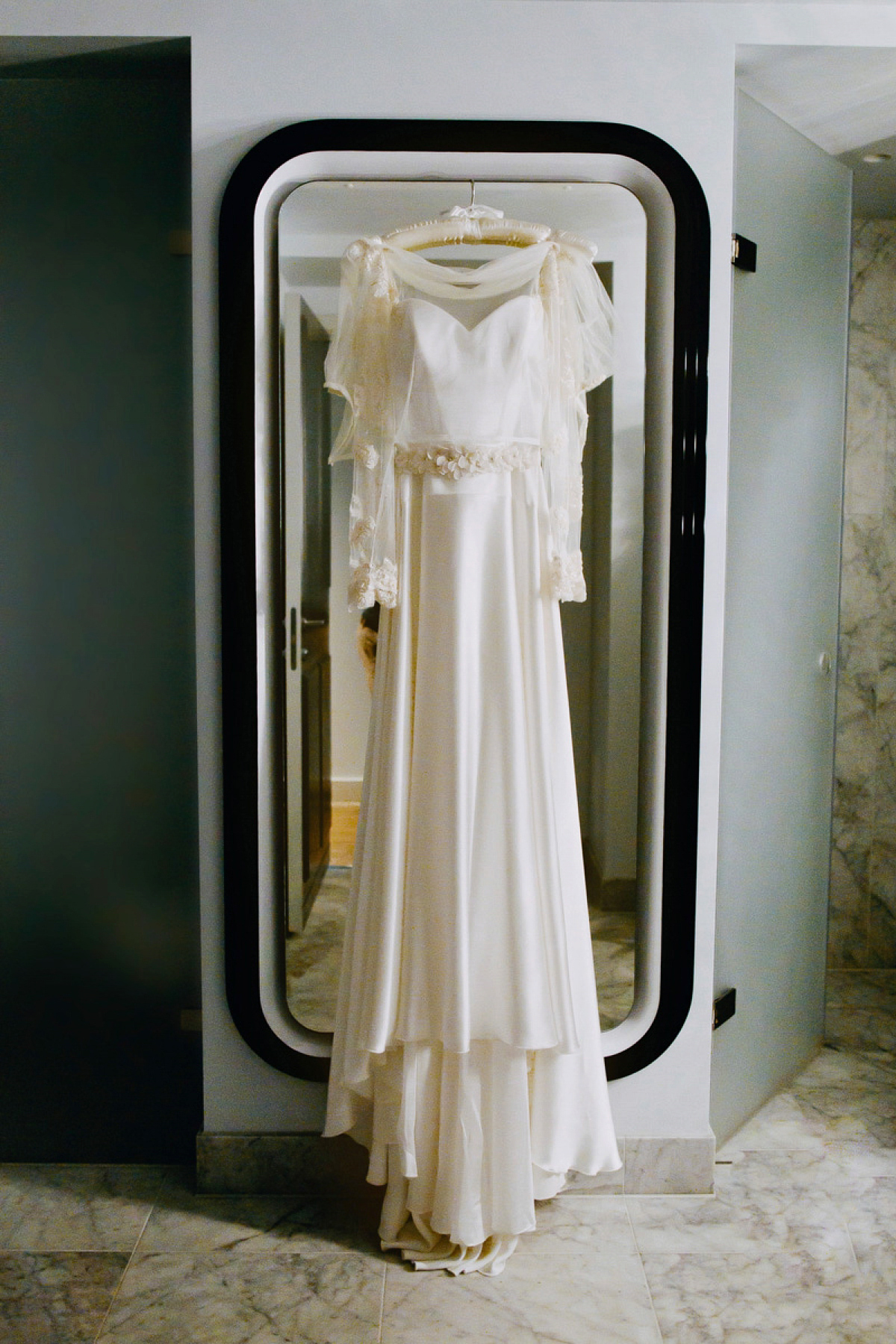 "The doll that is Jo Adams did our hair and make-up in the morning."
"She was such a pleasure to be around, especially during the moments when I was starting to get a little nervous."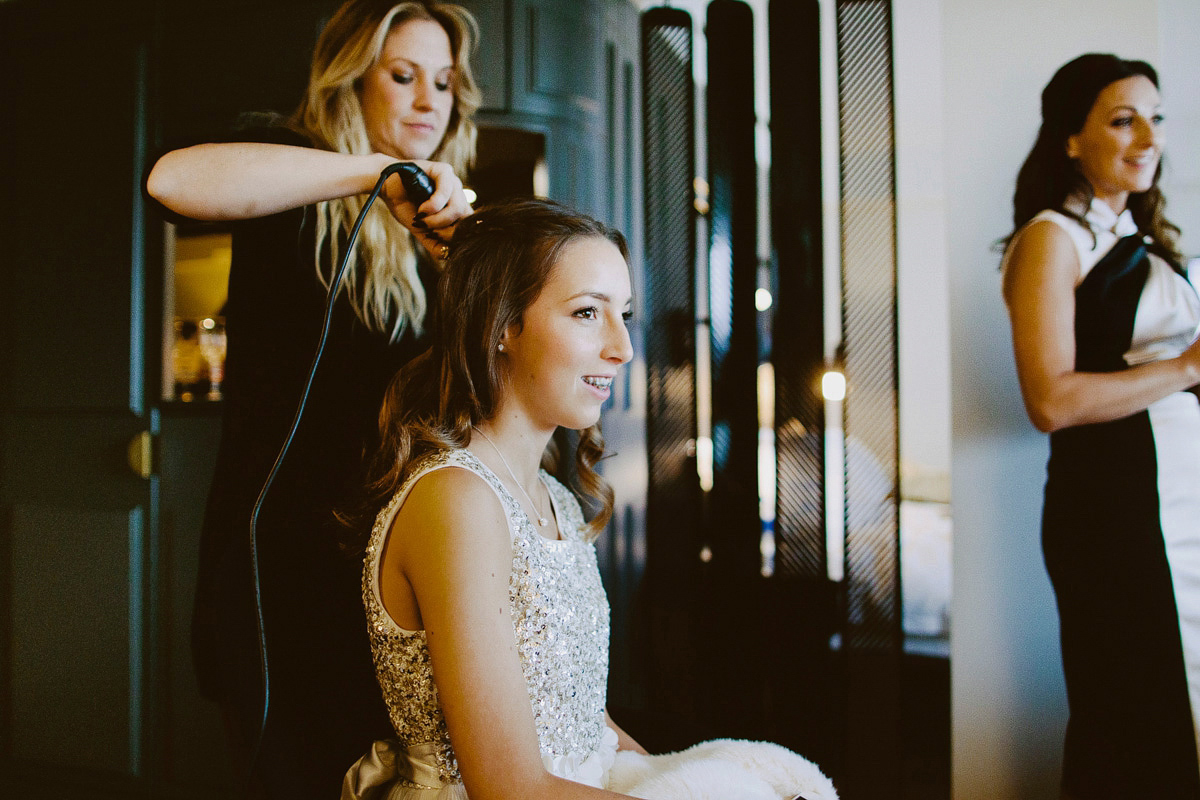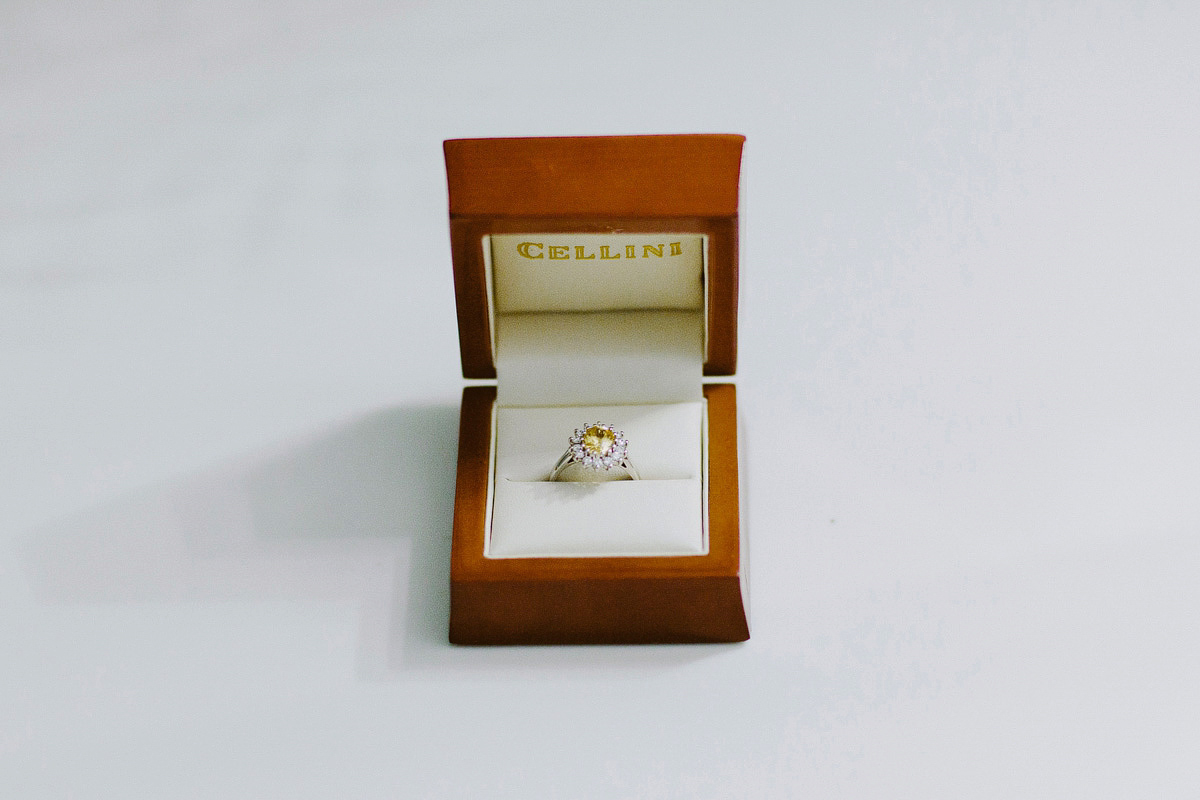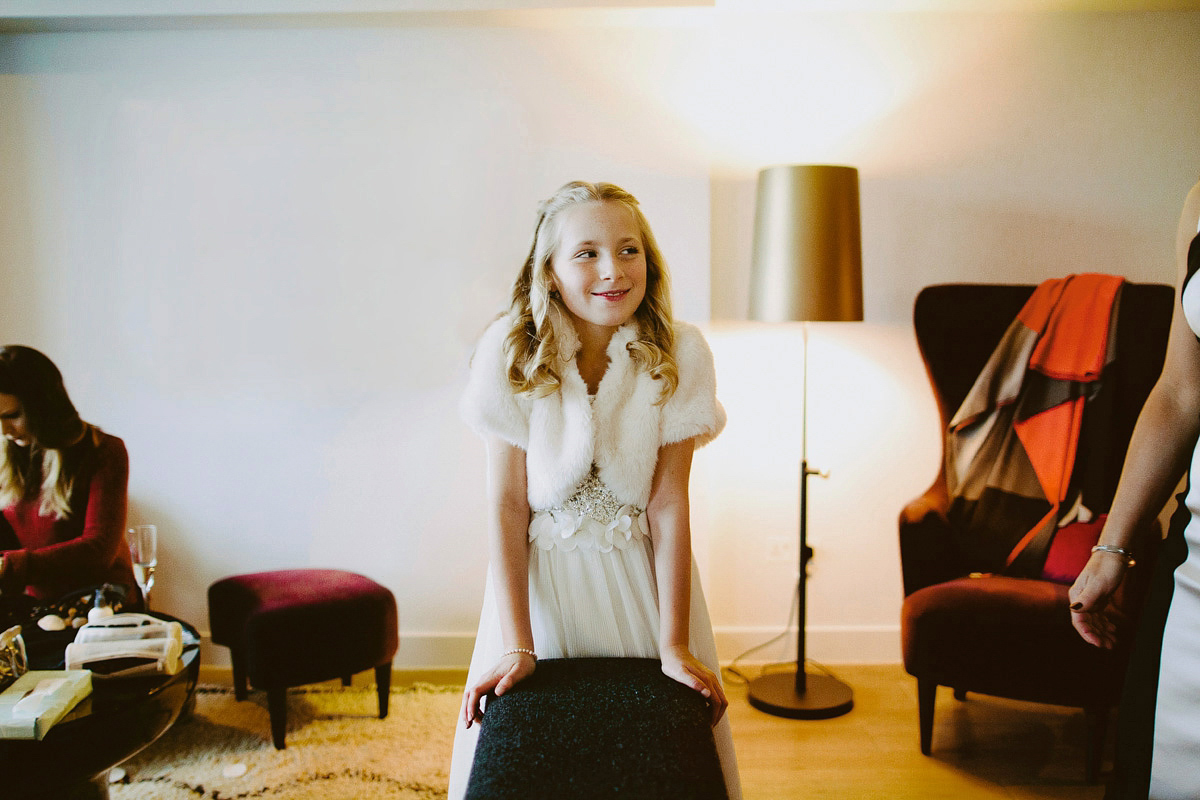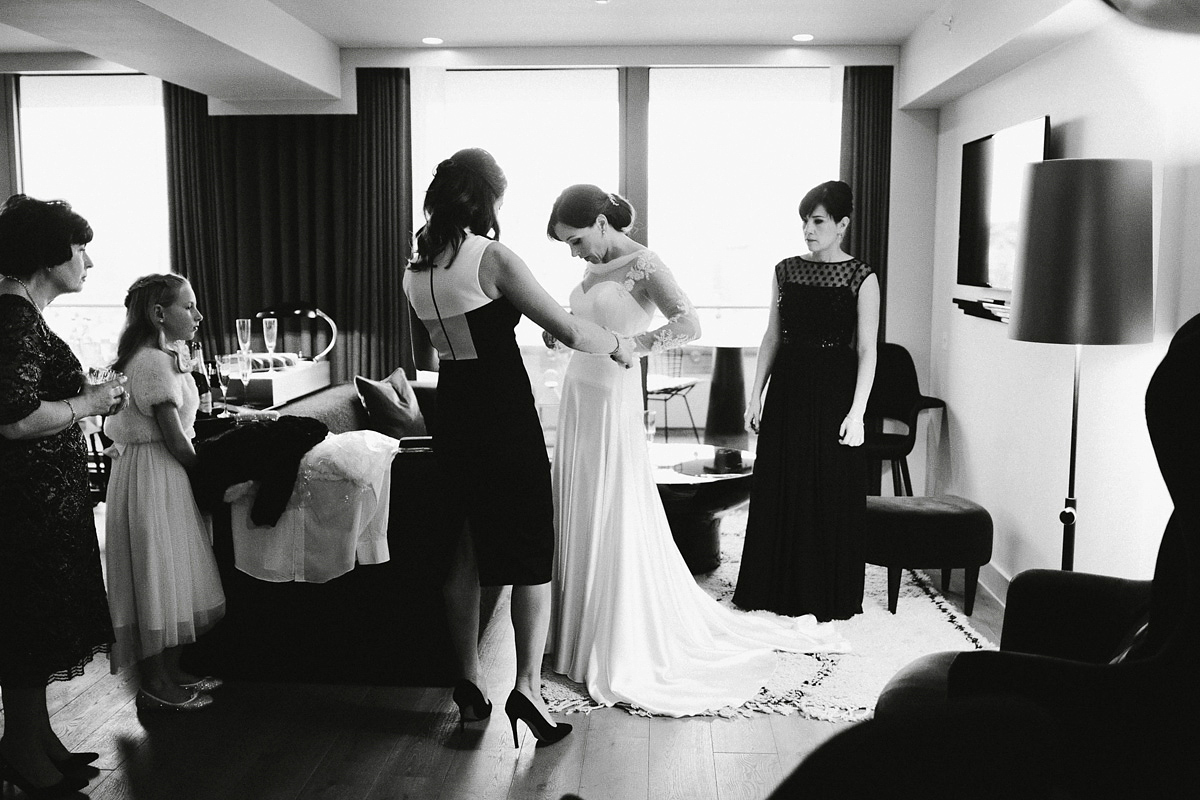 Both Antonietta's lovely shoes and divine drop earrings were sourced from two of our cherished Little Book for Brides members; Freya Rose and Liberty in Love. Our bride chose the softly sweet fragrance of Peony & Blush Suede perfume from the Bridal collection by Jo Malone as her big day perfume; a gift from our very own Katrina one Christmas.
The couple continued this scent throughout their day with Jo Malone candles in every room of RSA House – heavenly!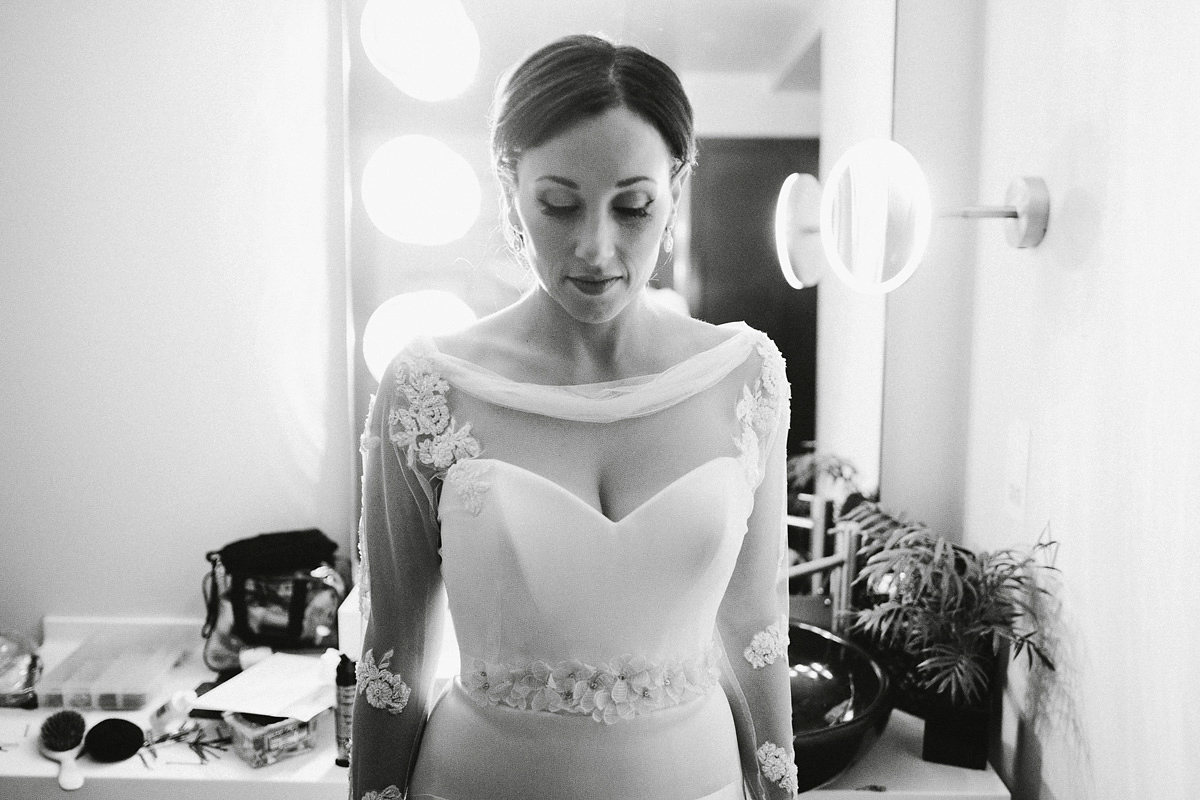 There's something so magical about a winter wedding; an undercurrent of glamour and romance, inky-black evenings atmospherically transformed by dancing candlelight. The black tie elegance of Antonietta and Matthew's day just fits so perfectly with this time of year. I'm so impressed with the way Katrina (pictured below with her husband) has styled everything with such refined beauty, yet maintained an air of tangible intimacy. And didn't the couple's guests whip out their absolute best gladrags for the occasion? This has to be one of the most fashion-savvy wedding parties I have ever seen.
We went slightly unconventional and asked Kat to be our best man. Her suit was from The Kooples and she accessorised her outfit with some black and gold Jimmy Choos and earrings from Stephanie Browne via Liberty in Love."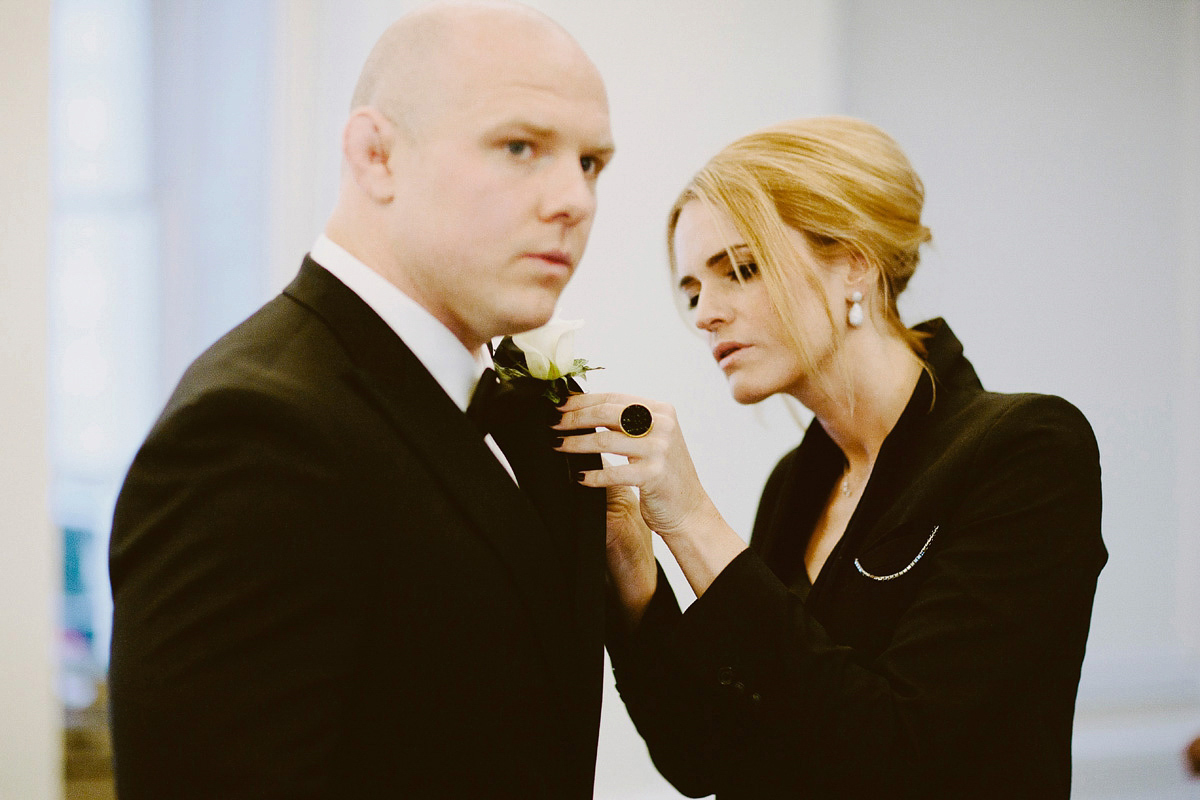 "Matthew and I met over the Christmas holidays in our home town of Cambridge. We had our first date a few days later and moved in together shortly afterwards."
"Matthew proposed on Christmas Eve 2014 whilst standing on the Garret Hostel Bridge in Cambridge with our son George and dog Diesel for company."
"Matthew's suit was a made to measure tux from Reiss and his shoes were from Cheaney. To complete his outfit, I'd given him a pair of wedding cufflinks from Mont Blanc."
"Our son George was our dapper page boy and his tux was from Marks & Spencer. My nieces were our flower girls in dresses from Monsoon and shoes from John Lewis. Matthew walked to the venue with George, while I took a classic white taxi from our hotel to RSA House, where my father walked me down the aisle to Jason Mraz's 'I Won't Give Up.'"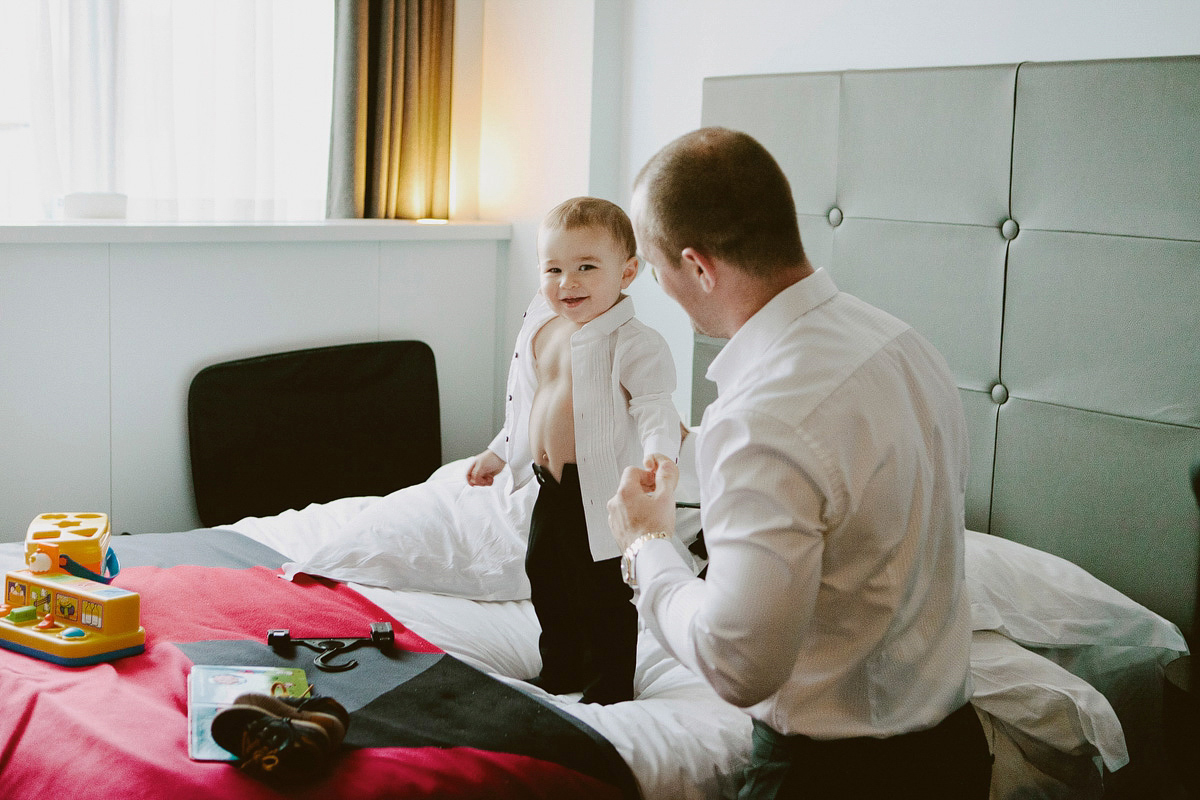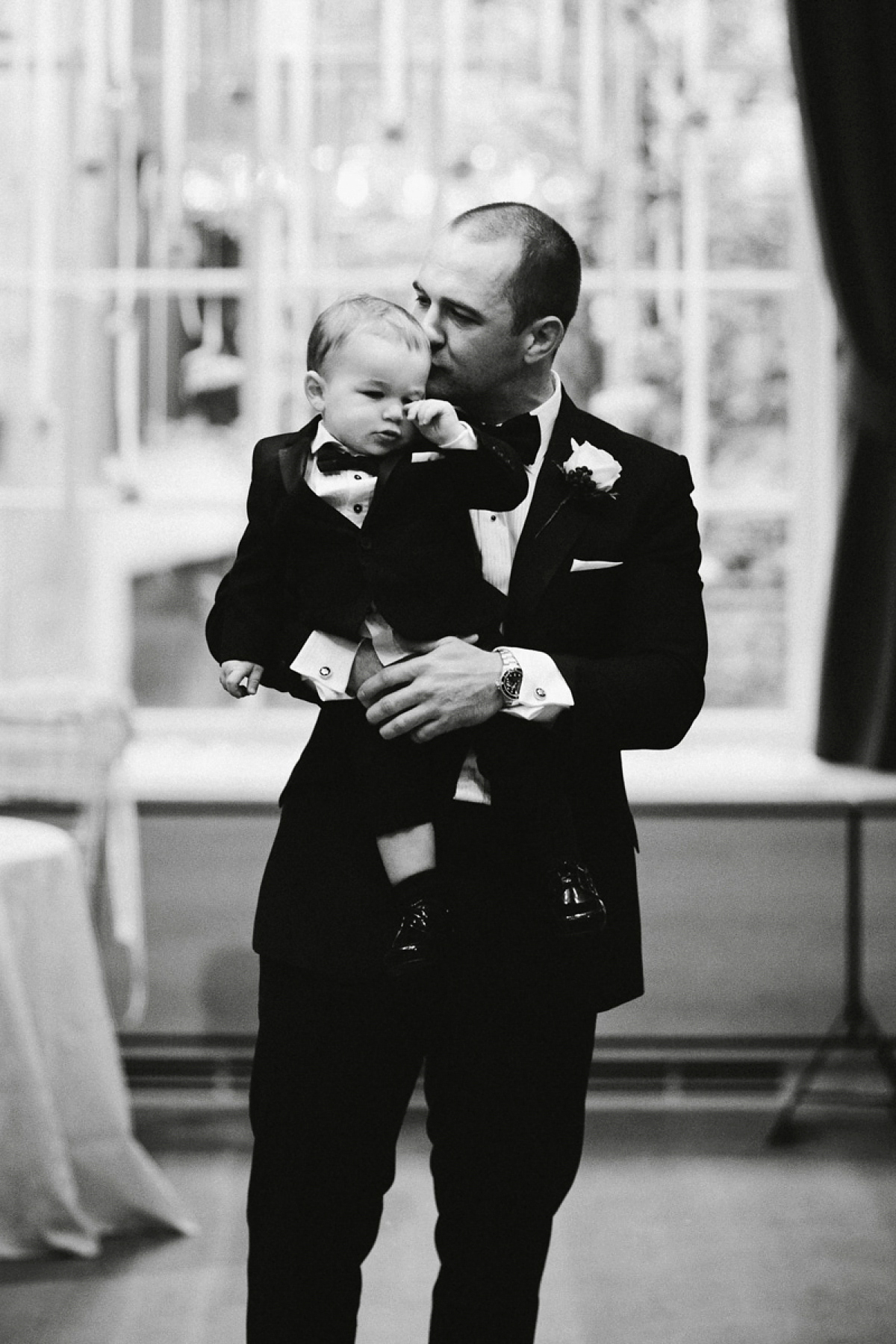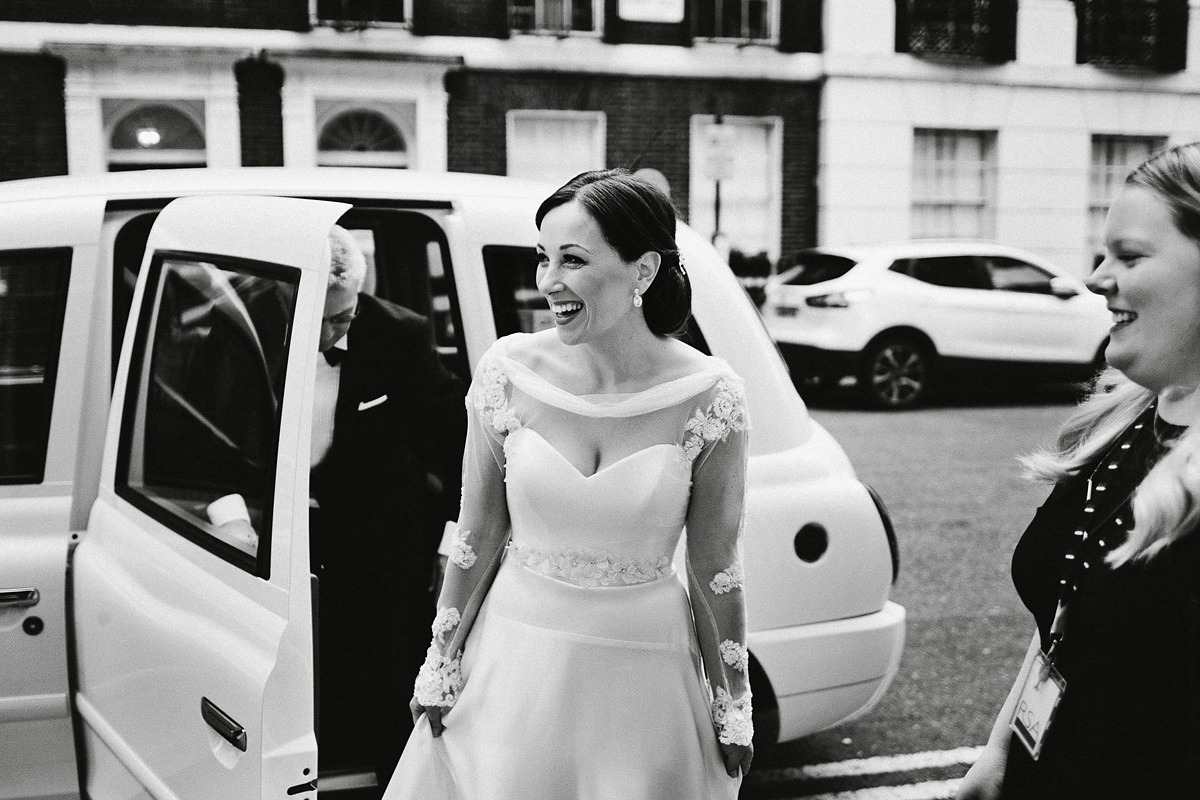 Both Matthew and Kat look so effortlessly stylish and timeless with a cool modern twist; almost as sharp as the little page boy, George, in his full tux! Another of our Little Book for Brides listings, an absolute haven of flower girls frocks, Monsoon, was the supplier of the flower girls' sweet sequin and tulle outfits.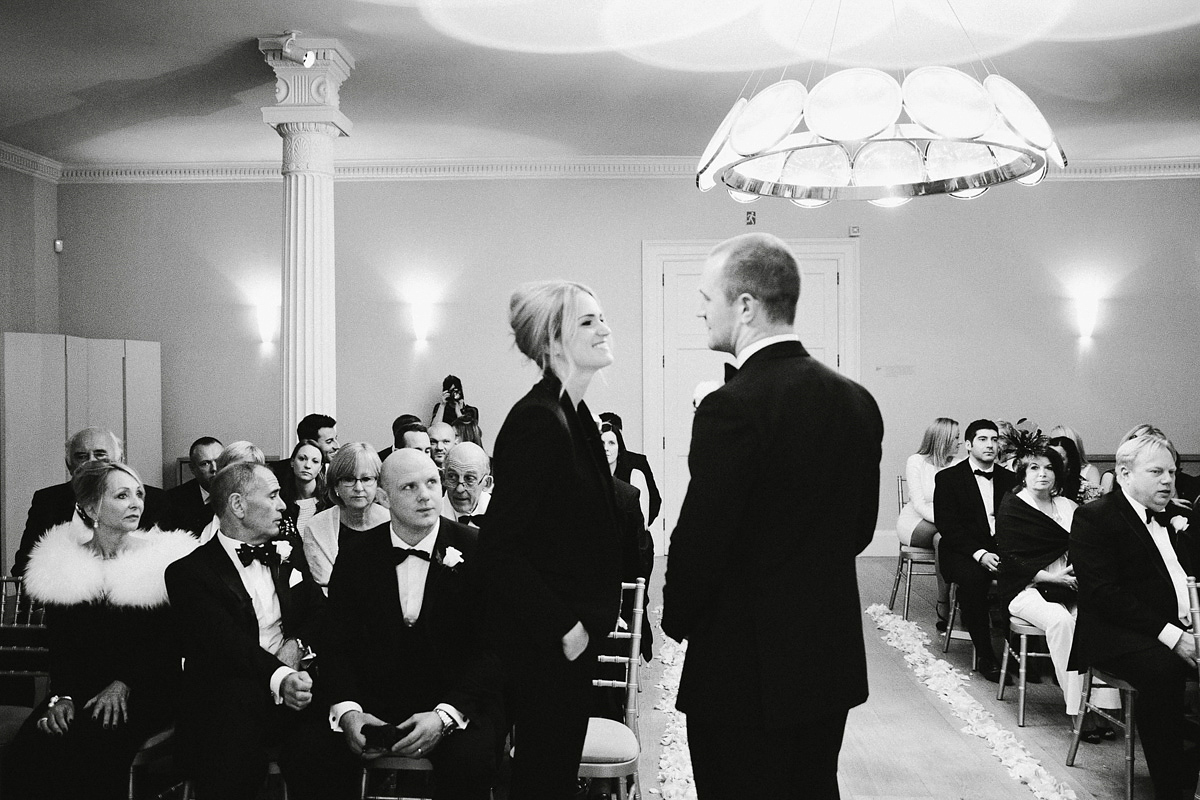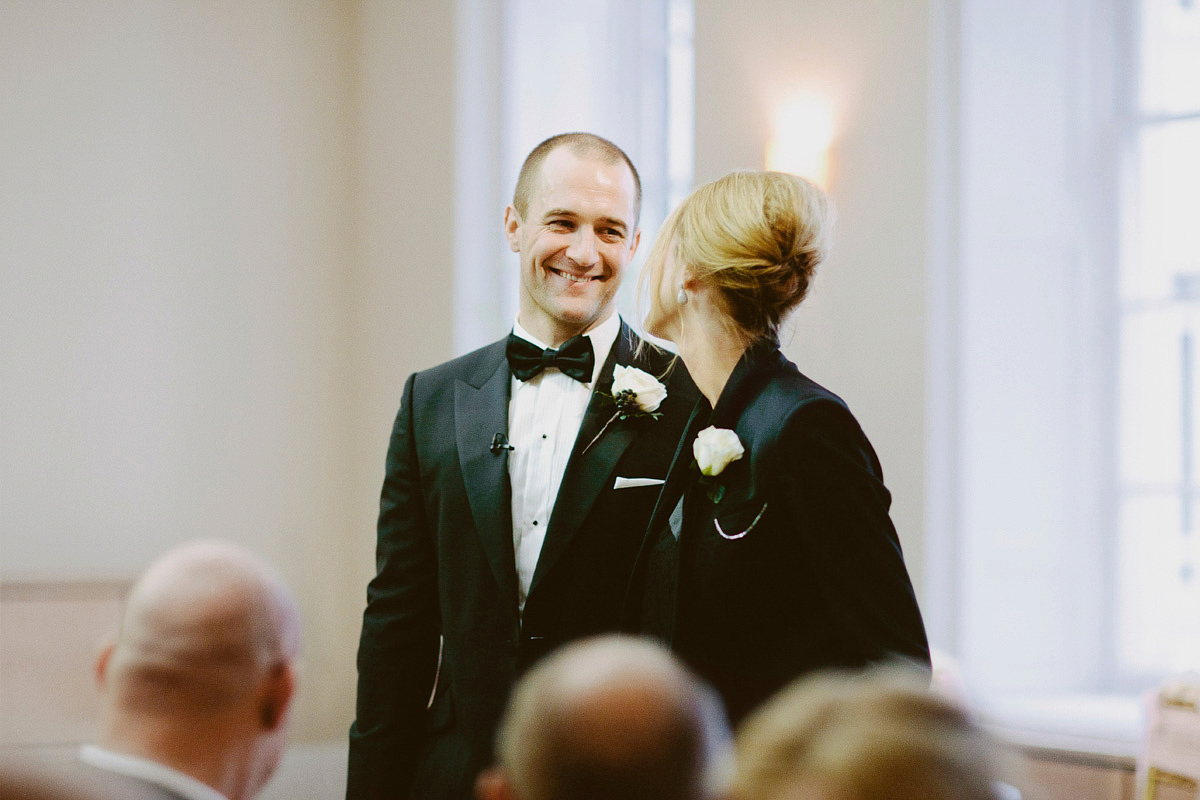 "As Matthew is 6ft plus, I needed to add a little height so invested in a pair of classic court shoes with a soft gold sole from Freya Rose."
"I borrowed a hairpiece and bracelet from a friend from Ivory & Co and my earrings were from Liberty in Love."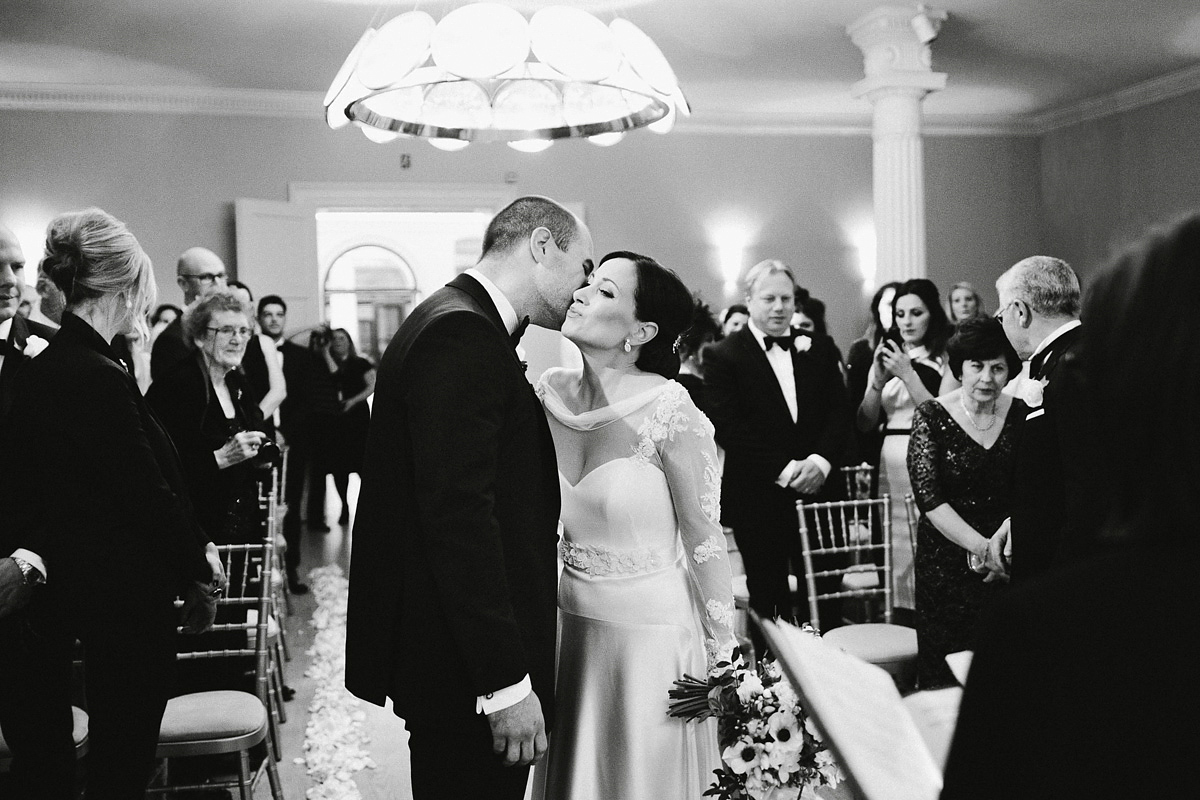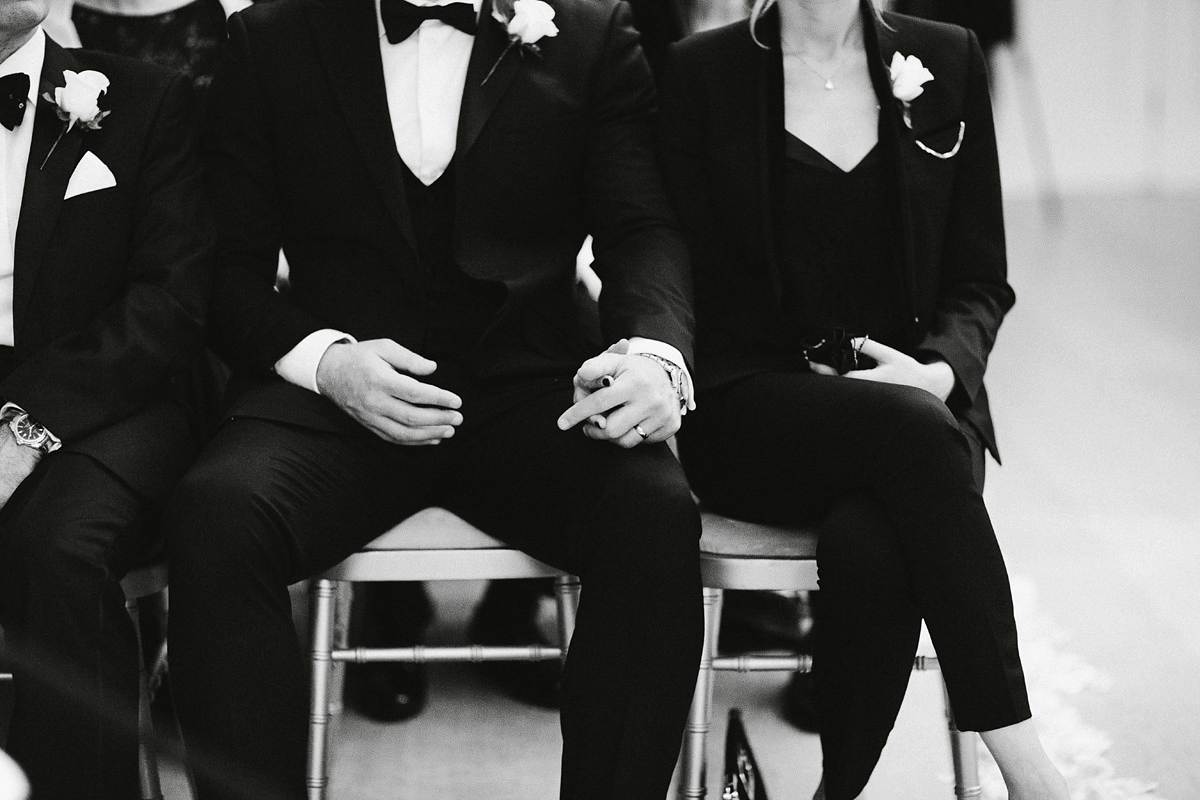 Antonietta and Matthew exchanged rings from Cellini Jewellers in Cambridge, where Matthew also sourced his wife's jaw-dropping yellow sapphire engagement ring. Their intimate ceremony was set against a backdrop of the musical stylings of Charlotte Campbell, who also provided the music at the couple's drinks reception.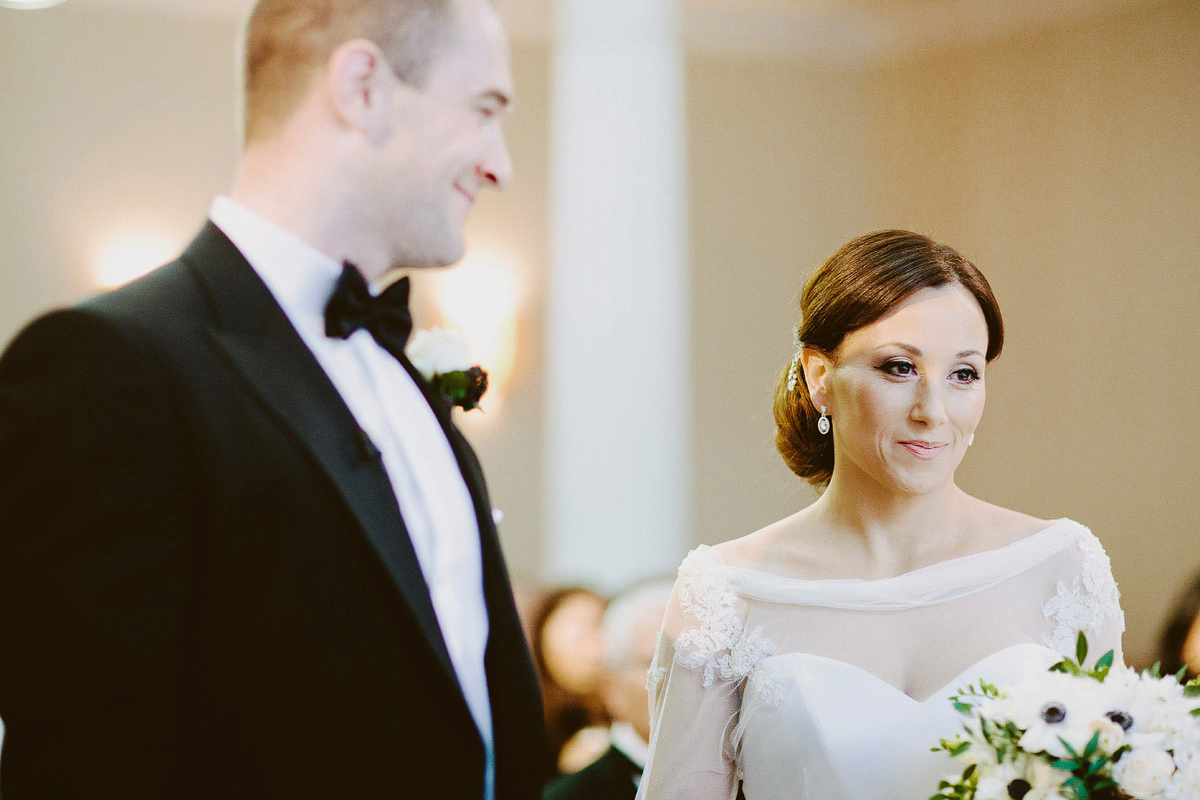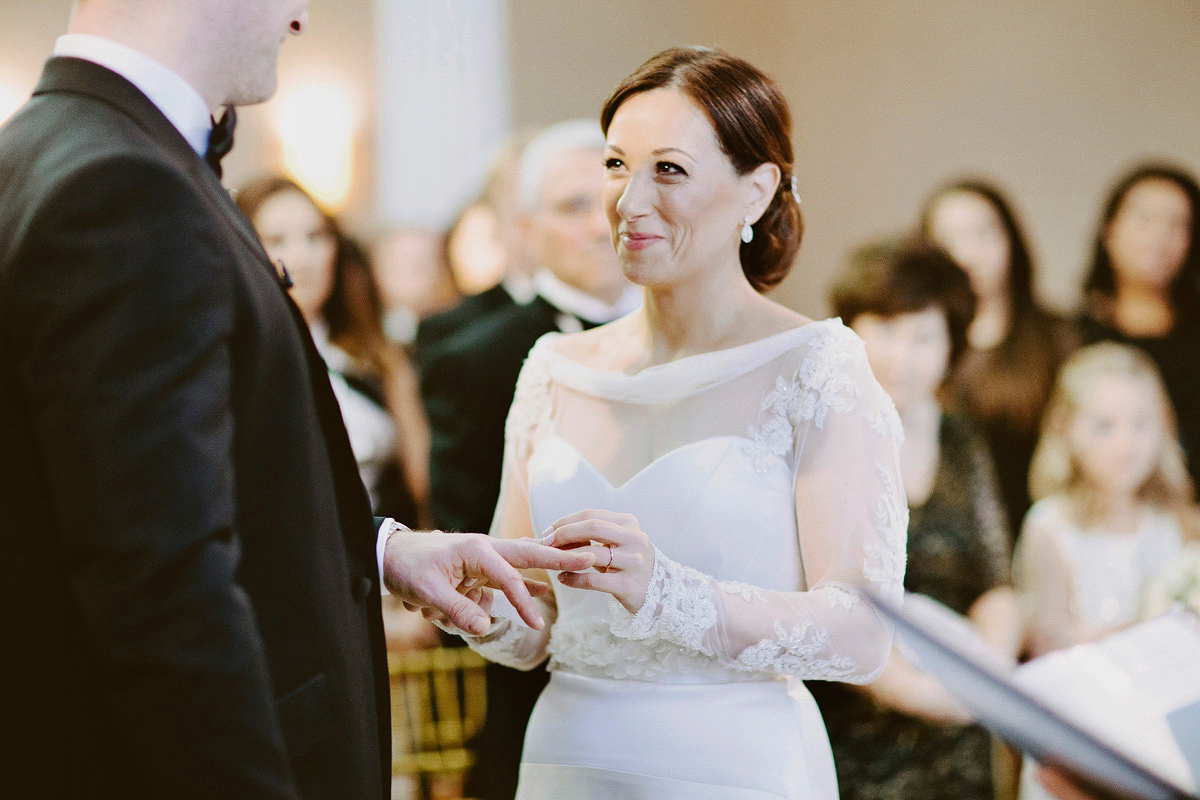 Exiting their ceremony hand-in-hand beneath a storm of confetti (Matthew's favourite big day moment by the way), the couple turned heads as they strolled oh-so-cooly along The Strand for some just married shots with their photographer.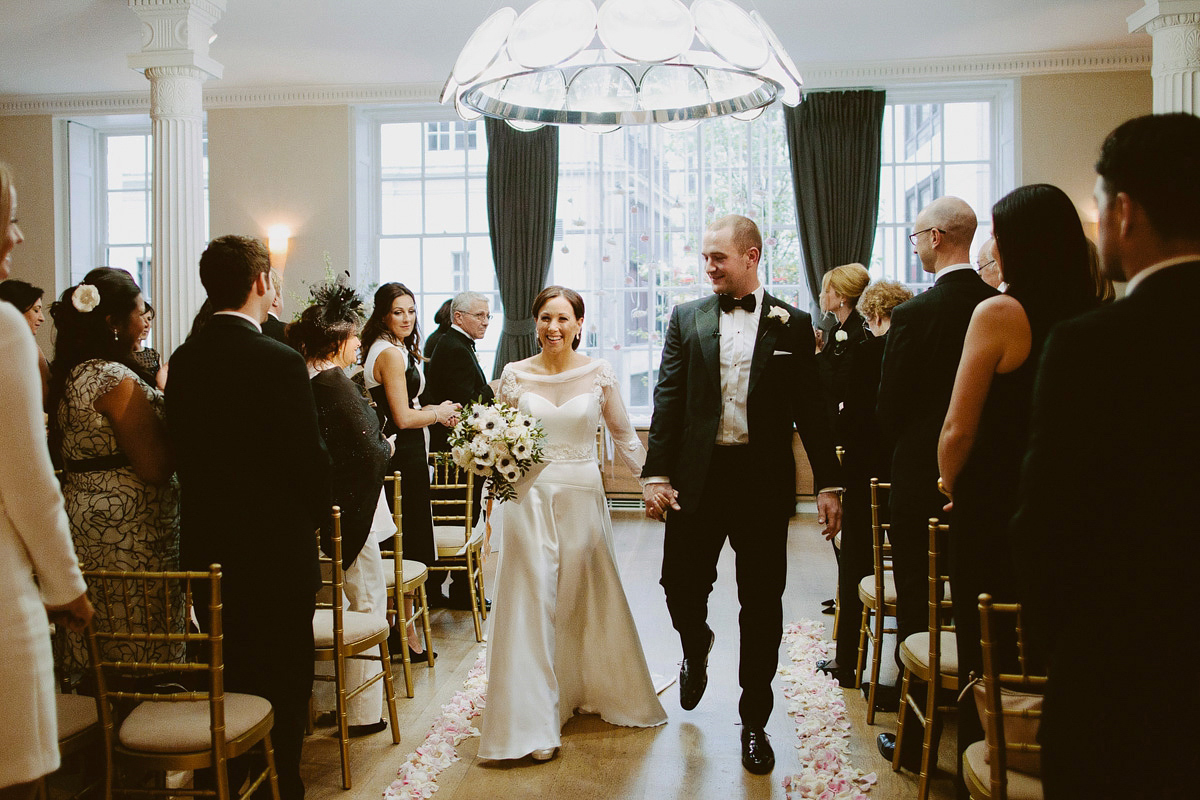 Photographer David Jenkins has so perfectly captured the sweetest glance as Antonietta approaches Matthew on the arm of her father. That beautifully intimate eye contact from beneath her lashes is the most spellbinding moment in time, and this particular still is so loaded with emotion; anticipation, nervousness, joy and love all wrapped up in one divine image.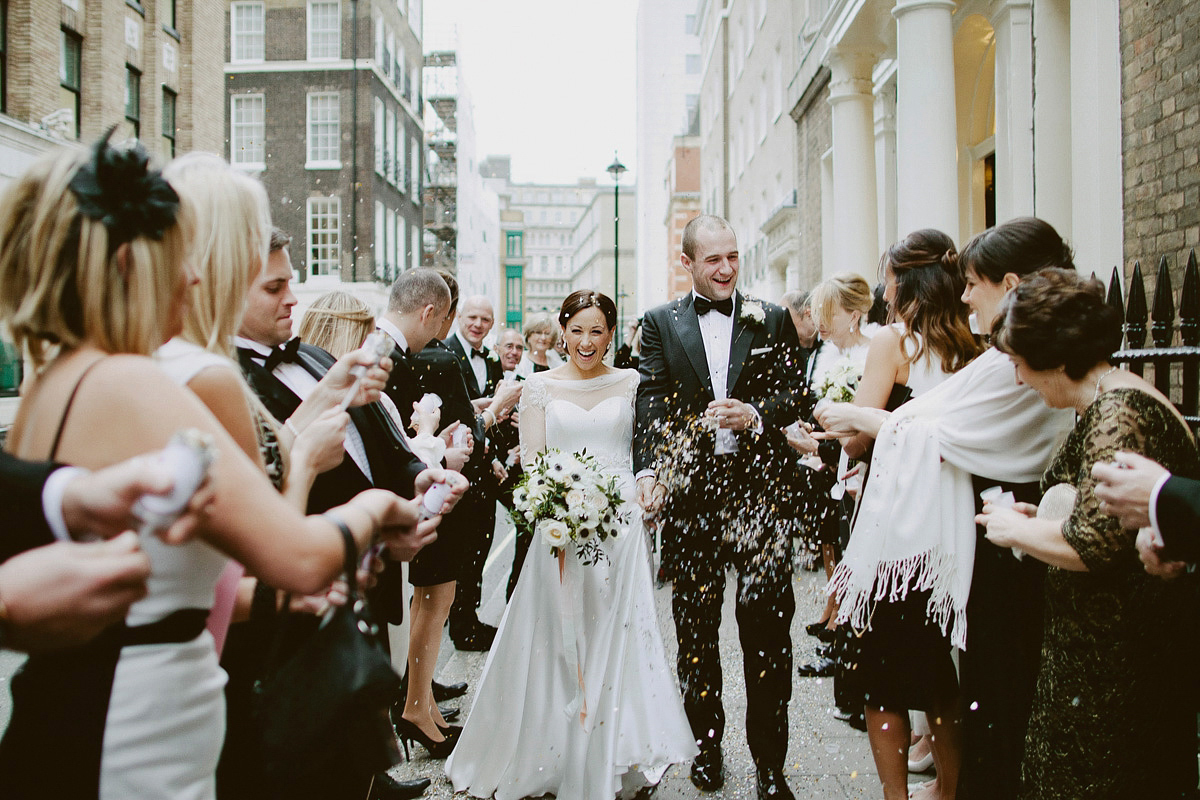 "We honestly had a dream team of suppliers and I'd recommend each and every one of them in a heartbeat. Our photographer, David Jenkins, was down to earth and made us feel very comfortable in front of the camera."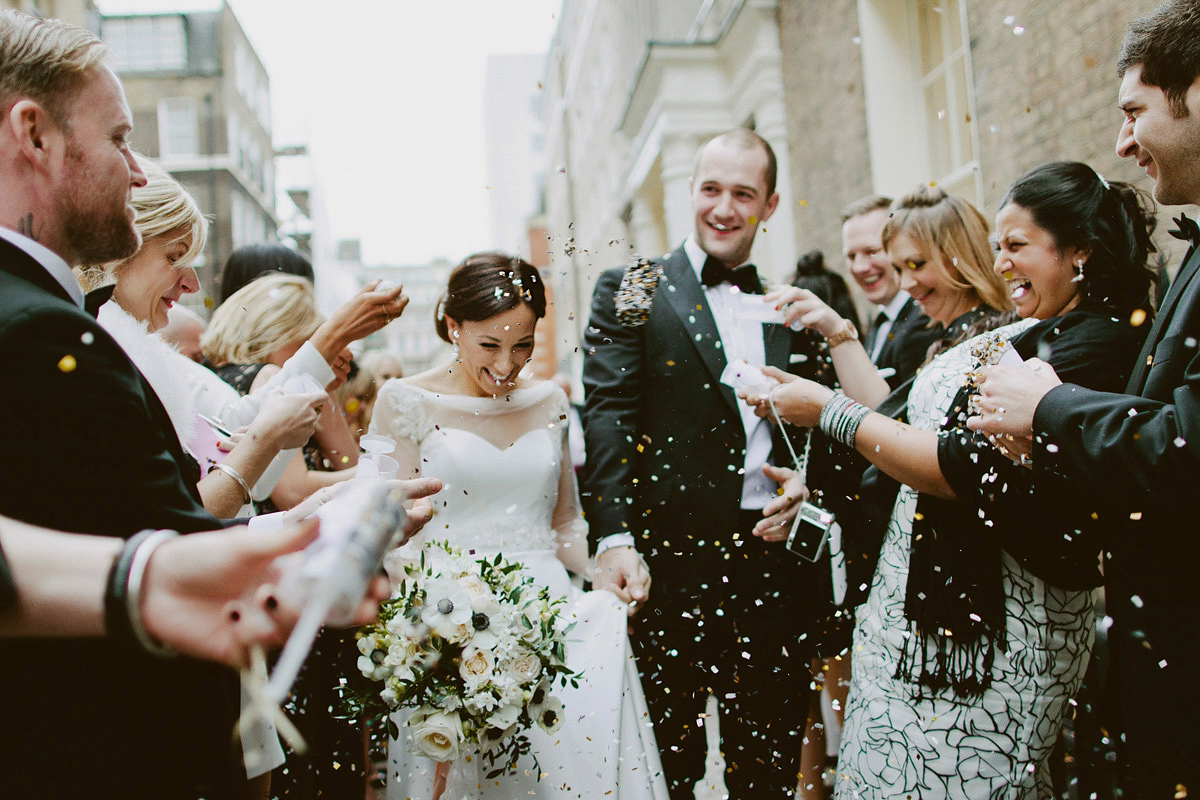 "And what can I say about the duo that is Frances and her assistant Beccy other than that if you're considering having a video then you HAVE to book Reellove Films! Frances and Beccy had also filmed Kat's wedding so we didn't hesitate to book them the second we'd chosen our venue."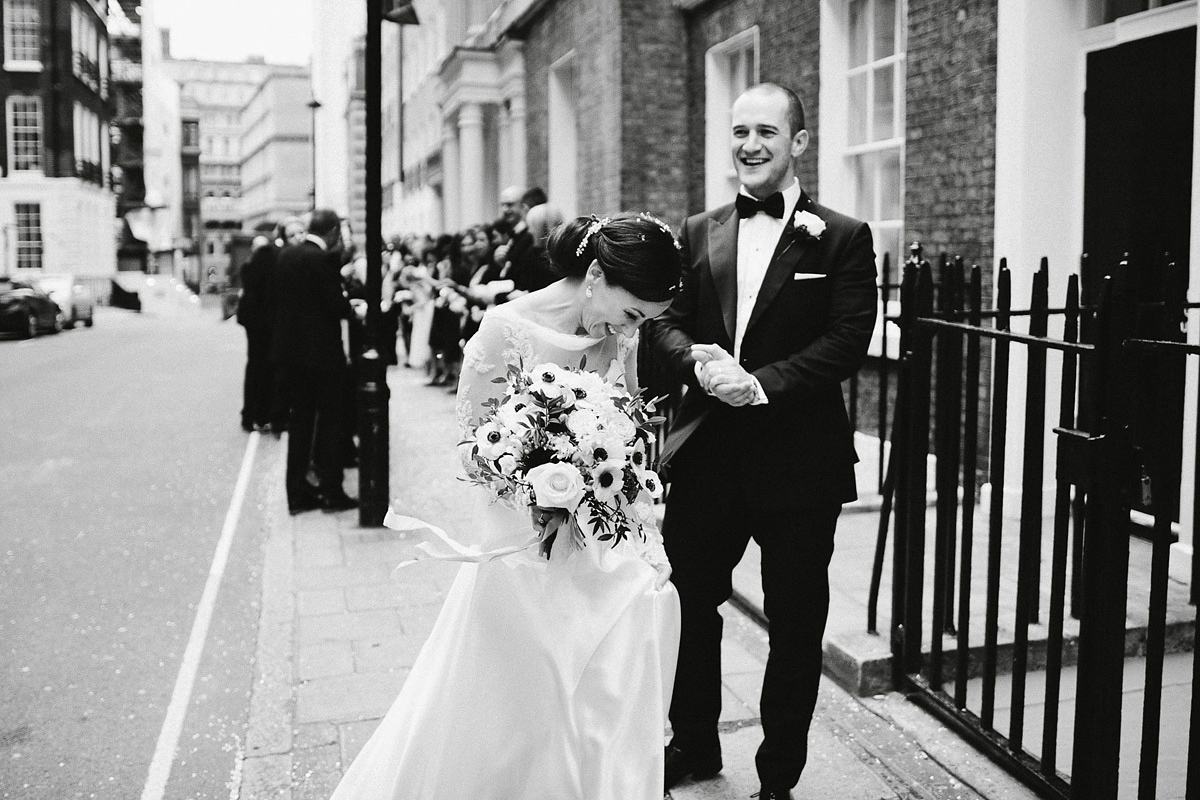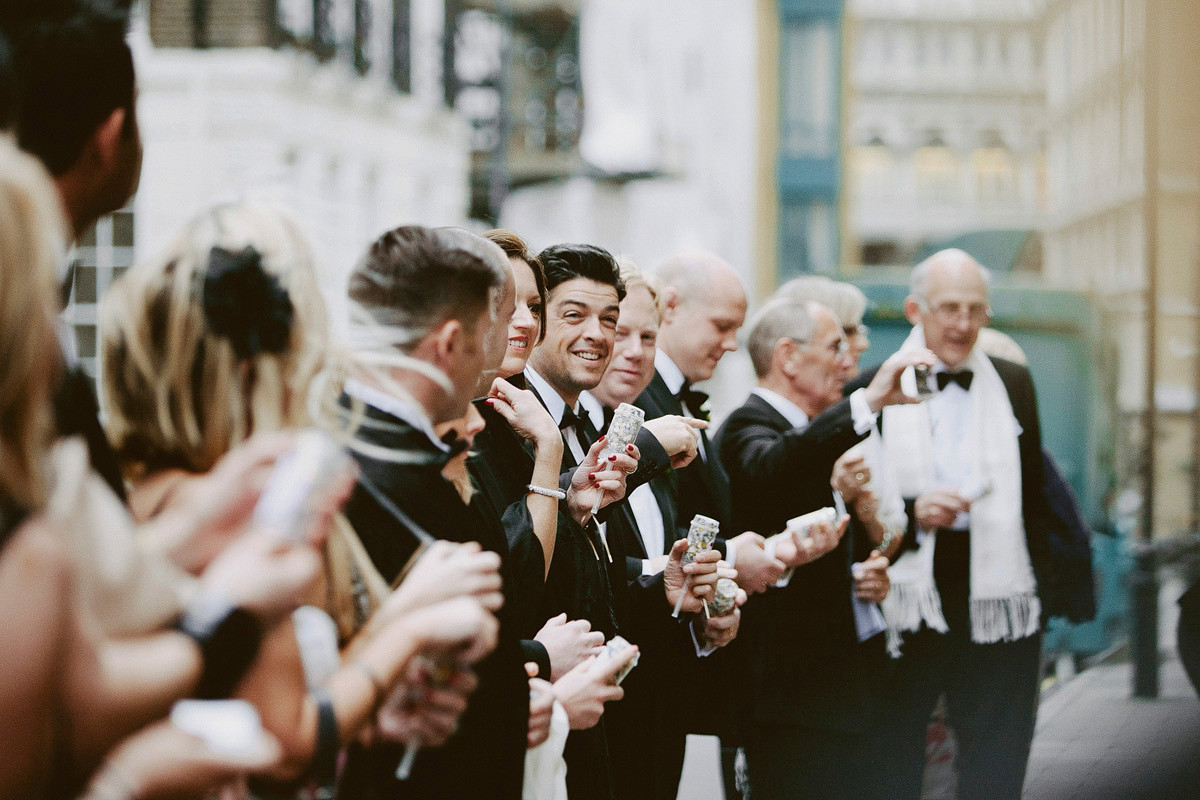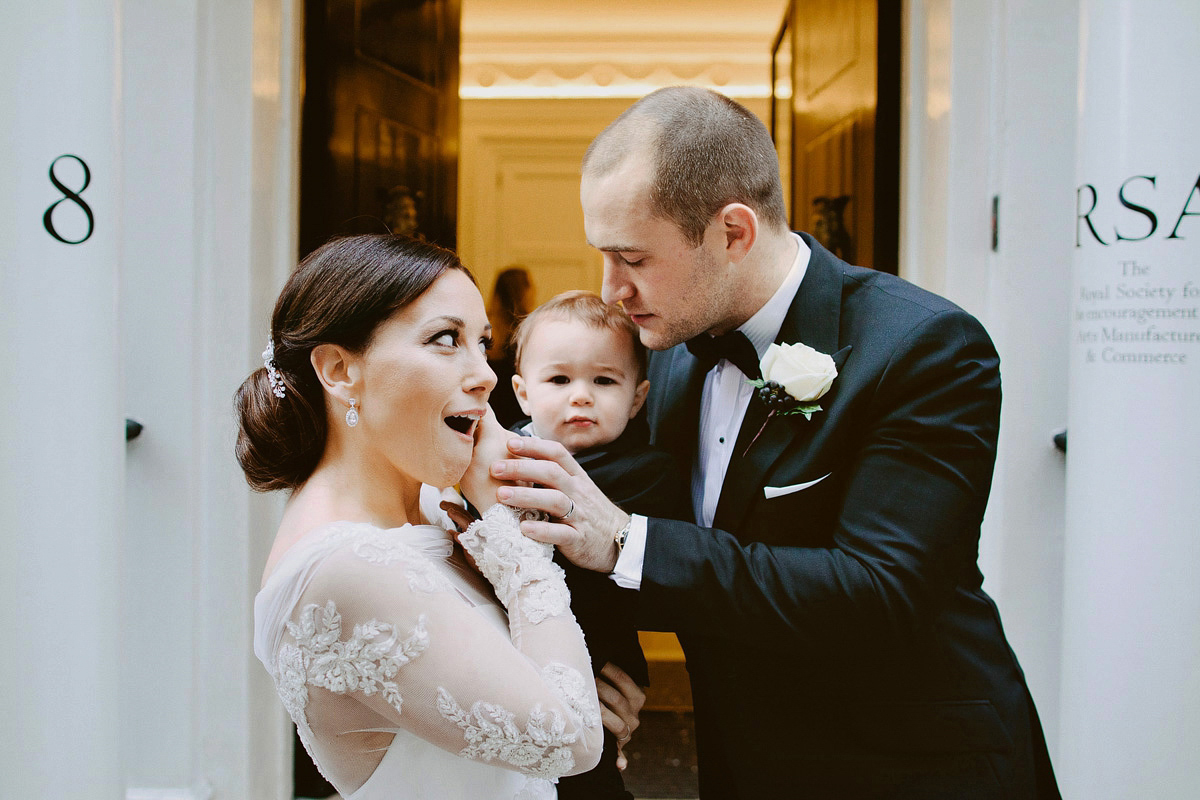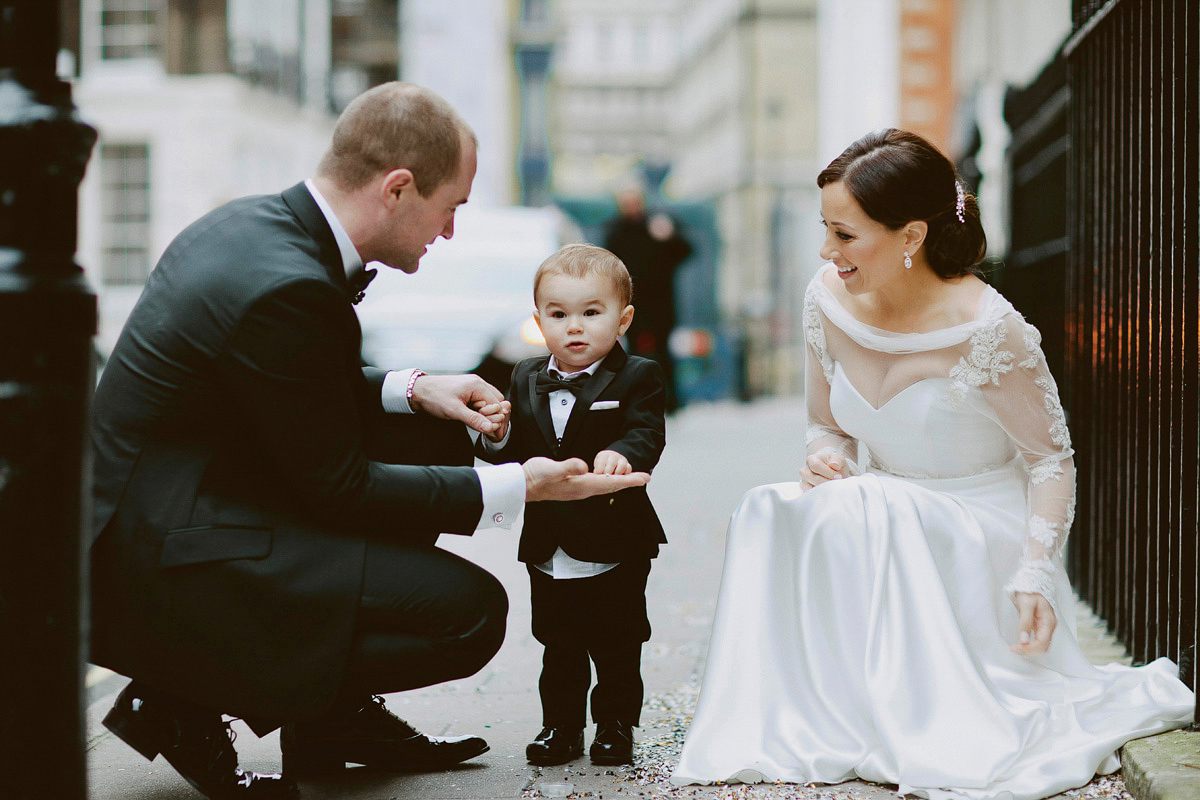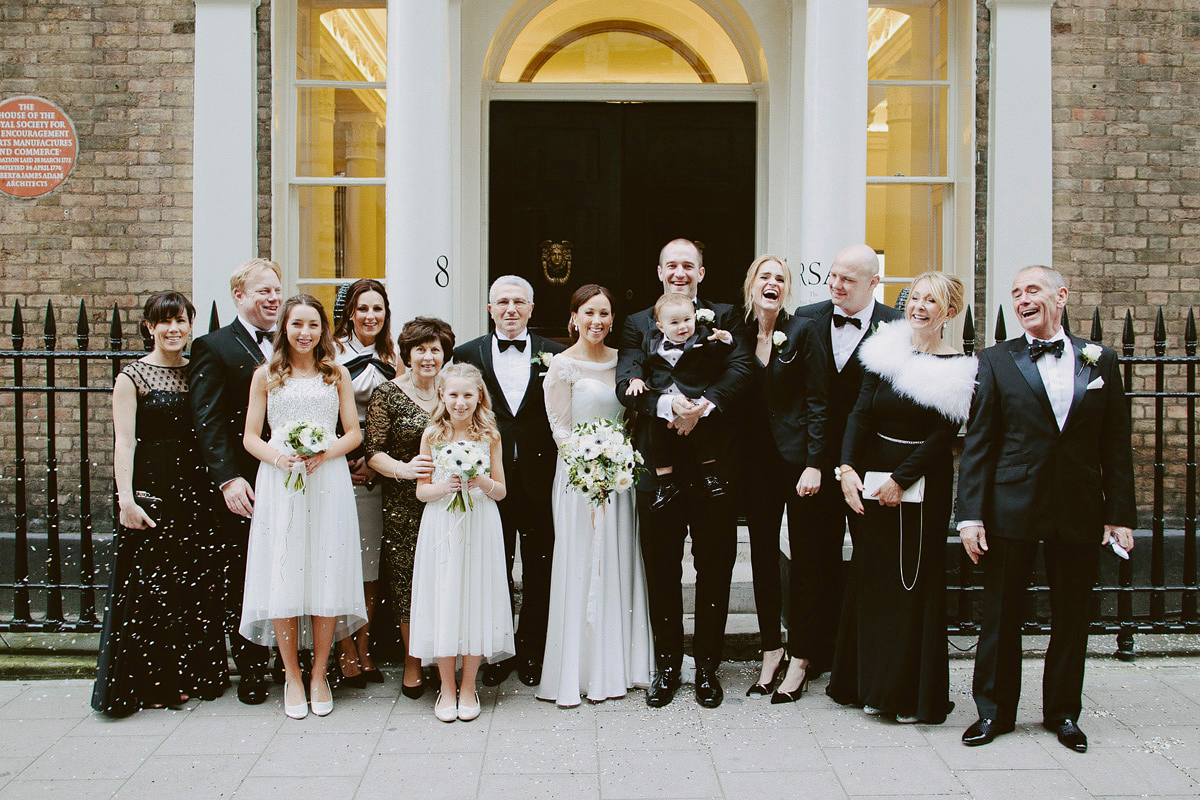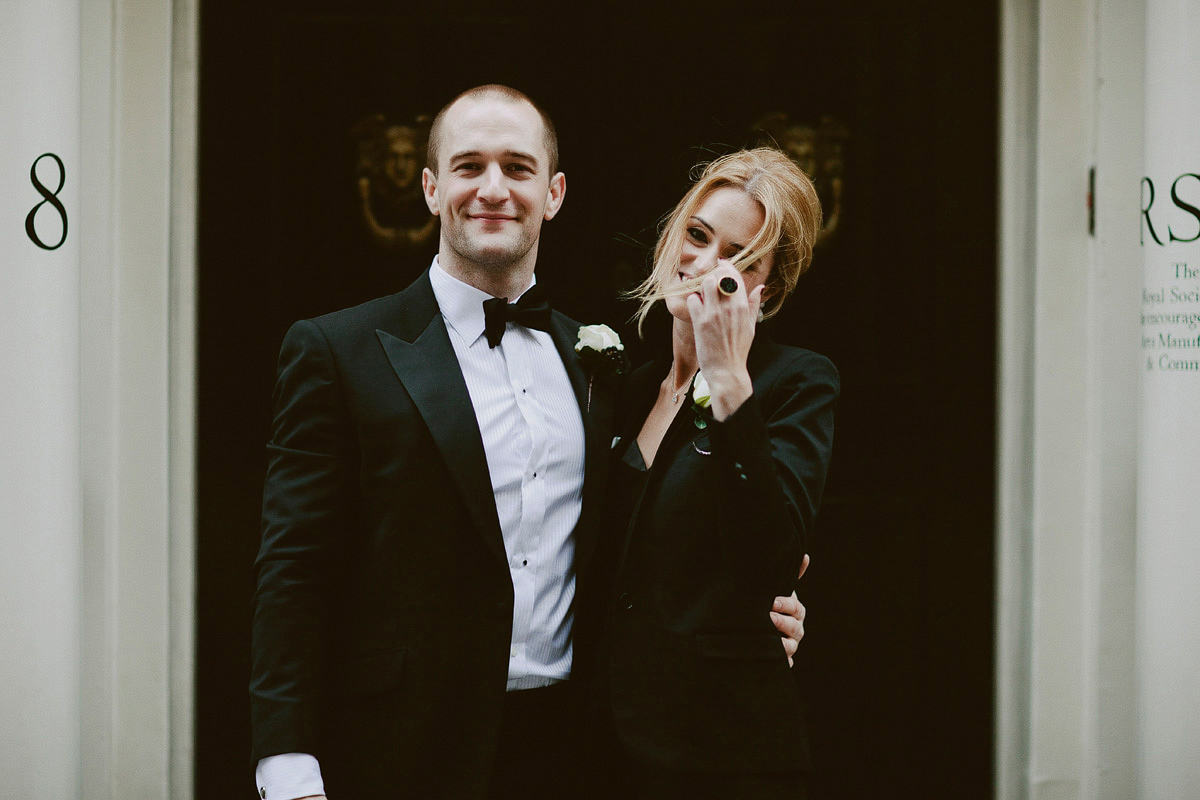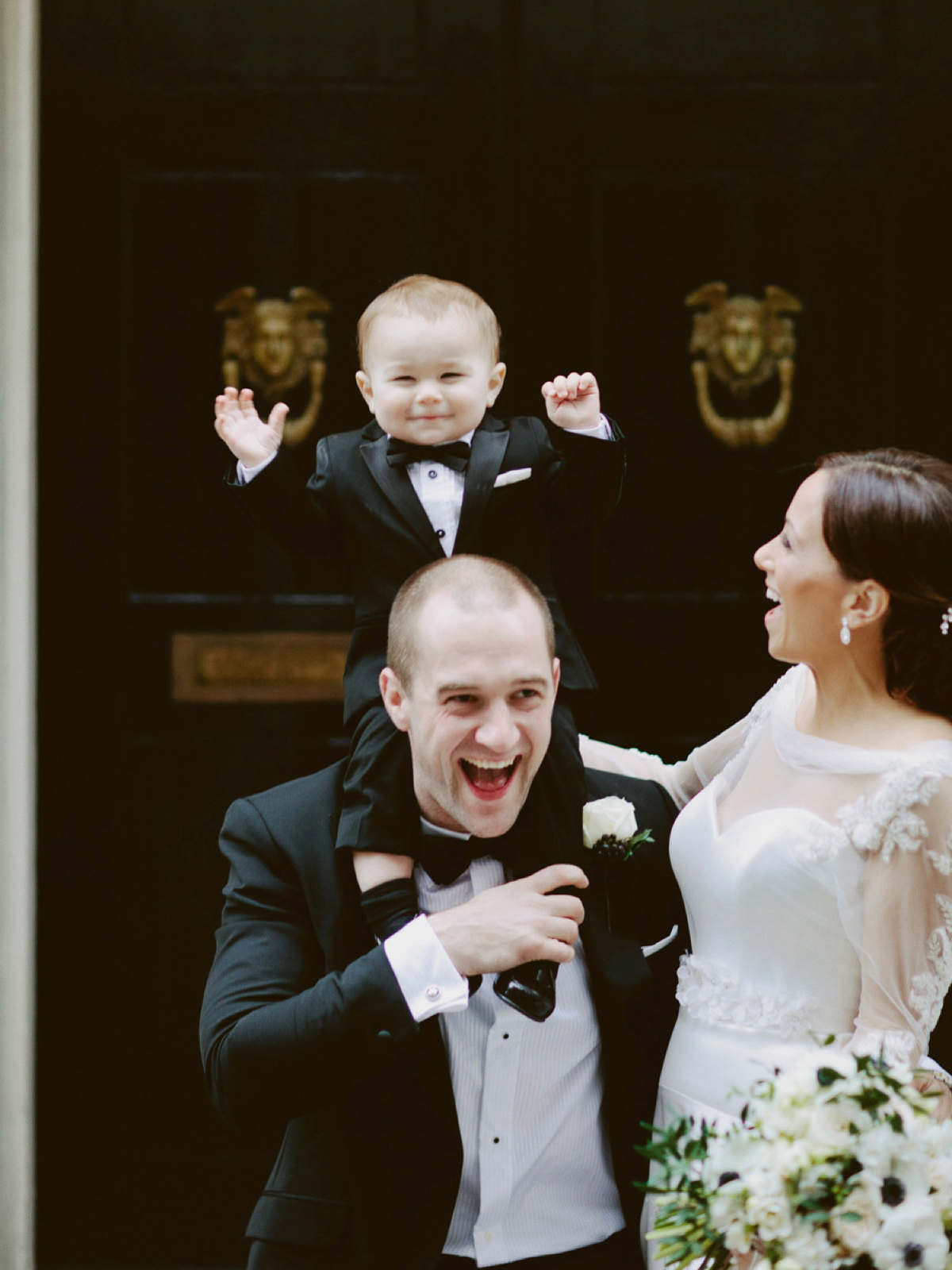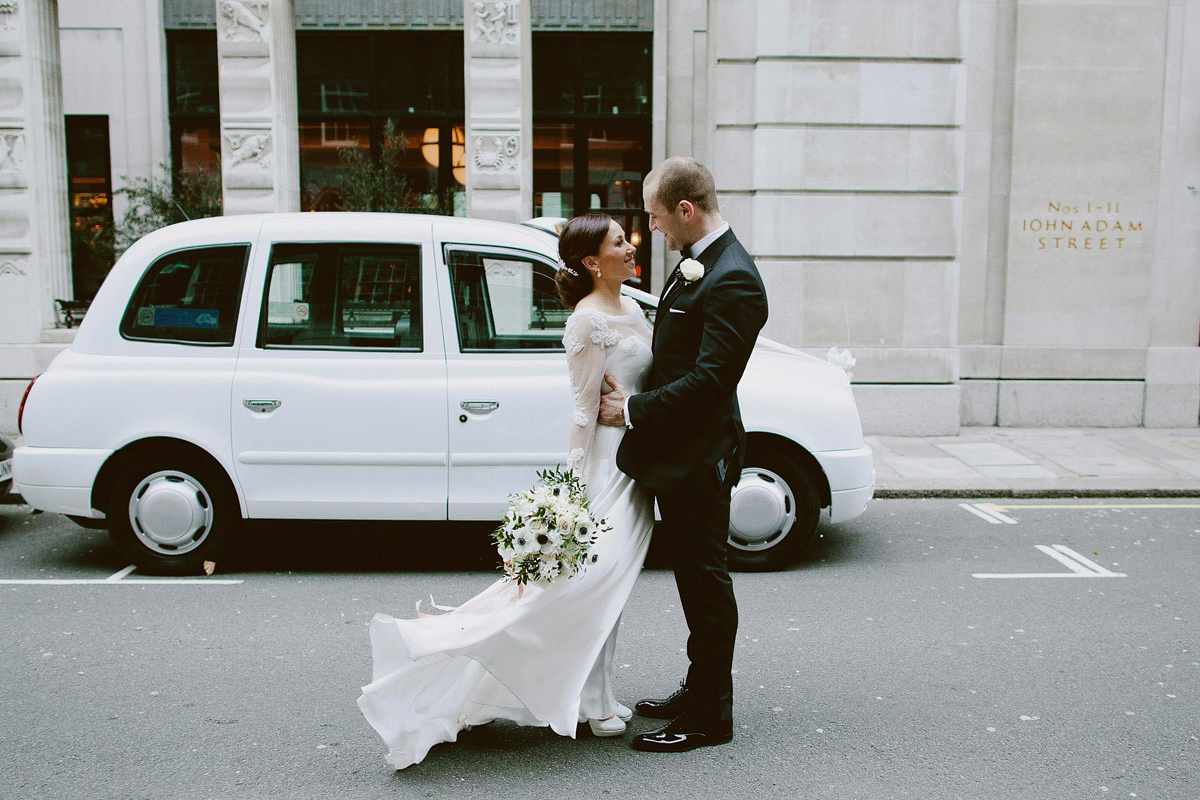 Yet another wonderful supplier we're incredibly proud to support through Little Book for Brides is the lovely Liz Indigo Jones of Blue Sky Flowers. Liz plans one to one consultations at her flower market based studio workshop, carefully considering each and every aspect of a couple's wedding day. The choice of stunning anemones and luscious creamy-white blooms interspersed with fresh foliage is just stunning, complemented with pretty trailing blush and white ribbons.
"Our florist Liz of Blue Sky Flowers fame totally exceeded our expectations and created the most magnificent bouquet, arrangements and tablescape. What we loved most about Liz is that we got to spend the morning with her at the New Covent Garden Flower Market choosing seasonal flowers to complement the venue and our overall vibe."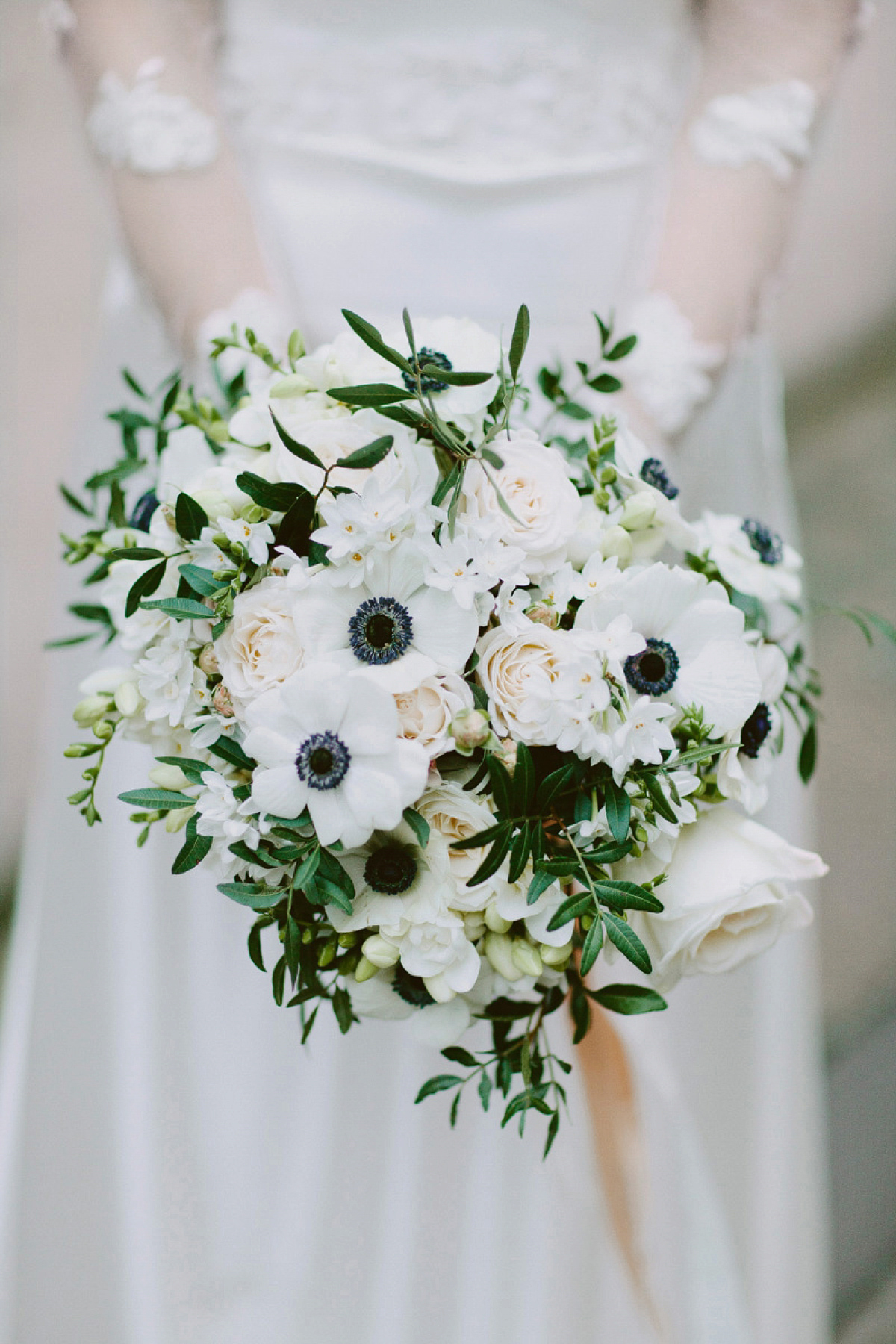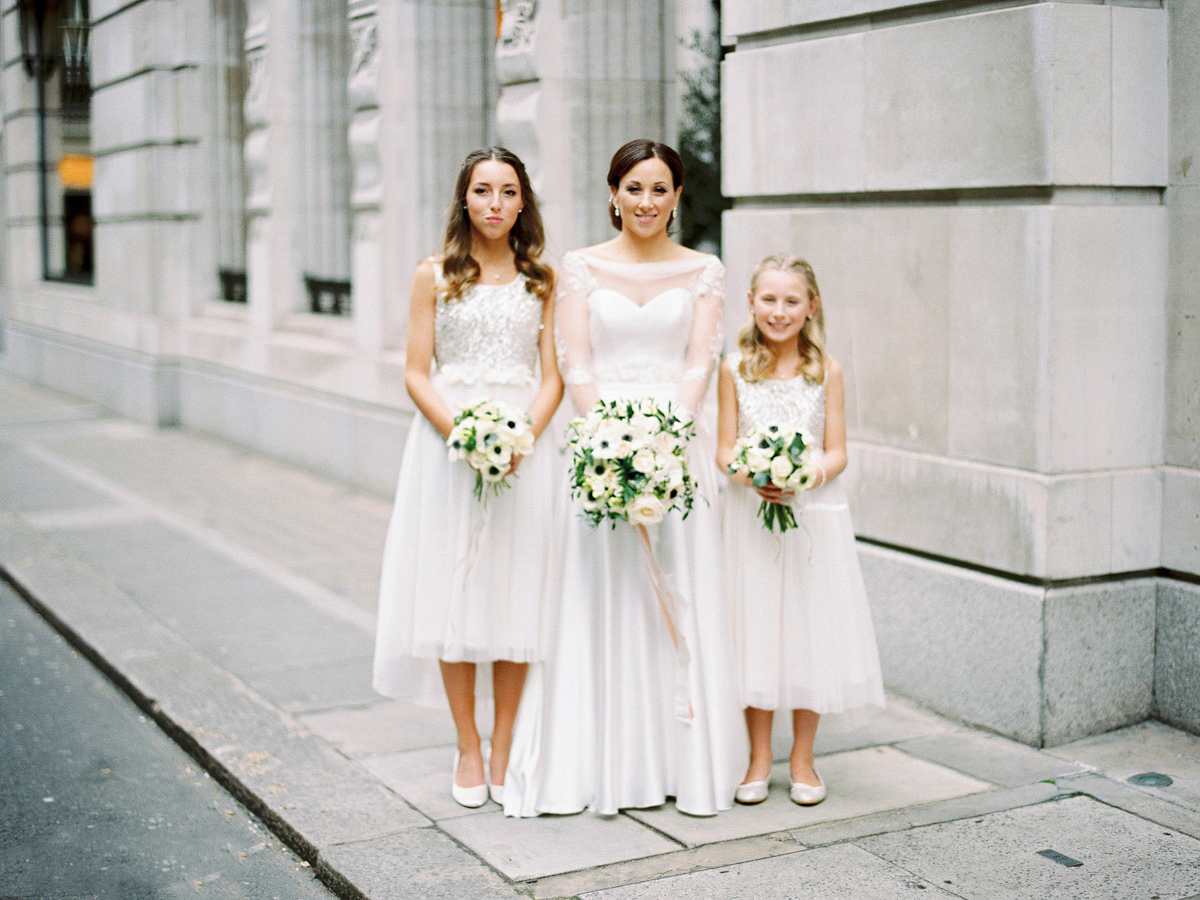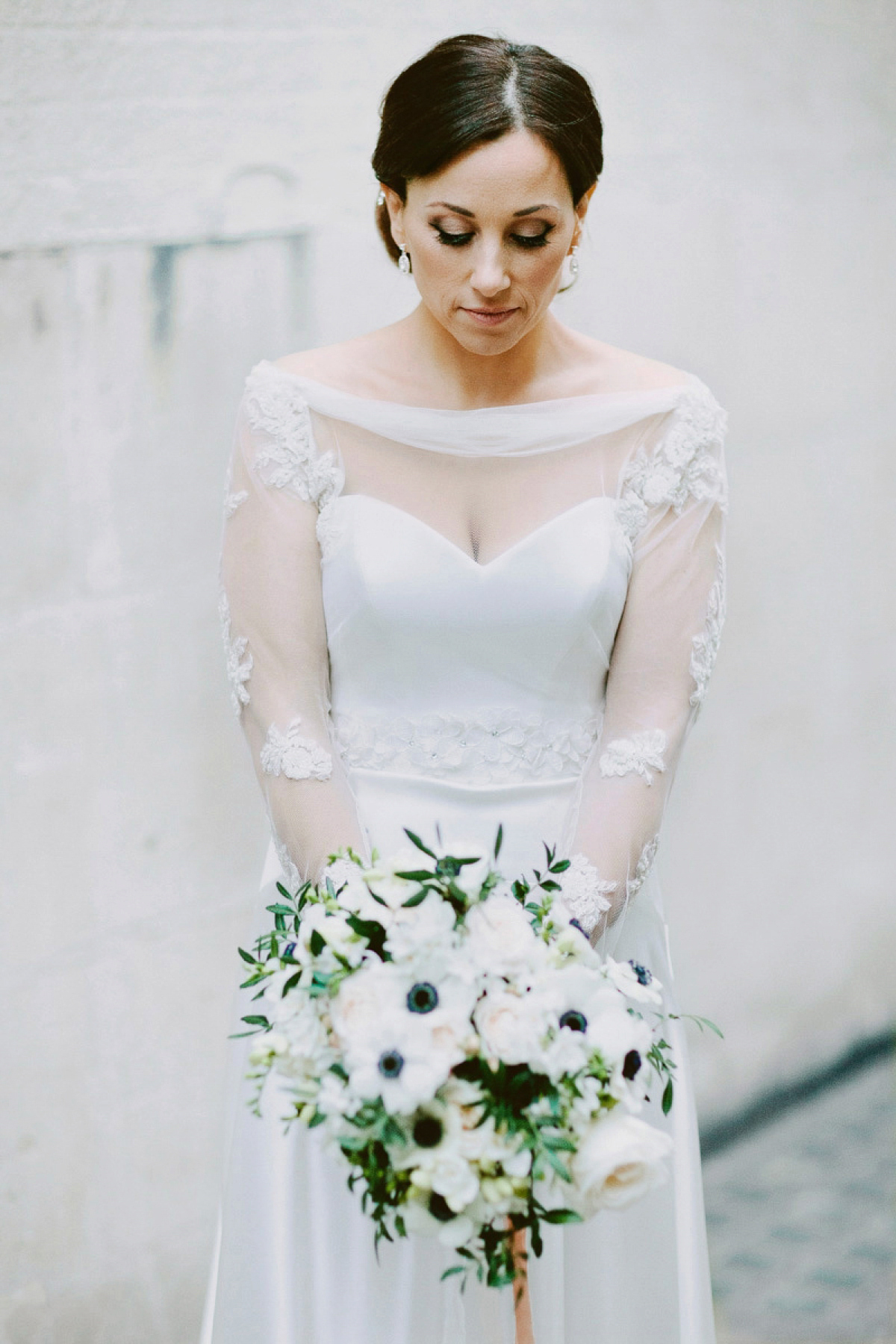 "We initially considered getting married in Italy but as we had a four-month-old when we got engaged, travel and venue visits became slightly more logistically complicated! We soon settled on London and after a couple of days of venue visits, we instantly knew that RSA House was the one, especially after seeing their candlelit vaults. The perfect blank canvas in the heart of London, RSA House provided us with plenty of possibilities for our intimate winter wedding."
"Matthew had initially refused to have any pictures taken in public and on the day, David made him feel that relaxed and confident in his vision that we had our main evening photos taken walking along The Strand not once but twice."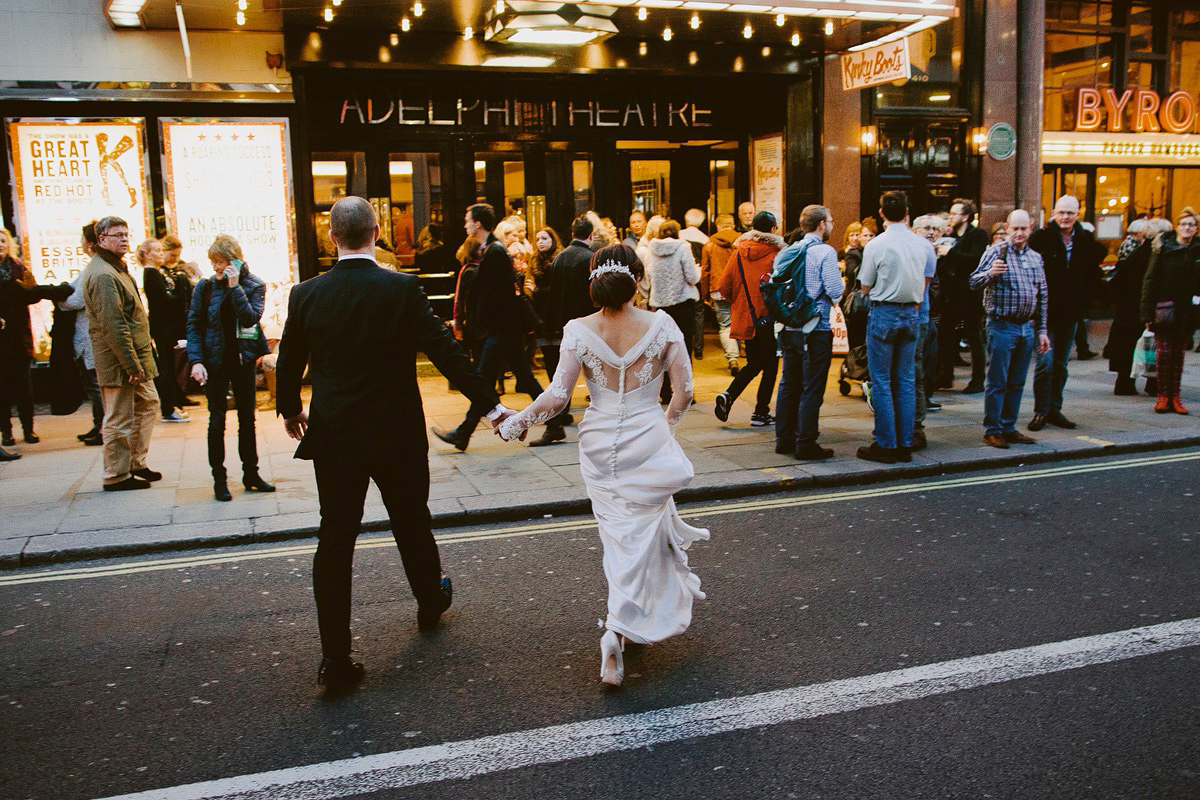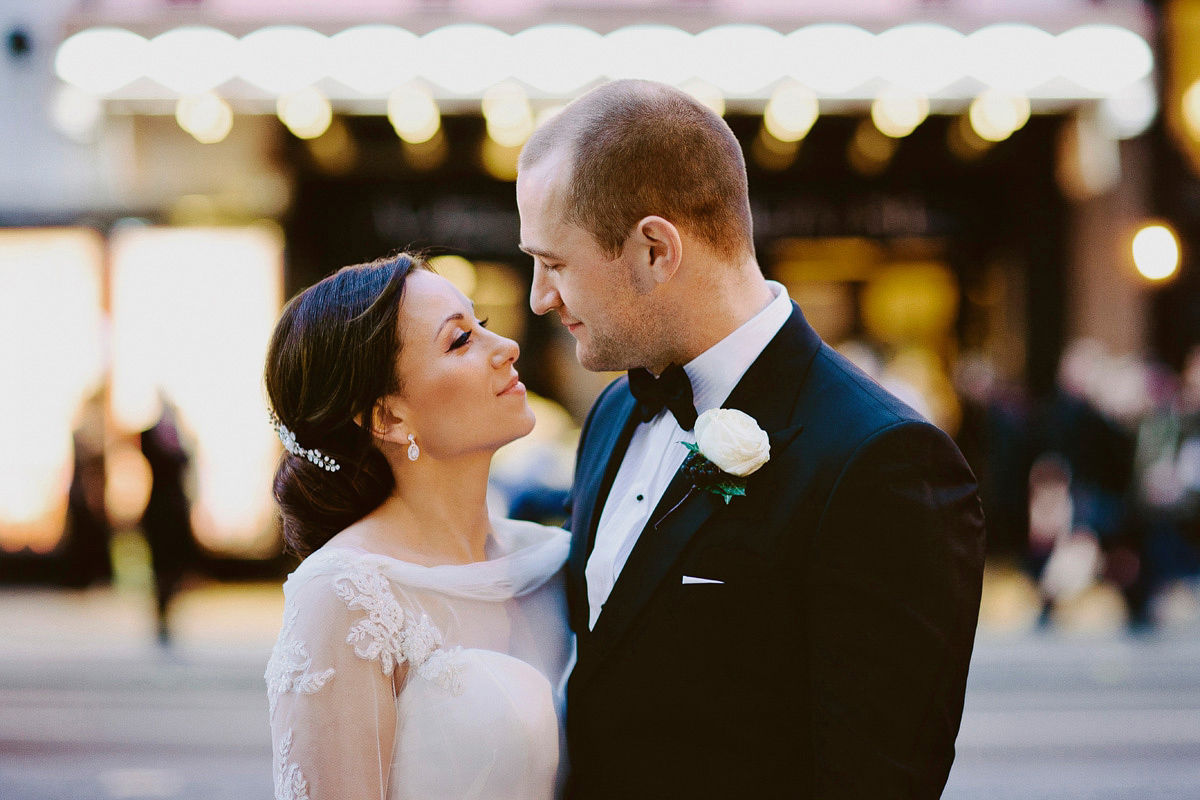 As RSA House is partially dry-hire, Antonietta and Matthew ordered furniture from Hire It and adorned their venue's staircases with faux garlands from Friend of Faux. Their décor was beautifully complemented by stationery from Emily & Jo, including personalised menus and a table plan framed with a faux border.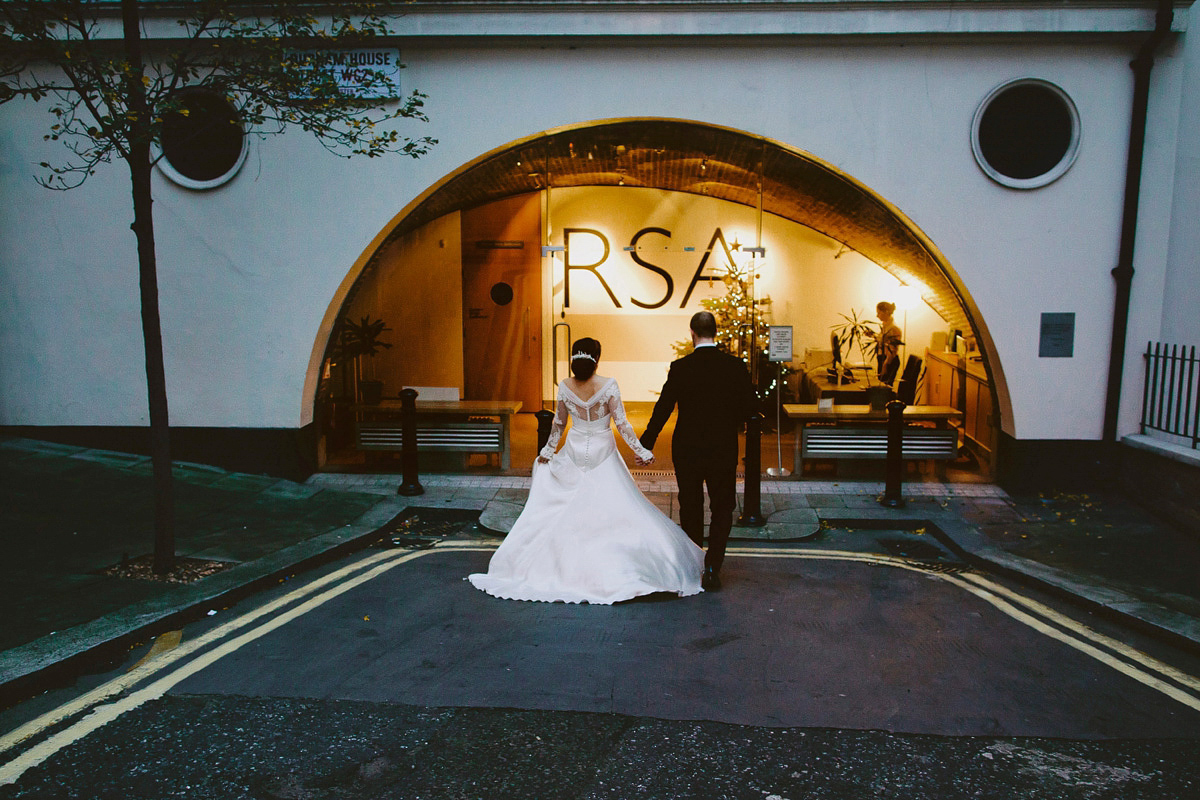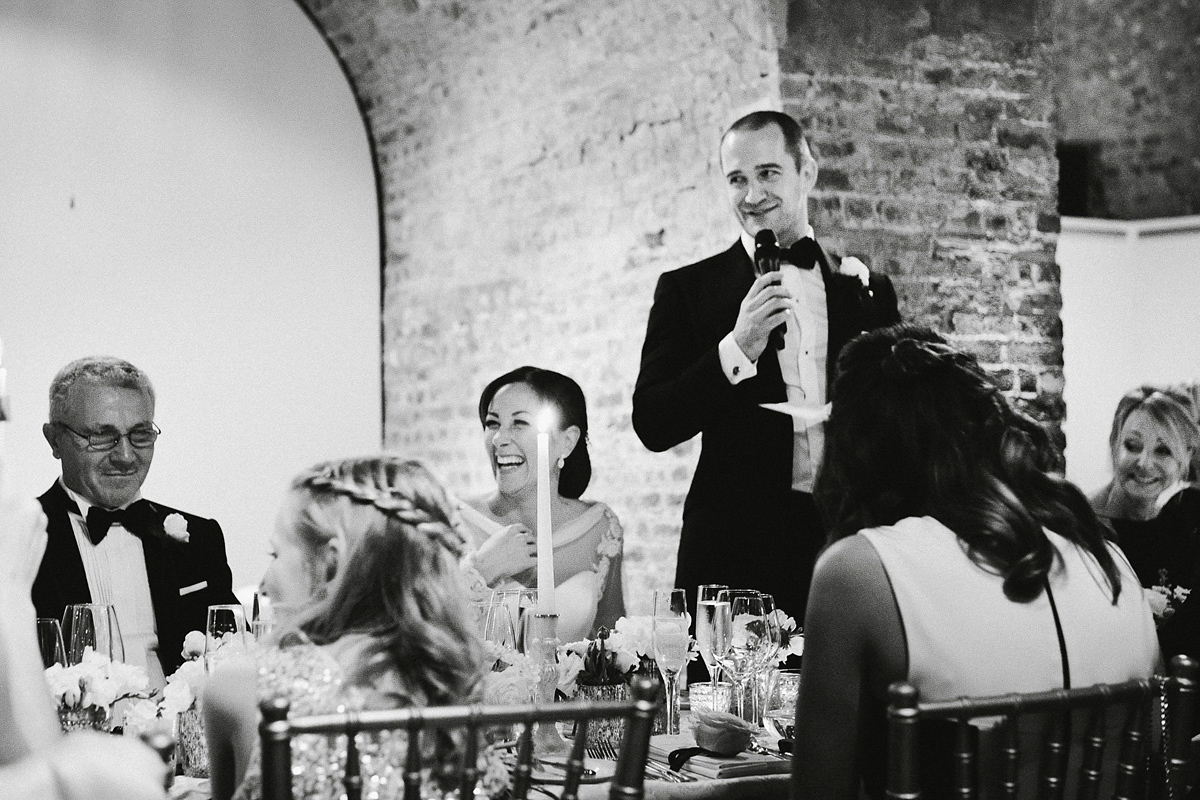 "Catering was provided by the RSA House's in-house caterers Harbour & Jones and consisted of a treacle cured salmon starter with poached salmon rillette, potato pancake, confit lemon crème fraiche. For our main course we opted for chicken with semolina and sage gnocchi followed by an indulgent apple and brioche bread and butter pudding with Granny Smith sorbet."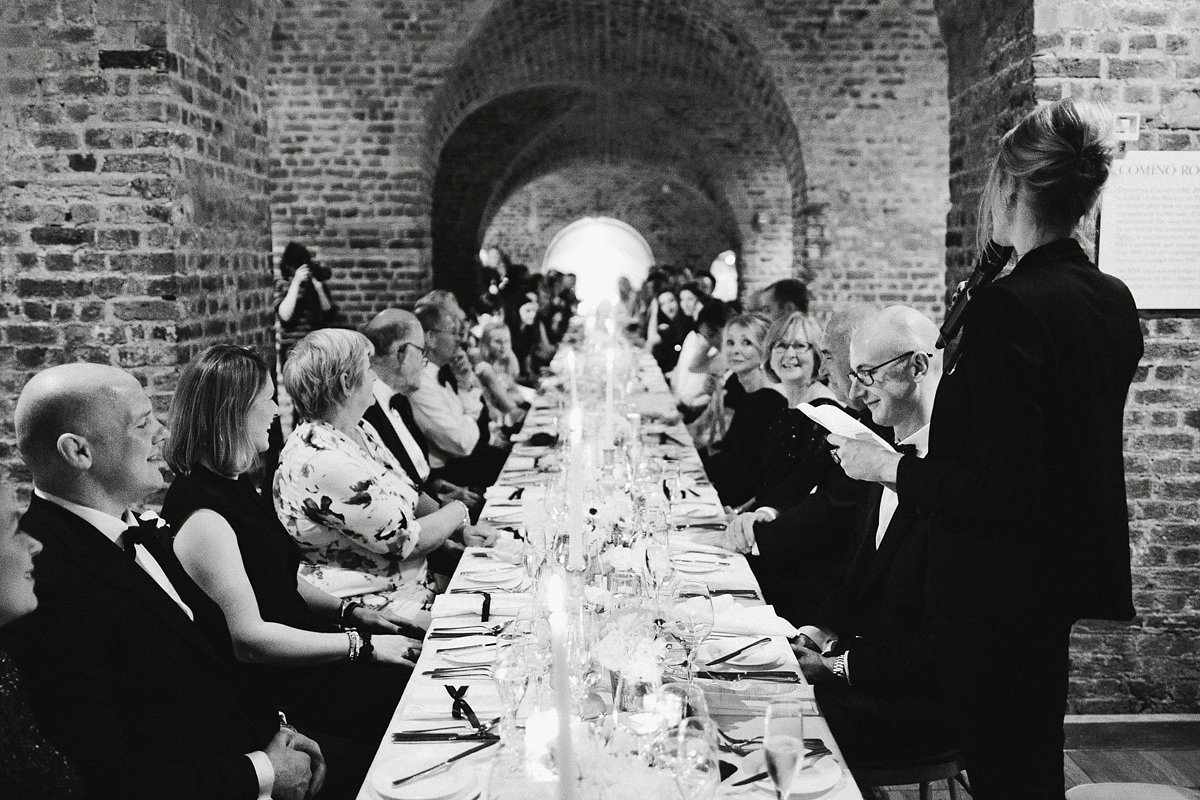 "I think even before we got engaged we'd spoken about having a croquembouche wedding cake. Katie from Couture Cakes created a croquembouche masterpiece with a twist – the profiteroles were dipped in white chocolate and decorated with a mix of smooth shimmer, glitter, shimmery coconut and gold leaf. This was then placed on top of a luscious lemon cake, encased in lemon butter cream and gold leaf, with shimmering white dripping chocolate, which then sat on top of a bed of flowers."
What. a. cake. My greedy little eyes are going into overdrive just looking at that magnificent creation, more a sculptural work of art than a cake, but I'm sure totally delicious too. The pretty anemones climbing up the side, not to mention the blousy nest of blooms this masterpiece sits on, tie in so beautifully with the floral arrangements by Blue Sky Flowers.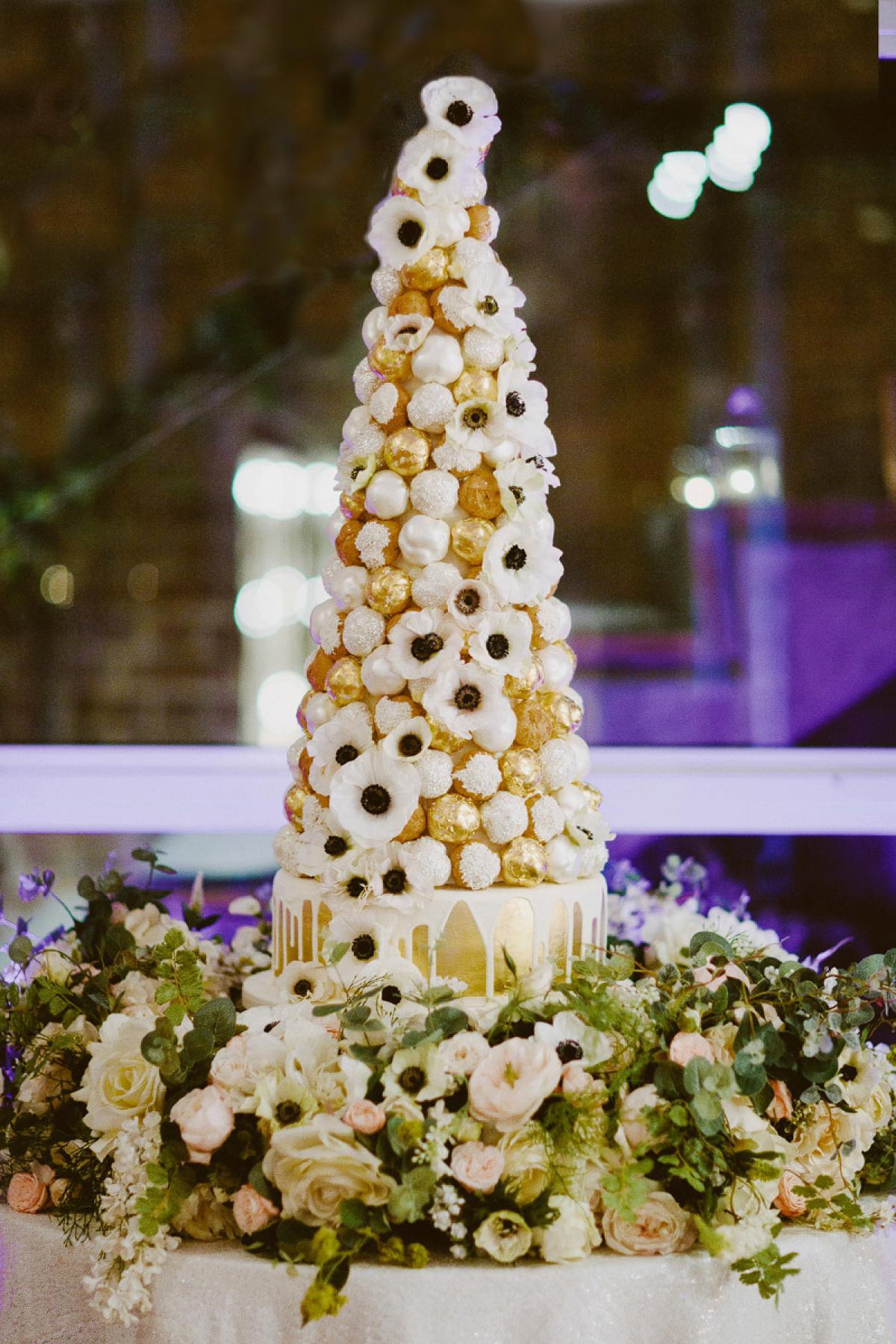 "In the evening, we turned to the expert hand of Matt Maurice who also provided the dance floor. Our first dance was to Michael Bublé's 'Everything'. We'd been to quite a few weddings over the summer and wanted to choose something that meant something to us and that we hadn't necessarily heard at a wedding before. The first dance was my favourite moment of the day."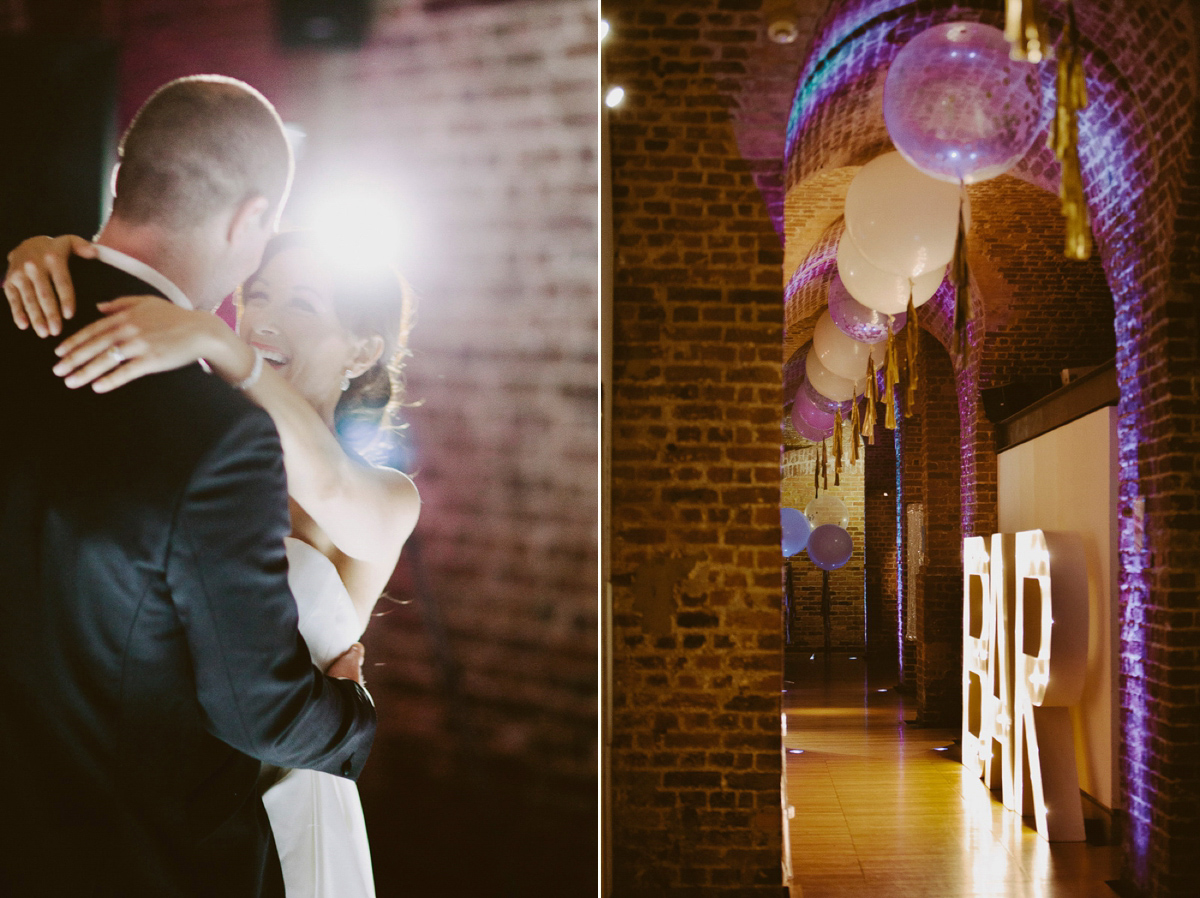 Words of Wedded Wisdom
"I know it might sound like I'm plugging my sister-in-law but if you can, hire a wedding planner! Even if it's just having someone there for advice or to support you on the day; their experience, understanding and support is invaluable."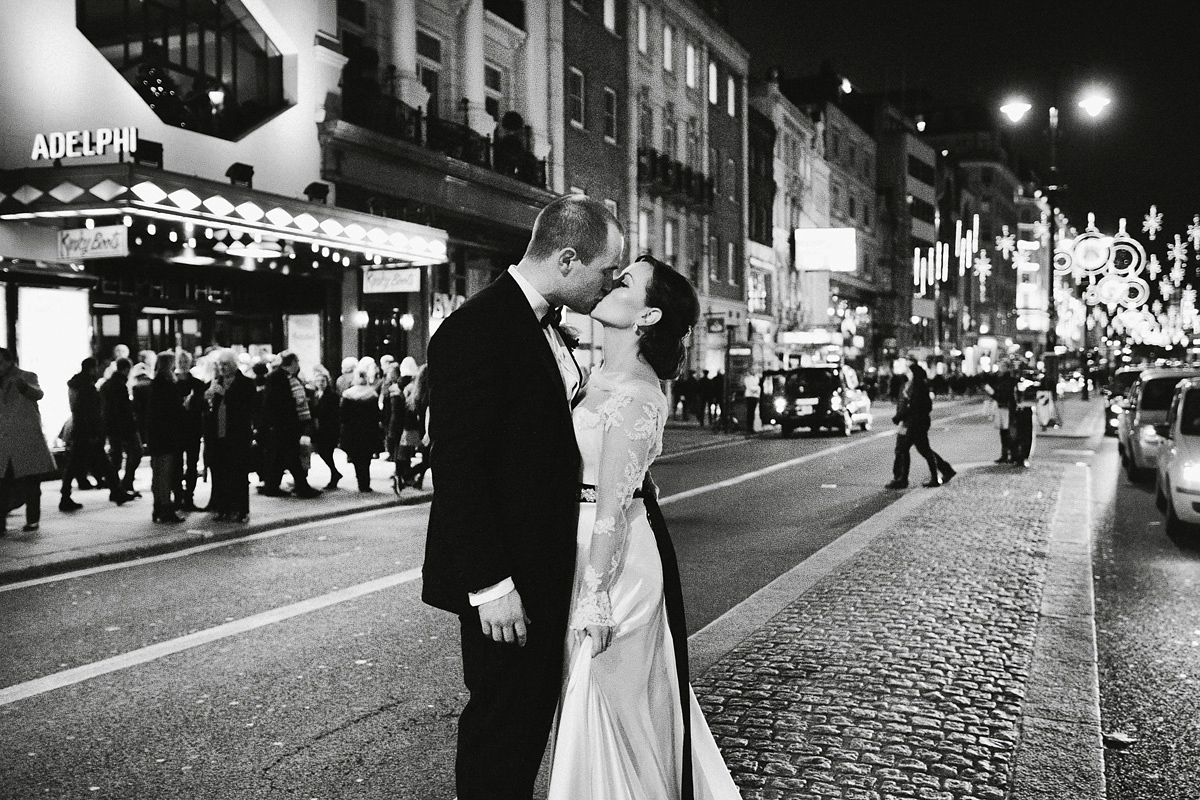 I urge you whole-heartedly to head over to Little Book for Brides right now and read more about the creative, wonderful person that is Katrina Otter and her exquisite wedding planning skills – she might be the one for you (you know, other than your fiancé!)
That just leaves me to say a huge thank you to Antonietta and Matthew for allowing us to share their elegant, wintery paradise of wedding, and of course our very sincere thanks to David Jenkins Photography too for these lovely images.
Love, Em x