We have been sharing lots of gorgeous summer weddings of late so I was delighted to find this Autumnal wedding in my inbox. Sally, who works as an Employment Advisor and Ally who works in hospitality worked really hard to realise their vision of a Scandi style wedding with rich tones and a distinct 50's vibe. Their wedding was held on the 10th of October 2015 at St Monan's Parish Church, set right on the coast, chosen due to strong family ties in the area and the location of their very first trip away together. Their reception was at Crail Community Hall, nearby. The fabulous Mirrorbox Photography were on hand to capture the details.
I think I can safely declare that Sally's bridesmaid and little flower girls make up one of the most stylish bridal parties we have featured recently. I absolutely adore the French Connection dress and jacket combo with the girls in navy polka dot dresses from Monsoon.
Photography by Mirrorbox
"Our engagement location as well as our joint love for all things Scandi inspired our theme. It wasn't really a theme, really just incorporating everything that we love and keeping it as simple as we could. We tried to stray away from wedding traditions and to keep it suited to us. We did everything ourselves, we just couldn't have handed it over to someone else to plan or style.
Working in hospitality, Ally had lots of ideas of his own from weddings he had worked on for others. Family is very important to us and they were heavily involved – we couldn't have done it without them."
The bride's Lou Lou Bridal dress from Elegance Bridal in Glasgow has a gorgeous 50's vibe and I adore the half length sleeves. Sally chose a pair of chunky platforms from Schuh, wore a chunky wooden ring that she never takes off and some simple geometric rose gold earrings from her favourite shop Cos.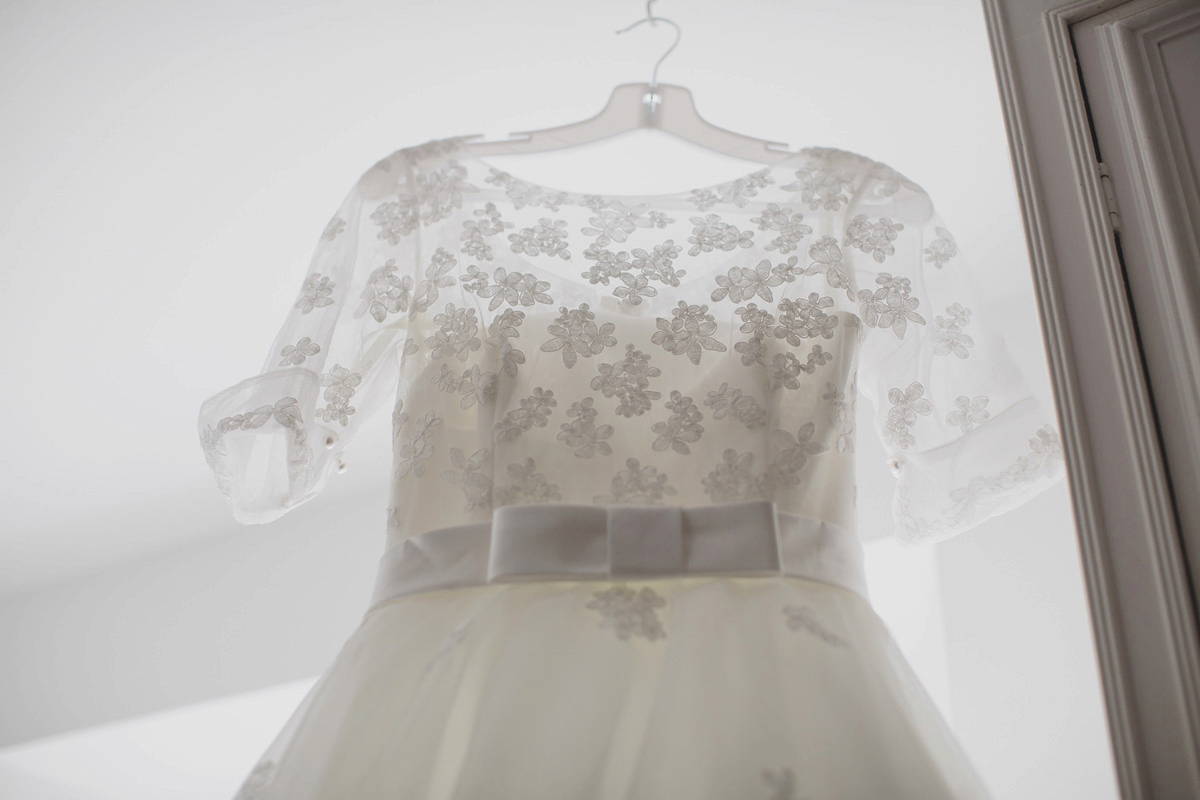 "I had a really tough time finding a dress I liked and didn't enjoy the whole process. I had a firm idea of what I wanted but just couldn't find it. I ended up finding Lou Lou Bridal dresses online and loved this dress immediately. I loved the style, the fact it had sleeves and was beautiful but also comfortable."
"We have such talented friends and family that we literally reigned them in for everything. My makeup was done by my friend Matilda who flew from Stockholm for the wedding and my hair was done by my sister in law Mir. It also meant that getting my hair and makeup done was lovely and relaxing."
A dear family friend grew and dried the beautiful flowers. She made also made the sweet flower crowns worn by the flower girls.
"Our flowers were all grown in a beautiful garden in Norwich and brought in a van to Scotland by brilliant family friends, Ted and Christine. Christine spent ages discussing the style and colours we liked and lovingly grew them for us and styled the arrangements in both the church and our reception venue at Crail Community Hall. She made the bouquets for the flower girls and bridesmaid and another dear friend Mo made the bride's bouquet. This was really special as Mo had made my mum's bouquet for her wedding too."
"We met when my sister (and bridesmaid) decided to play match maker when she was working at the same restaurant as Ally. We hit it off straight away and got engaged three years later on a trip to Sweden. We had taken a boat trip to a small island in the archipelago and Ally surprised me with a ring he had bought on the same island. We were engaged one year before our wedding."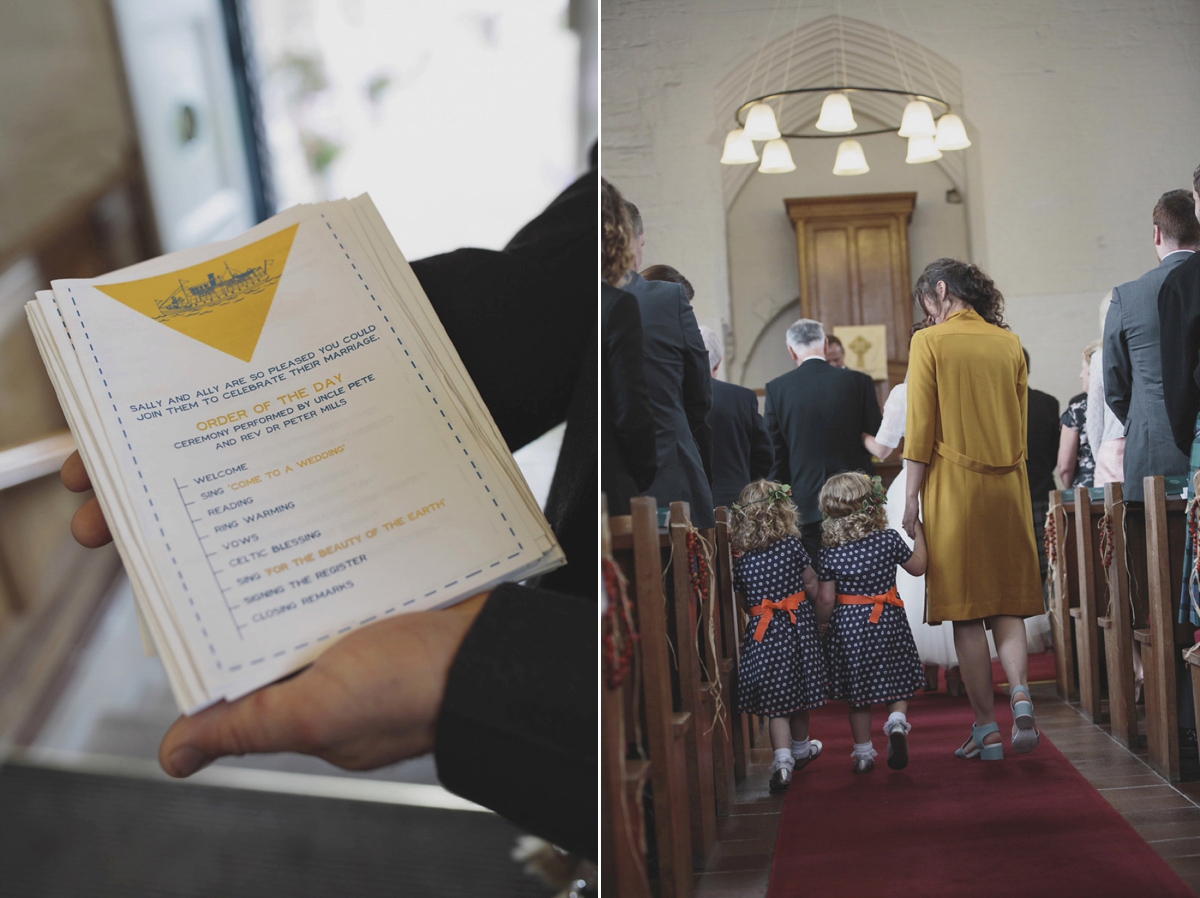 "We chose Hannah de Bruyn, a jewellery maker in London to make our rings. We loved her style."
"Ally hired a kilt and bought a shirt and tie from Walker Slater in Edinburgh. The groomsmen and best man matched Ally with a Walker Slater tie in a different pattern."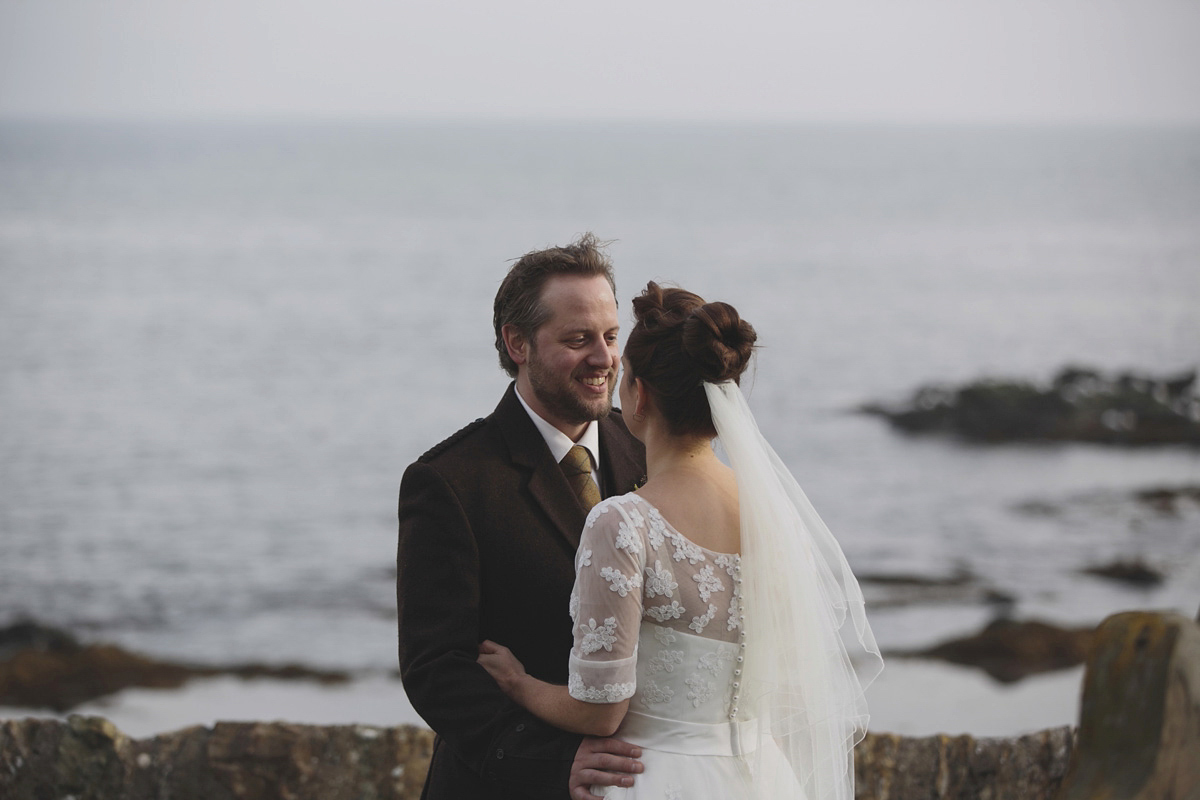 These lovely, honest images you see before you are courtesy of our Little Book For Brides members, the wonderful Mirrorbox Photography.
"Mirrorbox were brilliant and we really hit it off with Sam the first time we met her. She totally knew what we were looking for and we loved every single photo. People haven't stopped saying how brilliant the photos are as they capture the atmosphere and feeling of the day perfectly."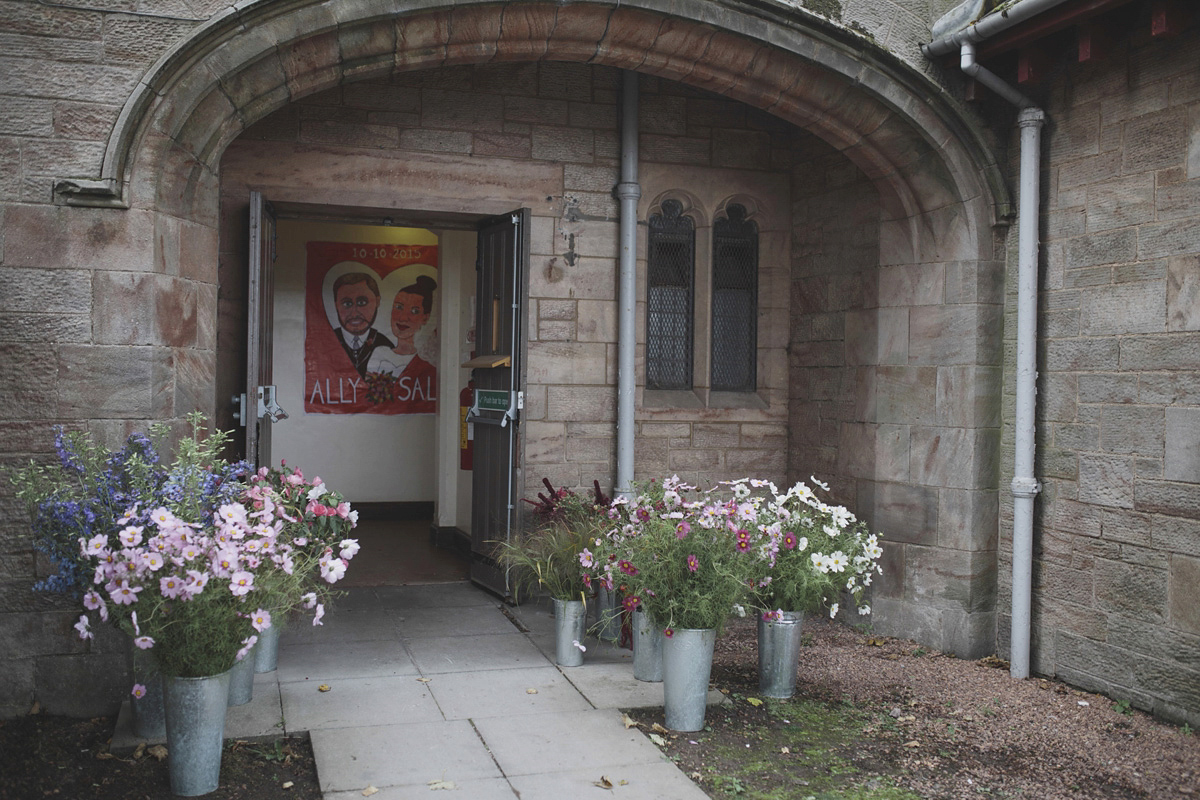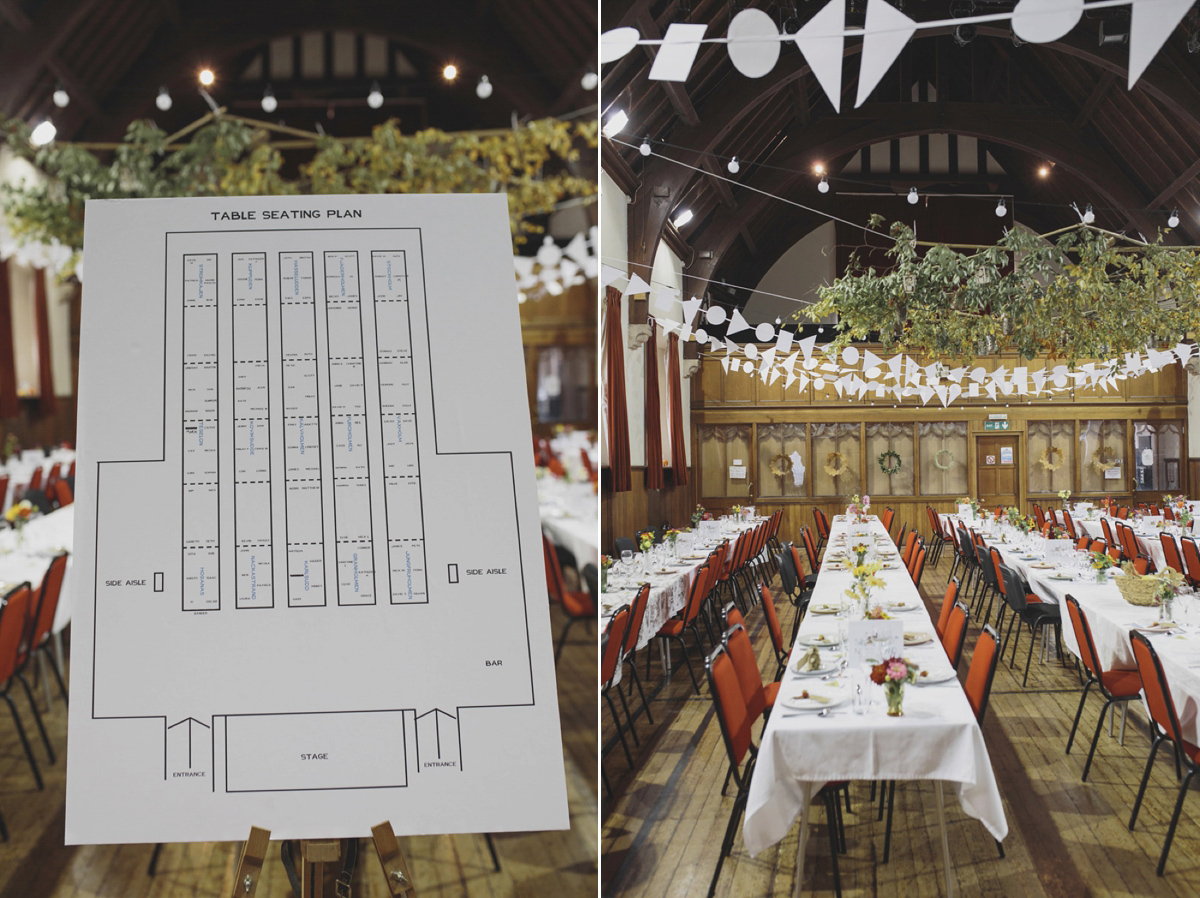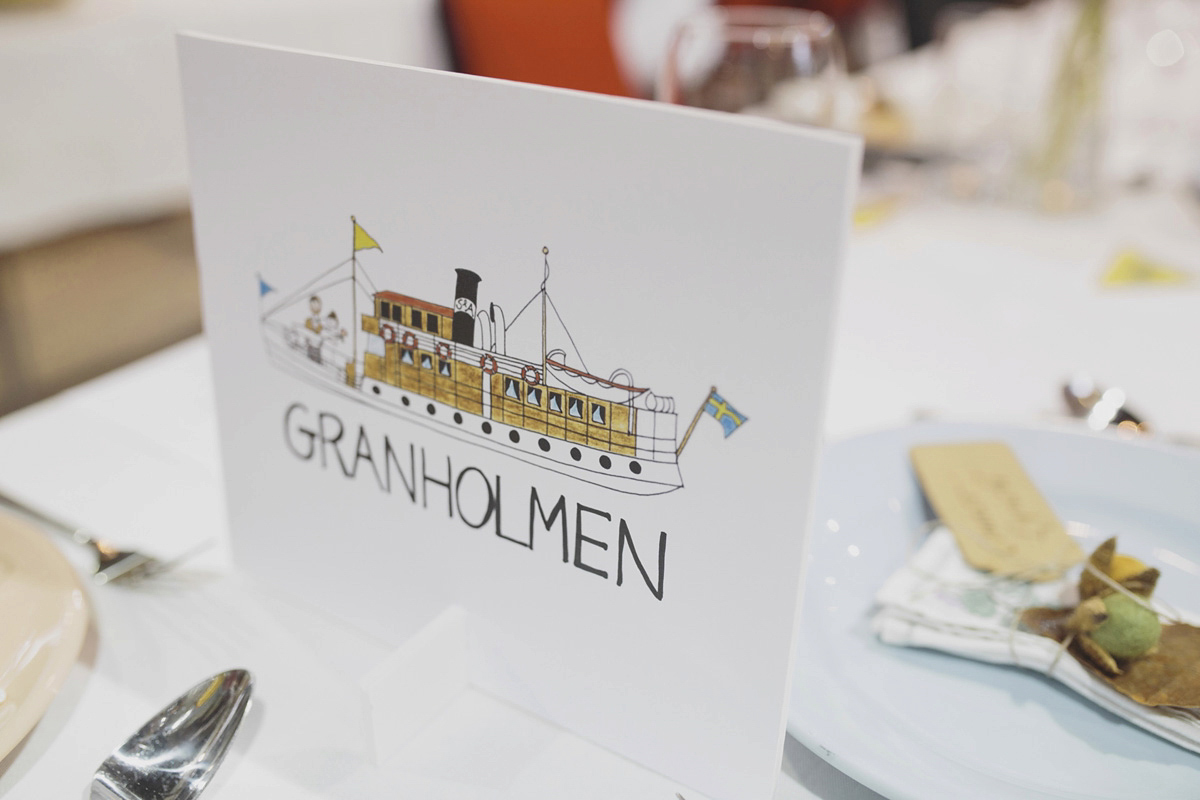 Sally's dad walked into the ceremony with her while 'Beyond the Sea' played on the church organ.
"We tailored our own vows and kept them secret from each other until the day. My uncle Pete conducted the ceremony so was able to give lots of tips, and Ally's mum read a Celtic blessing. This part of the day was so special, standing there together with Uncle Pete felt really intimate and wasn't the least bit scary. I'm a bit of a feminist so had to make sure the wording of the ceremony suited this."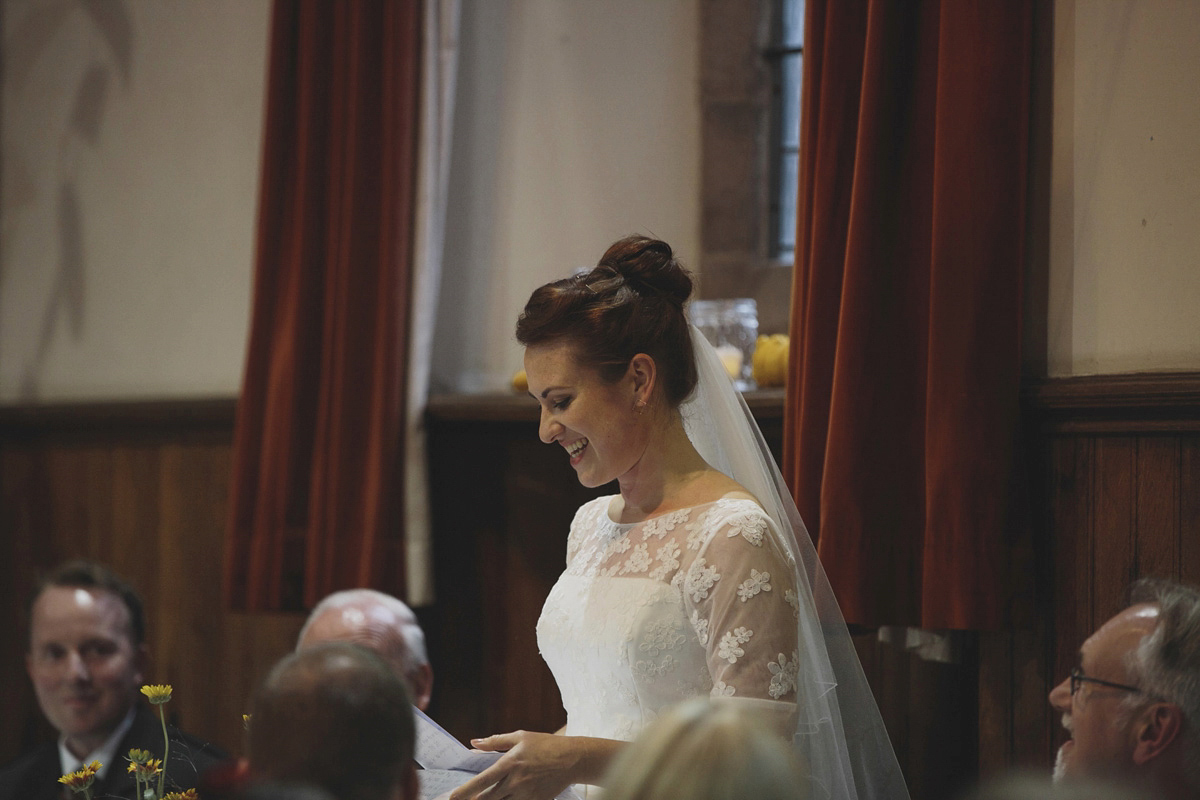 Sally made simple geometric paper bunting and the beautiful flowers and wreaths everywhere made by Christine. The centre piece was an amazing hanging natural sculpture made from leaves and hanging lanterns made by Sally's dad Dave and friends.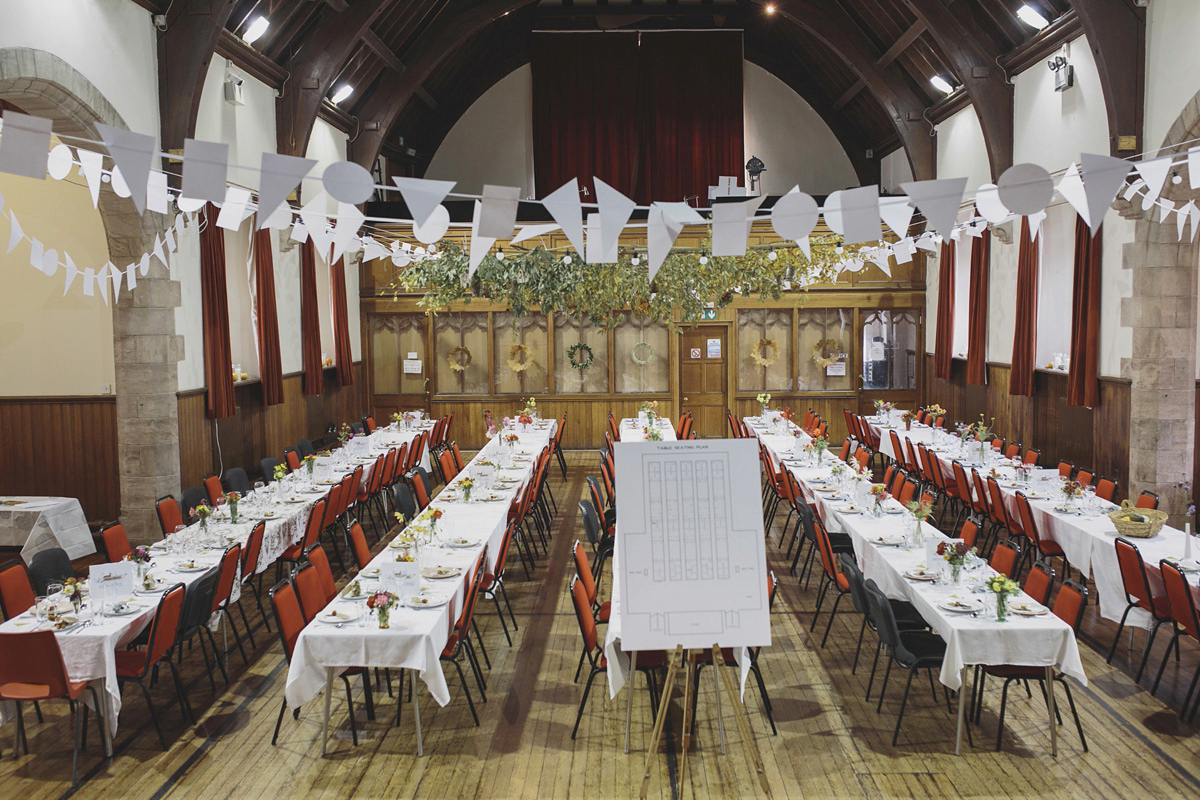 Ally designed the stationery and menus. The table plans were all hand drawn by Sally's mum Deirdre. The theme for the illustrations throughout was our boat trip to the island in Sweden, with the tables all named after different stops on the route.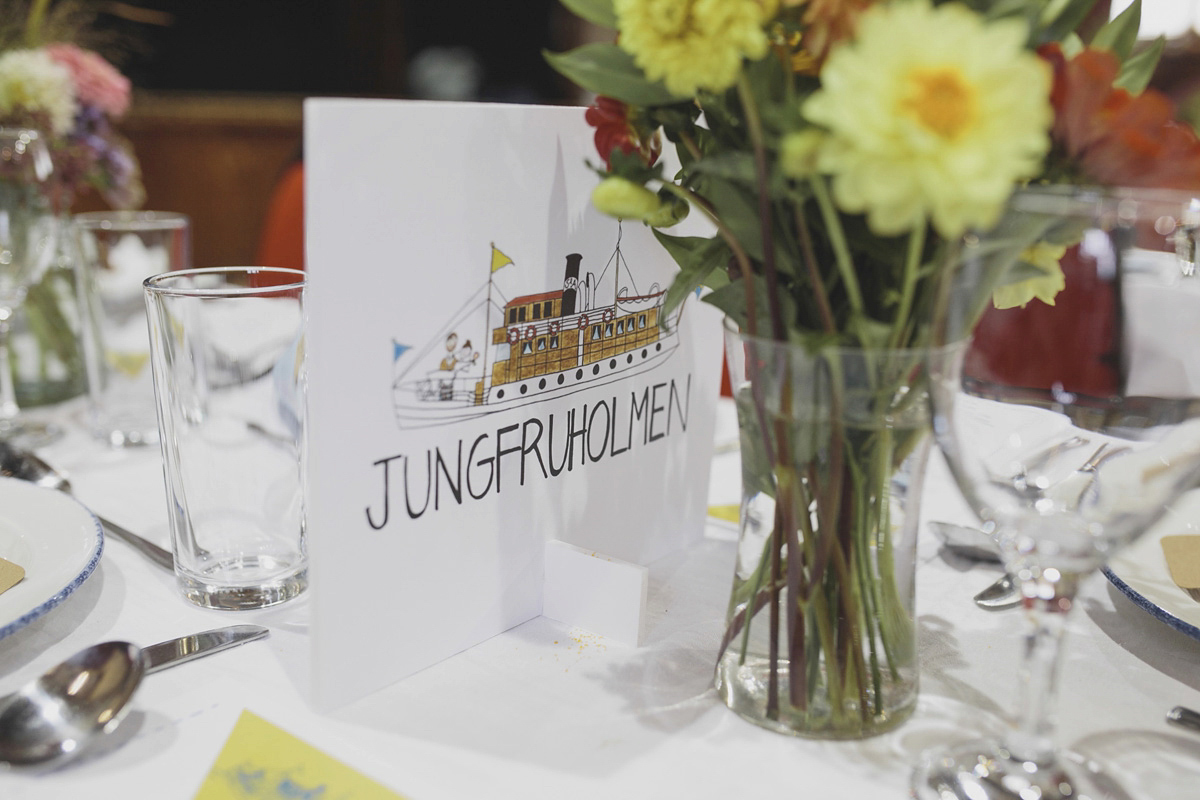 "My mum nearly broke her fingers crafting the hundreds of tiny felt balls to make beautiful acorn place names and the guests took these away as favours."
Sally's brother and sister are chefs and made all the food along with the help of a brilliant team of friends at Gloss Catering in Glasgow.
"We went for sharing style foods, with large platters of salad and amazing tarts. Ally and I also spent the night before the wedding making Cullen Skink for the starter."
"We sidestepped tradition and didn't go for one cake. We asked friends and family (with a love of baking) to make something and bring it along. We ended up with a massive table filled with something to everyone's taste. Even the bride and father of the groom spent the day before baking!"
"The Hallanshankers ceilidh band are family friends. They are always brilliant and had everyone up dancing. Luckily we had plenty of space."
"We had our first dance to 'Dignity' by Deacon Blue. We chose it because we remember having a good boogie to it on our first trip away to Fife together."
"The whole day was honestly amazing. Just having all our family and friends together was unbelievable. The stand out moment was a performance by Sally's mum, dad, brother and sister. They performed a favourite Michael Marra song and changed the words to suit our story. It was really funny, brilliant and emotional. We wouldn't change a thing, it was perfect."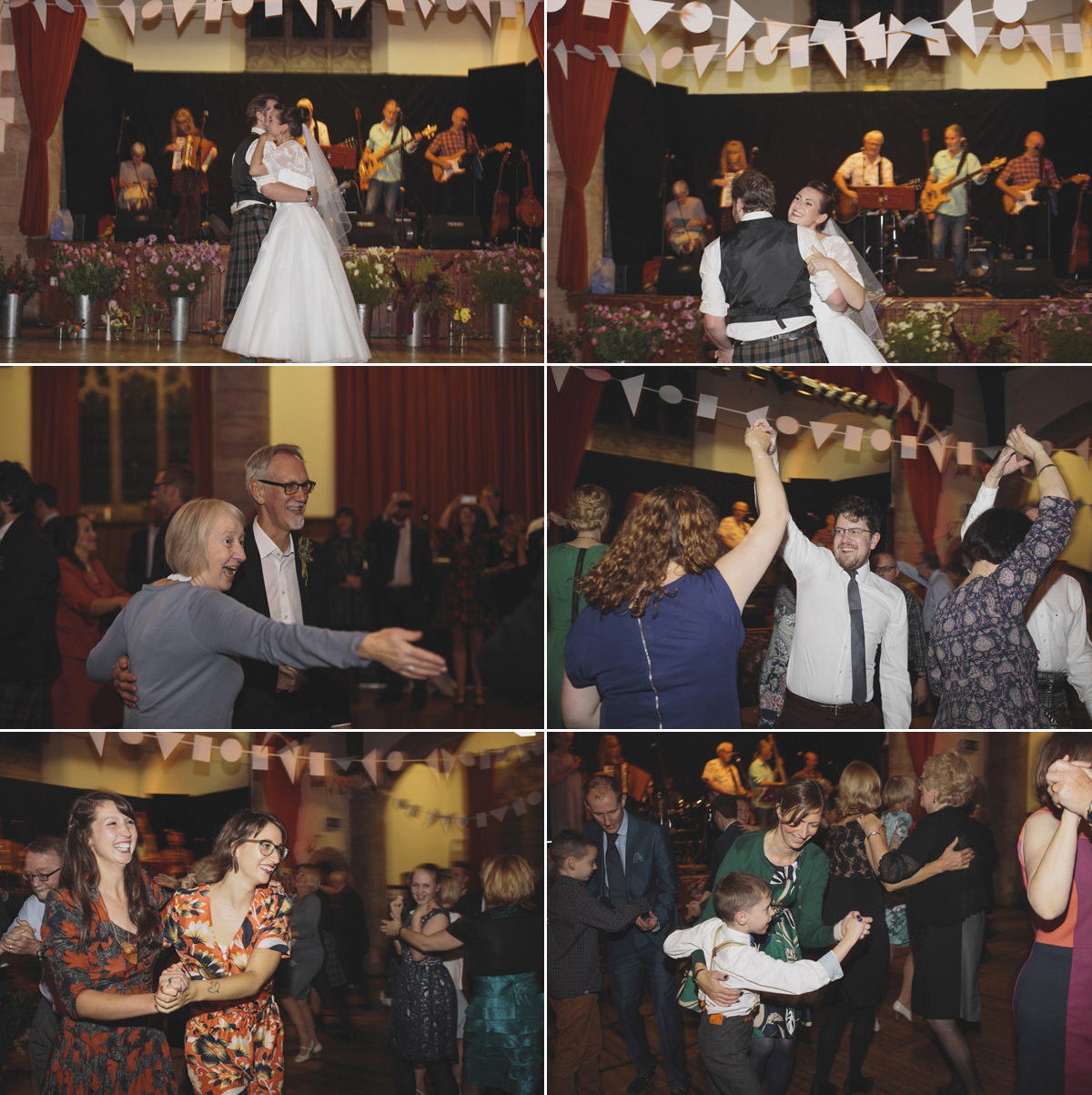 Words of Wedded Wisdom
"Just do whatever you want to do. Don't listen to the schedules and timetables of what you should be doing and when. And do a speech if you want to – why should the men be the only ones to get to say something!"
Thank you so much to Sally and Ally for allowing us a peek into your gorgeous wedding day. Our thanks also to Mirrorbox Photography, I could spend all day looking at these images. Do also look back at our archives for more weddings shot by Mirrorbox.
Love Caoimhe xx