One of my favourite things about winter here at Love My Dress is that we get to share lots of sunny summer weddings, as timings dictate that couples who married in the warmer months have recently received their photos and, in turn, they have been sent on to us.  Its a lovely way to lighten the dark weather and remind us that another summer is not too far away.
Meet Martin, a journalist and Kewei, who works in Communications, who married on the most beautiful sunny day in July 2016 at Fulham Palace London, surrounded by their friends and family- many of whom had travelled across the world to be there.  The day was planned by Becky of Isobel Weddings.
Film by Irene Piera
https://vimeo.com/178022305
Kewei wore the most beautiful gown by Anna Kara, purchased from Les Trois Soeurs Bridal in London.  I absolutely love the romantic billowing skirt and delicate lace top.
"I loved the soft lace style and the minute I put the dress on I felt very comfortable.  I decided to shorten the long sleeves to three quarter length as the wedding was in July."
Photography by Stephanie Swann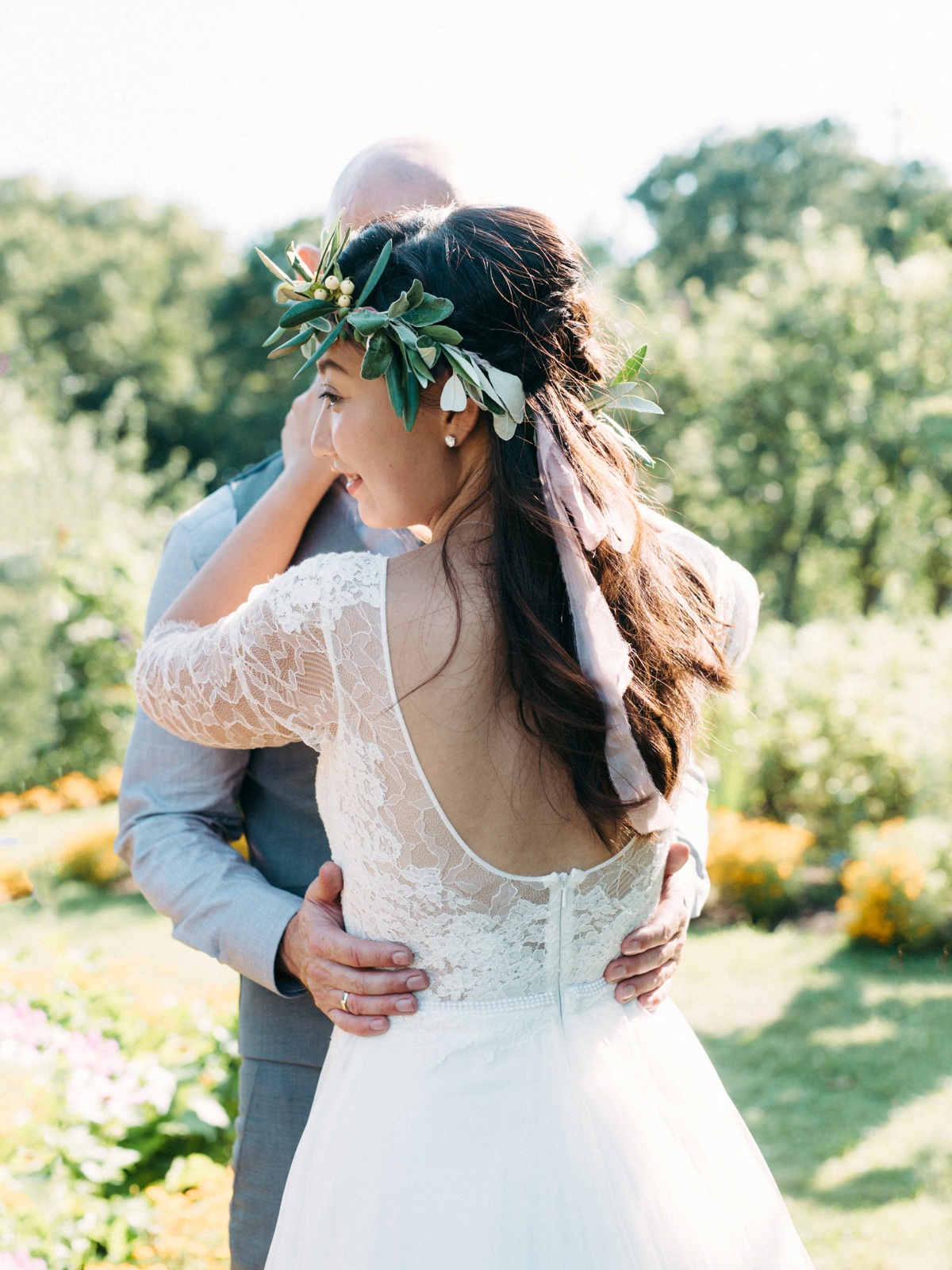 "We were looking for a venue which had a traditional English country feel and outdoor space.  We chose Fulham Palace without actually being there ourselves, but we trusted our planner Becky.  I also sent my cousin Eri to have a look, who was very impressed and came back with very positive feedback.  Fulham Palace felt like a country residence within a thriving, bustling metropolis with its gorgeous walled garden and sense of being cut off from the throng.
We particularly liked the country manor feel of the palace with its courtyard giving a kind of stable-like feel and the country aspect of the palace was something that we felt everyone was able to pick up on during the day itself."On her head Kewei wore a gorgeous flower crown, made by her florist Jay Archer, while for jewellery she chose her Tiffany star necklace, which she has worn since she received it on her eighteenth birthday, a bracelet which was a gift from a friend and diamond earrings which were a gift from her aunt- for which she had her ears pierced especially.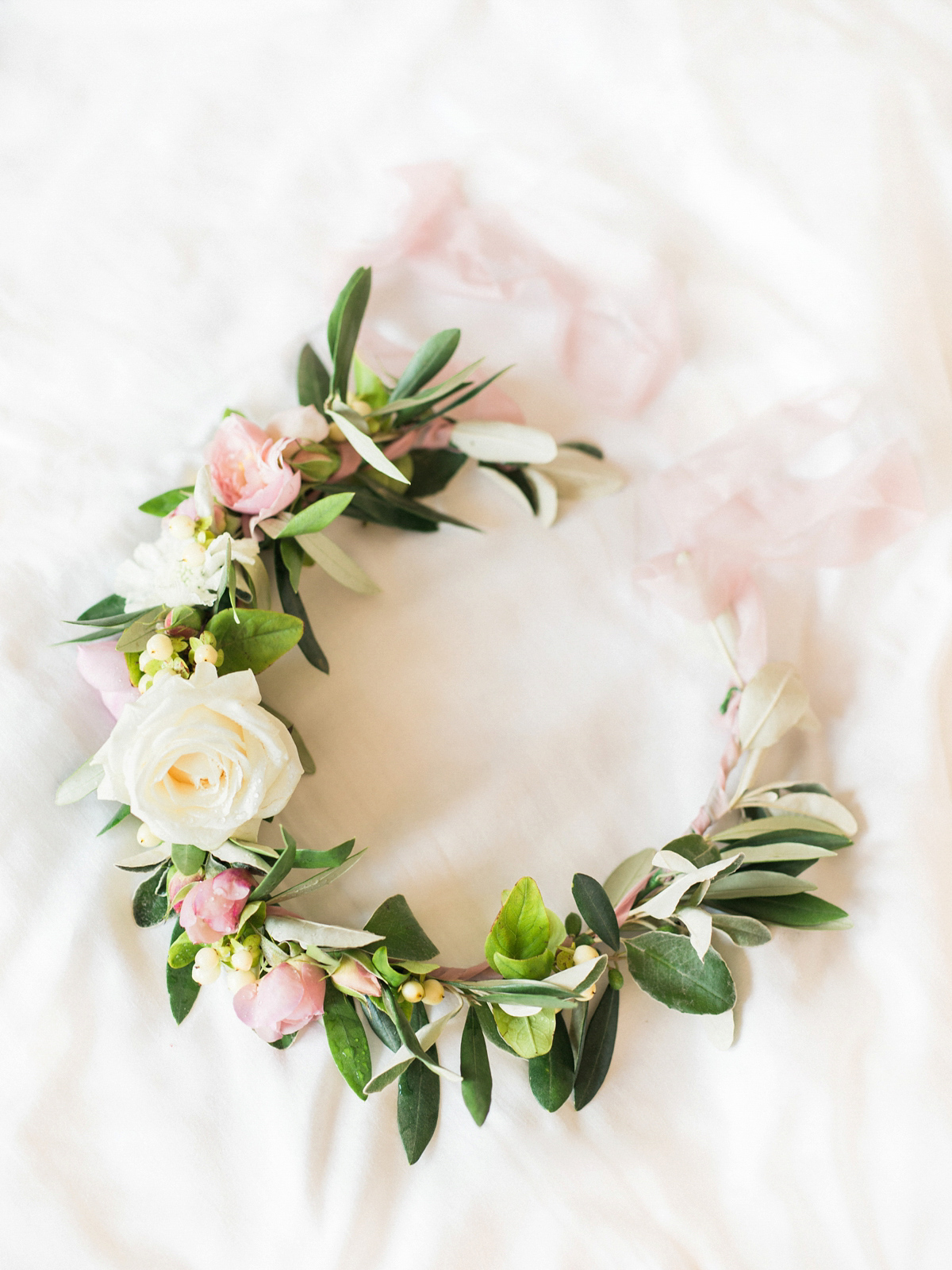 "I had only given myself two hours on Bond Street to find my wedding shoes.  As I normally don't wear high heels at all, I only looked for small and chunky heels.  Dolce & Gabbana was my second stop and I liked these shoes straight away."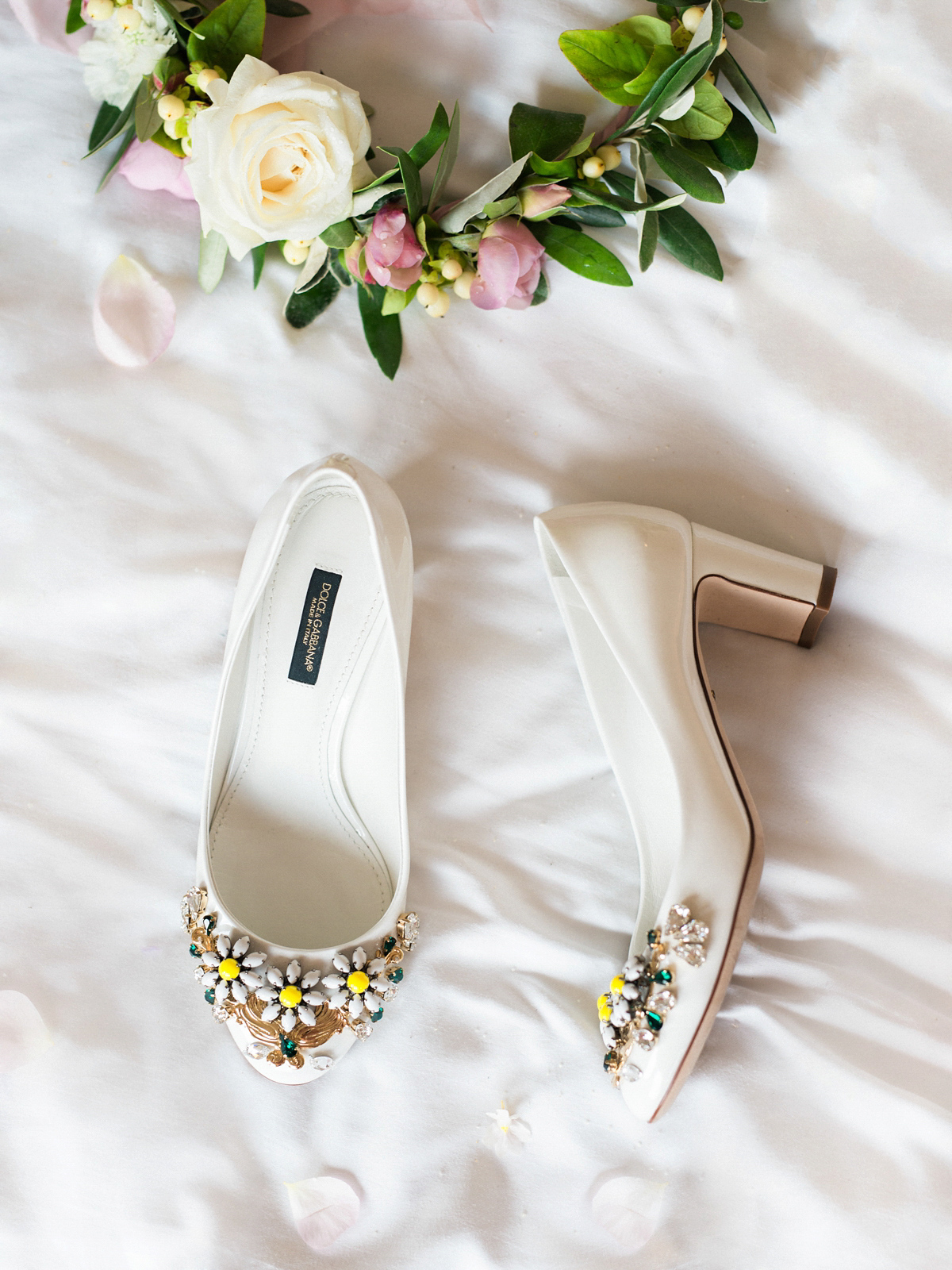 Hair and make up were the work of Cat from Mach Management.
"I chose the colour theme as blush, white and champagne, which I felt would create a light, happy and cheerful feeling in the venue."
"As we were going to have a Chinese wedding as well, which would be very red, I wished to decorate this wedding in a simple, elegant and rustic English style."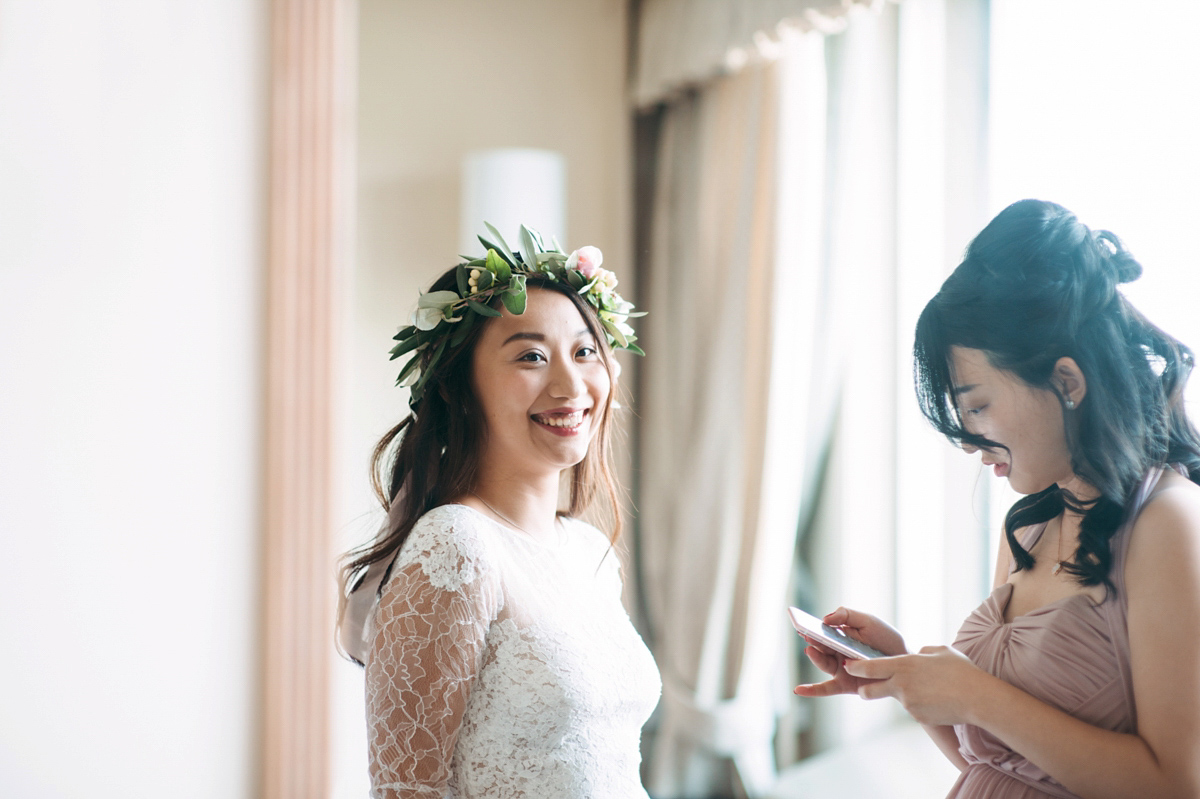 "Our guests came in from all parts of the world and we were particularly keen to put on a show for the Chinese contingent, most of whom had never been to a western wedding before.  A Chinese wedding is less structured than a western-style wedding and we had been informed in no uncertain terms on a trip to China in October 2015 that we were expected to give the full works so that they could get a real experience of a western wedding!"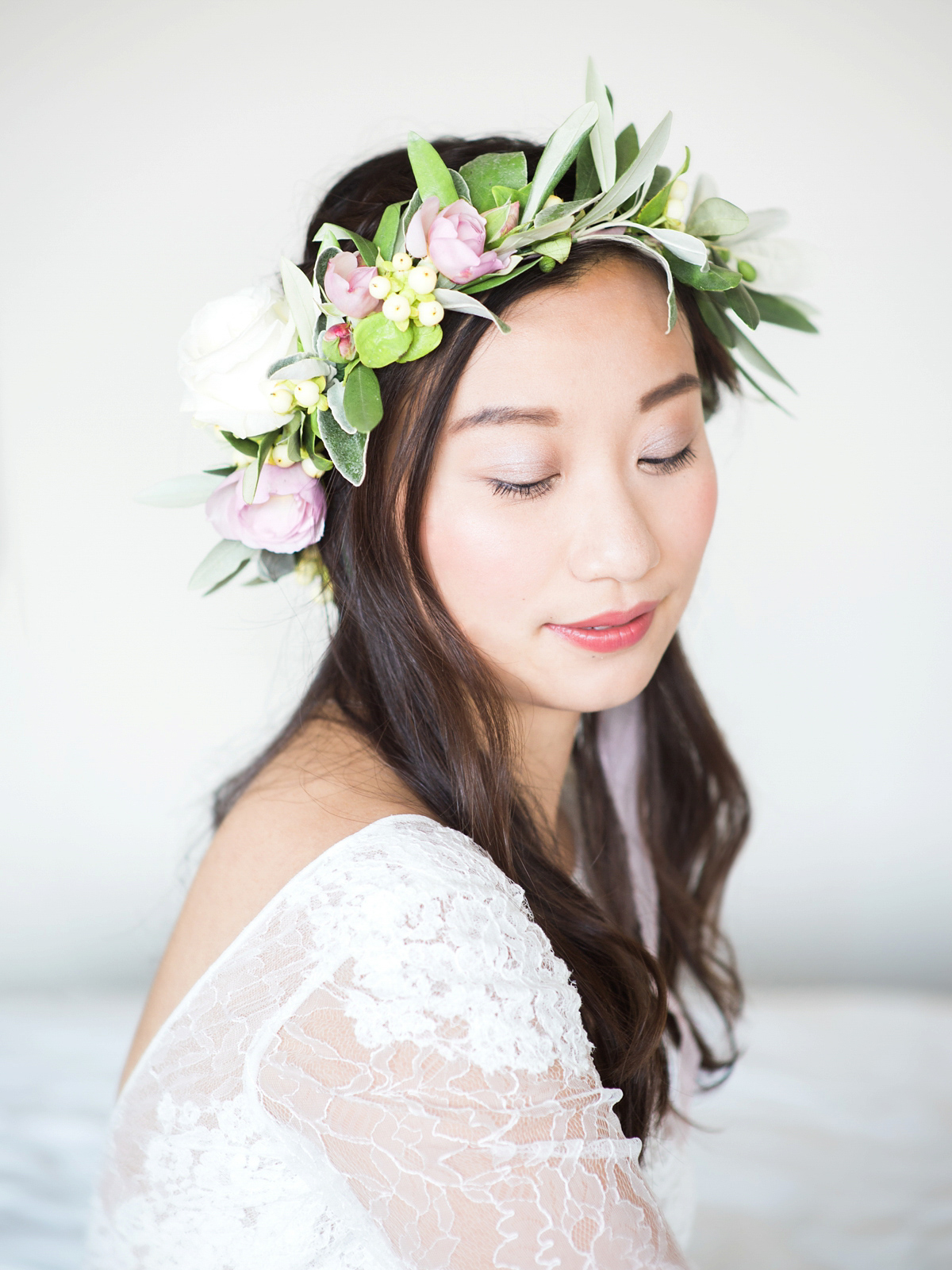 The bridesmaids looked pretty in pink in dresses from ASOS, which they chose themselves.
"I live in Denmark and my bridesmaids were spread in London, Paris  and Beijing.  ASOS was perfect as it delivers for free and they could return the dress themselves if it didn't fit.  The only requirement I gave them was not to choose anything purple!"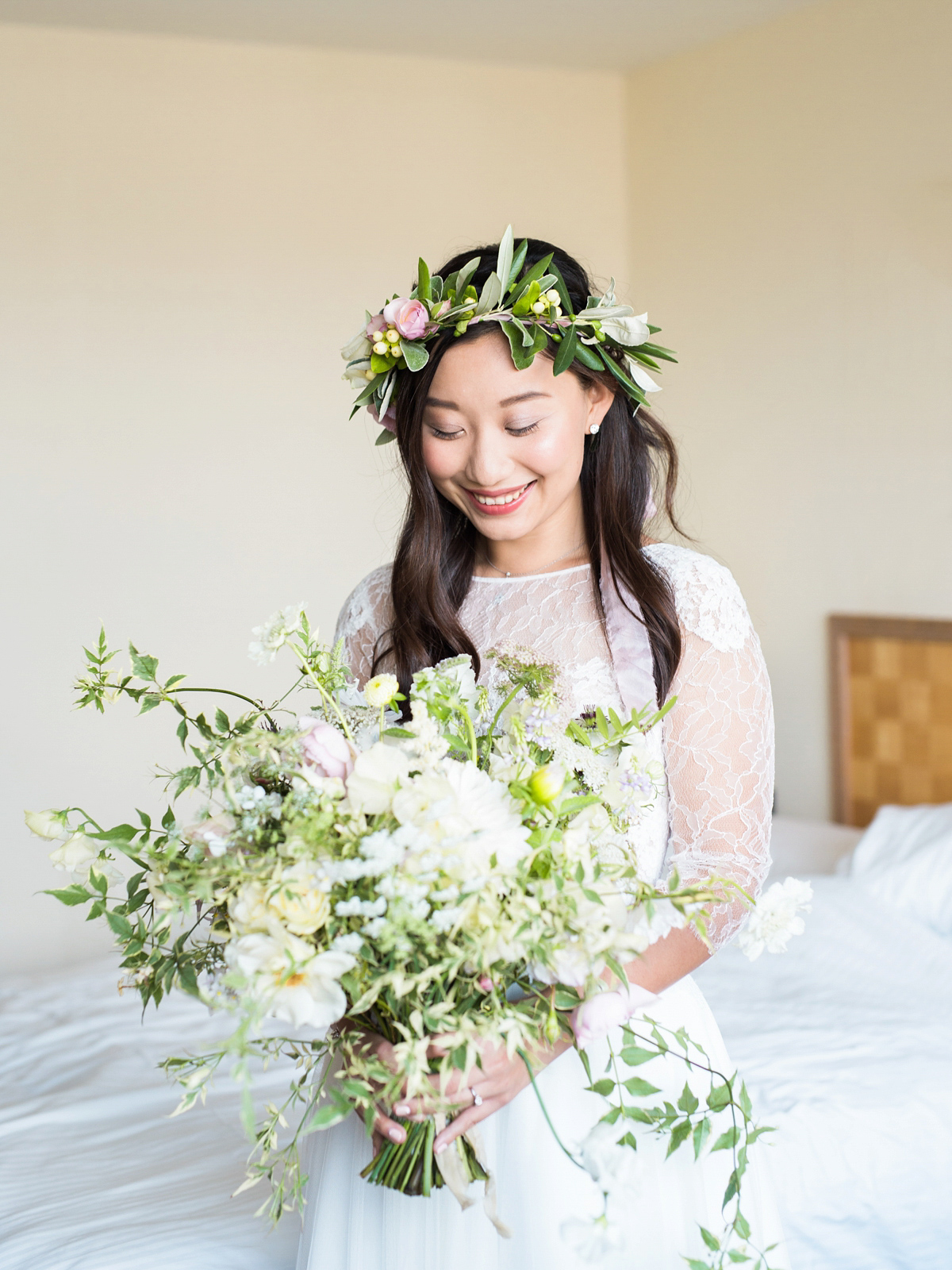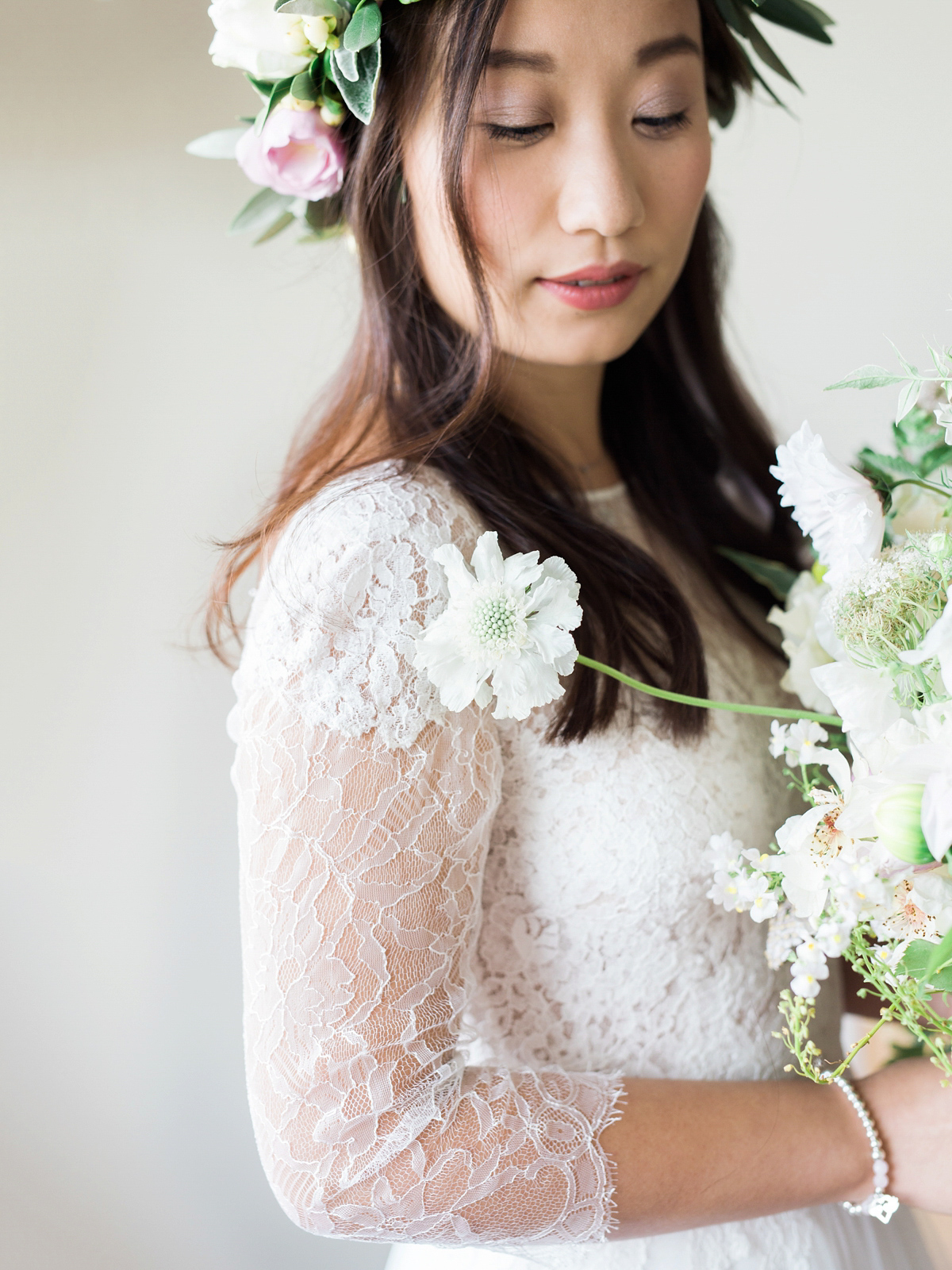 The floral arrangements at this wedding are just stunning, don't you agree?  So pretty, summery and delicate.  Jay Archer Floral Design was responsible for making the location even more spectacular.
Kewei: "Jay works regularly at Fulham Palace and always comes up with something inventive.  We wanted a rustic, natural, and elegant style, and Jay understood me perfectly.  The only thing that we had a longer discussion about was how to decorate the marquee, for which she originally proposed some trees.  However, I much preferred the idea of hanging  flowers from the ceiling so within the limited weight that we could hang, Jay created three amazing flower garlands."
Flowers (and candles) provided most of the decor for this beautiful day and I just adore the rustic floral arch.
"We had a beautiful floral archway put at the door of the building.  I (Kewei) didn't like the full on flower style, but rather a rustic and slightly uneven shape of the flower styling.  Each dining table also had different table flowers but in the same colour theme."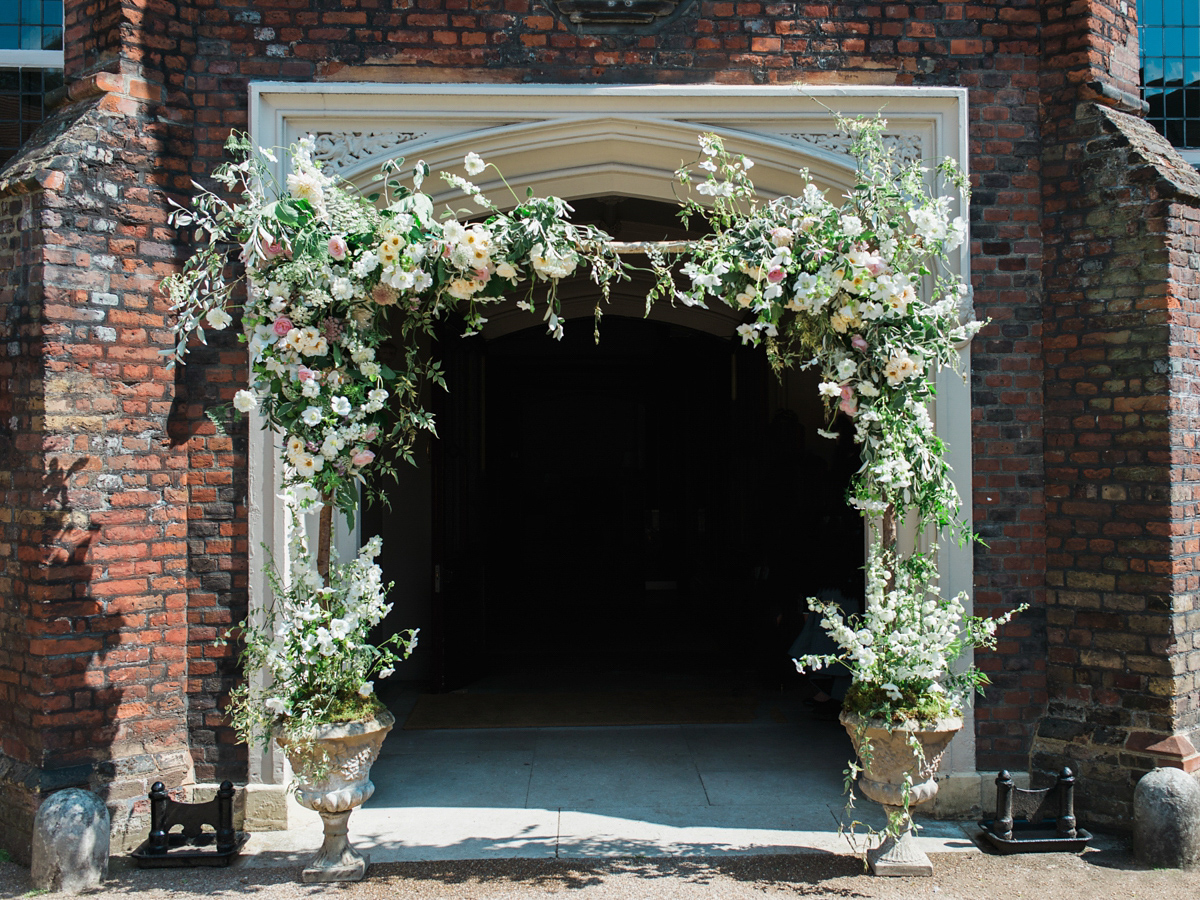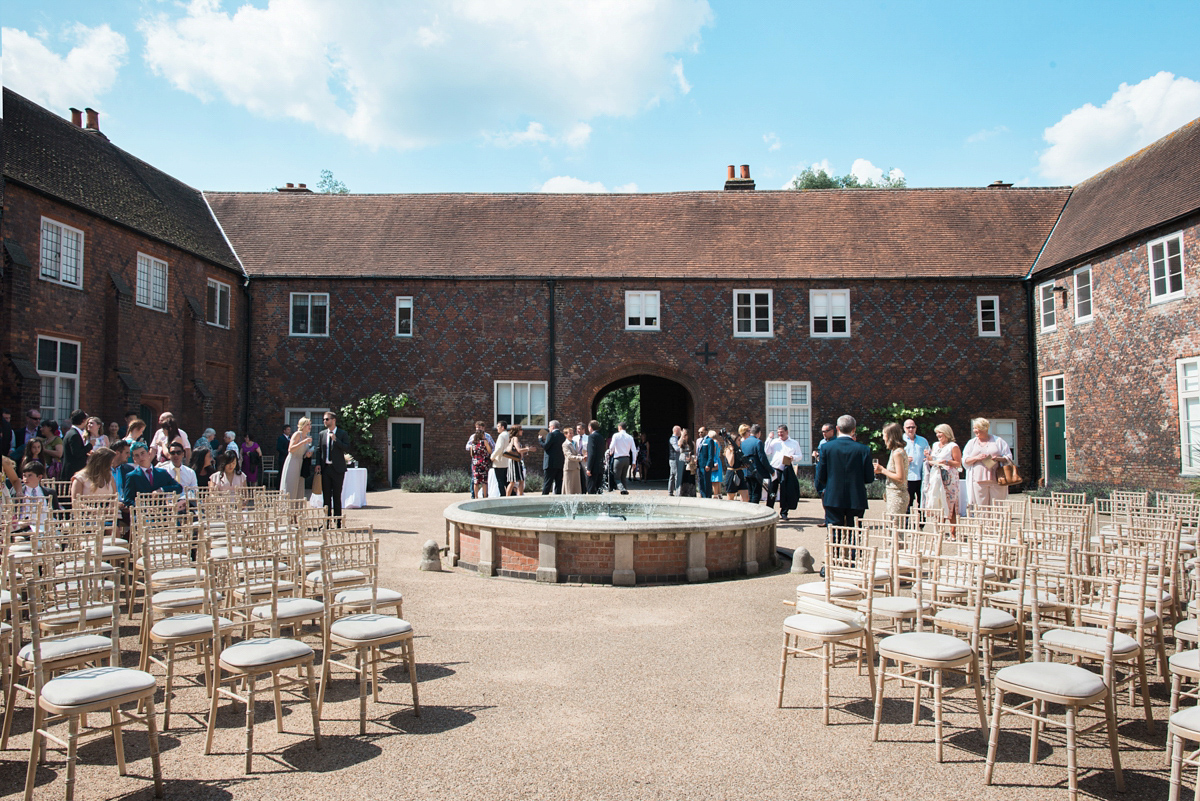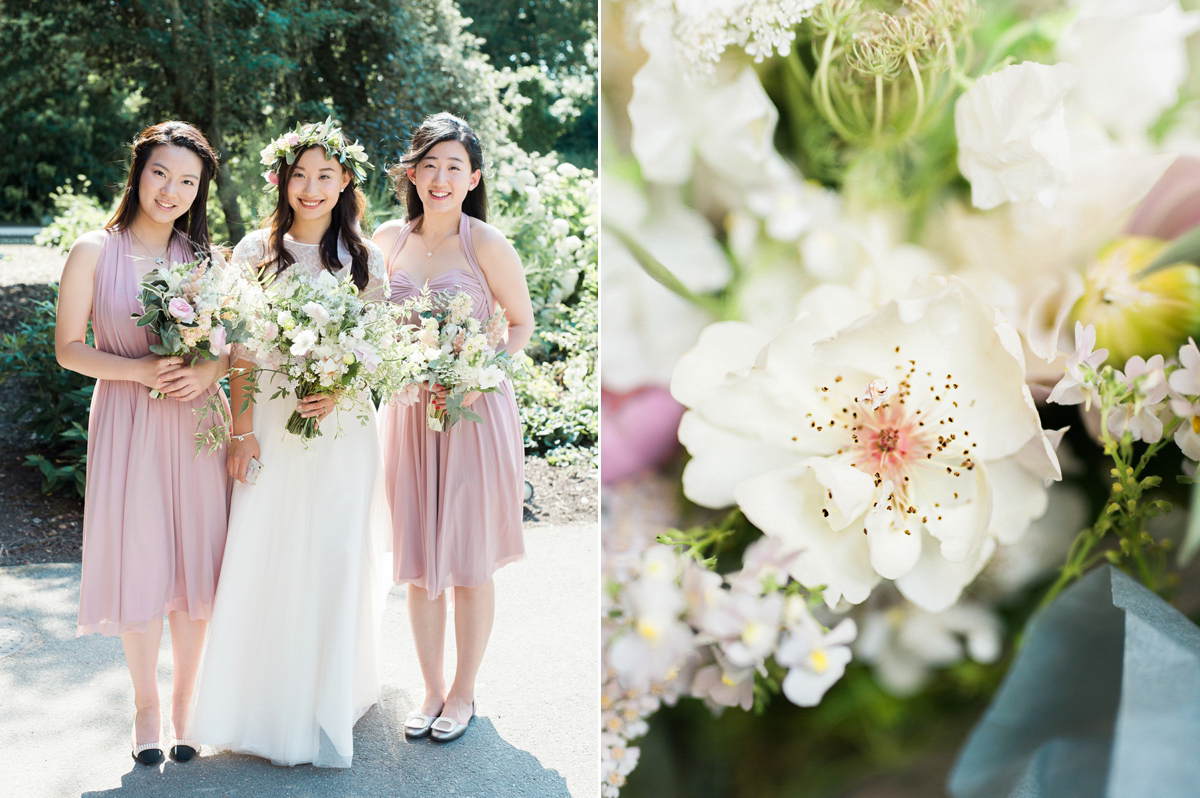 Martin looked dashing in a three-piece grey tailored suit, which he had made by Yaly while on holiday in Vietnam.
"I had some very clear ideas as to what kind of outfit I wanted to wear",  he says, "…and having taken some inspiration from various men's styling images on Pinterest, managed to get the look I wanted to go for, which was actually taken from a David Beckham picture.  Luckily, I managed to out-Beckham Beckham on the day."
After a first look, Kewei and Martin walked down the aisle together, to 'The Power of Love' by Frankie goes to Hollywood, played on the piano by Kewei's talented young cousin, which was wheeled out into the courtyard specially and used again during the drinks reception, when one of the bridesmaids played for the mingling guests.
The couple had a humanist ceremony and personalised their vows, as well as writing a poem.
"We really wanted to personalise our vows and move away from any overly religious symbolism. Our celebrant was a colleague who also speaks good Mandarin so we were able to do the ceremony in Mandarin as well as English."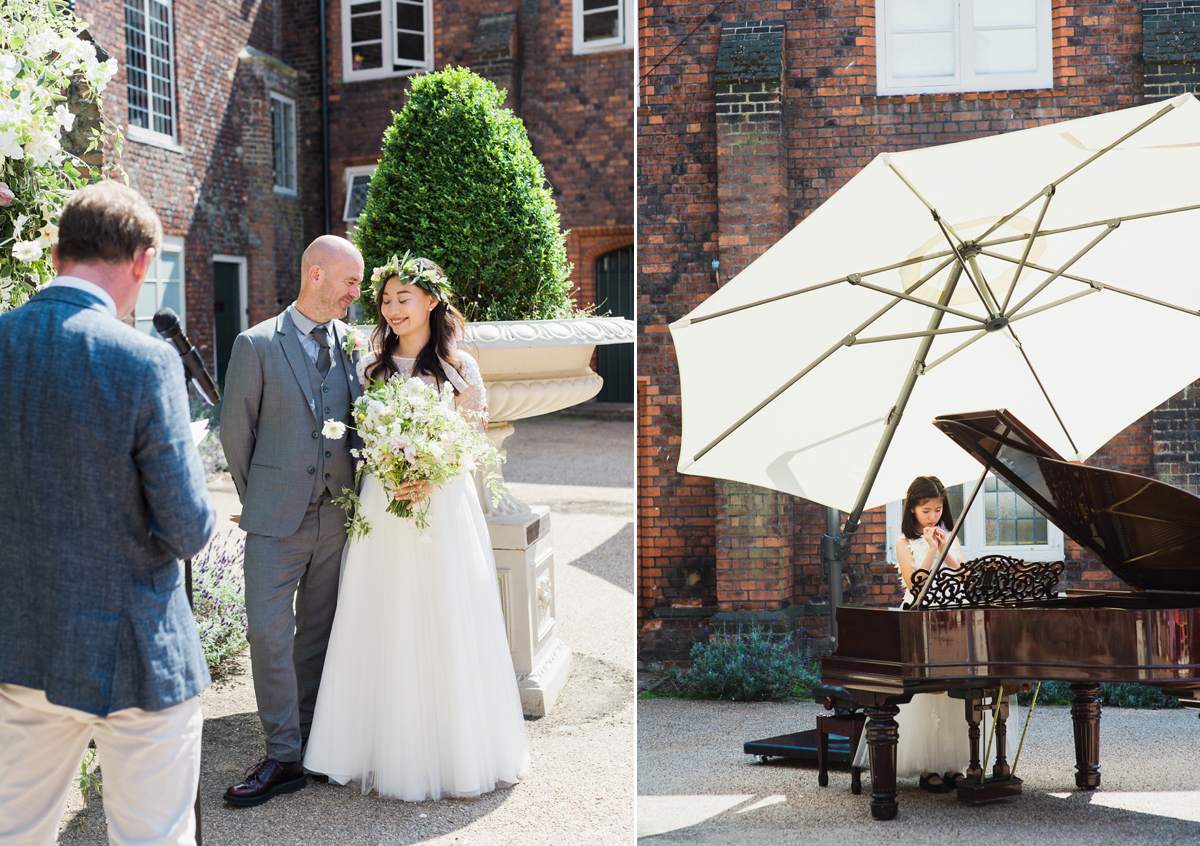 The happy couple exchanged rings from Diamonds Factory.
"We got our engagement ring from the same supplier, so it seemed apt.  Although it feels a little impersonal, they do a good job and when Martin's ring did not fit, they took it away and amended it with a minimum of fuss."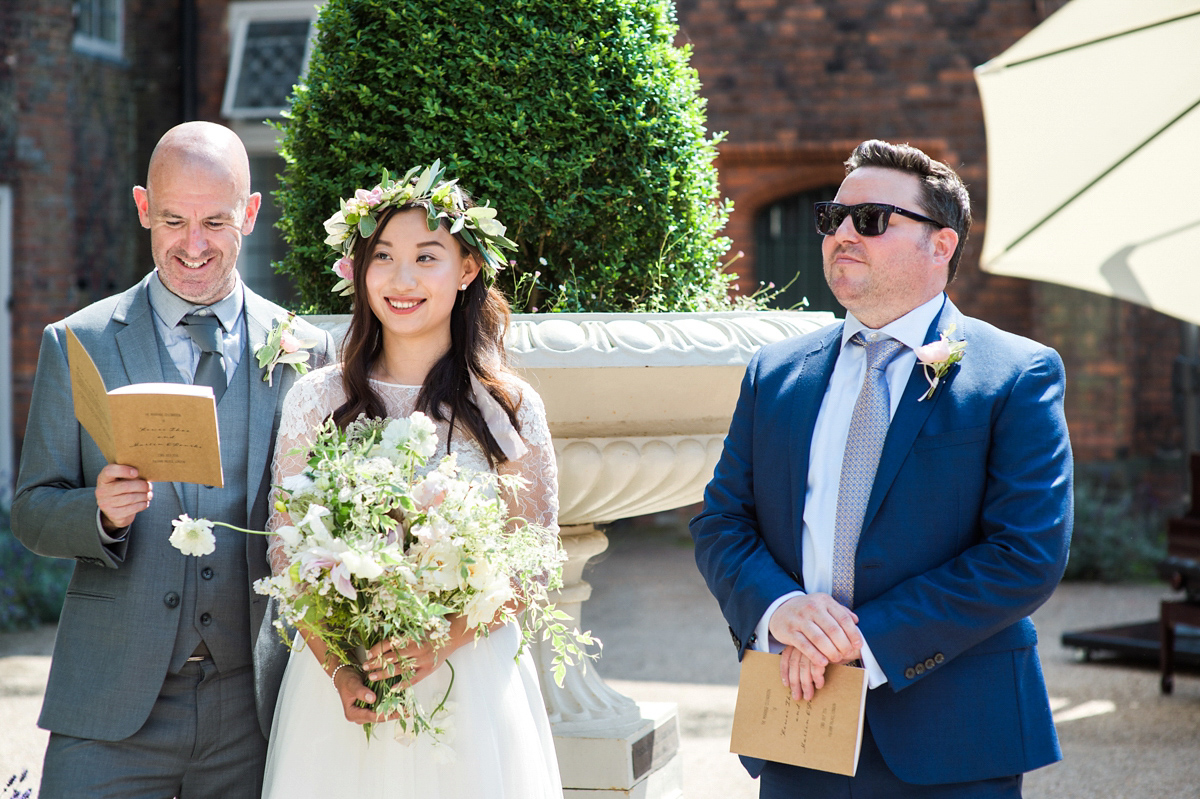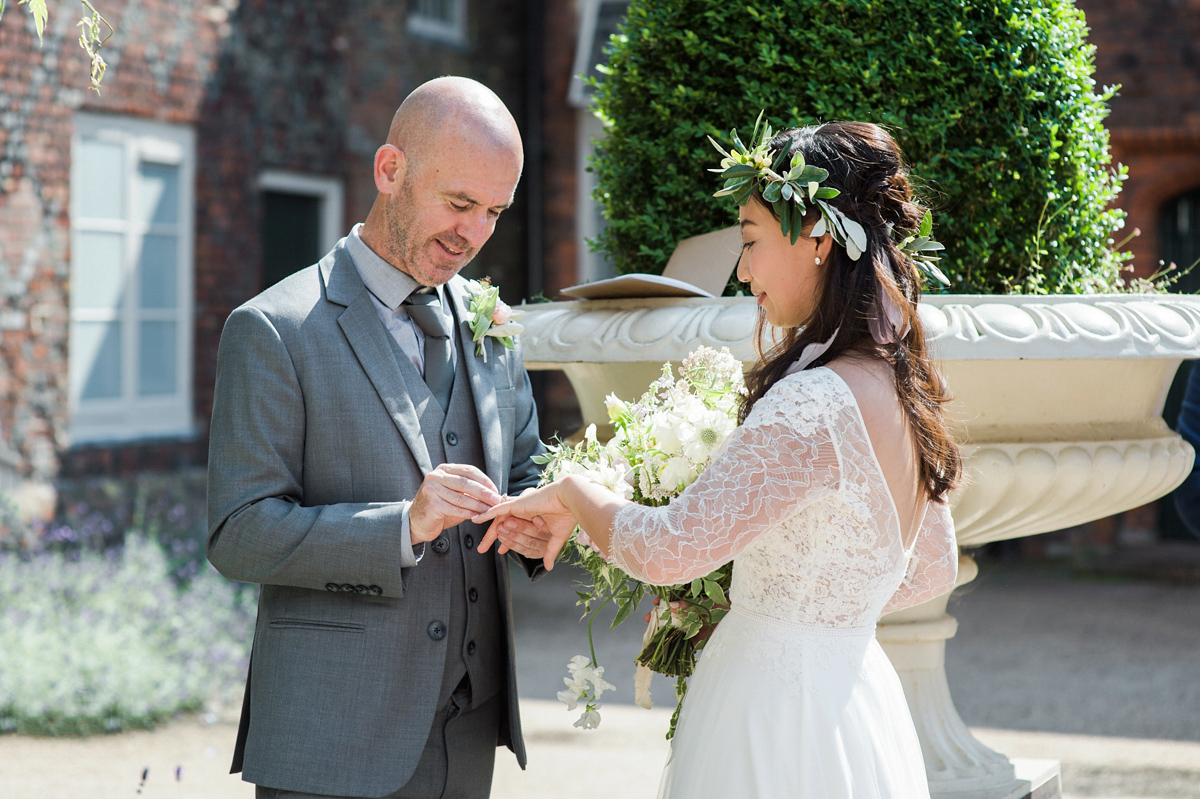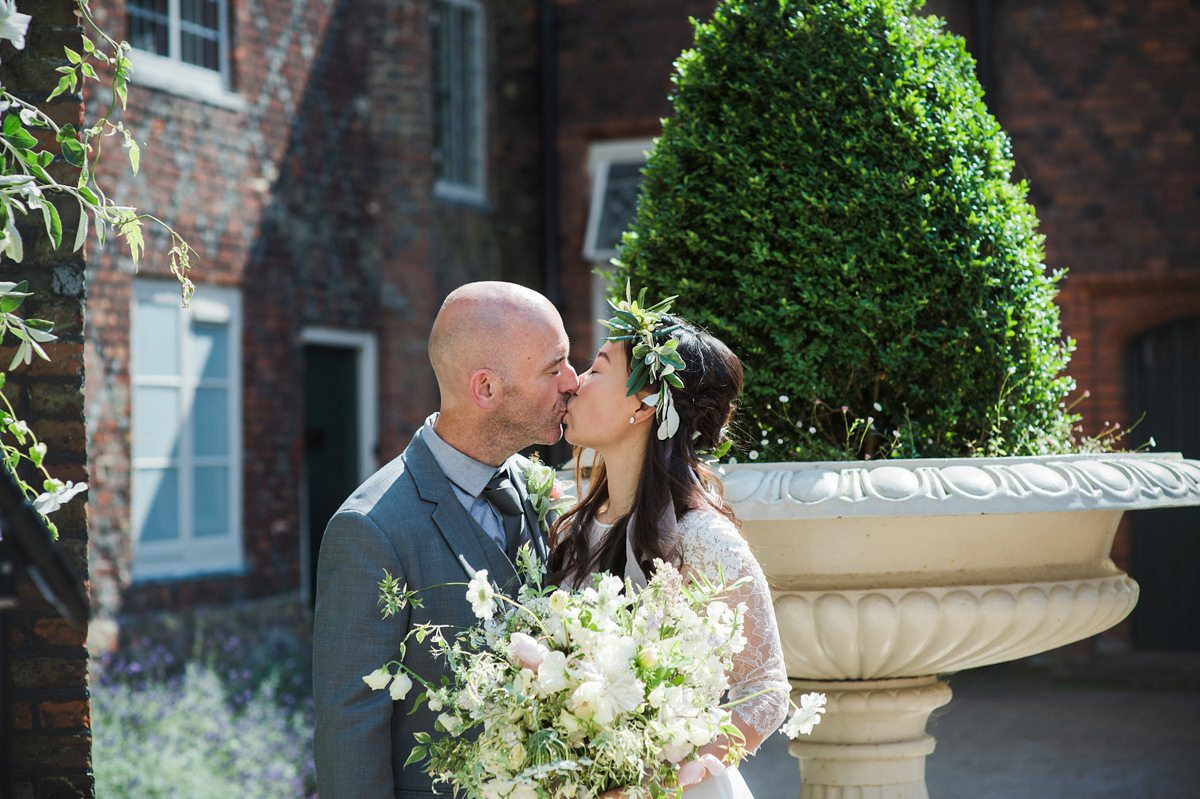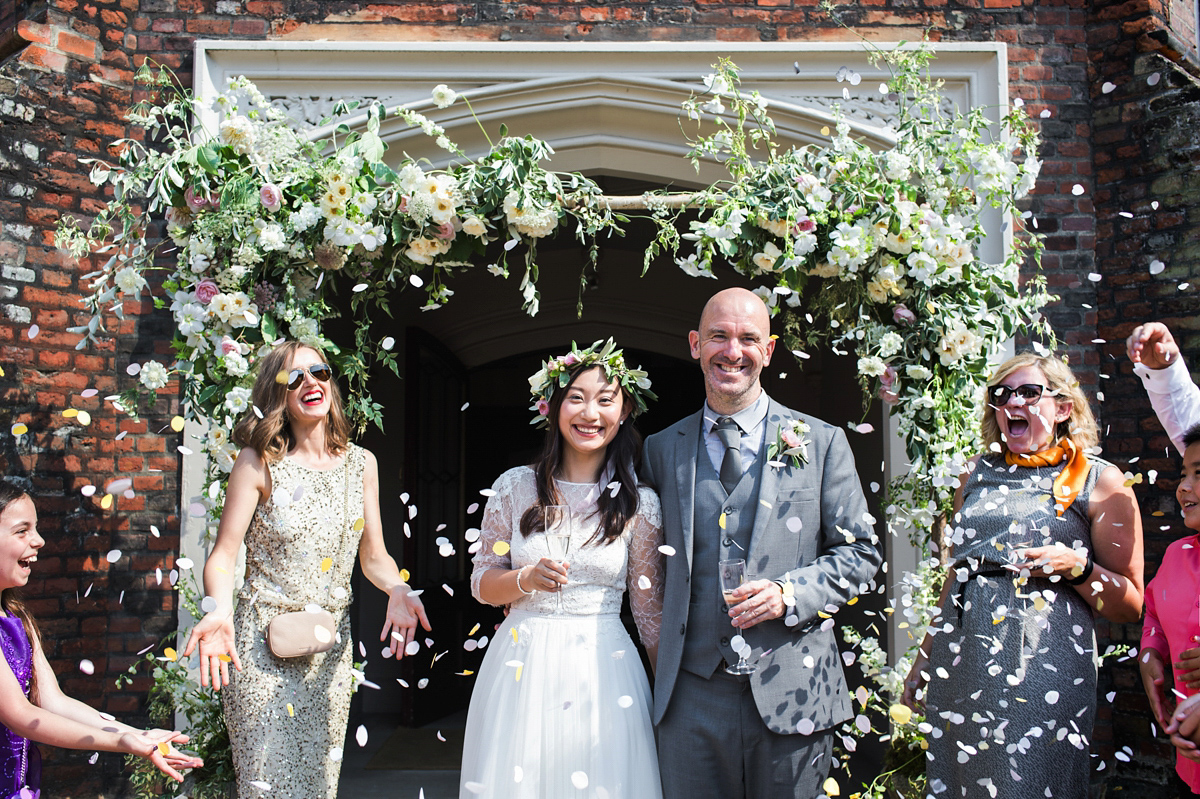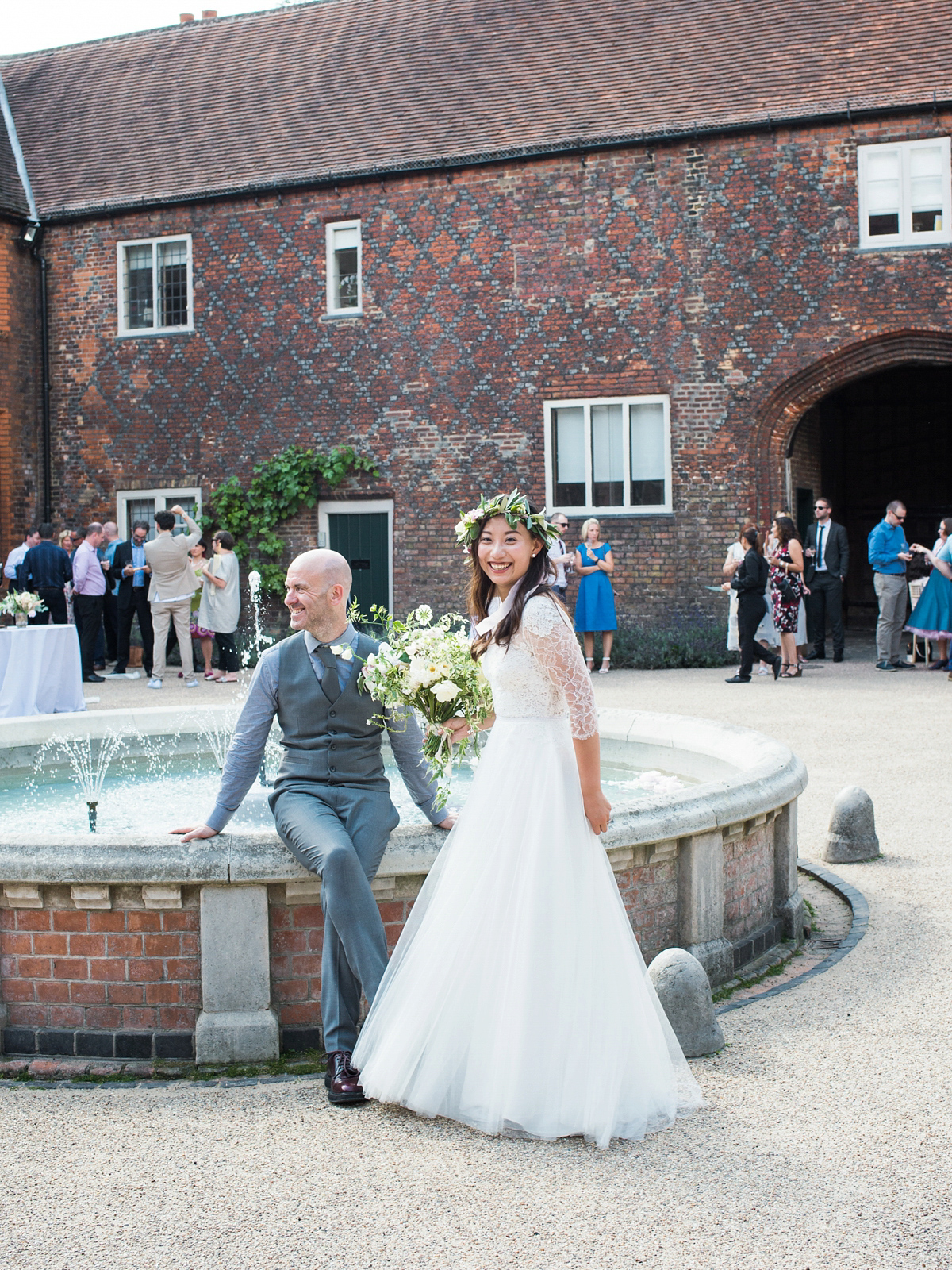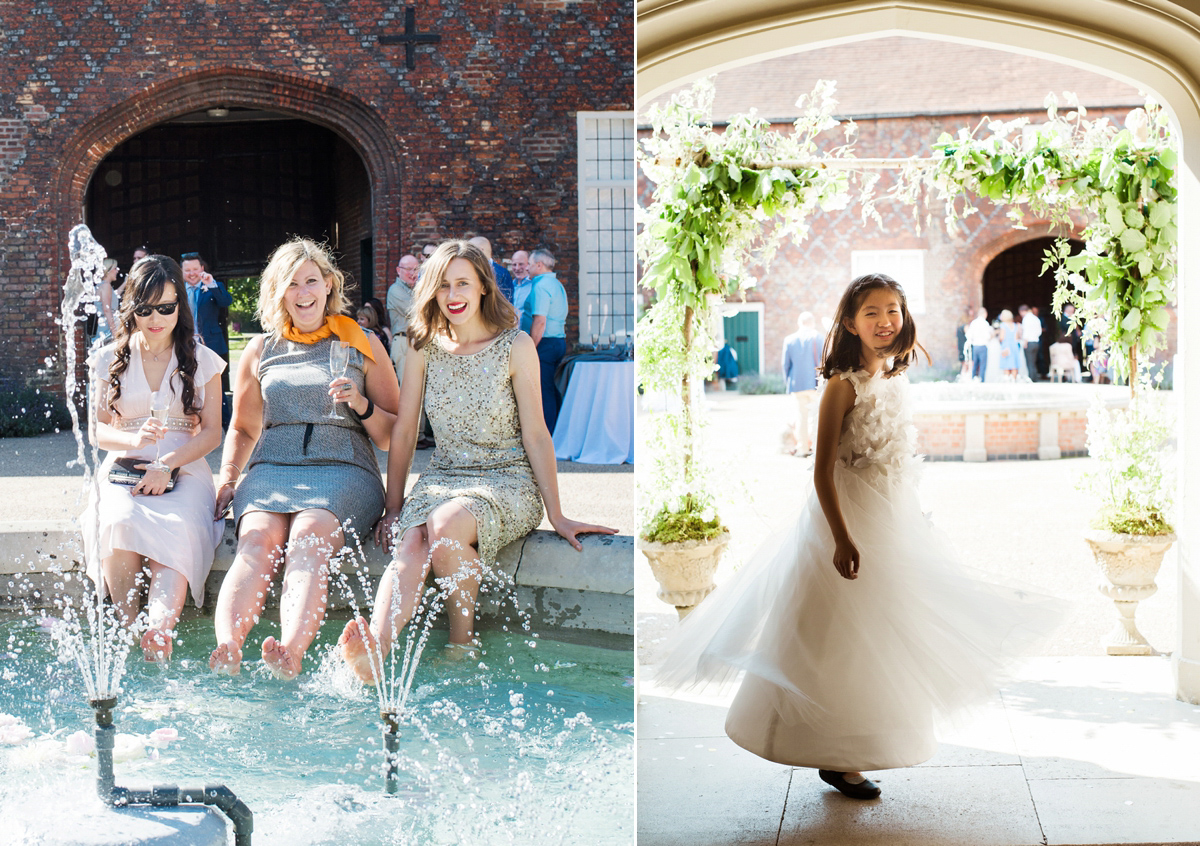 Photographer Stephanie Swann was the talent behind these beautiful bright and light-filled images.
Martin says: "Stephanie did a fantastic job and seemed to understand exactly what we wanted and how to present us in the best light – literally."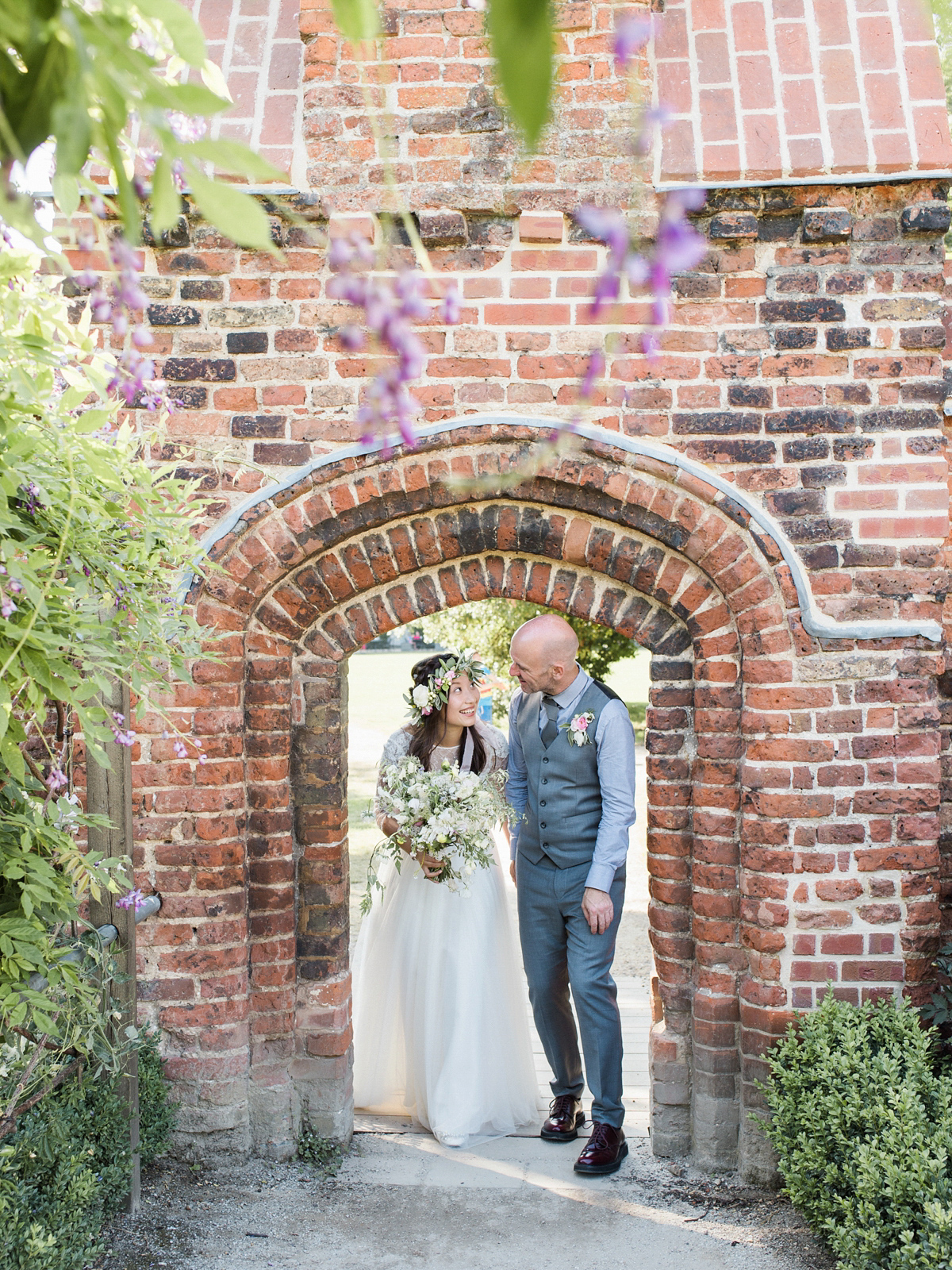 "Of course, I love the shots of the two of us and Kewei is captured in all her radiant beauty but so many of the informal shots of people laughing, in off guard moments, in conversation etc perfectly encapsulated what was a wonderful day."
"I've certainly never experienced such a joyous mood of celebration and Stephanie's skill was to capture that time and time again and give us perfect memories."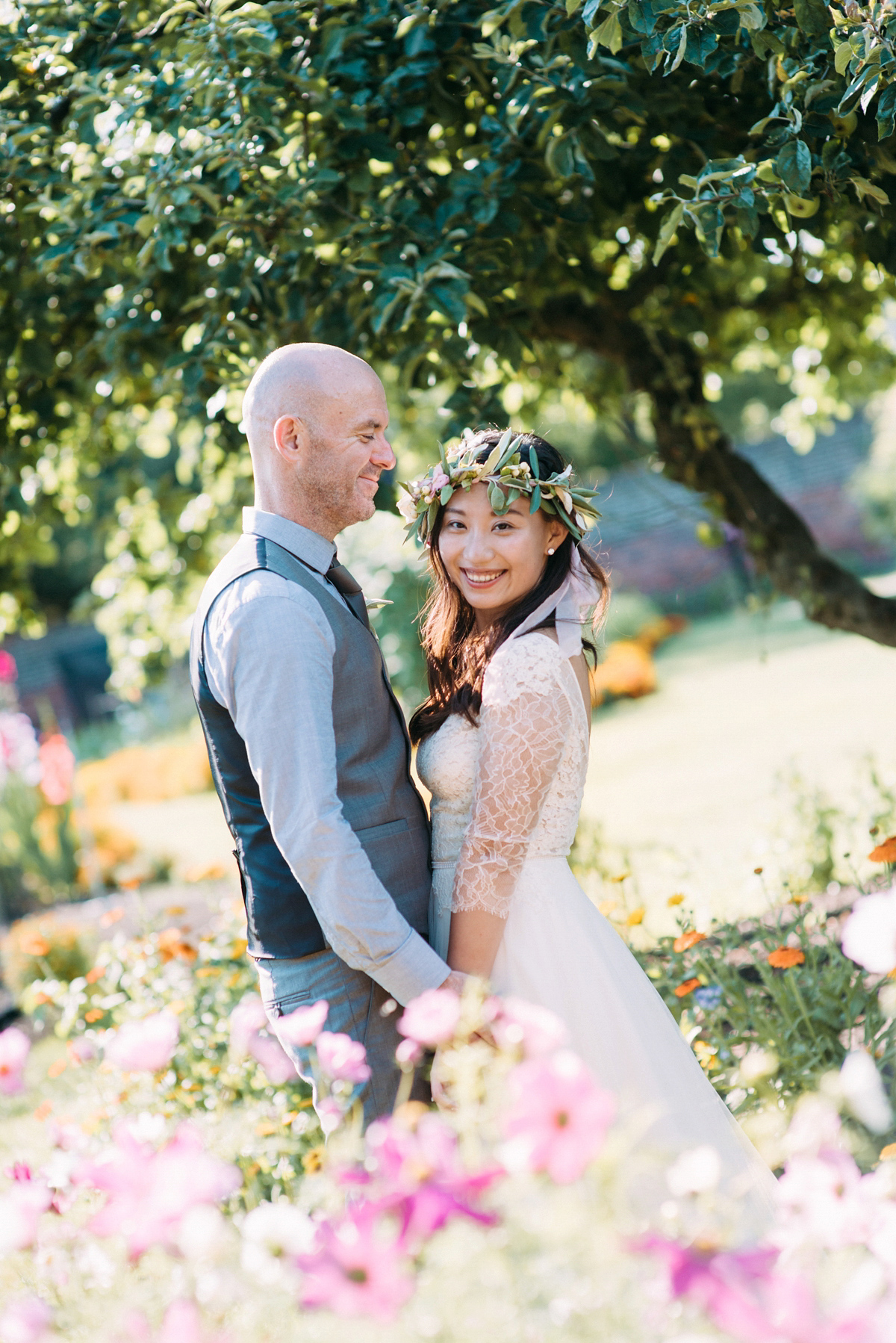 Martin and Kewei also decided to have their day filmed, choosing Irene Piera for the job.
"At the beginning Martin didn't think that a video was necessary, but for me it was important.  Even with very little experience in the editing room, I understand how interesting it is to look back at the footage of an event and notice the things that you never noticed before."
" Irene did a really great job documenting our special day and she was a pleasure to work with.  When we watched the video together, I was surprised that only one camera could capture so many moments of laughs, tears and joy.  It's a great way to relive the day and we also found more hidden jokes in  the bestman's speech."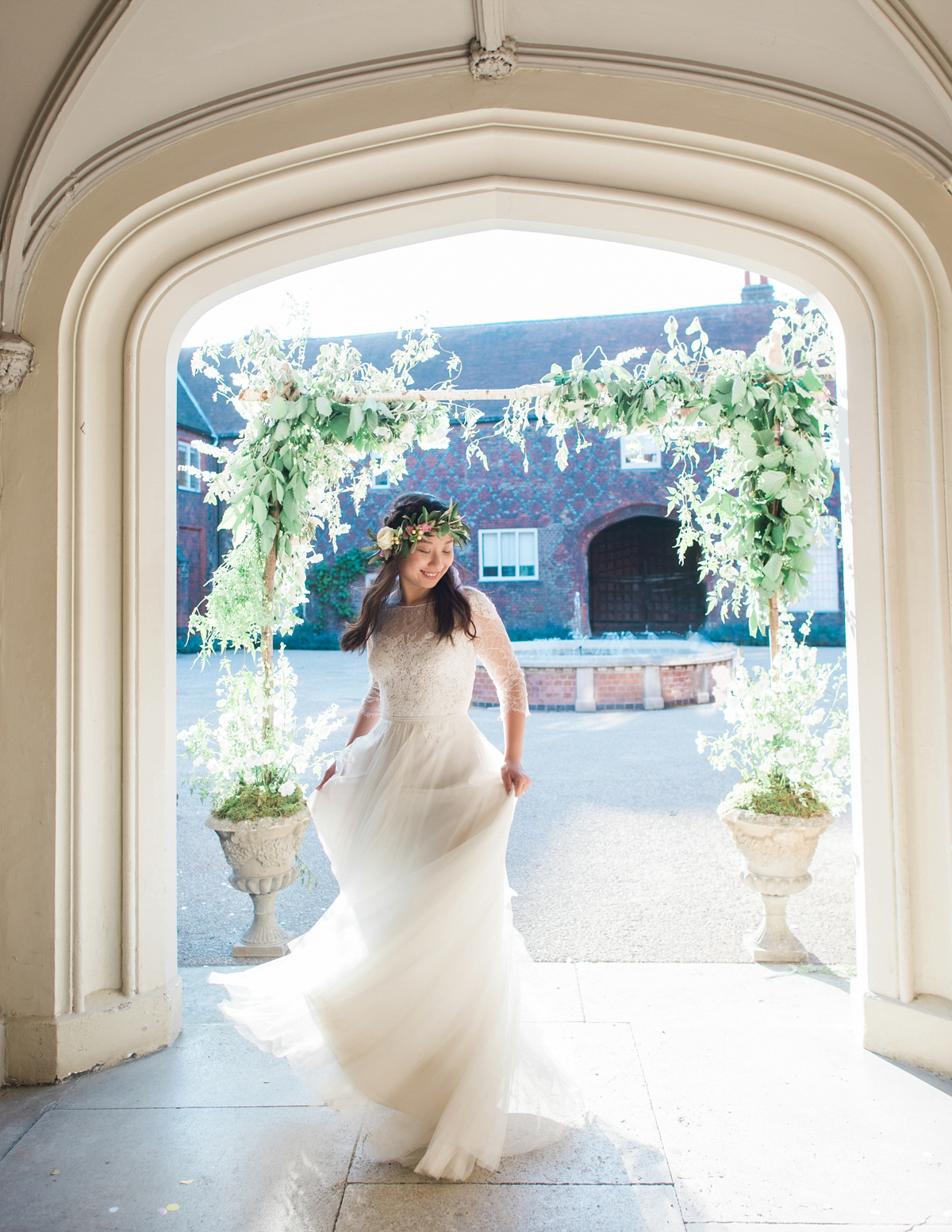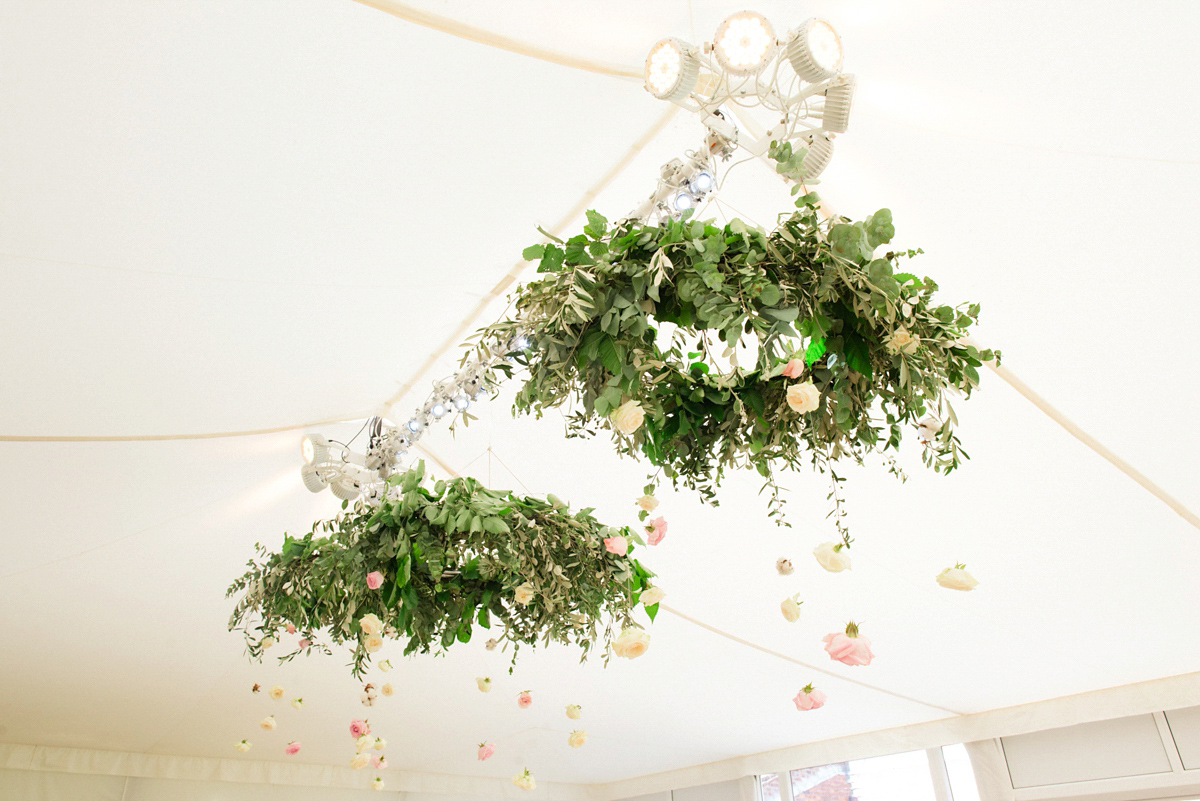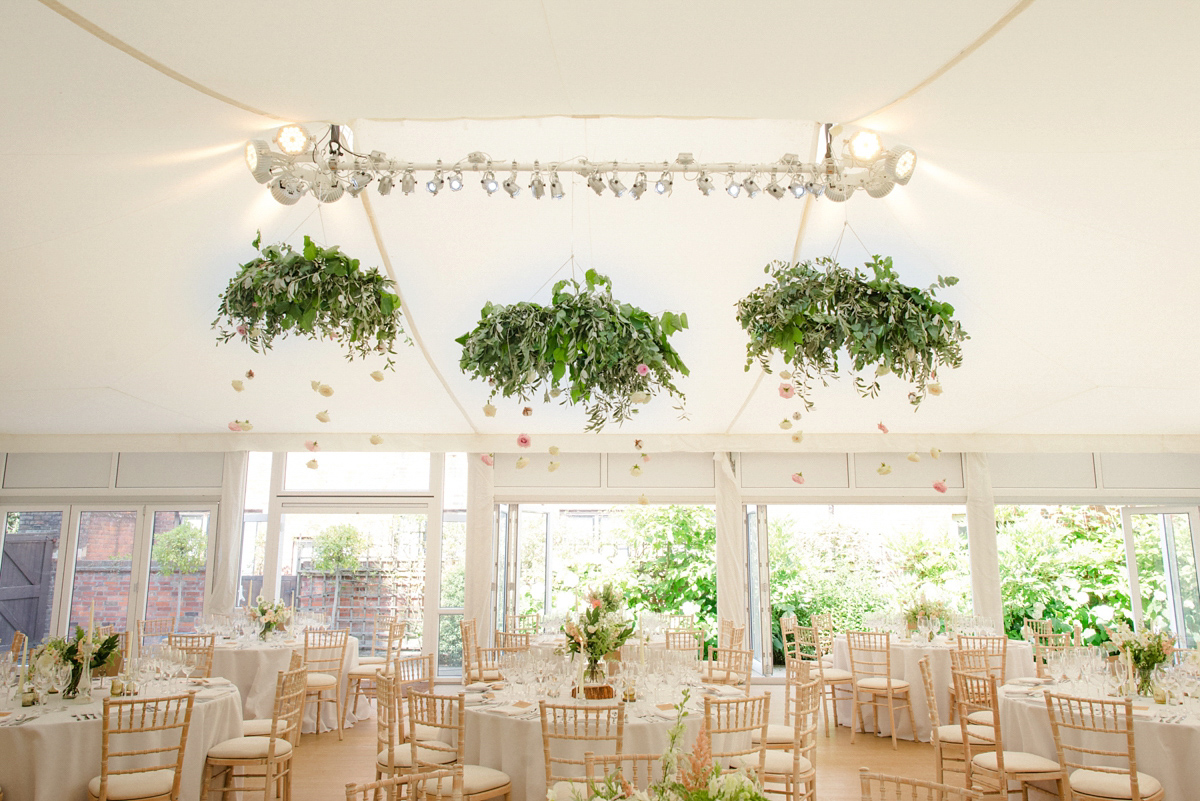 Catering was by Bovingdons at Fulham Palace, while the pretty three tiered cake was from Cake Maison in lemon, chocolate and carrot cake layers with a buttercream finish, decorated with fresh flowers.
Music from Live Events got the party started and the newlyweds had their first dance to 'Are you ready for love' by The Spinners.
"For me, the speeches were my favourite part of the day as on a very well planned wedding day, the speech part came with many surprises."
Martin says "I loved the speeches and the drinking and the dancing and the ceremony and the toasting and the eating and the cake and my wife and the combination of cultures and the guests and the cocktails and the first dance.  Everything about the day was just right.  I have experienced many happy occasions in my life but it is hard to surpass the sheer joy I felt on this day."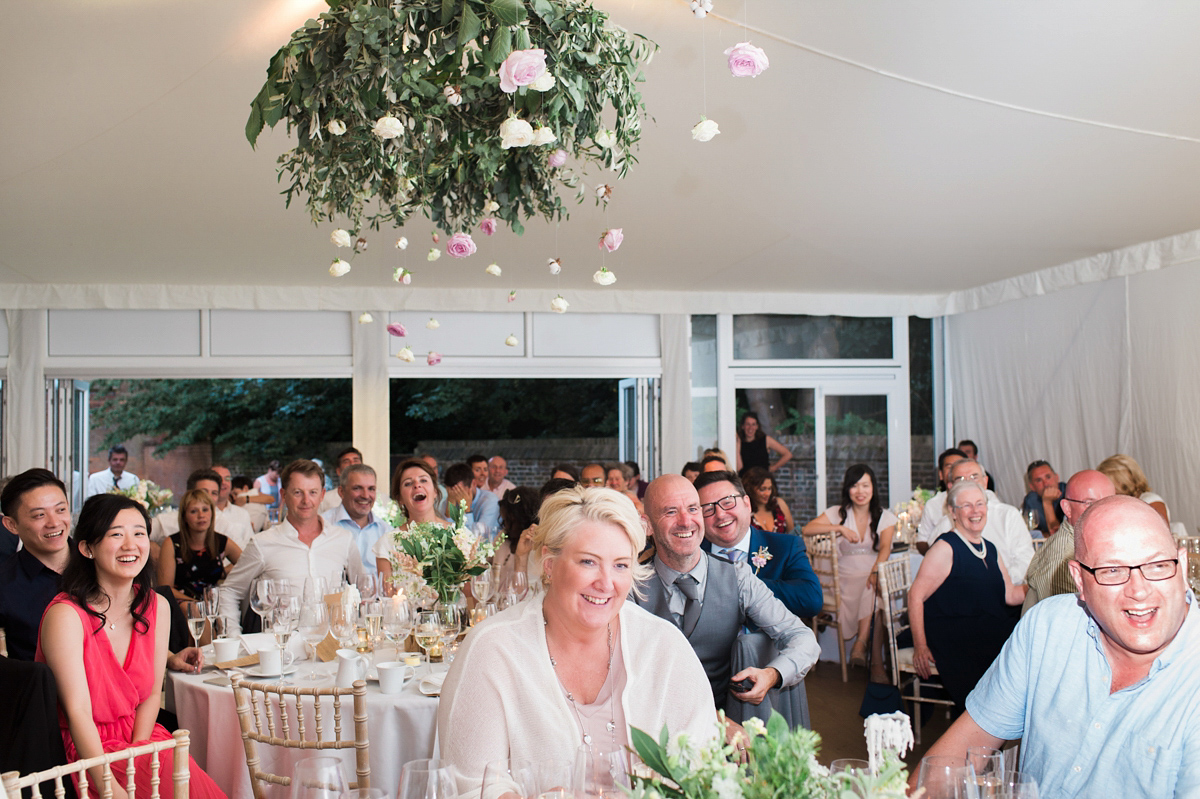 Words of Wedded Wisdom
"I'm not one of those girls who grew up with a dream wedding in their head so I would suggest that you choose your theme and colour first and then follow your instinct.  A good wedding planner could save you lots of time."
The happy couple married once again in full Chinese tradition, on the 29th October 2016- lucky things!  Huge thanks to Stephanie Swann for allowing us to feature her work today and huge congratulations to Kewei and Martin.
Fallen in love with Kewei's dress?  Take a look here for a couple of other features displaying gowns by Anna Kara.
Love,
Shona x