The very first Love My Dress wedding I ever read was this one with a bride in a short 1960's inspired dress and although it wouldn't have suited me in a million years, I have always had a soft spot for that style; today's bride rocks a similar look to absolute perfection.  Meet Laura, a Love My Dress fan who works in marketing for British Airways and Andy, who works in marketing at Oxfam, who married at Cogges Farm, Oxfordshire on the 29th October 2016.
Laura wore an absolutely gorgeous short and chic number from Alice and Olivia, which she purchased from Harvey Nichols, following a personal stylist session.
"I knew I didn't want a traditional wedding dress, but I needed some help to find alternatives. The service at Harvey Nichols was great and I felt really comfortable with my stylist Shanika.  I clicked with her straight away and she picked out some beautiful dresses for me, but this one instantly felt like me. I loved it because it's simple, but special – it has a silver thread running through it which gives it a shimmer-like  pearl, and the shape is super flattering and easy to wear.  I adore the pockets too.  I tend to wear clean classic shapes, and this dress doesn't have anything fussy about it, but it is gorgeous."
Photography by Andy Proper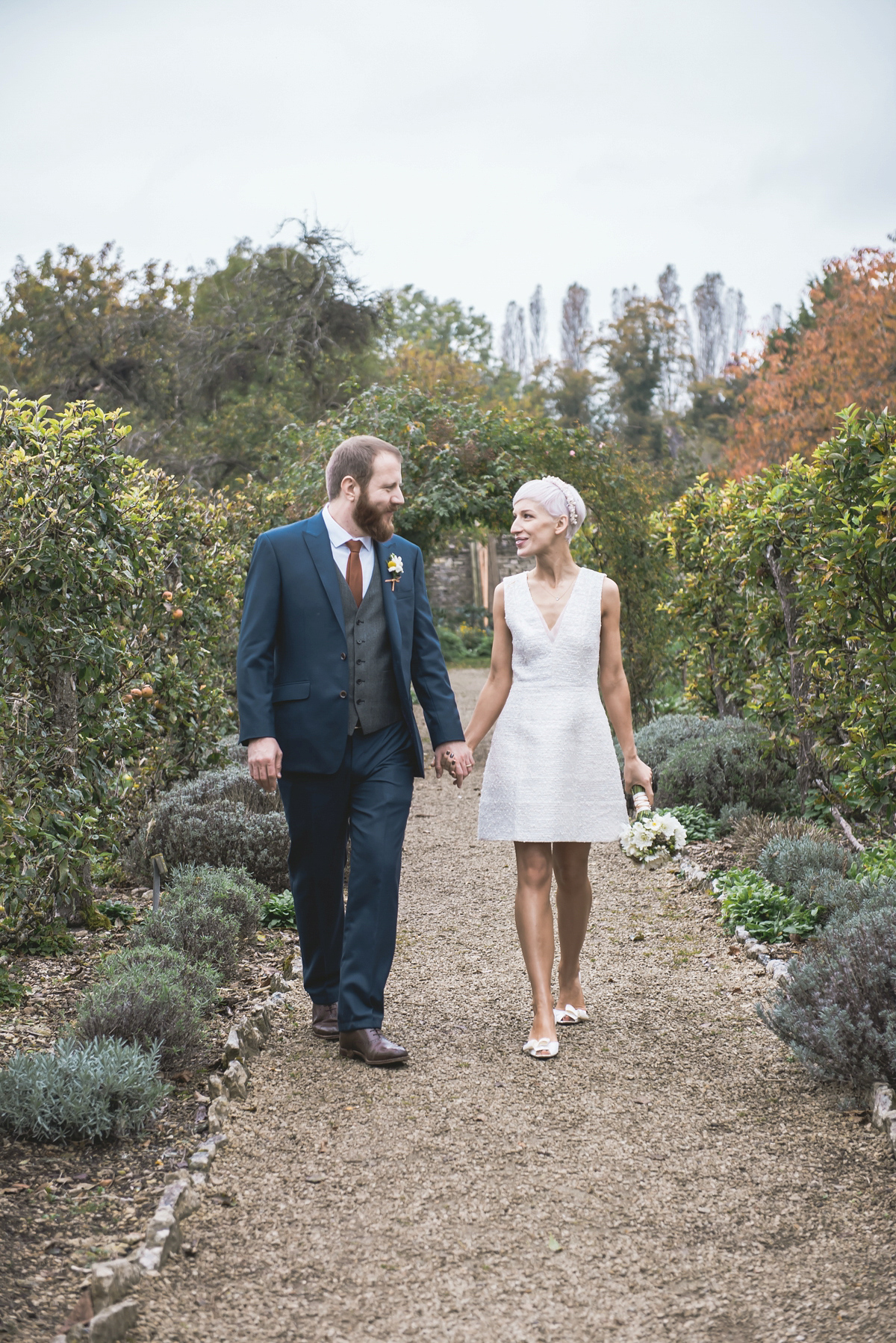 "We chose Cogges Farm as a our venue, as we met in Oxford and lived there together and Cogges was a complete blank canvas for us to create the wedding we wanted. We just aimed for a cool, fun, relaxed day and were guided very much by the venue so decided to hold the ceremony in the smaller barn and then let it double up as a chill out area in the evening. We wanted to create an intimate, warm atmosphere in there."In her hair, Laura chose to wear a headband by Emily- London, also purchased from Harvey Nichols and on her feet, shoes by Kate Spade.
"Andy bought me a beautiful gold necklace for my birthday from Dinny Hall, with a small blue topaz stone in it as my 'something blue'.  I also wore a lovely gold bracelet that Andy's Mum loaned to me as my 'something borrowed'.  She had been given it when Andy was born, so it doubled as my 'something old' too.  It was so nice to have both with me on the day as both had wonderful sentimental value."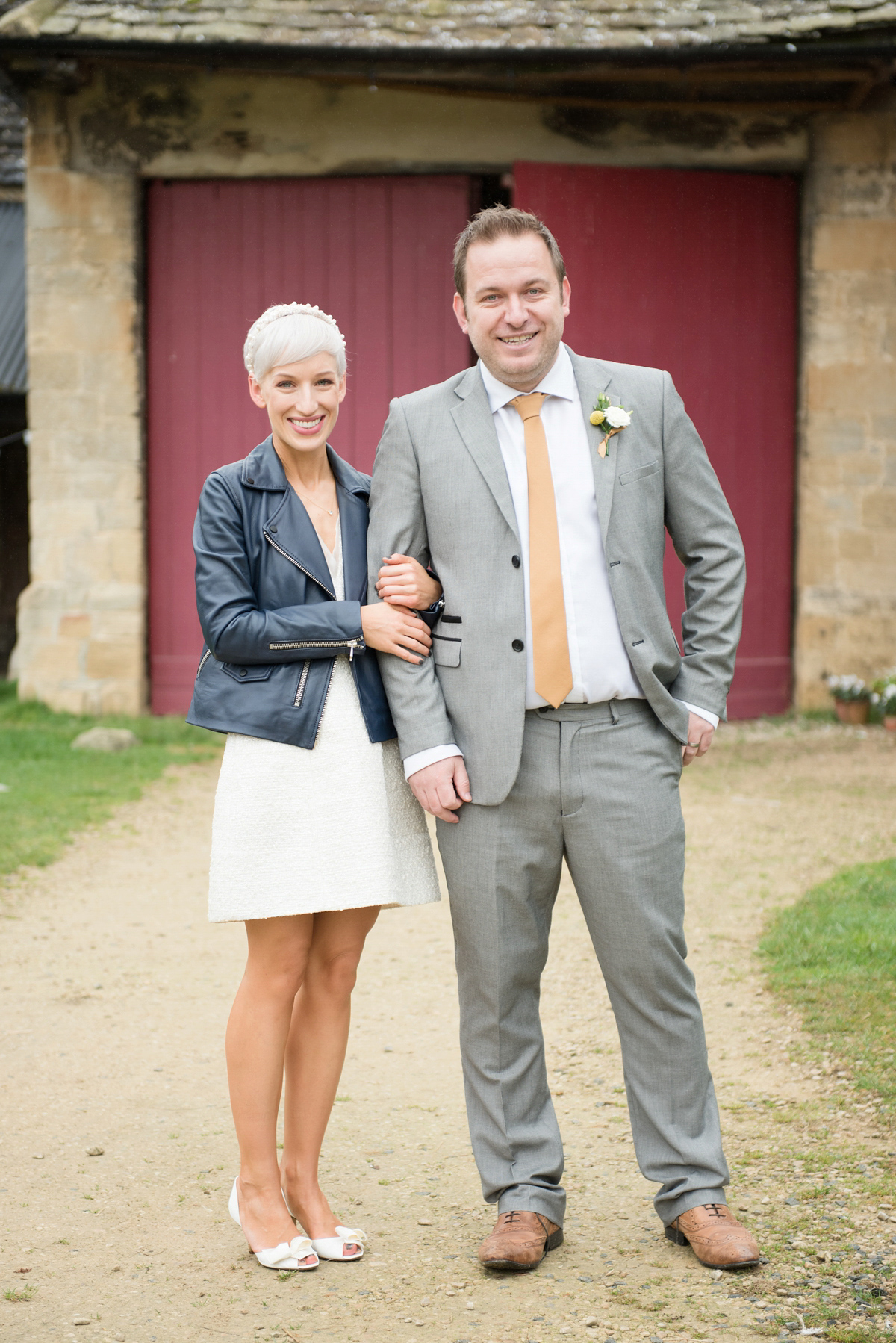 Laura's best girl looked lovely in a grey-blue dress from ASOS, paired with shoes from the same, while the flower girls wore dresses from John Lewis, with sparkly star clips in their hair (also John Lewis).
"It was my best girl's birthday the day before the wedding and I bought her a necklace in silver and copper with the words 'Best Girl' hammered into it, from Littlesmith."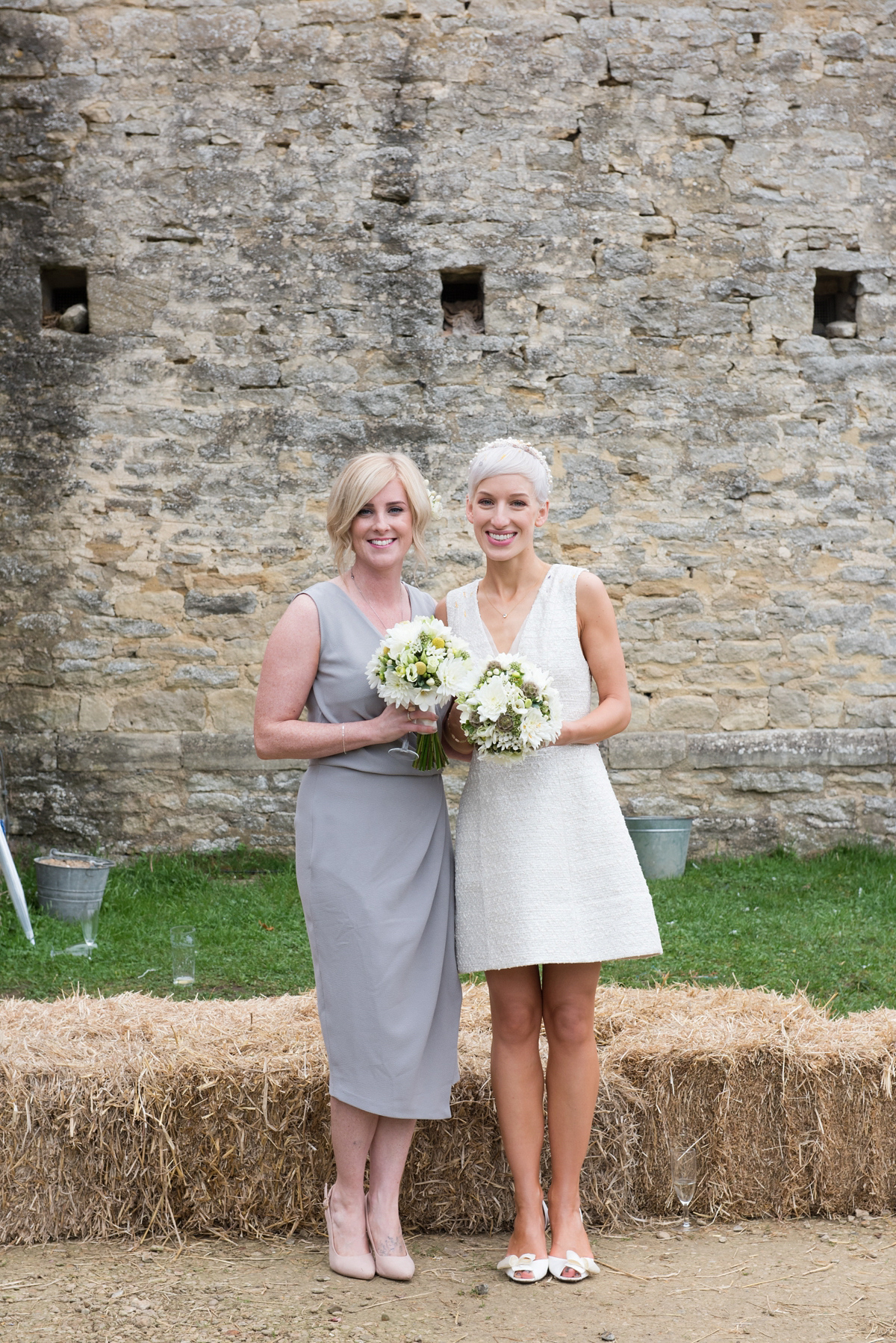 The lovely flowers were created by Penny of Penny Blossoms.
"I loved Penny's approach and she was very collaborative.  She made me such a stunning bouquet and had herbs and grasses in so it smelt amazing."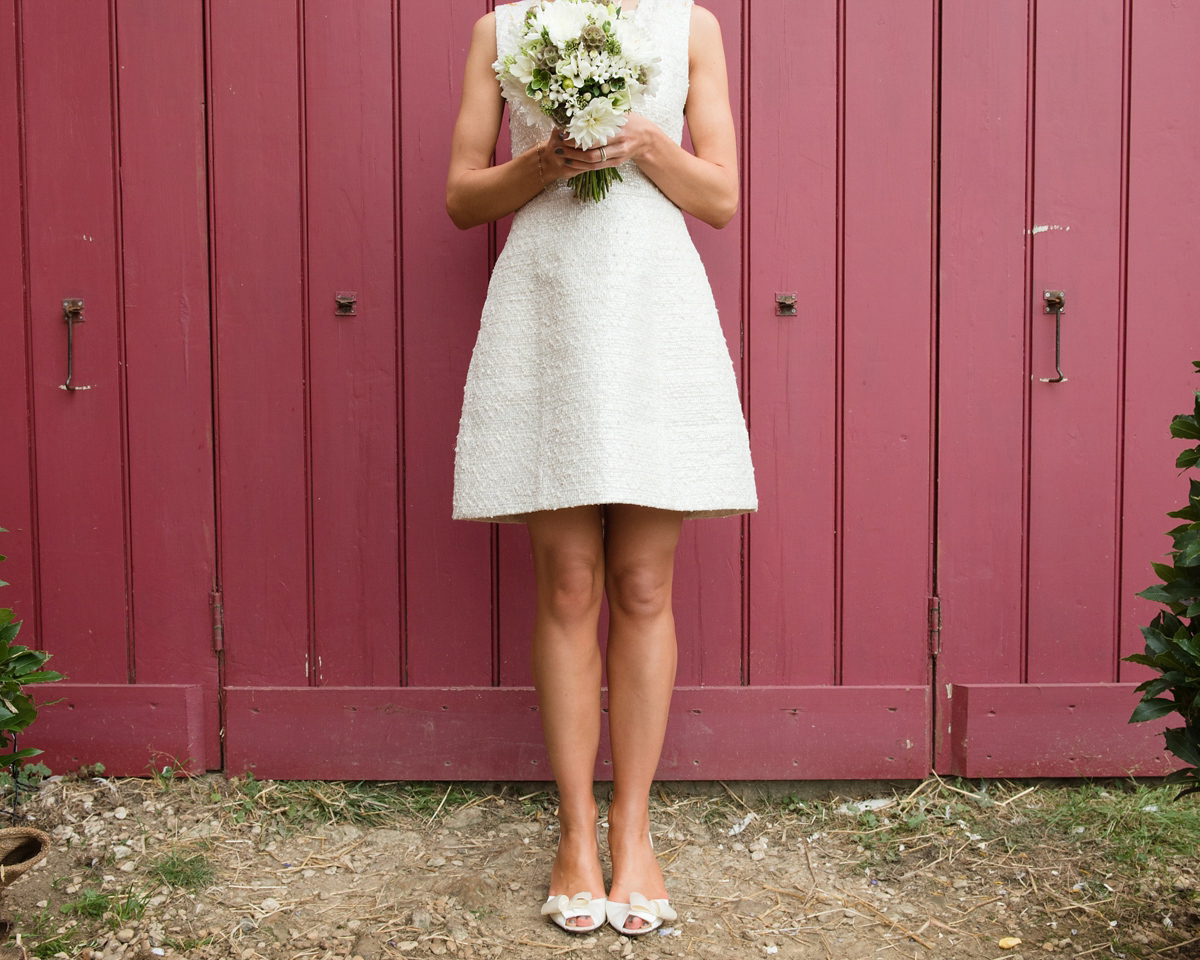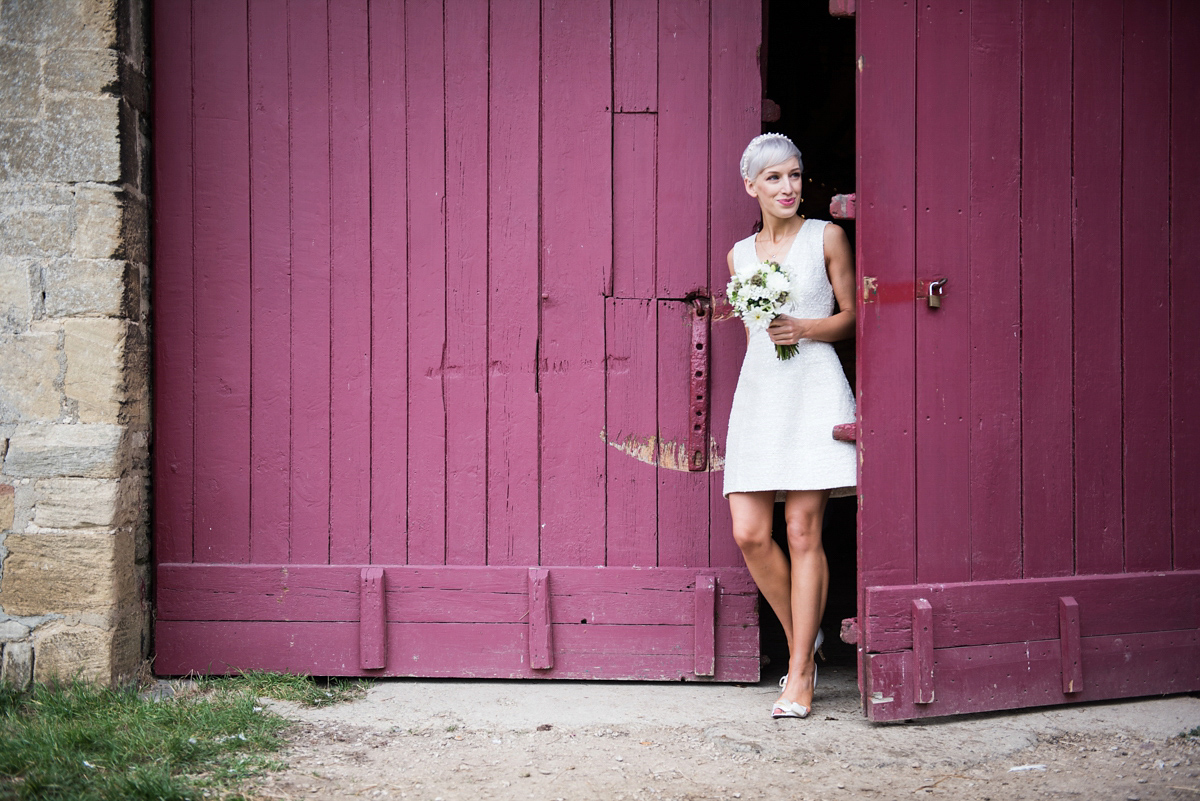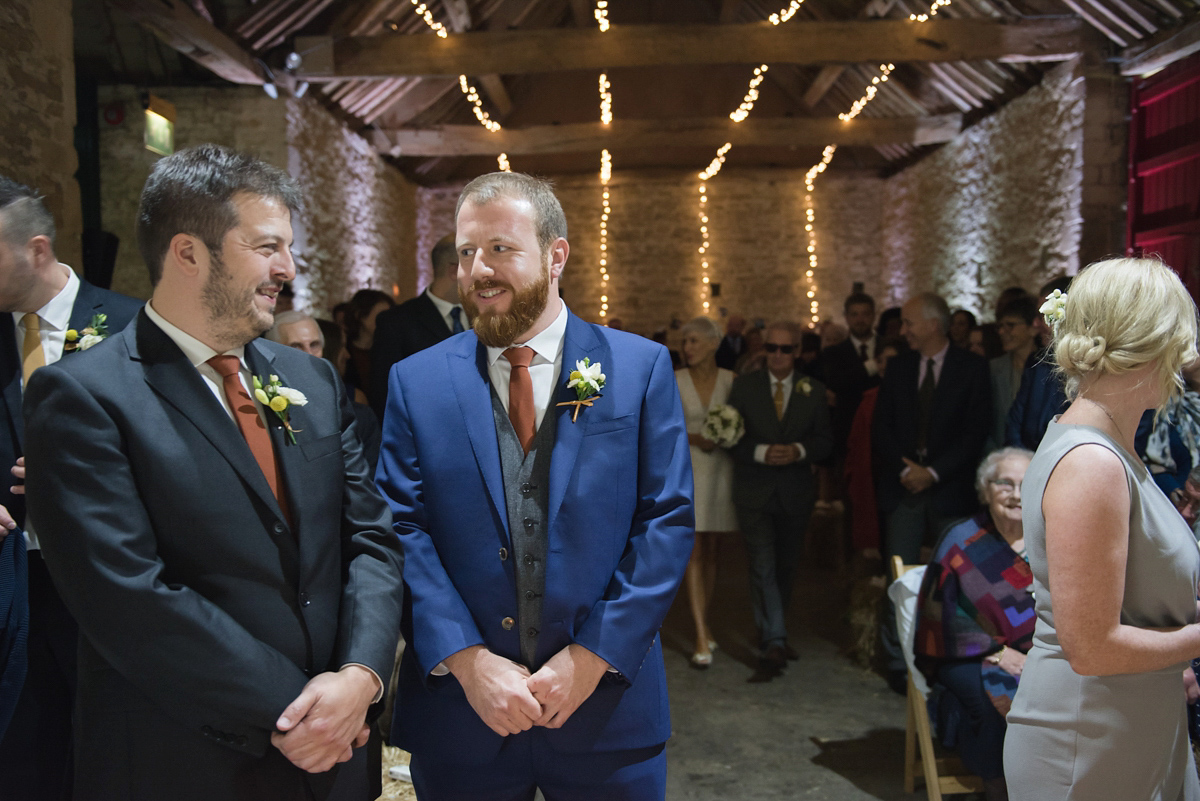 "My Dad accompanied me down the aisle to 'My Girl' by The Temptations. It's always been my favourite song, and my Dad sang it to me on my 30th birthday.  It is a song just full of joy that expresses everything I feel about my relationship with Andy."
"I have two older brothers, so as the only girl it was a really special moment for my Dad to walk me down the aisle.  During the ceremony, just before she asked who was giving me away, Claire said that this day was also to acknowledge the important relationship between father and daughter.  It was one of the moments I remember most clearly, and one of the most emotional for me."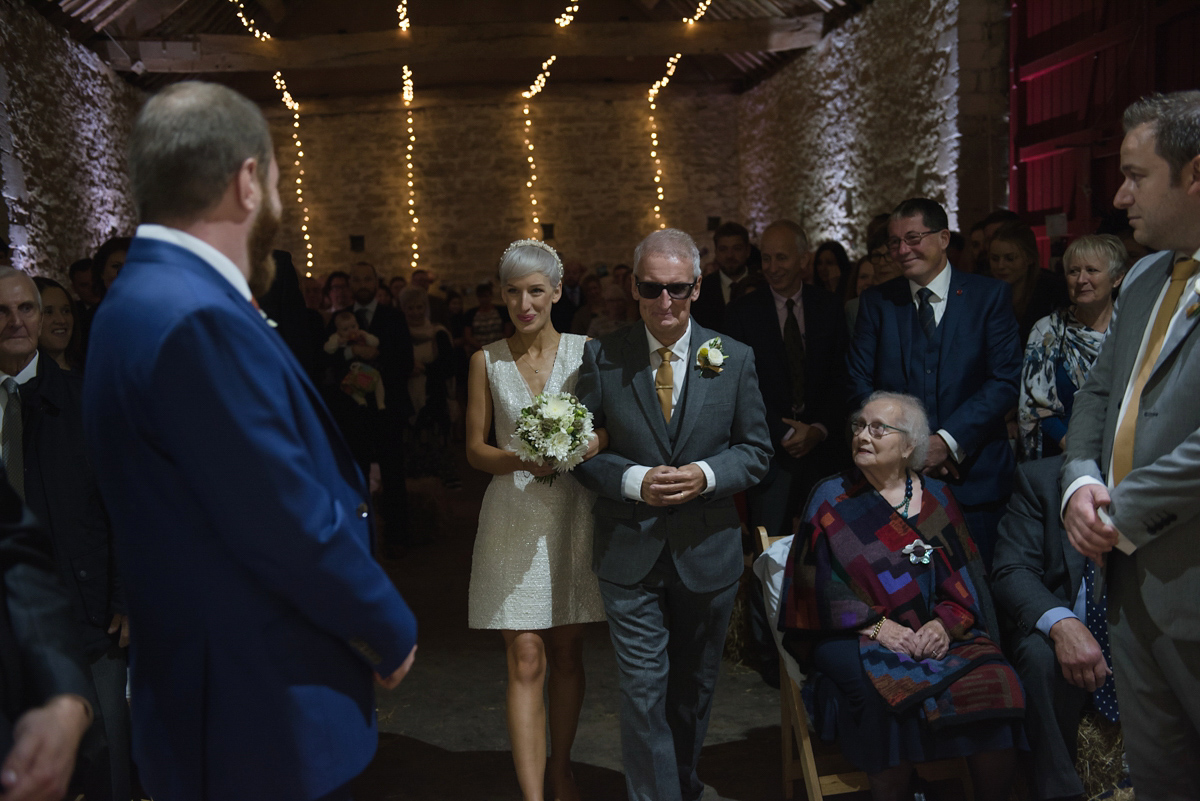 "We chose the simplest vows as we knew we'd be feeling nervous and neither of us really like public speaking.  We met our lovely registrar Claire beforehand and she put us completely at ease. We talked about our relationship with her which helped her personalise the service to us."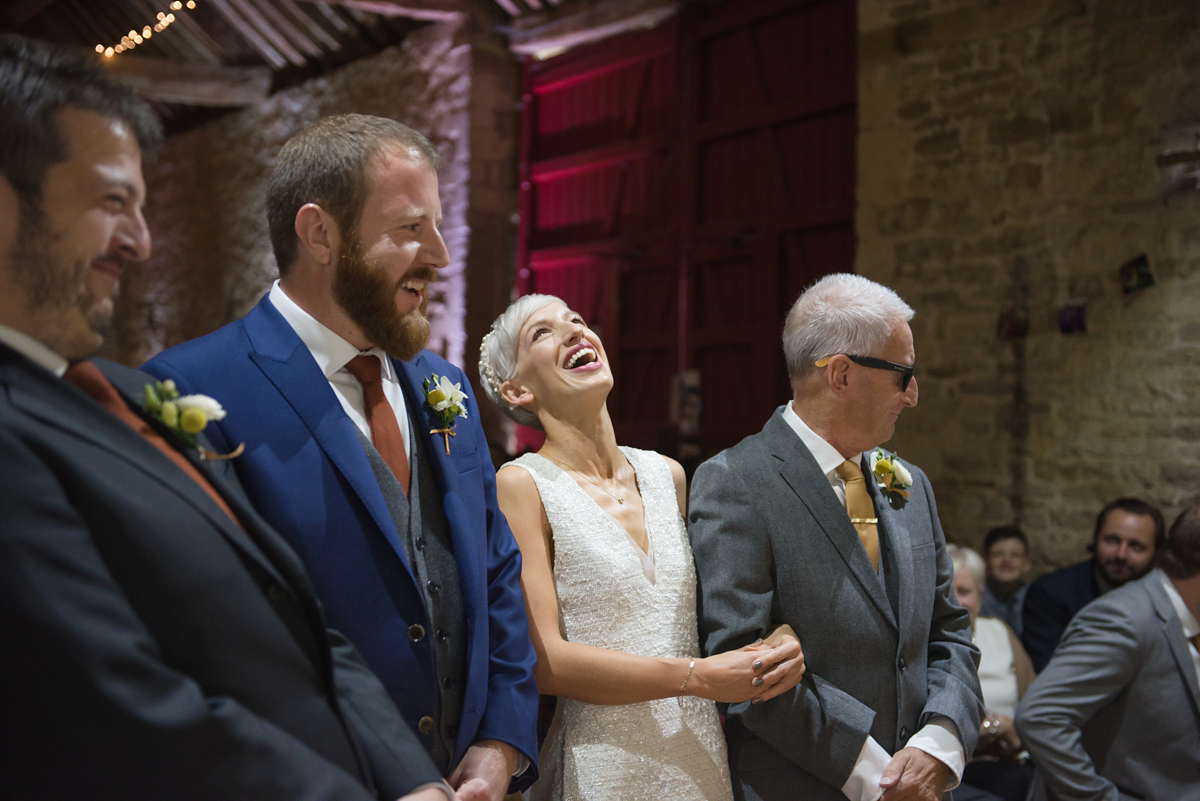 "We asked three people close to us to do a reading, but we asked them to select their own. The friends we asked are all thoughtful people who know us well and it meant more to us having them choose it themselves.  
Liz chose 'Songbird' by Fleetwood Mac, David chose 'I Like You' by Sandol Stoddard Warburg and Layla chose an extract from 'The Little Prince', by Antoine de Saint-Exupéry."
The couple exchanged rings by Justin Duance, a Cornish jeweller and oddly enough, also who my own husband chose his wedding ring from.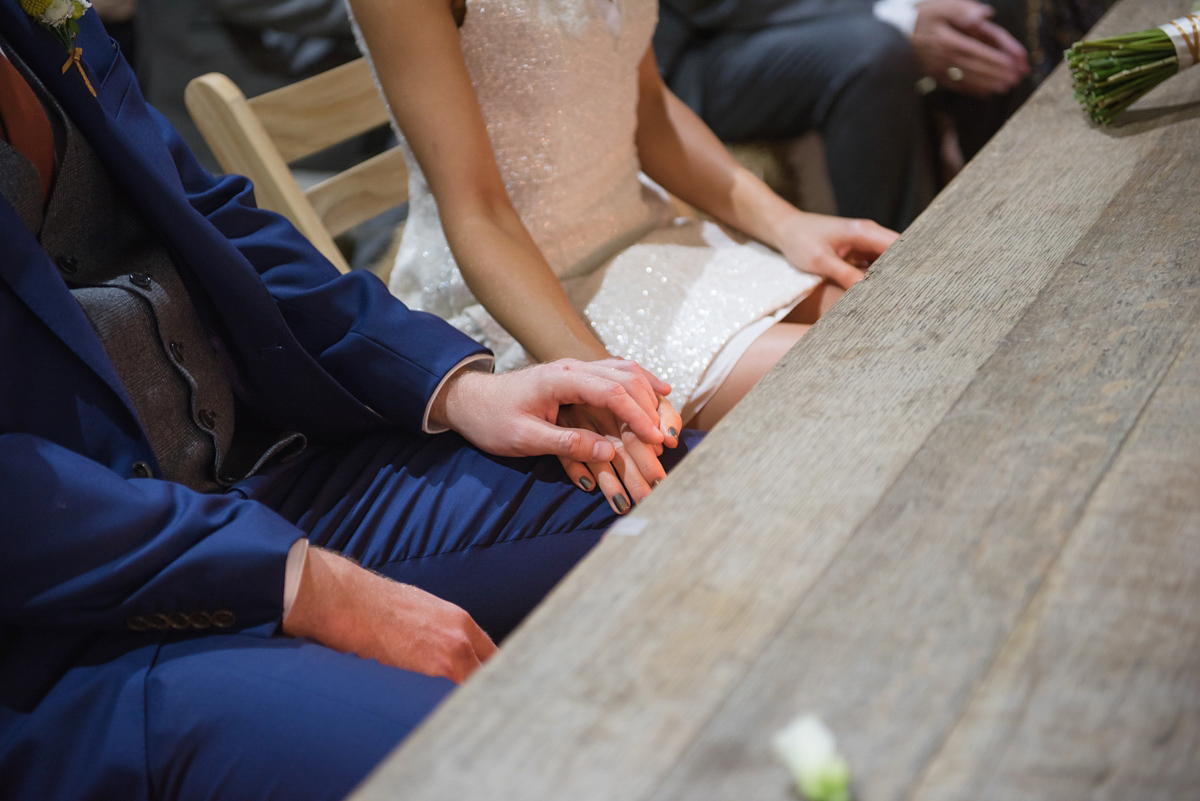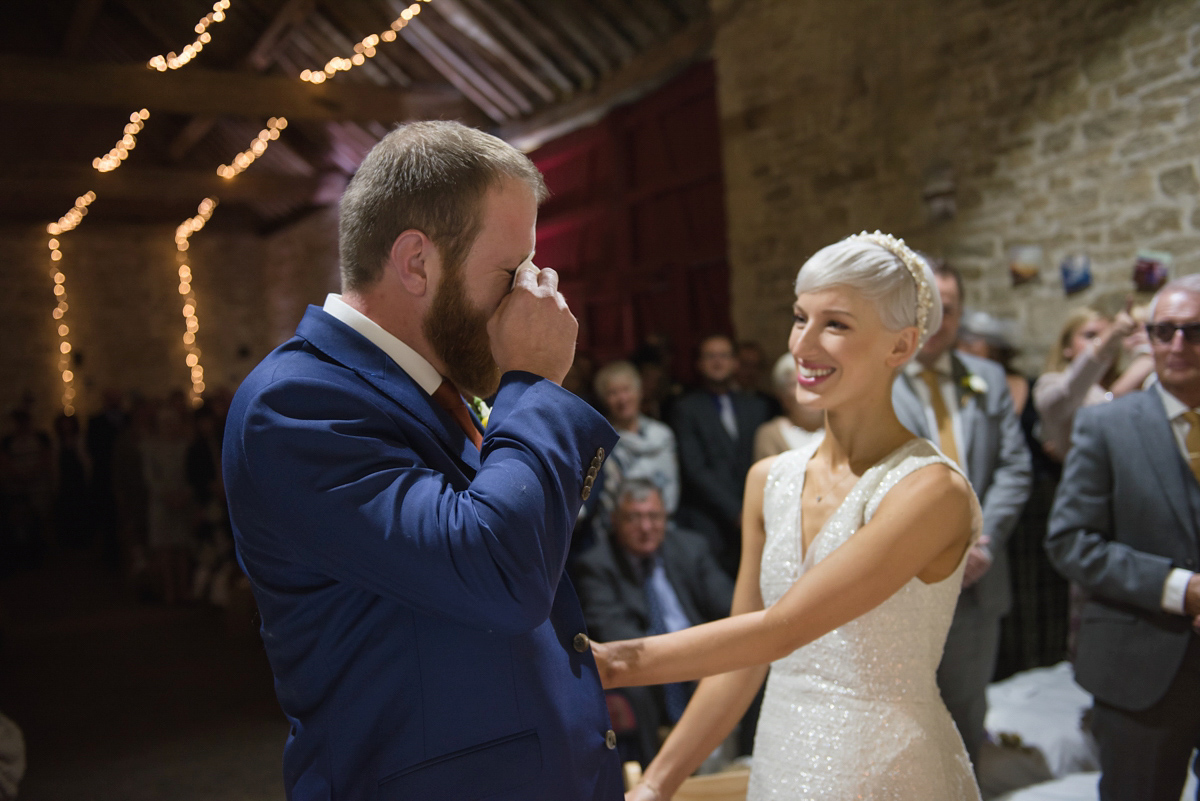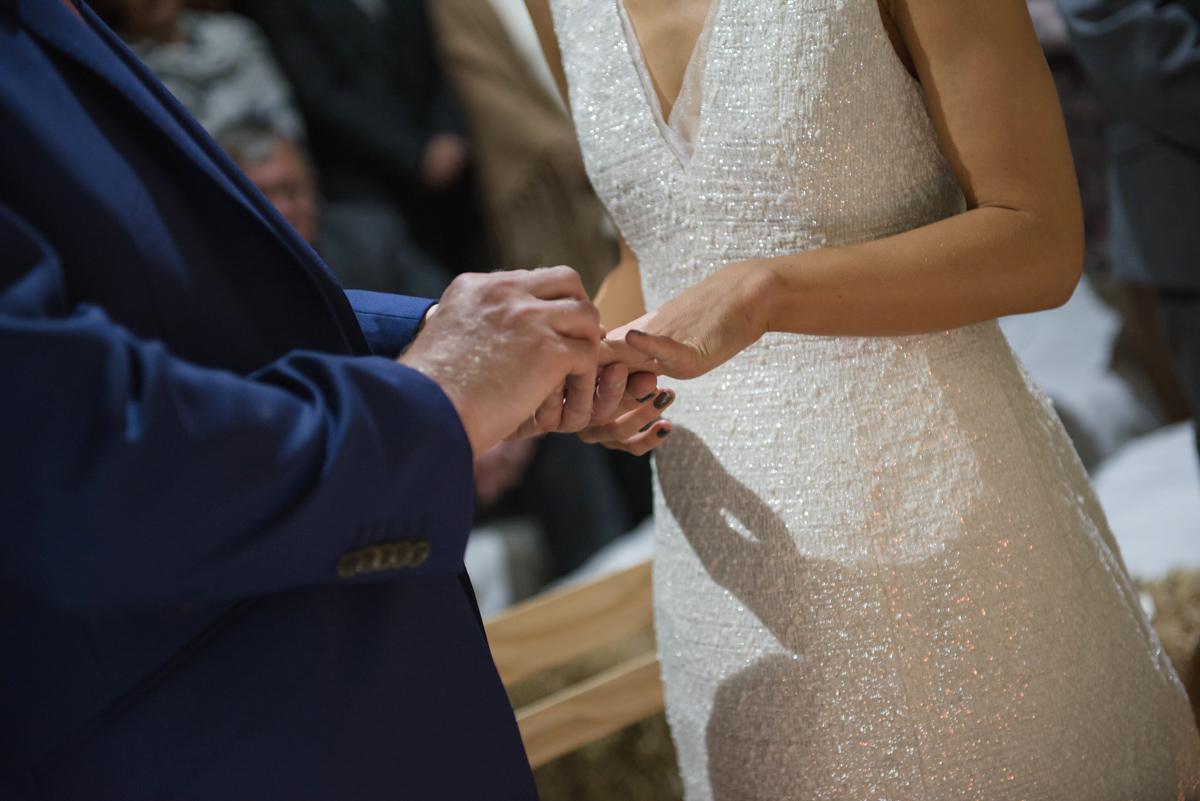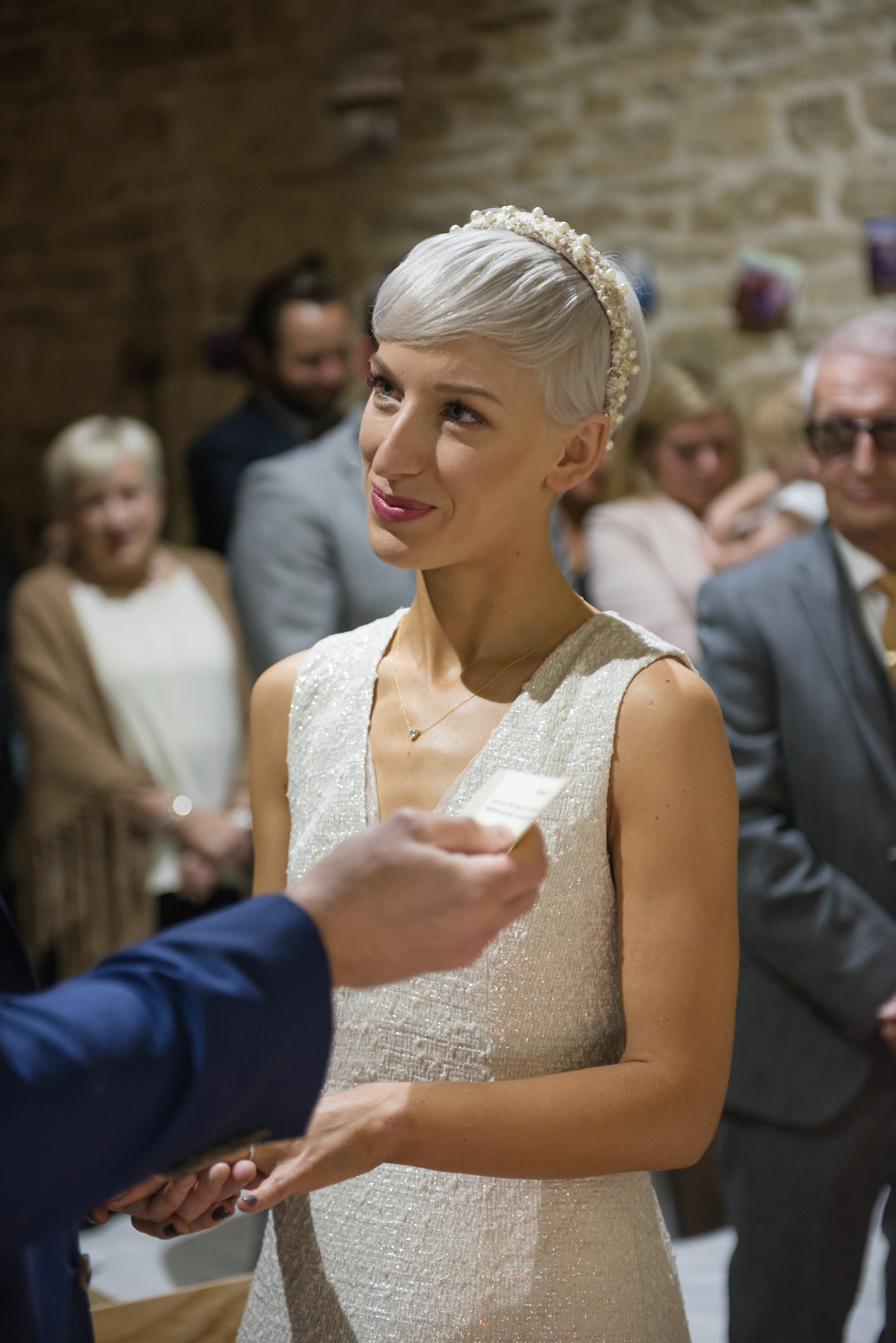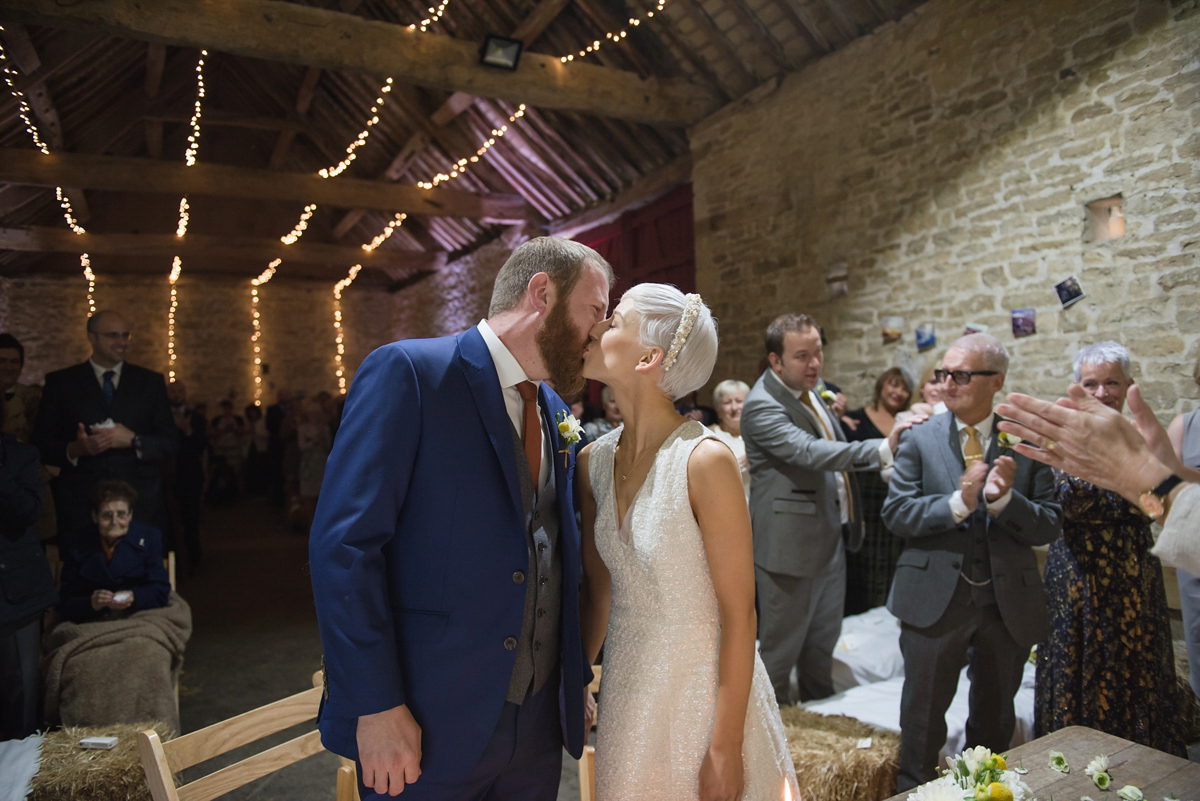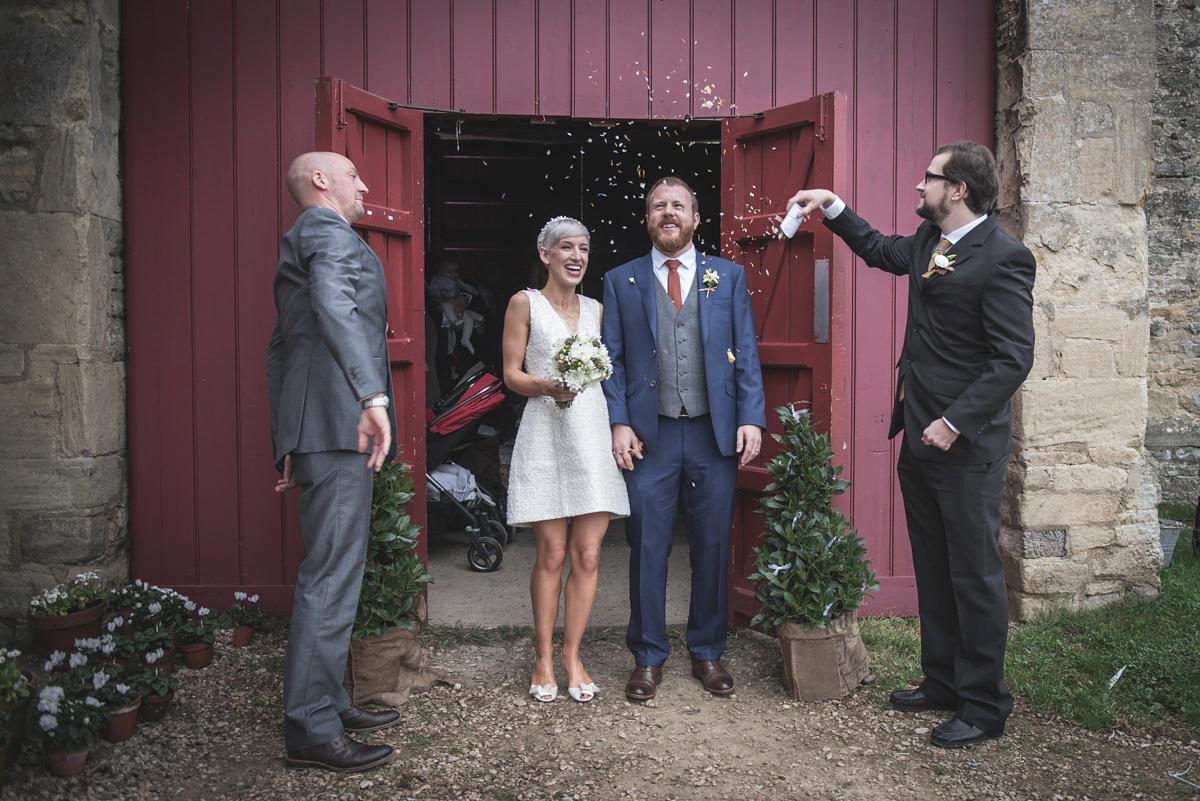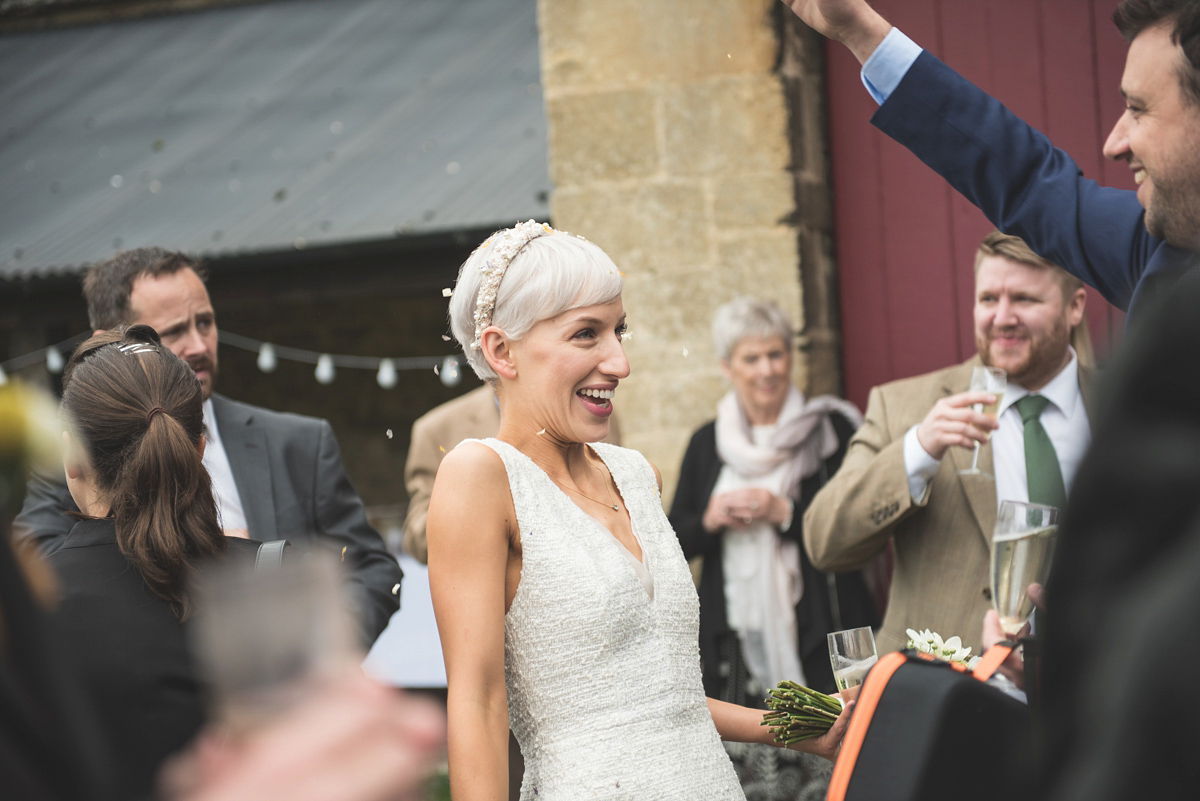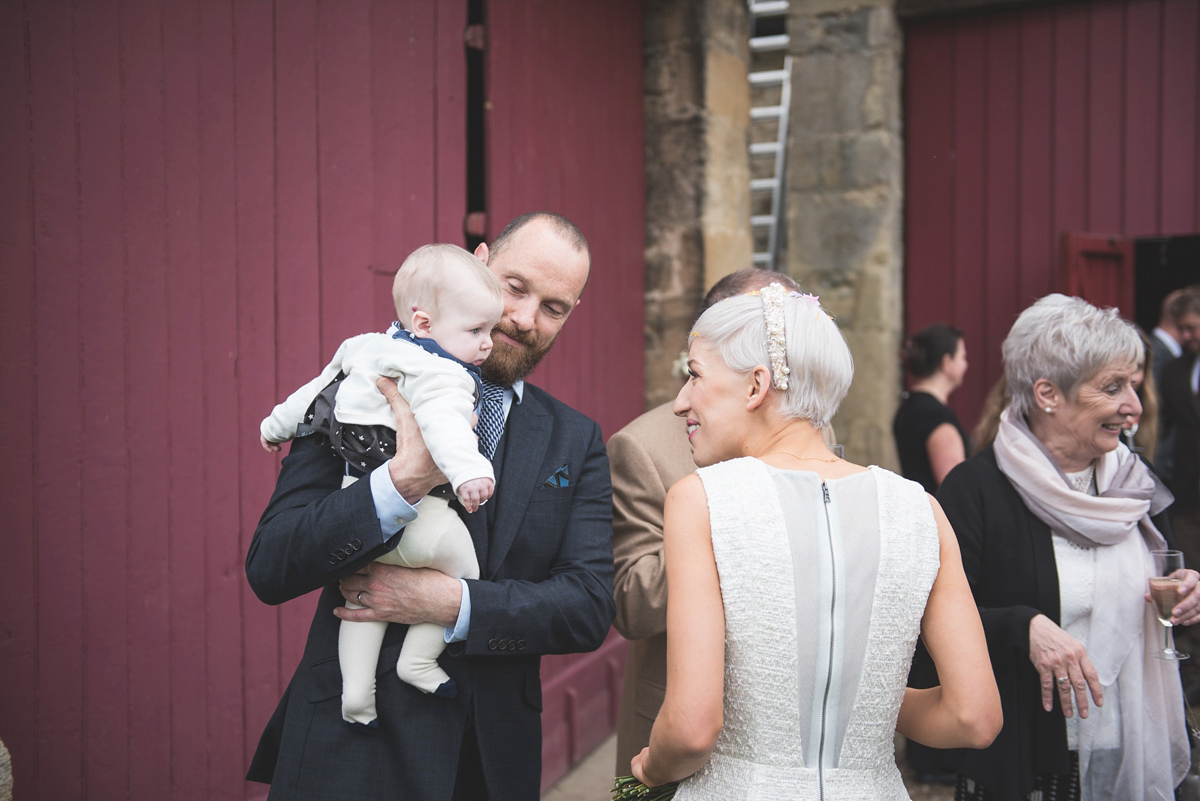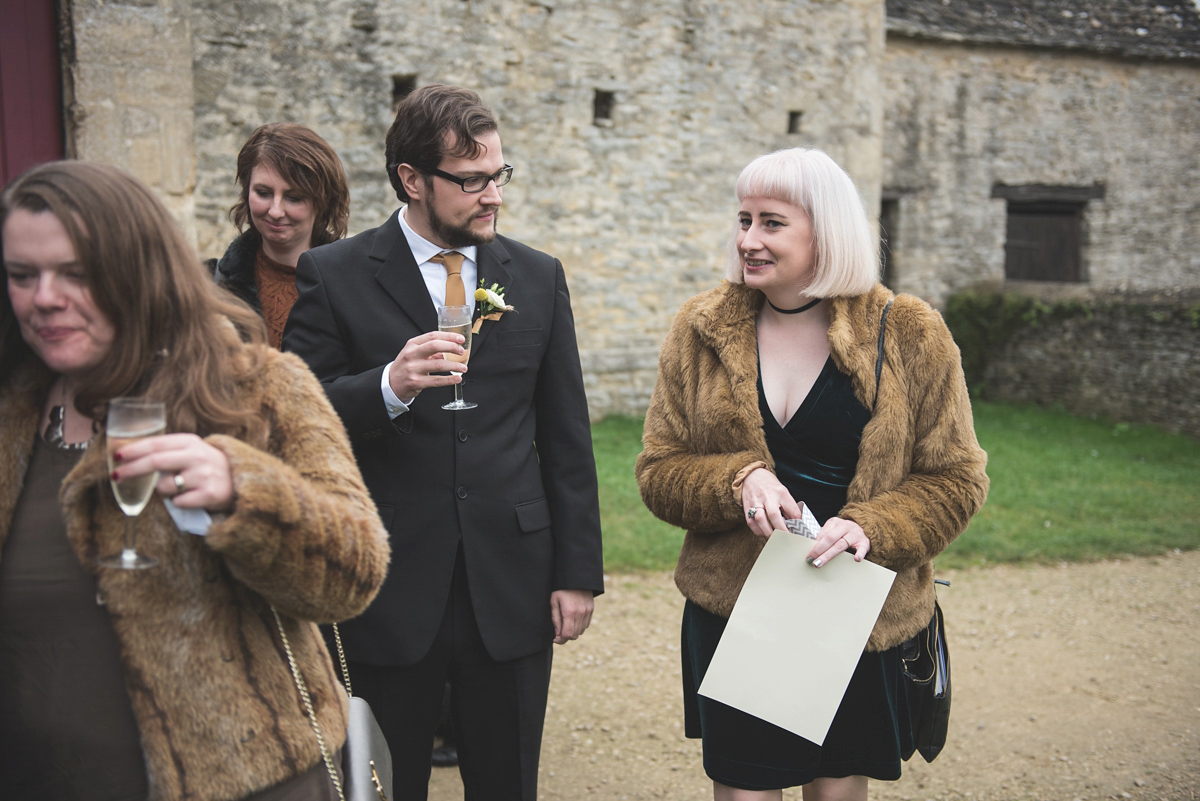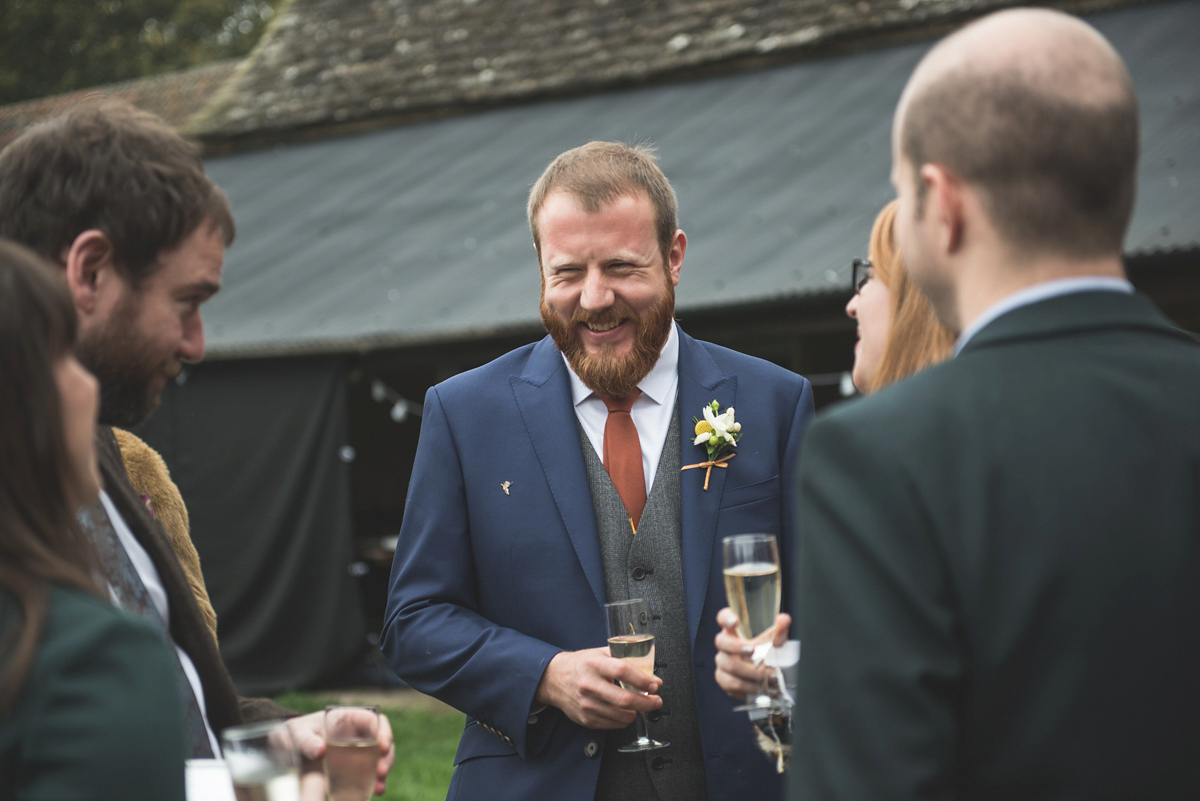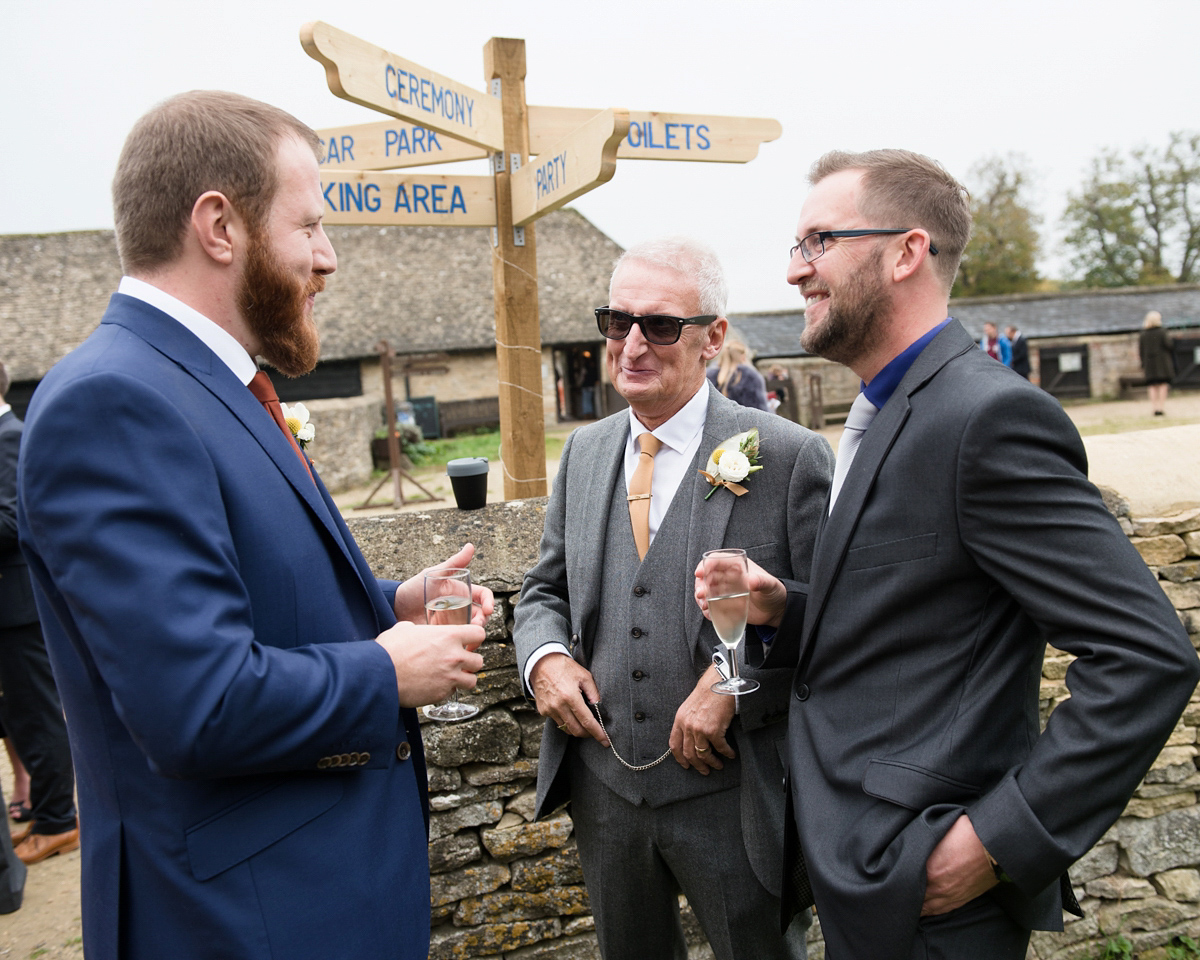 Andy Proper was the man behind the lens at this wedding, and what a wonderful job he did, alongside colleague Trish Holden.
"We loved working with Andy.  He made us feel comfortable from the start, which was important because neither of us are comfortable in front of a camera."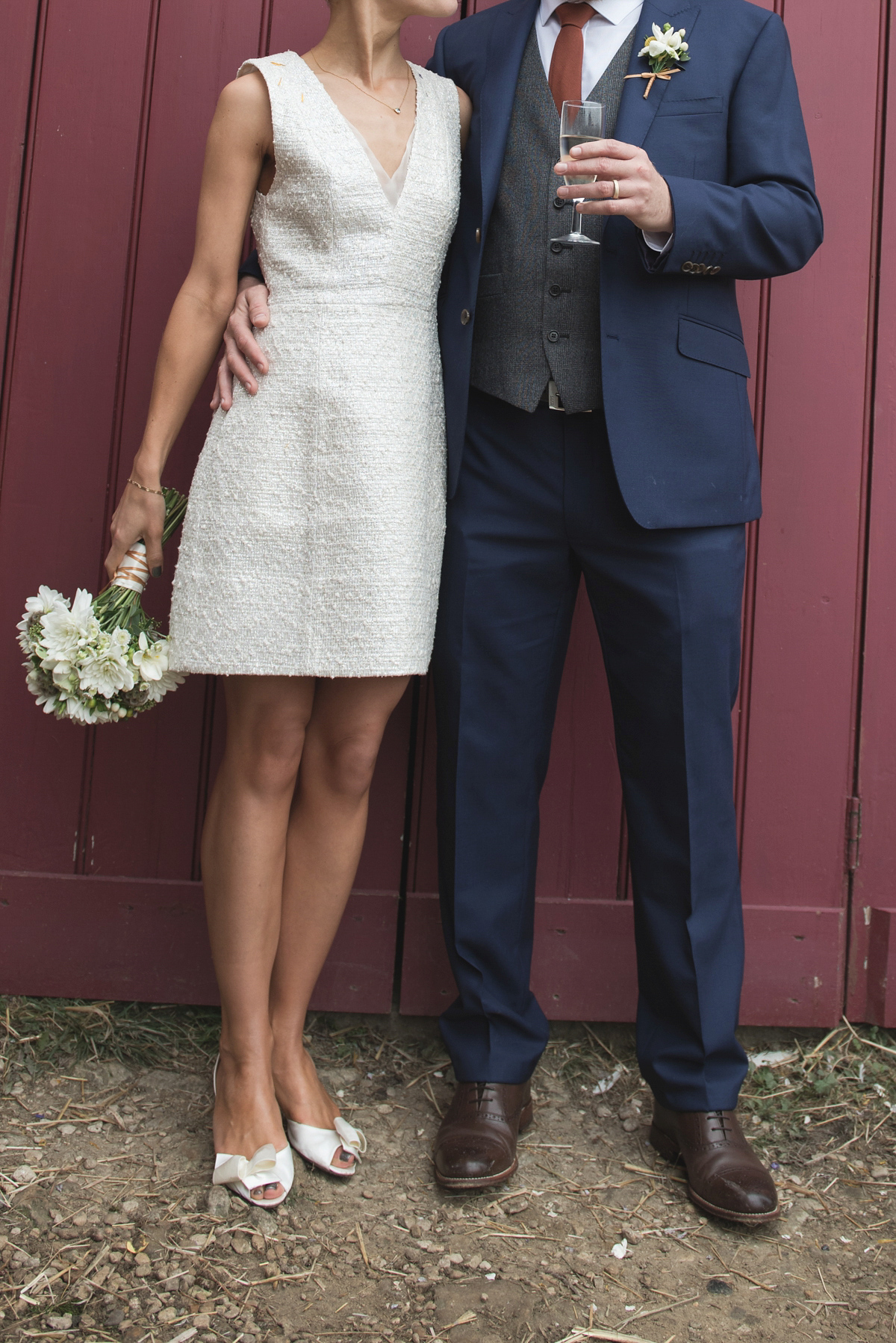 "We had a second photographer – Trish – who came along to shoot some additional photos, including 'getting ready' shots."
"We weren't going to have pre-ceremony shots but I'm so pleased we did as she captured some lovely tender moments between my nieces, me and my parents."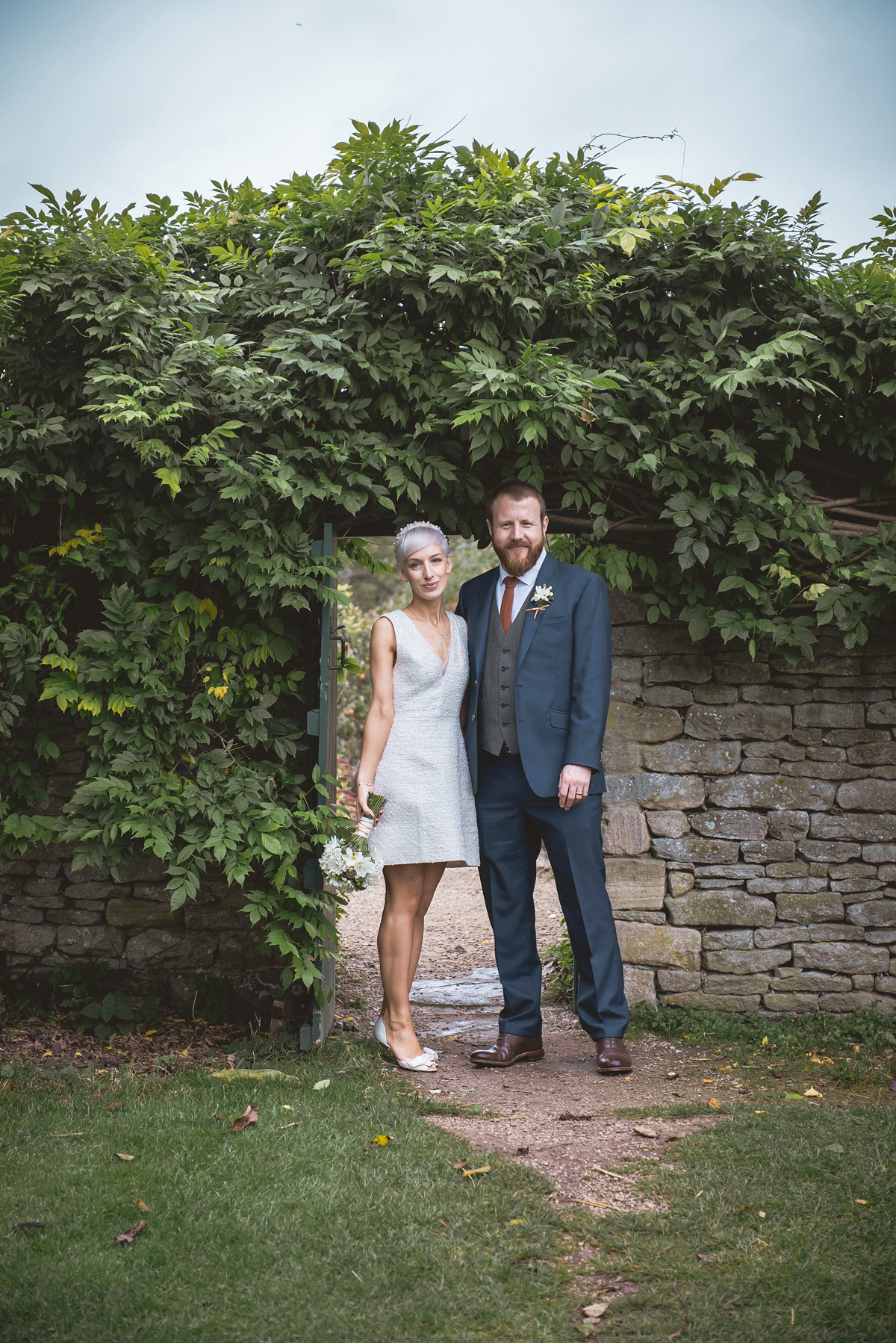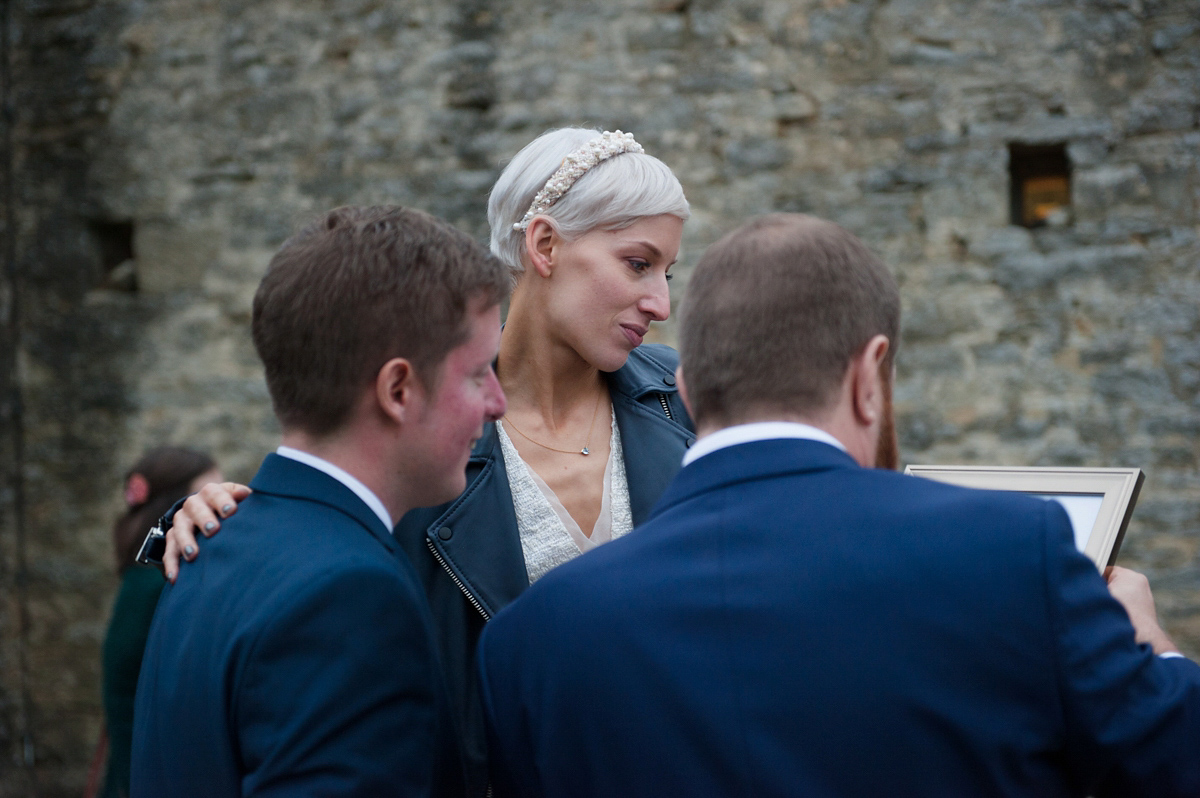 Andy is studying for a Masters in brewing so it was important for him to choose the beer for the bar.  He envisioned a mini beer festival type feel, so spent a lot of time testing beers to ensure there was a wide variety.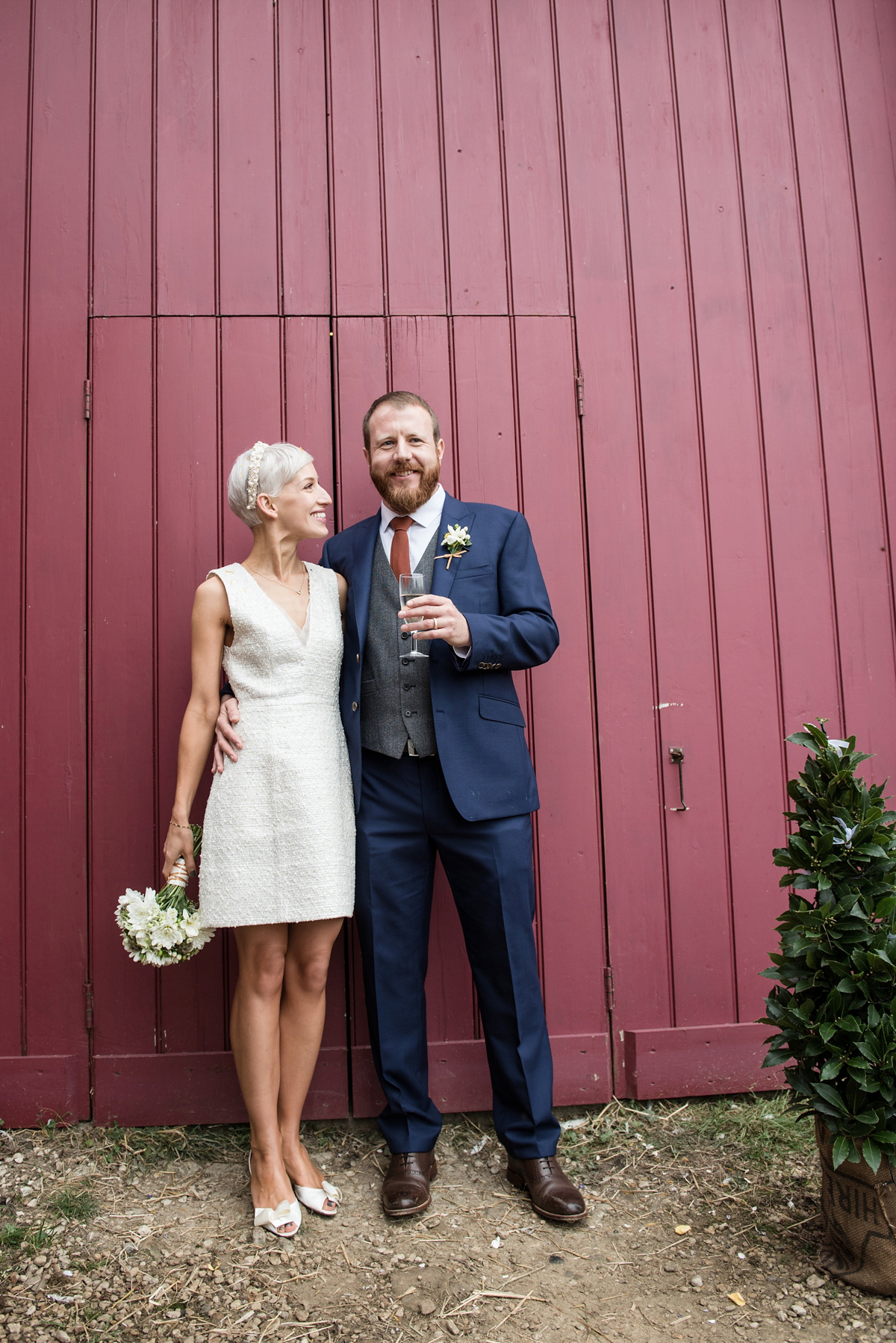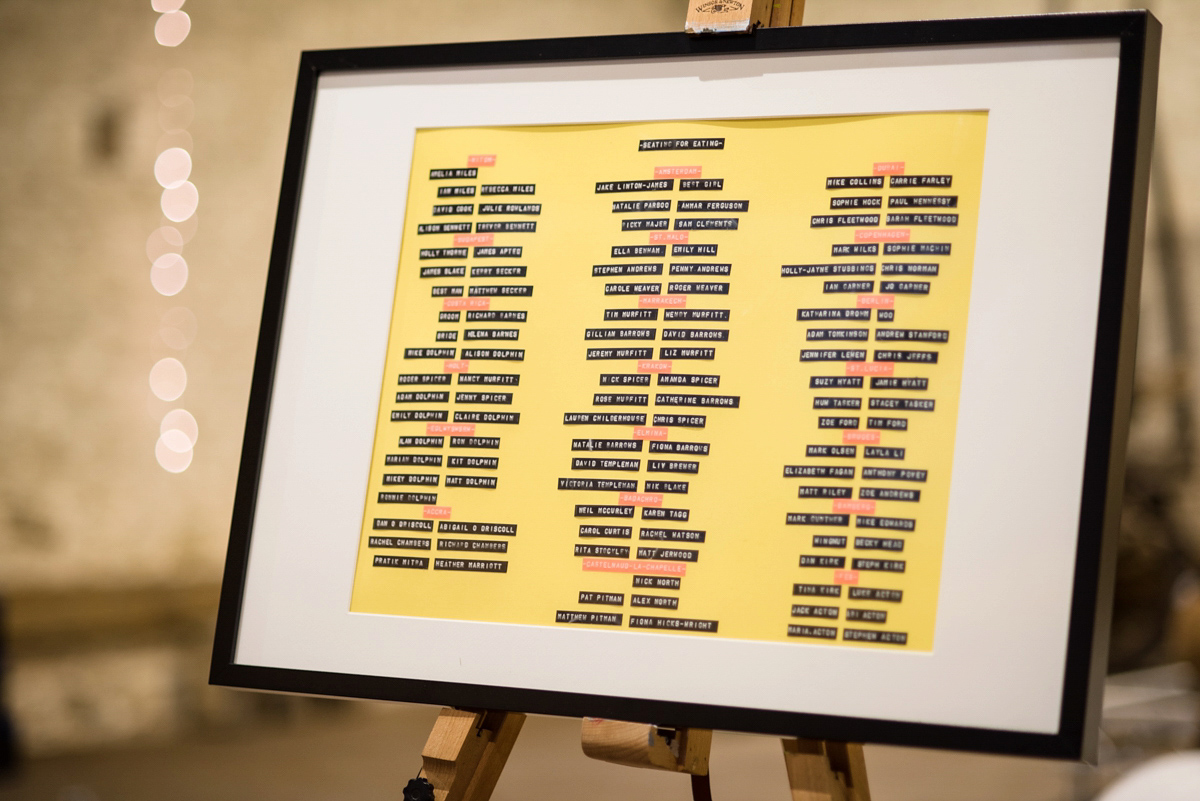 Catering was the work of Abi Pritchard at Abi's Kitchen who came recommended by the venue (no details).
"Abi was wonderful.  We felt so comfortable with her and she helped us a huge amount throughout.  We wanted a relaxed family dinner vibe so we opted for roast pork with all the trimmings."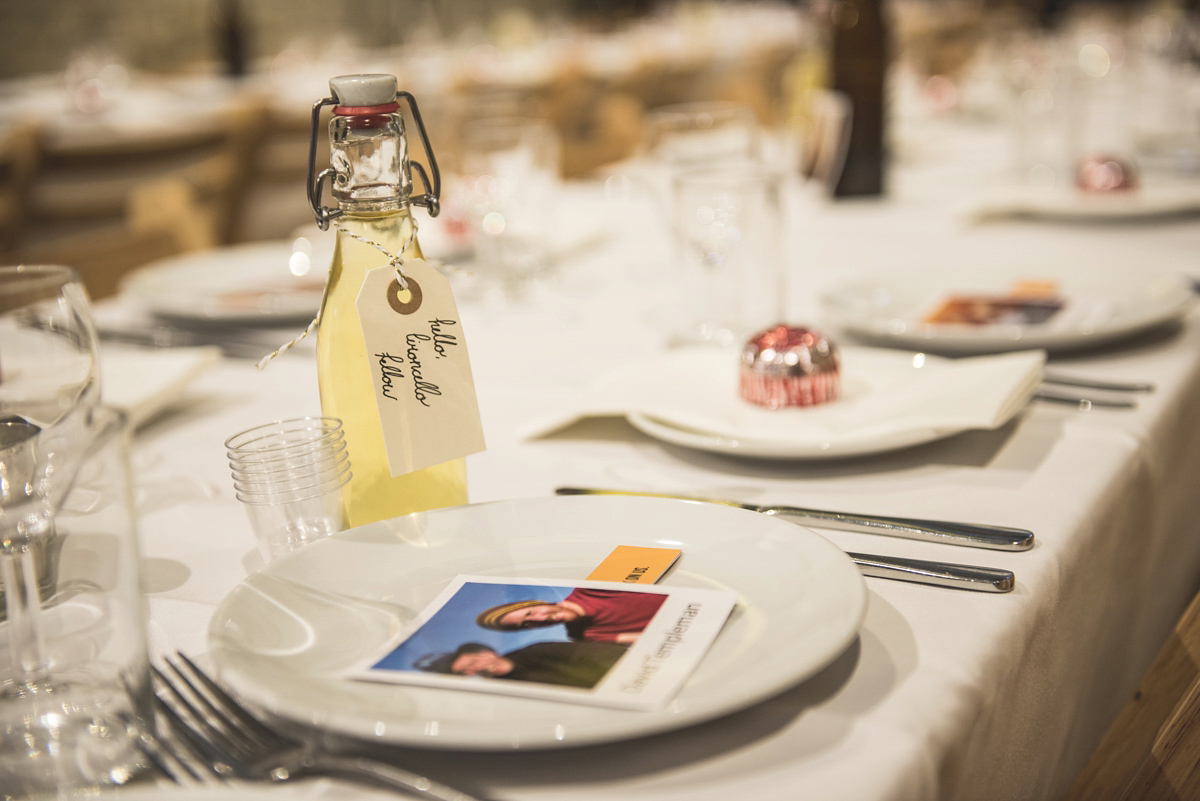 "We had photos of each guest with us as their place setting. This was a lot of work, but it was important to us as it emphasised to each guest how much they mean to us, with a shared memory or fun event."
Guests were also given a drinks voucher for the bar and a Tunnocks Tea Cake and Andy's parent's made limoncello for the table.  Younger guests received some super-cute finger puppets.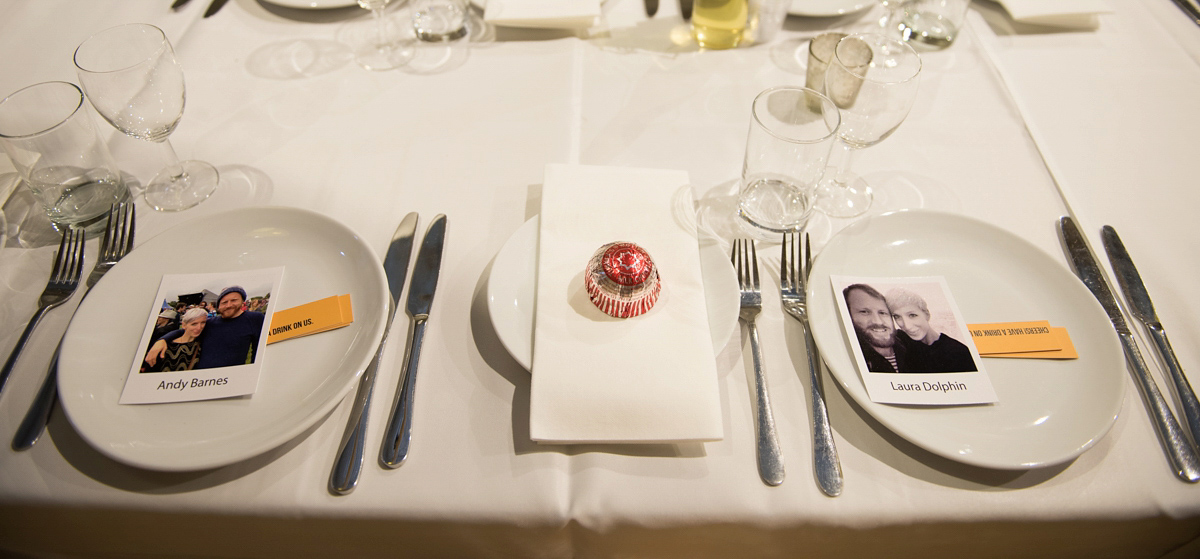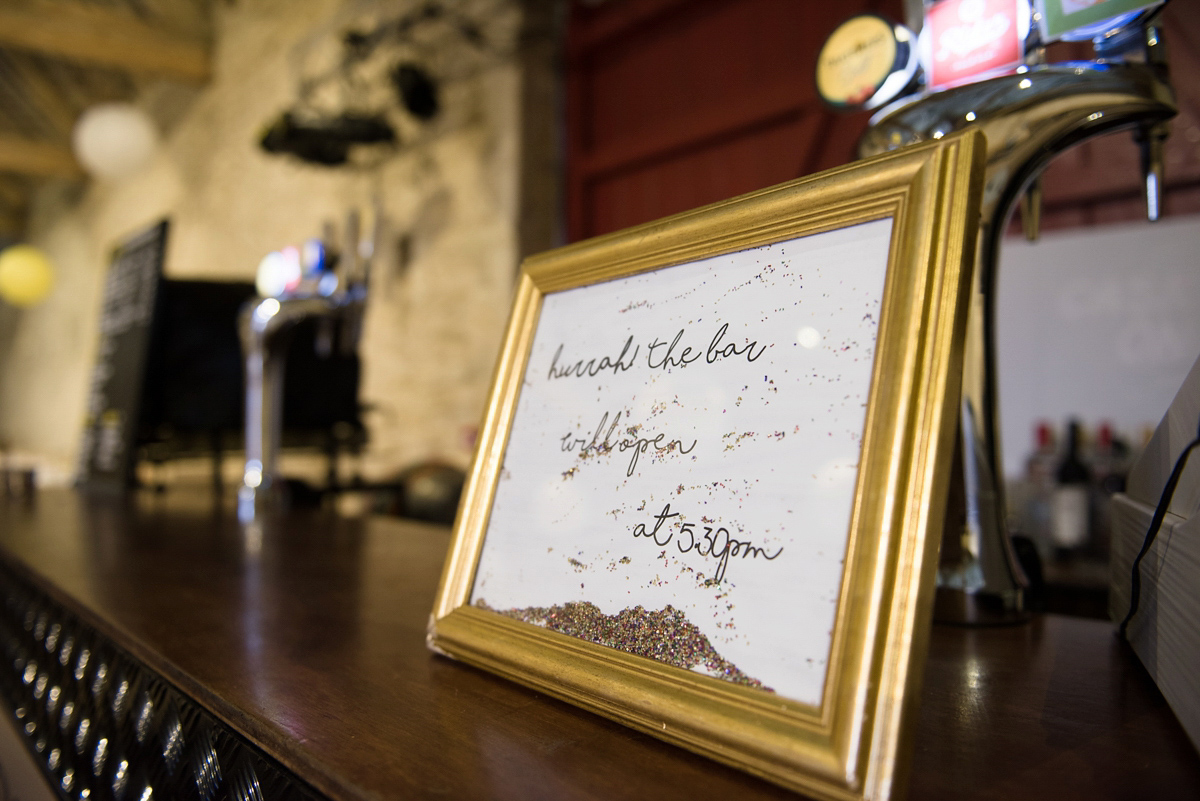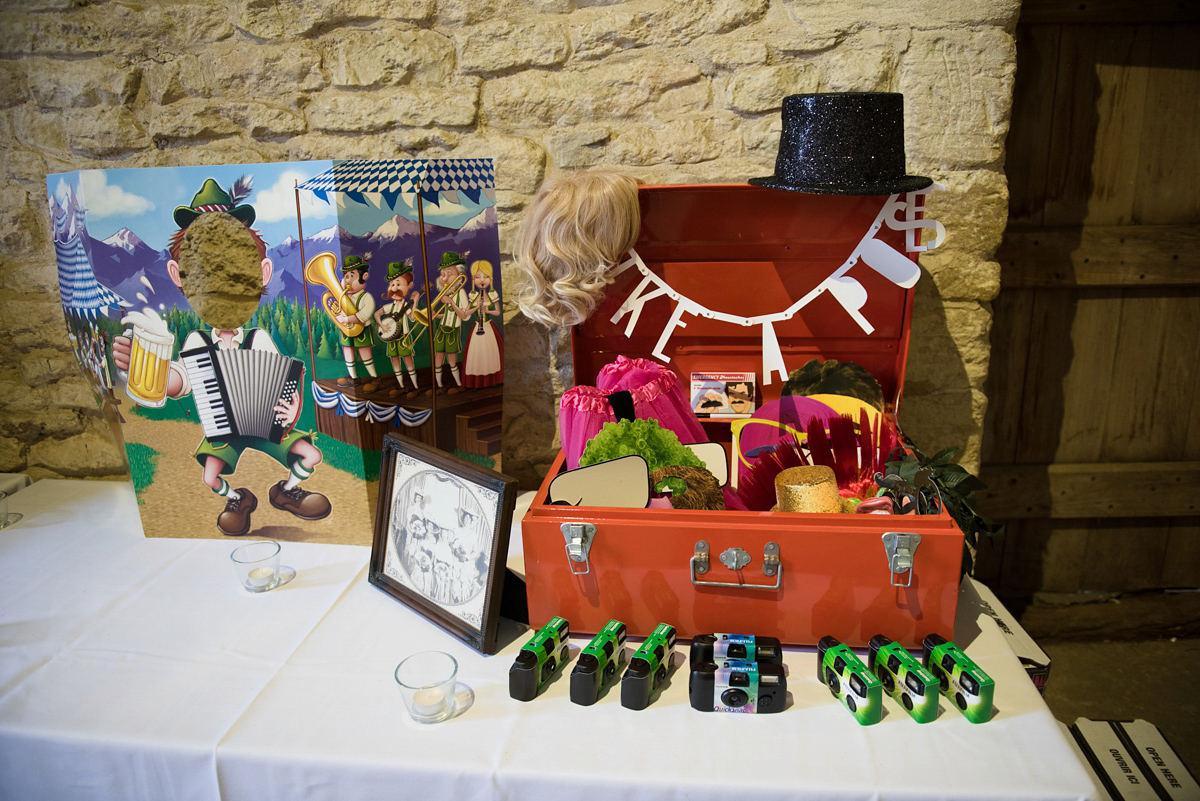 "For both of us, our favourite part of the day was the speeches.  Andy was really nervous but it was lovely– funny, well considered and really well structured.  It was important to me to do my own speech too."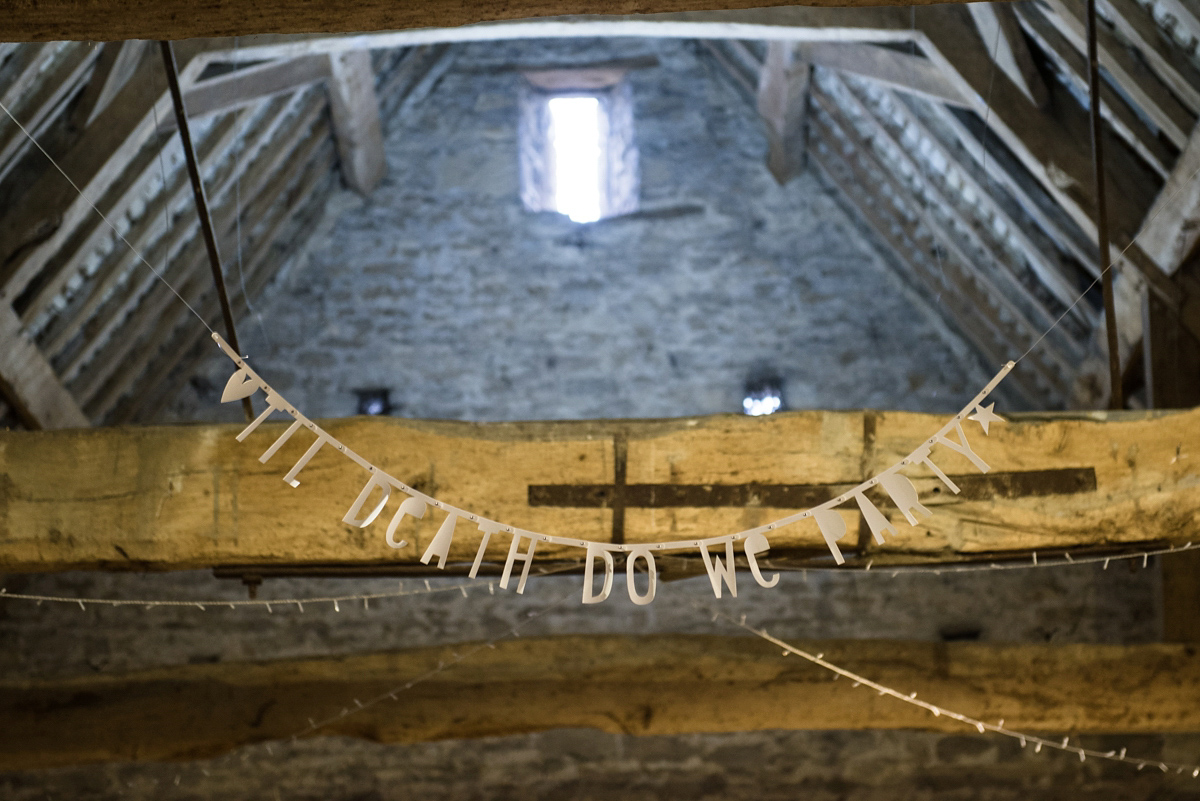 "My Dad's speech was next and I was so proud of him. Since his illness (throat cancer), his voice hasn't been very strong, so he was wondering if he'd be able to last through.  However it was wonderful – hilariously funny, he had the room captivated and even roped in my nephews to be hecklers.  I laughed from start to finish.  Finally it was the best man's speech, which I think is the best bestman's speech I've heard."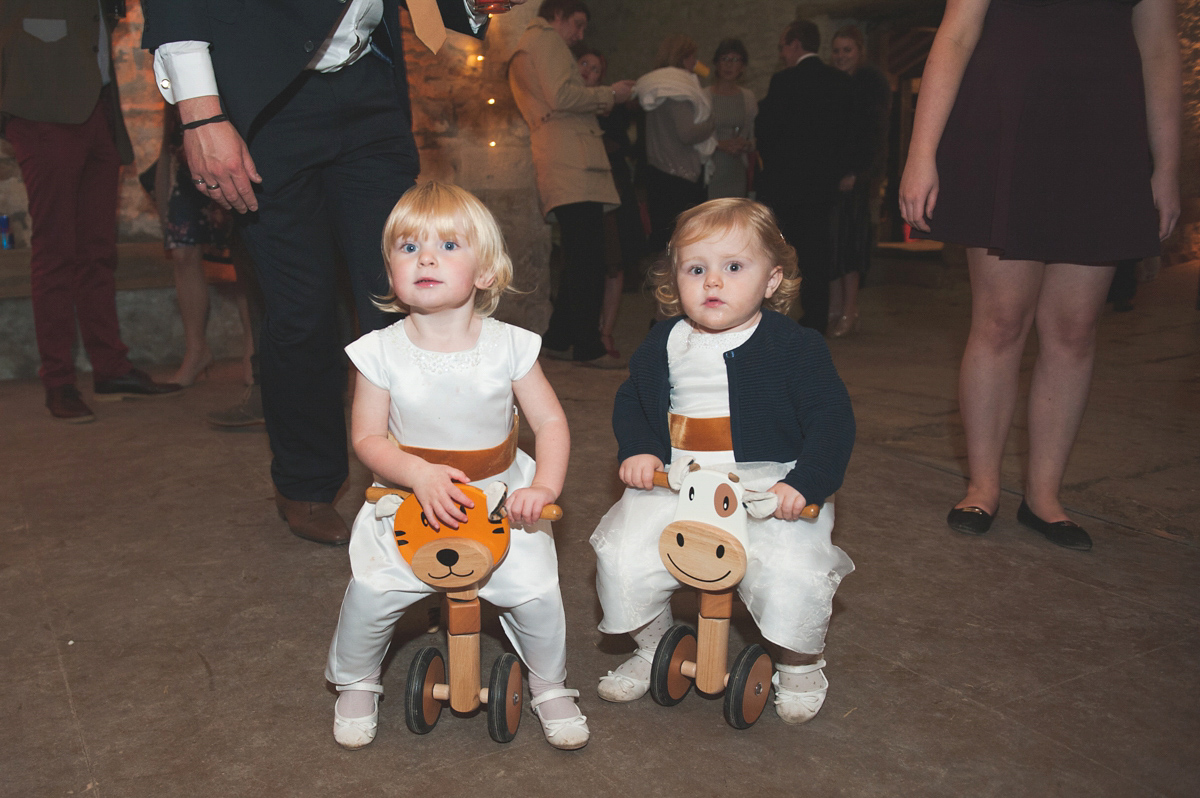 "In the evening we wanted street food, so we asked Bluegrass Bill's, who do amazing American Soul Food – Brisket Chilli, Hot Dogs, 'Slaw, and a Veggie Chilli.  Our guests raved about it and Billy was great to work with."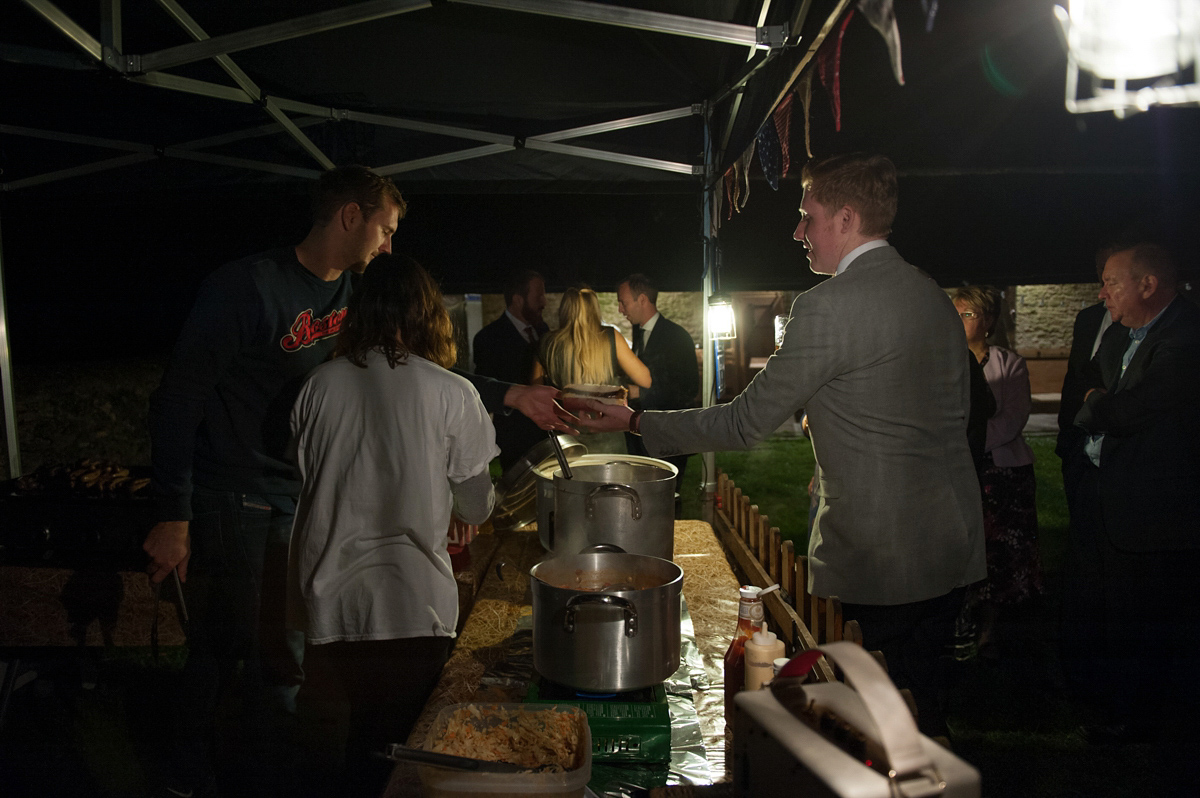 "Our friend Gary DJ-ed for us at the start of the night and then we had a band called The Jets, who we found on Wedding Bands after a lot of searching.  Their set was brilliant and everyone danced all night."
"In the larger barn we needed a dining hall and a dance floor, so we zoned it with hanging lanterns over the dining area and fairy lights over the dance floor. We built a stage for the band, and our best man used clever lighting to create different atmospheres through the day.  We also decided to keep the traditions that had meaning for us but not feel under pressure to keep traditions that we didn't feel relevant.  For example, we didn't have a cake as it just wasn't important to us, and we didn't do a first dance."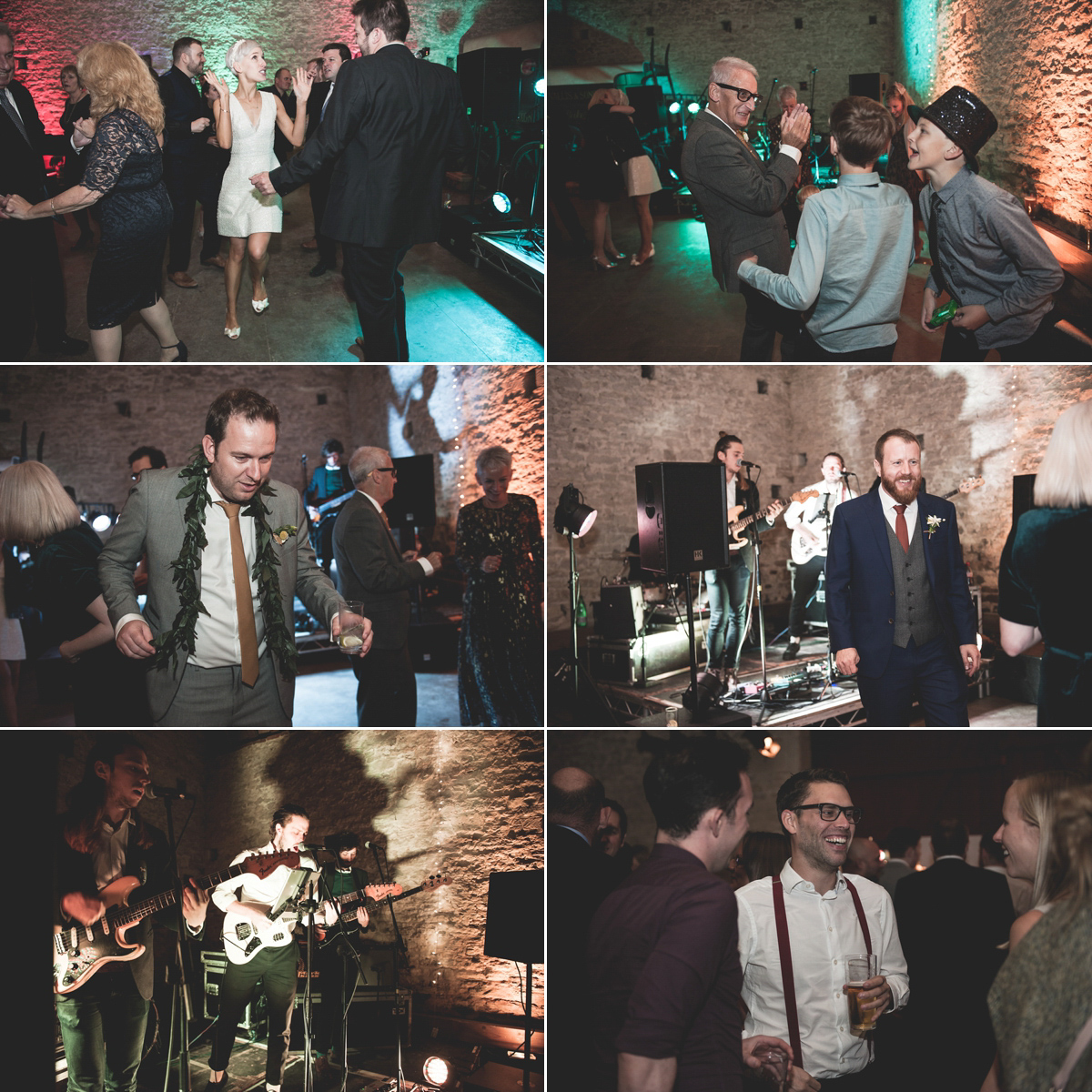 Words of Wedded Wisdom
"Having elderly grandparents and serious illness in the family, we were most concerned about having the people we love with us.  That put a lot into perspective for us.  As long as everyone we wanted to be there was there, we knew we'd have a good day.  Don't sweat the small stuff.
Focus on what is important to your guests.  Our main aim was for them to have fun and we focused on that throughout. We discarded anything that we didn't think our guests would notice or need and focused on the elements we thought would make a difference.
I was hugely anxious before the day about being the centre of attention, but I didn't feel this on the day at all.  Your guests are there for you and I felt like the room was just full of love."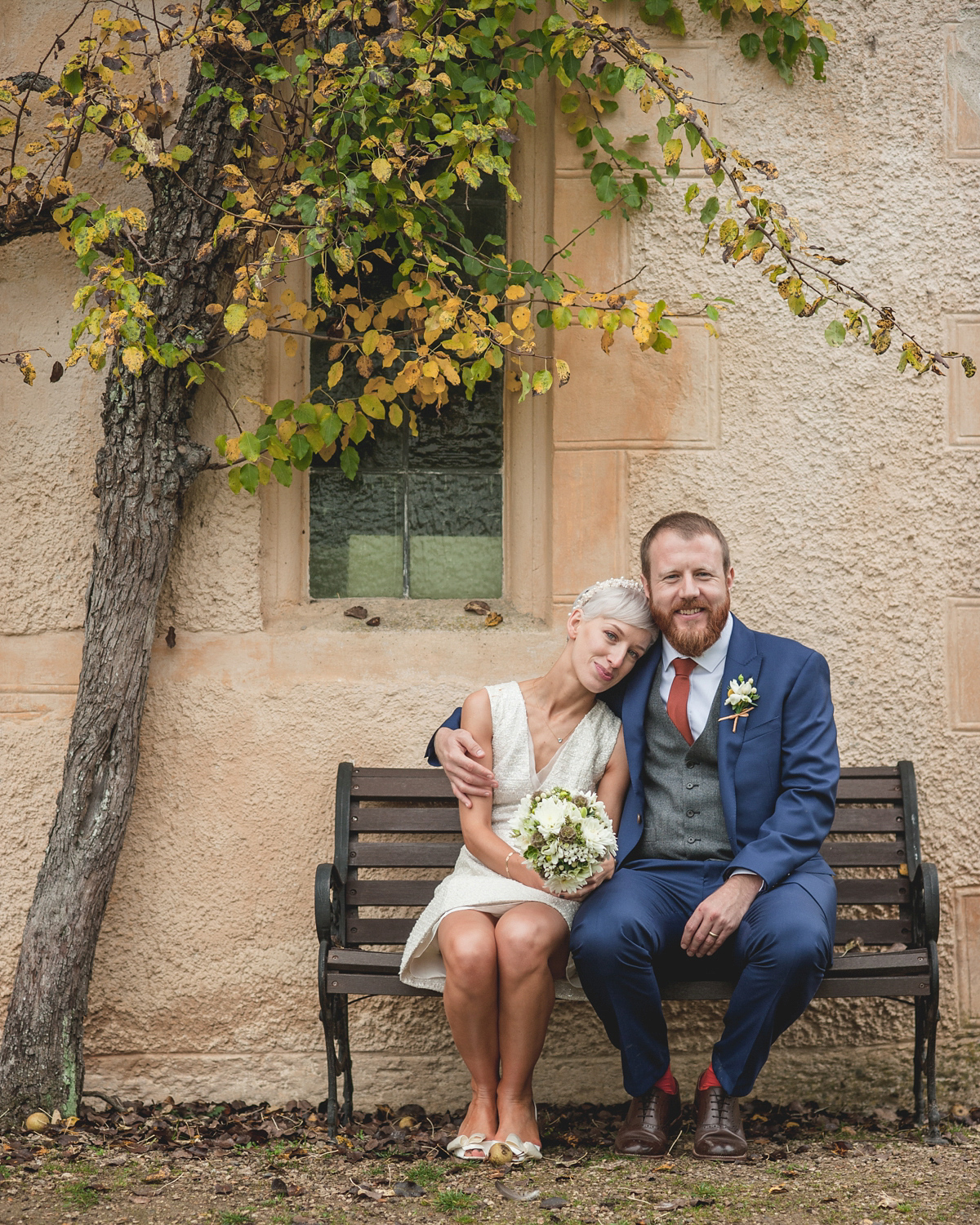 So many thanks to Andy Proper  and huge thanks and congratulations to Laura and Andy.  Inspired by this lovely 60's style frock?  Take a peek here for some more beauties…
Love, S x