We have excellent relationships with a lot of talented wedding photographers here in the UK and it's one of those treats of the job when so many of them keep coming back to share their work on Love My Dress. One said photographer goes by the name ofRichard Skins, and we've been sharing his work for a few years now. You will find Richard listing in our wedding directory, Little Book For Brides, and he comes with a highly recommended stamp of approval Richard was the photographer chosen by couple Emily and Joe for their September wedding in the garden of Emily's parent's home.
Emily is a Graphic Designer at Penguin Random House (that's the second PRH employee whose wedding we've shared this week! Coincidentally we also shared this paperback lover's wedding yesterday too – do you guys know each other?!) and she married Joe, a Commercial Manager at a software company on 17th September last year.
"We married in Joe's family's church, which is a 15 minute drive from my family home – a lovely old cottage in East Hanney, Oxfordshire. The cottage has a great garden, which backs onto fields. When we came back from Ireland to celebrate our engagement with my family, we had a celebratory breakfast in the garden, and Joe suggested that we might have our reception there. We went on to look at lots of venues in Oxfordshire and London, before realising the garden would be perfect and so meaningful. We also had a large guest list, which not many venues we looked at could cater for. We spent many weekends over the summer leading up to our wedding working with my parents to get the garden ready, this was a really memorable part of our wedding planning."
Photography by Richard Skins
"We can't recommend Richard Skins enough – his beautiful photography is so dynamic and warm, full of energy and really natural. He has an eye for stunning compositions, and stealthily captures every funny and sentimental moment. From when we first made contact he was relaxed, fun and approachable. He was very happy to start the day on a motorboat on the Thames photographing Joe and his friends' rowing race, he gathered all 140 odd family members after the ceremony and all 240 odd guests for a group picture at the reception, and steered his way through a ridiculous dance floor late into the evening.
Amongst all this, Richard scheduled in moments throughout the day for just the two of us – this was something we loved about his approach, its easy to get swept up as the day goes so quickly and those moments were a chance to press pause and focus on each other. Richard has given us an incredible package of photographs, and the easy-to-use online gallery is perfect for us and our family and friends to look through, download or order pictures."
"I went to a number of shops not knowing what it was I would want. Ritva Westenius was the first shop we walked into. Chenca Williams has an incredible collection – you can see her background as a professional ballerina in her dresses, they felt quite theatrical. Chenca was brilliant, we tried and retried loads of dresses; I genuinely felt about five years old playing dressing-up again, it was a really fun morning."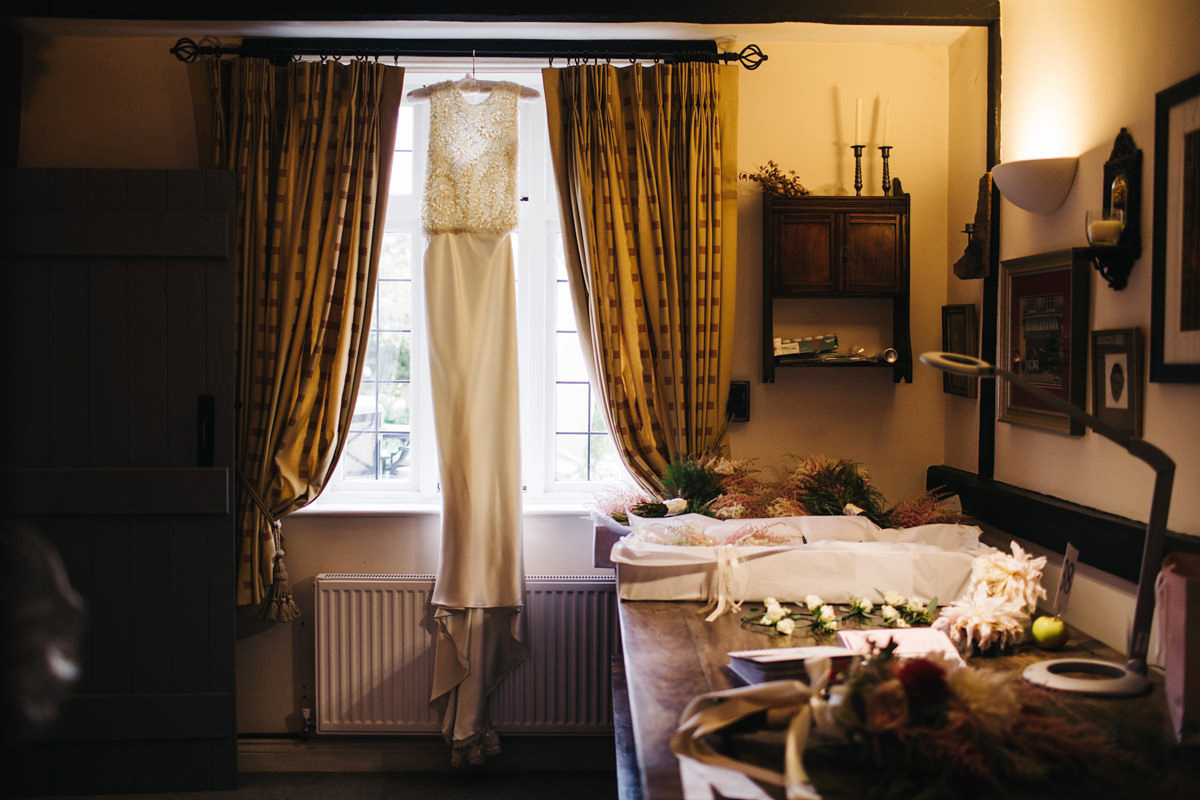 "My wedding dress was actually the first dress I pulled out; I loved the neat boat neck with the textured tulle and sequin detailing, it felt playful and had a soft sparkle, and I loved the simple and elegant drop of the silk, which had a golden tone and quite a long train. Chenca added the detailing from the top of the dress onto the train hem. I tried on some amazing dresses in other boutiques but none felt the same."
"I borrowed the bracelet that both Joe's elder sisters had worn on their wedding days, it's a lovely pearl and crystal bracelet."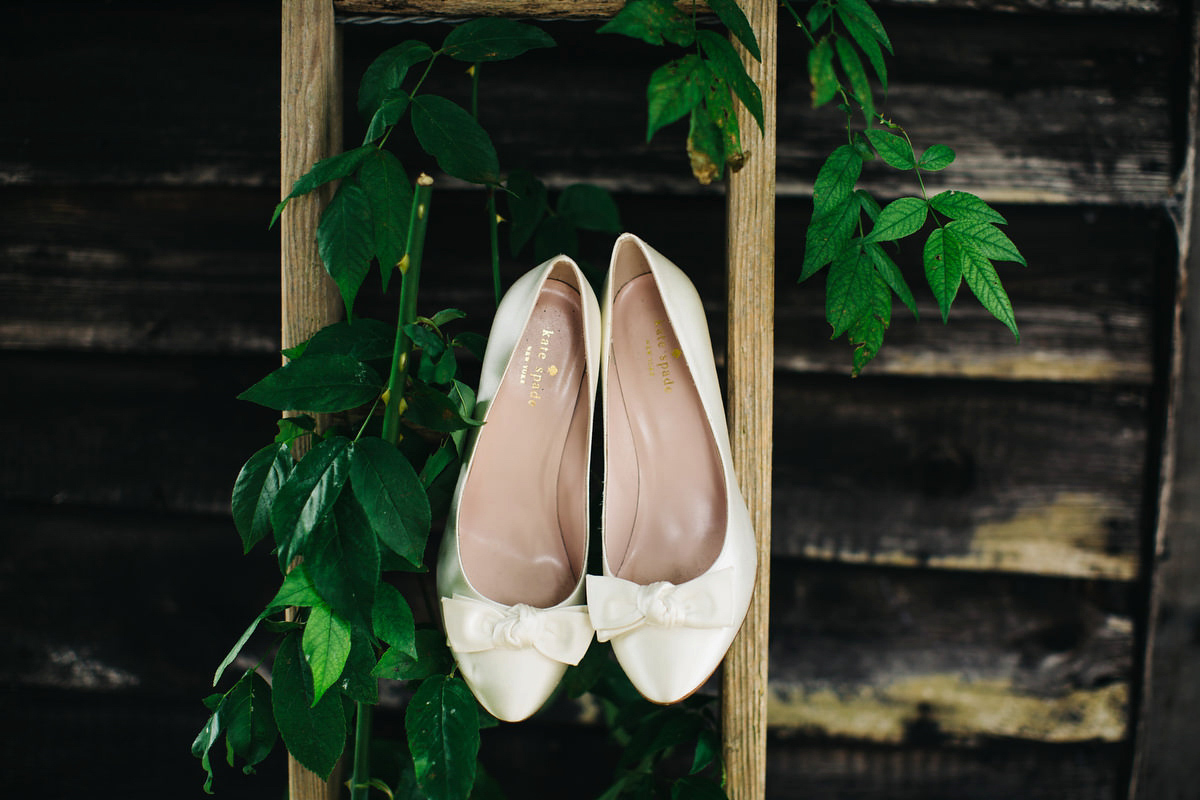 "Our florist, Helen Smith of Passion 4 Flowers, was amazing. Helen was completely open to trying all our ideas and did the most incredible job. We particularly wanted to have hanging blooms and herbs throughout the length of the marquee – these worked so well with the height of the tent, had a lovely smell and complemented our menu and the garden. Helen was also happy to create corsages for the bridesmaids waists, arrangements for the car bumper and the boat that sat in the garden."
Getting married in September called for lots of Dahlia! My mum had taken care to grow beautiful café au lait blooms around the garden as well as lots of pom pom dahlia and roses in reds, white and soft pinks. My bouquet had café au lait, David Austen roses and astilbe, jasmine vine and eucalyptus. All buttonholes and corsages worked with similar flowers, the bridesmaids had individual corsages using roses or dahlia and big bunches of astilbe with rosemary fringes, the flower girls held small posies of astilbe, Joe's ushers had sweet akito rose buttonholes and Joe's buttonhole had a red dahlia next to a pink sweet akito rose. In the church we used all the same arrangements but only in white with greenery, which worked really beautifully."
"Makeup artist Phoebe Hayter and hair stylist Lydia Johnson worked together on me and all six of my bridesmaids in the morning. They were very relaxed, professional and fun.
I knew I wanted a thick braided up-do and wanted some hair pins to pop into it, Chenca had 3 absolutely beautiful pearl pieces that we popped down the braid.
Bottega Veneta is my favourite special perfume, I came across 'Knot', its so gorgeous and the name seemed very appropriate!"
"I wanted something simple and classic to drop the length of my train so I chose a Cathedral length silk tulle veil from Ritva Westenius."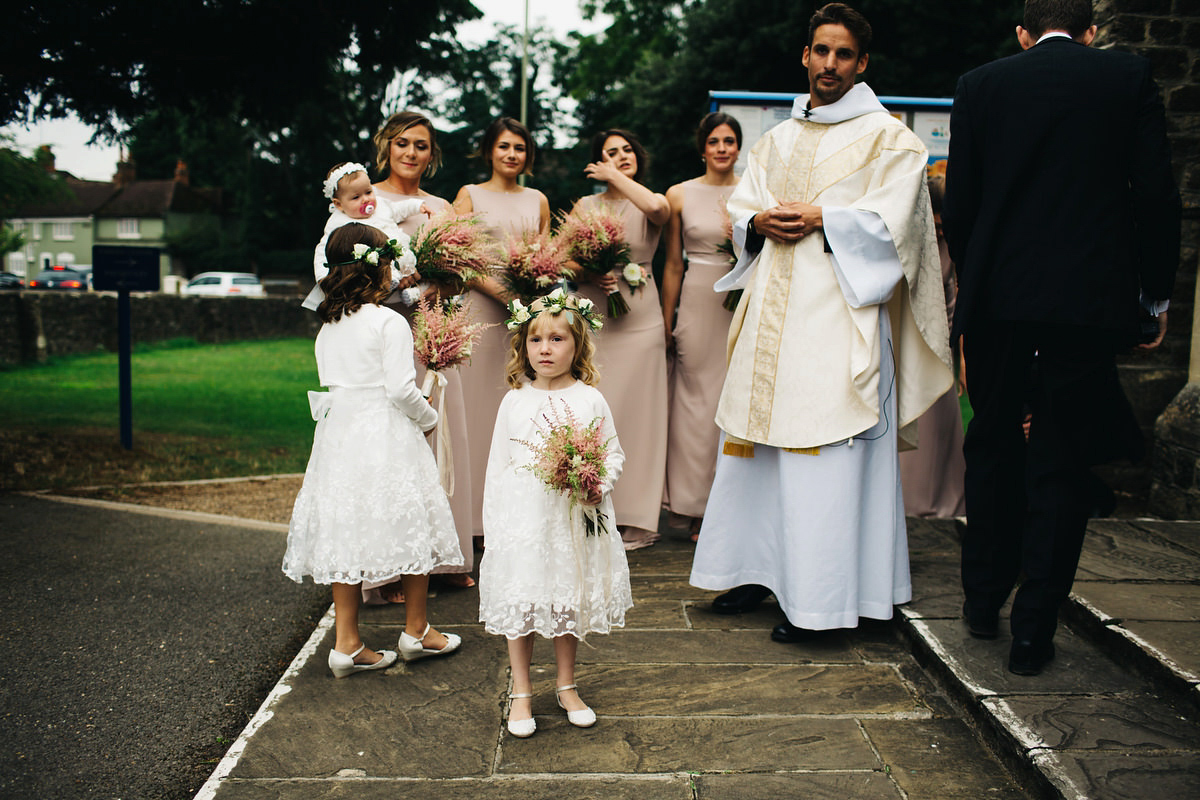 "Joe's velvet jacket, trousers, shirt and bowtie were all by Hackett – their top floor in Sloane Square store has a bespoke fitting department which allowed Joe to get a well fitted suit."
"Joe had picked some stunning cluster diamond earrings from Italy (with the help of a friend in the diamond trade that helped him with choosing my engagement ring). Sadly there was a problem in the delivery and they didn't arrive in time. Luckily, the day before the wedding we ran into Abingdon and Joe picked out some pretty silver cluster diamond hoops from H M Samuel – they looked really lovely on the day."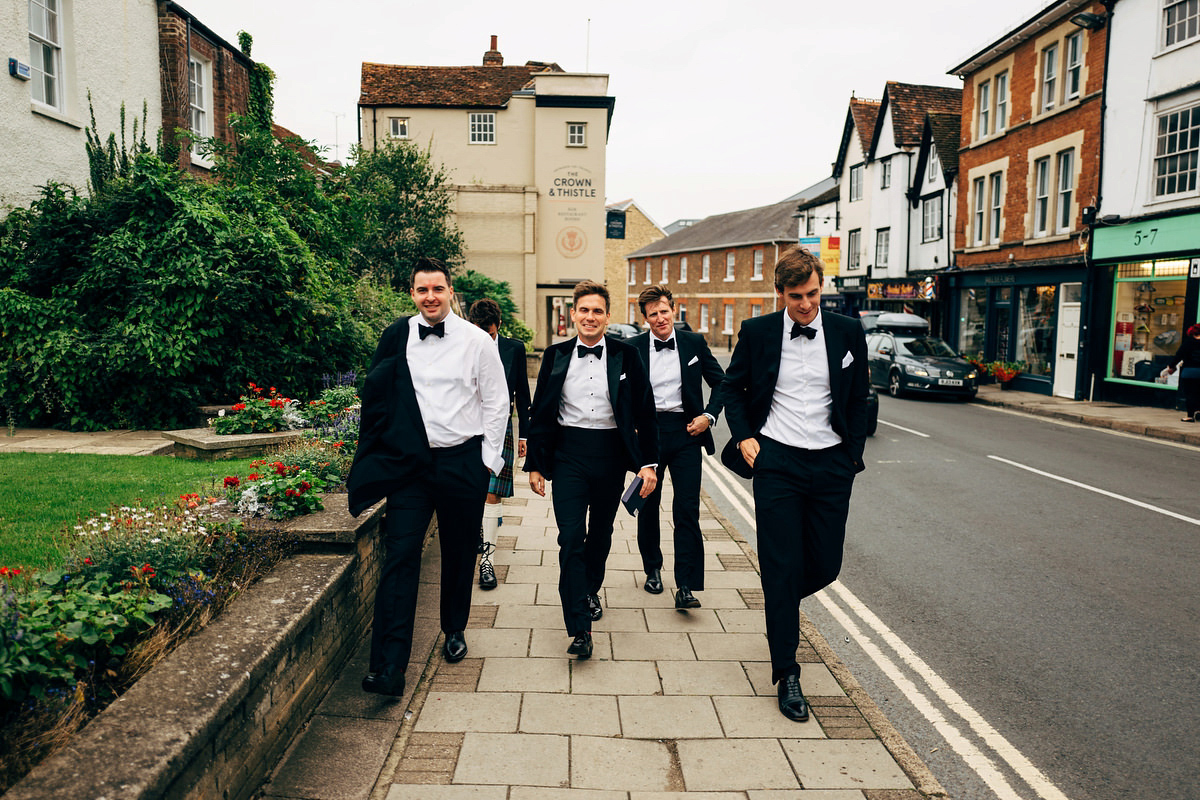 "My father accompanied me into the ceremony. For both our processional and recessional music, we had the D'Aranyi String play instrumental tracks from Patrick Doyle's 'Much Ado about Nothing' – they created music based on the 'Hey Nonny Nonny' tune. My uncle played to this on the guitar, and my sister in law sang Panis Angelicus and Songbird at other times during the service."
"D'Aranyi String played during the processional and recessional."
"From the moment our guests arrived at the church, our priest was a hot topic, as he was a bit of a David Gandy lookalike ("the best looking priest in the world"!).  He took centre stage in the best man's speech, the marquee erupted with chanting and wolf whistles, our poor priest sat at the top table and held the napkin in front of his face. He is still the biggest talking point of our day."
"We chose a reading from the book of Ruth 1: 16-17, because we like its message about caring for other people in your life as you do for each other."
Extract from the book of Ruth 1: 16-17

Wherever you go, I will go; wherever you live I will live;
your people will be my people and your God will be my God too.
Wherever you die I will die and there I shall be buried beside you.
We shall be together forever and our
A reading from the Letter to the Hebrews 13:1-4a, 5-6b
Continue to love each other like brothers,
and remember always to welcome strangers,
for by doing this, some people have entertained angels
without knowing it.
Keep in mind those who are in prison,
as though you were in prison with them;
and those who are being badly treated,
since you too are in the one body.
Marriage is to be honoured by all,
and marriages are to be kept undefiled.
Put greed out of your lives and be content with whatever you have;
God himself has said:
I will not fail you or desert you,
and so we can say with confidence:
With the Lord to help me, I fear nothing.
"Our rings are from Gold Arts in Brighton. We went to Brighton for a long weekend, and unexpectedly found dozens of jewellery shops in The Lanes. My wedding ring has very small Emerald cut diamonds set in the ring, which complemented the Emerald cut engagement ring. Joe went for a simple platinum band."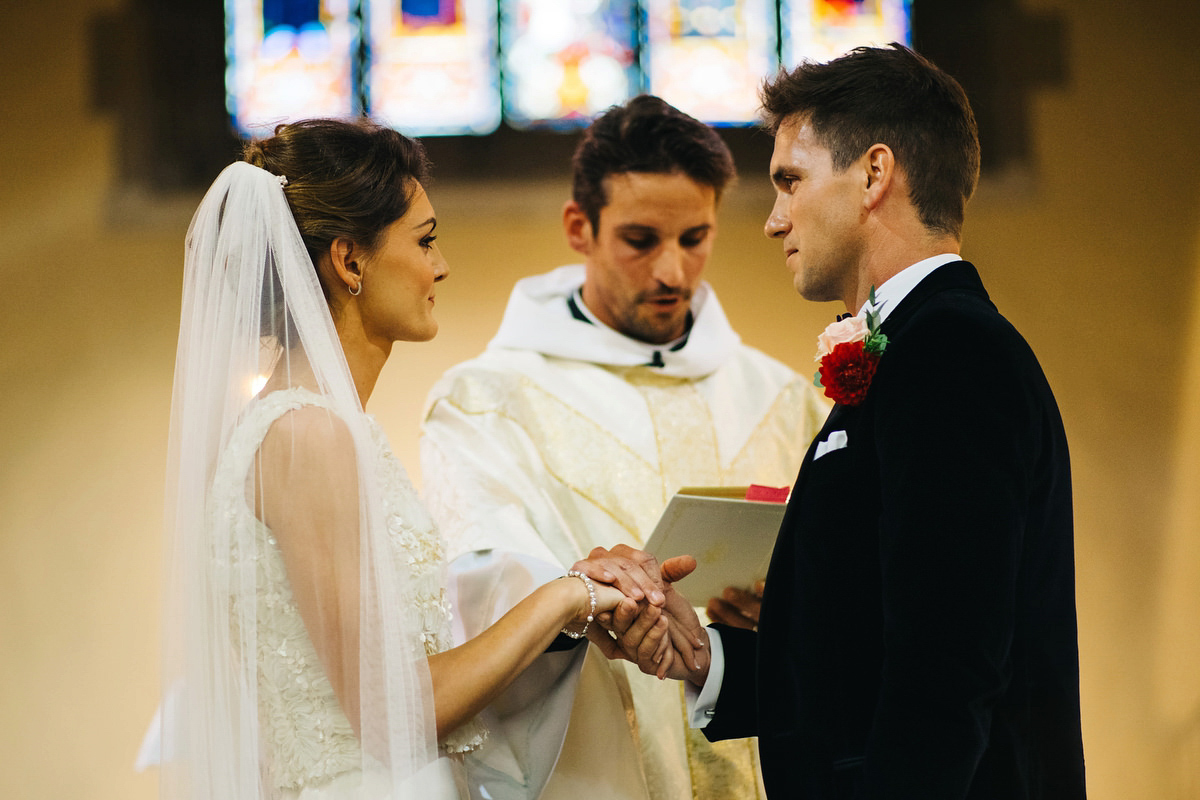 "Joe and I met through our cousins in Summer 2012. He held a BBQ party and we definitely had a moment when we were introduced, and spent the entire time together chatting. We were engaged on a holiday with Joe's family in Kinsale, West Cork, in August 2015. Joe woke me early one morning before the rest of the house were awake."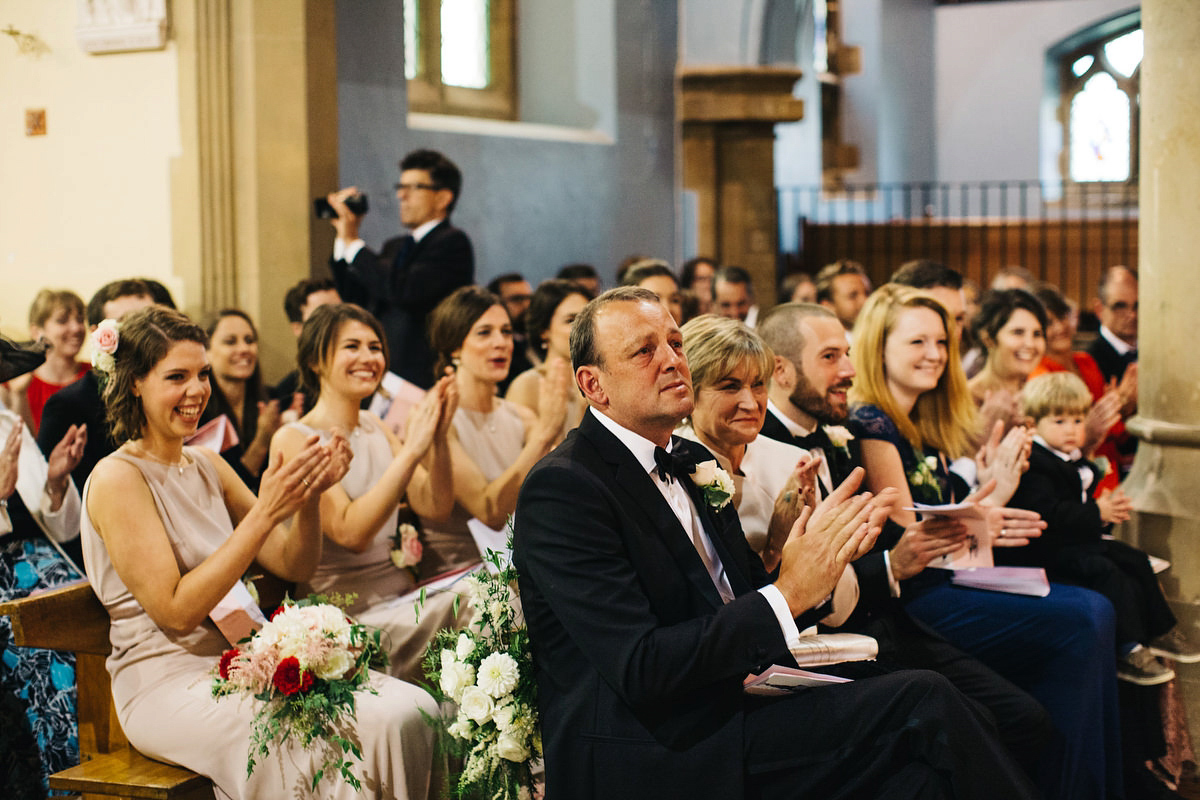 "He suggested we spent the morning walking and drawing around the harbour, and we'd bought some sketch materials the day before."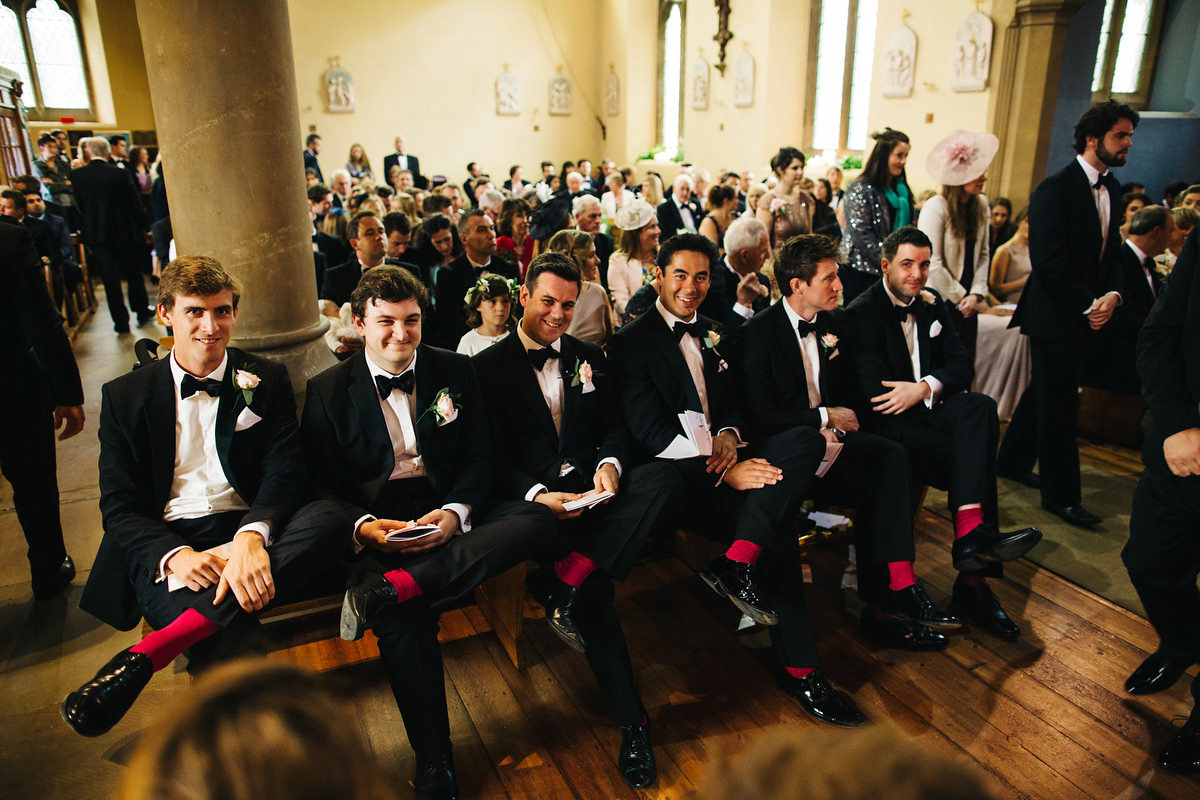 "When we left the house he pulled a bouquet of white roses out of a bush outside the house that he'd hidden there that morning, which I simply put down to him feeling romantic (!), and we went for breakfast at Mother Hubbards Café."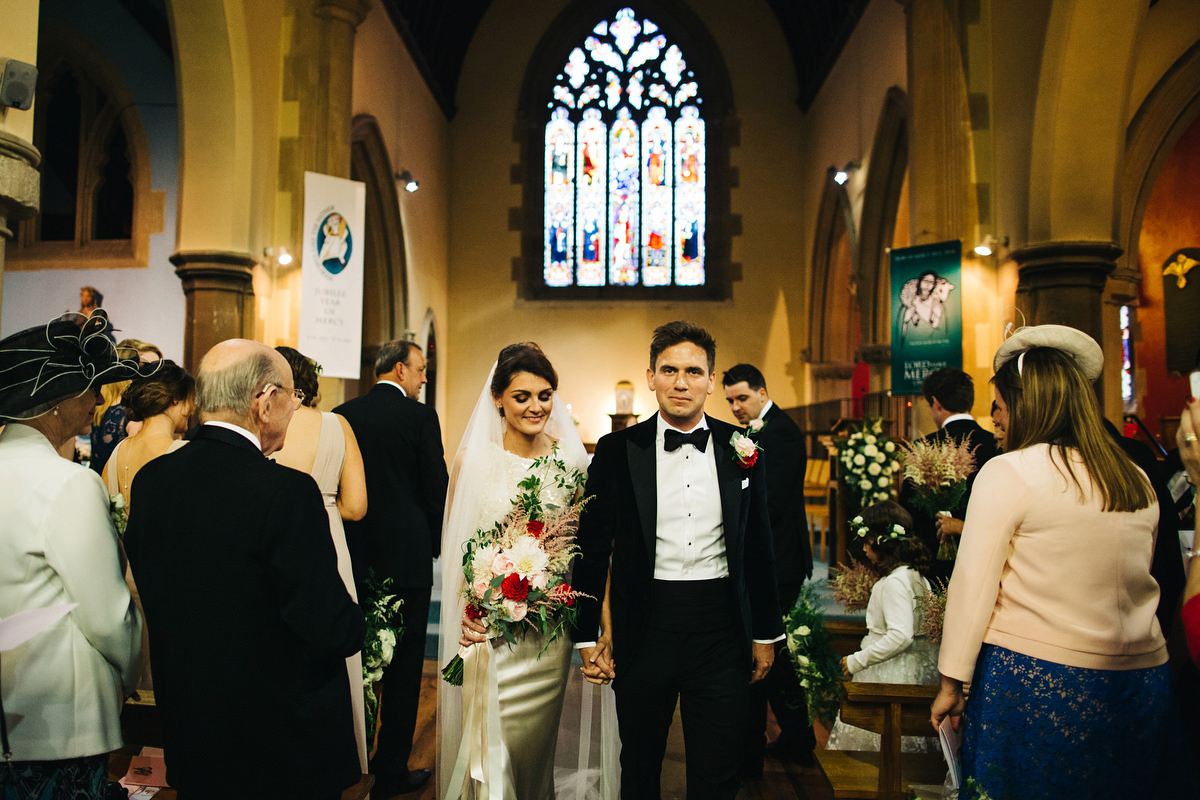 "A few hours later, we were sat drawing the view from the top of St Charles Fort overlooking the harbour and, once a few tourists had cleared, Joe got down on one knee and presented an stunning diamond ring. We walked down to the Bulman Pub for champagne, bumping into Joe's family en route and hiding my hand just to keep in between us for a couple more hours."
"The band of the ring was quite a lot bigger than my finger so we folded a beer mat and wedged it in to hold it tight! We then had a big celebration that evening with everyone. We both thought a late summer wedding would be beautiful, Richard Skins was the first booking we made, he had 1 date available in September 2016 and so the date was set!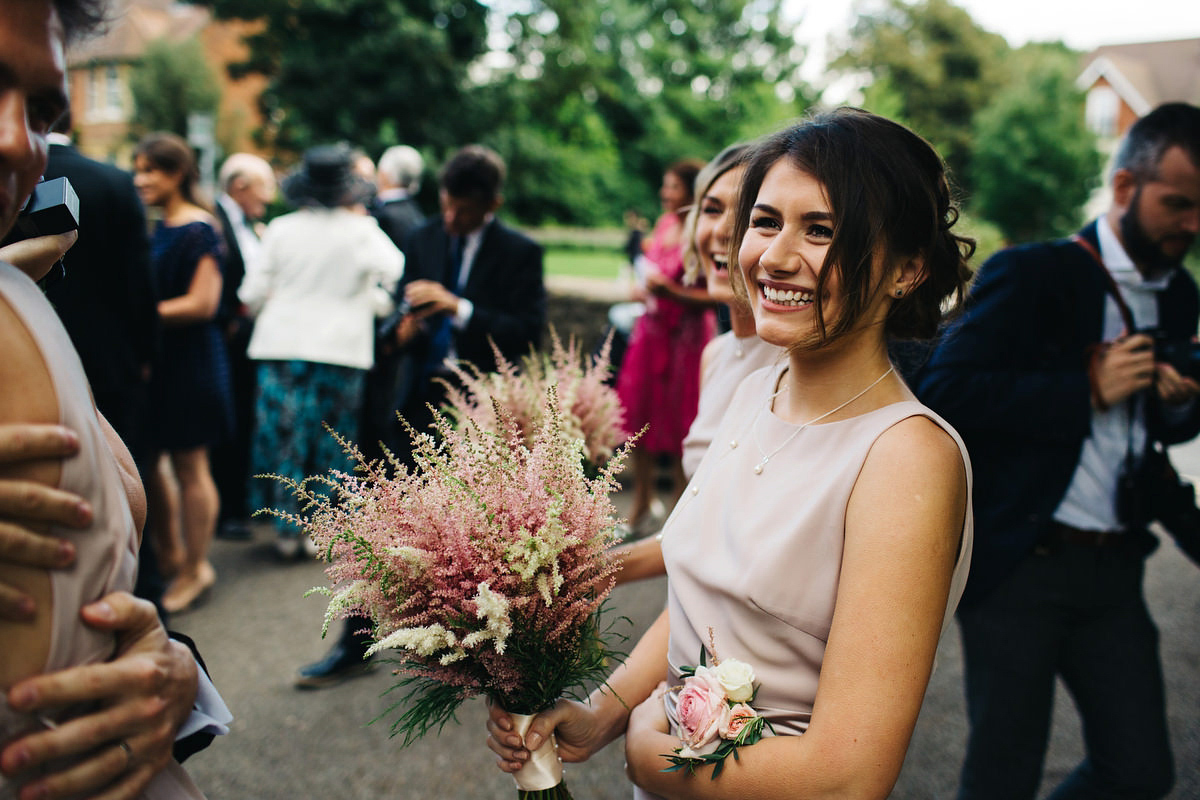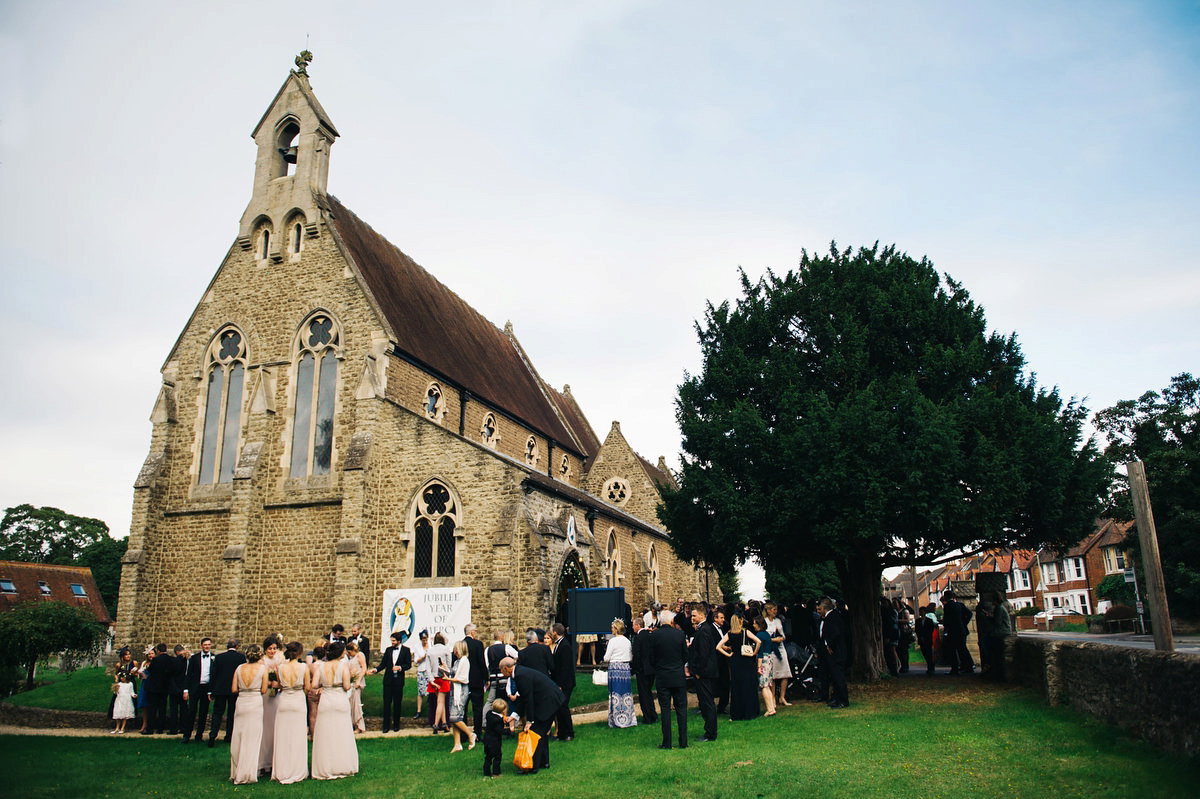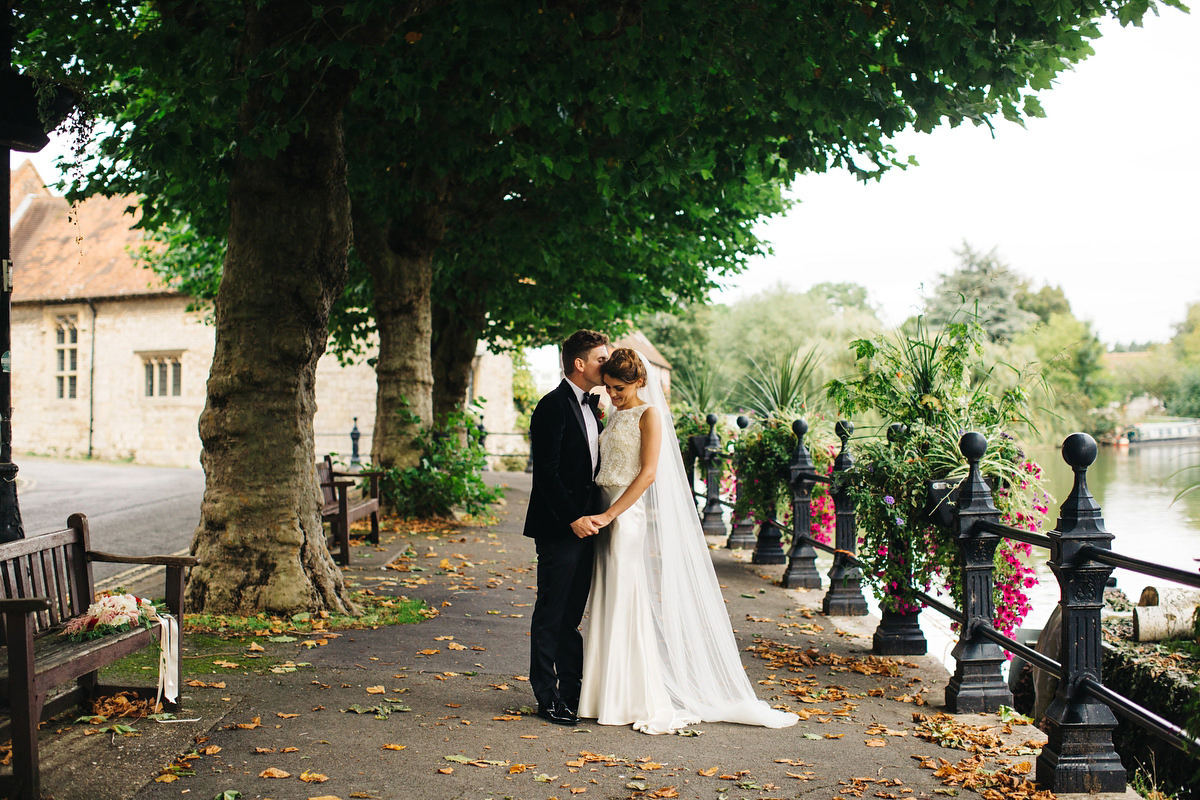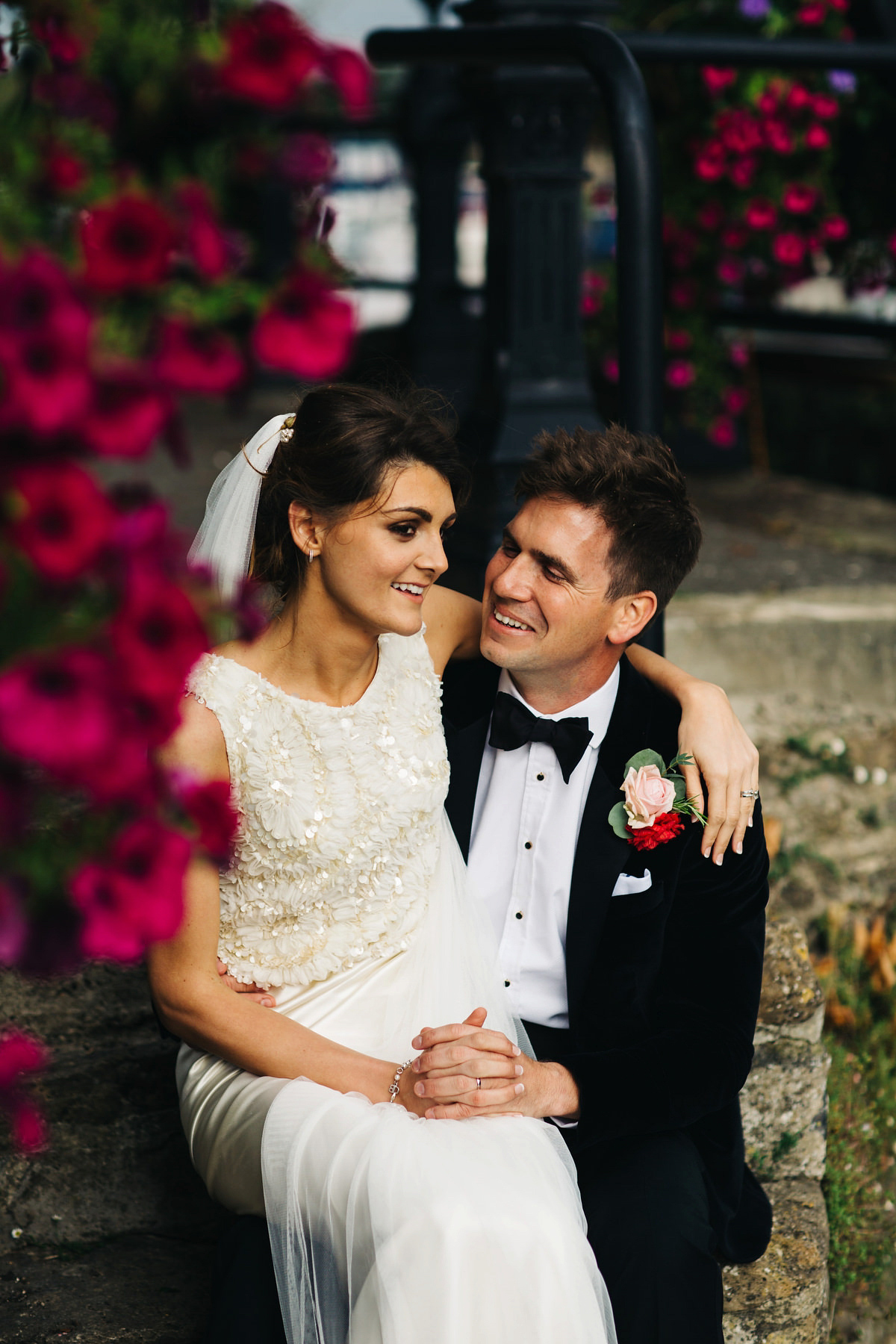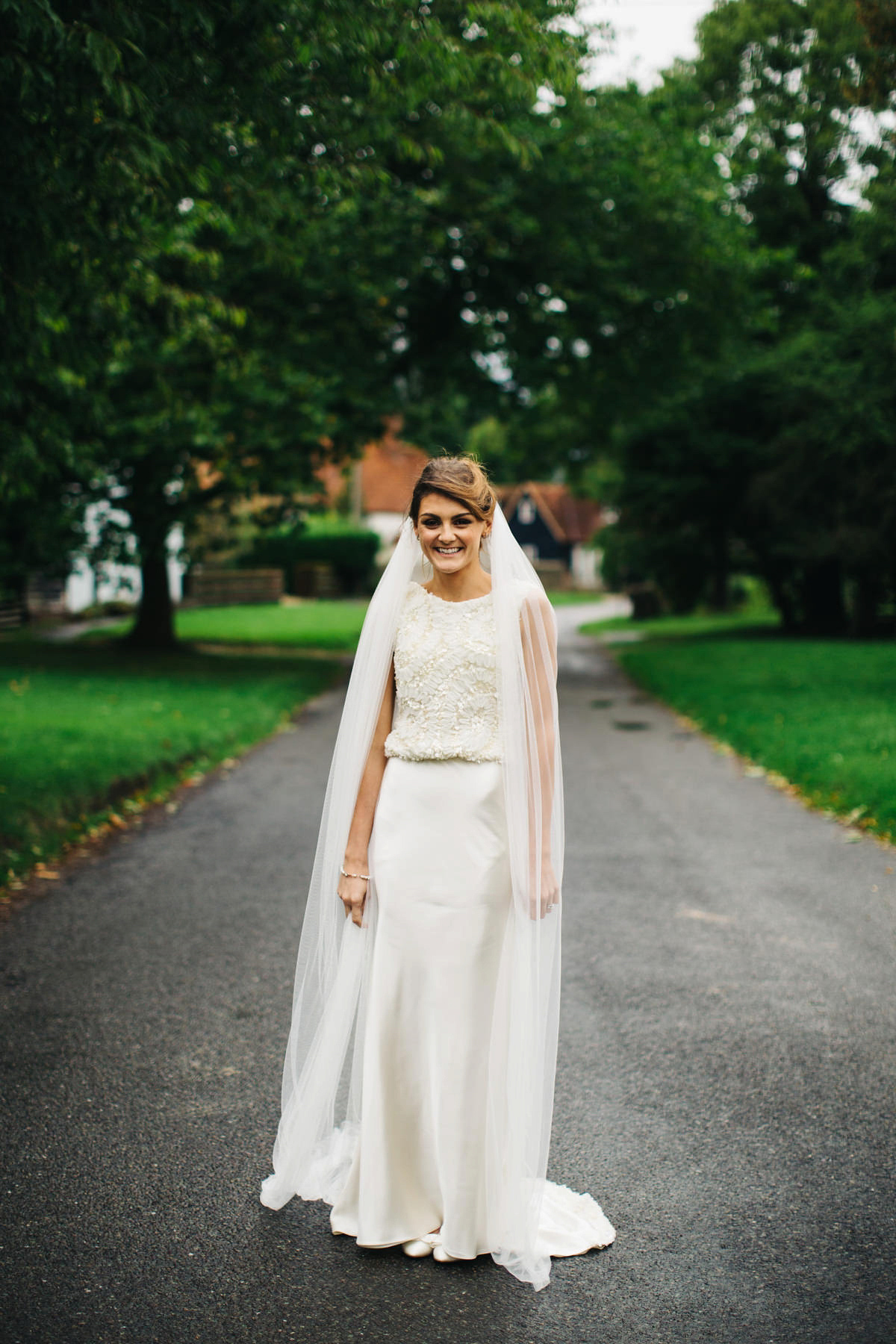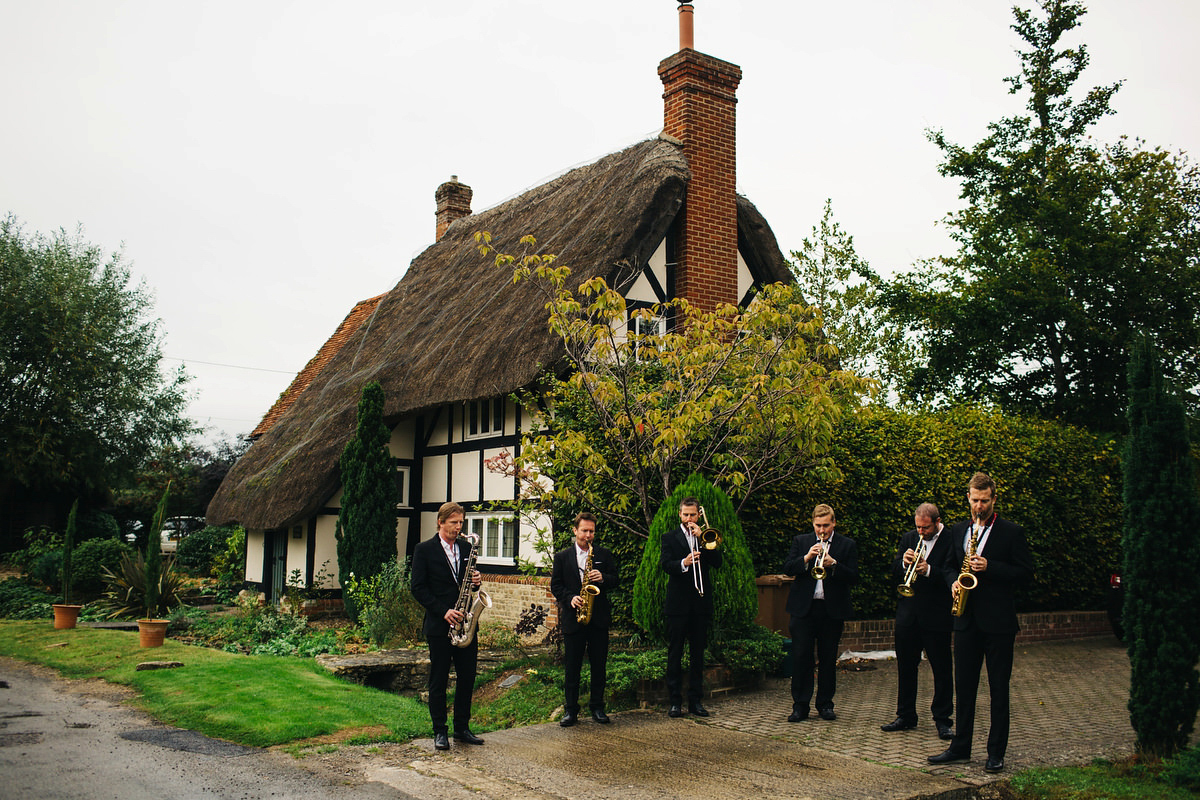 The couple invested considerably in entertaining their guests.
"We hired The Mini Big Band, an incredible band, really flexible and up for a big party. They welcomed guests in by playing on the roadside and the Swingaoke was so fun."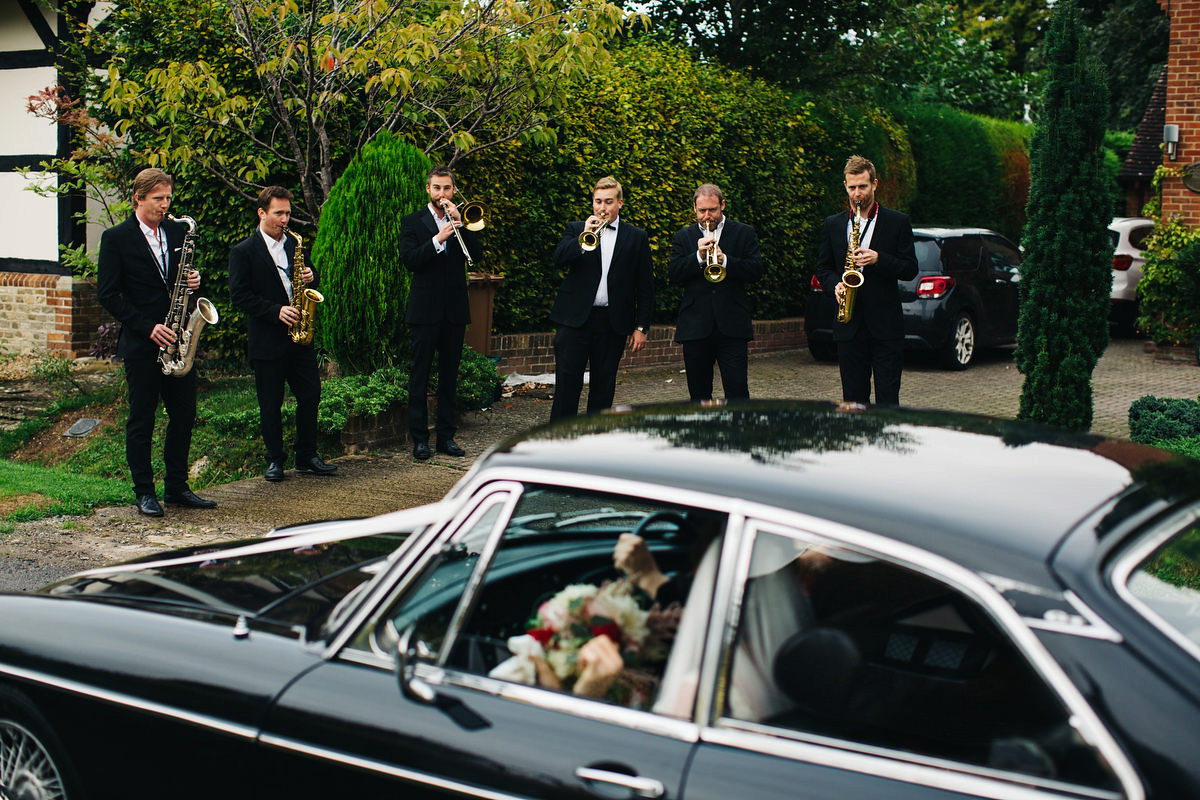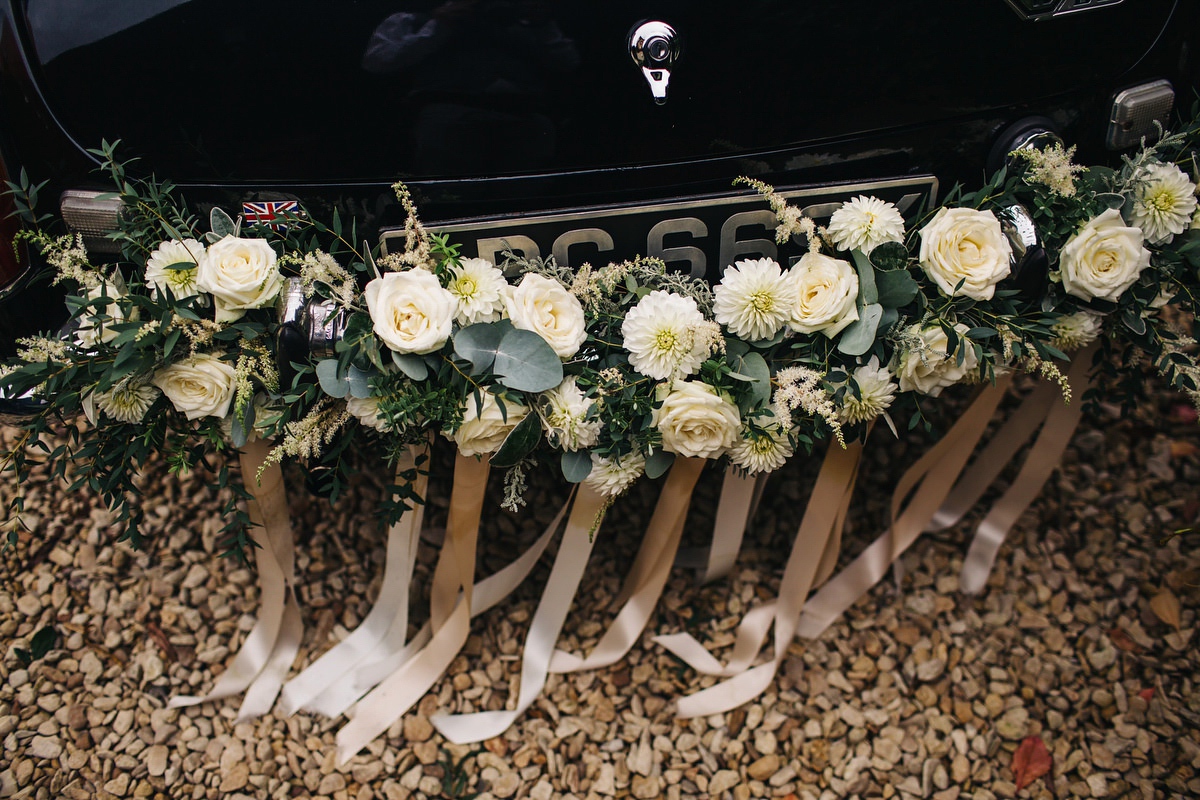 "Joe has been to a fair few Oxford college balls, and drew a lot of ideas from them. He was keen to have a variety of bars in the garden for the drinks reception – we had a smaller sperry in the garden serving prosecco with aperol, elderflower and peach juices; gin from the summer house, and an old boat painted in bright pink serving bottles and cans of beer, cider and soft drinks (this was a nod to Joe's rowing), we also knew our family and friends would appreciate the options!"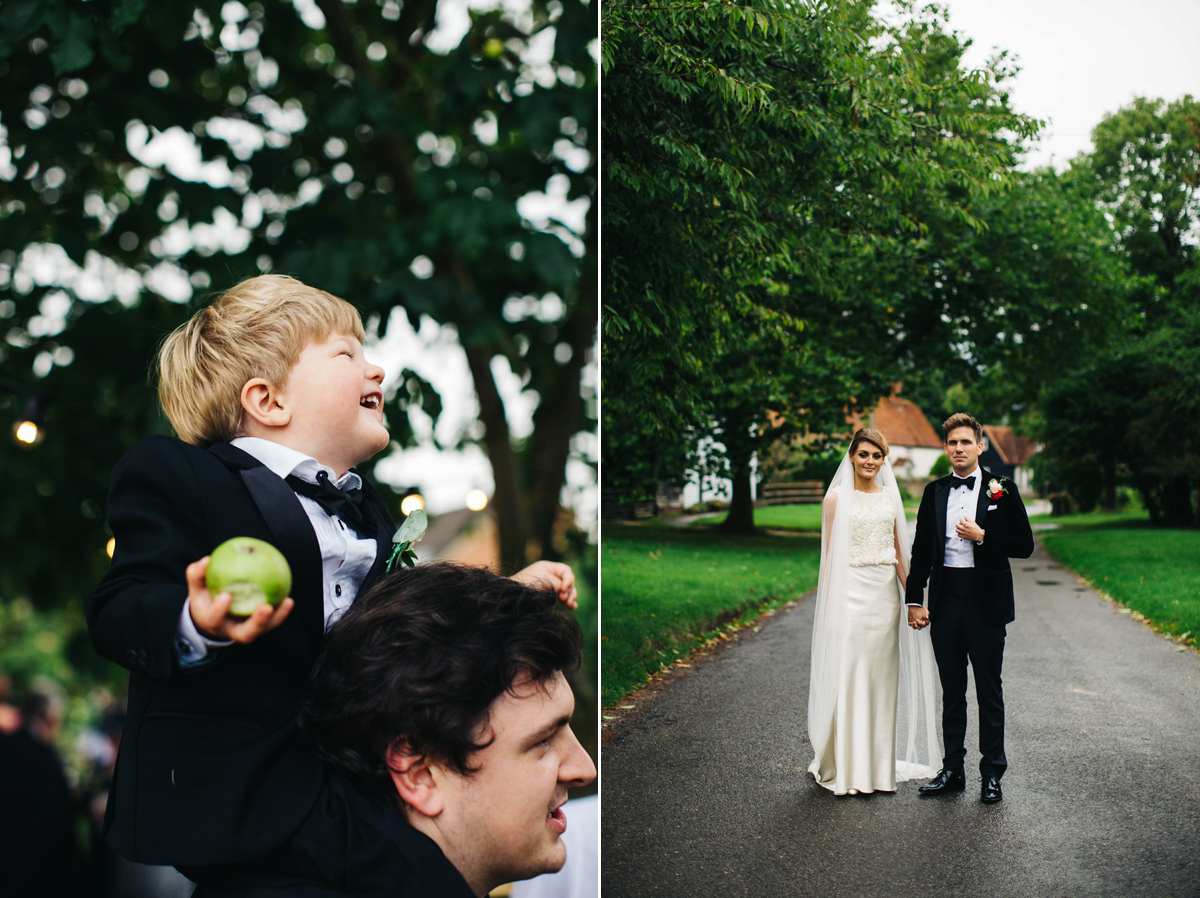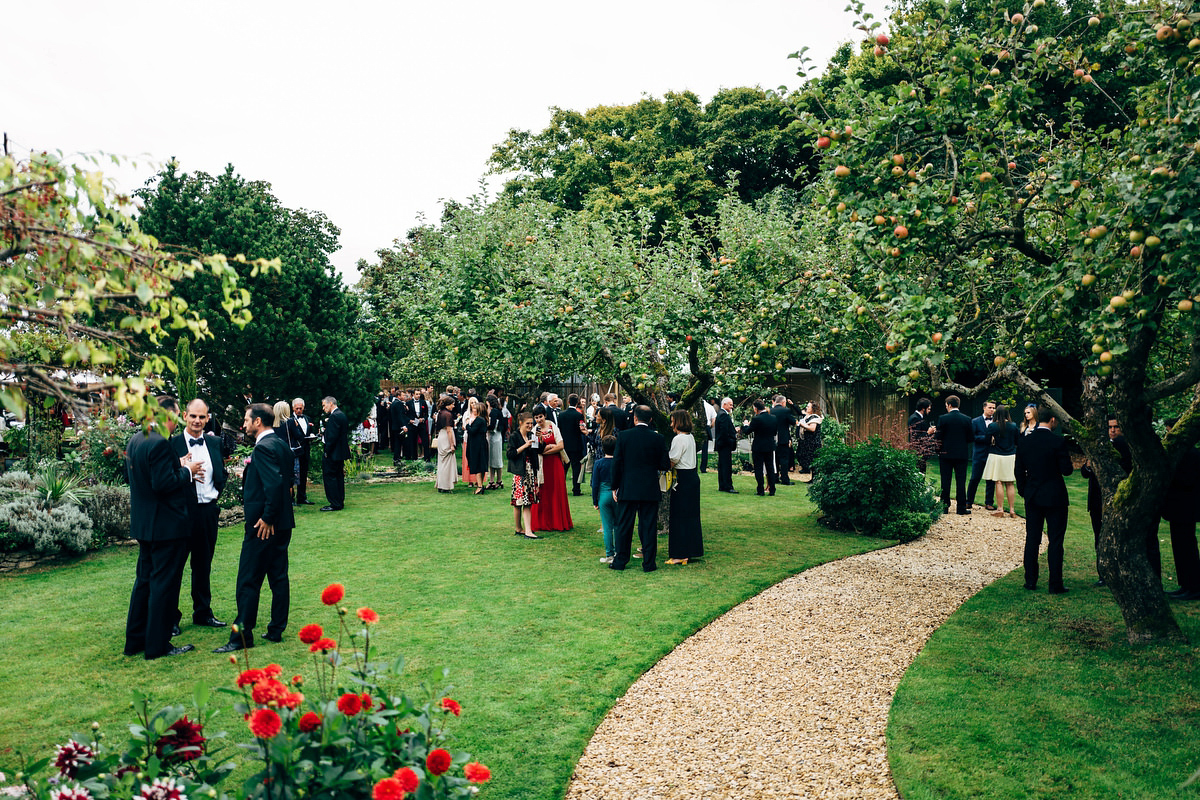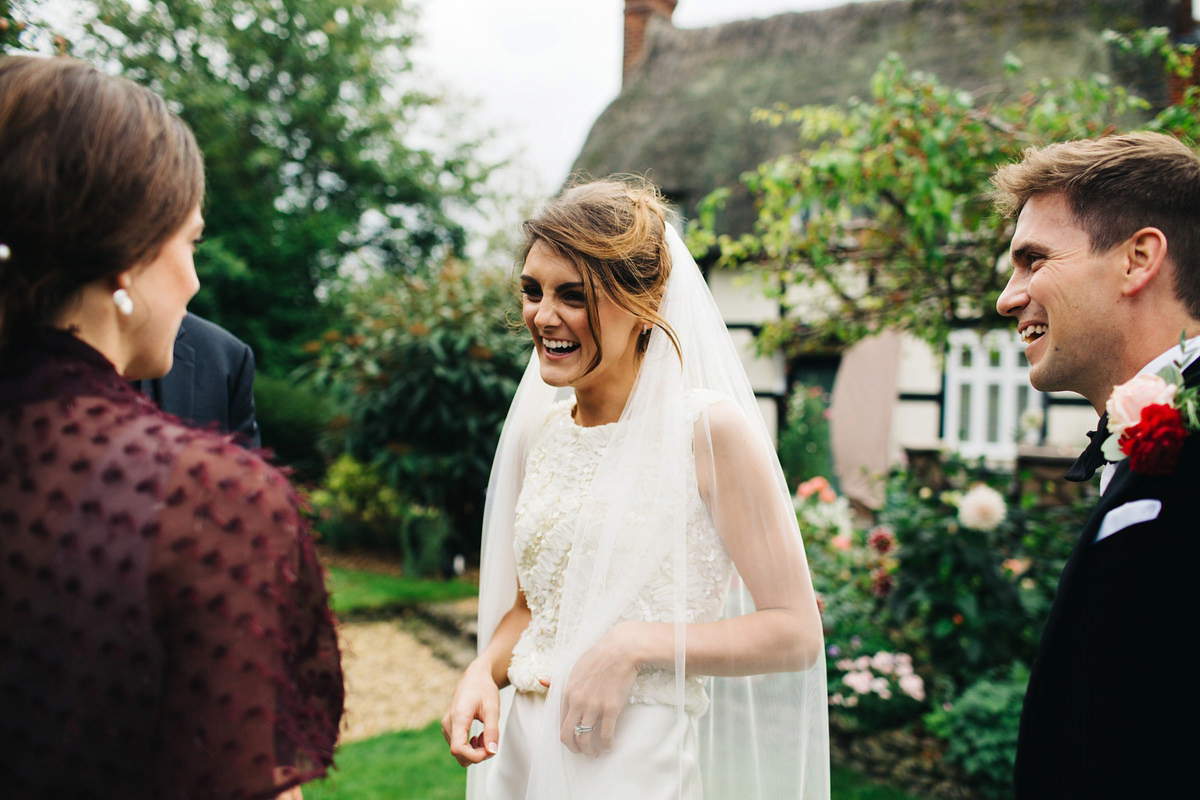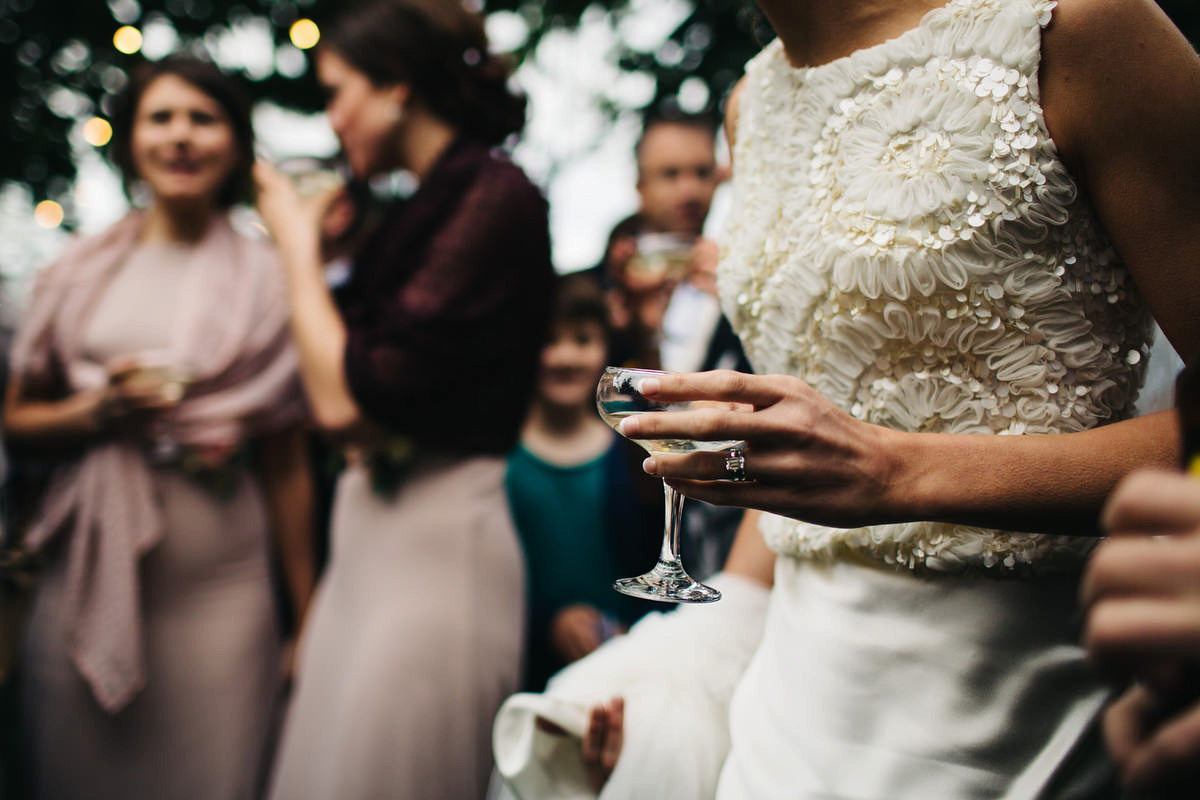 "I gifted the girls mismatch shawls, which were from different shops (Ghost and Oxford Covered Market) and got a lot of use as the weather was quite overcast and chilly. They also had a drop chain at the back with 3 pearls to go with the low back of their dress."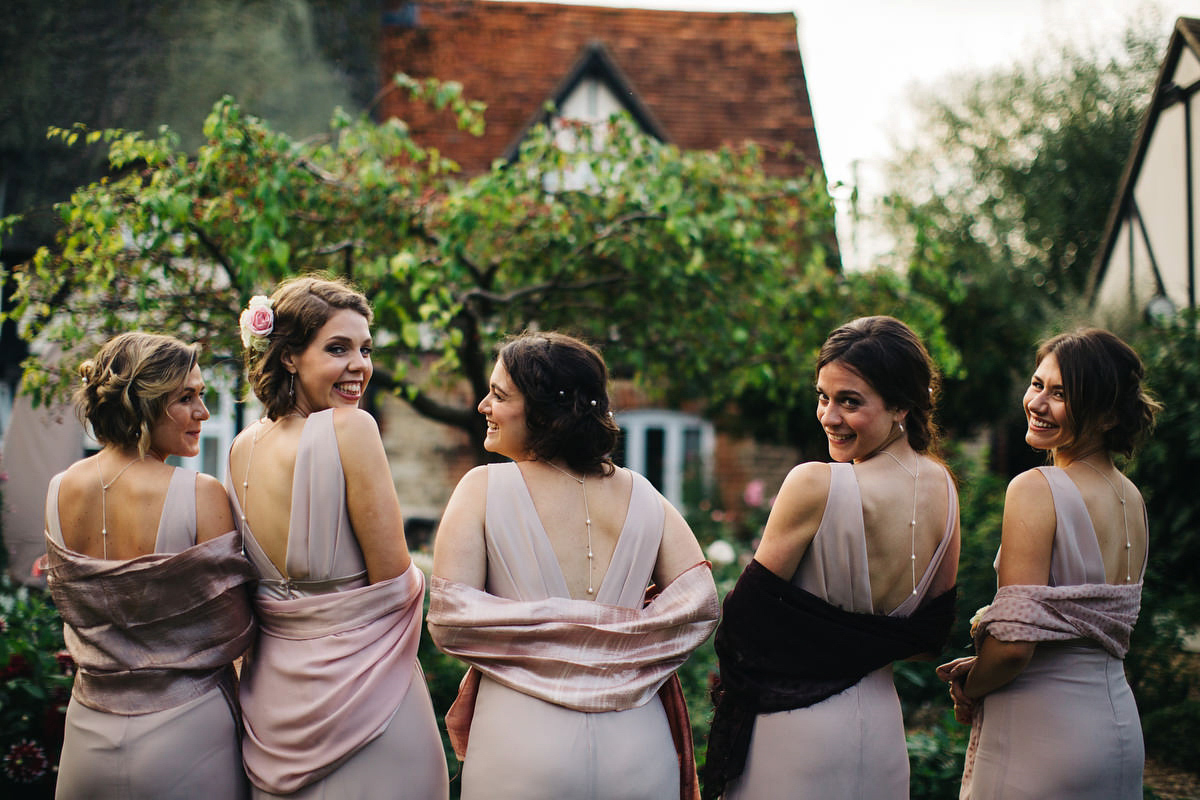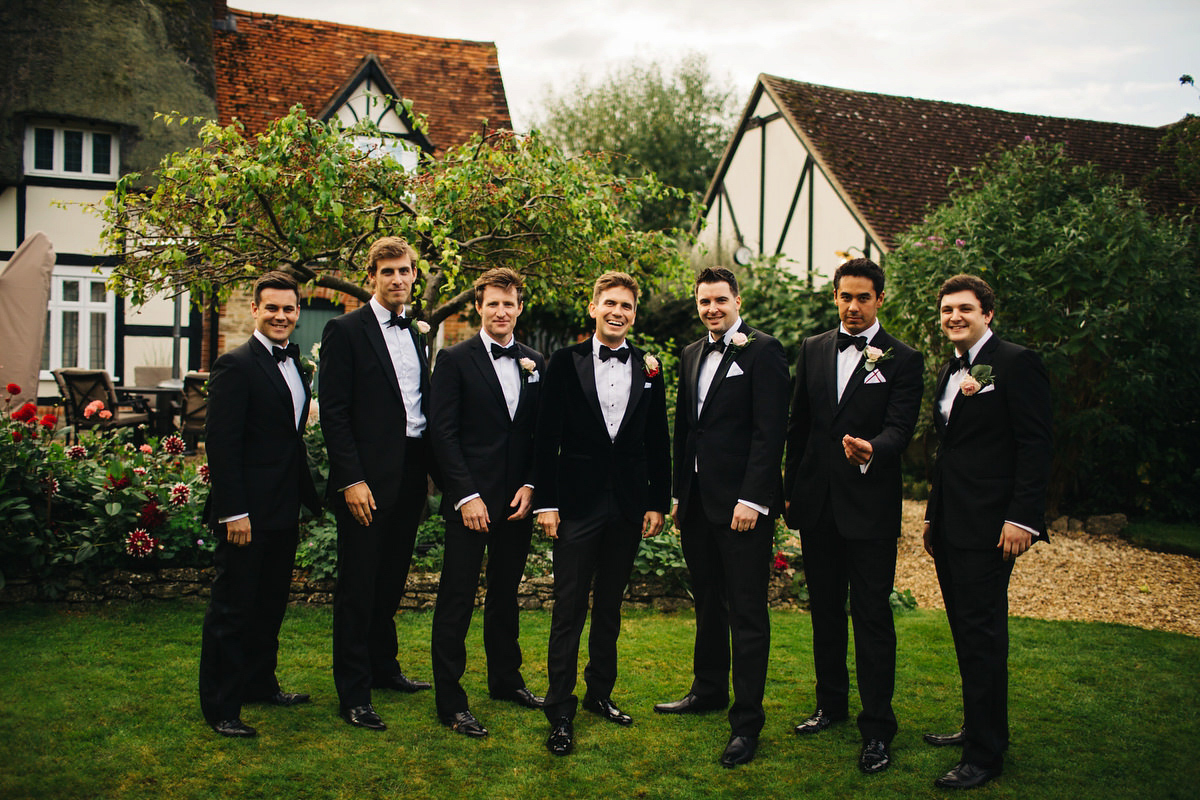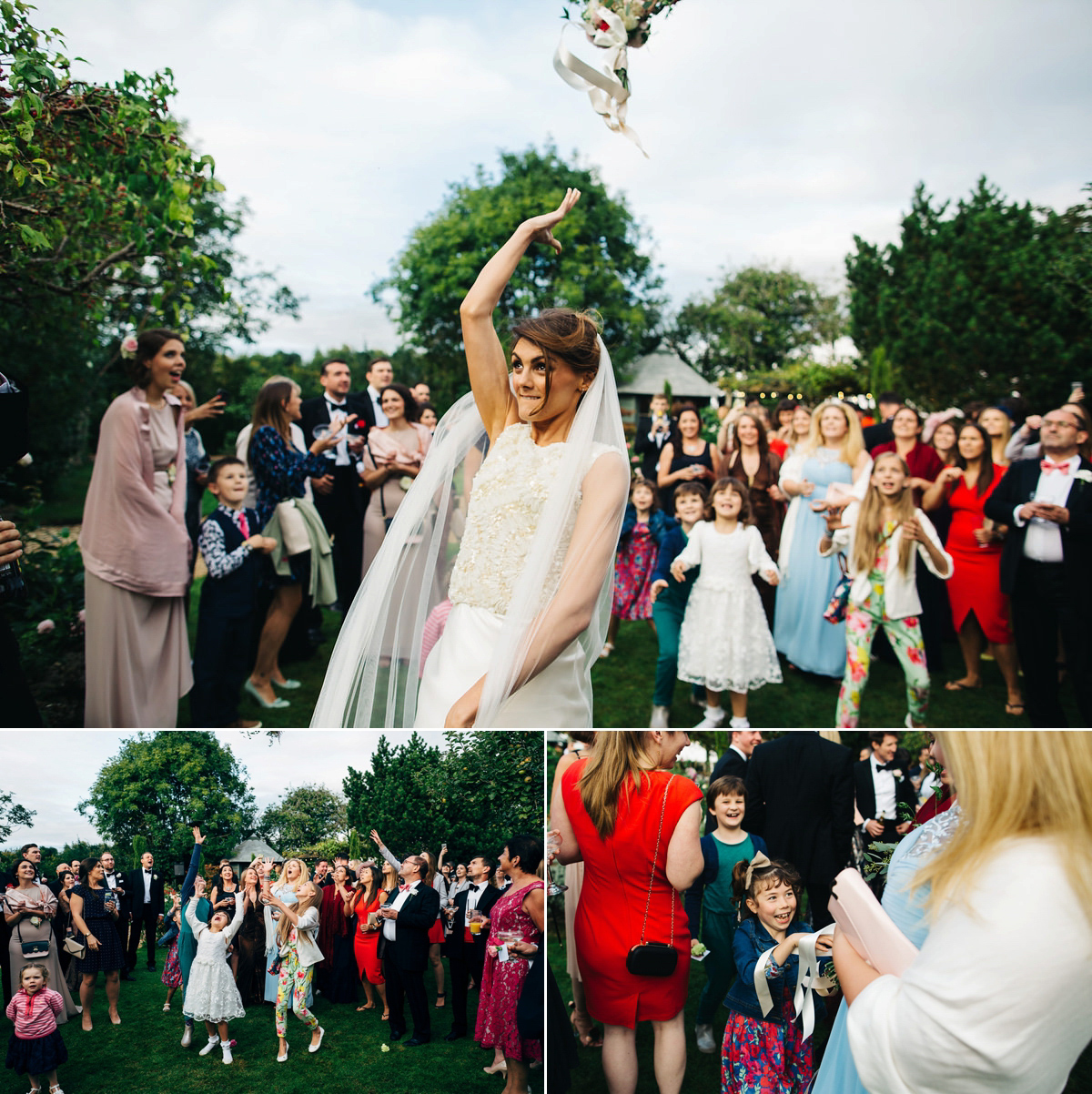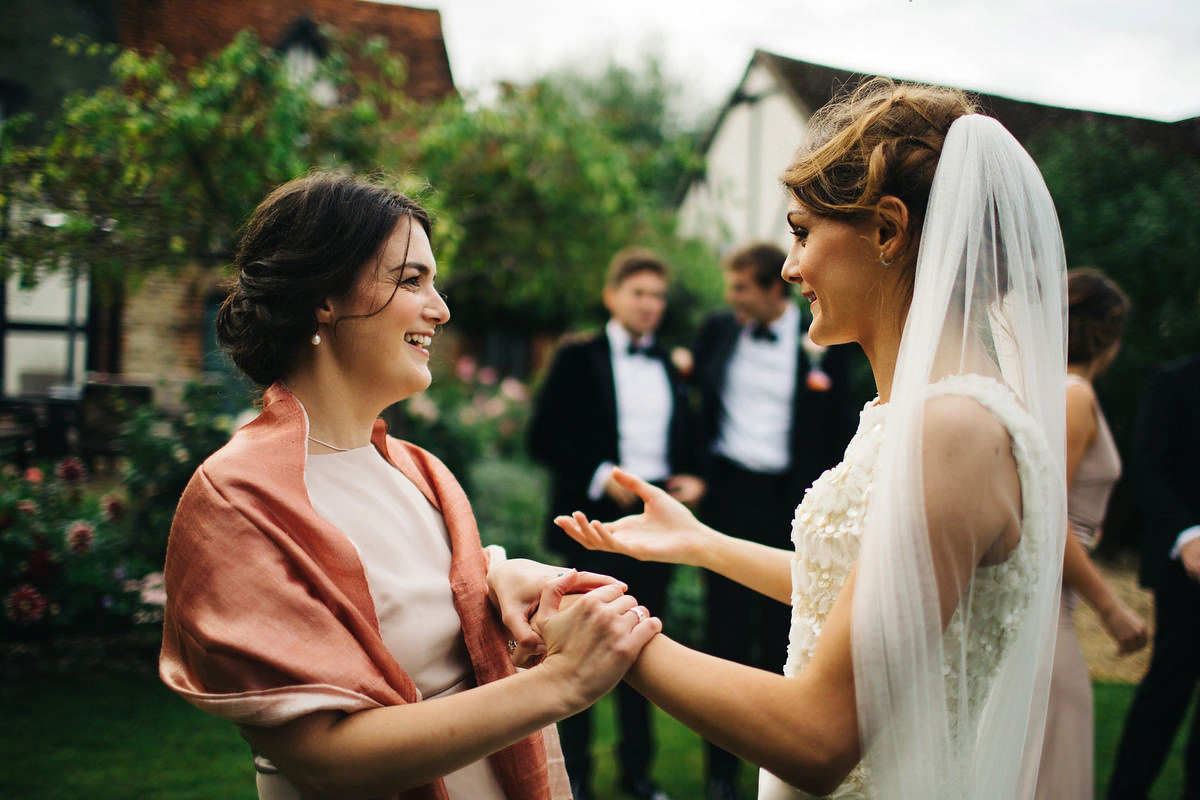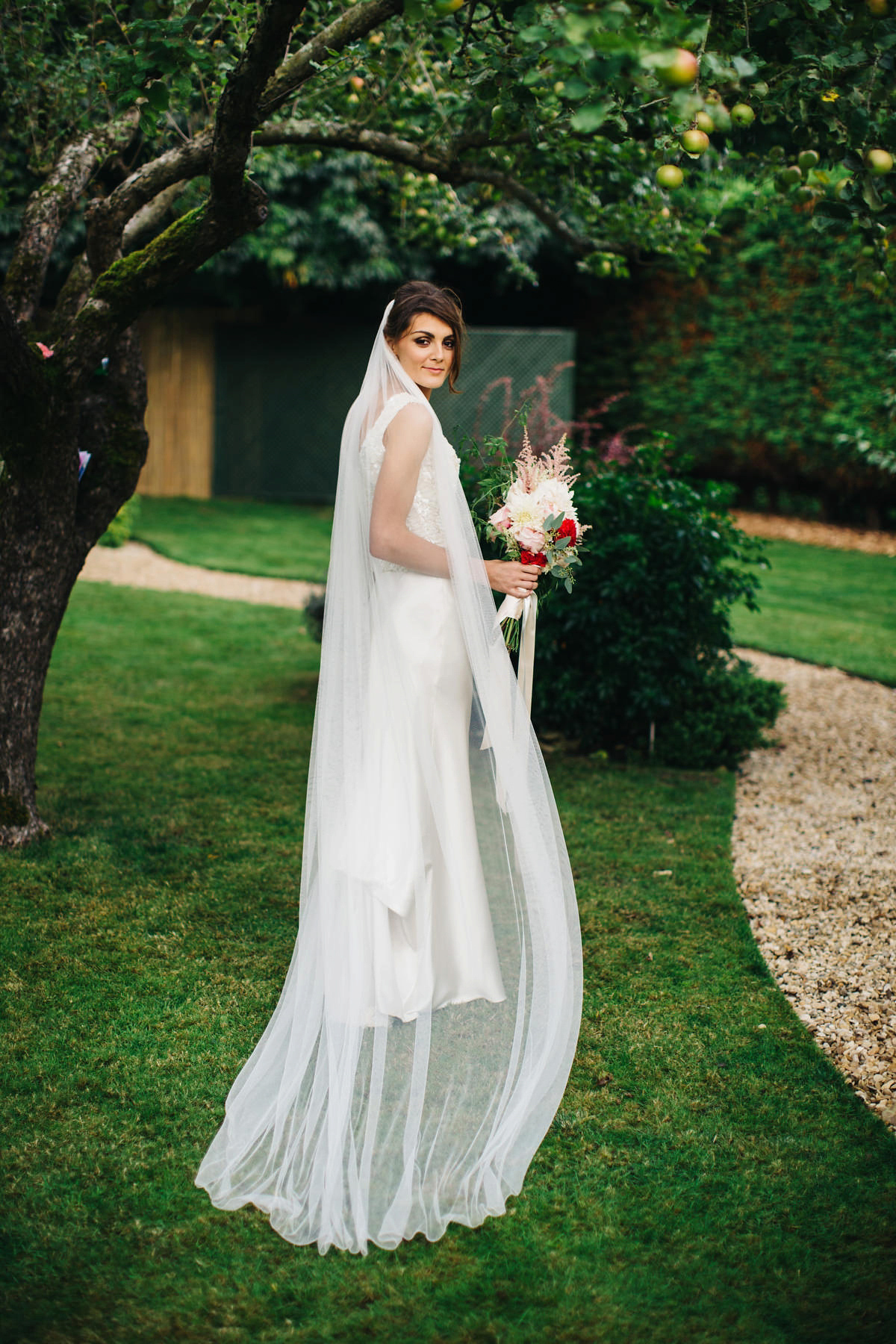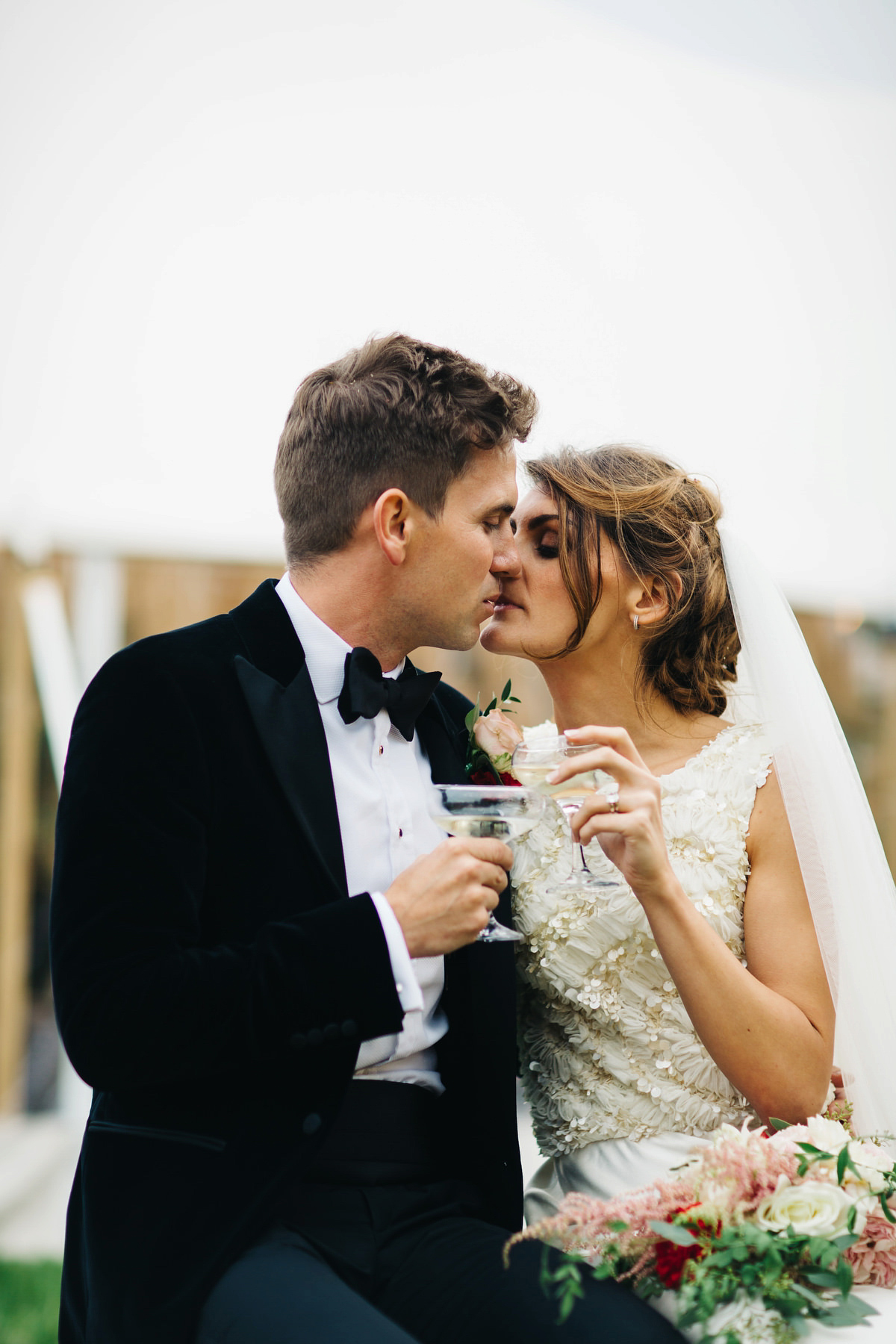 I'm delighted to see that yet another of our Little Book For Brides members, and highly recommended suppliers, Papakata, was chosen to supply the canvas for the reception party to party under.
"Al fresco dining was definitely something we would have loved. If the English weather wasn't so unpredictable we would have all sat unsheltered in the field with grass under our feet and strings of festoon lighting over our head (!). However, when we came across Papakata's lofty Sperry tent we loved it's clear walls opening to the field and garden and plenty of height to bring the outdoors inside. They were an incredibly helpful and enthusiastic supplier from day 1 right through to the marquee going up on the Wednesday before.
We brought in a dozen olive trees from Tuscan Pots in Oxford, and had several other trees for the entrance to the marquee and the garden."
"For our guests arrival, our florist of Passion 4 Flowers supplied carnations in various colours for our seating plan – a flower for each guest's hair or buttonhole; each stem had a name card with their table number attached."
Me and my bridesmaids helped by arranging flowers along all the tables and bars in a variety of small to medium sized cut-glass and pewter vases, while Joe's ushers helped hang 70 odd bunches along the length of the Sperry.
"Joe's mum raided local charity shops collecting vases, decanters, candle sticks and candelabras in cut-glass and pewter. We placed these along the tables with a combination of pink, green and blue candlesticks; the top table had all white candles. We also used grey table clothes, which worked really well."
"We love Italian food, and knew it would be popular all round, and we hoped to spread our meal over several smaller courses for a relaxed lunch/dinner. Our caterers Sadlers were brilliant – they were open to all our ideas and had some gorgeous suggestions too, we loved our menu, which included mini bruschetta and fritti canapés, a cold pea and mint soup, fillet steak with a selection of warm and cold salads, a genius twist on a bread and butter pudding using panatone and citrus fruits."
"We were really keen to have a champagne risotto for our evening supper, which was a big hit, served in paper cones alongside a mass of cheese and bread."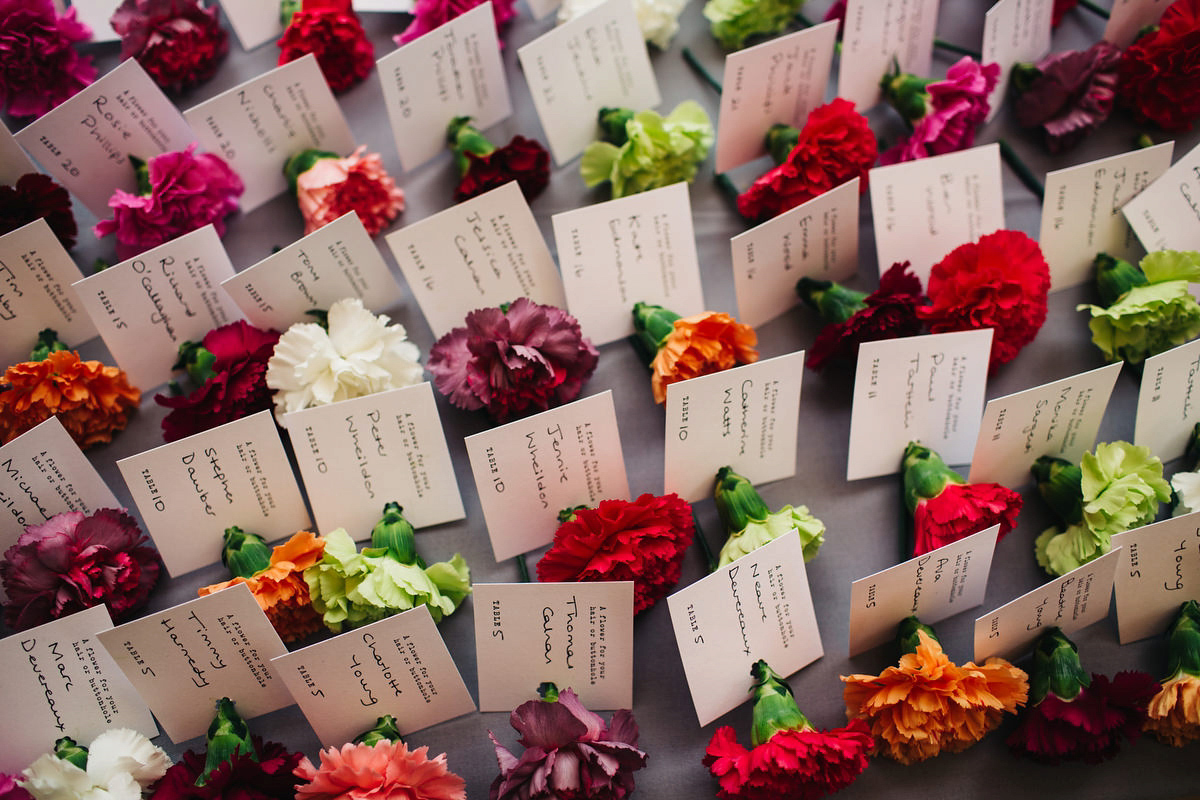 "Our families were pretty central to everything we planned. We're both from large (and loud) families, about 140 in total and we also had our friends and family friends so we knew our wedding was going to be noisy and vibrant. Long banqueting tables seemed perfect; they channelled the energy around the marquee and branched out from the dancefloor and stage so everyone could watch the band play their first set during their meal.
Our top table was a long family table, which seated about 25 including our immediate family, maid of honour and best men. We then divided our guests into 8 rows of between 20-30 – family, family friends, and friends, which worked really well for a massive 'Swingaoke' game that we'd arranged with the band (see best moments bit)."
"One of my bridesmaids, Grace, is a brilliant artist and generously produced a sketchbook of really beautiful illustrations. I used them when making drinks coaster save-the-dates (which we also used on the day), a pack of postcards for our invitations, a booklet for the ceremony and small pocket-sized booklet for each guests at the reception."
"We framed the individual drawings to have hanging around the bar and on the gifts and cake table in the smaller Sperry in the garden. She also decorated our cake by hand-painting dahlias onto the icing and using fresh flowers."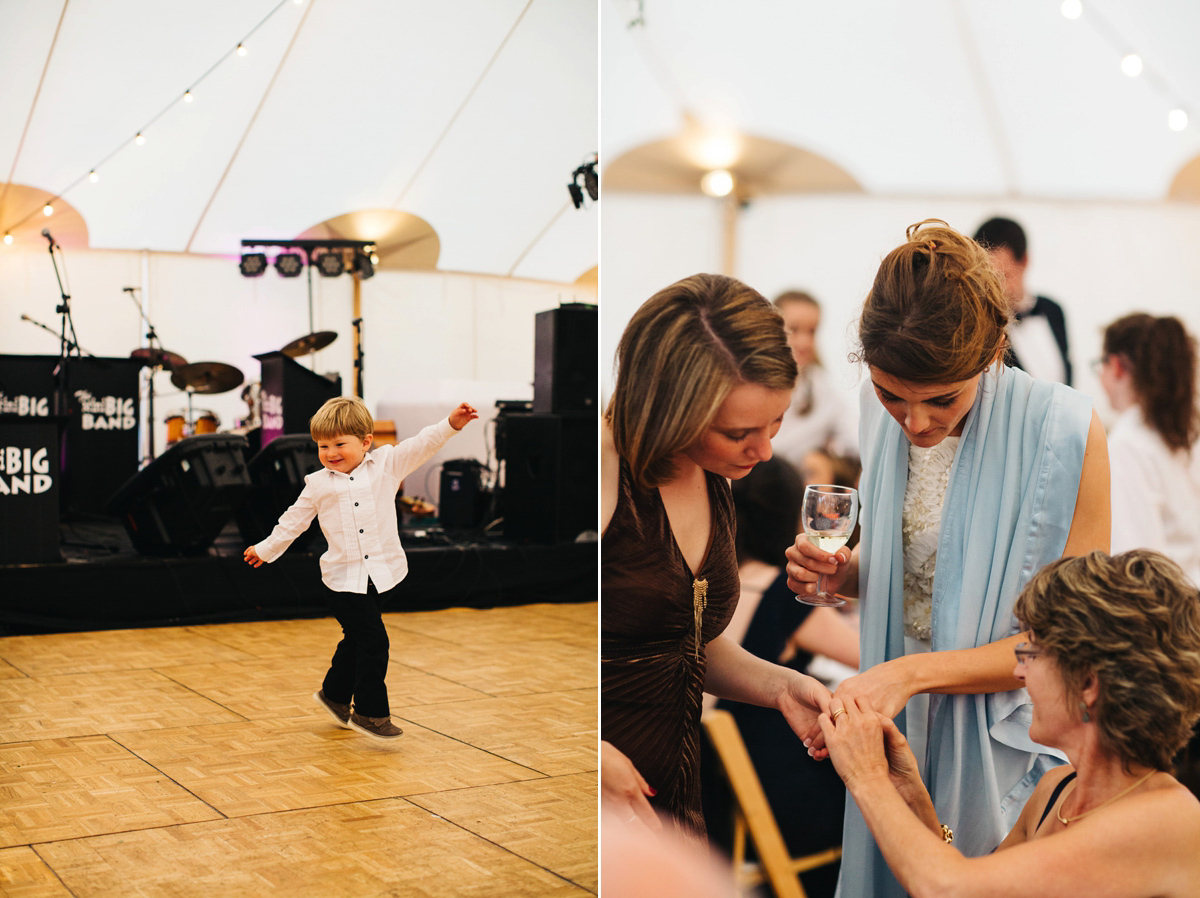 "Some of our favourite moments included when the Mini Big Band started playing the first set during the main course. We had been sat down maybe half an hour and we had planned for the band to play their first set while we ate."
"To get everyone going, we'd placed different song lyrics in each place setting across four sections of the marquee for a live band 'swingaeoke' competition, with the winners taking a magnum of champagne."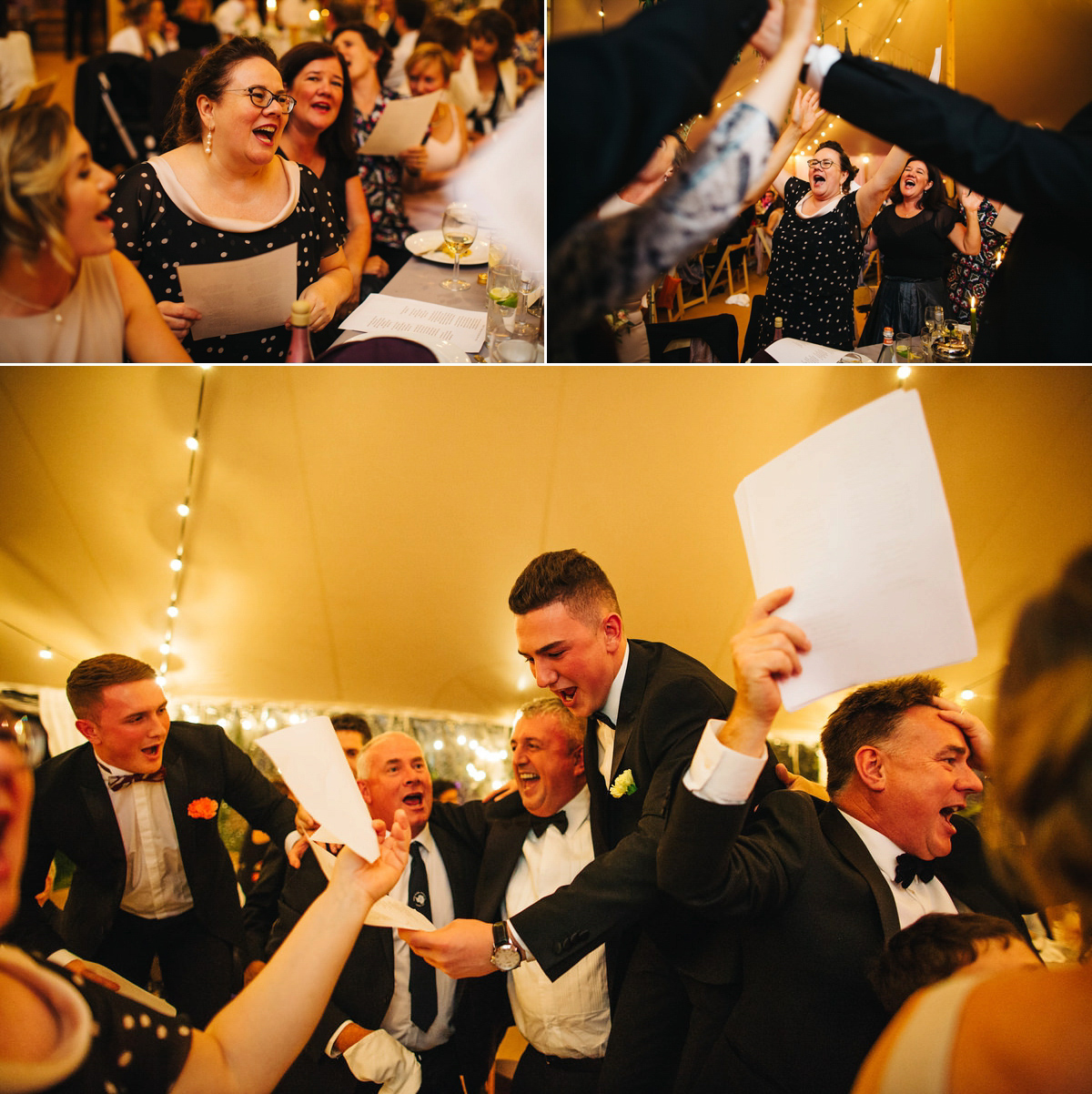 "This escalated to everyone leaving their plates and hitting the dancefloor, singing on the stage, climbing on tables, and throwing toddlers in the air. At one point we didn't think we would get everyone to sit back down for their desert and speeches. We had also asked number of talented relatives to sing at different stages throughout the evening, and Joe even took to the stage with me to sing my Frank Sinatra's 'The Best is Yet to Come'."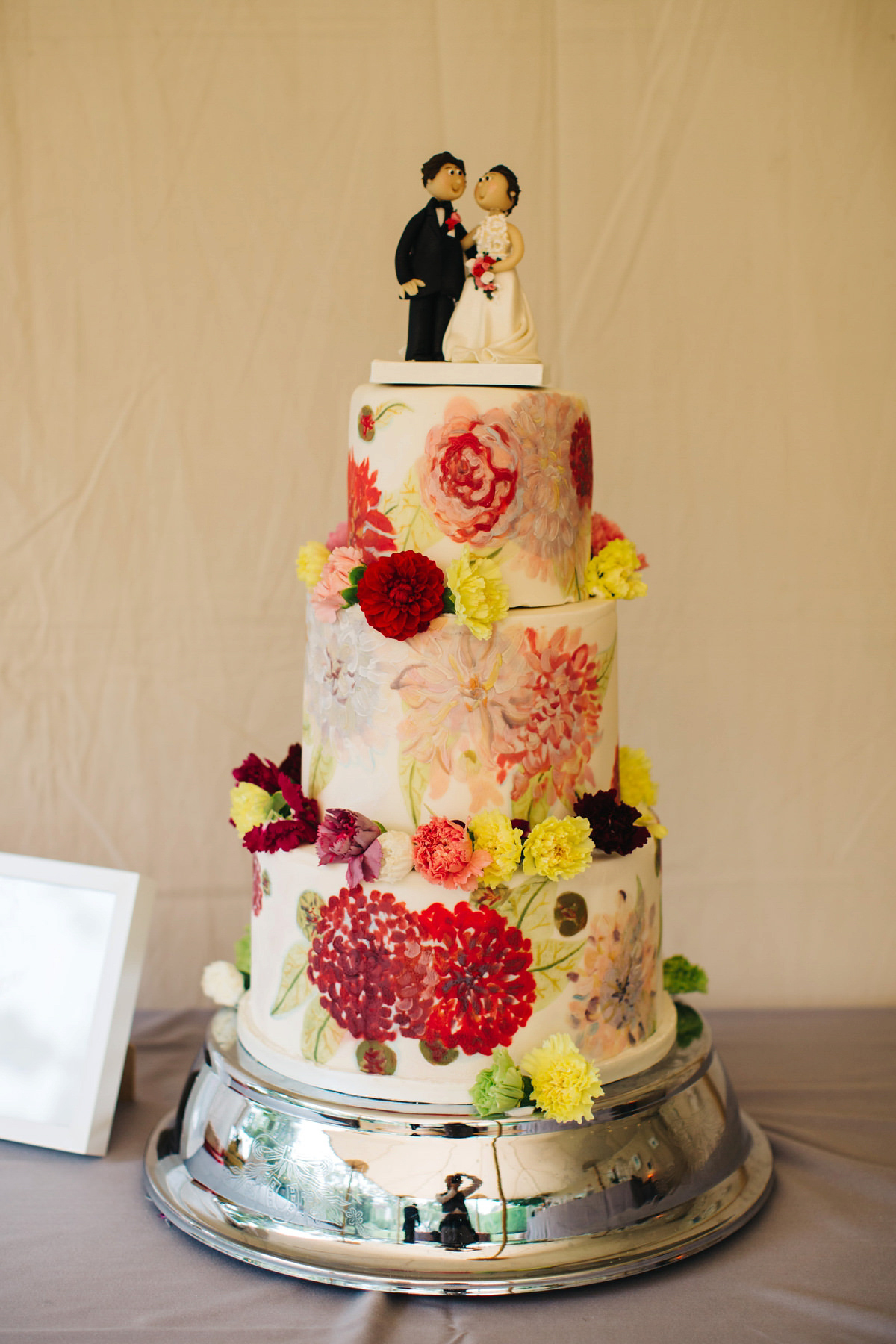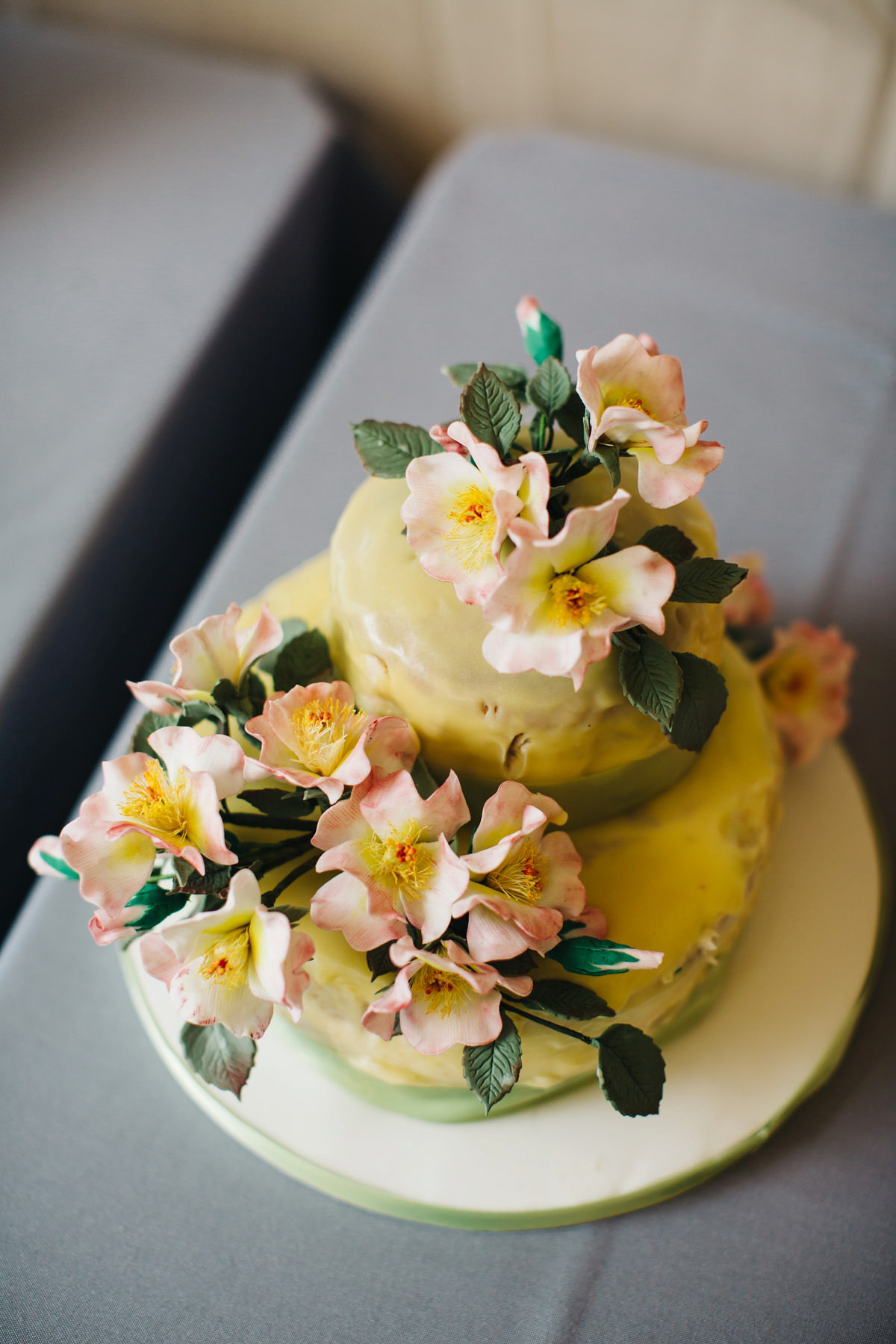 "Our cake was made by Joe's mum and painted/decorated by Grace, one of my bridesmaids, who had also created the illustrations for all the wedding stationery. The cake topper was made by The Cake Shop in Oxford's Covered Market."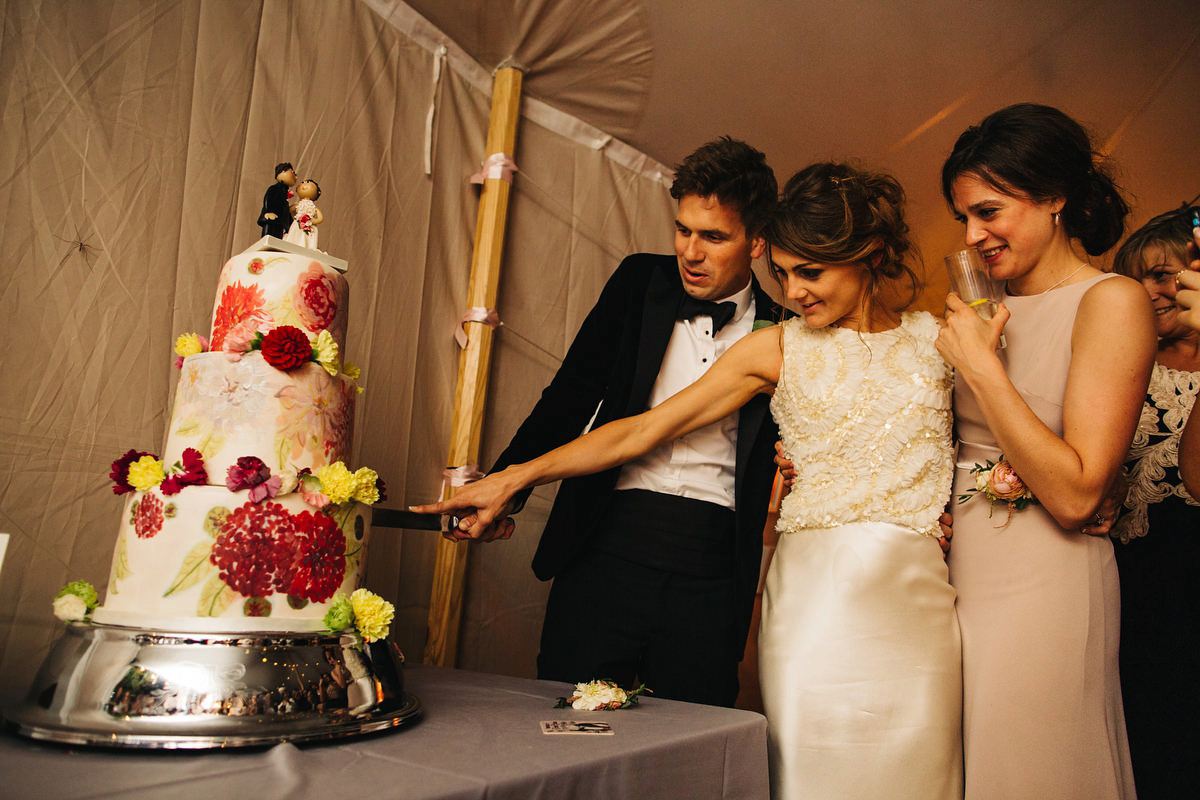 "My dad is a lighting consultant and lit the house, garden and pergola with washes of pink light and suspended a mirror ball from one of the apple trees. We then went a bit nuts on Papakata's festoon lighting, which we used to create a walkway from the smaller sperry in the garden to the main sperry in the field, and draped inside the canopy of the marquees.
Oxford PA Hire provided the sound as well as the pink lighting for inside the marquee, which, as it turned dark outside, worked perfectly against the Papakata Sperry canvas."
"Our first dance was to 'Let There Be Love' by Nat King Cole – such a great song with some lovely lyrics we imagined rang true for married life.
We hired Matt Fairlie, another highly recommend supplier. He DJ'd our disco followed by silent disco, was very relaxed and kept the energy up until gone three in the morning!"
"The Silent Disco provided 150 headsets with 3 different channels for after midnight to keep the noise levels down."
Words of Wedded Wisdom
"For an 'at home' wedding all options are open so it was fun researching, but always good to line up the best 3 options, pick 1 and go for it. We're pleased we didn't go in knowing exactly what we wanted. It became a bit of a creative process, ideas came whenever we saw/heard/tasted things we liked. Which made it really exciting watching it all come together the weeks before. We loved working on the wedding together, it was such a fun year in our relationship and the day felt like a great expression of that. 
Having people you know and love play a part is quite overwhelmingly special on the day and adds so much meaning and personality."
"Doing the wedding at home was a team effort. The week lead-up to the wedding was amazing as the garden and field transformed and the house grew busier. The Friday in particular everything come together all at once and our families and friends were a massive help – we'd be lying if we said that came without some stress though! It wouldn't have all come together without our family and friends' help. (Thank you!)
Having a 'Papaman' onsite the day of the wedding would have given us peace of mind that everything behind the scenes was being taken care of. As the evening went on, our wedding favours – decanters of limoncello – didn't make it to peoples tables, and the sparklers weren't given out – perhaps these little things might have happened with an extra pair of hands, but maybe not – people were going for it on the dance floor and it was no issue in the grand scheme of things.
We found the Little Book For Brides directory really helpful and the 'real weddings' on Love My Dress too – it's really hard to visualise in your mind how everything will come together and so seeing other people's weddings really helps and is a great springboard for other ideas."
What a gorgeous day – back garden glamour like you've probably not seen it before! If you love this set of images, you might want to take time to explore these other weddings photographed by Richard Skins.
Have a great Friday evening folks!
Love Annabel x