Now ladies, I have to start this feature by admitting a major girl crush on today's bride. This lady is simultaneously softly feminine and oh-so-edgy-cool; teaming a delicate lace and tulle ballgown with a pair of kickass Dr. Martens and sweet ruffle socks. And she married her love in one of the most naturally beautiful countries in the world, Norway. It's no secret that I am obsessed with Scandinavia and I'm sure you're about to see why.
Kari Ann, an artist, tied the knot with her husband, Espen, an aircraft mechanic on 25th June 2016 in the stunning surroundings of Sola in the south of Norway. Himmel og Hav (which translates as 'Heaven and Sea,') a hotel, conference and mission centre, played host to their whimsically bohemian celebrations, inspired by the glorious landscape all around them.
"We wanted to have a relaxed wedding in beautiful natural surroundings. Therefore we chose to celebrate our special day by the sea and we had the perfect venue. We wanted a relaxed wedding with a vintage/bohemian look and we did the planning ourselves. I love to decorate and to create beauty out of simple things."
Photography by Green Antlers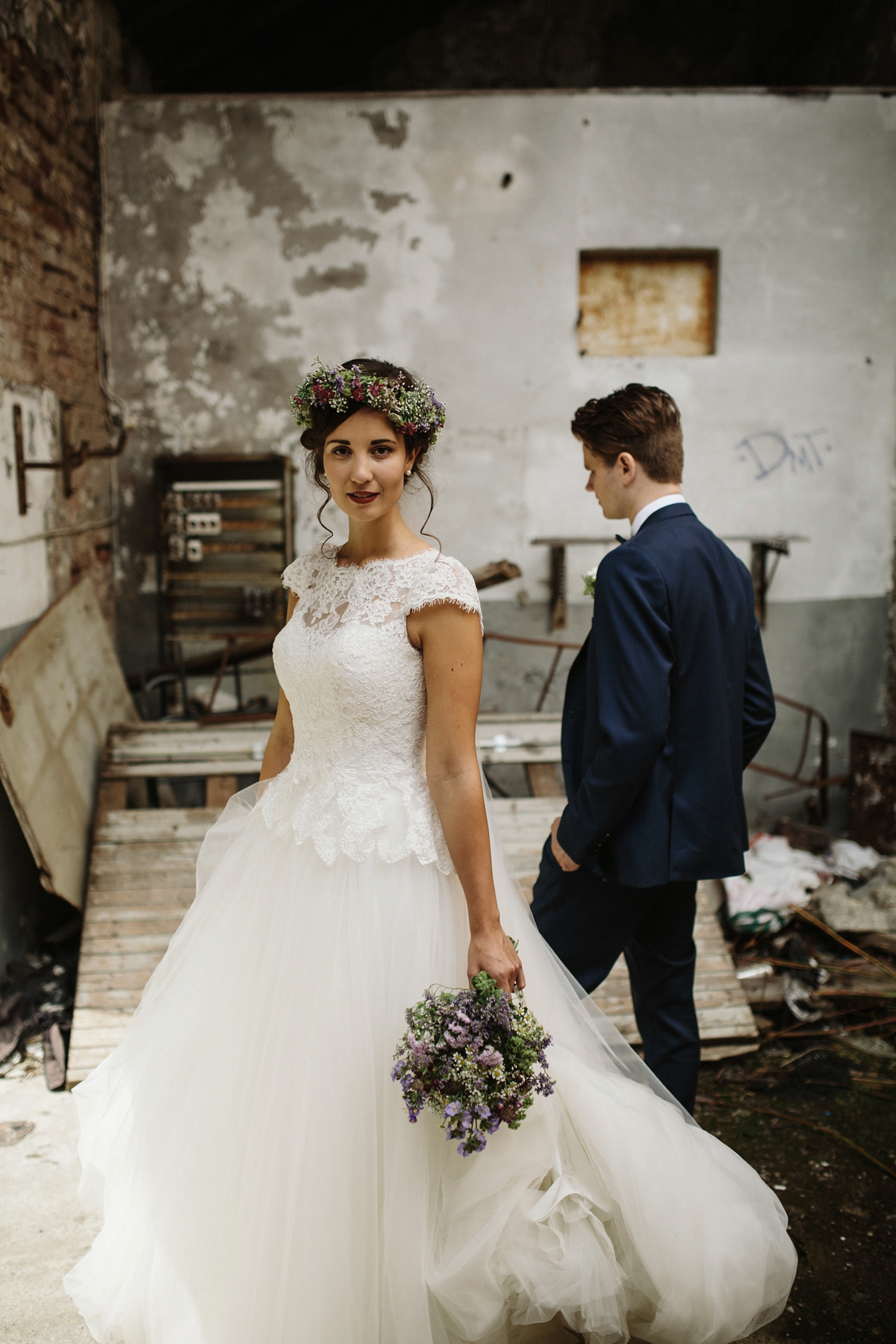 Kari Ann's gorgeous, natural blooms are a continuation of the bohemian vibe she and Espen had in mind when planning their wedding. I've previously waxed lyrical about the wonderfully meaningful significance of flower crowns; stretching from Ancient Greece, when they were wrought and worn to honour the Gods, to their modern-day bohemian incarnation. So as a Scandinavian bride, I love that Kari Ann chose to crown her lusciously dark locks with one of these floral circlets, thought to be a way of harnessing nature's power to ensure good health.
"My floral crown was from the flower shop Floriss in Bryne. We also picked lots of flowers ourselves – we wanted a natural, wildflower look."
I adore Kari Ann's low-top White Dr. Martens paired with those girly ruffle socks, such a cool contrast with her full-skirted Cosmobella gown and its sweet open back. She accessorised with simple and meaningful jewellery borrowed from friends and family and her best girls crafted her the perfectly pretty up-do.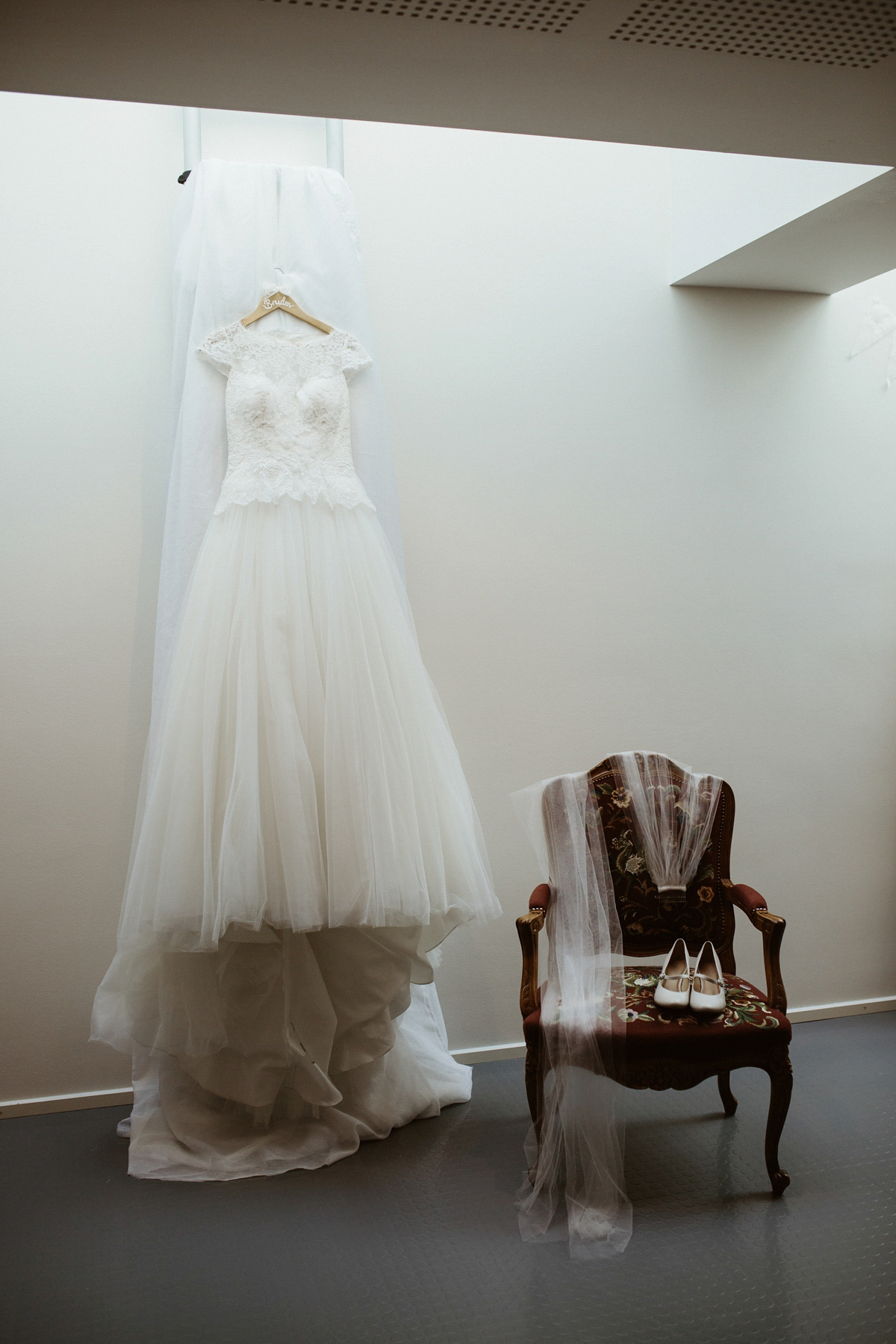 "I bought a Cosmobella dress from a Norwegian salon called Miranda. I love lace and this dress was both classy and relaxed, and it had a vintage look."
"The salon only imported one of these gowns so it was a rare dress. It was perfect for me. I got the veil as a gift from one of my maids of honour."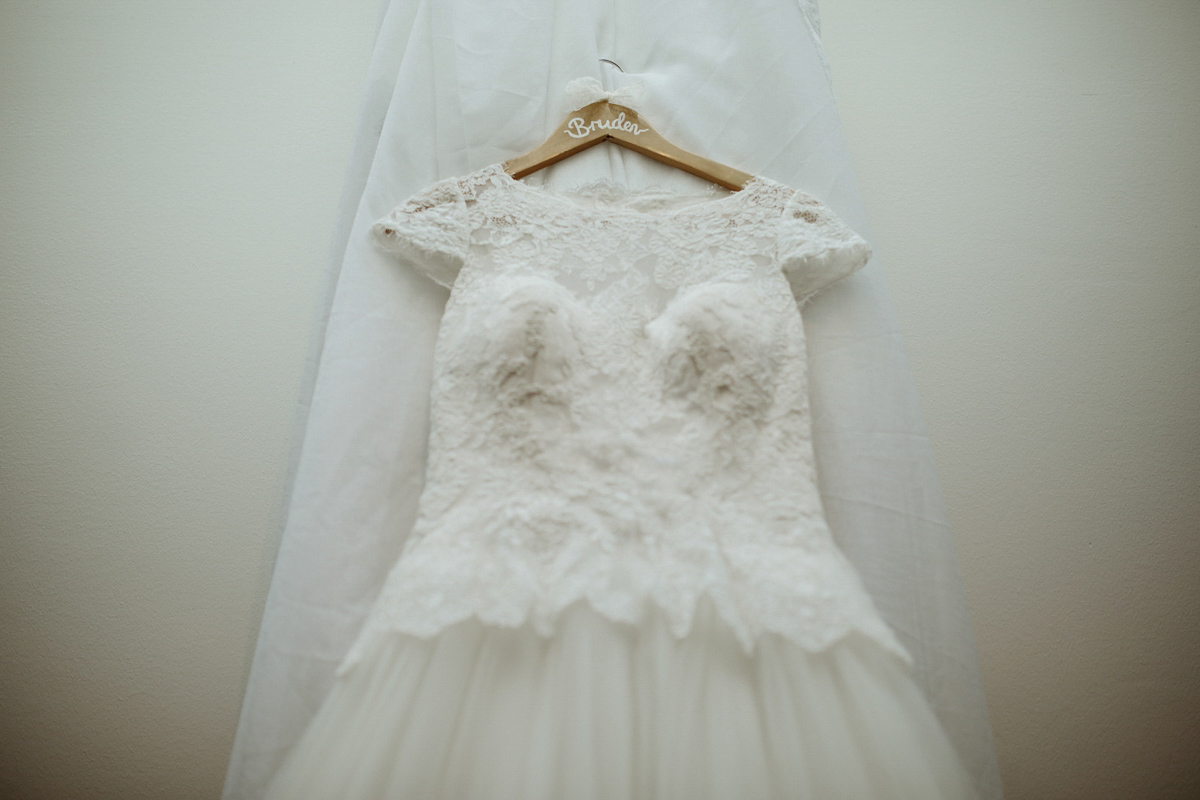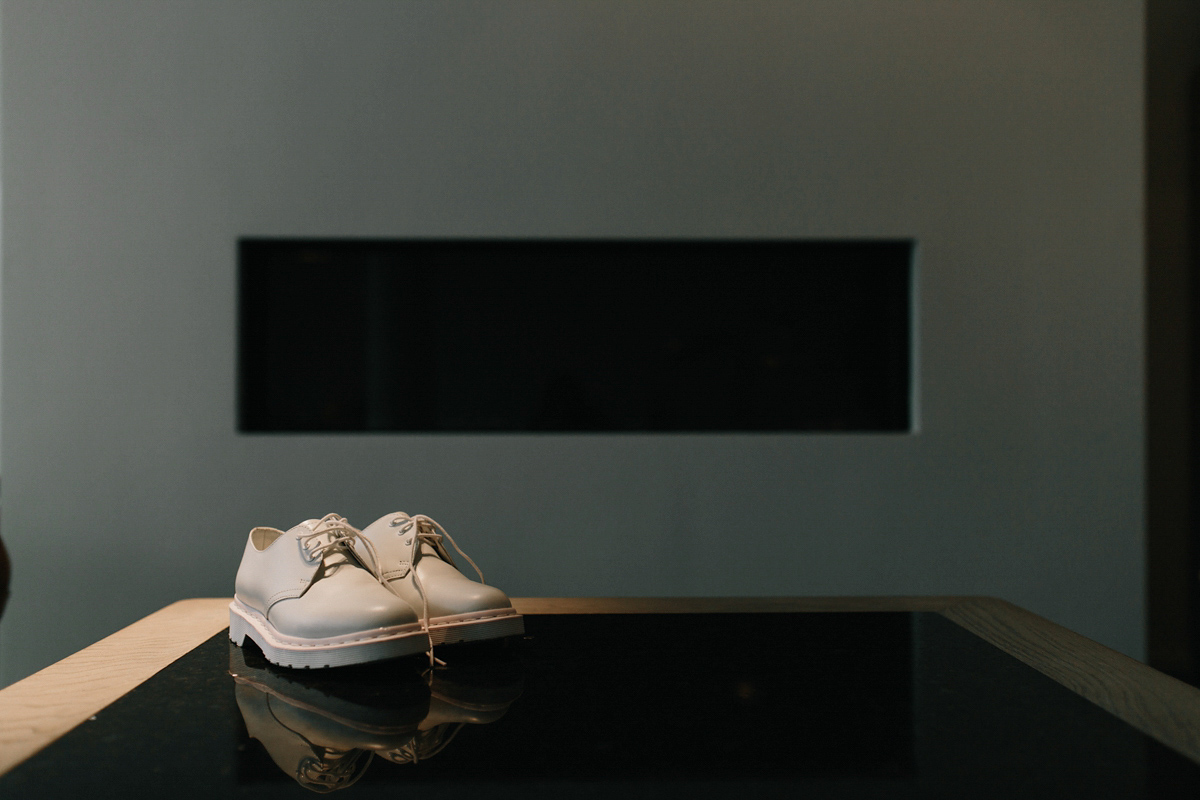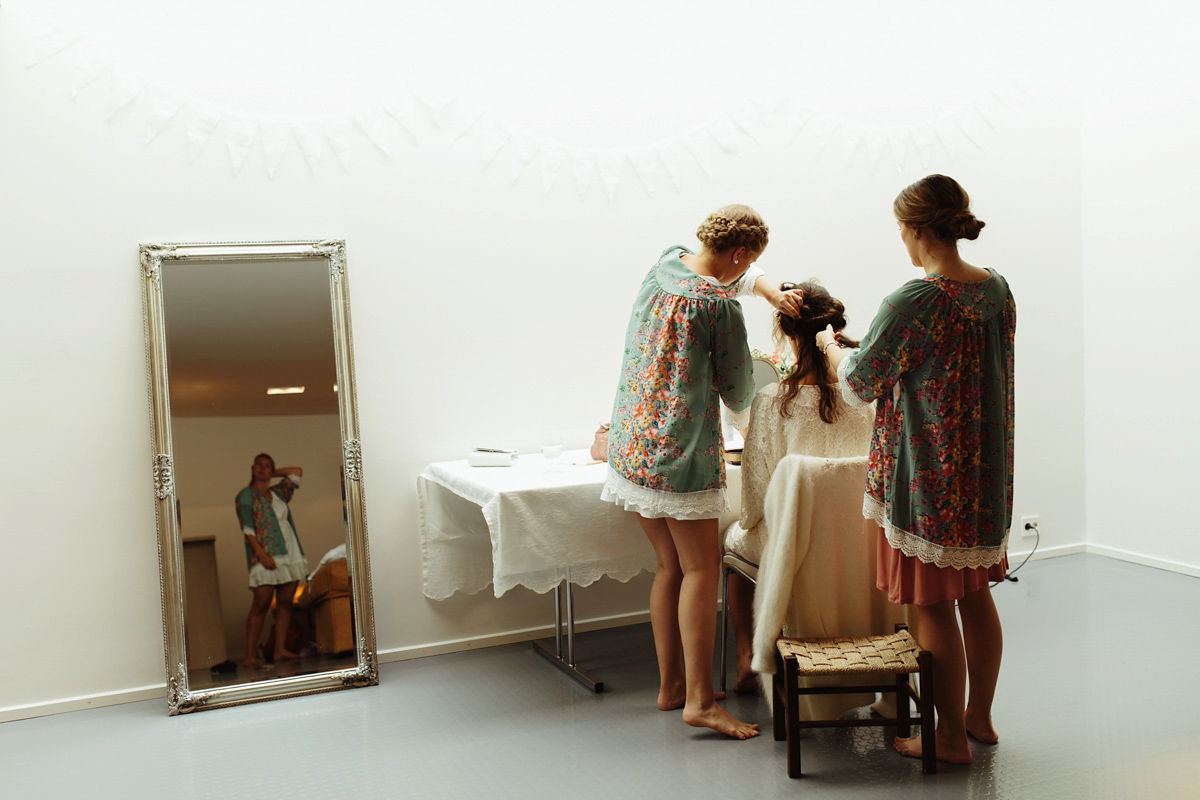 The lovely bridesmaids wore dresses from Modcloth and BHLDN, while the very handsome groom wore a suit, shoes and bow tie, all bought from Eikhi in Bryne.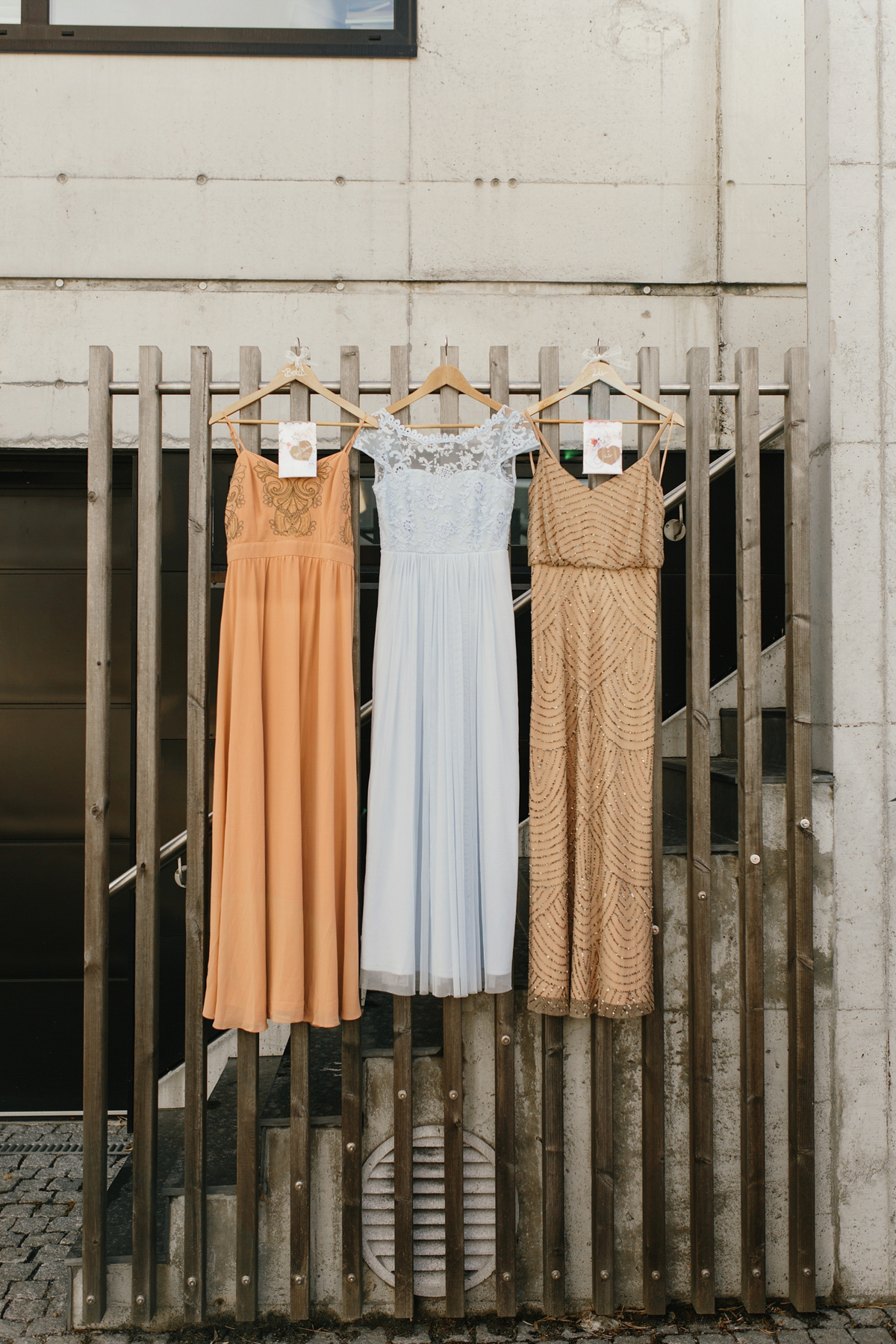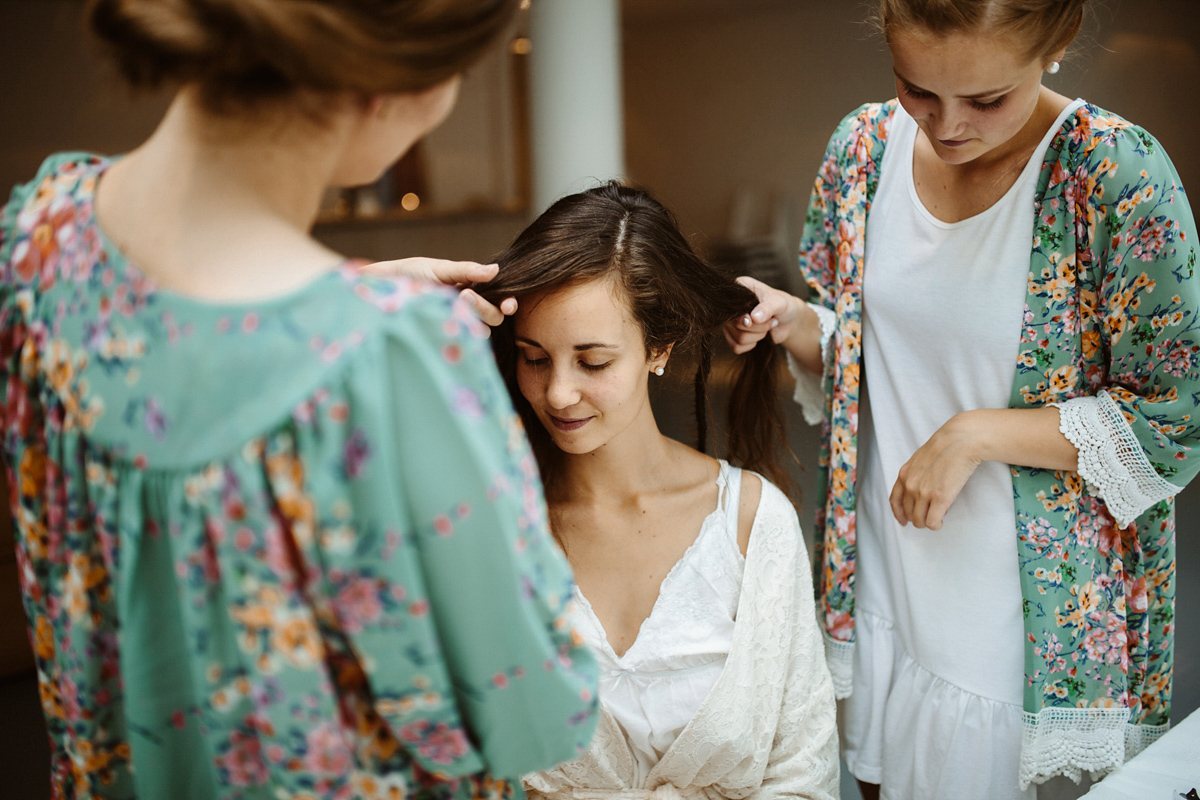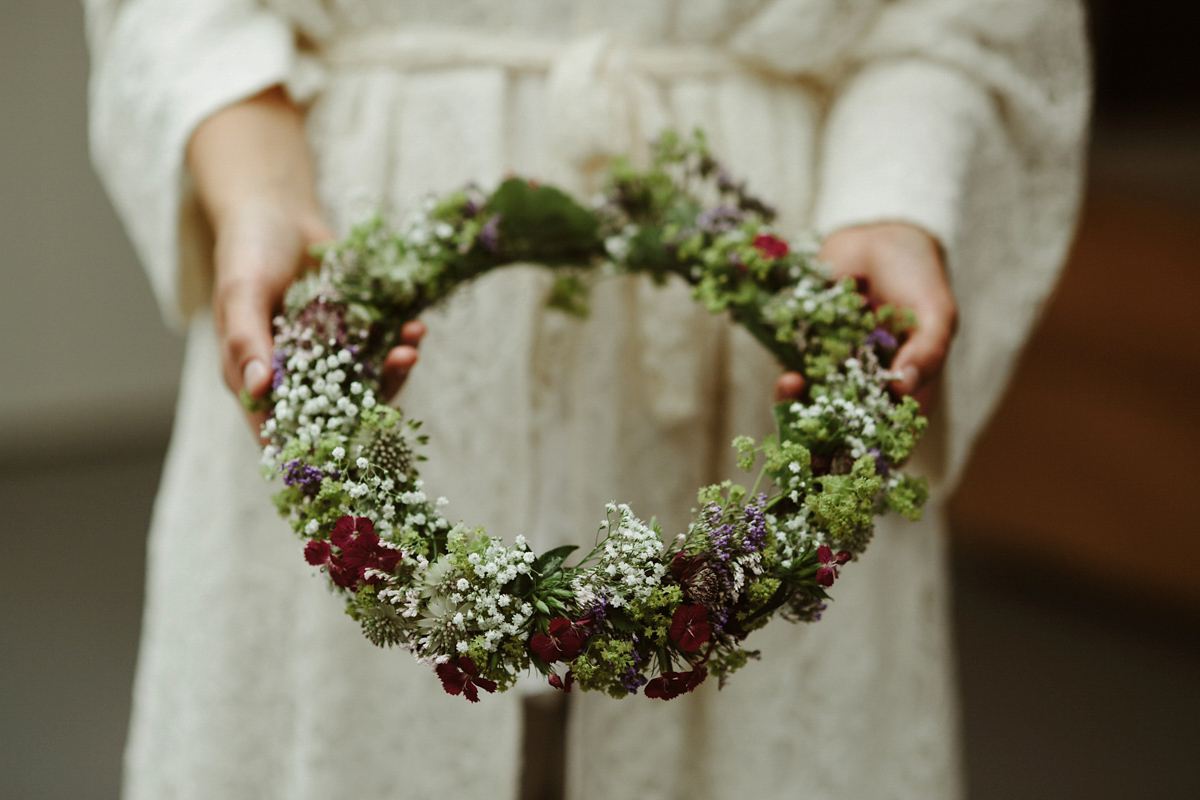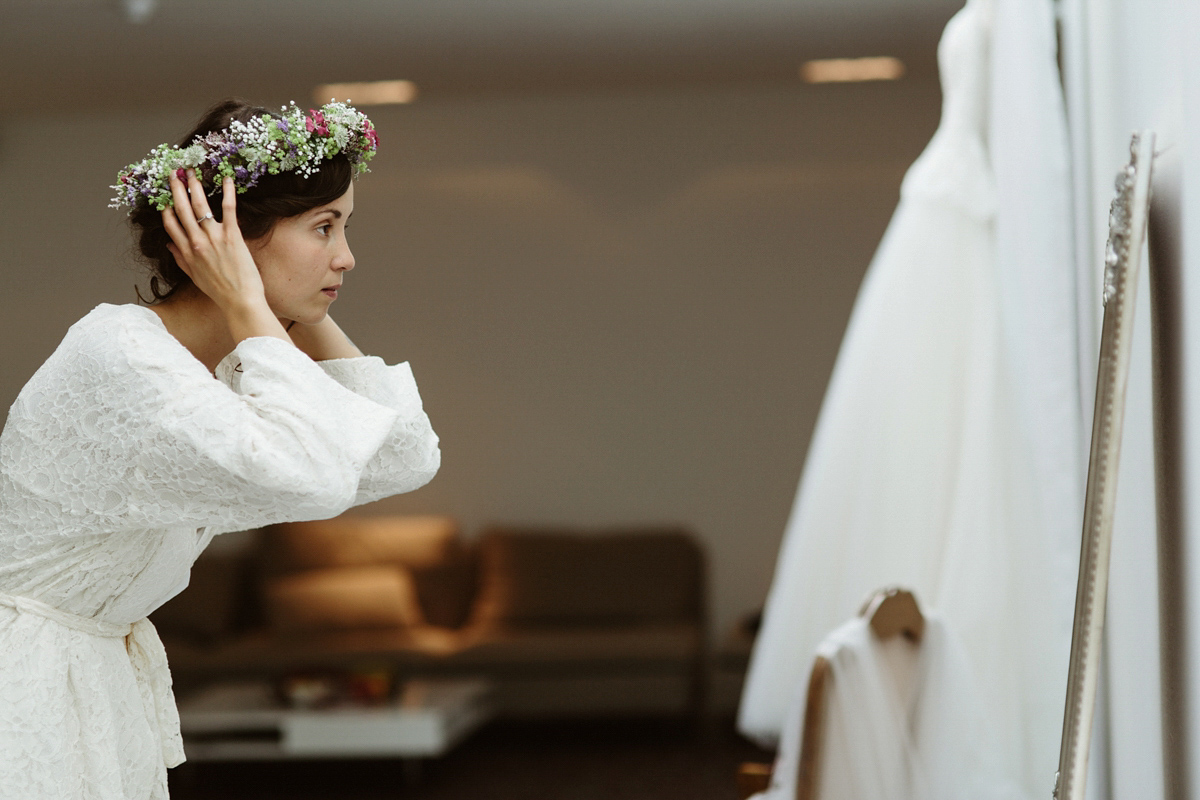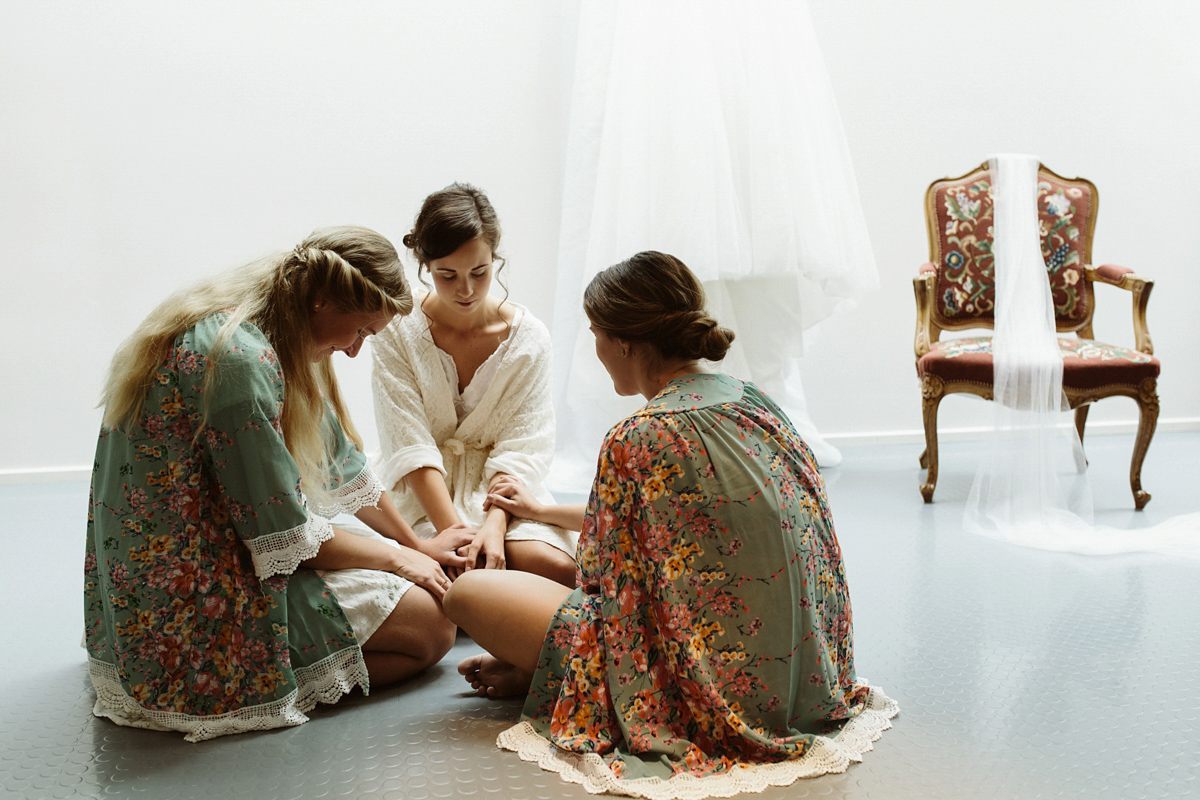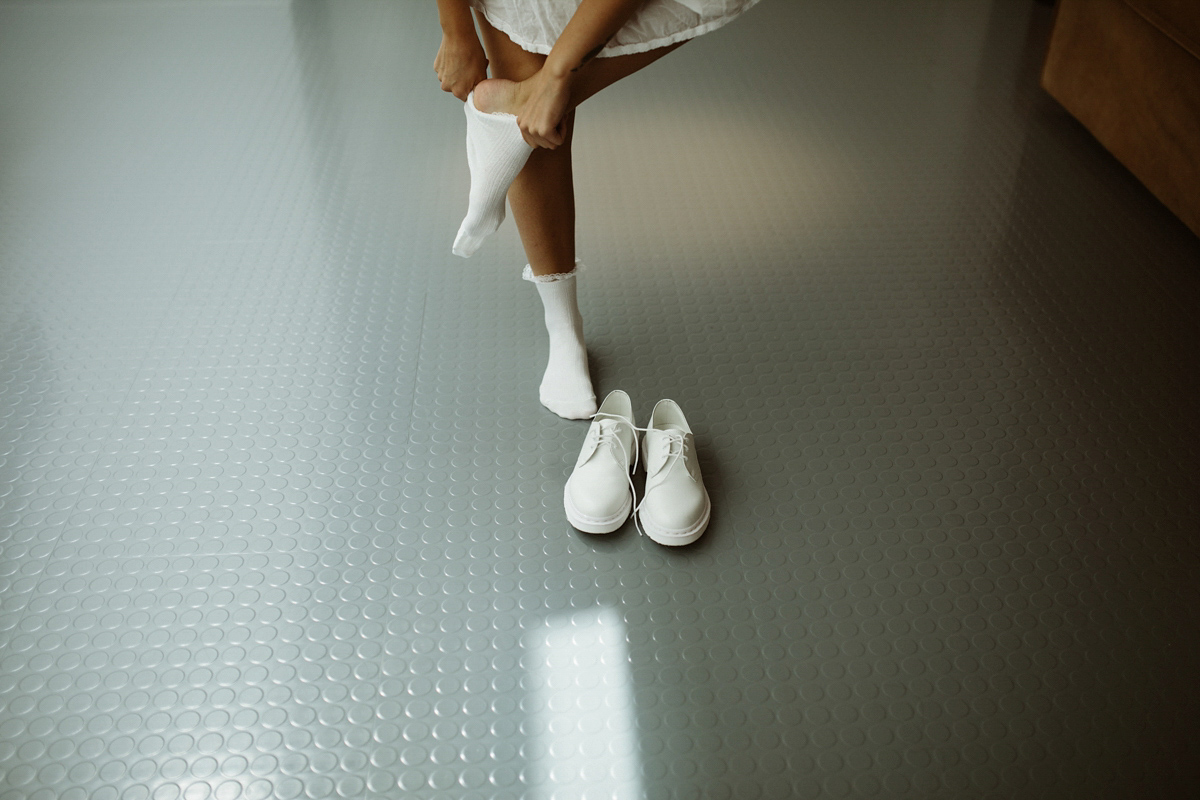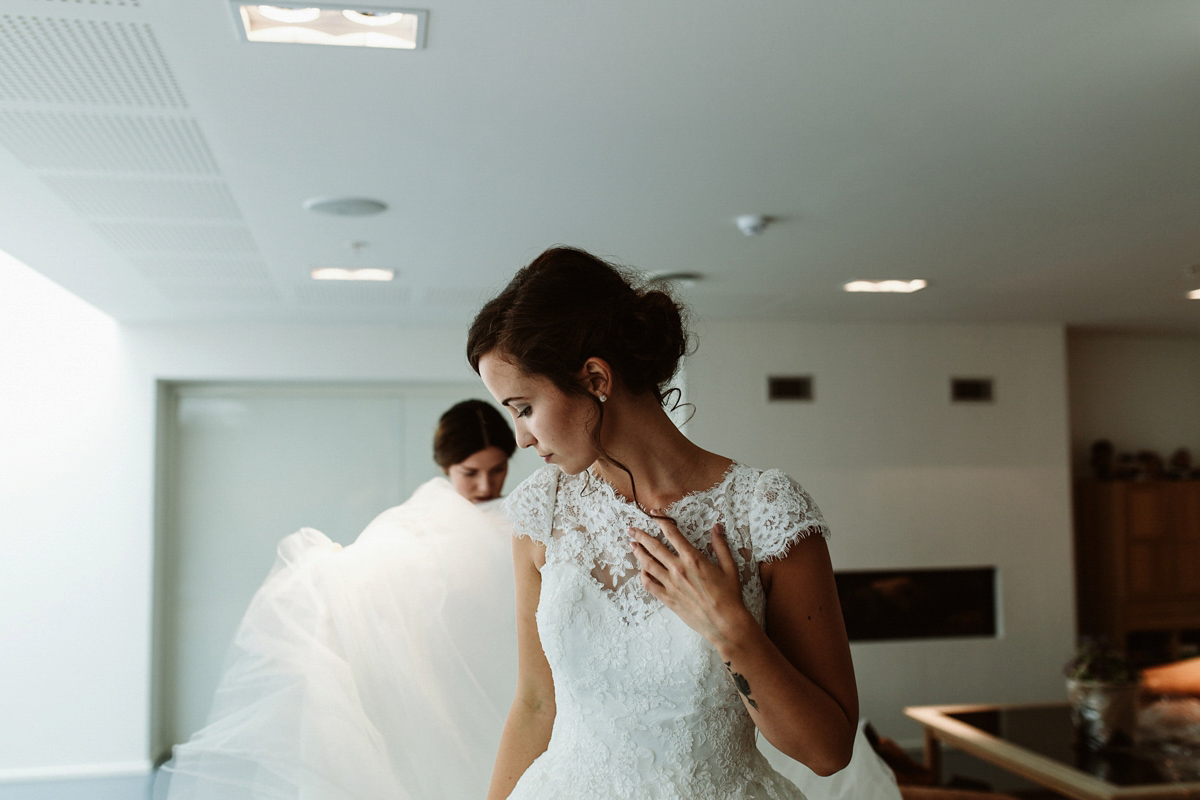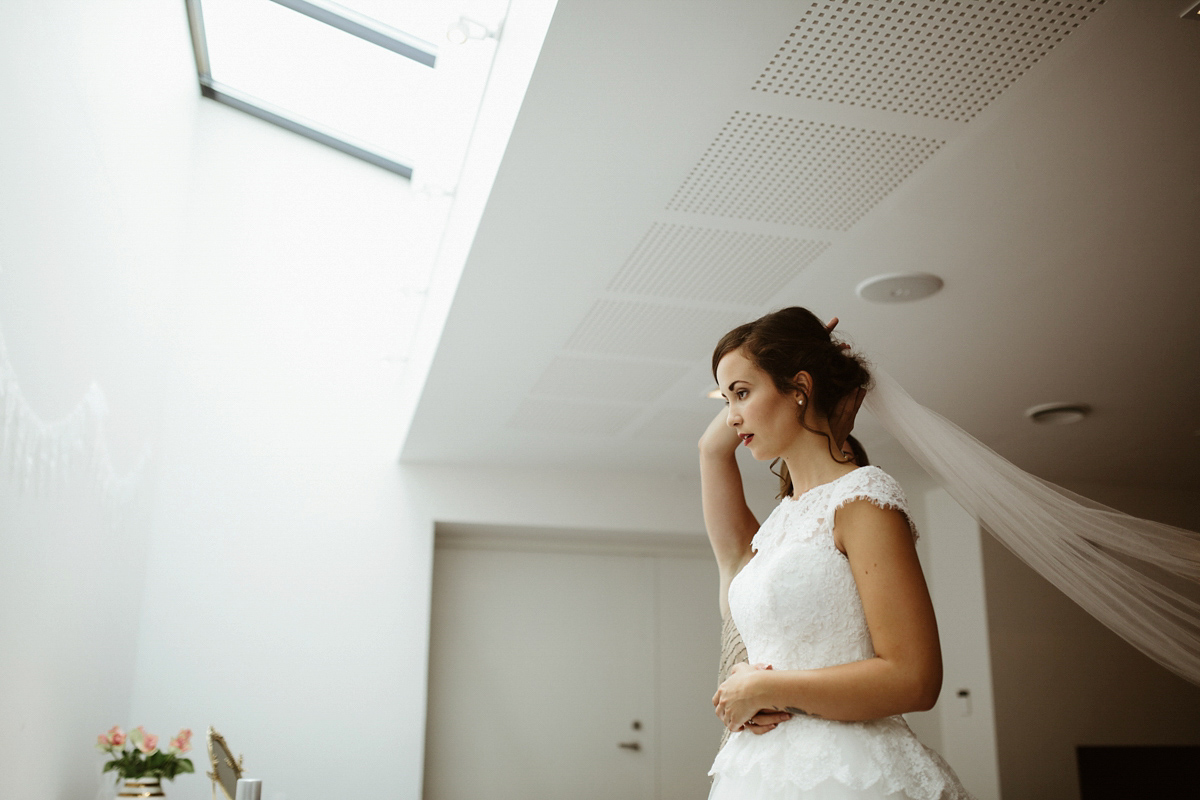 "I also wore pearl earrings, which I borrowed from one of my maids of honor. My dear grandmother gave me a bracelet, which she got when she was fourteen. My sister and my maids of honor did my hair and I did the make-up myself. I barely use make-up on a daily basis, so I wanted it to look natural."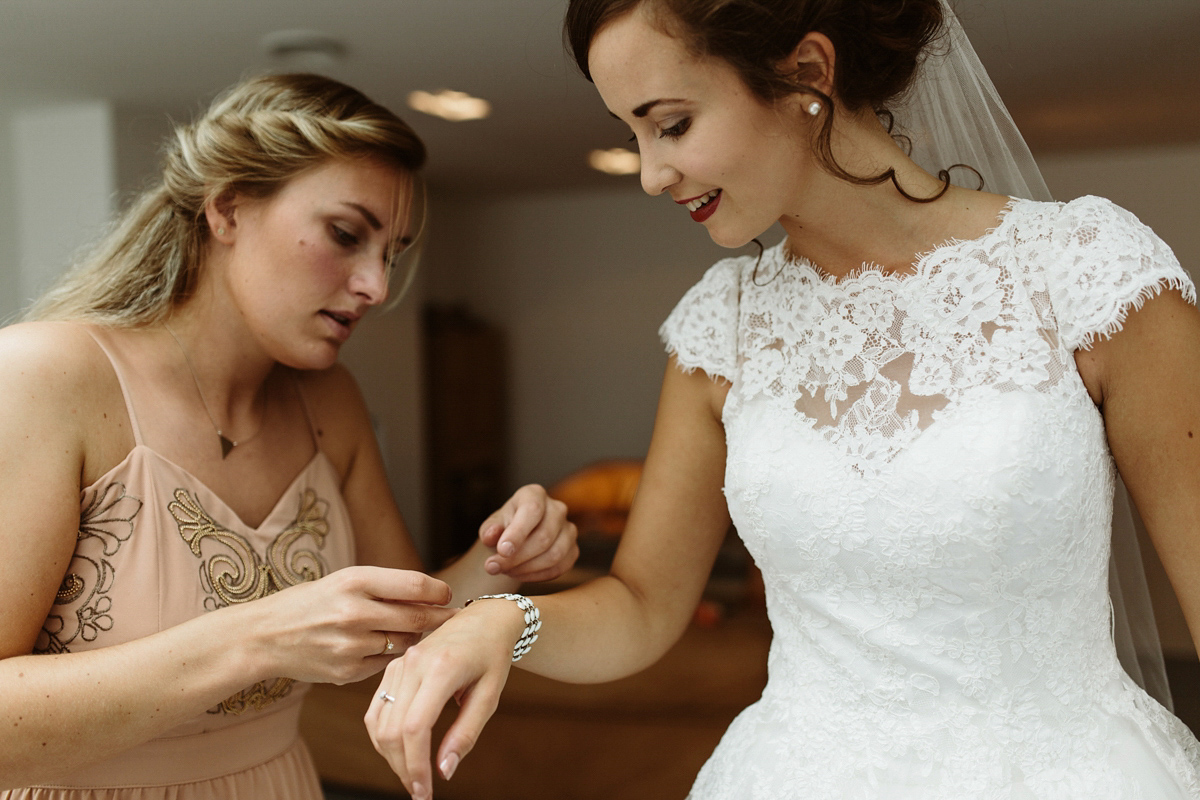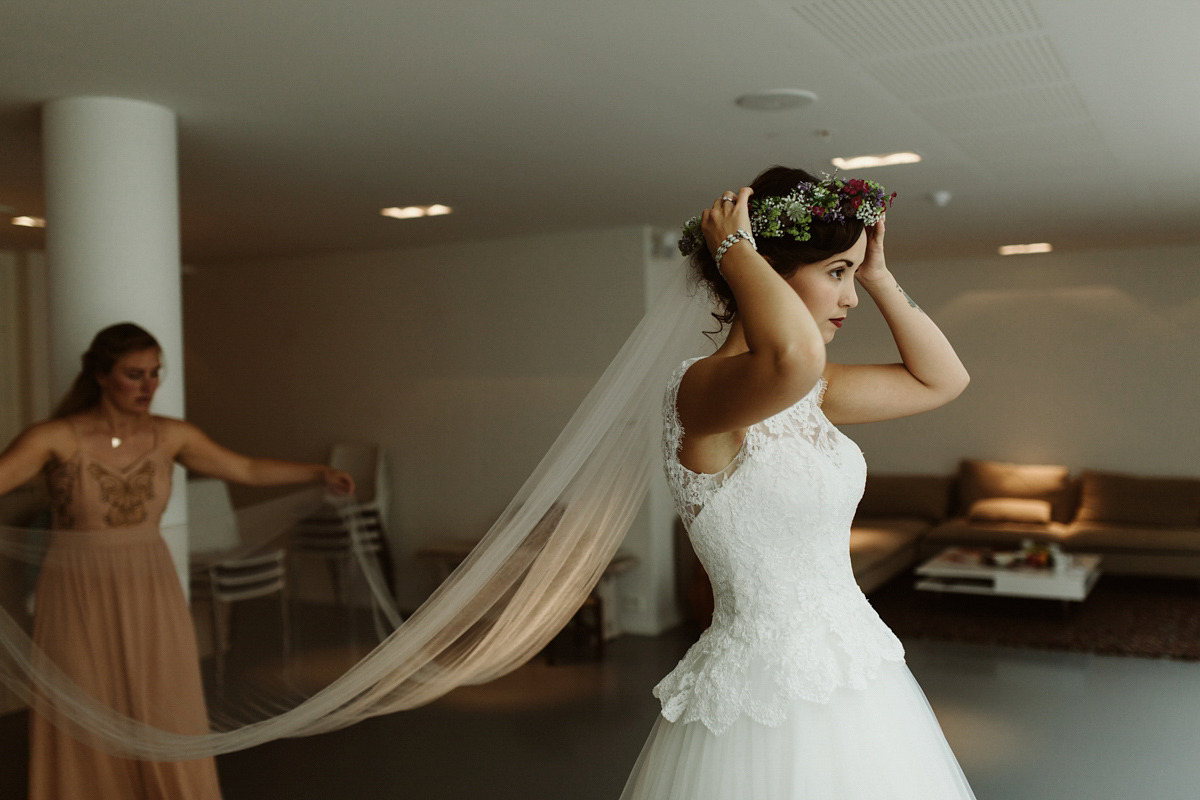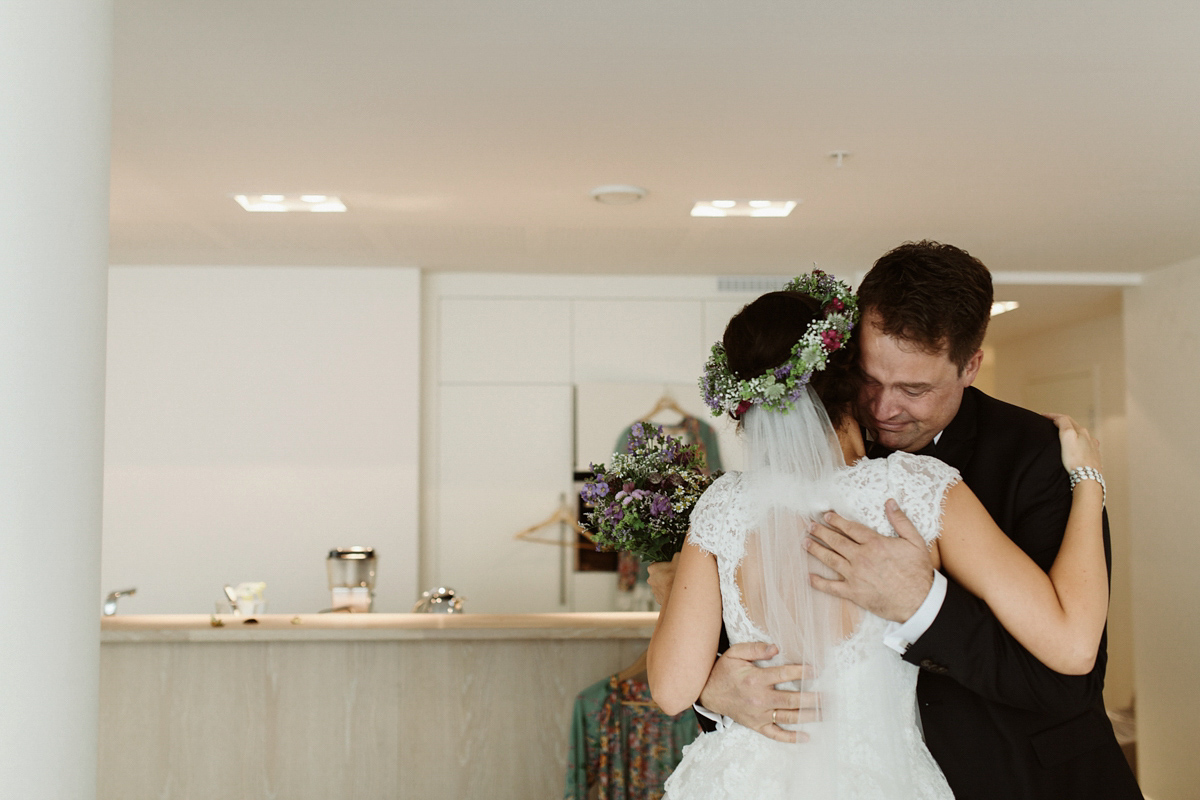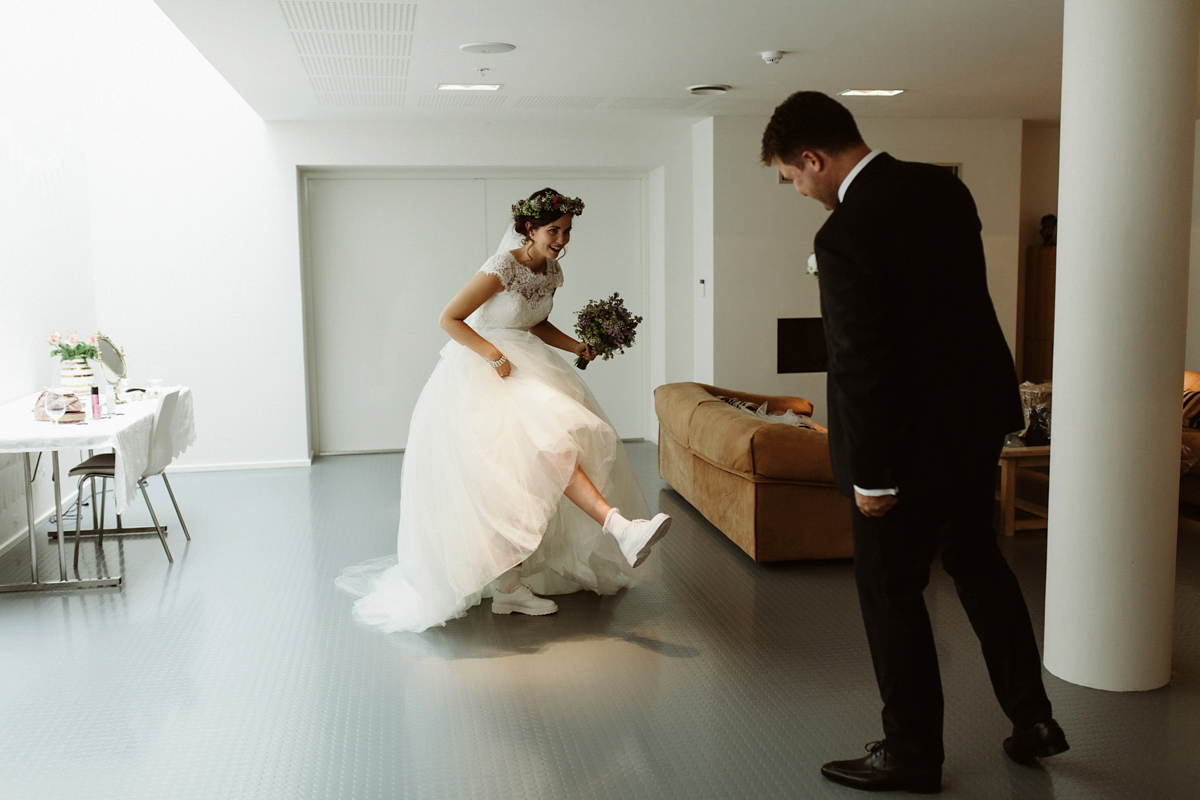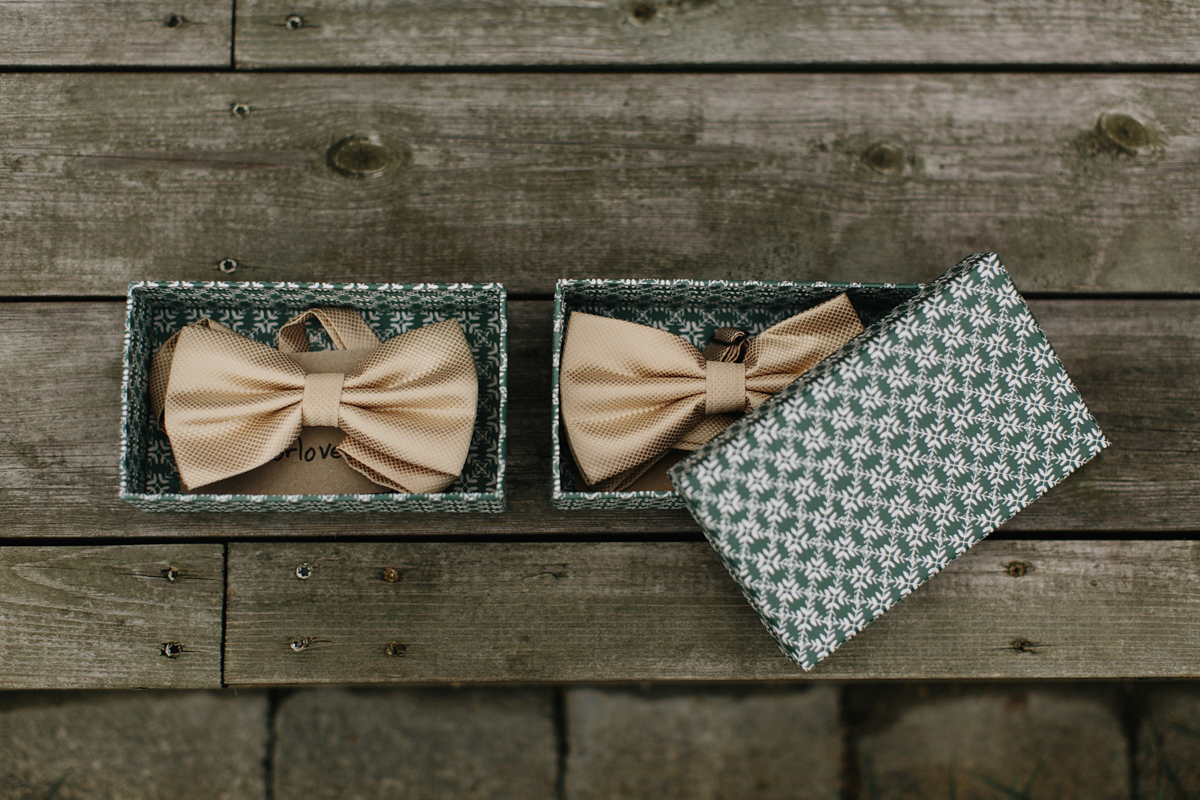 "Espen proposed to me when we were in New York with my art school. We had an evening to ourselves and he got down on one knee right under the Brooklyn bridge. We were engaged for fifteen months before we got married."
"We ordered the engagement ring online in the middle of the night outside our hostel In New York, then bought our wedding rings in Ethiopia and got them engraved in Norway."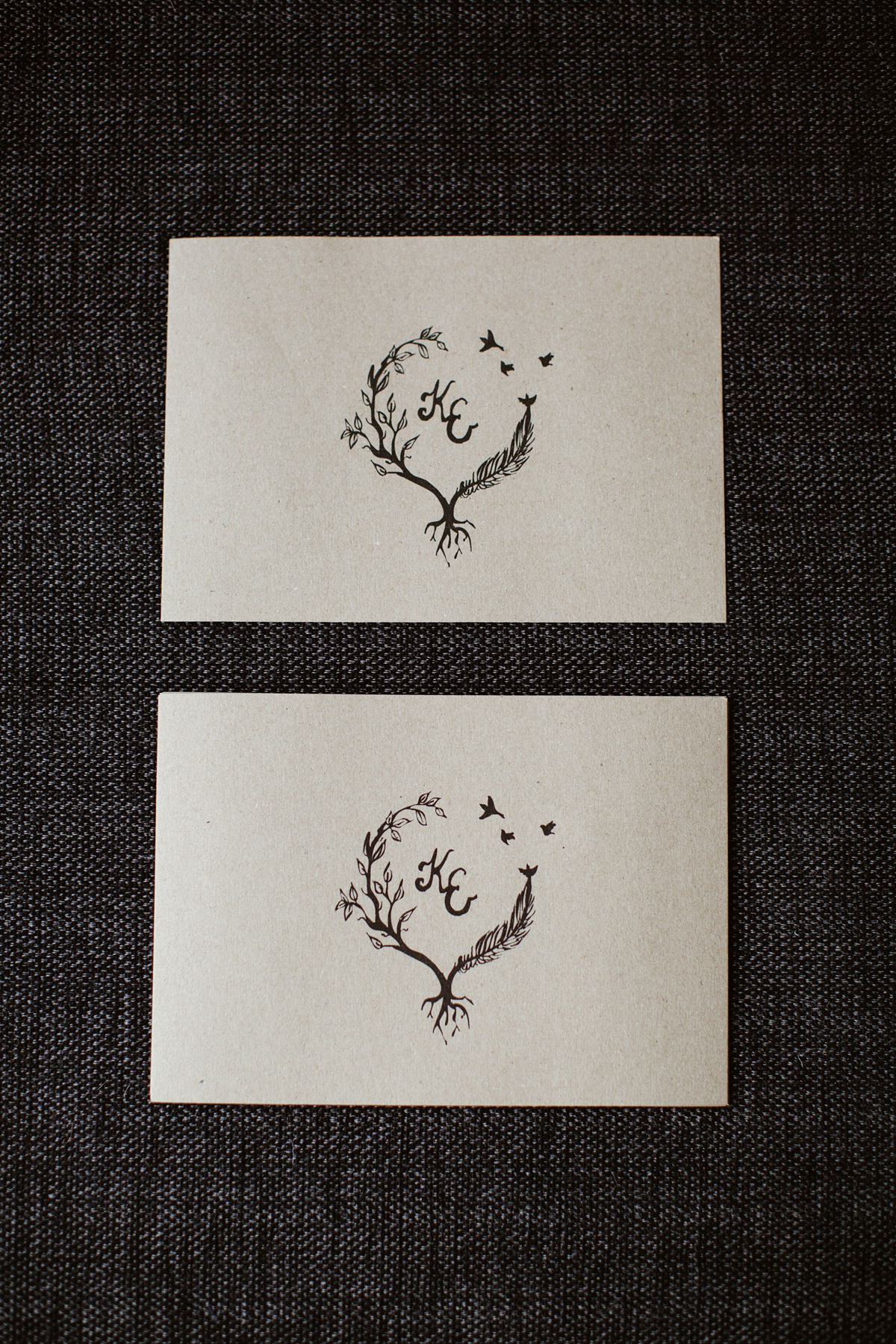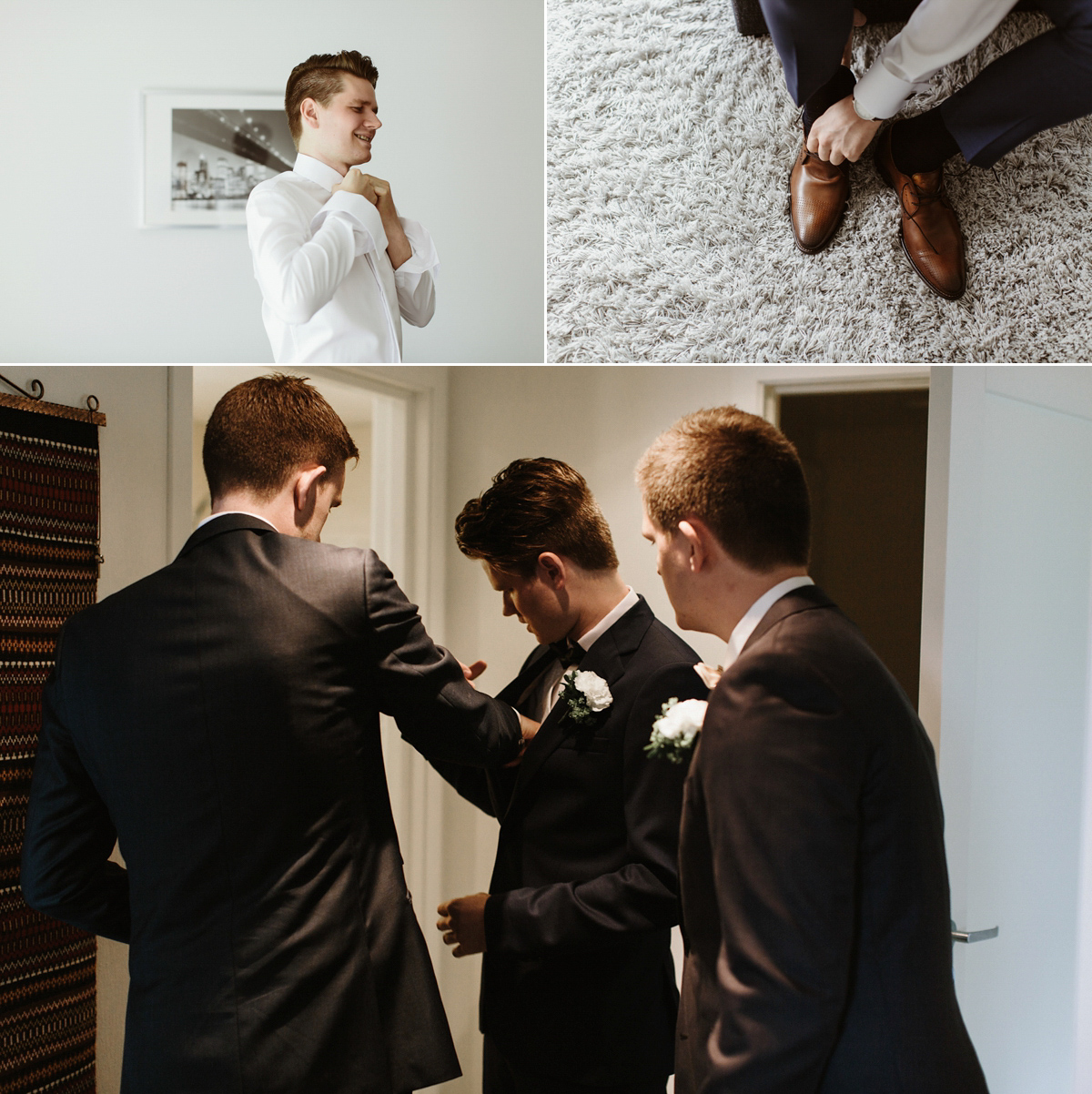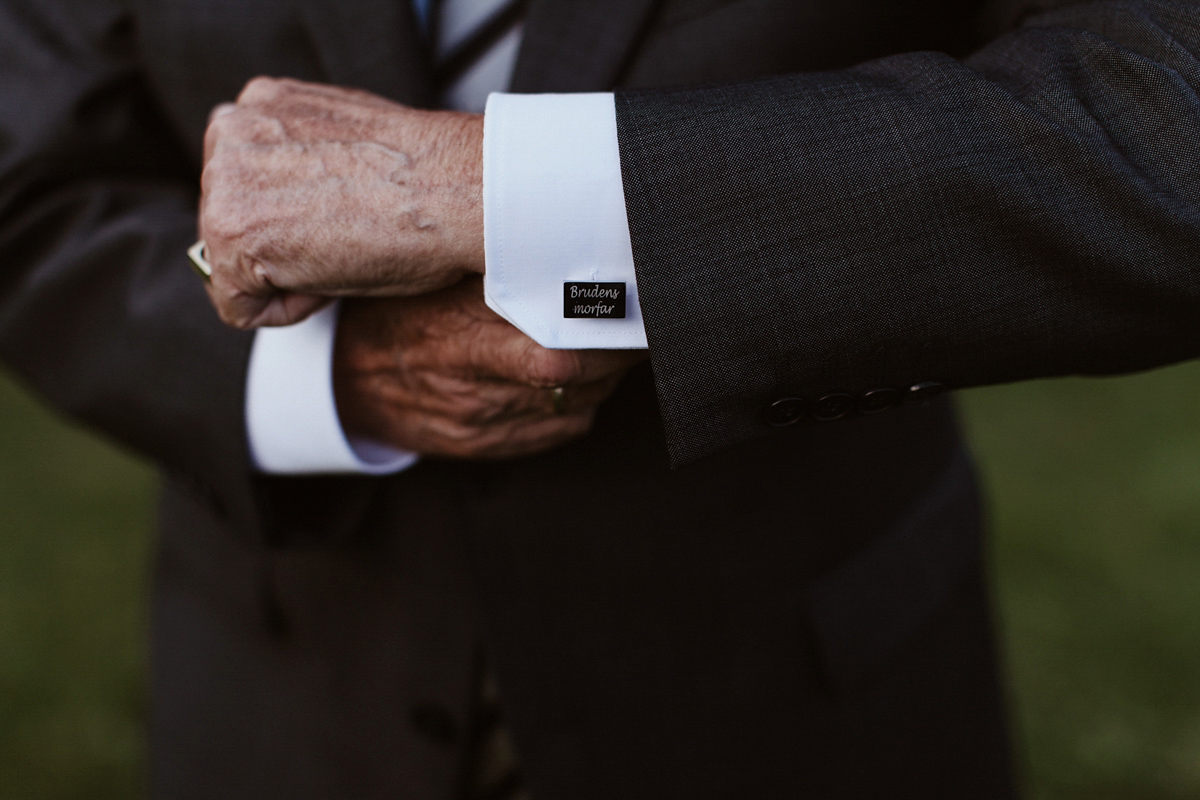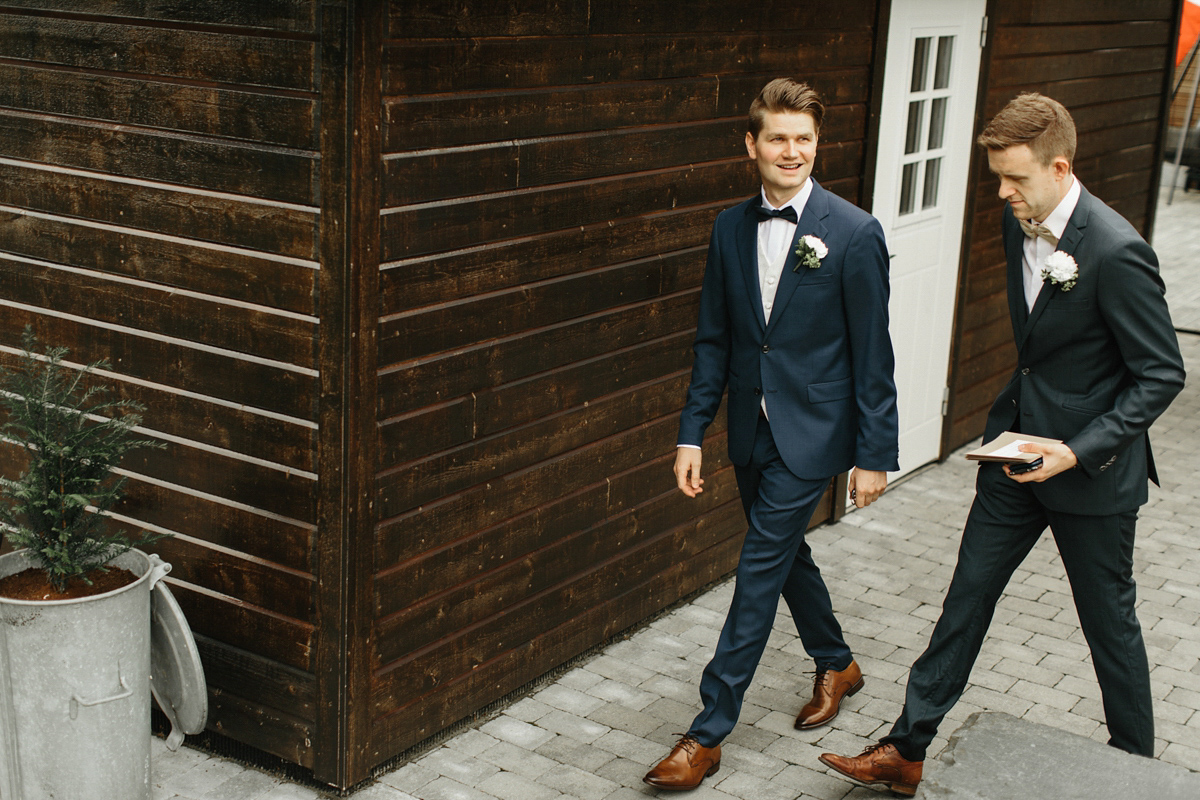 Karin Ann's father walked her down the aisle to Forever by Kari Jobe, performed by a live instrumental band. Their religious ceremony space has to be one of the most beautiful settings I've seen; minimal and bright with soaring high ceilings and a soft, ethereal light flooding through from behind the altar. This is why I love Scandinavia – that simple, clean, pure aesthetic that's full of care, detail and beauty.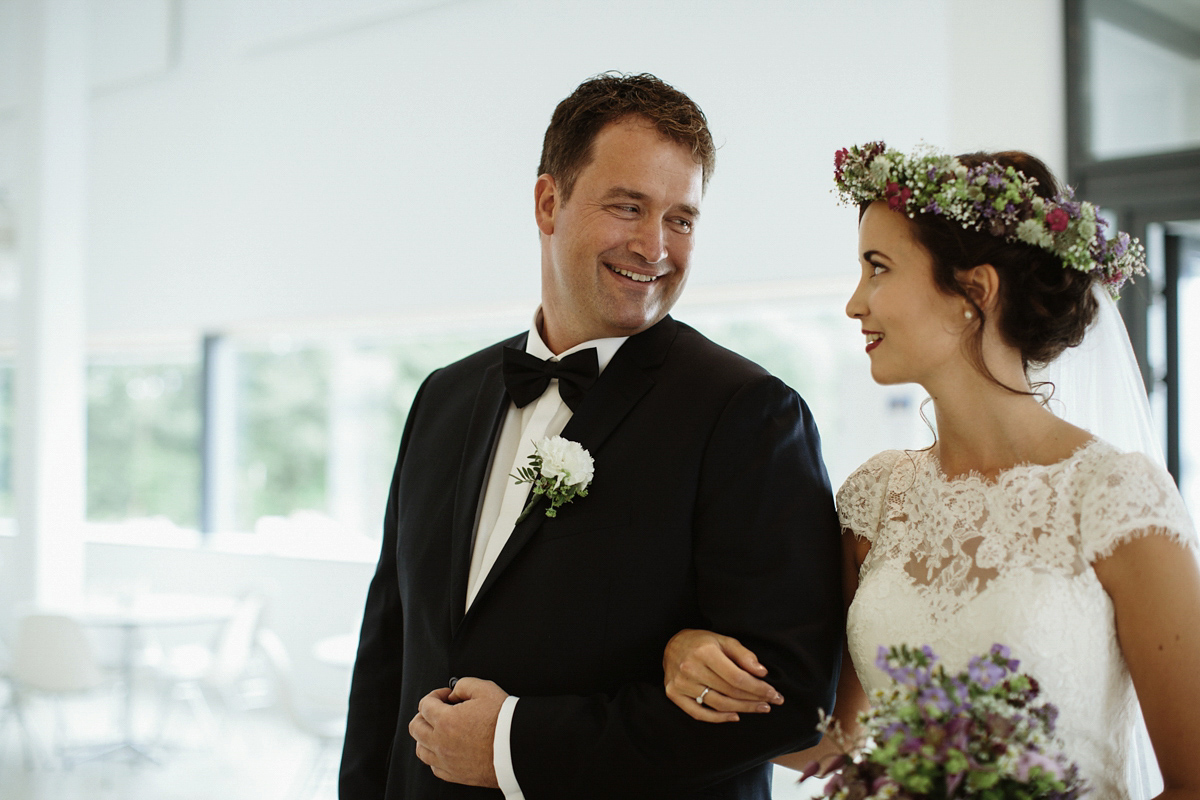 Kari Ann hung flocks of white origami cranes from the ceilings, echoing her walk down the aisle towards her fiancé.
The couple were joined in matrimony before their loved ones; a gifted and creative bunch who performed in a range of styles at the ceremony and later at the reception.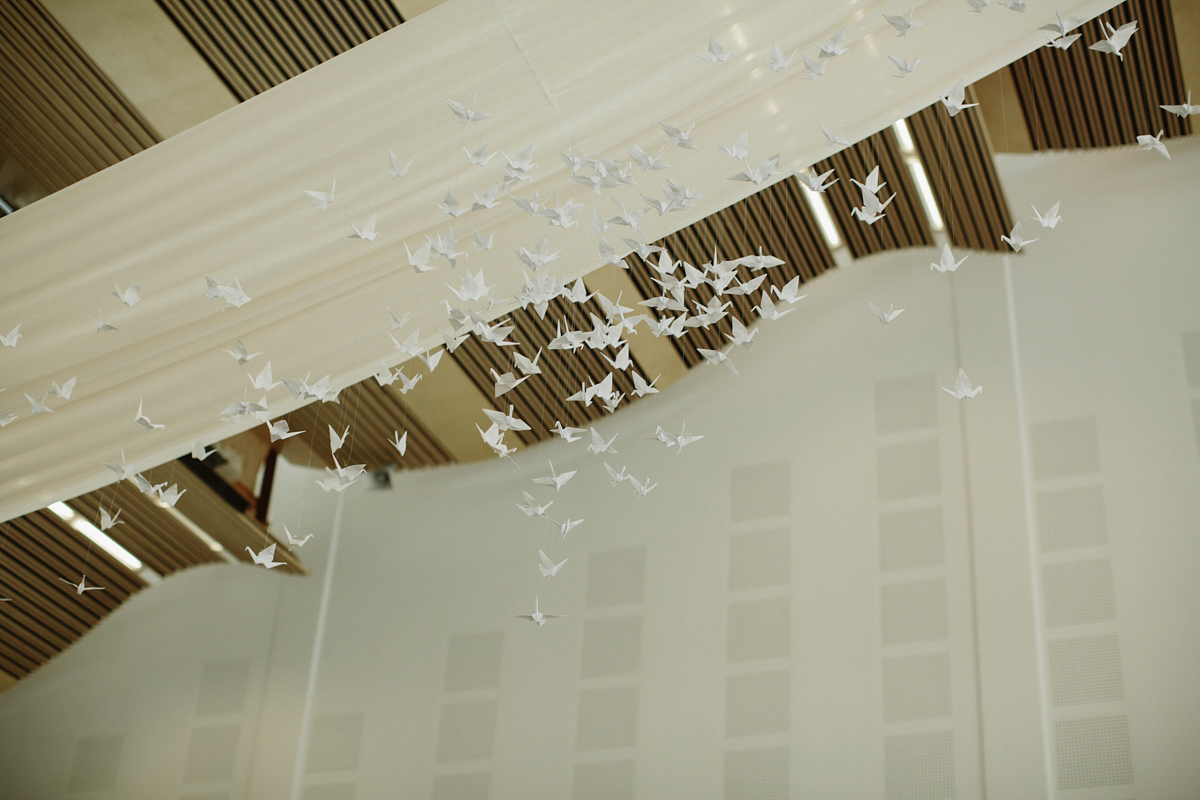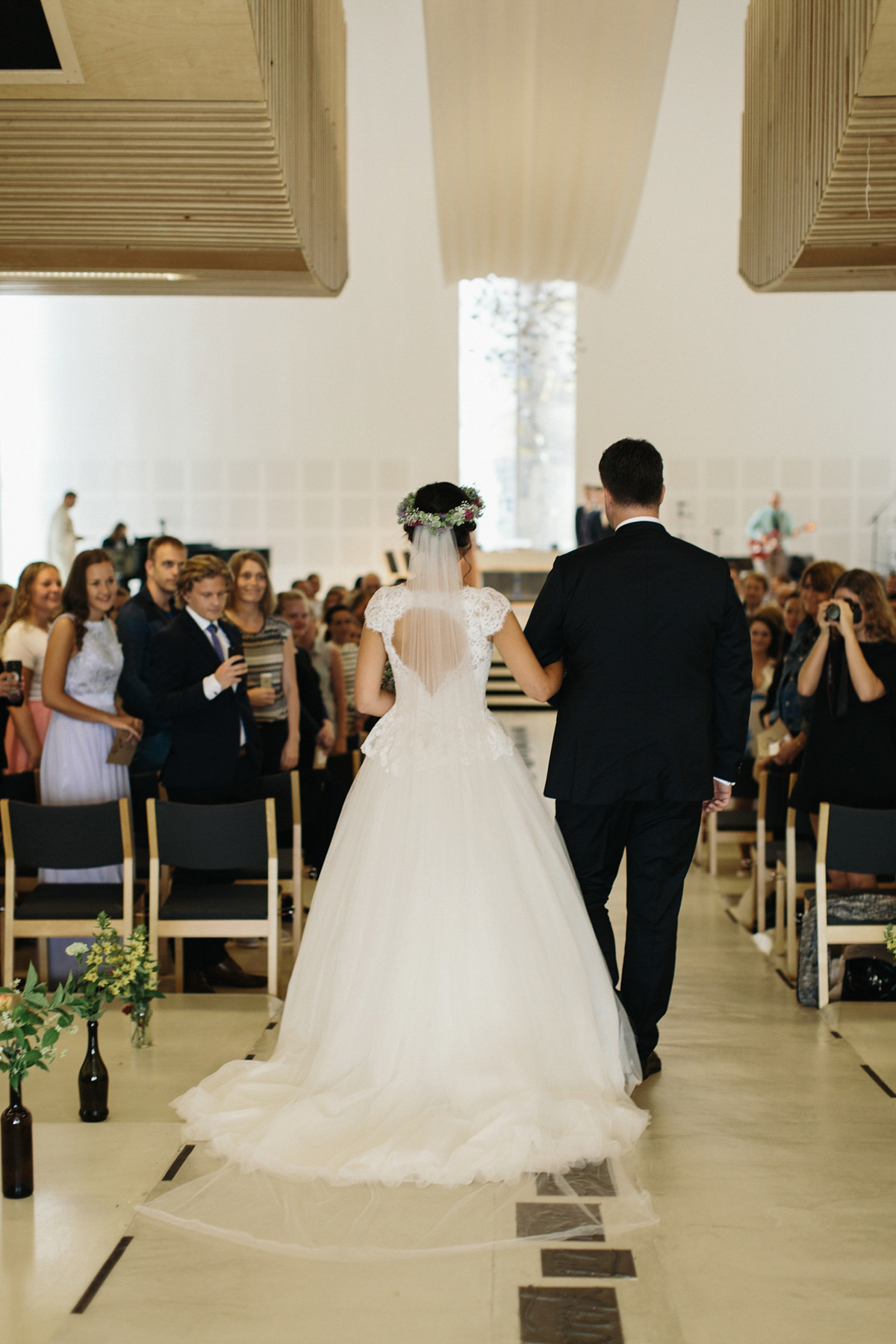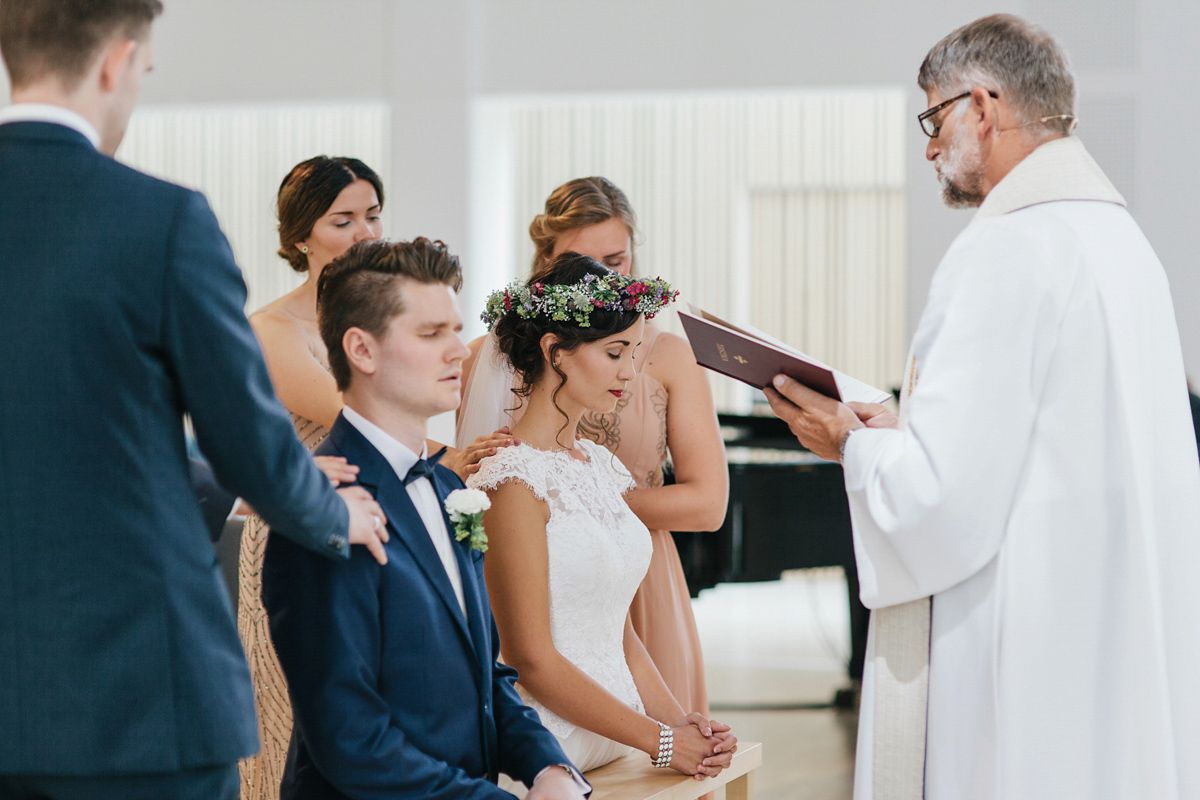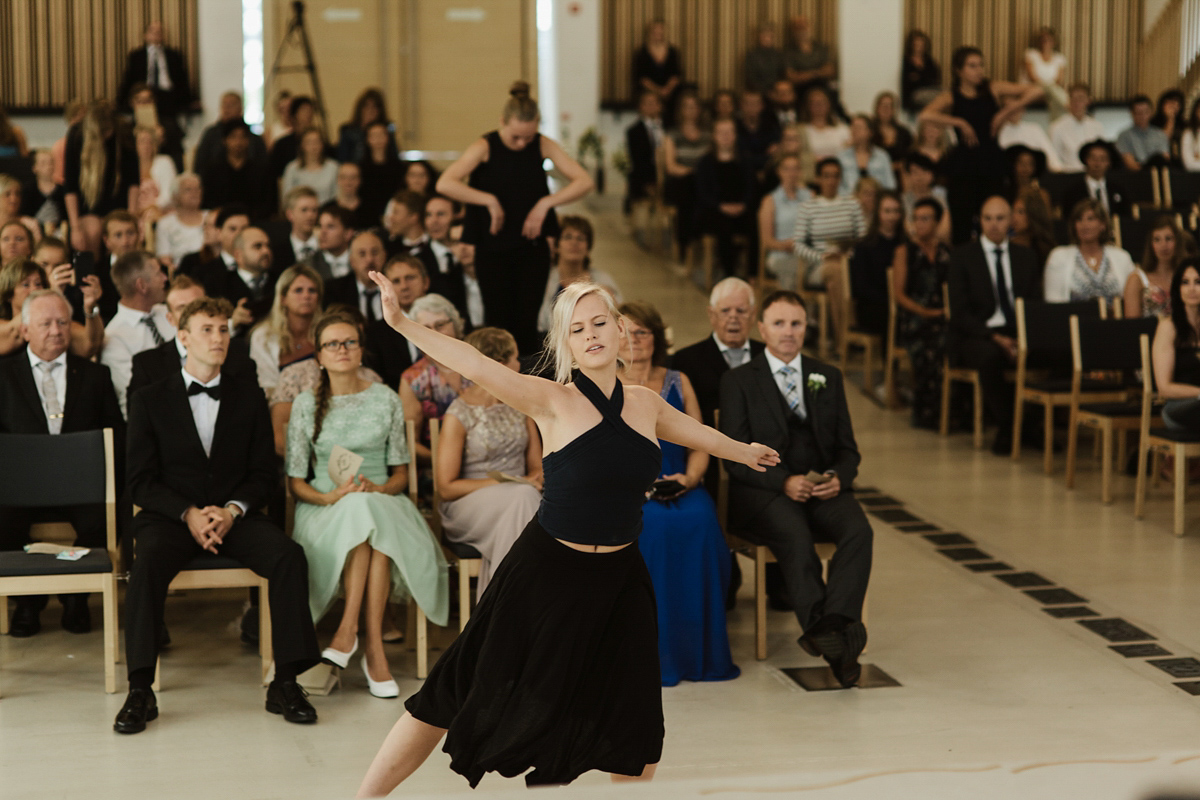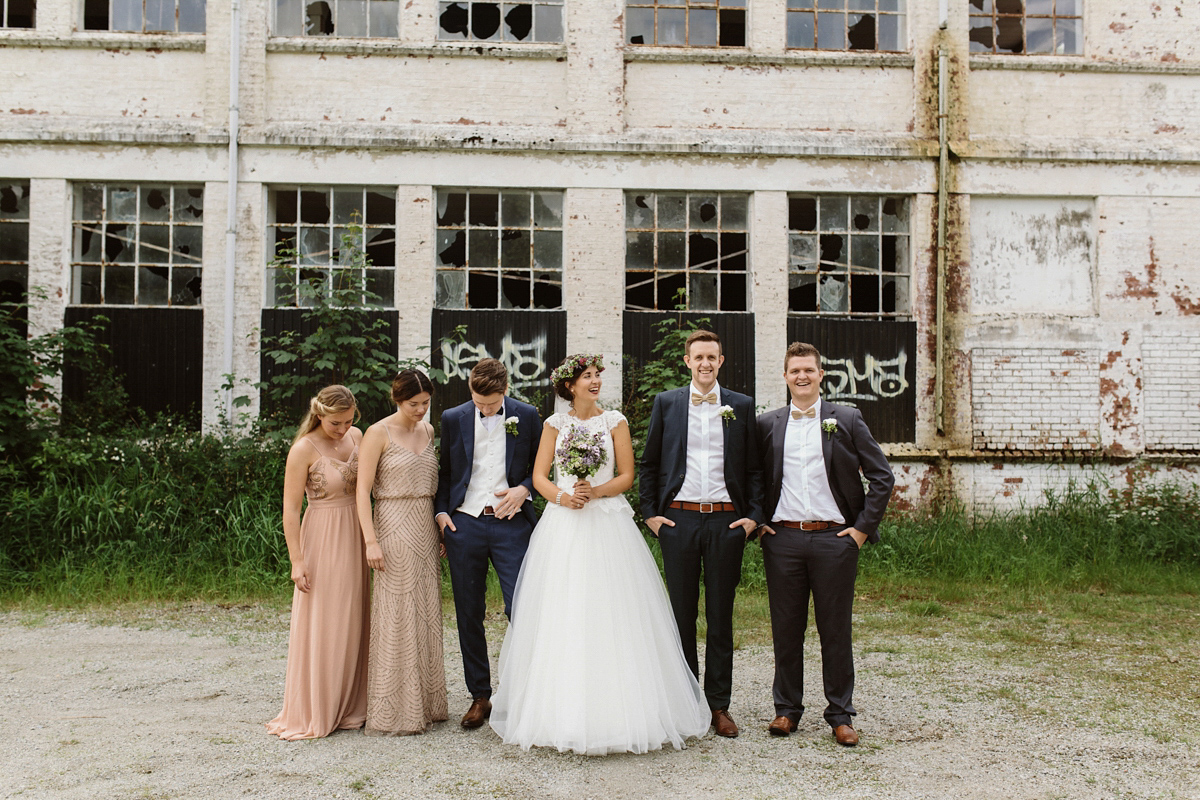 Kari Ann and Espen chose husband and wife team, Sam and Diana, to document all the precious moments of their day. We've featured a number of beautiful weddings captured by Green Antlers Photography, a duo who specialise in creating sublimely raw, light-filled images.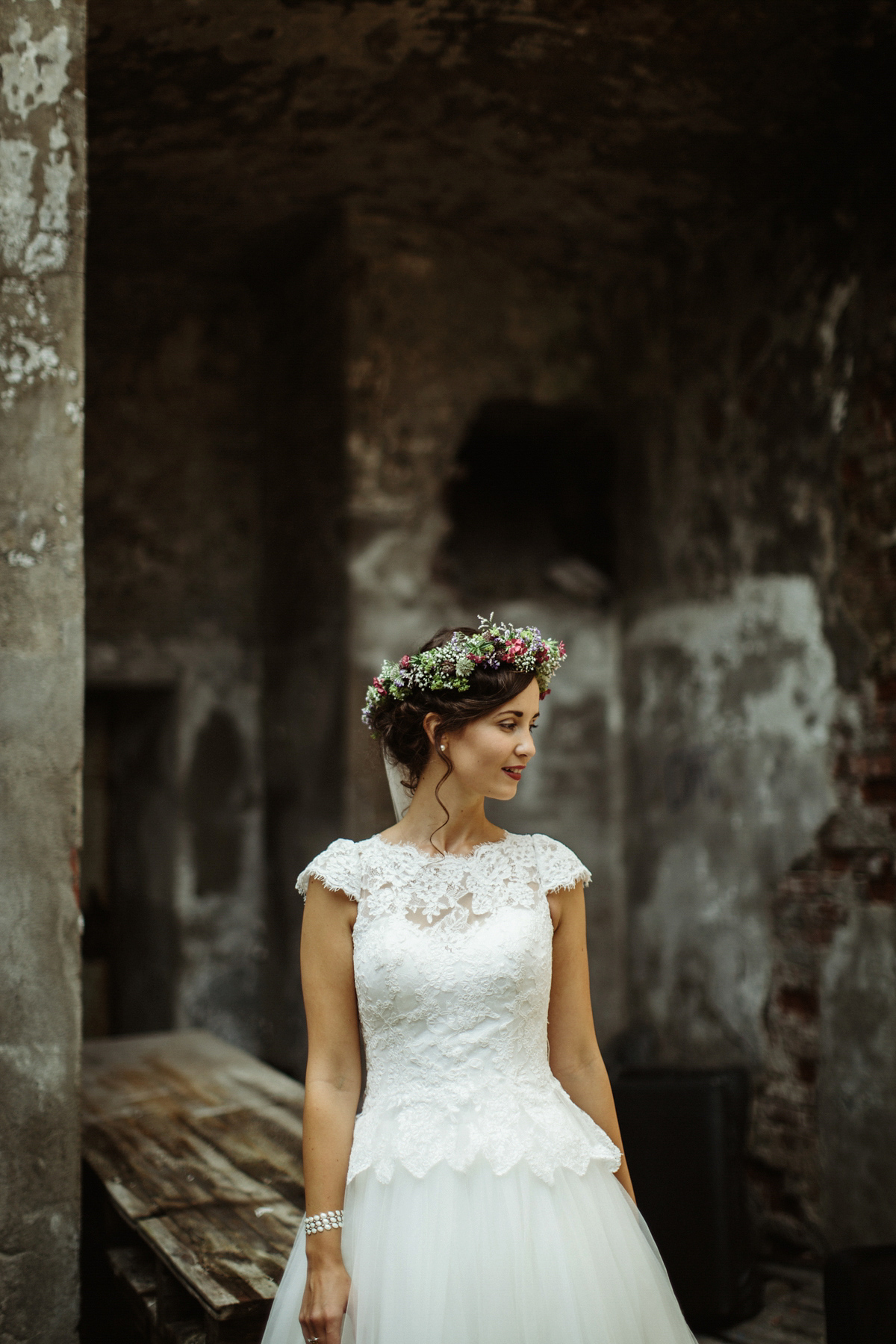 "We were so happy to have Sam and Diana of Green Antlers Photography photographing our wedding. They not only take amazing photos and make you feel relaxed and comfortable, but they are helpful and interested, full of joy, humor and love. We are grateful to now call them our friends. We also had friends to film our special day."
Before sitting down to a wedding breakfast with their guests (including my all time favourite cinnamon rolls), the newly married Kari Ann and Espen slipped away to spend some very precious time together in the surrounding forest and on the shore of the steely-blue North Sea.
I love the contrast of the shots captured against this incredible natural scenery, with the images of the couple in front of crumbling brick and weathered concrete.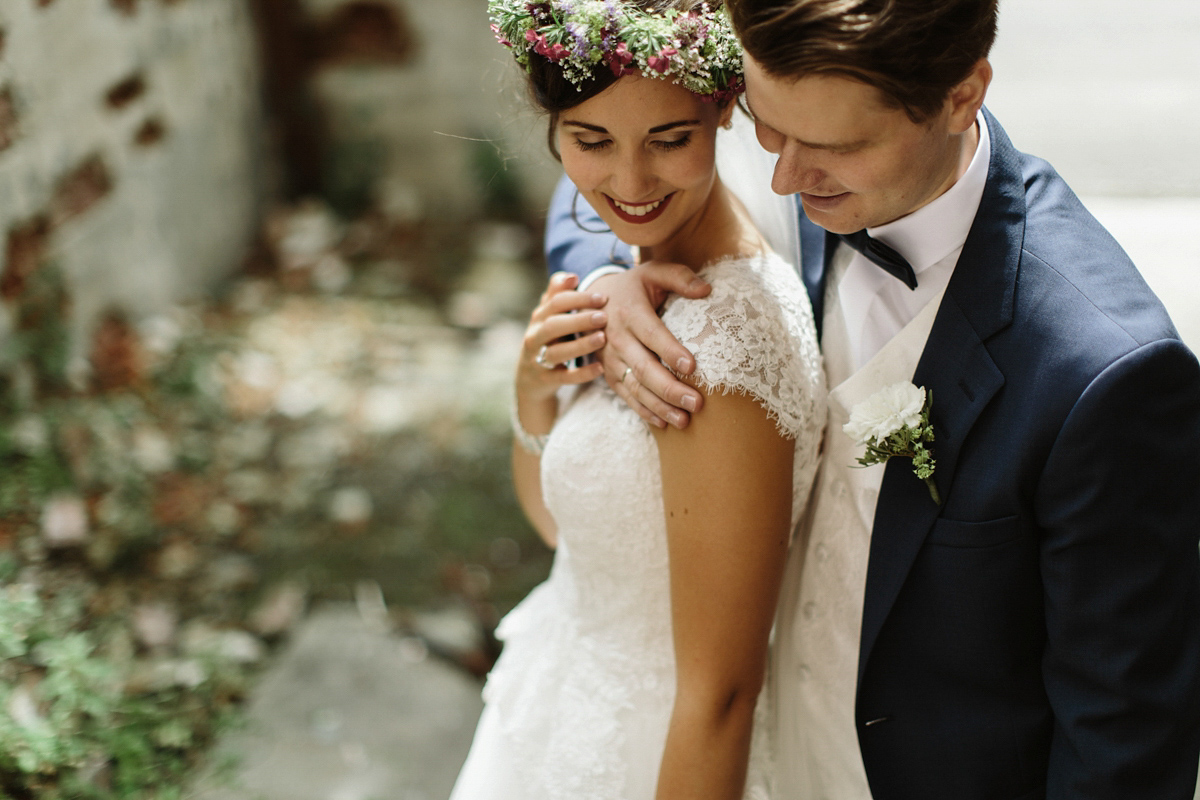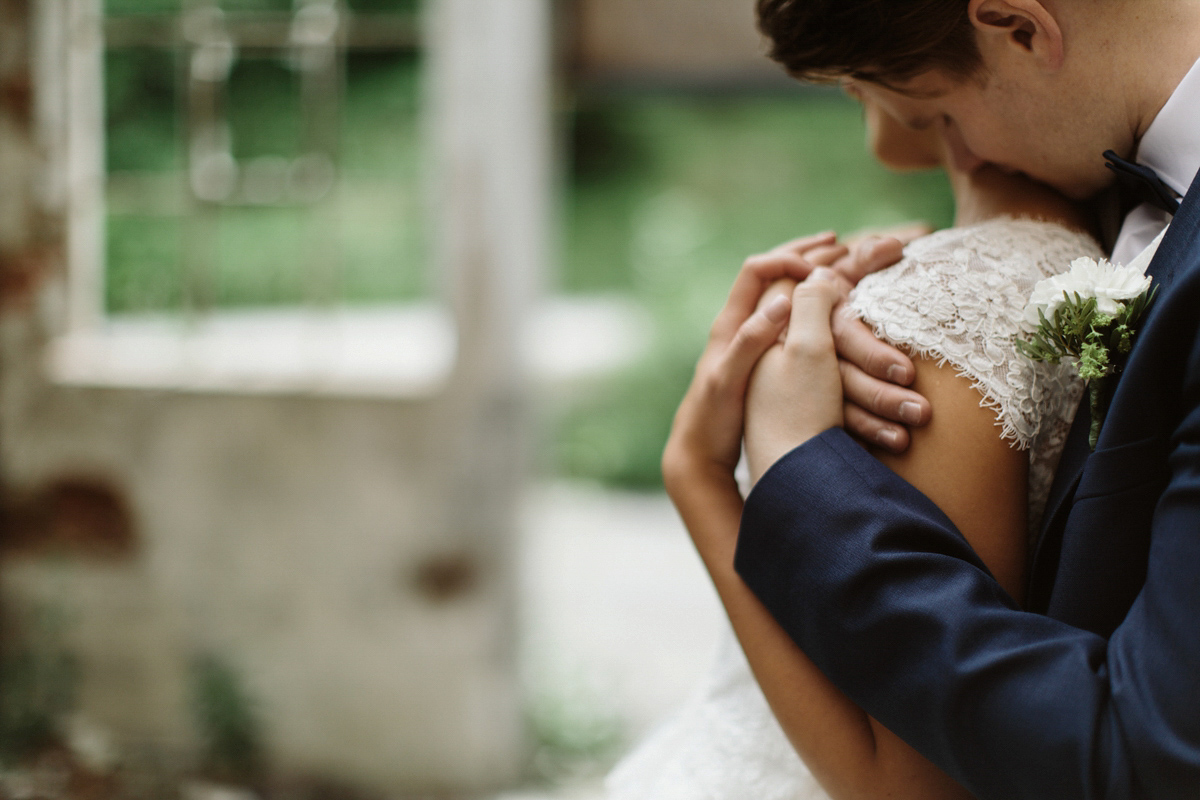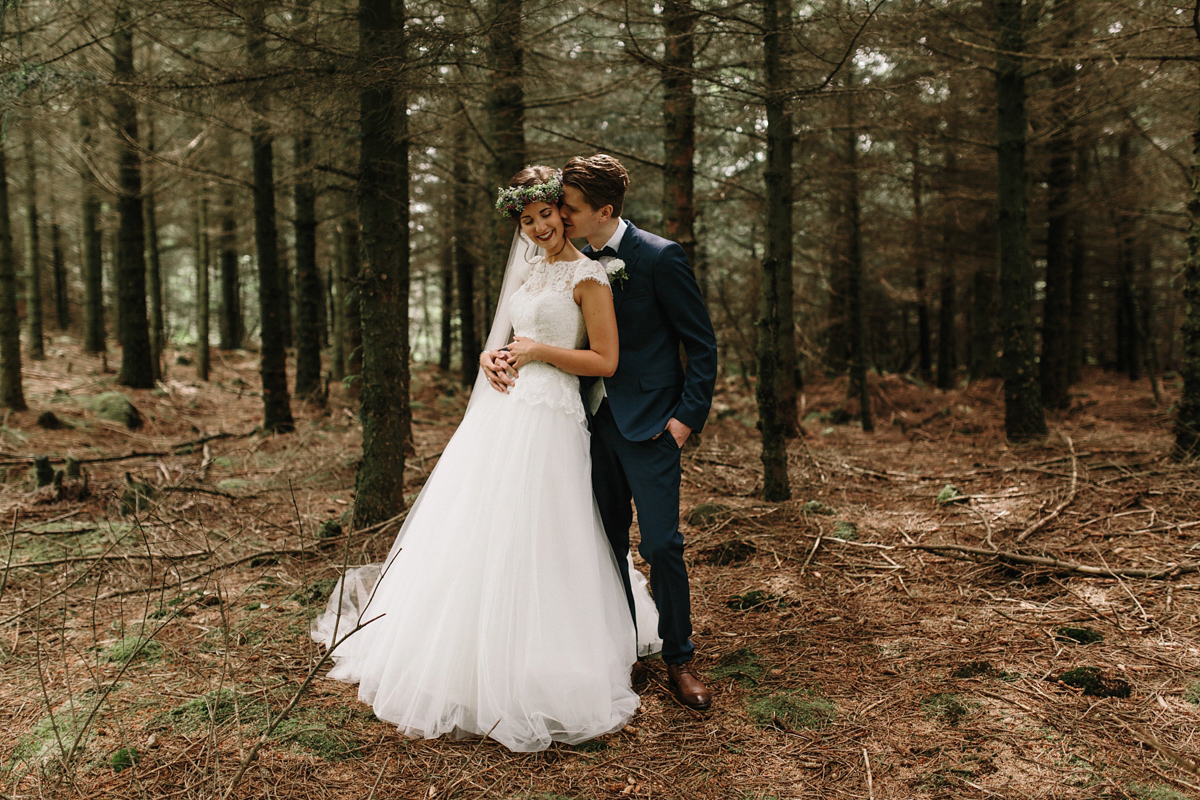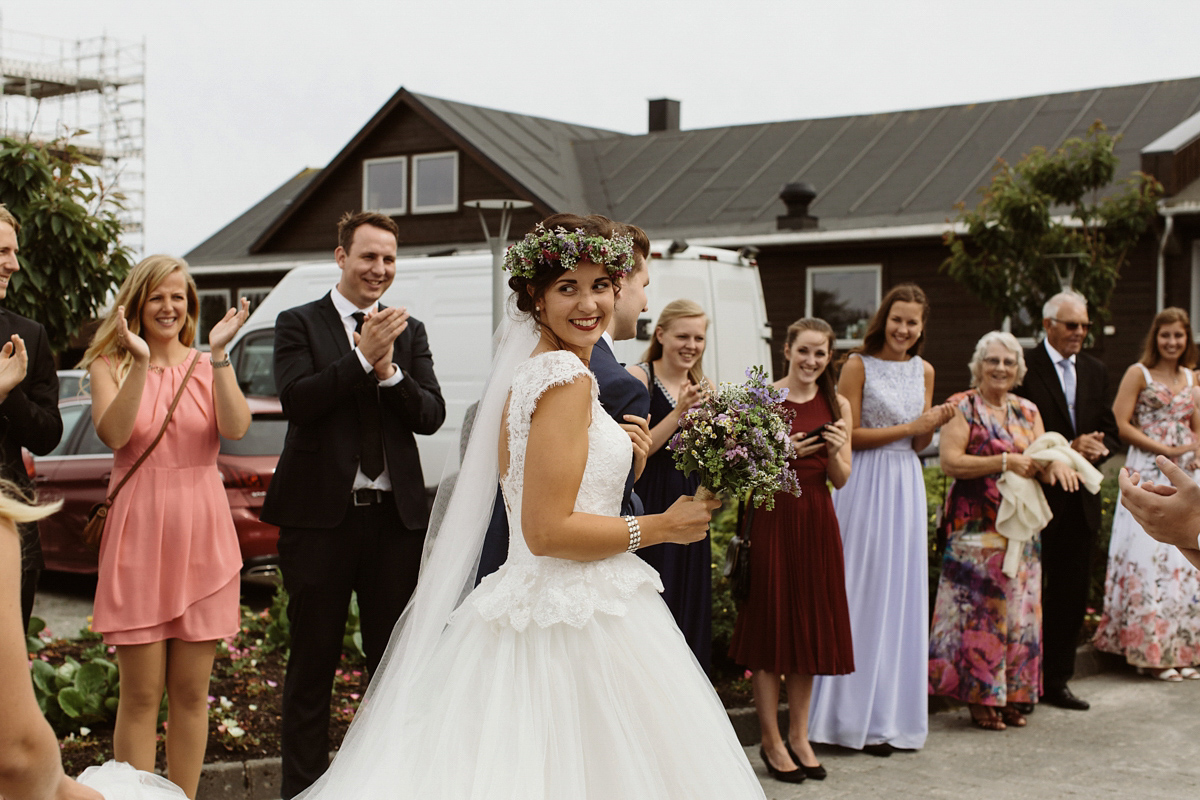 "We did the décor ourselves, with kraft paper and lace ribbons. For the ceremony I'd made hundreds of white origami cranes to follow us down the aisle and we also had lots of flowers."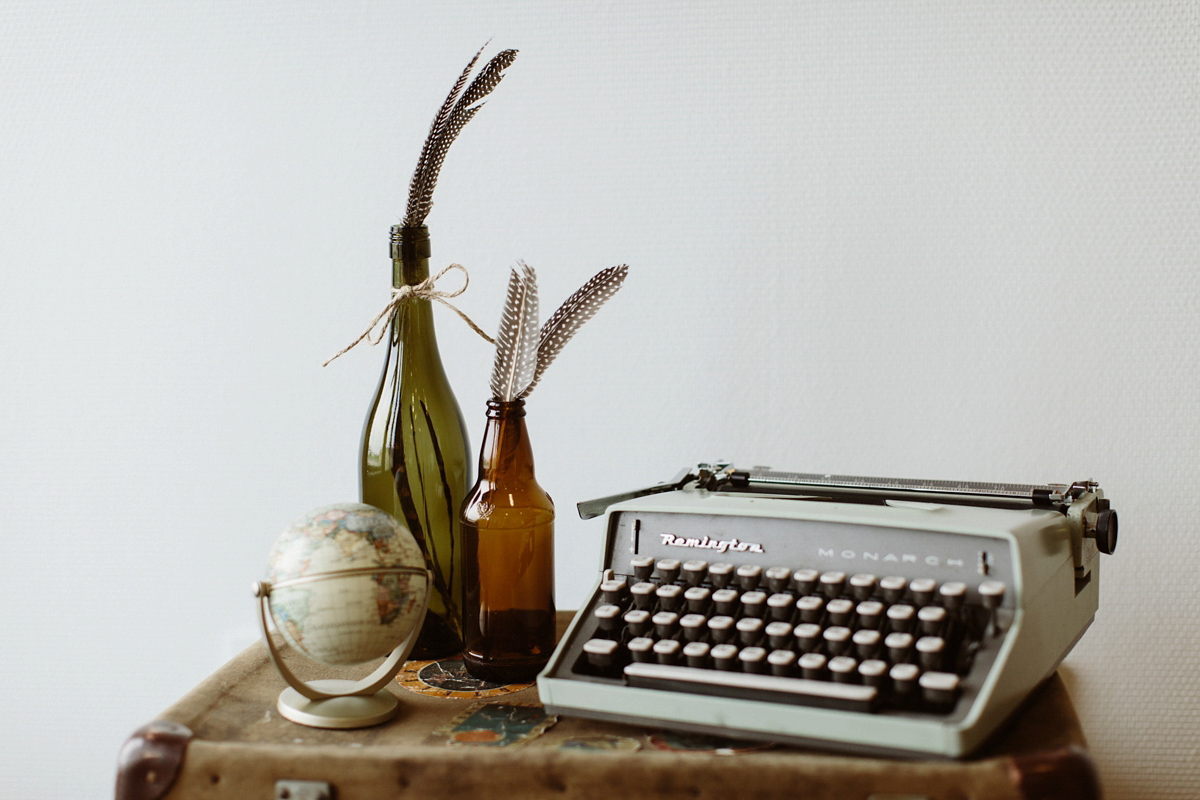 "For the reception we decorated the tables with wine bottles in different colours, using them as vases and candlesticks. My best friend made us garlands of laces, and I also made garlands of feathers. We had fairy lights, origami cranes and lots of flowers and we also used vintage items to get the 'look' we wanted. Outside we had an arch made of wood, flowers and delicate white fabric from Ethiopia."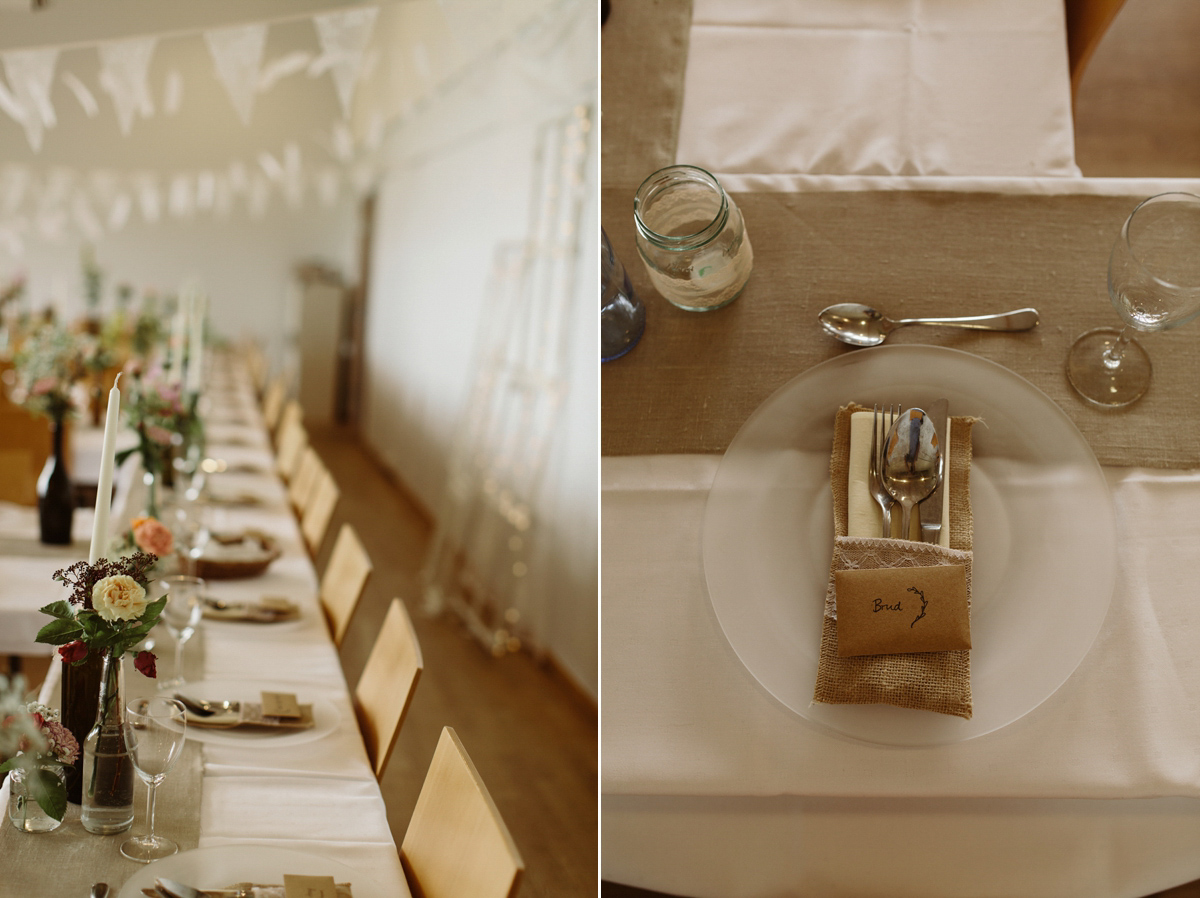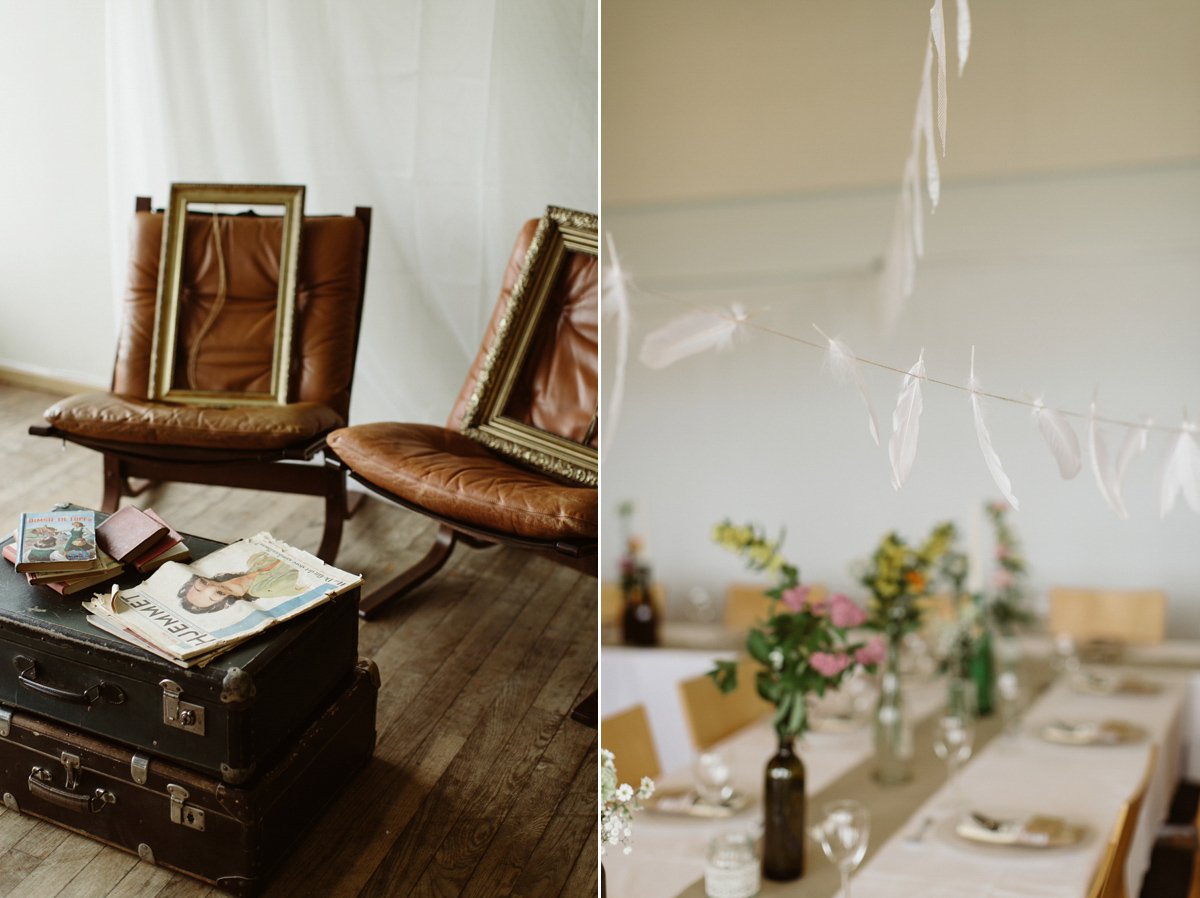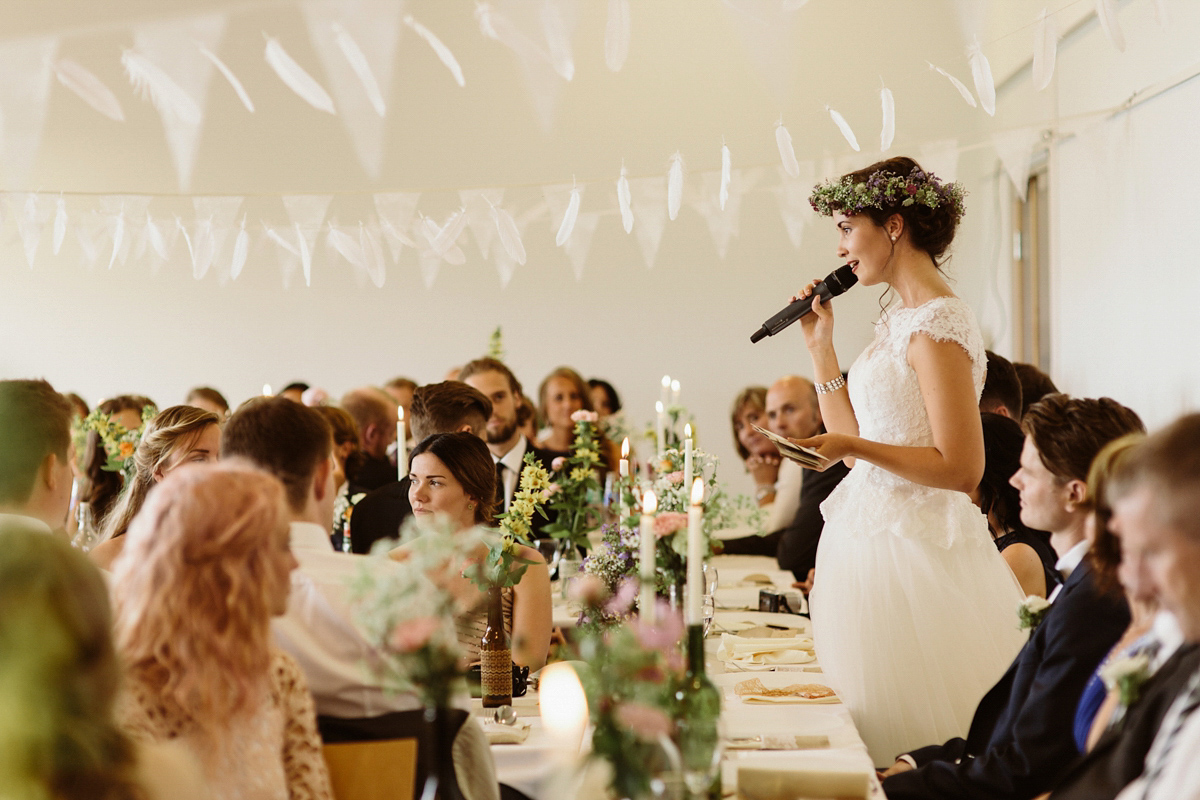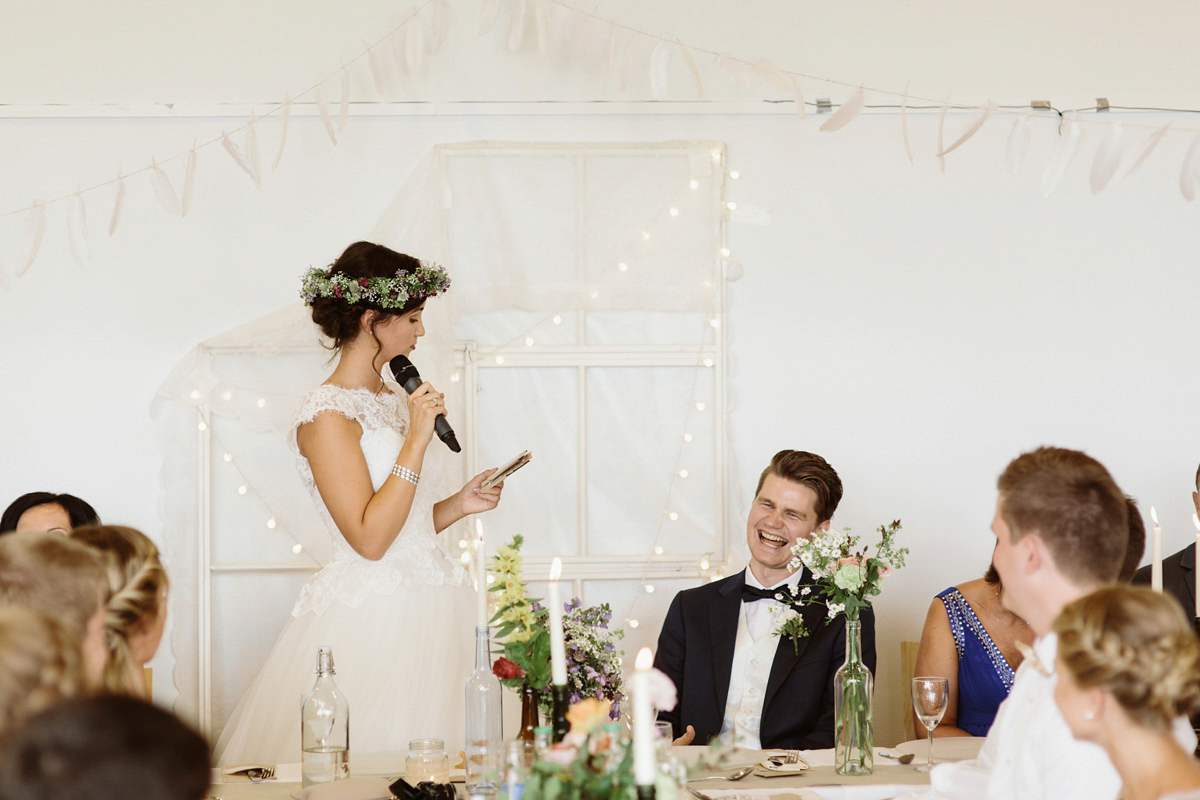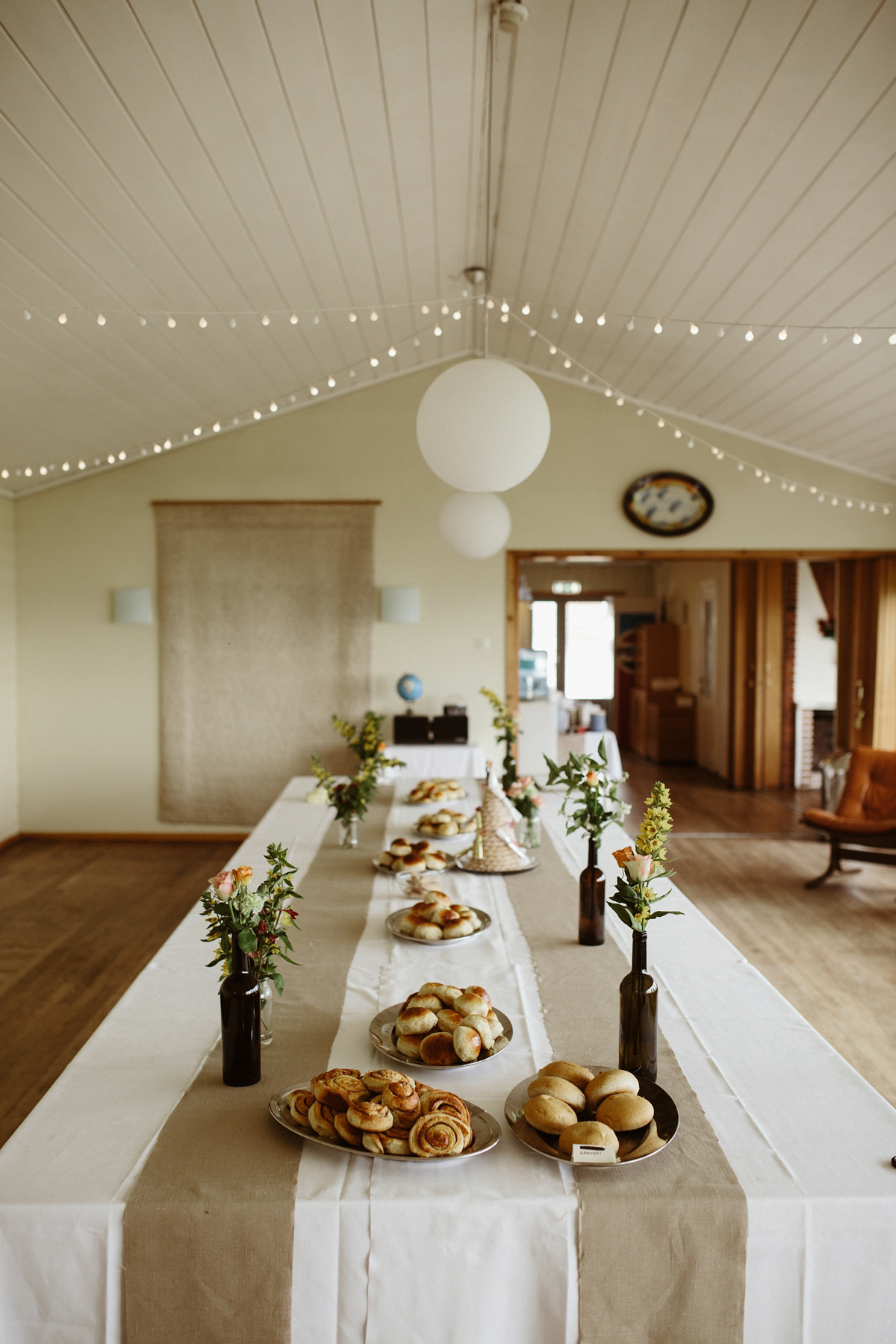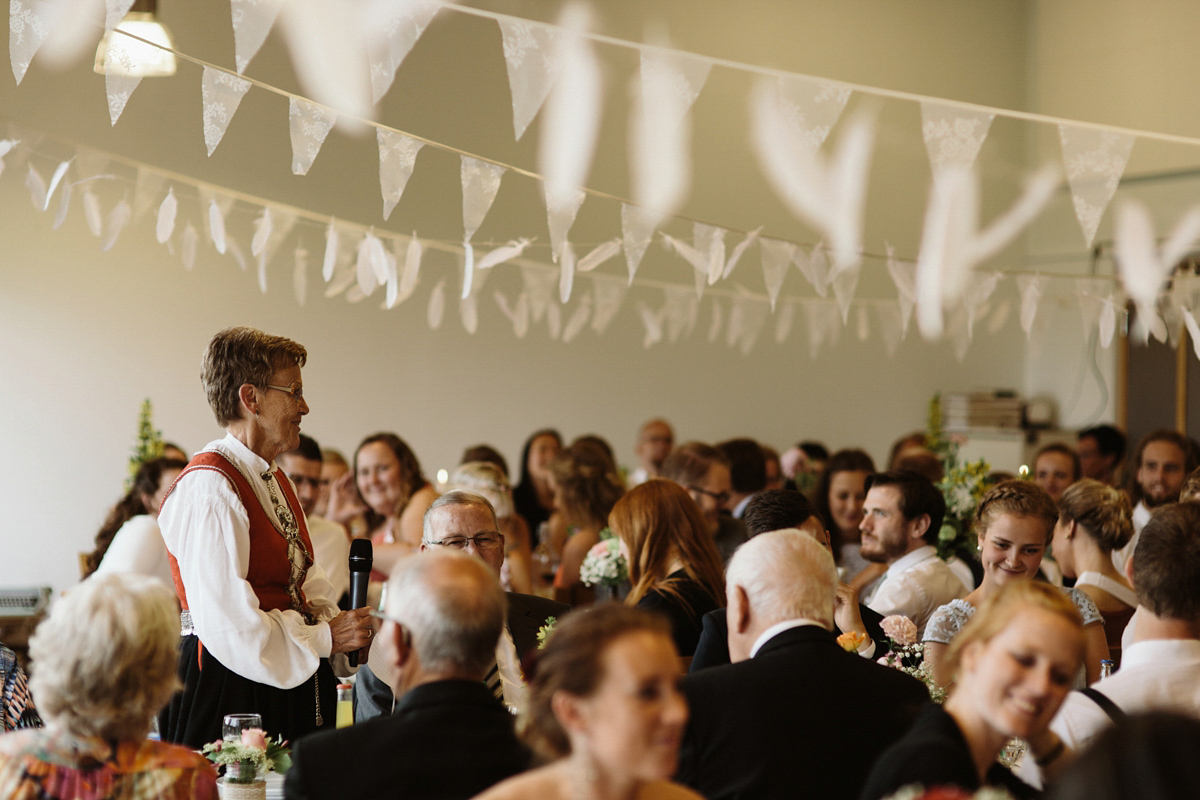 That gorgeously natural outdoor arch, swathed in softest white is so enchanting, as are the pure white feathers strung over the dinner tables – a whimsically bohemian addition to traditional bunting.
Soft fairy lights, pretty pastel blooms and a number of pieces of beautiful vintage furniture added to the cosy atmosphere of the reception.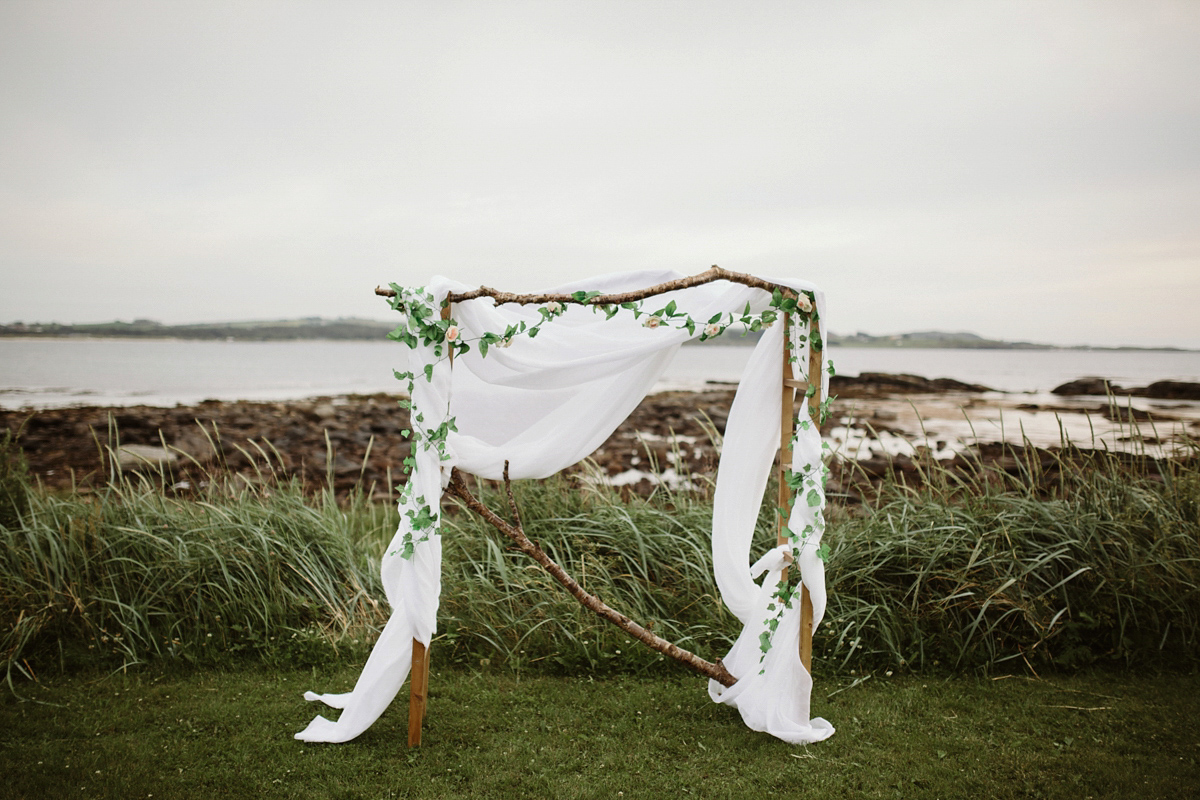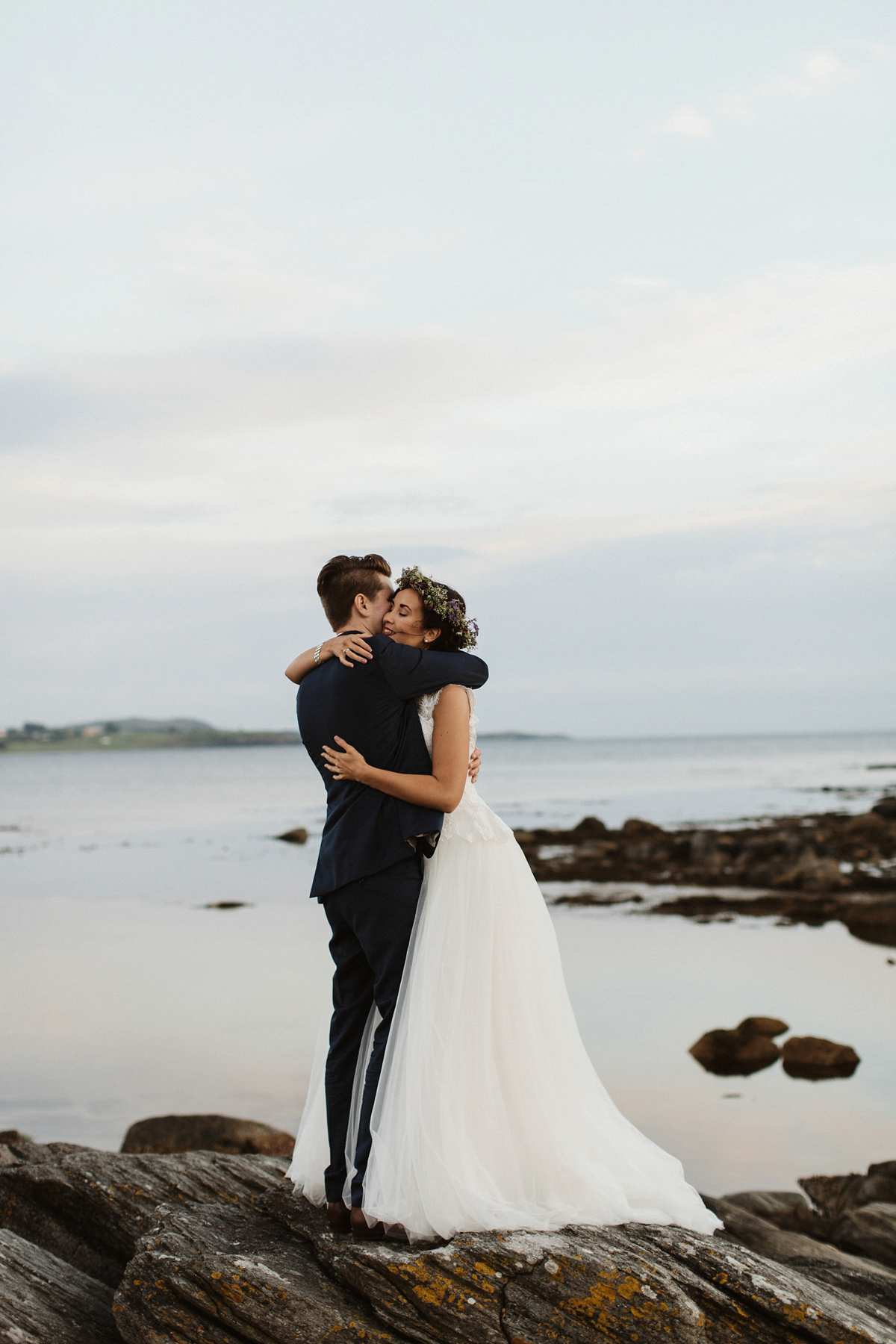 "The catering was by Himmel og Hav and we got our beautiful cake as a wedding gift from a dear friend."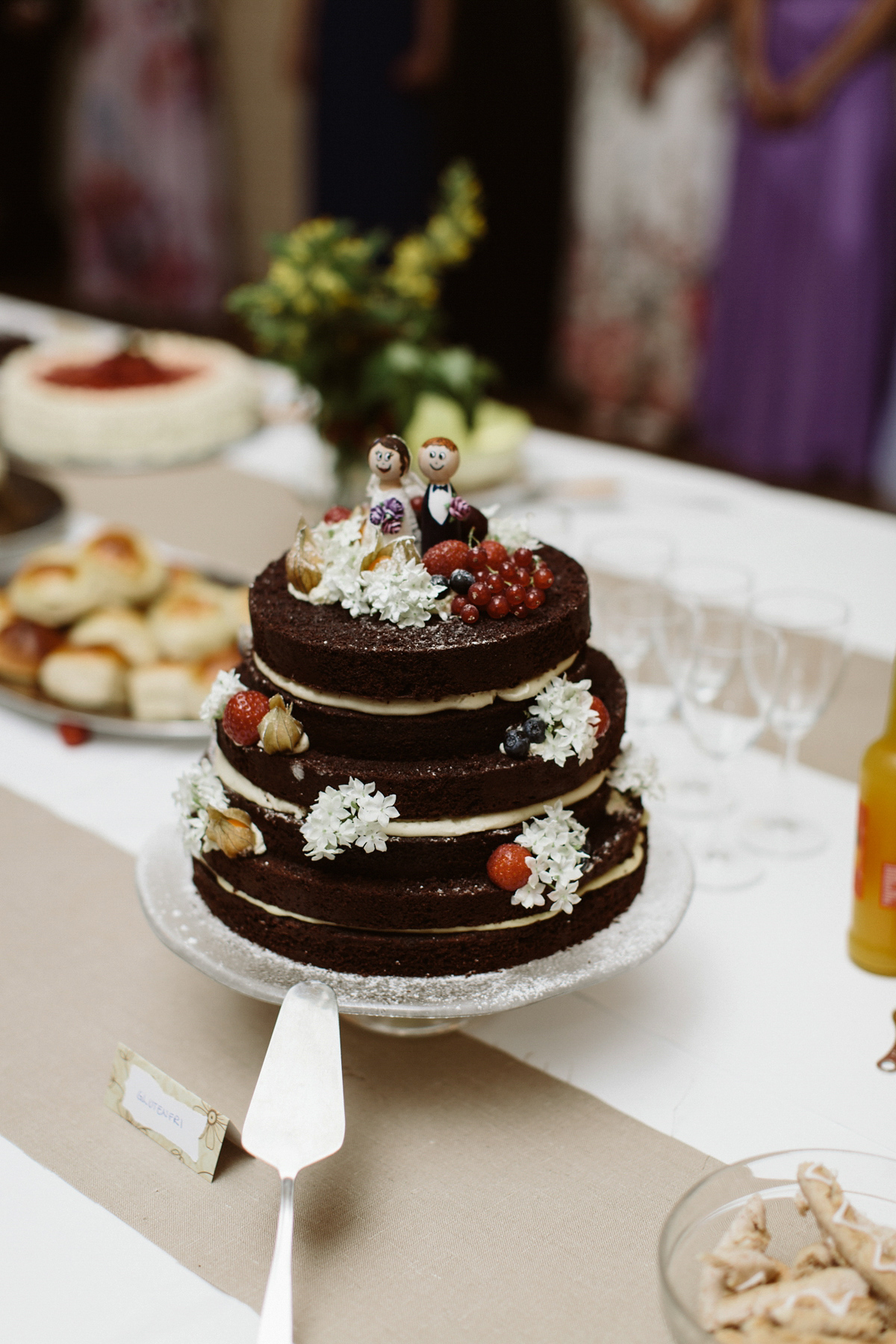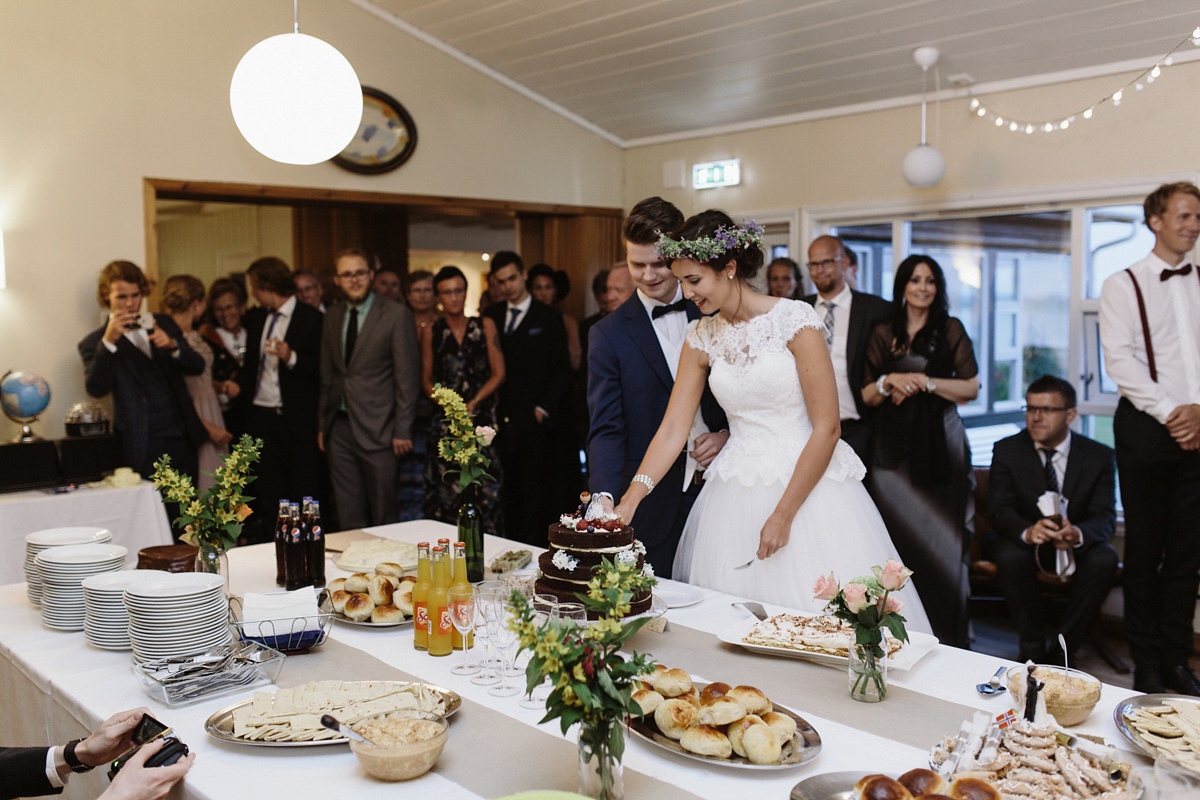 I was so delighted to see so many women making speeches when I first set eyes on these images – equality is such an important and integral part of Scandinavian life and one of the very many wonderful things I love about this part of the world. I'm also a tiny bit obsessed with the candy floss pink hue of one the female guest's hair against her sugar sweet pink frock!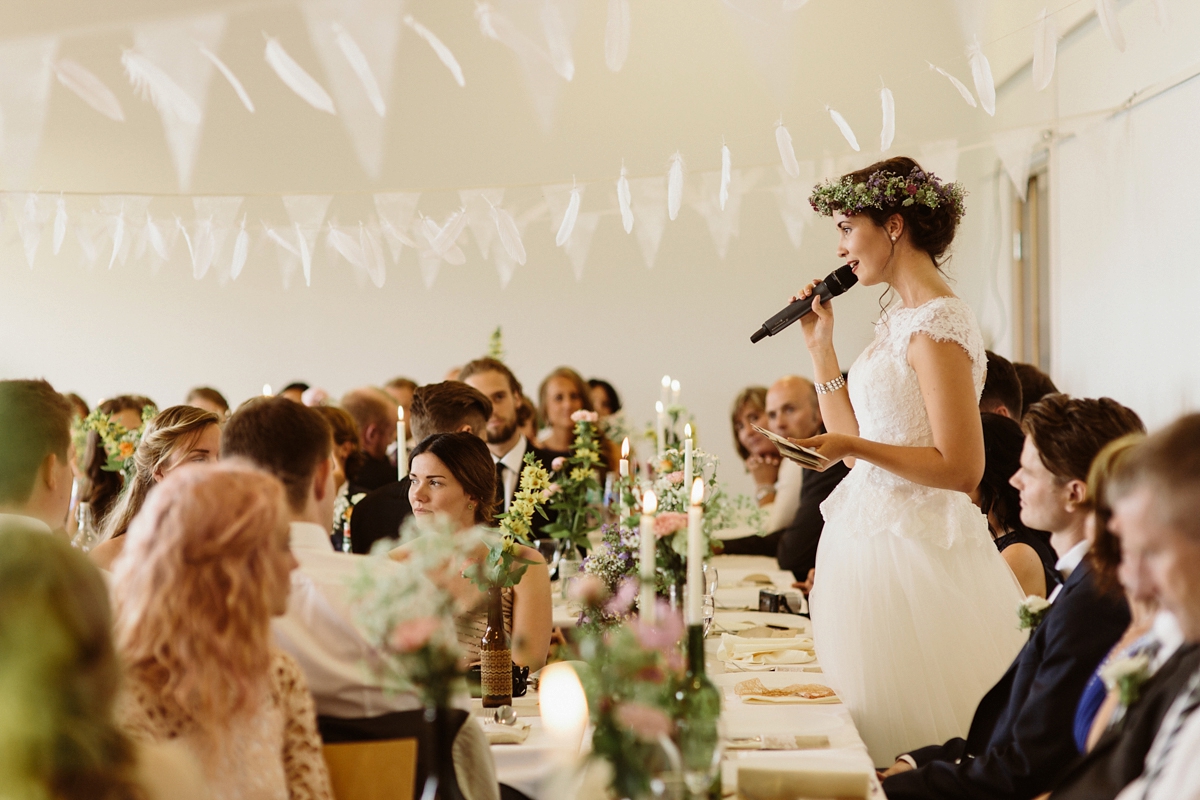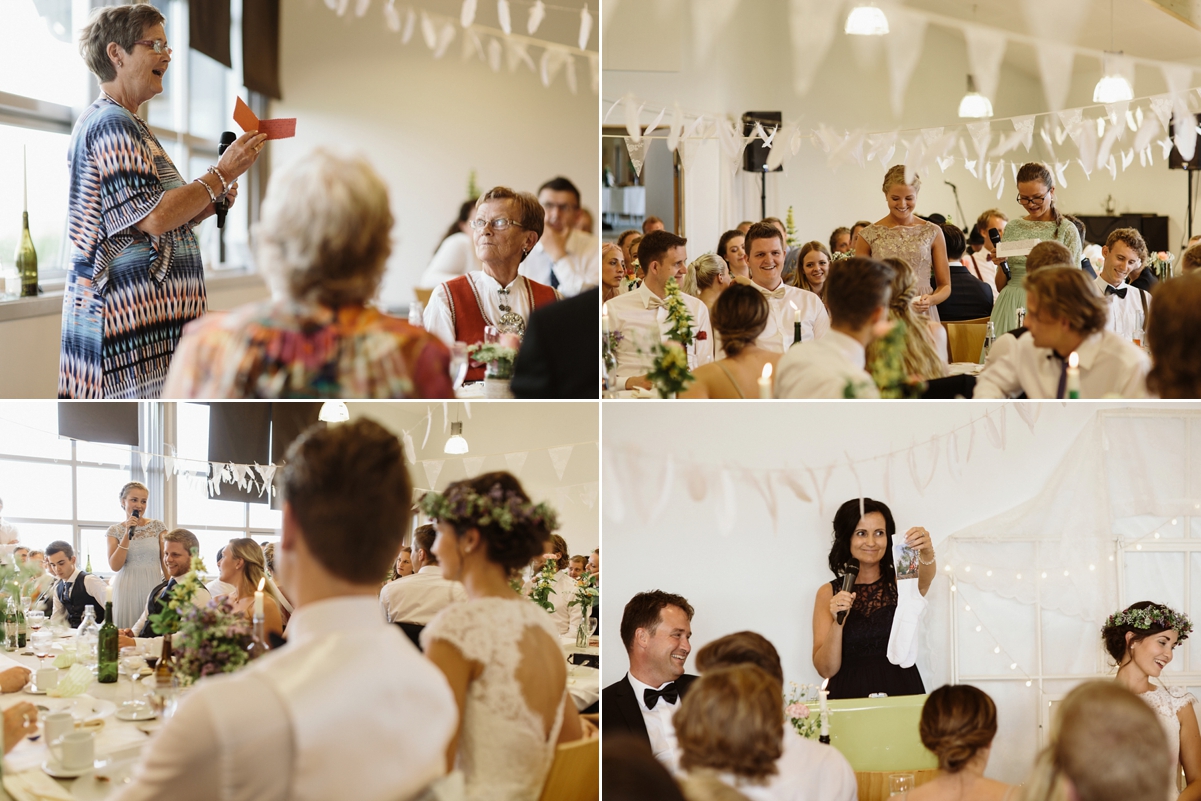 "Our friends and family surprised us with lots of showbiz. There were jokes, choreographed routines, videos and musical performances. We'd only planned to have three songs played by live band, but we got a whole evening with great things happening, it was wonderful!"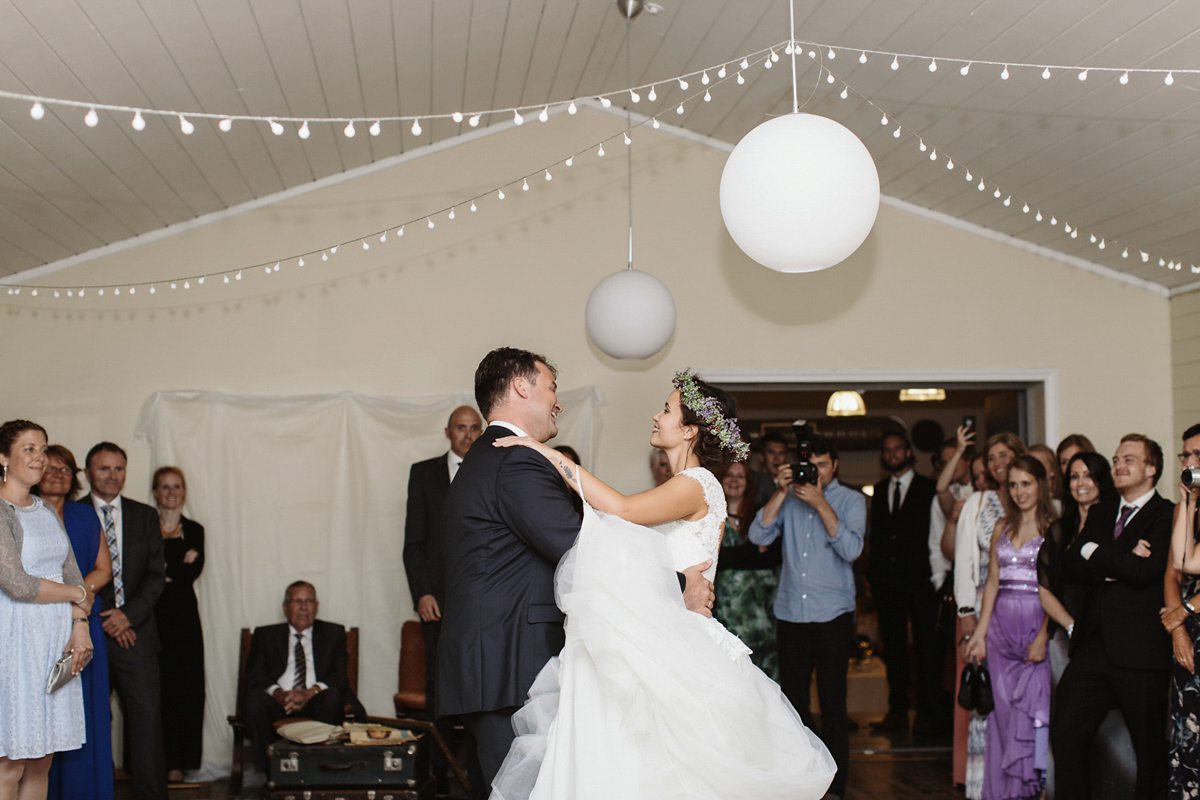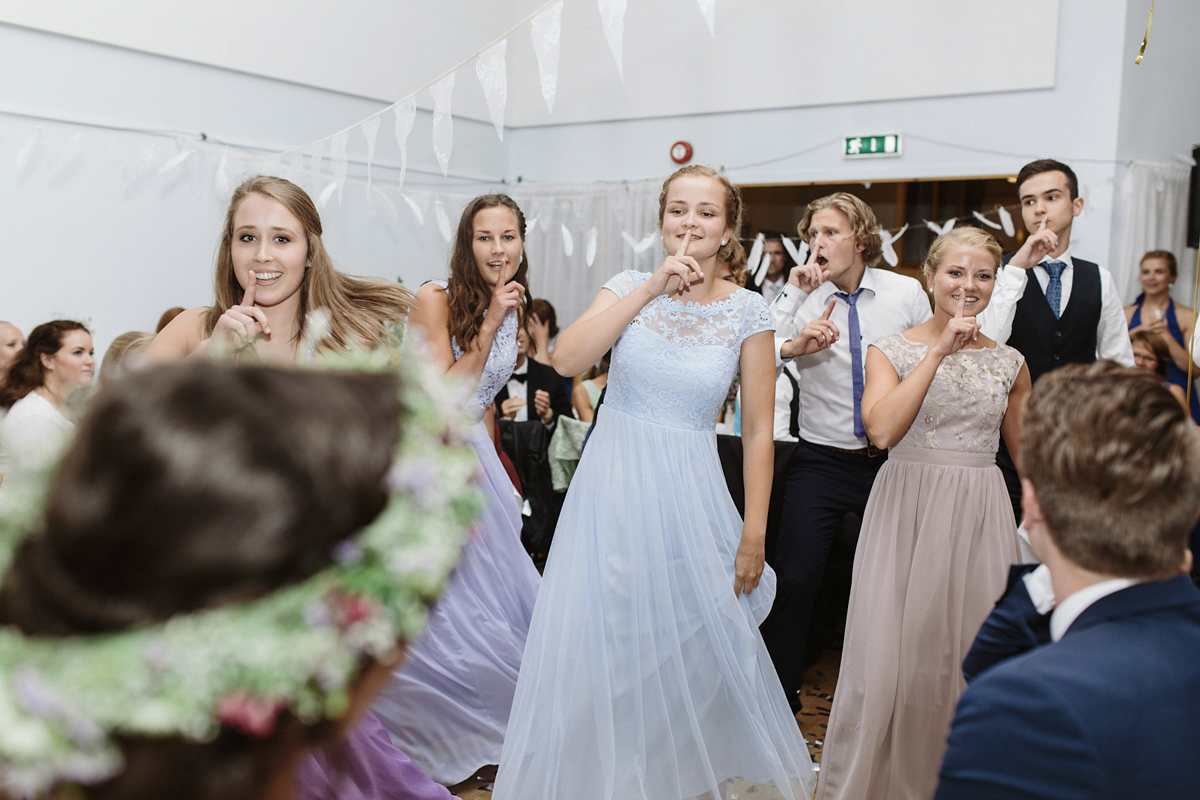 "Our 'first dance' was not planned at all, so it was kind of a spontaneous move. We danced to 'Ho Hey', by The Lumineers. It's a song that we like a lot and it's playful, relaxed and joyful. One of my best friends performed it live, and everyone was singing along and having a good time."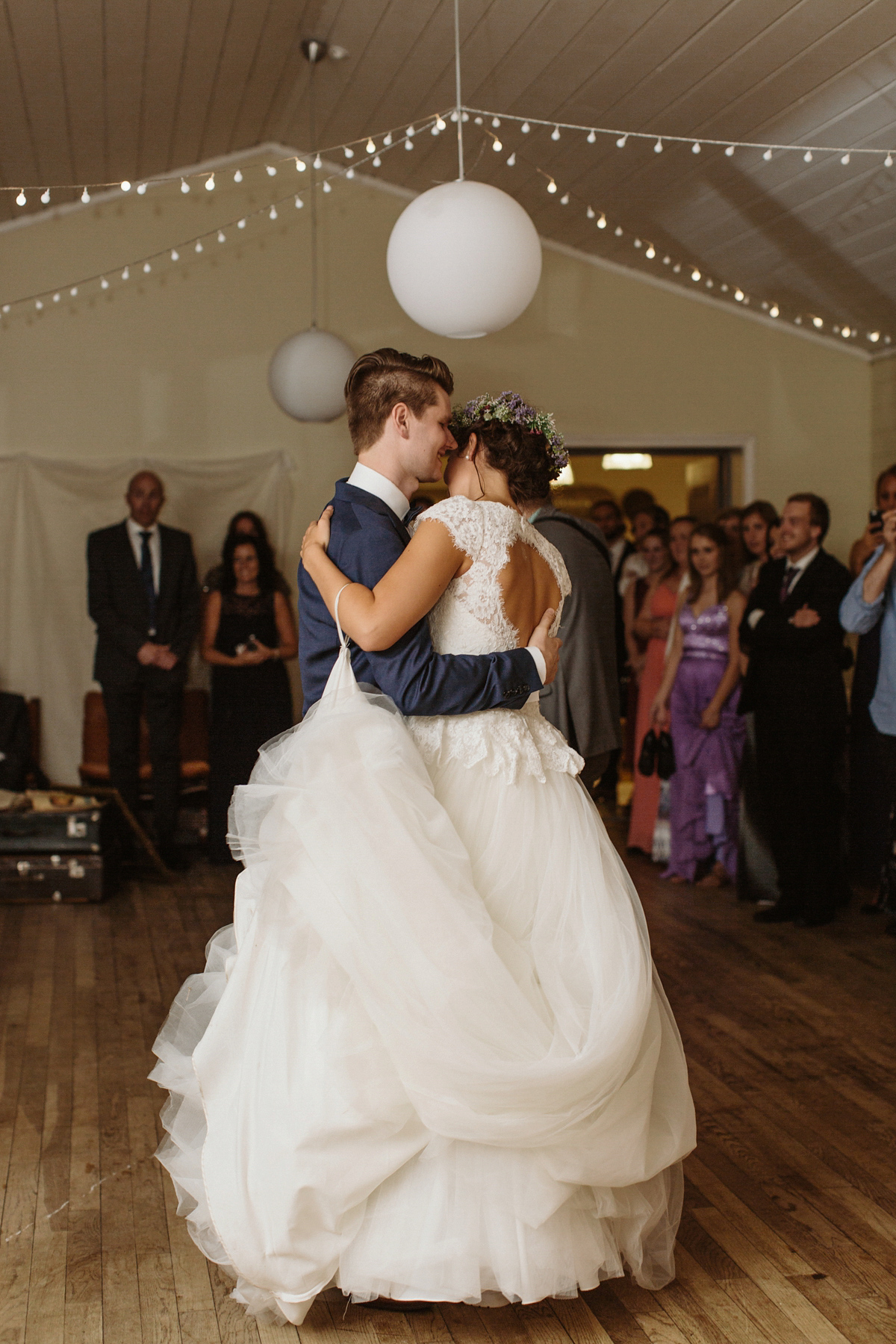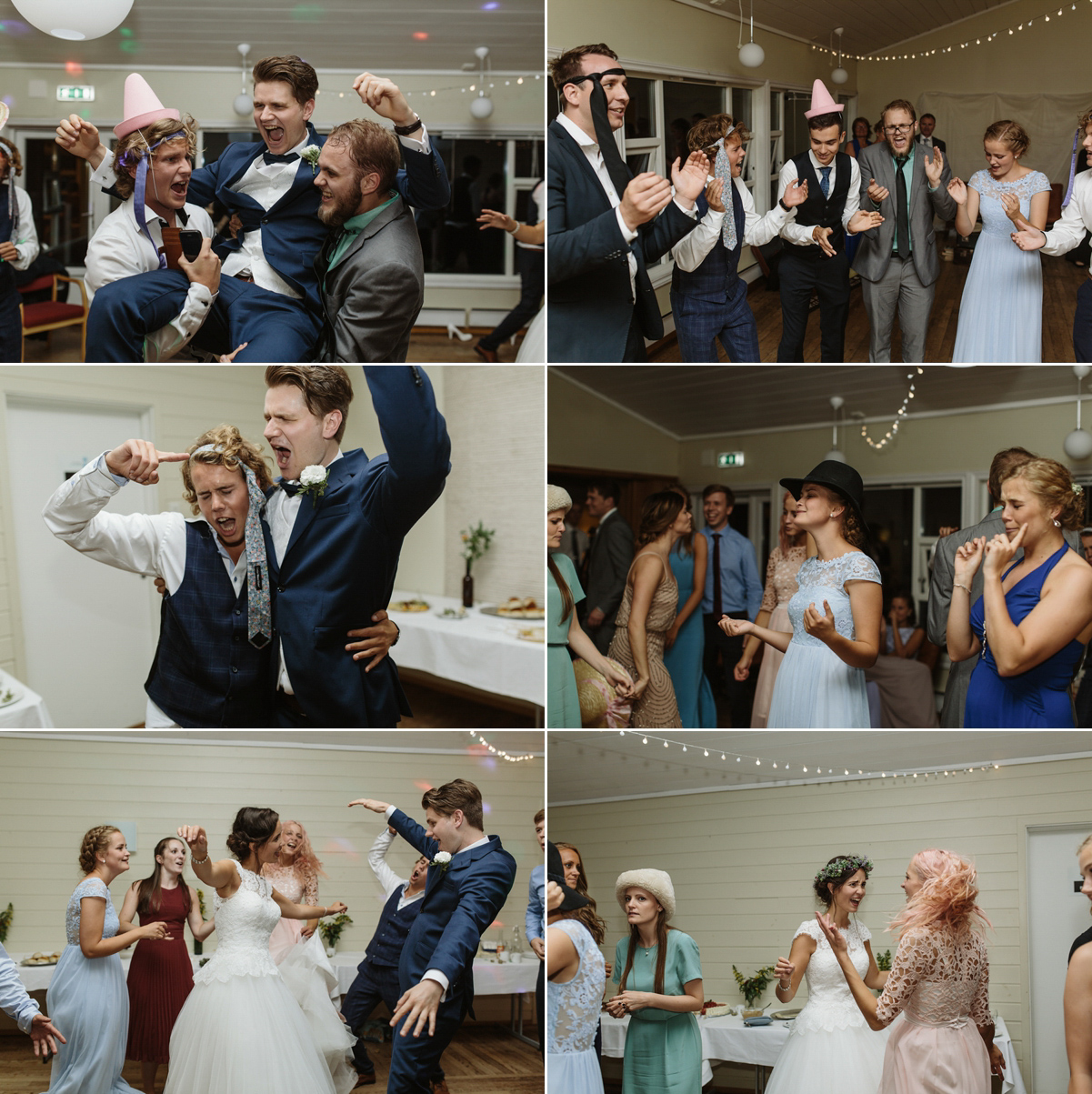 Words of Wedded Wisdom
"Relax. Breathe slowly. Enjoy both the planning part and the wedding day; the wedding itself is only one day, so make sure that you use the planning time well. Enjoy it to the full, don't stress, and take care of yourself and the love of your life. It's more important to enjoy this time and do fun things together than using lots of energy for every detail to be perfect. Make the wedding your own."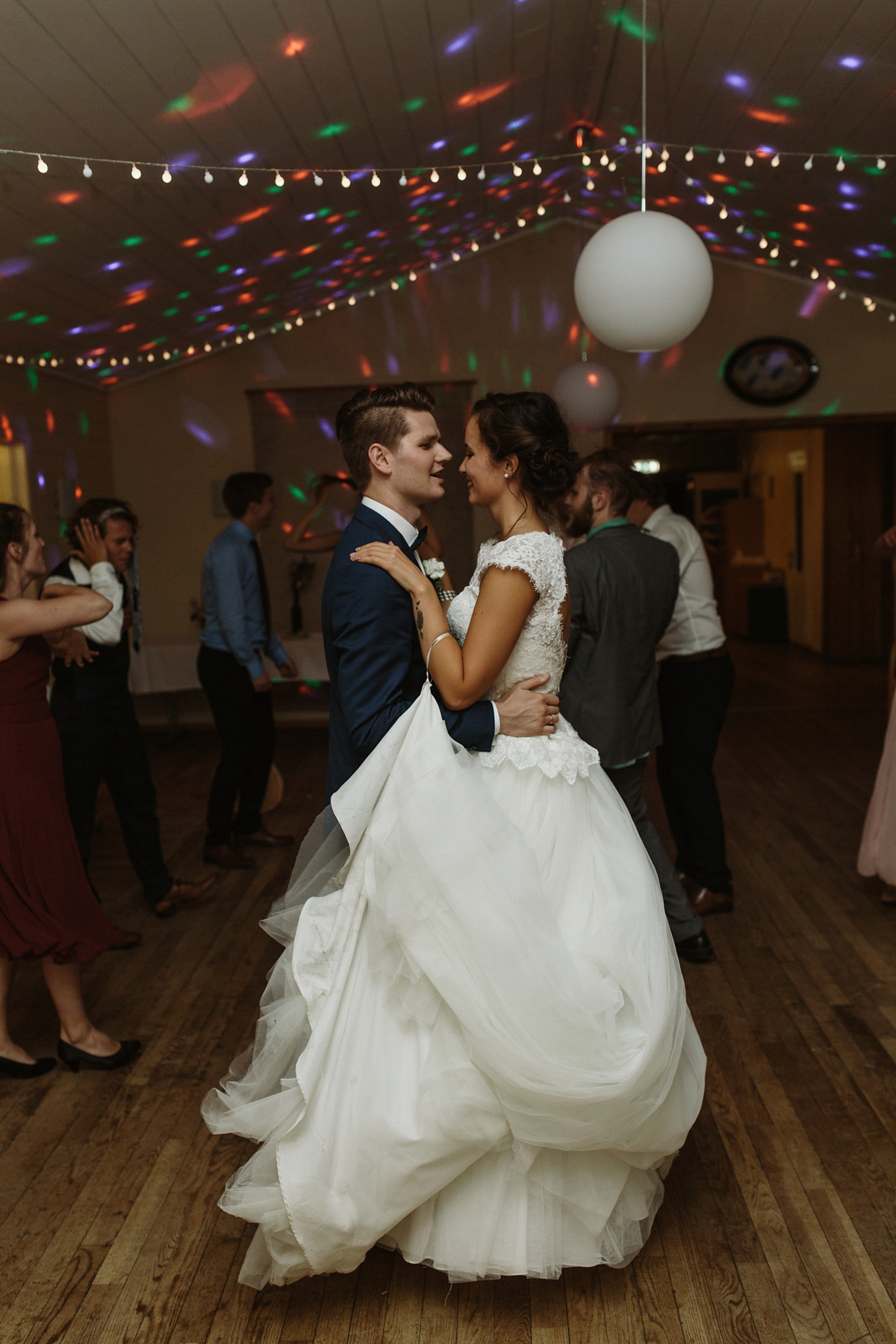 I'm so grateful to Kari Ann for these lovely, calming words of bridal advice, words I'll be sure to remind myself of over the next few months. Happily, writing this feature led me to find this gorgeous Norwegian celebration in London, featured many moons ago on Love My Dress, and if you're leaving the UK behind for your big day, we have heaps of stunning destination weddings stored in our fabulous archives, just waiting to inspire you.
That just leaves me to say a huge thank you to Espen and Kari Ann for sharing their beautiful day with us all, and of course a mighty big thanks goes to Green Antlers Photography for these sublime captures.
Love, Em x